Fire, quality ingredients and a hipster air of cool… Niklas Ekstedt's restaurant Ekstedt in Stockholm is Michelin starred cooking at its most creative. Find out all about dining there in this detailed Ekstedt review. 
"You've got a table at Ekstedt and you're not taking me? I've lived in Stockholm six years and been dying to go there!"

The words of my older sister Verity when I told her I'd be abandoning her to go for my first Michelin star dining experience. She wasn't best pleased.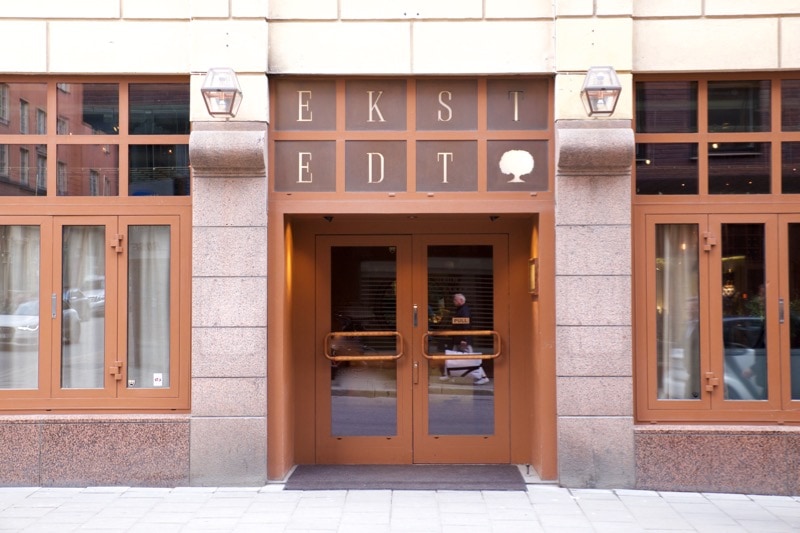 Using Fire To Cook At Ekstedt Restaurant Stockholm
Fire is the concept behind Niklas Ekstedt's casual-yet-trendy Stockholm restaurant. After growing up in a small village in Northern Sweden where life revolved around the great outdoors, he was never going to settle for a generic gourmet eatery.
Keen to revitalise traditional Scandinavian cooking techniques, while using local, seasonal ingredients, Niklas created Ekstedt. When it comes to the cooking, no gas or electricity is used. It's a place where microwaves are banned… and I couldn't be happier.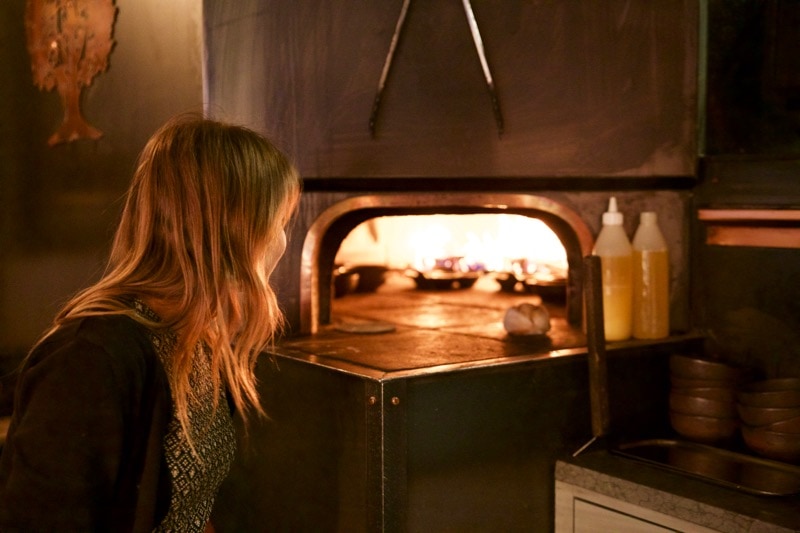 After a quick tour of the kitchen (which featured a cast iron stove from the 1870s), lots of charcoal, and of course – fire, we took our seats at the chef's table. The high bar area seated four in a row, and faced several chefs as they cooked items over the open fire and assembled beautiful plates of food.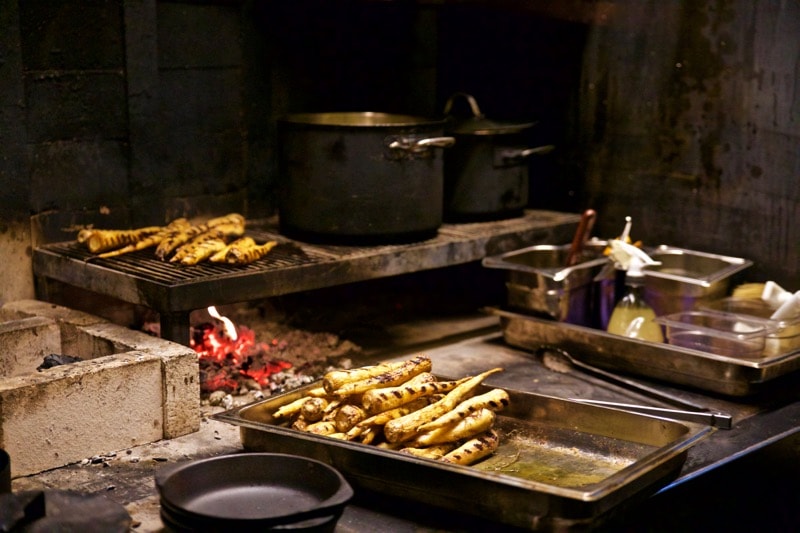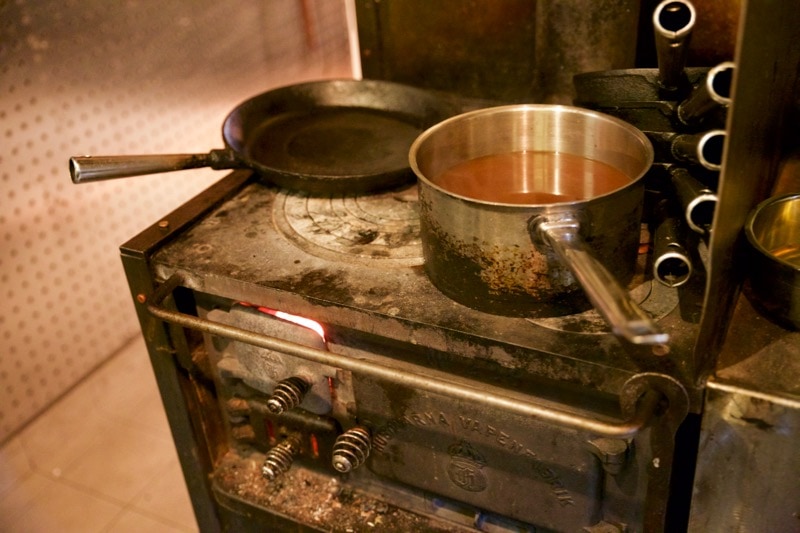 The decor was hipster chic, with plenty of wood, accents of metal, a tiled wall, moody lighting, and exposed pipework. Not to mention the rose gold cutlery. It was all very Shoreditch!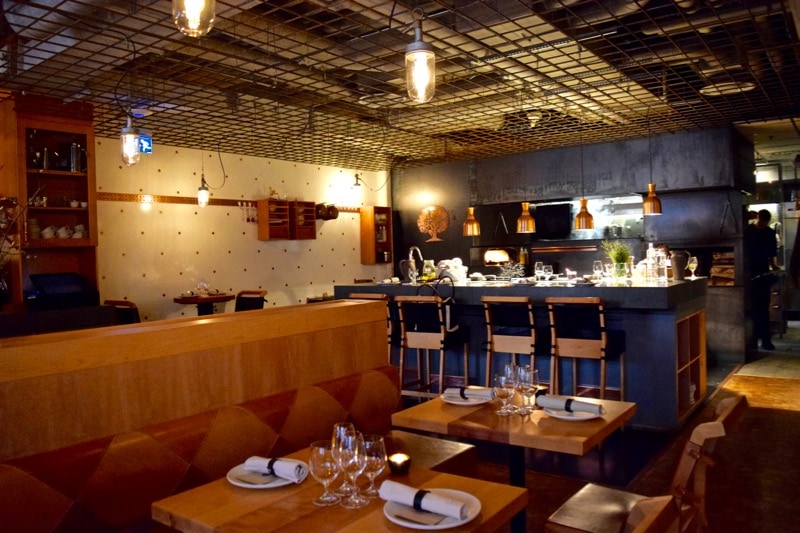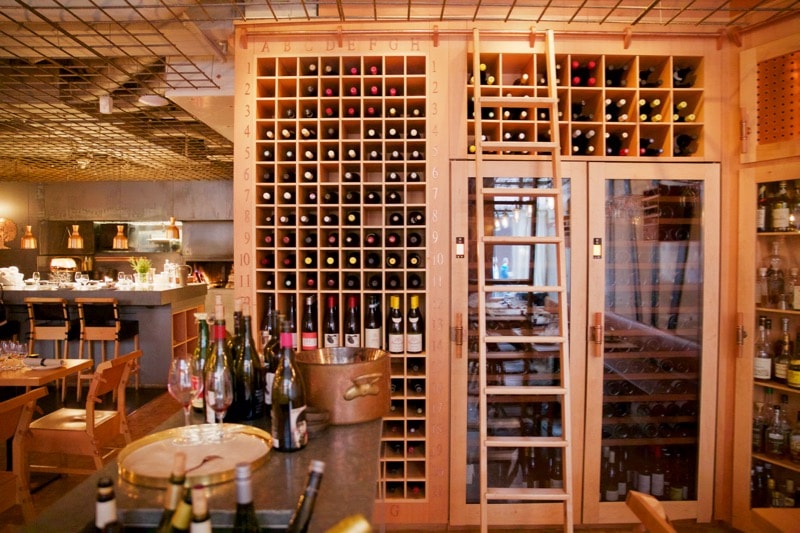 Over the course of three hours we enjoyed 6 courses with wine pairings. When I talk about fire being the cooking method, I'm not describing a BBQ joint. This is fine-dining. Oysters, scallops and reindeer all featured on the tasting menu, which continued to surprise and delight as the afternoon wore on.
One thing I really loved about the Ekstedt experience was the service. Rather than being stiff, it was wonderfully relaxed, while still being attentive. Dishes were delivered by everyone from sommelier Max and restaurant manager Niklas, to the chefs who had created them. It felt like we'd been welcomed into the family!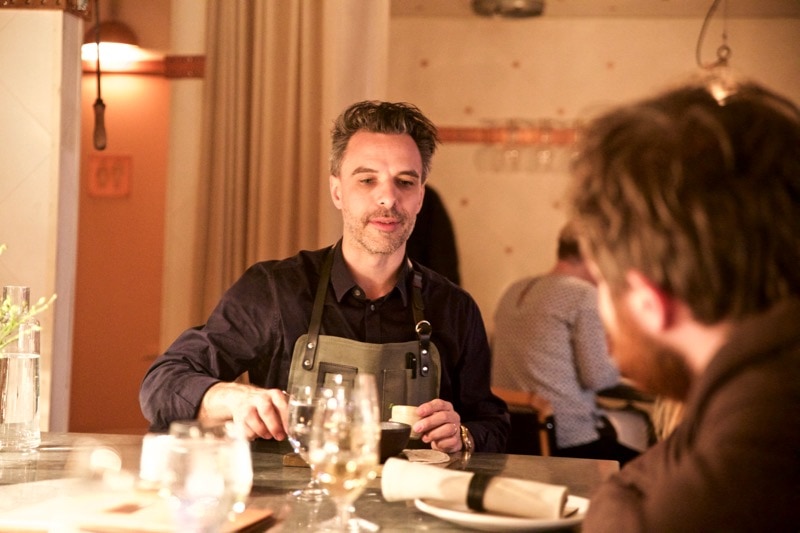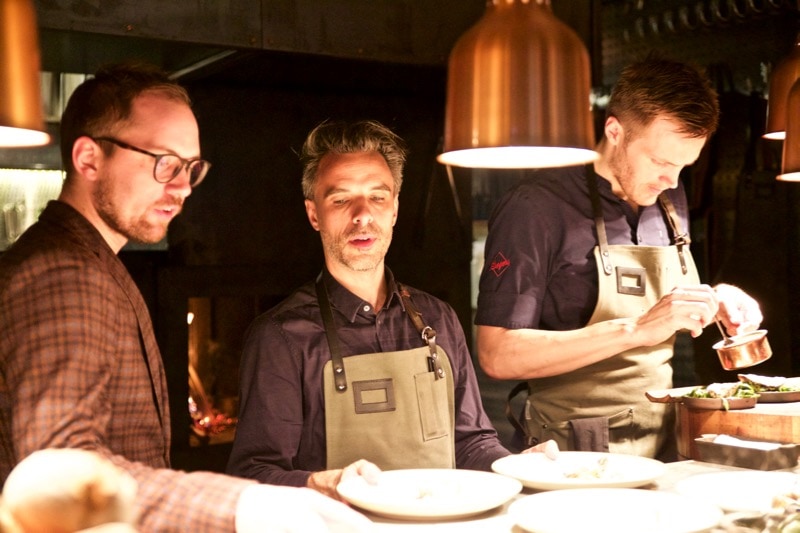 After an unusual glass of champagne ('offbeat' were the words of the sommelier), an amuse bouche arrived of reindeer heart. Yes – we were diving straight into the Scandinavian delicacies!
"Let's make the first course together," the sommelier said as he placed the scorching cast iron bowl on the table. He added a spiced butter, lingonberries and parsley to the diced reindeer heart and let it sizzle. We spooned it onto small flatbreads, and ate it as if it were Sweden's answer to the Mexican taco. The meat was gamey and rich, complemented by the tart lingonberries.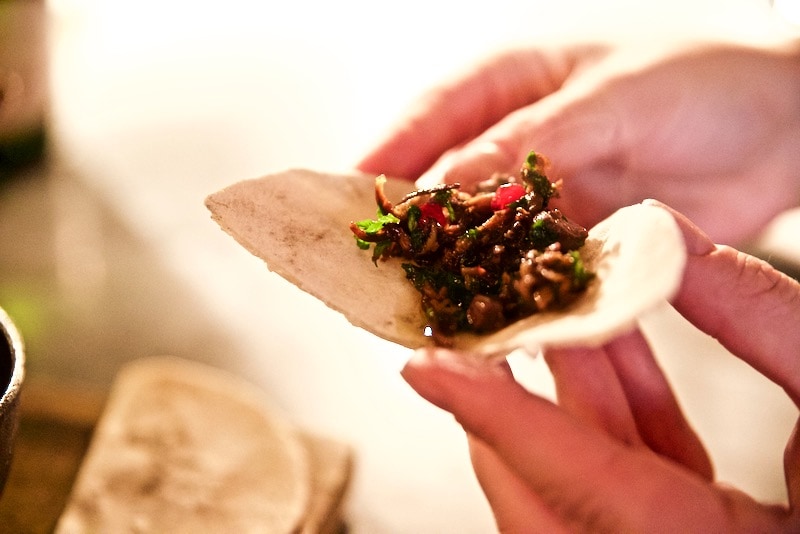 Next up cold-smoked blue mussels, cucumber and seaweed, followed by oysters flambadou (a Basque technique where the oysters were flame-basted by hot fat).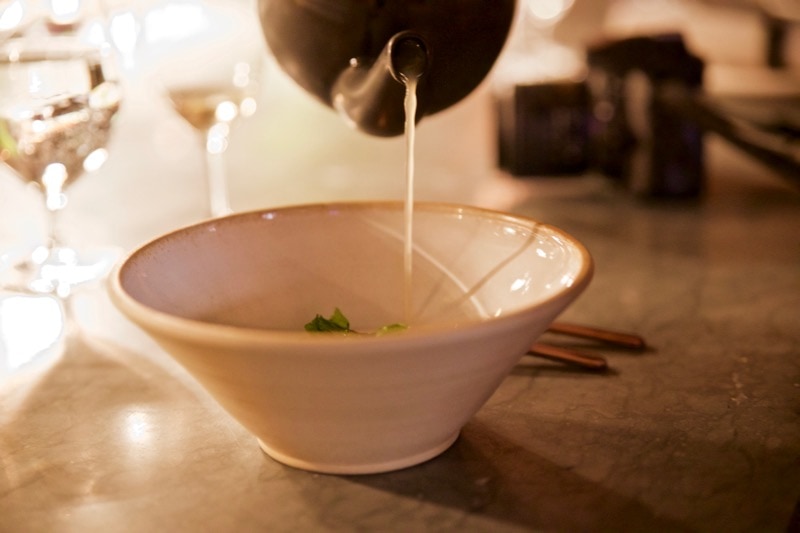 The mussels were served with delicious cured and fried monkfish cheeks, and presentation was wonderfully theatrical as the cold-smoked broth was poured from a teapot. Chewy monkfish cheeks, soft mussel and a delicate balance of smoke and sea flavours – what a unique dish.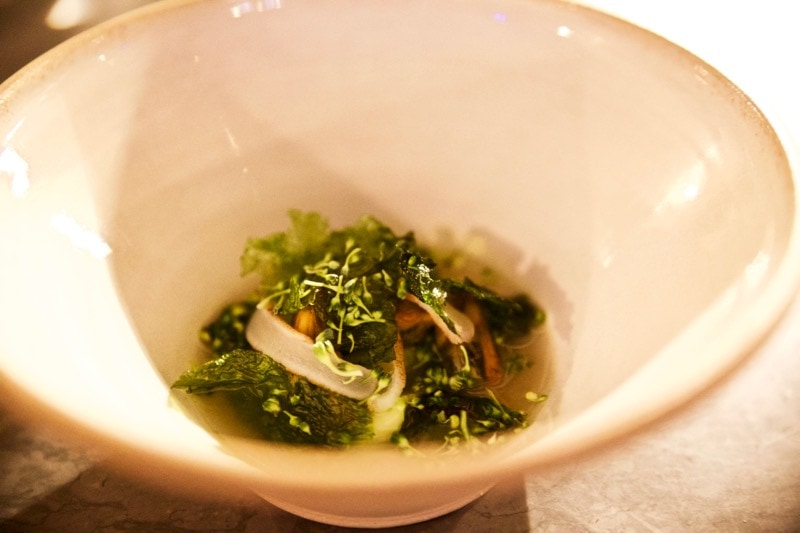 The oysters arrived with spheres of smoked apple (reminiscent of pearls) on a bed of seaweed. The salty scent transported us to the ocean, and while not a fan of oysters usually, I couldn't deny that this one was pretty delicious!
No Ekstedt review would be complete without some photos of the oysters cooking in the flames of the wood burning fire!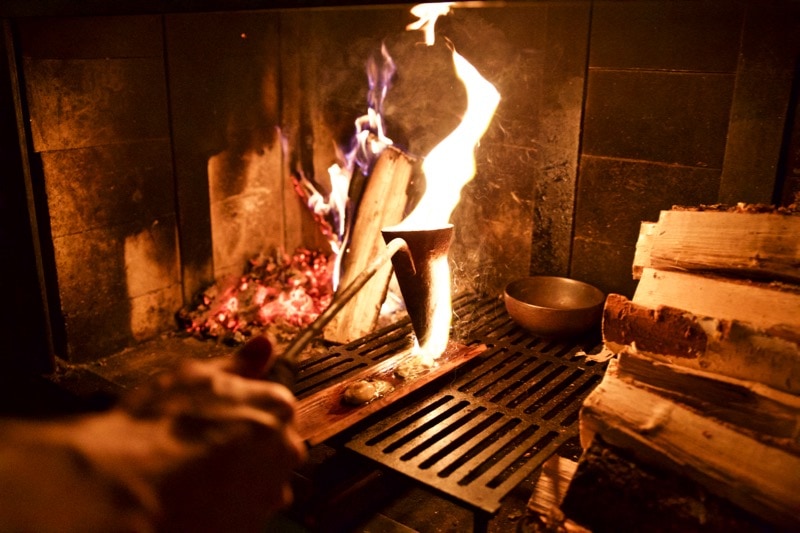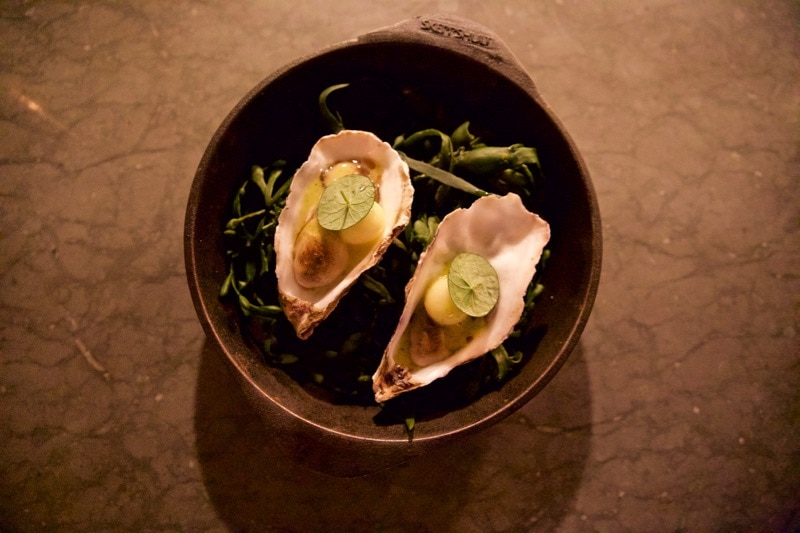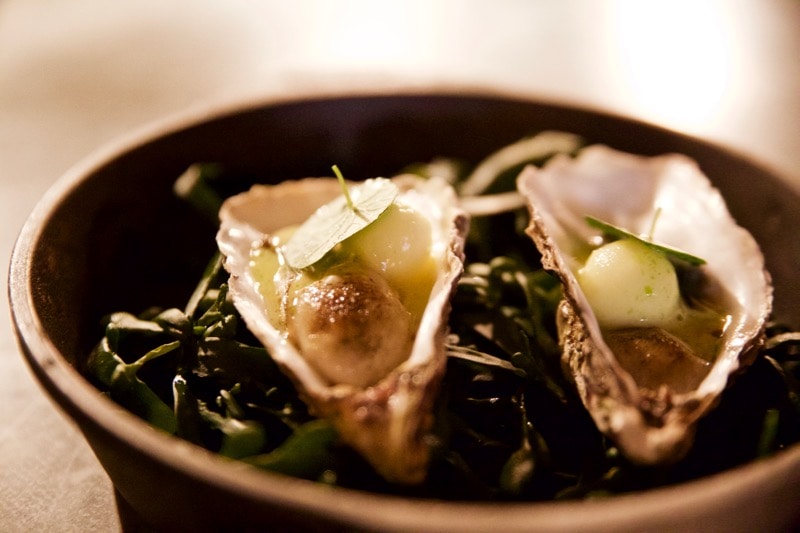 One of my favourite courses was next: an enormous hay-baked scallop served with juniper sauerkraut and sorrel. The meaty scallop had a delicate smokiness, and I loved the accompaniments of fermented cabbage, brown butter cream and a slightly spicy horseradish juice.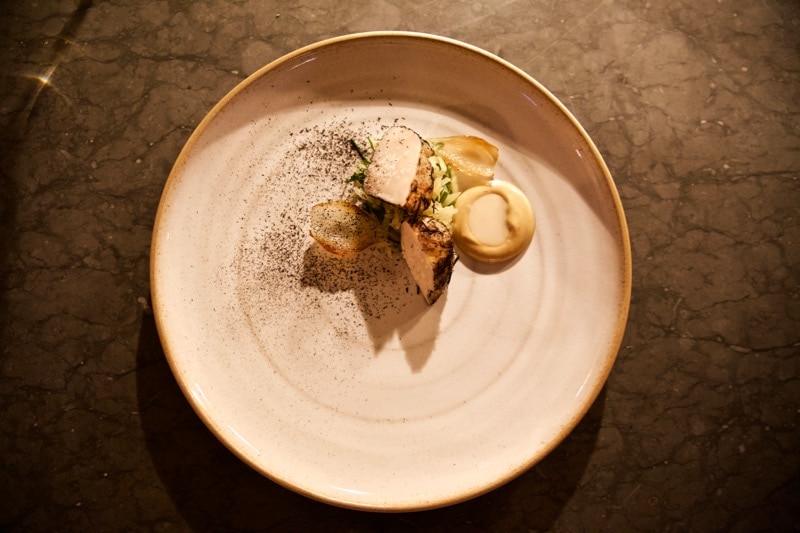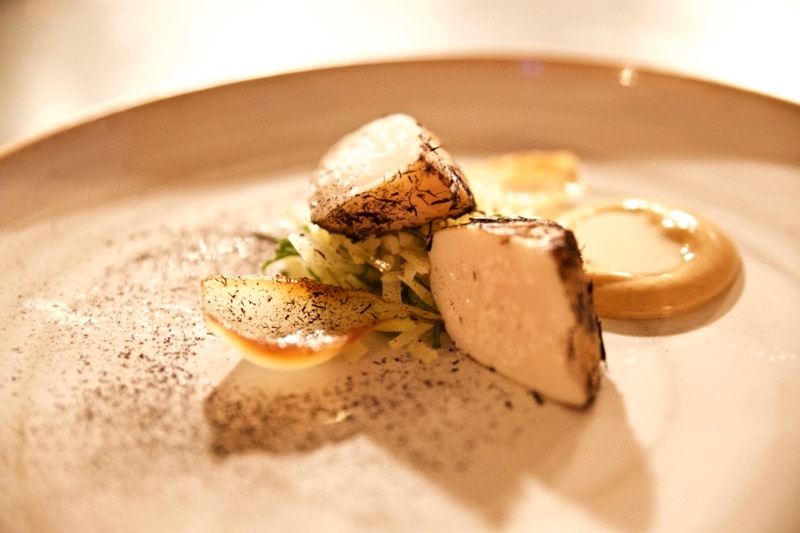 Part of the joy of the meal came from the action in front of me, and during this course we watched as young head chef Rodrigo Perez shook charcoal dust over scallops using a tea strainer (a technique I would be taking home with me!) I also really enjoyed the wine pairing – a young, fruity riseling.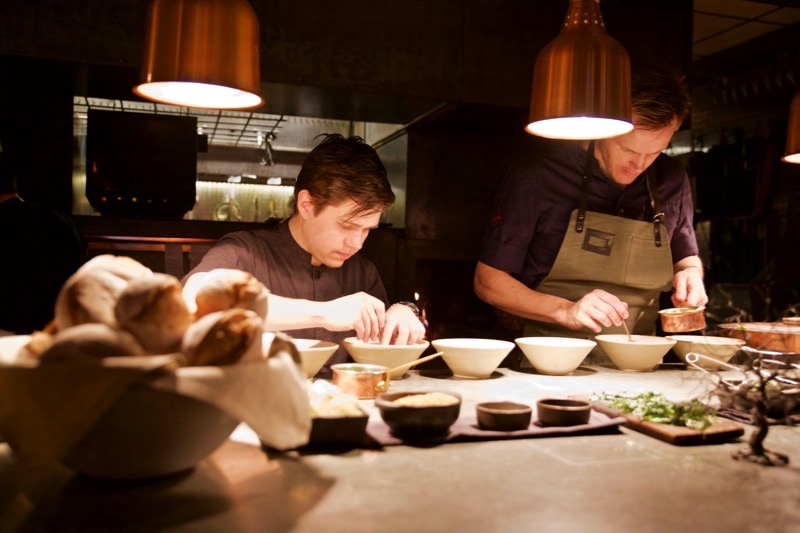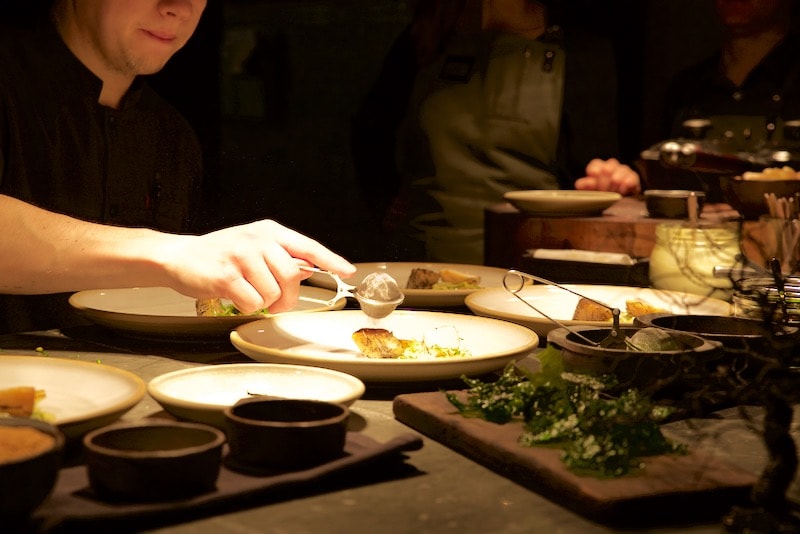 Next up a blackened leek dish topped with salty Swedish caviar. My favourite ingredient on the dish was the deep fried white moss – unlike anything I'd tried before. When eaten together, the textures popped, dissolved and crackled in my mouth – it was quite a sensation!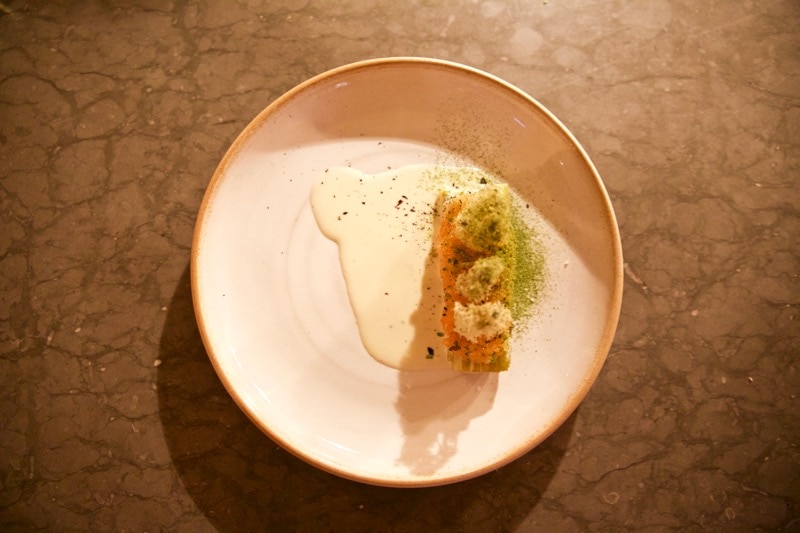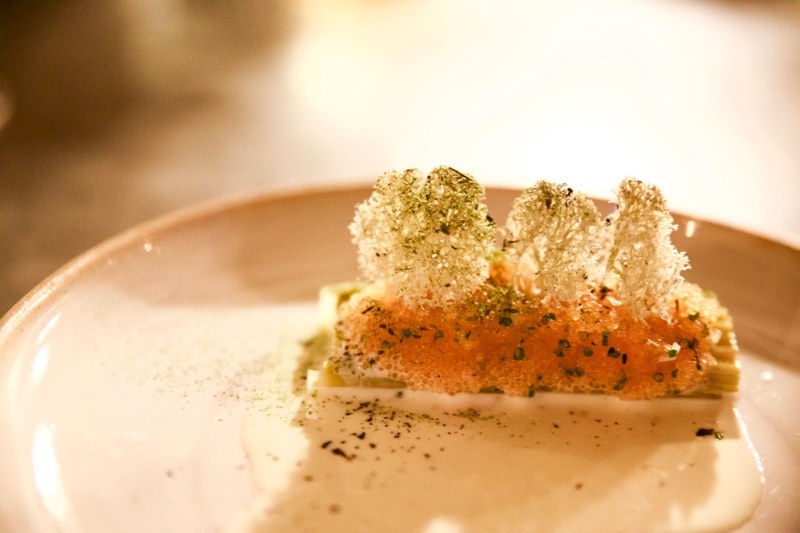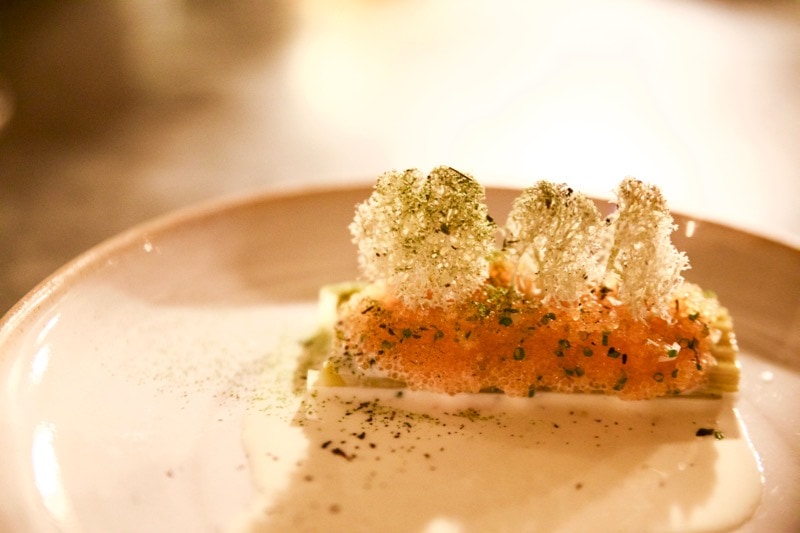 This was followed by cured cod, miso paste, fermented celeriac sauce and blackened celeriac. A little on the salty side for my palate (most likely because I barely use any salt in my cooking these days), but the fish flaked beautifully and it really was incredible cooking – especially when I remembered they weren't using electricity!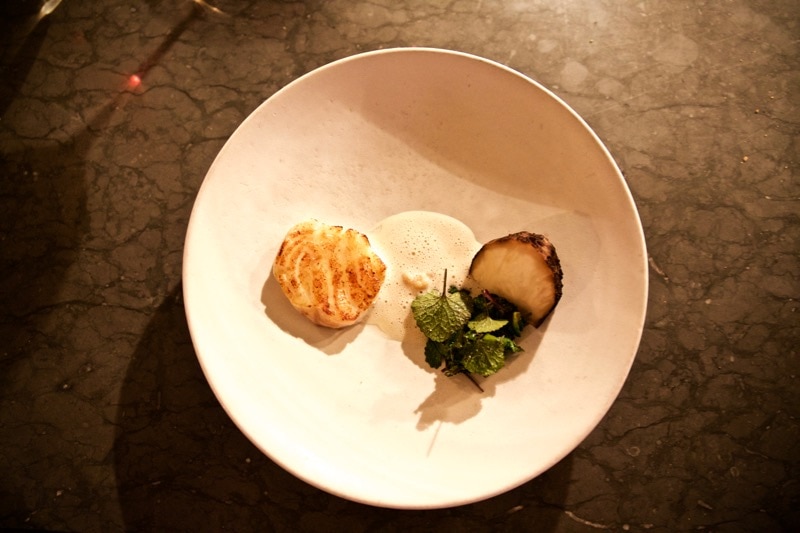 After several courses inspired by the Scandinavian coast, we tucked into a lamb neck fillet, which had been cooked overnight, making it beautifully tender and rich in flavour. It sat on a bed of very crunchy buckwheat and was served with pickled ramson – an ingredient similar to a spring onion with a garlicky flavour.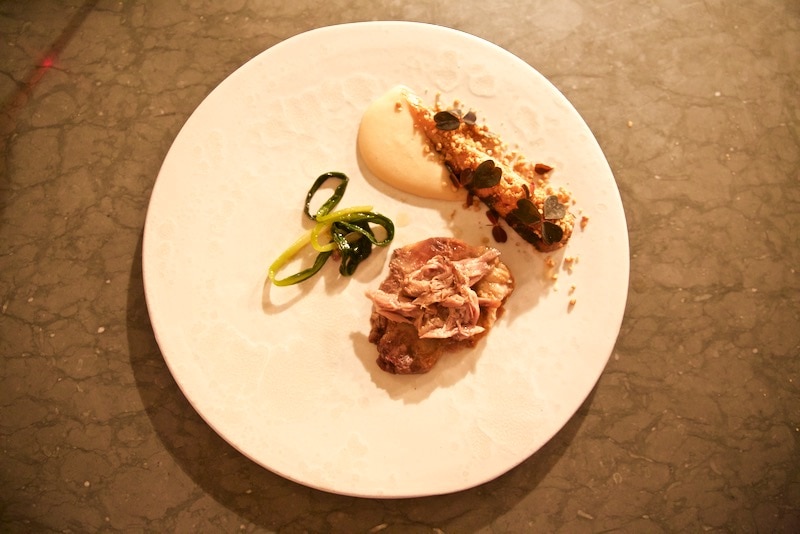 While the first five courses had been brought in fairly rapid succession, we didn't feel horribly full.
Dessert was a pumpkin cake (reminiscent of a soft golden syrup cake), served with flambéed blood orange and a subtle bay leaf ice cream. Ready for our final dose of theatre, it was flambéed at the table. What fun!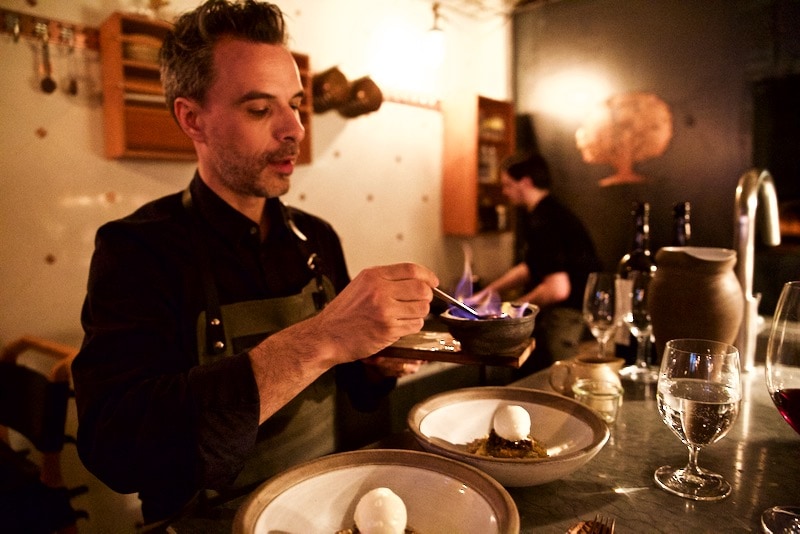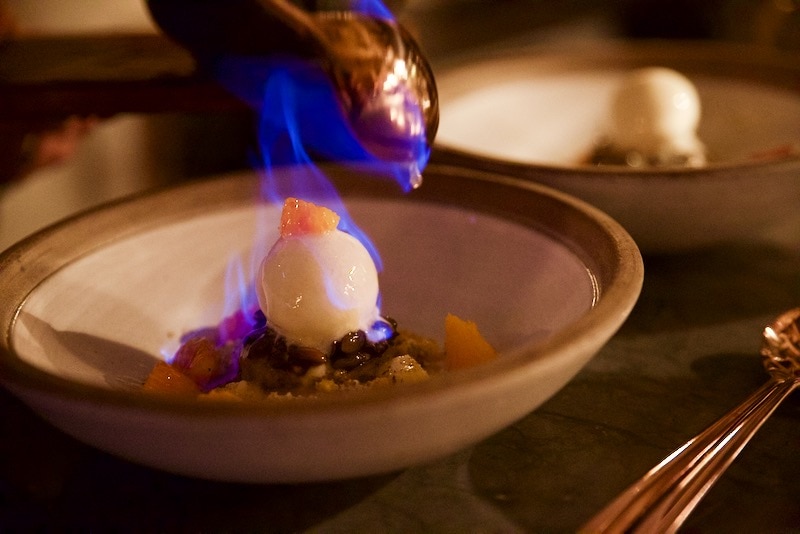 We finished with coffee and buckwheat donuts filled with buttermilk cream. I listened as the waiter told us how the coffee beans were rather significant. They were flown over from Costa Rica and then taken to the site of Niklas's first restaurant where they were roasted. It felt like a lovely tale to round off the experience.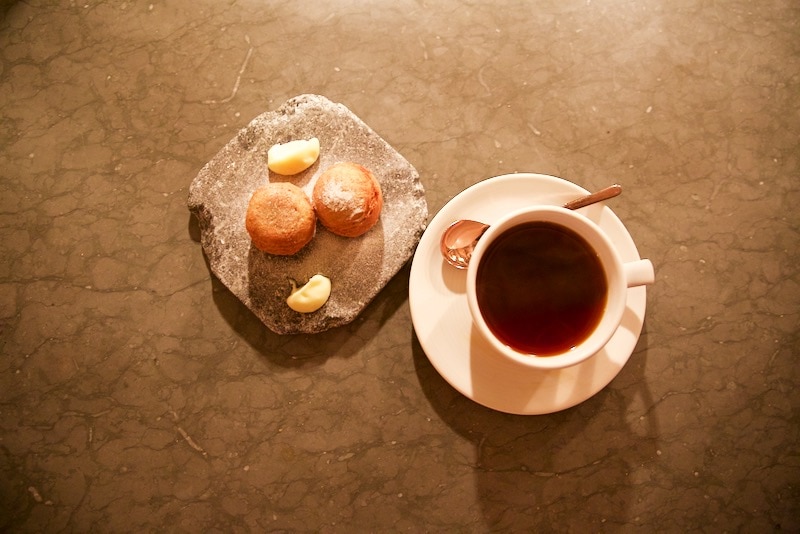 Several courses down, along with a few glasses of wine and a thimble of sherry, it was time to leave. While some may question whether a restaurant like this is gimmicky, perhaps to the detriment of the food, I would disagree. Yes, I was prepared for a meal of smokey flavours, but they were delicious, diverse and it didn't hold the food back.
The ambience was a great balance of big city buzz and super cool vibes, without being pretentious. By 5.45pm every table was filled with happy diners, eager to find out what all the fuss was about. As mentioned, service was spot on – delivered mainly by a young team of staff in their 20s and 30s.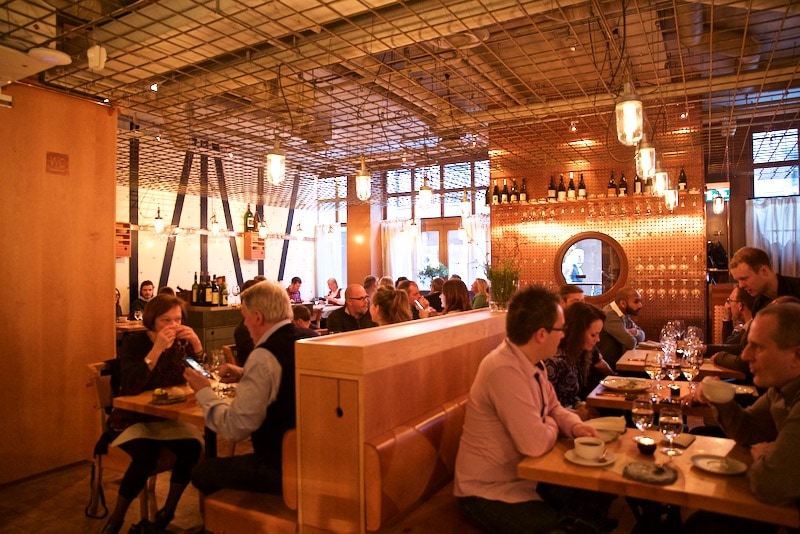 Ekstedt Review
It was wonderful to witness a chef going against the grain. Rather than looking to the future for weird and wacky cooking techniques (à la Heston and co), Niklas chose to look back through history and attempt to revive a cooking technique that was starting to disappear. The result? An exciting, multi-sensory, gourmet, meal – definitely worthy of its Michelin-star.
---
Thanks to the team at Ekstedt for inviting me to sample the 6 course tasting menu. The menu costs 1090 Kr (approx. £93) and the wine pairing costs 850 Kr (approx. £76).
If you're planning a trip to the Swedish capital, don't miss my guide to the best museums in Stockholm.
Enjoyed this post? Why not pin it?