A beautiful, ancient building, central location and a Charles Dickens connection make House of Agnes a perfect spot for a short break in Canterbury.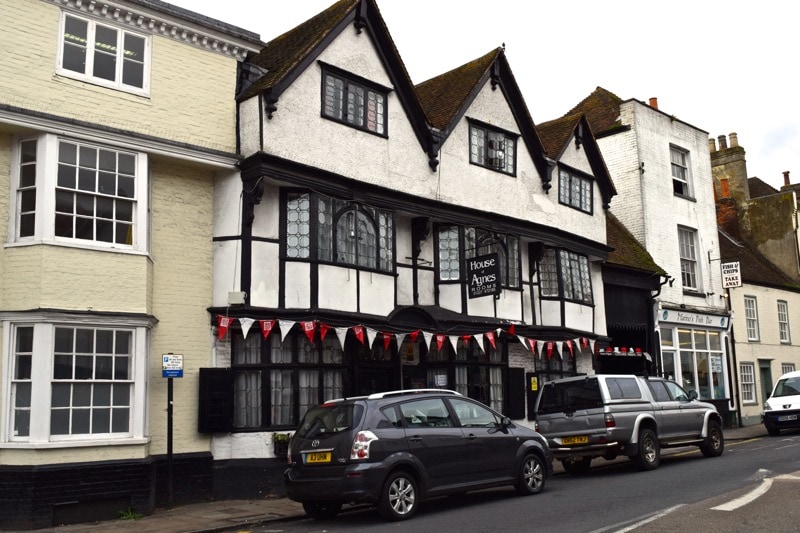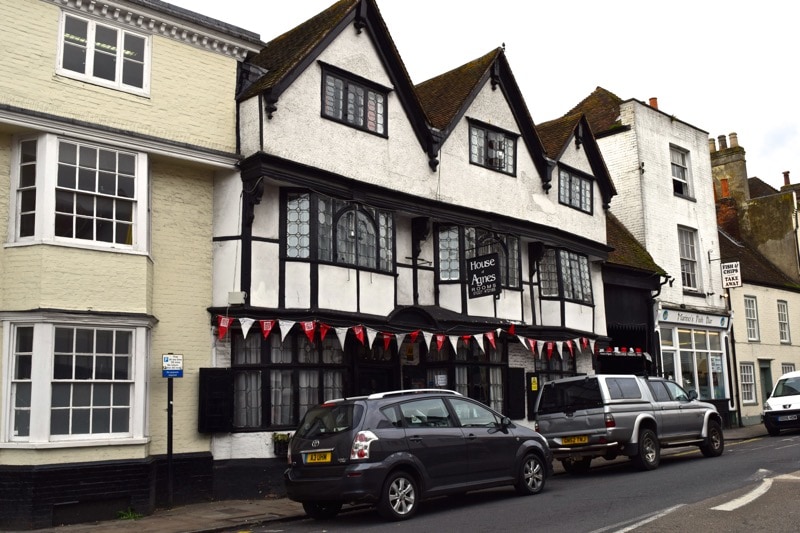 The 15th Century B&B sits on one of the main roads into Canterbury, moments from Canterbury West, the historic Westgate and foodie hotspot The Goods Shed. It was referenced by Charles Dickens in David Copperfield and has stayed true to its original features, with plenty of wonky beams and old–fashioned windows. If you switched the electric lights for candles, it would be like returning to the 1400s.
Yet, some of the building's history is hidden… During a building project, a Roman skeleton was discovered in the garden (and was consequently reburied!). Even more exciting – an extremely rare Astrolabe Quadrant dating from 1388 was unearthed a few years ago. Described as 'one of the greatest discoveries of its kind in the world' it went on to become a feature in the British Museum.
On check in, staff were helpful and full of knowledge – eager to make my stay as comfortable as possible. Downstairs were several communal rooms – something I really like at hotels. They created the feeling of a home-from-home rather than a stiff hotel.
Along with a breakfast room, there was a cosy library with comfy armchairs, books and plenty of info on the area. It was packed with character – a red vintage mini propped up some leather-bound novels and the brickwork and ancient fireplace added to the charm. If I ignored the giant TV, it reminded me of a traditional 'reading room'.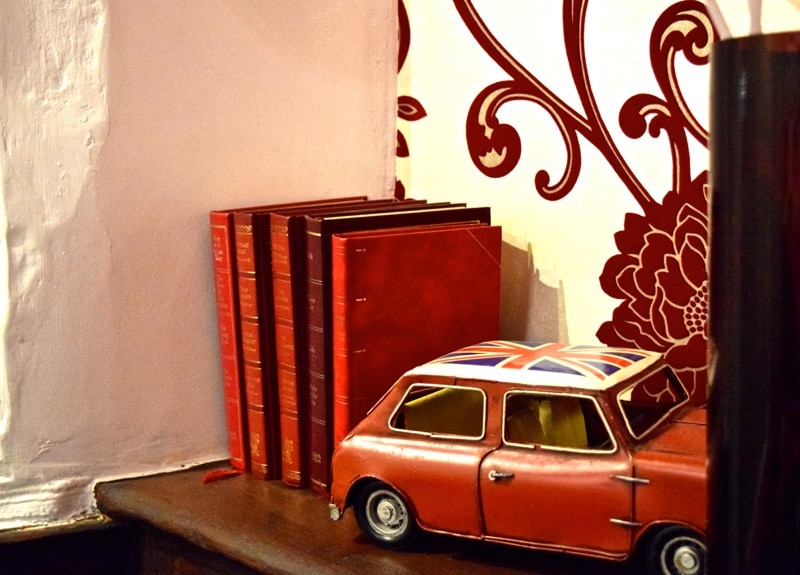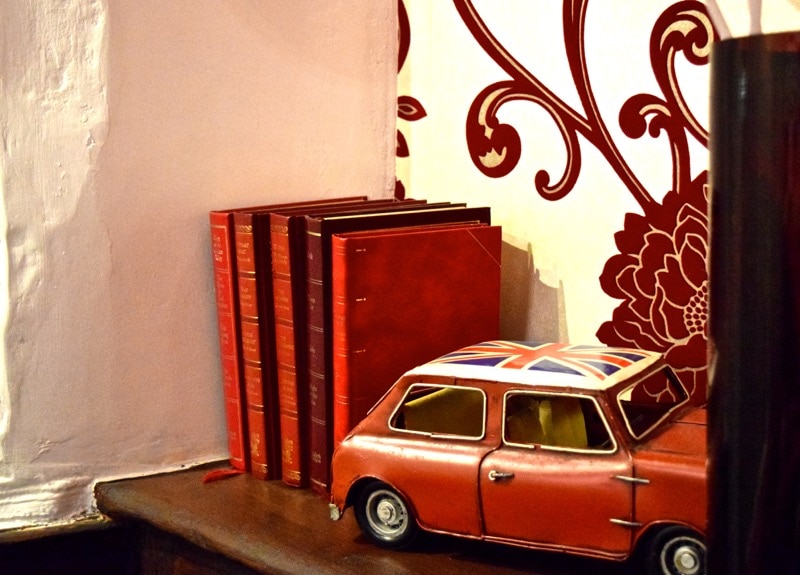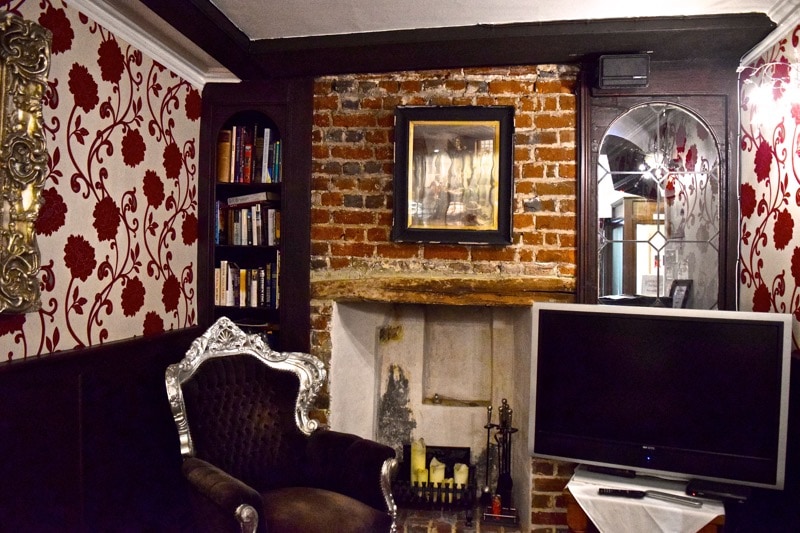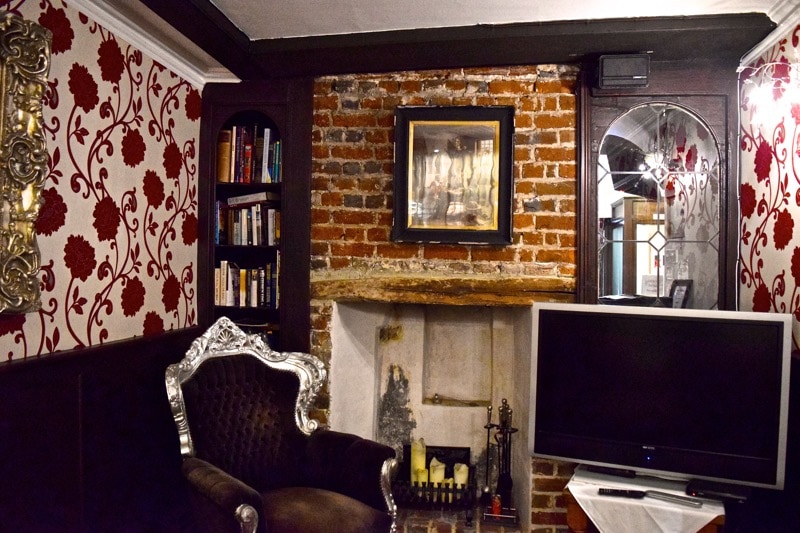 A large room was set off the reception area featuring a bar area, conservatory, an area to play board games and a route out to the gardens and car park. This room was beautiful – with beams supporting the low ceiling, and more exposed brickwork. To fit in with the character of the building, several vintage objects were dotted around – my favourite being the telephone.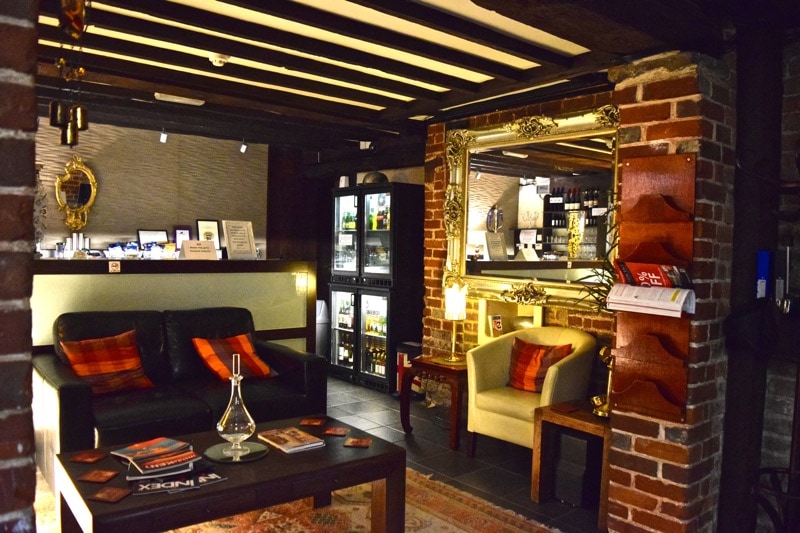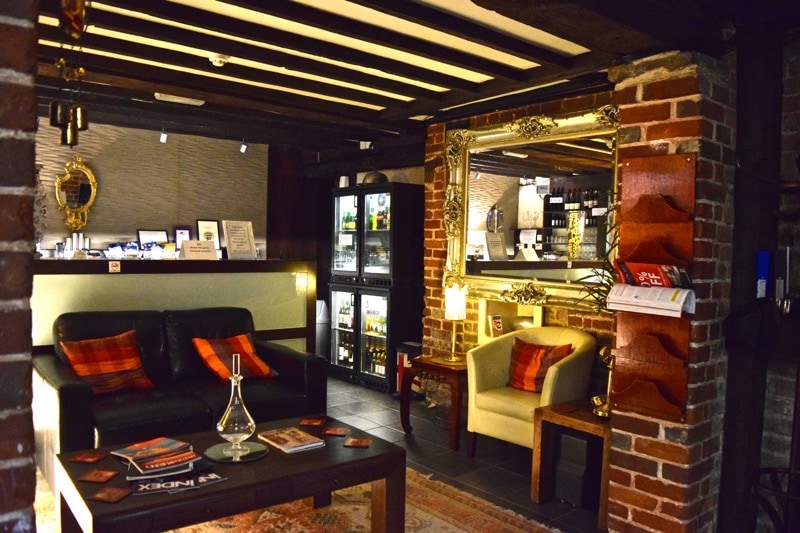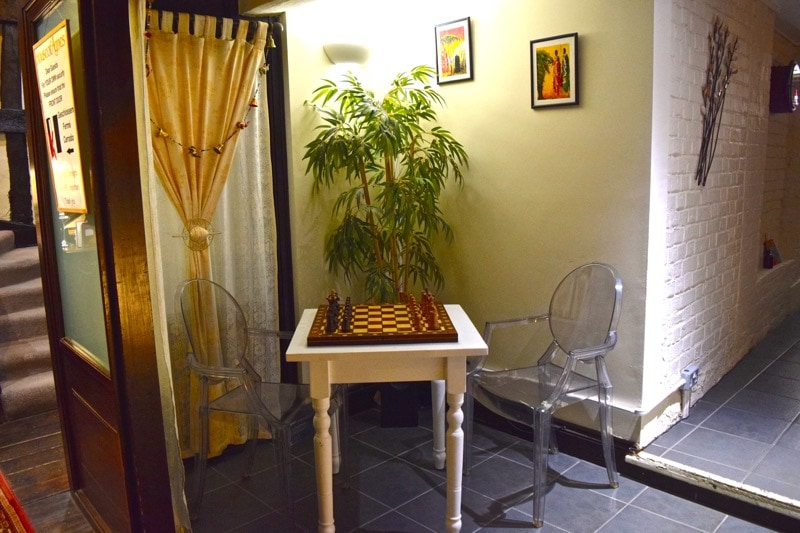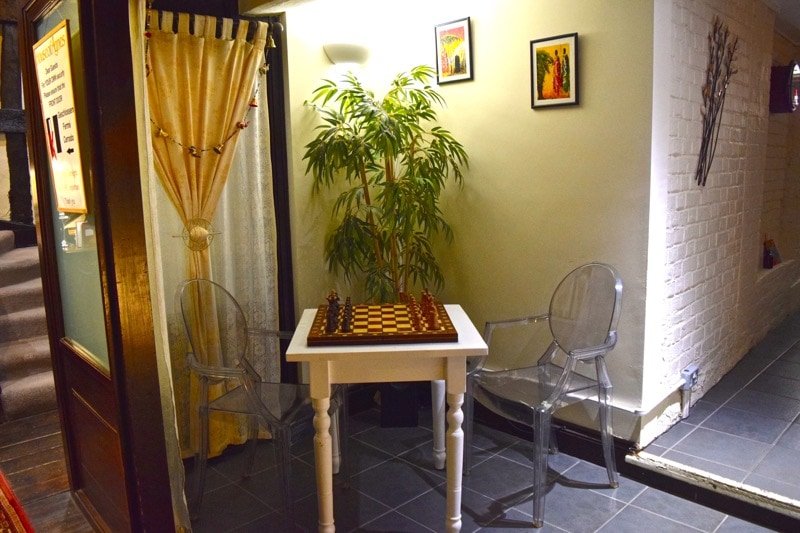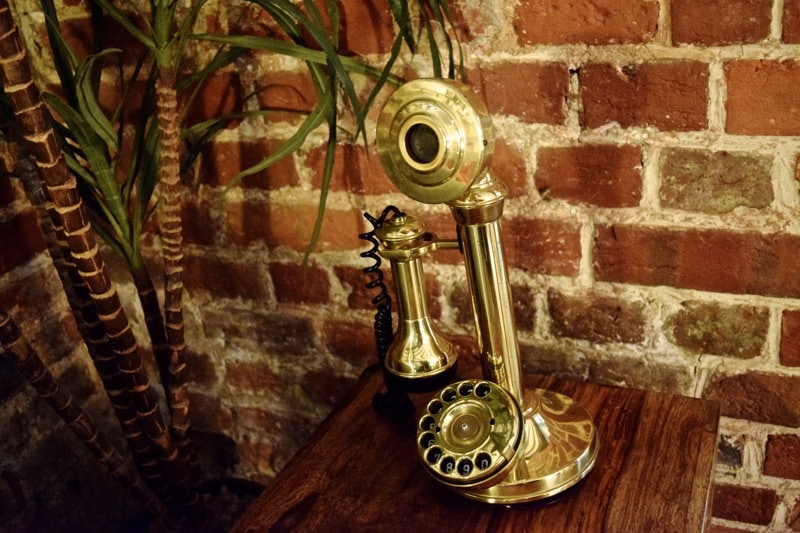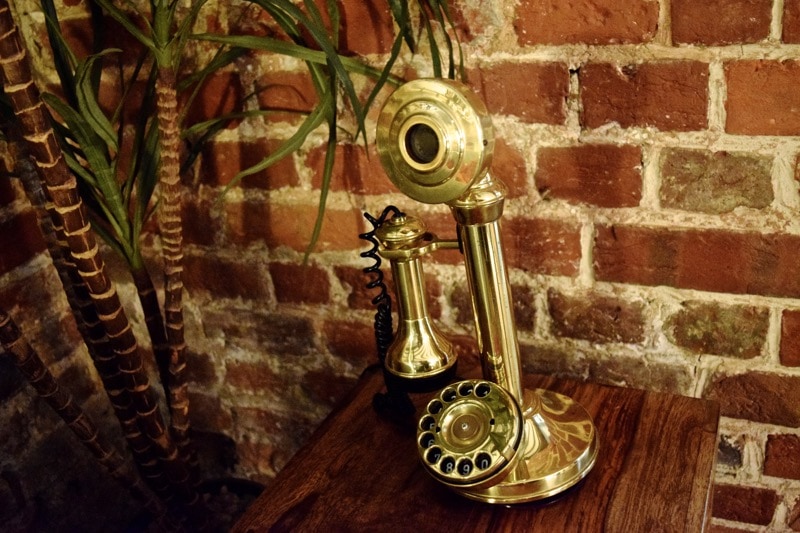 The bar area was fully-stocked … but although House of Agnes runs it as an 'honesty bar' (write on the list what you had), I didn't have time to take advantage of it!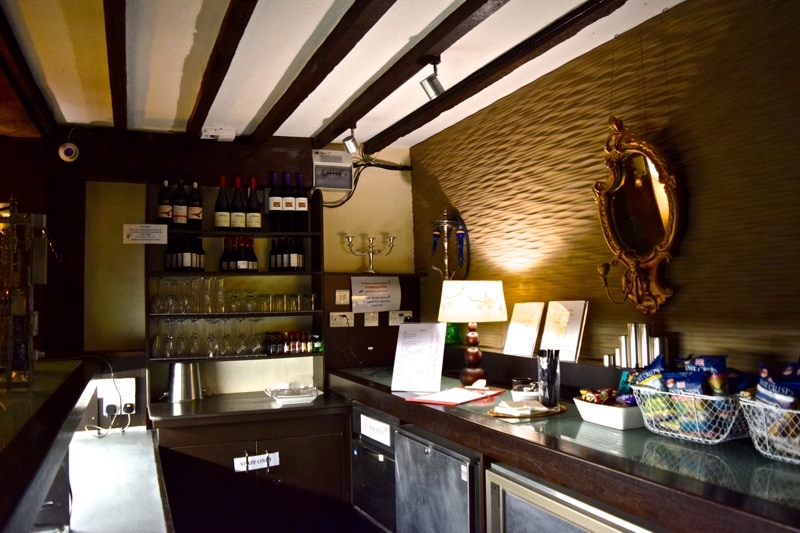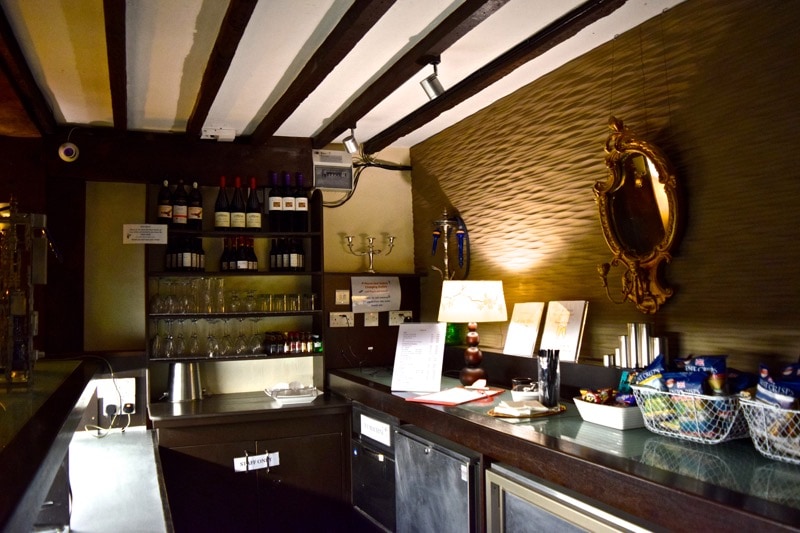 There were 8 main bedrooms, along with a newer annexe called the stables. Each room was named after a foreign city – from Tokyo to Mumbai. I found it a little unusual that in an area steeped with history, the rooms were named after foreign cities rather than playing on the local character (surely a Dickens theme would have worked perfectly!)
I ventured up the creaky staircase to the Mumbai Room and opened the door to a modest-sized double room decorated with splashes of rich, Indian colours. Orange curtains, a rough red and gold silk bedspread and a scattering of objects to fit in with the theme. The wooden elephants caught my eye, looking like they were on a mission under the sink! There was also an exotic gold soap dispenser, characterful lighting, and a low metal stool/table that reminded me of one I was lusting after in Morocco.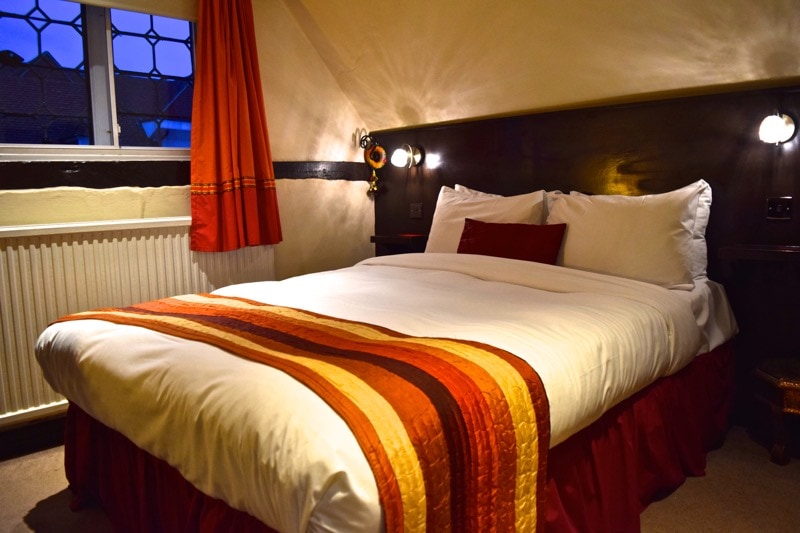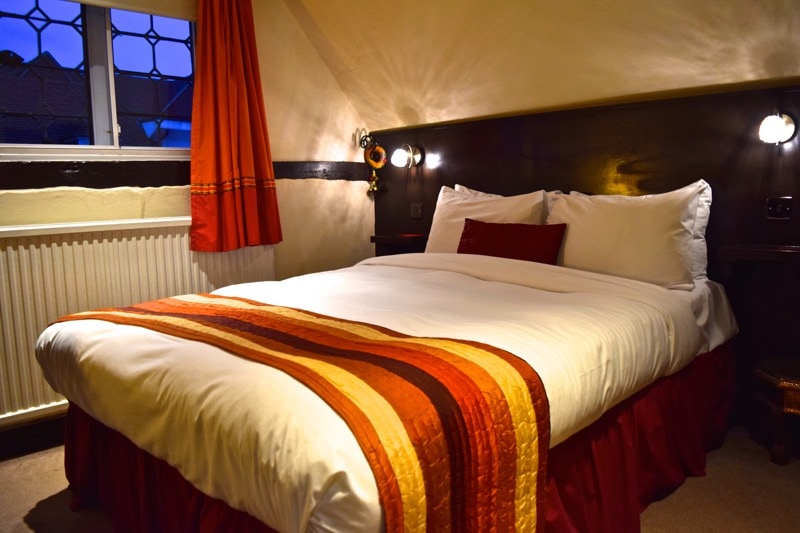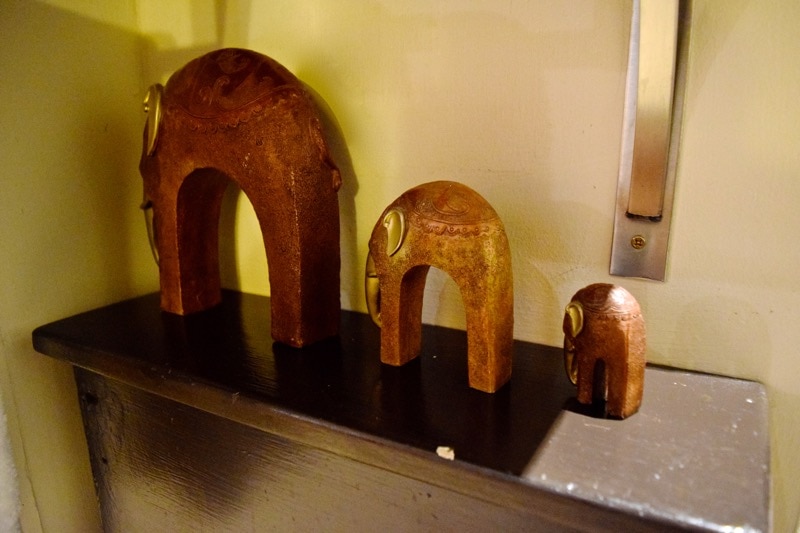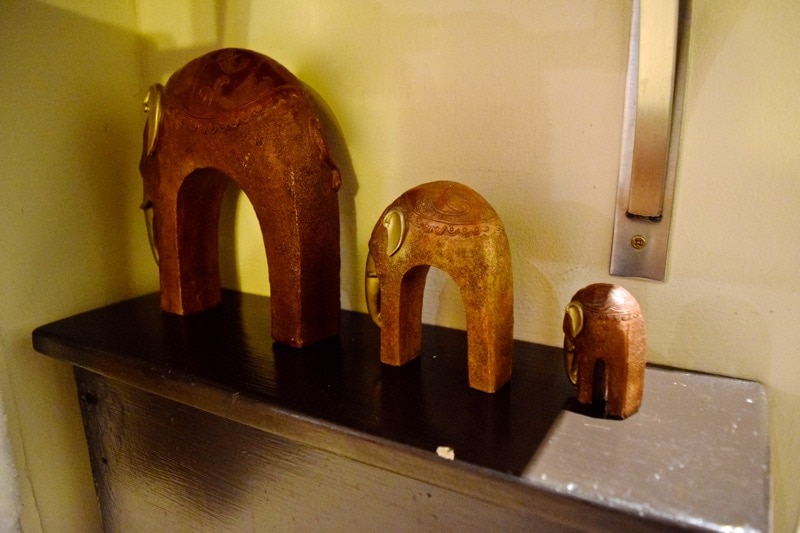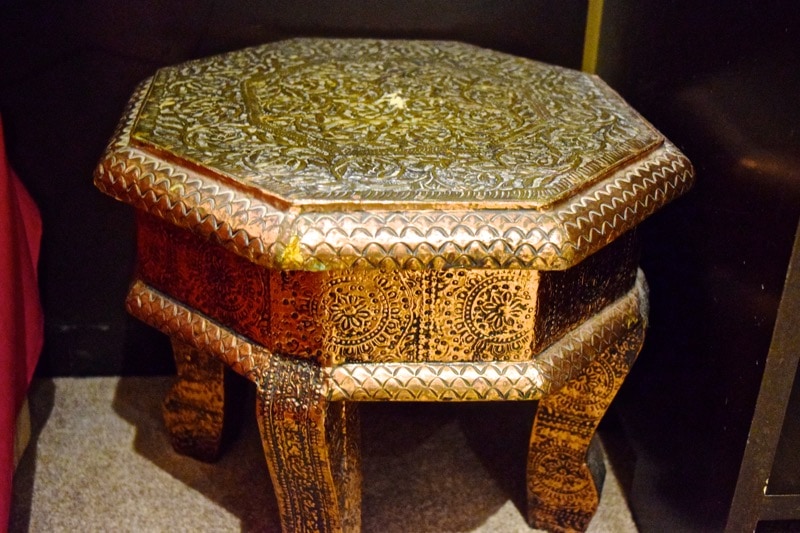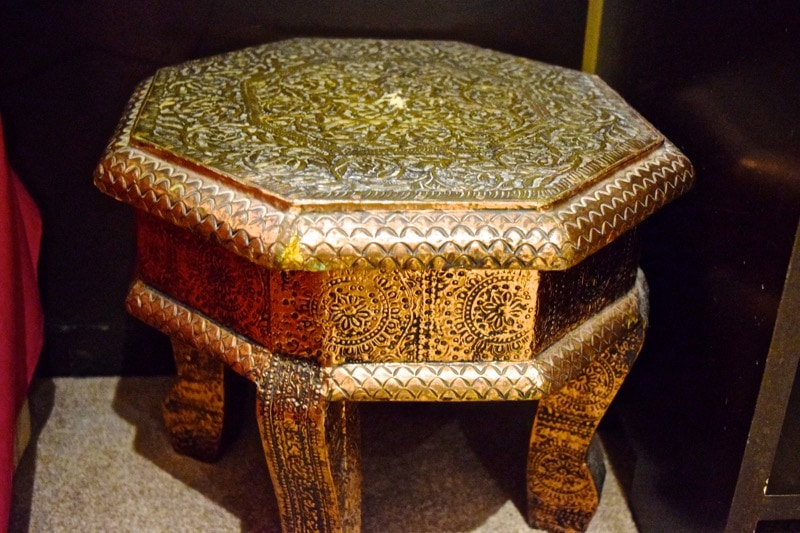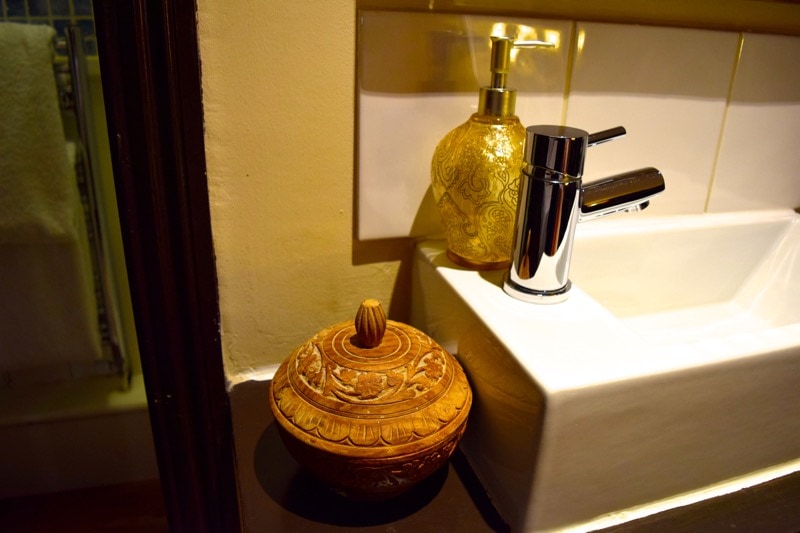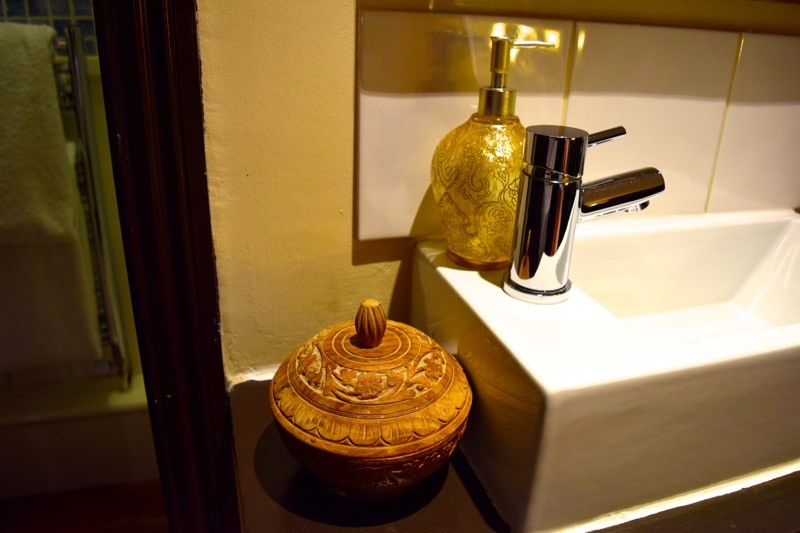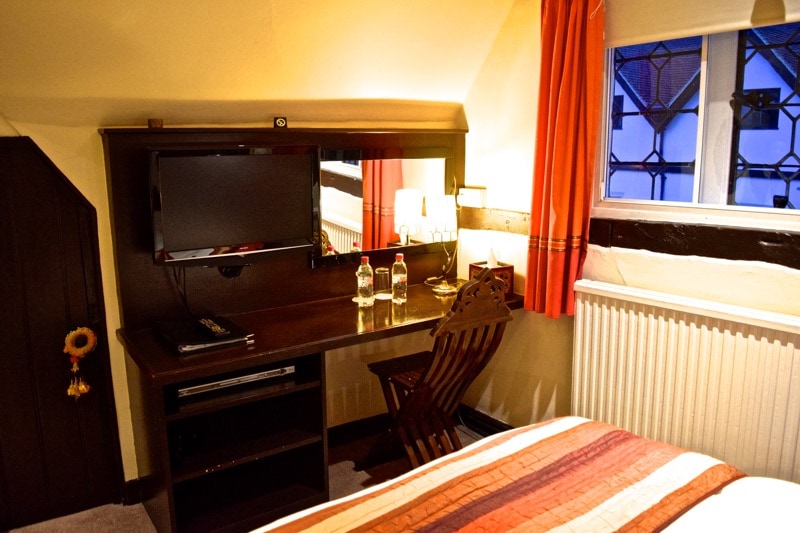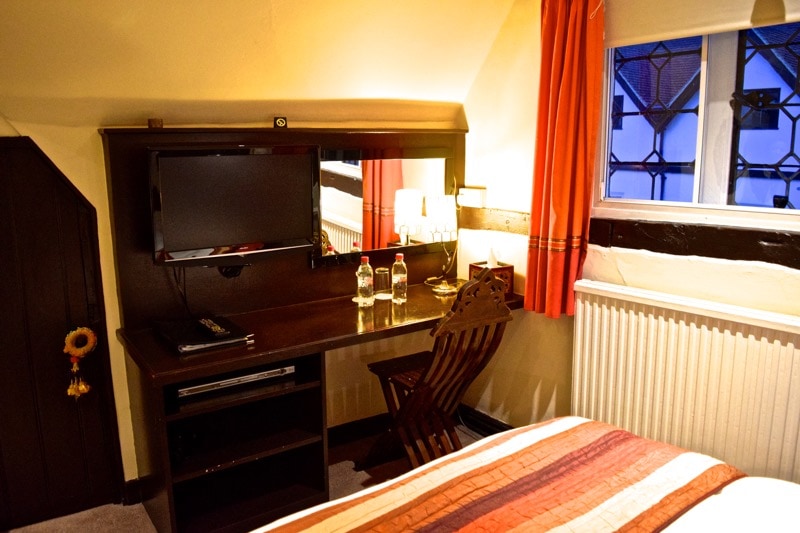 Off to the side was a compact shower room and toilet, and at the far end was a hidden wardrobe – which caused much amusement as I ventured inside and pretended to be a giant!
Breakfast was included in the price and served in the dining room at the front of the building. On offer a continental spread including cereals, yoghurts, toast, tea and coffee. There were also several hot dishes available – so I opted for some poached eggs on toast. As I noticed on my evening out in Canterbury, there is a real pride for Kent's local produce. The eggs on offer were free-range from a local farm (and delicious) and the hearty 'Kentish Breakfast' featured homemade sausages.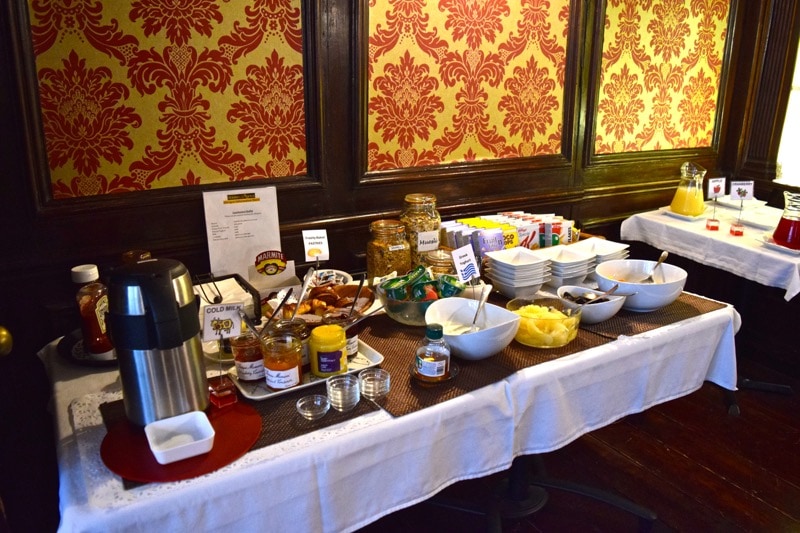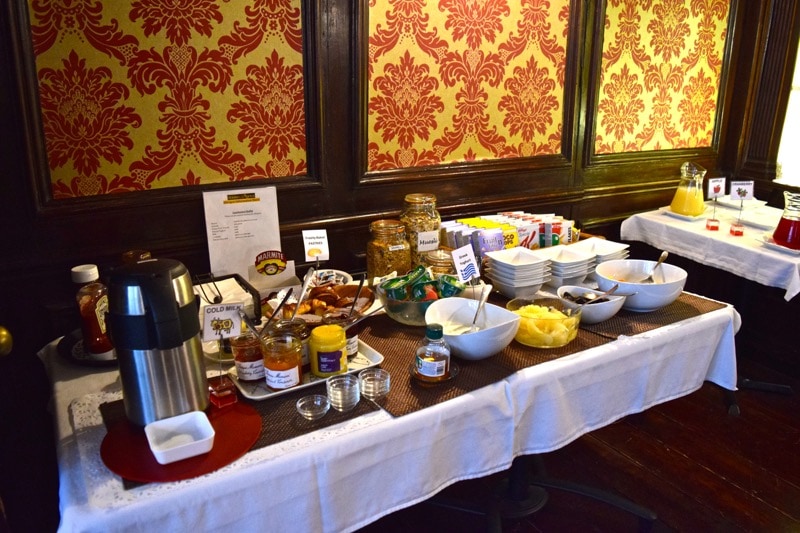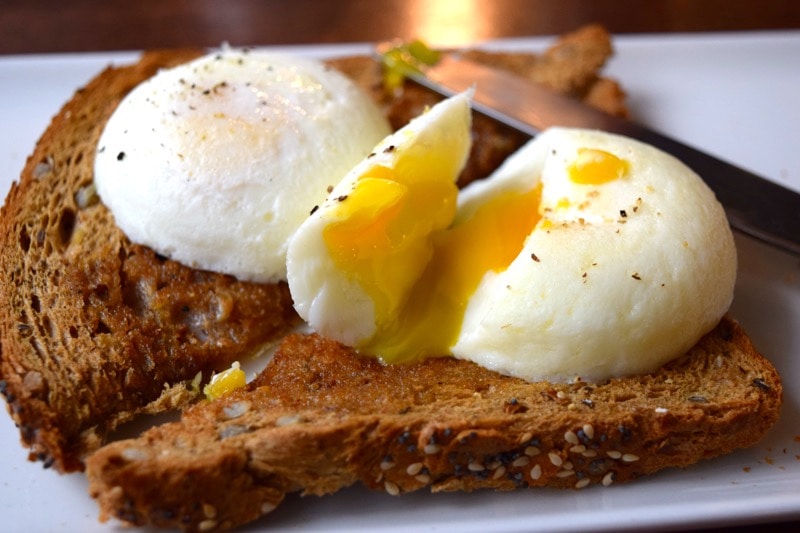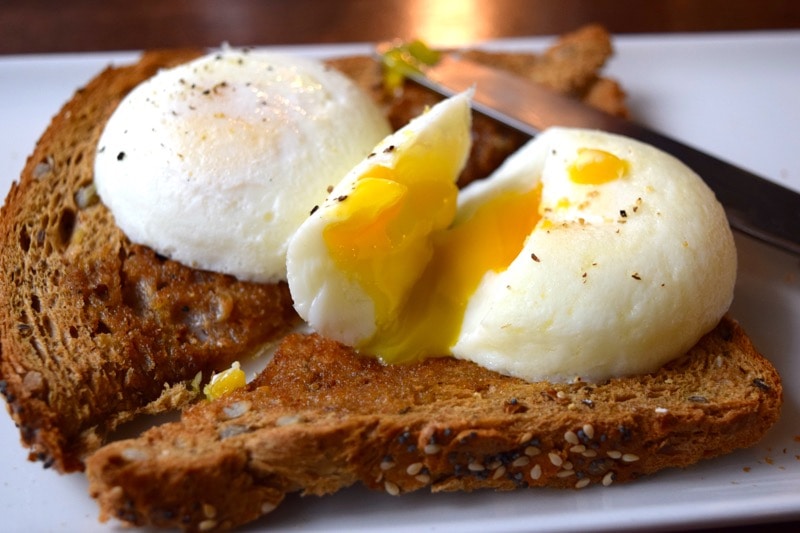 After breakfast I bumped into the manager who was a full of warmth and a fountain of knowledge. She told me stories of how they discovered the Astrolabe Quadrant and how the B&B has changed over the years. I particularly liked her suggestion that some enjoy the garden so much they choose to don some gloves and pull up some weeds! What could be more homely?! She clearly loved her business, was proud of the area and keen to preserve Canterbury's charm of days gone by.
House of Agnes is in the ideal location for a short break in Canterbury, perfect if you're looking for somewhere steeped with history and character.
Find out more about House of Agnes here.
Thanks to Visit Kent for inviting me to explore their wonderful county. Check out their site for all the latest things to do and inspiration on where to go. As always, opinions are my own!