From size, comfort and materials, to its unique design features, my Osprey Sojourn Porter 30L review will help you decide if this is the travel backpack for you.
There's no denying that packing for a trip can come with a fair amount of stress. Whether I'm planning a little weekend getaway with friends, or I'm heading off on a big holiday, I nearly always find myself cramming items into my backpack and ending up in a bit of a muddle as I search for them on the go! There's nothing worse than queuing at airport security and feeling like you're rummaging for those key items, and then having to repack everything on the other side!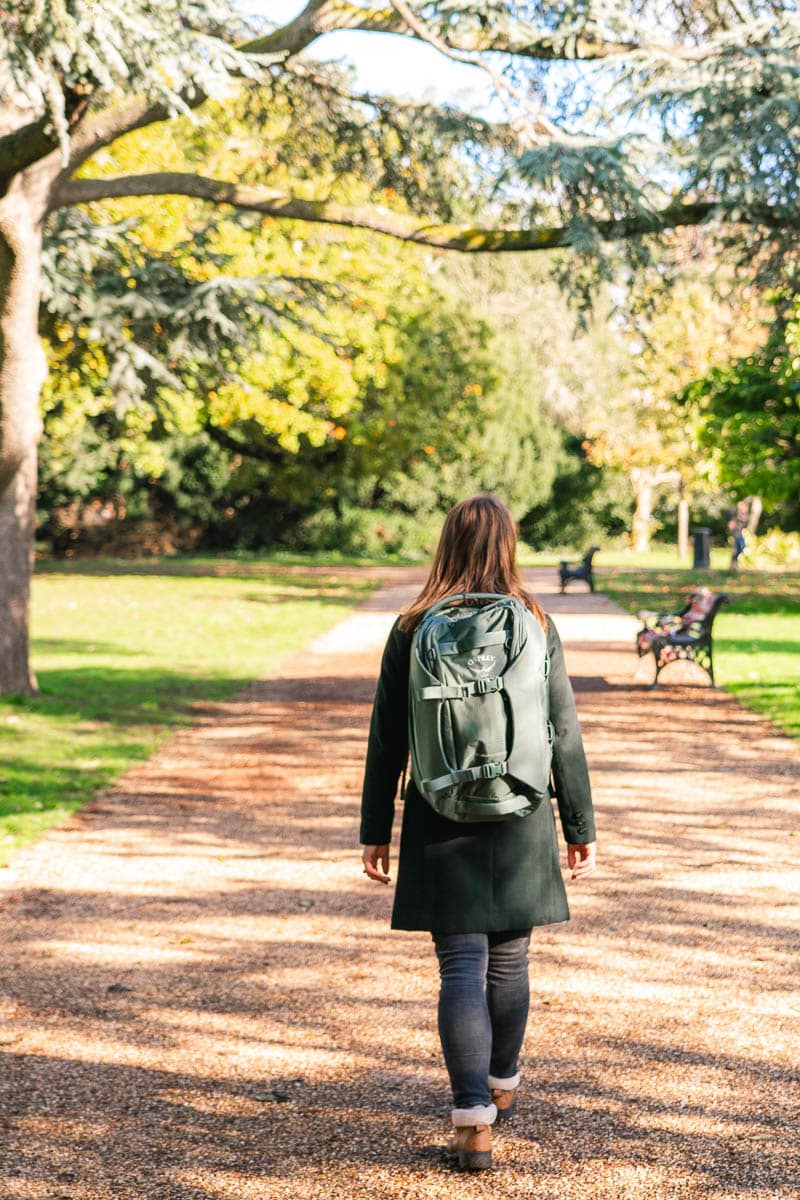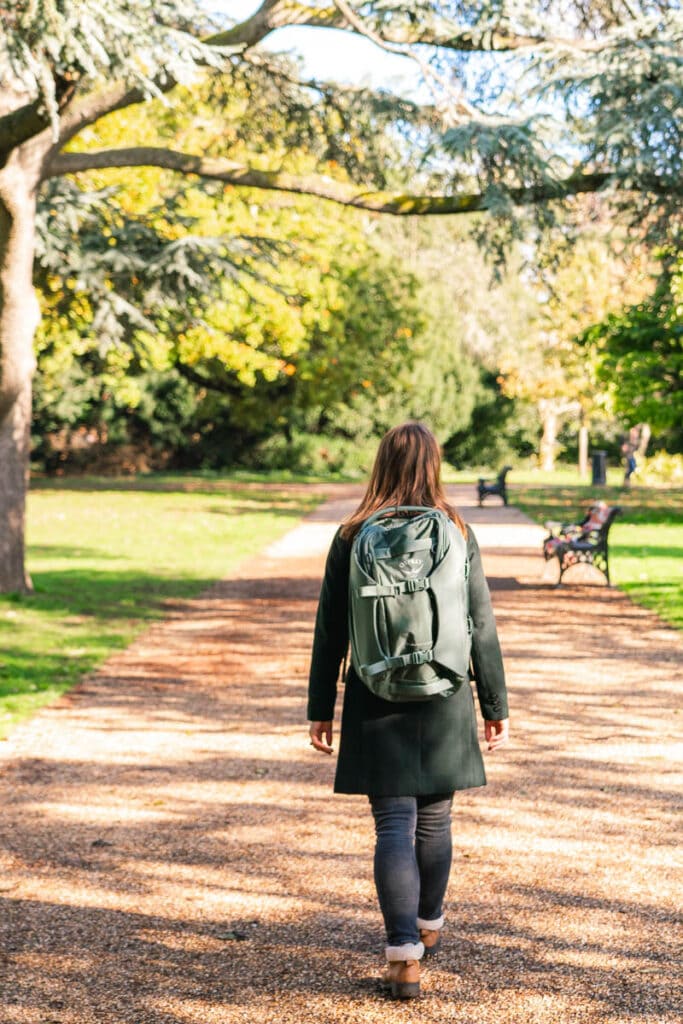 Occasionally a bag comes along that totally revolutionises the way I travel. That's how I felt when I got my hands on the Osprey Sojourn Porter 30L. It's a brilliantly designed bag which really feels like it has my every need covered.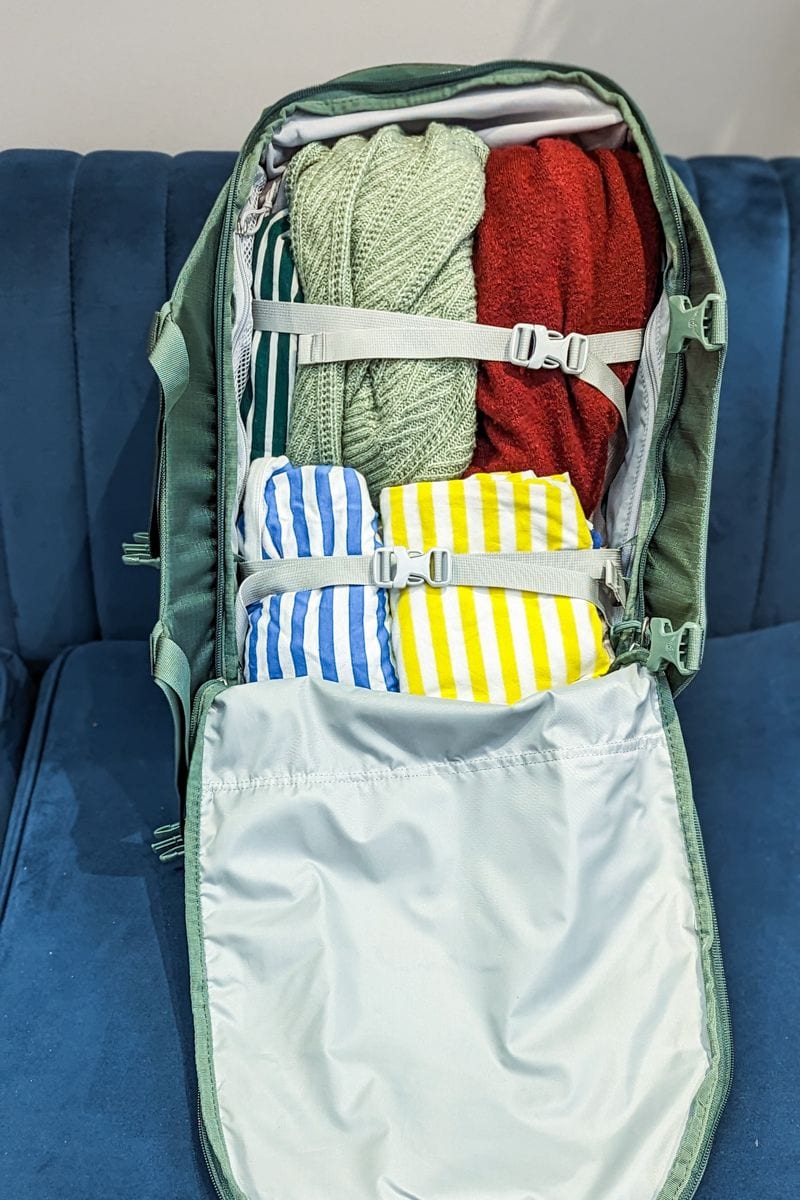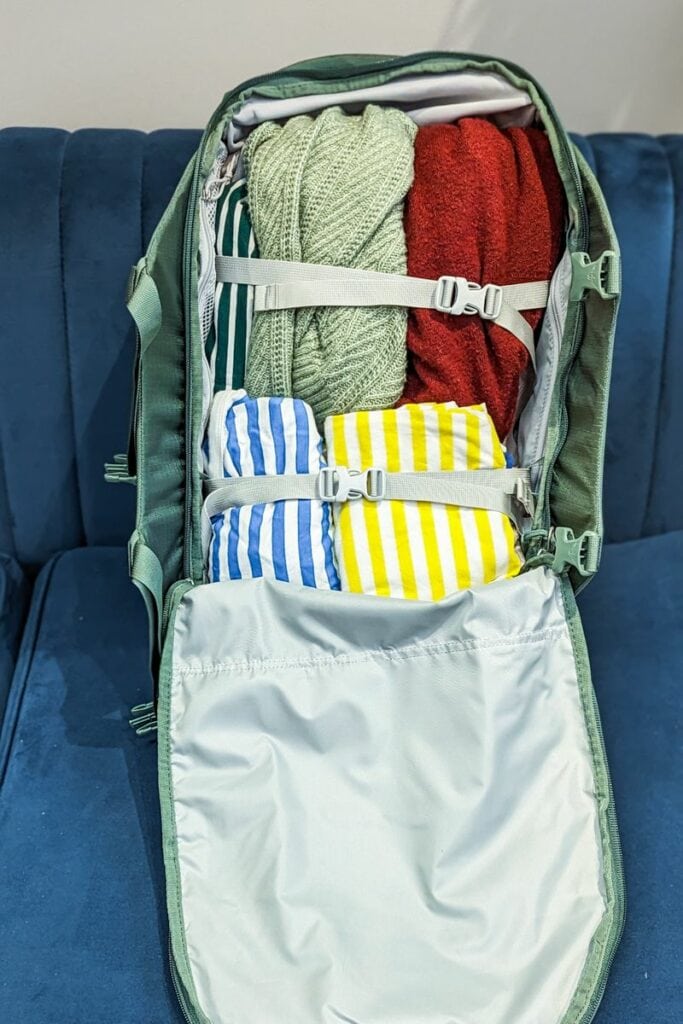 I don't do product reviews that often – only when I think there's something to shout about! Coming up, I'll be diving deep into why the Osprey Sojourn Porter 30L is an ideal travel backpack, with information on the specification, comfort, materials, design, layout and more. I'll be highlighting a few unique features too.
Whether you're a digital nomad on the road, you're planning a big trip through South America or you're simply searching for your next travel backpack, hopefully my Osprey Sojourn Porter 30L review will come in handy!
---
Osprey Sojourn Porter 30L – Travel Backpack Review
There's a lot to say about this backpack! To keep things quick and easy to read, I've divided my review of the Sojourn Porter into sections. I'll run through its size and shape, how easy it is to use, how comfortable it is and more!
What makes the Osprey Sojourn Porter 30L unique?
Let's kick off with a few reasons why this isn't like every other travel backpack on the market. One of this bag's unique features is the way it can be adapted on the go. The shoulder straps and hip belt can be tucked away inside the bag. This means you can convert it from being a streamlined duffel bag to a backpack with straps.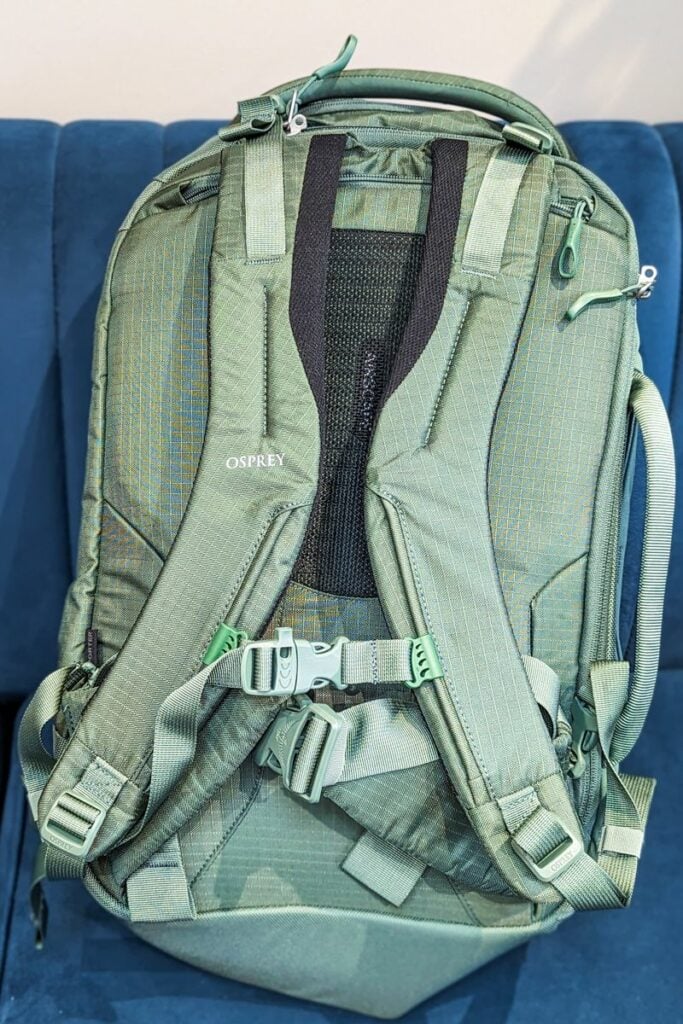 Tucking the backpack straps in makes it easier for checking in too. It also means you don't HAVE to use the hip belt – something I'd only really use if I had a really heavy load to carry. I think the way you can change the style so easily is absolutely genius!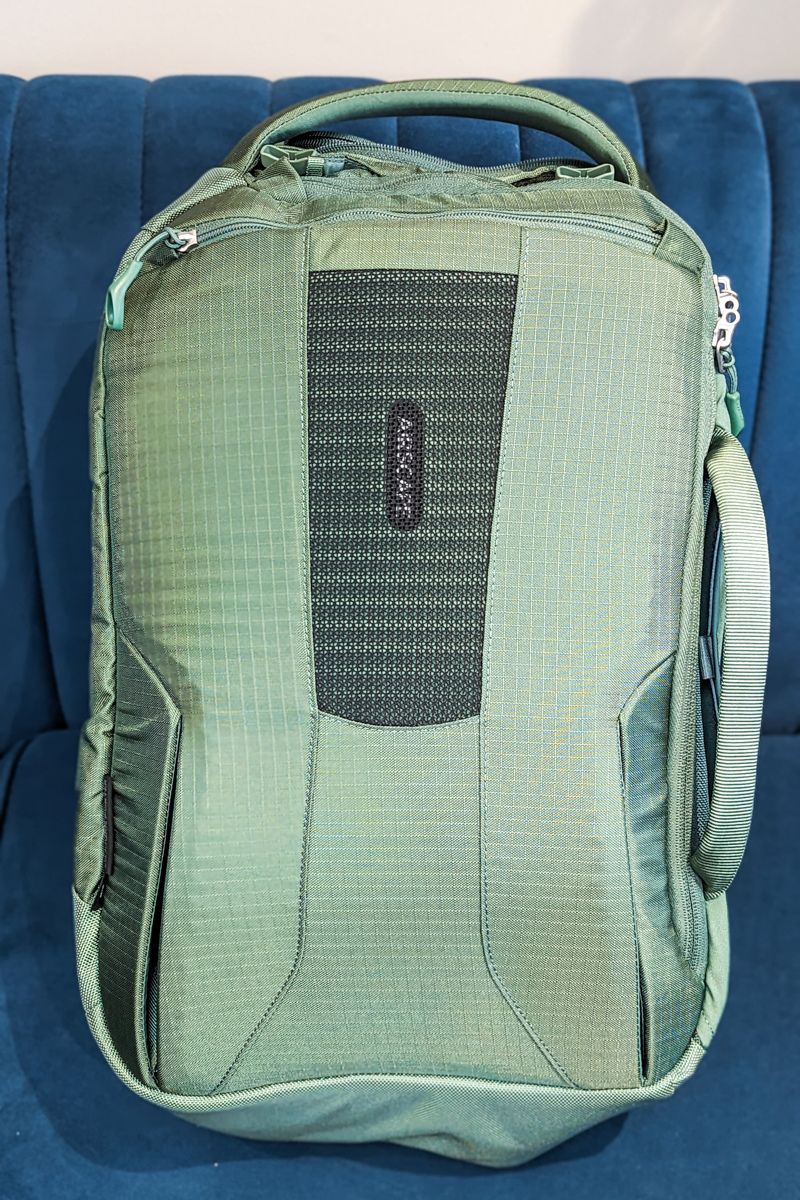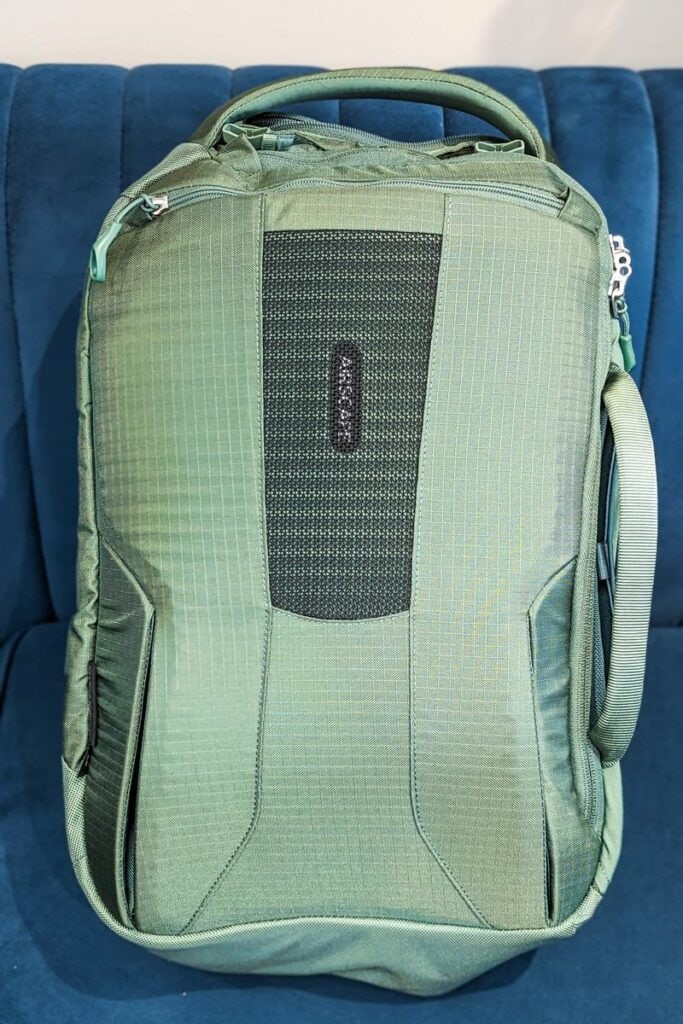 I also think the number of storage areas is immense. When it arrived, I spent a good five minutes zipping and unzipping all the different pockets, figuring out what I would store where!
There's also a clever way of compressing the bag with what Osprey describes as 'Straightjacket Protection'. Essentially you can pull the compression straps across the front which will make the bag a lot smaller if it's not totally crammed full of belongings.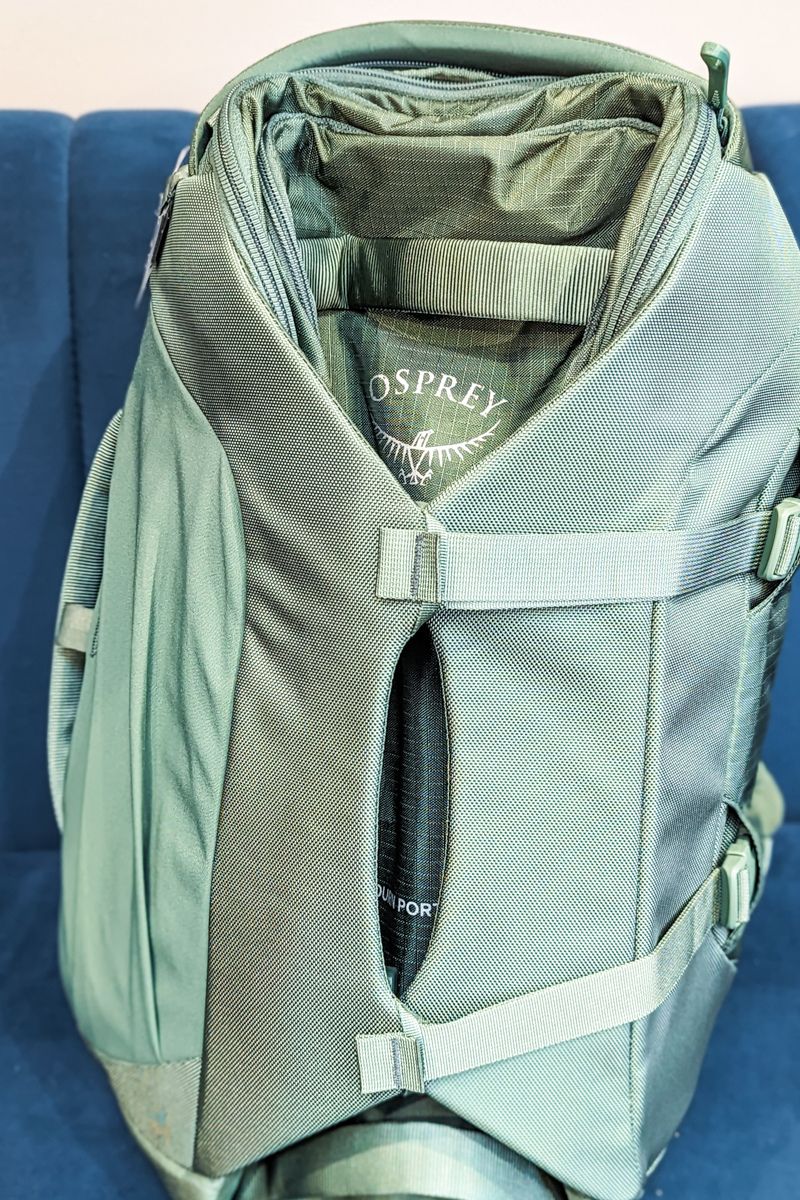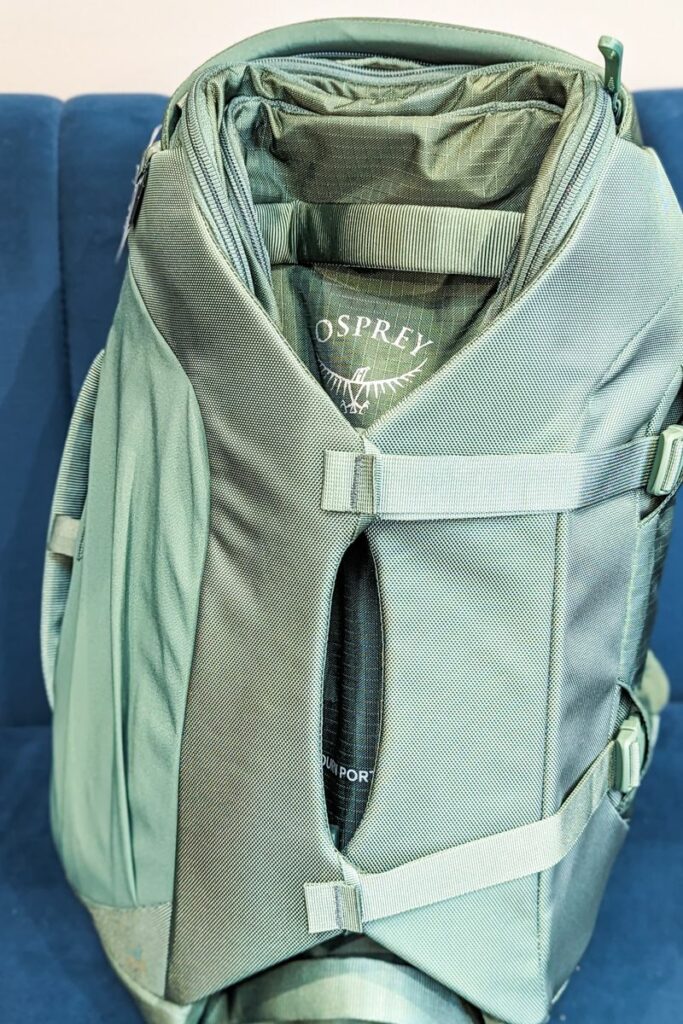 It's also made from durable, sustainable materials, including a recycled fabric which has a special coating to make it drizzle-proof.
Each bag comes with a unique QR code attached too, meaning you can register your bag and if it goes missing, you'll be able to track it.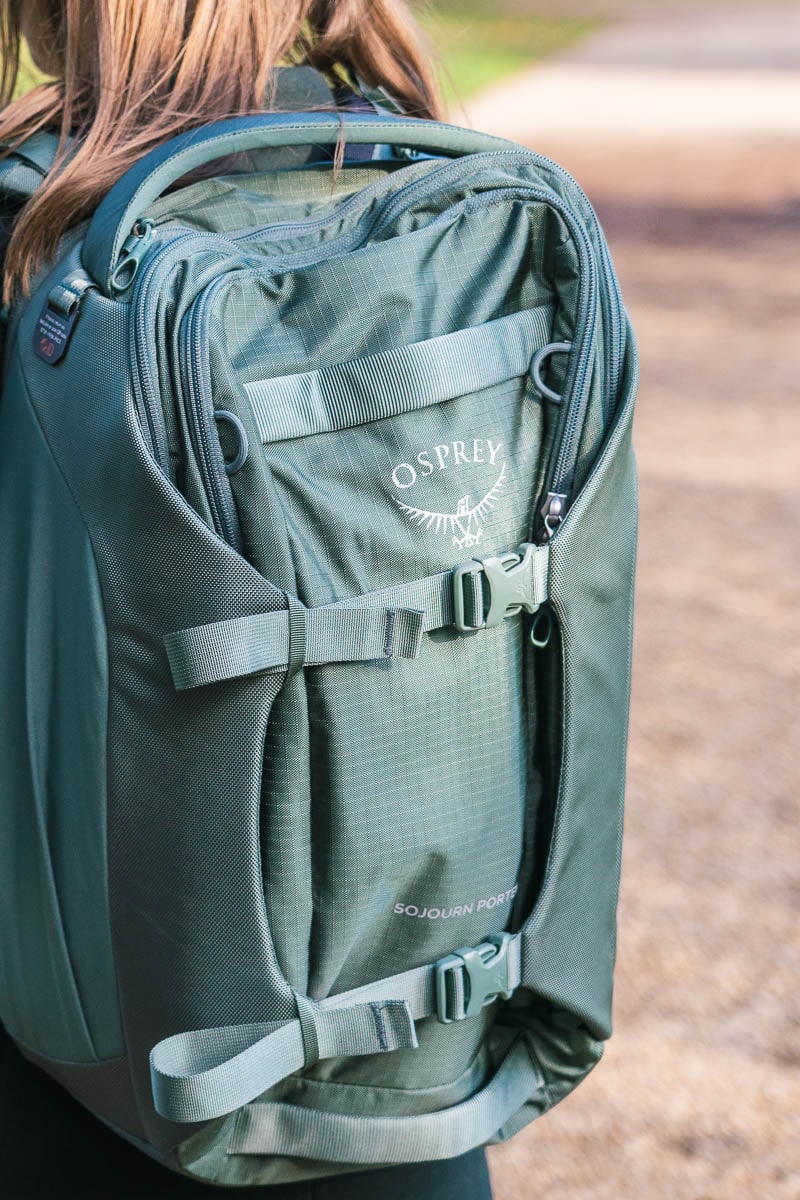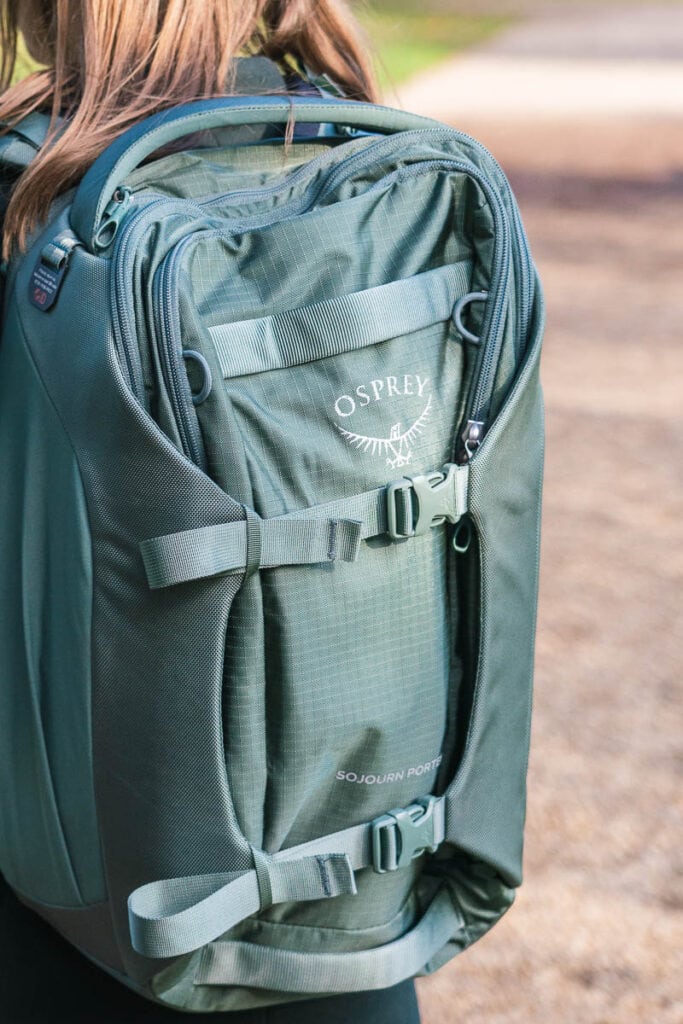 Storage on the Osprey Sojourn Porter 30L
With so many airlines now charging to take on even a small suitcase to put in the overhead lockers, there's never been a better time to invest in a really spacious travel backpack.
I think this backpack would work well for a long weekend, or maybe even a week if you're extra savvy. It would be permitted within your free carry-on baggage allowance, and fit under the seat in front of you. It's so roomy, with tonnes of pockets, which make it easy to organise your belongings.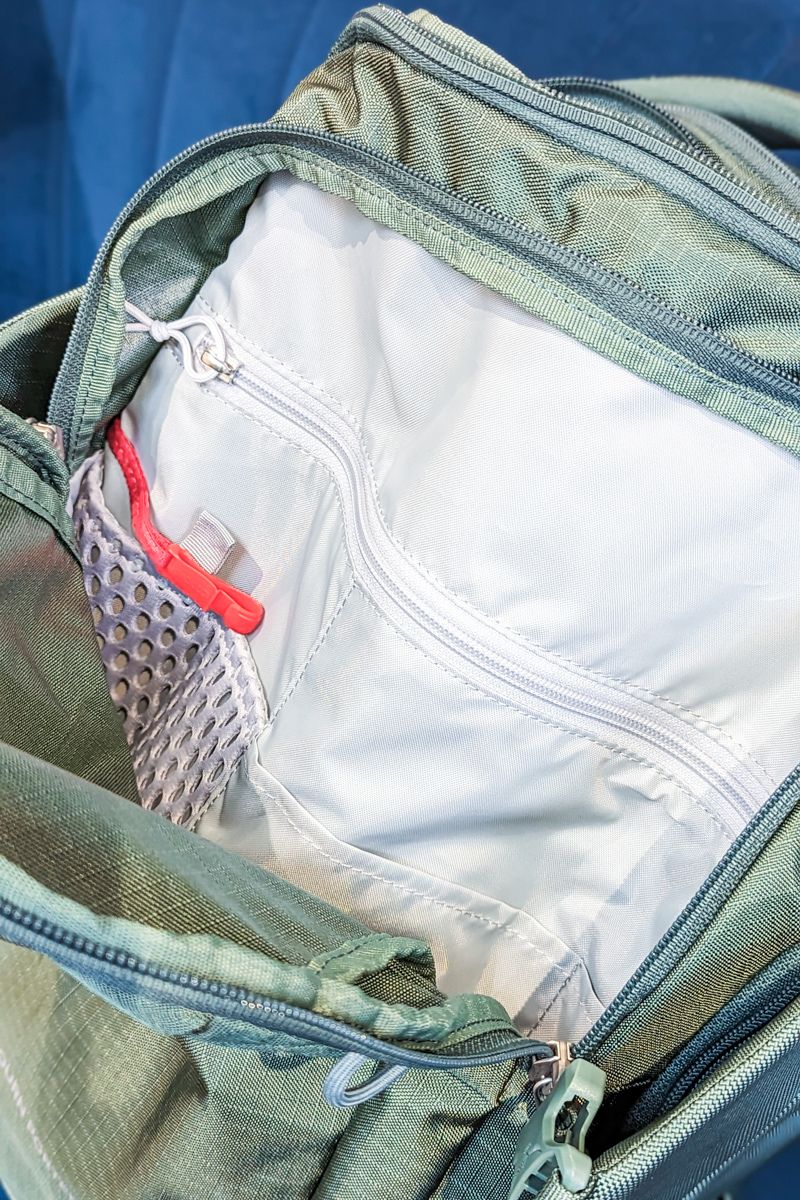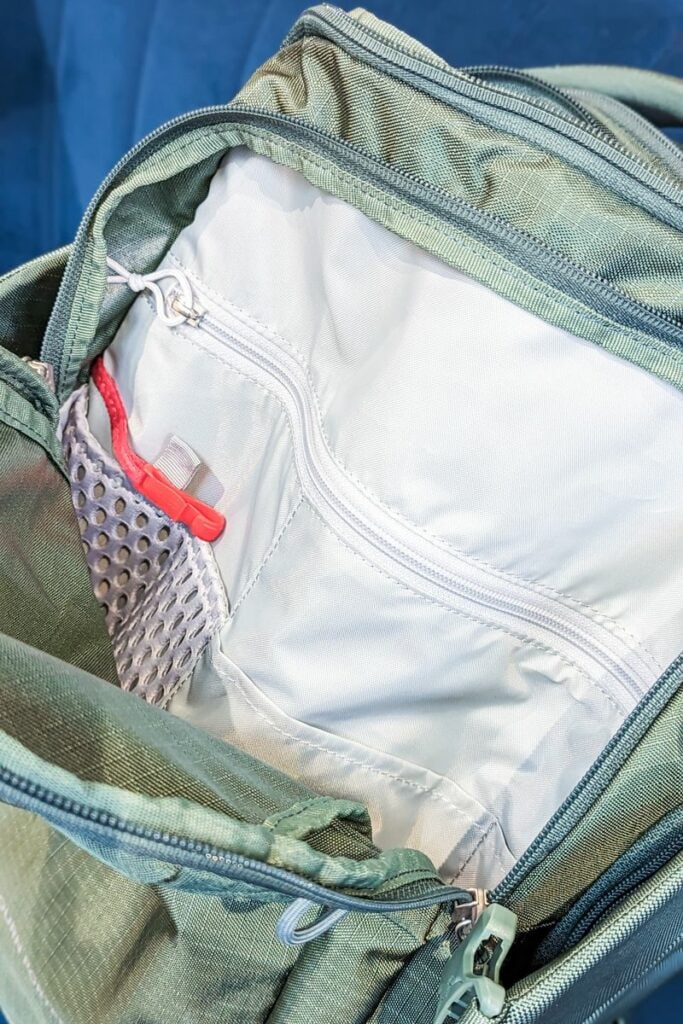 The main compartment can be unzipped all the way around, making it really easy to find what you're looking for. There are two long side pockets in there too – really handy for items like socks or underwear. If you're packing for a long weekend, I'd recommend using a couple of packing cubes to organise your clothes. I love that there's an easily-accessible zip pocket at the top. It's in the perfect spot for storing your plastic bag of toiletries or your phone and passport when you're passing through airport security.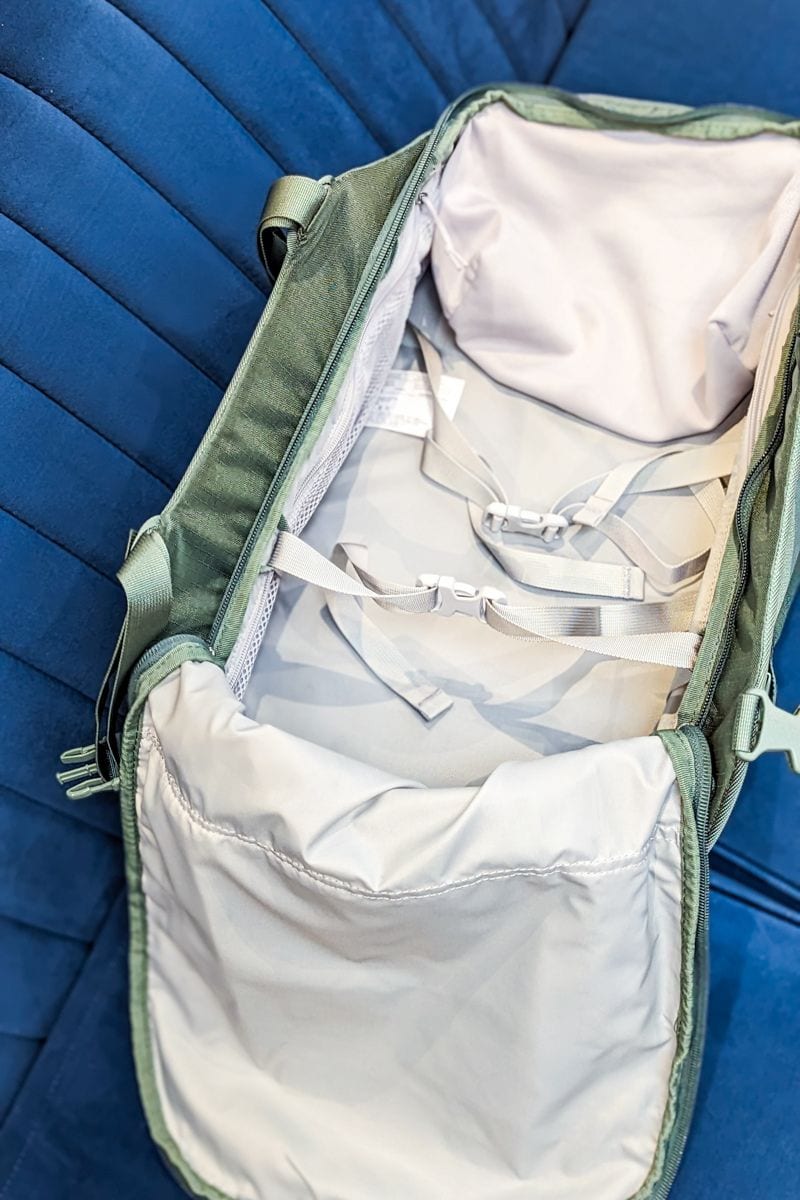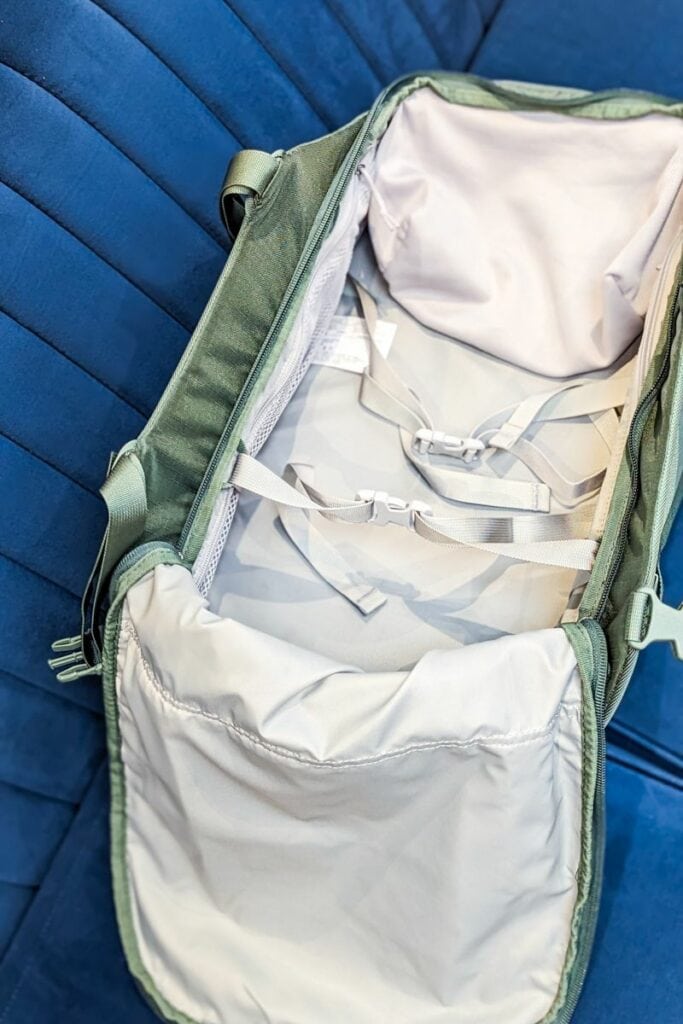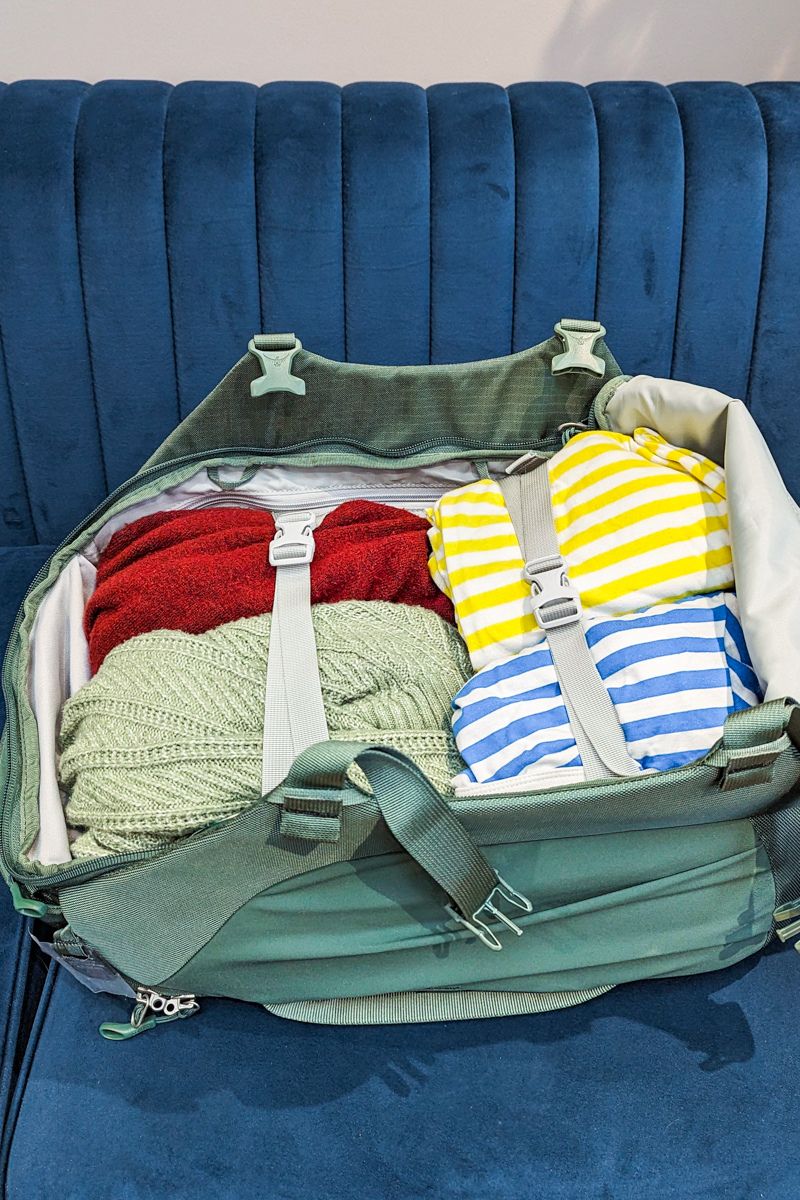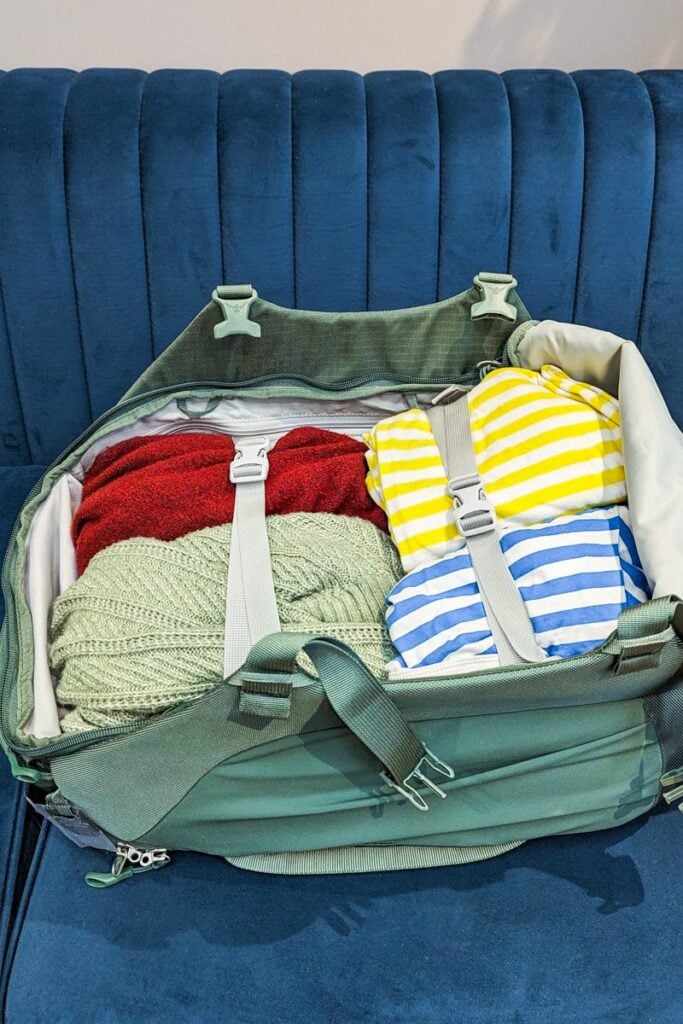 There's a padded laptop sleeve at the back, which fits a 15-inch laptop. It's also a great place to keep documents flat. I like that this isn't in the main compartment. With my old travel bag, I was always having to fiddle around getting lots of items out whenever I needed to get my laptop out at security. It drove me mad!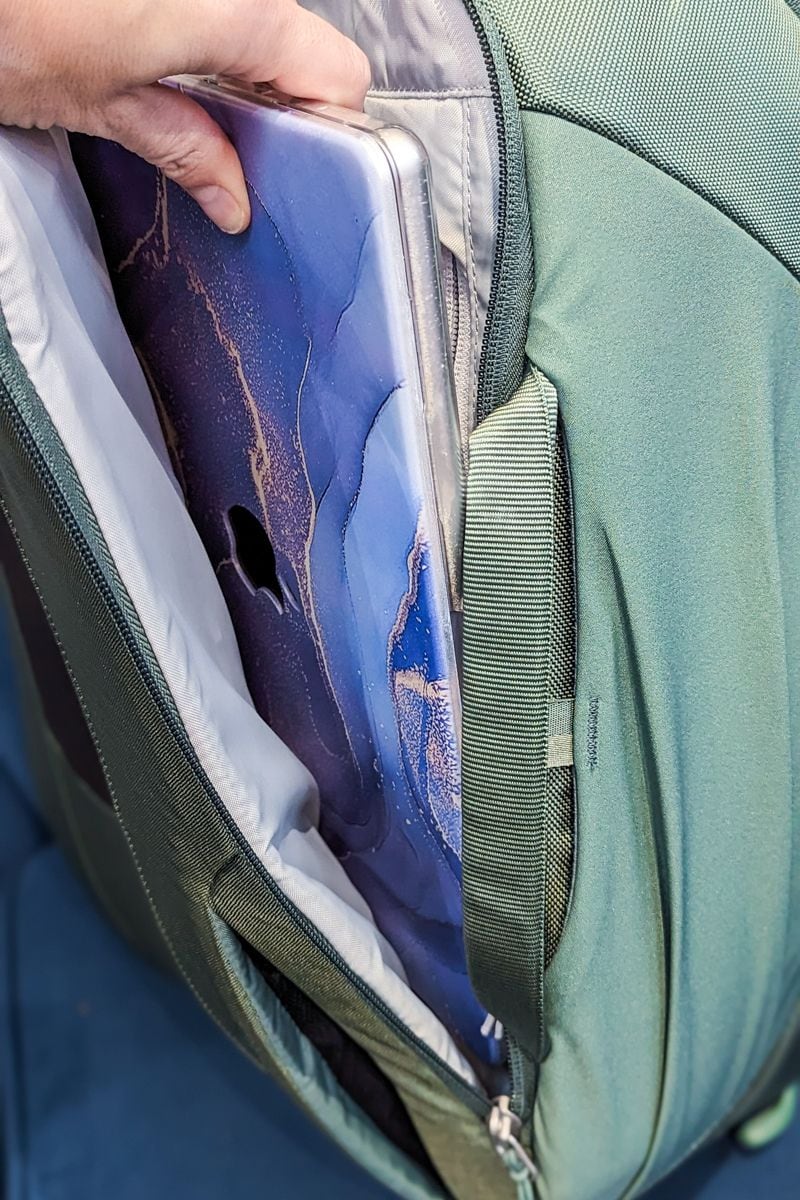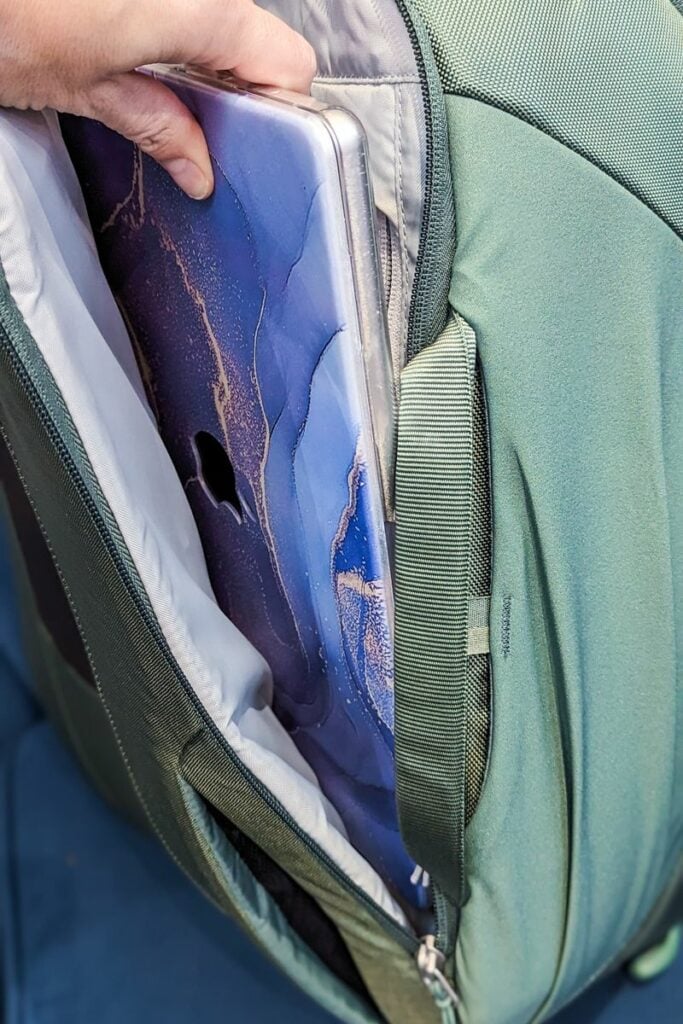 I also really like the stretchy side pocket which fits a water bottle of pretty much any size! A bottle feels a lot more secure in there, and doesn't wobble about, like in the bottle holder compartments you find on the side of most standard backpacks.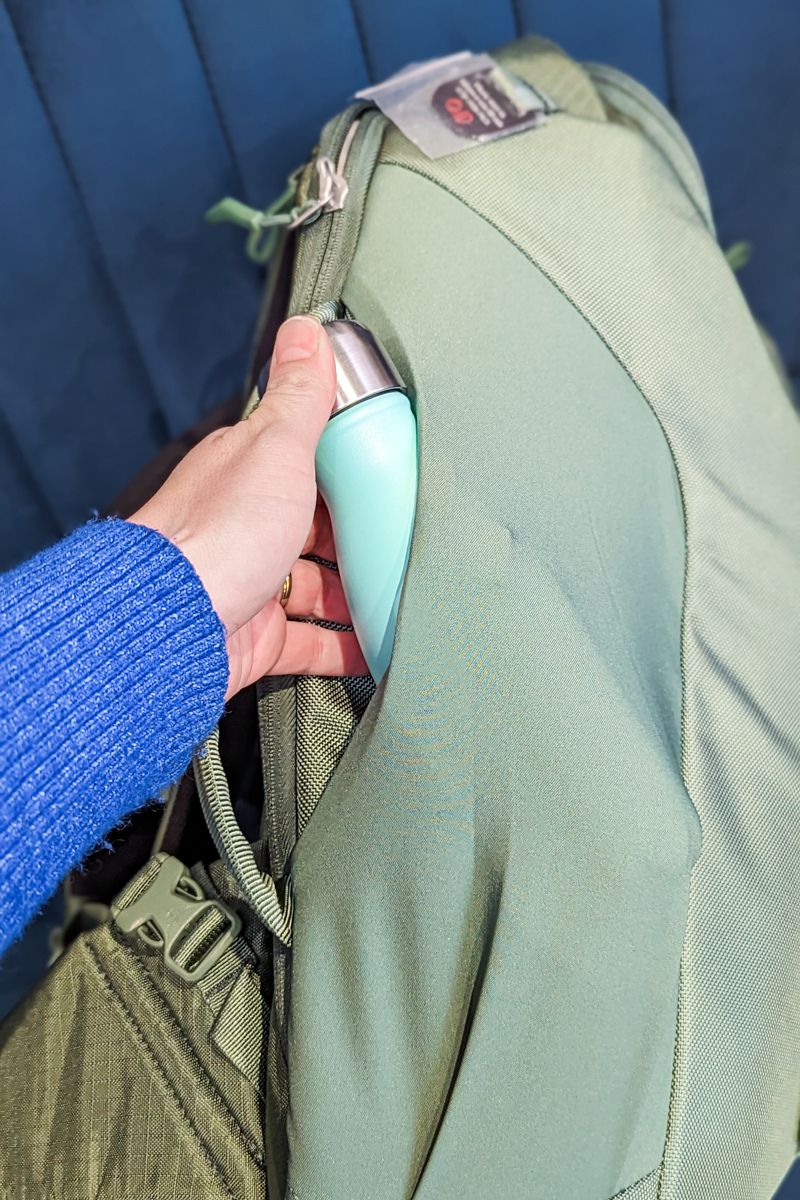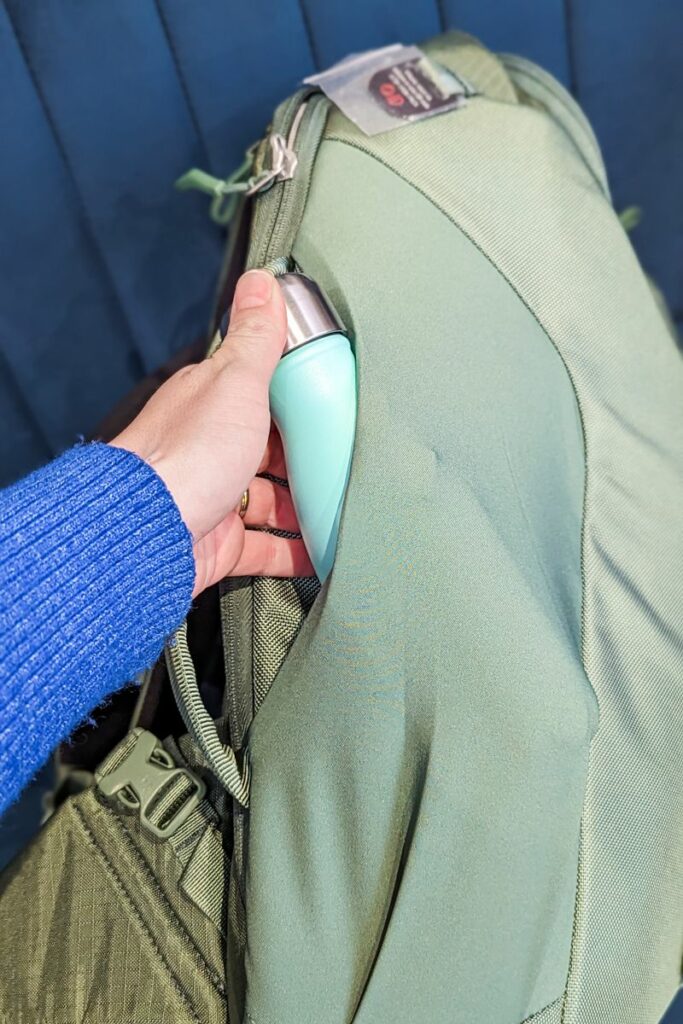 Osprey Sojourn Porter 30L Specification
Here's are the vital stats for this bag…
Volume: 30 Litres
Dimensions: 44H X 37W X 27D CM
Weight: 1.37 KG
Is the Sojourn Porter 30L comfortable to wear?
I've found this backpack to be extremely comfortable. I've tried it out in several scenarios now – with a light load and a long weekend's worth of belongings. With the lighter loads I've tended to just use the shoulder straps, but with the heavy backpack full, I've used the hipbelt and sternum straps. I've been impressed by how comfortable it is to wear.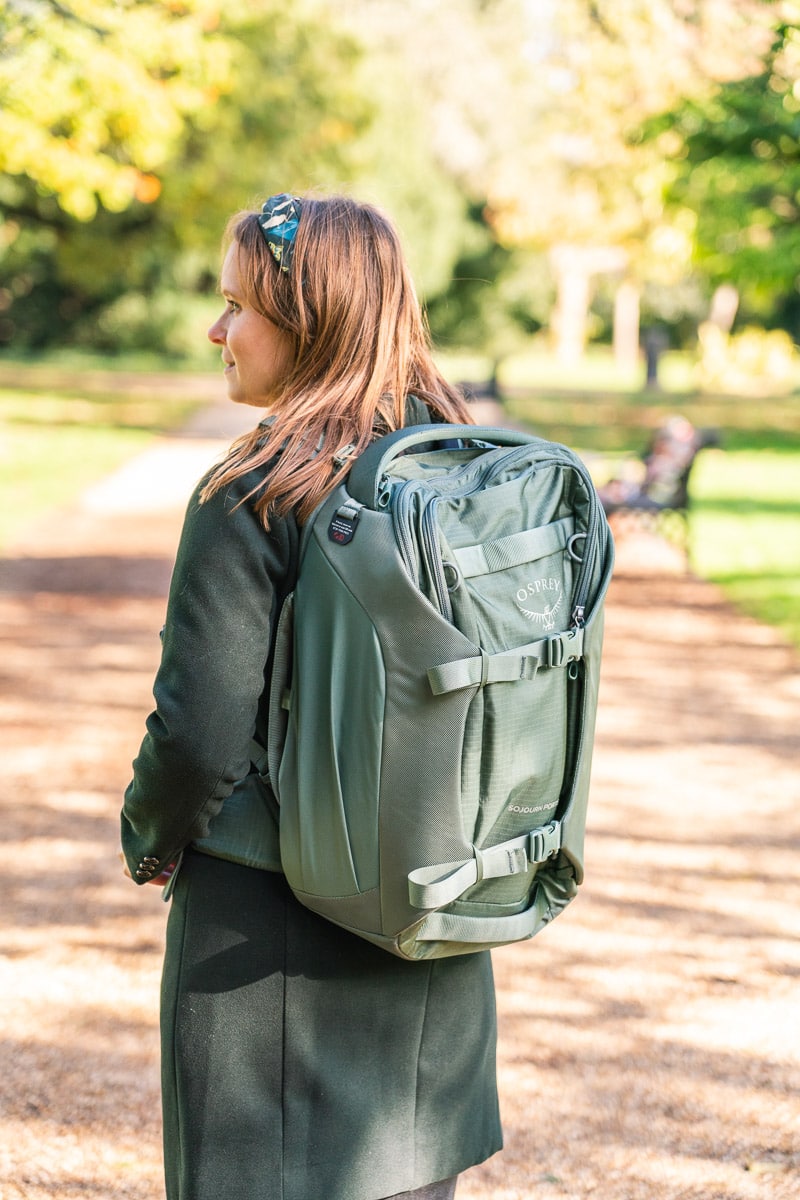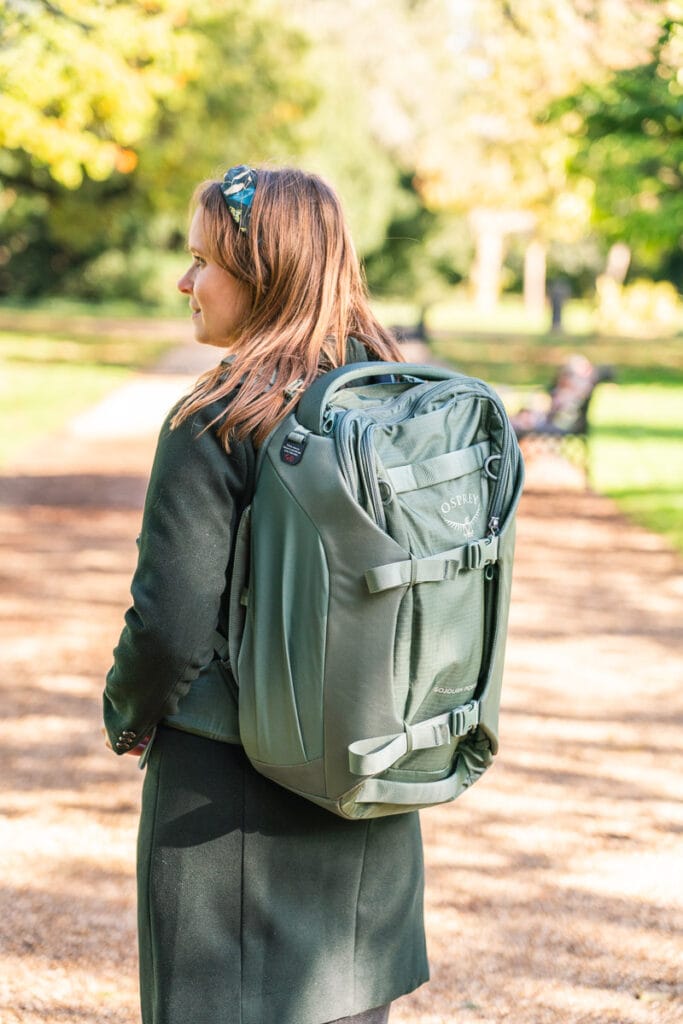 The design is great for balancing the weight across your body. Even with a heavy laptop and a whole weekend's worth of clothes and toiletries, I felt I could carry it for hours!
One feature that really helps with the comfort is the AirScape back panel. It helps ventilate your back area. It won't stop you sweating, but it'll definitely minimise things, even in hot weather.
Colour options for the Osprey Sojourn Porter 30L
This backpack currently comes in four shades:
Koseret Green (the one I have, which I'd say is close to an army green)
Brindle Brown (at the mustard end of brown)
Graphite Purple (at the mauve end of purple)
Black (probably the most versatile but harder to spot if you like your luggage to stand out!)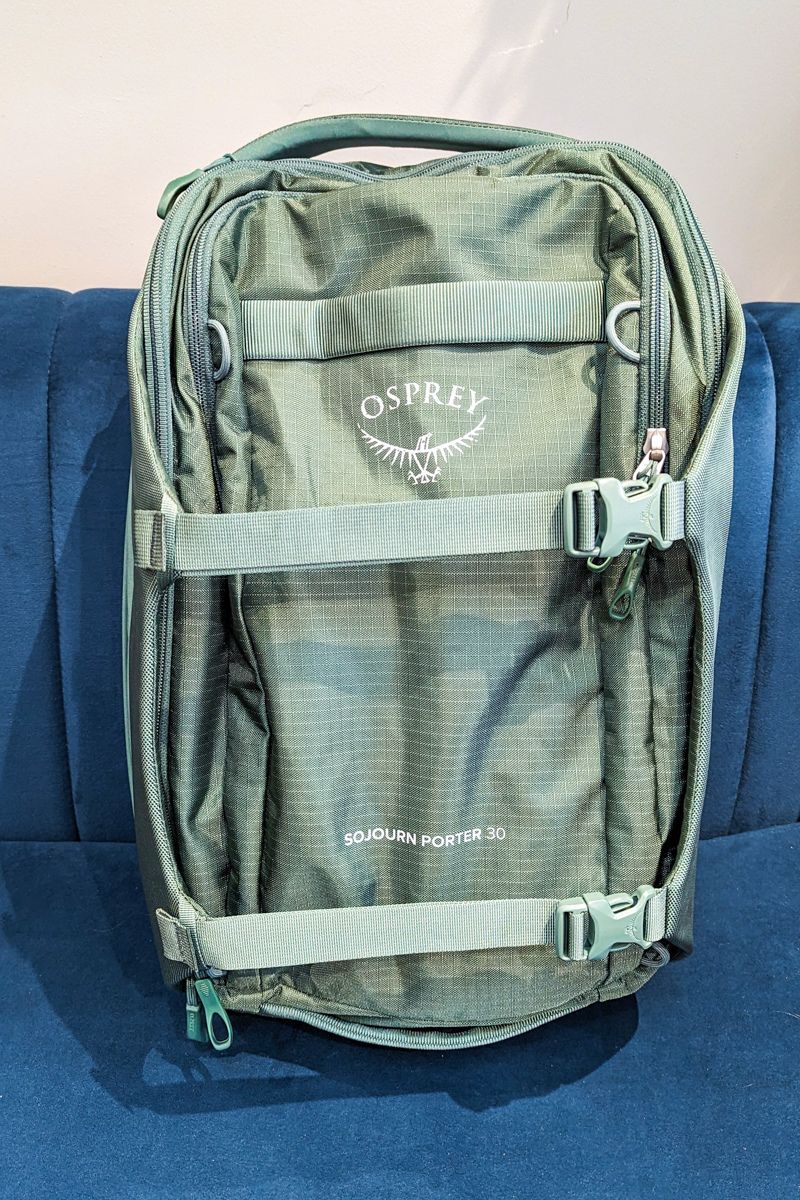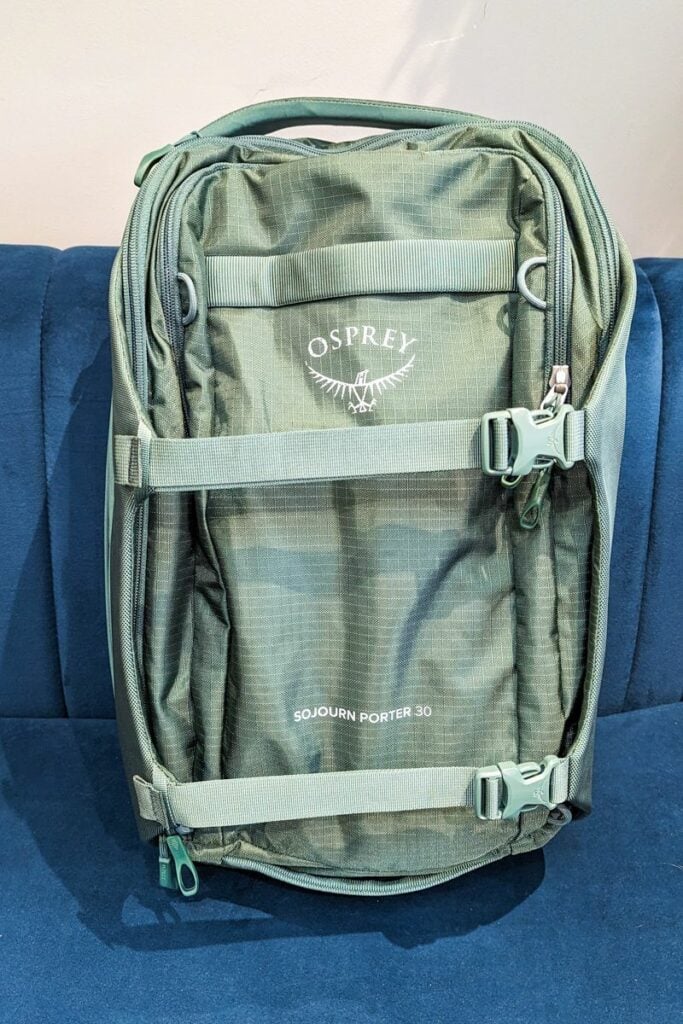 Any cons of the Osprey Porter 30L?
As you can probably tell from my review of this bag, I really like the backpack and think it's versatile, durable and a really great buy! If I had to come up with a few negatives, I'd perhaps say that the colour options might not suit all travellers. I have the Koseret Green shade, which looked a lot paler on the website. In reality it's a little more of an army green – not so much to my taste as the paler shade I'd expected!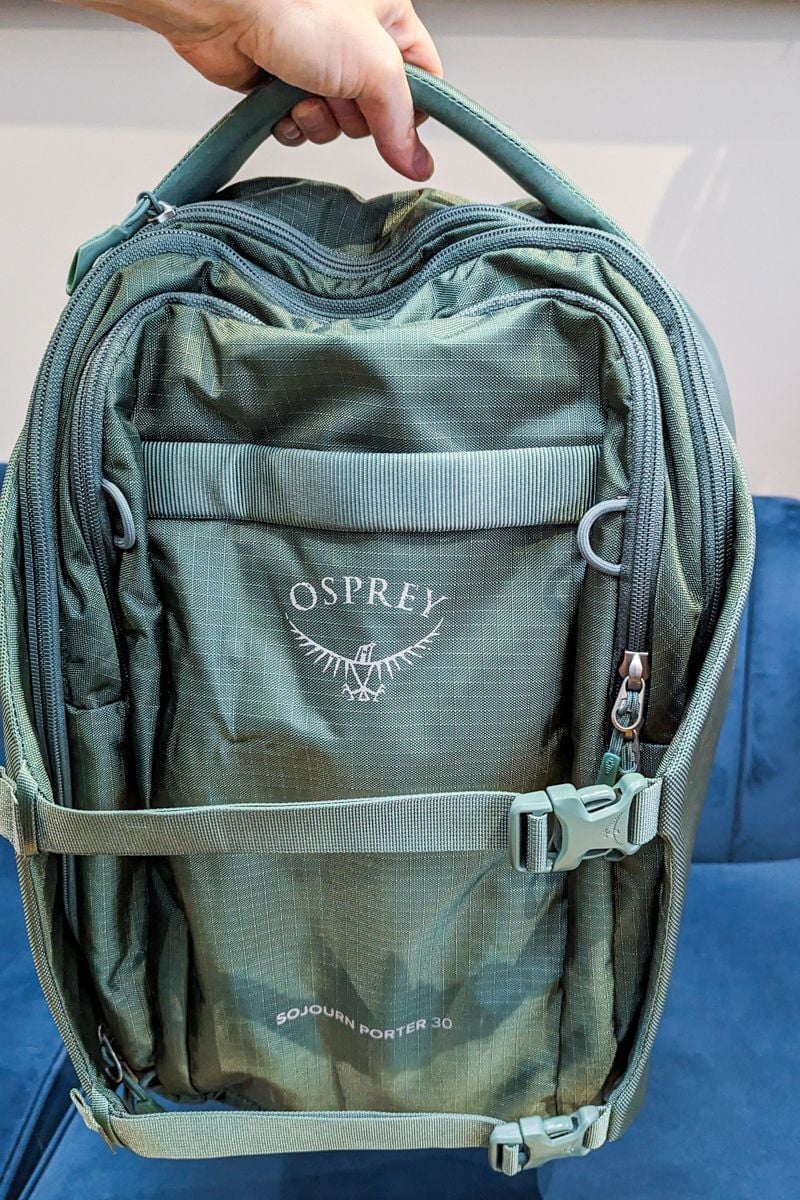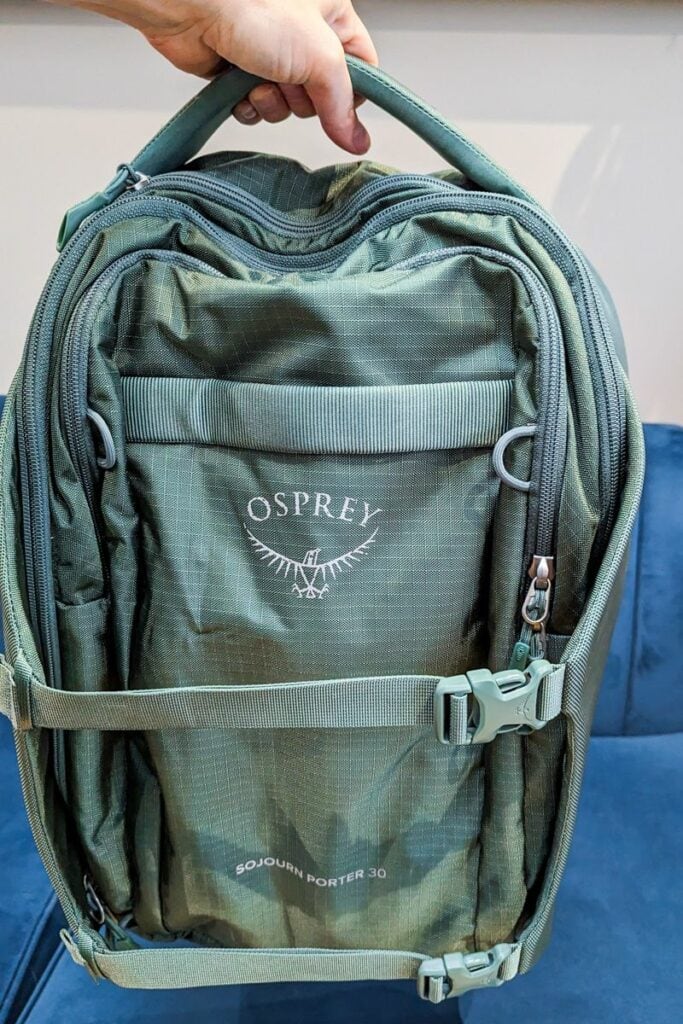 Personally, I don't love the look of this backpack when it's very compressed. I think it's a clever feature to be able to streamline it so much, but I prefer wearing it fully opened, up so it has a more symmetrical appearance.
These are quite personal opinions about the design though, so you may well feel differently! In reality, they're very minor quibbles and don't take away from what a well-designed backpack this is.
Any other thoughts on the Osprey Sojourn Porter 30L?
This backpack is part of the new Sojourn range which also includes 46L and 65L backpacks (similar designs to this one) plus duffel-style soft cases with wheels, which come in a range of sizes. I really like the look of these wheeled cases! I'm pretty committed to using a suitcase but sometimes a softer wheeled case is a more convenient option for adventurous backpacking trips.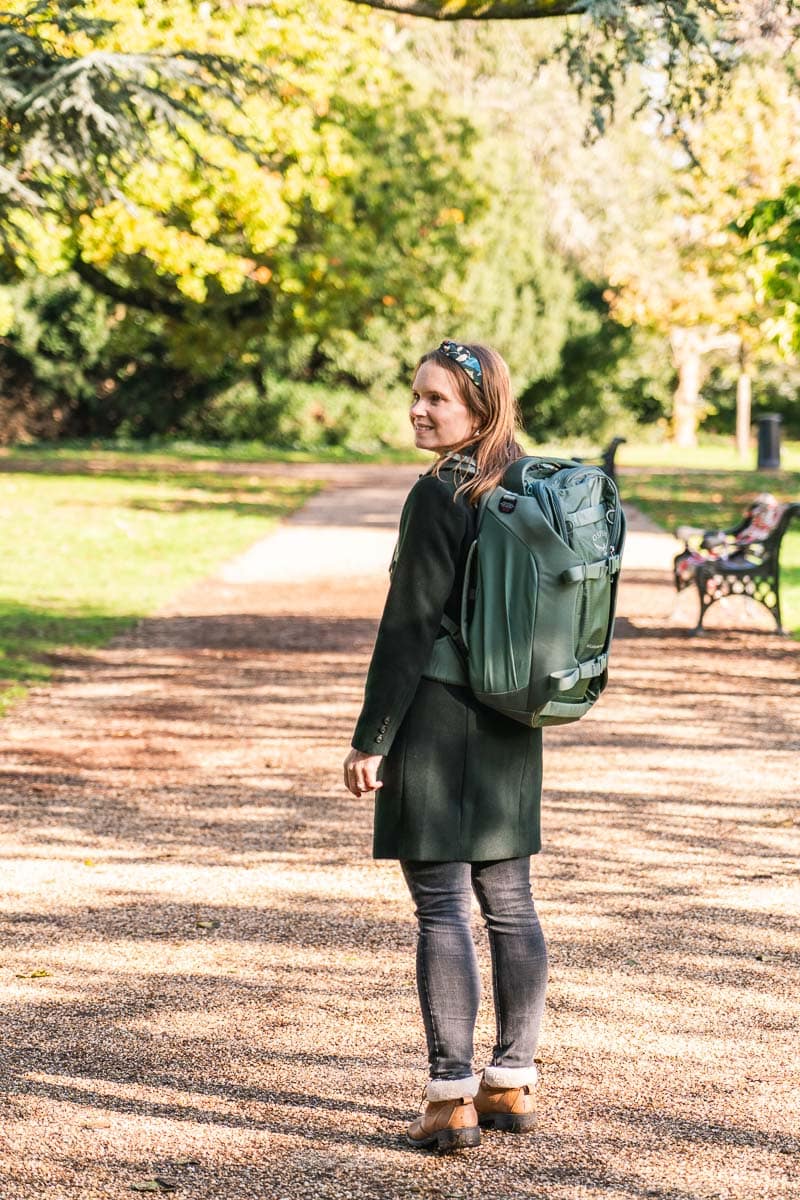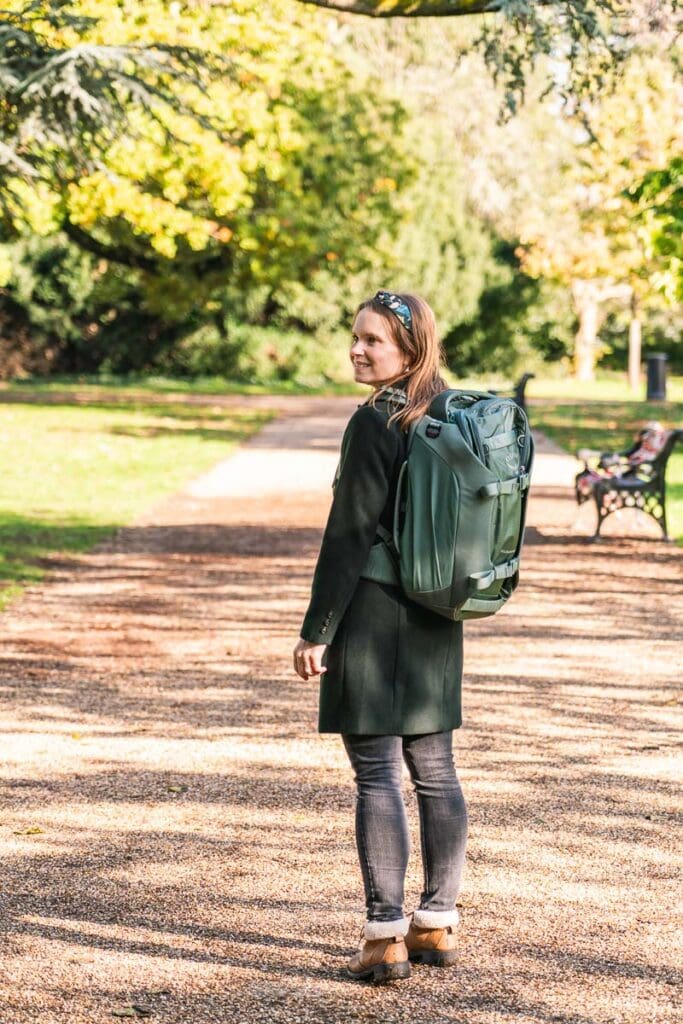 There's also an option to attach one of Osprey's smaller travel packs to this backpack, using the compression straps to encase it – very handy when you're carrying a lot of luggage!
I'm also very impressed by the Osprey lifetime warranty. Their 'All Mighty Guarantee' states: "Should you find any defect in the way your pack has been built, we will repair or replace it without any charge, within its reasonable lifetime." Just remember to keep your proof of purchase and register your product un order to use it.
While it's early days for me with my new Osprey bag, I think this is one I'll be using a lot over the years. It's durable, versatile, has a large capacity, is great for keeping organised on the go and feels like it will last a very long time! It's so lovely to have a bag where it feels like the brand has put real travellers at the heart of the design.