The Artichoke has consistently been rated as the best restaurant in the Amersham area. After an impressive experience in January, I couldn't wait to sample their autumn menu.
Amersham's old town offers a range of dining options. Along with upmarket coffee house The Grocer, chain restaurants Cote, Prezzo and Ask, and several historic pubs, there's a gourmet neighbourhood offering – The Artichoke.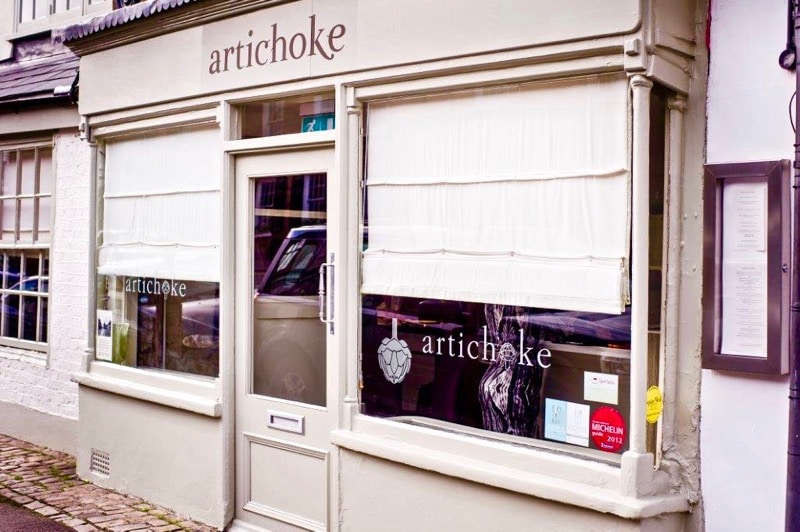 Chef Patron Laurie Gear and his wife Jacqueline opened the Artichoke in 2002. The restaurant focuses on high quality, beautifully presented seasonal dishes, served with a dash of magic. I visited on a weekday evening to sample the seven-course autumnal tasting menu (with wine pairings). But first… a glass of rosé champagne to kick off a very special dining experience.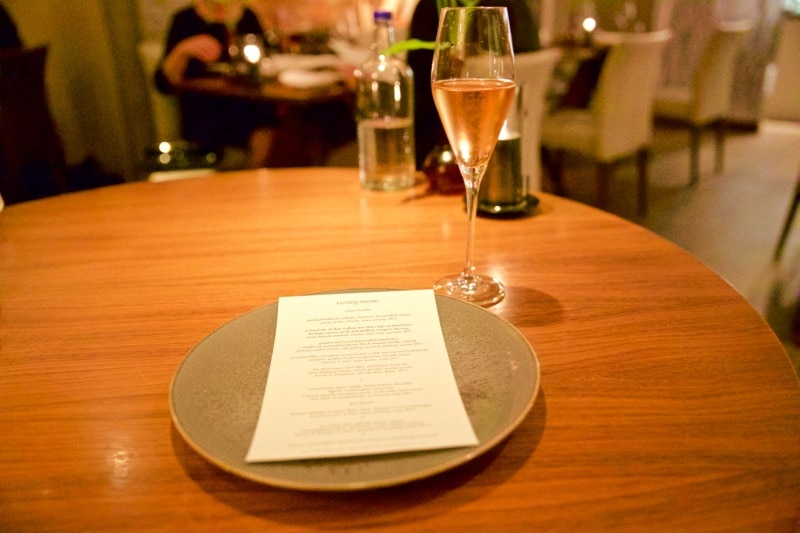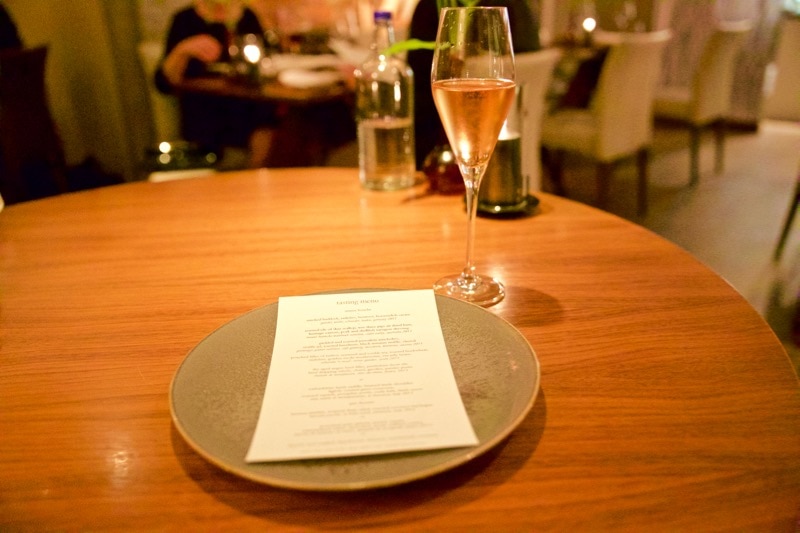 From my previous meal in January, I remembered that the bread was extra special, combining several flavours in a tasty dough. This time, the shallot, ham and thyme bread really stood out. It was salty, fragrant and utterly moreish!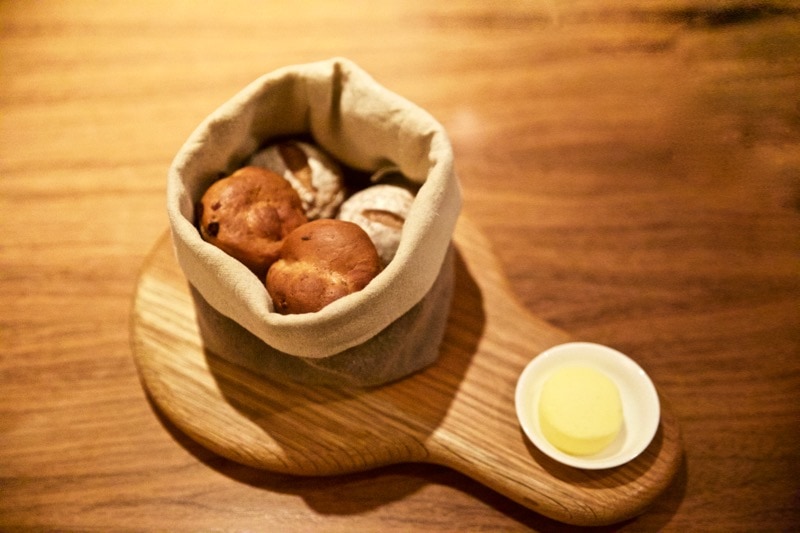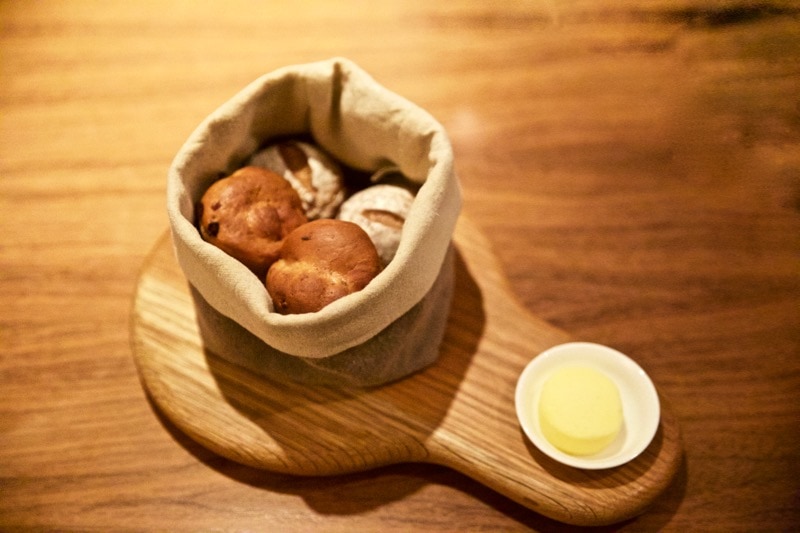 Next up, an amuse bouche of white onion soup with watercress pesto. It had an amazing light, bubbly consistency, and along with the onion and watercress, there was a salty Parmesan flavour running through it. A delicious opener.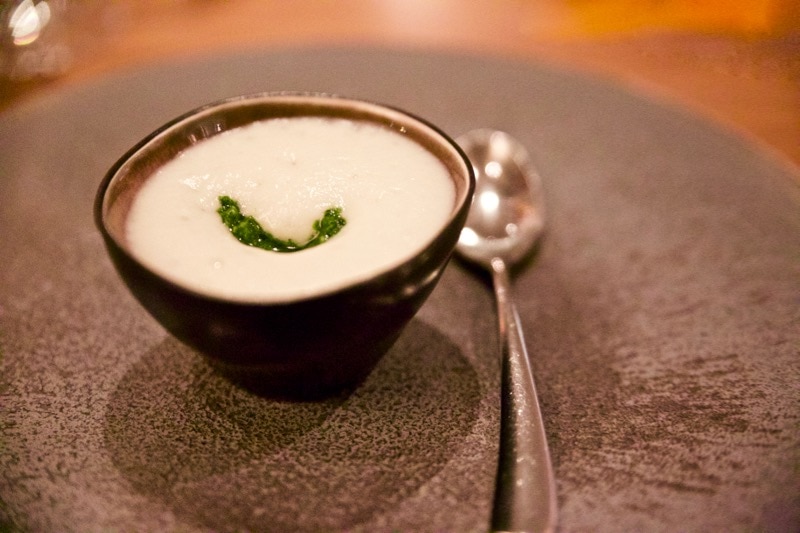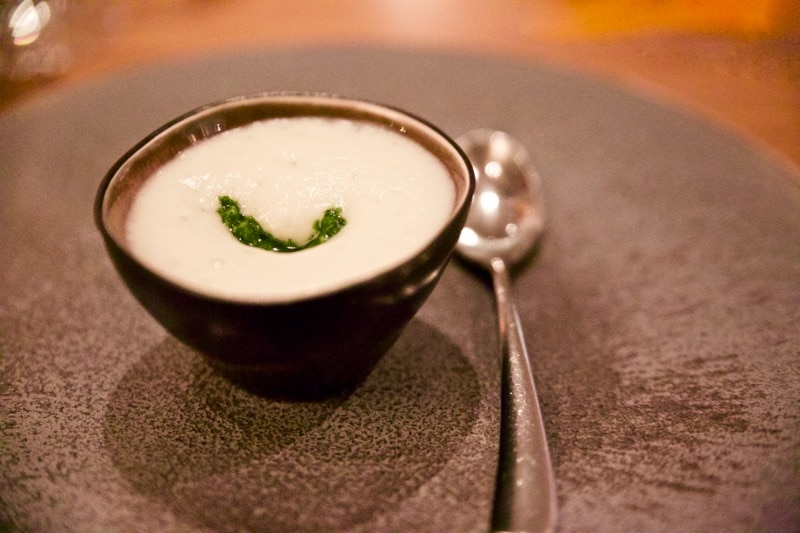 Arriving next, smoked haddock with radishes, beetroot and horseradish cream. It resembled a colourful petri dish of intriguing ingredients! The fish was so smoky in flavour, complemented by the vinegariness of the pickles and finished with a deep creamy spice from the horseradish. It worked beautifully with the dry white wine from the Baden region of Germany.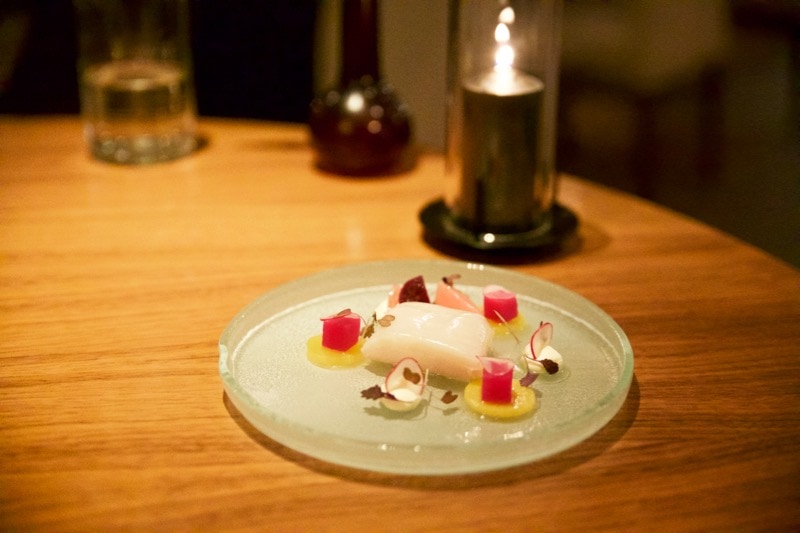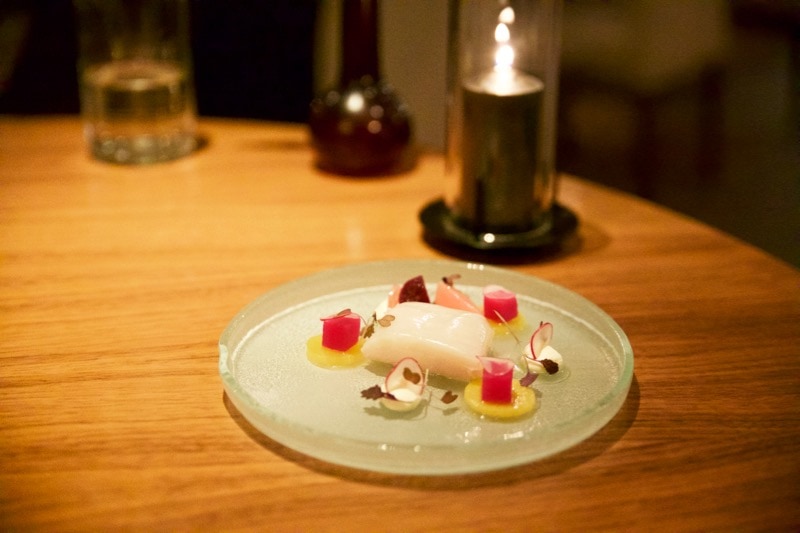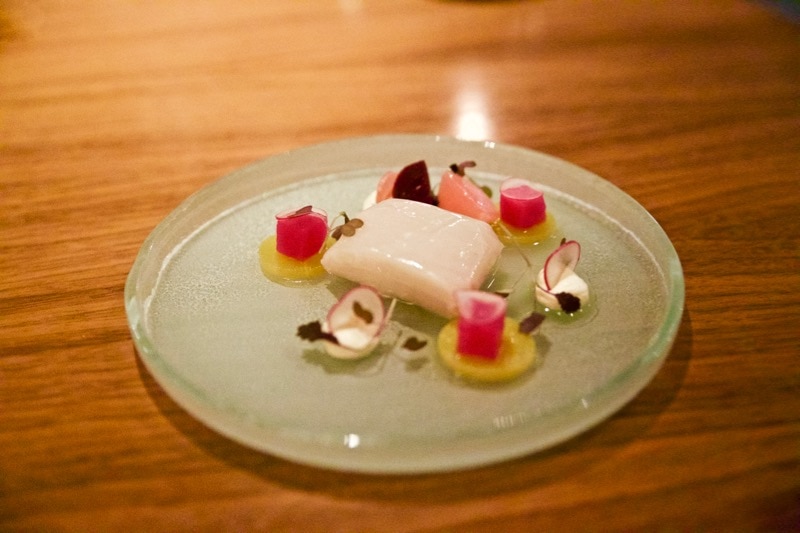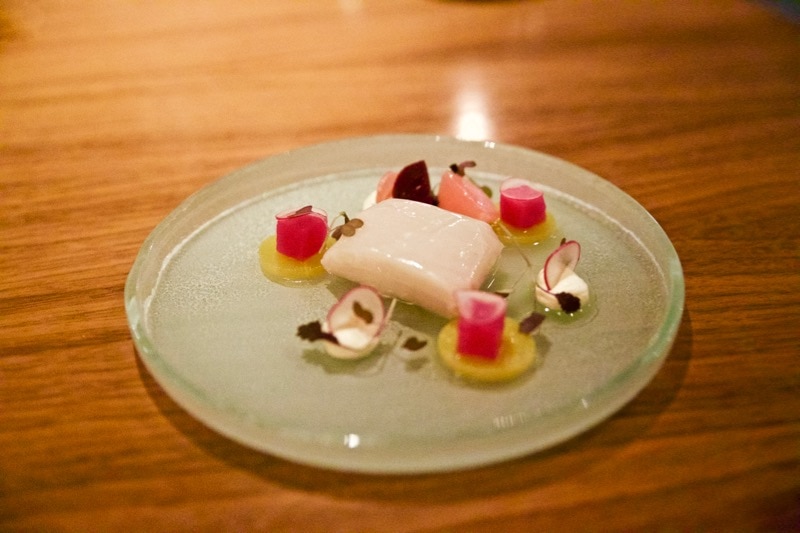 From there we were served a huge roasted Isle of Skye scallop with wee three pigs air dried ham, heritage carrots and a pork and shellfish tarragon dressing. The scallop was so meaty, and for me, the sweet, velvety carrot pure provided a wonderful contrast along with the salty thin ham and honey-like dressing. This dish would be difficult to beat! I also loved the wine pairing which was a buttery, oaky semillon from Australia's Claire Valley.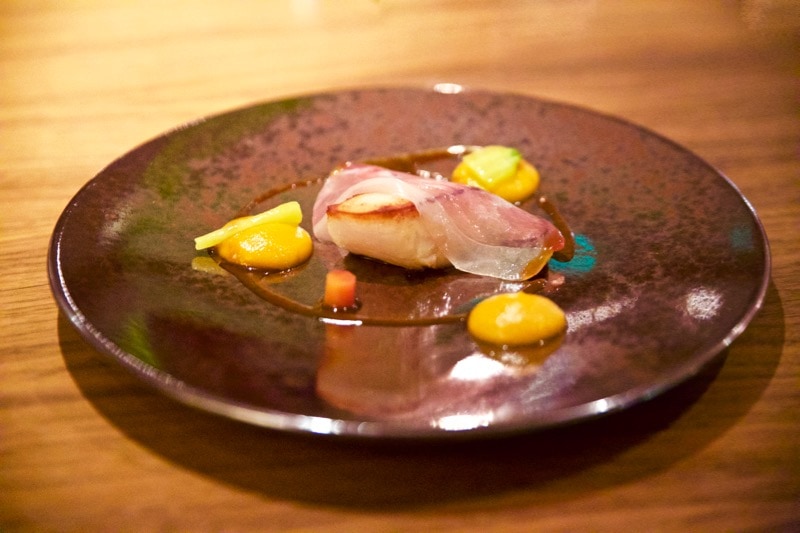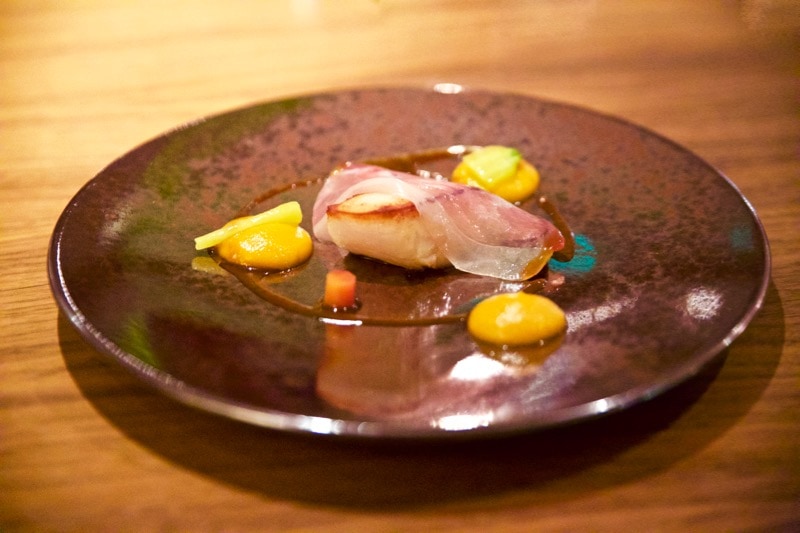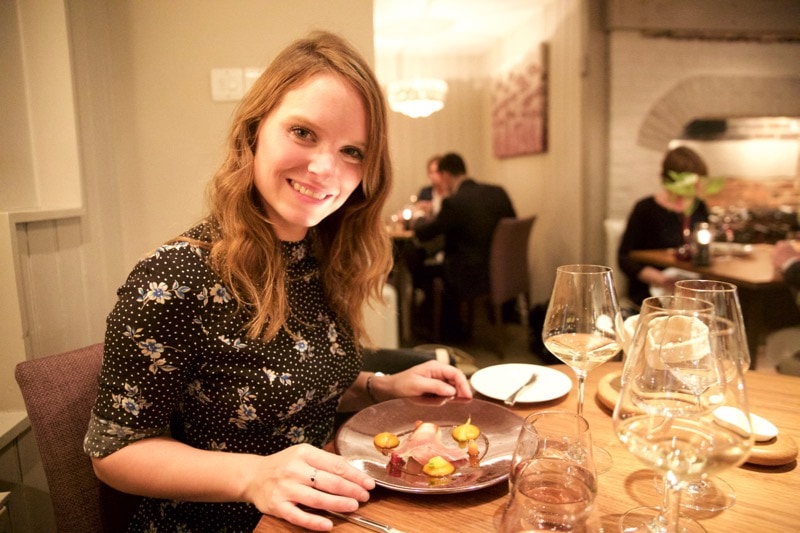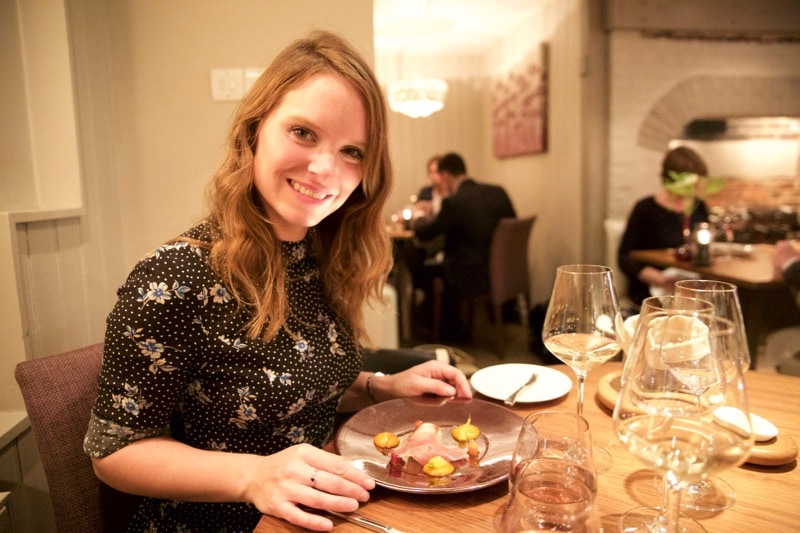 Autumn on a plate! That's how I'd describe the next dish. Pickled and roasted Jerusalem artichokes came with a truffle jel, toasted hazelnuts, shavings of black autumn truffle and chervil. There were salty jerusalem artichoke crisps, which worked with the creamy roasted artichoke and nutty flavours of the dish. The pickled artichoke added another dimension. I have to admit that this is didn't sing to my palette as I'm not a nut lover, but I could appreciate the combination of flavours and skill. My partner absolutely loved it! The Austrian wine added something extra, bringing out the earthiness of the dish.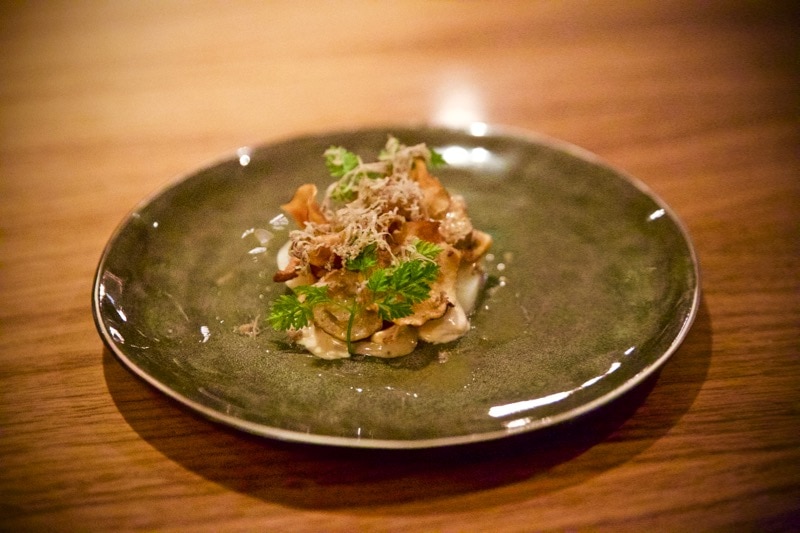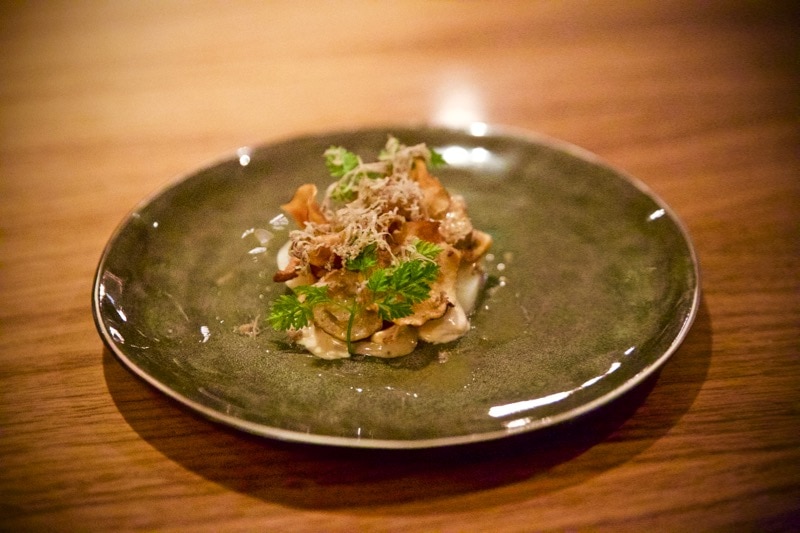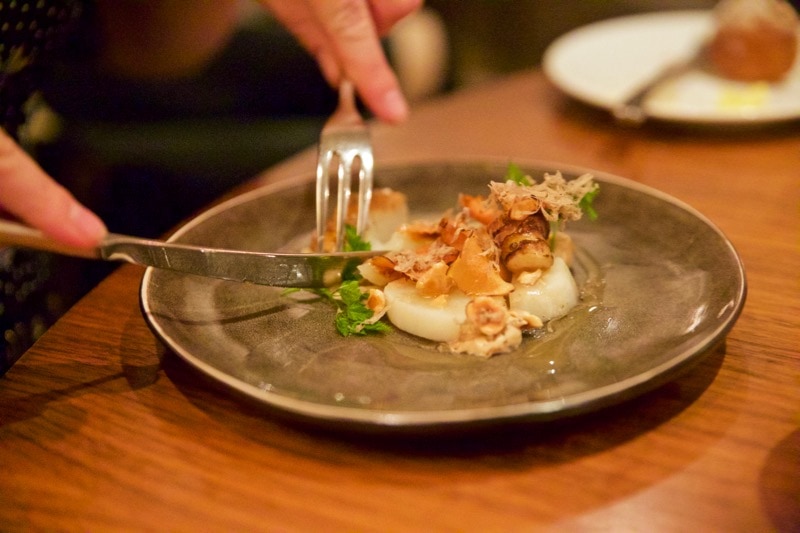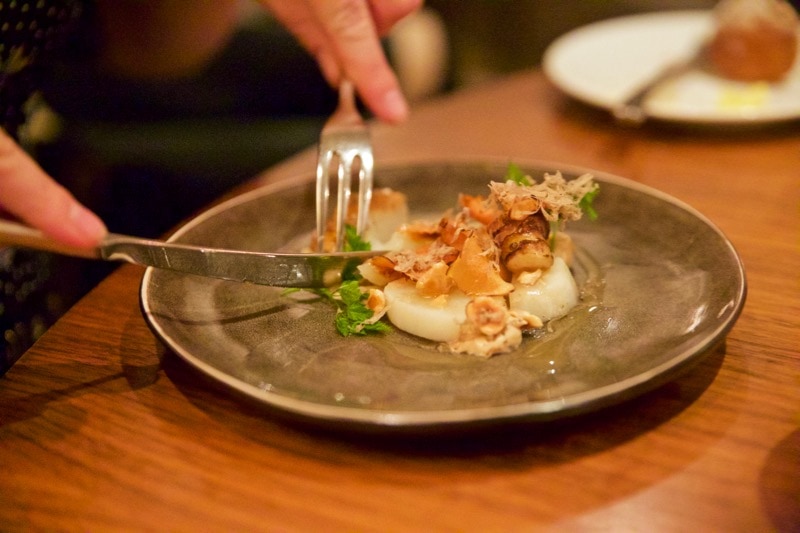 The meal was served at the perfect pace. There was just long enough between courses to finish the wine, savour the flavours and enjoy the atmosphere before the next course arrived.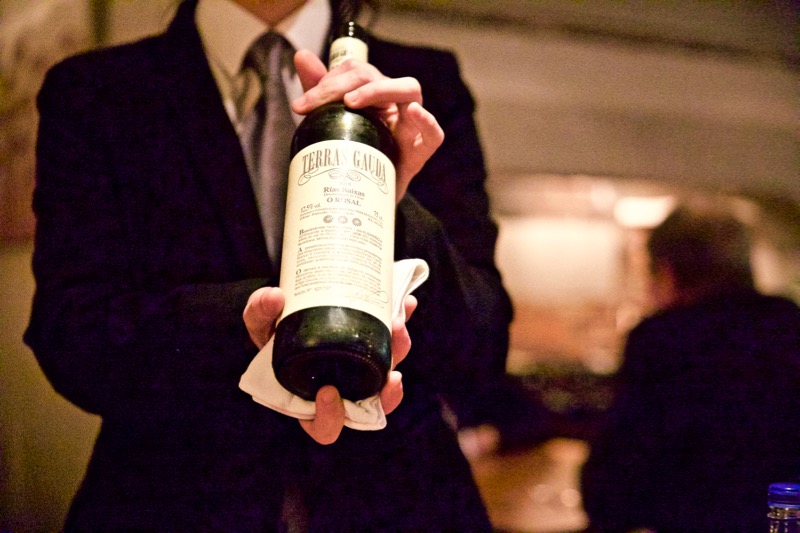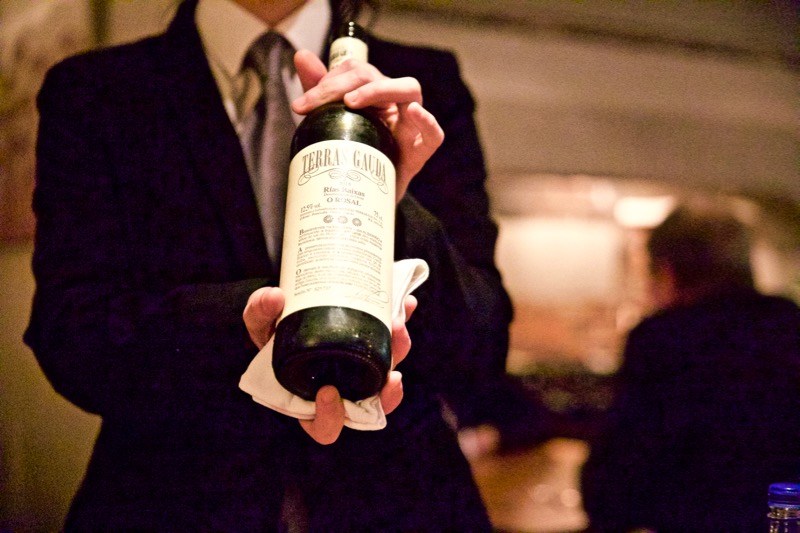 The poached fillet of turbot was served with toasted buckwheat, radishes and golden enoki mushrooms. At the table, the waiter poured a clear broth described as a seaweed and cockle tea. Hidden inside, an exciting ingredient I'd never sampled before: sea jelly beans! Similar to samphire they had an intense salty sea flavour and added a flash of green to the bowl.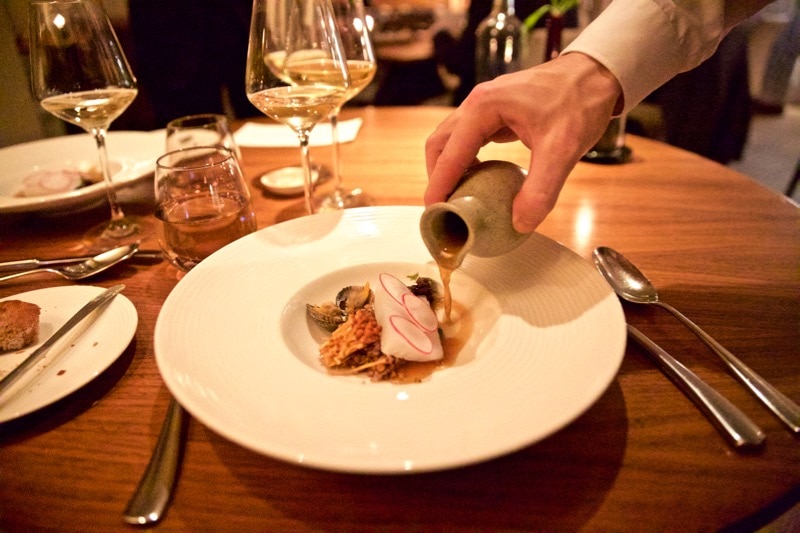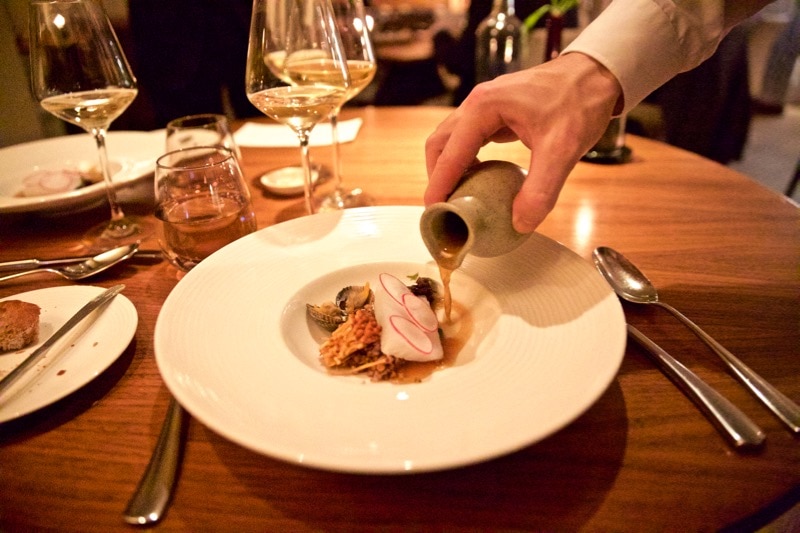 This was a very smart dish. The turbot was perfectly poached, breaking away in delicious whole flakes. I loved the theatrical element with the pouring of the tea too. For seafood lovers, this was a dream dish, and the scent of it really took me straight back to the seaside.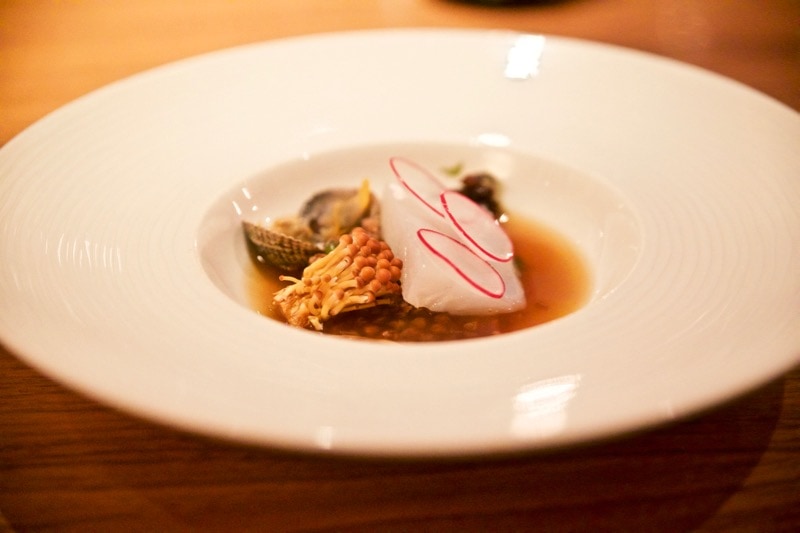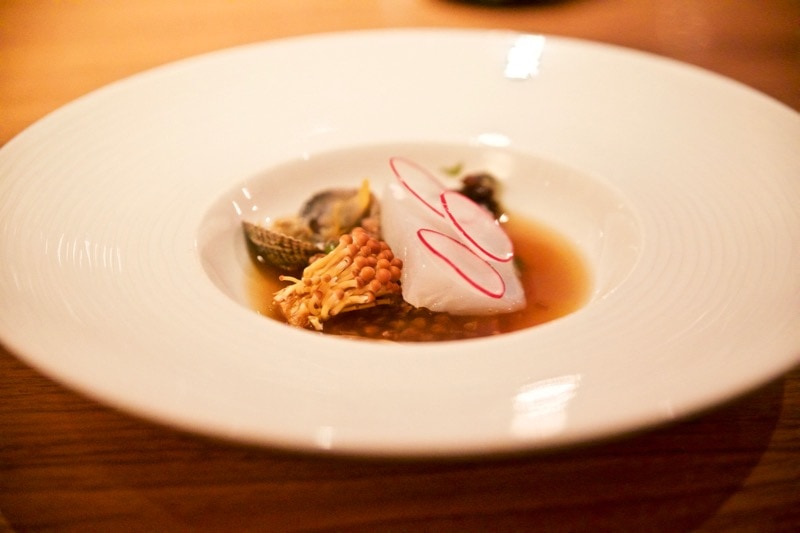 To drink, a Spanish wine from close to the Portuguese border. As the sommelier described, it was produced in a region with volcanic soil and while the wine wasn't aged in oak barrels, it had achieved an oaky finish from the malolactic fermentation.
For mains there was a choice of beef or lamb, and once I read the menu, I just had to go for the beef! It sounded divine. It featured a dry aged Angus beef fillet with Perthshire short rib, beef dripping salsify, chard, girolles and a parsley purée. While I'd loved the scallop starter, this was my new favourite course.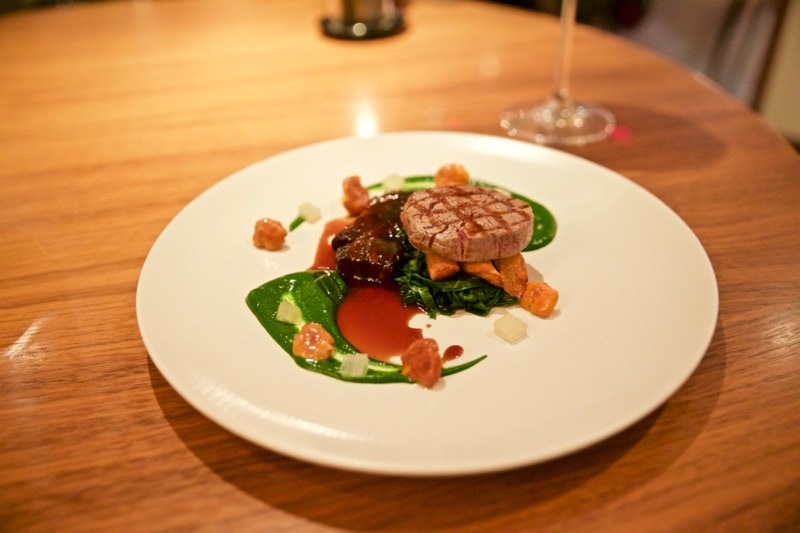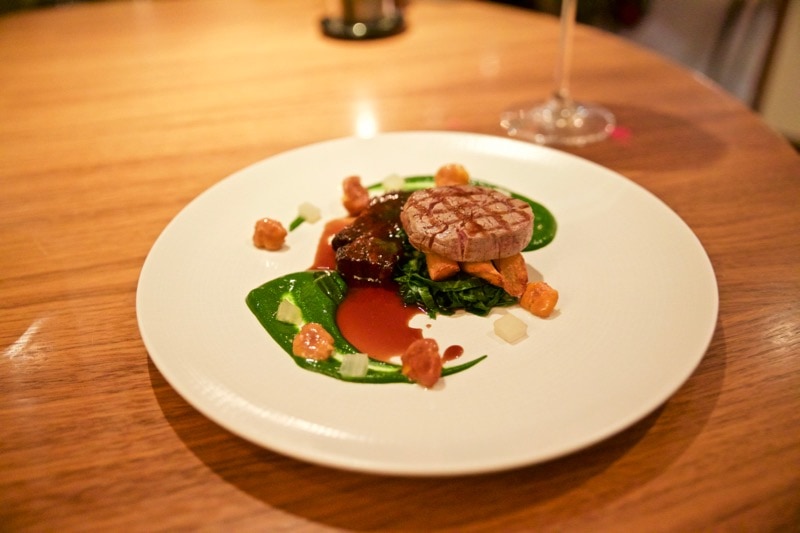 The medium-rare griddled fillet was full of flavour meanwhile the rib was sticky and sweet, falling apart in beautiful slithers. The buttery salsify and the pile of rich green chard added another dimension; meanwhile the vinegary parsley sauce and salty girolles balanced the dish elegantly. A 2015 red from the Rhone Valley gave a spicy/fruity balance and the waiter had to wrench the plate from my hands as I tried to lick up every morsel of sauce!
As an interlude we were served a pre-dessert of macerated figs with yoghurt sherbet and honeycomb. It was extremely tart and certainly got our tastebuds ready for dessert.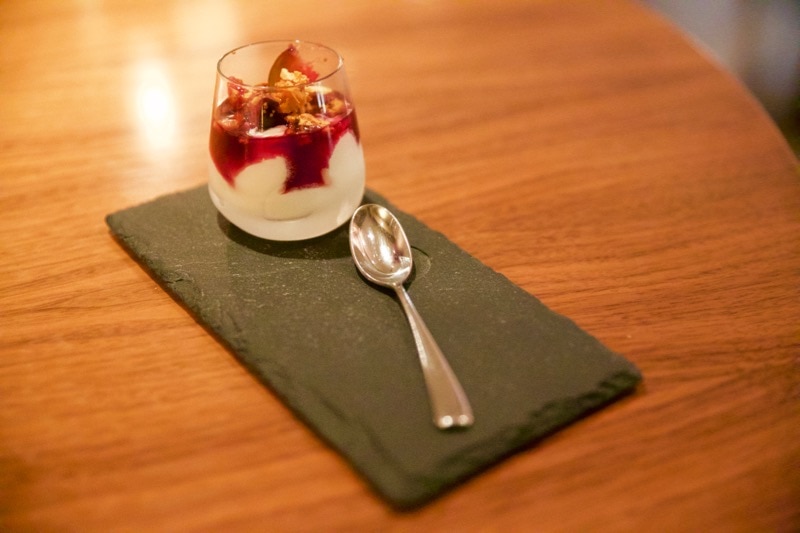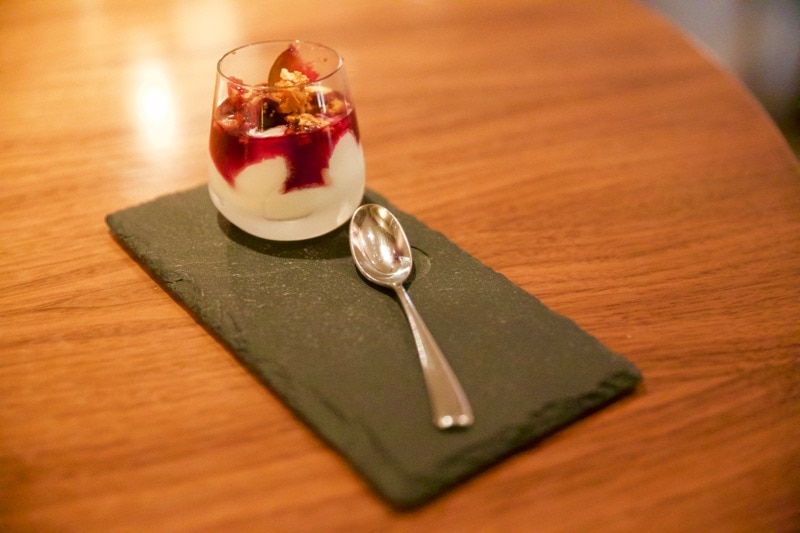 My partner and I chose to order differing desserts. He opted for the banana parfait with tropical fruit salad, toasted coconut meringue, while I chose the poached pear galette with crème patissiere, caramelised white chocolate and a poire william sorbet.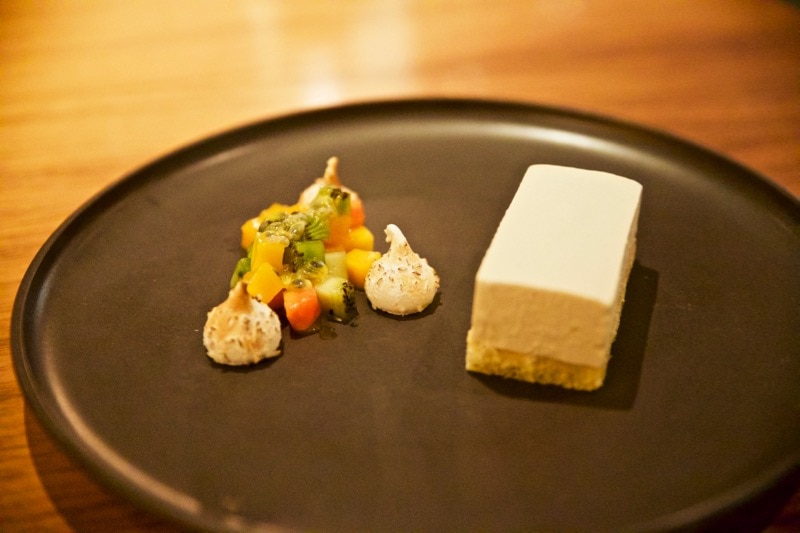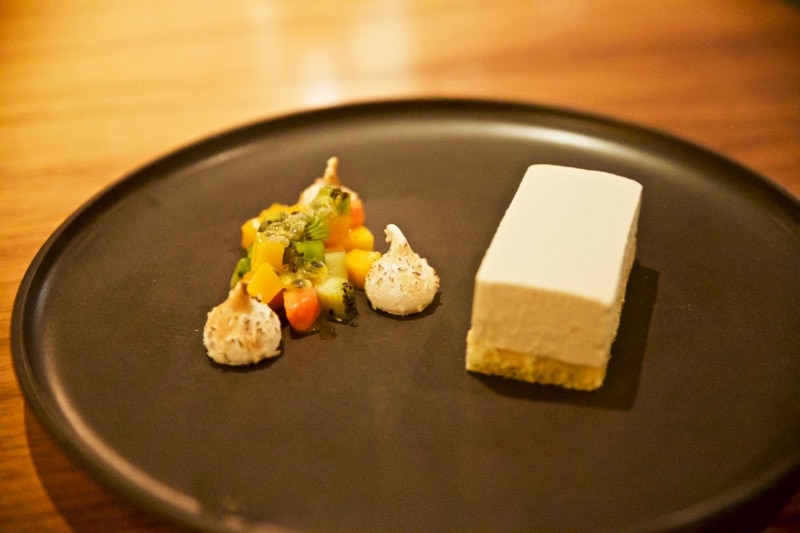 The banana parfait was undeniably flavoursome and the tropical fruit salad added a lovely tang to the dish. My pear galette was beautifully light with tart pear flavours and rich cream and white chocolate.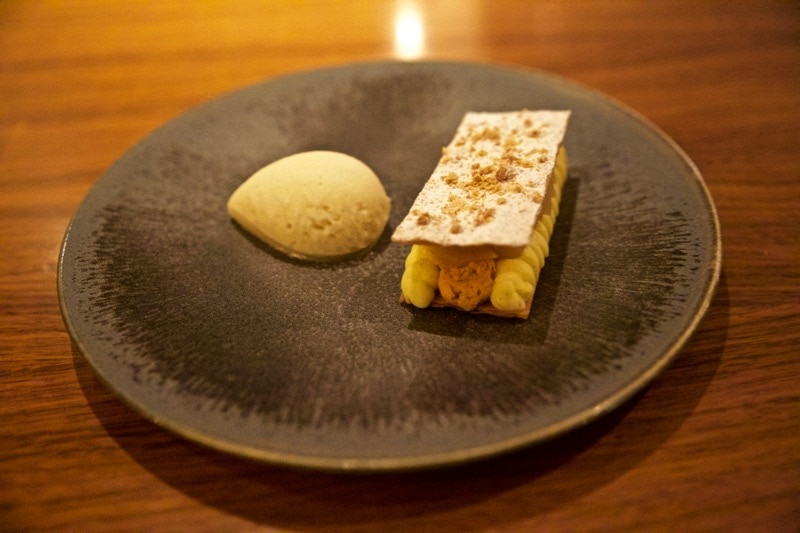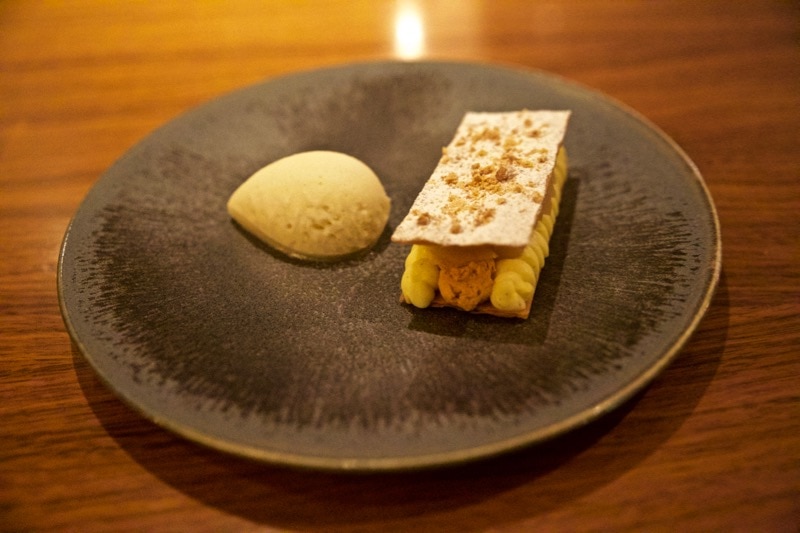 As a special ending to the meal, we were presented with a wonderful platter of petits fours including a passionfruit jelly and delicious salted fudge. The chocolate work was beautiful and as we came to the end of our anniversary dinner, I couldn't imagine a better way to have celebrated it.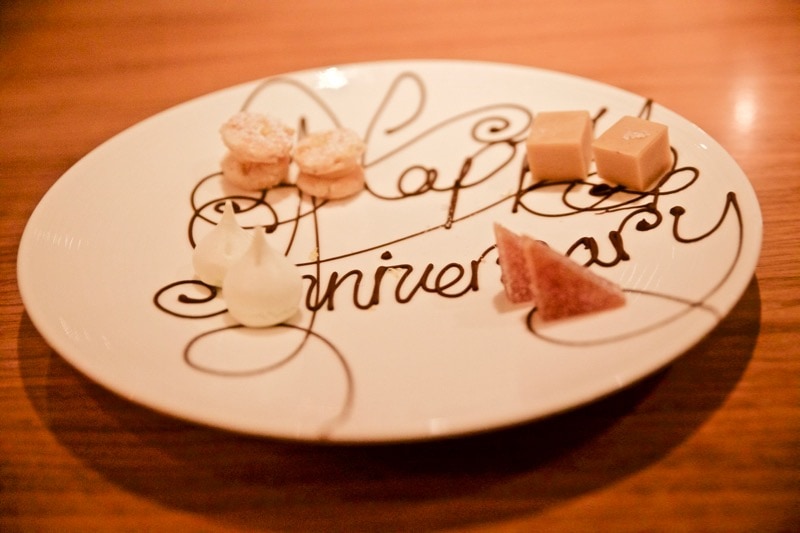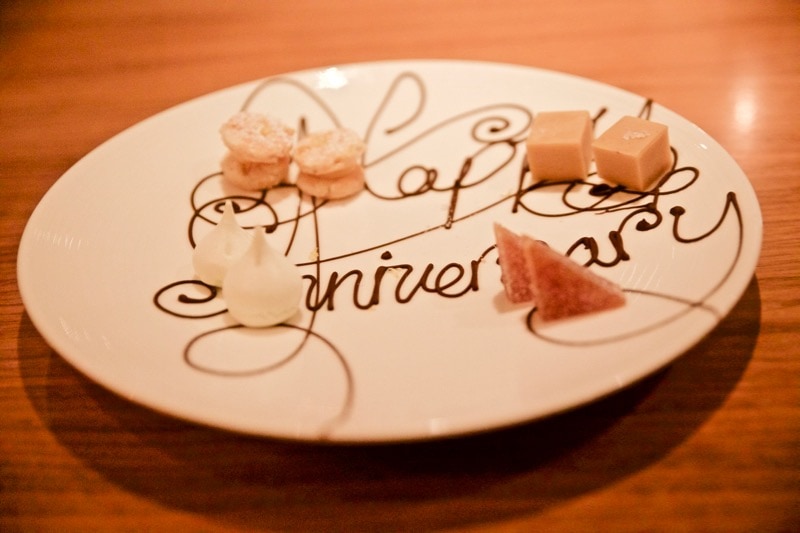 There was a really warm ambience at The Artichoke – partly created by the friendly, attentive staff, but also the sophisticated décor. Working with the old brickwork of the building, it's got an historic feel that's complemented by the modern touches of the open kitchen – something I absolutely love! I've often felt a greater appreciation for my food after seeing the chefs busily preparing it. Not to mention there's a personal connection by seeing those responsible.
My return visit to The Artichoke was as good, if not better than my first. I can't wait to return again soon and see what culinary creations they come up with next!
The seven-course tasting menu costs £68 per head.
The optional wine pairing costs £50 per head.
Thanks to The Artichoke for inviting me to experience their latest menu. As always, opinions are my own. Find out more and book a table here.
Photos courtesy of Macca Sherifi.
Enjoyed this post? Why not pin it…