The top things to do in Rochester, Kent include visiting adorable tea rooms, hipster coffee shops, cute gift stores, boutiques, smart restaurants, an ancient castle and enjoying stunning river views.
One of the things I'm enjoying most right now is exploring my home country. A few years ago I was jetting off here, there and everywhere! While I haven't slowed down much, I've really appreciated opportunities to explore more of England. There's so much in this country, but it's SO often overlooked! I love the convenience of it. You don't have to travel far to see some truly gorgeous places!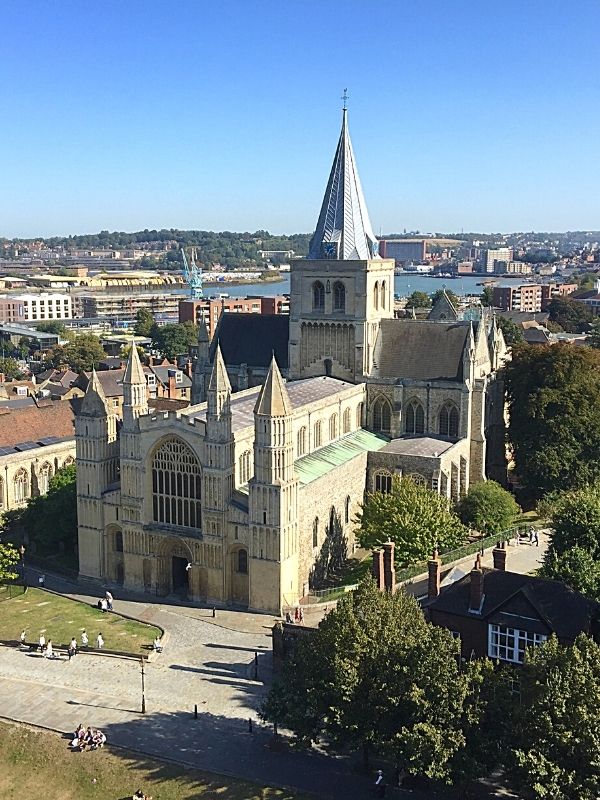 I hopped on a Southeastern train at St Pancras International and started my journey to the south east of England. Just 45 minutes later I arrived in Rochester – one of Kent's most historic towns.
There was a wonderful view as we arrived, crossing the River Medway with Rochester's distinctive Norman Castle standing tall on the right. I knew very little about the town before my visit. Yes I'd heard about the historic castle and beautiful cathedral, but what else was there to see?
Plenty it turned out! And making it extra special was the fact that most of it was unique to the town. It wasn't filled with brand after brand. Stores were created by locals, run by locals, and filled with local spirit. It's a town where cute tearooms and hipster cafes have kept most of the chain stores out. Where local artists have places to exhibit their works, and people pick up local produce in an old-fashioned greengrocers.
So, if you're looking for a relaxing day trip, check out the video of my day, then scroll down to plan your trip to Rochester in Kent! Oh and before you go, don't forget to read about my tips for planning a UK staycation.
Top Places To Visit In Rochester, Kent
This is a super cute teashop and gift shop all-in-one! It's an Instagram delight, and somewhere you can buy pretty much everything you see from the teacups to the chandeliers. Once you've had a browse for gifts, take a seat and enjoy the perfect pot of tea and a slice of homemade cake.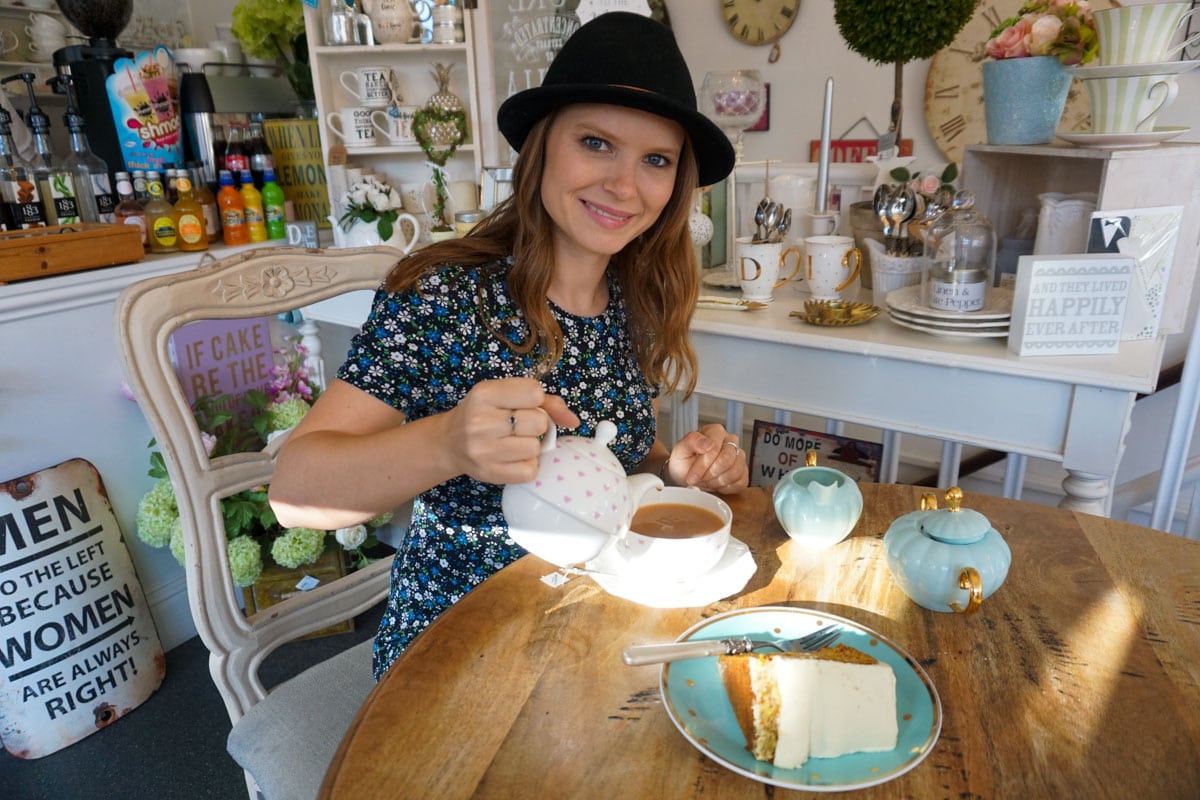 I've grouped these together as they're run by the same people. Both sell gorgeous gifts, from teacups, jewellery and ornamental pineapples, to larger pieces of furniture! I particularly loved the clothing in Kiss Kiss Heart, with some beautiful pieces (tutu skirts!) at very reasonable prices.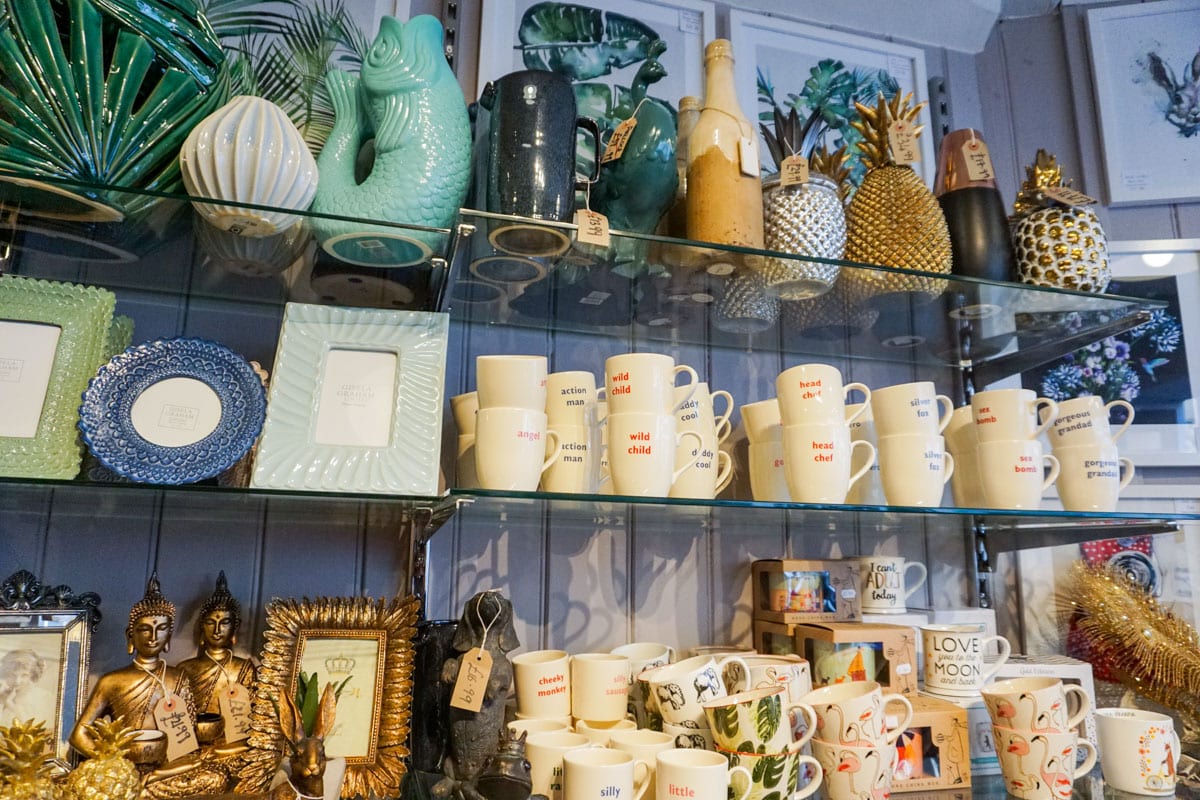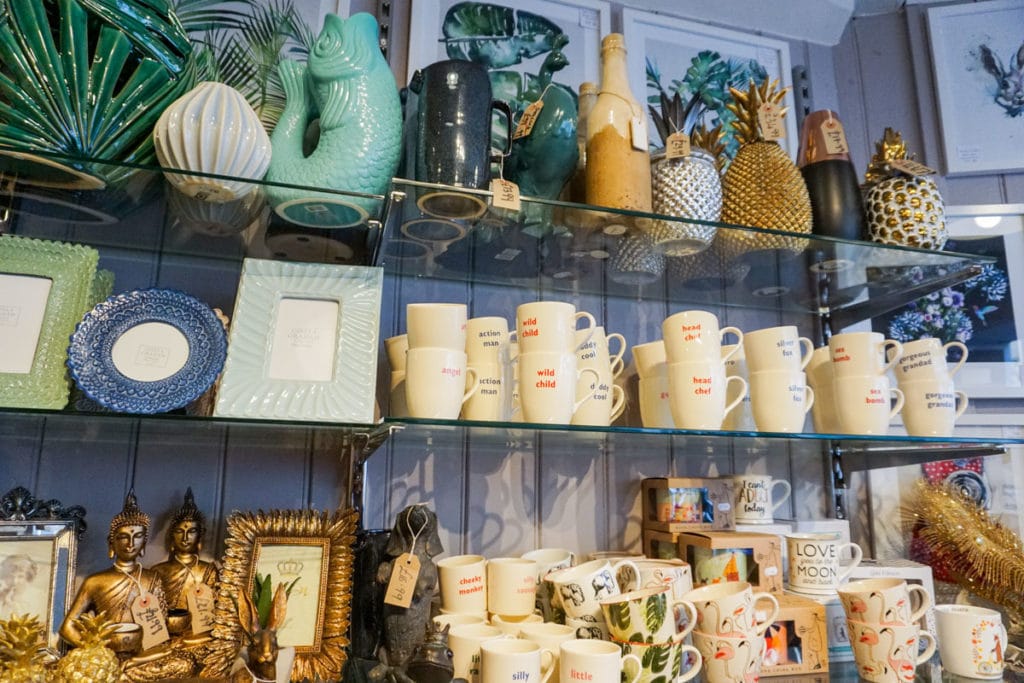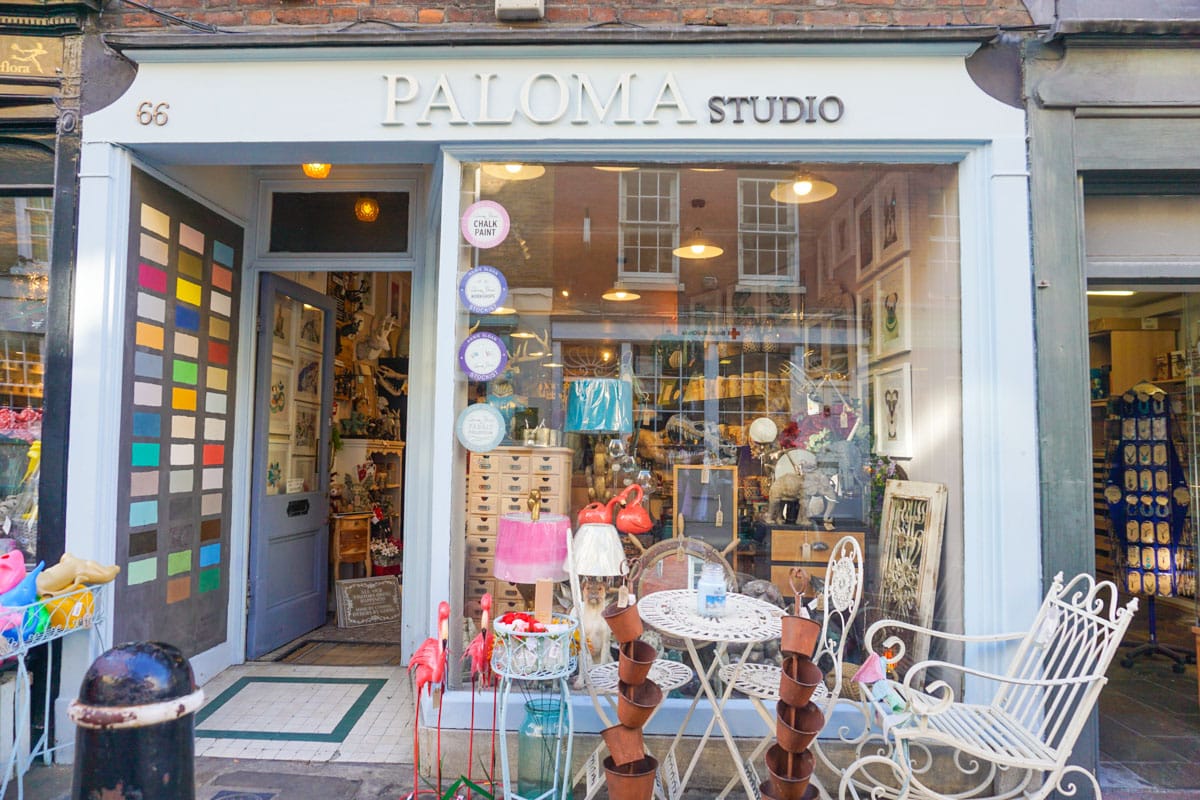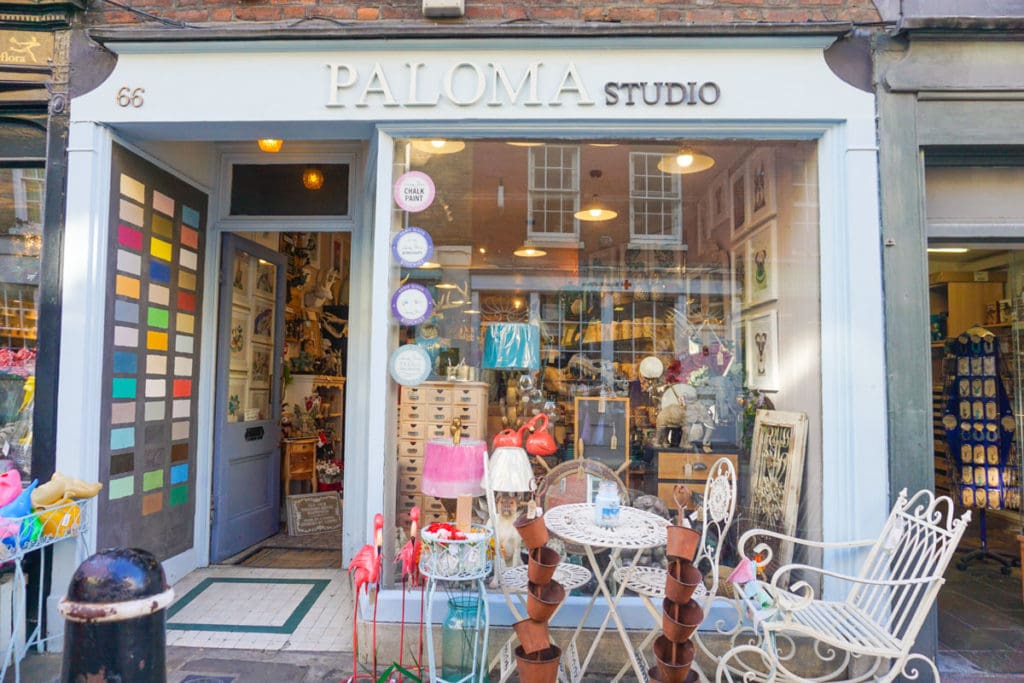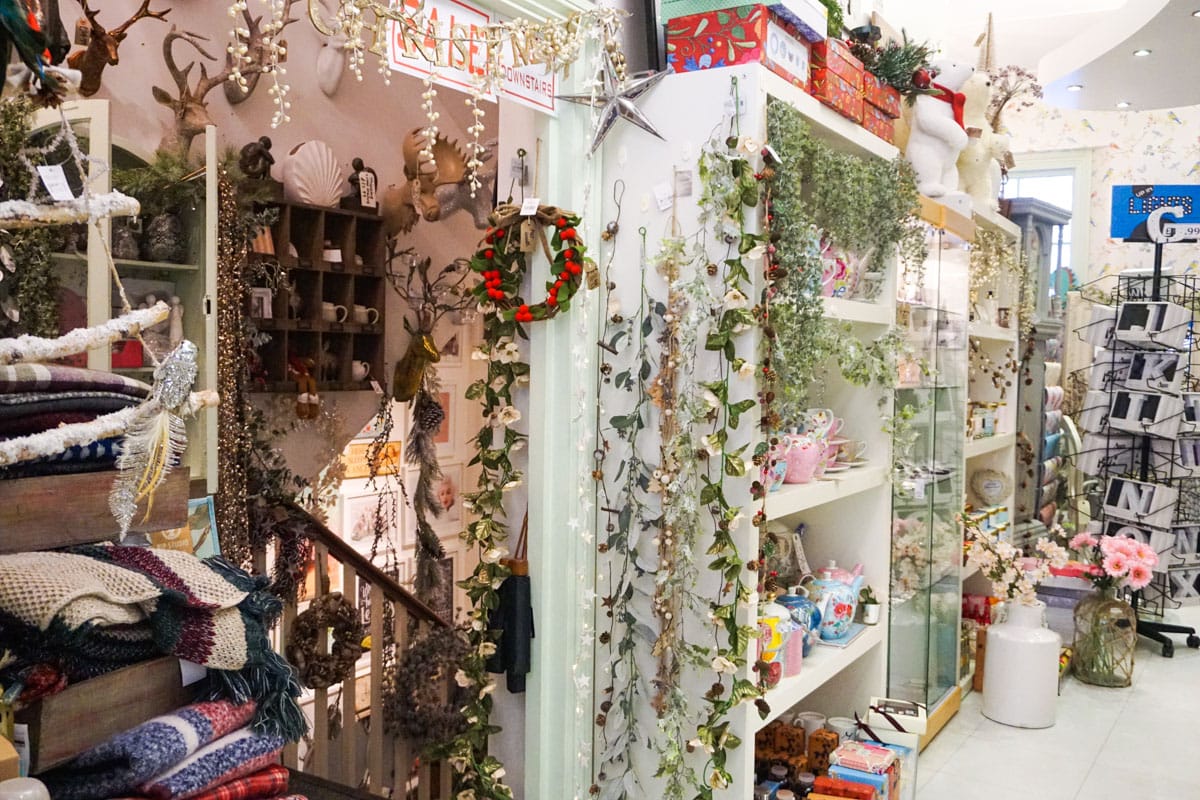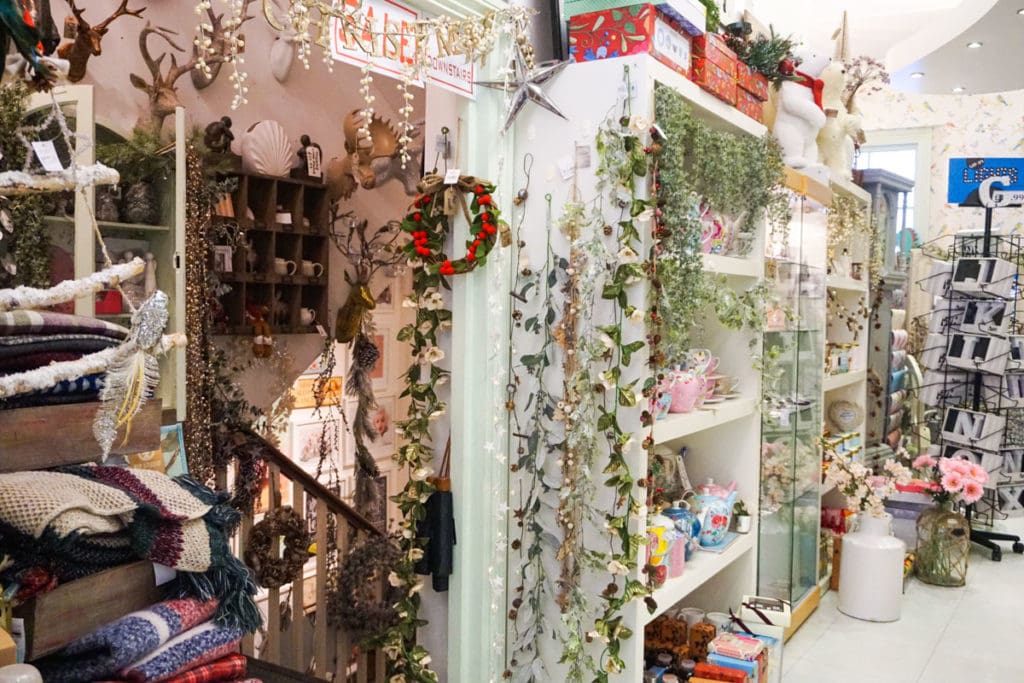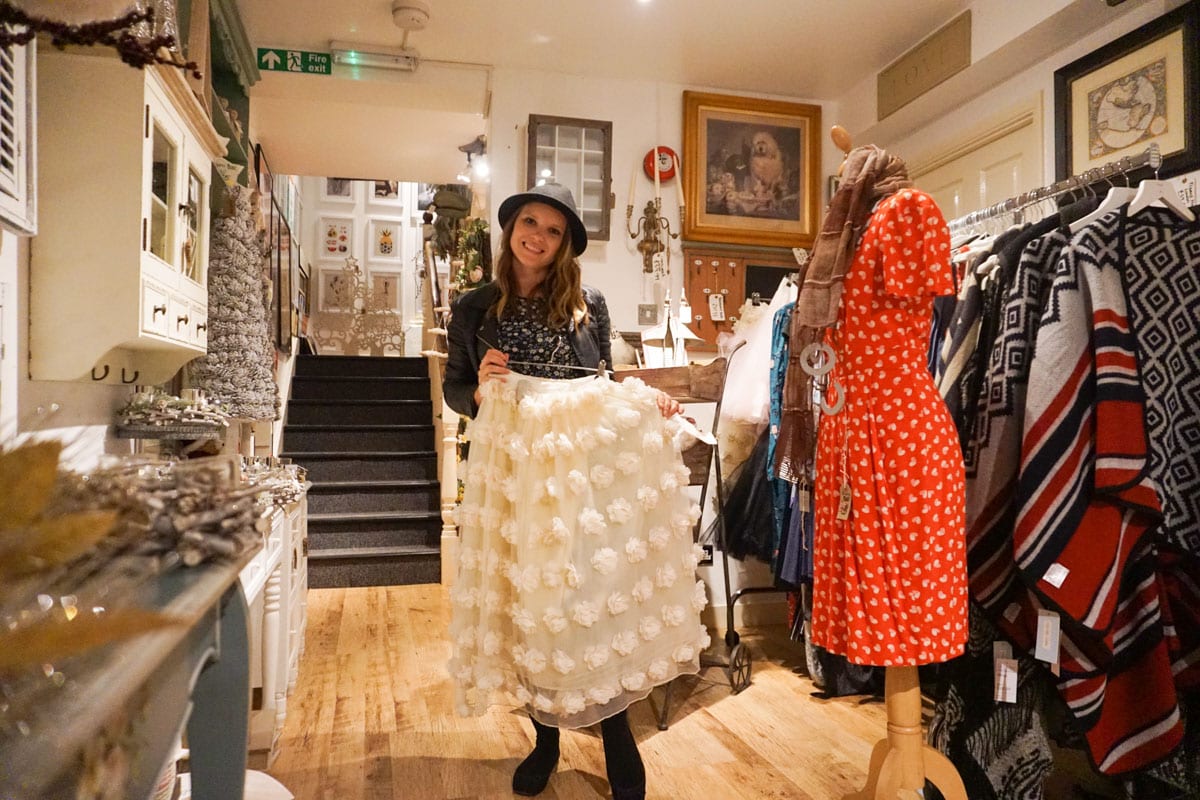 Nucleus was set up to showcase and support the work of local artists in the Medway region of Kent. During our visit we saw pieces made from felt, some incredible paintings, jewellery and even small sculptures. It's a real outlet for local creativity, and amazing to see it being highlighted in such a prominent position on Rochester High Street. Rather than being a stuffy gallery, it's got a casual vibe, and you can pop in for a cuppa and a slice of cake while checking out the local art. Many are affordably priced too!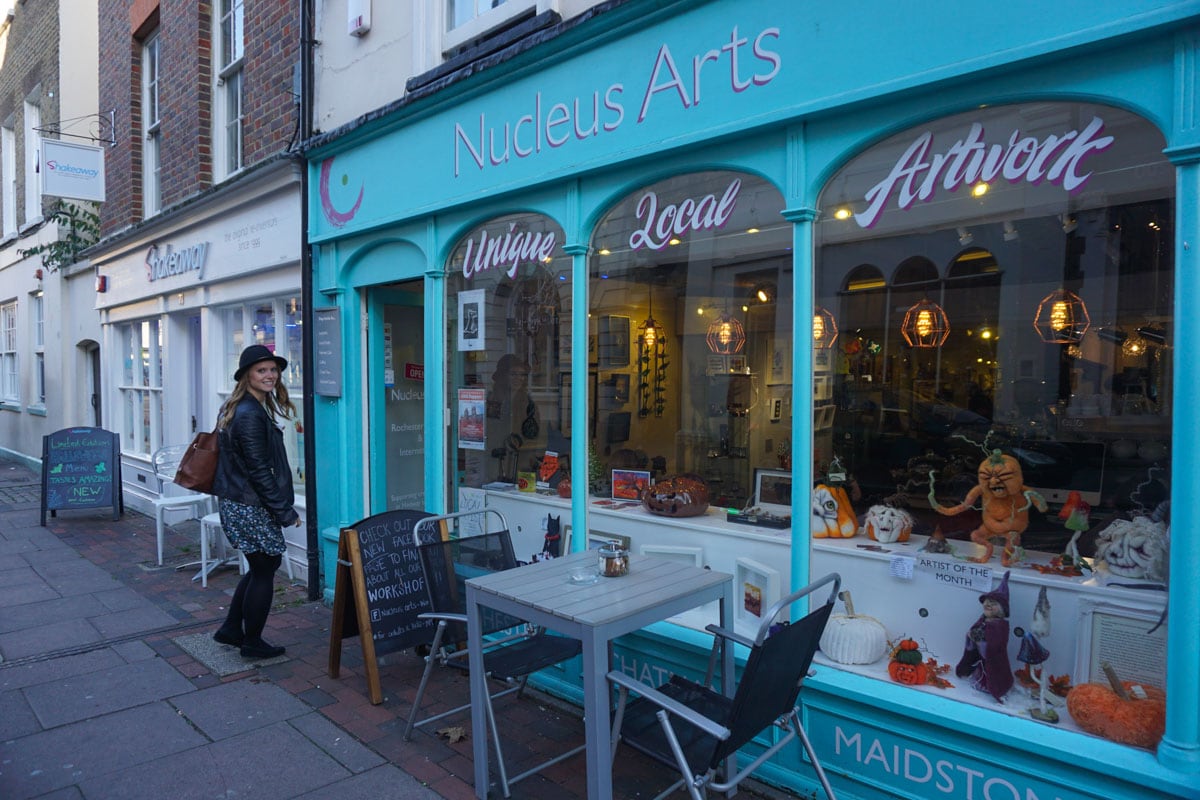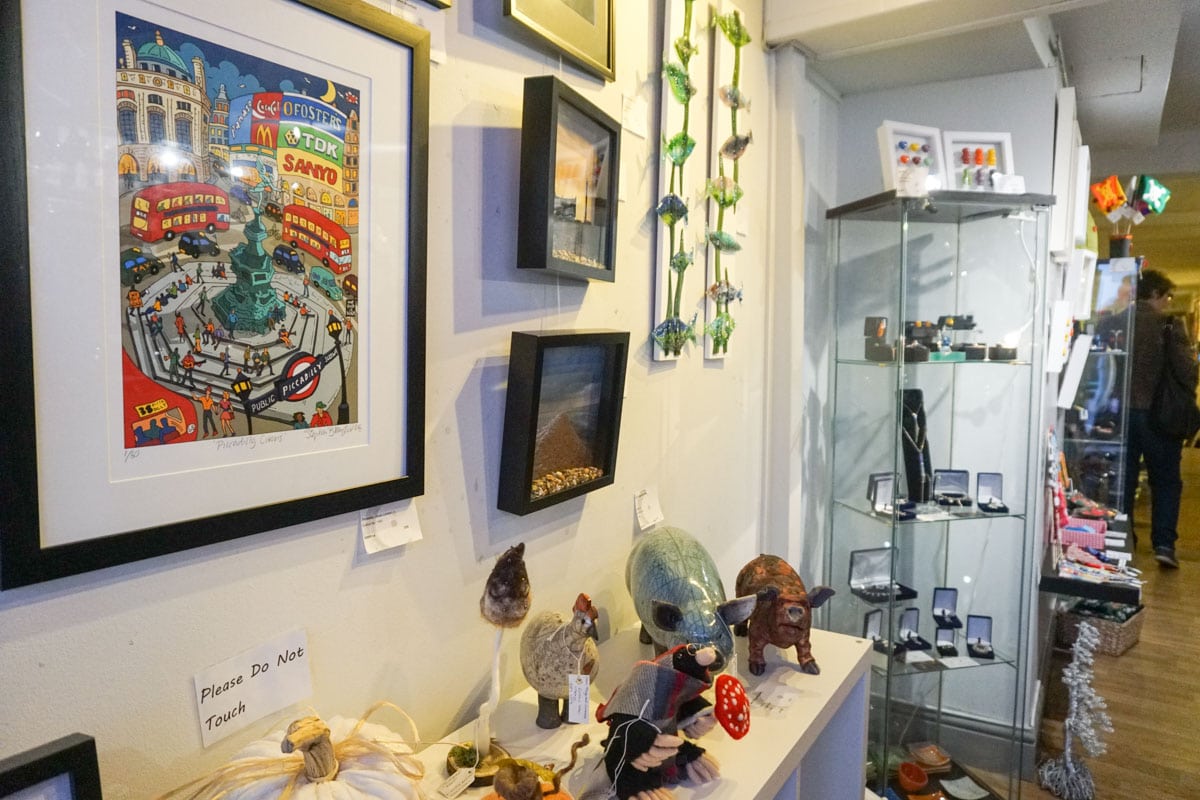 Who doesn't love an old-fashioned sweet shop?! I've always had a sweet tooth and so most day trips will involve sugary treats at some point. This one sells all the usual boiled sweets in jars behind the counter, sugar mice, jelly beans, lollipops and has a huge counter filled with tasty looking chocolates and fudge. The staff were excited to tell us that the store had been there over 30 years, and was a true family affair!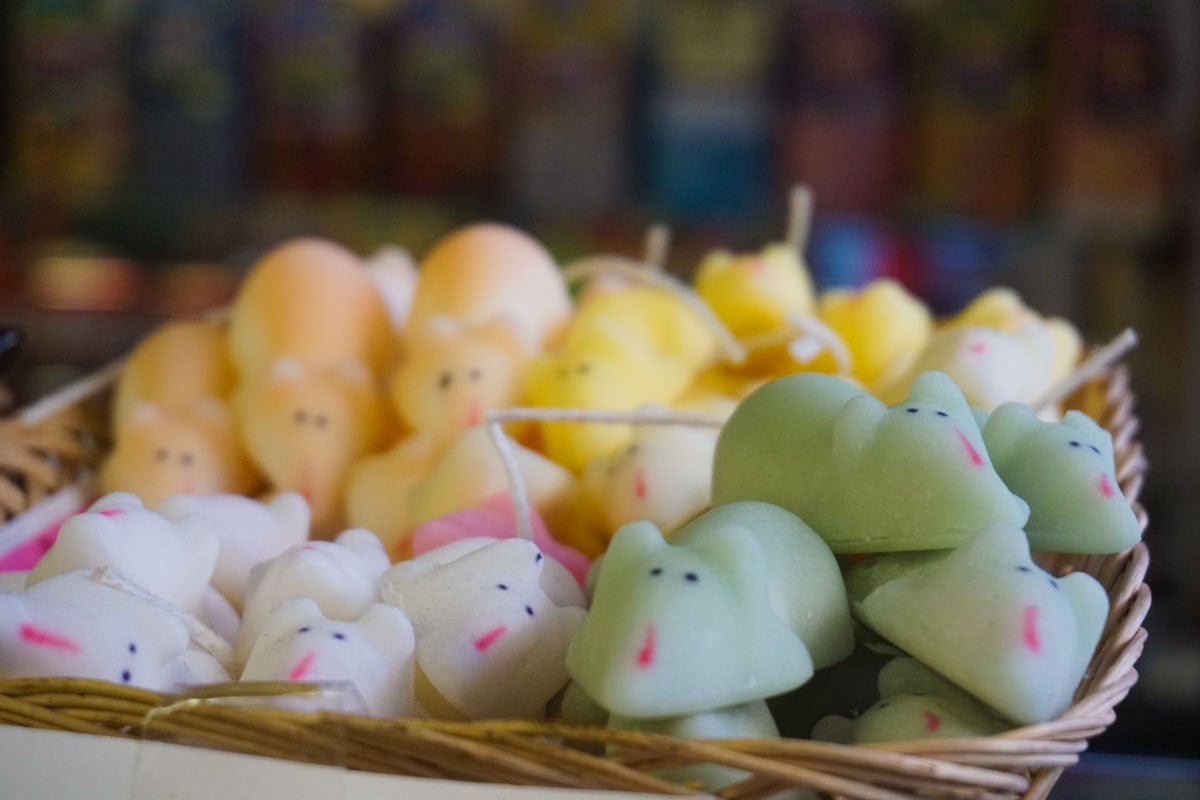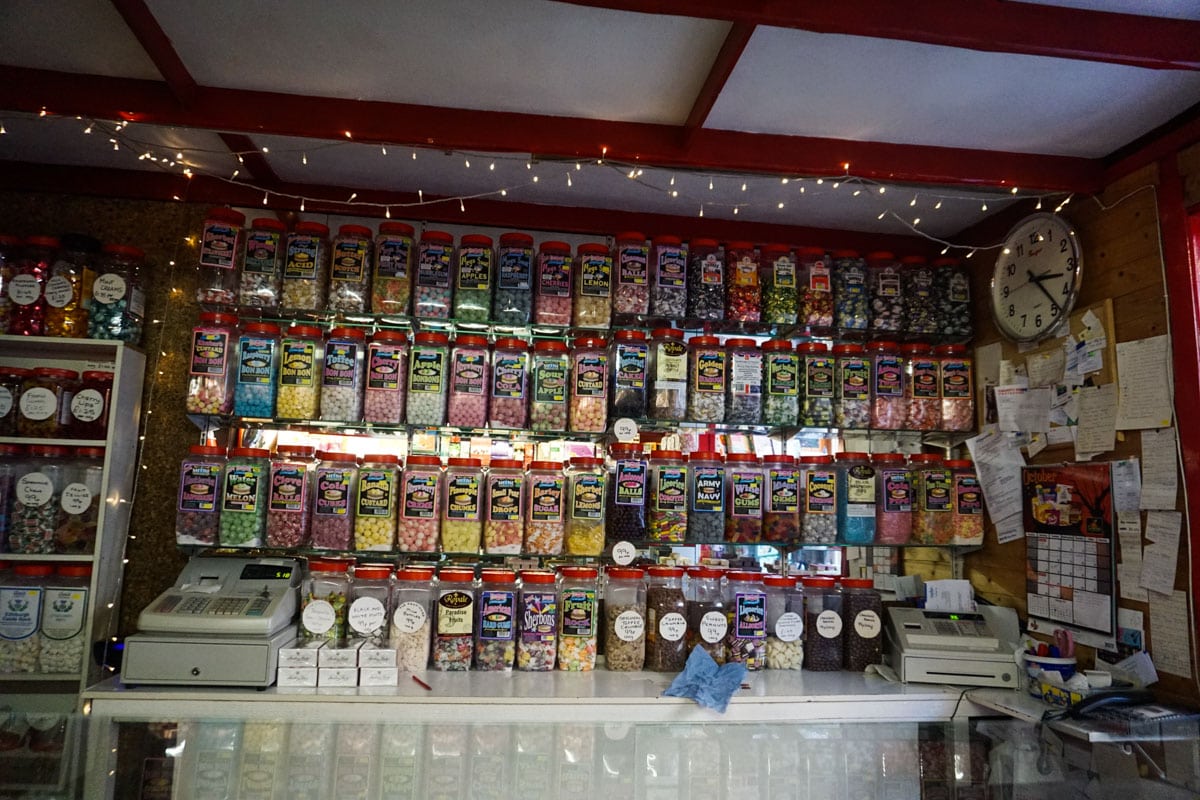 This is a super cosy coffee spot with great views of the Cathedral. The name also links back to Charles Dickens – who had a deaf cat who used to sit on his desk as he wrote his novels.
Pips of Rochester
Many of England's traditional greengrocers have gone out of business with huge supermarkets taking over. Thankfully Pips is still a big part of Rochester's high street, selling high quality locally-sourced fruit and vegetables along with tasty local products including Rochester honey and Kent Chilli Farm's chutneys.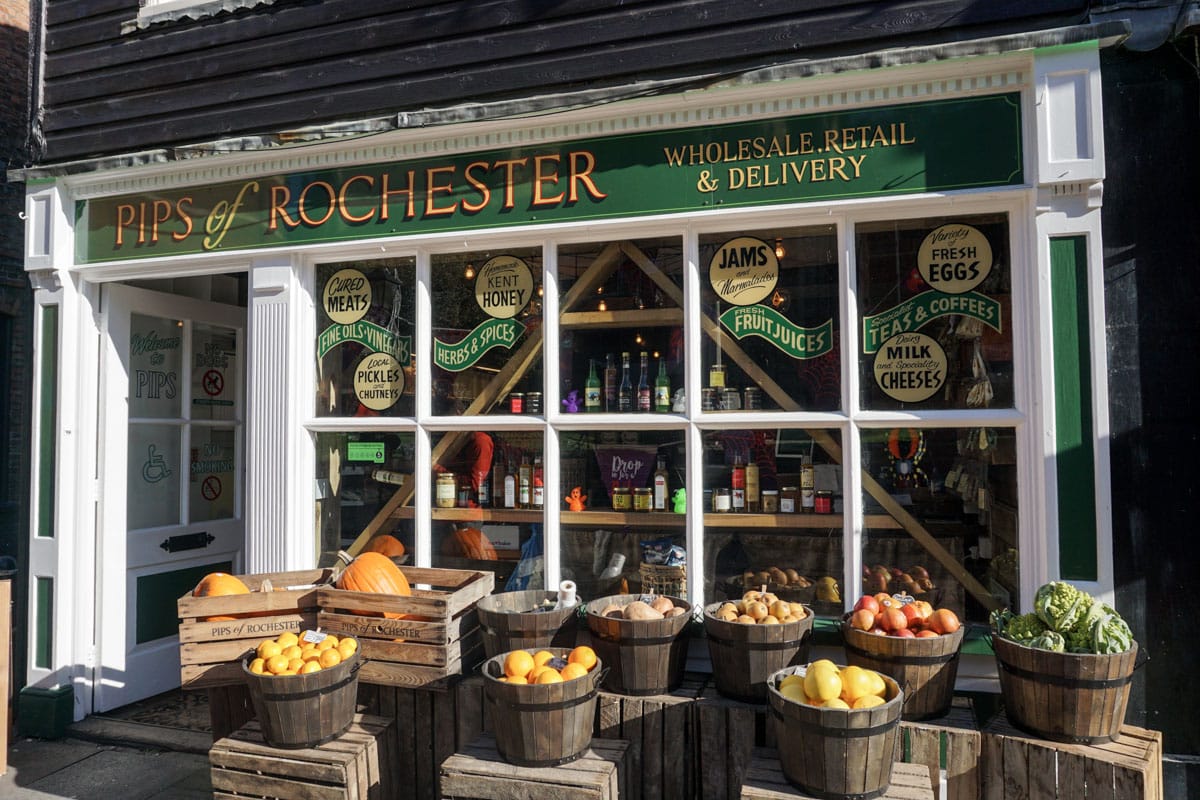 One of my favourite hidden gems from my day was exploring Dickens House Wine Emporium – an independent family run wine store with a very special history. Entering the store felt like I was stepping back in time, particularly once I descended into the cellar. Manager Tony explained that Dickens House used to be an apothecary. In fact, it was the place local author Charles Dickens came to collect his medicine in the 1800s!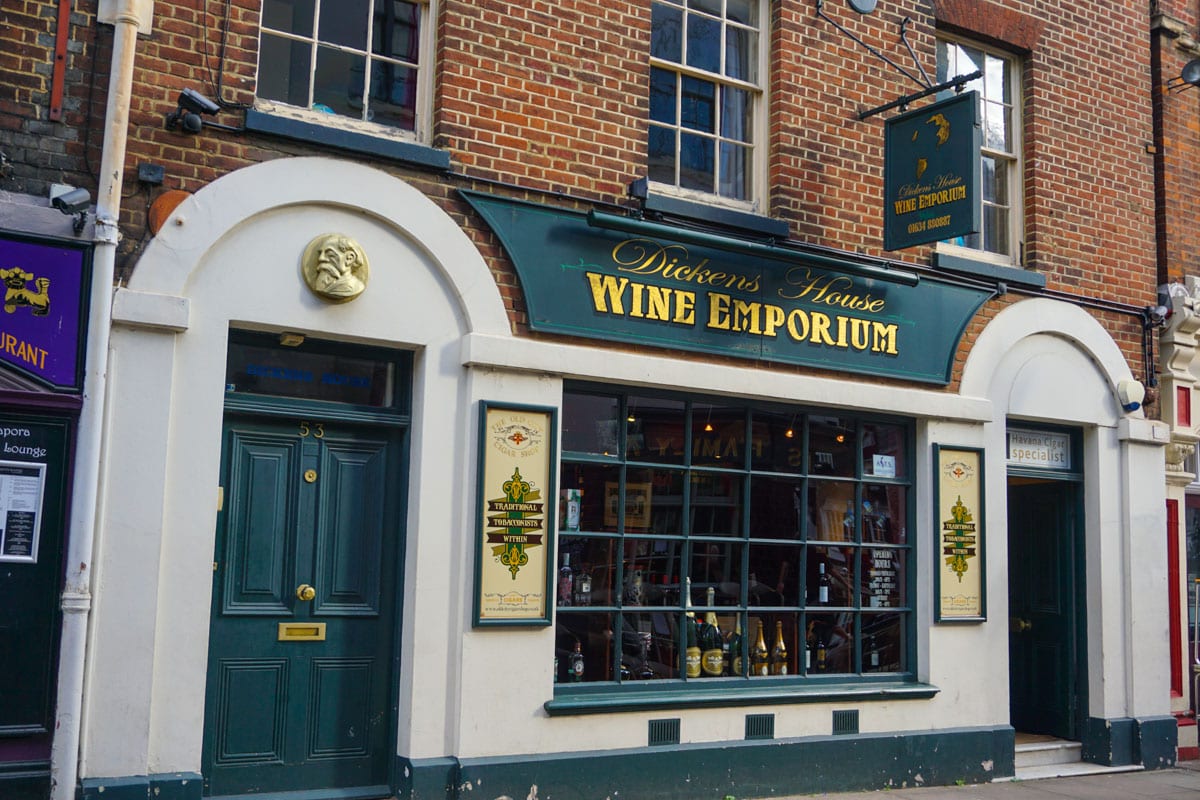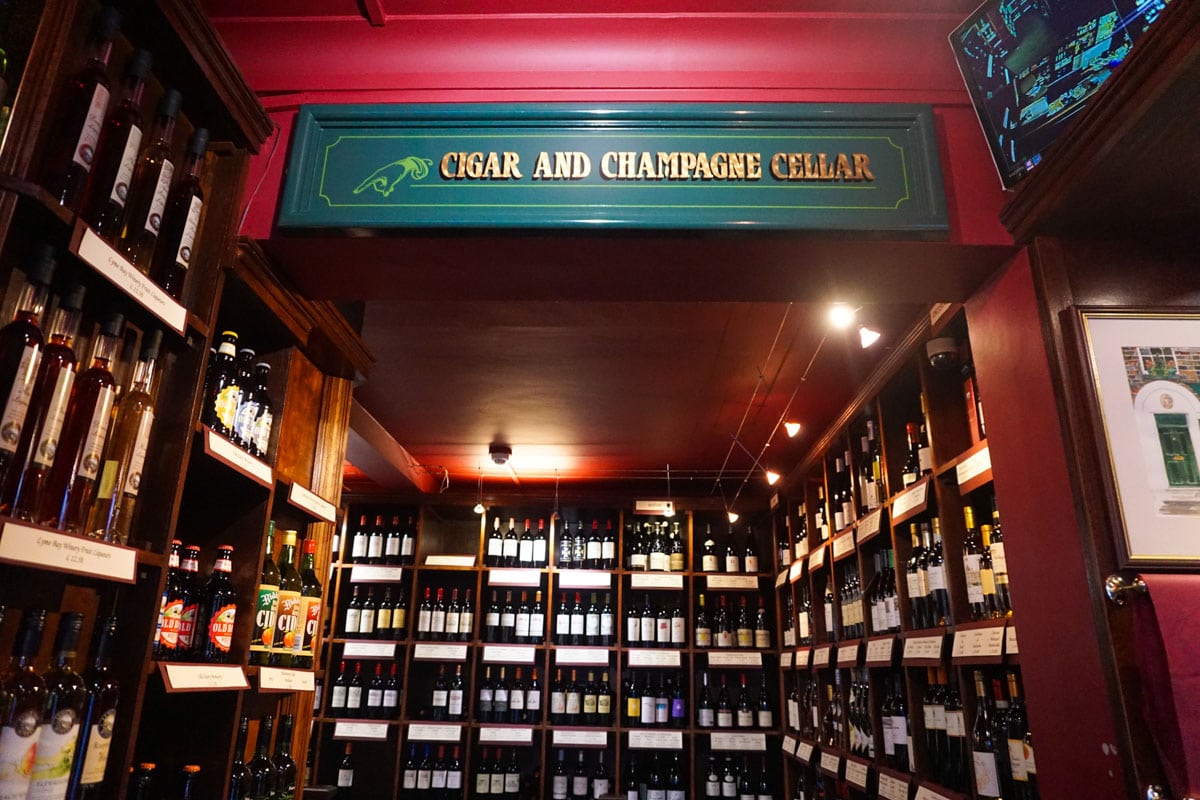 Topes Restaurant
N.B. since my visit Topes has changed to Smoke & Liquor – a more casual bar and eatery offering charcoal cooking, fusion bowl and street food. I've left my review of Topes below as it's still run by the same people so should give an idea of the quality and attention to detail!
From my research, it seemed Topes was the place to go for the best food in Rochester. It's a family-run, independent restaurant, which has been on the high street for over 13 years. The food standard is high, with dishes including pan-fried sea bream with ratatouille and aubergine puree, a tasty roast pigeon dish with figs and a wonderfully smokey mackerel dish topped with a fried duck egg.
Photogenic, delicious food – this is the place for a special occasion. The restaurant is located in a gorgeous old building, and as for the name Topes? Mr Topes was the lead character in Charles Dickens final novel, The Mystery of Edwin Drood, so you can soak up some history while you eat too.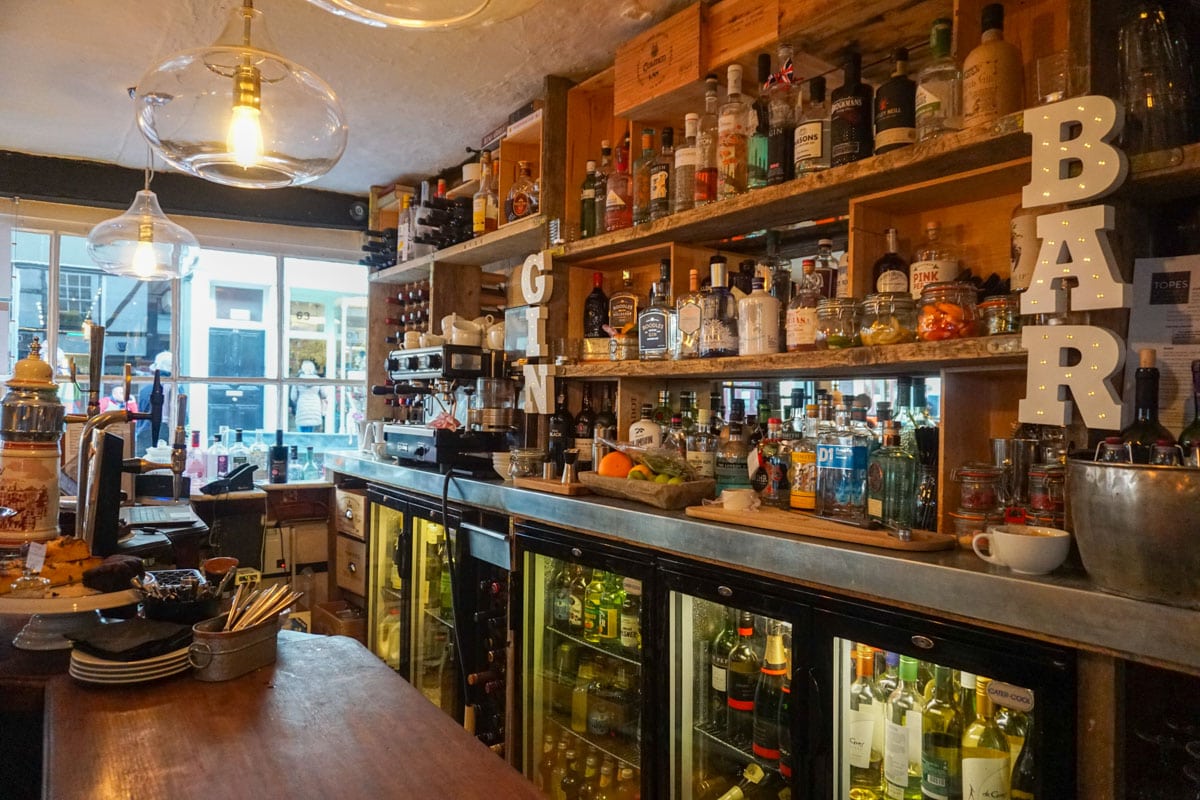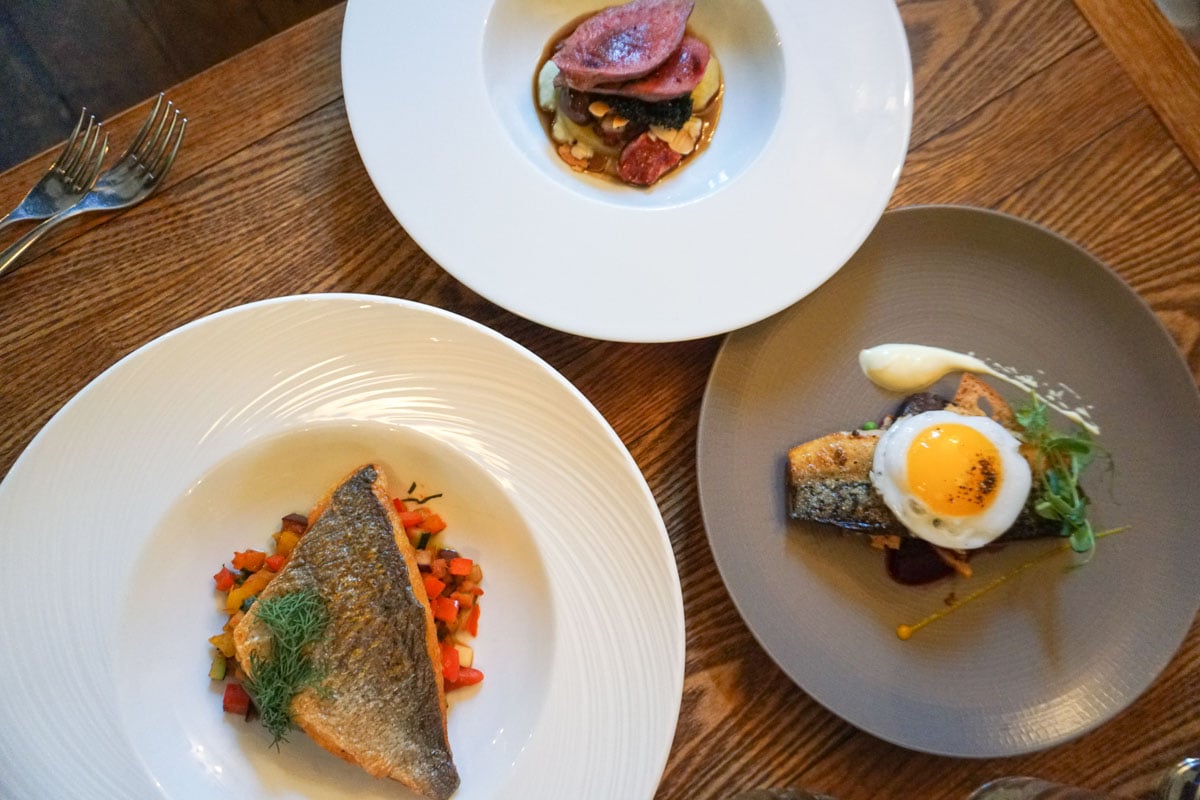 Baggins Book Bazaar
Rochester is also home to England's largest second hand and rare bookshop. Baggins is just incredible. From the shop front you just don't realise how vast it is inside – a real bookworm's paradise. They have over half-a-million books, all divided into topics. I got lost in there for a long time!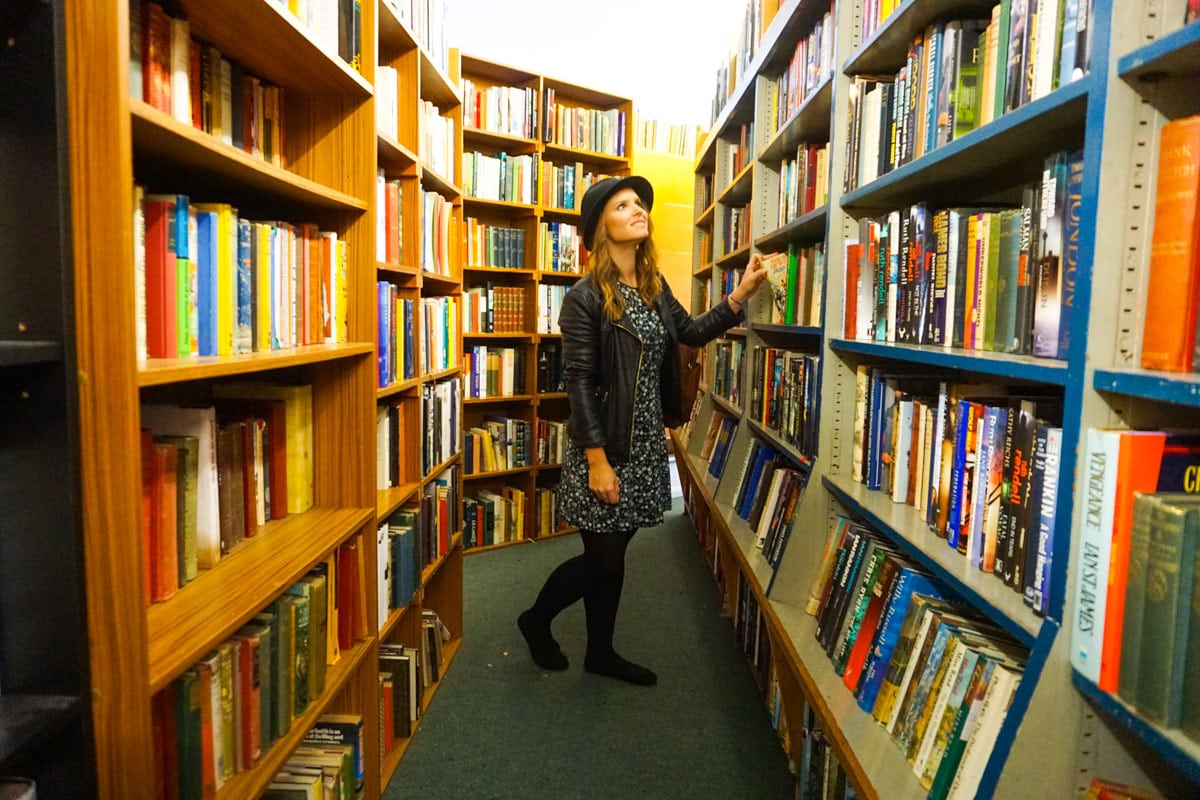 Wine and cheese is the perfect way to start a cosy evening in winter. The Cheese Room has lovely ambient lighting, with a counter and bar area upstairs and few tables downstairs. It hasn't been open long, but was already drawing in plenty of locals. Along with a great wine list, they have a great selection of Kentish cheeses including a tasty Kentish blue and the amusingly named Shaggy's Beard!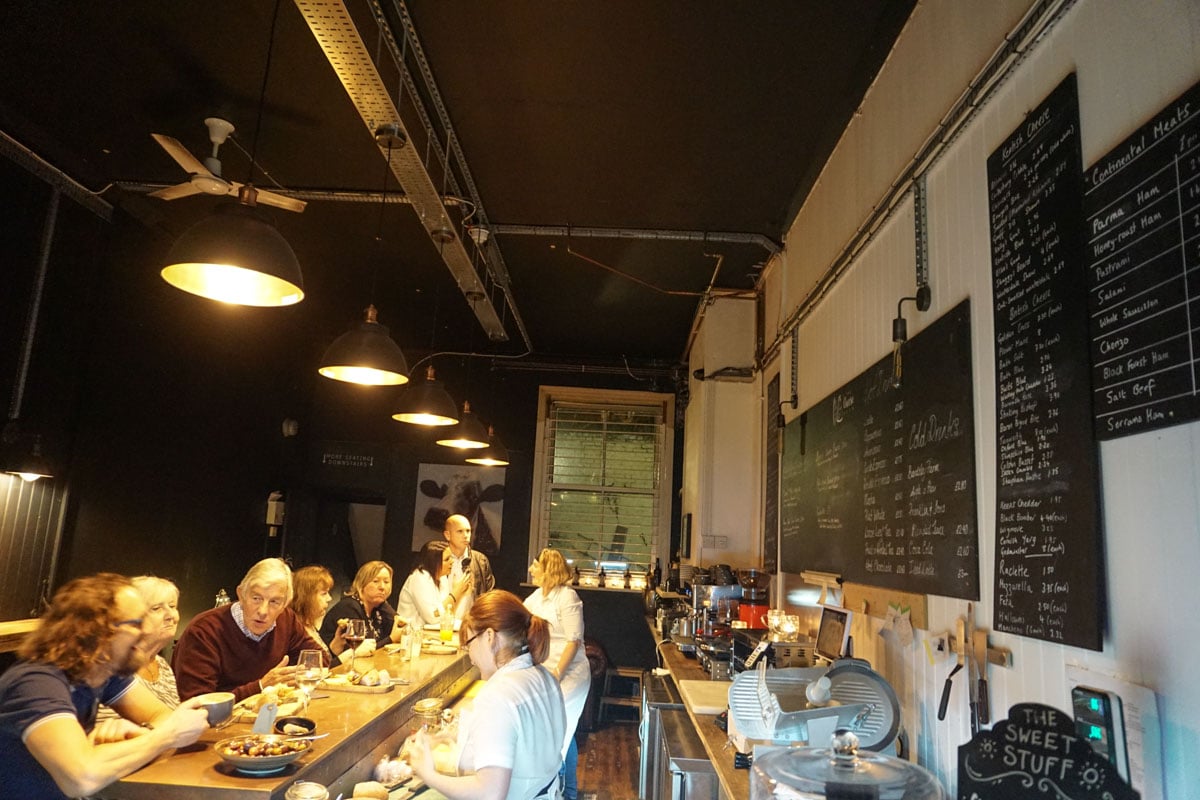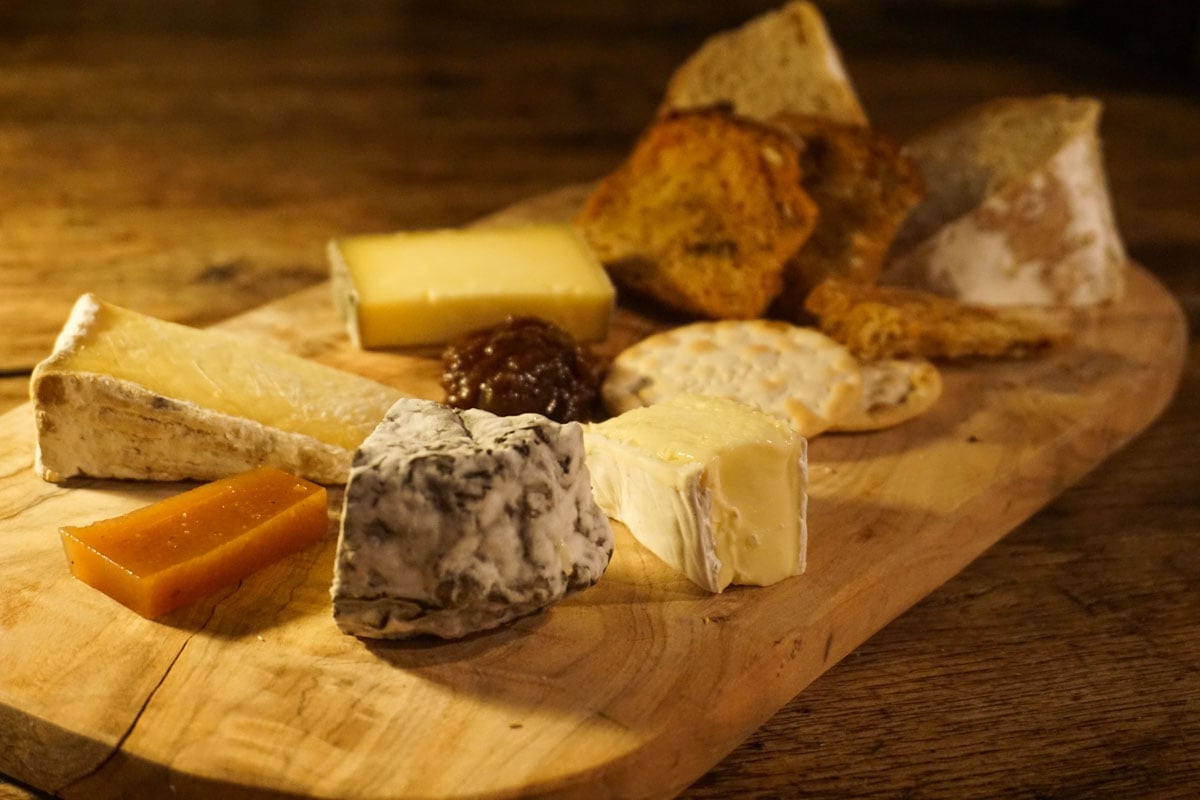 While it's no hidden gem… you just cant visit Rochester and not visit a few of the key landmarks! Rochester Castle is one of the best-preserved and finest examples of Norman architecture in England. It's seriously impressive and I just love that you can still climb all over it. It's somewhere to amble around in your own time, and one of the best places to capture the views of Rochester.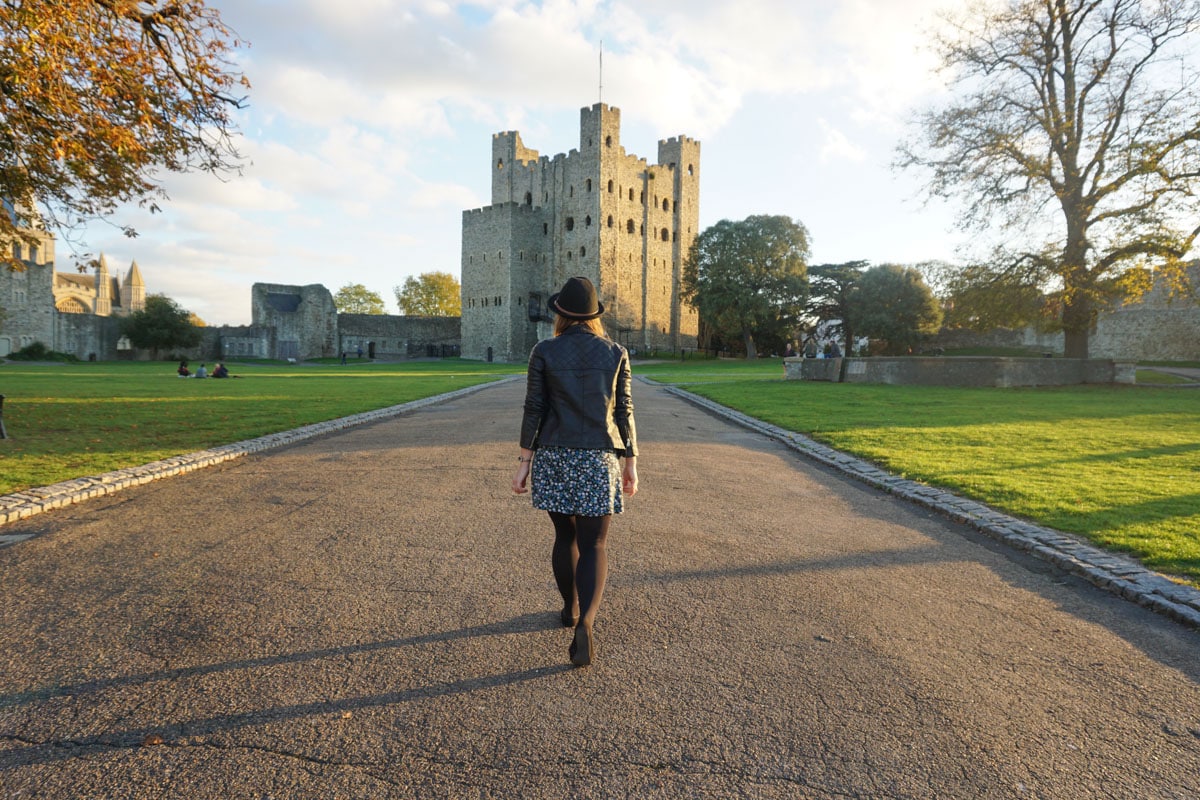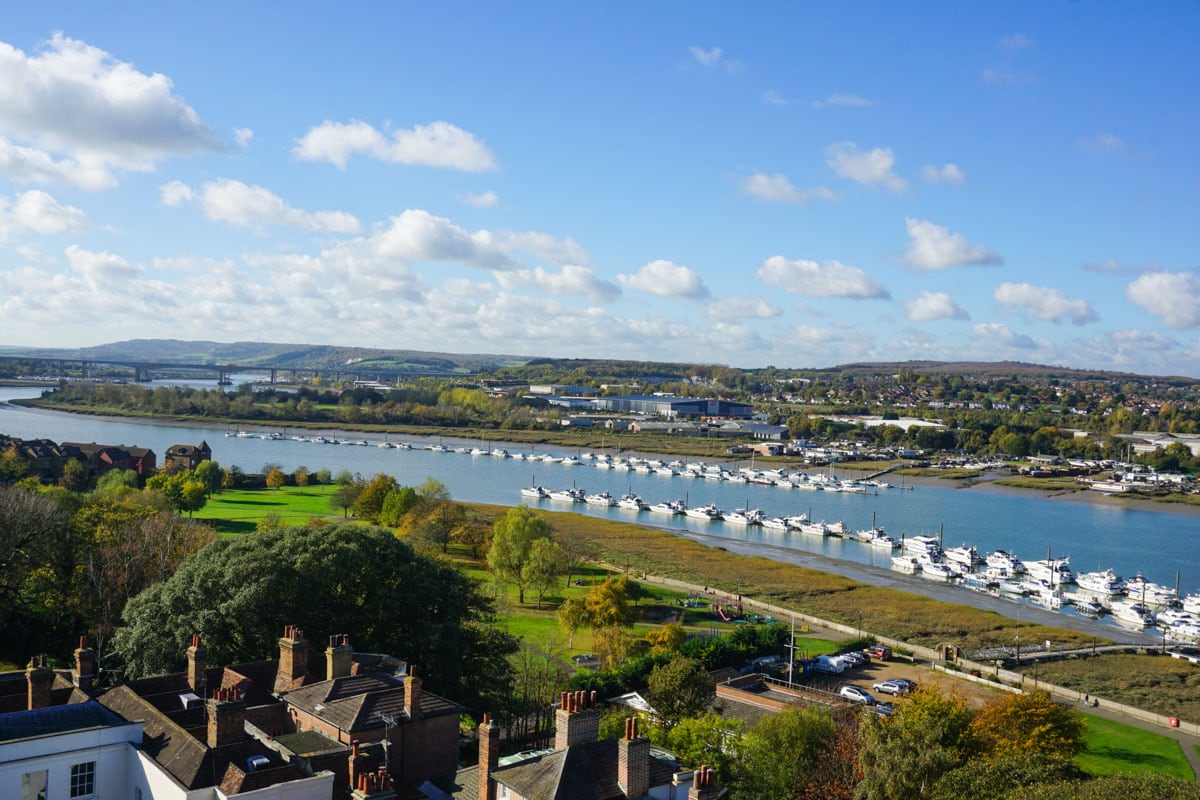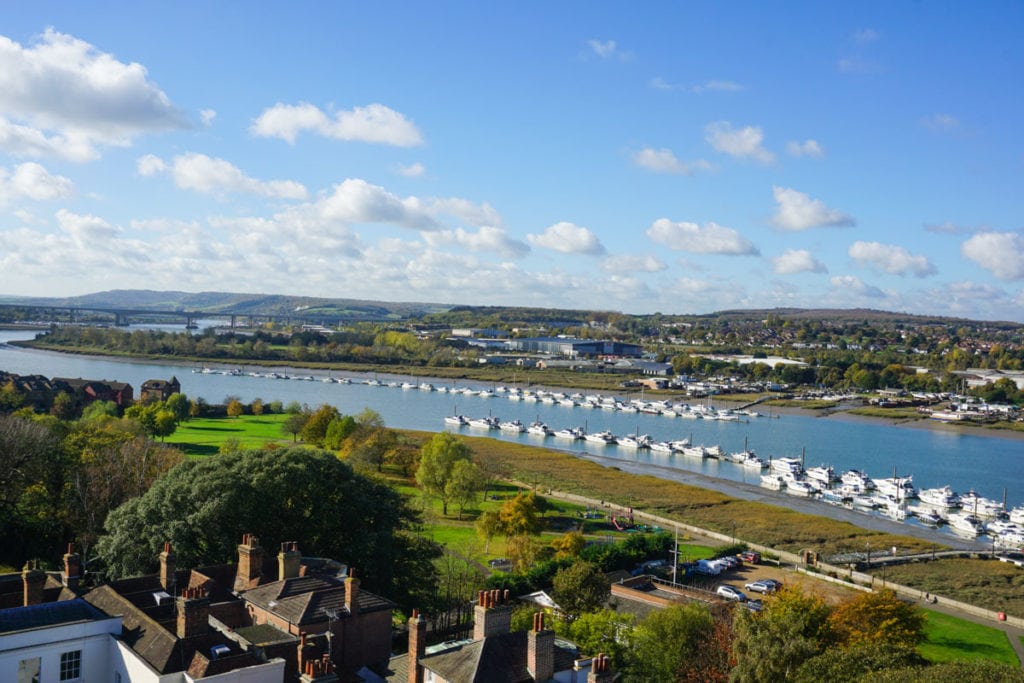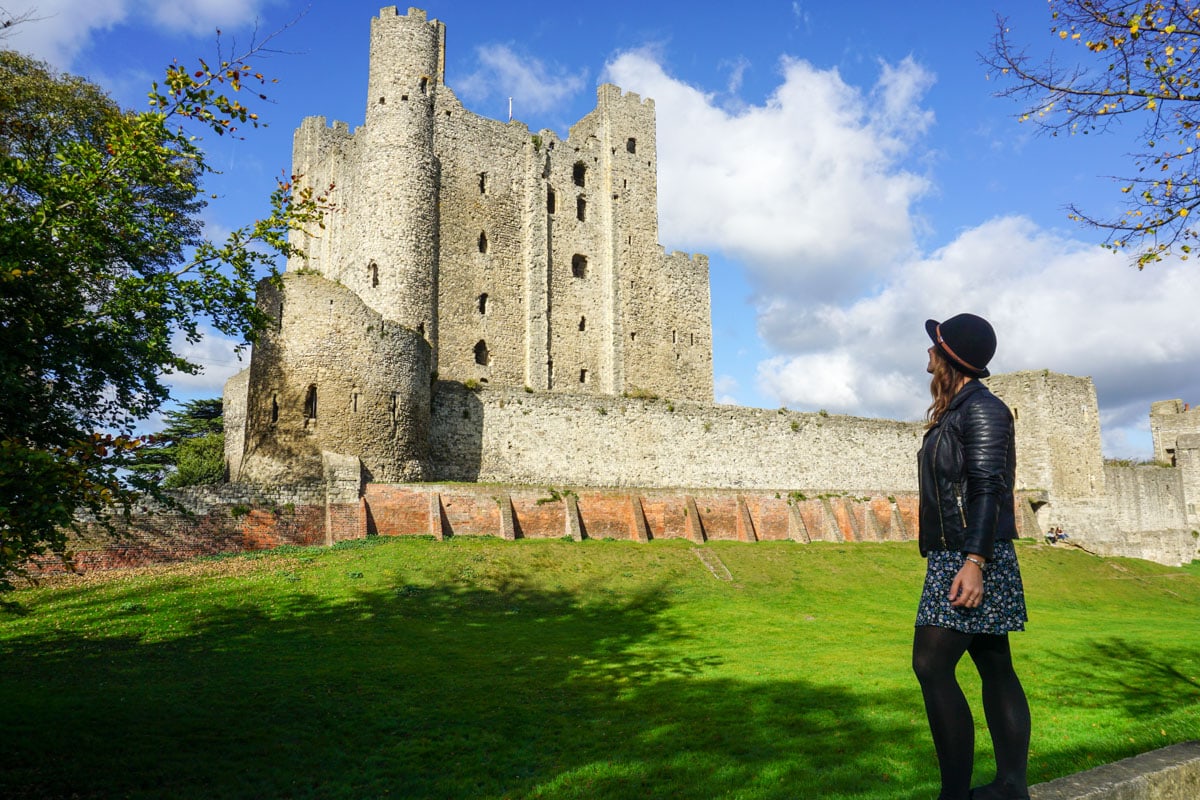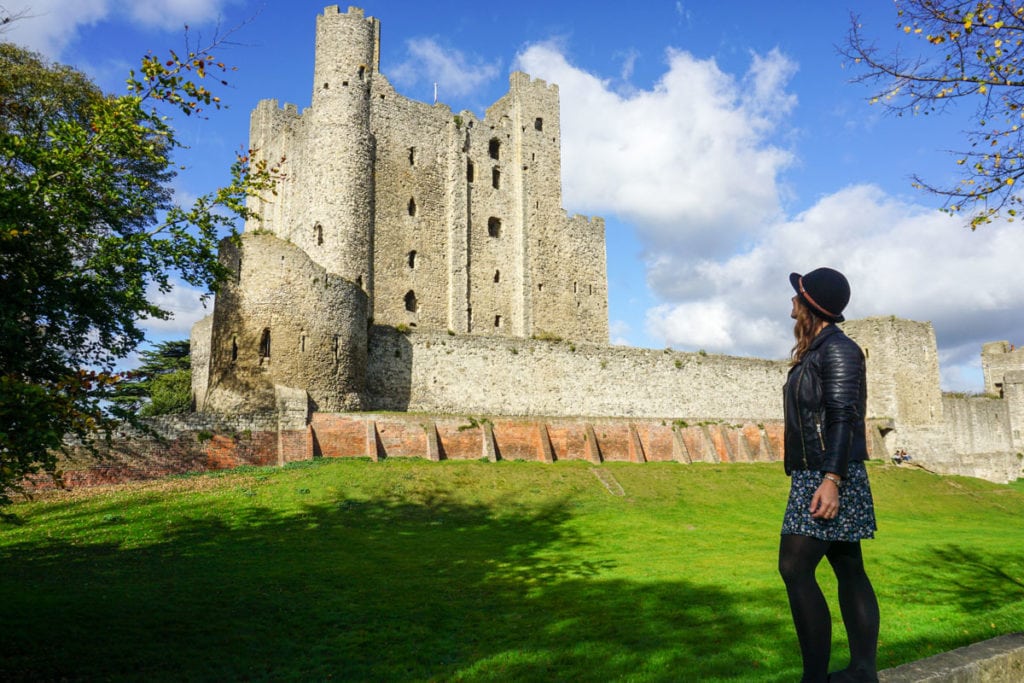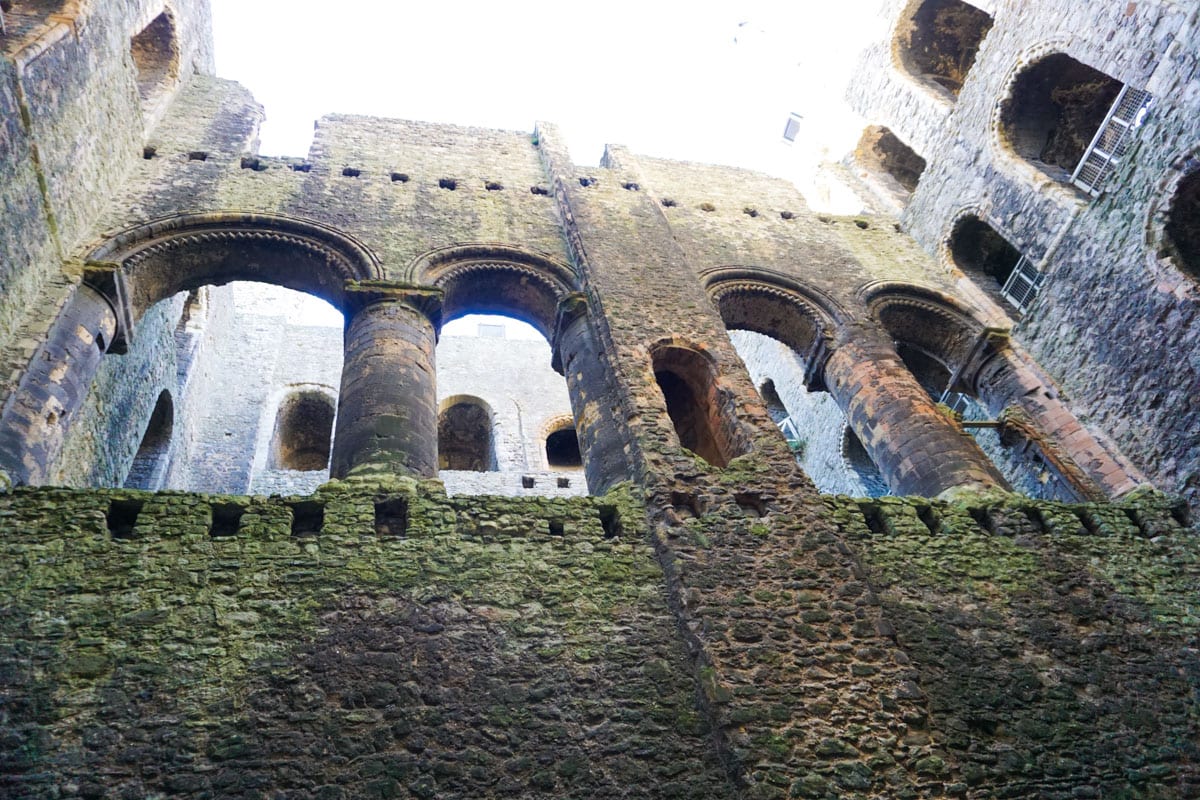 Opened last year, this family run board game café has over 700 board games. You pay a set fee of £3.50 per adult or £2 per child, which covers your time for a few hours. Then you help yourselves to board games covering every interest and category – from Pictionary and Jumanji to Jenga! I really enjoyed their cocktail menu which was as fun as the games… with offerings including Butterbeer and The Werewolf.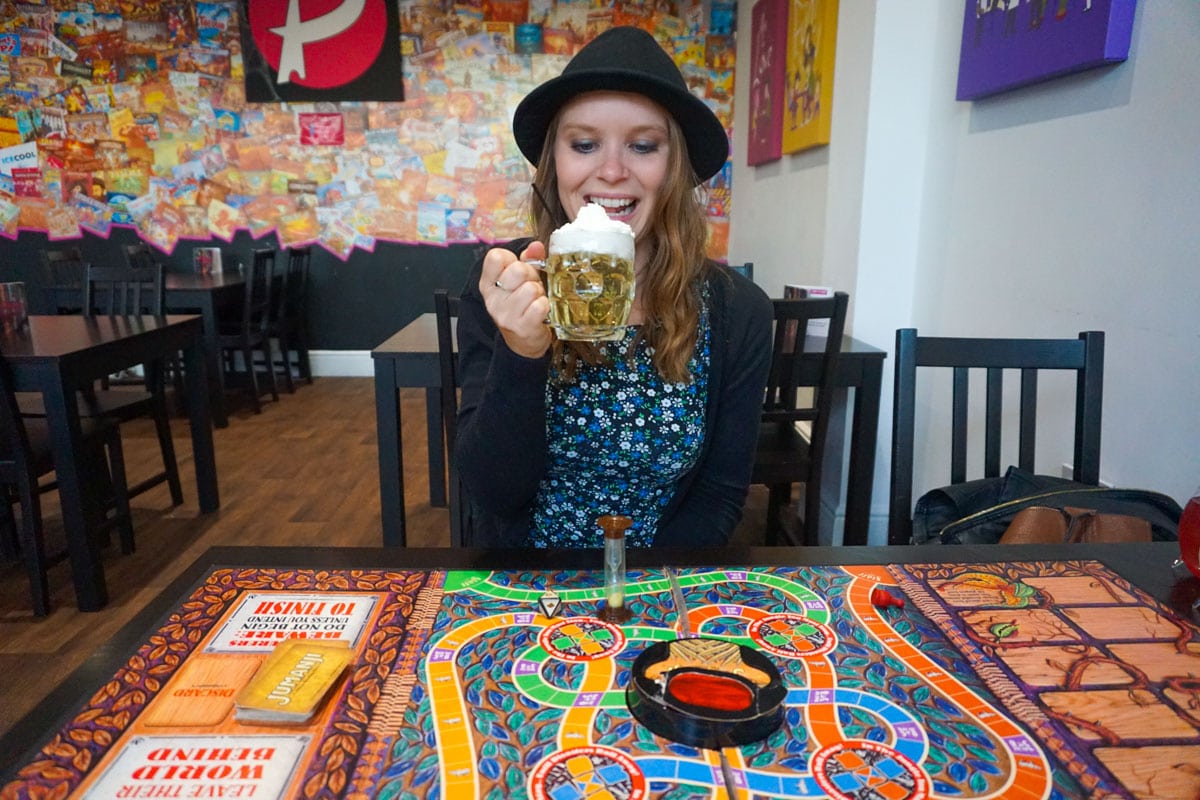 This is one of many places to go for an evening drink on the main high street… but underneath the main bar lurks something very special. Go downstairs and you'll find a grade 2 listed 14th Century crypt. It was being set up for a wedding when we visited. What a stunning place!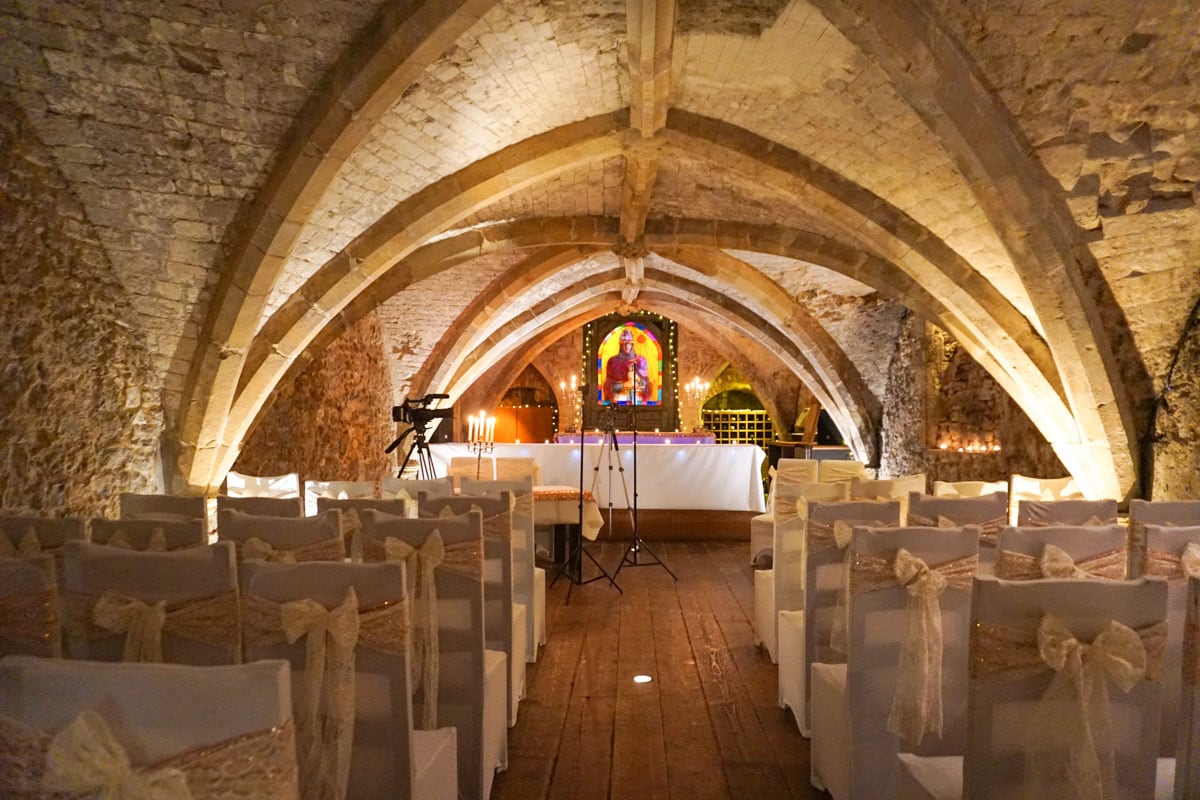 Rochester Bridge
The bridge is a famous local landmark in itself, but my tip is to cross over to the other side around sunset. There's a real sparkle in the air as the water reflects the light along with the historic castle and nearby buildings. Pretty magical!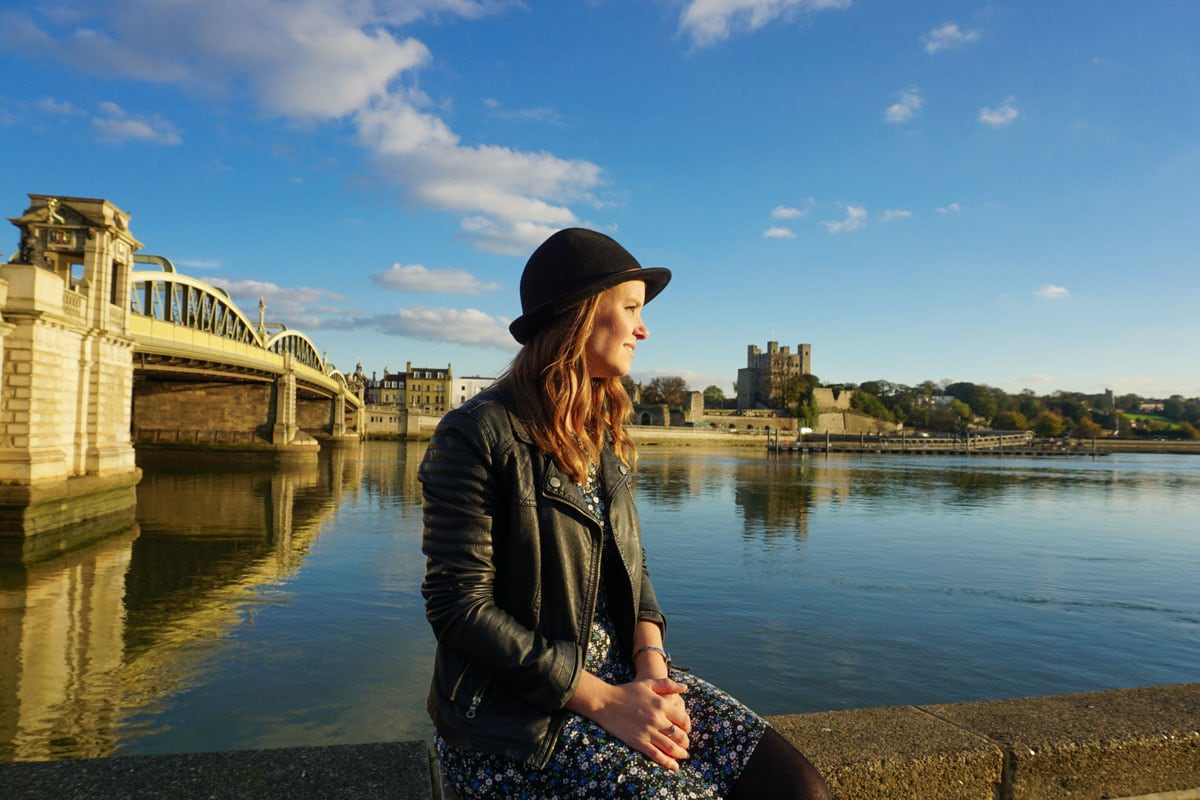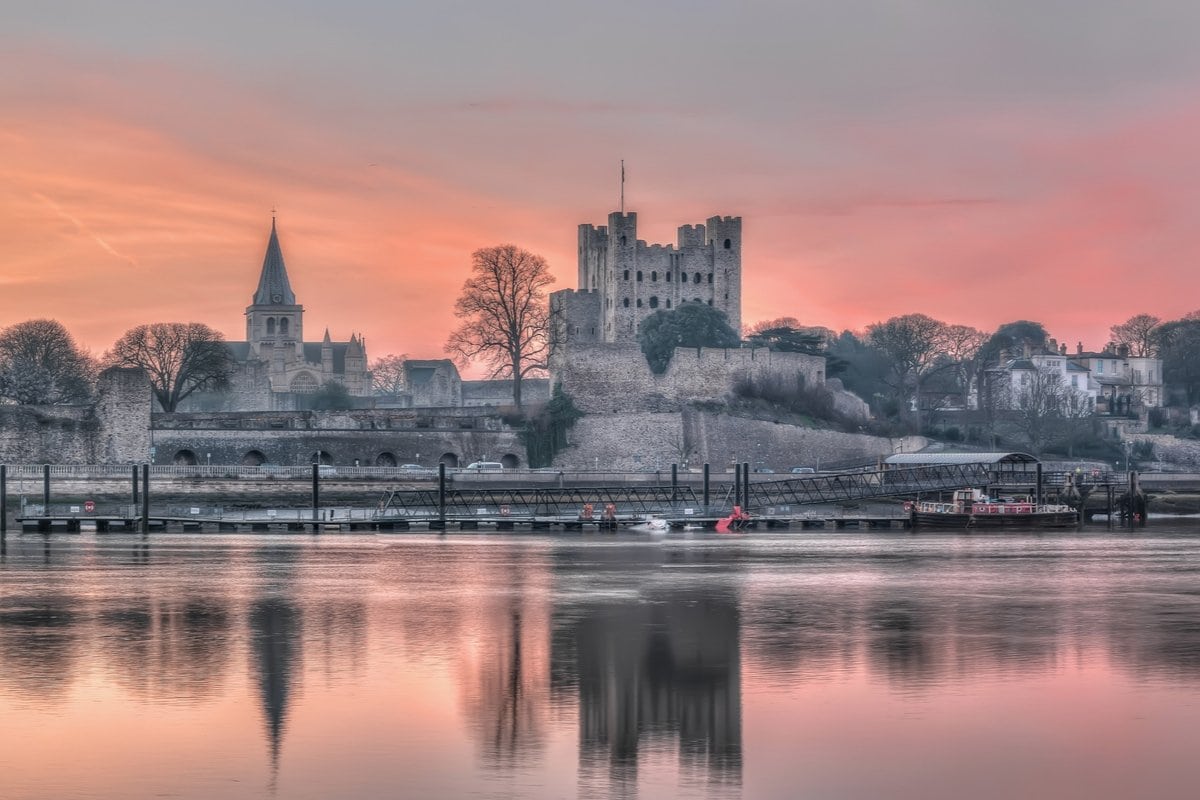 Where To Stay In Rochester, Kent
Rochester is pretty small, so you can't expect a huge range of options when it comes to hotels, however there is a variety of places to stay. You can search for options using the map below…
---
When Is The Best Time To Visit Rochester?
England is a country obsessed with weather. Don't know what to say? Comment on the weather! We talk about it a lot, but contrary to what you may have heard, we don't have awful weather in England. It's just a little unpredictable and varies from region to region.
You can expect average lows of around 5 °C in Rochester in January / February, and highs around 23°C in July / August.
If you're wondering when is the best time to visit Rochester, I'd suggest planning a trip in May or June. The weather tends to be warm and sunny, rain is at a minimum and it's out of peak season, so you shouldn't be battling any big crowds either. The longest day is around 20th June every year, so it's a time you can enjoy maximum daylight hours exploring!
I've never been a fan of November in England. It's the wettest month of the year, and while December can be pretty cold, there's a Christmas magic around the country which always puts a smile on my face!
---
My day trip to Rochester was sponsored by Southeastern. If you fancy booking a trip to Rochester or somewhere else in Kent or East Sussex, check out their Off-Peak fares to get the best value ticket for your journey! Find out more here. Plus check out Visit Kent to find out what's happening in the area. As always, opinions are my own.
Enjoyed this post? Pin it for later…