From bouncing on the Sky Pad, and zooming down high-speed slides, to racing against the clock in the escape room and plenty of tasty food too, it's time for a review of Royal Caribbean's newly revamped ship, Independence of the Seas.
A few weeks ago I headed to Southampton for my first proper cruise ship experience. Funnily enough, it was a cruise to nowhere! Yes, this wasn't about seeing several places in a week, this was about Miss Independence herself! Royal Caribbean had invited us to experience the Independence Of The Seas refit, take part in some of the new activities on board, and of course work our way around some of the ship's restaurants and bars.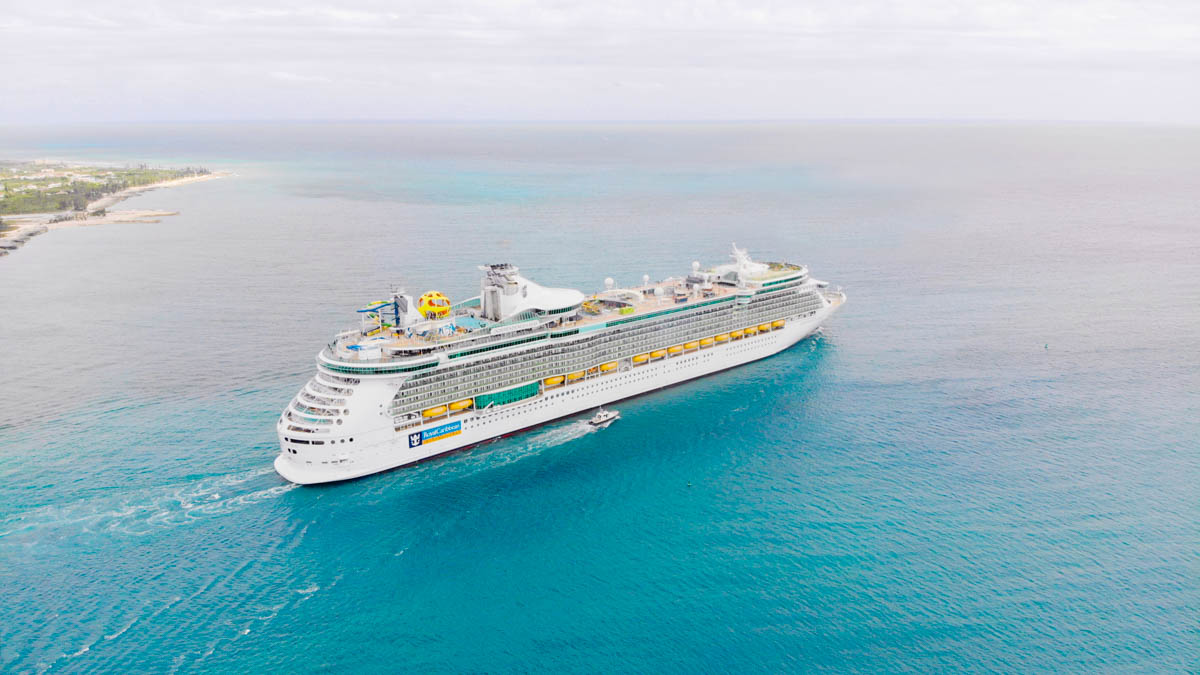 I've never cruised before. To be honest, before stepping on board this Royal Caribbean cruise ship, I was quite sceptical about taking this kind of holiday, assuming I'd be bumping into the same people constantly, subjected to cringe-worthy entertainment and getting bored of the food. I also questioned whether I was a bit young to be cruising – wasn't it something people chose in their later years?
So, had I jumped to conclusions? Errmmm – Yes! Forget other Independence Of The Seas reviews, this one is from a first timer!
The ship is big enough that you don't feel like you're bumping into the same people all the time. With room for over 4,500 guests and 1,400 crew, how could you?! The entertainment was seriously impressive, from an ice-dancing spectacle, to a talented cast performing Grease to a packed house, and some fab music too, it was anything but cringe-worthy.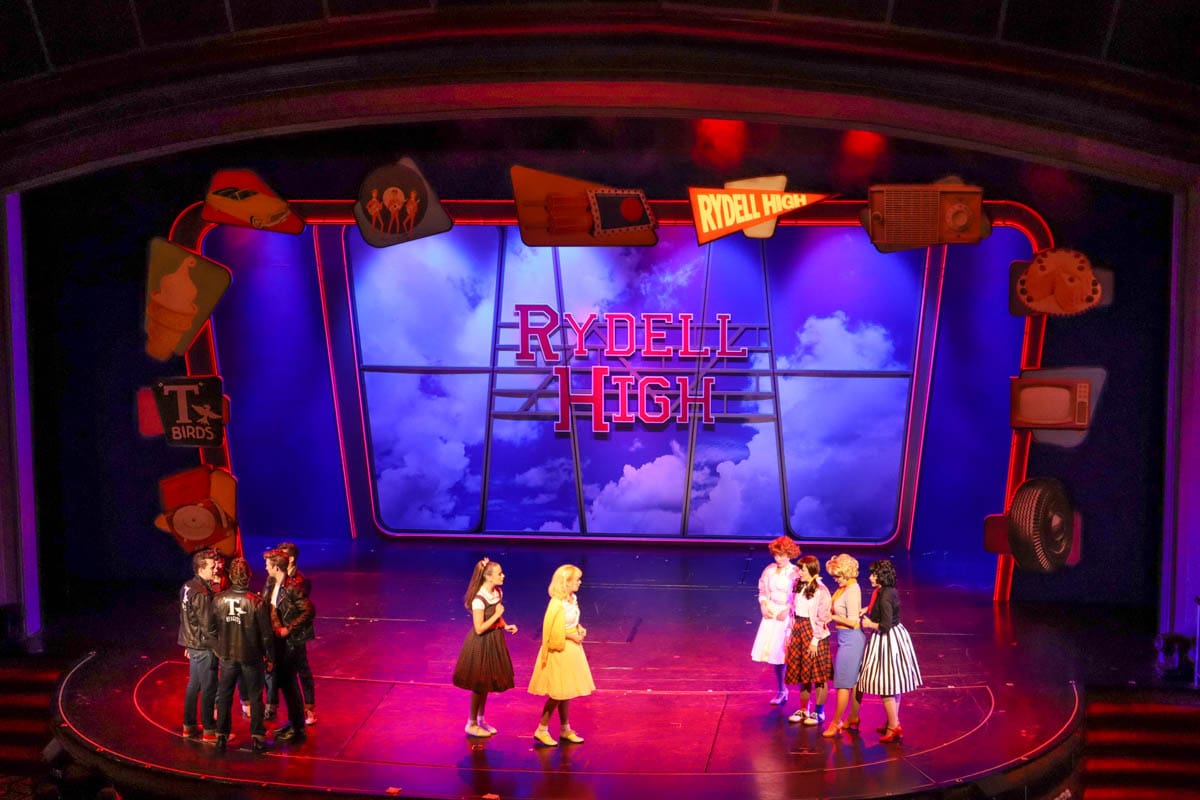 With plenty of different restaurants on board, there was no chance to get bored of the food either. In fact, two days wasn't even enough time to try all of the Independence of the Seas restaurants!! Even the ship's buffet in Windjammer had different dishes each day, with everything from soups, salads, burgers and fresh seafood, to pasta, curry and desserts. The Independence Of The Seas main dining room menu included sophisticated dishes like snails and beef tenderloin.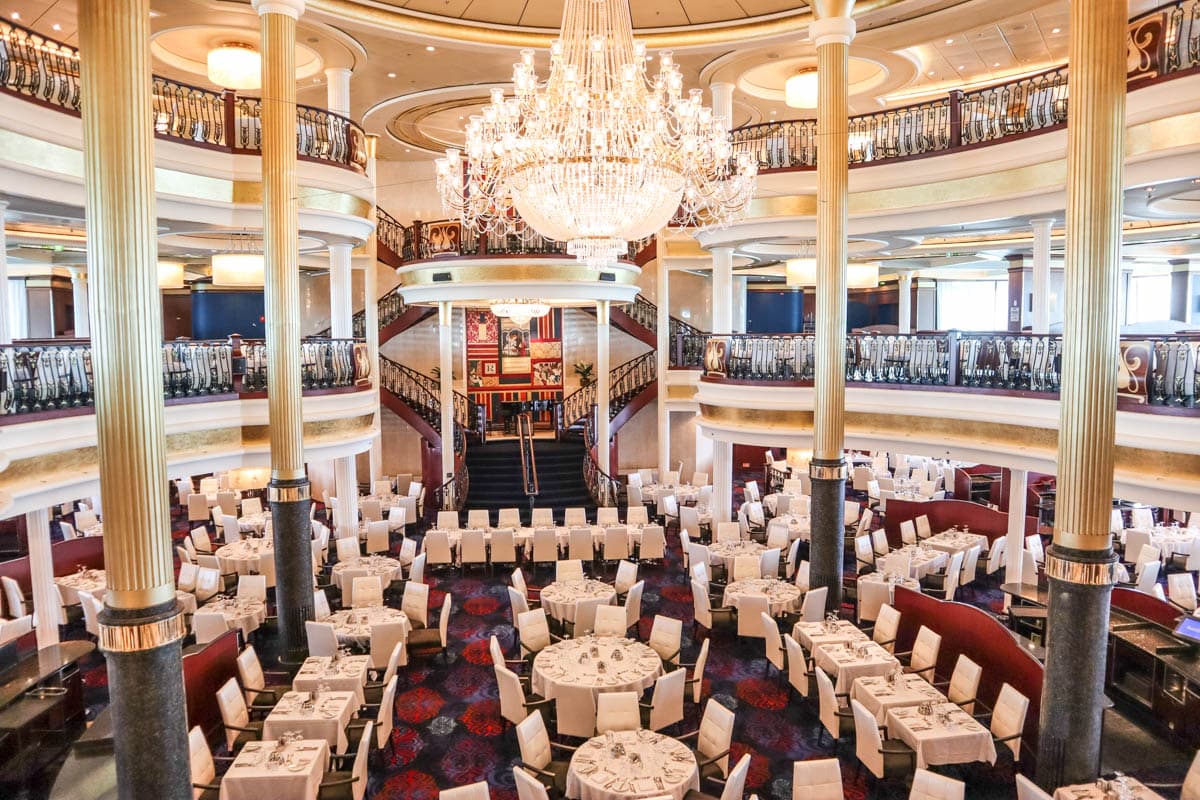 As for being too young, nope, I was wrong there too. Cruising isn't for old people; it's for people looking for a convenient way to see a few destinations in a short time (not having to pack each day is a bonus!). It's for people who want lots of food and drink options within easy reach, 24/7 activities and a variety of entertainment options. It's a holiday that spans all ages – from families with young kids, to groups of friends in their 20s, couples in their 30s (that's where I fit in here…) and the older generations too. After two days on board, I could see why so many people love cruise holidays.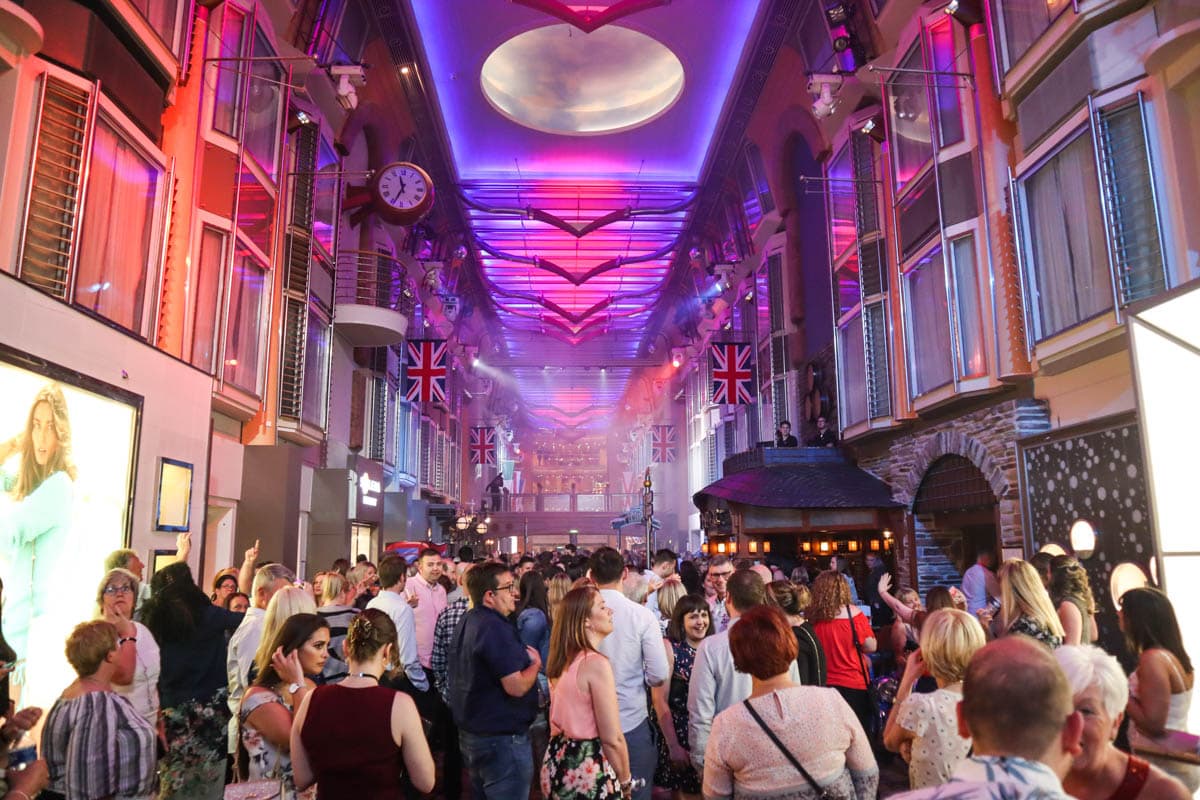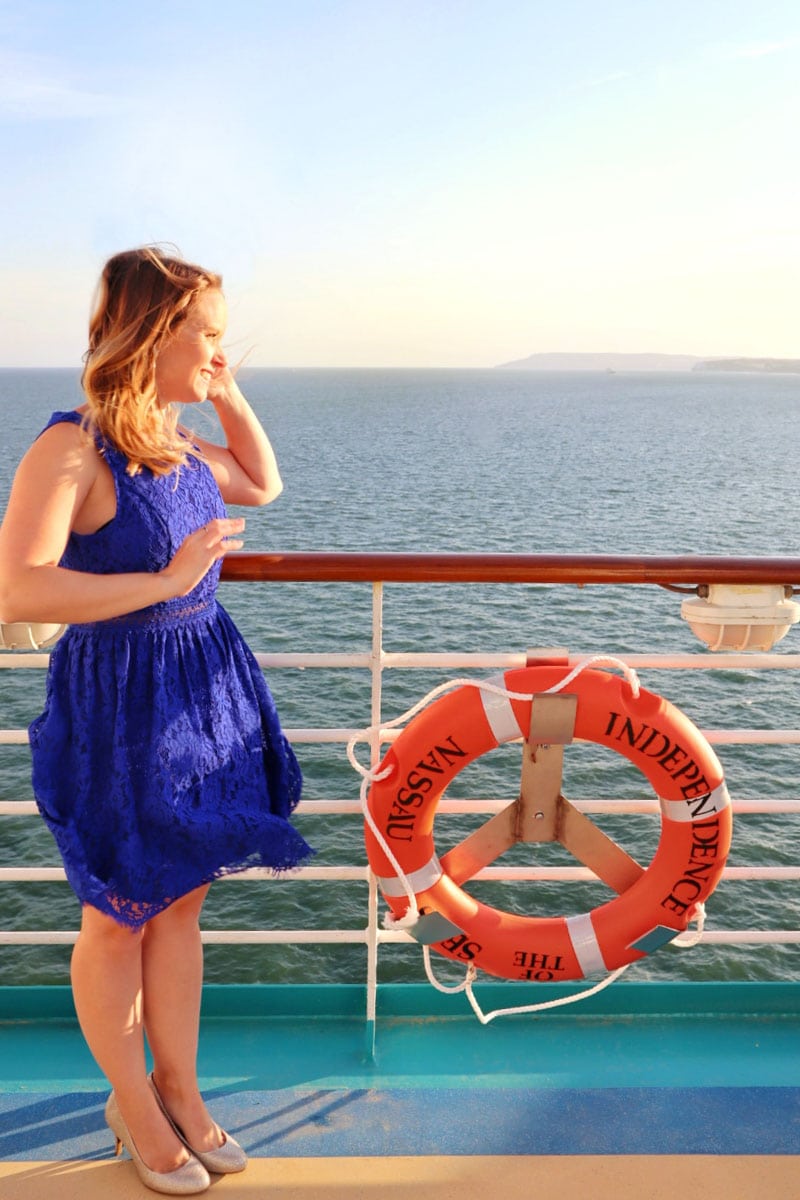 So, time to get into the details, and reveal more about my experience on board the newly revamped Independence Of The Seas.
10 Highlights Of My 2018 Cruise On Royal Caribbean: Independence of the Seas
1. Pools and Jacuzzis on board Independence of the Seas
We were SO lucky with the weather during our trip on the Independence of the Seas in May, experiencing blue skies, sunshine and temperatures in the early twenties. I couldn't believe this was England! It was warm enough to relax by one of the pools or hop in the Jacuzzi. I was pleased to find plenty of areas for adults, away from Splashaway Bay and the speedy Perfect Storm waterslides. I felt there was something totally mesmerising about relaxing in a bubbling Jacuzzi while looking out at the ocean.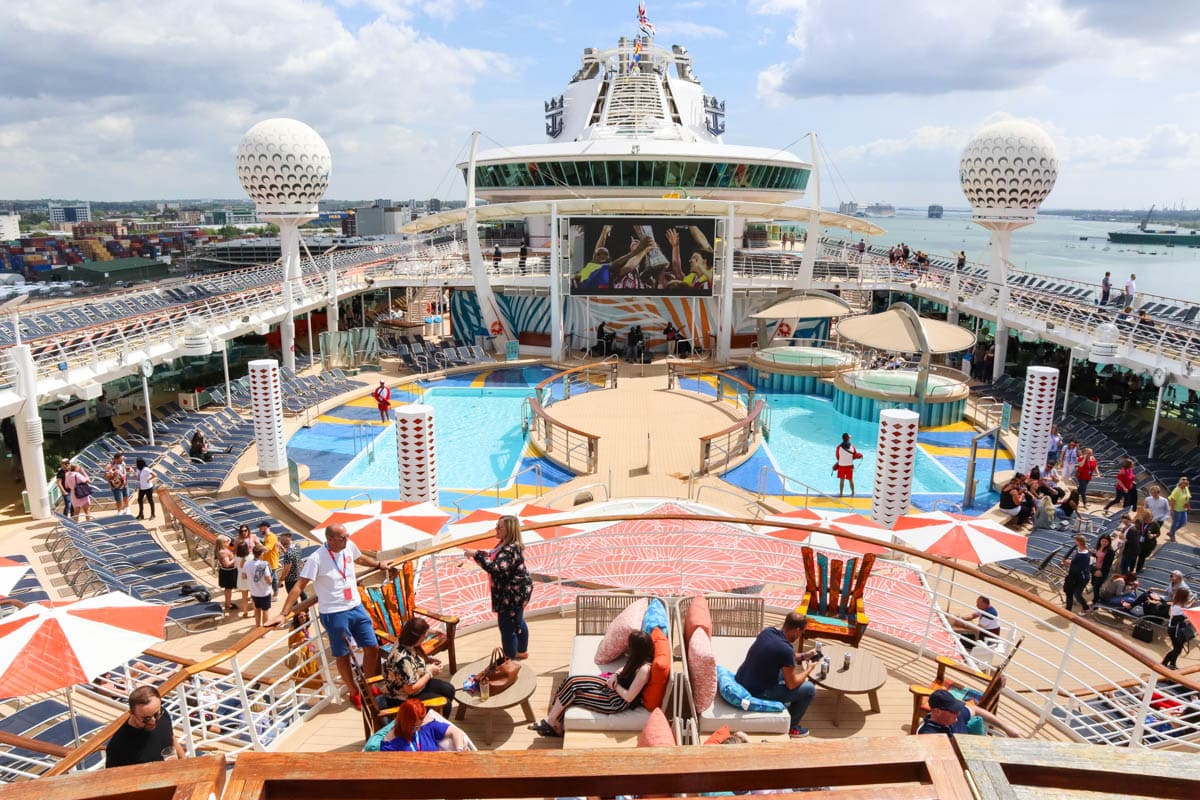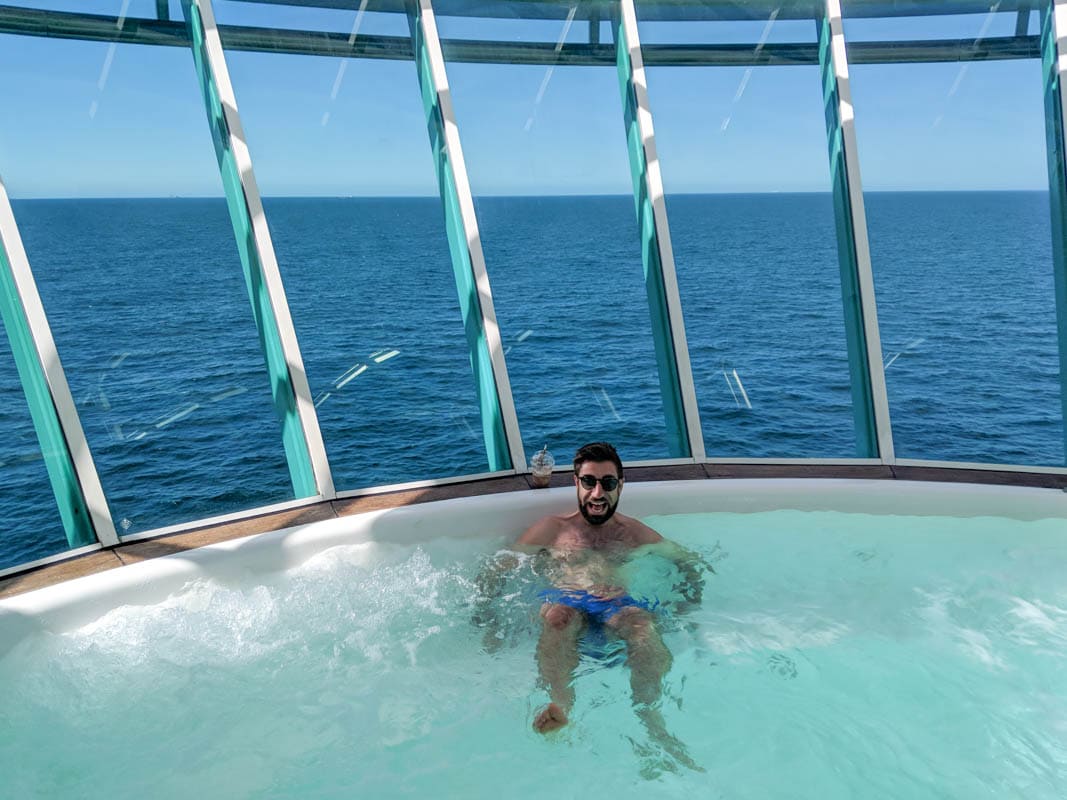 2. Laser Tag on Independence of the Seas
Yes, you can play laser tag on a Royal Caribbean cruise ship! Who would have thought it? This was one of the most fun activities on board the Independence of the Seas. Battle for Planet Z takes place in the dark, in multi-purpose space Studio B, (also the location of the ice rink and nightclub) and features an inflatable course with plenty of great hiding places. The staff automatically divided us into teams, and then the 20-minute game kicked off. If we'd been on the ship for a few more days, this is an activity I'd definitely have repeated, it was so much fun!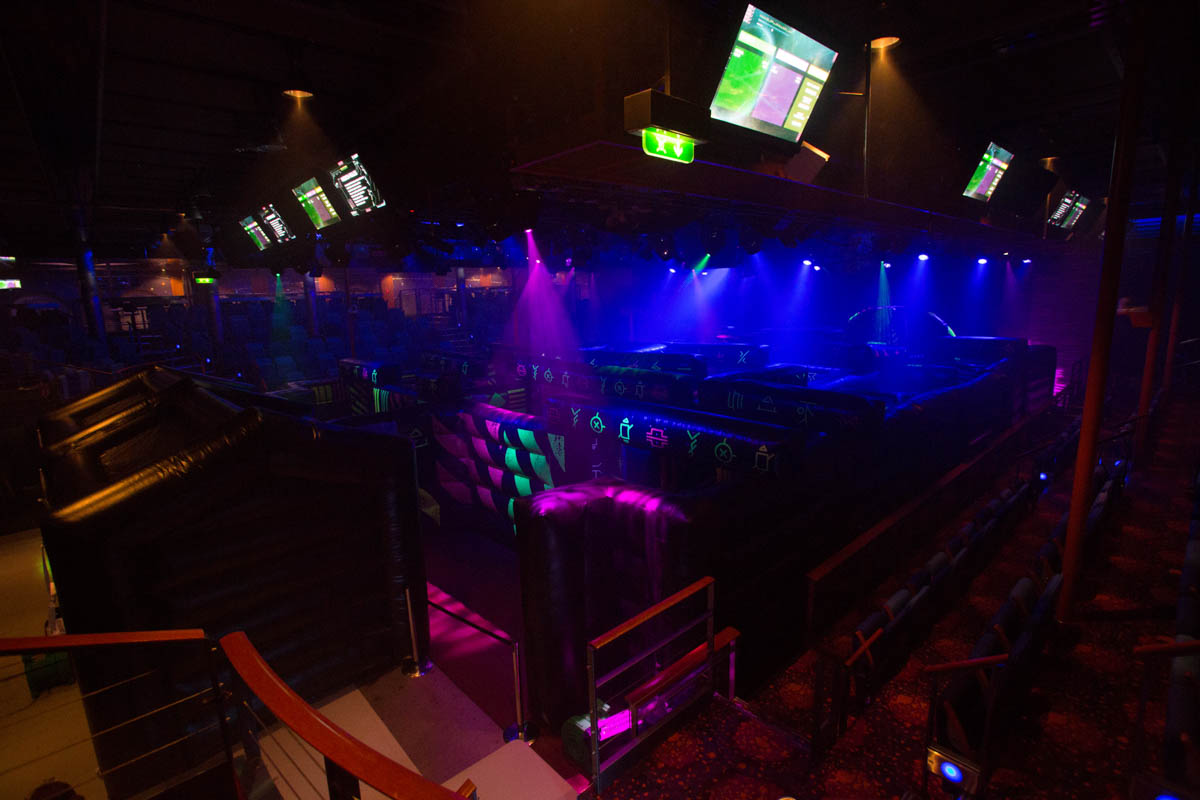 3. Ice Show on board Independence of the Seas
After dinner one evening we ventured to Studio B to watch Strings – an ice-skating spectacular with a plot about a violin that travels the world. Leave your preconceptions about cruise ship entertainment at the door, this show was amazing! It featured ex-Olympic and pro-skaters who twirled, jumped, flipped, danced and entertained us! The costumes and music were fun too – top marks.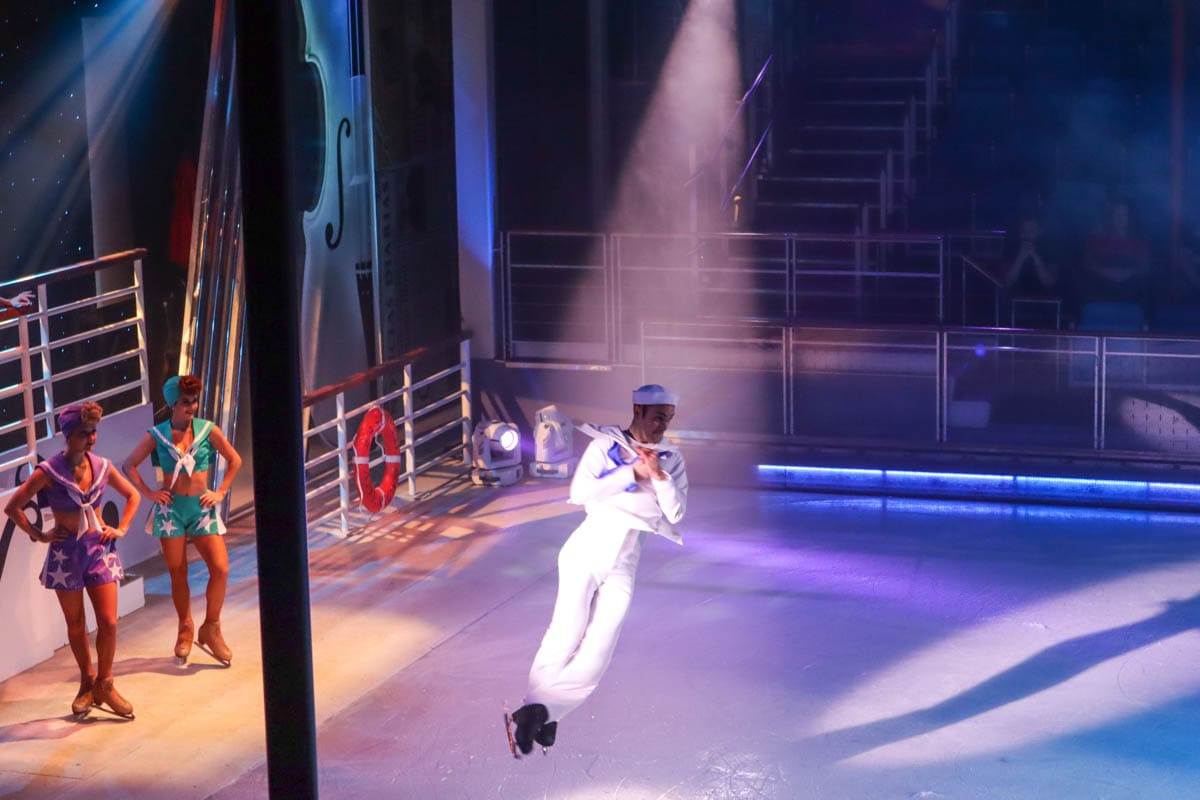 4. Our stateroom on board Independence of the Seas… and waking up in the middle of the ocean!
What a way to start the day – opening the curtains and looking out over our balcony to the ocean. It was such a magical view to wake up to, especially with the addition of sunshine and blue skies. I was really impressed with the size of the staterooms. Ours included a large double bed, balcony, sofa area, TV, wardrobe, mini fridge and bathroom with a shower. It was easily big enough for a longer trip. I'd definitely say the Independence of the Seas cabins were comfy and a relaxing place to escape to when you wanted a break from the buzz of the ship!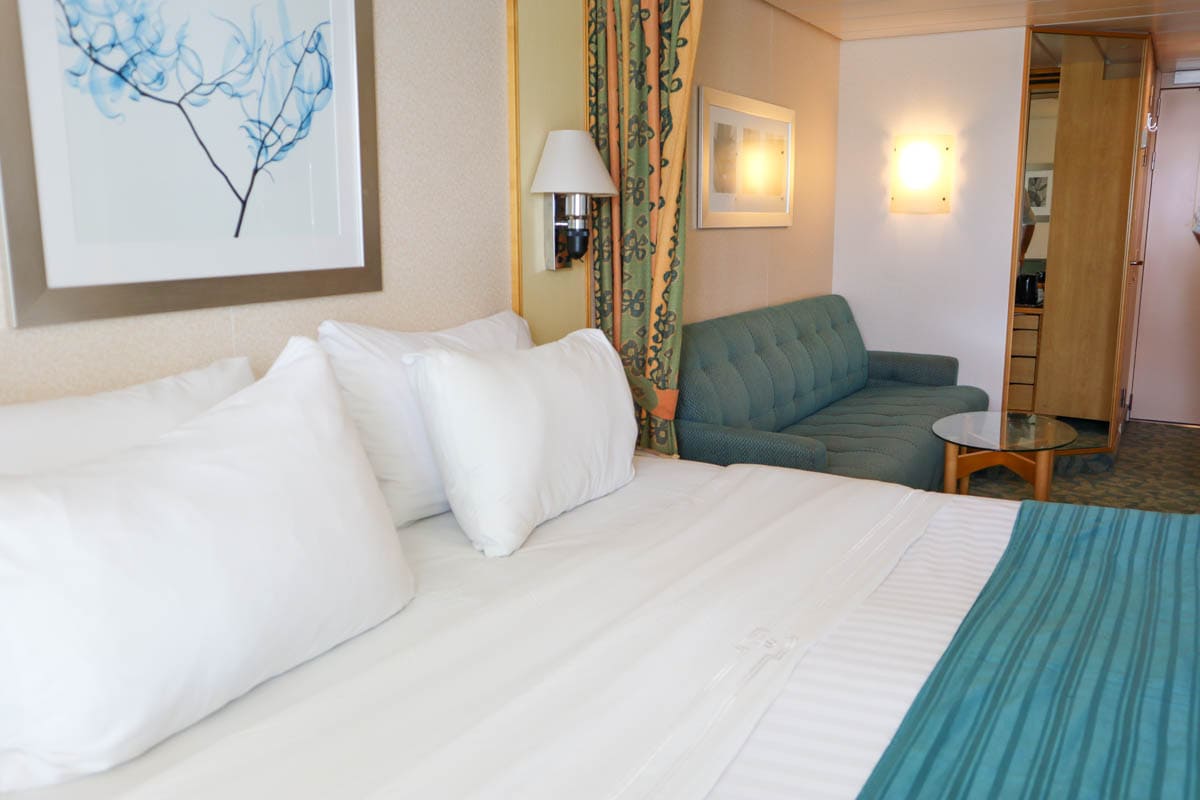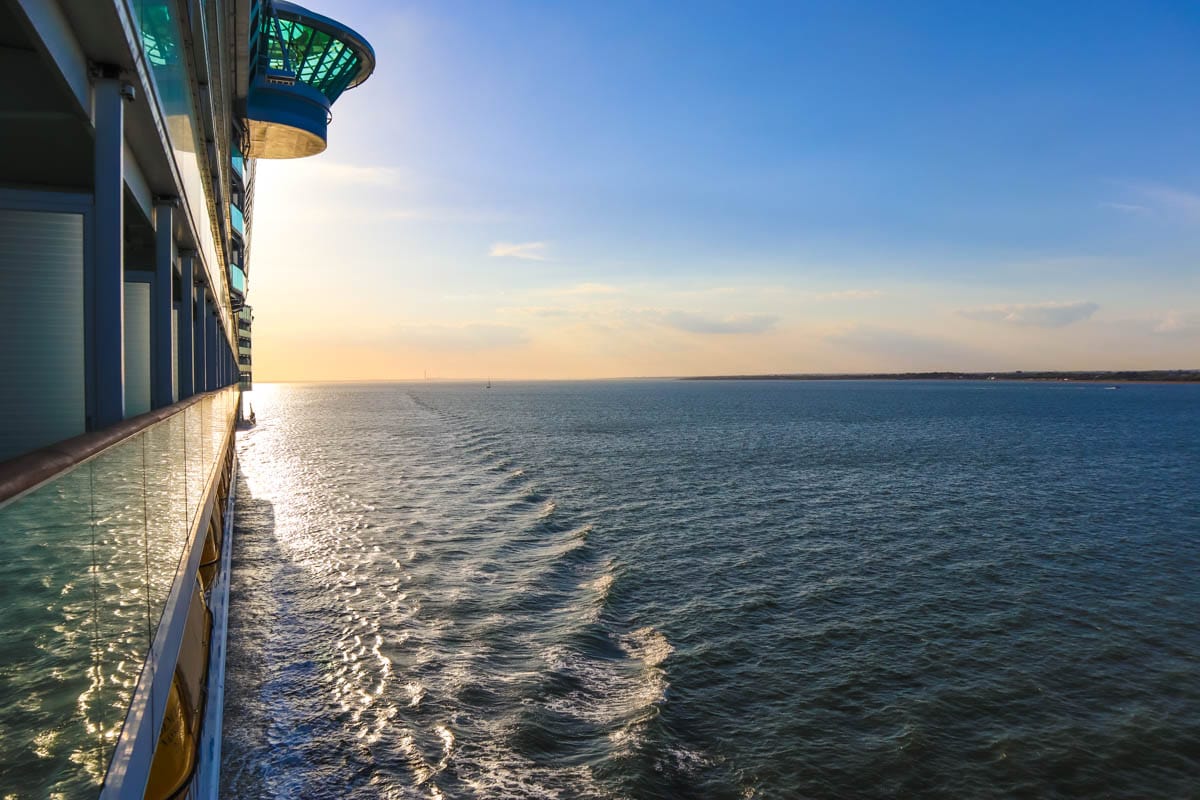 5. Dinner at Chops Grille restaurant on board Independence of the Seas
My favourite meal of the trip was at Chops Grille, the ship's steakhouse. This fine dining restaurant serves up high quality dishes accompanied by great wines. Service was excellent, and it felt like the kind of place you'd visit for a special occasion. I enjoyed the tuna tartar to start, which came mixed with avocado and was well presented. For my main course I enjoyed a sirloin with asparagus and truffle fries. The meat was cooked perfectly (medium rare for me), was juicy and had a really good flavour.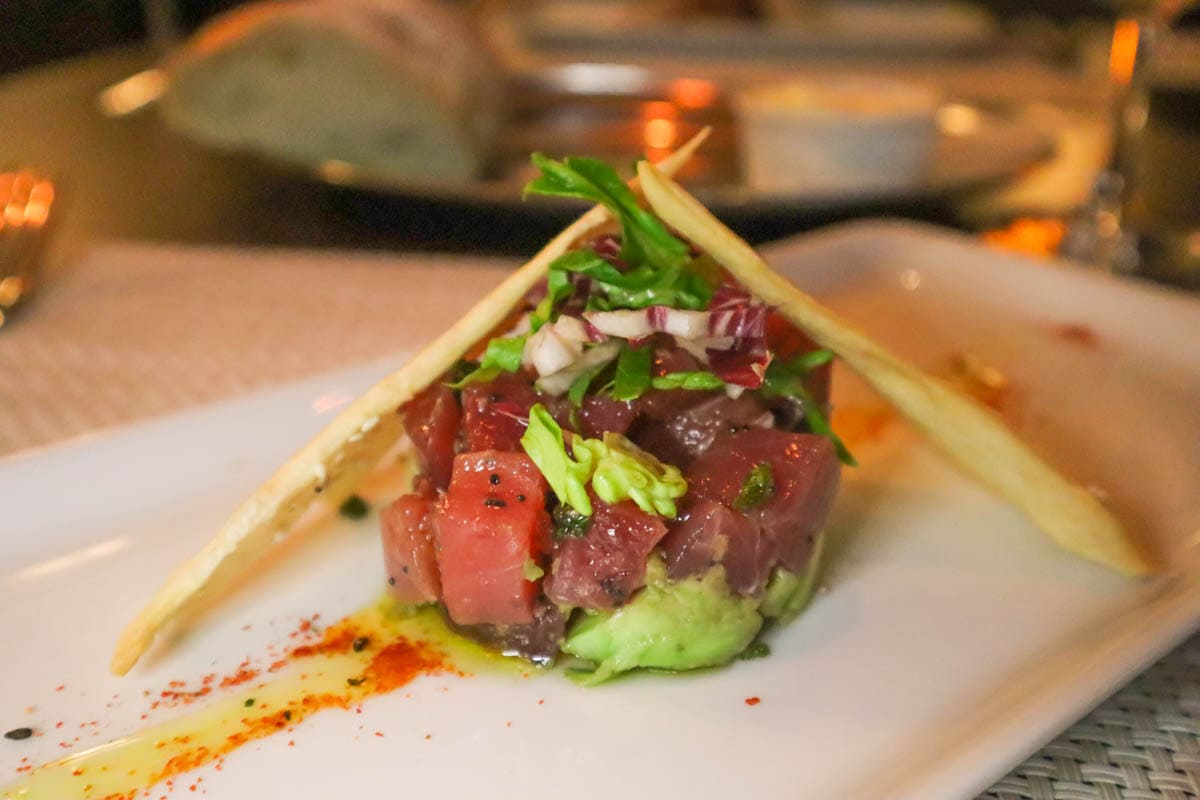 6. There's even Mini golf on board Independence of the Seas!
I love crazy golf at the best of times, but venturing up the stairs to the bow of the ship, and discovering Independence Dunes was an exciting moment! The course has a few challenging holes, and features a lighthouse, treasure chest and a few other nautical-themed landmarks. We played both days we were on board, and sadly I lost one and drew the other. Must practise my swing for next time!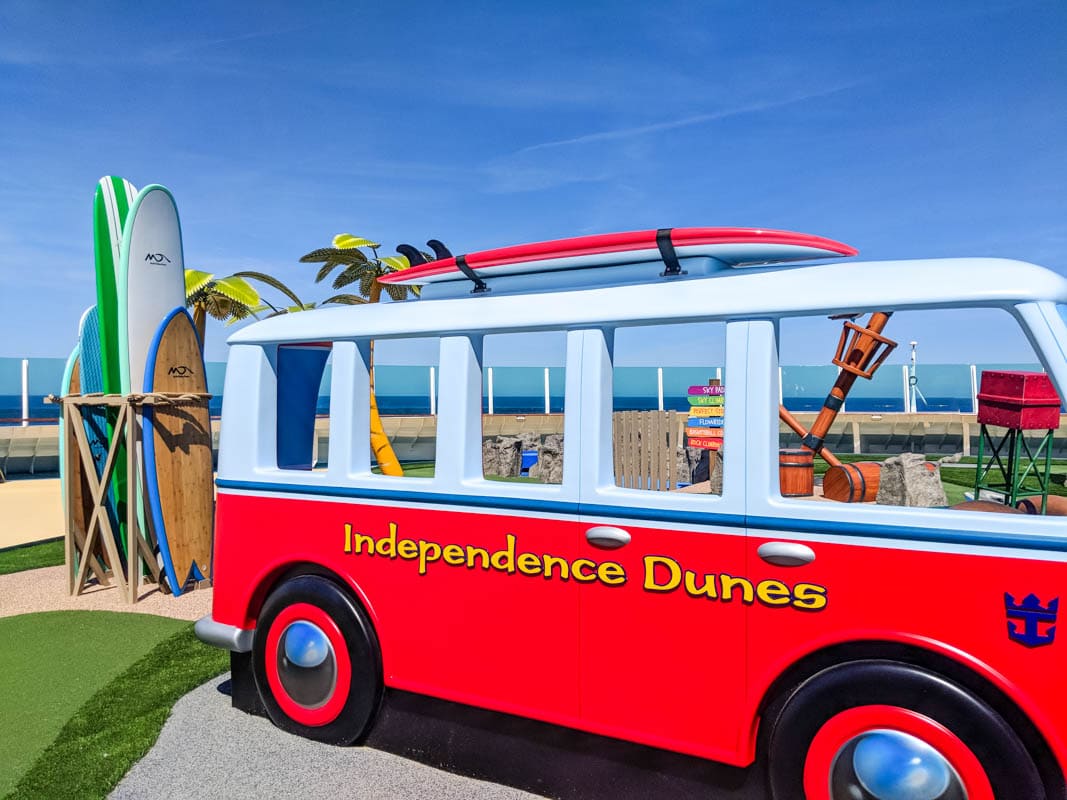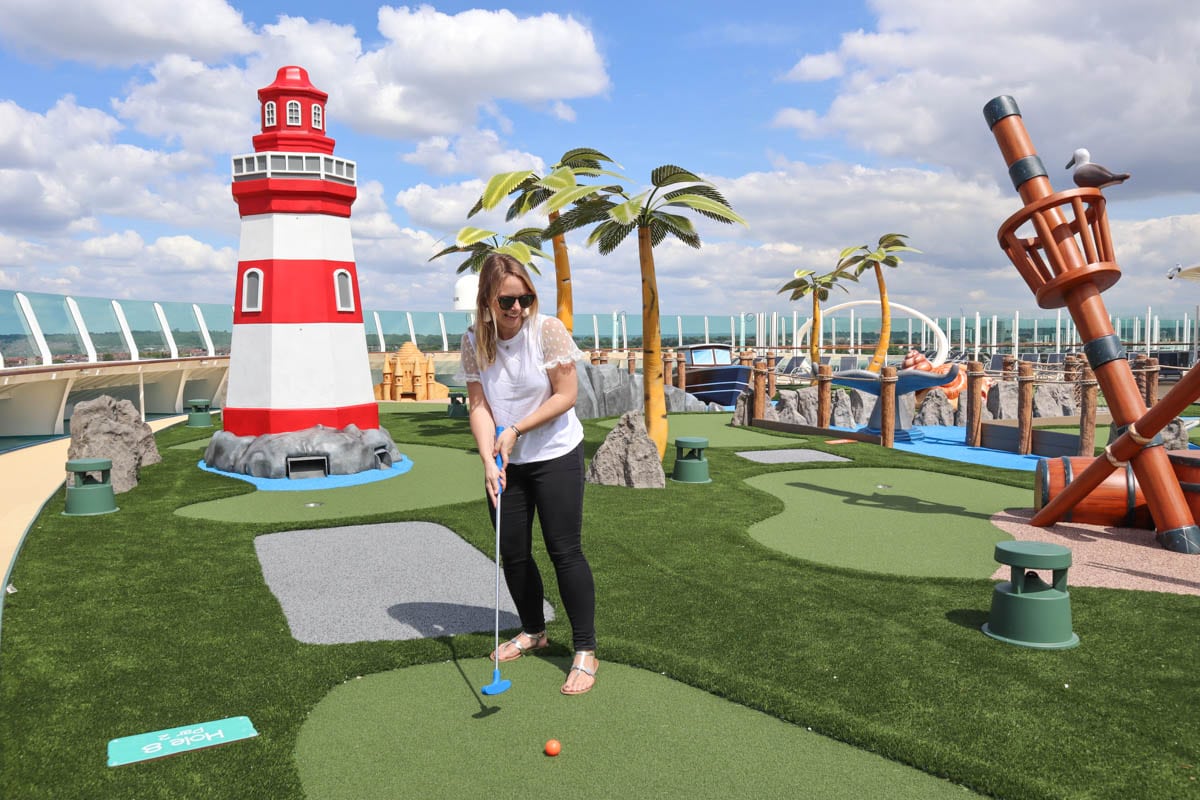 7. Sunset drinks at Olive or Twist on board Independence of the Seas
There are plenty of bars on board this cruise ship, and you really could visit a different one every day! There's a sports bar, a wine bar, a British pub and plenty more! One evening we enjoyed drinks at Olive or Twist which was in the most gorgeous spot. Its location on the ship boasts uninterrupted panoramic views out to the ocean and we were lucky enough to have timed our visit for sunset. The barmen at all the bars we visited were highly skilled and ready to mix up whatever we fancied (regardless of whether it was on the menu or not!) and it was fun to try a few new drinks while on board.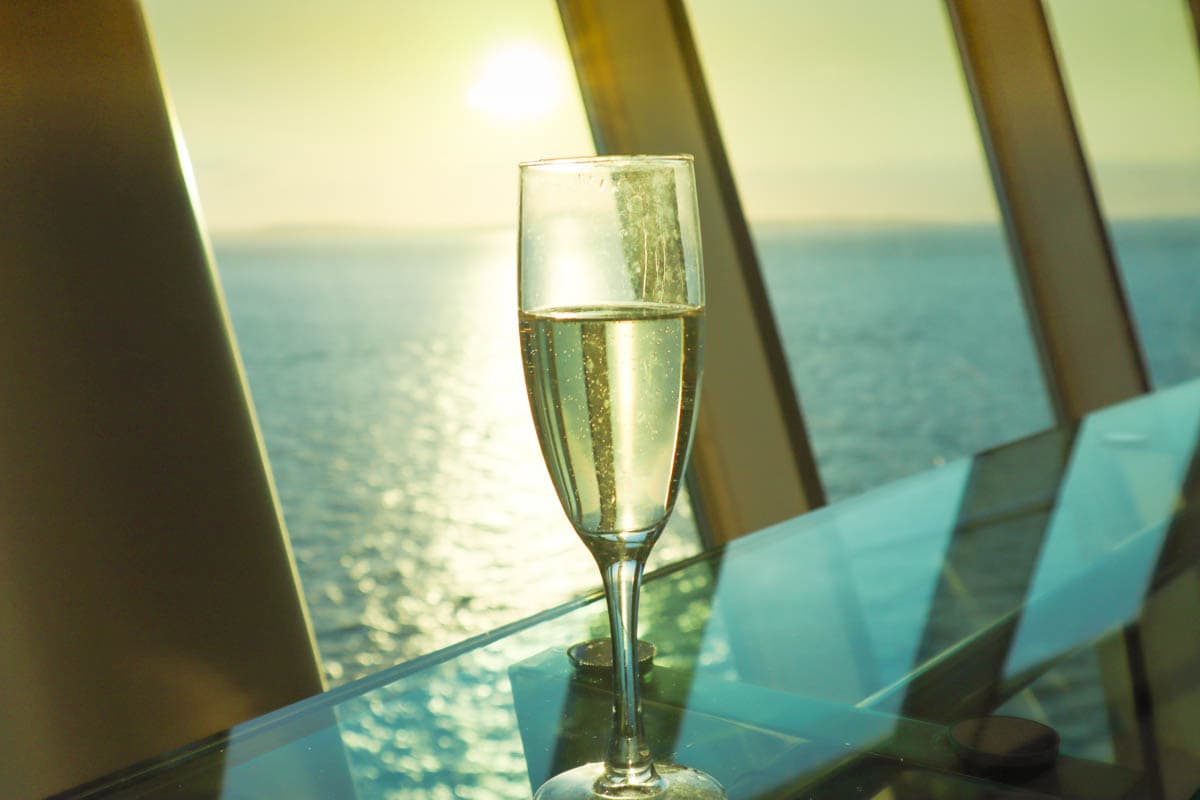 8. Sushi Master Class at Izumi on board Independence of the Seas
Izumi is another of the fine dining restaurants on board the Independence of the Seas. Serving the freshest sushi, and with some entertaining teppanyaki stations, it's one of my top picks for dinner. On our second day we enjoyed a master class, learning some of the basics of sushi making. Head chef Travis was inspirational, and told great stories about his time in the industry as well as imparting tips on how to make sushi. Afterwards, we were rewarded with a delicious platter of sushi made by the talented chefs!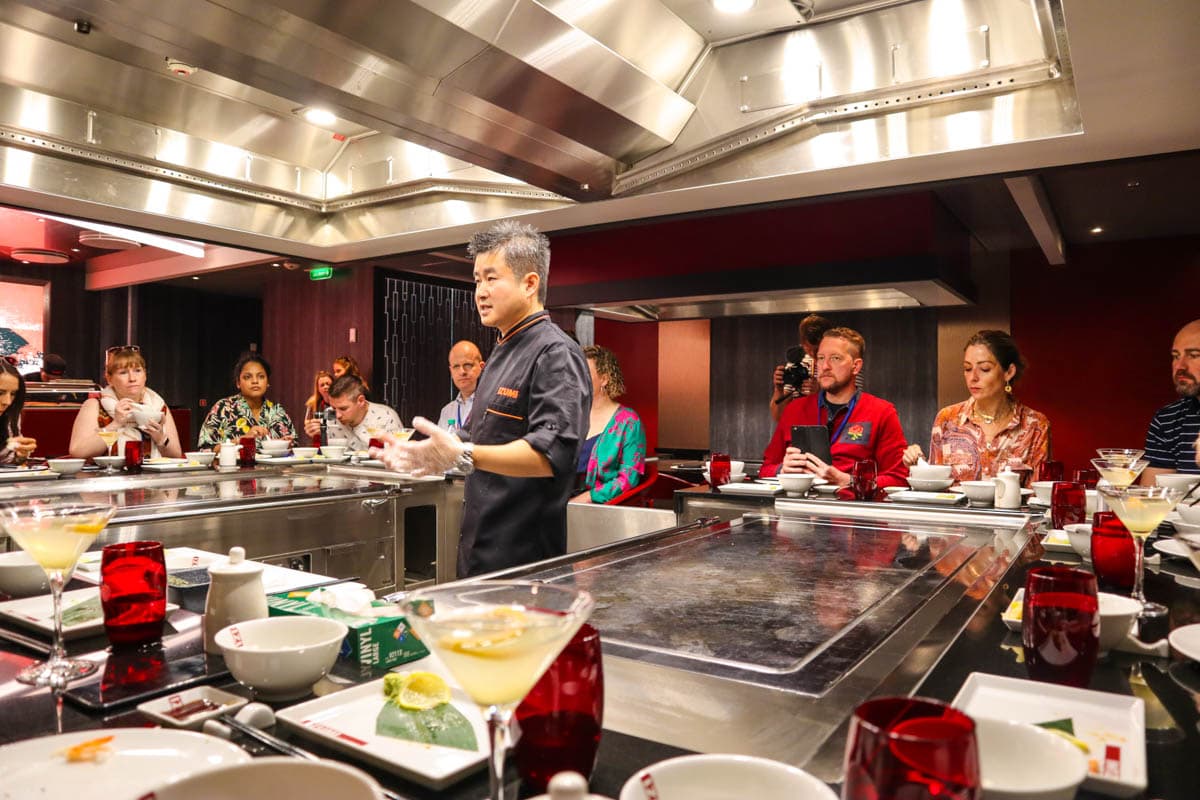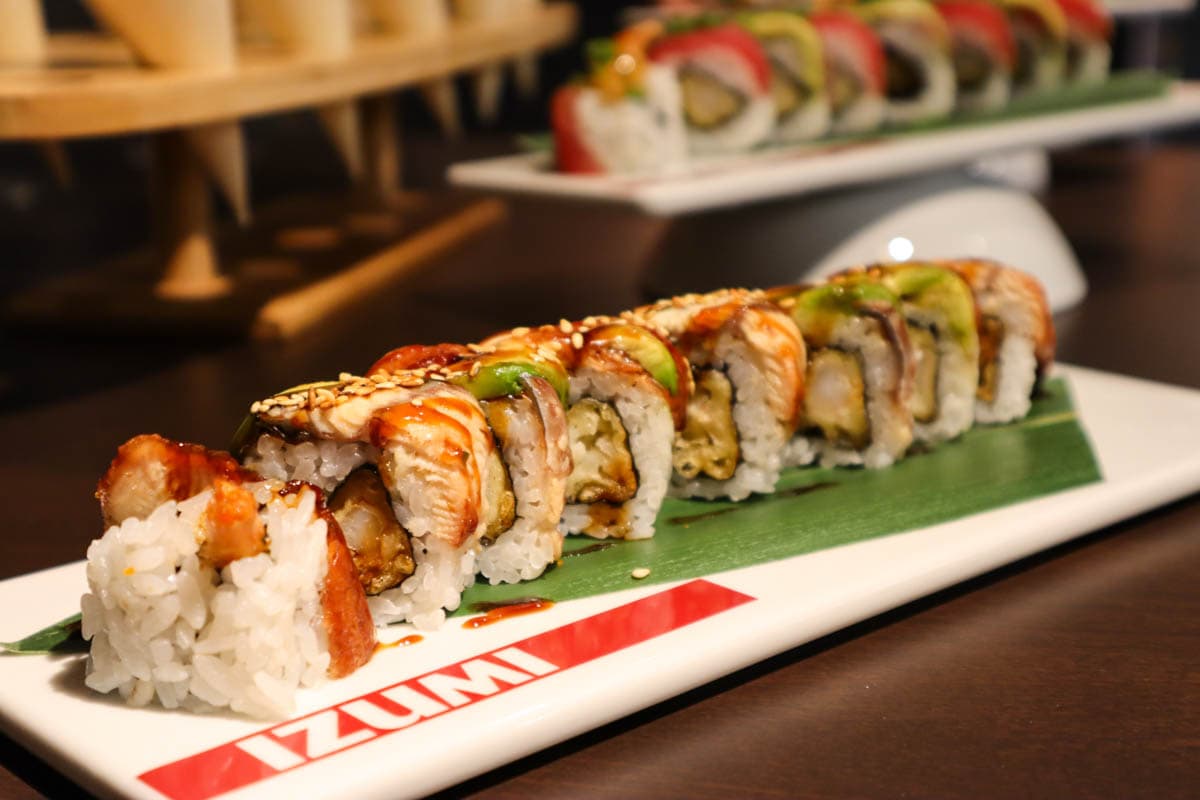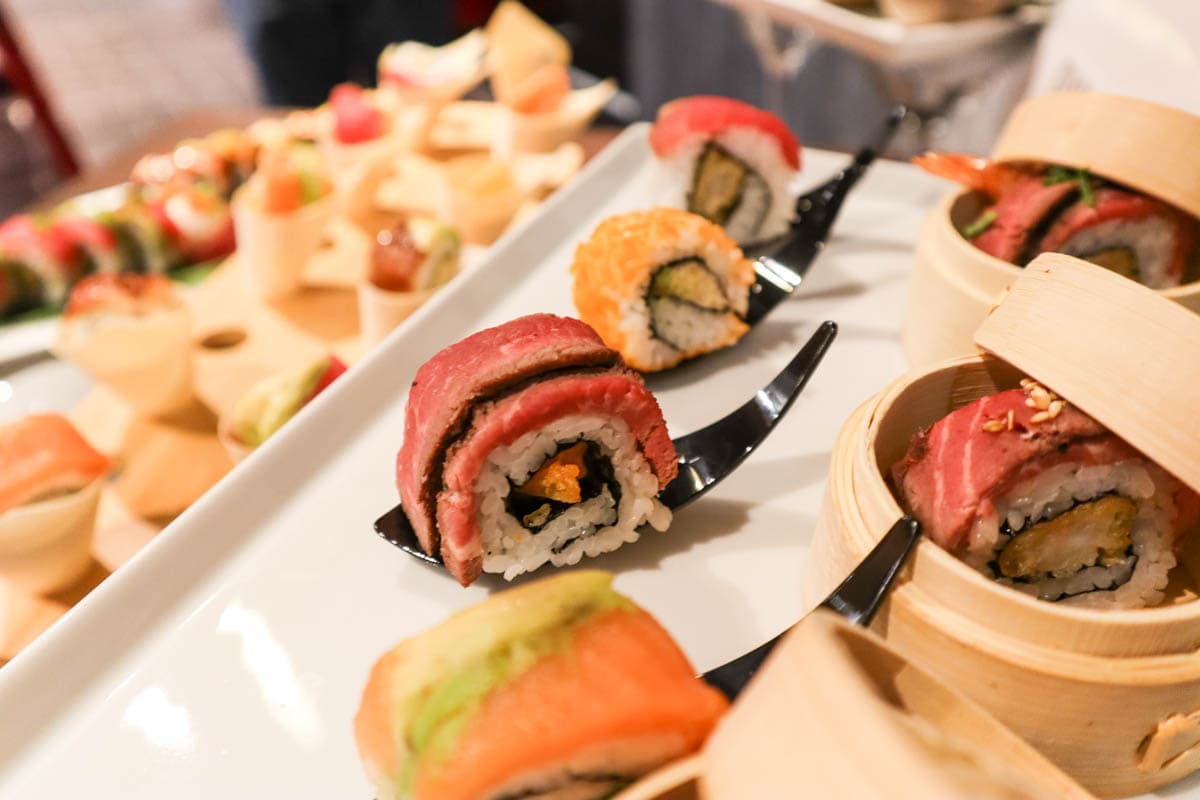 9. Reach for the stars at Sky Pad on board Independence of the Seas
One of the brand new additions to Independence Of The Seas, Sky Pad offers a truly unique experience! Bouncing on a trampoline, while attached to bungees already sounds like fun… but add a virtual reality headset and you'll be transported to different worlds as you jump up and down. There are a few games to choose from, including one where you collect items in a candy-themed world. I told you there was a lot to do on this cruise ship!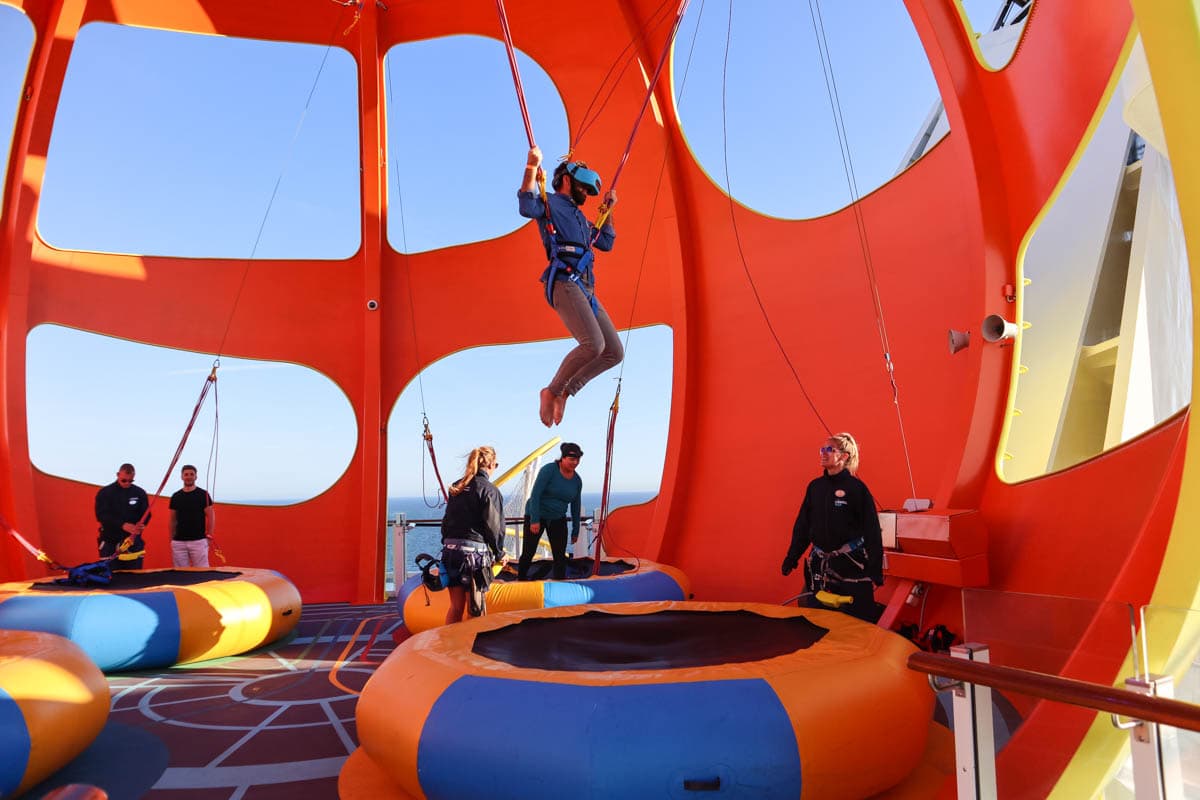 10. Partying the night away at Studio B Nightclub on board Independence of the Seas
Yep, back to Studio B for a big old boogie! Seriously, the way they transform this space for so many uses is impressive. It's a huge room, and once the bars wound down in the evening, everyone headed there for a bit of a dance. There was a mix of commercial songs and classics – perfect for the majority of guests on board. Another perk of being on board a cruise – your room is never far away, which was a relief after all that dancing!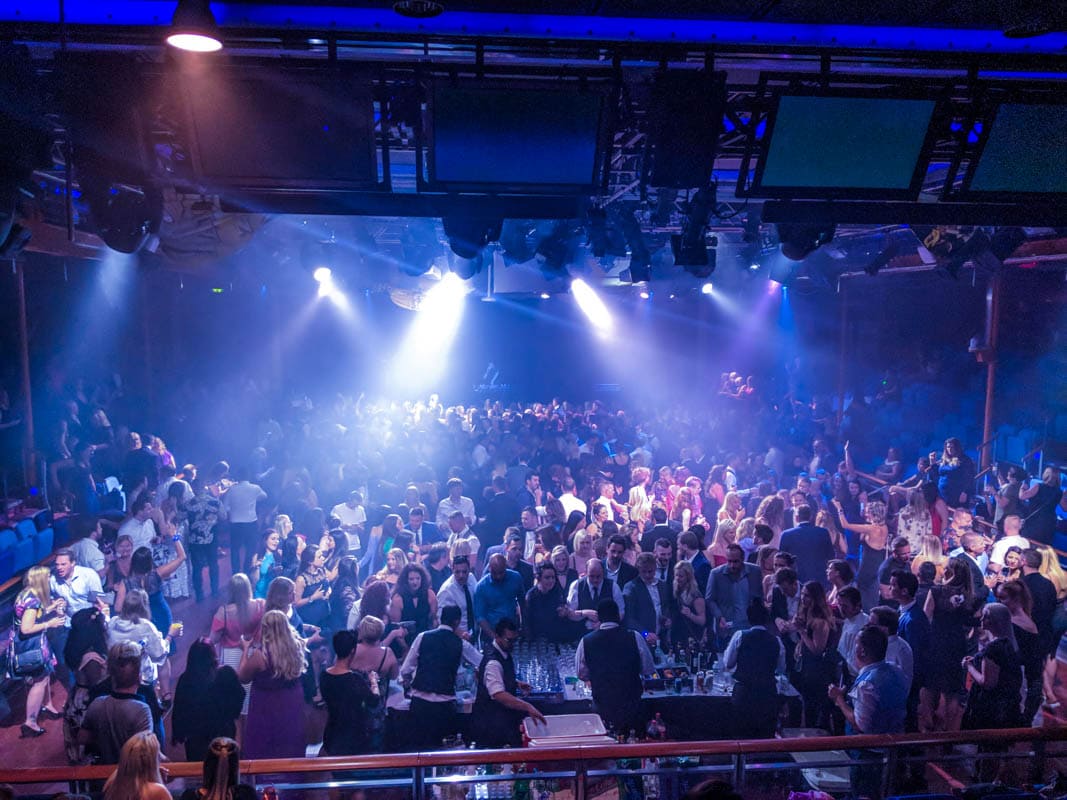 So these are my top 10 highlights from our time on board, but to be honest, this is just a small fraction of what there is to do on the ship. I'd loved to have attempted the new escape room, The Observatorium, which looked incredible – full of details and no doubt a big challenge to crack in 60 minutes.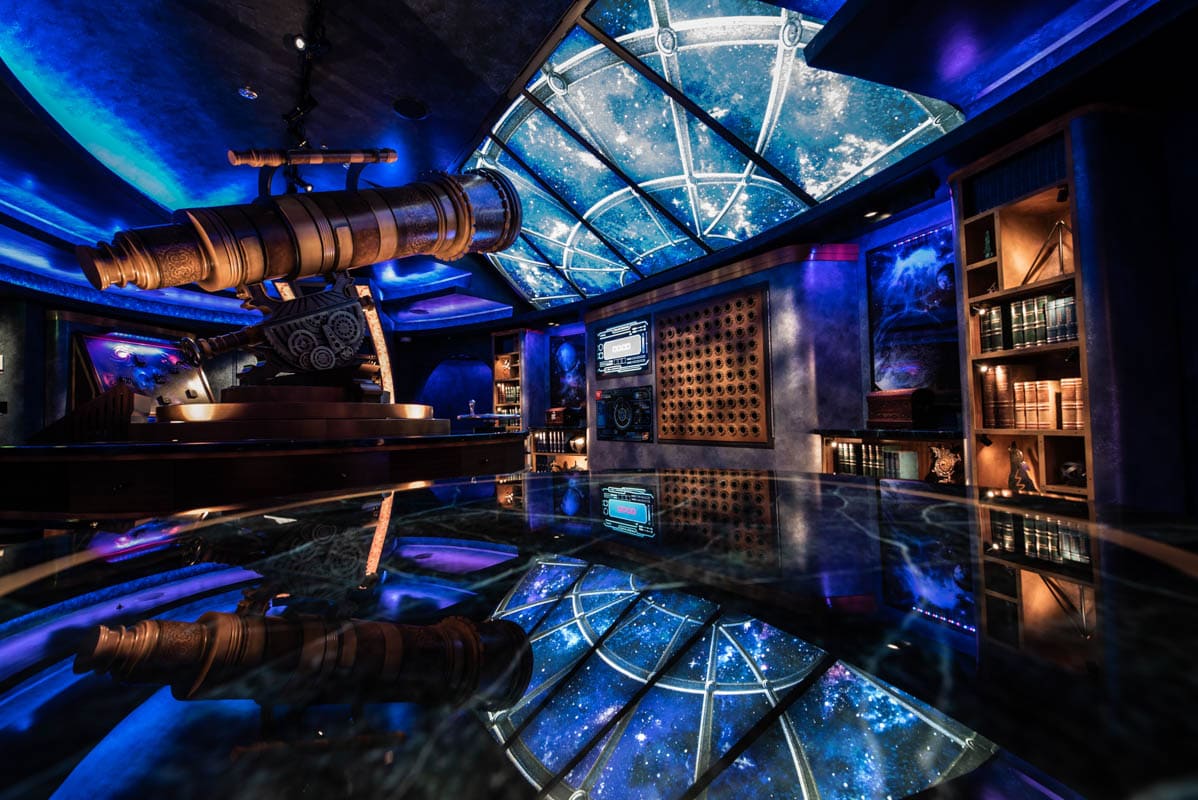 FlowRider (the surf simulator) also looked like a lot of fun, although I decided I'd be better off watching than participating/embarrassing myself! I'm sure if I'd been on board a few extra days I'd have enjoyed a treatment in the spa, and maybe tackled the rock-climbing wall too. Two days simply wasn't enough to do everything on board.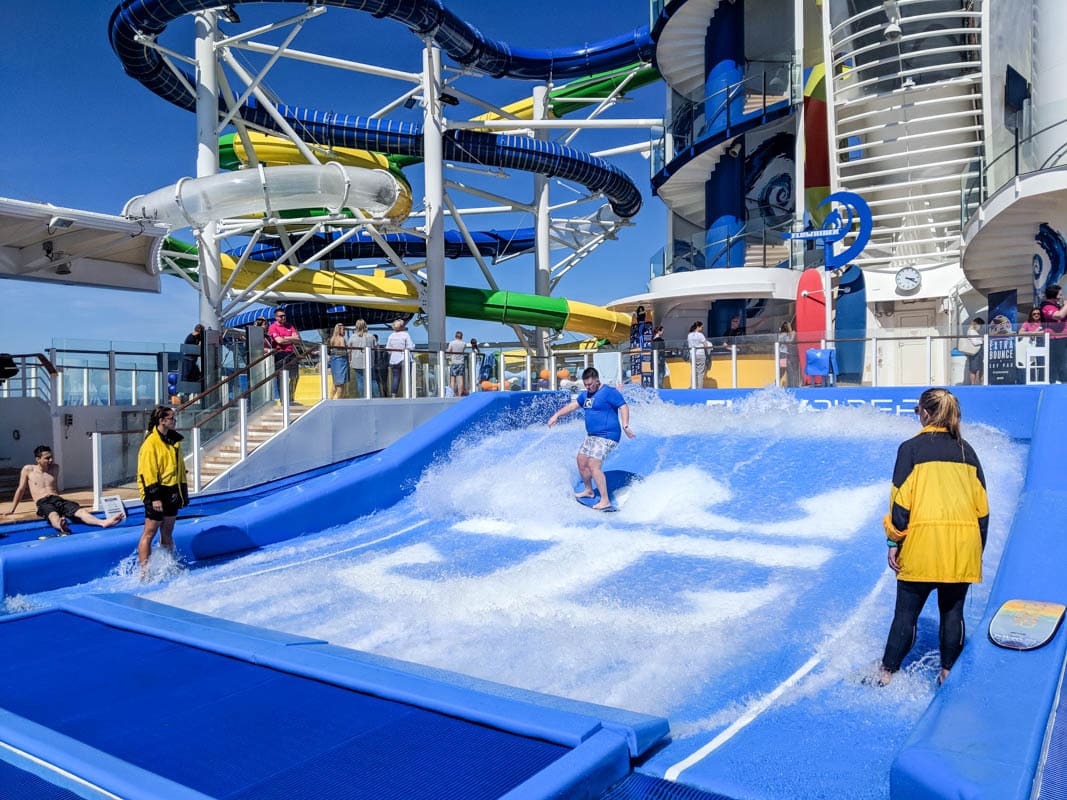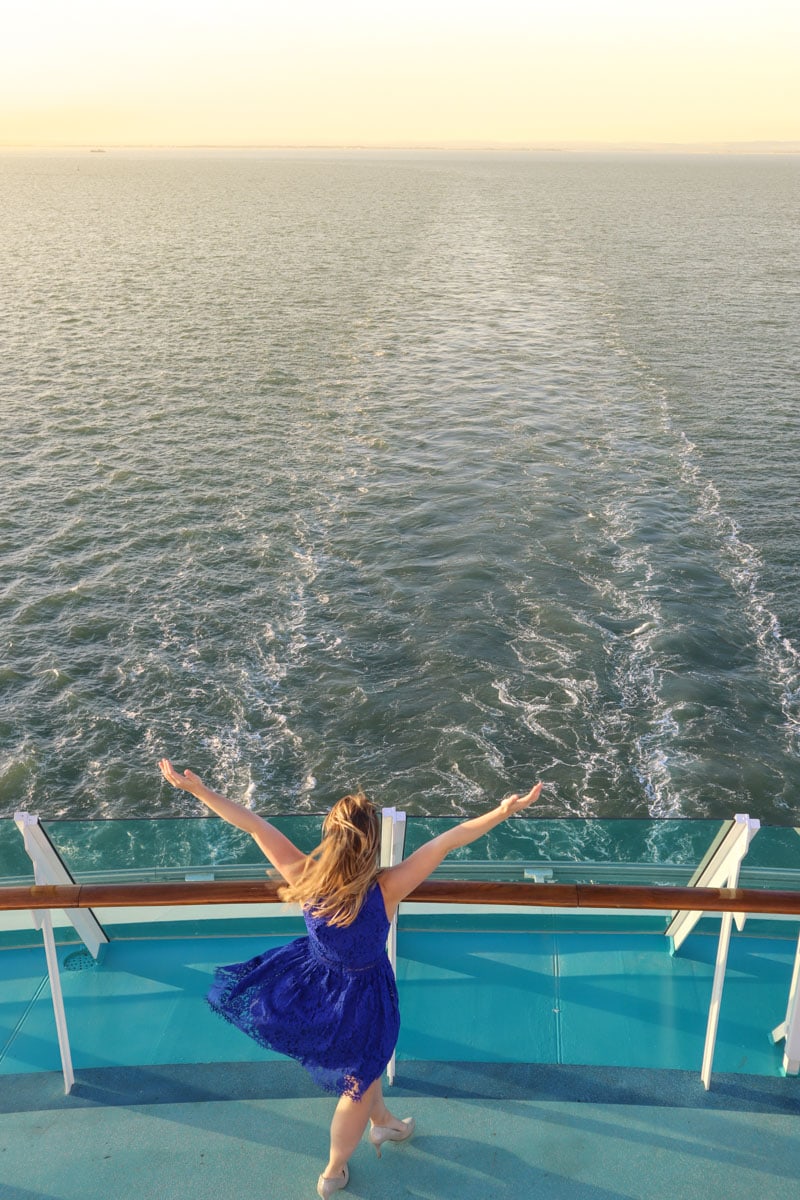 Big thanks to Royal Caribbean for inviting me to write this Independence of the Seas review (and for taking my cruise ship virginity!) Find out more and check the latest deals here. As always, all opinions are my own.
Enjoyed this post? Pin it for later…