Grab your camera and let's go in search of the best views in Salzburg!
Brimming with history and amazing architecture, Salzburg is one of Austria's most impressive cities. But for those who don't want to spend hours in museums or cathedrals, what is there to see in Salzburg? And where should you go for the best views of Salzburg?
If you're a fan of The Sound of Music, you'll love exploring these famous gardens, which lead to the Mirabell Palace. In fact you can even do a Sound Of Music Tour!
Do you know what? I'm not a fan of the film and still adored wandering around here!
With fountains, enormous tulips and perfectly manicured borders, there's plenty to snap pictures of. My favourite spot was under the wisteria plants, which were blossoming during my visit in May.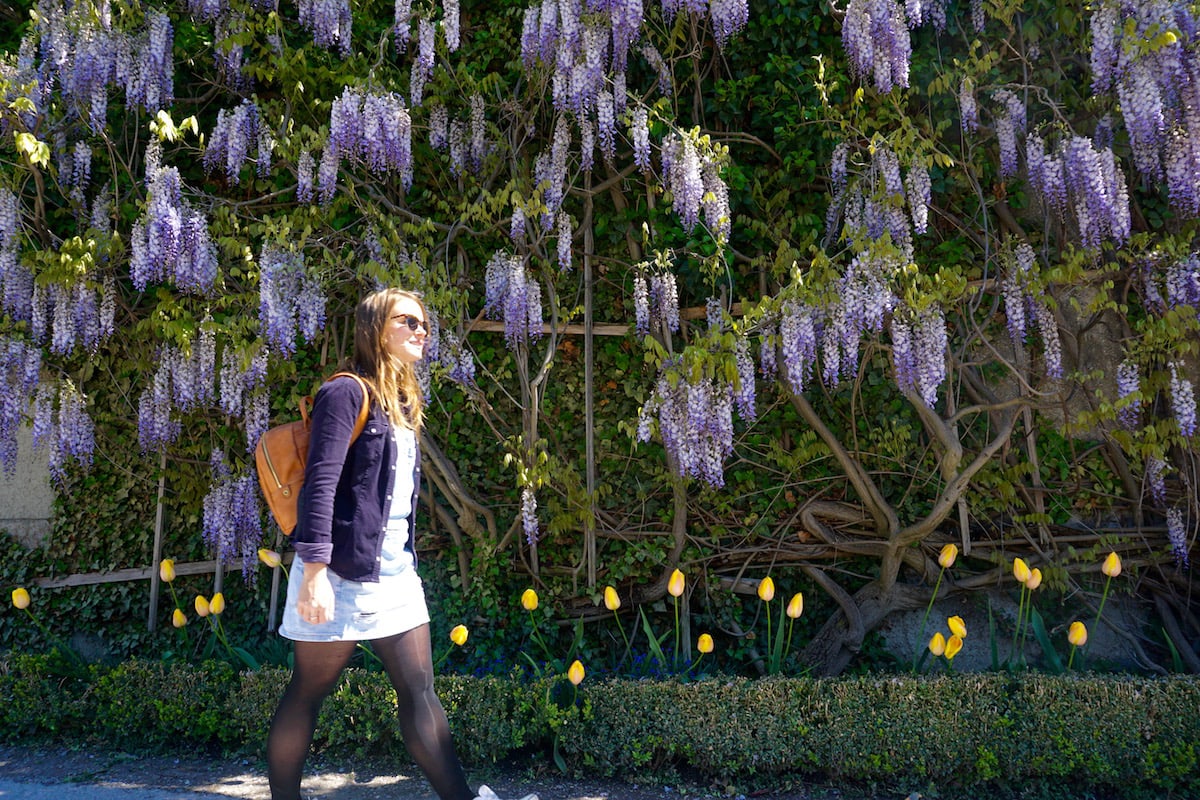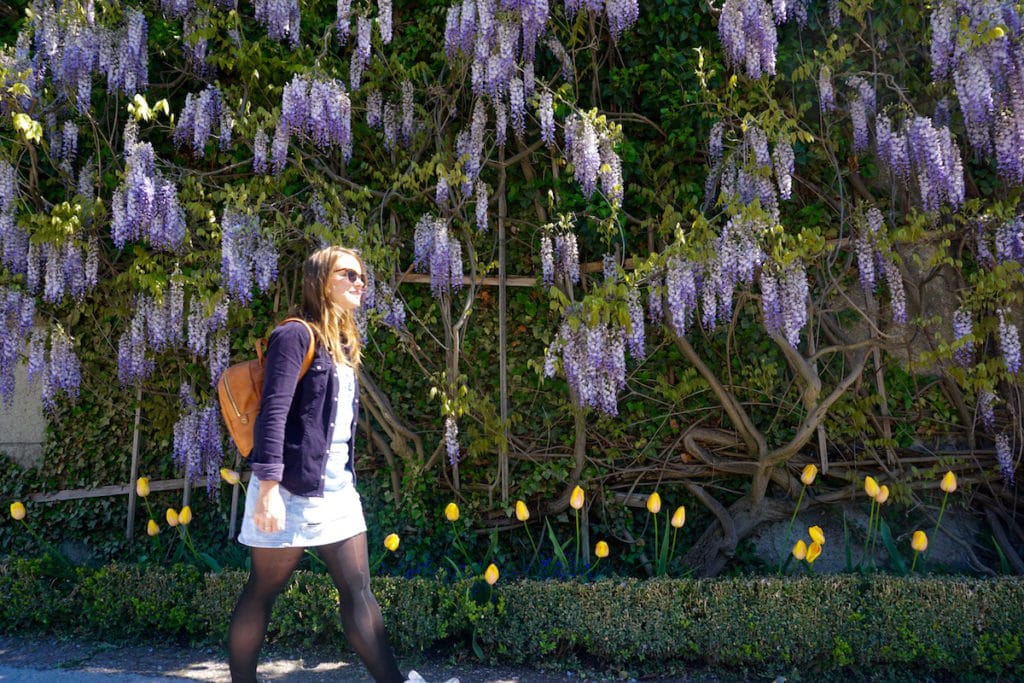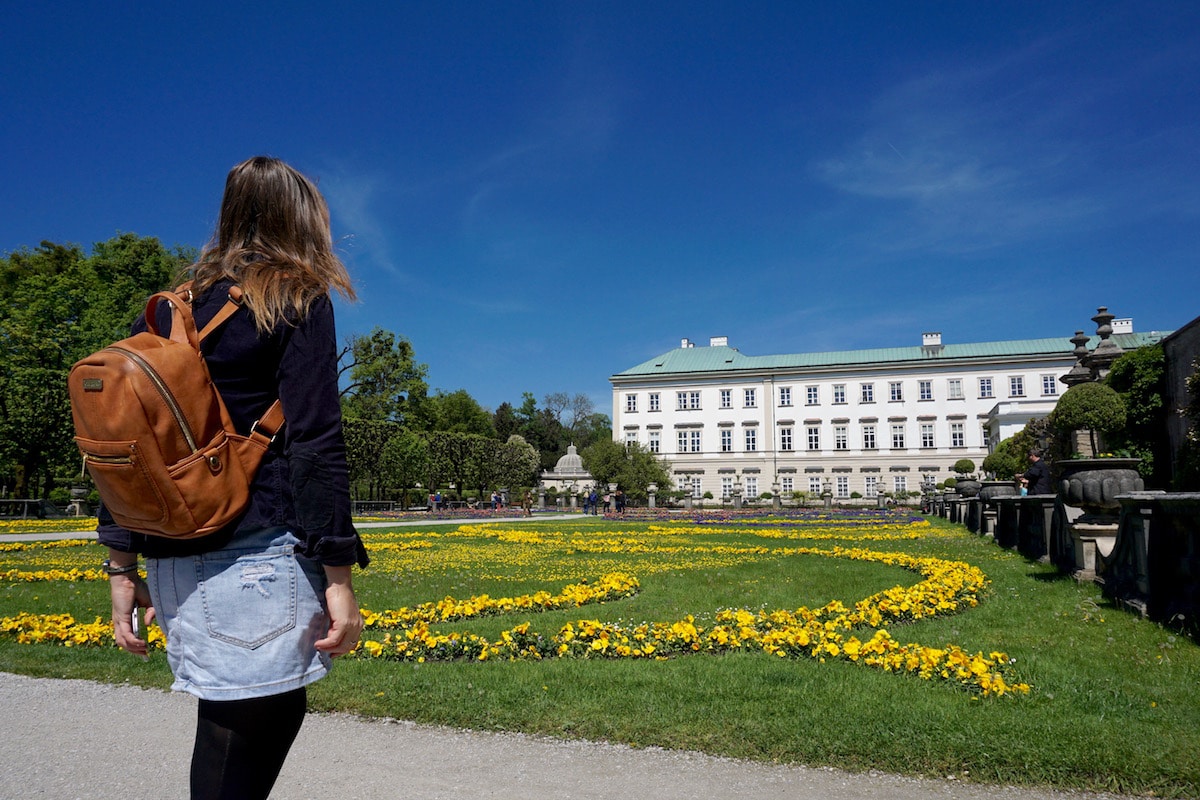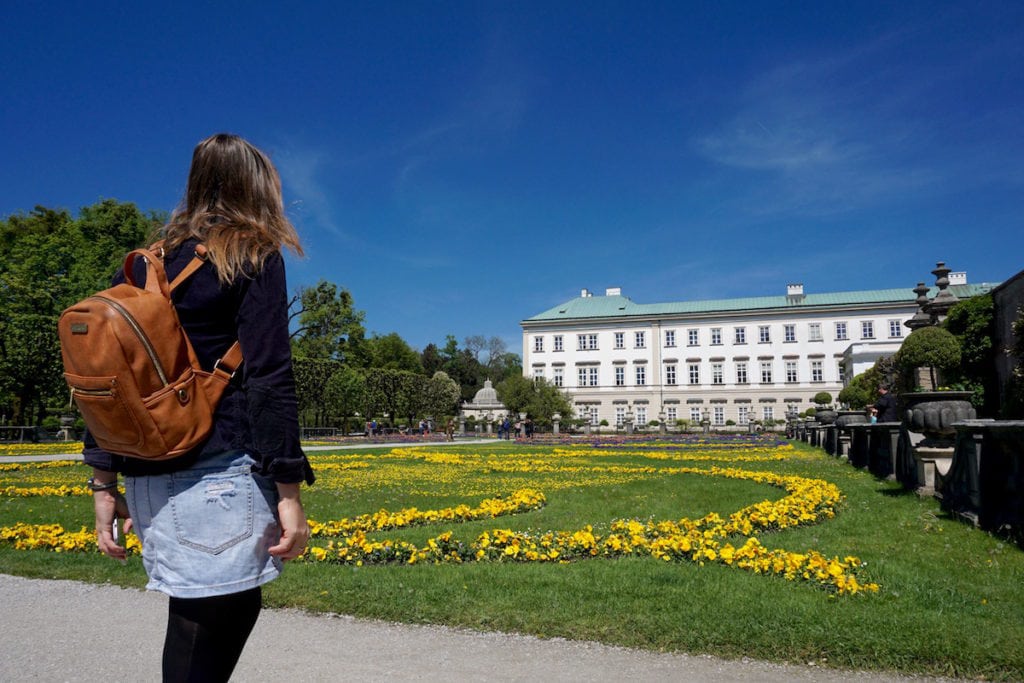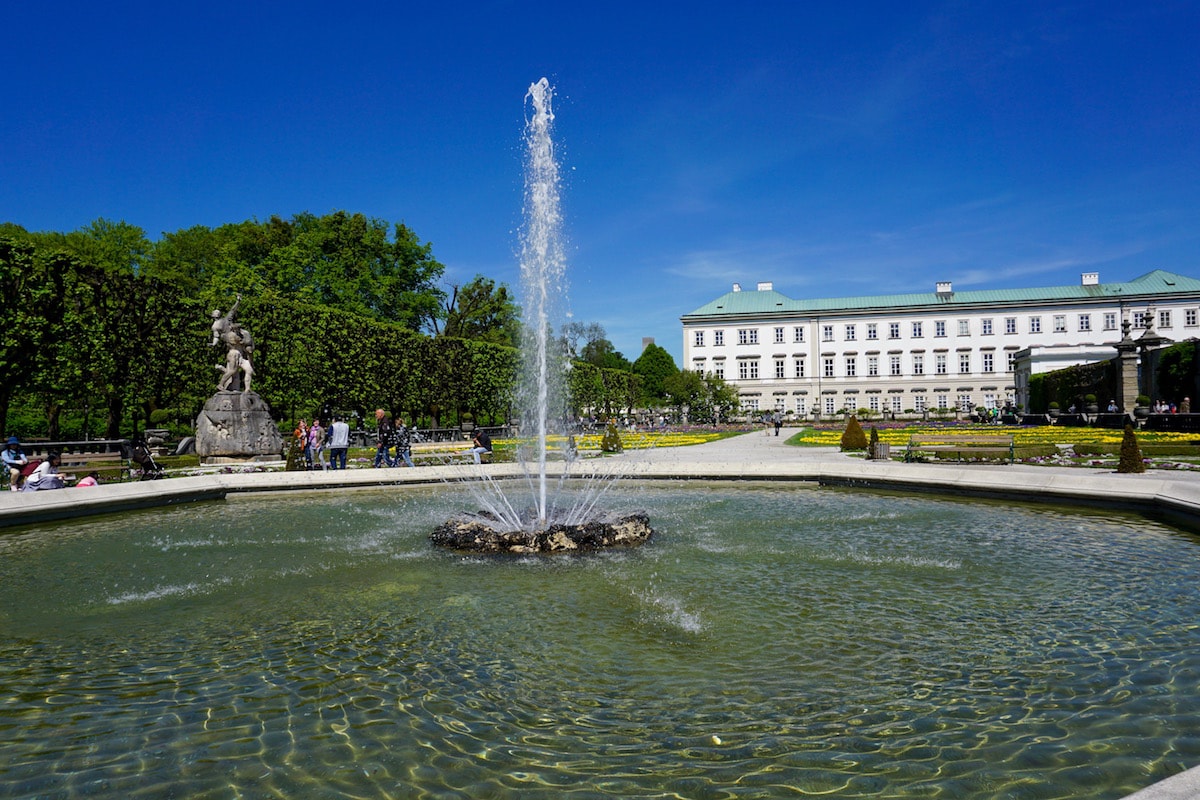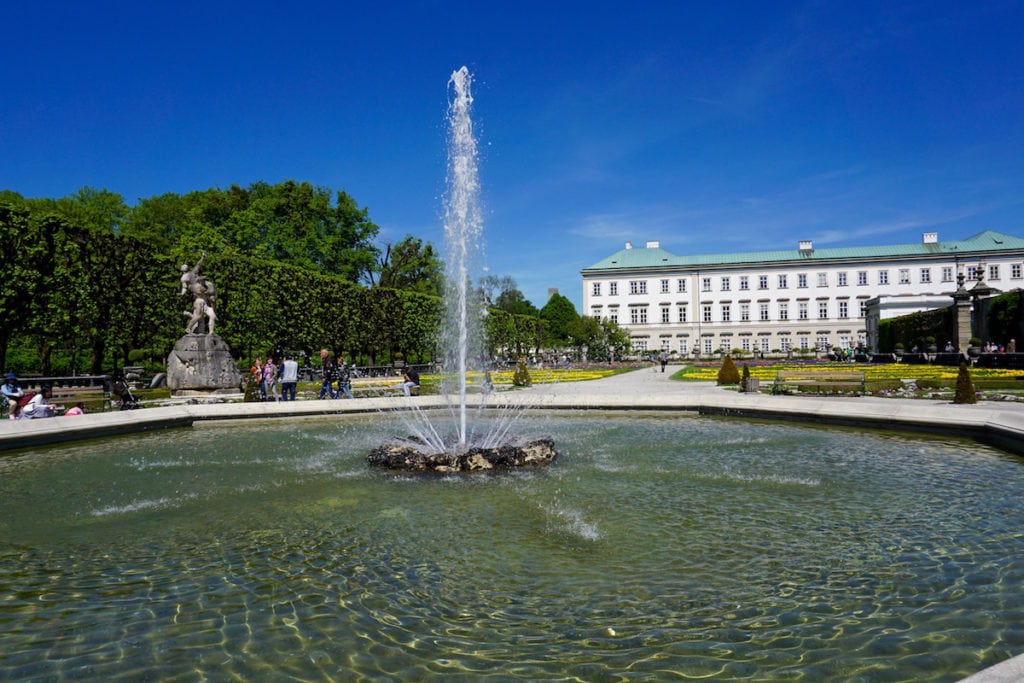 Dating back to the 1500s, Hohensalzburg Fortress is the most iconic site of Salzburg. Head up Mönchsberg (the mountain it's located on) in the funicular and explore its exterior. It's where you'll see the best panoramic view of Salzburg.
If you fancy a breather at the top, there are restaurants with incredible views, but my favourite thing was to walk around and enjoy the different terraces.
On one side you'll find stunning views of Salzburg city centre, the river and the slate roofs, while on the other you'll see out to beautiful lush countryside and snow-capped mountains. Magic – easily one of my fave Salzburg Instagram spots!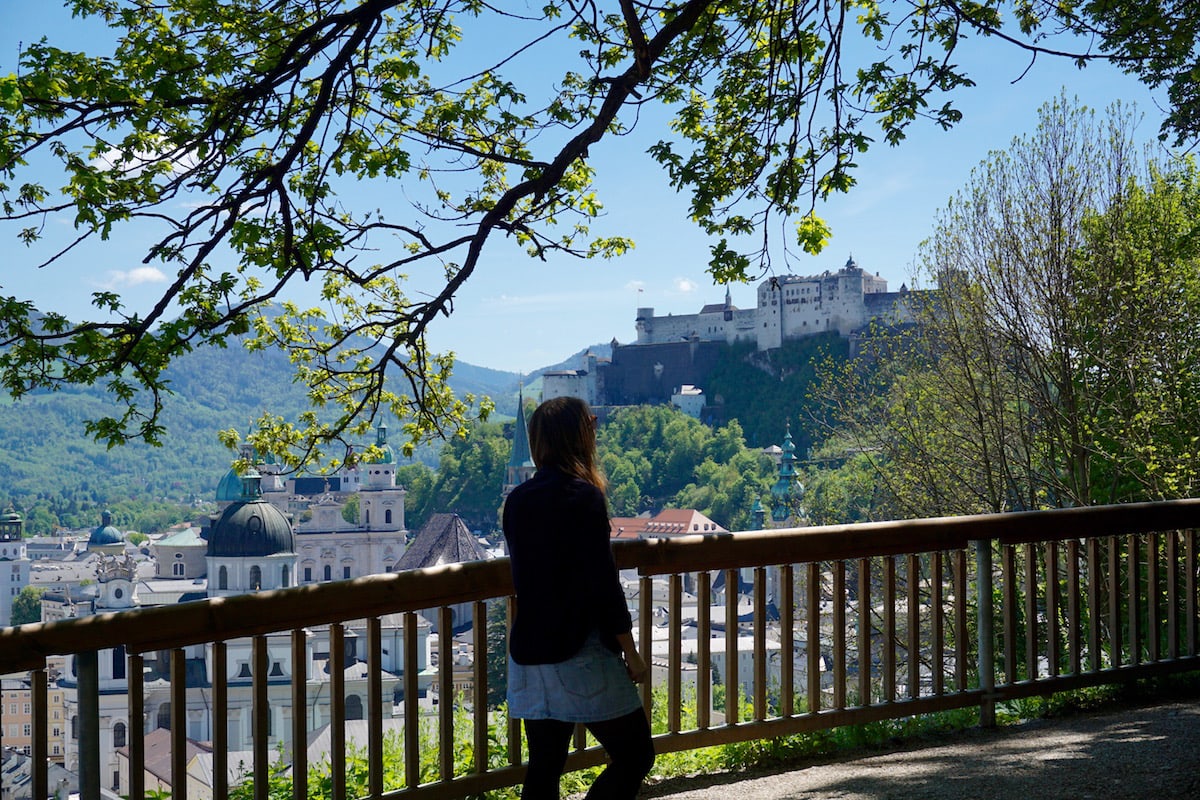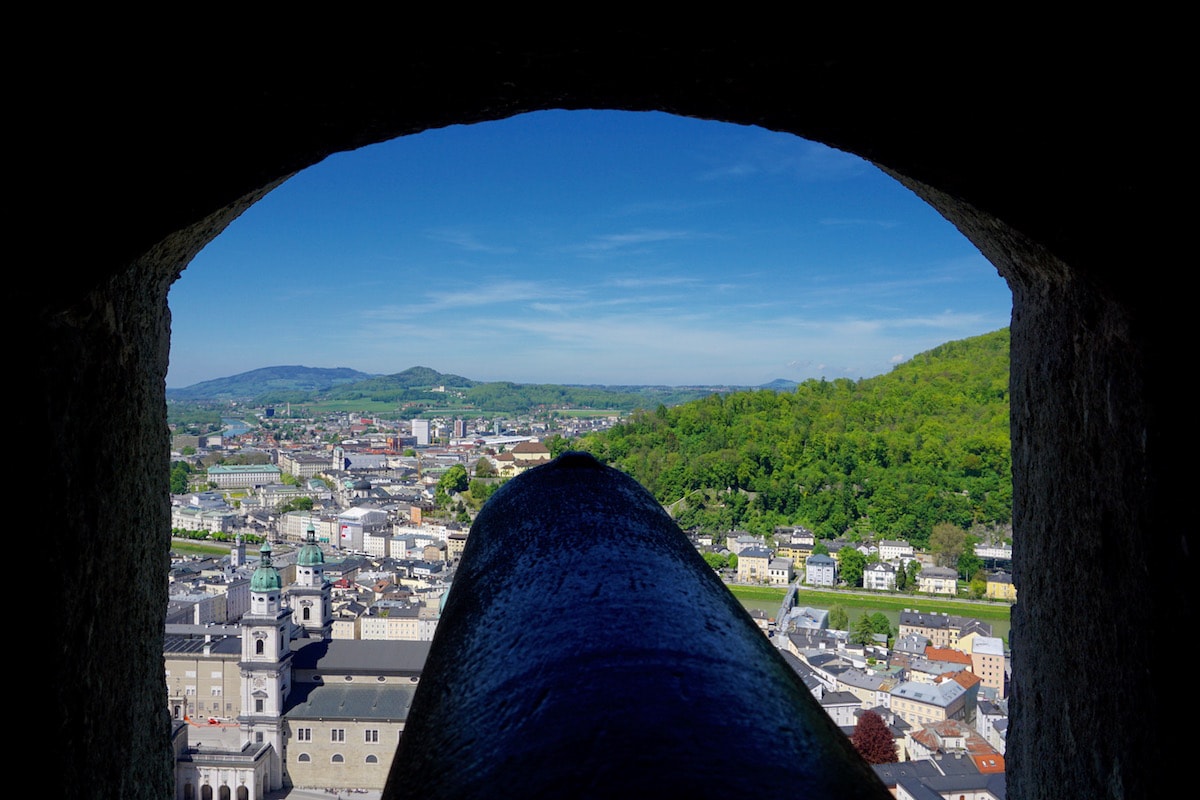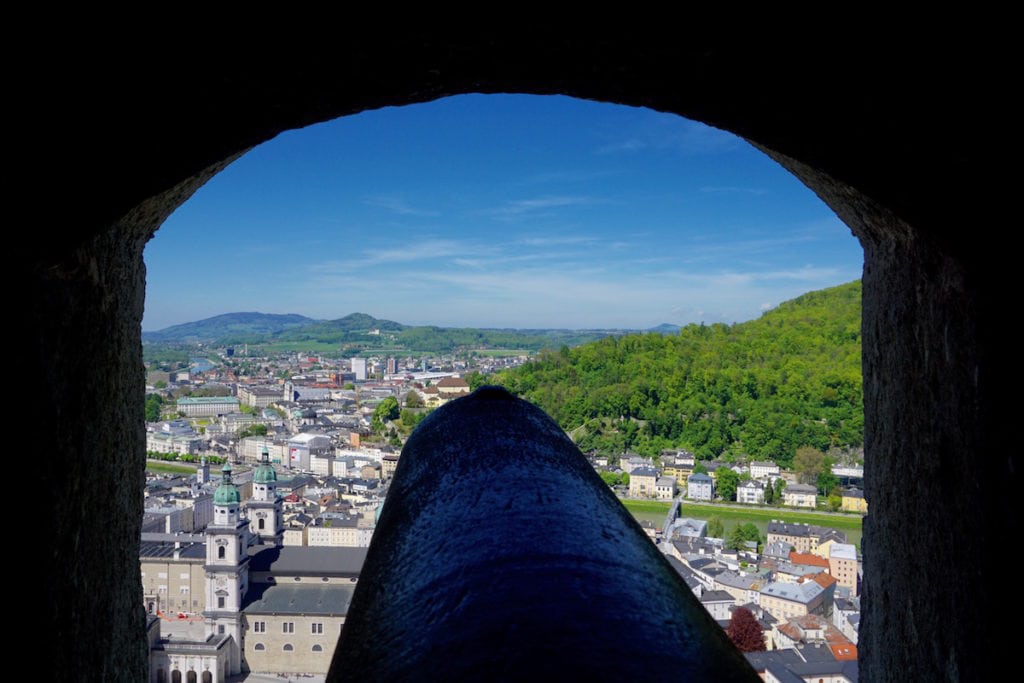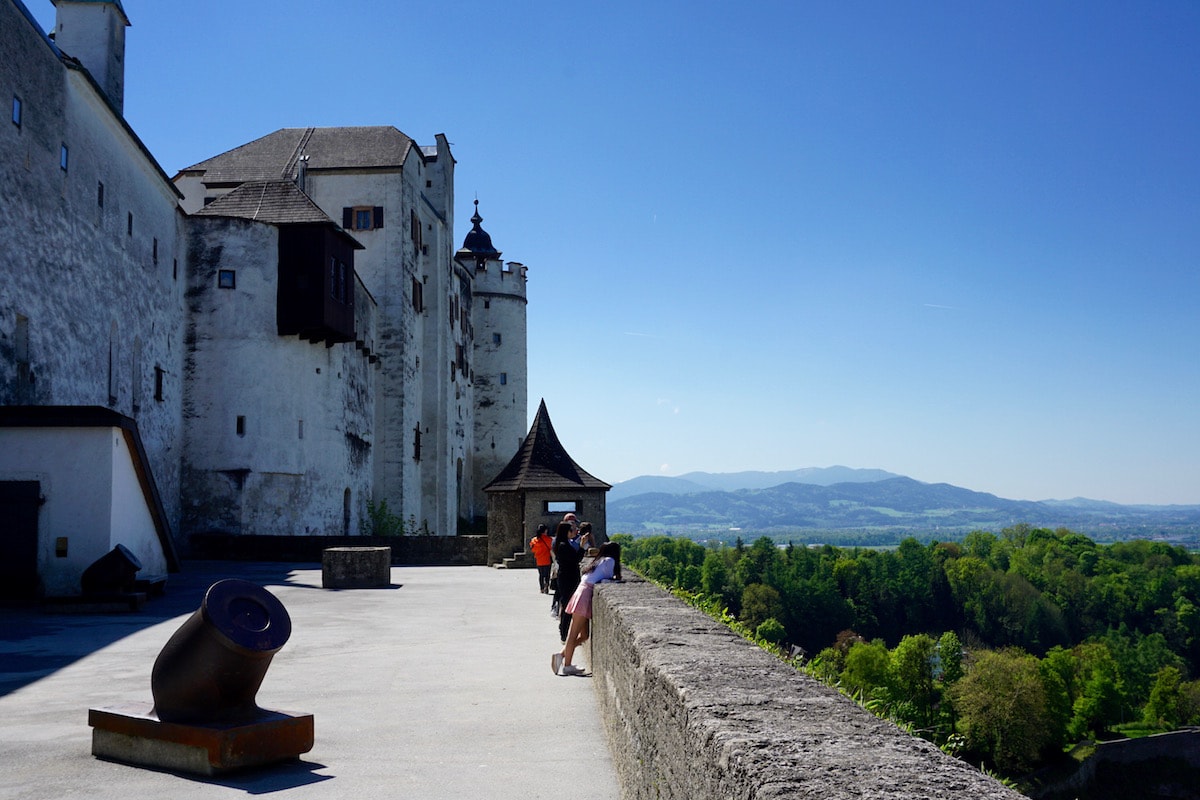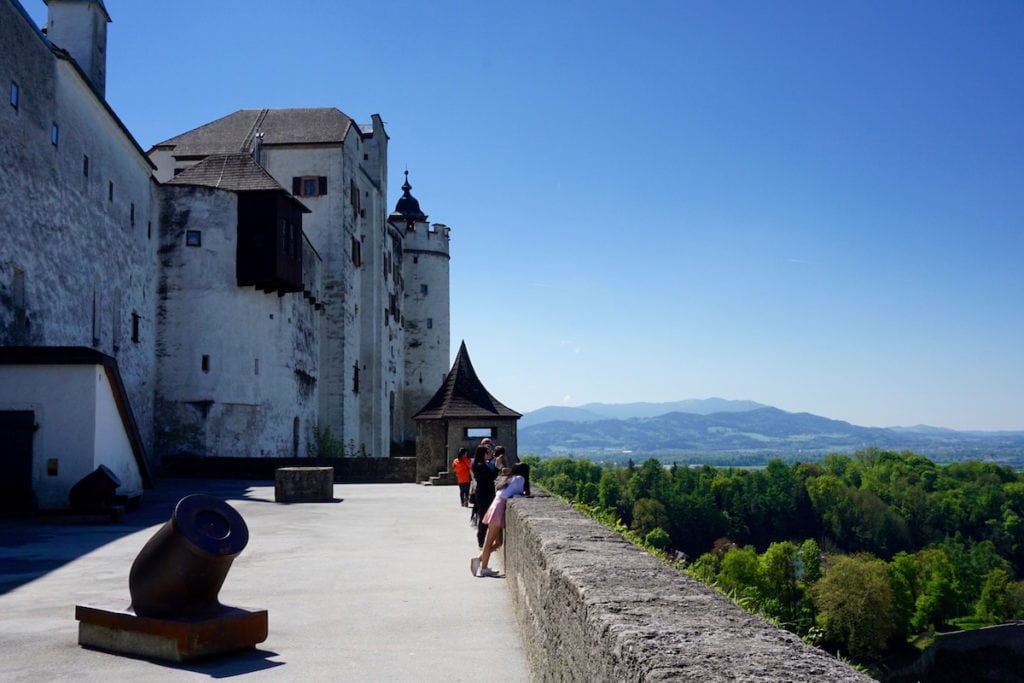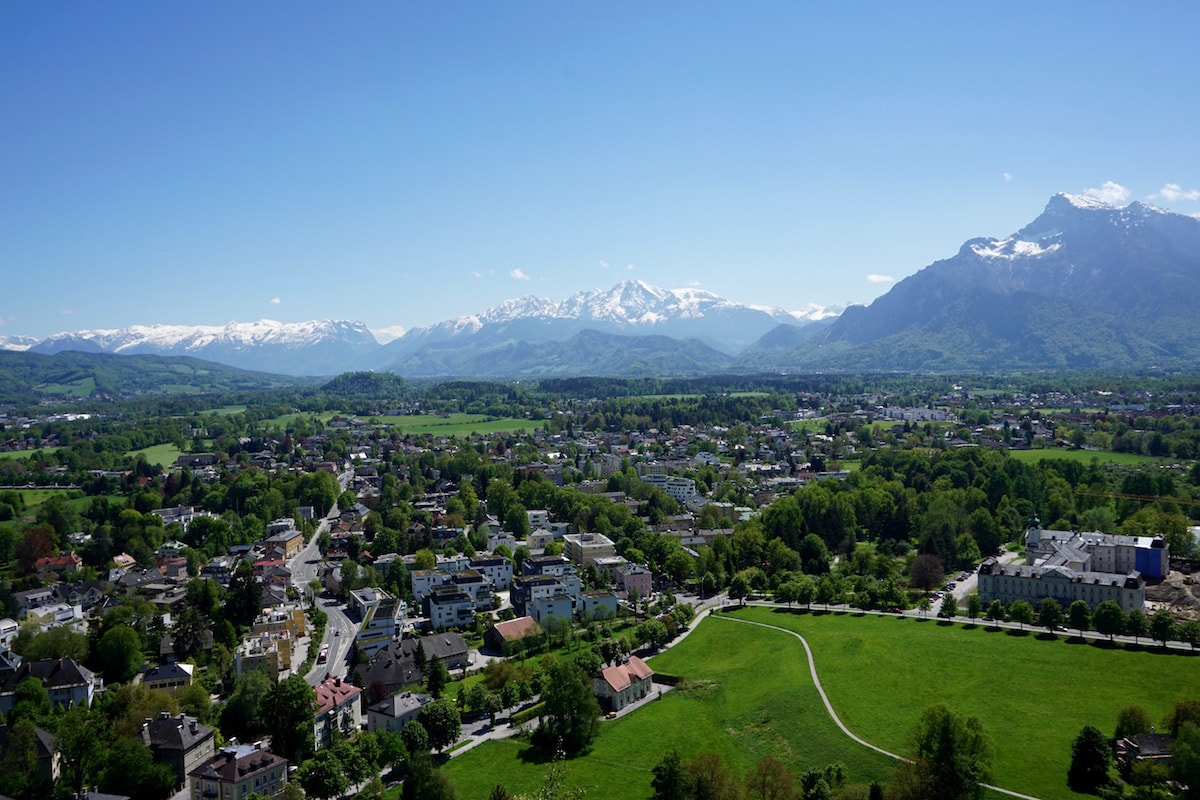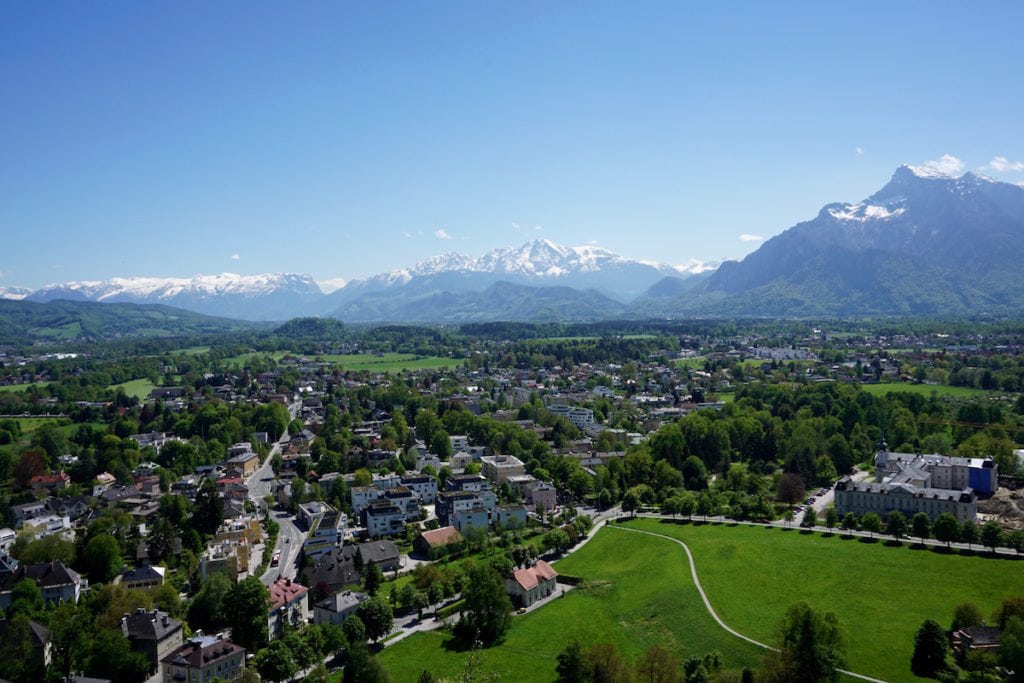 On the opposite side of the River Salzach to the old town, is Kapuzinerberg mountain. The views from up here really capture the beauty of the city with views to the river, plus Hohensalzburg Fortress, and the mountain with the modern art museum on.
If I'd had more time in the city I would have trekked up higher, where there are wild deer, chamois and more all living in the wild!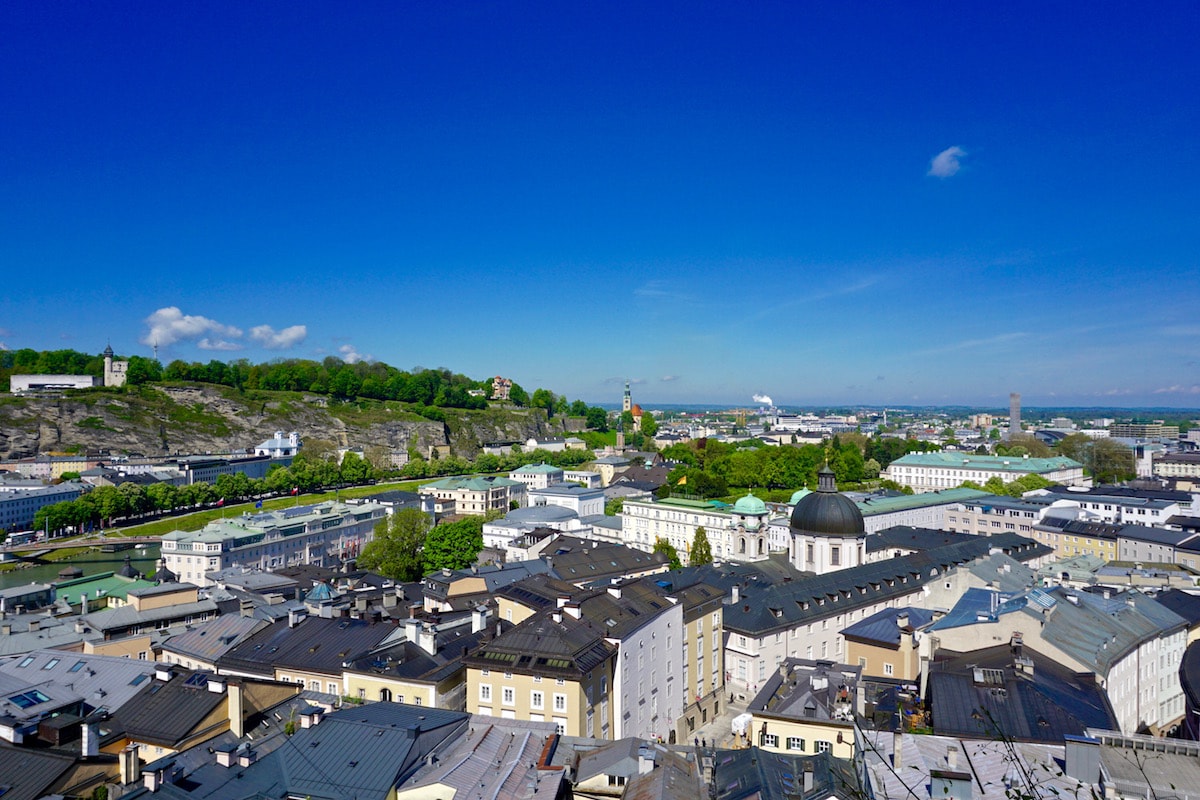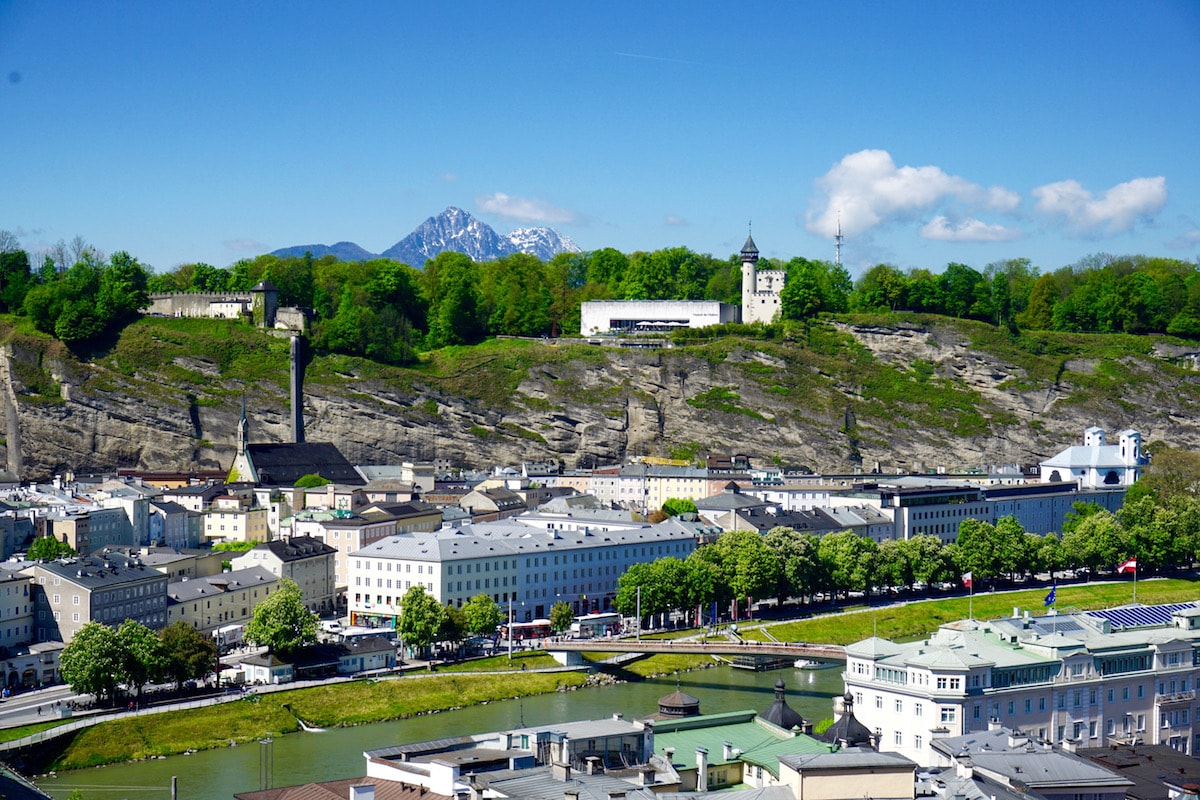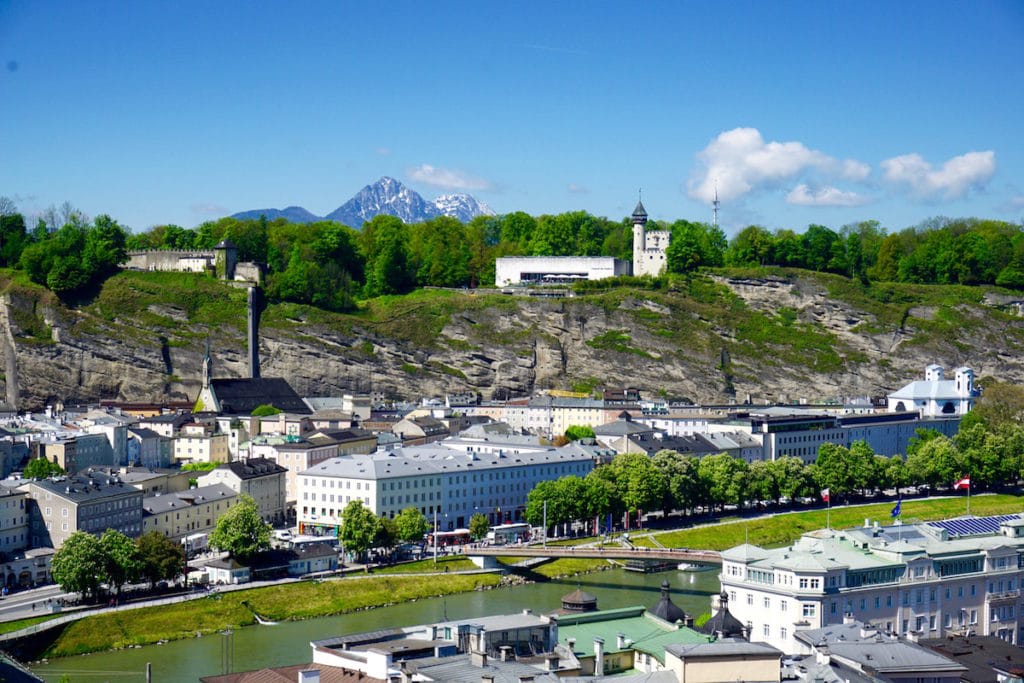 A few of you guys recommended heading up to Salzburg's Museum of Modern Art, but funnily enough, it wasn't to venture inside. With its position on the mountain, you can see straight across to the fort, plus it's one of the places with the best view of Salzburg. After visiting the fort and Kapuzinerberg Mountain, it gives you the third and final perspective.
To visit, you need to catch the elevator up (at a charge unless you have a Salzburg card). I'd recommend stopping off for lunch or a drink at M32 Restaurant.
While it's a little pricey, I decided to put together a meal of side dishes (salad, asparagus and rosemary potatoes) for just 12 EUR. Filling and delicious – all with that amazing view!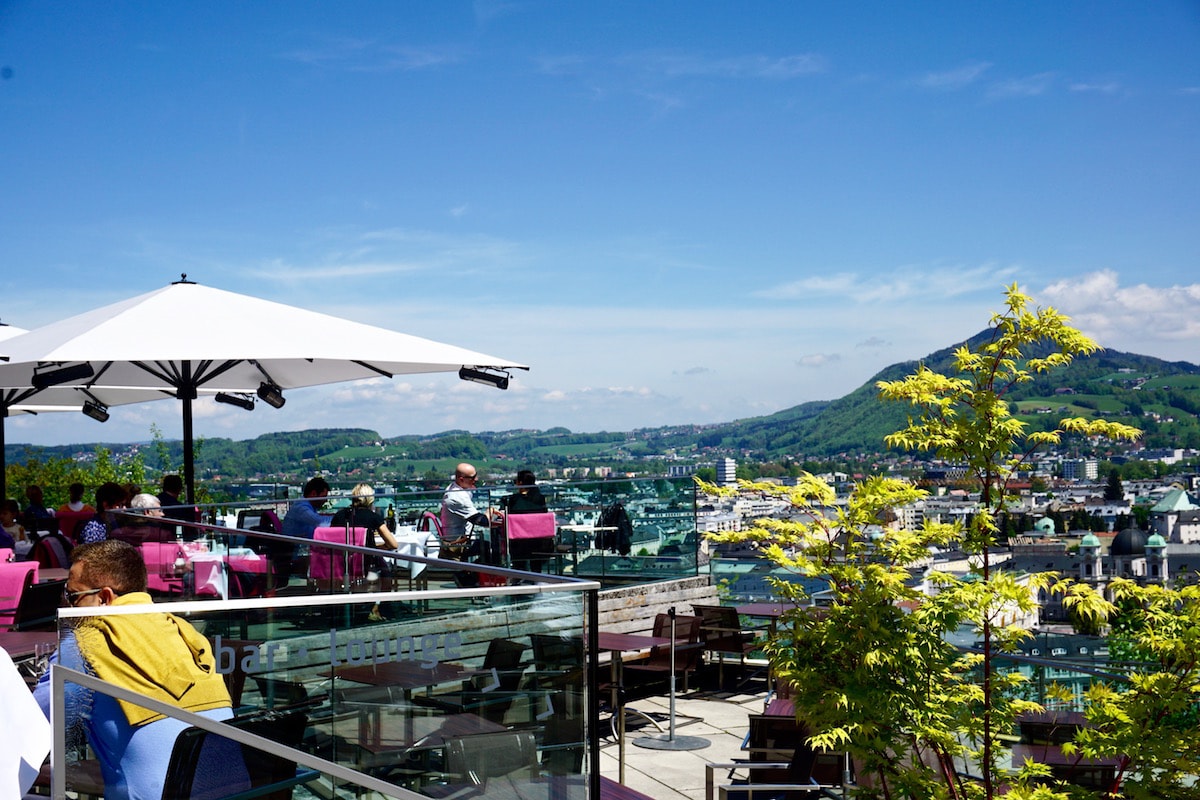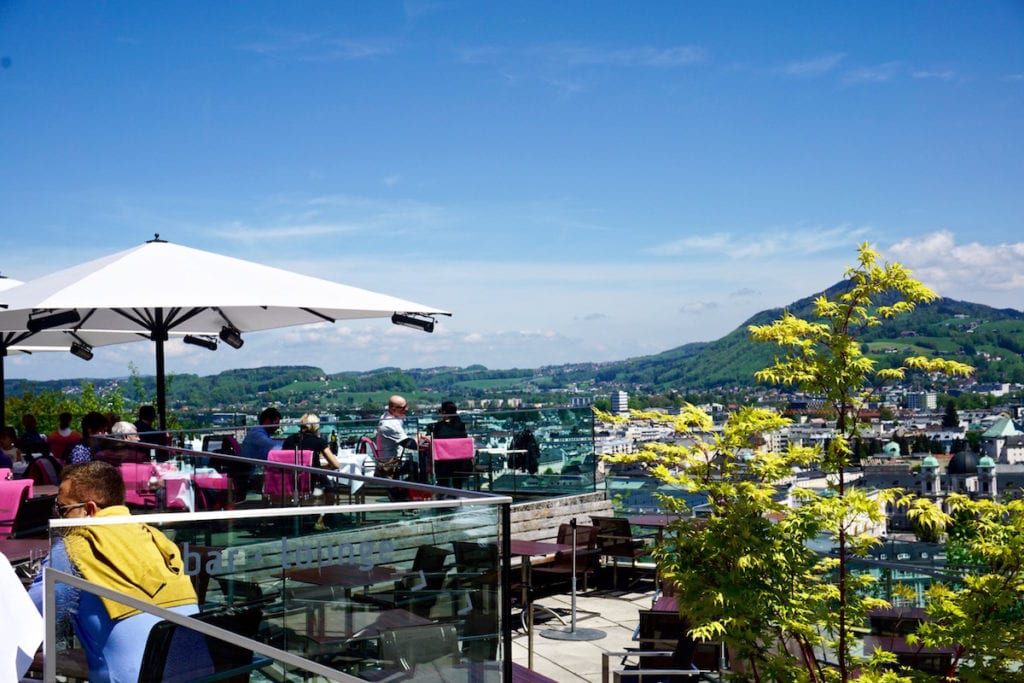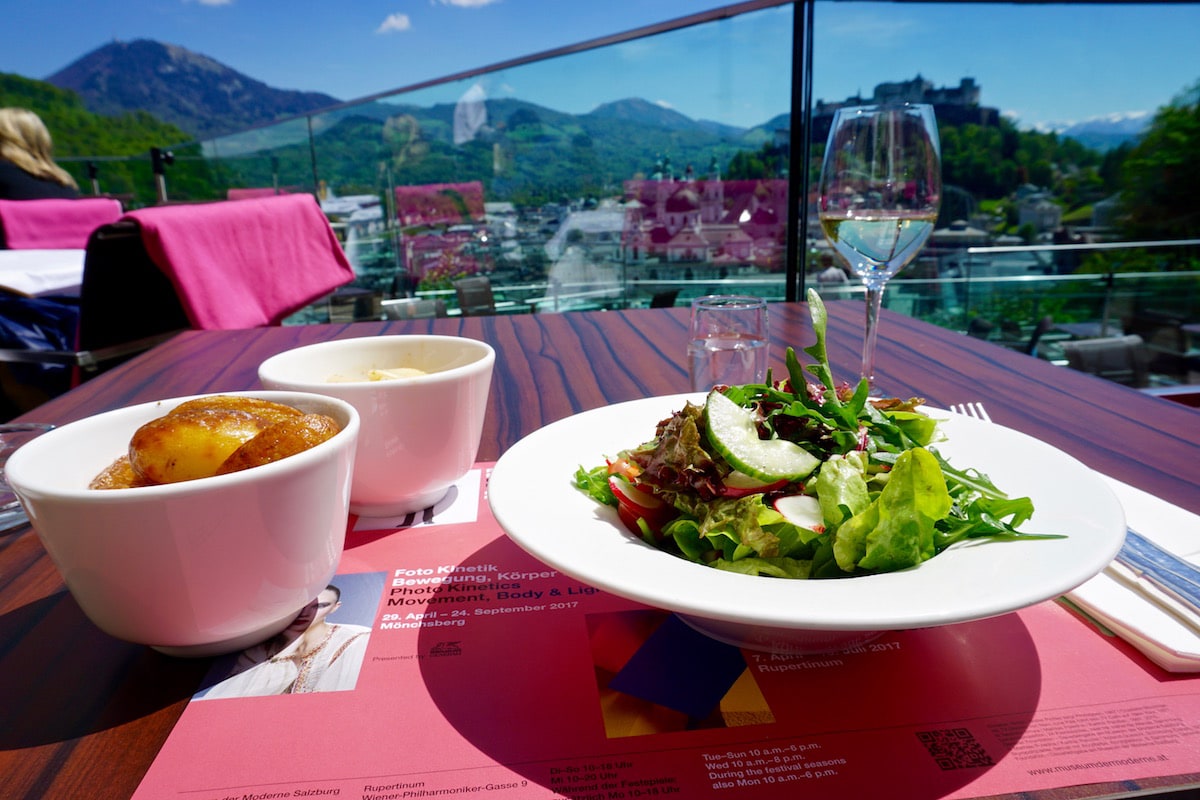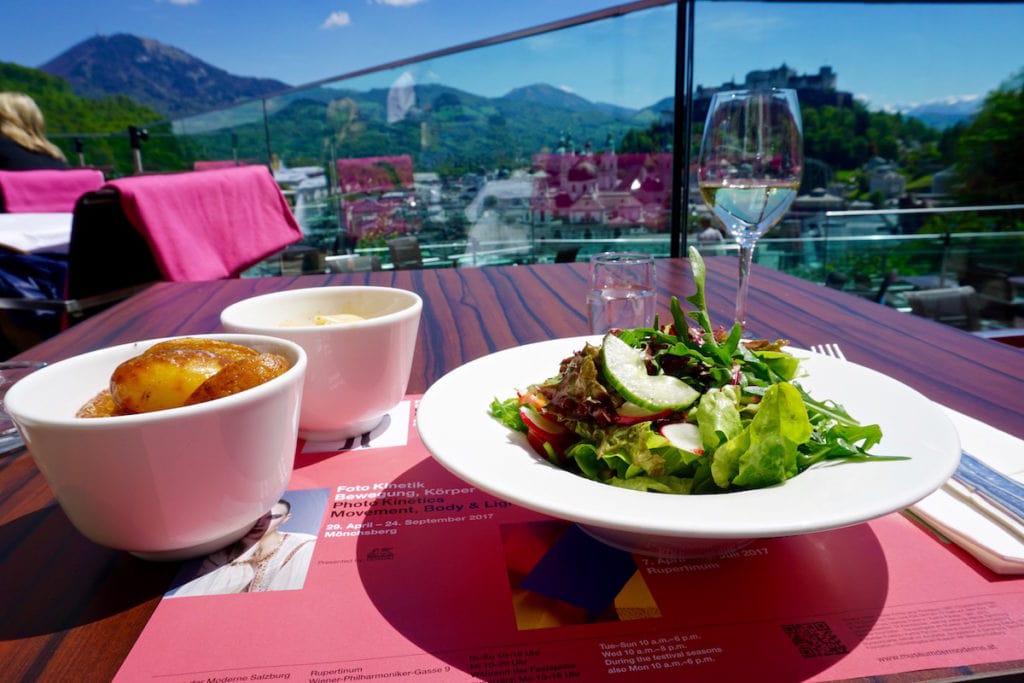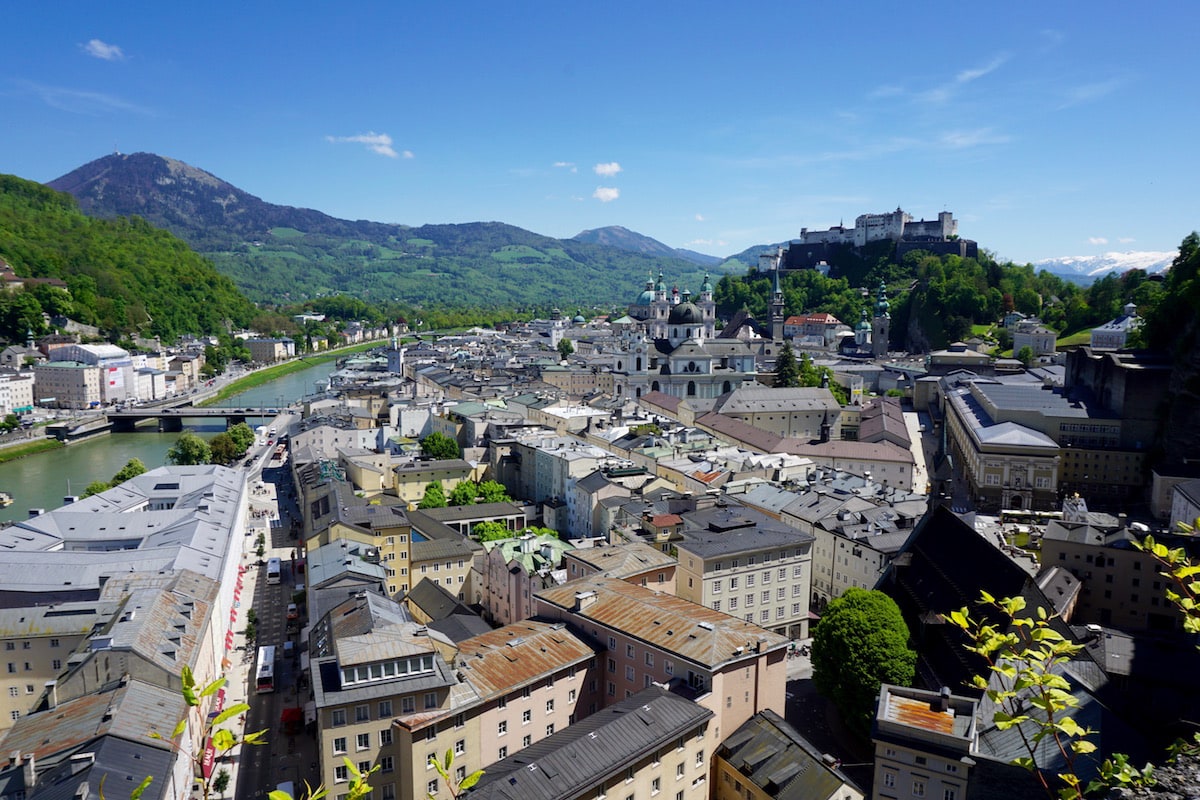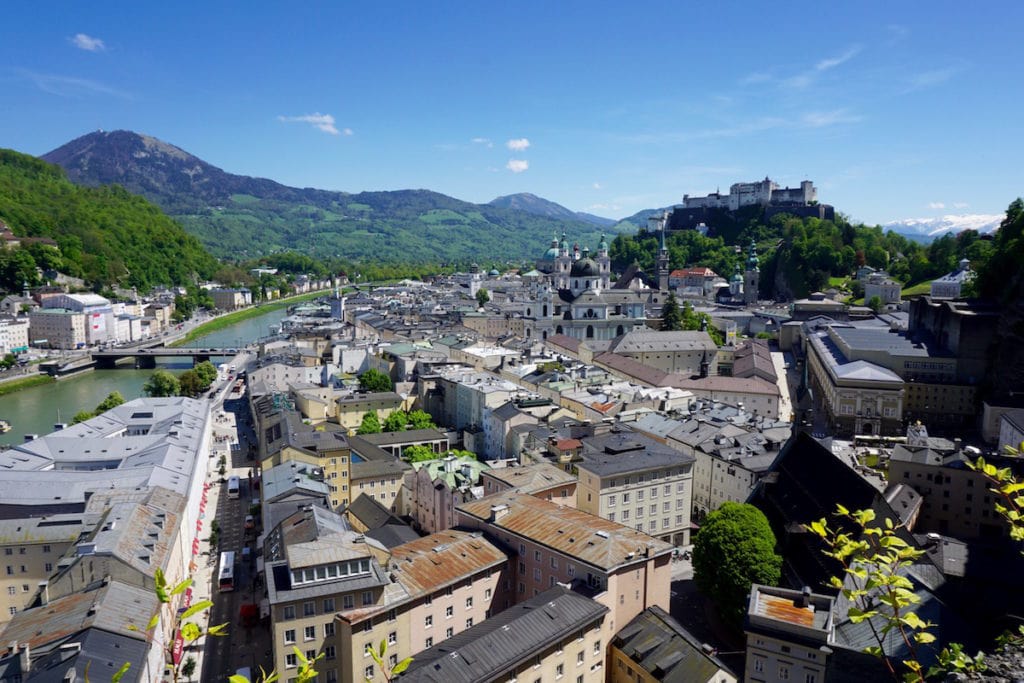 Along with much of Salzburg's centre, the city's main shopping street is pedestrianised. While many stores are standard high street brands, there are a few with years of history, and many still have their antique signs hanging from the shop fronts, so don't forget to look up!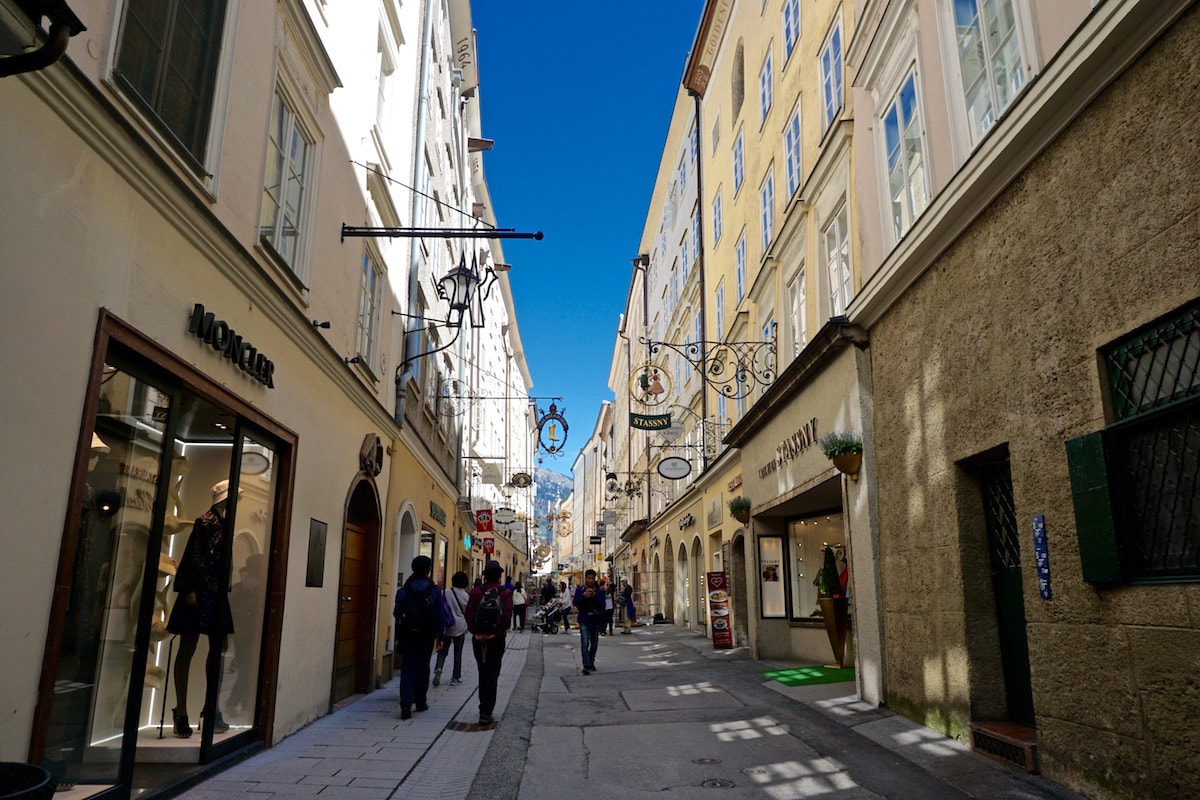 Steingasse
On the opposite side of the river from the old town is a beautiful, skinny pedestrian street with tall buildings and beautiful hidden gems. Marvel at the sign for the birthplace of Silent Night's writer Joseph Mohr (which funnily enough is in the wrong spot!!). On warm days, the street stays cool and uncongested.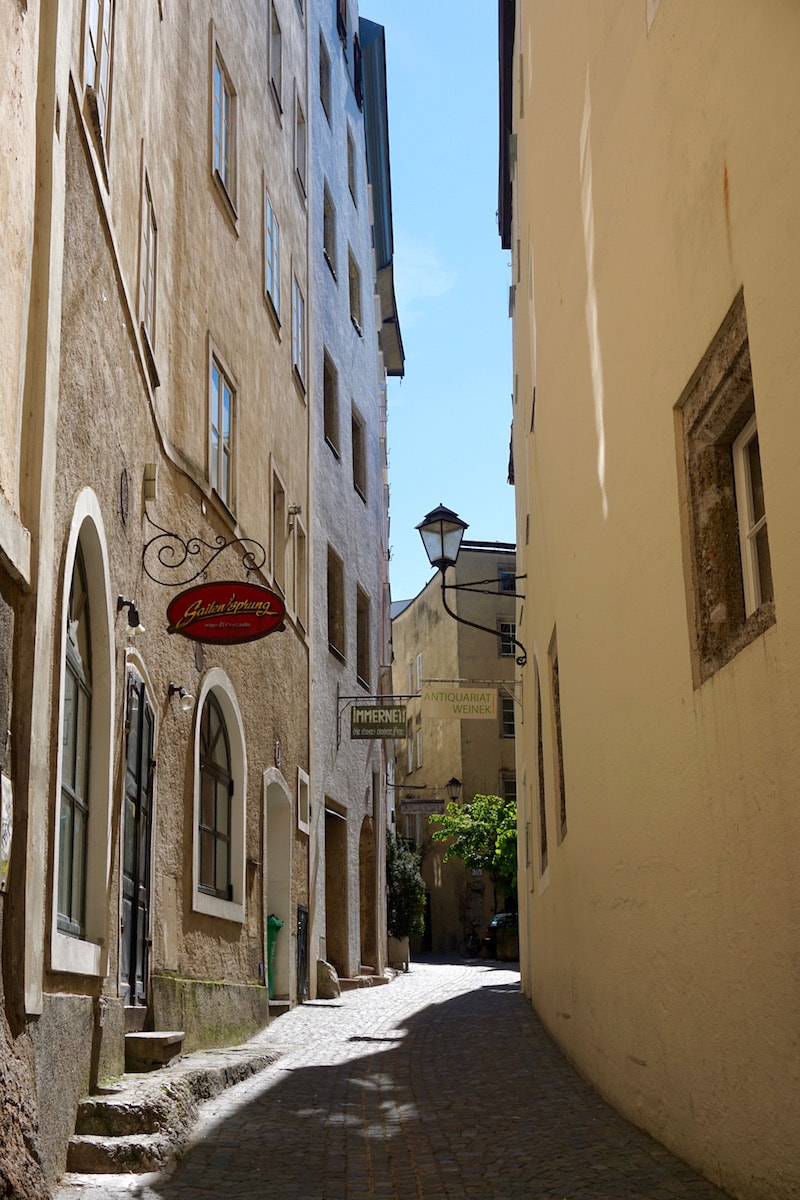 Also recognisable from The Sound of Music, the views of these fountains in Residenzplatz Square are stunning, with a backdrop of colourful surrounding buildings.
No doubt you'll want to take plenty of photos here! It's also the location for a lot of the city's big events, including the huge celebrations on New Year's Eve.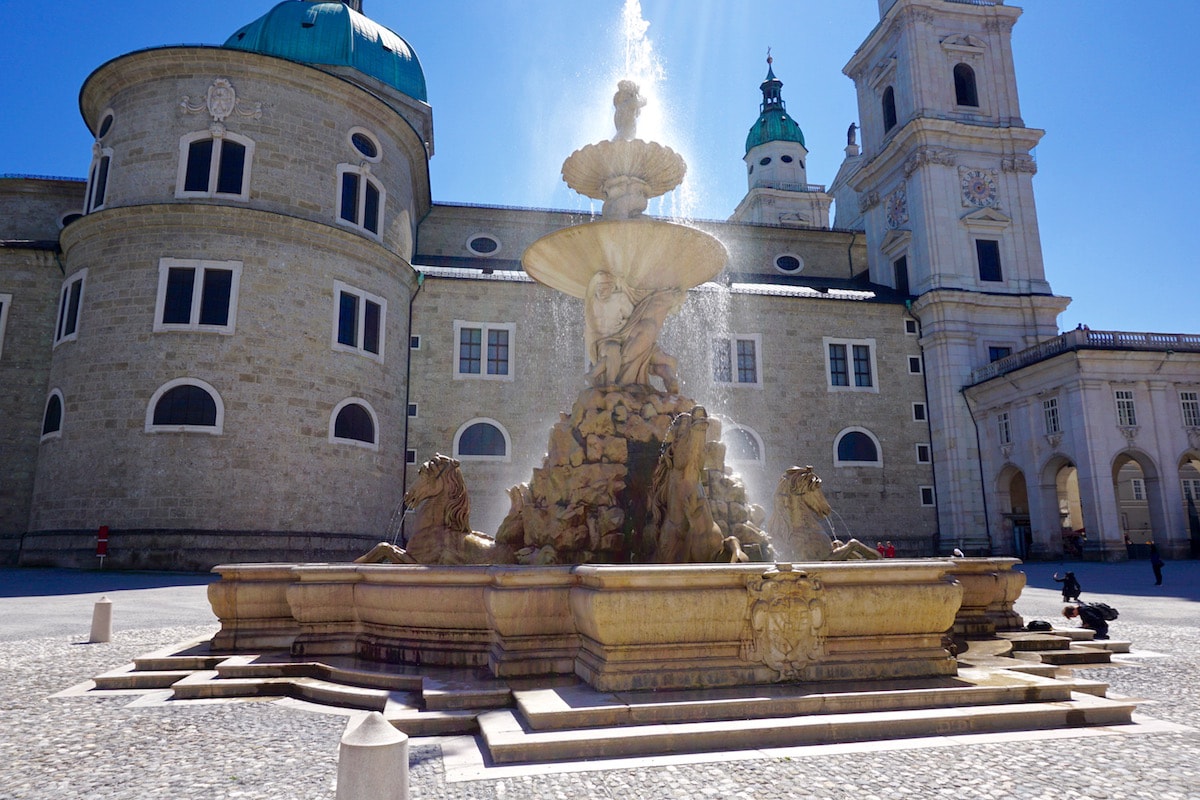 Makartsteg Bridge
Paris's famous lovers bridge may have almost give way from the number of locks weighing it down, but it seems that Salzburg's is just about holding up!
There's a unique curve to this bridge over the Salzach River, which adds to its photogenic quality.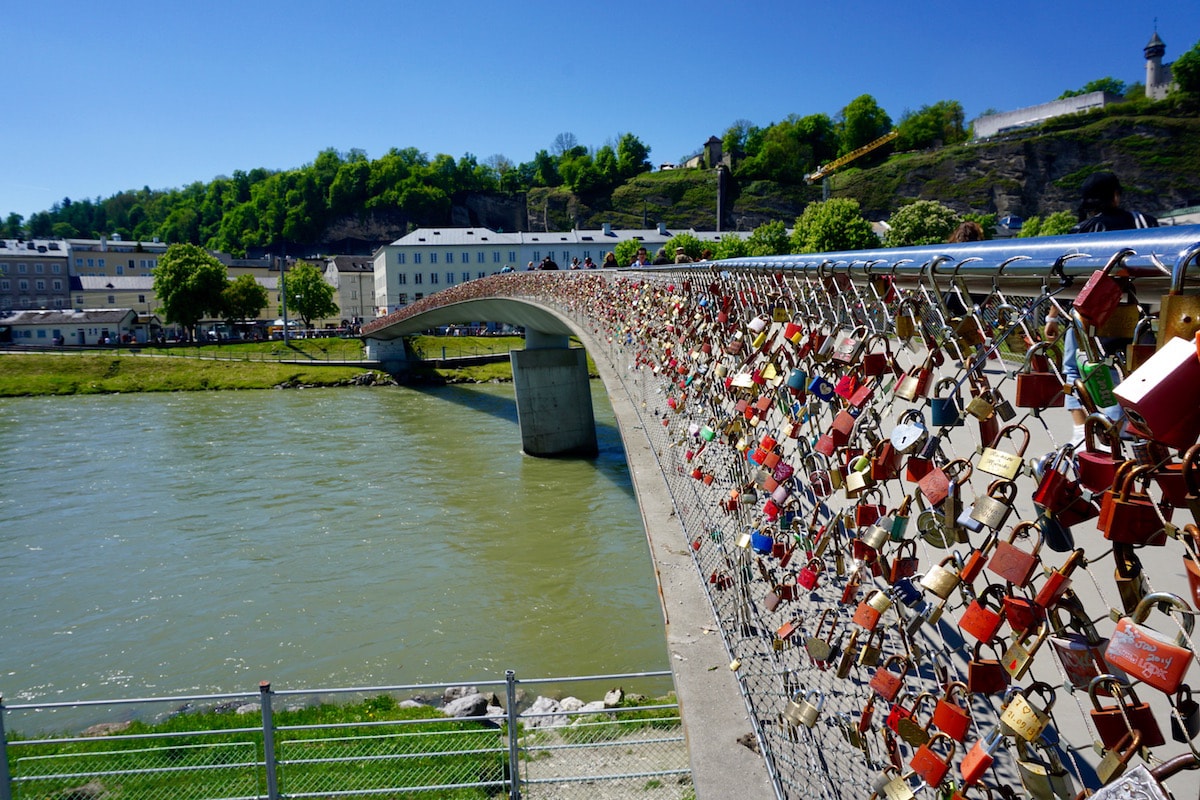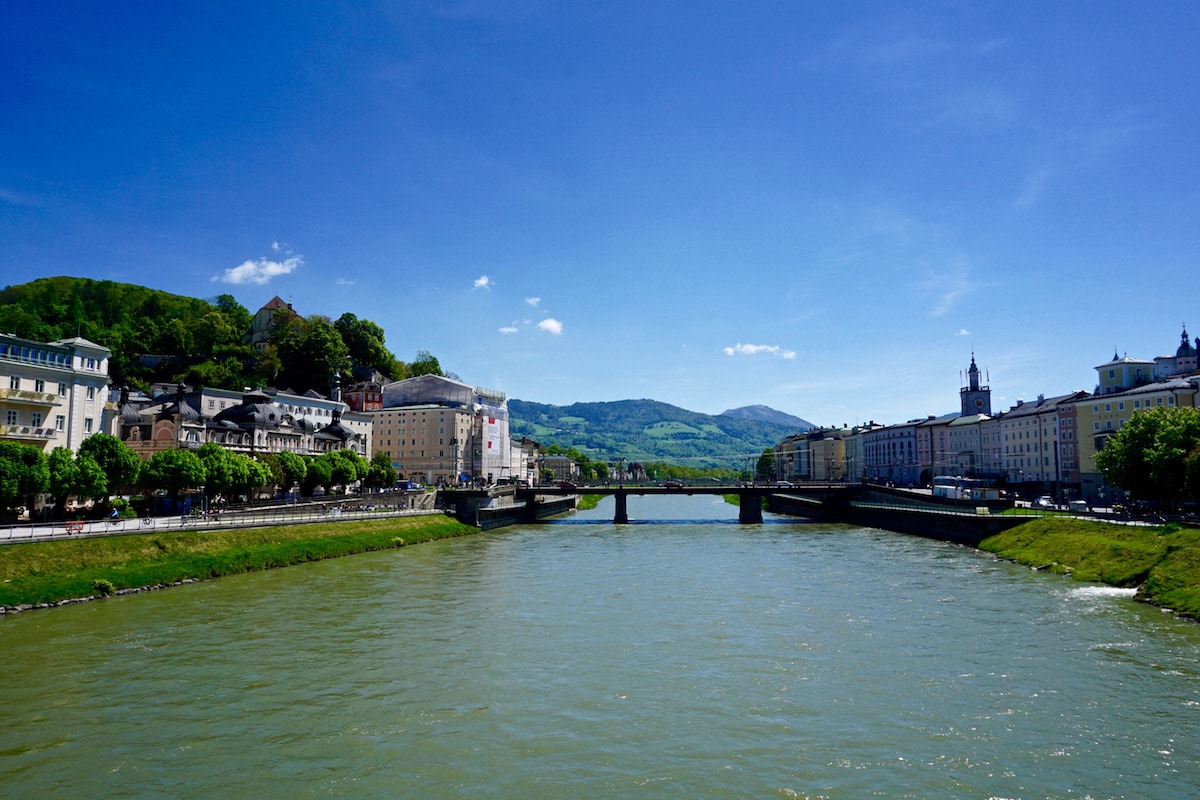 After heading up to the fort, be sure to stop off here for a beer or a rest. The restaurant and bar sprawls over a few terraces and is just gorgeous in the sunshine.
I tucked into a large slab of apple strudel and a coffee, then sat back and enjoyed the view over the rooftops.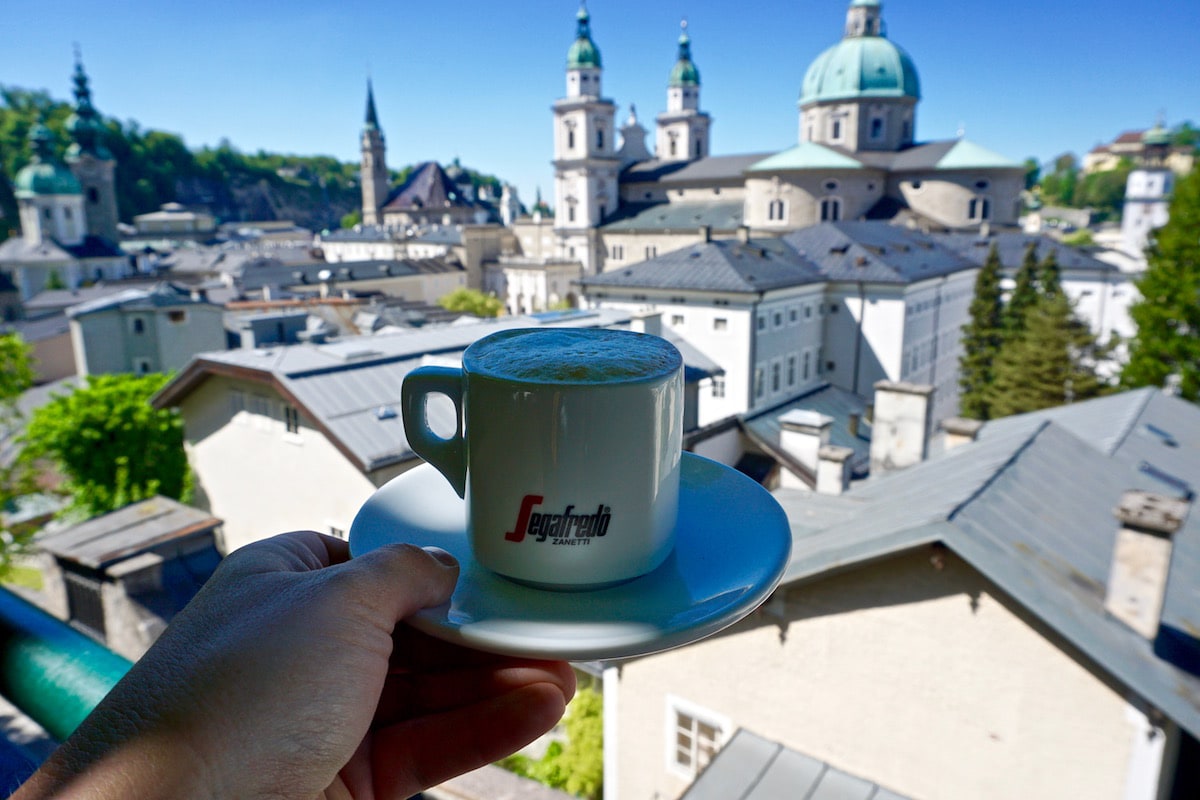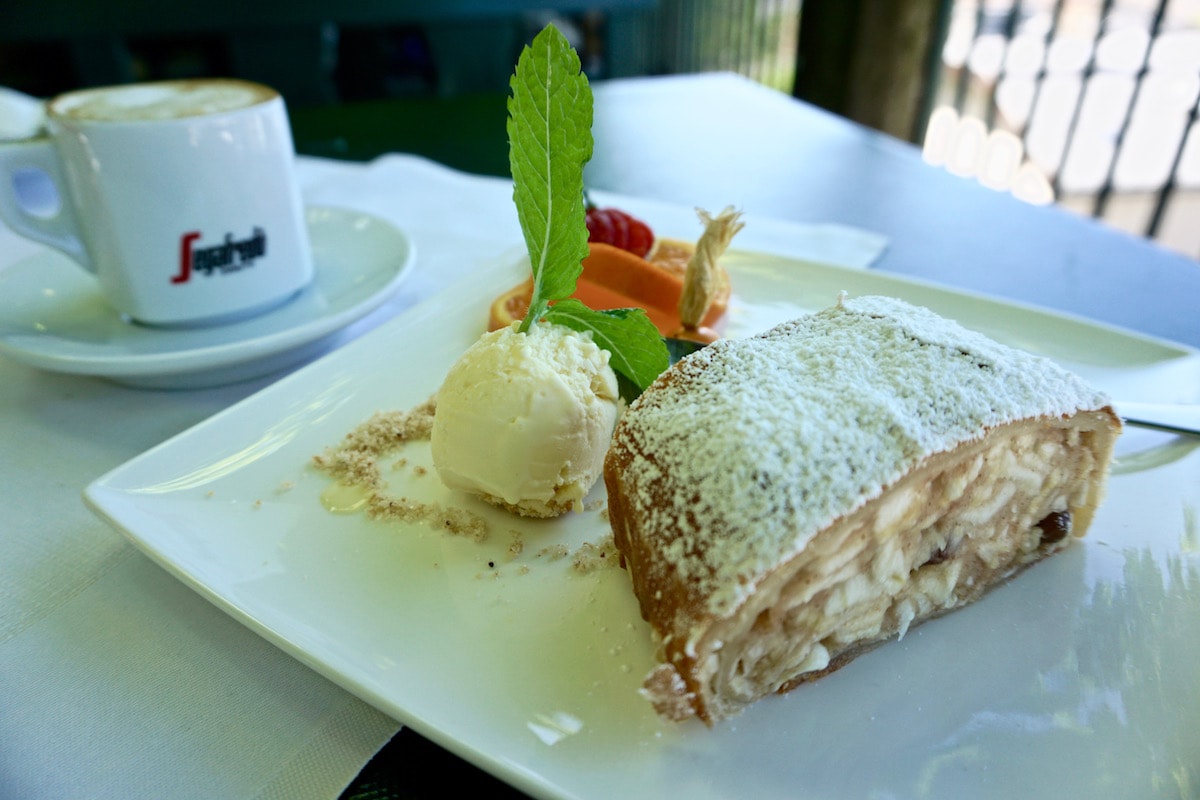 Houses on Anton Neumayr Platz
Why build a back wall to your house when you can just make do with the rock of the mountains behind?! I couldn't believe my eyes when I spotted this row of houses just below the Museum of Modern Art on Anton Neumayr Platz.
It's places like this that make Salzburg so wonderfully unique! It's easily one of the best photo spots in Salzburg!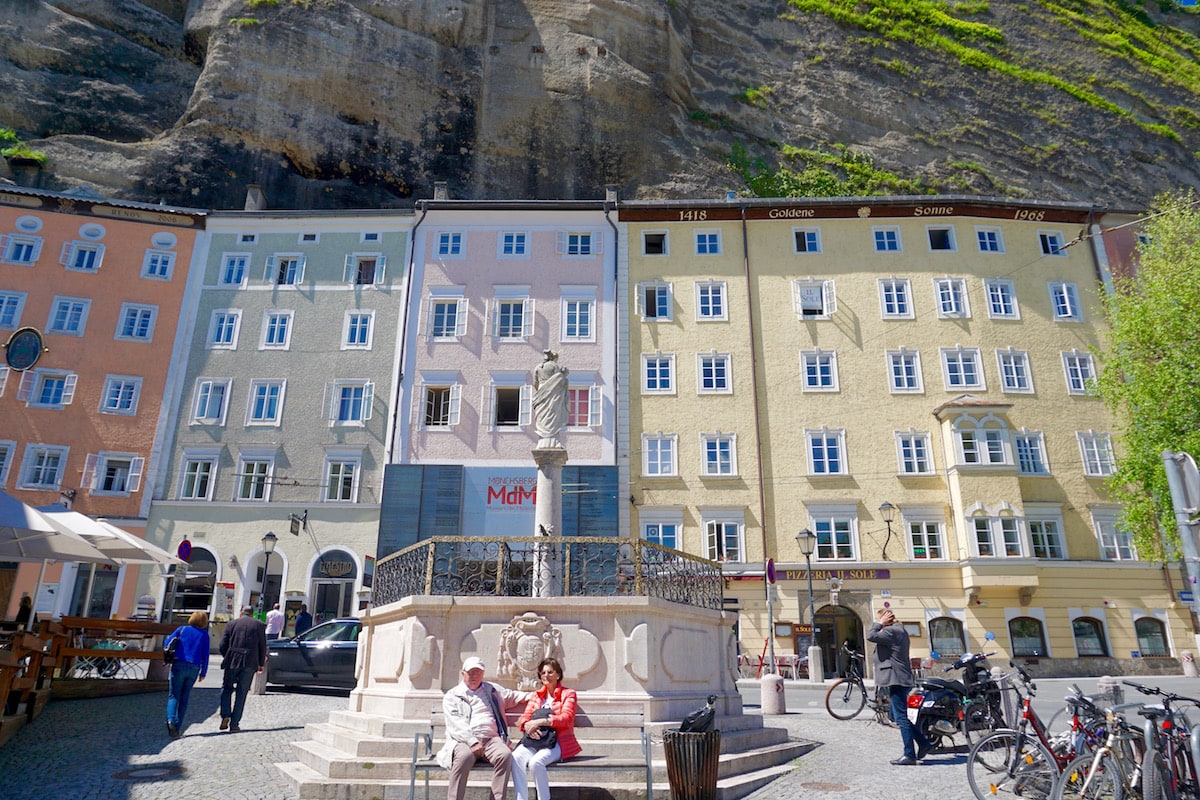 There's a fierce rivalry when it comes to Salzburg and Vienna, with both claiming to have the oldest coffee house. Well, it turns out Salzburg's Café Tomaselli is the oldest that's still remaining (Vienna's is no longer there). A visit here is one of the top things to do in Salzburg.
The café overlooks the historical market square Alter Markt, and is decorated with beautiful flowers. It still serves up some of the best coffee in the city, whilst offering a perfect people watching spot too.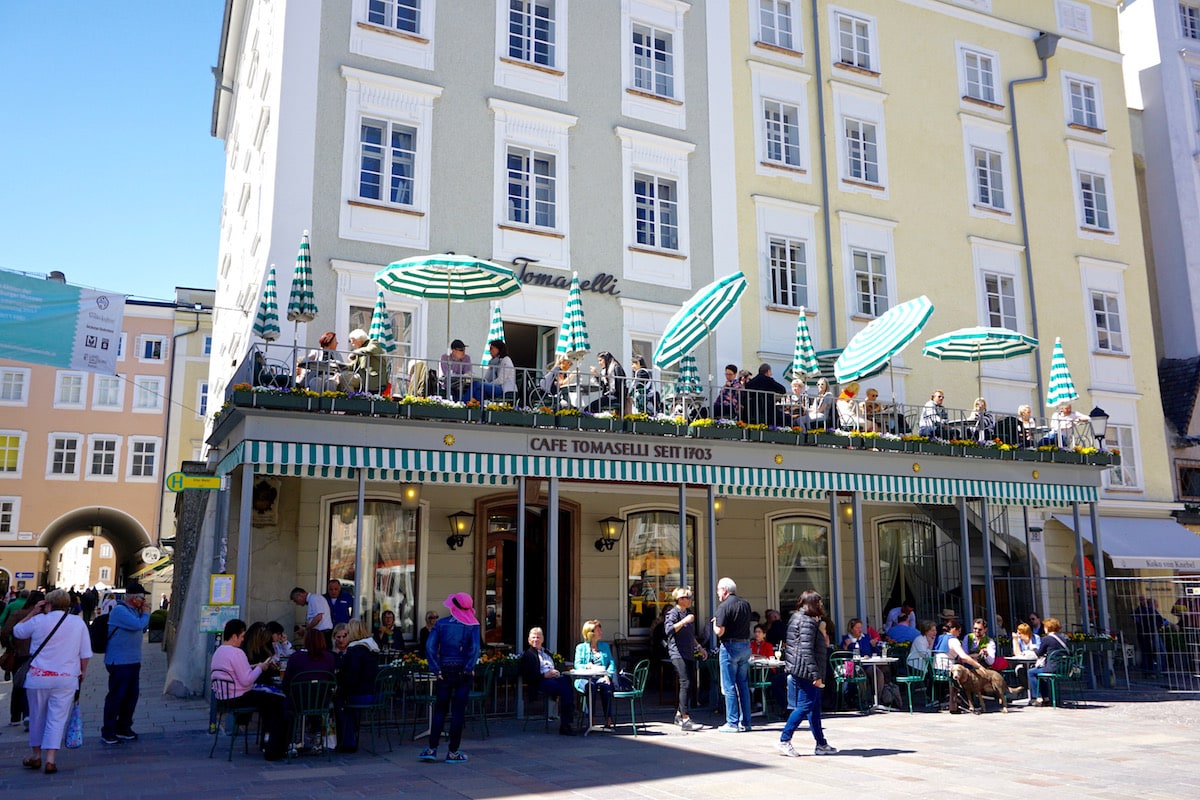 I was invited to #UncoverAustria by the Austrian National Tourist Organistation. As always, opinions are my own.
Enjoyed this post? Pin it…