Feng shui, gregorian chants and delicious wines – Viña Montes in the Colchagua Valley isn't your average winery.
"We can walk there," I said after looking at the map. "It's a couple of hours away, but the sun is out, and we'll be able to explore those beautiful vineyards we saw from the bus yesterday. A little romantic adventure!"

I could tell my other half wasn't convinced, but sometimes when I have one of my 'bright ideas' it's best not to question it. The plan: to walk from the town of Santa Cruz in the heart of Chile's wine region, the Colchagua Valley to Viña Montes – one of the premier. It wasn't on our original plan, but the owner of our B&B said it really was one of the best places to go wine tasting in the Colchagua Valley.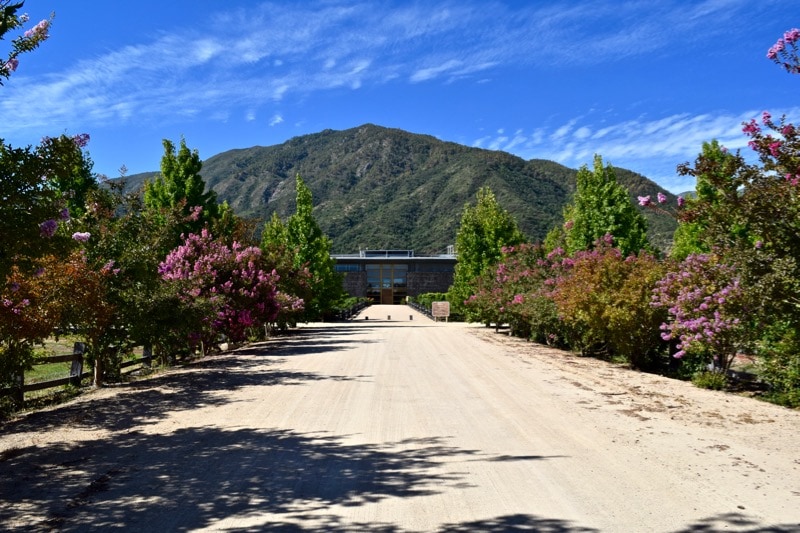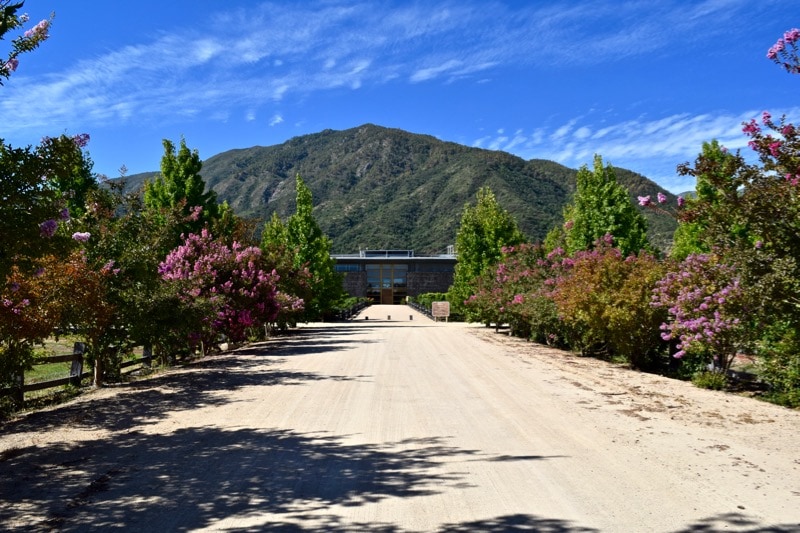 So off we went. Flash forward 20 minutes and we'd worked up a thirst, a sweat, and appeared to be wandering through an industrial estate on the outskirts of town. Mechanics attempted to rescue rusting old motors while construction workers hammered bits of metal. Not the best start to our romantic walk through the vineyards. 30 minutes in and we appeared to be on a hard shoulder. Cars, lorries and buses raced past, churning up dust and dirt, almost knocking us over with the motion. Lining the main road – lush green vineyards and fields of fruit trees separated from us by hedges, fences, and, at one point, a rather ferocious looking dog.
We continued our sticky hard shoulder wanderings until we spotted a bus which took us a little closer, before being picked up by a friendly local who saw the universal hitchhiking sign – the thumbs up.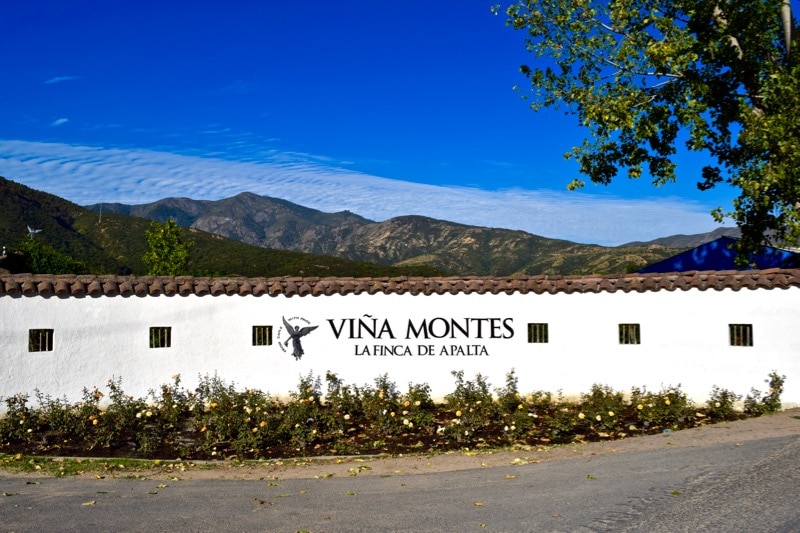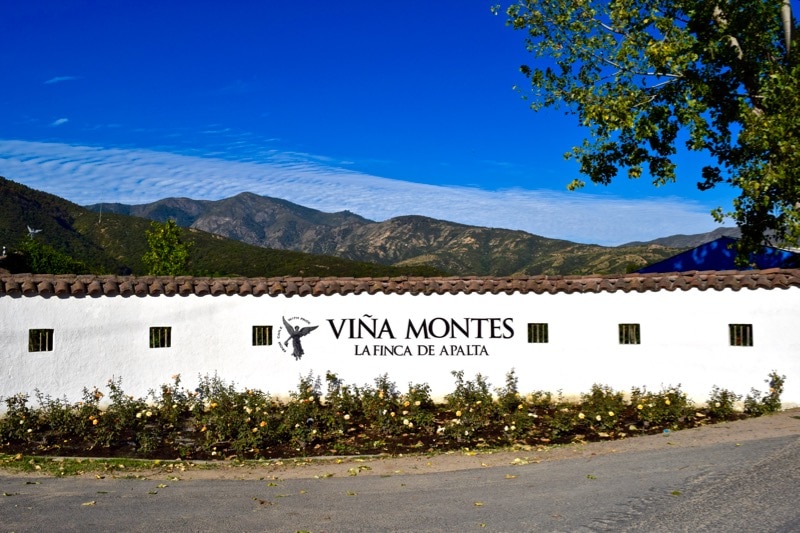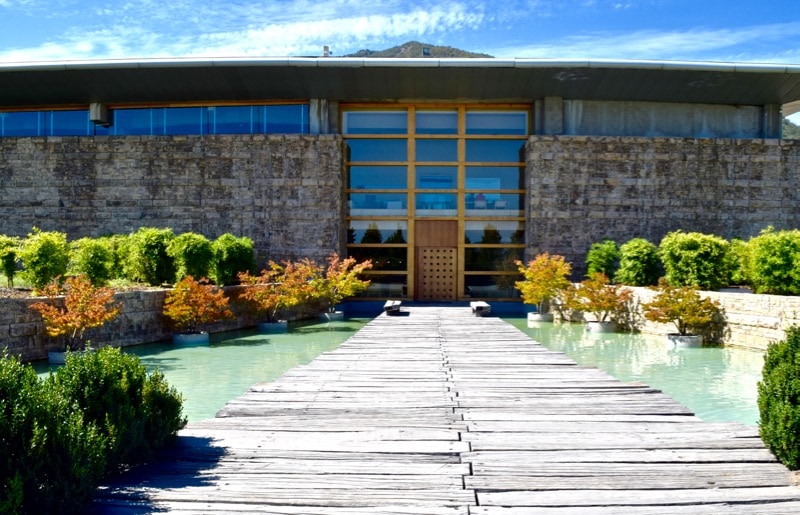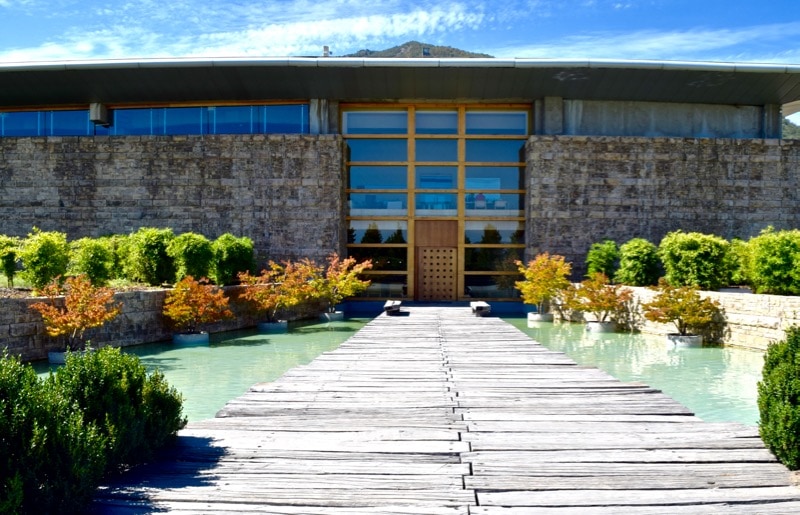 He kindly dropped us at the entrance, and an hour and a half after leaving Santa Cruz we made it to Vina Montes in Apalta. I prayed that they wouldn't judge our appearance as we arrived for the wine tour… and that it lived up to our B&B owner's recommendations as the best wine tour in the Colchagua Valley!
It was a striking setting; beyond the rows and rows of vines was a flat roofed architectural dream of a building, with something reminiscent of a moat and drawbridge leading to an enormous front door. If Disney produced wine, this would be the fairy-tale vineyard! Little did I know, water was a key feature of the Montes experience… but hang on, weren't we here for the wine?!