From eco-pods and wine hotels, to cosy alpine chalets, fairytale castles and ultra-modern city spaces, these are the most unique hotels in Switzerland.
Switzerland is one of my favourite European countries to travel around. This compact nation has a wealth of different landscapes, from snow-capped mountains and grassy alpine meadows, to gleaming cities where everything runs as smoothly as well… a Swiss clock!
While you're travelling around Switzerland you'll discover quirky and unusual hotels in spectacular locations in every corner of the country. If you've ever dreamed of staying in an art deco jail, gazing at mountain views from your bed, or sleeping under the stars in a glass igloo hotel, Switzerland has got you covered!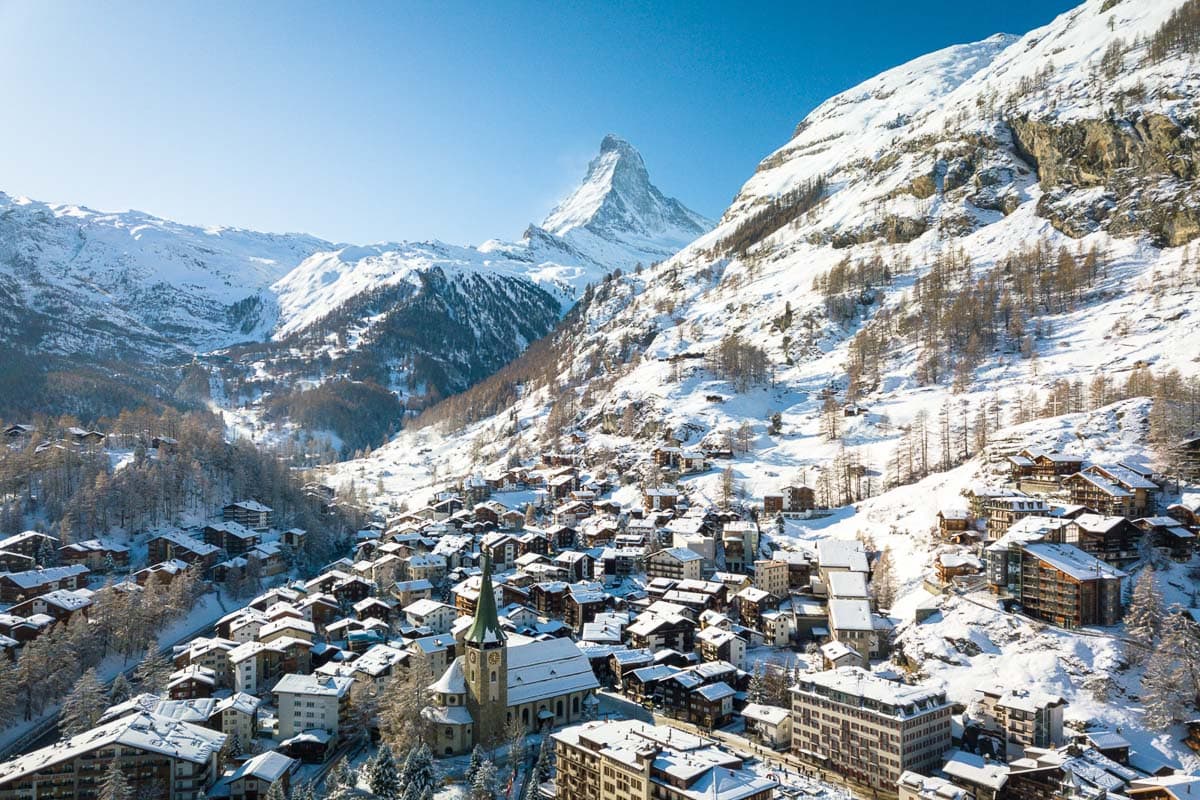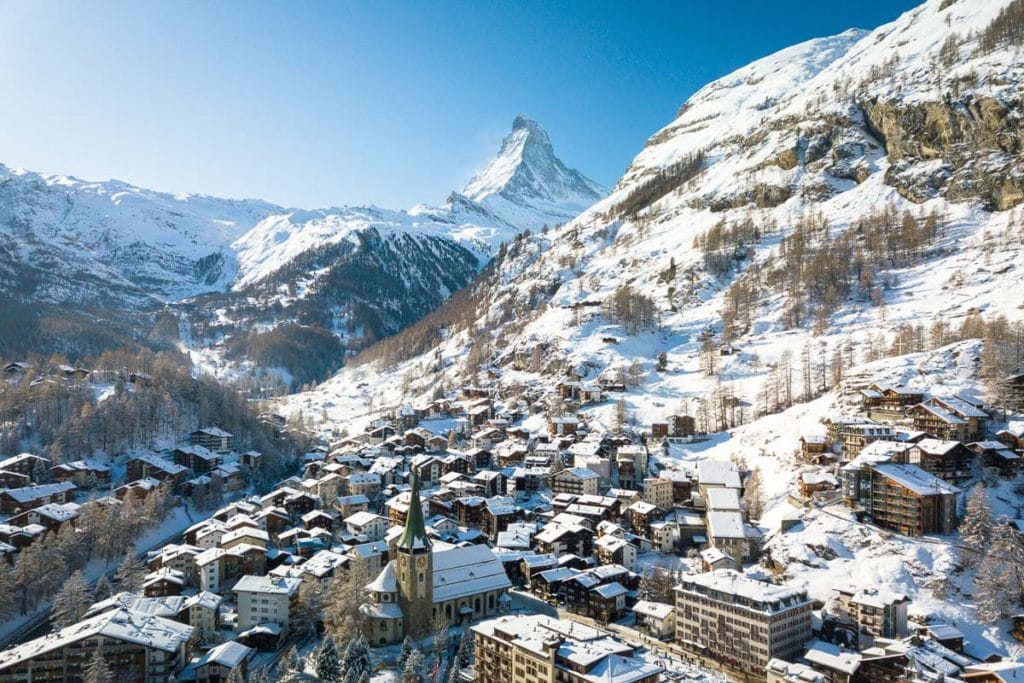 Coming up are some of my favourite unique hotels in Switzerland! These awesome accommodation options are guaranteed to make your travel experience in Switzerland truly memorable. Oh, and if you're just starting your travel planning, don't miss my ultimate Switzerland itinerary which includes plenty of tips for making the most of your holiday.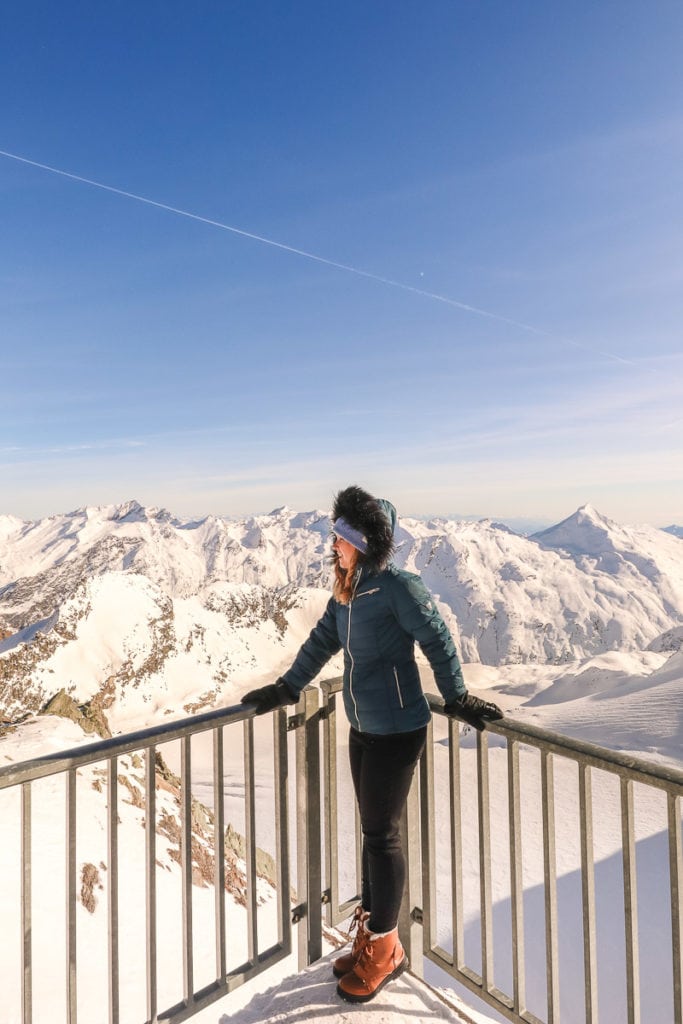 ---
17 Unique Hotels in Switzerland
Whitepod Eco, Les Cerniers, Dents-du-Midi
Are you ready to fall asleep in your own dome? This is definitely one of the coolest hotels in Switzerland… wait, maybe in the world! At Whitepod, you'll sleep in a cosy geodesic structure heated by a pellet fire, with nothing around but the silent wilderness. The hotel staff walk to work so there's no traffic noise.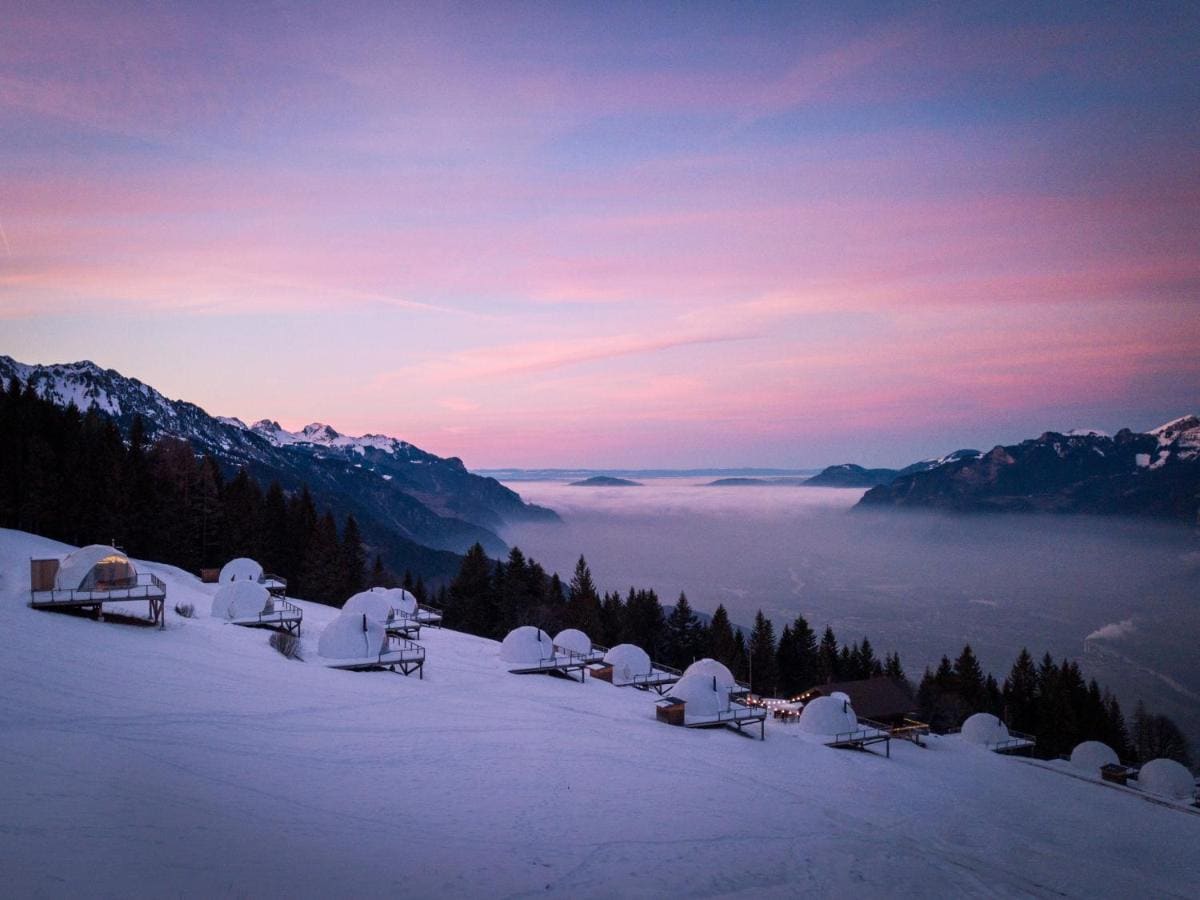 Plus, the colours of the pods harmonise with the seasons: white for winter and spring, pale green for summer and autumn! I love how these unique pods blend into the landscape. It's a real slice of Swiss magic!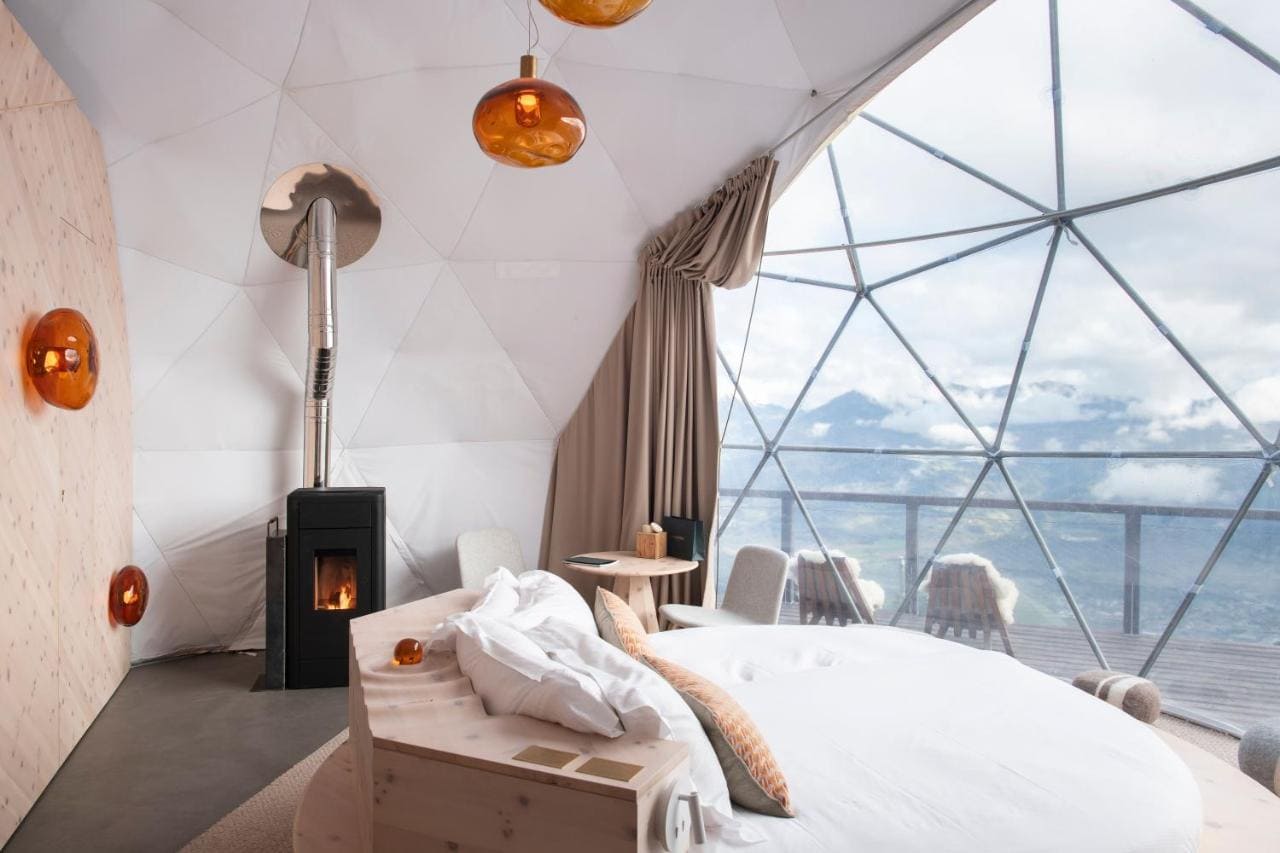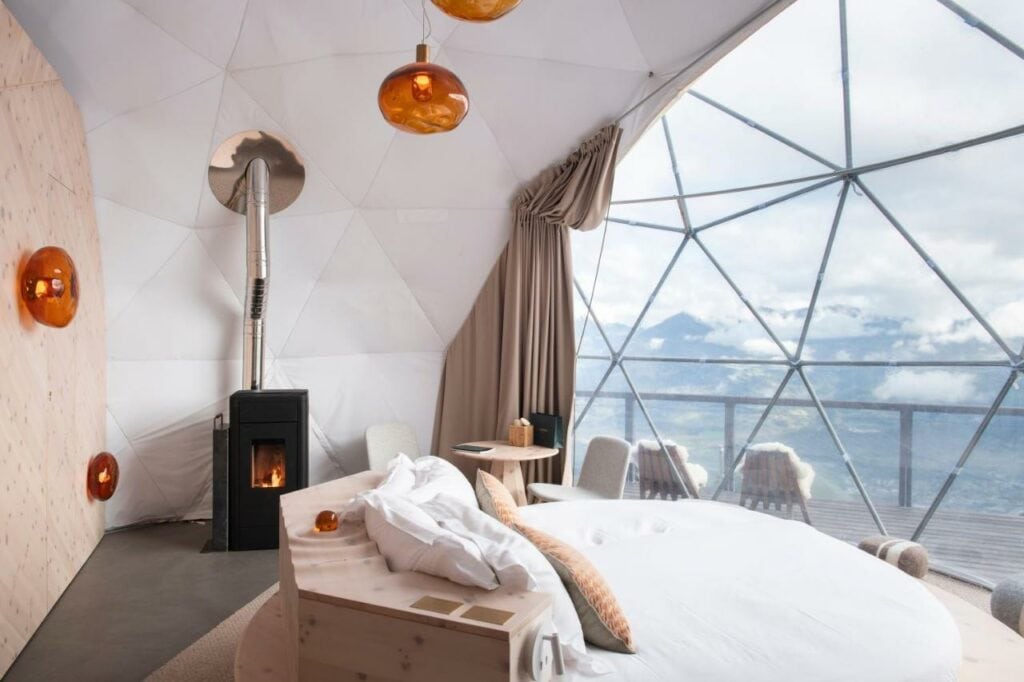 All of the ingredients served in the restaurant are all sourced locally, which lowers the carbon footprint of the hotel. For a dreamy night under the stars, wrapped in luxurious fabrics, this must be one of the best places you can stay in the Swiss Alps.
This grand hotel is the highest hotel in the Swiss Alps. Sitting at an altitude of 3,100 metres (hence the name 3100 Kulmhotel Gornergrat) the hotel even features its own observatory. The clear mountain air gives you an unobstructed view of the night sky, and there's nothing more romantic than standing on the balcony of your hotel room and gazing up at the Milky Way!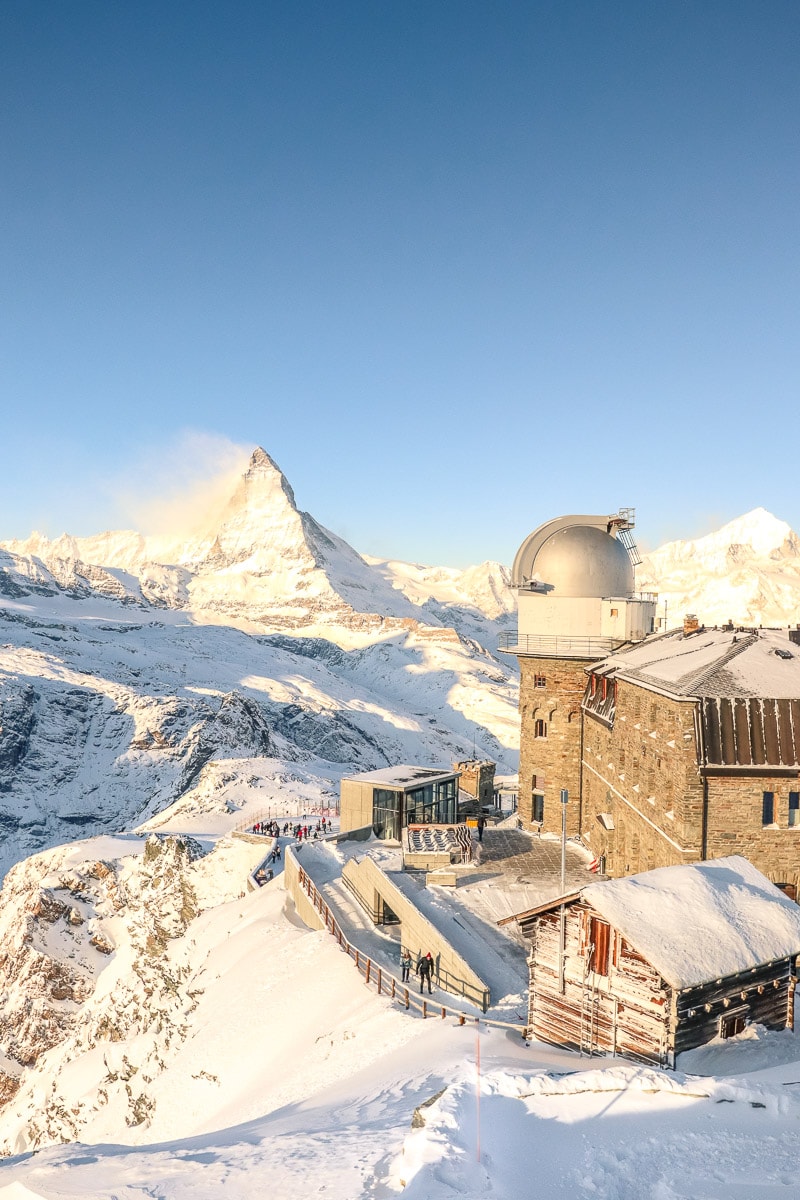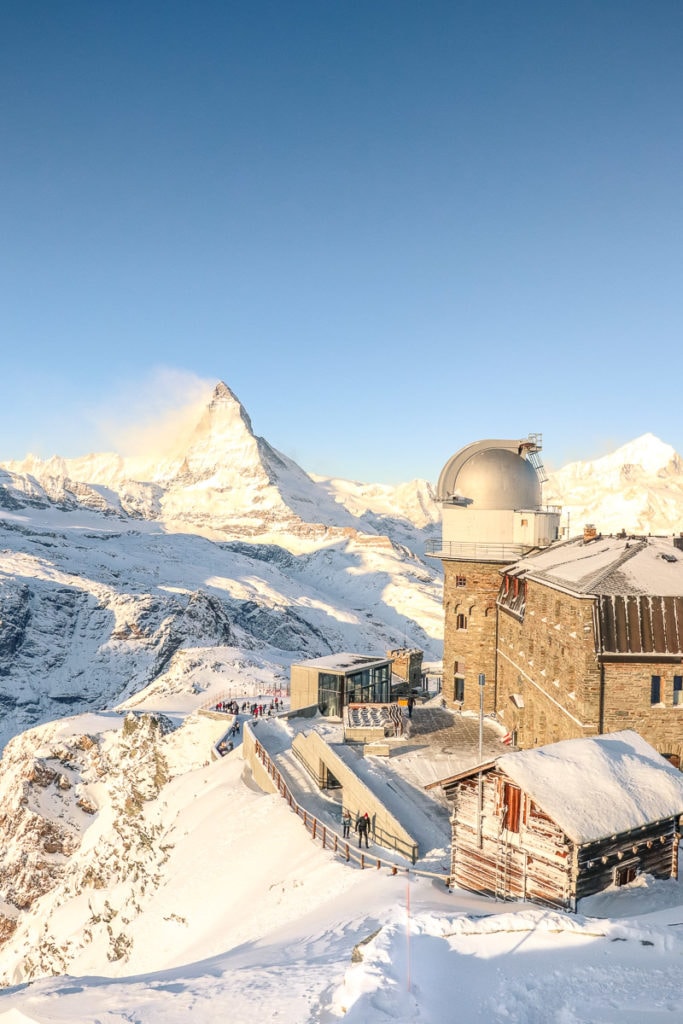 At the 3100 you can indulge in splendid food at the Vis-a-Vis restaurant while you take in the amazing alpine vistas. The rooms are decorated with fragrant pinewood panelling and big windows that provide awesome views of the mountains. Just imagine waking up to a view of the Matterhorn right outside your window?!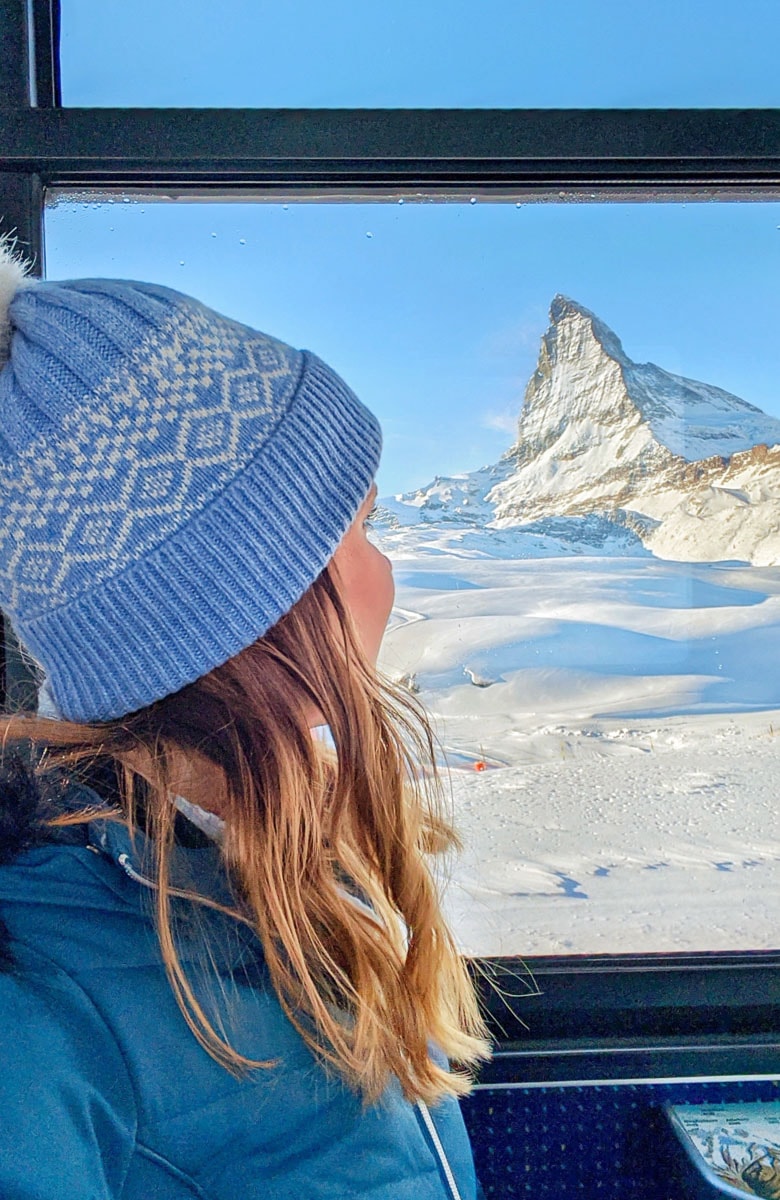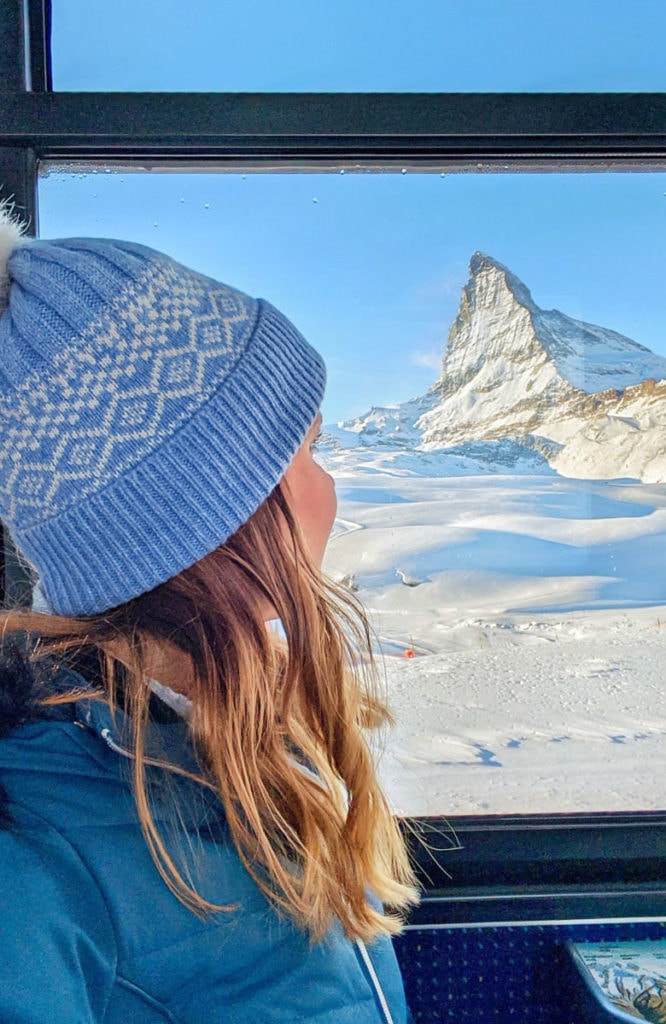 To reach the hotel you'll need to hop on the train from Zermatt. I still regard this as one of the most beautiful train journeys in the world, so you'll have that to look forward to if you stay here too!
Are you a wino? Do your best nights always revolve around having a glass of your favourite glass of red? You'll absolutely love this unique hotel in Switzerland! For a completely different eco hotel experience, you could sleep inside a wine barrel! Kitted out in checkered gingham linen, the ambience of the barrels is as warm and comforting as a glass of red wine on a cool winter's night.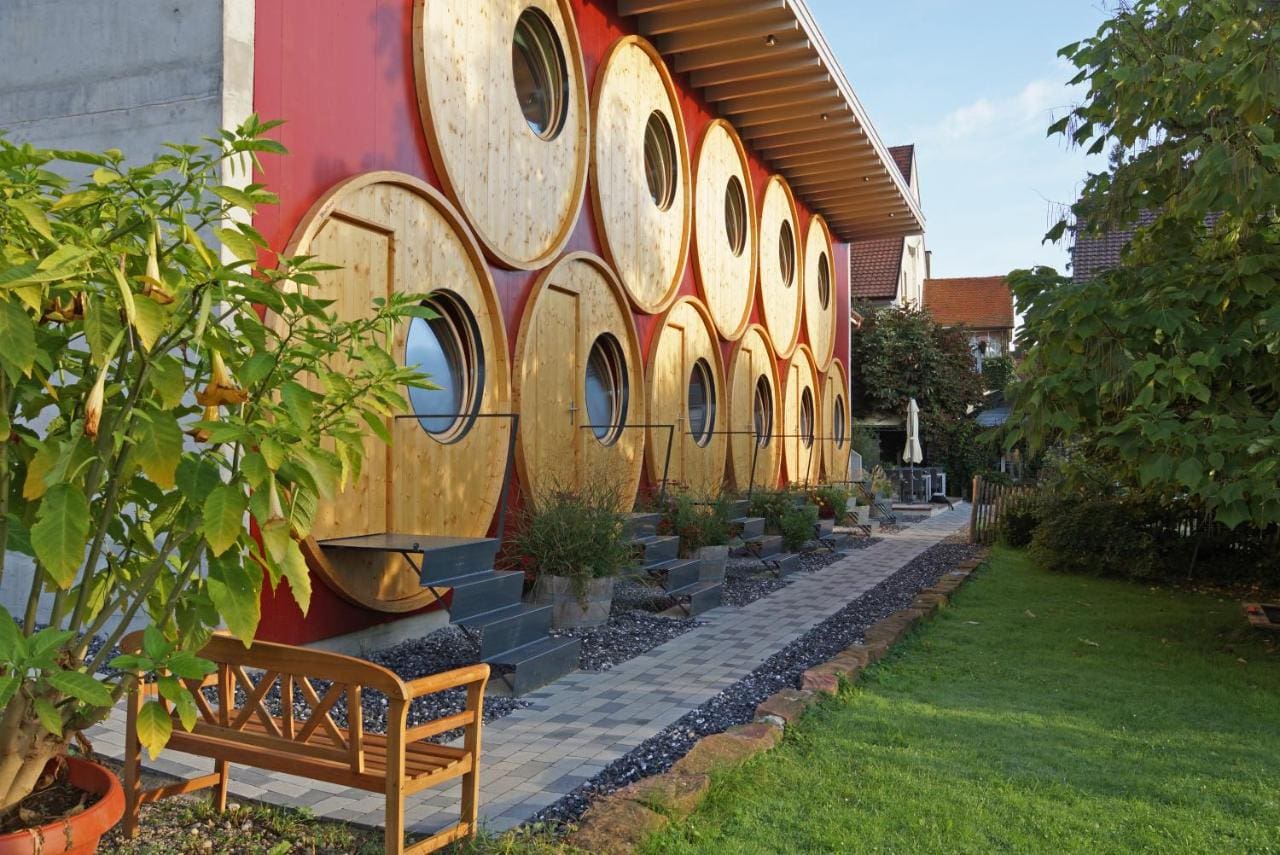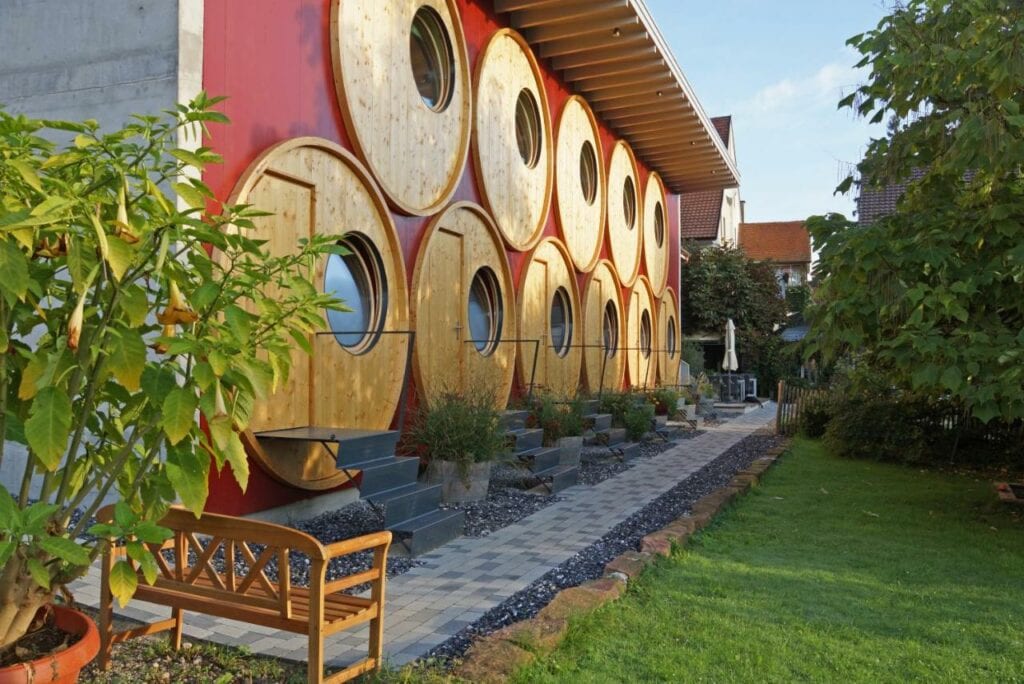 Whether you choose a new barrel, an old barrel or a wood-panelled Räbhüüsli house in the garden, this is a unique experience. You're guaranteed to have a barrel of fun (I had to say that, didn't I?) at the Weinfass Hotel!
Nestled among rolling alpine meadows and pristine mountains, this boutique hotel provides luxury accommodation all year round. If you visit in summer, you simply have to get out and explore the picturesque Swiss landscapes. They look like something from a fairytale. You might even feel like breaking into a yodel or two!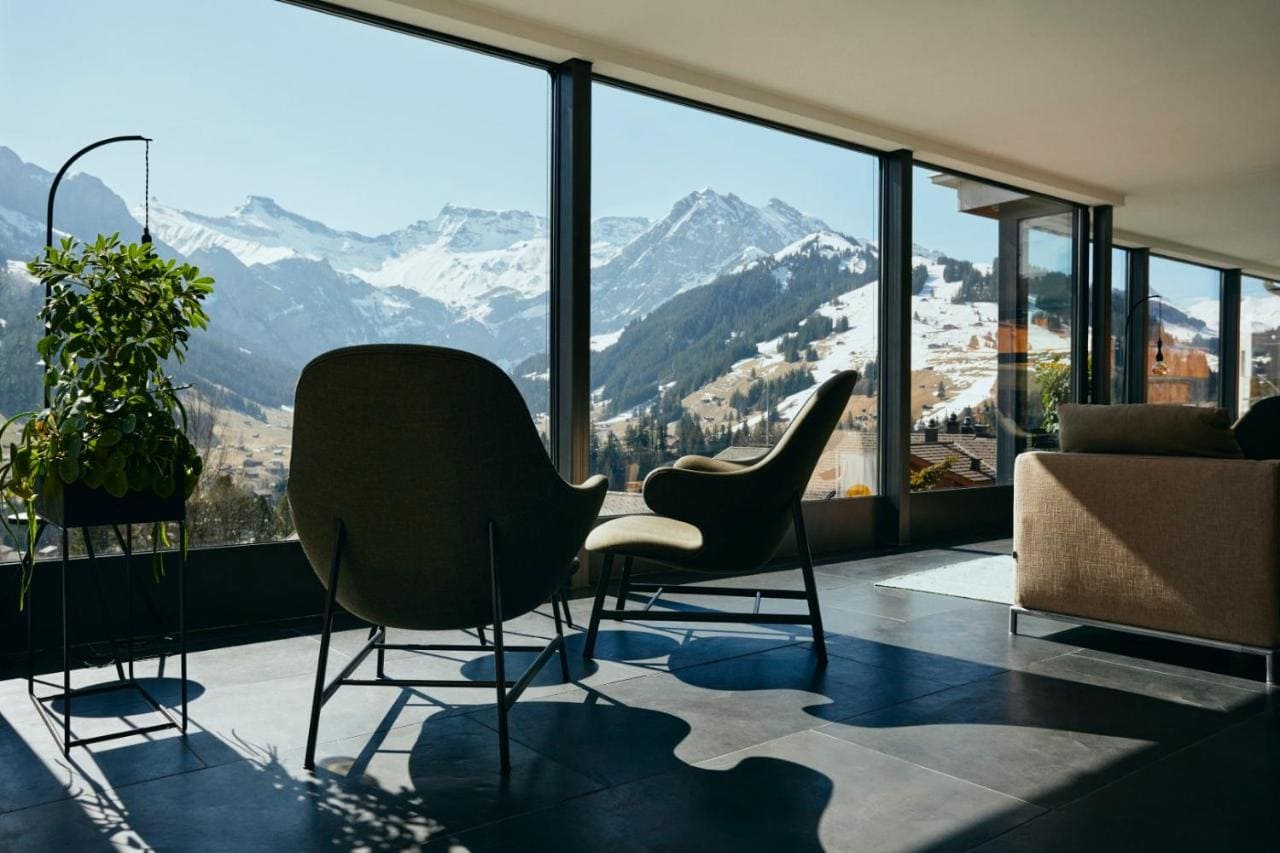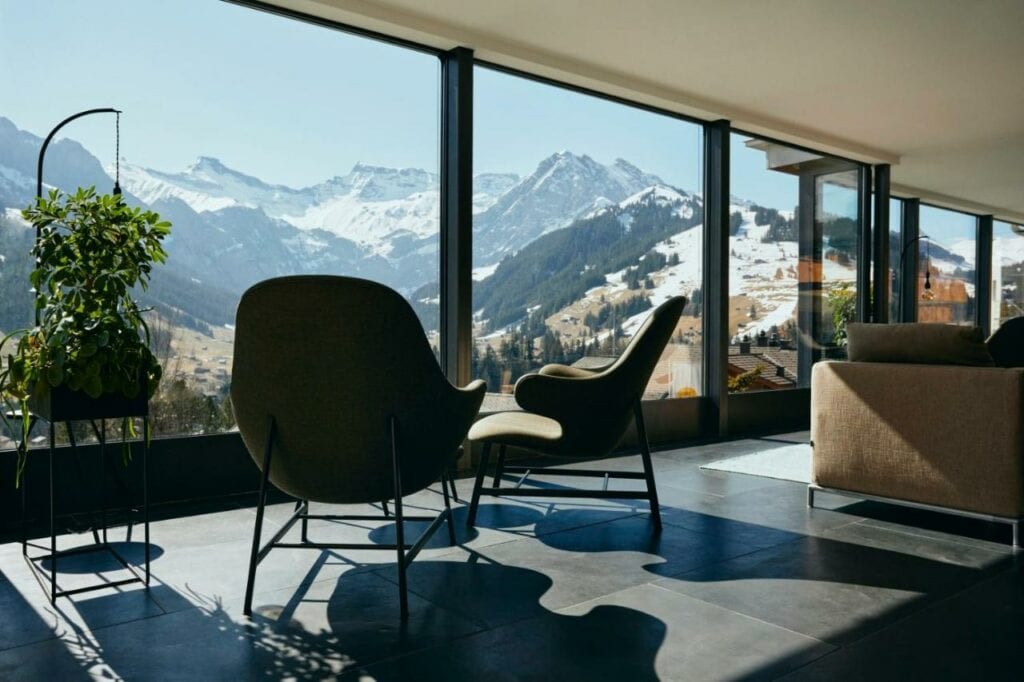 In winter, you can ski right up to the door of the hotel, grab an apres ski drink or two in the Axe Bar, and then relax in the award-winning Bryn Williams restaurant for a hearty mountain meal. With heated indoor and outdoor pools, a Finnish sauna, and a steam bath, this is a one of the most relaxing places to stay in Switzerland.
This lovely timber hotel is a favourite for couples planning a romantic holiday in the Swiss Alps. Located in the heart of Zermatt (one of my favourite Swiss mountain towns), and only a 3-minute walk from the Klein Matterhorn cable car, the suites at the Firefly feature balconies, luxurious linen and some even have a fireplace… perfect for romantic snuggles!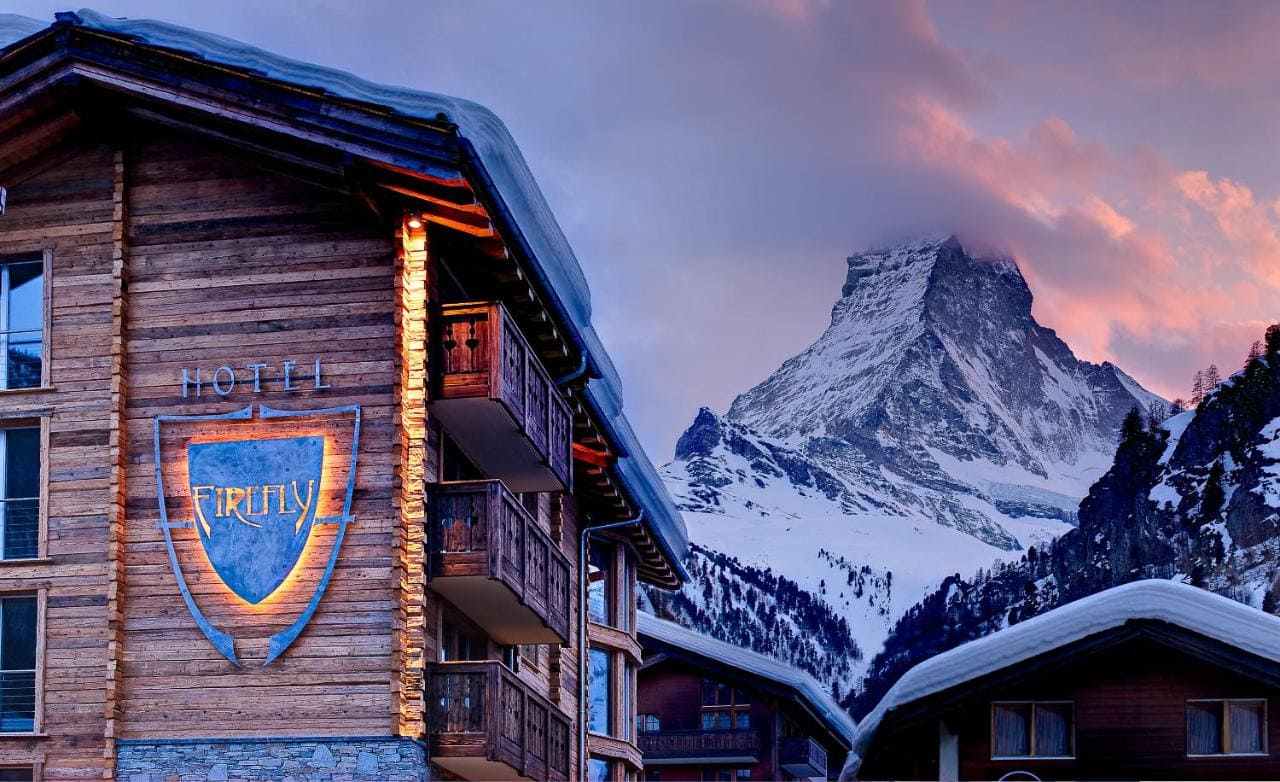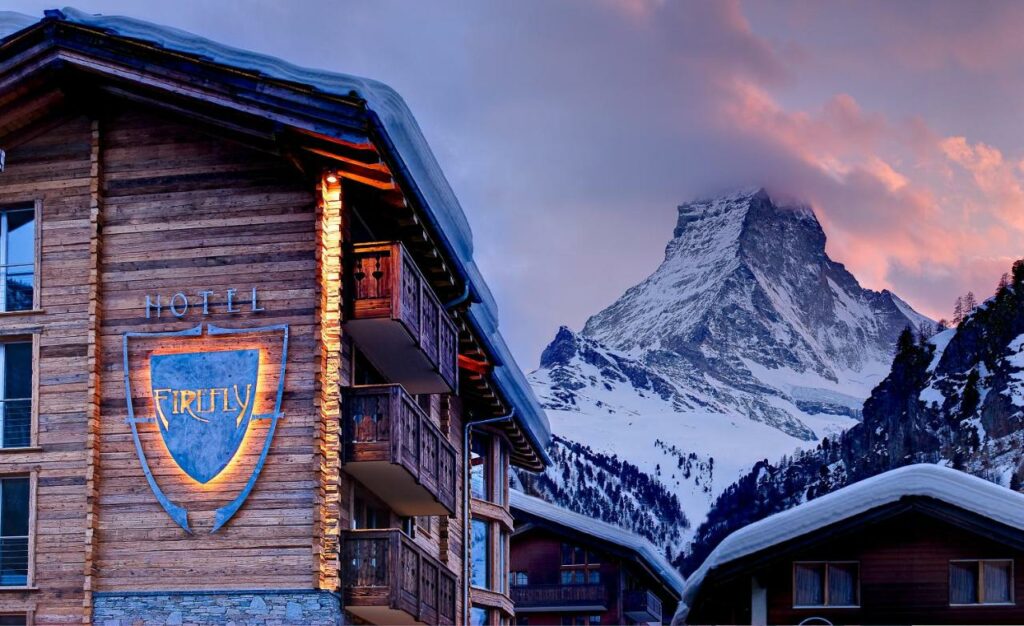 With an indoor pool and spa on-site, you can relax and unwind in style before venturing out to enjoy the nightlife delights of Zermatt. And if you choose one of the Skylight Loft suites, you and your lover can count the stars as you drift off to sleep.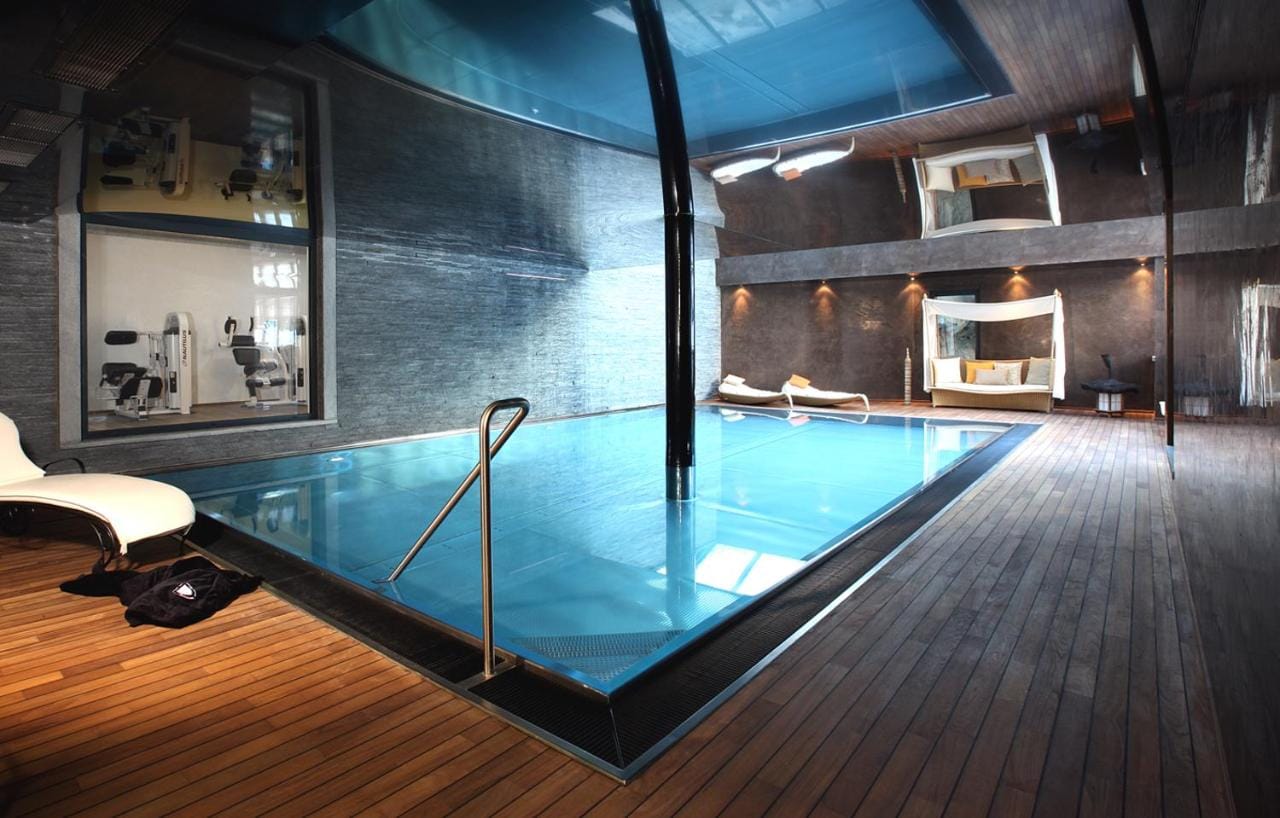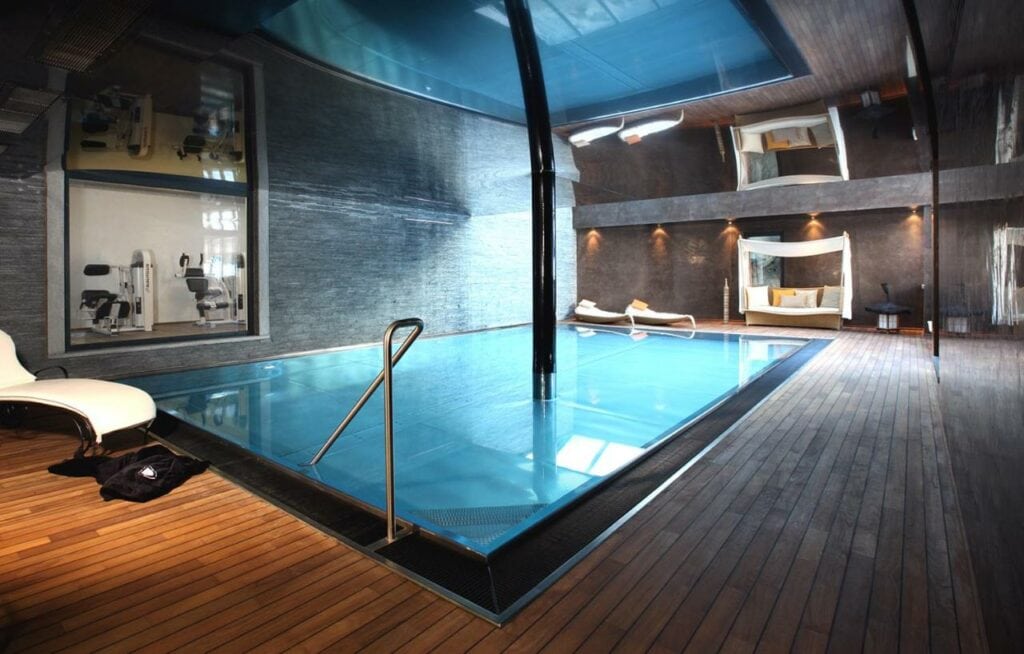 If you're looking for some fun activities for your time in this region, don't miss my Zermatt travel guide.
This innovative Zurich hotel will take your breath away! Housed in the former Hürlimann Brewery, right in the city centre, the B2 takes inspiration from the building's industrial architecture and gives it a super modern twist.
This is a great place to stay if you and your partner in crime are looking for some urban adventures to complement your wanderings in the Swiss Alps.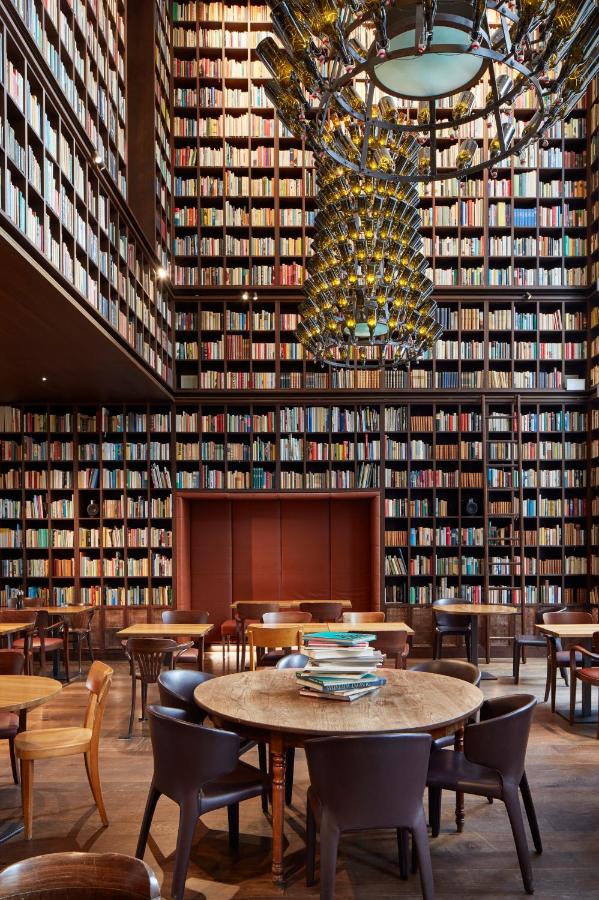 The lovely, contemporary rooms fuse modern design elements with industrial chic to create a warm, welcoming and relaxing atmosphere. The walls of the restaurant are lined with thousands of books and the chandeliers made from beer bottles give a nod to the hotel's former existence as a brewery.
Perched on a hillside overlooking the spectacular Lake Lausanne this grand 5-star boutique hotel has been welcoming guests since 1905. With 23 chic bedrooms, this is unique Swiss hotel is ideal for a romantic weekend getaway or a special celebration.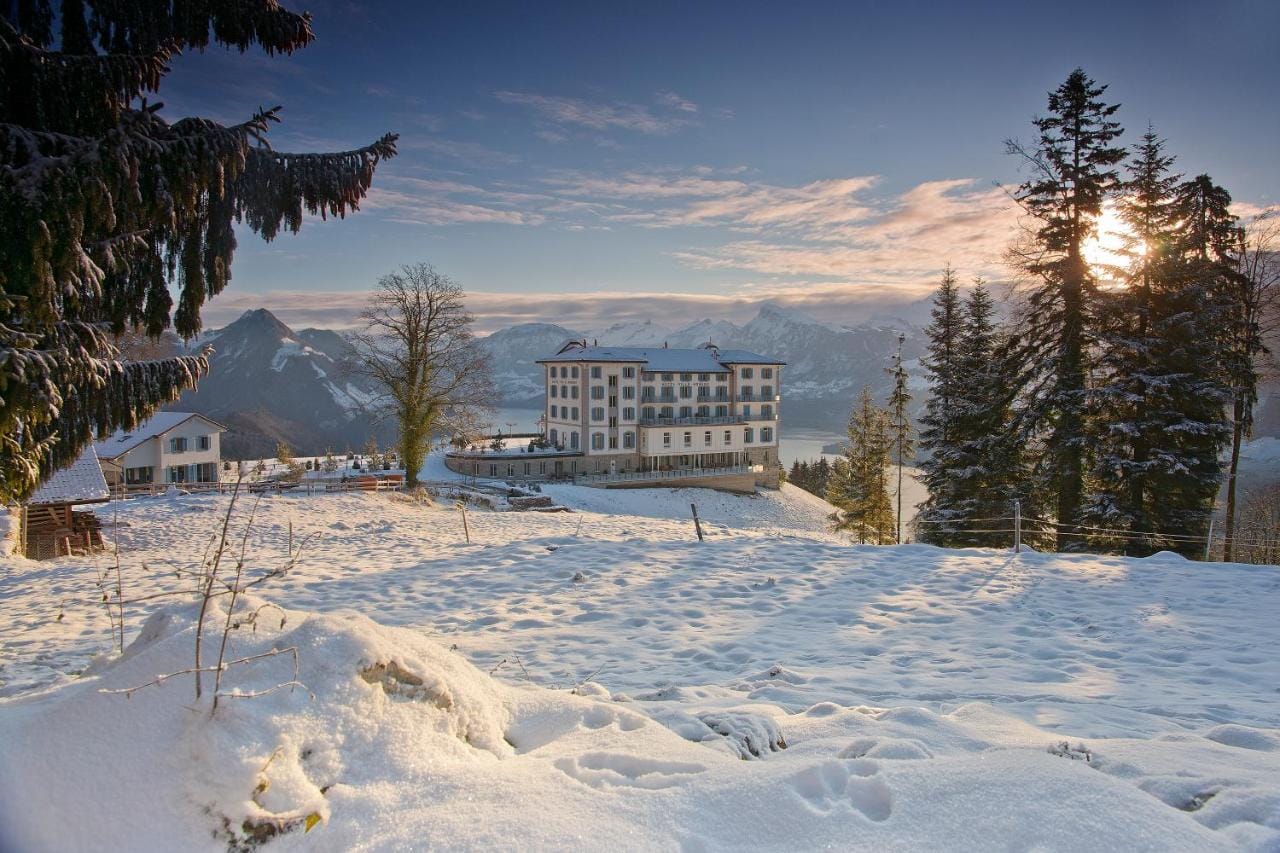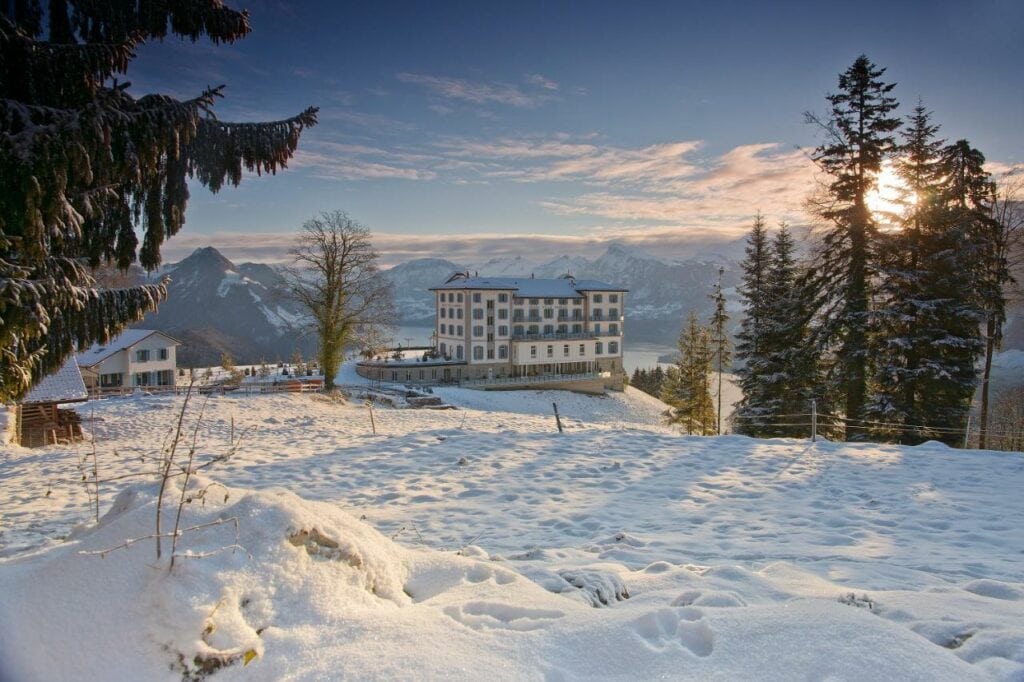 This hotel offers lots of opportunities for relaxation. You could float around in the heated outdoor infinity pool, or enjoy taking in the spectacular views of the craggy peaks by the lake. You'll probably be craving some chilled afternoons after exploring the adventurous trails that twist and turn through the nearby meadows!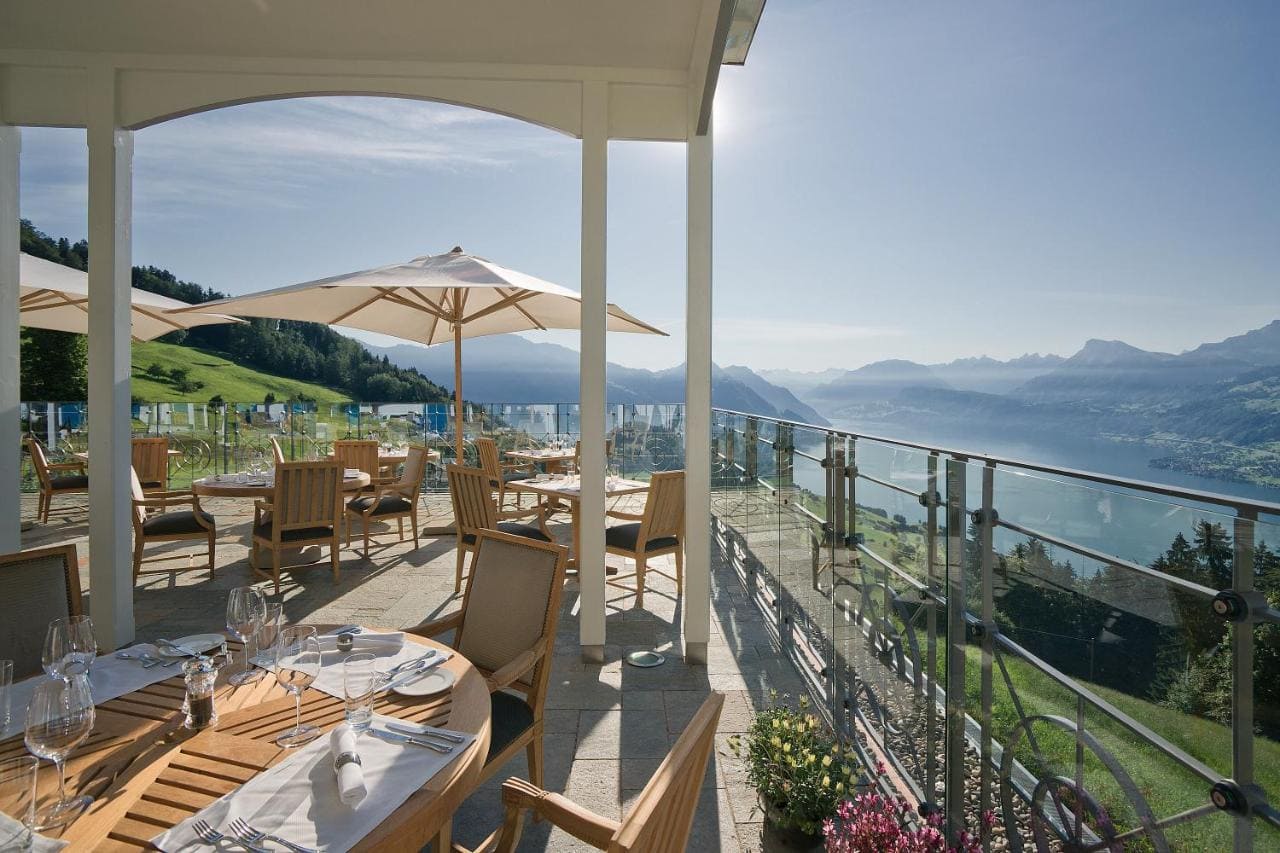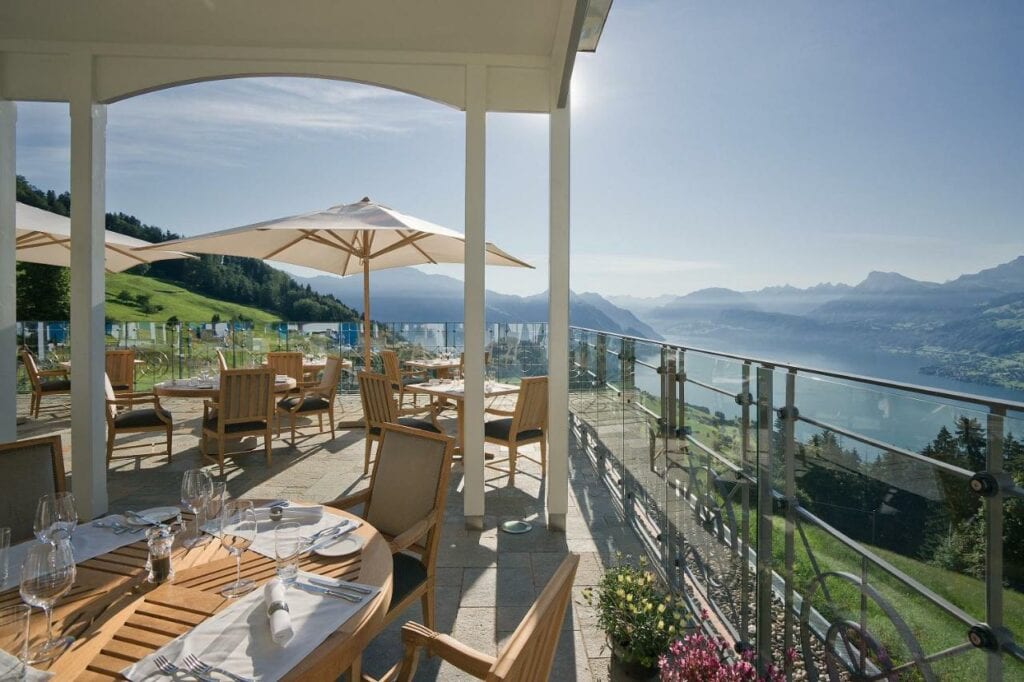 The hotel's restaurant features a gorgeous terrace where you can sit beneath the billowing folds of a calico awning with picture-perfect views spread out on all sides. It's the kind of place you won't want to leave!
Wow! This hotel is amazing! While it's easy to imagine Switzerland as a country of huge, craggy mountains, there are also some spectacular lakes, and the Palafitte Hotel is perched on the edge of one of the largest: Lac du Neuchâtel.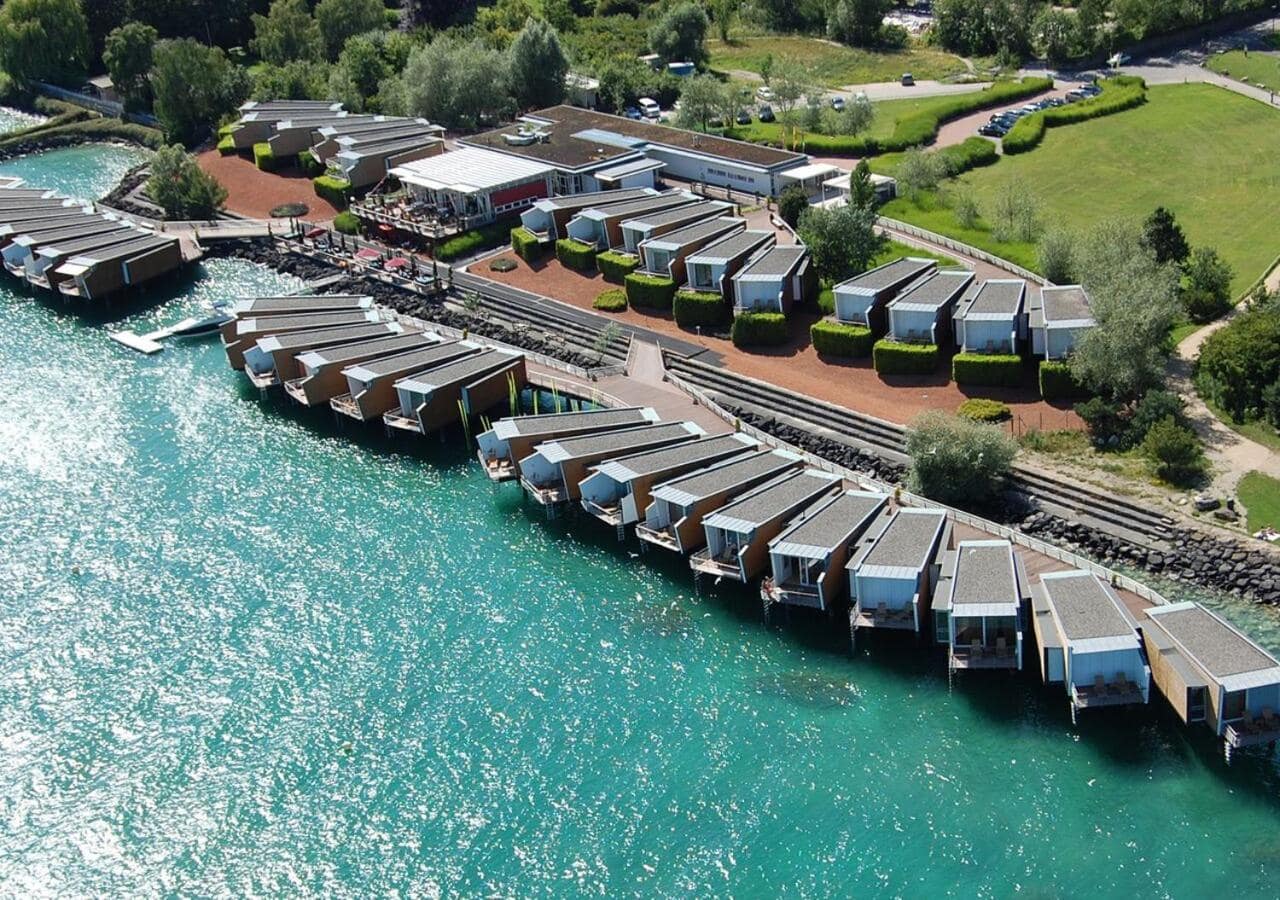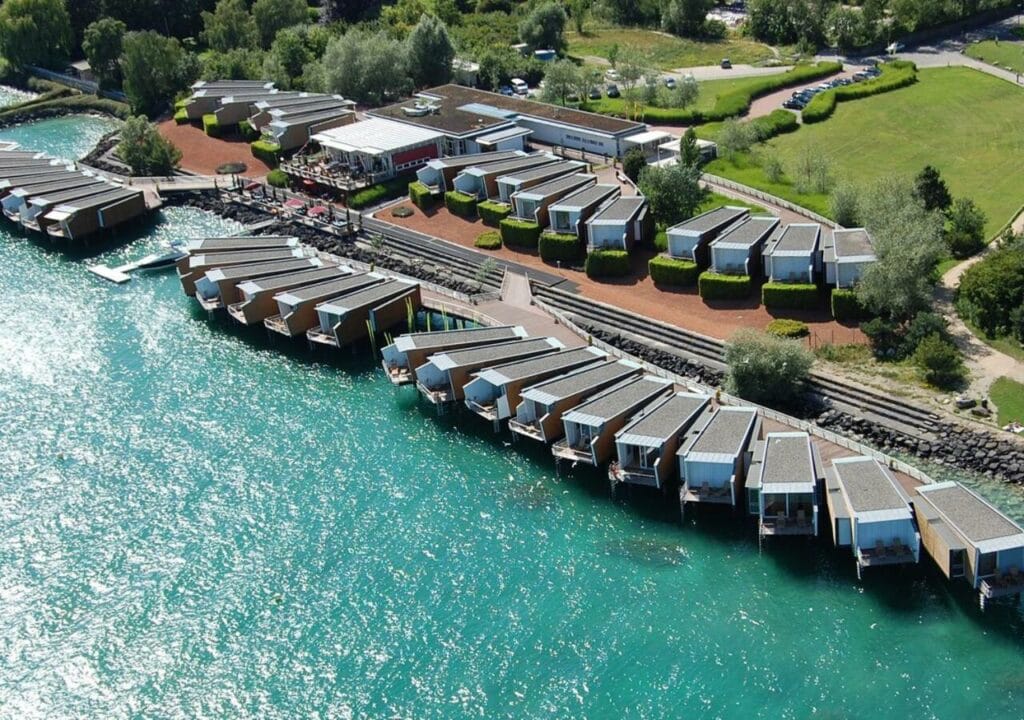 The 58-square metre Lake Pavillions each have a private terrace and ladder down into the pristine waters. The Shore Pavillions are built on stilts and face inland with the water lapping around beneath you… very soothing!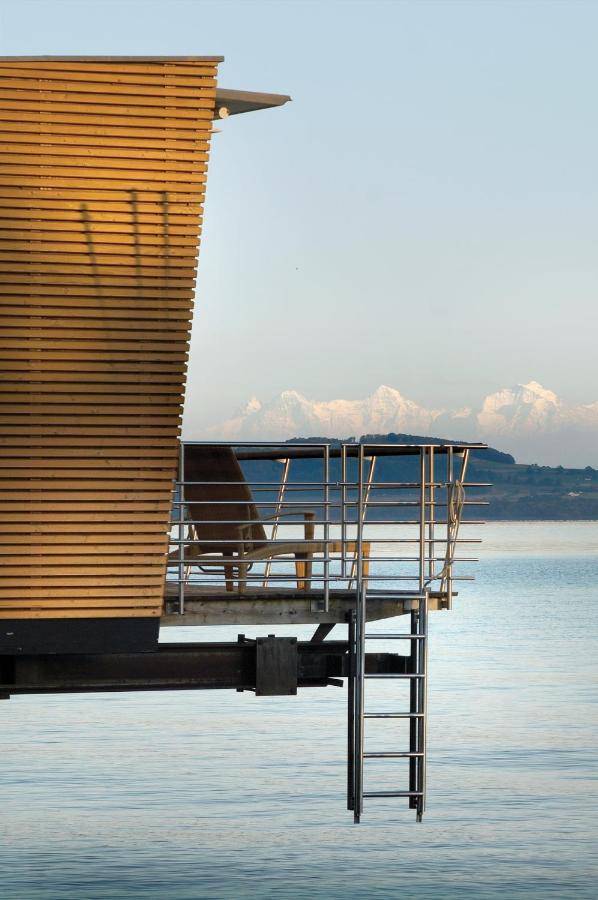 Plus, this unique hotel in Switzerland also has a pretty special restaurant too. Table du Palafitte has 360° windows so as you dine, you can enjoy the natural world all around you.
Forget about counting sheep to go to sleep! At Hotel Pilatus Klum, perched on a mountaintop more than 2,000 metres above sea level, you'll be counting the stars!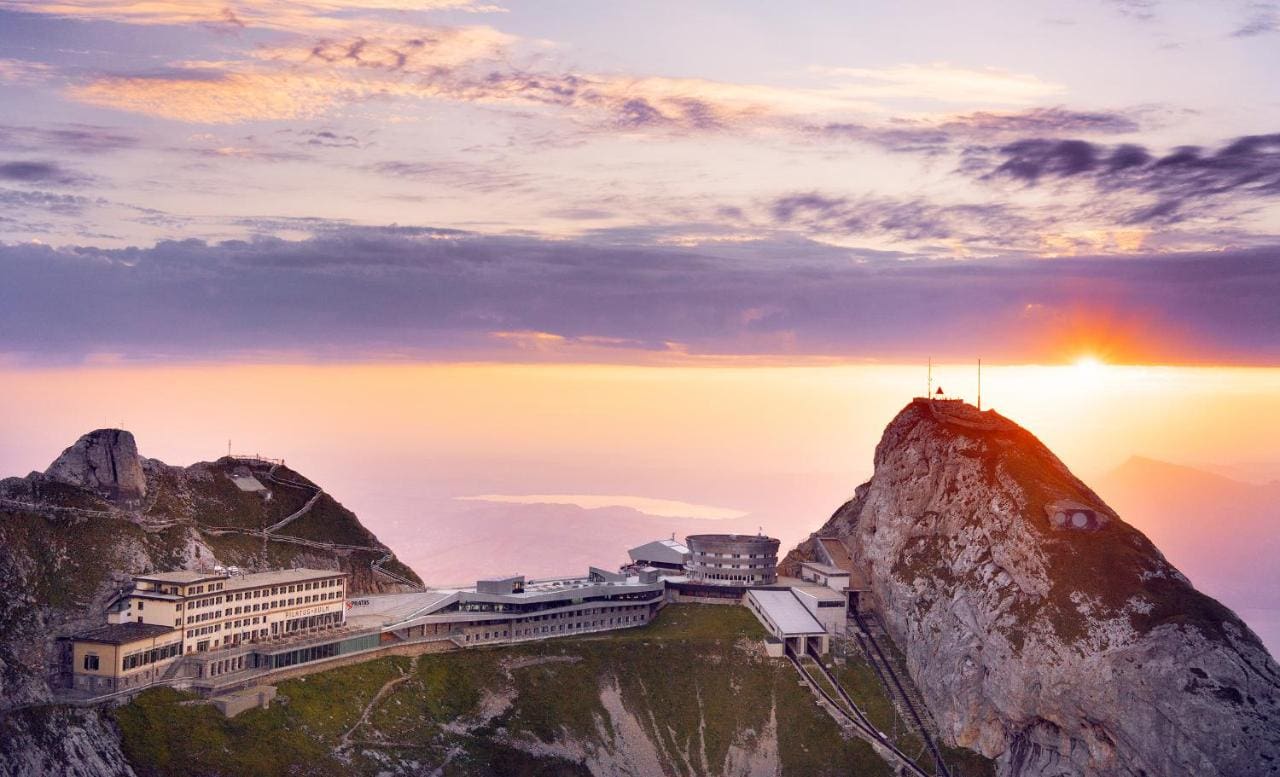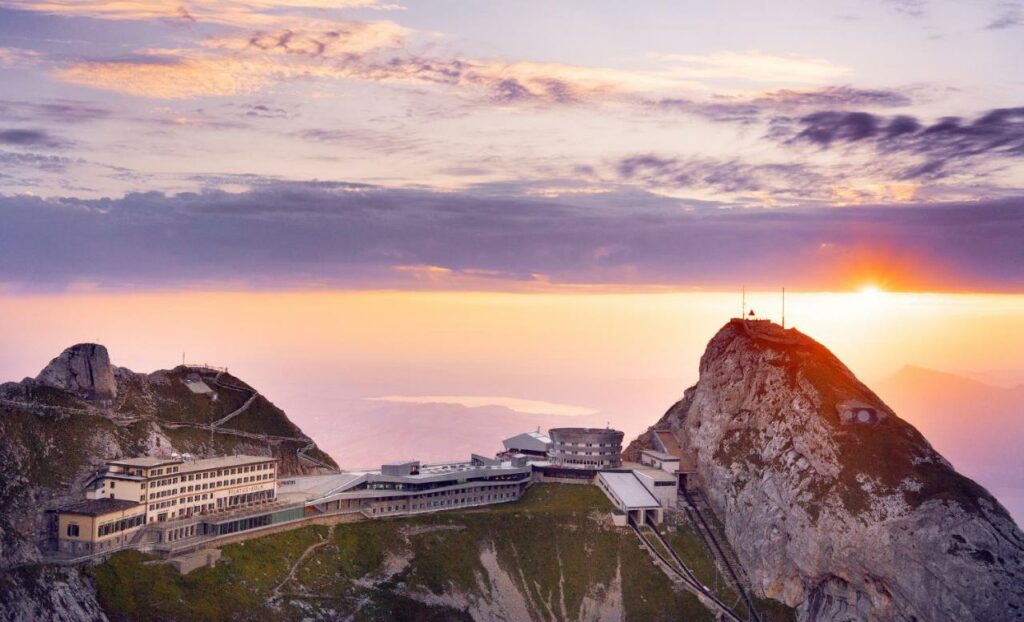 Accessed via cable car and alpine railway, this hotel is a favourite place for couples planning a romantic holiday in Switzerland. The bright and modern rooms feature polished timber floors which add a warm, homely touch to this spectacular mountain location.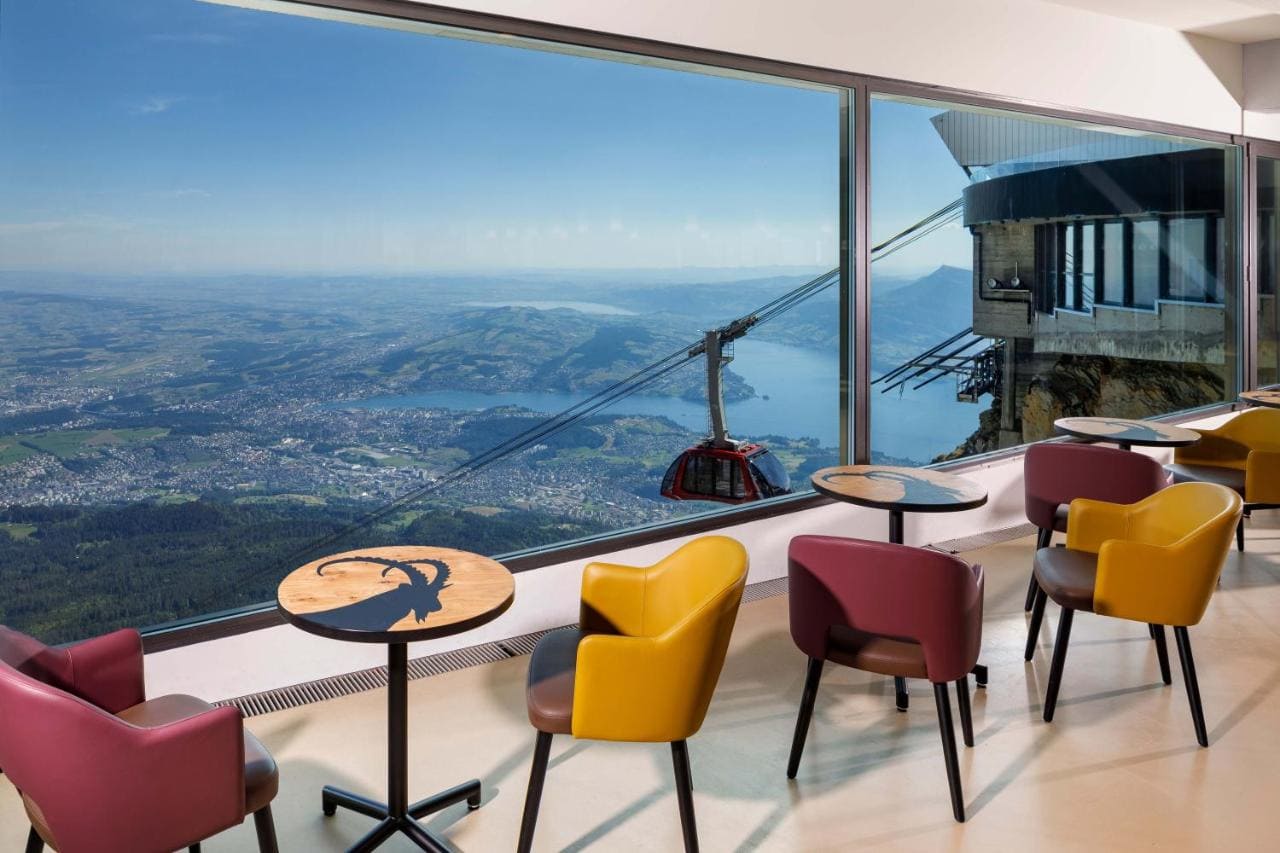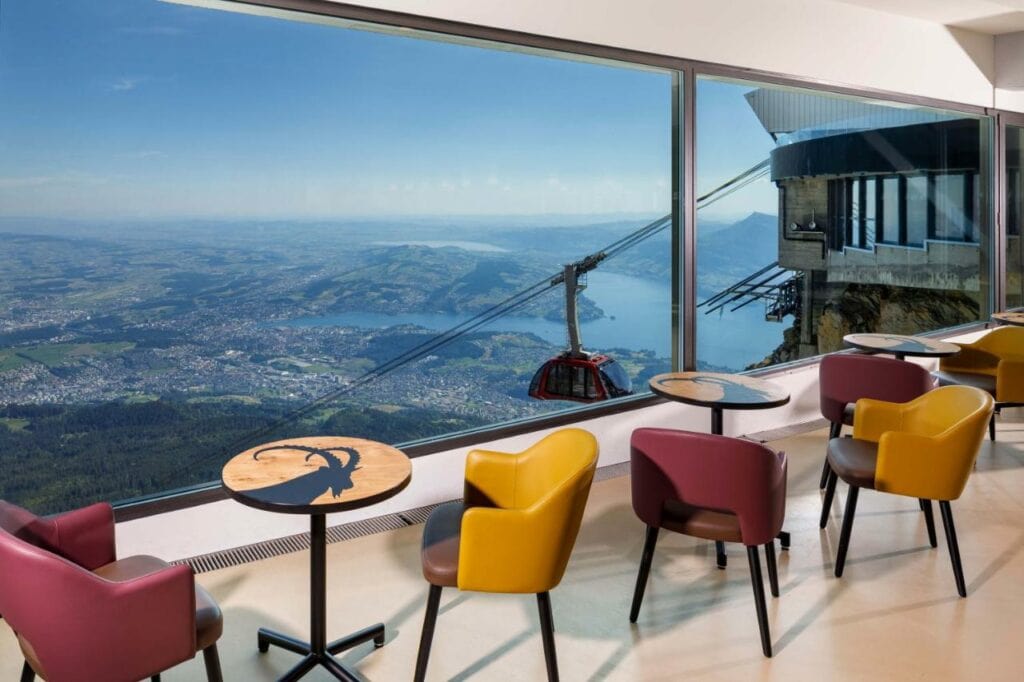 Up here, you really get the feeling of being part of a James Bond adventure! You look out across the massive mountains spread out all around while you sip classic cocktails and dine in style in the hotel's award-winning restaurant. The terrace bar has classic 70s styling and it seems as though you are suspended in the sky as you savour your morning coffee and spy out the adventures awaiting you for the day.
Now, this is one of the more unusual hotels in Switzerland! Built inside a converted jail (that's right, I said jail!), this colourful hotel is a far cry from the more luxurious joints that Switzerland is famous for. With a choice of sixty different rooms, each one decorated in pastel colours and featuring shelves of crime novels to read, it's somewhere that you and your partner in crime (pun intended) can serve your time in style!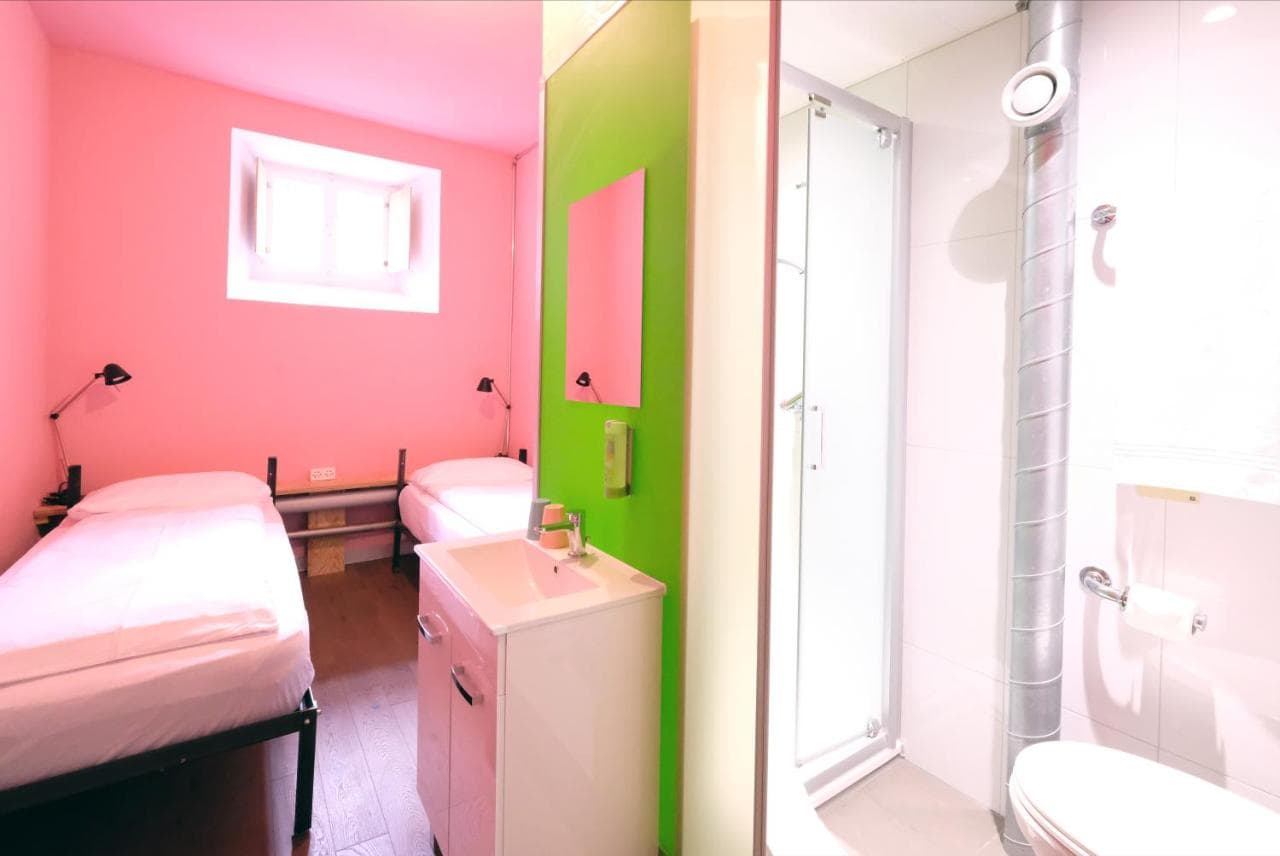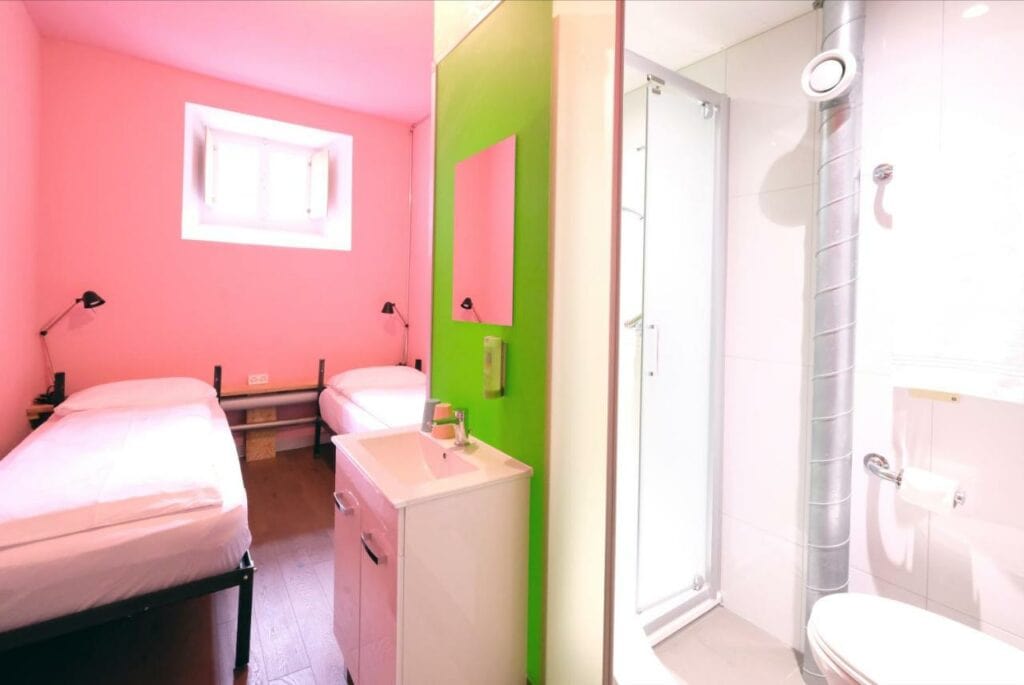 It's budget-friendly too, with hostel-like vibes, so ideal for groups of friends looking for a place to crash.
The hotel's Izakaya Nozomi restaurant serves up traditional Japanese cuisine and while you dine you can take in the artwork inspired by an artist named Barabas (hence the hotel's name) who was imprisoned here in the 1970s. So if you're on the run in Switzerland, go and spend a night behind bars in Luzern!
Harking back to the grand days of yesteryear, this sophisticated boutique hotel will transport you to a chandelier-lit world of opulence and grandeur in the Swiss Alps. Even the (award-winning) restaurant has a dress code so be sure to pack your glad rags and look salubrious as you dine!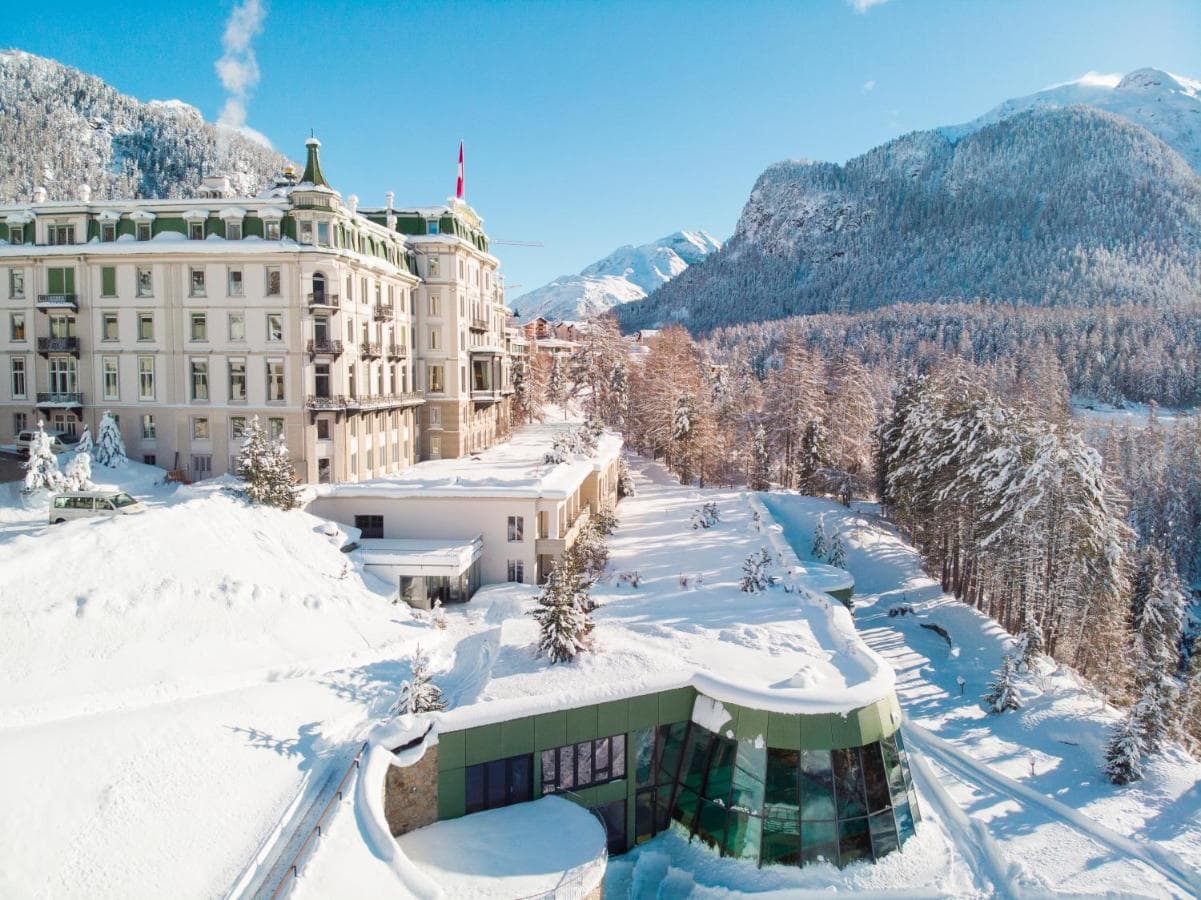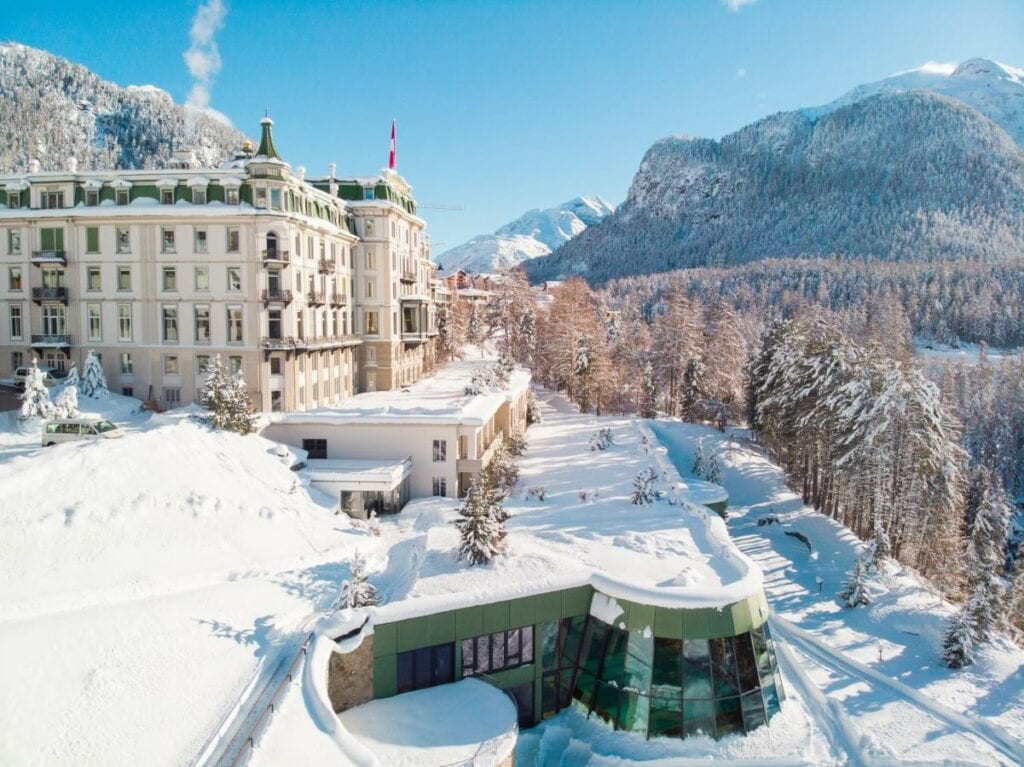 For me, this Grande Dame of Swiss hotels feels like a whole new world. The ceilings of the lobby are decorated with angelic pastel frescoes and as you wander through the bar, with its tall pillars and lovely blue furnishings, you feel like a movie star.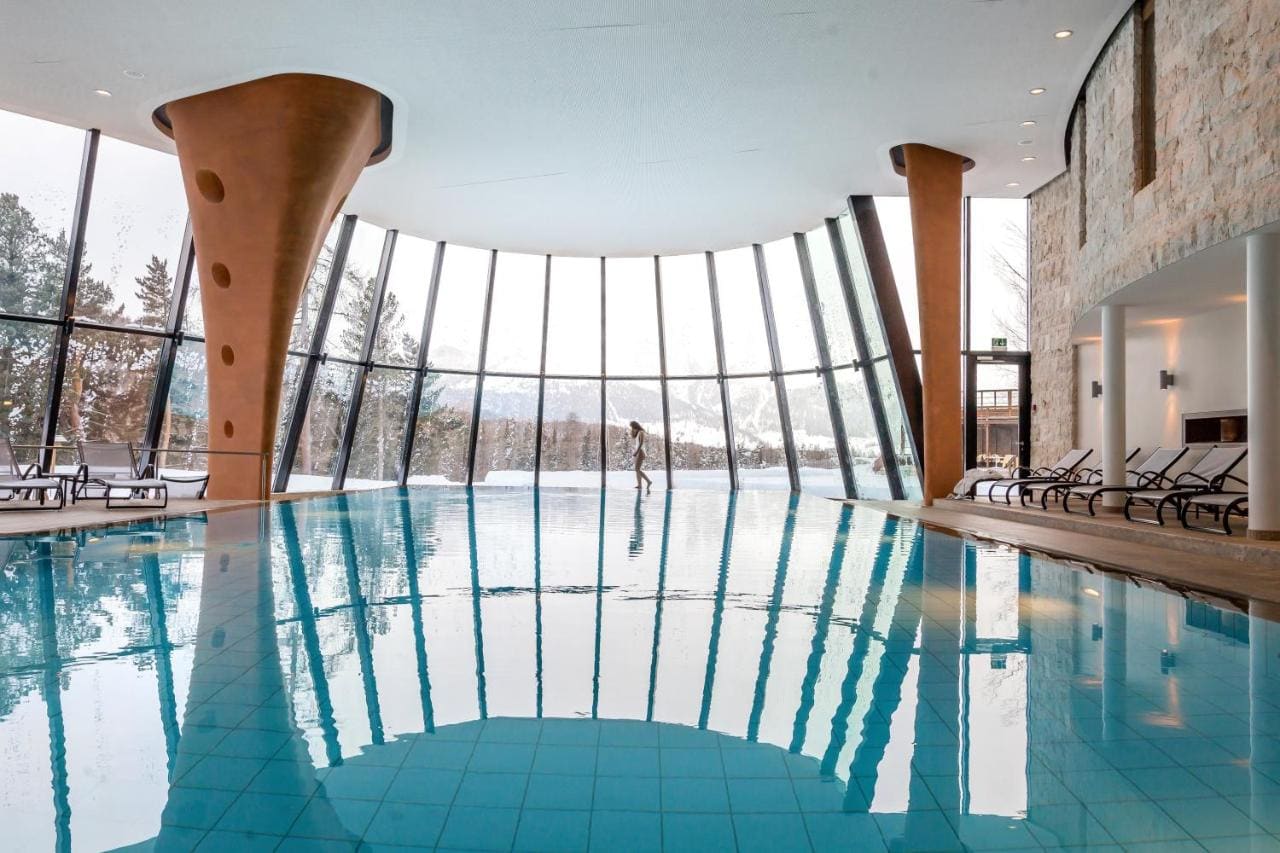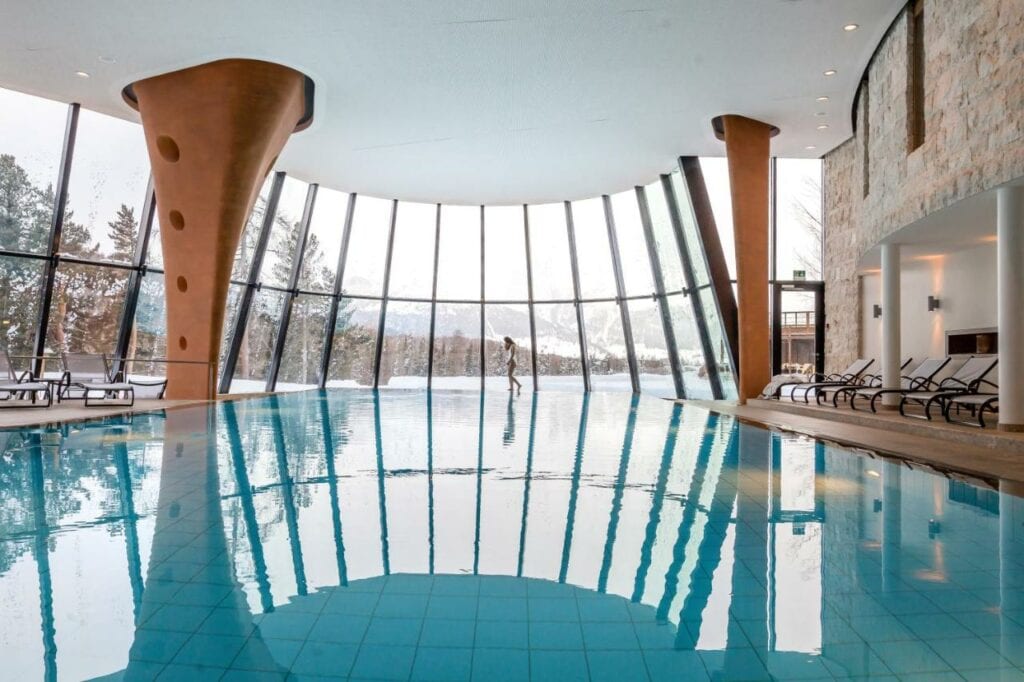 Don't miss a trip to the spa too. The pool is a gorgeous design and offer more of those lovely Swiss mountain views.
The rooms and suites are all decorated in individual styles, with views of the Roseg Glacier and across to the mountaineering village of Pontresina.
This grand hotel, located in the centre of Zurich near the Limmat Canal, offers high-quality accommodation and a cool twist. You could opt for a trip down the canal onto Züricksee (Lake Zürich) or dine at Alex Lake Zürich: a sister resort to the Widder.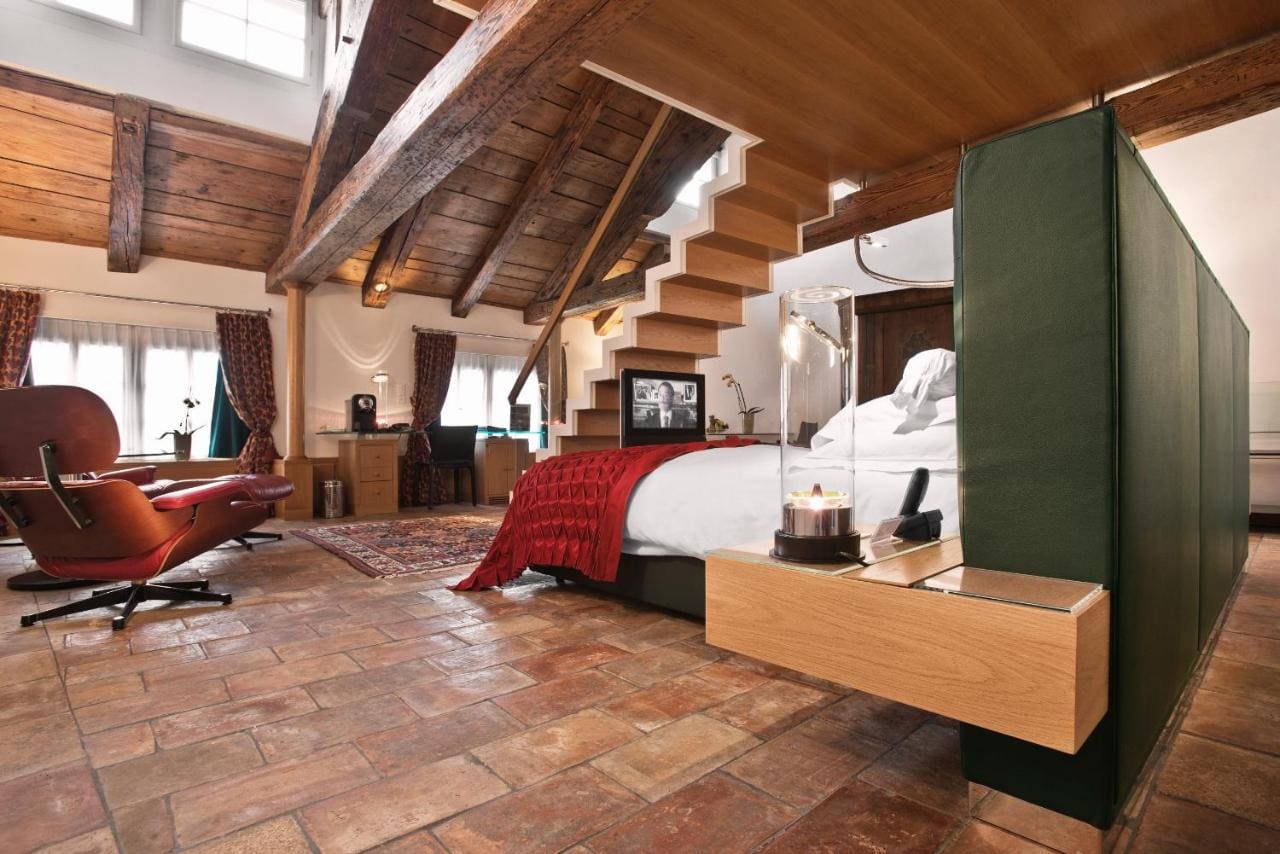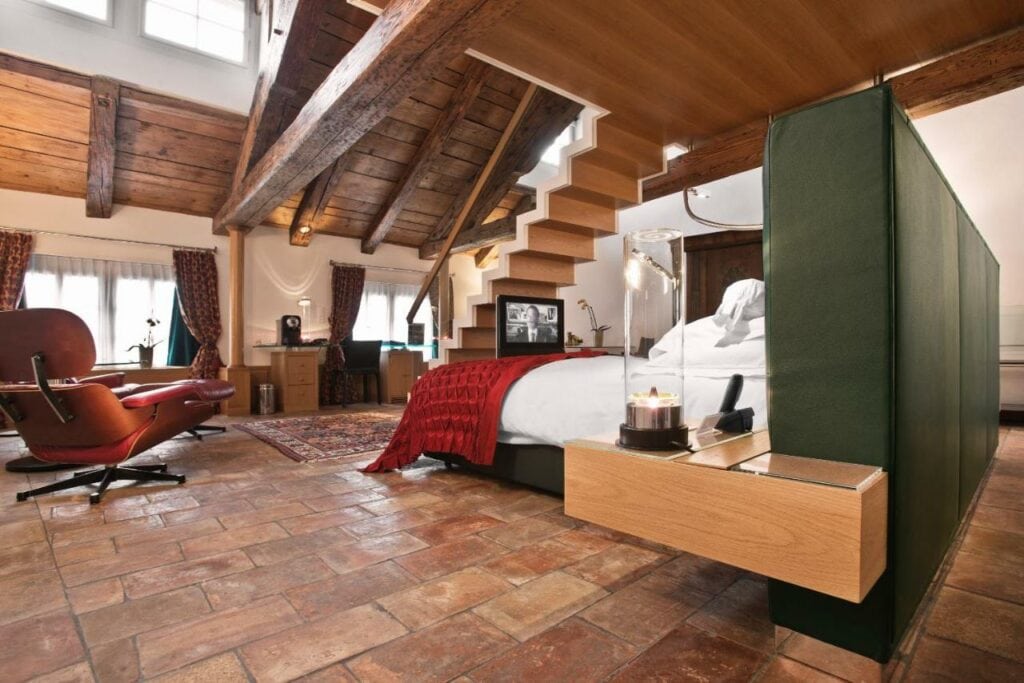 At the Widder, accommodation ranges from from penthouse maisonettes to historic 3-bedroom apartments with private patios. The city's vibrant Banhofstrasse District is just around the corner so you can shop 'til you drop or just enjoy a spot of people-watching from one of the eclectic corner cafés.
If you stay at the Gstaad, you're in for a real treat! This fairytale castle is definitely one of the coolest hotels in Switzerland. For three generations the Schertz family have been making guests welcome at this gorgeous spot.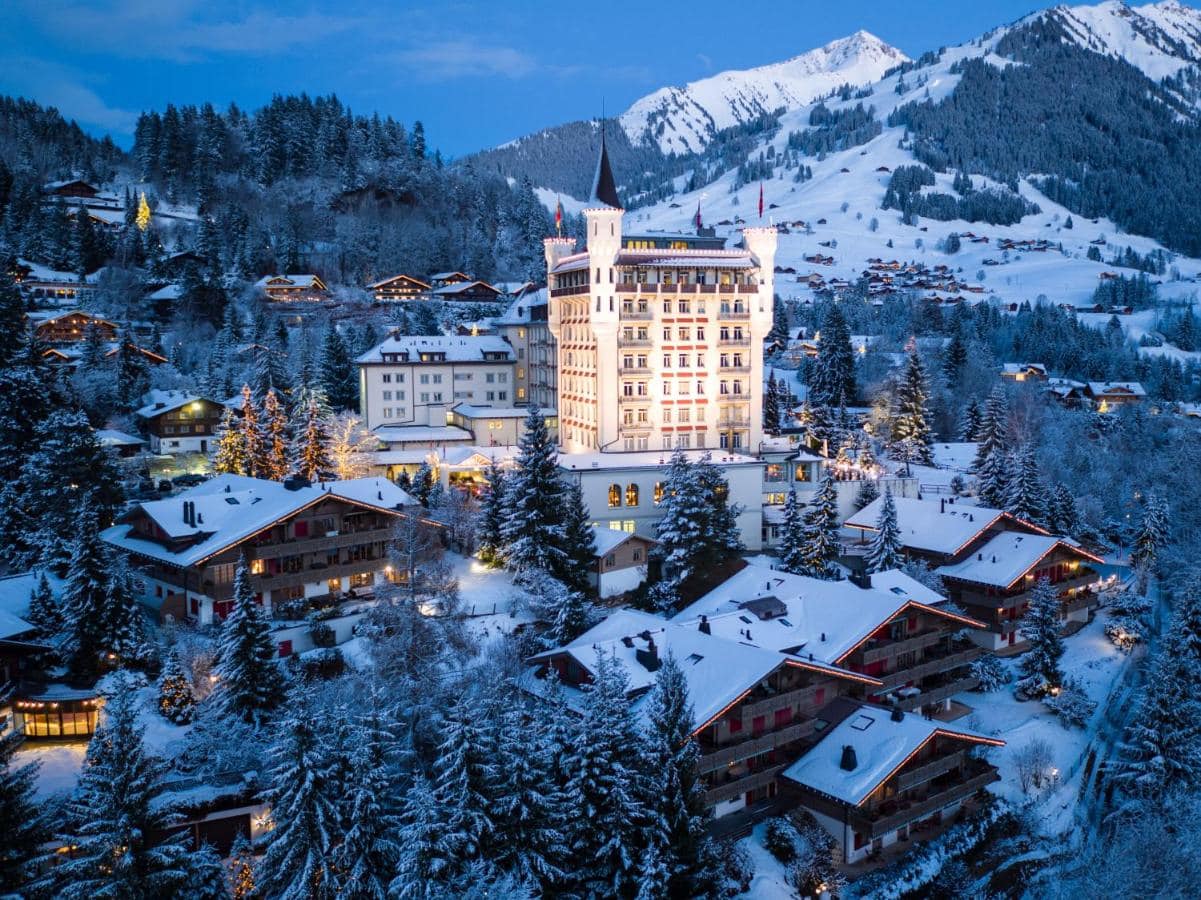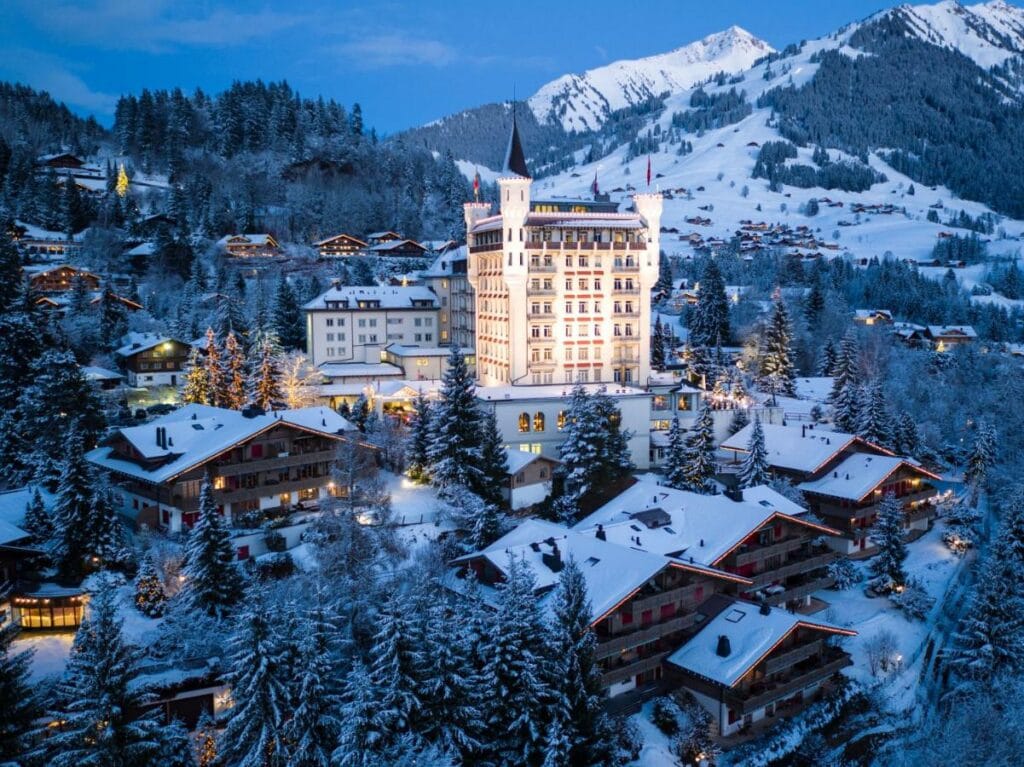 Set amid a wonderland of traditional Swiss chalets, this hotel wraps you in luxury whenever you step inside after a day of winter fun or summer rambles.
With timber ceilings and big windows, the rooms and suites will definitely make you want to take in the picturesque scenery. Are you a foodie? You'll be able to choose from the hotel's three restaurants, from Asian-inspired cuisine to a traditional Swiss fondue served in a bunker used to store gold during World War Two. This is one of the most luxurious and unique hotels in Switzerland, and definitely one to add to the top of your bucket list!
Mixing modernity, fun and luxury, this "room-only" hotel strips back the traditional notion of a hotel without compromising on comfort or value. It ticks a lot of boxes. It's ideal if you're travelling solo, with a friend, or just need a place for you and your significant other to rest up between adventures.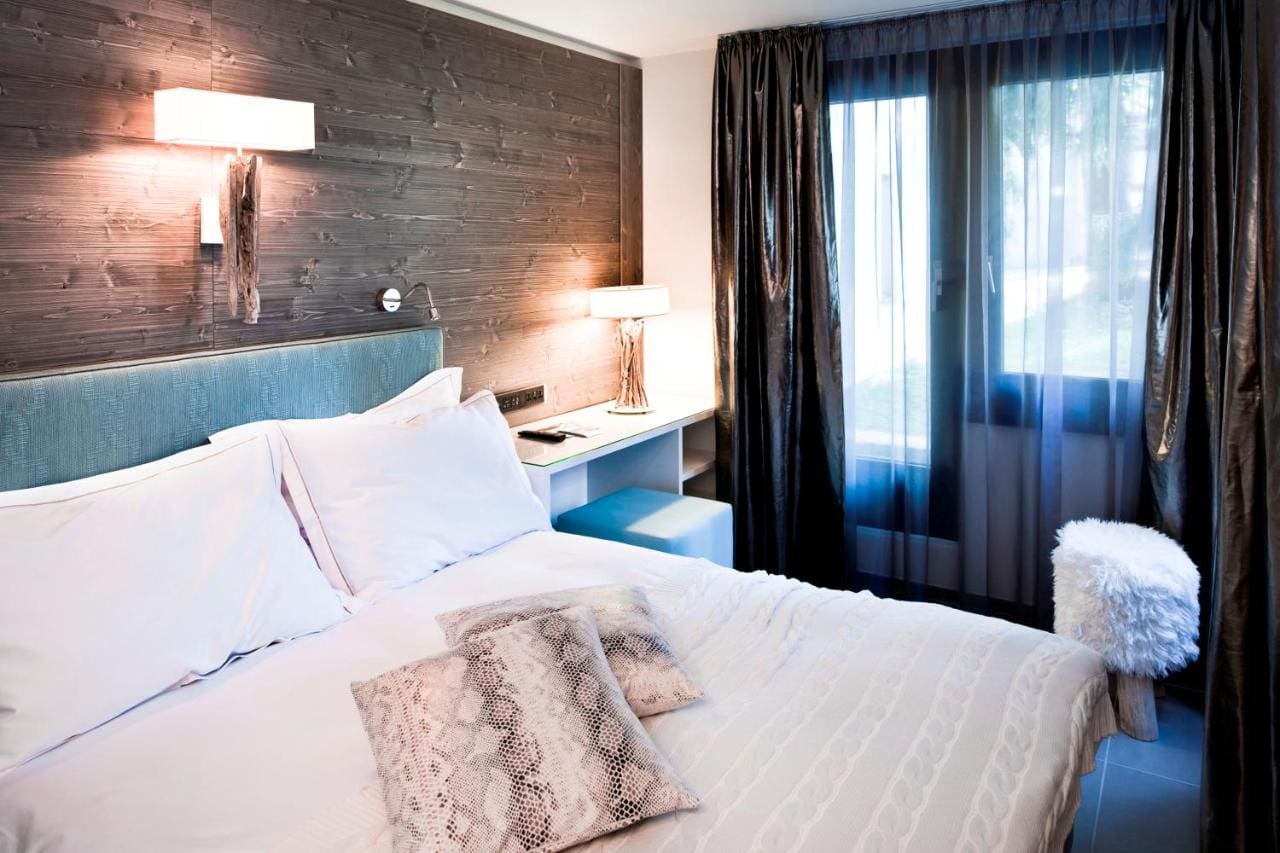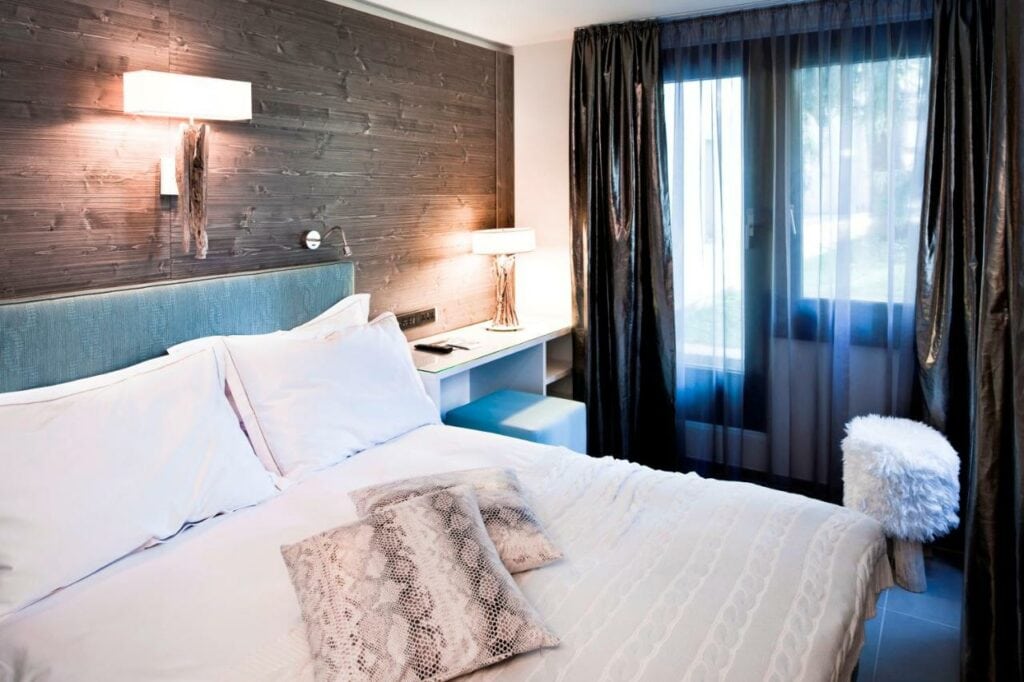 The bright sunlit rooms at the Morosani all face south and feature two queen beds with luxury linen and a step-out balcony where you can breathe in the fresh alpine air. Davos itself is in the heart of a wooded, mountain valley with plenty of apres-ski and apres-adventure dining and drinking options.
The Pöstli Restaurant, also owned by the Morosani, has an outstanding selection of traditional Swiss cuisine as well as a well-stocked wine cellar.
How's this for a super cool way of bringing life back to an abandoned village?! Corippo Hotel Village is located in the rugged mountains of southern Switzerland near Locarno. Each one of the hotel's "rooms" is actually a house in the village, so you'll stay in a space once occupied by a local family.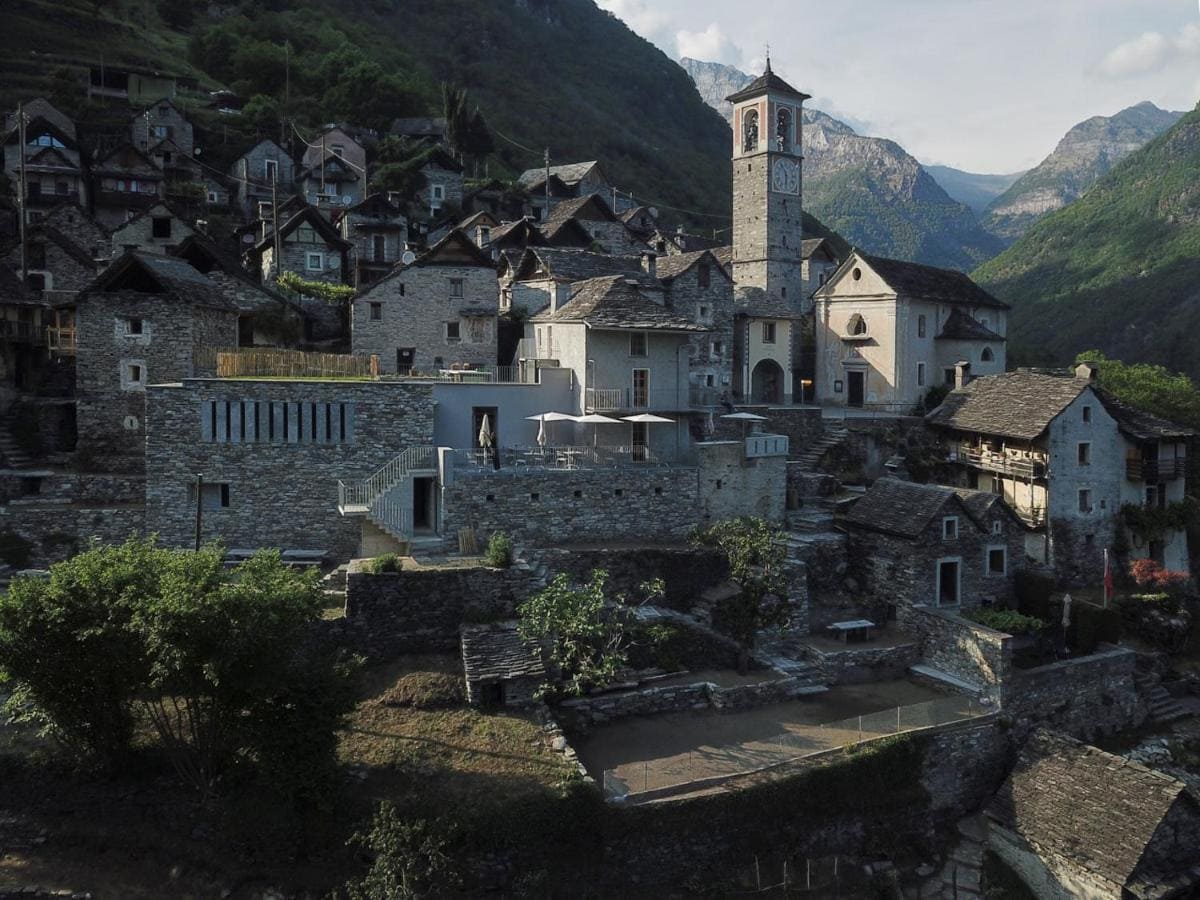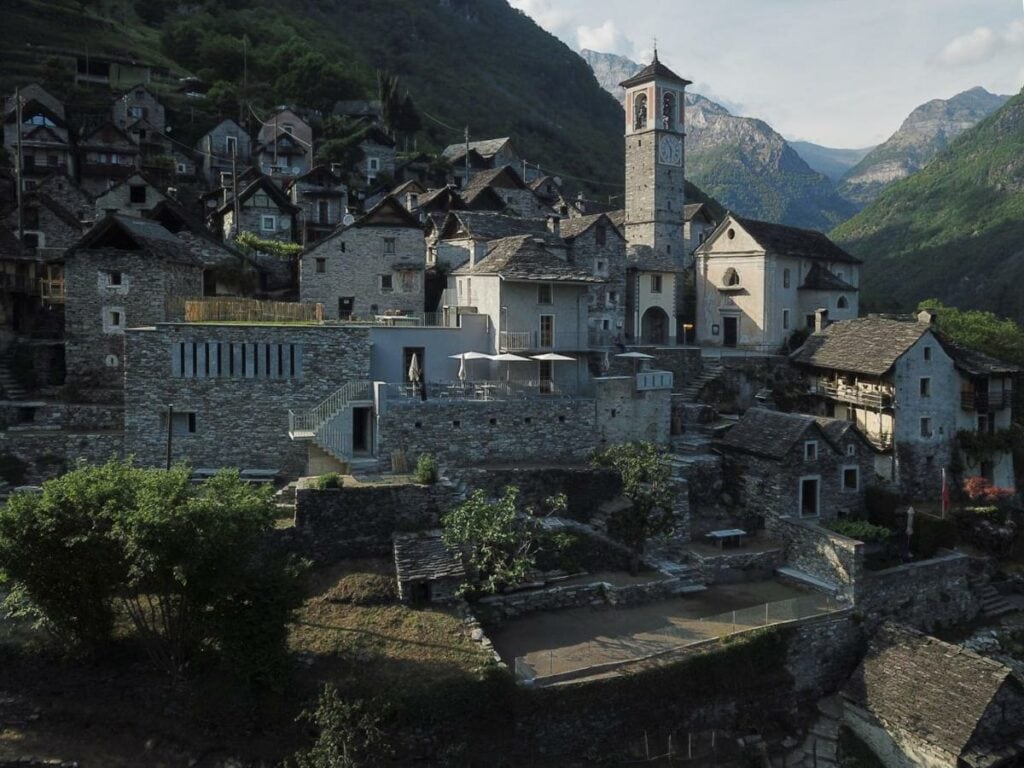 Every wall of this unique boutique hotel has a story to tell. The narrow streets and alleys meander up, down and around the hillsides, and every walk gives you a new view of the surrounding mountains. All of the food served in the hotel's restaurant is sourced from local producers, which in turn helps to nurture the region's economy. So when you stay here you are really making a difference in people's lives. How lovely is that?
This stunning modern hotel is all glass and timber panelling, with big windows, super comfy beds and spa baths made for two. The rooms have been designed to maximise the vistas of the nearby Matterhorn. You can literally lie back in your glass-enclosed bed and watch the mountain all day if you want to!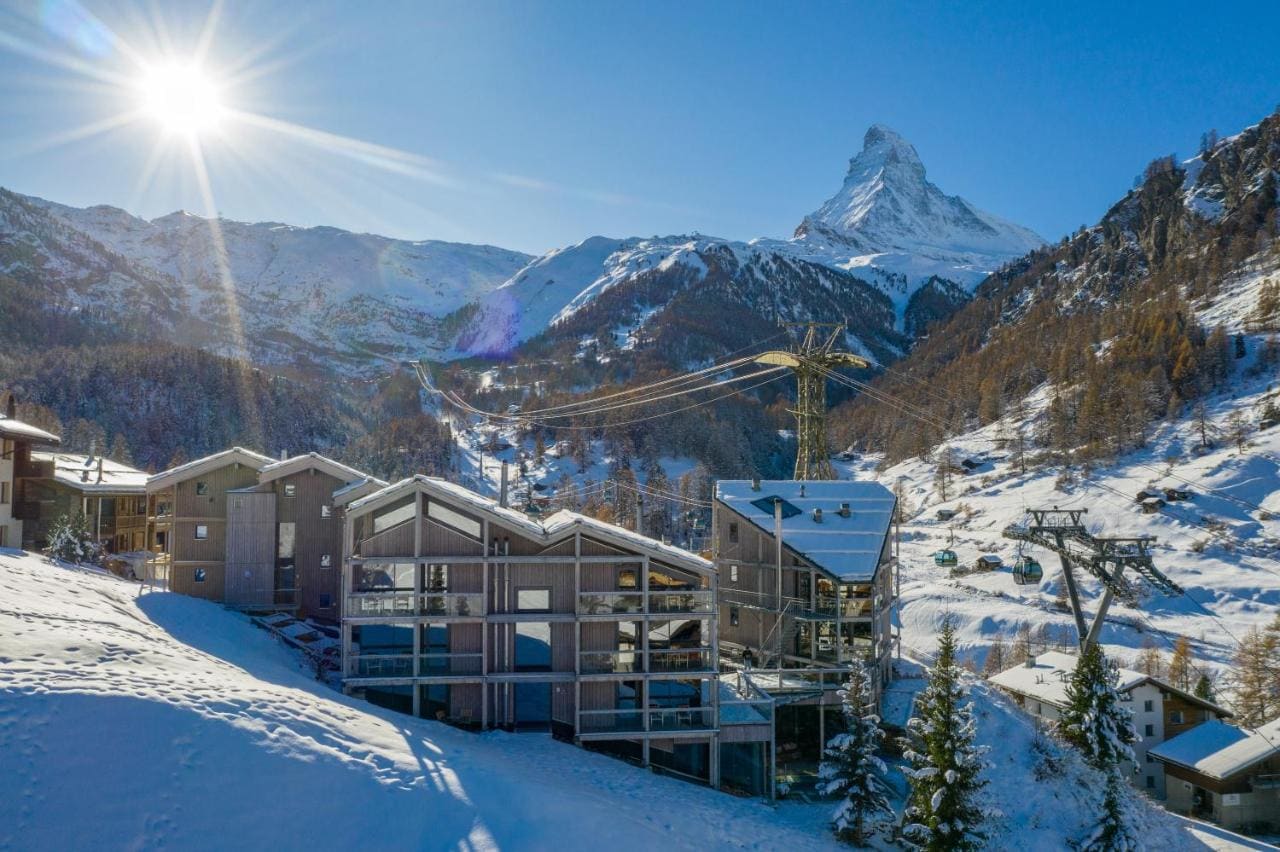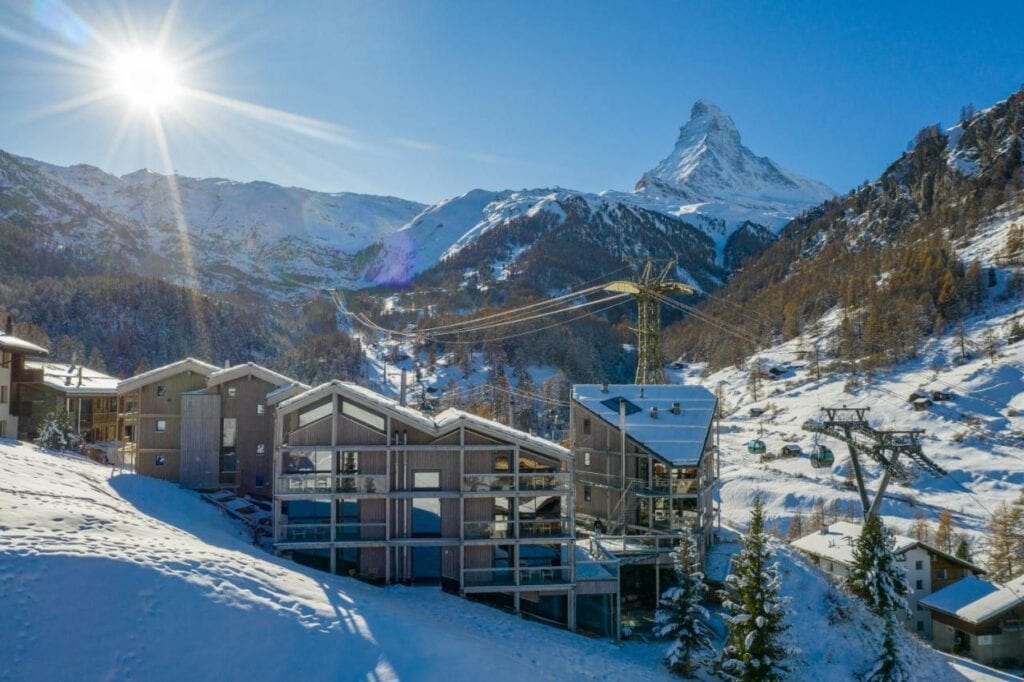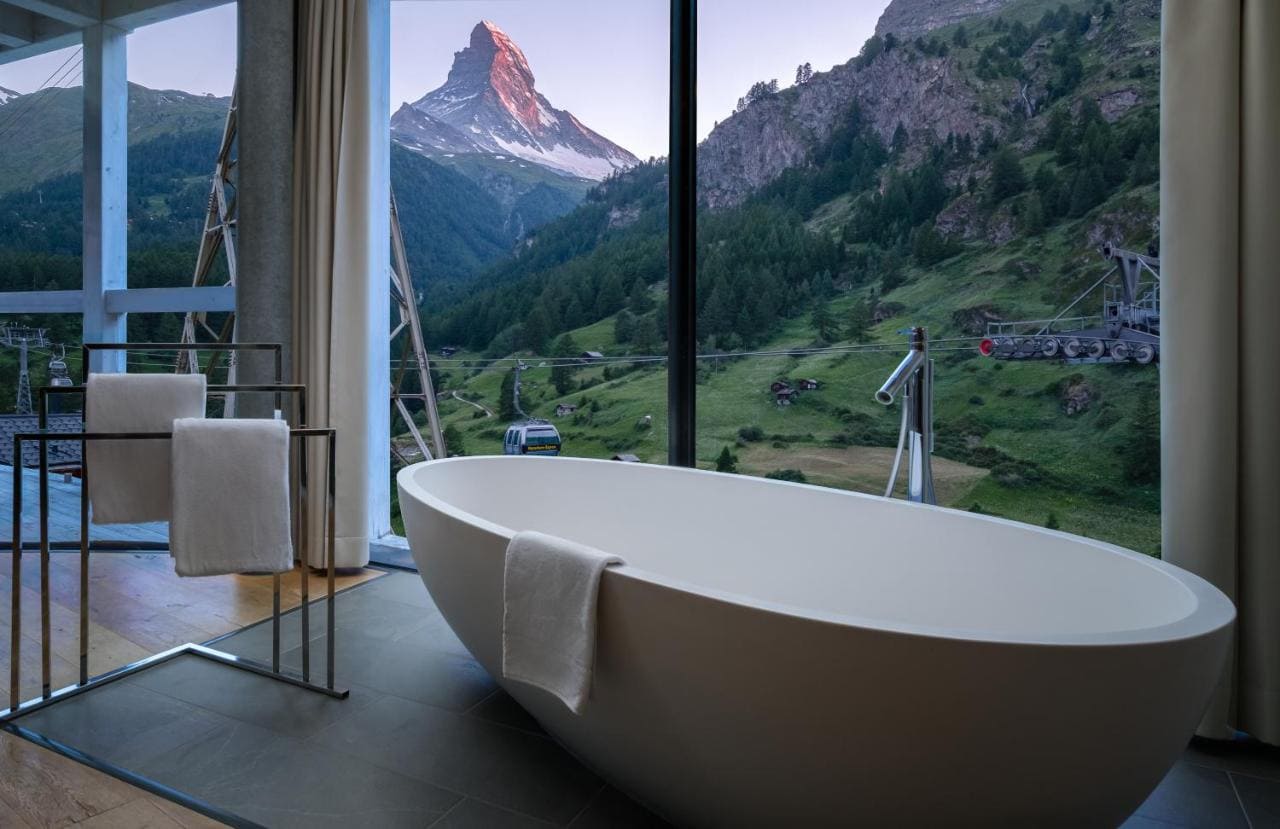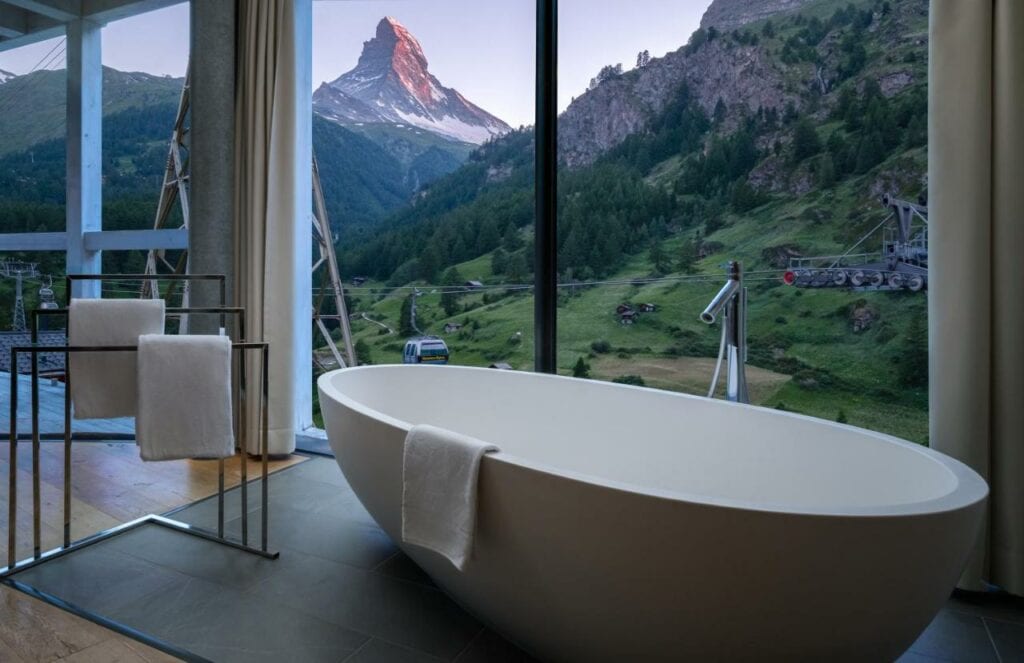 If you're visiting Zermatt in winter you can step out of the hotel and onto the pistes. And in summer… well, you're also in for a treat! The wildflowers, alpine meadows and stupendous rocky mountains around Zermatt are ideal for walks and mountain biking.
Close your eyes and imagine a perfect Swiss house perched in a landscape of rolling alpine meadows backed by spectacular mountains. You've just conjured up the Caschu Alp Hotel! Of all the unique places to stay in Switzerland, this lovely alpine chalet complex is near the top of my list if you're looking for romance and elegance.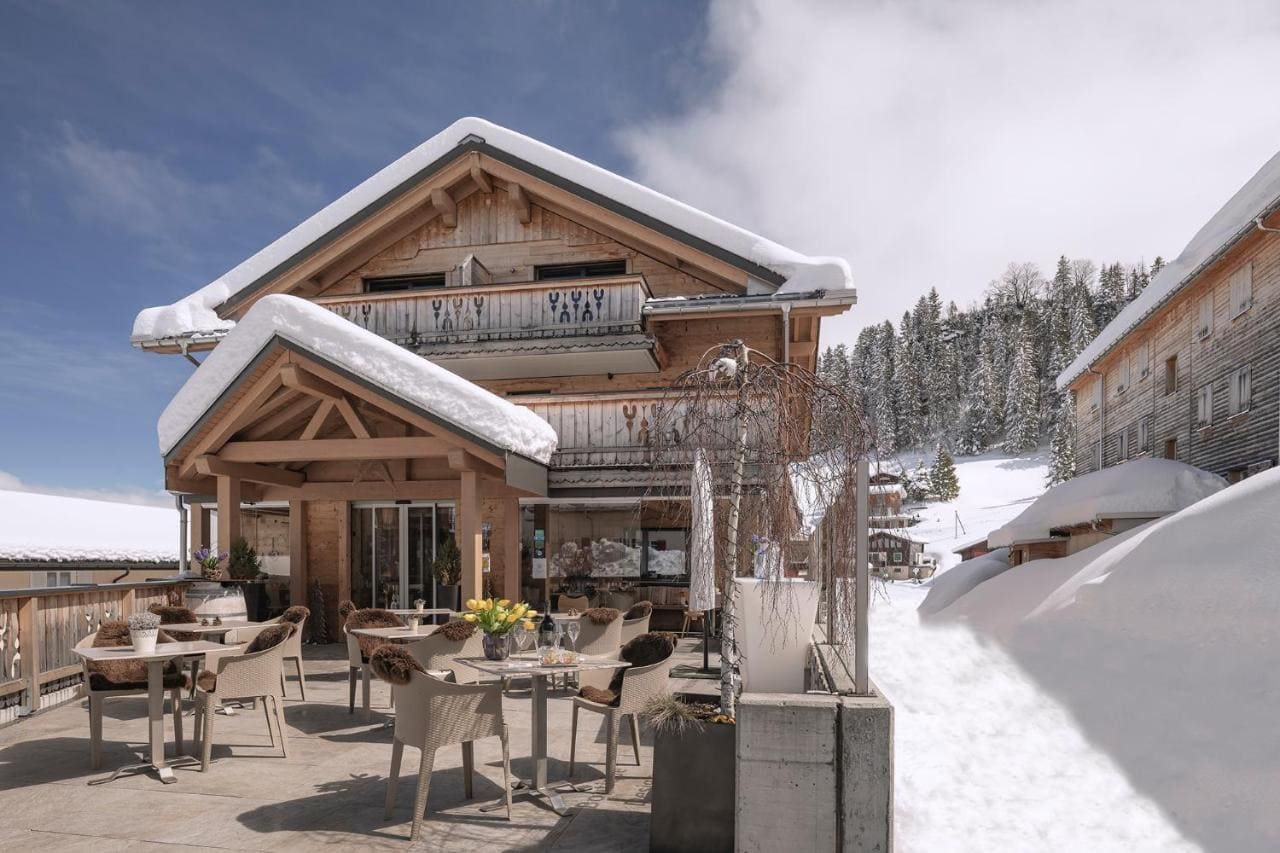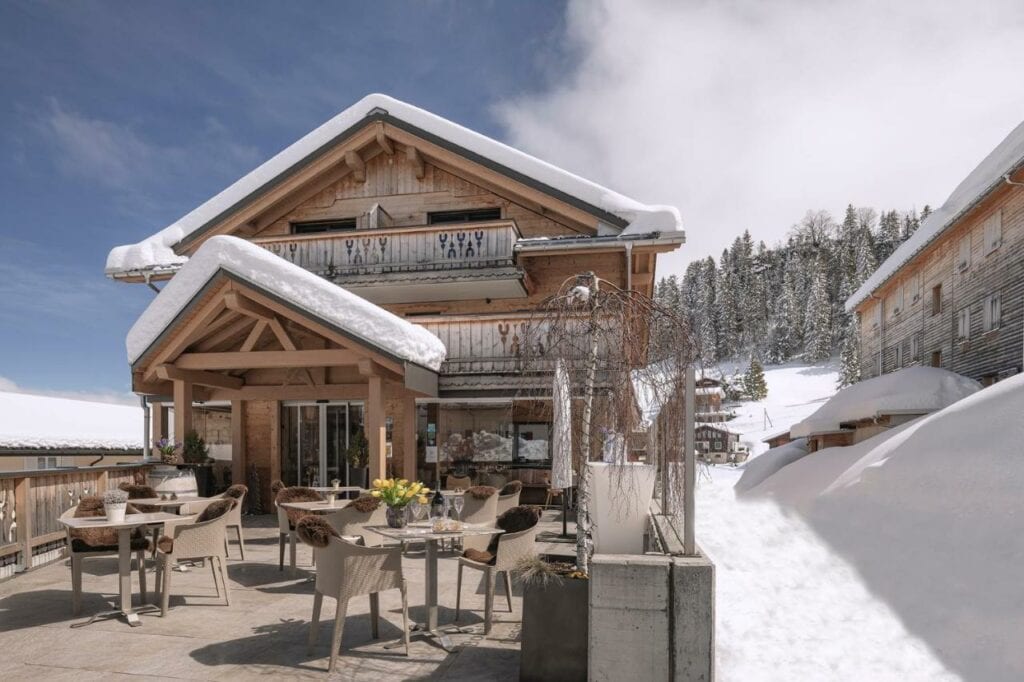 From the time you and your partner enter through the bright and airy reception, to the end of each perfect day, you'll be pampered, fed and entertained by the hospitable and friendly staff here.
The restaurant serves up tasty variations on classic Swiss dishes and in the cosy atmosphere of the Stübli (small room) you can while away a whole evening over fondue and wine.
---
I hope this guide has helped you decide where to stay on your next trip to Switzerland. From modern glass mansions to traditional castles, there really is something for everyone! If you're still undecided, you can search for more of the coolest hotels in Switzerland using the map below.
Plus, if you're looking for travel tips for your holiday in Switzerland, have a read of these guides before you go: