From visiting Plaza Vieja to sipping on a mojito at La Bodeguita Del Medio, and enjoying the vintage cars and colourful buildings, here's how to spend the perfect 24 hours in Havana, Cuba.
"You have to go to Cuba NOW before it's too late!"
They were the words that rung out as I waited outside Havana airport in the pouring rain, unable to find a taxi, after spending two hours in the immigration queue.
"This better be worth it," I thought.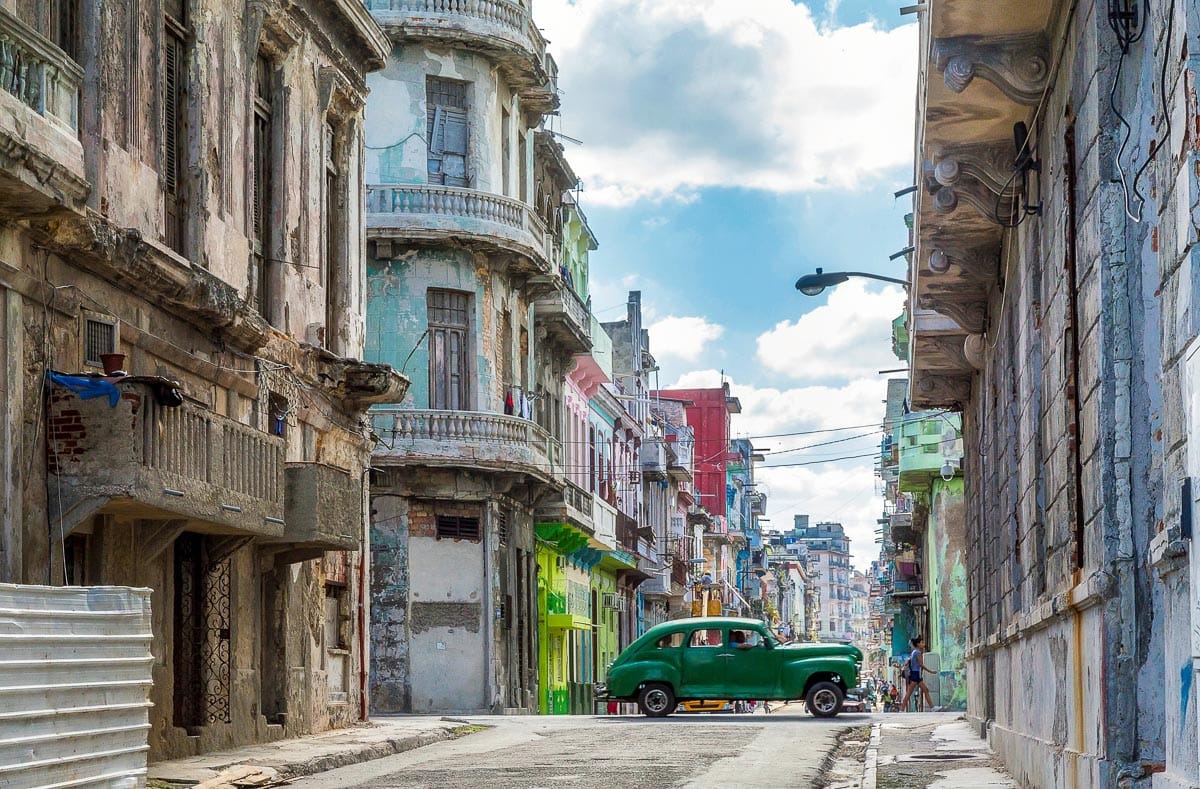 I don't know how many people had suggested Cuba when I was planning my travels last year. There was a lot of talk about the country going through a period of change. Many said that the old charm was gradually disappearing. As I returned to the UK after my trip, I was met by the news of developments in the relationship between United States and Cuba. It seemed my timing was just right.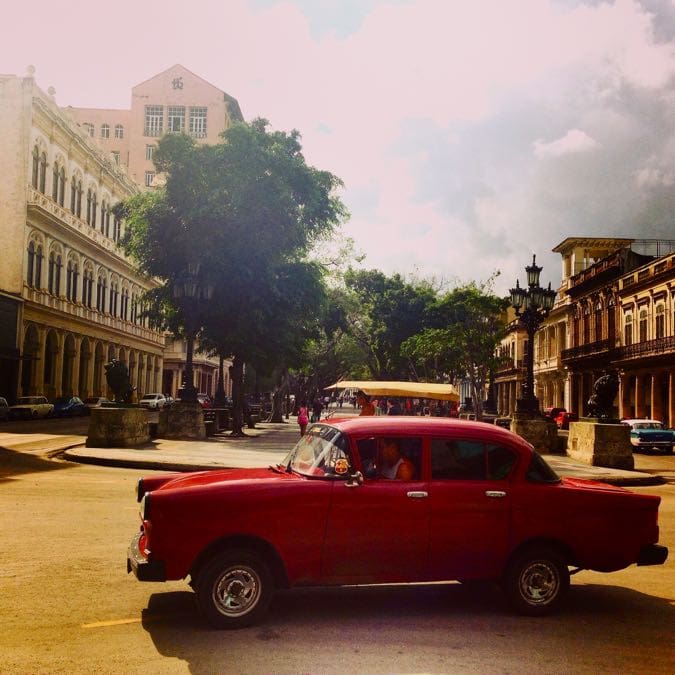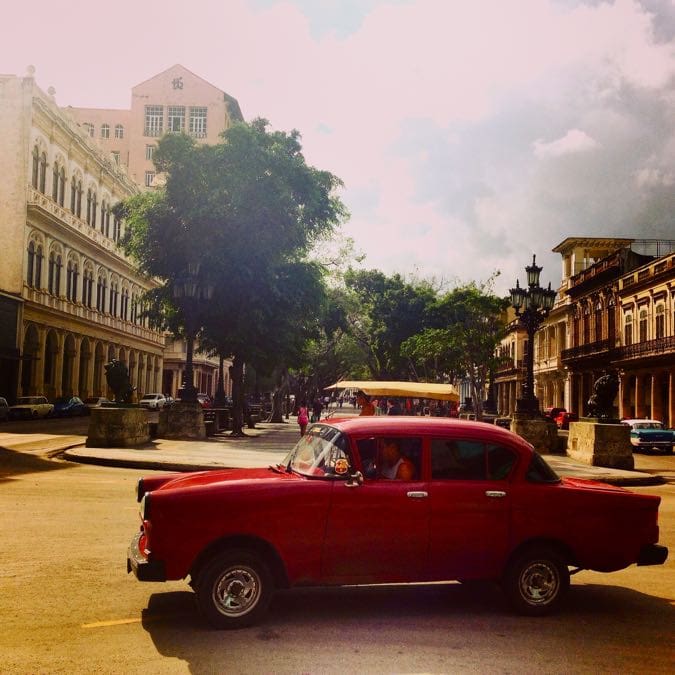 When I visited Havana, first impressions were of a strange but beautiful city. Over the next 4 days, it really grew on me. So, if you're planning a trip, (and remember "you have to go now before it's too late") here is my guide to the perfect 24 hours in Havana, Cuba – a crazy, magical city on the brink of so much change.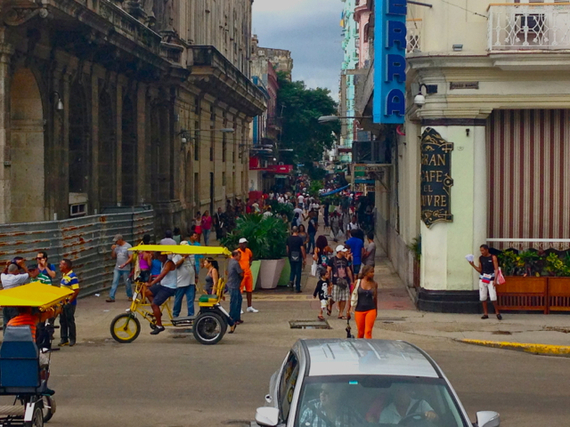 THE PERFECT 24 HOURS IN HAVANA, CUBA – WHAT TO DO IN ONE DAY IN HAVANA
10am: After breakfast, take a walk along the Malecon – the esplanade along the seafront. The views of the city are beautiful, particularly when combined with an endless stream of vintage cars passing by the ramshackle multi-coloured buildings along the water.
10.30: Visit the Museo De La Revolución in Old Havana to learn the history of the country, and the people who fought to make it what it is today. In a separate building you can see the Granma – the famous yacht which took Fidel Castro and his revolutionaries from Mexico to Cuba for the revolution.
12.00: Hop on a bicitaxi to Almacenes San José – Havana's largest handcraft and art market. Along with all the usual souvenirs (Che Guevara hats, Cuba T Shirts, Havana Club signs etc) you can pick up beautiful handmade cigar boxes, original art and delicate jewellery. The prices here are considerably cheaper than the rest of Havana, so if you only have 24 hours in Havana, this is the place to buy your souvenirs!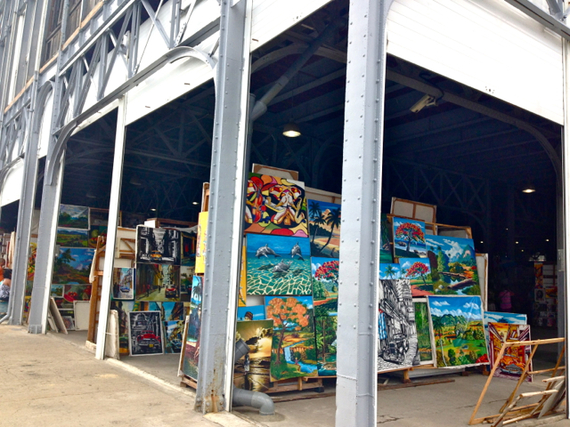 13.00: Just next door to the market is Cervecería Antiguo Almacen de la Madera y el Tabaco – a brewery, restaurant and bar. It's one of a number of buildings in the area that has been recently restored from a completely dilapidated state. Enjoy a pint of beer with a delicious plate of chicken brochettes and rice.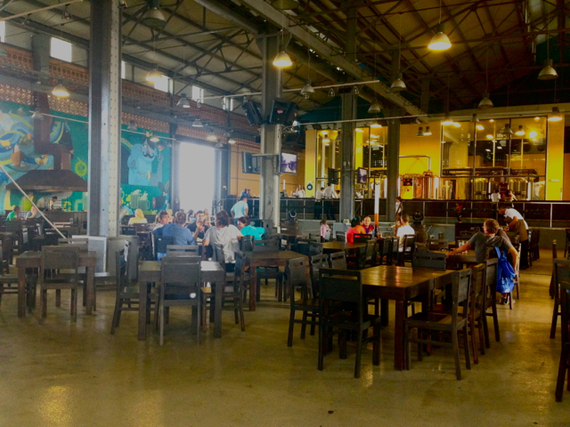 14.00: For a unique view of the city, head over to Plaza Vieja to visit the Camara Oscura. The historical optical device reflects the view outside onto a large dish. It's a unique way to tour the whole city without leaving the room – a bargain at only $2!
14.30: Plaza Vieja is a beautiful square, lined with cafes and boutiques. Café El Escorial serves some of the best coffee in the city. Order a café cubano and don't miss the delicious chocolate bonbons on offer behind the counter. Always very friendly service and it's a beautiful location for a rest stop.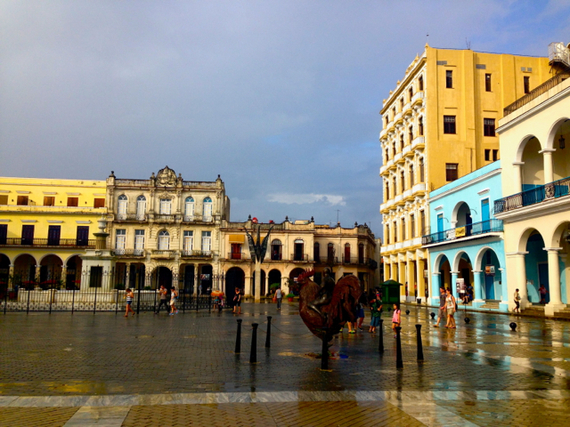 15.30: Take a walk from Plaza Vieja to the heart of Habana Vieja. Stop for a drink at one of Ernest Hemingway's favourite bars, and the birthplace of the daiquiri, El Floridita. There's always a lively atmosphere, and top notch live music. If you're only spending 24 hours in Havana, Cuba, you have to visit here!
16.30: Hop in a Coco Taxi (yellow three-wheeler taxi) to Plaza de la Revolución. This square is the place where many political rallies took place in the past, and still do today. Every year on 1st May, around a million Cubans gather at the foot of the giant statue of Jose Marti and celebrate May Day together. Also of interest are the giant facades of revolutionaries Che Guevara and Camilo Cienfuegos.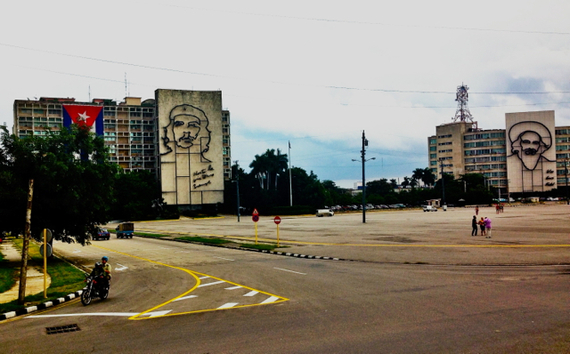 17.30: Still got some energy? Head to the rooftop bar at the Iberostar Parque Hotel close to El Capitolio in the centre of the city. The views of the city are breathtaking, particularly if you can time your visit for sunset.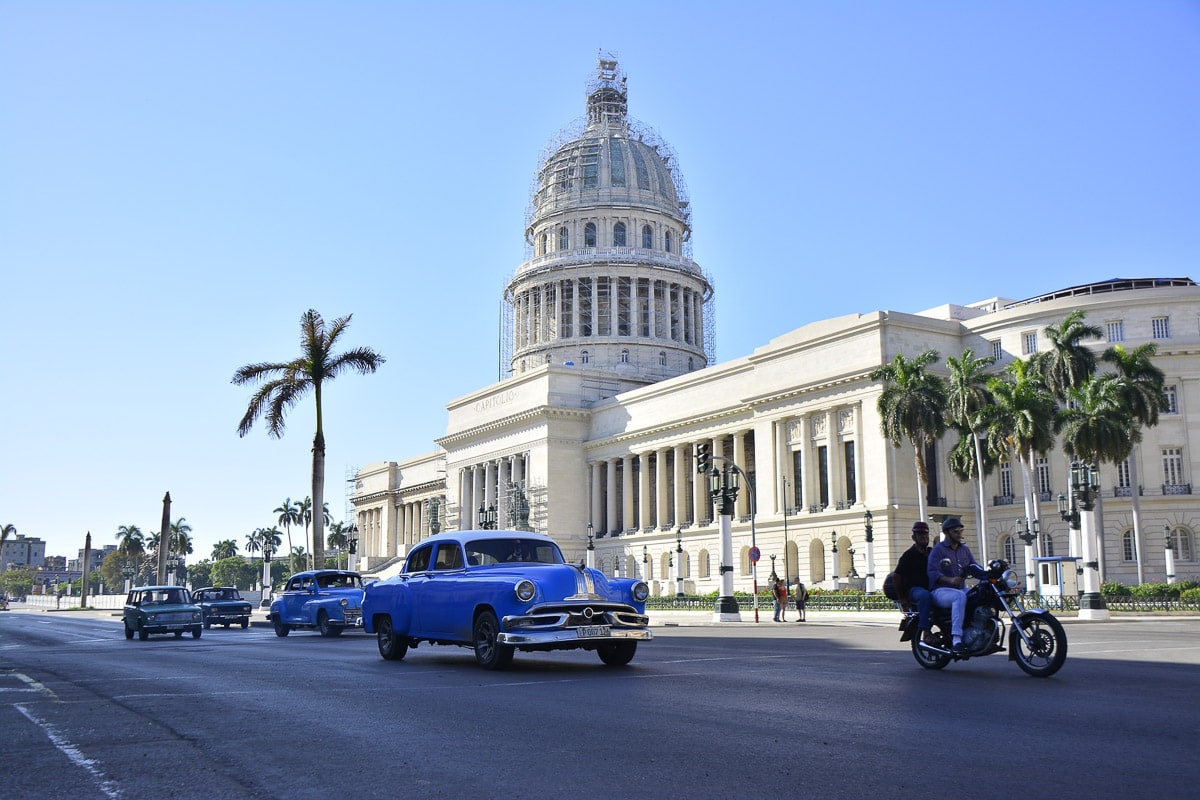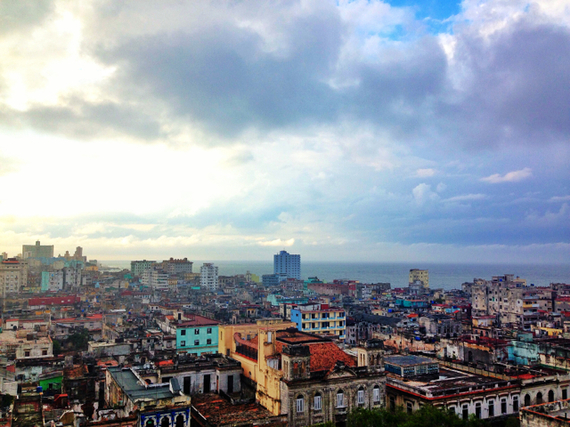 19.00: Head for dinner at Dona Eutimia – a highly regarded restaurant tucked away from the stunning Cathedral Square. Make sure you book in advance as it's a small place, with a big reputation, and tends to get busy. Delicious fresh seafood, generous portions and excellent mojitos.
21.00: Just around the corner is La Bodeguita Del Medio – another Cuban institution. Don't expect a drinks menu, you visit purely for their Havana Club mojitos. It's a tiny bar, so just stop by for one drink, enjoy the live music and leave your mark on the walls with a permanent marker!
21.30: This city is lively during the day, and even livelier at night. Head to one of the many salsa bars around Obispo, or for something different, head to La Zorra y el Cuervo for an evening of jazz. Entrance is made through a red English phonebox.
Once through, you descend into a basement filled with cigar smoke and incredible music. For only $10 (including two drinks) you can see some of the biggest names in the world of jazz. Another recommended stop is the famous Hotel Nacional De Cuba where you can grab a cocktail and enjoy some live entertainment on the terrace.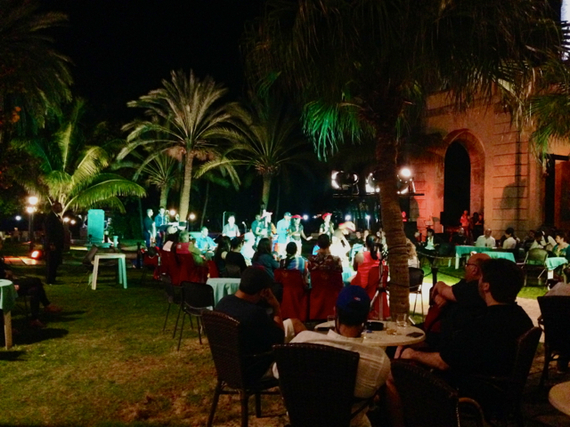 WHERE TO STAY IN HAVANA, CUBA
Luxury: Iberostar Parque Central Hotel – In a city of very basic accommodation, this stands out as truly luxurious. Don't miss the breathtaking views across the city from the rooftop pool.
Budget: Rolandos Backpackers – simple dorms, a rooftop bar and a great way to meet other travellers. You'll feel like one of the family in an instant.
Local: Check into one of the many Casa Particulars in the city. Many Cubans rent out their spare rooms, so that tourists can experience the real Cuba.
OTHER TIPS FOR VISITING HAVANA, CUBA
Highly Recommended: Havana Good Time App – In a city with no wifi, this app was really valuable. Full of great offline content, maps and local tips on how to get around. Hopefully it's still available!
Find out more: Cuba – Your One-Stop Travel Guide
Travelling further afield? Find out more great things to do in Cuba.
Enjoyed this post on spending the perfect 24 hours in Havana, Cuba? Pin it….