Architecture and wine – a marriage made in heaven at Lapostolle in the Colchagua Valley.
After our adventurous journey to Viña Montes (which, if you haven't read about it already, involved walking along the hard shoulder and hitchhiking!) we decided our trip to Lapostolle should be a more civilised affair.
We picked out our best outfits and hopped on board a private minibus from Santa Cruz's central plaza, to Apalta – a land of lush vineyards. After meeting Lapostolle's charming PR Manager Diego, we were taken on a private tour of the gardens, vineyards, stunning boutique hotel and of course, the winery itself. I'd heard this was one of the best places to go wine tasting in the Colchagua Valley… I hoped it was true!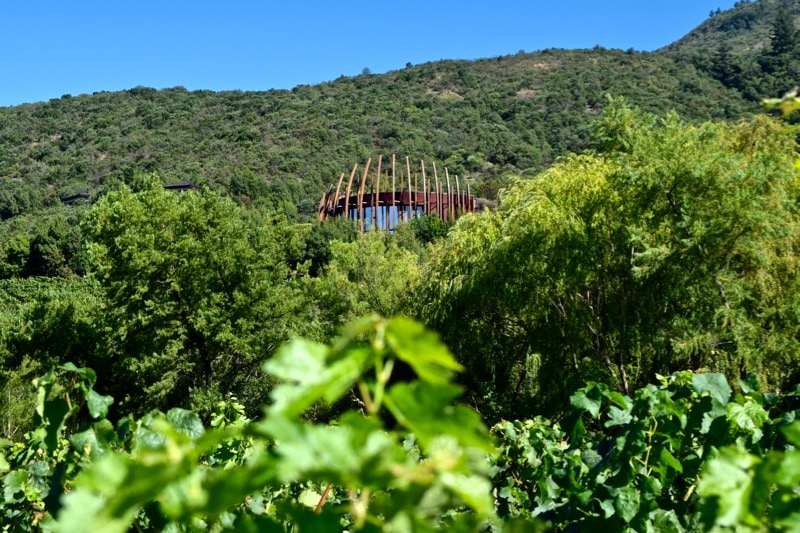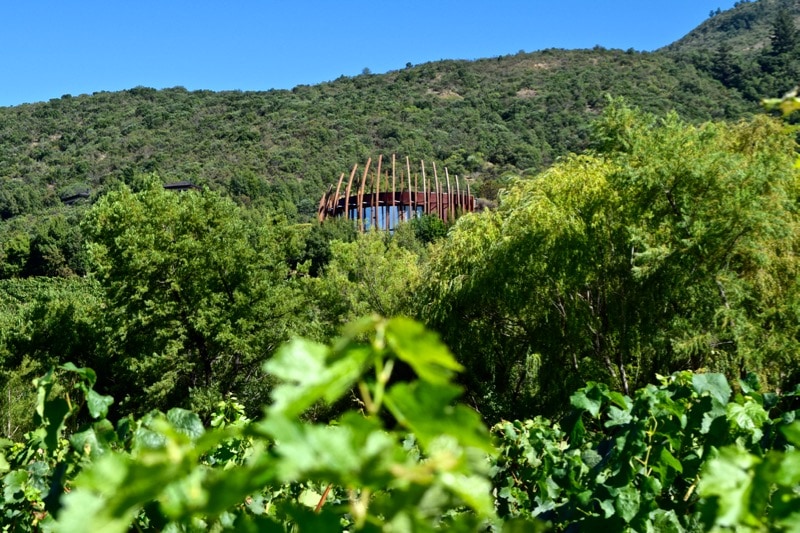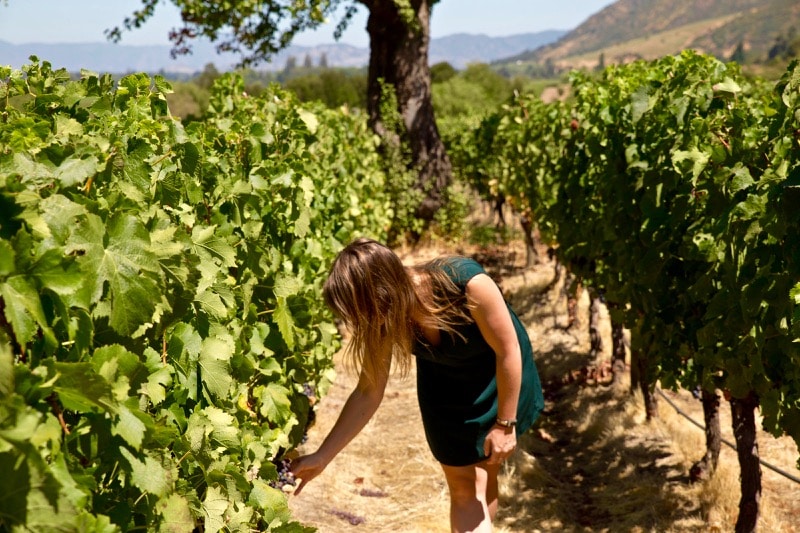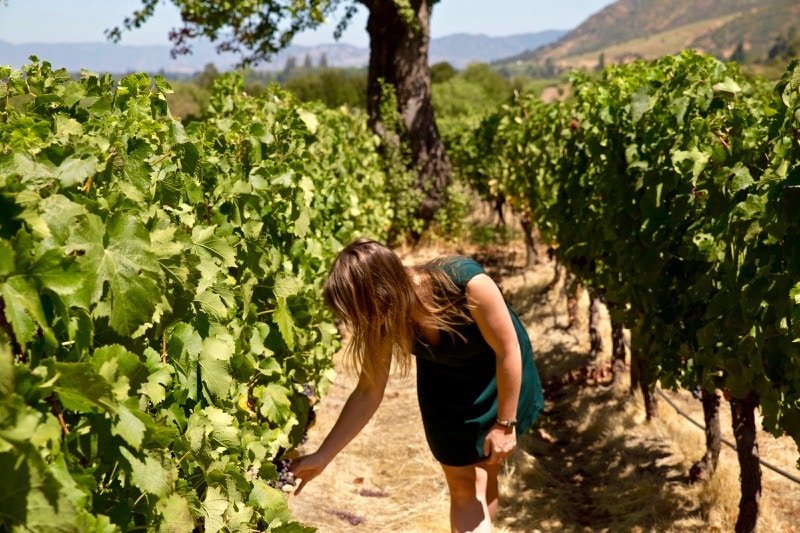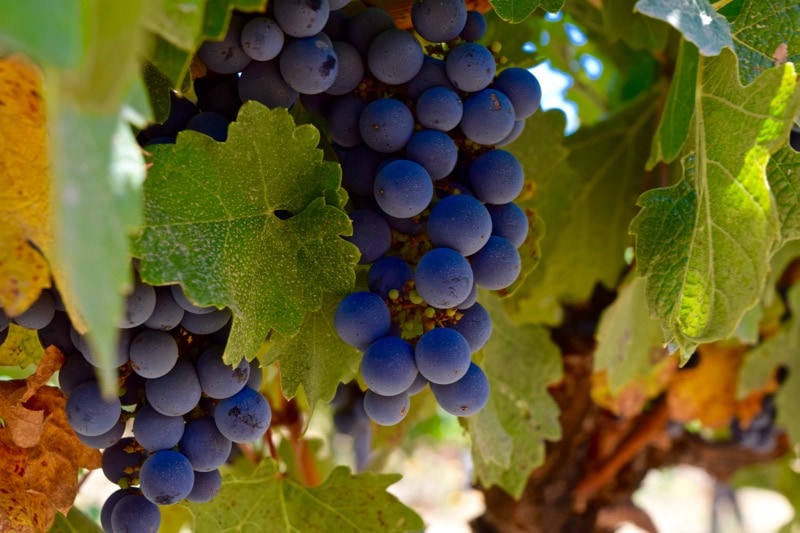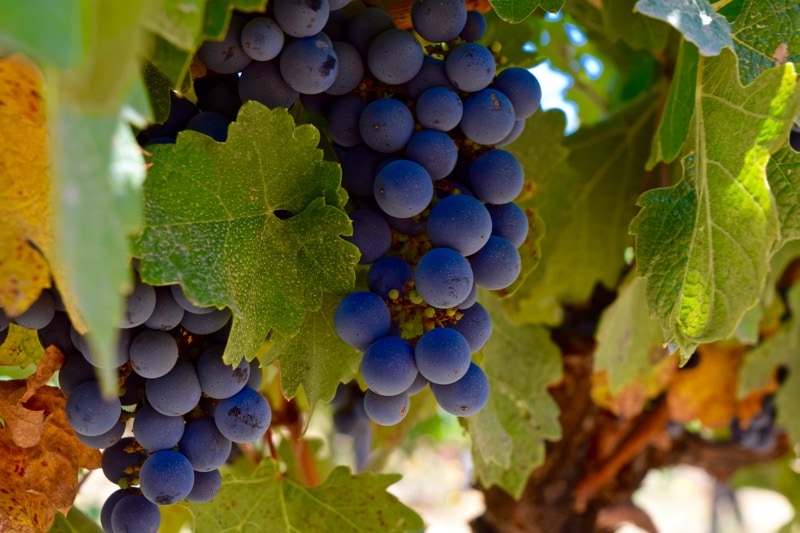 Lapostolle's history is quite different from Montes. After visiting the Colchagua Valley region in 1993, Alexandra Marnier Lapostolle and her husband decided to buy some land and set up the winery. Marnier… yes that's right, they're best known as the founders of Grand Marnier. Not a bad position to start from. Today, Lapostolle's reputation precedes it – producing thousands of bottles of high quality premium wine a year and exporting to over 60 countries.
While I loved exploring the endless vineyards, I felt some of the winery's heart was actually in the gardens. There, I met a gardener who had worked at Lapostolle since the beginning. He'd even helped build the impressive terraces on the hills where the vines grew in perfect straight lines. There was something about him – he seemed so content with his life, and being in such a beautiful place, why shouldn't he be?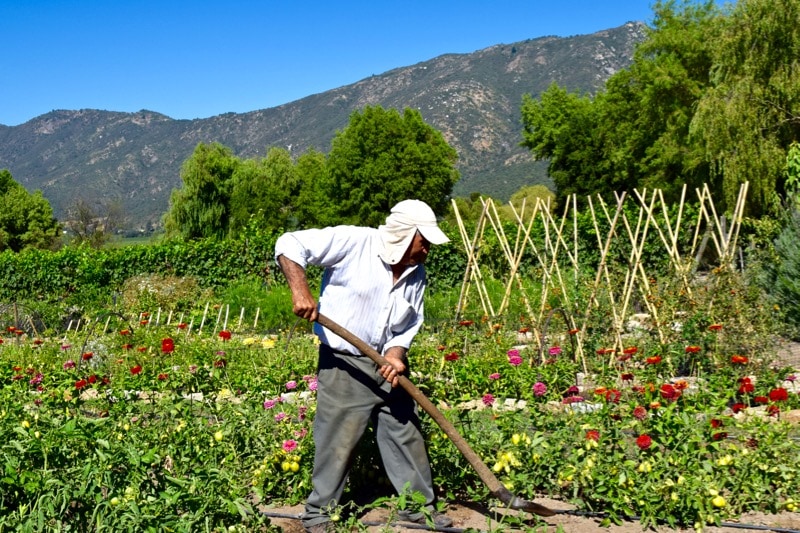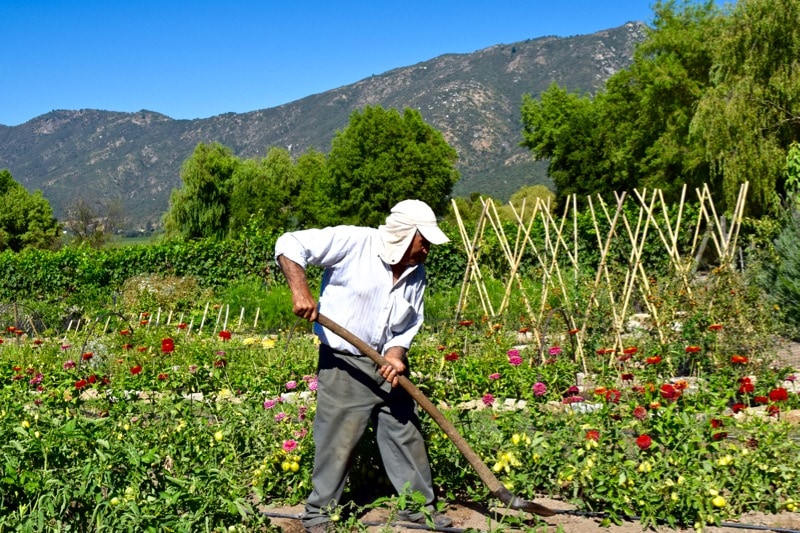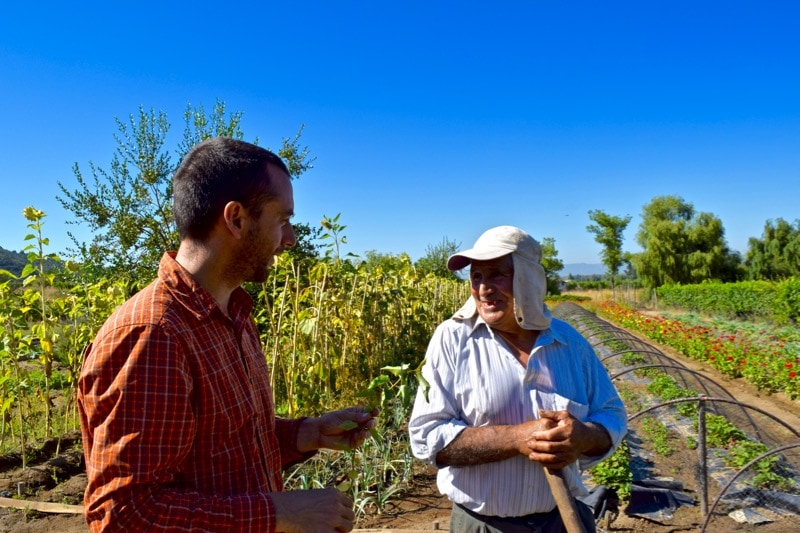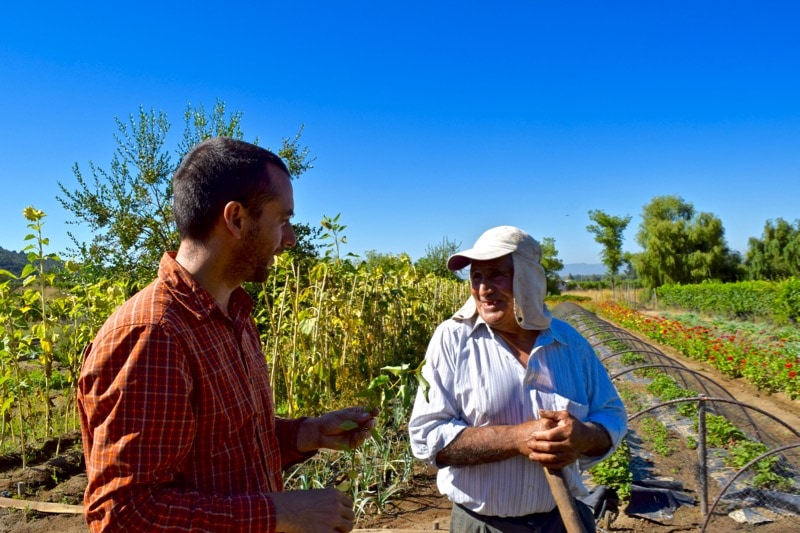 He was hard at work tending to aloe vera, lavender, mint strawberries, cherry tomatoes, beans and more. Not only was it a colourful garden to explore, but the scent of the herbs really got my senses going. I couldn't resist but try a few samples! While they had to knock a few vines down to make space for the garden, it was great to hear the produce was supplying Lapostolle's gourmet restaurant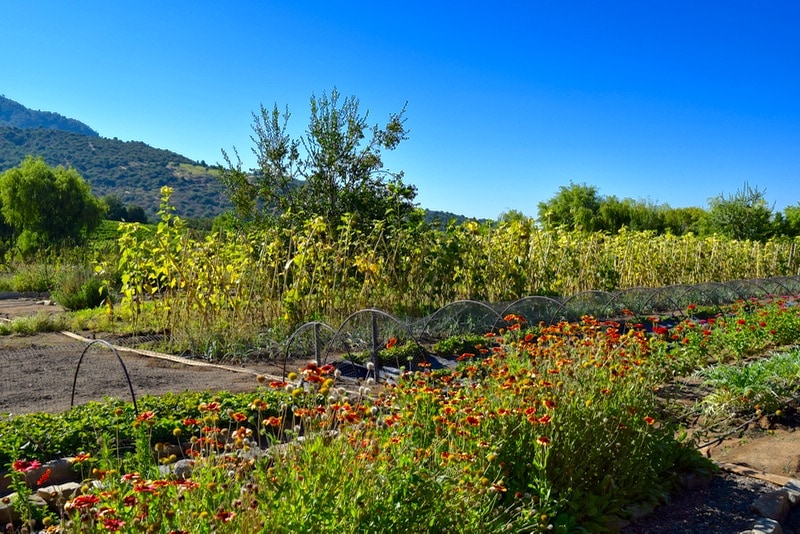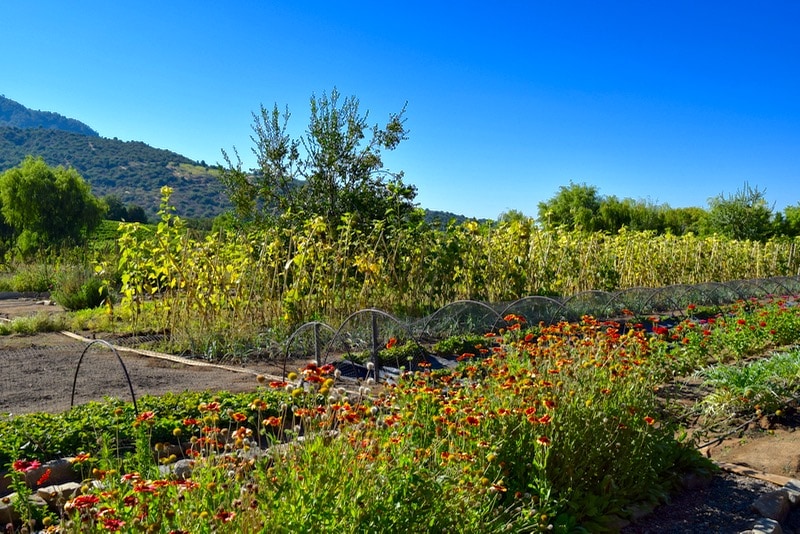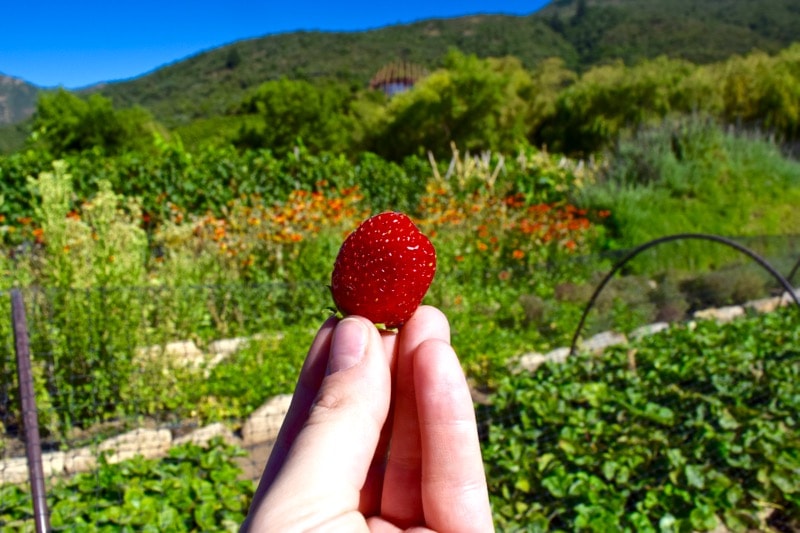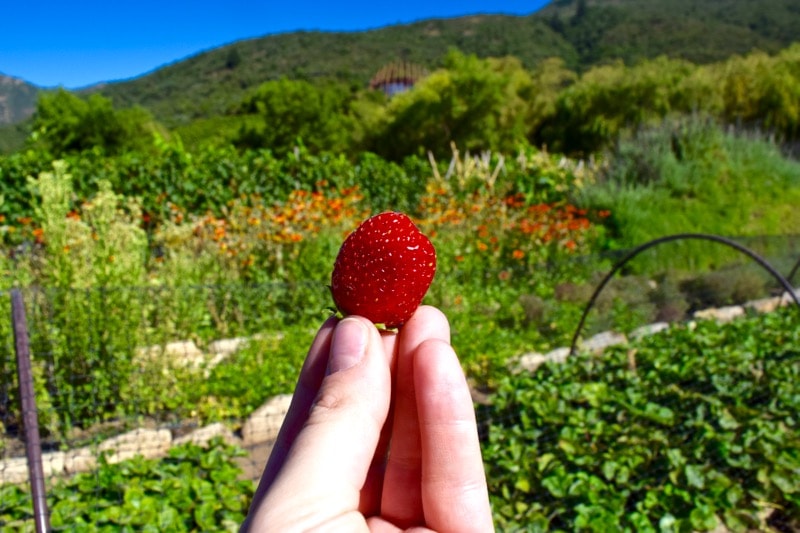 I thought Montes was a beautiful building, but it certainly had competition in Lapostolle. Almost like a lookout – if it weren't for the striking posts standing tall around it, the curved building might have disappeared completely behind the vines!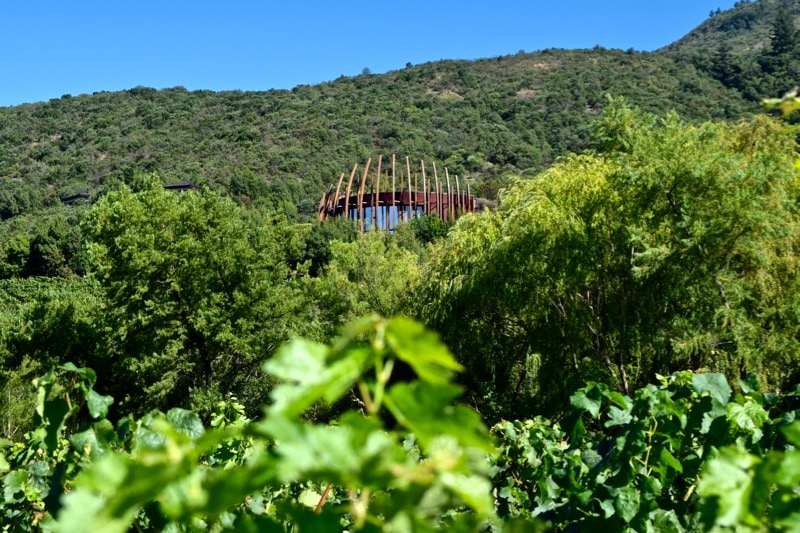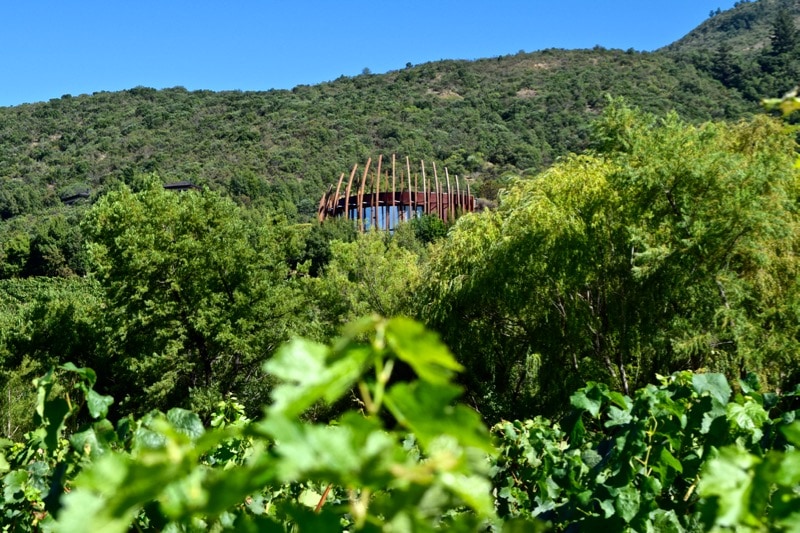 While it was way out of our price range, I loved looking around Lapostolle Residence – a boutique hotel with four luxurious suites. It's luxury on a whole other level, and for over £1000 a night it should be! It's also the ideal location for those craving privacy, in fact a number of celebrities have checked in and enjoyed the peace and quiet of the grounds (and no doubt a few glasses of wine while there). I wish I could have dived into the infinity pool overlooking the vines! What a stunning spot.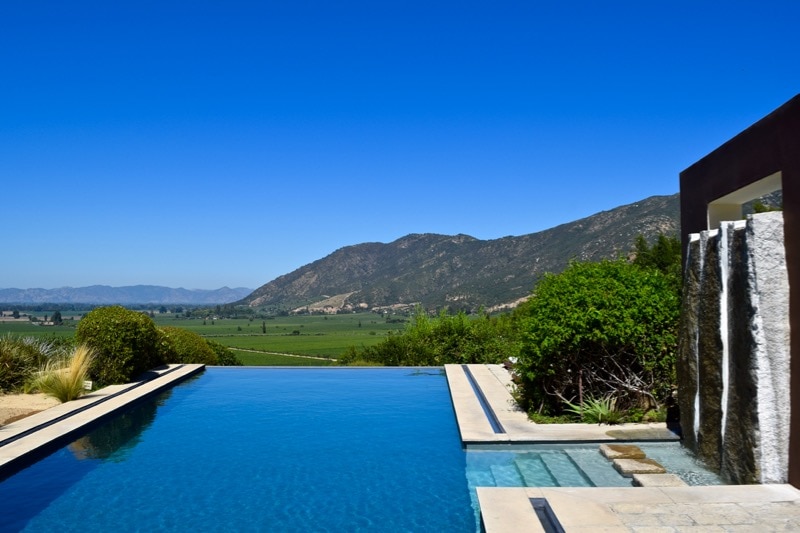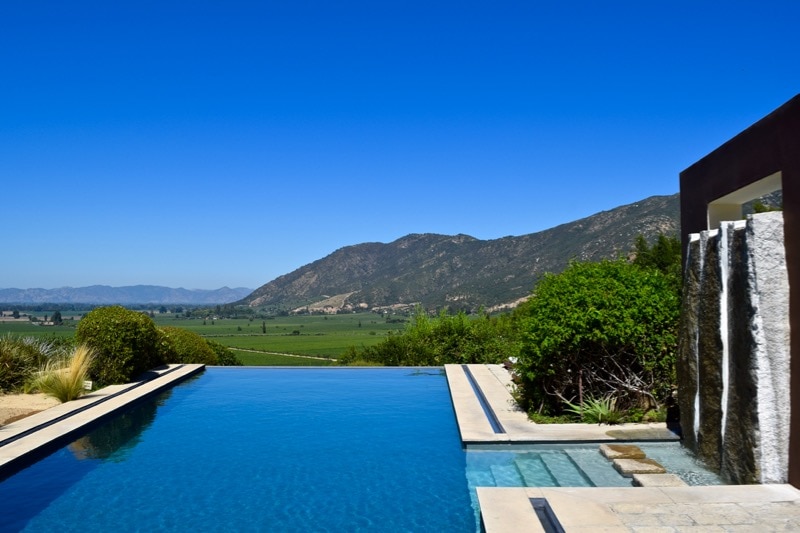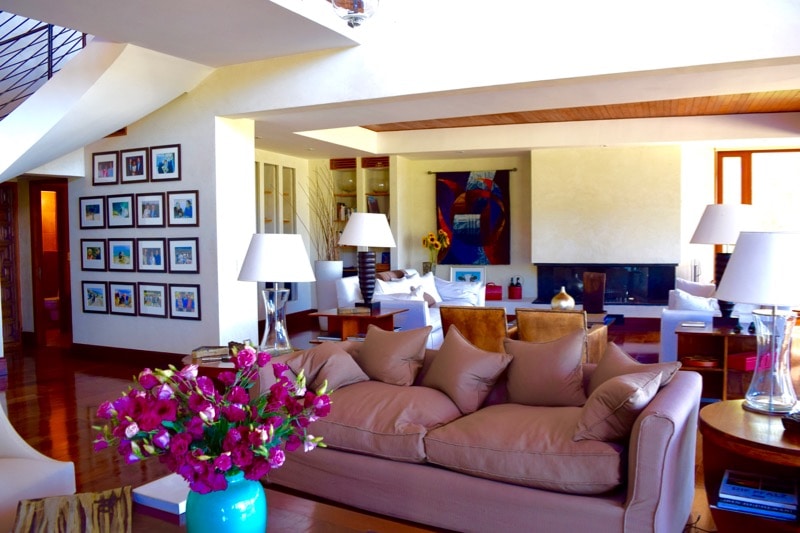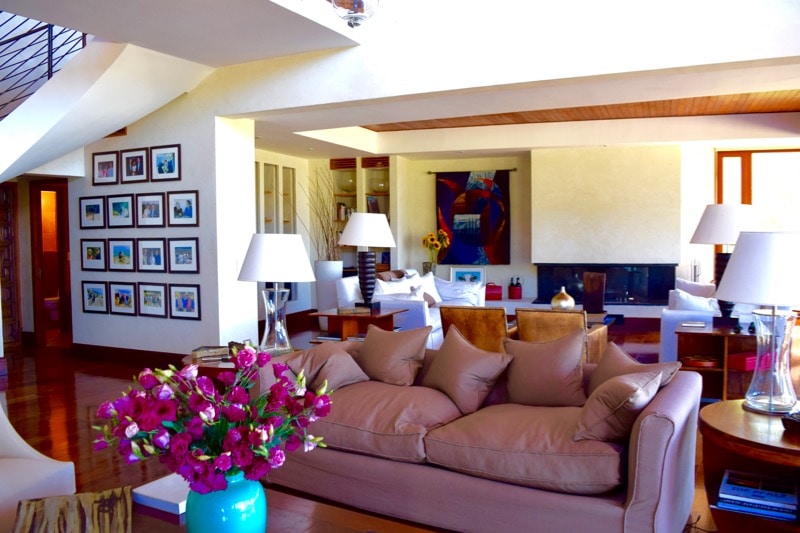 Architecturally the main building was as impressive inside as out, with a mesmerising spiral staircase, several beautiful barrel rooms and my favourite part – a secret cellar (more on that shortly!)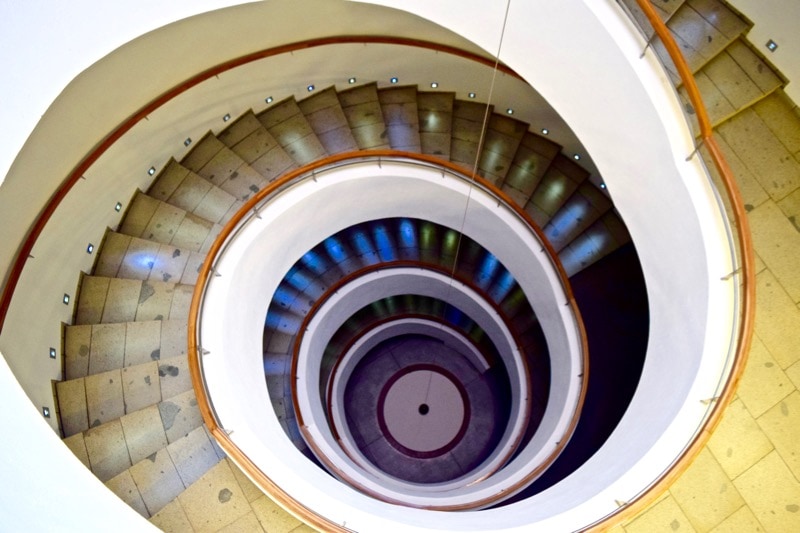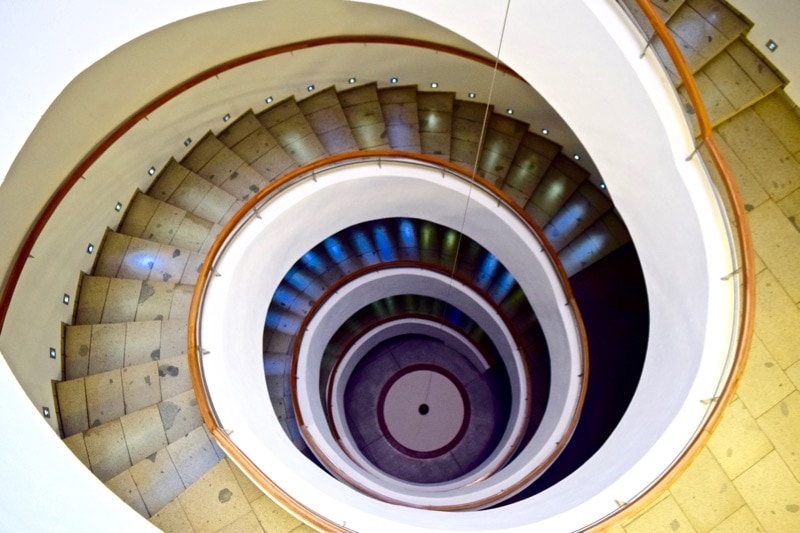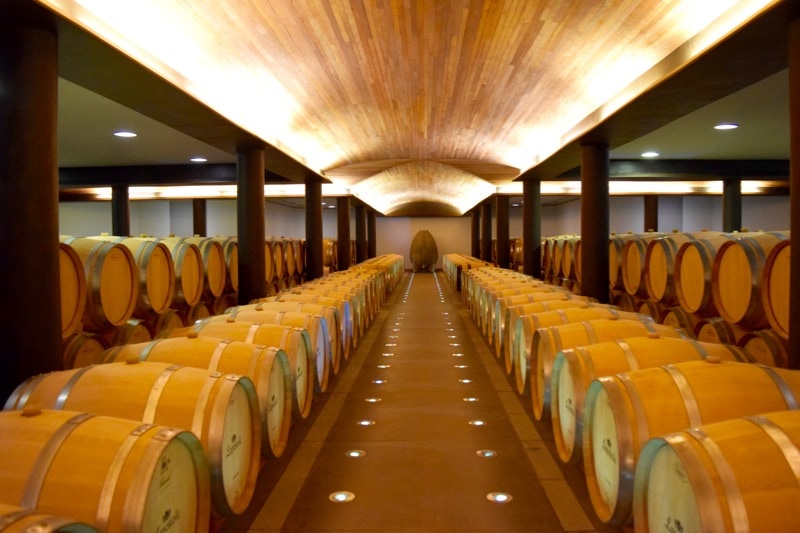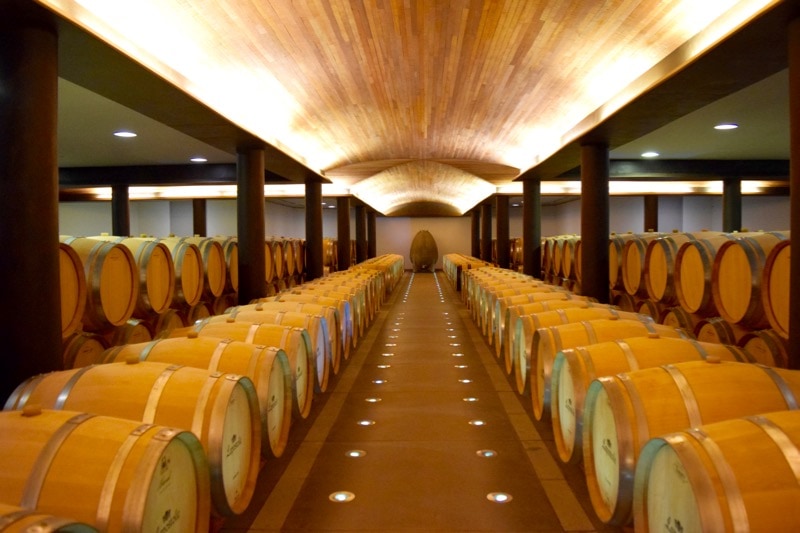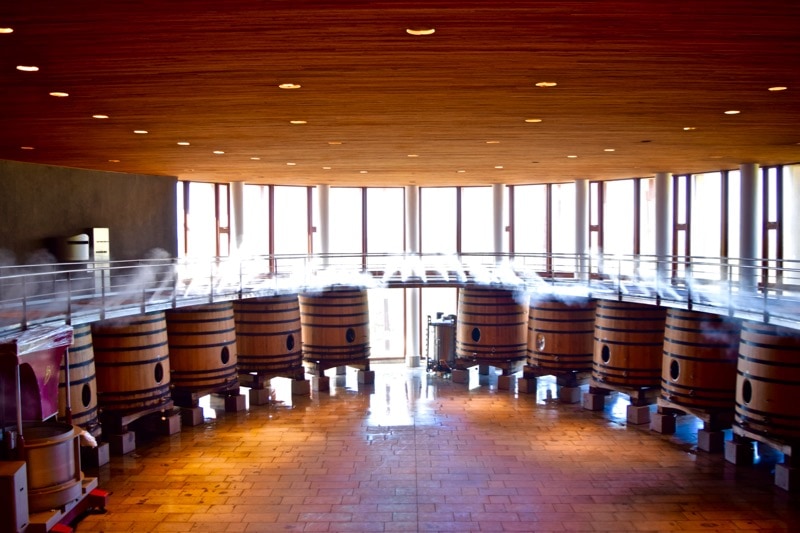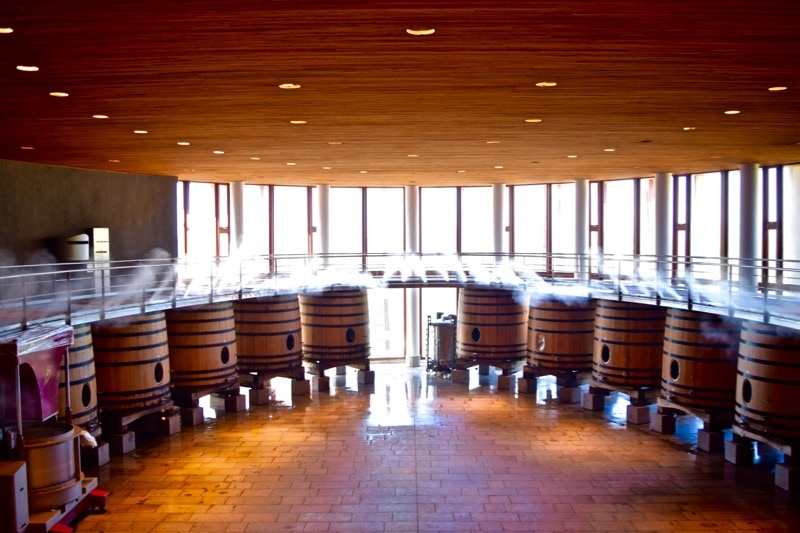 The wine tasting took place in the barrel room in the basement of the building, where hundreds of barrels lay in a curve around the bar. Curves were a big feature in this winery, and I loved the slightly arched wooden ceiling.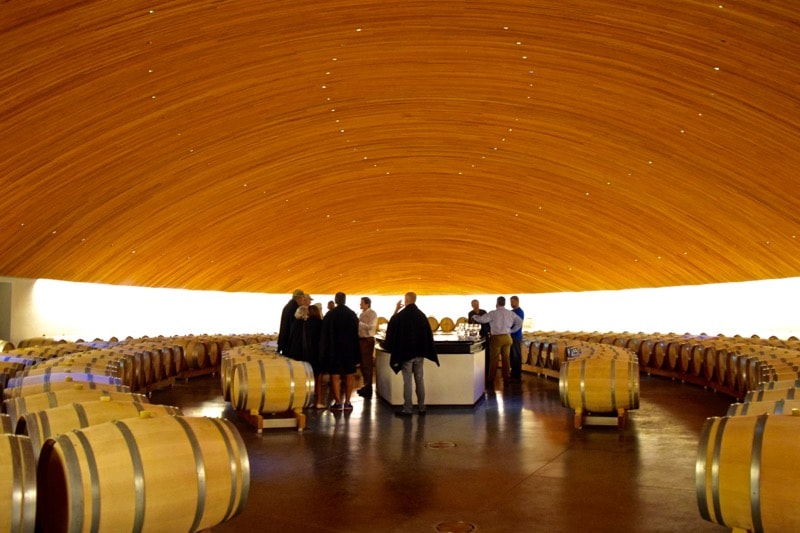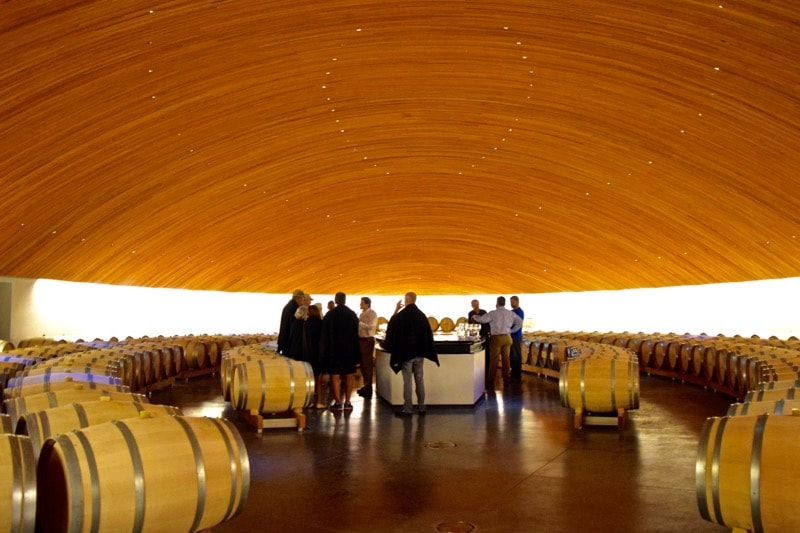 We sampled three wines – a light, refreshing sauvignon blanc (Casa Grand Selection Sauvignon Blanc 2014), a rich, deep merlot (Cuvée Alexandre Merlot 2013) and the special Clos Apalta 2012 Limited Release. Another tour was taking place across the table, but once they'd left the room Diego showed us into the underground lair!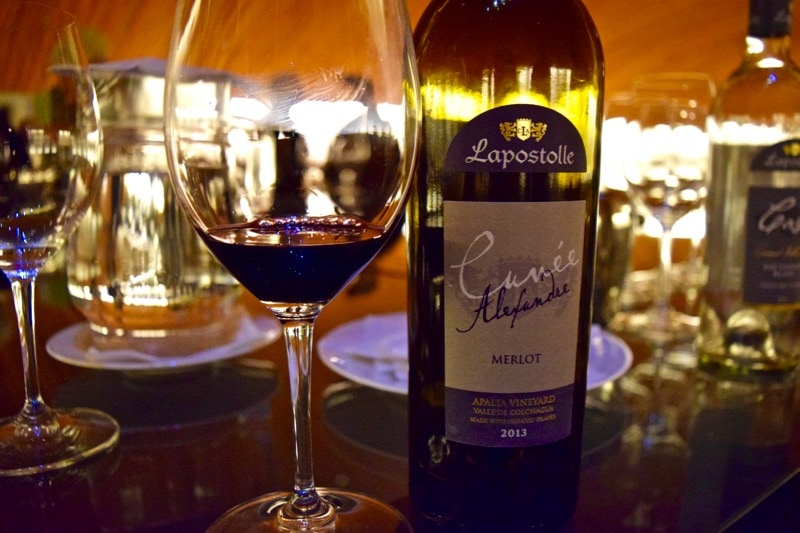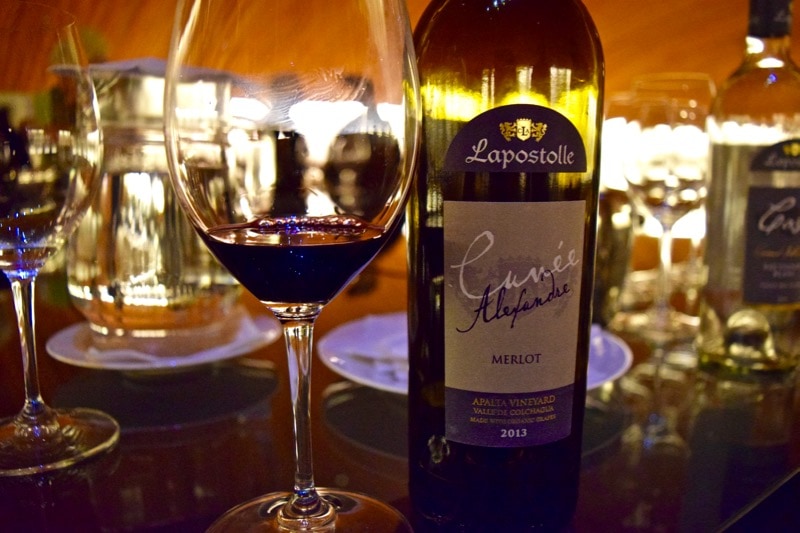 He lifted up the table top and we descended into the room known as the 'wine library'. It felt like entering a space ship! Rows and rows of bottles with different coloured seals lay in their racks, while the wall of granite (which was discovered during construction) added an extra charm to the space. I've seen plenty of cellars, but never one as unique and stylish as this one!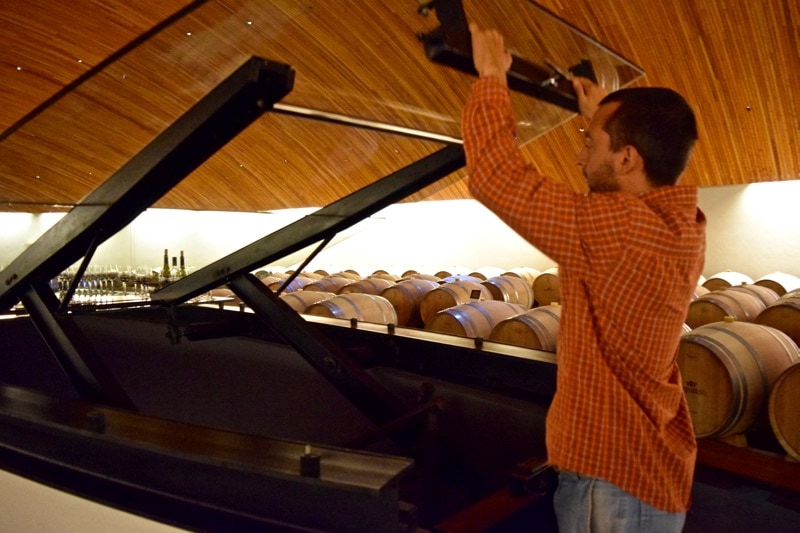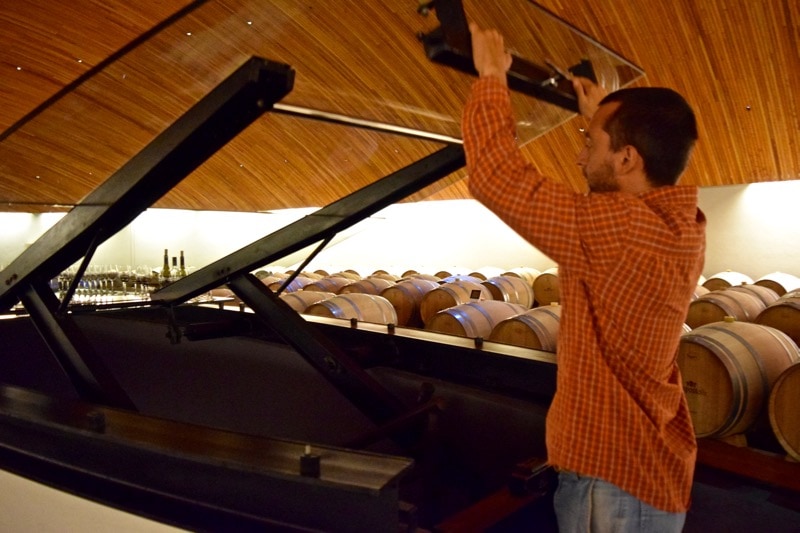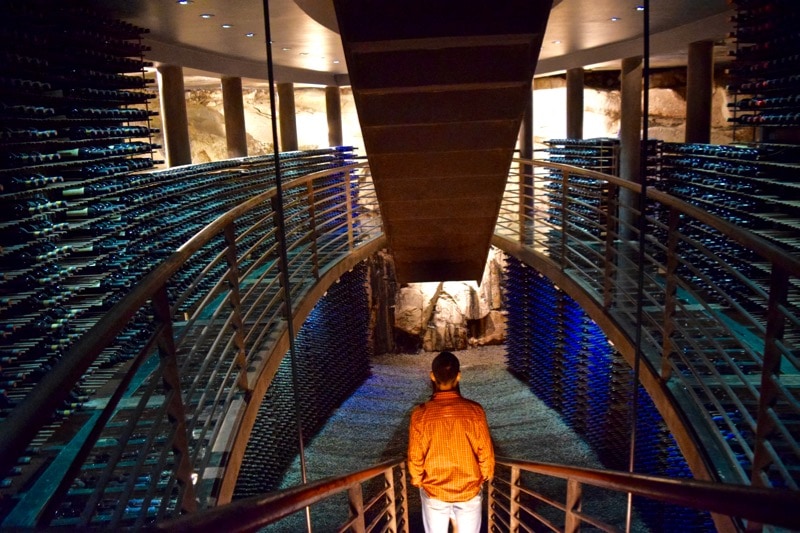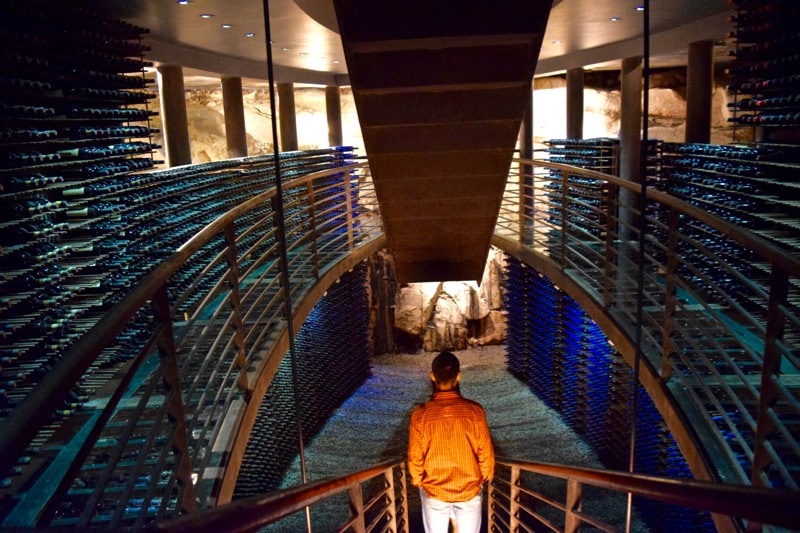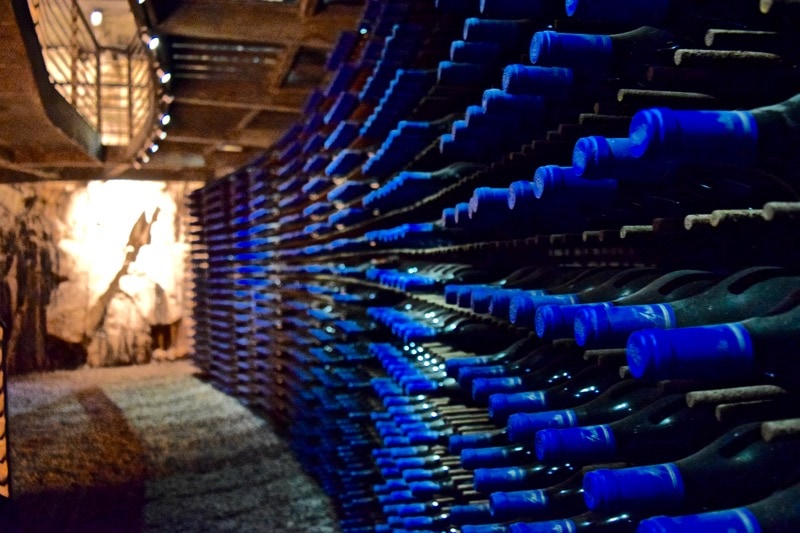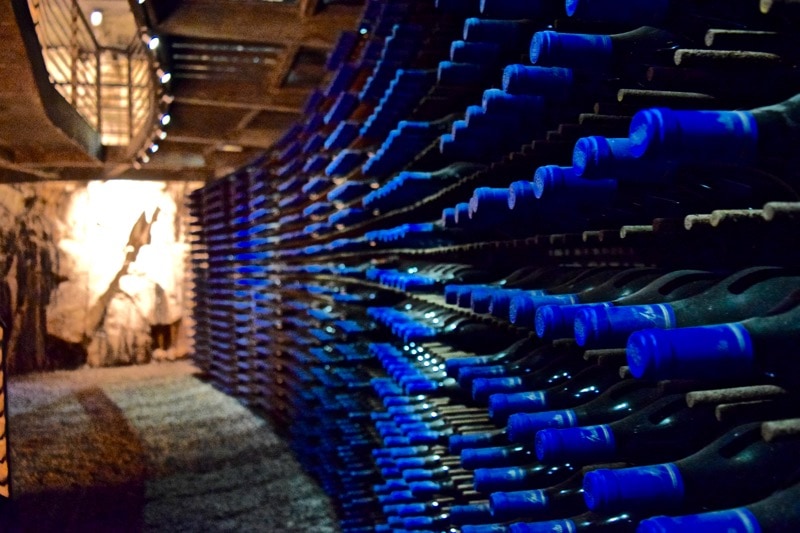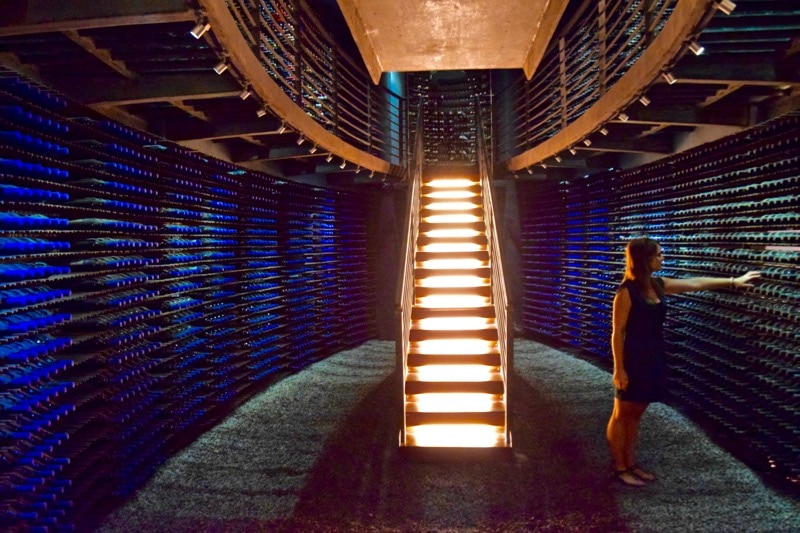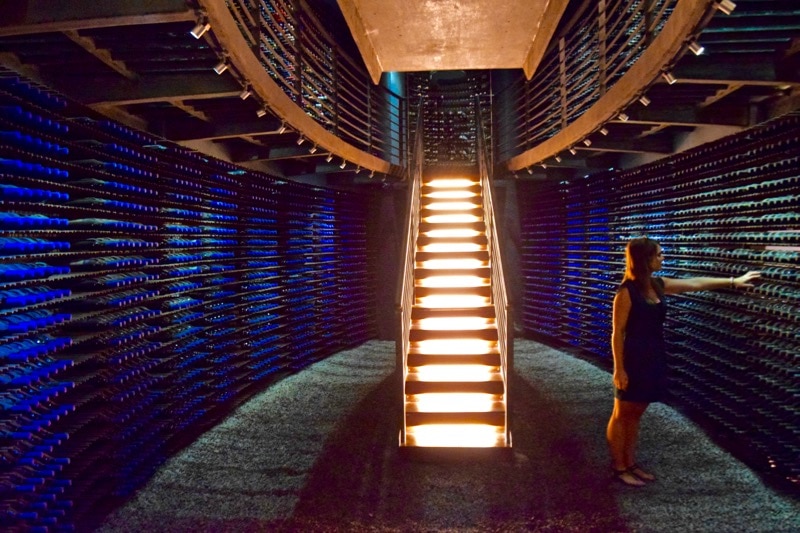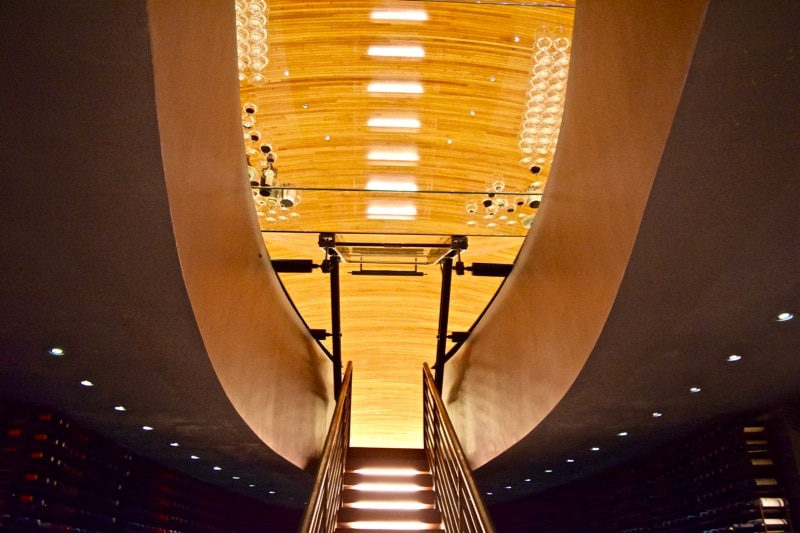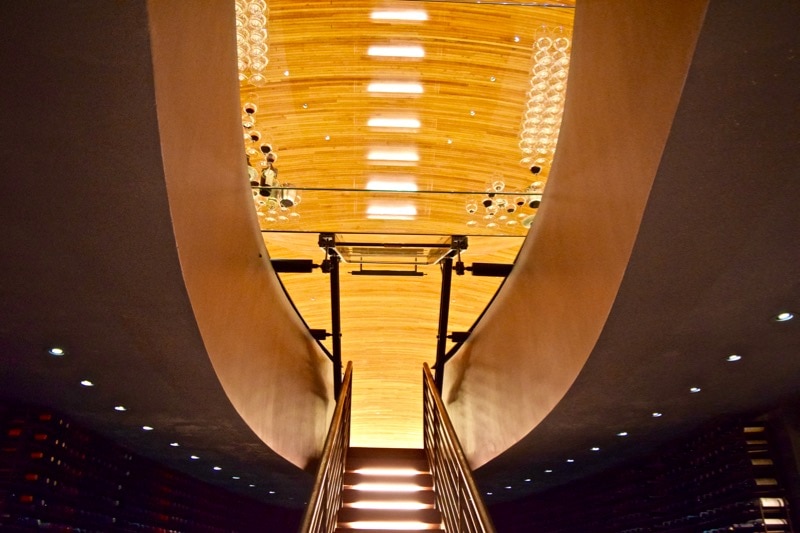 With tipsiness creeping in, we made our way to a picturesque villa in the heart of the vineyards for a special lunch. The setting was beautiful – sitting under a trellis of vines over 120 years old, we gazed out at the lush green vineyards. Not only was it peaceful, it was also very romantic – another moment from this trip I was happy to share with a special someone. We'd worked up an appetite and something told me this would be an unforgettable meal.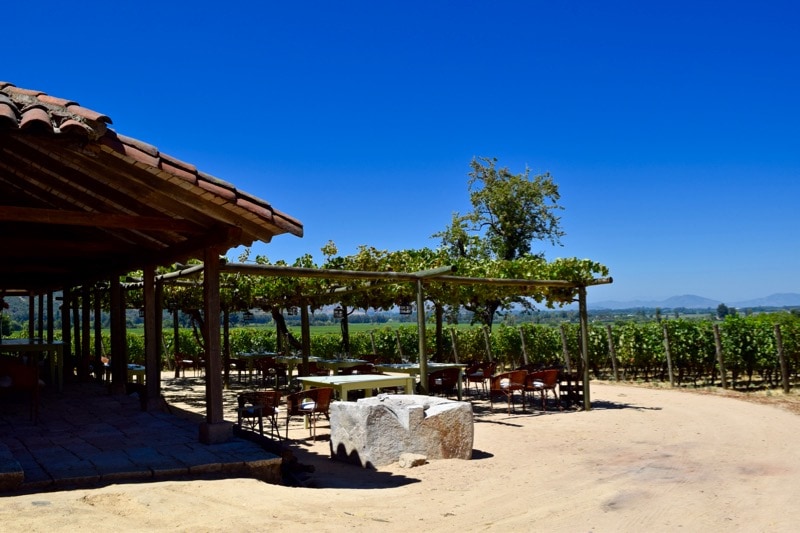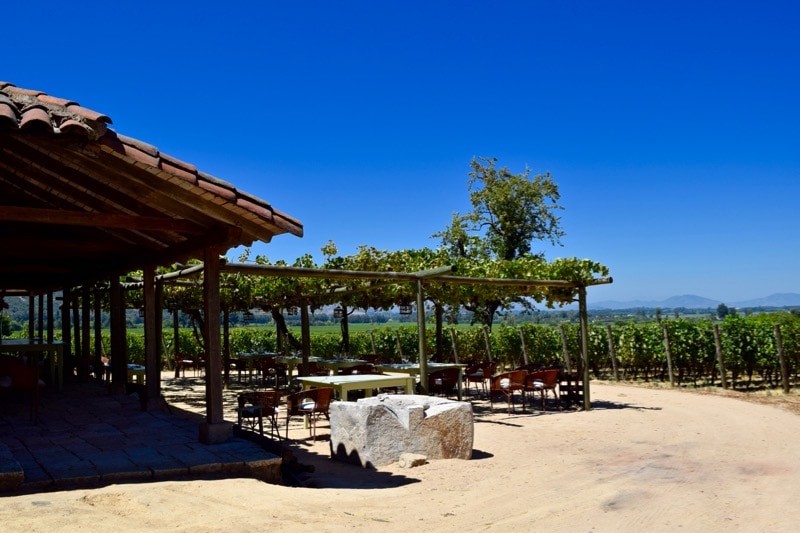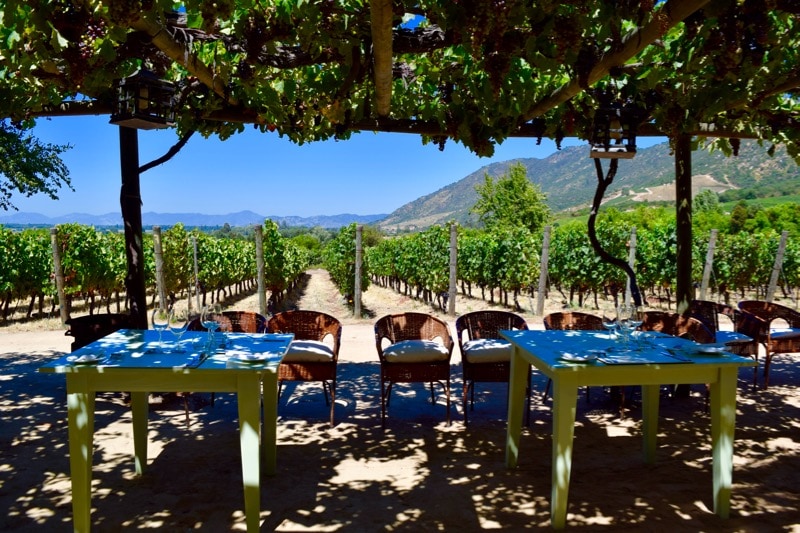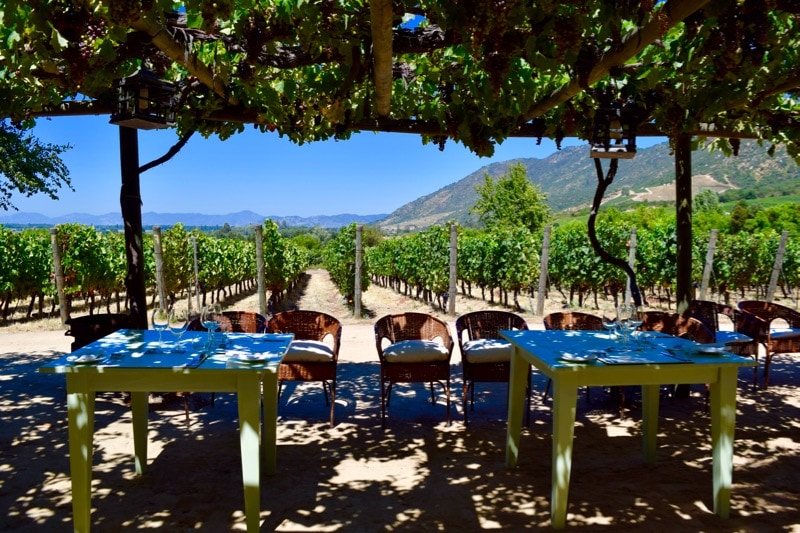 After a few delicious canapés and a glass of bubbly, we sat down to enjoy a three-course lunch with wine pairings. For starter, a sumptuous cube of oak wood smoked salmon served with beetroot, mixed leaves from the garden, mustard seeds and a tart passion fruit dressing. It was a delicious and colourful dish, presented elegantly. Alongside it we enjoyed a glass of Lapostolle Cuvee Alexandre Sauvingnon Blanc 2014, which was sweet and citrusy with notes of tropical fruit and spices.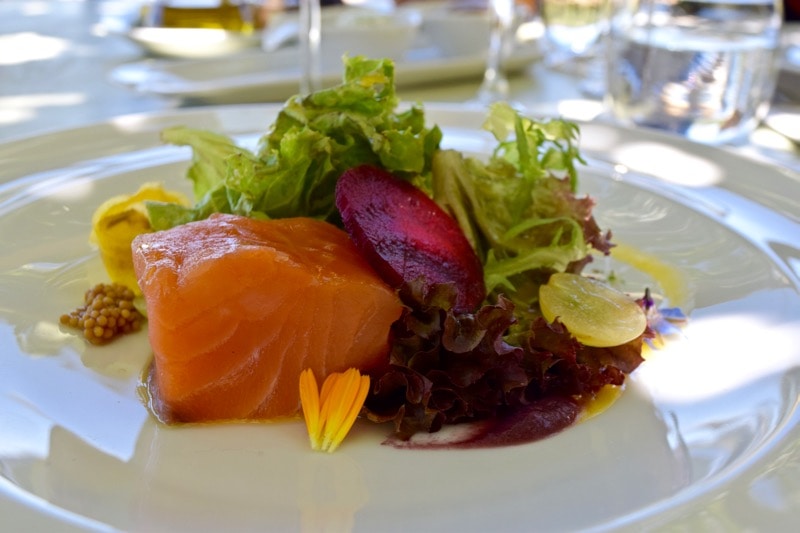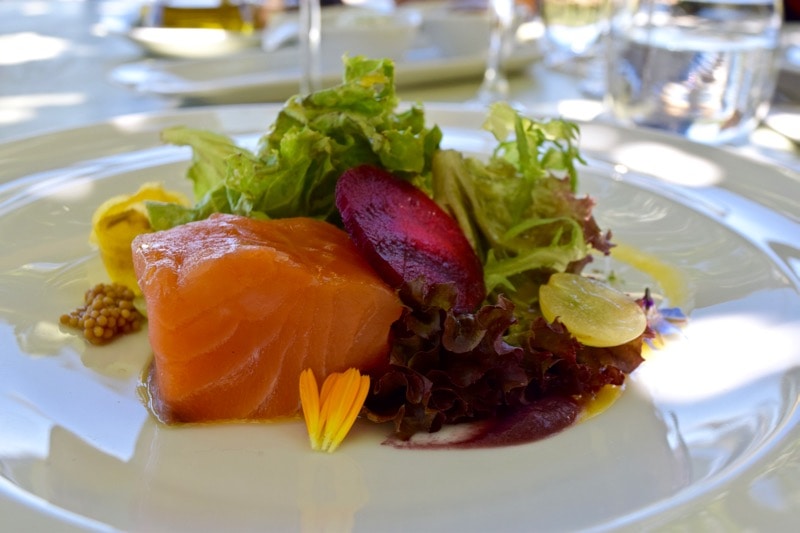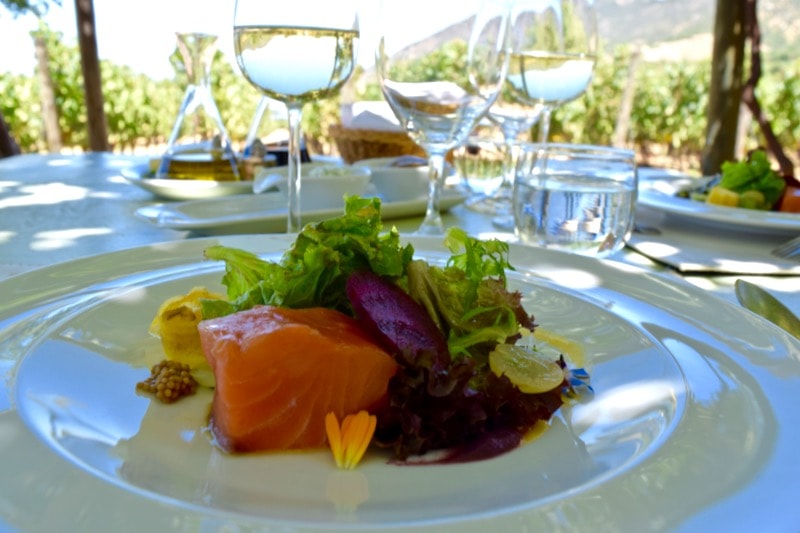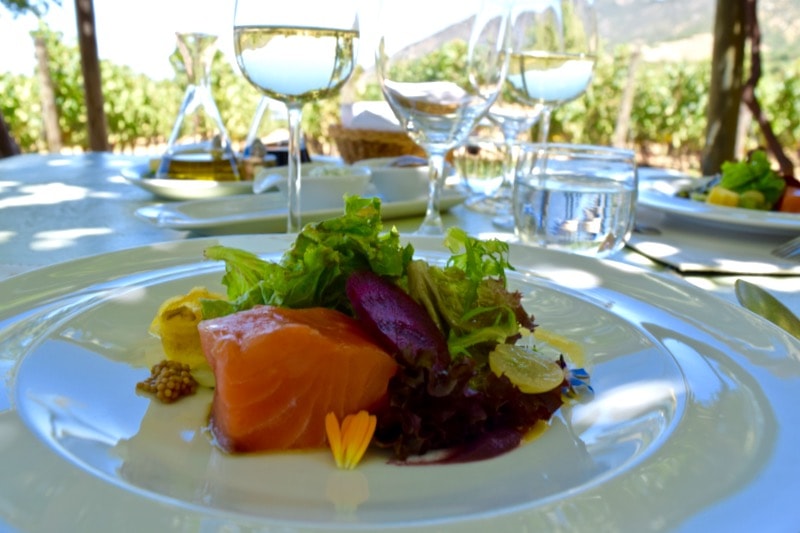 After the light, summery starter, I was excited for the heavier main of beef loin with roasted pumpkin puree and cherry tomatoes – fresh from the garden! It was a perfectly balanced dish; the sweet pumpkin and tangy tomatoes complemented the rich meaty flavours of the beef. It was only improved by the glass of Lapostolle Cuvee Alexandre Cabernet Sauvignon 2013 with its earthy notes of tobacco and bitter chocolate.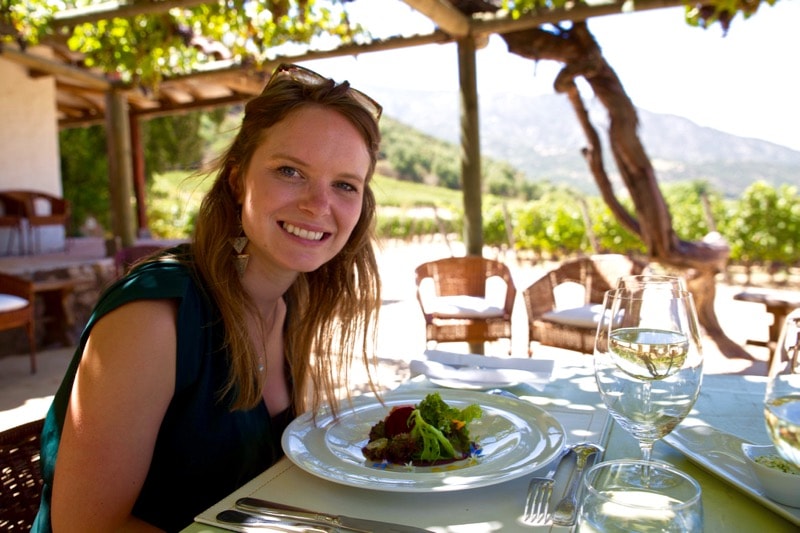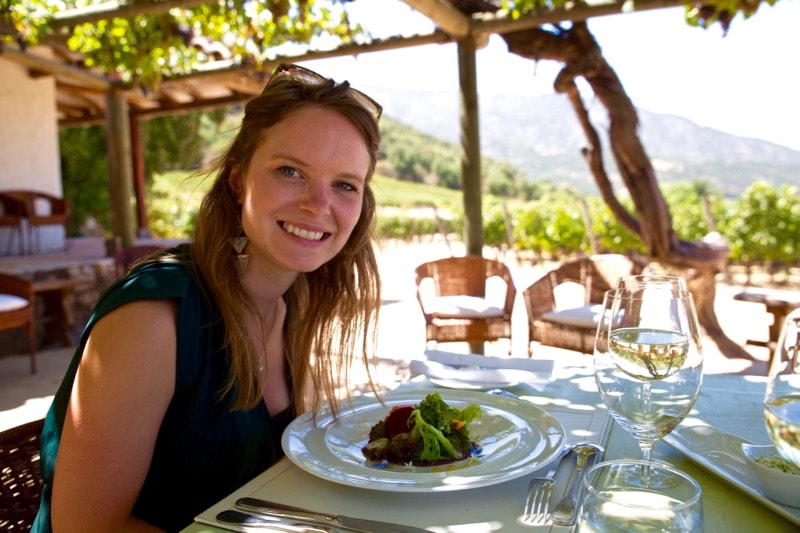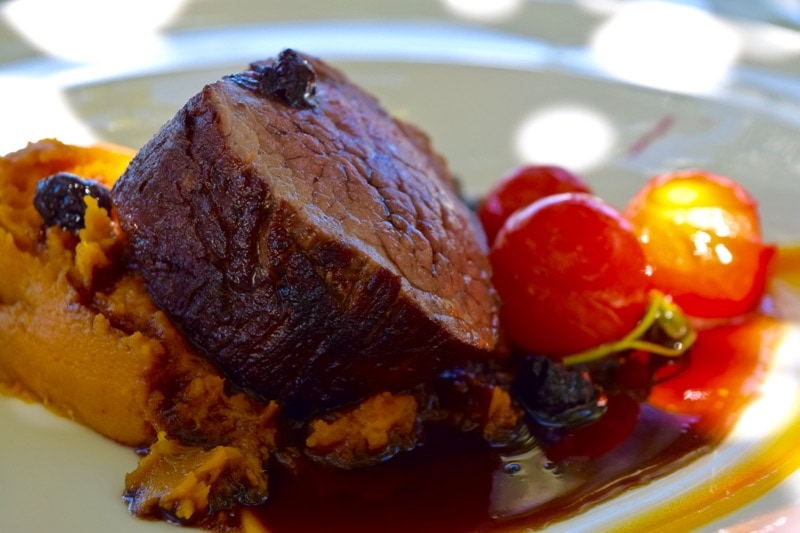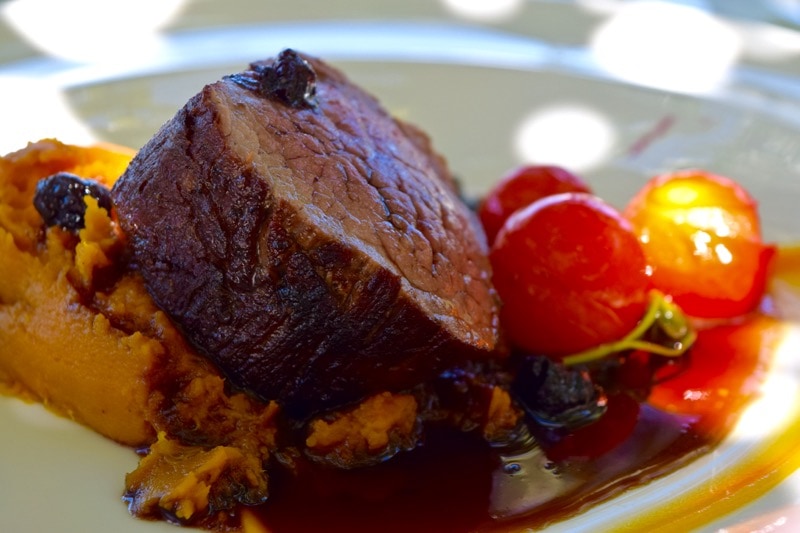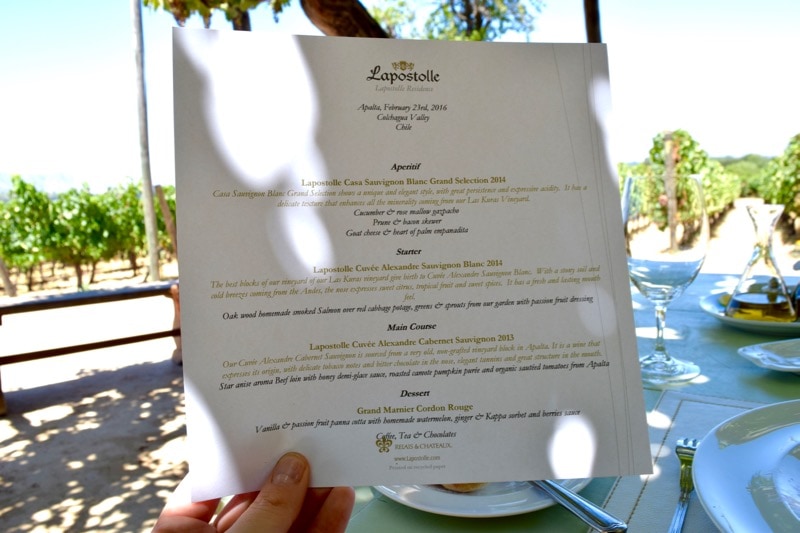 To round off an exceptional meal, we enjoyed glasses of vanilla panna cotta topped with passion fruit, accompanied by watermelon and ginger sorbet, drizzled with a tangy berry sauce. It was refreshing, sweet, indulgent and fruity all at once! I thought it was a lovely touch to finish the meal with a glass of Grand Marnier – after all that's where Lapostolle began.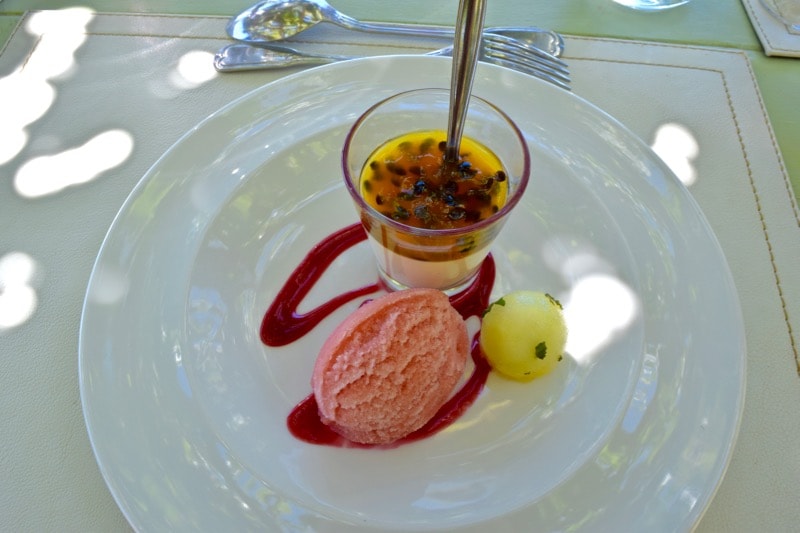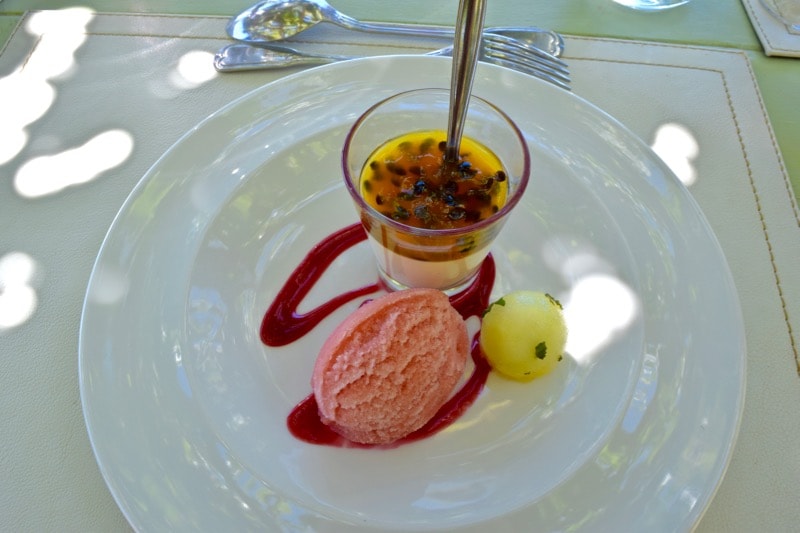 After a cup of coffee it was time to leave the beautiful grounds of Lapostolle. It was an experience that would be difficult to forget – especially the secret cellar. I couldn't wait to show people the photos… and the meal won't be fading from my memory anytime soon either!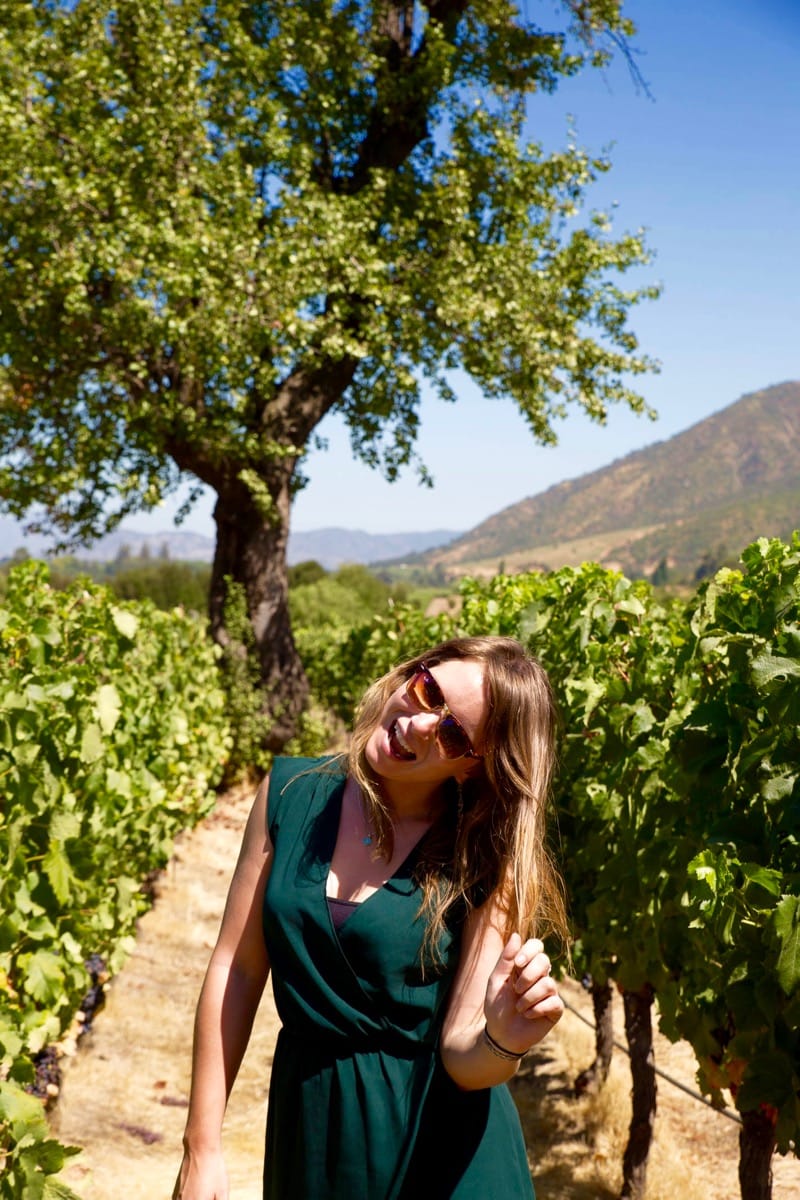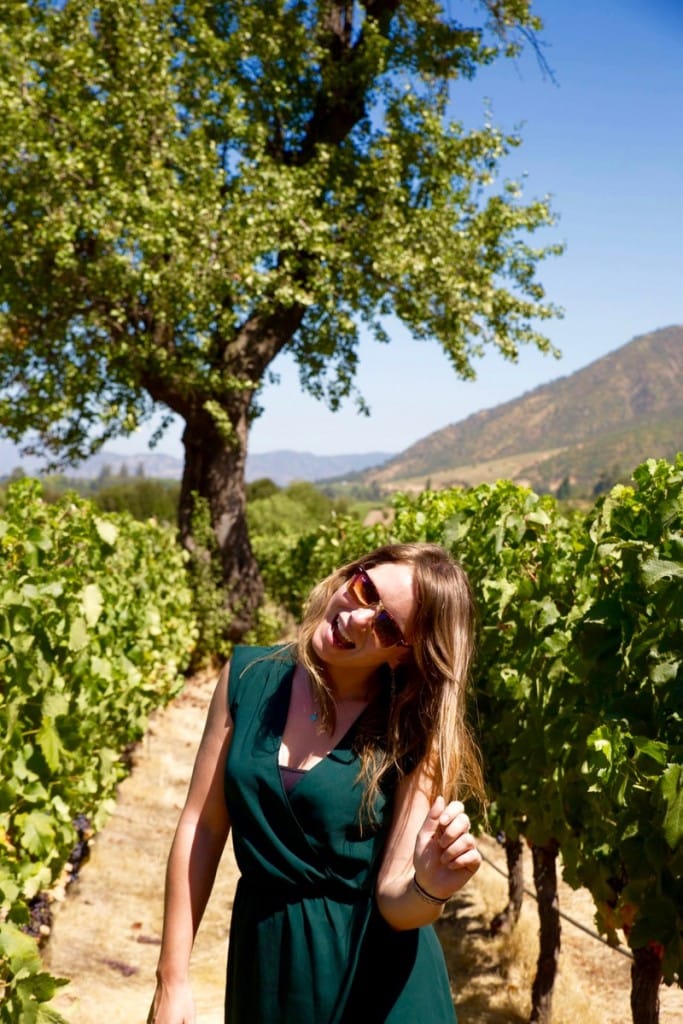 Lunch including a glass of wine costs from CLP $40,000 (approx. £40). A tour of Lapostolle's winery with tastings costs CLP $20,000 (approx. £20) Tours run daily but make sure you book in advance.
Many thanks to Diego and his team at Lapostolle for taking great care of us!
Enjoyed this post? Why not pin it?