From walking the city walls, to the beauty of York Minster and the old-world charm of the tearooms and shops, it's time for the ultimate weekend in York!
I've just got back from a whistle-stop tour of three beautiful English cities – Durham, York and Lincoln. I've written all about my trip, but I felt like I had SO much to share from York, that I've decided to write an entire post about the city. Out of the three, I think it's the best option for a weekend break.
There's lots to see and do, a lovely buzz, and tonnes of cafes, bars and restaurants to choose from too. It also surprised me just how easy it is to get to York from London. The LNER train to York takes under two hours, and once there, the station is nice and close to the action.
York is compact enough not to need a car, and large enough to keep discovering new things. I was only there a few days, and no doubt there is SO much I missed… but, I think this guide to spending the weekend in York is a great place to start.
One big recommendation I have is, if you like photography, to set your alarm early! Even in the winter, York is a touristy city, so places like The Shambles and York Minster get really busy. If you want to take some pretty photos of the city, get up early and catch that lovely morning glow. I certainly don't regret the early start to capture these photos…
So whether you want to eat your way around the city, immerse yourself in its history, or just amble from shop, to café, to attraction, it's time to find out the best things to do in York on your special weekend away.
---
Top Things To Do In York
Walk York City Walls
You can't get closer to history than by walking on it! York's City Walls are the longest medieval town walls in England (3.4km). While the original city walls were built around 71 AD, the majority of what you se today date back to the 12th – 14th Century. Not only is it a lovely experience to get right up close to York's history, it offers a great tour of the city, showing you plenty of the key sights along the way!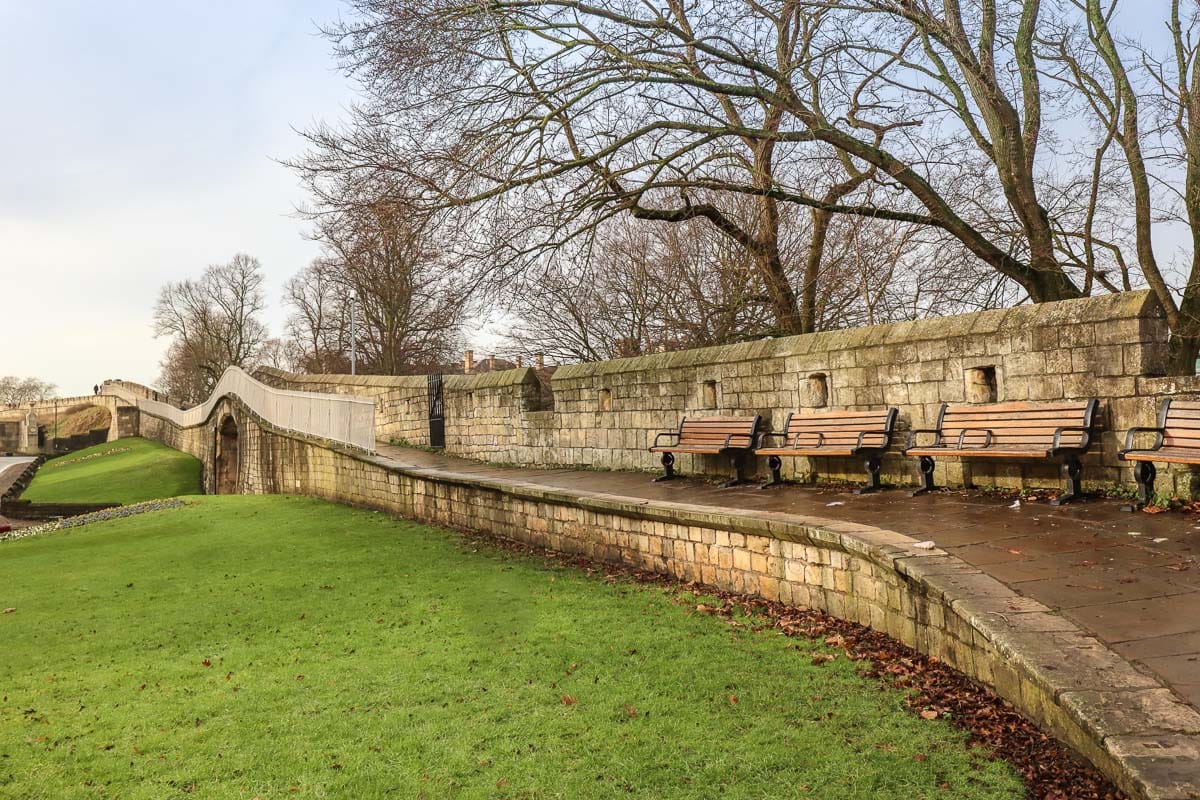 Visit York Minster (And Climb The Tower)
The icon of the city, you can't visit York and not venture inside York Minster. Beautiful outside, the cathedral is even more breath taking on the inside. Constructed between 1230 and 1472, it's an incredible example of gothic architecture.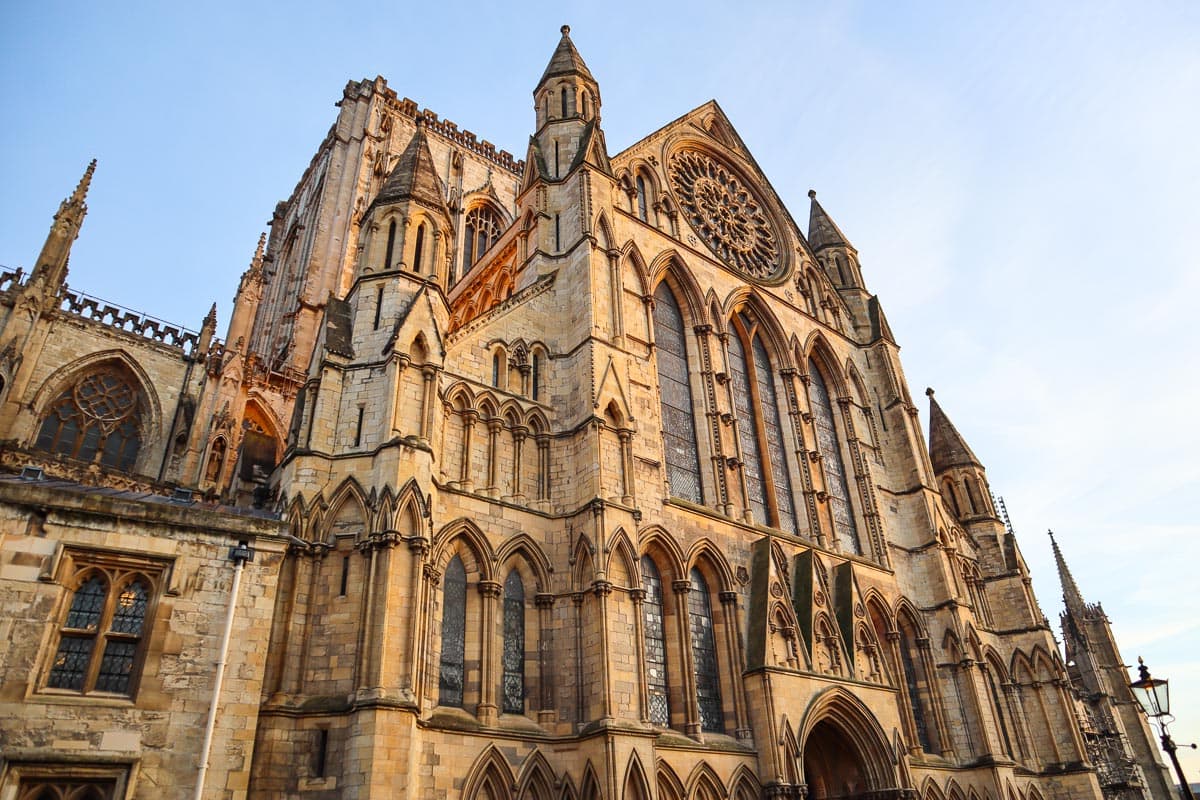 Once inside you can buy a ticket to climb the tower, which I'd definitely recommend. It offers 360-degree views of York, and is a great place to snap some pics.
It's worth noting that there's only one route up and down, so you'll be booked onto a time slot and make the climb as a group. If you're claustrophobic, don't like heights, or have little kids, I'd avoid it!
York Minster Ticket Price: Adults £11, seniors and students £9, children free (with a paying adult)
York Minster + Tower Ticket Price: Adults £16, seniors and students £14, children £5 (children must be 8+ to climb the tower)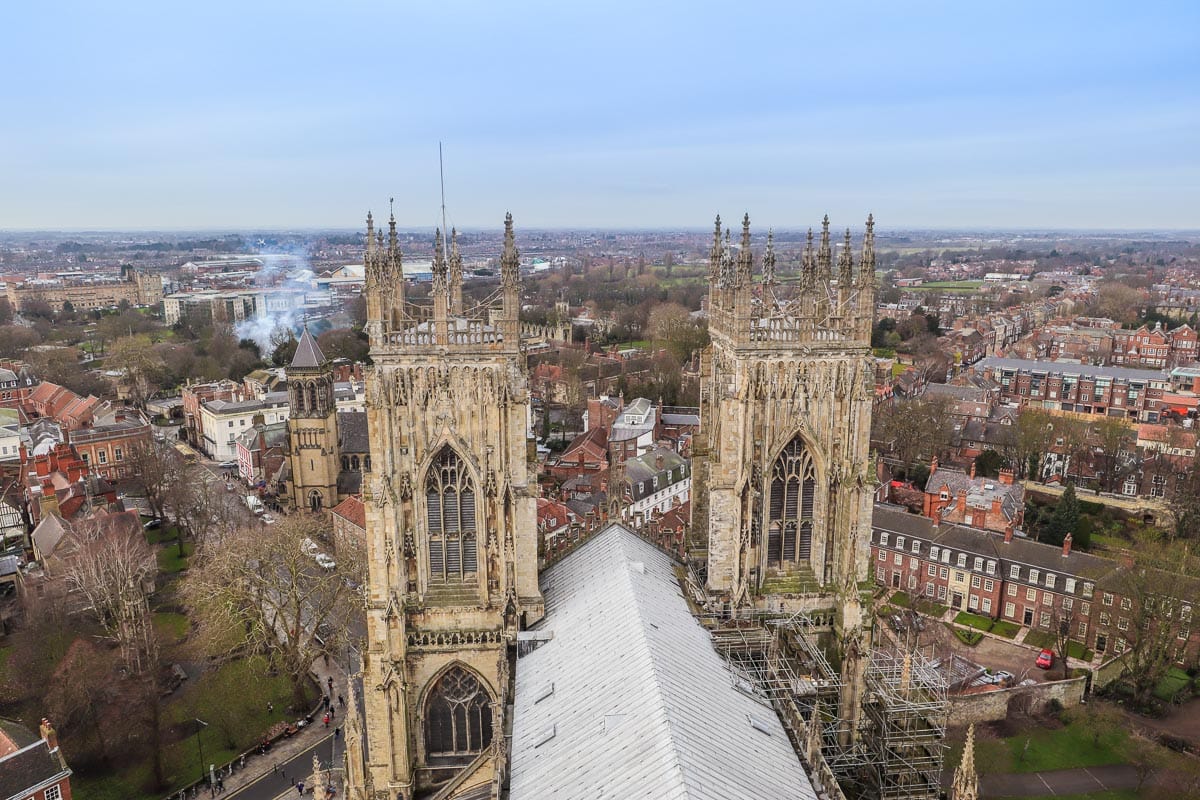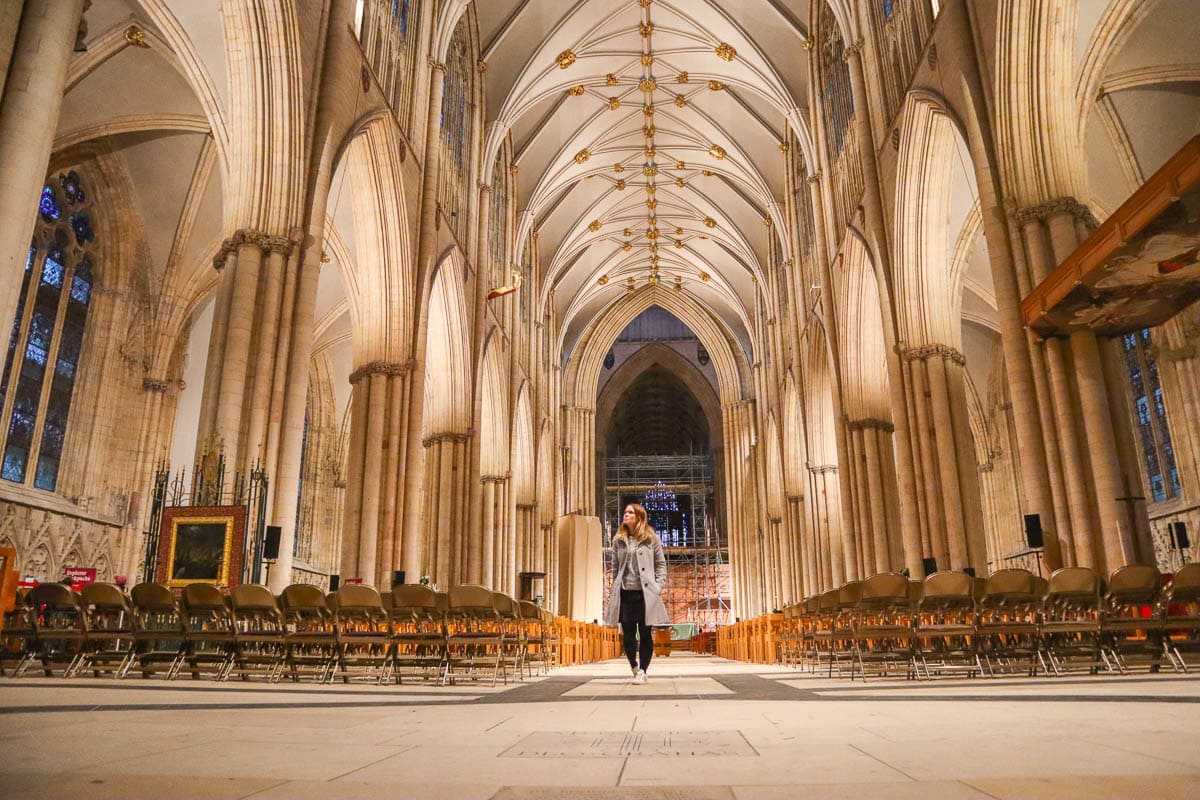 Go For A Drink In One Of The Most Intriguing Bars In York
If you like a drink, then you're going to love York! There are pubs and bars all over the city, and lots are packed full of history and character. Ye Olde Starre Inne is one of the oldest pubs in the city (dating back to 1644).
Meanwhile, The Golden Fleece is another ancient wonder, and is best known for being the most haunted pub in York. There have been plenty of ghostly sightings, with many people spotting Lady Alice Peckett (wife of the mayor of York and hotel owner) wandering the hotel areas and moving furniture in the night! Eeek!
If gin is your favourite tipple, head to Evil Eye. I didn't have time to squeeze in a visit, but the bar is famous for its gin menu, and by the shopfront packed with gin bottles from around the world, you can see it takes it very seriously!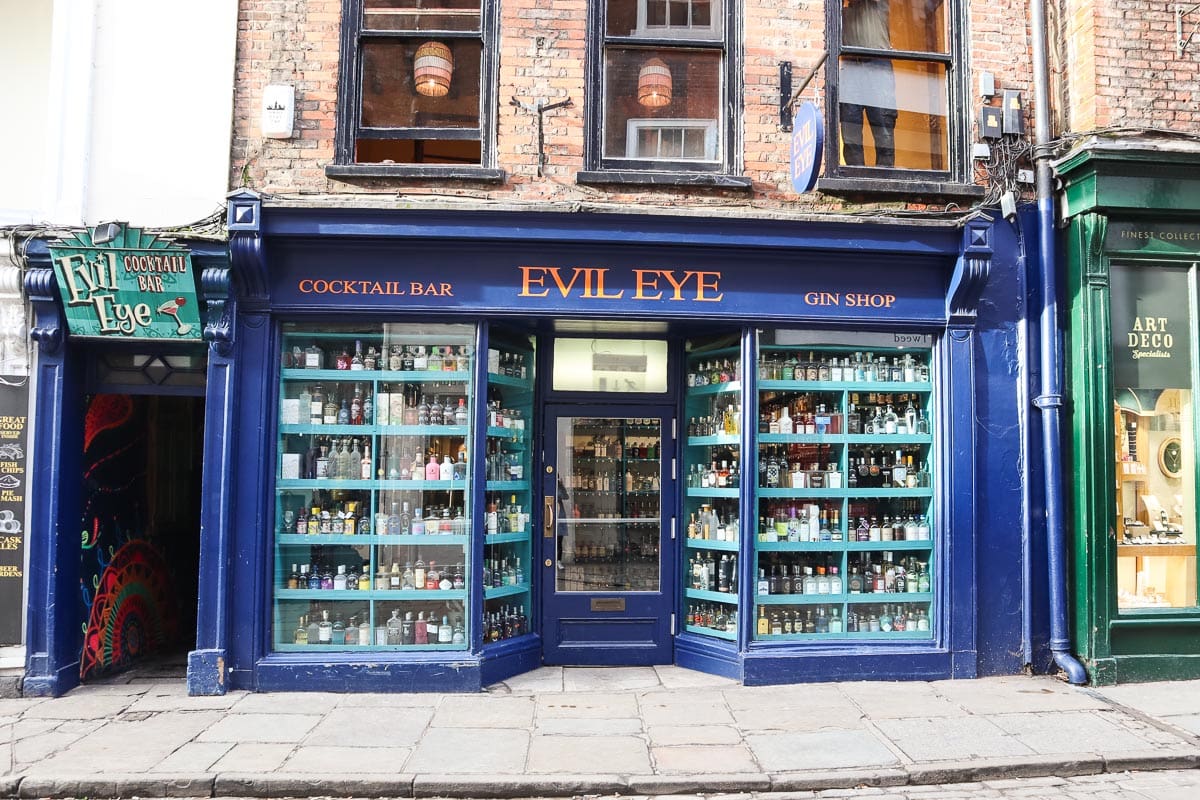 If you're a beer lover, don't miss The House of Trembling Madness – a medieval alehouse which started life as part of the first Norman house in York way back in 1180 AD. They serve lots of cool craft beers, plus during the day I saw lots of people stopping by for coffee and cake.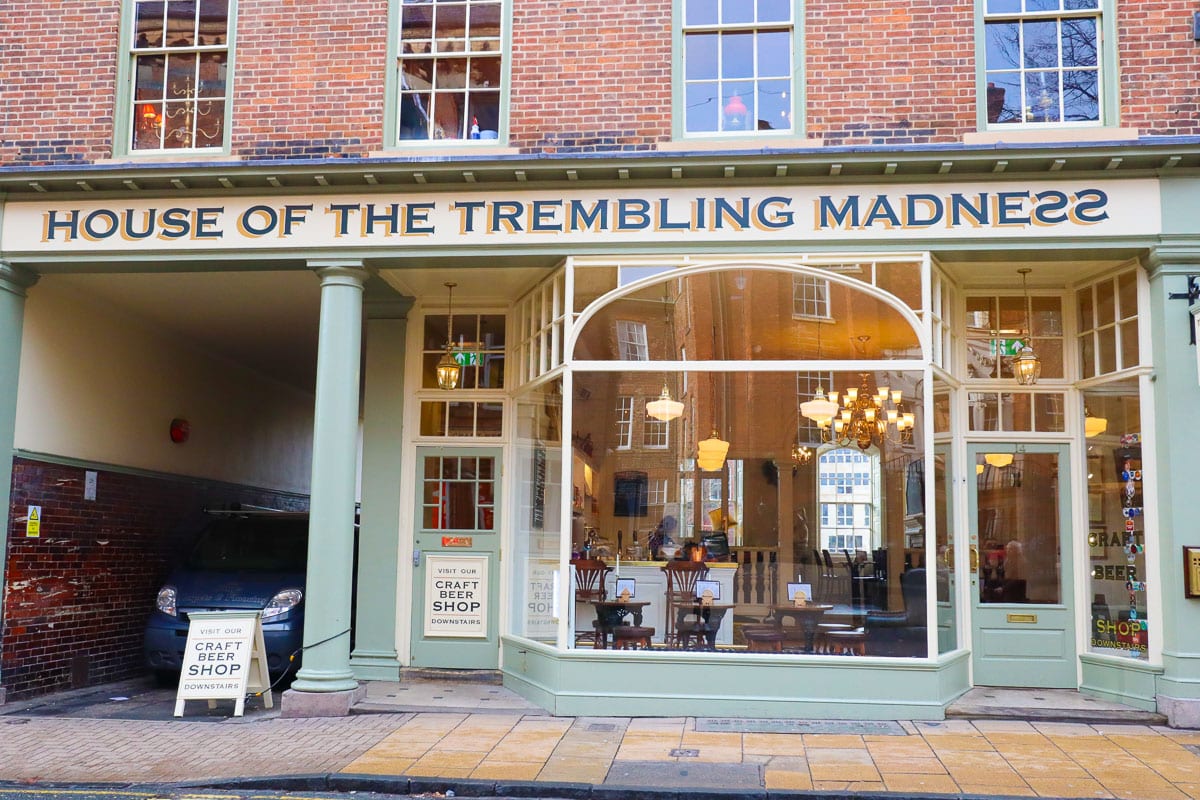 Climb Clifford's Tower
I visited Clifford's Tower twice during my time in York. The first time was at sunrise to take some pictures. The second was to climb it. The tower is almost all that remains of York Castle, which was built by William the Conqueror.
From the top, there are some lovely views of the city, including over to York Minster… so even if you've climbed the cathedral tower, you'll enjoy a totally different view from here! Oh and York Castle Museum is close by, if you want to learn more about that after your climb!
Clifford's Tower Ticket Price: Adults £5.40, concessions £4.90, children £3.20 (age 5-17)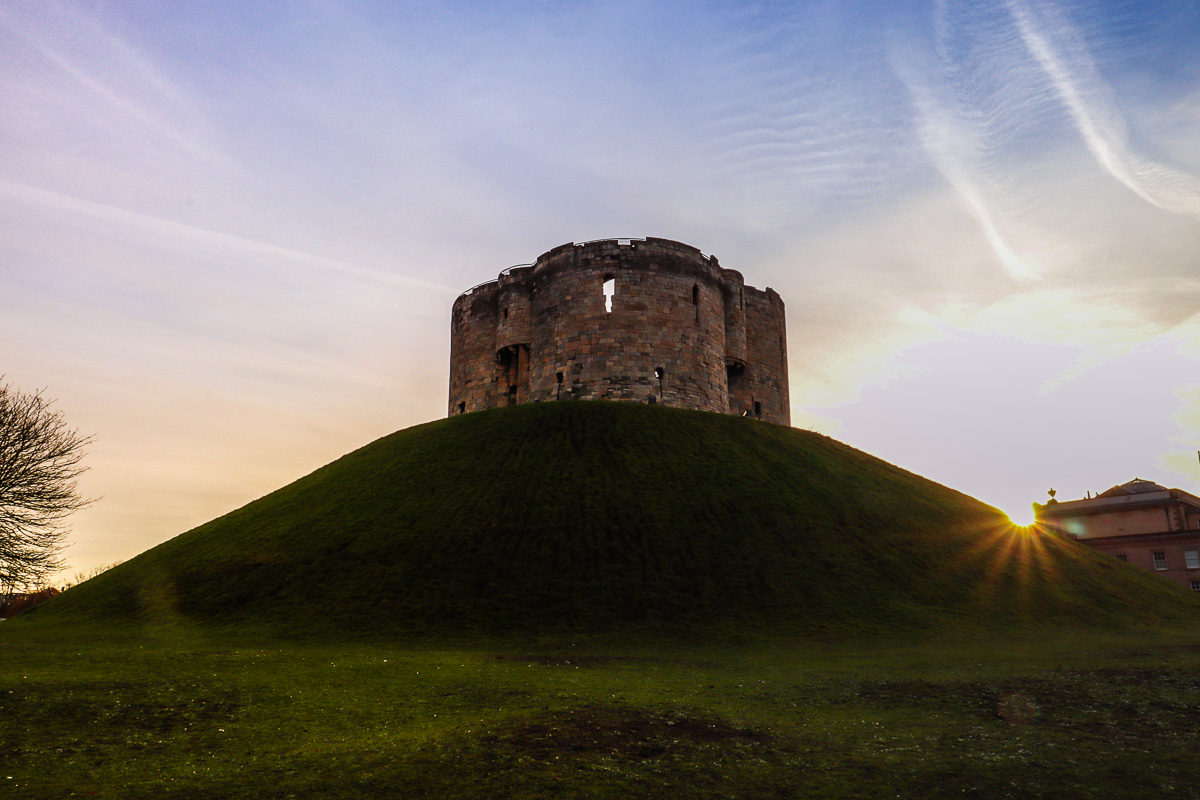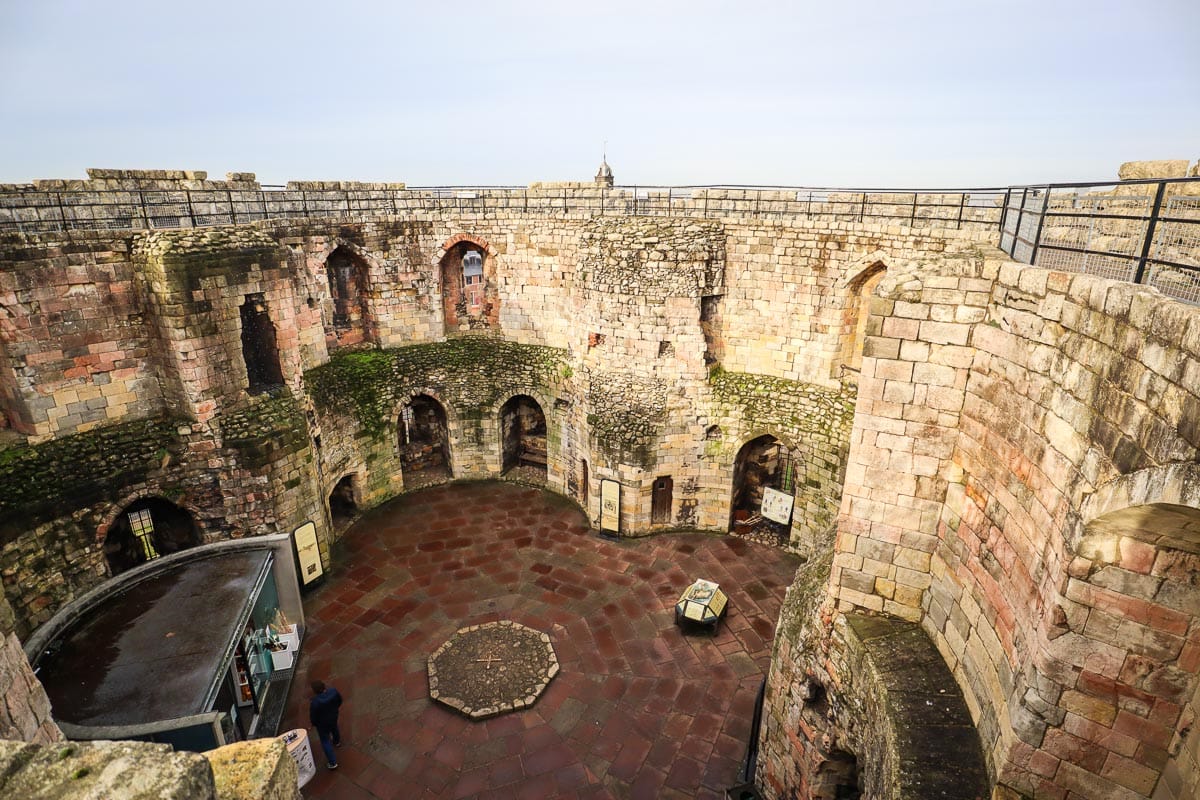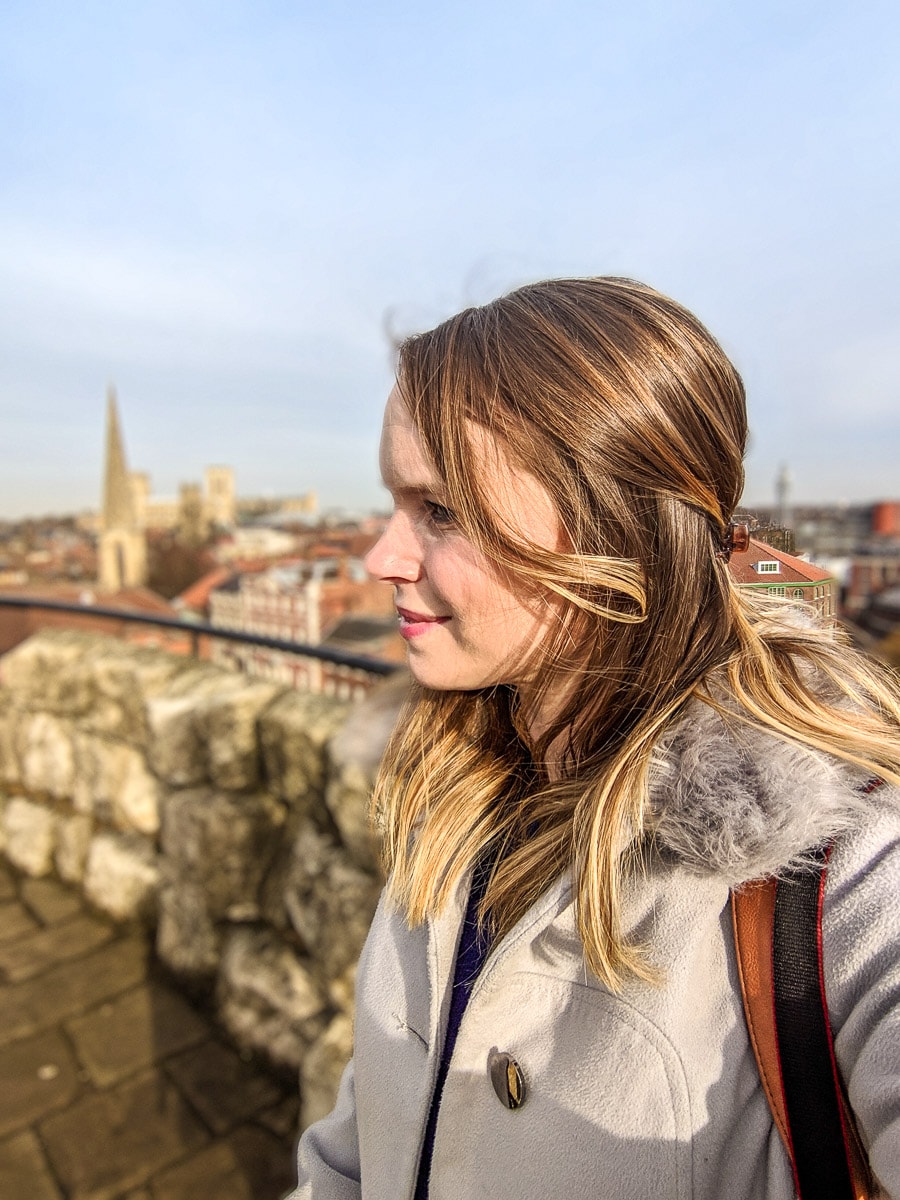 It's pretty incredible to imagine York, or Jorvik, as a bustling Viking city around 1,000 years ago! In fact, by 1066 over 15,000 people lived in Jorvik making it England's 2nd city.
This city centre museum sits on some of the ruins, features ancient objects found on the site, and gives you a feel for what life would have been like back then. There's a unique ride, which brings the old city to life, with animatronics, sounds and even smells!
Jorvik Viking Centre Ticket Price: Adults £12, concessions £10, children £8 (age 5-16)
If you're planning to visit lots of York's main attractions, it might be worth picking up a York Pass which includes entry to 38 attractions in and around York.
Have A Meal At Bettys (And Try A Fat Rascal)
Oh what a reputation Bettys has! It's THE place in York for afternoon tea or a sweet treat. I learned more about the history of the tearoom when I visited, discovering it was set up by a Swiss baker 100 years ago. For that reason, there are plenty of Swiss dishes on the menu too.
Knowing I'd be eating my bodyweight in sweet treats during my time in York, I went for a savoury main course. Bettys is famous for the fish gratin, which was creamy, with a hint of smokiness, and absolutely delicious.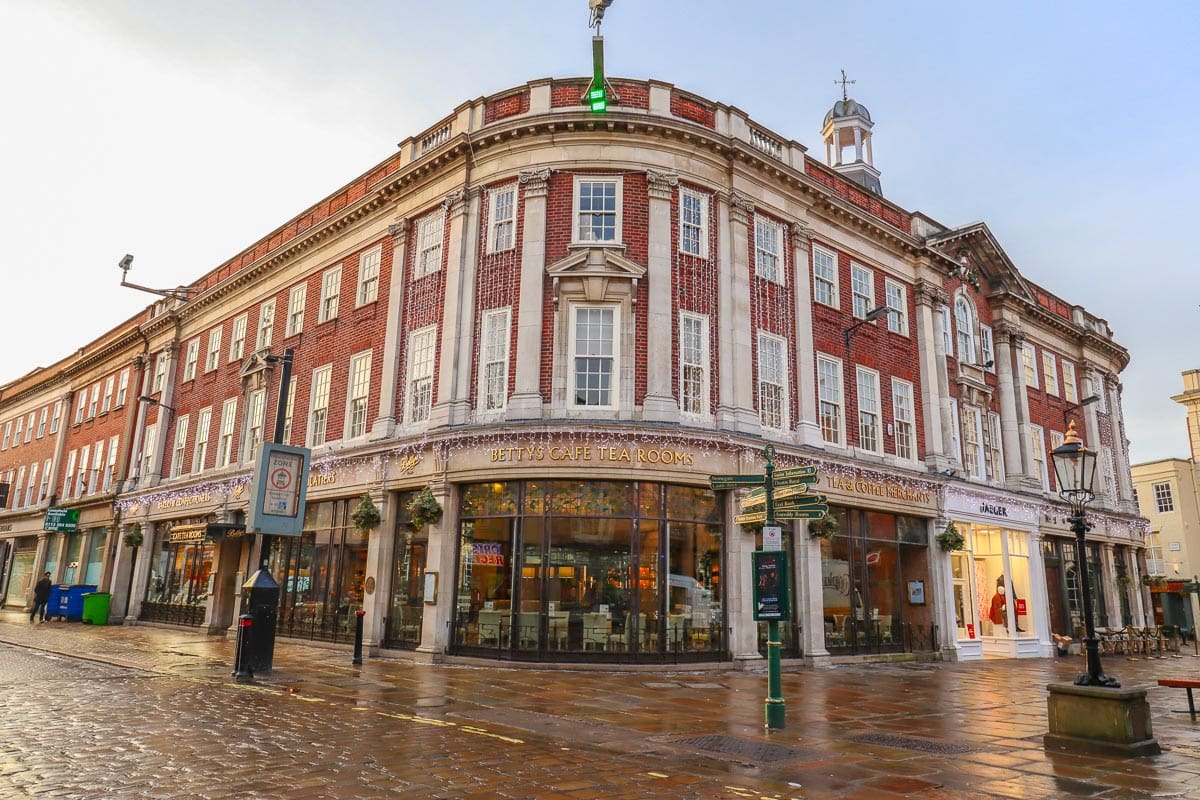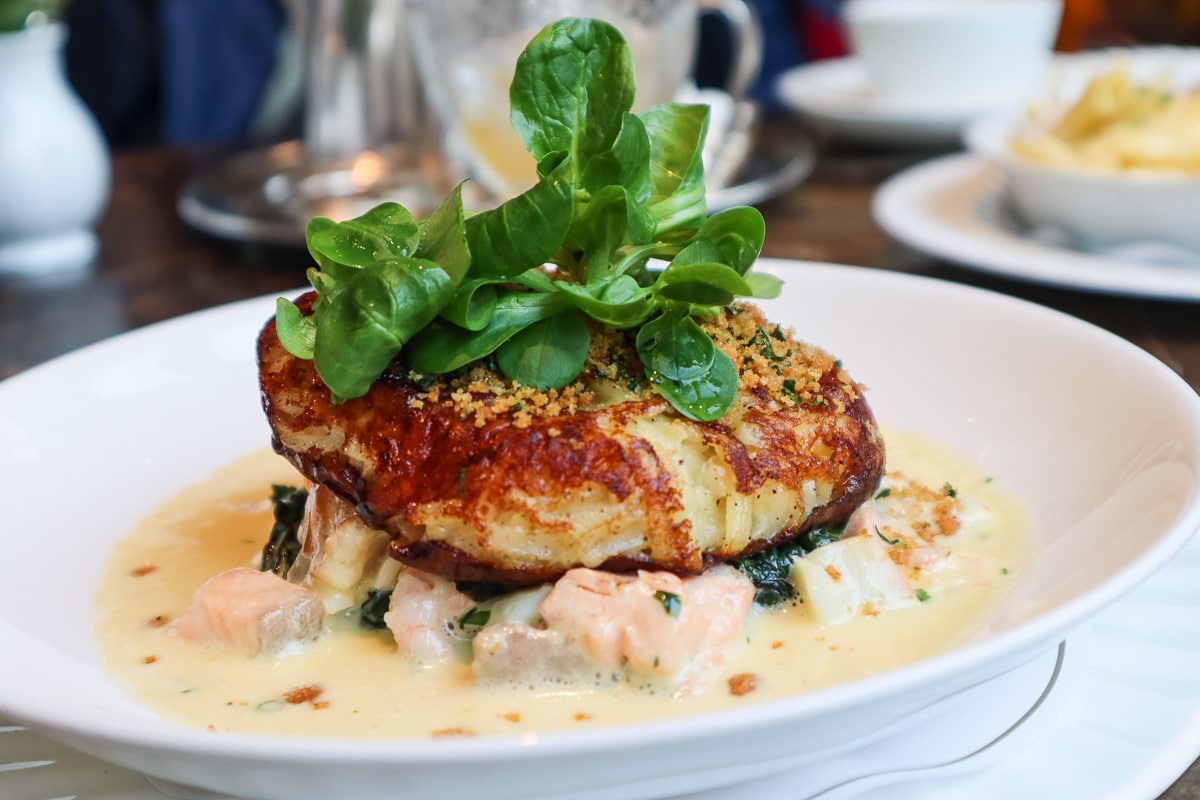 If you visit Bettys, you can't miss trying a 'Fat Rascal'. I grabbed one to take home. It's a type of scone created in Yorkshire, which resembles a face, with eyes made from glacé cherries and a mouth made from almonds!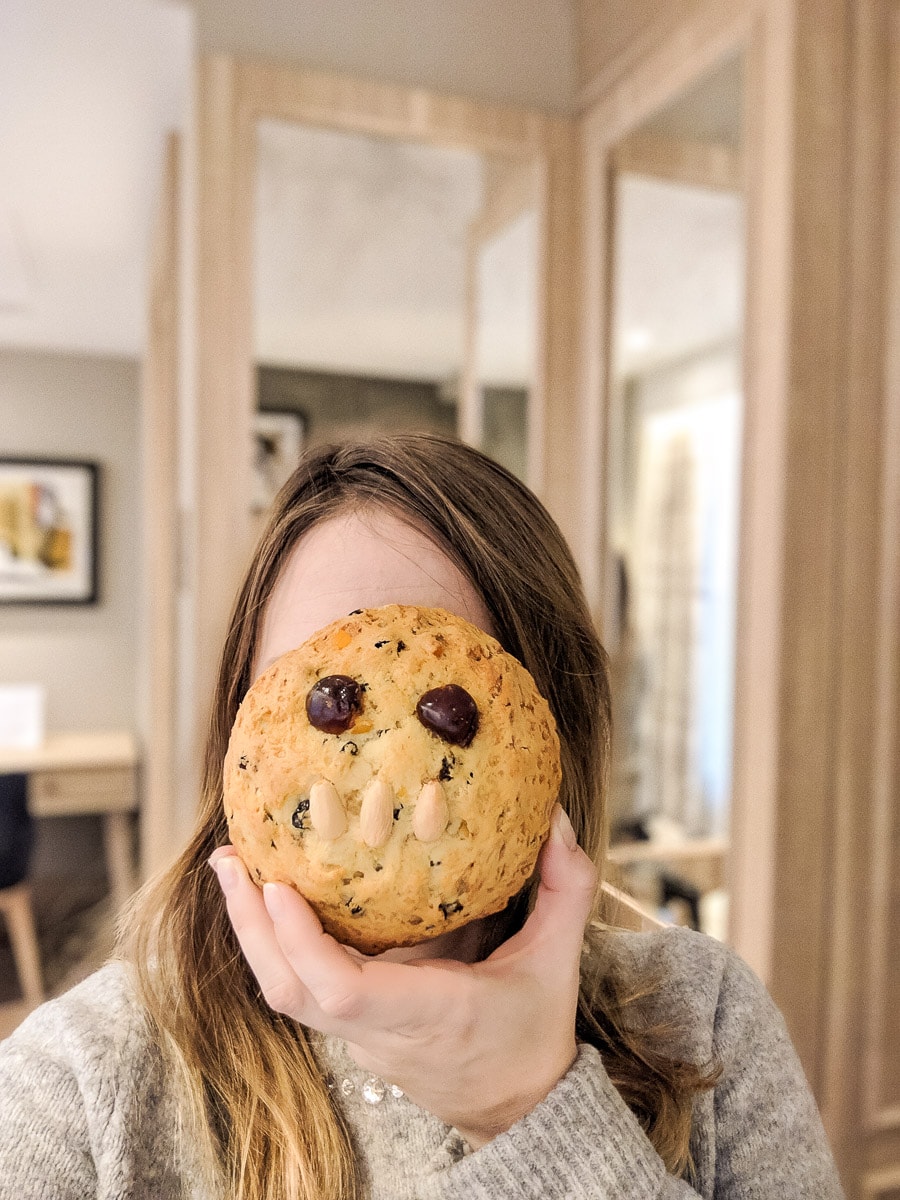 If you're looking for other tips for your time in the city, don't miss my guide to 8 fun and unusual things to do in York.
Wander The Shambles
The Shambles is one of those quintessential old English streets you see on postcards of England! With wonderfully wonky buildings dating back to the 14th Century, and a mix of tourist shops and foodie options, it's a lovely place to have a wander. These days it's a little overrun with Harry Potter shops (as it's likened to Diagon Alley), but there are some charming shops to pop into too.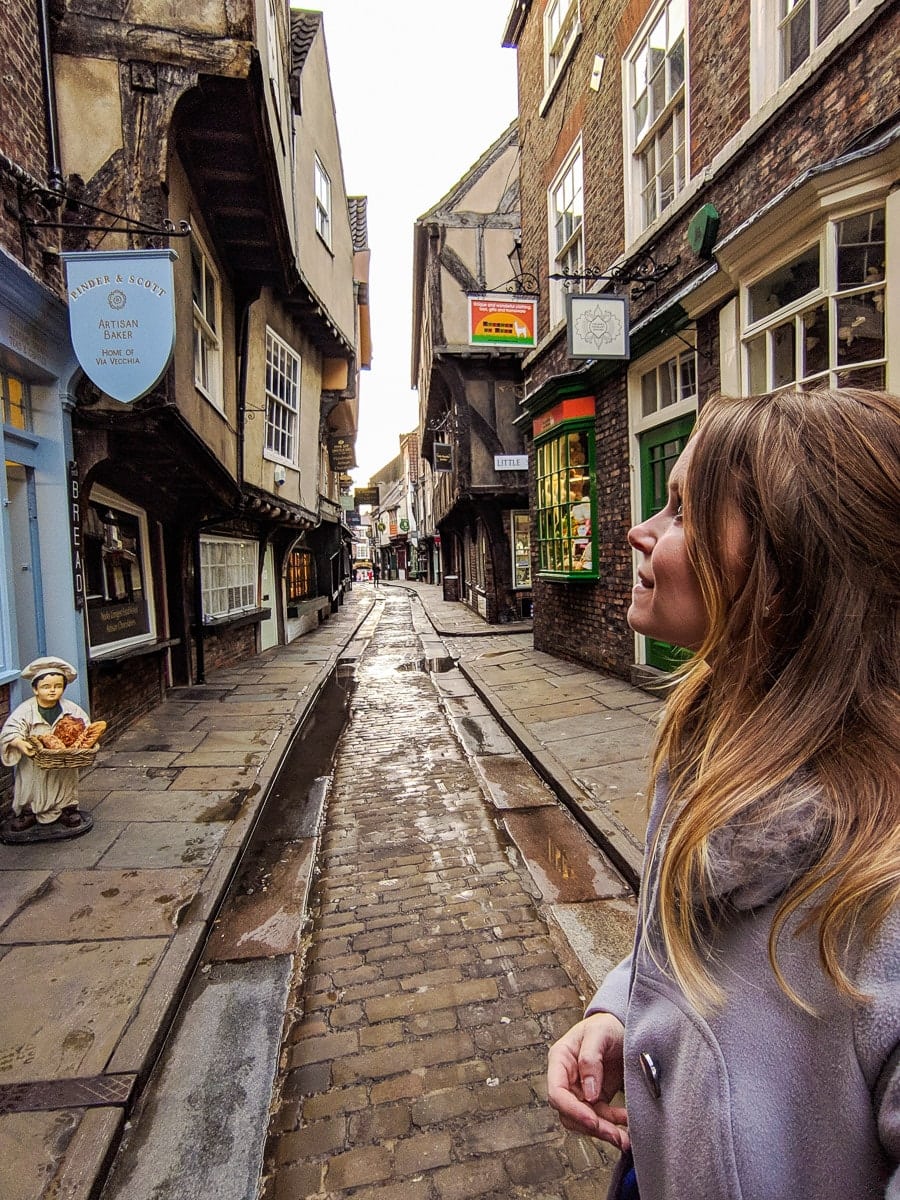 The Shambles gets very busy during the day – I fought through crowds on my first afternoon, and then decided to revisit early the next day to enjoy it without the people, and snap some photos with nobody else in!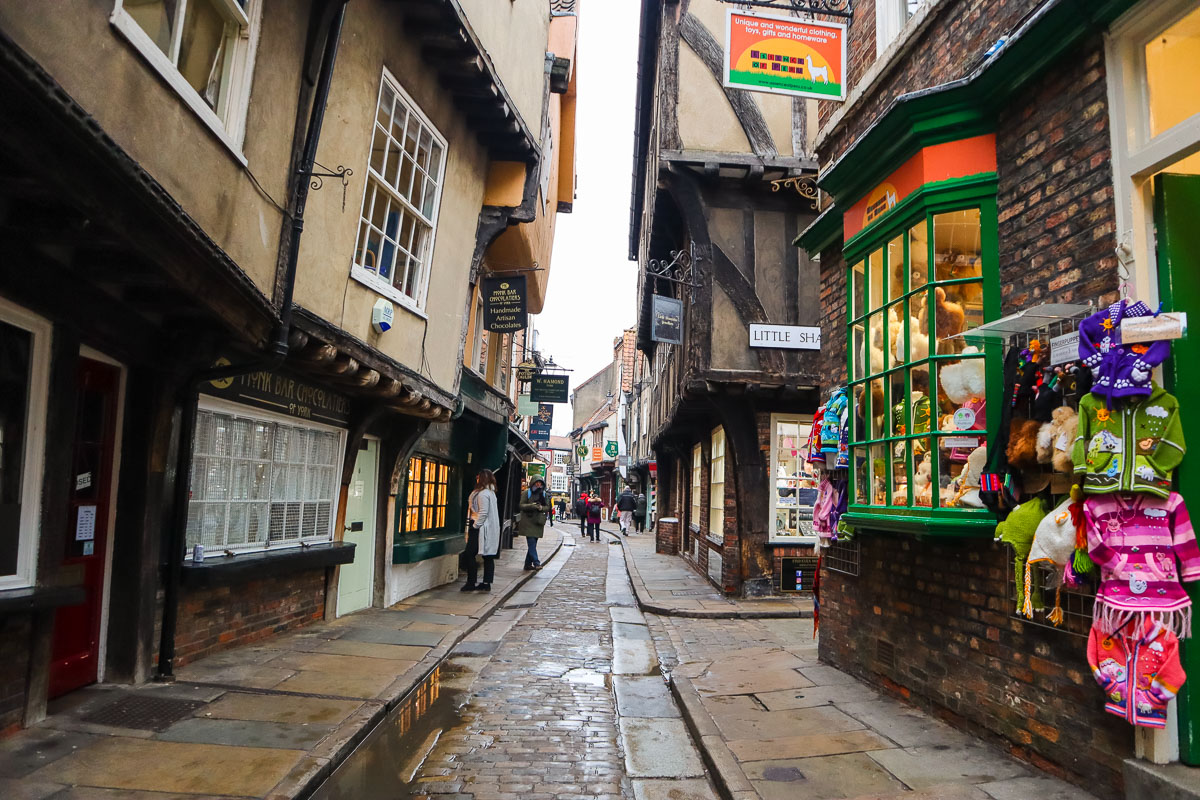 Then Visit Shambles Market And Try Some Street Food
Just a street away from The Shambles is this market, which has a mix of traditional market traders (you know, fruit & veg, batteries, big pants…!) plus tourist stalls selling things like fudge. There are also several street food vendors, some in vans, others with more permanent setups.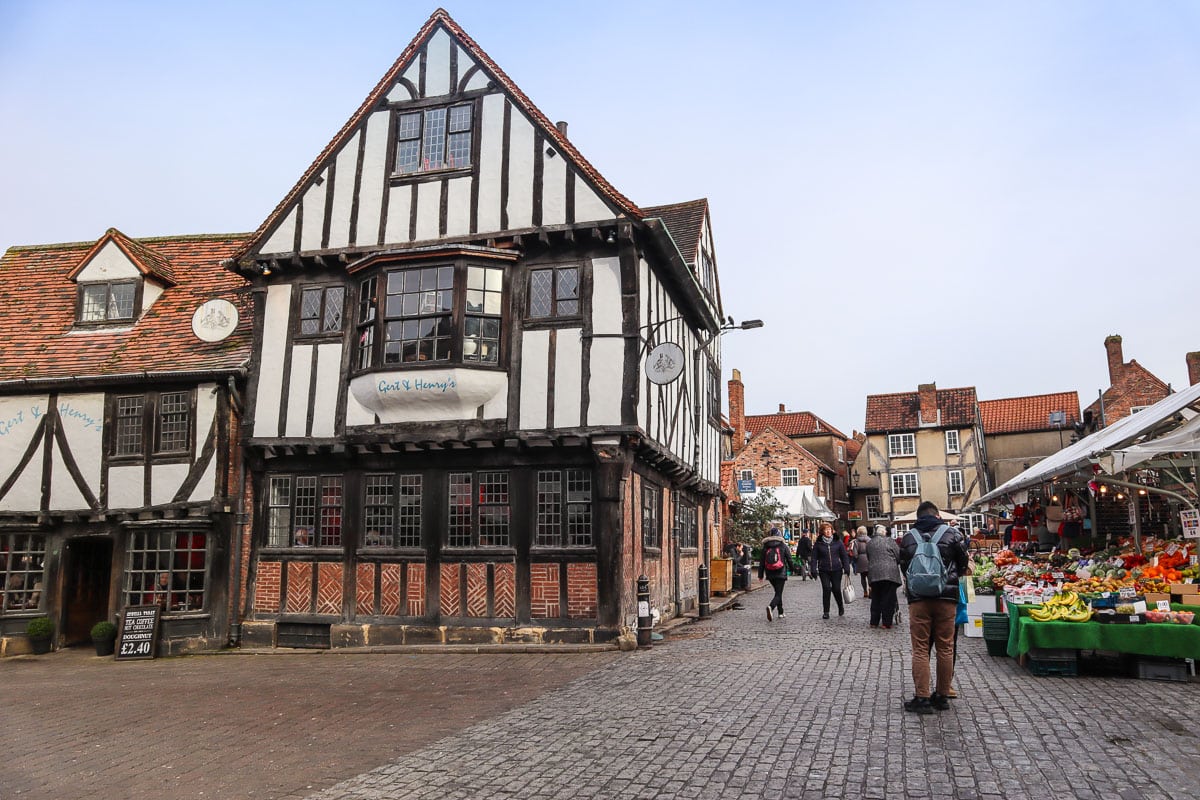 The Indian street food and Moroccan wraps both smelled amazing, but I went for the 'pinkey burger' from The Taylor Made Kitchen. It came in a bright pink brioche bun, with halloumi, chorizo and tasty black garlic pesto.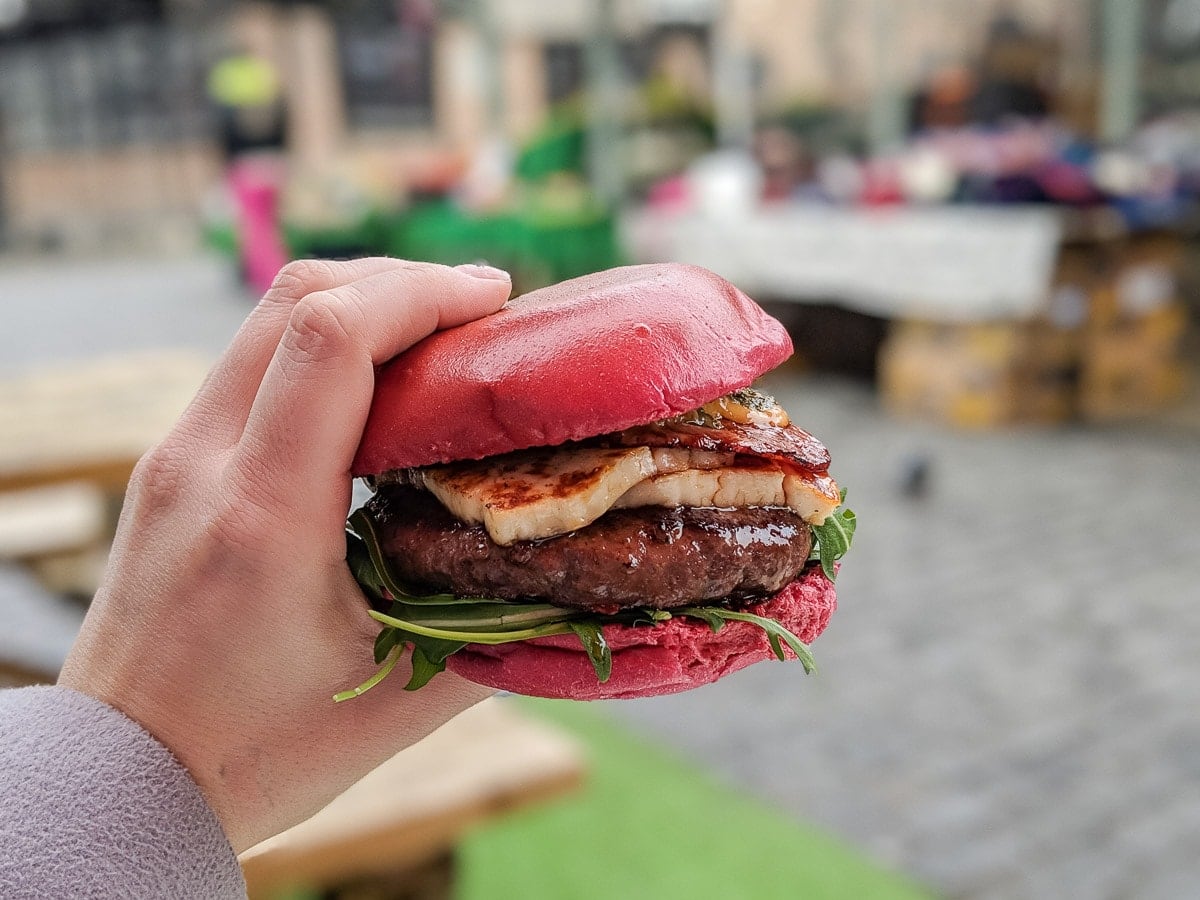 There's also a cool bar that looks like it'd fit in well in the Alps! On the menu – mulled wine, hot toddies, and crepes.
Stop For A Coffee In York City Centre
If you fancy a coffee and a cake in York, then there are SOOO many places to choose from! Here a few of my favourite cafes in York:
Brew and Brownie – I had a lovely coffee here, as the rain started to pelt down one afternoon. Relaxed vibes and nice cakes, plus they have their second café down the road – Brew and Brownie Bakehouse.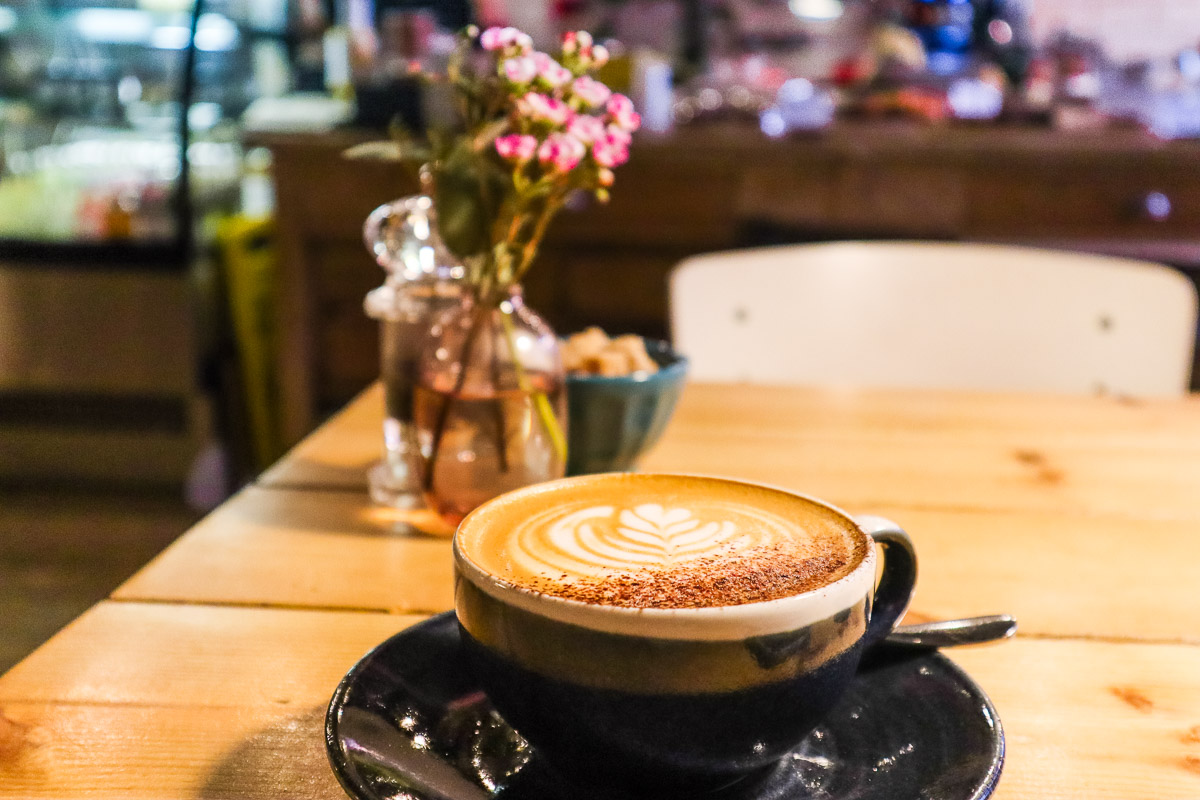 Mannion & Co – Close to Brew and Brownie, I stopped here after a long day of walking and couldn't wait to treat myself. Step up the mint aero brownie. It was very naughty, but totally delicious.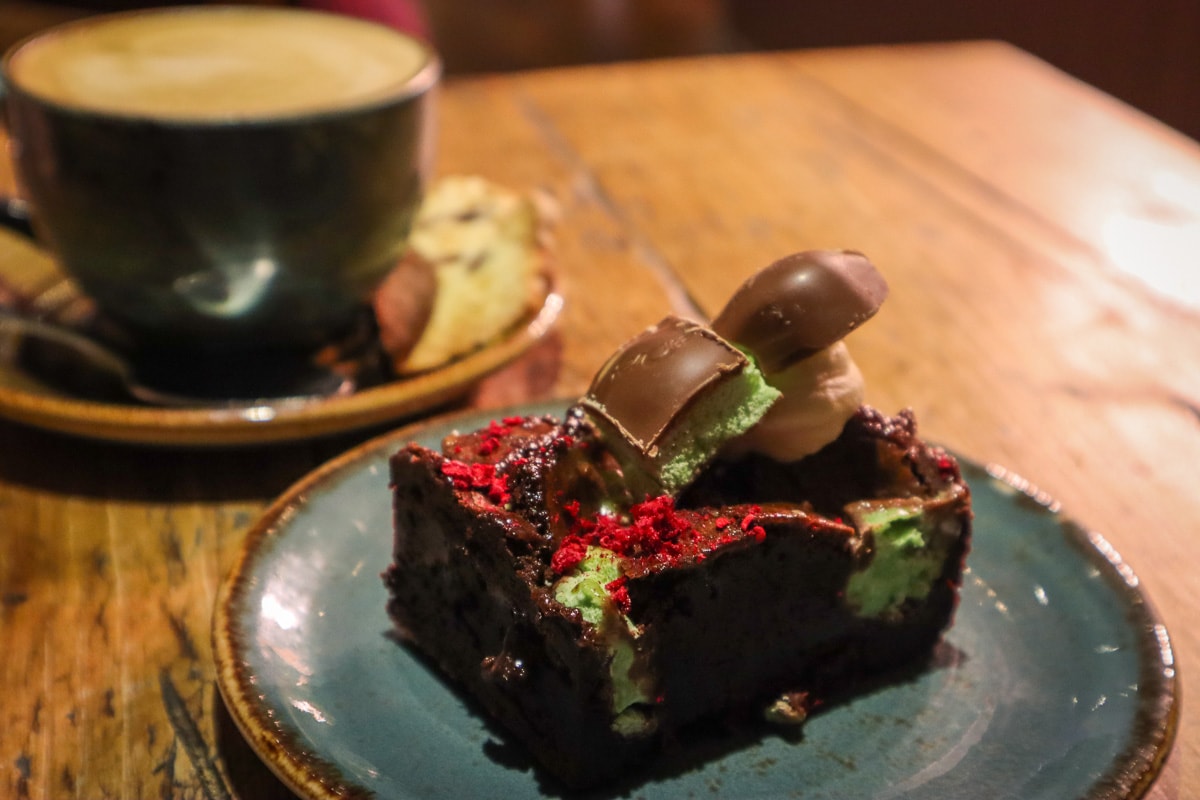 Forty Five Vinyl Café – I didn't have time to visit, but I passes by this York coffee shop a few times and thought it looked very cool! If you like retro vibes and a bit of vinyl, then it's a great place to stop for a coffee.
I also had Gatehouse Coffee and Newgate Coffee Bar recommended by a few people, so I'll be sure to check them out next time I visit York!
Enjoy York's Independent Shopping Scene
With plenty of time to mooch around the city, I absolutely loved how many cute boutiques and independent stores I stumbled across. Around Fossgate there were lots, including Botanic – a shop selling houseplants and botanical themed items and gifts. If you're looking for gifts, check out Grey Bear, which had lots of cute items for sale. For vintage and lifestyle goodies, I really liked Dog and Bone.
If you like bookstores, you're in luck – York has quite a few! Fossgate Books and Lucius Books are definitely worth a visit, especially if you're looking for special editions or something unusual.
Enjoy A Northern Roast… In A Wrap
Before my visit, a friend of mine from York said "forget the history, we put everything in a wrap and people went crazy." I laughed a lot at this, but it's absolutely true! At The York Roast Co, you can get a whole roast dinner in a wrap. They have their roasted meats in the window, and I have to say I was pretty tempted when I saw them – they looked SO delicious.
One of York's biggest and best attractions, the National Railway Museum is packed full of fascinating locomotives, from the oldest steam trains and royal carriages, to Eurostar and Japan's Shinkansen. This is definitely one of the best free things to do in York!
It's a really interesting museum, and you don't need to be a train spotter to enjoy it! There's lots for kids too, with demonstrations, a miniature railway you can hop on, and trains you can board and have a nosy inside.
On one of the main platform areas you can stop for a cuppa and a cake. When I visited, it was cute to see lots of OAPs enjoying the café there… no doubt the locomotives brought back a few memories from their pasts.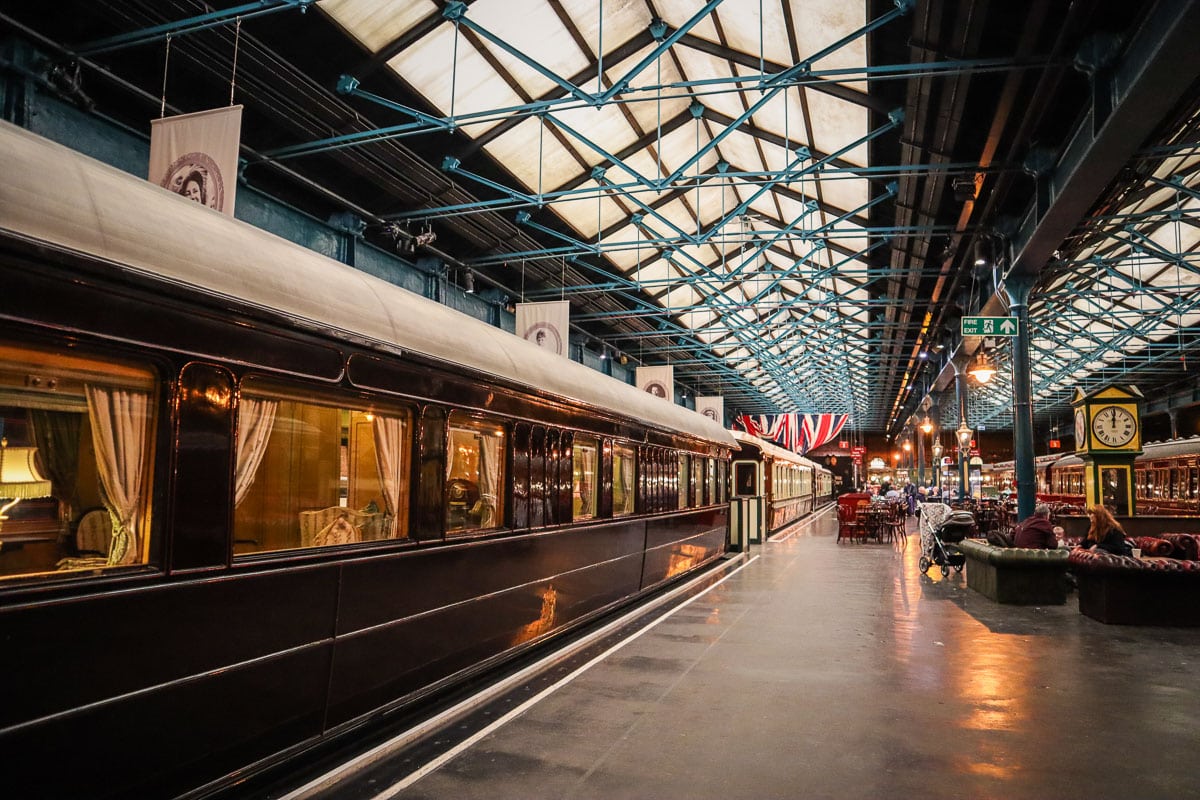 National Railway Museum Ticket Price: Free but a donation of £3 per person is suggested. You'll need to pay extra for a few of the attractions like the miniature railway.
Enjoy Some Tasty Street Food At Spark
If you've been to places like Pop or Dinerama in London, then consider Spark the York equivalent. Housed inside several conjoined shopping containers, there are several great places to grab a bite to eat here, and the vibe is very cool too.
Along with food vendors, there are some creatives working in the space at Spark too, including card shops, an interior design store and even a hair salon!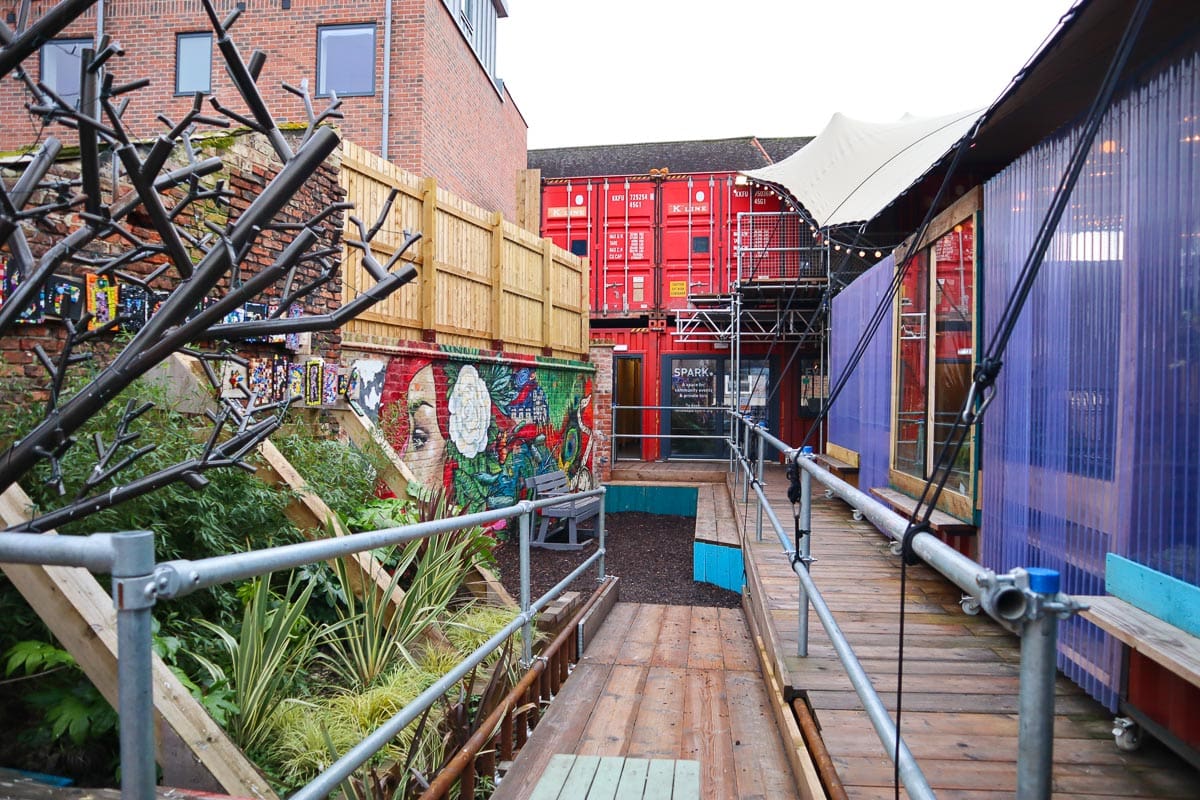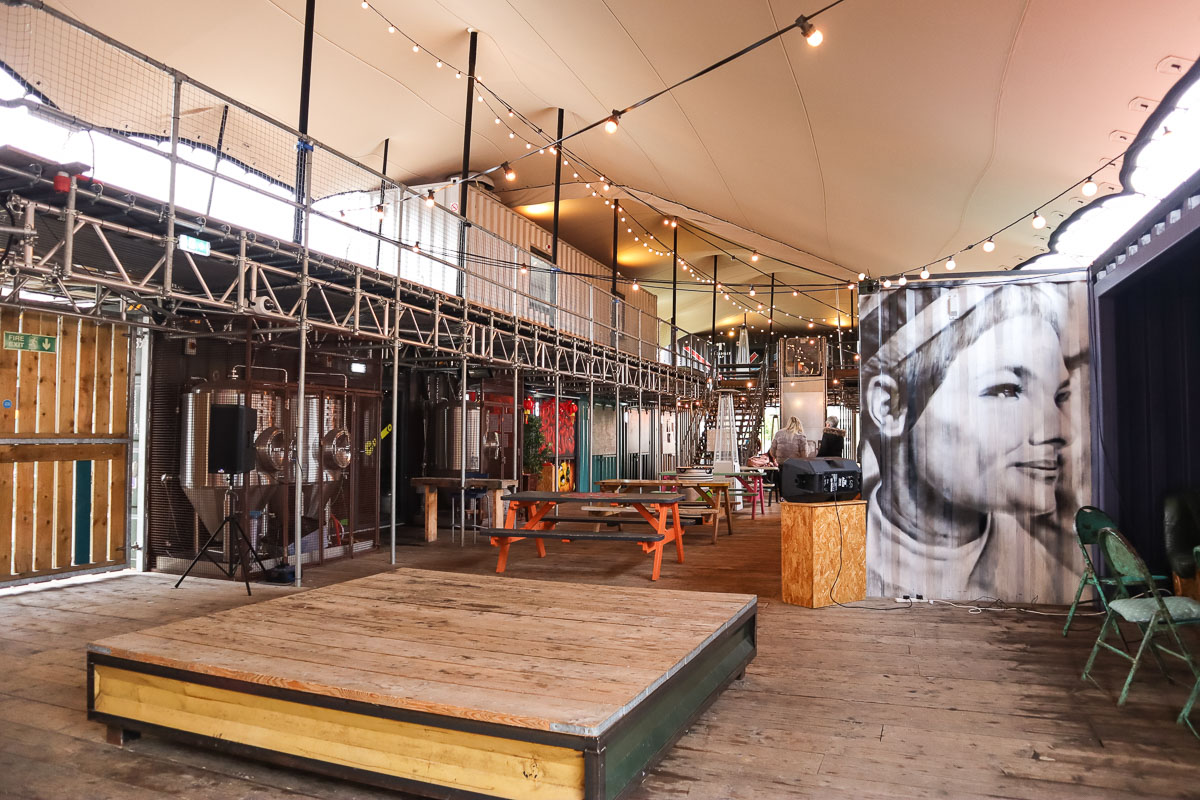 Soak Up York's Sweet History
Along with Vikings, romans and more, York has a very sugary history too – yep, Rowntree's and Terry's were both founded in York.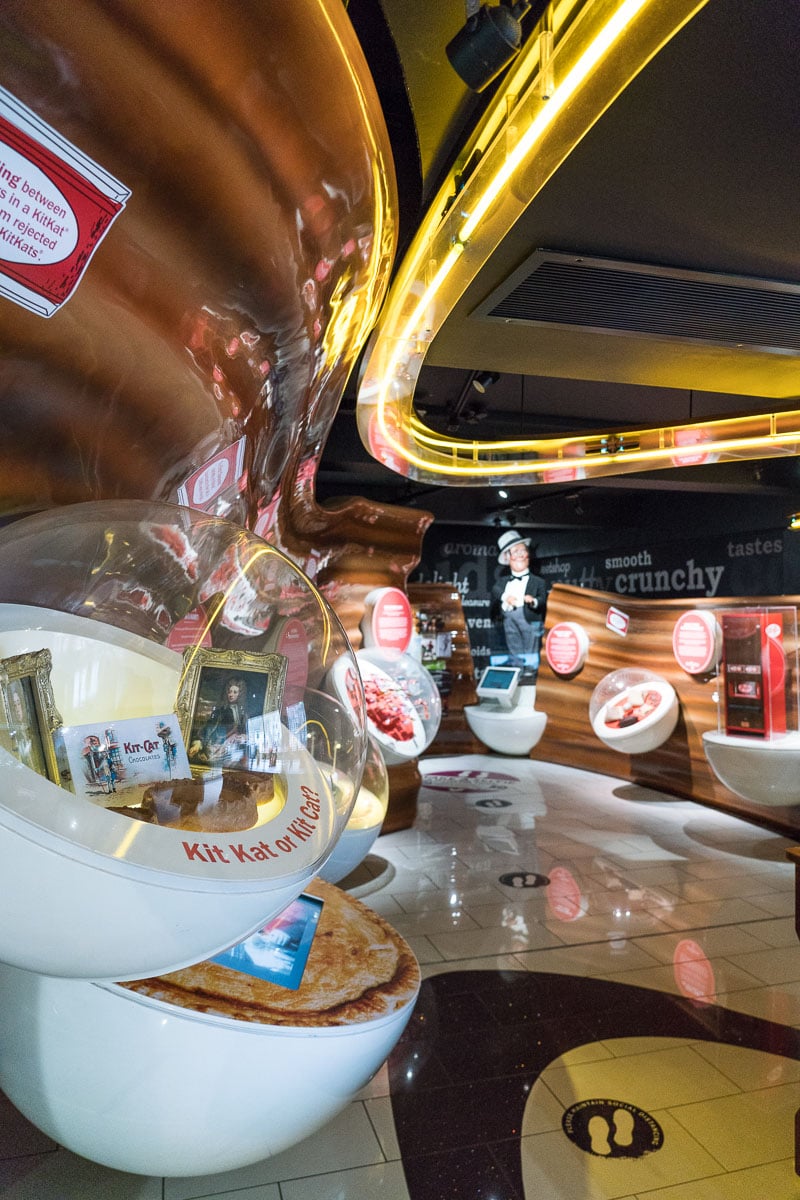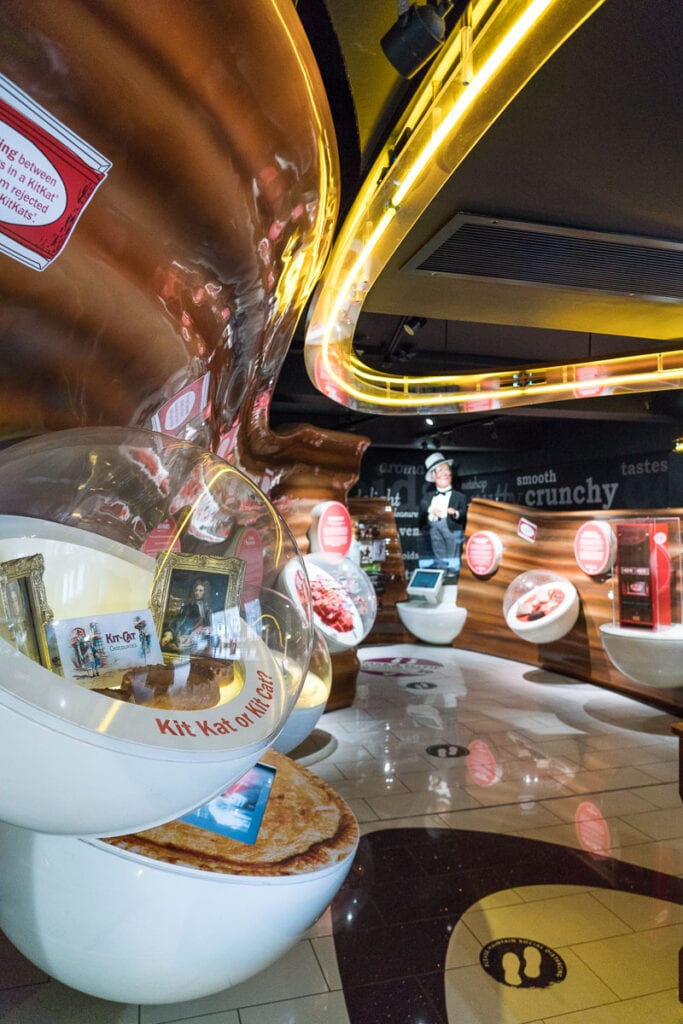 Chocolate has been made in the city for a very long time, so if you fancy learning a bit more (and enjoying some samples too) York's Chocolate Story is a good place to visit. If you're strapped for time, there's a shop there too, so you can stock up on sweet treats regardless!
Check prices and book your tickets for York's Chocolate Story now.
Don't forget, if you're planning to visit lots of York's main attractions, it might be worth picking up a York Pass which includes entry to 38 attractions in and around the city.
If you're looking for other tips for your time in the city, don't miss my guide to 8 fun and unusual things to do in York.
---
When Is The Best Time To Visit York?
England is a country obsessed with weather. Don't know what to say? Comment on the weather! We talk about it a lot, but contrary to what you may have heard, we don't have awful weather in England. It's just a little unpredictable and varies from region to region.
You can expect average lows of around 5 °C in York in January / February, and highs around 25°C in July / August.
If you're wondering when is the best time to visit York, I'd suggest planning a trip in May or June. The weather tends to be warm and sunny, rain is at a minimum and it's out of peak season, so you shouldn't be battling any big crowds either. The longest day is around 20th June every year, so it's a time you can enjoy maximum daylight hours exploring!
I've never been a fan of November in York – it gets pretty bleak! It's the wettest month of the year, and while December can be pretty cold, there's a Christmas magic around the country which always puts a smile on my face!
---
Where To Stay On Your Weekend In York
As the city attracts a lot of tourists, there are plenty of great York hotels, characterful B&Bs and AirBnbs on offer (you can get £25 off AirBnB using my code). You'll find something to fit every budget. In fact – there are even a few hostels, or you could hire a motorhome for your trip with GoBoony! Here are a selection of the top hotels in York and a few other quirky places to stay if you're not fancying the rigidness of a hotel. Oh and scroll down for a handy map to see more options of where to stay.
Yorkshire's only 5-star hotel, The Grand is smart, sophisticated and oozes history, being built in 1906 as the HQ for the North Eastern Railway Company. There's top restaurant Hudsons, a lovely bar area and a top-rated spa in the basement. It's also moments from York Station, making it super convenient for a trip like this!
Check availability and latest prices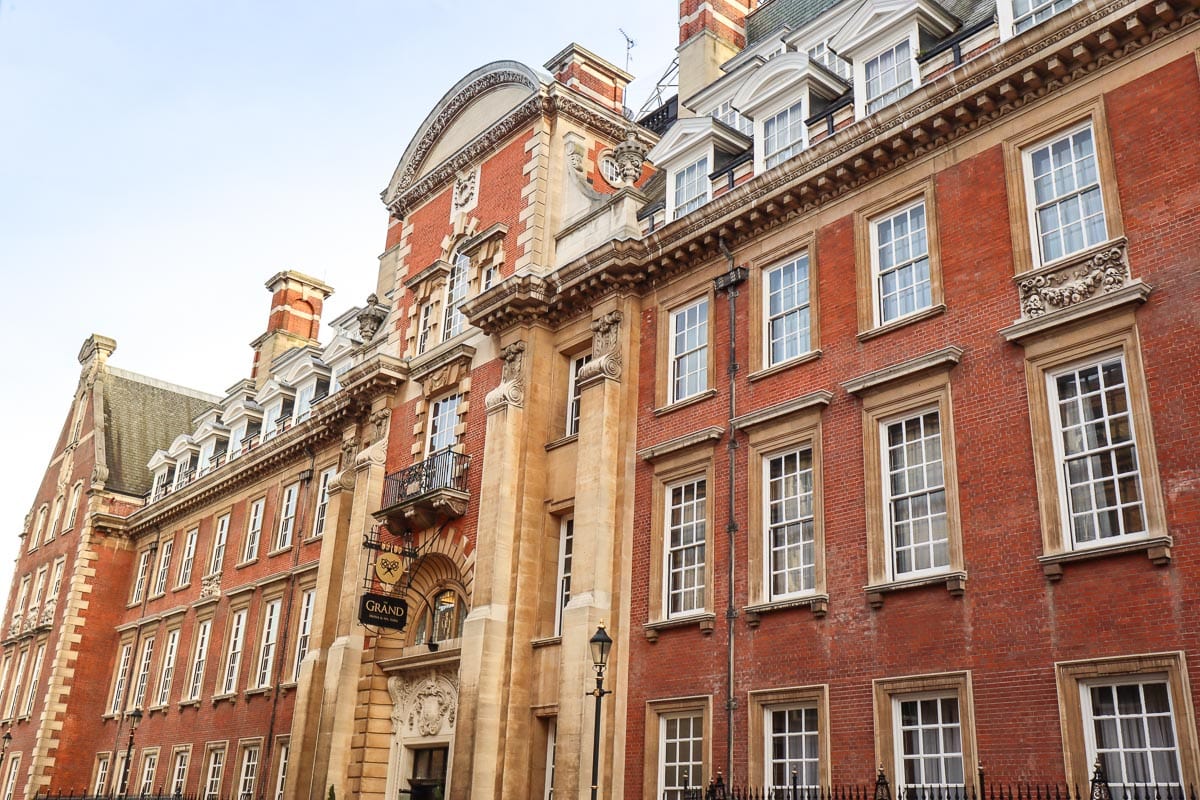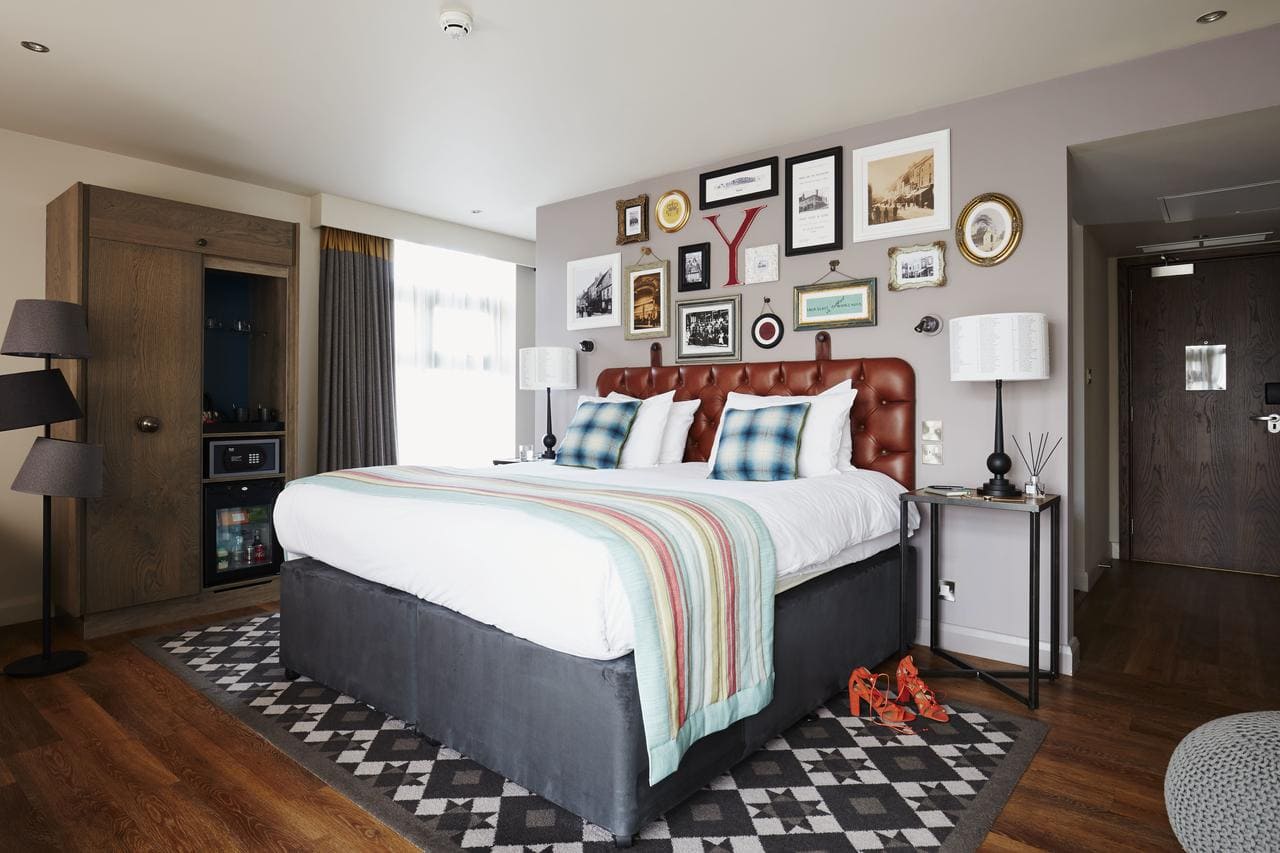 I love the boutique style of this hotel, with its eclectic furniture and bold décor. It's very reasonable too! The hotel is over the other side of the city from the station, but within walking distance of all of York's key attractions.
Check availability and latest prices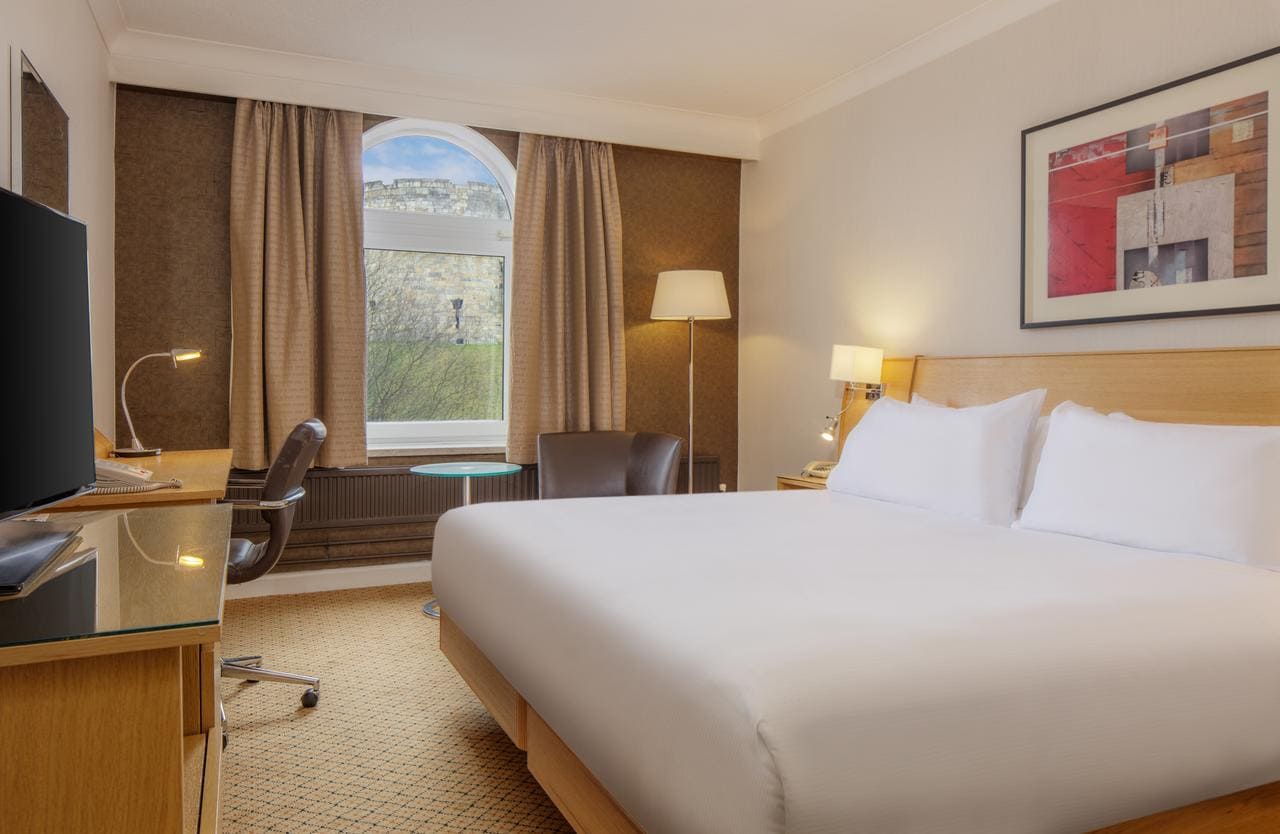 If you want to be right in the heart of York city centre, stay here! Located moments from all the key attractions, and opposite Clifford's Tower, it's in the perfect spot for exploring York on foot. Rooms are smart, and the hotel has its own bars and restaurants, making your stay super easy!
Check availability and latest prices.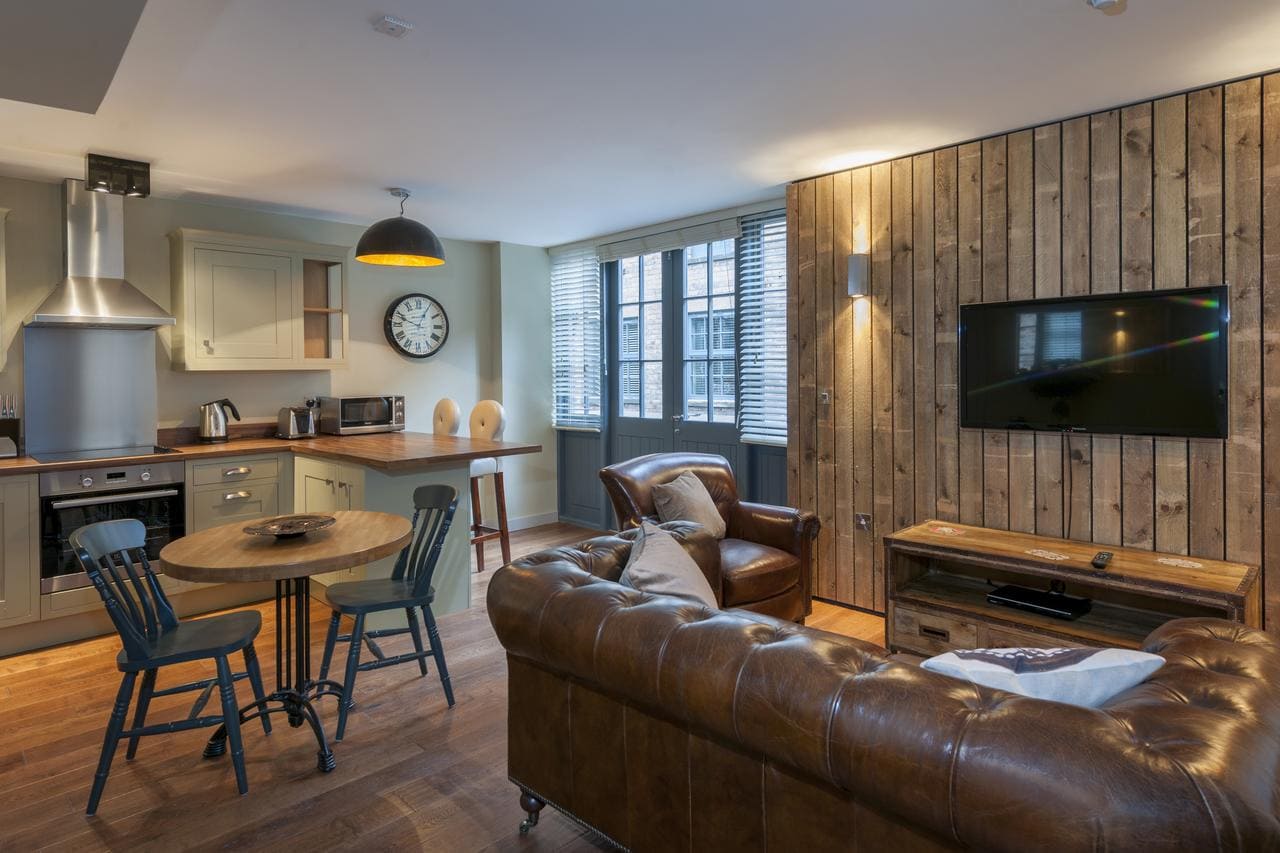 If you'd rather book a York apartment, then these look lovely! In another great location, these smart serviced apartments are moments from York Station. There are plenty of options, including 2 and 3 bedroom apartments (perfect for families).
Check availability and latest prices.
If you're on a budget or travelling solo, this is the best-rated hostel in York. Right in the heart of the city, it's home to a mix of themed private rooms and dorms. When I checked, you could get a bed in a dorm from £22 a night!
Check availability and latest prices.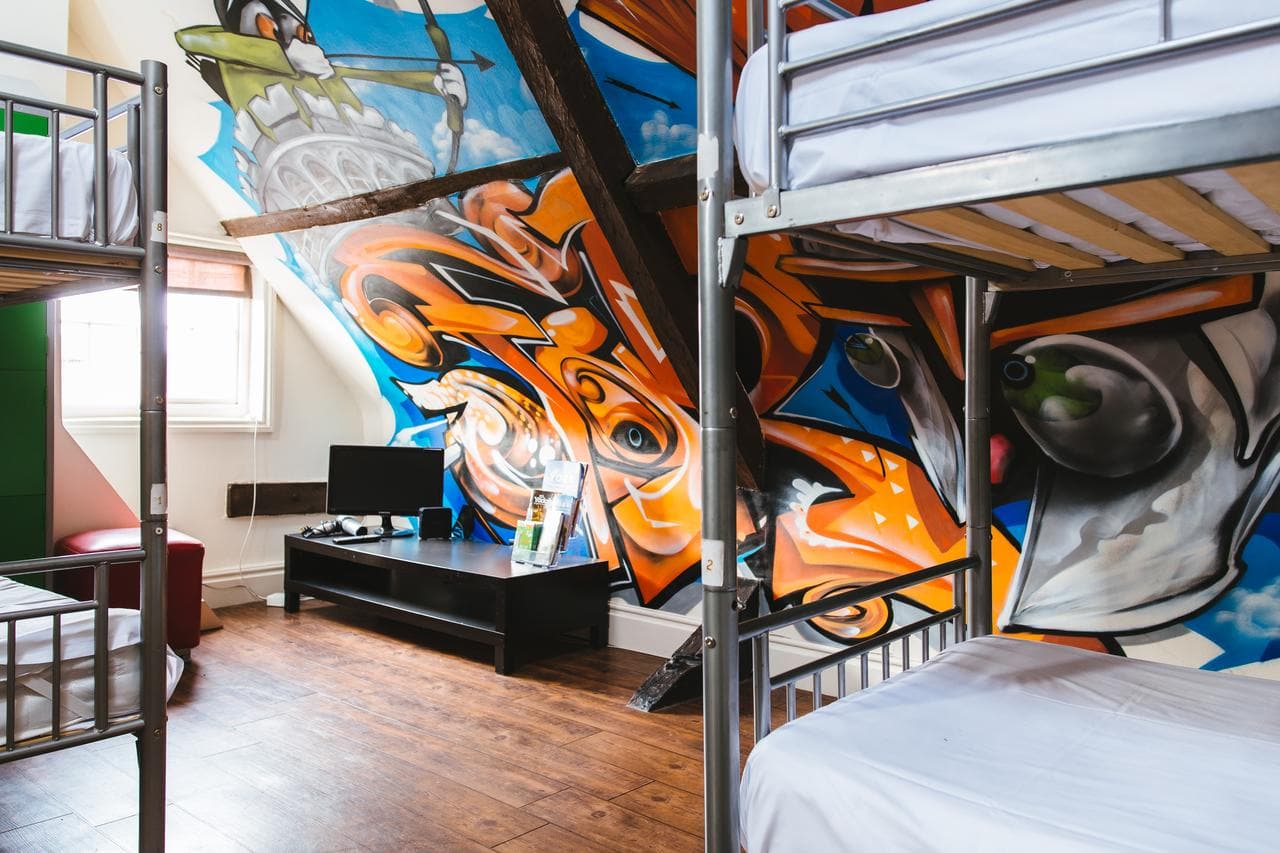 I hope you've enjoyed my guide to spending the weekend in York! I hope you have a great trip, and let me know below if you have any questions!
Enjoyed this post? Pin it for later…