My stay at the Barcelo Solymar in Varadero, Cuba was a real 'Fawlty Towers' experience. Find out why in my review of the hotel, restaurants and facilities.
"The best resort in Varadero, Cuba"… Unfortunately wasn't where I stayed last week. Instead, I booked into the budget equivalent of Fawlty Towers. With a Trip Advisor rating of 3.5 out if 5 I wasn't expecting pure luxury. Reviewers had complained about the food, service and state of accommodation. Needless to say, my expectations were relatively low, particularly when paying £50 a night for my own room and all-inclusive board. It was one of the only affordable options after spending months travelling around Central America.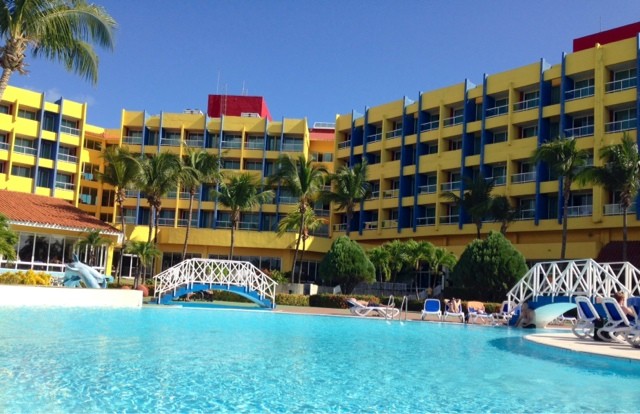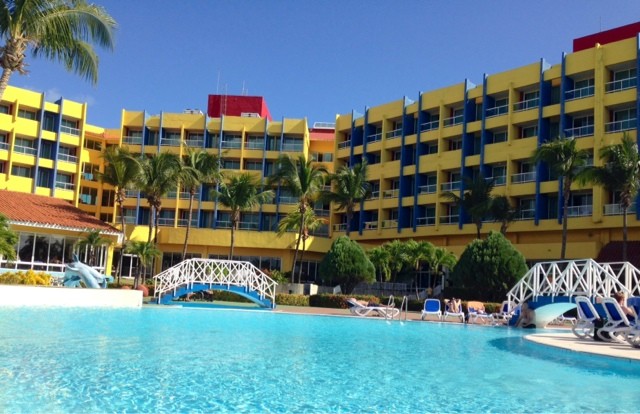 My company for the week was my friend Rob, who had researched all the hotels thoroughly. We had picked this one partly for budget reasons, but also as it seemed to have a 'young' atmosphere and an emphasis on socialising, perfect for two friends wanting to meet people across the week.
After a few nights in Havana we travelled two hours to Barcelo Solymar Arenas Blancas and attempted to check in. It was around 1pm. The fun began when they could only find one room booking rather than two. This was rectified eventually, but the rooms weren't ready. "Check in isn't until 4pm. Come back later." Ok then – seemed late to me, and if I'd been on a long haul flight I wouldn't have been best pleased, but we grabbed our beach bags, sampled the lunch buffet, and lazed around the pool until 4pm.
This hotel is set in a large complex complete with buffet and a la carte restaurants, bars, two large multi-storey hotel blocks, three large swimming pools, several bungalow buildings, entertainment areas, a spa, shops and more. Normally when checking in, you're presented with information on how things work, where to go for x, y and z, and at the very least, where your bedroom is. But no, simply provided with our room keys, we were left looking for a map to navigate where to go next.
My room (3107 – in one of the bungalows) had three double beds, covered in 70s curtain-style fabric. The walls were a strange shiny plastic with dents in and huge chunks missing. Some had been part filled with Polyfilla, but no effort had been made to redecorate. There was a strong damp smell that wafted through. It wasn't awful but I had stayed in better places for similar money.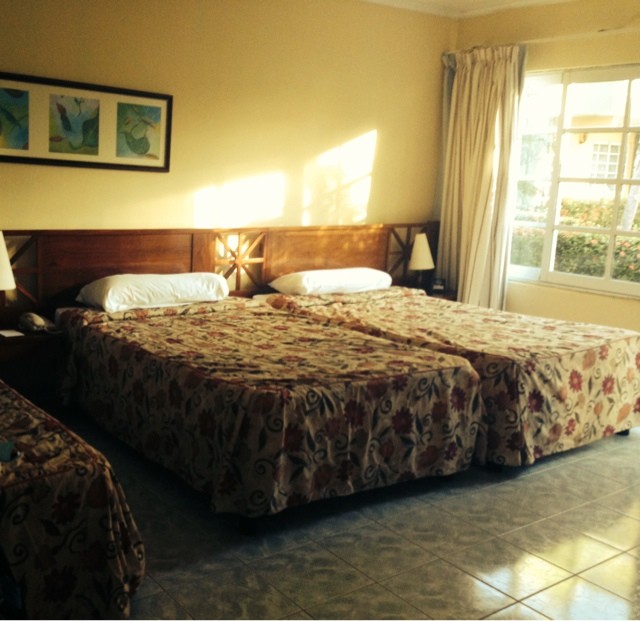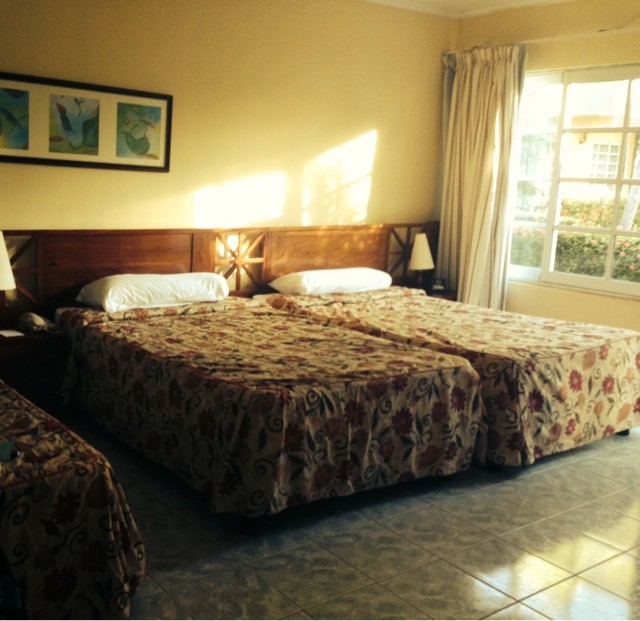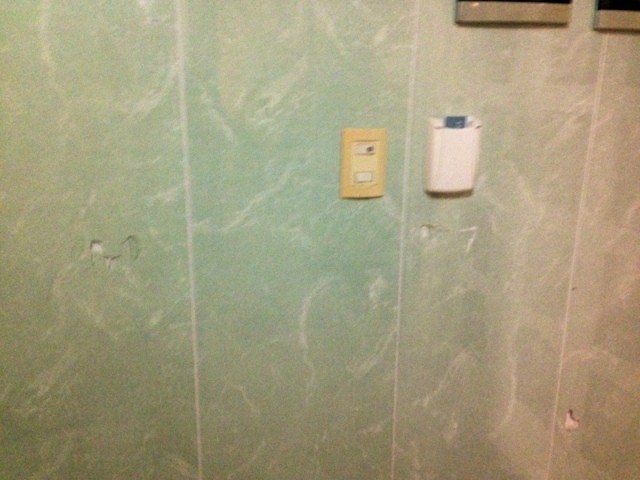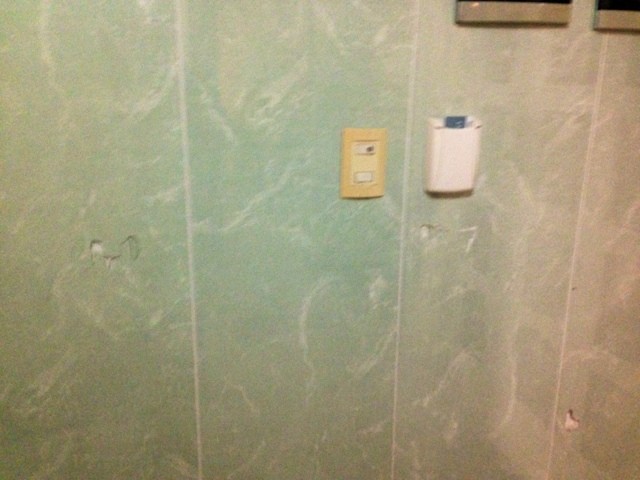 My friend didn't have the same 'luck'. By the end of the day he'd moved rooms twice. Room one – a smoking room that was like walking into a haze of Cuban cigars (not good for a guy with asthma). Room two – seemed average. Just a few strange holes in the floor which looked like there had been a country and western shoot-out at some point. The AC was broken but he decided he could live without that. They offered one more room choice but it was so far away, he couldn't face the walk.
The main attraction here is the beach. It is stunning. On a gorgeous sunny day, the calm bright turquoise sea sparkles against the bright white sand. The water is a perfect temperature. There were plenty of beach chairs and umbrellas. If you lay here, you could almost forget the problems with the resort.
Breakfast is served in the main buffet restaurant, as is lunch and dinner. For a change though, you can dine at one of the a la carte restaurants. There's Italian, Mexican, Asian, Spanish and seafood. It turns out you have to make reservations for most of these, something that should be explained on check in, but that would make things far too easy, right?!
We tried the Mexican on the first night where we had dry nachos covered in bolognese sauce on arrival. We then ordered the starter of nachos which were supposed to come with the full works – tomato salsa, cheese, sour cream etc. They arrived – hmmmm. Fairly sure these are cheese flavoured tortilla chips, with a ladle of lurid yellow cheese sauce and another layer of grated cheese. We questioned where the other ingredients were… "We have no". Hmmm ok. Triple cheese nachos it is…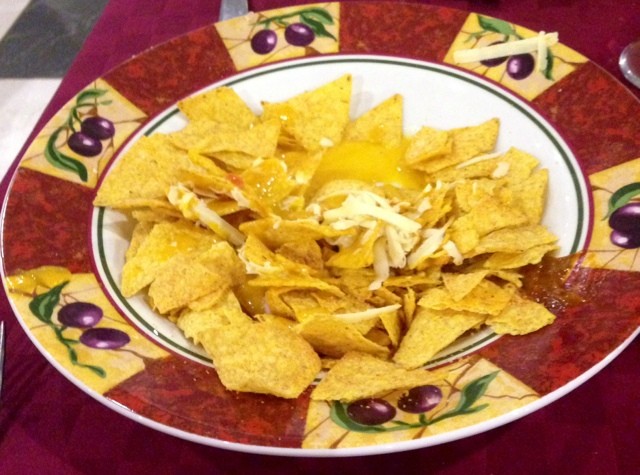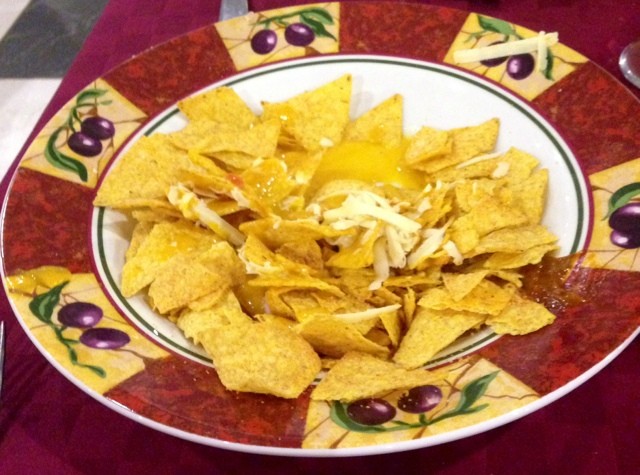 I had the beef tacos – dry, shredded meat sat inside a dry folded taco. My friend's fried chicken taco dripped in oil and was just as unsatisfying. Needless to say, we skipped dessert.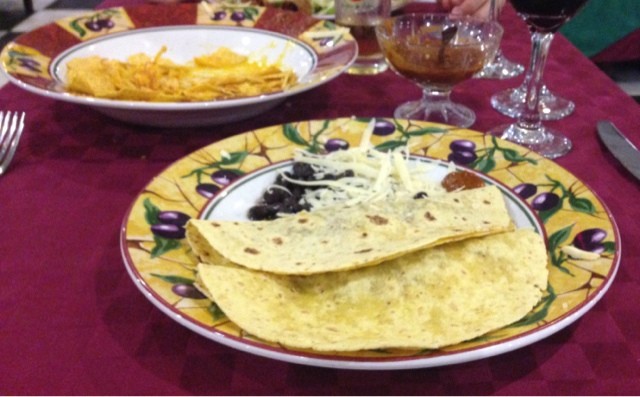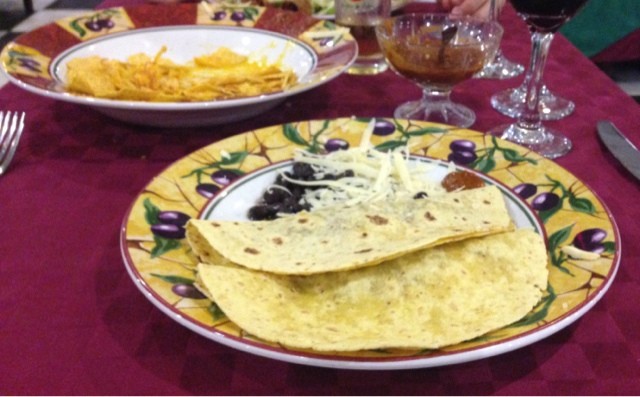 When on holiday in Cuba, there's one drink everyone wants – a mojito. The national drink. The hotel had them on the menu so I was excited about a week of all-inclusive mojitos! "Un mojito por favor." "No, we have no mint." Oh. A pattern was emerging.
By the next morning, Rob's second room choice was proving unsatisfactory. During the evening water had started flowing out of a pipe outside his room, through a cupboard full of electrics. There was a huge flood outside his door which reminded me of the 'no win, no fee' adverts on TV. Surely slipping here could create a case for suing? He complained to the girl on reception again, who didn't seem remotely concerned about water flowing over live electrics. They would 'try' to find him another room, meanwhile he spent the next 24 hours trying to avoid death by slipping or electrocution. You can see the video here.
The Italian restaurant was an experience. We walked in and waited. And waited. We were invisible to the staff who were serving tables with lumps of lasagne and watery red wine. We asked if we could have a table and the woman replied "They're next (pointing at a family behind us) and wait outside". She shooed us out the door and closed it in our faces. Wow. Ten minutes later we were ushered in and seated. Two glasses of watery red wine were served and we looked at a limited menu of pizza and pasta. We were then informed two of the pastas were off the menu. "We have no pasta" we joked. Lasagne was small and dry, but at least it tasted like lasagne. Rob had a garlic pasta full of uncooked garlic, and we snacked on a pizza. I tried to order a salad to accompany my meal. "We have no ensalata." I should have guessed.
The Asian restaurant was particularly special. Red and black decor, bamboo structures dividing up the room, Chinese symbols adorning the windows. They had really tried to theme this one. The waitress only had our reservation for one person, not two and said there was no table ready. I didn't understand how a table for one varied from a table for two… But we were sent away again and told to return in twenty minutes. We came back, and waited another ten, again the staff seemed to be playing the 'invisible customer' game – one thing they really excelled in!
After so many 'delicious' meals, we had decided the best thing was to order lots in the hope of finding one edible meal. Tempura chicken and shrimp were surprisingly well cooked. Then came the pork and vegetable soup. A dirty brown liquid with floating overcooked carrots, a lump of unknown meat (not pork incase you were wondering) and a revolting stench. It was served luke warm. One sip was all we could manage, and after being asked if we didn't like it, I had to be honest and say no. I wondered how many others had left theirs that evening. The main course of noodles were cooked just in soy sauce (very salty) and the sushi mainly consisted rice and a strange type of smoked salmon. We left full, but not particularly satisfied.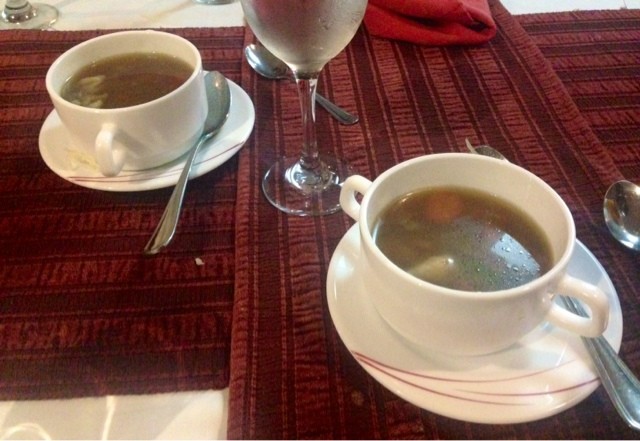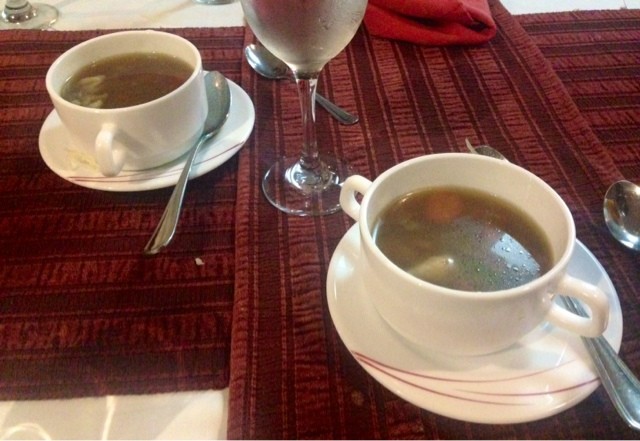 While using the expensive wifi in reception one day I found myself being dripped on. There was a lot of water on the floor below and a leak in the ceiling, with a delightful patch of mould, and some plaster crumbling onto the sofa next to me. Later that day I went to one of the bars that reeked so much of vomit, I had to leave. While my room was generally ok, the hairdrier exploded on the first night and was never replaced, despite letting reception know several times.
It's not all bad. One bar in the main building has friendly waiters and good coffee. The breakfast buffet is pretty good – fresh omelettes and pancakes cooked with your choice of ingredients, delicious freshly baked bread, and occasionally some finer ingredients such as prosciutto. One evening at the buffet restaurant, a waitress made me a flower out of napkins – very sweet. Also, before the weather changed for the worse, we were able to go on a thirty minute catamaran cruise for free with friendly captain Jose.
Entertainment was on offer every night at 9.45pm, along with the odd surprise daytime event. Animation staff keep busy during the day organising games of beach volleyball, football and dance lessons. One night we watched a painful Grease show – the staff danced and mimed to the songs. Not sure anyone really wanted to be there. However a Caribbean dance show and Michael Jackson tribute show were very well performed.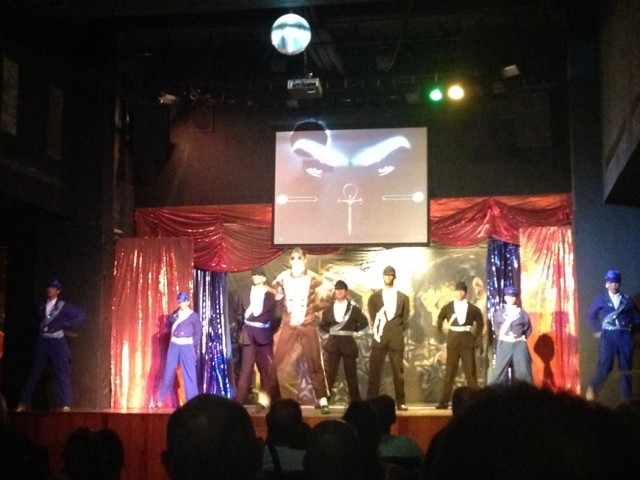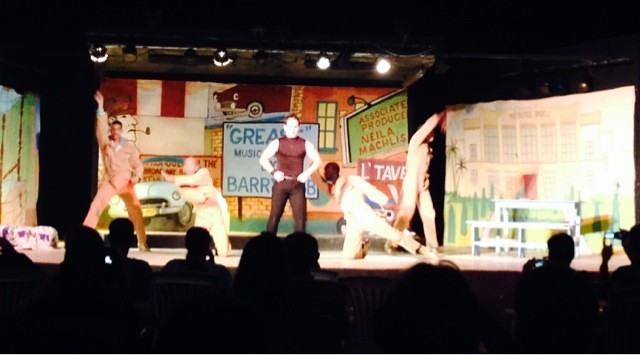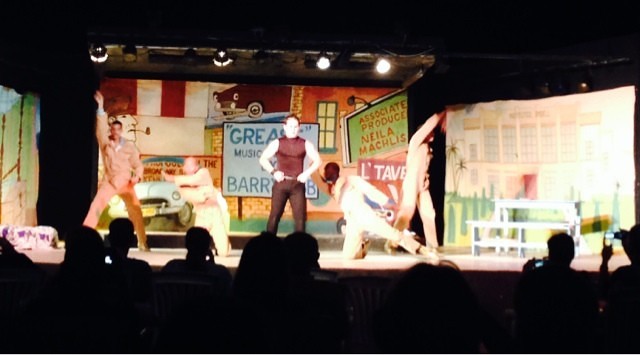 Pretty much everyday we found something new on the resort – services on offer, restaurants, bars, a beach party. Without any clear info on check in, it was chance as to what people would find. What an exciting game! It wasn't until our penultimate day we found the beach restaurant and nightclub.
After three days of poor service, dodgy food and unappealing rooms we finally ventured out. There must be life beyond the Barcelo bubble. This was when our holiday finally began. We discovered bars, clubs and restaurants. No they weren't part of of the all inclusive, but they had good service, a pleasant selection of wines and better than average food. Of particular note were La Gruta Del Vino in Josone Park (built into a cave) and The Beatles Bar (great live bands every night).
If the staff had been more friendly, I think we would have enjoyed our stay more. Happiness is infectious! No doubt one of the main reasons they were unhappy is they were spending hours and hours every day dealing with complaints from customers. I would struggle to work with a smile on my face too. Also, the young, social atmosphere we had hoped for, wasn't there. If anything it was full of large cliquey groups of Canadians getting drunk 24/7. I can't say I'll be choosing to return to Varadero. It's a great beach, but beyond that, it didn't feel like there was enough else there, particularly when you're staying at Barcelo Solymar!