From an adorable duck-themed café to a 16th century clock tower, surfing on the Mur River and unusual modern architecture, these are the best things to do in Graz, Austria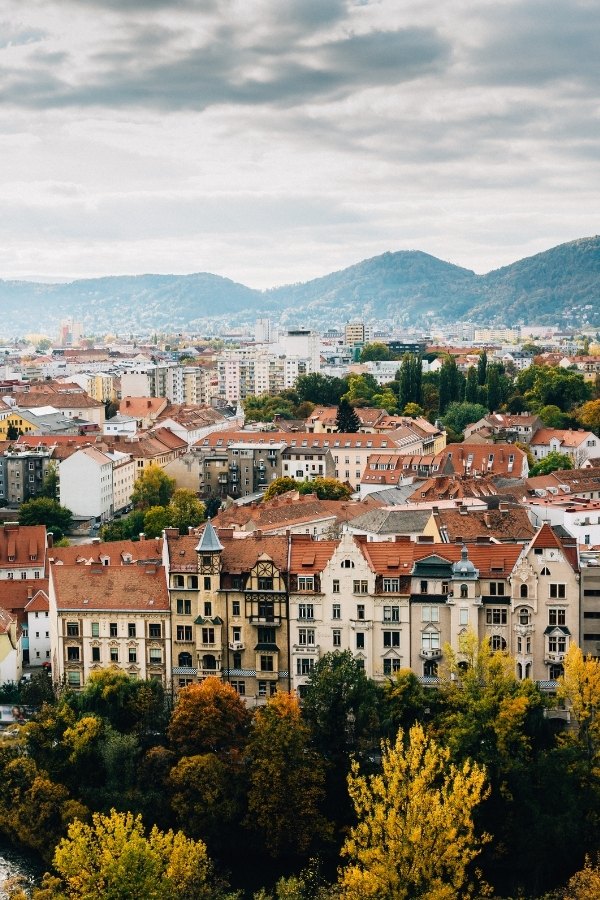 This city is quirky, colourful and full of great things to do. Graz is known as the culinary capital of Austria. The food is quite different to other regions of Austria. Being in the south it benefits from a Mediterranean climate, which is reflected in the fresh produce and cooking techniques.
The city is an official UNESCO World Heritage Site – brimming with history, stunning architecture and museums. From its famous clock tower, to the town hall and the beautiful Schloss Eggenberg (the 17th century Eggenberg Palace) there are plenty of photos just waiting to be snapped.
But alongside the great food, historical sites, churches and opera houses, there's plenty more. Graz has hipster cafes, modern art and even a place you can go surfing on the river!
So it's time to visit Graz – Austria's second largest city after Vienna, and share a few of the best things to do in the city.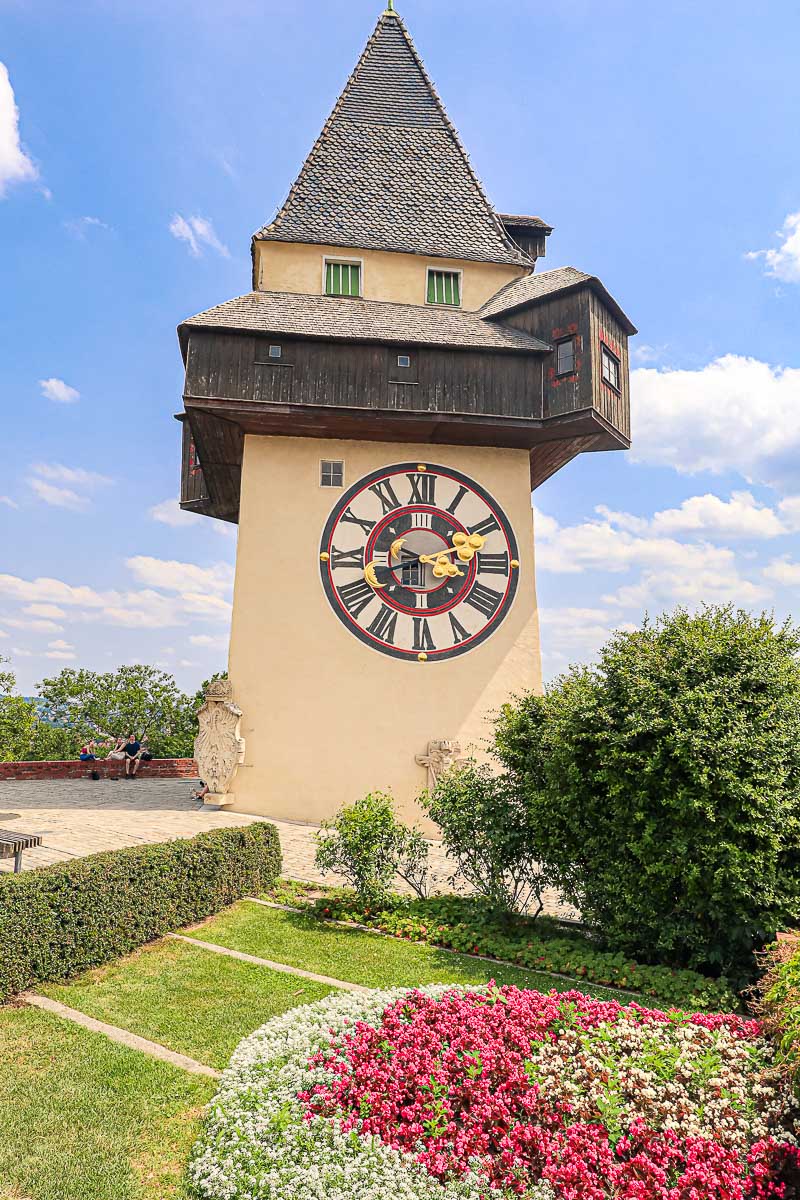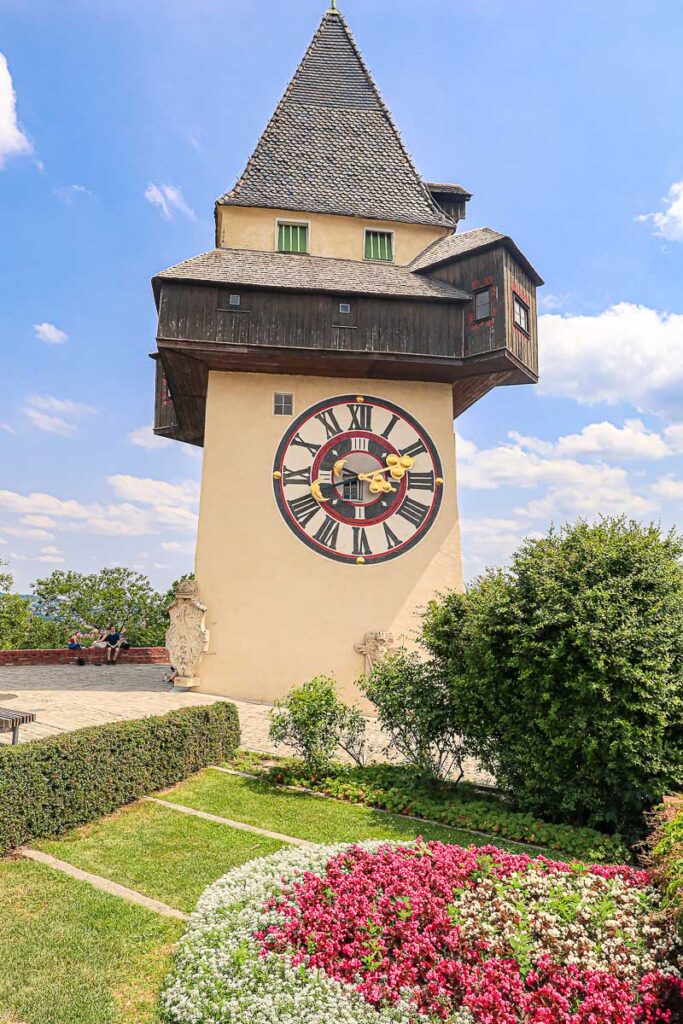 *Since this visit I have returned to Graz again! If you want to read a few of my new favourite discoveries (including hiking up the beautiful Schöckl mountain) tap through to my guide to spending a weekend in Graz.*
---
18 Amazing Things To Do In Graz, Austria
Climb up Schlossberg for the views
You can't visit Graz old town and not climb up to the hill to the clock tower. Yet, this walk isn't just about the clock. The views on the way up are incredible. As you reach the summit, you really take in what a stunning red roofed city Graz is, and how mountainous the surroundings are.
I stopped several times on the way up… and I'm not telling whether that was because my legs were burning from the climb, or because of the views!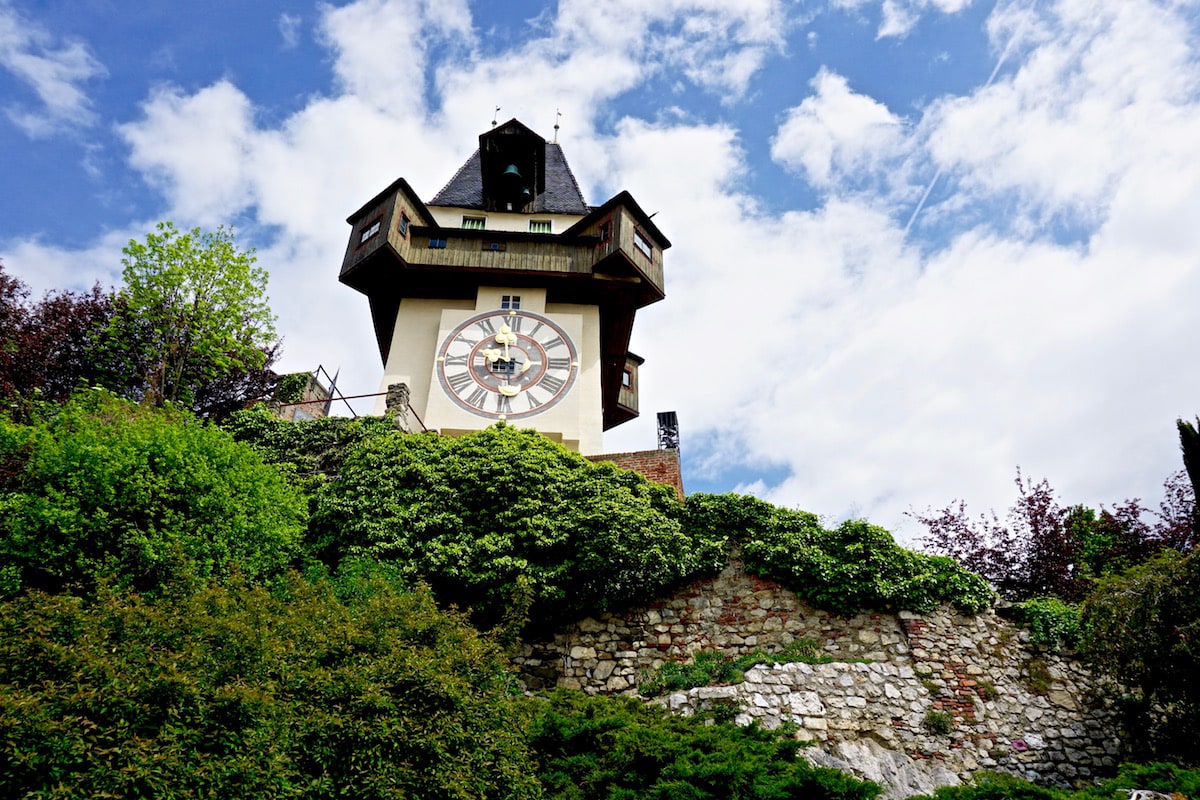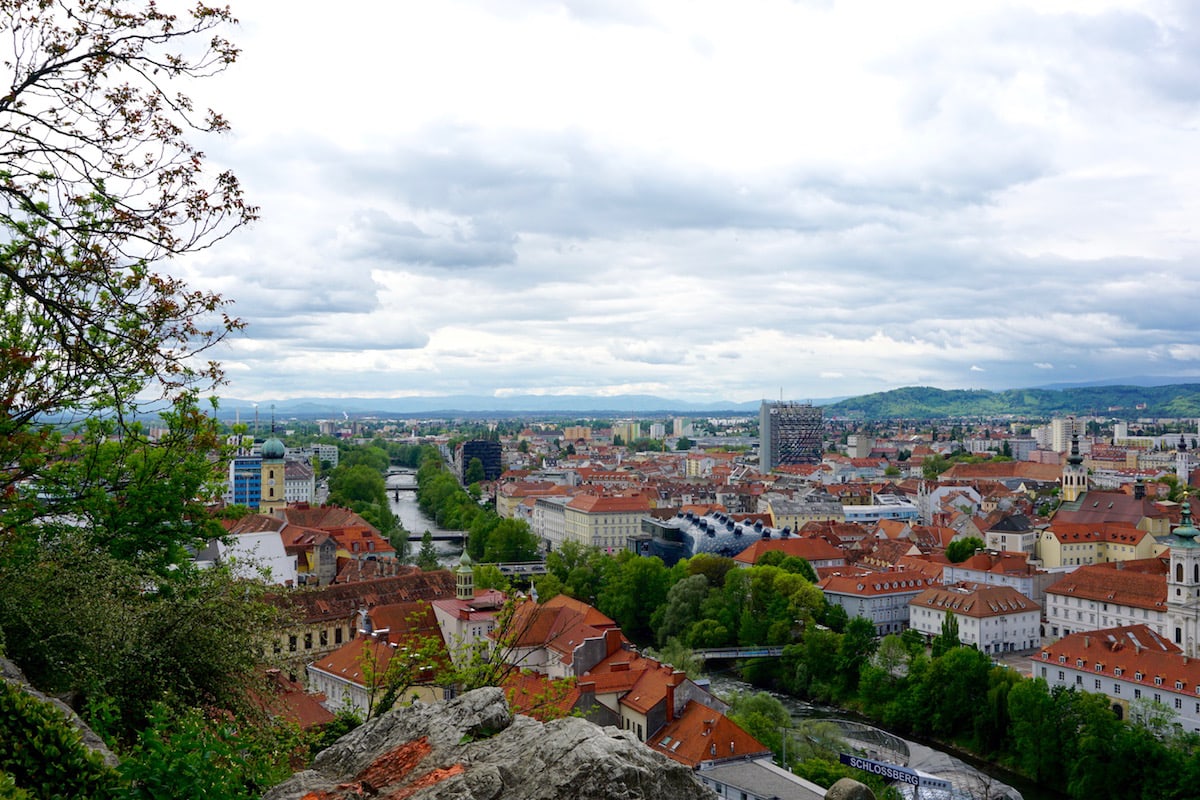 Marvel at the giant clock tower
The clock is the icon of the city. It sits perched on the top of the hill, and it's only once you reach it, that you realise just how enormous it is. The clock tower was built 16th Century and if you look closely, you'll notice something surprising.
Yes, the second and hour hands are the wrong way around (long hand points to the hour, short hand to the minute).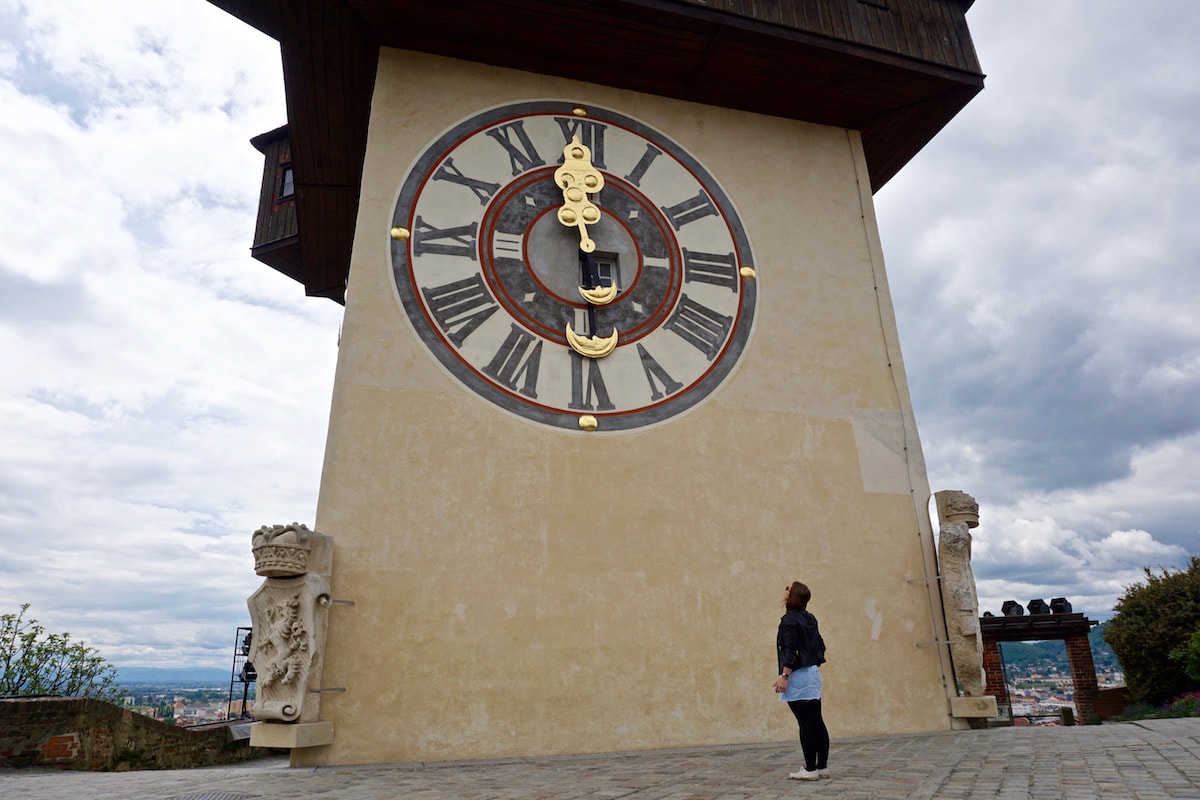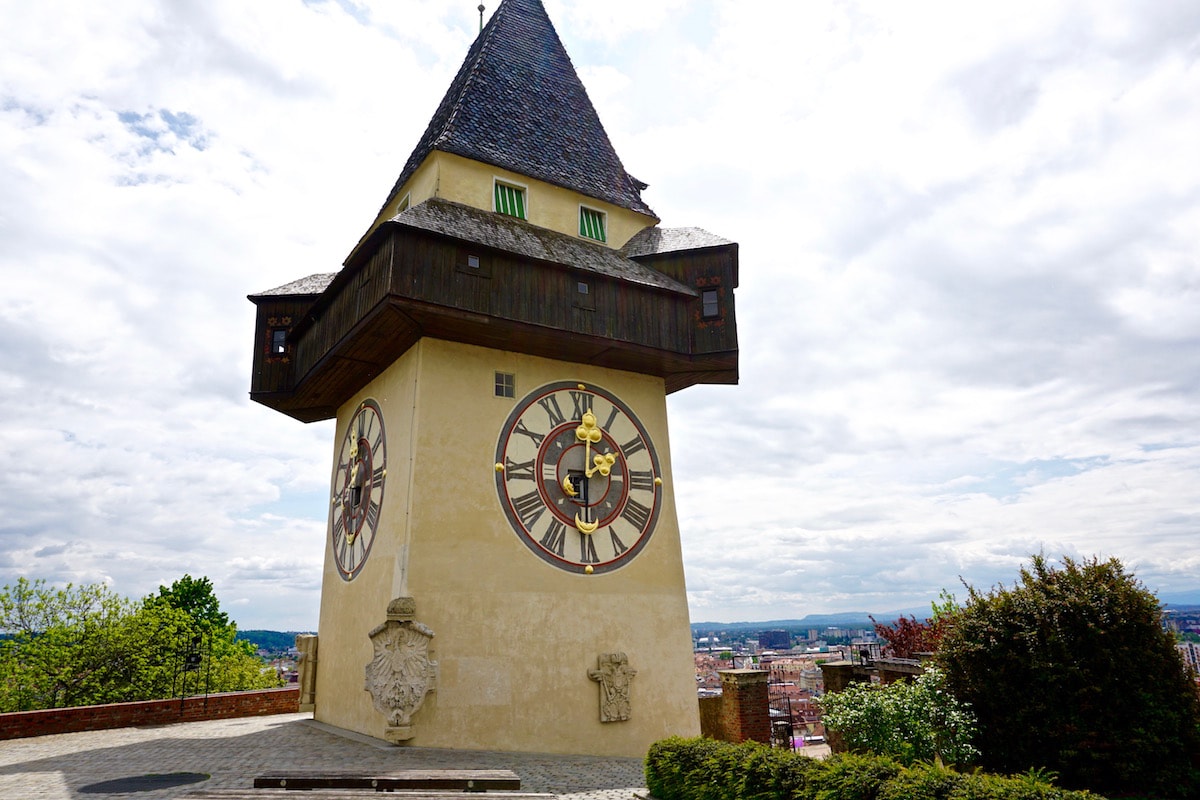 Have a glass of bubbly next to the clock tower at Aiola Upstairs
There's only one way to recover from the steep climb, and that's with a pit stop at Aoila Upstairs – the restaurant next to the clock tower with incredible views. I visited on a gorgeous sunny day in May and sat outside on the terrace.
As it was lunchtime I treated myself to glass of bubbly and sampled their seasonal white asparagus with béarnaise. While the food here is on the pricier side (great quality though), you can always stop by for a quick coffee to rest your tired legs.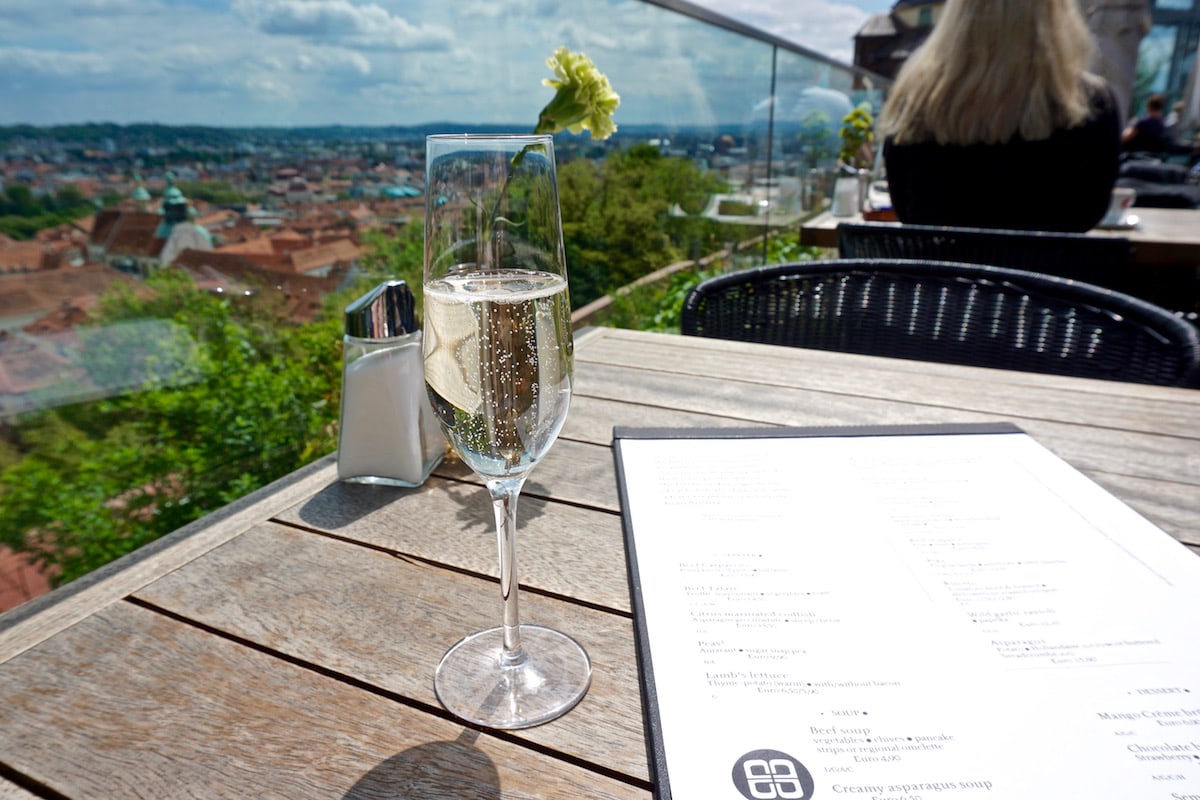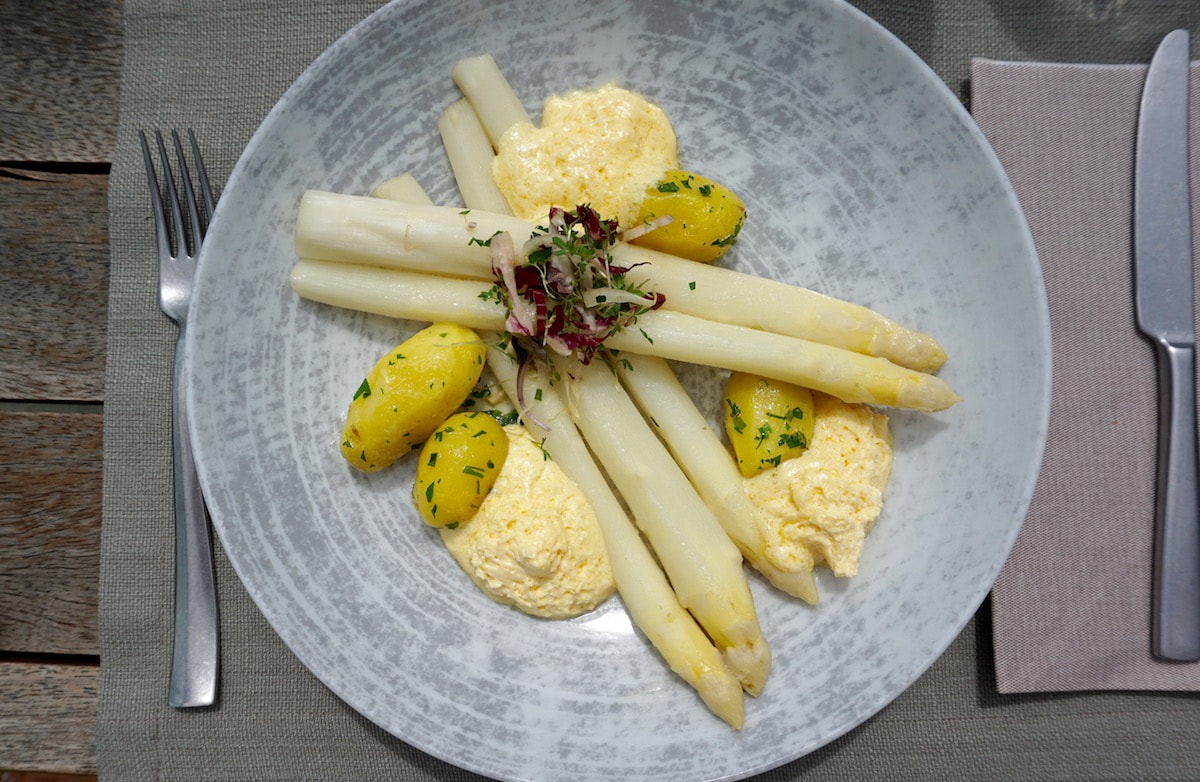 Window shop, and actually shop
I was really impressed with the variety of stores in Graz. From high street chains like H&M and Mango, to Graz specialities and the boutiques along Herrengasse and Sporgasse, there's plenty to suit any budget.
I also spotted a lot of shops selling Graz souvenirs – but not your usual tourist tat! These were unique designs and local produce.
CONTINUING YOUR TRAVELS IN AUSTRIA? Check out my guide to the top views in Salzburg, Austria.
What to do in Graz after all that exploring? Stop for a coffee, rest up and get ready to see some more sights! Slightly off the main streets of Graz, but totally worth the detour is Ducks Coffee Shop. It ticks the 'cute' box from the second you walk in the door!
With rubber duckie murals on the walls, a neon duck behind the counter, duck cups and saucers, and even a duck stapler, this café hasn't missed a single detail. Oh and if you're a design lover, check out the amazing hanging lights too.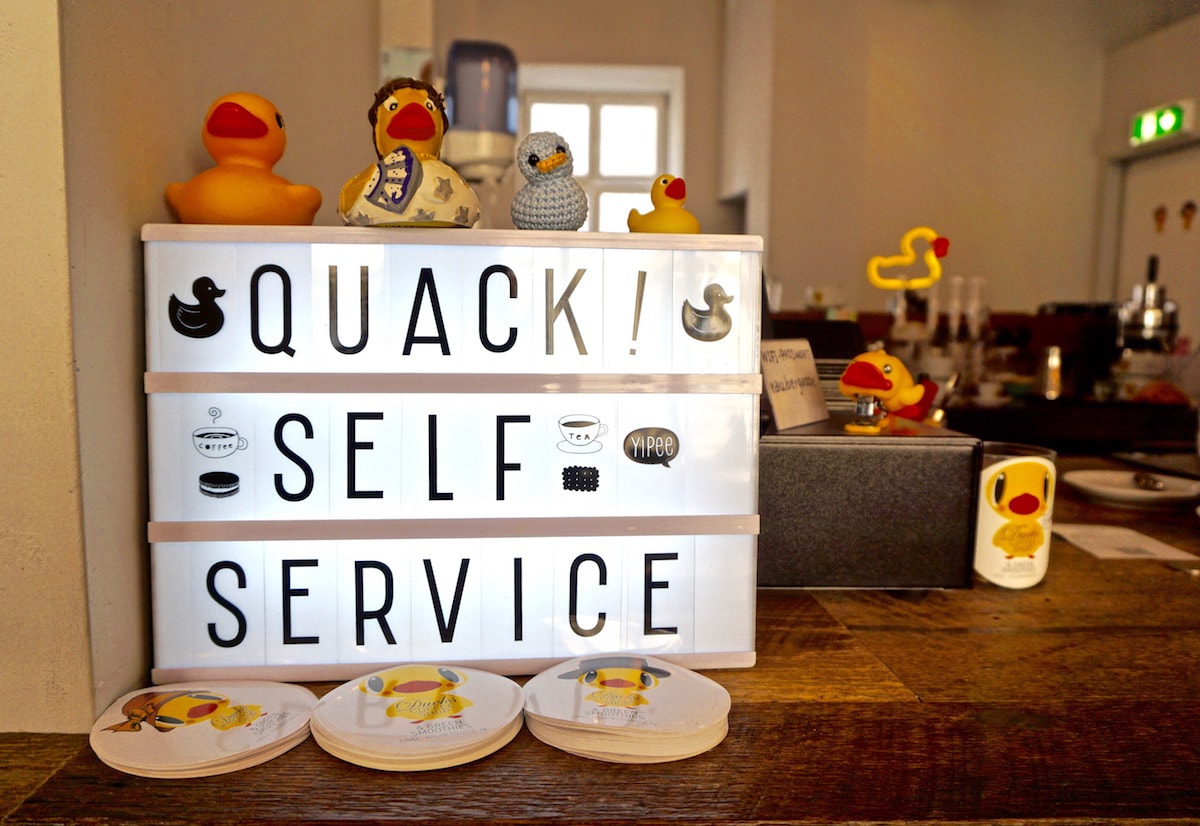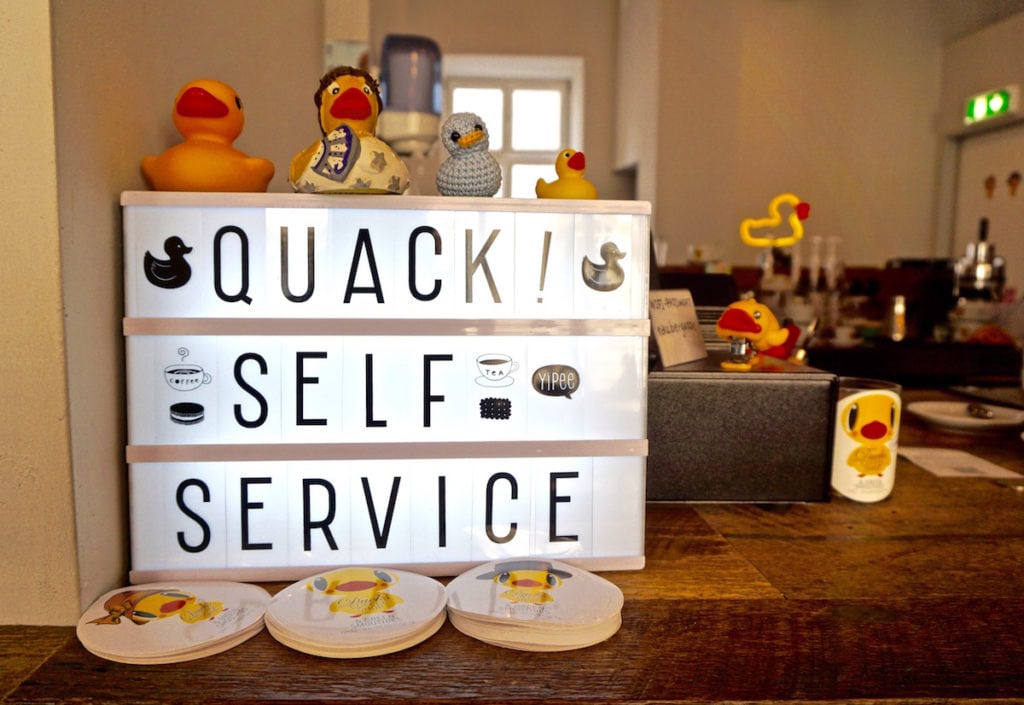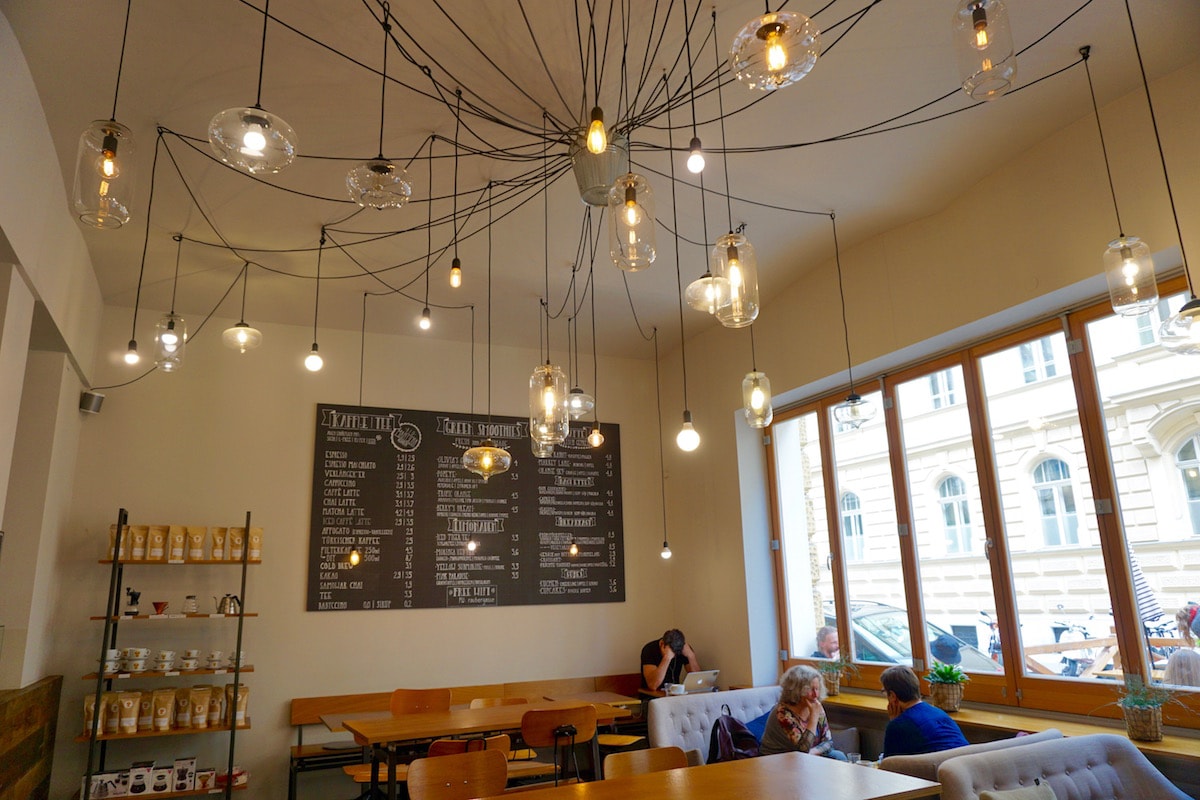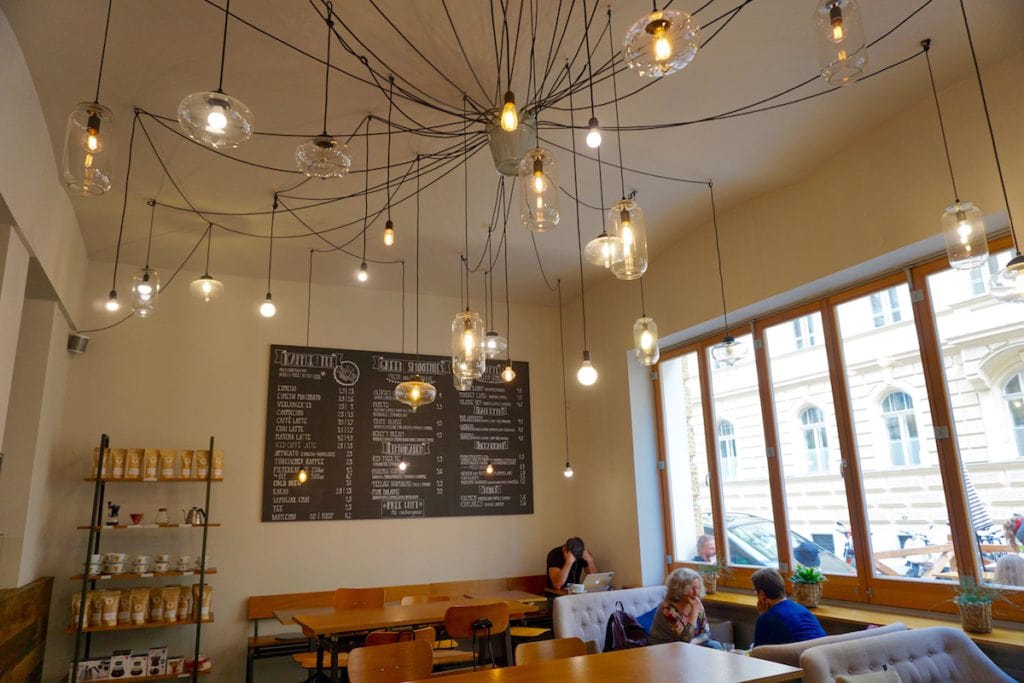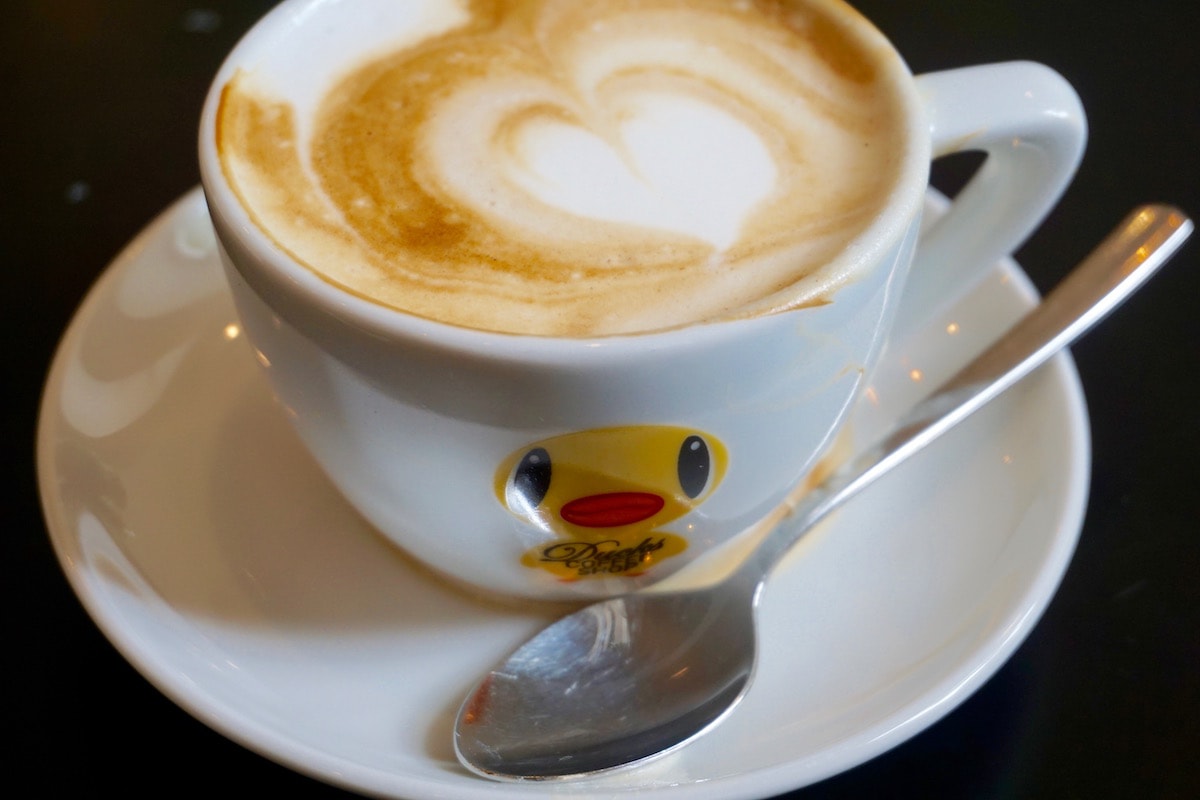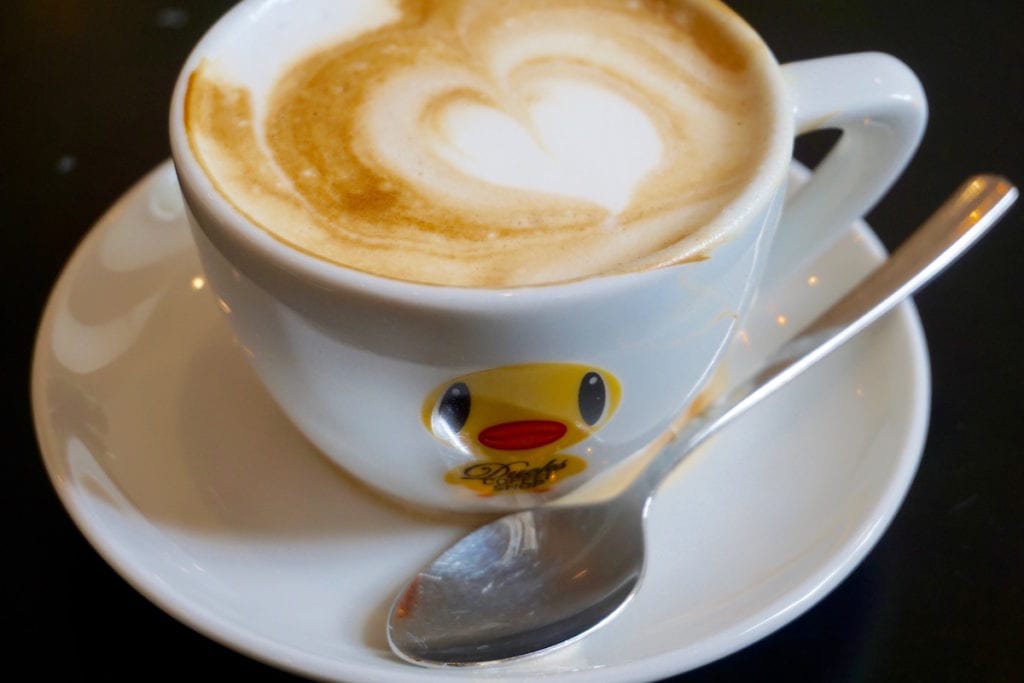 Snap pics of the colourful buildings and beautiful architecture
Graz is a bit of a treasure trove. You'll be walking along an ordinary enough street then turn a corner and be met by beautifully colourful buildings with ornate exteriors.
Along with some key buildings such as the Rathaus (town hall), Landhaus (government building) and beautiful stucco-decorated Haus Am Luegg, I loved snapping pics on Sporgasse – a pretty street lined with shops and cafes.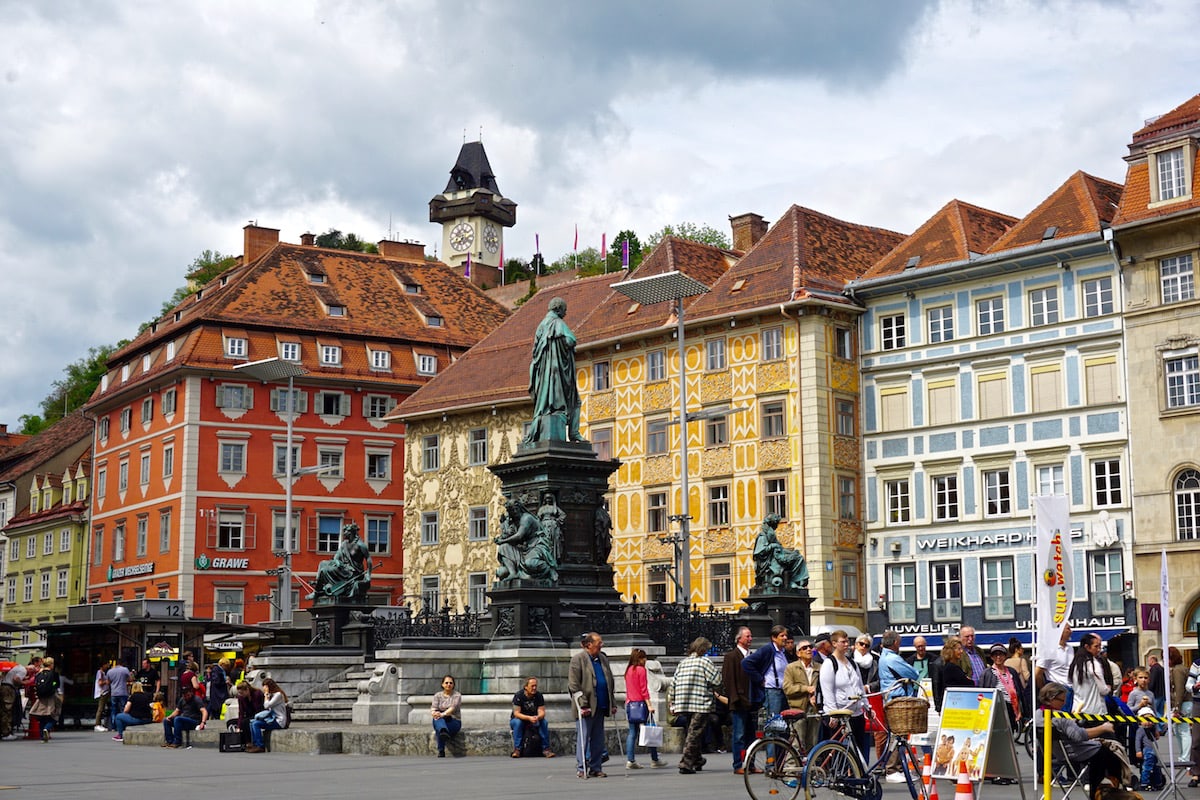 Watch surfers on the Mur
How often have you seen surfers on a river? Erm… never?! Yet, brave souls regularly head down to Graz's River Mur with their boards and attempt to surf under the main bridge.
When I was there, lots of people stopped to watch, and while it's not something I'd plan to try myself, it added to the quirky vibe of the city!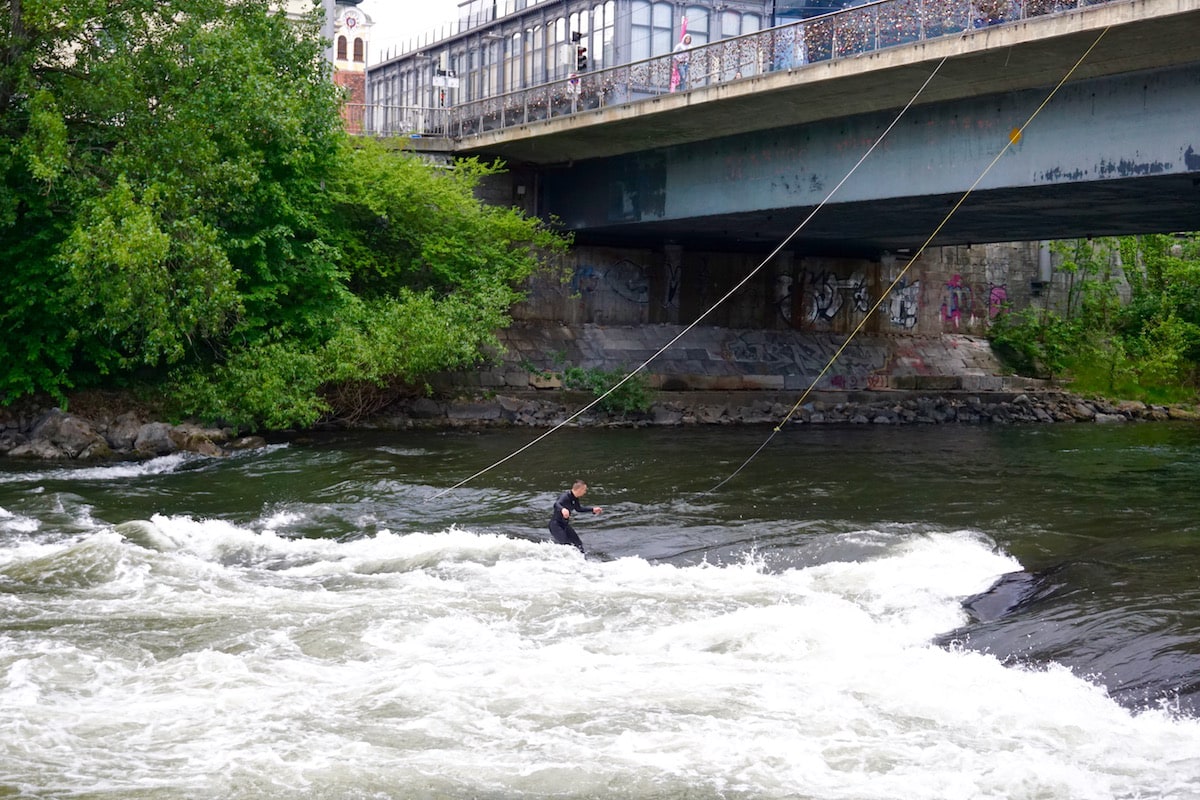 Get cultural at Graz Kunsthaus
I was so disappointed to visit on a Monday, when it just so happens a lot of Graz's museums and galleries are closed. However, I heard such great things about the Museum of Contemporary Art. The team at Graz Tourism absolutely raved about it!
If the unusual, bubble-like exterior is anything of this art museum is anything to go by, it would be a great place to spend a few hours.
Another popular museum in the city is the Natural History Museum. I'll definitely be adding both of these to my list for a future trip!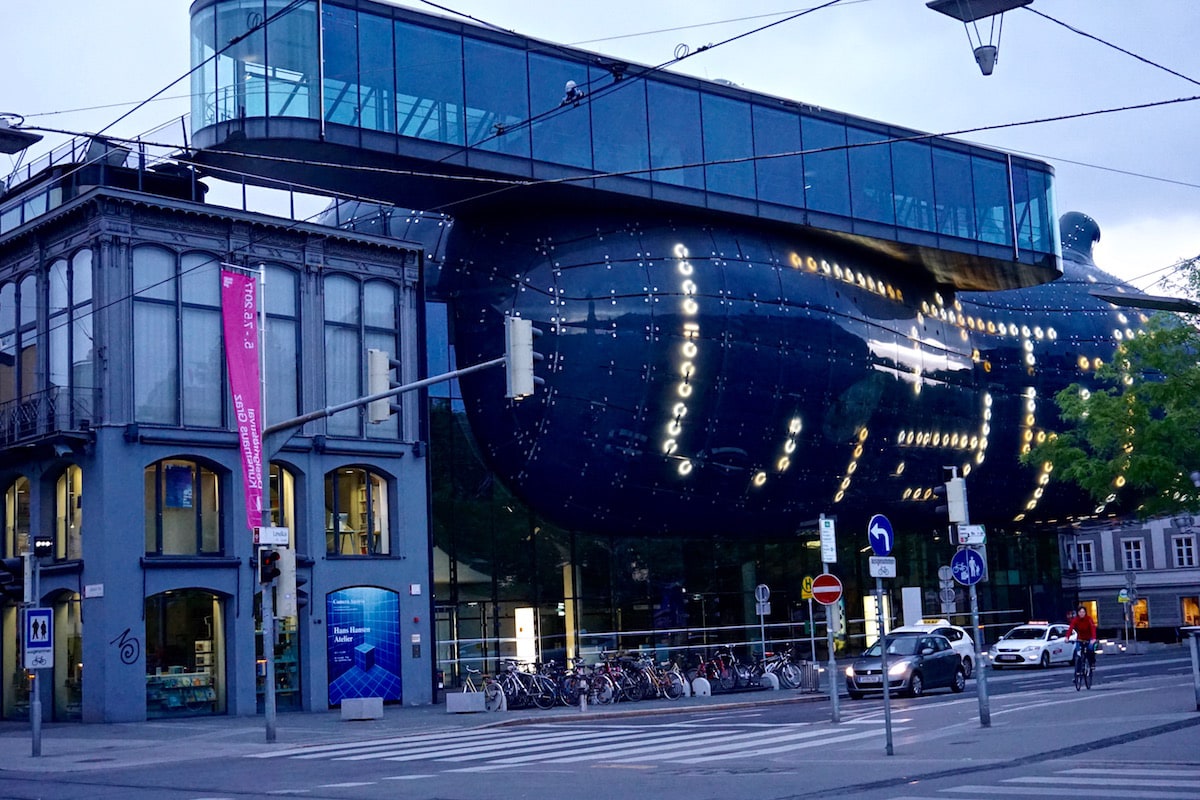 Try modern Styrian tapas at Der Steirer
I'd heard Graz was famed for its food scene. Being towards the south, the country (Styria) is known for its Mediterranean climate, which is certainly reflected in the fresh produce and cooking techniques. Head to Der Steirer and order a selection of Styrian tapas to share. I tucked into a tasty salmon tartar, duck breast with rhubarb, ham rolls with a tasty veggie filling and some summery pasta with crayfish. Der Steirer is also famous for its crispy fried chicken and huge wine selection.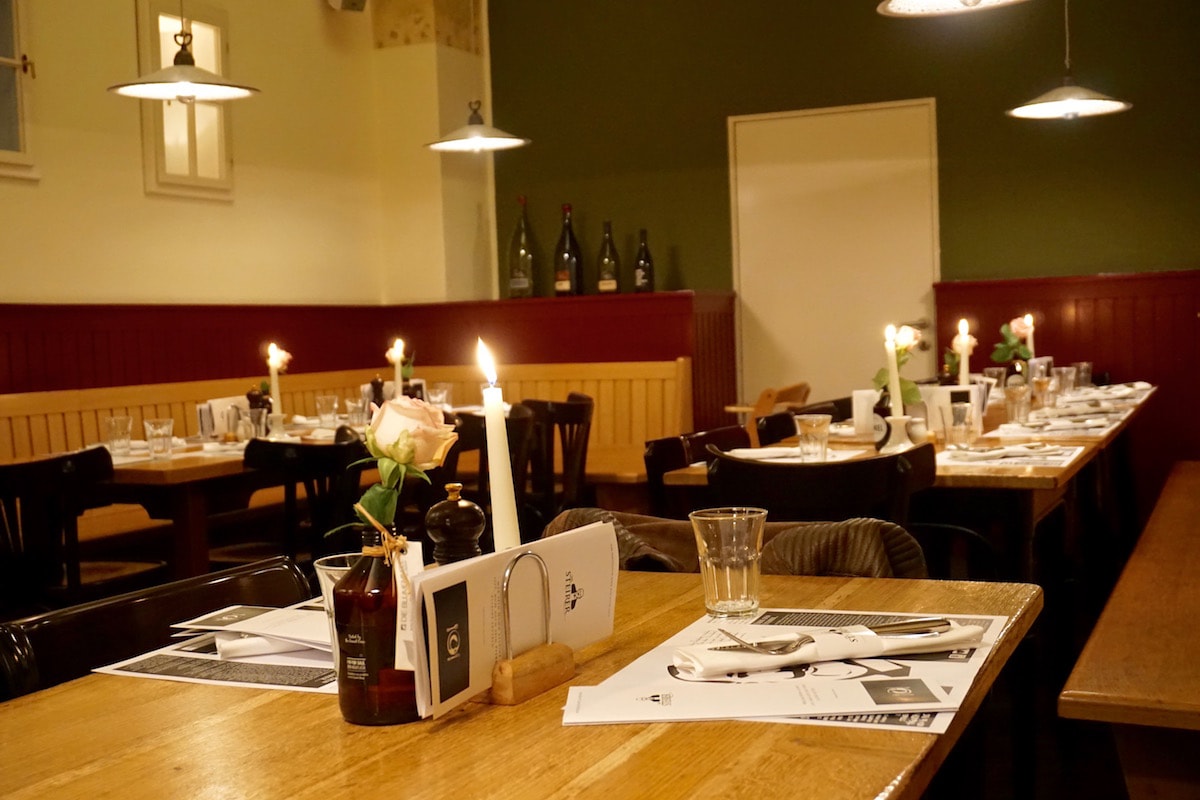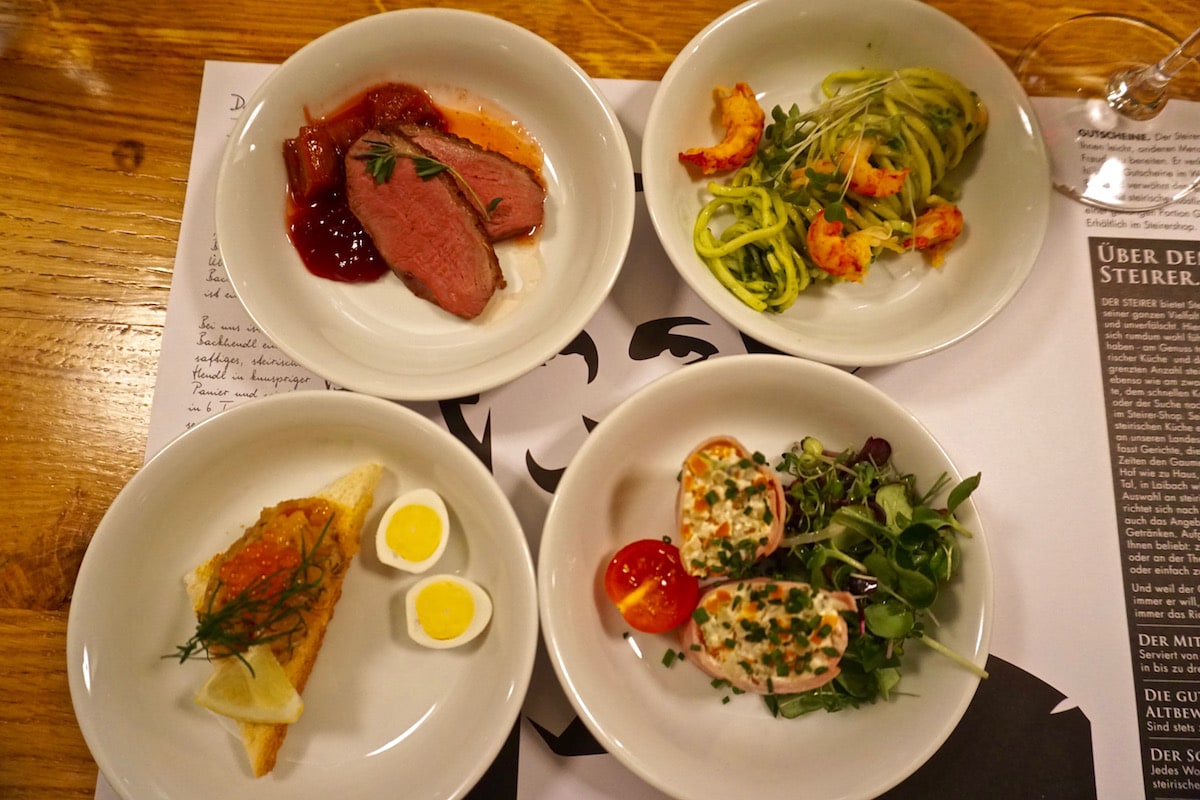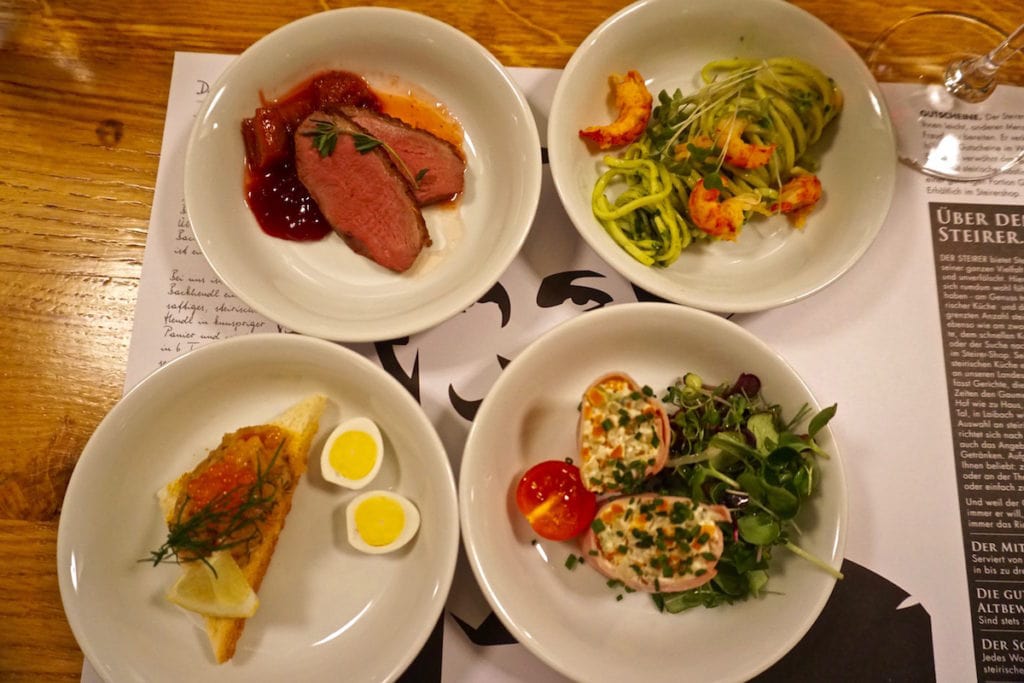 Indulge in some of the best ice cream you'll ever eat at Eis Greissler (and yes, the queues says it all)
Michelle on Facebook recommended this place, saying it was the best ice cream in Graz. There are two ice cream stores opposite each other… but only this one had queues out the door, and for good reason!
She'd recommended I try the butterkeks (I think that translates as shortbread flavour) but once I saw raspberry and salted caramel on the menu, my decision was made!
Genuinely, this is some of the best ice cream I've ever tasted, and if I ever come back to Graz (come summer or winter!) I'll definitely stop by for another scoop!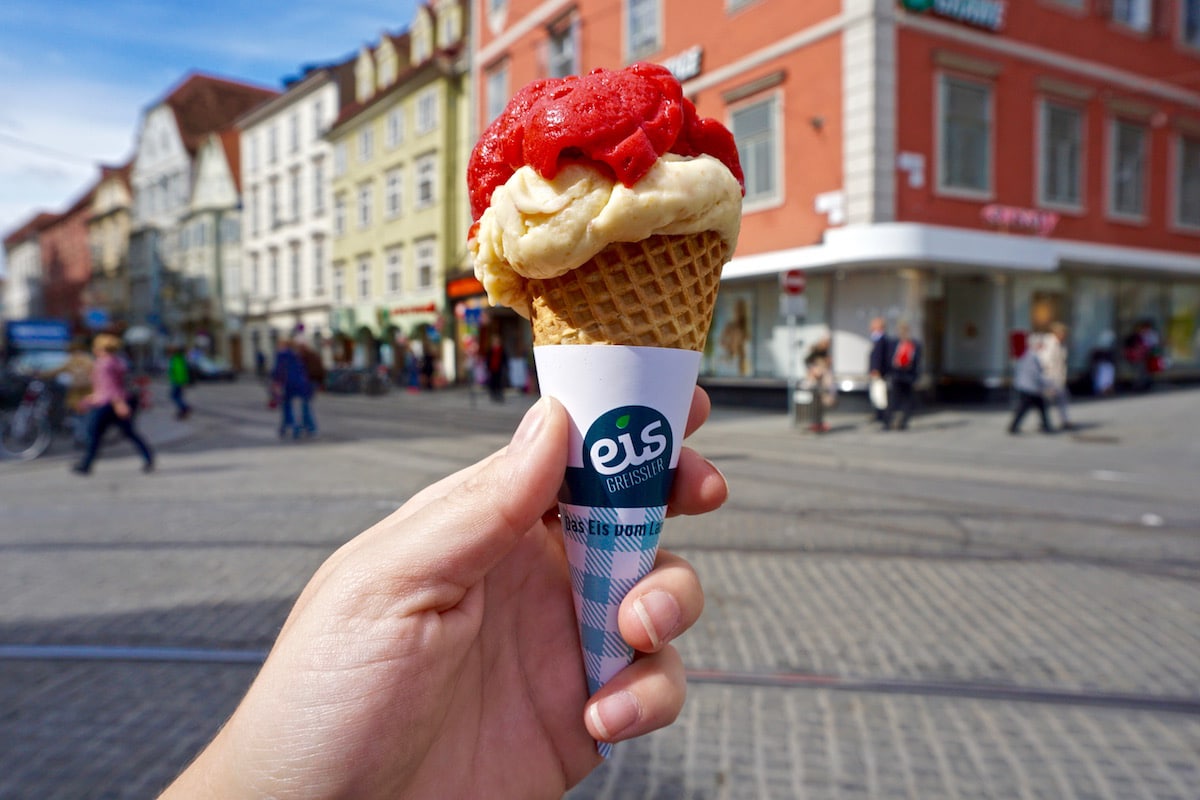 Graz is a green city with countryside moments away from the city, and plenty of parks in the centre. Just below Schlossberg and close to Graz Cathedral is Burggarten – a lovely park with fountains, a long water feature and plenty of space to relax on the grass in the warmer months.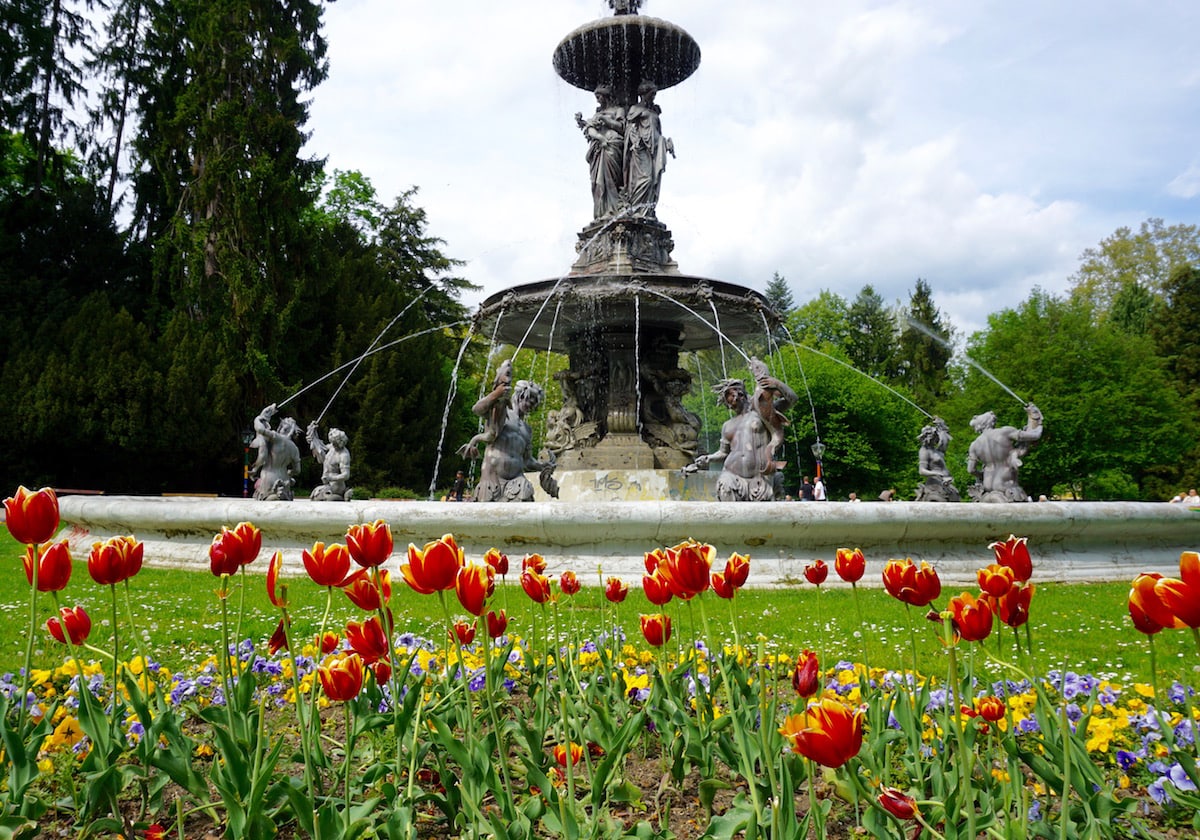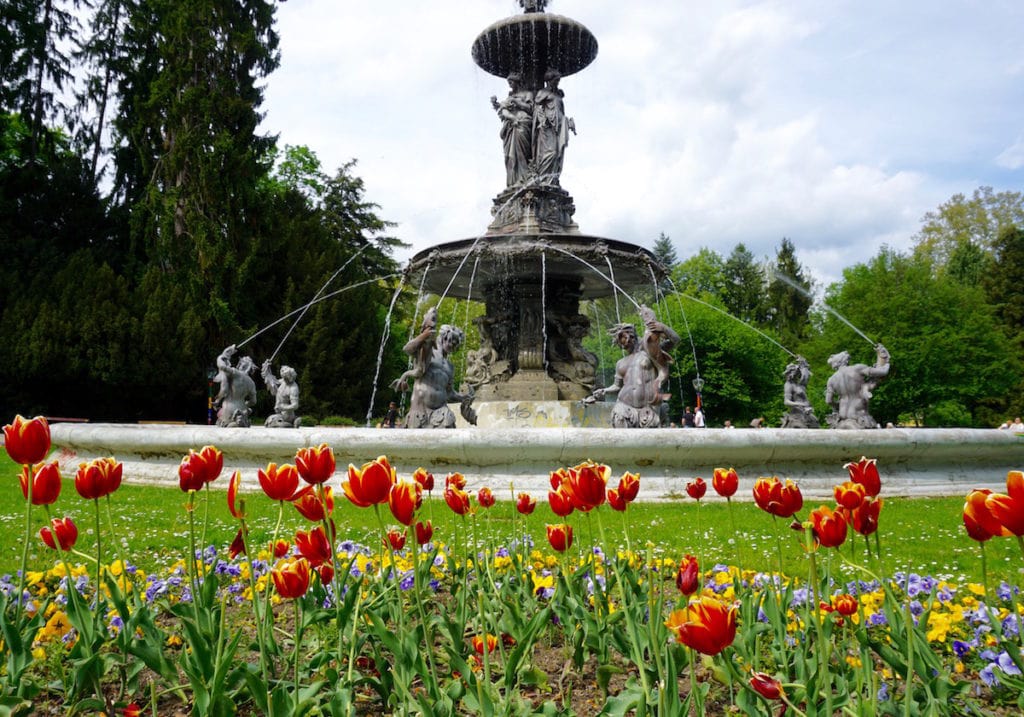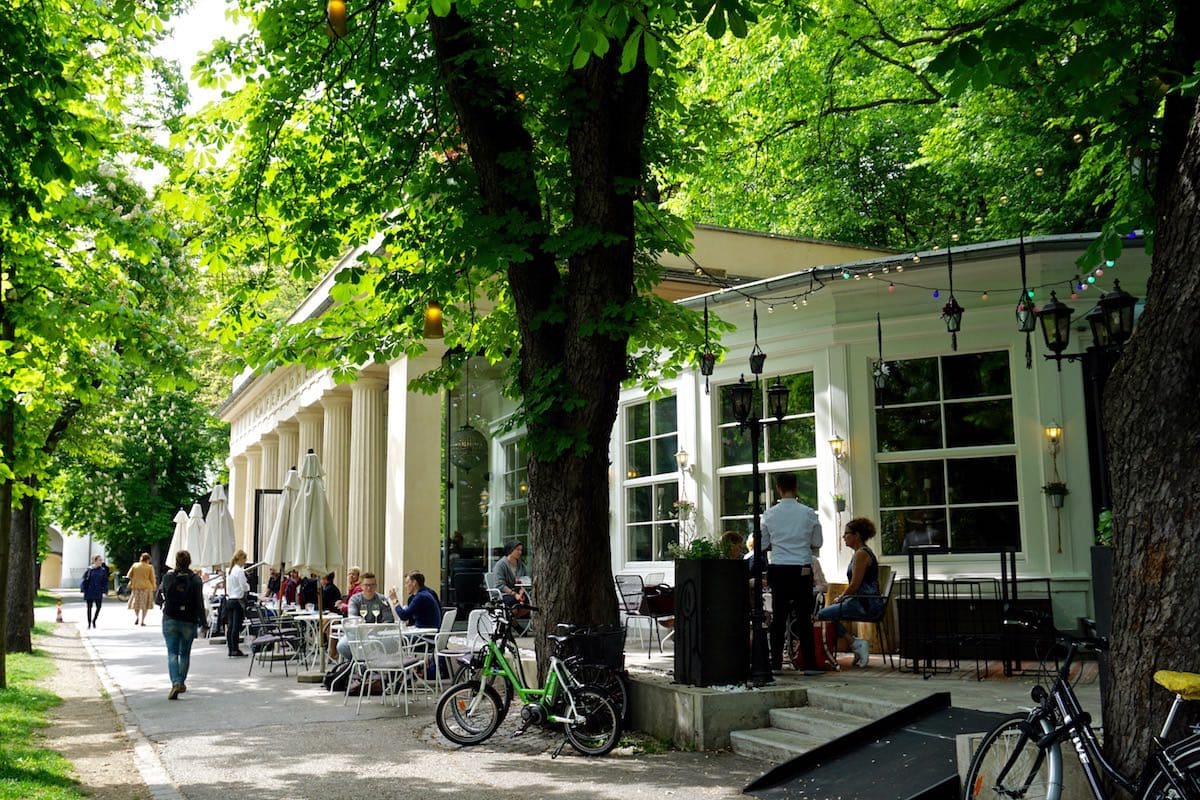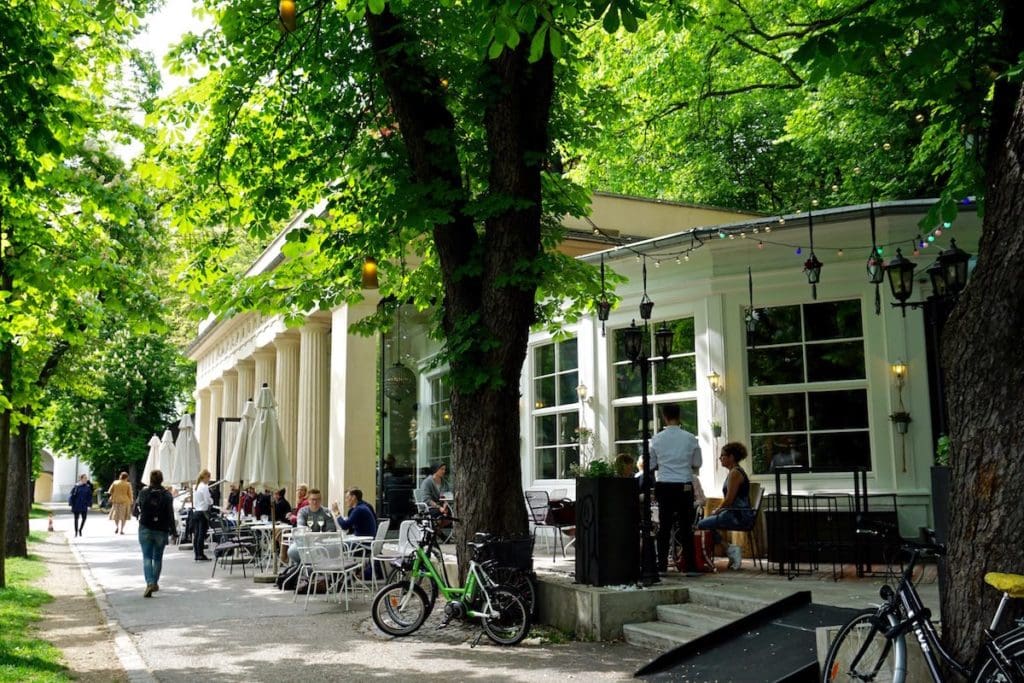 Have drinks on the roof of Graz's most famous department store
Kastner and Ohler is Graz's fancy department store, with several floors of designer labels, homeware and cosmetics. Hidden away on the top floor is Café Freiburg – a cafe/restaurant with a huge roof terrace.
When the weather in Graz is warm, this is a great spot for an afternoon beer or a coffee. I enjoyed a passion fruit and prosecco spritz – light, summery and refreshing.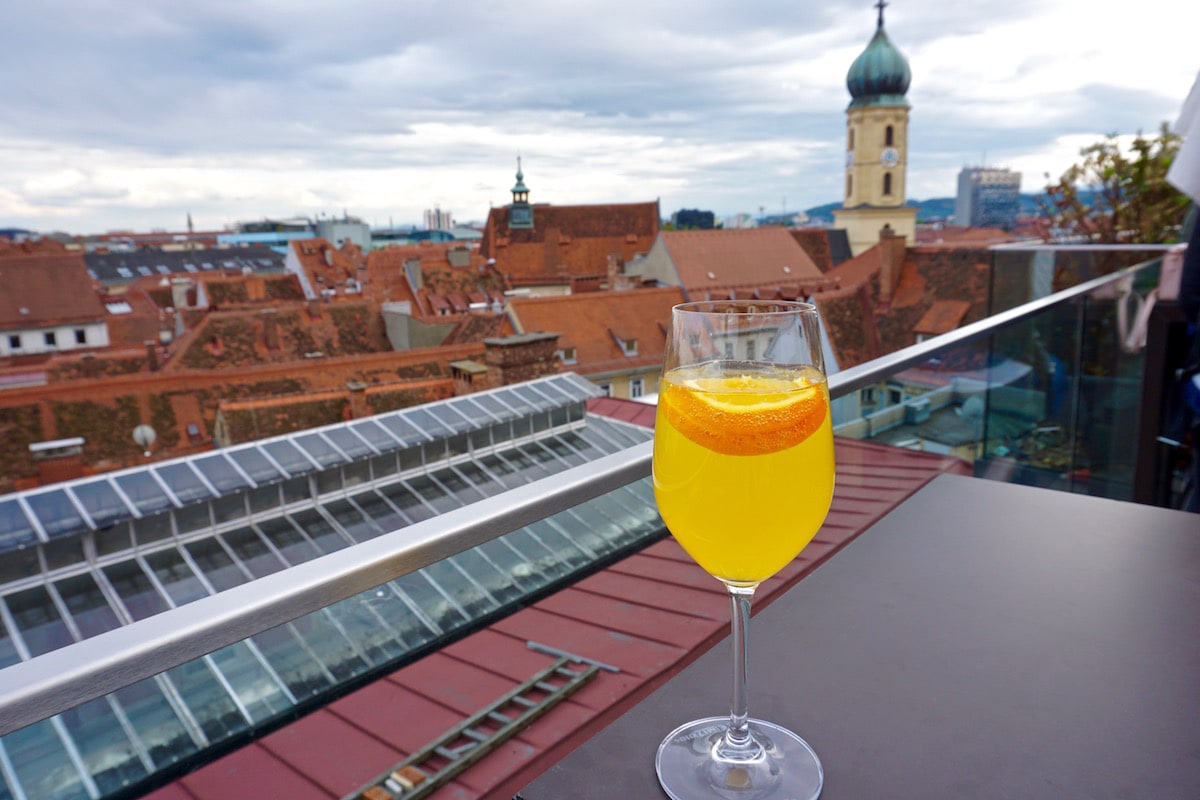 Sample green pumpkin oil at the Farmers Market
A few days a week, the square at Lendplatz is filled with local producers selling fruit, vegetables, flowers and herbs. Take in the aromas as you tour the market, and be sure to try a local speciality – green pumpkin seed oil.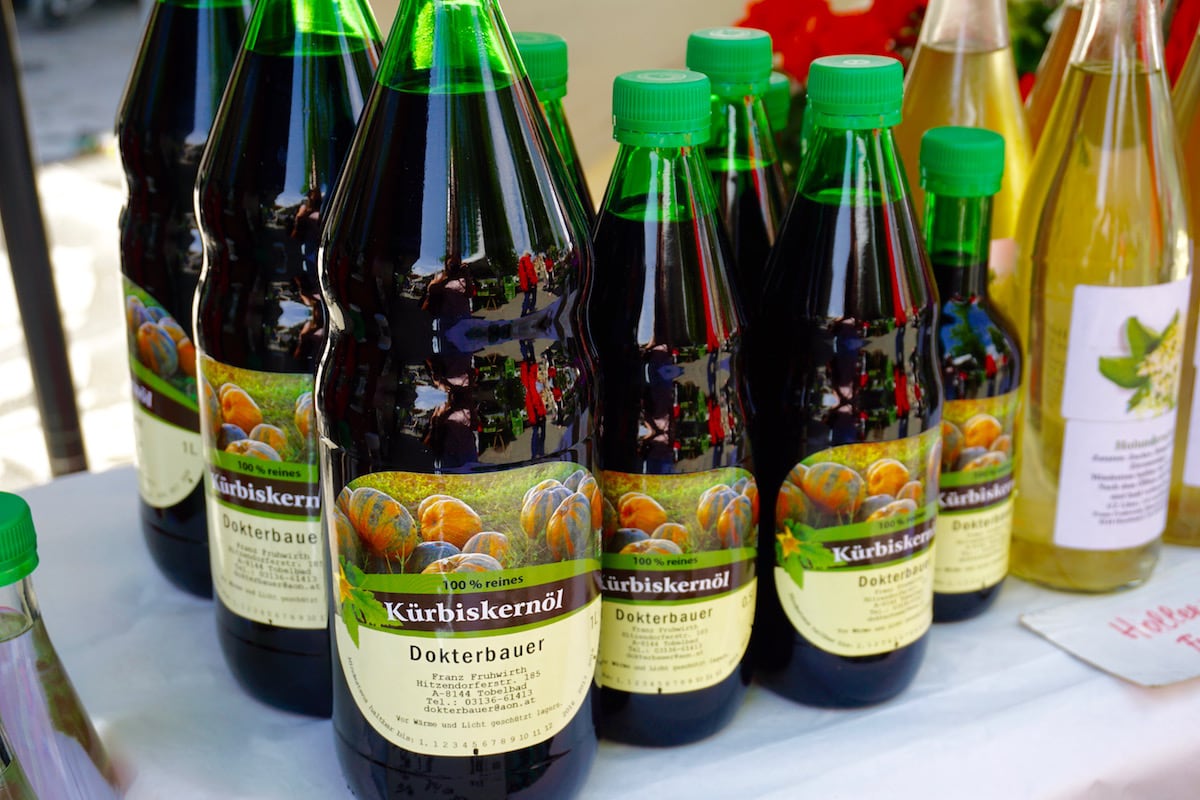 See The Double Spiral Staircase at The Burg
Tucked inside the official HQ of the area's government you'll find this fascinating optical illusion – a double spiral staircase! Constructed in 1499, the stairs are in fact two flights of staircases which go in opposite directions.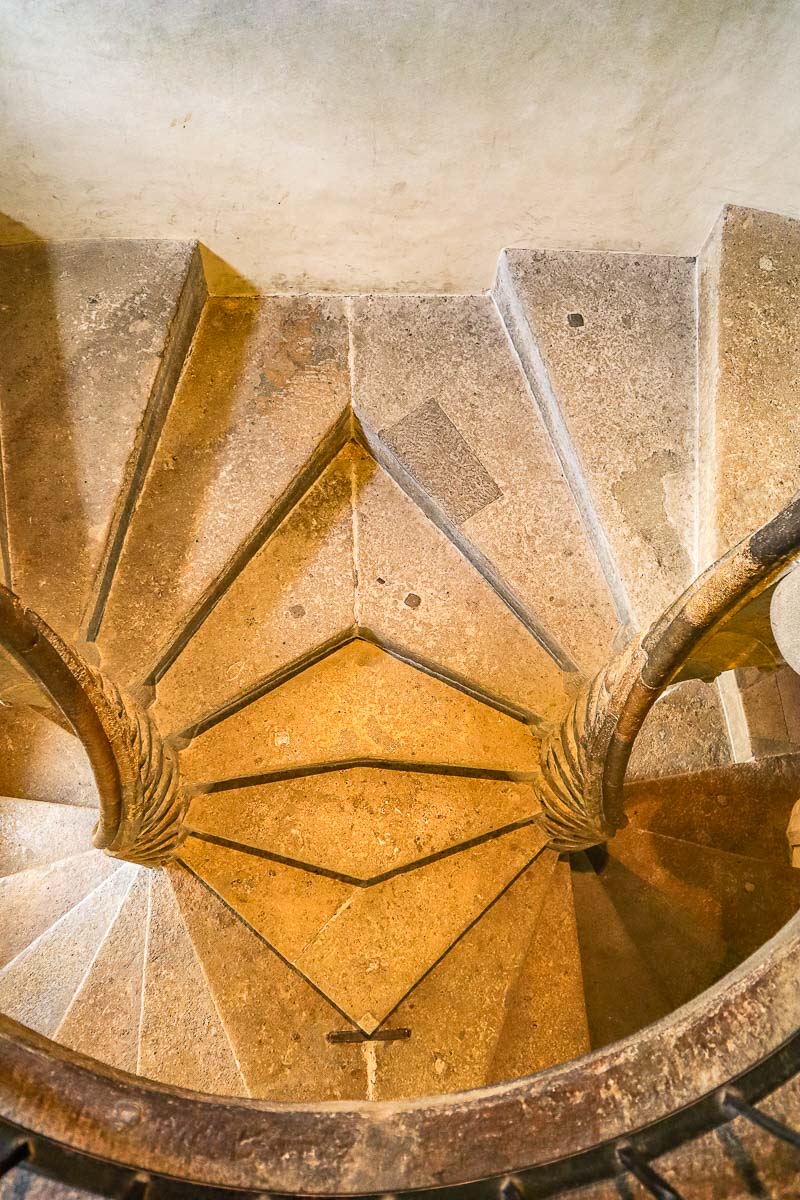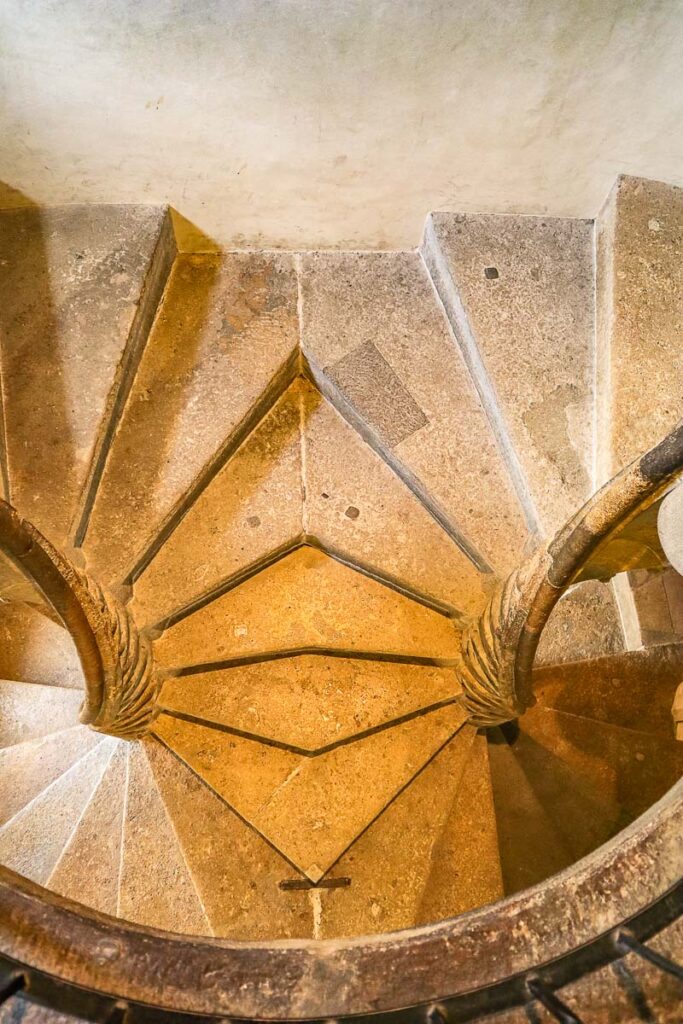 They merge on each floor for a few steps and then veer away from each other. Many people see them as a symbol of eternity in the city, and they have the nickname the stairs of reconciliation, as even if two people separate in different directions, they meet again!
Just a little north of the city centre is Aoila Im Schloss. Located next to a beautiful yellow palace (which is now used for special events, weddings etc) the floor to ceiling glass restaurant serves high-quality food in sophisticated surroundings.
I enjoyed a salmon salad with strawberries and white asparagus to start, followed by pork wrapped in bacon with crisp potatoes and a creamy mushroom sauce. If you fancy a treat, or are celebrating something special, this is a great place to come!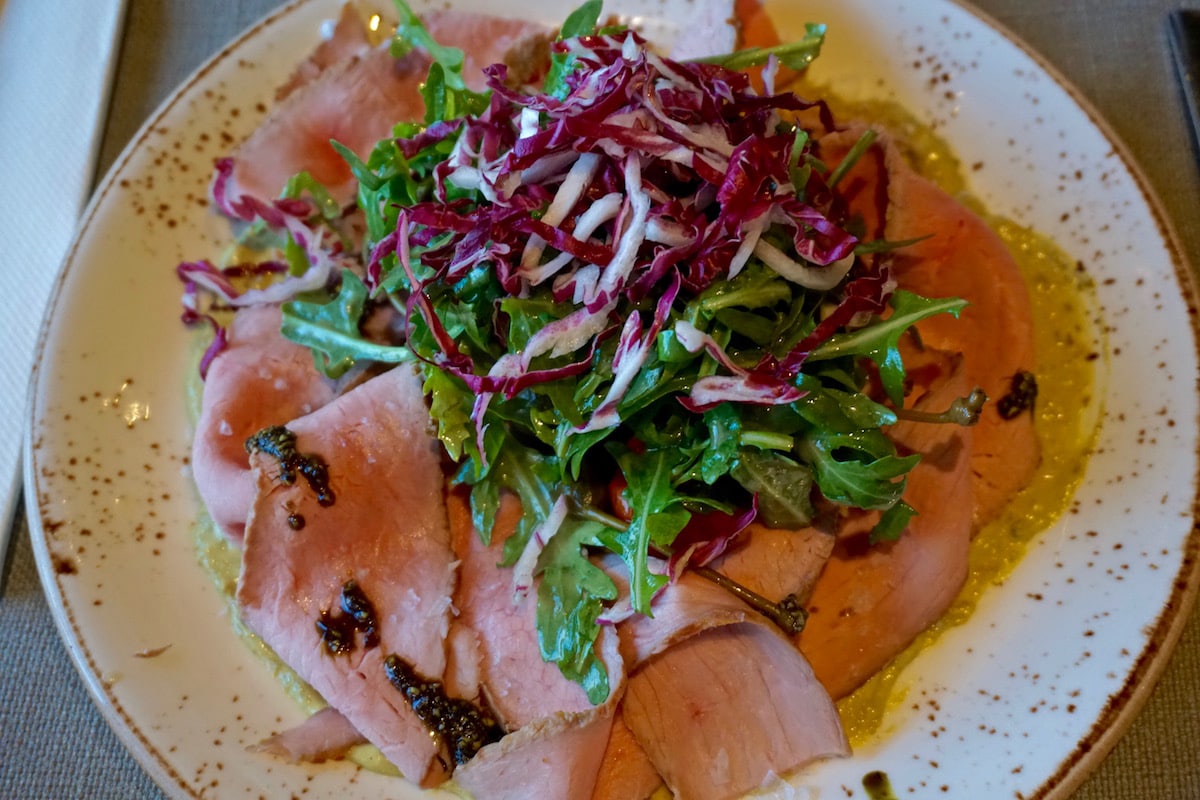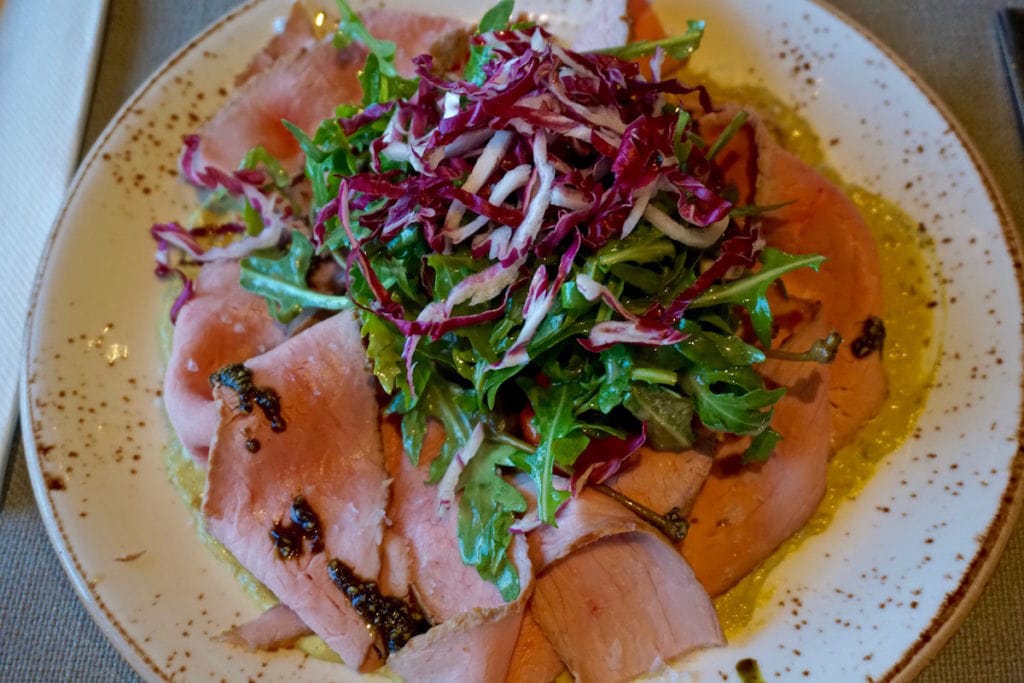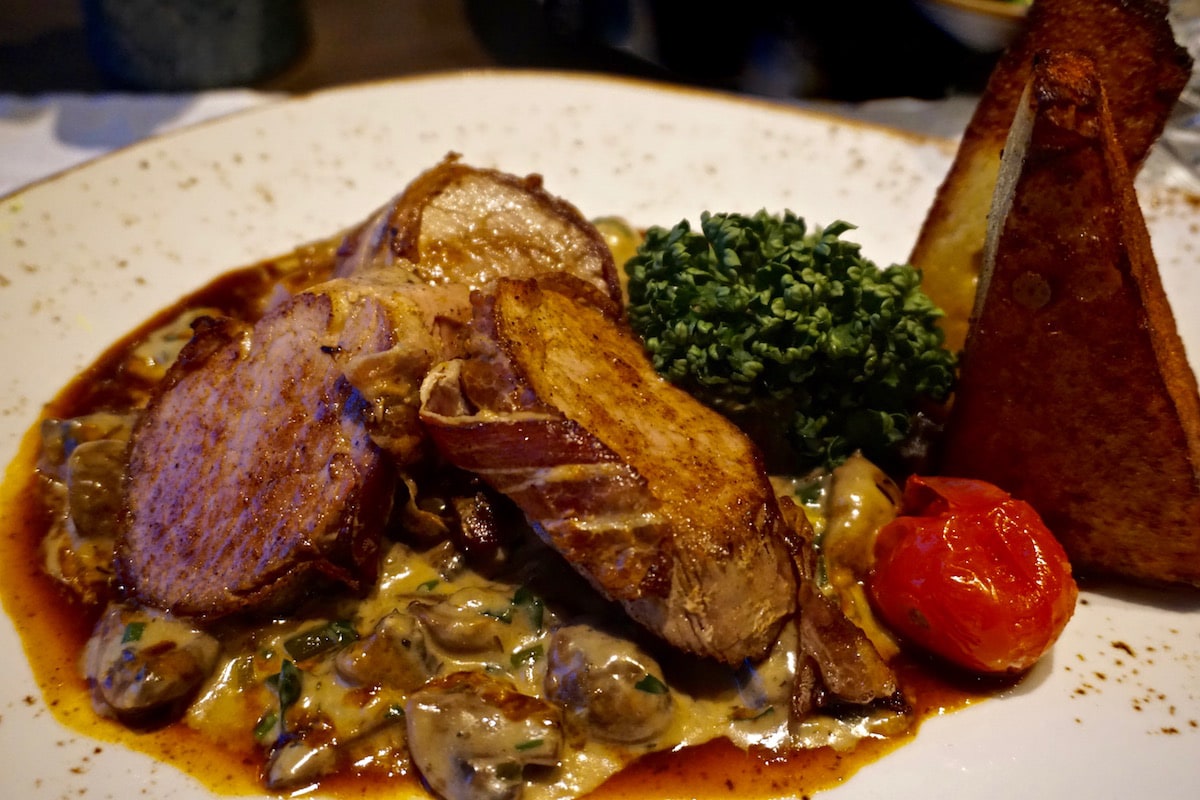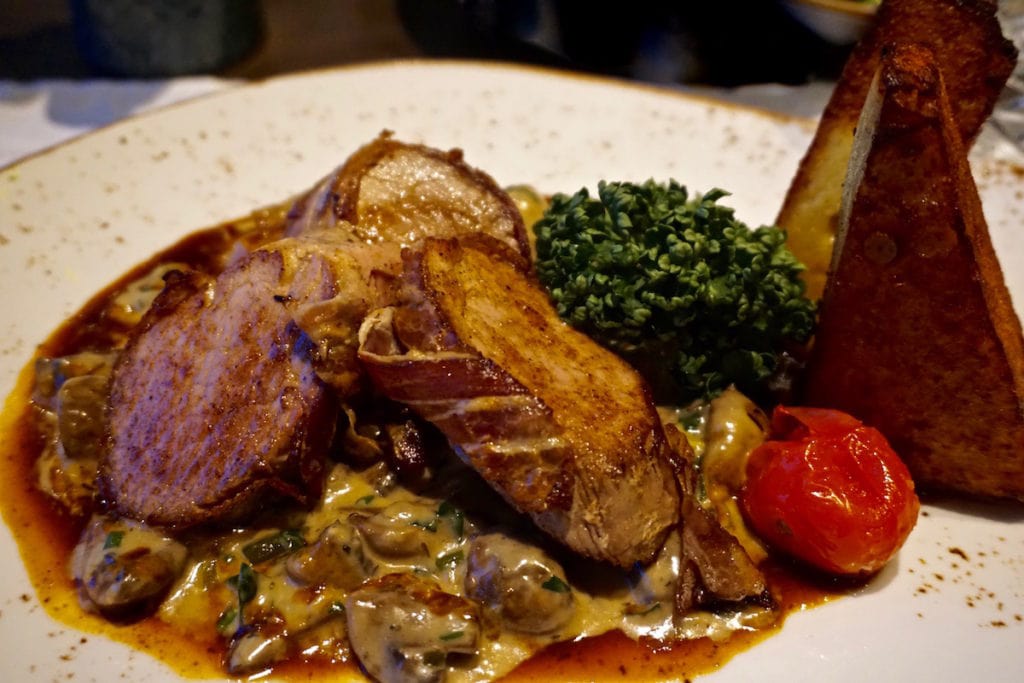 Cross the River Mur via Murinsel – The Island in the Mur
Graz was named a UNESCO City of Design and as you wander the city, it's easy to see why. Murinsel is a modern floating bridge structure and was created by US-American artist Vito Acconci to celebrate the city's role as Capital of Culture in 2003. In the centre there's a bar – a great pace to stop for a drink while checking out Graz from a whole new perspective!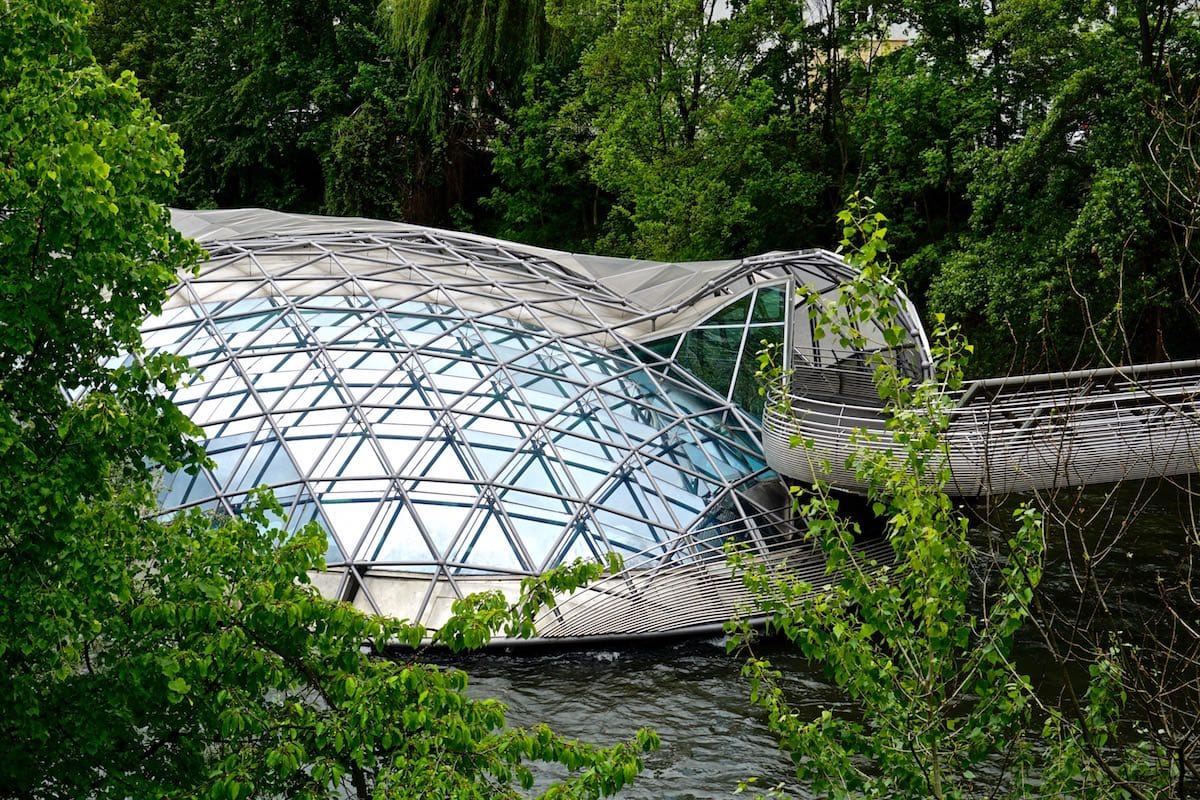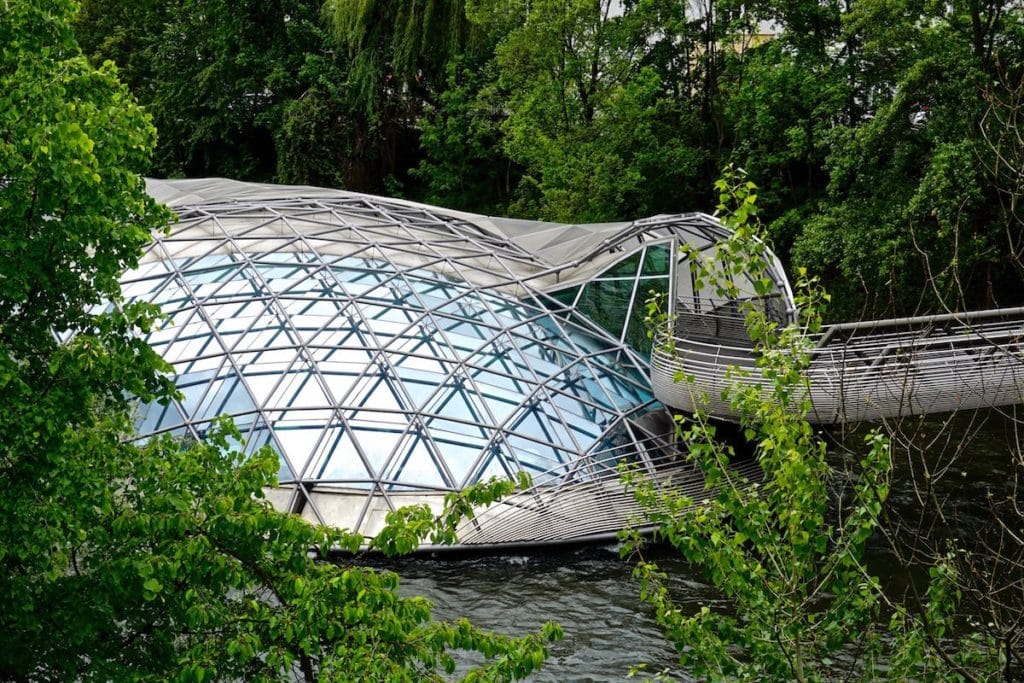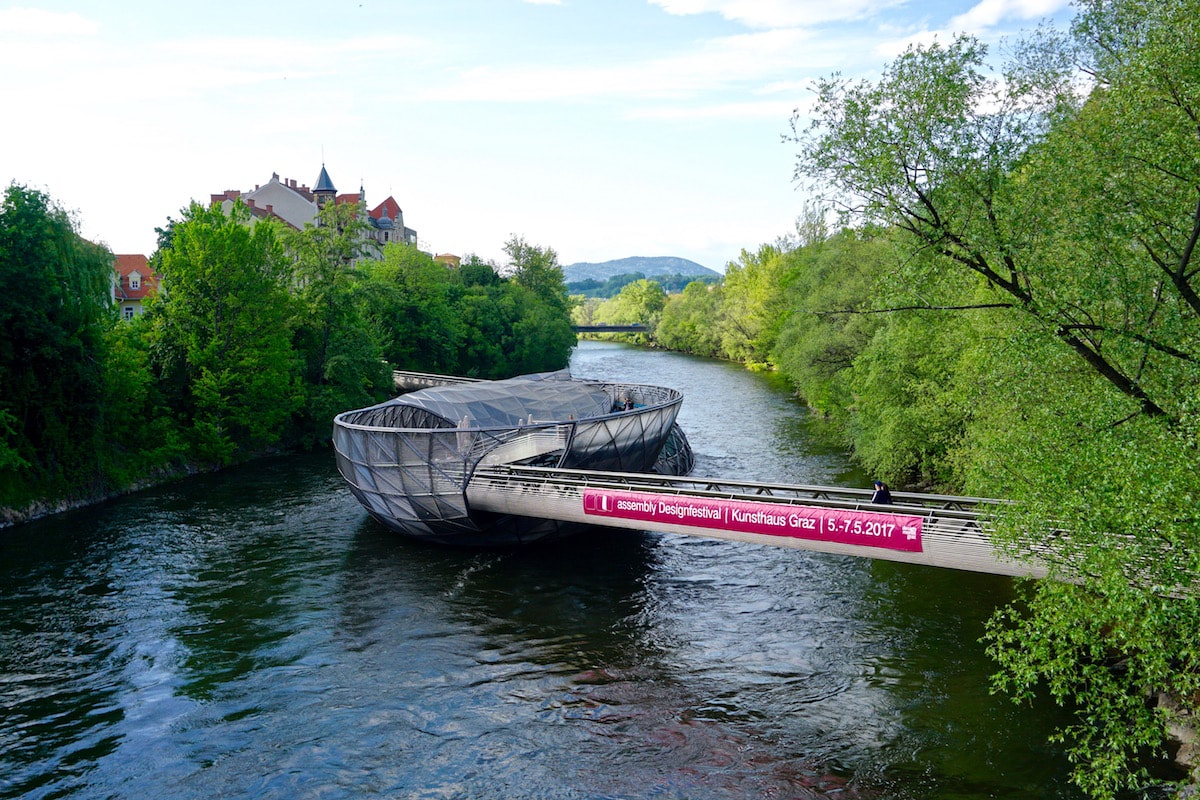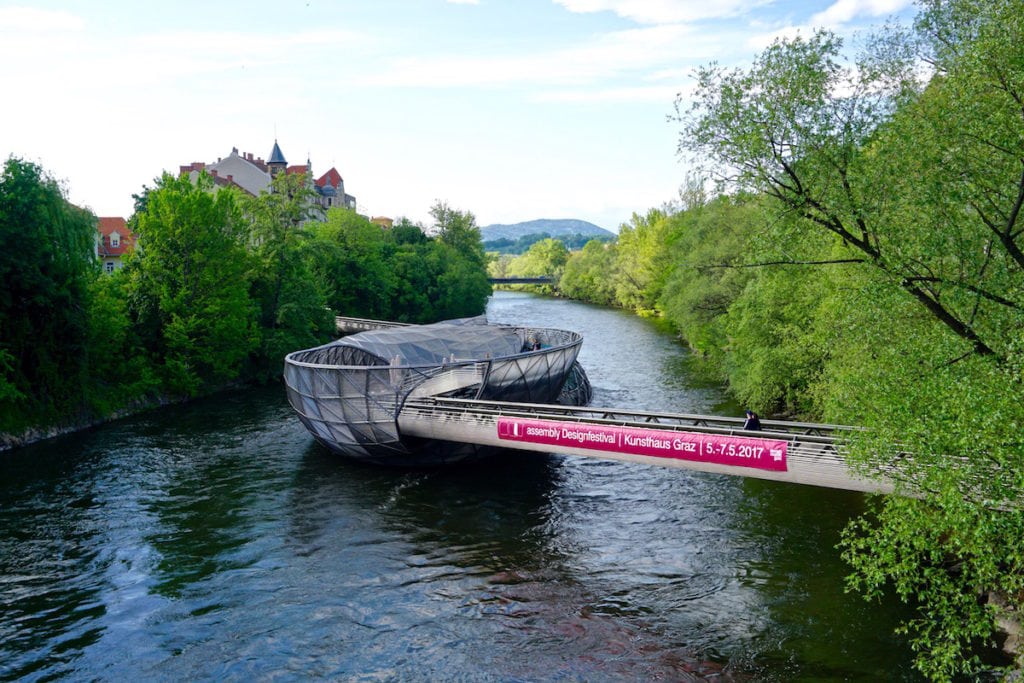 Travel like a local
Want to feel like a local? Then hop on a tram or a bike. They're the most popular ways to get around the city (if you don't fancy walking). If you need to get further afield, you can purchase a 24-hour pass for Graz's public transport for just 5 EUR.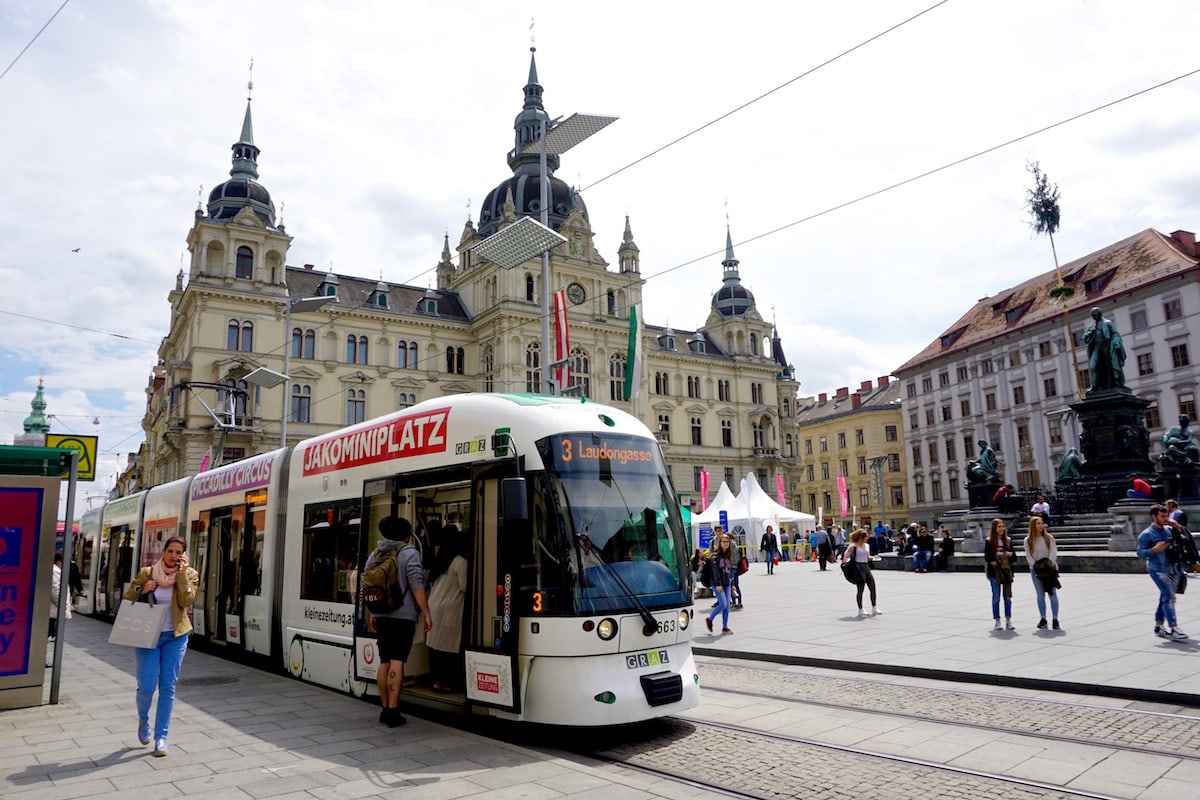 Enjoy panoramic views of Graz Austria from your hotel room
Hotel Daniel describes itself as smart urban living. With a cool workspace and restaurant downstairs, one of the best buffet breakfasts I've seen in a long time (featuring smoked salmon, huge cheese board and all the pastries and bread you could dream of), plus super contemporary bedrooms, it's a great base for a trip to the city.
Even quirkier is the Loftcube – a room with a view! The glass room at the top of the hotel offers incredible panoramic views of the city, a rain shower, home cinema and more.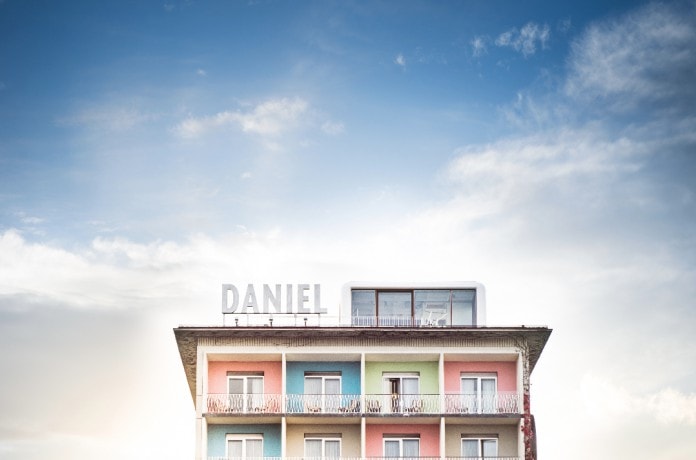 ---
I hope you've enjoyed reading my Graz travel guide. There's so much to see and do in this city, I'm sure I'll be back again soon!
*Since this visit I have returned to Graz again! If you want to read a few of my new favourite discoveries (including hiking up the beautiful Schöckl mountain) tap through to my guide to spending a weekend in Graz.*
I was invited to #UncoverAustria by the Austrian National Tourist Organisation. As always, opinions are my own.
Enjoyed this post? Pin it…