From a step-by-step guide about how to take an onsen, to information about what to wear and a few taboos too, it's time to find out everything you need to know about visiting an onsen in Japan.
There are plenty of things in Japanese culture that you might not know about until you've been.
I had plenty of questions before, during and after my trip! As soon as I returned I wrote a mammoth Q&A post, addressing all the little quirks you might not know about before you go.
I covered everything from how to get around the country, to the highly-functional toilets, and what things cost.
I decided the Japanese onsen experience was worth its very own post.
When you visit an onsen in Japan there are lots of rules and traditions to be aware of.
While I'm sure you won't get laughed at or deeply offend someone if you get things a little wrong to start with, it's nice to start with a bit of insight! I hope this guide helps you avoid embarrassment and enjoy the onsen experience – for me they were a huge highlight of Japanese culture.
Useful things to know before visiting an onsen
An onsen is a Japanese traditional bath, usually found in regions with natural hot springs.
Some towns like Shuzenji in the Izu Peninsula are particularly famous for their hot springs, and people visit specifically to enjoy the relaxation that the experience brings.
While I'd liken it to spending time in a Jacuzzi, it's a little different in Japan.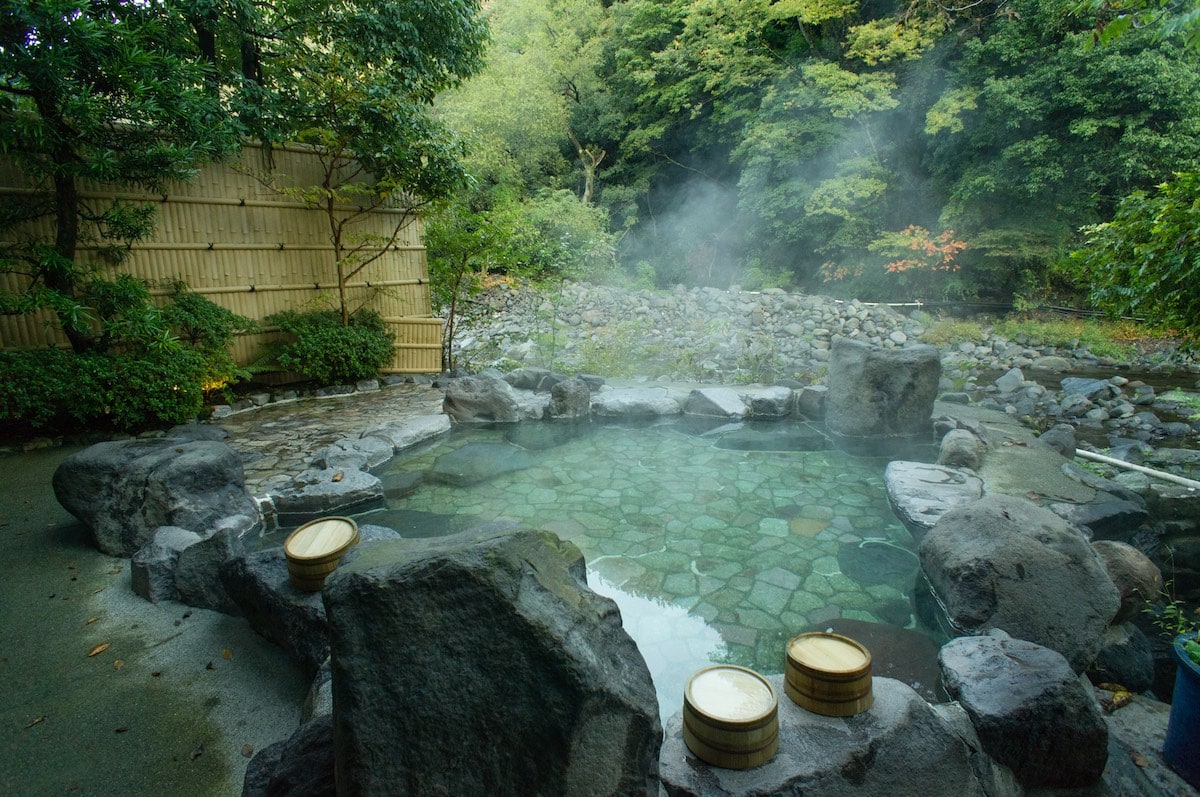 Why do people spend time in an onsen?
The Japanese have onsen deeply rooted in their history. Along with being a place to cleanse and purify, they're also wonderfully relaxing.
Do you wear clothes in an onsen?
Clothing isn't permitted in an onsen… normally! Traditionally you enter the public bath totally naked. However, at places like Kawazu Hot Springs Resort, there are several warm pools at the base of the waterfall, all differing sizes, shapes and temperatures. At this resort, you're required to wear swimwear, and men and women bathe together.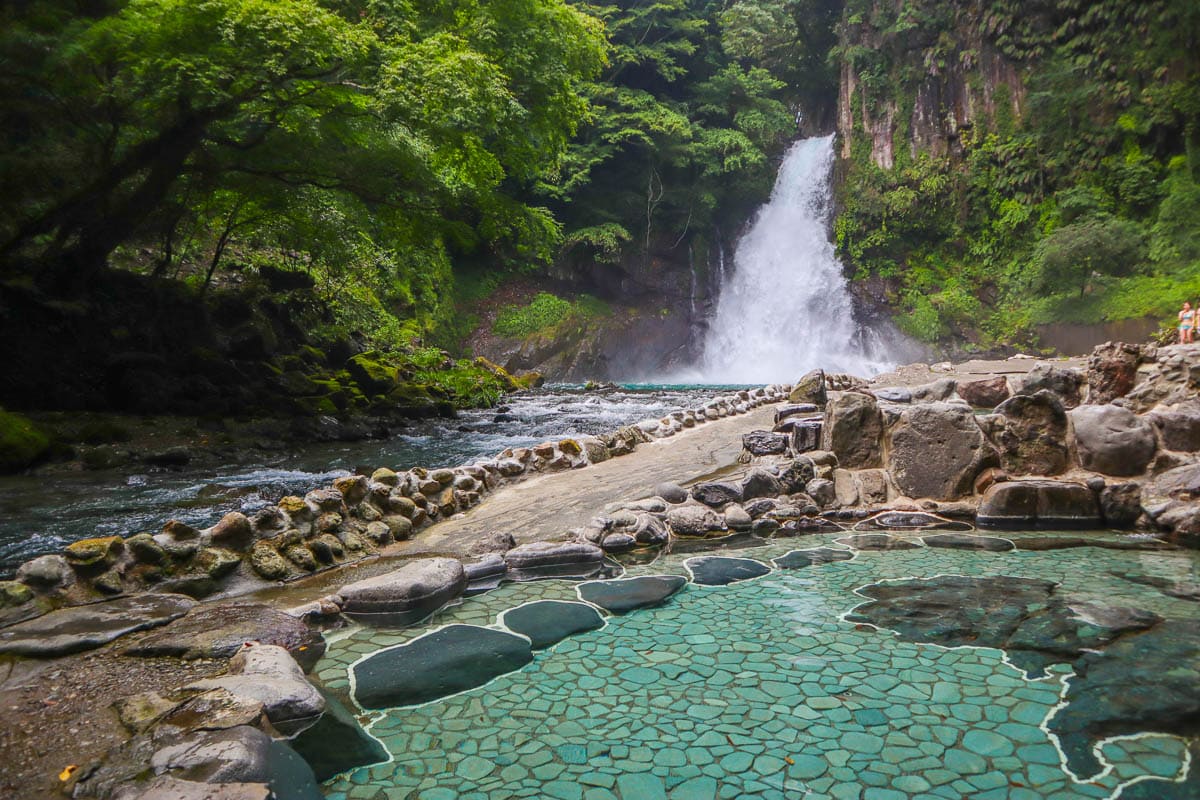 Do men and women bathe separately in an onsen?
Yes! In general if you visit the onsen at a ryokan or hotel, there will be a public bath for men, and another for women. There will also be separate changing rooms and washing areas.
However, at places like the resort mentioned above, men and women share the public baths. Also, many hotels have private onsen, which are available to book by the hour. These are perfect for families or couples who want to enjoy the experience together.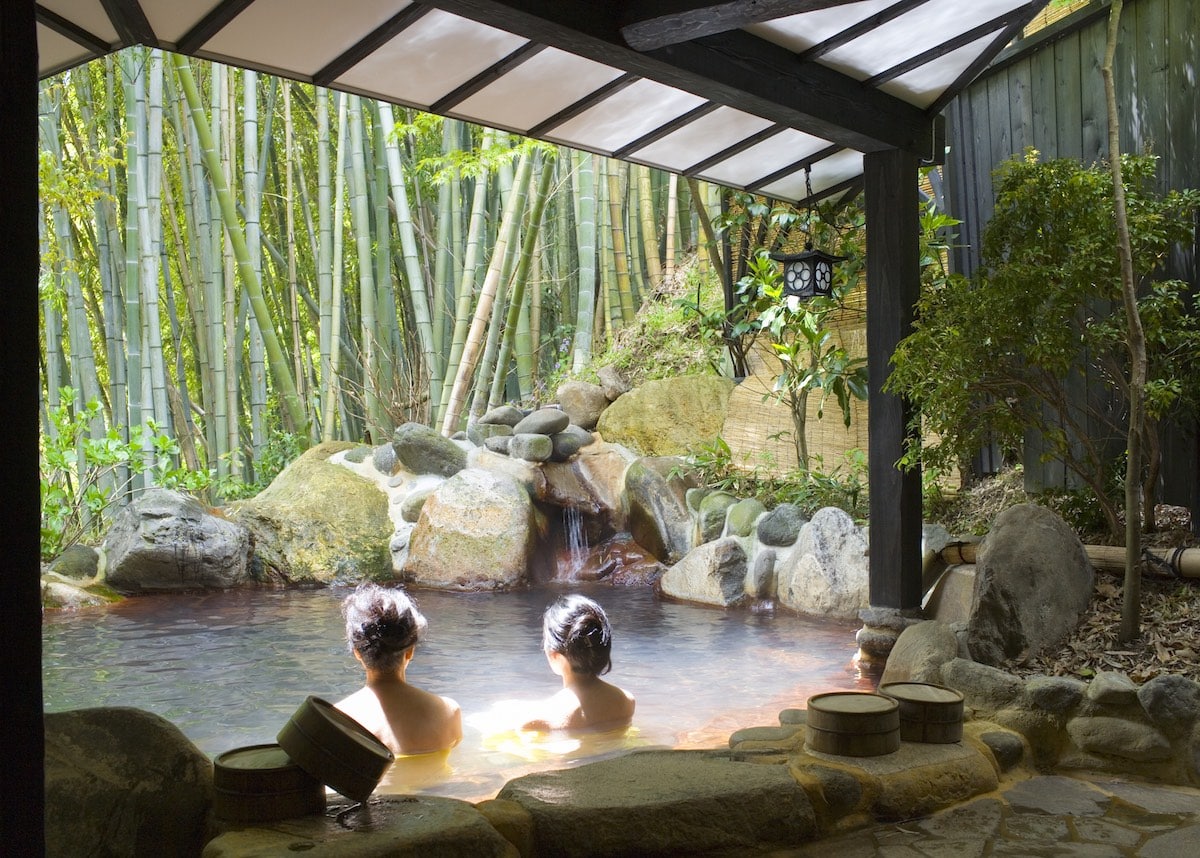 Is visiting an onsen scary?
The first time I visited an onsen I was a little anxious, mainly because I was on my own and I was nervous I would do something wrong! Growing up in England, we're not used to being naked around people we don't know, so this also took a moment to get used to.
Once I relaxed, it was a wonderfully soothing experience, and every time we visited a new hotel I was excited to check out their public baths.
Are tattoos permitted in an onsen?
Tattoos are a bit of a taboo in Japan. As a sweeping generalisation, older generations don't approve of them, and they have a negative connotation in Japanese culture.
However, this attitude is changing amongst younger generations, especially among those living in the bigger cities. Some onsen have rules that you can't enter with tattoos, others will ask you to cover them up, some are fine with it! If you have large tattoos, check first.
What's the routine involved in taking an onsen?
Before visiting the onsen at our first ryokan in Shuzenji, I'd never been to one before. I was a little nervous, but thankfully the ryokan printed some helpful instructions for tourists who didn't know what to do. Here's the basic routine…
Step 1: Get naked! Whether you've arrived in clothes or a yukata (a light kimono often worn at a ryokan), undress and place all items of clothing in the baskets or lockers provided. Footwear is left at the entrance, or in the changing area.
Step 2: With your small wash towel, visit the washing area. These varied from onsen to onsen. Often they were quite sophisticated areas, with stools to sit on, showers and products for washing with (shampoo, body wash etc). Some had a bit of privacy – like a little booth to sit in. Some were more basic, with small stools and buckets. With these, you collect water from the public bath to rinse and wash over your body. You use the small cloth to clean yourself.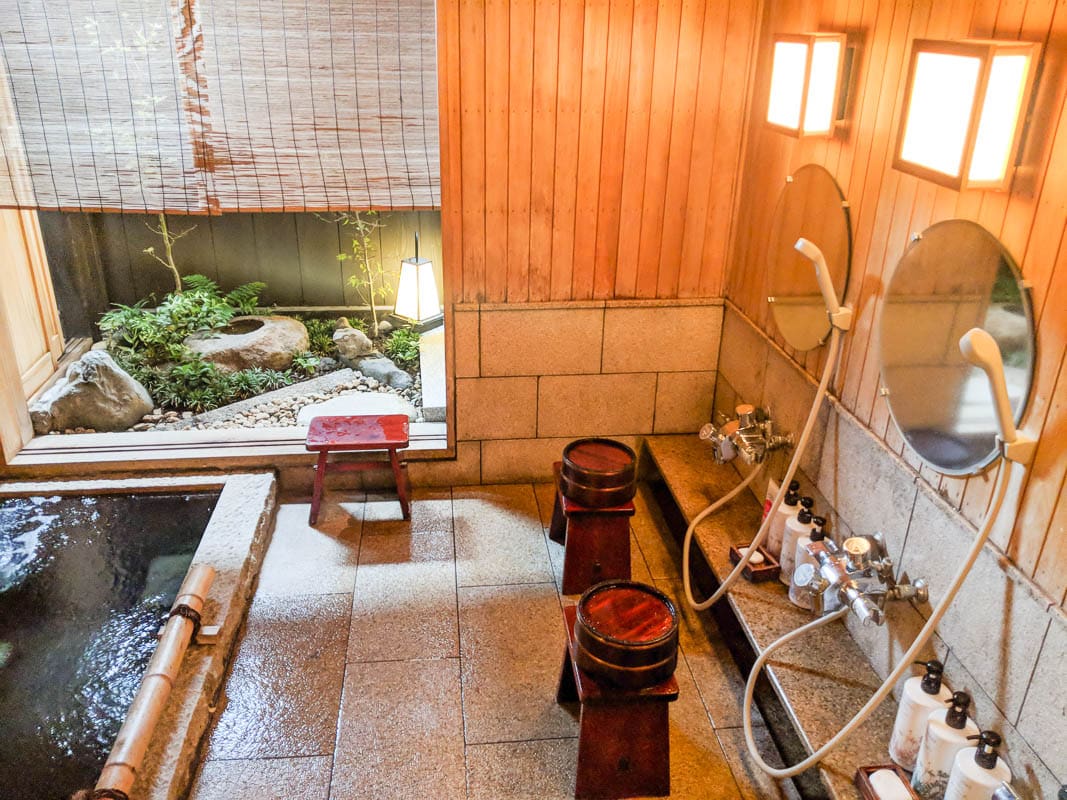 Step 3: Enter the public bath. Wow did these vary too! Some were small pools with just enough room for two or three others. Others were surrounded by rocks (almost feeling like they were natural outdoor pools). Some were vast infinity pools with spectacular views. Some were indoors, some were outdoors. Every experience was different!
One thing to note is that you take your washcloth with you to the onsen, but you should never allow it to enter the water. This is frowned upon as it's seen as unhygienic. At the onsen I visited, most women chose to drape the cloths over their heads.
Step 4: Relax and enjoy! I mentioned earlier that I found the onsen experience to be a highlight of Japanese culture. After a busy day of sightseeing, they soak your aching muscles and leave you feeling rejuvenated, ready to do it all over again.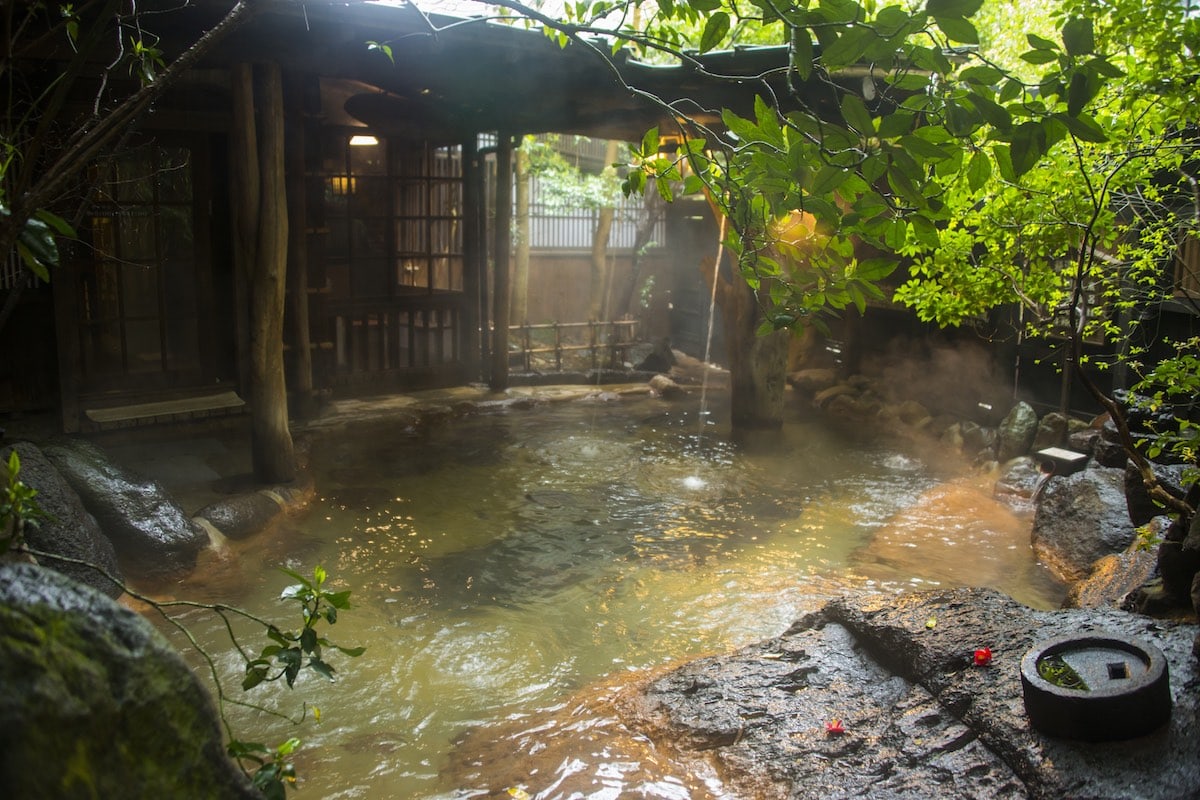 Step 5: Many repeat steps 2 and 3 several times, just using the products towards the end of their visit. While the baths are warm and relaxing, some are very hot so it's nice to have a moment out of the water to let your body cool down.
Step 6: Shower off one last time and then go and get dressed. Many onsen had pampering areas with mirrors, hairdryers, body lotions and face creams.
I hope you've found this post helpful. If you get the opportunity to visit an onsen, I'd say it's a must!
Enjoyed this post? Pin it for later…