Sailing around Sicily's Aeolian Islands, hiking volcanoes, bathing in mud baths, and chilled out yacht life – here's the lowdown on MedSailors' brand new route in Sicily, Italy.
Just over two years ago I lost my MedSailors virginity. I was pretty new on the travel blogging scene, and wanted to try EVERY type of travel! A friend and I spent a week sailing around Croatia, enjoying chilled days sunbathing and swimming, afternoons exploring beautiful towns, and evenings sampling delicious food, all washed down with plenty of drinks. We made new friends, learned how to sail, shared plenty of awesome moments and even got used to boat life – toilets, showers, and sharing a cabin!
For me, it was a unique holiday. Cruises have never appealed much, but travelling by yacht was intimate and fun! When I saw MedSailors was launching a new route sailing around Sicily I couldn't wait to get my sea legs back.
For a real flavour of sailing around Sicily, don't forget to watch the video from trip!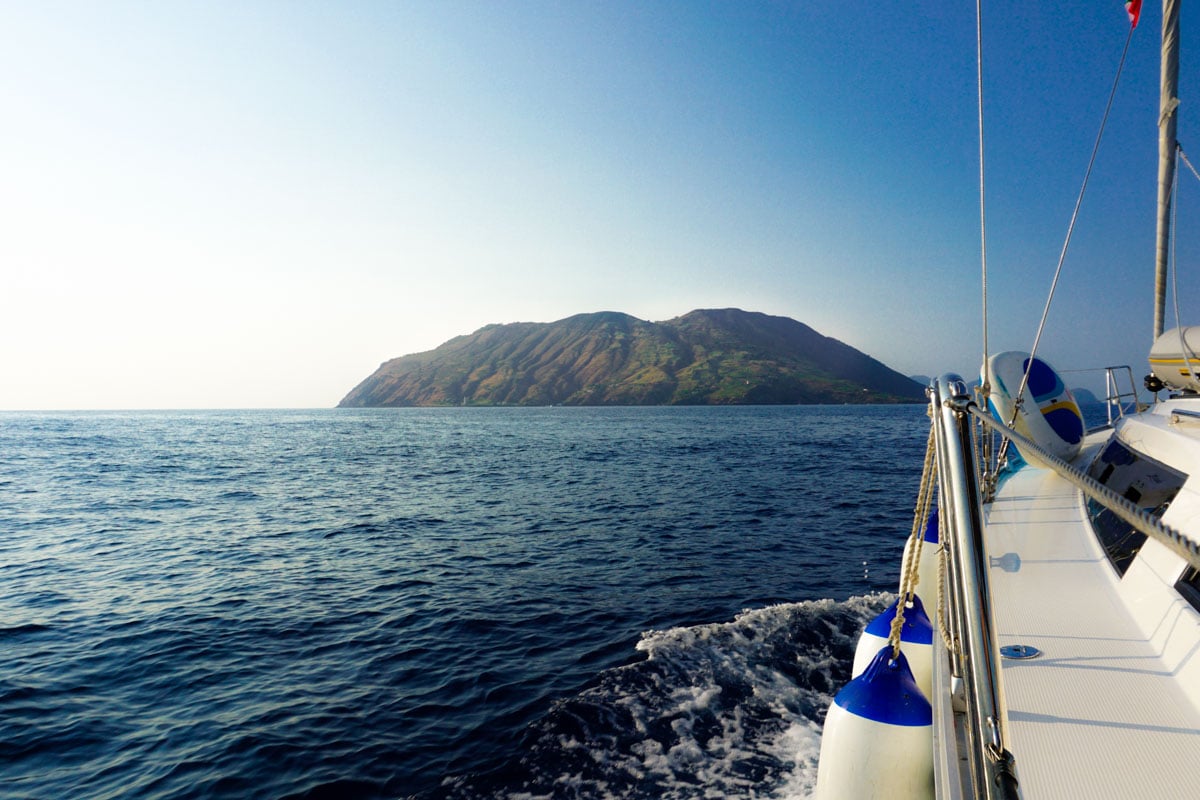 Sicily appealed in SO many ways. Let's face it, Italian food is up there with the best cuisines in the world. A week of eating fresh pizza, pasta and antipasti – yes please! Then there are the Sicilian landscapes. We spotted Mount Etna as we landed in Catania and along our trip we hiked Stromboli Volcano and spent a day on Vulcano. There aren't many places in the world you can enjoy a relaxing week alongside active volcanoes.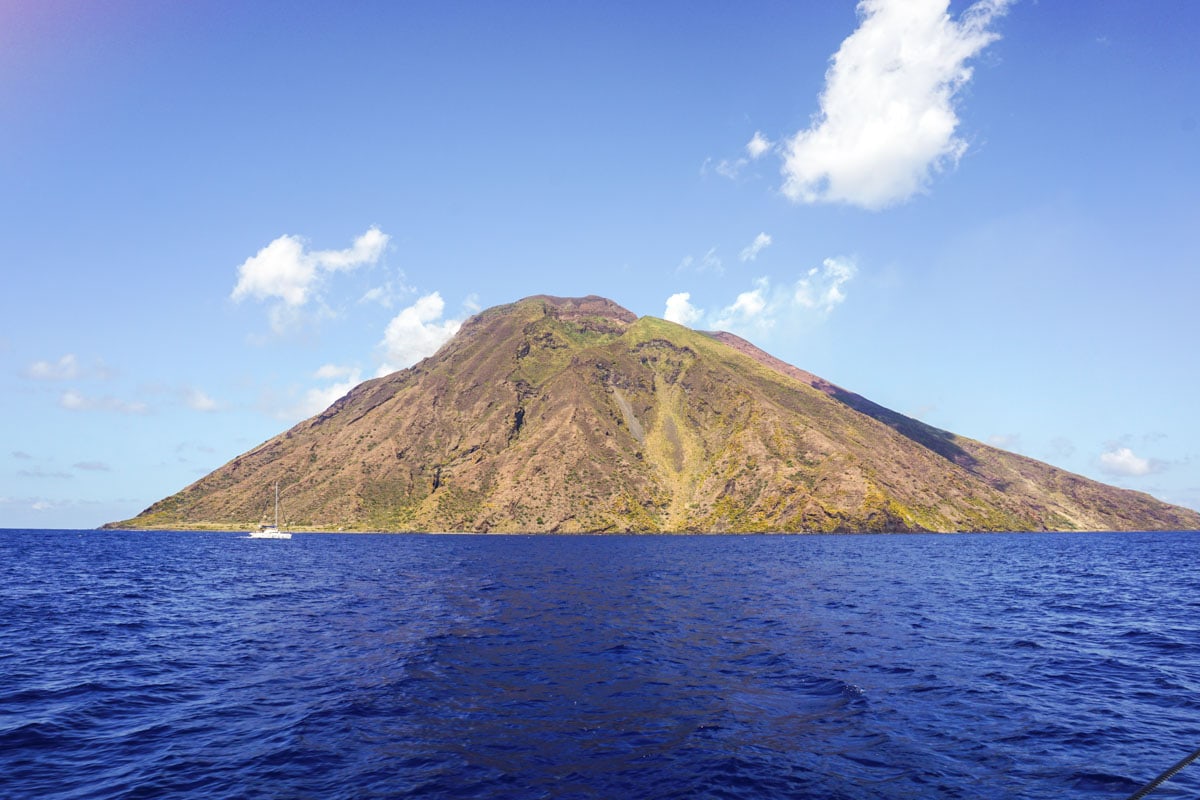 So, for anyone thinking of booking this route, or who fancies a holiday with a difference, here's my guide to MedSailors Sicily. As always, feel free to ask any questions if there's something I haven't covered.
MedSailors Sicily: The Route
The Sicily route starts from Portorosa Marina on the mainland of Sicily, then heads north to visit six of the Aeolian Islands – Vulcano, Isola Filicudi, Salina, Stromboli, Panarea, and Lipari. Each one is different and offers specific activities. There's Salina with its beautiful colourful buildings and lush vineyards, epic volcano Stromboli – complete with lava eruptions, and Panarea – the poshest of the islands, known for smart restaurants and a yachtie elite! None of the islands are too far from each other, meaning you'll usually spend the morning out at sea (and swimming), then arrive after lunch to explore the land.
Buttttt, here's where my guide may be a little different to what you're expecting! At the start of our trip we were warned of a storm coming in which was likely to change our route a little. It actually arrived on the evening of day two, and while it didn't rain all that much (sunbathing was still possible) the high winds meant it wasn't safe to sail. As a result we spent a few days in Salina's sheltered marina, and didn't make it to all the islands. This is part and parcel of booking a trip like this – you can't control the weather but we stayed positive and found some nice things to do. We went wine tasting, explored the pretty town, took ourselves on our own street food tour, learned where the best gelato was and got engrossed in our holiday reading!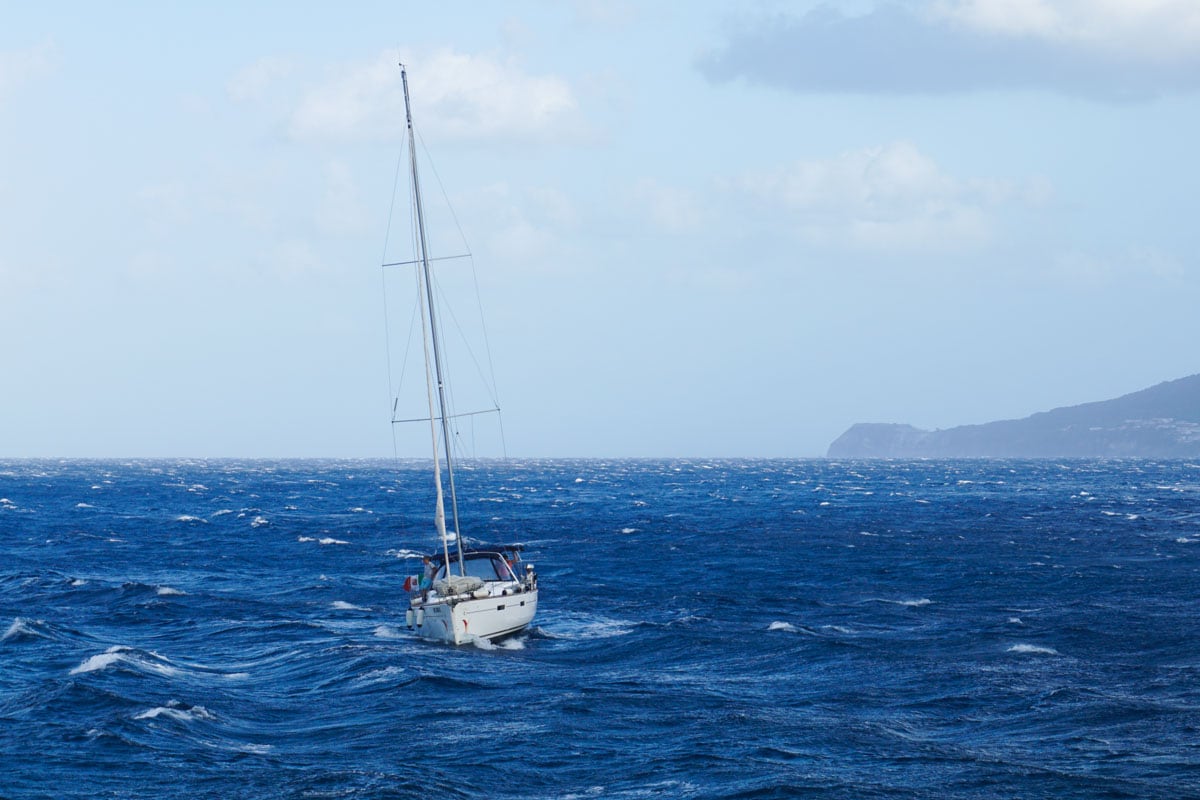 MedSailors Sicily: The Activities
Hiking Stromboli Volcano
I've hiked a few volcanoes, and always found it challenging, but SO rewarding! When I saw there was an option to hike Stromboli, I couldn't wait. We started the ascent late afternoon, passing through the adorable town with its skinny streets and white houses then up to a patch of bamboo forest. Then it was onto a steep black sand section, then rock and scree. The views as we climbed were incredible, overlooking the beautiful bay and the island of Strombolicchio with its little lighthouse. It wasn't long before the sun was setting and we were hiking in the dark. By the time we reached the top, we were immersed in mist and clouds, unable to see much and wondering if it was all worth it. Suddenly we heard a huge rumble and the darkness was illuminated by a huge burst of fiery orange lava spraying high in the sky. It was incredible to witness, and despite some aching legs the next day, this was the highlight of my trip!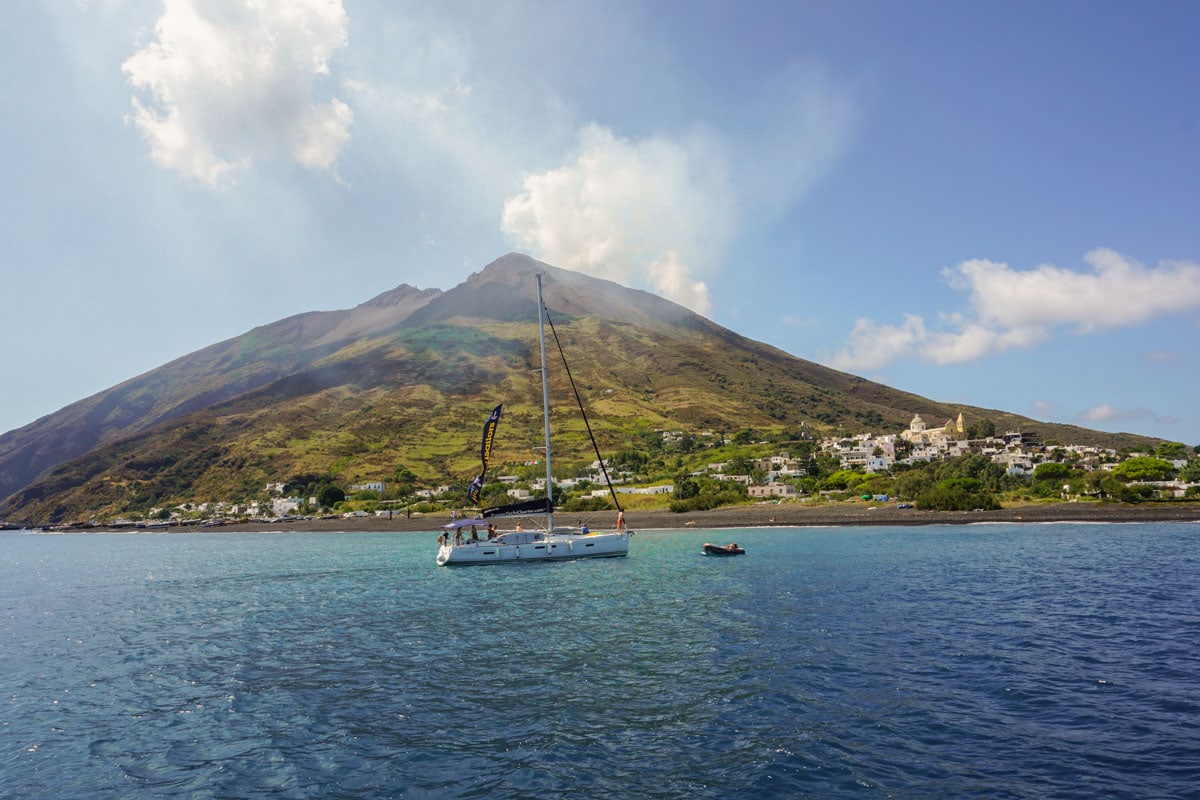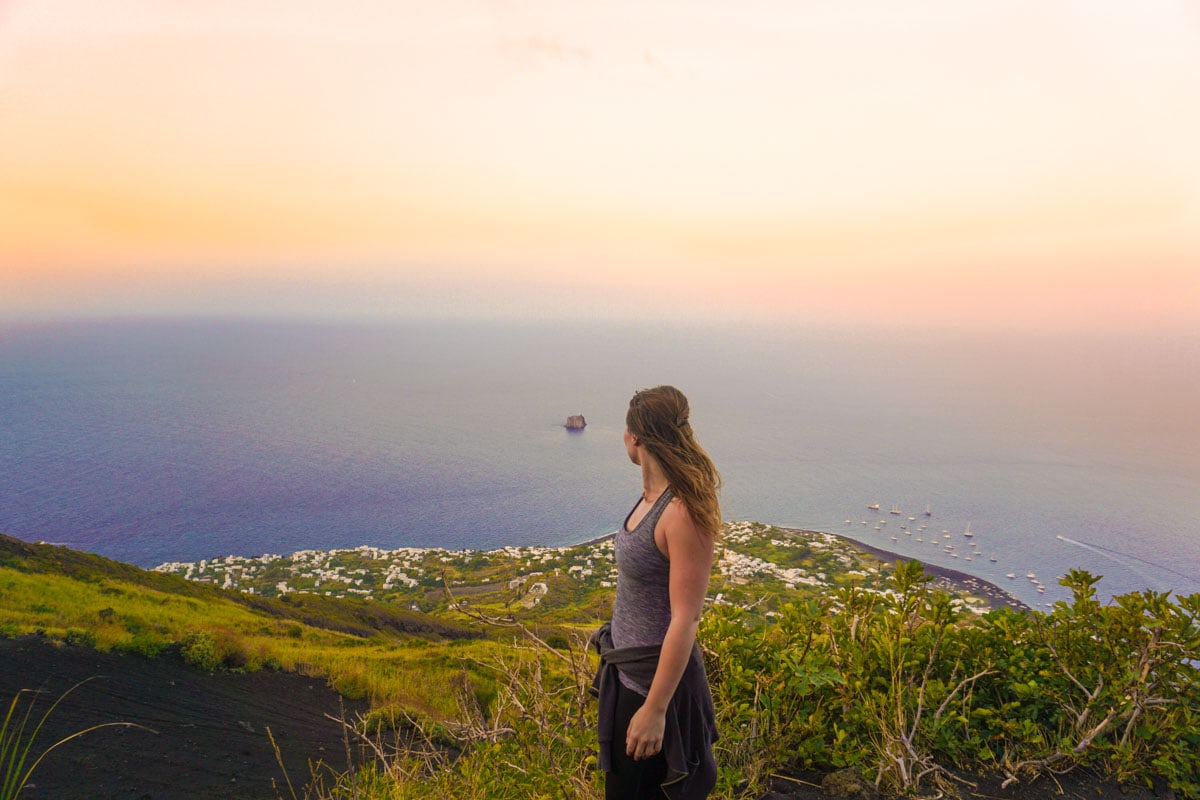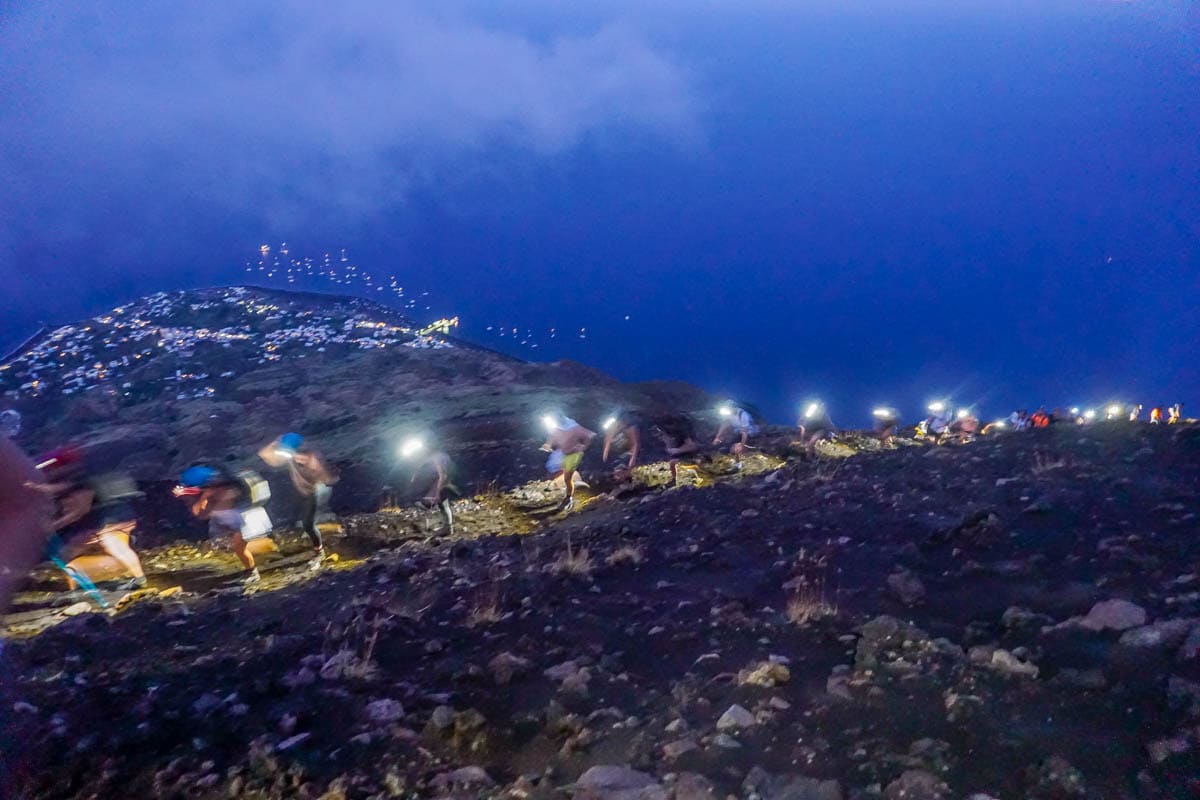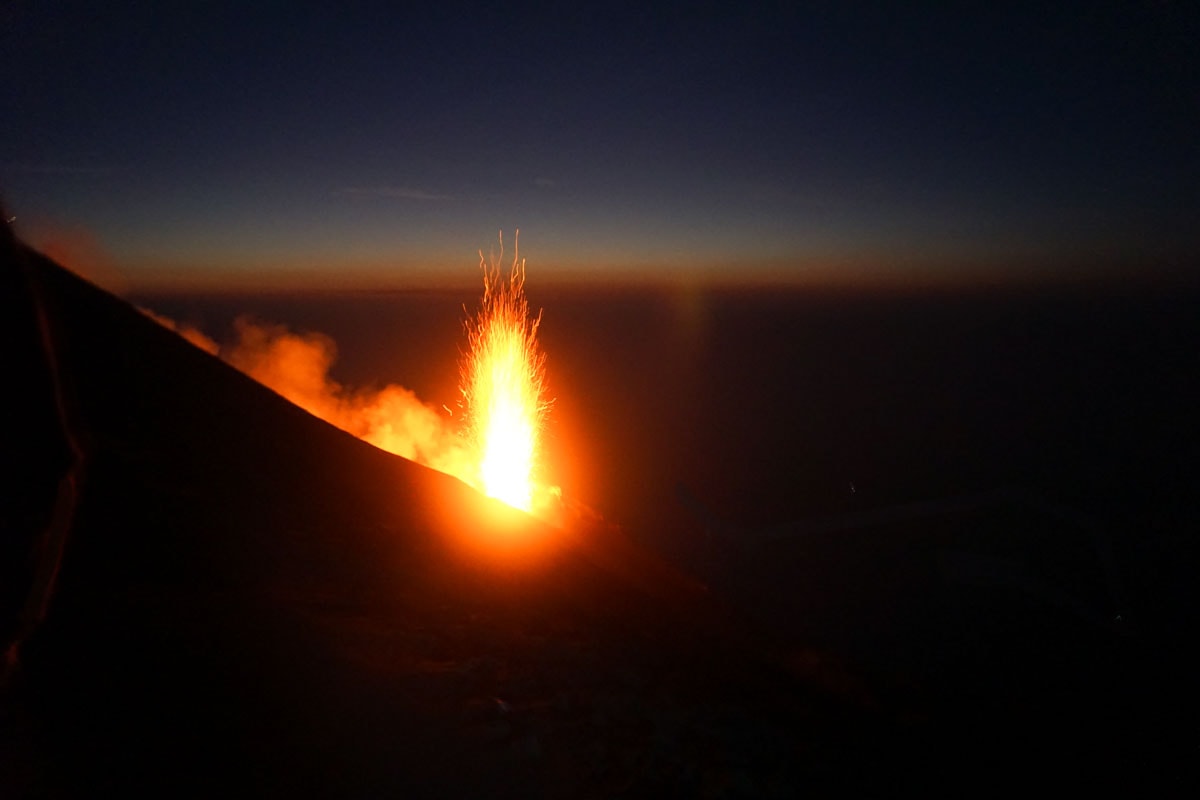 Wine Tasting At Hauner Vineyard In Salina
The entire MedSailors flotilla took a trip up to Hauner – a winery in a spectacular spot in Salina. Over the course of a few hours we toured the winery and learned about production, before sampling four different wines. Every now and then a tasty platter would arrive of local cheese, caper pesto, sweet jams and crunchy tomato and garlic bruschettas.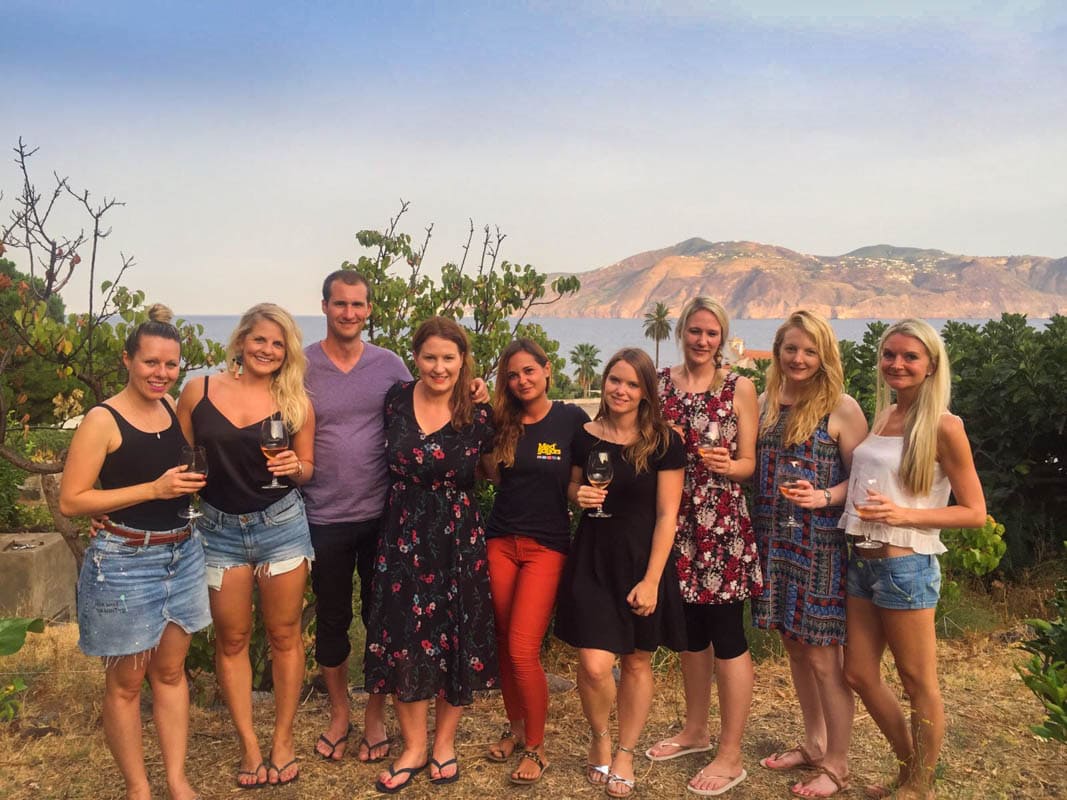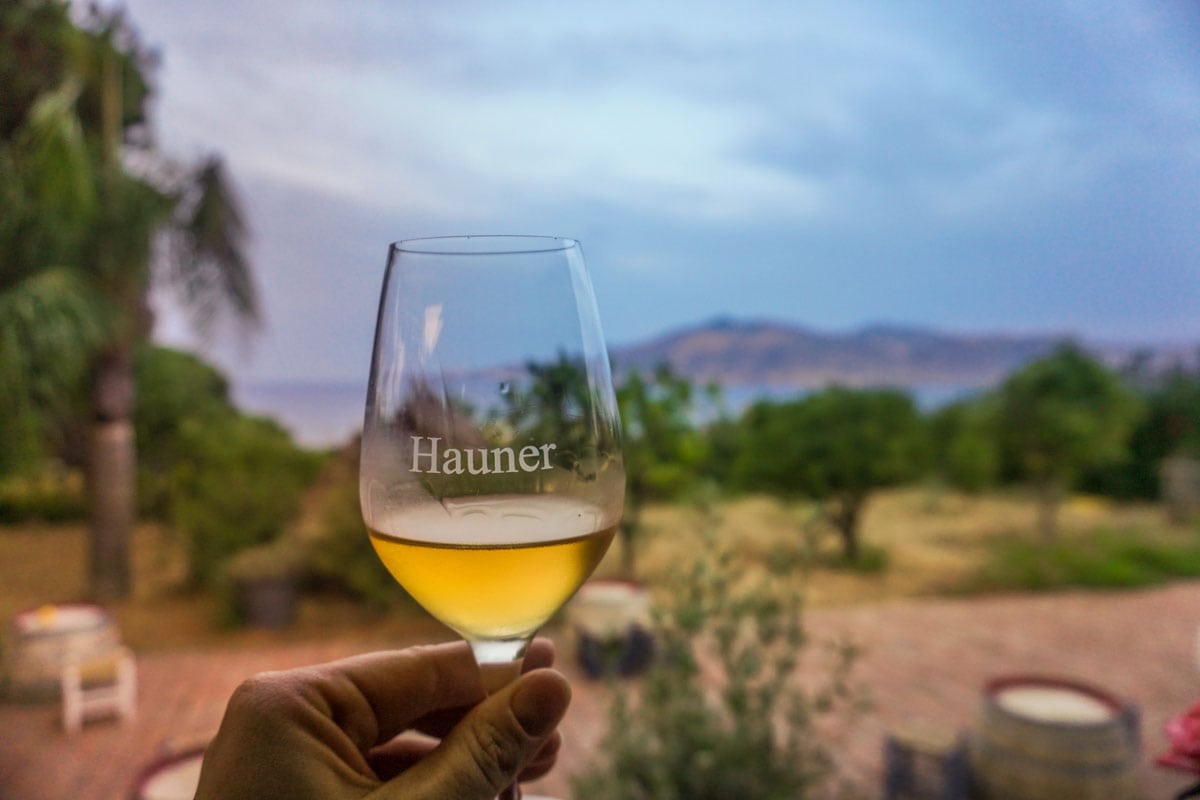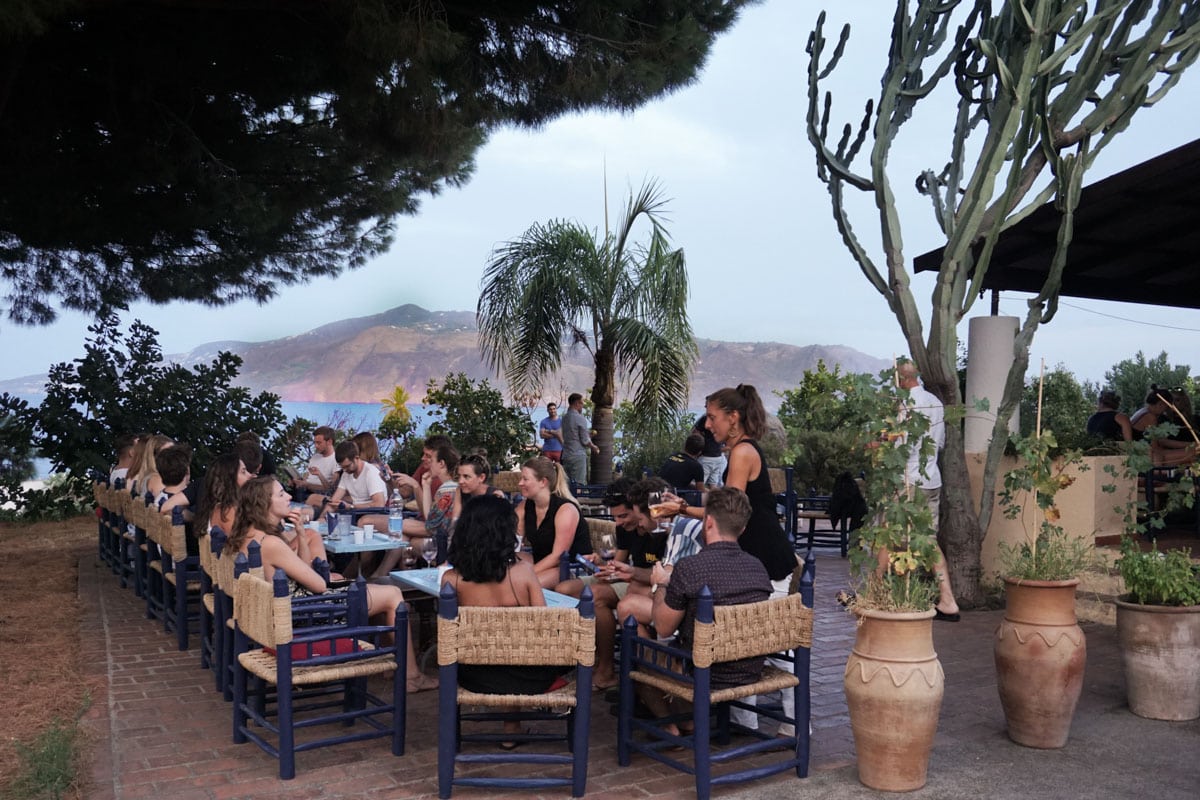 Mud Baths In Vulcano
Before my trip, friends told me how smelly Vulcano was, and sure enough, the smell of sulphur wafted as we wandered towards the island's famous mud baths! Smelling like rotten eggs, we spotted people wallowing in the mud like hippos, and wondered how anyone had discovered this was a good thing to do! But, within minutes we were doing the same, feeling the squelch of slimy mud underfoot and rubbing handfuls all over our bodies. People stood around the edge letting it dry, resembling clay statues! It was certainly a unique thing to do, and I couldn't believe how incredibly soft my skin felt afterwards. Yes, it smells, yes it may take a while to wash off, yes you might need a barrel load of perfume to really mask it even after a shower… but it's one of those things you've got to try once!
Watersports
This is a sailing trip, and one of the BEST things about it is that you can drop the anchor in the most spectacular locations, and enjoy swimming, snorkelling and paddleboarding. One of the passengers on our boat had stocked up on fun inflatables, so when we were too lazy to swim or paddleboard, we could bob around on a giant pineapple, pizza slice or flamingo!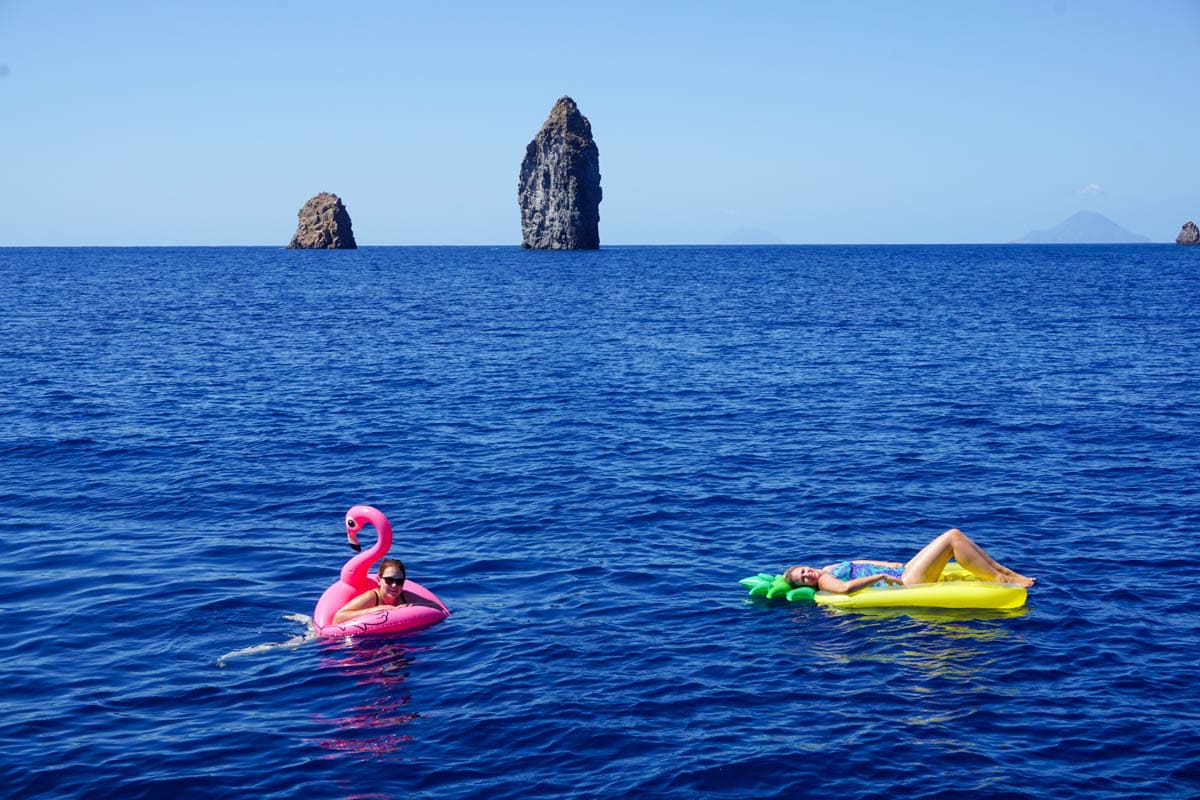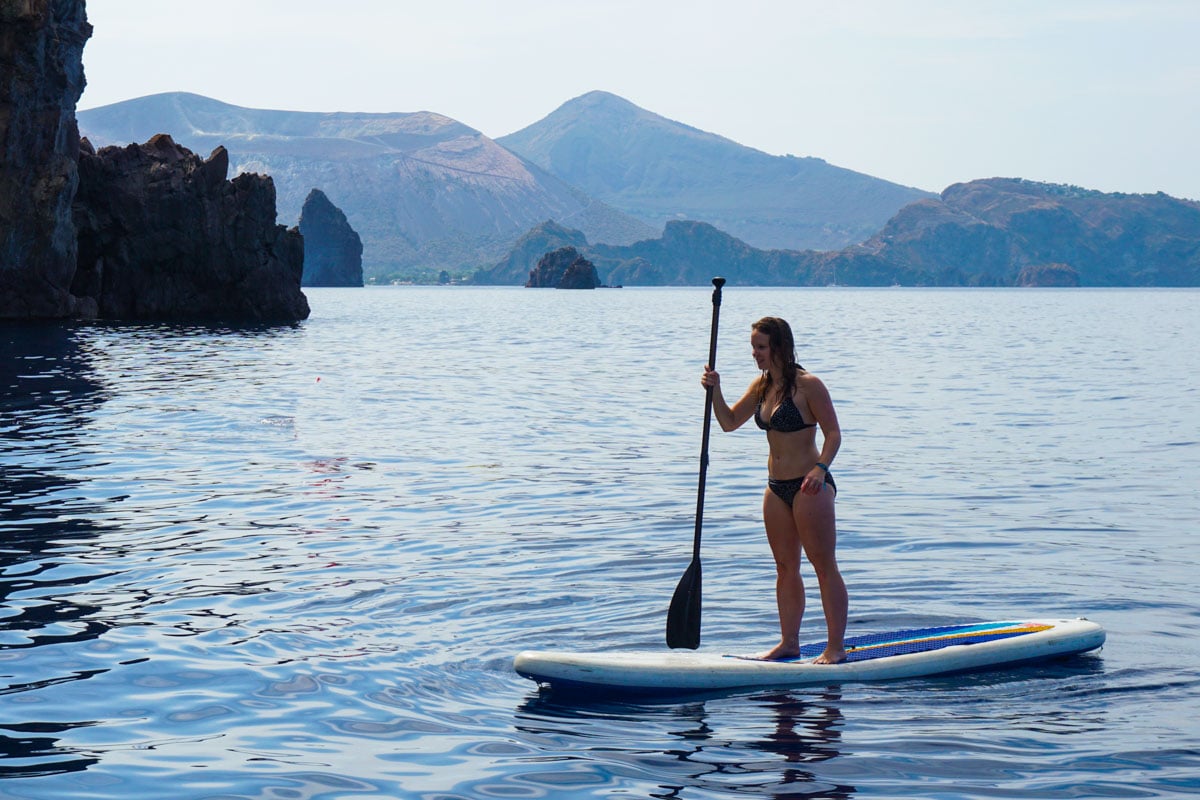 Delicious Italian Cuisine
When booking the trip, the Italian cuisine was a HUGE draw for a foodie like me, and the food certainly didn't let me down! We enjoyed plenty of pizza, pasta and gelato throughout the week. Plus, being in Sicily meant we had the chance to try some regional delicacies including arancini (risotto balls covered in crispy breadcrumbs), pasta alla norma (pasta with tomato, aubergine and ricotta), granita (flavoured ice usually eaten at breakfast) and cannolis (crispy cones with ricotta and garnished with chocolate chips, nuts and fruit). The food on board the boat was good too, with fruit, cereal and bread for breakfast, followed by a mix of fresh salads and pasta for lunch. Our skipper took care of all the food and did a fab job! I looked forward to every meal both on and off the boat, and while I may have over-carbed… I'd say that's part of the Sicilian experience!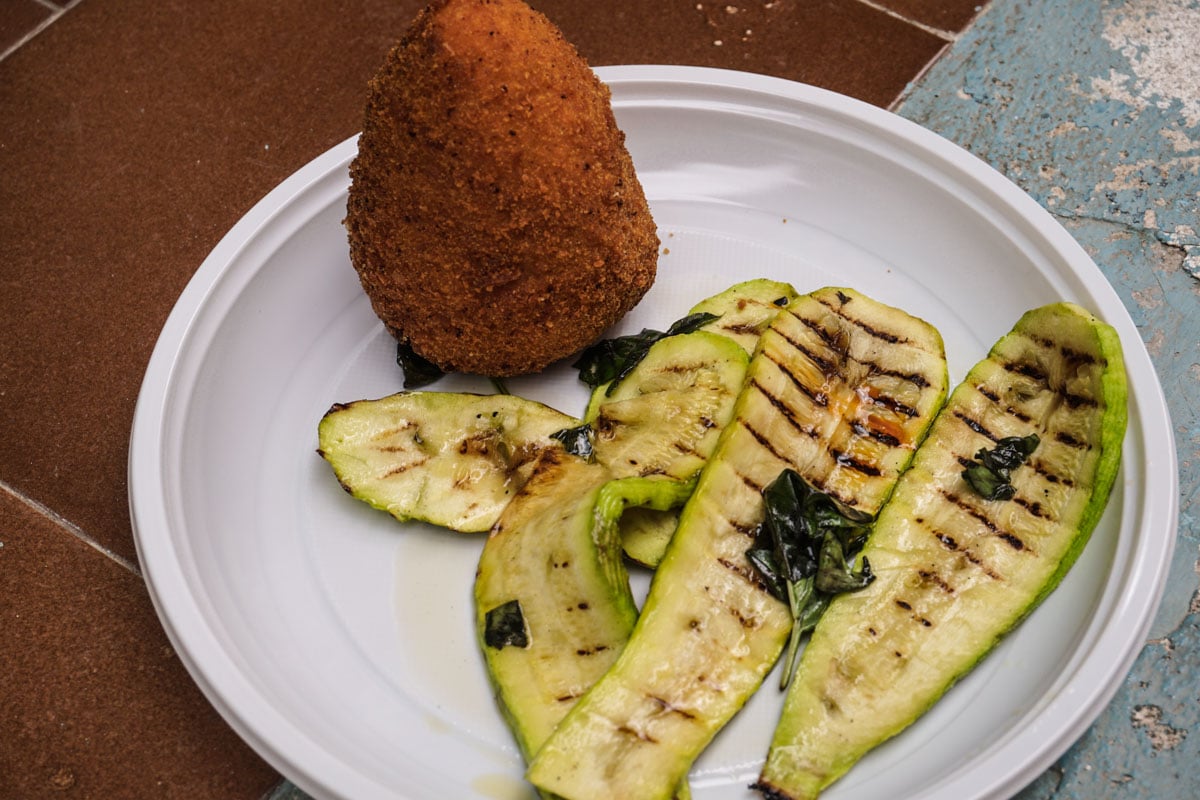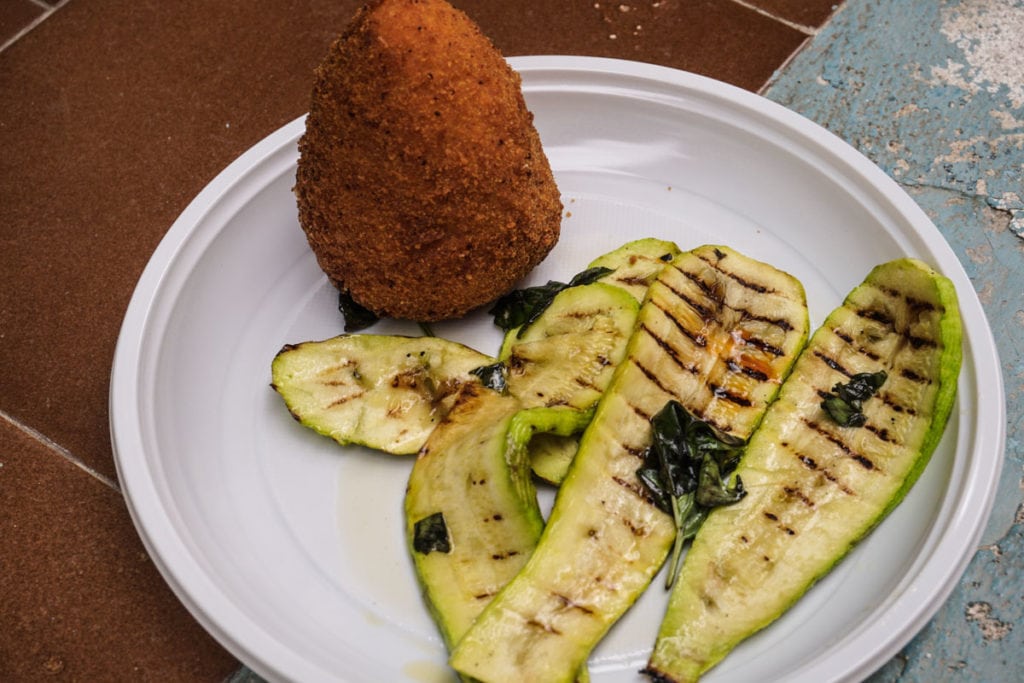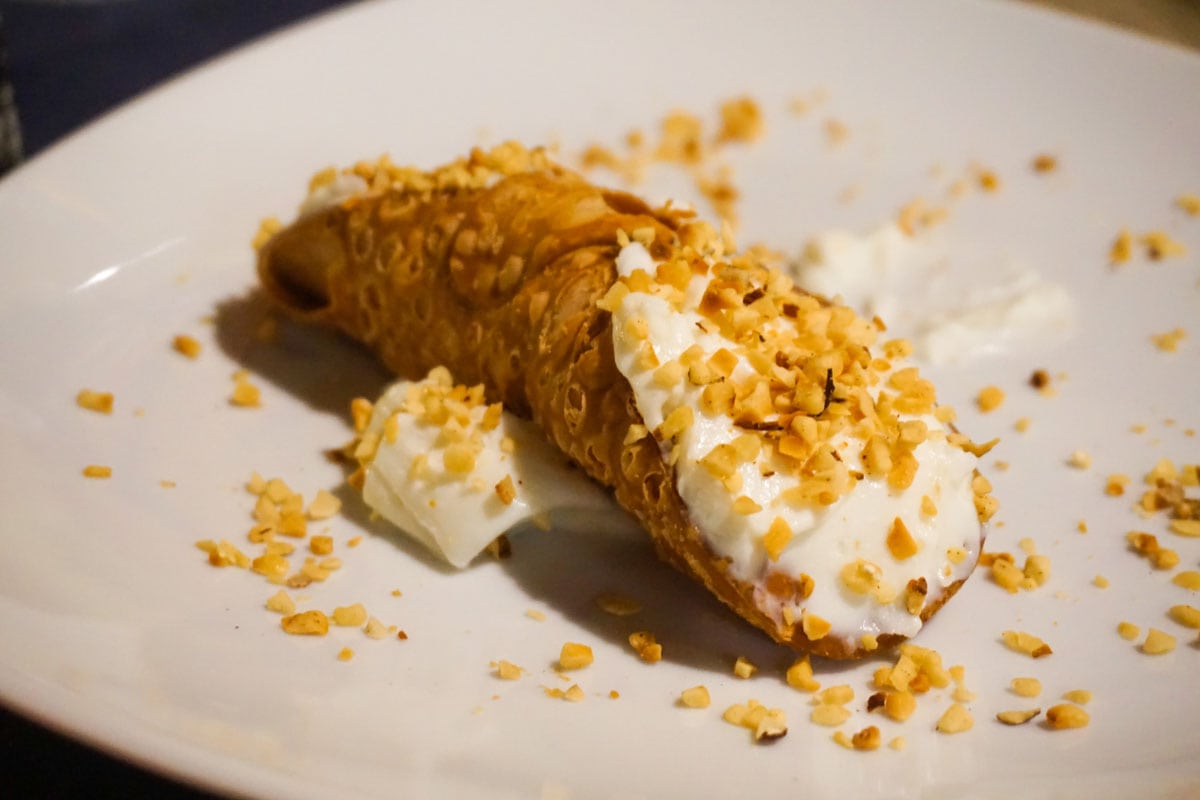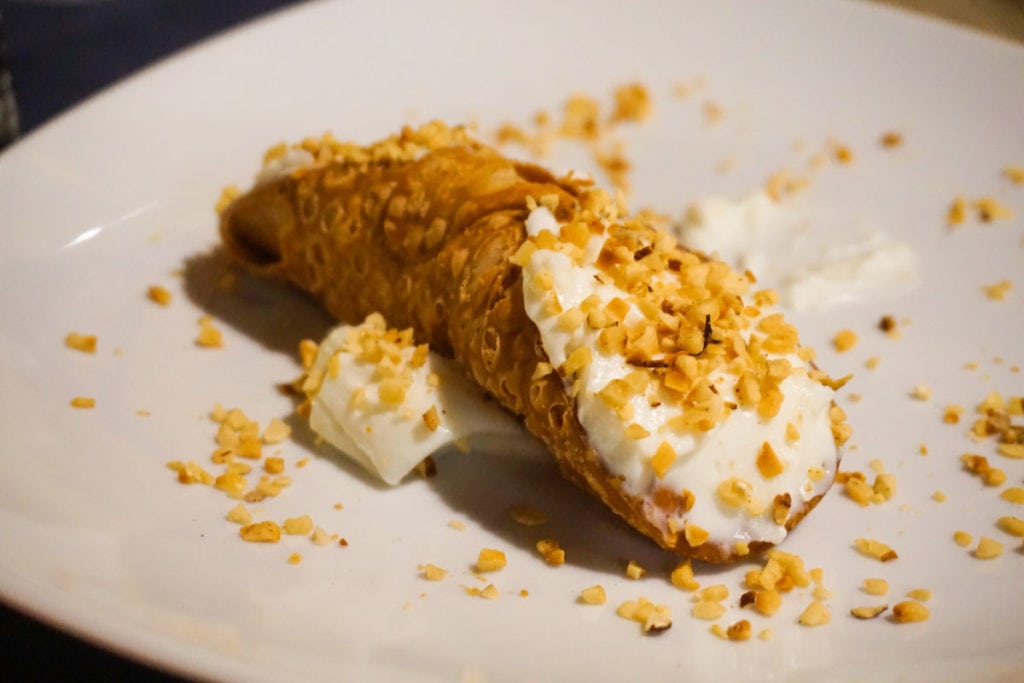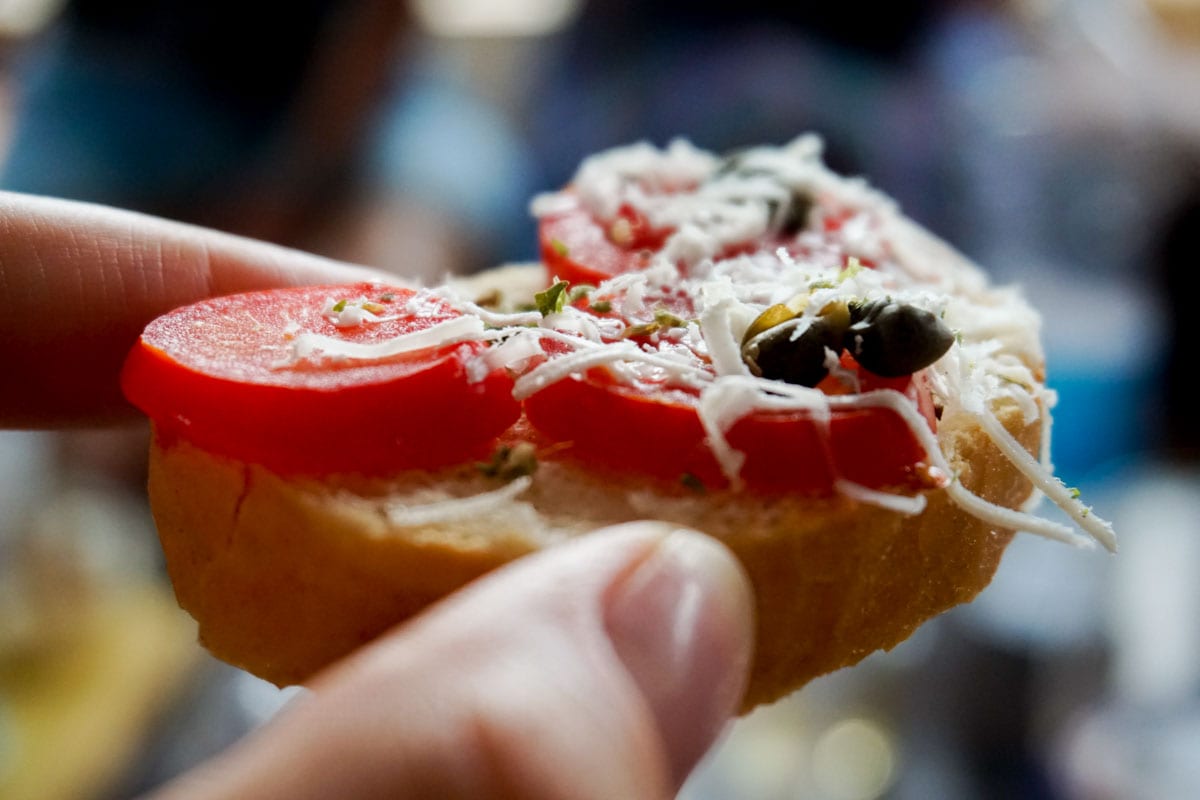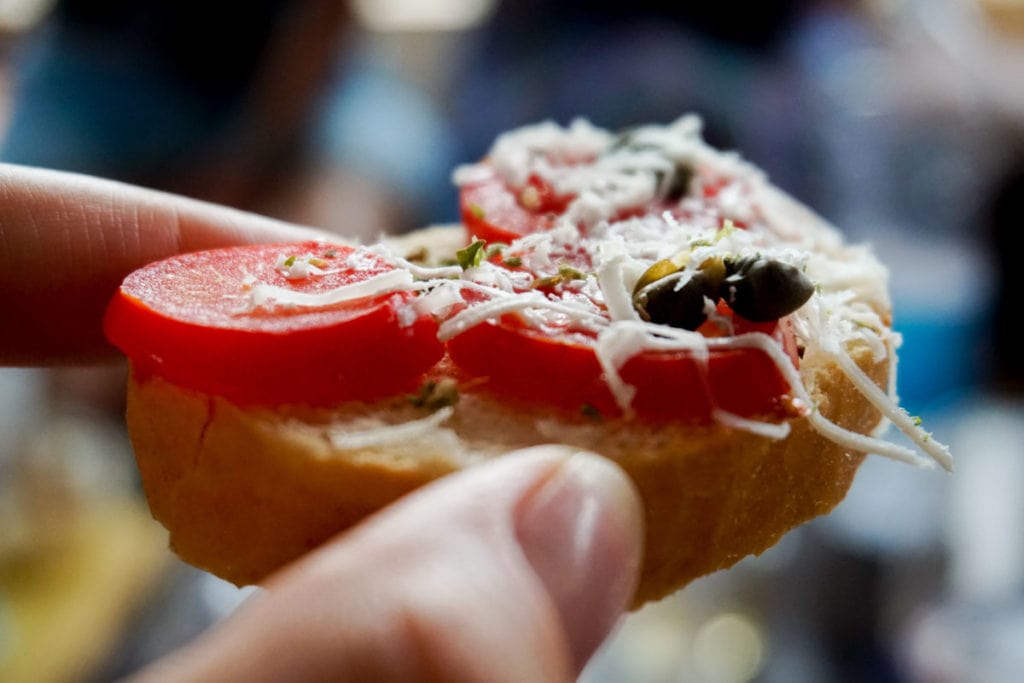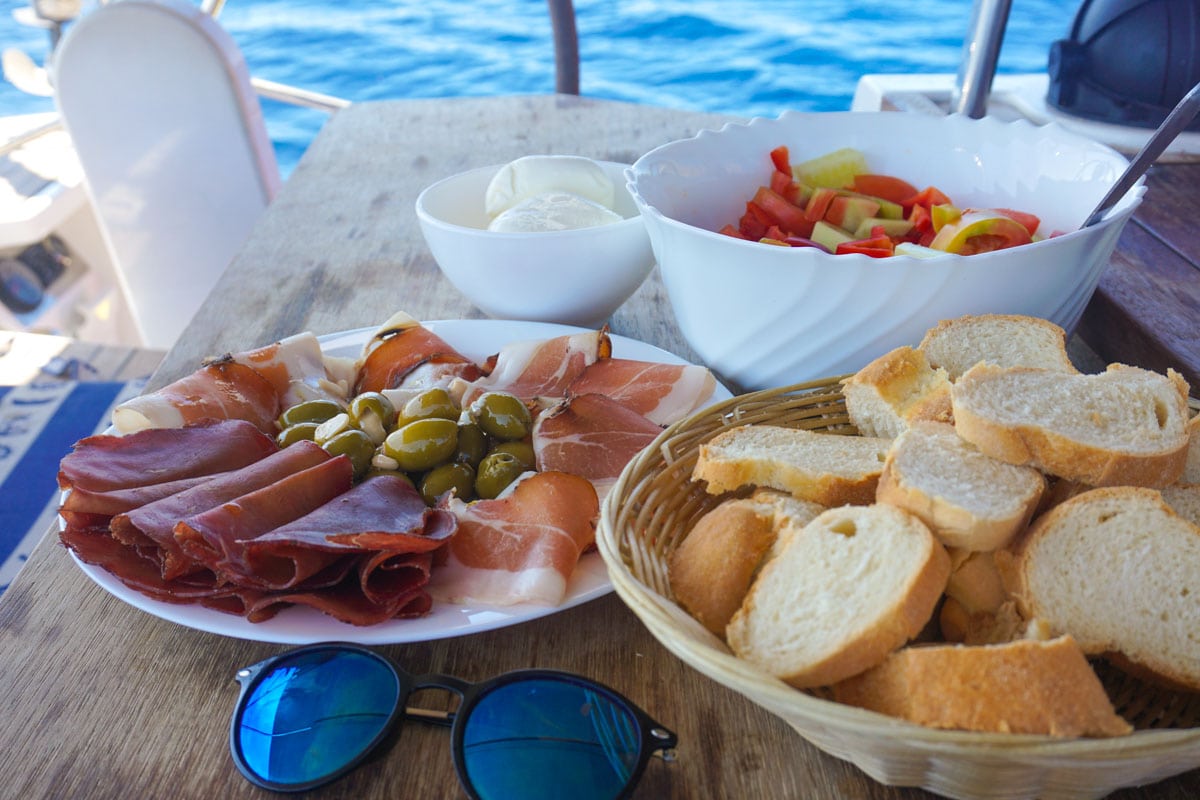 MedSailors Sicily: The Boat
Our MedSailors flotilla in Sicily included a mix of yachts and catamarans. We opted for a Premier Plus Yacht, which had four double rooms (two had en-suites) plus one more toilet and a shower room. There was also a large kitchen/lounge area with cooking equipment, a sink, a hob and a fridge. There's lots of room up on the deck, with a seating area, plus spots on the top for sunbathing and relaxing. You can find out more about the yacht and catamaran options here.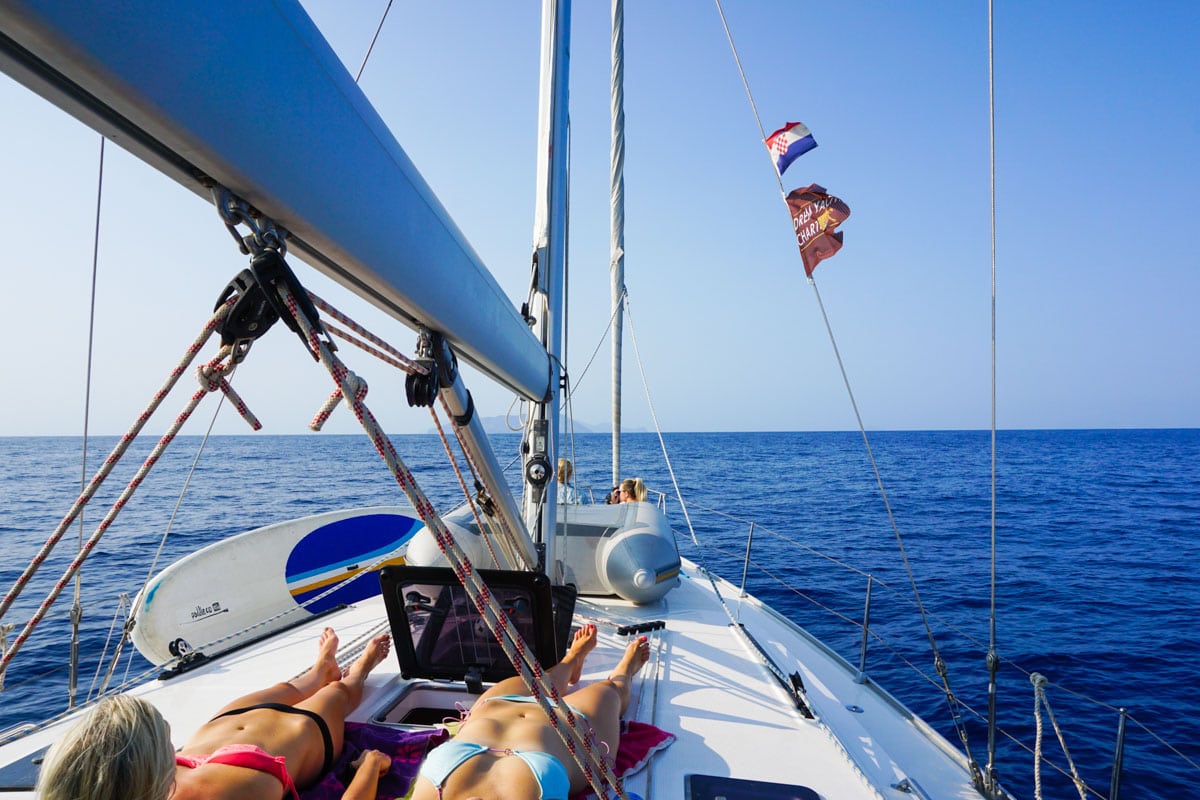 Our skipper Beatrice was absolutely great. Originally from Sardinia, she'd been sailing since she was 5 and felt really experienced, despite being a similar age to us. She took care of most things but we helped steer occasionally, got the sails up a few times, caught some ropes, dropped the anchor and she was happy to teach us as much or as little as we wanted. It's fair to say, if you want to laze around all week, you can do that, but if you seriously want to learn all about sailing, you could do that too. Oh AND when we were sailing to Stromboli, we spotted a pod of dolphins – that was a highlight of the sailing experience!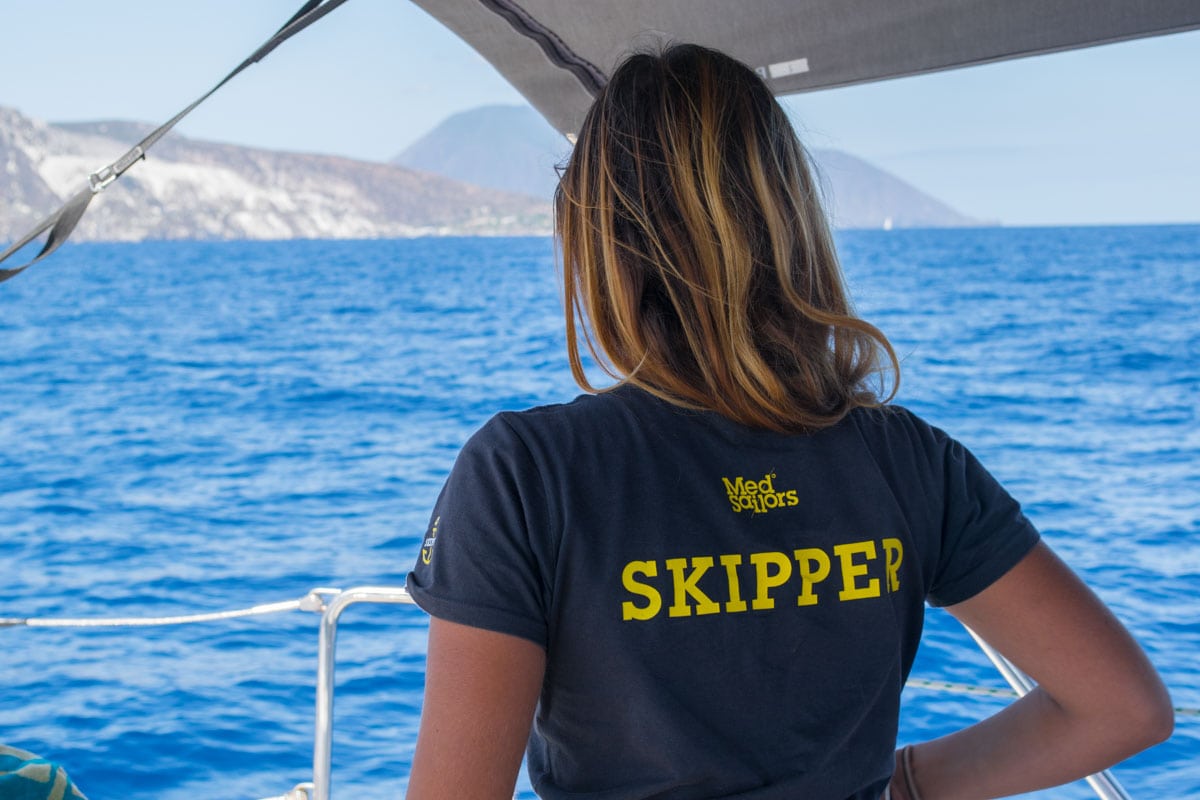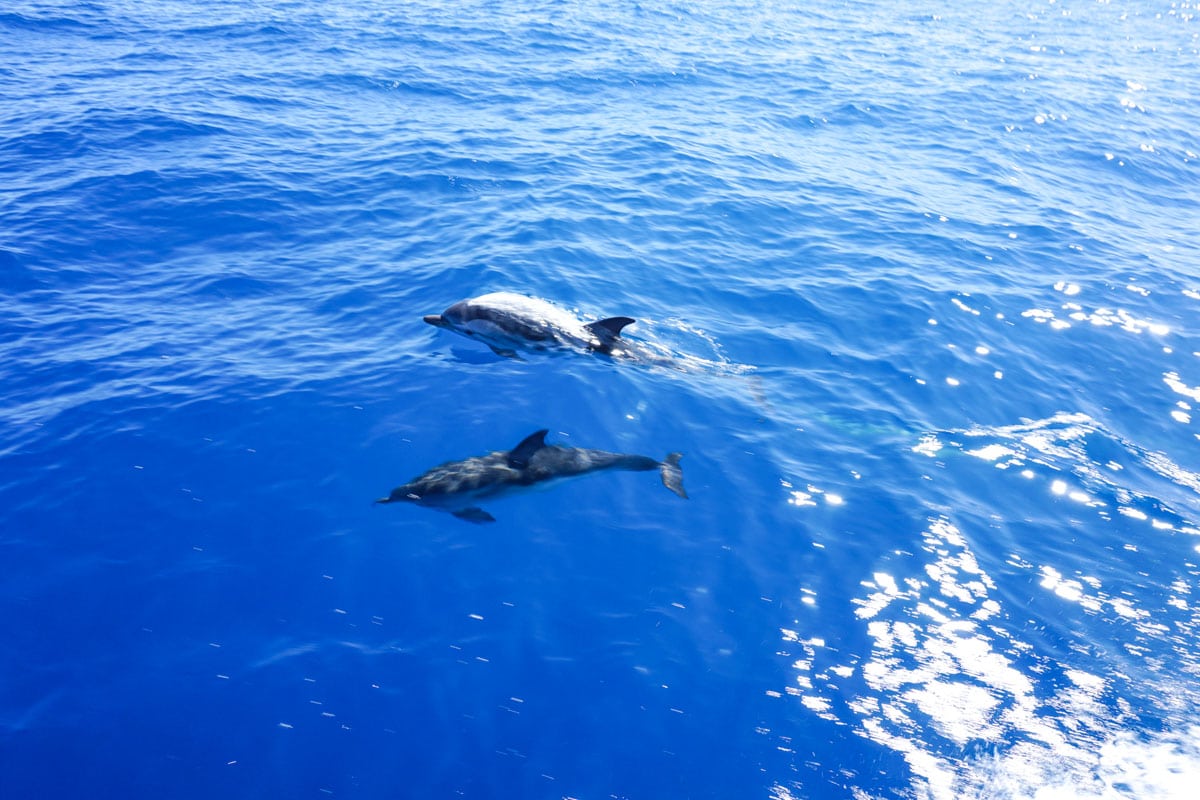 On our yacht Curradi, we had 8 passengers (all from UK / New Zealand) plus a skipper. We'd all booked in pairs, and got on really well! In fact our group Whatsapp chat is still going, which says it all…!
MedSailors Sicily: Costs
When I last checked, a week on MedSailors Sicily cost between £536 and £650 depending on the time of year you're travelling. While this doesn't include flights, one fab thing about MedSailors is that once you've paid, you know two meals a day are taken care of. Most days I spent around 20 – 30 EUR on food – coffee, bottled water, snacks (you'll be addicted to gelato and arancini too!), dinner and alcoholic drinks. Nothing was hugely expensive, and if you wanted to just have a margherita pizza, you could do that for around 8 EUR.
While we didn't get the chance to enjoy ALL the activities due to #stormgate, we did squeeze in quite a few. Wine tasting on Salina cost just over 20 EUR and included transport there and back, four wines and snacks. The mud baths in Vulcano were 2 EUR to enter plus 1 EUR for a short shower afterwards. The Stromboli hike was the priciest activity at around 40 EUR; 20 EUR for the guided tour, plus around 20 EUR to hire hiking boots, backpack, helmet and a head torch. If you're serious about that hike, I'd recommend packing some of those items for the trip to cut costs.
Plus, assuming the route is running as normal, there are options to hire scooters and buggies and go diving.
MedSailors Sicily: Useful Packing Tips For Your First MedSailors Trip
After completing two MedSailors trips, I would say I've got this down to a tee! Space is really tight in the bedrooms, so don't bring a big suitcase – stick to a smaller cabin bag, backpack or a wheely bag that folds up. There is cupboard space in the cabin to unpack, but it's hard to stay neat and tidy!
In terms of clothes, you'll need swimwear and shorts / tops / beach dresses for daytimes and then something a little smarter for the evenings. I also packed two pairs of sandals plus some Converse.
Toiletries – bring small bottles , plus plenty of suncream and bug spray. A few of our group got a few mozzie bites but nothing too major.
If you're considering doing the Stromboli hike, pack hiking boots (the guides said trainers weren't enough, although we did see people wearing their Nikes!) plus a rucksack and something warm like a fleece or hoody. Temperatures dip to 5-10 degrees at the top of the volcano, and it was surprisingly chilly.
If you're planning to go in the mud baths in Vulcano, wear swimwear you're not too precious about, and avoid anything with metal on as it tarnishes. The mud and sulphur smell will come out after a good wash!
In terms of gadgets, there was one charge point in each cabin (bring a European plug adapter) and when the power was turned off there, you could charge via USB in the main lounge area.
I loved having my Ultimate Ears WONDERBOOM Bluetooth Speaker on board. The boat has speakers but once you're sailing, it's not that loud, particularly if you're at the front of the boat. This speaker is super loud, plus it's waterproof and it floats, so you can even take it in the water with you.
As I was trying to keep on top of my blog while away, I also took a Huawei MiFi device from Three. Loaded with data, it meant I could use my laptop while sailing. I uploaded photos to my blog and social media, updated my blog and plenty more – all from the middle of the sea!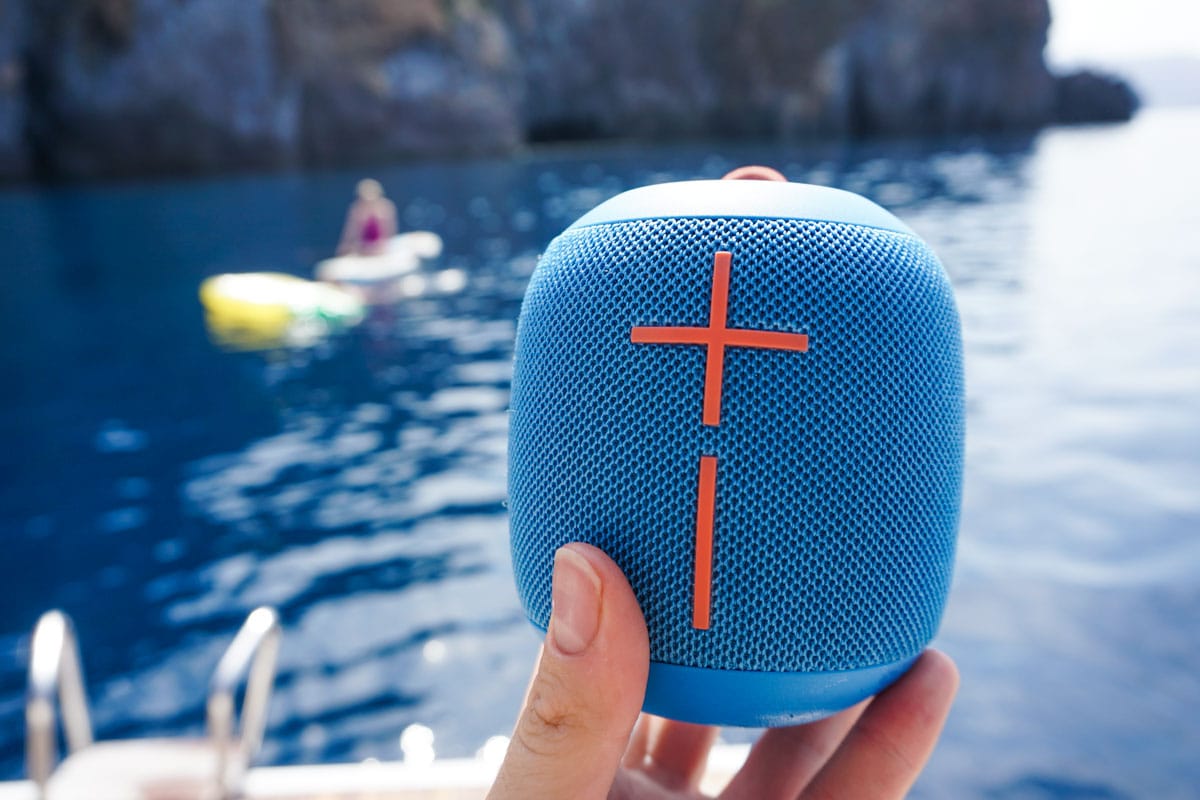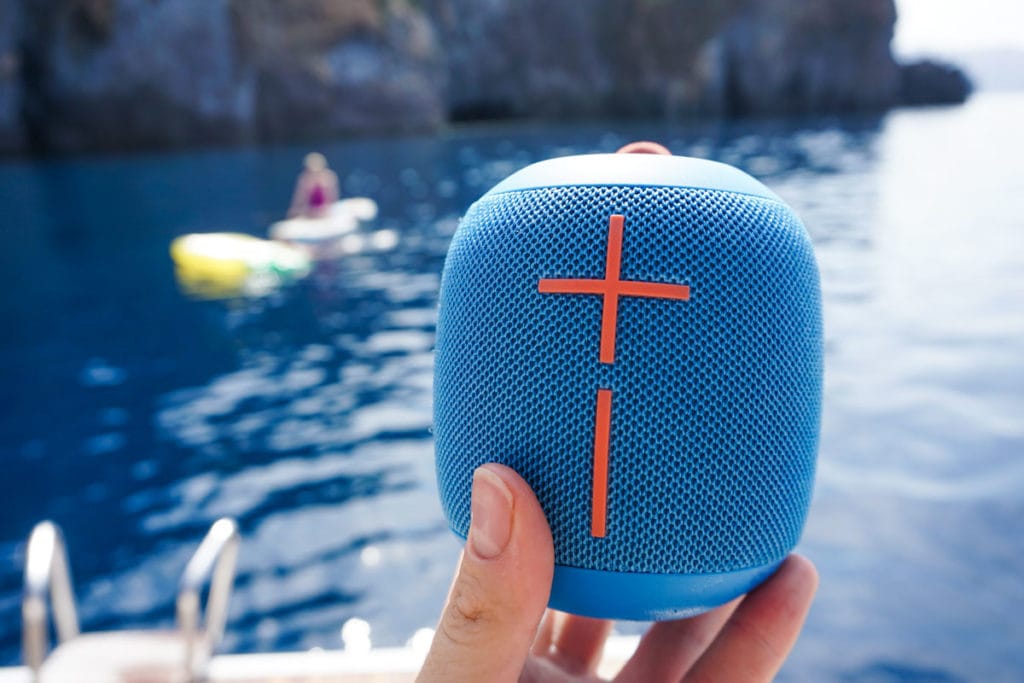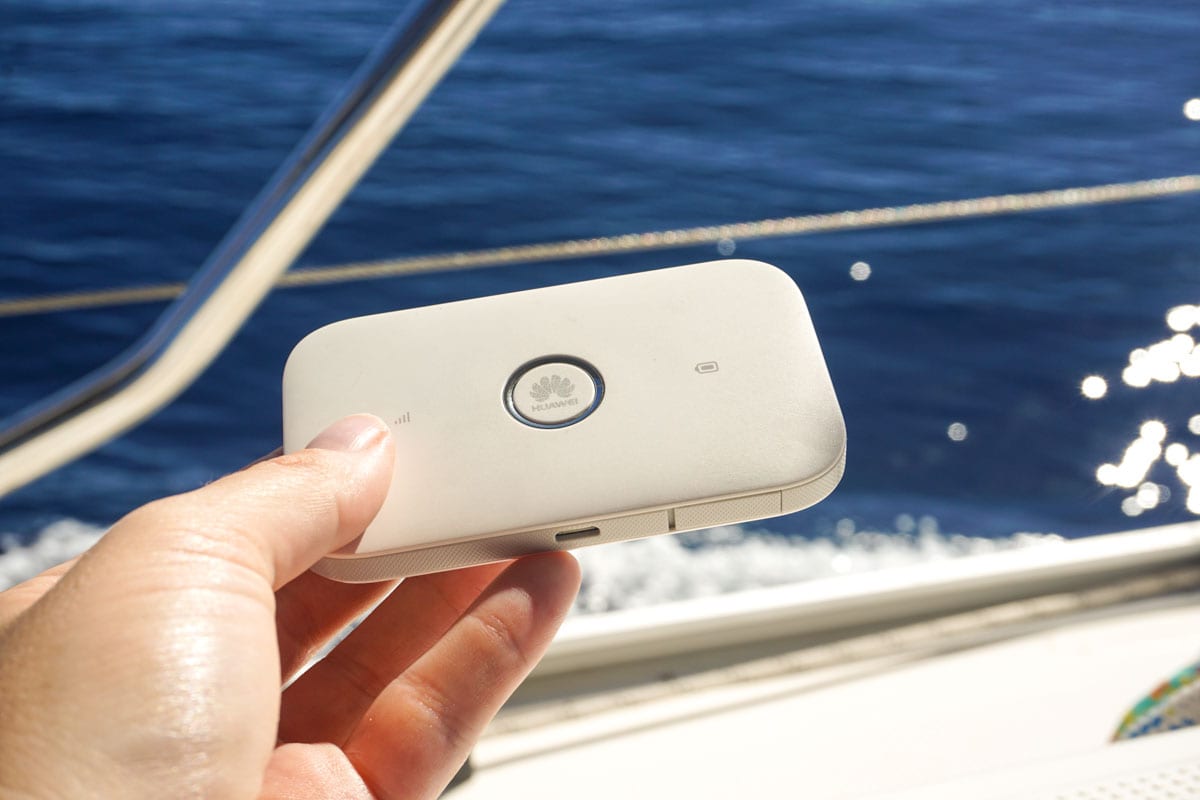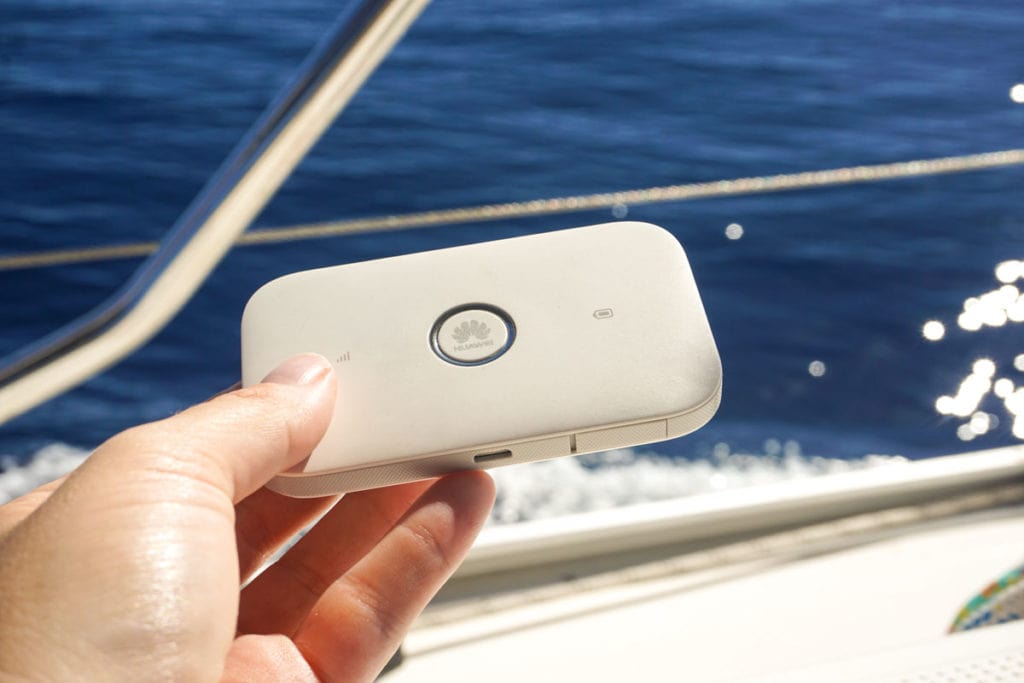 I'd also recommend taking a portable battery pack. I have the iMuto Power Bank
and it came in really handy when all the power sockets were in use.
While not essential, a GoPro is AMAZING on a trip like this! We were in the water a lot, and it was great to capture some of those moments. I got a Telesin GoDome as a present last year and we all loved using it on this trip. It gives that magical waterline where you can see the action above and below the water. Hello mermaids!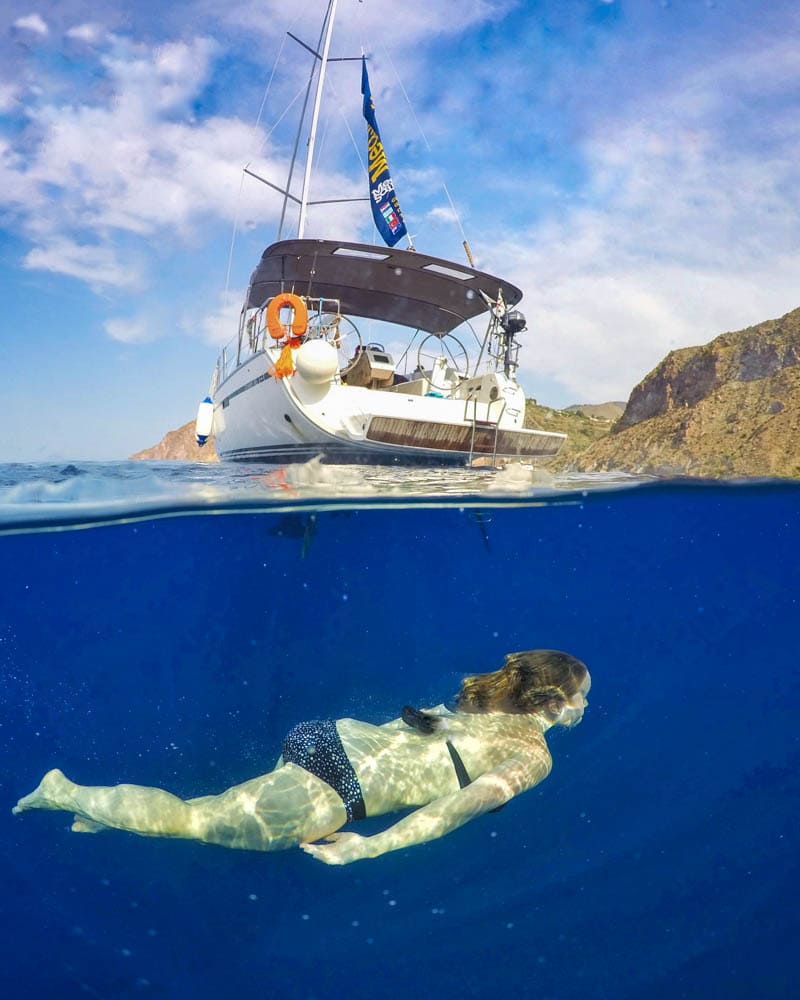 Sicily's Aeolian Islands are an absolutely stunning region to explore by boat. While we couldn't control the weather, it didn't get in our way of having a good time. From climbing active volcanoes, to delicious Italian cuisine, and days lazing on an inflatable pineapple, it was a lovely way to spend a week!
Let me know if you have any questions, and if you decide to book, bon voyage…!
Find out more about MedSailors Sicily.
MedSailors hosted me on this trip, but as always opinions are my own.
Enjoyed this post? Why not pin it for later….