The latest New York dessert crazes include raw cookie dough, epic freakshakes, s'mores in a jar, mille crepes, and chocolate pizza, so what are you waiting for? It's time for a tour of the best desserts in New York!
A little while back I wrote a blog about the crazy desserts that have got London talking. From super-duper freakshakes topped with cupcakes, cookies and more, to bizarre bubble waffles and ice cream filled macaroons, there are plenty of sweet treats worth skipping breakfast, lunch and dinner for.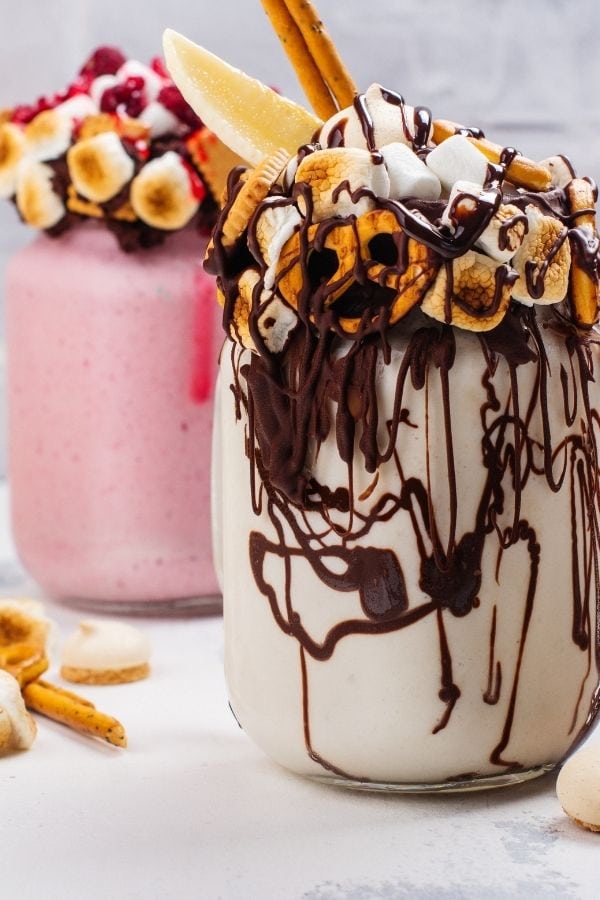 But it turns out London has stiff competition from across the pond in New York City. When I visited earlier in the year there were plenty of appealing treats on offer! Nope, I'm not talking about big name spots like Magnolia Bakery, many on the list are tiny places you could easily walk past without realising what you were missing out on!
Some of these places have Instagram to thank for their popularity. Their desserts have gone viral, and some of the snaps below have been the most shared foodie photos in the city!
Are you a chocolate chip lover, looking for an ice cream cone with a difference, or creating the ultimate New York City dessert list? I think I might be able to help!
So, whether it's your home city and you fancy a sugar fix, or you're planning a holiday to The Big Apple, here's my guide to the top desserts in New York right now.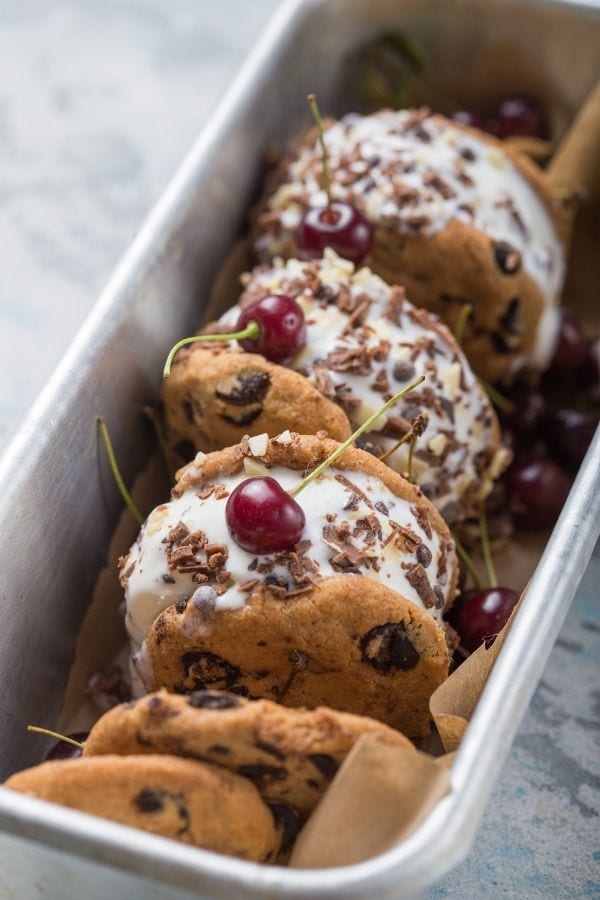 Oh, and if you're a total foodie, don't miss my guide to the most fun and unique restaurants in New York.
---
Cookie Dough In A Cone at DŌ
Who didn't love licking out the bowl when you were baking cookies as a kid? This cookie dough shop in Greenwich Village makes it ok to eat the raw stuff as they treat the flour and egg mix.
The most photogenic offerings come in cones, but you can add your dough to ice cream, milkshakes and more! Plus, flavours include Nutella, caramel and even "Fluffernutter" – a special peanut butter and marshmallow hybrid.
The only downside is the epic queue that snakes around the block, but when you need cookie dough in your life, it's totally worth the wait.
New Yorkers have been going wild for these crazy milkshakes served across Black Tap's three restaurants. $15 will get you a monster of shake with one of the top sellers being the 'Sweet N' Salty Peanut Butter Shake'.
It features a chocolate frosted rim with chocolate gems & PB cups topped with a sugar daddy, pretzel rods, chocolate covered pretzel, whipped cream & chocolate drizzle!
It might also give you a heart attack, but hopefully not if you take it slow!
Unicorn ice cream in a fish-shaped cone at Taiyaki
For Instagram-worthy multicoloured ice cream with all the rainbow sprinkles and toppings you can imagine, head on over to Taiyaki NYC. This tiny Japanese dessert café serves up a menu of sweet treats, but the big draw are the famous fish-shaped cones filled with colourful ice cream.
After my travels in Japan, I feel like these could easily be lifted straight from the vibrant streets of Harajuku in Tokyo! The ice creams may have been instagrammed more than they've been eaten, but I promise they are tasty. Oh, and ask for yours with a a little unicorn horn on top, for a fun, magical twist!
The croissant-donut hybrid has been around for a while now, and it's something that this bakery takes very seriously. I was devastated when they closed their London store – it was a favourite spot of mine for all sorts of sweet treats!
They push the boundaries on cronut flavours and designs regularly, with one of the latest being the Guava & Orange Blossom Cronut, filled with fragrant tropical guava jam paired with creamy orange blossom ganache! Mmm if that doesn't sound delicious, I don't know what does!
Green Tea Mille Crêpes at Lady M
If you love all things matcha, you HAVE to try the crêpes at Lady M Confections. With 7 'confectionary boutiques' across the city, business is clearly booming! The 6-inch tall cake is made up of twenty ultra-thin crêpes that are infused with the finest green tea powder, making for a deliciously delicate dessert.
The light pastry cream offsets adds to the flavour of this sweet treat, which has been taking over Instagram lately! The mille crepe is on the menu at a few New York restaurants too, so if you can't make it to one of their stores you might still get the chance to sample it!
Lady M also serves up some other tasty creations including their famous checker cake. Think battenberg only prettier!
Head to Fulton Street in Brooklyn for an ice cream sandwich to remember! The Good Batch are busy developing new varieties all the time, with the latest being the tahini butter caramel ice cream sandwich, which is covered in toffee candy.
Or for something more traditional, try one of their best sellers – the caramel crispy ice cream sandwich.
I passed Big Gay Ice Cream while exploring the East Village in NYC. Obviously the name caught my eye… but after that it was pure ice cream lust!
Along with a fun rainbow coloured store, you can expect delicious ice creams with amazingly camp names, like Dorothy, a vanilla ice cream cone injected with dulce de leche and rolled in crushed Nilla wafers, and their trademark Salty Pimp which is dipped in chocolate shell!
Sweet and Salty Brownies At Baked
Head to Brooklyn for some of the most tantalising brownies in the USA. Baked's signature treat is well worth the journey. With gooey centres and a crackly top, you'll love working your way through an entire box of these yummy desserts.
As well as classic brownies, they also make amazing blondies as well as a sweet and salty option that is to die for!
Cake Truffles At Milk Bar
Visit Milk Bar's super cool flagship store in the NoMad district attached to the ultra-chic Ace Hotel and you'll have trouble choosing what dessert to go for. You could enjoy a slice of Birthday Cake, Milk Bar Pie, or a swirl of Cereal Milk ice cream.
I'd recommend picking up a box of their cake truffles. They're made from leftover cake scraps but don't let that put you off! Choose from red velvet, chocolate, birthday cake or strawberry shortcake flavours and you'll be enjoying bite-sized cakey joy in no time!
Mason Pickle, in NYC's Upper West Side, is known as one of the city's top brunch spots… but now, it's all about dessert too! With 24 layers of the richest, smoothest chocolate in Manhattan, the restaurant's 1 foot tall, 20-pound slice of cake is built for sharing (unless you want a real challenge!!)
Say goodbye to your healthy-eating regime and enjoy an afternoon of pure indulgence. The cake (which really does have 24 layers) is sandwiched by chocolate buttercream and topped with a thin layer of the beautifully shiny ganache.
For a slightly lighter option you could opt for the 24 layer confetti cake, but if you're going to go for a sweet treat, you might as well hit the chocolate!
With three stores across NY, you'll find plenty of desserts to choose from at this stylish dessert cafe. You might not think of going out for toast… but you will when you see what they serve here!
One of the signatures here is the honey golden toast, which is warm and delicious, served with strawberries and a side of condensed milk ice cream.
The lava cookies look dreamy too, with liquid centres and a range of flavours including Nutella, miso, matcha and chocolate.
Handcrafted Gelato On A Stick at Popbar
It's time to swap your standard ice lolly or popsicle for something a little more fun! Popbar specialises in luxury gelatos and sorbets on sticks, with a fun range of flavours and designs on offer.
Popular flavours include strawberry covered in dark chocolate, pineapple covered in white chocolate and coconut and pistachio and white chocolate.
They've also launched a range of ice cream sandwiches, and they deliver around the US, so you could laze on your sofa enjoying this delicious treat!
Churro Ice Cream Cones at ChikaLicious
Why settle for a standard crunchy ice cream cone when you can have a scoop of your fave flavour in a warm churro?! It's enough of a big deal that they've trademarked the coneCHURRO!
Other delightful sweet treats on the menu at this dessert restaurant include creme brulee doughnuts and mille crepe cakes.
Oh and if you're super savvy, do your research before you visit and order some of their 'secret' menu items!
Forget margherita and pepperoni, it's time to turn your love of pizza into a full on sugar fix. Everything at Max Brenner's Chocolate Bar revolves around chocolate, but the pizza is the star of the show.
Topped with warm chocolate chunks and toasted marshmallows, it's perfect for sharing.
Other options for chocoholics include chocolate fondue and warm, sugary waffles.
Egg Waffle Ice Cream Cone at Eggloo
I wrote about the bubble waffle sensation sweeping London, but it's well and truly embedded in NYC too.
The light and fluffy Hong Kong egg waffles come in original, chocolate and green tea flavours.
Then you pick an ice cream to fill it with and top it with whatever takes your fancy, from Oreos and M&Ms to fresh fruit, nuts and mochi balls. The latest trend is for pretty ice cream flowers to sit on top. They almost look too pretty to eat… almost!
S'mores in a jar at The Smith
If you grew up watching American and Canadian TV shows and movies, then this dessert is going to take you right back to your childhood! You know, watching kids at summer camp, roasting marshmallows on a stick over the fire and then sticking them between Graham Crackers with a big slab of chocolate. YUM!
The Smith's restaurants in NYC have put a modern twist on classic s'mores, by layering the ingredients in a jar. With layers of smooth chocolate mousse, crunchy cracker crumble, marshmallows toasted to perfection and chocolate crunch bar to tie it all together, this is definitely one of New York's best desserts.
Intriguing Ice Cream Flavours at Morgensterns
If someone offers me durian flavoured anything, I'm pretty wary. Also known as 'vomit fruit' it's not something I lap up… yet durian banana is on the menu at top New York ice cream parlour Morgensterns.
There are two branches in NYC and they're renowned for their interesting flavour combinations. Their peanut butter cup is a favourite, as well as the cherry chocolate chip. However, there are plenty of quirky options too. How about trying burnt sage, sweet potato caramel or french fry ice cream? I mean you've got to try it once right?!
Keep an eye out for the special edition ice cream cakes too, like this candy cane cake which contains cinnamon and peppermint ice cream and is coated in dark chocolate.
Have you got any great New York dessert spots to recommend? Let me know in the comments below!
Enjoyed this post? Pin it…