From wandering across the Bastei Bridge, to exploring Königstein Fortress and hiking along the Elbe River, it's time to get to know Saxon Switzerland in Germany.
First things first, until a few months ago I didn't know anything about Sächsische Schweiz a.k.a. Saxon Switzerland. After a quick Google I muttered, 'that doesn't look like Germany!' It didn't. In my naïve little head, Germany was all about beautiful castles, pretty cities, forests and mountains. It wasn't this…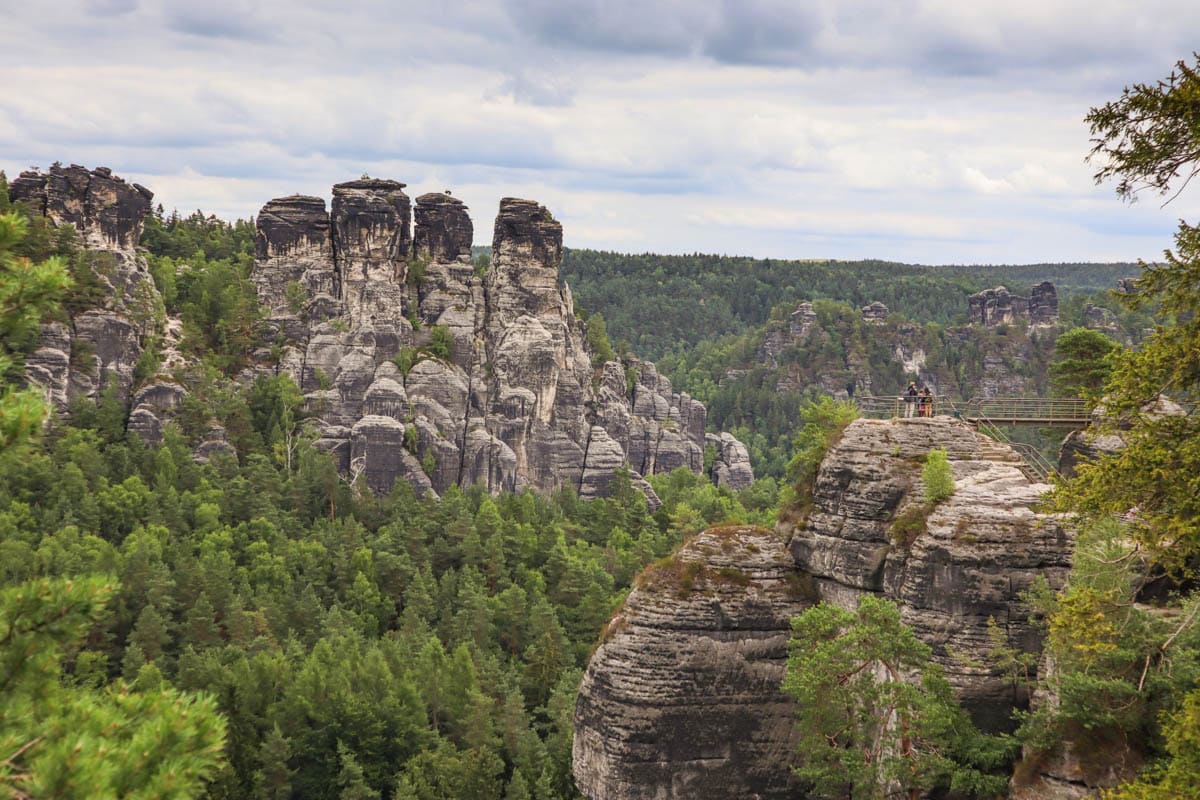 I could see a few similarities between the region and Cappadocia in Turkey and El Valle De La Luna (the valley of the moon) in Chile, but compared to my five previous trips to Germany, this region offered something completely new.
The photos are special, but being right there and taking in the size and scale of the rocks is absolutely incredible! If you love the outdoors, this is a great region to visit – even better if you're into hiking or climbing. In fact, the Elbe Sandstone Mountains have several hundred scalable peaks.
It's fair to say the name is a little confusing. It actually got its name in the 18th Century when two Swiss artists visited, and thought the area was reminiscent of their home nation. Needless to say, the name stuck…!
Check out our video, then scroll down to find out all you need to know to plan your visit to the Bastei Bridge and Saxon Switzerland in Germany.
Time to tell you about some of my favourite spots, and give you a few tips on how to make the most of your time in Saxon Switzerland, Germany.
How Do You Get To Saxon Switzerland, Germany
Saxon Switzerland is located 30 kilometres southeast of Dresden, close to the border with the Czech Republic. It's crazy to think it's under an hour's drive from one of Germany's major cities, as it feels like world's away! If you're flying in, the closest airports are Dresden, Leipzig and Prague. If you want to continue your journey by public transport you can catch a train to one of the main towns, Pirna, Königstein and Bad Schandau.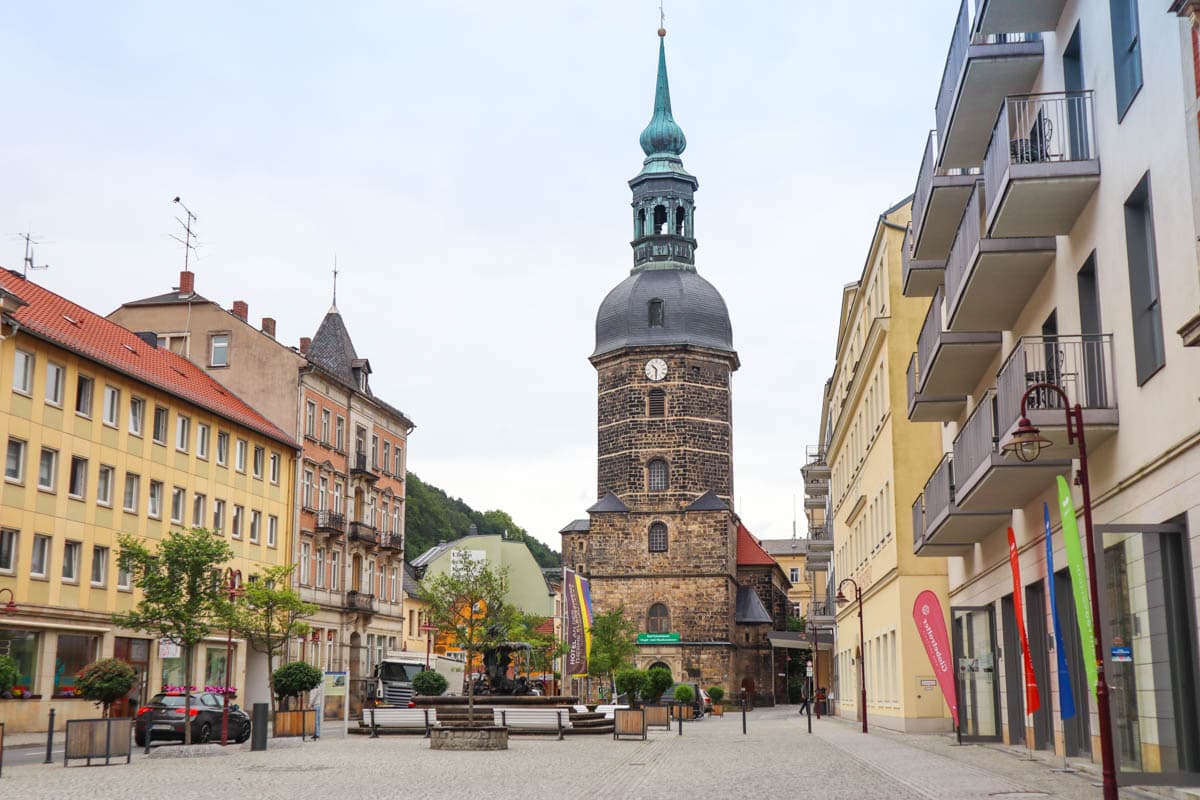 While you can join coach tours from places across Saxony, which will take you to all the key photo spots, I'd recommend hiring a car. It'll allow you to visit at times away from the crowds and give you the flexibility to explore on your own time. We flew into Berlin as the direct flights from London were frequent, but this is quite a long drive, even if you can pick up some serious speed on the autobahn!
Places To Visit In Saxon Switzerland, Germany
As you drive towards Konigstein, you'll spot the fortress from miles away. Sitting on top of one of the region's famous table-shape mountains, it's hardly surprising to learn it was never conquered. With over 750 years of history, it's one of the largest hilltop fortifications in Europe, and its unique position and steep sides made it impossible to get near without being discovered.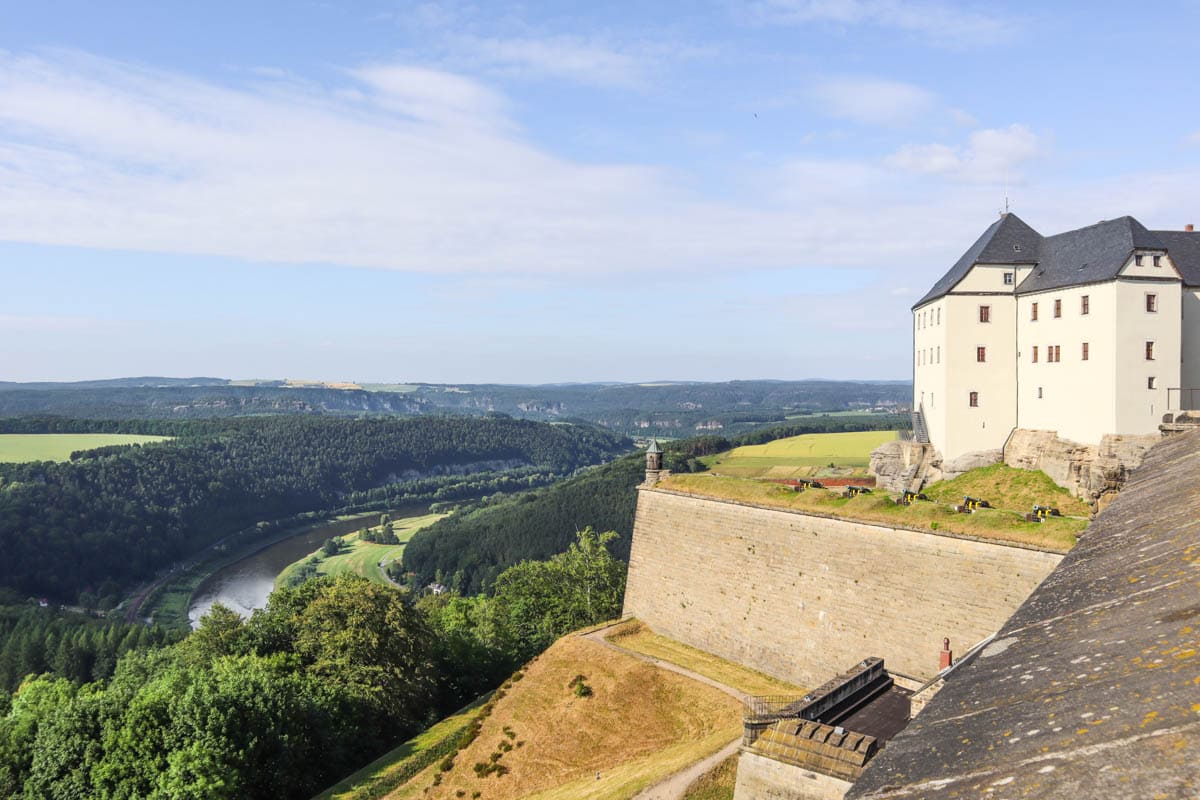 To enter, you can walk up the ramp into the centre of the fortress, or take the lift straight to the top. There are plenty of buildings to look around, plus a café for drinks and snacks. For me though, the main attraction was the incredible view! Being so high up gives you some of the best panoramic views in Saxon Switzerland.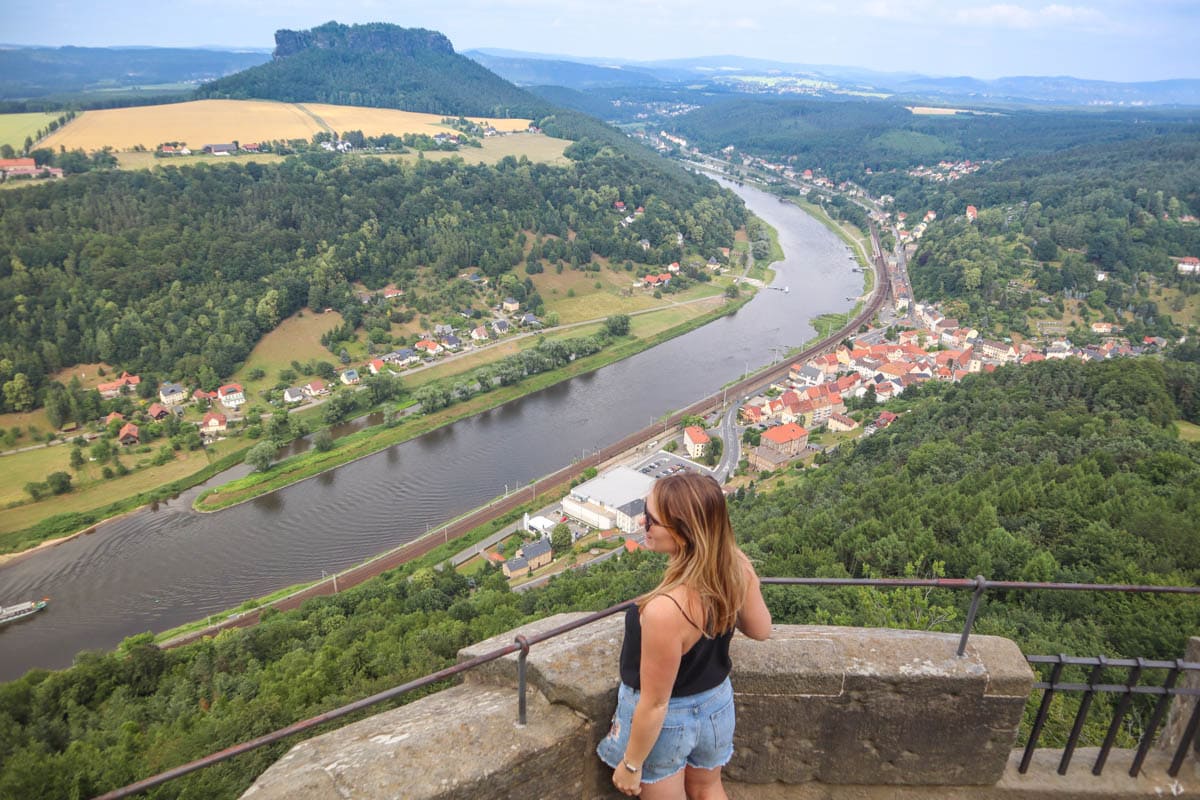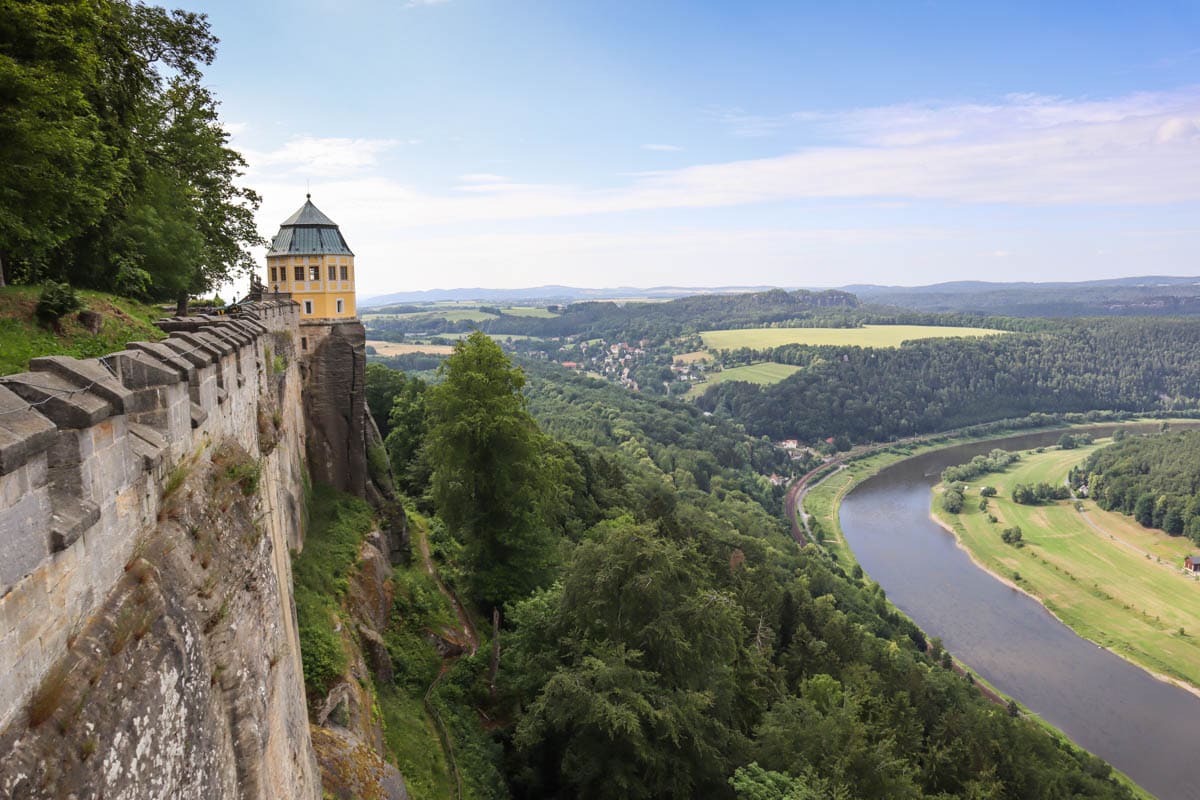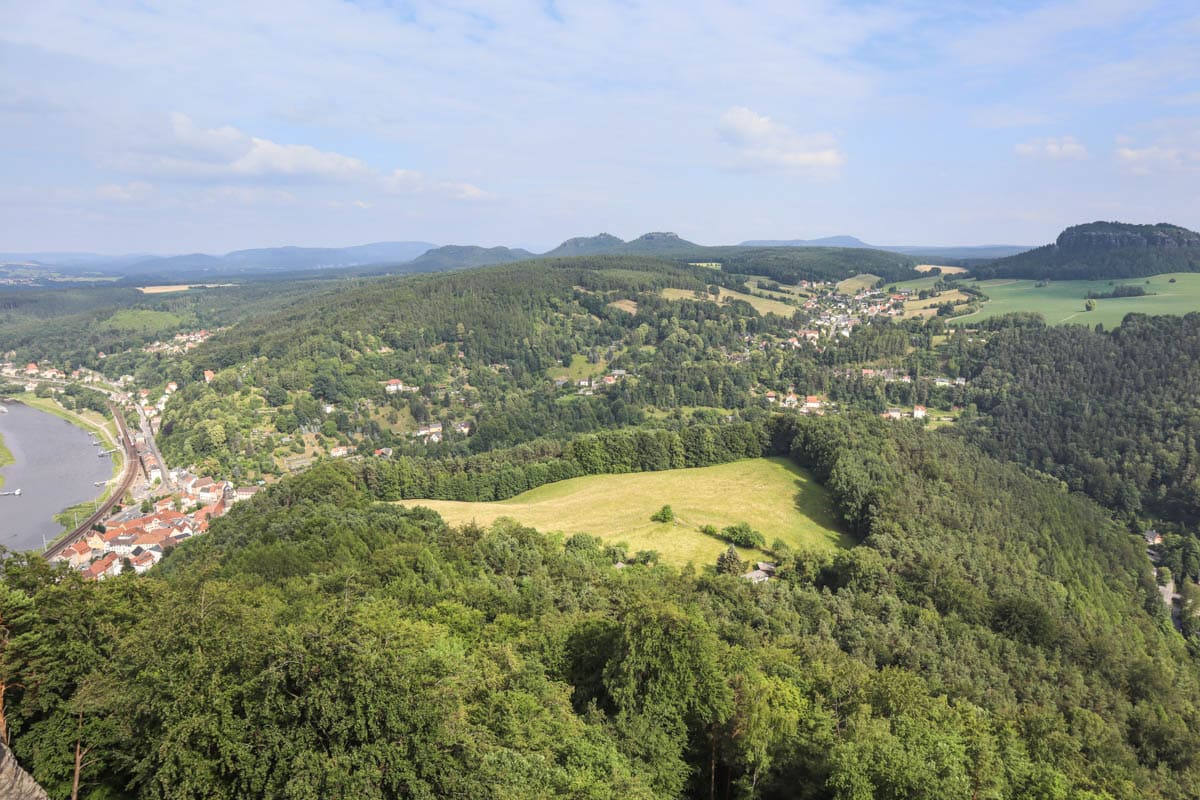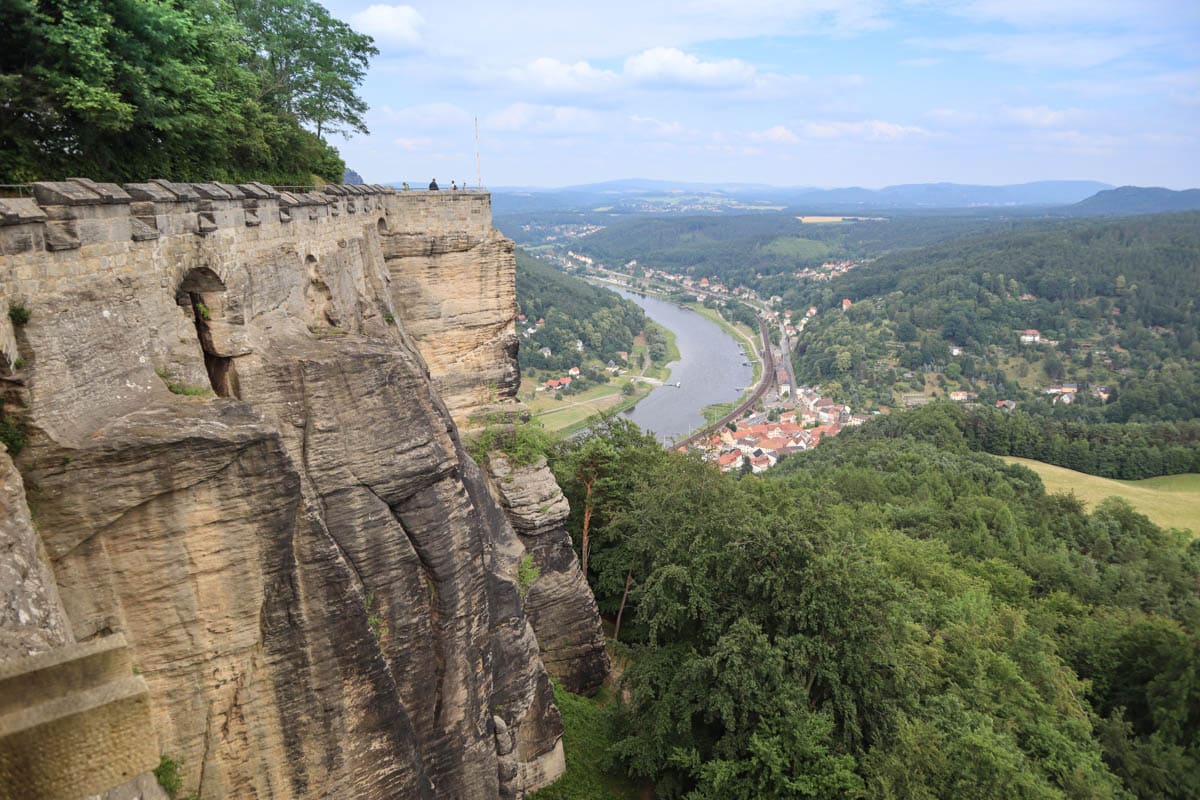 Königstein Fortress Fest Ticket Prices: 10 EUR (adults) 7 EUR (children age 7-16)
Bastei Bridge
It's amazing when you see the huge standing rocks known as the Bastei for the first time. Many of them are around 200m tall and were formed a million years ago from water erosion. They've been a huge draw for travellers and tourists over the years, so much so that in 1824 a wooden bridge was constructed to allow people to explore the area more easily. This was later replaced in 1851 by the sandstone bridge that stands there today.
There are various viewpoints near the Bastei Bridge where you can take in the beautiful panoramas. One of the best views we captured was off to one side at Neurathen Castle (Felsenburg Neurathen) – a series of walkways between the rocks that you can explore for a few euros. There are several Bastei Bridge hikes, which I'd totally recommend if you have a bit of time.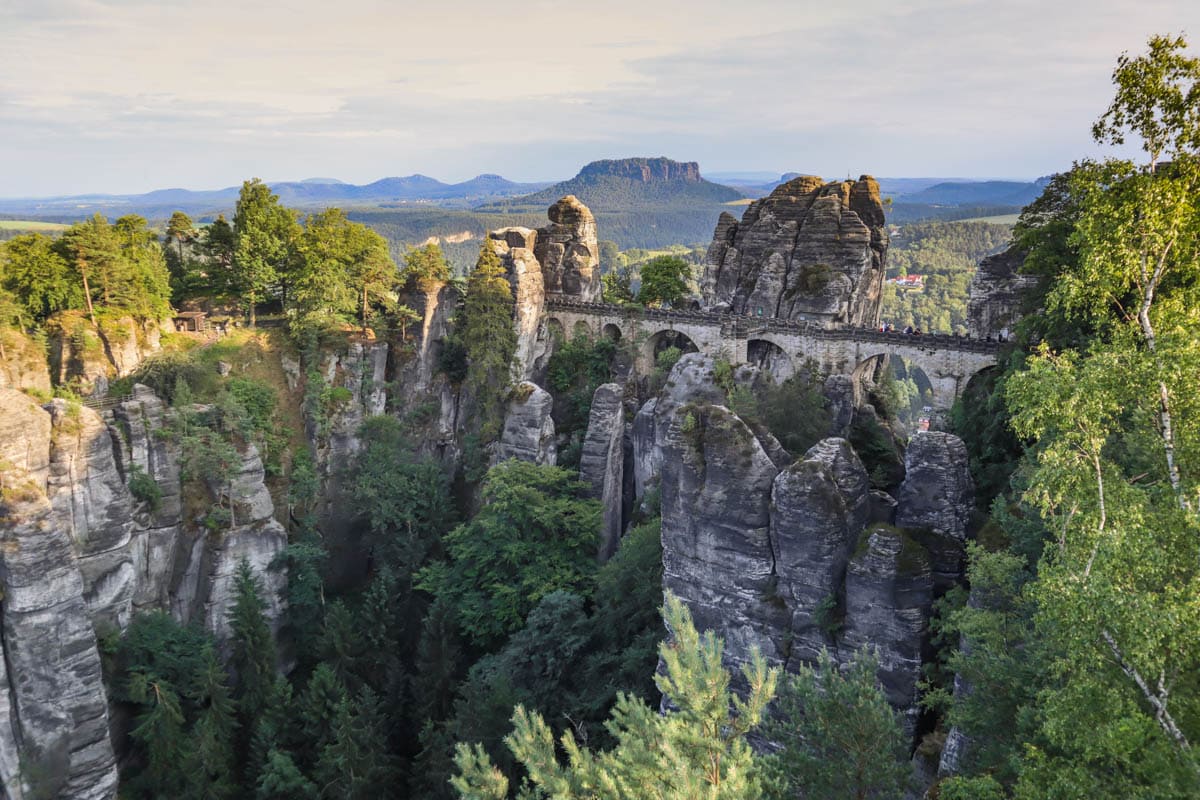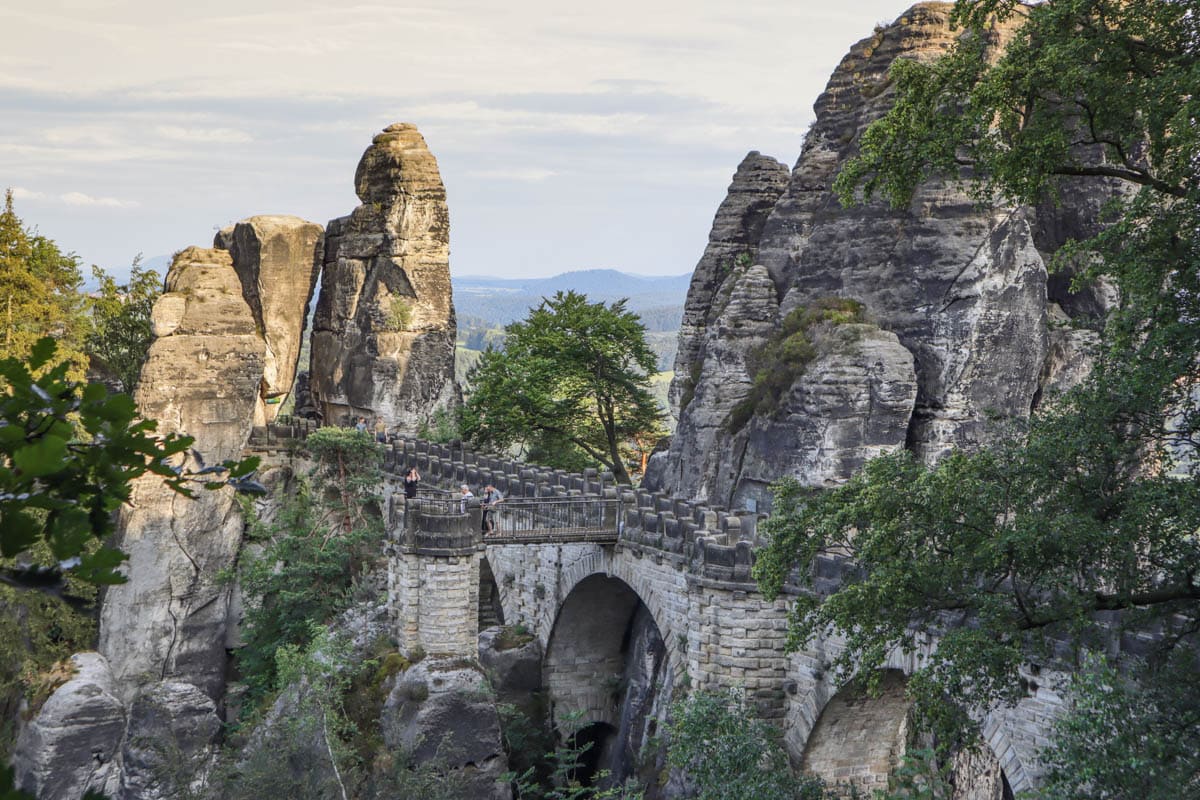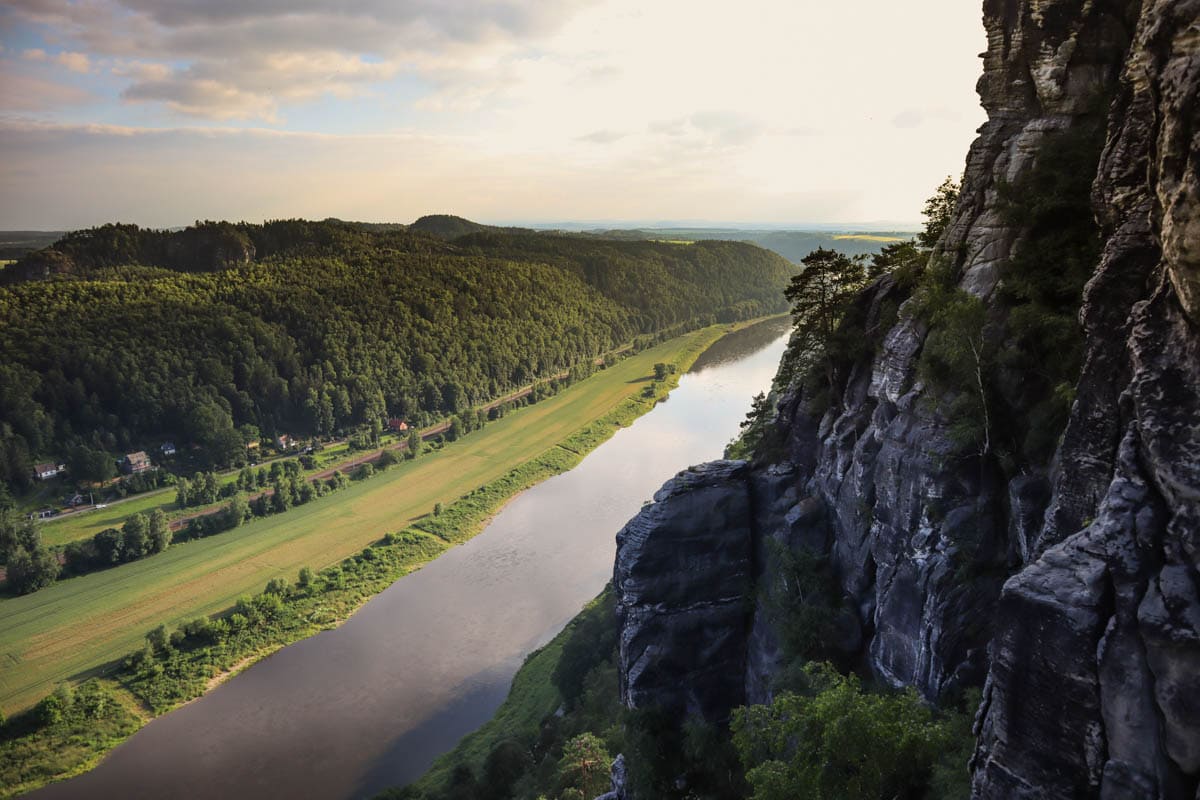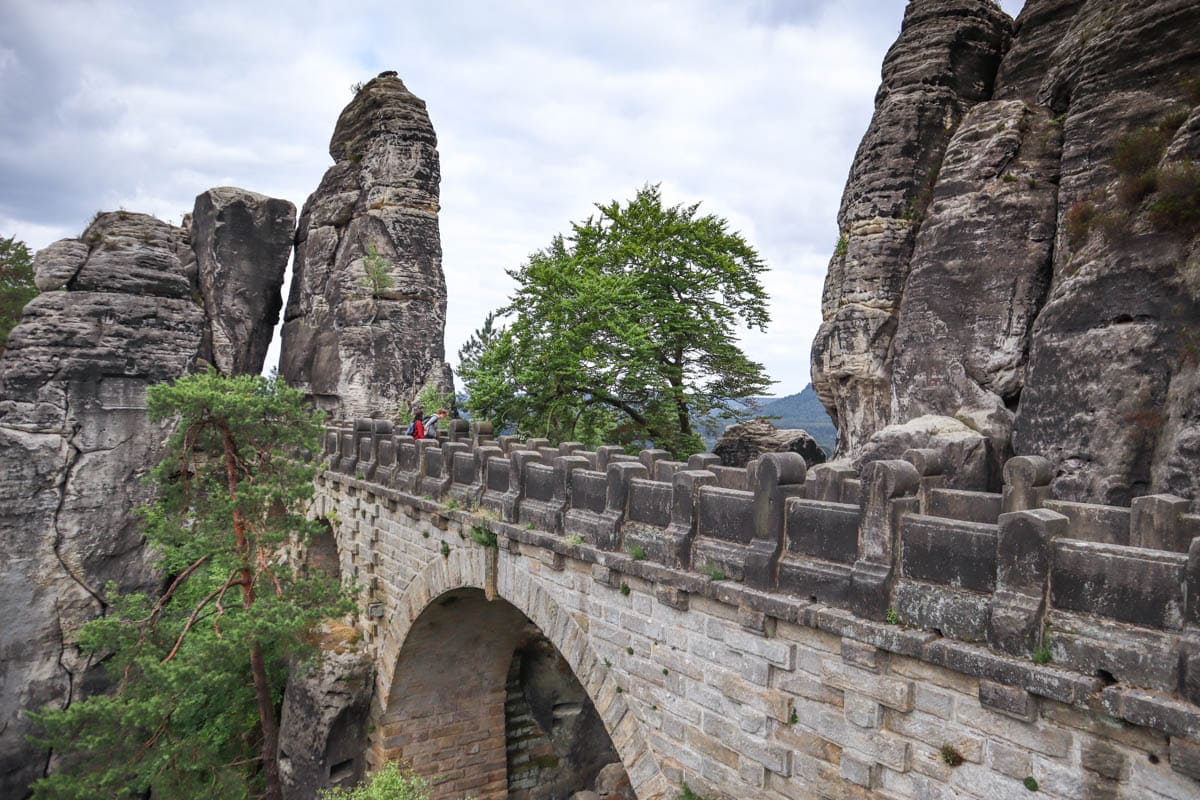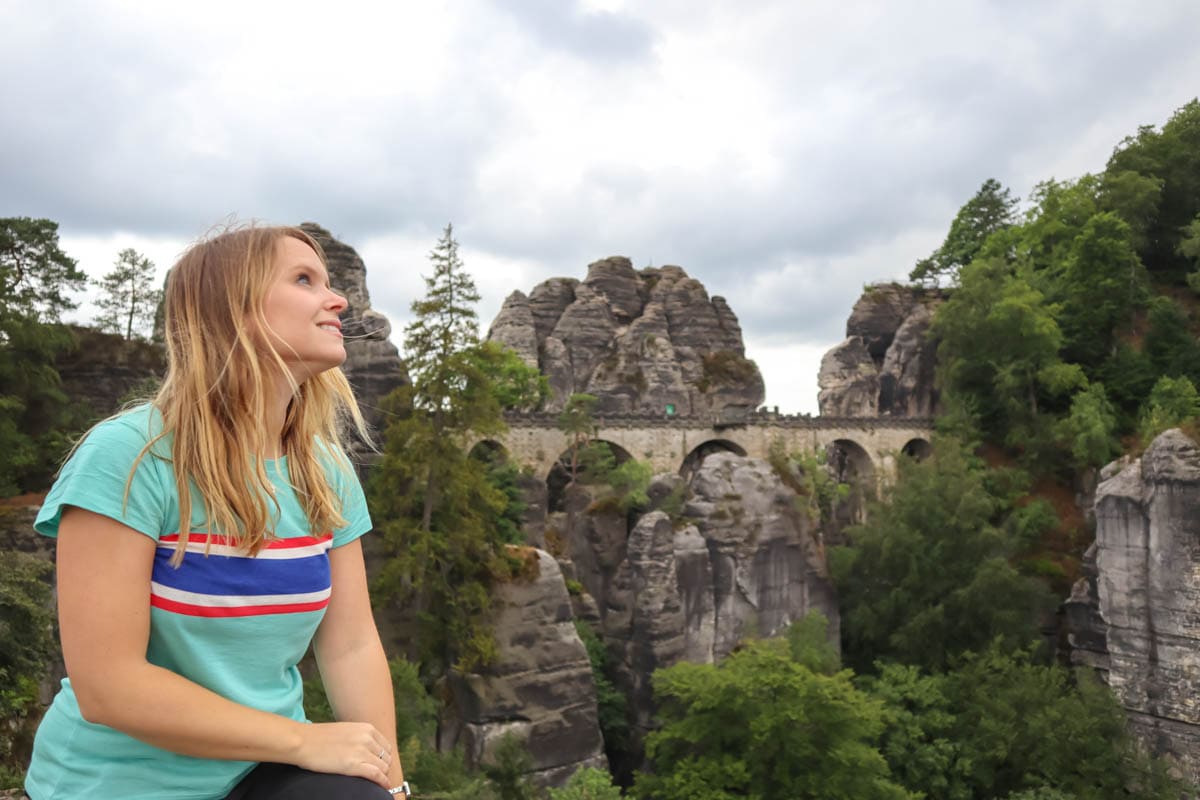 Useful info for visiting the Bastei Bridge
Bastei Bridge location – click here
Bastei Bridge parking – click here
Kuhstall and Lichtenhainer Waterfall
There's a great hike that starts at Lichtenhainer Waterfall and goes up to Kuhstall – a natural stone arch leading to a beautiful viewpoint. There are a few paths up, but we really enjoyed the more challenging route which veered off to the right and took us between large rocks, up steep staircases and through the magical forest. Sadly it was very misty the day we visited so there were no spectacular views from Kuhstall, but it was still worth it! Feeling peckish? There's a café at the top, as well as a restaurant at the bottom by the waterfall too.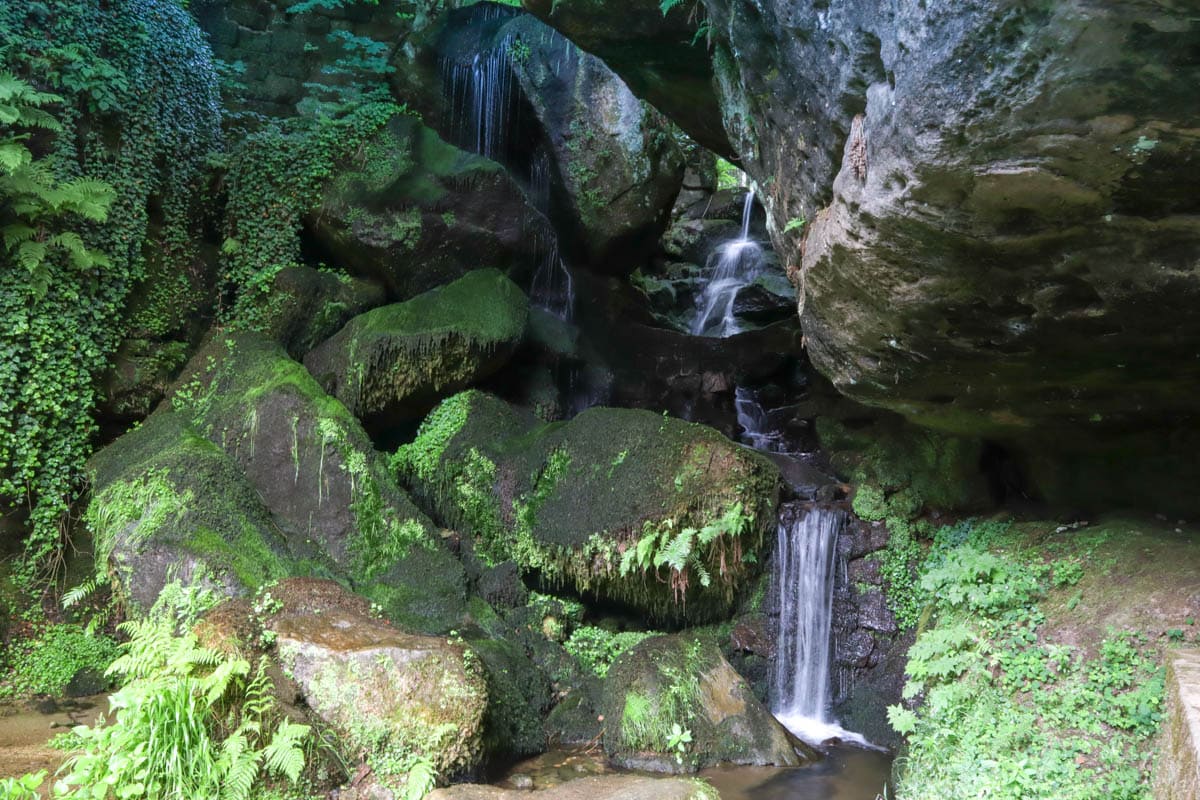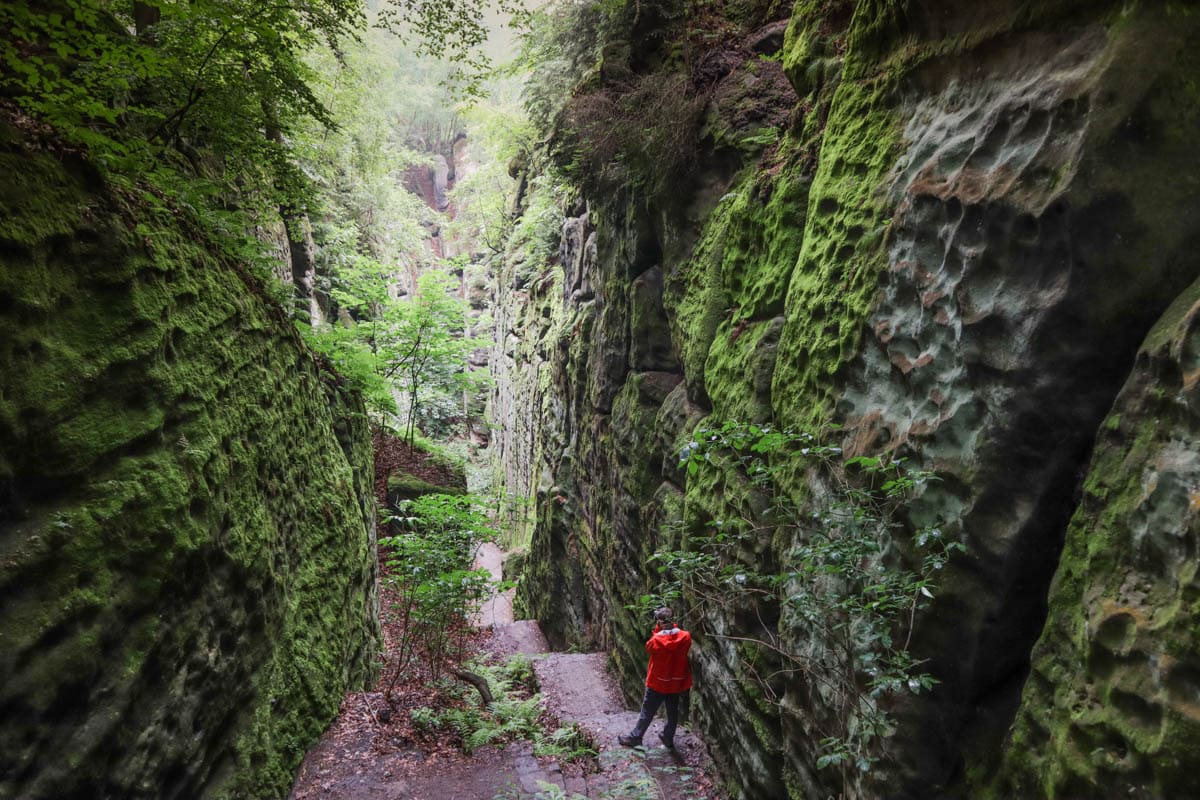 Rathen Village
This cute village is on the banks of the River Elbe, with the Elbe Sandstone Mountains close by. It's a real tourist spot, with plenty of hotels, a few restaurants and a handful of gift shops. However there's more to it! Many of the Bastei hiking routes pass through it, and it's a pretty place in terms of architecture and views.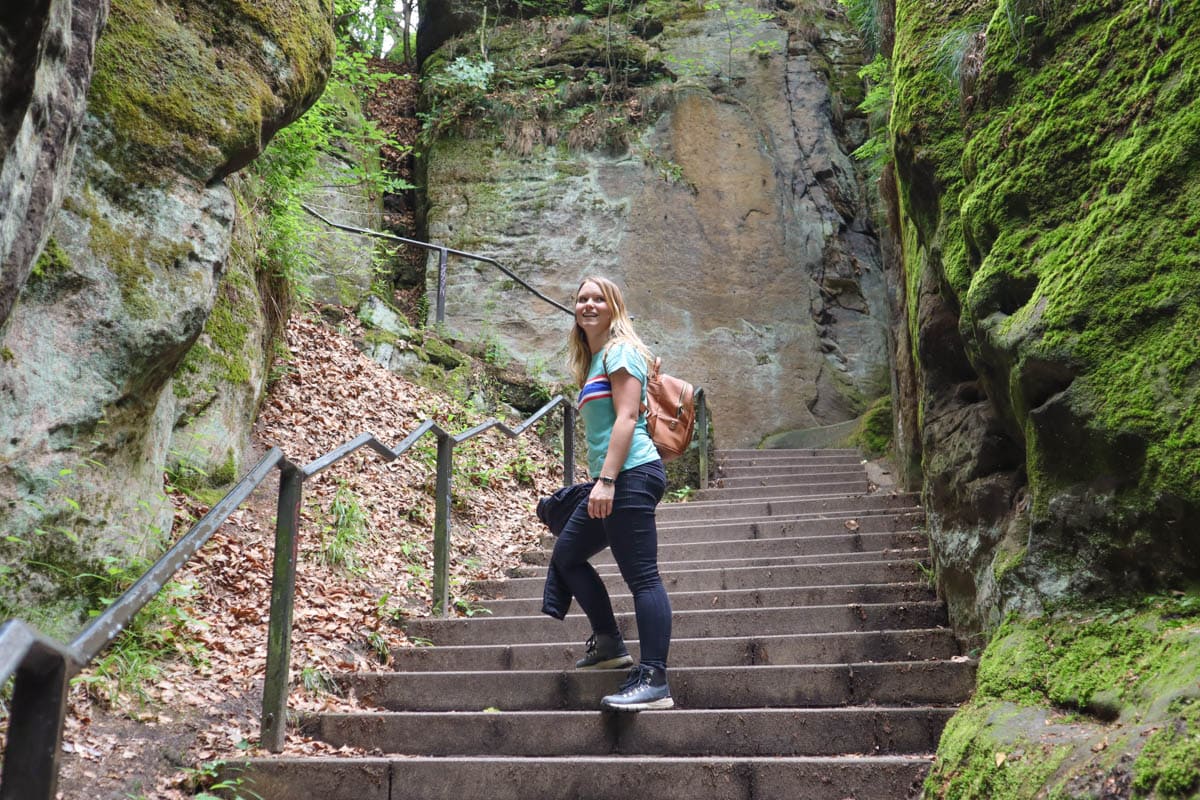 There's the Rathen Ferry which transports passengers across the river. Just a little way into the forest there's Amselsee – a small reservoir with rowing boats for hire (prices start at 4 EUR). Oh and there's also Rathen Open Air Stage (Felsenbühne Rathen), which has to be one of the most stunning natural theatres in the world. They put on plays, operas and concerts throughout the warmer months, and even though we didn't attend one, we could hear rehearsals echoing up into the mountains – it was very special!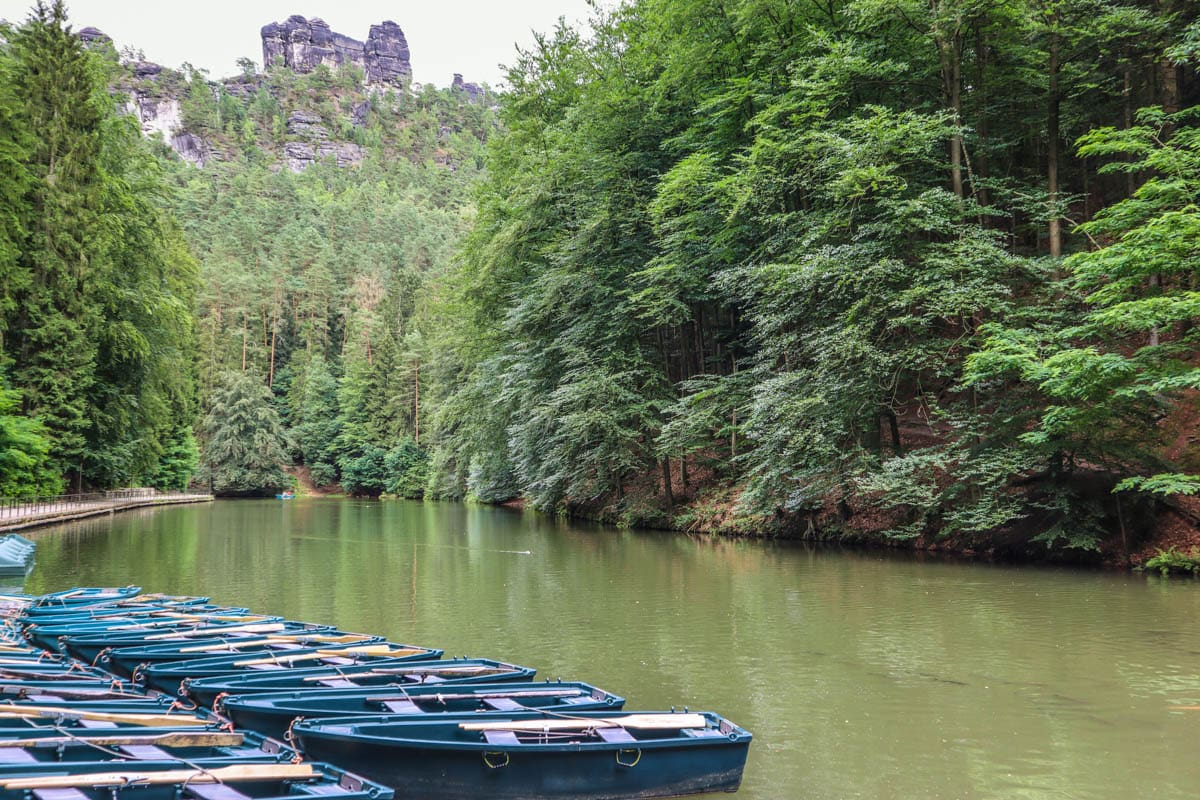 Hiking In The Mountains In Saxon Switzerland
Along with the incredible rock formations, there are larger mountains, some rounded and others with flat tops. This is because some are of volcanic origin while others are sandstone. With more time, I'd have loved to summit Lilienstein, Gohrisch, Papstein and Pfaffendorf for more beautiful views of Saxon Switzerland – but hey, it's always good to save a few things to return for
Hiking in this region is really well signed, and in general you'll see coloured codes like these, which will guide you along well-maintained paths. There are plenty of beautiful routes through the stones, and it's definitely worth spending some time getting to know the area on foot.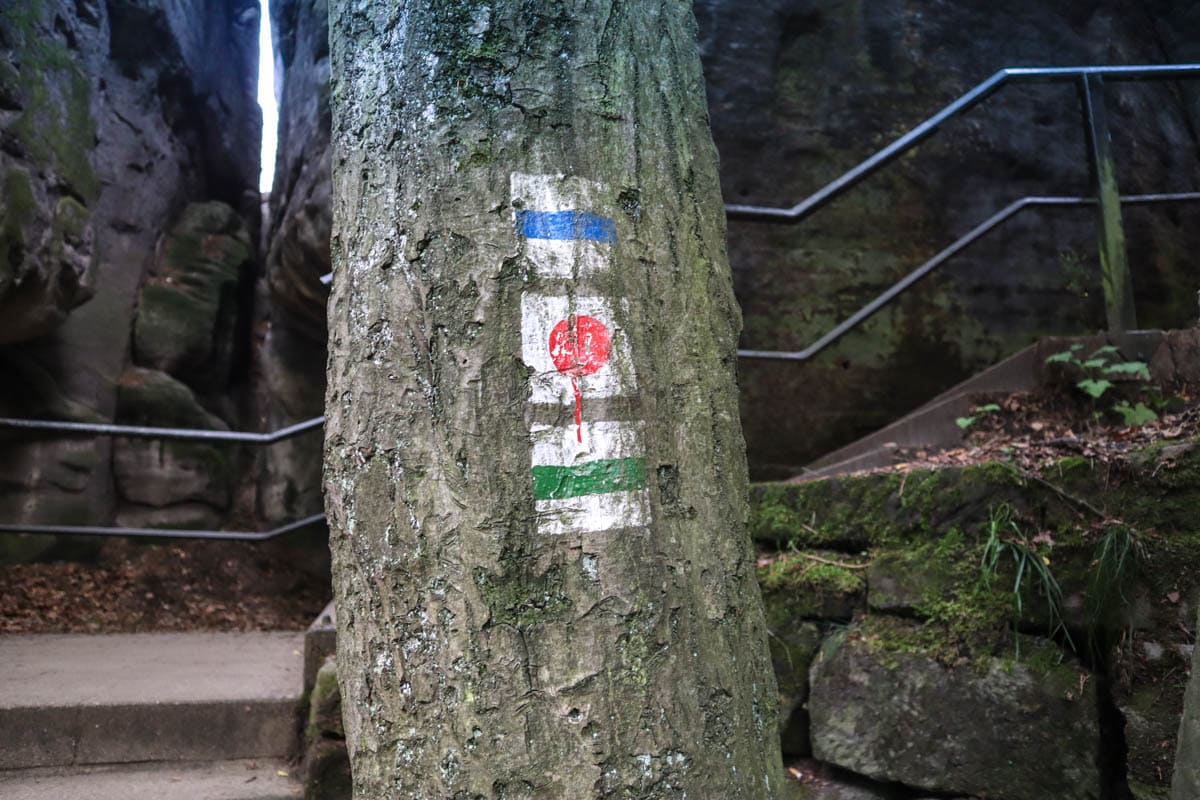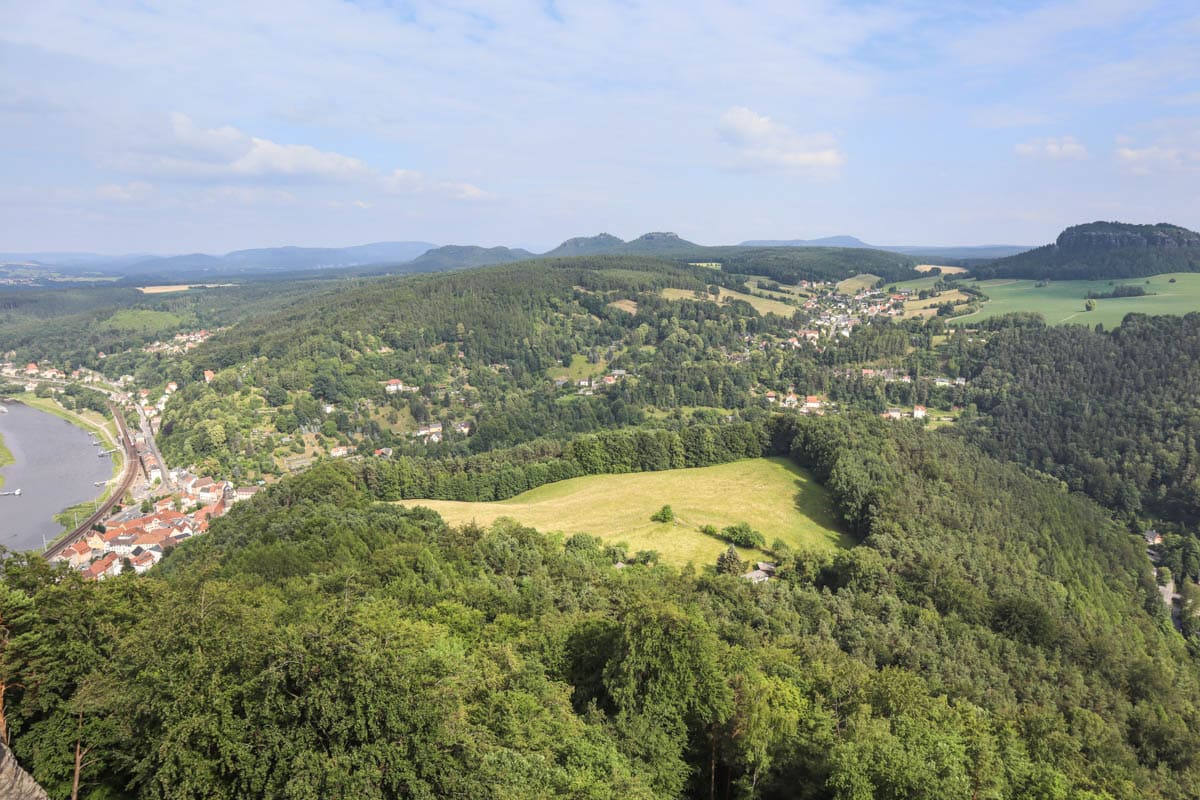 Saxon Switzerland National Park: Recommended Hotels
Berghotel Bastei – This hotel is located just a few moments from the Bastei Bridge, and is right in the heart of the Elbe Sandstone Mountains. We spent a few nights here and were very comfortable, plus being so close to the bridge meant we could visit before or after the big crowds of tourists. We dined each night at their Panorama Restaurant which served good food with incredible views over to Königstein Fortress and down to the River Elbe. Check latest prices here.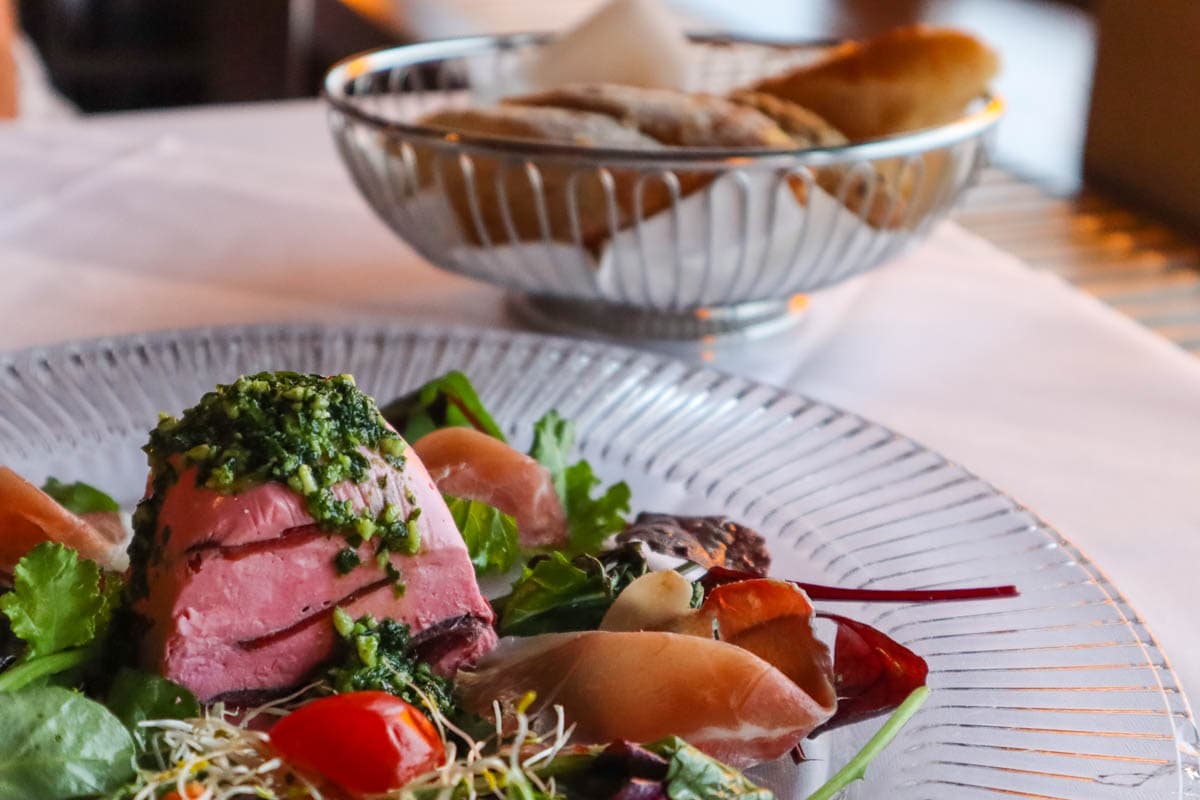 Hotel Elbschlösschen – This top-rated hotel has beautiful views of Saxon Switzerland, the River Elbe views and is home to a spa and swimming pool. It's a great place to relax and unwind. You can only reach it by ferry, which makes it pretty unique too! Check latest prices here.
Big thanks to Germany Tourism and Visit Saxony for inviting us to explore this beautiful region of Germany! As always all opinions are my own.
Enjoyed this post? Pin it for later…