Hot air ballooning in Cappadocia is top of many people's bucket lists – and it's not hard to see why! Find out more about the hot air balloon experience, then scroll down to find out the top hotels in Cappadocia to make your adventure extra special.
Ever since I saw photos of the magical Cappadocian landscape topped with a sky filled with balloons, a trip to visit was planted firmly at the top of my bucket list.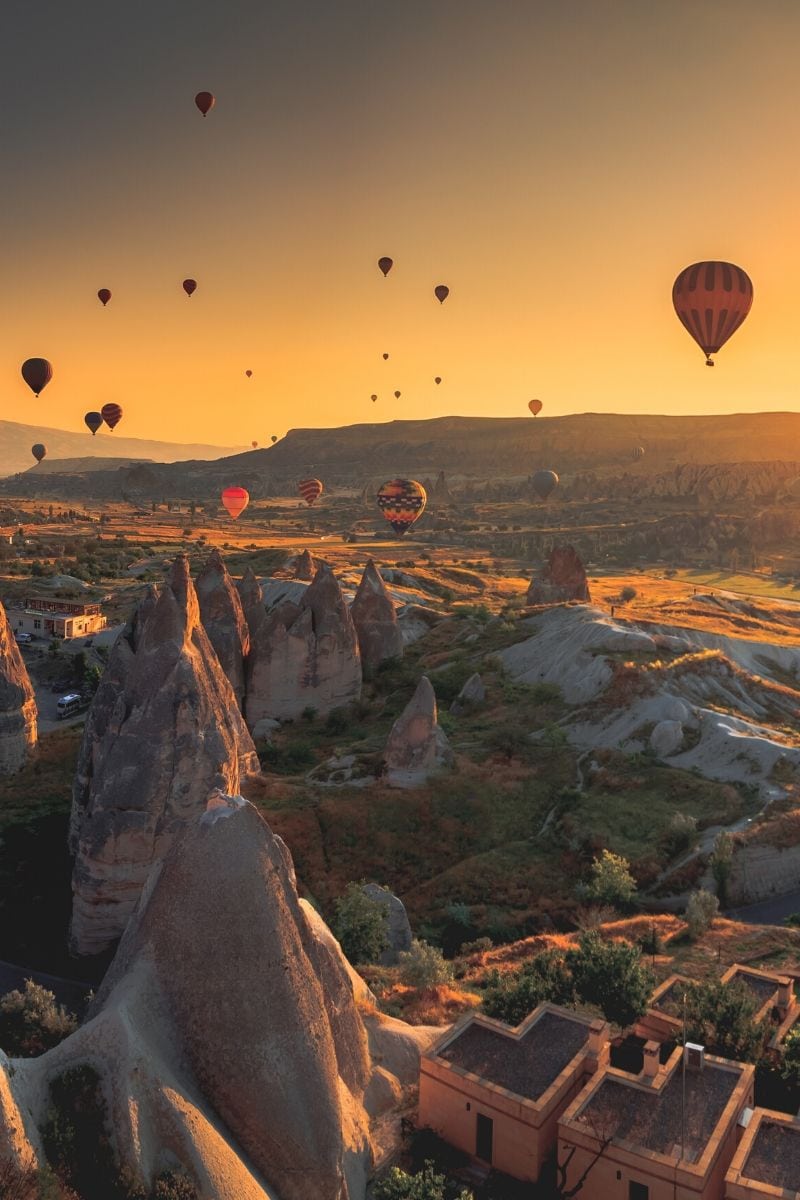 The Cappadocia region of Turkey is the most popular location in the world for hot air ballooning. Last year, over half of the world's balloon trips took place in the region, with almost half a million people taking to the skies.
It's also one of the few places in the world you can balloon almost all year round. Trips run in boiling hot summers and snowy winters – and the landscape looks incredible in both.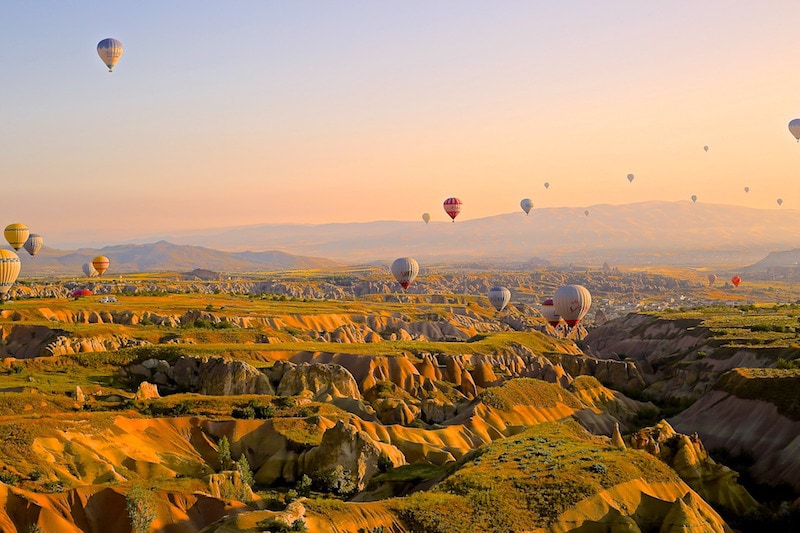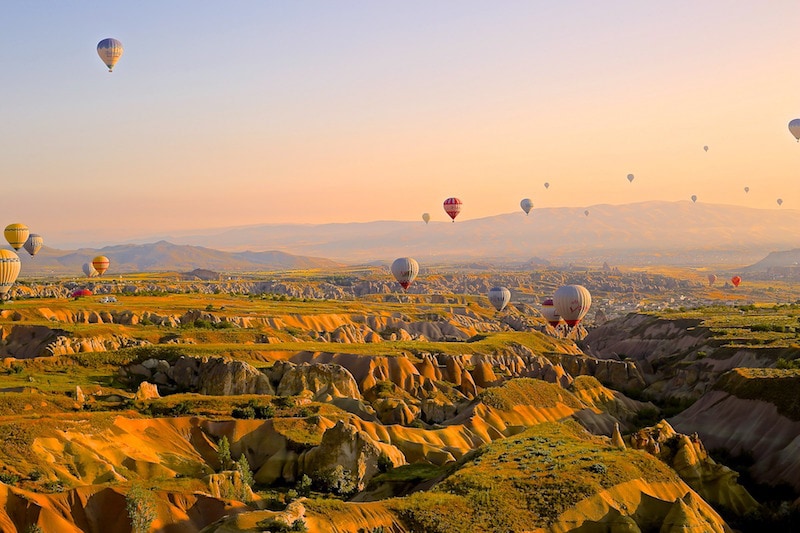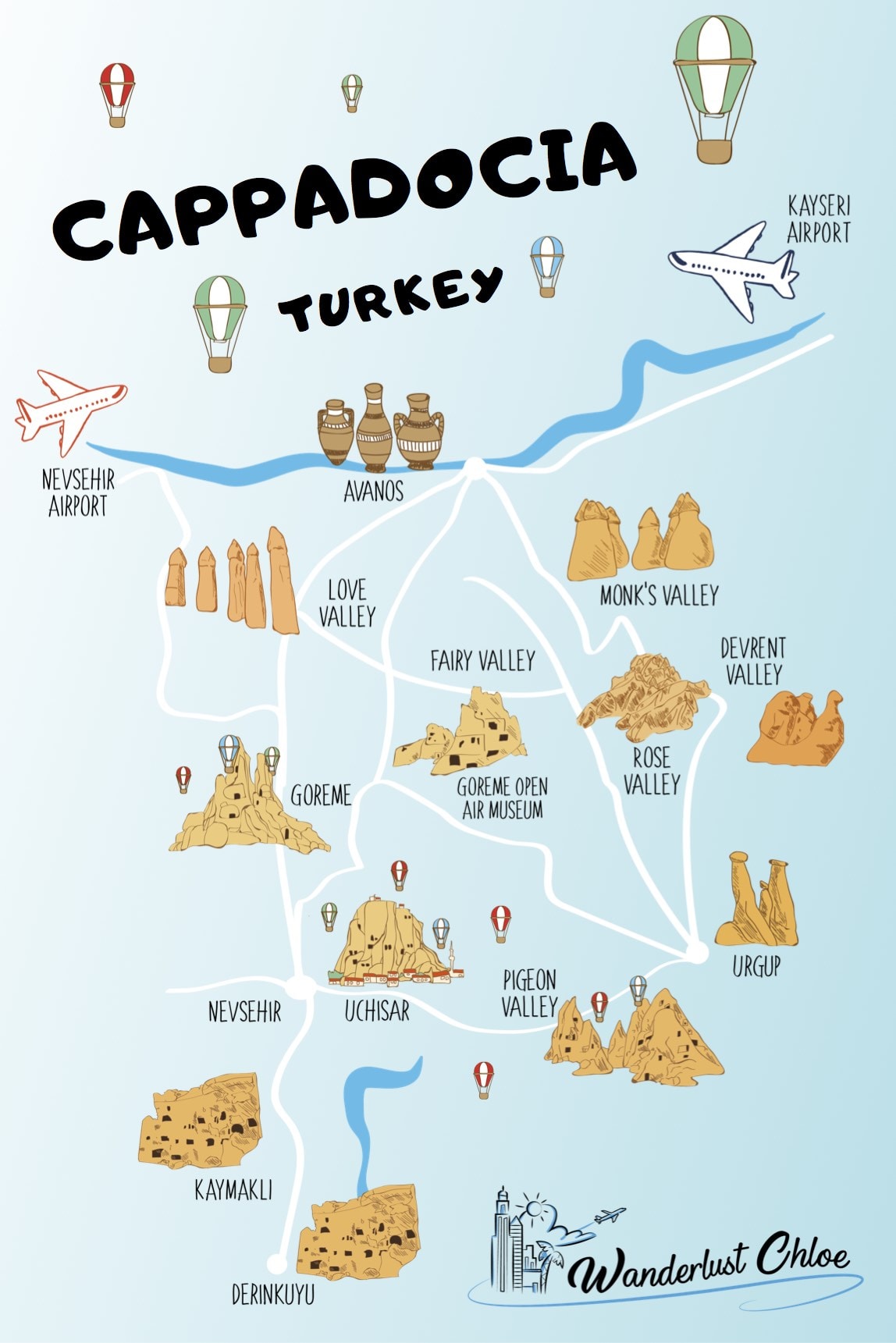 While on a flight, you won't just see a few balloons, the sky will be filled with around 100 balloons of differing colours and designs. Every day is like a fiesta. Don't worry though, it happens to be one of the most highly regulated places, and has an excellent safety record. To fly here, pilots must train for around 5 times as long as in other parts of the world.
I went on a hot air balloon flight in Cappadocia in April. It felt like the gods were against us as the region experienced a bout of freak cold, snowy, windy weather. Everyone we spoke to said "it's not usually like this." Great…
On the day, we were collected by minibus at 5.30am from our hotel and taken to the balloon company's office in Göreme where we tucked into a light breakfast of coffee and pastries. We waiting nervously for a decision by the Civil Aviation Authority on whether it would be safe to fly. Around 6.20am, the green flag was given and we set off to the balloon take-off zone!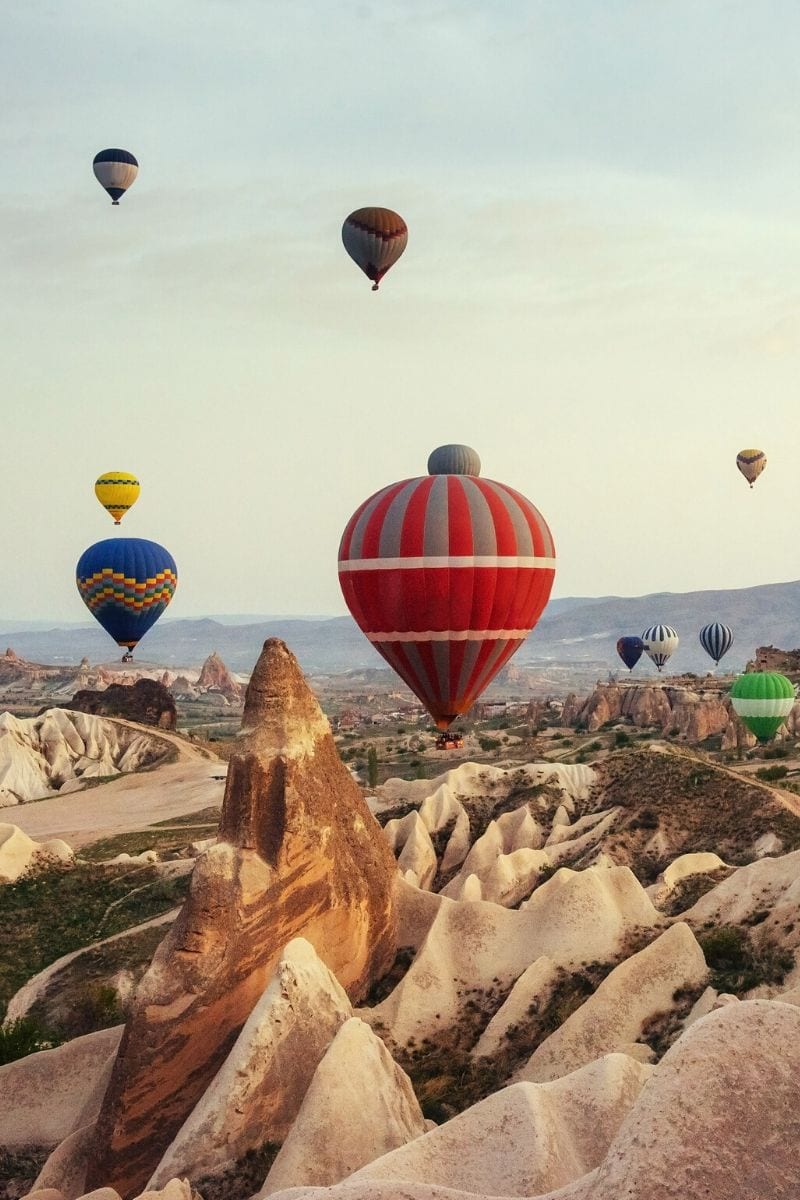 It was my first trip in a hot air balloon. I didn't really know what to expect, or whether I would enjoy the sensation. With 16 to a balloon, I listened to other passengers as they recounted tales of previous balloon trips. "When I did it they lay the basket on the side and you crawled in." "Well, when we did it in Australia, the landing was really bumpy." I wasn't filled with confidence.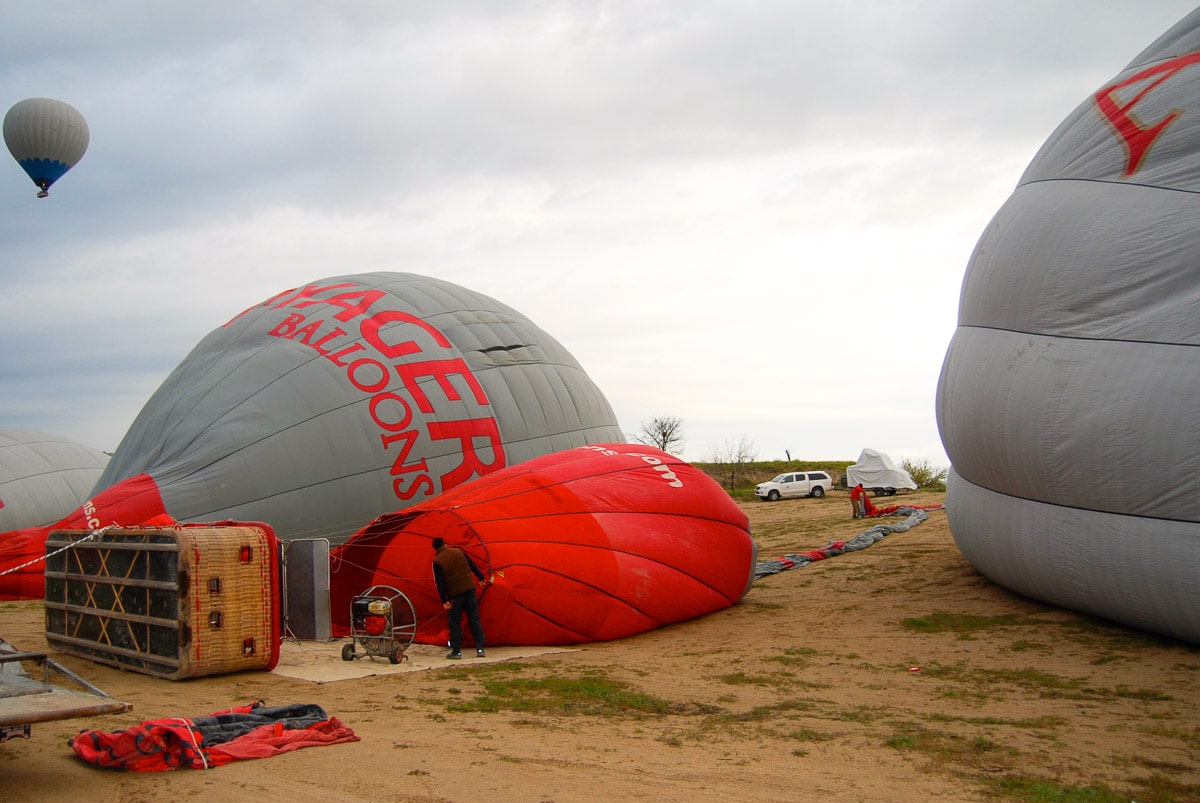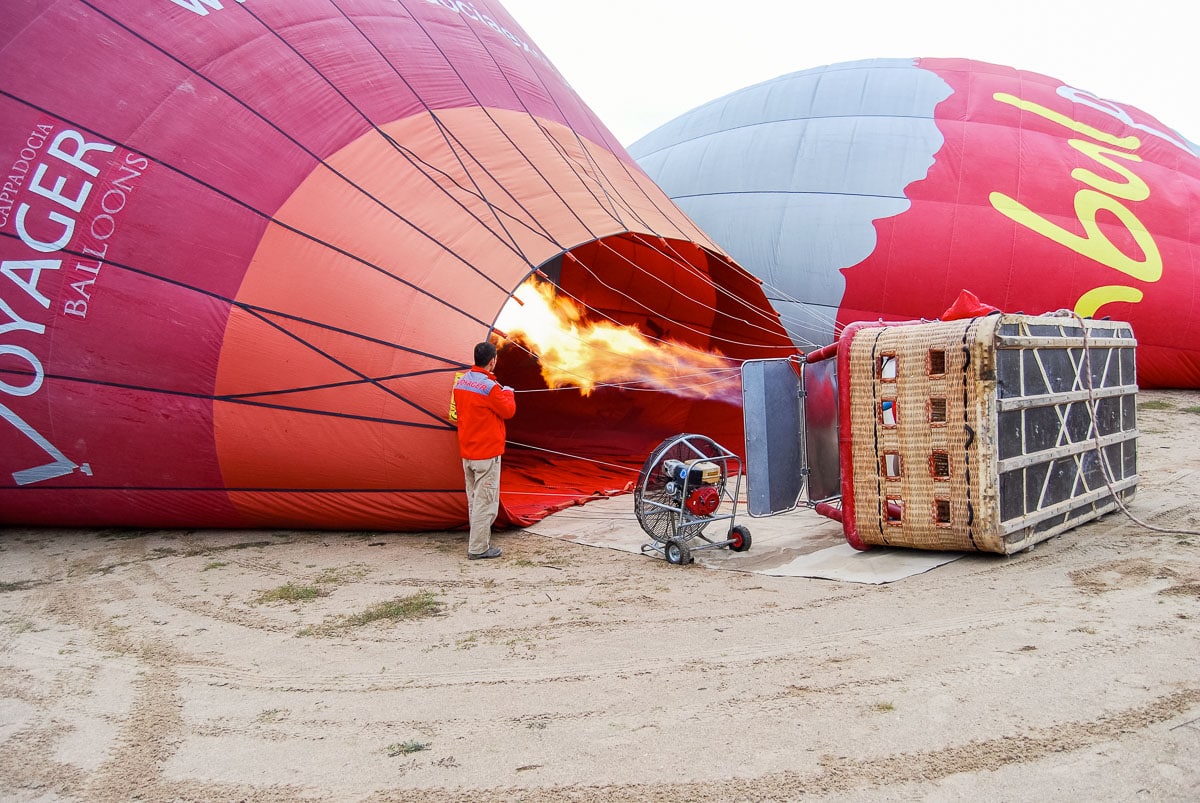 The whole area was filled with deflated balloons lying on their sides. The balloon staff were busy setting them up, checking them for safety and starting to inflate them. It was quite a sight to see them up close.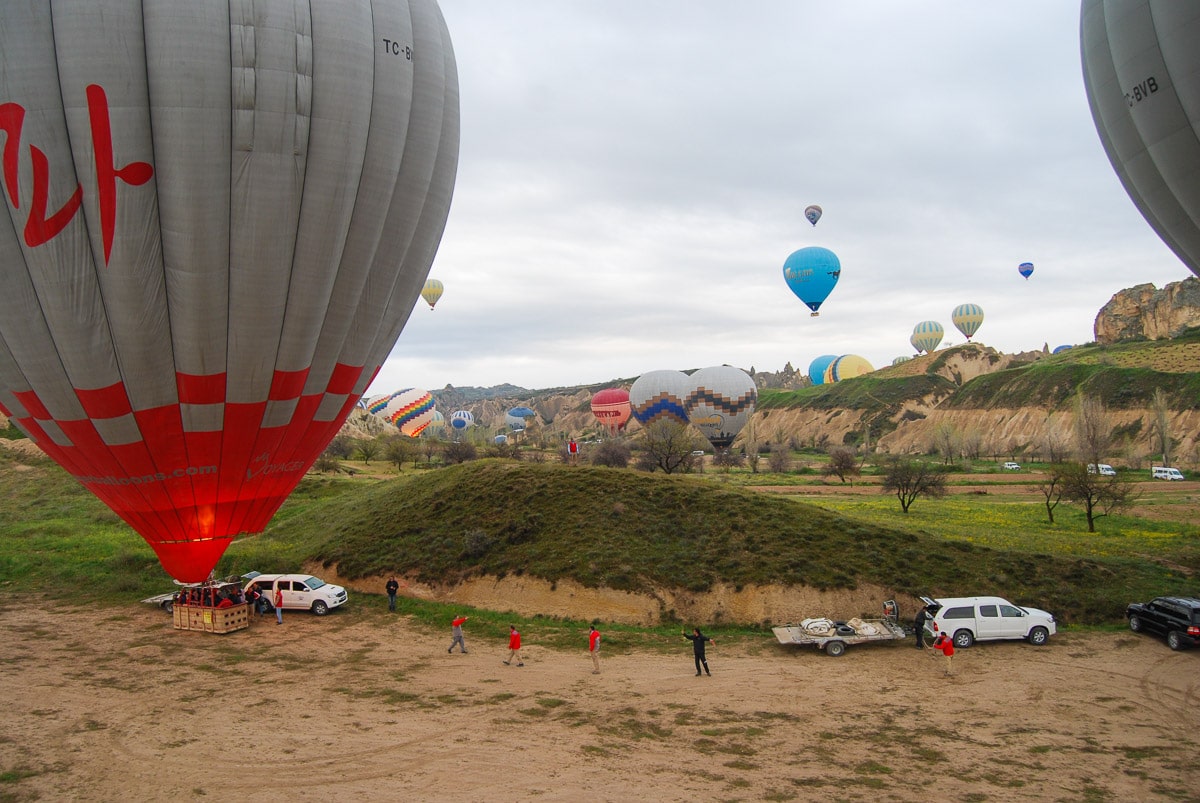 Soon after, it was time to hop into the basket – thankfully upright! The baskets are split into 5 sections – 4 squares which each fit 4 people, then a long section in the centre for the pilot.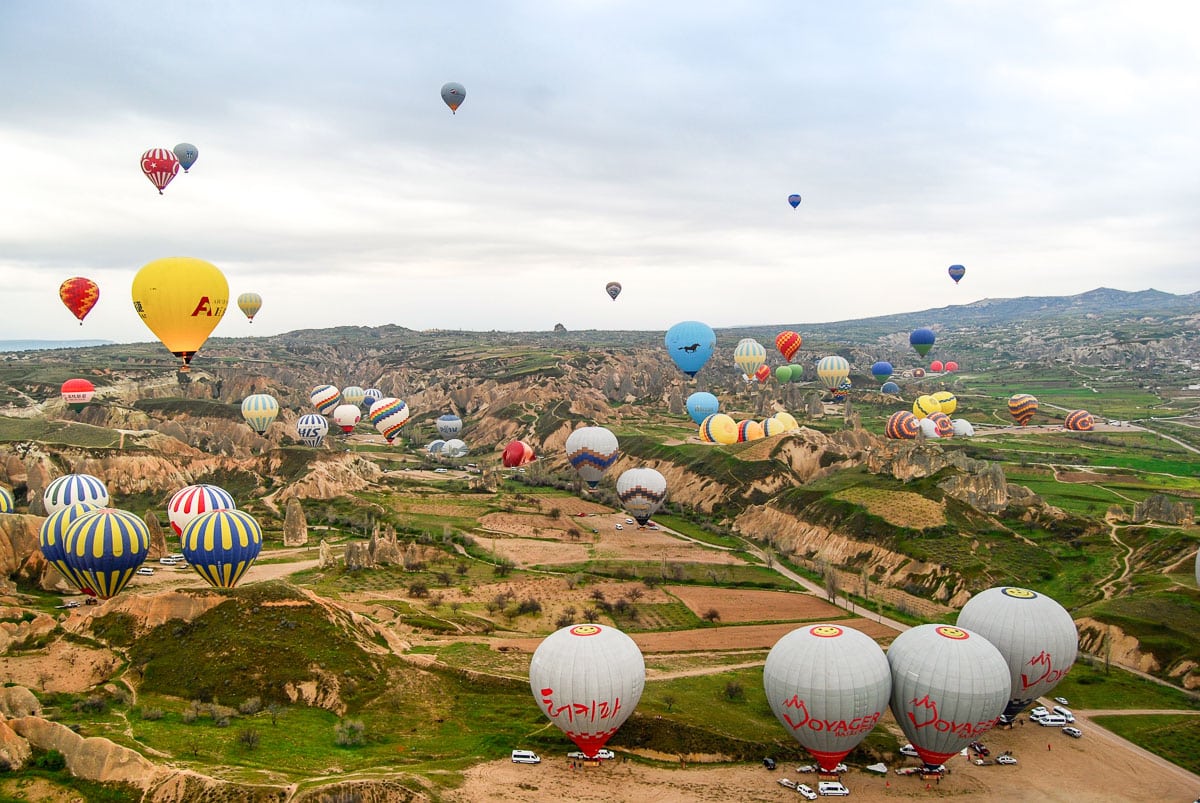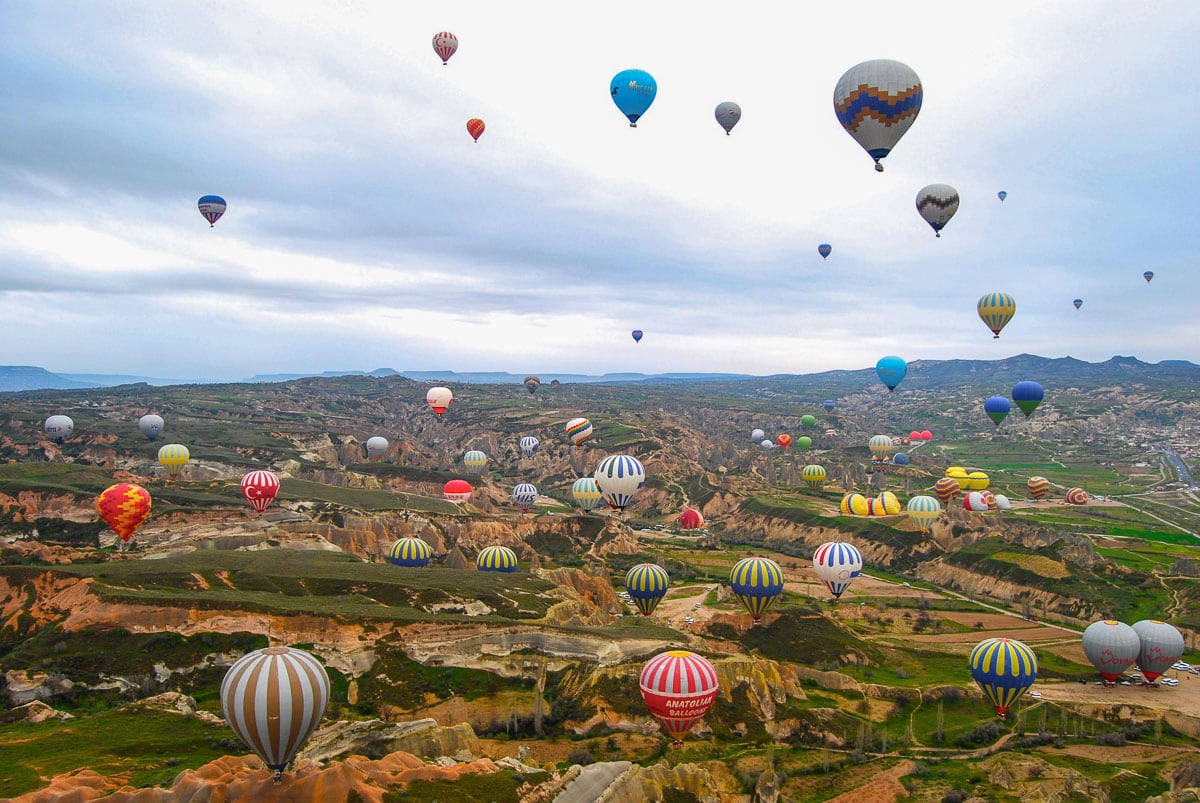 I was pleased to be taken up by one of the most experienced pilots in Cappadocia! He told us stories of mid-air proposals… including one from last year when a couple flew in from NYC, took the balloon flight, got engaged, then flew straight back to NYC! We heard tales of panicky passengers, and some interesting facts about the landscape. His favourite time to fly – in the winter when the whole area is covered in a thick layer of snow. "I'll have to come back again then…" I said.
Keen to book? I'd recommend reading my new post first: 21+ Things To Know Before Booking Your Cappadocia Hot Air Balloon Flight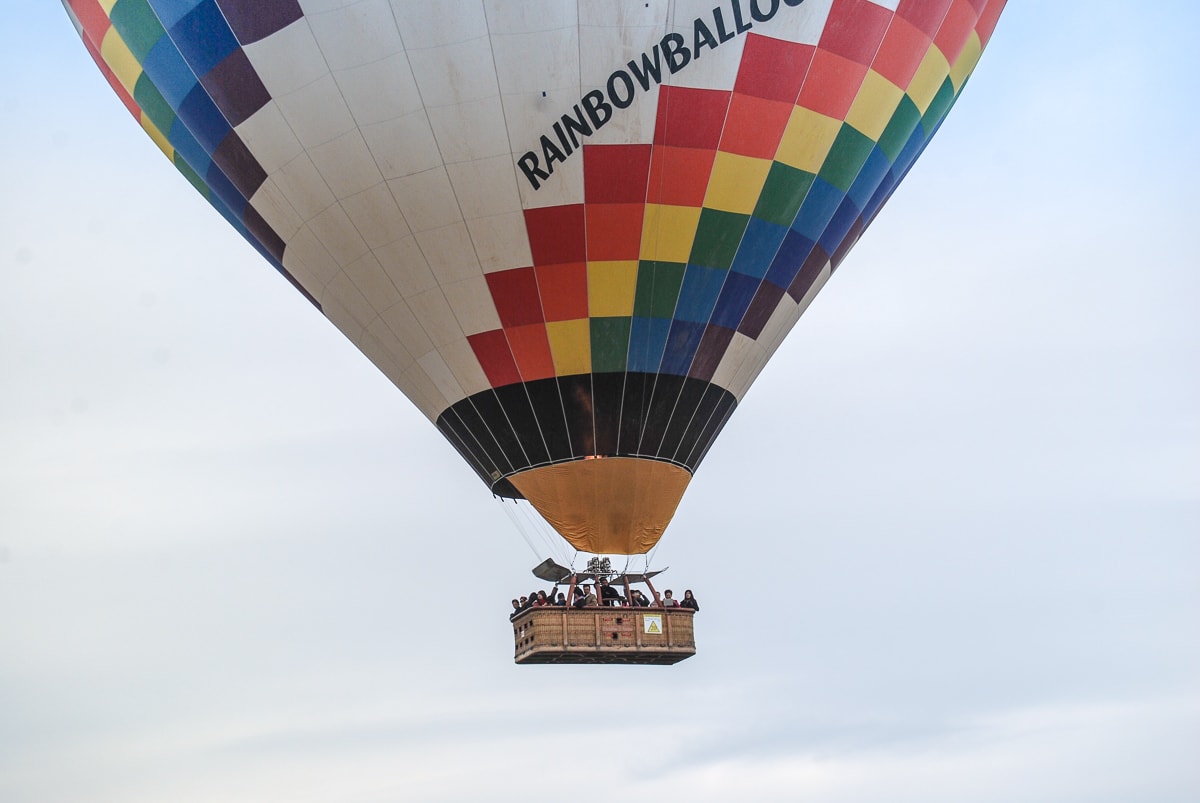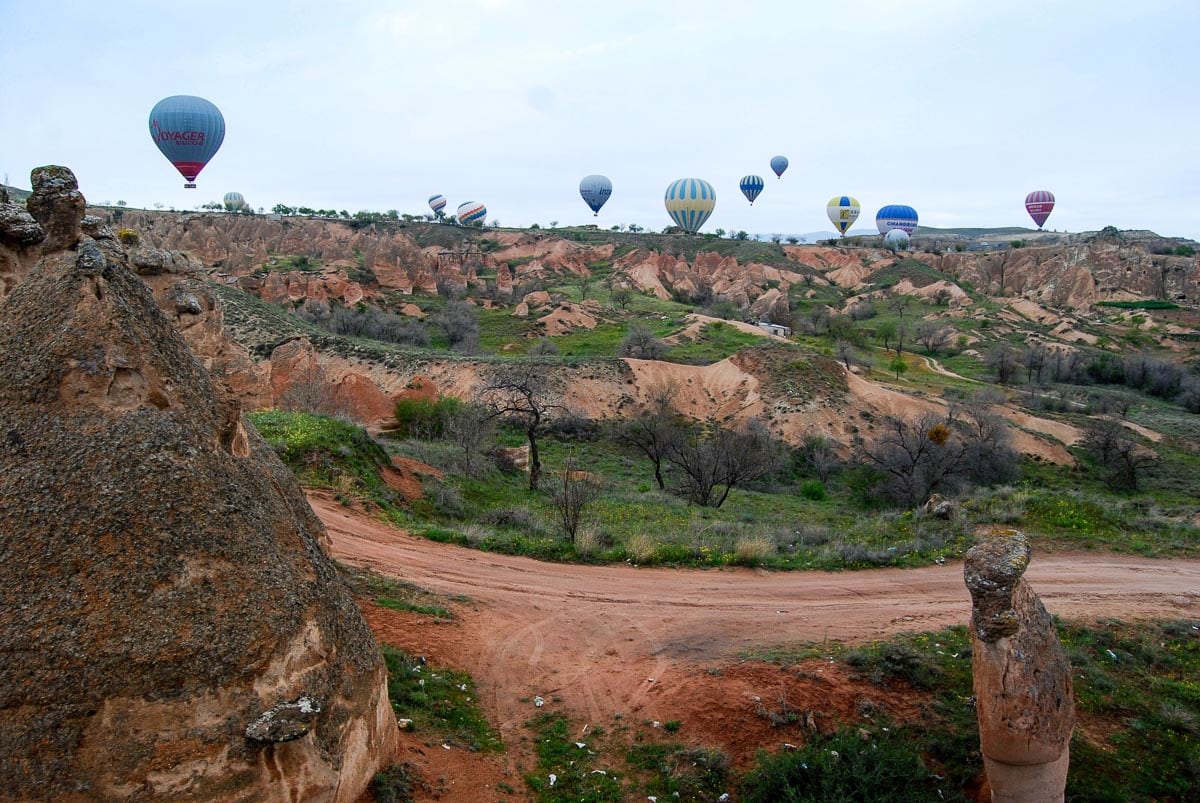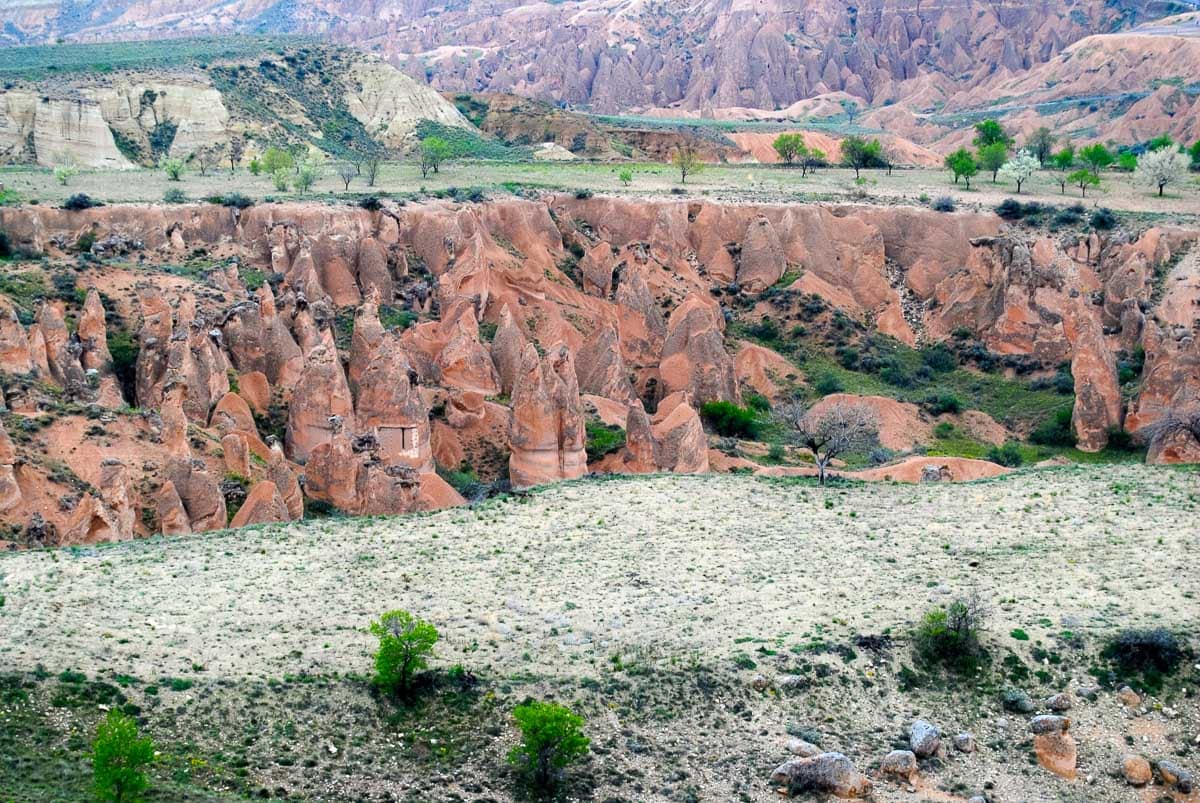 Over the next hour or so we floated up to a maximum height of 800m, soaring high in the morning sky alongside around 100 other balloons. The views were breathtaking – and constantly changed as we drifted through the different areas. We passed the famous Fairy Chimneys, Monk's Valley, Imagination Valley, pigeon houses, plenty of cave houses and vineyards. The landscape seemed to change colour as the minutes ticked by.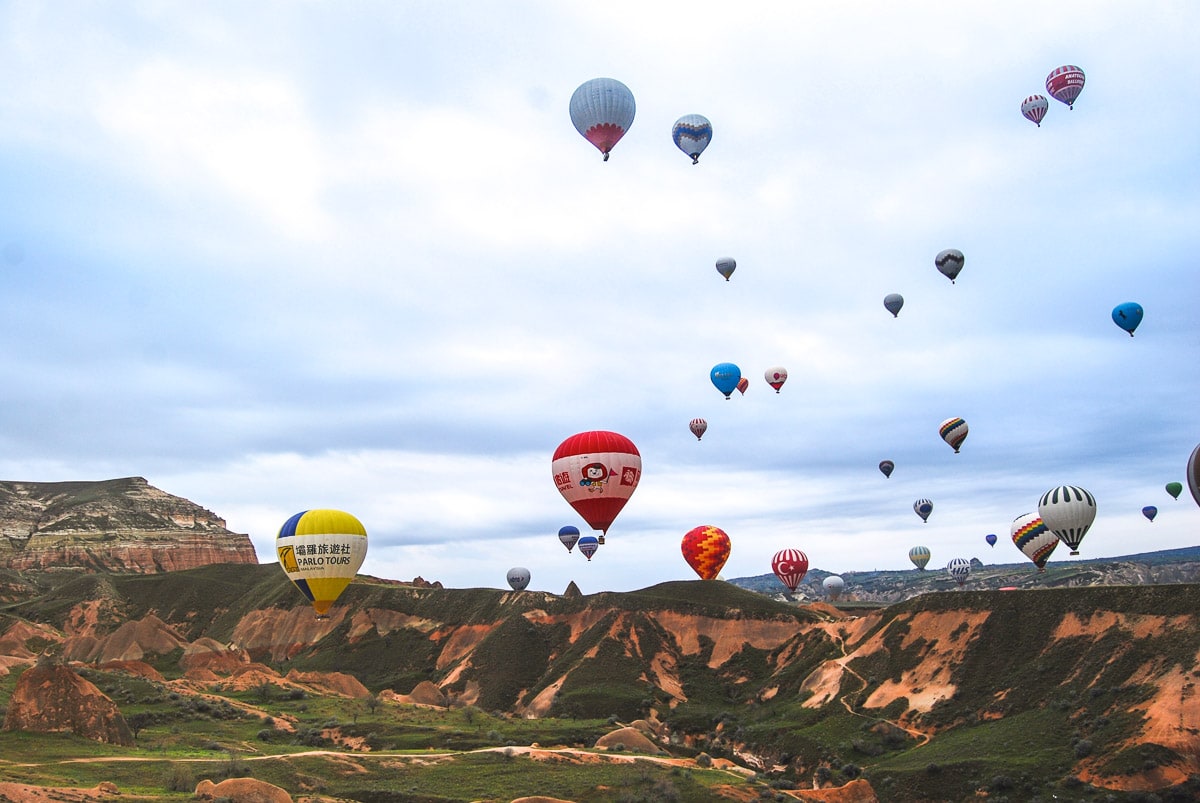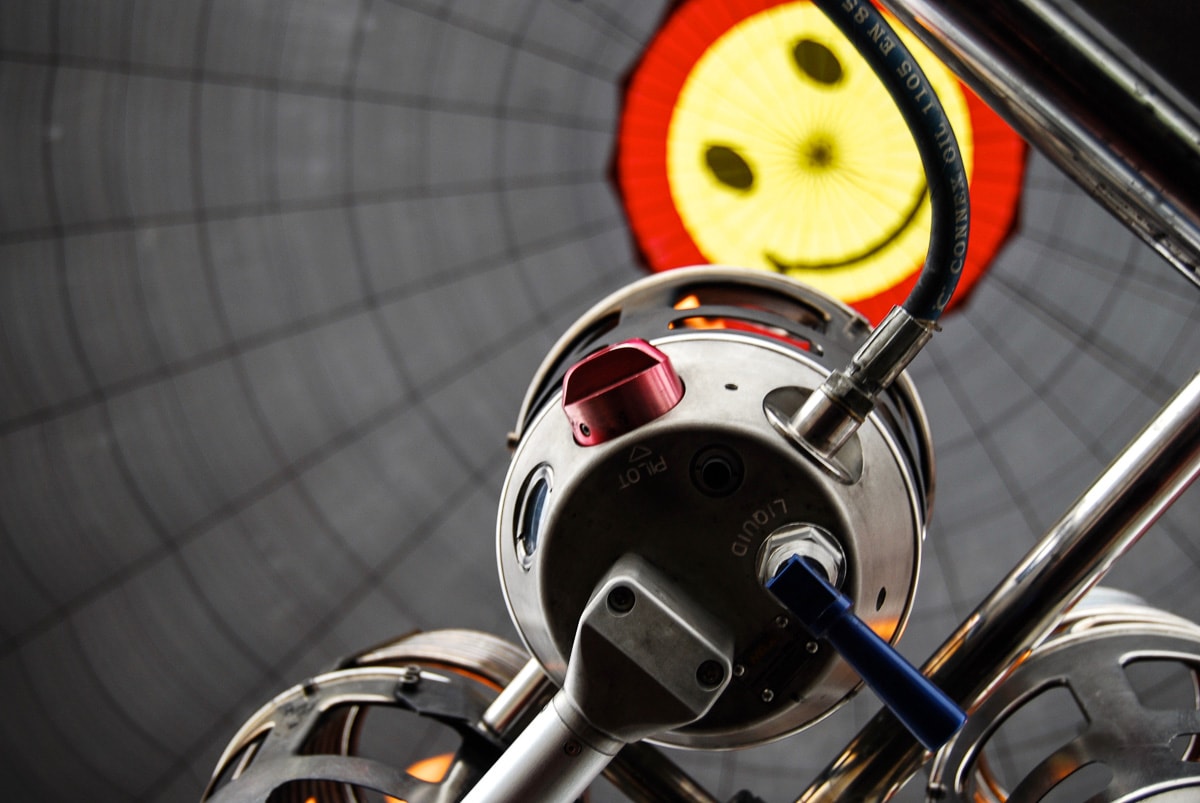 From the highest points, the panoramic views of the region were completely mind-blowing, while from the lowest points you could almost pick fruit from the trees! There was more to it than just the weird and wonderful landscape, the view of the other balloons in the sky made made it a completely magical experience. It didn't look real!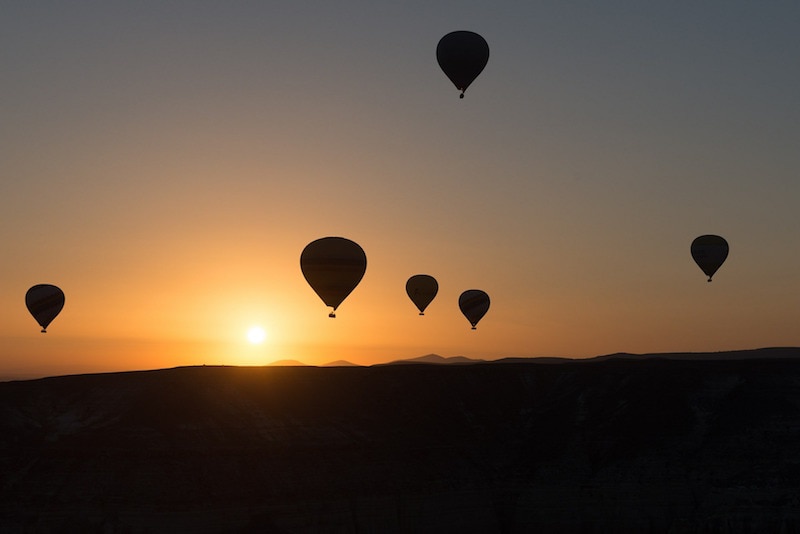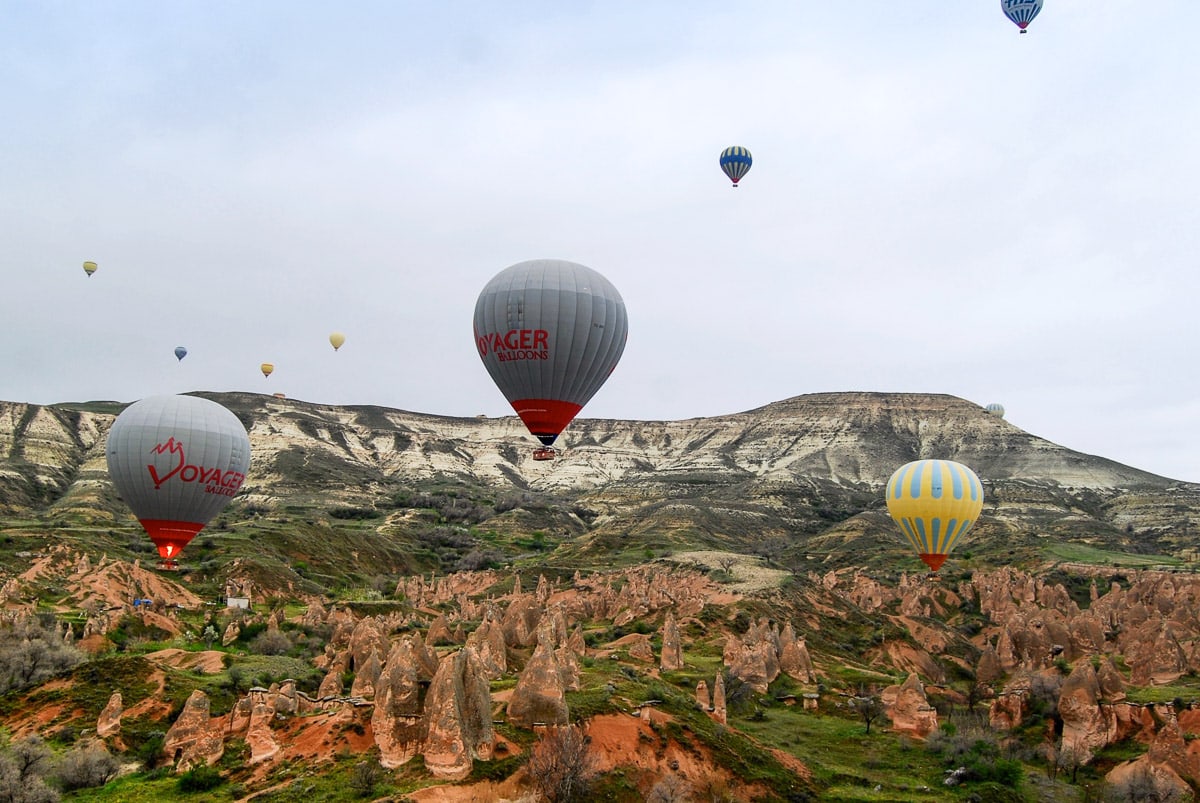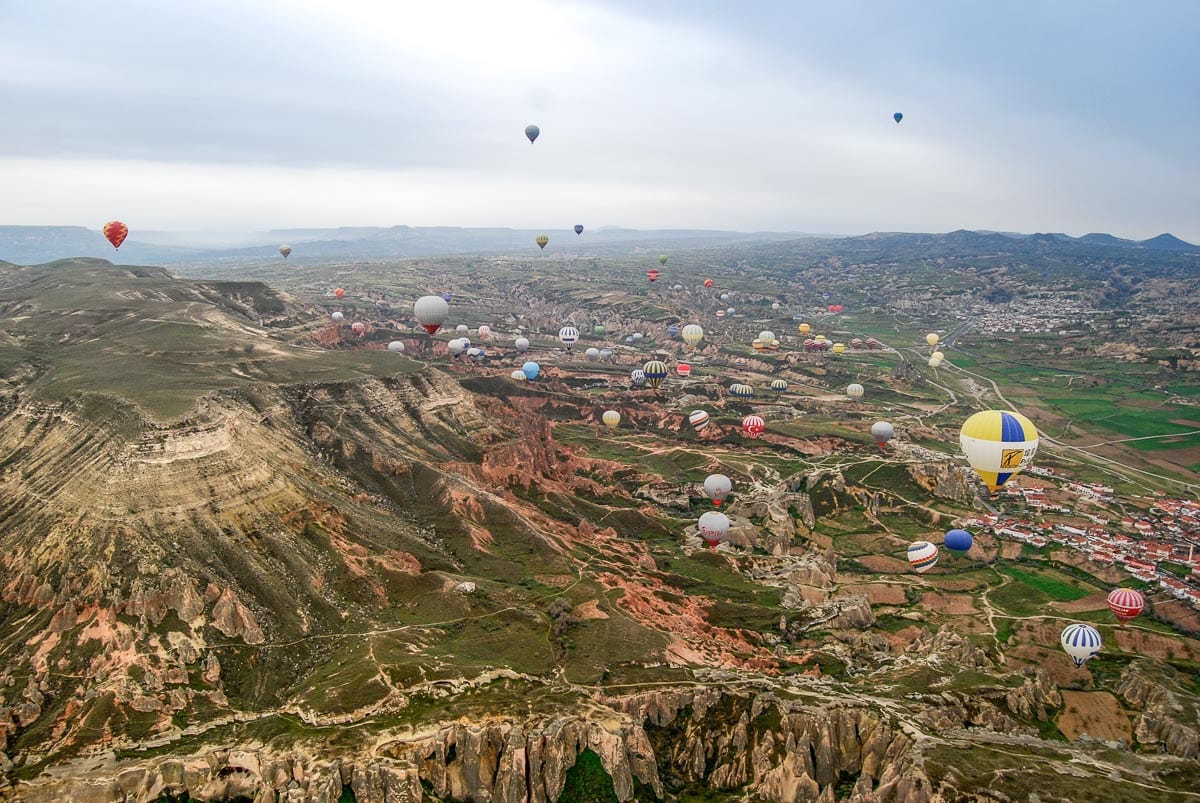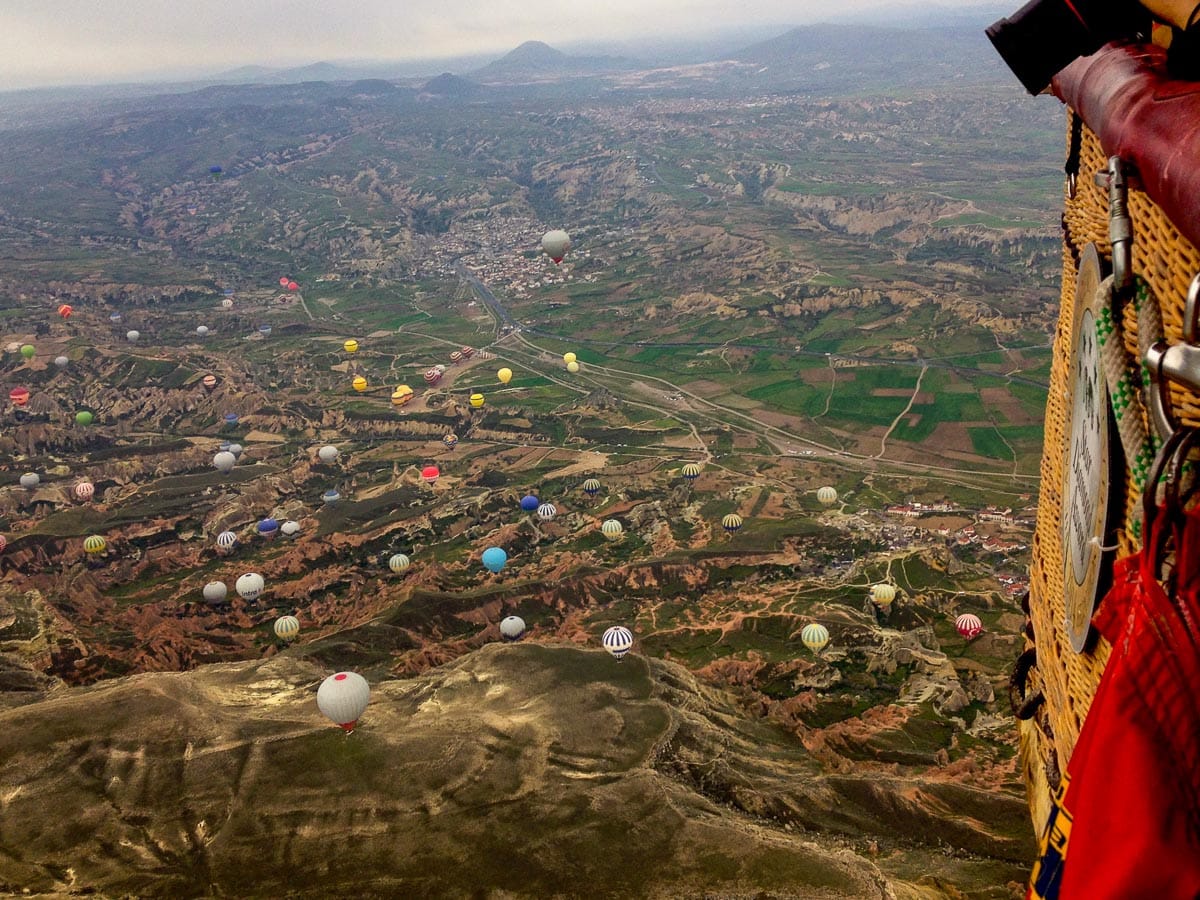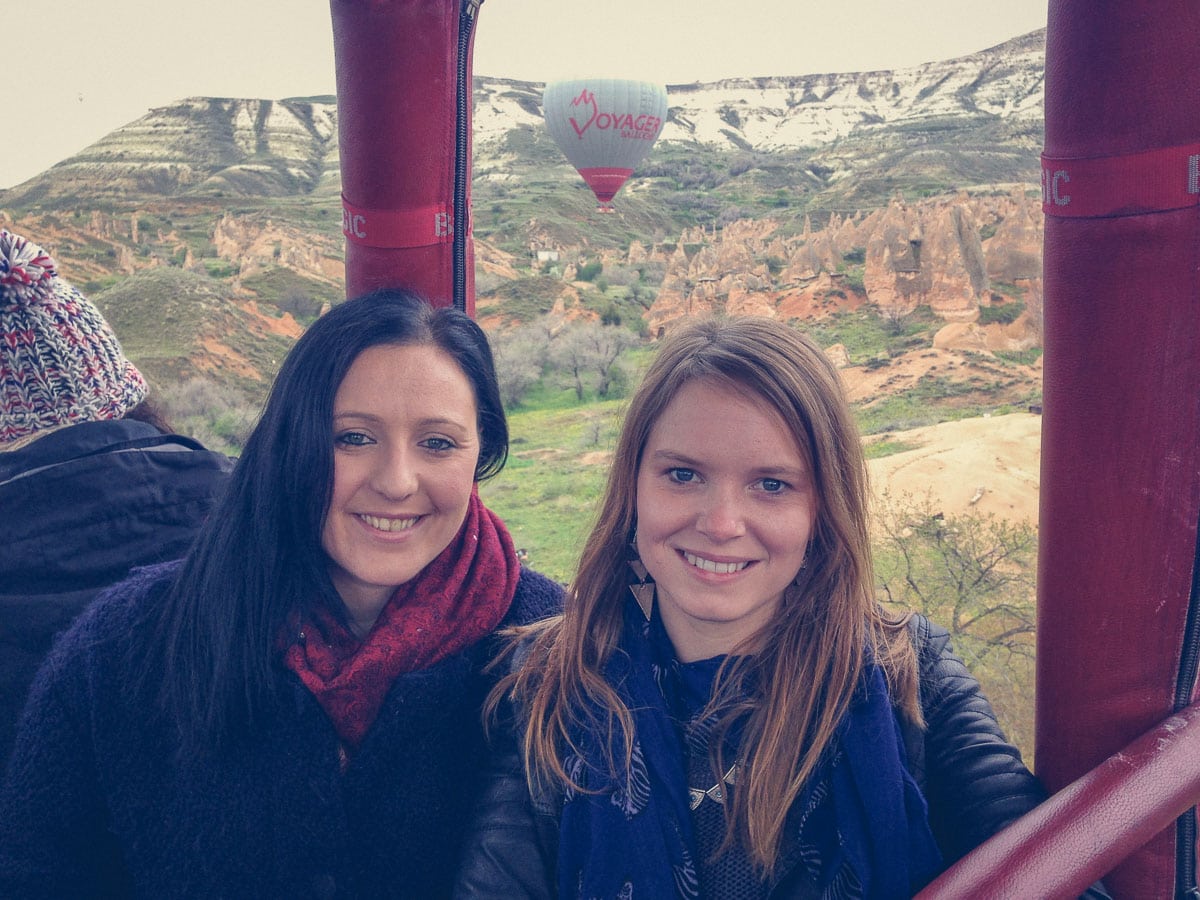 The motion back to the ground felt effortless (other balloons nearby looked like they were dropping rather fast!) and we landed precisely on the balloon's trailer.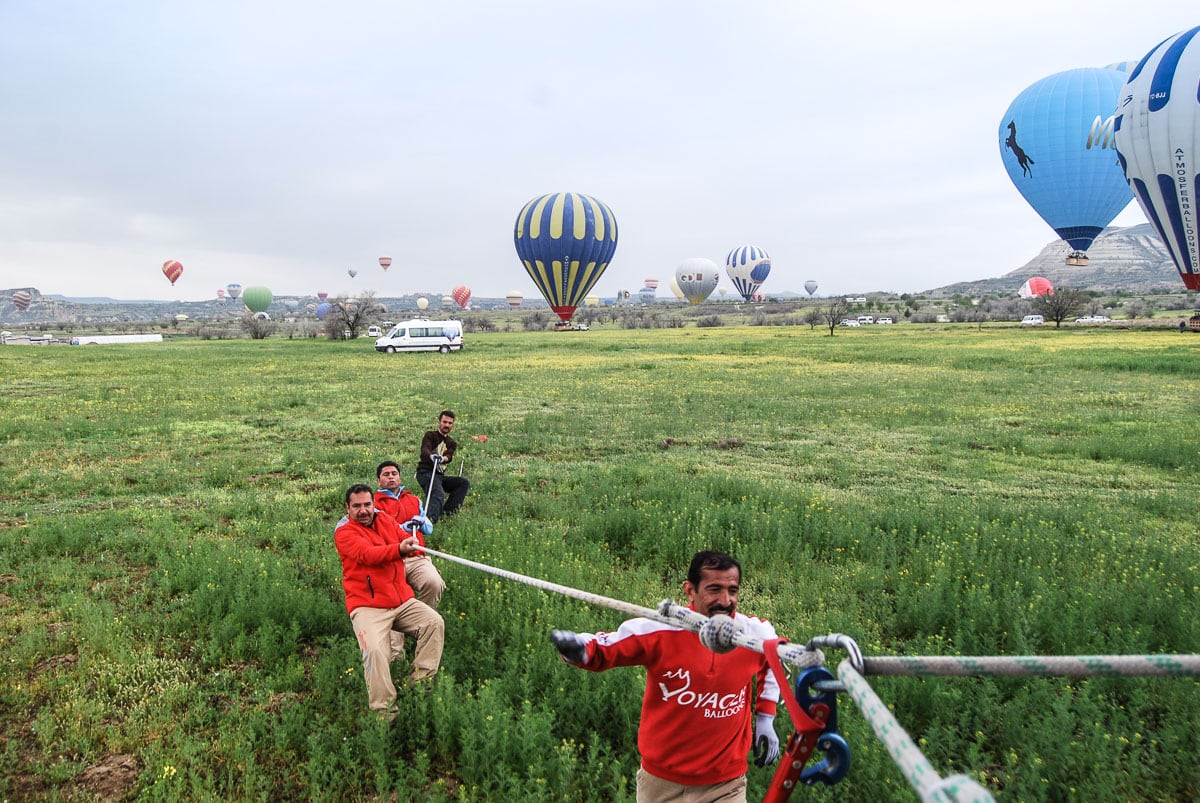 Once back on dry land, we were rewarded with a champagne toast and a certificate.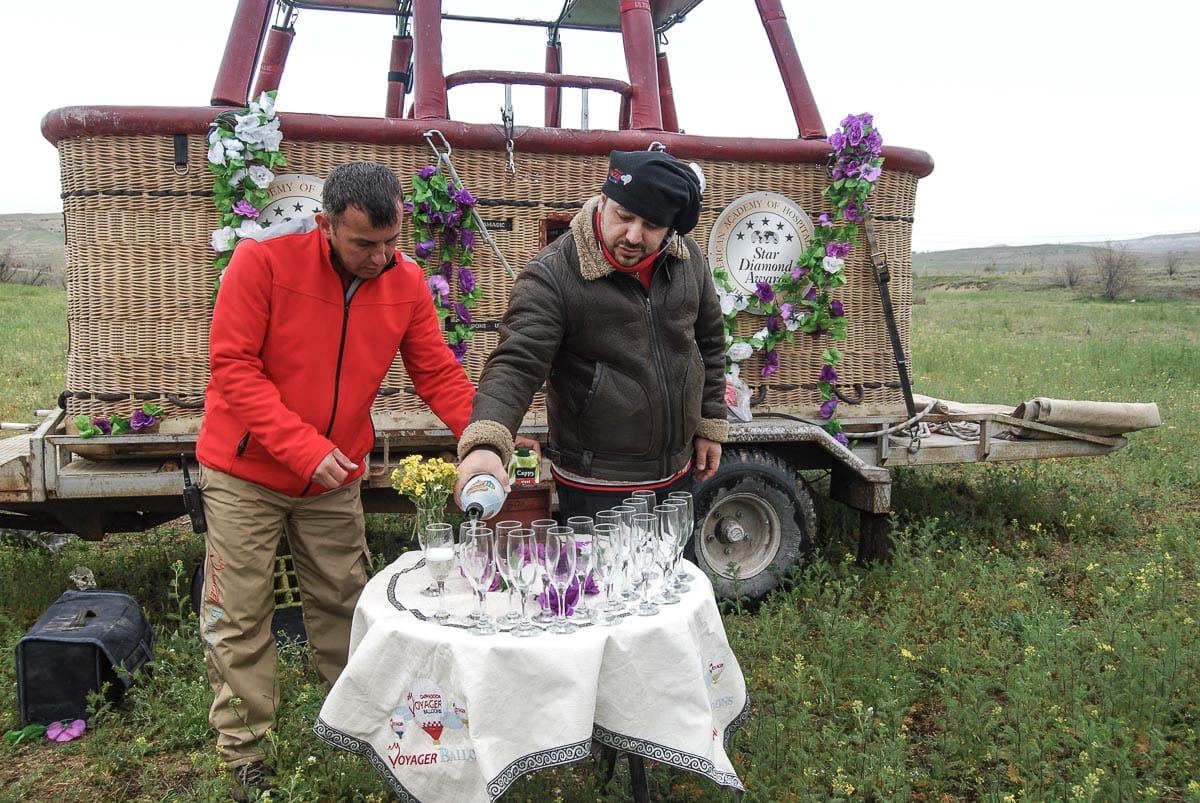 One of the main reasons tourists visit Cappadocia, is for the hot air ballooning… it's a must-do if you're in the area. Along with the view, I was incredibly impressed by the pilots who not only navigate the incredibly uneven landscape, but also fly safely so close to other balloons. All this, in an aircraft which only has the ability to go up and down!
Keen to book? I'd recommend reading my new post first: 21+ Things To Know Before Booking Your Cappadocia Hot Air Balloon Flight
Hot air ballooning in Cappadocia is one of the most impressive, magical things I've ever done, and well worth the visit to Turkey! I'll certainly be back again, but next time to capture the landscape under a blanket of snow!
You can also check availability easily with this handy booking tool…
---
Looking For A Hotel In Cappadocia?
If you're visiting Cappadocia for hot air ballooning, then why not stay in a beautiful cave hotel too? There are plenty to choose from, whether you're looking for a budget hostel, mid-price room or a luxurious palace for the night, check out these top recommendations.
Located in Goreme, this top-rated cave hotel has one of the area's best terraces with stunning views over the region.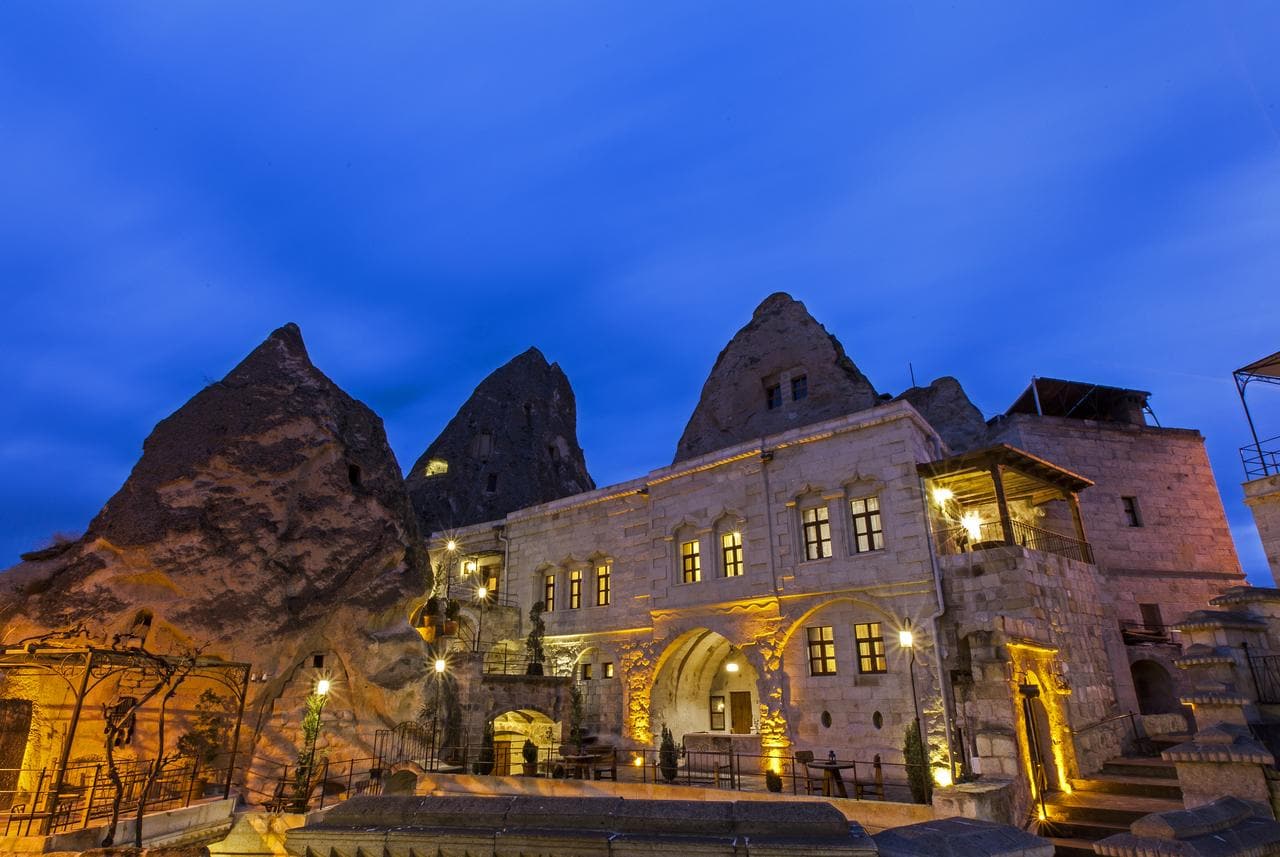 It's a great terrace for watching the hot air balloons in the morning! There are plenty of cave rooms with traditional decorations, and breakfast looks great too.
I have SUCH happy memories of my stay at Kale Konak in Cappadocia. Located in Uchisar, it's right next to the castle and has mesmerising views over the valley. The service was top notch, the owner was so friendly and the breakfast was amazing.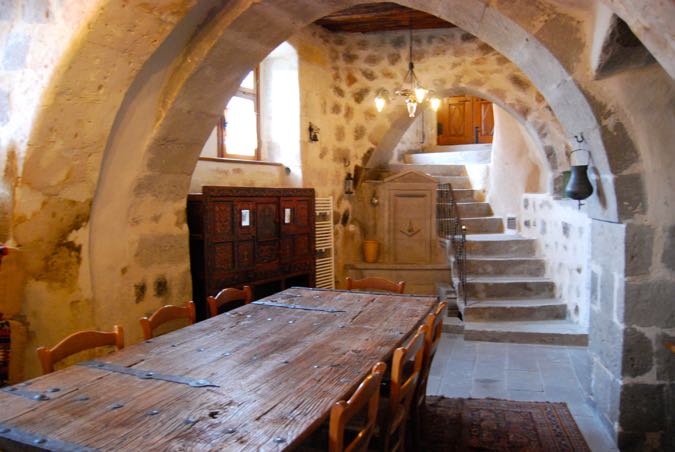 I loved the traditional cave rooms too – so unique and in keeping with the area. You can read more about my stay here. I still dream about returning one day soon!
Located in Uchisar, this is a Relais & Chateaux hotel, which hints at how luxurious it is! Many claim this hotel has the best views of all of the Cappadocia hotels, and after seeing photos, I might agree!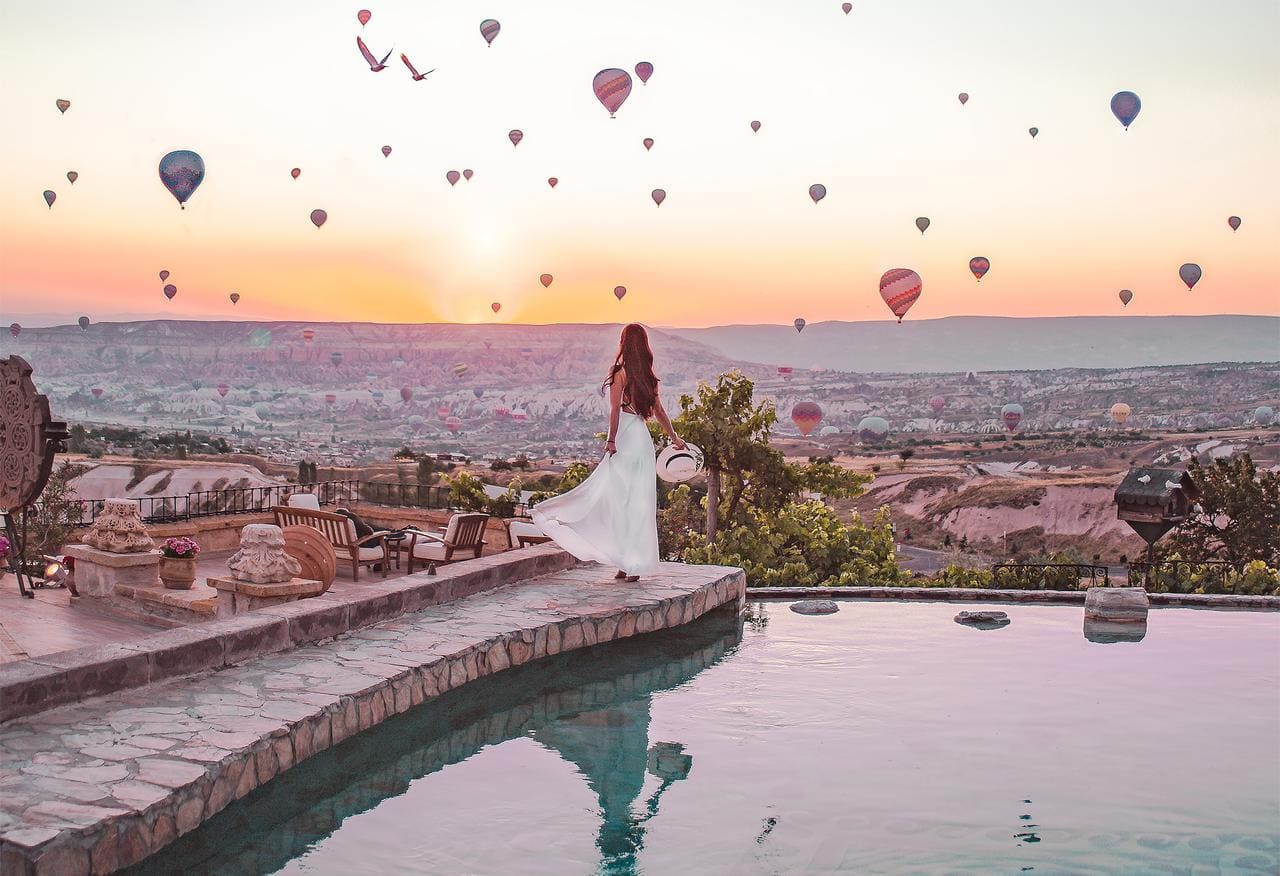 There's a stunning outdoor pool, top restaurant and a great terrace area. It's also filled with real artefacts, just like a museum. This level of luxury comes at a premium though, so this is definitely a splash the cash option!
This hotel is set in eight original Fairy Chimneys and shows off the beauty of the region's rock-cut architecture. There are lots of antiques dotted around. Plus there are two luxurious pools, a free wine tap (WOW!!) and gardens.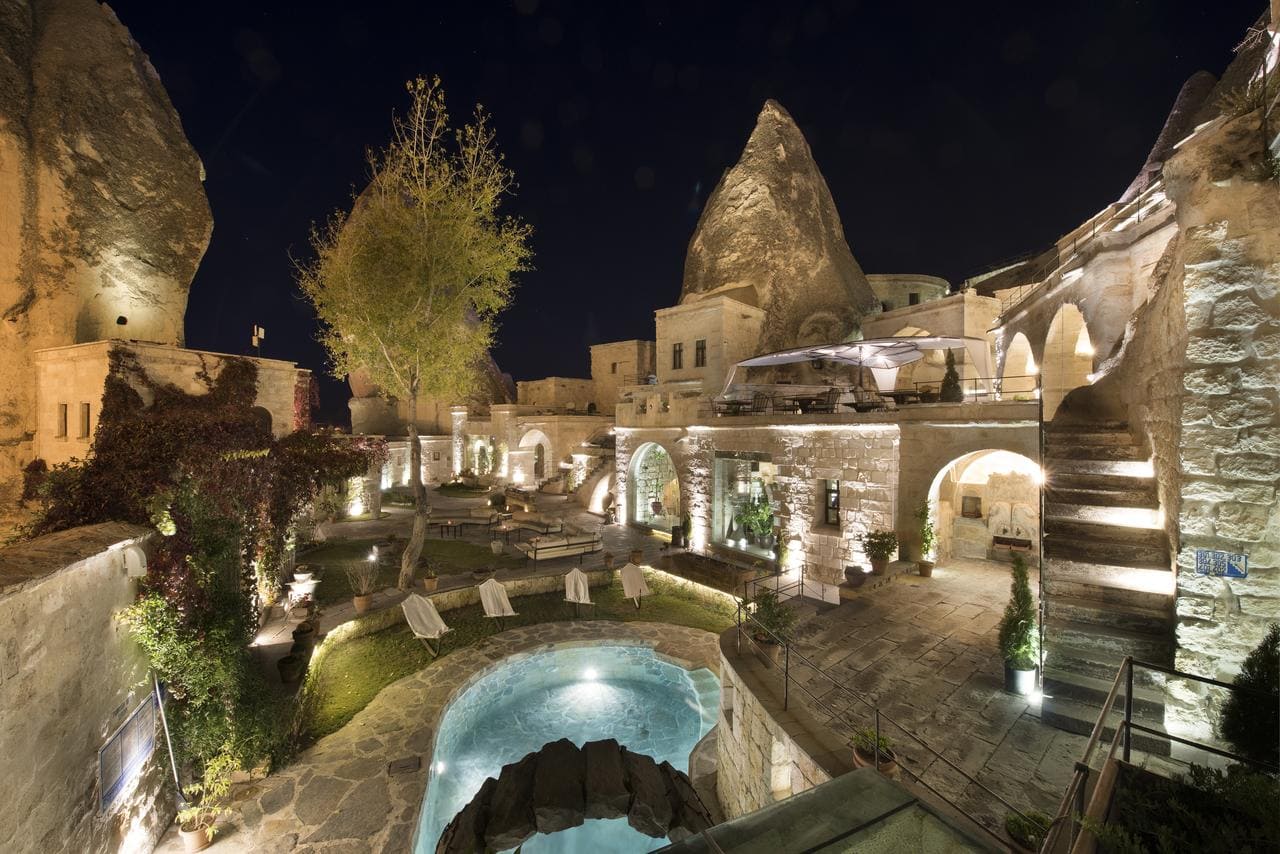 The suites are large, with big baths and other amenities to make your stay really luxurious! Oh and you can reach the centre of Goreme via a tunnel, just to add to the novelty.
Another top rated hotel in Goreme, the suites here are stunning, using the traditional stone arches to create romantic and luxurious rooms.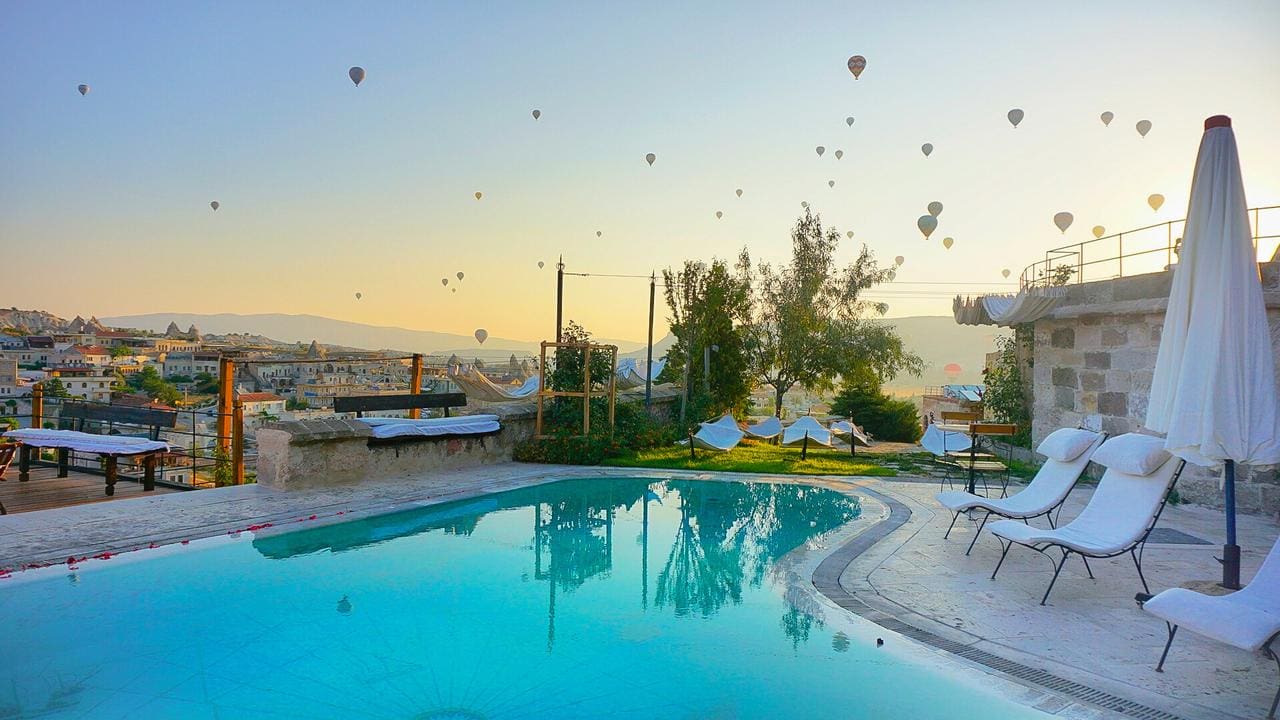 Along with a lovely outdoor pool, there's also a terrace looking over the region – another great spot for watching the hot air balloons go past in the morning!
I looked around this hotel on my last visit, and it was stunning! There were so many beautiful details, and the in-room Jacuzzi added to the luxurious elements.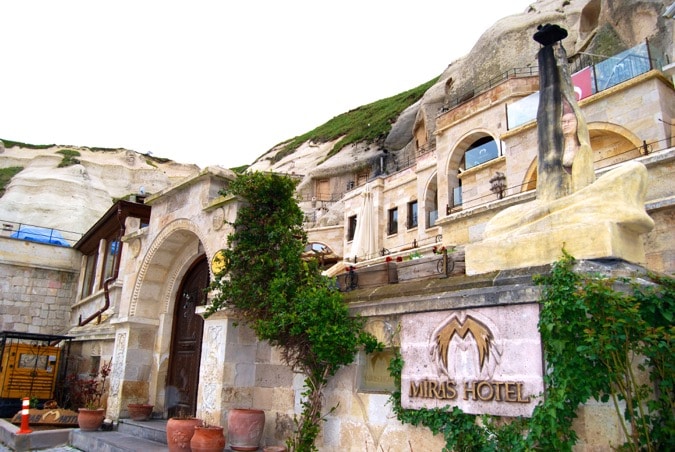 There's a great view from the hotel, plus service is super friendly. Definitely one of the top hotels in Cappadocia. You can check out some of my photos of the hotel here.
Backpacking around Cappadocia? Then definitely stay in a cave hostel! I wanted to include this to show you can stay on a budget too. Most people reckon this to be the best hostel in Cappadocia.
It's located in Goreme, close to the centre, making it a good base for your trip. Rooms are clean, staff are helpful, they include breakfast, and when I checked you could get a bed in a dorm for under £20 per night.
Cappadocia Travel Guides
Continue planning your trip with my handy travel guides to visiting Cappadocia.
Enjoyed this post? Pin it…