Wondering where to stay in Cappadocia? Historic and unique – it's time to check out the best cave hotels in Cappadocia.
When it comes to unique places to stay, Cappadocia wins hands down! The region is known for its elaborate network of caves, with whole towns and villages carved underground and into the rock faces.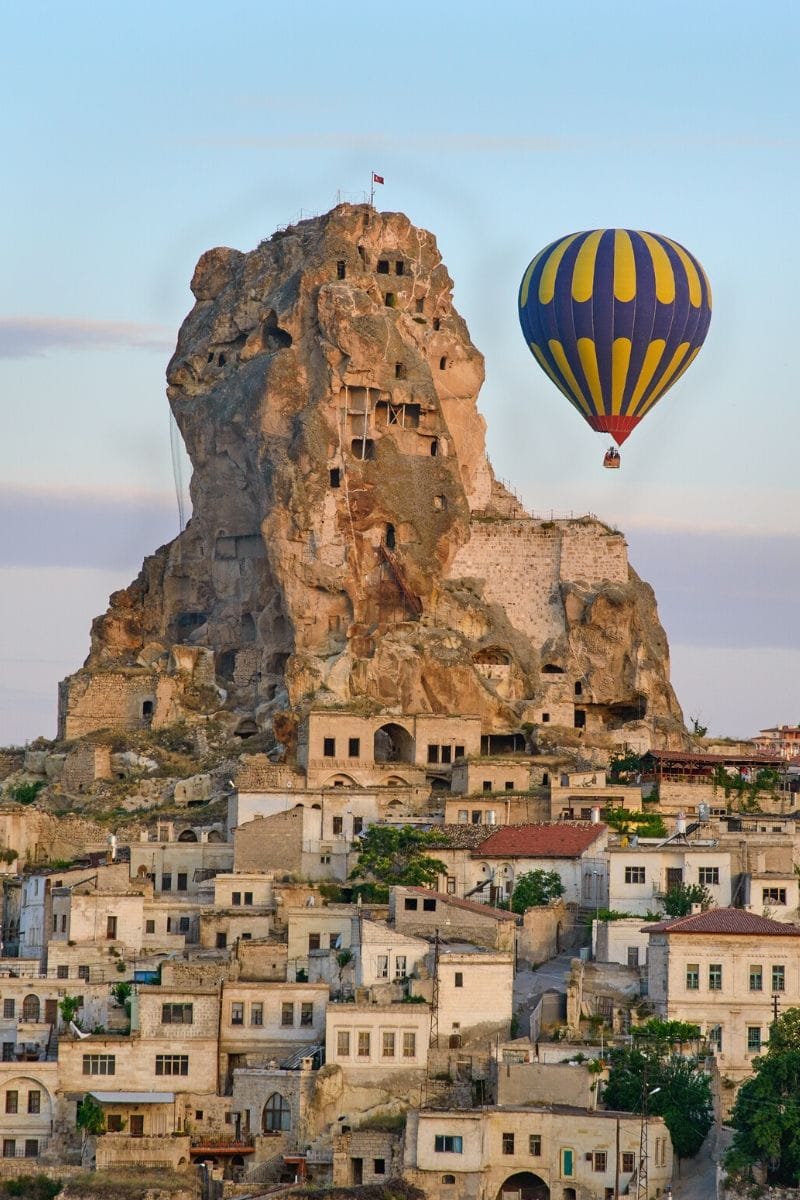 When you visit towns like Goreme, it's incredible to think that whole lifetimes were spent in a hidden city, with homes, churches, workshops and even wineries all tucked away out of sight inside caves and fairy chimneys. In fact, to truly understand more about how people lived, I'd recommend taking a tour of Kaymakli or Derinkuyu so you can explore the ancient towns built deep into the ground.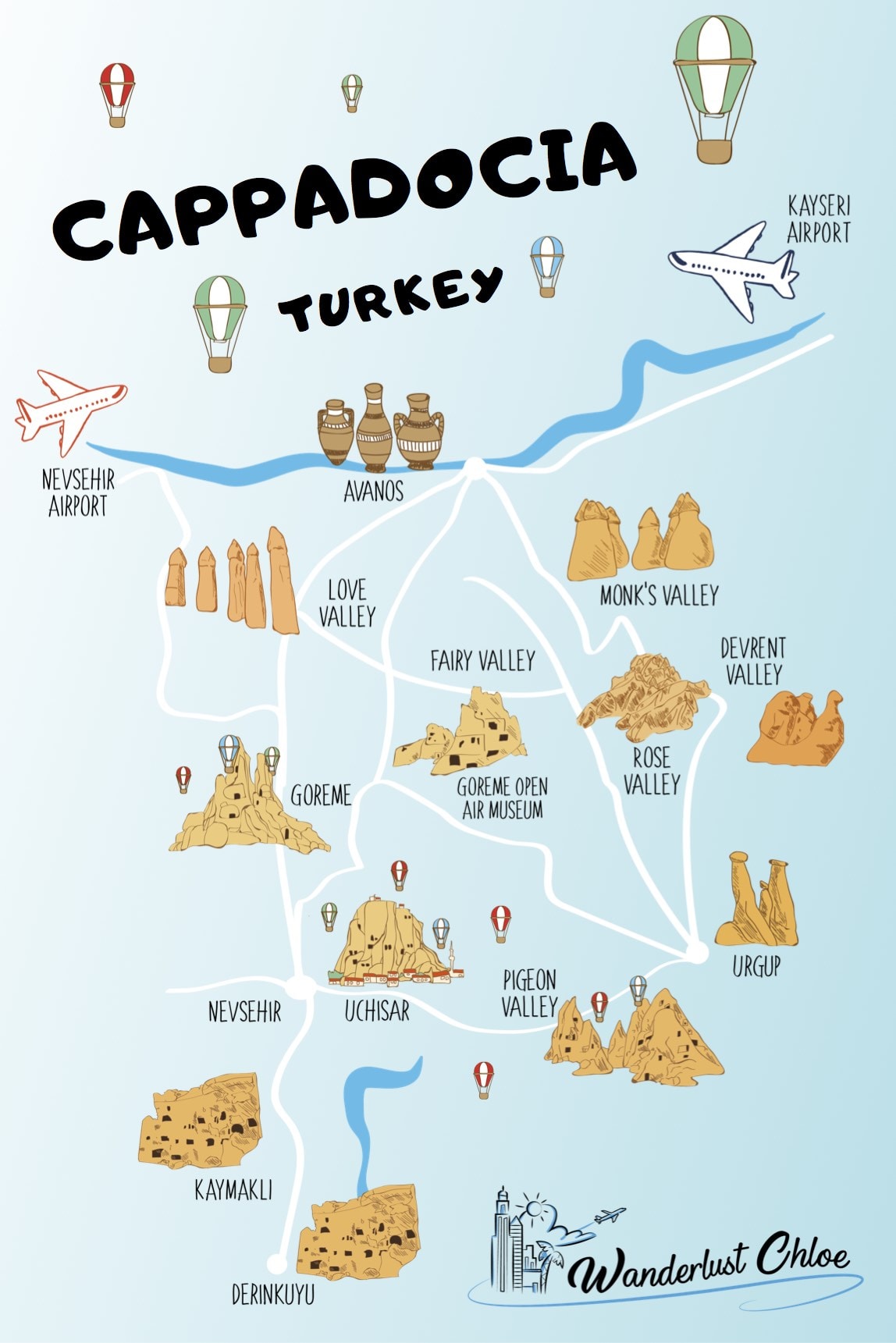 One of my favourite things about visiting this region of Turkey is the incredible accommodation on offer. There are plenty of wonderful cave hotels in Cappadocia, that retain the region's history, while creating somewhere unique and cosy to stay.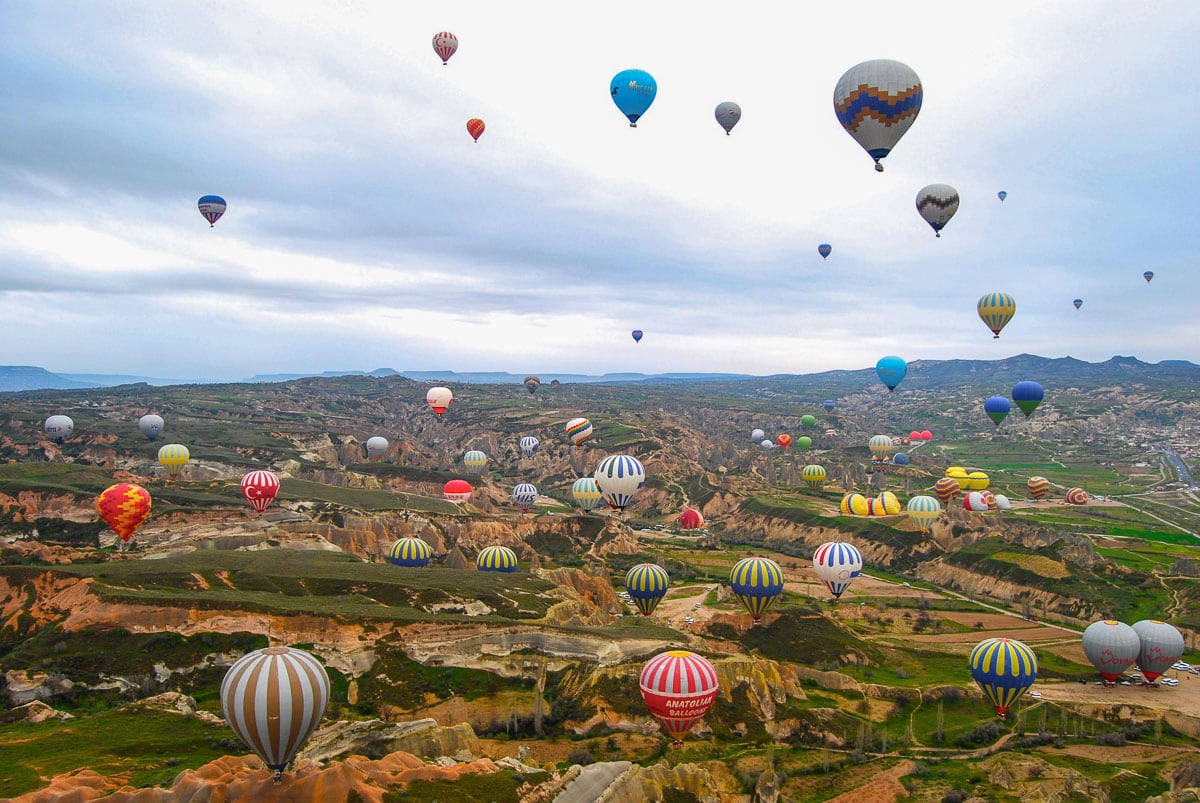 I know the word 'cave' may not create pretty images in your head! But don't panic, these are not cold, dark, damp places. Most of the cave hotels in Cappadocia are stunning, incorporating old cave features, while providing all the modern amenities you'd expect in a top hotel. From hammams to hot tubs, they're certainly not the basic accommodation they once were!
From Kale Konak Cave Hotel perched next to Uchisar Castle to the stunning Museum Hotel in Göreme, these are the best Airbnbs and cave hotels in Cappadocia.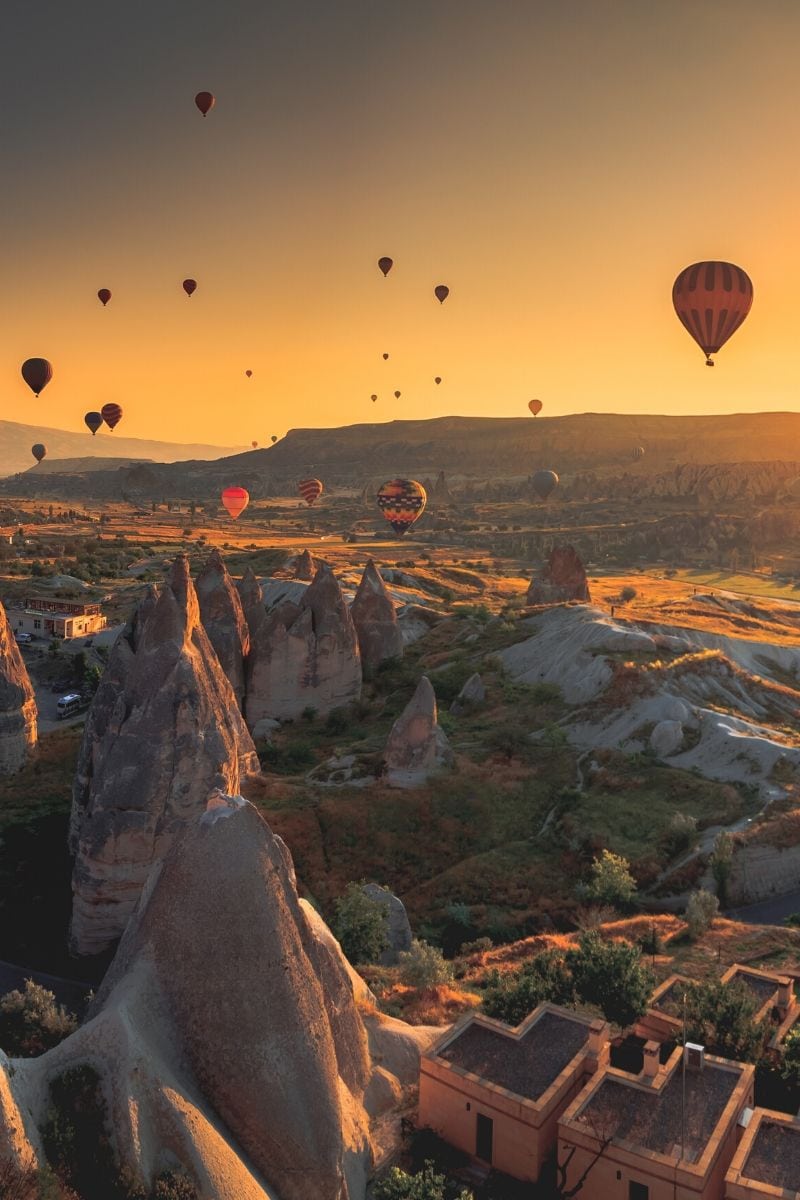 ---
Where To Stay In Cappadocia
Whether you're looking for a budget hostel, mid-price room, quirky Airbnb or a luxurious place for the night, here are my top recommendations.
Best Cave Hotels In Cappadocia
Located in Goreme, this top-rated cave hotel has one of the area's best terraces with stunning views over the region. It's a great area for watching the hot air balloons go past at sunrise. There are plenty of cave rooms with traditional Anatolian decor, plus Mithra Cave Hotel includes a great breakfast too.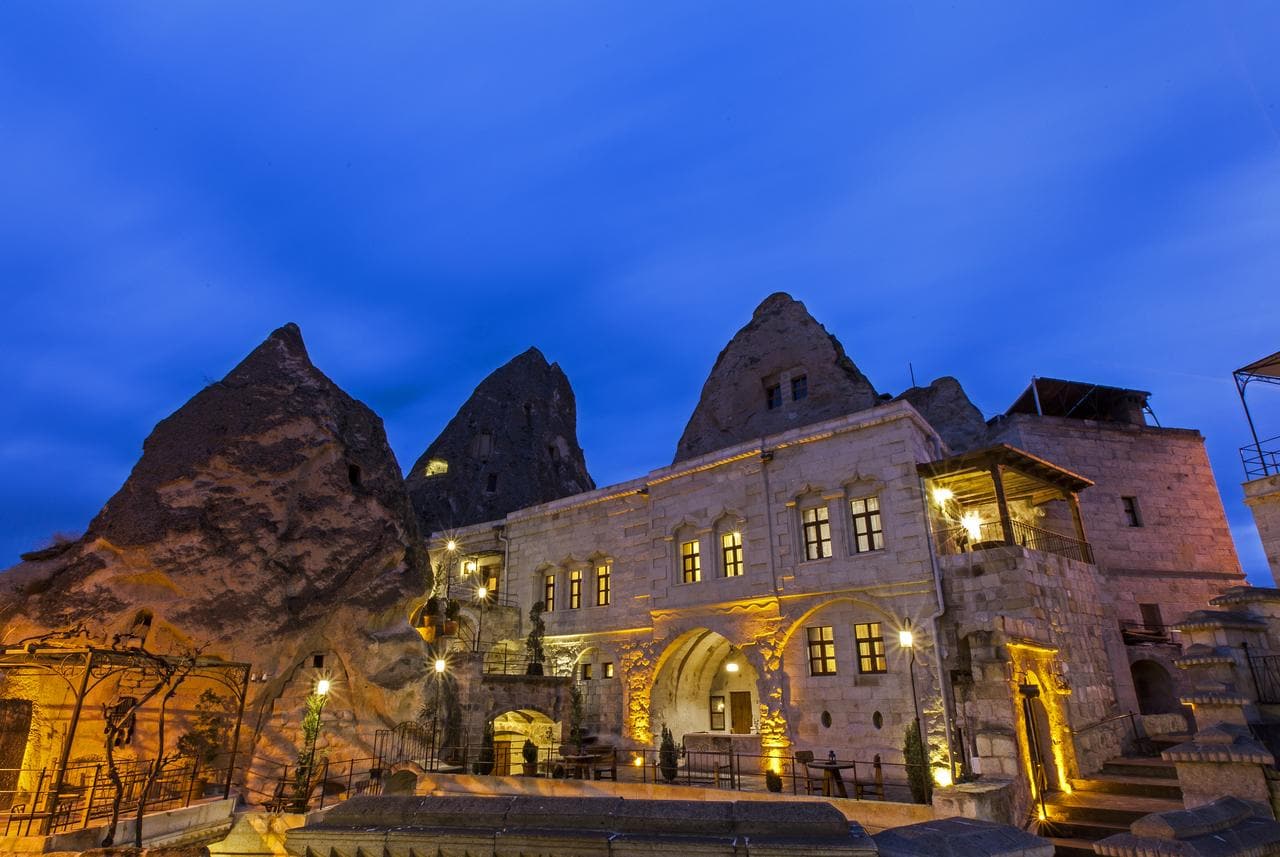 It's worth noting that prices are very competitive in Goreme as there are so many hotels. This one is definitely at the higher end of the scale, but you're paying for the views.
I have SUCH happy memories of my stay at Kale Konak Cave Hotel in Cappadocia. Located in Uchisar, the hotel is right next to the castle and has mesmerising views over the valley. The service was top notch, the owner was so friendly and the breakfast was amazing.
I loved the traditional cave rooms too – so unique and in keeping with the area. You can read more about my stay here. I still dream about returning one day soon!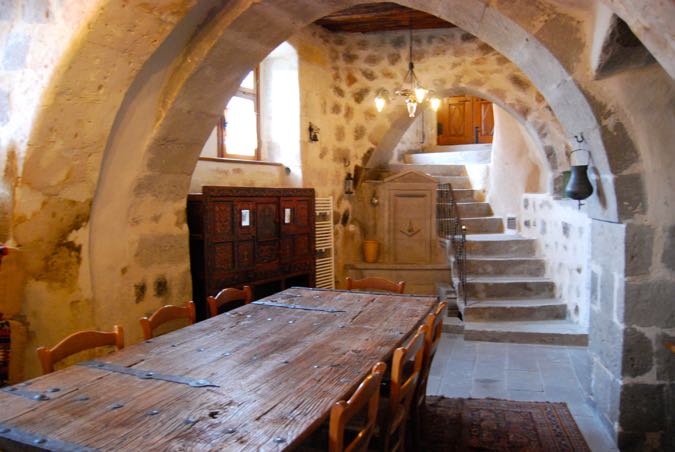 Want to find out more about hot air rides in Cappadocia? Read my post all about what to expect: Hot air ballooning in Cappadocia
This beautiful Cappadocia hotel is extra special as it's built inside some of the region's iconic fairy chimneys. I was reading all about how it came to be a hotel. The owner bought one of the fairy chimneys in 1998, then waited for the other two either side to become available.
Once he'd secured all three, he began creating the hotel you can stay in today. These days the laws have changed, so no other fairy chimneys will be allowed to be transformed into hotels – making a stay pretty unique!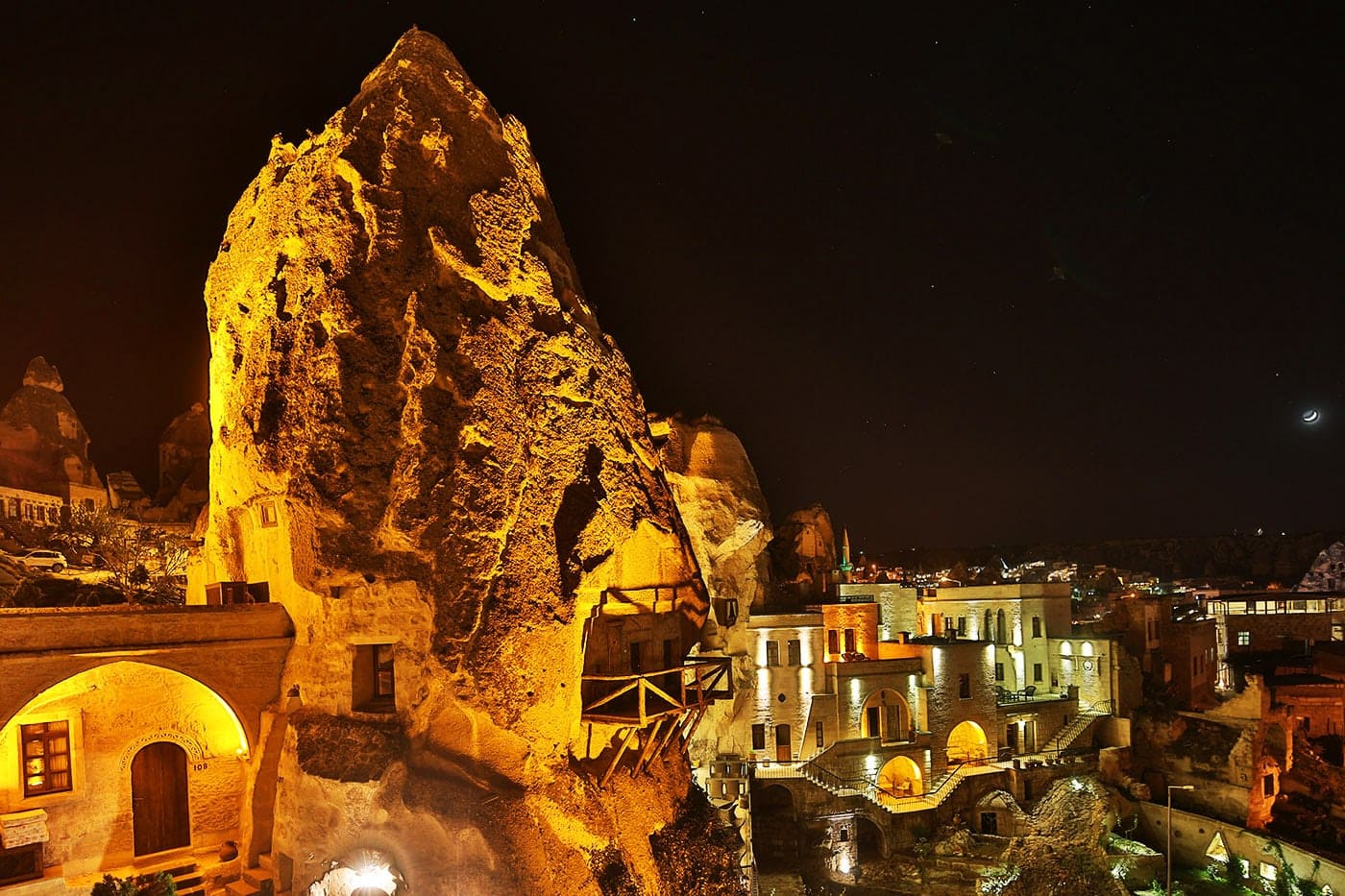 Located in the town of Urgup, this 5-star Cappadocia cave hotel is one of the best in the region. Consistently receiving top reviews, it offers incredible views from the terrace and has a jacuzzi, sauna and swimming pool too.
The rooms are stunning, with decor and furnishings that fit with the original cave architecture. It's definitely one of the best cave hotels in Cappadocia.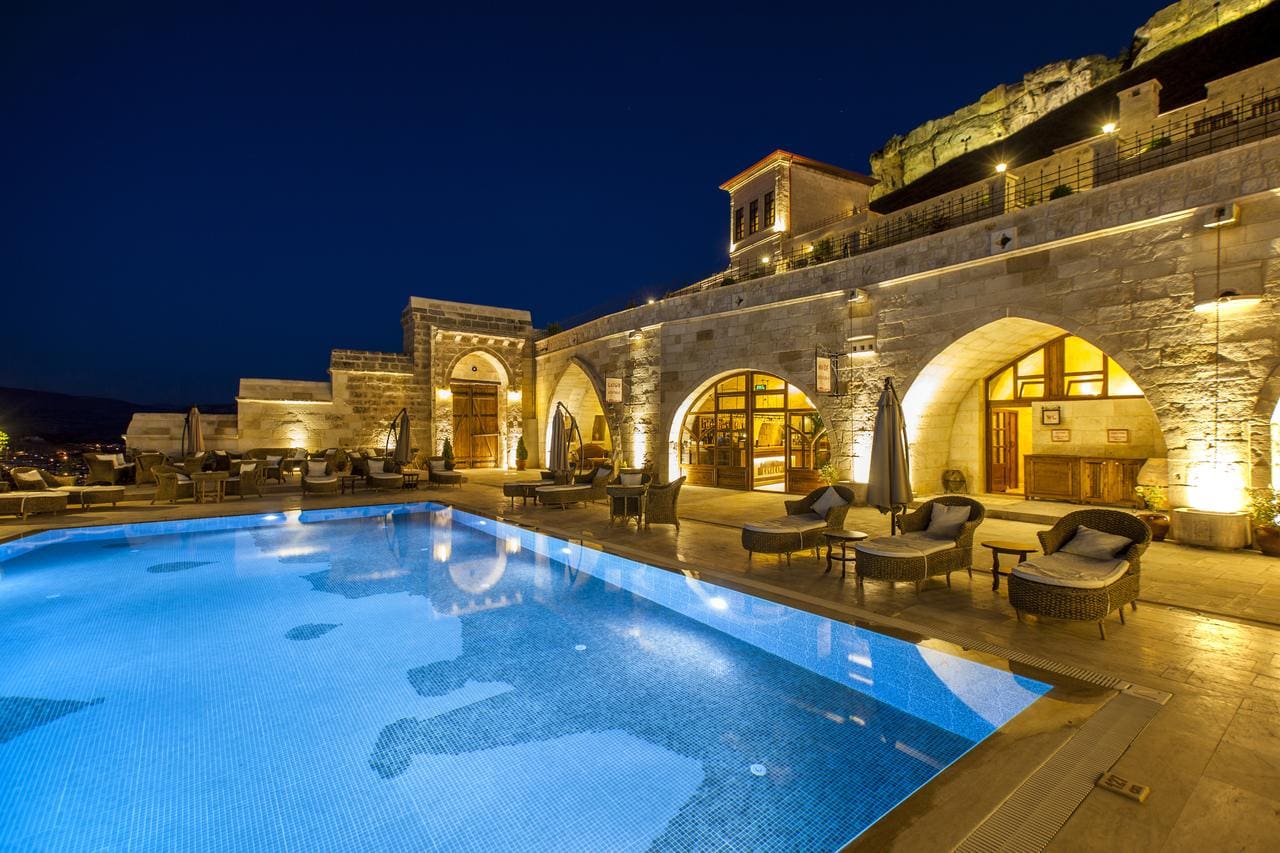 One of the best hotels in Goreme, Artemis Cave Suites offers a mix of hotel rooms and plush suites. It sprawls across one of the higher areas in Goreme, and features lots of terraces and areas to relax. There's a traditional Turkish bath, great breakfast, plus the hotel is located moments from one of the best sunrise viewpoints to watch the hot air balloons.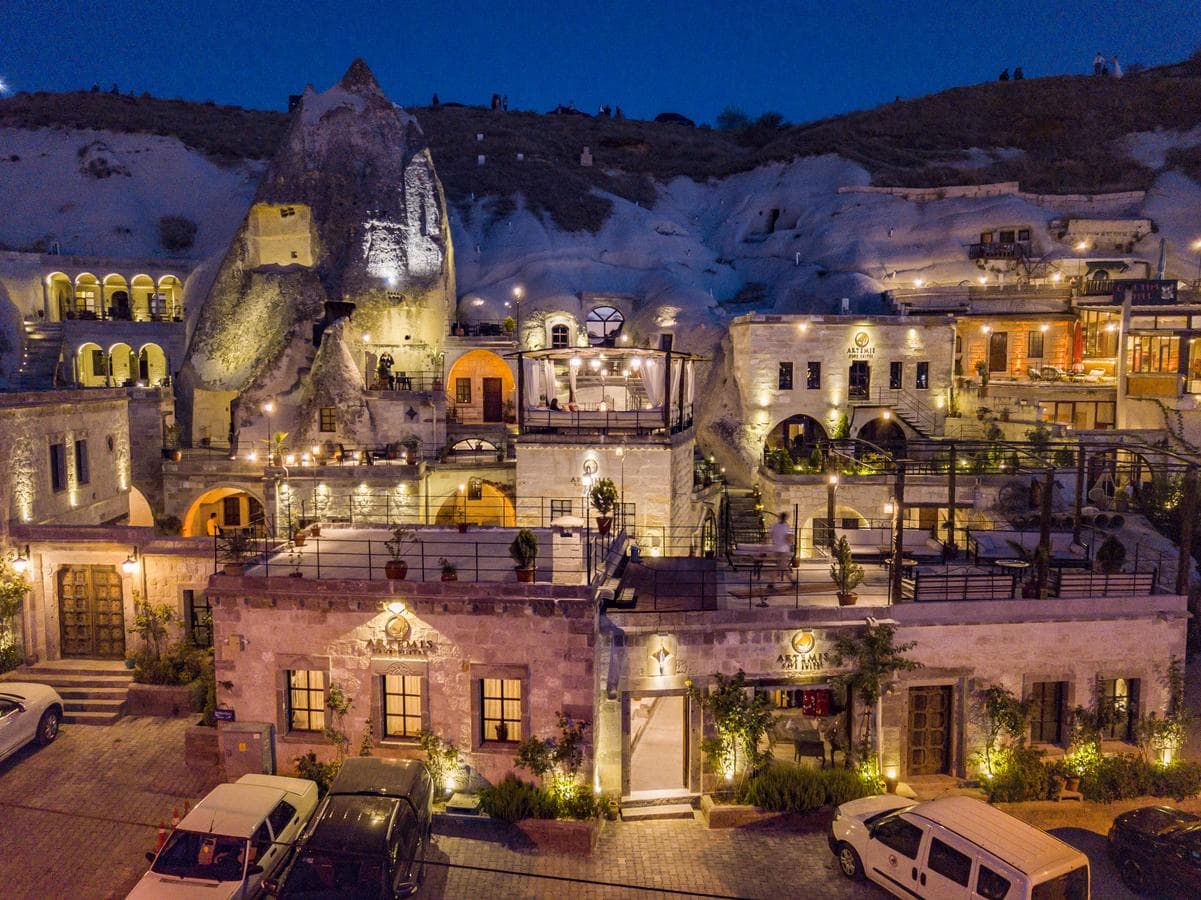 There are plenty of excellent Trip Advisor reviews, with a lot of people specifically mentioning how friendly and helpful the staff here were. I've always found Turkish hospitality to be excellent, so no surprises there!
Located in Uchisar, this is a Relais & Chateaux hotel, which hints at just how luxurious it is! Many claim this Cappadocia hotel has the best view…and after seeing photos, I might agree!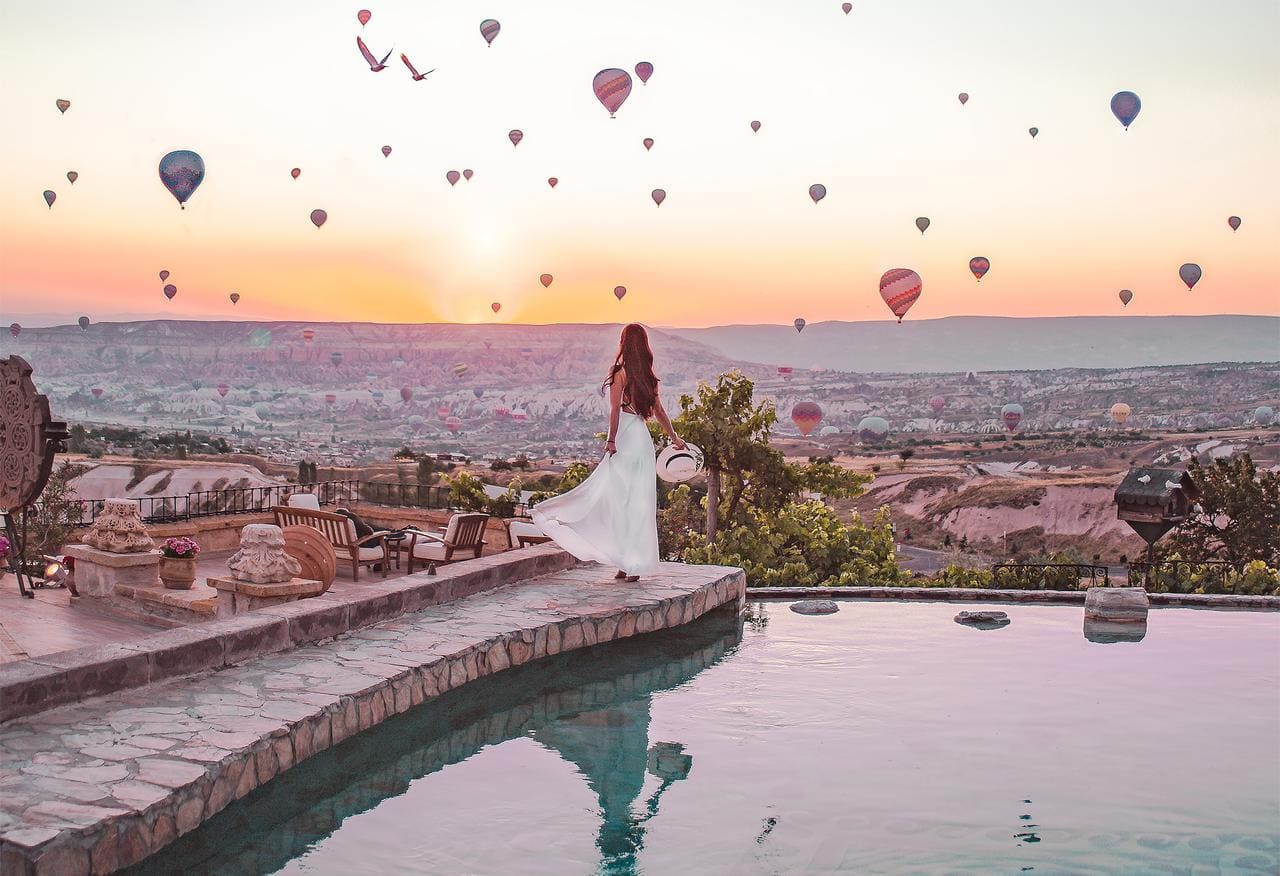 There's a stunning outdoor pool, top restaurant and a great terrace area. It's also filled with real artefacts, just like a museum. However, this level of luxury comes at a premium, but if you're planning the trip of a lifetime – this is the place for you!
This Cappadocia cave resort is set across eight original Fairy Chimneys and shows off the beauty of the region's rock formations and architecture. There are lots of antiques dotted around the hotel, along with two luxurious pools, a free wine tap (WWOOOOW!!) and gardens.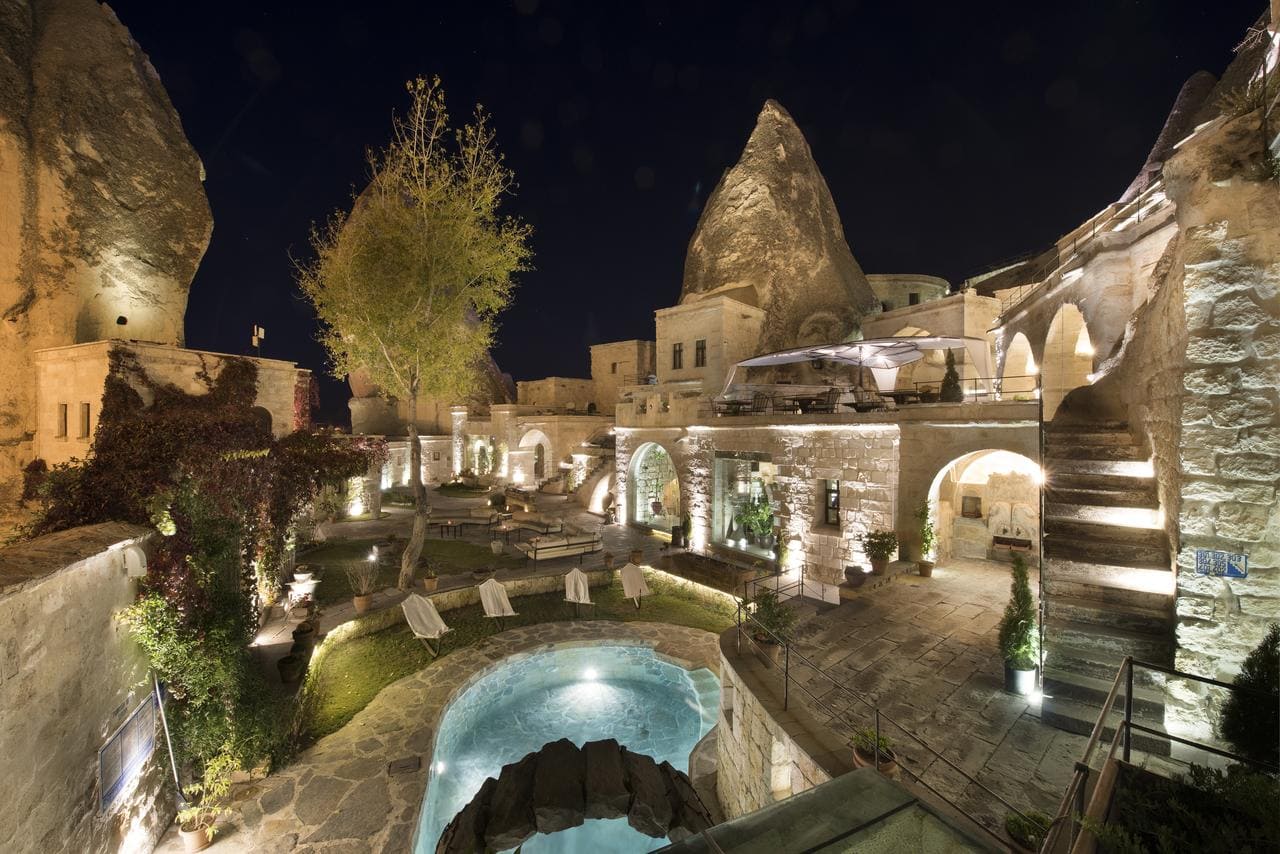 The suites are large with big baths and other amenities to make your stay really relaxing. Oh and you can reach the centre of Goreme via a tunnel, just to add to the novelty of cave life!
Another top rated cave hotel in Cappadocia, the suites at Kelebek Special Cave Hotel are stunning, using the traditional stone walls and arches to create romantic and luxurious rooms.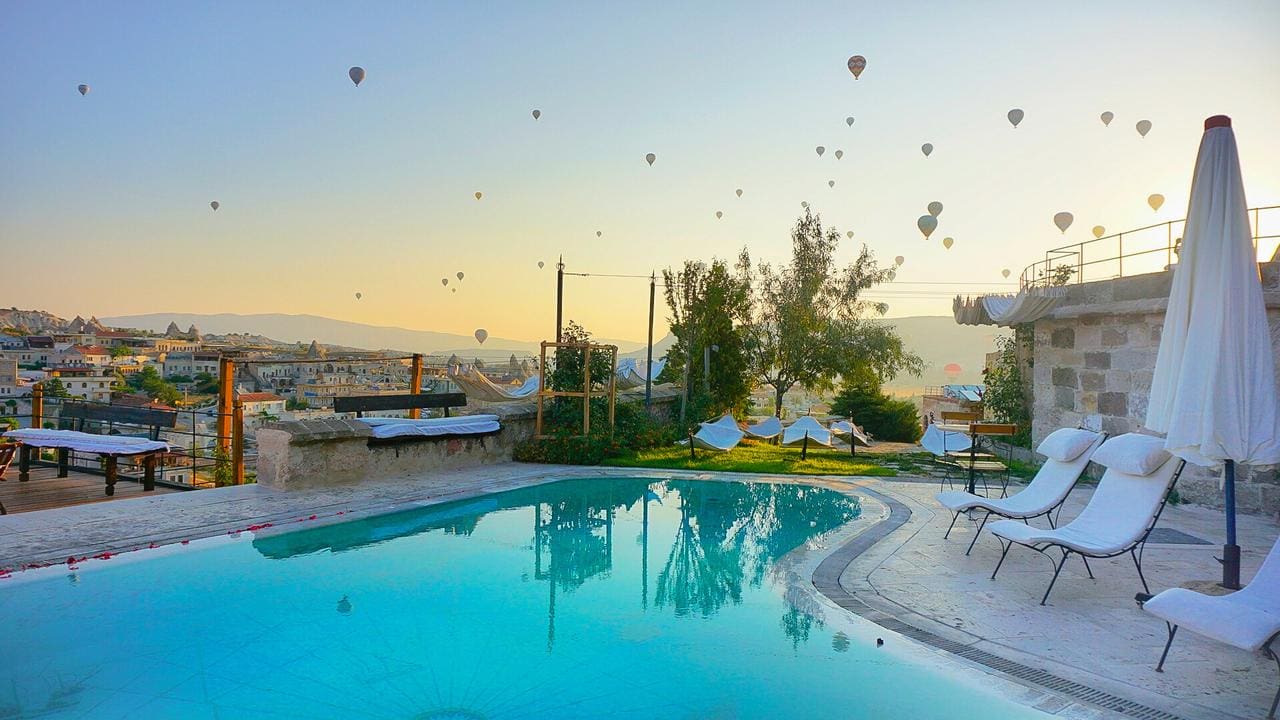 Along with a lovely outdoor pool, there's also a terrace looking over Goreme – another great spot for watching the hot air balloons go past in the morning! If you're thinking of booking a tour, definitely take a read of my post about our hot air balloon trip first!
One of the most popular cave hotels in Cappadocia, Sultan Cave Suites sits above Goreme, with terraces that are perfect for watching the hot air balloons take to the skies at sunrise. There are 30 rooms, and many incorporate the original cave walls into the architecture.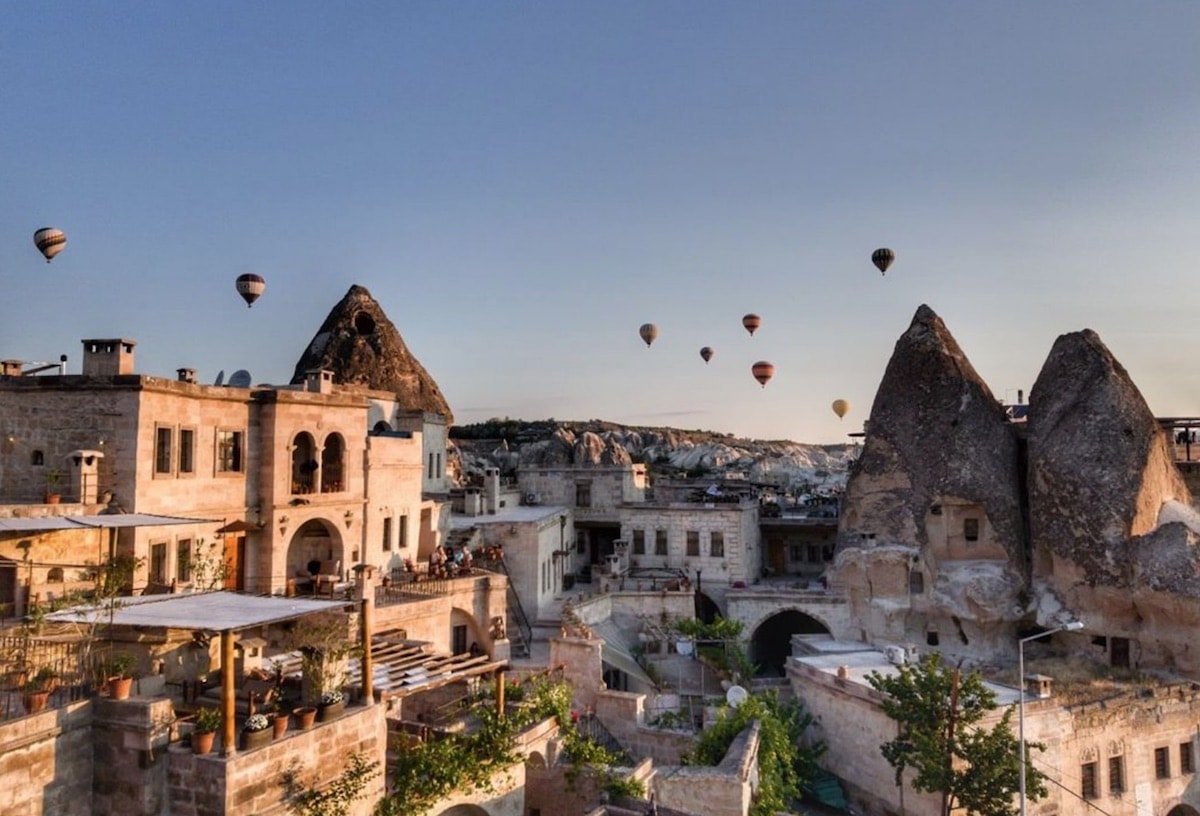 Also within the hotel is the Cappadocia Cultural Centre, which showcases the history of the region with antiques and artefacts, as well as hosting exhibitions and concerts. As with a few of the Goreme cave hotels, you're paying extra for the beautiful views from the terrace. It's up to you to decide whether you think it's worth it!
I looked around this hotel on my last visit, and it was lovely! There were so many beautiful details, and the in-room Jacuzzi added to the luxurious elements.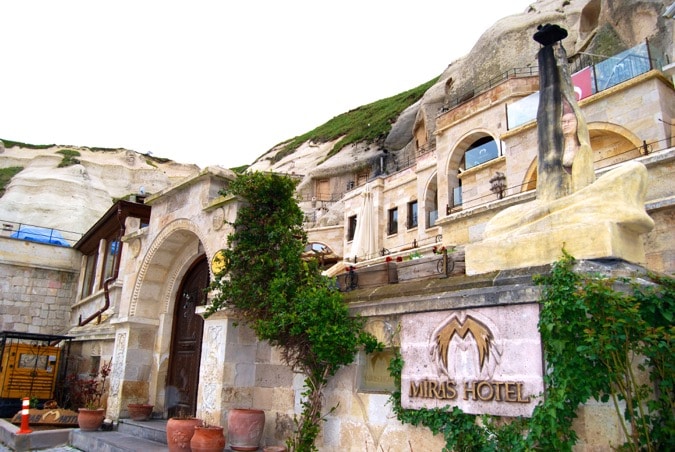 There's a great view from the hotel, plus service is super friendly. Definitely one of the top cave hotels in Cappadocia. You can check out some of my photos of the hotel here.
One of the most popular Goreme hotels, Divan Cave House is family-run and very welcoming. Cave rooms here are cute and cosy with colourful furnishings.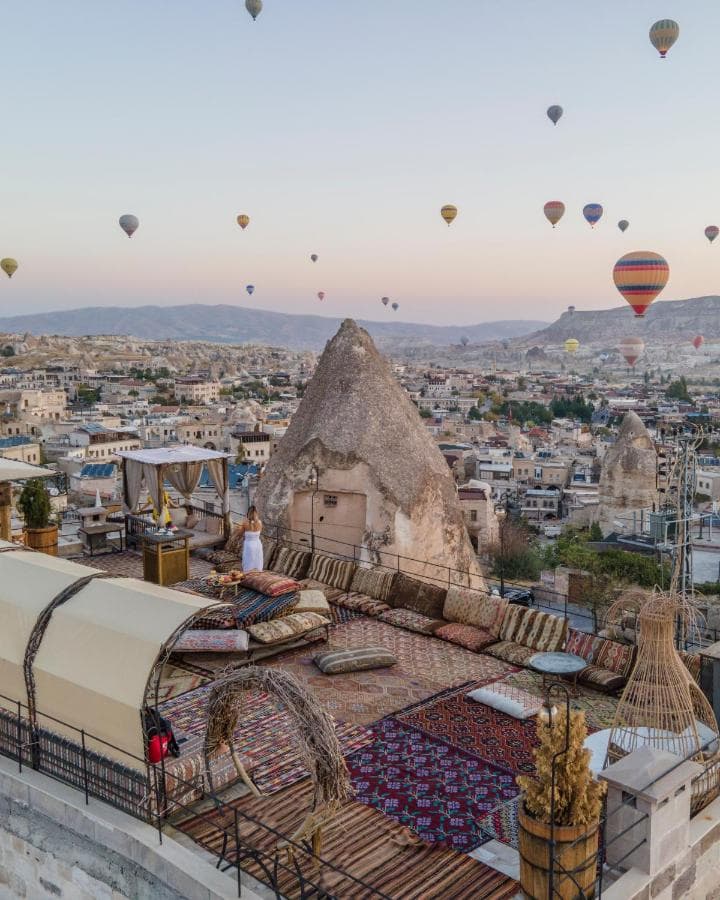 There's also an amazing panoramic terrace, offering one of the best hotel views of the hot air balloons in the morning!
Another great option if you want to stay in Goreme, the owner of this hotel transformed her family home into this hotel which spreads across several levels. It's worth noting that some rooms are original cave rooms, while others have been added at a later date (but fit in well with the style).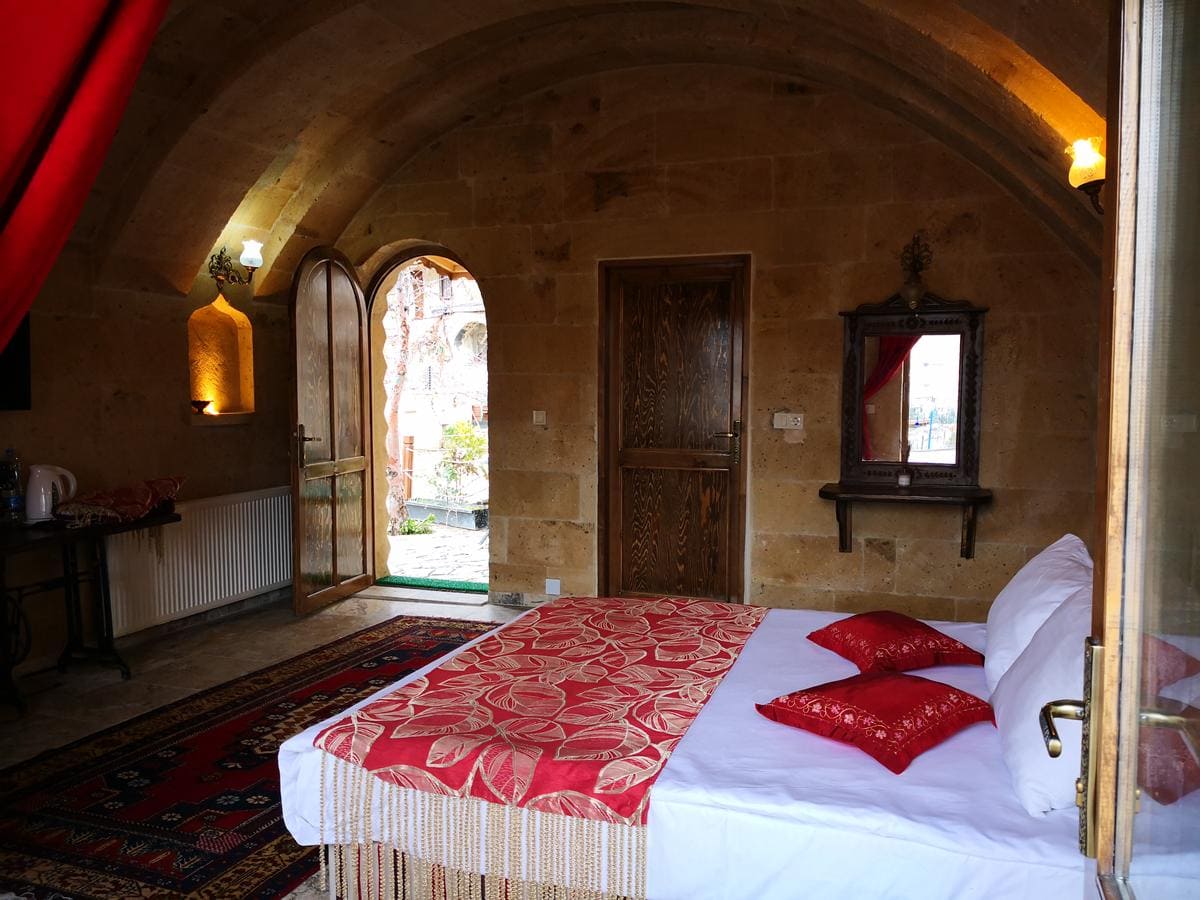 There's also a small pool, and the terrace has great views for watching the hot air balloons in the mornings. If you're on a budget, this is one of the cheapest cave hotels in Cappadocia – great value for money!
Backpacking in Cappadocia? You don't have to miss out on cave life… you could stay in a cave hostel! I wanted to include this to show there are really characterful but cheap places to stay in Cappadocia.
Most people reckon this to be the best hostel in Cappadocia. It's located in Goreme, close to the centre, making it a good base for your trip. Rooms are clean, staff are helpful, they include breakfast, and when I checked you could get a bed in a dorm for under £20 per night.
---
Best Airbnbs In Cappadocia
If you're looking for a large property to rent in Cappadocia, this is a great option. Goreme Valley Cave House sleeps up to 26 people. It's an old cave building and has a long history.
It's great for a big family holiday. Many of the cave rooms have ensuite bathrooms, and there's a dorm room that would be perfect for kids.
It's in a great location, just a few minutes from the centre of Goreme. The hosts are known for being really helpful. If you're travelling as a big group, they can help organize tours, book transport from the airport and recommend some great places for dinner.
This historic stone house sleeps up to 9 people across 4 bedrooms. There's a cute kitchen where you can cook up a feast, plus a terrace that has one of the best views you'll see of Uchisar Castle.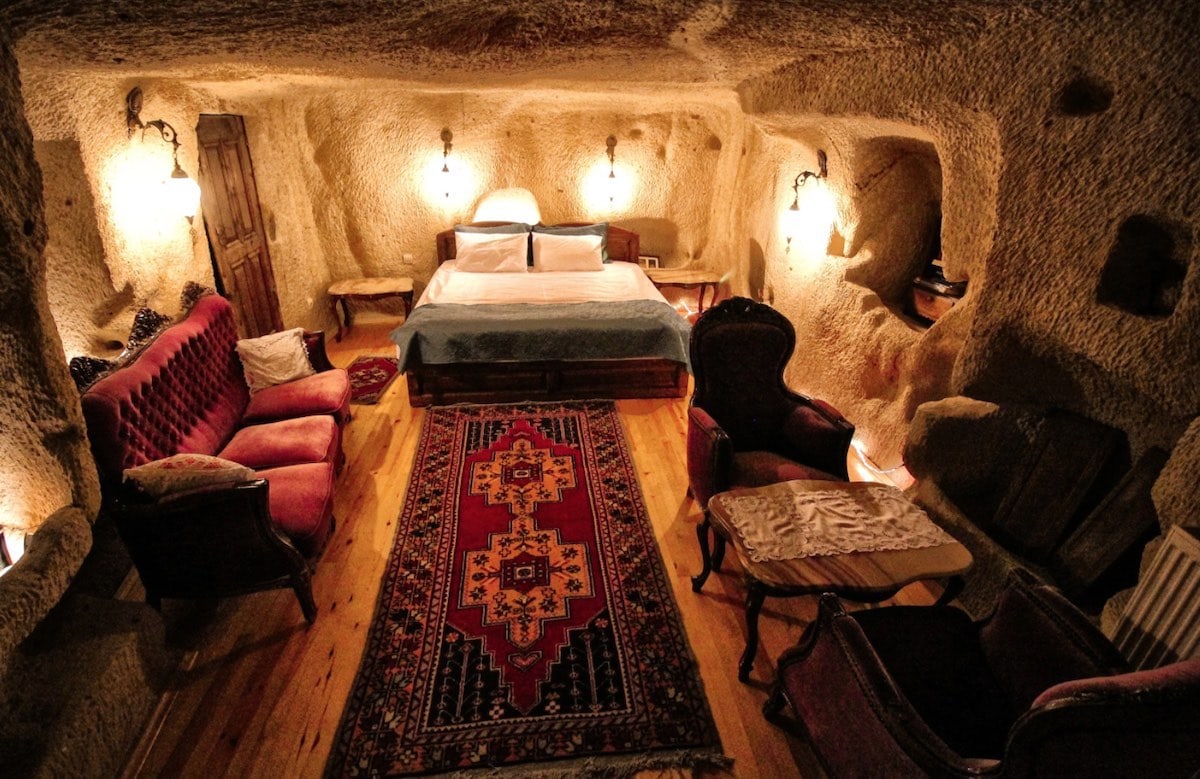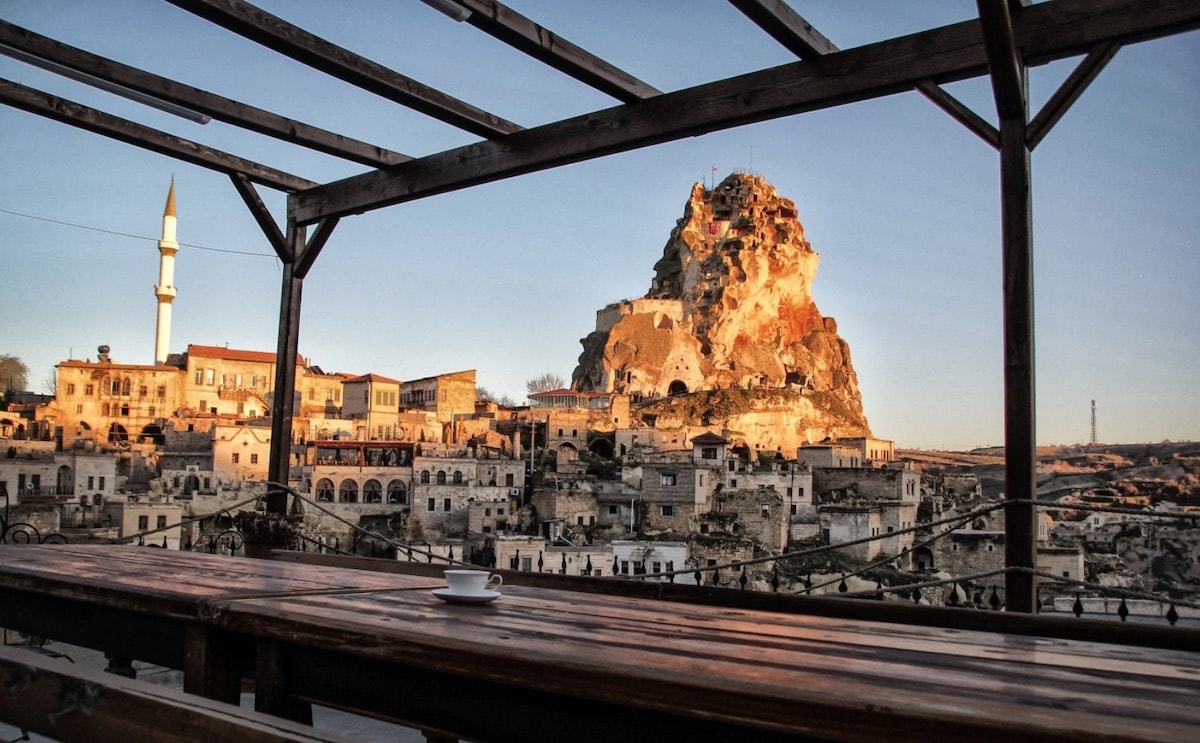 One of the nicest things about staying in an Airbnb in Cappadocia is you'll have a more authentic experience. As you interact with your hosts, you'll learn more about the area, the culture and the people, which often makes for a more rewarding and memorable experience.
I saw there were lots of great reviews of the hosts here, so I'm sure you'll be well looked after!
This stylish cave-inspired house is a great option for a family holiday in Cappadocia. The house sleeps 6 people across 3 bedrooms, and features some lovely social areas. There's a large living room, incredible panoramic views of the fairy chimneys and rock formations, plus an amazing terrace where you can watch the hot air balloons go past in the morning!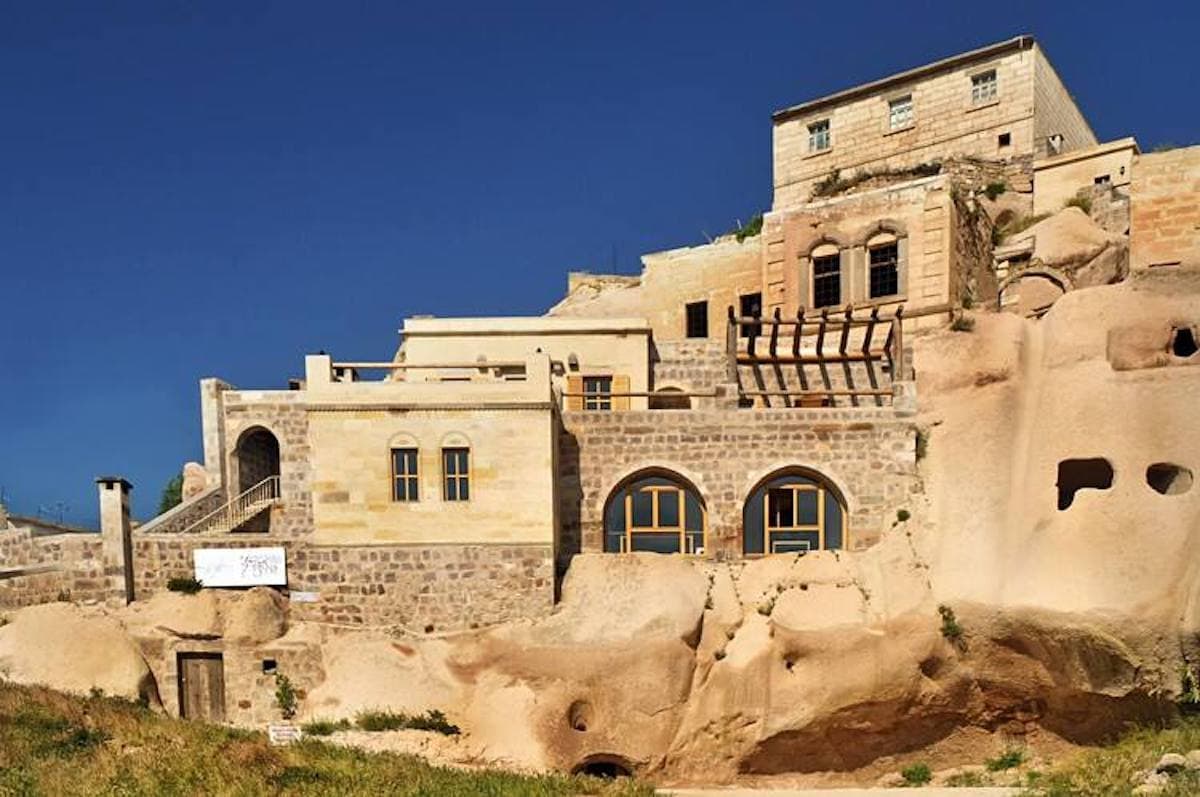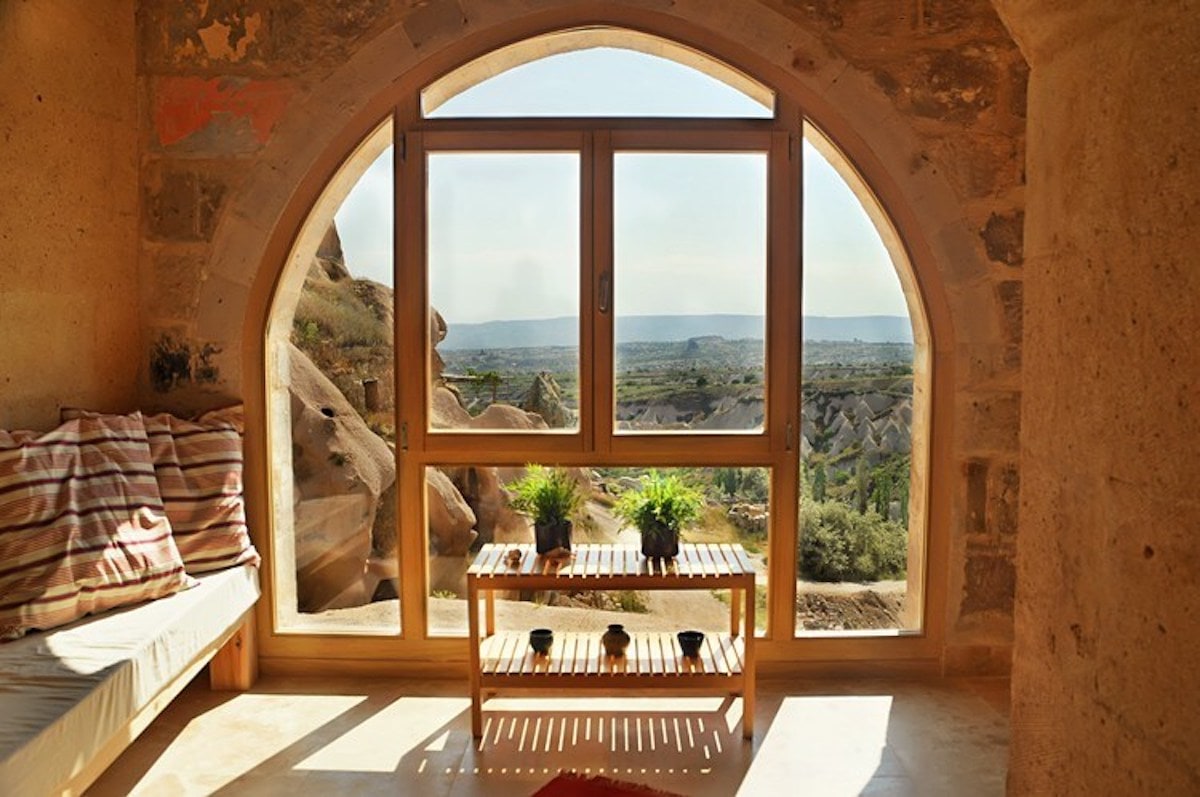 While some cave houses and hotels in Cappadocia have a historic and traditional feel, this one is a little more stylish and modern.
This private room is perfect for couples visiting Cappadocia. It's decorated in a romantic way, with carved stone archways and a jacuzzi in the corner. It doesn't have cooking facilities, but breakfast is offered as part of the booking.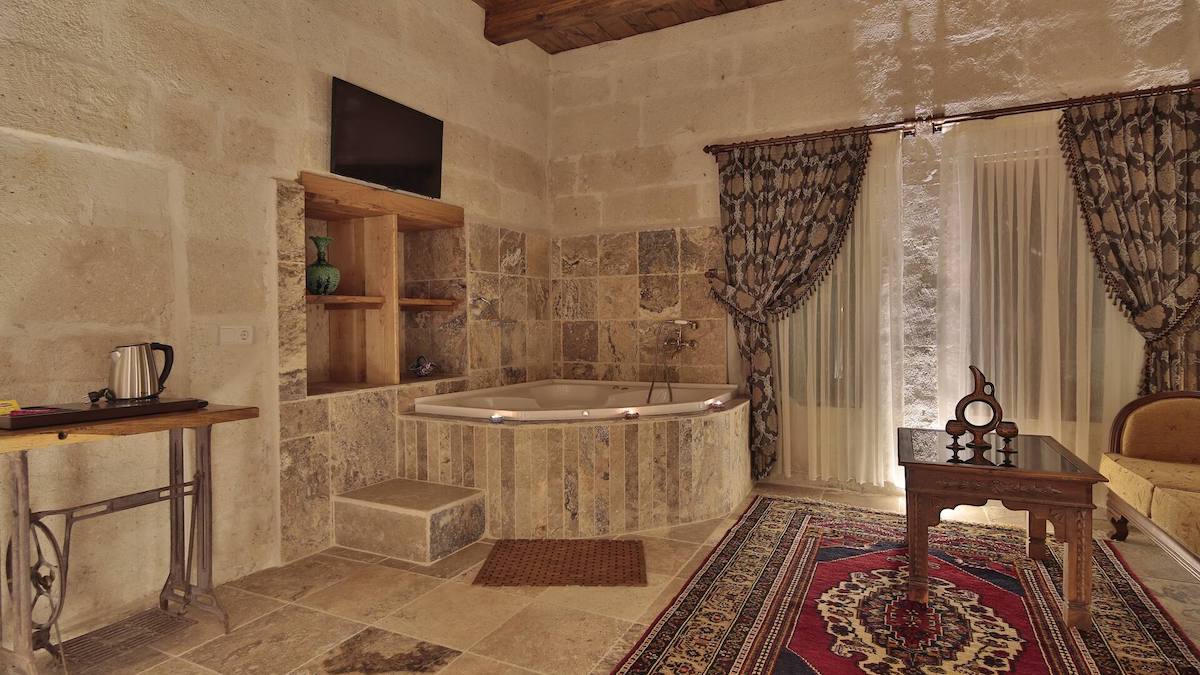 It's in a great location too, right in the centre of town, making it easy to pop out for dinner or a coffee. One of the best features? The terrace where you can watch the hot air balloons in the morning, or enjoy a drink at sunset.
---
Still haven't quite decided where to stay in Cappadocia? You can search for more great accommodation options using this handy map.
---
Cappadocia Travel Guides
Continue planning your trip with my handy travel guides to visiting Cappadocia.
Enjoyed this post? Pin it for later…