The top things to do in Cappadocia include staying in a cave hotel, exploring the fairy chimneys and taking to the skies in a hot air balloon.
Cappadocia isn't like anywhere else in the world. With its unique rock formations, you'll feel like you've landed on another planet. The only other places that have come close were Saxon Switzerland in Germany and the Valley of the Moon in Chile.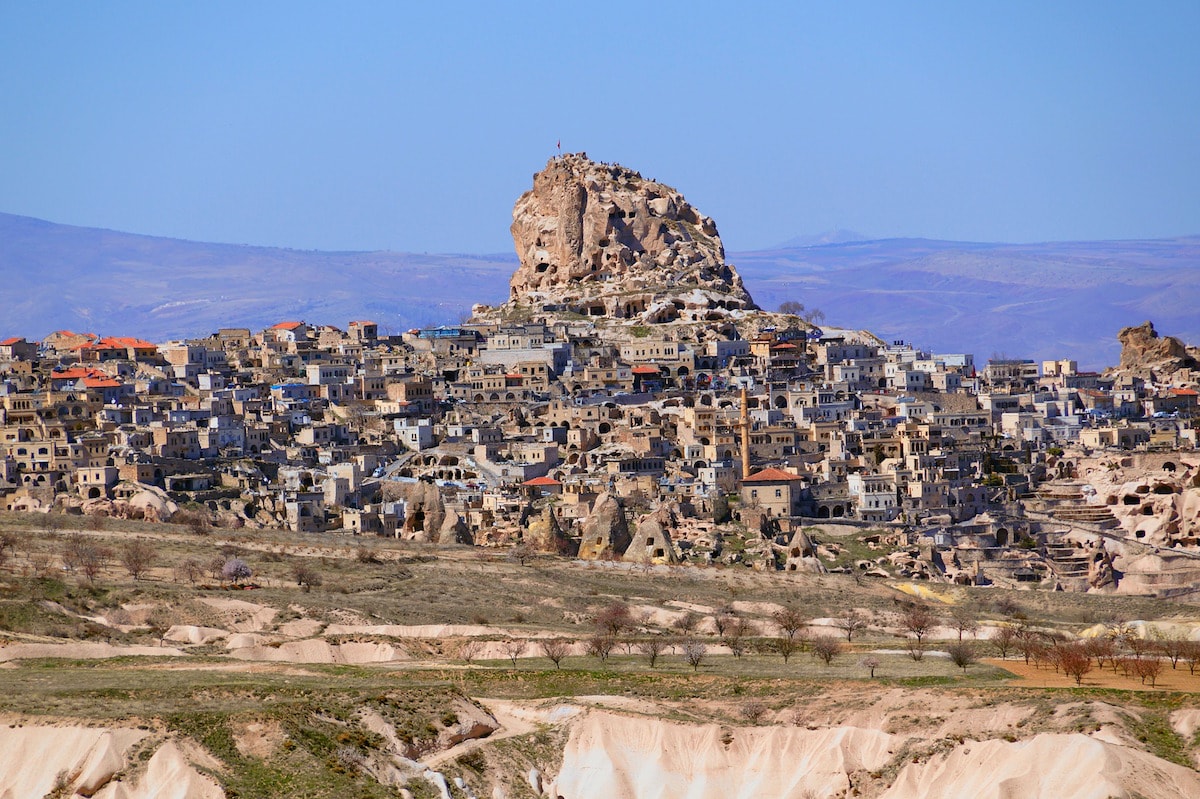 But for me Cappadocia is the clear winner! I've already written a detailed post about hot air ballooning in Cappadocia – something I'd urge you to do if you visit. Alongside that experience, I know a lot of you may be wondering what to do in Cappadocia. Well, there are a few other attractions I'd definitely recommend making time for. It's a wonderful area, I hope you enjoy it as much as I did.
Take To The Skies In a Hot Air Balloon
Soaring above Cappadocia's other-worldly landscapes in a hot air balloon was the highlight of my trip. Not only are the views incredible, it's also really special taking to the skies with so many other balloons around. You're in safe hands too; the pilots here train for five times longer than anywhere else in the world. Before planning your hot air balloon flight, I'd recommend reading this post: 21+ Things To Know Before Booking Your Cappadocia Hot Air Balloon Flight
READ MORE: Hot Air Ballooning In Cappadocia Turkey or check latest prices and availability here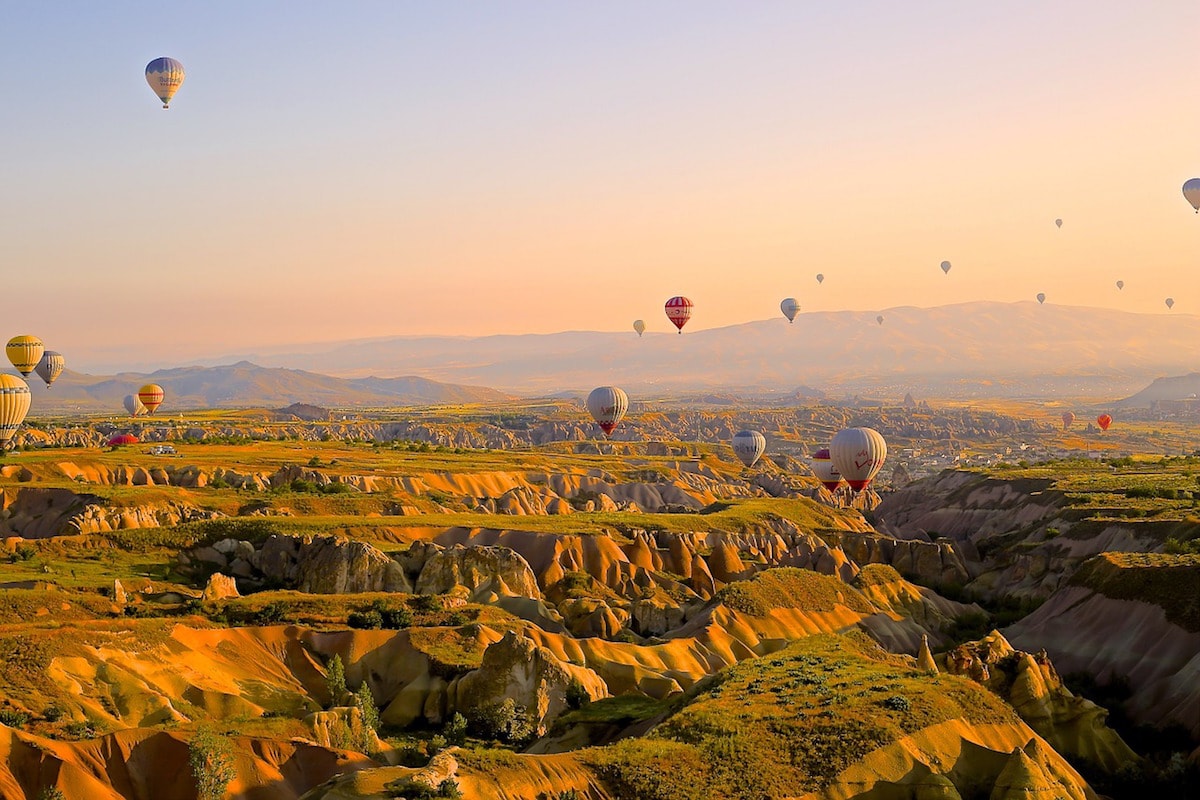 Explore Cappadocia's Magical Landscapes And Historic Caves
Whooaa just look at that sci-fi scenery! It's so amazing when you reach the area and start seeing the rock formations for yourself. Several volcanic eruptions followed by natural weathering and erosion, have created the weird and wonderful landscape of craters, canyons and fairy chimneys (they're the tall pillars with little caps on).
It's also fascinating when you find out how much used to happen underground. There are vast underground cities and cave houses dating back to 1800 BC.
To get a good flavour of the area I'd recommend booking a Cappadocia day tour which will take you to see some of the key places including Love, Imagination, Pigeon and Monk's Valleys, Ürgüp Fairy Chimneys, and of course the unusual rock castle – Uçhisar Castle.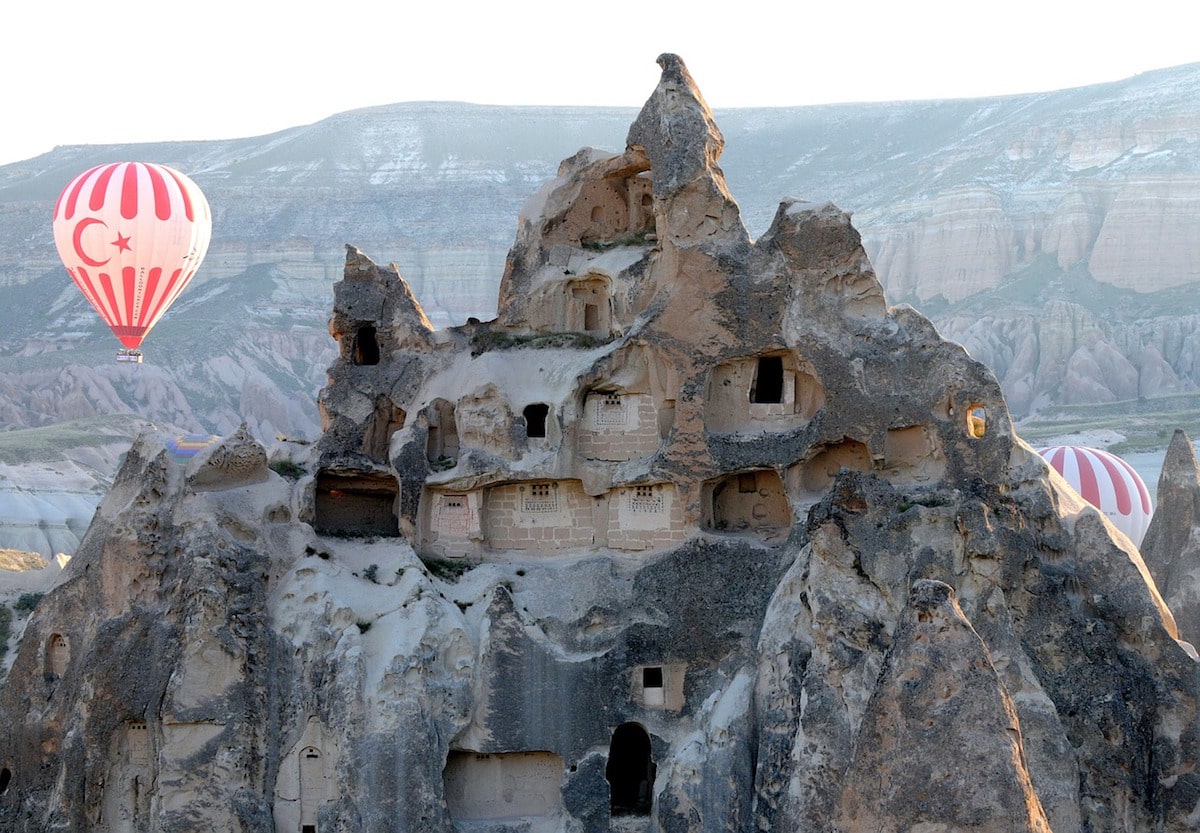 Feast On Delicious Turkish Cuisine
Oh how I adore Turkish food! It's rich in flavour, and as Turkey spans Asia and Europe, it has plenty of interesting influences. From kebabs, to mezze dishes and pide (similar to pizza) there are plenty of tasty meals to choose from.
While in Cappadocia you have to try a testi kebap (pottery kebab). The traditional tomato-based stew comes with a choice of meat baked inside a sealed clay pot. It comes to the table intact, then it's up to you to crack it open with a big knife. It's a theatrical moment, and a bit of fun!
Be sure to enjoy some apple tea, local raki, baklava and Turkish delight to round off your culinary experience.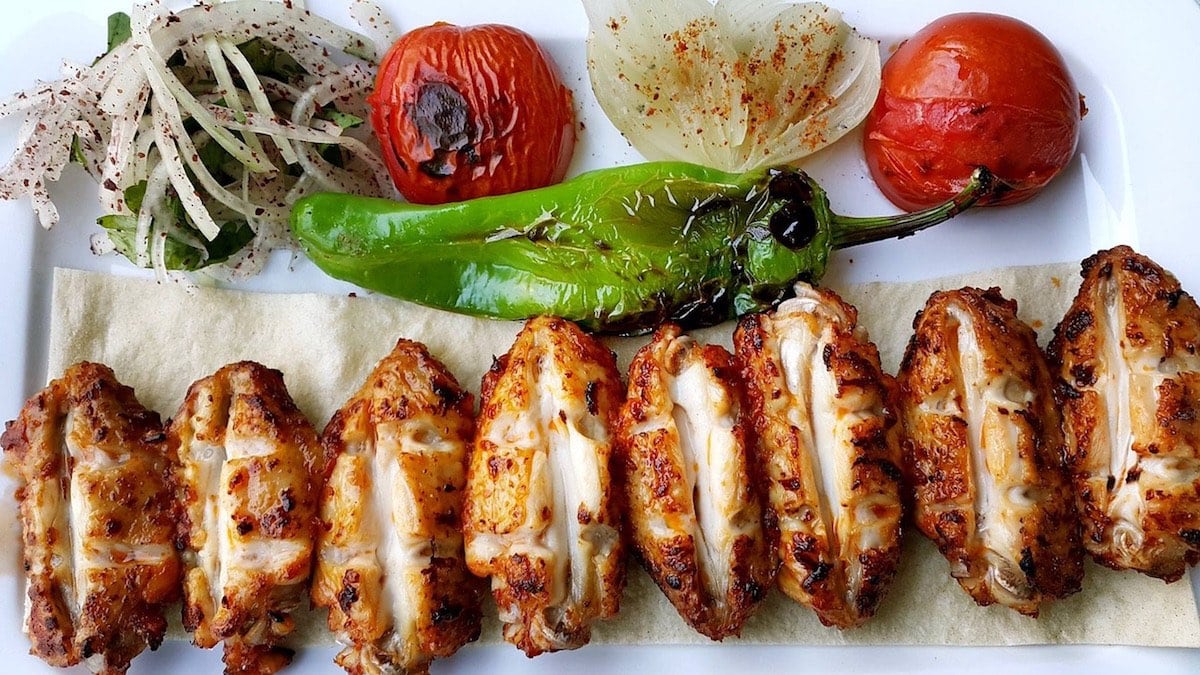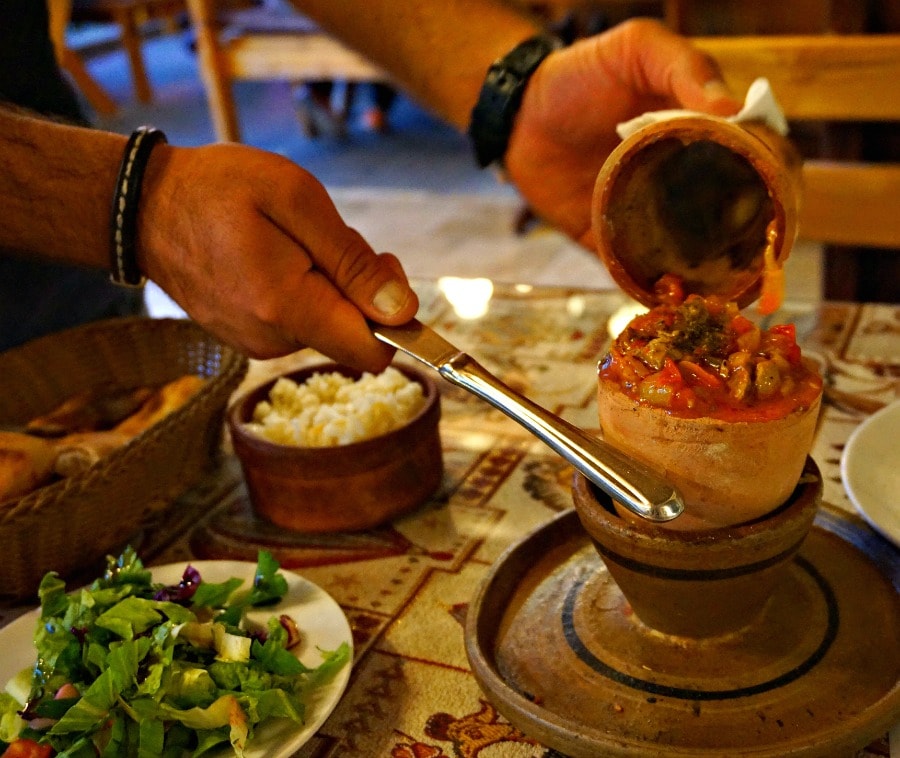 Learn All About Cappadocia's History
Cappadocia is an area rich with history, but thankfully this isn't the kind that used to send me to sleep at school! I hinted at it above, but believe it or not there are 36 underground cities which were once used by Christians to hide from Roman armies. I'd recommend taking a tour to Kaymakli or Derinkuyu to explore the hundreds of passages that are built deep into the ground. You'll find everything below ground including churches, bedrooms, storage places, kitchens and even wineries.
I love how this area of history is still being pieced together. Over the last few years, archaeologists have unearthed a city of several kilometres of tunnels, complete with churches dating back around 5,000 years.
Then there's the intricate system of caves above the ground. The best way to get to grips with Cappadocia's history is by visiting UNESCO World Heritage – Göreme Open Air Museum. Once there you can check out the medieval cave churches, which date back to the 10th Century. You'll be amazed at the detailed frescoes and designs still visible.
READ MORE: Find out how to visit Cappadocia – travelling from Istanbul to Cappadocia / Cappadocia to Istanbul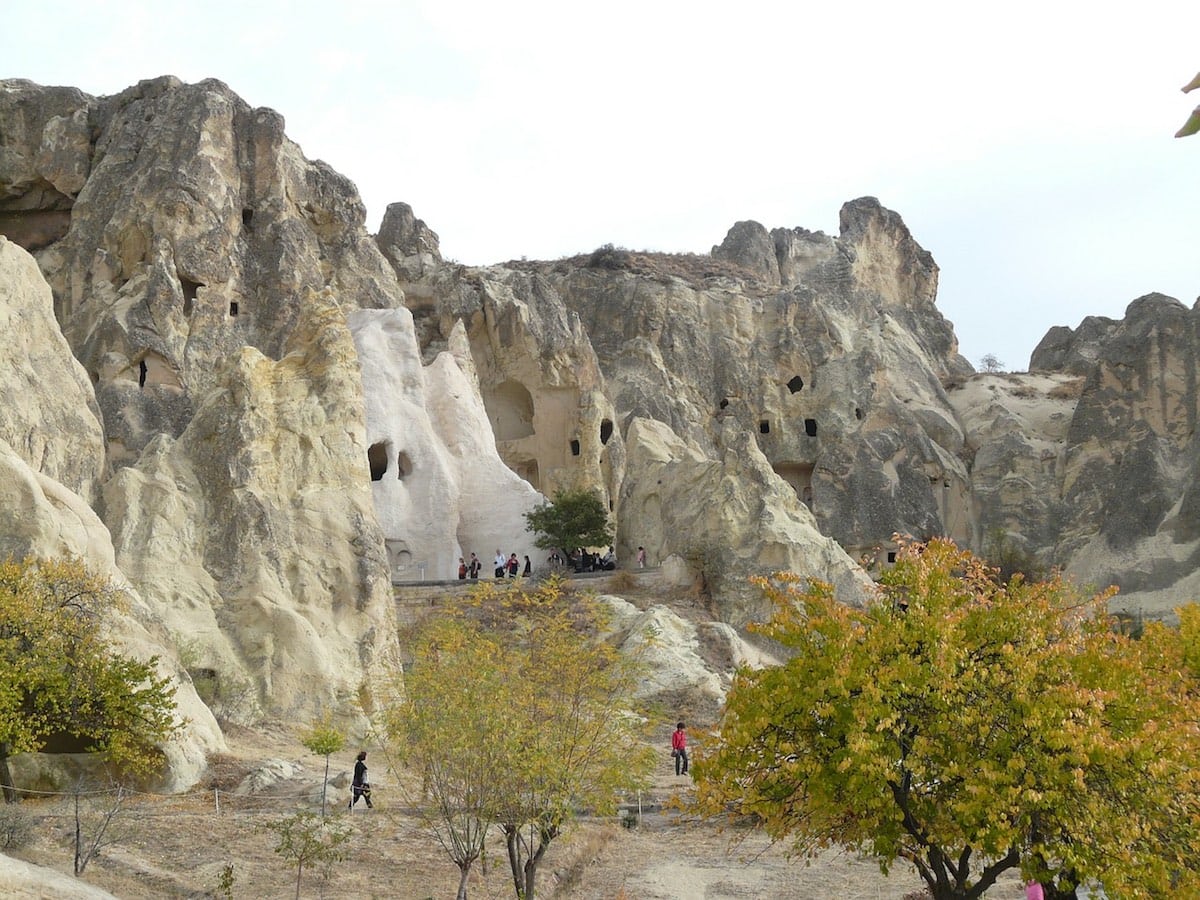 Stay In One Of Cappadocia's Cave Hotels
When it comes to unique places to stay, Cappadocia wins hands down! When did you last stay in a cave hotel?! Most are cute boutique cave hotels and hostels located in the main towns of Göreme, Urgüp and Uchisar.
When you hear the word cave, you're probably thinking of a cold, dark, damp place. But no – many of the cave hotels in Cappadocia are stunning, incorporating old cave features, while providing all the modern amenities you're used to seeing in a hotel. My favourite was Kale Konak in Uchisar, right next to the castle.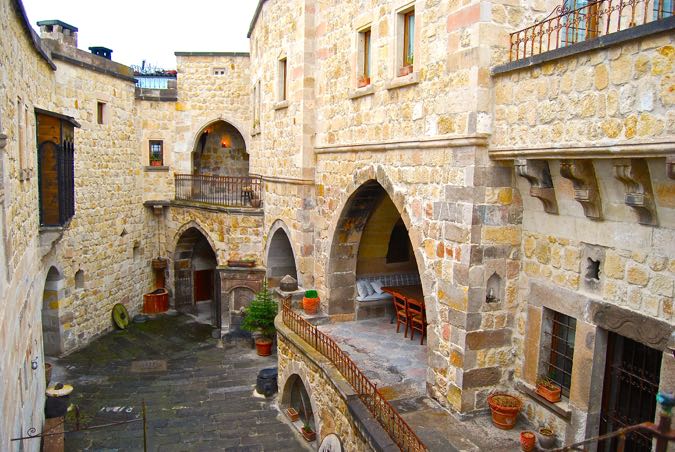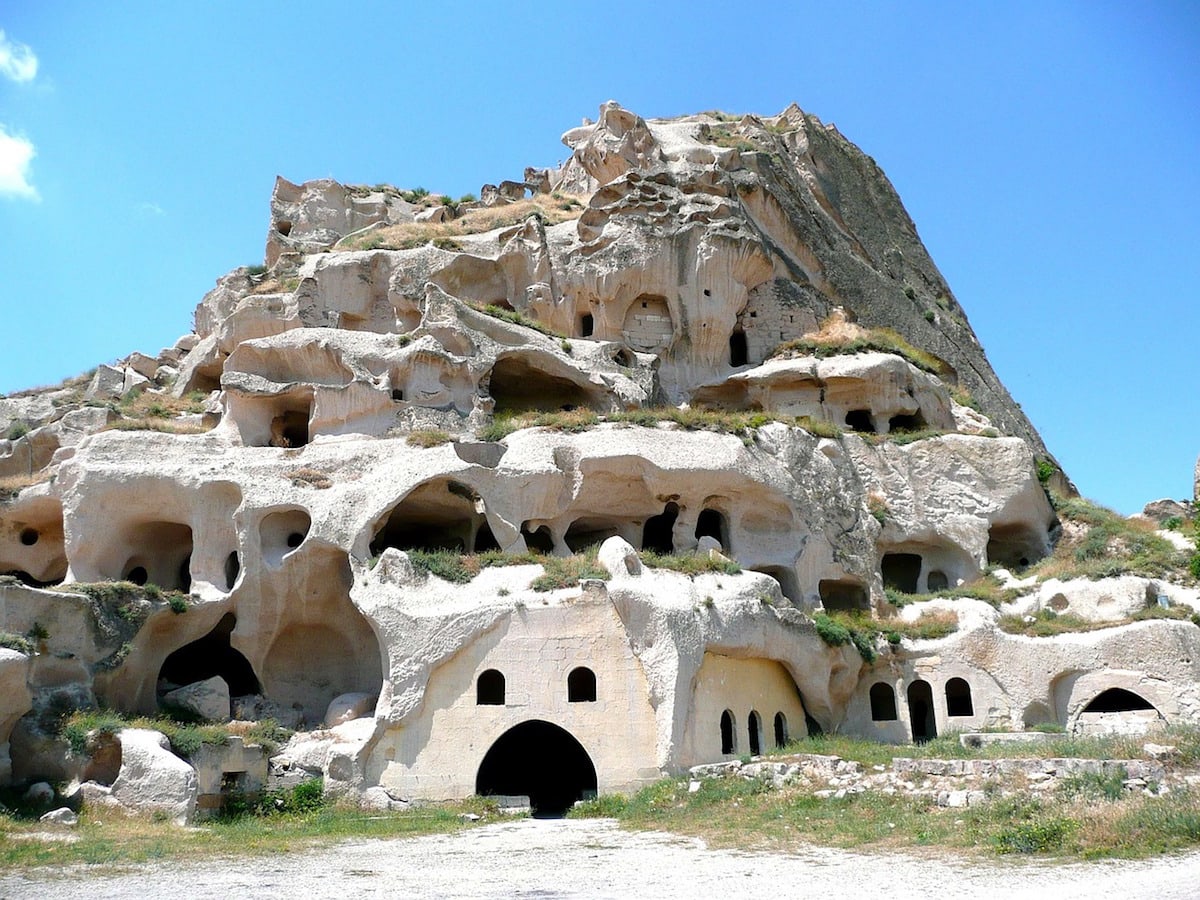 Best Hotels In Cappadocia
Looking for a hotel in Cappadocia? There are plenty of beautiful cave hotels and suites to choose from. So whether you're looking for a budget hostel, mid-price room or a luxurious palace for the night, check out these top recommendations.
For my full list of recommendations, check out my latest post: The Best Cave Hotels In Cappadocia
Located in Goreme, this top-rated cave hotel has one of the area's best terraces with stunning views over the region. It's a great terrace for watching the hot air balloons in the morning! There are plenty of cave rooms with traditional decorations, and breakfast looks great too.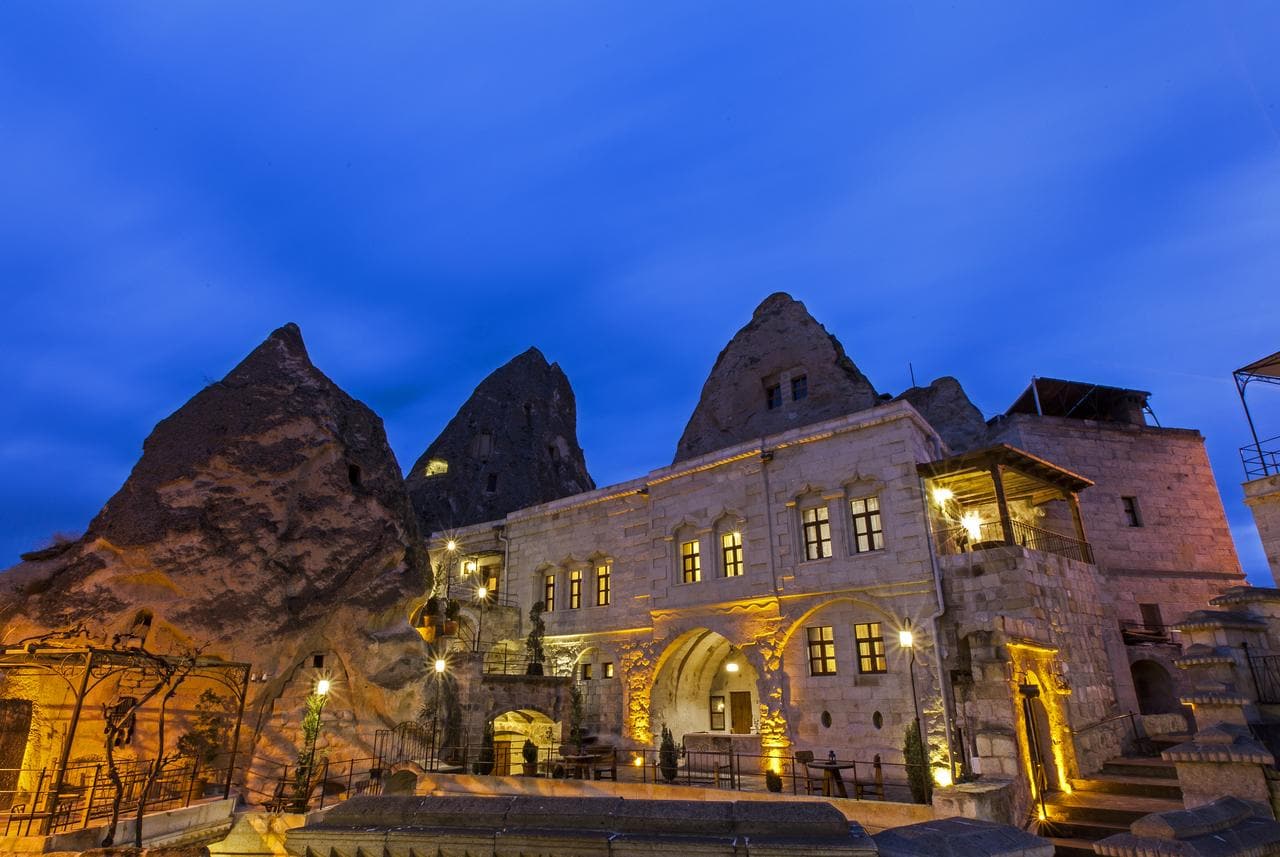 I have SUCH happy memories of my stay at Kale Konak in Cappadocia. Located in Uchisar, it's right next to the castle and has mesmerising views over the valley. The service was top notch, the owner was so friendly and the breakfast was amazing. I loved the traditional cave rooms too – so unique and in keeping with the area. You can read more about my stay here. I still dream about returning one day soon!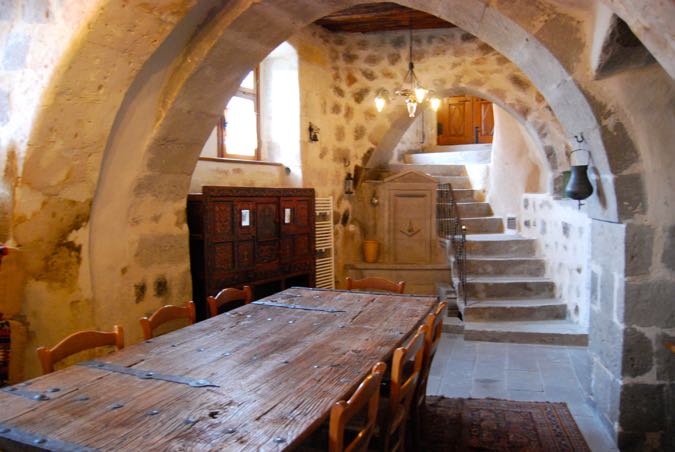 Located in Uchisar, this is a Relais & Chateaux hotel, which hints at how luxurious it is! Many claim this hotel has the best views of all of the Cappadocia hotels, and after seeing photos, I might agree! There's a stunning outdoor pool, top restaurant and a great terrace area. It's also filled with real artefacts, just like a museum. This level of luxury comes at a premium though, so this is definitely a splash the cash option!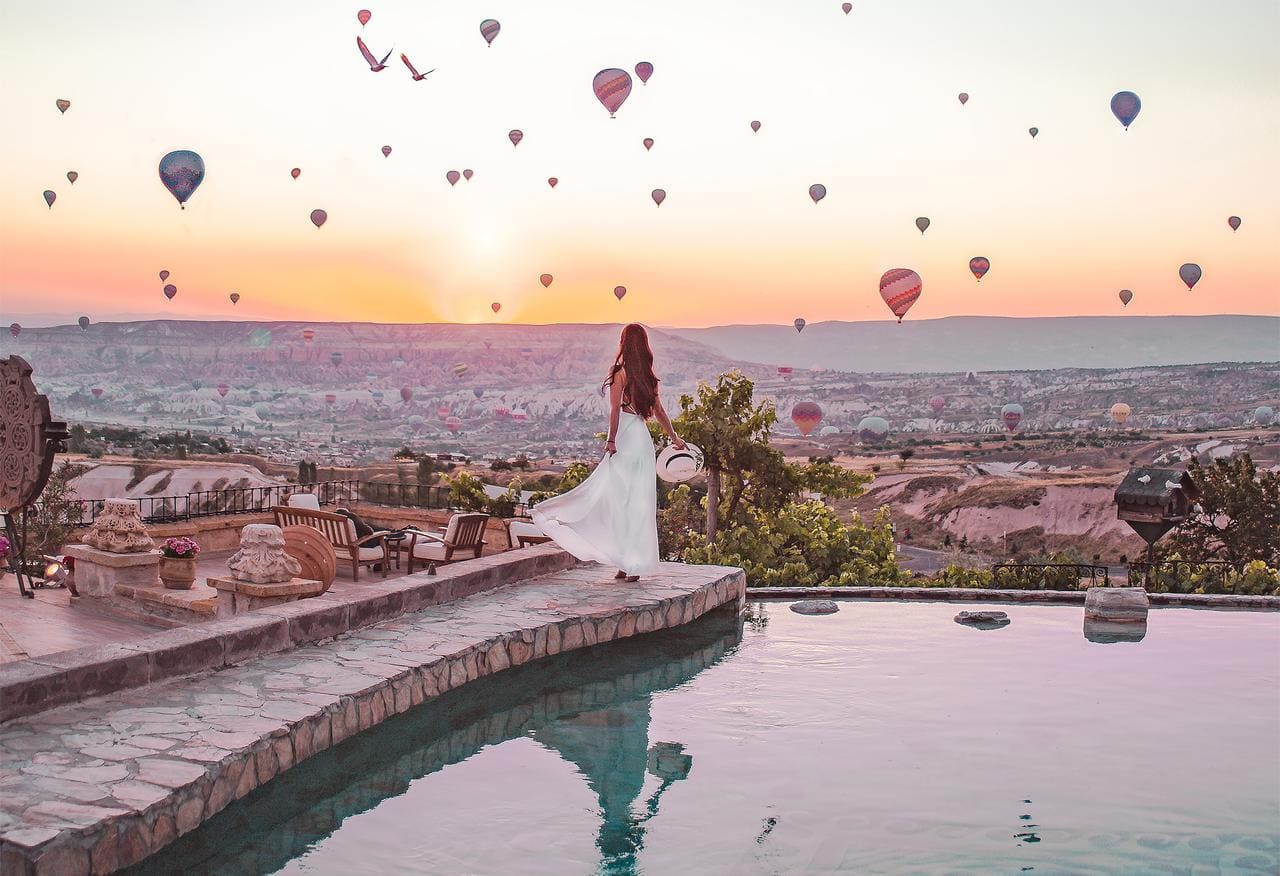 This hotel is set in eight original Fairy Chimneys and shows off the beauty of the region's rock-cut architecture. There are lots of antiques dotted around. Plus there are two luxurious pools, a free wine tap (WOW!!) and gardens. The suites are large, with big baths and other amenities to make your stay really luxurious! Oh and you can reach the centre of Goreme via a tunnel, just to add to the novelty.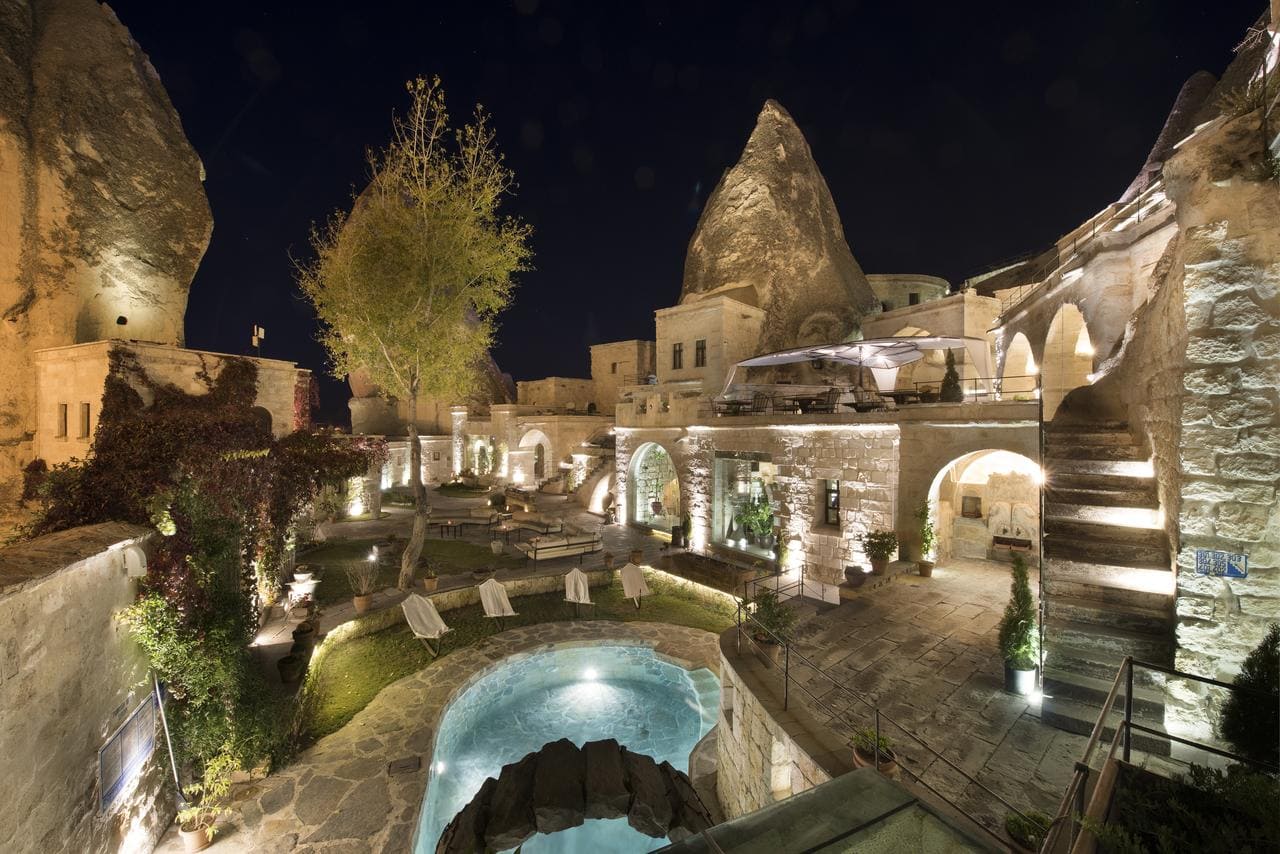 Another top rated hotel in Goreme, the suites here are stunning, using the traditional stone arches to create romantic and luxurious rooms. Along with a lovely outdoor pool, there's also a terrace looking over the region – another great spot for watching the hot air balloons go past in the morning!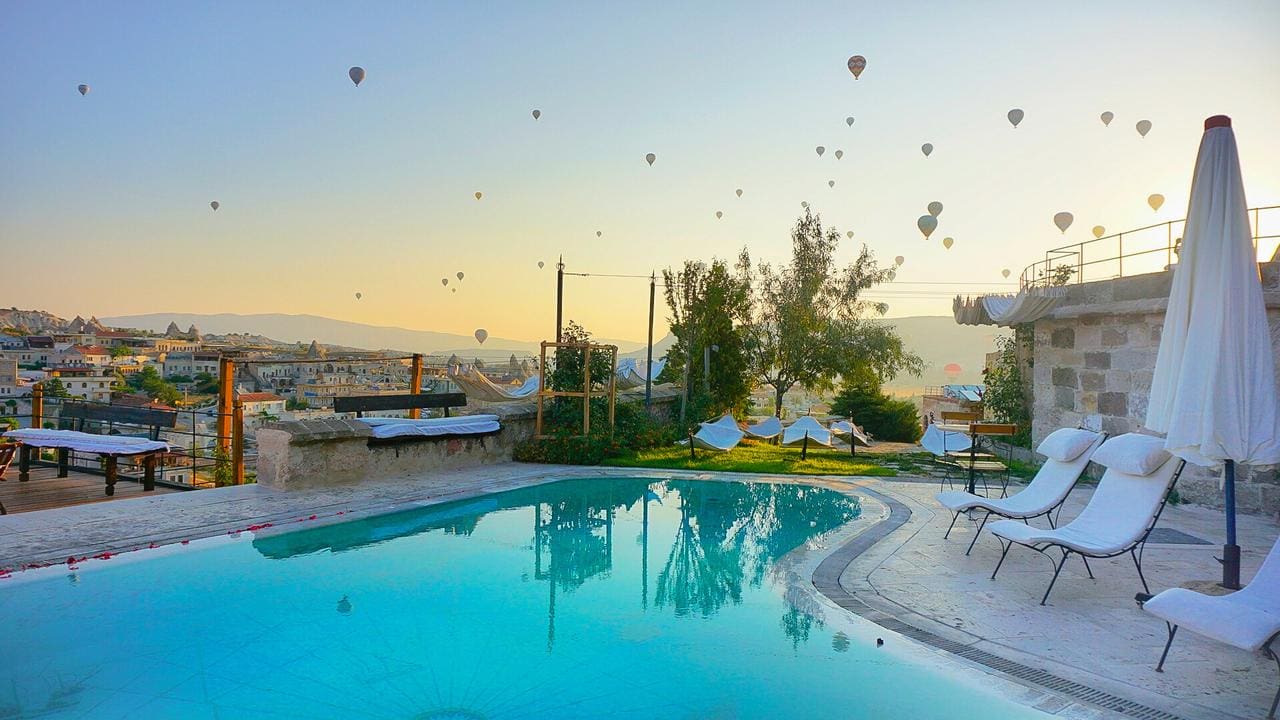 I looked around this hotel on my last visit, and it was stunning! There were so many beautiful details, and the in-room Jacuzzi added to the luxurious elements. There's a great view from the hotel, plus service is super friendly. Definitely one of the top hotels in Cappadocia. You can check out some of my photos of the hotel here.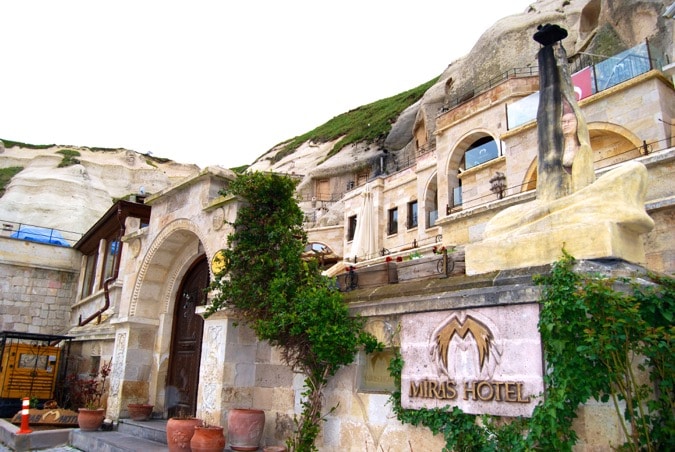 Backpacking around Cappadocia? Then definitely stay in a cave hostel! I wanted to include this to show you can stay on a budget too. Most people reckon this to be the best hostel in Cappadocia. It' slocated in Goreme, close to the centre, making it a good base for your trip. Rooms are clean, staff are helpful, they include breakfast, and when I checked you could get a bed in a dorm for under £20 per night. I
Cappadocia Travel Guides
Continue planning your trip with my handy travel guides to visiting Cappadocia.
Enjoyed this post? Pin it for later