Wondering what to do in St Kitts on a cruise? From scenic railways and zip-lining, to learning about the island's history – these are the best things to do in St Kitts.
Earlier this year I was lucky enough to spend a full week on the magical island of St Kitts. I ate (lots), snorkelled, zip-lined, explored the island's history and drank buckets full of rum punch.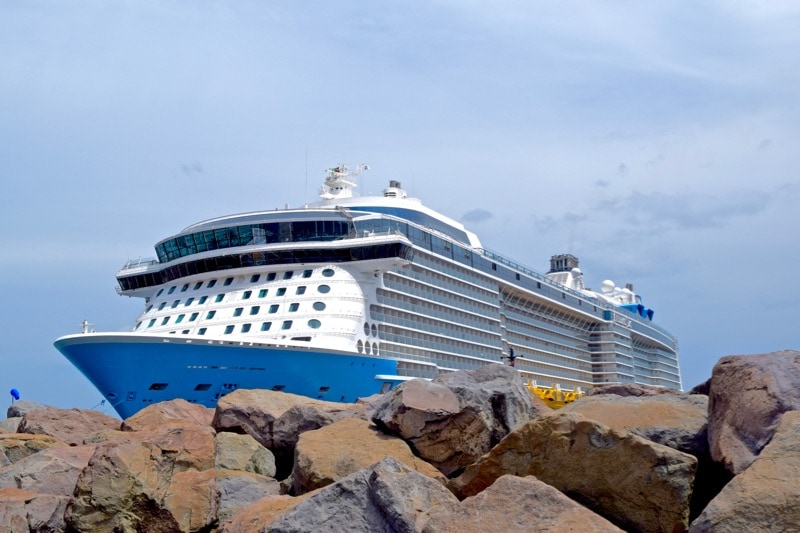 I know that many of you visit as cruise ship passengers, with the likes of Royal Caribbean, Carnival and Princess Cruises, and before you reach the island you'll be offered a variety of interesting St Kitts cruise excursions. It might feel overwhelming as there are so many great options. When deciding what to do in St Kitts on a cruise, you need to have a think about your overall cruise ship itinerary, to figure out which islands are best for which activities.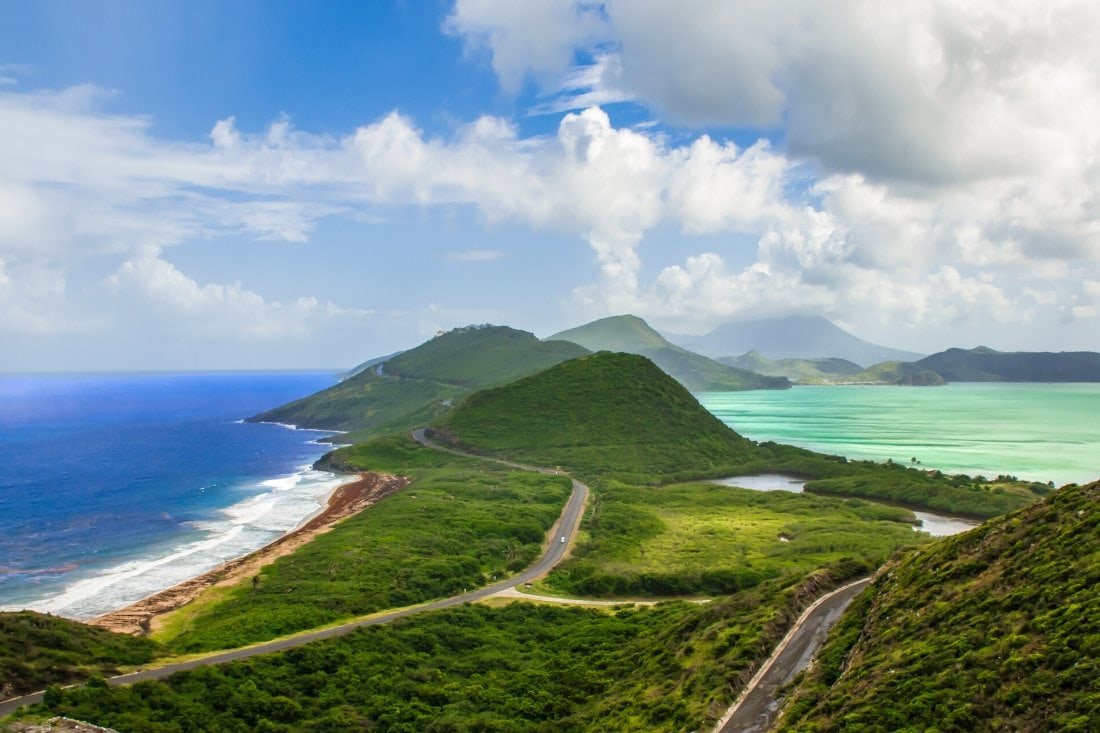 In terms of St Kitts cruise excursions, you could take a relaxing trip through the countryside on the island's famous scenic railway, enjoy some of the best things to do in Basseterre, take a trip up to the historic Brimstone Hill Fortress, relax at a beach club or enjoy something a little more active, perhaps zip-lining or snorkelling.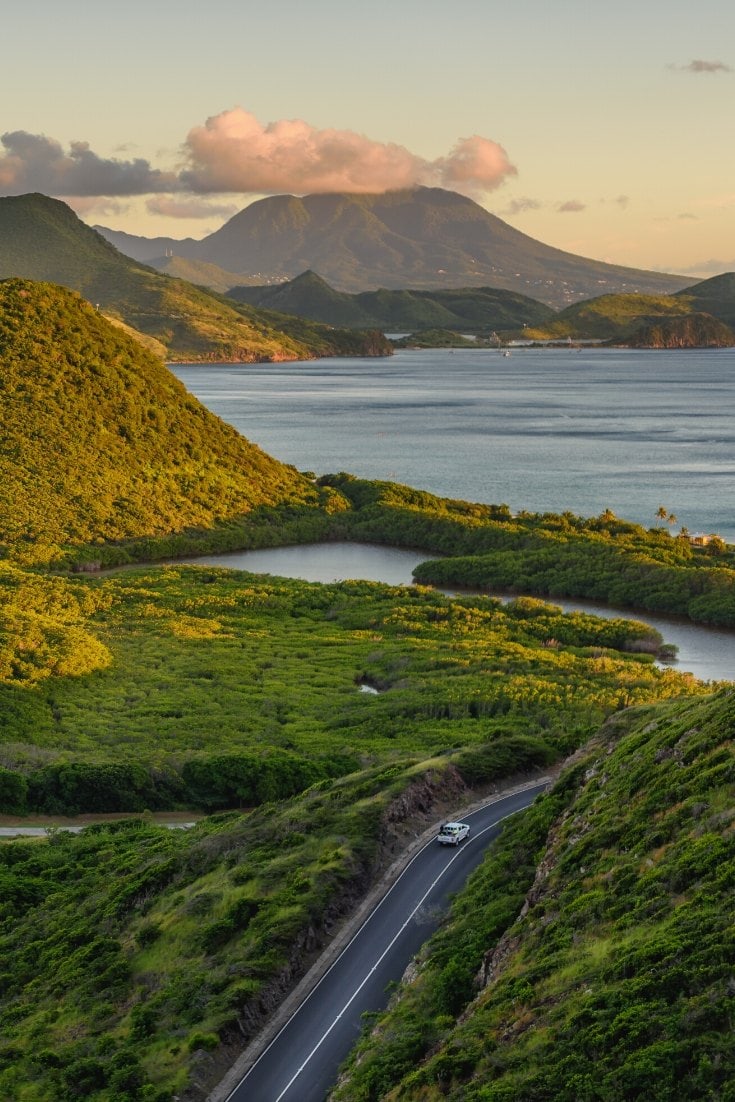 So if you only have a few hours on dry land, what excursions should you do? Well, after docking in Basseterre and taking St Kitts cruise port's advice to "Rush Slowly"(!) here are a few suggestions of things to do in St Kitts on a cruise…
Get a flavour of St Kitts in my video and scroll down to find out some of the top things to do.
What To Do In St Kitts On A Cruise – Best St Kitts Cruise Excursions
1. Ride The St Kitts Scenic Railway
Built between 1912 and 1926 to transport sugar cane, the St Kitts Scenic Railway now takes tourists on a sightseeing trip around this rugged and beautiful island. The 3-hour, 30-mile journey offers some of the most spectacular views of the coastline, Mount Liamuiga (the island's dormant volcano), the old sugar plantations and small Caribbean towns.
Plus once on board, you'll have access to an all-inclusive bar serving delicious frozen cocktails. Pina colada anyone? This is one of the most popular St Kitts cruise excursions, and it's a fun way to see the island.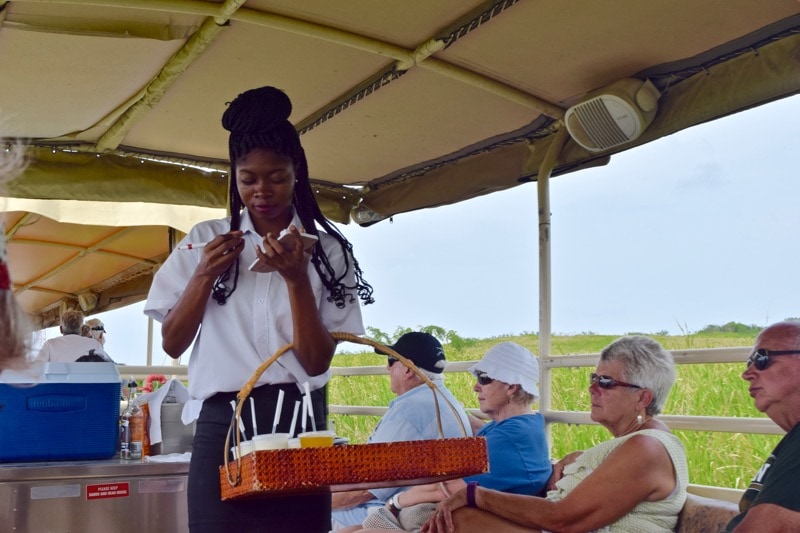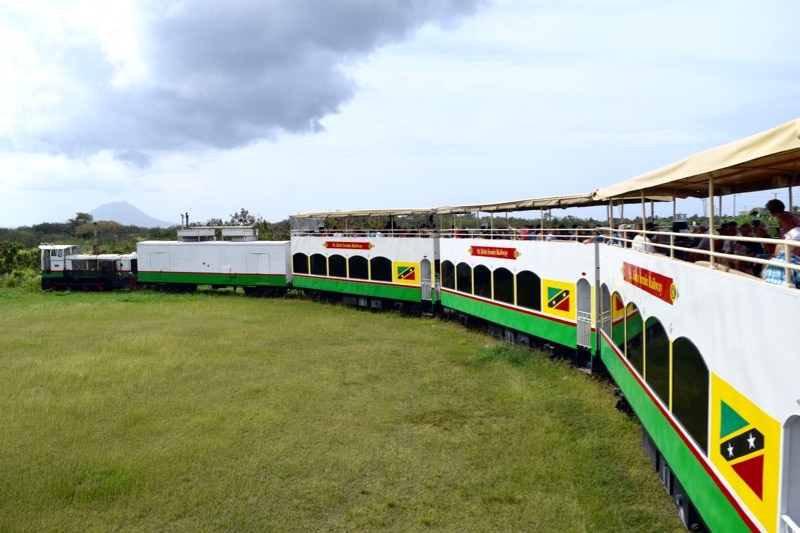 2. St Kitts rainforest tour

If you're a nature lover and wondering what to do in St Kitts on a cruise, let me remind you that the Caribbean isn't JUST about beaches! St Kitts is home to an incredible thick rainforest just waiting to be explored.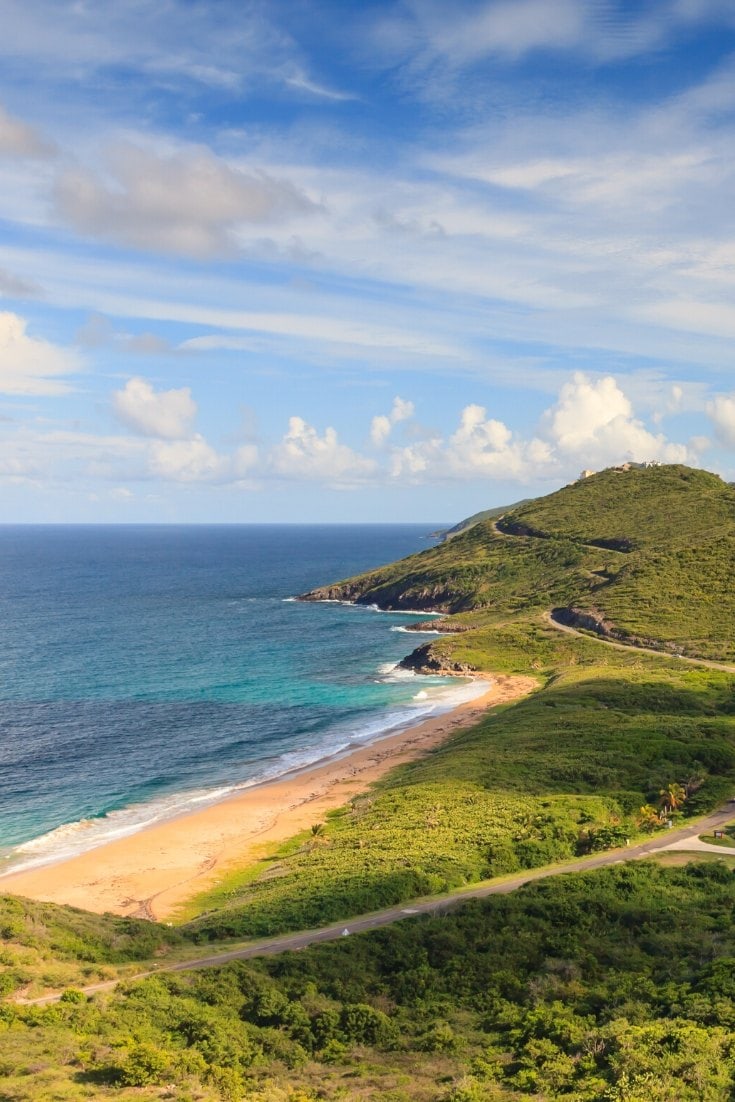 The best way to get to know it is on a rainforest trek with O'Neil who's lived on the island all of his life. I'd honestly say this is one of the best thing to do in St Kitts if you're visiting by cruise ship, as it's a wonderful contrast to life at sea.
He'll help you spot monkeys, tell you which trees will bring you luck, the plants that can cure disease and once you're done with that – you can find a vine for your finest Tarzan swing!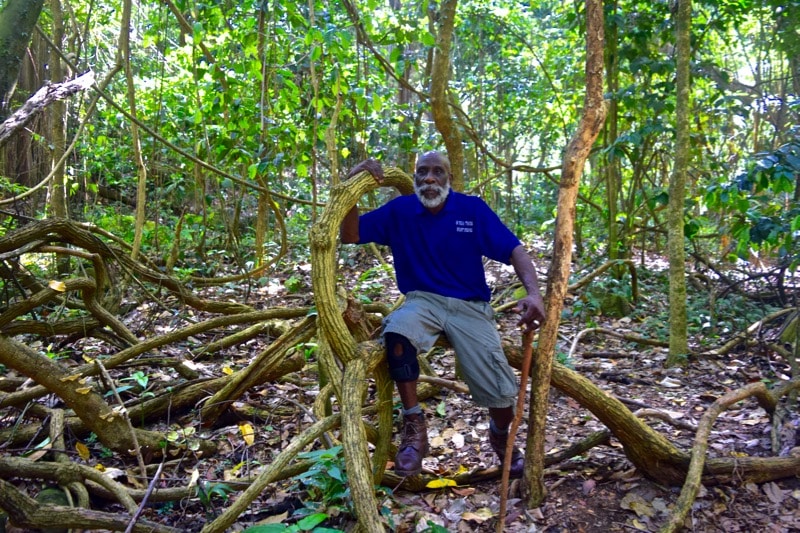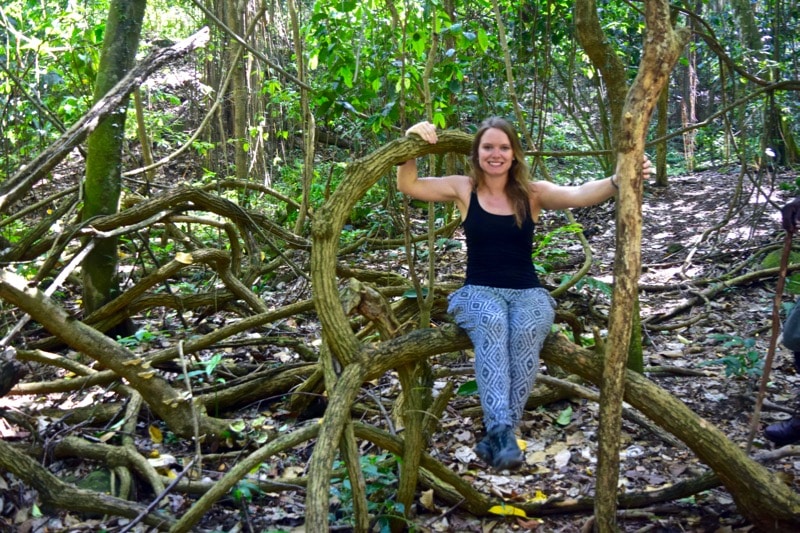 3. Arts And Crafts At Romney Manor
If you're an artistic type, and wondering about the best things to do in St Kitts on a cruise, you'll love Romney Manor.
Learn how to weave colourful fabrics and make traditional Batik shawls at this former plantation-turned-crafts-centre and home to world-famous crafters Caribelle Batik.
Wander the tropical gardens and take a tour of the premises, watching artists in action creating colourful throws, quilts and scarves in the traditional way.
After having a look around, head to the gift shop and buy some souvenirs. I promise that no two pieces are the same!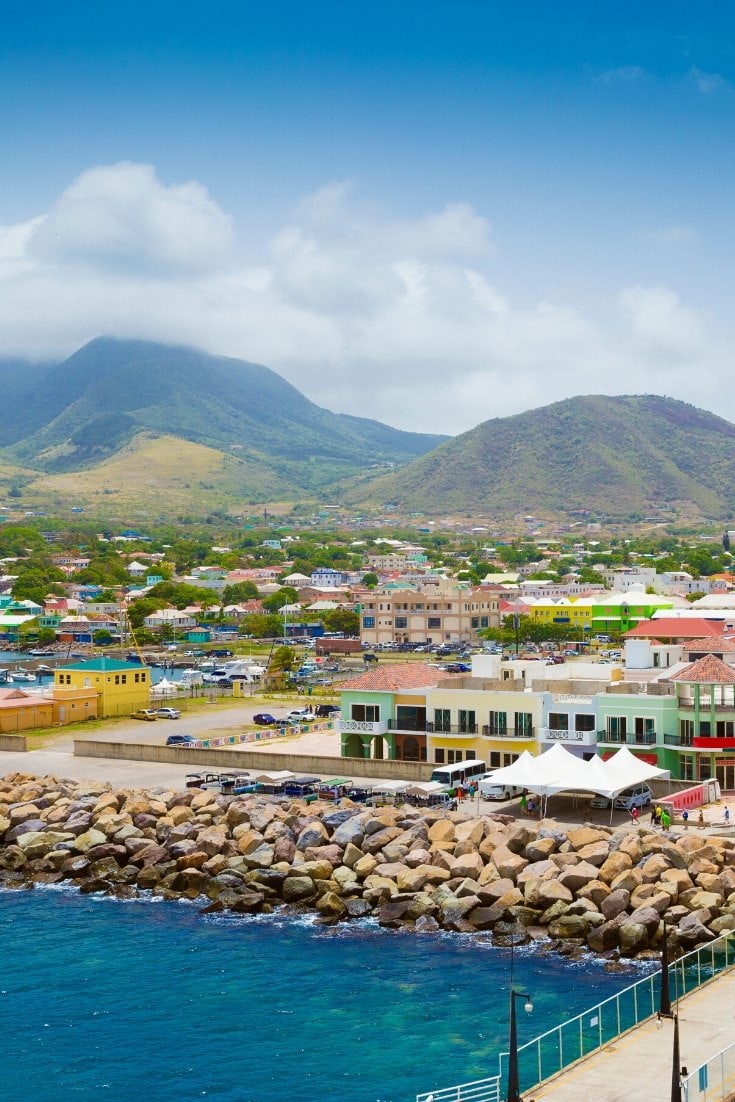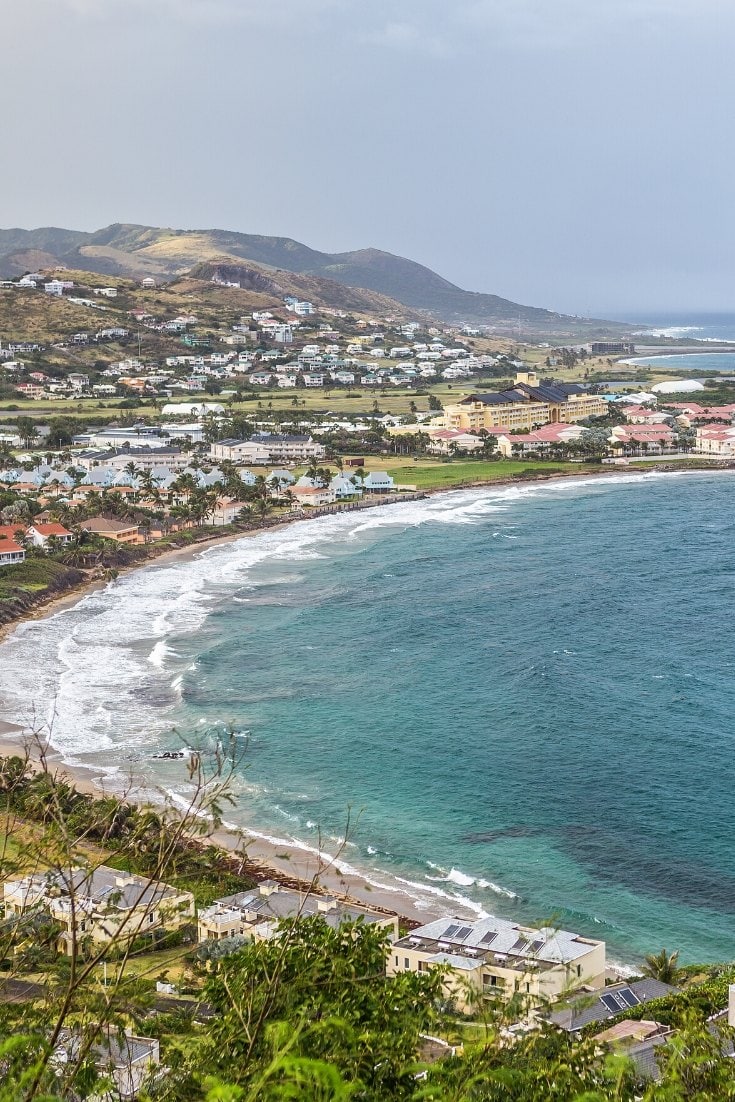 4. Visit The Beautiful Cockleshell Bay
Located on the south side of St Kitts is Cockleshell Bay, a charming little beach with monkeys strutting across the sand, and the delicious scents of Caribbean jerk chicken wafting from rustic barbecue shacks.
The water here is crystal clear, warm and shallow, with small waves lapping the shore. Oh and if you want to see St Kitts's little neighbour, you can look across The Narrows (small strait) to the island of Nevis.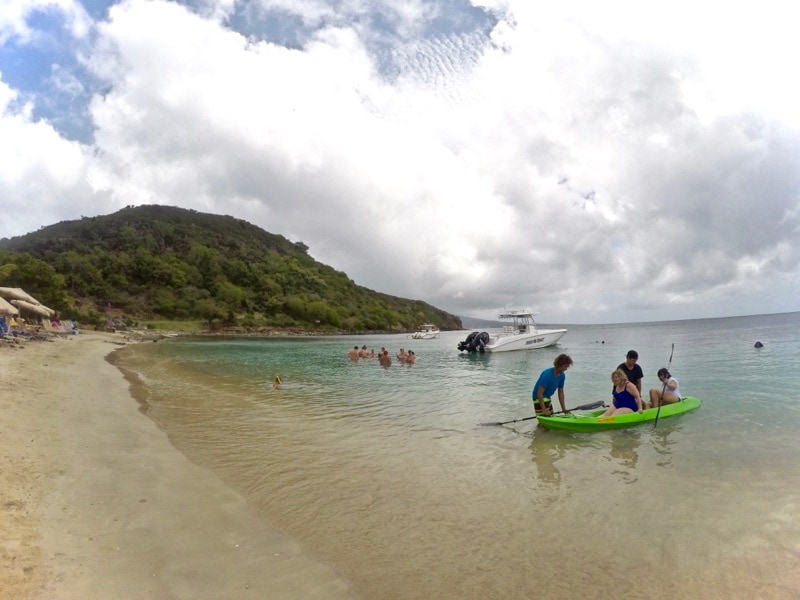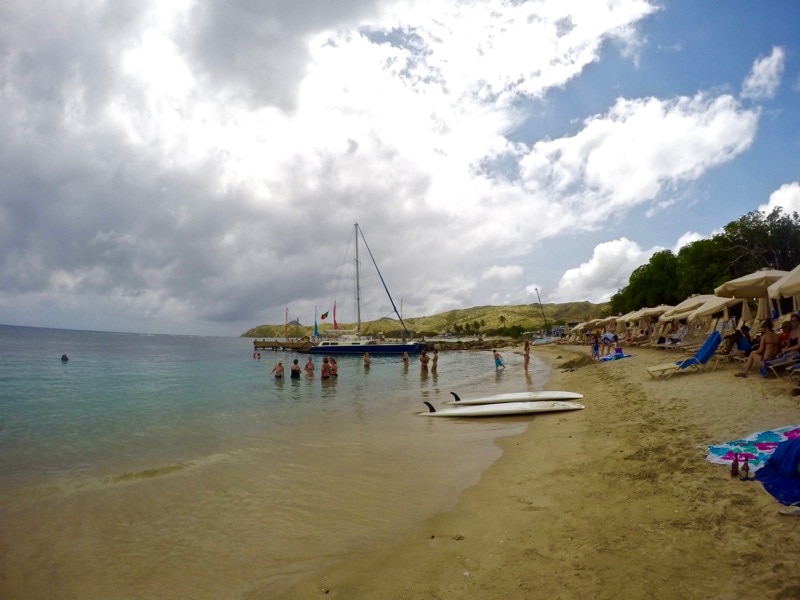 5. Learn About The History Of St Kitts
There are historic landmarks scattered all over the island, so it's understandable that one of the most popular St Kitts cruise excursions is to take an island tour and learn about the past.
Once the richest of all the English colonies in the Caribbean, the island's economy was built on rum and sugar. You'll see evidence of this former industry as you pass old sugar plantations and chimneys.
Some, like Ottley's Plantation Inn, have been converted into hotels and restaurants so you can get right up close to the island's history.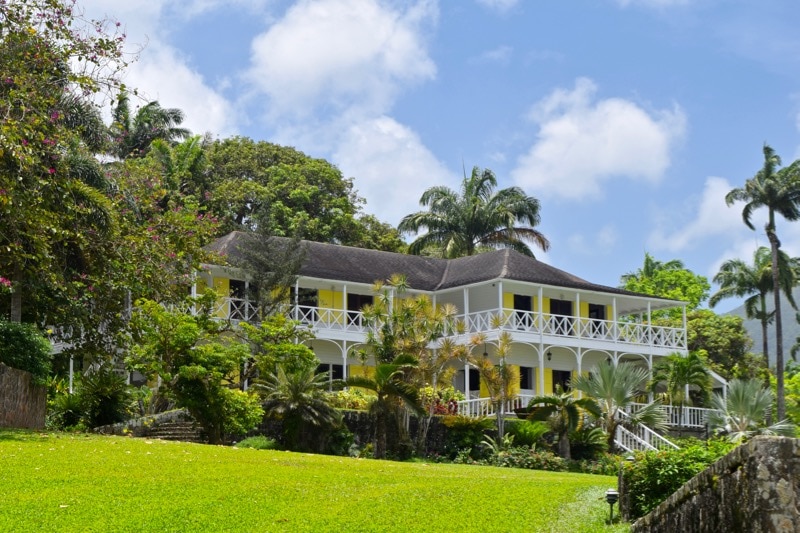 For something different, head to Brimstone Hill Fortress (a must do in St Kitts). It's a UNESCO World Heritage Site located 800ft up. Not only is it a great place to soak up the island's history, you can also enjoy the panoramic views beyond the huge canons.
If you're only visiting for a day, perhaps on of the St Kitts cruise excursions, consider booking a tour like this one, designed to show you all the key sights in a short time.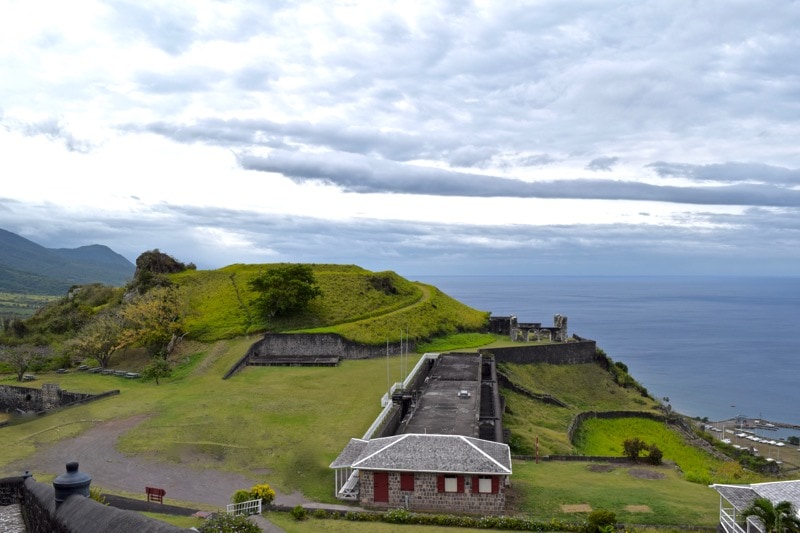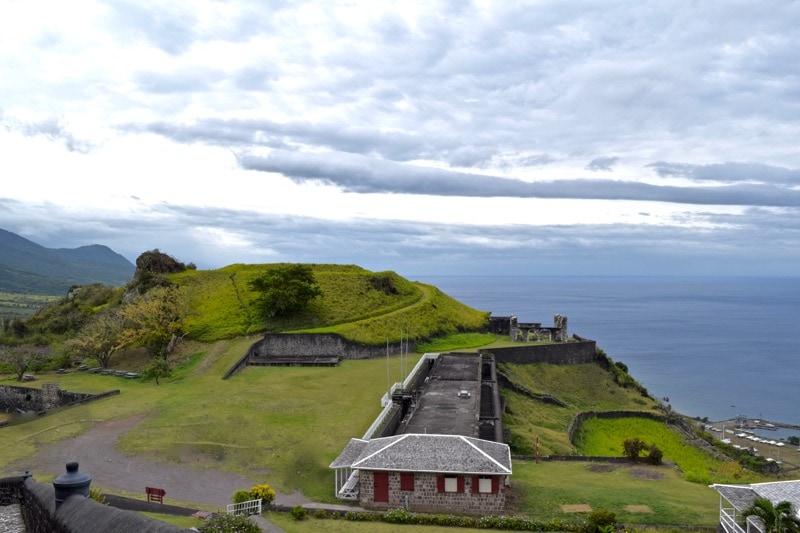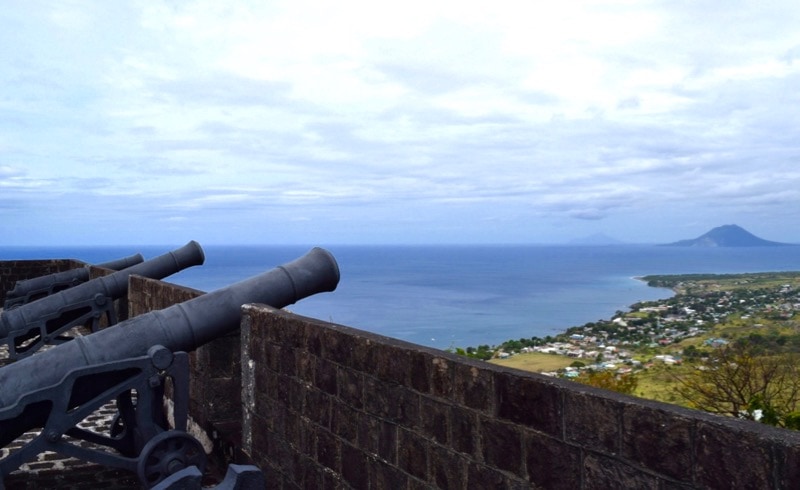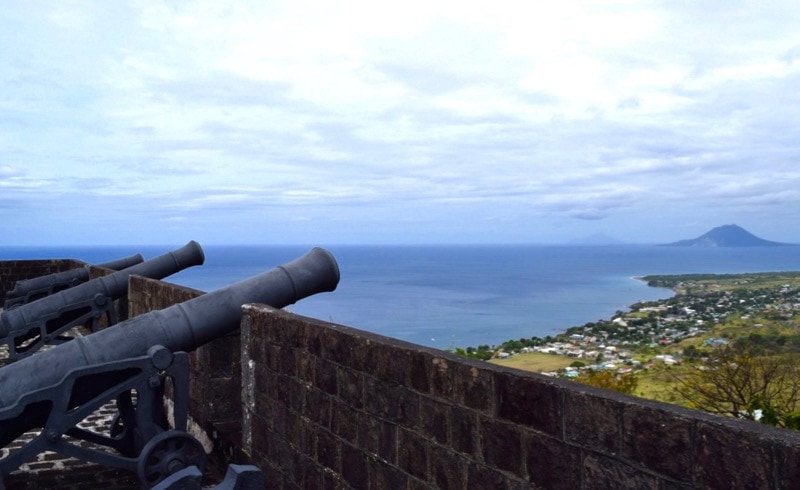 6. Relax Into Caribbean Life
After all those days on the cruise ship, let loose with a beach day! Head to Cockleshell Bay where you can take your pick of activities, including jet skiing, stand up paddle-boarding and kayaking at St Kitts Water Sports. When you get hungry, grab a bite to eat and a frozen cocktail at Reggae Beach Bar. There's a really fun vibe on this beach, and it's a popular option if you're visiting for the day, as it's one of the best beaches in St Kitts (near cruise port in Basseterre).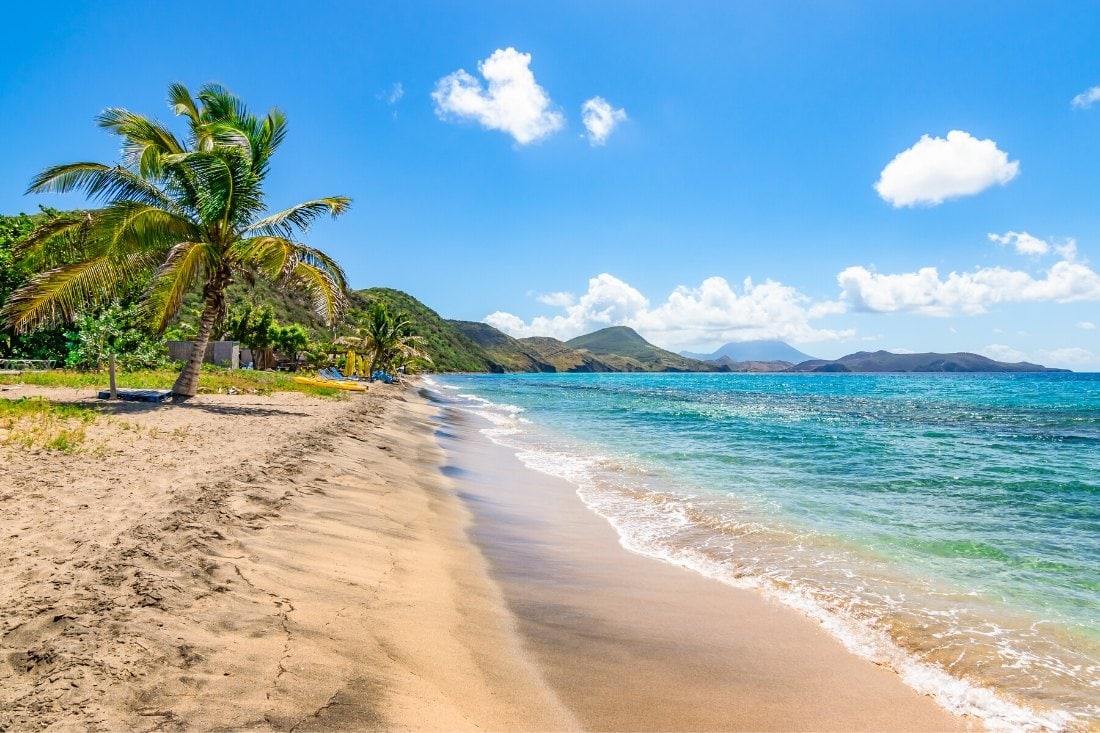 If you're more excited to see what's happening below the water, you could hop on board a catamaran with Blue Water Safaris St Kitts. This was one of my favourite things to do in St Kitts when I visited. There's an incredible underground world you forget about, and the water is so clear. Dive in and see!
They'll take you snorkelling with turtles and tropical fish, and even show you a very mysterious shipwreck. If you're lucky, you might even stop off on the island of Nevis.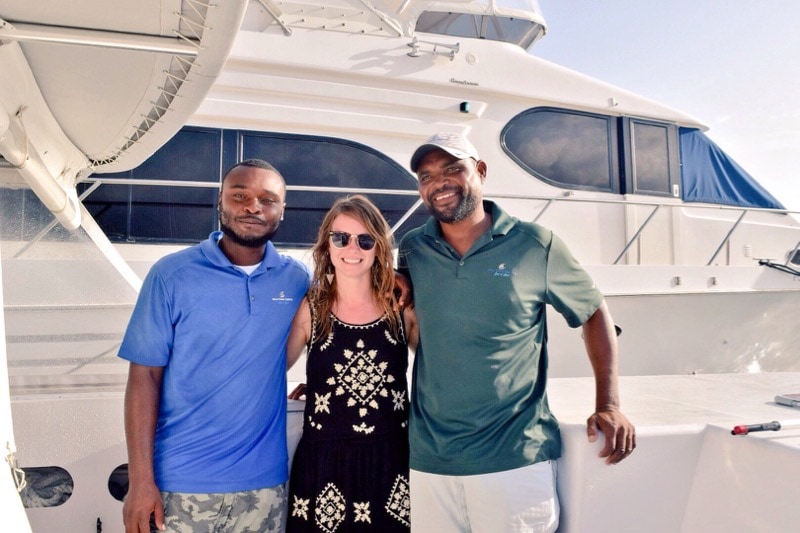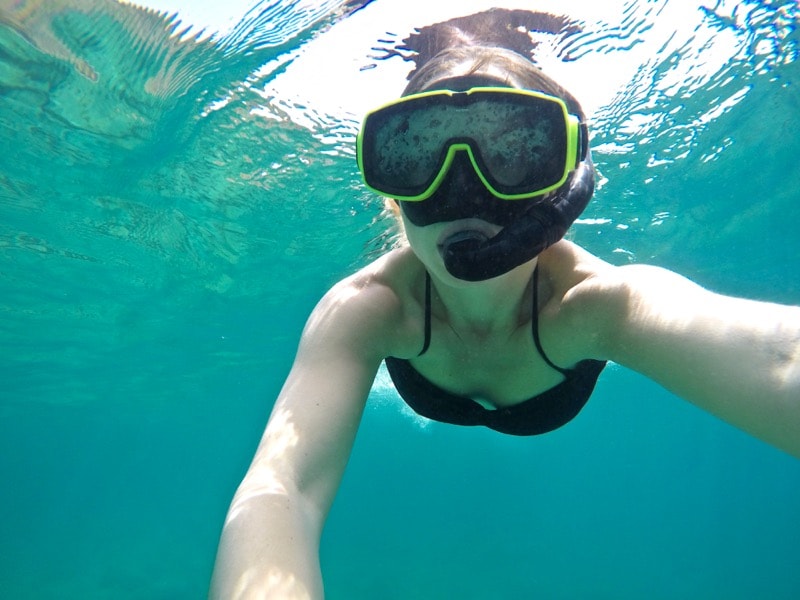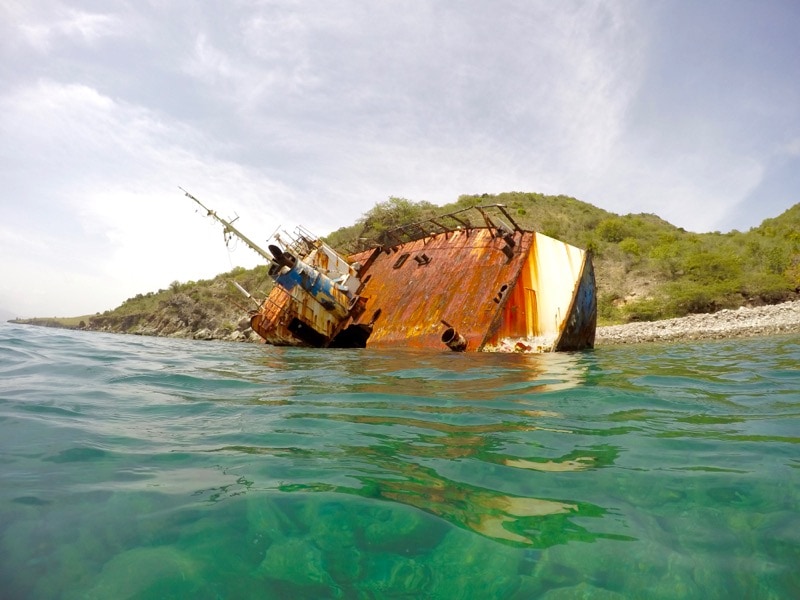 7. Visit Old Road Colonial Settlement
If you're keen to turn back the clock and see what the historic Caribbean looked like, then visiting the settlement of Old Road on the west side of the island is a must. Known as the oldest British colonial settlement in the Caribbean, Old Road dates back to 1624, when the town was founded by Englishman James Warner. He was attracted to St Kitts by the abundance of tobacco plants. There's a nostalgic, maritime feel to the town – a big contrast to the capital Basseterre where you'll find St. Kitts cruise port.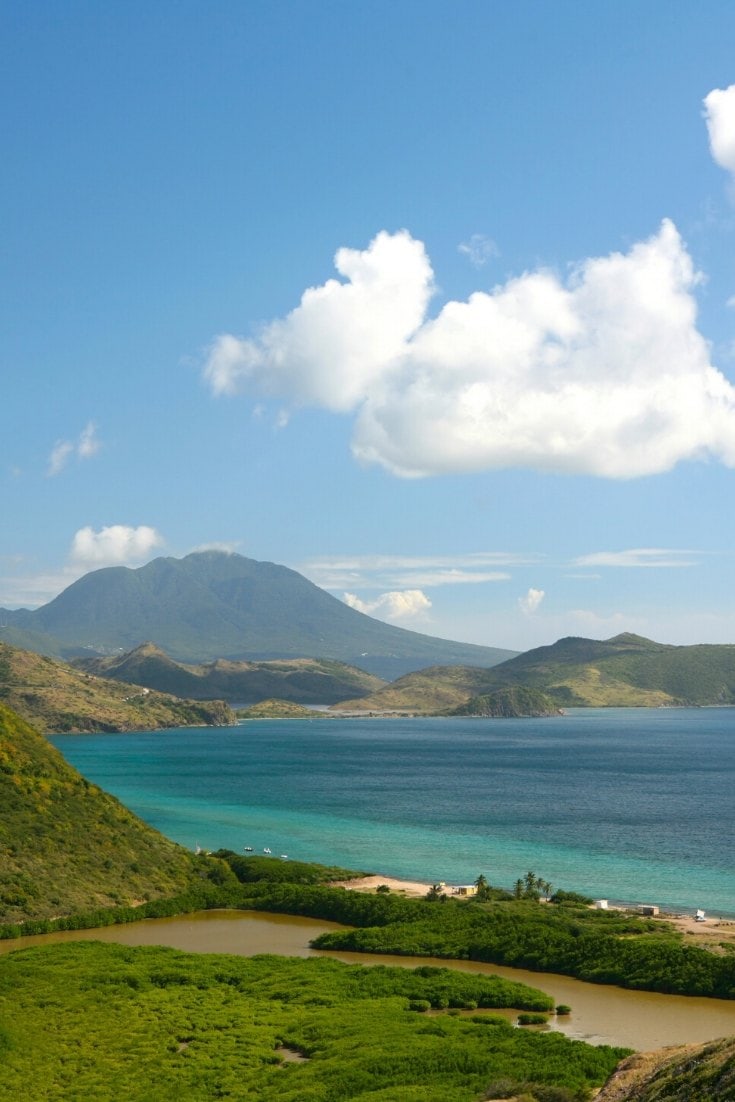 8. Adventure Along The St Kitts Zip Line
Along with walking, snorkelling and swimming… in St Kitts you can zip-line! Head to Sky Safari Tours and scream at the top of your lungs as you fly over the thick forest. There are 6 zip-lines in total, with the final one a race against your partner.
If you're travelling with kids, this is one of the St Kitts cruise excursions to pick. No doubt you'll be a lot more scared than they are! They'll absolutely love zooming through the air.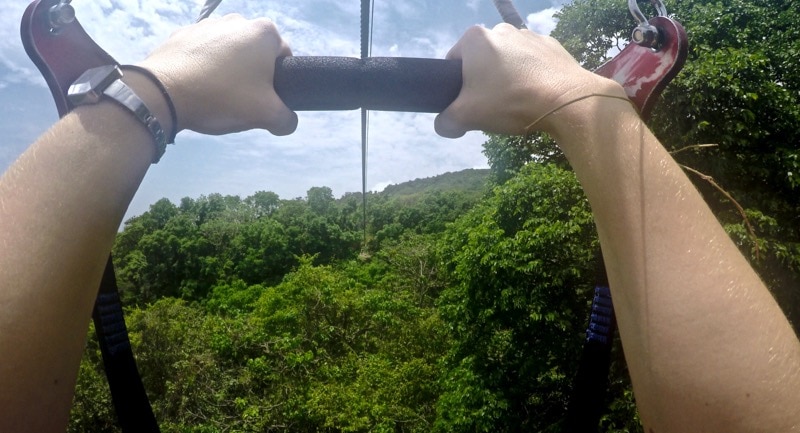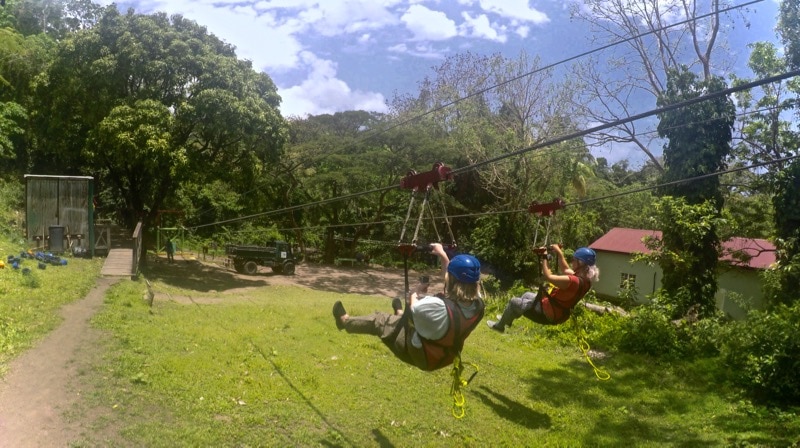 9. Visit Frigate Bay In St Kitts
Many who visit the Caribbean by cruise ship get bundled off on tours, but sometimes it's nice to do your own thing. If you don't fancy one of the St Kitts cruise excursions, hop in a taxi from the cruise port to Frigate Bay.
This fun bay is dotted with rum and reggae bars galore. Check out the best beach bars and party hotspots, including the well-known Mr X's Shiggidy Shack. This was another of my favourite things to do in St Kitts. There's a really local, authentic vibe, and it wasn't overrun with people. It's a nice place to mix with the locals and soak up some of the Caribbean spirit too, literally in some cases!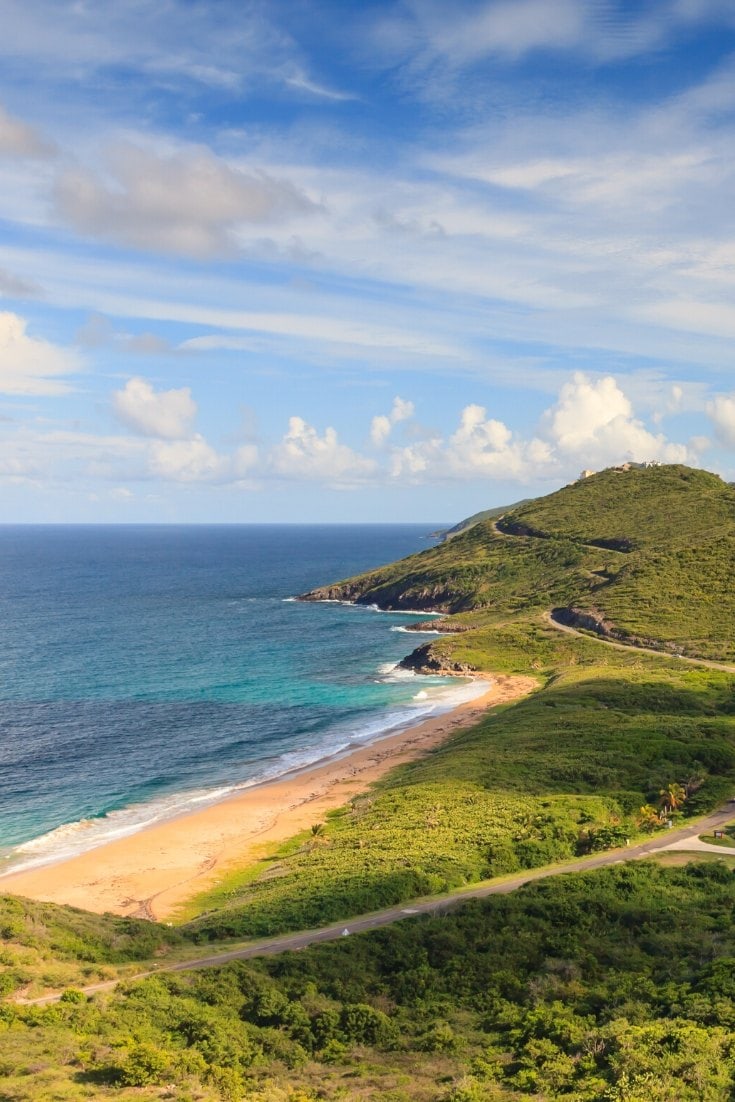 On South Frigate Bay, you can take a dip in the warm, shallow waters of the Caribbean, or head over to the northern edge, where you'll find bigger waves, hotels such as the St. Kitts Marriott Resort, and the greens of the Royal St Kitts Golf Club. Though not far from each other, the two sides of the bay feel like polar opposites – and I'd recommend exploring both of them if you have time when you're planning what to do in St Kitts on a cruise.
If you're looking for somewhere delicious to eat during your visit to St Kitts, check out the best restaurants in St Kitts here.
I hope you've enjoyed finding out the best things to do in St Kitts as well as some of the top St Kitts cruise excursions. Let me know if you have any questions below!
I'm an Official Ambassador for St Kitts. Thanks to St Kitts Tourism Authority for organising the trip and British Airways for taking care of the flights. As always, opinions are my own!
Enjoyed this post about the best things to do in St Kitts on a cruise? Why not pin it…