From Caribbean beachside cafes to fine-dining restaurants, find out the best restaurants in St Kitts right now.
St Kitts is a great island for foodies. While you might expect fresh seafood and a good helping of jerk seasoning, there's more to this Caribbean island's cuisine.
Pop to Basseterre and enjoy coffee and cake in the city's gallery, or take a drive up to Belle Mont Farm and enjoy a gourmet lunch with an epic view of towering volcano Mount Liamuiga. For something totally different, enjoy vegan and homegrown delights at the island's legendary food truck Ital Creations.
So whether you fancy jerk chicken BBQ'ed on the street, or lobster at a fine-dining restaurant, there's somewhere to suit every palate and budget. Continue reading to find out the best places to eat in St Kitts…
Get a flavour of St Kitts in my video and scroll down to find out some of the top restaurants in St Kitts.
Best Restaurants In St Kitts, Caribbean
Open seasonally, Arthur's sits on the shore of Dieppe Bay. Part of the Belle Mont Farm family, the white beach shack is decorated in a sophisticated way, and offers front row seats for watching the fisherman bring in their catch of the day! It's described as a 'sea to fork restaurant' so expect mahi mahi, grouper, snapper, ceviche, conch and lobster on the menu. Try to save room for the delicious pumpkin fritters served with spiced pumpkin ice cream and a rich caramel sauce!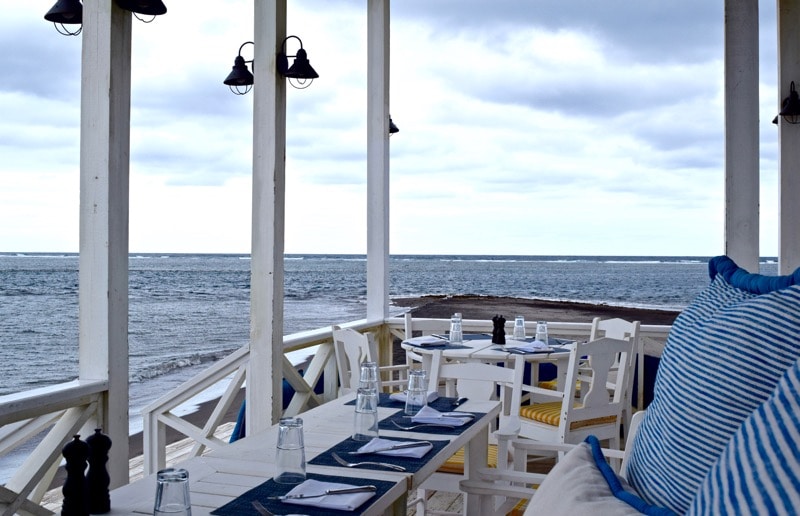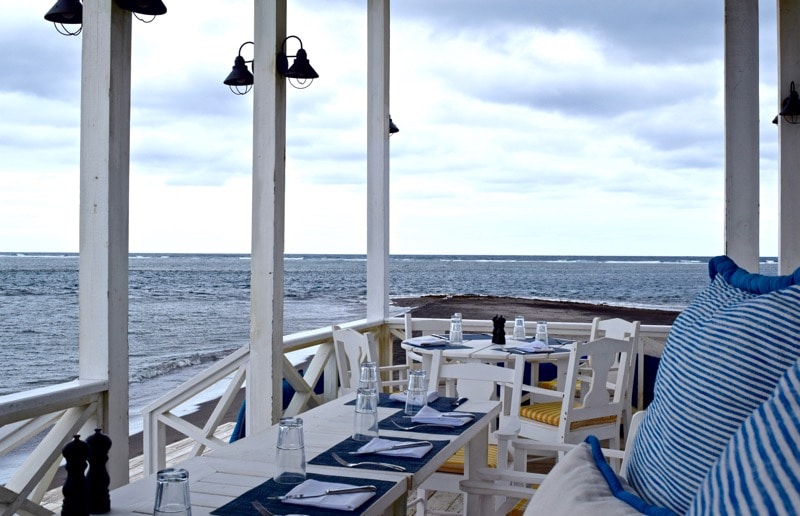 The Gallery Café
Rosey Cameron and her family set up a unique art-gallery-come-café on the main square in Basseterre. After visiting in 1977, Rosey fell in love with the island and never left. She gives a flavour of life on St Kitts through her colourful artworks, while her daughter Leah bakes delicious fresh bagels, cakes, frittatas and cookies. It's a winning combination and a wonderful place to relax for a few hours.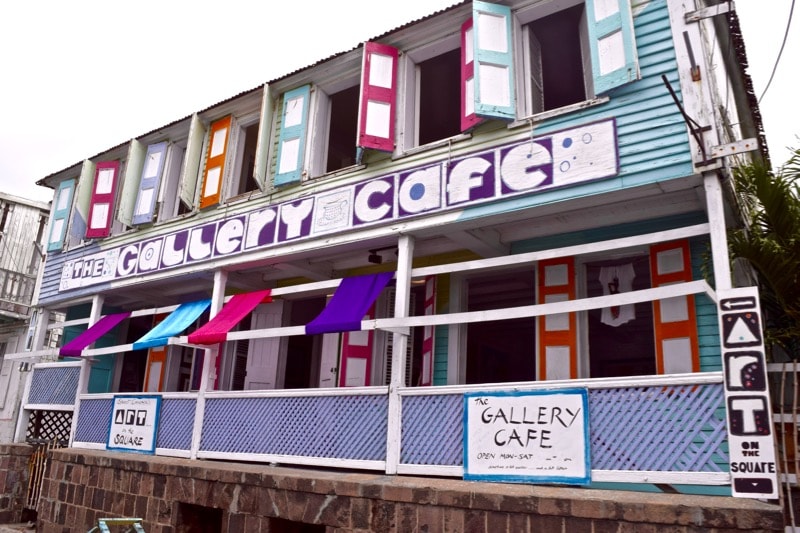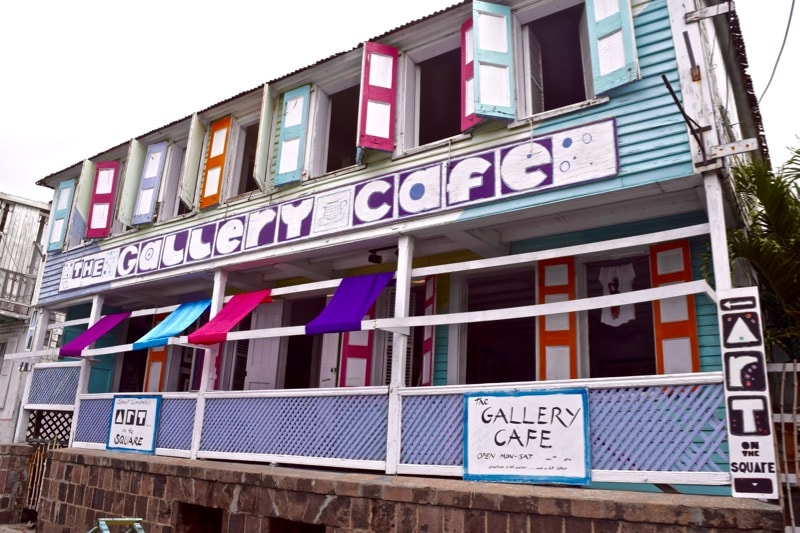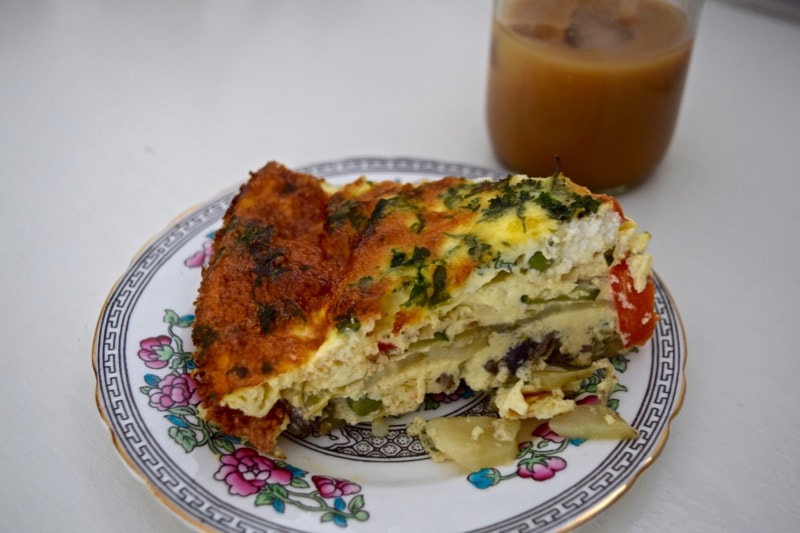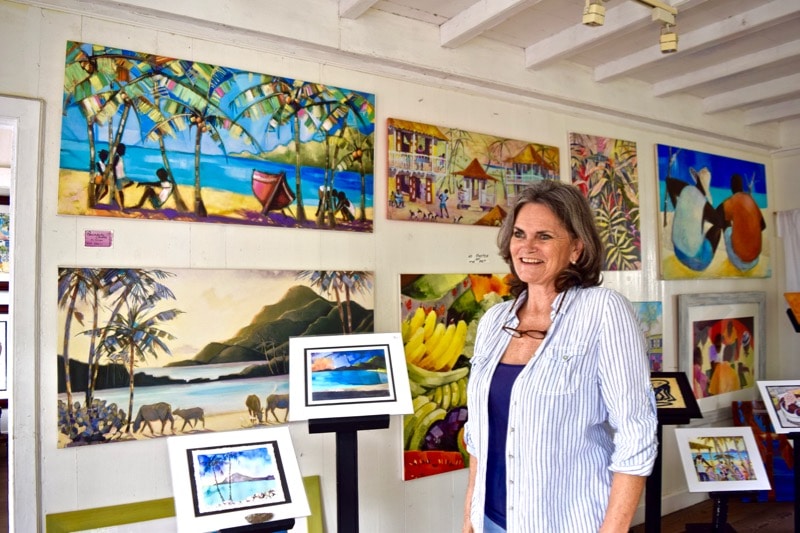 Overlooking Basseterre's buzzing centre (nicknamed Piccadilly Circus) Ballahoo serves a huge menu featuring everything from BBQ chicken wraps and sushi to West Indian curries. I'd recommend the delicious coconut curry prawns with rice and beans, washed down with a frozen mango and passion fruit Ballahoootini!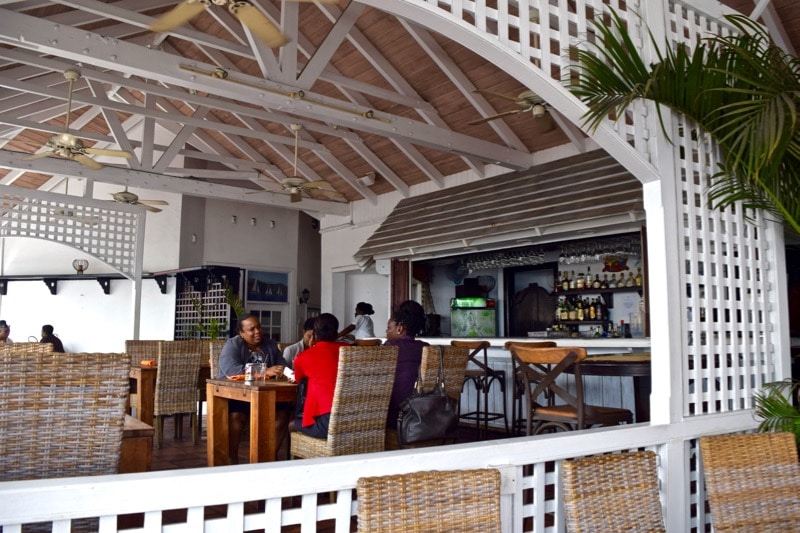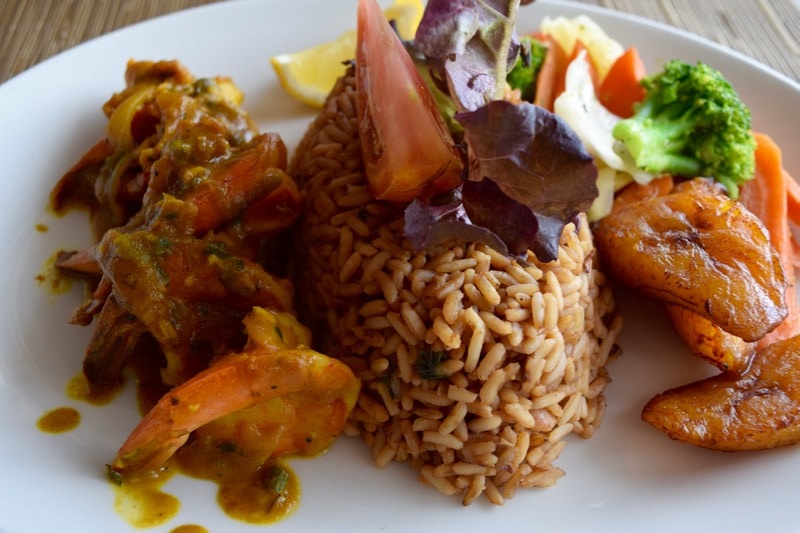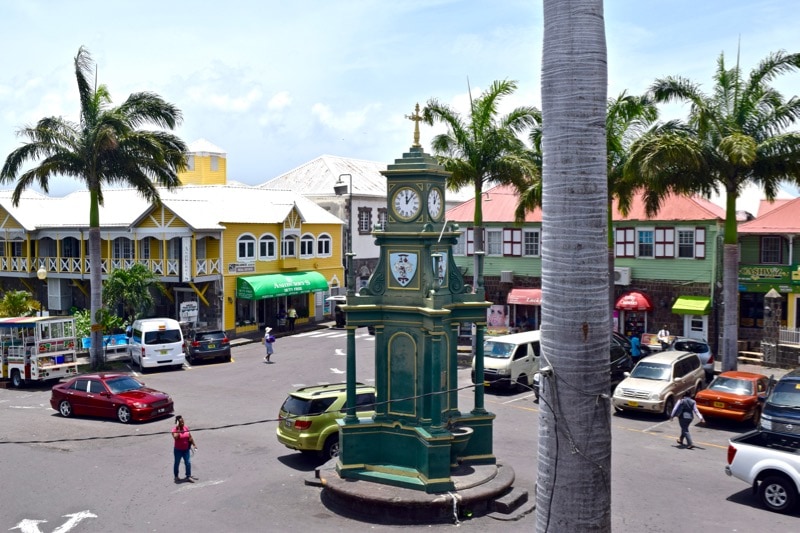 Long wooden benches, sport on TV and a reasonably-priced menu make Sprat Net great spot to spend the evening. Most locals claim it's the best place for a pizza on the island (it was pretty good!) but they also serve delicious BBQ prawns, chicken, ribs, and lobster.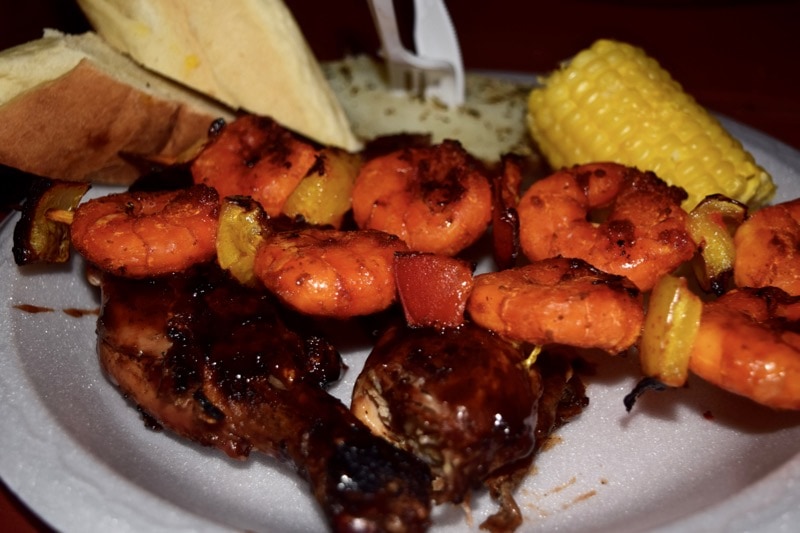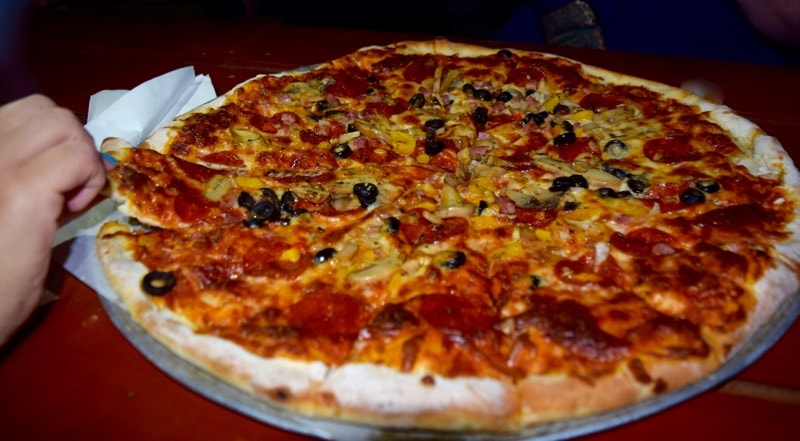 If you're looking for quality, Caribbean cuisine with Jamaican flair, awesome sea views and a warm welcome, look no further! Jam Rock is a local restaurant on the ever-popular Frigate Bay Strip serving a mix of traditional meat and seafood dishes, and Jamaican jerk favourites.
All the food is freshly cooked, and has side of island vibes! Jam Rock is a bit of a hidden gem when it comes to restaurants in St Kitts, but it's definitely worth a visit.
Royal Palm Restaurant
Nestled in the walls of the plantation's sugar factory at Ottley's Plantation Inn, Royal Palm serves tasty, well-presented food in a spectacular setting. I stopped by for a huge Sunday brunch where I feasted on tropical fruits, mini cakes and pastries, then enjoyed one of the best eggs benedicts of my life!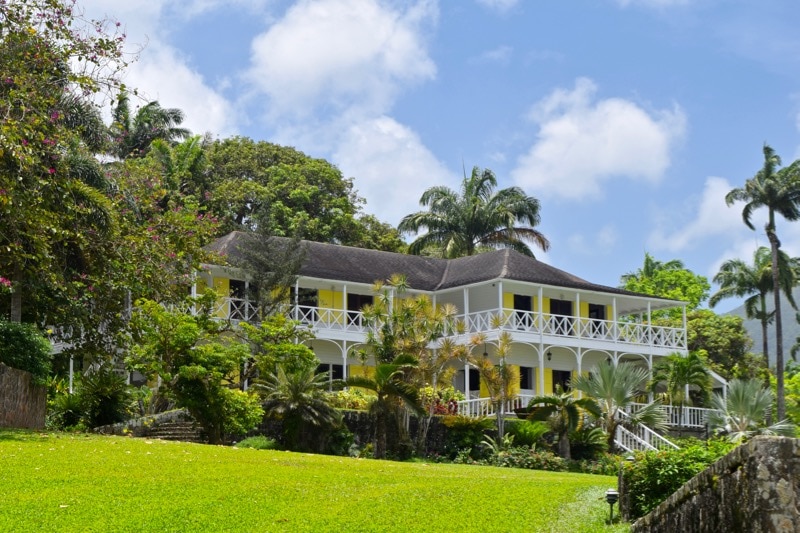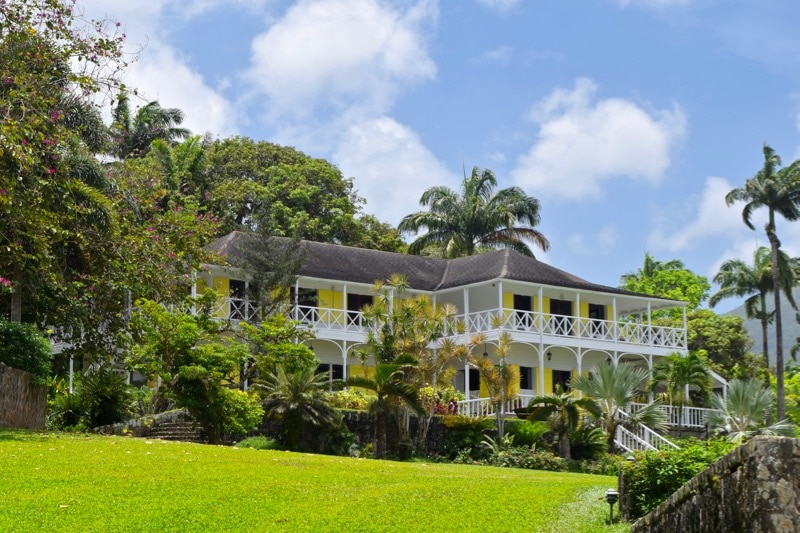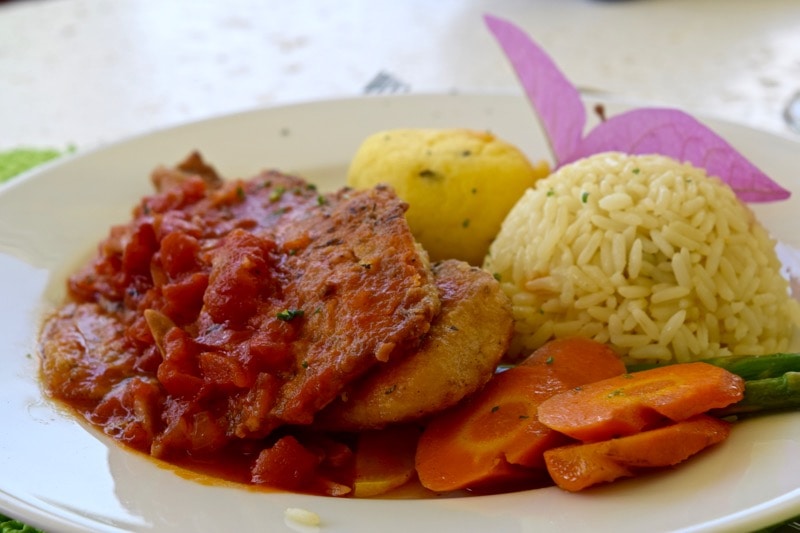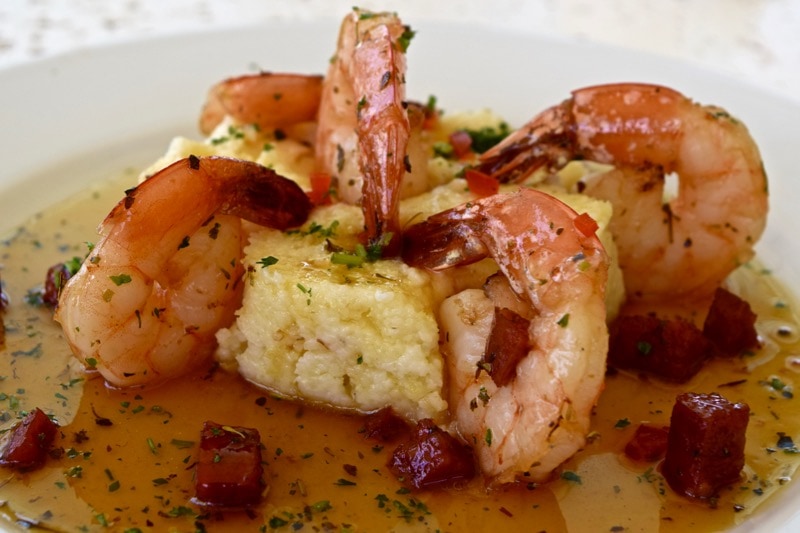 Cool waterside bar Salt Plage is a fashionable, upmarket spot in Christophe Harbour – ideal for a few drinks and snacks as the sun sets. It's one of the few bars on the island where you can arrive to by boat, so if you're living the Made In Chelsea life, it's perfect! The best thing about this Caribbean restaurant is that you can have your dinner on a deck that stretches out over the water. After the sun goes down, the whole deck is lit up with colourful lights. Be sure to keep an eye out for the restaurant's Full Moon parties – with a live band, fire dancers, face and body painting and food and drink specials all night long for just $10, it's not to be missed.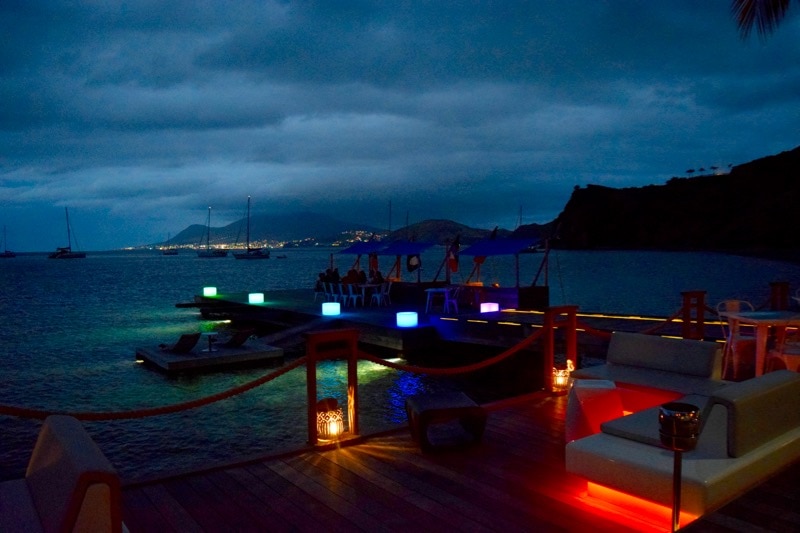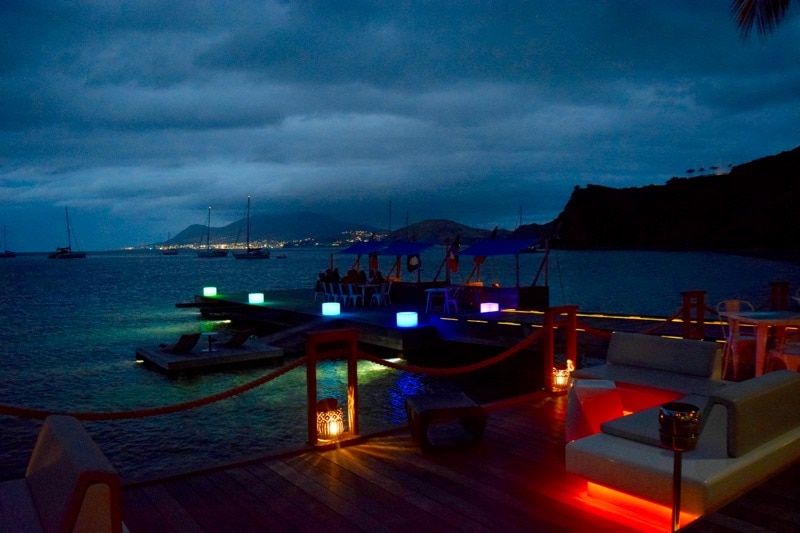 One of the island's top beachside bars and restaurants, Spice Mill serves high-end Caribbean cuisine. It's the perfect place to try local fish 'wahoo' washed down with a zingy passionfruit caipiroska.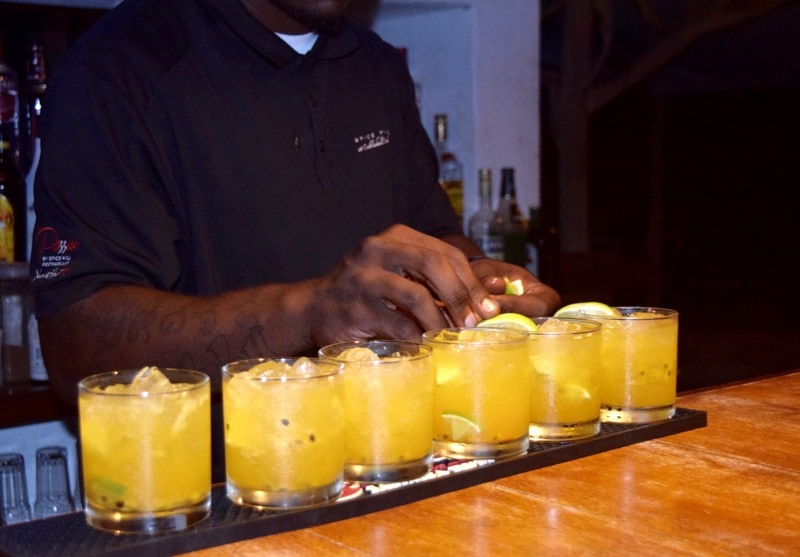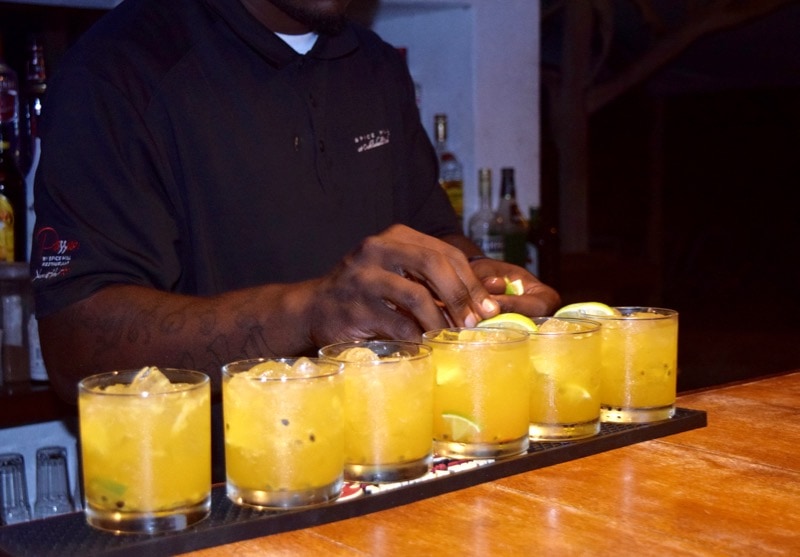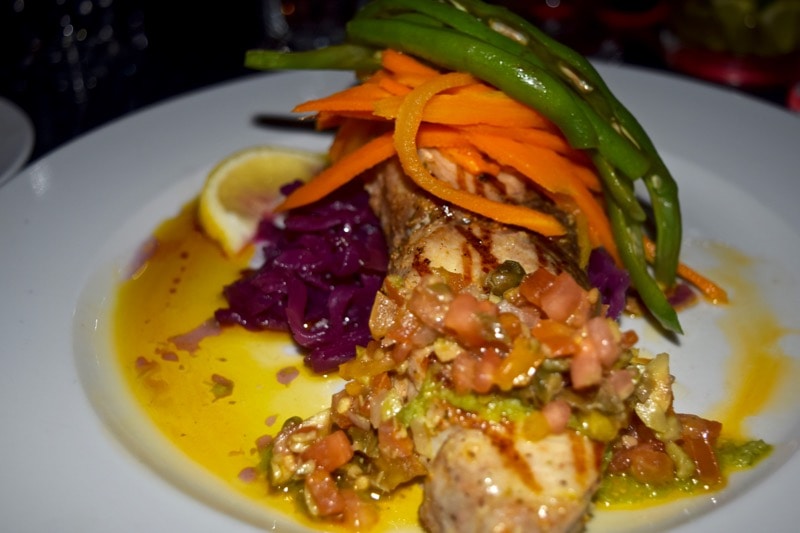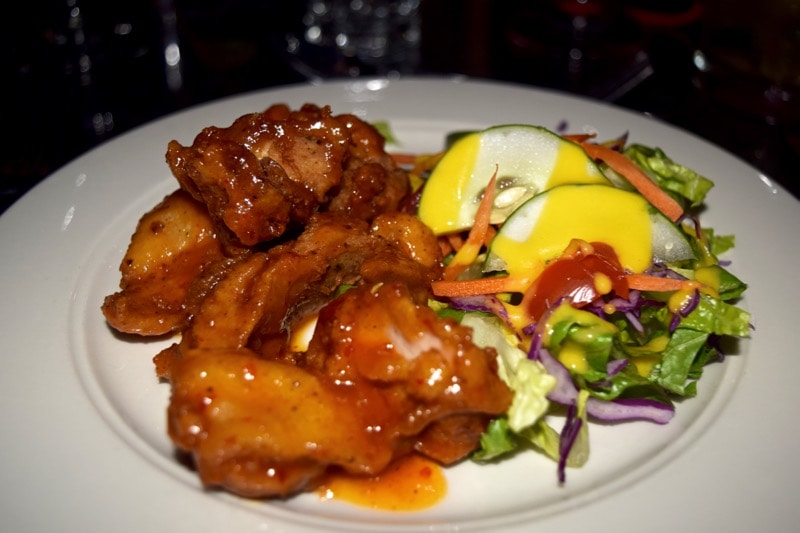 Located in the Horizons Villa Resort in Basseterre, Marshalls is one of the best restaurants in St Kitts. Serving elegantly presented mouth-watering dishes (vegan, veggie and gluten-free options included), the cooking and hospitality here is excellent.
What I love about this restaurant is their attention to detail – from the wide windows offering sweeping ocean views, to the beautifully presented dishes, it's a great place to visit for authentic Caribbean cuisine. Watching the sunset from here is a must – oh and don't forget to try the Hibiscus mojito, it's out of this world!
After days of BBQ chicken and seafood, it was great to meet Fari who runs Ital Creations – a roadside food truck with organic farm right on Fred Williams Highway. I tucked into an enormous plate of salad, rice, vegetables, lentils and salad with a guava dressing. It was healthy, delicious and a surprising find on the island! If you stop by, be sure to have a moringa smoothie. Not only is it tasty, it's also known for its superfood qualities.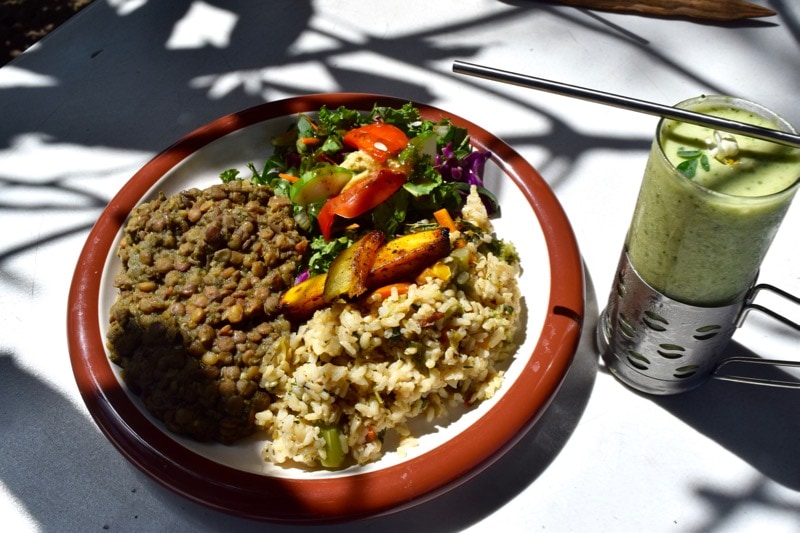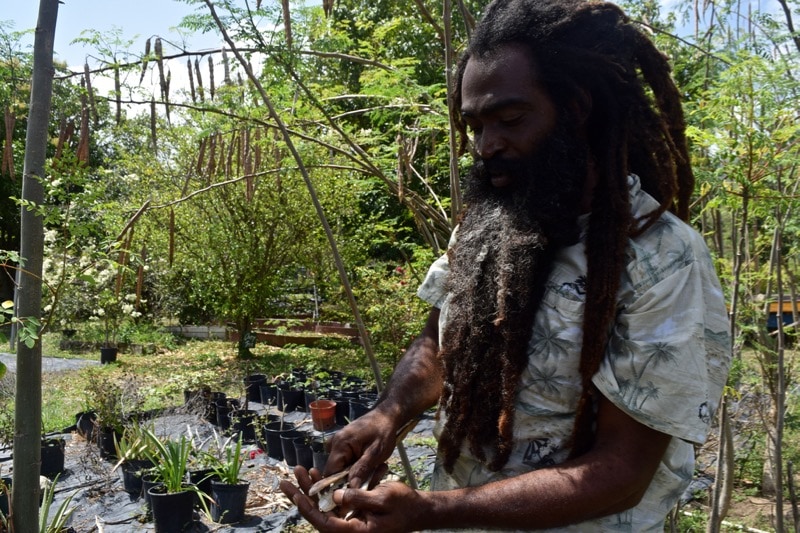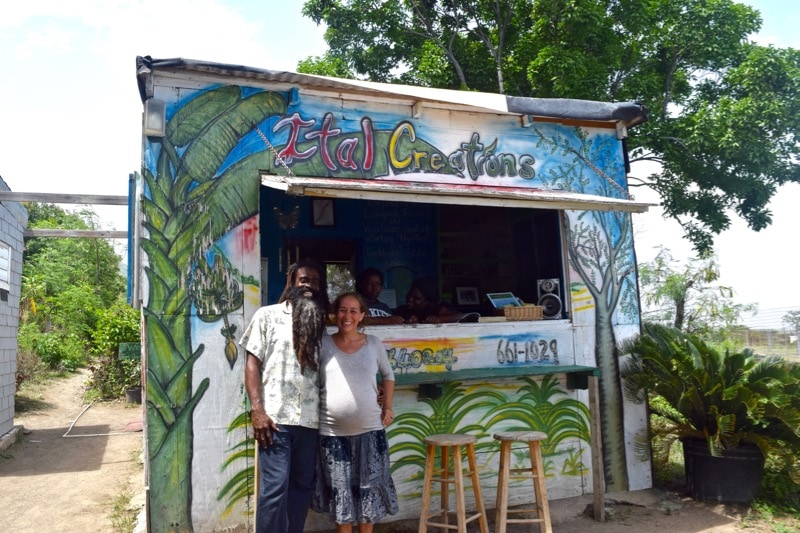 Part of Belle Mont Farm (the most exclusive and luxurious place to stay in St Kitts), The Kitchen sits high up in the hills, with Mount Liamuiga towering over it. With a French chef at the helm, and a farm to table mantra, the menu is pretty special. On offer, locally-sourced dishes such as lemongrass-poached lobster, cinnamon-braised goat loin and passion fruit and coconut baked Alaska.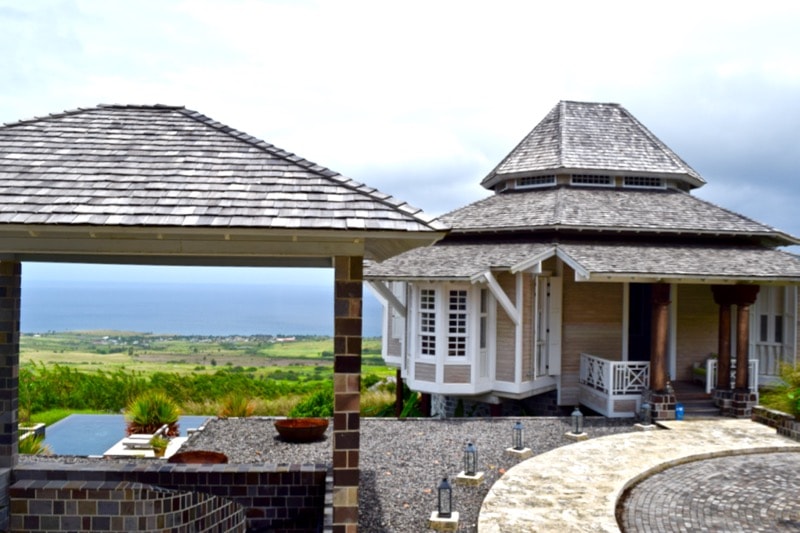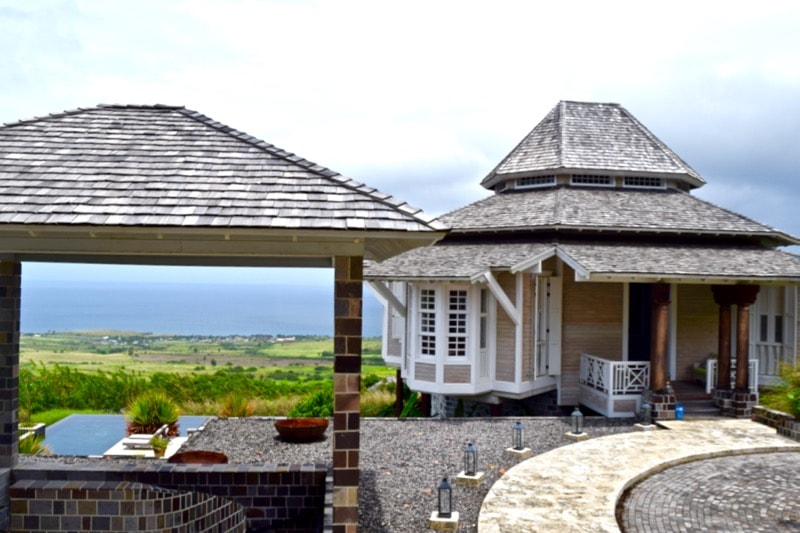 With a motto 'live de life', Reggae Beach is a lively spot to dine at while spending a day enjoying the beach. After an energetic kayaking session, I loved tucking into a plate of fried chicken and chips. The frozen daiquiris were so delicious, in fact I managed to sink quite a few during our visit!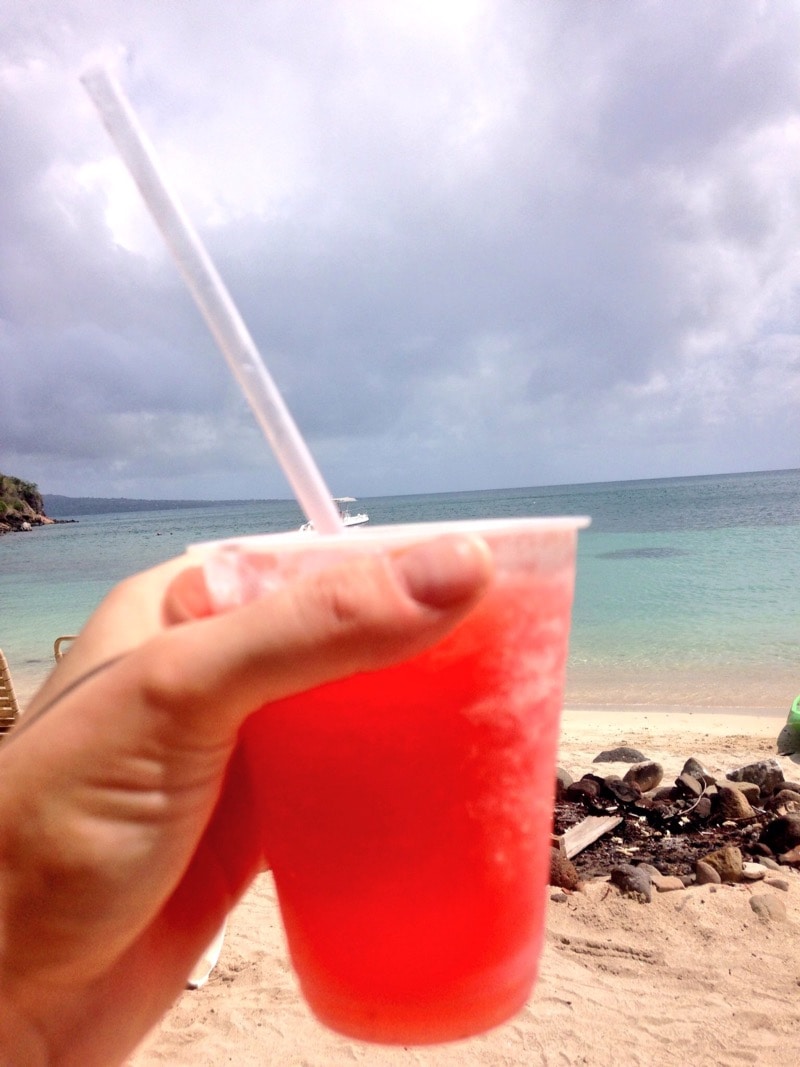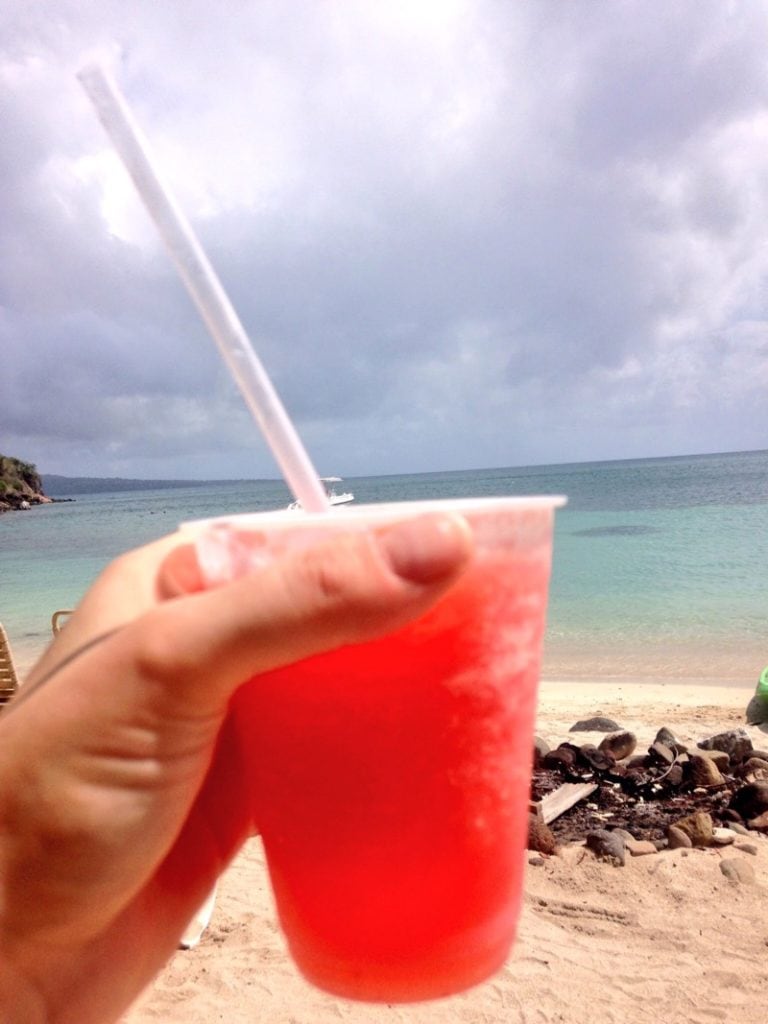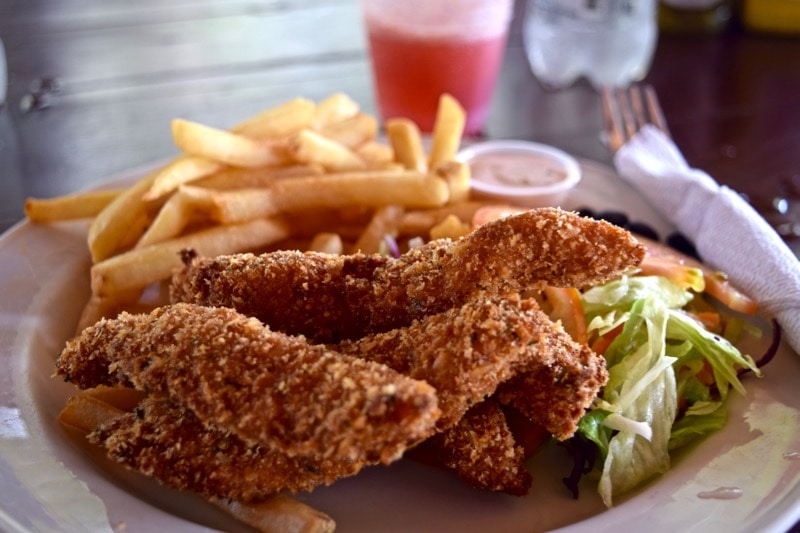 An authentic Caribbean open-air beach bar, Shipwreck Beach Bar and Grill is located on South Friars Bay. If you're having a beach day, you can feast on local cuisine and fresh seafood while enjoying the ocean views. With a chilled out atmosphere and live music, and a reasonably priced menu, it's a great option if you're looking for a restaurant in St Kitts. I love that you can relax on the sun loungers on the beach or go for a quick dip in the water while you wait for your food to arrive too! Sounds like heaven. Keep an eye on your food though, the local monkeys often eye up the plates as they arrive!
Right at the end of 'The Strip' (the row of bars in Frigate Bay) Boozies serves tasty West Indian food right on the beach. Top choices are the grilled mahi mahi and the chicken curry, plus the cocktails are bright, colourful, and exactly what you need after a morning overexerting yourself sunbathing!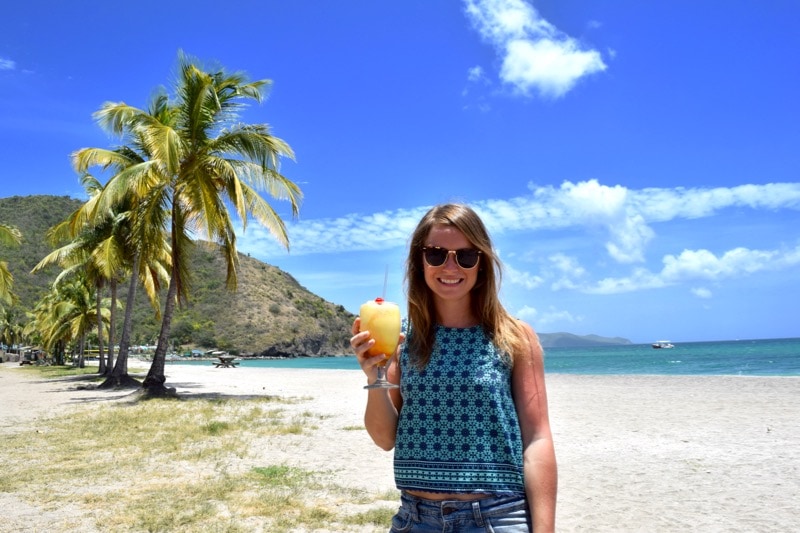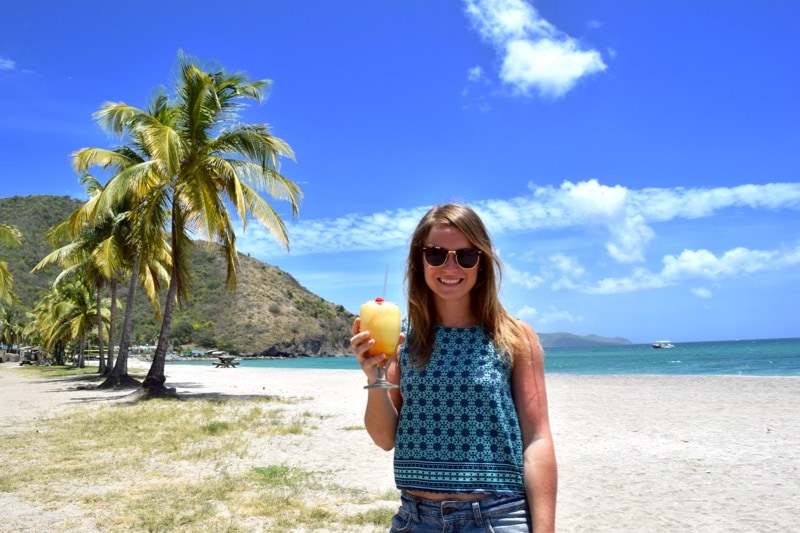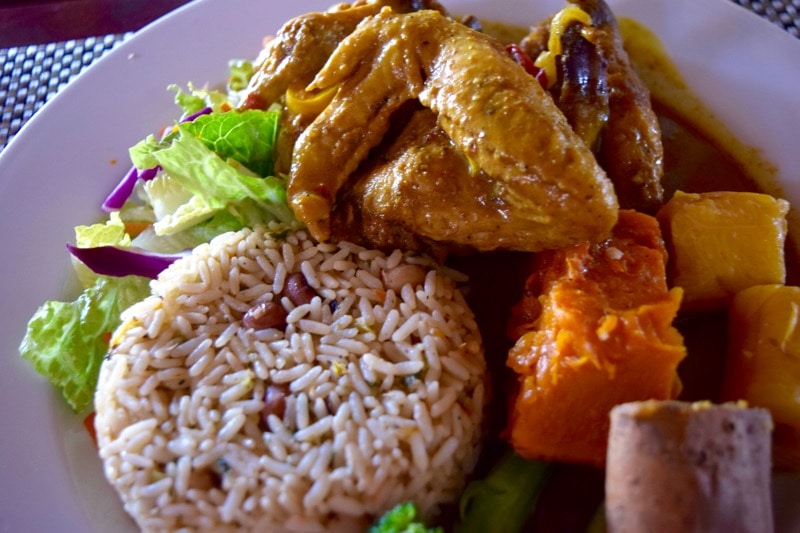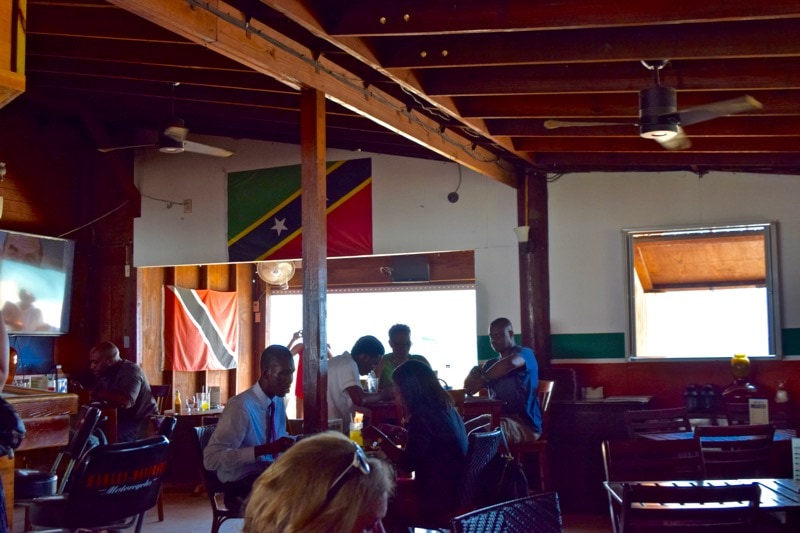 One of the most glamorous and picturesque spots for a restaurant, Palm Court Gardens has two beautiful pools and overlooks the bay of Basseterre. The reasonable menu features delicious shrimp tacos, chicken curry and a great menu of smoothies!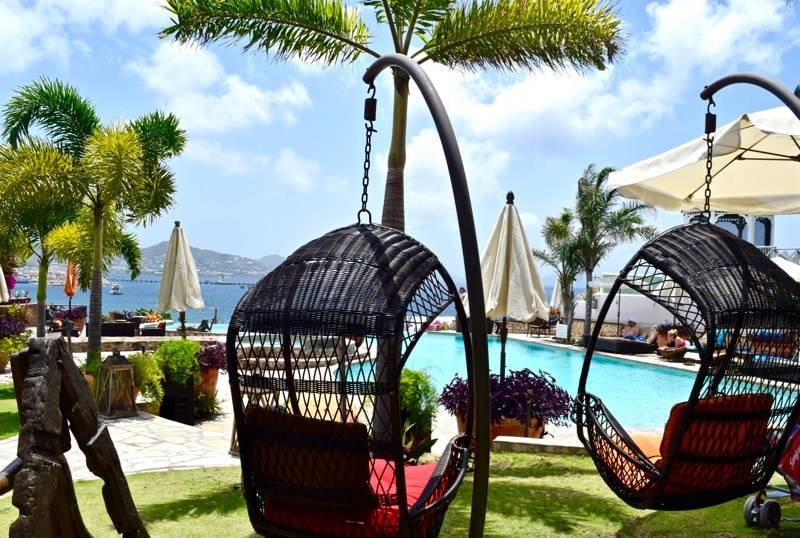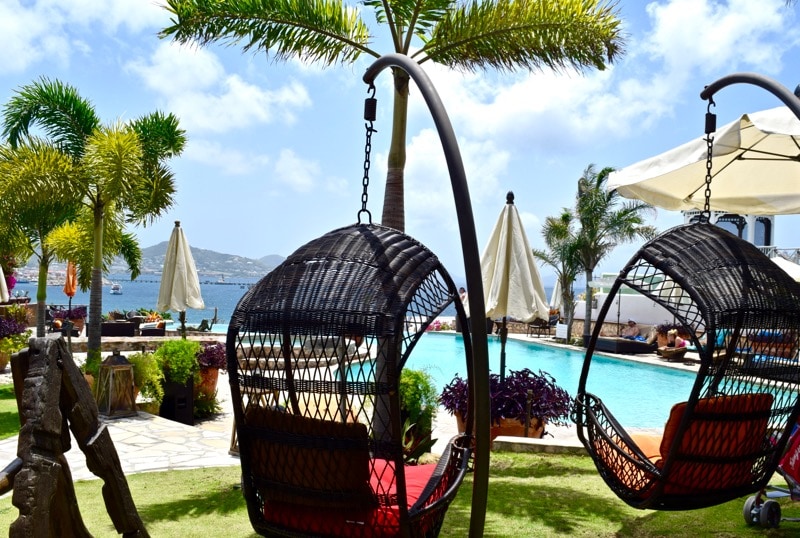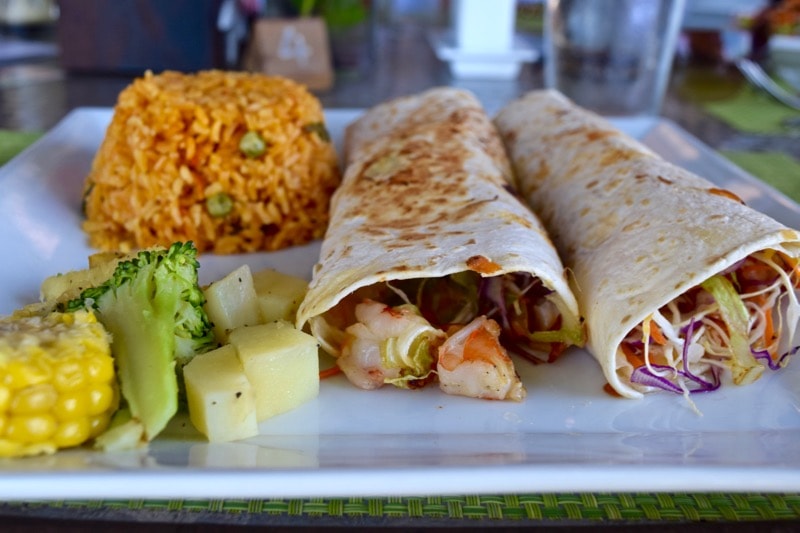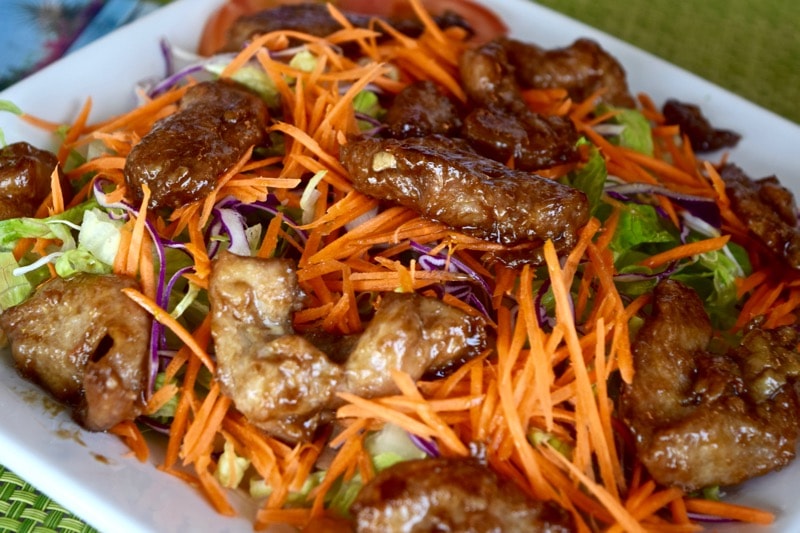 As mentioned in my hotel round up, with 8 restaurants, several bars, numerous pools and a long sandy stretch of beach onto the Atlantic, there's a reason St. Kitts Marriott Resort is the most popular place to stay on the island. I ate at Blu Seafood Restaurant where we enjoyed tasty grilled lobster, a selection of desserts and a bottle of wine.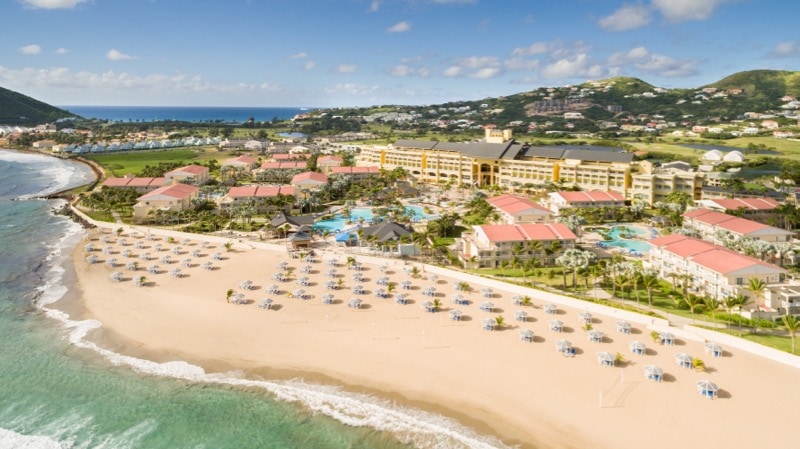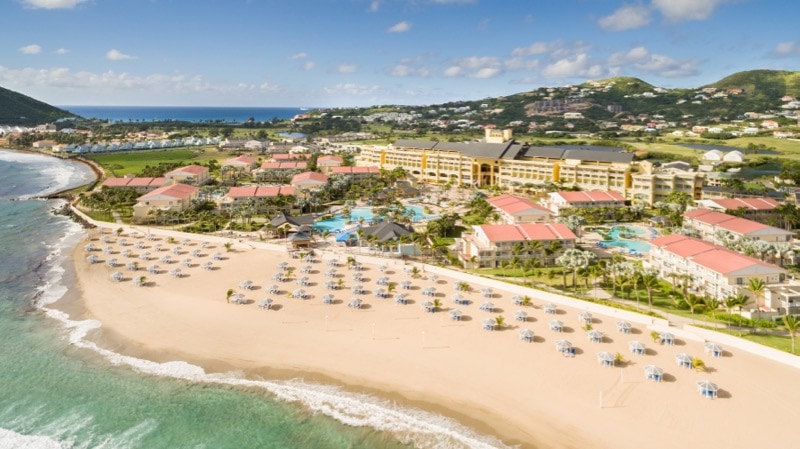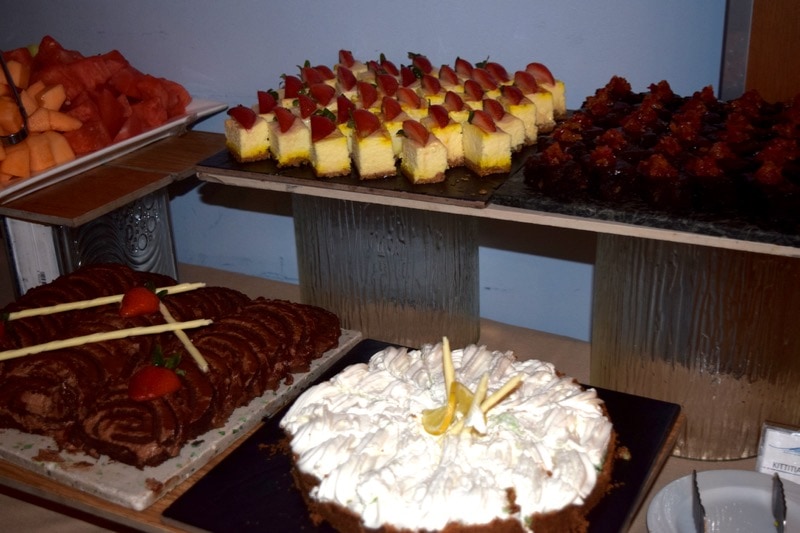 Interested in visiting St Kitts? Check out all my posts about the island:
A Brief Intro To St Kitts, Caribbean
St Kitts: Top Reasons To Visit
Top 5 Hotels In St Kitts – From Budget To Luxury
Top 5 Things To Do In St Kitts For Cruise Ship Passengers
Video: Adventures In St Kitts
I'm an Official Ambassador for St Kitts. Thanks to St Kitts Tourism Authority for organising the trip and British Airways for taking care of the flights. As always, opinions are my own!
Enjoyed this post? Why not pin it?