Find out all about ziplining in Argentina, at Potrerillos Dam close to Mendoza.
As I was handed a large blue hard hat, I knew straight away it wouldn't fit. "I have a weirdly small head," I said. They handed me another, and again it wobbled around. "Hmmmm…" I blushed. "Do you have any for children?"
Helmet on and mild humiliation almost over, I fixed the GoPro to my head, clambered into my harness, and waddled over to the first high line. I was about to go ziplining in one of the most beautiful places on the planet.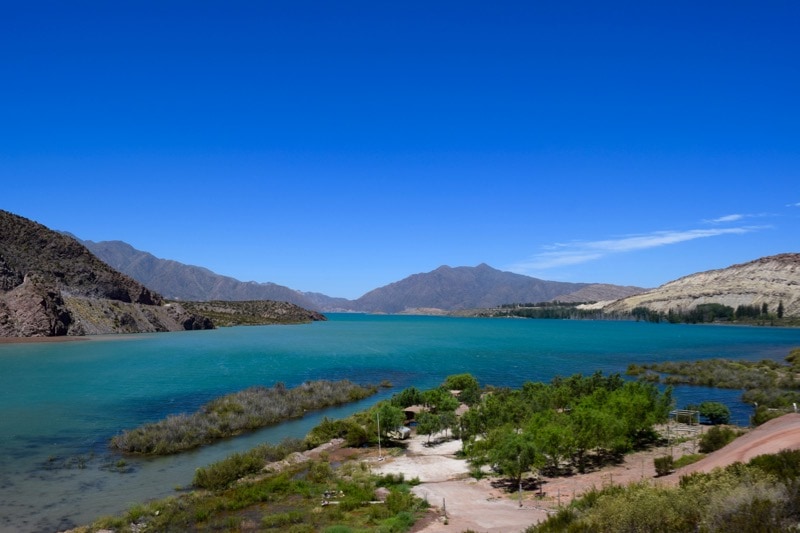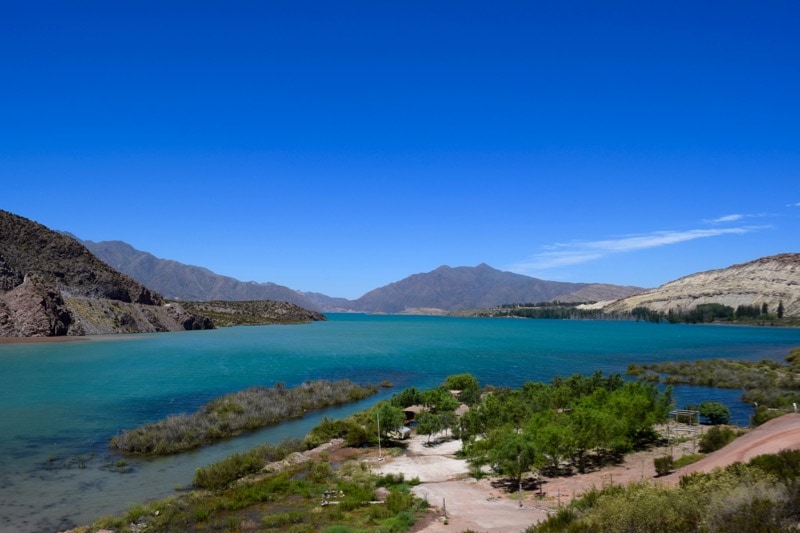 I first tried ziplining in Costa Rica a few years ago. It was quite the introduction, being the longest zipline in the world, high above Monteverde's spectacular cloud forests. I remember how anxious I felt – heart racing, adrenaline pumping. I had no idea if I'd love it or hate it.
Good news, I loved it. This however, was different.
Forget flying through Costa Rica's cloud forests, this time I'd be zooming across a bright turquoise lake, through the Andes Mountains. We booked with Kahuak (one of the top tourism agencies in Mendoza, Argentina) and were driven from central Mendoza around an hour towards the Chilean border to Potrerillos. The beautiful spot right on Lake Potrerillos is the home of Argentina Rafting Expediciones – a company offering everything from mountain biking to white water rafting.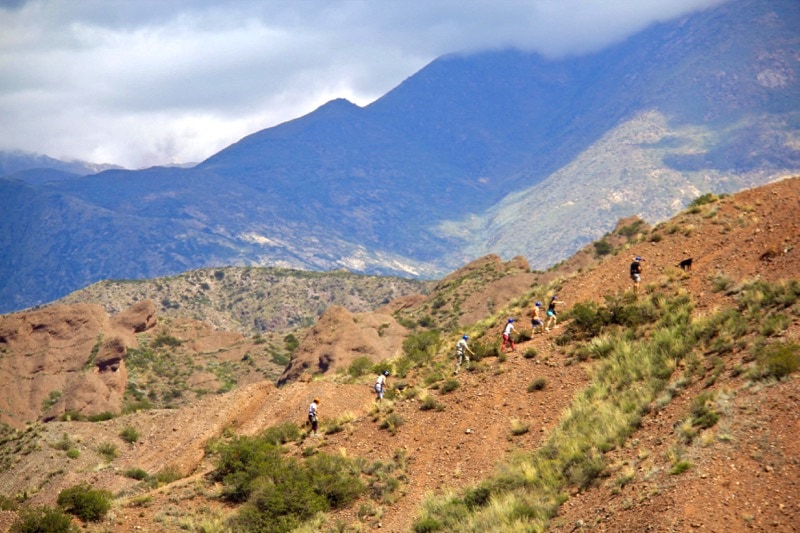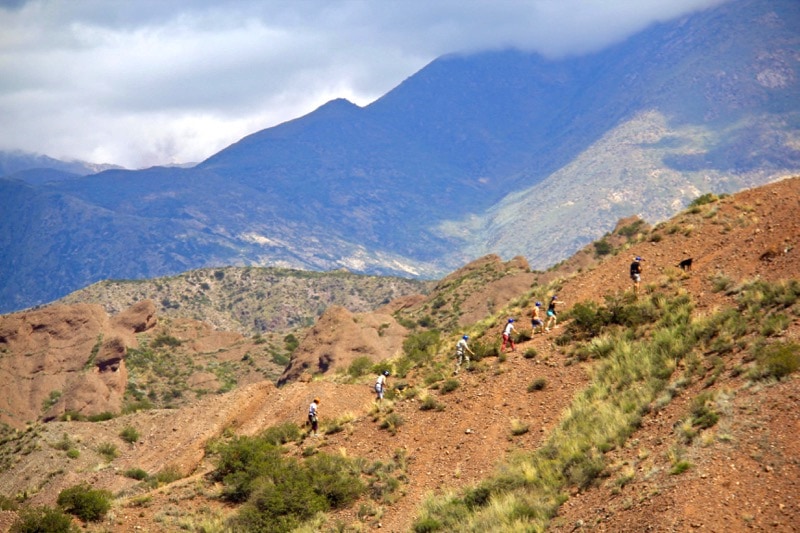 The location is spectacular, with rusty-coloured jutting mountains peppered with green tufts of grass, a bright blue sky and that incredible turquoise lake. The part that unnerved me – the 2 high wires that snaked from one side of the lake to the other.
We started with a few shorter lines to practise the technique, learn how to slow down, and hopefully feel at ease. As I was clipped onto the first one I was nervous, but within moments of setting off from the platform I was screaming with joy, wanting to go faster and faster!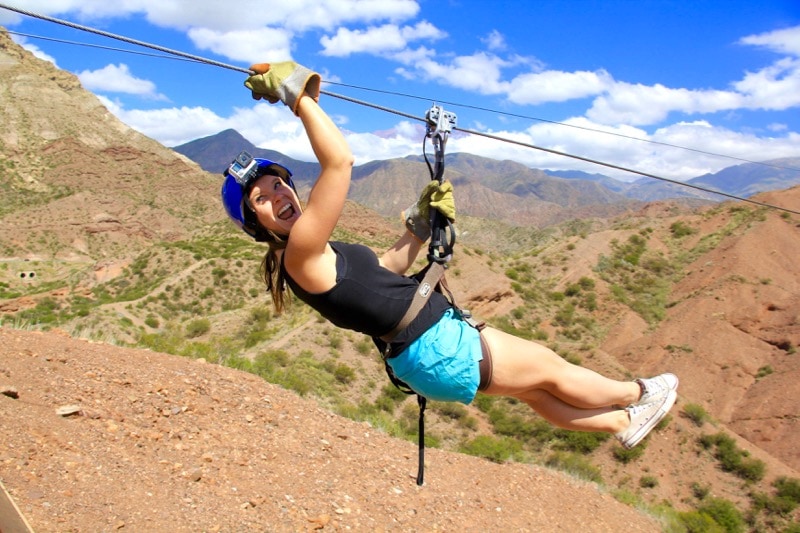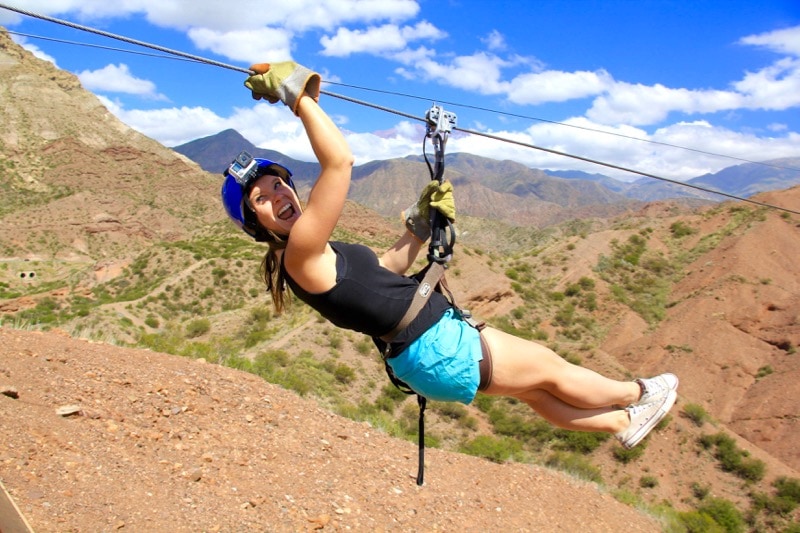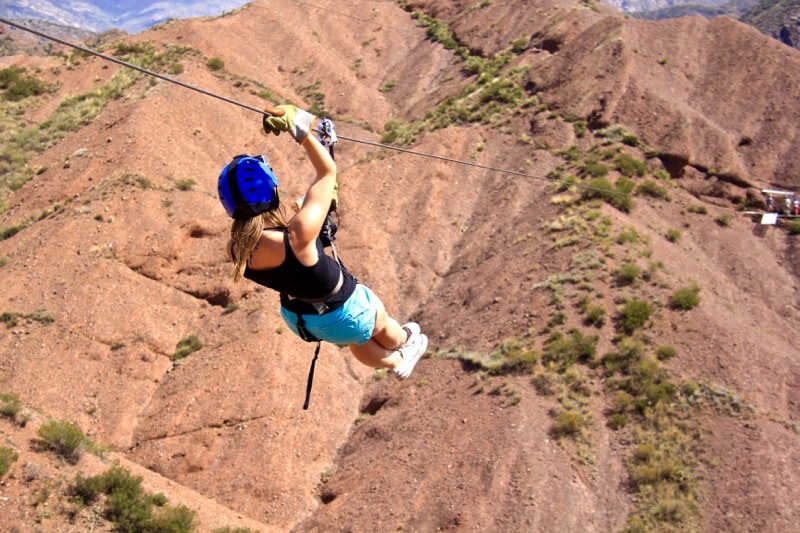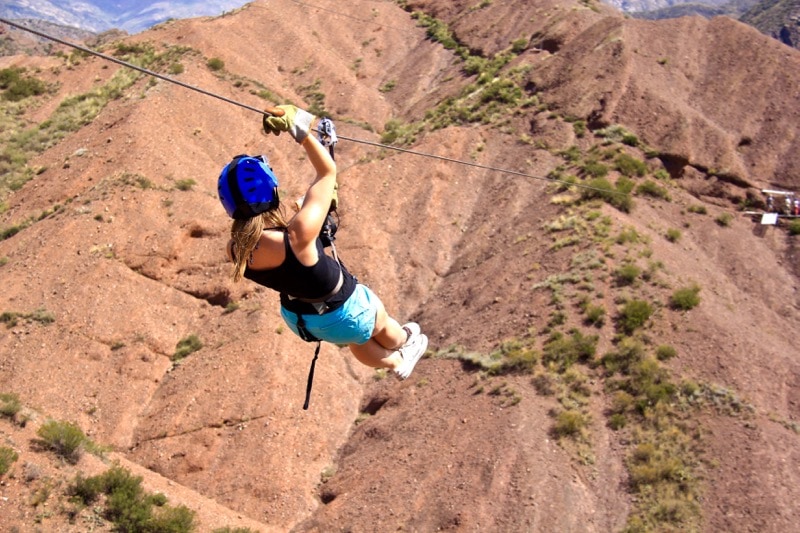 The next 40 minutes at Potrerillos Dam whizzed by. Watching others fly through the air, chatting to the guides and the other guests, and taking in the spectacular views. It was windy at times, but that just added to the adrenaline.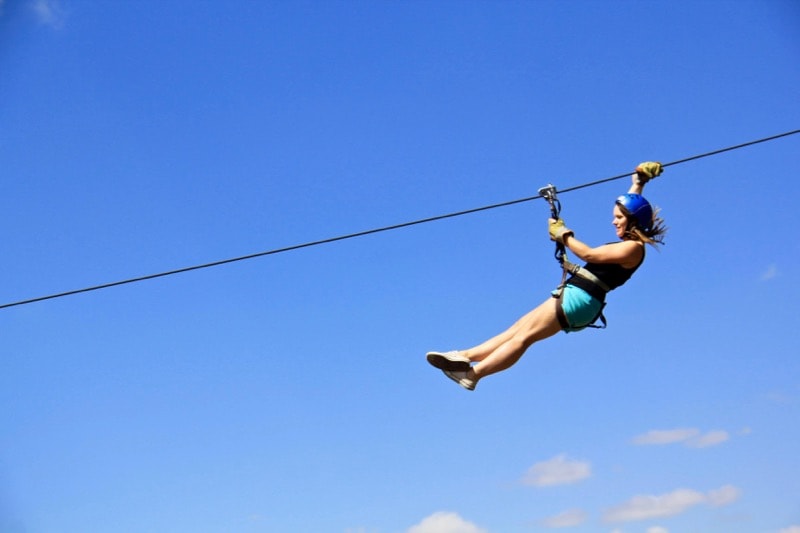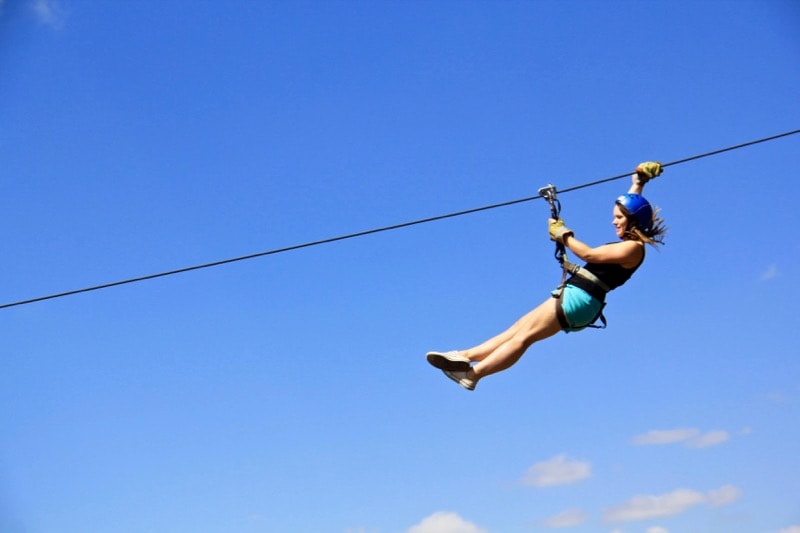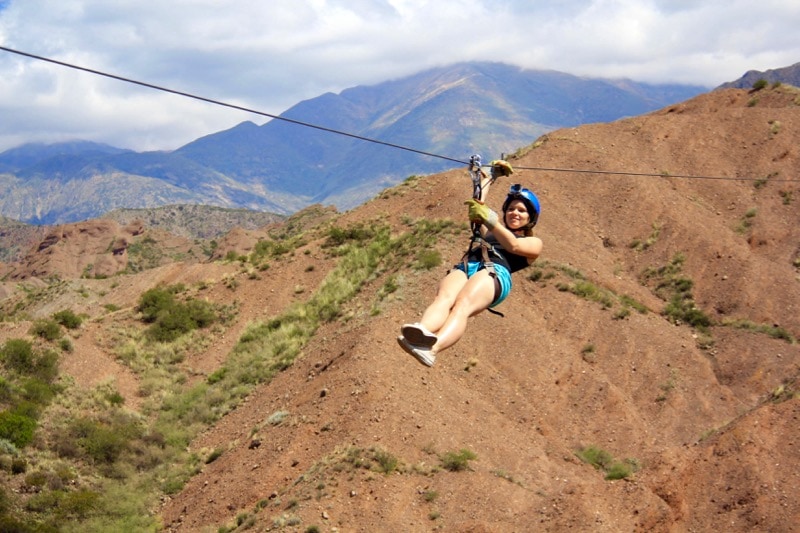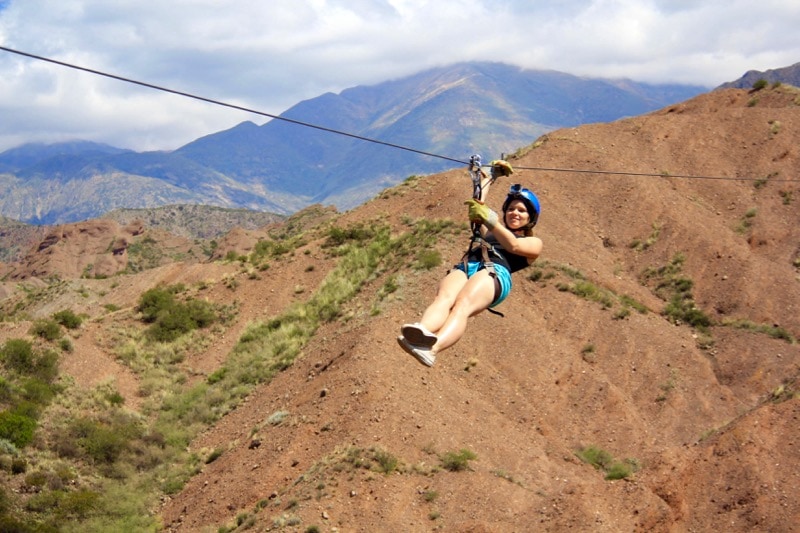 There were a few small climbs and hikes to get to the platforms, worth every bead of sweat! As the sun came out, the colours changed, and while the lake was a murky colour close up, it became a brighter and brighter turquoise from afar.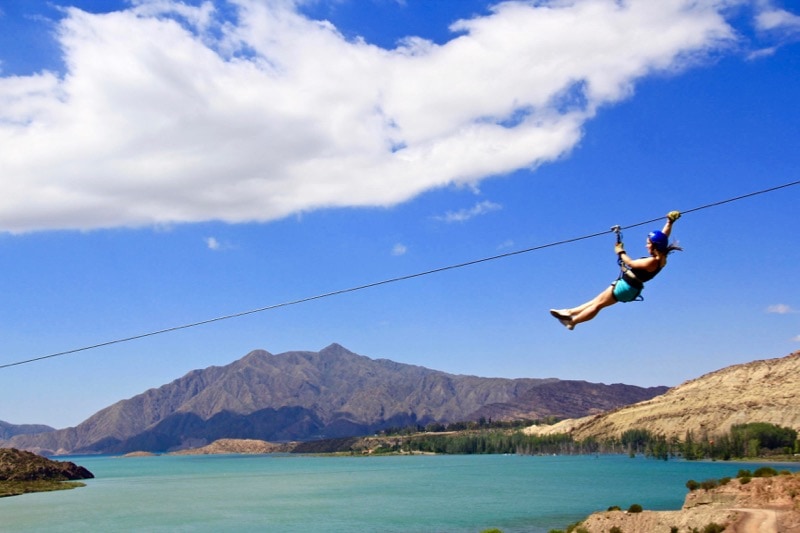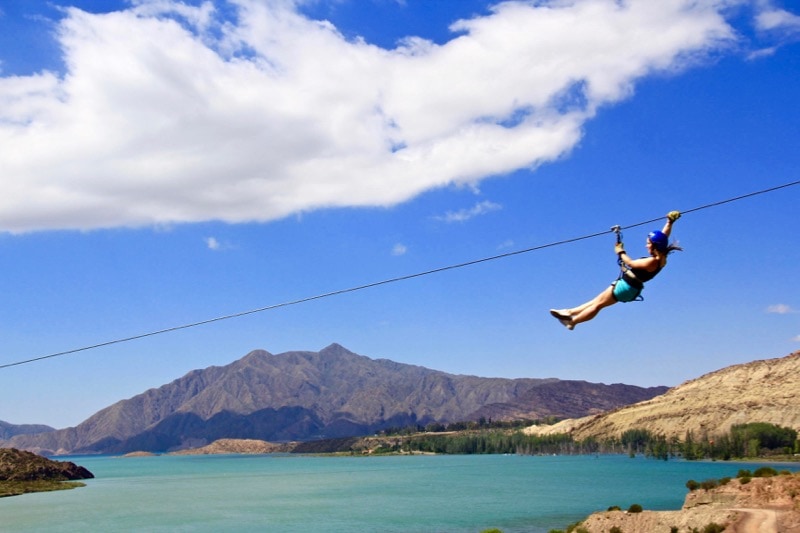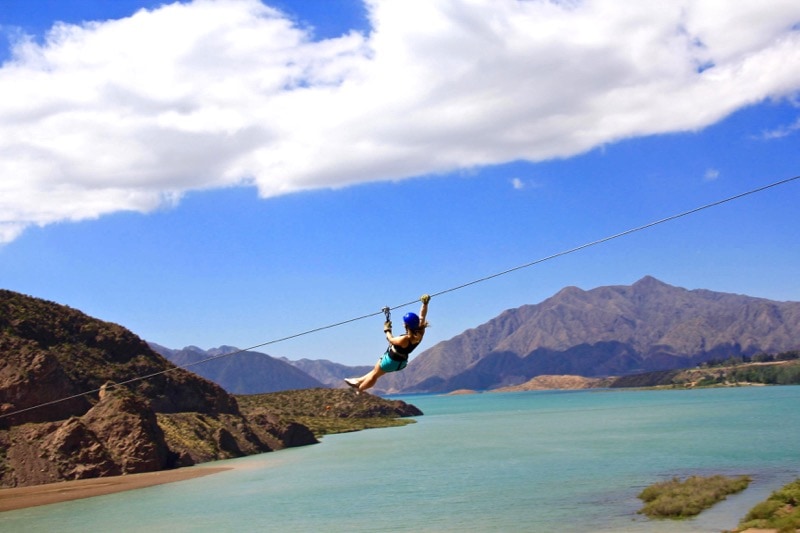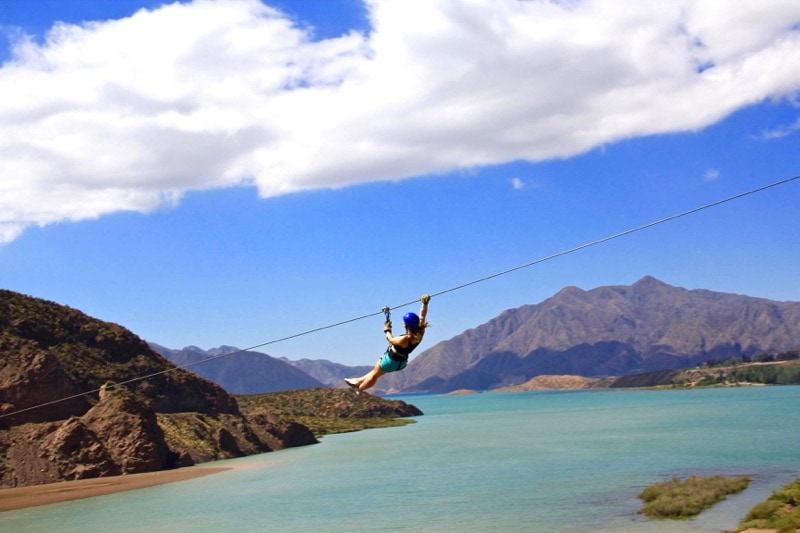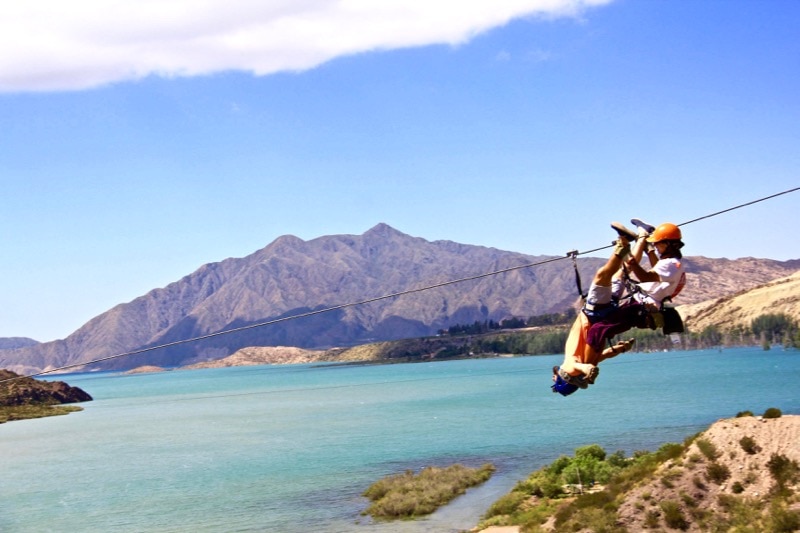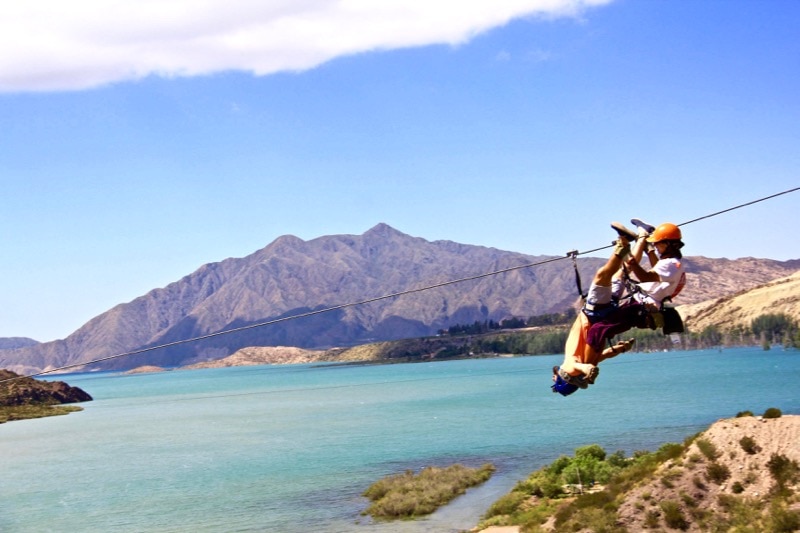 So those final few lines – how did I get on? I BLOODY LOVED IT!! The first one over the water was scary as I hadn't realised just how low I would go (I felt like I could reach out and touch the lake!), but it took the adrenaline to another level.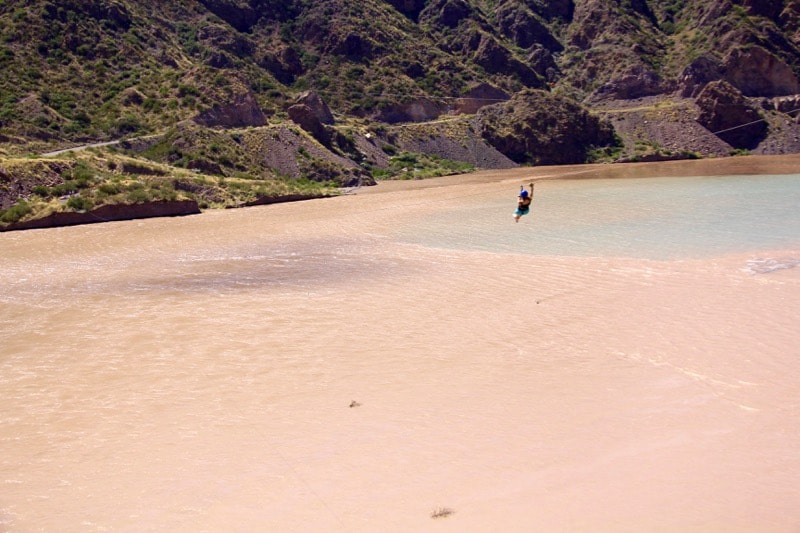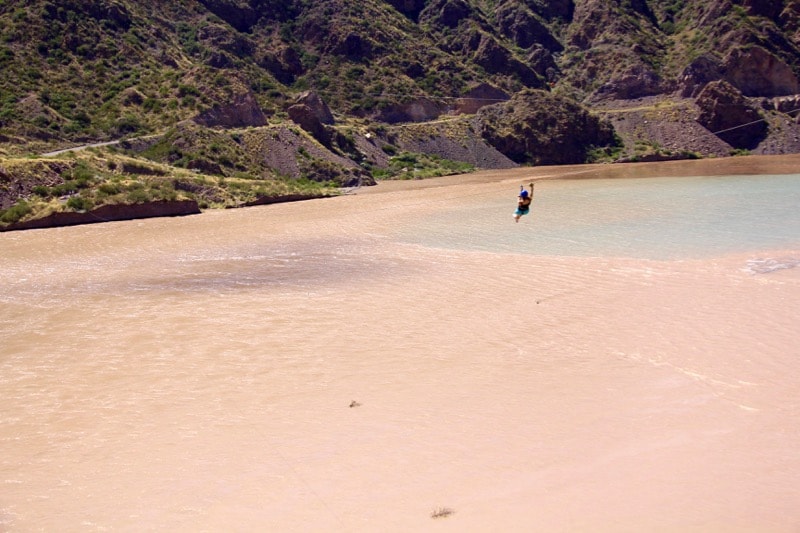 As I crossed the lake for the final time, I spun around accidentally and did half of it facing the wrong way. It was a long line, and while I had no idea when I would reach the other side, I stared out, absorbed the colourful landscape, and kept it as a lovely snapshot in my mind!
While I don't usually buy souvenir photos, I was really impressed with the quality of the pictures taken by the company's photographer. They really gave a flavour of the experience, and I knew they would be great to share with you!
I returned to the café feeling like I'd earned a good lunch, followed by a delicious dulce de leche ice cream (well, when in Argentina eh?!)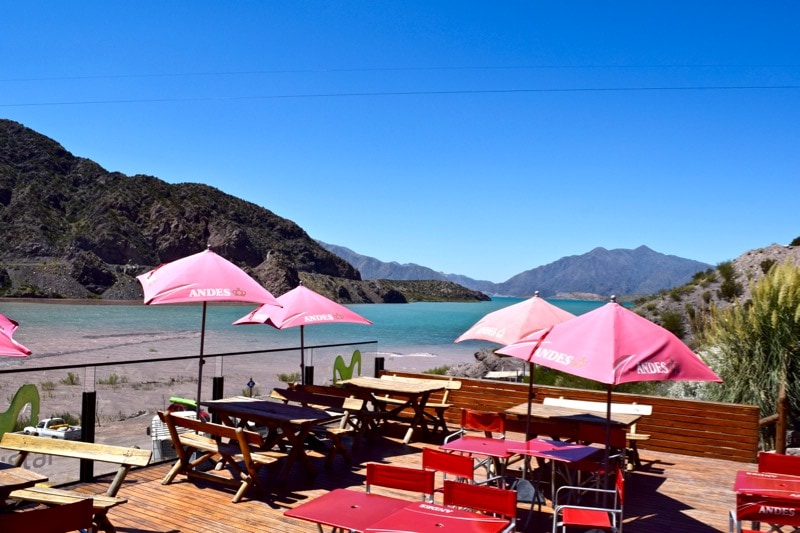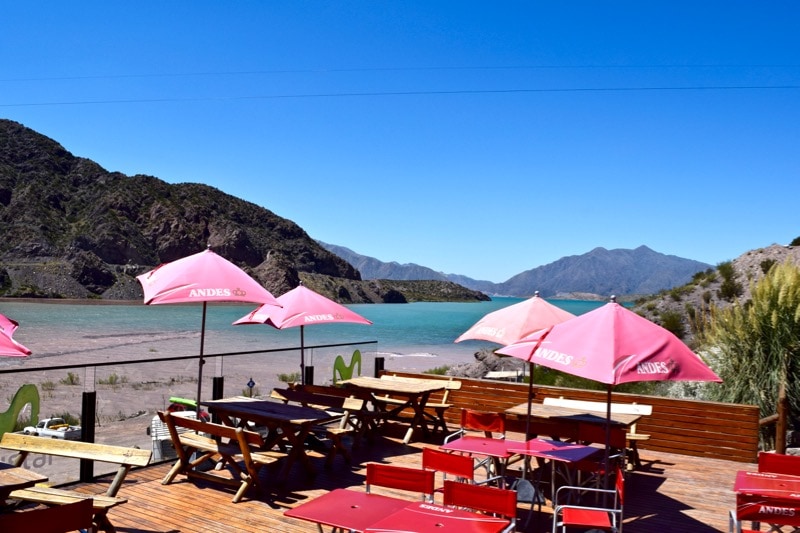 The main reason to visit Mendoza is for the wine. While drinking your way around the region is a great way to see it, an activity like this can really complement the days of overindulgence, while providing an amazing way to take in the scenery.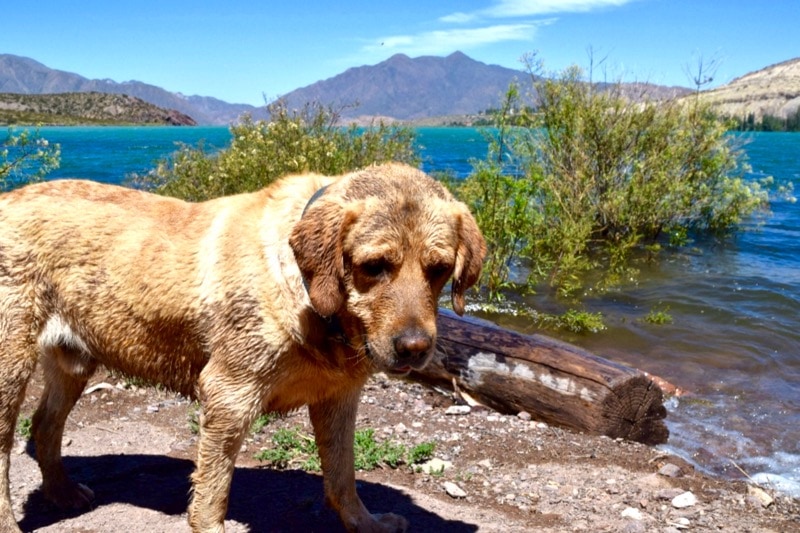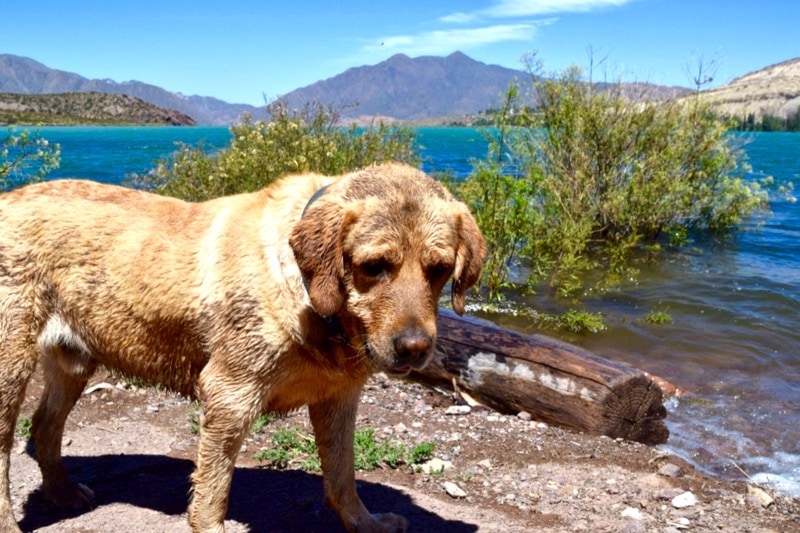 If you fancy experiencing it for yourself, the ziplining tour costs ARG $640 (around £30) per person booked via Kahuak. Lunch at the café costs ARG $200 for a set menu of salad, a main course and a dessert.
For a different view, and more great photos, check out Macca's ziplining experience here.
Enjoyed this post? Why not pin it?