From visiting the caves to enjoying the beaches and the town's restaurants, here are the best things to do in Nerja, Spain.
With its surprising sub-tropical climate, the beautiful coastal town of Nerja, Spain is home to miles of sandy beaches, top seafood, incredible ancient caves and what is proudly known as the Balcony of Europe!
Almost two years ago I went on a road trip around southern Spain visiting Madrid, Ronda and Seville. Fancying a bit of time at the Spanish seaside we decided upon Nerja. It looked pretty, had plenty of things to do and by all accounts, even in January would be reasonably warm. Tick!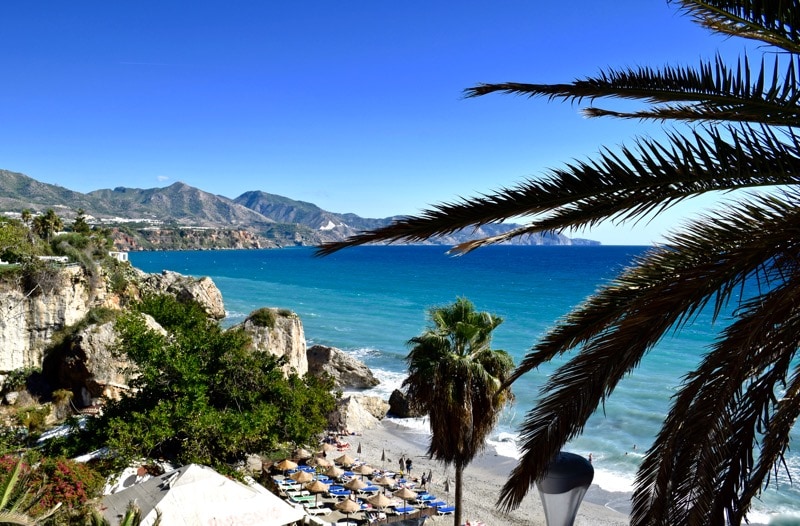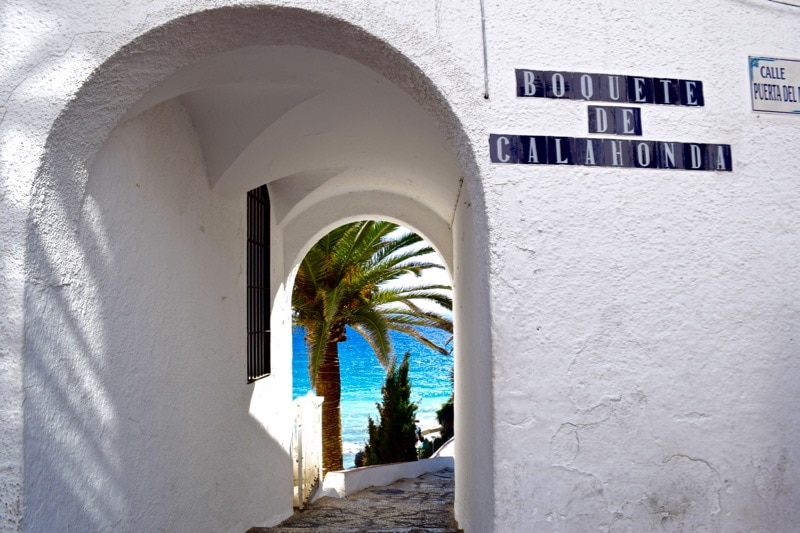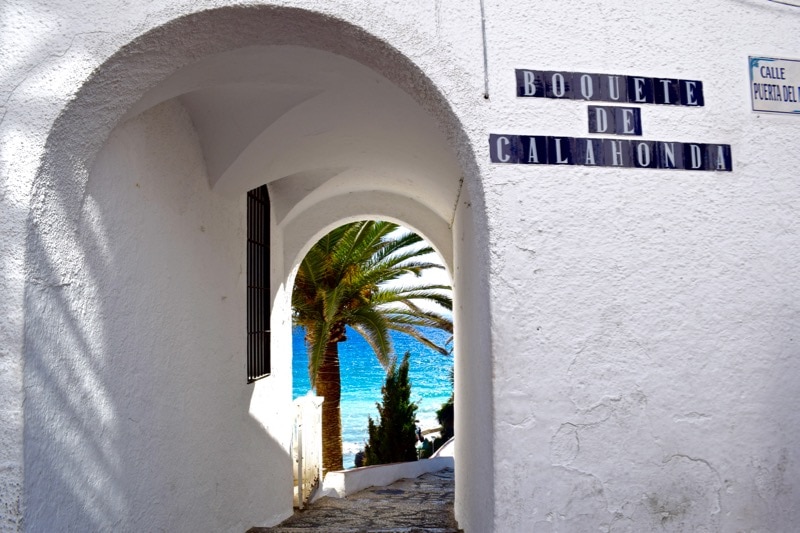 While for me it didn't have the Andalusian charm of the other cities, it did have a real Spanish seaside feel. You know, it felt fun! It had pretty beaches, great ice cream and nic-nacs galore. While there I was desperate to visit Nerja's famous caves. Typically I arrived to find they'd just closed for the day.
So this time, not only was I keen to see some of what I'd seen before, I couldn't wait to finally check out the caves. Interestingly, Nerja was placed firmly on the map in Spanish culture by the 80s TV series Verano Azul, which told the story of a group of kids on holiday in the town.
And what's this? Our tour guide in Nerja was none other than Miguel Joven who played Tito in the series! Not only is he still a celebrity in the area (he was stopped numerous times by fans on our tour) but he's also one of the most passionate guides I've met in a long time. Nerja means a lot to him, and he was keen to share some of that love with tourists visiting on holiday.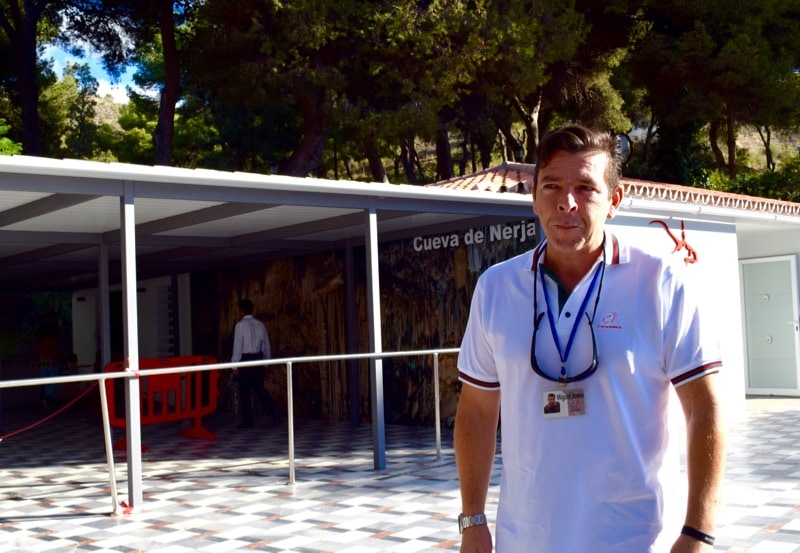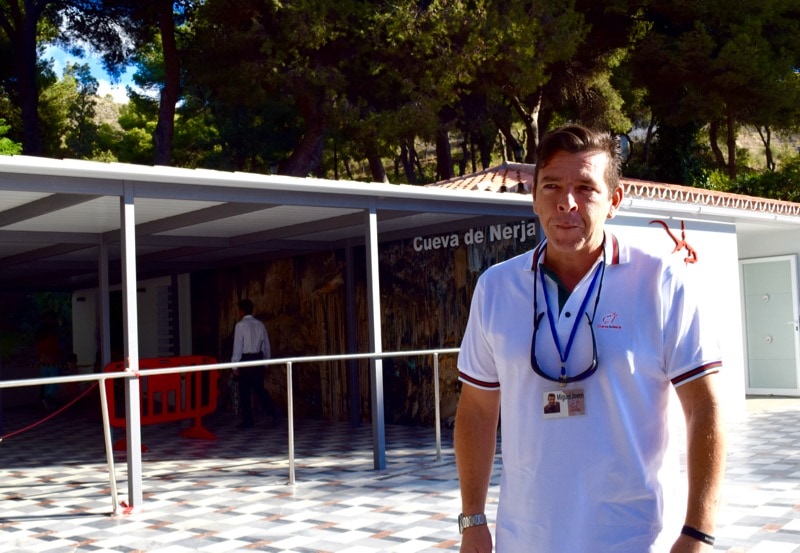 At around an hour's drive, Nerja makes a great day trip from Malaga. You could also book a taxi to get to Nerja from Malaga airport.
To make the most of your trip, I'd recommend spending a few days in Malaga, before heading to explore Ronda, Antequera and Nerja. If you don't fancy organising a trip, take a look at tours of Nerja such as this one, which include transport and activities.
Best Things To Do In Nerja
Visit the Cuevas de Nerja – The Caves Of Nerja
One of the top things to do in Nerja, the caves are the 4th most visited natural monument in Spain and receive over 3,500 people a day in high season. With 800,000 years of history, it's fascinating to delve inside the ancient lair of stalagmites and stalactites. The caves of Nerja are absolutely huge inside (approx. 5km!) yet only around a third of the caves are accessible. For me, this was a highlight of my visit to southern Spain, and I never expected them to be quite so impressive and well-preserved. Miguel was a great guide, and I'd definitely recommend booking a private tour if you get the chance. You can contact him here.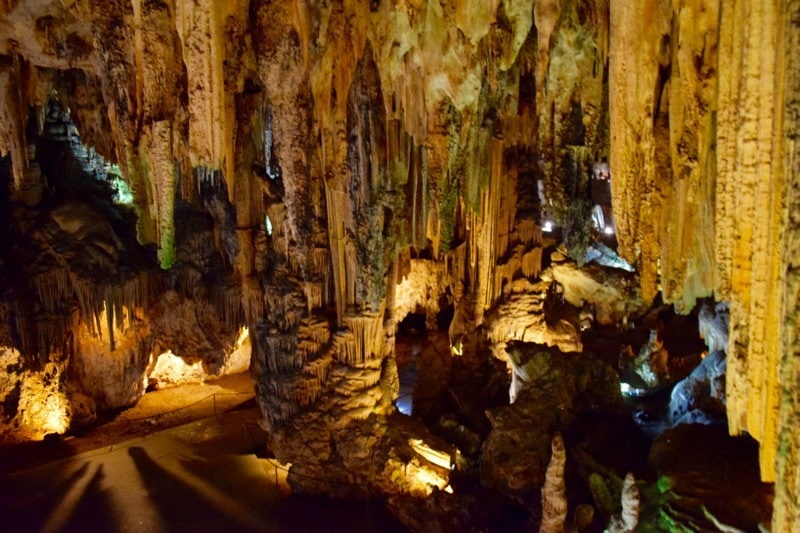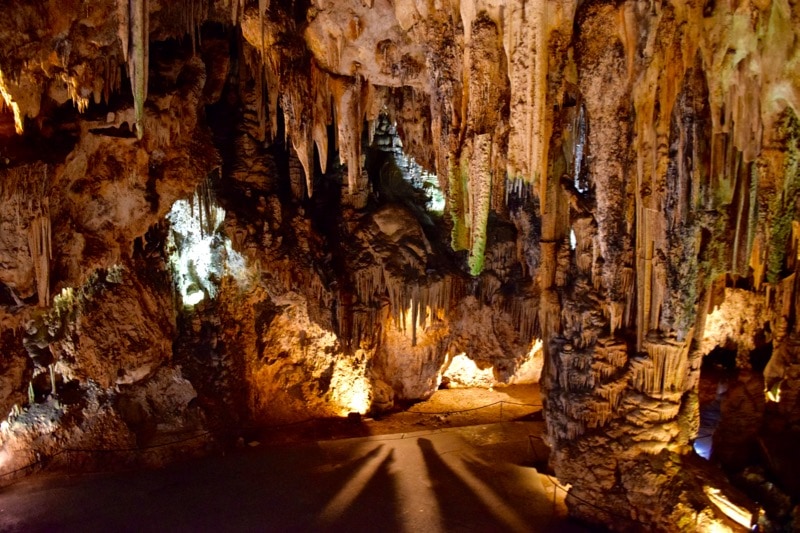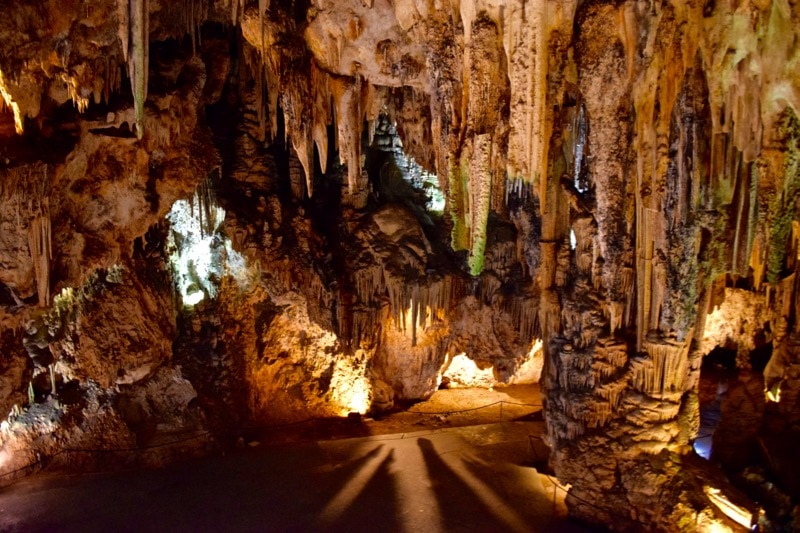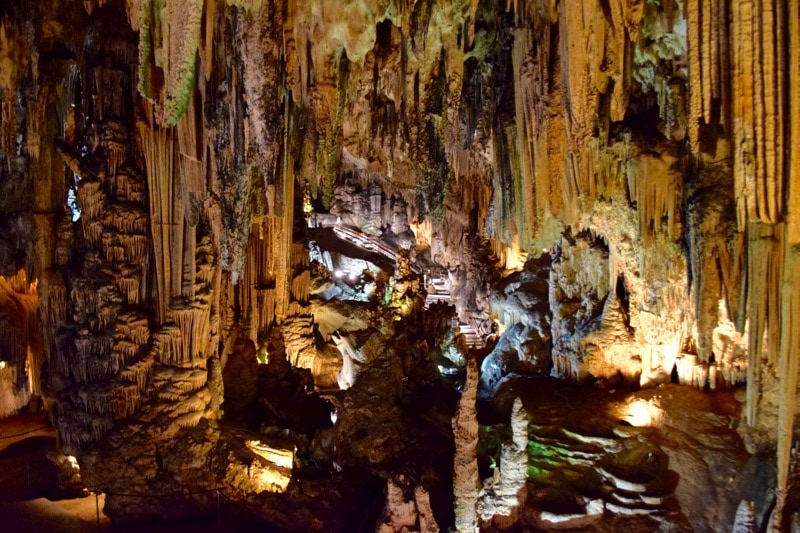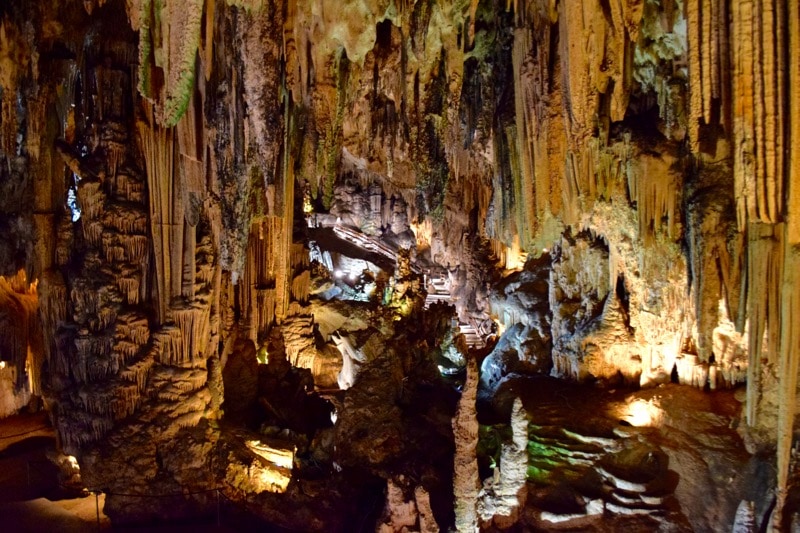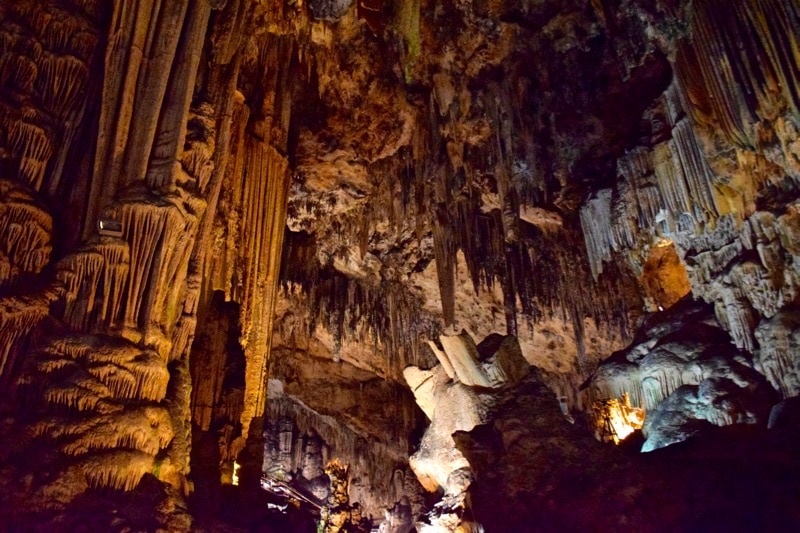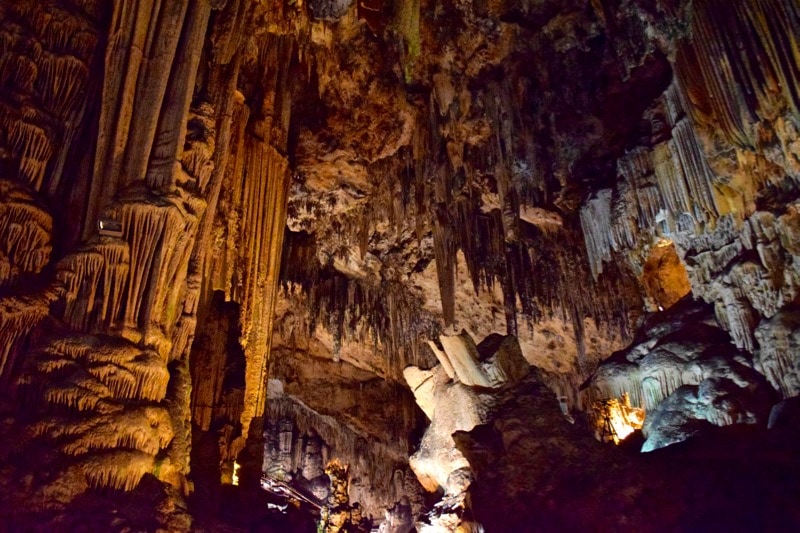 Relax on one of Nerja's beaches
There are 12 beaches within the region of Nerja, but the large sandy beach of Playa de Burriana is by far the most popular. For something extra special, head to Playa de Maro – often said to be one of Spain's best beaches. If you hop in a kayak you can reach cliffs with beautiful waterfalls trickling down. Many people rave about the diving in this region too, as there are underwater caves and springs below ground!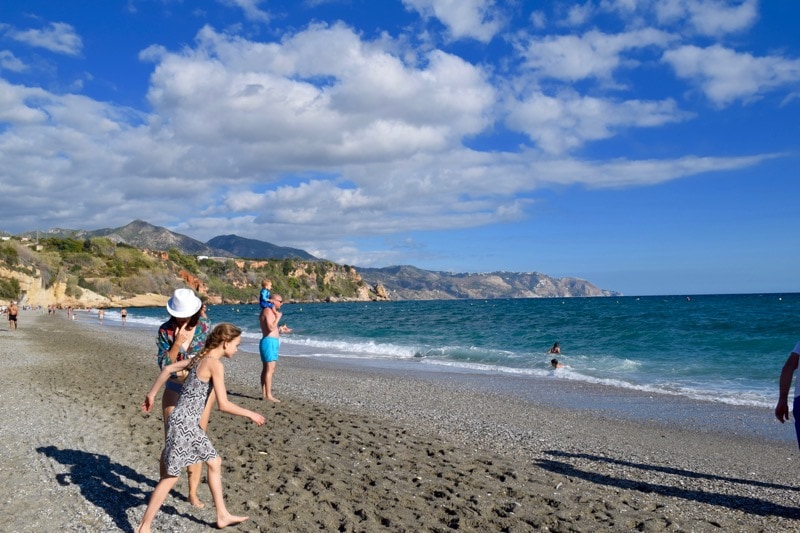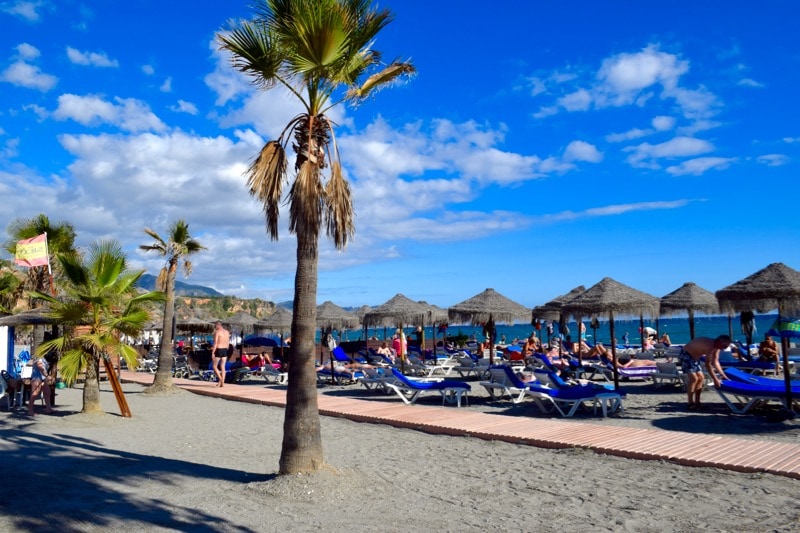 Take in the views on the Balcón de Europa
The Balcony of Europe is a spectacular viewing platform, and the perfect place take in Nerja's dramatic rocky coastline. It was built on the site of an old fortress that was destroyed in 1812 during the War of Independence. I'd recommend picking up an ice cream from a gelataria in the town, then wandering along the palm-lined broadwalk to the large circular plaza. Nothing like a delicious ice cream to make a beautiful view even more picturesque!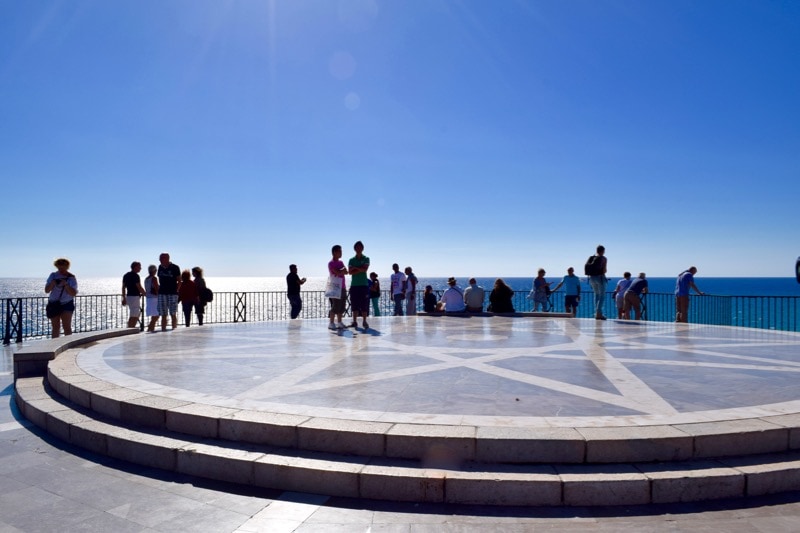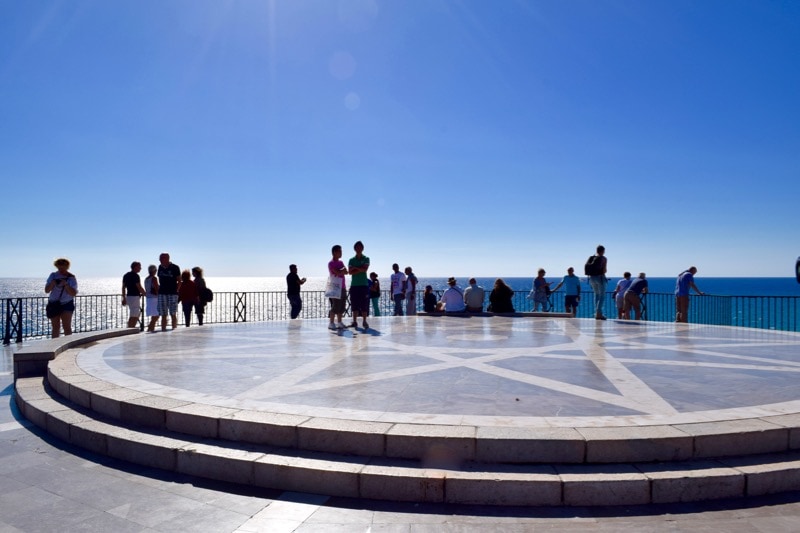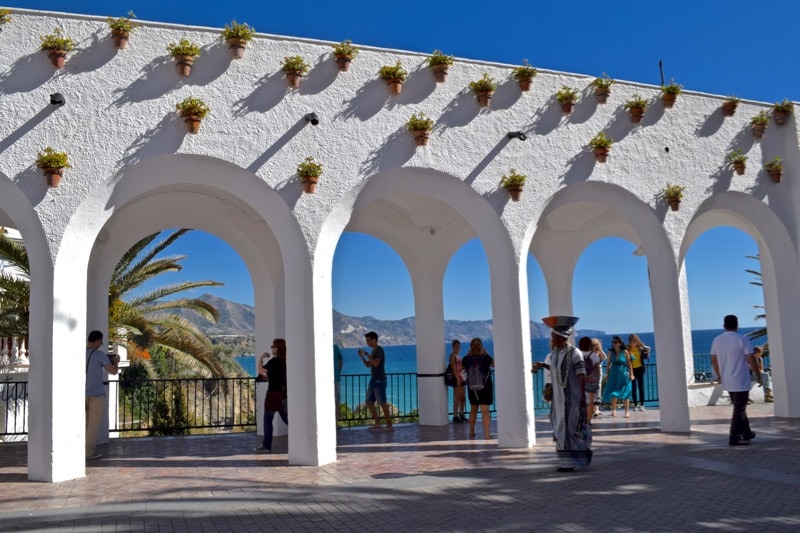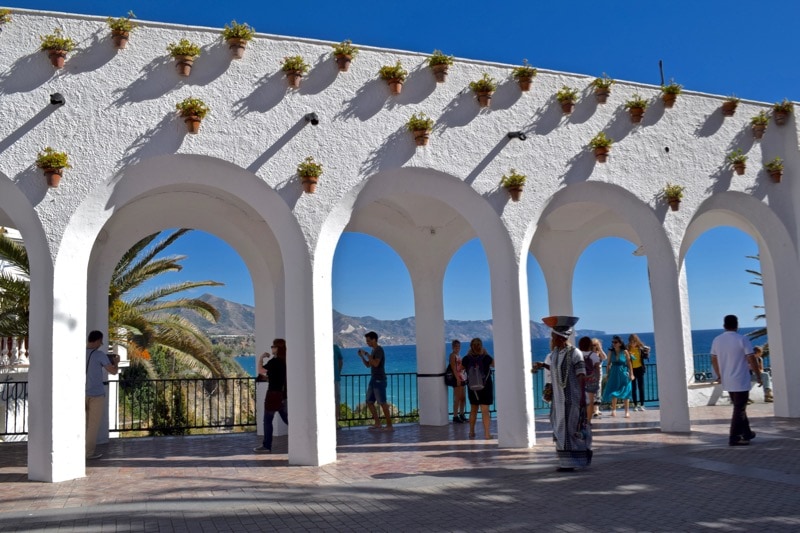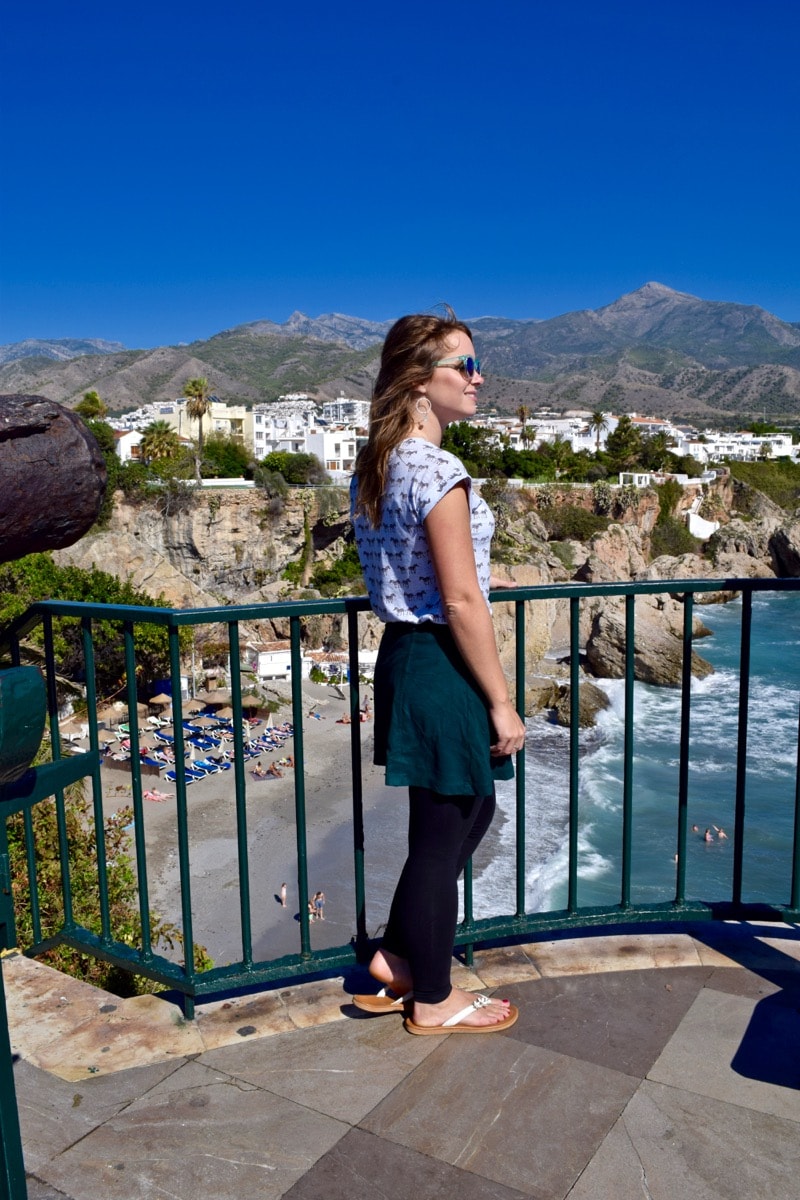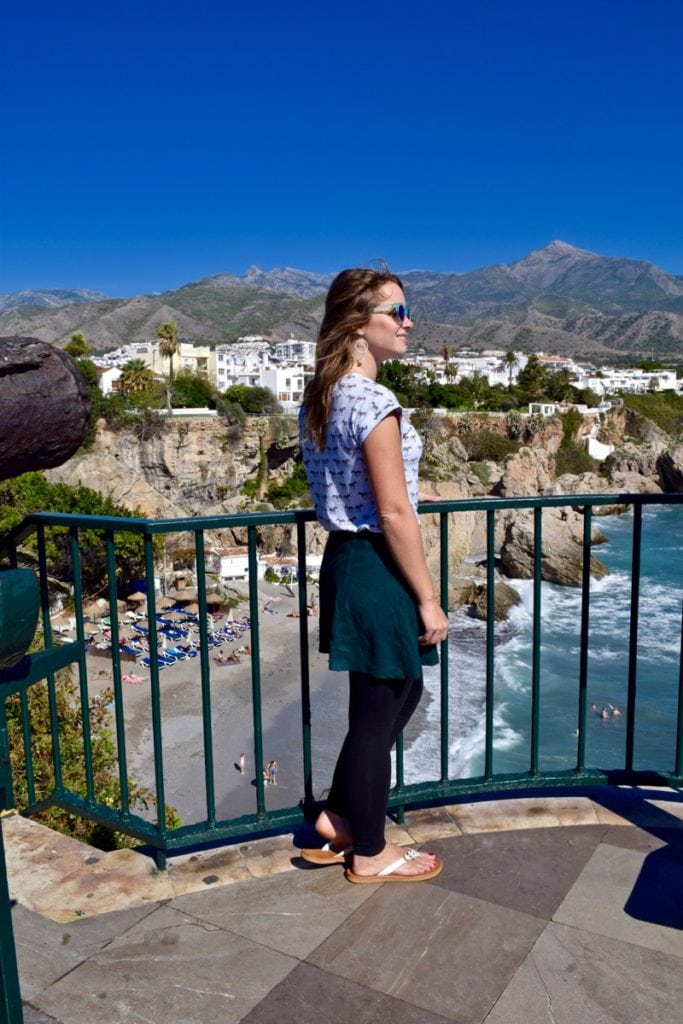 Stop at the Acueducto del Águila
I found this bridge pretty much by chance on the way to Nerja's caves. The Eagle Aquaduct, built in 1879, is a pretty spectacular sight, and well worth stopping for a quick photo.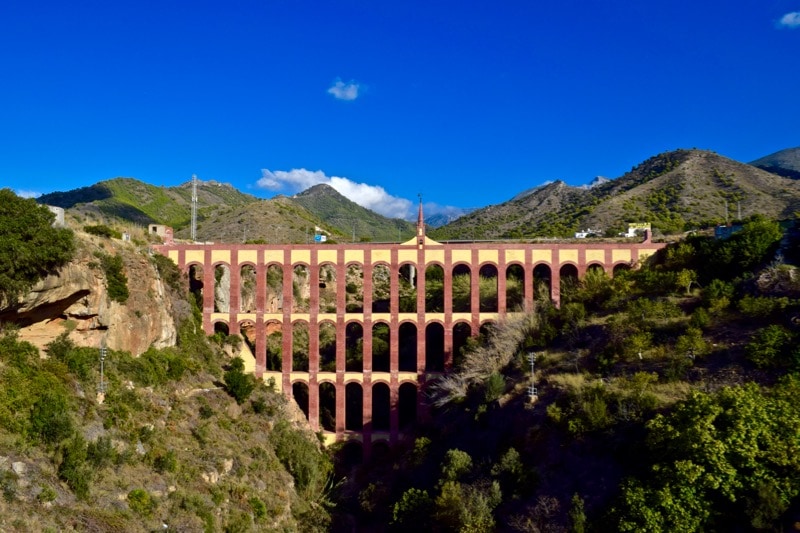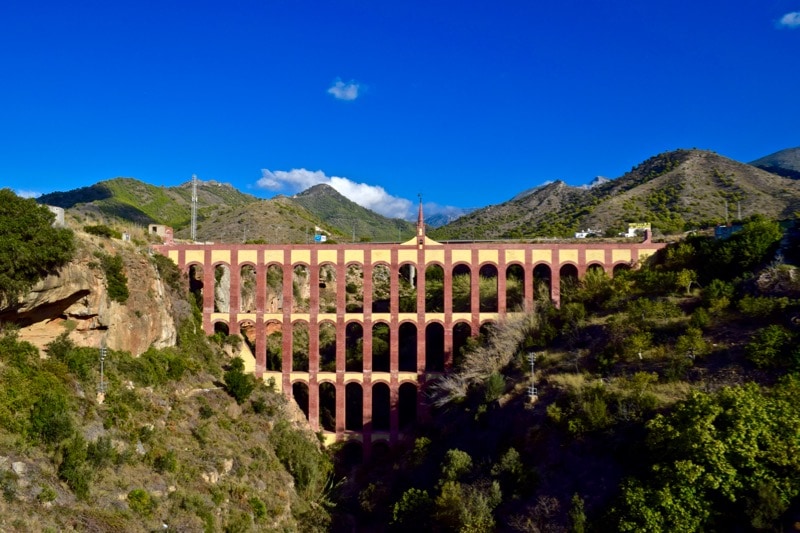 Dine at one of the best restaurants in Nerja
Foodies rejoice – Nerja is home to around 300 restaurants! Being on the coast, it's all about seafood. Head to Playa de Burriana and you'll find plenty of restaurants right on the seafront. La Barca specialises in and barbecued fish, mussels and more. For paella head to Chiringuito de Ayo, which also featured on the 80s TV show Verano Azul.
Or for super gourmet food, Oliva restaurant serves seasonal Mediterranean food with a twist, and always receives rave reviews. Lots of people say it's one of the best restaurants in Nerja.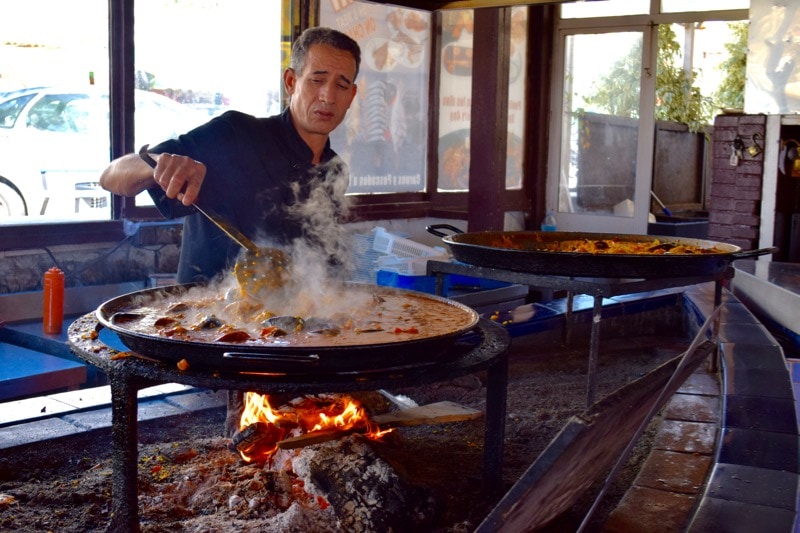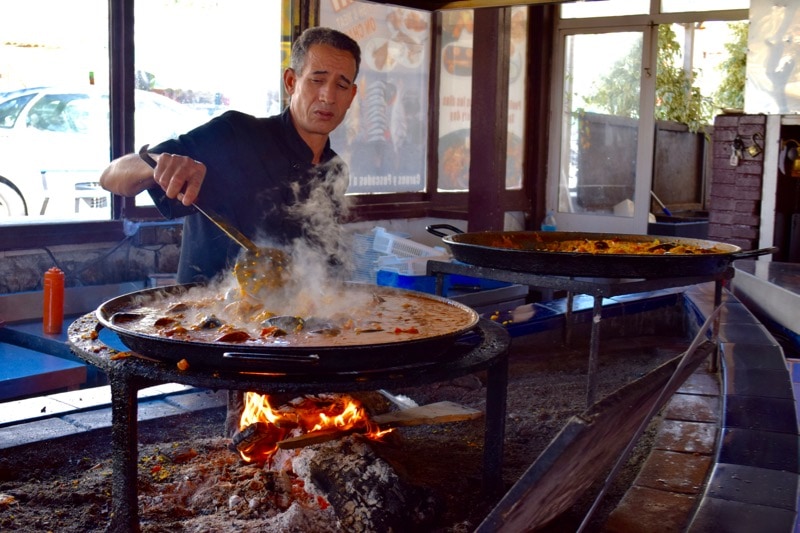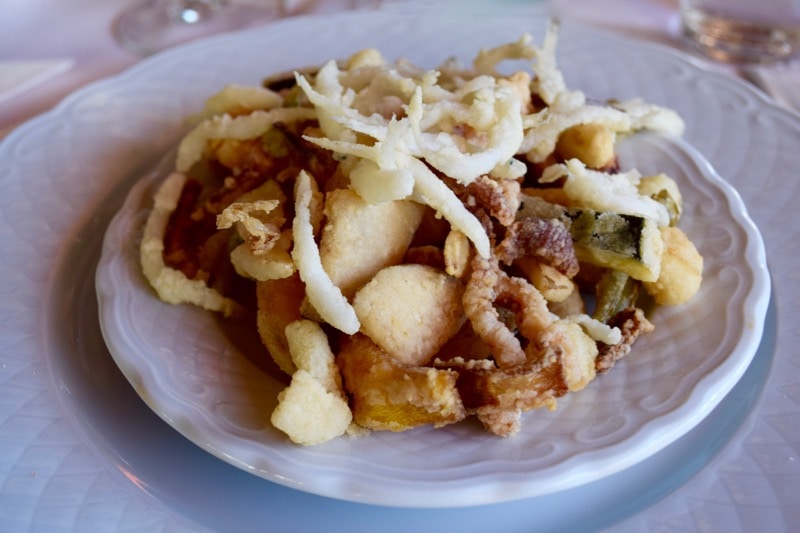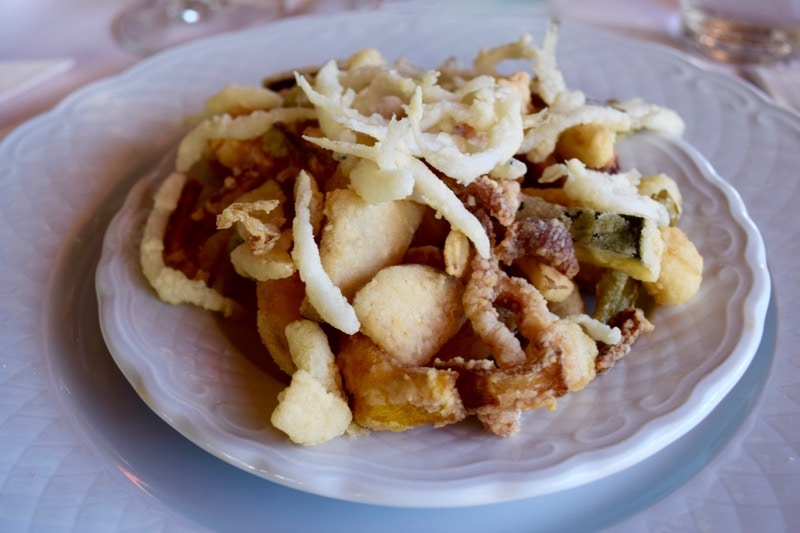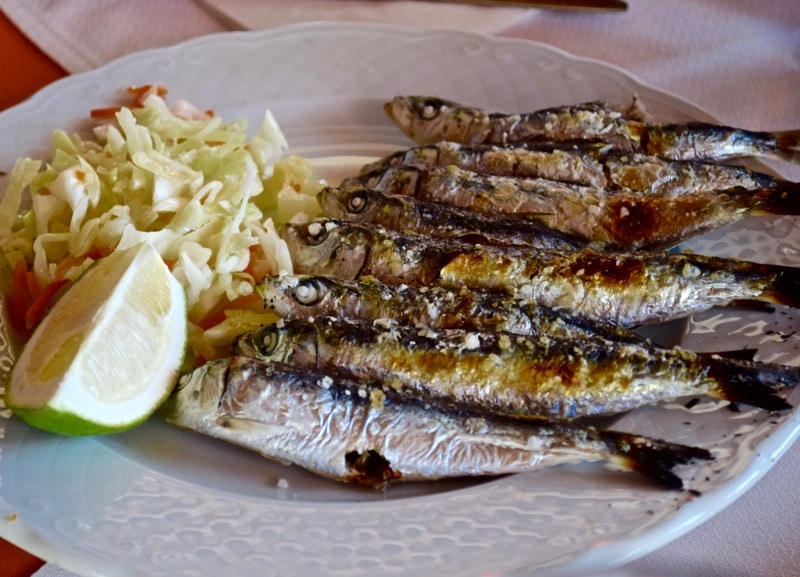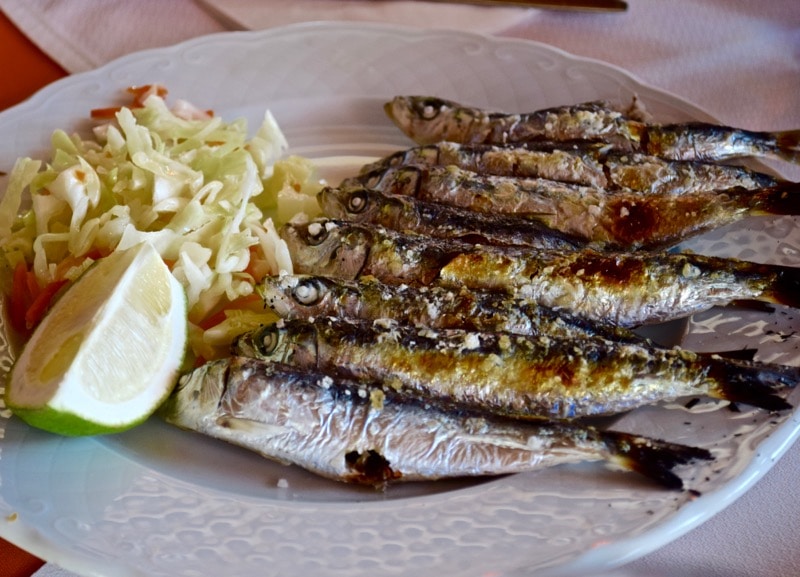 Thanks to Spain and the Costa Del Sol for inviting me to explore southern Spain. As always, all opinions are my own.
Enjoyed this post? Why not pin it…