Looking for quirky hotels in London? From floating hotels, capsules and animal lodges, to arty rooms, old prisons and more, it's time to find out about some of the BEST quirky hotels to stay in.
I love hotels with character. You know, the sort you stay in for one night, and then spend your whole life telling people about. Remember when we stayed in a room decorated by a London graffiti artist? What about the one with the outdoor bathroom? Don't worry – that one wasn't in England! Brrr…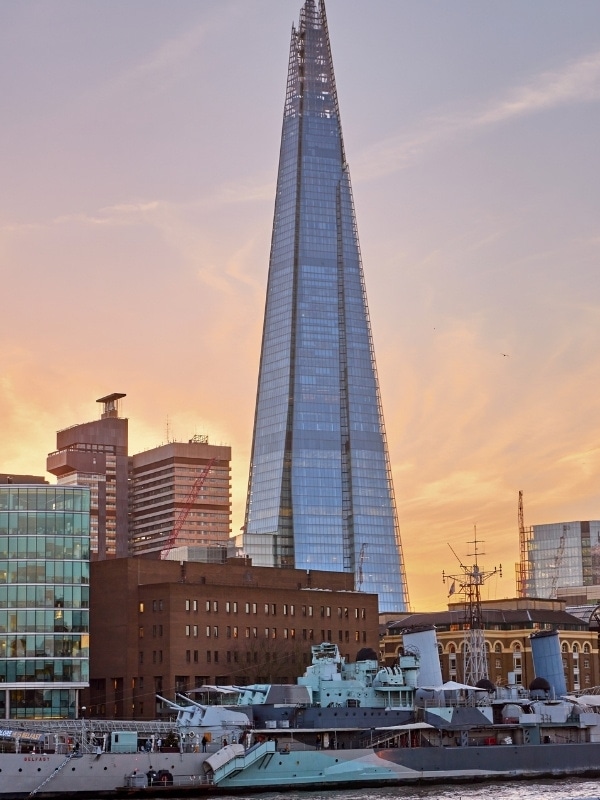 There's an overwhelming choice of places to stay in London, but sometimes it's fun to try something different. There are crazy hotels, unique hotels and some downright weird hotels in London. There's a huge floating hotel, one in a zoo and even a Japanese style hotel in London.
There are some really fun hotels in London which offer extra treats, like The Ampersand Hotel in South Kensington, which has a science themed afternoon tea. Who doesn't love a cucumber sandwich with a side of chemistry?!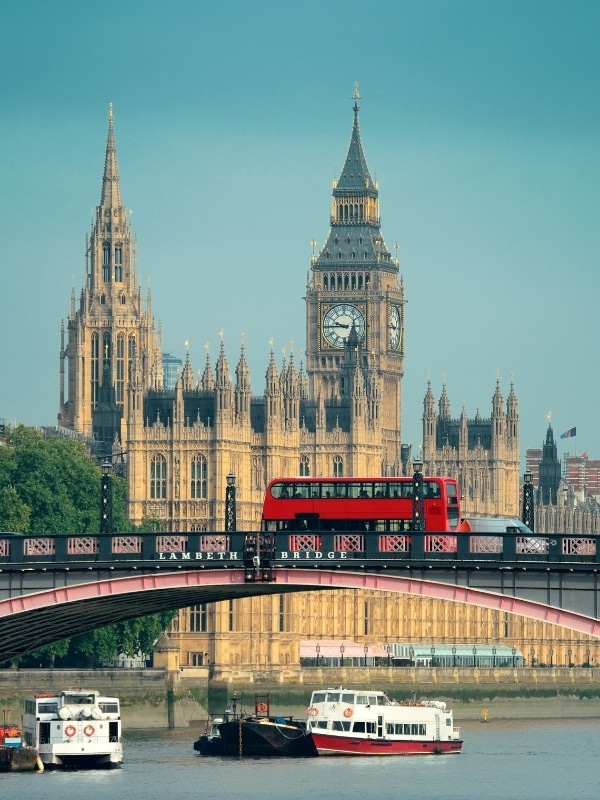 Those of you looking for truly unusual hotels in London will love The Georgian House Hotel in Victoria. It's got a spooky twist, and is the closest thing to a Harry Potter themed hotel that I've found in London.
This isn't a list of novelty hotels in London. There are incredible places like the Good Hotel, which is not only one of the best quirky places to stay in London, it's also got the community at its heart. Find out more about that one below – it's a fave of mine.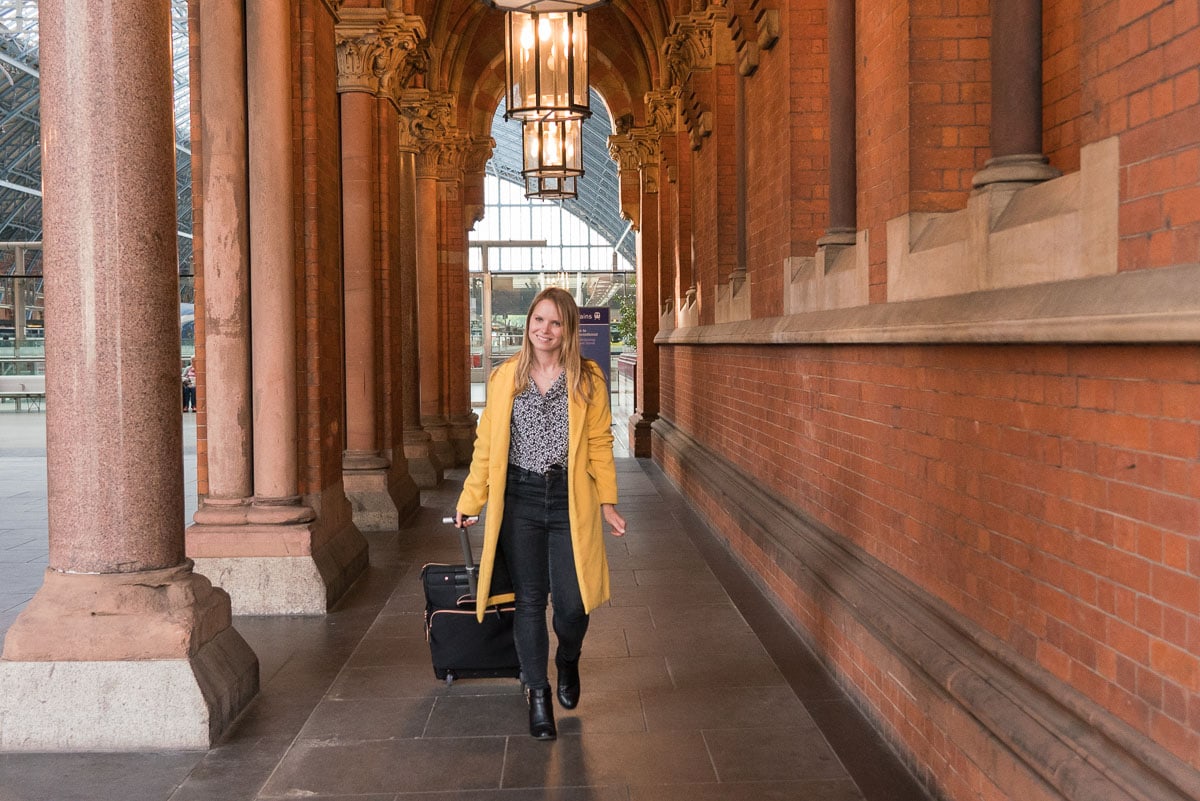 So, if you're looking for something for a special occasion, or just fancy trying something different, here's my guide to London's quirky, unique, boutique and damn unusual hotels!
Oh, and if you fancy a trip out of town, don't forget to take a look at my guide to the coolest places to go glamping near London. They include treehouses, yurts, shepherds huts and houseboats!
Plus, if all you're dreaming of is diving into a pool during your trip to London, you'll want to read all about the best London hotels with swimming pools.
---
Coolest and Quirkiest hotels in London
This has to be one of the most unique hotels in London! This chic floating hotel (or boatel) is moored at Royal Victoria Dock. Forget tiny cabins, on this yacht you'll enjoy large rooms with river views.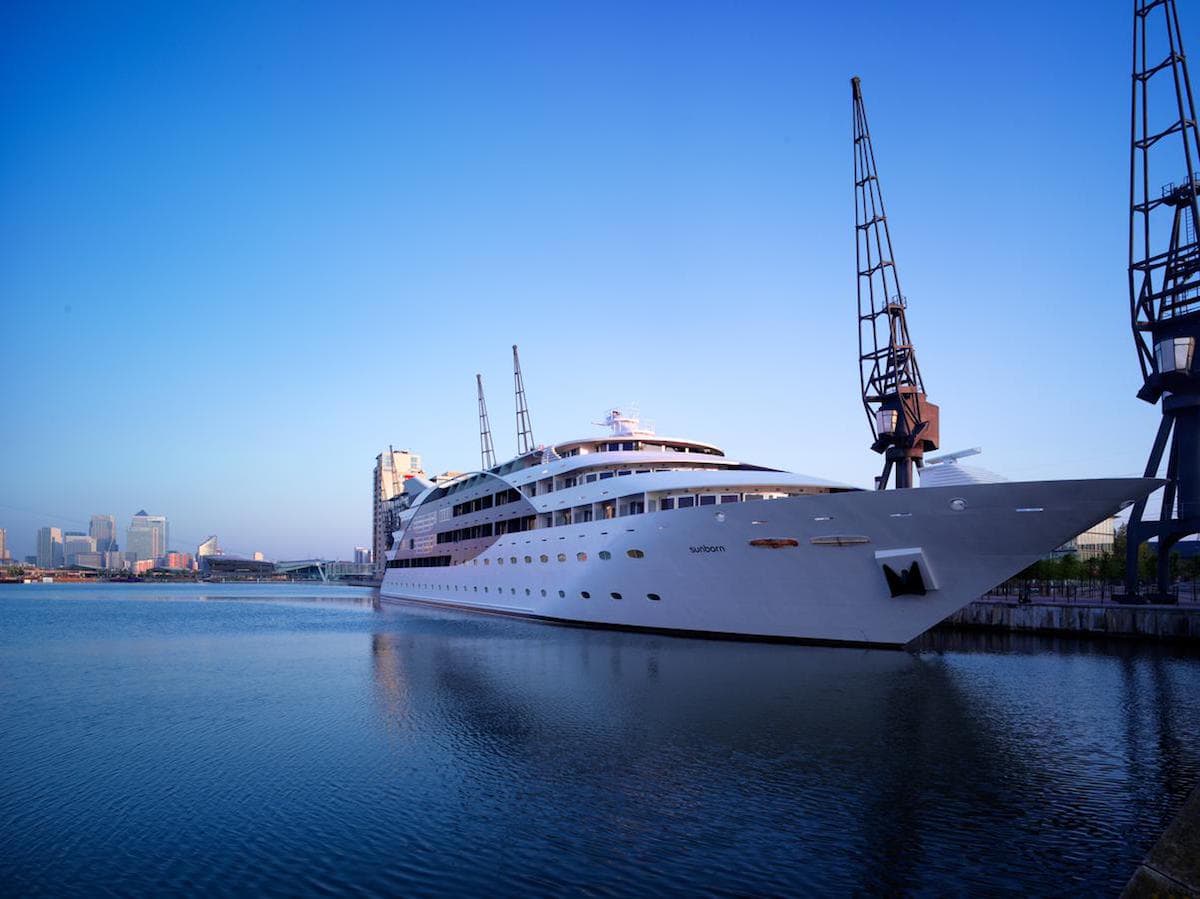 For the ultimate in relaxation, take a trip to Symphony Spa or enjoy a delicious meal at the restaurant.
Ever wondered what it would be like to have a sleepover at the Zoo? The ZSL London Zoo Lodges are luxury lodges hidden away in the heart of Land of the Lions.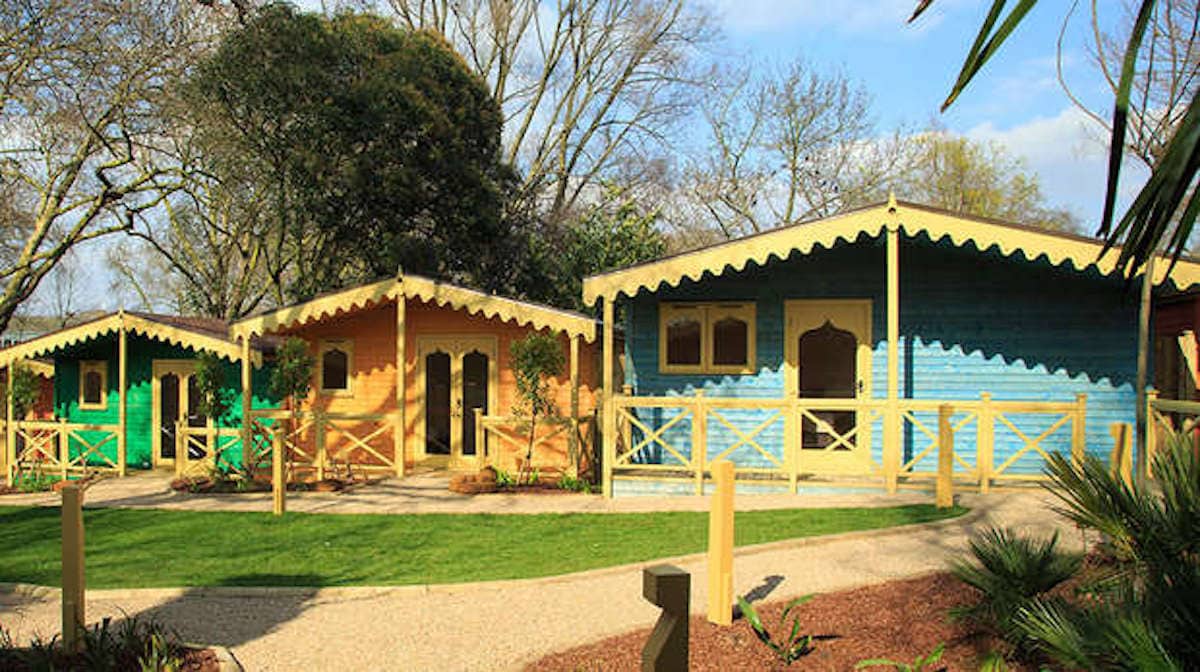 If you book to stay you'll enjoy after-hours tours, a two-course dinner and entry to the zoo. If you've always dreamed of waking up to the sounds of elephants, parrots and lions, then this unique London experience is for you!
This had to be on my list of quirky hotels in London! Opposite the Natural History Museum, this colourful hotel makes a change from the laid back muted décor of so many boutique hotels in London.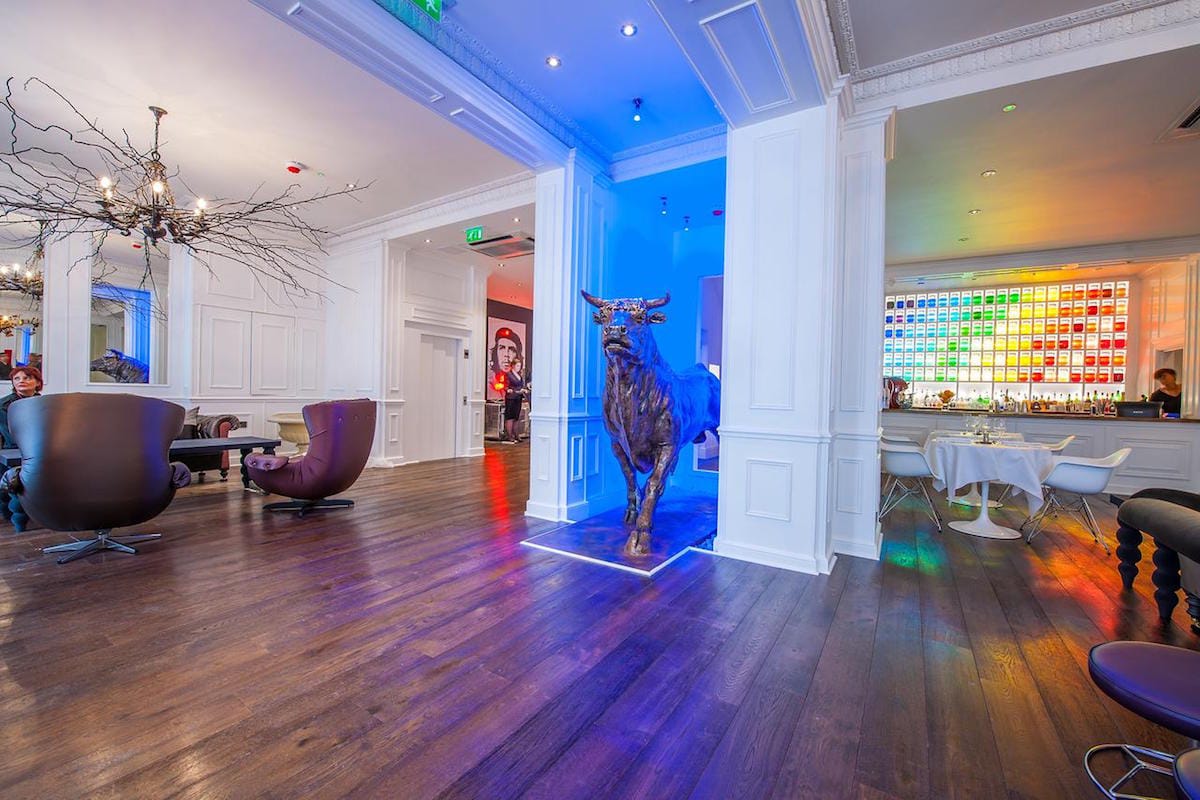 Along with flamboyant décor in the bedrooms and an entrance with murals and sculptures, the hotel features eight gallery spaces with different artworks on display. After the recent trend of rainbow-coloured decor, I think this is one of the top places for an overnight stay in London.
While this one is officially a hostel, I decided it'd be a shame not to include it. This building used to be a courthouse, and the Clink team have taken care to preserve a few elements from its former use.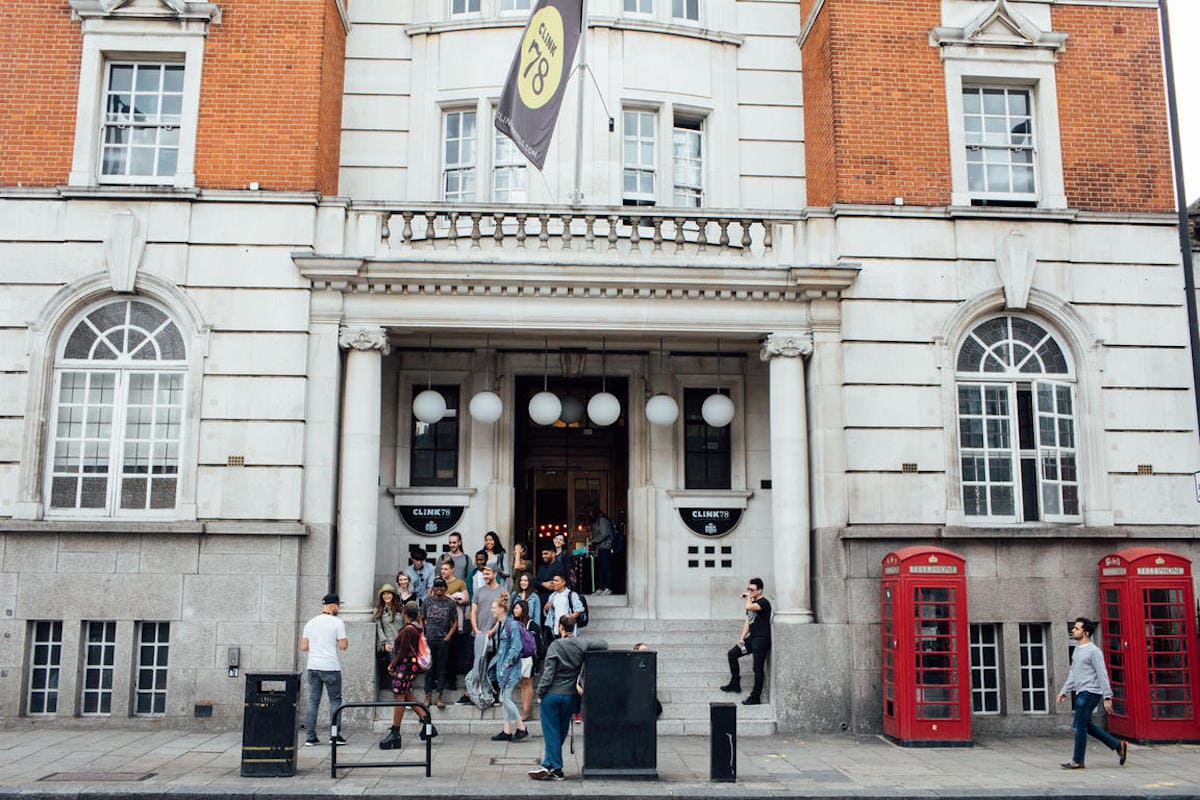 Yep, you can choose to sleep in a former prison cell or take a seat on one of the old courtroom pews in the TV area.
If you've always thought of yourself as one of the cool kids, you'll enjoy the playful vibe at Mama Shelter. This hotel is home to a garden bar and funky French-inspired restaurant. Tuck into dishes including confit duck poutine or raclette all washed down with a rich glass of red. This hotel is an ideal option for people working in the city, as there are some funky co-working spaces with high speed WiFi.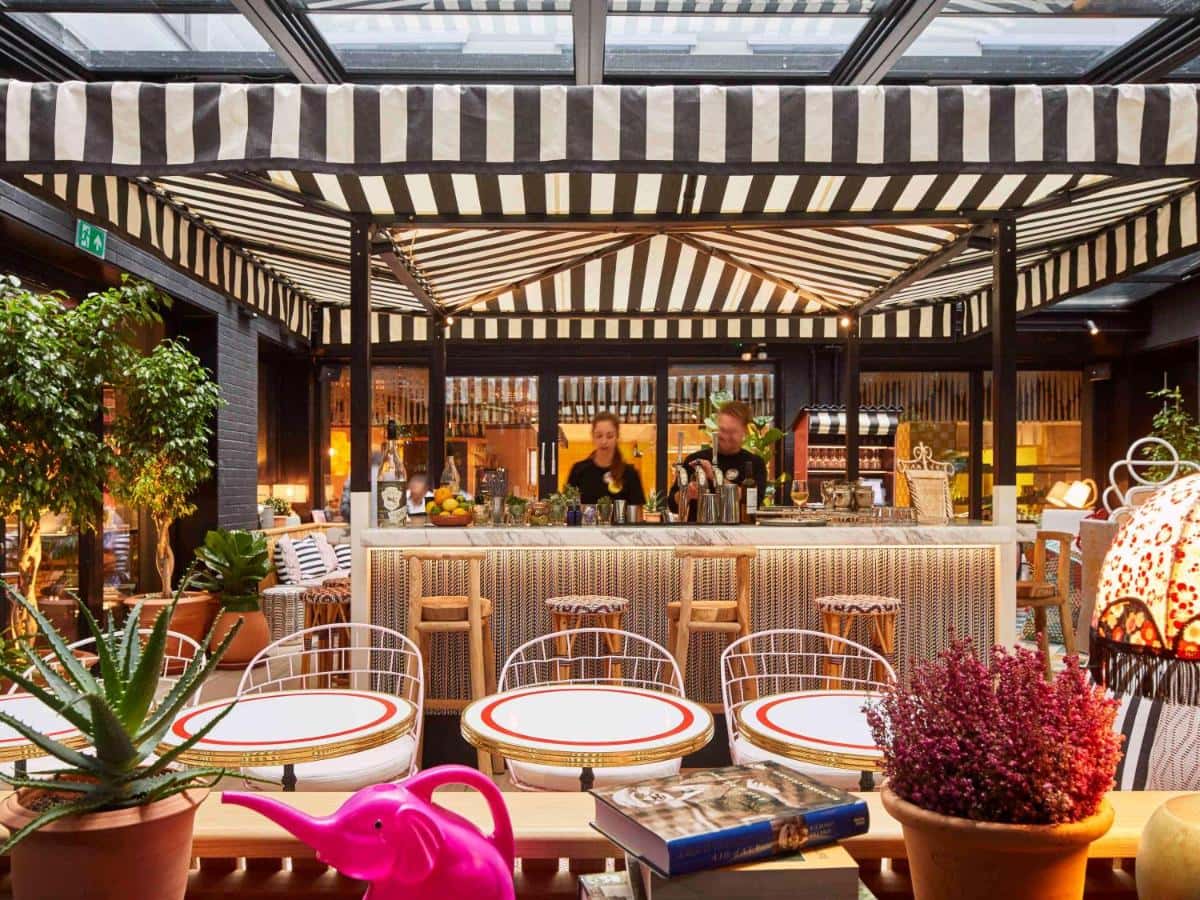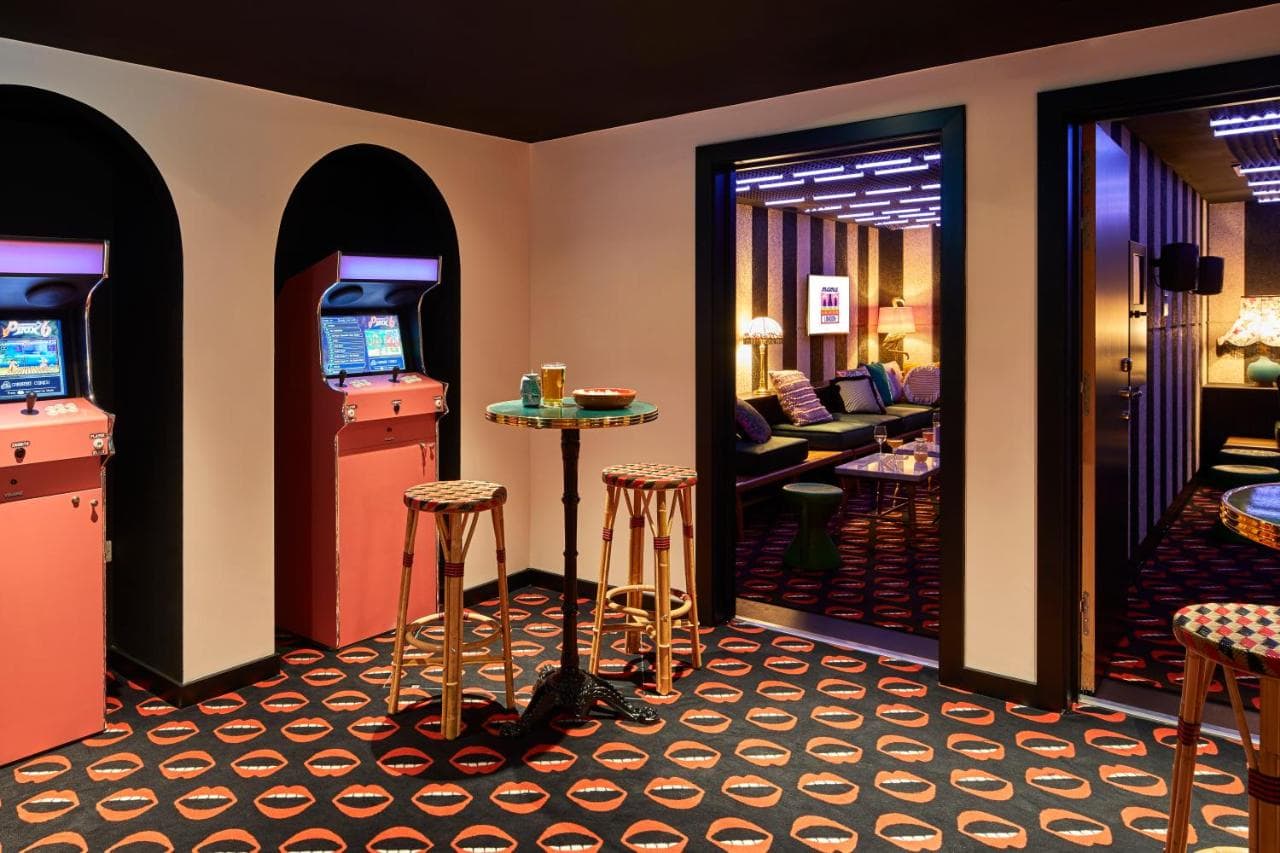 However, the quirkiest thing about this trendy East-London hotel is the fact it has two Japanese-style karaoke rooms! This is a hotel that doesn't take itself seriously, so you'll have a great stay, belting out some Spice Girls at the top of your lungs!
W Hotel, Leicester Square
If you want to book into one of the kitschiest hotels in central London, stay in a penthouse suite at the W, right on the corner of Leicester Square.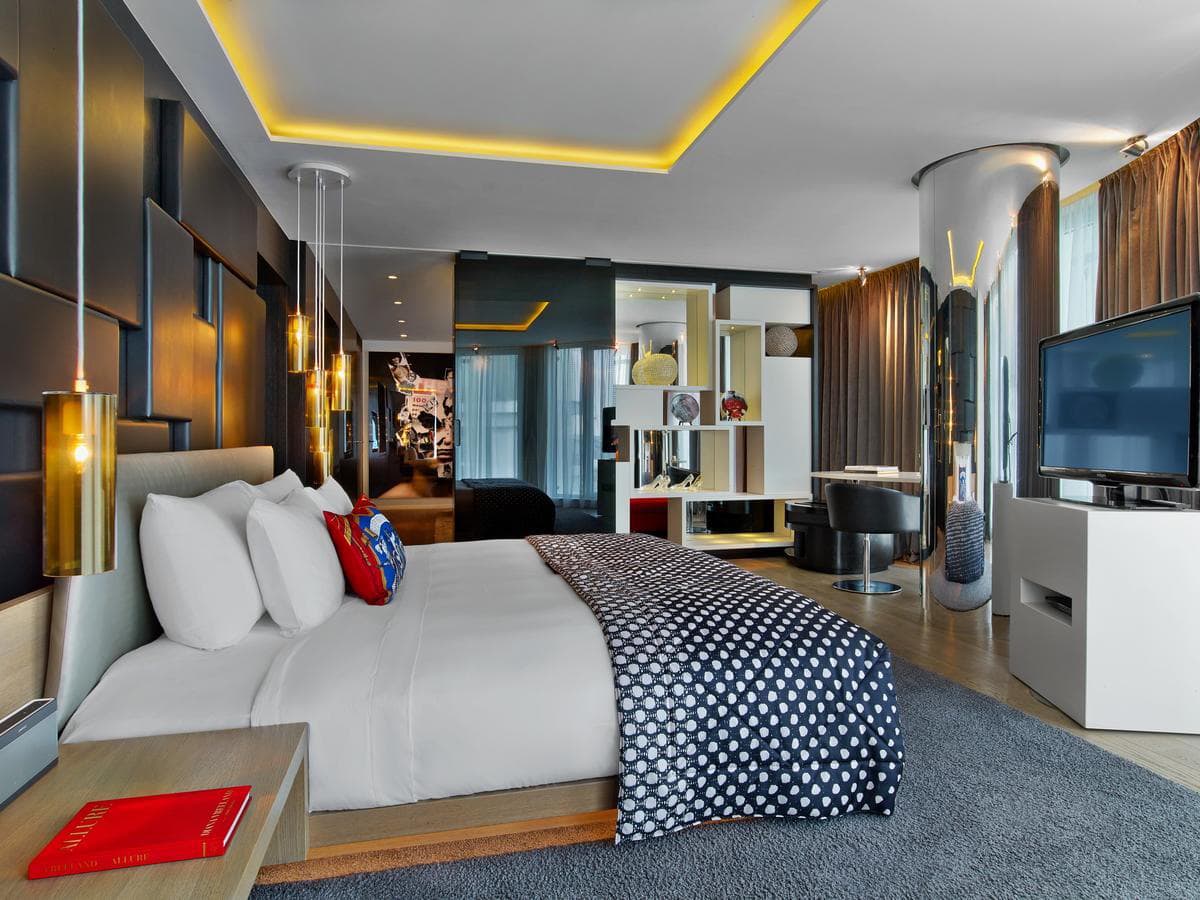 The Wow Suite is kitted out with a chic vanity area, giant corner sofa (perfect for entertaining) and floor-to-ceiling windows with views over the city. Oh and don't forget the fact the bar downstairs is home to one of the biggest disco balls you'll ever lay eyes on!
Bedrooms at this five-star boutique hotel are individually decorated with bold contemporary wallpaper designs and original Victorian features. Along with Apero (a restaurant serving Med cuisine) there's a library, games room and a wine room.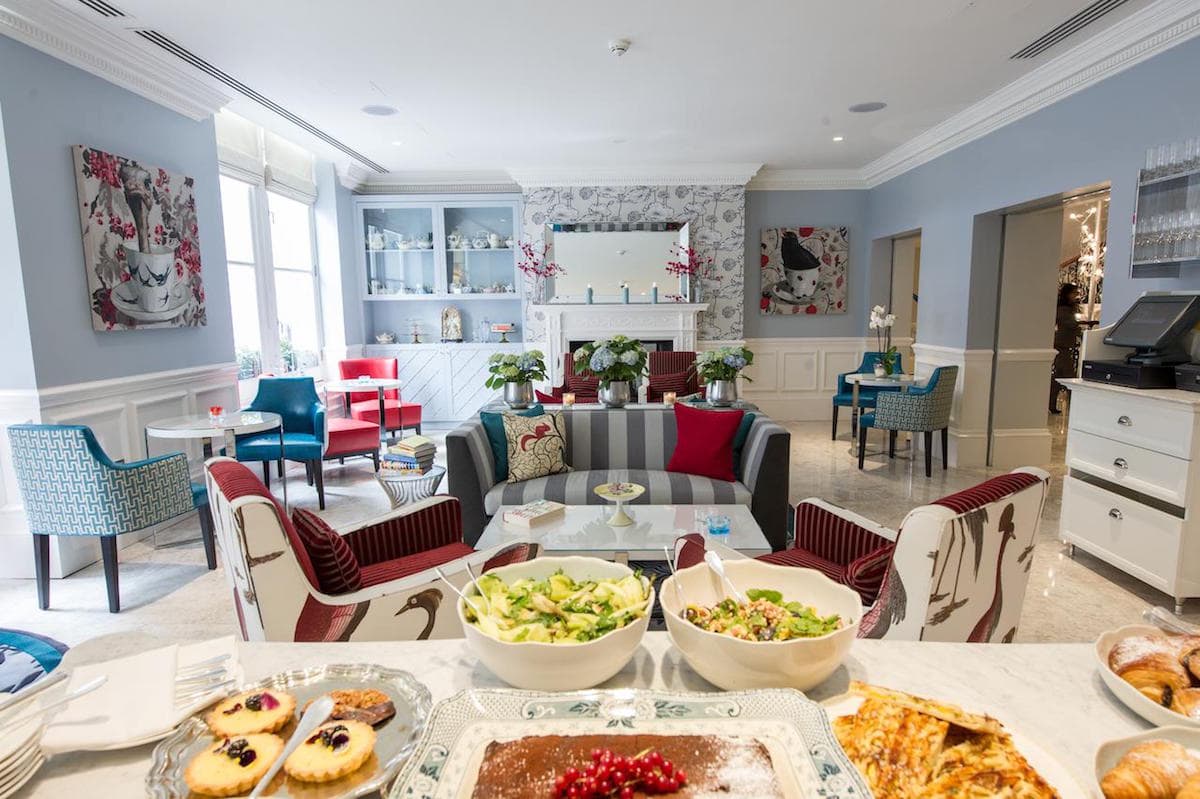 If you fancy a meal with a twist too, book in for the Science Afternoon Tea, which won Best Themed Afternoon Tea at the Afternoon Tea Awards this year. Expect the unexpected with jellies served in petri dishes, chocolate spacemen and a bit of magic!
If this name is familiar, it might be because this is London's answer to the NYC original. This is one of the coolest hotels in London, with a serious understanding of style and design. It's huge too! There are over 250 rooms ranging from snug Cosy Core rooms to terraced suites with outdoor bathtubs!
In terms of unique features, this hotel is home to its very own library, as well as the Sounds Studio – a culture hub where special events take place from time to time.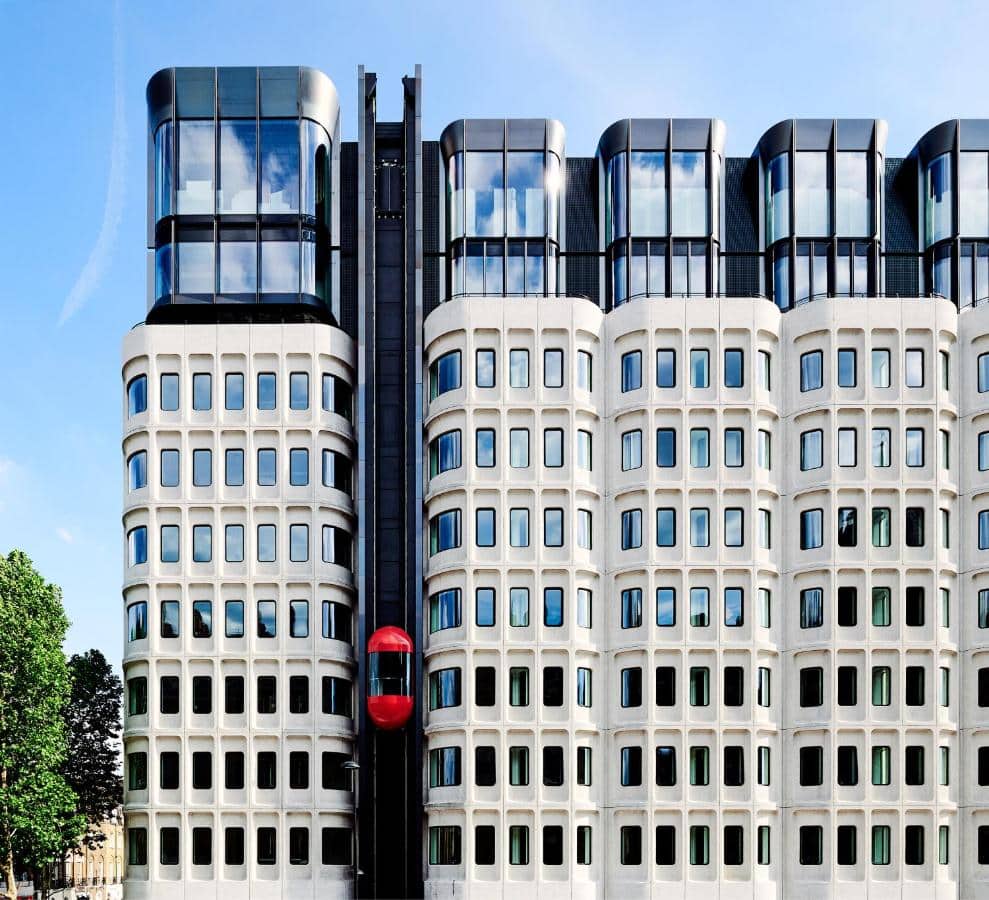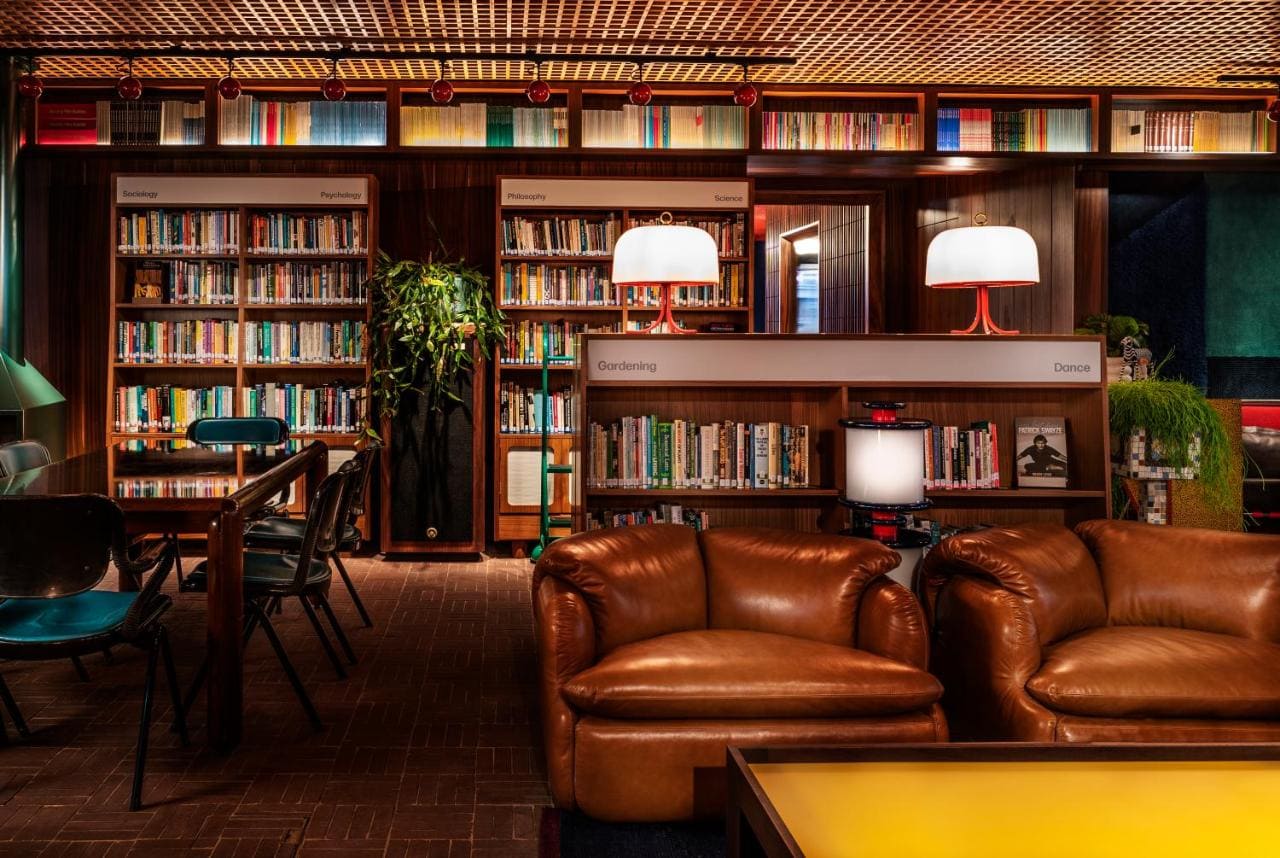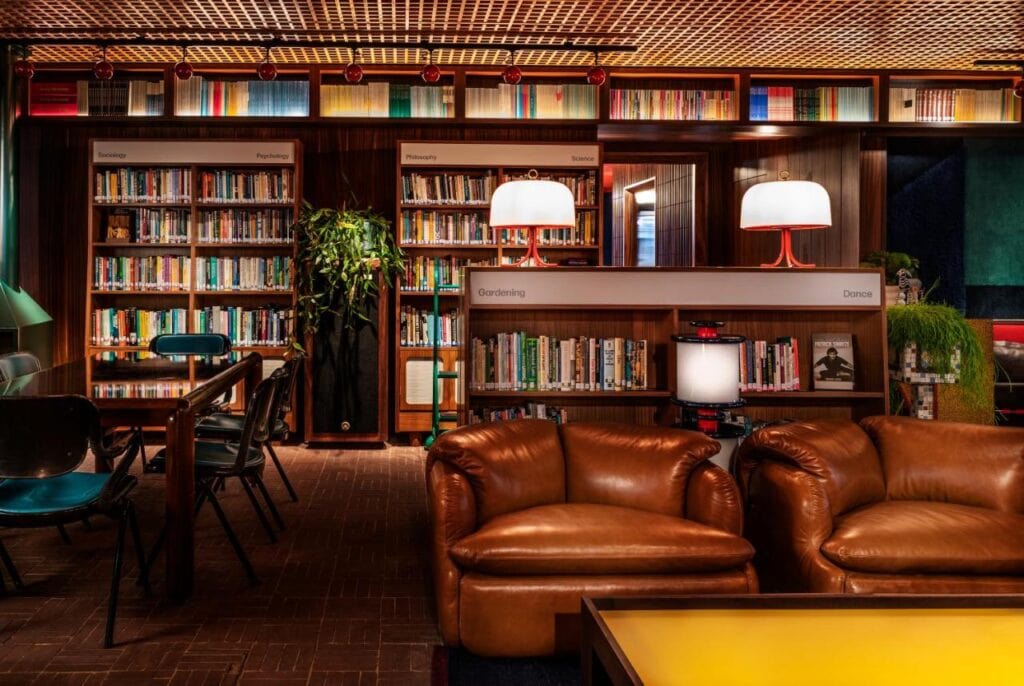 One of the biggest attractions at The Standard is its top-rated 10th-floor restaurant, Decimo. Here Michelin-starred Chef Peter Sanchez-Iglesias playfully merges Spanish and Mexican cuisine to create beautiful and tasty dishes. Many dishes are cooked over fire too, so it's a really fun experience. To make things extra quirky, you'll need to hop in the iconic exterior red pill lift to reach the restaurant. How cool is that?
Each room at this charming 10-bedroom modern London hotel is packed full of character. There are quirky furnishings and original artworks around the building, and a fab restaurant downstairs, The Cambridge Street Kitchen, which serves up seasonal dishes.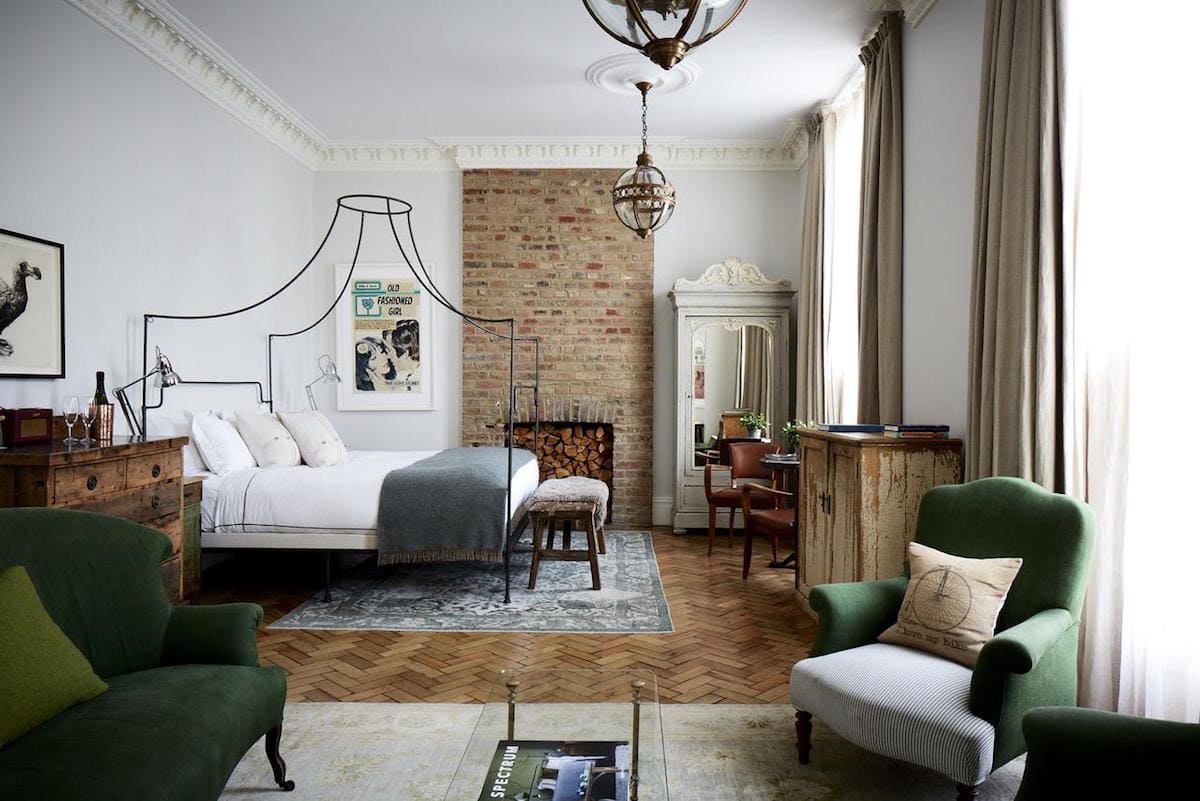 The hotel group's story is a great one too – it started in Brighton when the owner put an ad out to find artists to decorate the rooms in exchange for their board. The gamble paid off and the idea has now been replicated at five Artist Residence's around England.
I remember the buzz around this hotel as it was being constructed. I knew it would be THE hottest ticket in town once it opened its doors! Located right in the heart of London's West End, in Leicester Square, this hotel describes itself as a 'super boutique hotel'. Yes it's huge, but it still has the charm and attention to detail you expect at the best boutique hotels.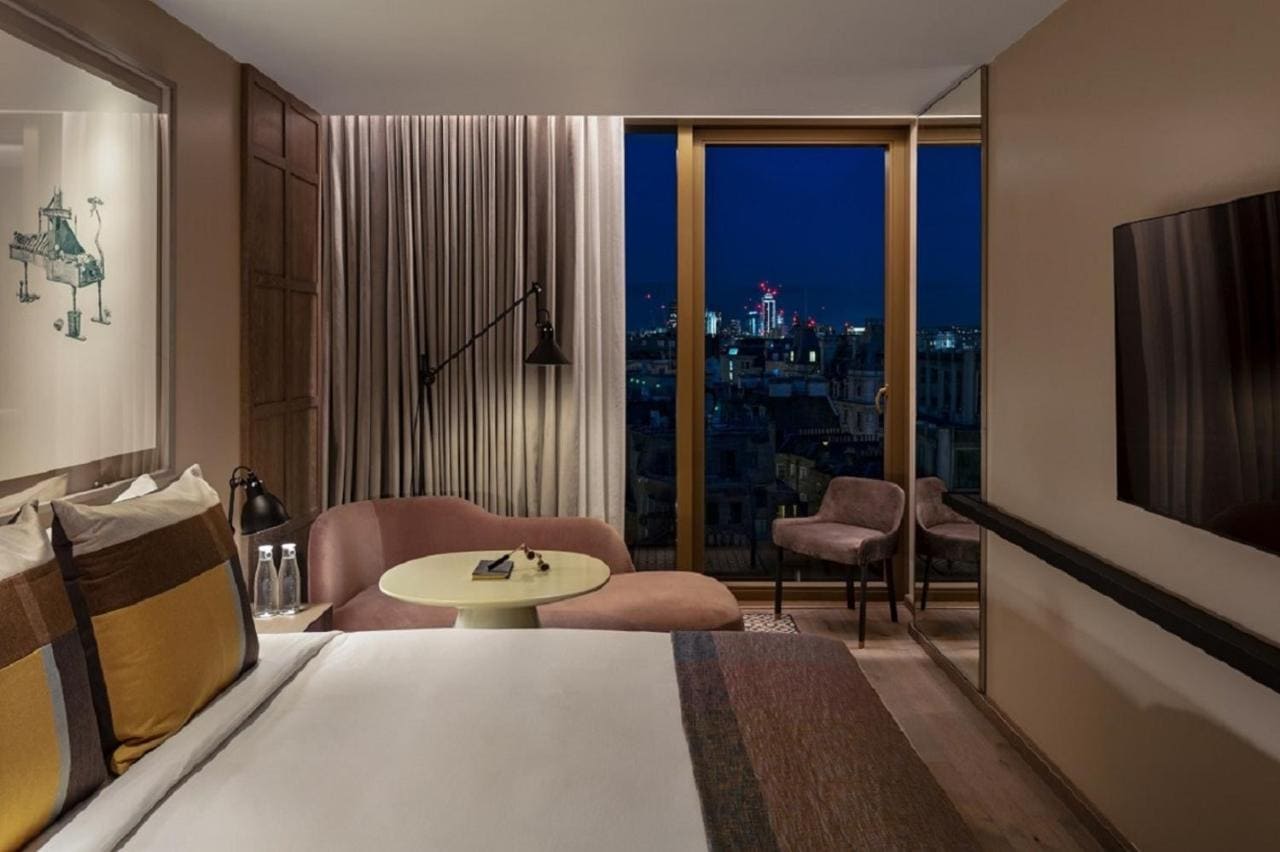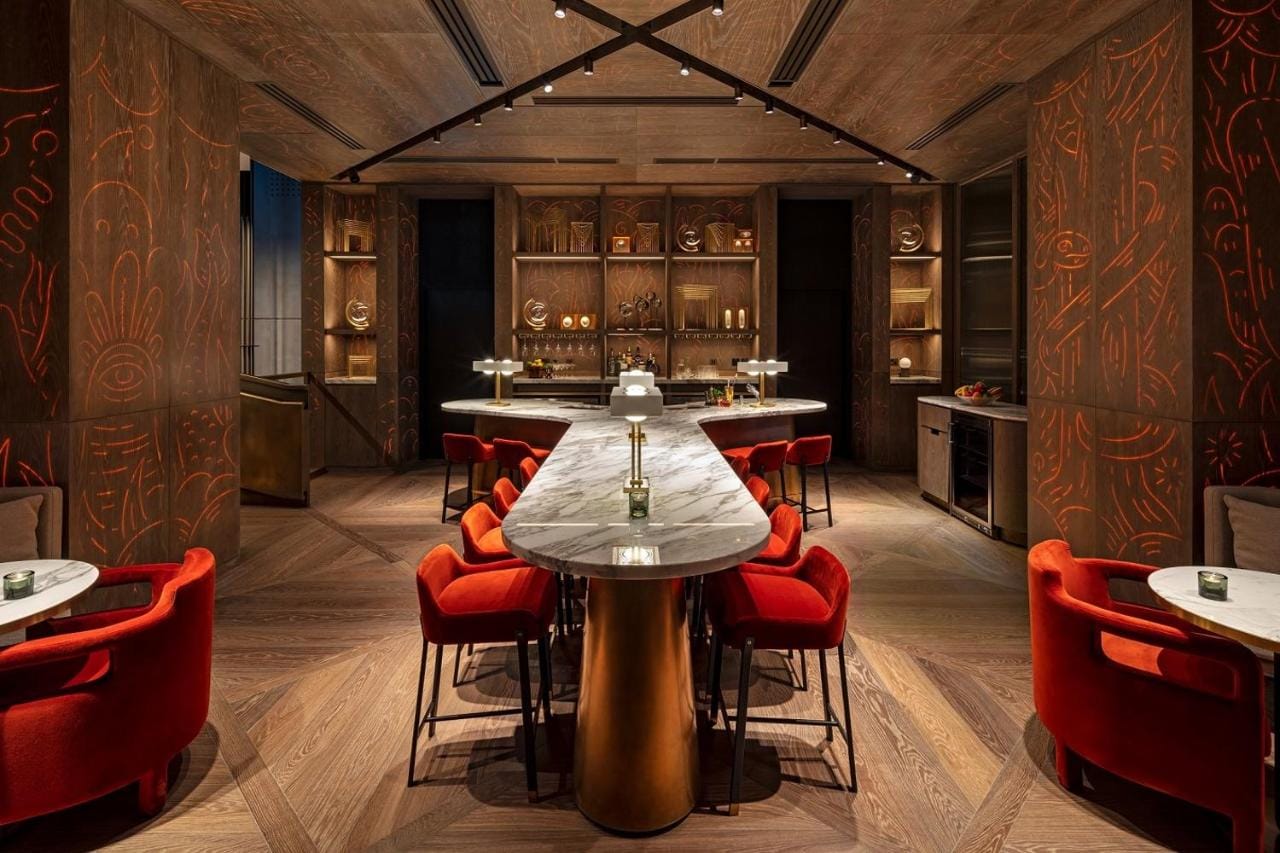 One of the quirkiest features of this hotel is that your room key gives you access to The Residence, where you'll find three beautifully designed spaces. There's Y Bar, The Drawing Room, and The Whisky Room – all perfect for drinks, snacks and some 'you time'. There's also complimentary antipasti, soft drinks, tea and coffee all day long.
As well as amazing London views from every window, you can enjoy access to the pool and gym within The Retreat area of the hotel. This is one of the coolest 5 star hotels in London right now. A place where every little detail has been thought out, and you can leave your worries at the door!
Another floating hotel in Royal Victoria Dock, the Good Hotel offers something different to the glitzy luxury of Sunborn. This one is industrial in style, like a big floating platform.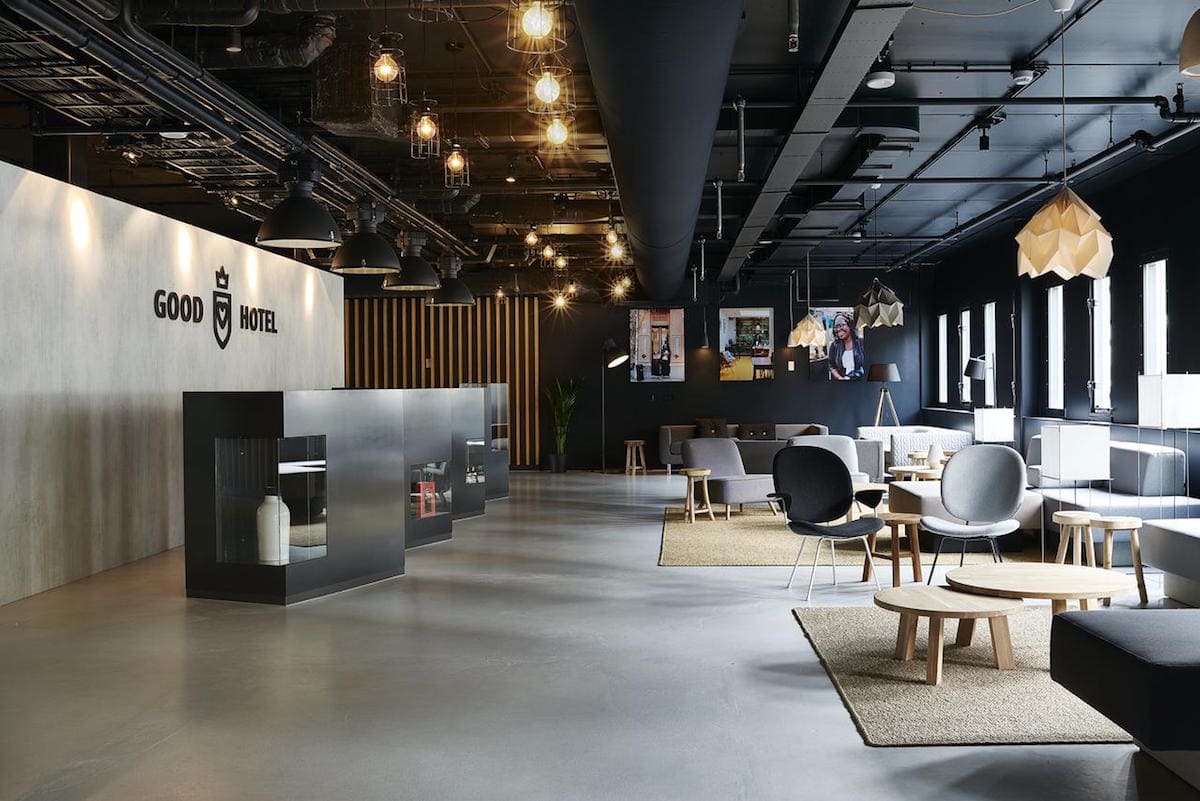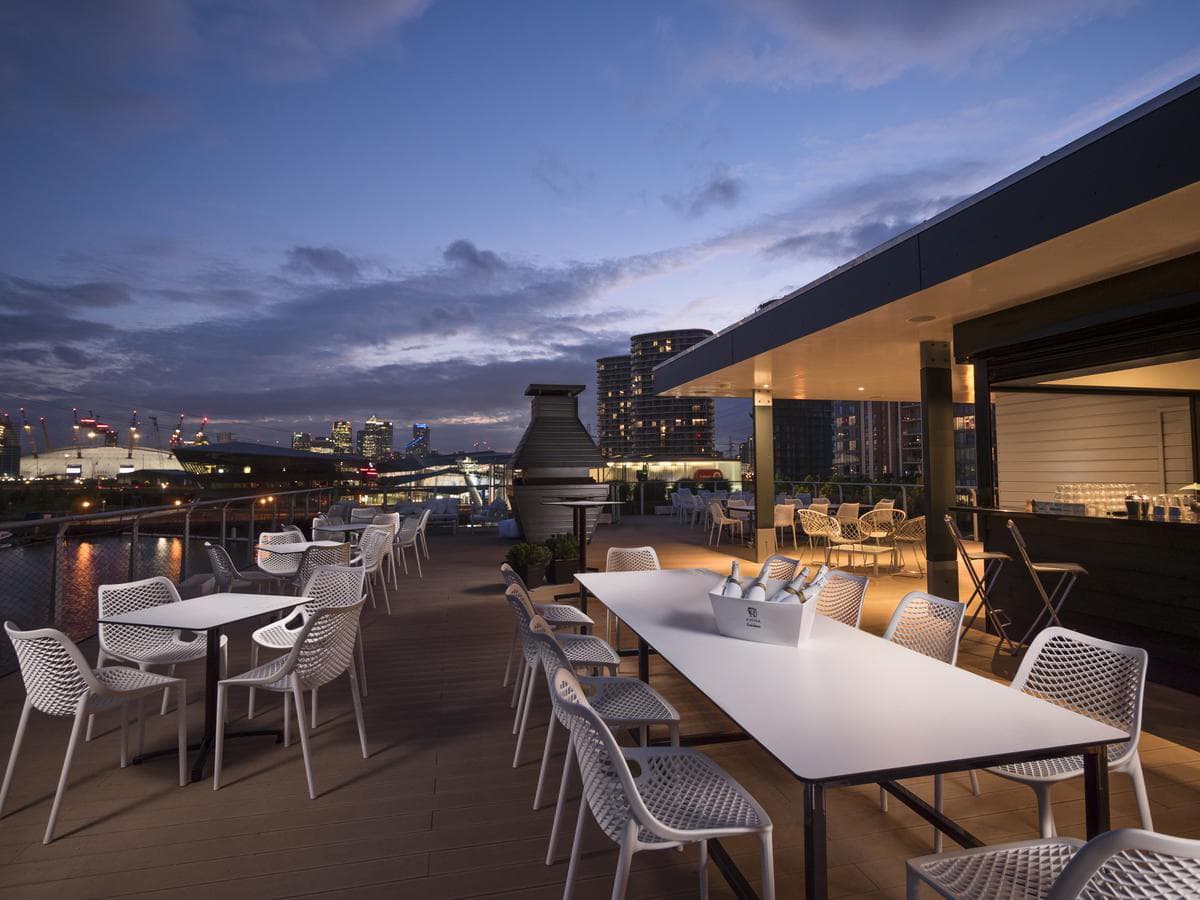 It's also got a 'good' heart, working with locals who are struggling to find employment and training them up in hospitality, as well as working with local businesses where possible. It's still a smart experience, with chic rooms, a large living room area and a rooftop terrace with views over The Thames.
Another hostel creeping onto the list… yep, this is the UK's first capsule hostel! While this experience might not be to everyone's taste, it's certainly a unique one.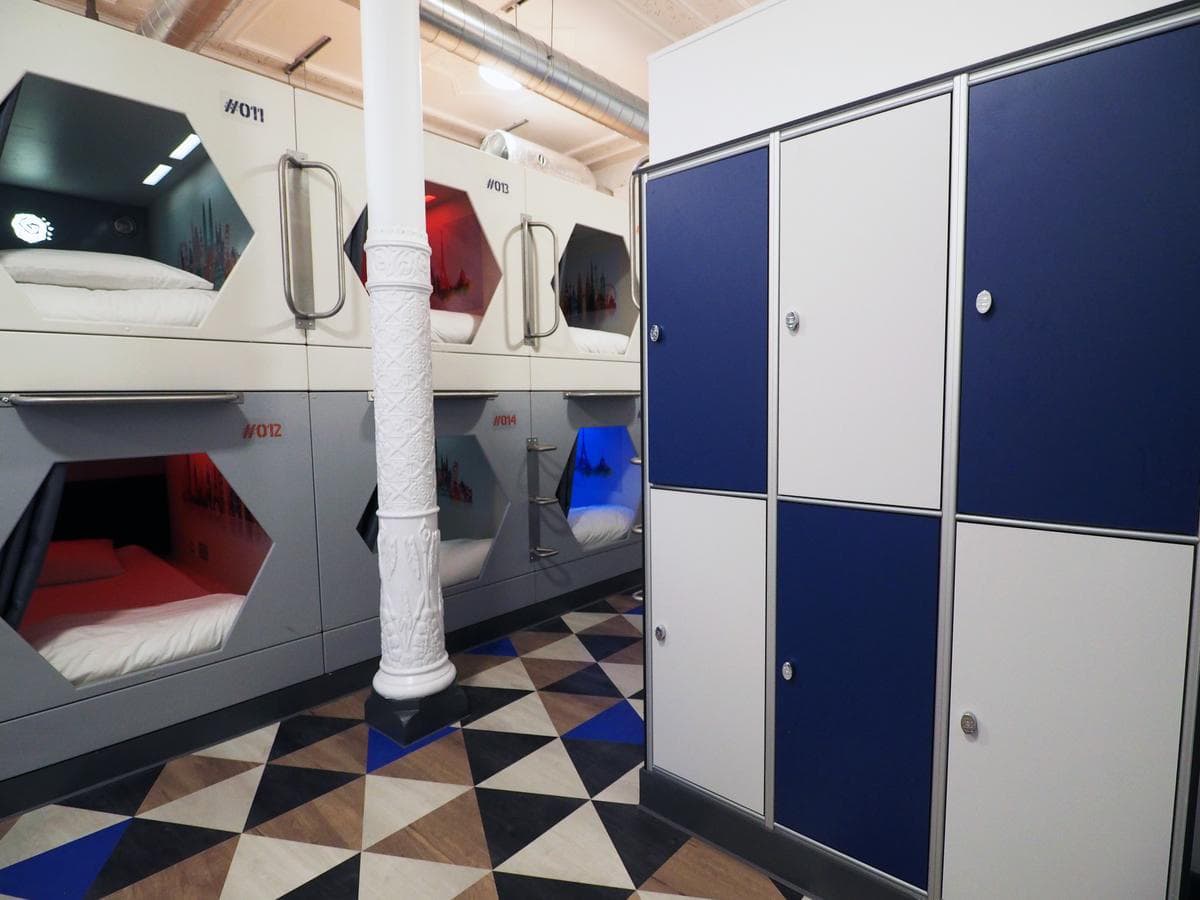 The Japanese-style capsules are hi-tech too, with USB ports, ventilation and mood lighting. Prices start around £25 per night, which is a bargain considering how central this is!
Fancy a quirky hotel in London with a magical twist? Dating back to 1851, there's more to this five-star boutique hotel than meets the eye. Rooms are concealed behind a secret bookcase and feature stained-glass windows, spooky archways, potions, cauldrons and a range of magical artefacts.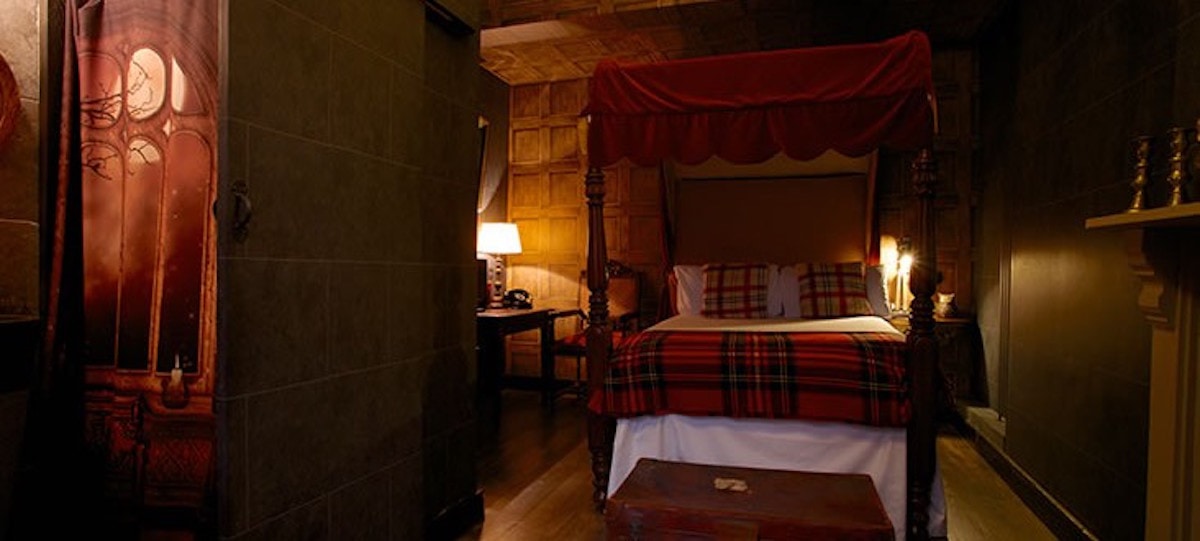 Oh and if you really want to round off your stay in style, order the magical breakfast! This is one of the most memorable places to stay in London.
This hotel was once The Great Marlborough Street Magistrate's Court, where many famous cases took place. Notable cases include those of Mick Jagger, Keith Richards and Oscar Wilde.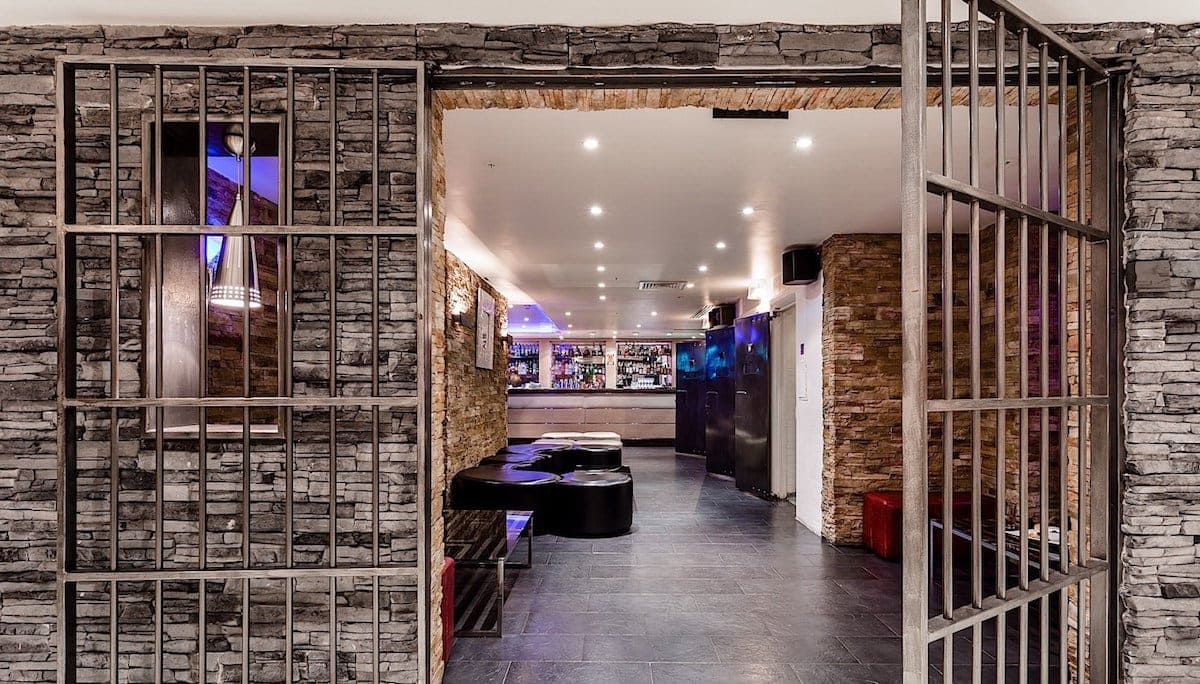 Plenty of original features have been preserved including three of the prison cells which now make up part of the bar. Other historic features can be spotted in the hotel's restaurant Silk, which was once the main courtroom. Want to stay in a piece of history? Book into the Magistrates Suites which used to be the Judges' quarters.
How do you fancy enjoying skyline views of London, as if you're inside your very own treehouse? Located a stones throw from the busy shopping streets around Oxford Circus, the Treehouse Hotel is a wonderfully stylish hotel with chic design touches scattered throughout.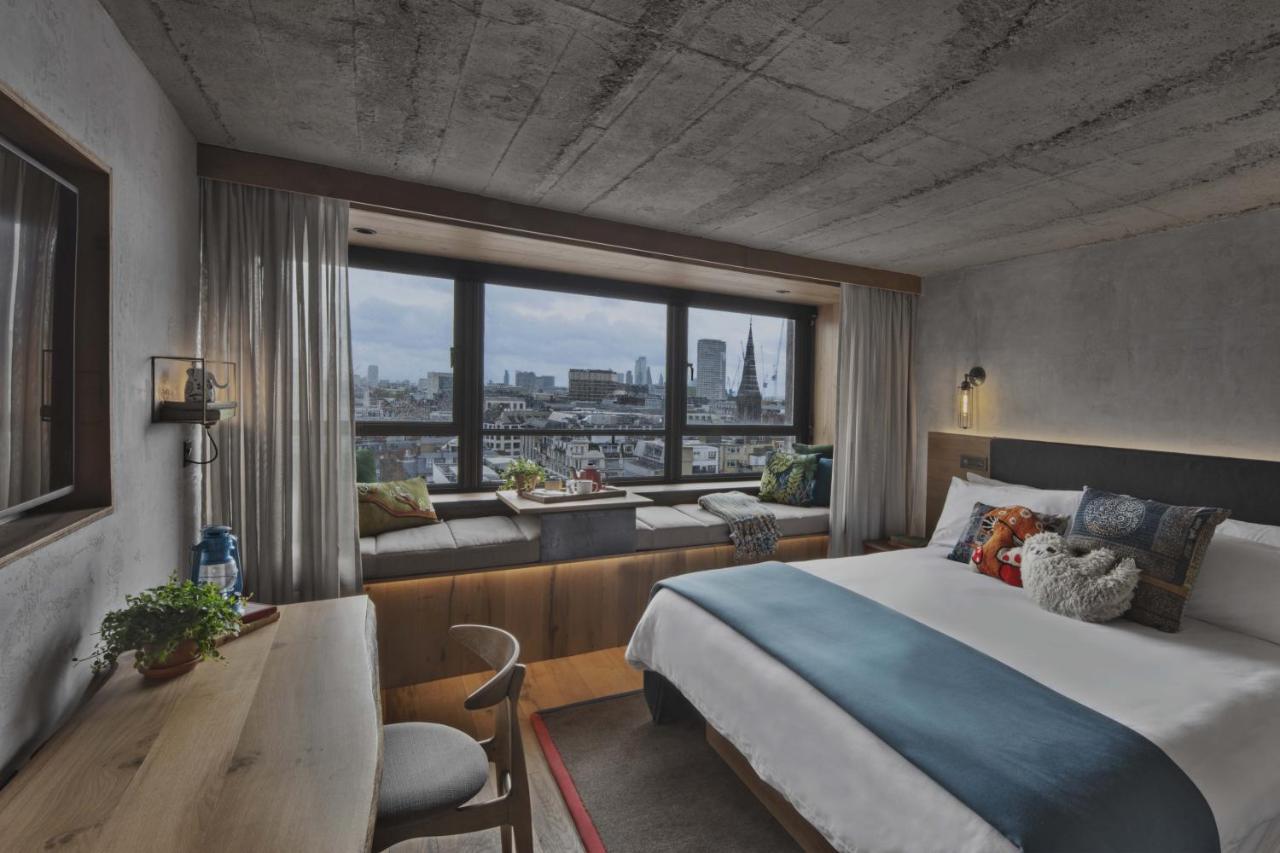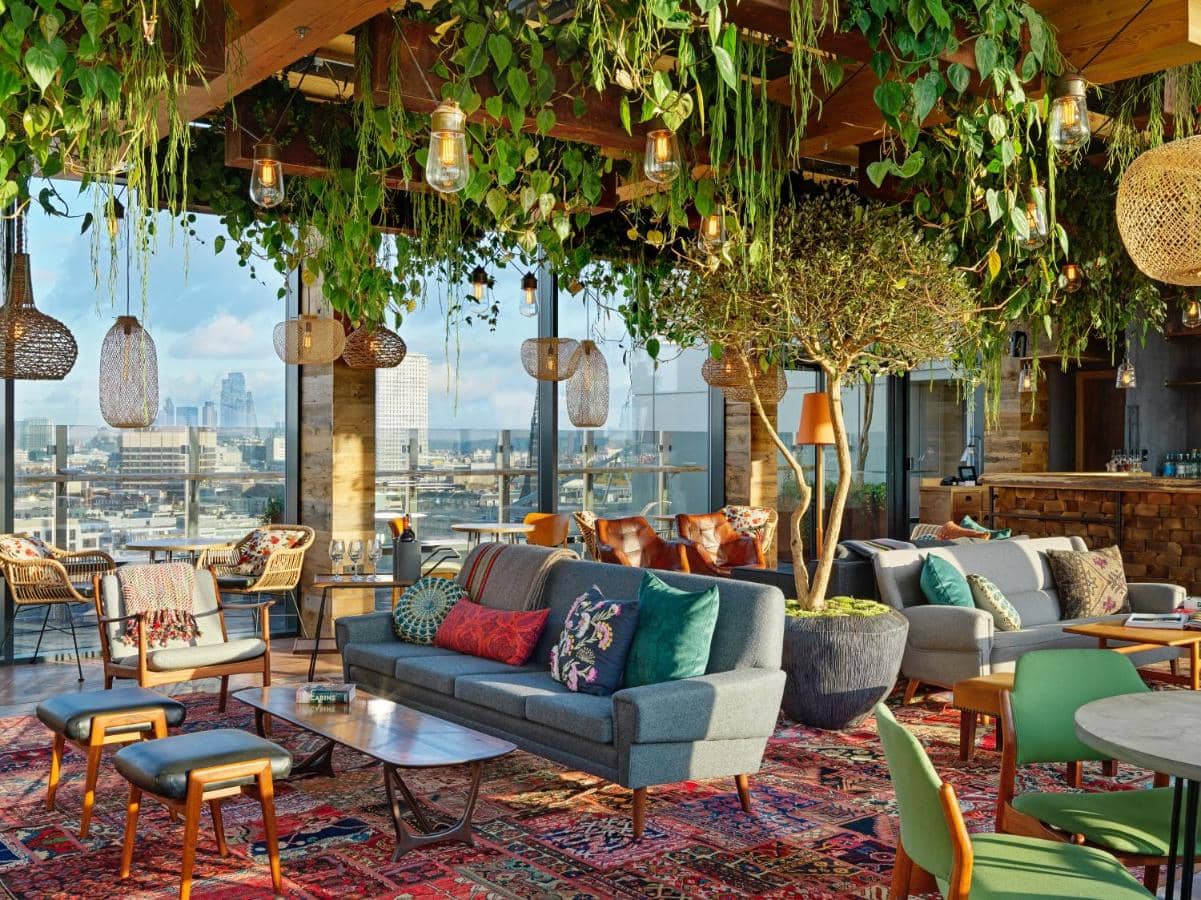 As well as comfortable rooms, there's an incredible Mexican restaurant (Madera) with stunning views over the city. Where better to eat tacos in London?! There's also sky bar The Nest, where you can enjoy 360 degree views while sipping on cocktails. One of my favourite things about this quirky London hotel is they have a team of 'fun finders'! Yep, they're people dedicated to making your stay as enjoyable as possible!
One of the coolest hotels in London right now, The Ned is housed inside a Grade I-listed building, designed by Sir Edwin 'Ned' Lutyens in 1924, hence its name. It was once a bank, and you'll feel that grandeur as you explore the main areas. The style is original and bold, with eclectic touches, and includes a lot of nods to the 20s and 30s. You'll find a lot of retro items and rich patterned fabrics.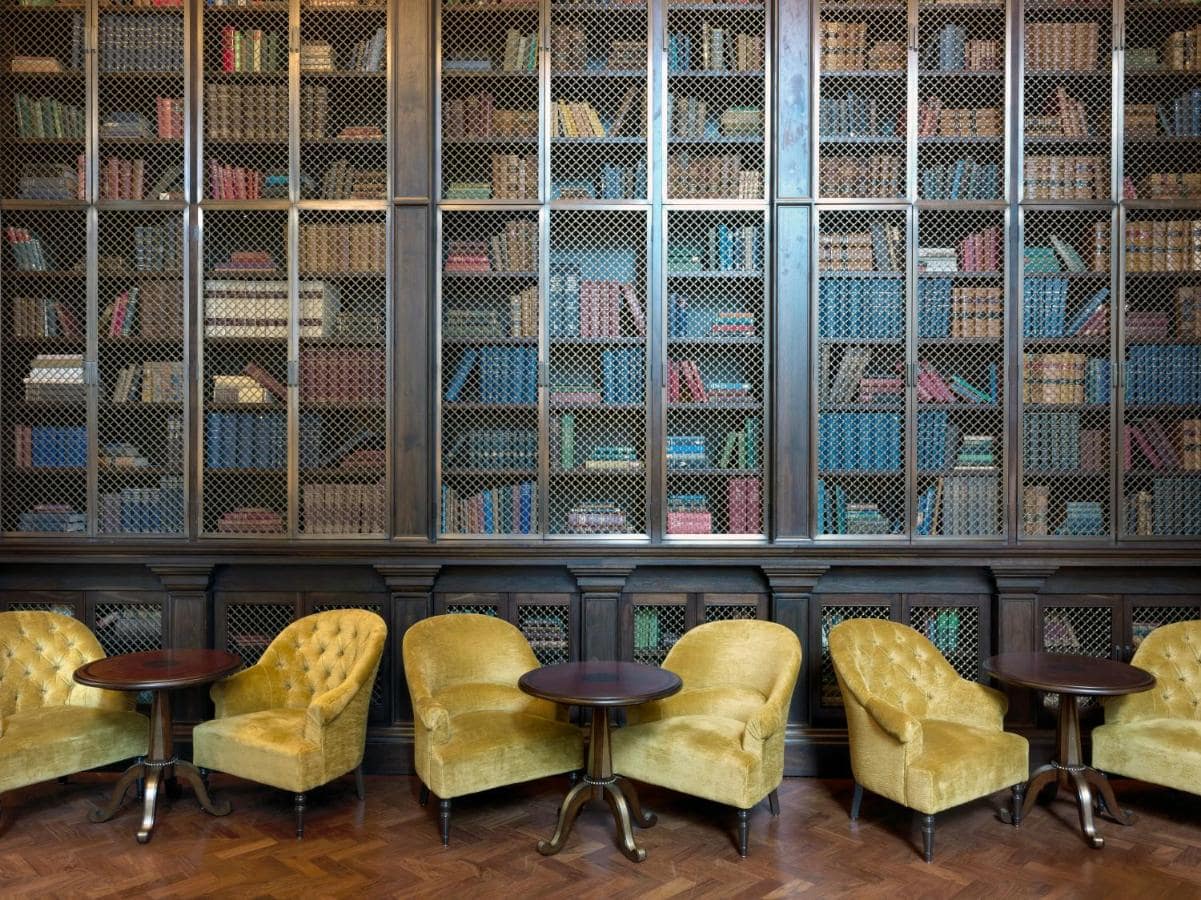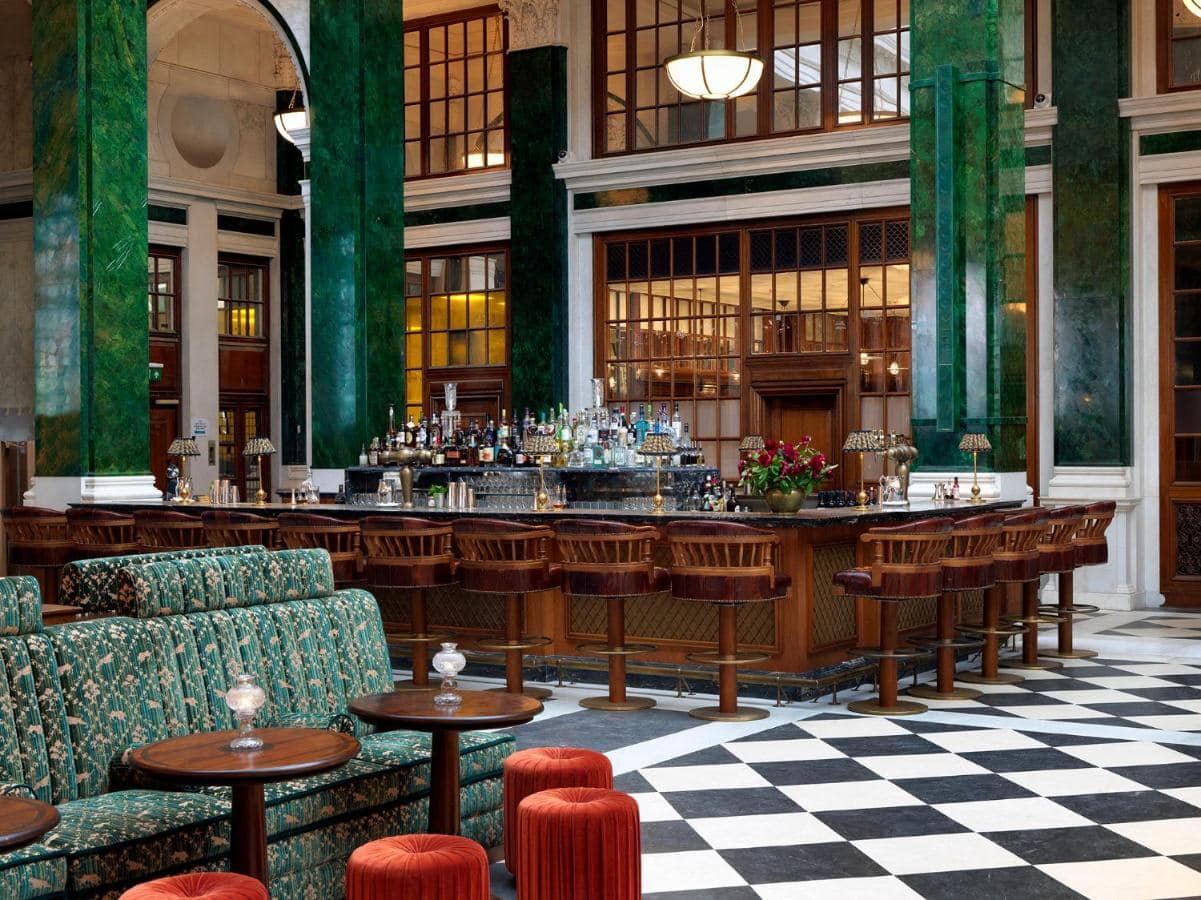 The Ned is also a private members club, and you'll feel that 'exclusive' vibe as you wander the hotel's corridors. Foodies always rave about this hotel as there are so many restaurants under one roof. You'll find Asian-Pacific Kaia, Lutyens Grill, Malibu Kitchen (a California vibe there!) and classic Italian cuisine at Cecconi's. There's even an intimate jazz and cabaret bar – how cool is that?!
If you stay at the hotel you'll also gain access to the lovely spa at this 5 star hotel. There's also a rooftop pool for those warm sunny days in London.
You can't get more central than this unique London hotel. It's moments away from the lions in Trafalgar Square! If you fancy yourself as a bit of an amateur detective (perhaps you've watched every series of Line of Duty and think you could solve the crimes quicker!) then this is an amazing place to stay.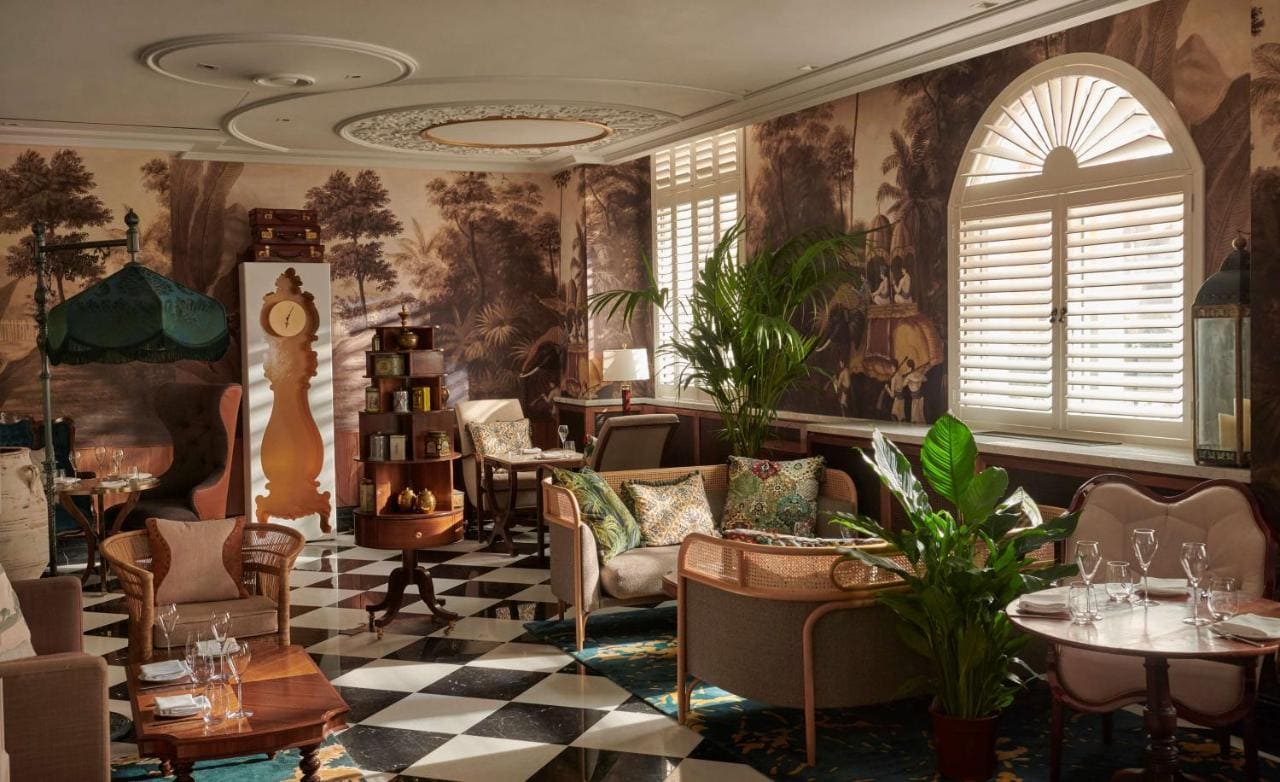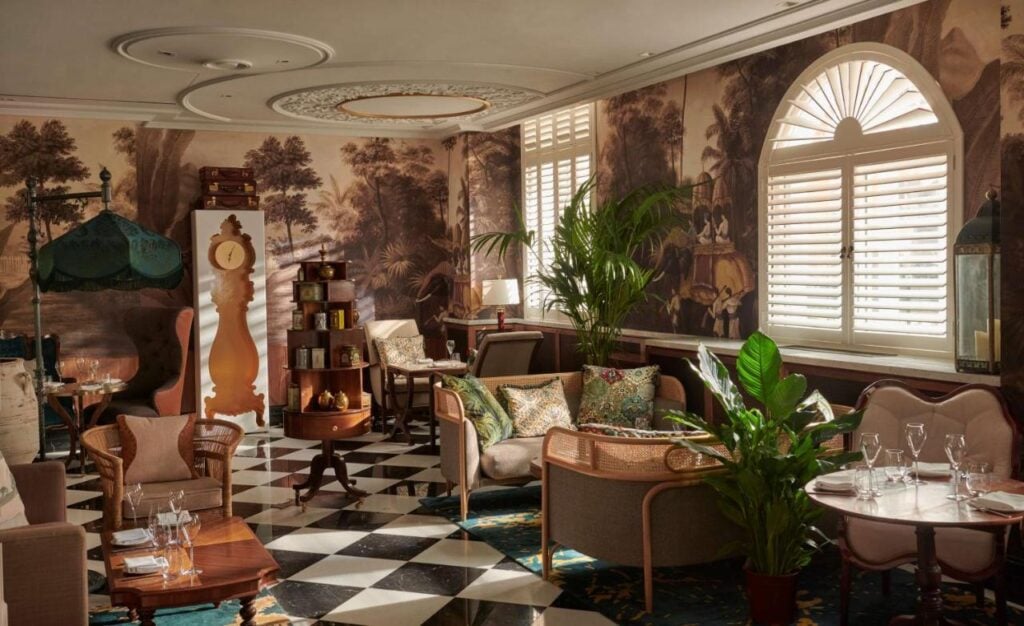 Throughout the hotel you'll notice nod's to the buildings history, when it was the headquarters of the Metropolitan Police. Spot artworks on the walls and the quirky names of various rooms and suites (including the Sherlock Suite) as you explore this 5 star hotel.
This is also a fine-dining hotspot with Michelin-starred Swedish chef Nicolas Ekstedt opening his first London outpost, Ekstedt at The Yard. If you love your food with a barrel load of smoke, you'll enjoy his signature style of cooking with fire.
If you're a music lover, then how about staying at a hotel where legendary guitars line the hallways and jackets of popstars hang in glass cabinets? Oh and did I mention there's live music every night of the week?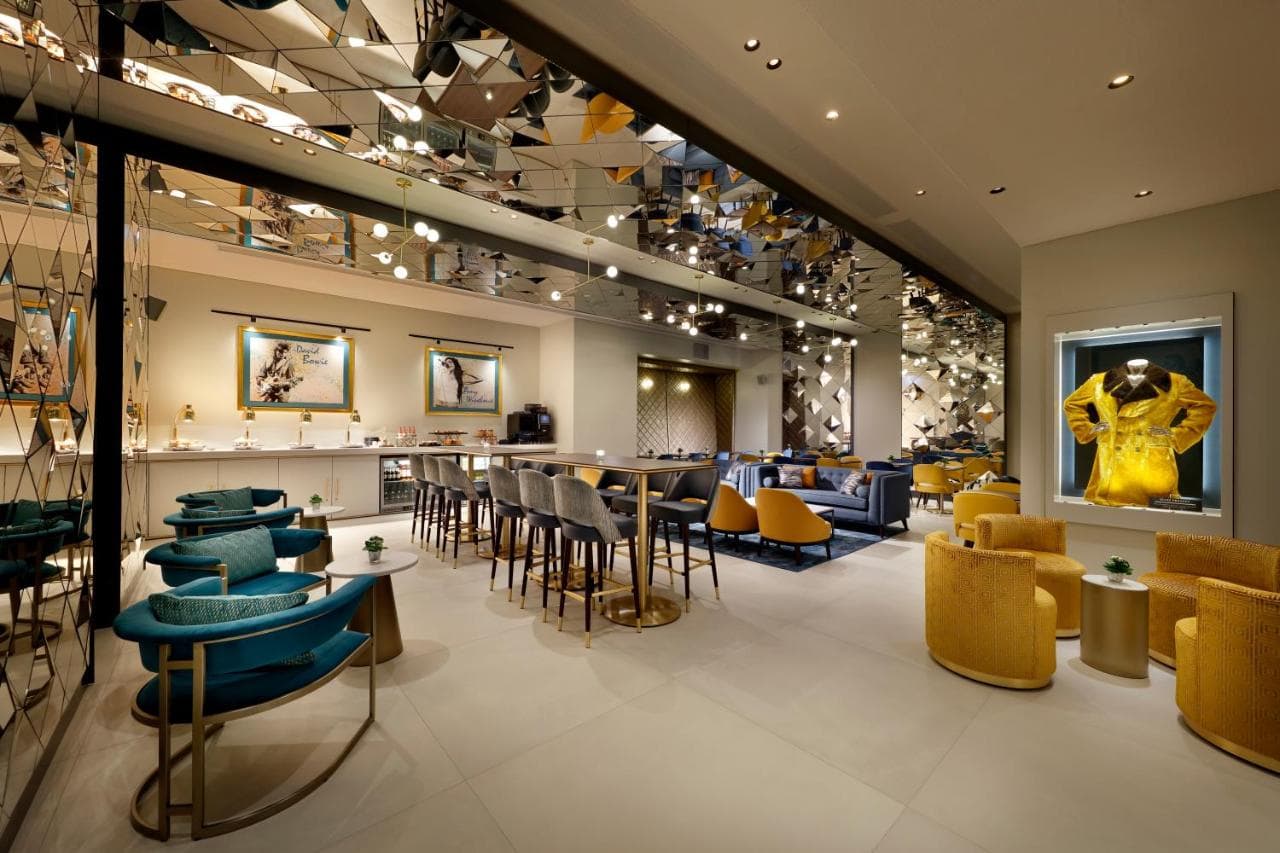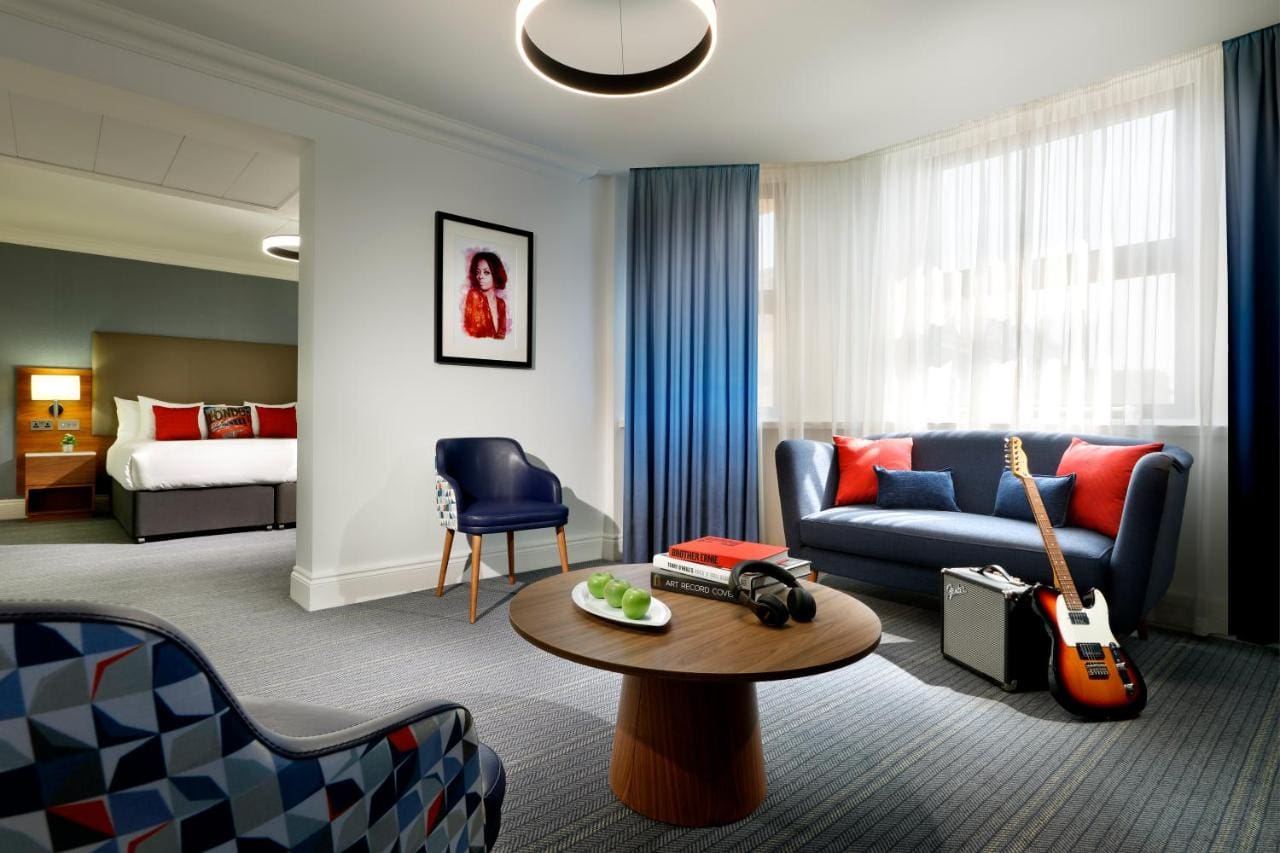 Hotel rooms are chic, with musical touches too! Plus, when you hear the former residents here include Motown icons and rock 'n roll royalty, you'll feel like you're living the life of your fave popstar! If you were wondering about bringing your pooch, you can as this is a pet-friendly hotel. In fact, the Hard Rock Hotel even offers treats such as custom pet playlists!
Turn back the clock to the Georgian era, and enjoy a stay at this unusual London hotel. In case you didn't know, Batty Langley published handbooks designed to help inexperienced clients plan their Georgian houses and gardens "in the most Grand Taste"!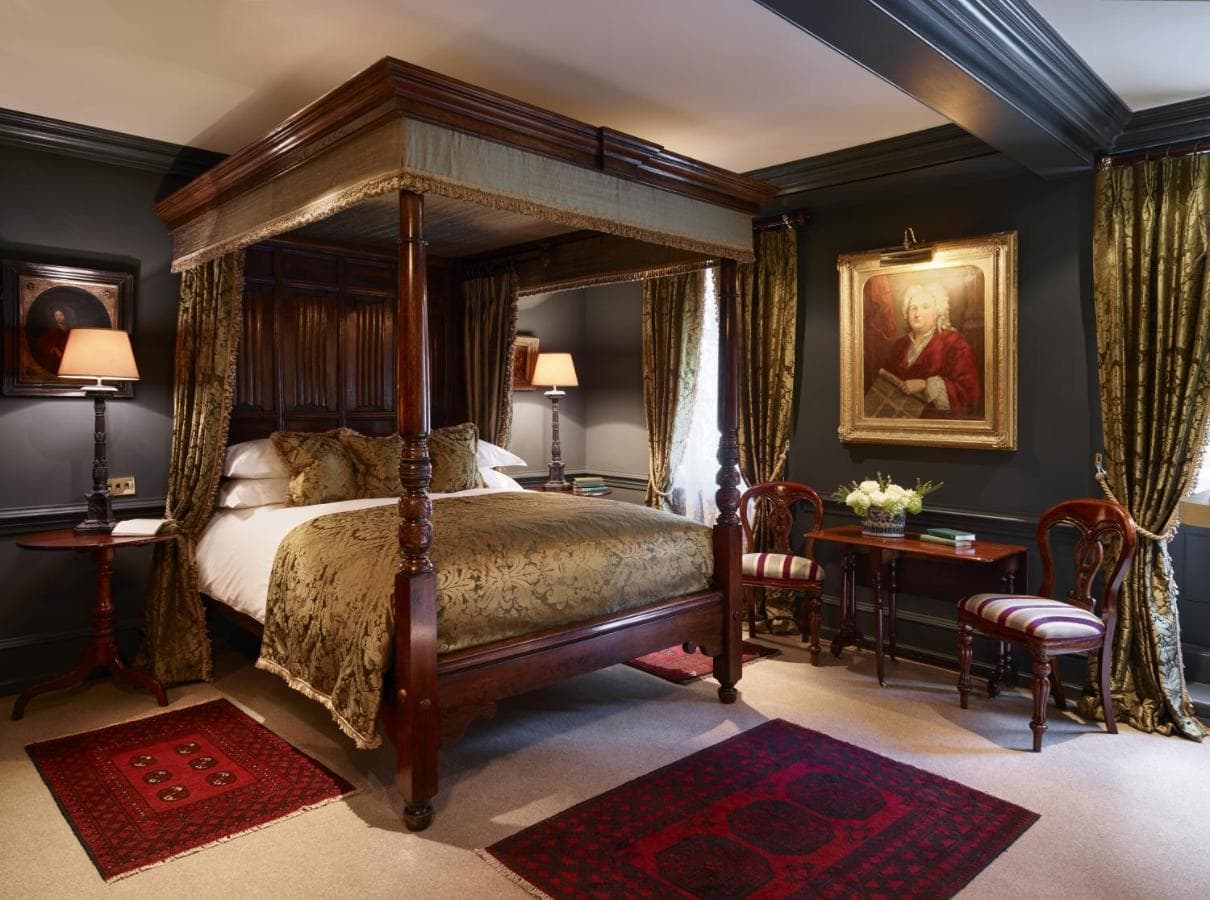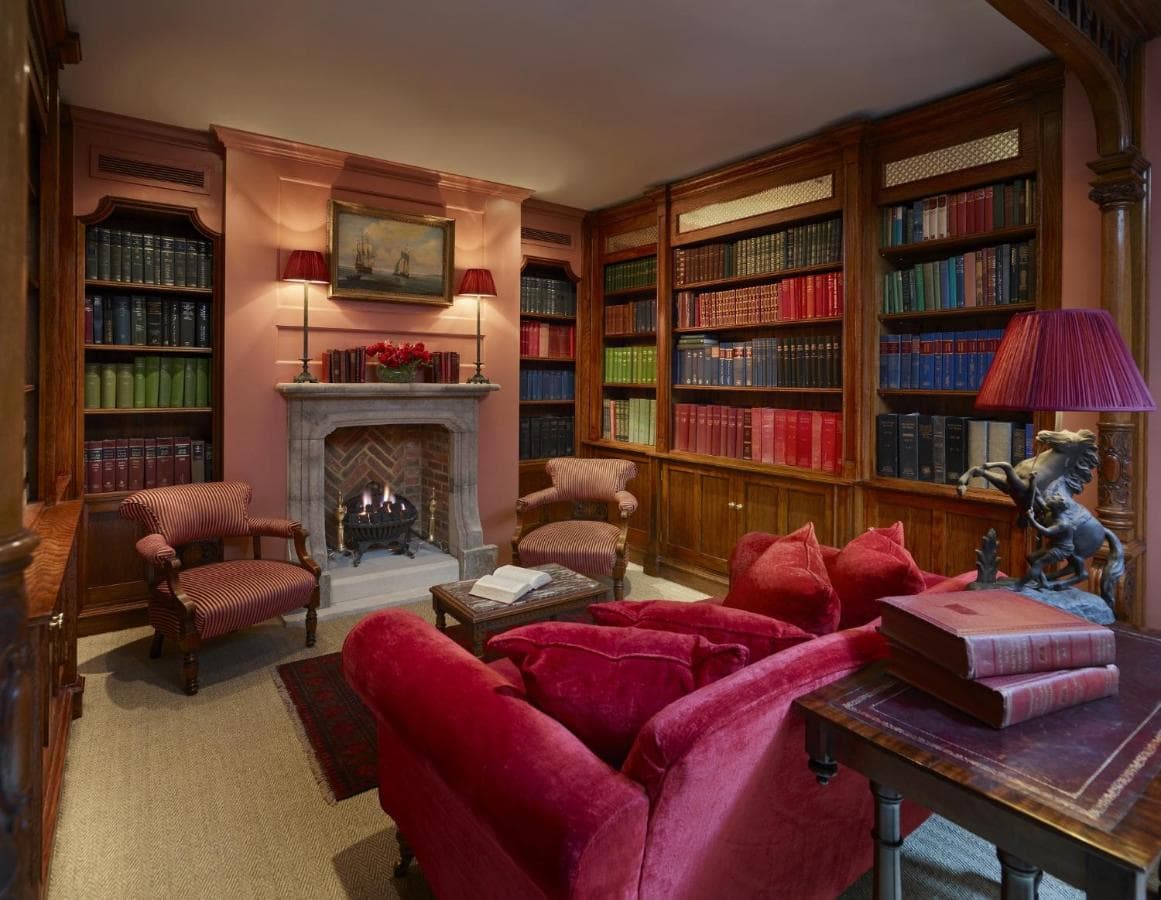 You'll see the decor of the time in the rich velvet curtains, plush bedding and wooden four-poster beds. Traditional portraits hang on the walls, while bathrooms contain free-standing bathtubs, perfect for a relaxing soak. If you love delving into the city's history, this is a great place to stay in London!
Don't forget, if you fancy a trip out of town, be sure to take a look at my guide to the coolest places to go glamping near London. They include treehouses, yurts, shepherds huts and houseboats!
Or if all you're dreaming of is diving into a pool during your trip to London, you'll want to read all about the best London hotels with swimming pools.
---
When Is The Best Time To Visit London?
England is a country obsessed with weather. Don't know what to say? Comment on the weather! We talk about it a lot, but contrary to what you may have heard, we don't have awful weather in England. It's just a little unpredictable and varies from region to region.
You can expect average lows of around 5 °C in London in January / February, and highs around 25°C in July / August.
If you're wondering when is the best time to book a stay at one of these unique London hotels, I'd suggest planning a trip in May or June. The weather tends to be warm and sunny, rain is at a minimum and it's out of peak season, so you shouldn't be battling any big crowds either. The longest day is around 20th June every year, so it's a time you can enjoy maximum daylight hours exploring!
I've never been a fan of November in London – it gets pretty bleak! It's the wettest month of the year, and while December can be pretty cold, there's a Christmas magic around the country which always puts a smile on my face!
---
Fancy seeing more of London's quirky side? Don't miss my guide to to the most unusual things to do in London, my top London date night ideas and my guide to the most unusual restaurants in London.
I hope you've enjoyed reading about these funky and unusual hotels in London.
If you have, why not pin it to Pinterest so you can look back at it later?