This Raja Ampat travel guide will help you plan your trip, showing you how to get there, the best activities on offer and plenty more tips to make your adventure stress free!
Raja Ampat in Indonesia is home to some of the most beautiful islands on the planet. There's spectacular snorkelling and diving, and some of the friendliest people you'll ever meet. Isn't it time you explored this secret corner of paradise?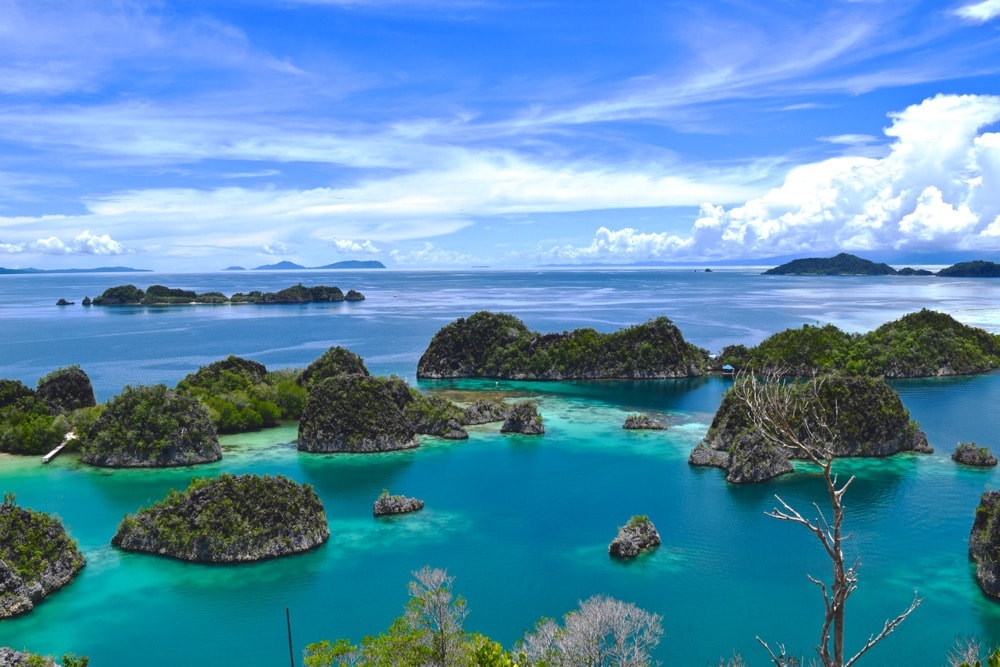 Raja Ampat isn't like anywhere else on the planet. Well, not that I've been to yet anyway. It's raw, rugged and the closest thing to paradise that I've found.
Above the ground exotic birds call to each other, gigantic colourful butterflies flutter by, and hermit crabs dance along the sand.
Below sea level majestic lion fish prowl through the waters past tropical fish, purple pufferfish, turtles, dolphins and sharks.
These Indonesian waters are the most biodiverse in the world, and if you pop your head under for a moment you'll be amazed at what you find.
Along with stunning landscapes, incredible snorkelling, diving and endless sunshine, there's a heart and soul to this region of Indonesia. The people. The people with smiles on their faces. People who have no doubt been through some serious hardships given the tricky political situation in West Papua.
But they were open, welcoming, and made our experience extra special.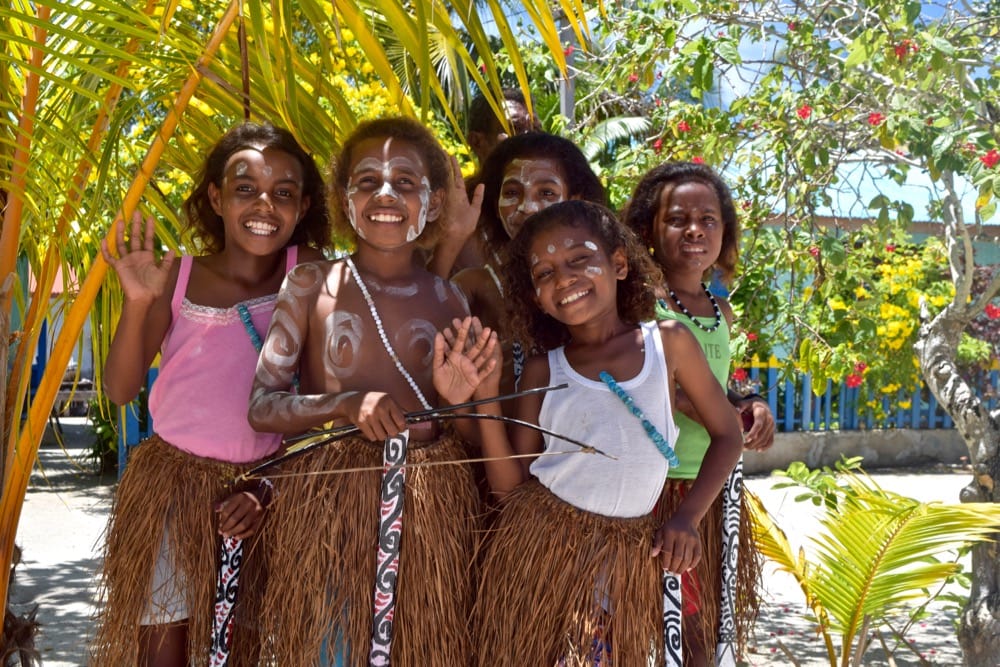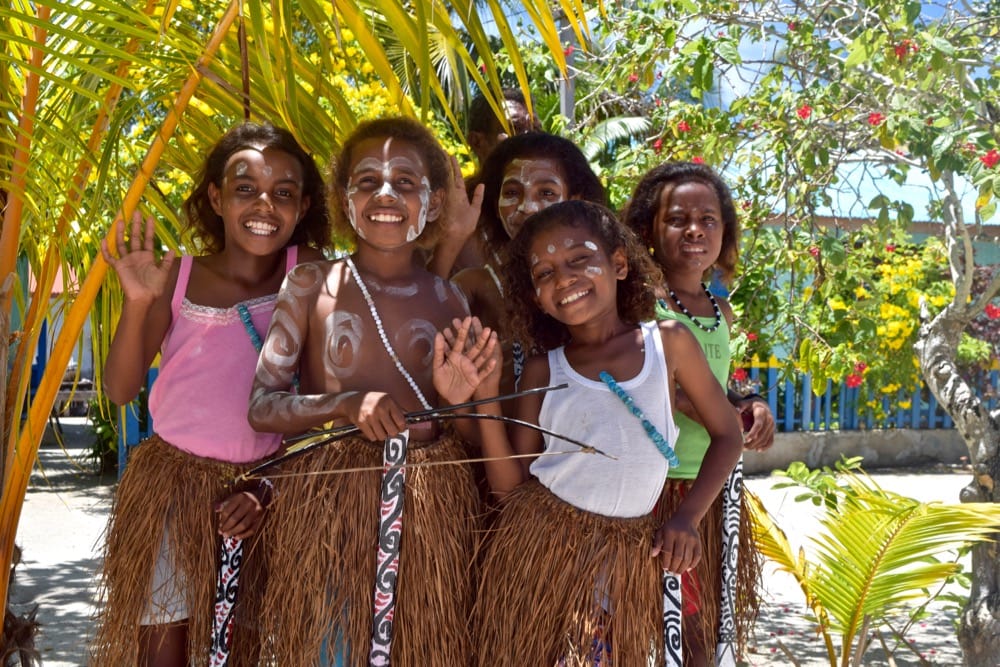 So forget Bali and the Gili Islands, let's go on an adventure to Indonesia's secret paradise… Raja Ampat.
Where Is Raja Ampat?
Raja Ampat is an archipelago comprising over 1,500 small islands located off the coast of West Papua, north-east of Java and Bali. Click around this Raja Ampat map to get your bearings!
How To Travel To Raja Ampat?
The journey isn't simple, so you do have to work for your paradise adventure! While I can't guarantee this Raja Ampat travel blog will be 100% up to date with information for the area in the archipelago that you're trying to reach, hopefully it will give you some pointers.
From Jakarta, fly to Sorong (4 hour 5 mins). Some flights will go via Makassar.
From Sorong, take a taxi to the harbour (15 mins).
Once at the harbour take the Bahari Express ferry to Waisai, which is located on the island of Waigeo. The express ferry takes 2 hours.
From there you'll need to arrange a taxi boat with your Raja Ampat accommodation. Most home stays and hotels will organise your transfers.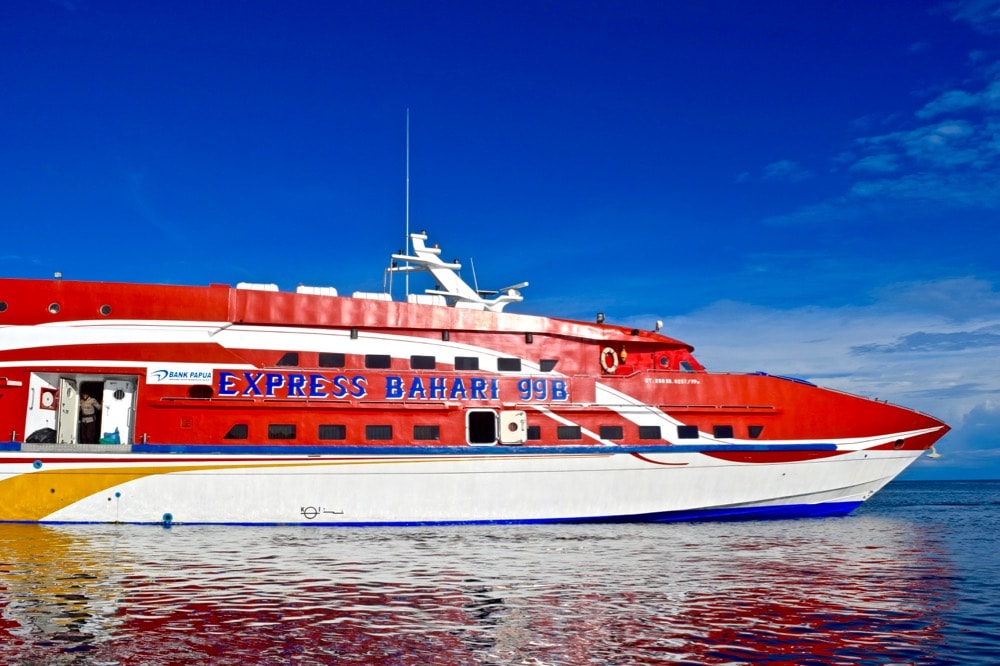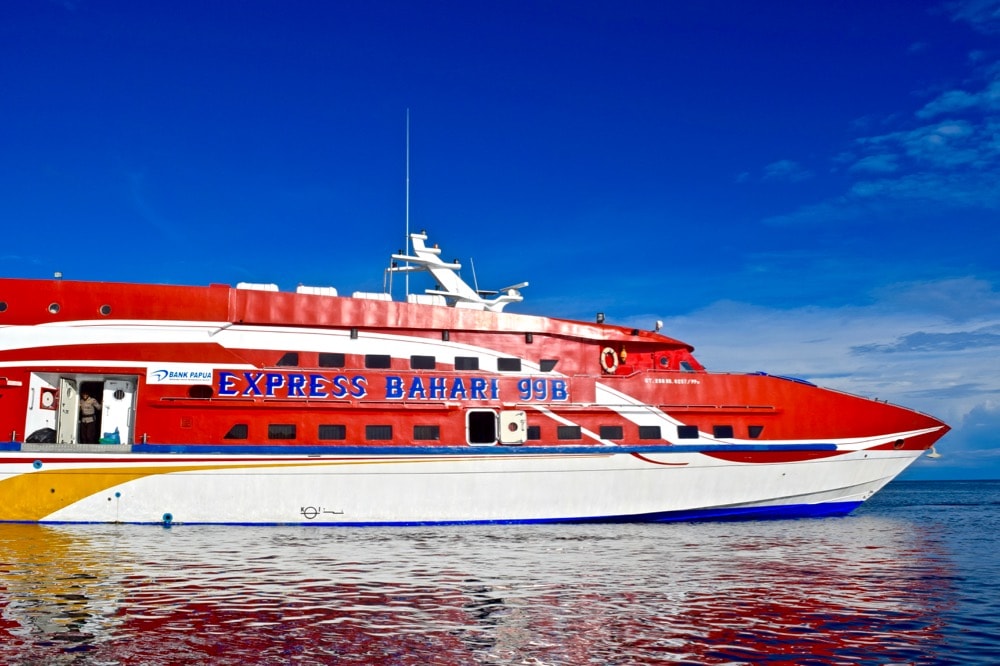 Things To Do In Raja Ampat
Diving and Snorkelling In Raja Ampat
The diving and snorkelling in Raja Ampat is said to be among the best in the world with over 1,400 species of fish enjoying its reef. It's often top of peoples scuba bucket lists!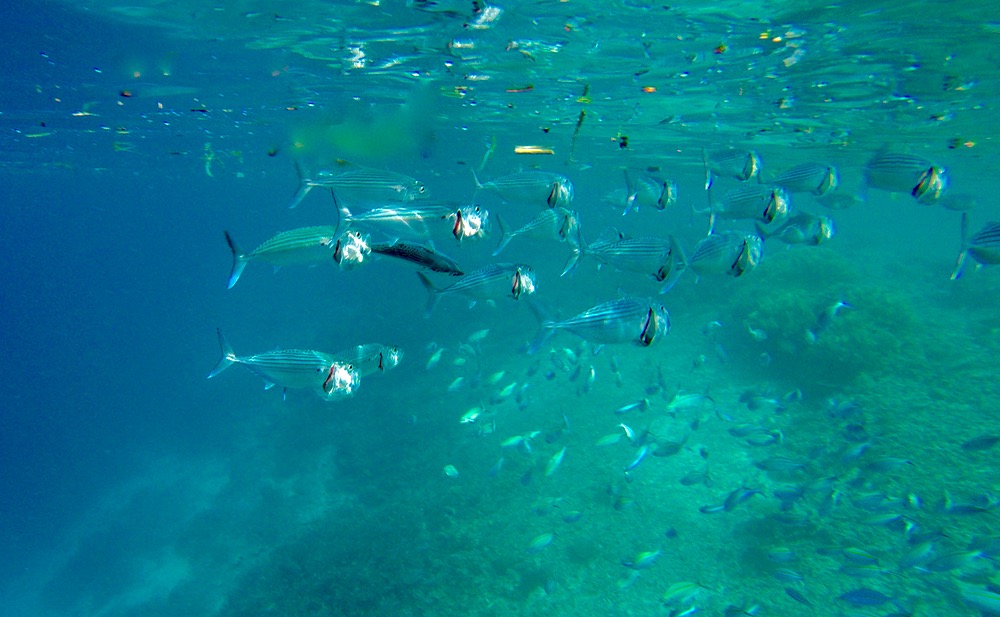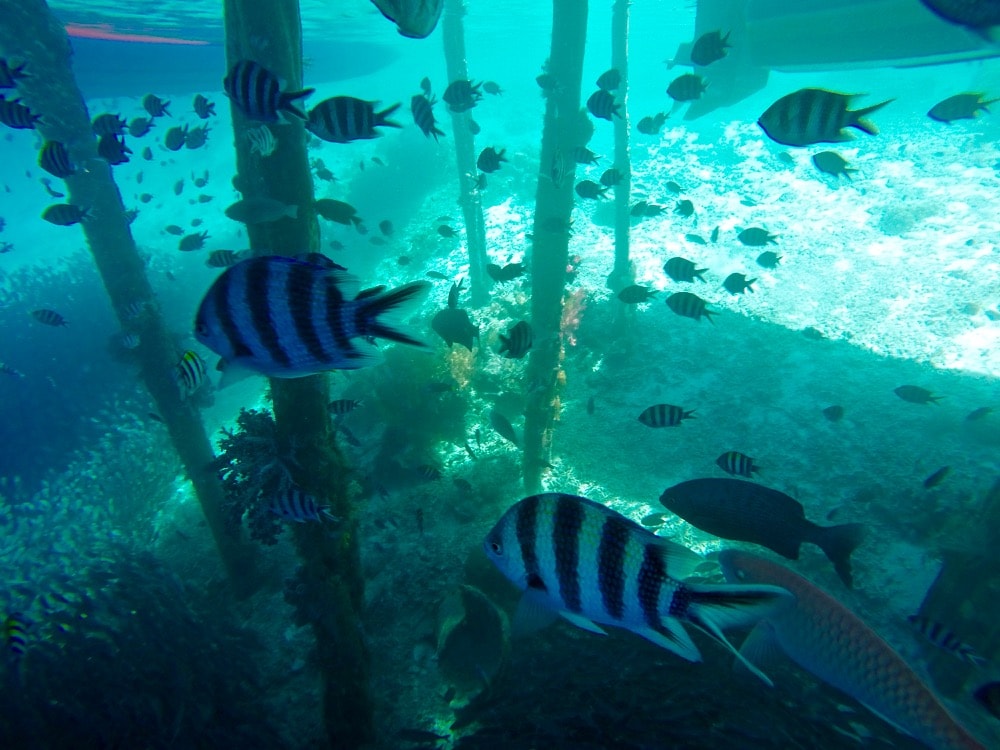 While staying at Raja Ampat Dive Lodge I snorkelled from the end of the pier and saw a plethora of tropical fish including angelfish, needlefish, several lionfish, batfish, and even a purple pufferfish. In the evenings we spotted walking sharks close to the shore. The coral was beautiful too.
Also in the incredibly diverse waters are bluefin jacks, manta rays, grey reef sharks, blacktips and whitetips along with the elusive wobbegong – a type of shark that's only found in this region. The Raja Ampat diving is truly off the scale!
After a long day in the water, there's no better way to unwind than by watching one of Raja Ampat's incredible sunsets.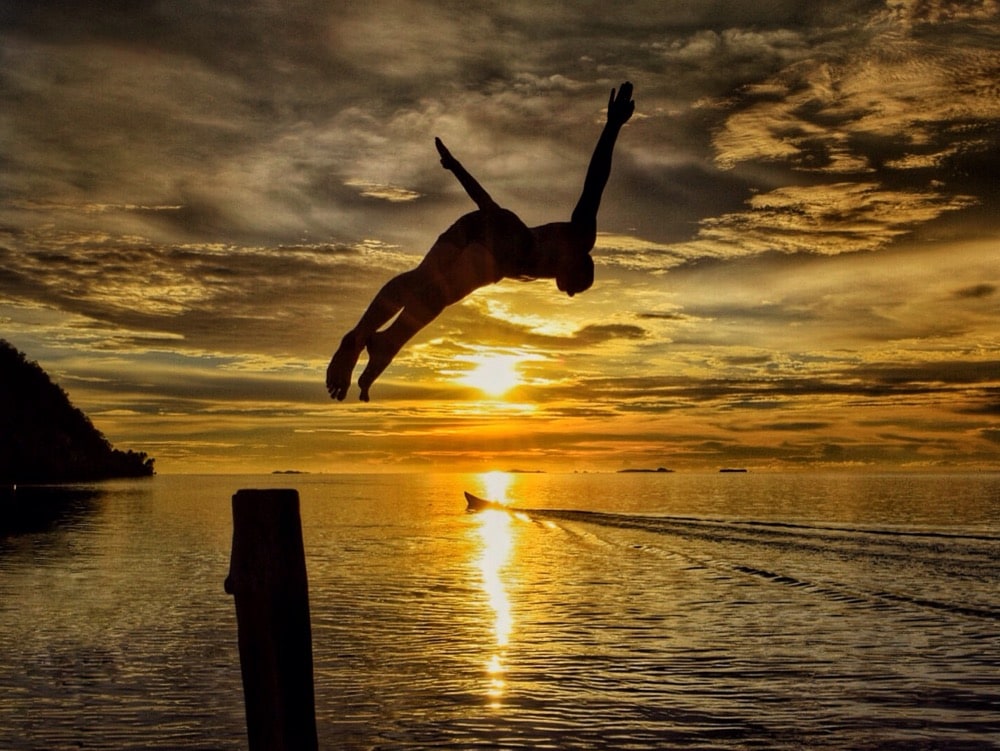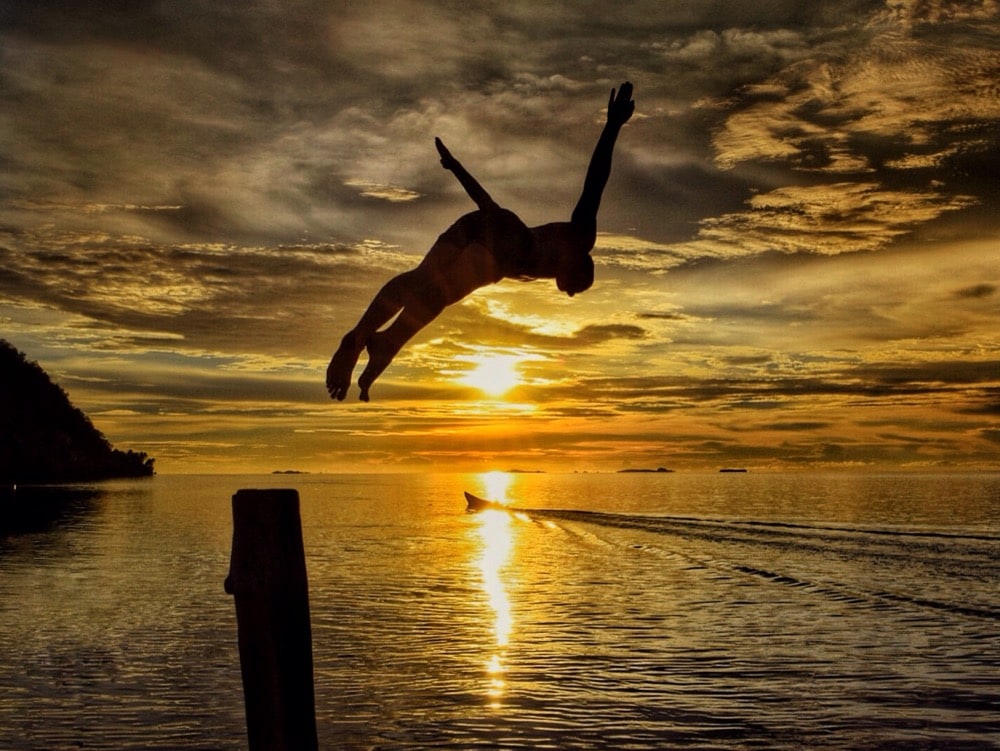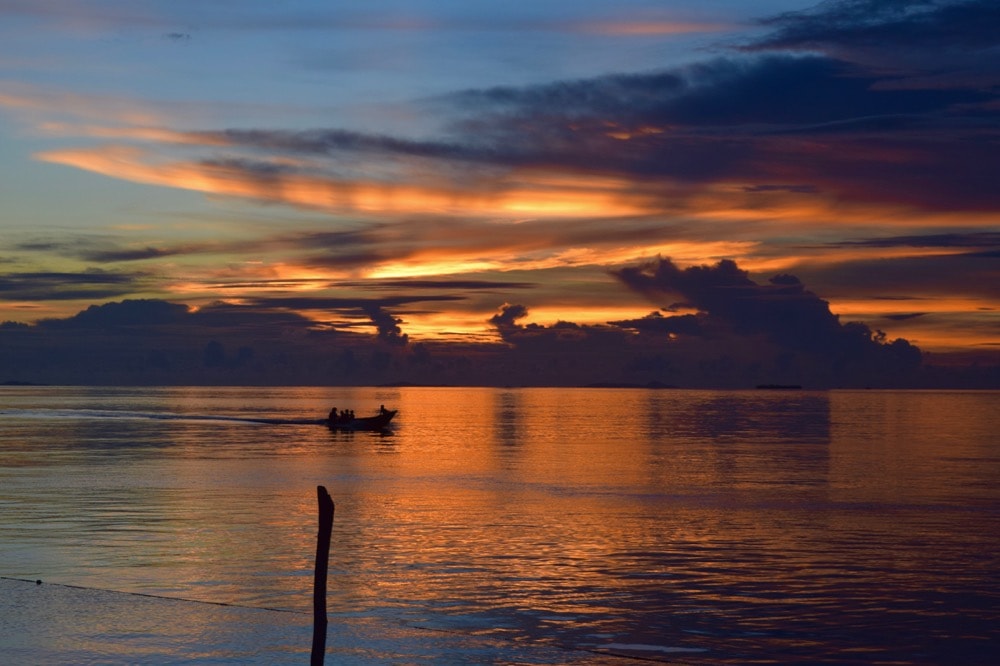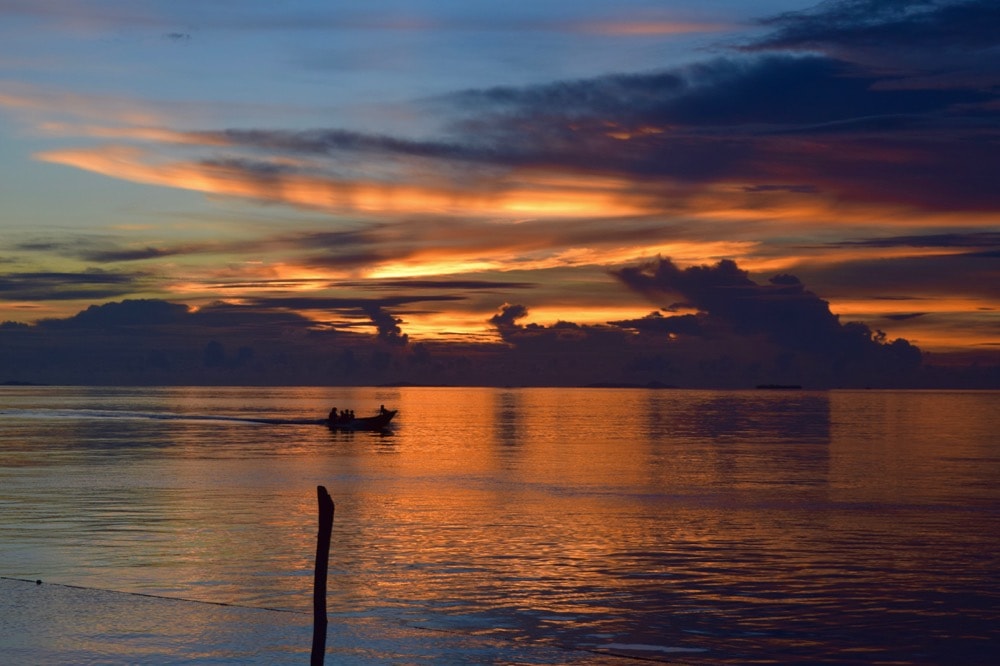 Visiting Islands In Raja Ampat
A visit to Arborek really is a must! The island is open to tourism with kids greeting visitors with traditional dances and a tour of the village. It's a tiny place with around 200 residents, a school, church, a few home stays and basic stores.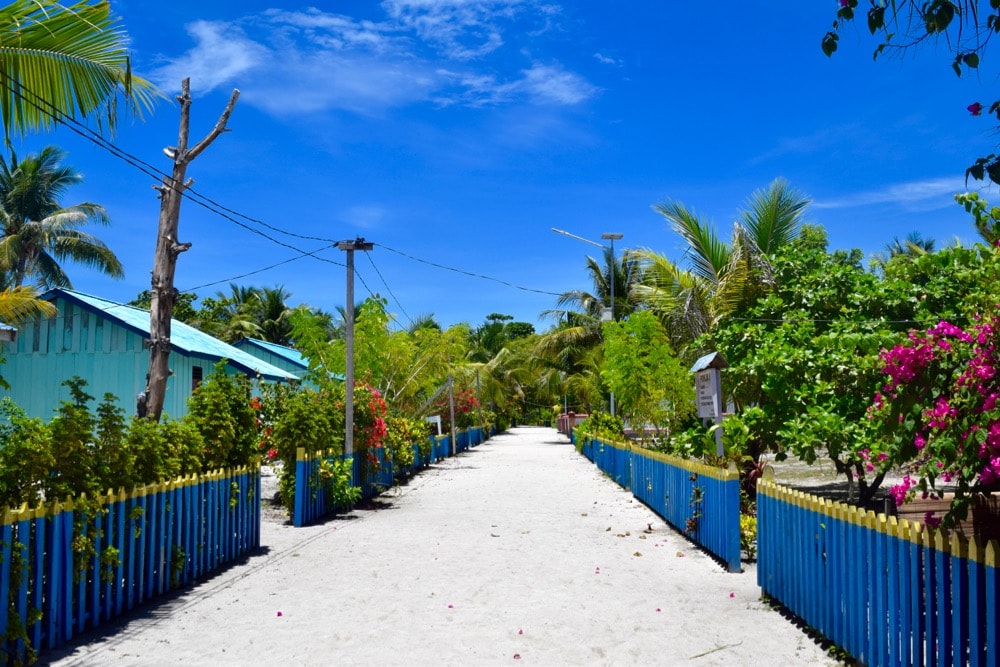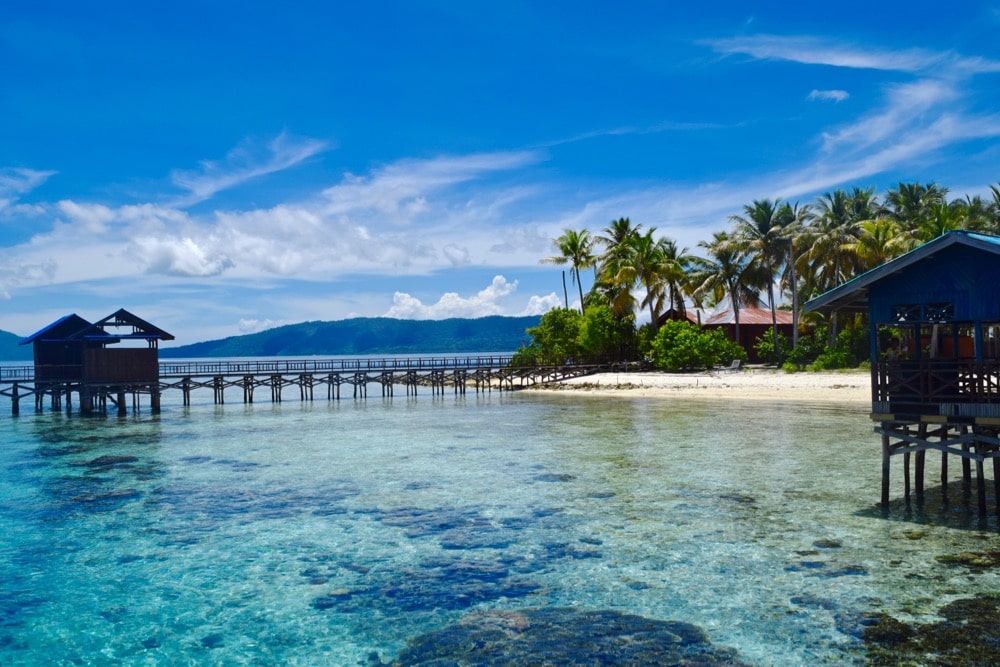 It's a picture-perfect paradise island with no cars, a few colourful boats, and bright yellow and blue fencing. I fell a little bit in love! People have asked me "is Raja Ampat safe?" While I would never say anywhere in the world is 100% safe, people live a quiet life on these islands and there's very little to stress about. I definitely felt safe during my trip. It's hard to know how I would have felt if I'd been a solo female traveller in Raja Ampat.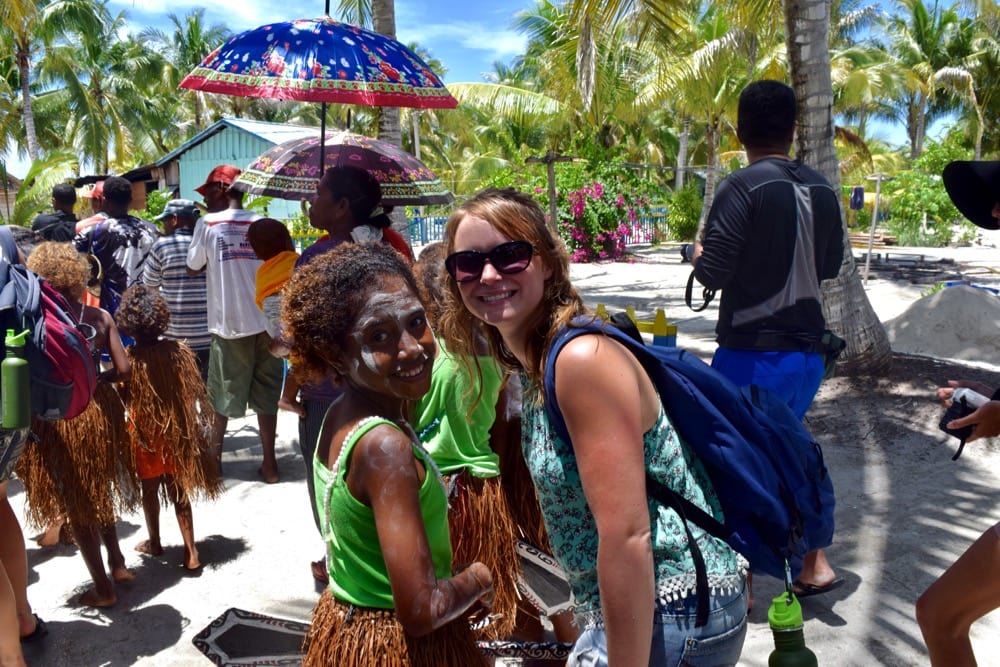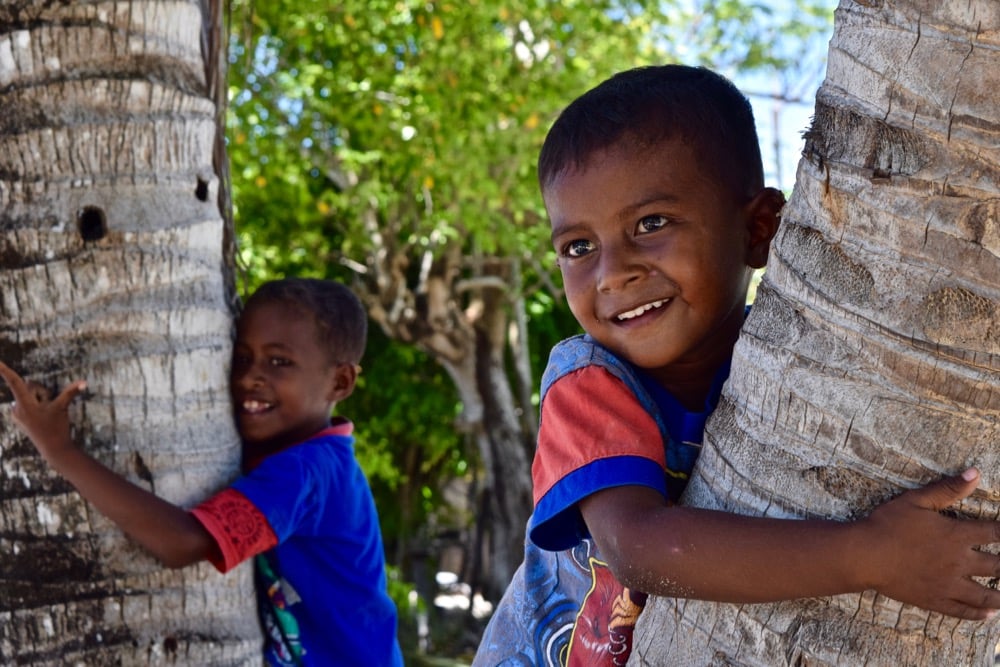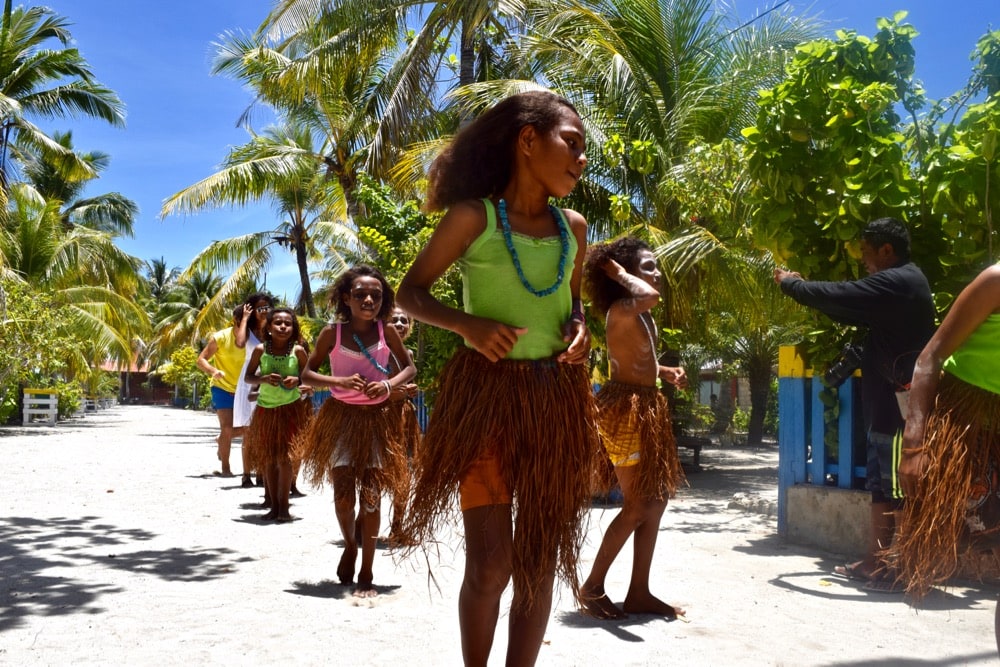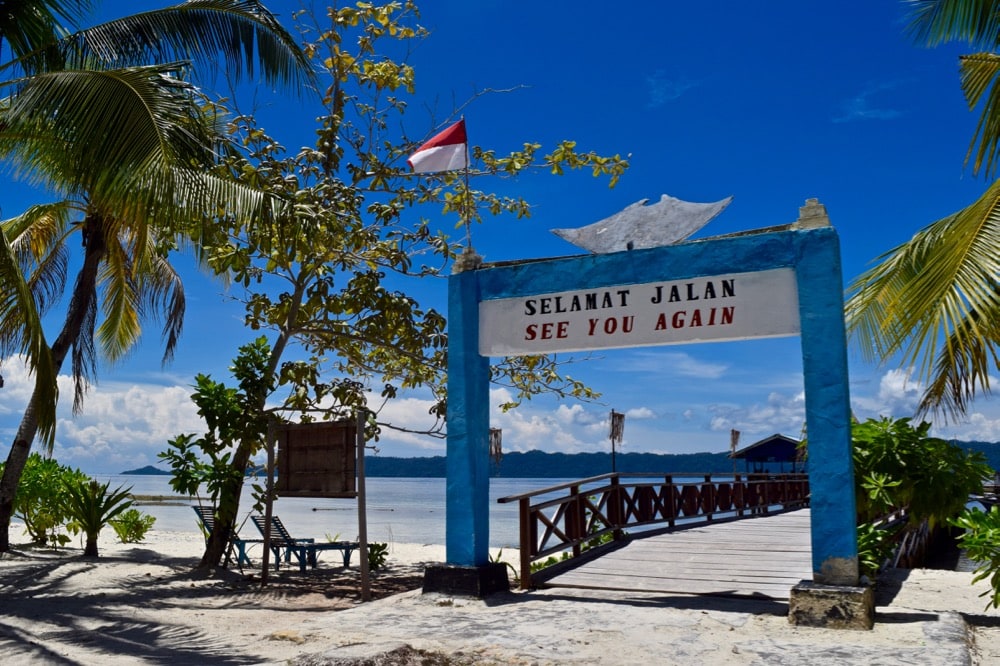 Visit Piaynemo – Stunning Small Islands In Raja Ampat
When you're planning your Raja Ampat itinerary, you just have to visit Piaynemo. This is the most famous view of the archiplago. I'd seen photos before visiting and assumed they must have been photoshopped… but no. It really was as magical as I'd hoped! From our hotel it was around 30 minutes by boat, then a hot and sweaty trek up to the viewpoint.
We couldn't wait to dive into the greeny-turquoise water after to cool down!
This really was a highlight of my time in Raja Ampat.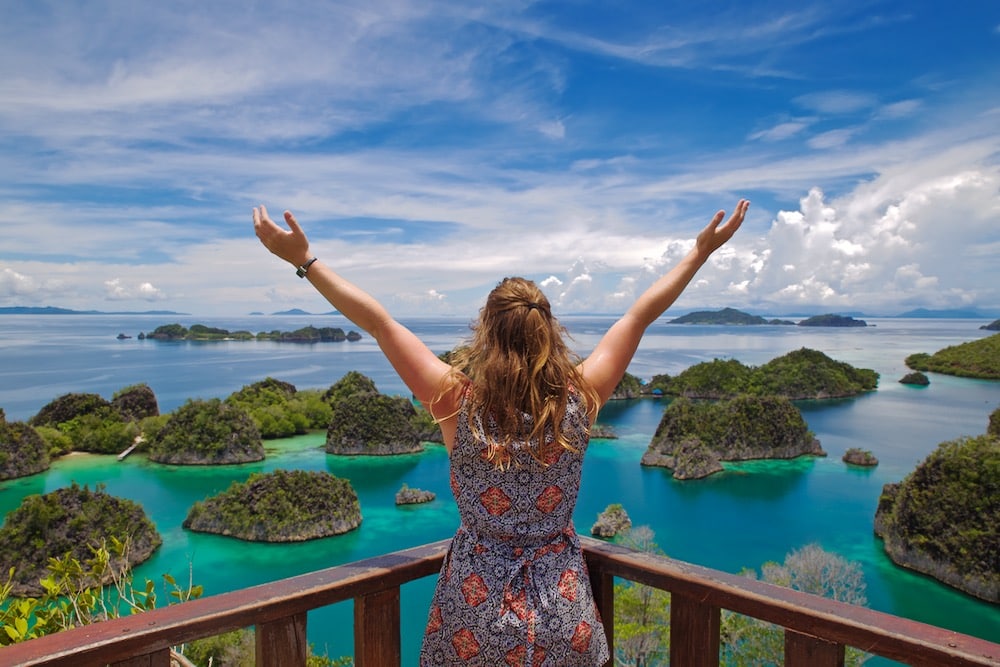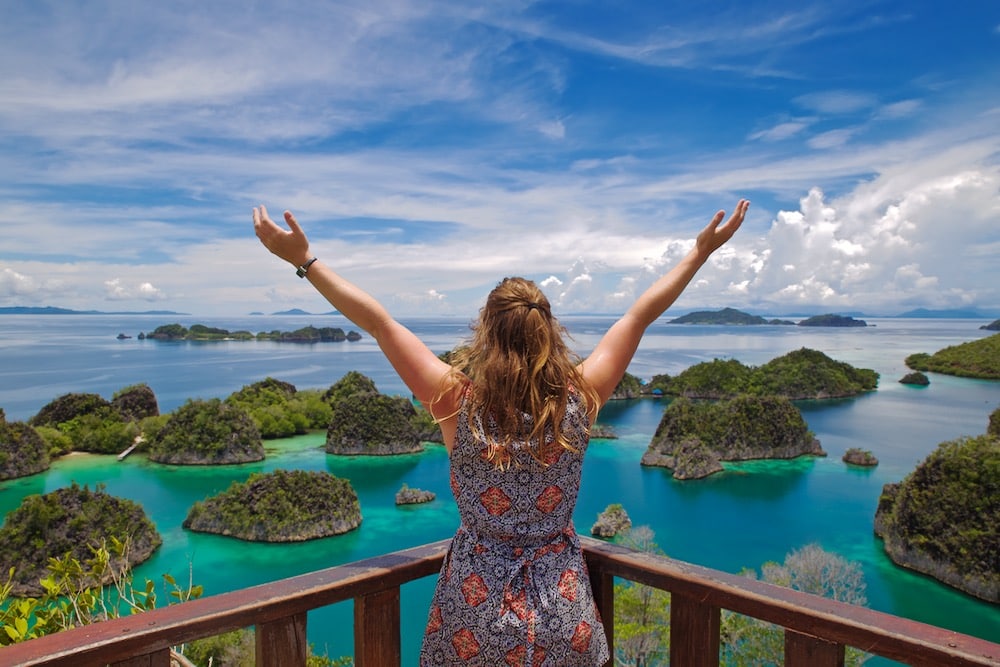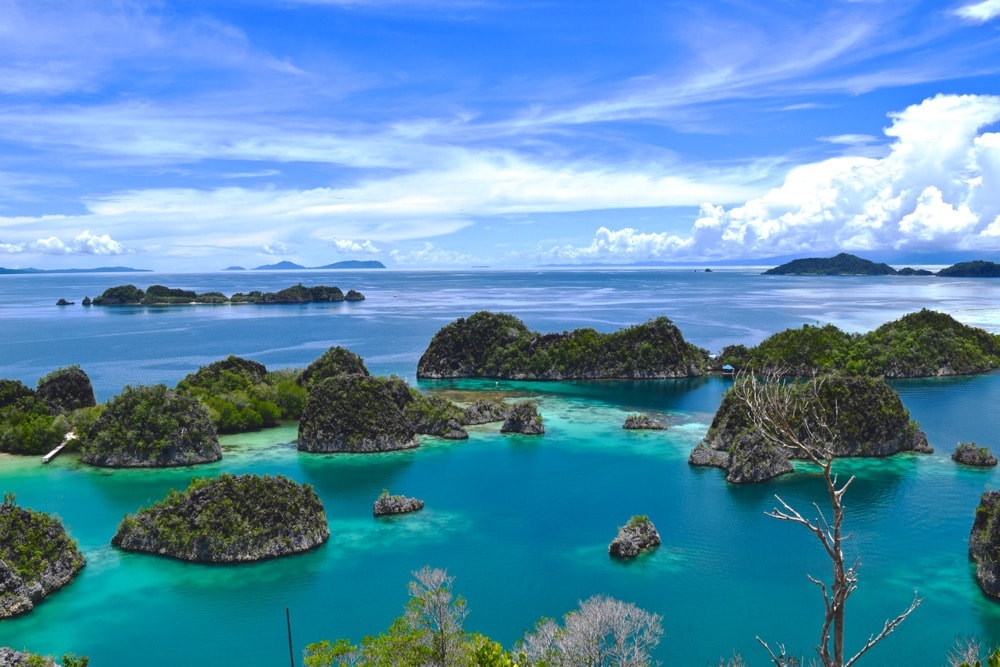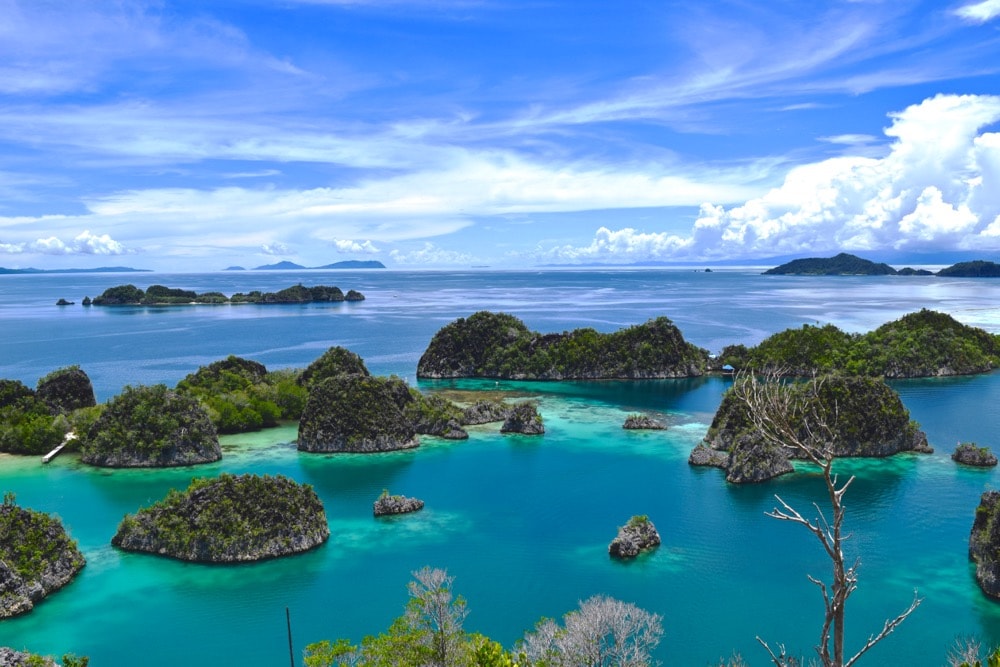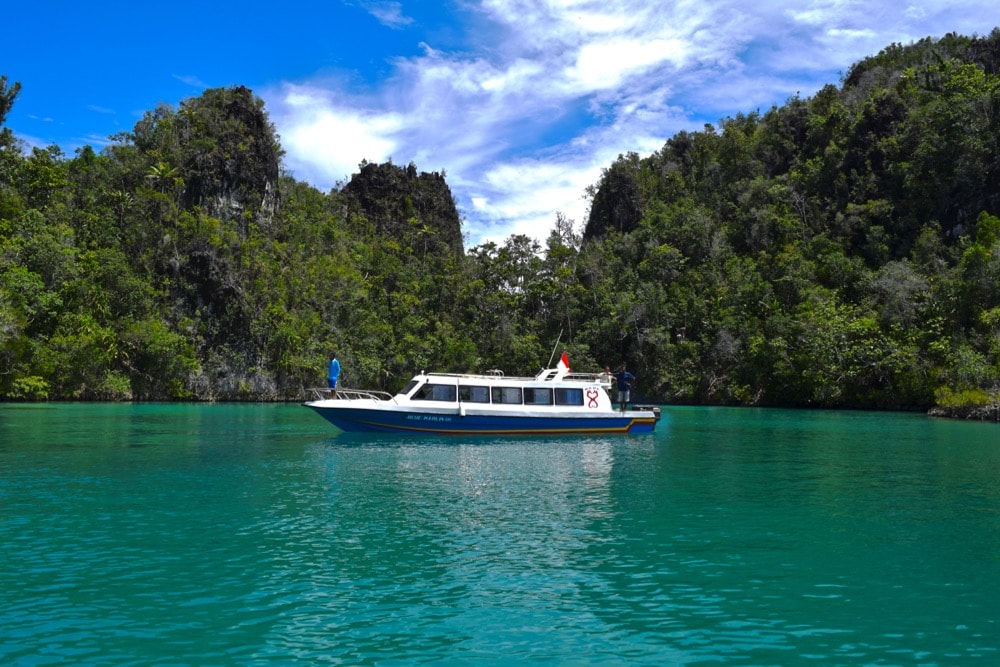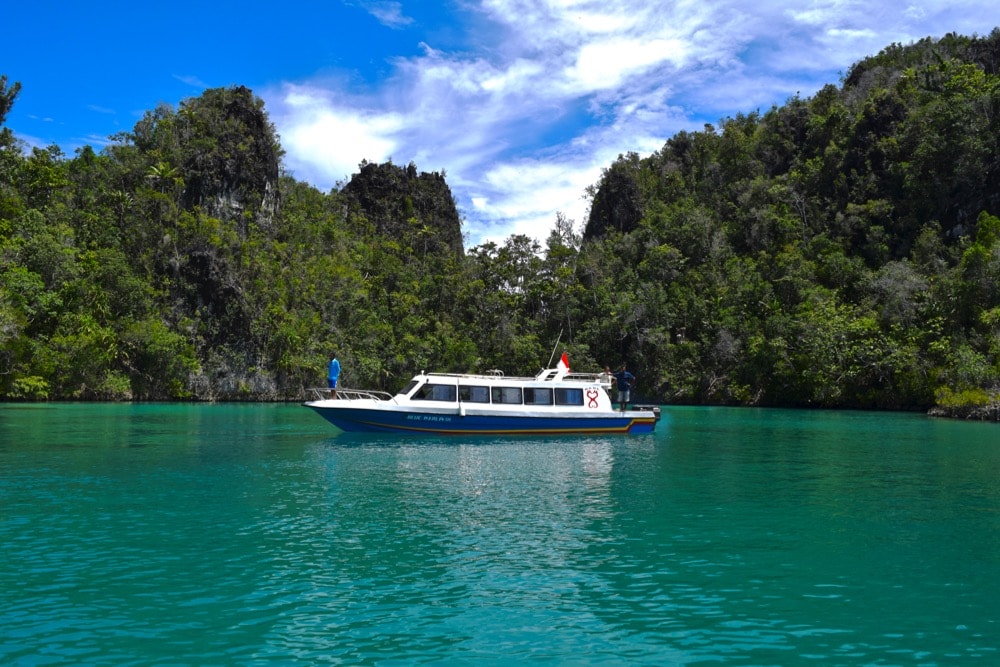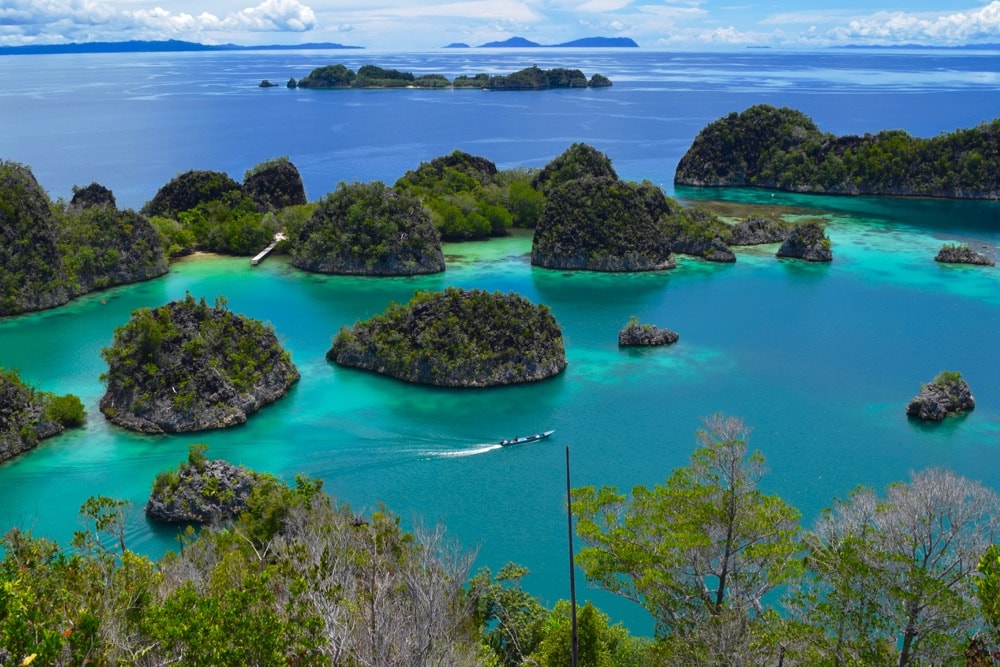 Kayaking In Raja Ampat
Many hotels have kayaks you can rent out. It's a great wait to cruise along the coastline of the islands, but be wary of strong currents.
Where To Stay In Raja Ampat
I stayed at Raja Ampat Dive Lodge which was wonderful! The small wooden bungalows on the beachfront were cute, cosy and located seconds from the sand. The restaurant served a decent buffet breakfast and even cooked up a BBQ one evening! There was AC, wifi (although slow, come on, you're in paradise!) and snorkel gear and kayaks for rent.
They also offer special Papua diving packages.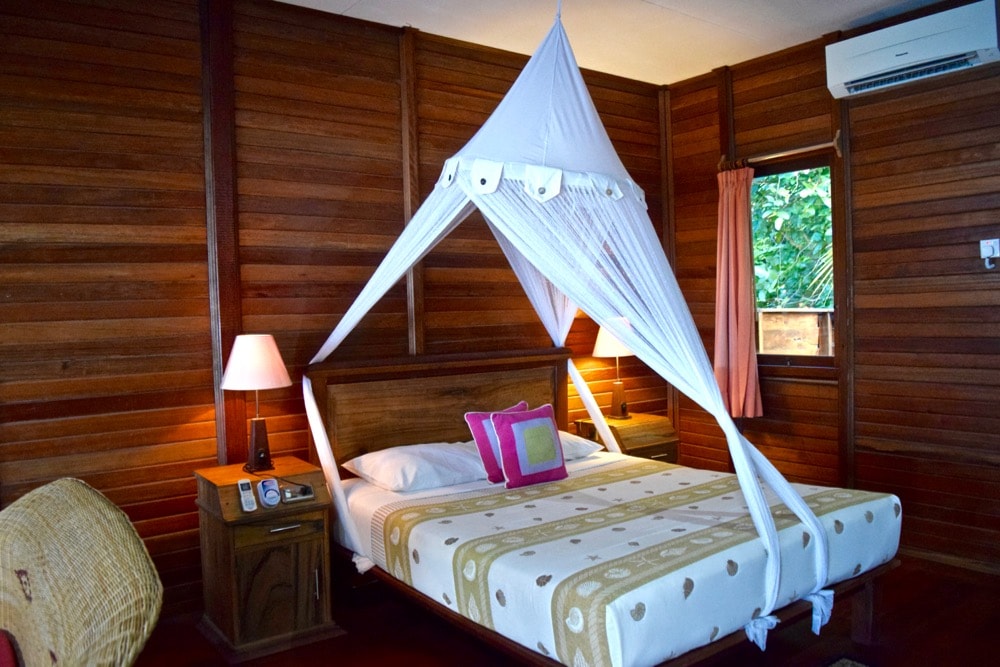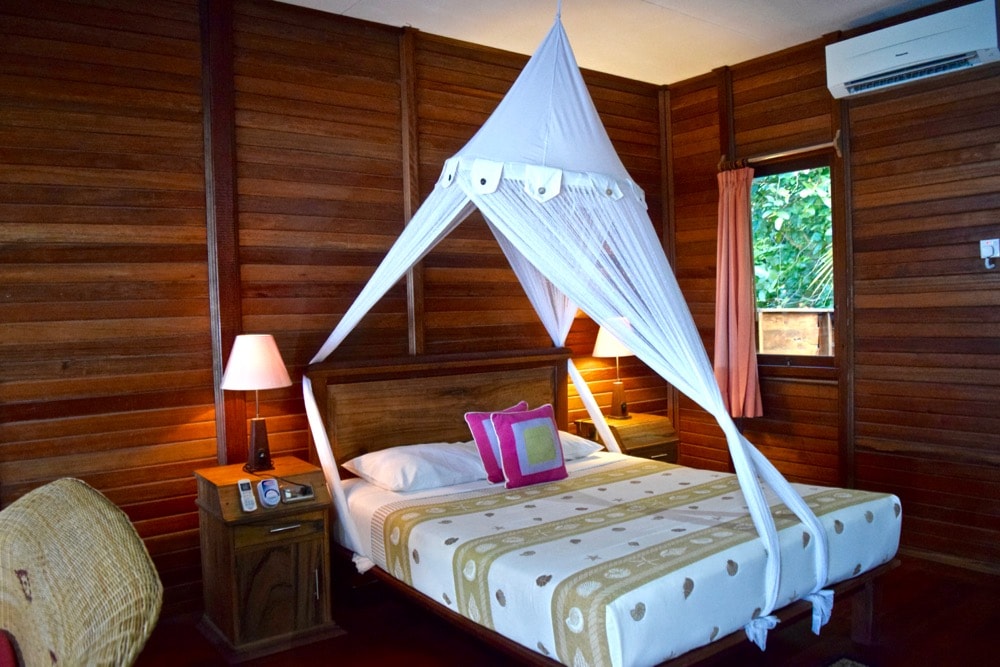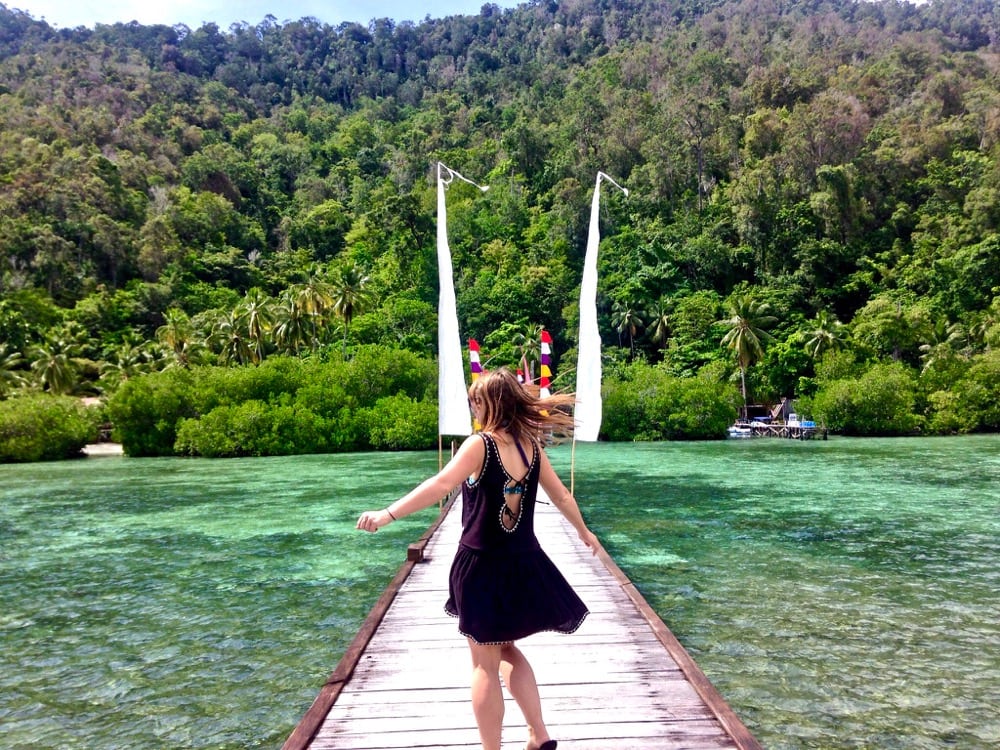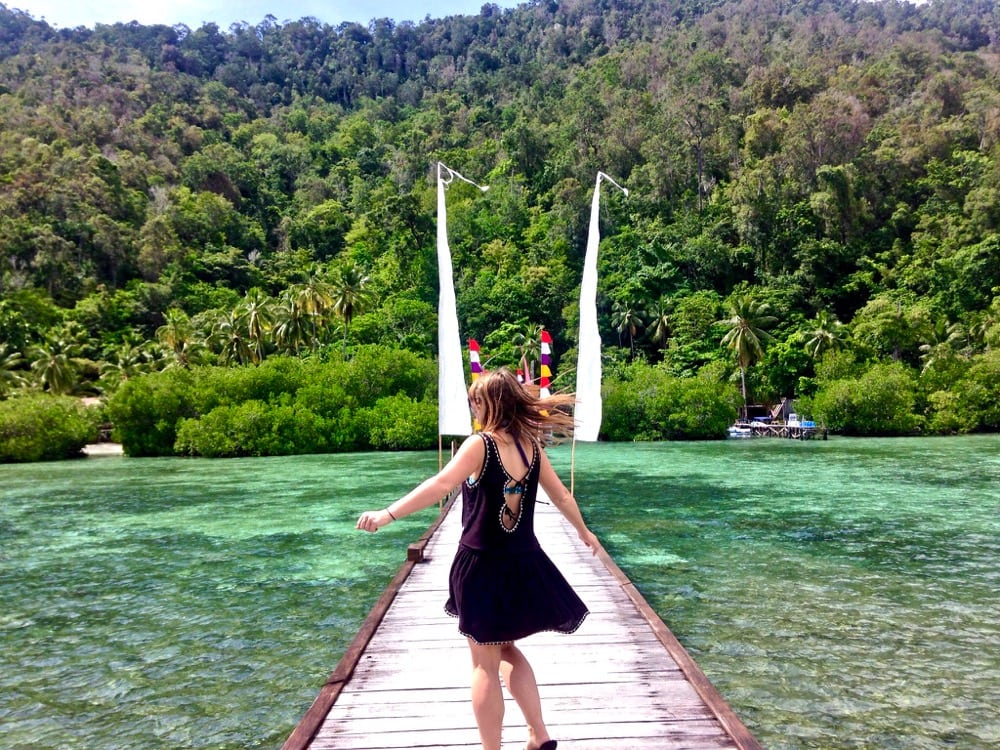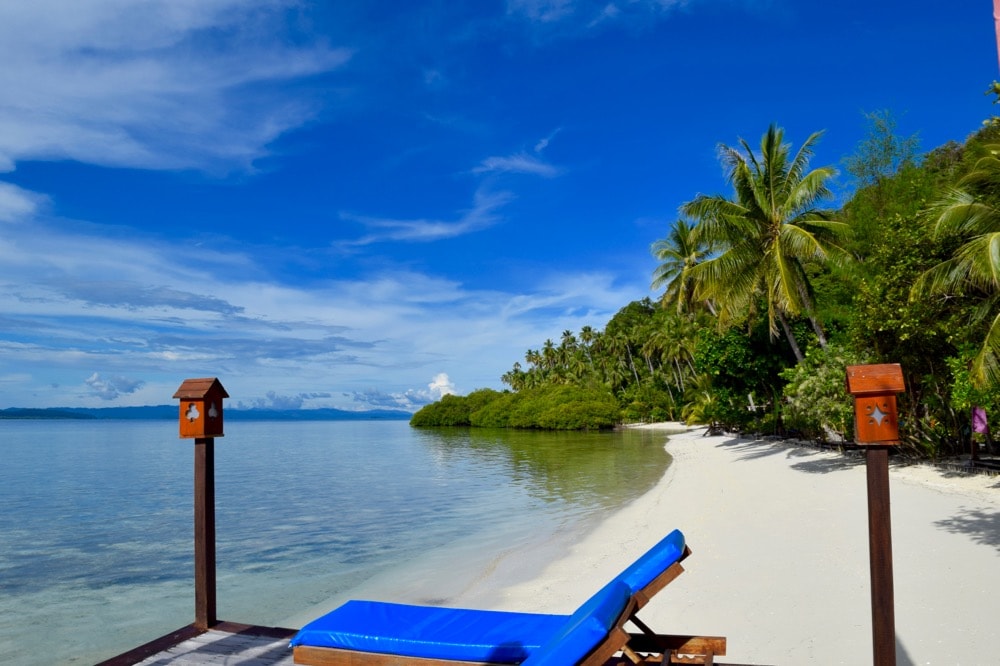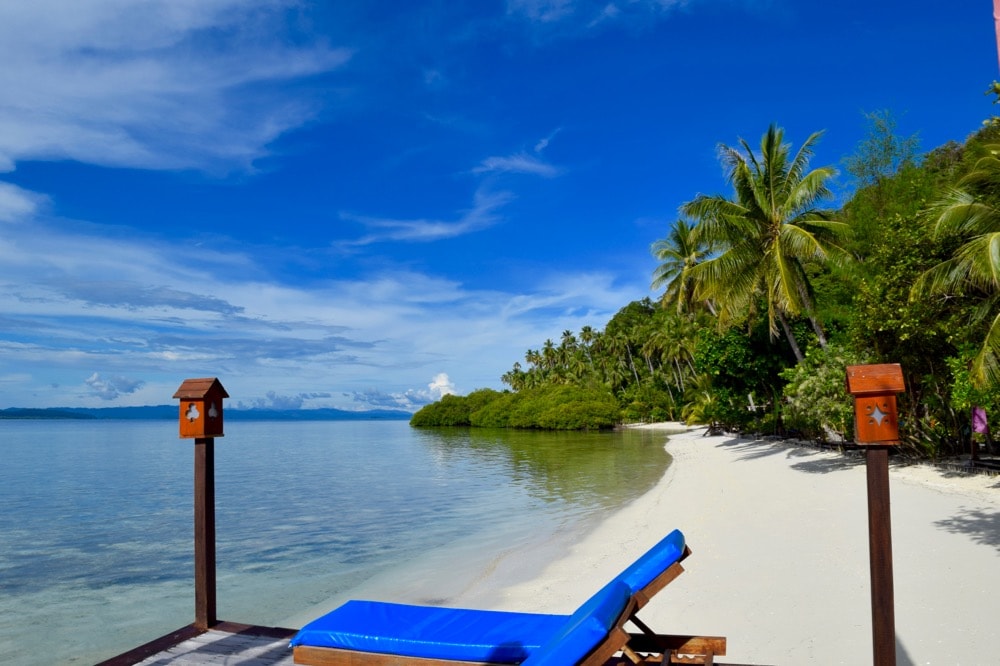 When To Visit Raja Ampat
The best time to visit Raja Ampat is between October and April, with the best conditions towards the end of the year. It's pretty much bang on the equator with average highs of 31 Celsius and lows of 25. June and July are the wettest months, but in tropical paradise you get used to seeing storm clouds most days. Thankfully they pass pretty quickly!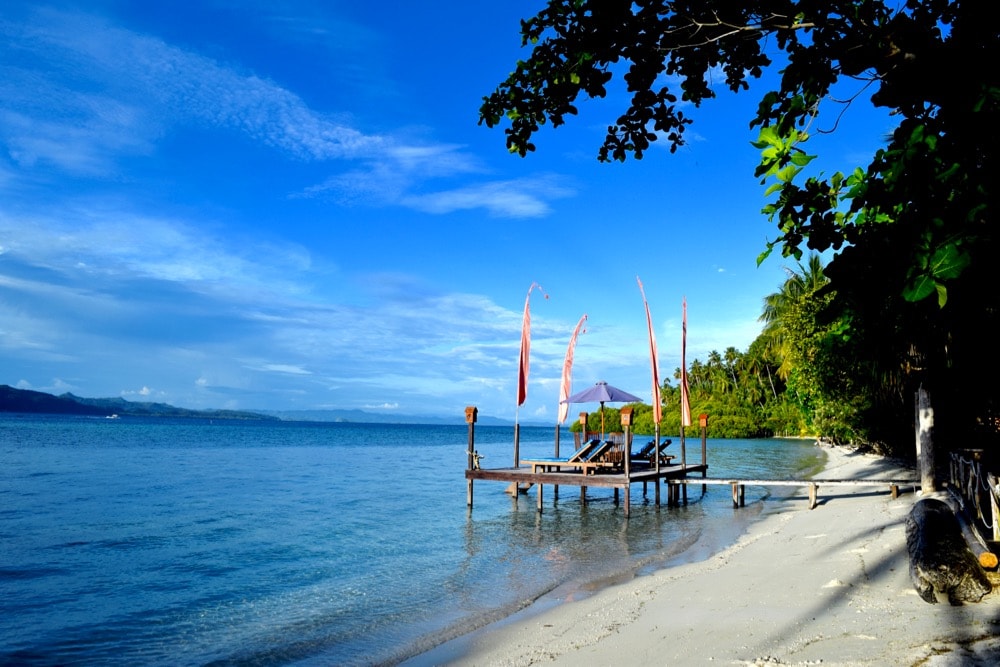 How Much Does It Cost To Visit Raja Ampat?
Prices will vary, but here's a rough guide:
Return flights from Jakarta to Sorong: £200.
Taxi from Sorong Airport to Sorong Harbour: IDR 100,000 (£6.20)
Raja Ampat visitor permit fee for international visitors: IDR 1,000,000 (£62.64).
Express ferry tickets: IDR 130,000 (£8.14) for economy class or IDR 220,000 (£13.78) for a VIP ticket.
Total travel costs (excluding food & extra activities): £282.62 ($353 USD or IDR 4,622,228)
F.Y.I. One night at Raja Ampat Dive Lodge on Mansuar Island costs £239 for a double room. They offer plenty of packages which include dives. Find out more here.
Useful Information For Visiting Raja Ampat
As the islands are pretty cut off, it's important to organise currency before you take the trip. Some hotels will accept credit cards but it's not something to rely on.
Cover up. It's important to show respect when visiting villages and you'll see signs reminding you not to wander around in bikinis.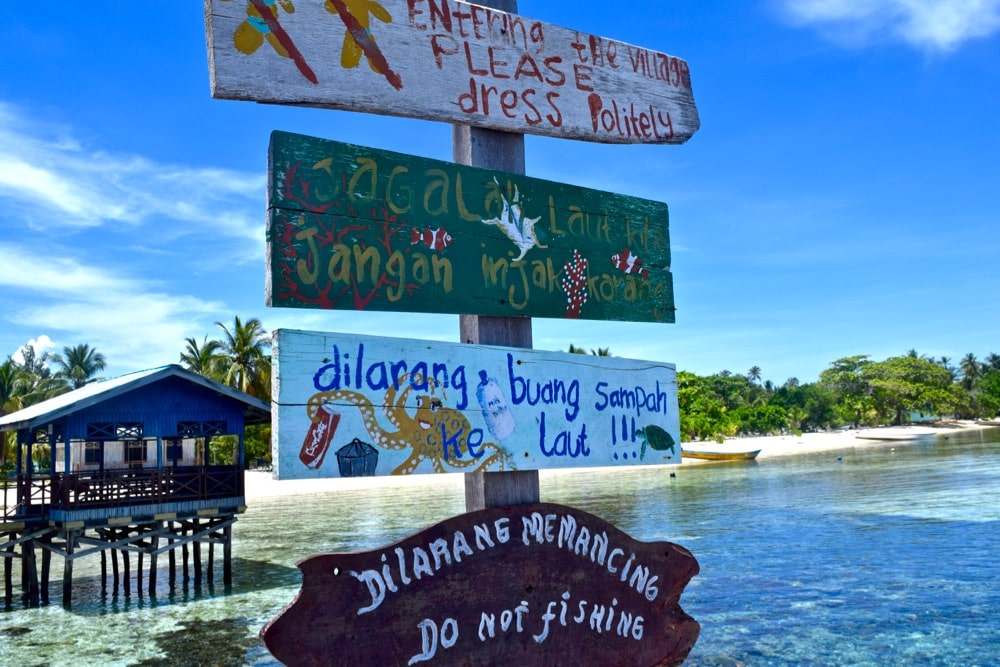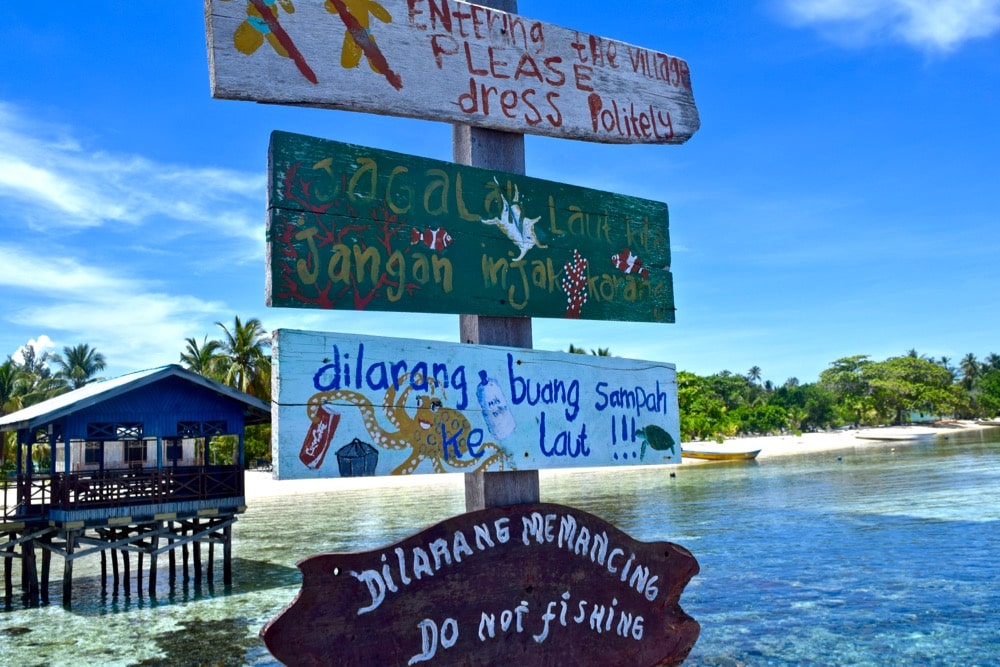 I read that Sunday is considered family day for a lot of people (for religious reasons) so avoid this for travelling or taking part in activities.
Remember, Raja Ampat isn't a tourist destination like Bali, so expect the experience to be a little more rough and ready! It's all part of the adventure…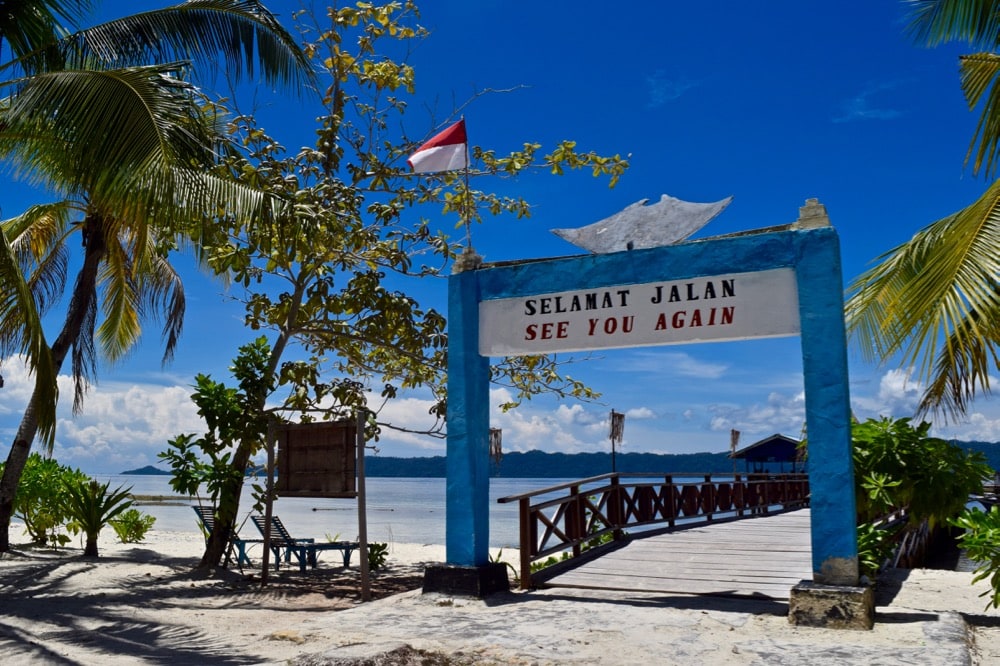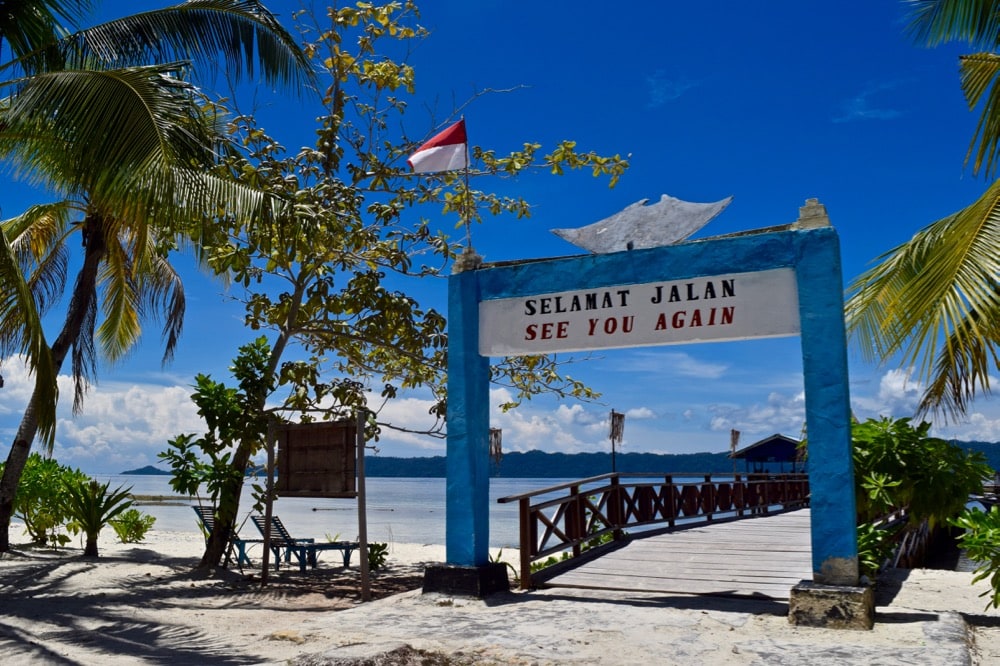 I hope this Raja Ampat blog helps you plan your trip. Huge thanks to the Indonesian Ministry of Tourism for inviting me on the #TripOfWonders as part of their #WonderfulIndonesia campaign. As always, opinions are my own!
Looking for other places to visit in Indonesia? Check out my Bali travel blogs, which are packed full of information, hotel recommendations, tips for things to do and plenty more advice for your trip..
Enjoyed this post? Why not pin it…