Wondering what clothes to wear in Jordan? It's definitely somewhere you should consider both the culture and the practicalities of your trip.
To give you a helping hand, here's my guide to what you might want to think about packing for your trip to Jordan.
I already mentioned in my blog about visiting Petra, that I had SO many questions before my trip. Although I'd travelled to Turkey and Morocco before, I knew that culturally Jordan was quite different to both.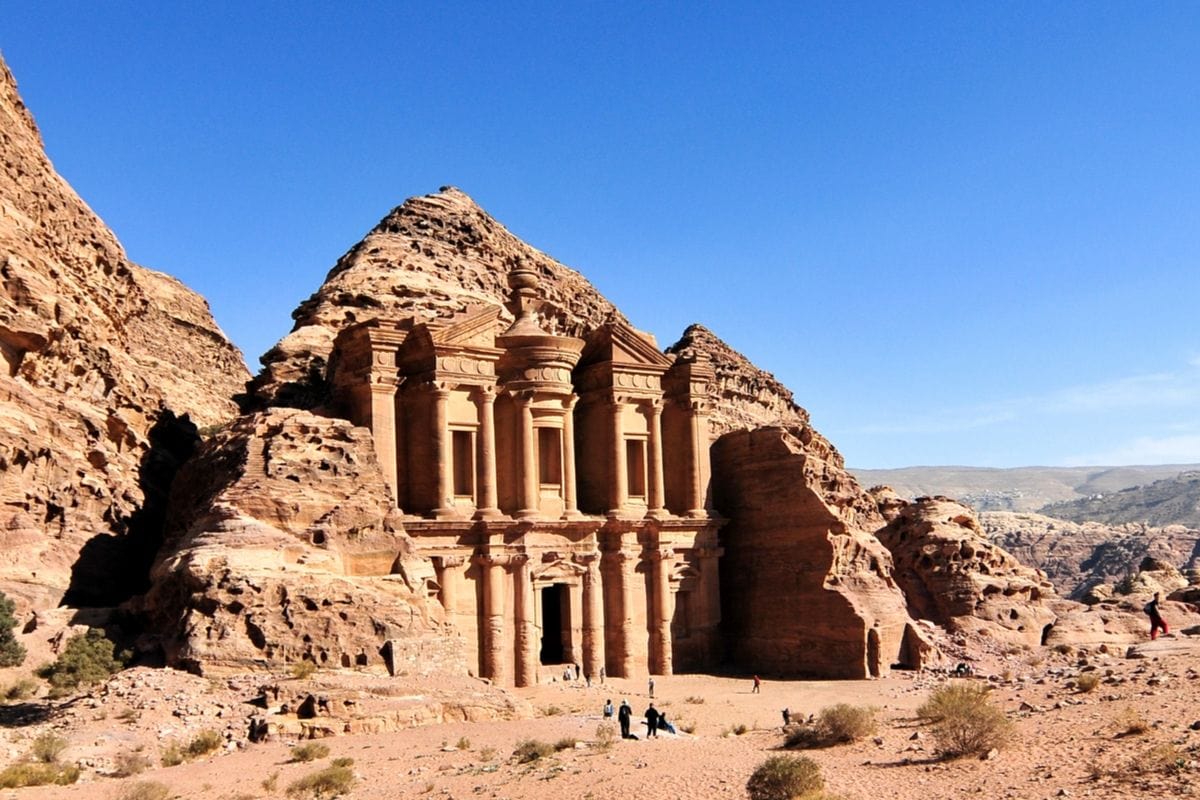 While it's a lot more relaxed than many of its neighbours (in Iran and Saudi Arabia, women generally cover up or wear hijabs), there's certainly an 'etiquette' when it comes to clothing. I'm all for having your own style and not feeling like you have to fit in, but I think it's important to be respectful.
Added to that, there's the climate and geography of the country. Welcome to dry, dusty desert land. Then there are the extremes of temperature.
In Amman, Jordan's capital, temperatures drop to 4 degrees in winter and peak at around 31 in the summer months. Heavy rain is normal in winter months, and flash floods are common – important to consider when visiting tourist sites such as Petra. Generally Jordan's warmer months are April – October, then Nov – March are considerably cooler.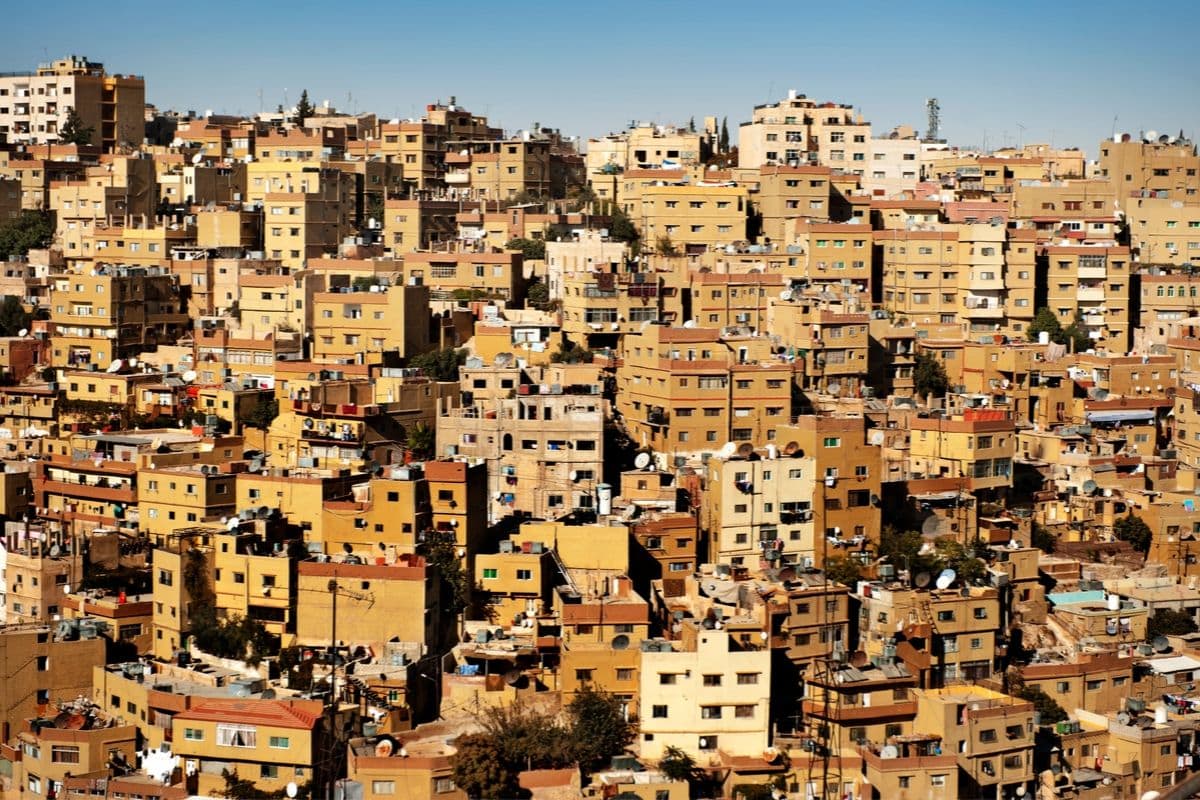 After visiting in March and spending a lot of my pre-trip research googling how to dress in Jordan to visit various attractions, I thought it'd be helpful to pass on a few words of wisdom.
From what footwear you'll need for exploring Jordan, to perfect outfits for Petra and a few vital accessories (some of which I wished I'd packed) here's my ultimate guide to what to wear in Jordan – basically your travel packing list! Oh, and don't worry guys, I've popped a few ideas together for you men out there who are struggling to pack too.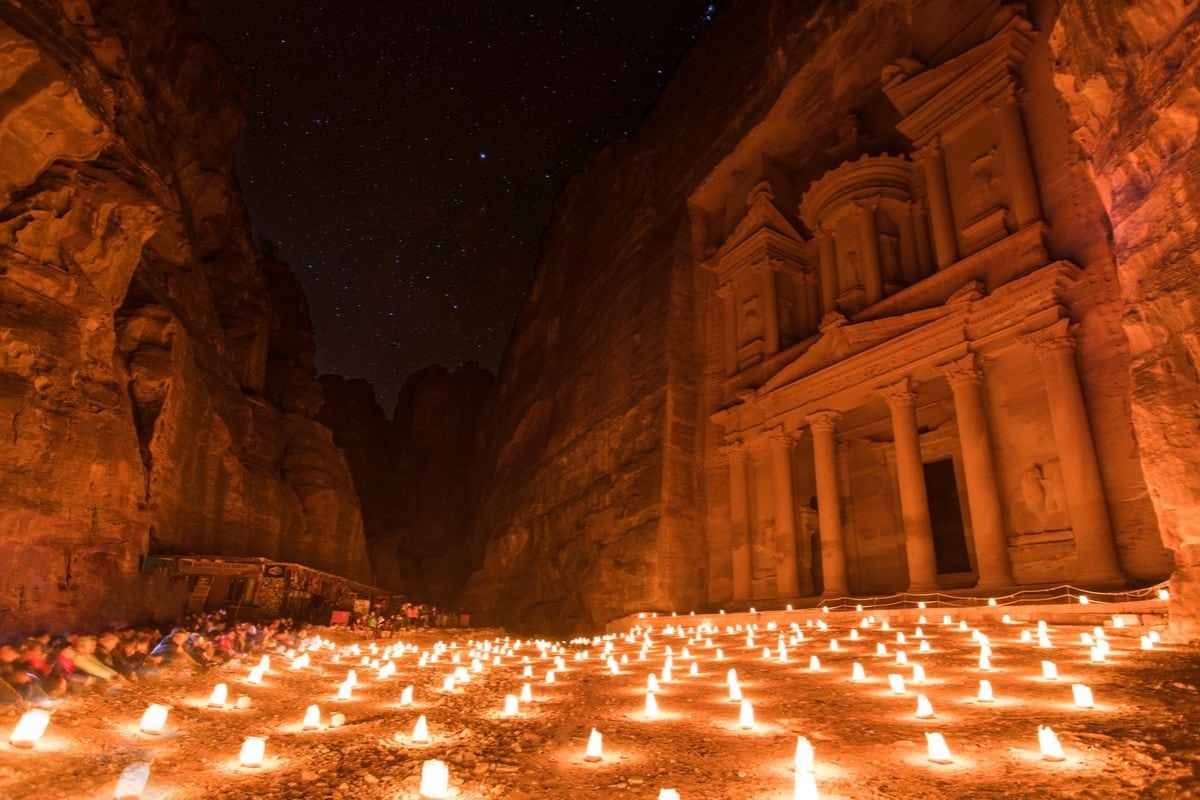 What Should A Woman Wear To Visit Jordan?
As mentioned, most women (locals and tourists) respect the Jordanian culture and cover up. Generally women cover their legs, arms and chest, with skirts and shorts considered particularly disrespectful and provocative.
Many locals cover hair up with headscarves or hoodies, so be aware that if you have long hair (particularly if it's blonde) that you might attract a bit of attention!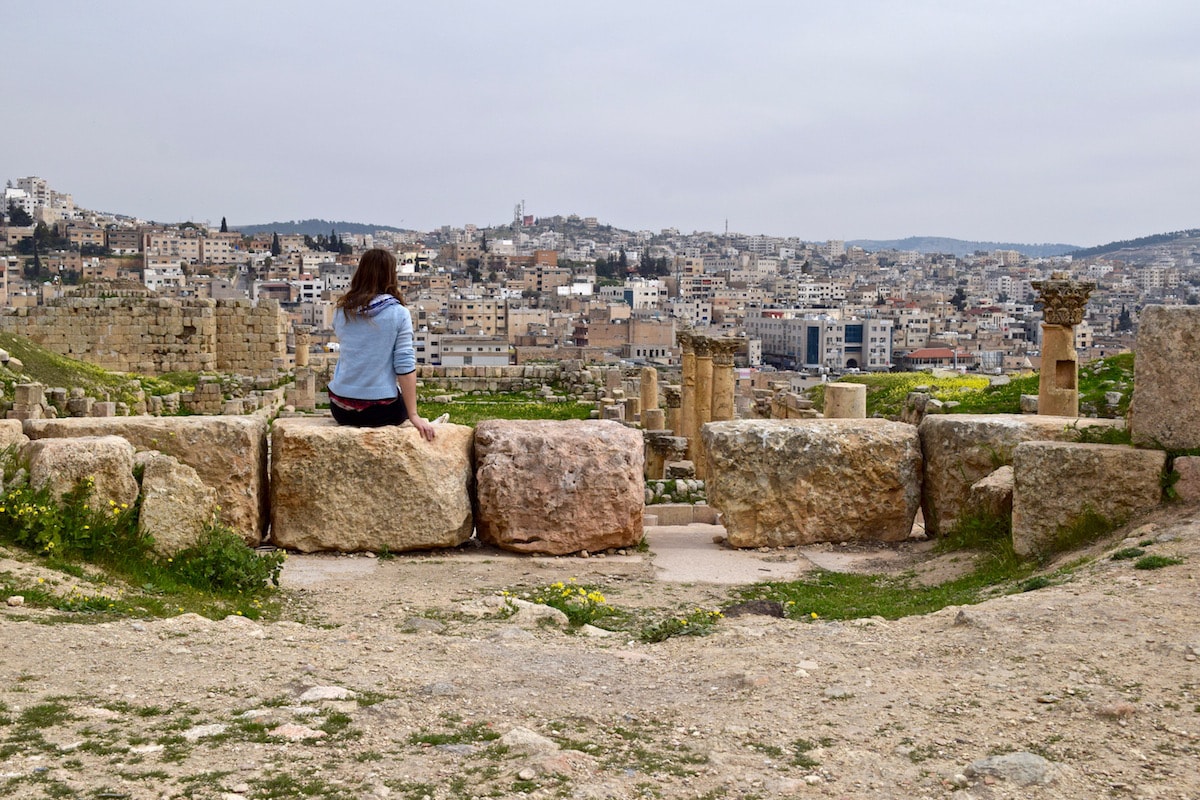 What To Wear In Jordan: Women's Clothes
The key to planning outfits in Jordan = LAYERS! As I was there in March, it wasn't that warm, yet when the sunshine came out it was absolutely boiling! Think T-shirts layered with cardigans and jackets.
The most useful items? Scarves. Pack a few of different thicknesses and colours so there's one to go with everything. You won't regret it! Here are a few items I'd recommend…
How To Dress In Jordan: Women's Footwear
Shoes, hiking boots, sandals, flip-flops, going out shoes, flats, heels… the list goes on. Do you know what, they could ALL be useful in Jordan.
Winter temperatures are pretty cool across the country, so pack knee-highs or ankle boots, plus trainers. All year around you'll want hiking boots or trainers for exploring the main tourist sites such as Jerash and Petra.
In the warmer months (April – October), you'll want sandals, flip-flops and ballet shoes.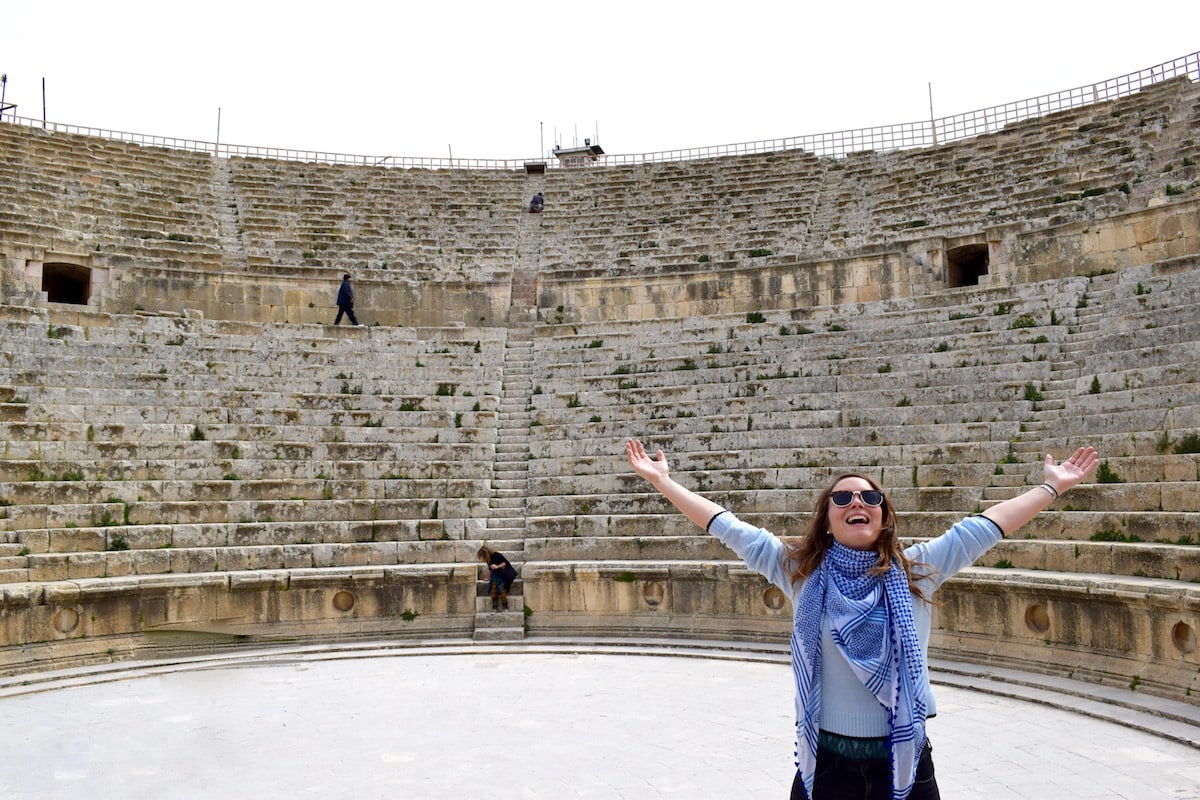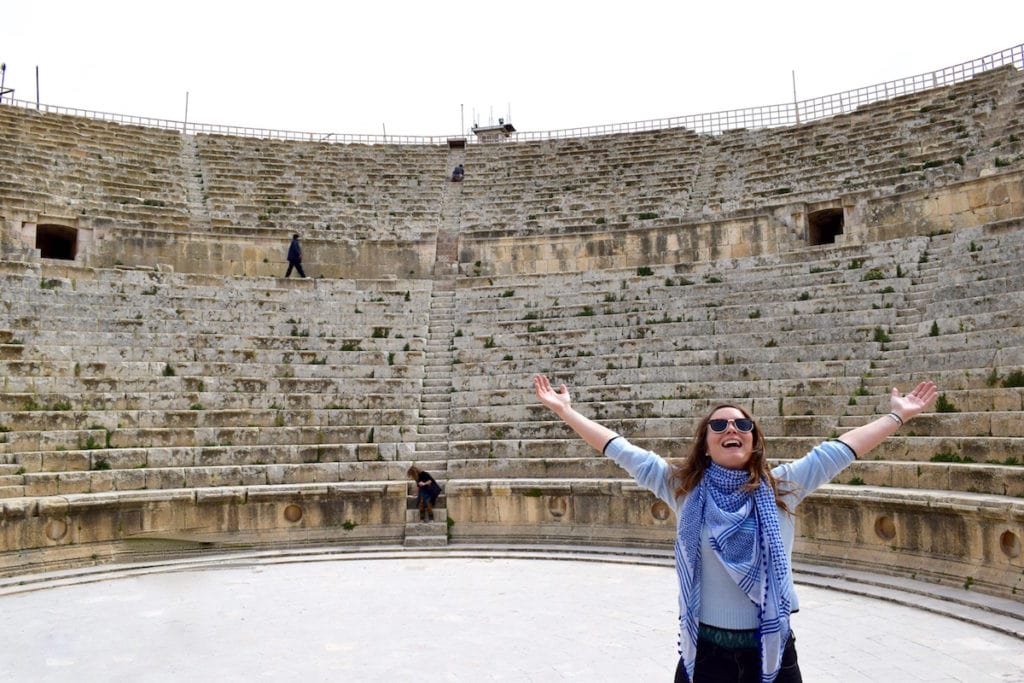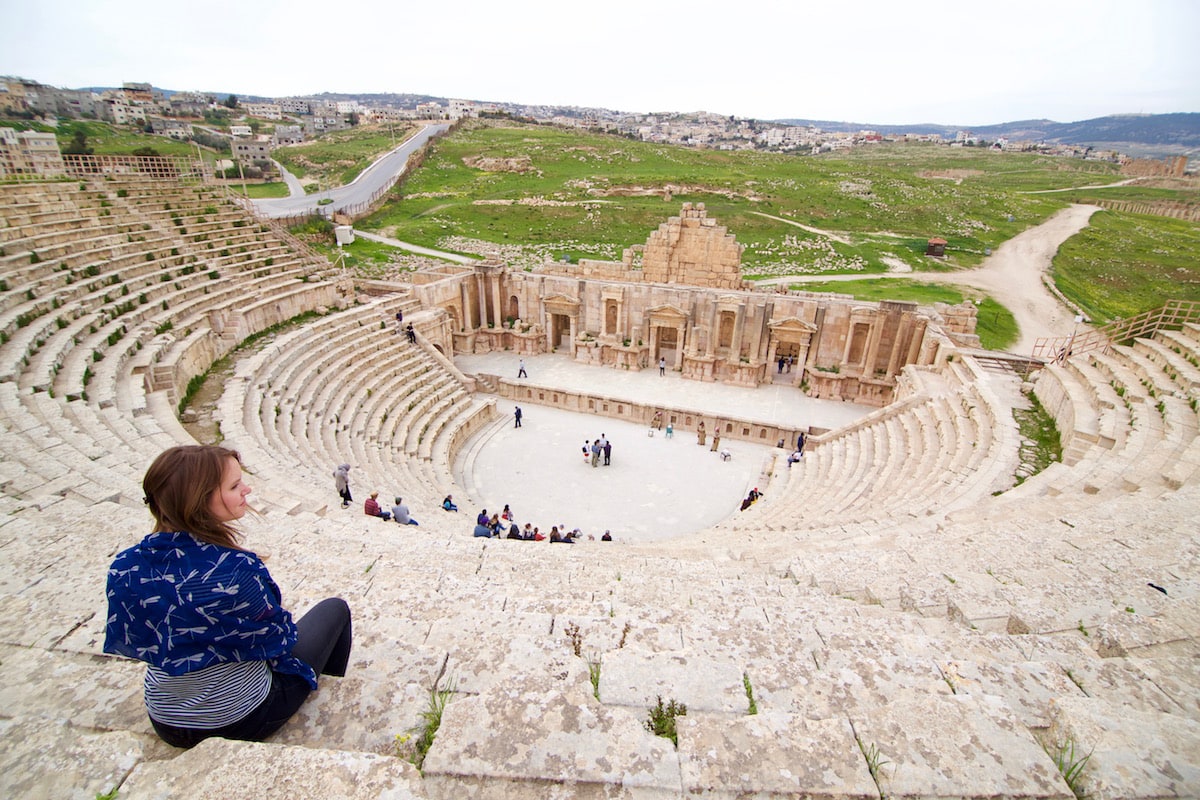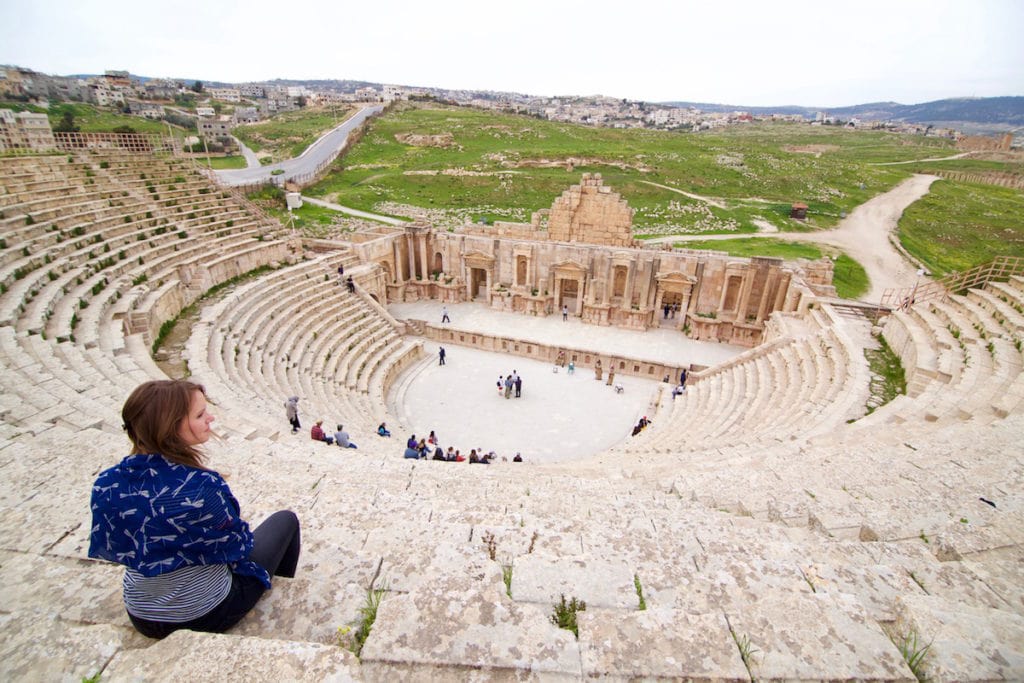 What To Wear In Jordan: Women's Accessories
As mentioned, scarves were really useful. Keep sunglasses handy whatever time of year you visit. I'd also recommend a handbag for daytime exploring or a backpack for bigger adventures.
What To Wear In Jordan: What Should A Woman Wear To Visit Petra?
You'll find plenty of tips for your visit to Petra here… but as it fits perfectly into this post too here are some suggestions for clothes to wear for your day out.
While it may be warm, most women are still respectful of the Jordanian culture and choose to cover up. I wore a long skirt with leggings, my Converse trailers, a T-shirt and cardigan. I'd recommend sturdy trainers or walking boots rather than sandals or flip-flops, and be sure to pack a hat and a scarf.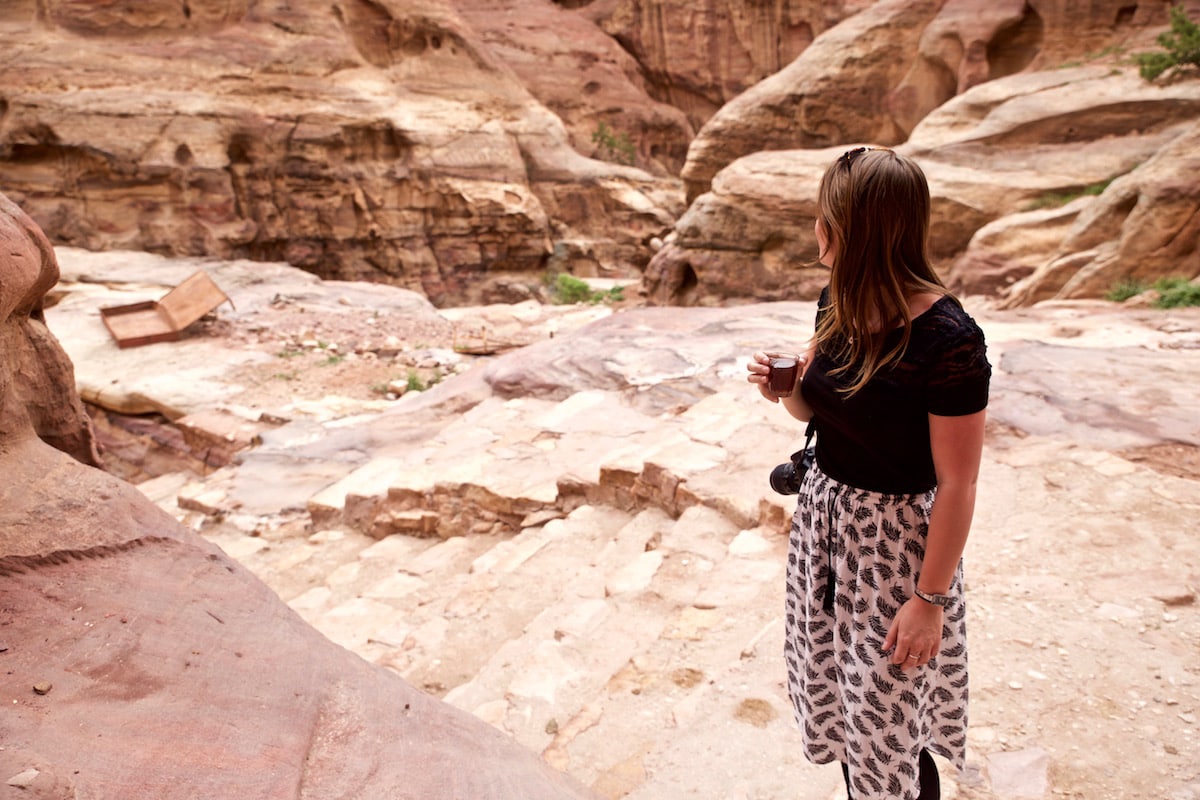 What To Wear In Jordan: Men's Clothes
For men, it's less of a departure from standard western dress sense than for women. Most men in Amman and Petra wore jeans or chinos with T-shirts or shirts and a jumper or jackets.
I noticed that often men were quite smartly dressed. Scarves were popular, in particular the chequered middle-eastern style with tassels.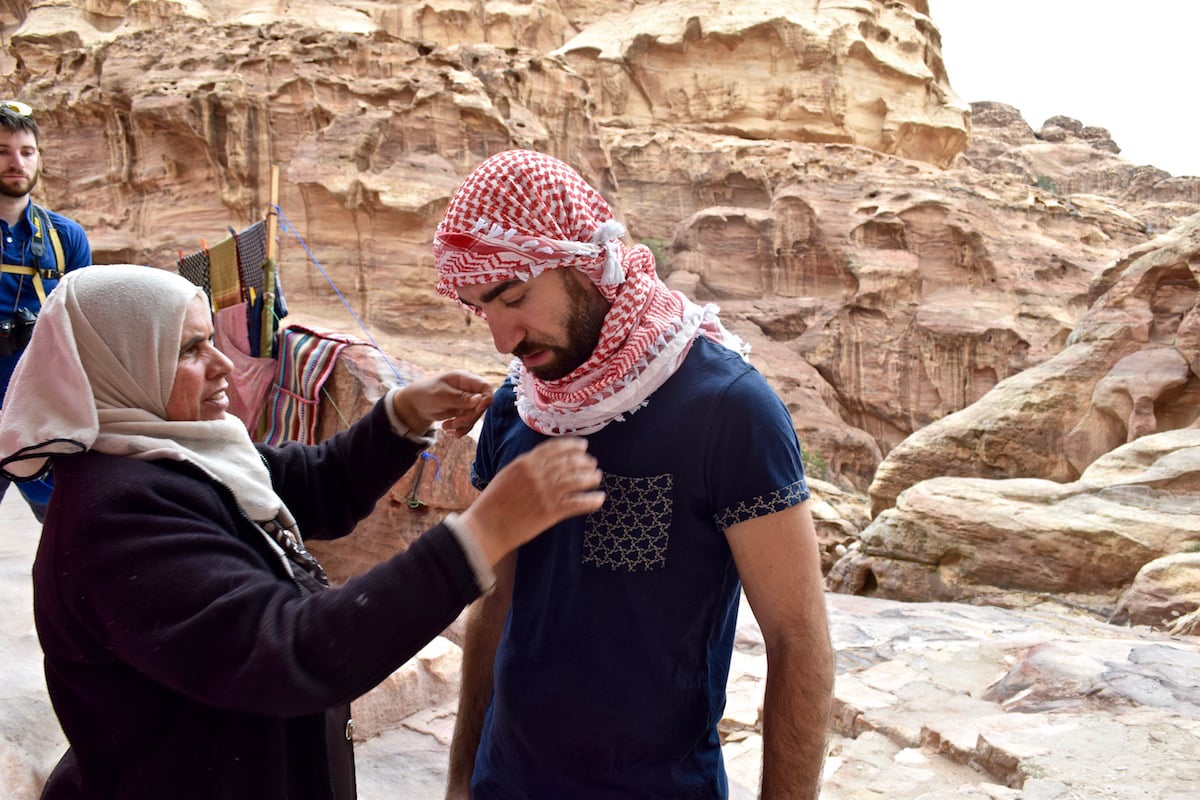 What To Wear In Jordan: Men's Footwear
Most men wore leather shoes or trainers for everyday activities, then hiking shoes for exploring places like Petra.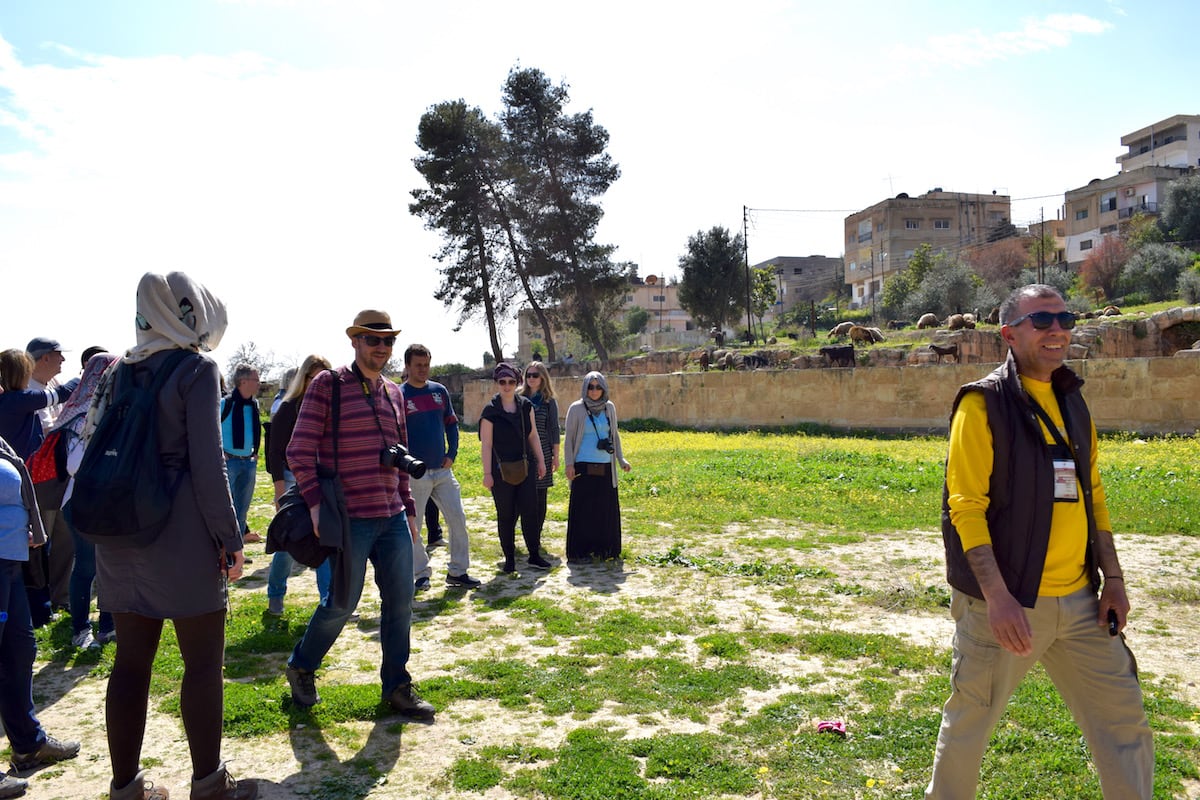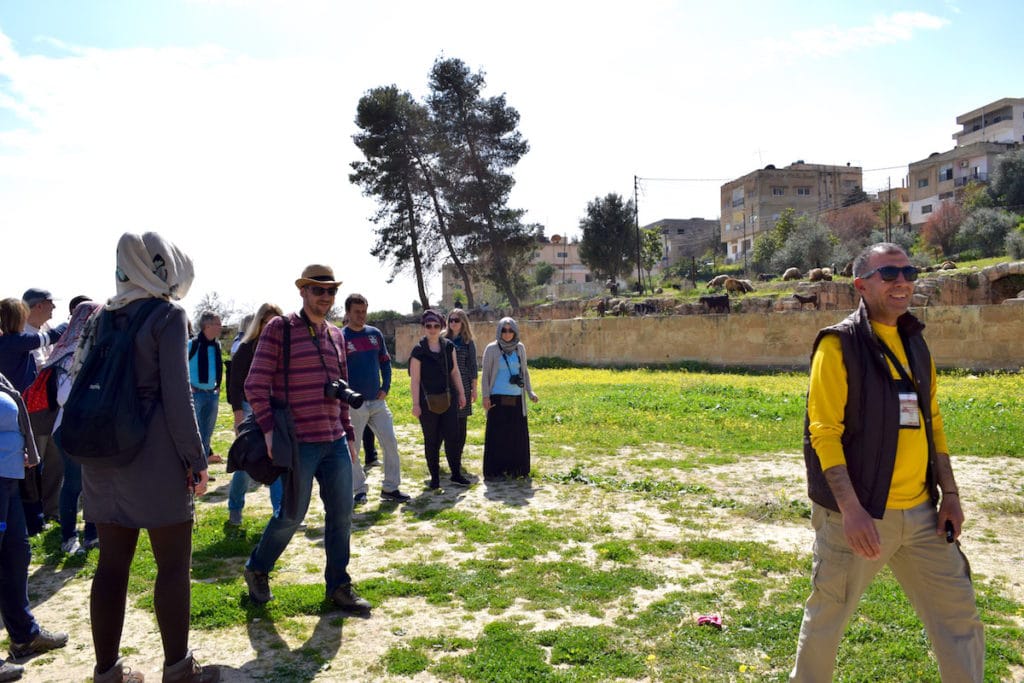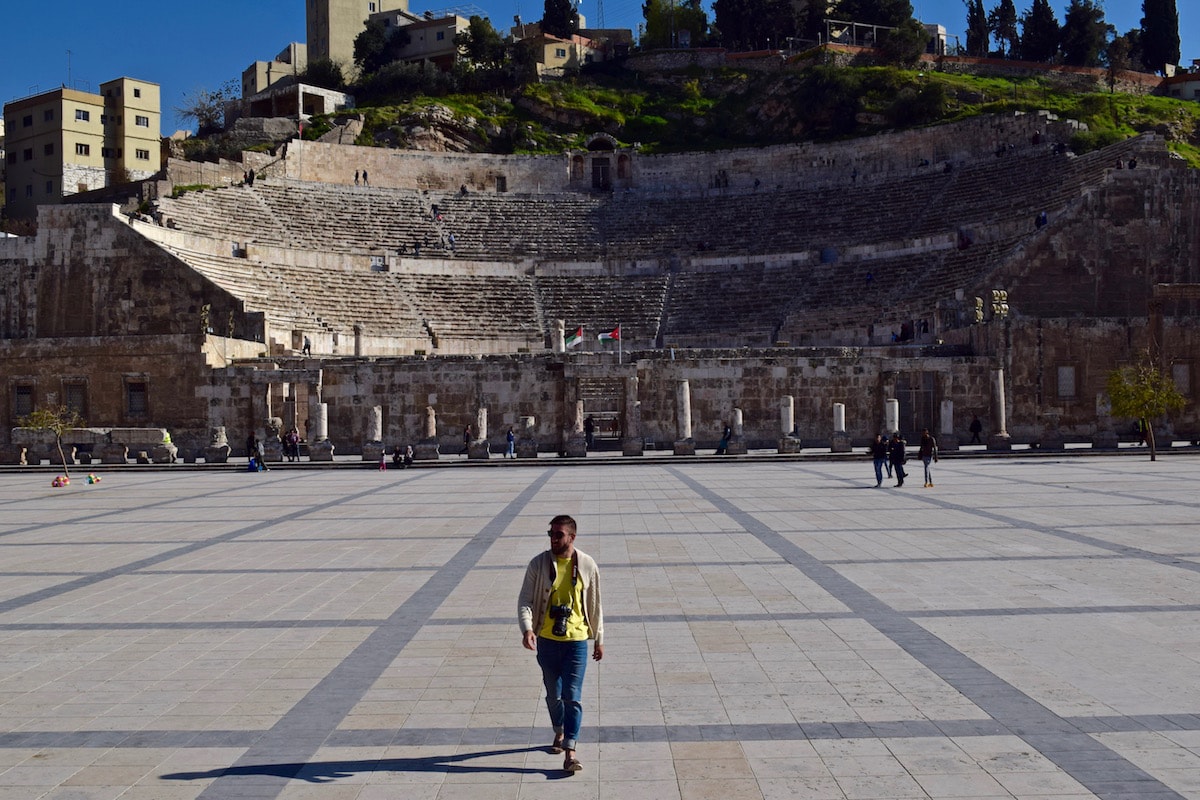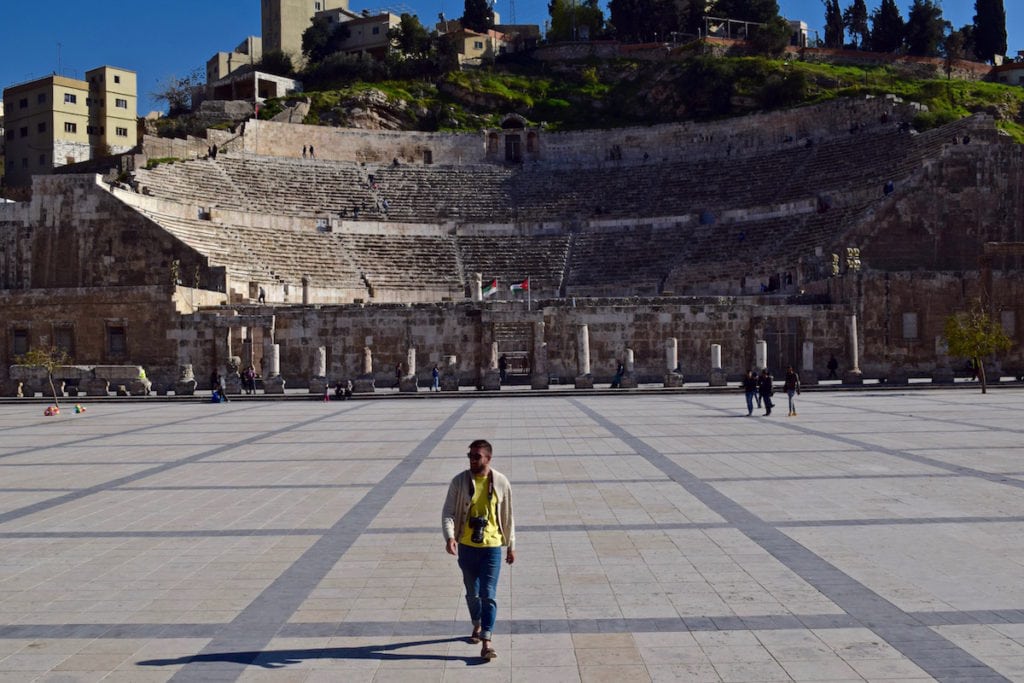 Hopefully this post has helped you figure out what to pack for your trip to Jordan. If you have any questions, let me know in the comments below!
Read more: 21 Interesting Facts About Petra, Jordan
Read more: A tour of Petra, Jordan
Read more: Top Tips For Visiting Petra, Jordan: The Ultimate Travel Guide
Found this post useful? Pin it…