From visiting some of Japan's most impressive castles, to enjoying a traditional onsen experience, enjoying the buzz of one of Japan's most vibrant cities, to taking in one of the most breath-taking views of the region, these are the best day trips from Kobe.
So Kobe was a blast! As you'll have seen from my recent blog 18 Amazing Things To Do In Kobe, I packed absolutely loads into my trip. I explored Chinatown, took a sunset cruise, learned all about Kobe port, sampled sake and feasted on Kobe beef. It's a really interesting city, with plenty of great things to do, and I really enjoyed having time to explore it.
Along with a few days in Kobe, I also used the city as a base to explore some other amazing spots in Japan.
Watch the video, then scroll down to find out about some of my top tips for for day trips from Kobe.
How To Travel Around Japan By Train
Many of you messaged asking if Japan is hard to navigate, especially with the language barrier. In general I'd say no. The train networks in Japan are some of the most efficient I've ever experienced. Services run bang on time, are regular and comfortable too. Many have WiFi, which is a bonus, especially when you're planning where you need to go next!
More and more signage is in English too, especially with key events like the Rugby World Cup 2019 and the Tokyo Olympics in 2020 bringing in more English-speaking tourists.
For smaller services, you can buy tickets at machines (yep the machines are in Japanese and English), and pay with cash. If you're doing lots of bigger journeys, consider getting a JR pass, which you can use on most trains across Japan.
Kobe has a few major stations – Sannomiya and Shin-Kobe. In general we used Sannomiya , but Shin-Kobe is where the high-speed shinkansen trains pass through.
If you're travelling to Japan for the first time, I'd recommend reading my Myth Busting Japan Guide – it'll help you avoid any awkward situations!
---
Best Day Trips From Kobe
So now you've worked out how to travel around, where would I recommend you go on a day trip from Kobe?
Day Trip From Kobe To Arima Onsen
One of Japan's most famous onsen towns, Arima Onsen is on the other side of Mount Rokko, set in beautiful mountain landscapes. It's close to both Kobe and Osaka, which makes it a popular day trip for locals and tourists.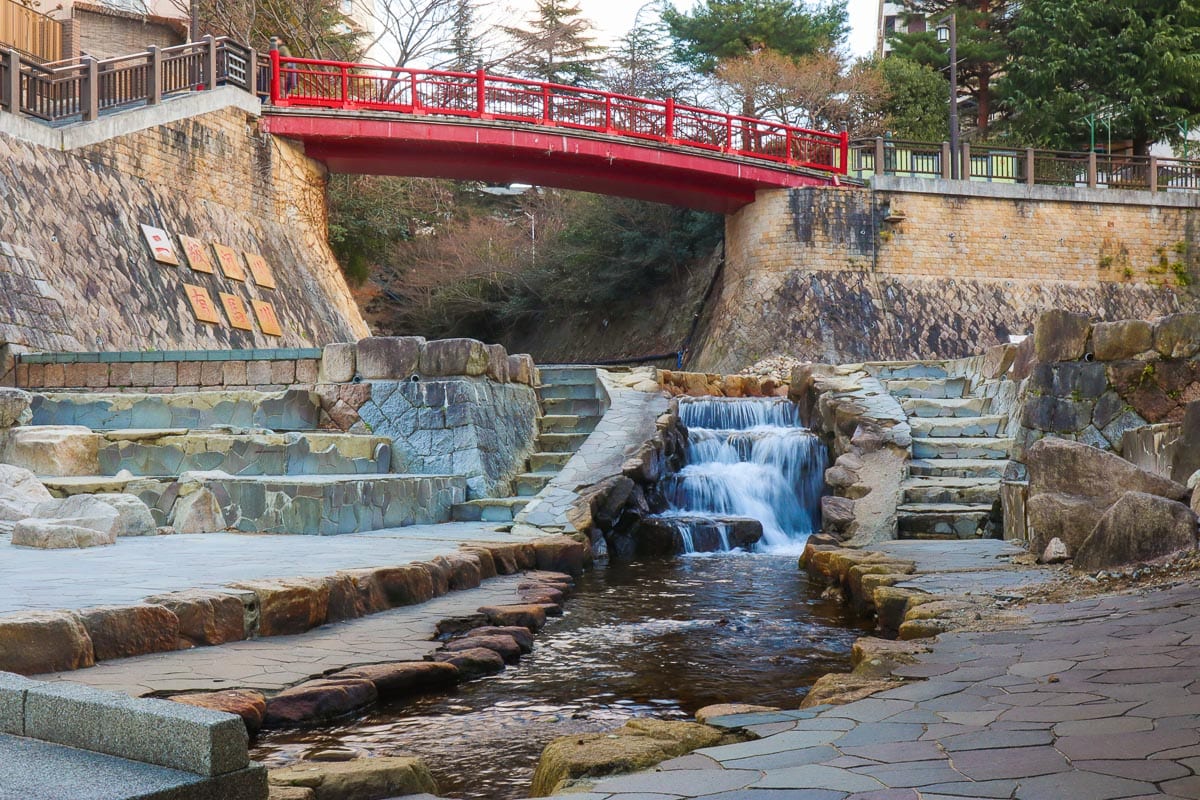 While there are plenty of modern hotels in the town, there's a quaint, old feel to the main street, with its wood-clad buildings and traditional stores. If you're not familiar with onsens, they're Japanese hot springs. There are a few steamy sources in the town itself, one of which is a foot bath at the bottom of the main street.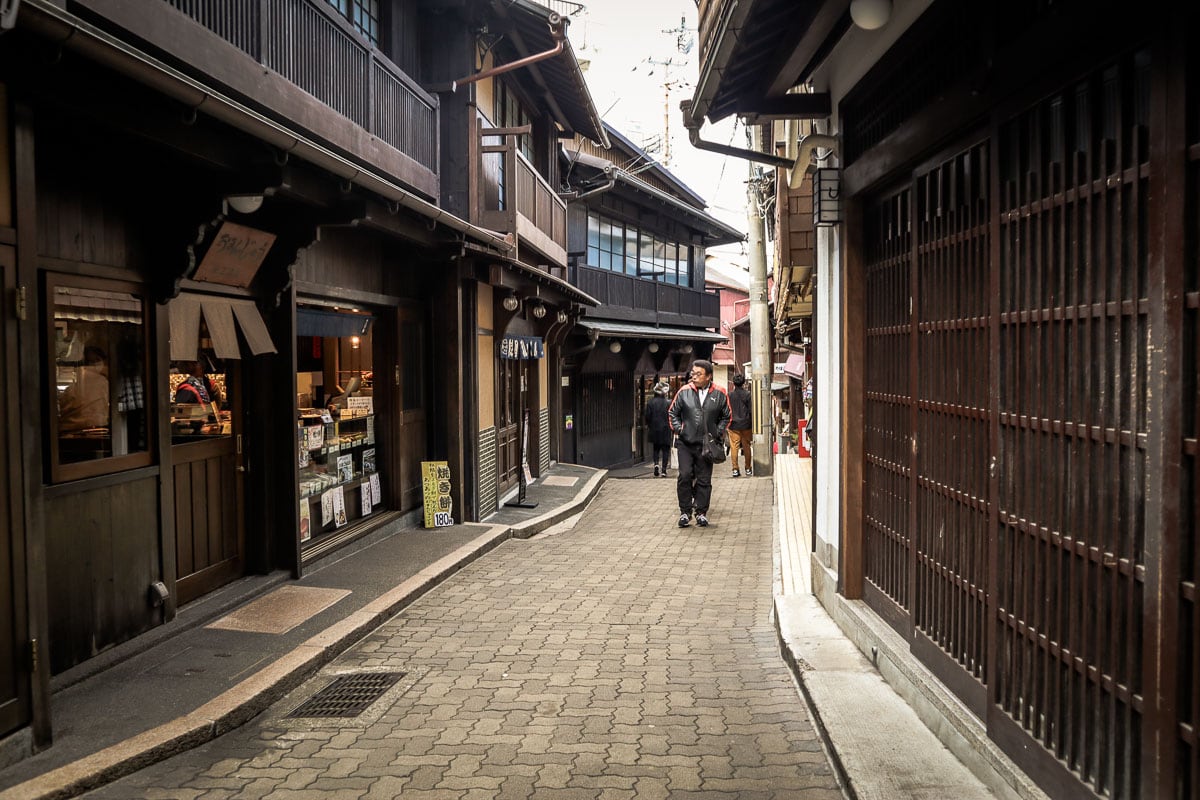 Being one of the oldest hot spring resorts in Japan, there are plenty of hot springs hotels, where you can enjoy the traditional Japanese onsen experience. Submerging yourself in the thermal waters is so relaxing, and it's no wonder people travel to Arima Onsen to enjoy this experience!
Oh and you may be surprised when you see some of the thermal waters! Along with clear water, there's a rusty brown/red water (you won't be able to see your feet once you're in!) It's all natural, getting its colour from iron and minerals. The waters in Arima Onsen are known for their healing properties, so hopefully you'll come out feeling relaxed and soothed!
After my last trip to Japan, I wrote this guide to visiting an onsen, and the etiquette associated with it. Definitely have a read before your trip, as you'll probably feel a bit nervous before your first onsen!
We visited Hyoe Koyokaku in Arima Onsen and spent a few hours enjoying the relaxed ambience, thermal waters and a traditional bento box for lunch. There are several hot springs pools, including private onsen and outdoor pools.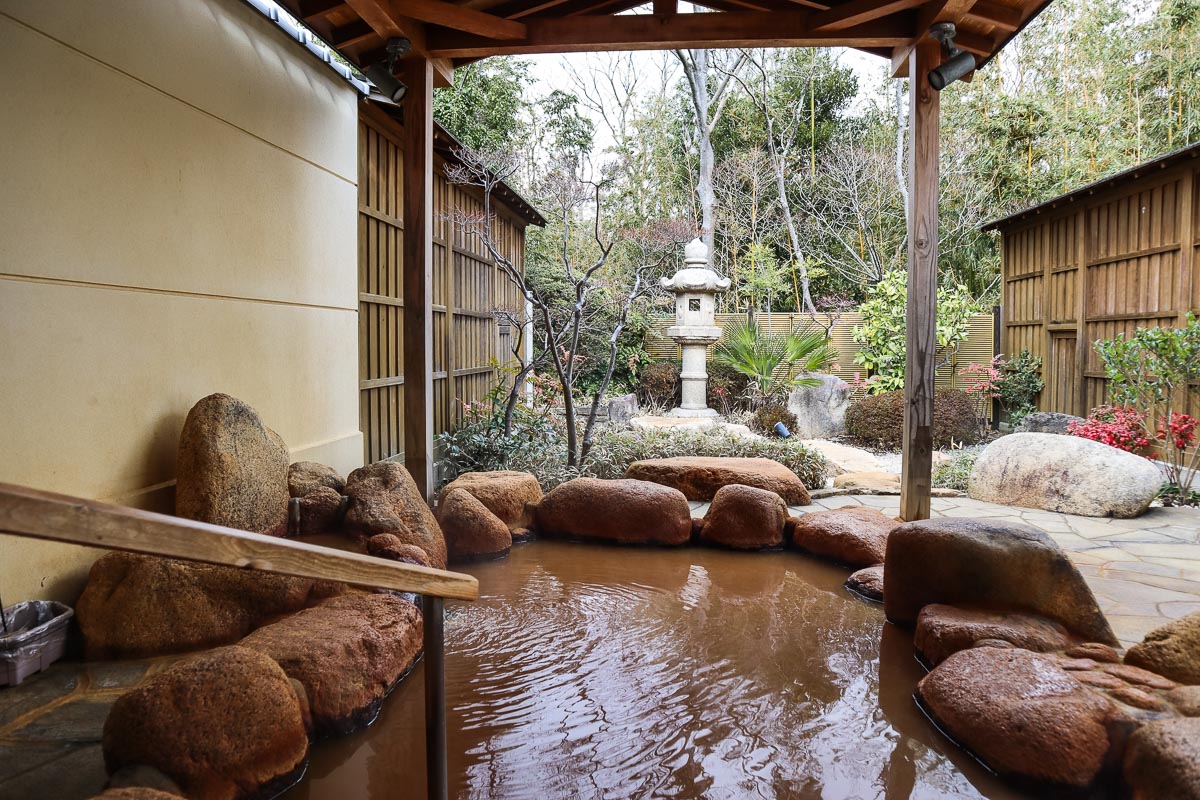 The hotel itself has a mix of Western and Japanese rooms, and the food is very traditional. Our lunchtime bento boxes included tuna sashimi, octopus, fried beef, rice, miso soup, and a few unknown items covered in fish roe or with very fishy flavours!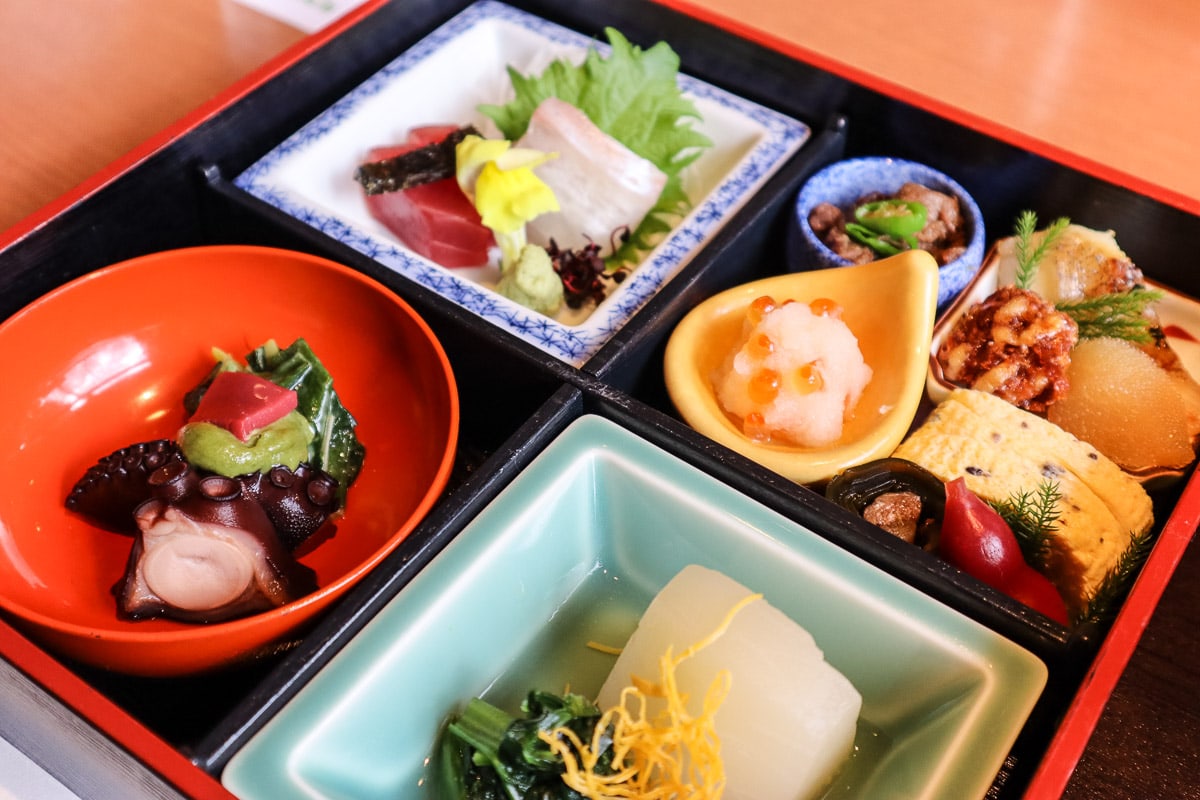 KOBE TO ARIMA ONSEN
Distance from Kobe to Arima Onsen: 21km
Journey time from Kobe to Arima Onsen: 50 minutes by train
Train route from Kobe to Arima Onsen: Sannomiya Station – Tanigami Station – Arimaguchi Station – Arimaonsen Station (looks like a lot of changes but it was surprisingly easy!)
Price to travel from Kobe to Arima Onsen: ¥930 (£6.50)
---
Day Trip From Kobe To Himeji
The main reason to visit Himeji is to see the incredible castle. It's a UNESCO World Heritage Site, over 400 years old, and considered one of Japan's 12 original castles.
The castle is beautiful, painted in white with ornate rooftops and plenty of intricate details. There are big gates, meandering paths and courtyards along the way.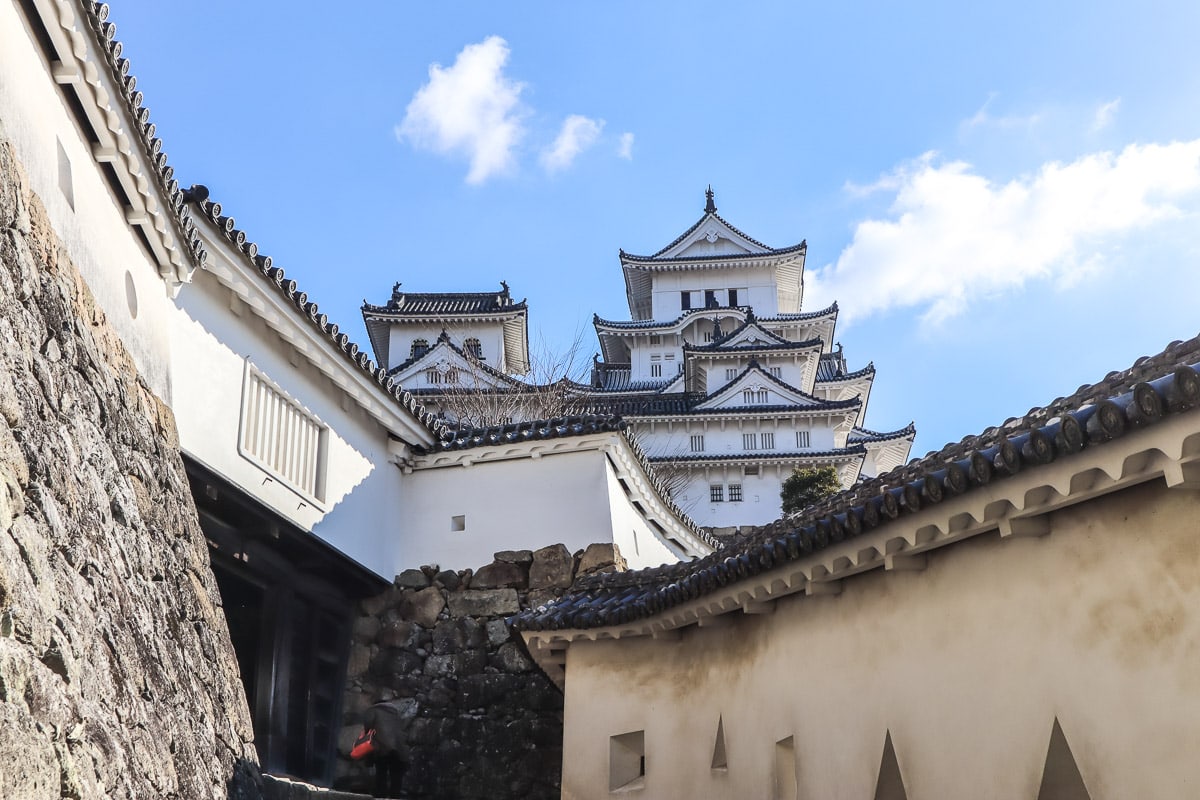 The main castle building is absolutely enormous – spanning seven floors with a huge base wall. It's really impressive, and I've never felt smaller than when I stood at the bottom of it and looked up!
You can go inside the main keep, and once you've swapped your shoes for special slippers, you can start climbing the narrow staircases to reach the higher floors. There wasn't much to see on the inside, but the views from the windows got more impressive as we ascended.
If you're lucky enough to visit Himeji Castle during cherry blossom season, then you're in for a HUGE treat! There are lots of cherry trees (which were stark and bare on my visit in January) that blossom metres away from the castle. The photos I've seen look spectacular!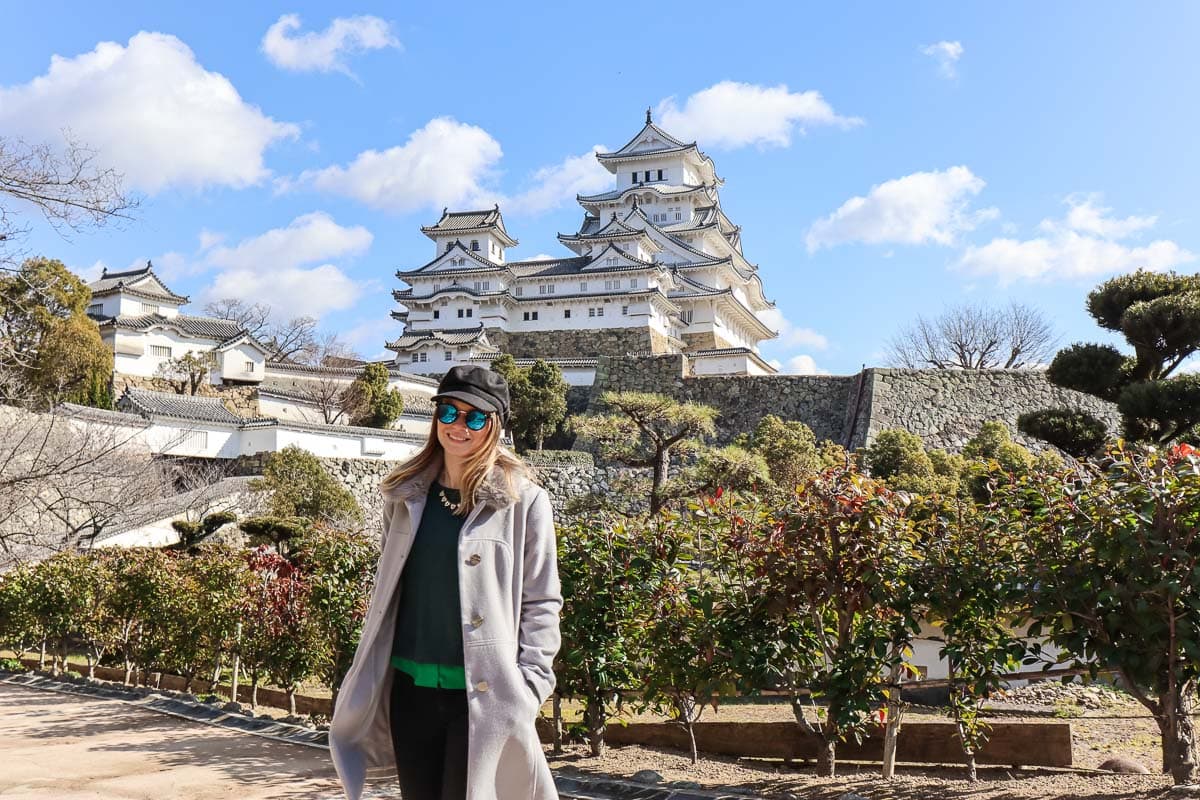 Around five minutes from Himeji Castle is a large park, with a beautiful lake, Japanese bridges, fish and a waterfall. Within this area is Kassuiken Restaurant, a very reasonable eatery serving up local delicacies. I went for the conger eel set meal, having never tried it before – surprisingly delicious!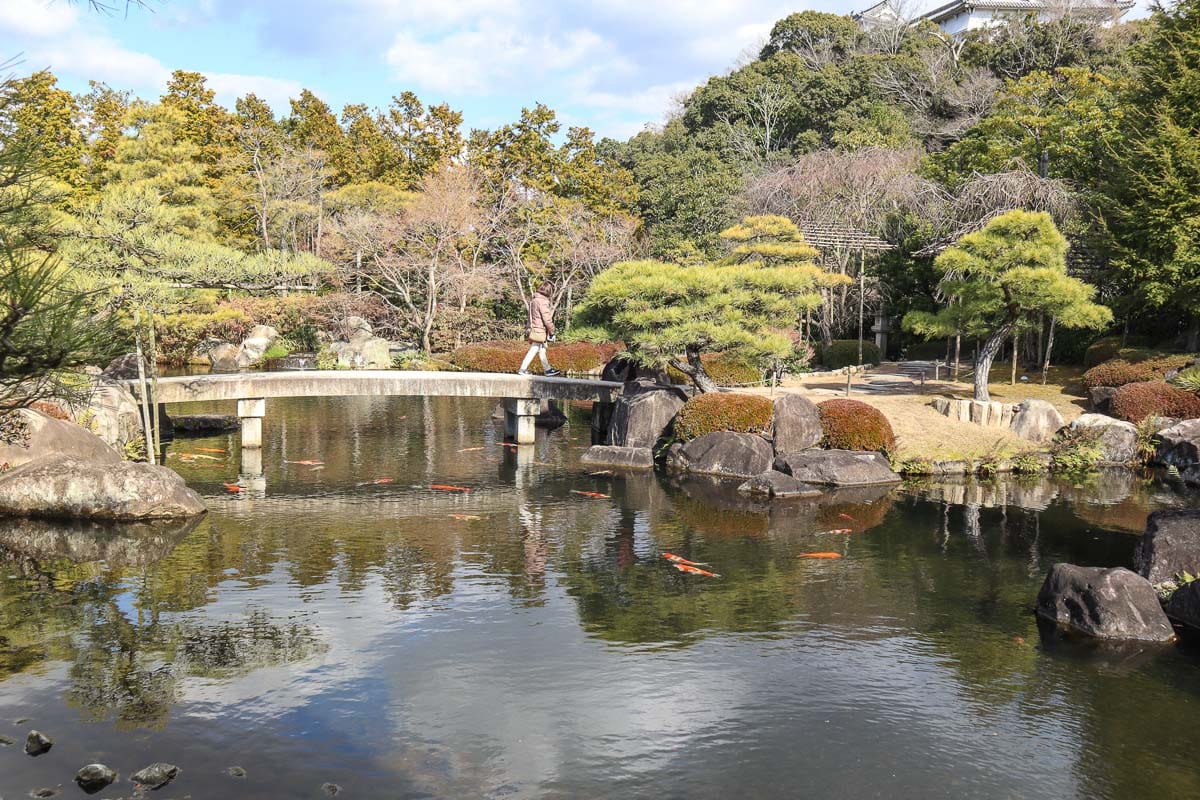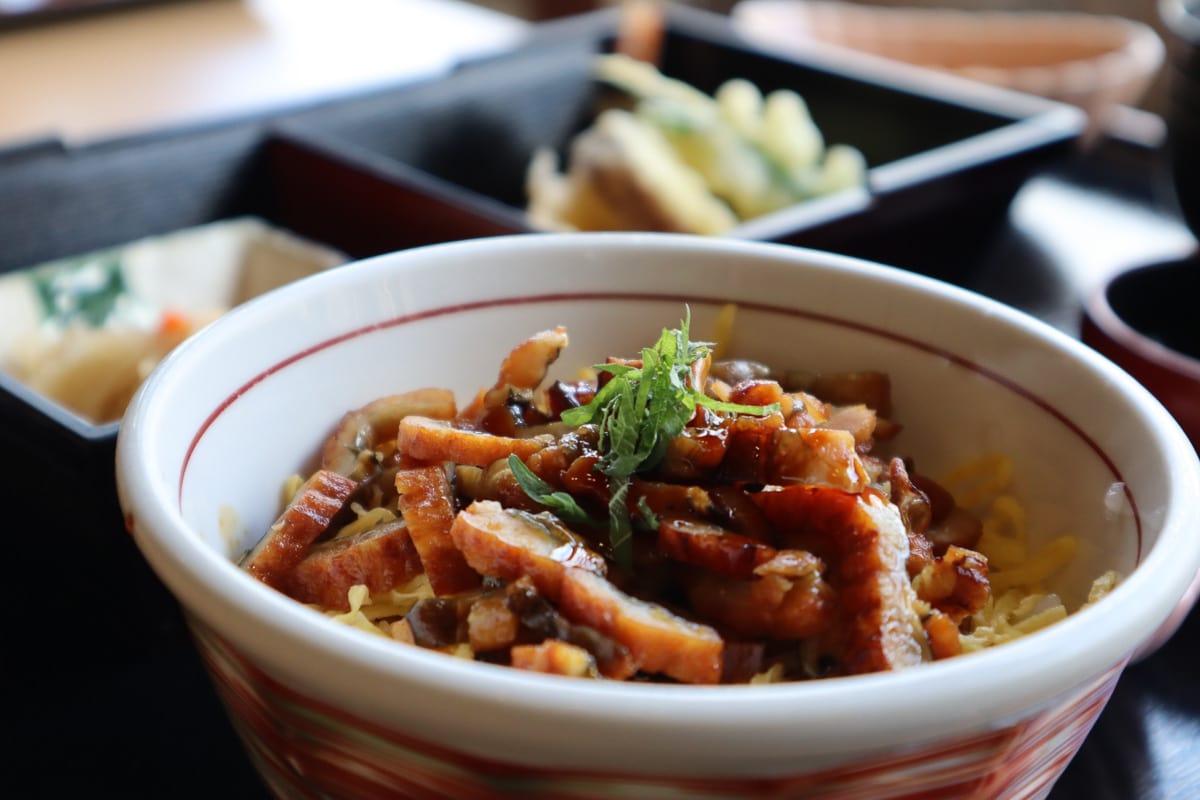 KOBE TO HIMEJI
Distance from Kobe to Himeji: 61km
Journey time from Kobe Station to Himeji: 41 minutes by train
Train route from Kobe to Himeji: Sannomiya Station – Himeji Station (JR)
Price to travel from Kobe to Himeji: ¥970 (£6.80)
---
Day Trip From Kobe to Mount Rokko
If you love the great outdoors and good views, then take advantage of Kobe's magical setting with the Rokko mountain range behind.
At 931m, the highest point is Mount Rokko itself. From Kobe, you can take trains, funiculars and cable cars up to the top. I'd say the simplest way from Kobe is to catch the retro green funicular (Rokko cable car) up to the top.
Moments from there is Tenran Café – a great little find, with cosy log fires in winter and a huge terrace with spectacular views of the city in the summer. We visited around 5pm, and I loved watching the sunset over Osaka and Kobe, followed by breathtaking night views as the twinkly lights turned on in both cities.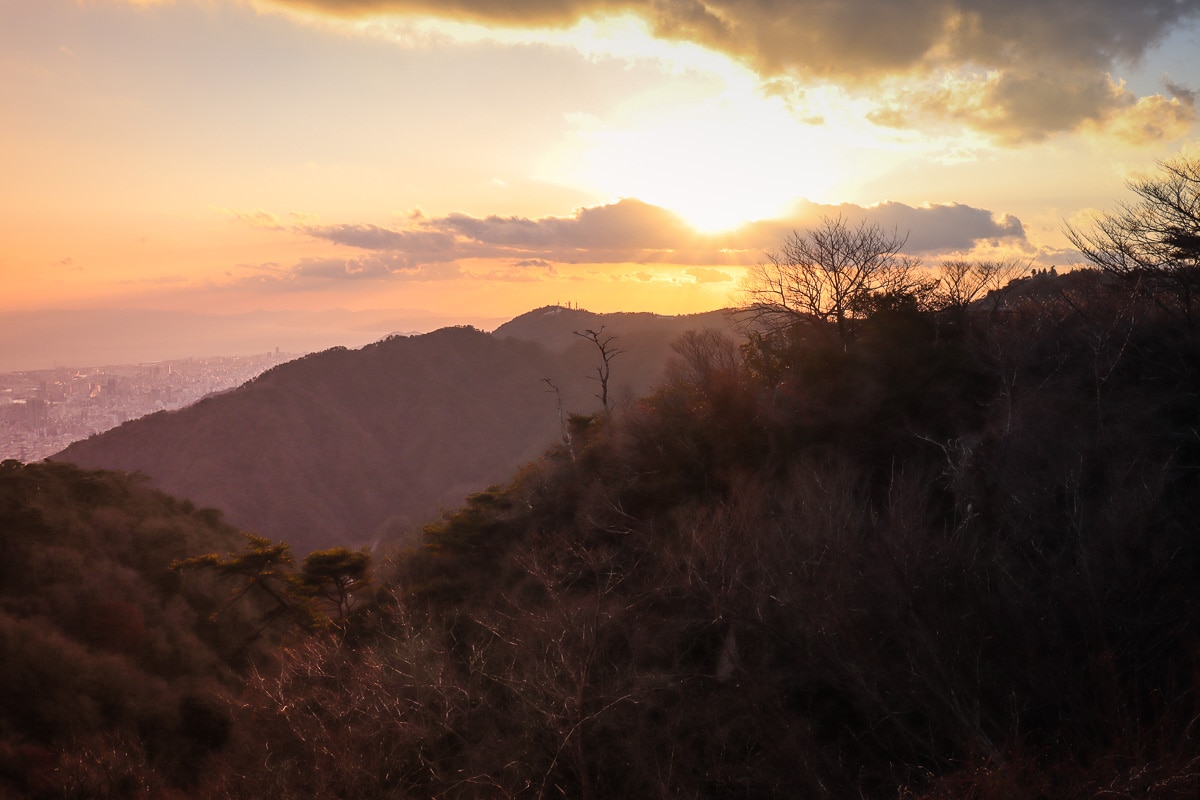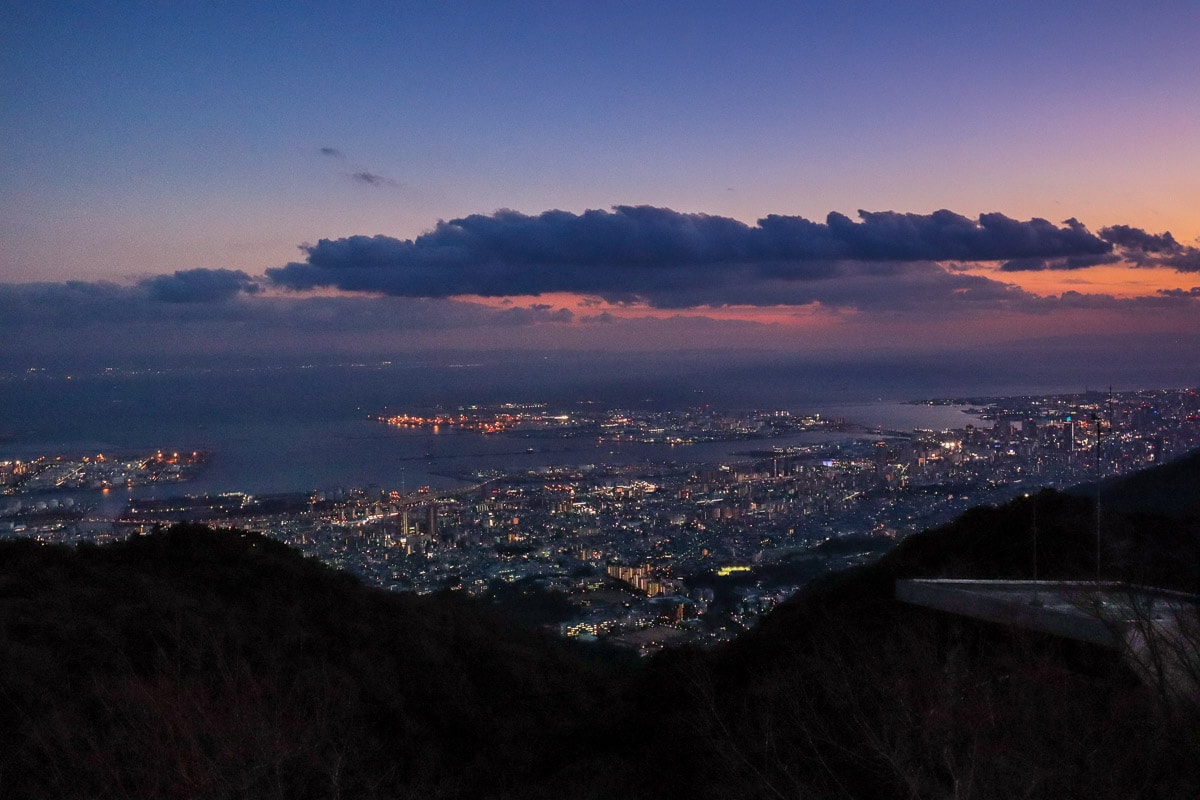 From the café, there's a circular bus line that will take you to the other key spots, including Mount Rokko Snow Park, the intriguing architecture of Rokko Shidare Observatory and the observation deck at Rokko Garden Terrace.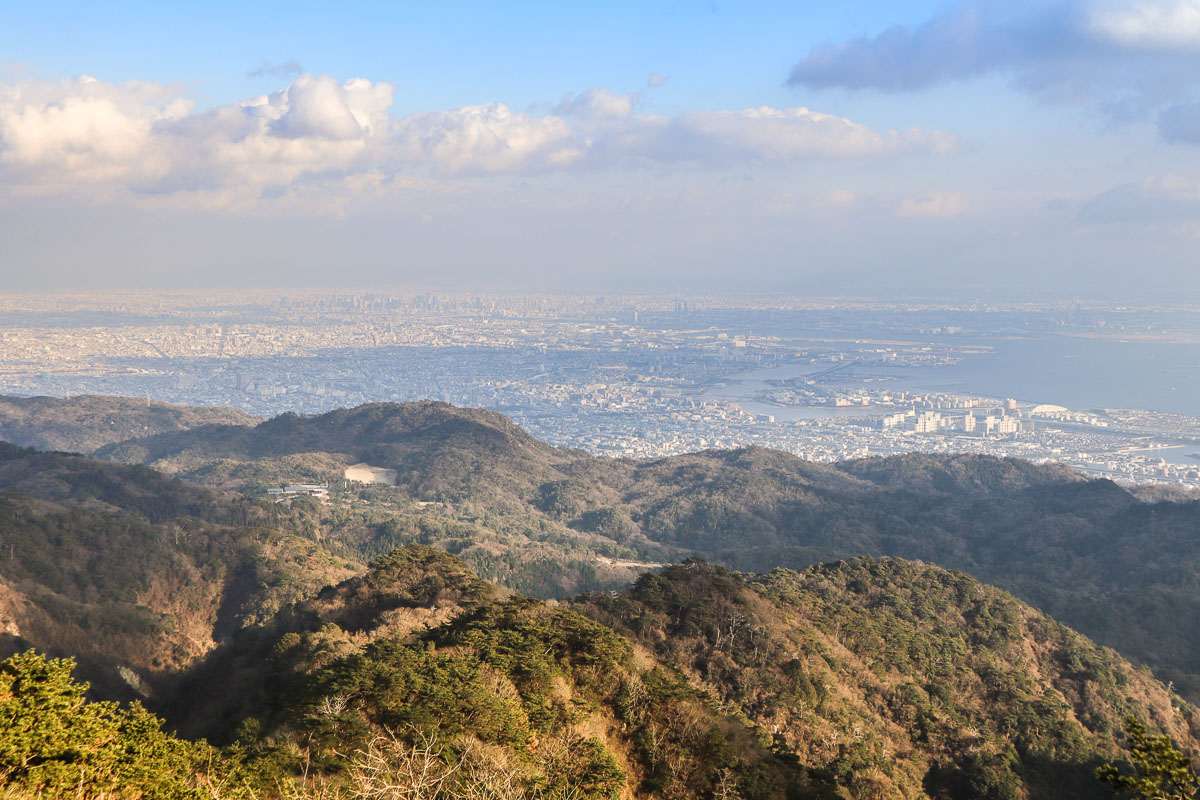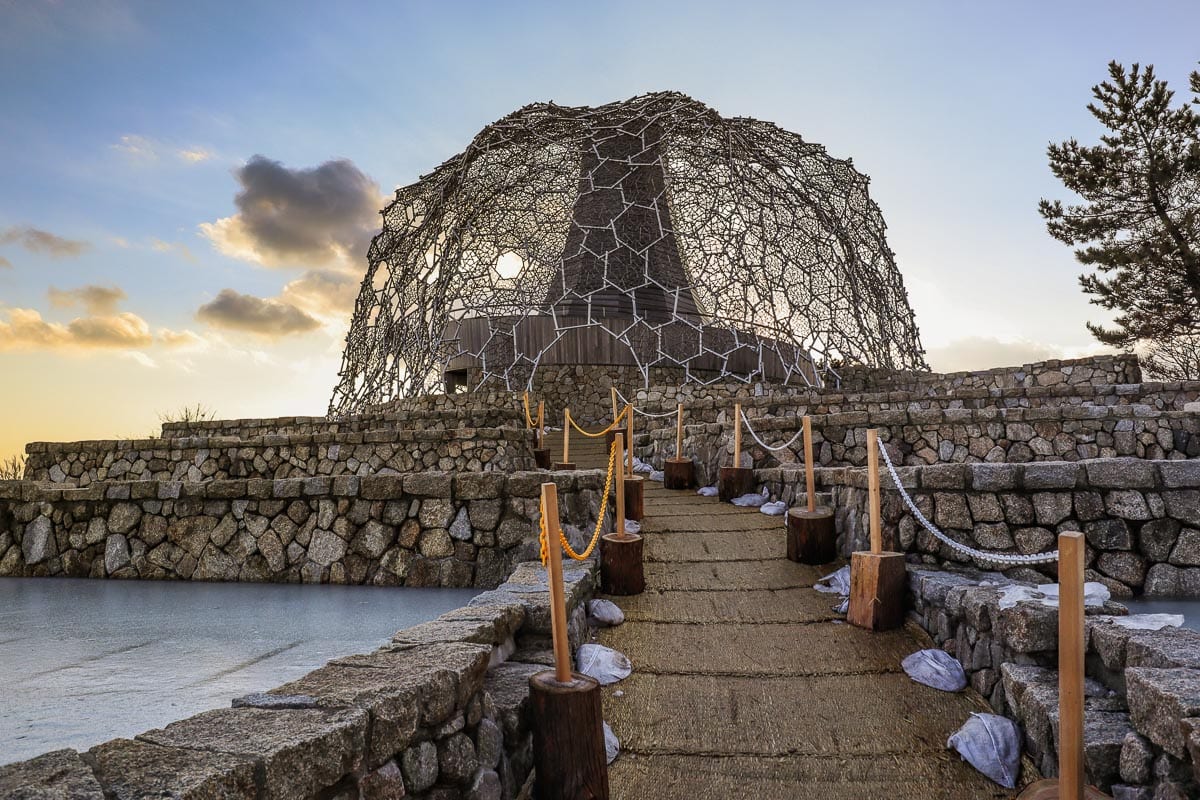 I was amazed by the view of the Kansai region from all of these spots, especially how you can see both Kobe and Osaka – two metropolises for the price of one! I'd definitely recommend visiting the observatory, an architectural wonder that has been cleverly constructed to circulate air.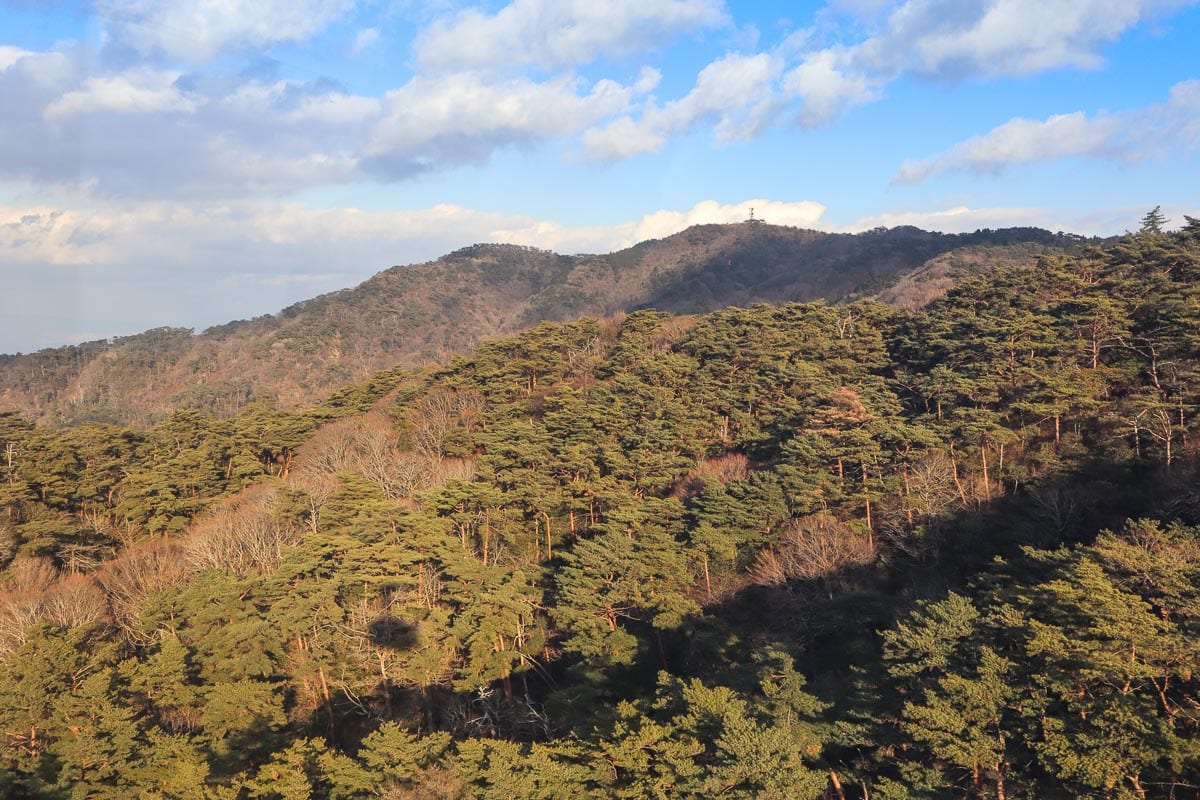 KOBE TO MOUNT ROKKO
Distance from Kobe to Mount Rokko: Around 20km
Journey time from Kobe to Mount Rokko: Depends on your route, but probably around 1 hour from Kobe city centre.
Route from Kobe to Mount Rokko: Several options, but this is one route – Train from Sannomiya Station – Rokkomichi Station. Bus to Tsurukabuto 4-chome Bus Stop. Then Rokko Cable Car to the top.
Price to travel from Kobe to Mount Rokko: ¥960 (£6.70)
---
Day Trip From Kobe to Osaka
If you only have one day trip to squeeze in from Kobe, I'd say you should visit Osaka. Japan's third largest city, Osaka is a vibrant and buzzy, with a great mix of culture, food and entertainment. I'd spent a bit of time there on my last trip to Japan, but I didn't do any of the major touristy things!
We started our day at Osaka Castle – a must-see if you're visiting the city. The site has had its fair share of dark times, including troops attacking it and being struck by lightning. The current building dates back to 1931, and surprisingly it survived the WWII air raids that hit areas very close by.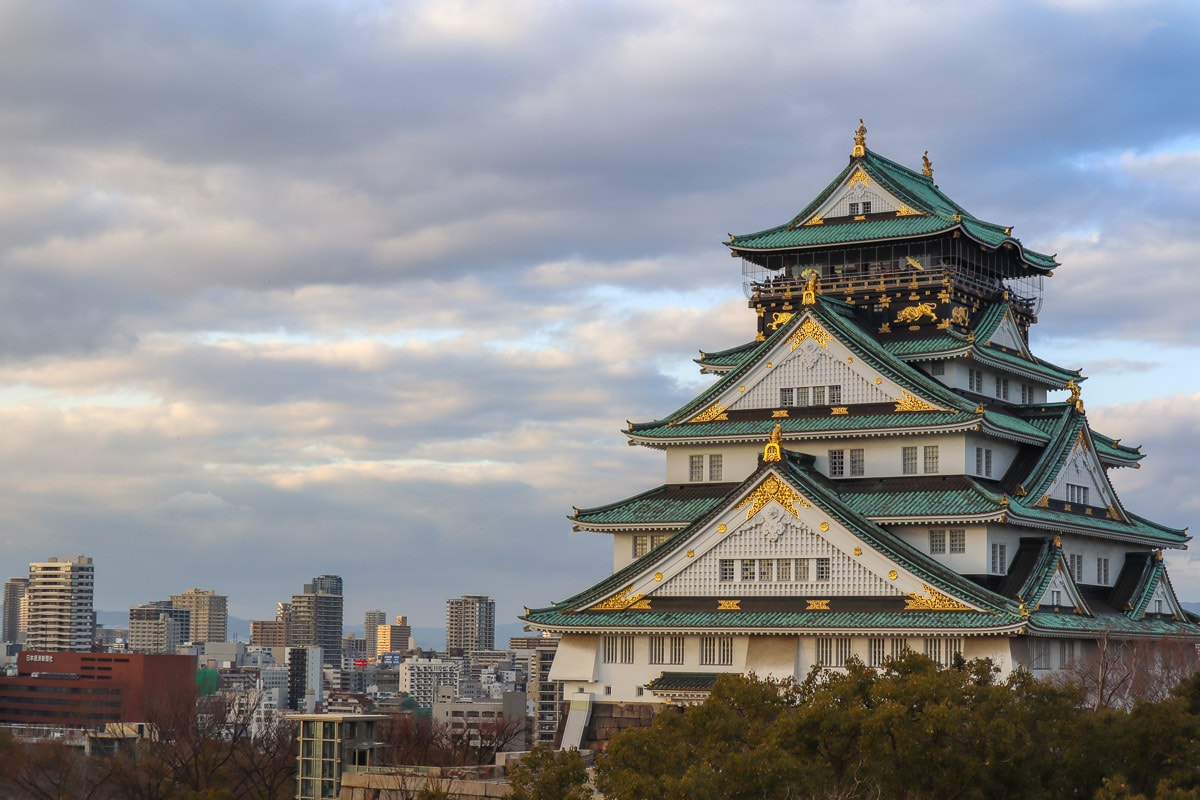 It was wonderful to take in the views of the castle, and hop on a boat around the moat too. There were lots of great photo spots along the way.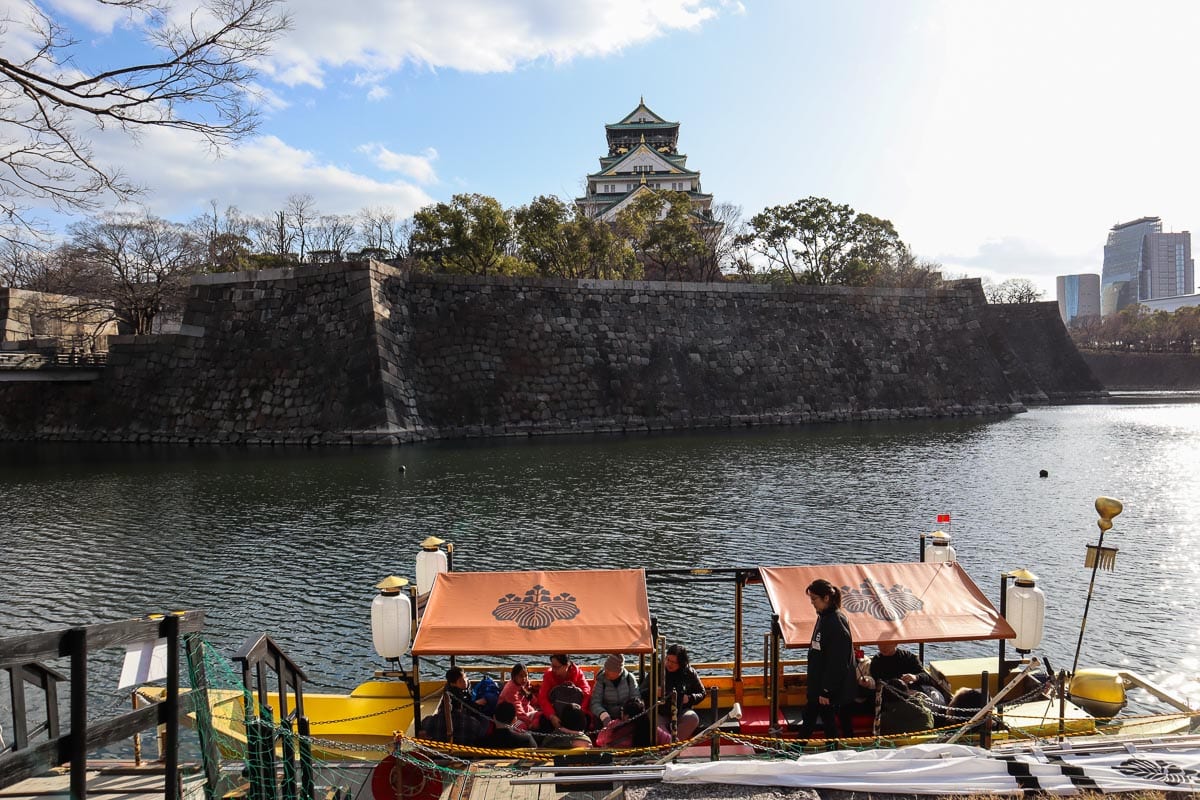 While in the grounds of Osaka Castle we took part in the Samurai Experience. We got dressed up in samurai outfit and a kimono, then learned some samurai moves. It was a lot of fun and definitely one of the more memorable moments from my trip.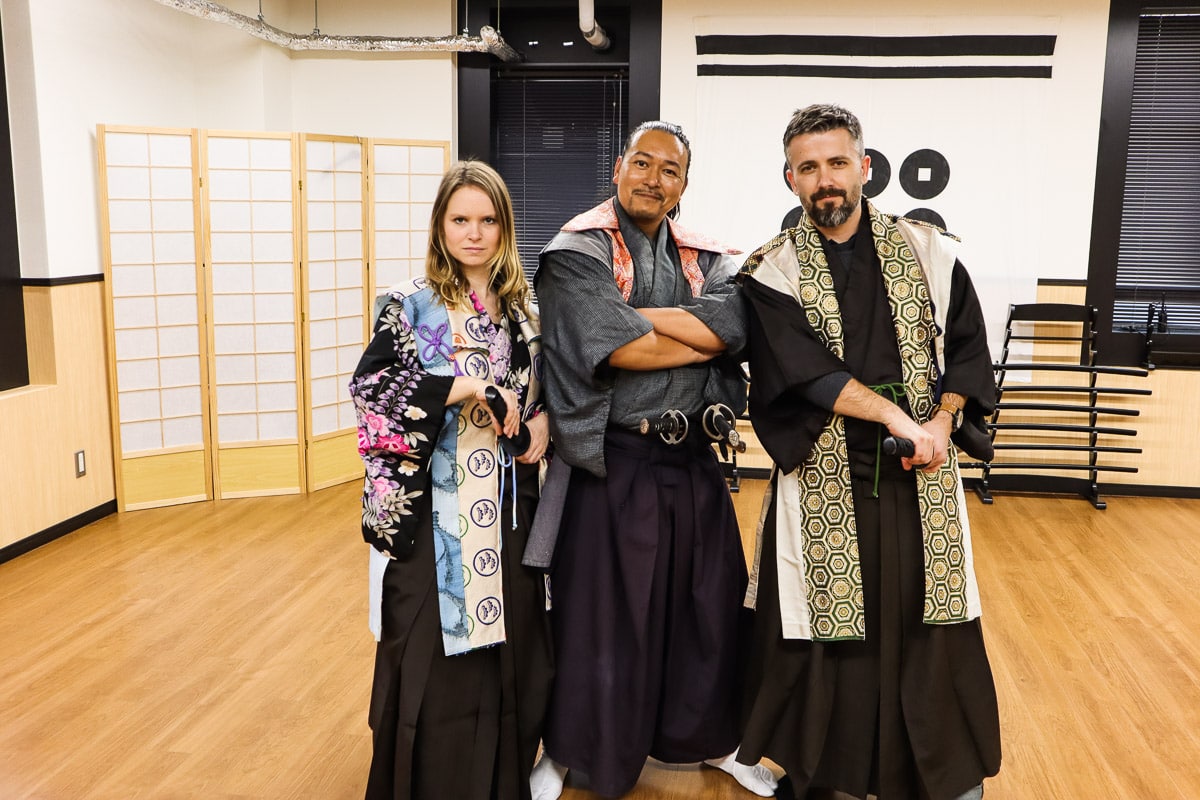 Next up was a trip to Dotonbori – Osaka's liveliest neighbourhoods. With a canal running through the area, and enough neon lights to be seen from space, it was the kind of buzzy, colourful spot I LOVE!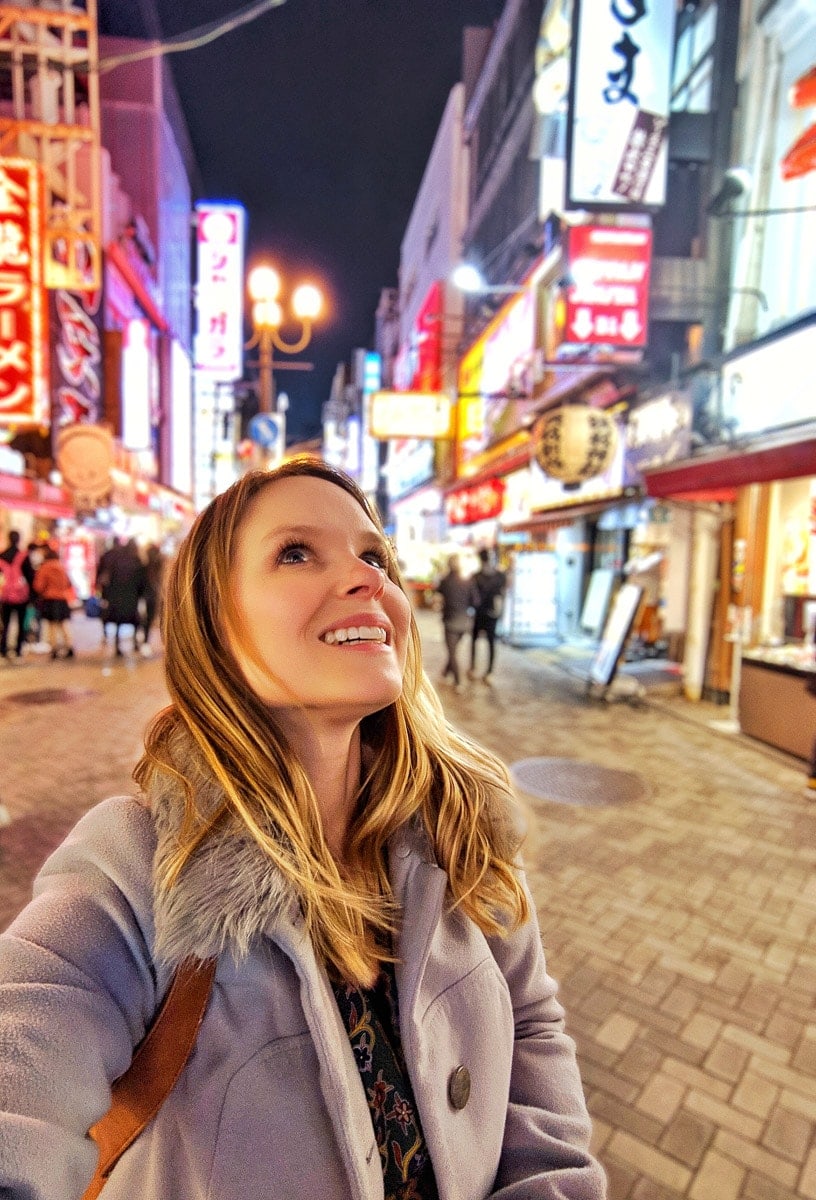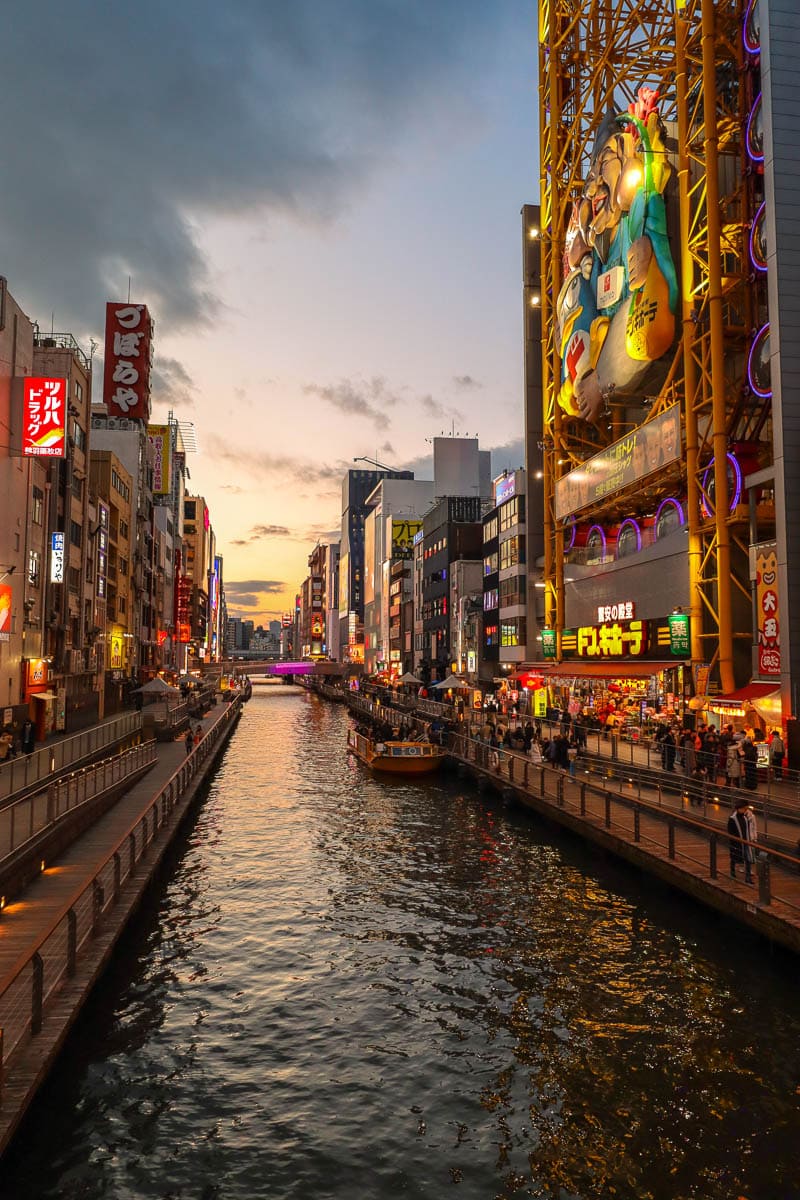 Walking around the streets of Dotonbori is SO entertaining. Huge animatronic crabs sit on shop fronts, people cook takoyaki (octopus dumplings) on the street, flipping them in the most mesmerising of ways, and the lights, smells and sounds surprise you as you wander. There's a huge energy to this area – it's totally infectious.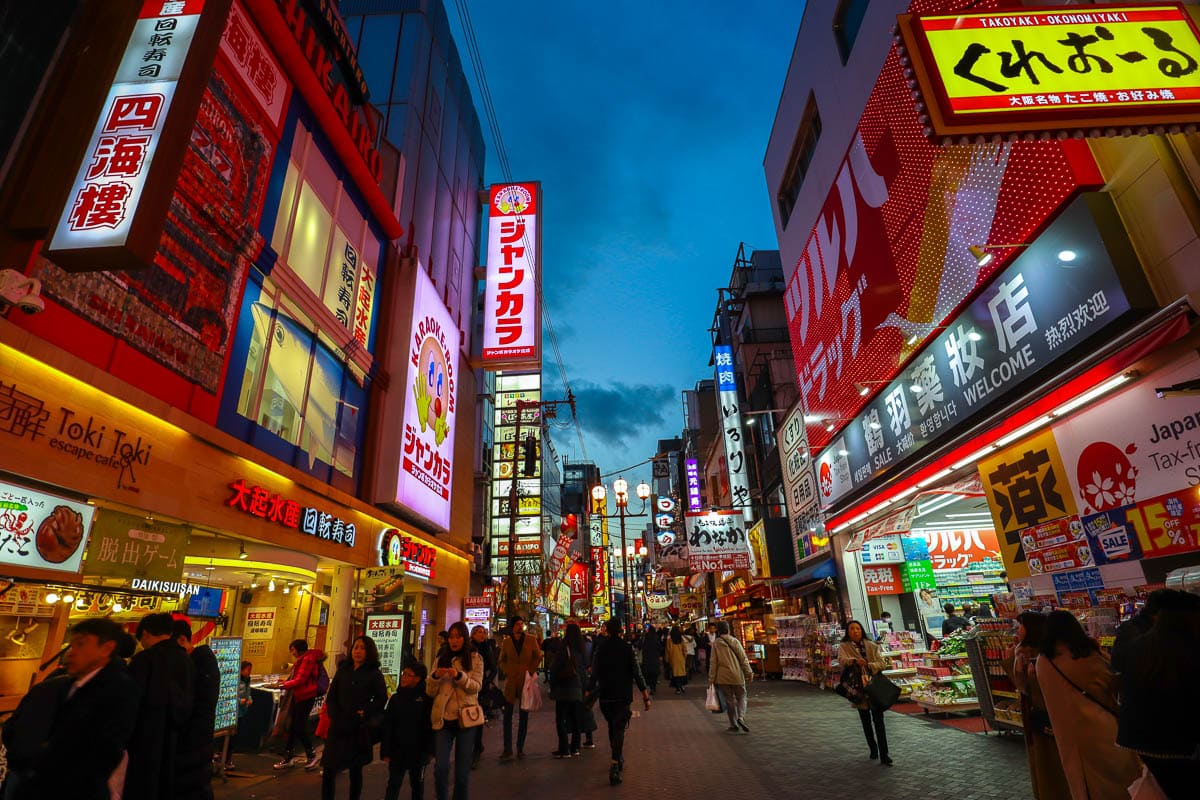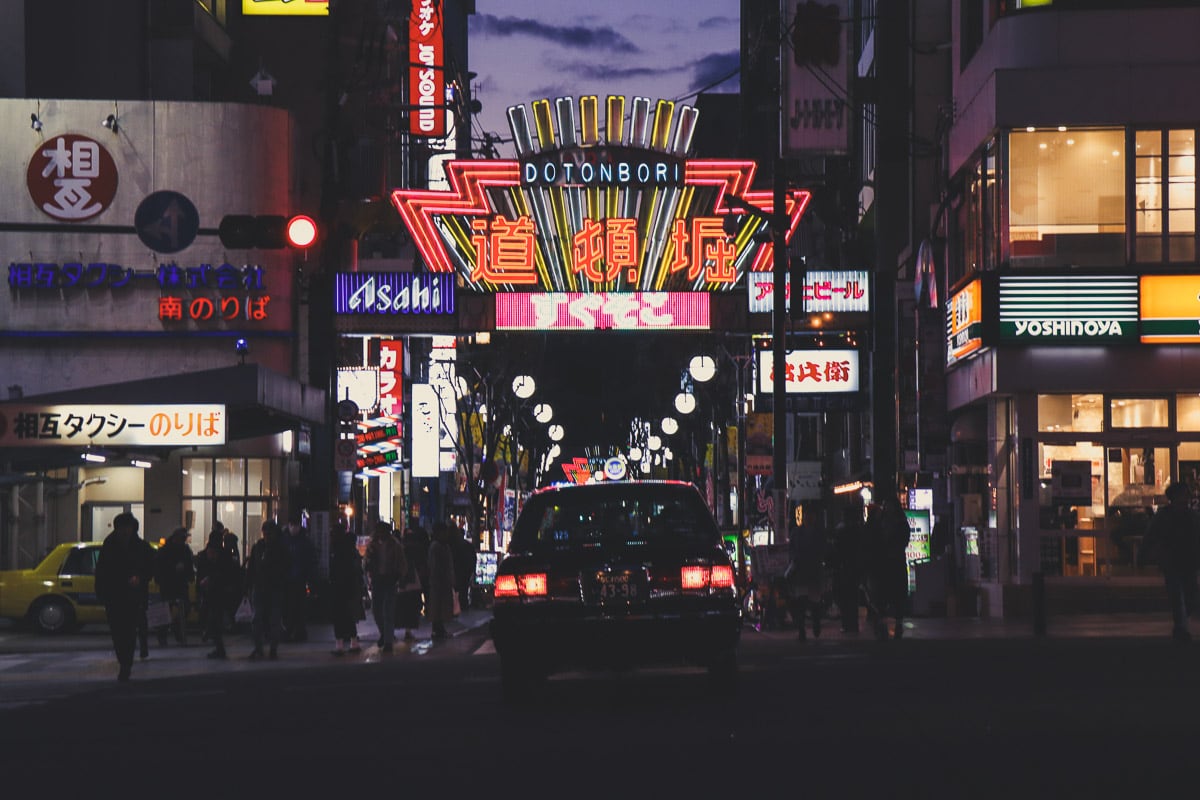 If you're looking for gifts to take home, my big recommendation is to head to Sennichimae Doguyasuji Street. It's THE place for buying amazing Japanese ceramics. On my first trip I bought 8 sushi dishes and several cups and bowls to take home! This time I bought my mum a beautiful sake set. Some of the stores are like treasure troves, so expect to pick through lots of items to find what you want, but it's worth it. Items are very reasonably priced too.
Food wise, you'll find everything in Osaka. Definitely try takoyaki if you haven't had them before. The octopus dumplings are one of the top foods to eat in Japan and are a staple of Dotonbori.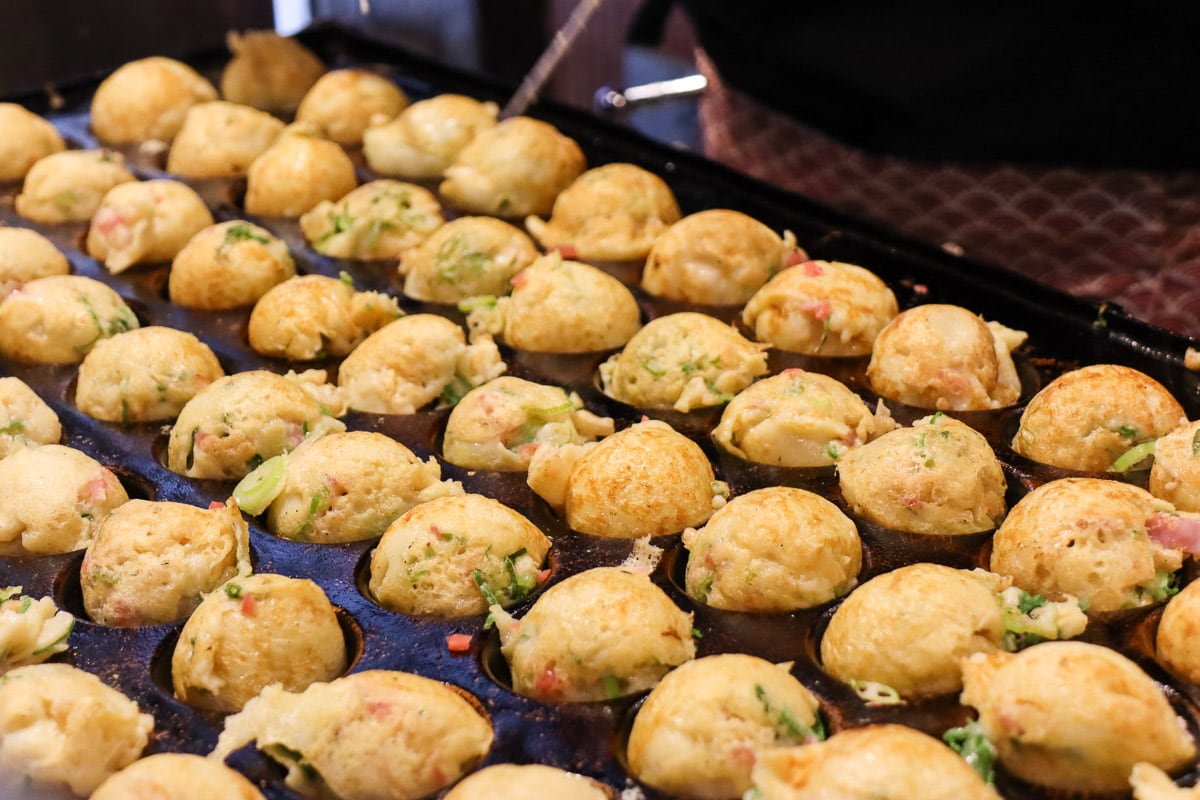 There are a lot of kushikatsu restaurants in Osaka too, which is essentially meat or veg, covered in breadcrumbs, deep-fried, then dunked in a tangy sauce. Personally, I don't really rate it, and would 100% opt for sushi, ramen or another delicious Japanese dish!
KOBE TO OSAKA
Distance from Kobe to Osaka: 35km
Journey time from Kobe to Osaka: 35 minutes by train
Train route from Kobe to Osaka: Kobe Sannomiya Station – Osaka Namba Station
Price to travel from Kobe to Osaka: ¥320 (£2.20)
If you're planning to extend your trip around Japan, definitely check out my other blogs from my travels:
18 Amazing Things To Do In Kobe, Japan
Top Things To Do In Tokyo, Japan
Top Things To Do In The Izu Peninsula, Japan
I hope you've enjoyed my tips for day trips from Kobe. A big thanks to Visit Kobe for inviting me to explore the region! As always, all opinions are my own.
Enjoyed this post? Pin it for later…