Time to check out Buddha-Bar Marrakech.
*DISCLAIMER: I worked on a sponsored campaign with Buddha-Bar in 2016, for which I produced video, blog and social media content about Marrakech and the restaurant. Sadly Buddha-Bar Marrakech broke their contract and only paid me for half of my work and time. After I threatened legal action, they stopped returning my emails and calls. I have left the content live, as I was proud of the work I did, but I find their behaviour utterly disrespectful, and would never return there out of principle.*
Towards the end of 2015 I spent a few weeks travelling around Morocco. While I've visited the country a few times before, this was more of an immersive trip – sleeping in camps in the Sahara, visiting local markets high in the Atlas Mountains, and finishing with the full Marrakech experience – snake charmers, hammams and more! I thoroughly enjoyed it and hoped it wouldn't be long before I returned.
Cheap flights and guaranteed warm weather make Marrakech a great break from the UK, particularly for those craving winter sun. With a free weekend in January, I couldn't resist but snap up some bargain fights and pop over for a dose of vitamin D, great food and a bit of pampering.
Buddha-Bar is Marrakech's newest opening. As a brand, Buddha-Bar is synonymous with style, music and great Asian-inspired food. With restaurants in Paris, London, Beirut, Dubai, Sao Paulo, Kiev and many more, it was only a matter of time before Marrakech was added to its mini-empire.
Check out the video of my luxury weekend in Marrakech, or scroll down to read more about Buddha-Bar Marrakech.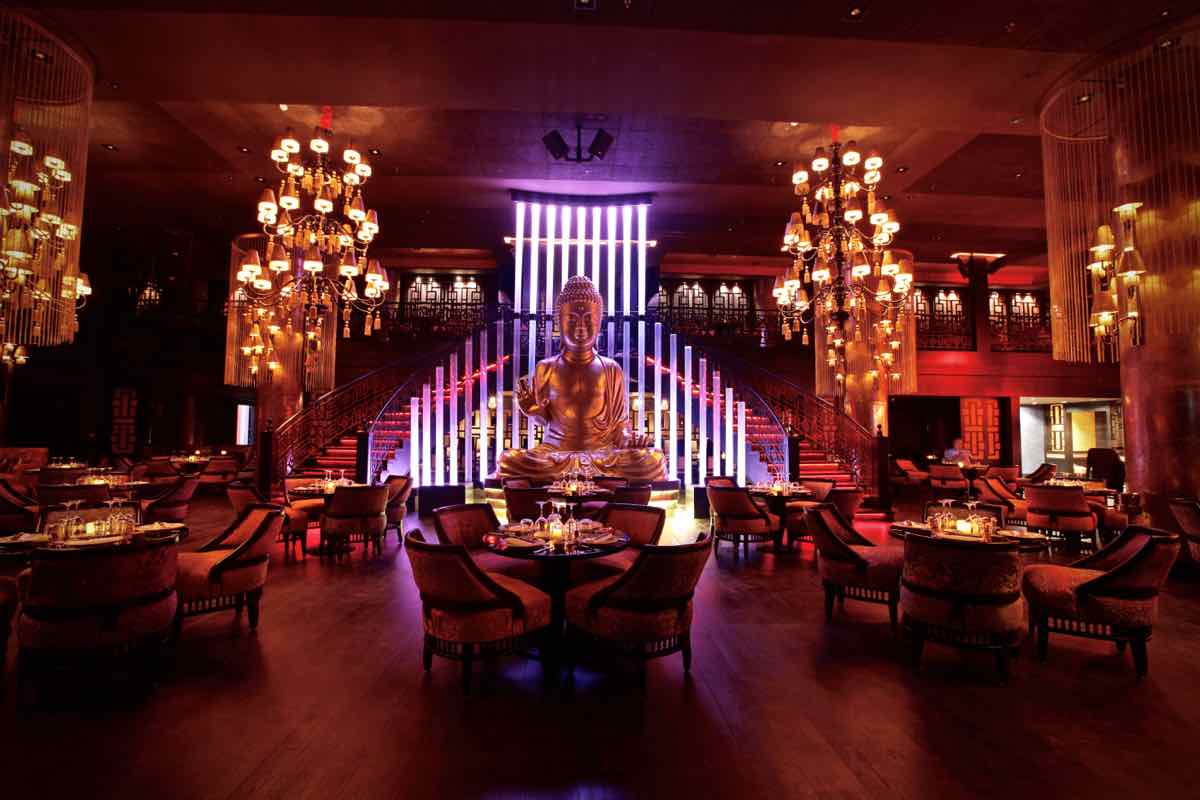 Don't be fooled by the name. Buddha-Bar is more than a bar, it aims to take you on a journey – through its music, décor and menu. Not just another night out, it's longing to be a memorable experience, ideally one that you'll choose to return to time and time again. Only a handful of brands have achieved this globally – Pacha perhaps, and high-end hotels such as the Four Seasons.
January is supposedly a low season in Marrakech, but with constant traffic, and Jamaa El Fna square as packed as ever, it wasn't particularly noticeable.
Buddha-Bar Marrakech sits in the chic Hivernage area. L'hiver being French for winter, the district made its name as the place the wealthy French holidayed during winter. Home to the majority of the city's top boutiques, 5 star hotels (including Es Saadi Gardens and Resort where I stayed last time), it's the area both to see, and be seen in. With Buddha-Bar's signature branding, latticework, lanterns and a swanky red carpet, I couldn't WAIT to get inside – particularly with the bass of the deep house soundtrack pulsating from within.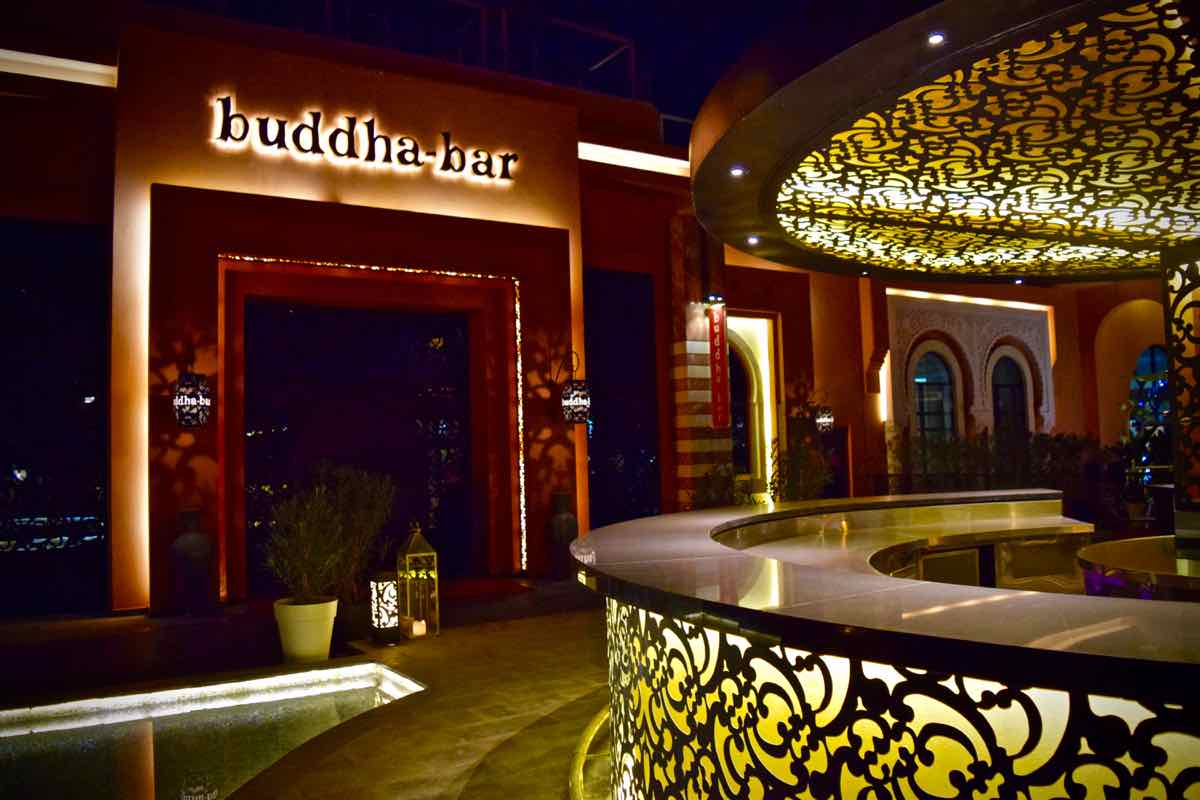 Surprisingly, and perhaps bravely, this is one of Marrakech's largest restaurants. With seating for around 450, it's an enormous space. Yet despite high ceilings and masses of seating, it doesn't feel cavernous. Quite the opposite in fact – with its dark mood lighting, ambience and personable service, there's a rather magical feeling of intimacy.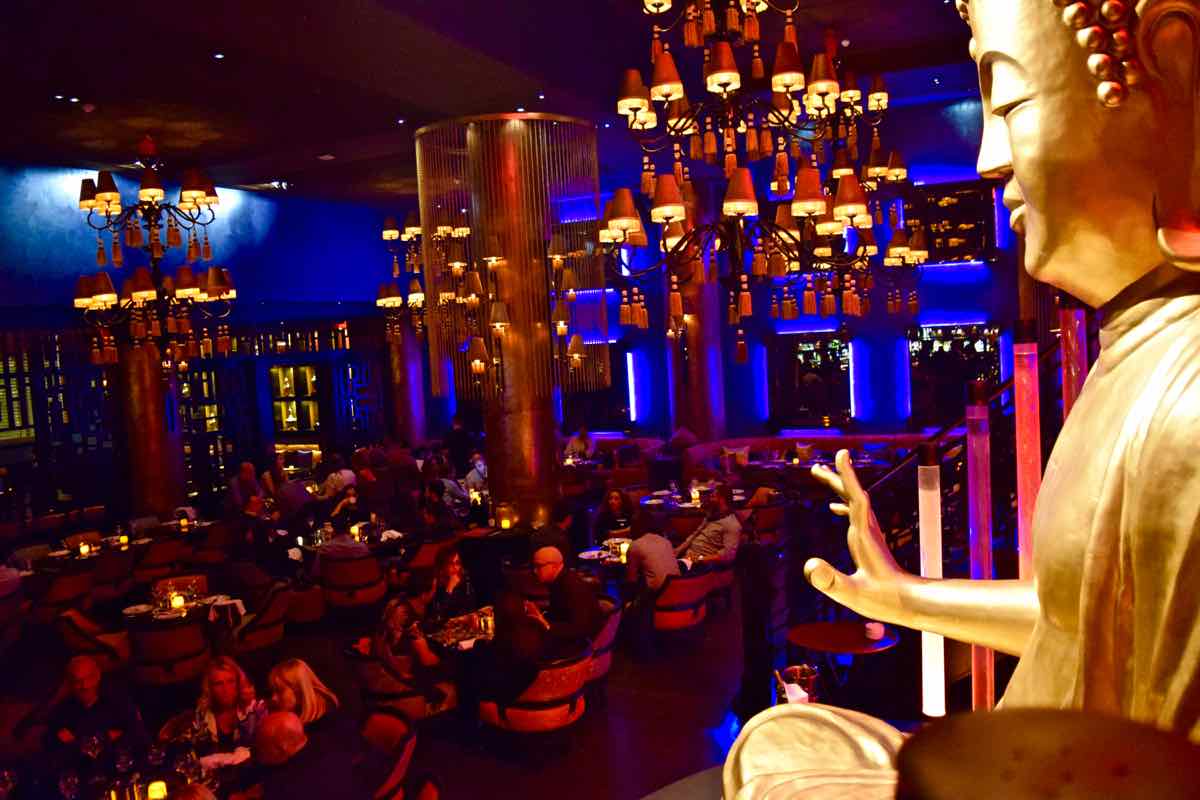 Once through the enormous ornate doors, there was one person in my eyeline… Hello Buddha! Transported from Indonesia, the 4 metre high figurine sits proudly with grand illuminated staircases cascading down either side.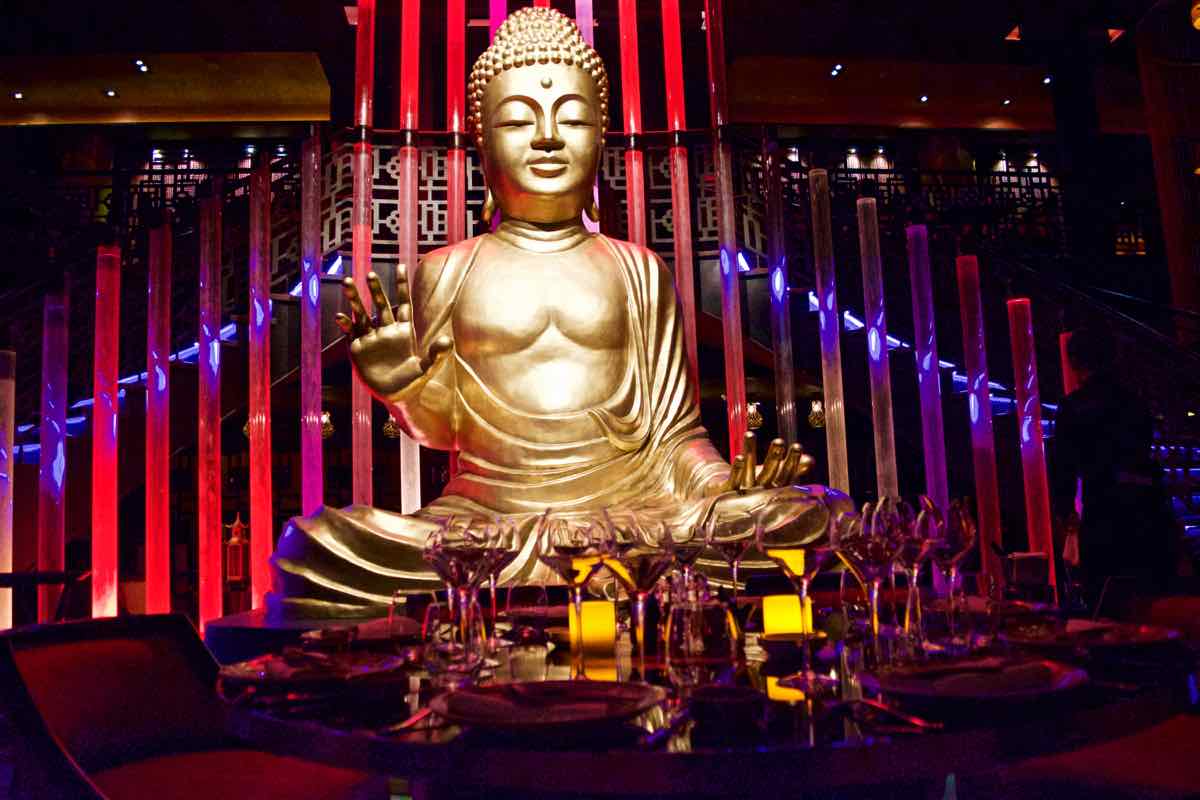 The building is cleverly divided into several areas. From the main dining room, to the lounges, salons, private dining rooms, high tables and bar area. While each has its own distinct vibe, the colour scheme of blue, red, gold and black creates a feeling of unity. Oriental patterns, lush silk and plush velvet all work to create a mysterious, sophisticated restaurant.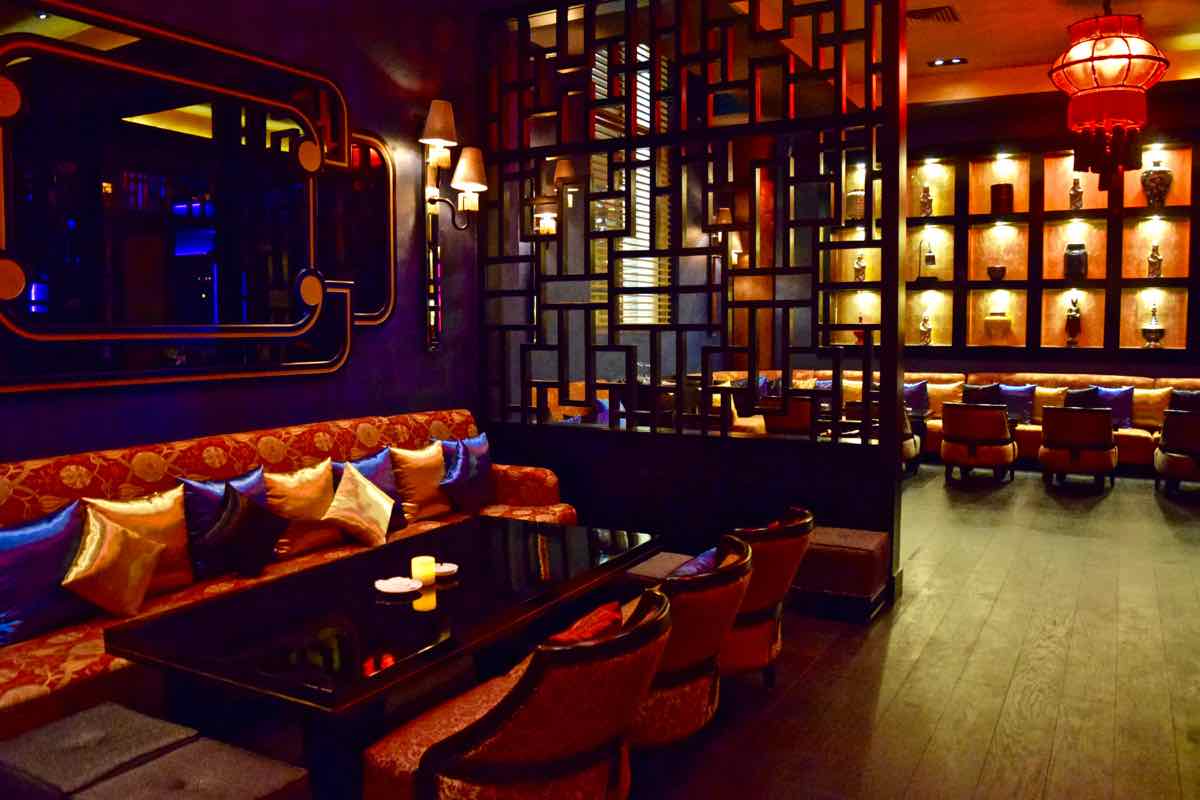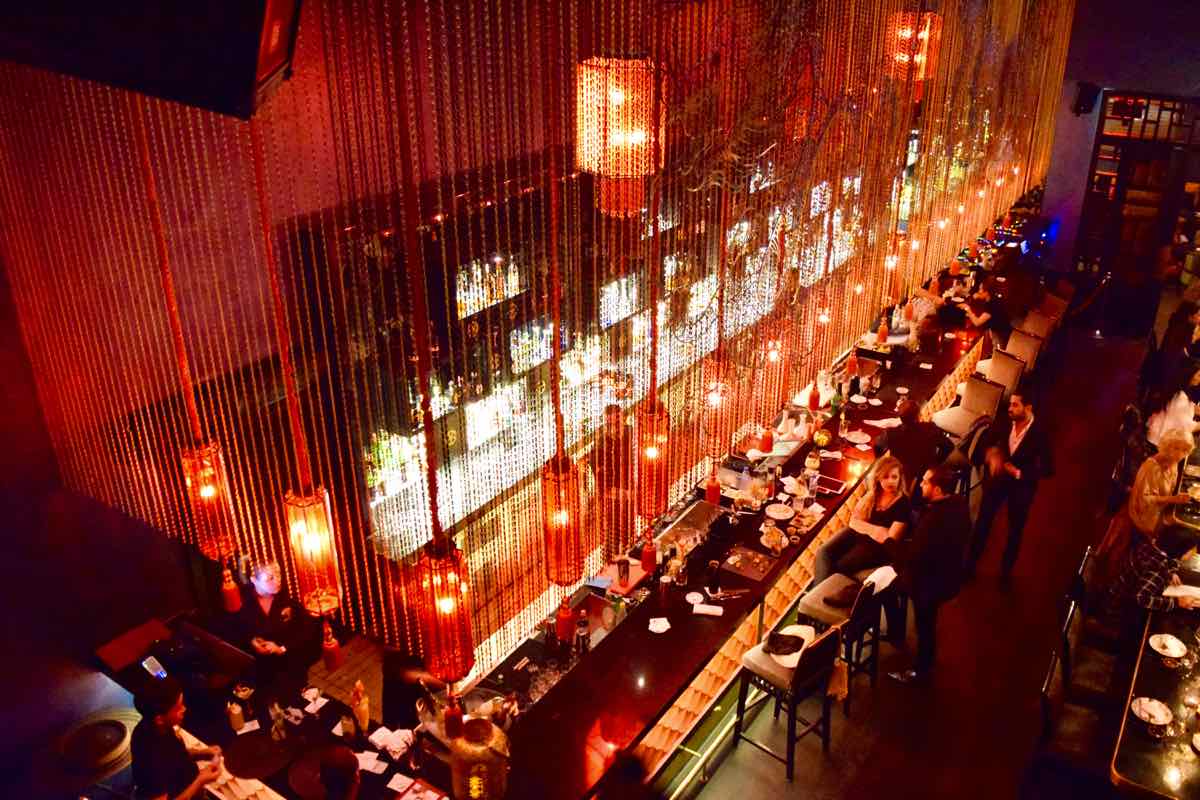 It's not a stuffy place. There were families with kids, couples on dates, birthday parties and even a Brazilian princess all dining under one roof! Oh, and on a quiet Friday night in low season, it appeared to be full.
Expert bartenders were happy to whip up whatever we fancied, but I decided to try out a few of the signature cocktails. Bubble W@p was the first I tried, and a particular favourite of the night! Liqueur de fleur de Sureau, raspberry cordial, strawberry puree and champagne combined to make a sweet, fruity, fizz. Delightfully girly and chic!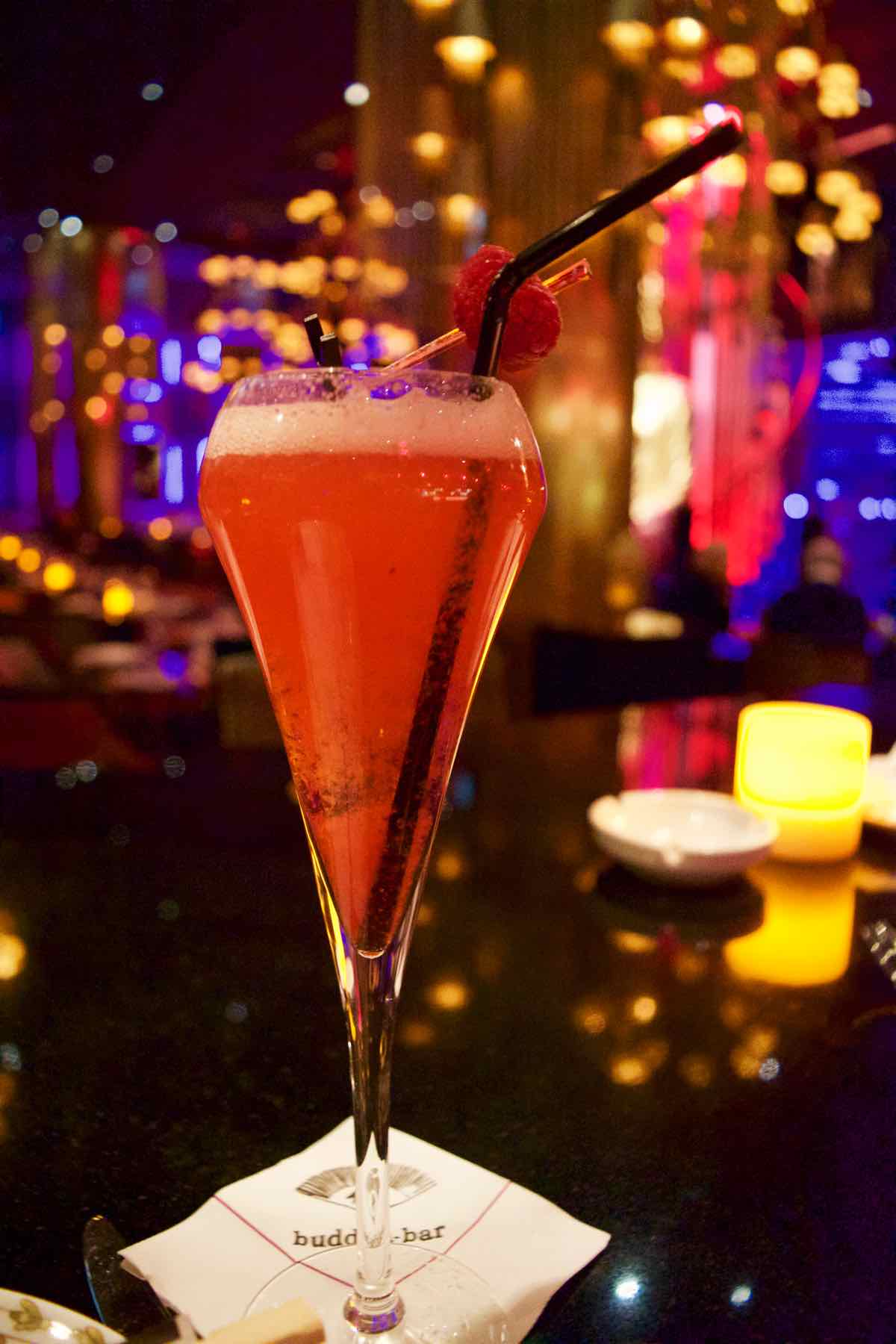 Little 1 combined tequila with Combawa essential oil, passion fruit and Sirop d'Orgeat in a to create a zingy, moreish flavour.
The Pop Legacy was fun. Bourbon was infused with popcorn before being mixed with peach. A special mention should go to the apple grey tea. Vodka infused with earl grey tea, fresh apple and a sour apple liqueur – served in a tagine, with a cloud of tea smoked into it! Impressive, fun, with a Moroccan twist! They were more than happy to make cocktails without alcohol, something that I'm assuming is vital for business in a Muslim country.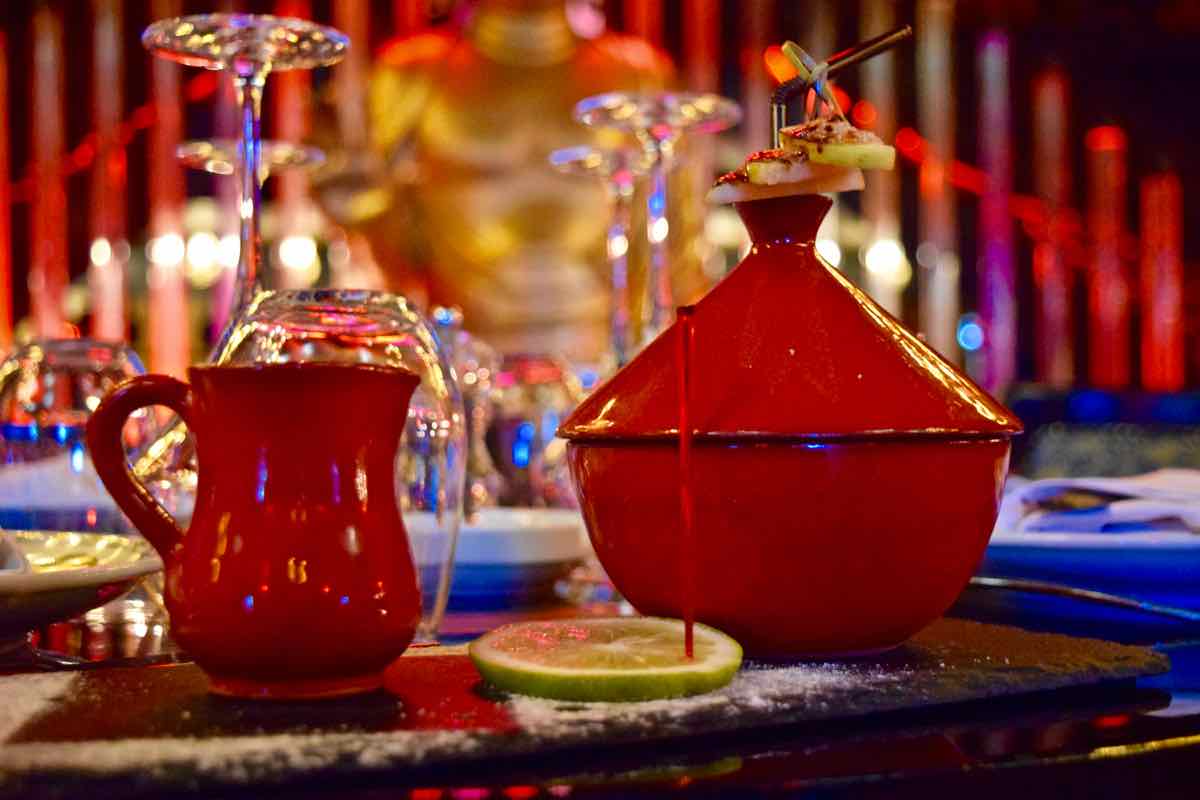 The food menu promises a journey for the senses – from incredible sushi platters to Thai curries, Asian steak and 5-star dining desserts. As you know I'm a total foodie, so as with the cocktails, I jumped in headfirst and worked my way through the varied menu.
For me (and I'm sure you too…), one of the most pleasurable things about going out for dinner is being able to share the experience with others. Thankfully, this menu is designed to be shared. One highlight came in the form of a stylish sushi platter laden with original, photogenic sashimi, maki and nigiri, set in and around it's own ice sculpture. If this is how Buddha-Bar does presentation, I can see why it's gone global! Tempura prawns, crab, delicate sashimi, salmon and more… it wasn't just fresh, it was a work of art.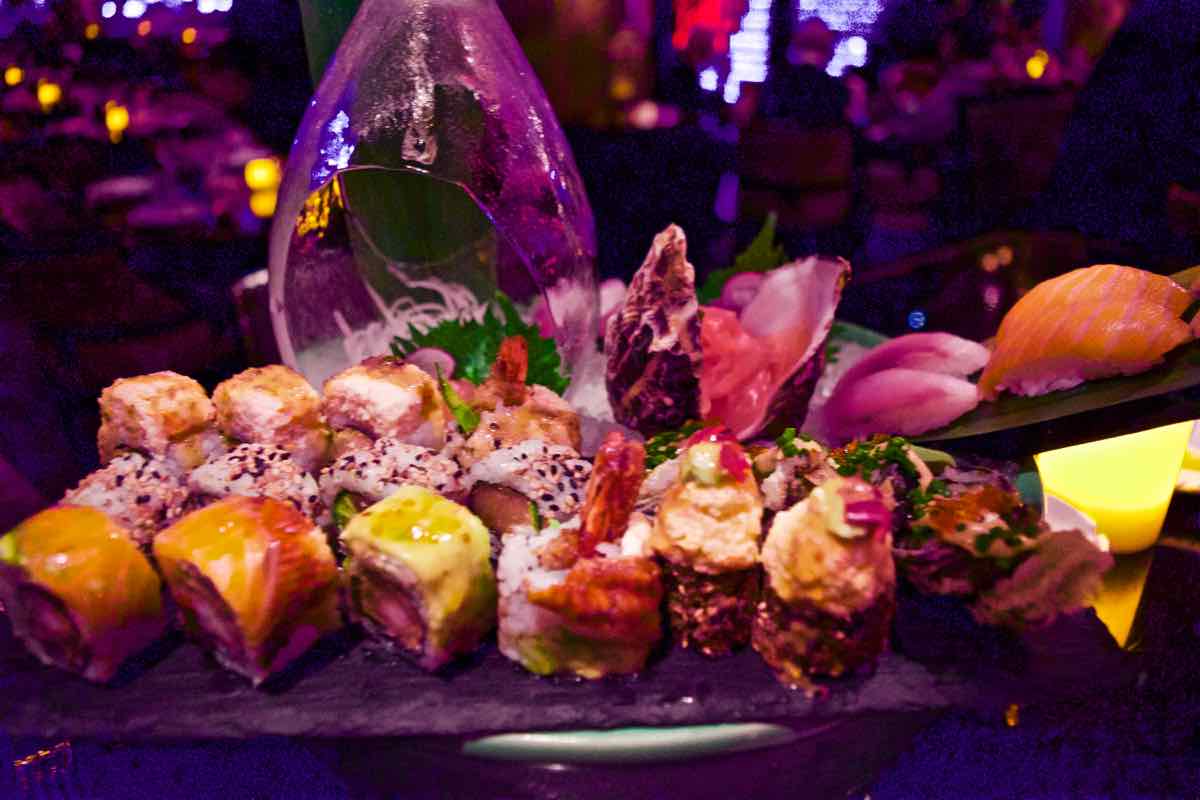 After the sushi it was on to a banquet menu including black cod with a lemon miso sauce, spicy thai prawn curry, Asian chicken, Szechuan beef, a mild salmon with couscous, all accompanied by rice and noodles. We also snacked on tempura chicken and spring rolls. What a feast – as ever I had eyes bigger than my stomach! After the ornate presentation of the sushi, I wondered whether the team would be able to keep up the high standards… needless to say, they did, and flavour-wise there were several wow moments.
The tempura chicken was the perfect snack – encased in a crisp, light batter, then covered in a lightly spiced mayonnaise and topped with sesame seeds and chives. I'll never look at fried chicken in the same way again.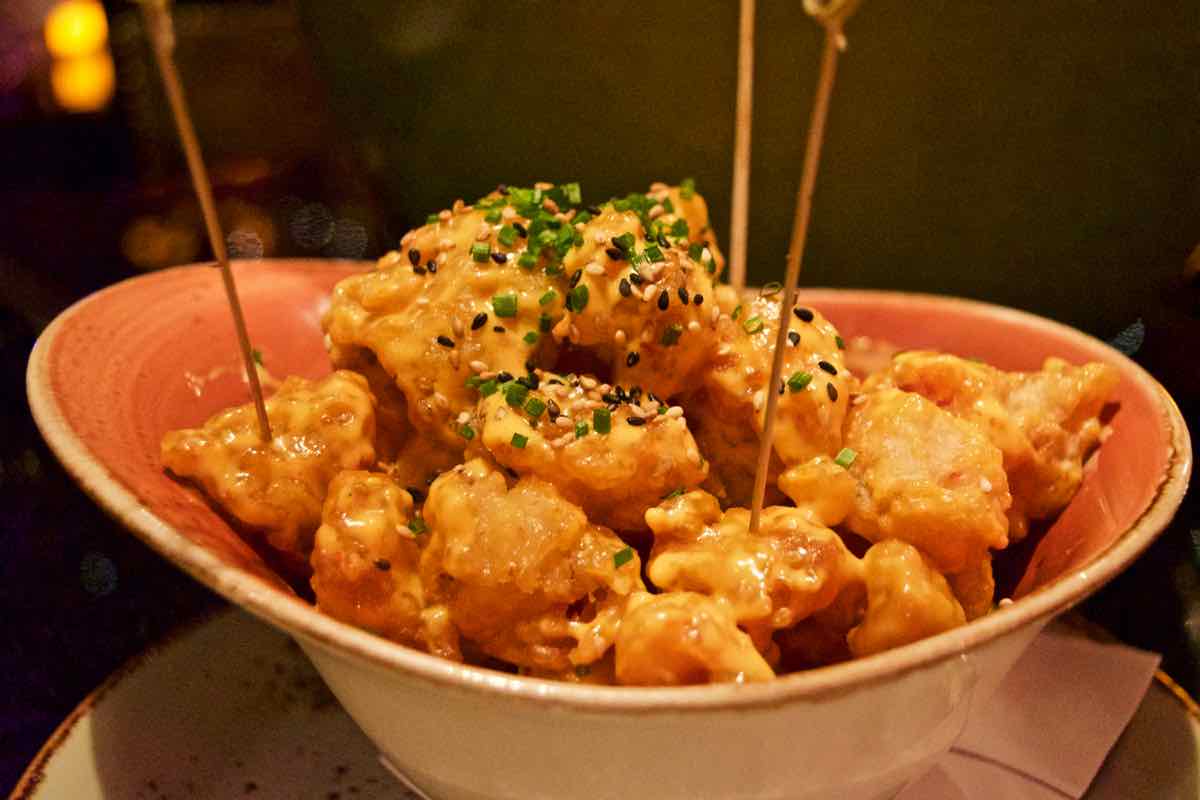 The Thai prawn curry was a personal highlight. A rich depth of flavour, packed with spice and creamy with coconut – I could have eaten a bowl of the sauce on its own!
The Szechuan beef was deliciously sticky, with slippery oyster mushrooms – cooked to perfection.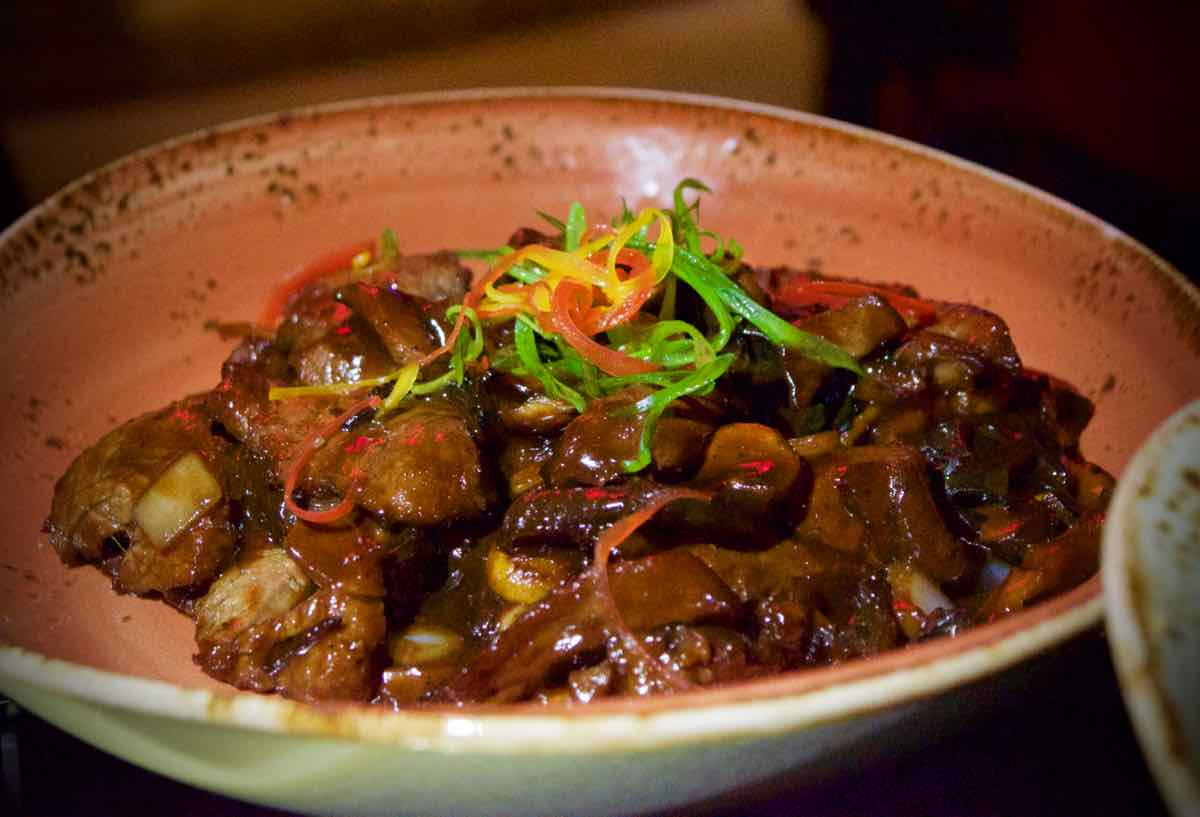 By this point, all I really needed was a lie down, but instead we ordered a few of Buddha-Bar's signature desserts to share. First up the red fruit cheesecakes with raspberry sorbets. Another work of art was laid on the table – 3 miniature meringues topped with a whipped crème anglaise, raspberries and dotted with a zingy coulis. The sorbet sat in quenelles, with a frosted sugary shard standing tall on top.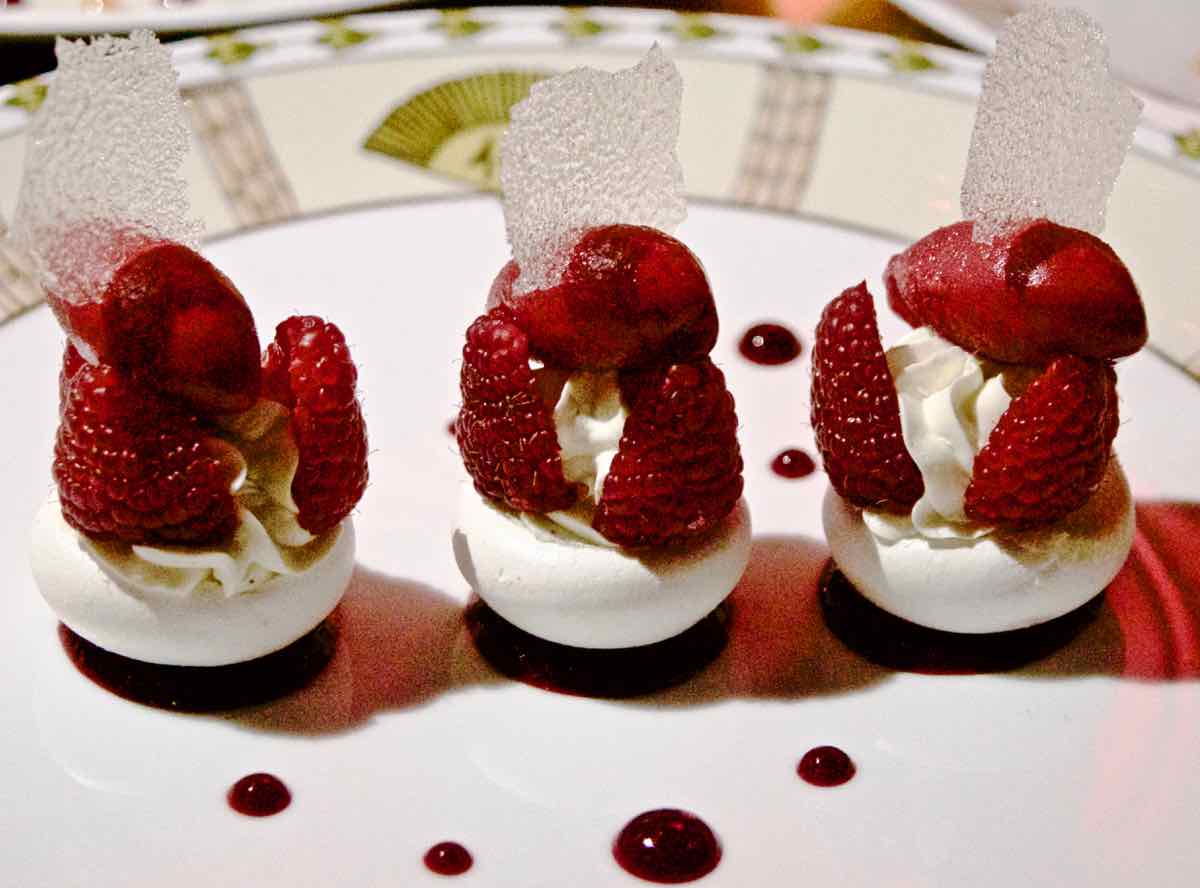 Less suited to my palate was the creamed rice coconut dessert, although again, served with the most delicious of sorbets (this time mango).
To finish, another Instagram-worthy dish of miniature yellow cakes coated in sweet sauce with yet more delicious sorbet. With a glass of champers to accompany it, and all under the zen-like gaze of the Buddha, it was a great way to round off a wonderful evening with friends.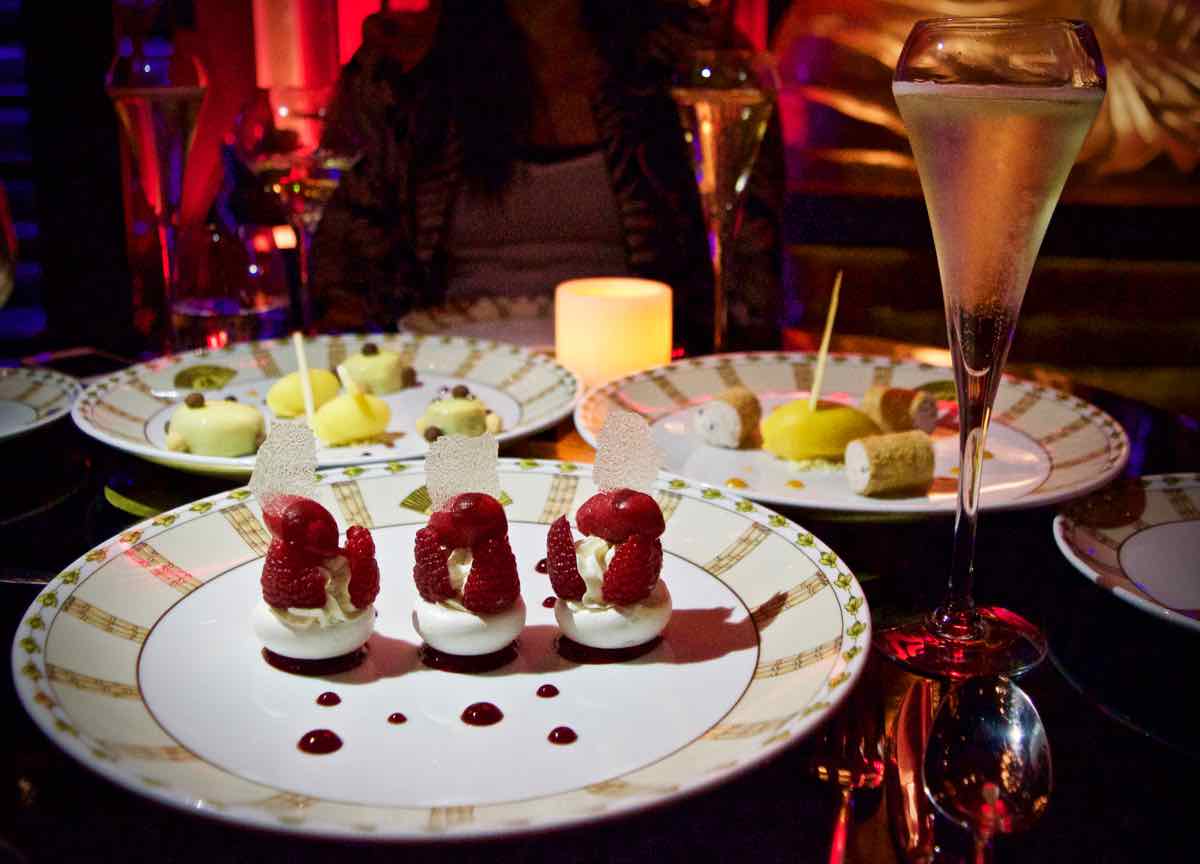 If you're looking for somewhere truly Moroccan in Marrakech for a night out, then I'm not going to pretend this is it! However, for a truly memorable gourmet meal, delicious cocktails and a relaxed, cool ambience, you'll struggle to find anywhere better in this city.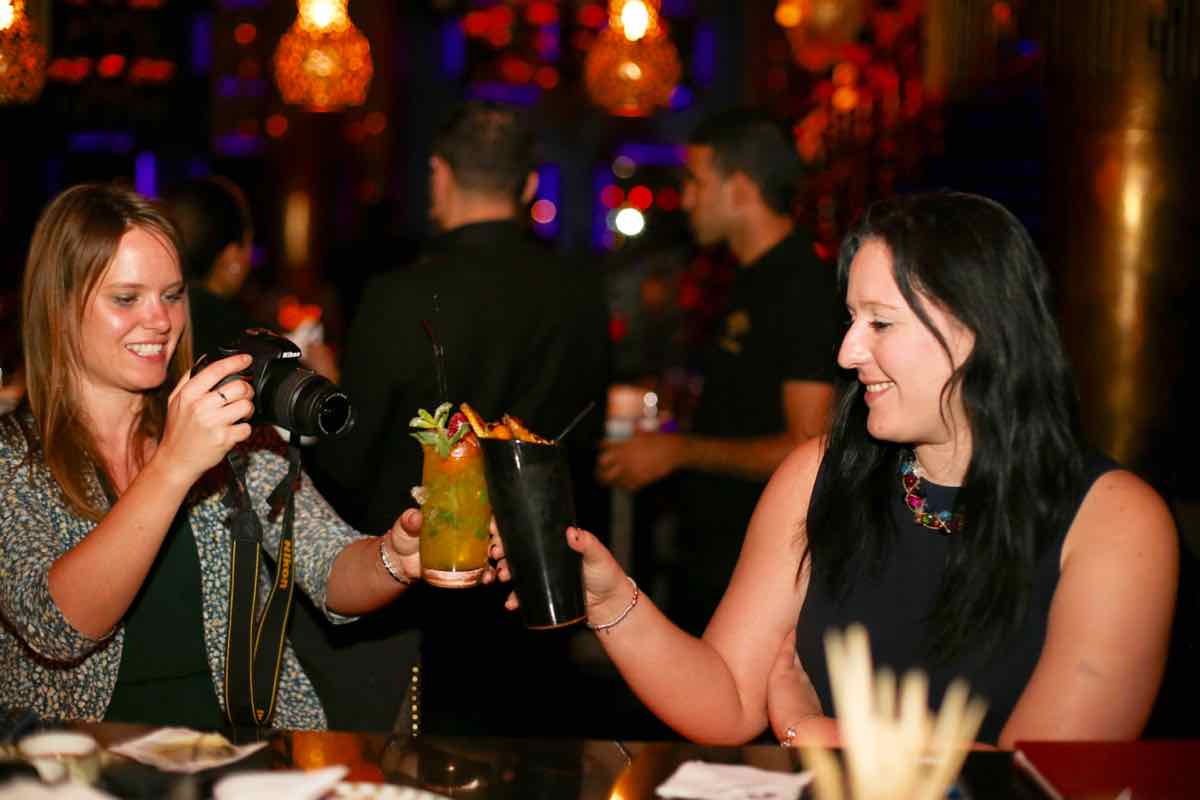 As I left Buddha-Bar around 1.30am after an epic 5 hours of great food and delicious cocktails, I almost floated out into the chaos of Marrakech's streets, absorbing every last beat of the deep house and haunting melodies spun by the DJ. Something tells me I'll be back again very soon!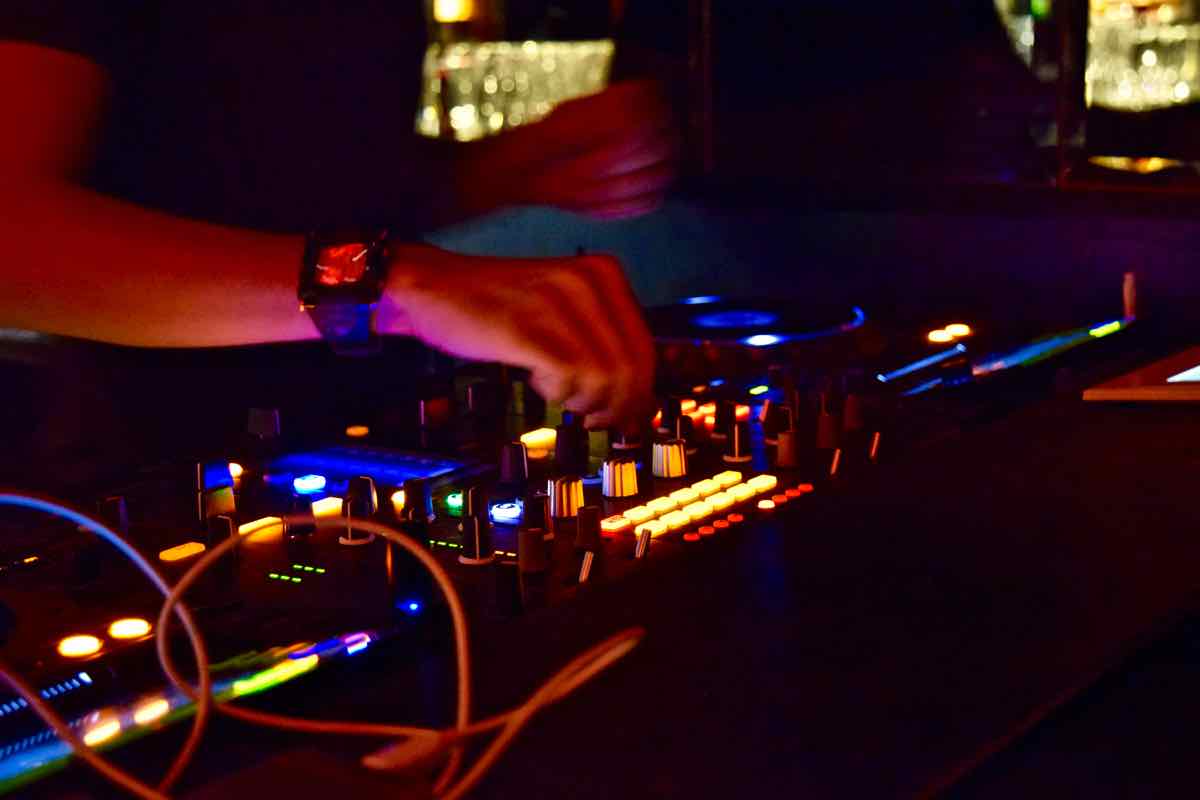 The set menu (Esprit de Partage) costs 550 MAD (£39) per person, which I think is great value, and the best way to experience the variety of food. Desserts are 95 MAD (£6.75) and cocktails around 135 MAD (£9.50). They also have tonnes of great offers running every week including Lady Bubble Wap where ladies receive a free drink on Wednesday evenings, and Happy Sushi – all you can eat sushi for only 290 MAD per person (£20) every Tuesday evening.
Thanks to Buddha-Bar for inviting me to visit. I collaborated with Buddha-Bar Marrakech on a campaign but as always, all opinions are my own.