From visiting Waikiki Beach and hiking Diamond Head to helicopter flights and movie tours, these are the best things to do in Oahu, Hawaii.
Oahu is known as the 'Heart of Hawaii' and it certainly lives up to its reputation! With some of Hawaii's most idyllic beaches, fantastic hiking, delicious cuisine and world-famous attractions, you'll never run out of things to do and see!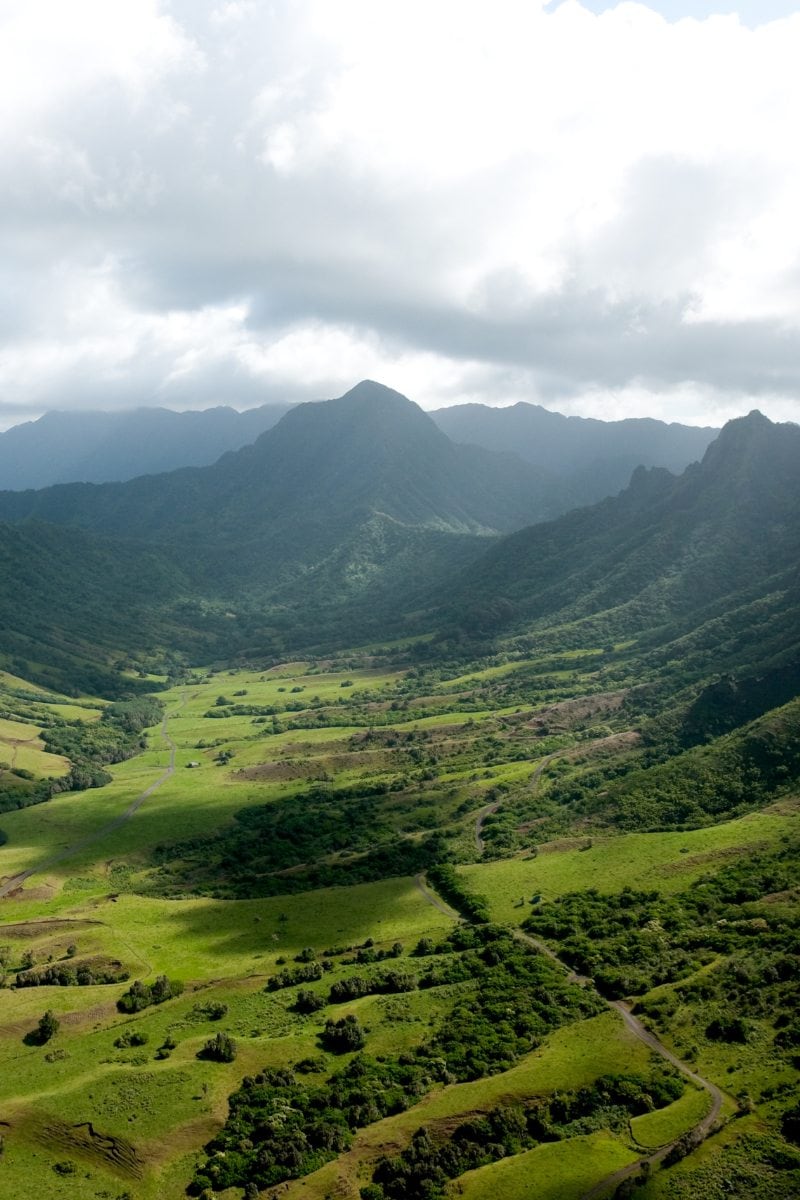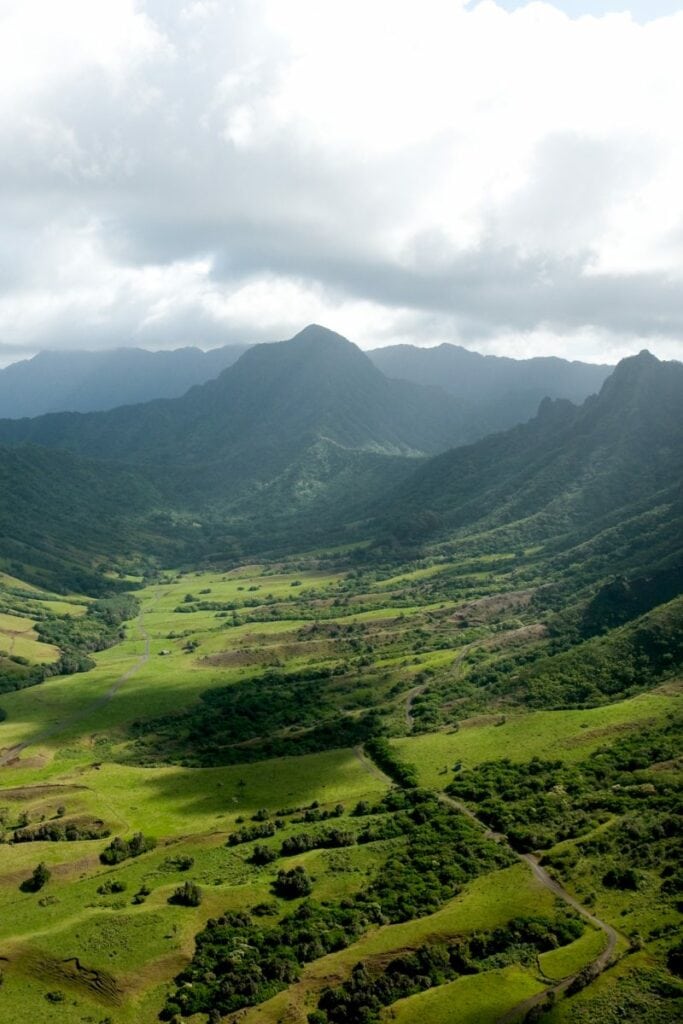 If you're wondering how to start planning your trip, this 5-day Oahu itinerary will definitely help you make the most of your time. It can seem quite daunting at first as this is a large island with quite a broad variety of activities.
You could spend your days at leisure, relaxing on the beach, snorkelling, surfing or hiking. Alternatively, you could book some adventure activities such as a helicopter tour or glass-bottom boat trip.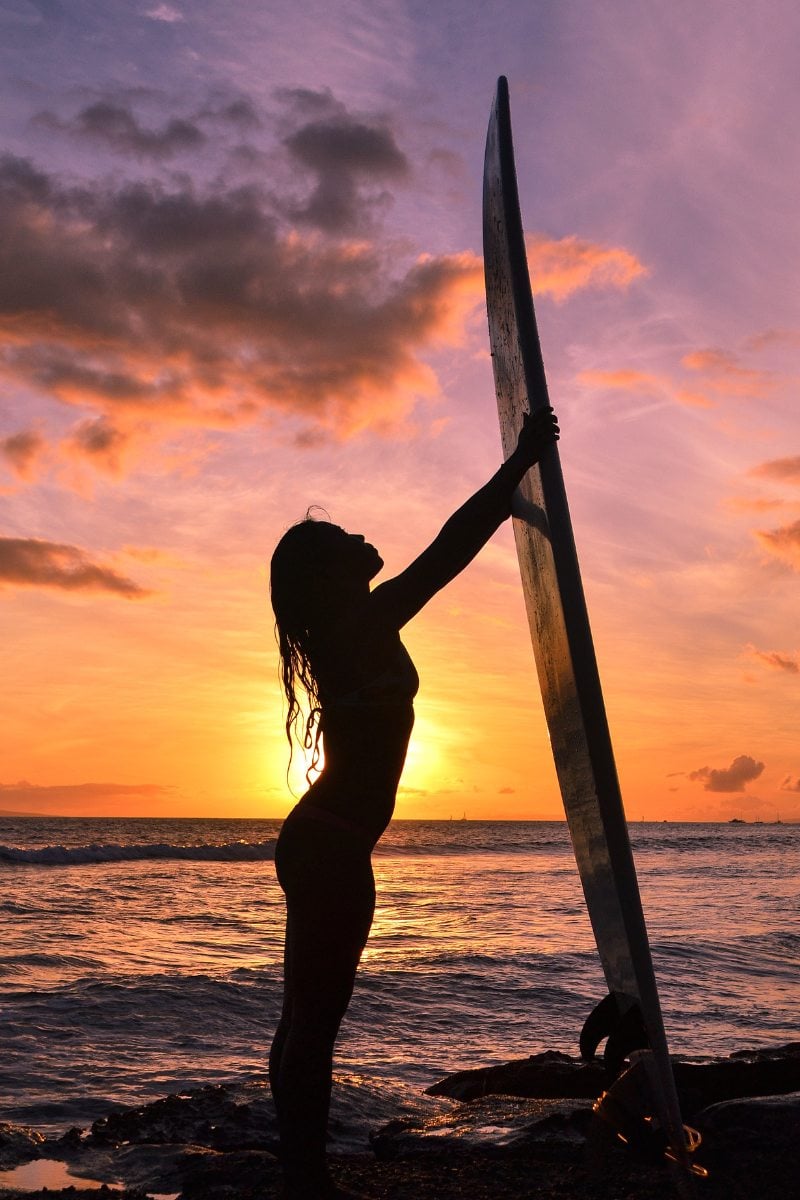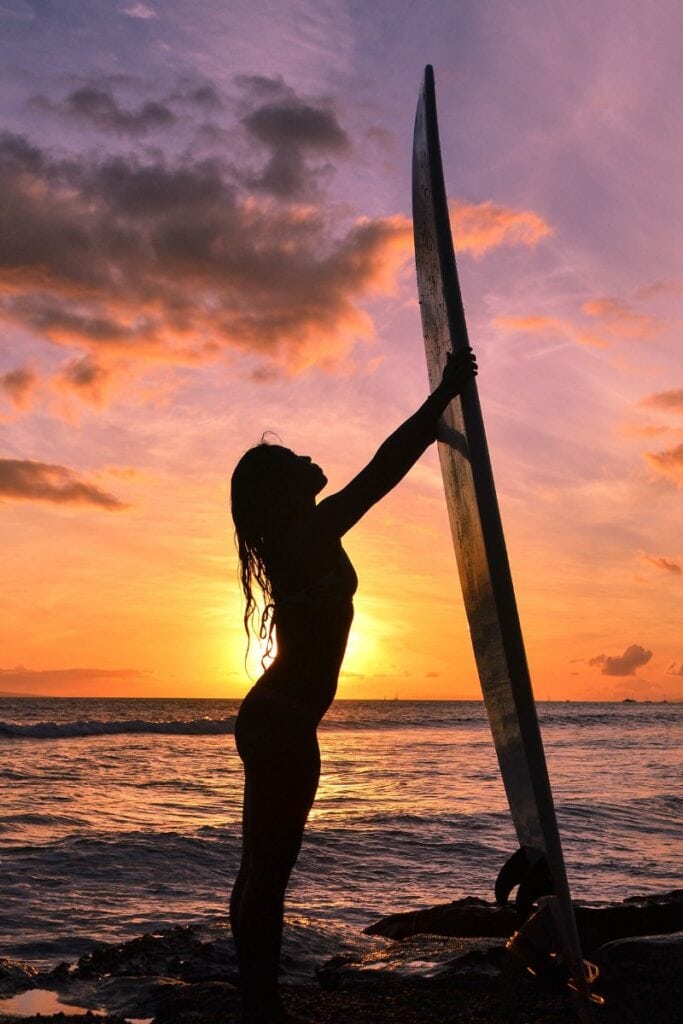 Most visitors spending 5-days in Oahu will plan a trip to Pearl Harbor. In my opinion, this is an absolute must. It's challenging at times, but such an important place to reflect on a moment that shaped history.
You might also want to plot in a bit of a shopping time to your Oahu itinerary! It's a great destination for malls, outlets and cute surf shops, so no doubt you'll want to take home a few items!
Are you ready to plan your next Hawaiian holiday. I've crammed this guide full of useful Oahu travel tips and recommendations. The only struggle? Fitting everything in!
---
The Ultimate 5-Day Oahu Itinerary
If you're looking for must-see things to do in Oahu, you have to visit the Pearl Harbor National Monument. Here, you'll be able to explore the historic museum with a guided audio tour.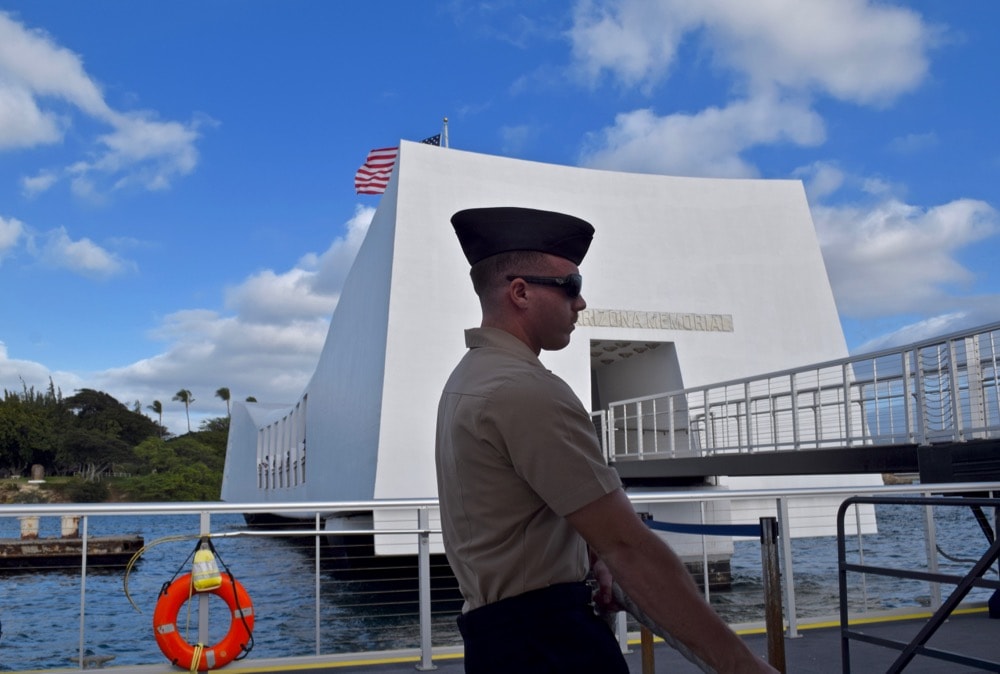 The museum documents the surprise attack on Pearl Harbor by the Imperial Japanese Navy Air Service in 1941. It was a pivotal attack which catapulted the US into World War II.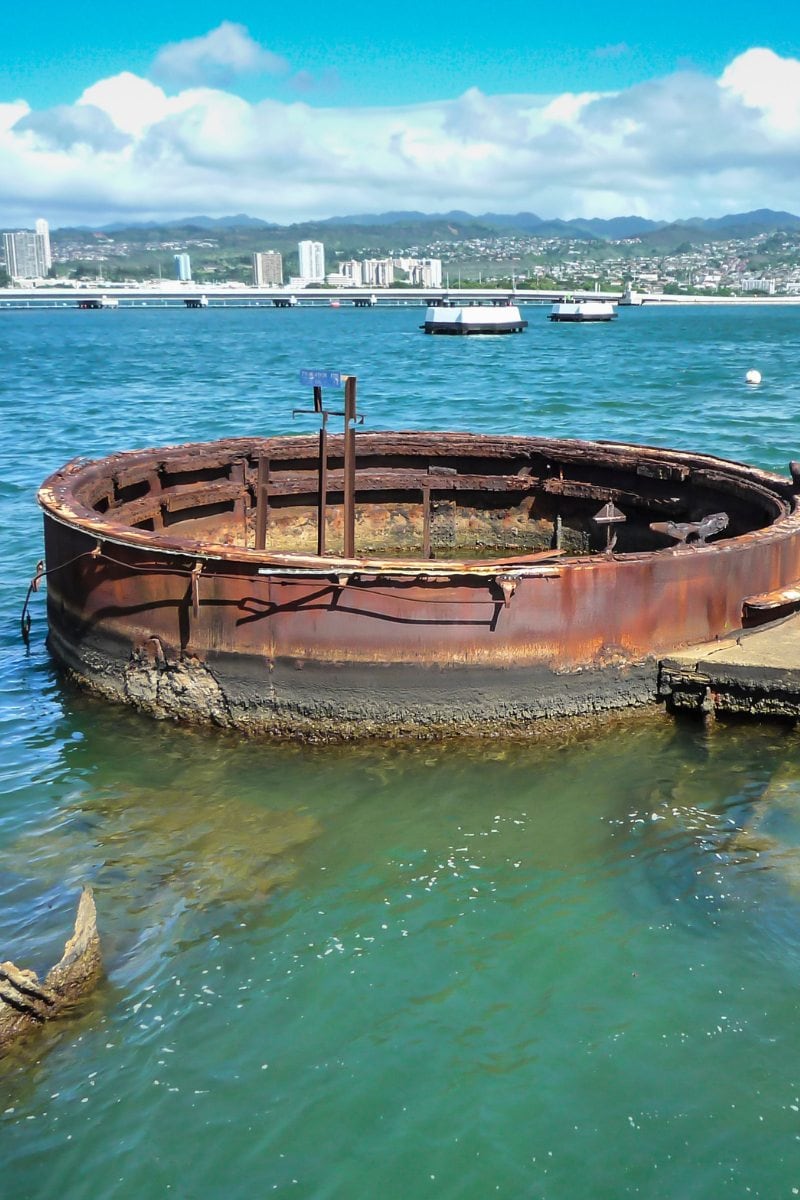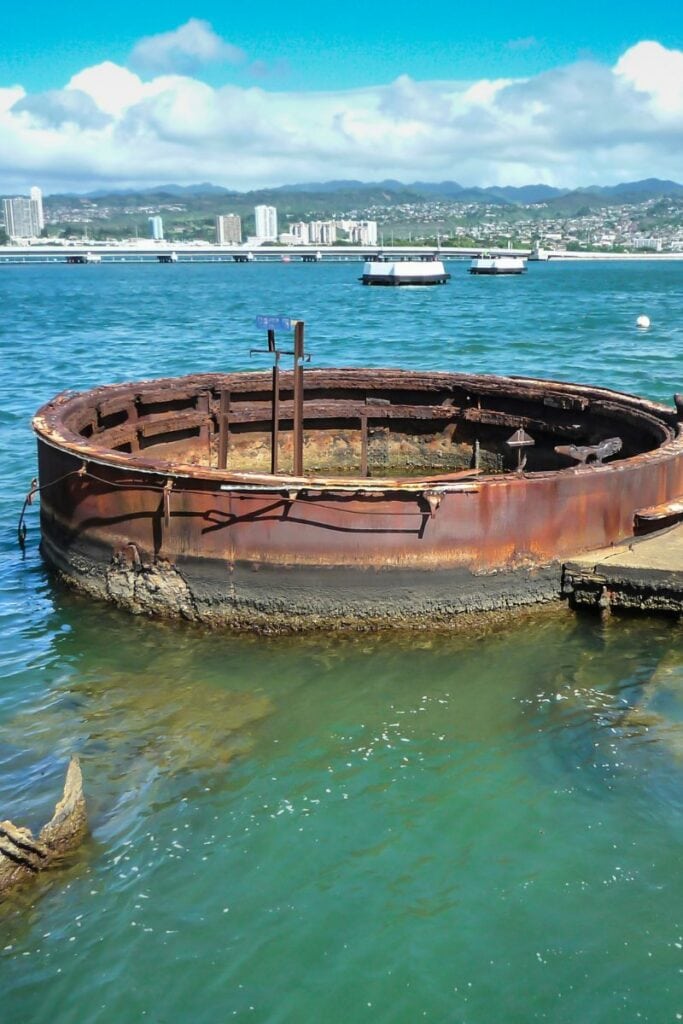 Throughout the museum are interpretive exhibits that invite visitors to imagine the experience of that tragic day. At the end of the tour, you'll be able to take a boat tour to experience the memorial for yourself. It's a very moving experience, and while hard at times to comprehend, it's an important place to see for yourself.
Hike the Koko Head Stairs
The Koko Crater Trail, also known as the Koko Head Stairs, is your workout for the day! If you're spending 5 days in Oahu, I'd definitely recommend going on this strenuous yet rewarding hike. It's just a short drive away from the buzz of Waikiki Beach, so is ideal if you want to intersperse some exercise with your beach time!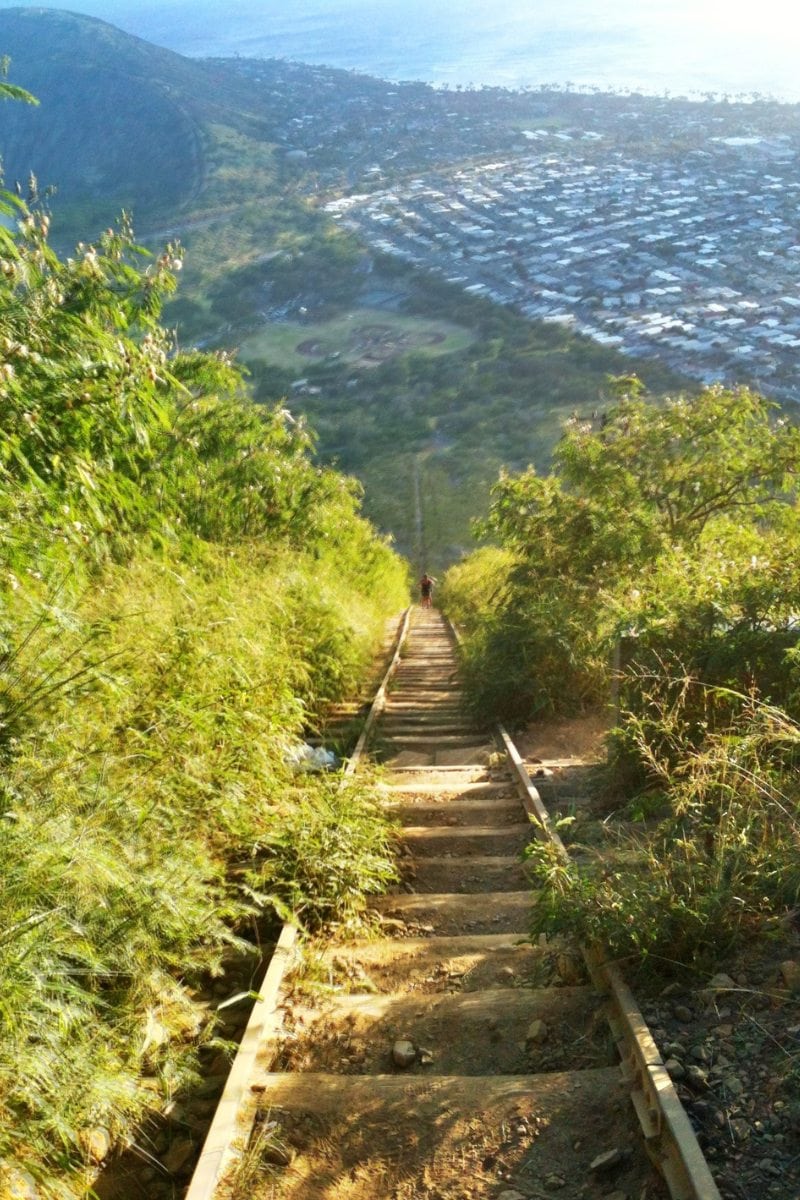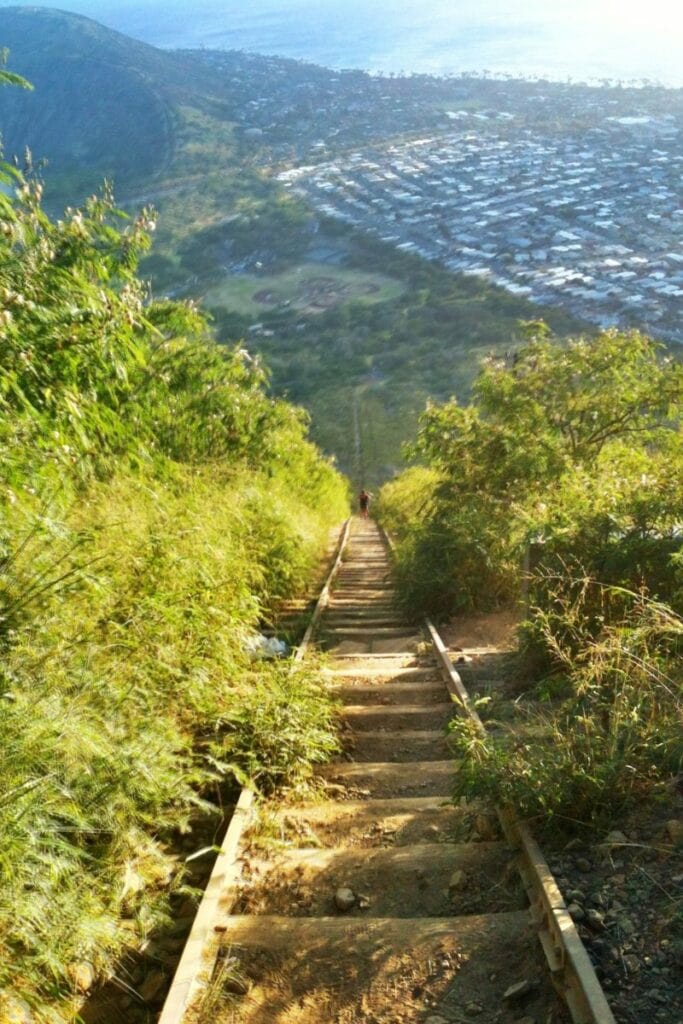 You'll literally be climbing over the old railway tracks, once used to during WWII for transporting supplies. The pathway to the top involves over 1,000 steps and a seriously steep incline. If you're pretty fit, you can probably make it to the summit in under 30 minutes, but you might want to stop along the way to sip some water and take in the views.
Once you get to the top you'll be rewarded with breathtaking views overlooking Hanauma Bay. It's definitely one of the best hikes in Hawaii for views!
Enjoy Some Sun, Sand and Surf at Waikiki beach
One of the best things to do in Oahu is visit the world-famous Waikiki Beach. Known as the former tropical playground of Hawaii's Royals, today Waikiki is a vibrant gathering place for visitors from across the globe.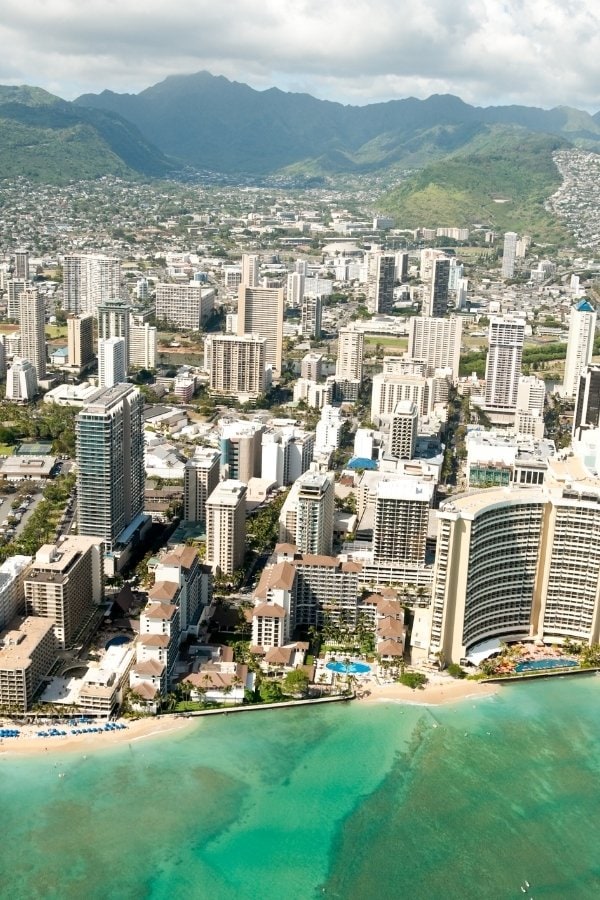 Take surf lessons, walk the historical Waikiki Walking Trail, shop at the high-end boutiques or visit attractions like the Honolulu Zoo and the Waikiki Aquarium. If you're looking for the perfect place to stay in this part of Oahu, don't miss my detailed guide to the best hotels in Waikiki Beach.
Take a Tour of the Polynesian Cultural Center
The Polynesian Cultural Center on Oahu's North Shore offers 6 Pacific Island villages to visit, each celebrating a different island culture. It's an unforgettable experience where you can enjoy one of Hawaii's most authentic Luau.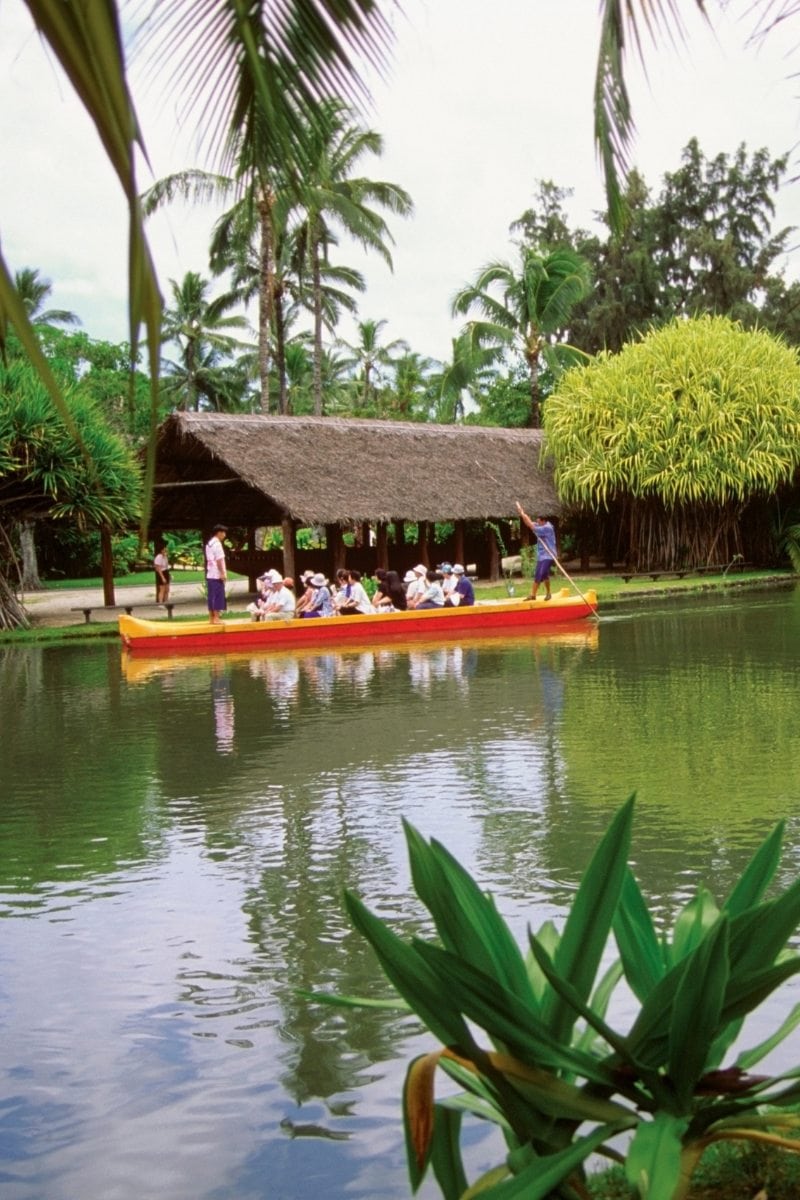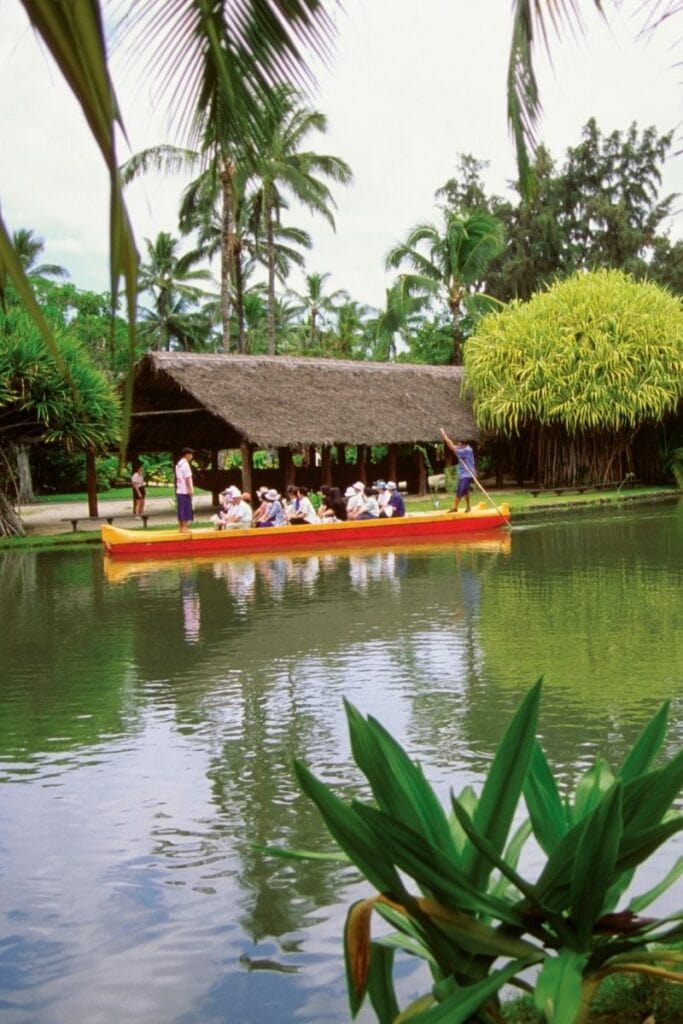 Set over 42 acres, you can take a canoe trip over the lagoon, shop for Hawaiian and island-themed handicrafts and enjoy some delicious, Polynesian cuisine. If it's your first time in Hawaii, I'd definitely recommend visiting as a great introduction to the culture, the people and what makes Hawaii unique!
Explore a Tropical Paradise in Turtle Bay
If you're spending 5 days in Oahu, you simply must visit Turtle Bay! Located on the North Shore, it's one of Oahu's longest stretches of coastline.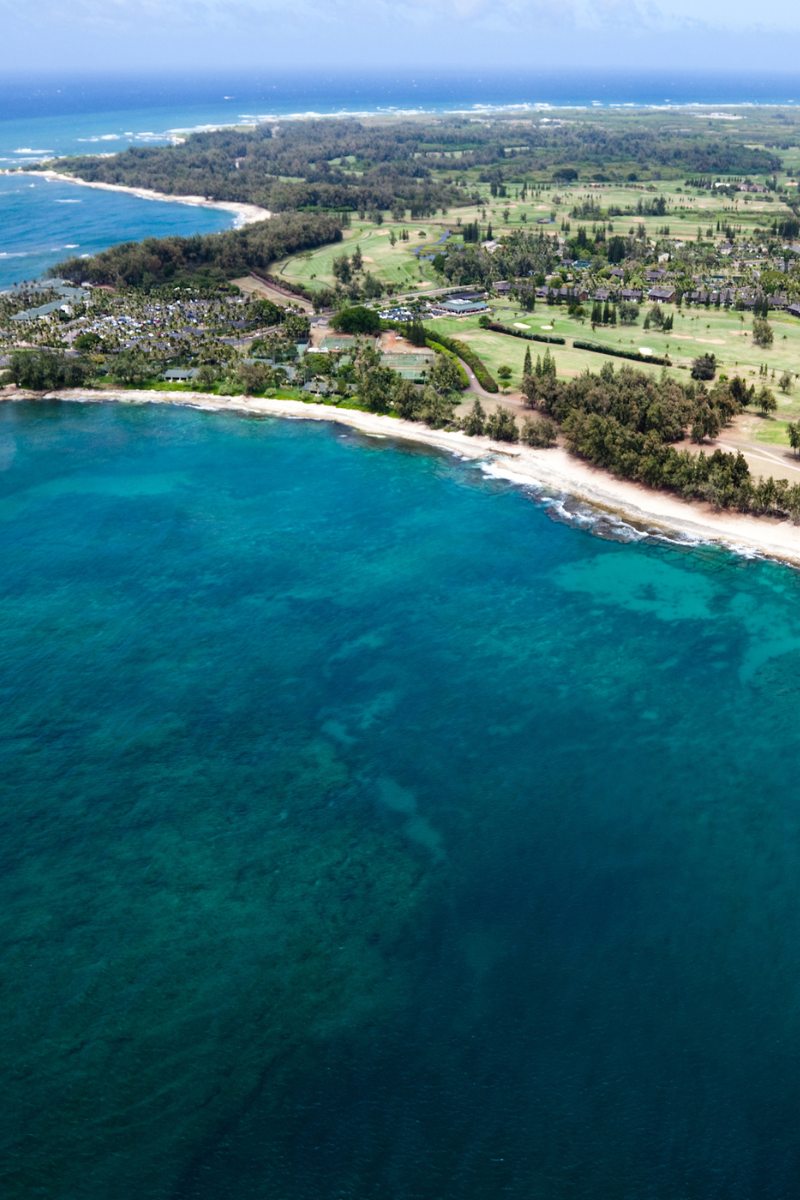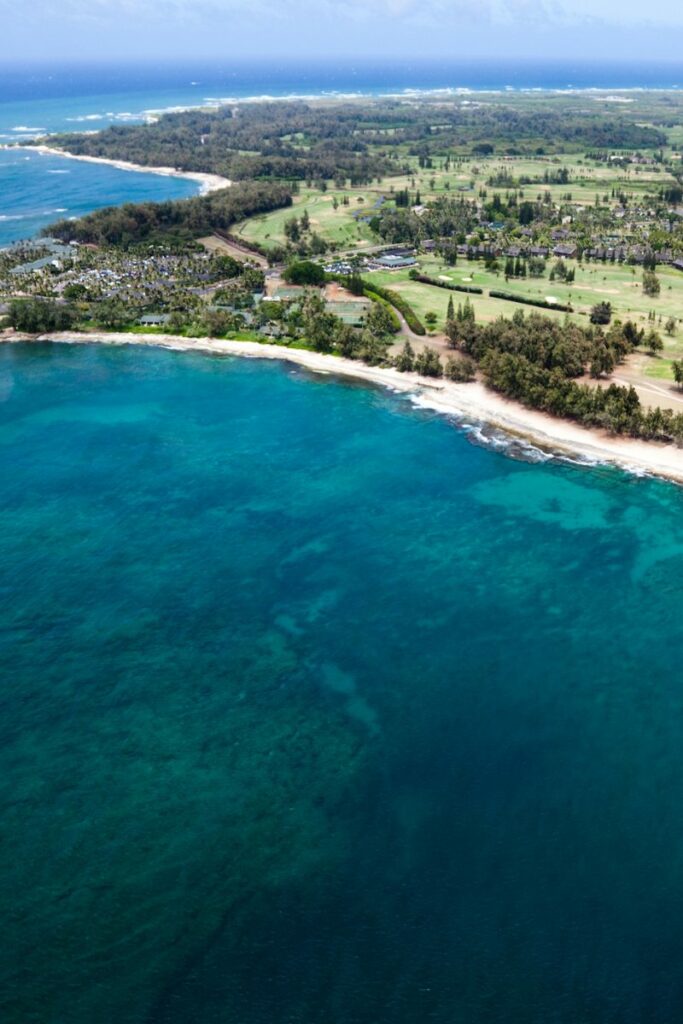 The bay is named after the famous green turtles that inhabit the area. This beach is known for its big waves too, making it the ideal spot to try surfing, diving or fishing.
If you want to enjoy a cool treat after your beach day, how about stopping by one of Oahu's most famous frosty snacks for some shave ice! This is a frozen desert, where ice is shaved into a cup or cone and then smothered in sweet syrups! It's great on a hot Hawaiian day! For a truly authentic treat, I recommended trying the local's favourite, Matsumoto's Shave Ice.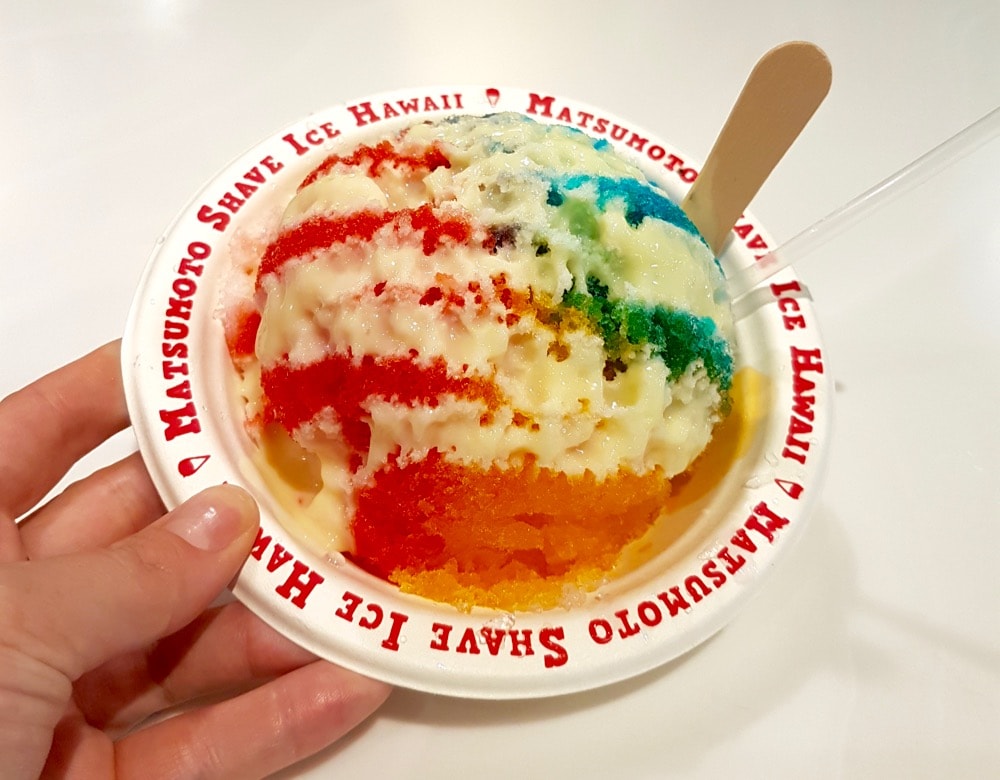 Enjoy the Tranquility at Hoʻomaluhia Botanical Garden
Nestled in the mountains along the windward coast of Oahu is the Hoʻomaluhia Botanical Garden. The highlights of this 400-acre natural refuge are the picturesque lake and walking trails.
Visiting Hoʻomaluhia Botanical Gardens is one of the best things to do in Oahu if you're looking to enjoy some peace and tranquillity in nature. It's not just about plants from Hawaii either. Within the gardens are beautiful plant species from tropical regions around the world, including The Philippines, Malaysia and India. There's even a fishing spot within the gardens. Oh, and best of all, it's free to enter.
Visit Kualoa Ranch for a tour of movie and TV filming locations
Did you know Kualoa Is Known As 'the Backlot Of Hawaiʻi'? It's been a popular movie filming location over the years, with huge blockbusters such as Jurassic Park, Godzilla and the latest Jumanji shot right here.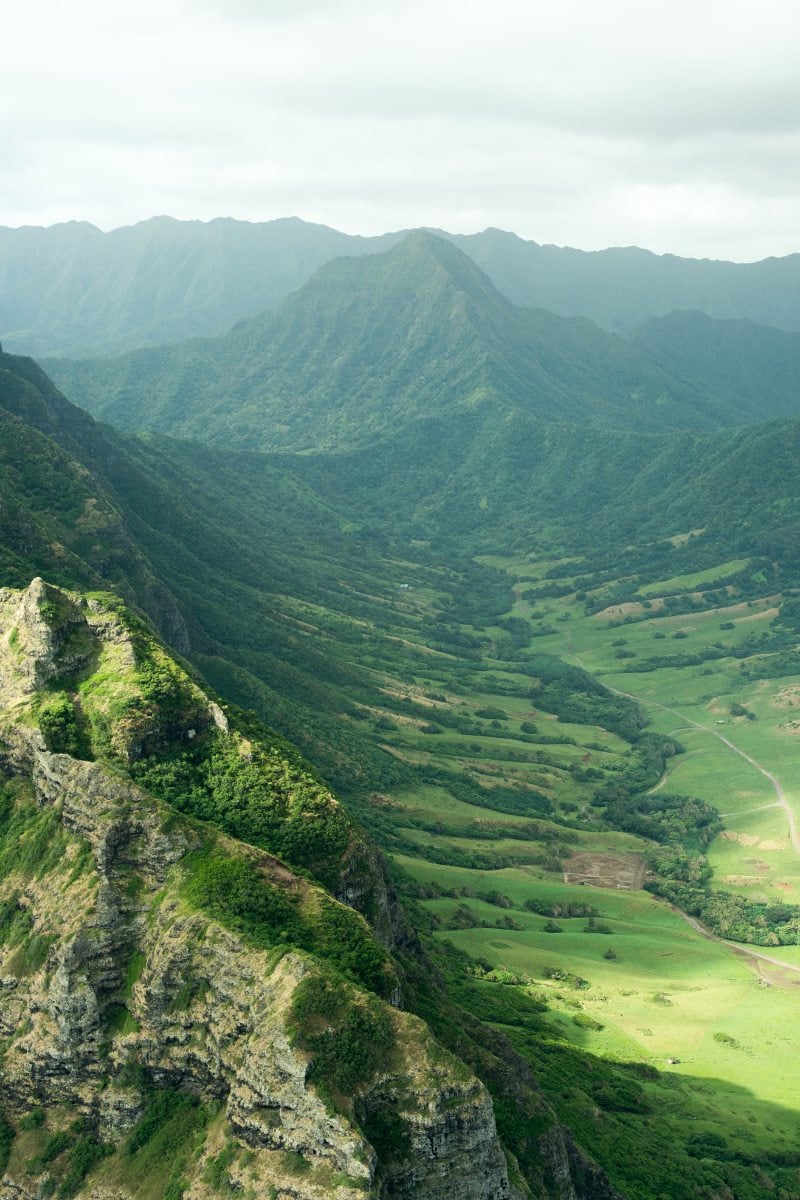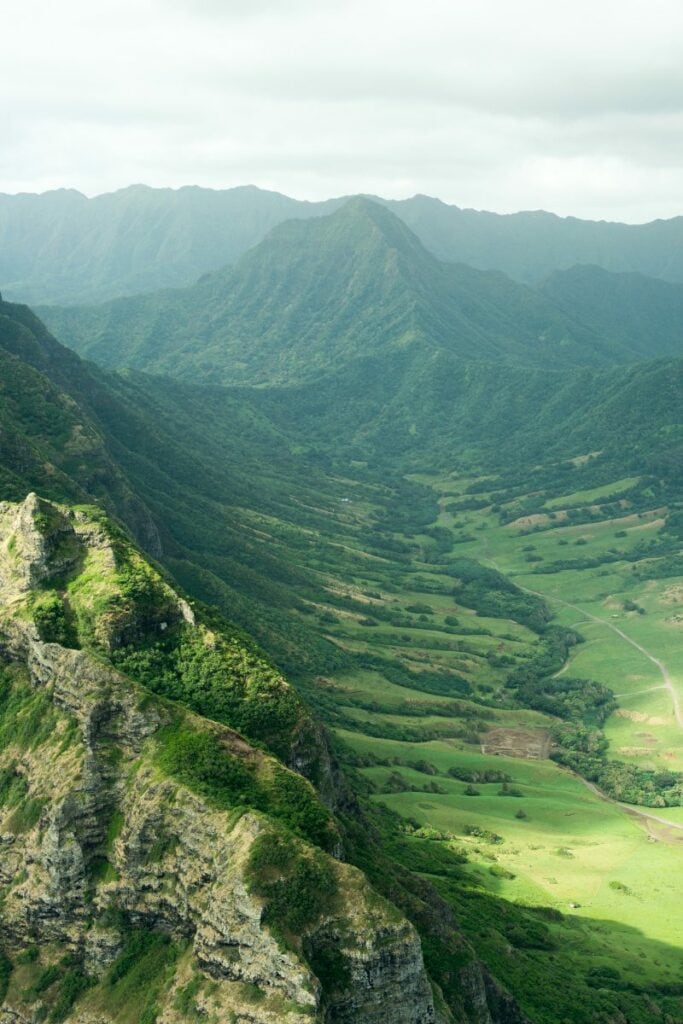 You can book a fun guided tour where you'll learn all about what's been shot on the island, see some of the most famous locations and learn more about the history of the ranch itself.
If you want to up the adventure stakes, you could opt for this self-drive open-air 4WD experience. It might make you feel like even more of a movie star!
Visit Oahu's North Shore
If there's ever a moment to scare you off surfing for life, it's seeing the immense waves on the North Shore of Oahu! At Pipeline and Sunset Beaches the waves frequently reach 20-30ft, so you've got to be seriously confident in your abilities to tackle it.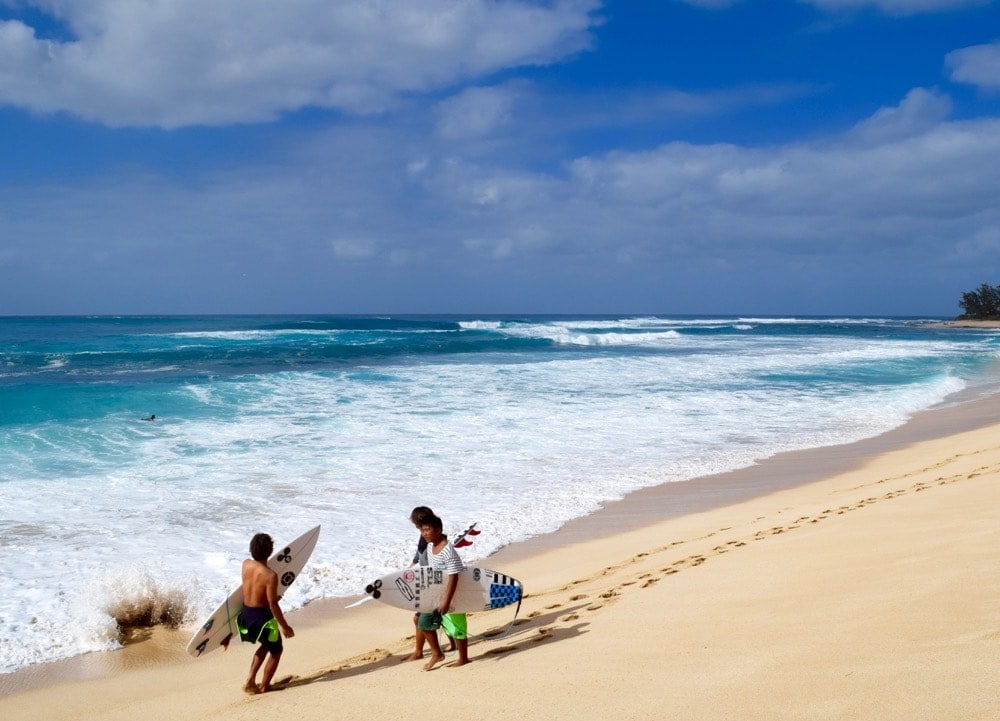 I loved seeing this spot for myself and I think it's an absolute must, especially if you're hiring a car for your 5 days in Oahu.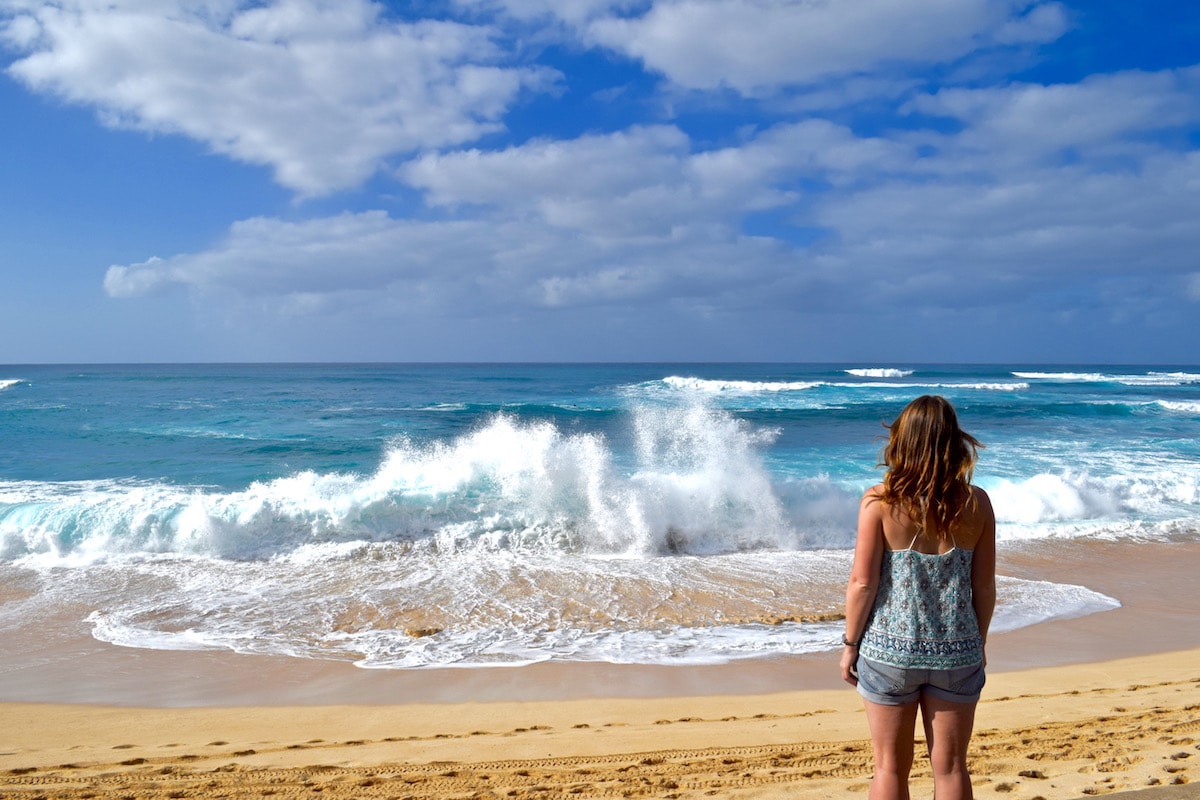 Hike Up the Diamond Head State Monument
If you're planning to spend 5 days in Oahu, how about hiking up to Diamond Head Crater. For me, this was one of the highlights of my time on the island. You can read my thorough guide to the Diamond Head hike here.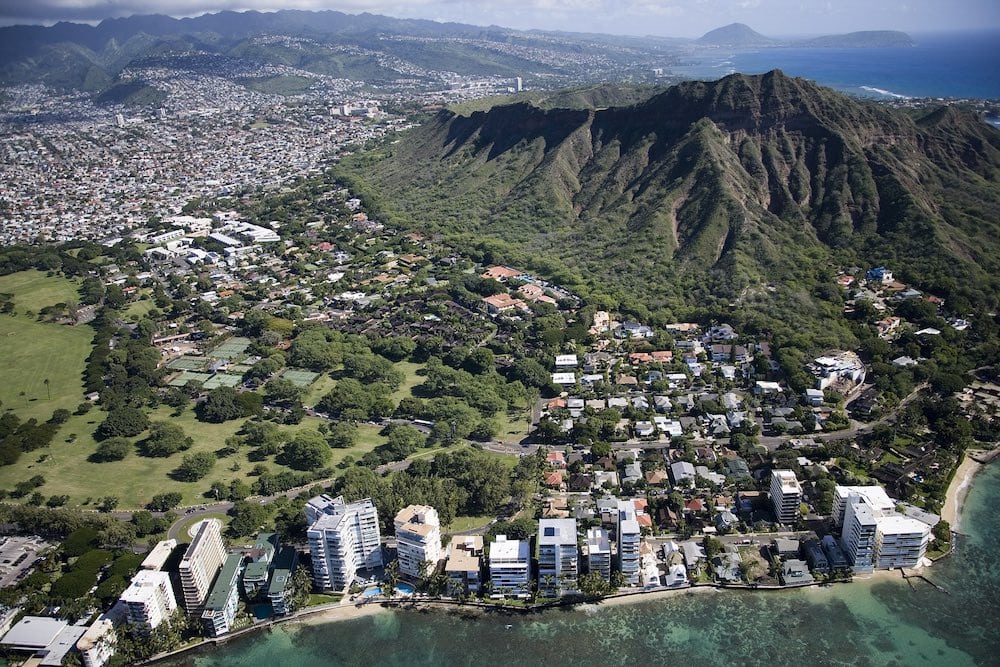 If you're keen to take the hassle out of transport and navigation, how about booking this guided tour? This all-day tour shows you the best of Oahu all in one day.
You'll start your morning with the beautiful hike up Diamond Head Crater to marvel at the aerial views over Waikiki. The local driver will fill you in on Hawaiian culture and history along the way!
You'll enjoy lunch from the local Kahuku Sugar Mill food truck too. By the end of the tour, you'll visit the Tropical Farms Macadamia Nuts and sample locally-grown nuts.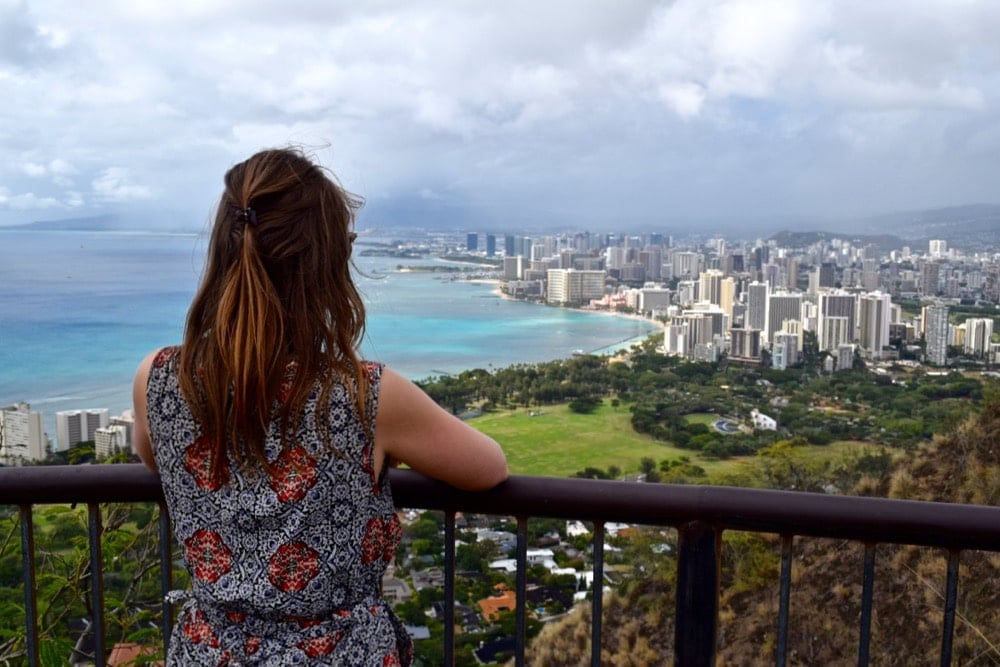 A tour like this is a hassle-free chance to experience a unique perspective of Oahu, above and below the surface!
Challenge Yourself on the Lanikai Pillbox Hike
If you're an adventure lover, you might be looking for a few more hikes for your holiday in Oahu. This intermediate hiking trail is one of the most picturesque and pleasant of the island's hiking trails.
It's perfect for any experienced hiker or novice looking to challenge themselves. Rising just above Lanikai beach, you'll be rewarded with views of the Mokulua Islands and Kailua Beach throughout the entire trek. Just be sure to wear sturdy shoes as the gravel and rocks can make this one a little slippery.
See Oahu from above on a helicopter tour
It's not everyday you plan a dream holiday to Hawaii, so why not enjoy your trip in style with a helicopter tour over the island. Ok, so budgets may restrict some people, but this is one of the most incredible experiences you'll have on the island!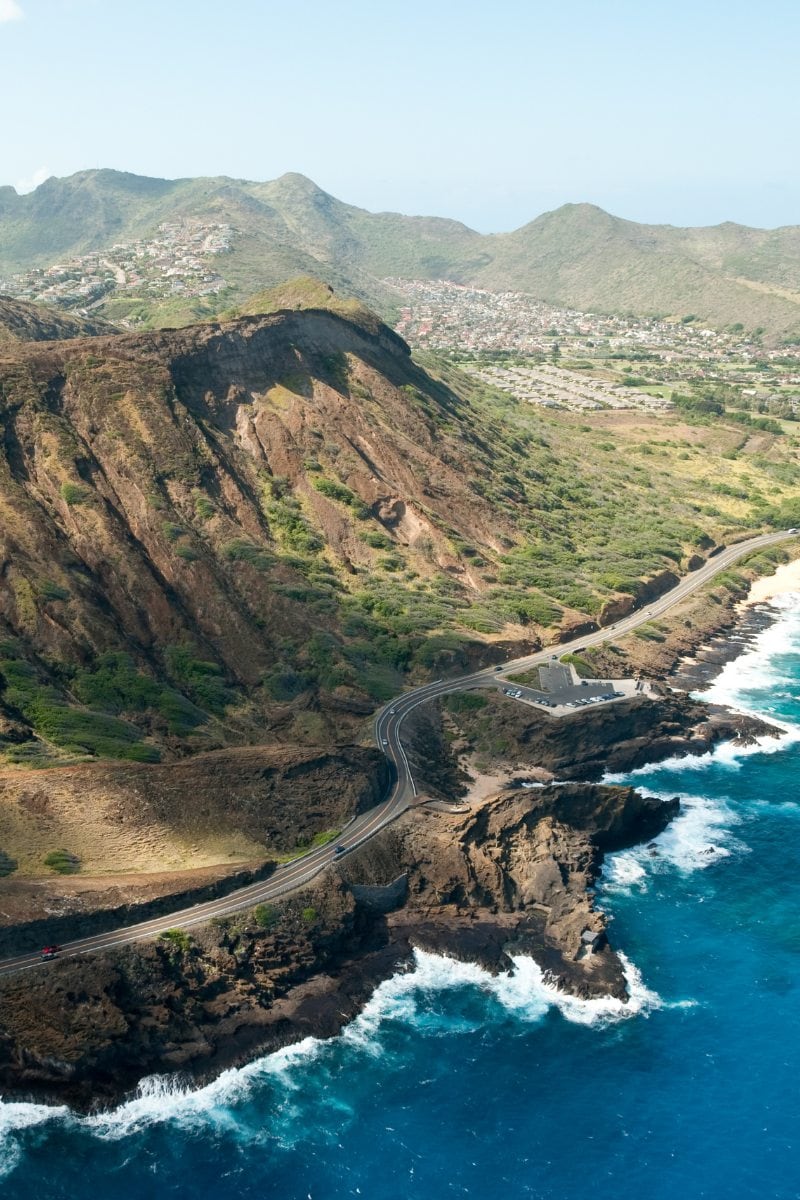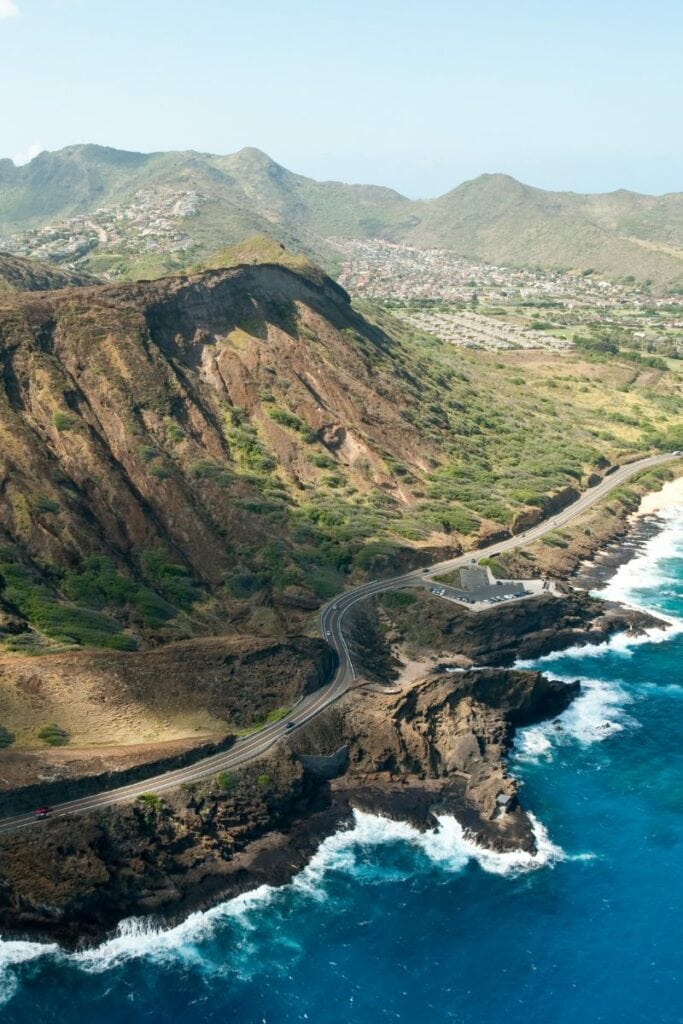 This helicopter tour has the option of flying with the 'doors on or off'! Yes, that's right, you can be a dare devil and look directly out! The flight will take you over some amazing spots on the island including the epic surf of the North Shore, Pearl Harbor, Waikiki Beach, plenty of waterfalls and the magnificent Diamond Head Crater.
Try Some New Water Sports
If you're looking for something adventurous to do in Oahu, how about booking some fun water sports? The Oahu coast has over 20 gentle wave breaks, perfect whether you're an eager novice or experienced surfer! To explore Oahu's vibrant underwater life, you could also try snorkelling or book a scuba diving tour.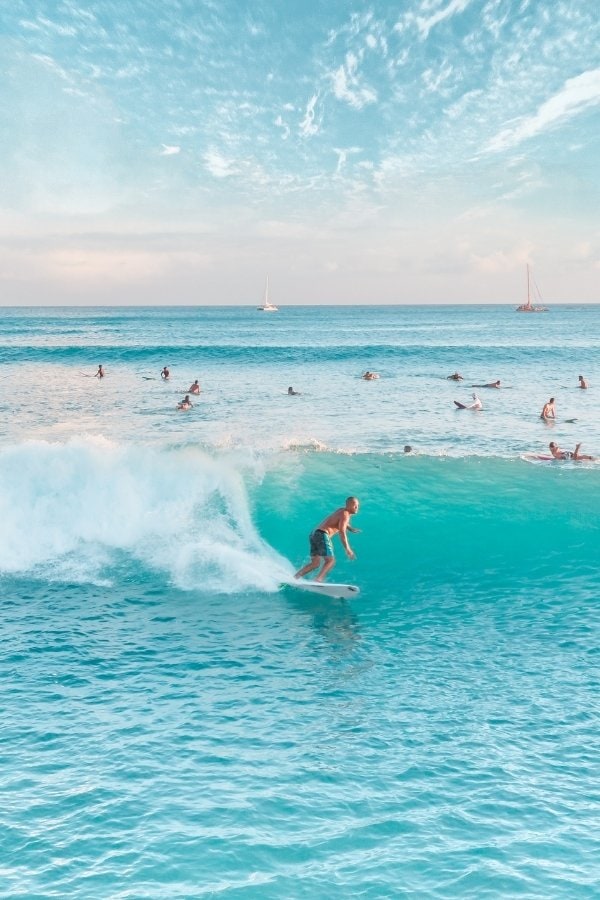 If you prefer a quieter pace, I'd recommend renting a a canoe, kayak or stand-up paddle board. It's a great way to explore all the island has to offer, plus there are some gorgeous secret coves that can only be reached by boat!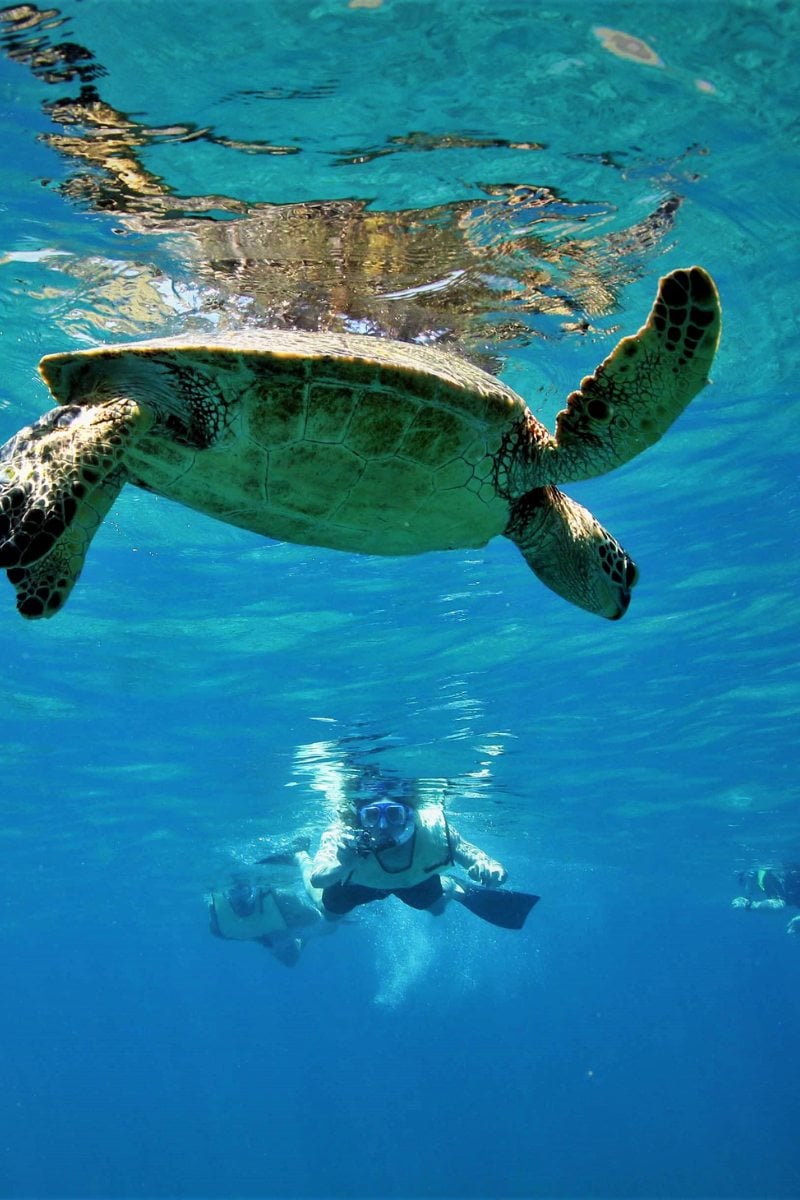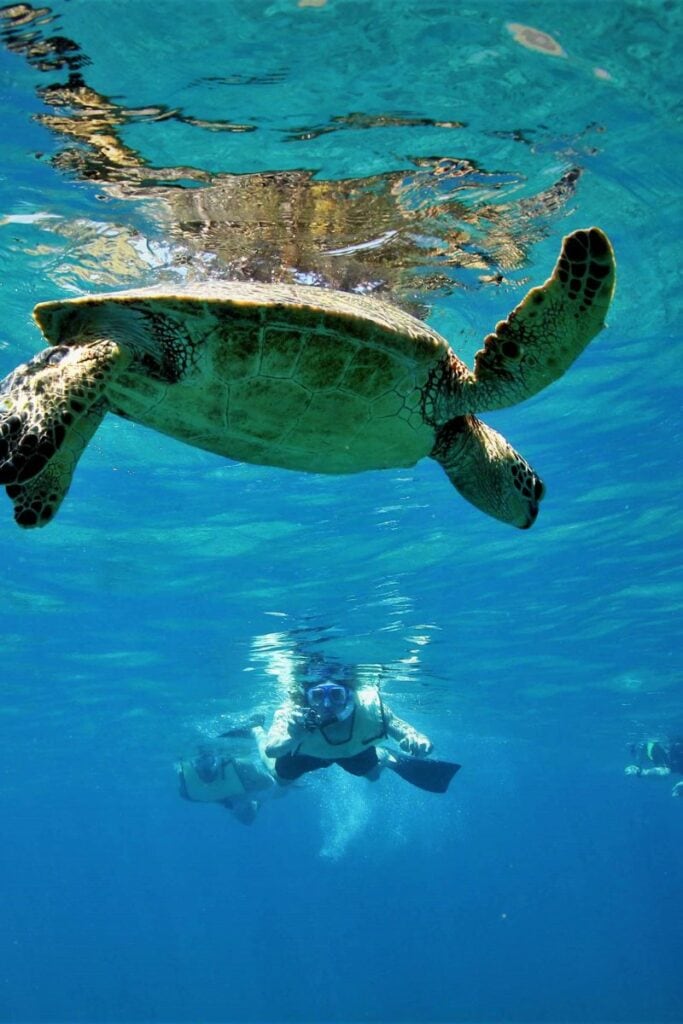 Visit Stunning Ala Moana Beach Park
Looking for a beach that offers something for everyone? With its true urban beach feel, Ala Moana is a hit with both tourists and locals.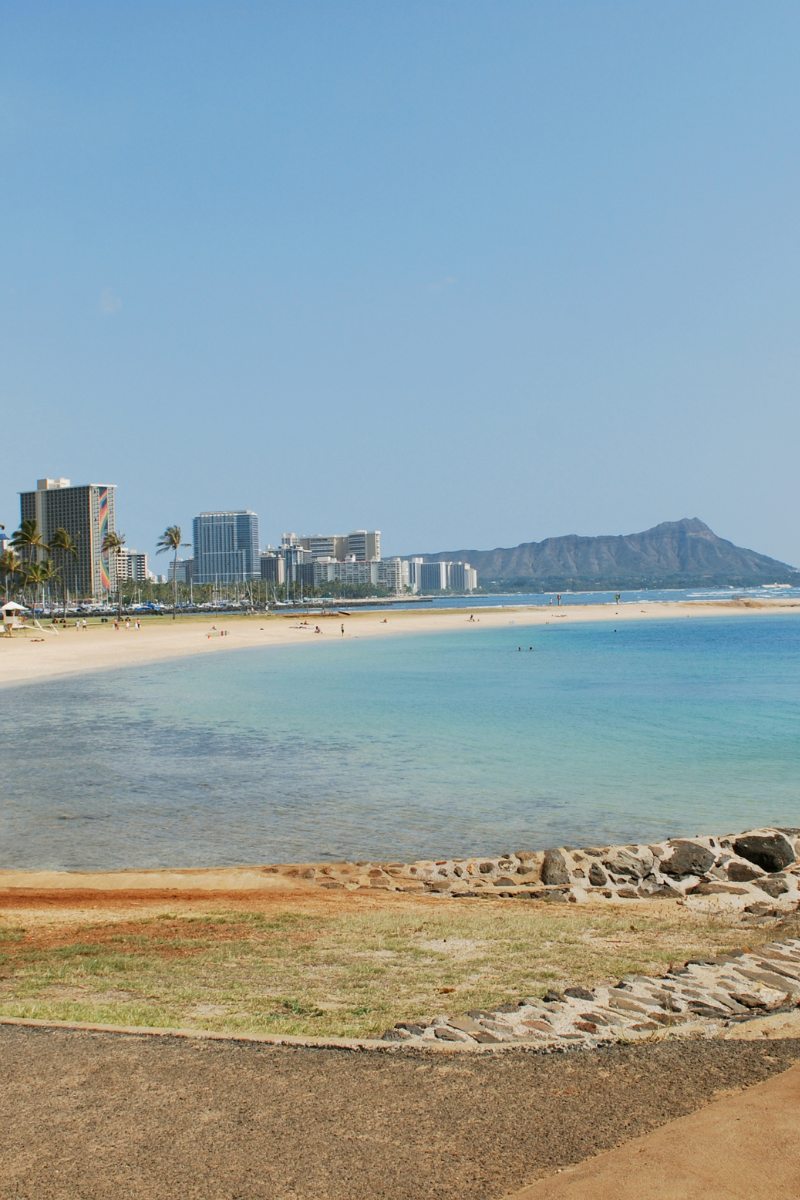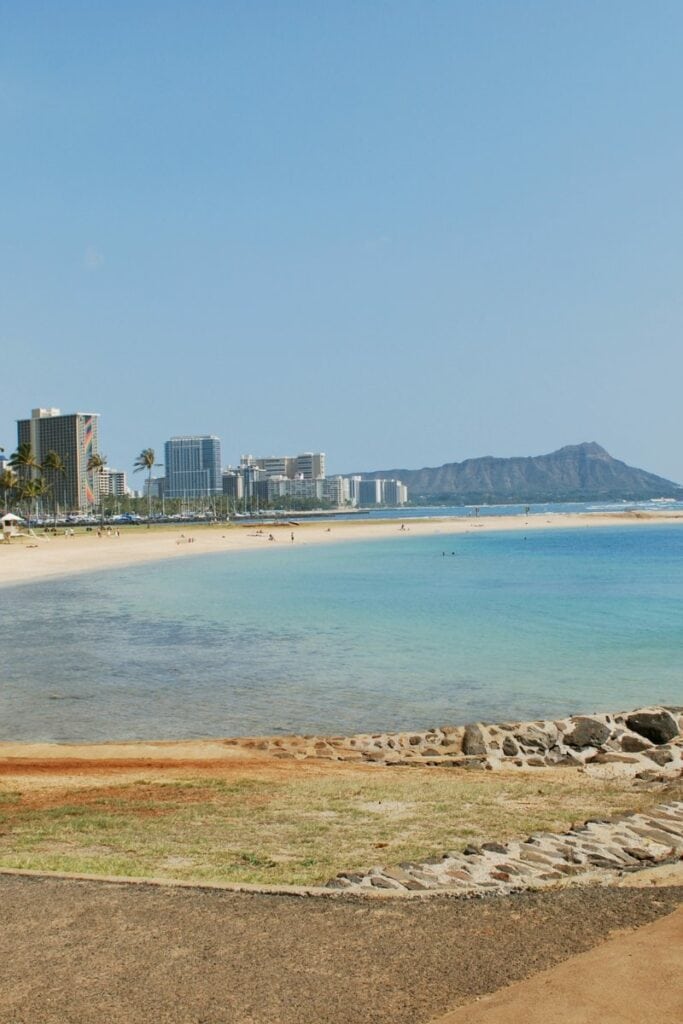 On top of its stunning, 1-mile strip of white sandy beach, Ala Moana offers acres of shady trees, picnic tables, tennis courts and a large grassy park for picnics. All of this is across the street from the famous open-roof Ala Moana Mall too, so you can add a little bit of shopping into your day out.
Stay in a luxury hotel in Waikiki Beach
If you're looking to make your trip to Oahu extra special, how about booking a luxurious hotel for your trip? With amazing swimming pools, sea views and chic furnishings, here are a few of my top picks:
Hilton Hawaiian Village – If outdoor yoga in 22 acres of tropical gardens sounds amazing, then welcome to one of the best luxury hotels in Waikiki. The Hilton Hawaiian Village is a beach resort with amazing grounds, five swimming pools (with slides!) and nine restaurants.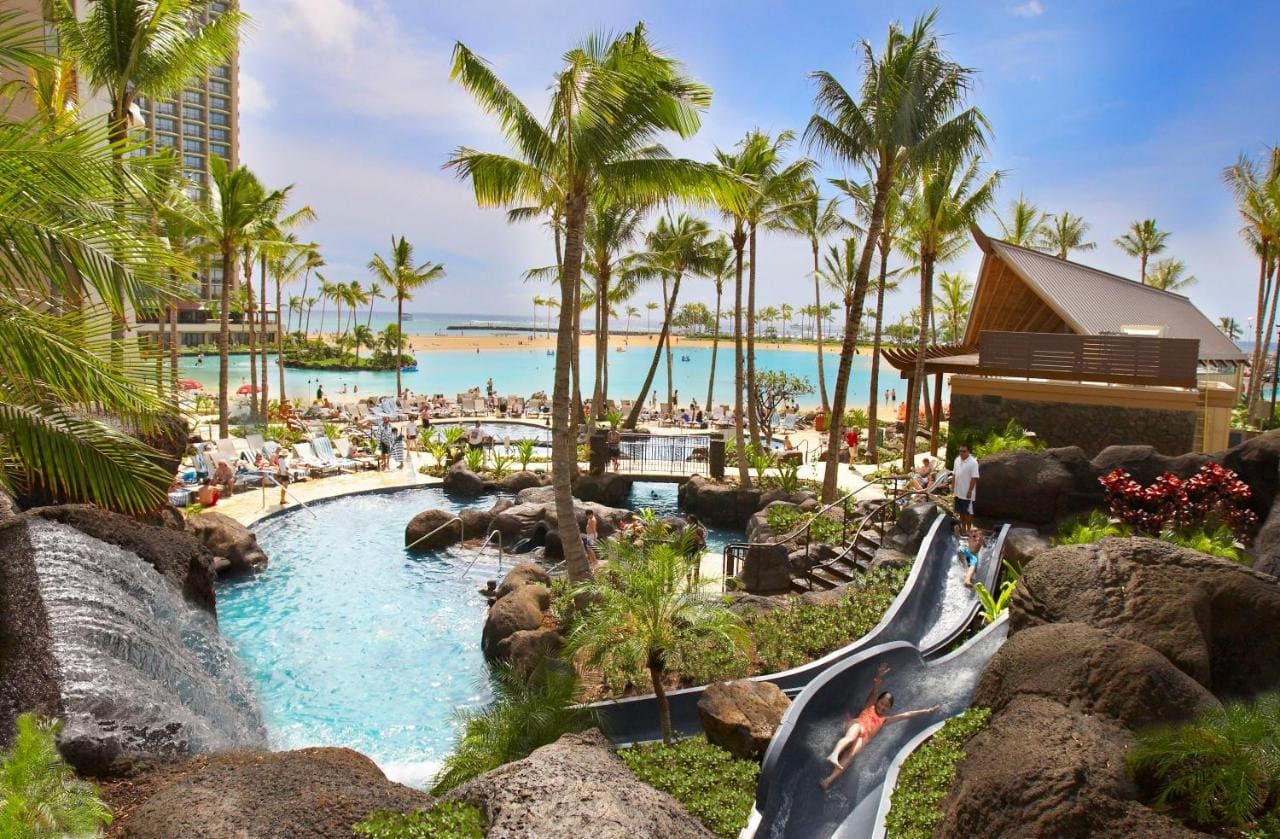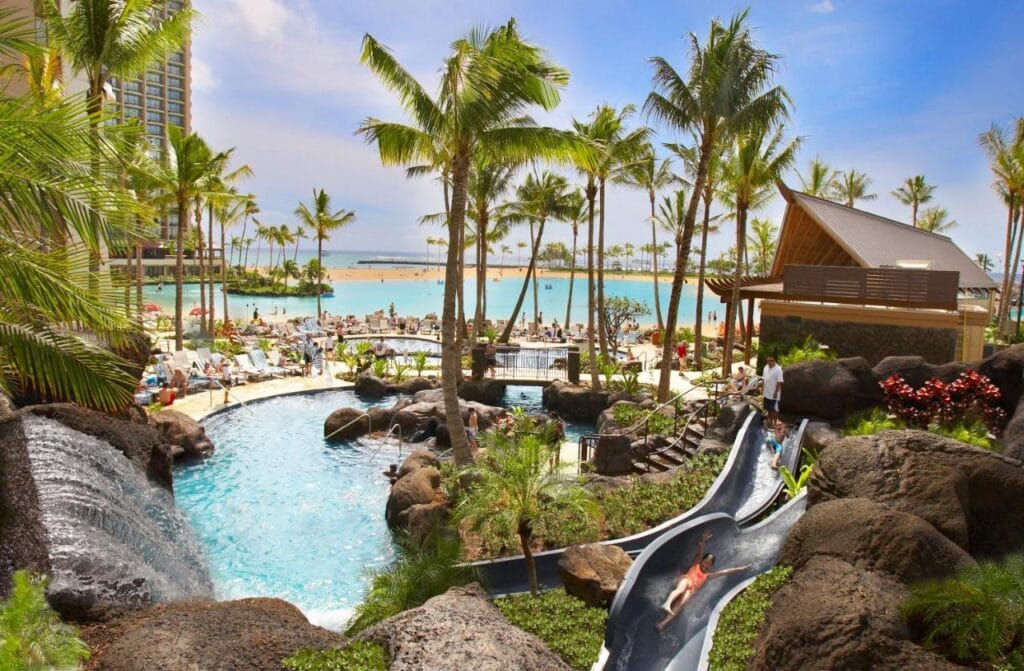 Ritz Carlton Residences – At the Ritz Carlton Residences, you'll find beach resort condos right in the heart of Waikiki. You'll have all the amenities you'd find at home, but with fantastic 5 star additions too, including restaurants, rooftop infinity pools and ocean views from your balcony.
Shoreline Hotel Waikiki – One of the funkiest and most colourful hotels in Hawaii, this is a great boutique option in Waikiki. Food is great here too. In fact, the restaurant has a pledge to only use locally sourced ingredients from farms nearby.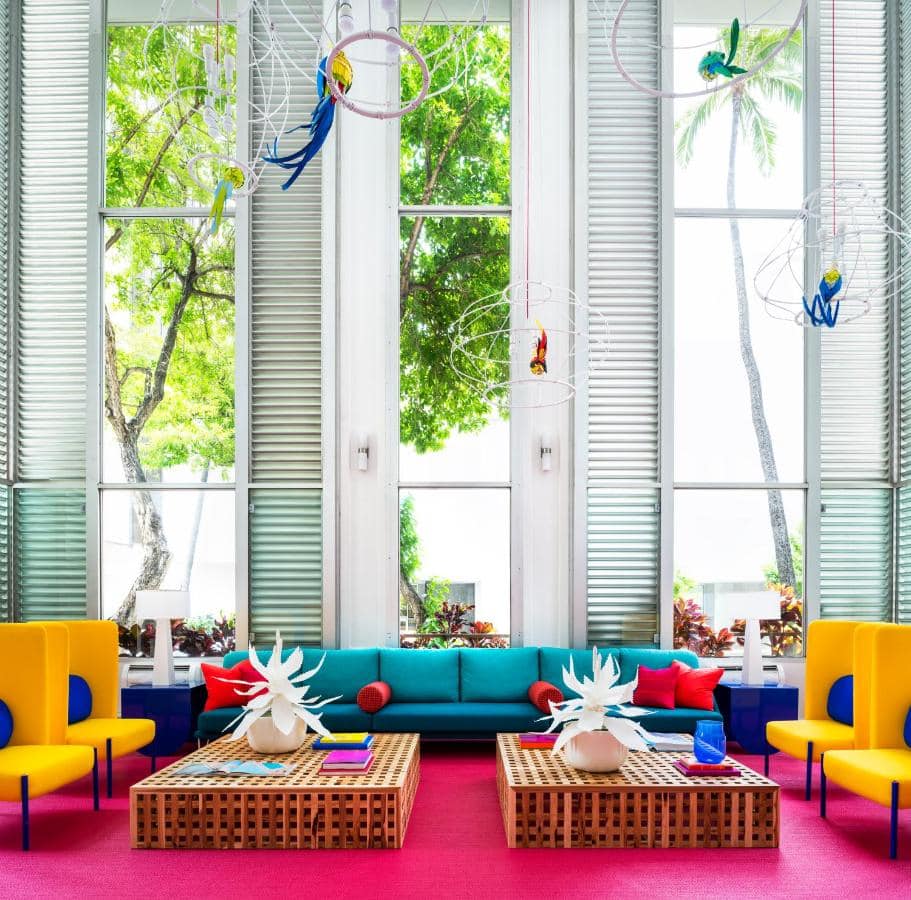 'Alohilani Resort Waikiki Beach – This hotel comes with a 5 star rating, an Iron Chef restaurant and an amazing spa. It's also got an oceanarium, located right in the lobby, filled with Hawaiian fish.
You can check out more of my recommendations in my guide to the best luxury and boutique hotels in Waikiki Beach.
Take a Glass Bottom Boat Tour
If you're looking for a great tour to add into your 5 day Oahu itinerary, I'd suggest spending an afternoon enjoying live tropical reefs from a glass bottom boat. On this daily boat tour, you'll enjoy clear views of the Pacific Ocean floor as you cruise over tropical reefs and one of Hawaii's shipwrecks.
Be sure to keep an eye out for sea turtles, dolphins, eels and schools of tropical fish. A tour like this will really make you appreciate Oahu's incredible nature. There really is so much colour and life below the water.
Enjoy the View from the Nuuanu Pali Lookout
Perched over a thousand feet above the coastline, the Nuuanu Outlook offers some of the most spectacular views over Oahu. The Lookout rises 1200 feet above the tropical Ko'olau Mountainside and the stunning Pacific Ocean below.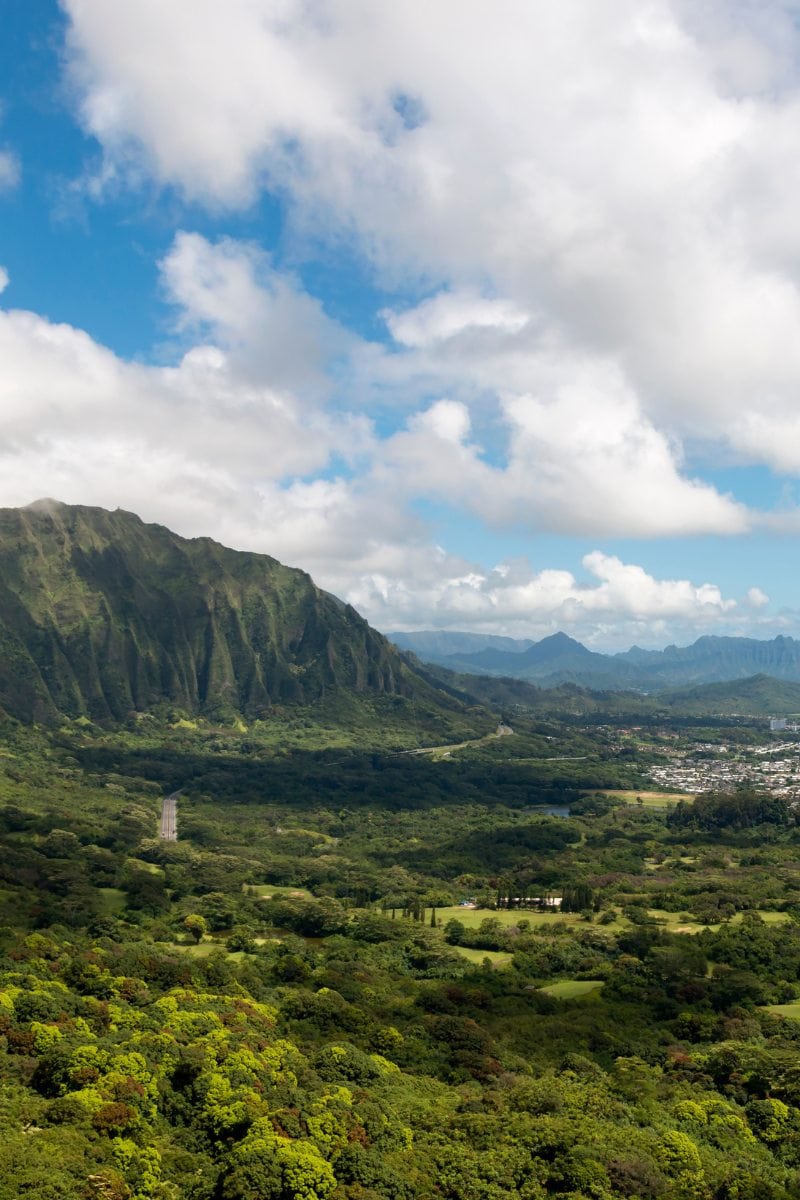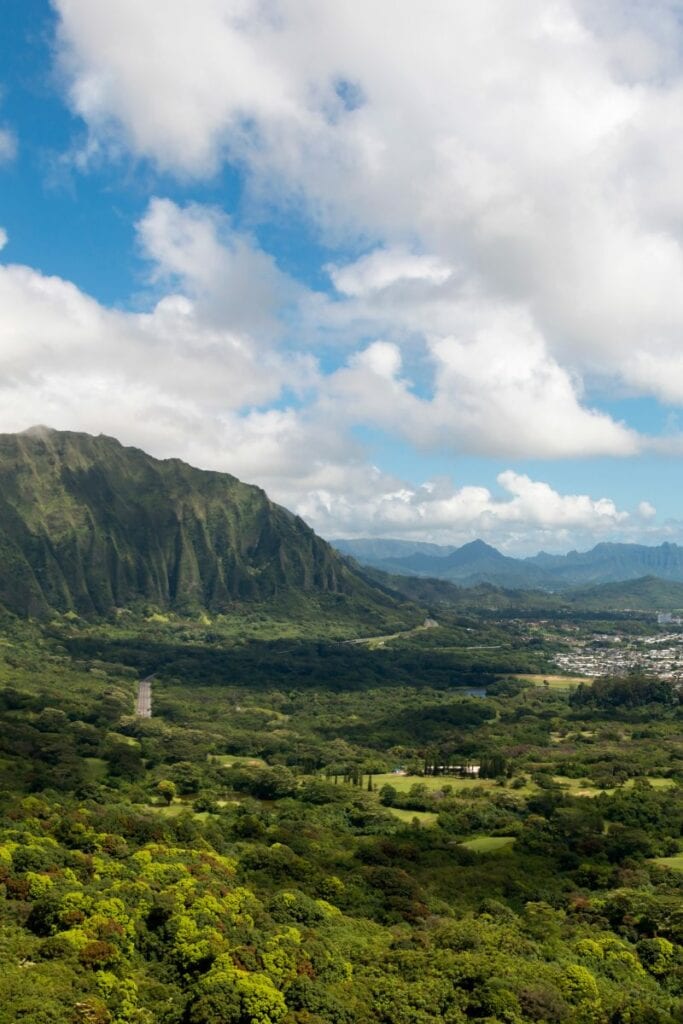 I recommend bringing a camera and a jacket as it can get pretty windy up there! As you head back down the trail, you'll have the option to head either into the town of Kailua or hit the beach.
Go shopping in Oahu
Oahu is the glitziest and busiest of the Hawaiian islands. Along with its big resorts and attractions are some pretty shopping spots.
Waikiki is the most popular area for shopping on the island, with its mix of high-end boutiques, cool surf shops, gift stores and more.
Some of the biggest and best shopping experiences on Oahu include the Ala Moana Centre (a huge mall out of own with over 350 stores), the Pearlridge Centre, the Royal Hawaiian Center, the International Market Place, Waikiki Beach Walk and Kahala Mall.
For more authentic Polynesian items, you might want to take a trip to Kailua. It's an ideal place to pick up some local gifts for friends and family back home!
---
8 Practical Tips For Your Trip To Oahu
Public Transportation and Rideshares: Oahu has a well-connected public transportation system, TheBus, which can be a cost-effective way to get around Honolulu and parts of the island. Rideshare services like Uber and Lyft are also readily available.
Traffic and Parking: Oahu can experience heavy traffic, especially during rush hours. Plan your travel times accordingly and be patient. If you rent a car, pay attention to parking regulations, as parking can be limited and expensive in some areas.
Beach Safety: Oahu's beaches are famous for a reason, but they can have strong currents and rip currents. Pay attention to warning flags, swim in designated areas, and follow lifeguard instructions for a safe beach experience.
Pearl Harbor: If you plan to visit Pearl Harbor, make reservations in advance, as tickets are limited, and it can get crowded. Arrive early for your tour to allow time for security checks.
Hiking Etiquette: Oahu offers numerous hiking trails with breathtaking views. Practice 'Leave No Trace' principles, stay on marked paths, and respect the environment. Many trails can be challenging, so be prepared with proper footwear and water.
Explore Beyond Waikiki: While Waikiki Beach is a popular destination, Oahu has many other beautiful spots to explore. Consider renting a car to venture to the North Shore, Kailua, or the Windward Coast for a more relaxed atmosphere.
Cultural Sensitivity: Respect Hawaiian culture and traditions. Be mindful of sacred sites, like heiaus (temples), and ask for permission before entering private property. Learn about the significance of "Aloha" and use it with sincerity.
Weather Variability: Oahu's weather can vary from region to region. Be prepared for sudden rain showers in certain areas, especially during the wetter winter months. Pack a light rain jacket or umbrella just in case.
---
I hope this travel guide about spending 5 Days in Oahu has given you plenty of inspiration for your next holiday. If you're travelling around Hawaii, don't miss my Maui itinerary and Big Island itinerary. Both are packed full of tips and recommendations to make the most of your time on the islands.
Plus, there are plenty more great Hawaii travel guides coming up below…
Plan Your Trip With These Hawaii Travel Blogs
From adventurous hikes and island hopping, to restaurants, luxury hotels and tours, these Hawaii travel blogs are guaranteed to help plan your trip!