From skating in the old port to relaxing on a spa boat and exploring the city through its cuisine, these are the best things to do in Montreal in winter.
Earlier this year we spent a magical few days in Montreal, Canada. It's a city I've always been intrigued by, with its fascinating French Canadian mix. I knew it was arty, cultural, pretty, and had the best foodie reputation in Canada. Needless to say – I couldn't wait to get on the plane!
Then I realised we'd be there in peak winter. Not just any winter, this was a Canadian winter. I feared the temperatures might prevent us from really getting to know the city. I'd seen -16 on the forecast, a temperature that I could only imagine enjoying if I was curled up indoors under several blankets.
But no!
It turns out, there's absolutely loads to do in Montreal in winter, and it's not all outdoors (so don't panic about the cold!) Oh and even when you do venture out, it's really not as painful as those temperatures sound, provided you're wearing the right clothes.
So, take a look at the highlights video, then scroll down for a quick rundown of some of the amazing things to do in Montreal in winter…
If you're looking for more recommendations for your time in the city, don't miss my guide to the best foods to eat in Montreal, the best luxury and boutique hotels in Montreal and my top picks for weekend trips from Montreal.
---
21 Amazing Things To Do In Montreal In Winter
Planning your trip to Montreal in winter? Here are a few quick highlights:
Take in the city from the water

Explore the city on a sightseeing bus

See the sights from your bike

Explore the city on foot

See Montreal from the skies

Live the high life at the Four Seasons in Montreal
Play In The Snow On Mount Royal
If you love the great outdoors, Mount Royal (the mountain that gave the city it's name) is THE PLACE TO GO! It's super close to the city centre, so just hop on a bus up to the top of the mountain and enjoy some winter fun.
The day before we arrived in Montreal, winter had hit the city with all its might. 30-40cm of snow fell in just 24 hours – one of the city's biggest snowfalls in a long time. It meant that we were spending our time in the ultimate winter wonderland, which was PERFECT for a day at Mount Royal.
After checking out the cityscape from the viewpoint, it was time for the part I was looking forward to most – playing in the snow!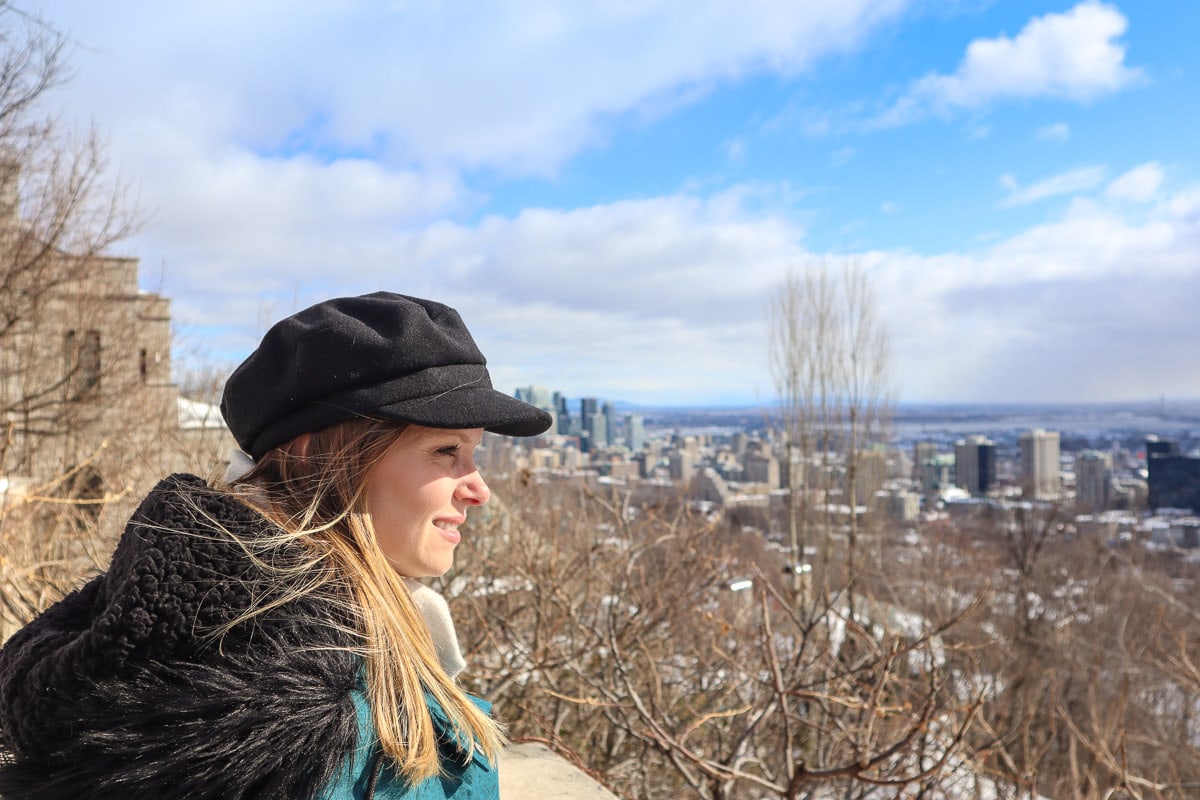 We layered up in ski gear (salopettes, thermals, ski gloves) and spent half a day enjoying the winter activities on offer. You can ice skate on Beaver Lake, try some cross country skiing, or hire snowshoes and head off on an adventure through the beautiful forests. It's a great place for families too; we saw lots of kids relishing being out in the snowy environment.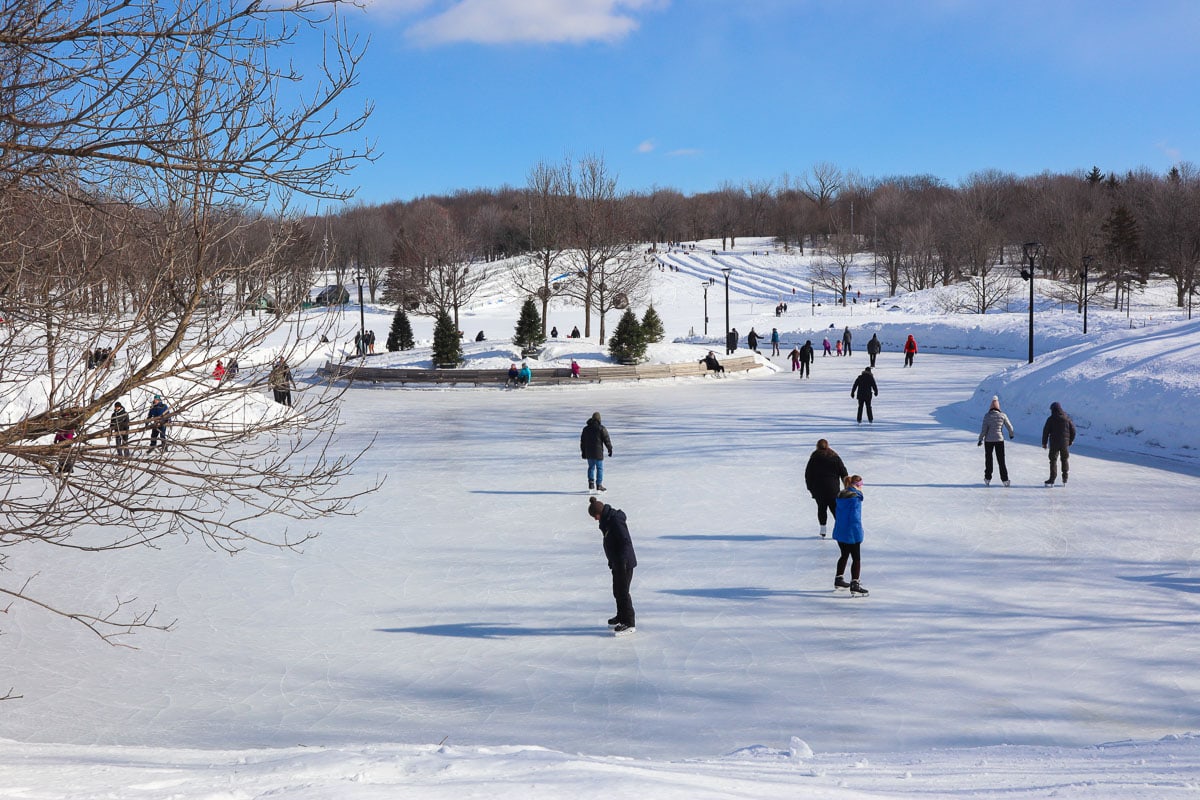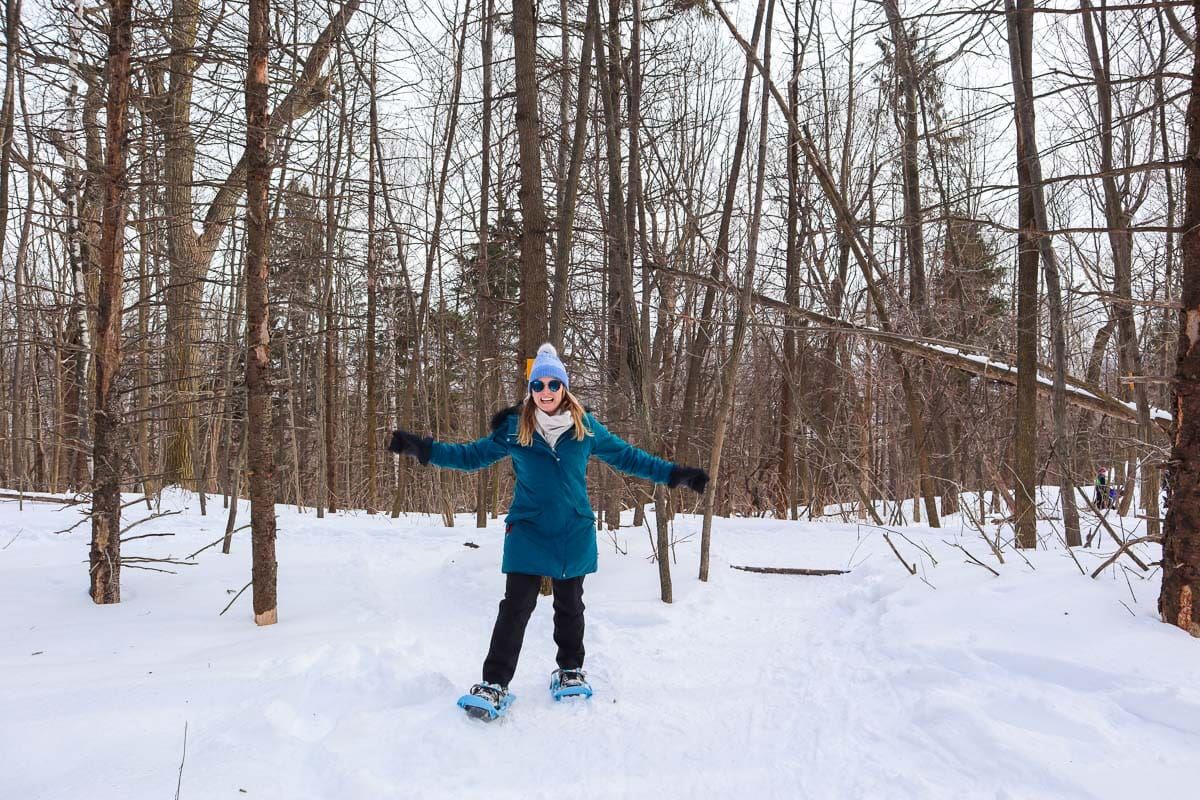 One of my favourite things to do in winter in Montreal? SNOW TUBING! Yup, grab a rubber ring, make your way to the top of the slope at Mount Royal, and whizz down picking up some serious speed along the way.
You won't be able to stop yourself from screaming, smiling… and making your way to the top to do it ALL OVER AGAIN! What a buzz!
Find out more about visiting Mount Royal Park in Macca's helpful guide to all the winter activities on offer.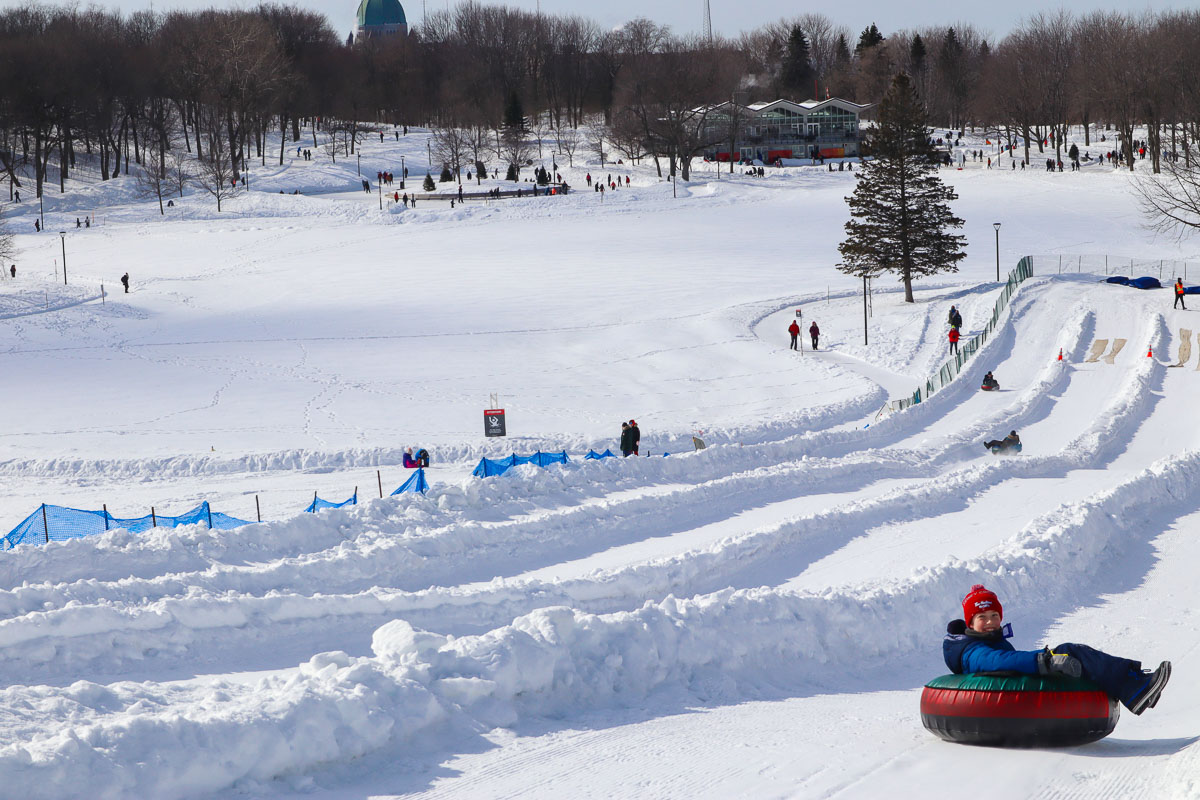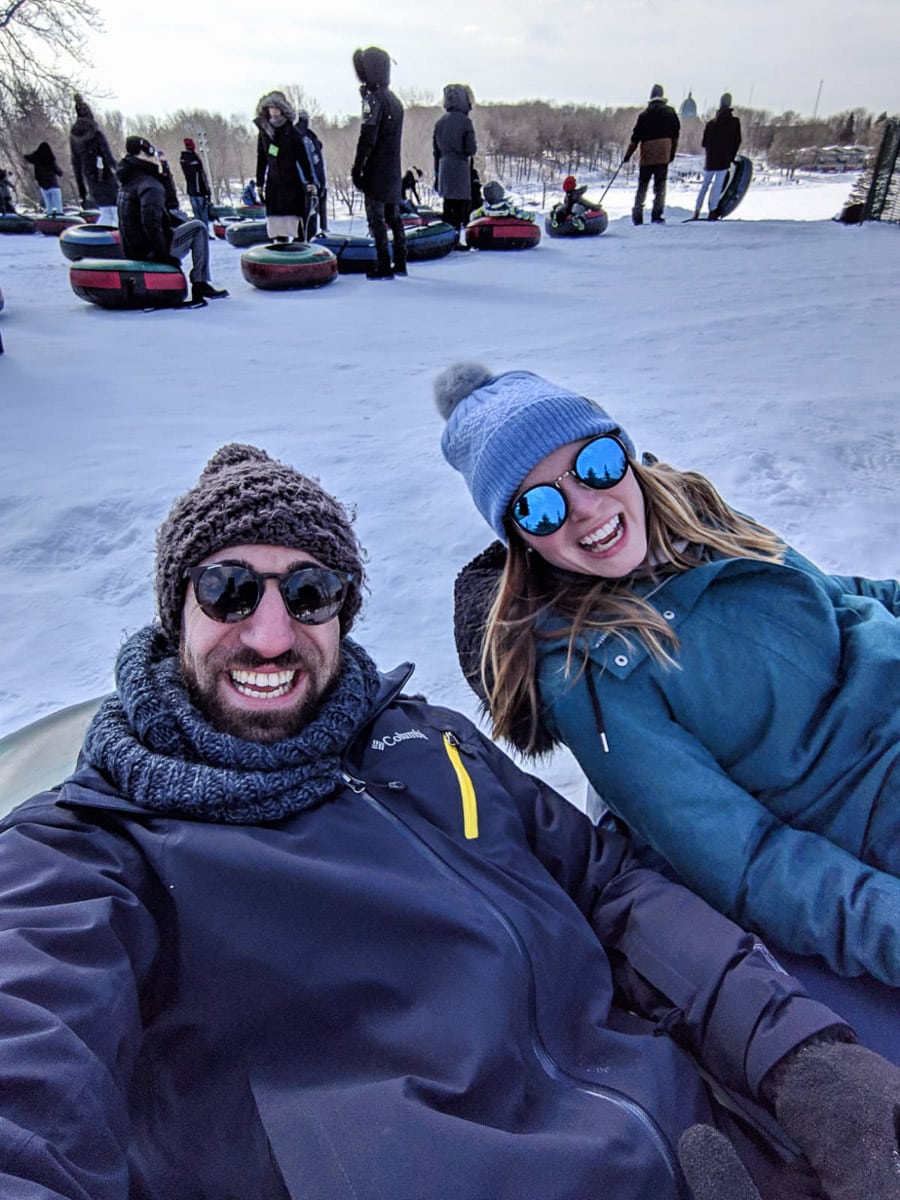 Relax With A Spa Day At Bota Bota
Bota Bota is an old ferry that's been converted into a unique spa experience. It's moored on the St Lawrence River close to Old Montreal. On our visit the water around it was totally frozen, with several inches of snow layered on top. It definitely wasn't sailing anywhere soon!
The spa is famed for its water circuit, which encourages you to go from warm experiences (sauna / steam room) to cold (plunge pools) and then to relax somewhere comfortable. This process aids circulation and reinvigorates your body.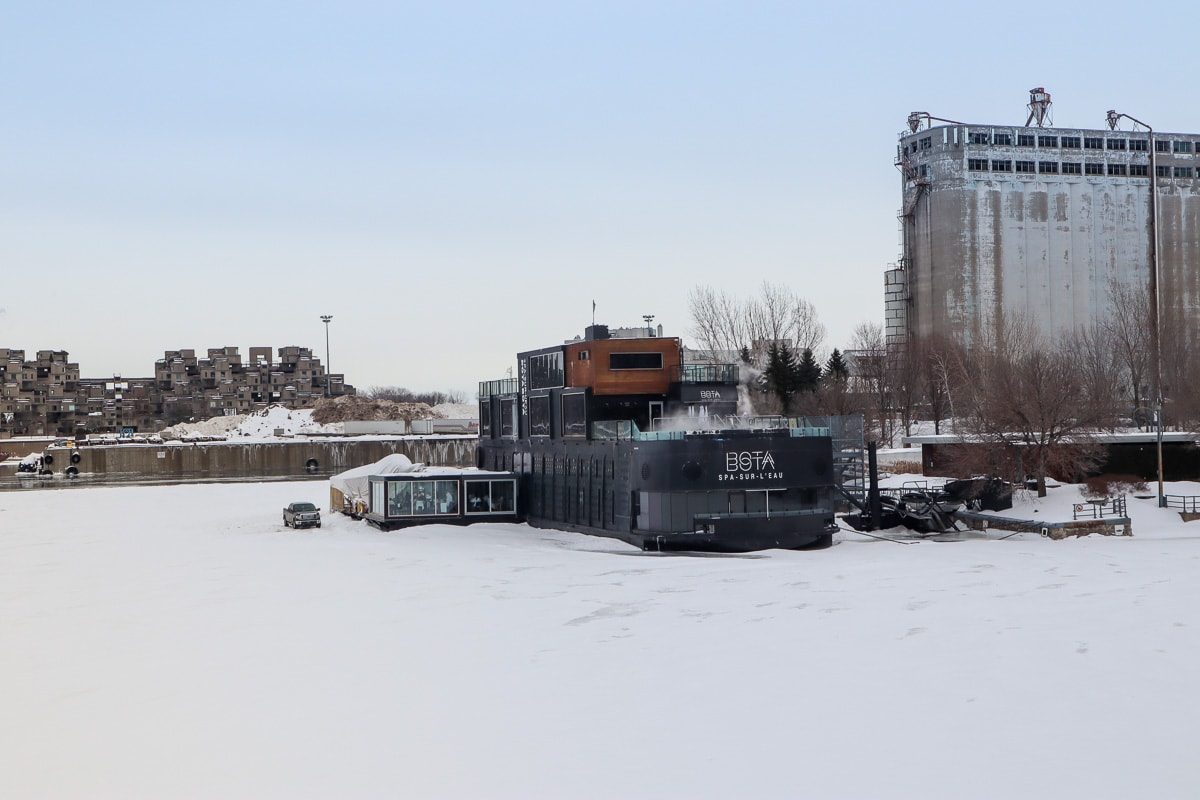 With temperatures of -16 outside, I never made it to a cold plunge pool (WIMP!) but I did enjoy the rooftop Jacuzzis a lot. At one point my eyelashes and hair froze. Something that's really unique, and only for the bold, is the small opening to the frozen river, which you can access as one of the cold plunge activities.
Obviously my fiance Macca couldn't resist that one, while I was much happier watching from the sauna!
Bota Bota offers a range of treatments, plus there's a small restaurant on board – perfect if you want to spend a whole day there. While I imagine Bota Bota is a lovely place to visit all year around, there's something particularly special about getting cosy in a sauna and looking out at the snowy landscapes around.
Take a Trip On Montreal's Ferris Wheel
A trip on La Grand Roue is definitely one of my top things to do in Montreal in winter. What could be more magical than catching sunset from Montreal's illuminated ferris wheel?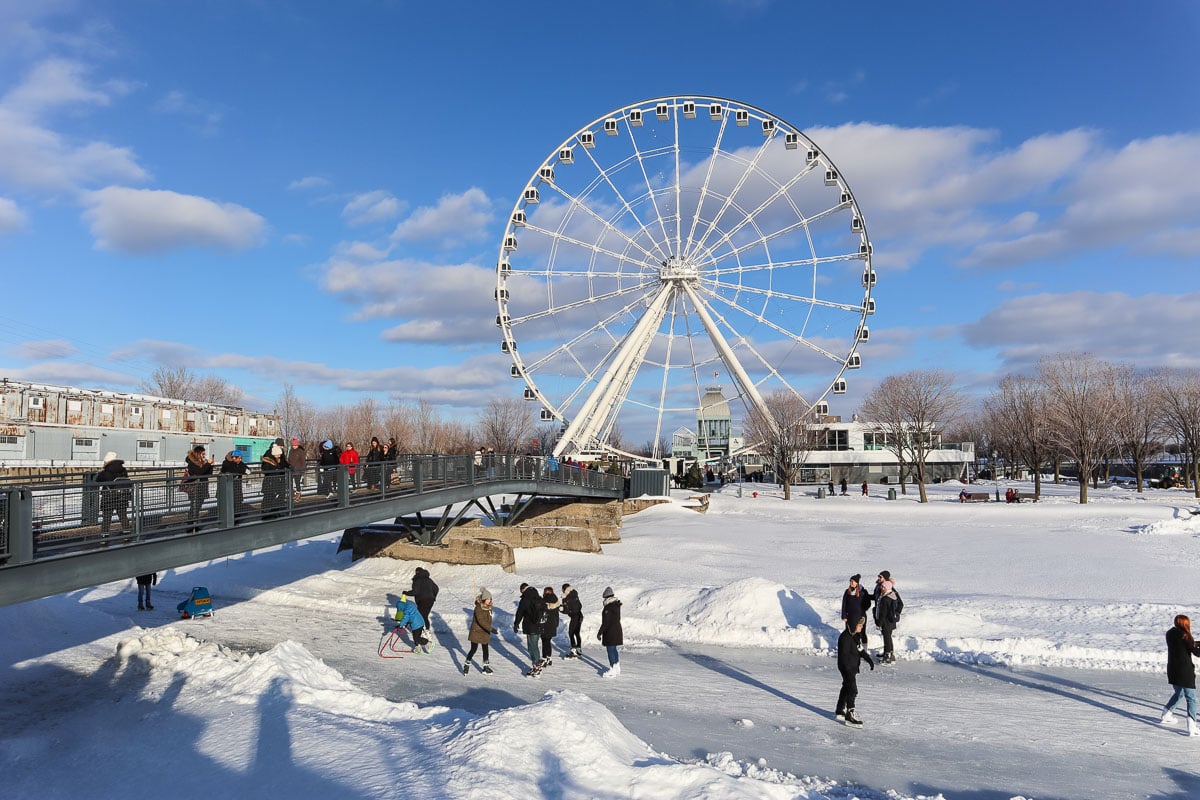 Located in the old port area, overlooking one of the city's winter ice rink, the trip on the wheel takes around 20 minutes. As Montreal is pretty flat it's a great way to see the entire city, along with some key landmarks like Notre-Dame Basilica, Montreal Biosphere and the peak of Mount Royal.
Ice Skating In Montreal
This has to be one of the most popular activities in Montreal in winter. While you can go ice skating up on Mount Royal (mentioned above) I'd recommend visiting the Natrel Skating Rink in Old Montreal by the ferris wheel.
The setting is really picturesque, and along with a main rink, there's also a track that goes round in a loop, taking you under a bridge and closer to Old Montreal. I'd never seen an ice skating experience like that before, and loved how pretty it all looked with so much snow around. It was even prettier at sunset with a pinky sky enveloping the city.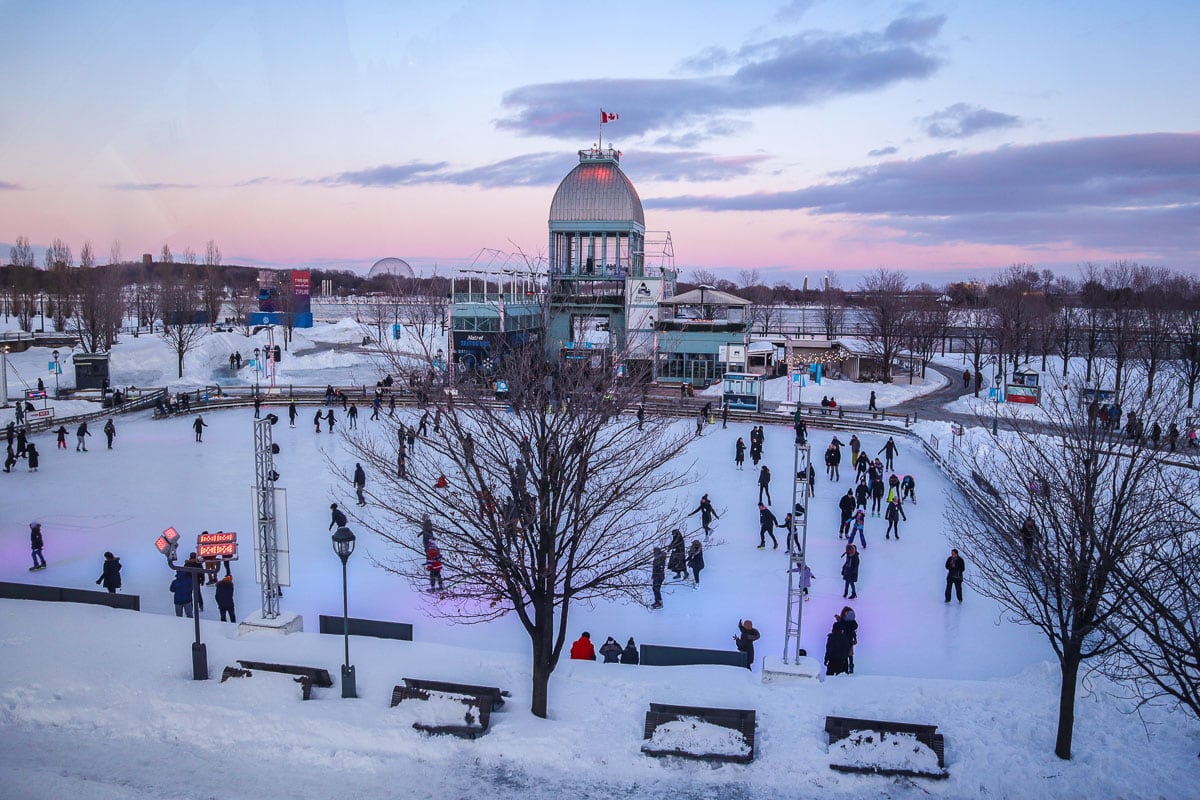 Eat Your Way Around The City On A Montreal Food Tour
On one of our first days in Montreal, we headed off on a food tour around Old Montreal with Local Montreal Food Tours. If you read this blog regularly you'll know I'm a massive fan of food tours. I find they're a great way to get to know a new city, teaching you not only about the region's cuisine, but also about the history, the architecture, the local people and more.
Sparky and engaging guide Kim introduced us to some great spots in Old Montreal, including Crew Collective – a very grand bank that has been converted into a café and workspace, and Restaurant Taberna, which serves up a Portuguese take on the Quebec classic poutine. More about this in my food guide to Montreal.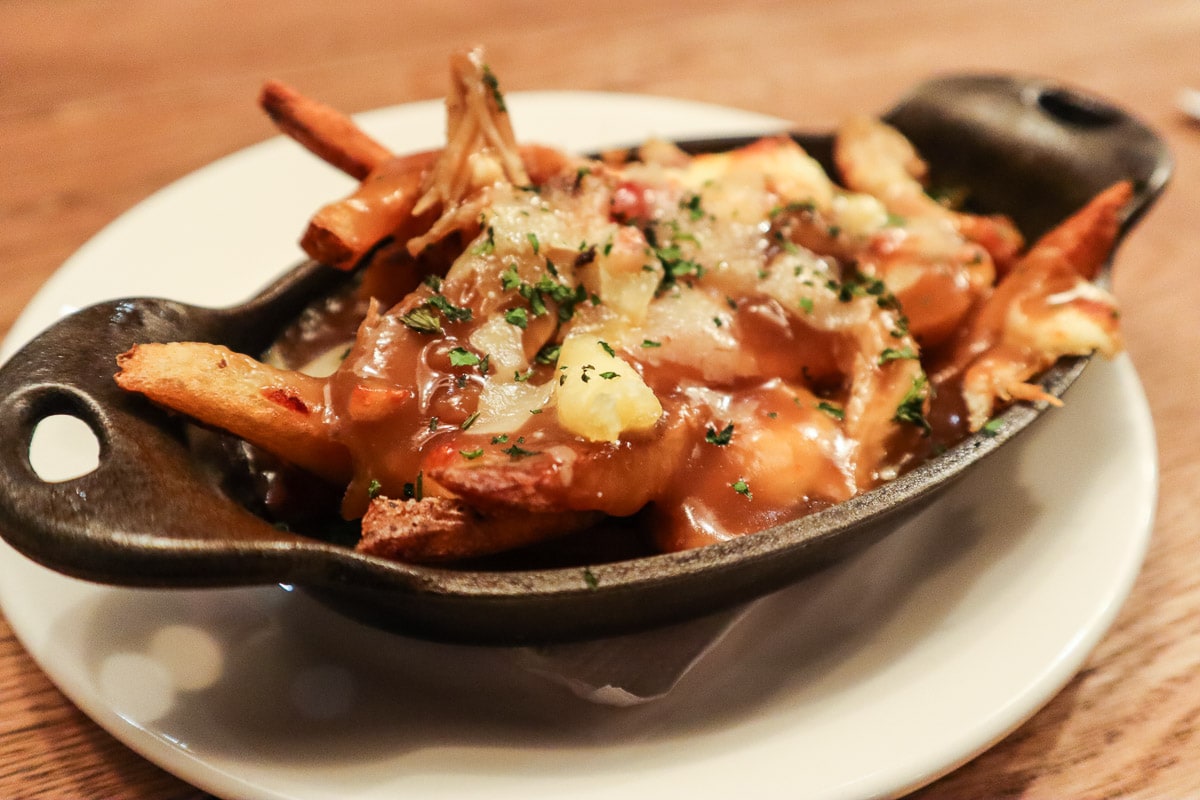 Visit Notre-Dame Basilica
A visit to the city's spectacular cathedral is one of the best things to do in Montreal in winter, summer or whenever you choose to visit! I can genuinely say Notre-Dame Basilica is one of the most stunning cathedrals I've ever ventured inside.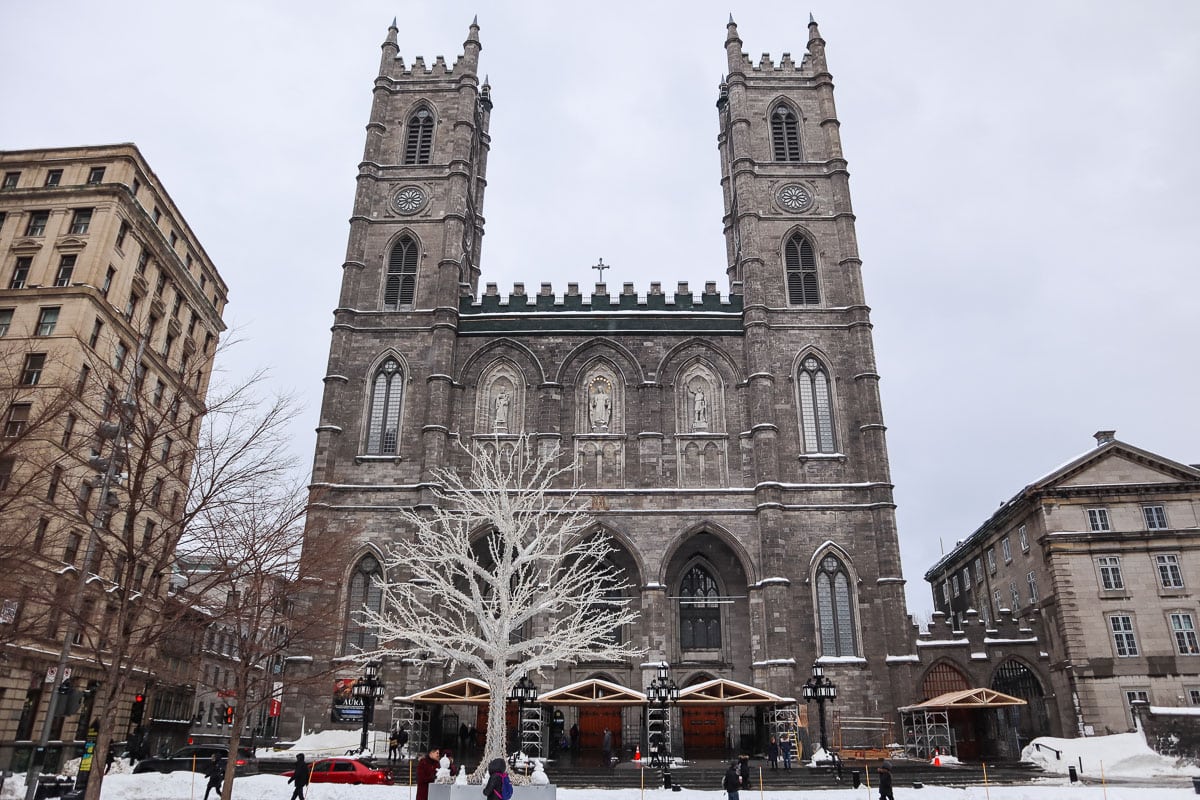 The outside is quite plain, so it's surprising to walk inside and see the incredible painted roof, ornate architecture and beautiful decorations. It really is awe inspiring. There's a fee to go inside, but that includes a free tour which will teach you all about the cathedral's history and design.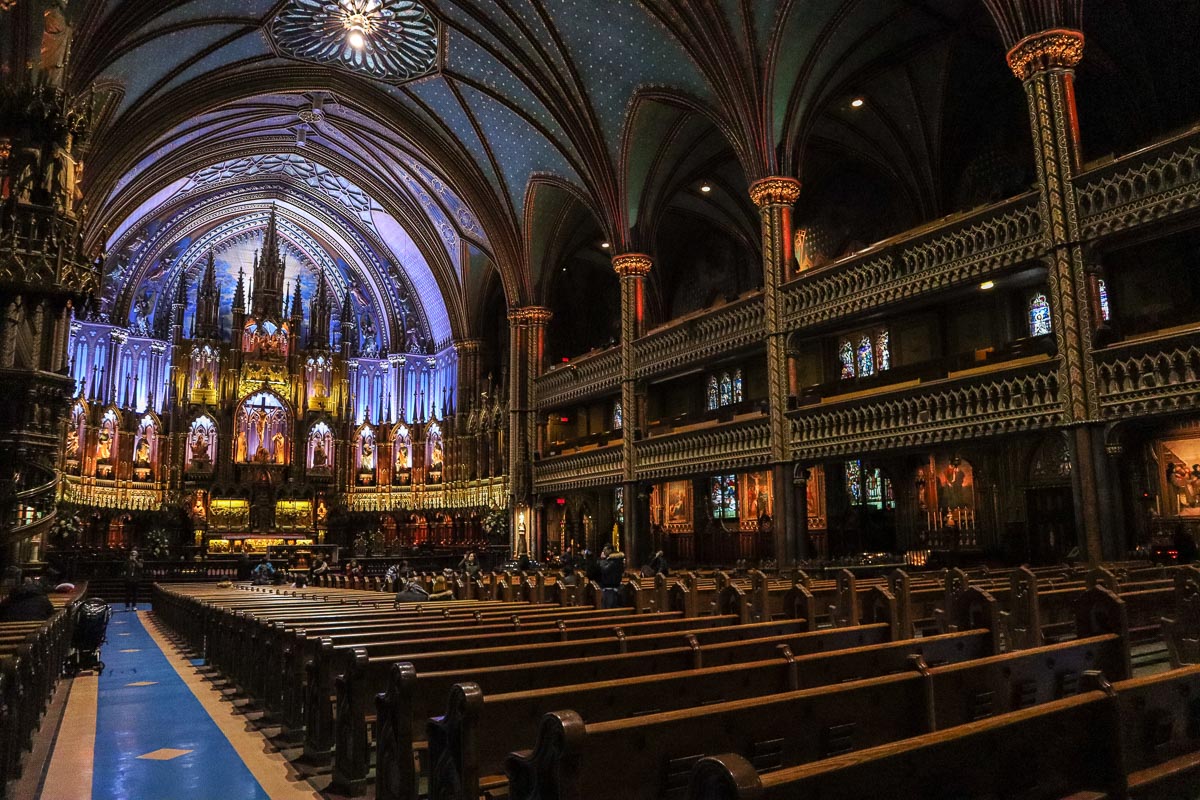 Play Crazy Golf In Montreal
If you're struggling with the winter temperatures, warm up at Putting Edge – Montreal's indoor crazy golf club. It's one of the most fun indoor activities in Montreal right now!
As you venture down the stairs, you'll be surprised to see it gets darker and darker, as everything is illuminated by UV lights. The 18-hole course literally glows in the dark, so I'd encourage you to wear white or neon so you stand out too.
We spent around an hour playing crazy golf here, putting our way from luminous flamingos to neon dragons and fluorescent palm trees. It was such a fun activity.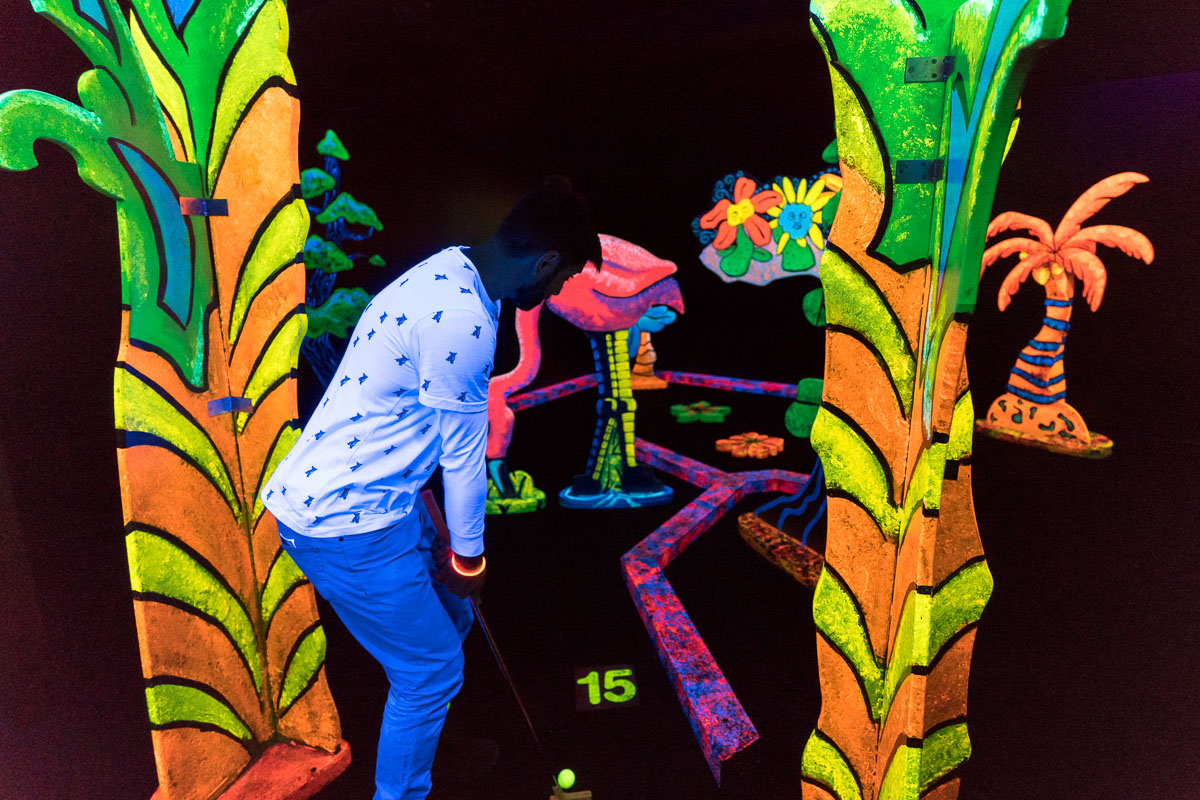 Unwind at A Chic Wine Bar In Montreal
One of the locals recommended we stop by Pullman if we had time. We ended up visiting on a Sunday night, craving a simple dinner of wine and cheese. It was the perfect spot. Romantic with its flickering candles and dim lighting, and beautifully cosy, with a casual sophistication. We loved it!
Our waitress let us taste a few options before we decided on a bottle of red. Even better, on Sundays the entire wine list is half price, meaning we could select a bottle in a slightly higher league than usual.
The food was divine too. Our favourite dishes were the flavoursome tuna tataki and the winter beet salad. The Quebec cheese board was great too, and exactly what we left our hotel in search of.
Explore Montreal's Neighbourhoods
Like many major cities, Montreal feels like a big city made up of small towns and villages, each with their own unique identities. I really enjoyed getting to know the different neighbourhoods.
There's up and coming Saint-Henri, trendy The Plateau, foodie mecca Little Burgundy, hipster Mile End and mural-covered Saint-Laurent Boulevard. My favourite was probably the latter – I'm a sucker for colourful places and the street art there was some of the best I've seen on my travels.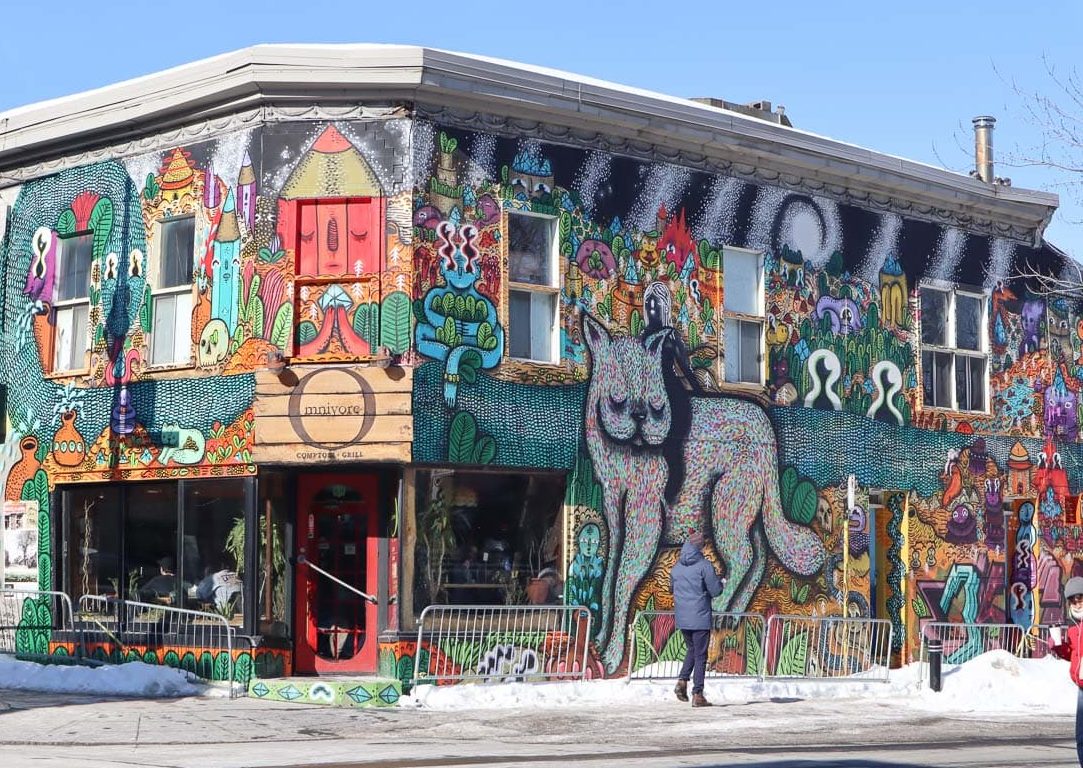 Spend The Evening At A Concert in Montreal
Montreal is an extremely cultural city, with a plethora of top orchestras, pop stars, actors and dancers passing through on a regular basis. During out visit we were lucky enough to see critically acclaimed British contemporary dancer Akram Khan perform at Théâtre Maisonneuve.
Meanwhile, at the symphony hall next door they had a classical concert that evening, an opera the next week and ballet the week after.
I was also desperate to check out Montreal's jazz scene on my trip, but simply ran out of time. Next time I return, I'll head straight to the ironically-named Upstairs – a basement jazz bar with an excellent reputation.
Challenge Yourself With An Escape Room
There are plenty of indoor activities in Montreal, perfect for cold winters in the city. If you've never done one before, definitely squeeze in an escape room. It's a challenging hour of code cracking, riddle solving and observation activities, which will hopefully lead to you escaping from the locked chamber.
We attempted Amaze Montreal's Mad Scientist Laboratory, which with only two of us was a little too challenging, but would be great in a group of four. It was still a lot of fun, and thankfully they still let us out after the time ran out…!
Enjoy Montreal's Eclectic Food Scene
Montreal's foodie reputation preceded it, but to be honest, I was surprised (and impressed) by what I found in the city. I expected tasty but slightly unrefined dishes like poutine and smoked meat sandwiches. Yet I found a city brimming with multicultural restaurants and exciting gastronomy.
In just a few days we ate an amazing bowl of pho at I Am Pho, juicy steak frites at Brasserie T, bagels fresh from the oven at St-Viateur Bagel Shop, Quebec cheese at Pullman, tangy ceviche at Tiradito, vegan delights at LOV, healthy poke at Le Poke Bar, and enjoyed a meal with an incredible view of Montreal's twinkly lights at Les Enfants Terribles.
Find out the best places to eat in Montreal here.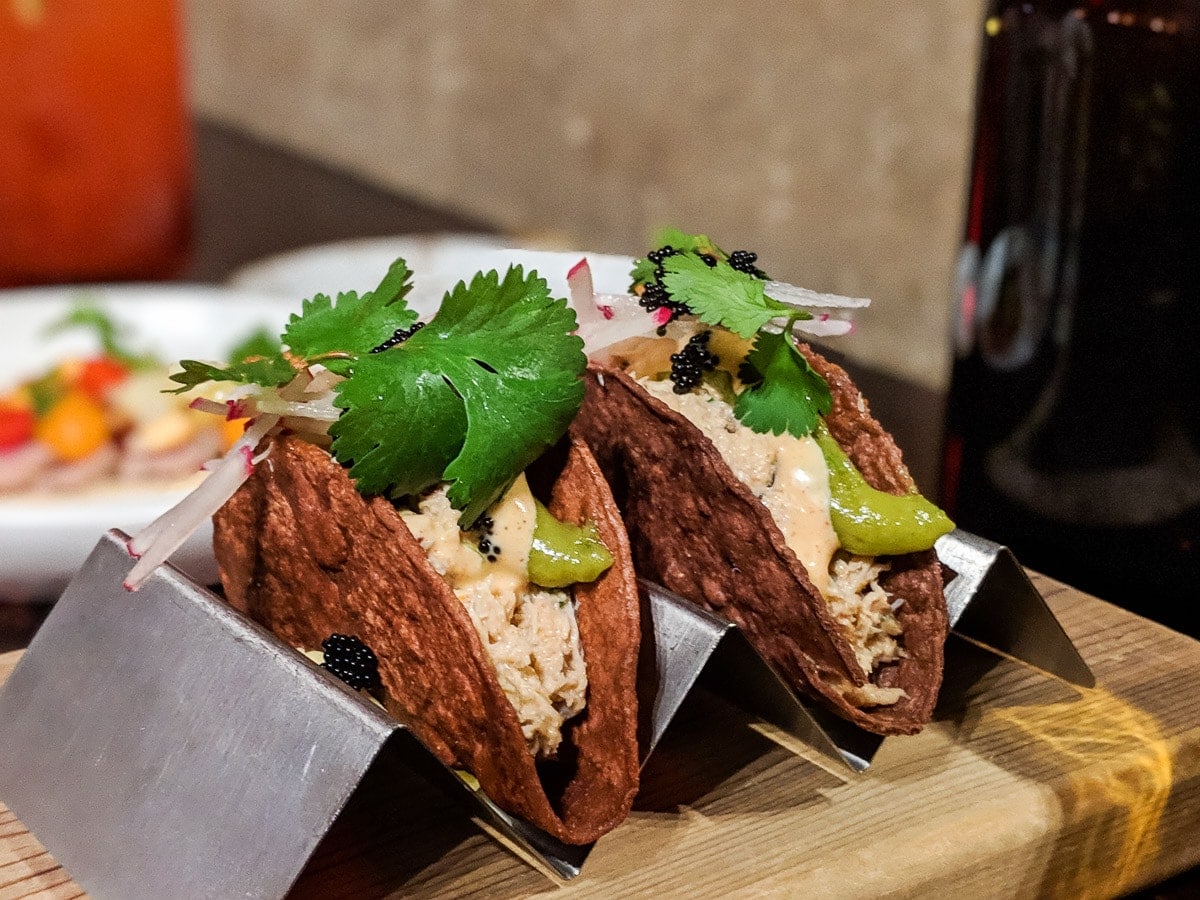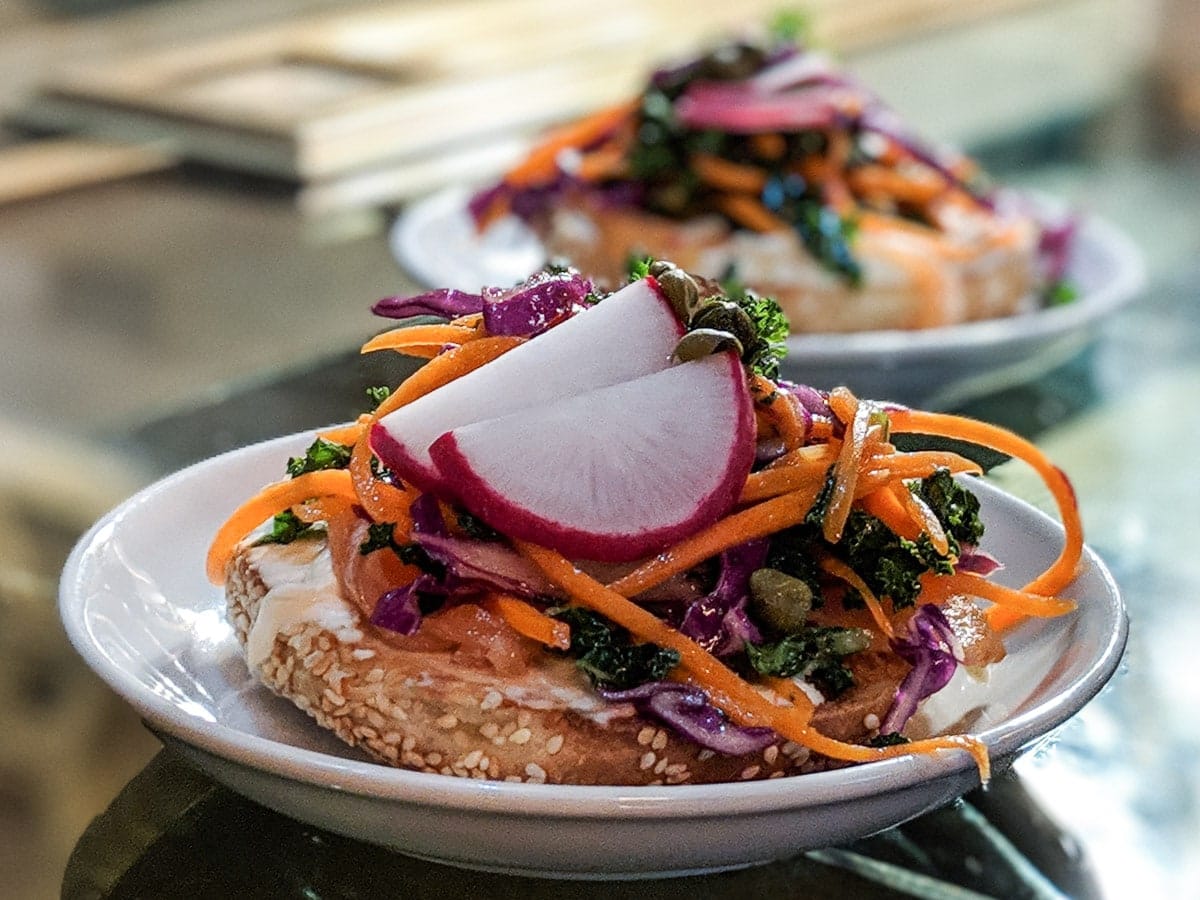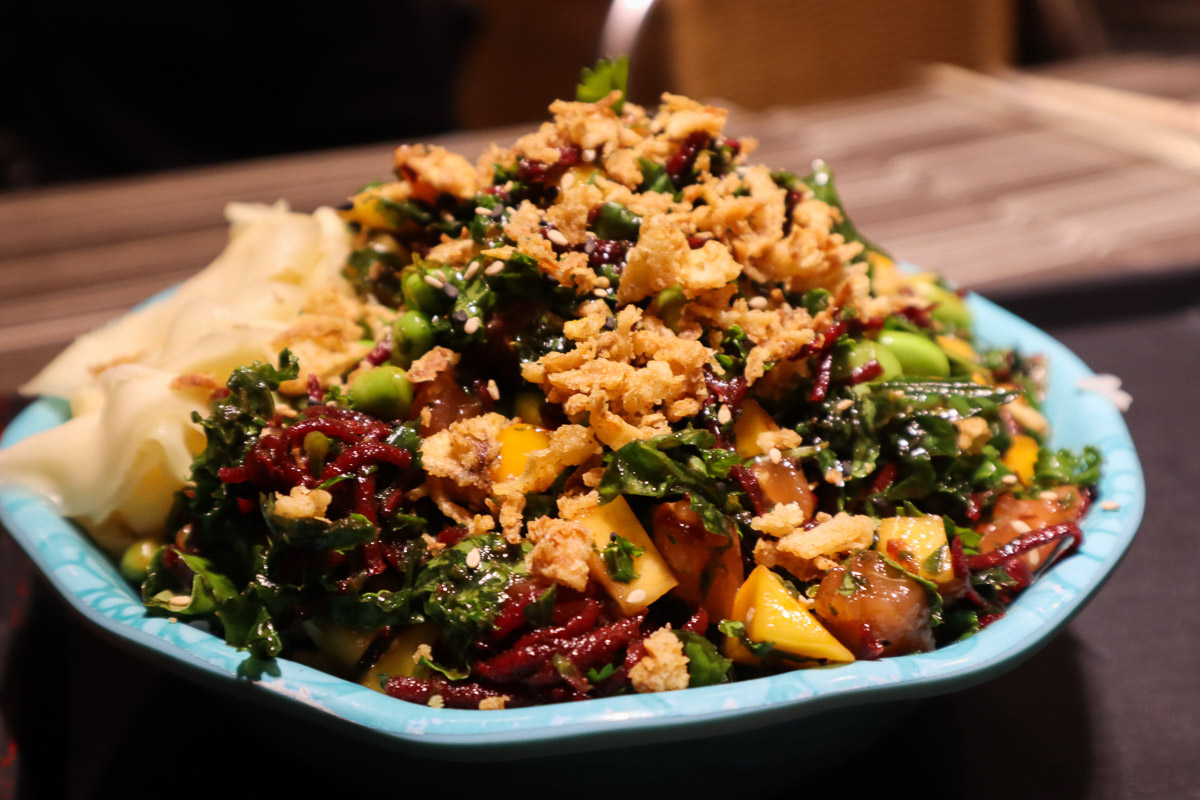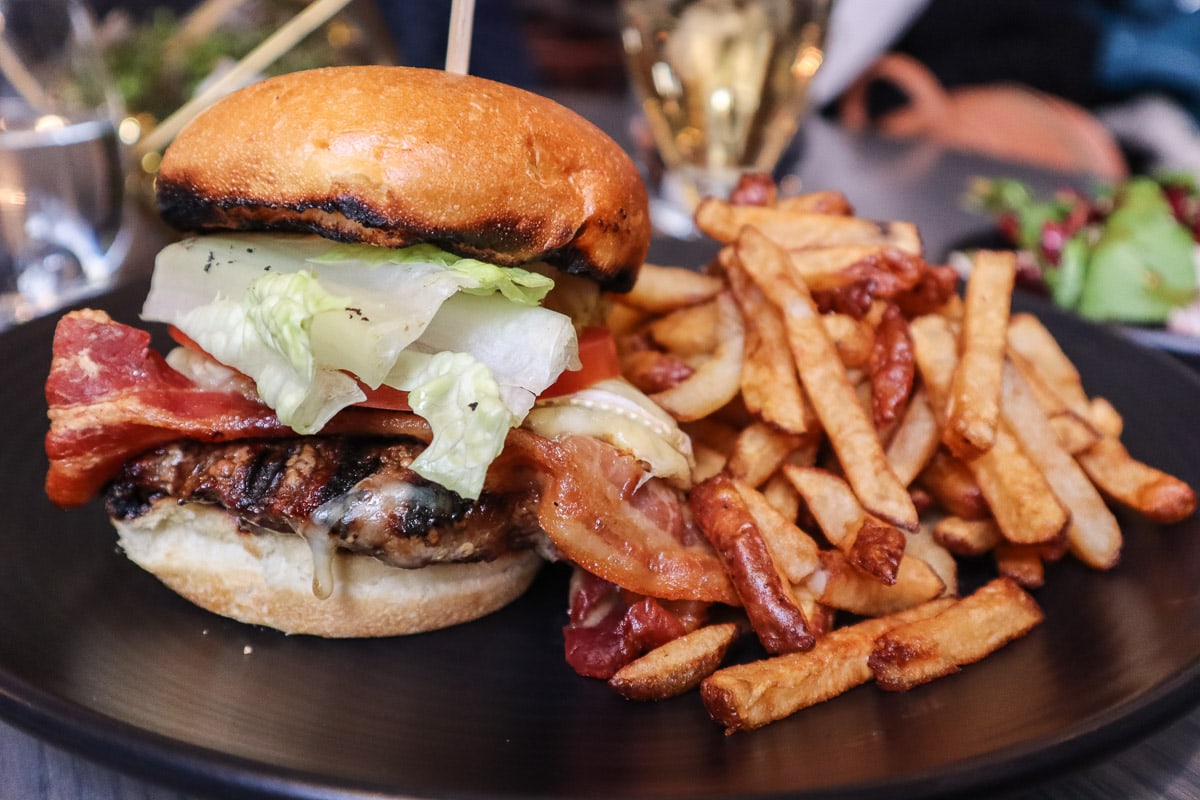 I knew I'd enjoy Montreal's restaurants, but I hadn't expected the offering to be as diverse and sophisticated as it is. Let's face it, what better way to enjoy Montreal in winter, than to eat your way around the city?
Check Out Some World Class Art
One of the best Montreal winter activities? How about warming up in one of the city's top galleries? As you've gathered, this is a seriously arty city, so don't miss a trip to the Montreal Museum of Fine Arts. It's the city's largest museum and is spread across five pavilions, featuring paintings, sculptures, furniture and fashion.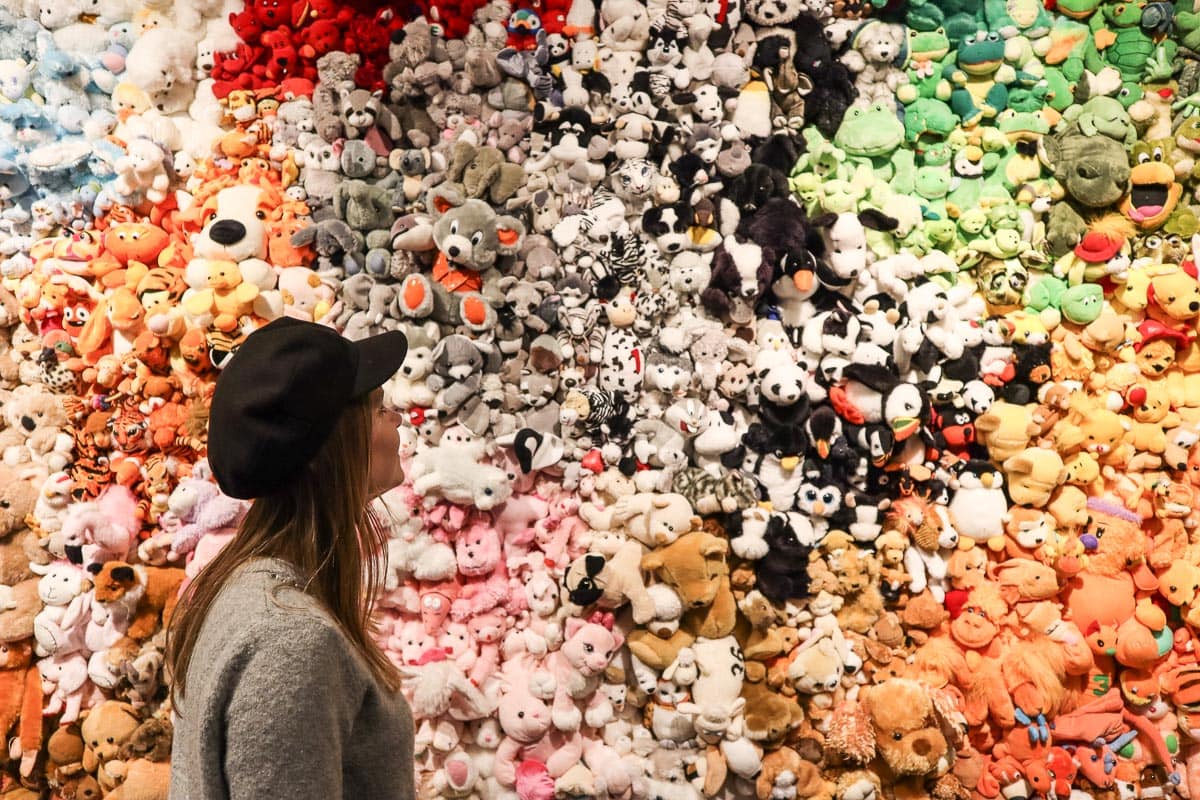 We were lucky enough to catch the Alexander Calder exhibition during our visit, but there are plenty of great shows on throughout the year, so check the website before your trip. I should also add, this is one of my top free things to do in Montreal. Access to the main collection is free for the general public on the first Sunday of each month.
Enjoy the displays at Montreal En Lumiere (Montreal Lights Festival)
If you're visiting Montreal in February or March, you're in for a treat! This is when the city's spectacular winter lights festival takes place. It's officially one of the largest winter festivals in the world, with more than 500,000 people visiting! This winter it's taking place between 22nd February and 3rd March 2024.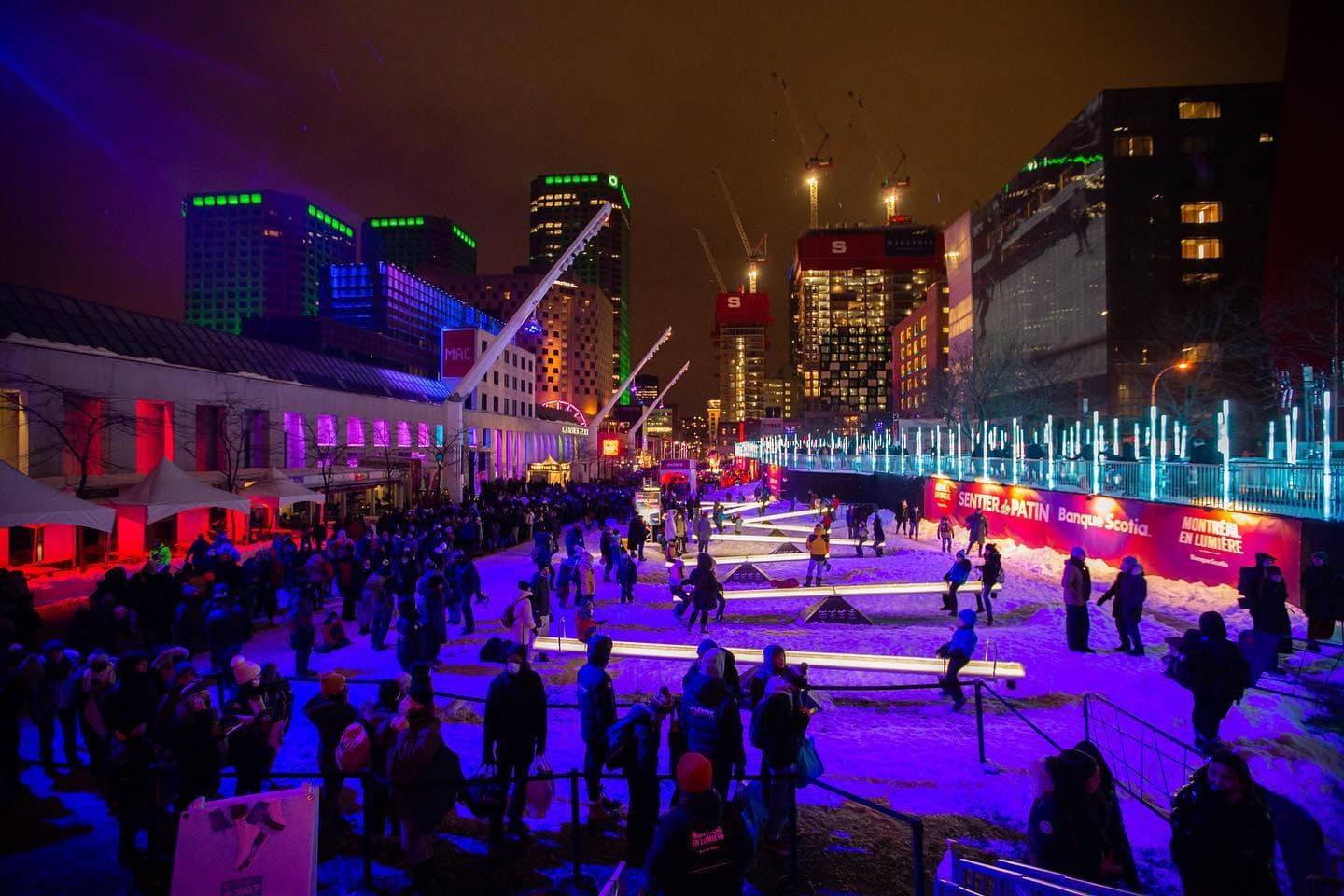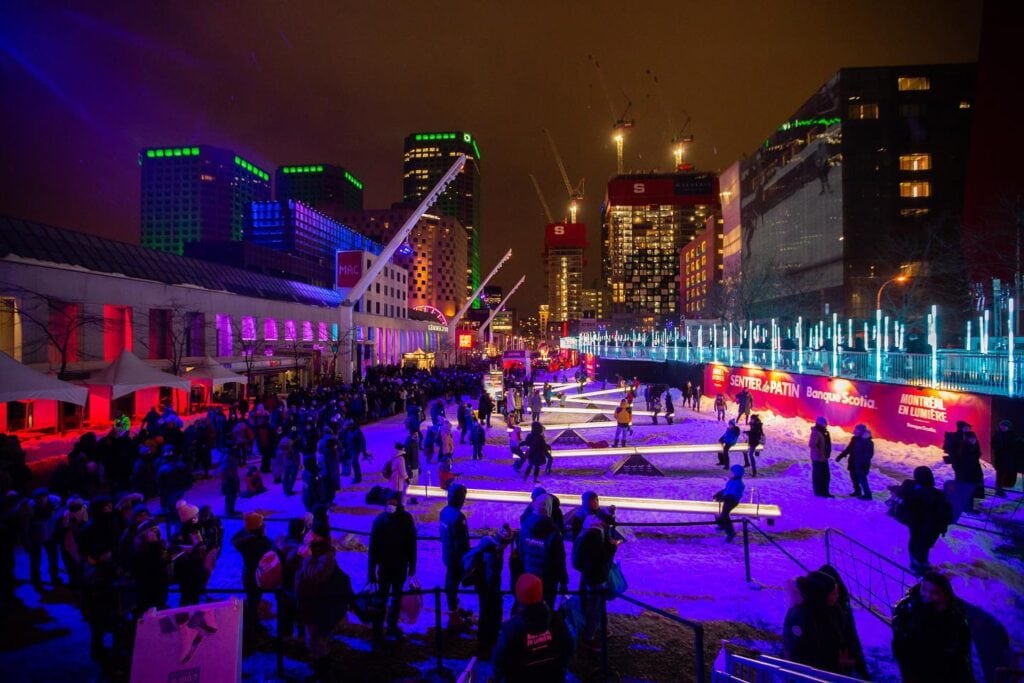 Not only are there beautiful illuminations all over the Quartier Des Spectacles, there's a festive village with lots of exciting events taking place. Enjoy energetic performances on the ice, musical acts, gastronomic experience, parties and more! It's a great area to visit with all of the family in the winter.
Last year's festival included a unique musical skating trail, over 300m in length! No doubt the next one will be even bigger and better too! Check the website for more information including the dates for the festival.
Visit one of Montreal's Christmas markets
There's nothing better in the festive season than enjoying a warming cup of gluhwein as you peruse pretty stalls selling gifts and treats. There are several Christmas markets in Montreal in the winter season, with the most famous being Le Grand Marché de Noël de Montréal. This takes place each year at Quartier des Shows and is the ideal place to pick up some Christmas presents.
The Village de Noël de Montréal in Atwater Market Square is also a good option. As you wander the city on foot, you'll spot lots of places around the city with that quintessential Christmas market feel!
Dance the night away at Igloofest – the world's coldest music festival
Igloofest isn't like any other music festival in the world! It's WAAAAY cooler! It has a heavy focus on electronic music, with recent line-ups including Fatboy Slim, Diplo, Bonobo and Claptone.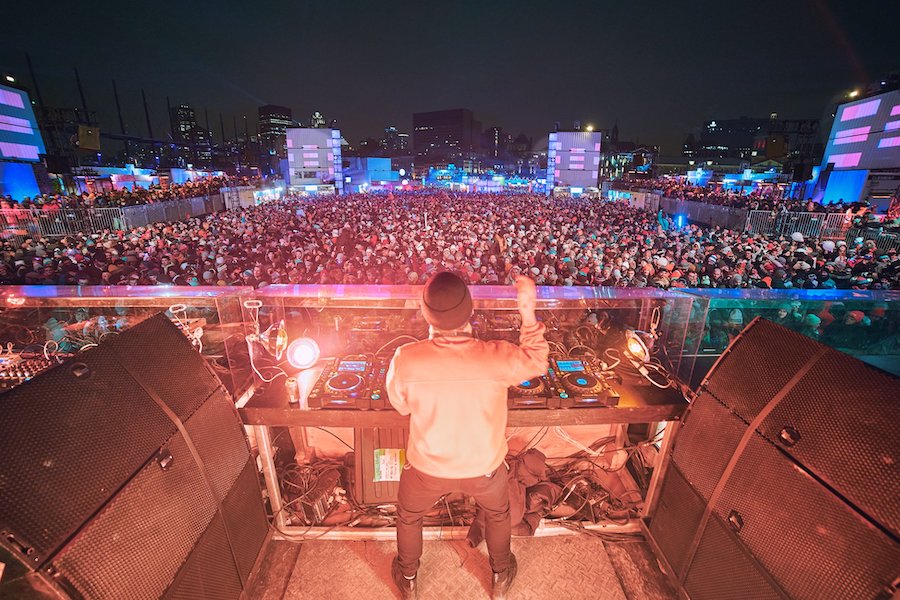 It takes place in the Old Port of Montréal in January and February each winter. Lots of partygoers use it as a great opportunity to dress up too, with lavish fur coats, neon ski wear and ice queen attire all fun options!
Try ice fishing in Old Montreal
There are lots of places in Quebec that you can go ice fishing, but if this is your first time trying this classic winter activity, I'd suggest booking a tour. Your guide will teach you how to master the skill!
Many visit the Pêche Blanche Ice Fishing Village right in Old Montreal. The fish you're most likely to catch are perch and walleye.
Enjoy the Aura Experience at Notre-Dame
Did you know you can visit Notre-Dame Basilica at night for a very special immersive concept? Aura is a magical experience combining projections and lights, accompanied by the sounds of orchestral music.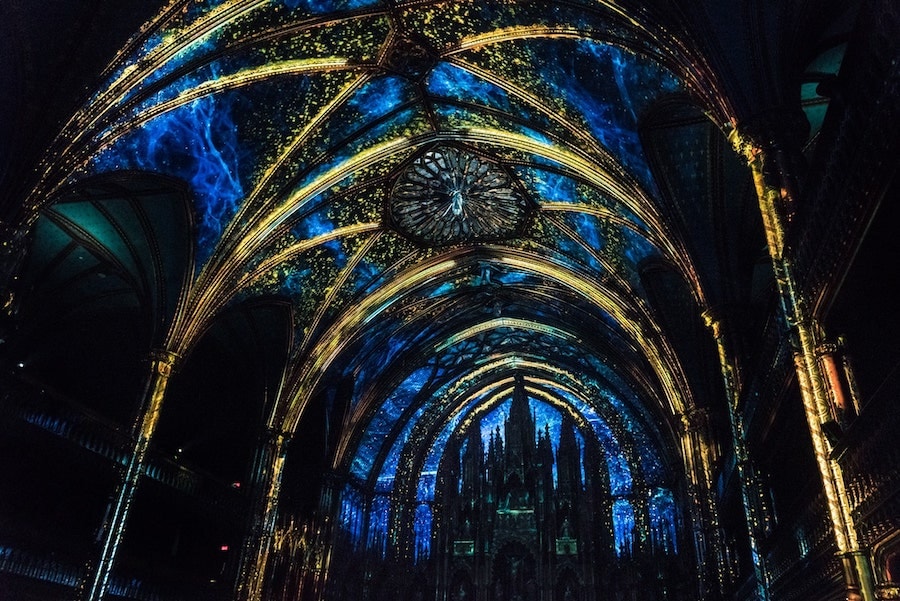 The concept was designed by two Montreal creative brands: Moment Factory and Troublemakers. Aura is immersive and beautiful, and is a great addition to any Montreal winter itinerary.
Learn about maple syrup production
From February to May each year, you can book tours to learn all about one of Quebec's most famous products: maple syrup. Did you know Québec produces around 90% all the maple syrup made in Canada?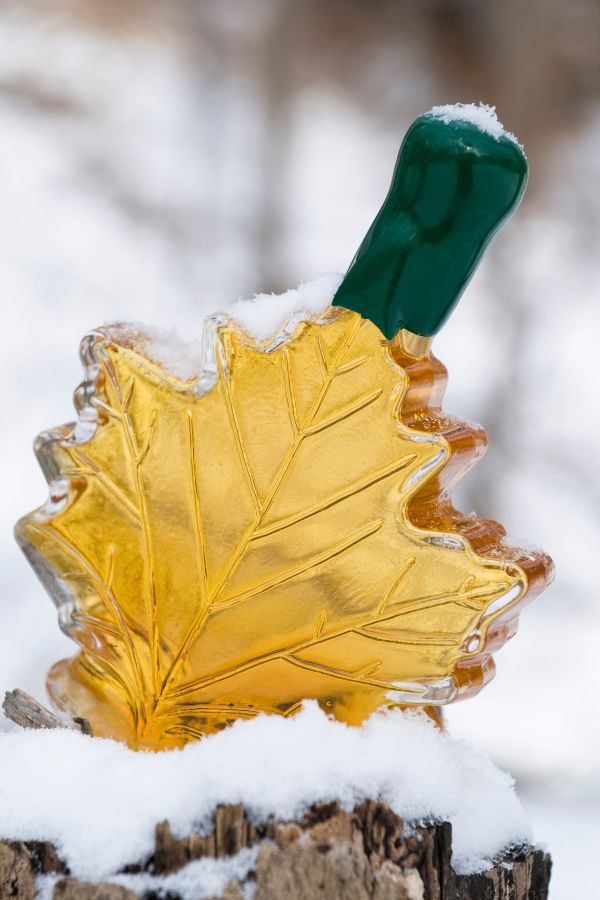 On a guided tour from Montreal, you'll visit an authentic sugar shack farm, see where maple syrup comes from and the process from extraction to bottling. Don't worry, you'll also get to taste some too!
Visit Fête des Neiges de Montréal (Montreal Snow Festival )
Taking place in Jean Drapeau Park over several weekends in January and February, Montreal Snow Festival is one of the city's best winter festivals. It's family friendly with lots of winter activities on offer including ice-skating, tubing, snow-shoeing, ice hockey and cross-country skiing. There's plenty to occupy you for an entire day, with live shows, music, food stands and more.
Watch the Santa Claus Parade
If you happen to visit Montreal in late November, you might catch a glimpse of the iconic Santa Claus Parade. It's been running for over 70 years, with decorated floats, marching bands and performers working their way through downtown Montreal. The most magical moment of all? When kids spot Santa Claus on his sleigh!
---
Questions about visiting Montreal in winter
Is it worth visiting Montreal in winter?
Winter is an absolutely magical time to visit Montreal. It's a time when the city comes to life with winter festivals, snow and ice activities, street markets and illuminations. Wrap up warm (hello merino wool!) and embrace the cold!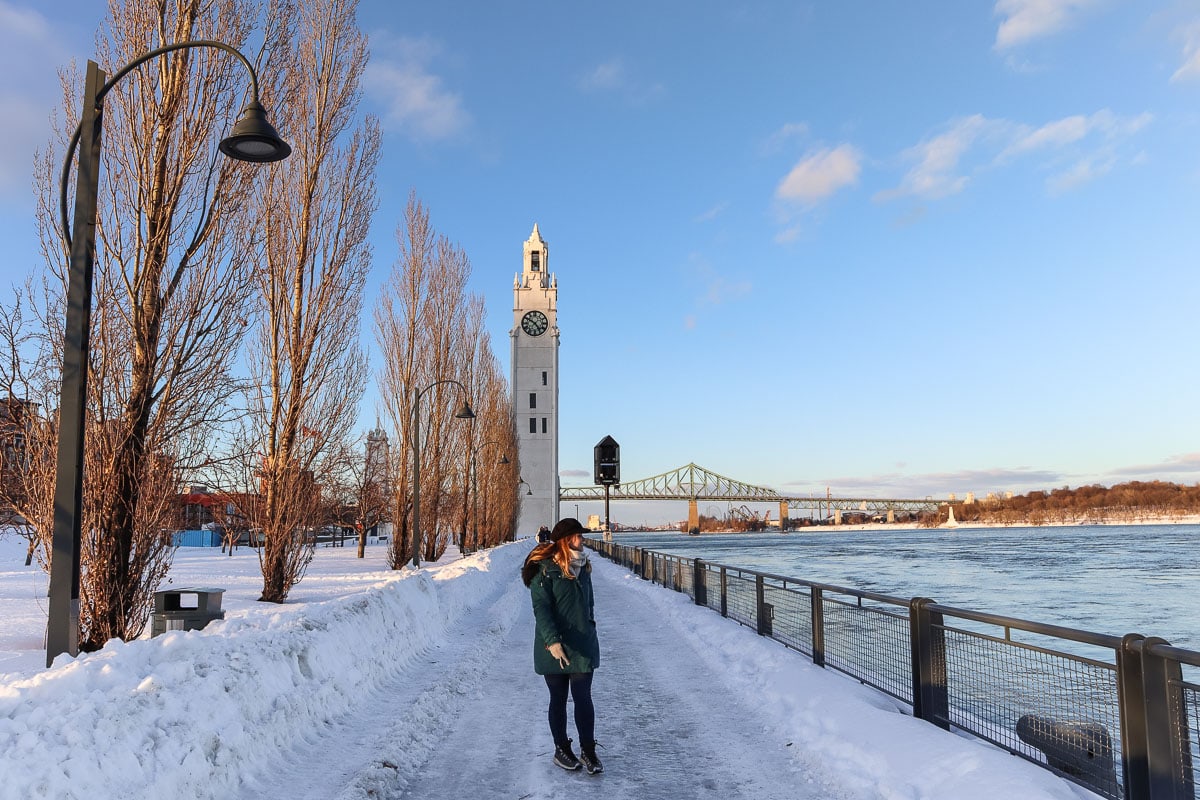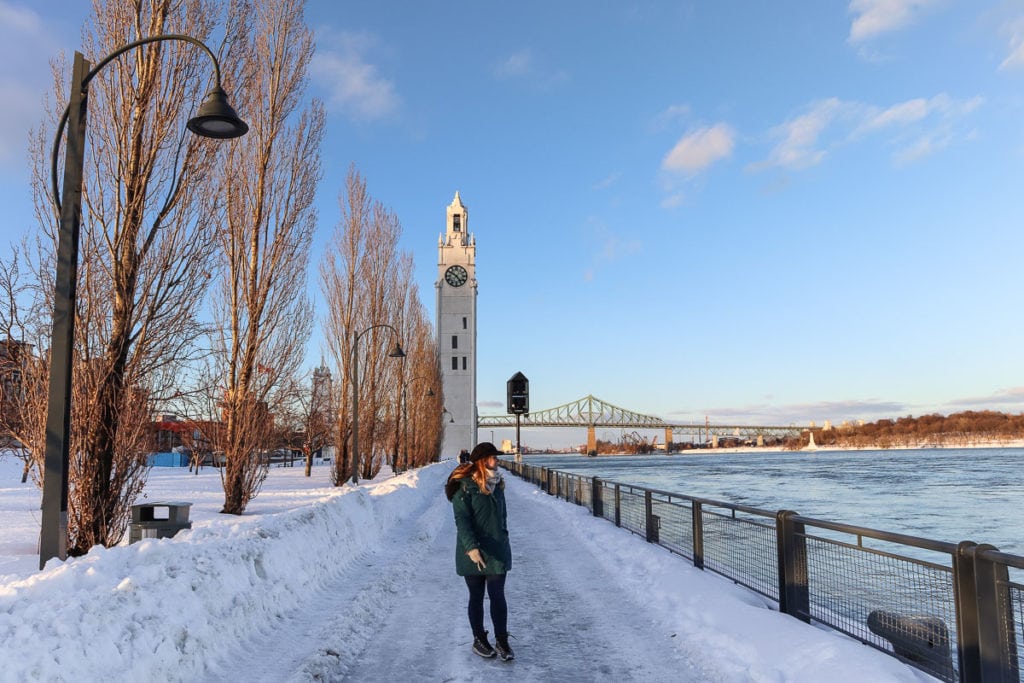 Is 3 days in Montreal enough?
3 days is an ideal time to spend in Montreal. Over that time you can explore key districts including the Old Port, Saint-Henri, trendy The Plateau, foodie mecca Little Burgundy, hipster Mile End and mural-covered Saint-Laurent Boulevard. It'll also give you a great introduction to Montreal's food scene.
Is December a good time to visit Montreal?
December is an ideal month to visit Montreal if you're planning a winter trip. There are lots of Christmas markets around the city and plenty of beautiful lights and illuminations to enjoy. There are also lots of places to pick up Christmas gifts.
Is January good to visit Montreal?
While January is the coldest month in Montreal with lows around -14°C / 7°F, it's a great time to visit for a winter break. There are some really fun festivals each January, including Igloofest Music Festival and Montreal Snow Festival.
Is February good to visit Montreal?
While February is a very cold month in Montreal, it's warmer than January with lows around -12°C / 10°F. It's a romantic time visit the city, with lots of events around Valentine's Day. There are also some fun festivals including Montreal En Lumiere, Igloofest Music Festival and Montreal Snow Festival.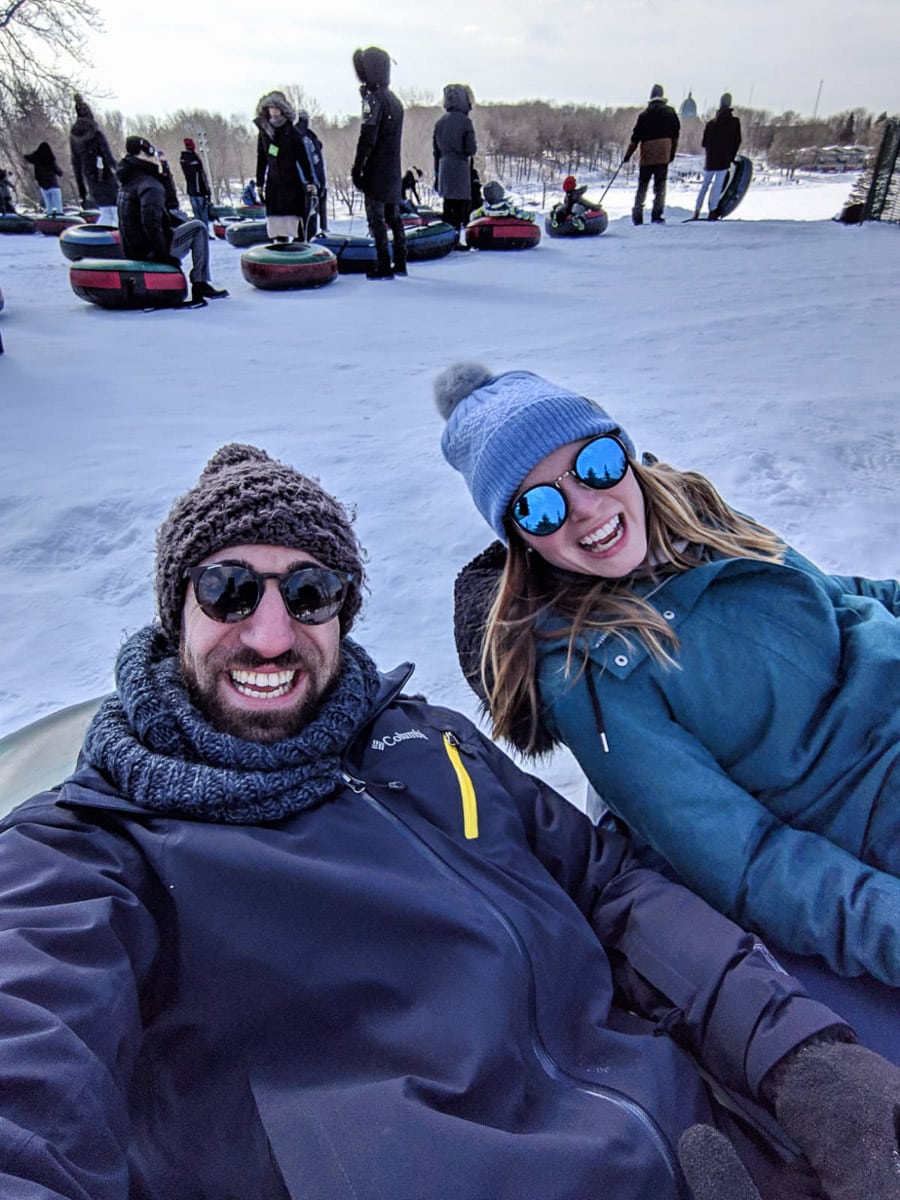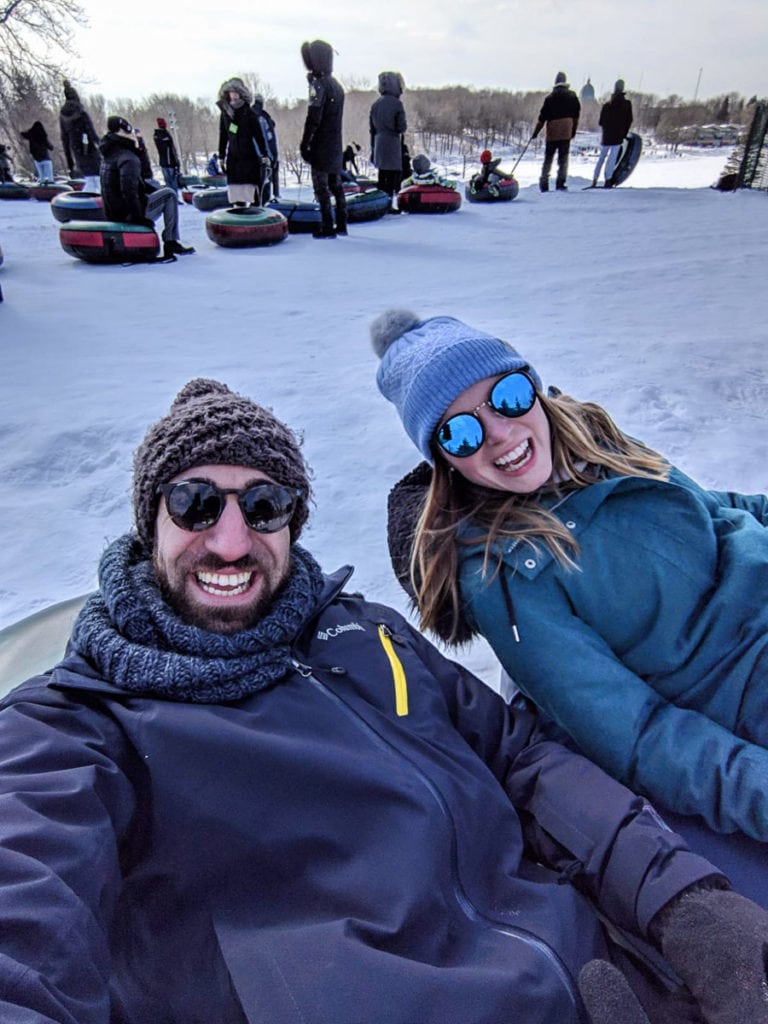 What is the coldest month in Montreal?
The coldest month in Montreal is January with lows around -14°C / 7°F and highs of -4°C / 25°F.
What month does it snow in Montreal?
It usually snows in Montreal from the end of November to the middle of March. The snowiest months in Montreal are December and February with an average monthly snowfall of 20 ins / 53cm.  The annual total snowfall in Montreal is near to 83 ins / 210 cms.
---
I hope you've enjoyed my guide to some of the top things to do in Montreal in winter!
If you're looking for more recommendations for your time in the city, don't miss my guide to the best foods to eat in Montreal, the best luxury and boutique hotels in Montreal and my top picks for weekend trips from Montreal.
Big thanks to Destination Canada, Quebec Original and Tourisme Montreal for inviting us to explore this beautiful city. Lots of great info on their sites if you want to find out more. As always, all opinions are my own.
Enjoyed this post? Pin it for later…