Covered in street art, this is without doubt one of the most colourful cities in the world. Ready? It's time to find out the best things to do in Valparaiso, Chile.
Valpo to its locals, Valparaiso to the masses. and a mouthful for tourists to pronounce (here goes nothing "Valpar-aa-eeee-so")… Whatever you choose to call it, you're guaranteed to come away agreeing Valpariso is a beautiful, vibrant mess.

As I clambered up a set of colourful mosaic steps, past an ancient red and yellow funicular, along a street with giant murals and houses painted pastel shades, I felt like I'd FINALLY arrived in Chile. After a moderately underwhelming start to my trip in the capital Santiago, this was the burst of energy I'd been waiting for! Unlike anywhere I'd been before, I could feel its South American feistiness seeping into my soul.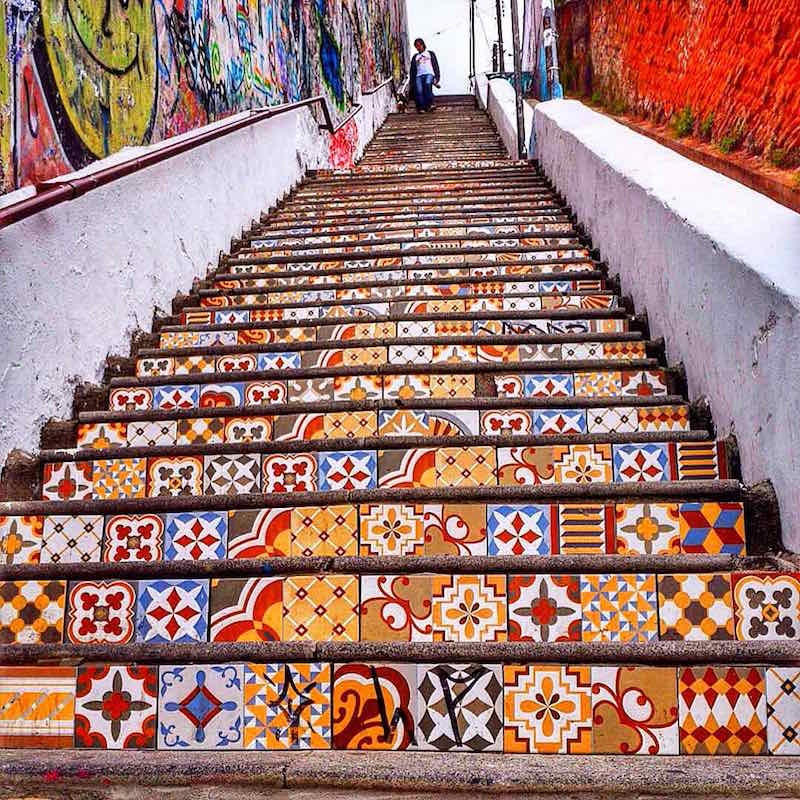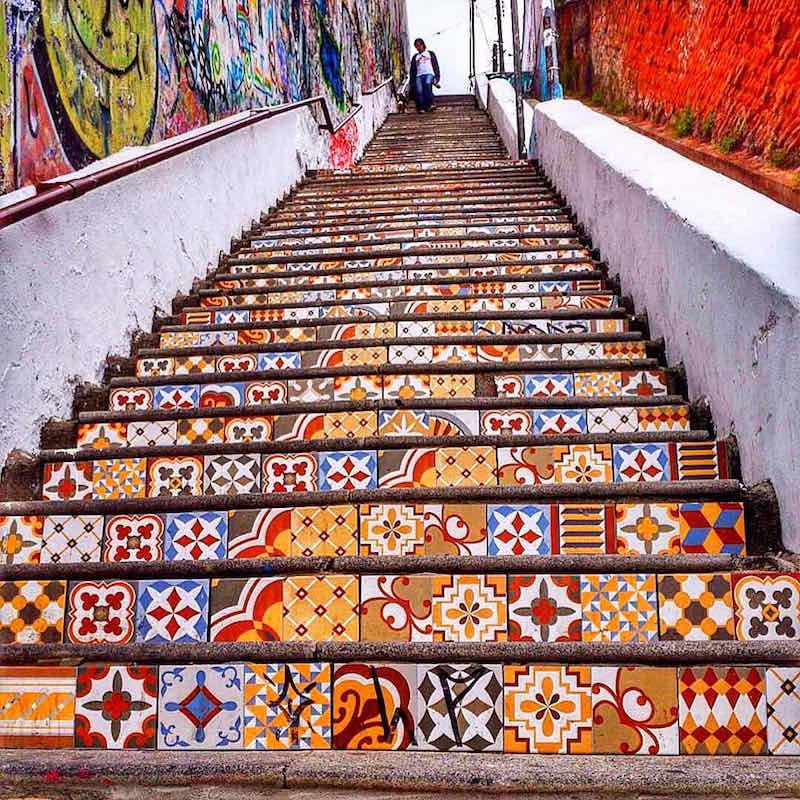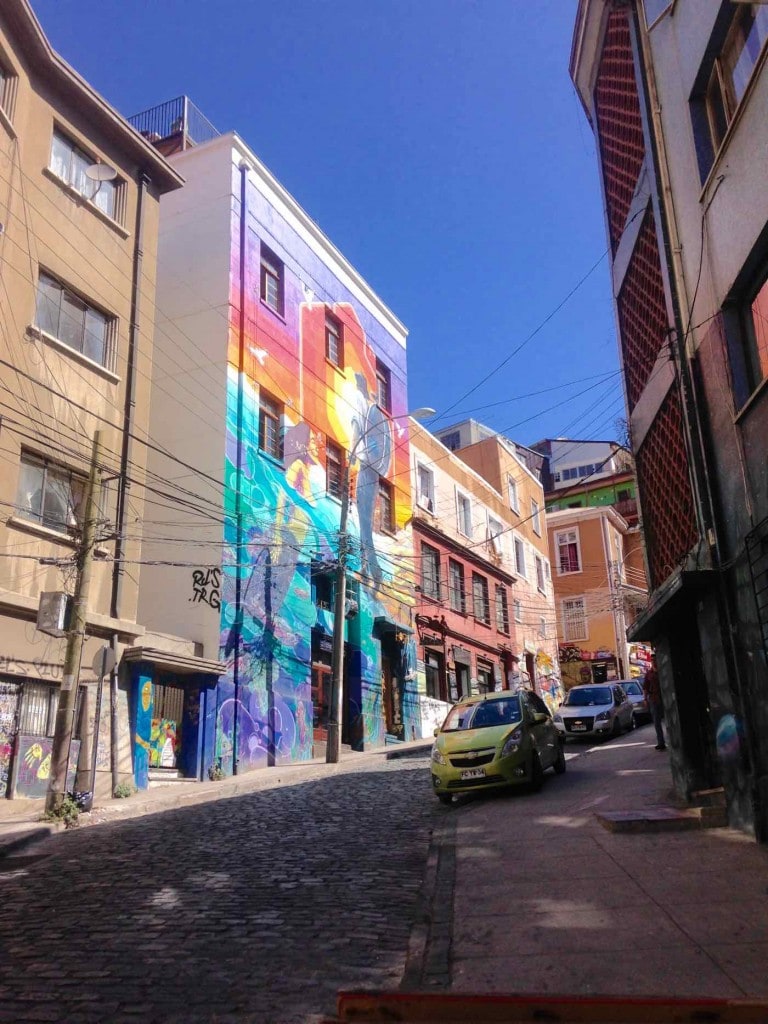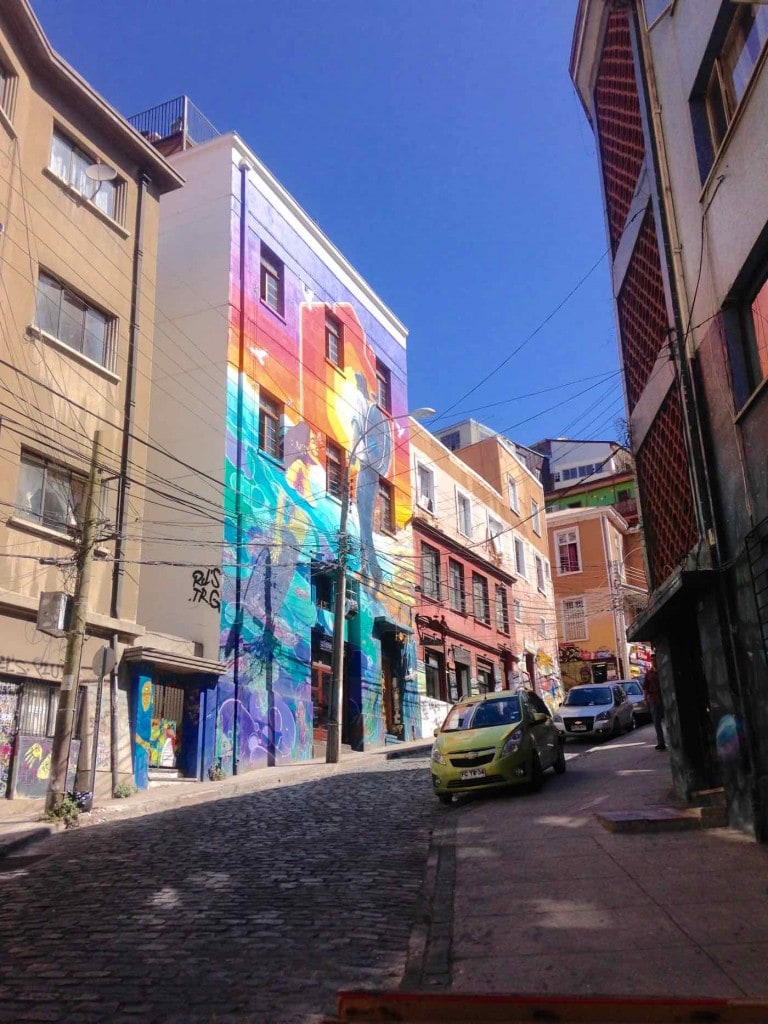 WHERE IS VALPARAISO?
Valparaiso is located in central Chile, 120 km (75 mi) to the north west of the capital Santiago. You can drive from the big city to Valparaiso in around 1 hour 30. If you want to travel by public transport, the bus from Santiago to Valparaiso takes exactly 1 hour 30, leaving from Terminal Alameda Santiago and dropping you in the centre of Valparaiso. It's a really easy place to get to. If you want to find out more about travelling by bus in Chile, definitely read this post: 15 things to know about travelling by bus in Chile.
GETTING TO KNOW THE VALPARAISO REGION
Street artists in the city have long been expressing themselves with their political graffiti and murals. In fact, although the port city is awkwardly arranged across 43 separate hills (you'll work up a sweat getting to know the place), each has its own distinct identity.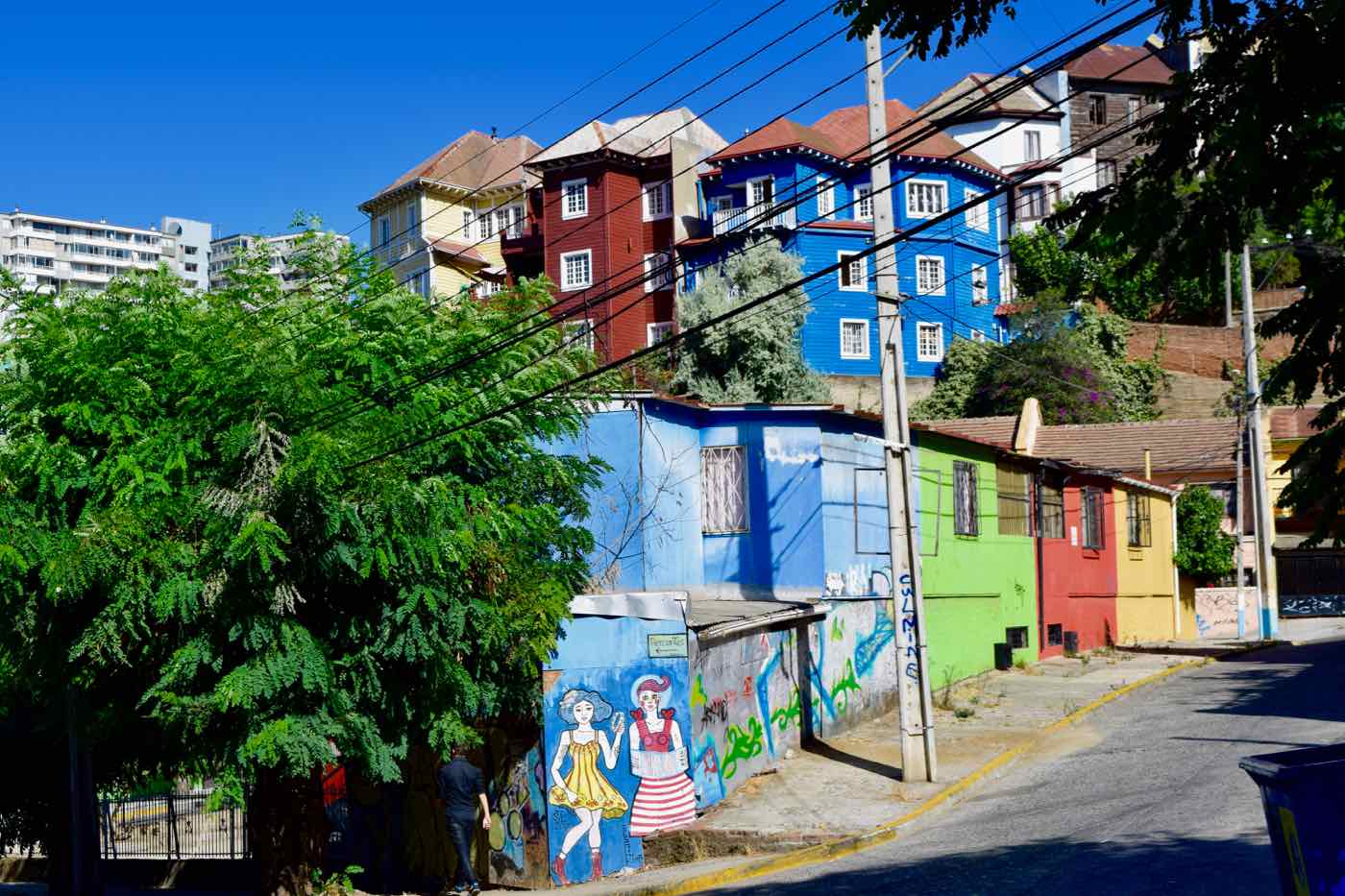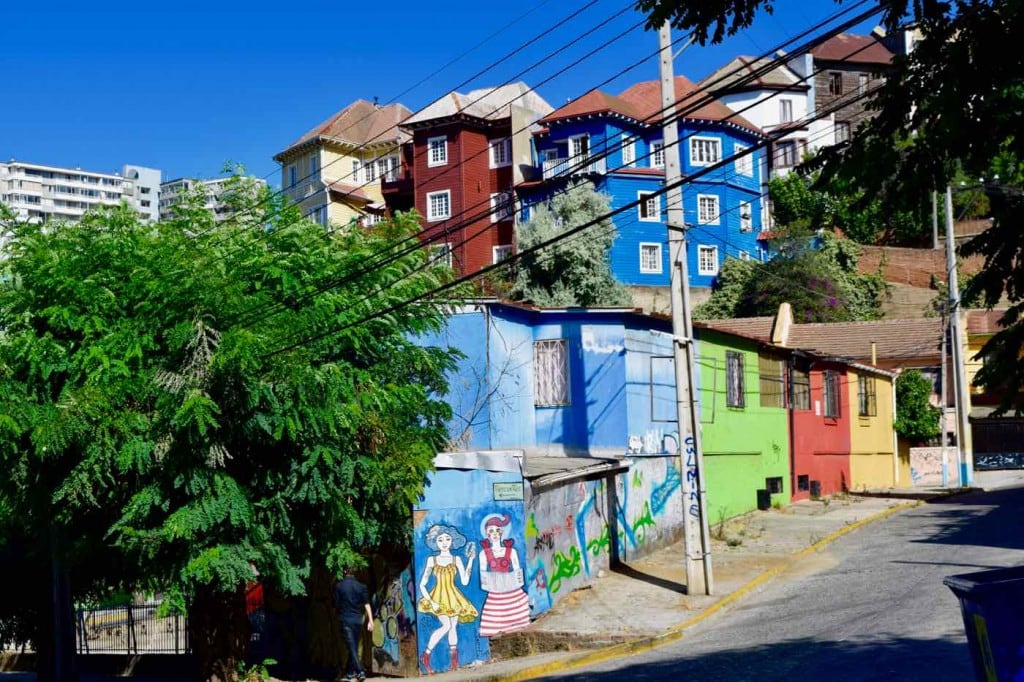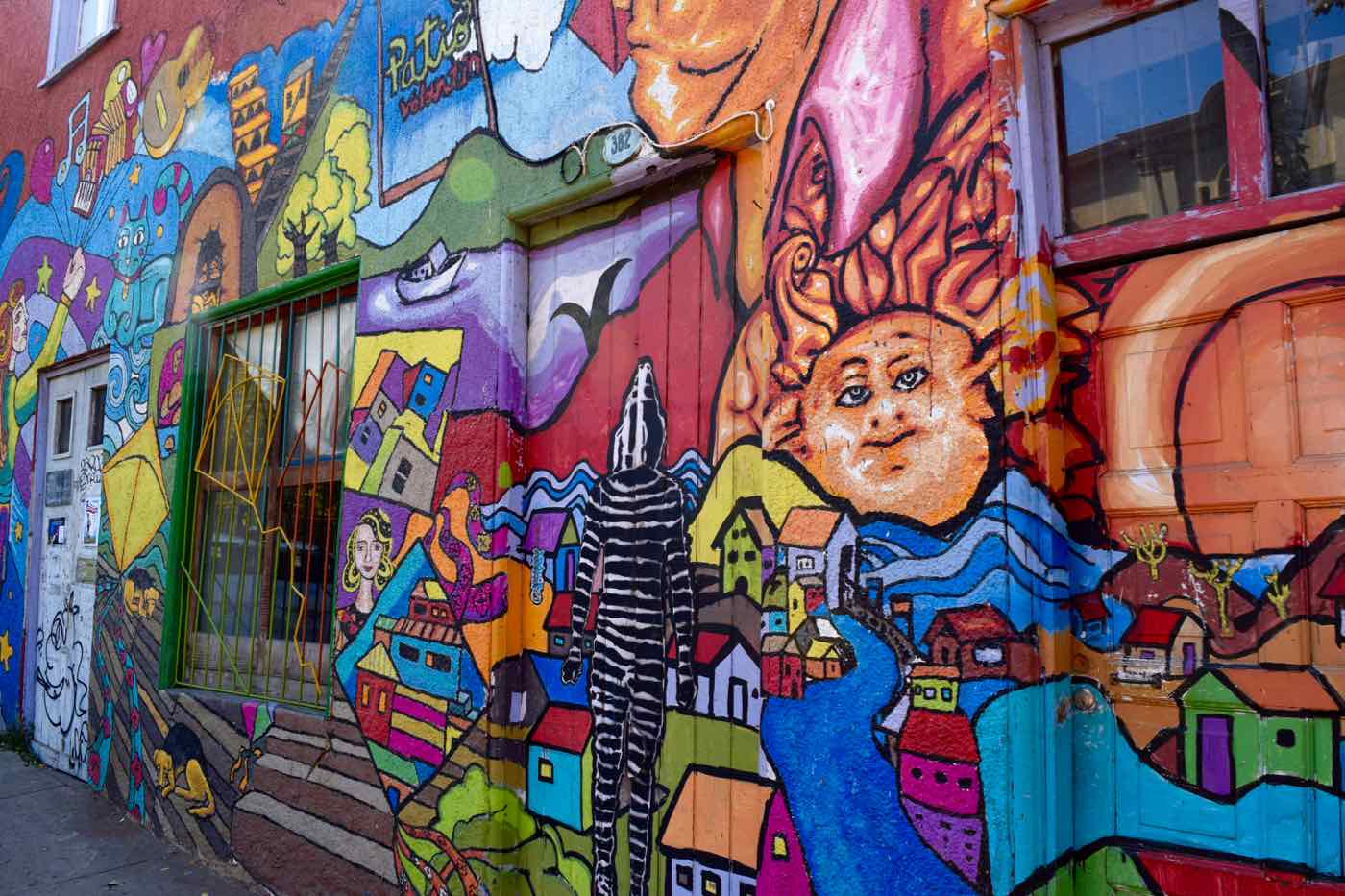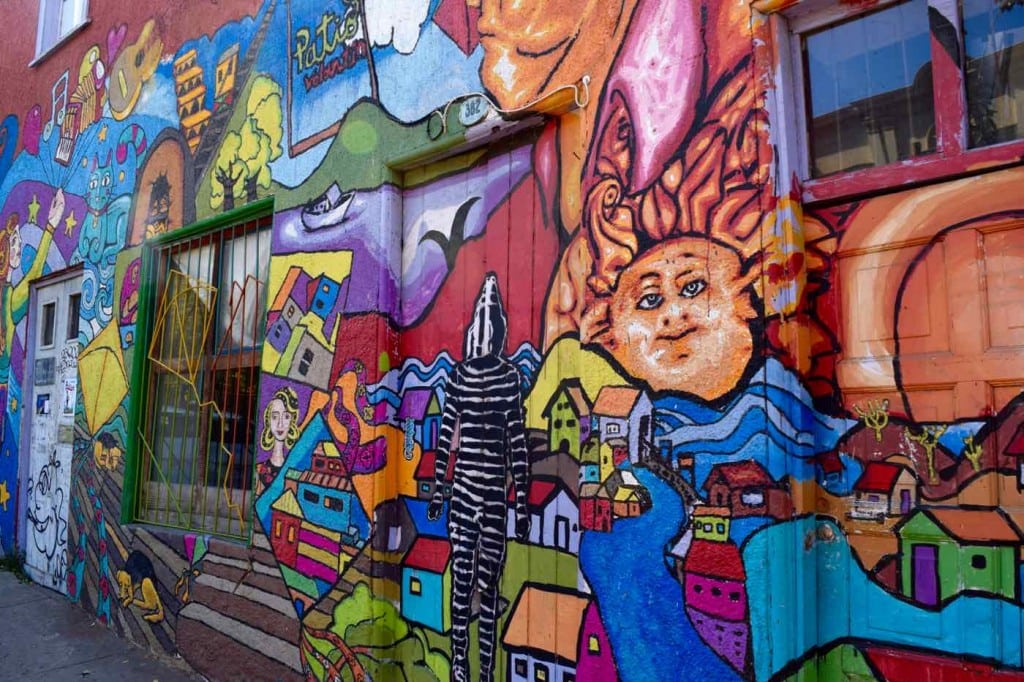 While on the Uncorked Cooking Class in Santiago, one of the group recommended we join the "Wally" tours in Valparaiso. The tours run by Tours4Tips are led by young, enthusiastic Chileans (dressed like Where's Wally!) and provide an introduction to the city's history and politics, all while giving a flavour of daily life.
It's officially a free tour, they just work for tips… but believe me, you'll want to tip generously (around $5-10,000 Chilean Pesos per person). By exploring the city on foot, we took in tonnes of key sights, stopped at some gorgeous viewpoints, and snapped photos of the best street art in Valparaiso. I would genuinely recommend it as one of the best things to do in Valparaiso, Chile.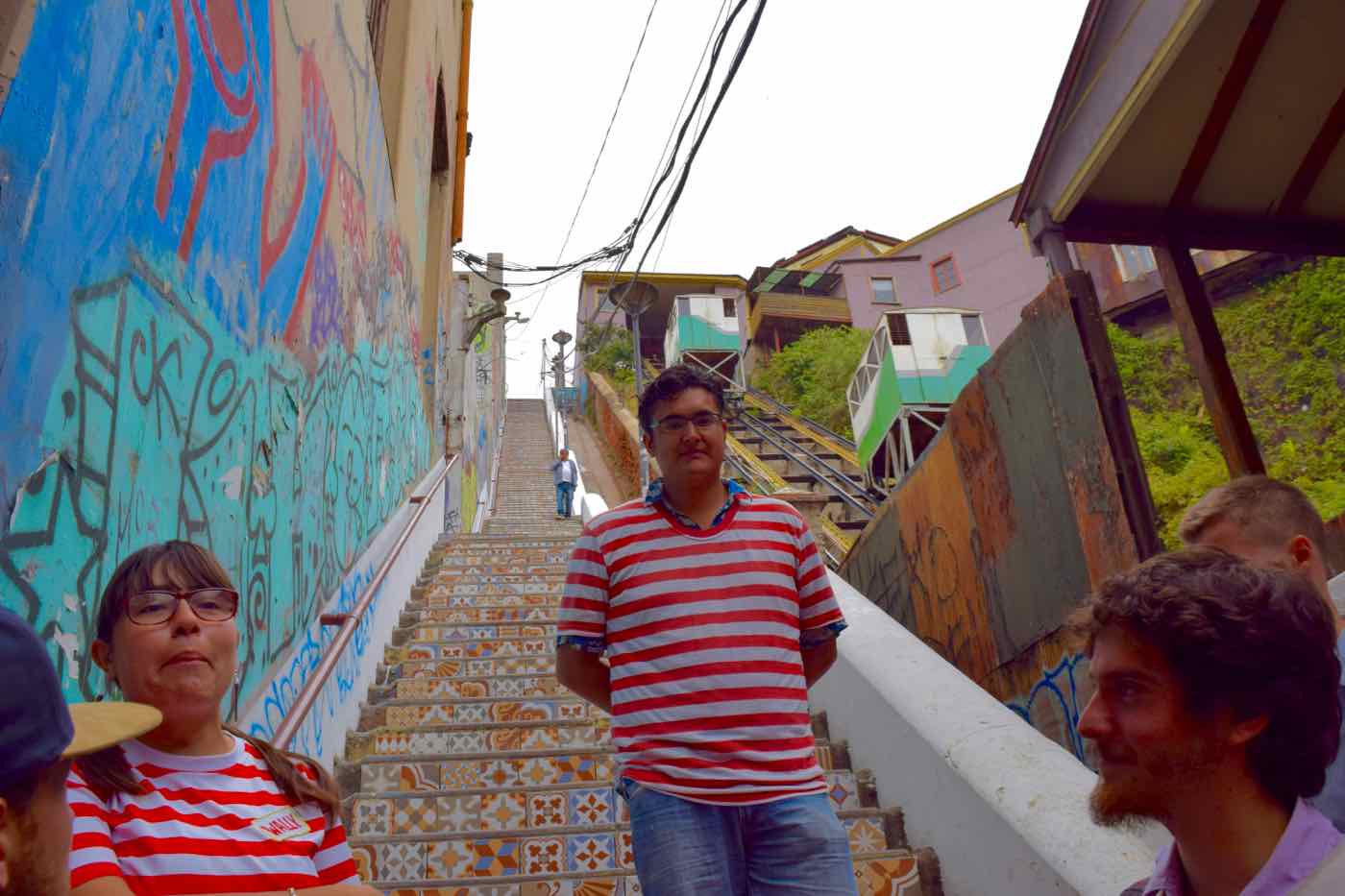 I learned on the tour that in the mid 20th Century, Mexico enjoyed a big muralism movement. It wasn't long before Pablo Neruda (Chilean poet, diplomat, and Valparaiso's most famous resident) invited them to get creative in his city. Consider it the social media of the day – as politicians now tweet their latest opinions to the masses, the street artists would spread their political messages via art. It worked too. The murals were unavoidable, powerful and full of expression.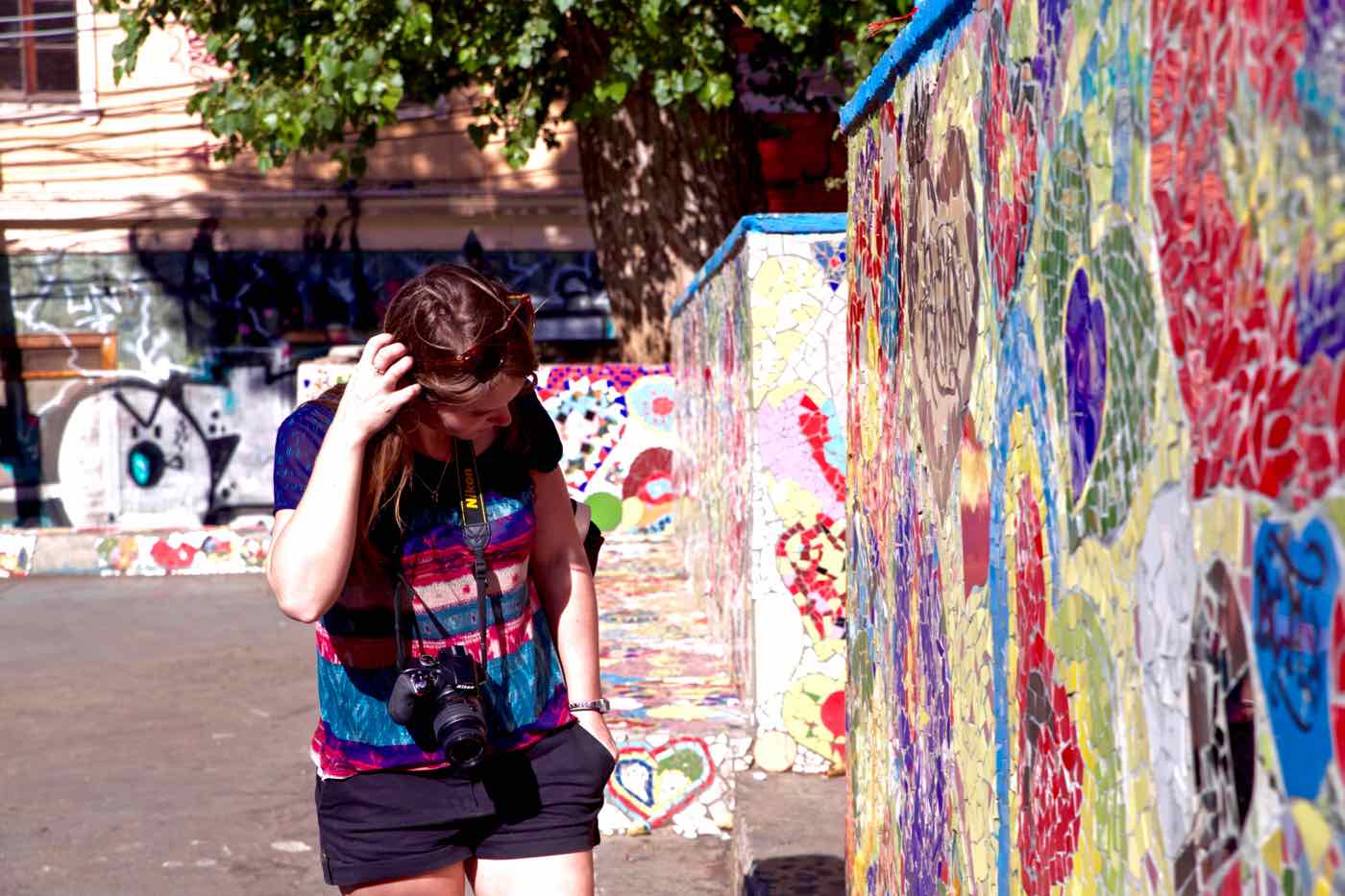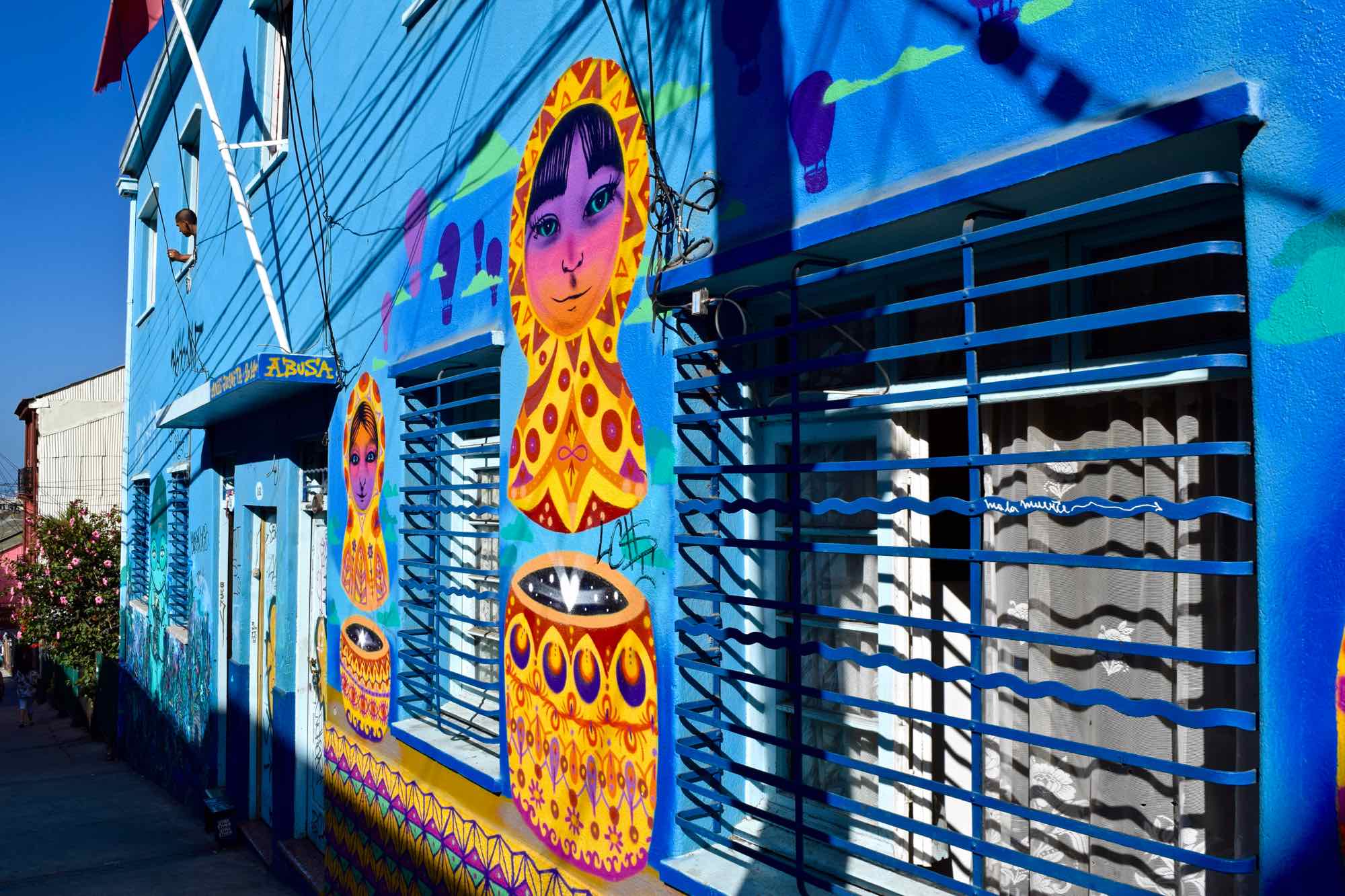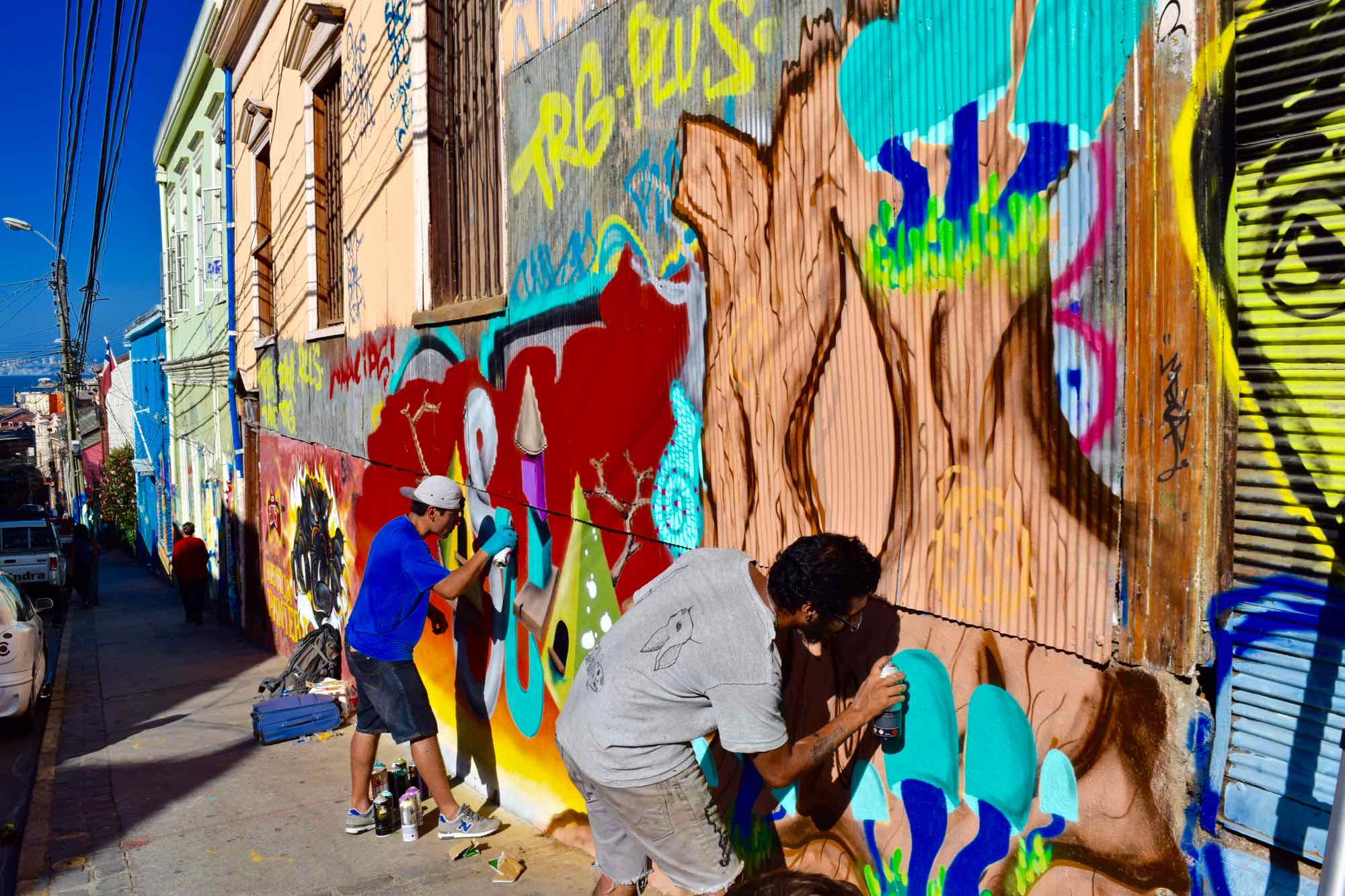 As with many South American cities, Valparaiso has a large central square – Plaza Sotomayor. With a tall monument in the centre and flanked by the impressive buildings of the Headquarters of the Chilean Navy, the Post Office, the Fire Station, Estación Puerto railway station and the Customs House, it's one of the main hubs for the running of the city.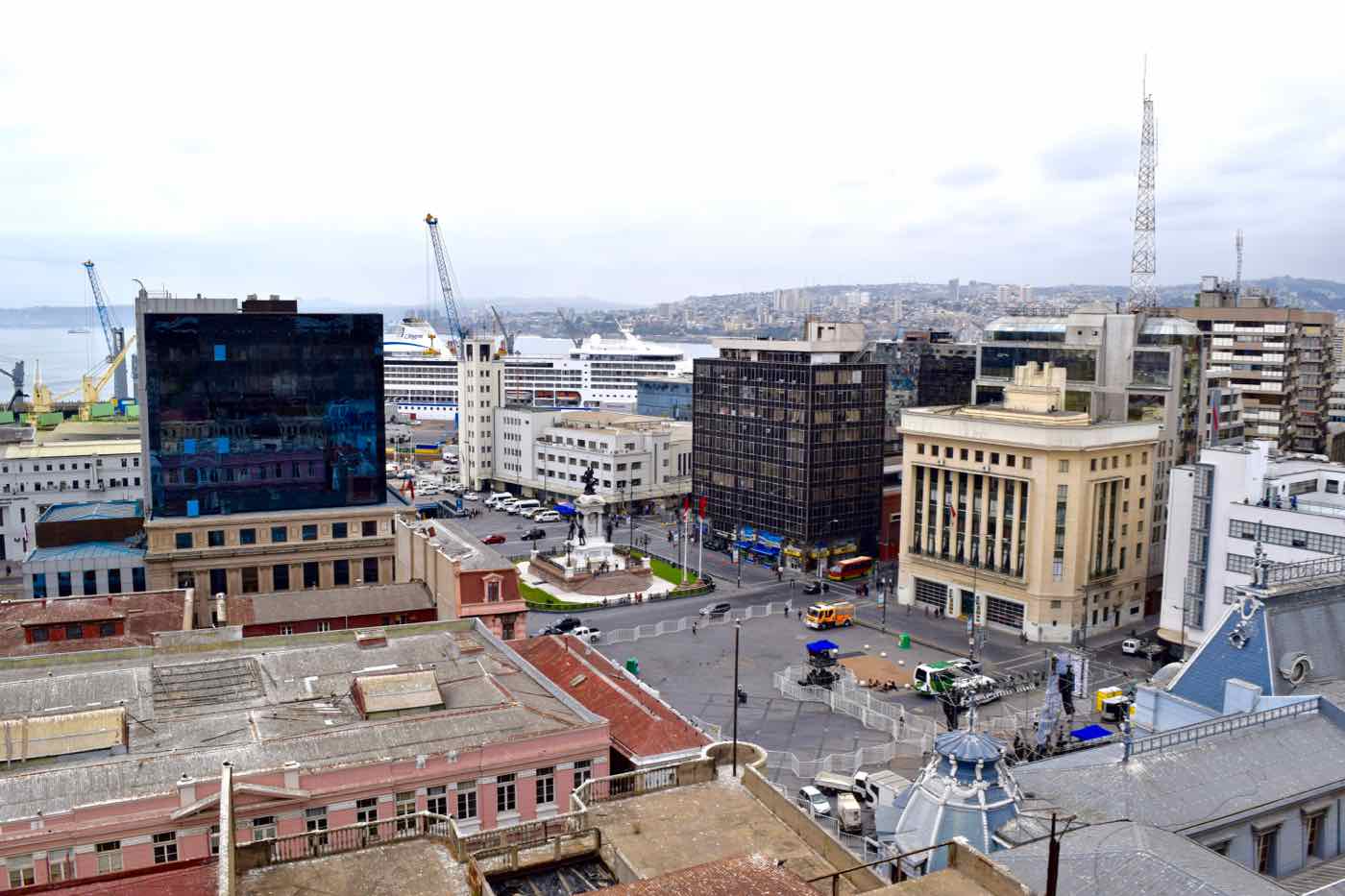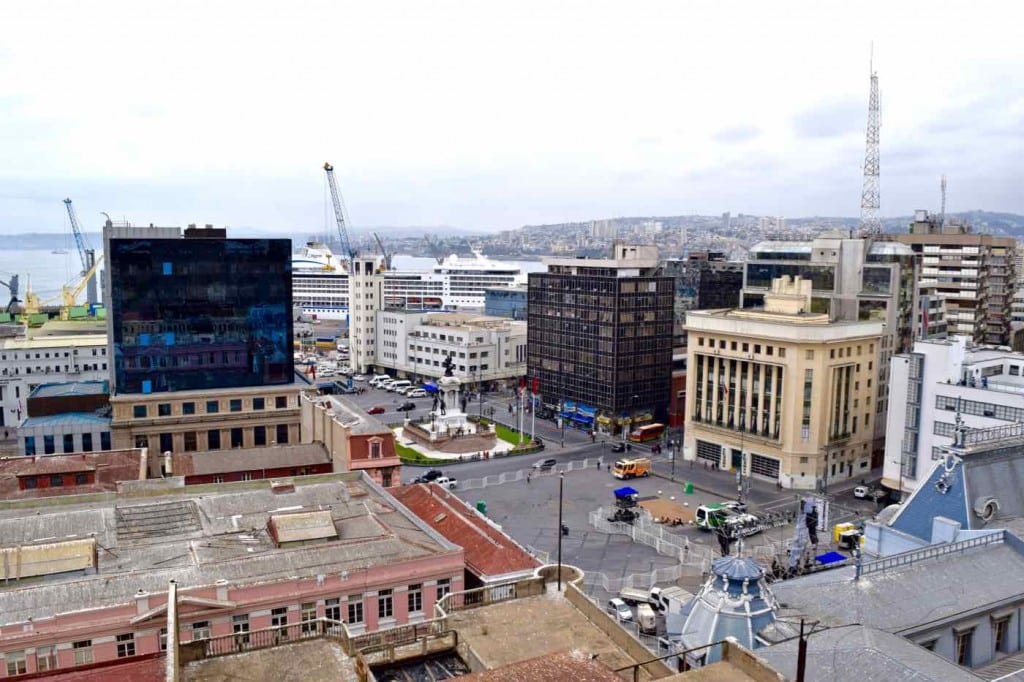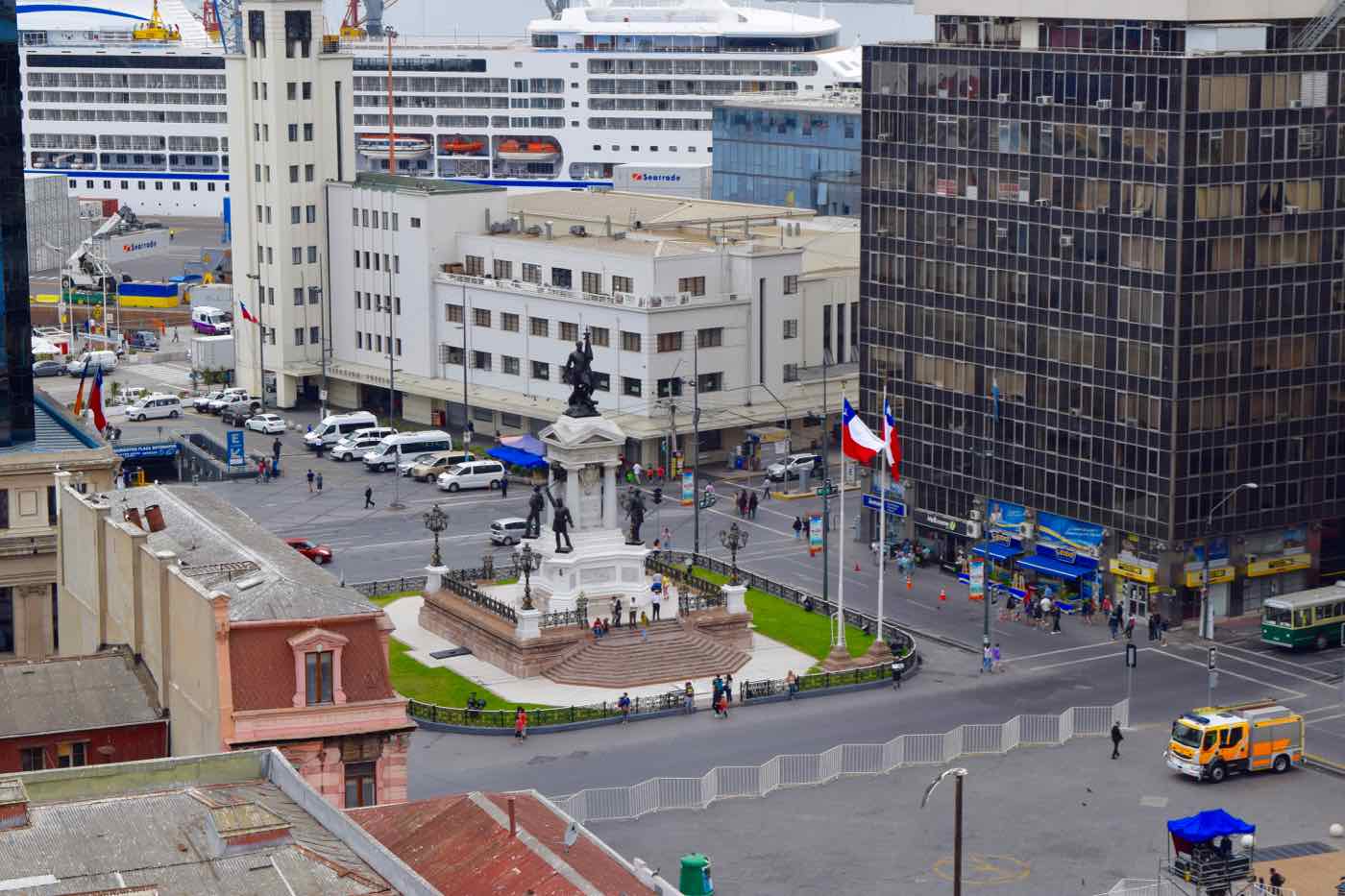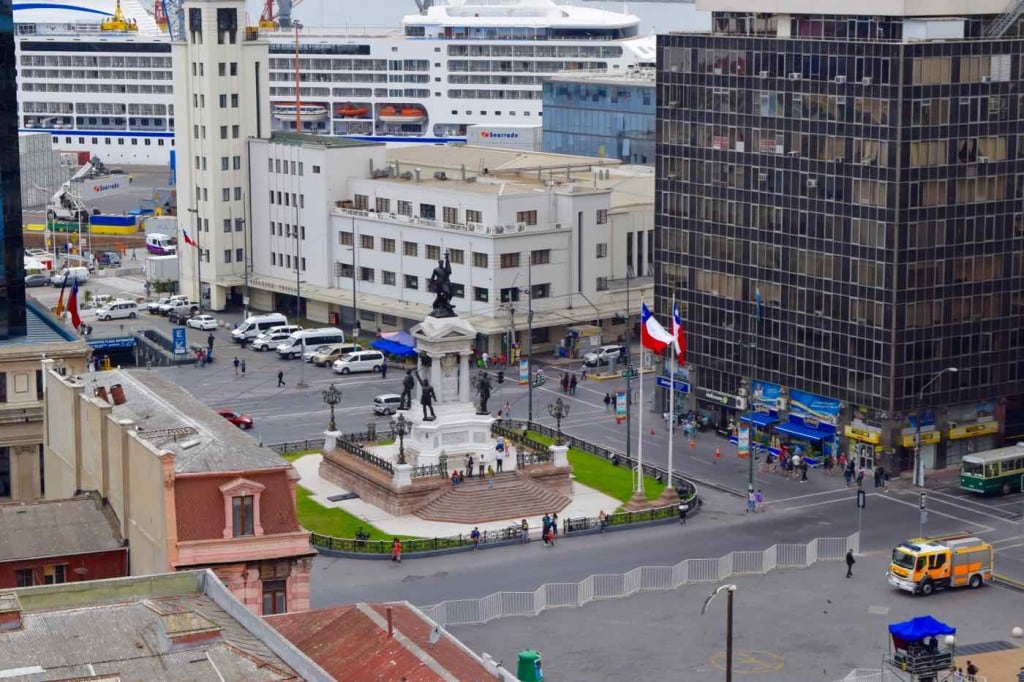 HOW TO TRAVEL AROUND VALPARAISO, CHILE
Once you've wandered up and down a few of the cerros (hills) you'll be keen to know more about the other transport options. From the rickety funicular railways (Cerro Concepción being the oldest, opening in 1883), to the old trolleybuses (which started operating in the 1950s), you'll realise part of the fun of Valparaiso, is getting around!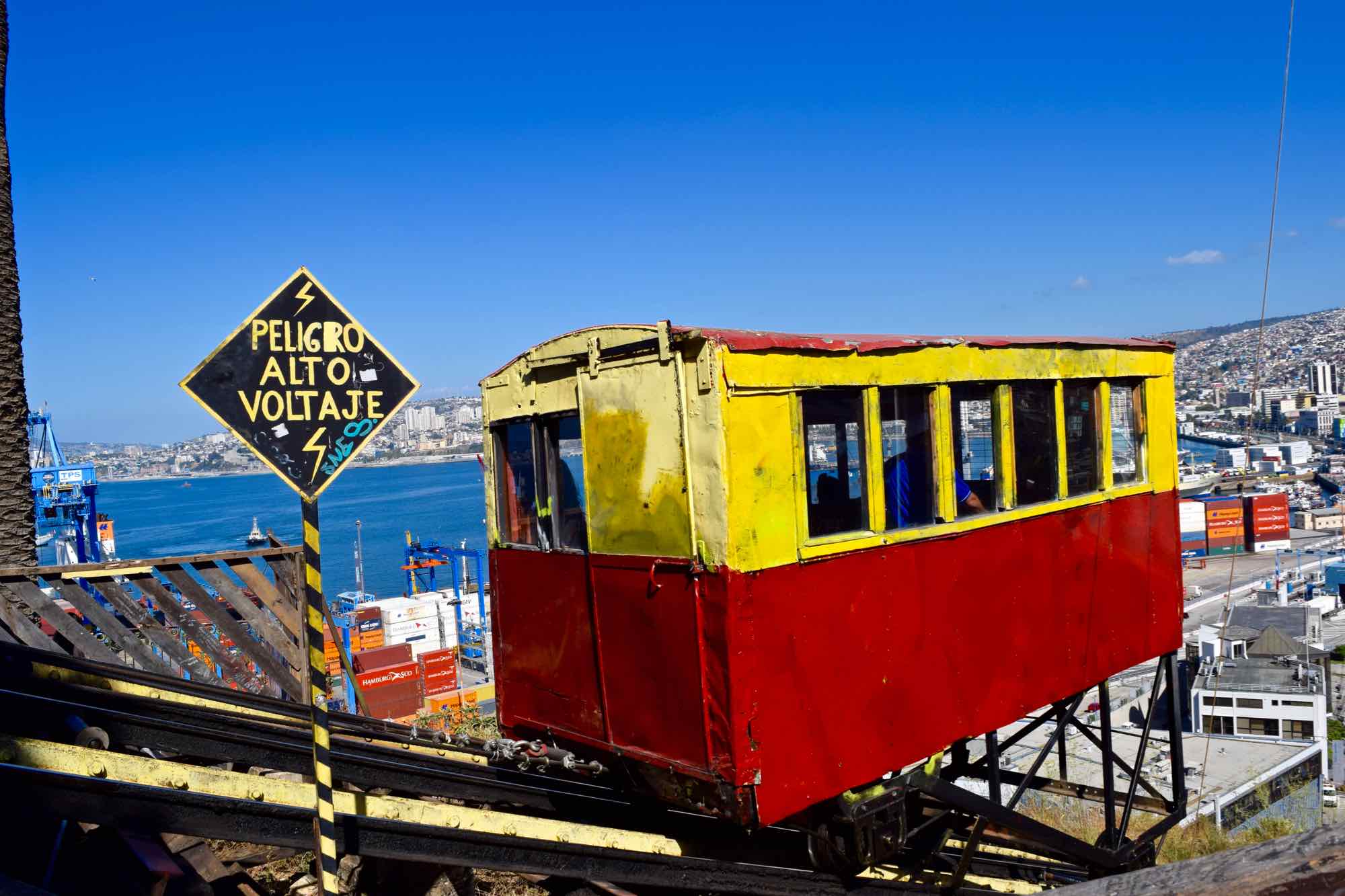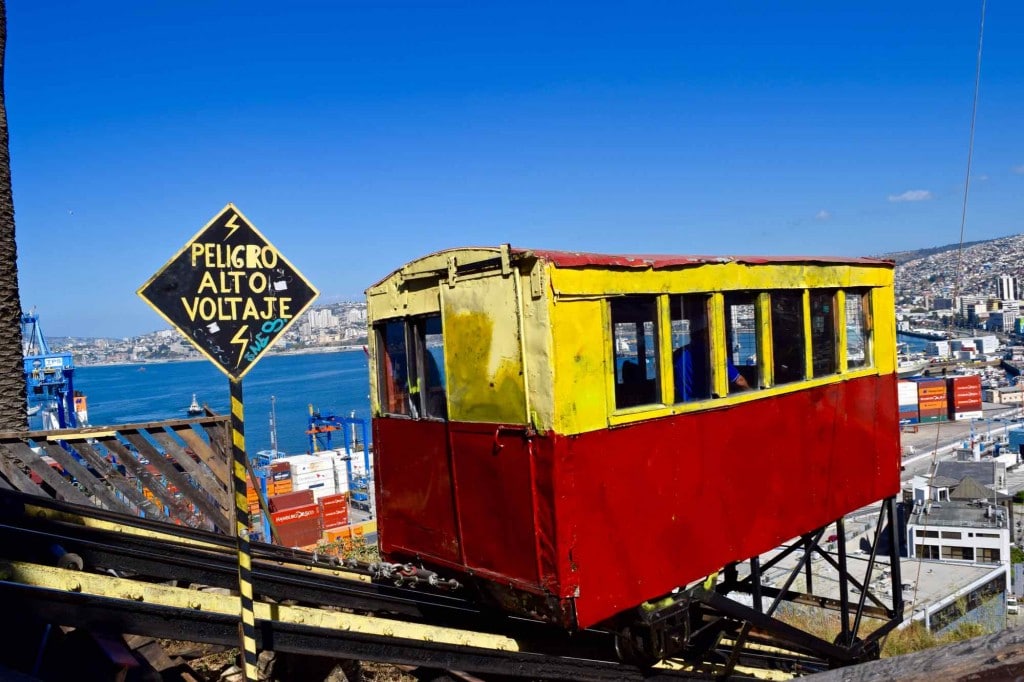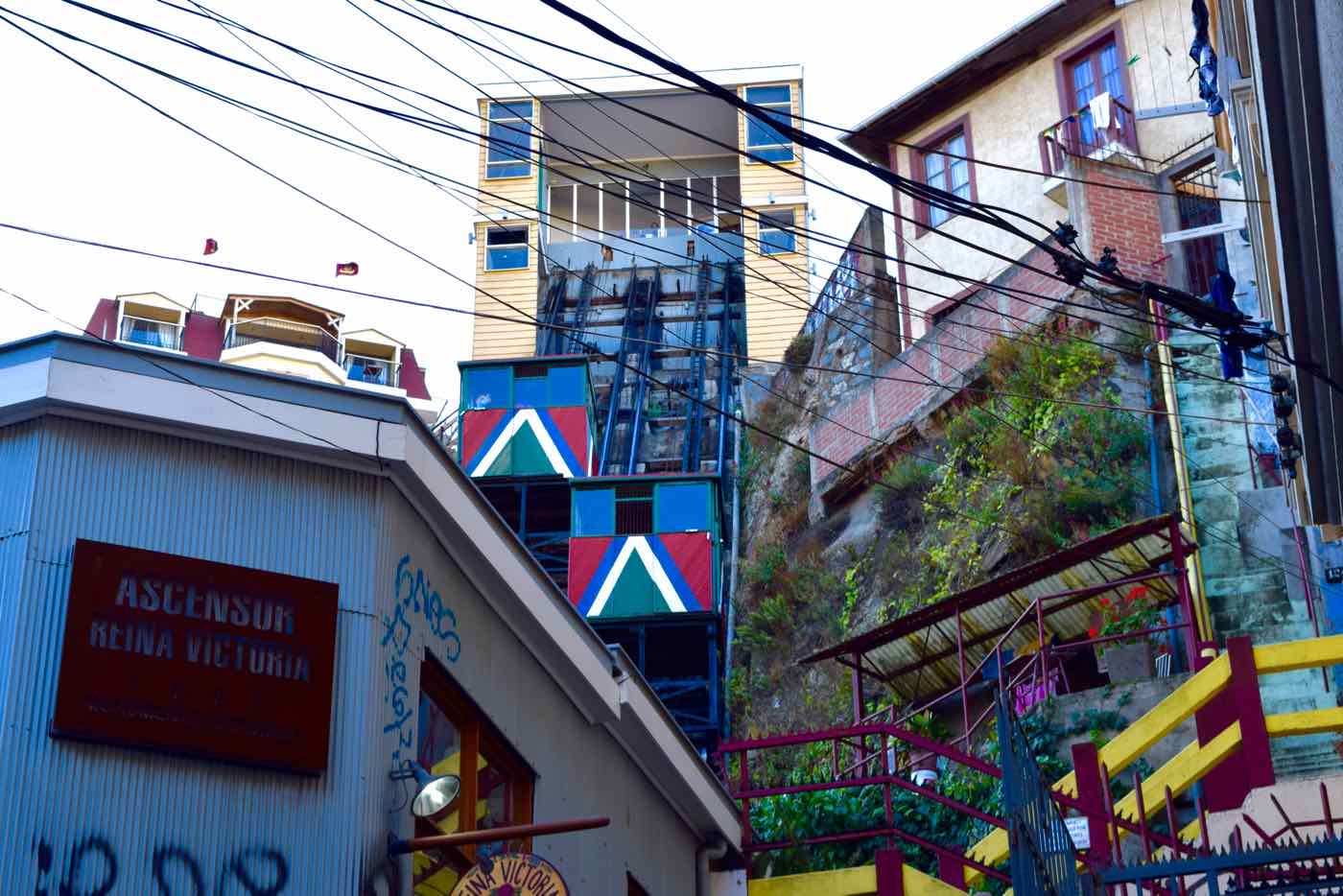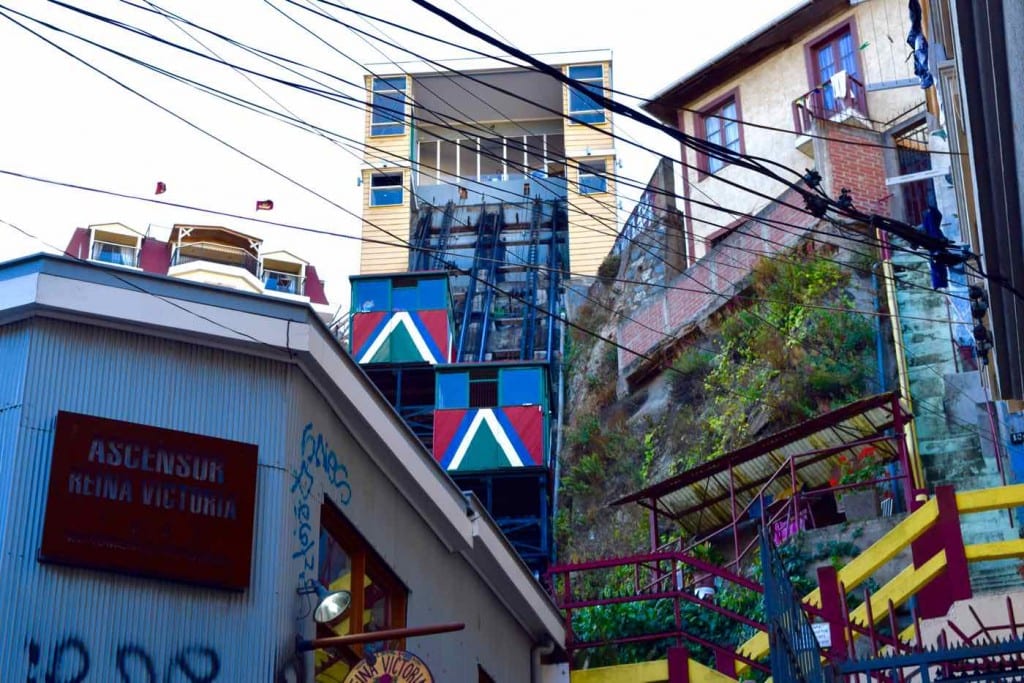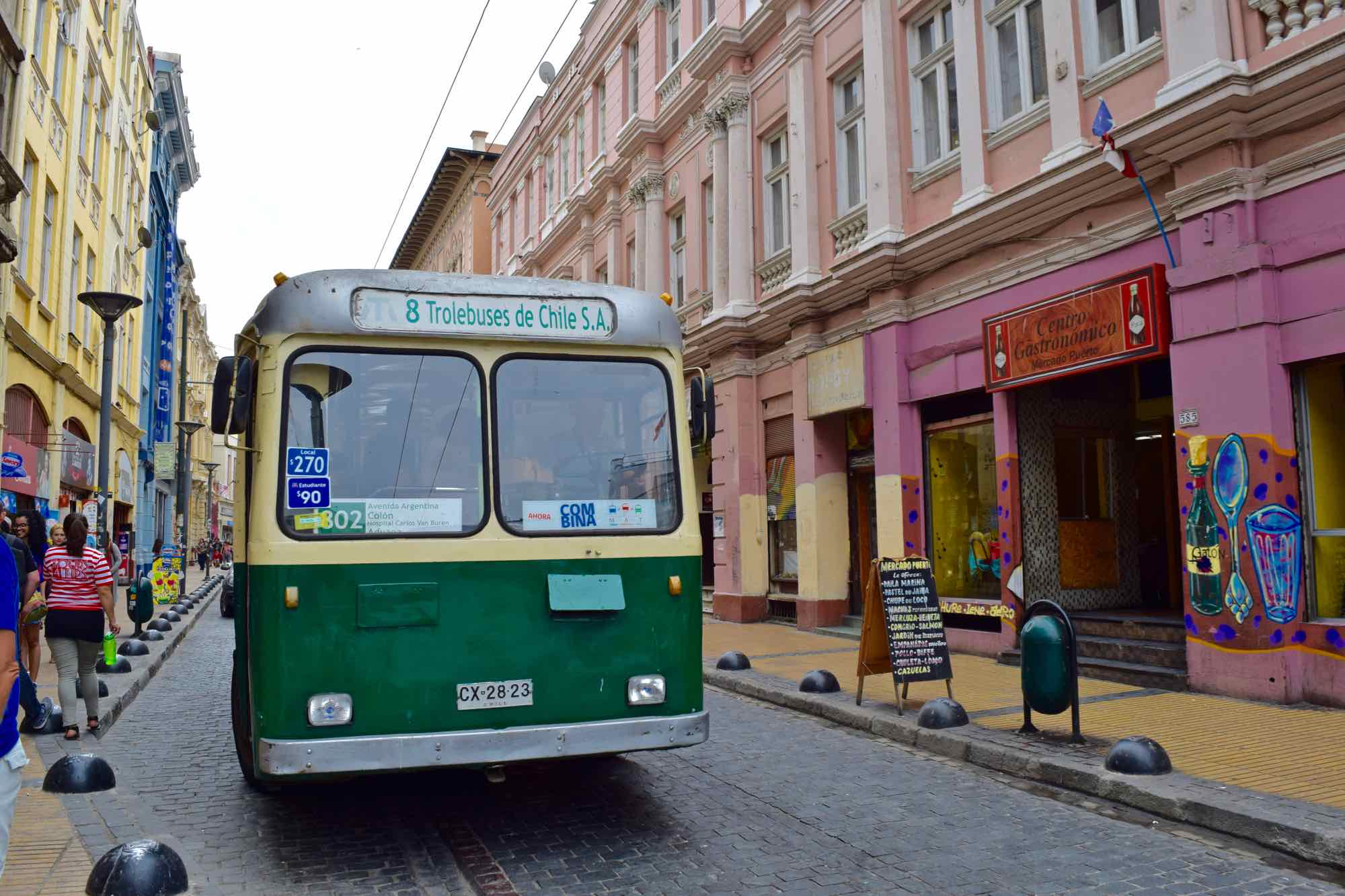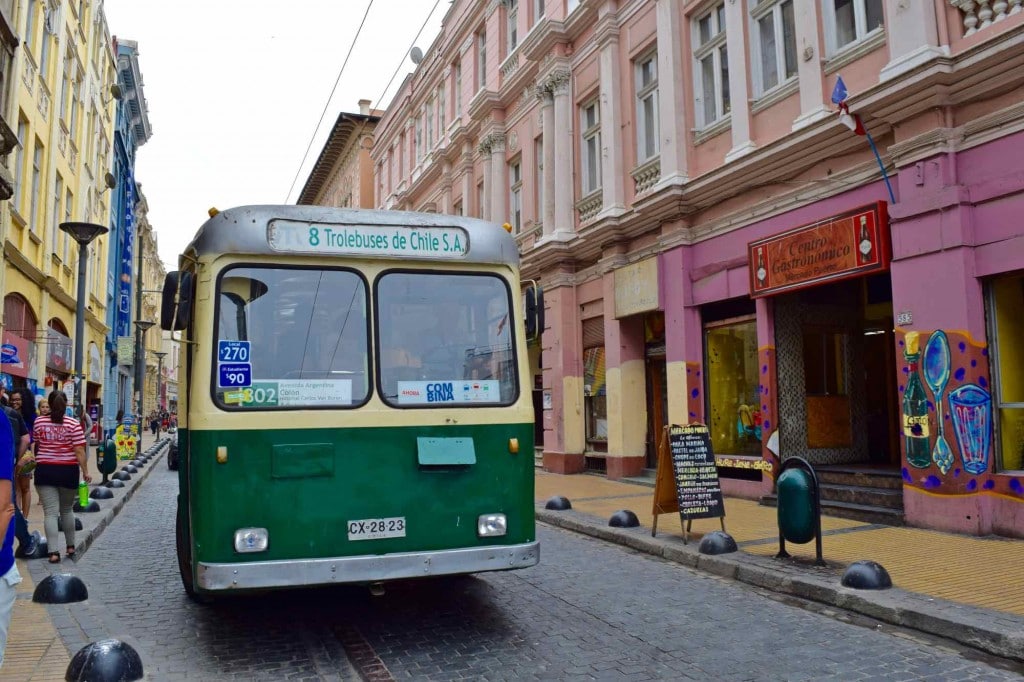 For just a few hundred pesos you'll be at the top of the steepest hills in moments. Only 8 of the city's 26 funiculars are active today, and I'd definitely recommend trips on Cerro Concepción as it's the oldest, and Ascensor Artillería for the incredible views of the port's brightly coloured shipping containers. My companion described getting around the city as 'an adventure in itself' – so true, but it's what makes travel here so fun! In fact, I'd say that catching transport up and down the hills is one of the most fun things to do in Valparaiso.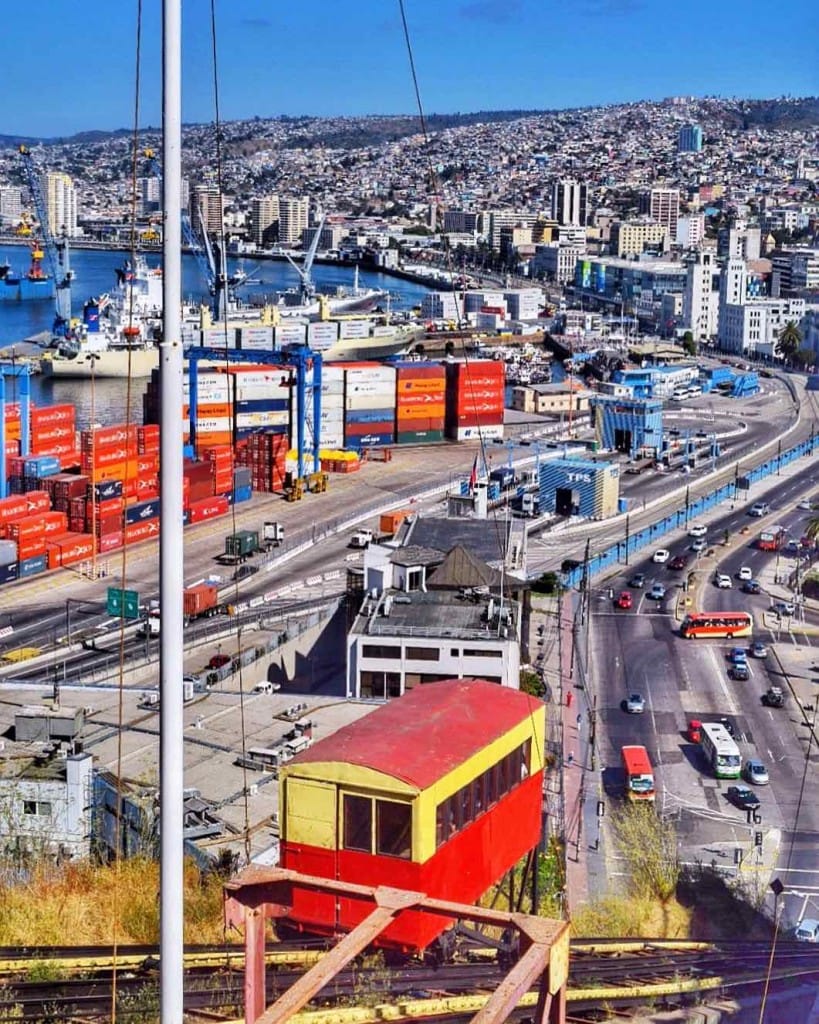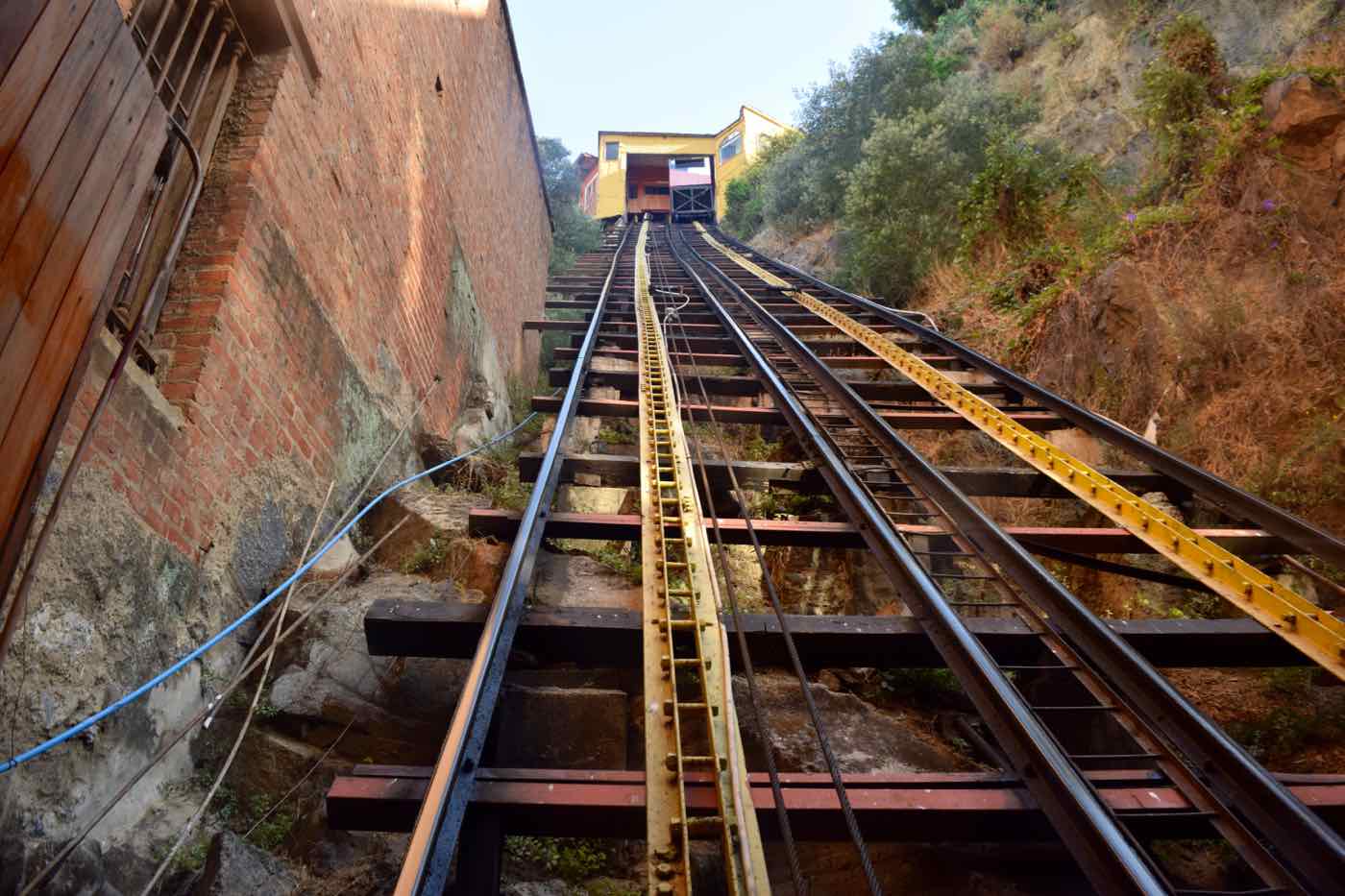 VALPARAISO RESTAURANTS – TOP PLACES TO EAT IN VALPARAISO
We stayed in the Cerro Concepción neighbourhood, which turned out to be a great area for food and drink options. Some of the top Valparaiso restaurants were on our doorstep! Just up (yet another) hill is the buzzing Cerro Alegre, full of mid-range dining options, and popular with both tourists and locals.
Top rated on Trip Advisor, Cafe del Pintor, offered a very reasonable set menu including delicious chicken in a sticky merlot sauce. We loved the informal feel of the restaurant, and the fact it had its very own murals. Even indoors, it was hard to escape Valparaiso's street art!
Cocina Puerto was the place for a lengthy menu of pisco sours, large seafood stews, and an unexpectedly tasty dish of turkey, bacon and a local rubbery cheese! This photo doesn't do it justice – it really was delicious!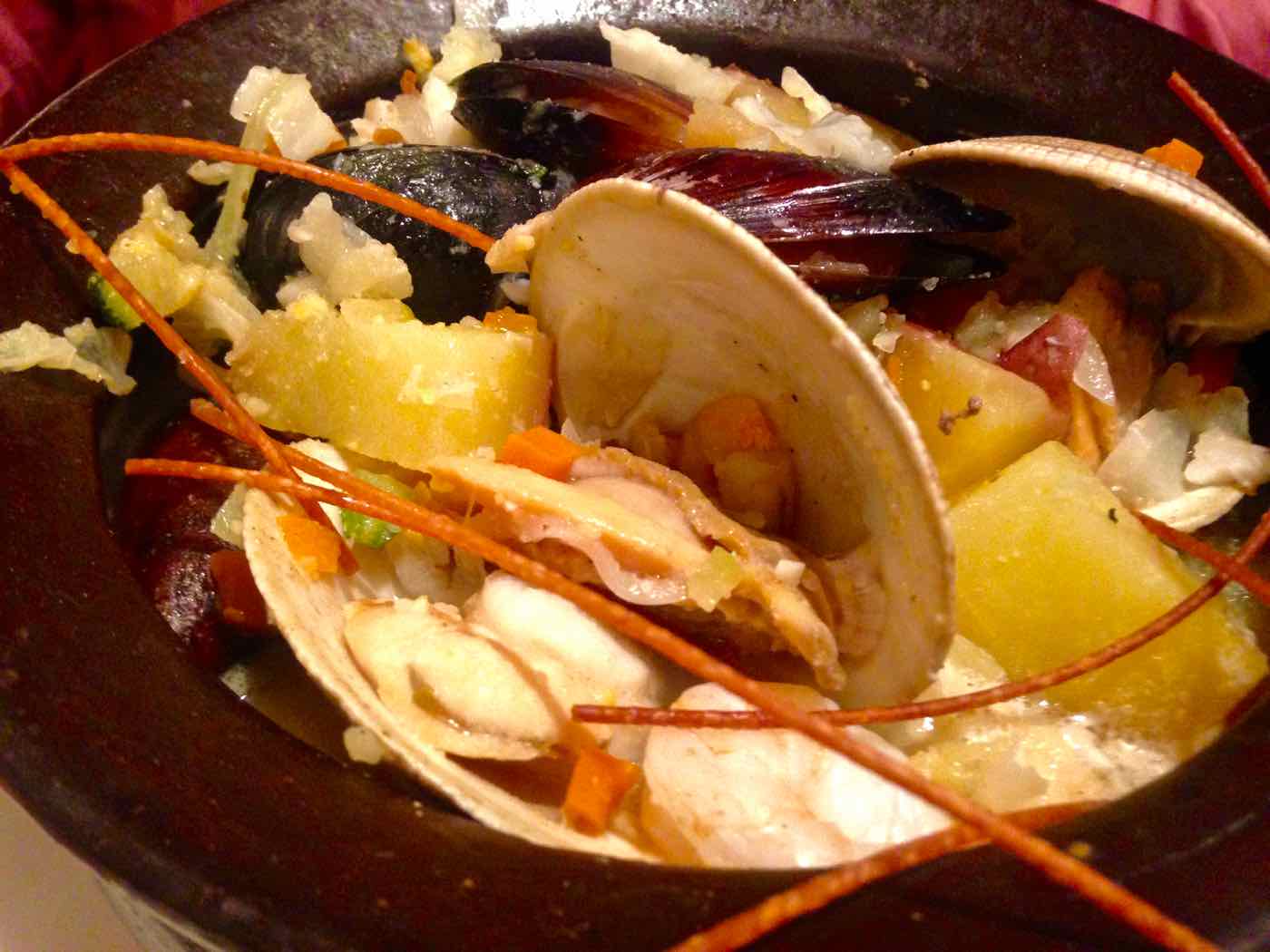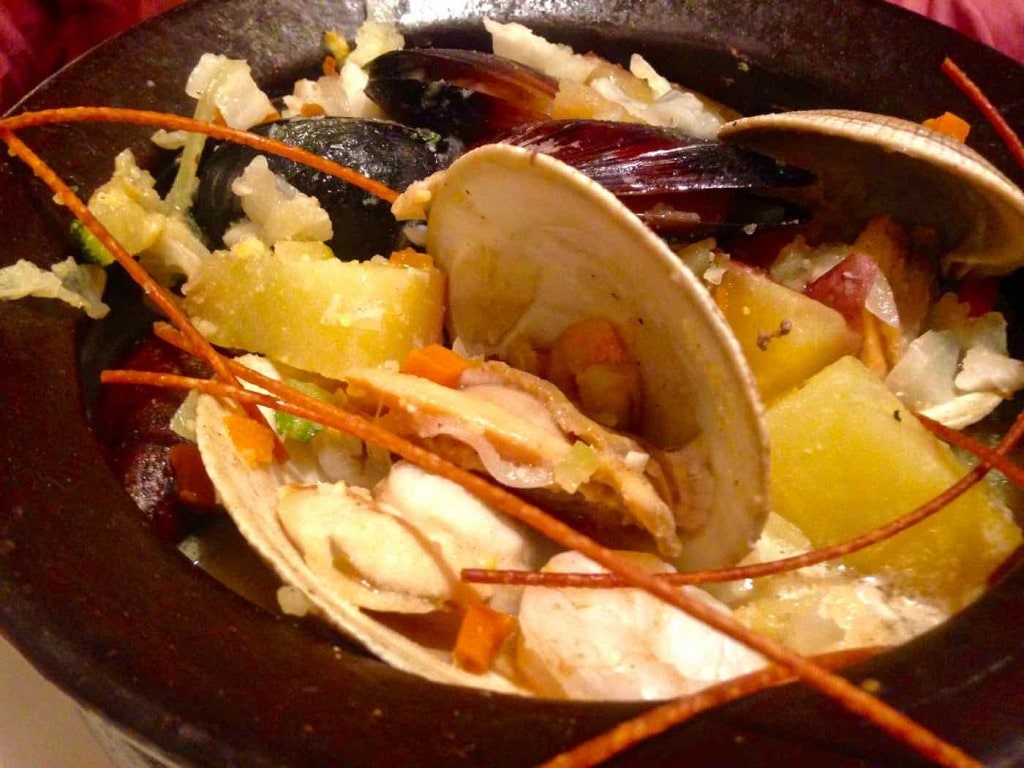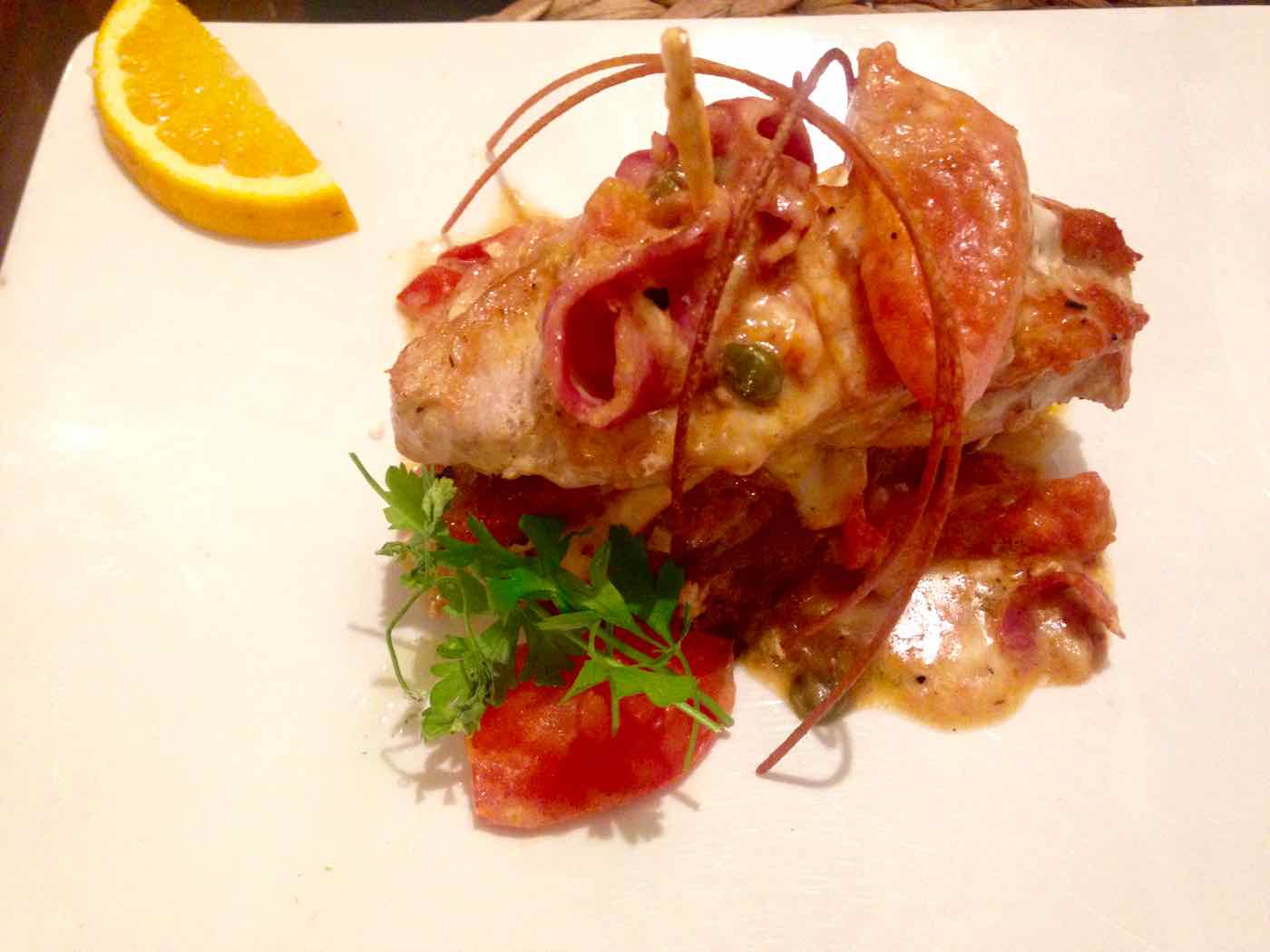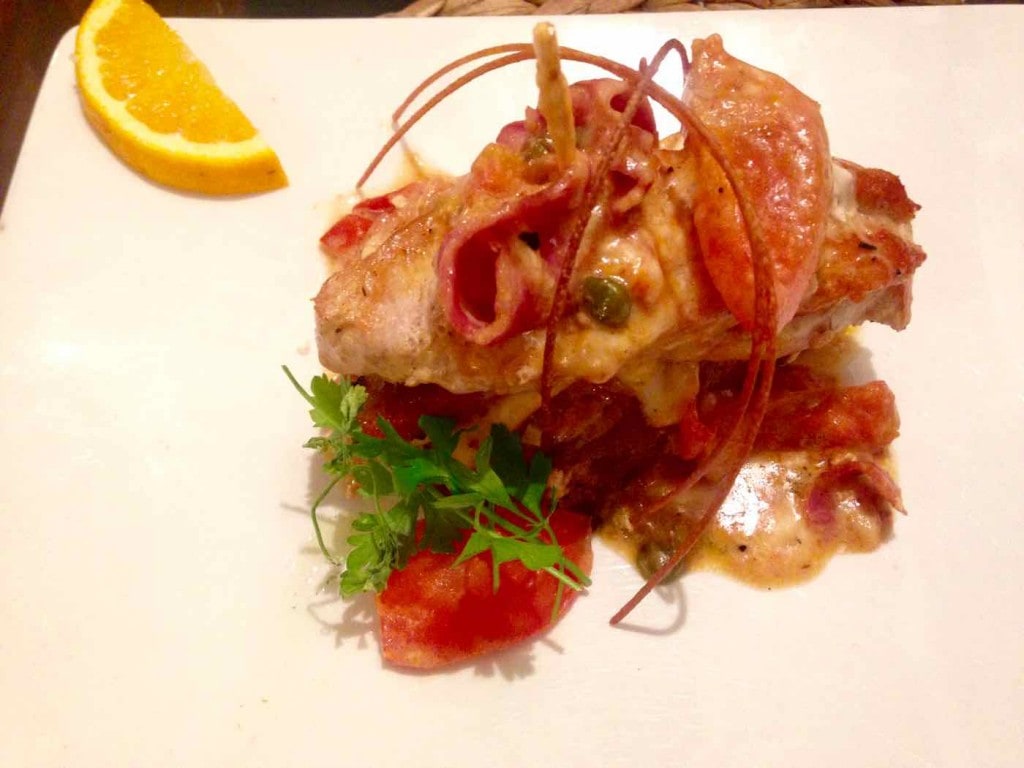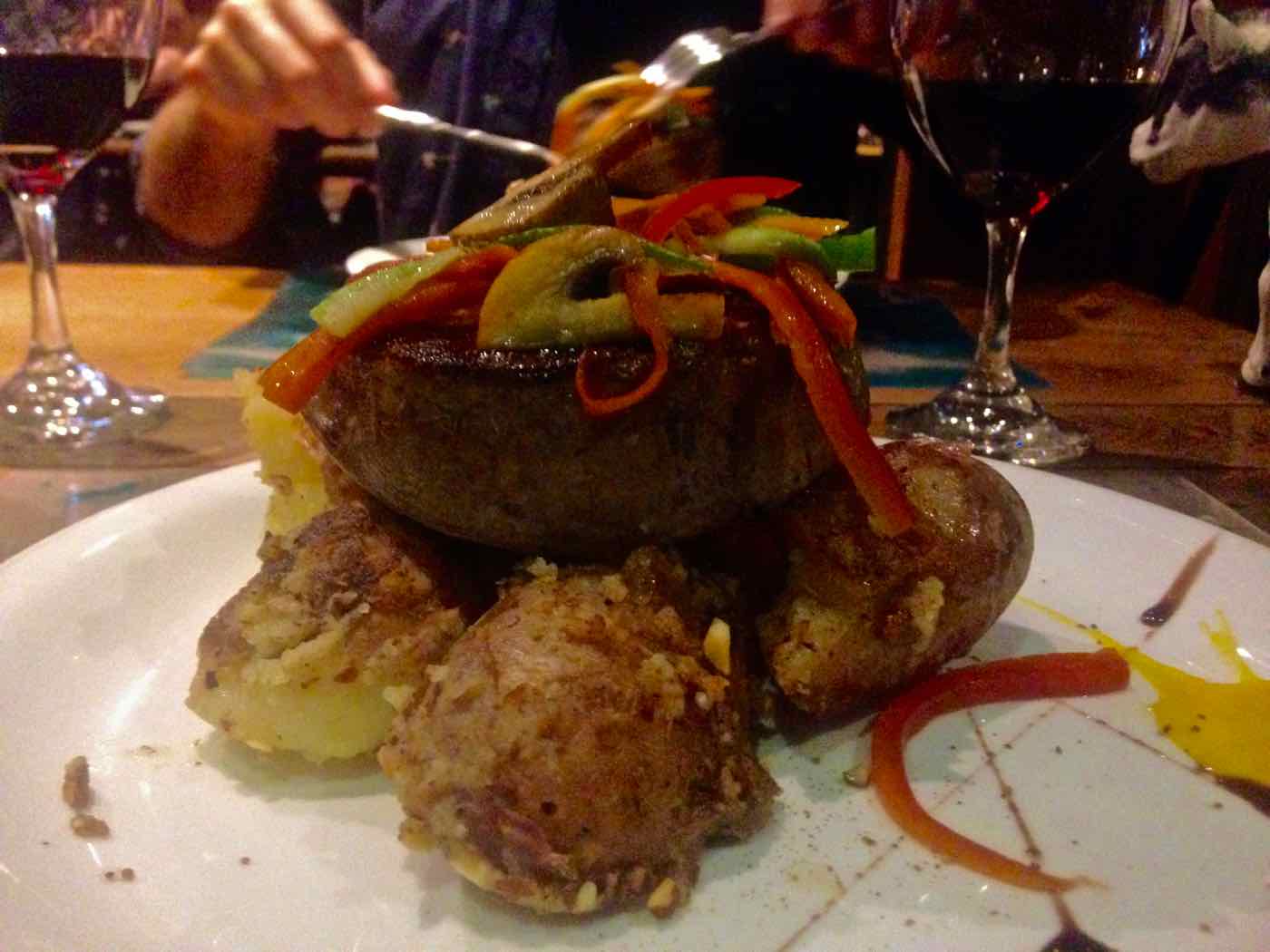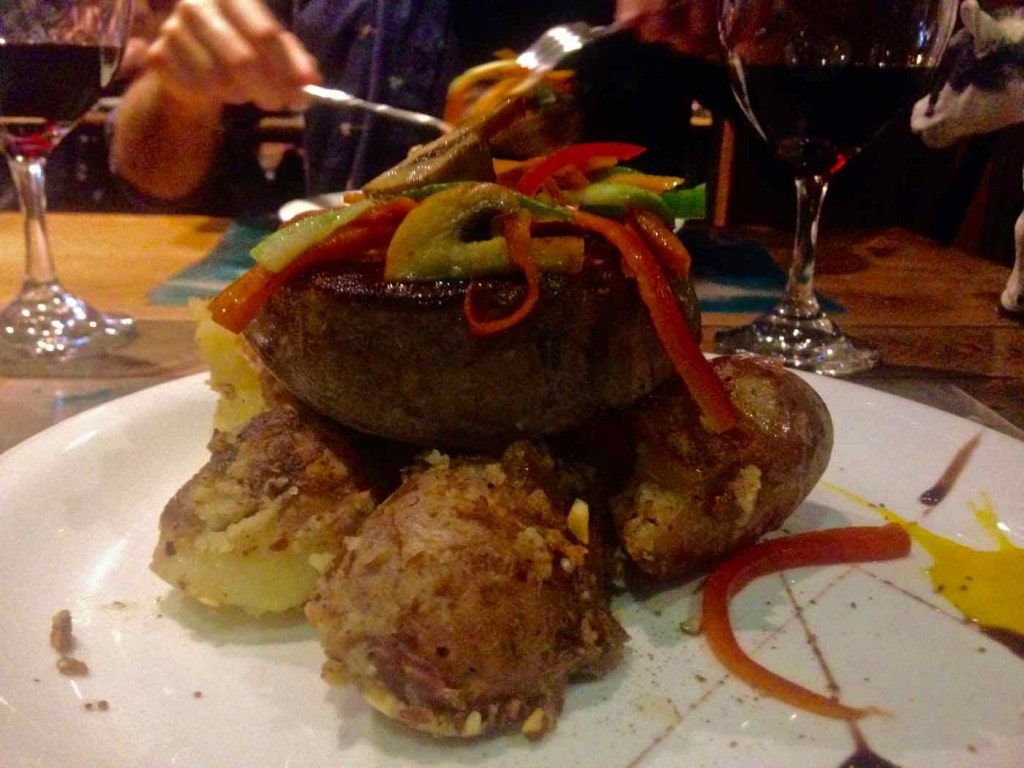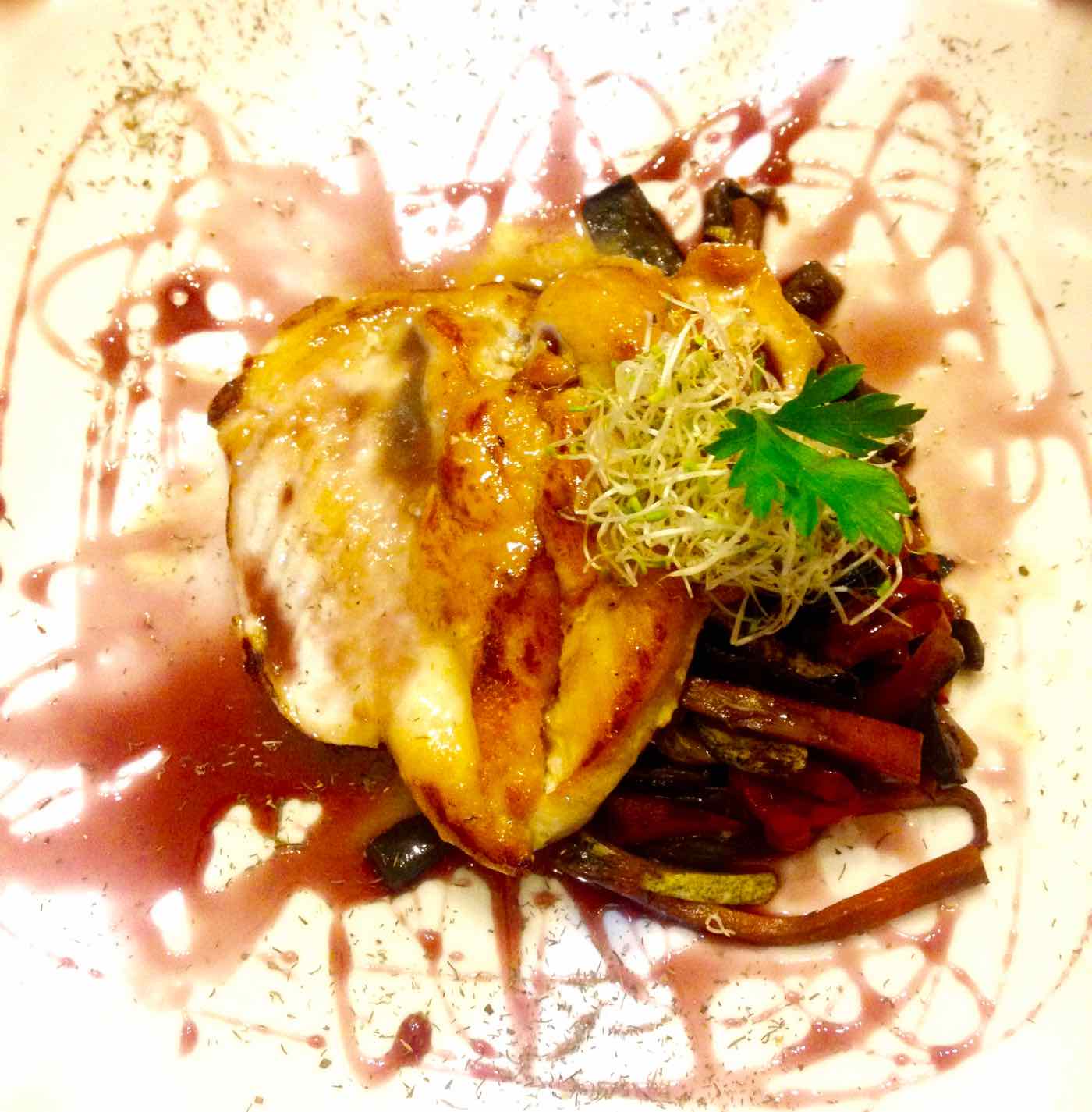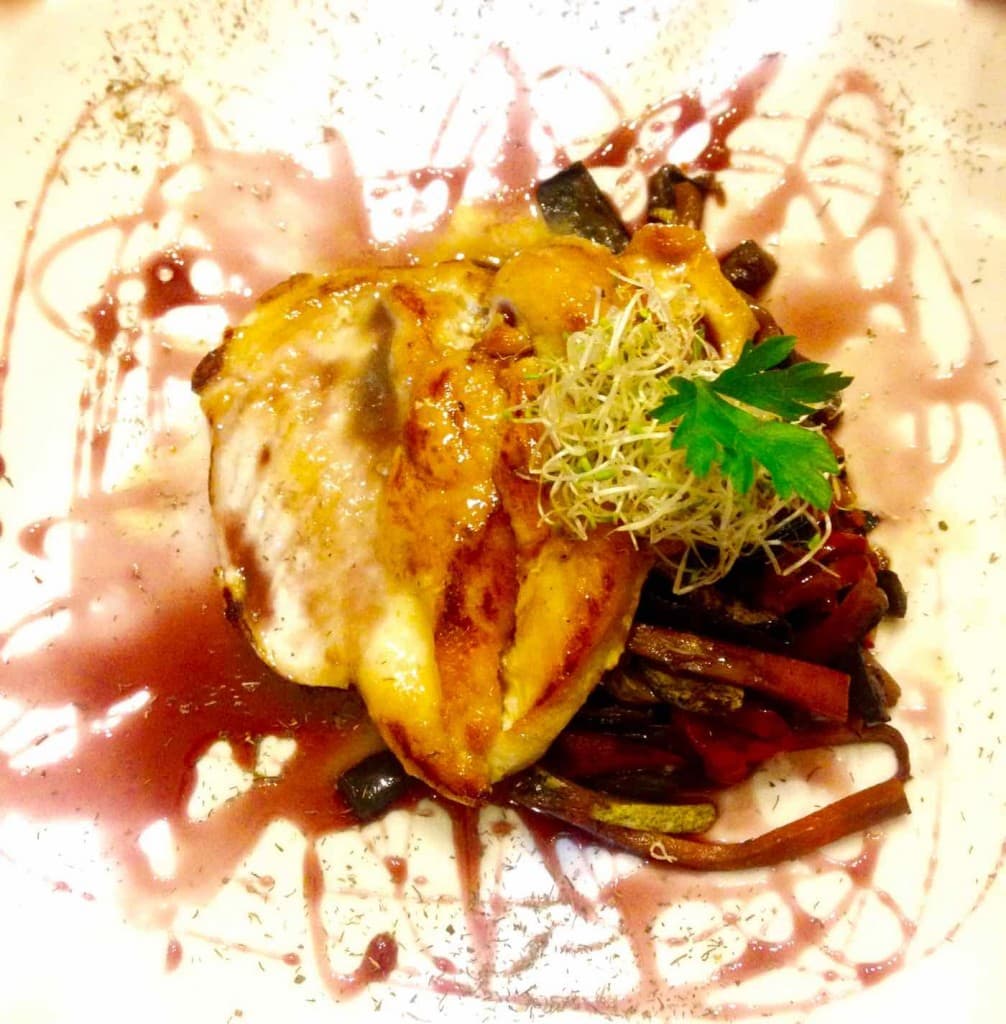 At local Italian, La Bruschetta we shared a large pizza, cooked to perfection and three tasty bruschettas topped with ingredients including rocket, pesto and prosciutto.
Contemporary rooftop restaurant Fauna was recommended by several friends, both for its exceptional views of the city and the quality of food. We tucked into a couple of delicious steaks, and picked two glasses of red from a long wine list. As we looked out after dinner, the twinkly lights of Valparaiso stretched for miles – a really beautiful sight.
Around this area were several ice cream stores and patisseries that also caught my eye! It seemed a shame that after living off steak for a week, I never seemed to have room for dessert.
SIGHTSEEING IN VALPARAISO
If you decide to explore the city with Tours4Tips, you'll get to see the Parque Cultural de Valparaíso – a converted prison and park area that hosts concerts, dance displays and other events throughout the year. For me, this was the perfect spot to soak up the city's atmosphere. As the sun beat down, teenage couples frolicked on the grass and a large family gathered with balloons and cake to celebrate a child's birthday.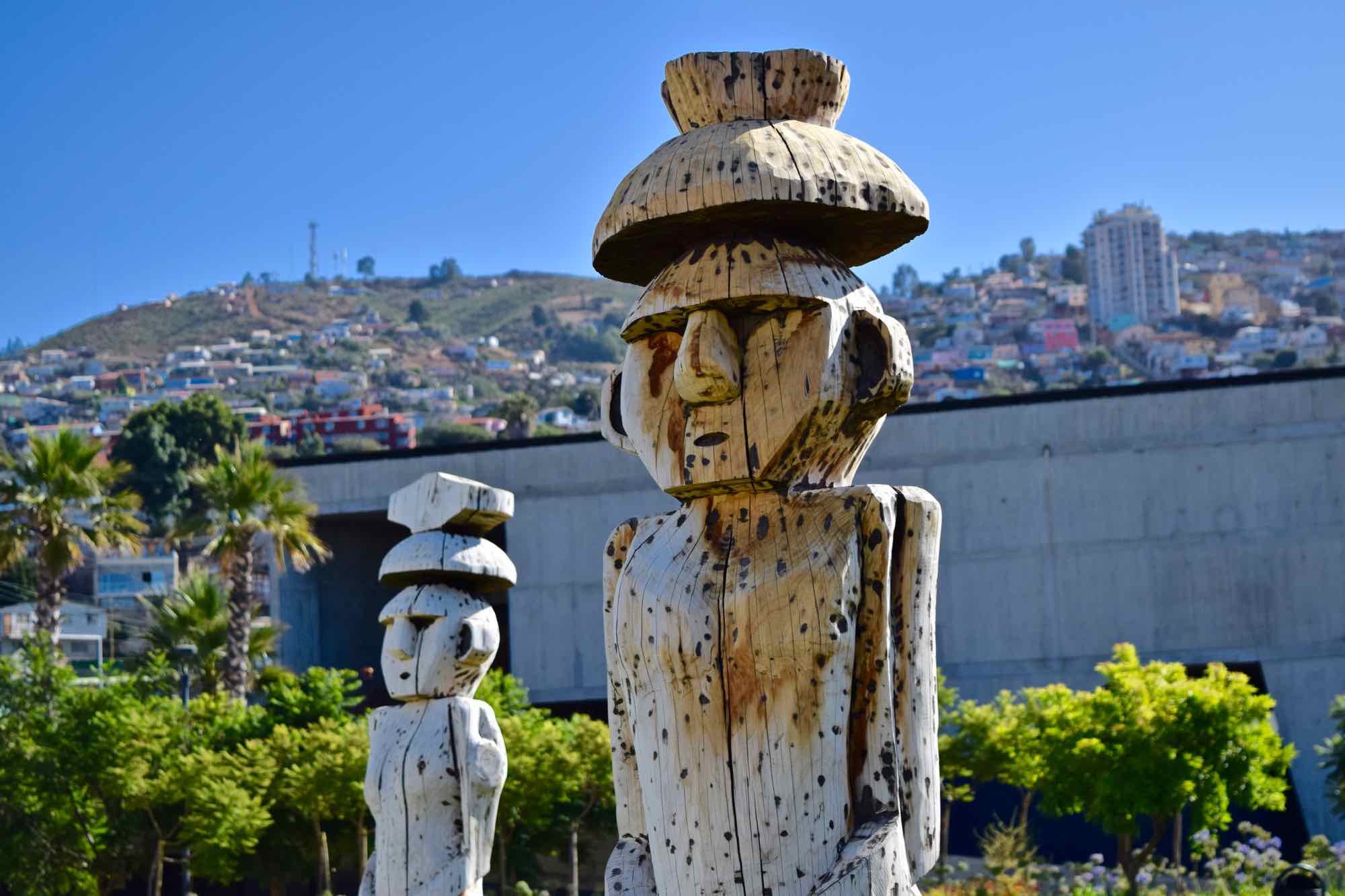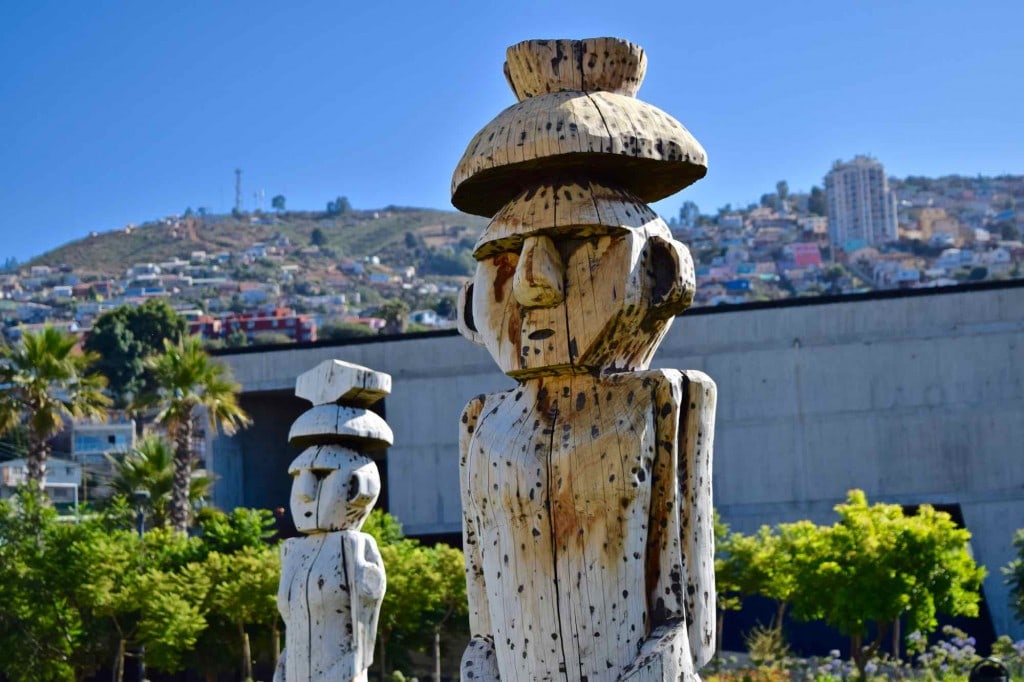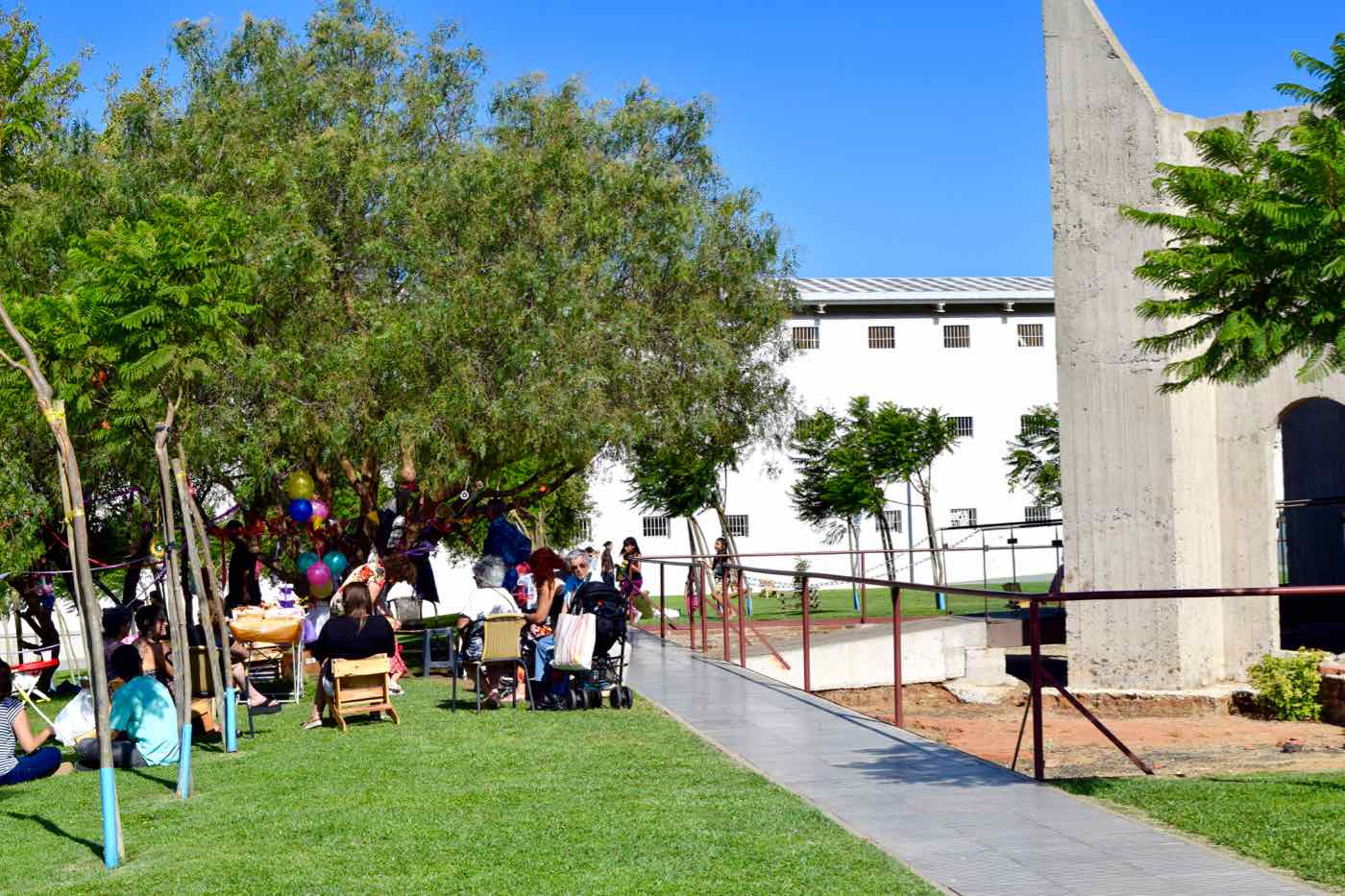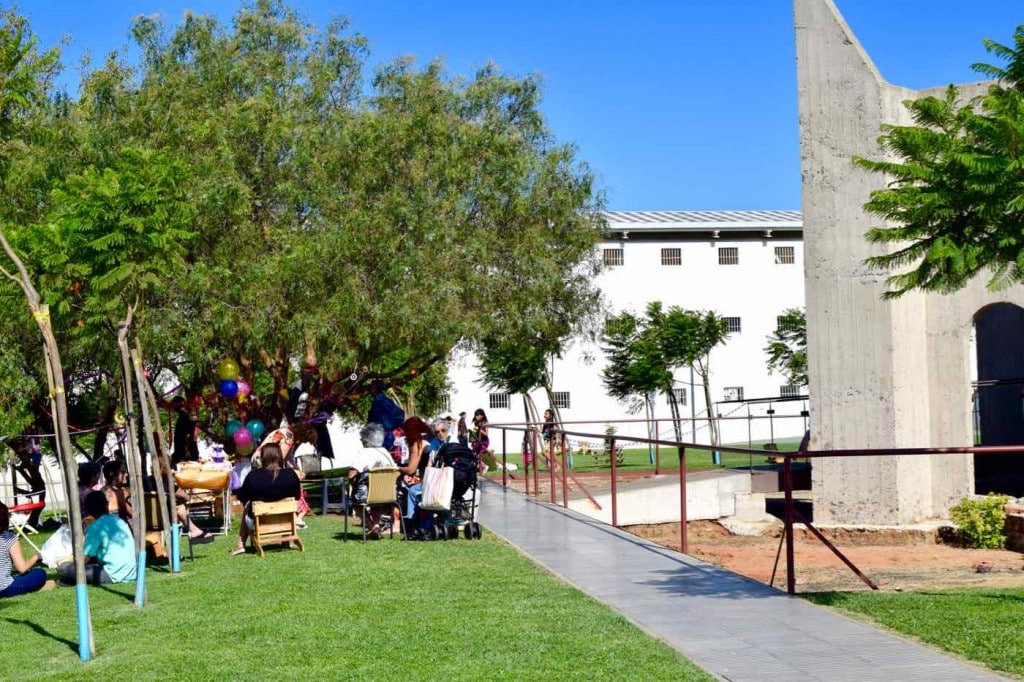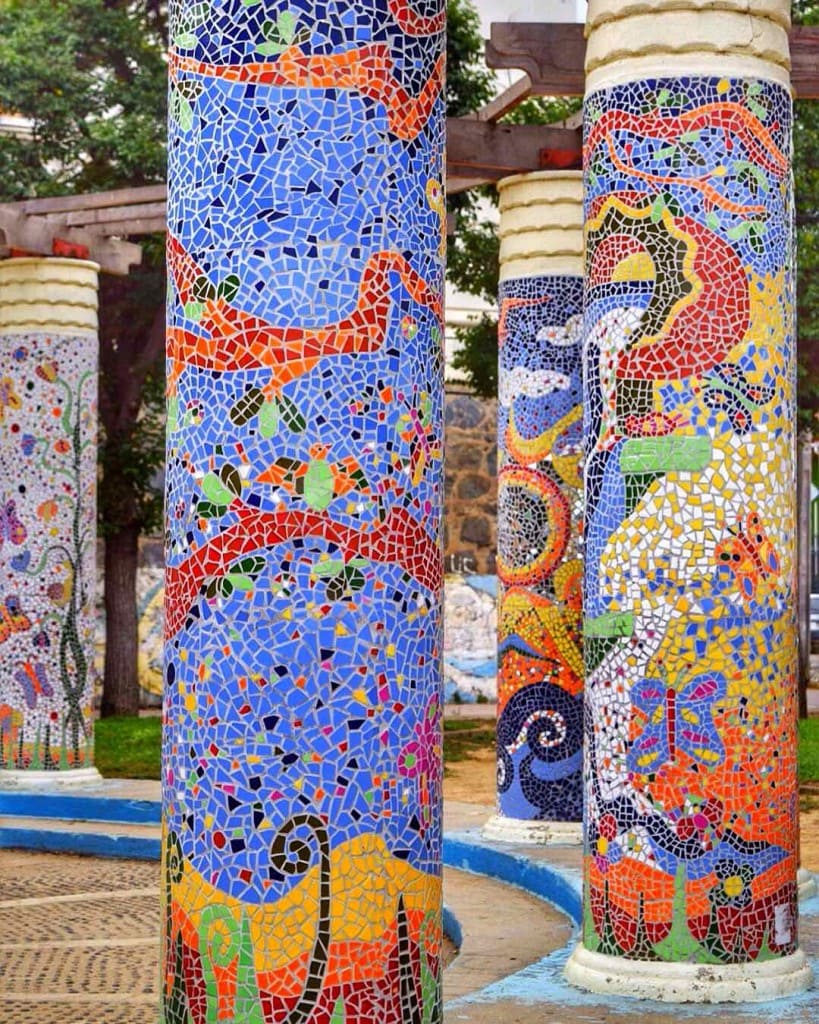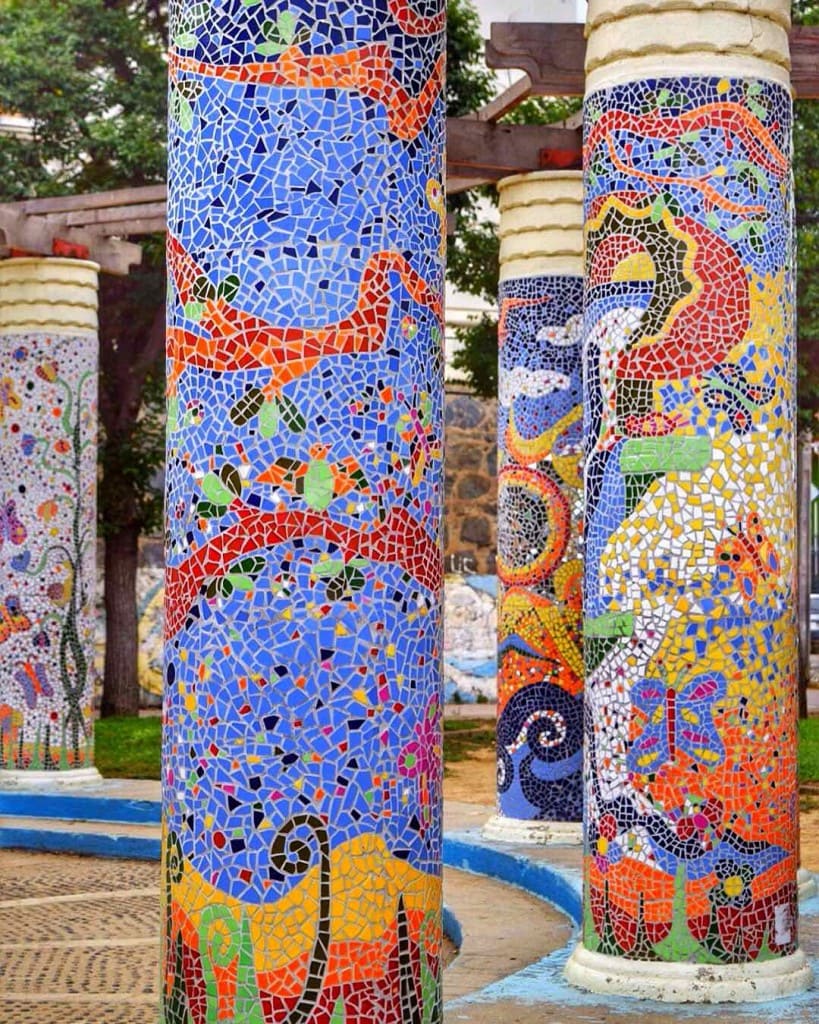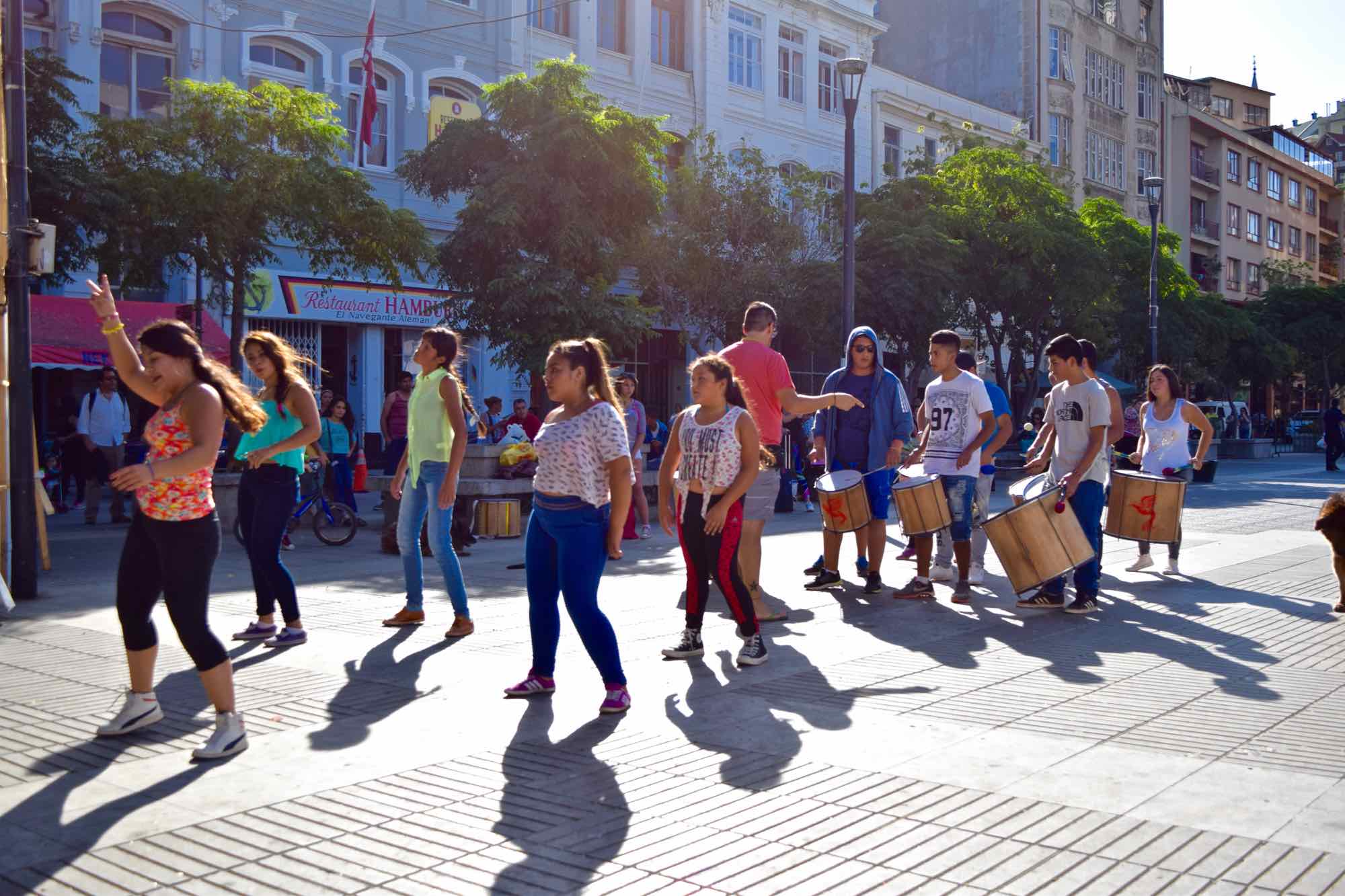 One morning we woke early to climb to the Bellavista neighbourhood and check out Valpo's most famous residence La Sebastiana. 6000 pesos will gain you entry to poet's Pablo Neruda's kitsch house – and a real glimpse into the mind of an eccentric character and one of the top things to do in Valparaiso.
As you twist and turn up the narrow staircases you'll see artefacts from his life, including plenty of 1950s furniture, a stuffed bird he brought back from Venezuela, a bar area where he threw legendary parties and his top floor study with incredible views of the harbour. As a traveller, I particularly enjoyed his cartography collection – including an ancient map of the world.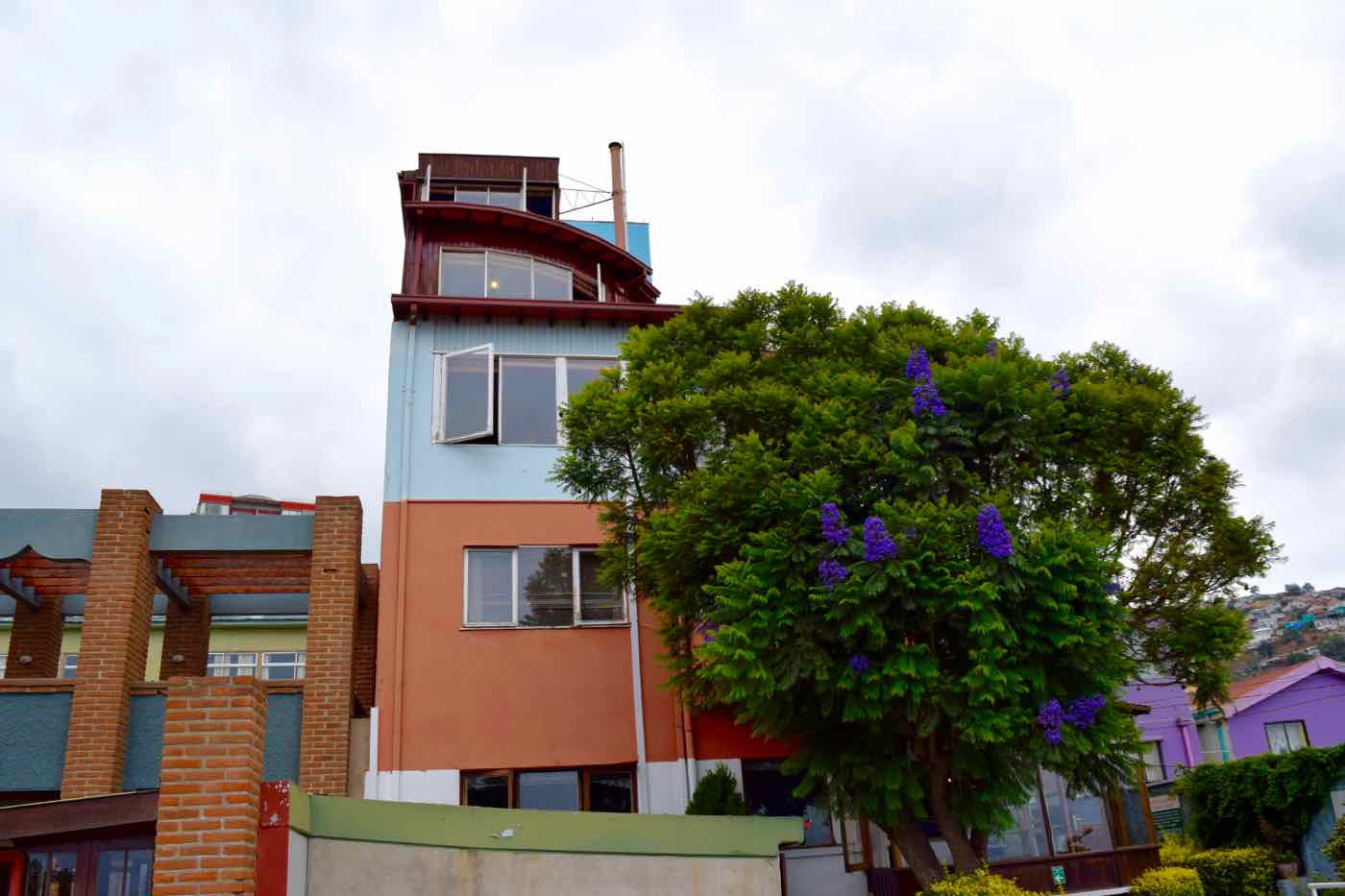 After several funicular trips, a trolleybus adventure, and a local bus referred to by locals as 'the rollercoaster' (not sure where I left my stomach…) it was time to try one more mode of transport… boat. For 3,000 pesos you can hop on board a small vessel and see the city from a different angle. It's a great way to see how the 43 hills slot together, and the real breadth and depth of colours. Plus, for me, a highlight was seeing the sea lions enjoying the sunshine, and cooling off in the water. It was a highlight of our time in Valparaiso.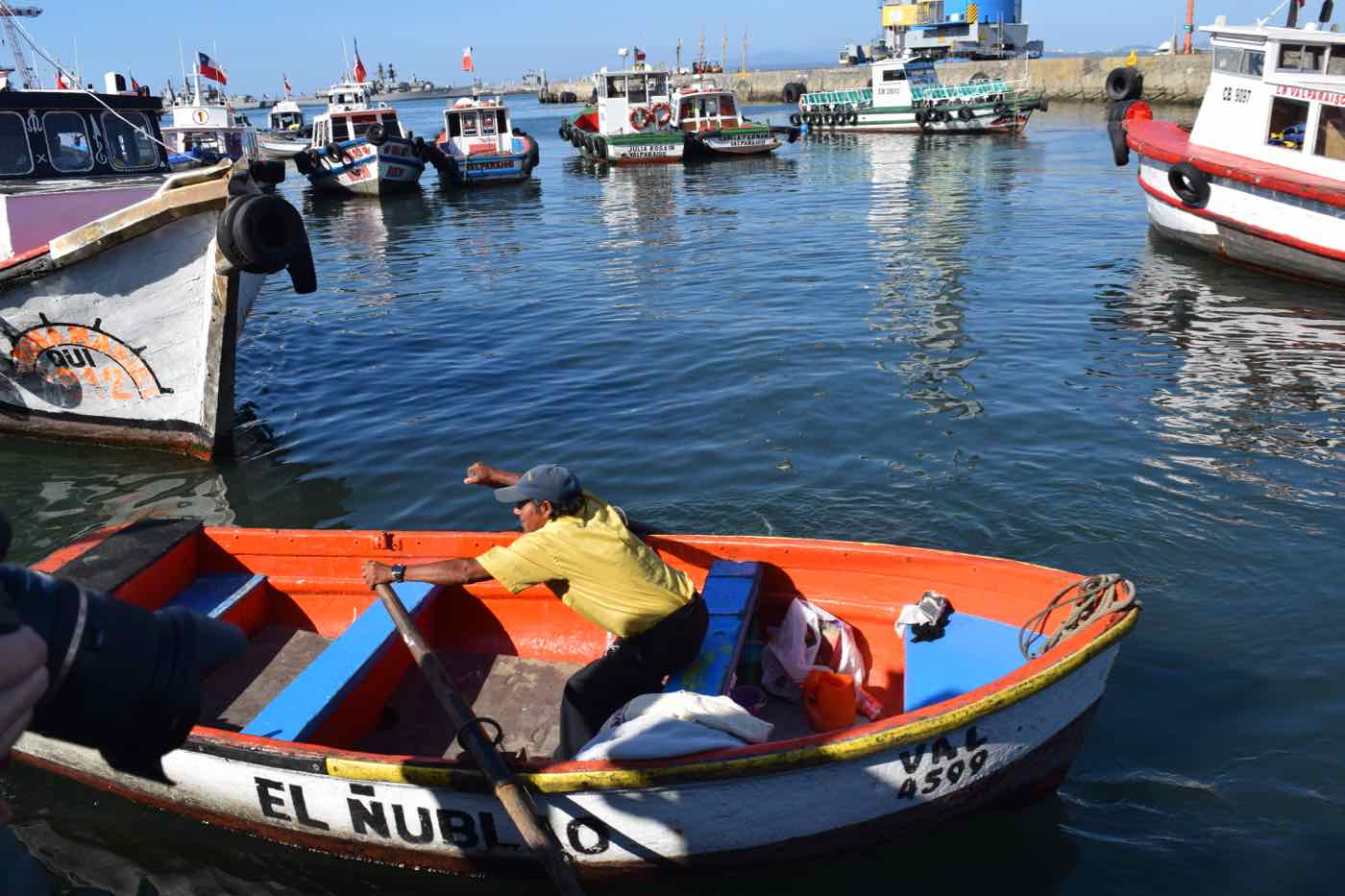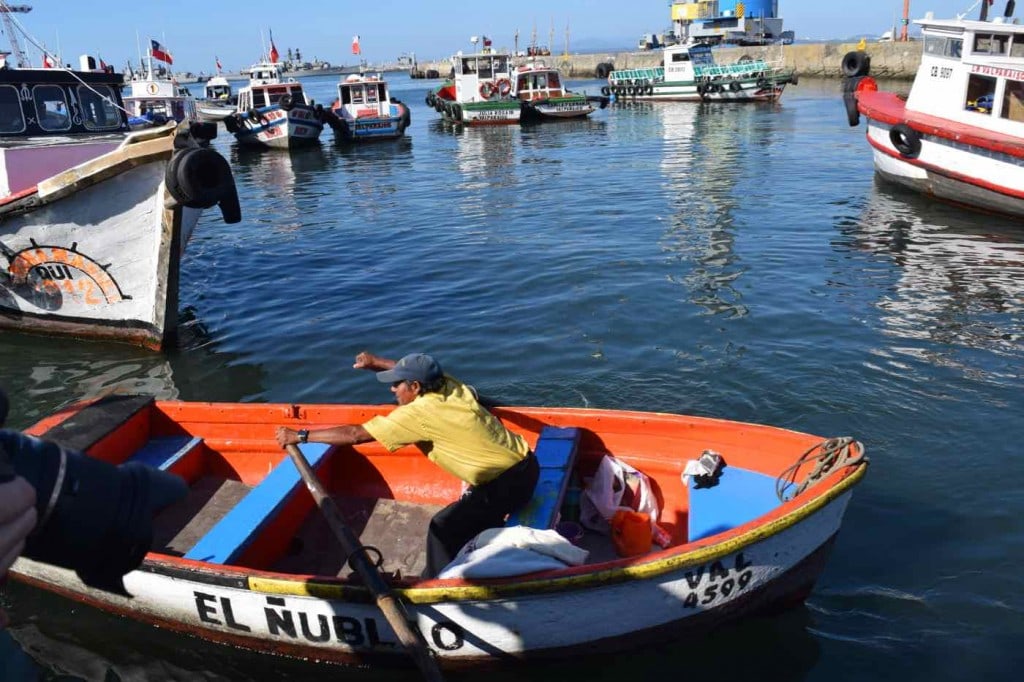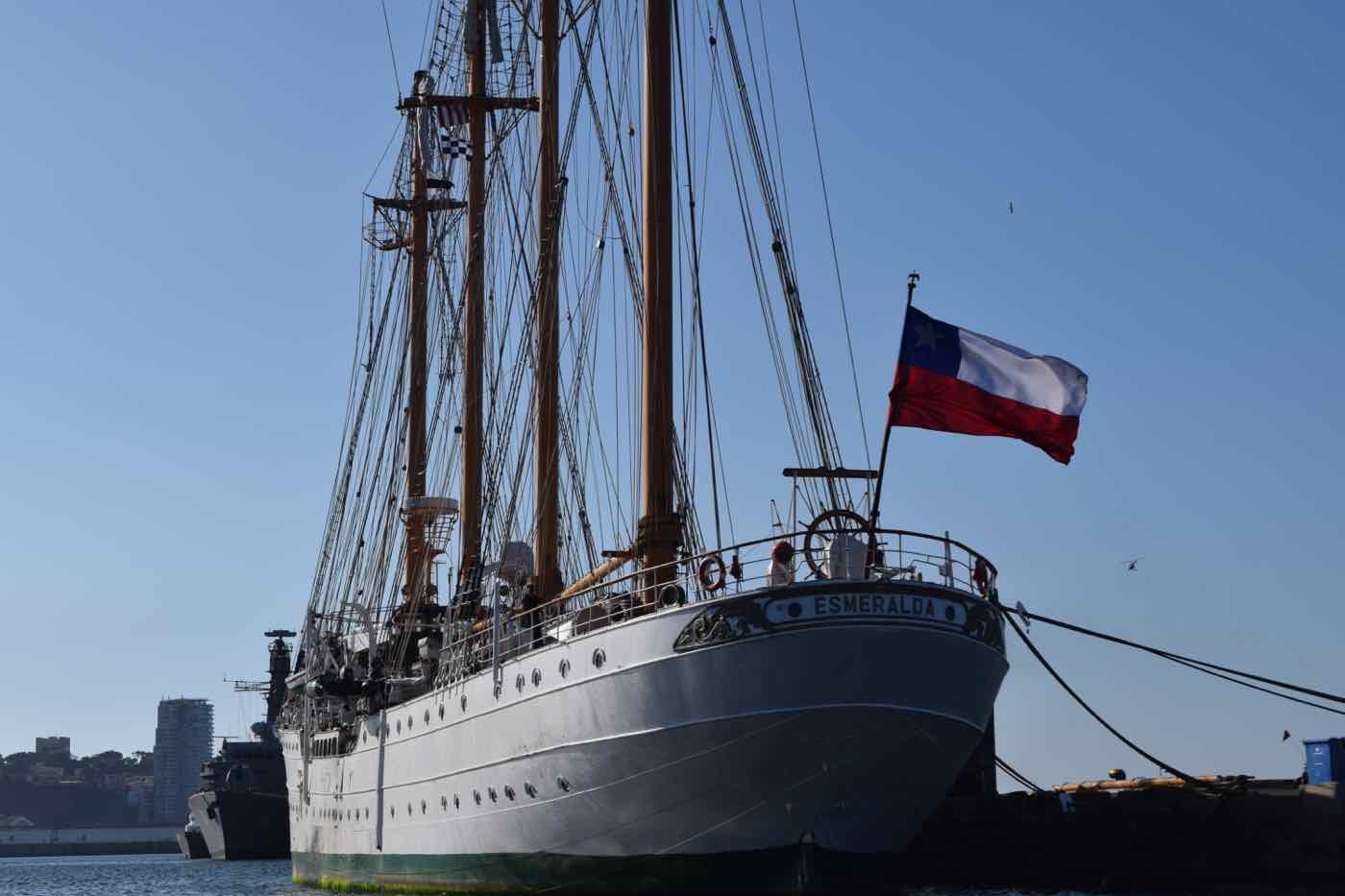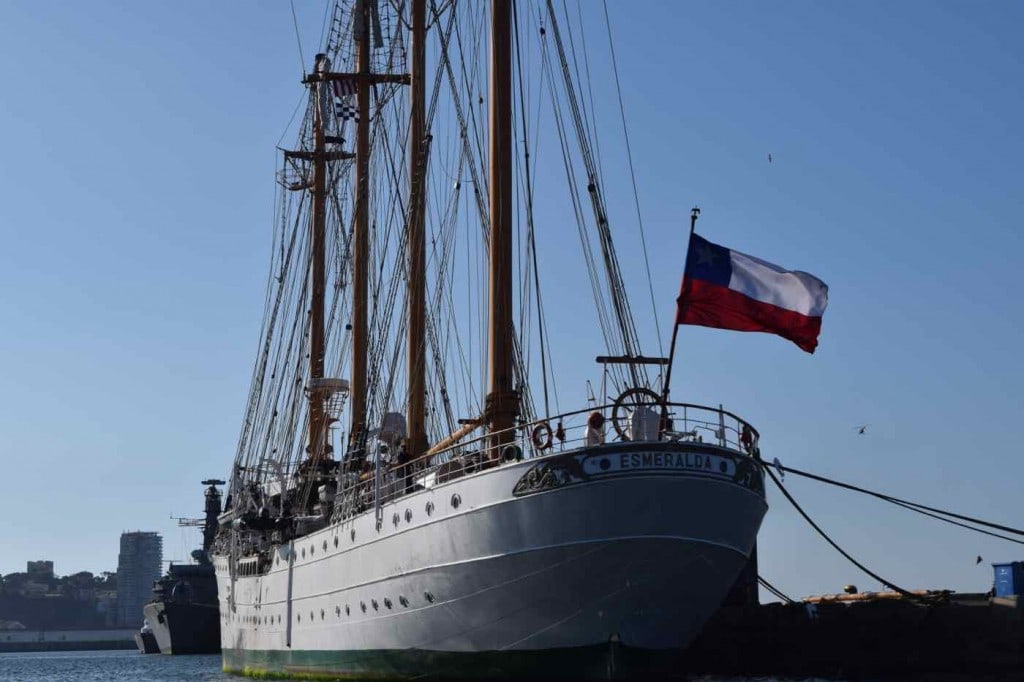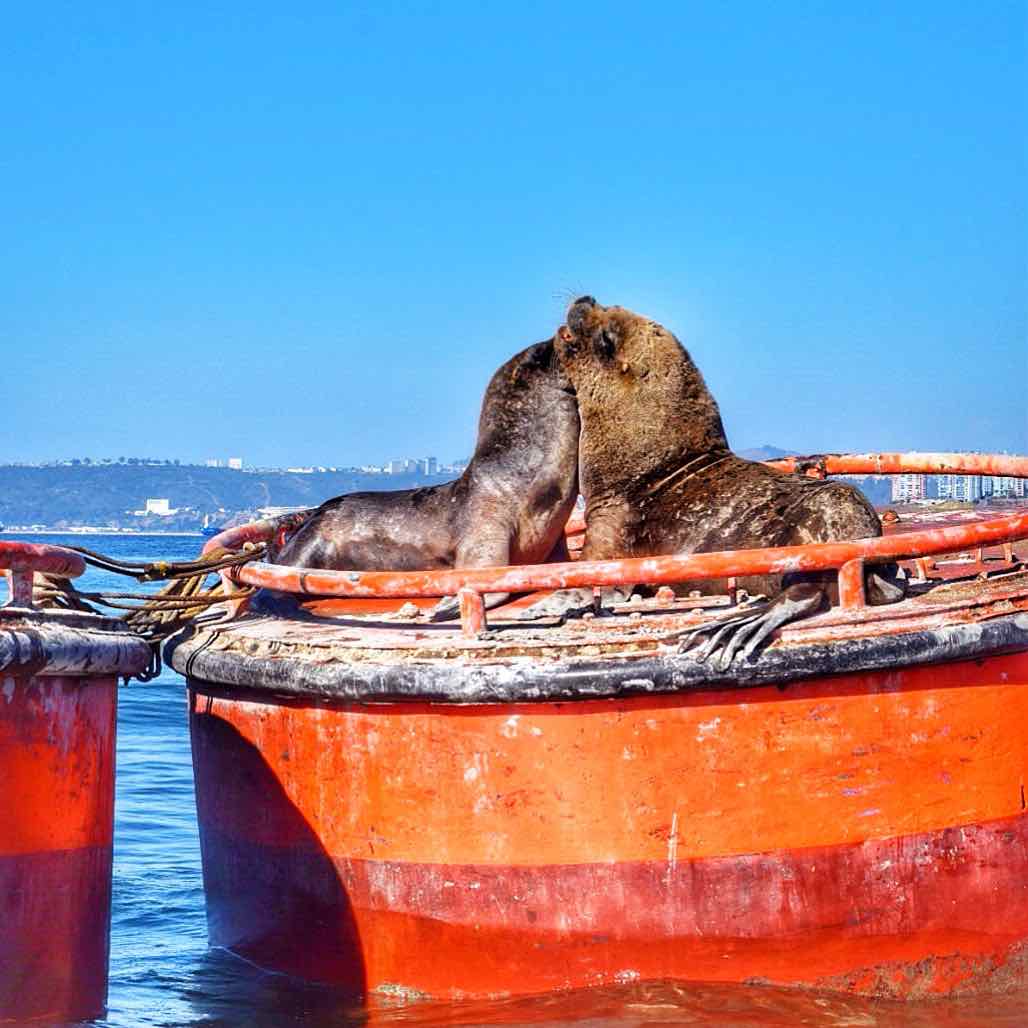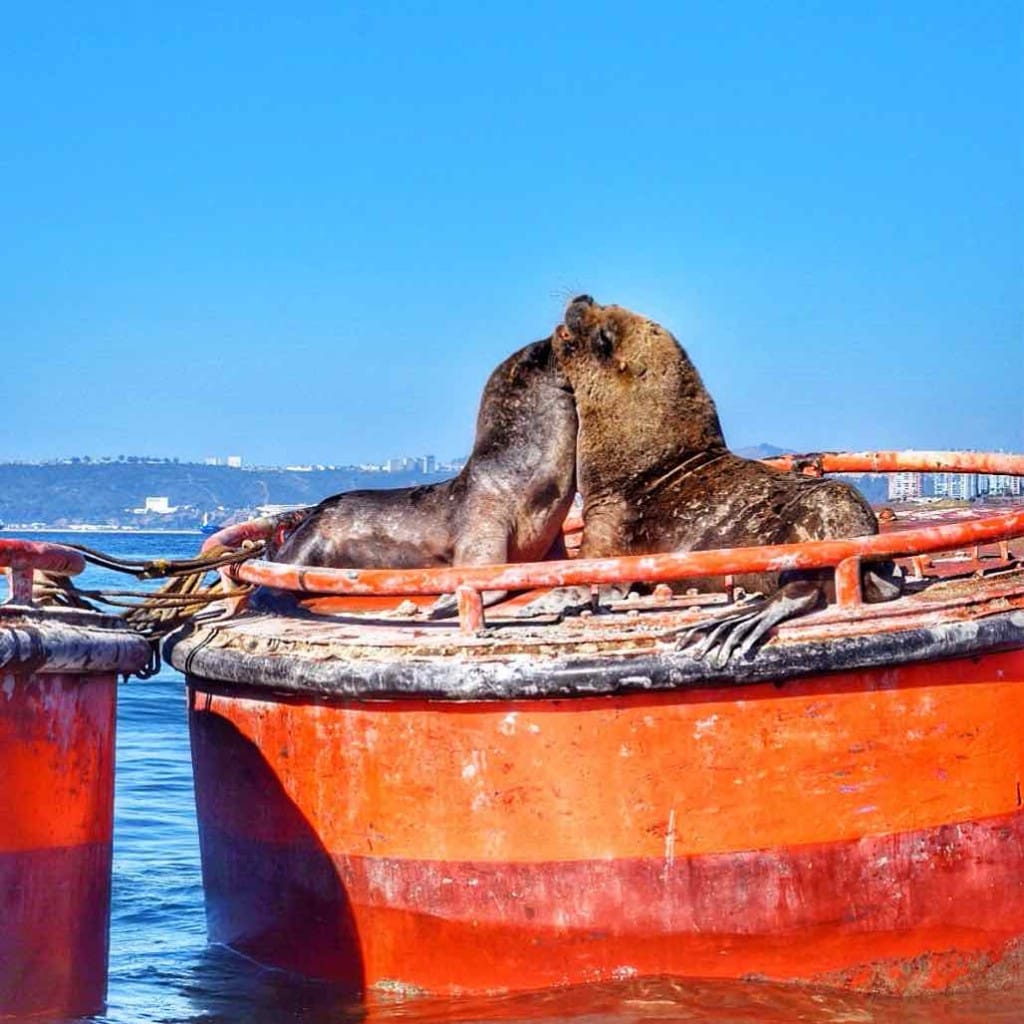 Having finally mastered how to pronounce the city's name (one more time…. "Valpar-aa-eeeeeeee-sooooooooo"), enjoyed the eclectic transport system, snapped several hundred photos of the best street art in Valparaiso and sampled some great food, it was time to leave behind my new favourite colourful city. It may be gritty, it may have a dark side, but that all plays a part in its inherent beauty. You might not see it immediately, but for me, part of the fun was looking for it.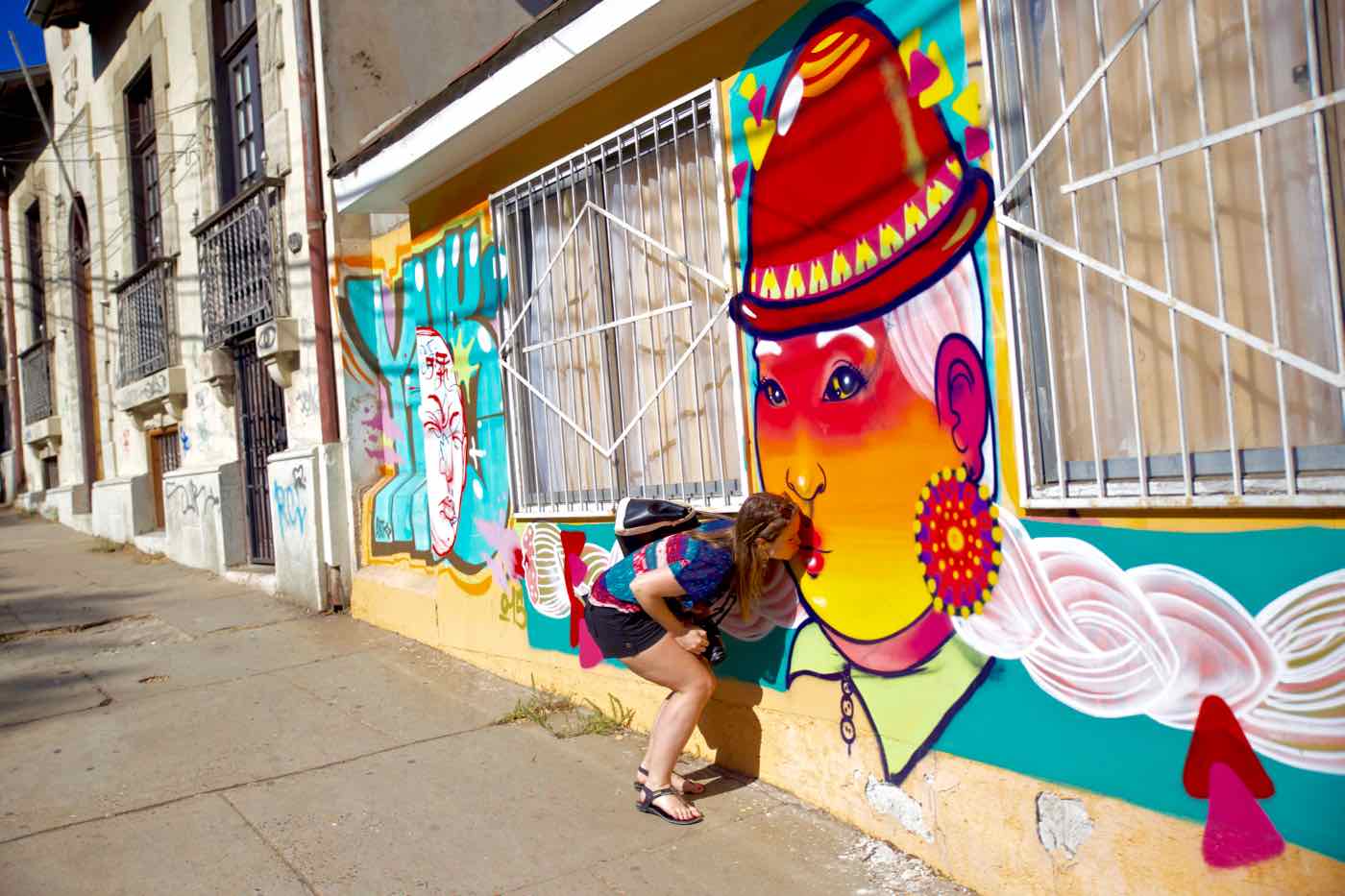 PRICES IN VALPARAISO
Funiculars/Ascensors: 100-600 Chilean Pesos
Trolleybus: 270 Chilean Pesos
Boat trip (30 mins): 3,000 Chilean Pesos
Bus from Valparaiso to Santiago: 4,000 Chilean Pesos
Bus from Valparaiso to Viña Del Mar: 480 Chilean Pesos
Empanada: 800 Chilean Pesos
Dinner for 2 with drinks: Approx. 26,000 Chilean Pesos
Entry into La Sebastiana: 6,000 Chilean Pesos
Find out more about tours of Valparaiso.
For a different view on Valparaiso, check out Macca from A Brit and a Broad's blog about Vibrant and Vivacious Valparaiso.
Enjoyed this post? Why not pin it…