From charming lodges and cosy cabins, to luxurious hotels with mountain views, discover where to stay in Jasper, Canada.
Jasper is a picturesque mountain town in the heart of the Canadian Rockies, offering an incredible blend of natural beauty and adventure. With stunning scenery and diverse wildlife, you can enjoy a range of fun outdoor activities like hiking, skiing, and canoeing in the nearby lakes and rivers.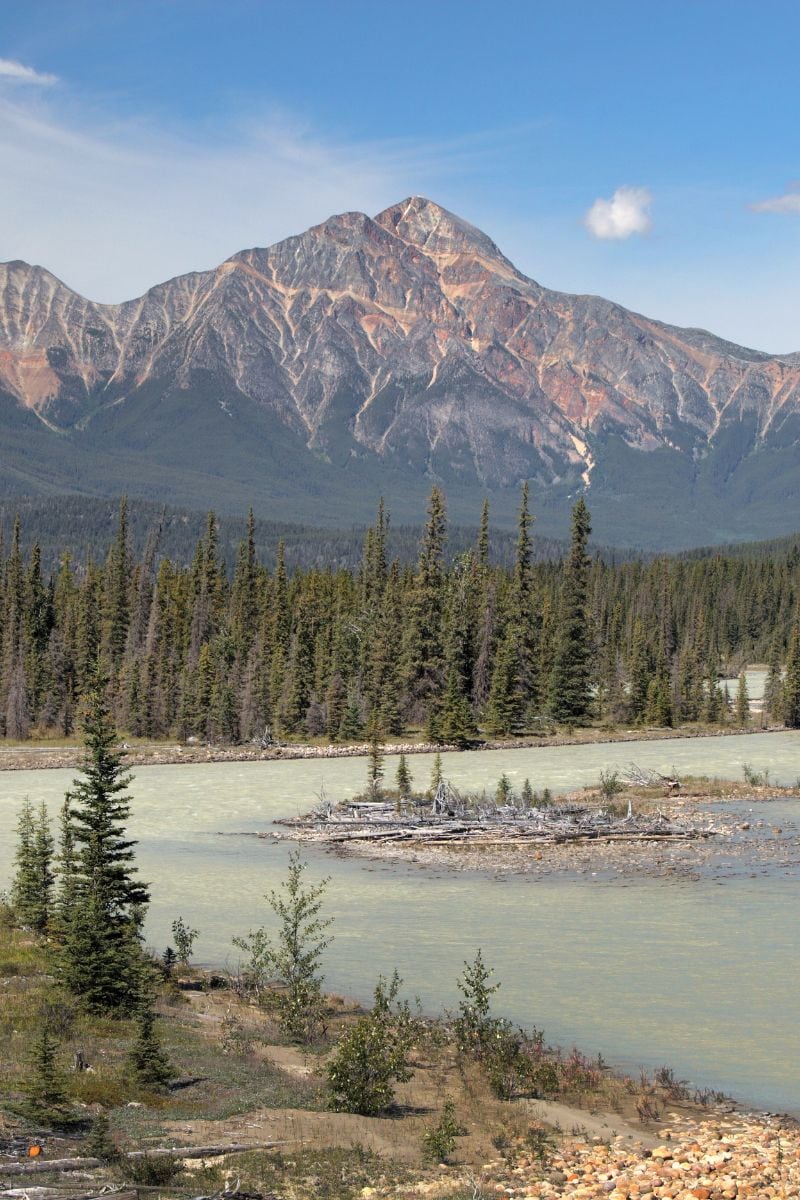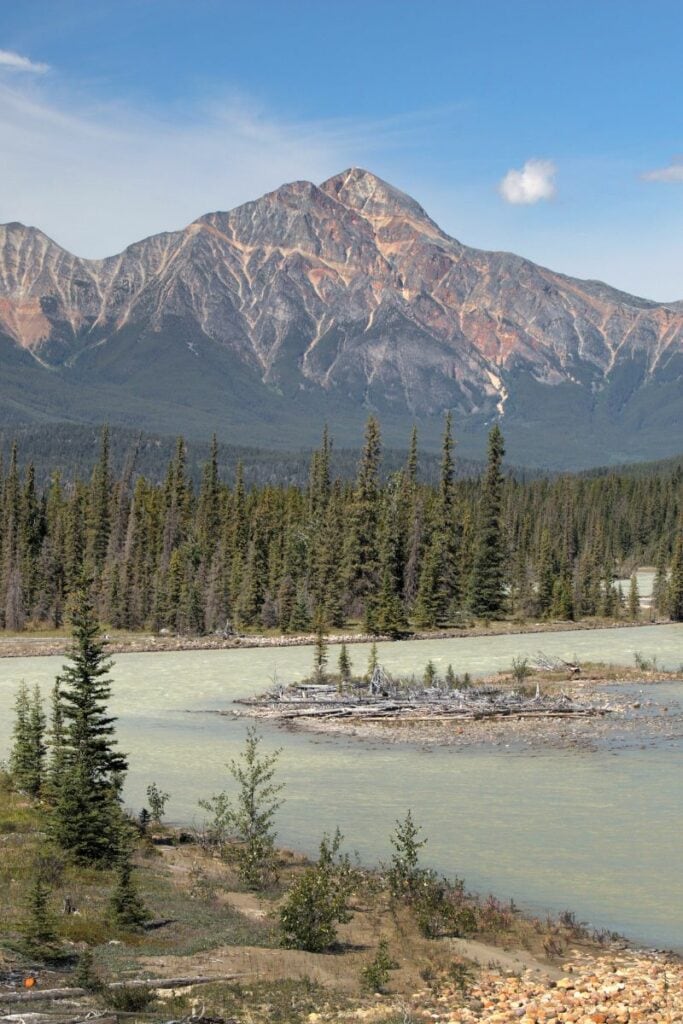 If you're planning a trip to Jasper, get ready to be spoiled for choice when it comes to accommodation! From charming bed and breakfasts to luxurious mountain lodges, there's something for every budget.
Many of these hotels and lodges have been thoughtfully designed to blend in with the natural surroundings. This allows you to soak up the authentic mountain experience from the comfort of your own room!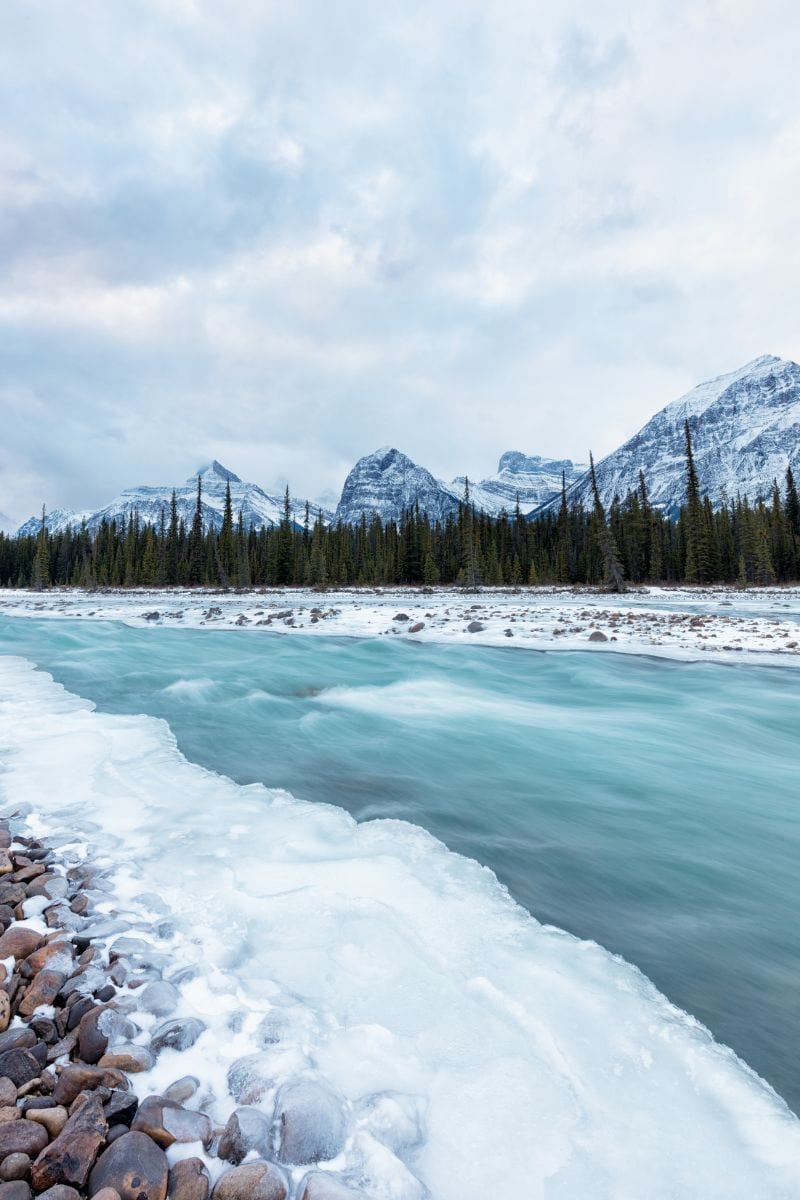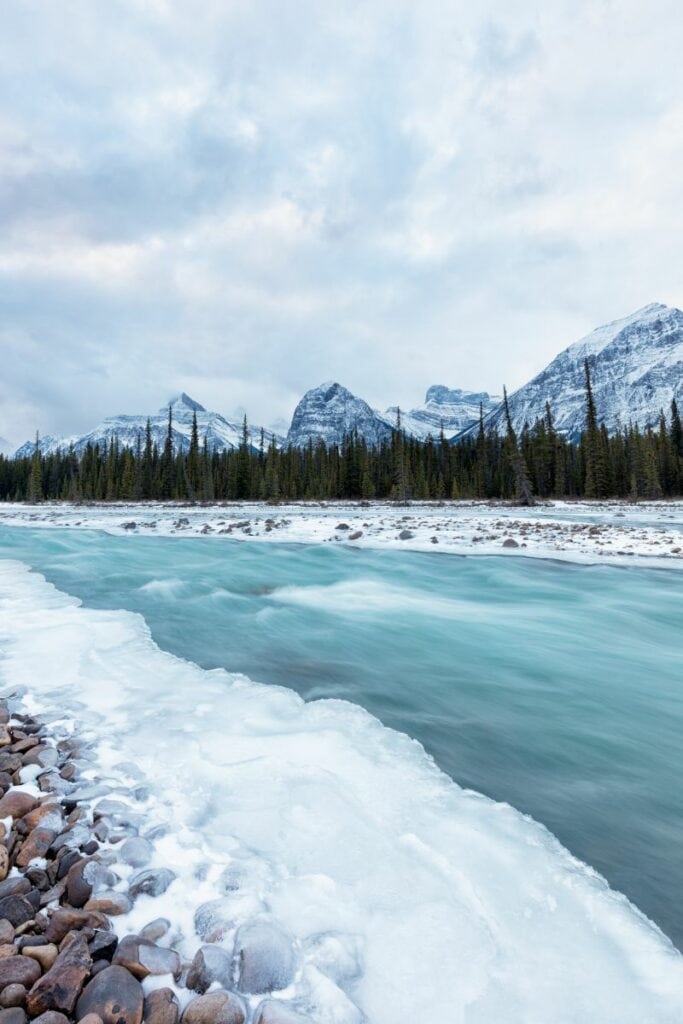 Coming up are some of the best places to stay in Jasper. These awesome accommodation options are guaranteed to make your travel experience in Jasper truly memorable.
---
Where to Stay in Jasper, Canada
Jasper Pyramid Lake Resort is a luxurious retreat nestled in the breathtaking Canadian Rockies. From the moment you step into the grand lobby, you'll be struck by the hotel's impressive design and attention to detail.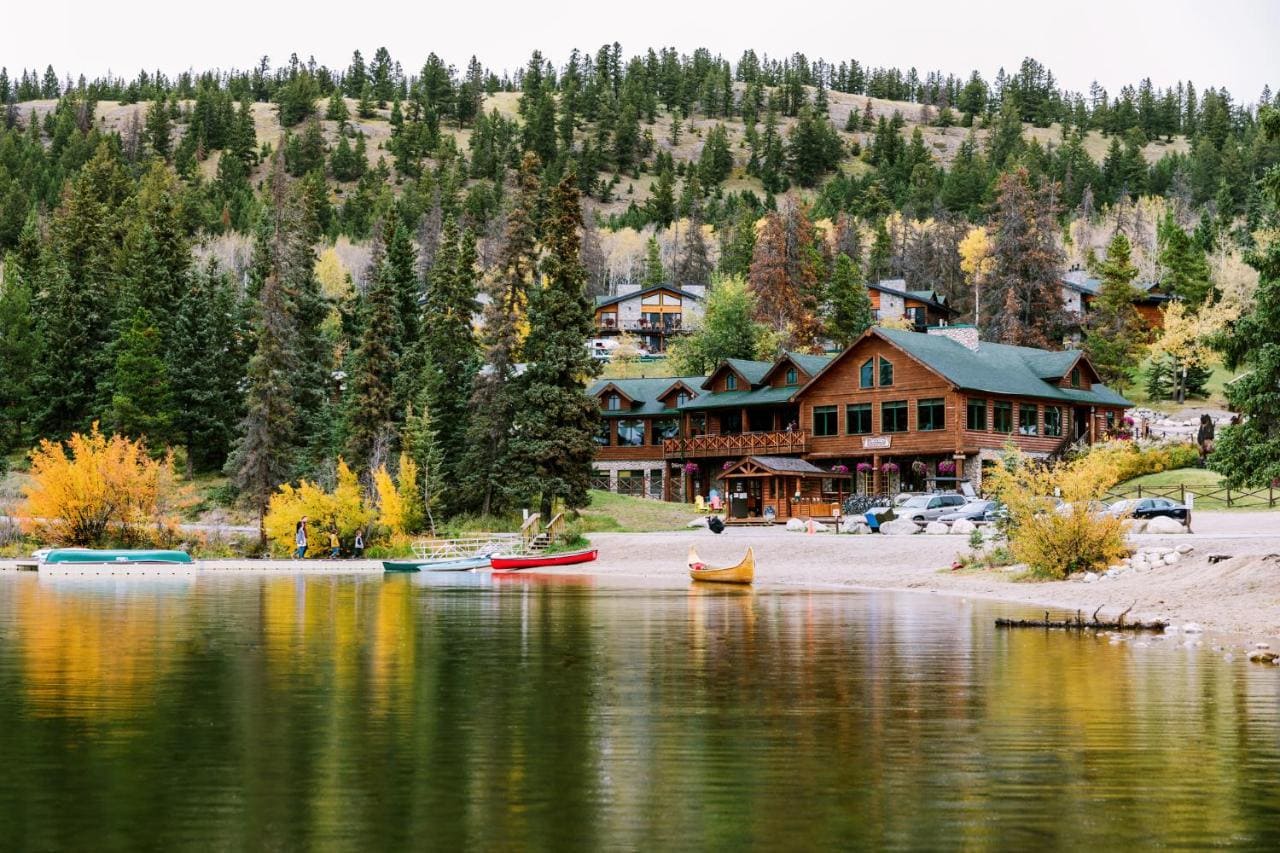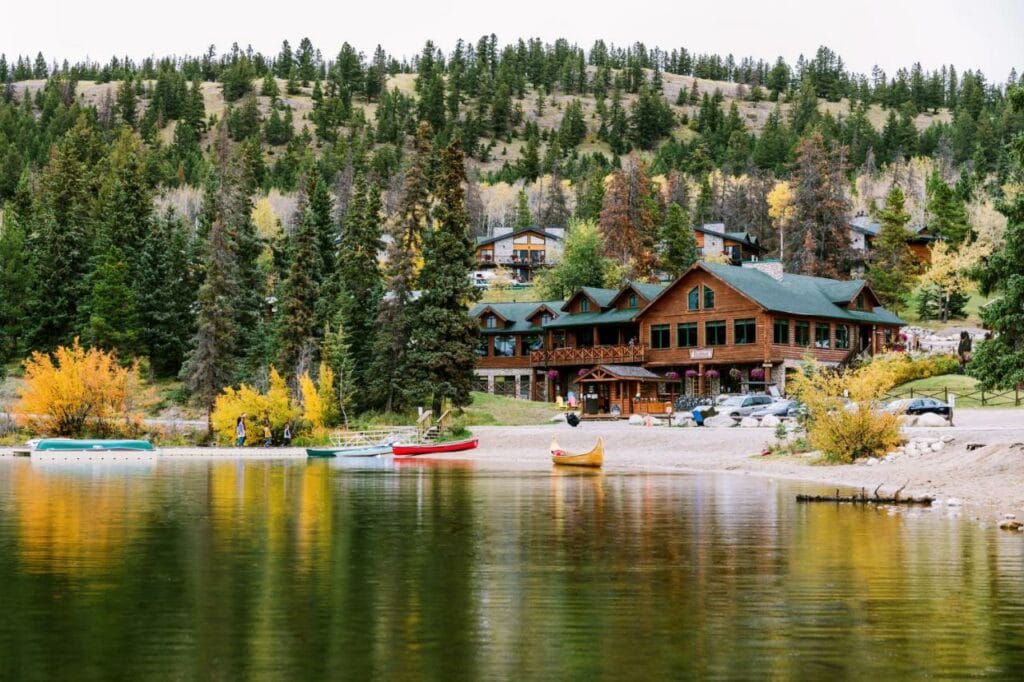 With over 400 guest rooms and suites each offering spectacular views, you'll have plenty of space to relax and unwind. During the day, you can indulge in some pampering at the hotel's luxurious spa. In the evening, enjoy a romantic meal at the on-site restaurant, all while surrounded by the stunning natural beauty of Jasper.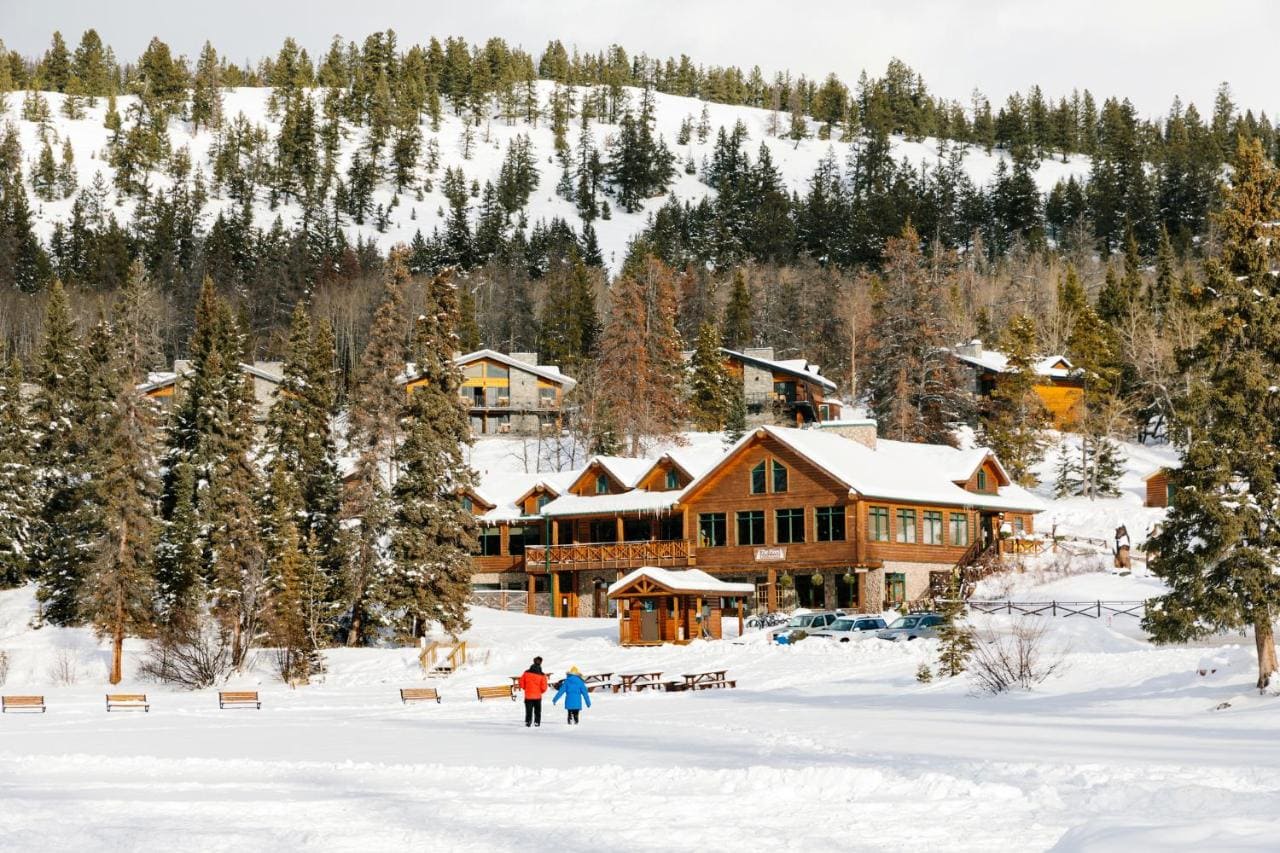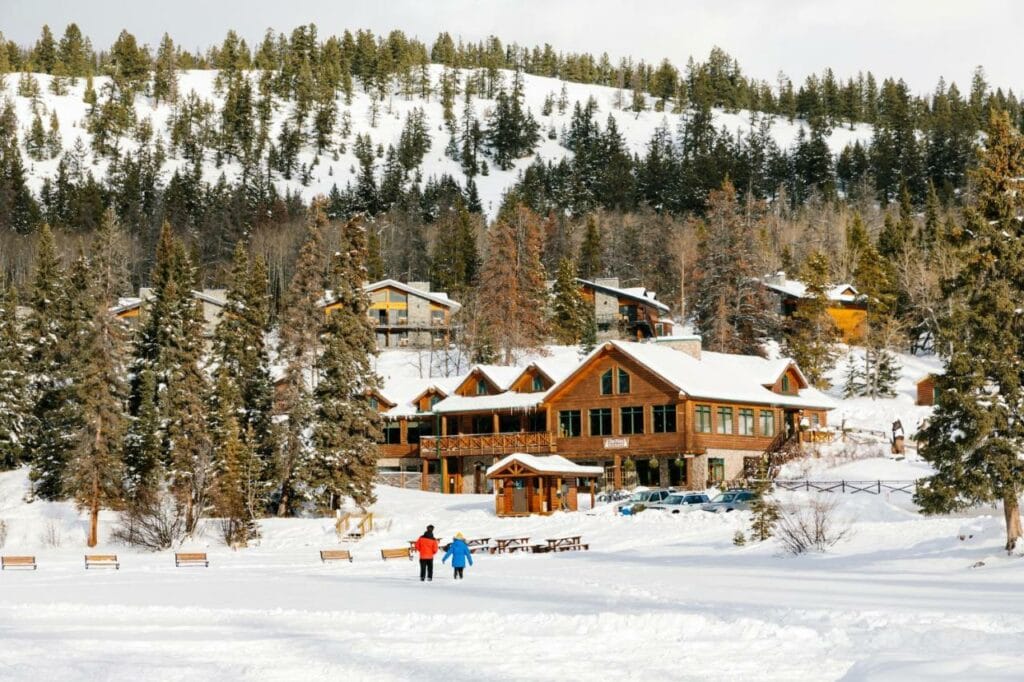 Just steps from the resort, you'll find Pyramid Lake. This picturesque mountain lake is perfect for swimming, fishing, or paddling in the summer months. In the winter, the lake transforms into a wonderland of snow and ice, with opportunities for ice skating, cross-country skiing, and snowshoeing.
Fairmont Jasper Park Lodge is where luxury meets adventure in the heart of the Canadian Rockies. This stunning hotel is nestled in a UNESCO World Heritage site, surrounded by the natural beauty of Jasper National Park.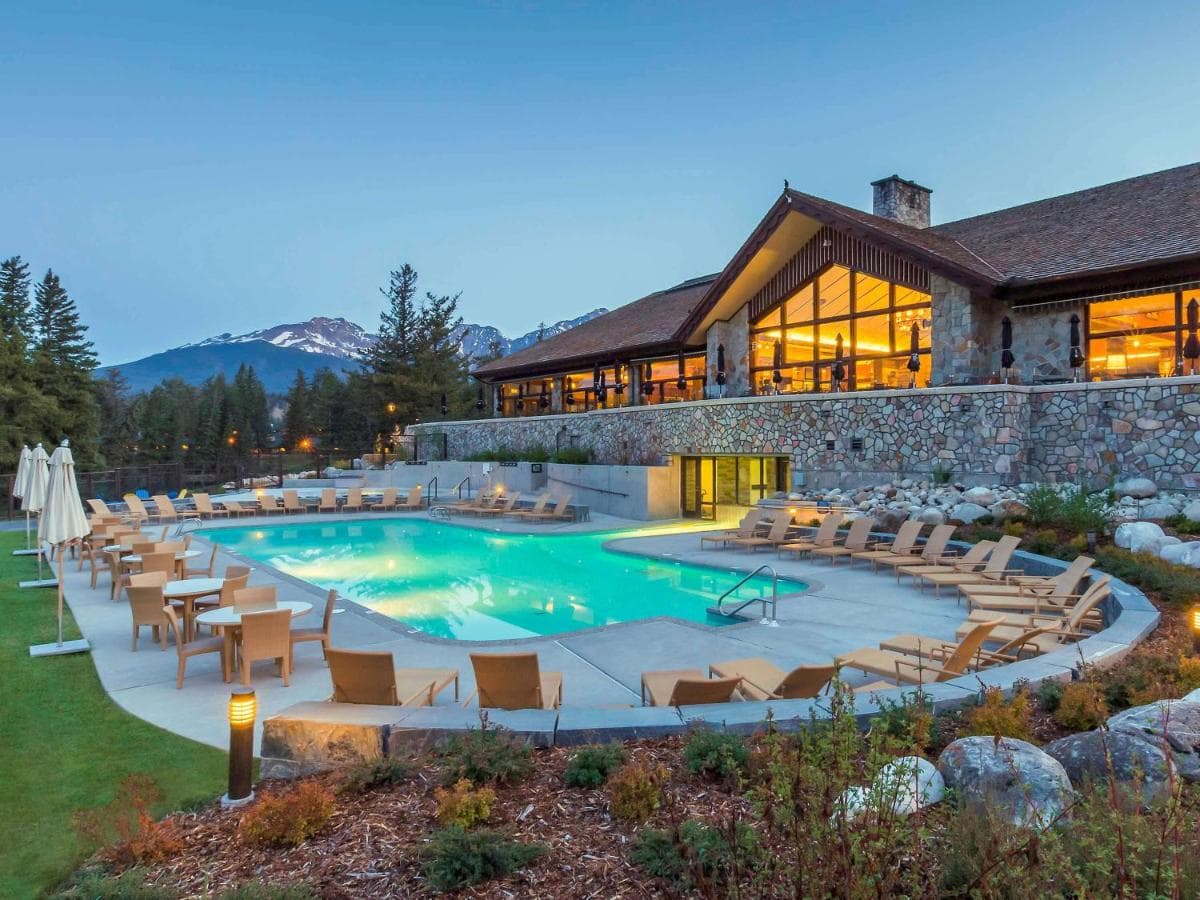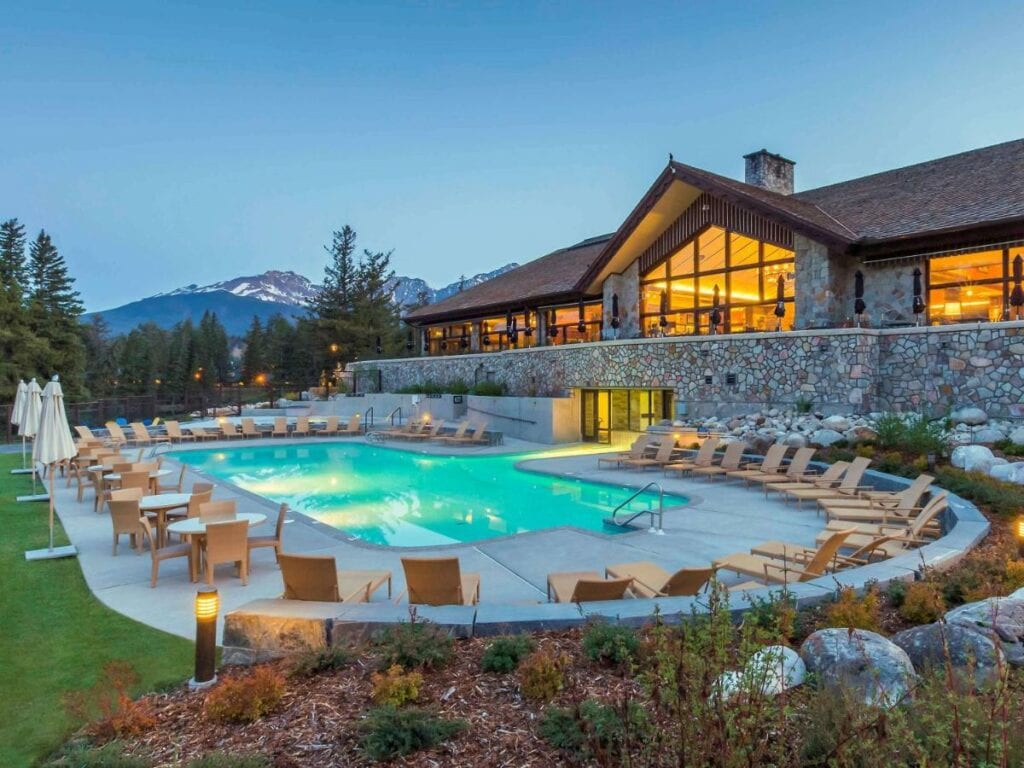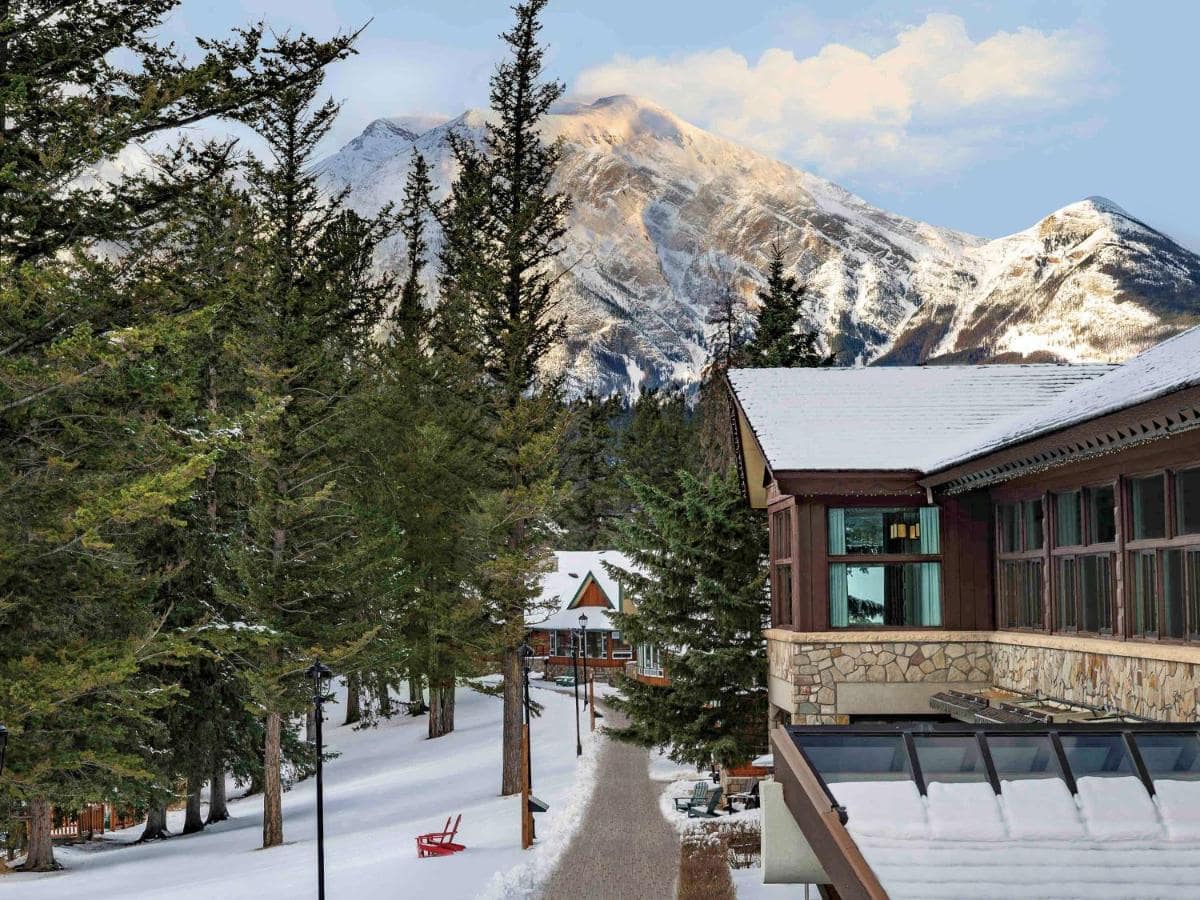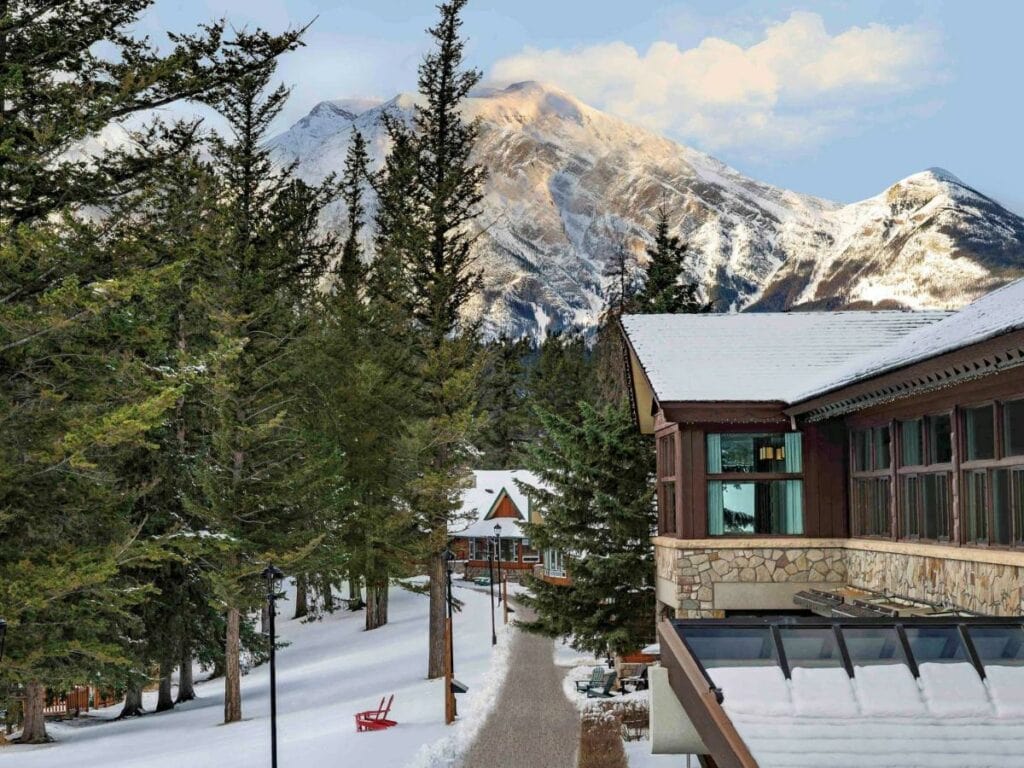 Nearby you can enjoy various outdoor activities, such as hiking, golfing, skiing, ice skating and canoeing, all while taking in beautiful mountain views. The hotel's award-winning restaurants, spa, and outdoor heated pool are just some of the luxurious amenities available. This is the ultimate Jasper accommodation for those seeking an unforgettable mountain getaway.
Are you looking for a cosy and authentic mountain lodge experience in Jasper? Then you're going to love the charming Overlander Mountain Lodge. This picturesque lodge, located just minutes from Jasper National Park, offers a range of spacious rooms and suites. Each one is thoughtfully designed with a rustic and warm atmosphere in mind.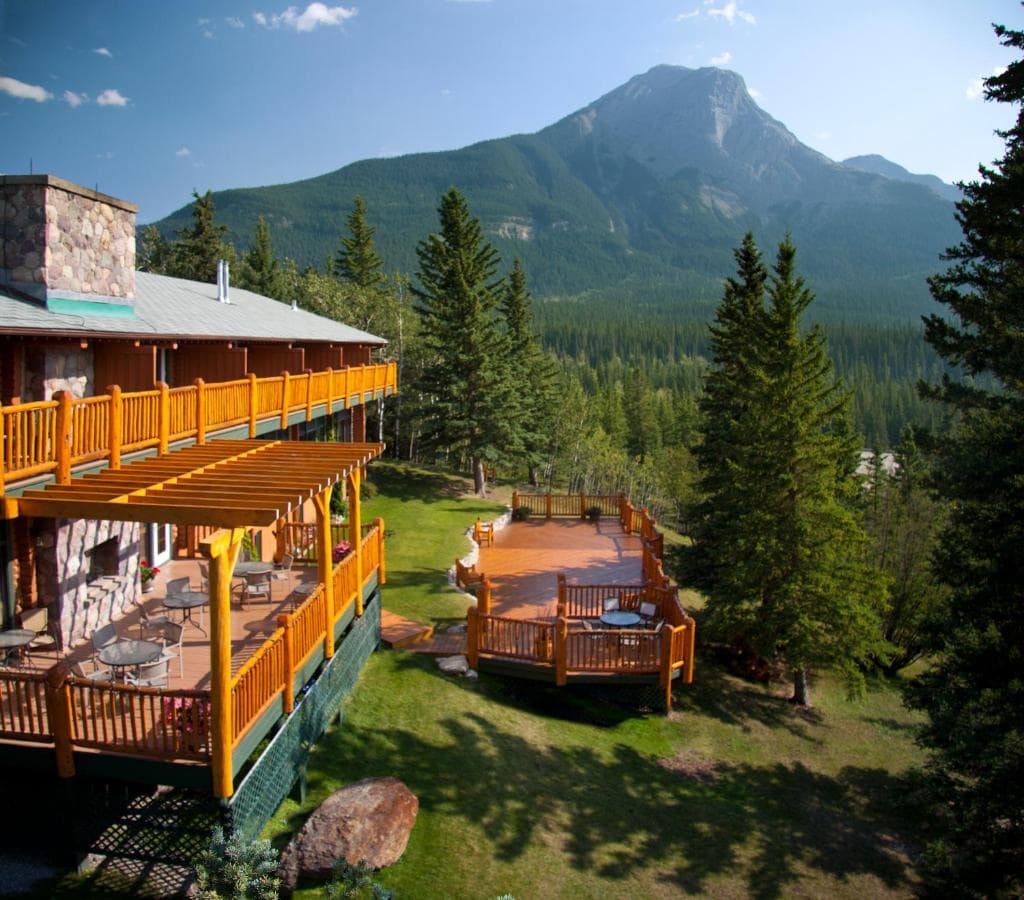 The lodge also features an on-site restaurant that serves delicious regional cuisine. In the evening, you can relax in one of the outdoor hot tubs. There's no better place for unwinding after a day of exploring the nearby attractions.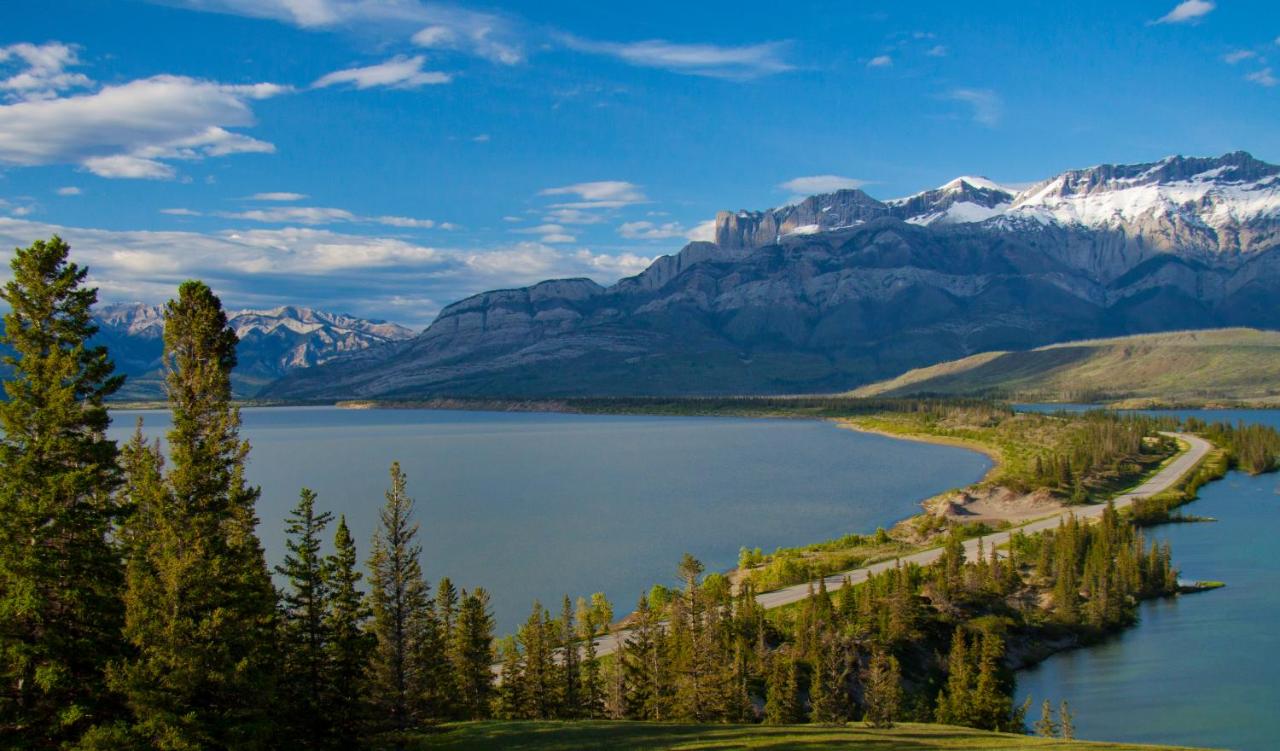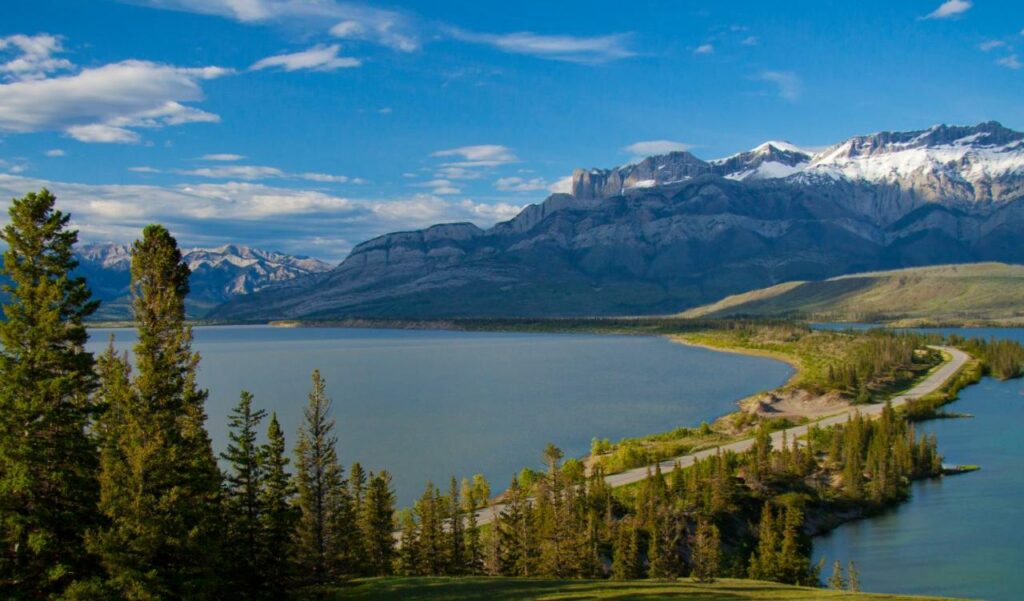 Don't forget to visit the stunning Mount Robson Provincial Park, just a short drive away, and take in the lovely beauty of the highest peak in the Canadian Rockies!
With its breathtaking winter views of the Athabasca Glacier and its surrounding peaks, Glacier View Lodge is a nature lover's paradise. Stay in the spacious and modern suites, complete with all the amenities you could ever want. Or treat yourself to a delicious meal at the on-site, award-winning restaurant where you can feast on the stunning views while eating.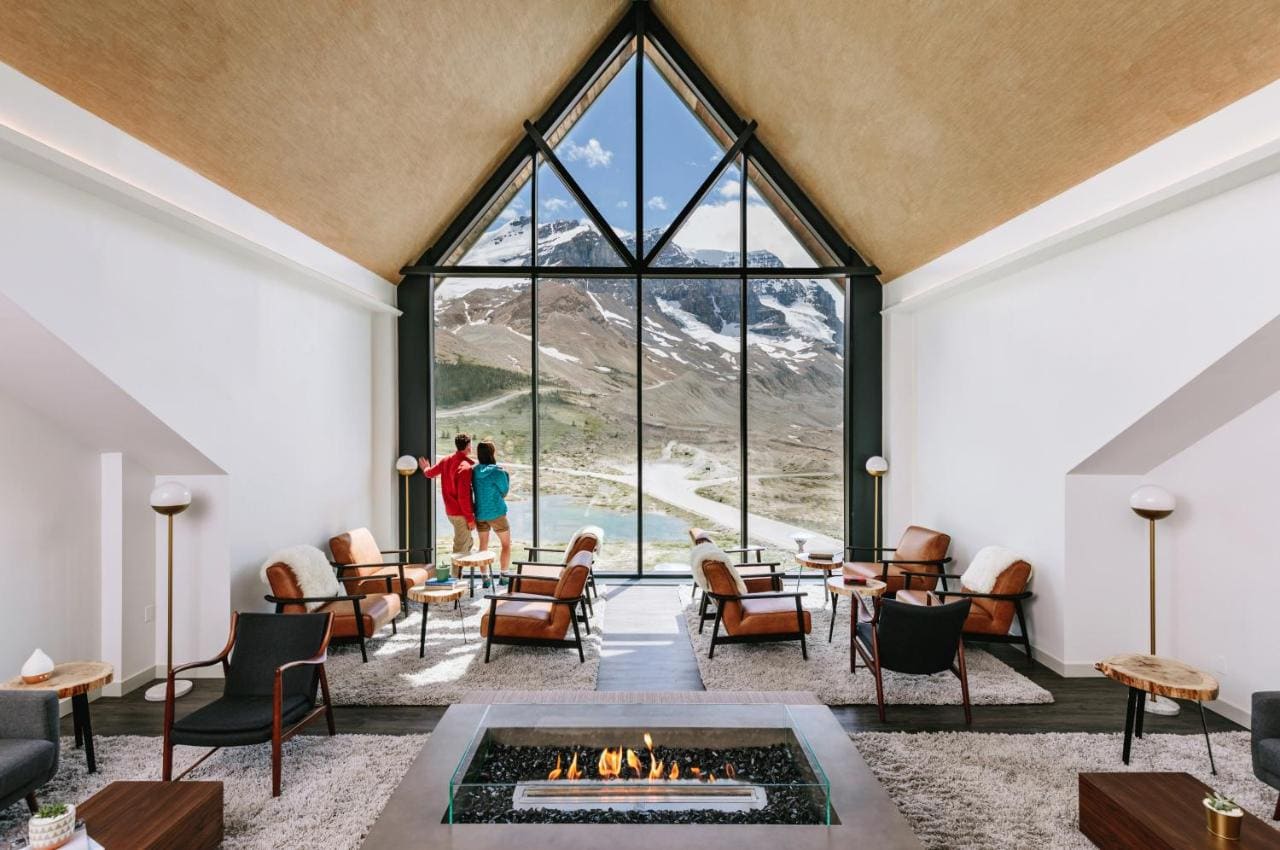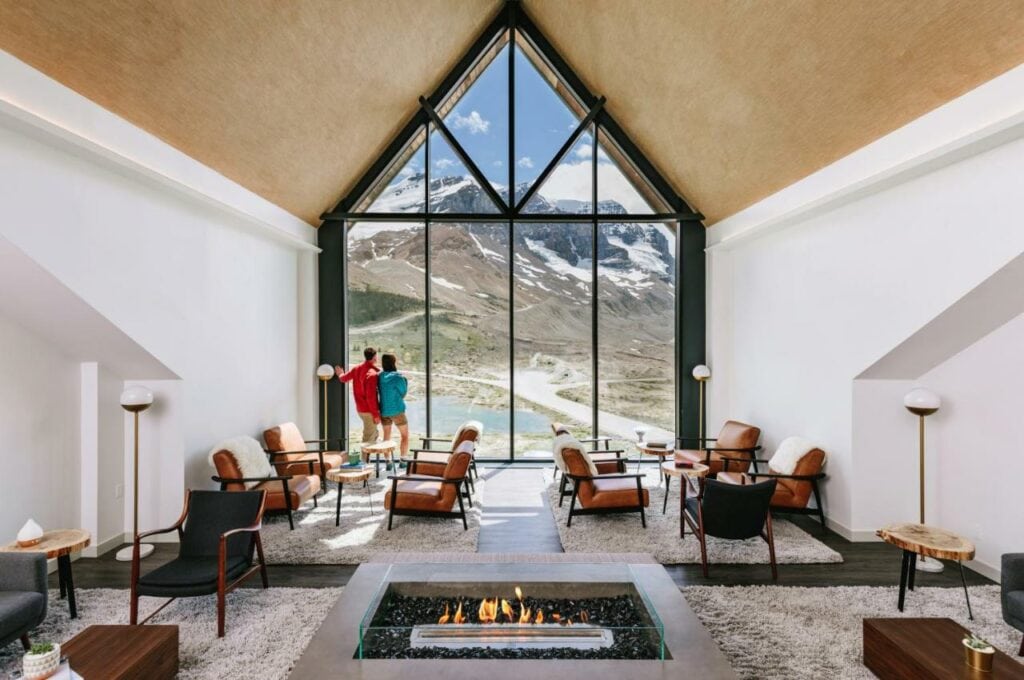 There are countless nearby attractions to explore, like the awe-inspiring Columbia Icefield Skywalk, Icefields Parkway or the many local hiking trails. Your mountain getaway awaits!
Escape to the tranquil beauty of the Forest Park Hotel, a hidden gem tucked away in the heart of Jasper's lush forests. It's one of the best places in Jasper to immerse yourself in the serenity of nature. Many of the cosy rooms and suites offer incredible views of the surrounding forest.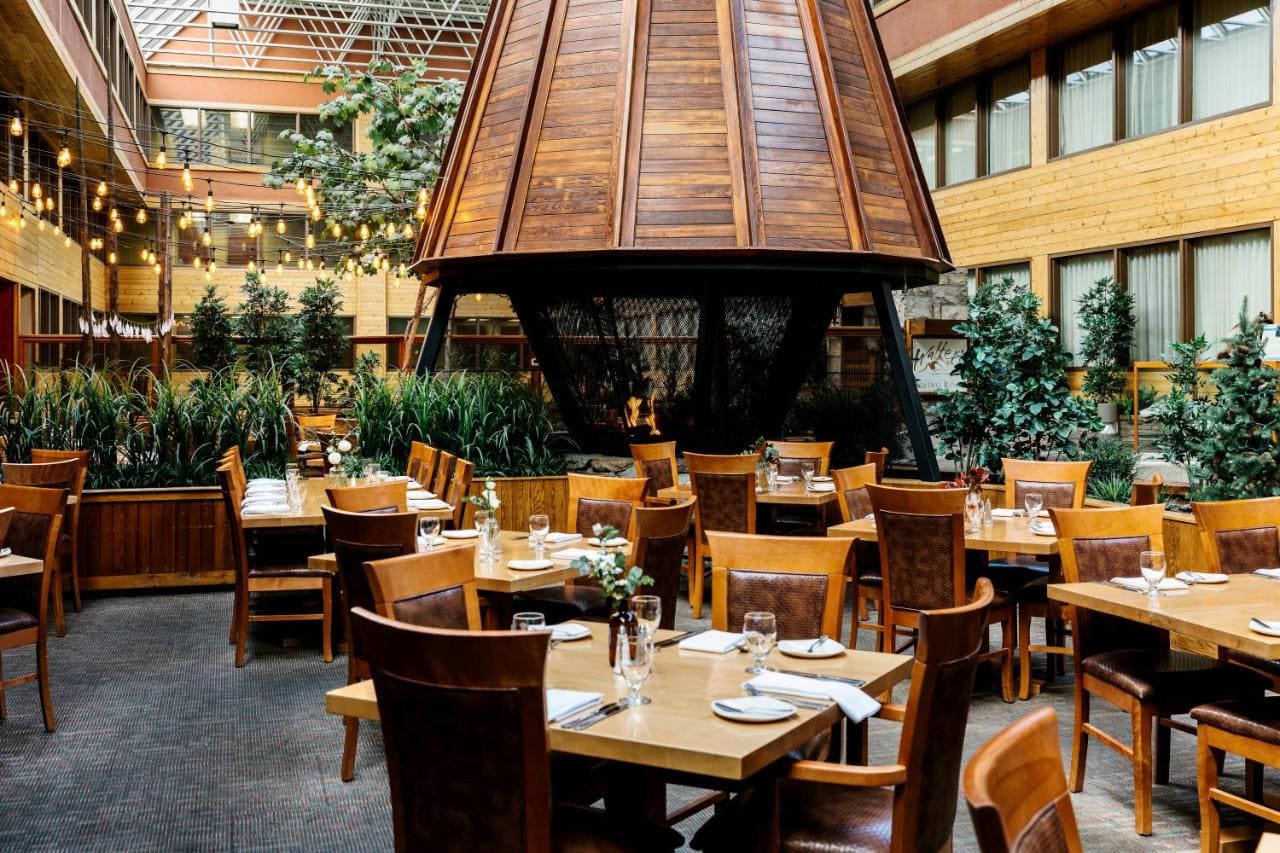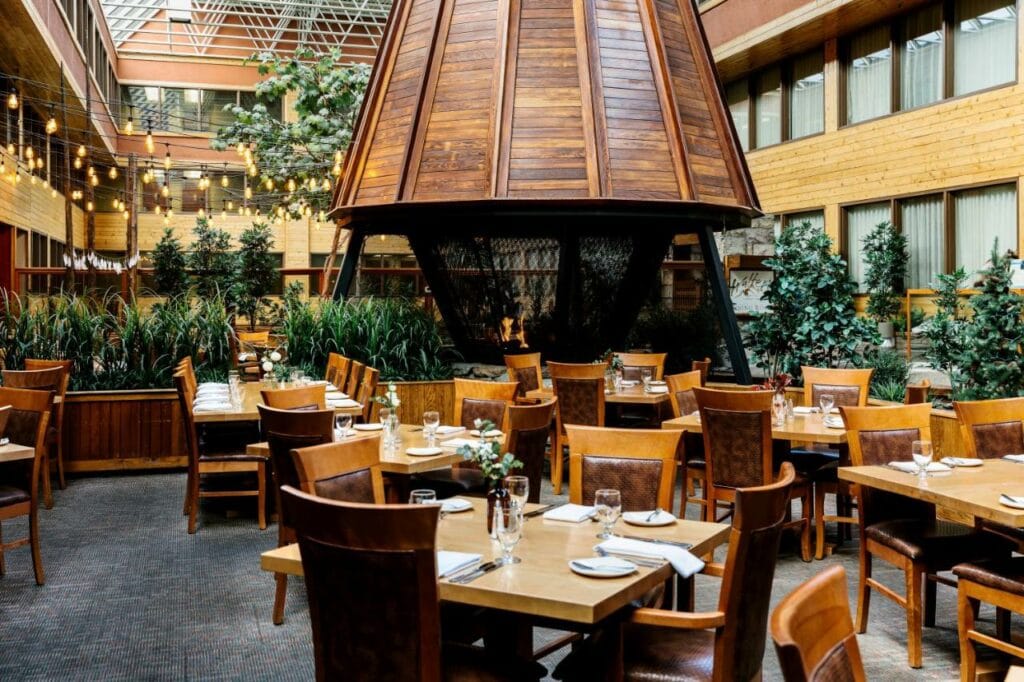 Relax and unwind with the hotel's many amenities, including an indoor swimming pool, hot tub, and fitness centre. You can also indulge in delicious farm-to-table cuisine at the on-site restaurant.
The hotel's location is ideal for exploring the stunning wilderness of Jasper National Park and Mount Robson, with hiking and biking trails, skiing, and snowboarding just minutes away.
With nearby attractions like Marmot Basin Ski Resort and charming downtown Jasper just a short drive away, adventure is always just around the corner!
Experience the ultimate in comfort and style at Tonquin Inn, one of the best boutique hotels in the Jasper area. With its luxurious rooms and suites, each uniquely designed with a mix of contemporary and rustic elements, Tonquin Inn offers guests a truly elevated mountain getaway.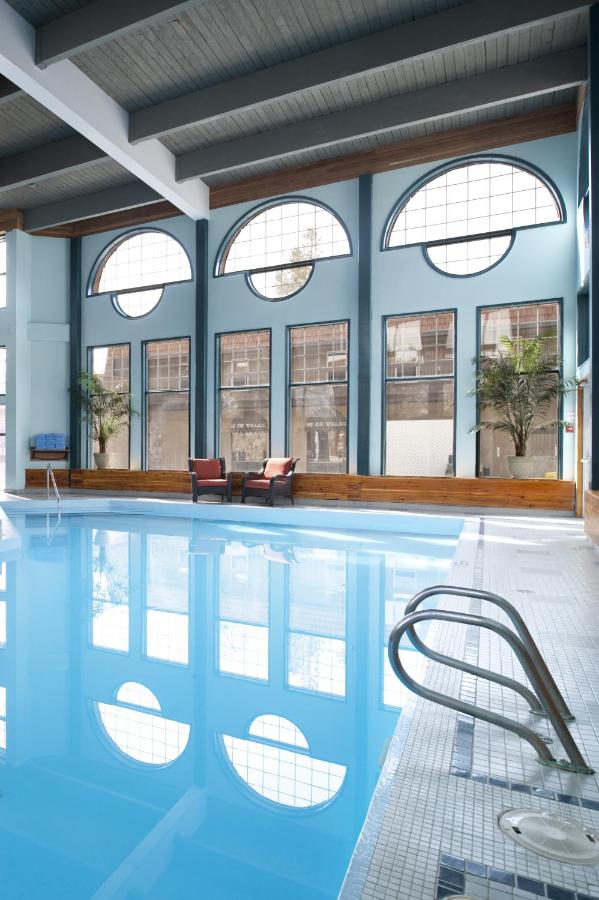 Thanks to an indoor pool, hot tub, and sauna, you can unwind and recharge after a day of adventure in Jasper National Park or on the nearby ski slopes. Dine at the on-site restaurant, which offers a chic, modern ambiance and authentic, locally-sourced cuisine.
For those looking for a truly special holiday, Tonquin Inn also features a penthouse suite, complete with a private rooftop patio and hot tub.
Do you love being close to the action? This hotel is just a few minutes' drive from the centre of Jasper. You'll be close to all the shops and restaurants you could need for a fun break in the mountains.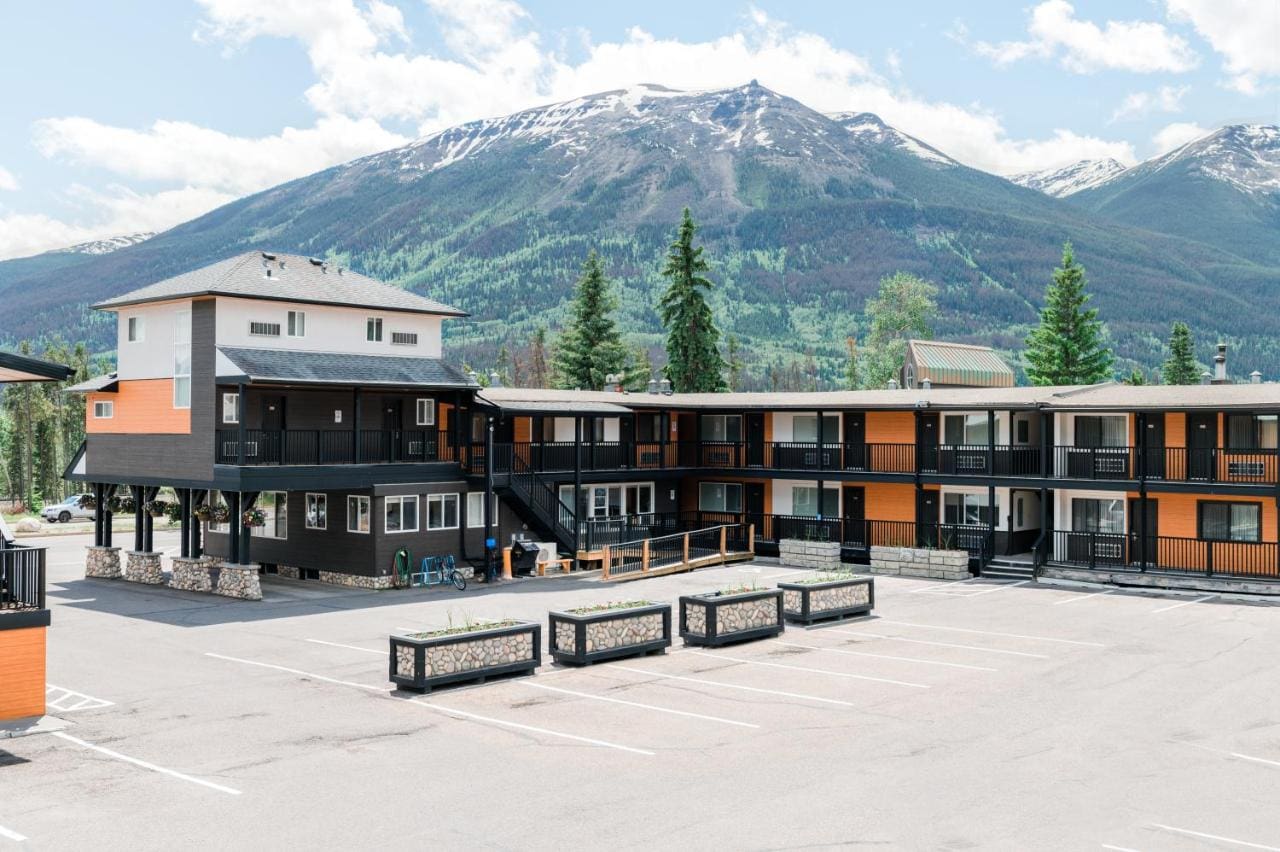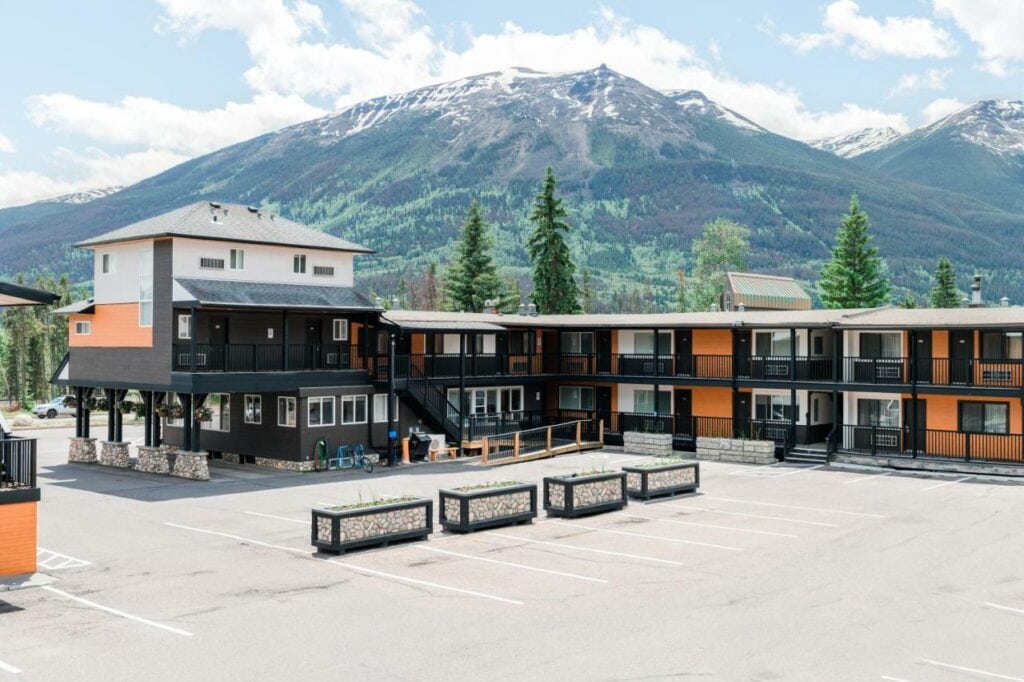 Mount Robson Inn offers comfy accommodation is ideal for couples and families alike.
If you're planning a ski trip to Jasper, there's a ski shuttle service provided by the hotel. Plus, when you return tired and achy, you can relax and unwind in one of the hotel's hot tubs!
Get ready to experience the natural beauty of Jasper National Park in style at the Marmot Lodge. This inviting mountain retreat offers cosy and comfortable rooms and suites with a range of amenities designed to enhance your stay.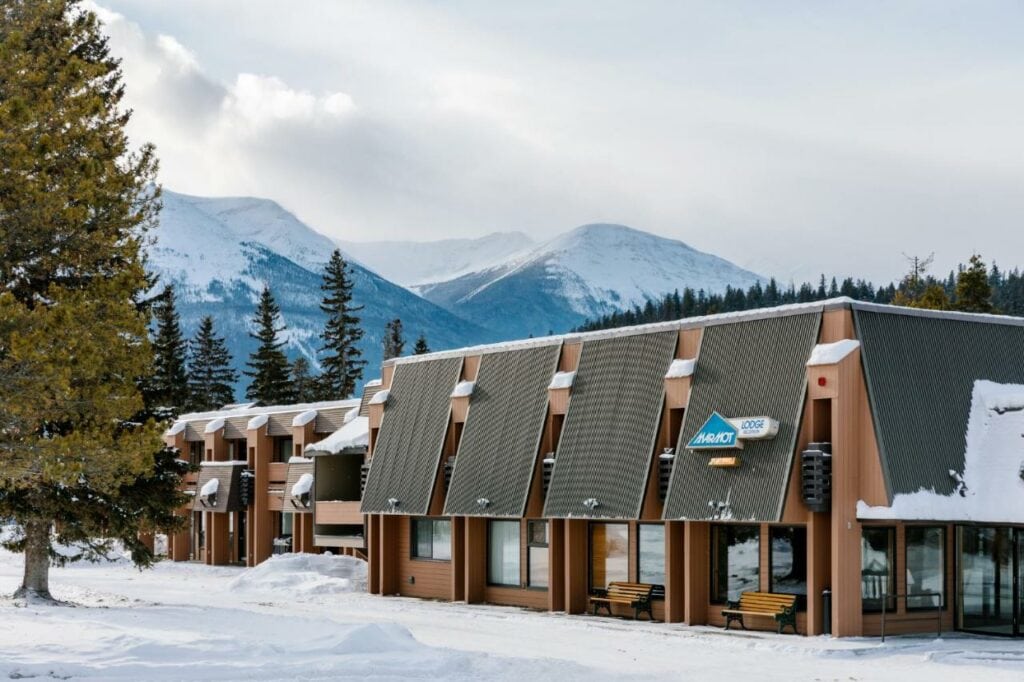 When it's time to dine, the on-site restaurant and lounge offer a delicious selection of locally sourced cuisine and handcrafted cocktails.
With the park's many attractions just a short distance away, including hiking trails, wildlife viewing, and skiing, there's no shortage of adventure to be had. Even beautiful Banff National Park is only a one hour drive away!
The Crimson Jasper is where luxury meets the great outdoors! This modern and stylish boutique hotel offers guests a unique blend of comfort and adventure. Here you'll find spacious and tastefully decorated rooms that feature all the amenities you need for a relaxing stay.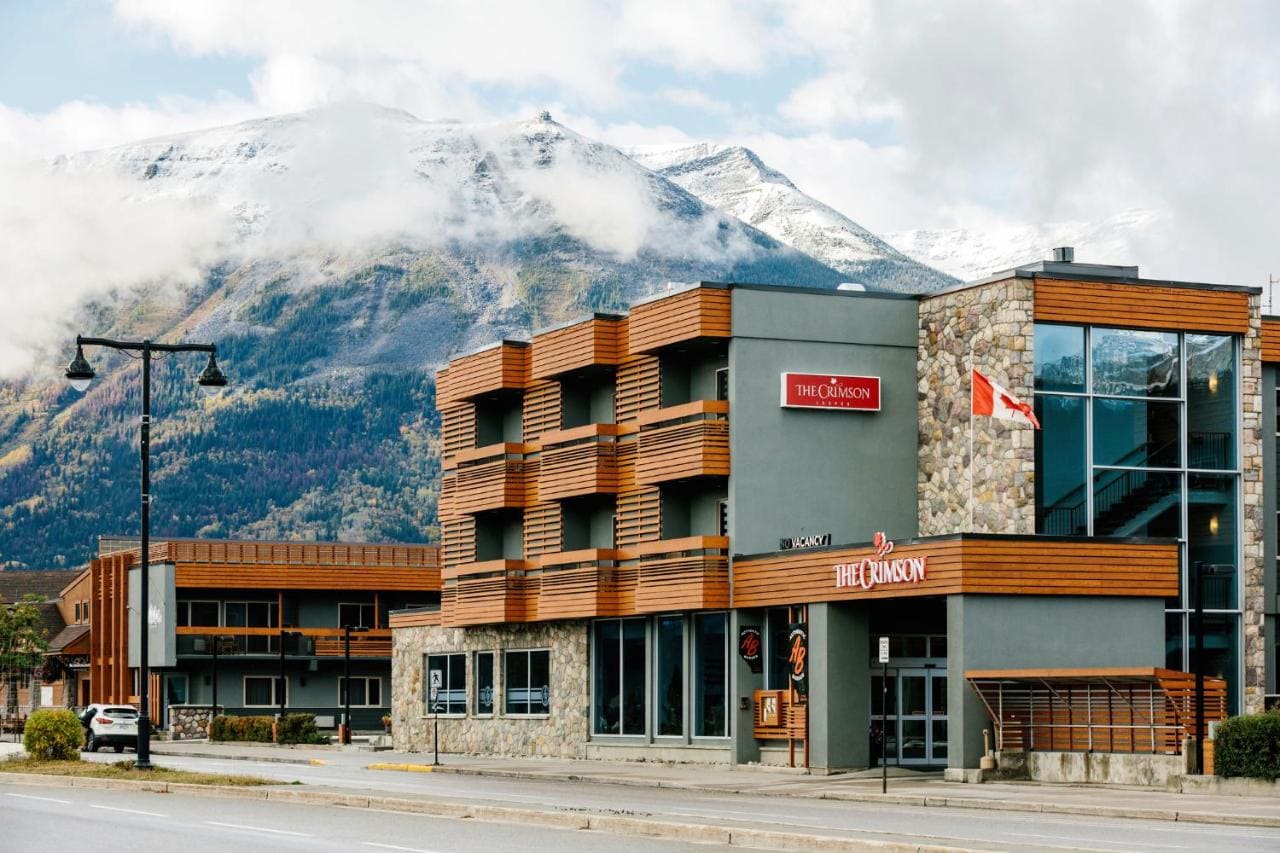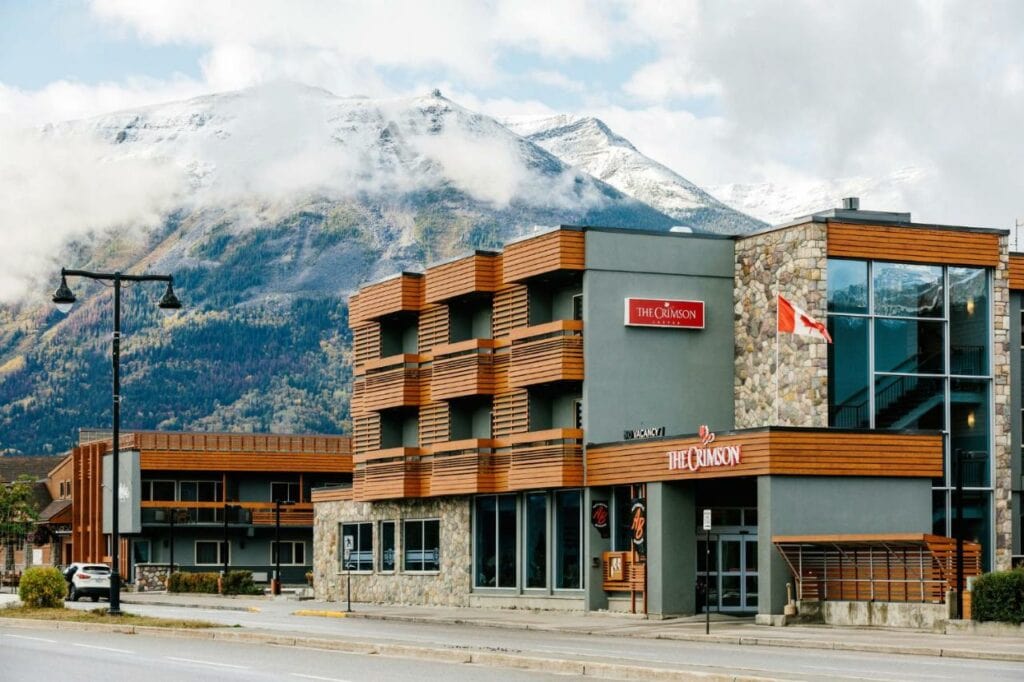 Unwind in the indoor pool and hot tub, or catch some rays on the outdoor patio with its lovely mountain views. And for the ultimate in relaxation, indulge in a spa treatment at the on-site Mountain Wellness Day Spa, where you can unwind with a massage or facial after a long day of adventure.
---
8 Places To Visit On Your First Trip To Jasper
So, hopefully now you've planned your dream accommodation, here are a few quick ideas of some beautiful places to see in the area.
Jasper National Park: Explore the vast wilderness of Jasper National Park, Canada's largest national park. You can hike, bike, or drive through this pristine environment, home to diverse wildlife, including bears, elk, and bighorn sheep.
Maligne Lake: Take a boat tour on Maligne Lake to see the famous Spirit Island. The turquoise waters and surrounding mountain scenery make it one of the most photographed spots in the Canadian Rockies.
Athabasca Glacier: Visit the Columbia Icefield, where you can take an Ice Explorer tour to the Athabasca Glacier. It's an opportunity to walk on a real glacier and learn about its formation.
Jasper SkyTram: Ride the Jasper SkyTram to the top of Whistlers Mountain for panoramic views of the surrounding peaks. It's especially stunning during sunrise or sunset.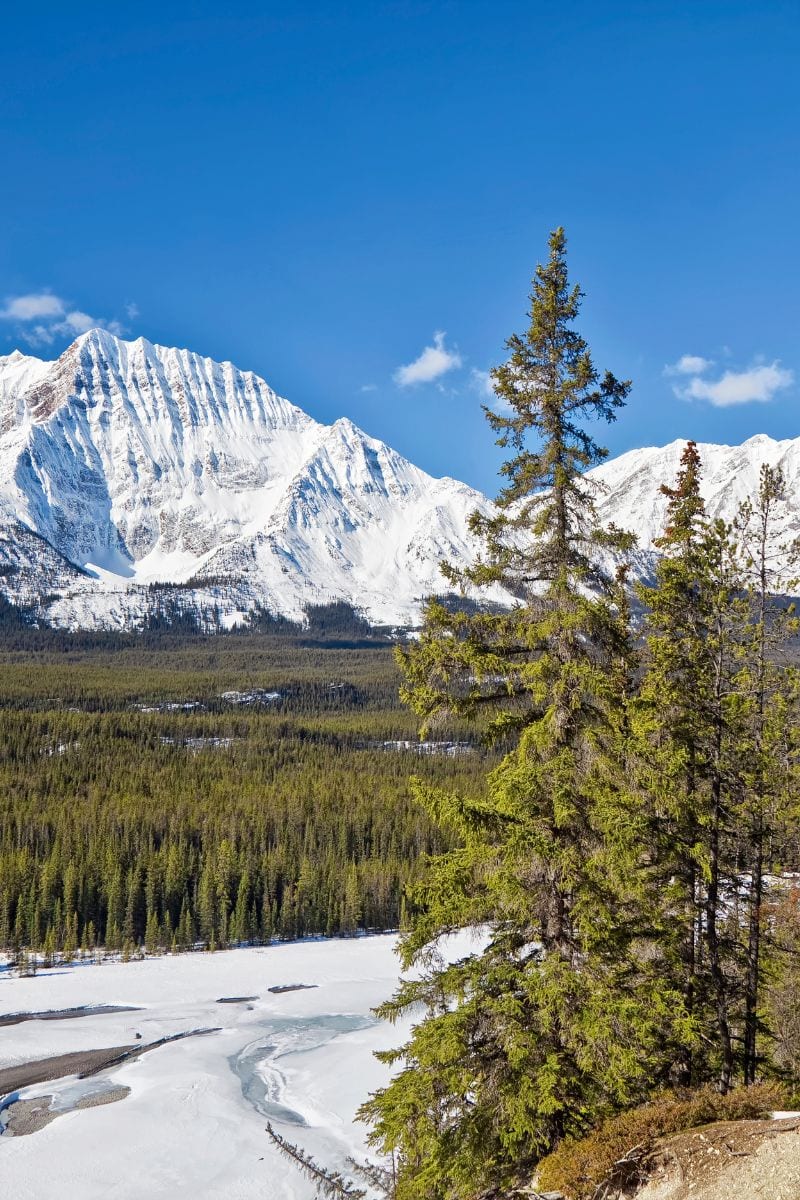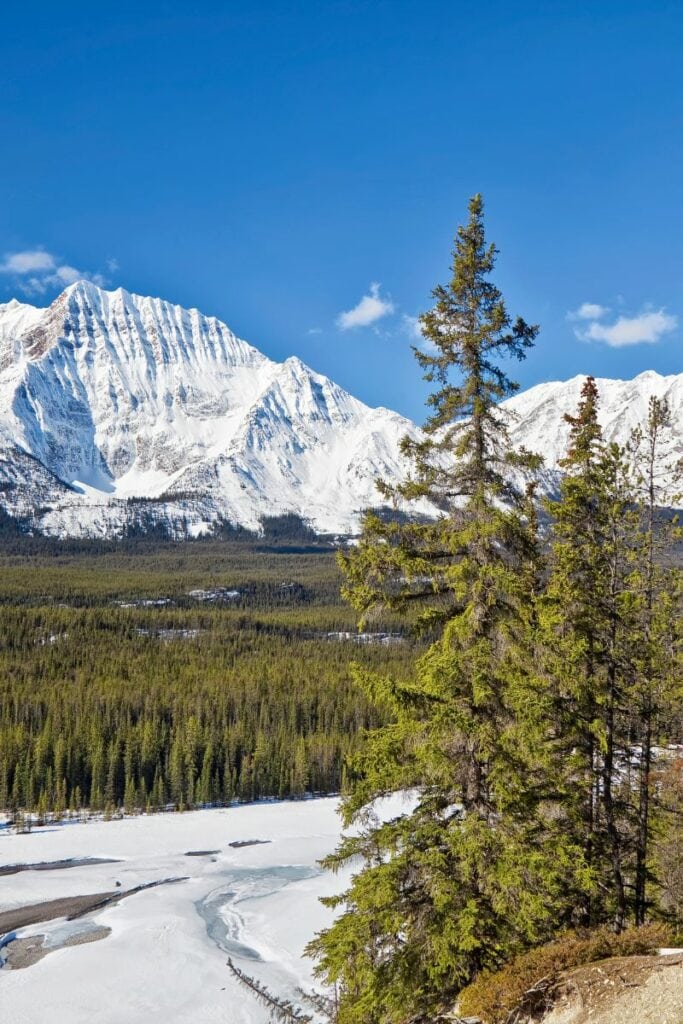 Athabasca Falls: Witness the power of nature at Athabasca Falls, where the Athabasca River thunders through a narrow gorge. There are well-maintained walking paths and viewpoints for a safe visit.
Miette Hot Springs: Relax in the natural Miette Hot Springs, known for their therapeutic properties. The surrounding landscapes are also beautiful and great for hiking.
Pyramid Lake: Enjoy the serene beauty of Pyramid Lake and Pyramid Mountain. You can rent a canoe or paddleboat, go fishing, or simply take in the scenery from the lakeside.
Jasper Town: Stroll through the charming town of Jasper, which offers a range of restaurants, shops, and galleries. It's a great place to unwind after your outdoor adventures.
---
I hope you've enjoyed my guide featuring the best places to stay in Jasper. From boutique hotels, with their unique and charming character, to larger resorts and cabin rentals that offer luxurious amenities and breathtaking views, there is no shortage of amazing places to stay in Jasper!
If you're looking for more inspiration for your trip to Canada, don't miss my other guides: