From size and weight, to comfort, ease of use and accessories, my Babyzen Yoyo2 review will help you decide if this is the stroller for you.
So, you're looking for an ultra-lightweight, compact stroller, something that would be ideal for city outings and world travels? Well, it's no wonder you're considering buying the Babyzen Yoyo2! It's one of the smallest, lightest and easiest to use. It's also stylish, practical and won't break the bank. For something so compact, it's also surprisingly sturdy.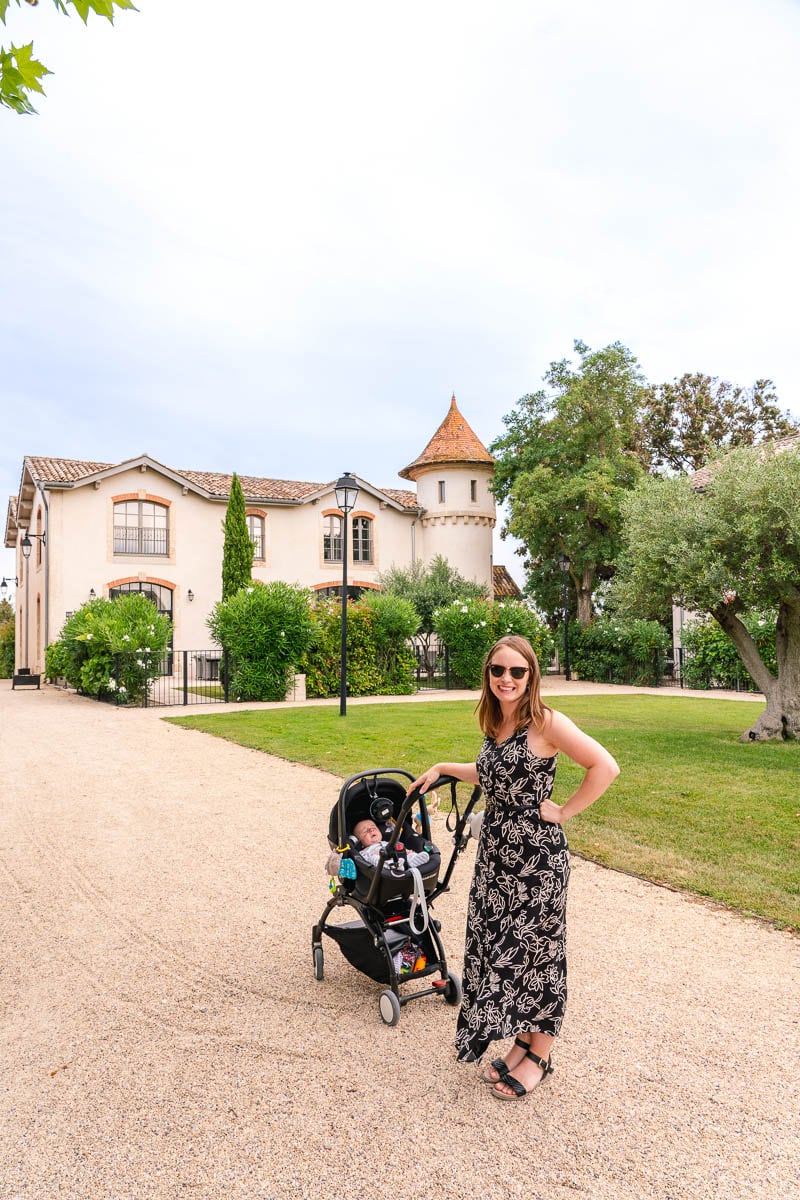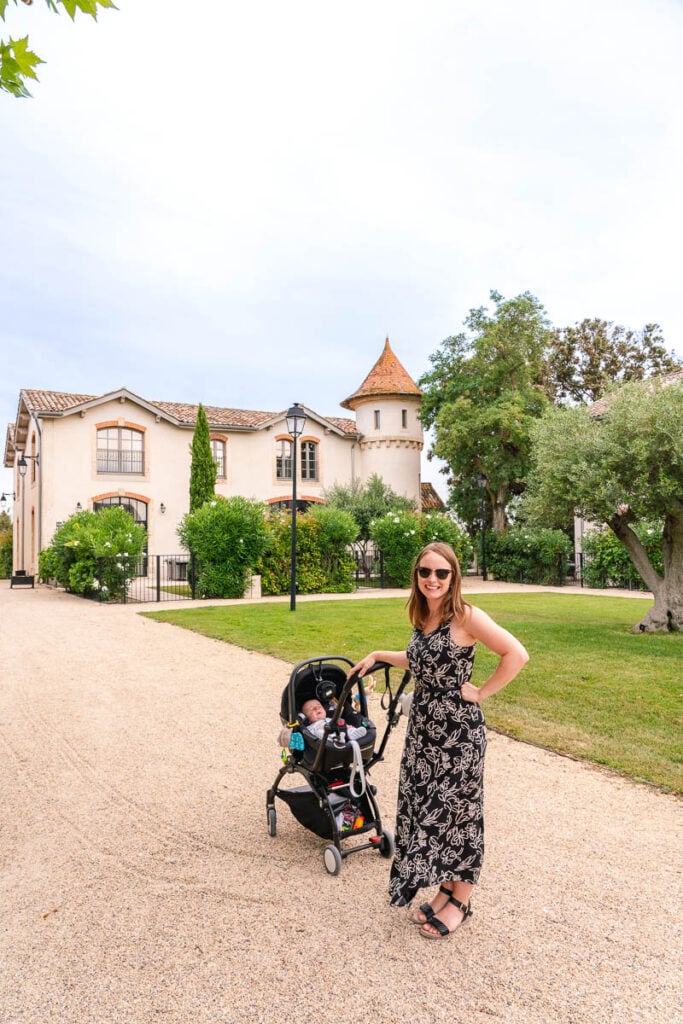 I've had mine for well over 6 months now, transitioning from the Babyzen Yoyo bassinet attachment, to the main stroller seat. I've used it as my everyday pram, wheeling it around parks, in and out of shops and on and off public transport. I've even taken it on a few flights and visited both France and Spain with it.
I wanted to wait a little while before writing this honest review so that I felt like I'd really got to know it, but it's fair to say I've put it through its paces! I've also used several attachments, and discovered the pram's pros and cons.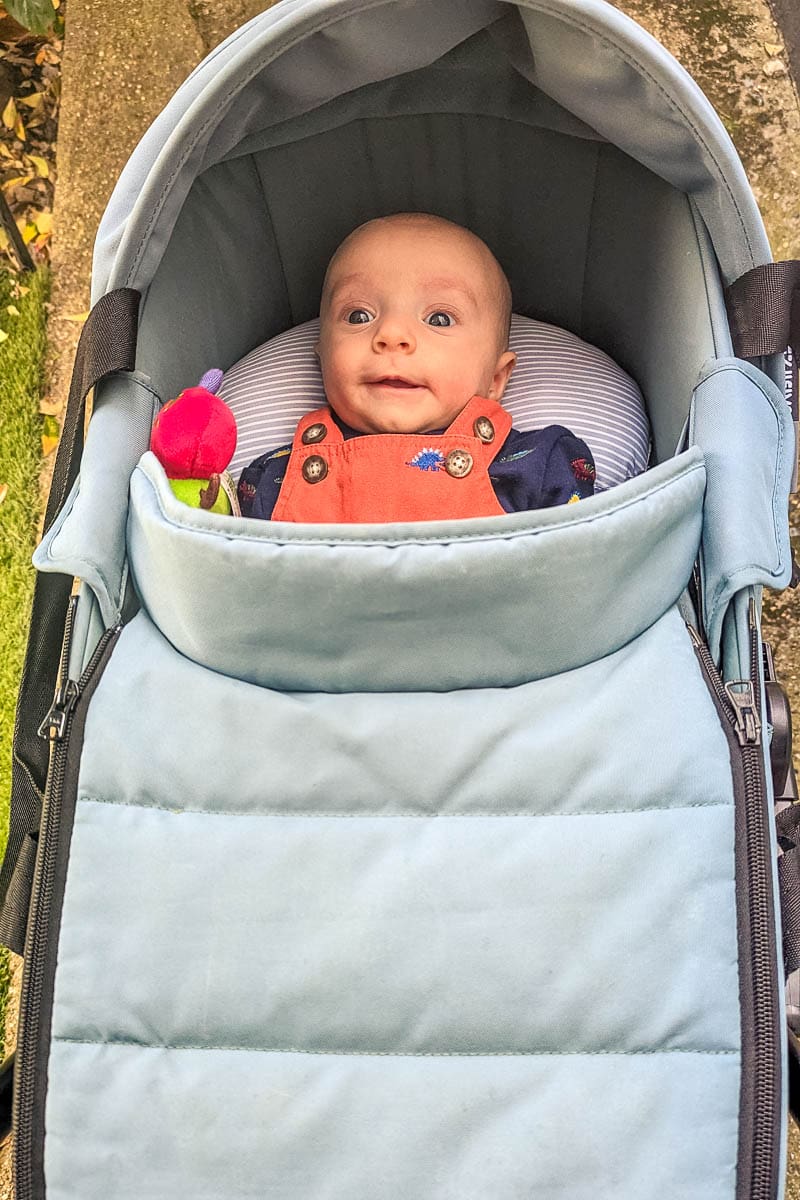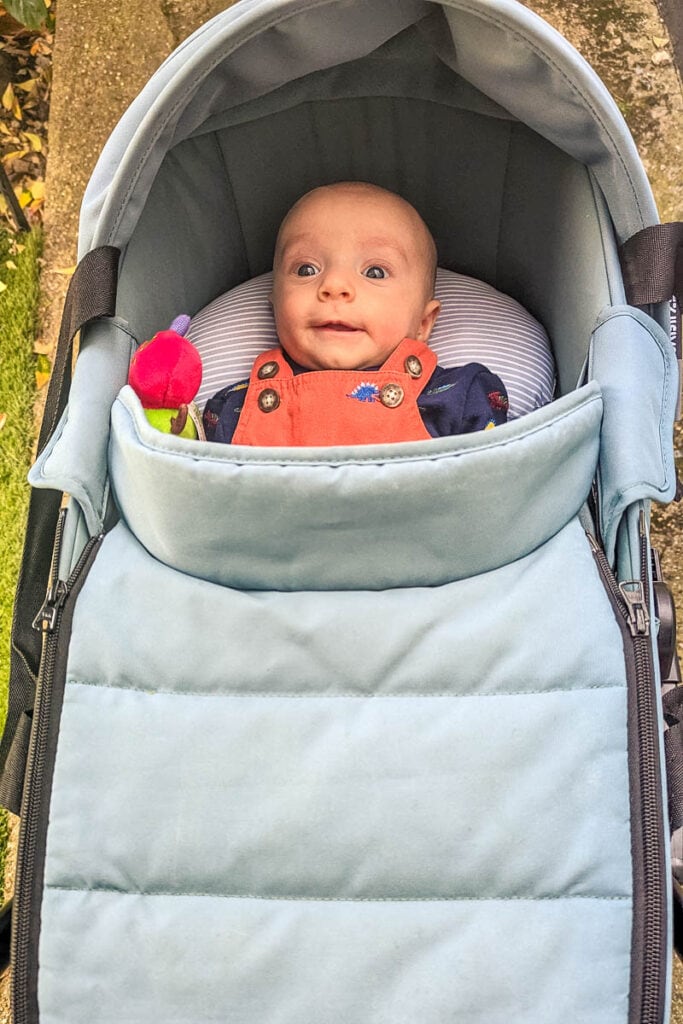 If you're weighing up your options, this Babyzen Yoyo2 review will help you decide if this is the best stroller for you. I've divided my review up into easy-to-digest sections. I'll cover all the facts and figures, the attachments and accessories, pros and cons and give you my honest opinion on who this stroller is really for.
I also want to add that I bought this stroller so this is a completely unbiased review!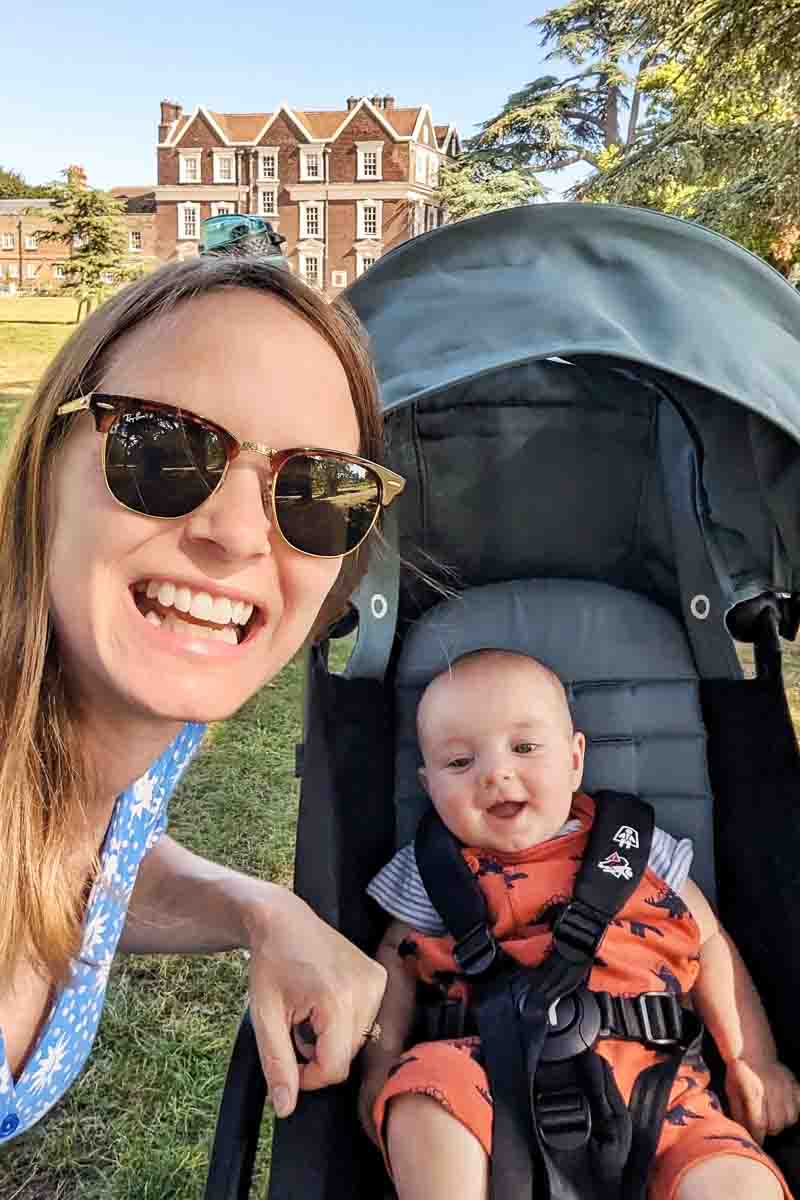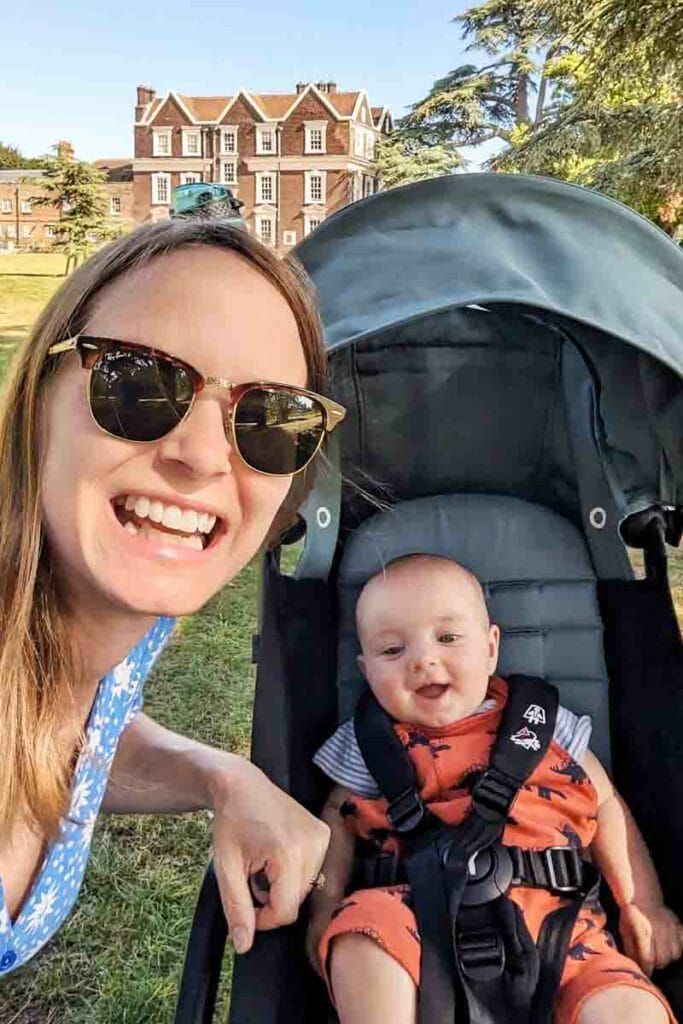 ---
An Honest And Detailed Review Of The Babyzen YOYO2
Babyzen Yoyo2 Weight and Dimensions
The Babyzen Yoyo2 stroller is one of the top choices for parents looking for a lightweight, compact, and versatile option for their little one.
One of the biggest selling points is its size. When folded down, it measures 52 x 44 x 18 cm (20.5 x 17.3 x 7.1 in). That's equal to or less than most airlines' cabin luggage allowance. As a little reminder, this is with the 0+ newborn pack or the 6+ month chair attached. The larger newborn bassinet (which I used) doesn't fold down.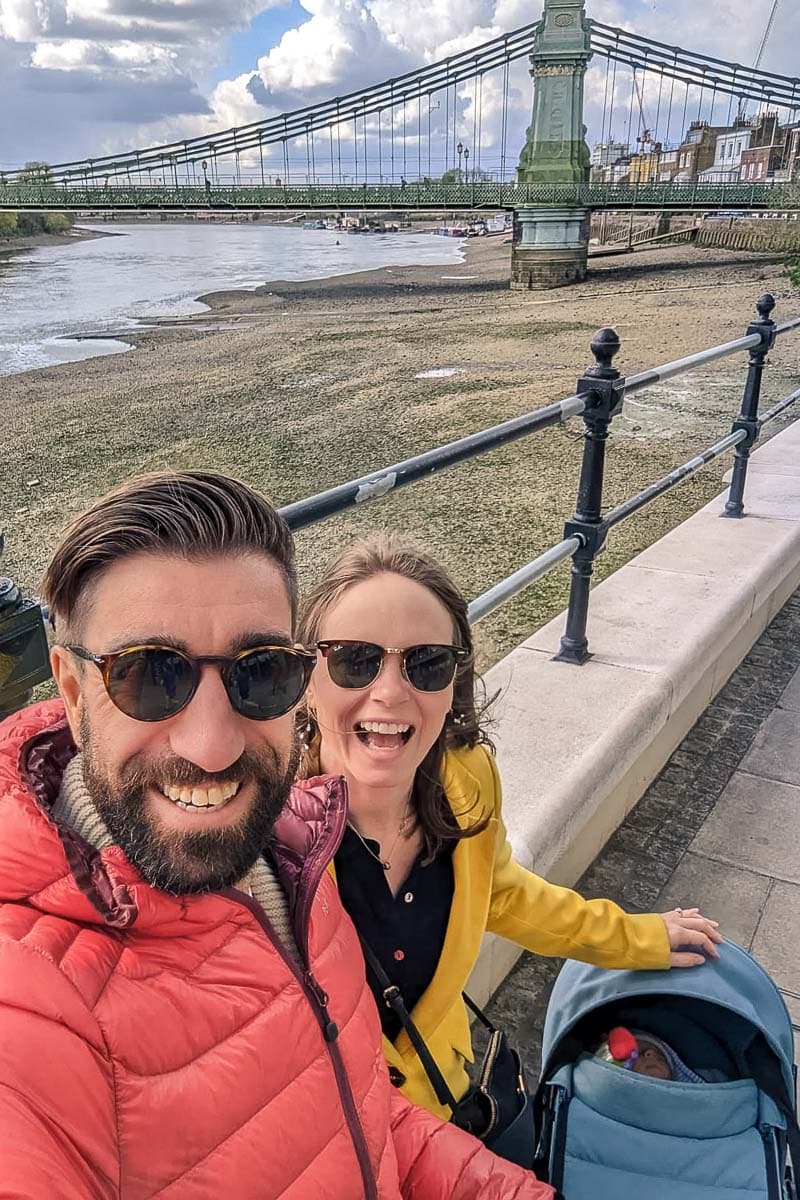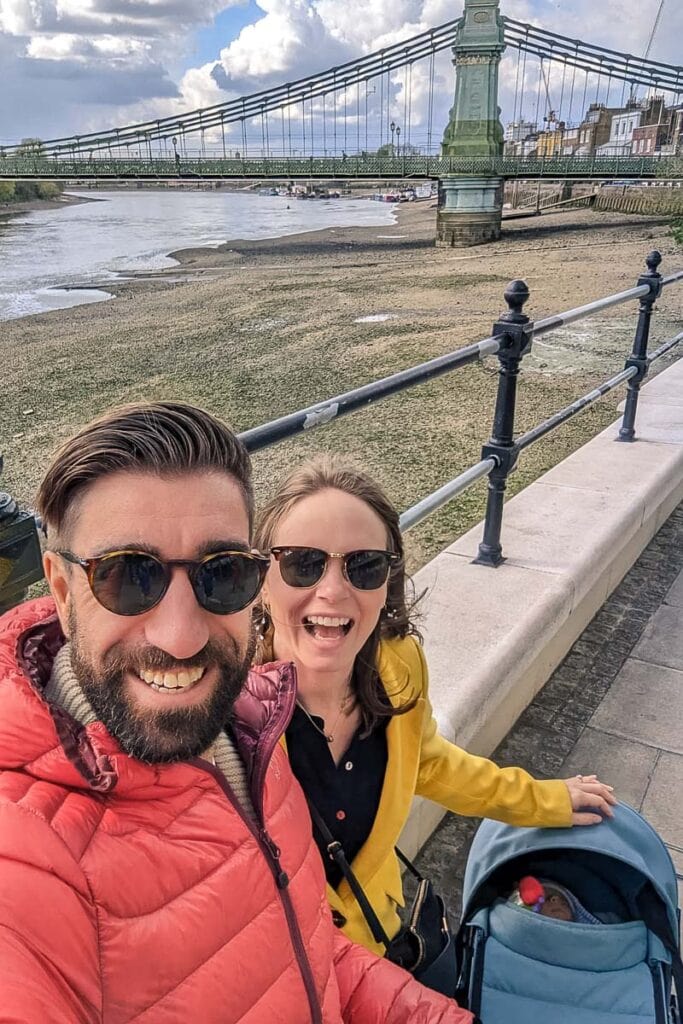 In terms of weight, it beats the competition too! For the main 6+ month stroller, you're looking at a weight of 6.2 kg (13.6 lbs), 6.6 kg (14.5 lbs) with the 0+ newborn pack or 8.1 kg (17.8 lbs) with the larger bassinet.
It's also suitable for carrying children until they're 4 years old (approximately).
When I was pregnant, we went to the shops to test out lots of prams. We were torn between buying a substantial pram or a really compact one. In the end, I'm really pleased we went with the Yoyo! It's ideal for London, which is where we use it the majority of the time. It's rare we need something suitable for rough terrain, and if we do, we use our Ergobaby carrier.
It's also worth noting that we have a small car (Toyota Yaris) and I would have struggled to fit a larger pram in our boot. The Yoyo slides in easily, leaving plenty of room for luggage (which when you have a baby, there's a lot of!)
Babyzen Yoyo2 Suspension and Wheels
The Yoyo has 4-wheel suspension and is really easy to push on pavements, roads and flat surfaces. It doesn't feel clunky at all. I remember when we were testing a few out, I pushed it around in the John Lewis store and it had a much smoother roll than the other prams.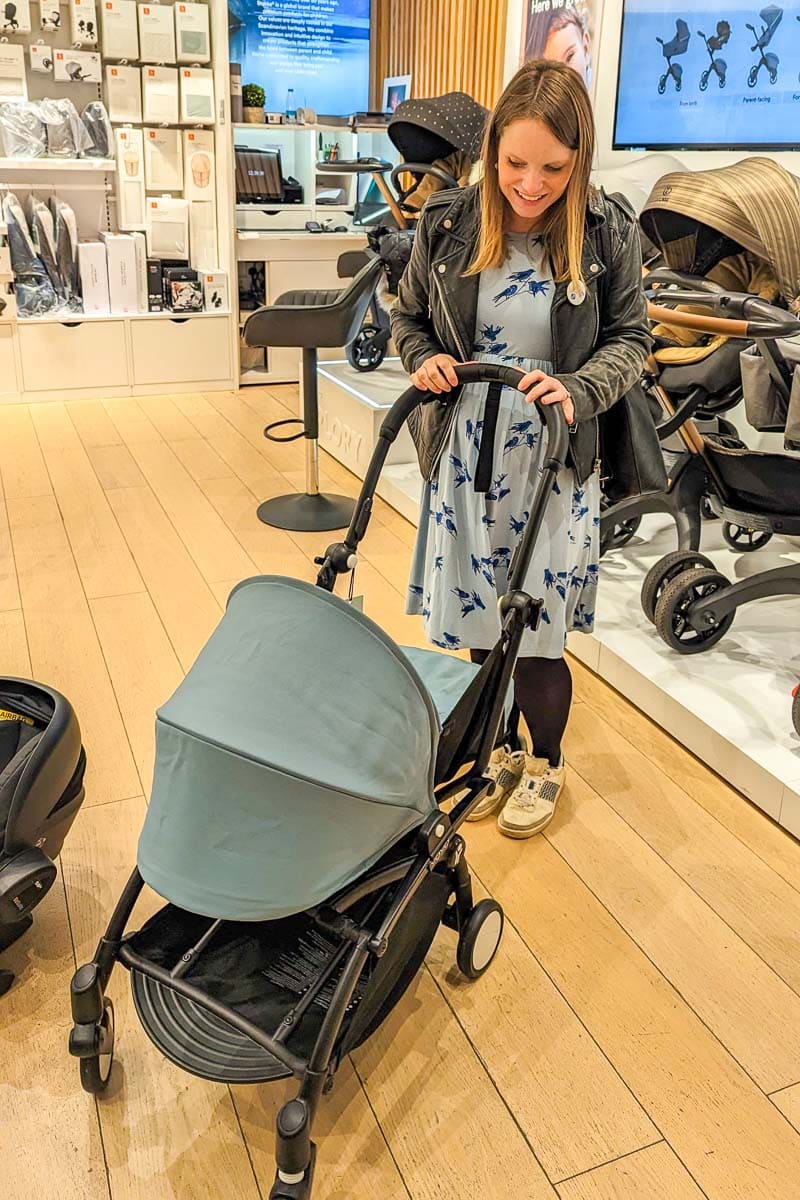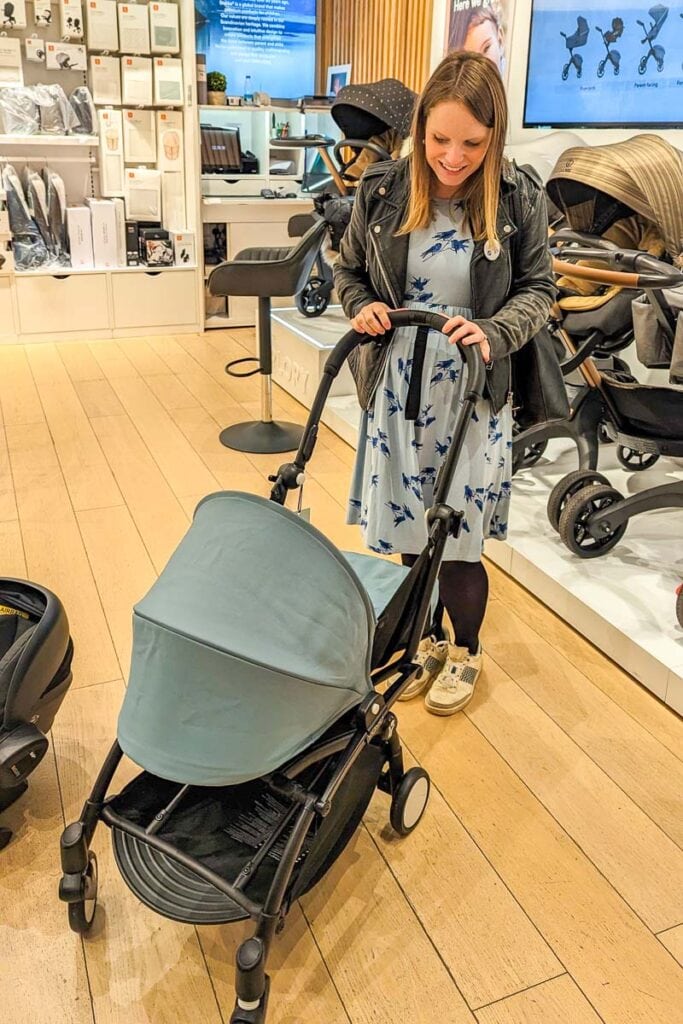 One of the biggest downsides to this pram is that you'll struggle to use it on certain terrains. Saying that, we've been amazed by how well it's handled bumpy paths, gravel and grass. The one big struggle we had was pushing it over the medieval cobbles in the city of Carcassonne in France. I think any pram would have struggled there though!!
The compact wheels and easy manoeuvrability make it an ideal pram for town and city outings.
Babyzen Yoyo2 Newborn Attachments
Let's go back to the start. We moved Cooper to the main stroller at 5 months as he seemed to be craving more stimulation and preferred to be upright. At the start though, we used the newborn bassinet. This is a comfortable flat bed with a mattress and rigid sides. It's protective and cosy!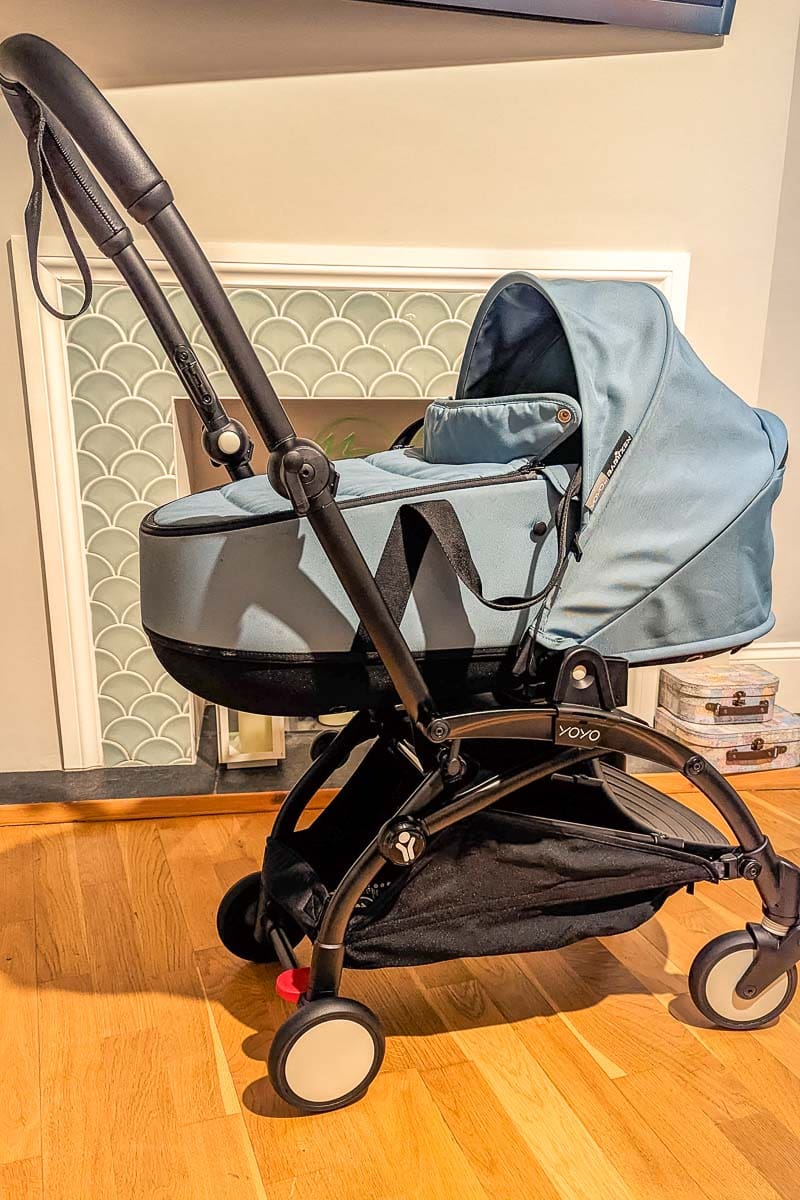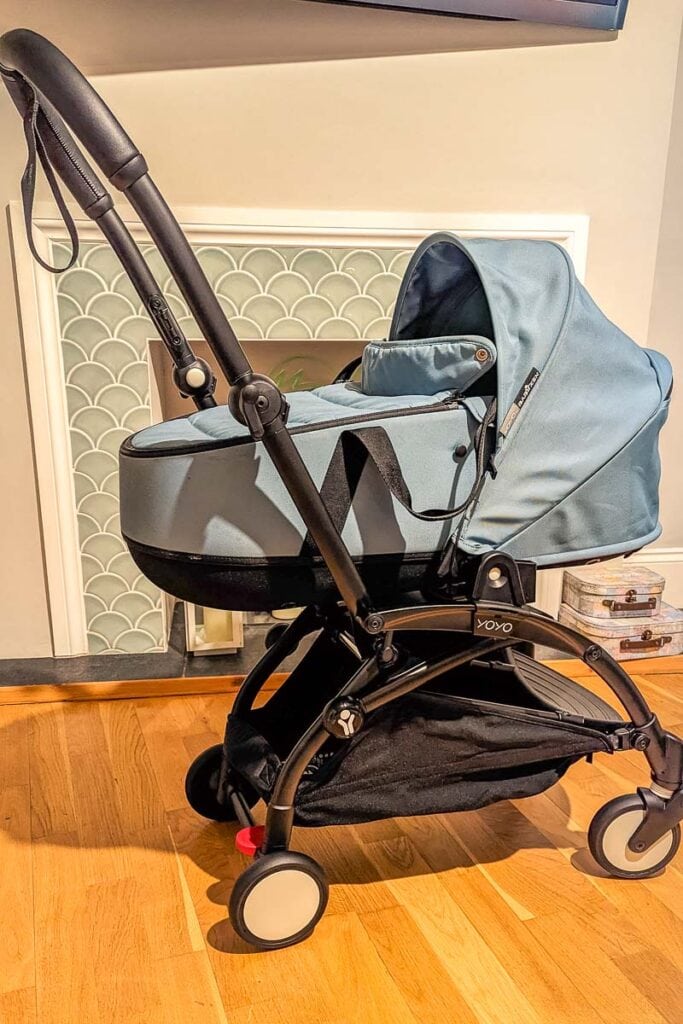 When we viewed the Yoyo2 in the shops, we kept feeling like the bassinet was quite low to the ground. Lots of the other prams had a much higher bassinet, and I wasn't sure I liked the idea of a) him being so low down and b) us bending over so much! I lost a bit of sleep deliberating over this but it turns out it wasn't really a big deal. It's also only for a relatively short time.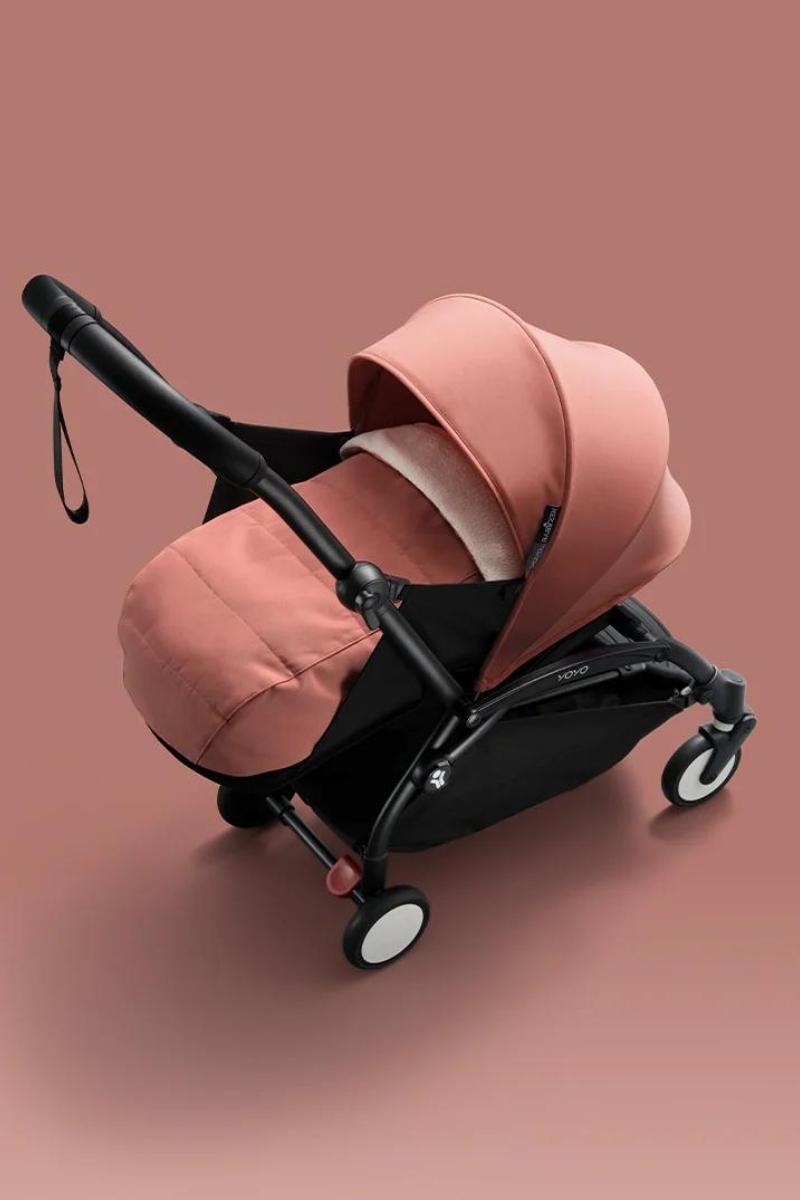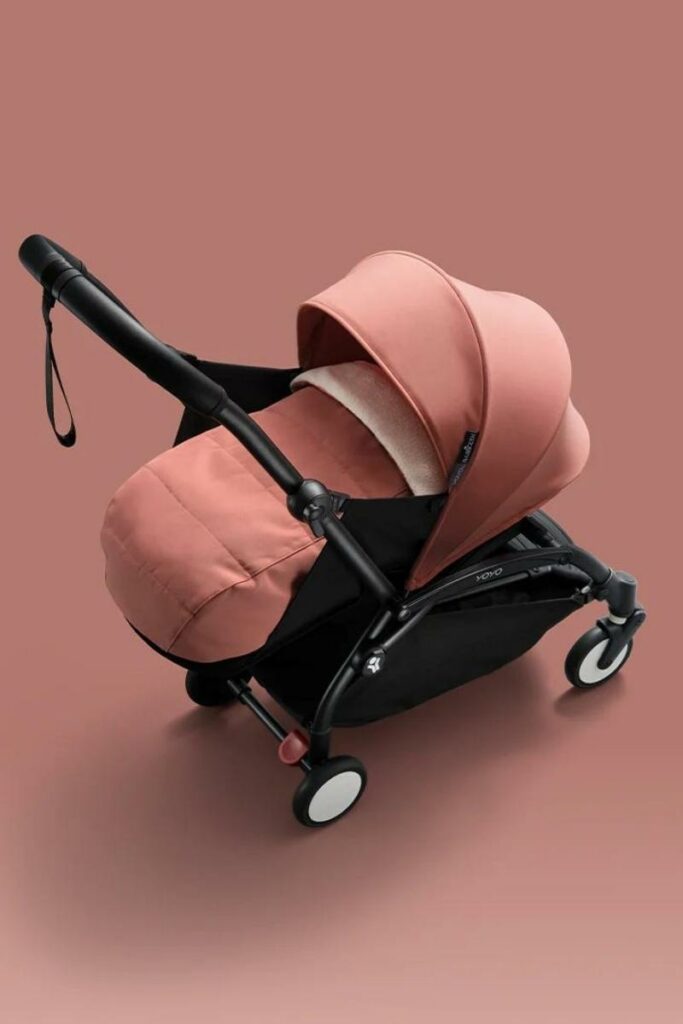 The alternative to the larger bassinet is the 0+ newborn pack. We considered this but thought it looked a bit flimsy and unprotected. It has a thinner mattress and a sherpa-lined footmuff. The key benefit of this attachment is it still folds up into the frame, so if you're travelling a lot in that early period, it might be a good idea to pick it.
We ended up liking having the bassinet in the house as sometimes Cooper would snooze in it indoors too. I'm not sure that would have been the case with the newborn pack.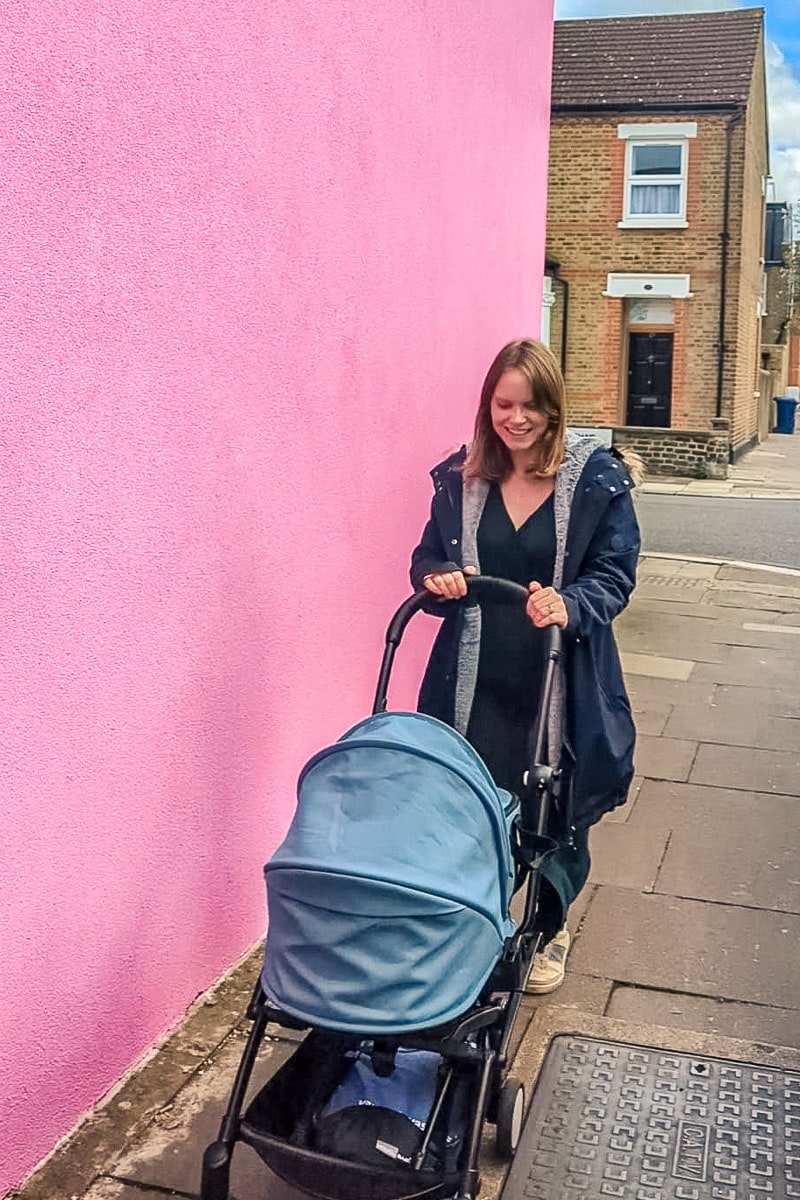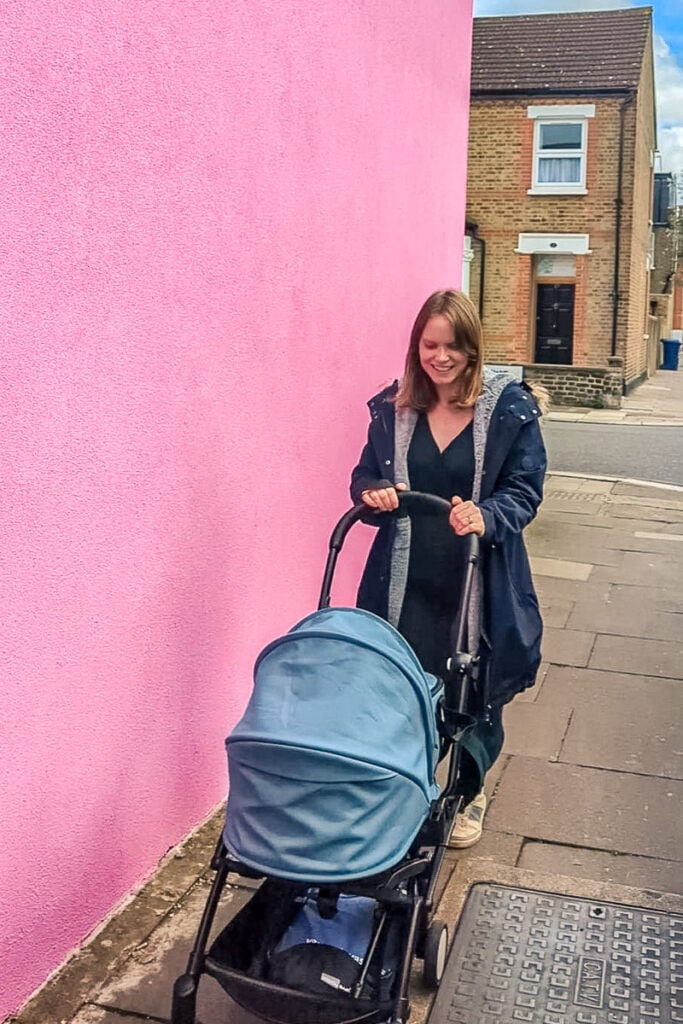 Babyzen Yoyo2 Pushchair
From around 6 months, you'll need to switch out the newborn attachment and build the main stroller seat. You're probably thinking this is a quick job, but allow an hour and watch a few tutorials on YouTube to help! Some of the steps are a little confusing.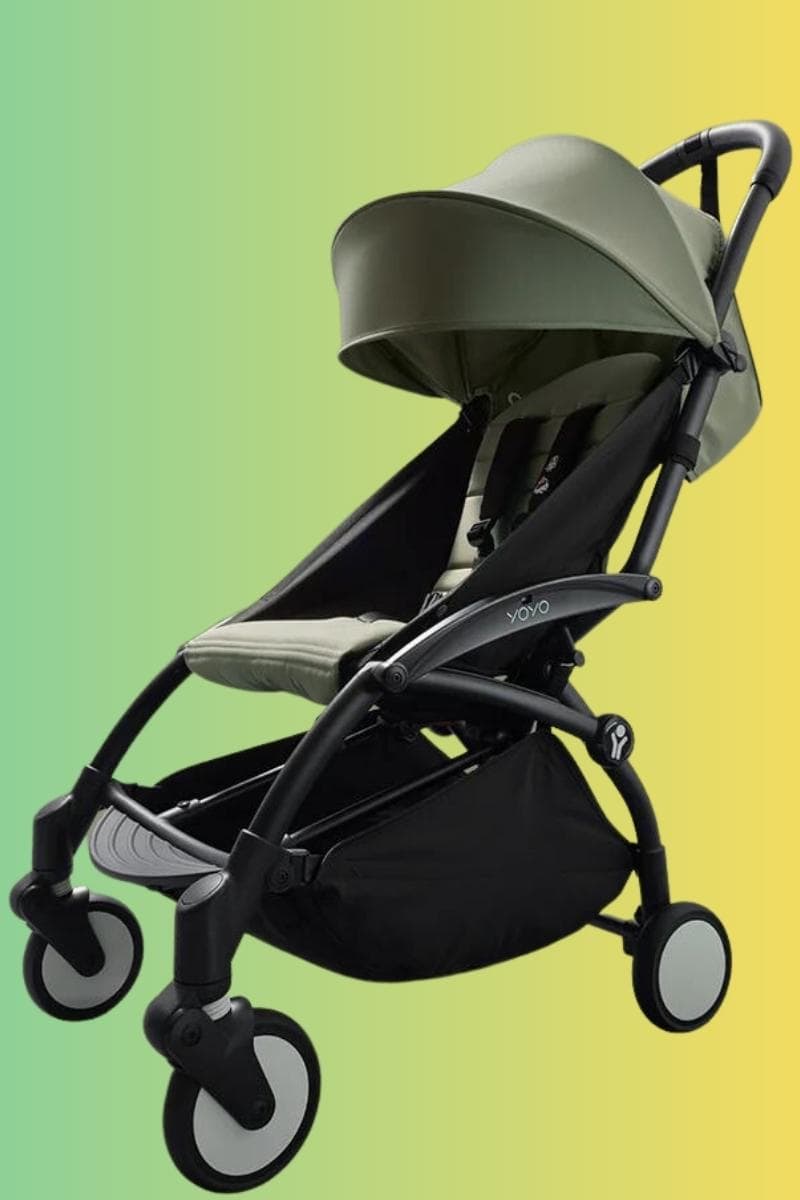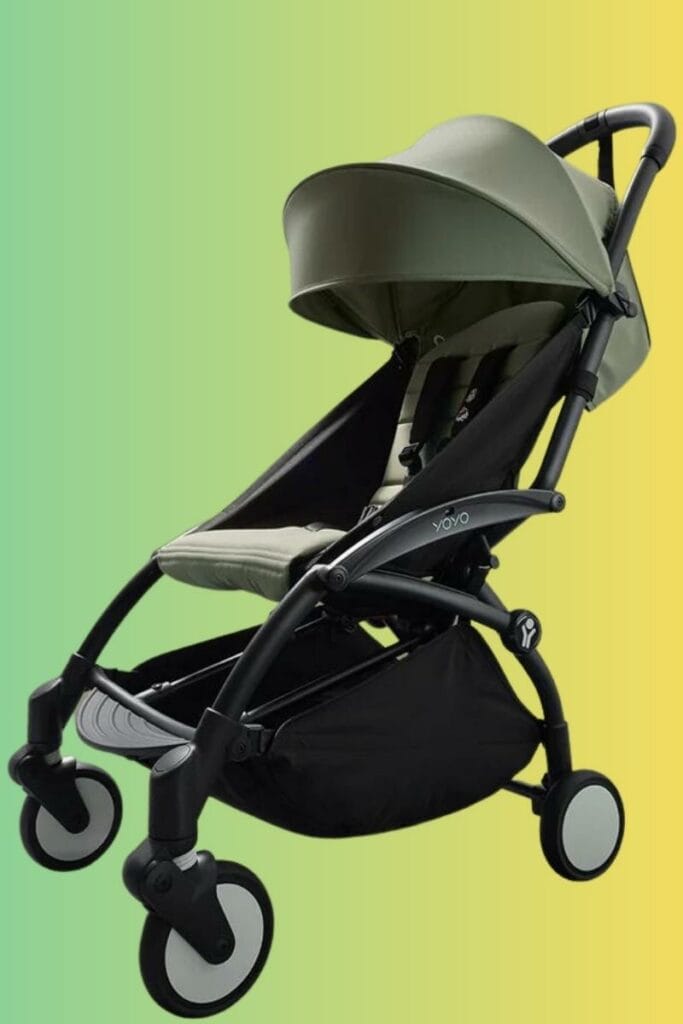 Once the Yoyo2 stroller is attached, you can't switch between bassinet and stroller, so you need to be sure of your decision! One thing to note is that this stroller can only be world-facing. Many larger strollers on the market have an option to flip from parent-facing to world-facing. The Yoyo pushchair only faces outwards.
When you purchase your Yoyo, you'll choose a '6+ month color pack' (lots of fun colours to pick from!) This contains the seat and shade for the stroller.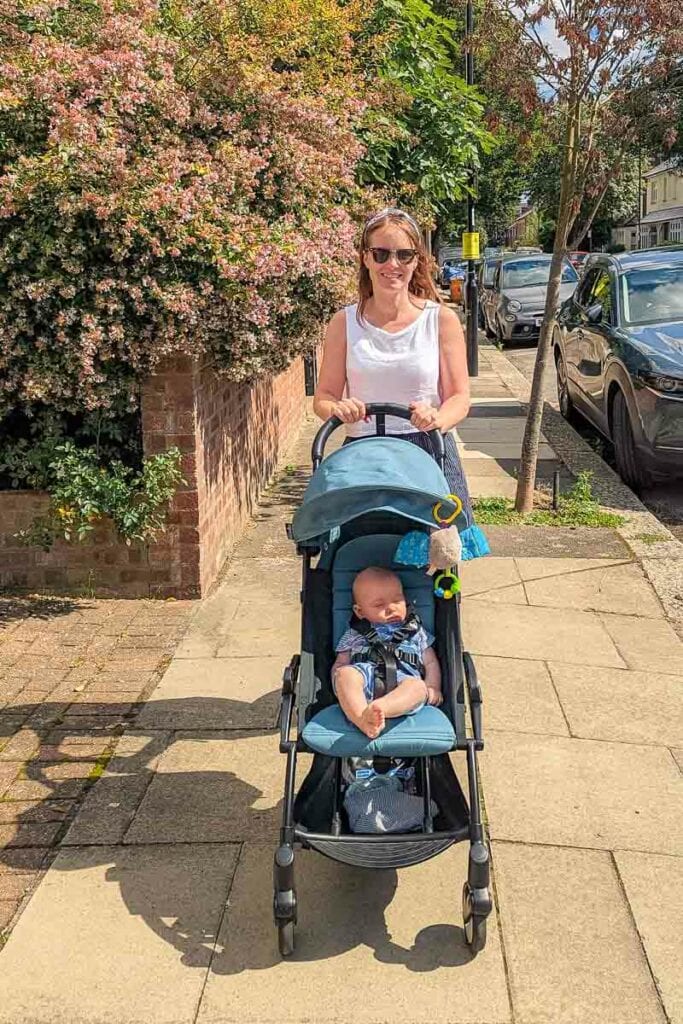 There are different levels to put the shoulder straps through, so you can adjust this as your baby grows. There's also a 5-point harness which feels very secure, with padded shoulder straps to keep your baby snug in the seat.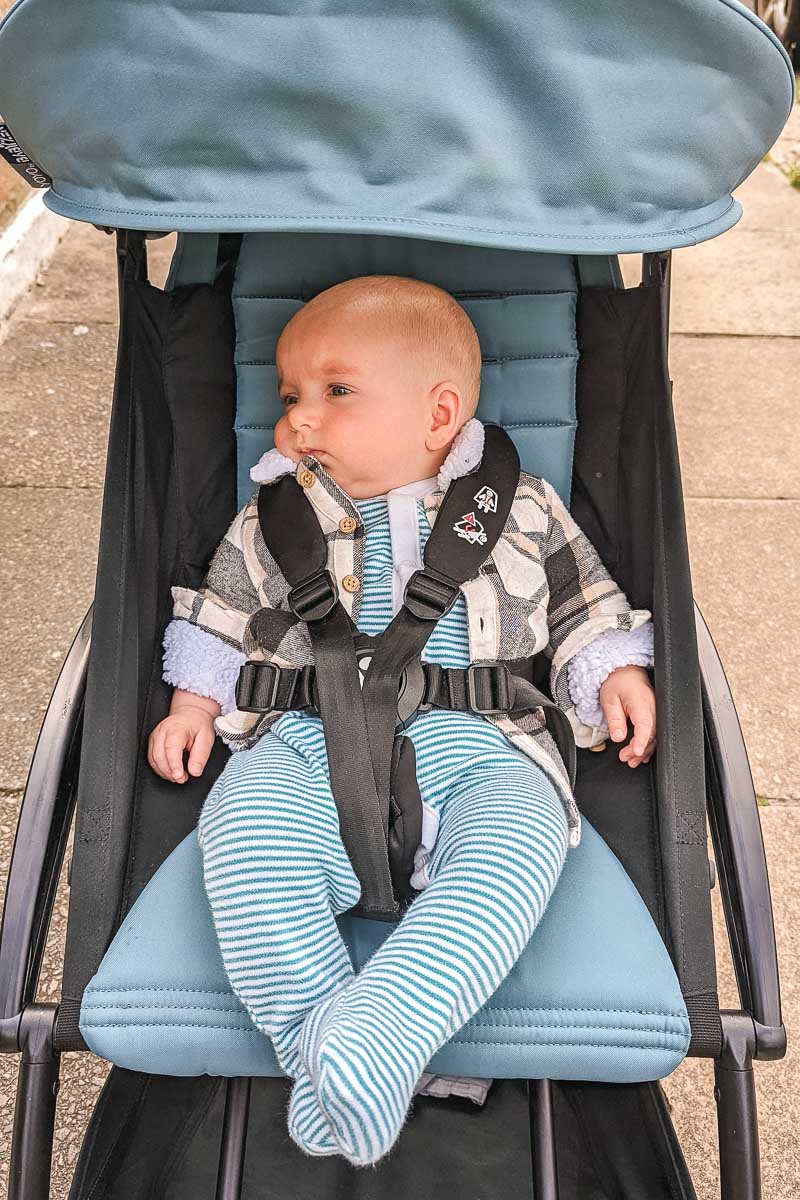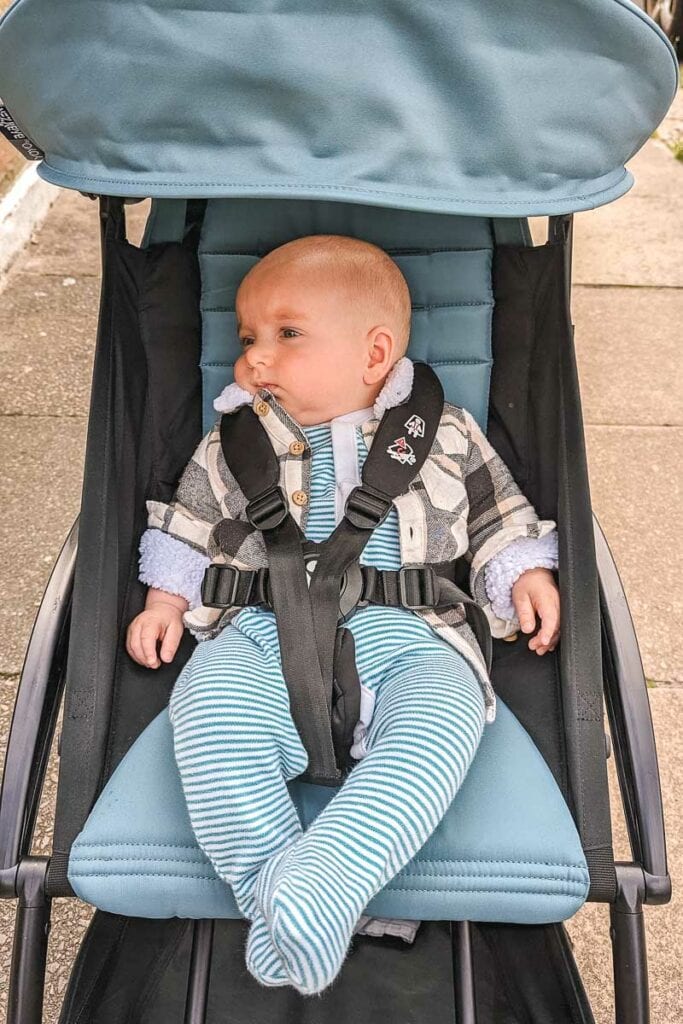 Before purchasing this pushchair, I was keen to know about whether the Babyzen Yoyo2 stroller reclined. It turns out it lies almost flat, which is ideal for naps on the go. You adjust the angle of recline with a simple pull of a strap on the back of the stroller.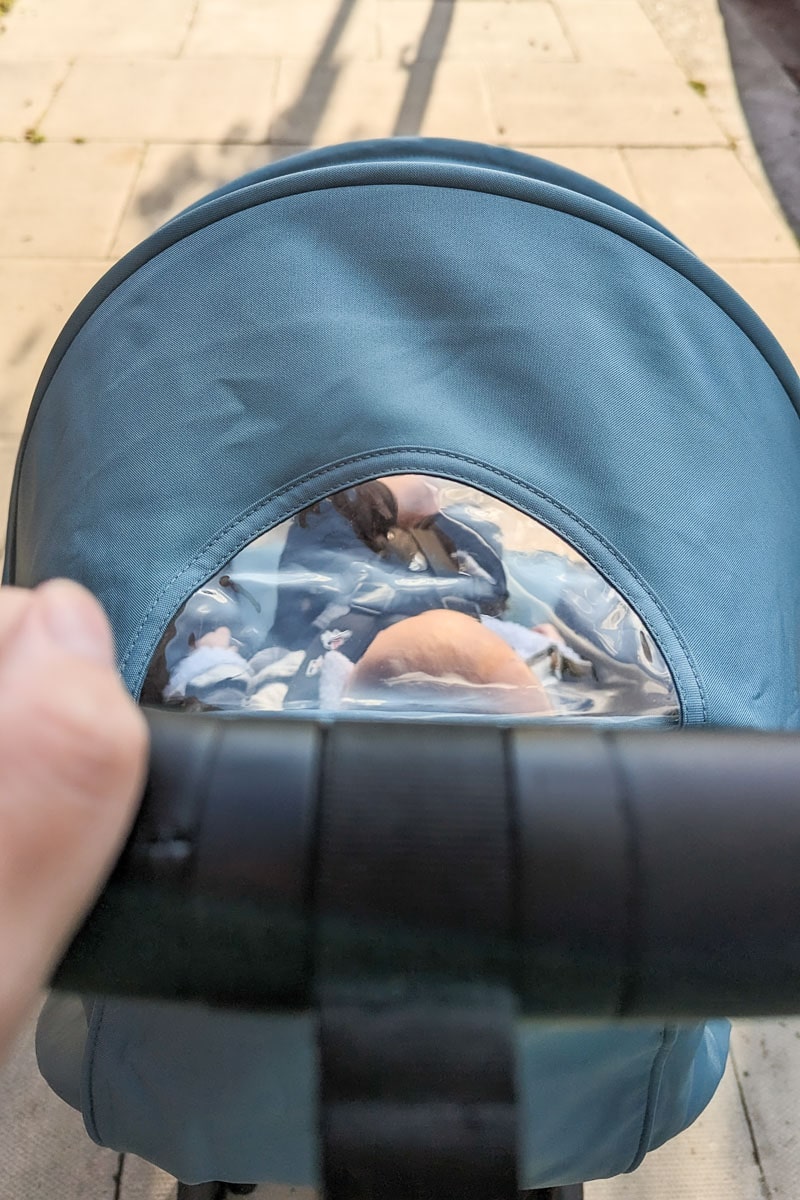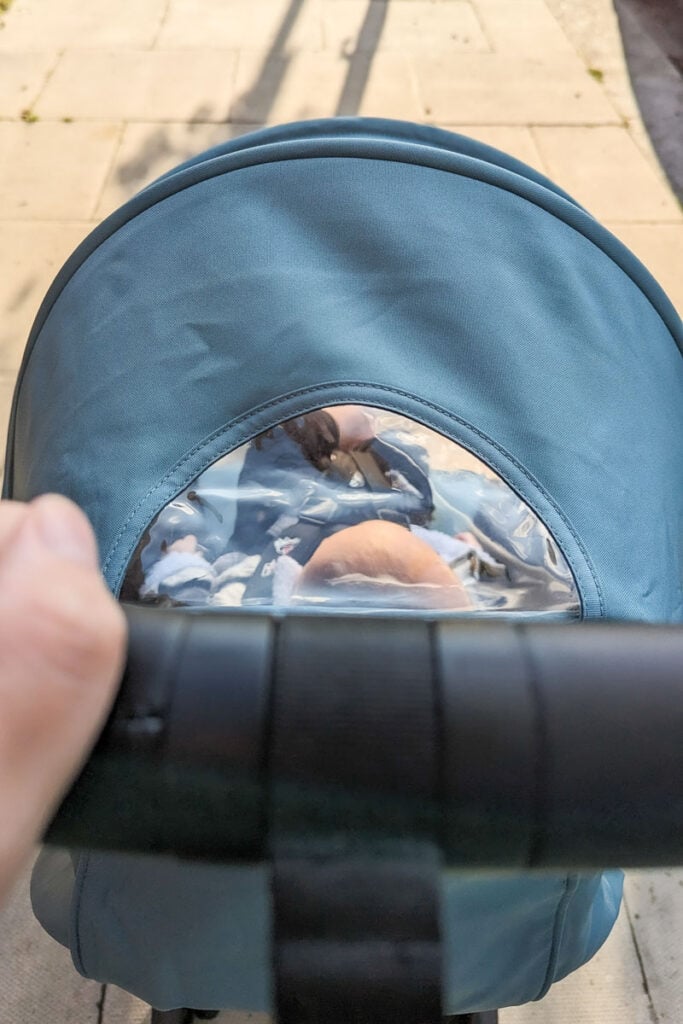 The other thing I really like about the stroller is the little peephole in the top. This transparent window allows you to keep an eye on your baby easily when you're wheeling the pram. It's also ideal for checking if your little one is asleep when you have the SnoozeShade pulled over (more on that essential accessory coming up!)
Babyzen Yoyo2 Practical Tips
Here are a few things I've noticed since having the Babyzen Yoyo stroller, which I thought might be useful to share.
Ok, so one thing I can't ignore in my Babyzen Yoyo2 stroller review is the fact that the basket underneath is on the small side. This was on my cons list when we were comparing multiple prams, as many others have considerably more space. Is it limiting? Yes, in all honesty, it can be! However, it fits more than you think, especially if you get good at cramming things into the edges. I used to find this quite frustrating but now I've got used to having hooks on the back to hang a changing bag or shopping from.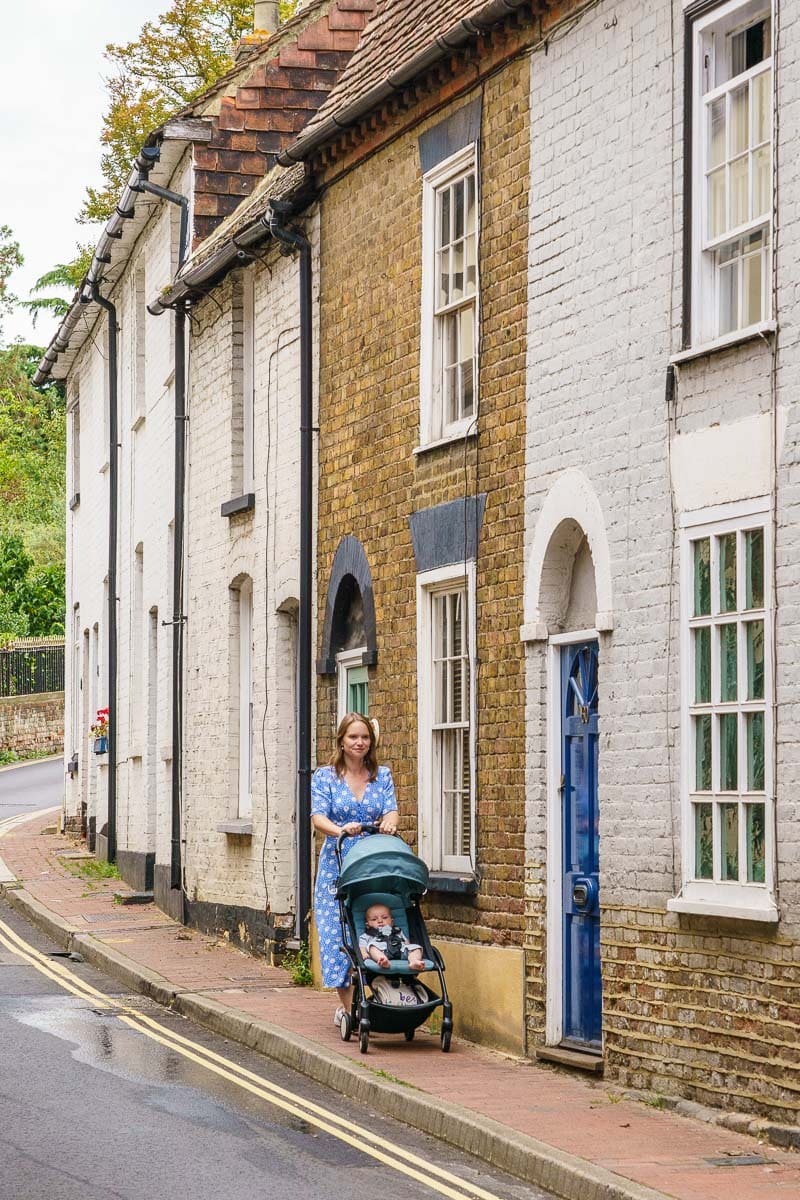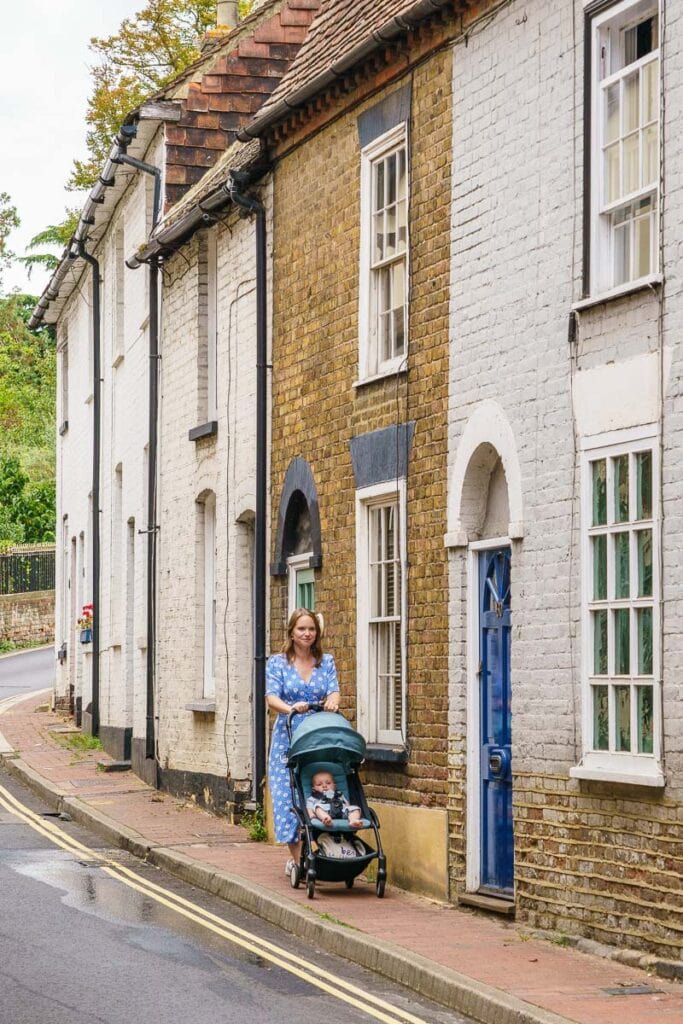 I've mentioned how lightweight it is, but did you know it actually has a strap so you can carry it over your shoulder? If you're folding and unfolding it a lot, and carrying it from A to B while folded, this is ideal!
There's also a little tether strap on the main handlebar which is great to keep a firm grip on the pram while you're out and about.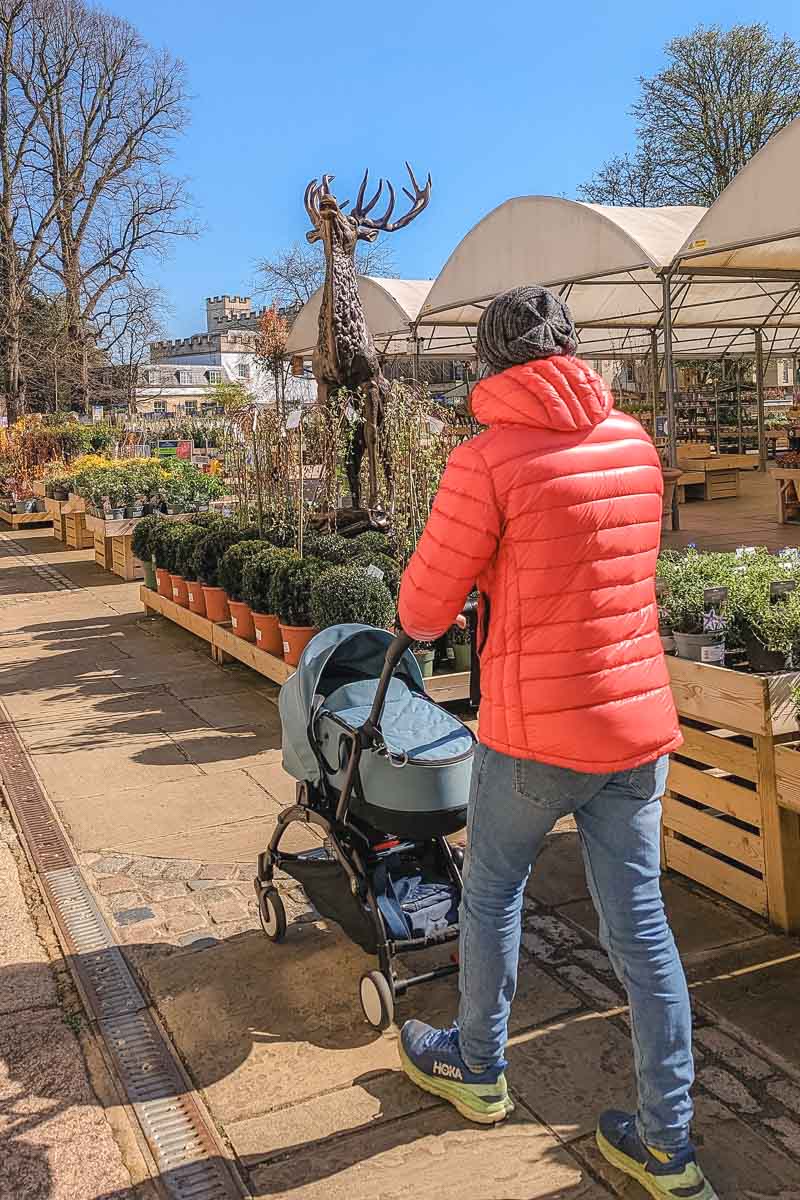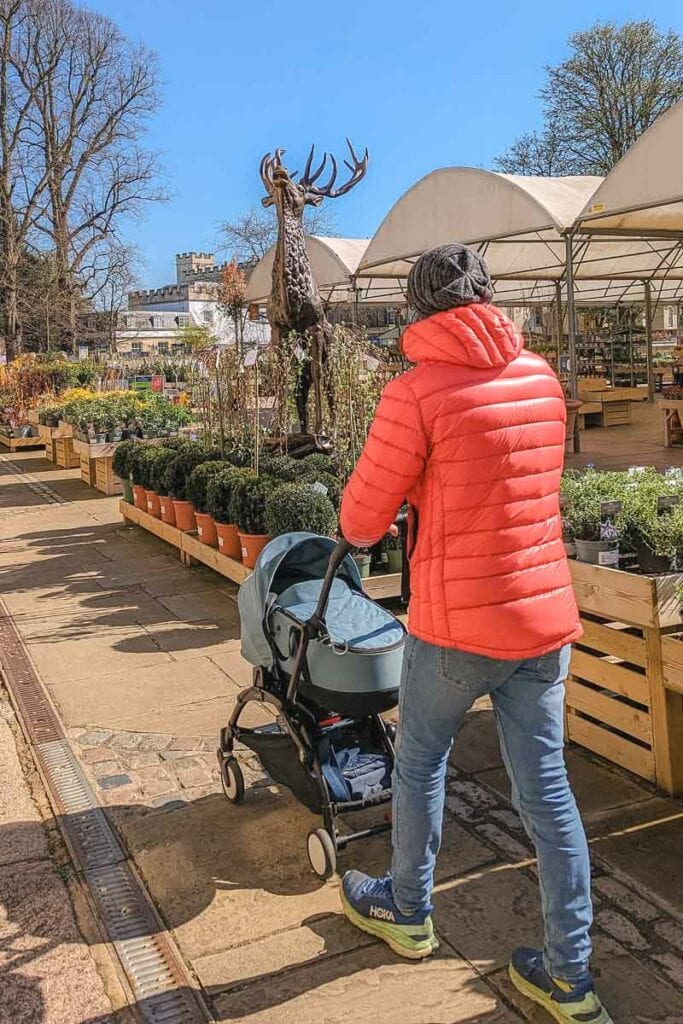 The brake is easy to flip on and off with your right foot. It's bright red and located on the right side of the bottom of the frame.
There's a really useful zip pocket at the back too. It's the perfect place to stash a phone, keys or a few loose items. There's also a little elastic pocket towards the base of the pram, where I often store a spare tote bag or muslin.
Babyzen Yoyo2 Car Seat Attachments
Here's the part where I say that every baby is different! For some reason, Cooper started getting agitated in his newborn bassinet between 3-4 months. It coincided with him wanting to see the world more! He was more alert, loved looking at things, and I think (although I couldn't read his mind!) that he just got fed up of being cooped up in what is essentially a rigid box.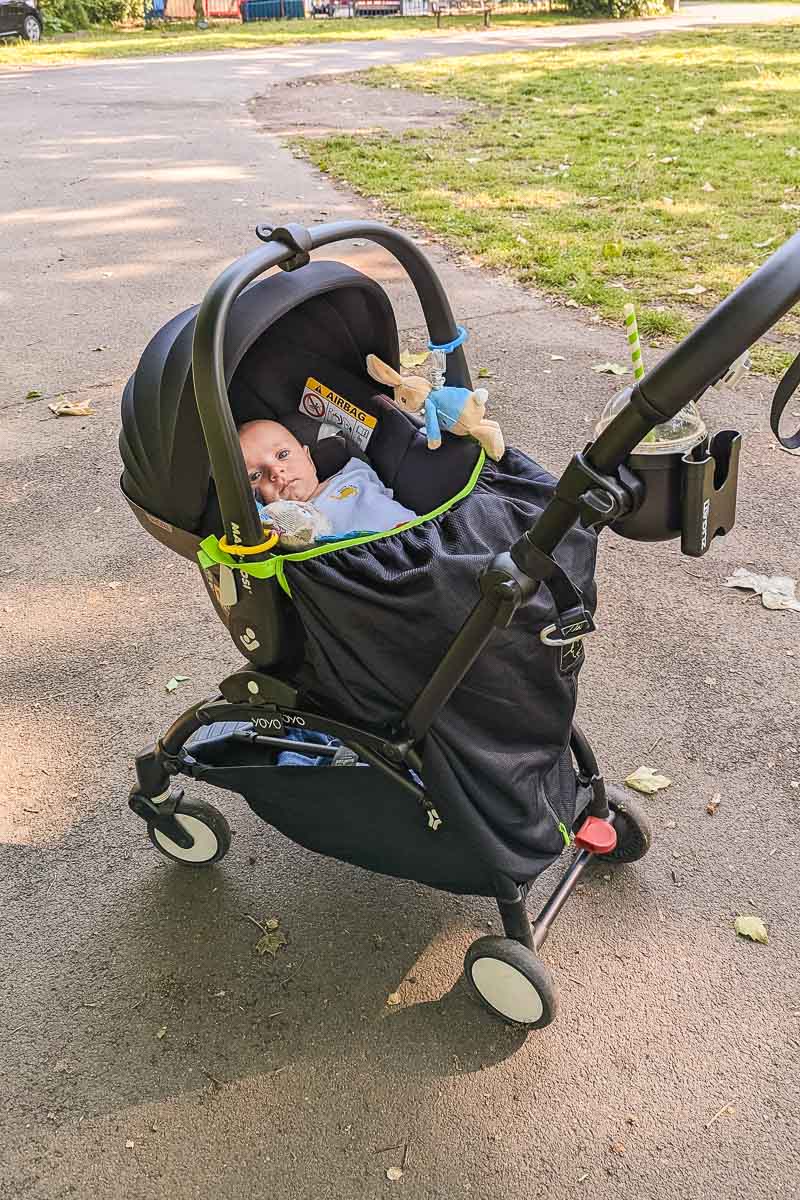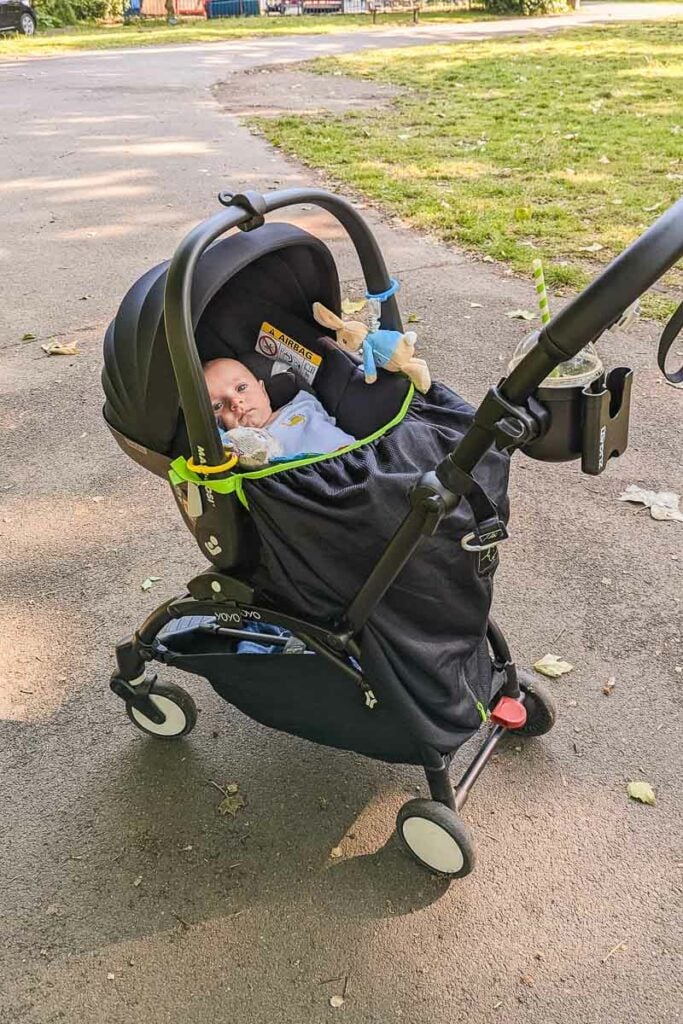 So, in an attempt to fix things, we ordered the Yoyo car seat adapters, and fixed our Maxi-Cosi Pebble 360 to the Yoyo frame. When we bought our car seat, we made sure we picked one that could attach to the pram (definitely something to bear in mind when you're selecting yours). This turned out to be a great halfway-house for us! Cooper was really happy being pushed around in the car seat on the Yoyo, as he was more upright and could see out.
If you're looking for which car seats are compatible with the Yoyo, here is what the brand currently suggests. Please note, compatible options depend on the car seat adapter you buy (options of M or L).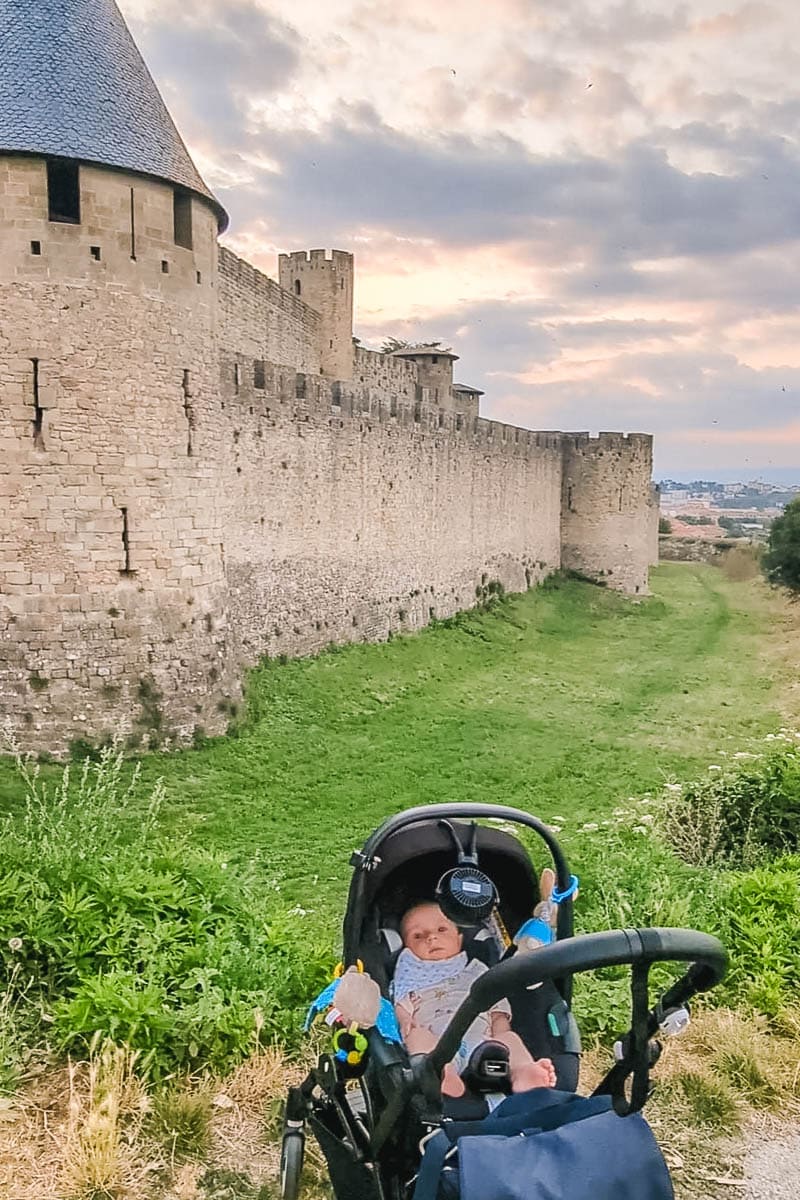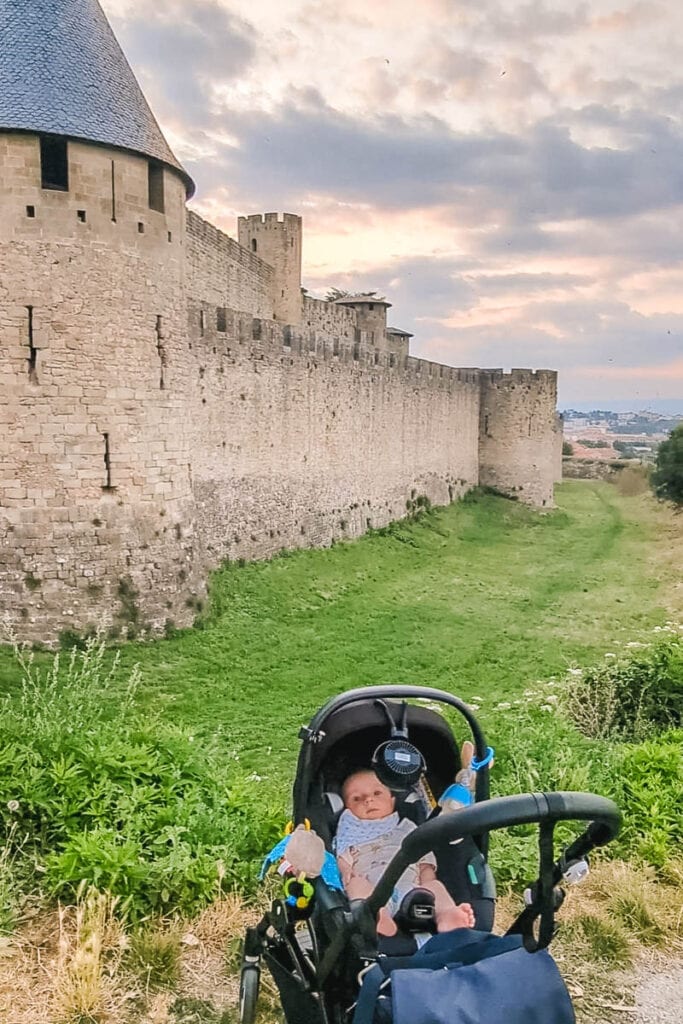 Car Seats Compatible With Babyzen Yoyo2
The car seat adapters M (Available in Africa, Asia, Europe, Middle East, Russia and South America):
YOYO car seat by BeSafe
Maxi Cosi Pebble 360 / Maxi Cosi Pebble Pro
BeSafe iZi Go Modular X1
Cybex Cloud Z
Cybex Cloud Z2 i-Size
Cybex Aton Q
Bebe Confort
The car seat adapters L (available in Central and North America):
Cybex Aton Q
Cybex Aton 2
Nuna Pipa Lite
Nuna Pipa
Clek Liing
Maxi Cosi Mico Max Plus
---
Babyzen Yoyo2 Pros and Cons
When we were deciding between a few different options, I made a list of the pros and cons of the Yoyo stroller.
Pros
Very lightweight
Can be carried easily
Narrow frame, making it easy to get in and out of doorways, transport etc.
Packs down small so takes up minimal car space
Approved as airline cabin baggage making it the ideal travel stroller
Easy to manoeuvre
Looks stylish, with lots of different colour options
Cheaper than many larger prams on the market
Can be opened with one hand
Good recline options
Compatible with many baby car seats
Useful pocket on the back
Cons
The small wheels and basic suspension aren't great at handling bumpy terrain
Small storage space in the basket underneath
Newborn bassinet sits at quite a low height
No option for the 6+ month stroller to be parent-facing
The front wheels sometimes need to be turned around to open and collapse the stroller
Sunshade doesn't provide much protection when baby is small
Might need to buy additional items such as a bumper bar or infant car seat adapters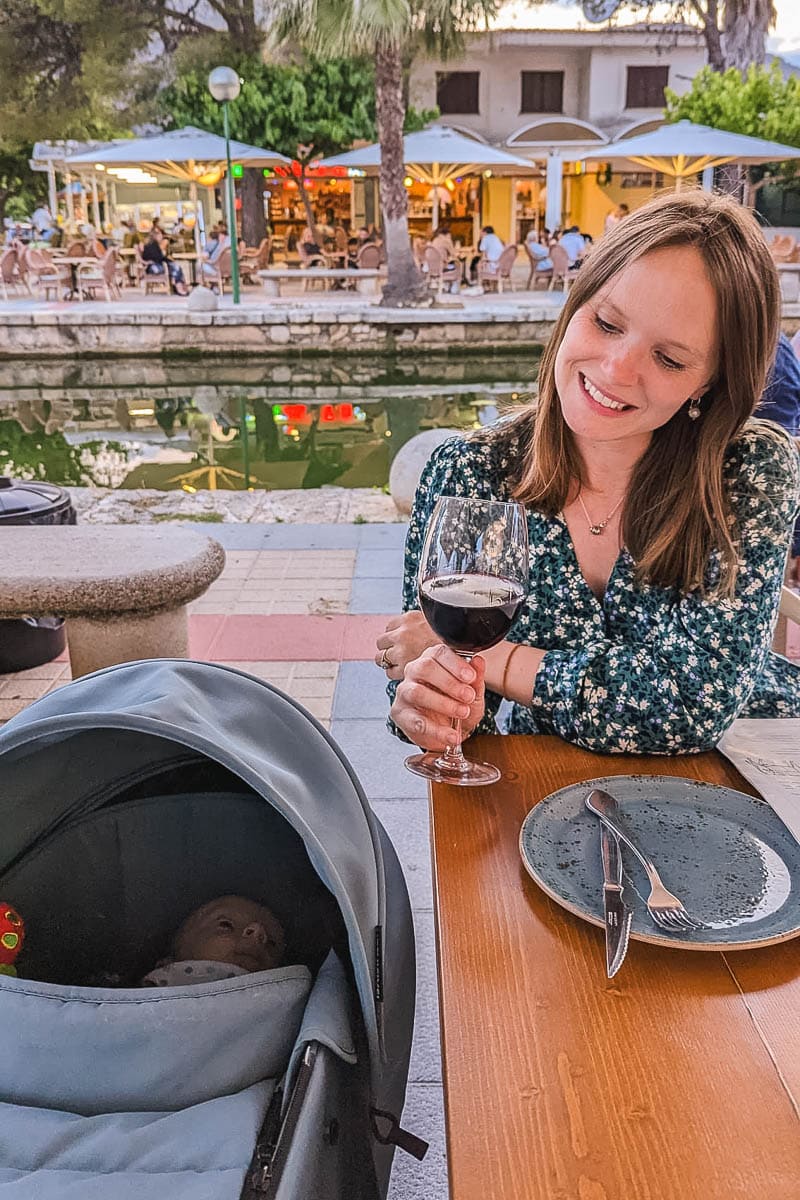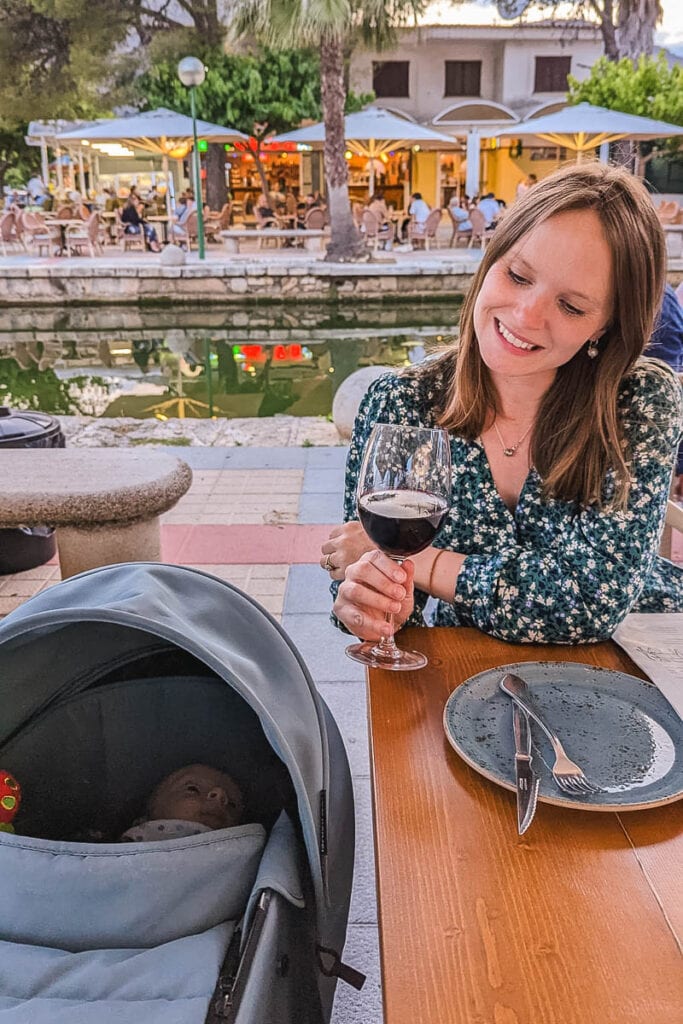 ---
The Best Babyzen Yoyo2 Accessories
There are quite a lot of accessories for the Babyzen Yoyo2. Some are official products made by Babyzen, but there are plenty of optional extras you can buy more cheaply via Amazon. Some of these I think are absolutely essential (SnoozeShade, rain cover, hooks, cup holder), while others will depend on how you're using the pram. Also, if you're travelling in the early months, I'd recommend taking a look at my post featuring my 19 newborn travel essentials.
Here's a quick rundown of the attachments you might want to buy for your Yoyo stroller.
I'd recommend buying some hooks to hang from the handlebars of the stroller.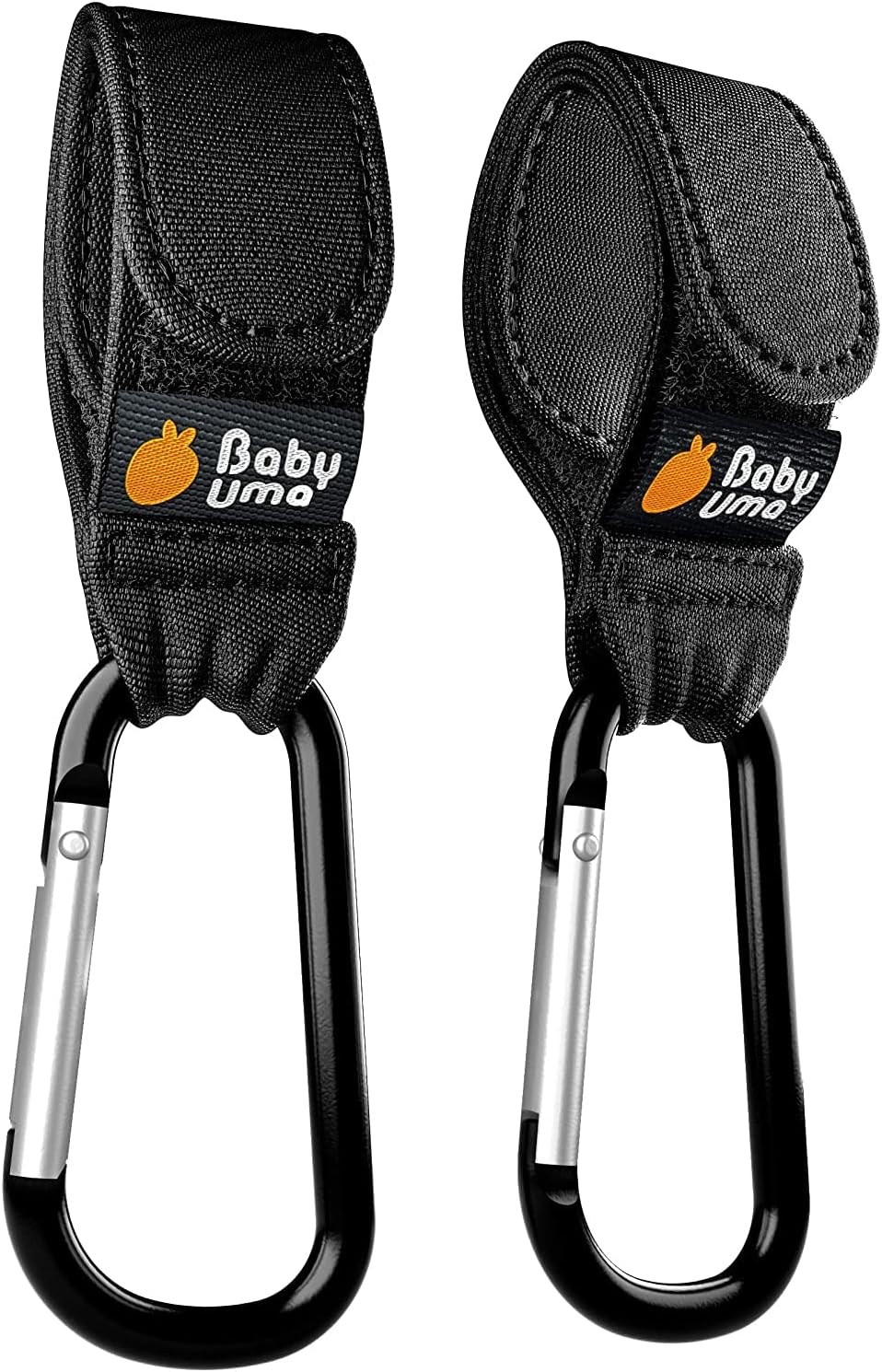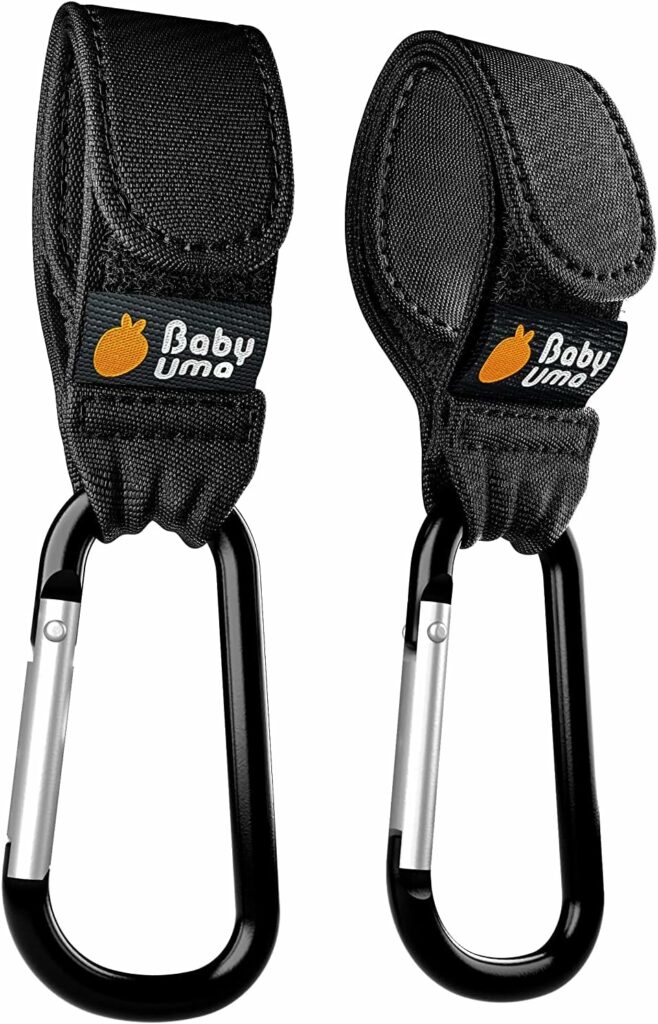 These allow you to hang a changing bag or shopping bags easily. As there's not a huge amount of under-seat storage, having another place to store bags really helps.
We loved using our Maxi Cosi Pebble 360 car seat on the Yoyo pram base. You just need a set of these adapters to fix it on securely.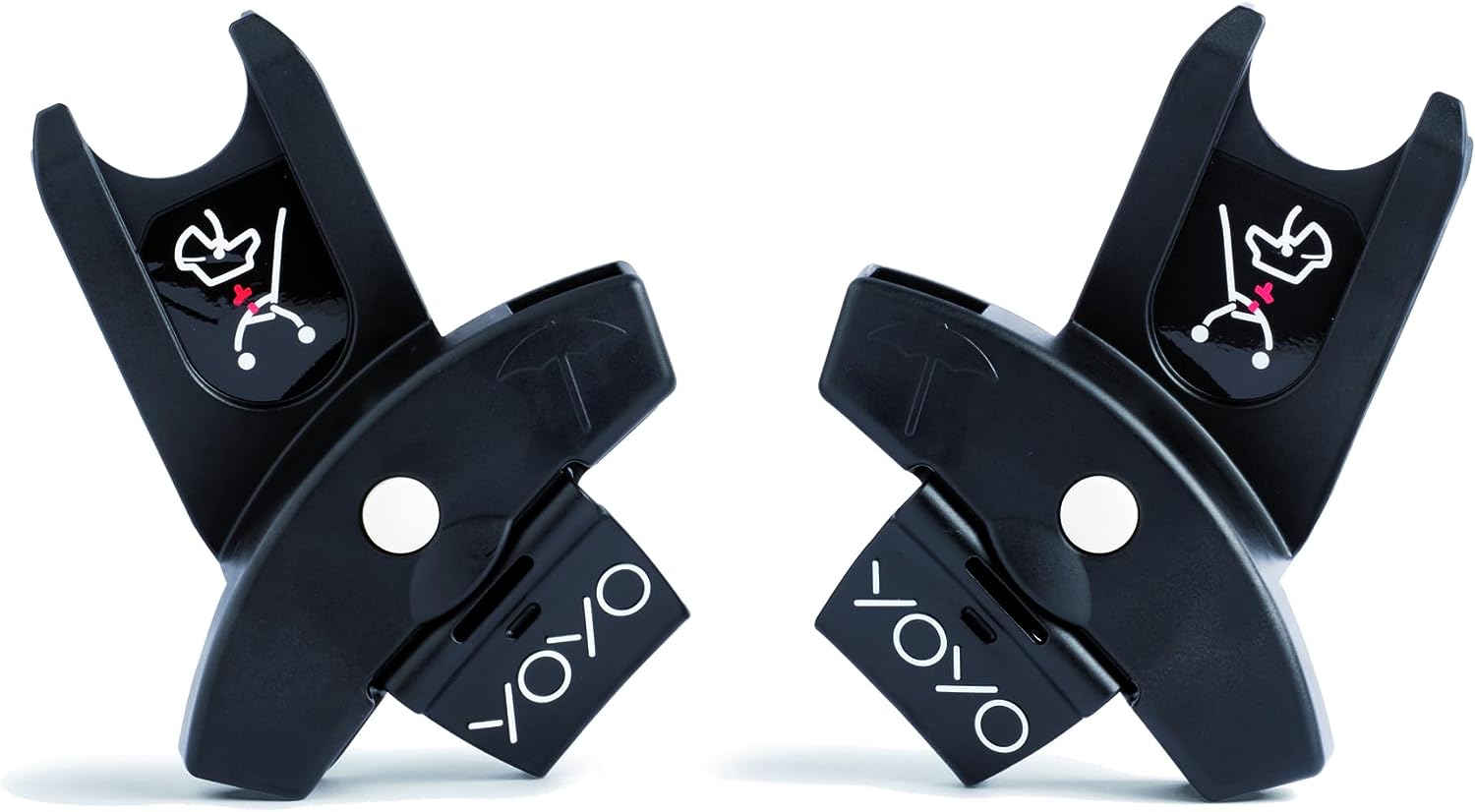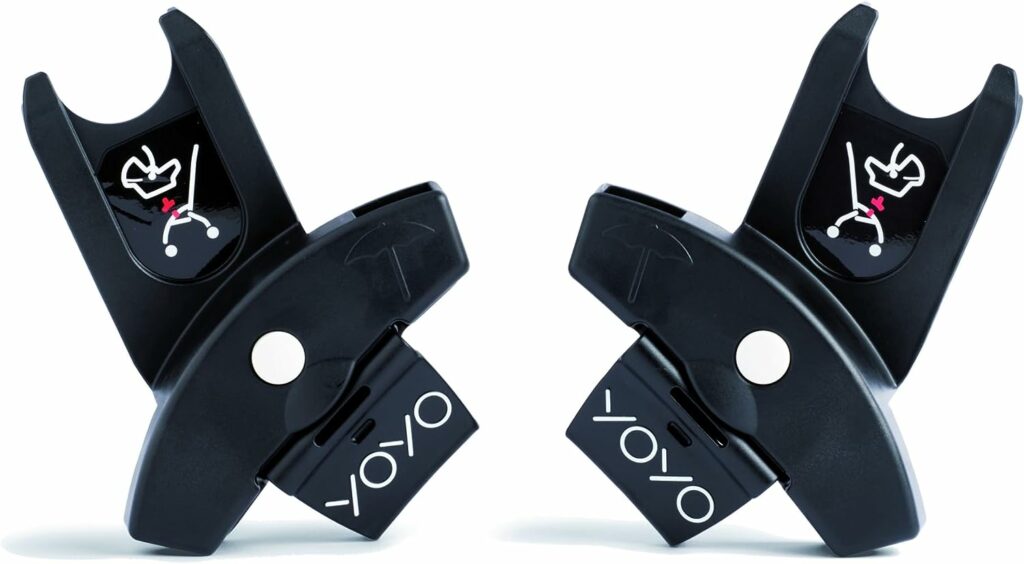 I bought this rain cover which fits perfectly. It's windproof and waterproof, protecting against rain, snow, dust and more.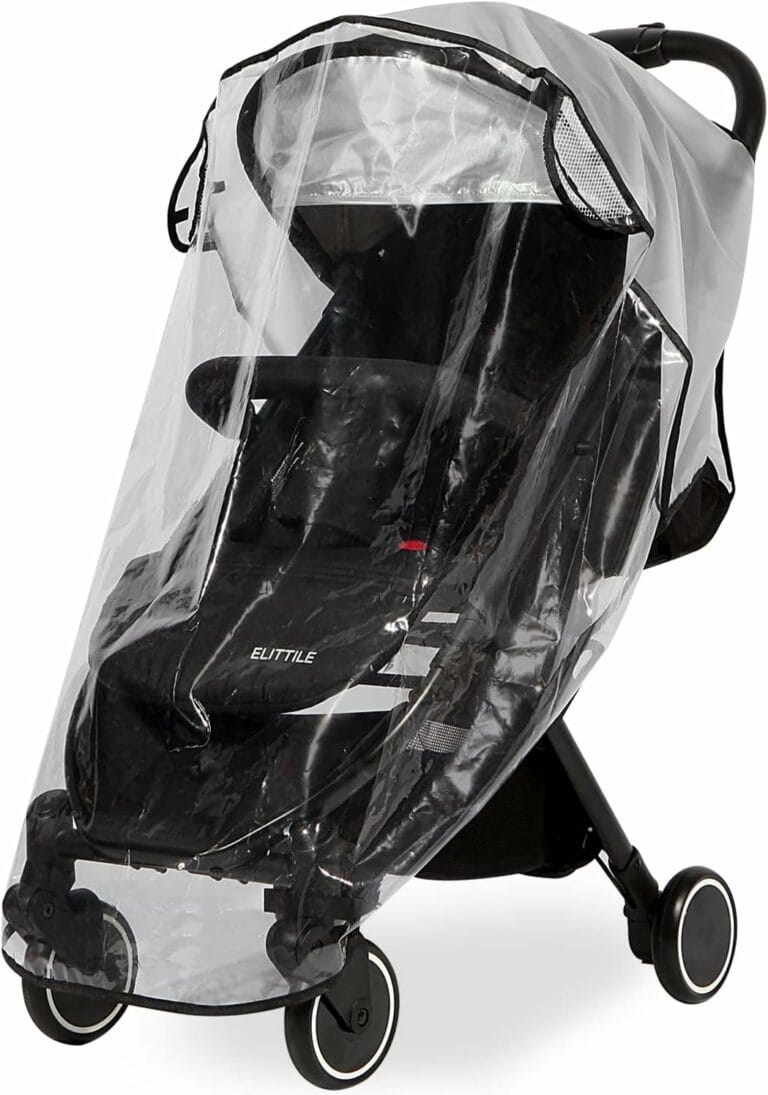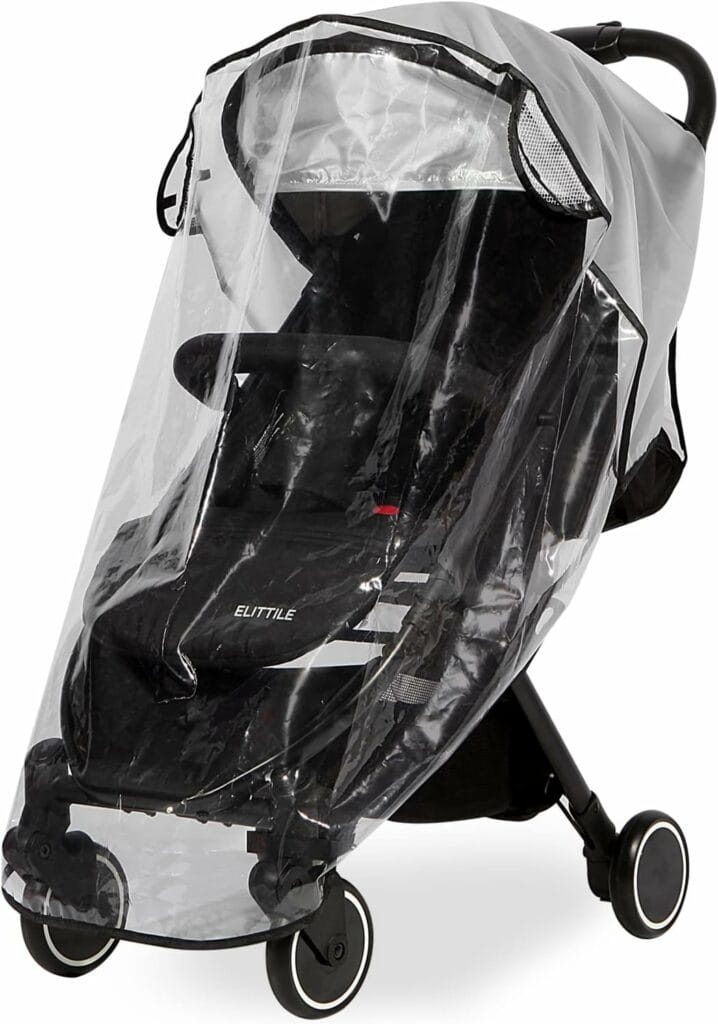 The official Babyzen rain cover is over double the price so I'd save your pennies.
This is one of my absolute essentials! Not only is it great for sun protection, it's also perfect for creating a dark environment on the move. It's helped Cooper nap in his pram when we're out and about. It fixes with Velcro tabs and has a zip up window so you can check on your little one easily.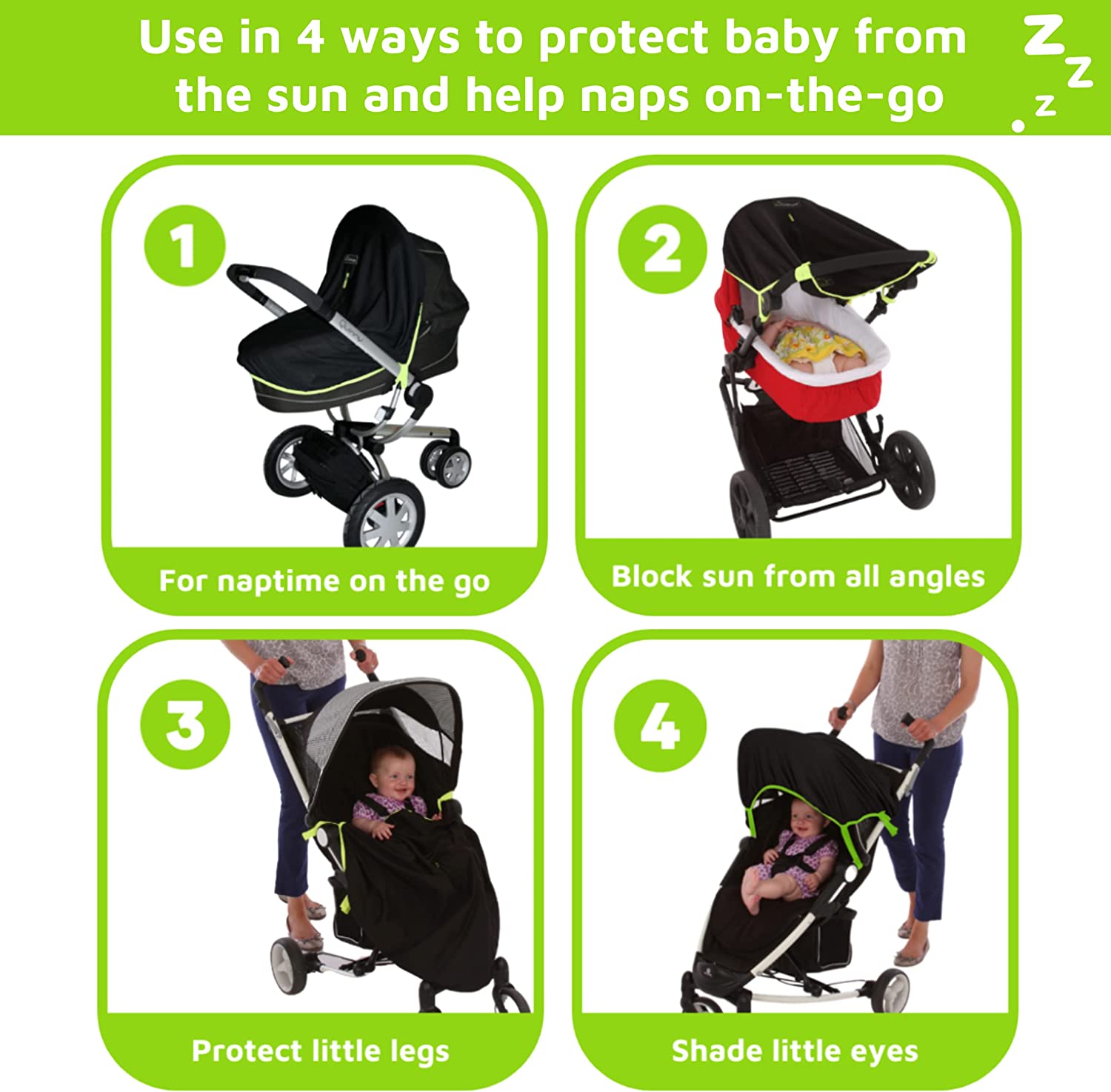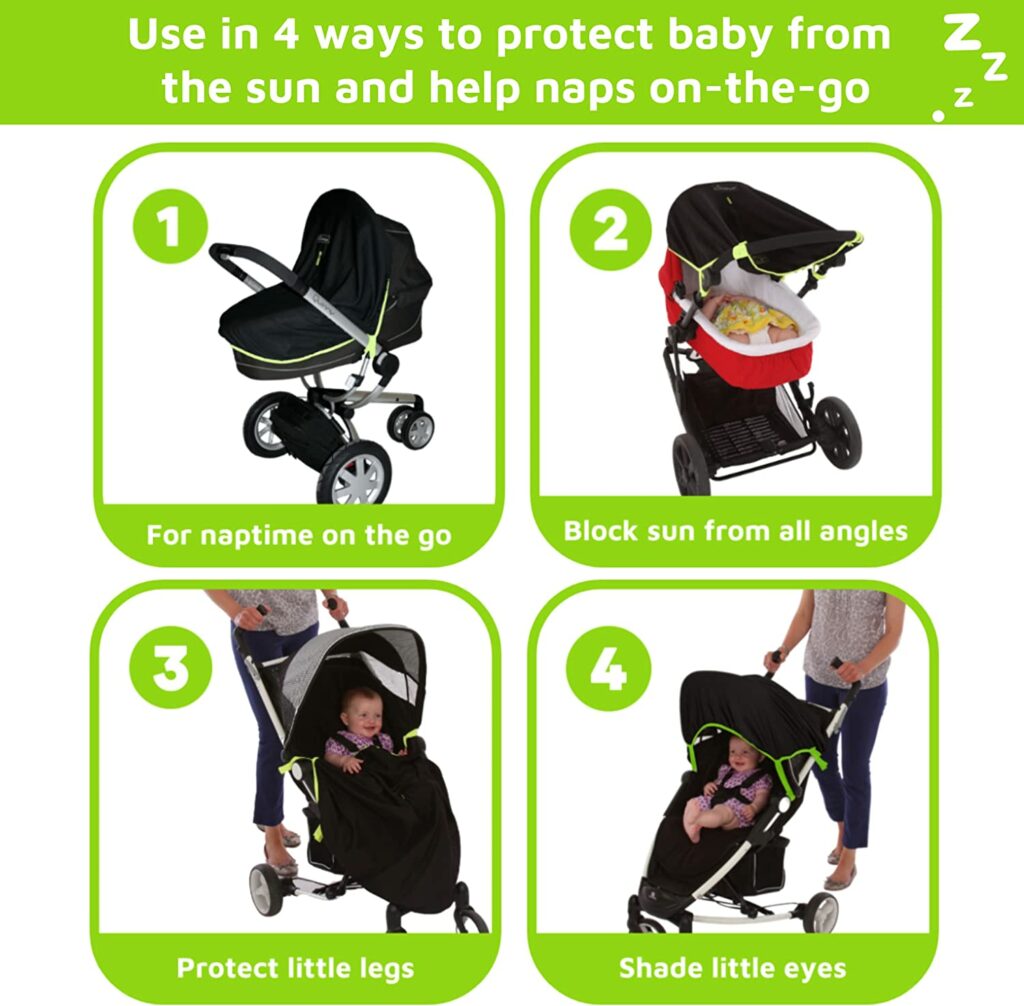 There are two sizes available. This one is designed for bassinets and this one is for 6+ months when you switch to the main stroller.
This is my most-used stroller accessory!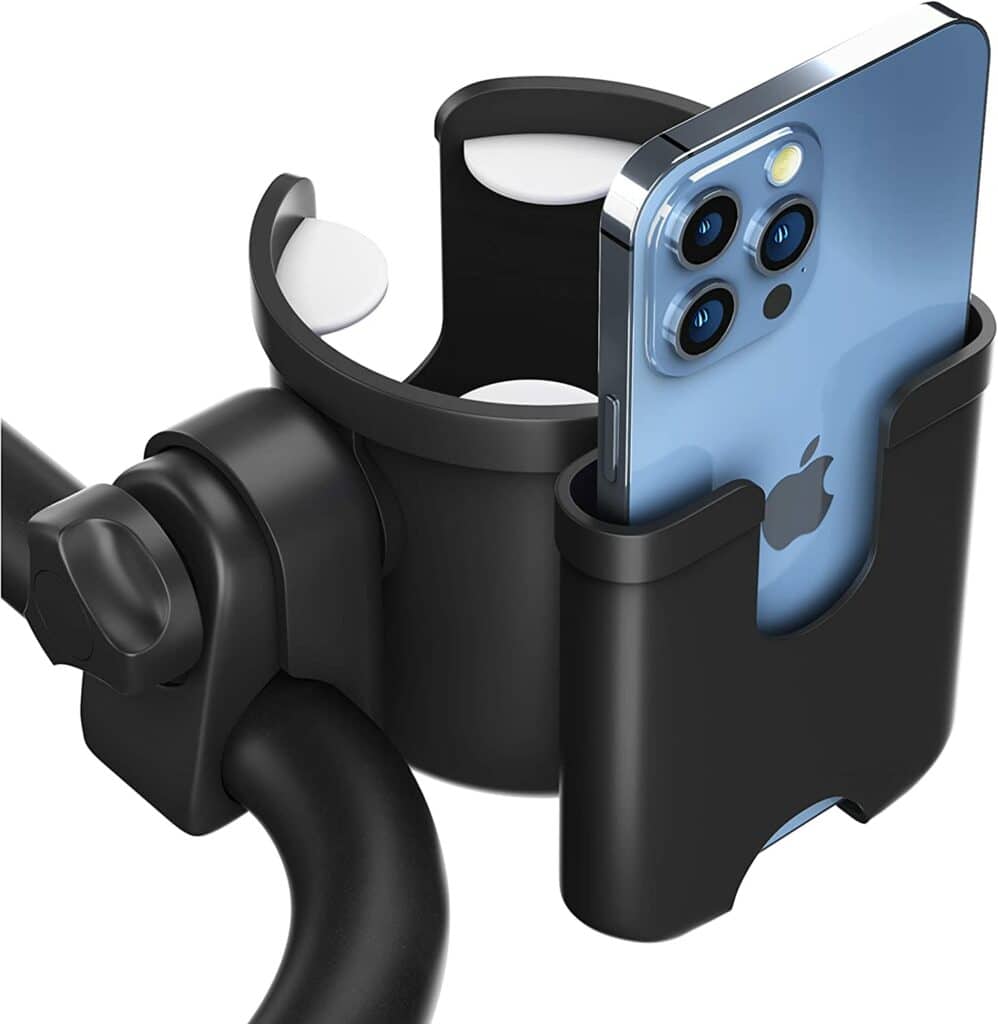 This cup holder fixes easily onto the handlebar of the Yoyo and has space for a large bottle of water or a coffee, plus a mobile phone.
With lots of upcoming travels to warm countries, a compact fan that can attach to the pram felt like an essential.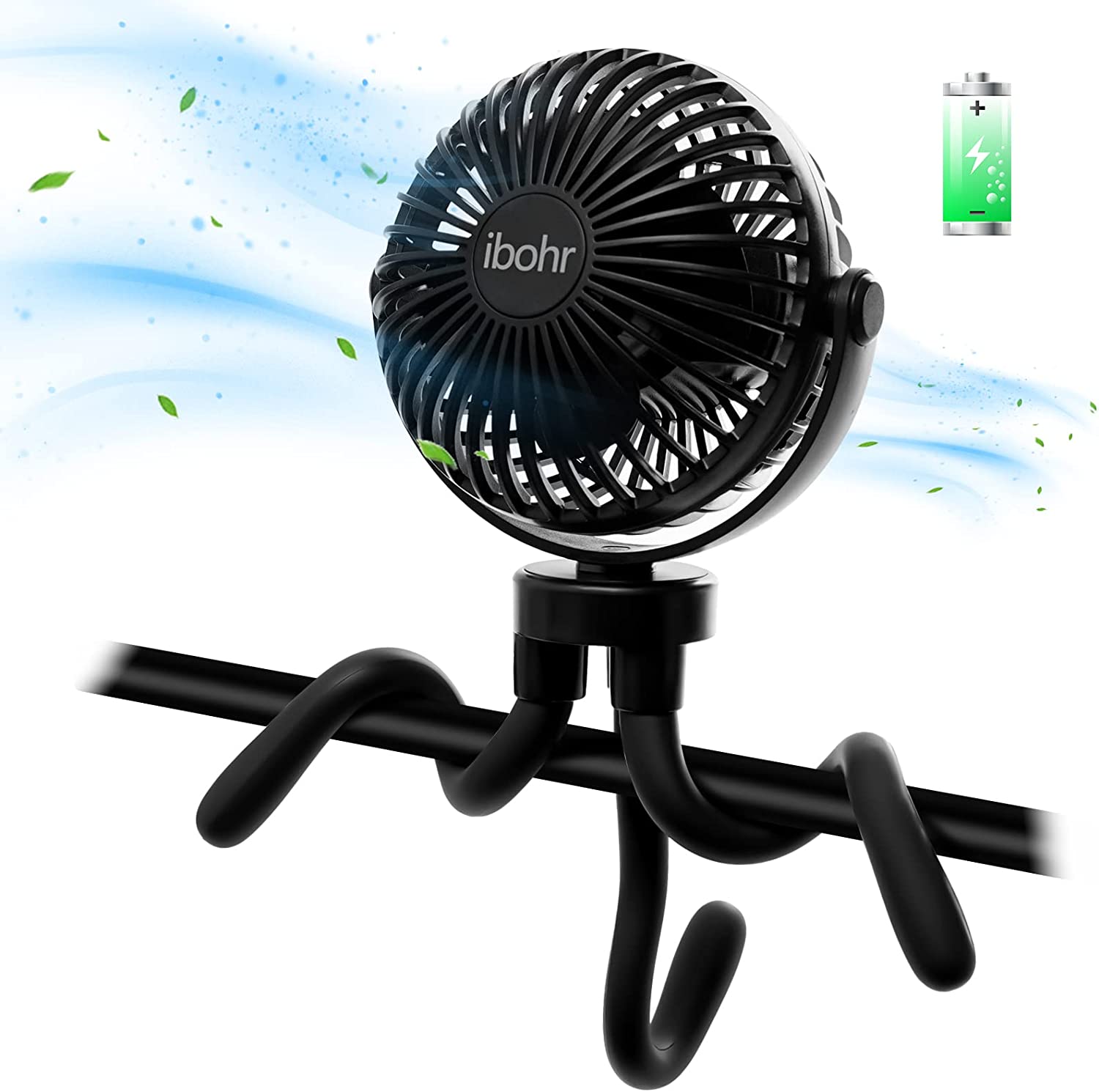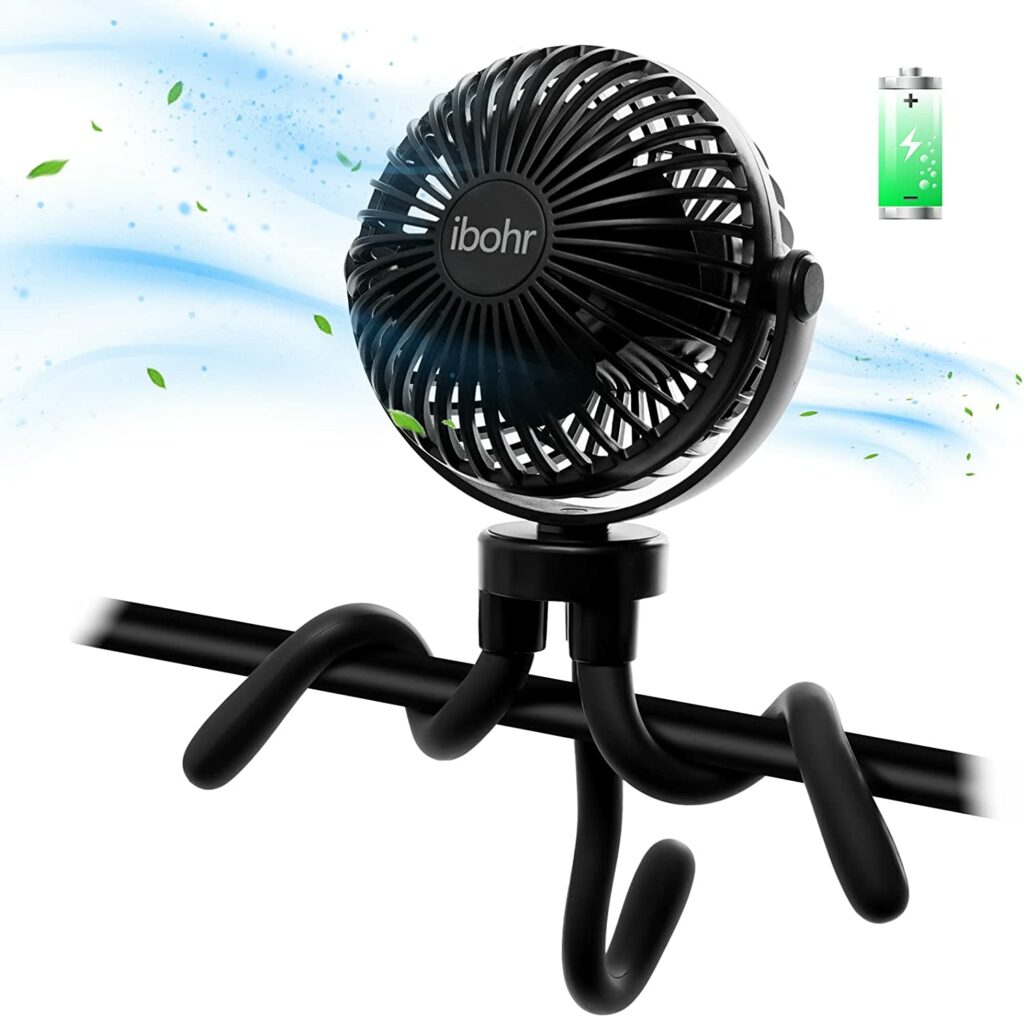 I bought this stroller fan which is rechargeable, has good battery life and has a flexible tripod base so you can wrap it around pram handles and car seat bars.
Have you heard of the Rockit Rocker? This is a really smart product that rocks any pram or stroller. You just attach the device to the handle of your pram, turn it on with the button on the top and pick your rocking speed using the dial on the bottom. It's ideal for times when you're out and about with the baby in the pram, but then stop for a while (perhaps for lunch). It continues to jiggle the pram, giving the impression it's still in motion.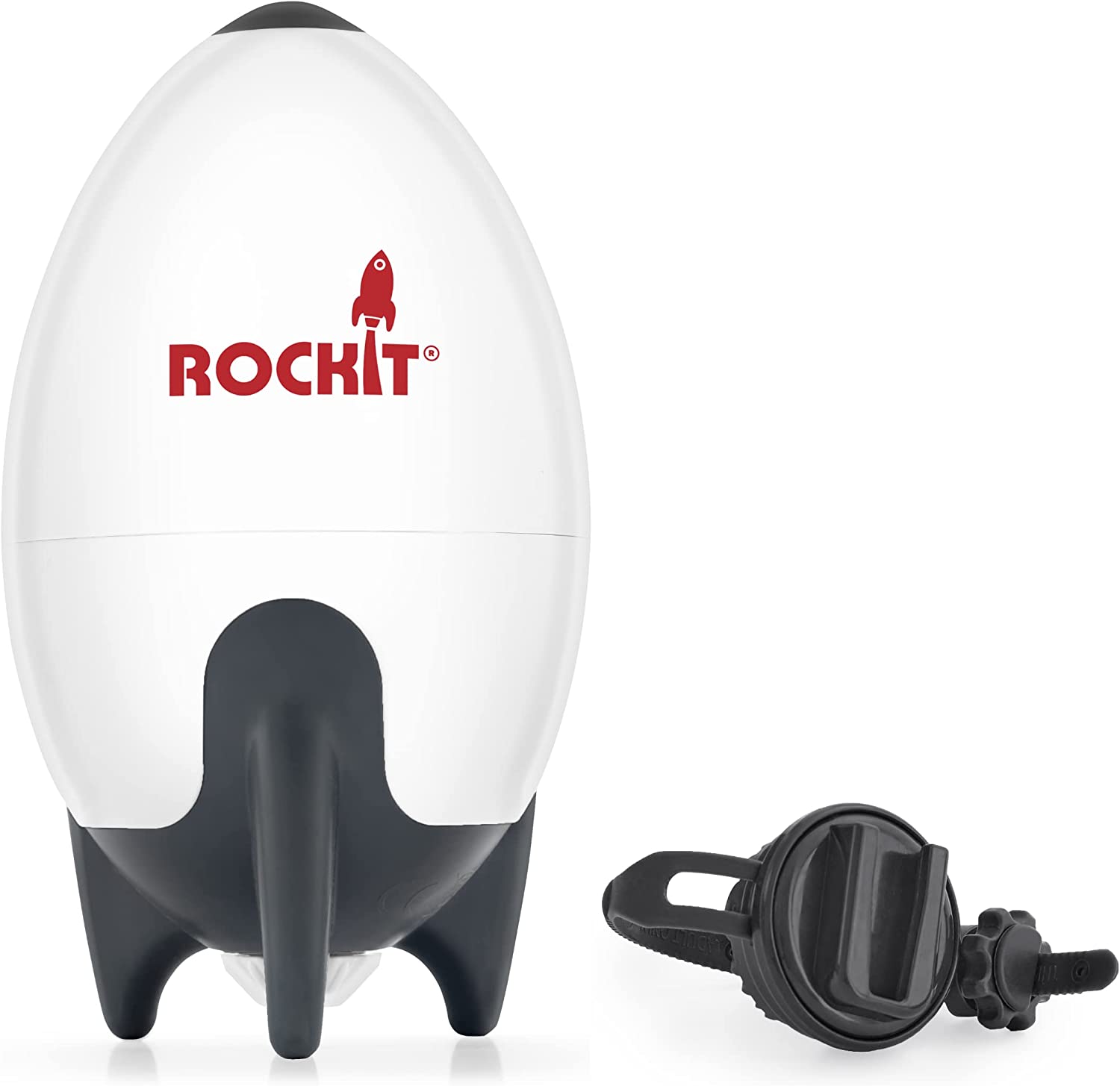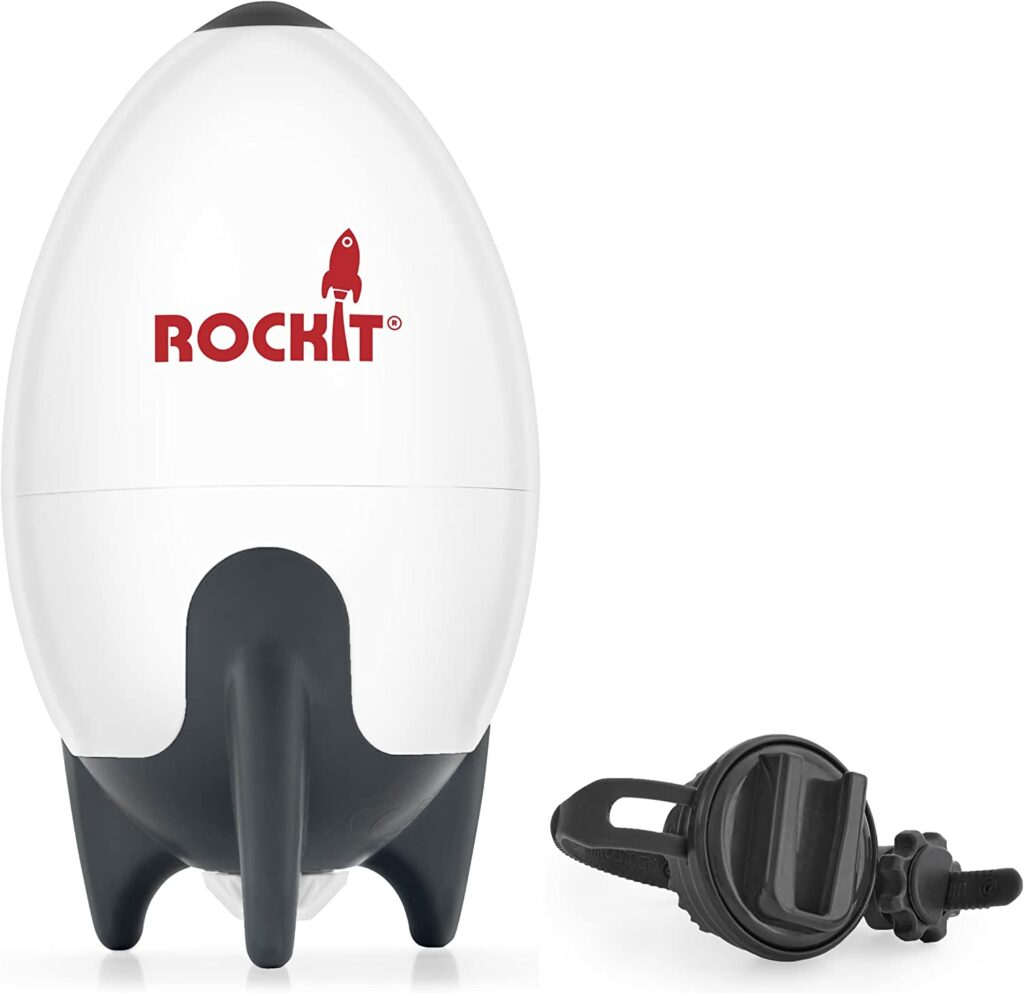 We've had some great success with the Rockit. Just a few weeks ago we went for a lovely three-course lunch in Windsor. Cooper slept for two courses in his pram, with the Rockit gently rocking him by the table.
Here's an item I'm waiting to come into stock! This bumper bar attaches to the Yoyo pram and is useful for a few reasons.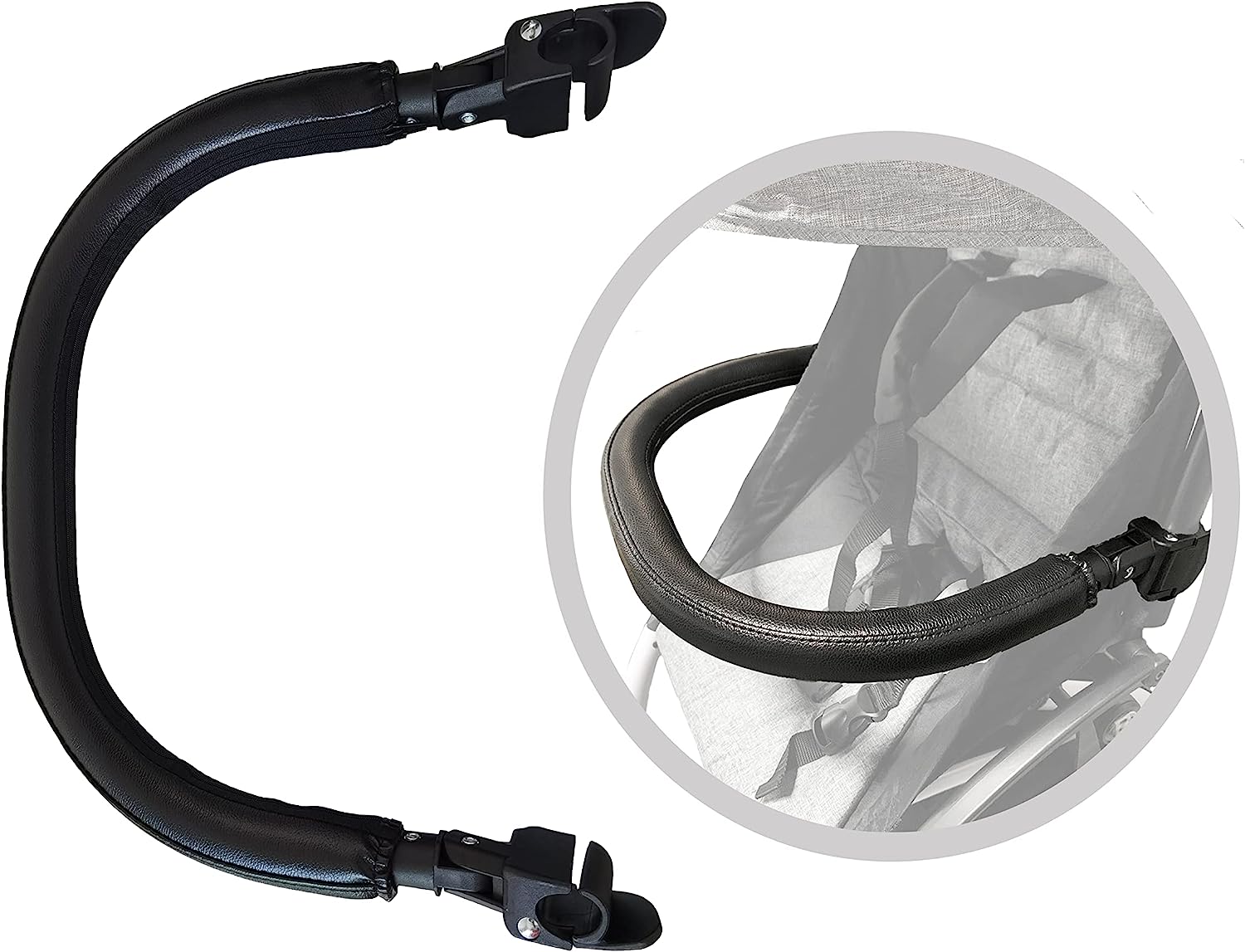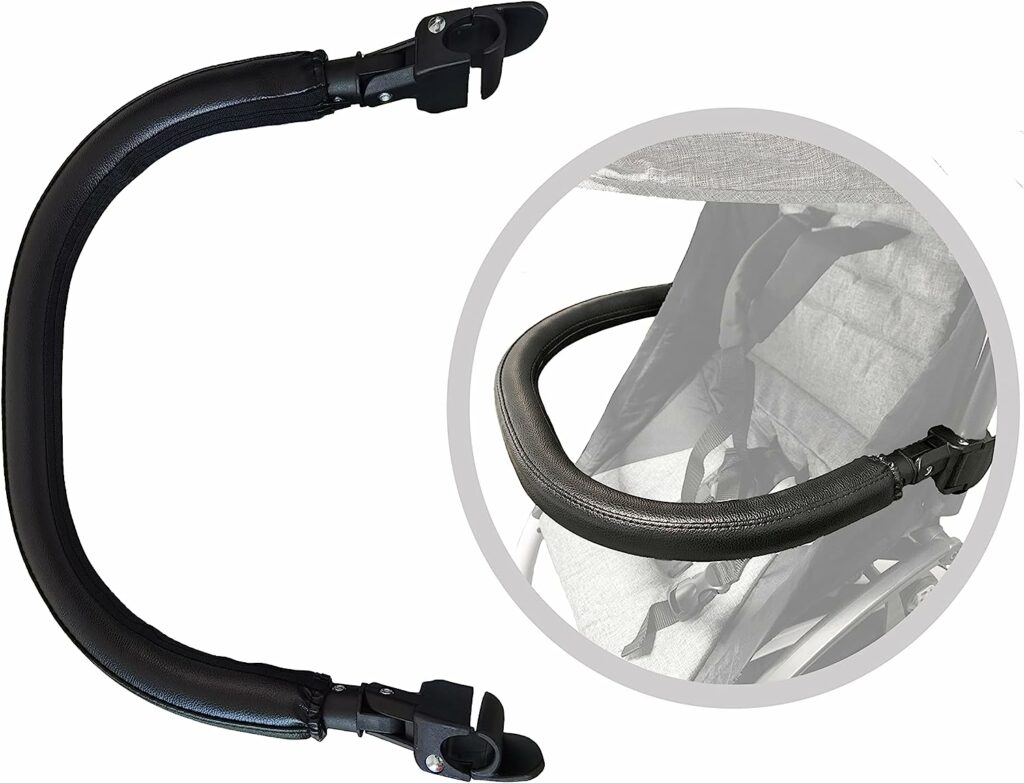 It's somewhere to attach toys securely. It also acts as a way for bigger kids to sit in the seat once it's less necessary to use the harness.
If you have an older child to care for, a buggy board is an ideal way to take them out and about while you're wheeling younger ones in a pram.
This is the official Babyzen buggy board, but it's worth noting there are compatible options made by other brands, that don't carry such a high price tag.
I wouldn't say a foot rest is essential, but it will make your little one more comfortable as they snooze in the pram. Babyzen make their own version, but you can shop on Amazon for a cheaper one that's compatible, like this one.
If you're using your Yoyo stroller in cooler temperatures, this is a really great addition. It has a toasty sherpa lining to keep your little one nice and snuggly. As with the 6-month packs for the stroller, the footmuff comes in a range of fun colours.
I've mentioned that for a small baby, the main hood of the pushchair may not provide adequate sun protection. If you're travelling to warm countries, the addition of a parasol could really help. This one attaches to the frame and provides protection over both the bassinet or main pushchair.
If you have more than one child of a similar age (requiring a pushchair) then you can buy a Yoyo Connect, which is a separate Yoyo pram frame without the front wheels.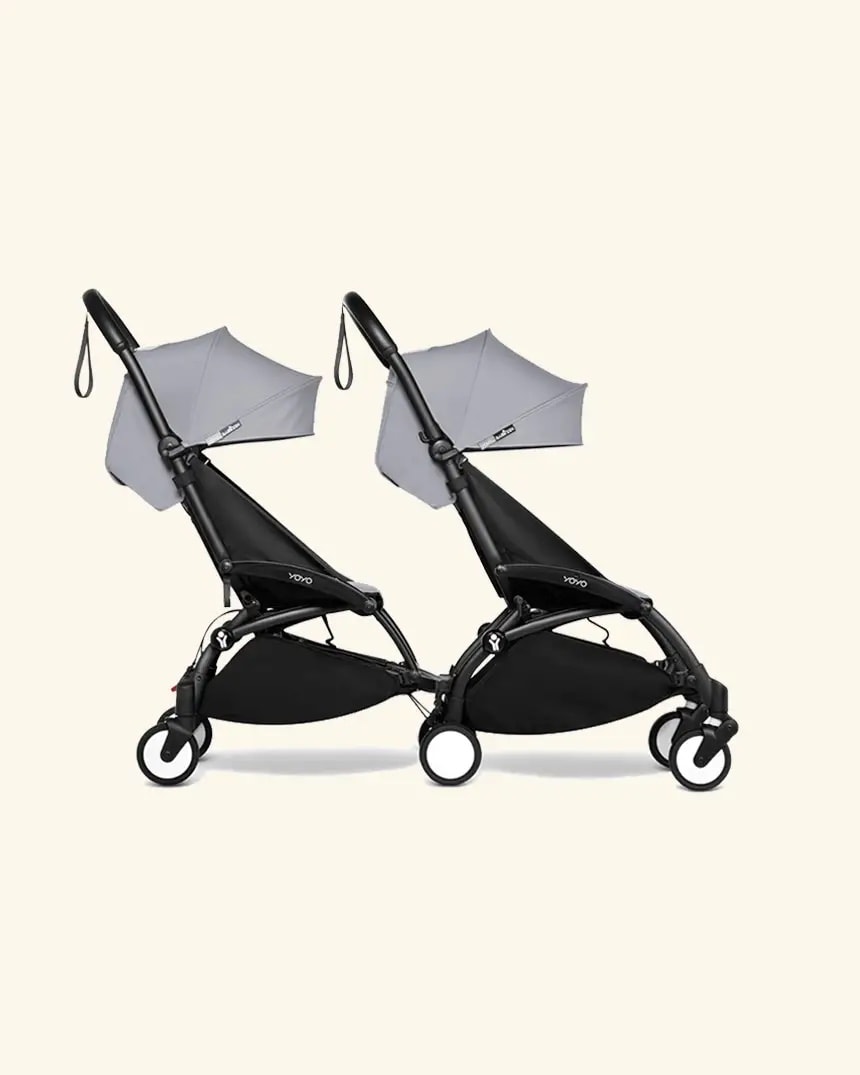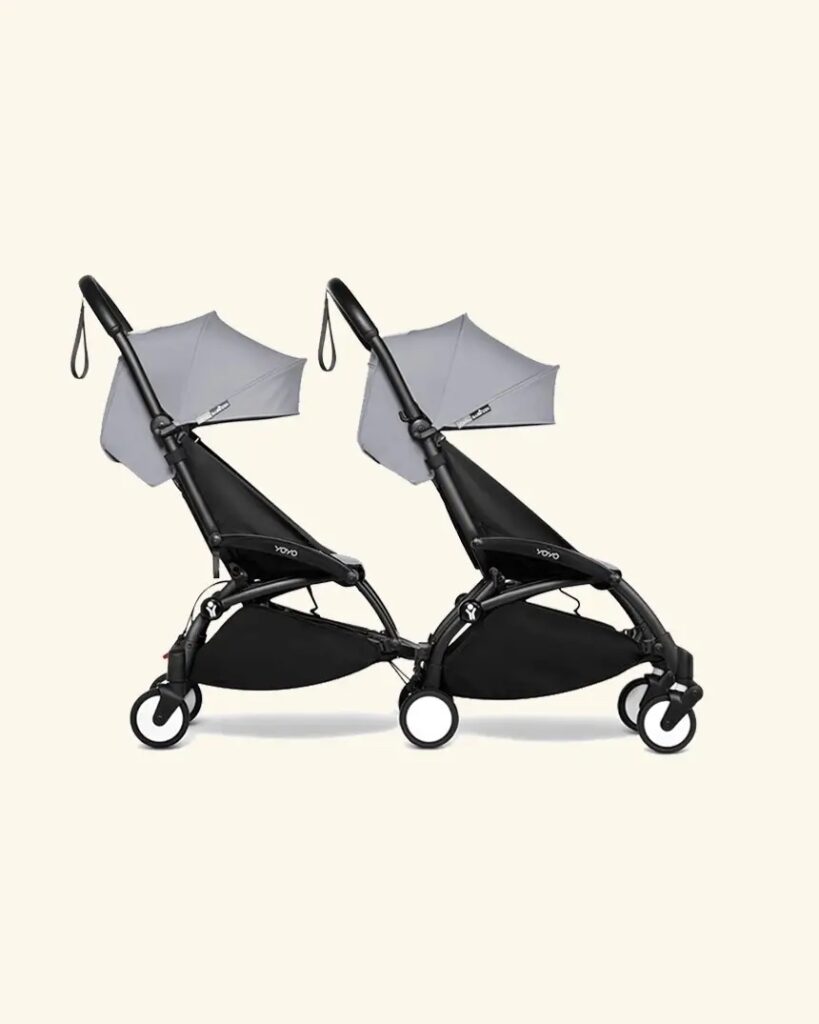 It then links to your Yoyo pram. It's a clever way of upgrading your setup, without splurging on a brand-new double buggy.
Another great addition if you're travelling a lot is this mosquito net. It fixes to the pram easily and covers up your baby to protect them from being bitten.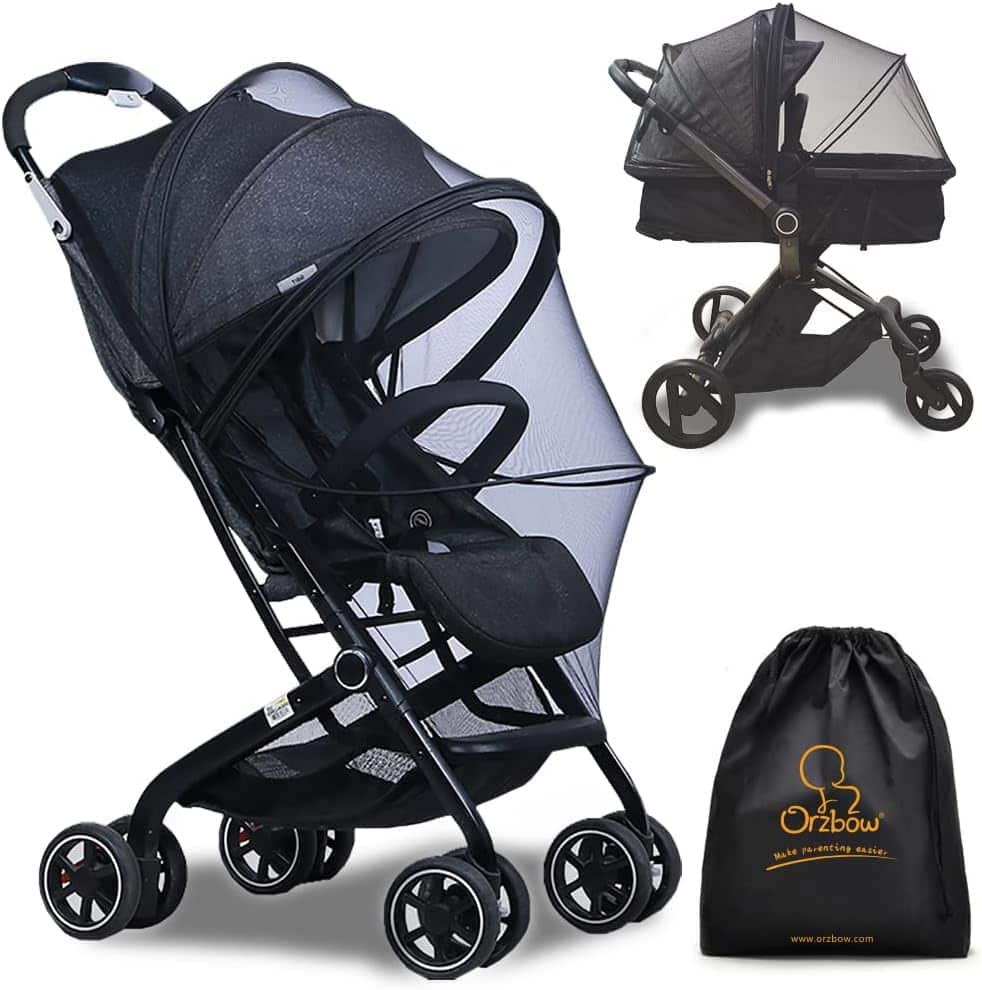 Babyzen offers one for the newborn pack, but I'd suggest getting this universal one, as it's more adaptable.
---
Babyzen Yoyo2 Competitors
When we were choosing our pram, we narrowed our decision to these options. I haven't gone into the pros and cons of each, but we're very happy with our decision to buy the Yoyo2!
– UPPAbaby Cruz
– Nuna Mixx (this was Which Magazine's best rated pram)
– Cybex Balios S Lux travel system (this was Which Magazine's best rated travel system)
– Baby Jogger City Mini GT2
– iCandy Lime
– Bugaboo Fox 3
– UPPAbaby Vista V2
– Nuna Triv
– Silver Cross Coast
– iCandy Peach 7
---
Babyzen Yoyo2 Review – Overall Thoughts and Would I Recommend It?
We absolutely love our Yoyo! It provides Cooper with a safe and comfortable ride, is easy to manoeuvre, is light and compact, plus it looks stylish too. As we mainly use it within London or for travelling abroad, it ticks all the boxes for us. While there are a few compromises (for example how it handles rougher terrain), it's not enough to deter us from loving it as our main pushchair.
Overall, the Babyzen Yoyo2 stroller is a fantastic option for parents looking for a lightweight, compact, and versatile stroller that can handle daily life, travel and everything in between. Let me know if you have any questions. I hope this helps you make your decision.
Oh, and if you're travelling in the early months, don't miss my guide to 19 newborn travel essentials you have to pack!