From baby carriers and car seats to cute clothing and fun toys, don't forget to pack these newborn baby travel essentials!
We're finally out of the newborn haze, and what a haze it was! Since Cooper came into the world in March, our lives have well and truly changed. Everyone says that life is never the same again, but it's true. We've got a little treasure with us 24/7 that we are loving nurturing and watching develop. We just wish he came with an instruction manual!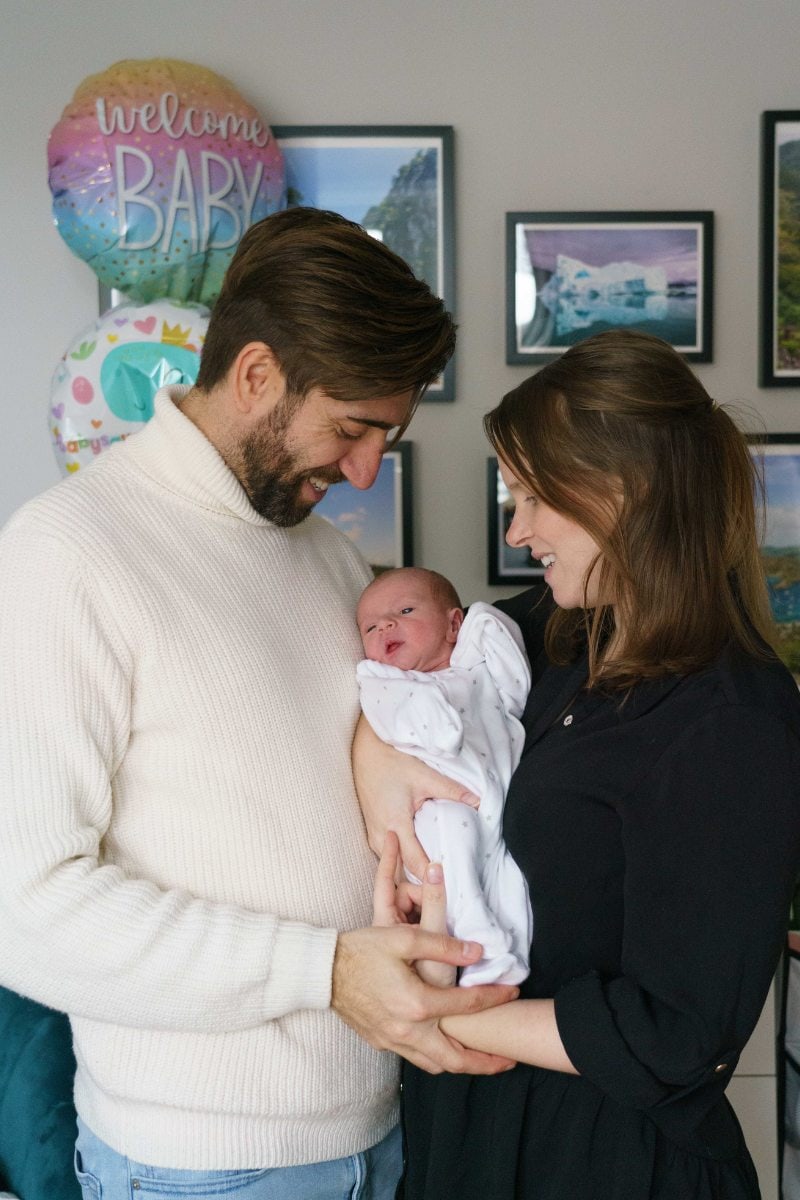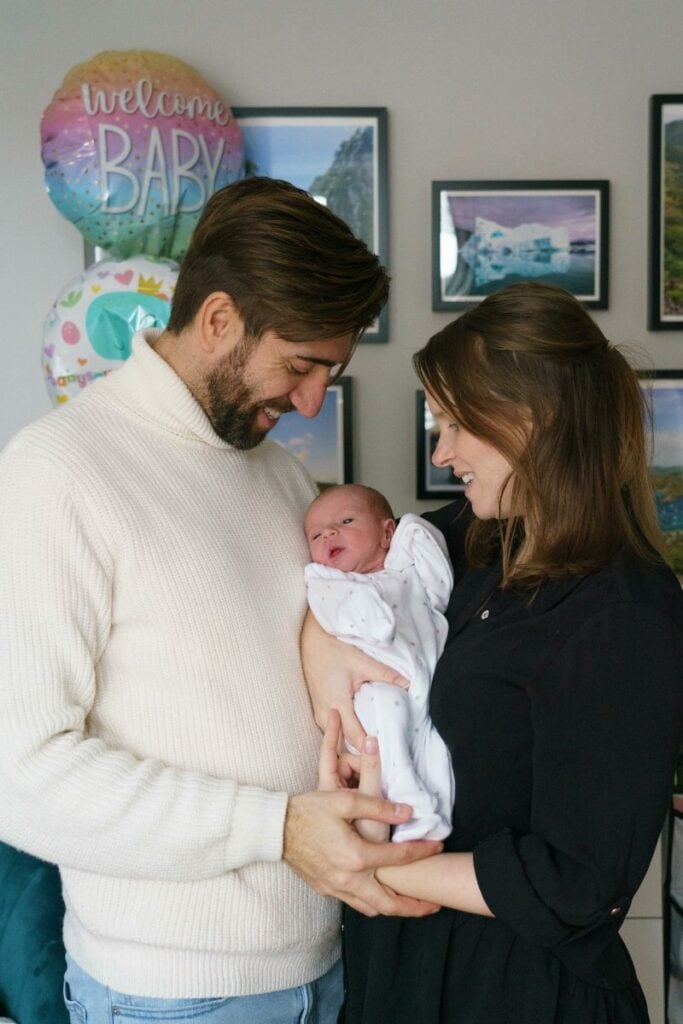 I'll tell you more about his arrival at some point, but for now I wanted to share a few items that have made the transition into parenthood a lot easier.
Coming up is a rundown of my essential items for newborns, particularly for those of you who like to get out and about. Some of these are things Cooper loves playing with, others are items that make our lives easier. As we're travel lovers, there's a bit of a theme – lots of these items will come in handy if you're planning to travel with a newborn, baby or toddler.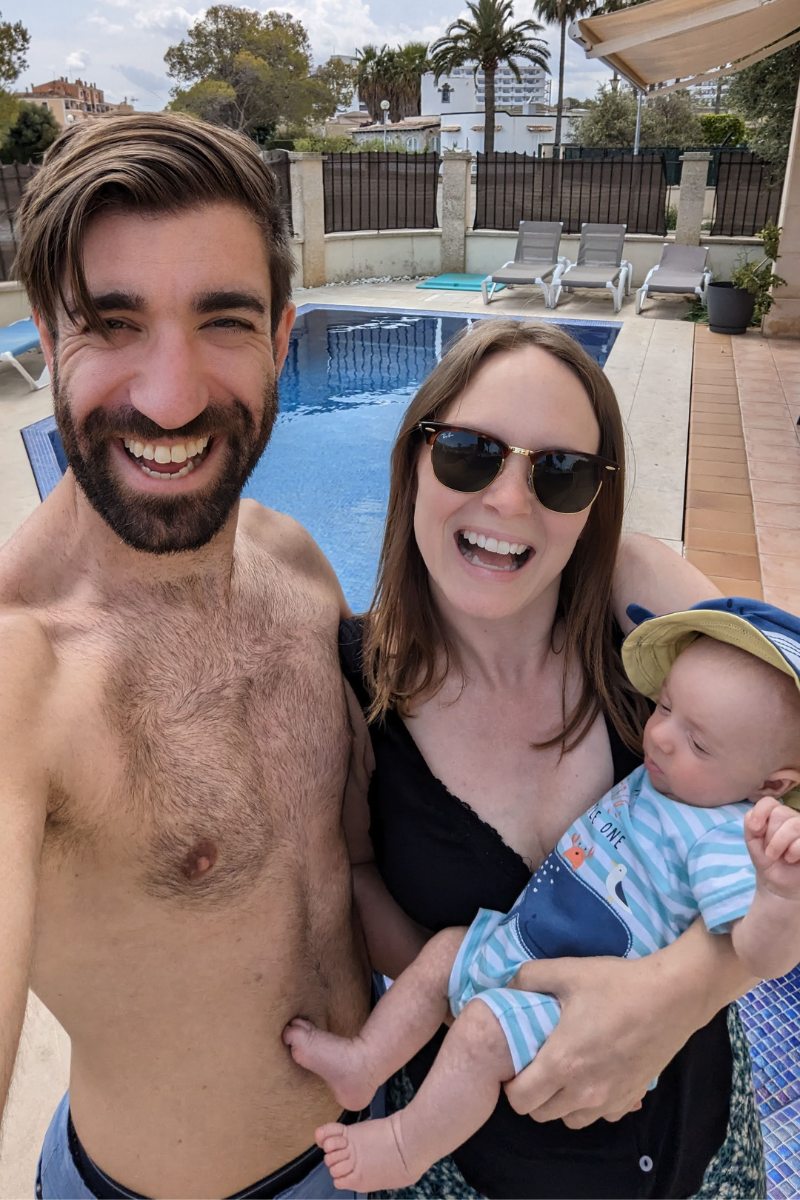 ---
19 Newborn Travel Essentials
Maxi Cosi Pebble 360 Car Seat
How do you get back from the hospital with your teeny bundle of joy? You'll need a car seat. We went for the Maxi Cosi Pebble 360 which has been an absolute dream to use. We installed it using a Maxi Cosi ISOFIX base, which allows the seat to click in and keeps it super secure.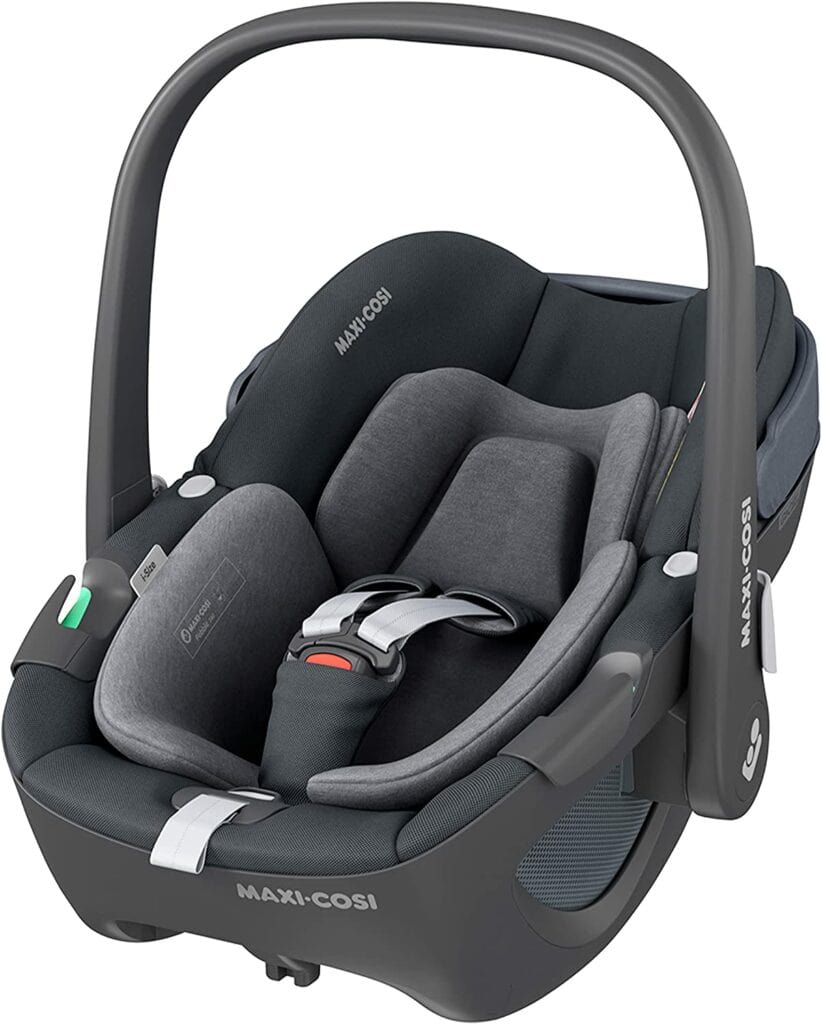 One of the best features about this car seat is the way it swivels so you can easily place your baby in the seat, then turn it to lock into place in its backwards-facing position. It also comes with a removable newborn insert, which keeps little babies nice and secure until they reach the grand old length of 60cm. Cooper has just outgrown this at 3 months!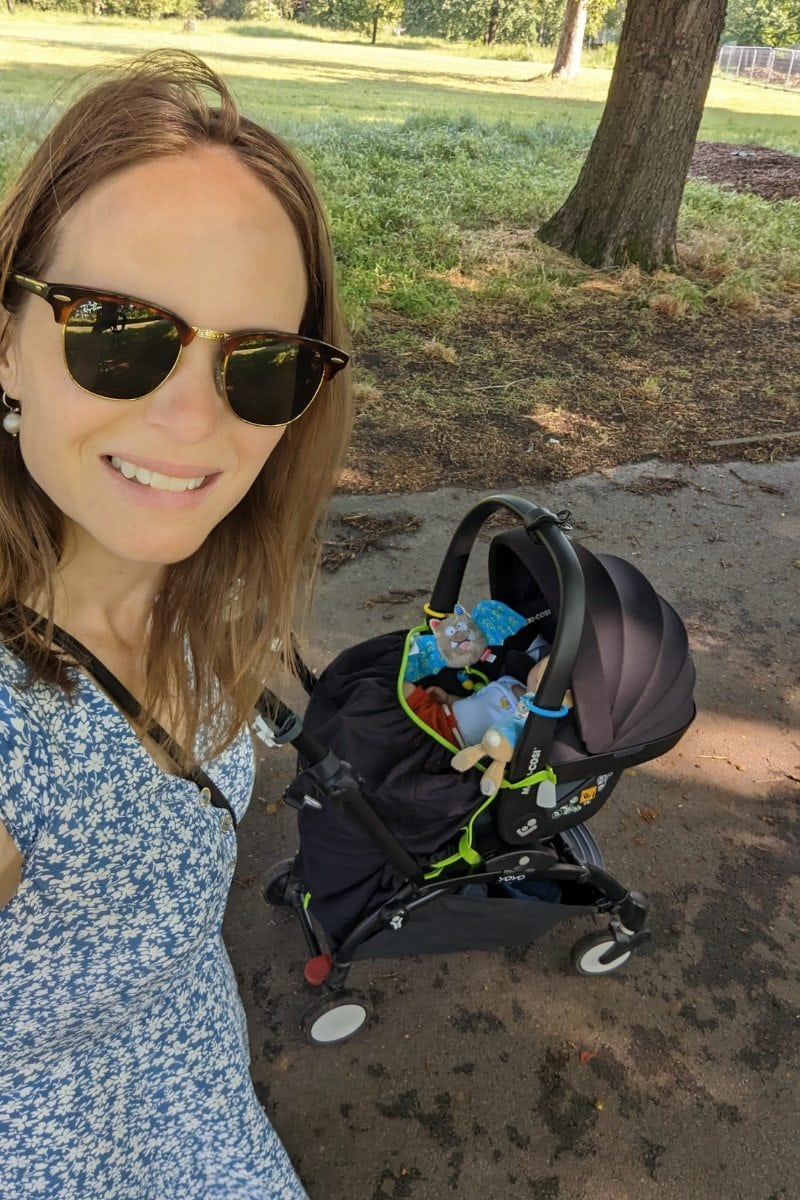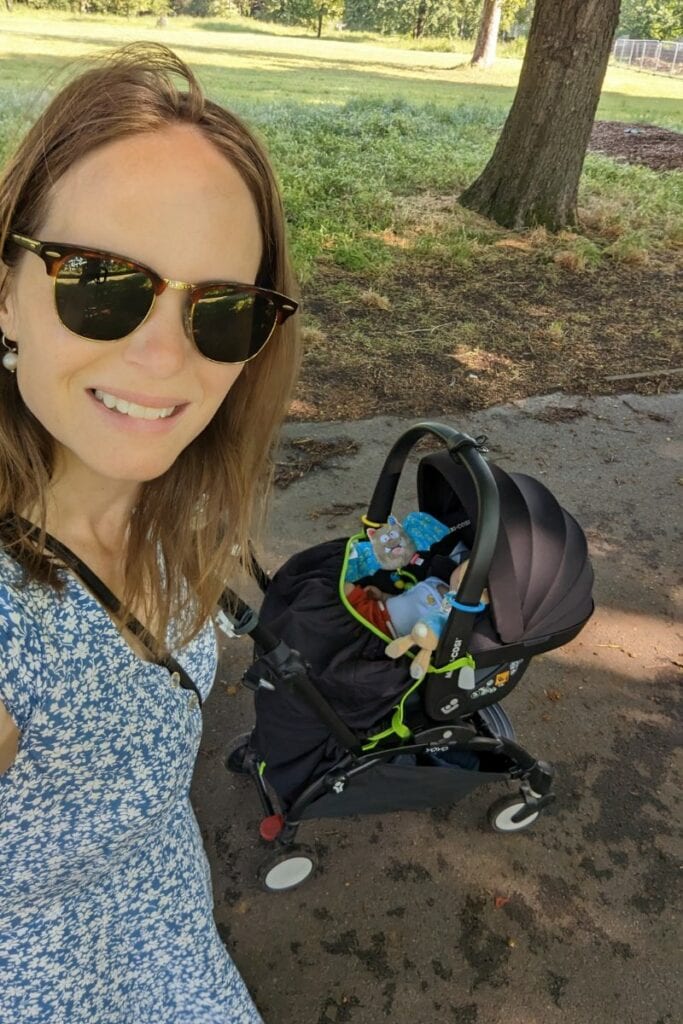 I was particularly excited to discover it also works with our Babyzen Yoyo2 pram, so we can transfer Cooper from car to pram with a click of a button. You just need to purchase the correct adapter. At around 2.5 months he started hating the pram bassinet, but he's a lot more content in his car seat. It also means we don't need to load up the car with a bassinet anymore, so we're saving space too!
If you're deciding which pram to choose, definitely have a read of my Babyzen Yoyo2 review. It's full of detailed, practical information so you can decide if it's the right travel stroller for you.
BabyBjorn Bouncer
So many people said that bouncers were a vital item to have for a new baby. They gently rock your little one back and forth, either by tapping the bouncer with your foot, or with the baby's own weight creating the motion.
I am a total convert! It was a few months before Cooper grew into his BabyBjörn bouncer properly (I think he felt more secure when he was a little bigger) but now we can happily pop him in for chunks of time and he'll play and bounce. It's ideal for moments when I want to cook or reply to a few emails. He can watch me from the safety of his own little seat!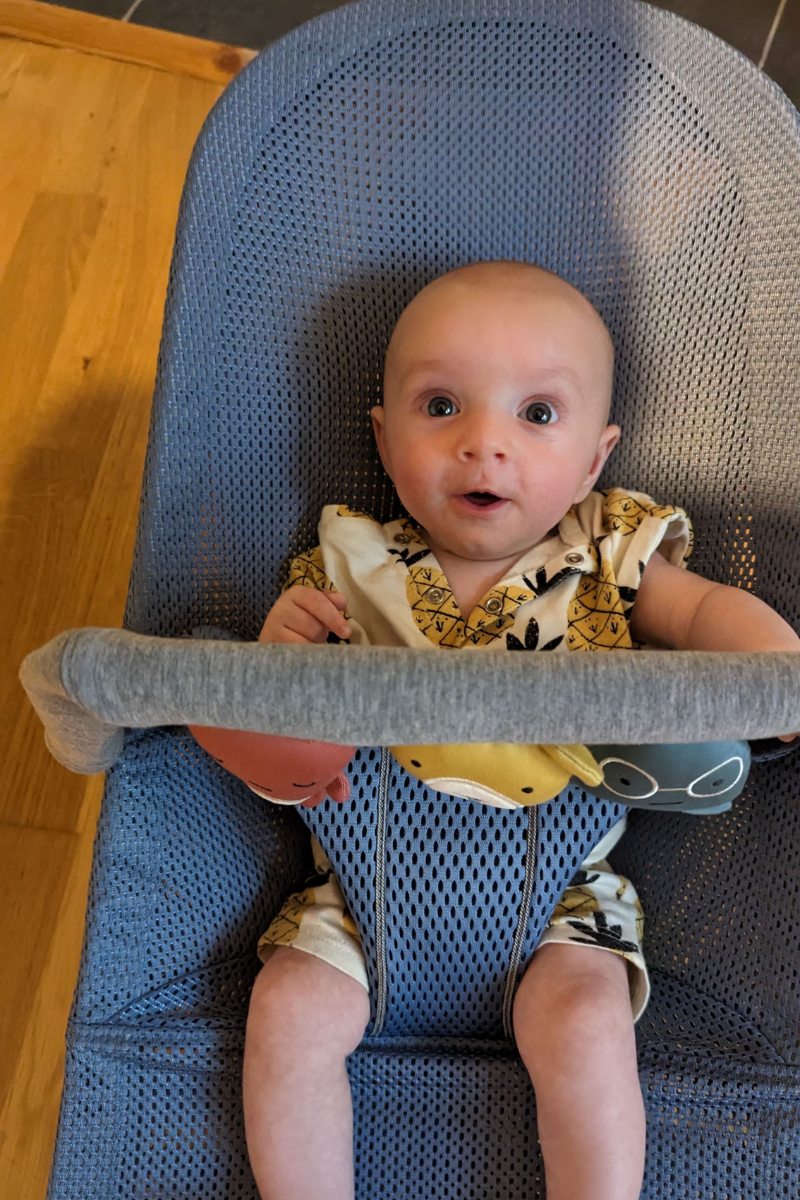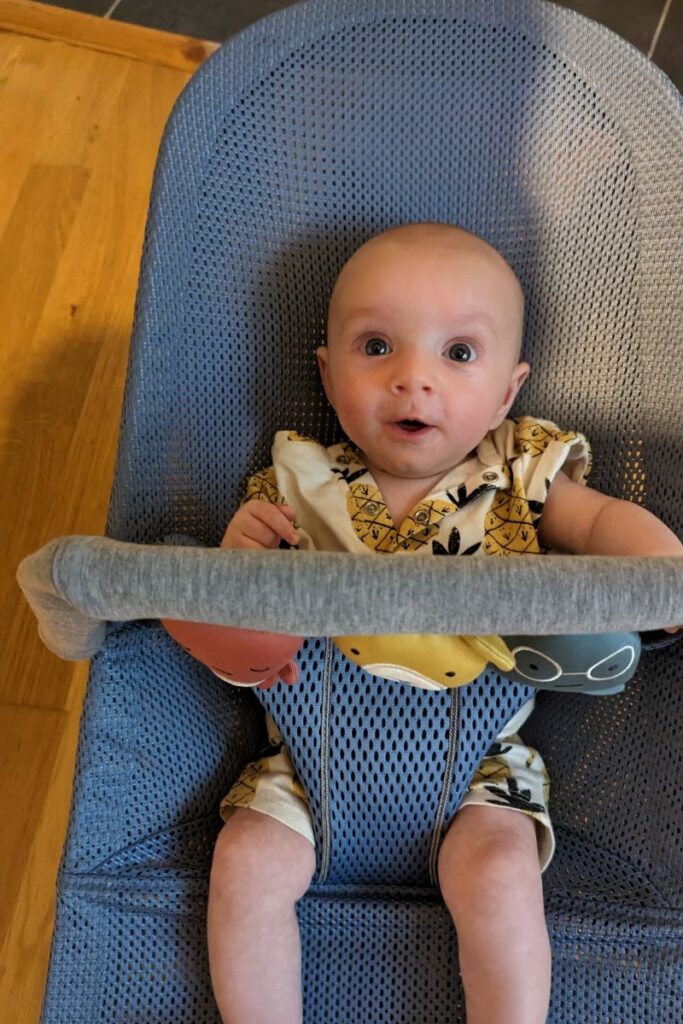 Th BabyBjorn bouncer is really well designed, with three height levels (the most upright is for when babies are a little bigger). It also packs down flat. We have a travel case for it so we can pack it into the car for our adventures around the country. I never visit my mum's without it!
I particularly like the addition of the toy bar on this one, and would definitely recommend you add that to your order. Cooper absolutely loves reaching for the colourful teddies. The middle one jingles to make it more of a sensory experience.
Unlike some pretty garish baby toys, the Baby Bjorn bouncers are pretty chic and minimalist. They also come in a range of colours and fabrics so you can pick one to match your décor.
Baby Sling
Cooper was a tiny baby at birth, weighing just 5 lb 9 (2.5 kg). This meant we had to wait a while before we could use a few items which had minimum weights, including our Ergobaby baby carrier. Our midwife recommended buying a fabric sling. These wrap the baby tight to your body – something they adore as it mimics the closeness they felt in the womb.
We bought this one made by Cuddlebug which has been some of the best money we've spent since Cooper was born! He absolutely adores being snug inside the sling. According to research, baby wearing encourages development and the human bond between parent and baby. There's also data which says that carrying your baby at least three hours a day reduces crying and fussing 43% during the day, and 51% at night.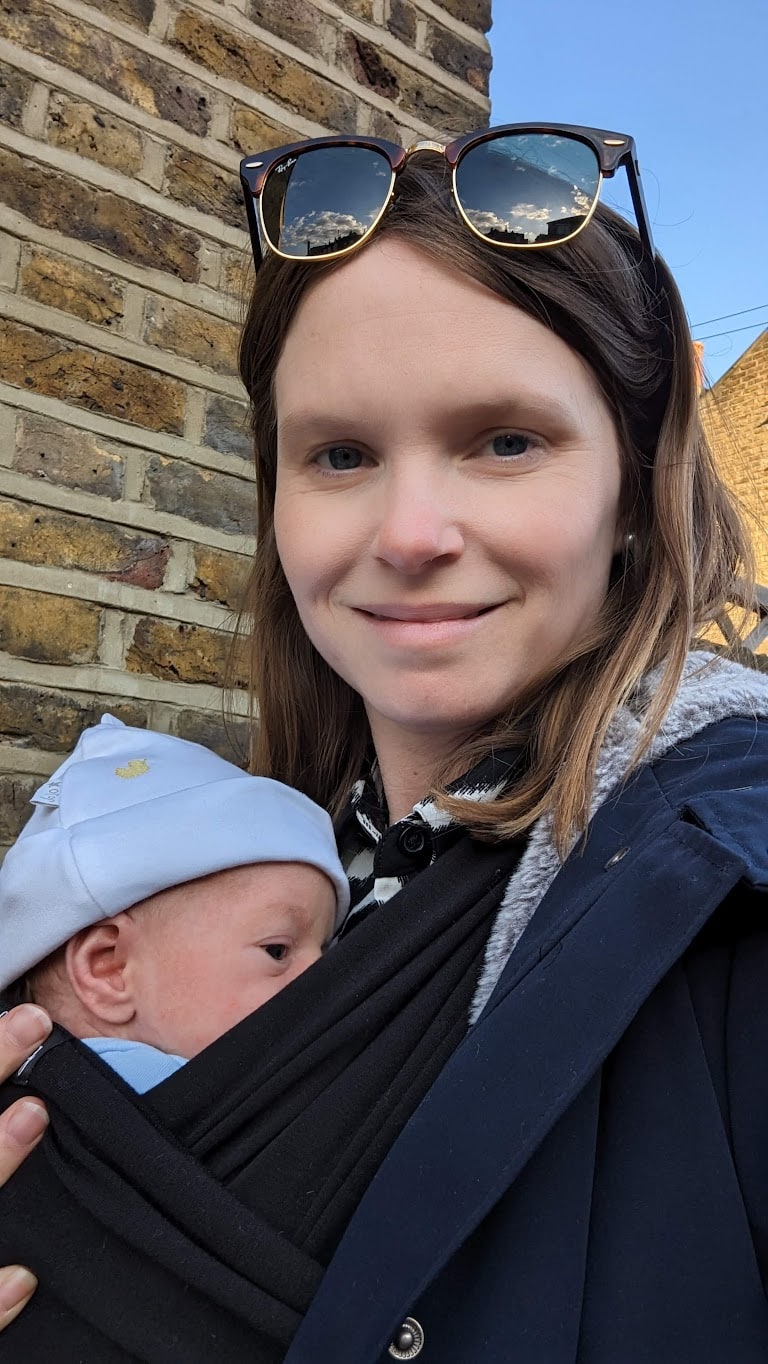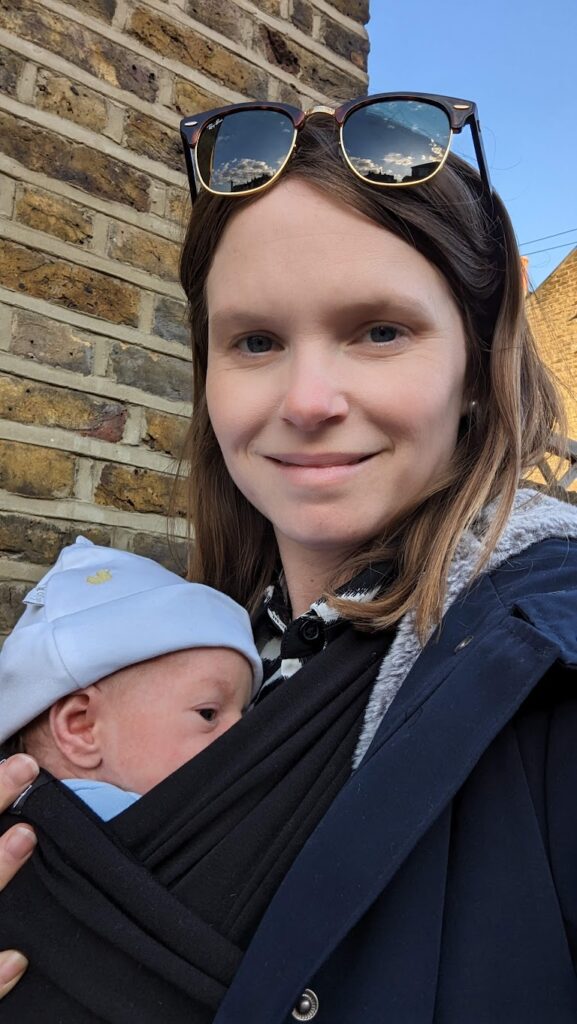 It was a bit of a game changer for us, as it meant we could get on with basic tasks around the house, without having to hold Cooper in our arms. After a few weeks I even managed to master breastfeeding in it. It was so liberating to be hands-free!
The instructions claim that a baby should be around 3 kg before being worn in the sling, but our midwives suggested using it sooner. Obviously, that's a decision for the individual parent to make, but we're very happy we did!
Ergobaby Aerloom Baby Carrier
As soon as Cooper was a little bigger, we graduated from the baby sling into this Ergobaby Aerloom baby carrier. This is one of our most-used baby items now. It comes absolutely everywhere with us… in fact, Cooper is asleep in it right now as I'm typing this!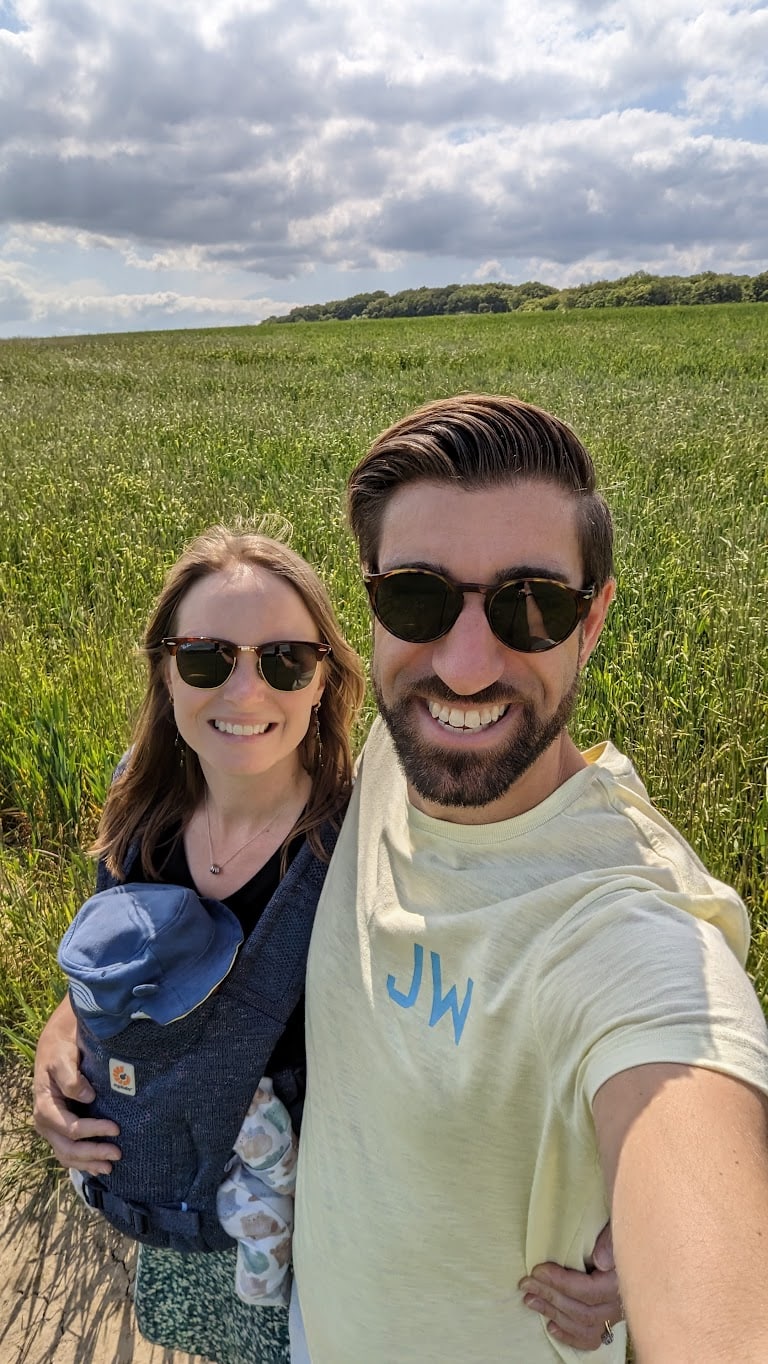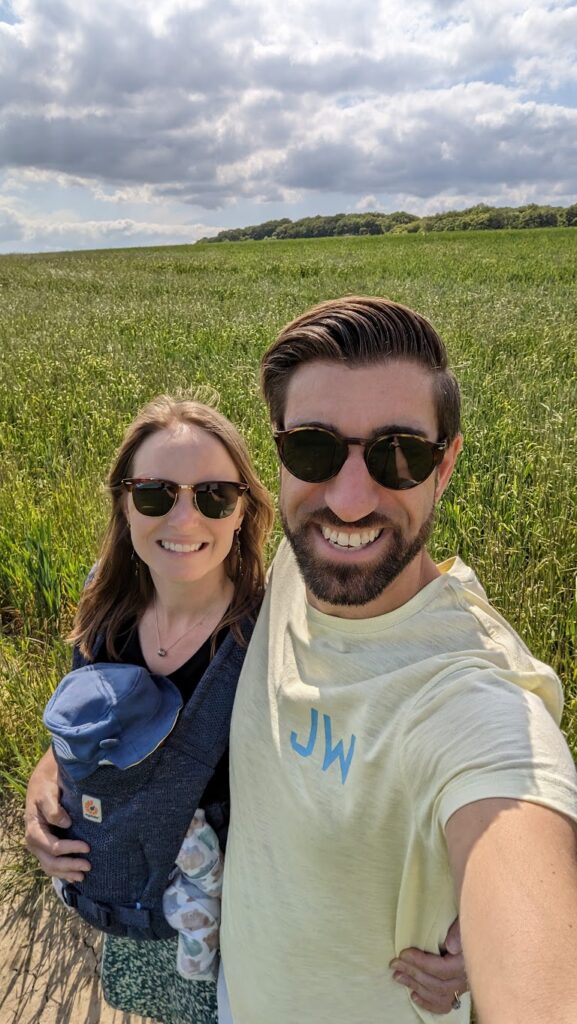 Ergobaby have a range of baby carriers available. We picked the Aerloom as it felt like the best for everyday use and travel. It's made of a lovely breathable material, is very light and soft, and it offers really good support. Ours is a cool flecked blue knit called Aurora, but they come in pretty much every colour of the rainbow, so I'm sure you'll find one that fits with your life.
As a little extra, the majority of the Aerloom is made from recycled plastic bottles, so you can buy this item knowing that you're doing your bit for the environment too.
Over the past three months, Cooper has enjoyed hours in his carrier in a number of locations, including airports (they're ideal for transporting babies on and off flights), fine-dining restaurants, the beaches of Majorca, our local parks, the London tube and more!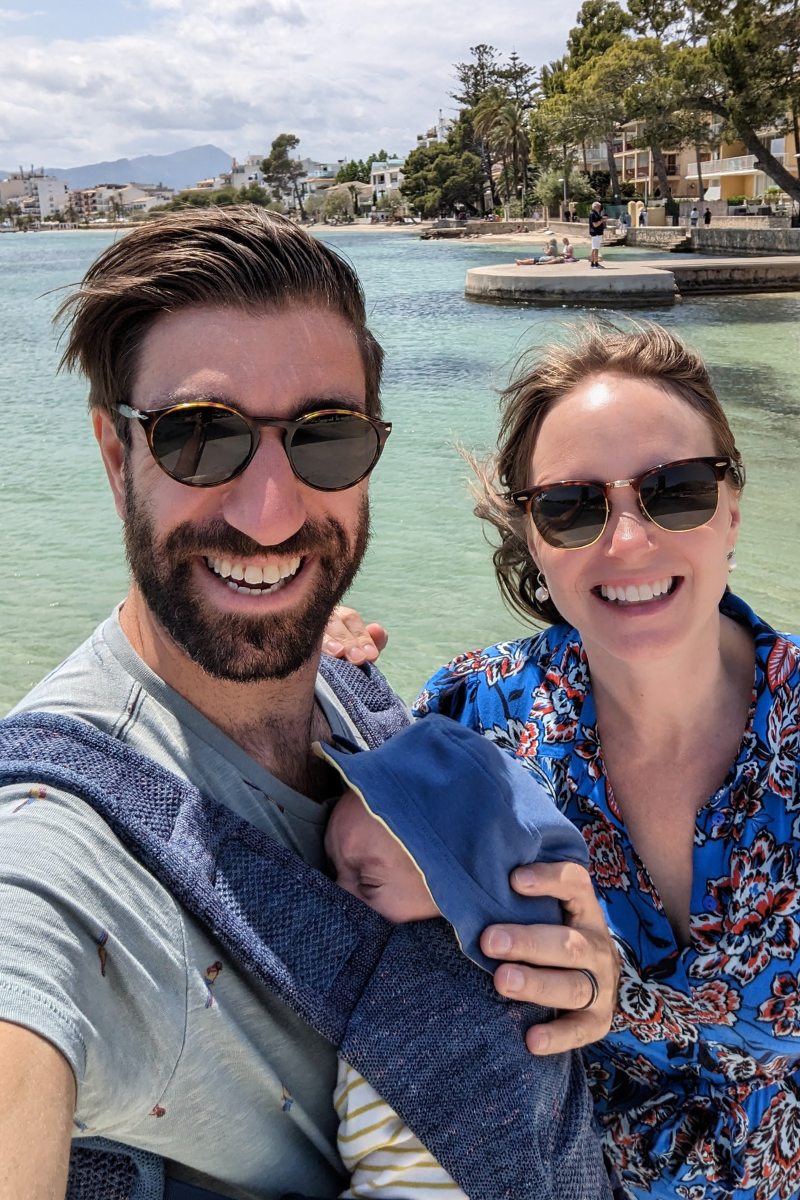 Cooper is going through a phase right now where he doesn't really like sleeping in his pram or cot. The only place sleep is guaranteed is in this baby carrier. They can be used from newborn (depending on the baby's weight) right up until age 3, so it's something I'd urge all new parents to invest in early on.
My Expert Midwife Products
I'd never expected to need anything more than a bottle of Bio Oil to see me through pregnancy and beyond. That was until I discovered the brand My Expert Midwife. All of a sudden, I was surrounded by gorgeous products that would spritz me, cool me and soothe me. They're all designed by midwives and contain a range of natural ingredients.
If there's ever a time for some pampering it's in those last weeks of pregnancy and that period just after giving birth. I found there were times when it was hard to love my body, despite all the amazing things it was doing. These products really helped me through that time. My favourites have been the Fantastic Skin Elastic which I used religiously on my bump in the third trimester. I don't have a single stretch mark, so I think it did its job brilliantly!

I've also been using the Scar Recovery Oil which I massage on my C-section scar every day. The scar has healed well so far. I also loved using the Soak For Bits Bath Salts in my first baths after giving birth. The scent is heavenly and the salts made the water feel very soothing on my battered body!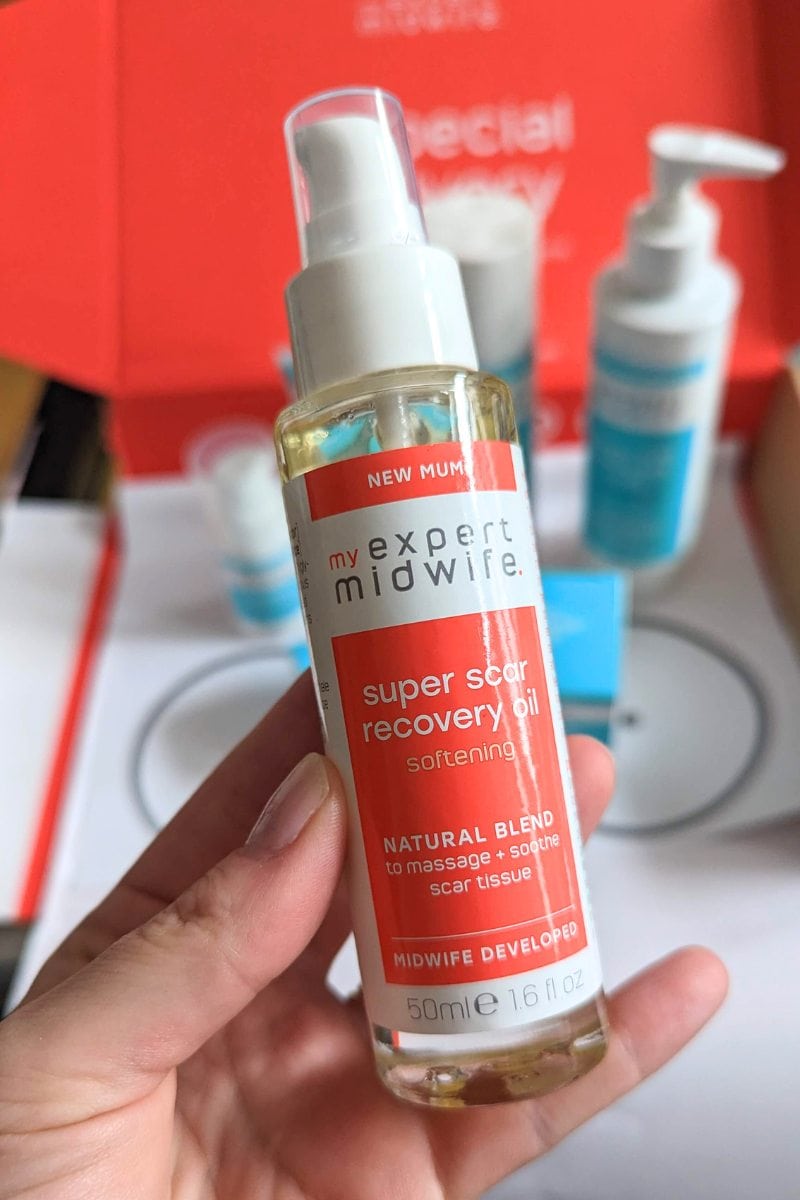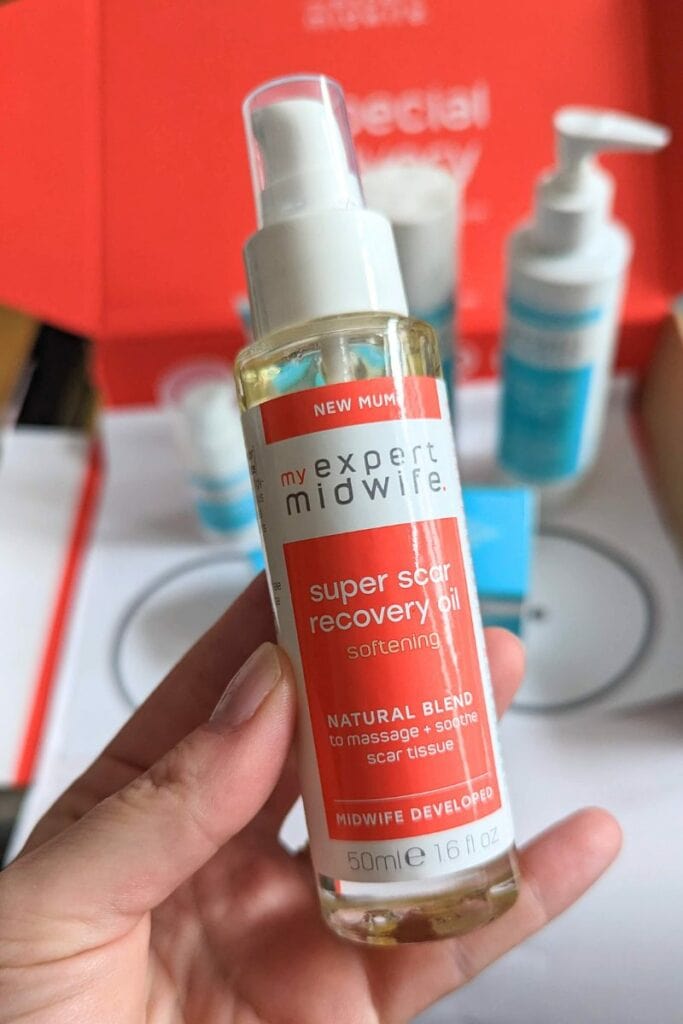 It was great to discover the brand also make baby products too. Cooper has enjoyed bath times using the moisture milk and I really like the salve for when he gets dry skin. All in all, a really lovely brand for both me and the bubba!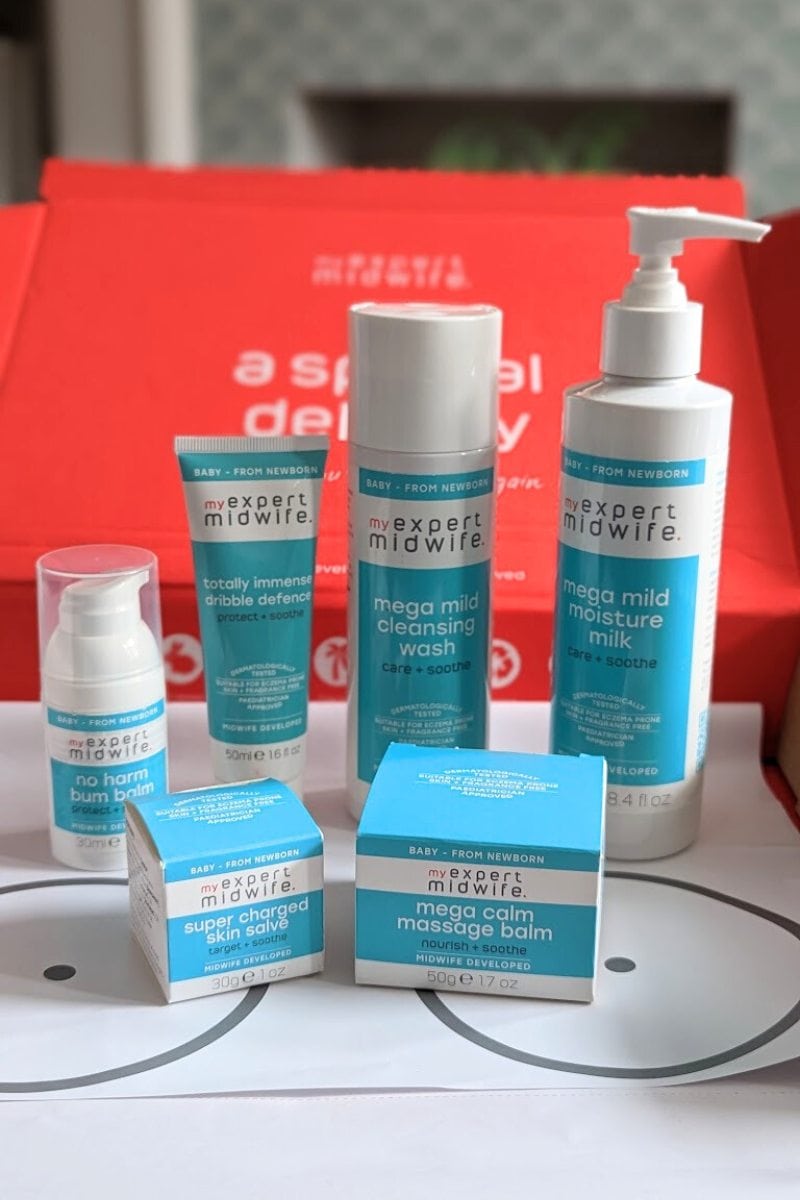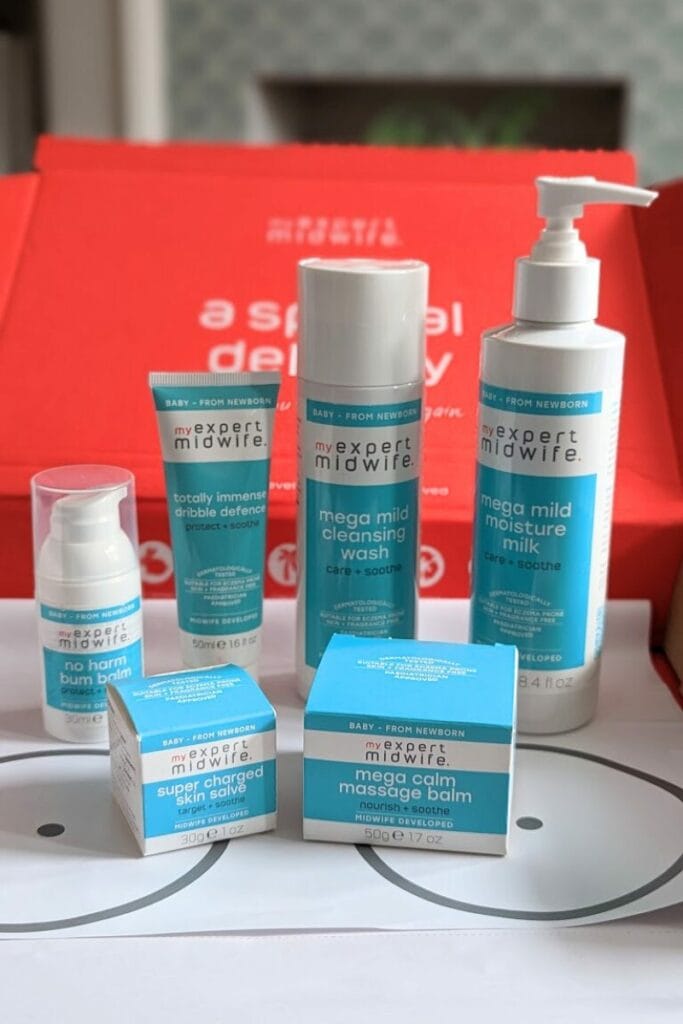 Dreamegg White Noise Machine
We did a lot of research into white noise machines. Our parent friends told us it was one of their most used items. White noise is great for helping little ones go to sleep and then stay asleep.

We've been using the Dreamegg since the early days. We love that it has lots of different sounds, and unlike some white noise machines, it can run for 30 minutes, 60 minutes, 90 minutes or continuously. The sounds include a classic white noise, wave sounds (one of our faves!), some chimes and even a shhh'ing sound effect. This often works really well for calming Cooper down.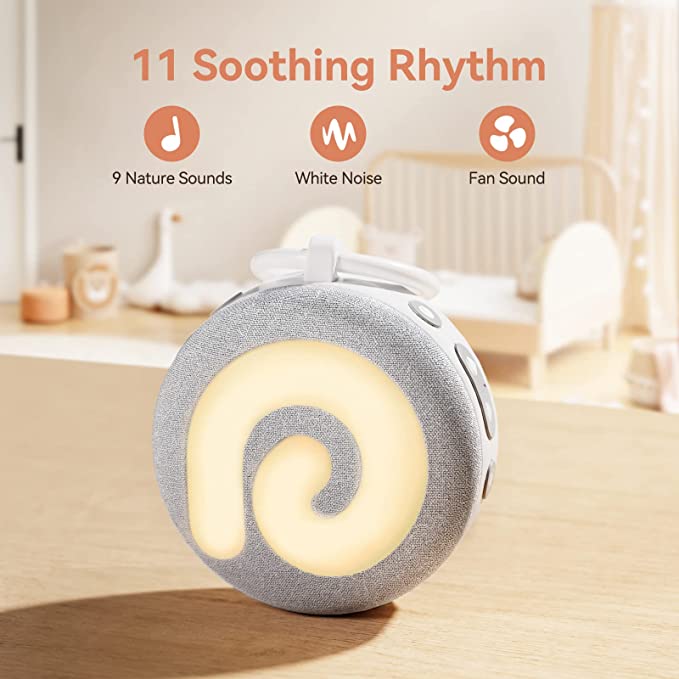 We hang the Dreamegg from the edge of the cot, out of Cooper's reach. It also has a light on it which is really handy for middle of the night feeds.
Toby Tiger Clothing
When you're about to become a parent, you get very excited about choosing tiny items of clothing! I did anyway. Towards the end of the third trimester, I spent a lot of time cooing over cute items of baby clothing in the shops, imagining having a little one who would be dressed in them.
Some of my favourite items of clothing are from Toby Tiger. This is a lovely family-run, ethical, independent clothing brand which makes sustainable clothes that are anything but bland. I read a few articles pre-baby about the beige trend for babies. A lot of clothing is now in bland, neutral colours, with a lot of beige, white and grey.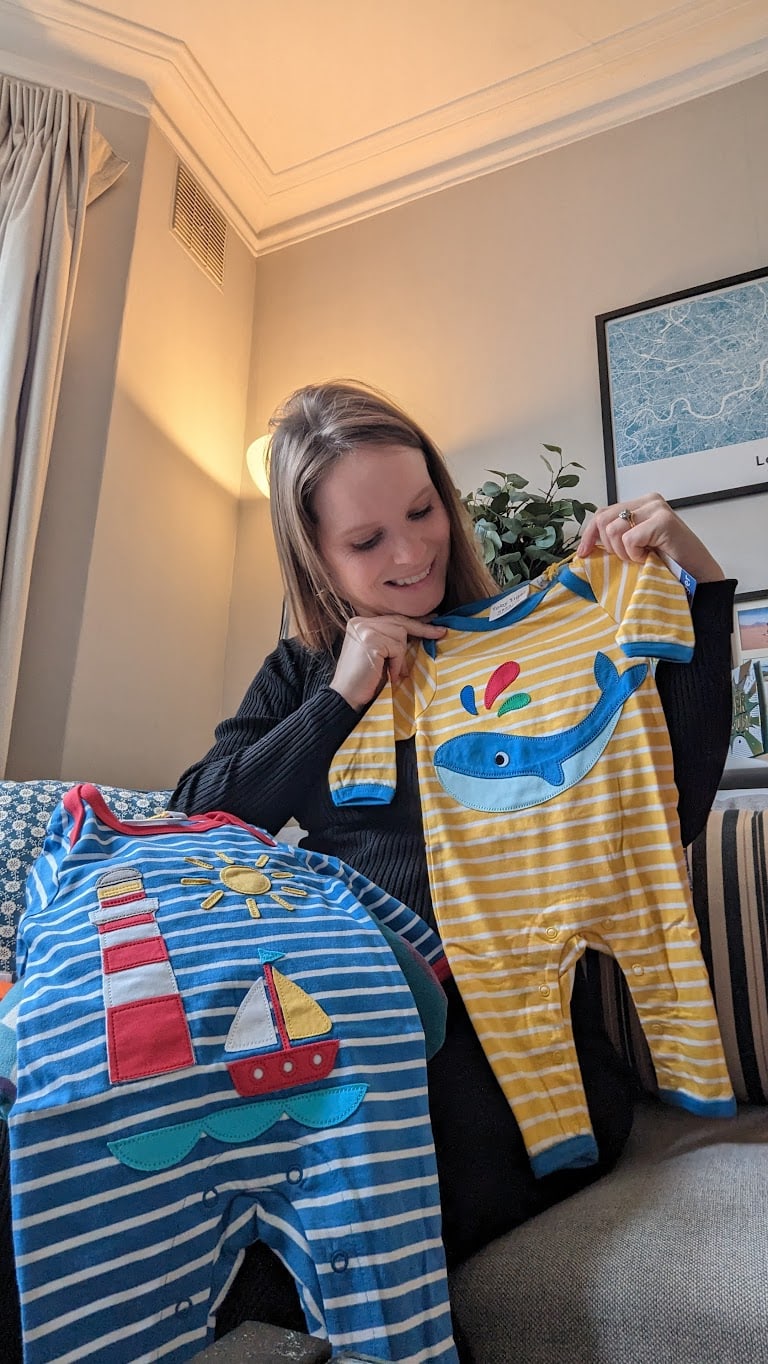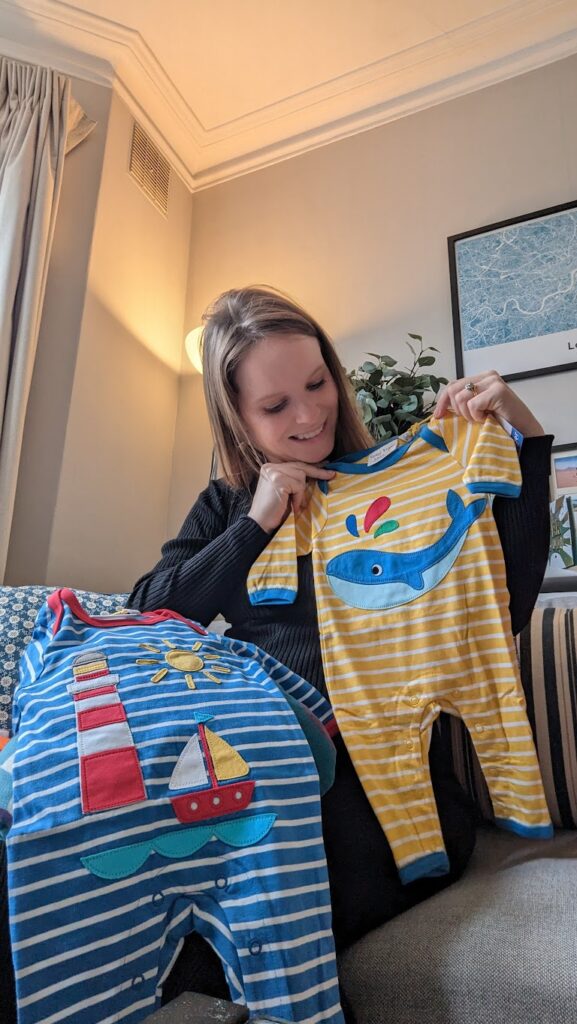 Come on guys, I understand neutrals for adults, but can't we at least let our babies have some fun with their rainbow wardrobes?! I fell in love with the Toby Tiger sleepsuits, which are brightly coloured with fun applique details. My favourites are the whale and the lighthouse – I've been so excited for Cooper to be able to wear them!
Baby Mori Clothing
Another clothing brand I absolutely adore is Mori. You know when you touch a fabric and you can feel what incredible quality it is? That's what Mori's clothing is like! I picked up a few sleepsuits and a swaddle sleeping bag before Cooper was born. They've been some of his most worn items since birth.
I've also since been given one of the brand's 'clever sleeping bags'. These are suitable for babies right up to 2-year-olds! I've already watched Cooper grow out of so many lovely items, I'm really happy this is something he'll use for years!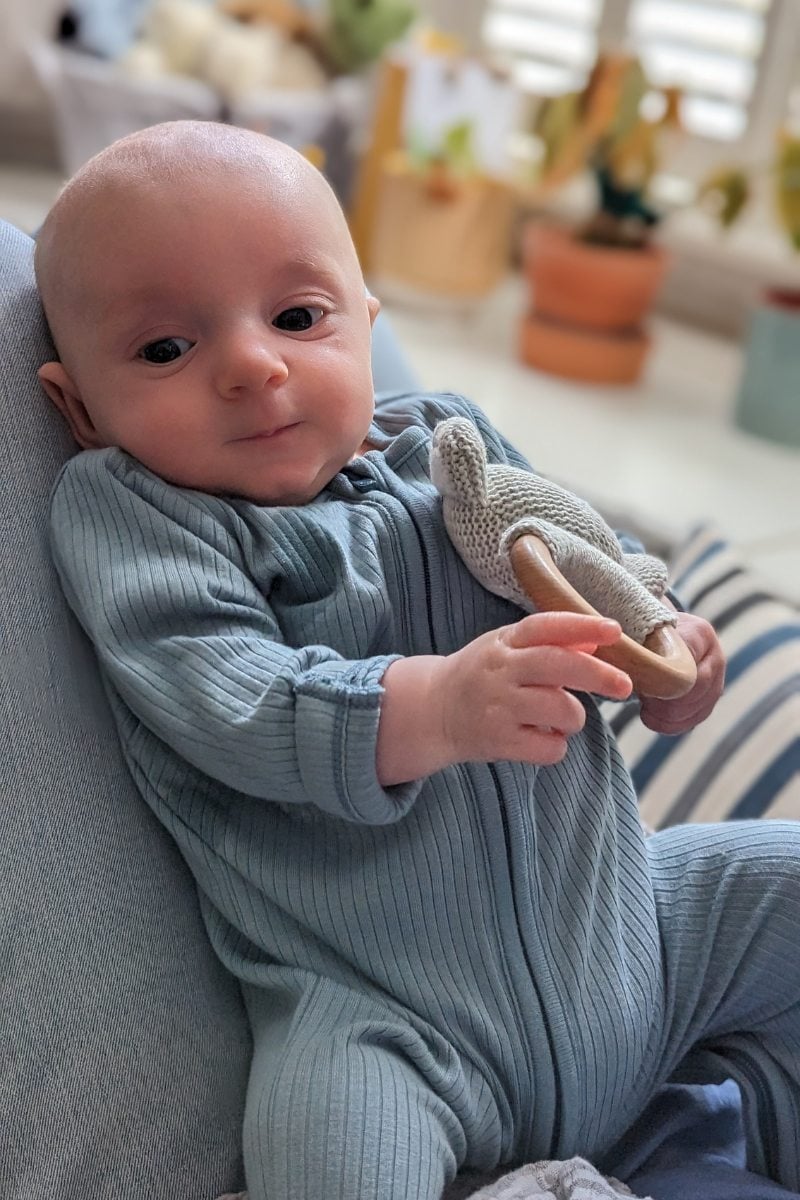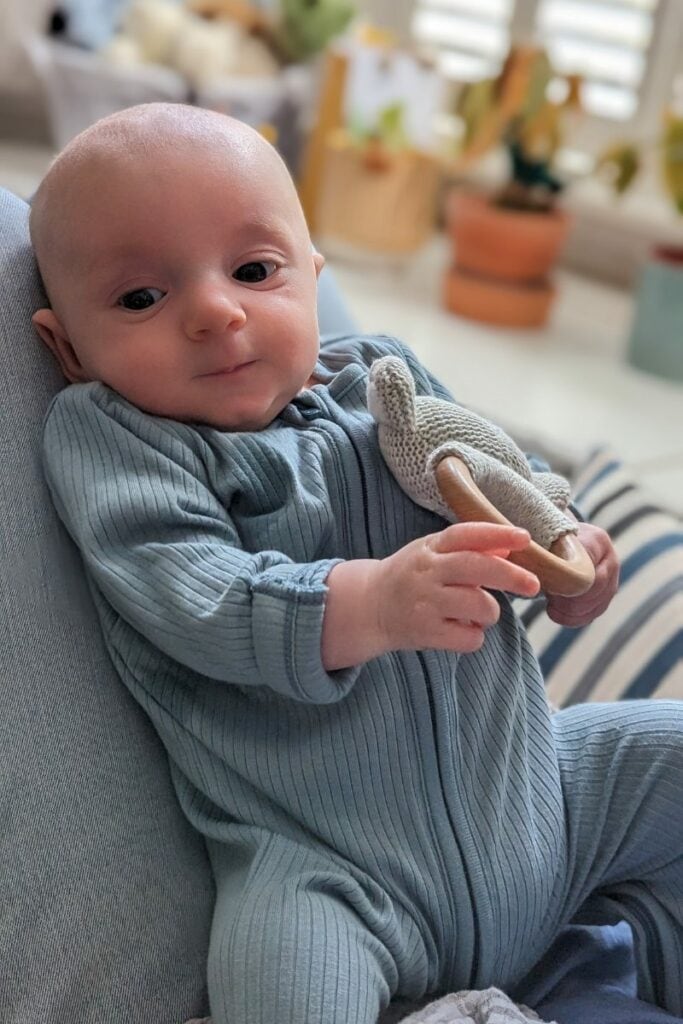 One of my favourite design features on the Mori sleepsuits is the double zipper. Not only does this mean I don't have the hassle of undoing lots of poppers, it also means you can just unzip the lower area for nappy changes. I honestly don't know why more brands don't do this!
I also picked up a set of these wooden milestone blocks. They've been great for taking photos of Cooper's growth over the last few months!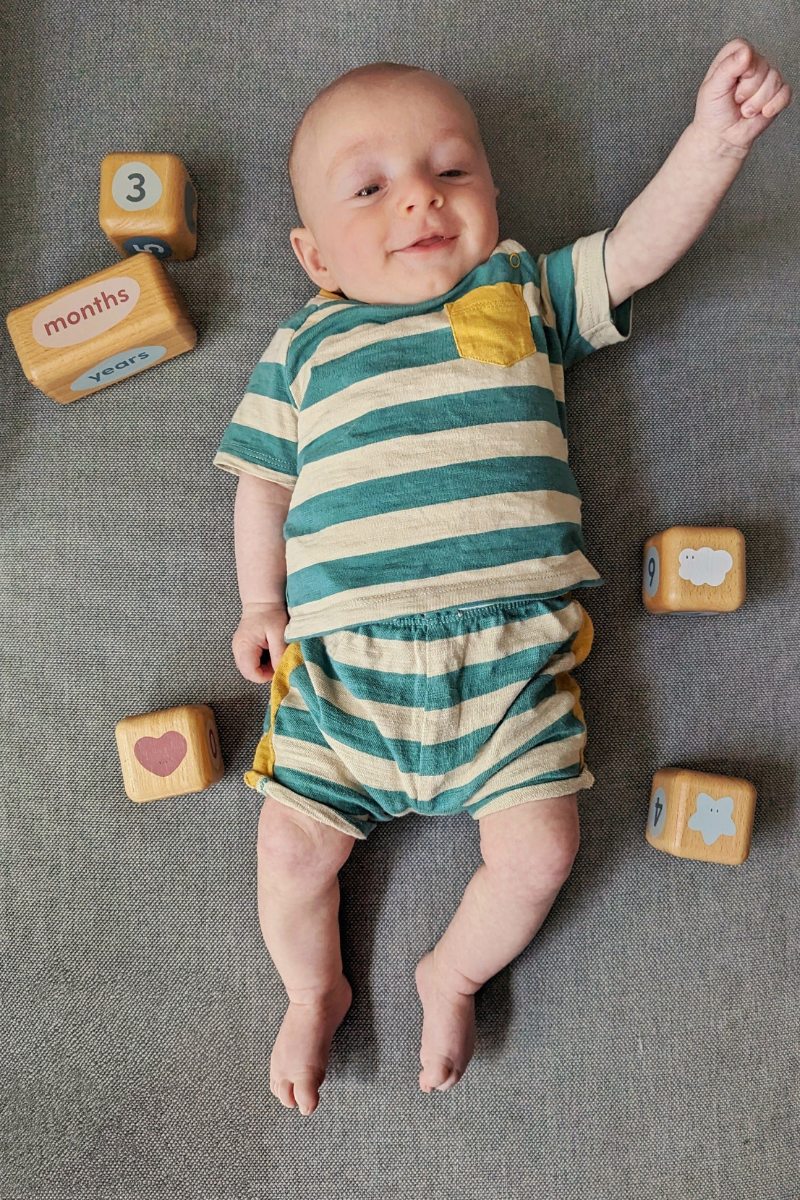 Rockit Pram Rocker
Have you heard of the Rockit Rocker? This is a really smart product that rocks any pram or stroller. You just attach the device to the handle of your pram, turn it on with the button on the top and pick your rocking speed using the dial on the bottom. It's ideal for times when you're out and about with the baby in the pram, but then stop for a while (perhaps for lunch). It continues to jiggle the pram, giving the impression it's still in motion.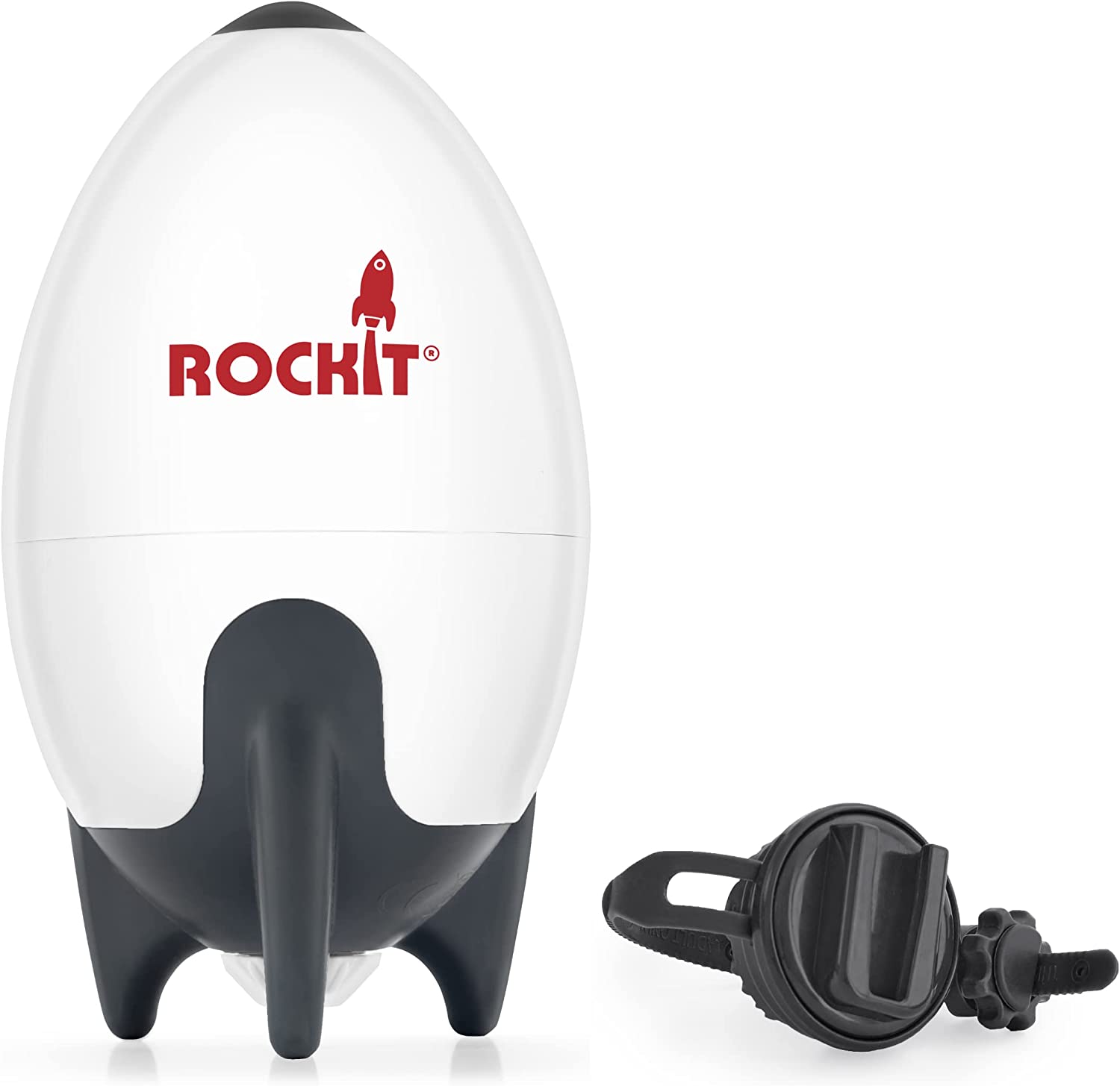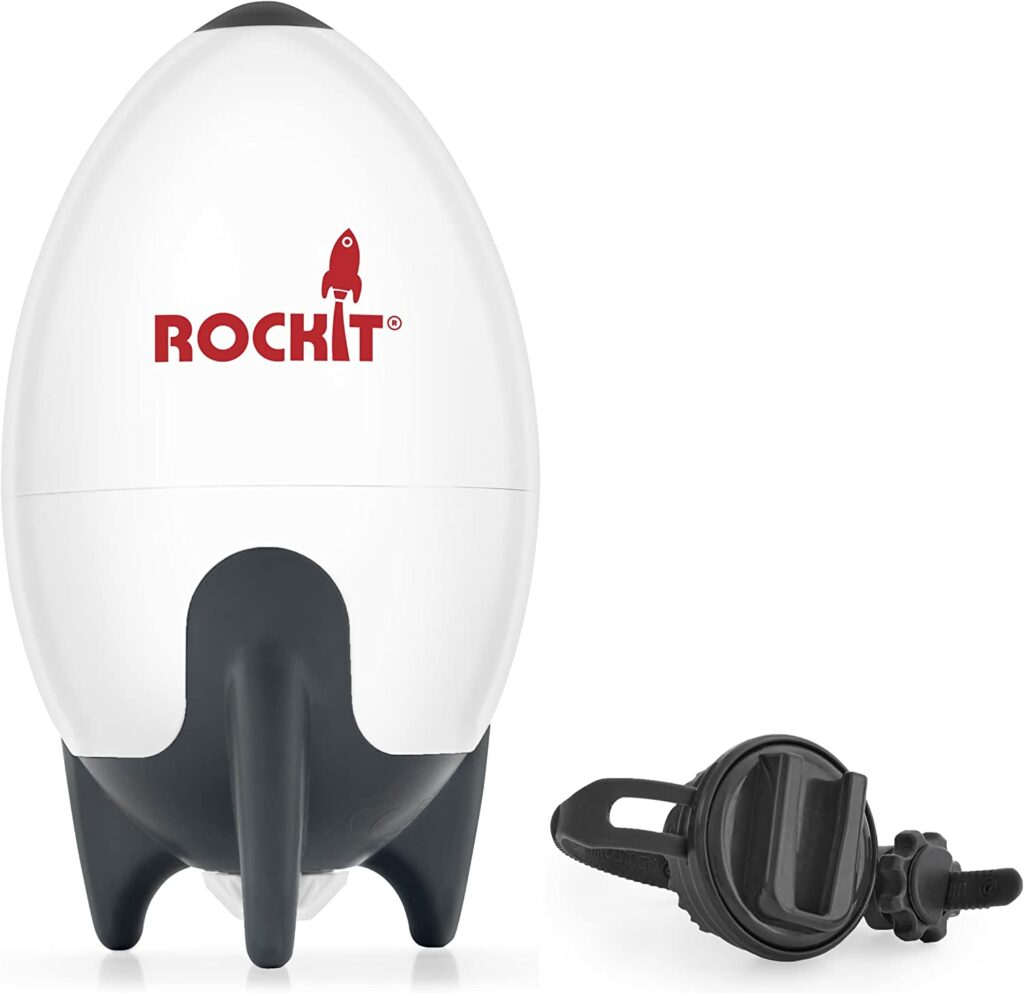 We've had some great success with the Rockit. Just a few weeks ago we went for a lovely three-course lunch in Windsor. Cooper slept for two courses in his pram, with the Rockit gently rocking him by the table.
SnoozeShade
When we booked our first holiday to Spain, we knew we'd need to think carefully about how to manage with a newborn in intense sun. That's when I discovered the SnoozeShade. This is a great invention which fixes onto any pram or bassinet, and protects little ones from the 99% of the sun's powerful UV rays. It blocks out a lot of light in general too, which really helps with napping on the go!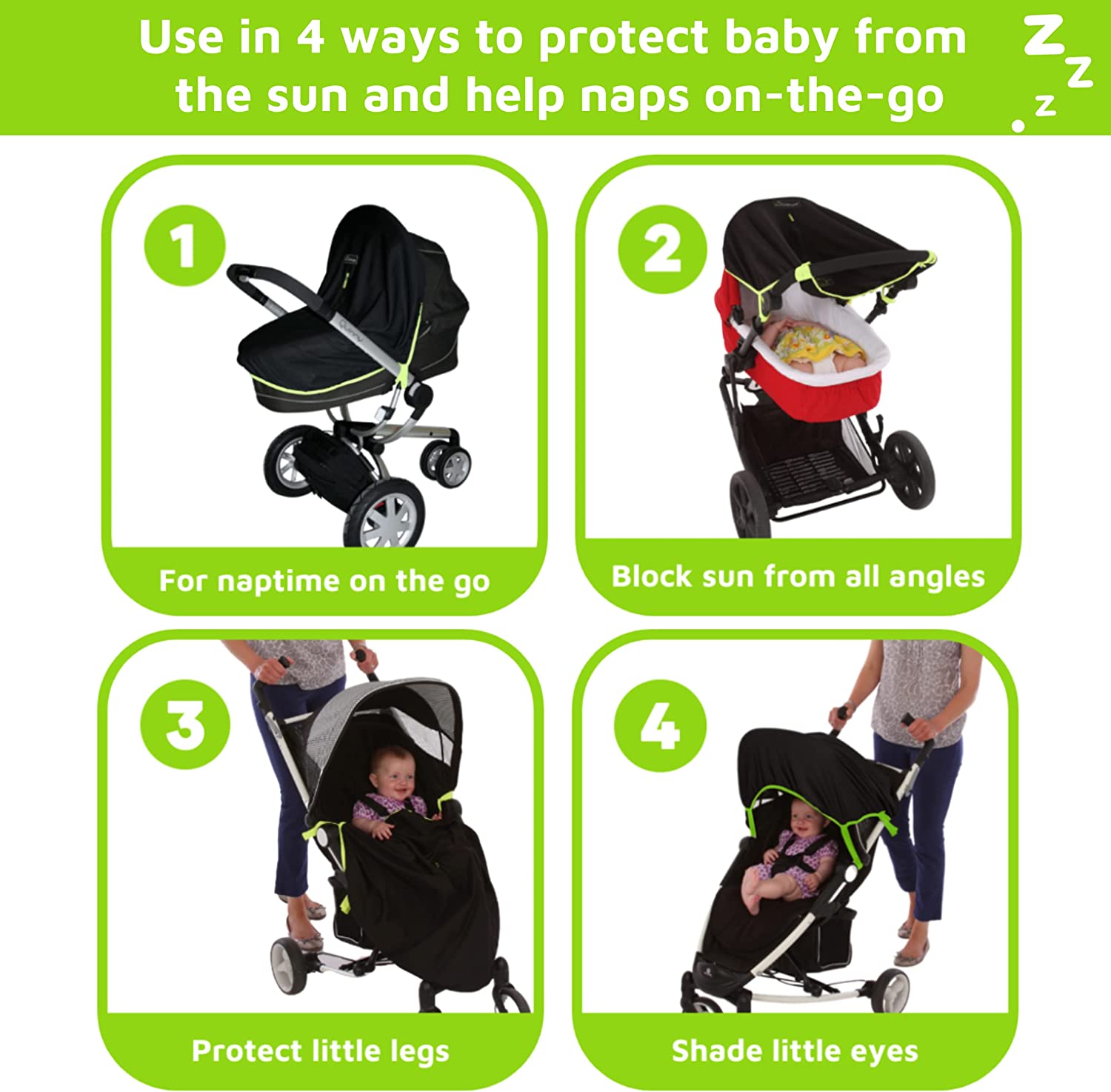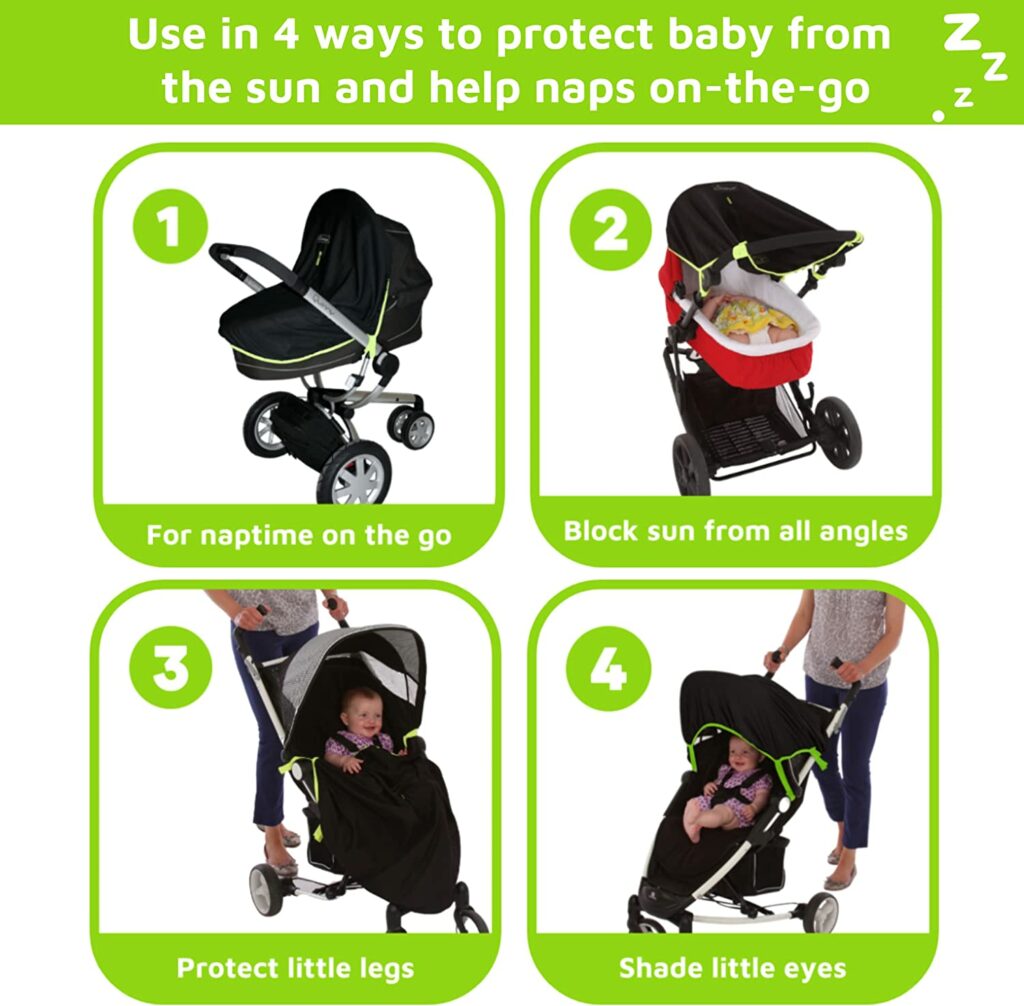 It's made from a breathable mesh and while it's great for sun protection, it also protects from wind, chill, light rain, midges and even doubles as a mosquito net. It's another item I'm happy to see will last for years as it's compatible with bassinets and pushchairs. It's definitely one of my top picks when it comes to newborn baby travel essentials.
I spotted that the brand has also developed a SnoozeShade for travel cots. I've just ordered one and I'm looking forward to testing it out on our next trip. It's important to create a dark sleeping environment for Cooper when we travel to places that don't have blackout curtains (or when we want to keep the lights on while he sleeps!) This should definitely help!
Babyzen YOYO2 Pram
If you follow me on Instagram, you'll have followed our dilemma of which pram to buy! We went back and forth on three models, each with their pros and cons. We eventually settled on the Babyzen YOYO2 – the lightest most compact pram on the market. It's ideal for travelling and great for London too.
If you're deciding which pram to choose, definitely have a read of my Babyzen Yoyo2 review. It's full of detailed, practical information so you can decide if it's the right travel stroller for you.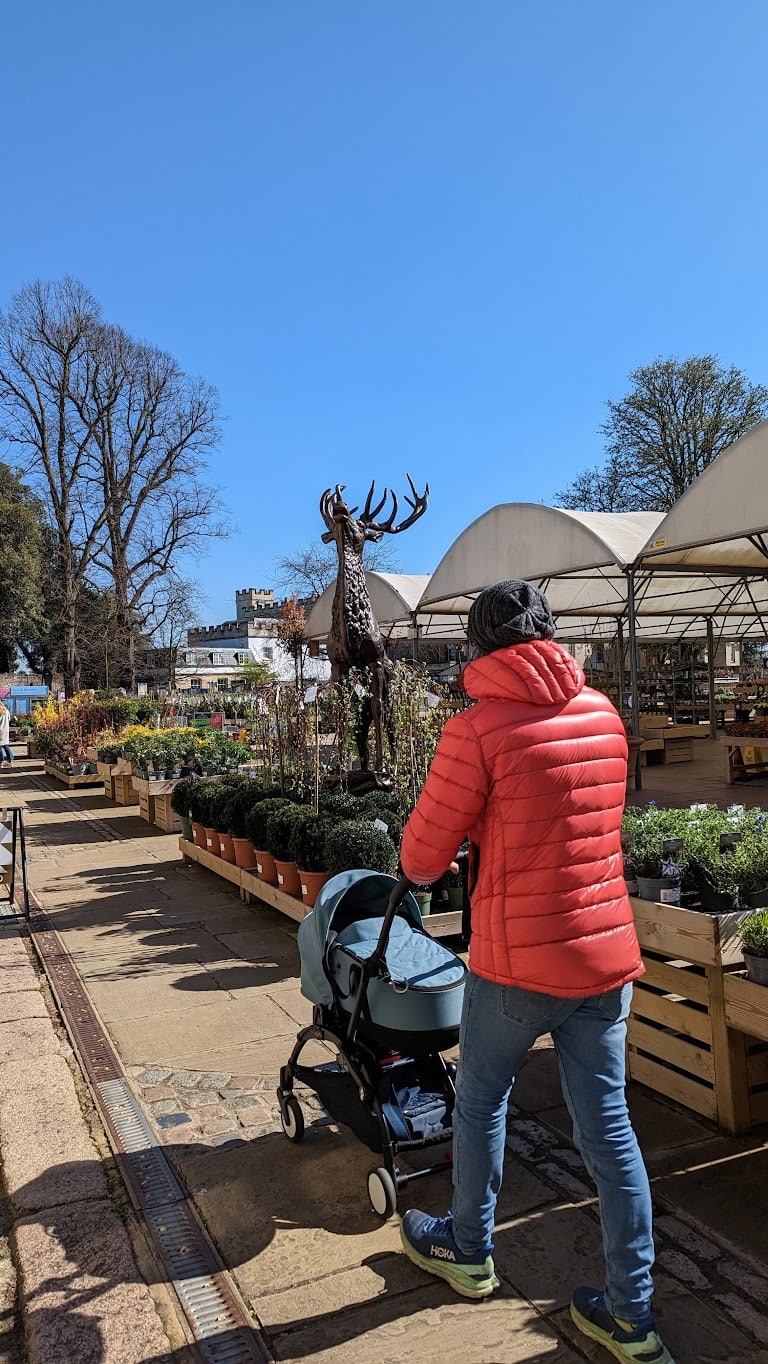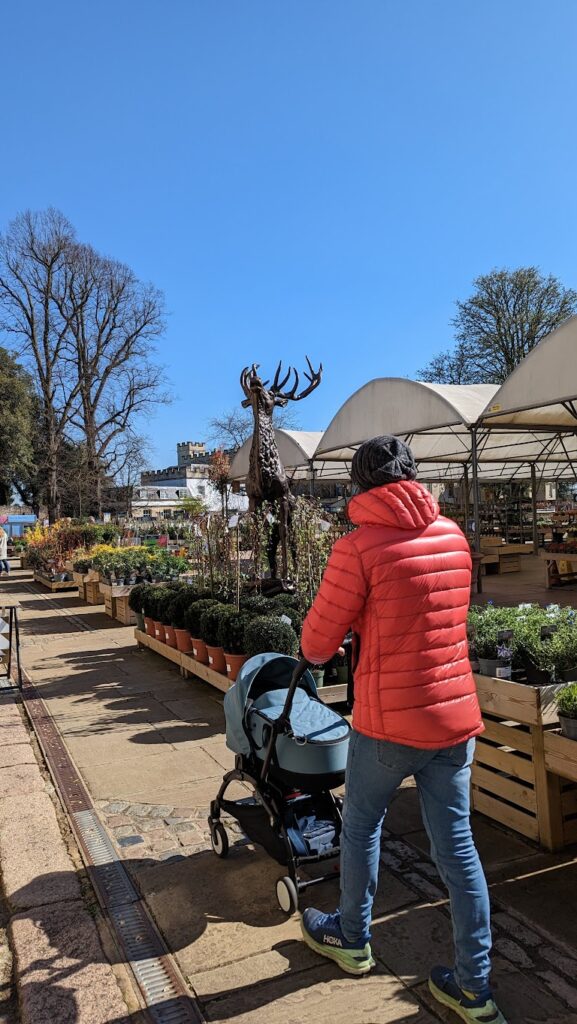 We opted to buy the proper YOYO2 bassinet to go on it rather than the more compact 'newborn pack' (a nest-style add on). We're pretty happy with our choice. I love how small it packs down. We only have a small flat and we keep it folded by the front door, ready to take out. It also fits in the boot of our Toyota Yaris, and leaves plenty of room for other items too.
Cooper has gone through a fussy stage lately and isn't enjoying being in the bassinet very often. This change seemed to coincide with his eyesight improving and him becoming more alert. I think he finds it boring and claustrophobic being cooped up in there! No doubt, once we switch to the main stroller in a few months, he'll be happier, but for now we've attached our car seat so he has a better view.
This is the only pram on the market which can be accepted as airplane cabin baggage. Yep, it actually fits in the overhead locker! If that's not a selling point for a travel blogger, I don't know what is.
Stroller Fan
With lots of upcoming travels to warm countries, a compact fan that can attach to the pram felt like an essential. I bought this stroller fan which is rechargeable, has good battery life and has a flexible tripod base so you can wrap it around pram handles and car seat bars.
With the weather being so warm in England, we've already had so much use out if it. It's one of my most recommended products for travelling with a newborn.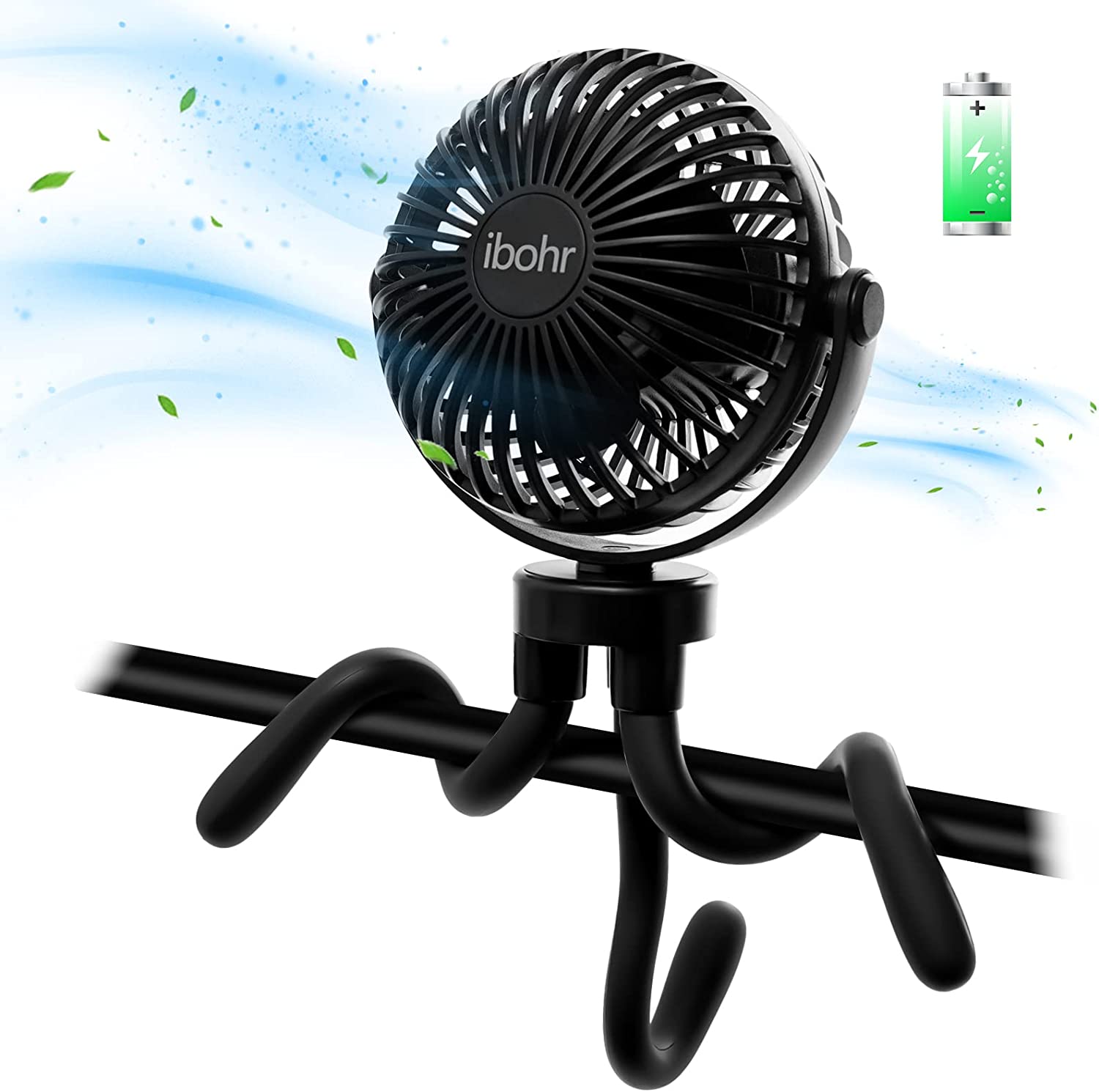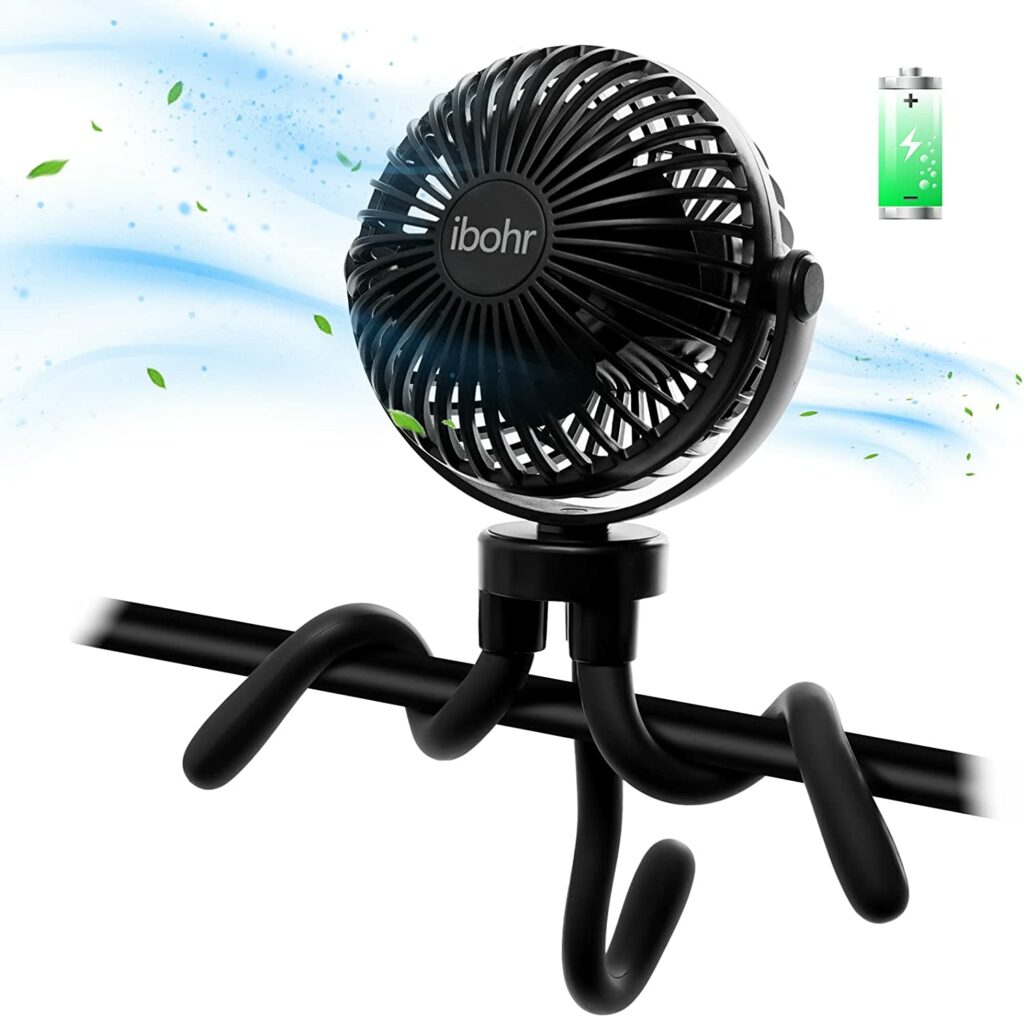 Stroller Cup Holder
One of the first accessories I bought for our pram was this cup holder. I always imagined every trip around the park with the buggy would involve me enjoying a lovely flat white as the bubba slept. Ok, so he didn't always play ball when it came to snoozing, but that meant the coffees were very much needed!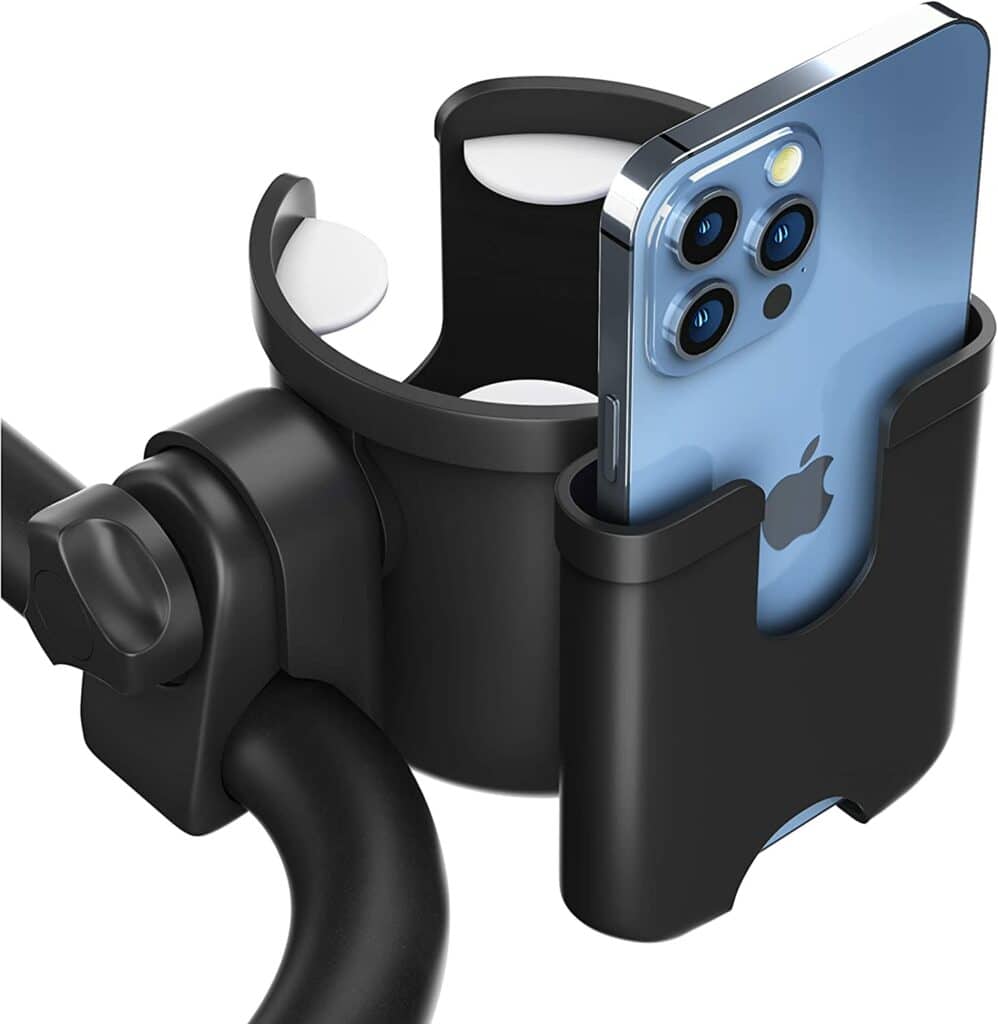 This cup holder made by Zugati has been perfect. It's universal, so should attach to any pram or pushchair. It also has a phone holder, so it's ideal when you just want to have a few items within easy reach.
Baby Changing Bag
Before Cooper was born, I scoured the internet for a changing bag. I wanted something that was functional but not too big (lots are the large backpack style). I was keen for it to hang off the pram easily and have different storage compartments. I was also keen to find one that could be worn on the shoulder or as a backpack. Oh, and be reasonably neutral so that Macca was also happy to use it! Ok, I was asking for quite a lot!!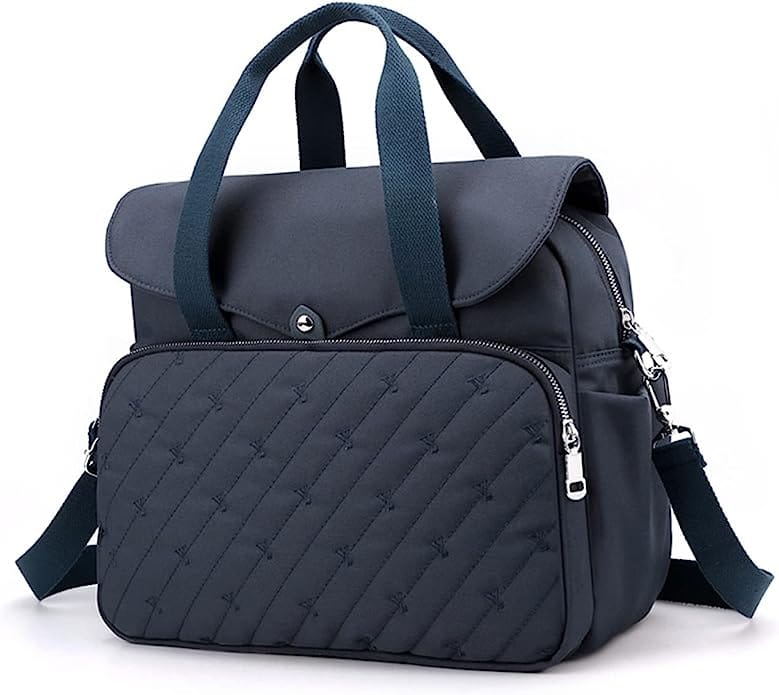 I discovered that a lot of the bags designed as baby changing bags were really expensive and quite large. I ended up looking at standard bags that ticked all the boxes and I eventually settled on this navy blue Nicole & Doris bag. It's been perfect as a baby changing bag, and didn't come with a hefty price tag.
Shnuggle Bath
If you're looking for a way to safely bath your newborn baby, definitely buy one of these Shnuggle bathtubs. This clever style of tub has a high back to lean against and a little ledge at the base of the tub which allows the baby to sit up safely. This isn't exactly a travel item as it's big, but it's something I'd 100% recommend having at home from the start.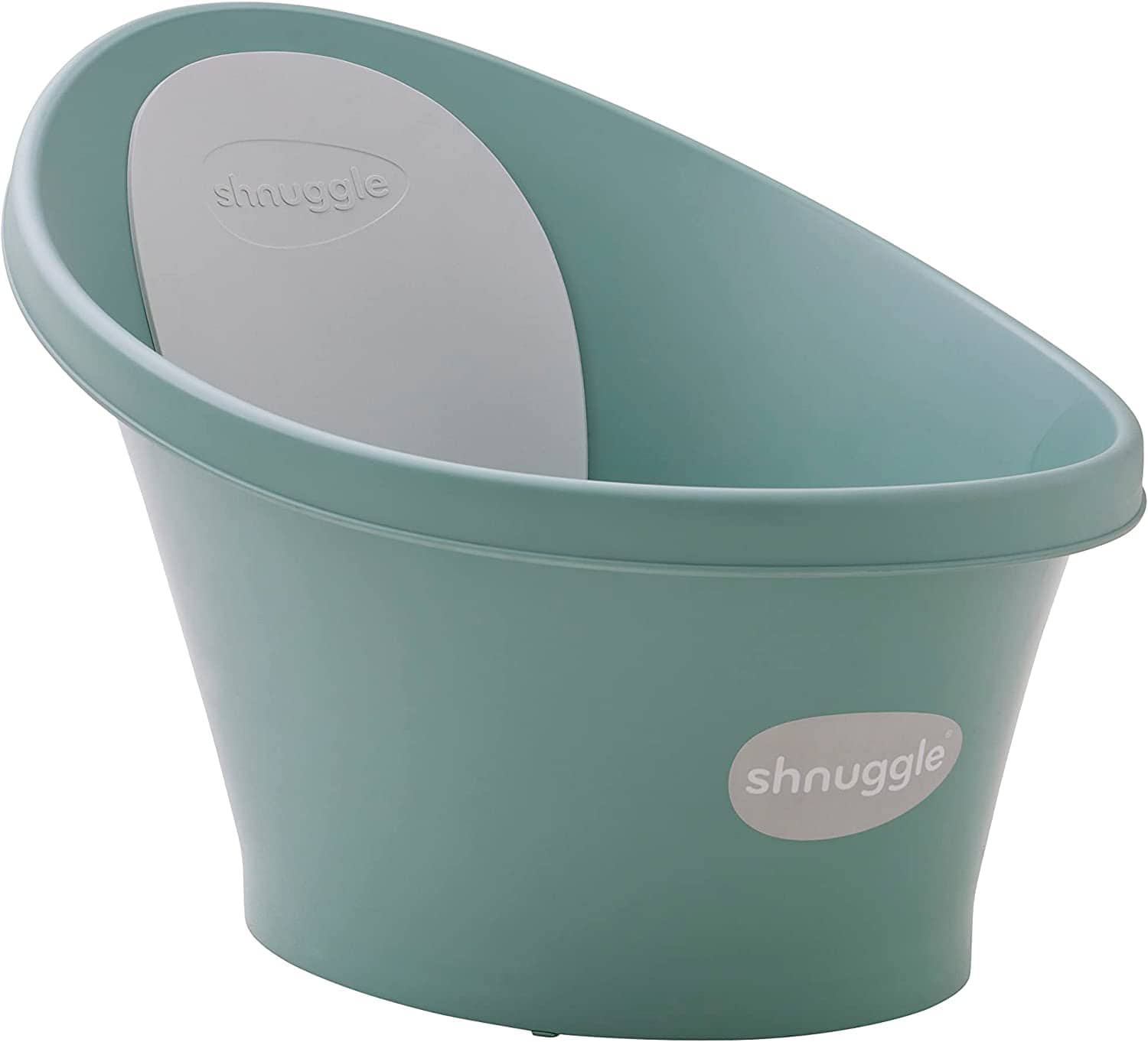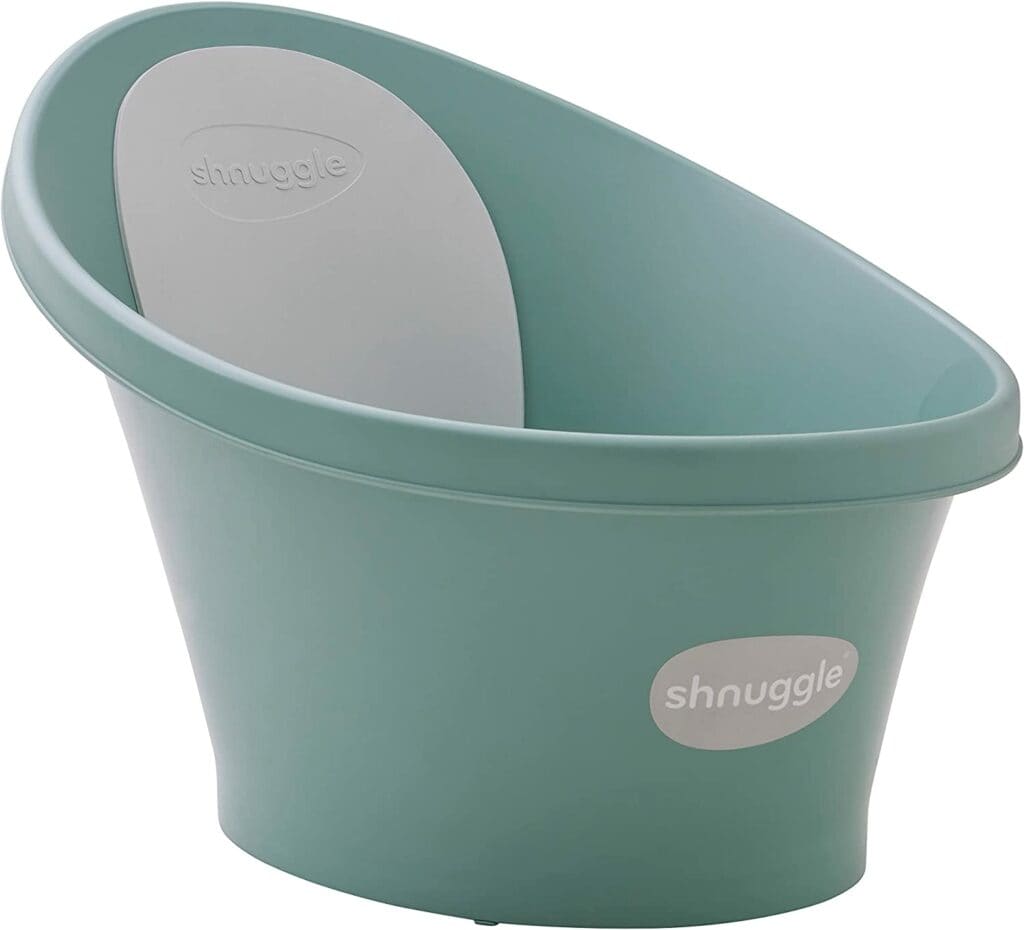 Cuddledry Baby Towels
To make bath time easier for parents, I'd also recommend buying a couple of these Cuddledry bath towels. You wrap one part around you like an apron, then when you scoop your little one up out of the tub, you can wrap them up without soaking yourself.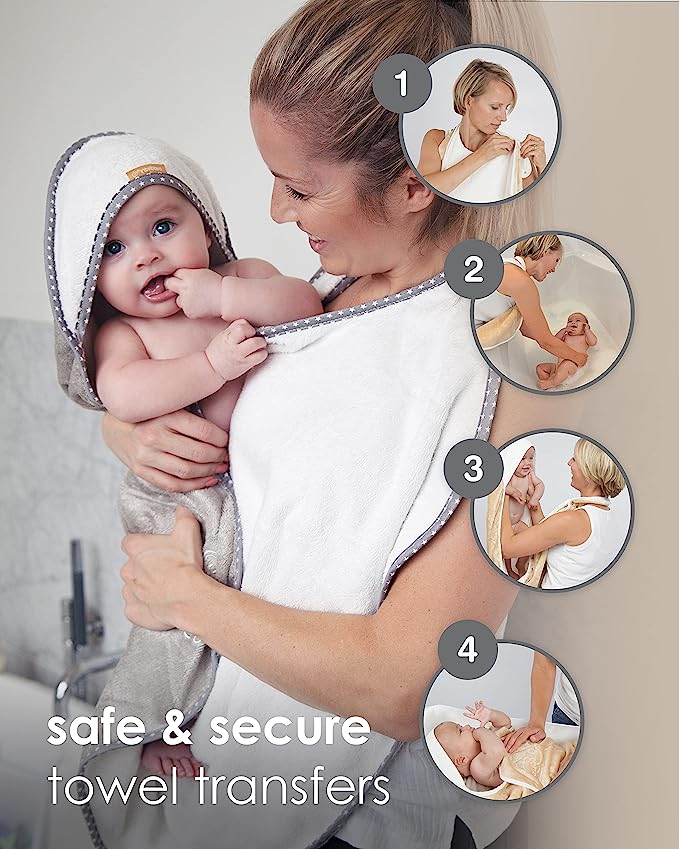 Sensory Toys For Newborns
Newborn babies don't need many toys to be happy and stimulated. However, there were a few items I picked up that Cooper has absolutely adored!
Firstly, these sensory cards are amazing for the first few months when babies vision is mainly black and white. We pop them by his playmat to make tummy time more engaging. He really focuses on the high-contrast designs! It's amazing to see.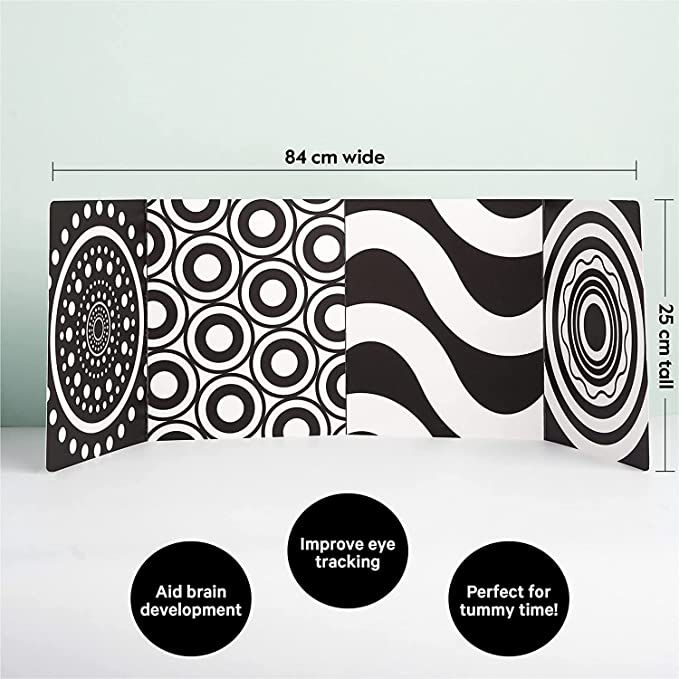 Next up is this Lamaze spiral toy. This is designed for babies from 0-6 months. Being shaped like a spiral, it can be wrapped around all sorts of things, from the bars of car seats and prams, to the structure of a baby gym. It's got a great mix of colours, patterns, textures, plus some animals and rings to grab at. It has kept Cooper engaged for long periods of time!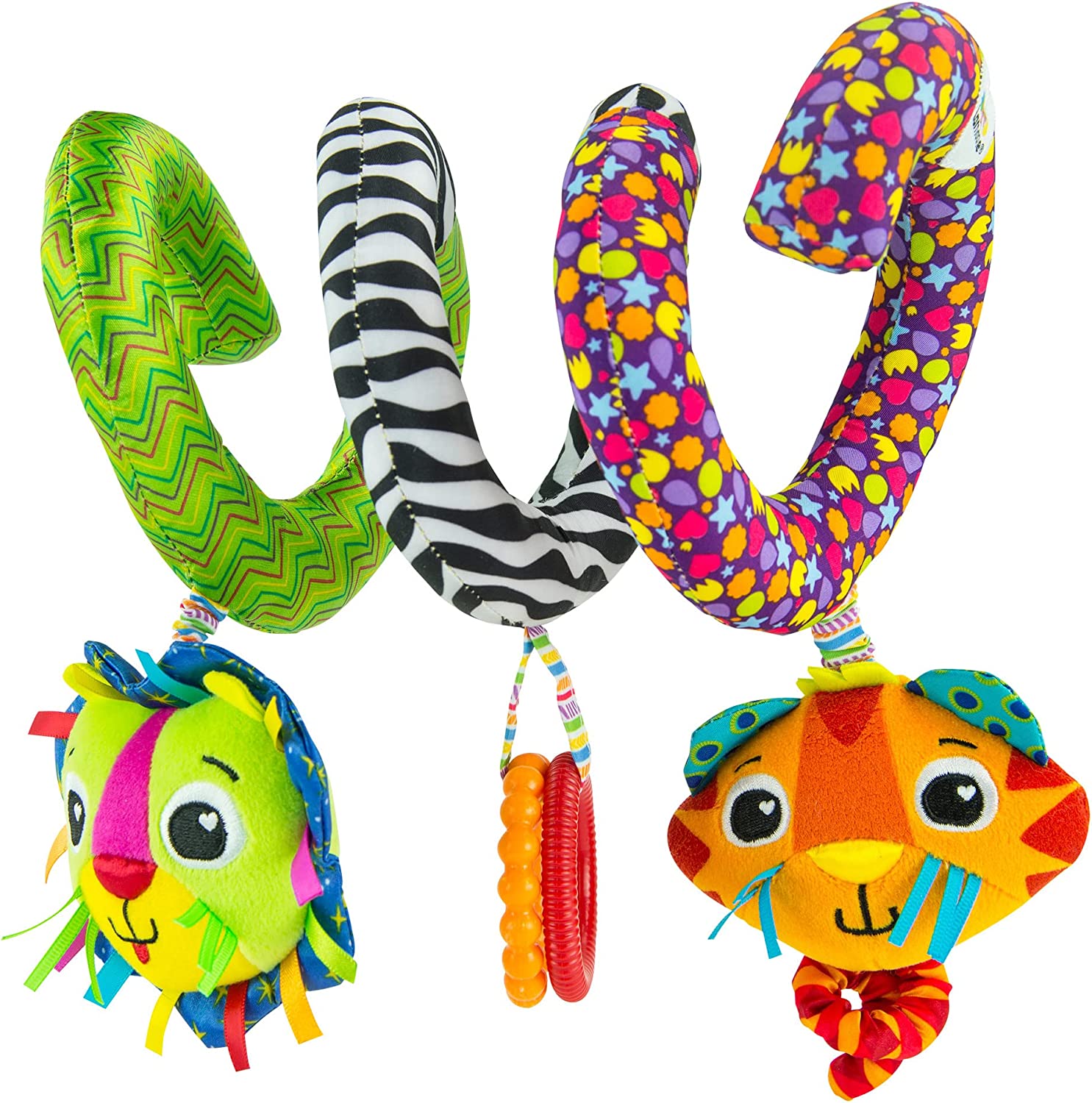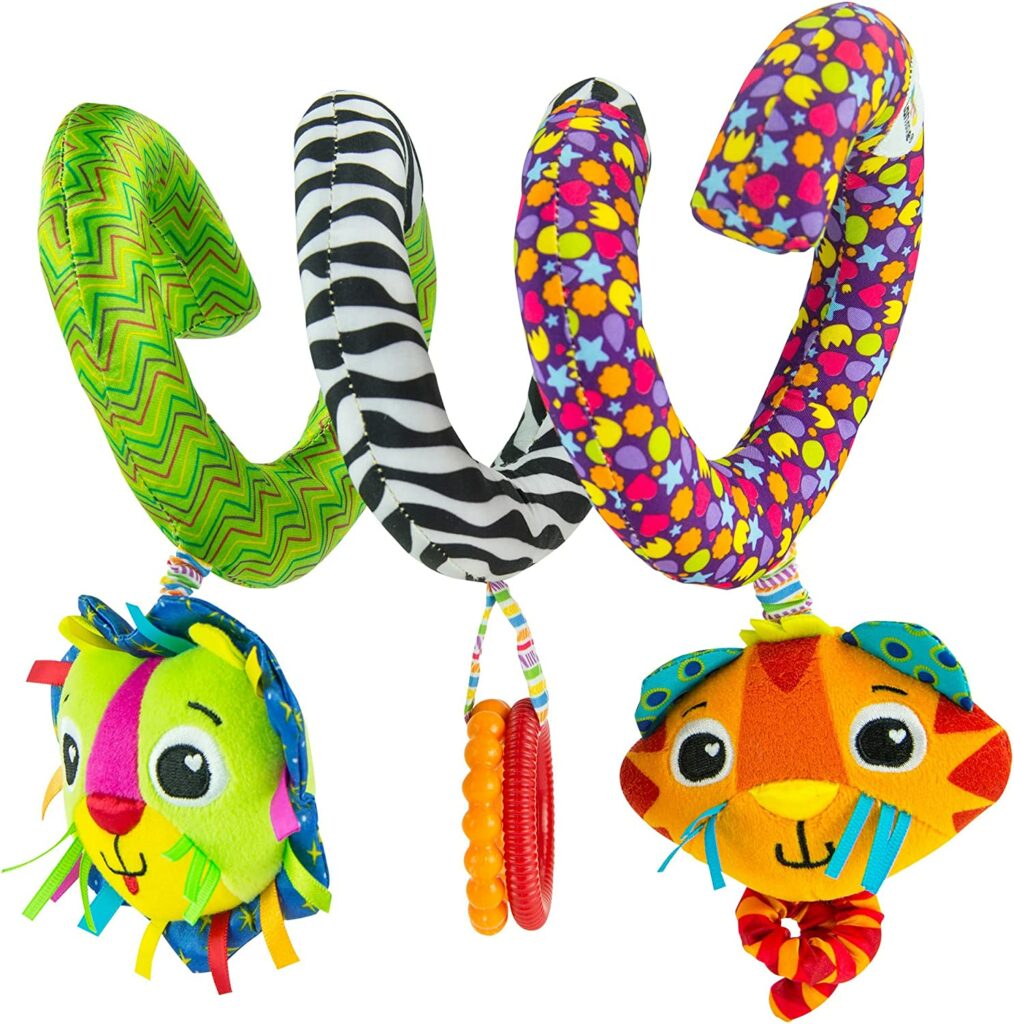 Finally, these Munchkin Float and Play Bubbles have made time in the tub even more fun! Cooper loves splashing around in his Shnuggle bathtub, thrashing around trying to hit and kick these floating balls. They rattle and roll, and the one with the duck in is very cute too!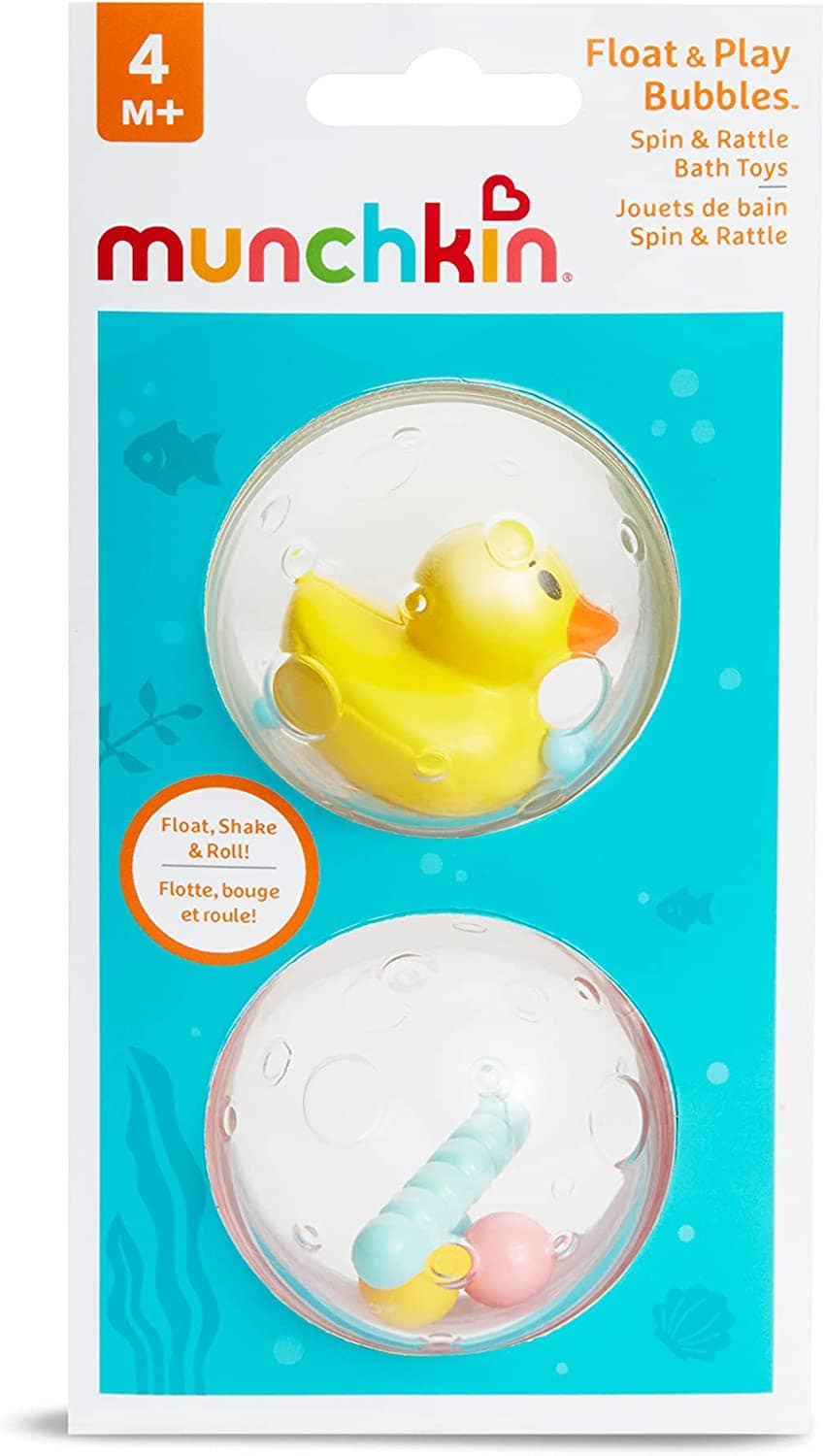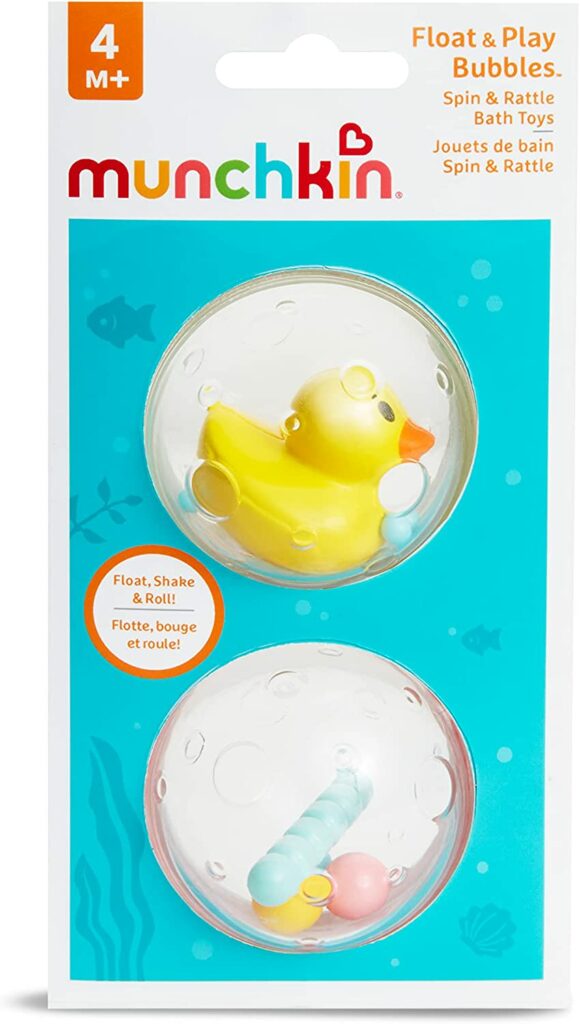 All of these toys are small enough to travel with, so they're ideal if you're planning a holiday with a newborn.
MAM Anti-Colic Baby Bottles
By week three of Cooper's life, we started testing out giving him a bottle. There's varying advice out there, but we were keen to establish breastfeeding first, and then see if he'd take a bottle for the occasional feed. It's all worked out well, and he tends to have one bottle of expressed milk overnight so I can have a little break from feeding duties.
We've been using these MAM Self Sterilising Anti-Colic Baby Bottles, starting with a size 0 teat. Cooper has taken them really easily. We've recently bought a few of the same style of bottle in the next size up. These ones hold up to 260ml and have a teat size of 2, so are ideal now he's a bit bigger. I really like that you can sterilise them in the microwave too – saves an annoying job!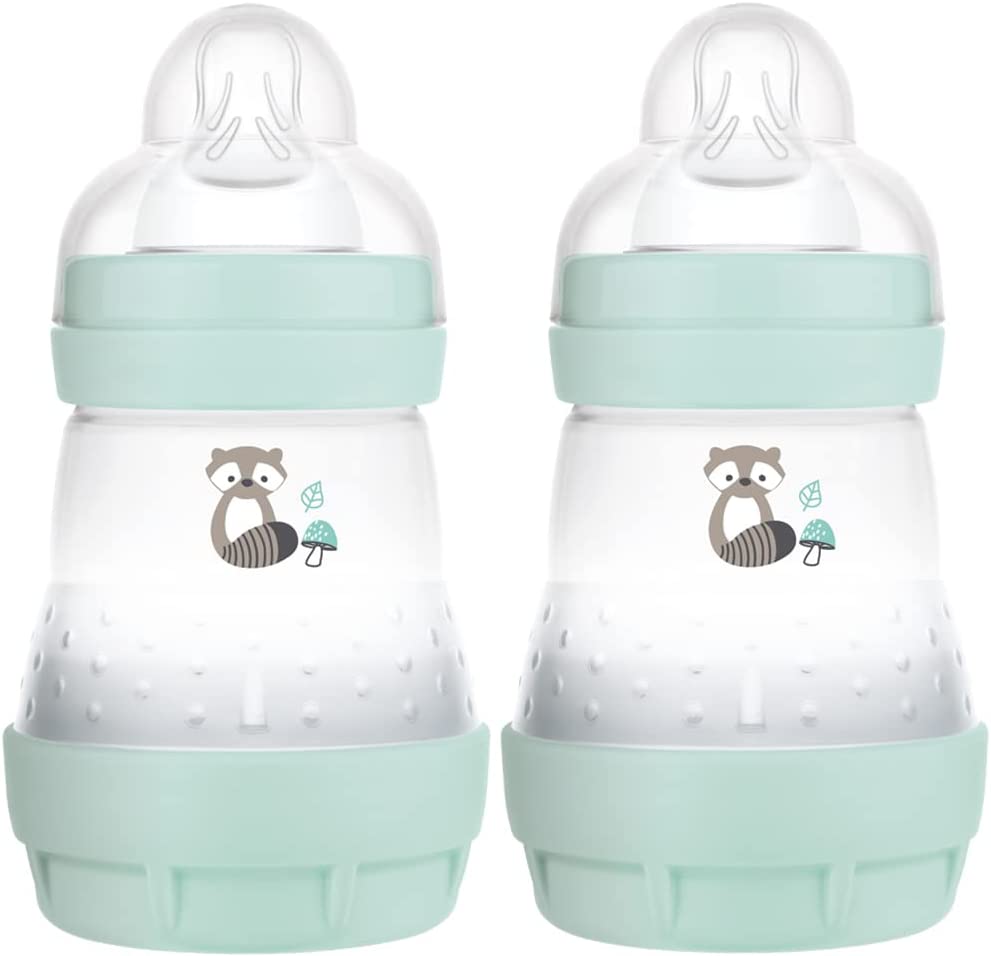 ---
I hope you've enjoyed reading about some of the items that have helped with travelling with a baby! It's been really fun putting together all of my tips from the last few months. I've not been a mum for long, but I've definitely learnt a lot. I hope some of these items come in handy if you're just setting off on your journey into parenthood.
Any items you think are essential for travelling with a baby? Let me know!