Planning to spend one day in Bath, England? Find out the top things to do, best restaurants, hotels and info in this Bath travel blog.
"Come and explore Bath," they said. "There really is no better time."
And they were right. The 'they' in question were the lovely people at Visit Bath who spotted I was a lover of UK travel (Hello Hastings, Amersham, Oxford, London to name but a few recent stops!) and wanted to see how their beloved Bath shaped up.
Bath isn't a hard sell. With bundles of history (including the Roman Baths, amazing architecture and Jane Austen connections) the city's famous Bath stone, and a trendy forward-thinking city taking pride in producing great food, entertainment and more, it's one of the most popular day trips from London for tourists visiting the UK. I know this, because I saw a lot of them! Big tours, families, and couples from all over the world hopped on the same train as me from Paddington!
One hour and 38 minutes later we emerged in beautiful Bath, and dispersed through the city's streets. I was ready to enjoy one day in Bath!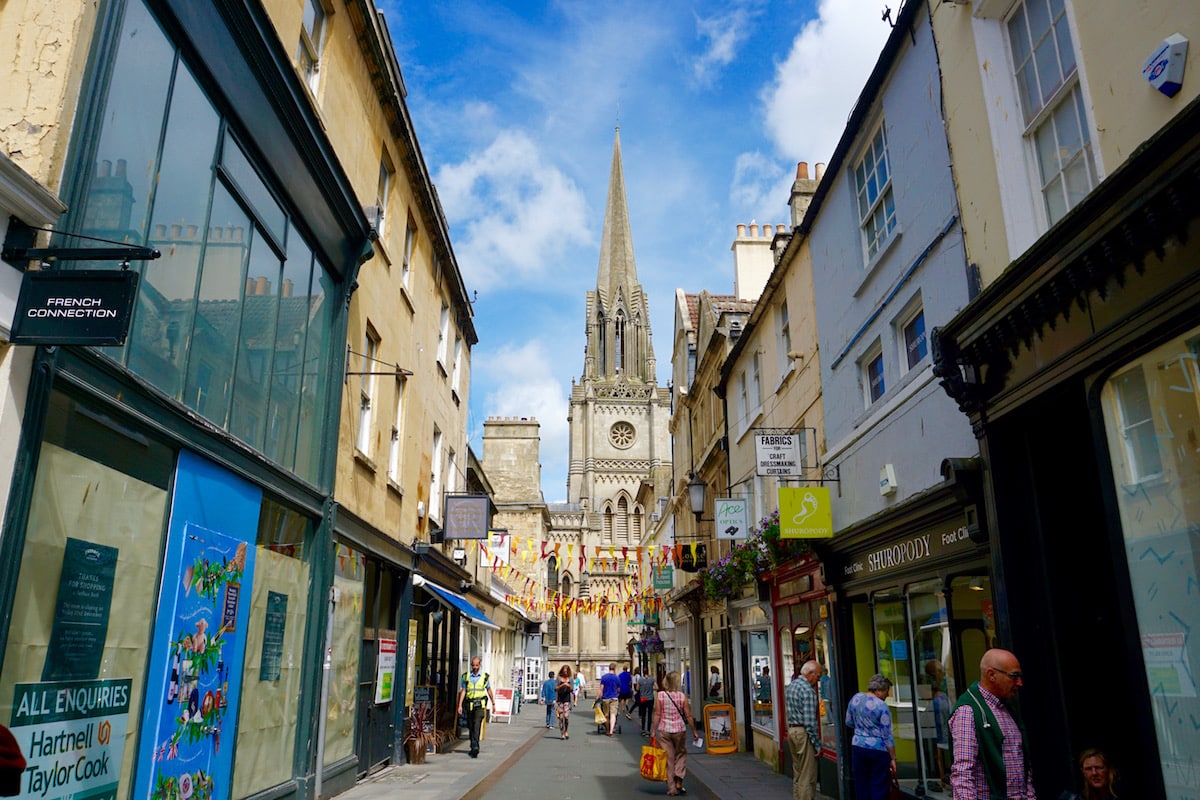 This year is a particularly big one for the city. The Royal Crescent is 250 years old, and it's the 200th anniversary of Jane Austen's death. She set some of Northanger Abbey and Persuasion in the city, and lived there from 1801 to 1806. In Northanger Abbey, Catherine says…
"I really believe I shall always be talking of Bath – I do like it so very much… Oh, who can ever be tired of Bath!"
I agree! Who can ever be tired of a city this pretty? So with all of this in mind, let me kit you out with all you need to know for your trip to Bath, including what to do, how to get there and a few of my top foodie picks!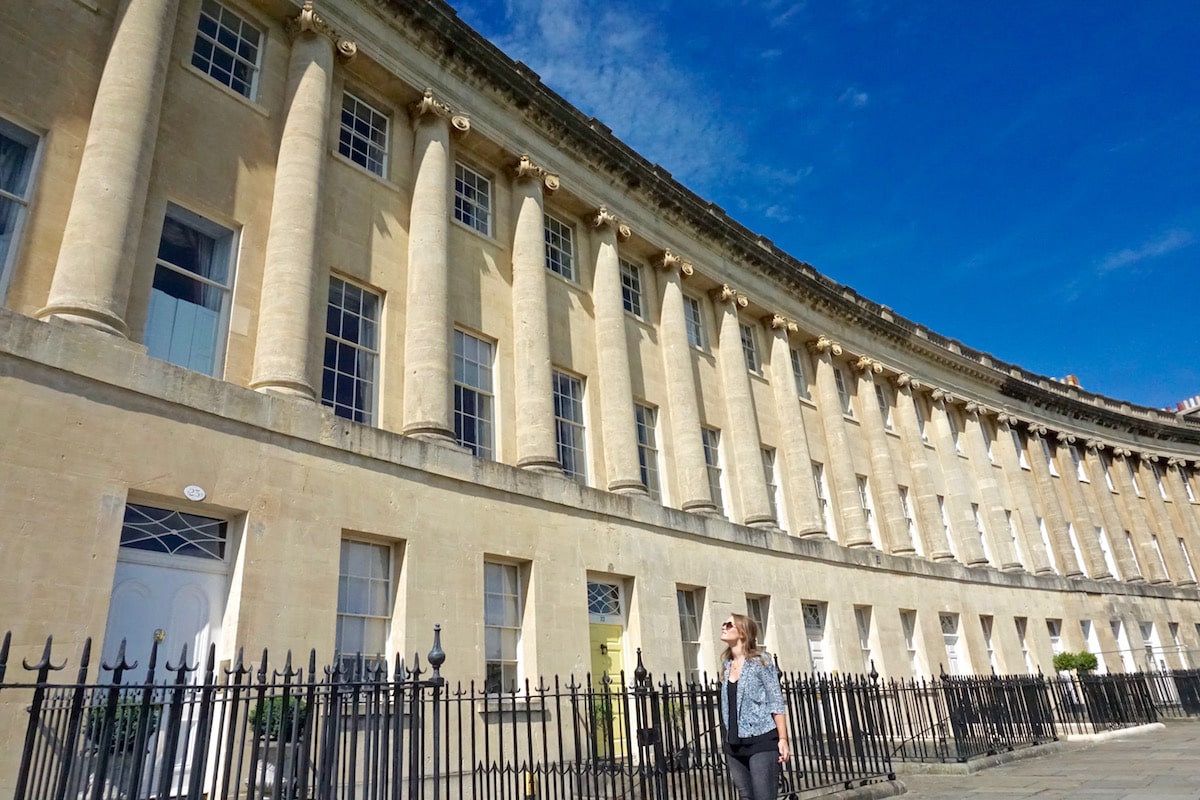 Best Time To Visit Bath, England
Bath is a city that's got plenty to do all year round, but as I visited on a particularly hot, sunny week in July I would definitely recommend a summer trip. It's a very walkable city, and along with all the pretty streets, there are also lovely parks and the River Avon to enjoy.
The long days lend themselves to outdoor eating and drinking too, of which there are plenty of great options. Plus, for any camera addicts, it's hard to beat the views of the green water of the Roman Baths against a bright blue sunshiny sky!
Meanwhile, in winter time you can expect Christmas markets, ice rinks and some great stores to pick up your Christmas gifts!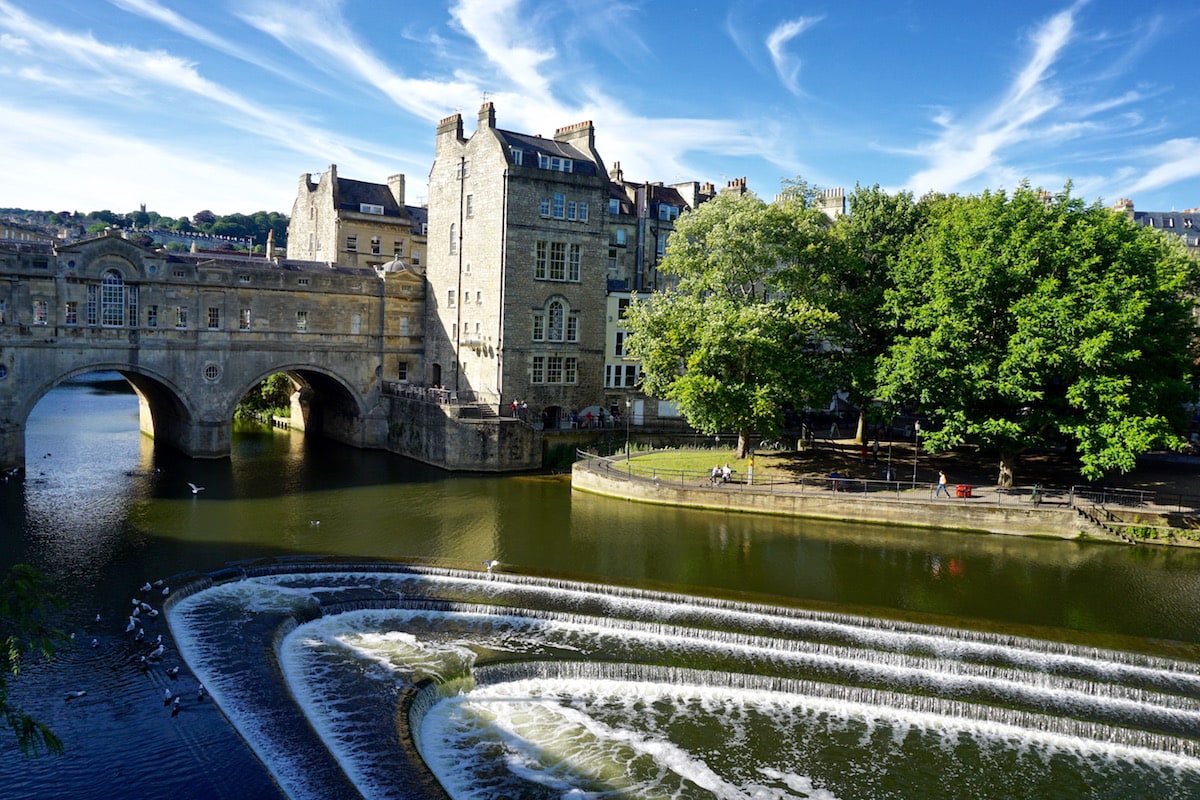 Top Things To Do In Bath
While I'd say Bath has a big reputation for history, architecture and literature – there's more to it than that. There are gorgeous views, plenty of great foodie spots, cool boutiques and plenty more. Plus, to be honest, it's a great city just to wander around! With 24 hours in Bath here are a few of the top things to do.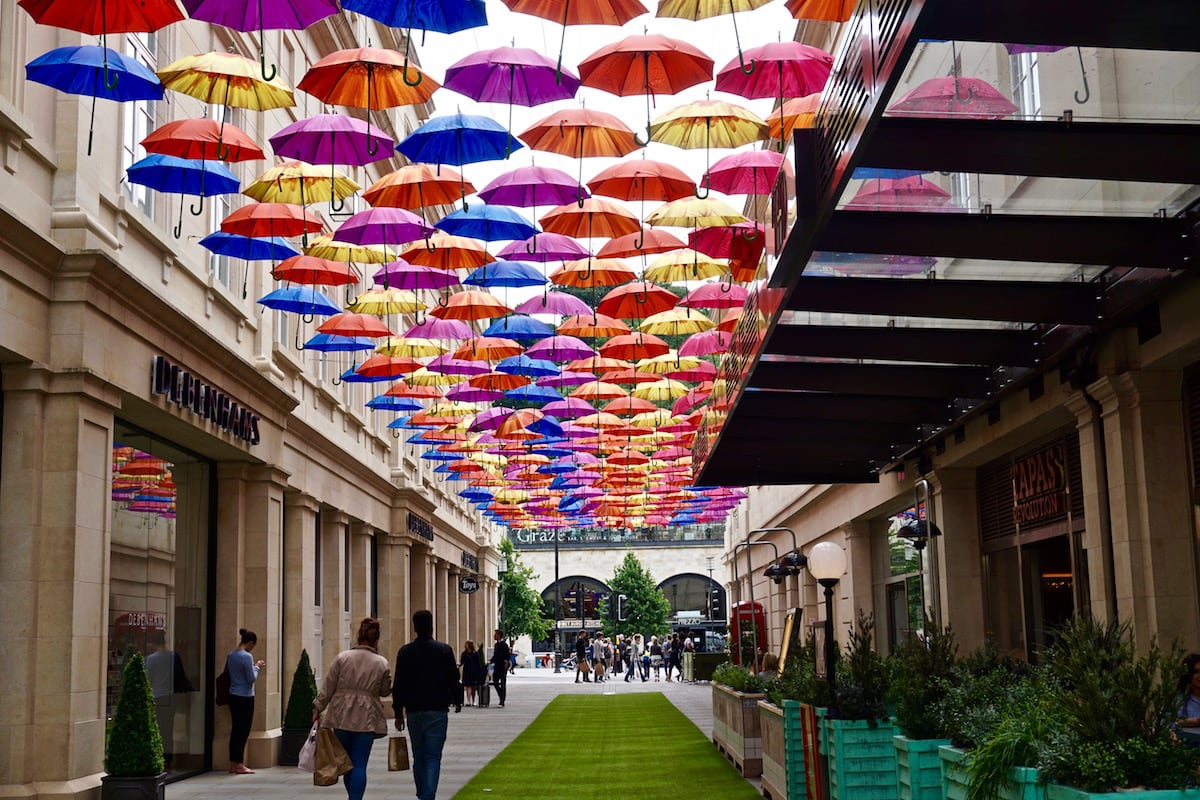 A really great (AND FREE!) way to familiarise yourself with a city and find out the best places to visit in Bath! The free walking tours of Bath are informative and show all the key sights. They run twice a day and even more in peak summer.
Bizarre Bath's comedy walks in the city are legendary! Several people tweeted me about this tour and while sadly I didn't get the chance to squeeze it into my trip this time, it's top of my list for when I return.
As mentioned, it's a particularly big year for Jane Austen fans, and Bath played a huge part in Jane's life and the storylines of several of her most popular books. At this interactive museum I enjoyed a talk by one of the Georgian ladies, which gave a great overview to Jane's time in Bath, before engrossing myself in interesting pictures, excerpts from her novels and facts. A highlight was the opportunity to dress up in character and proposition Mr Darcy! He said he's thinking about my offer, but wasn't convinced by my footwear.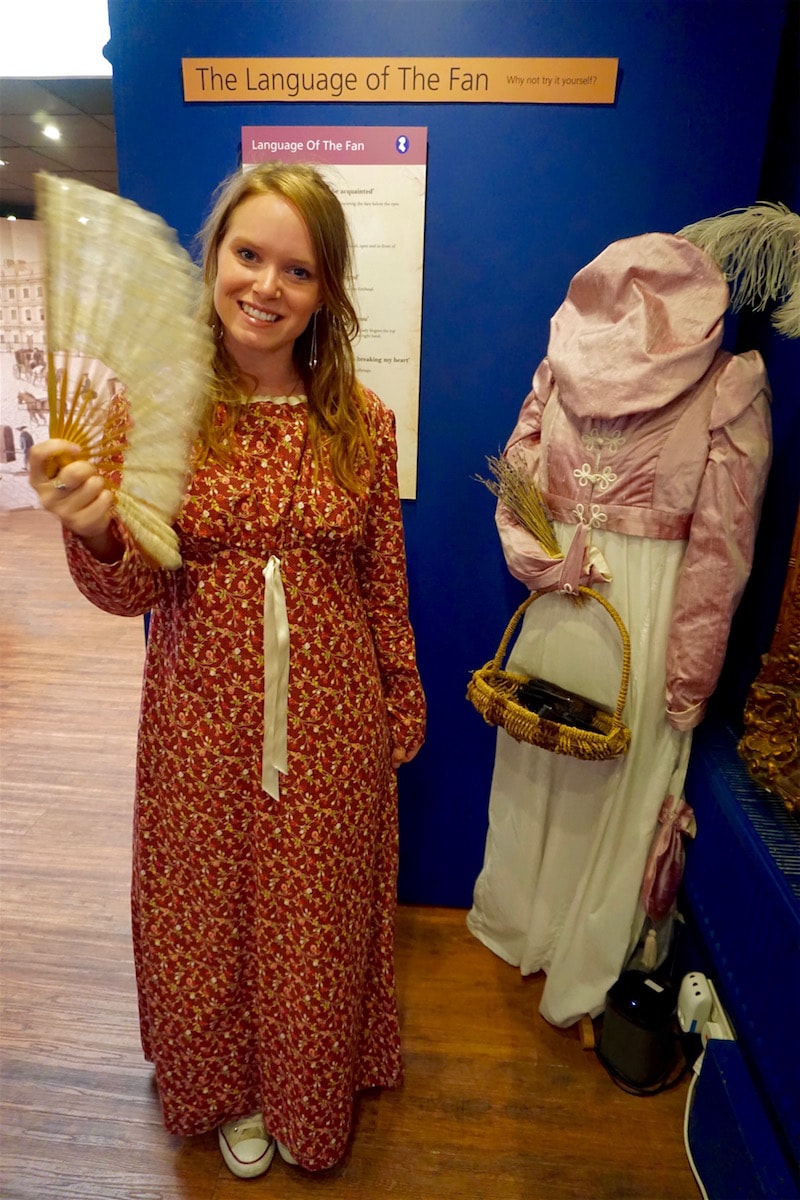 Explore Walcot Street, Bath
This is the cooler, less commercial area, with tonnes of independent stores, restaurants and galleries. From the vintage clothes in Yellow Shop to beautiful stationary in Meticulous Ink and popular eatery Sam's Kitchen, it's a nice contrast to the big name stores in the city. I even spotted this great photo op just along there!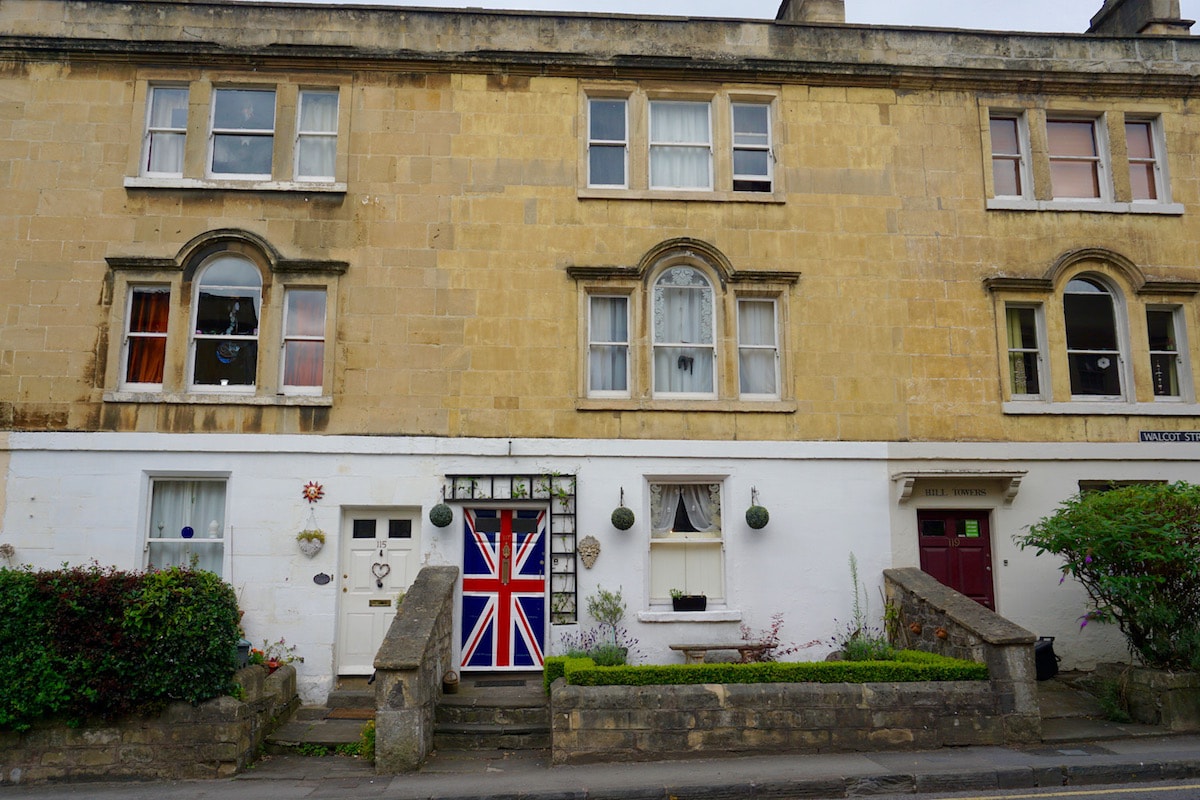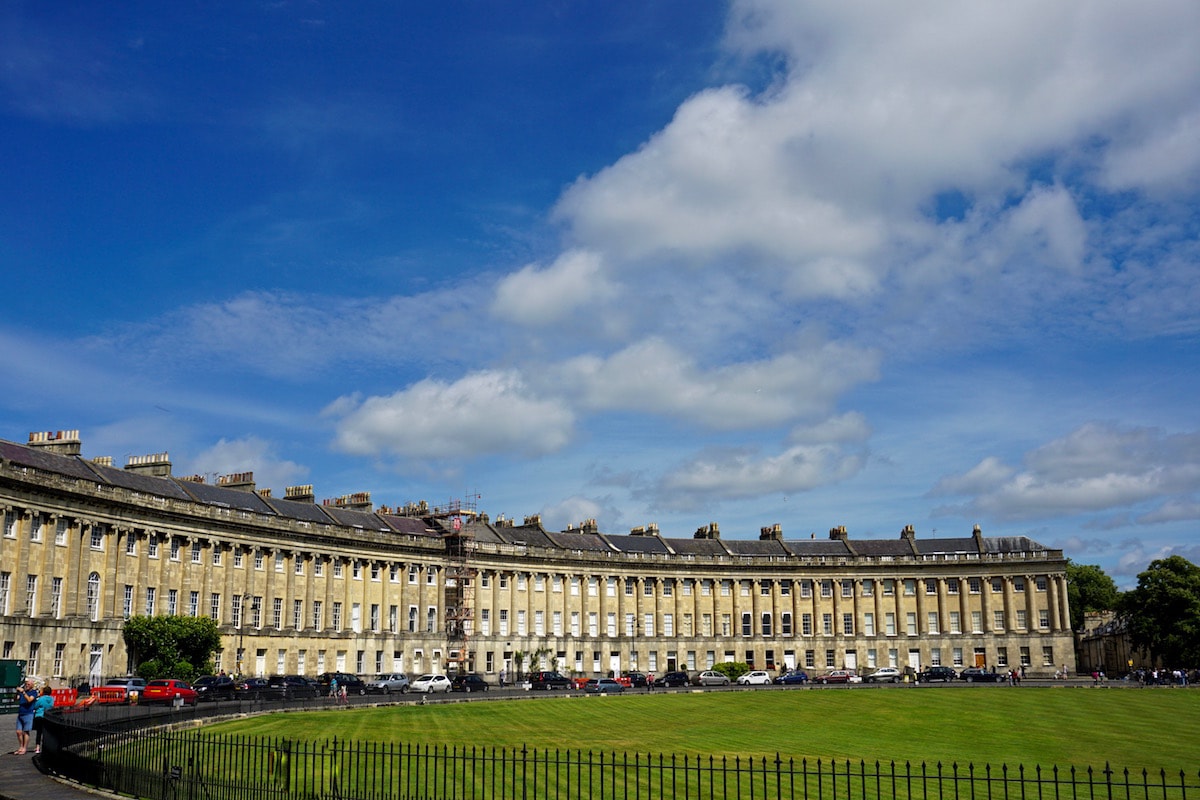 There's a real wow moment when you stand in front of the Royal Crescent and take in the unique arched shape of the buildings. While most are private residences, No.1 is open to the public, and dressed as it would have been in the late 1700s. In the rooms are guides in traditional attire who really bring the history to life!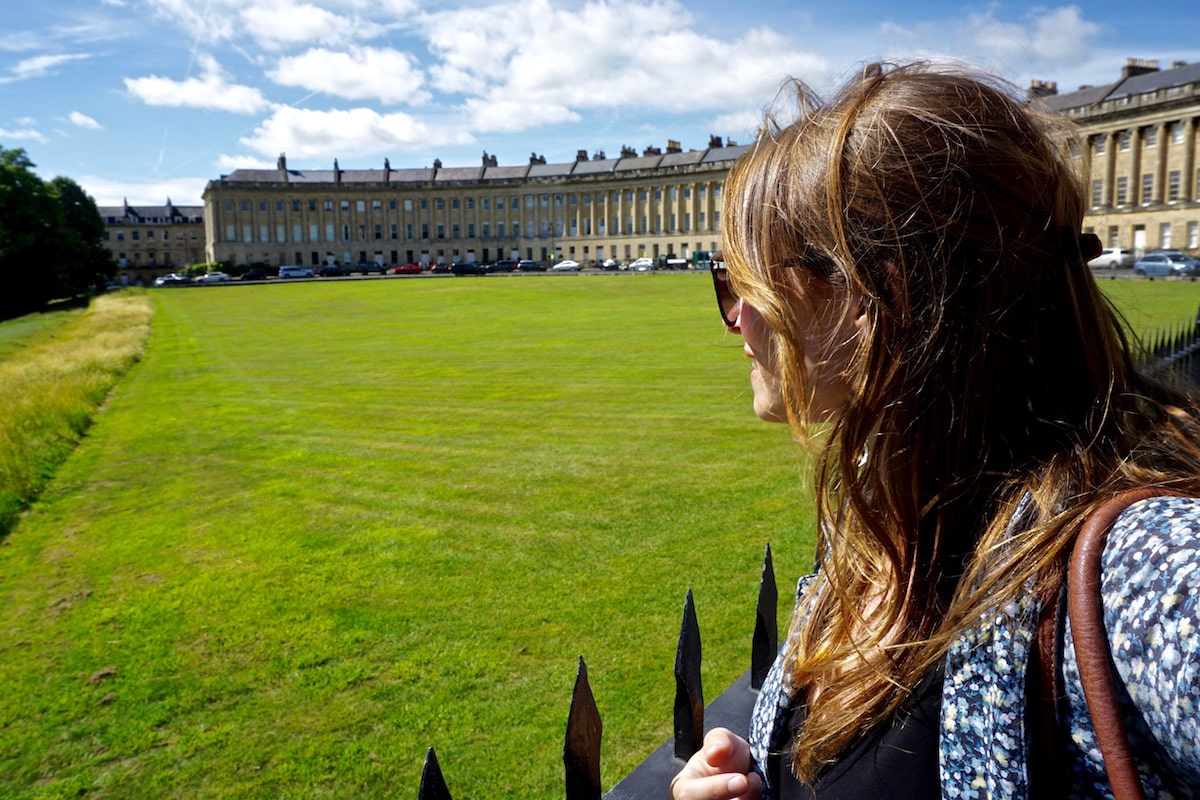 The reason Bath is called Bath? Hmm I think you get it! The roman baths are one of the top things to see in Bath. If you only pay for one attraction in the city, let it be this! The waters were known for their healing properties, but over the years became a real focal point for the city's development. There's more than the large Roman bath, there are fascinating ruins hidden underground, ancient artefacts and a great modern retelling of Bath's ancient story. There's even a chance to try the pump water for yourself.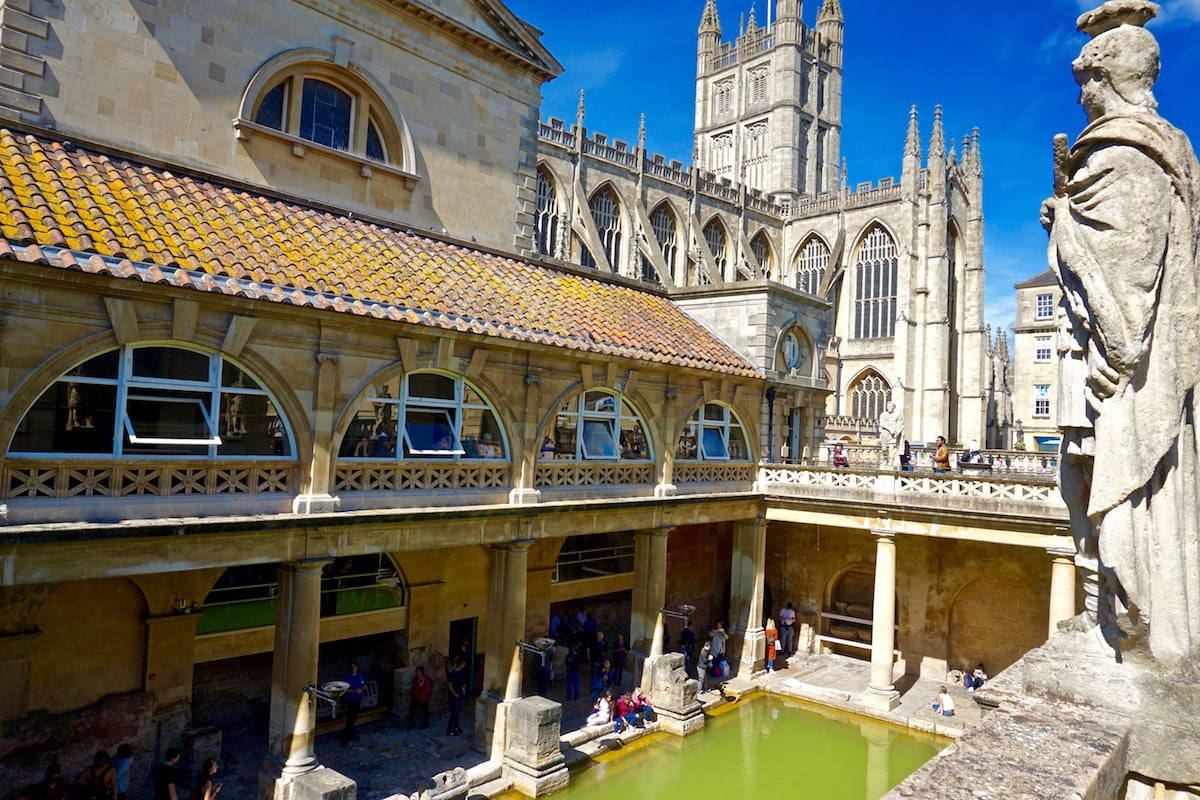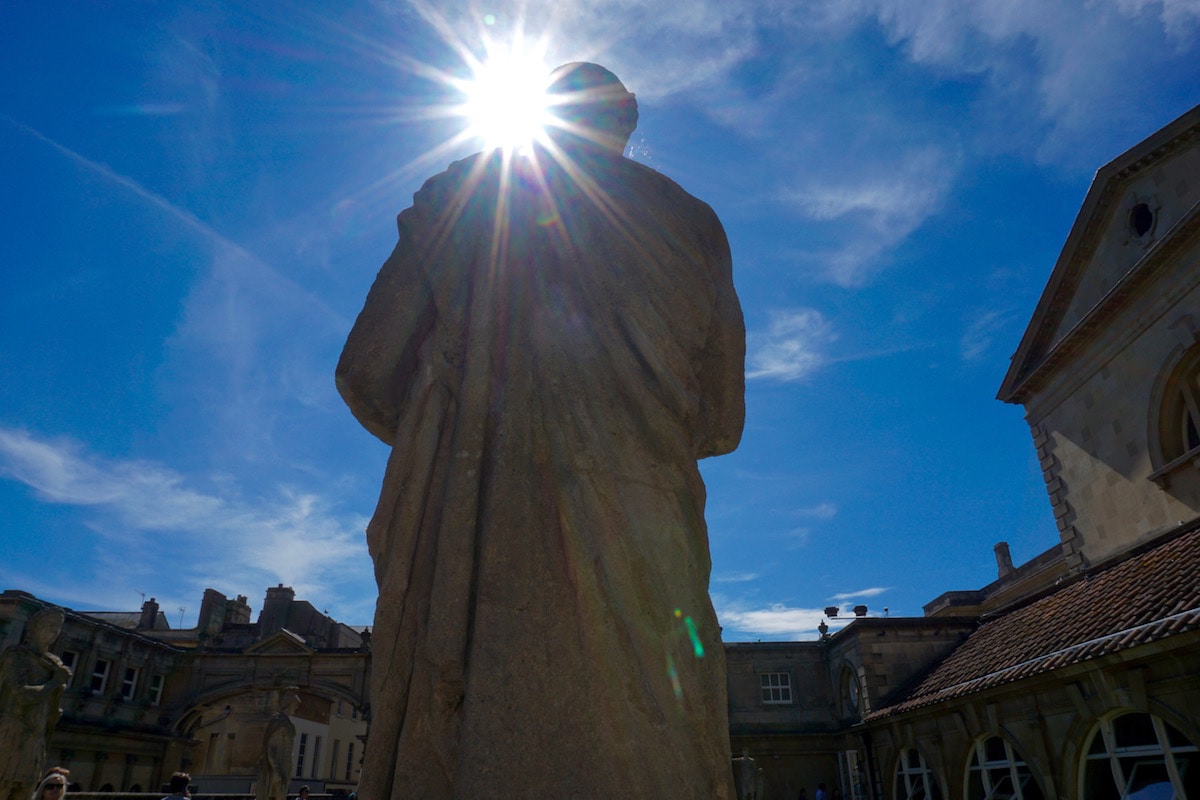 After exhausting yourself exploring the city on foot, book in for a soak in the natural thermal springs in Bath. The water contains over 42 different minerals, and while the temperature is naturally over 40 degrees, the water is cooled to the optimum bathing temperature of 33.5°C. There are two huge bath areas (big swimming pools) – one indoors with a lazy river and jacuzzi section and a truly spectacular rooftop bath with views over the city. There's also a great new wellness area with different showers, saunas, steam rooms and a bizarre intergalactic room which was strangely relaxing! I felt like I floated out of the spa and felt so refreshed by the ancient healing waters!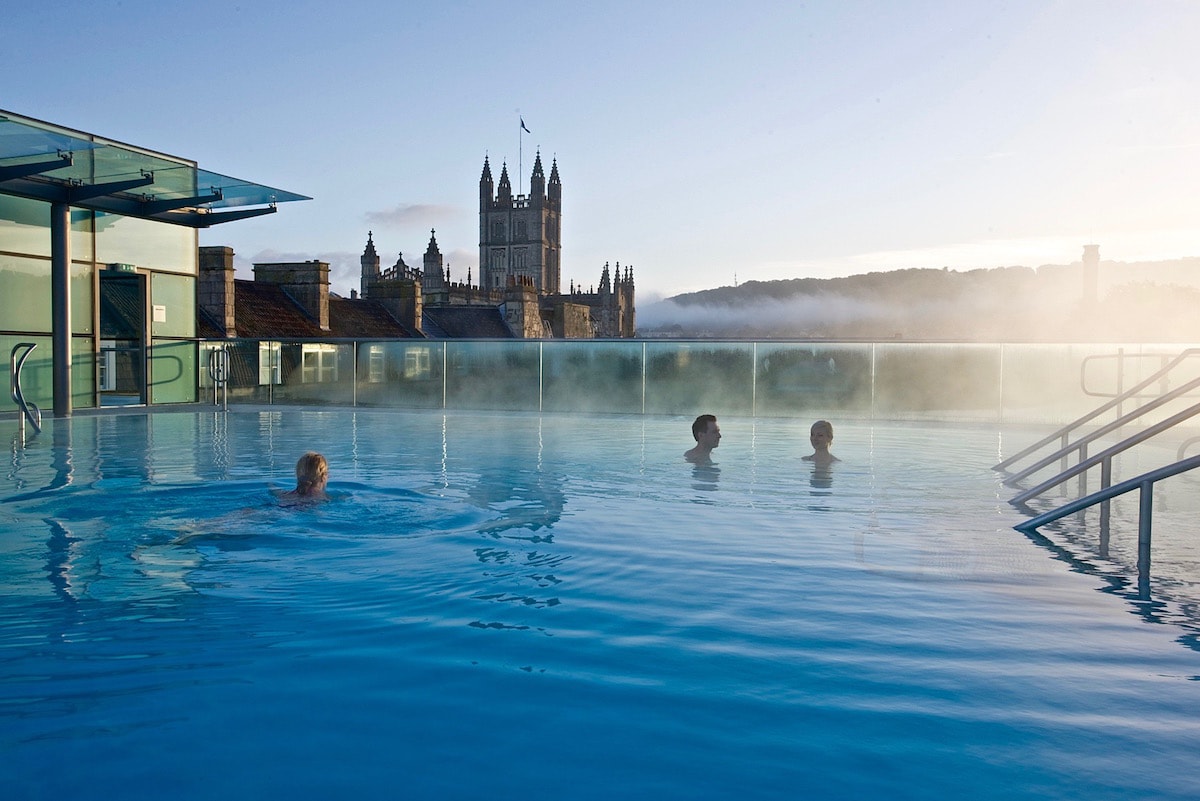 Shop 'Til You Drop In Bath
While I know you probably wouldn't go on a big day trip to shop at stores you can find anywhere in the UK, there are some unique boutiques mixed in with the likes of Debenhams, Topshop and Primark! A few of my favourites included Vinegar Hill (a gift/homeware store), Spotty Herbert's (a kids shop), Instant Vintage and Flock Bath (both vintage stores). There's also Bath Guildhall Market – a collection of 20 small stores selling everything from wool to handbags and sweets!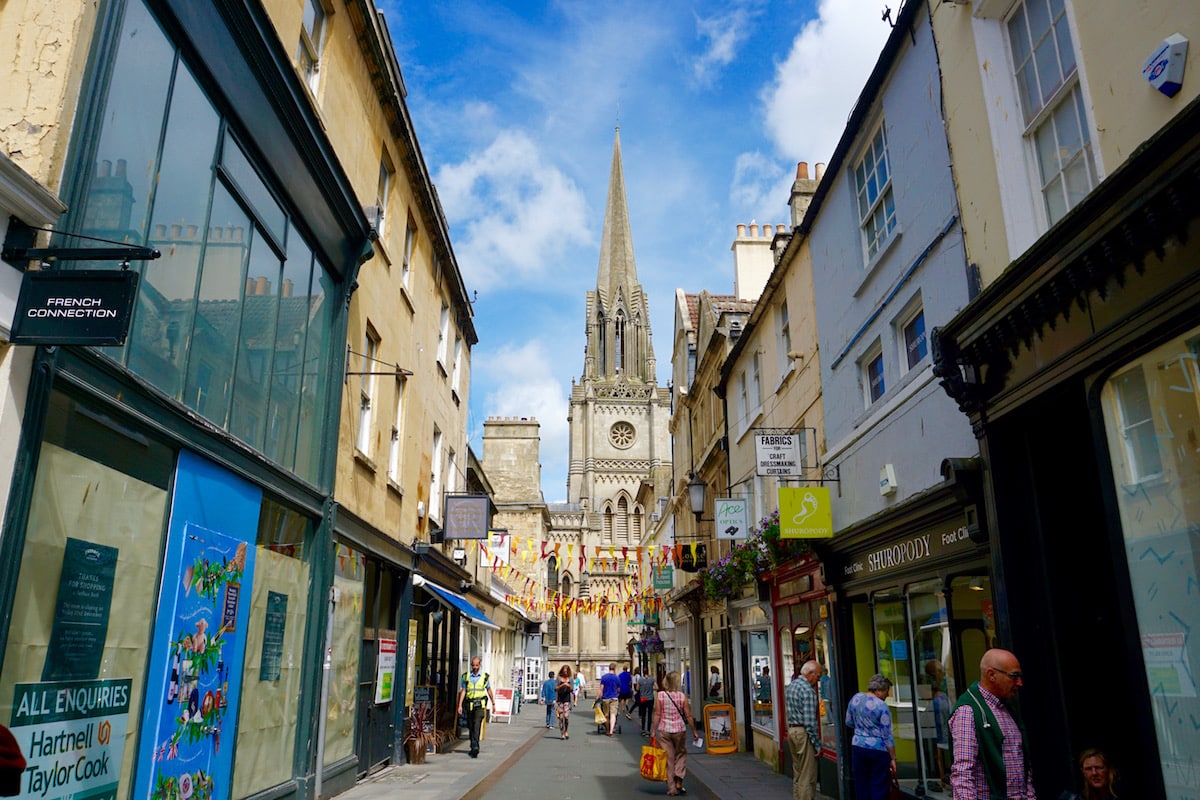 Ok this is where you pray your visit falls during a time of good weather. For £6 you can climb the tower on a special 'tower tour'. Trained guides give you all the info you could need, while you do the hard bit climbing 212 steps to the top. After reaching the bell ringing area, it's along the roof of the cathedral to start the second climb. The views from the top really were magnificent. I was so happy to see Bath from a different angle!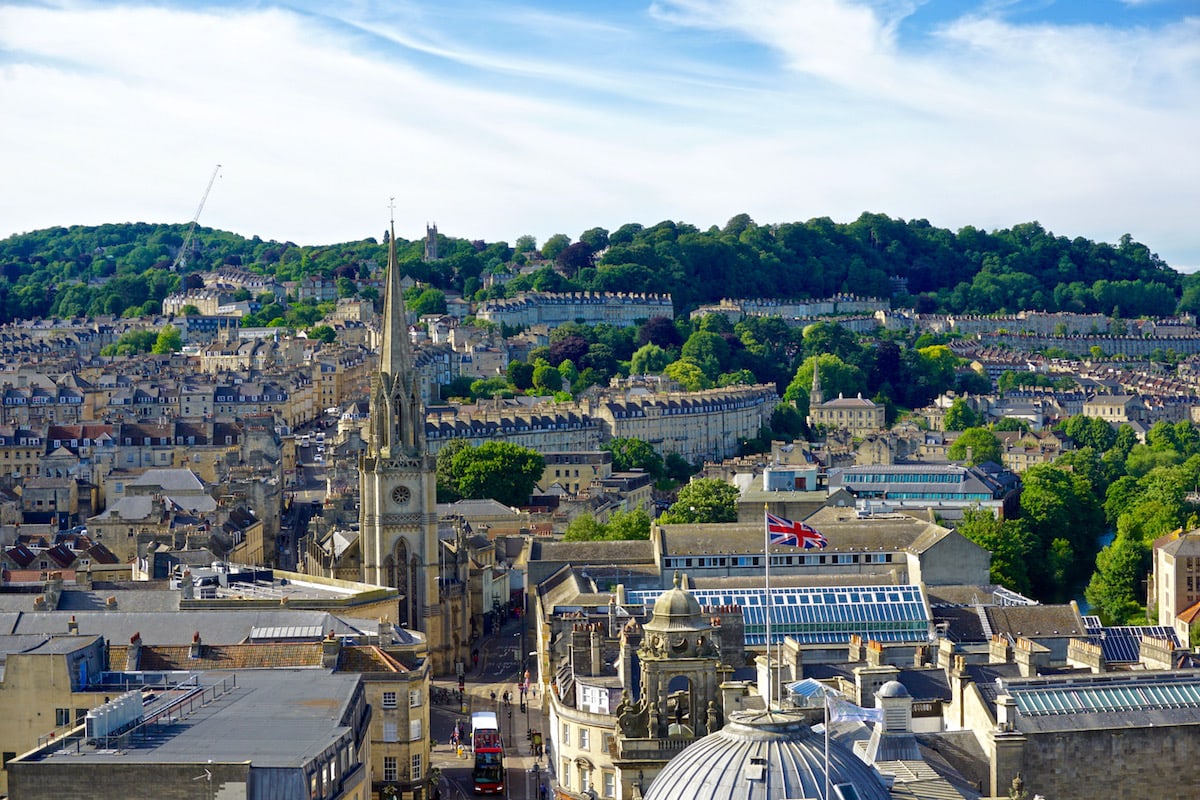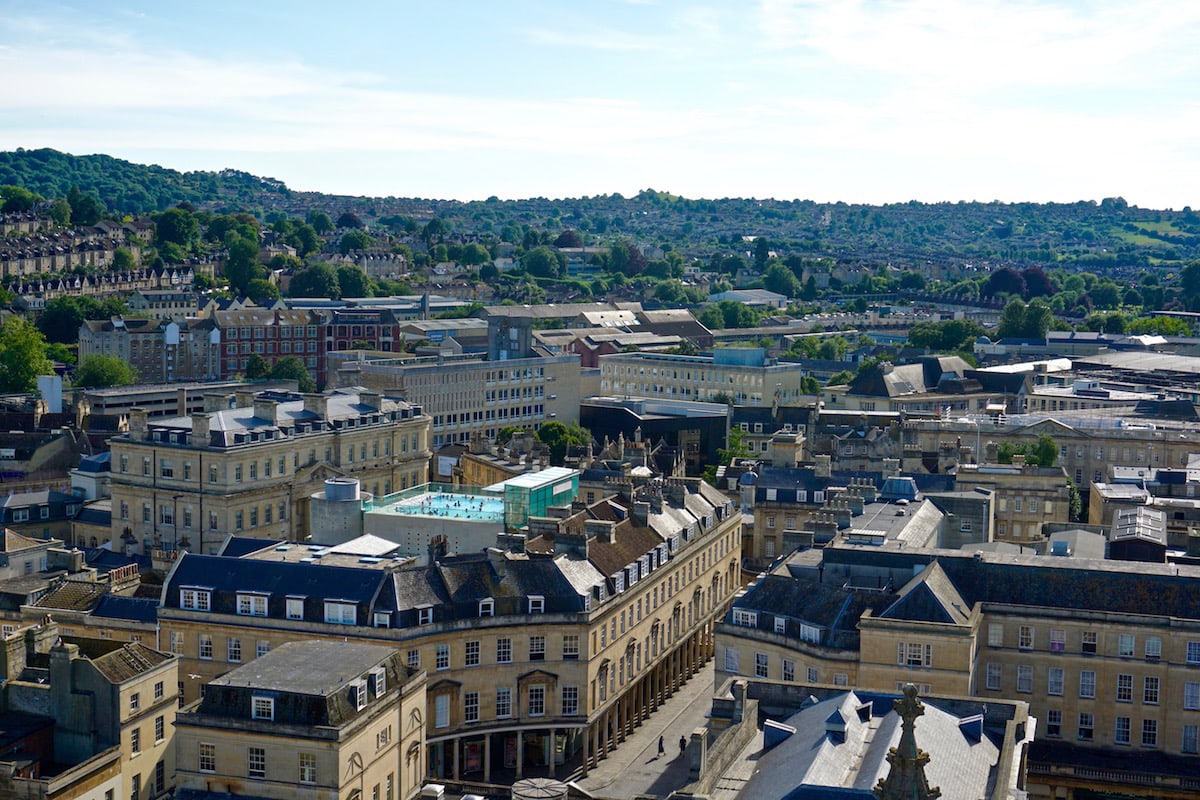 Hop On A Boat In Bath
Catch the city from yet another angle on board a board with Bath City Boat Trips or Pulteney Cruisers. You'll be treated to a thorough history of the city, while taking in great views of Pulteney Bridge and the Weir.
Where To Eat And Drink In Bath
Along with every chain you're used to seeing, Bath has a thriving foodie scene. Some of the top picks in the city include Acorn Vegetarian kitchen (where I've heard the vege food is SO good you won't miss meat!), Sam's Kitchen Deli (popular for its menu of small plates), Clayton's Kitchen (run by twice Michelin-starred chef Rob Clayton) and Sotto Sotto (a top Italian option). With just a few days there, I only had time to sample a few places…
Bath's oldest house! Yes this place dates back to 1482, and is the place to try Bath's famous buns. The name? Legend has it a girl called Solange Luyo fled France in the 1600s and as her name was difficult to say, became known as Sally Lunn. Her brioche style buns were popular, and these days you can have them sweet (with cinnamon butter, lemon curd or chocolate) or savoury (with toppings such as bacon, salmon, cheese, mushrooms and more!) If it's around lunchtime, be prepared to wait – this place is on everybody's hit lists!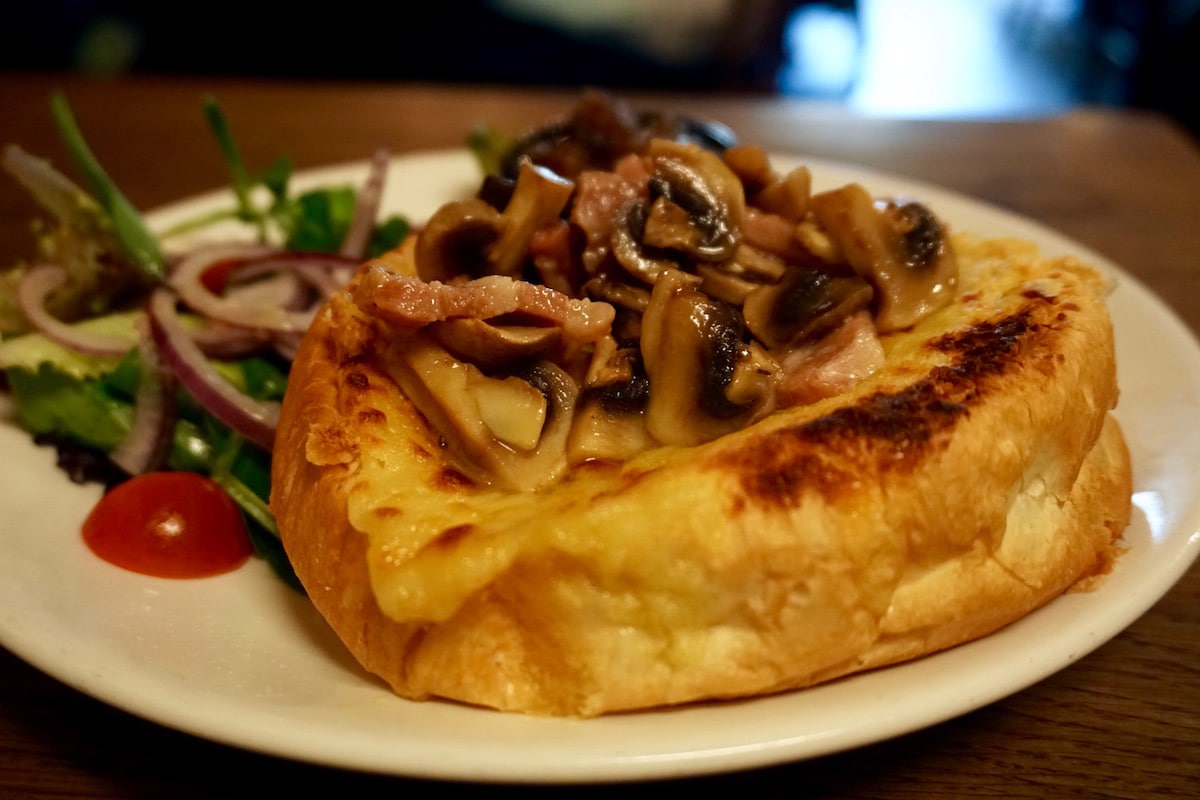 I loved this relaxed café, which shares its space with The Loft (homeware store and boutique). I stopped for lunch and enjoyed homemade quiche with two inventive and delicious salads – one with butternut squash and goats cheese, the other with courgette, pomegranate and feta.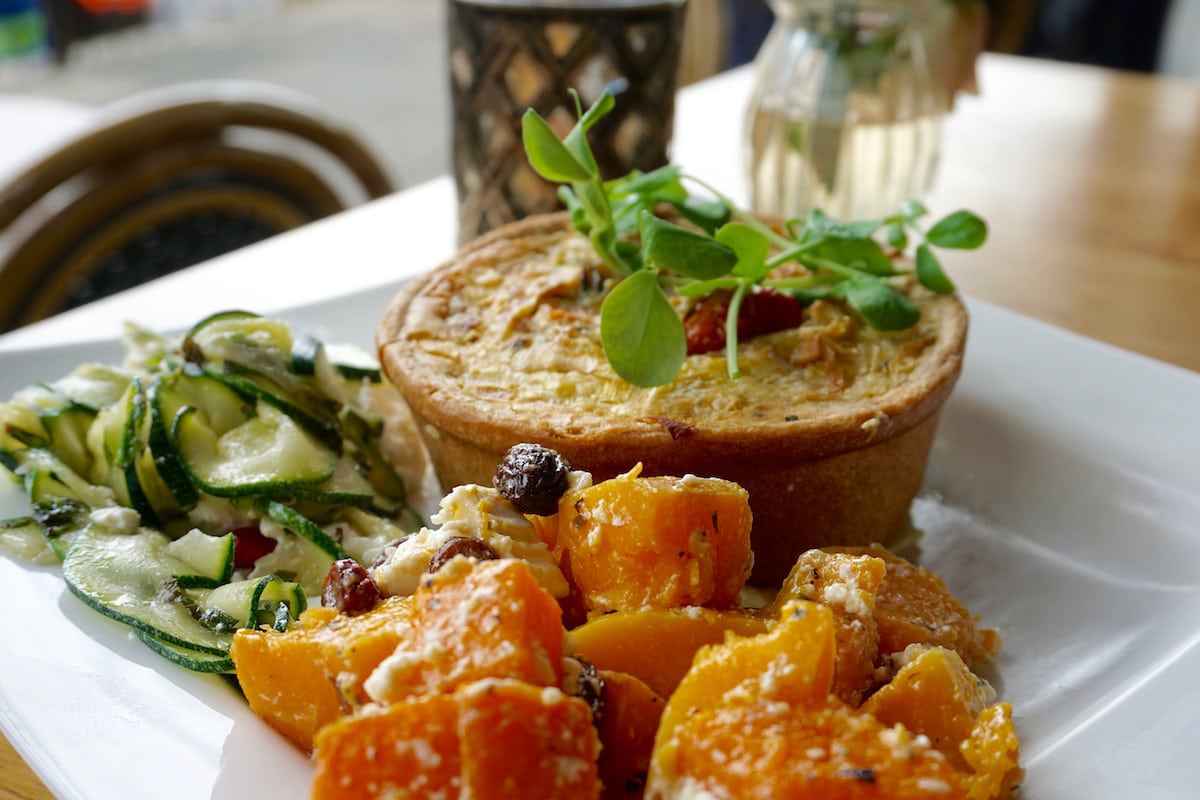 A cute hipster-esque café, complete with a bike on the wall, excellent coffee, and a queue of regulars! There are two branches in the city.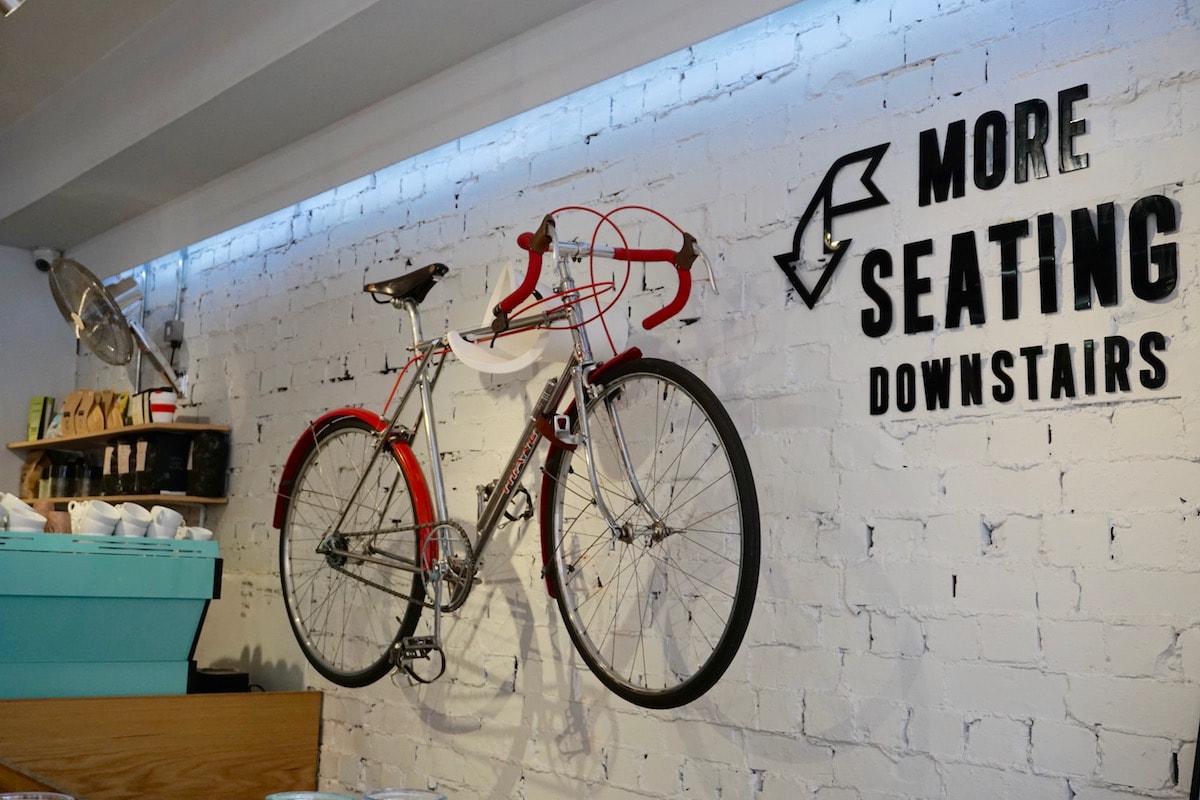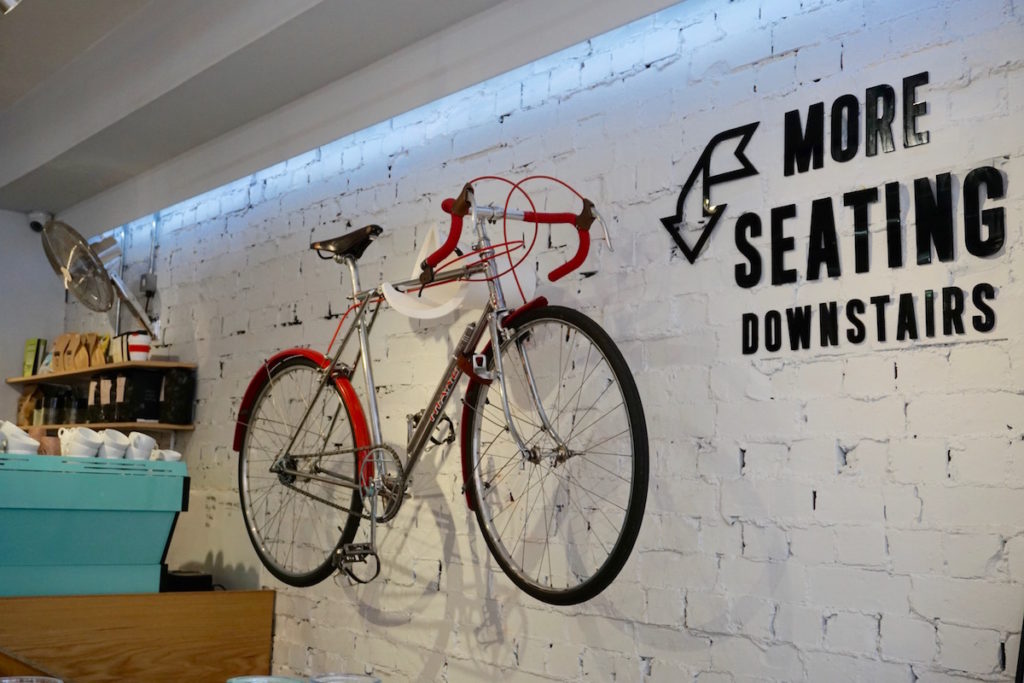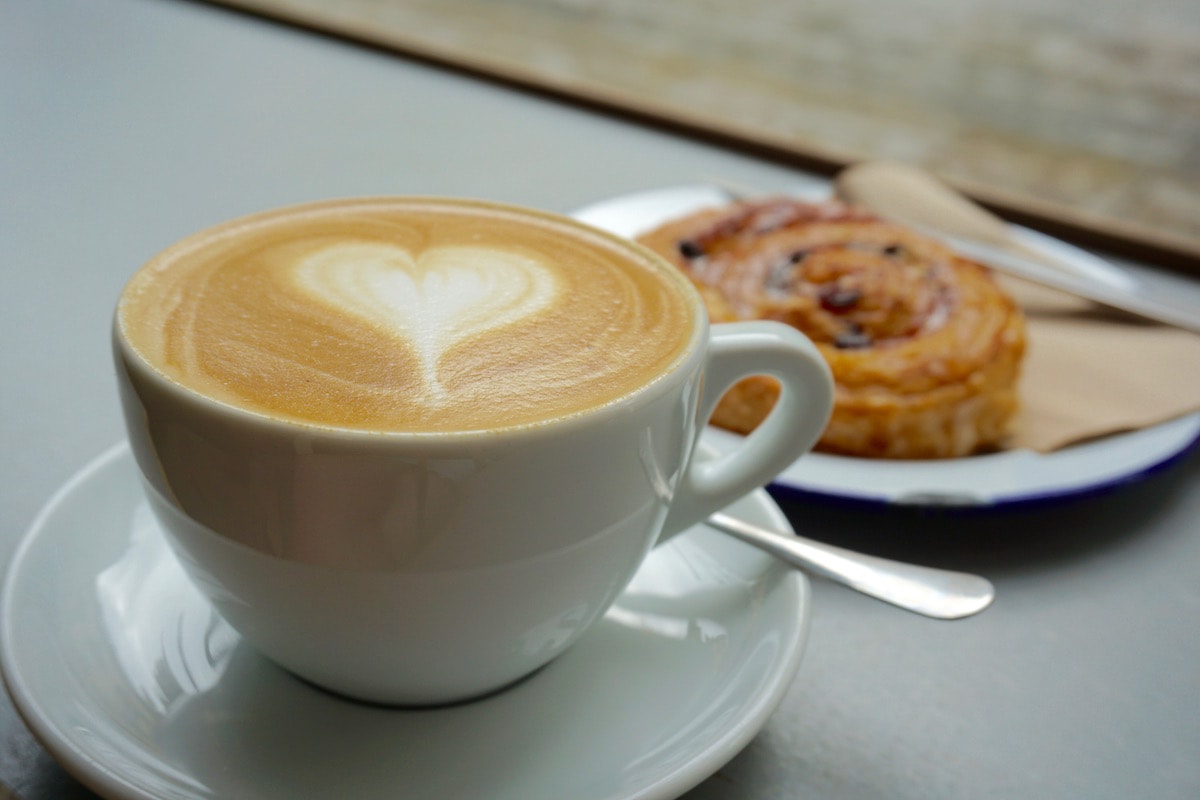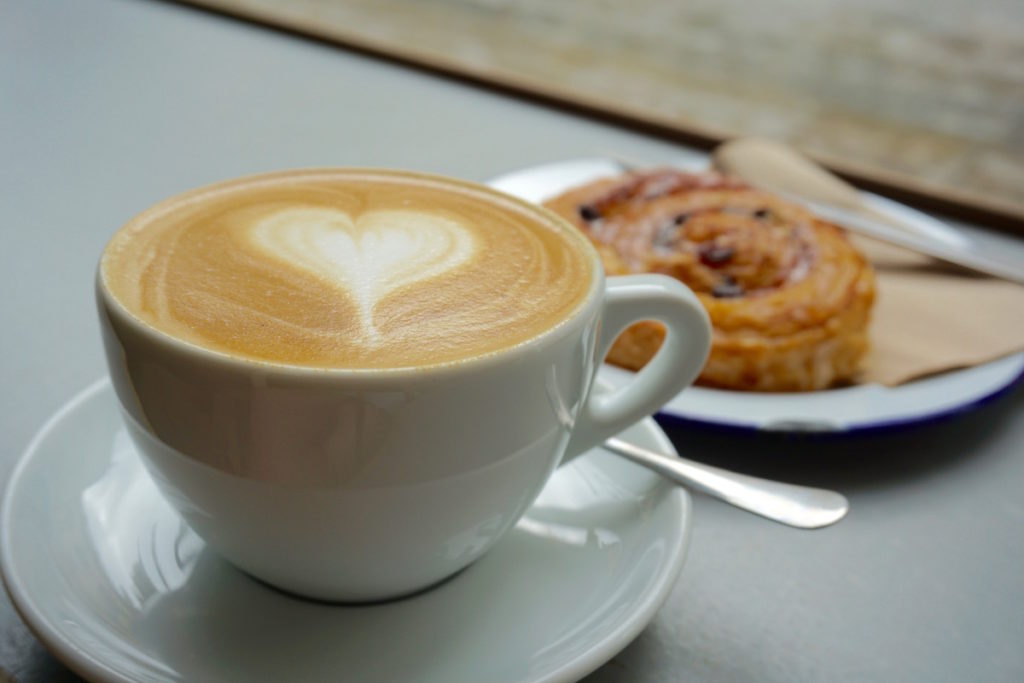 If you're a total foodie, I'd recommend this pub. Far more gourmet than your average gastropub, the cuisine is a huge draw with a creative menu incorporating plenty of local produce. I started with balsamic watermelon, goats cheese mousse and pine nuts, which was intriguing to the eye and deliciously summery.
The roast rump of lamb with warm potato salad was succulent and I just loved the crunch from the shallots on top. Although feeling full, I decided I had to squeeze in dessert, and the chocolate and raspberry mousse definitely rounded off the meal in style! It was so rich and indulgent. Staff were really attentive and friendly, offering up recommendations and chatting with regulars.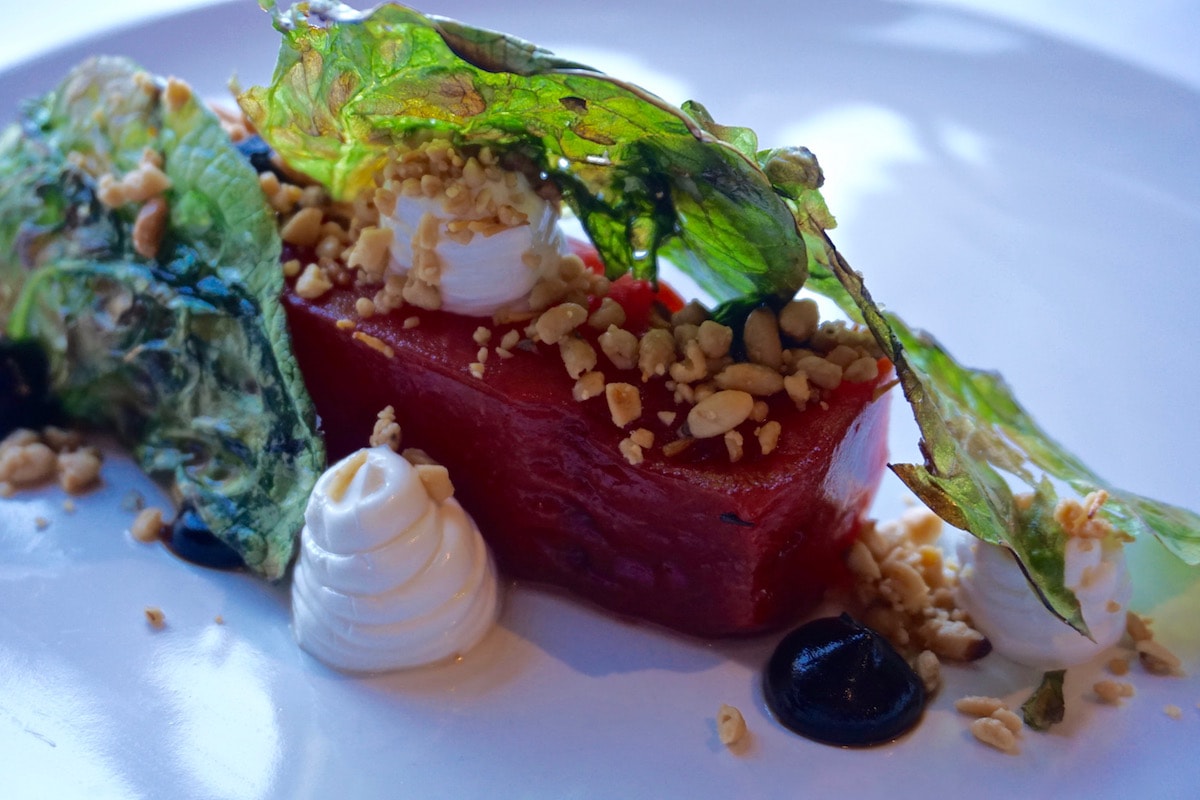 How To Get To Bath
Don't have a car? The easiest way to get to Bath is by catching a train from London Paddington to Bath Spa with GWR Trains. If you book in advance you can sometimes find tickets as cheap as £10 each way.
Or if you want to take the stress out of organising a visit, check out these day tours to Bath.
Where To Stay In Bath
There are plenty of accommodation options in Bath, depending on your budget.
For those wanting space to spread out, I can't recommend Mr Darcy's Abode part of Bath Boutique Stays enough! The stunning townhouse has super-cool décor including lots of fun Mr Darcy references (I loved the lights!) The huge kitchen area would be amazing for a group party or hen do, as would the lounge area downstairs. I stayed there during my visit and absolutely fell in love with the place!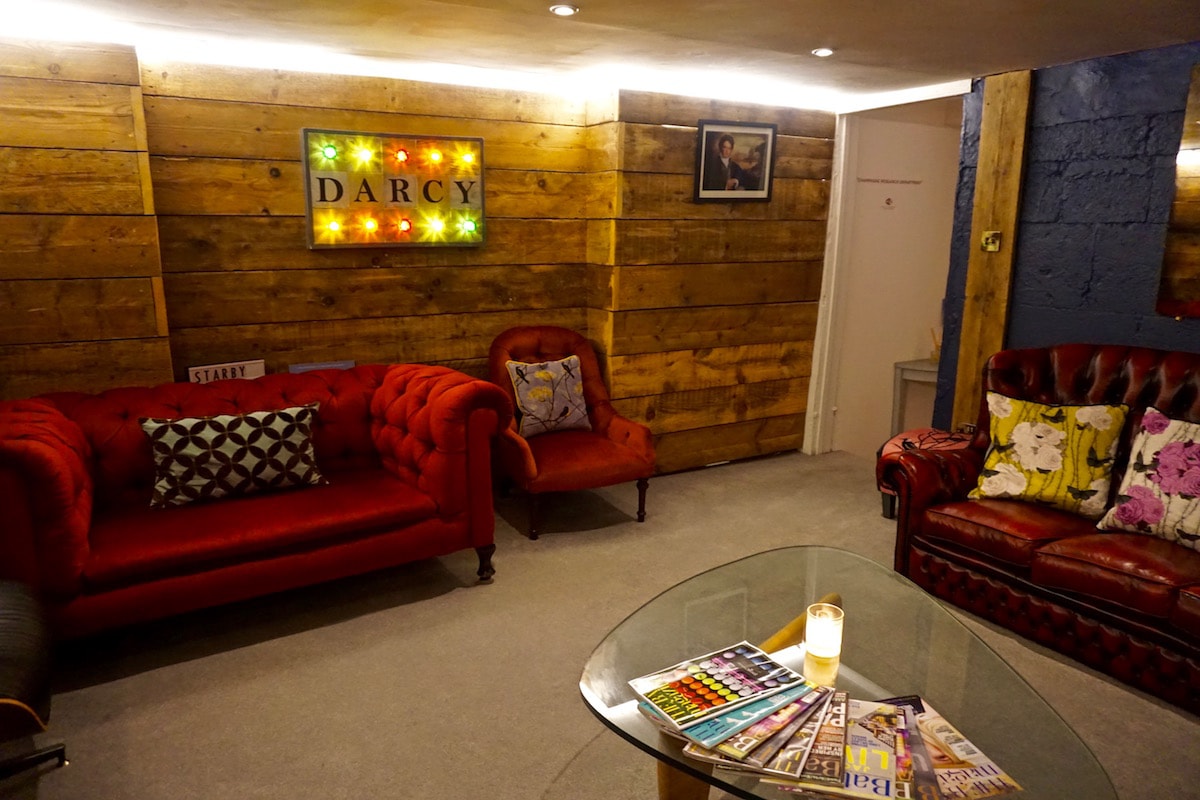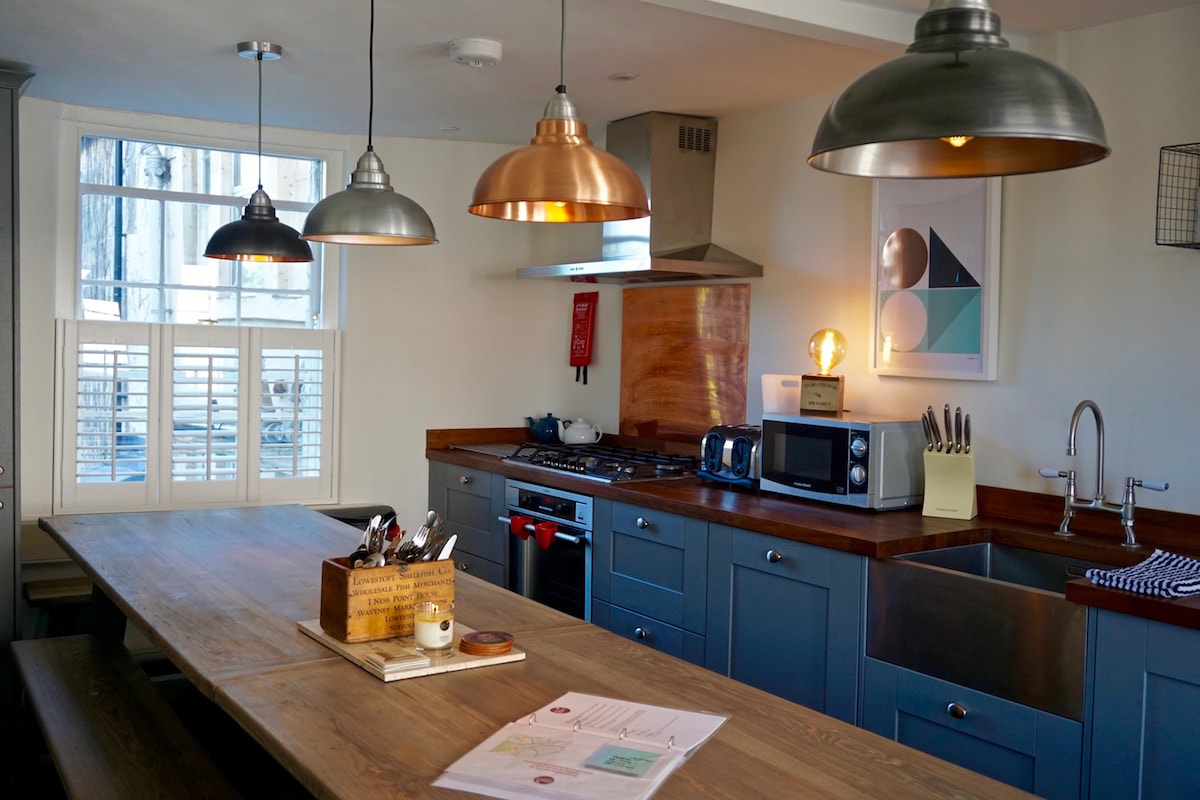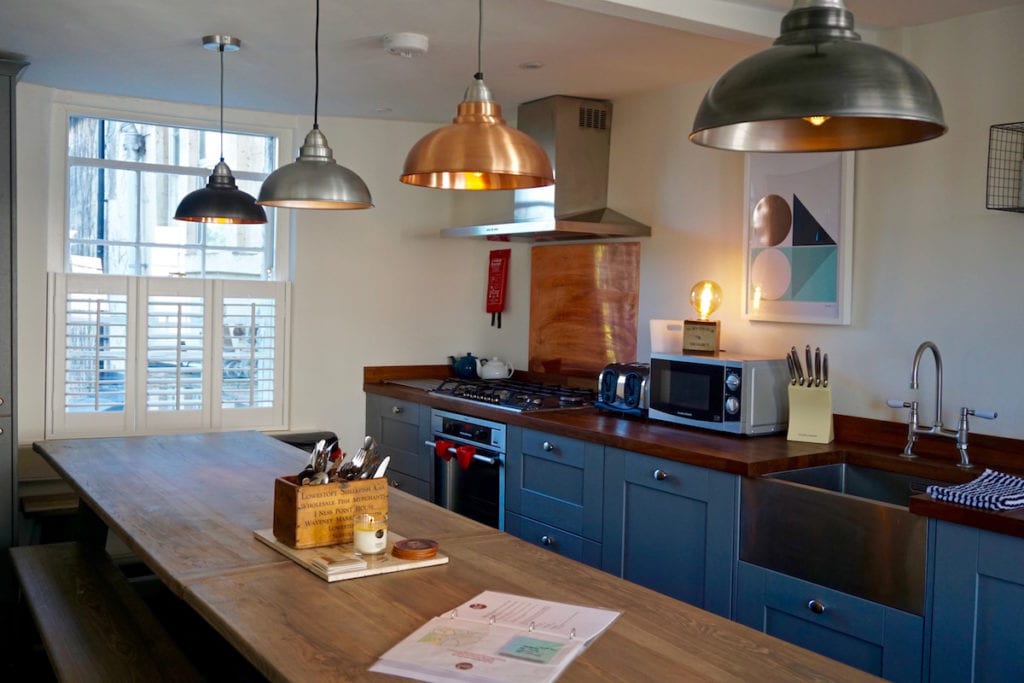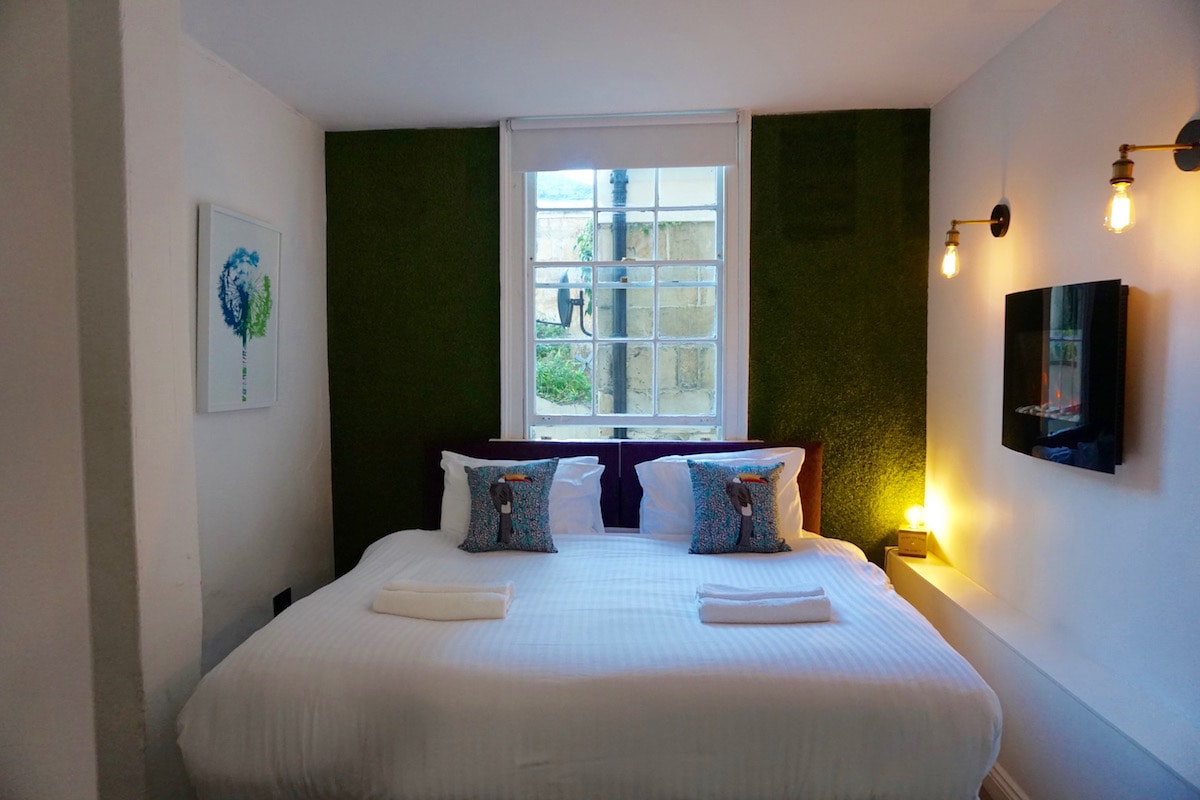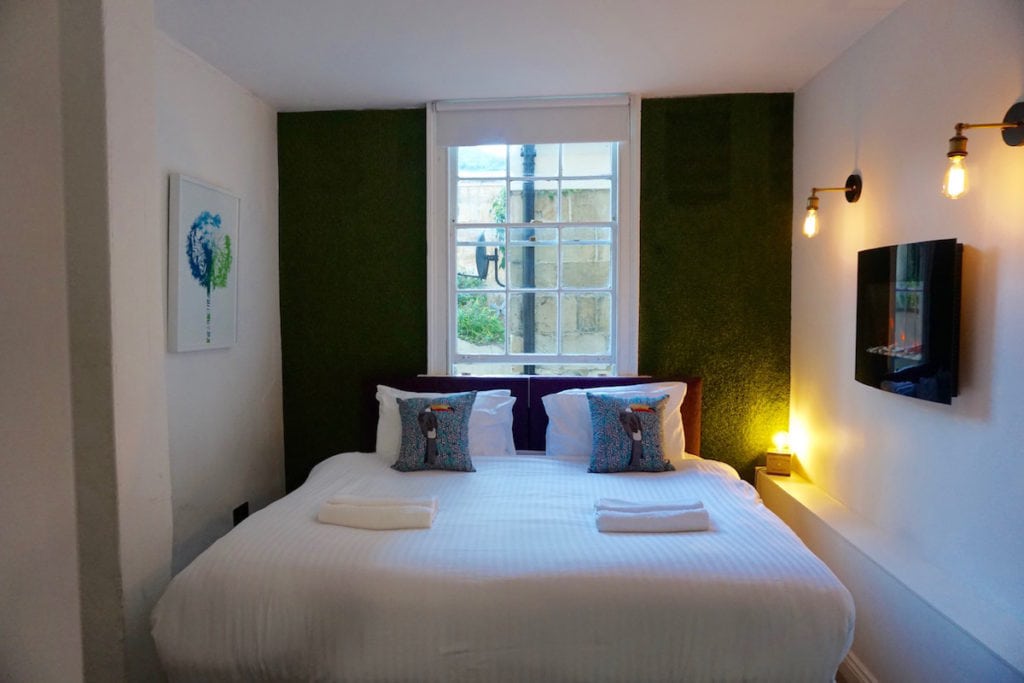 Booking.com has plenty of great places to stay in Bath. If you're looking for a special Bath hotel, I'd recommend the Gainsborough Bath Spa or the Abbey Hotel. They're both very central too.
On a budget? There are lots of hostels in Bath City Centre including Bath Backpackers Hostel, St Christopher's Inn Bath, YHA Bath and even some cheap rooms at certain times of year at Bath University.
Thanks to Visit Bath for inviting me to write this Bath travel blog and explore this beautiful part of England. As always, opinions are my own! I hope you enjoy your 24 hours in Bath as much as I did!
Enjoyed this post about spending one day in Bath? Pin it for later…