From stunning views of the Eiffel Tower to rooftop vistas of the Seine, Notre Dame and the Parisian skyline, these are the best restaurants with a view in Paris.
Do you ever dream of Paris? I know I do! This is a city that's as famous for its food as it is for romance. So, when you add a selection of the most iconic buildings in Europe, you have a recipe for some of the world's most spectacular dining experiences.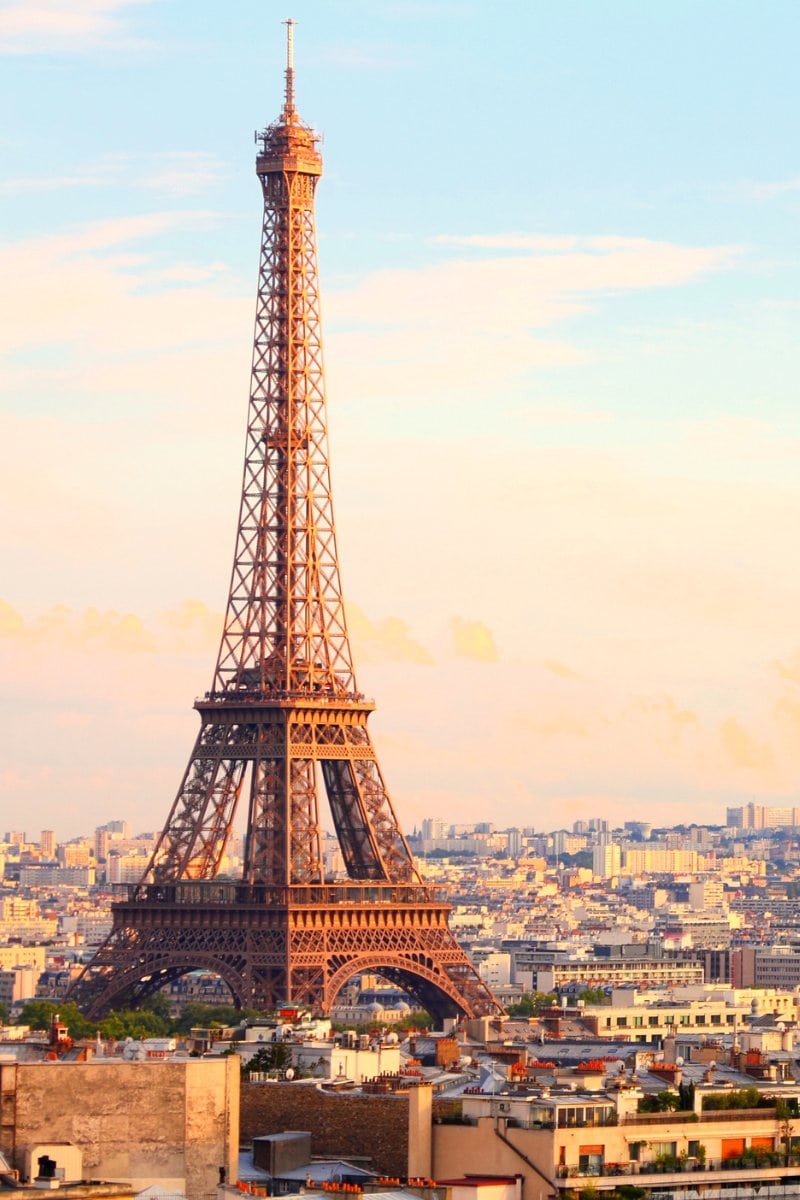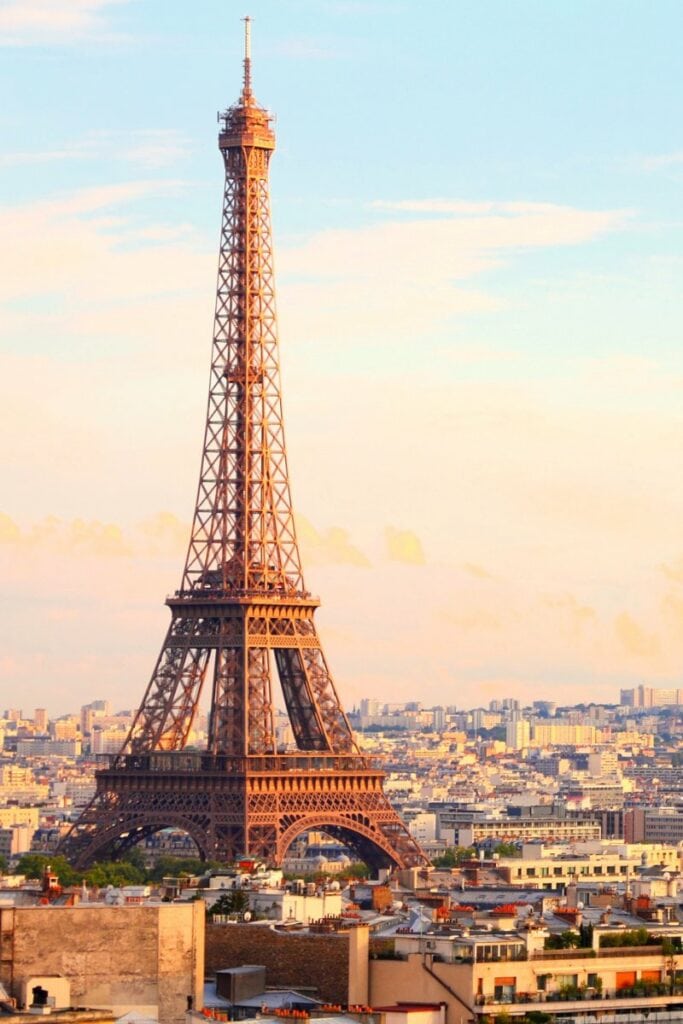 Imagine an intimate meal at a rooftop eatery overlooking the City of Lights. How perfect would that be? With dining options ranging from Michelin-starred L'Oiseau Blanc to the spectacular 360°, 52nd-floor panoramas of Ciel de Paris, you'll be spoiled for choice. If you're planning a short break to this beautiful city, you should definitely try out one of these spectacular spots to elevate your dining experience.
Paris restaurants are famous for their attention to detail, superb food, and exemplary service. Let's face it, you can order a simple meal of steak frites with a glass of red in Paris, and it'll probably be one of the best things you eat all year!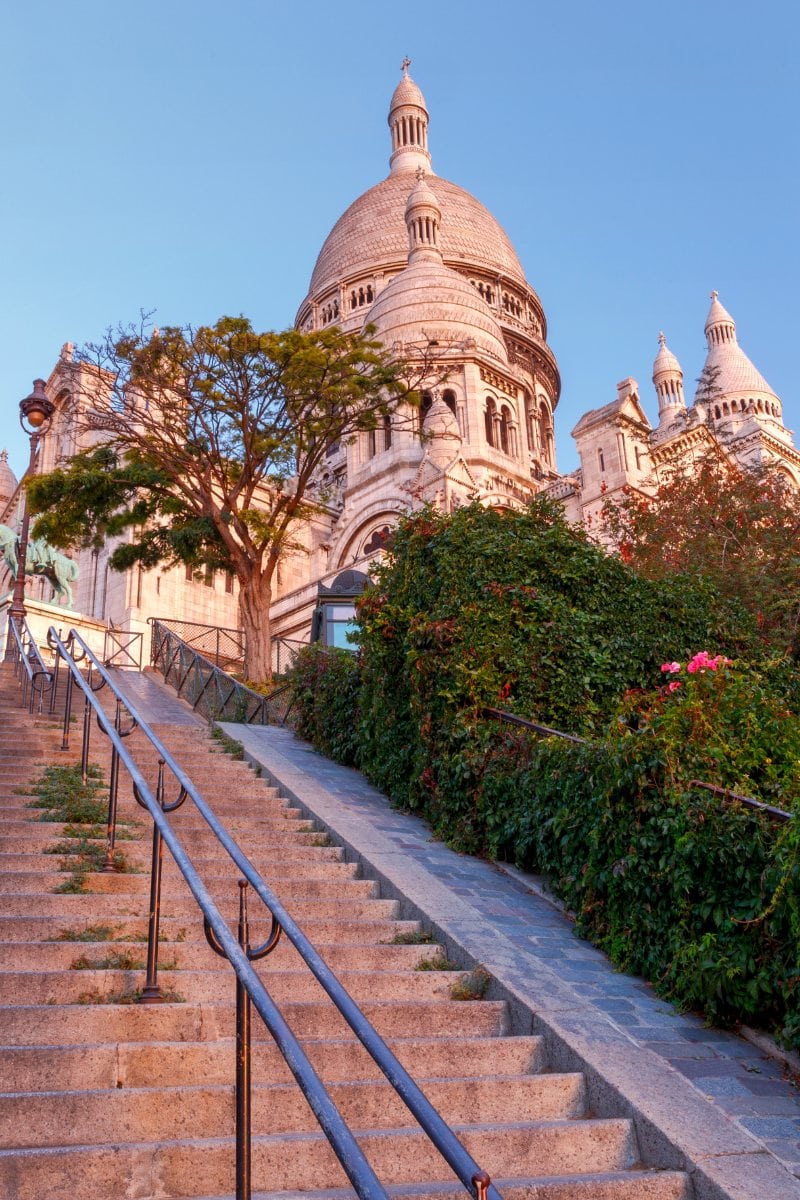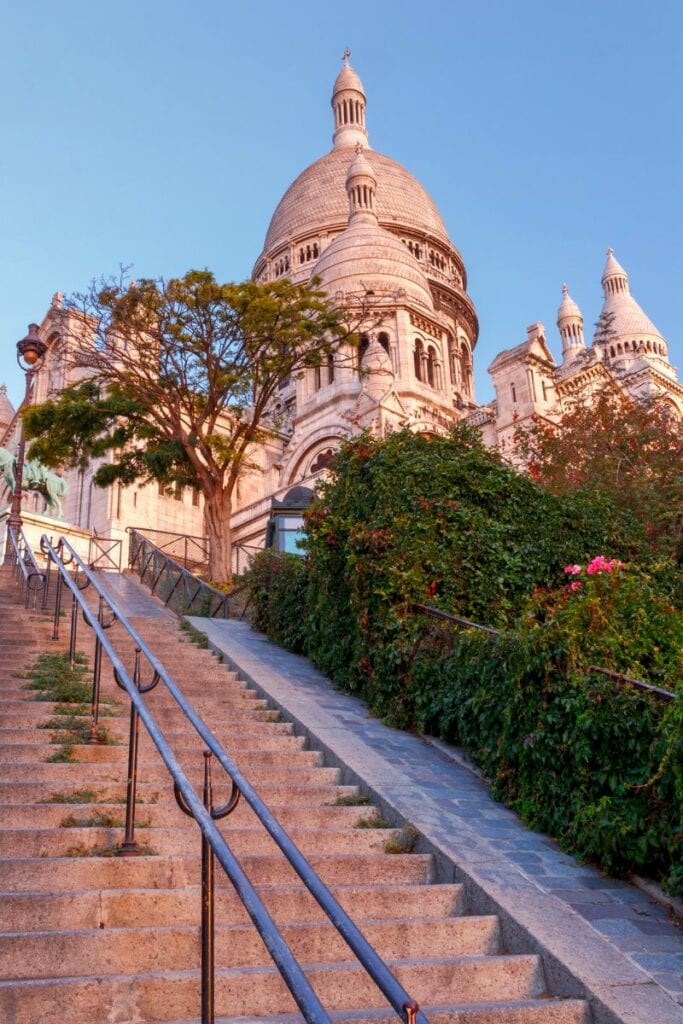 If you're looking for some spectacular views to have as a backdrop to your special dinner or rendezvous, you can be sure that Paris can provide the sort of dreamy vistas you see in romantic movies.
While you might have to choose whether to gaze at your other half or the dreamy Parisian skyline, this guide to the best restaurants with a view in Paris will help you to choose the perfect place to dine. Bon appétit!
---
13 Top Paris Restaurants With Views Of The Eiffel Tower & The City
Capturing the spirit of pioneer aviators Charles Nungesser and François Coli (the first pilots to attempt a crossing of the Atlantic Ocean by aircraft), this Michelin-starred restaurant sits at the top of the Peninsula Paris Hotel, like a cockpit in the sky.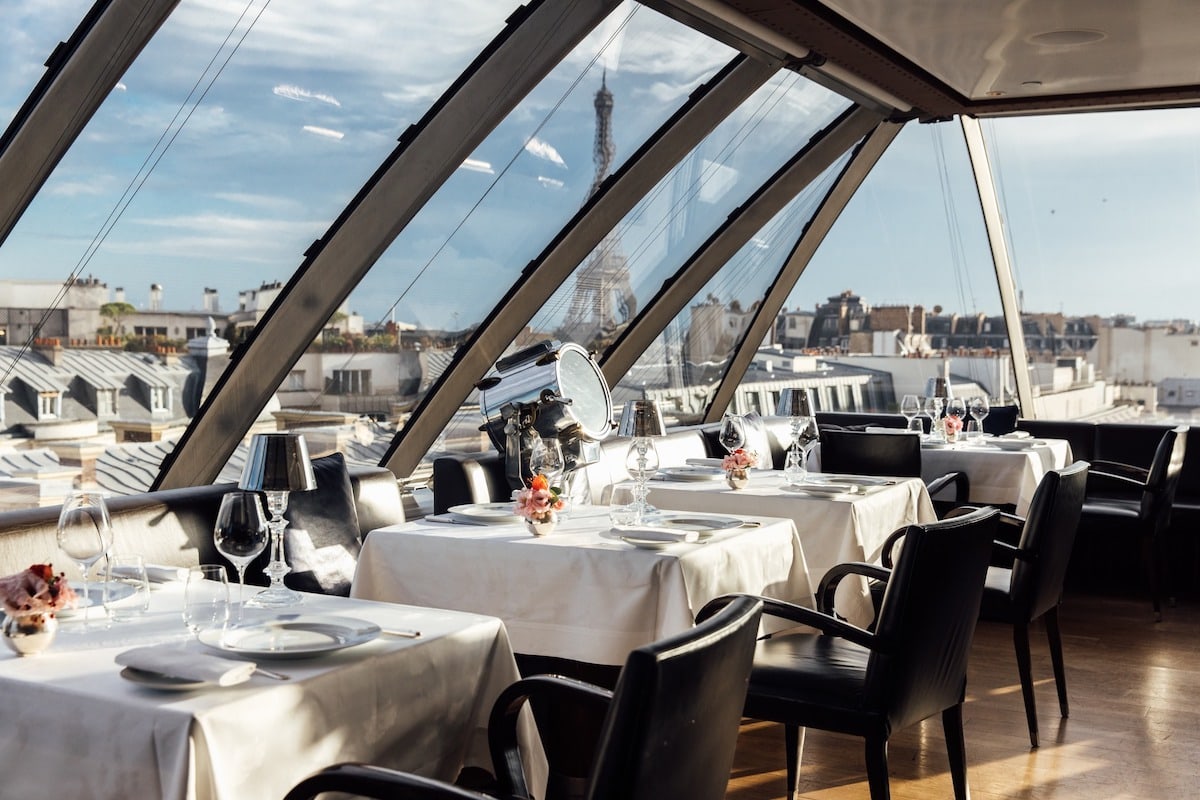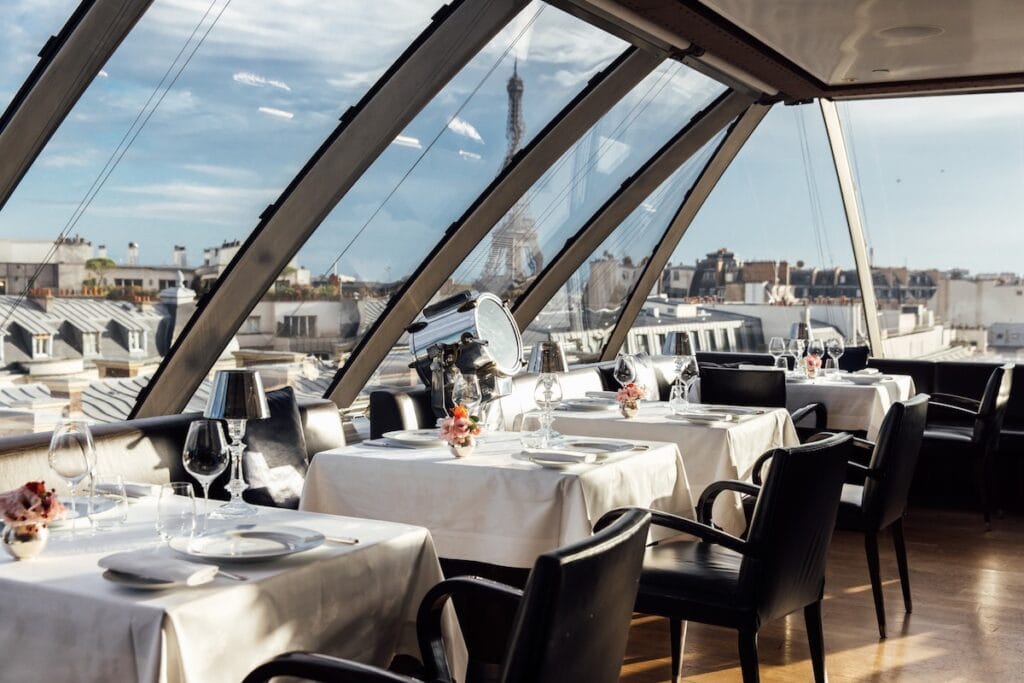 On the menu you'll find gastronomic goodies such as pigeon laqué and slow-cooked lamb shoulder. I recommend pairing these with a glass or two of champagne to toast the special meal.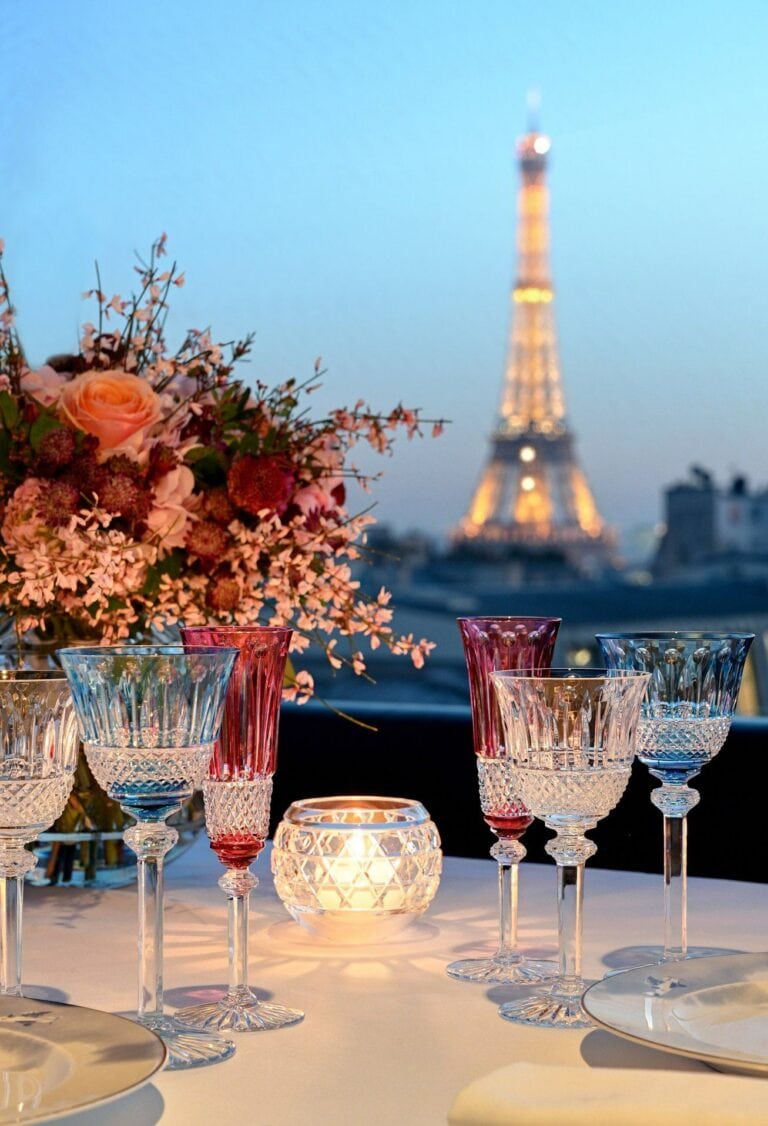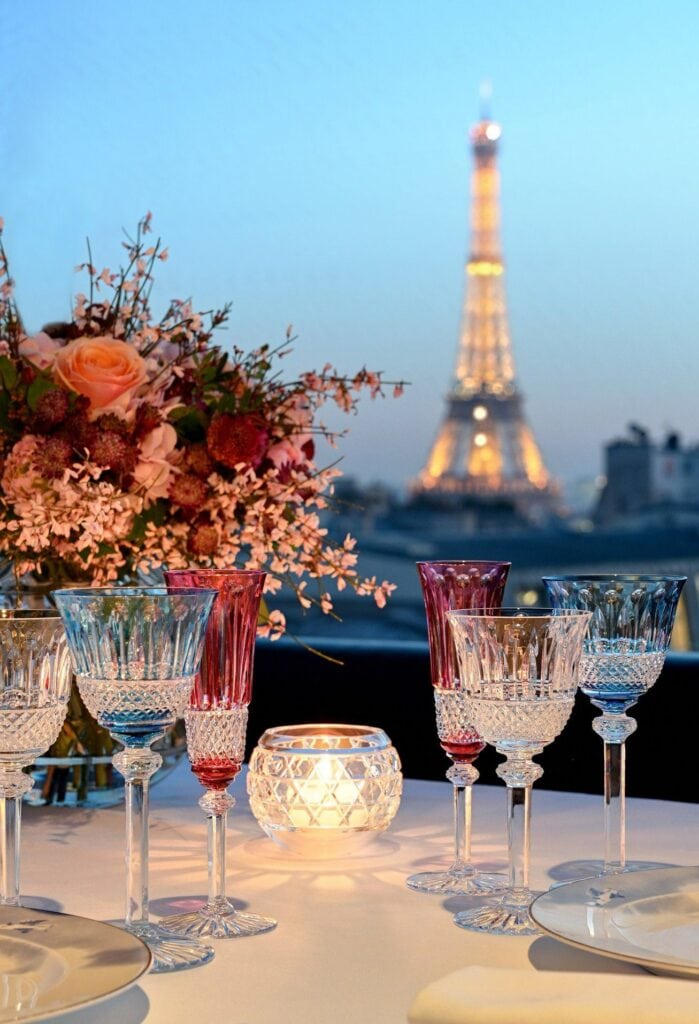 You could easily while away an entire afternoon here, gazing out at the replica of the aviator's aircraft, with the Eiffel Tower and the iconic domes of Sacre Coeur beyond.
Nicknamed The Iron Lady by Parisians, the Tour Eiffel (aka the Eiffel Tower) seems close enough to reach out and touch from this rooftop restaurant at the top of the Musée du Quai Branly.
The wickerwork furniture and bright linen are a perfect setting for a leisurely lunch while you gaze at the magnificent tower view.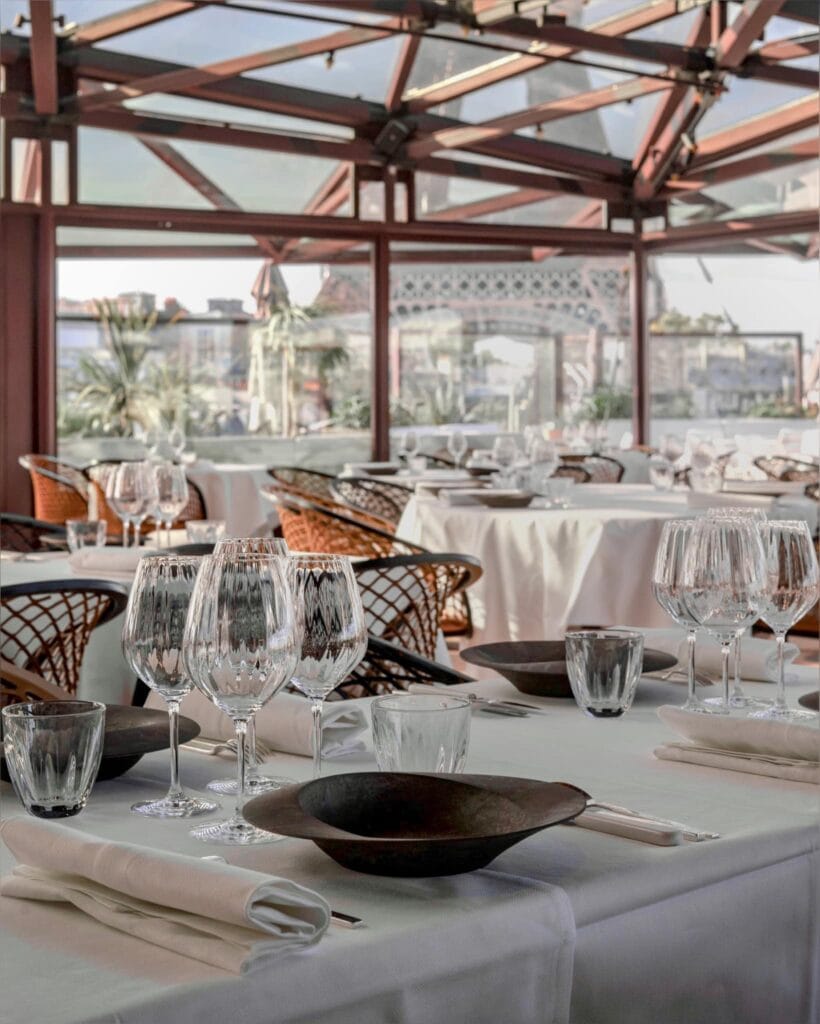 On the menu you'll find a selection of Mediterranean-inspired dishes created using the freshest ingredients from Paris' food markets.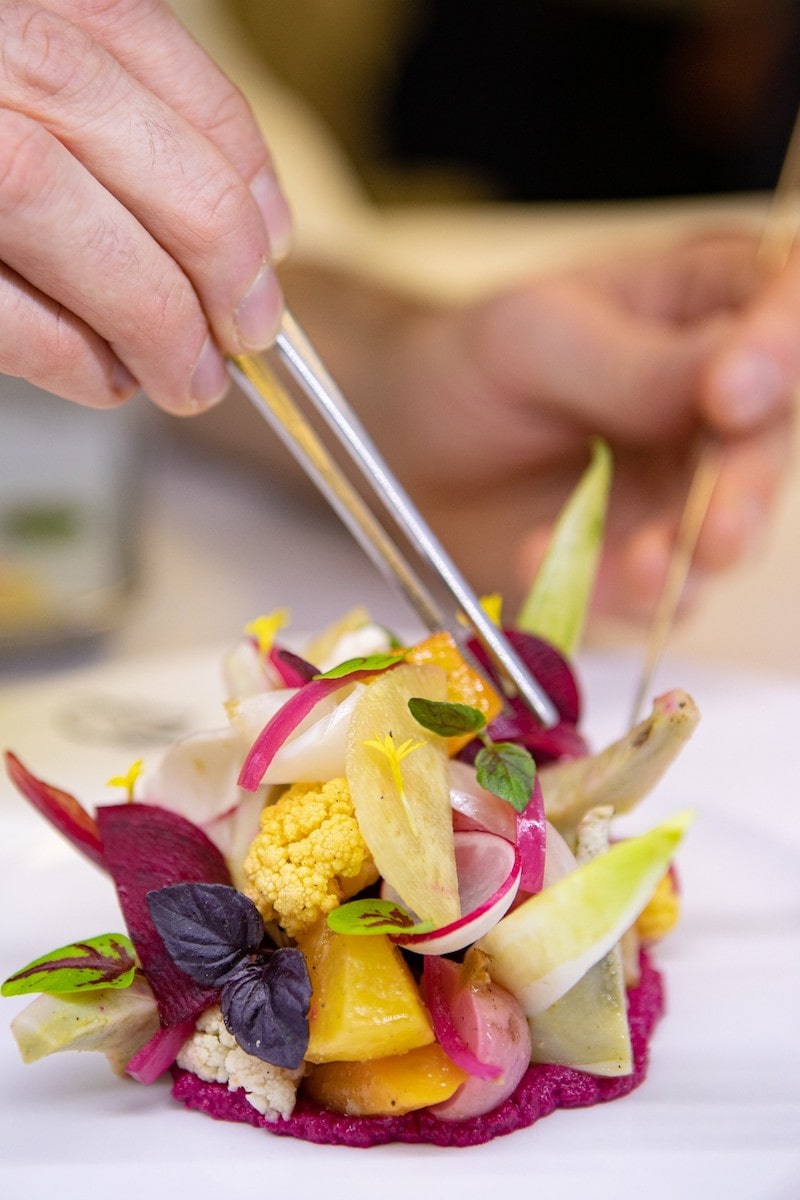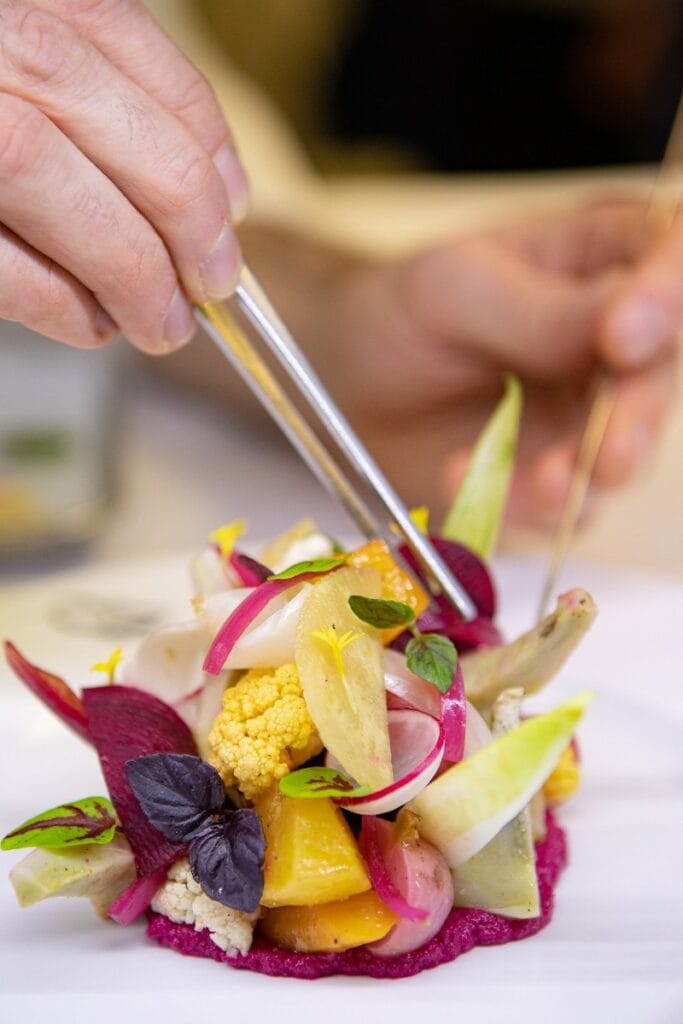 I suggest you try the field beetroot smoked with juniper berries and tartare sauce as a starter and go from there. The dishes here are like mini works of art – they're almost too pretty to eat!
If you've ever dreamed of dining on a terrace overlooking the Paris skyline this is the place to go. Described as "one of the most beautiful terraces in Paris", the menu at Monsieur Bleu revives some classic French dishes but adds some fun new twists.
Try the roasted chicken with baby spinach, truffle jus and mashed potato as you look out through the big windows to the nearby Eiffel Tower.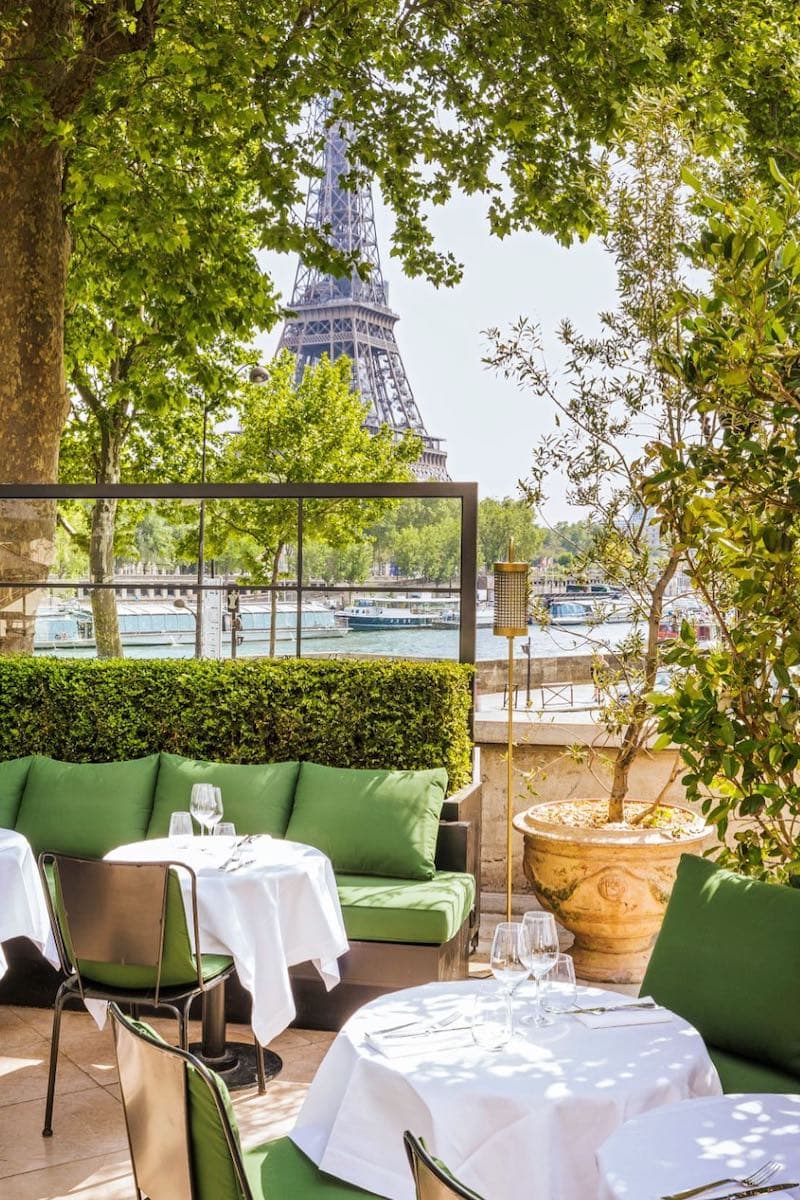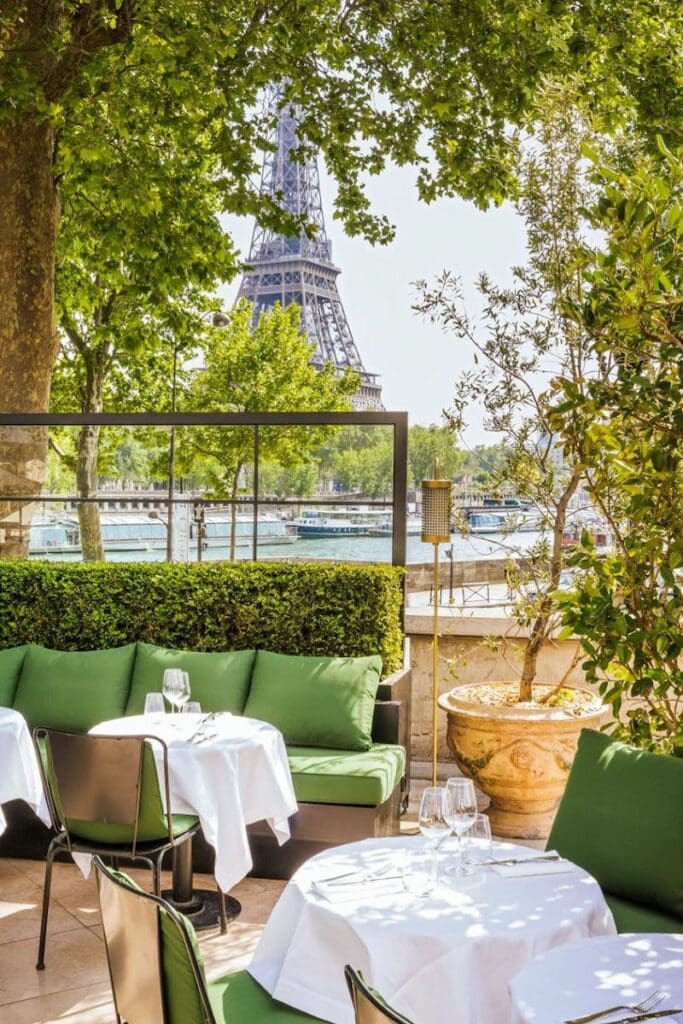 If you're looking for a place where you and your partner can have brunch during your romantic weekend in Paris, the chic atmosphere of Monsieur Bleu is perfect. Sip a signature cocktail while you savour the hot pastries, all kinds of eggs, granola and, of course, some French toast!
This stylish new restaurant has a dream setting in this most dreamy of cities. Located in the heart of Paris' theatre district (the Palais Garnier Opera House is right next door), this is a great spot for lovers of fine food, music and views to linger over one of the superb dishes on the menu.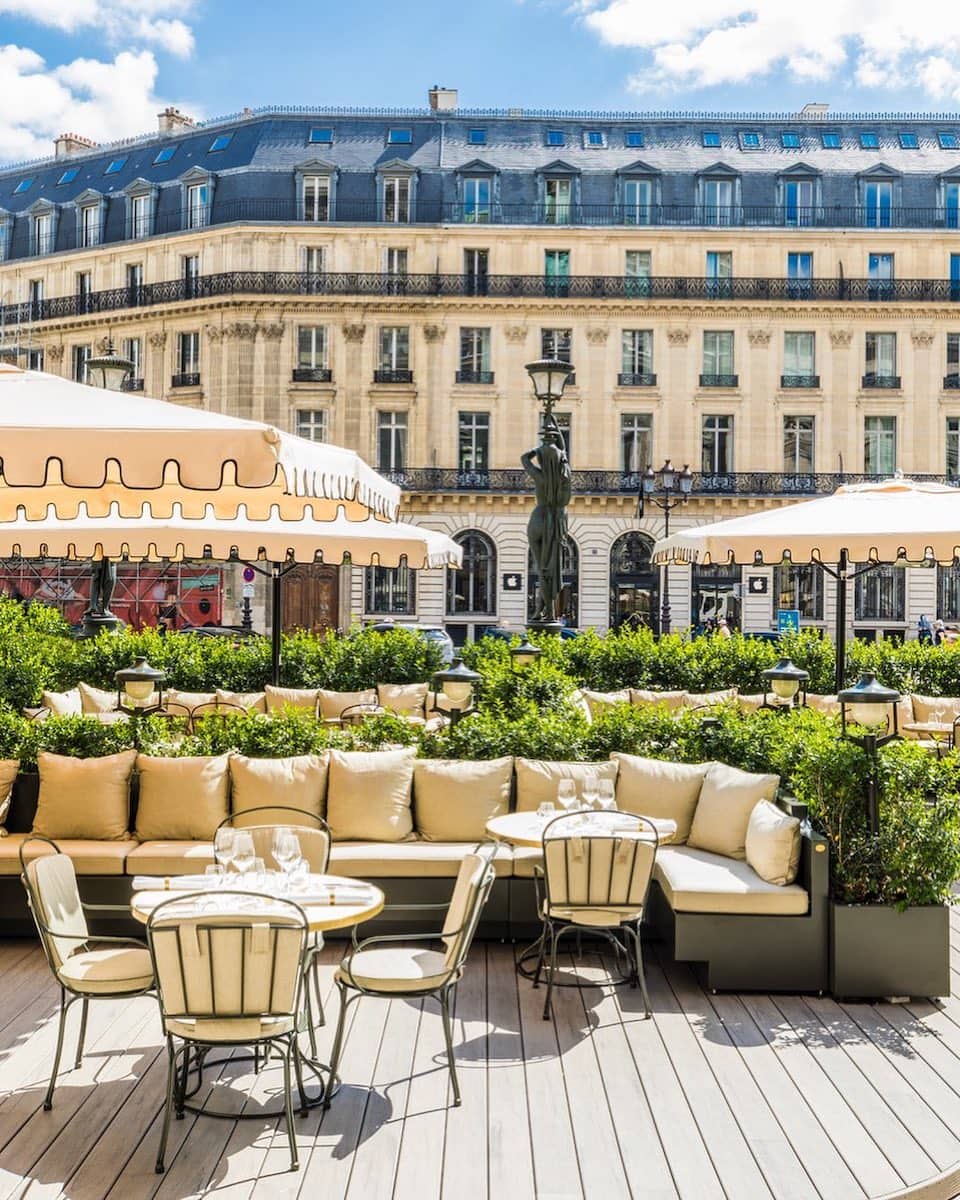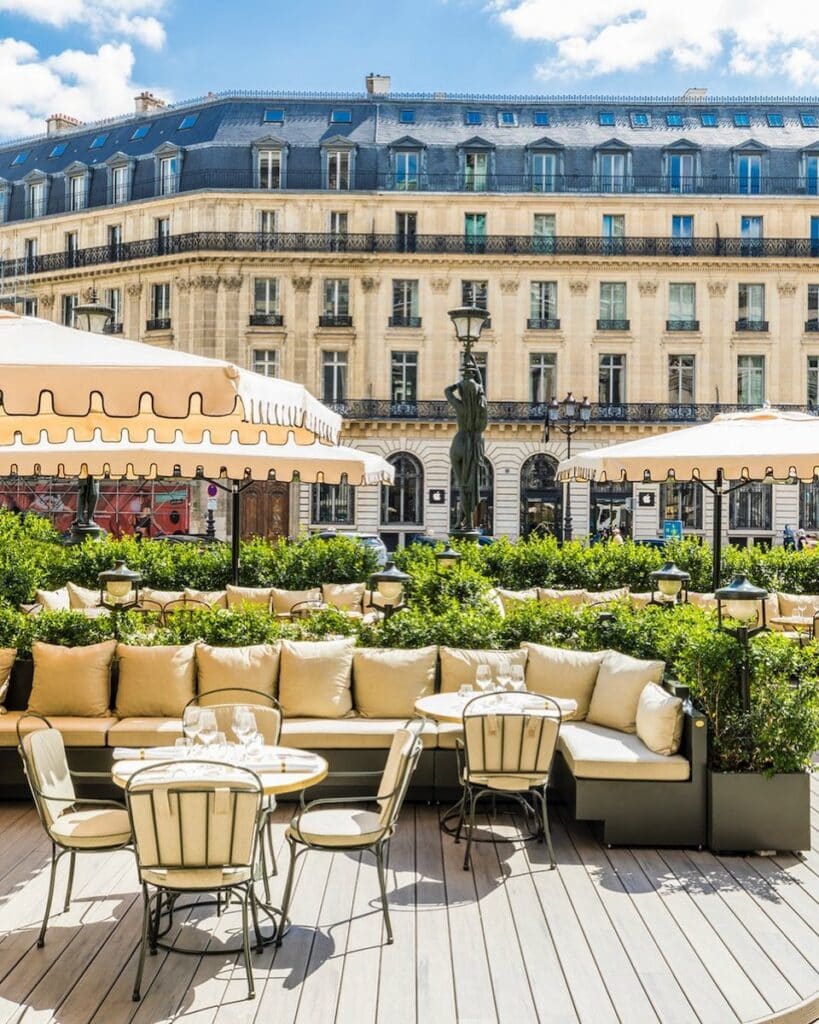 With everything from sole fillets and wild mushrooms to exotic fruits and traditional French bonbons, Coco's swanky dining room (green velvet chairs and marble tables) opens onto views of the Opera House and the energetic boulevards where there's always something going on. It's the kind of place you'll go for brunch with your other half, then want to stay all day!
If you can imagine yourself drifting slowly down the Seine through the heart of Paris, while skilled chefs prepare a sumptuous meal for you and your partner, I can highly recommend Calife.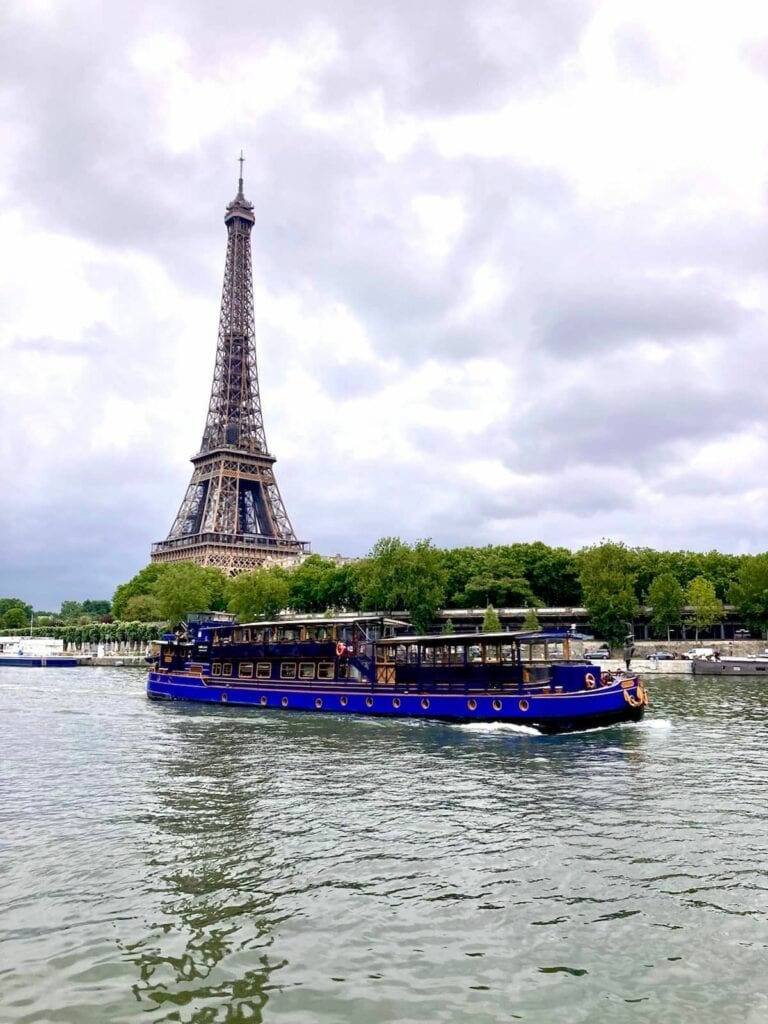 Savour a glass of red while you peruse the menu which includes Filet de Bar Grillé avec buerre blanc and Suprême de Poulet Juane… all while the sights of the city drift by. The Eiffel Tower view from the river is something different from the usual vantage points. Plus, Notre Dame from the waterline is spectacular in all weathers, day or night. This is a memorable and unique restaurant experience in Paris, and makes a change from being on dry land!
This is one of the most fabulous restaurants in Paris. I love the futuristic theme of Kong, which blends French style and grace with Asian fusion food.
The restaurant sits beneath a glass dome on top of a traditional Haussmann building in the heart of Paris. Every direction brings a new vista of Art Deco and Art Nouveau buildings, the river Seine and Pont Neuf.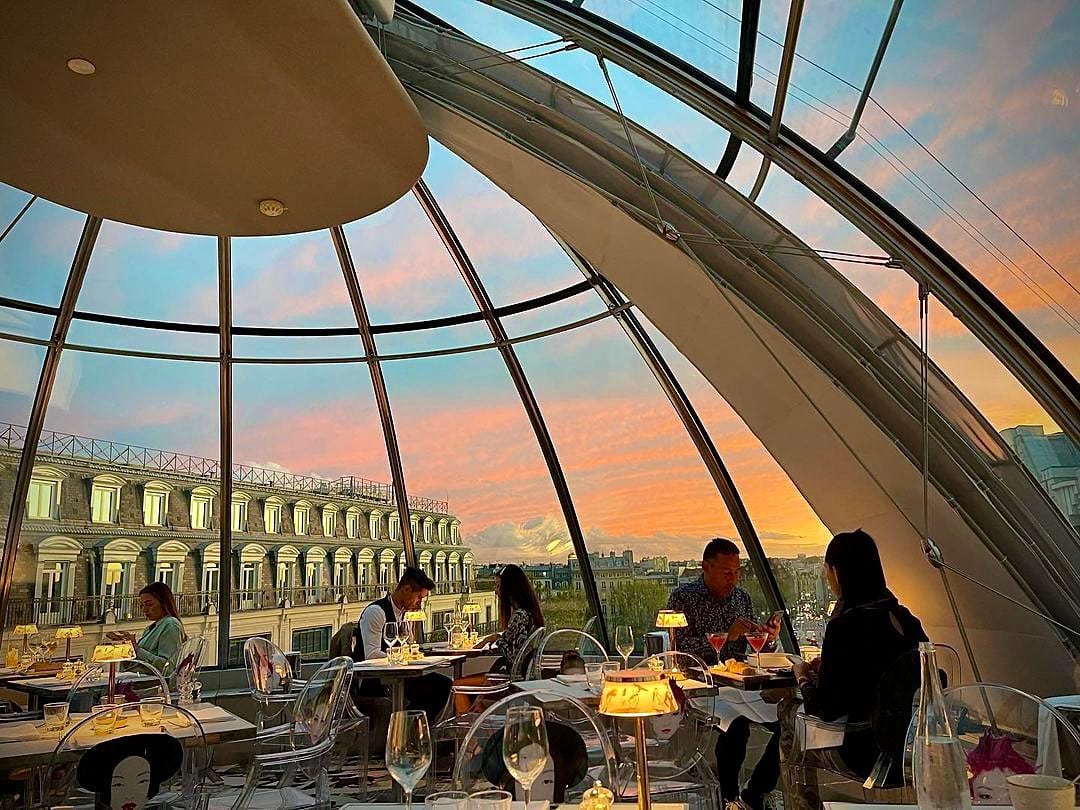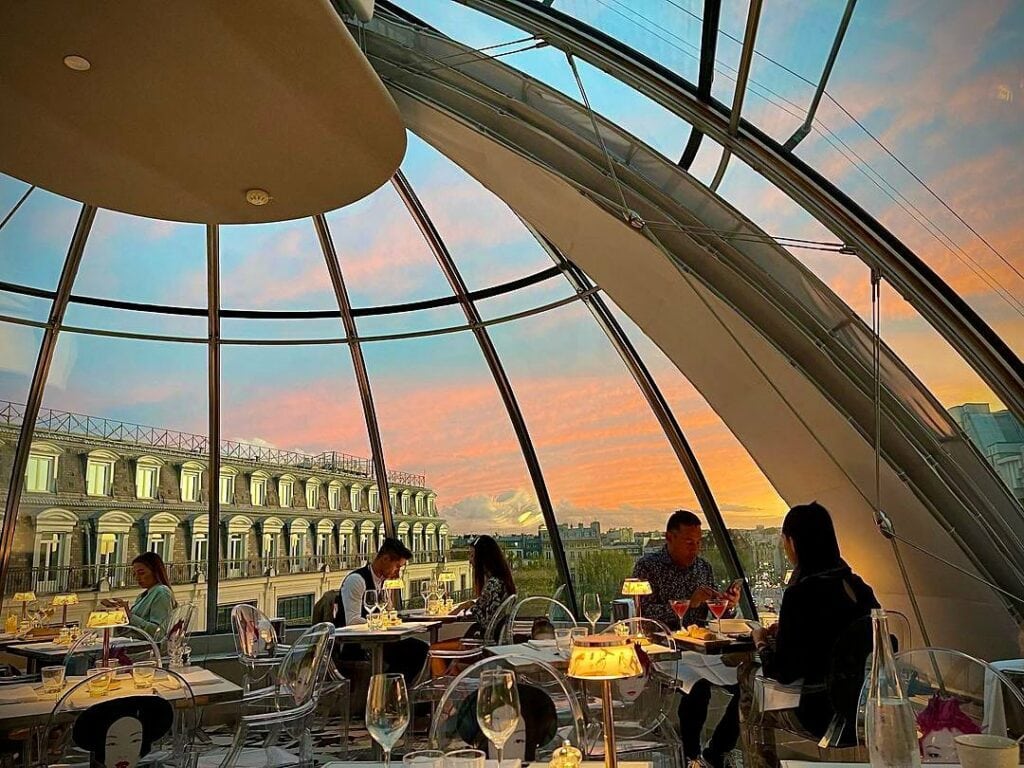 Foodwise, the menu is stuffed with Asian deliciousness along with a smattering of traditional French cuisine dishes to keep things interesting. Try the Sashimi de daurade with vinaigrette wasabi and pickles de Granny Smith, then move on to Angus beef fillet with black peppercorn sauce.
I guarantee you'll love Kong: the food, the view, the location… everything about it! Time your visit for sunset and you're in for an even bigger treat!
Literally the "Paris sky", this place has knockout views of the Eiffel Tower from its position on the 52nd floor of the Tour Maine-Montparnasse building. With such a stunning view outside the restaurant's big windows, you'll find it hard to drag your eyes away to address the menu… but I promise you'll be glad you did.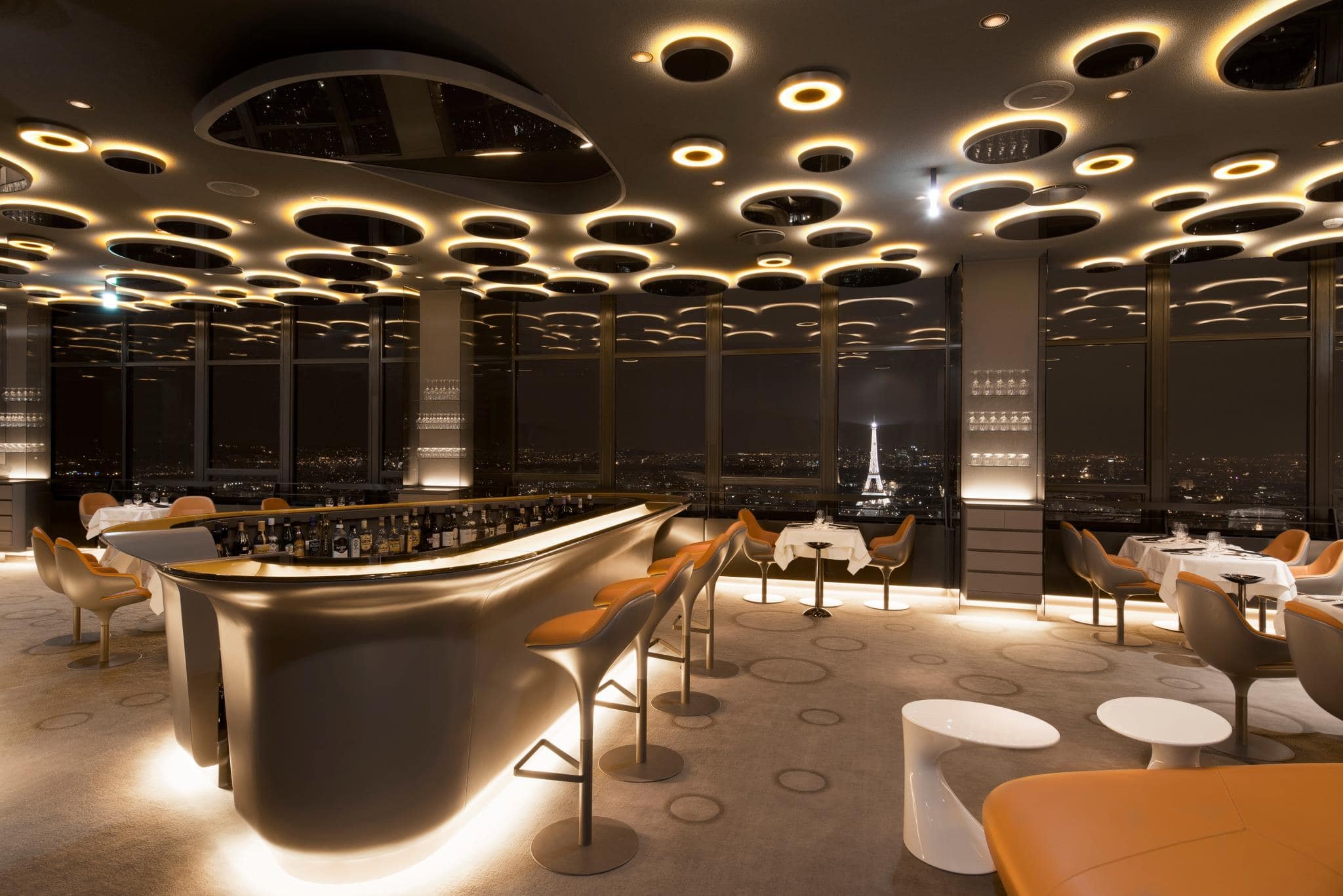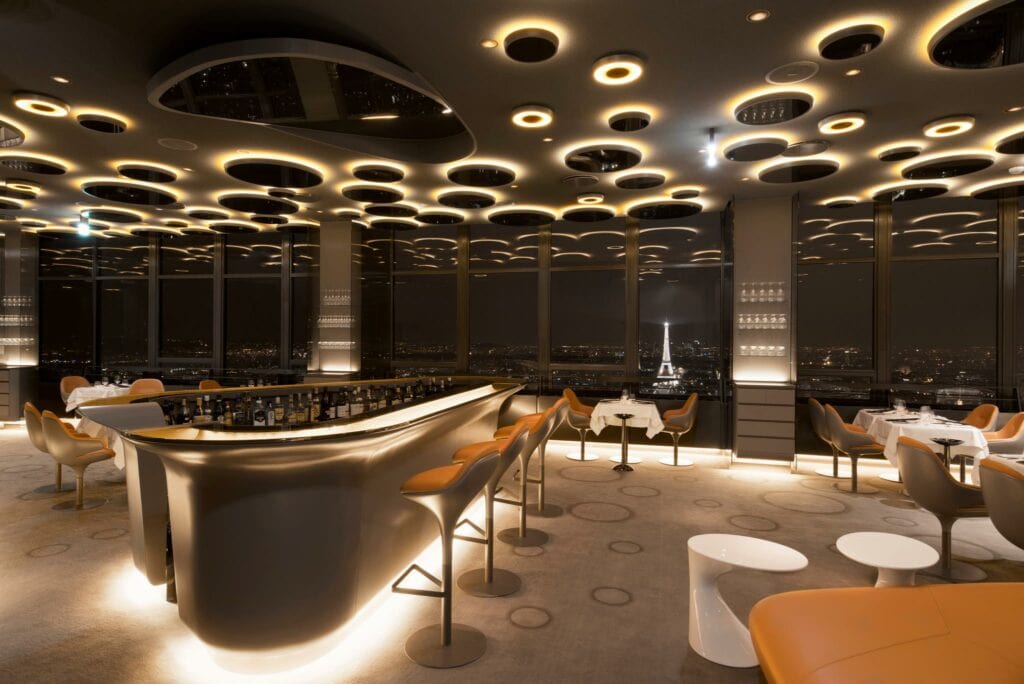 If you and your partner are early birds, breakfast includes hazelnut coffee and croissants, while lunch features traditional French foods with some modern culinary trends.
As for dinner, you'll find a great selection of dishes including meat, fish and vegetarian options on the menu. Don't miss the pumpkin risotto with "forgotten vegetables" – it's absolutely delicious! All the dishes come accompanied by twinkly views of the Paris cityscape too – what's not to love?
Who doesn't enjoy getting glammed up occasionally? I know I do! Decked out in scarlet and gold, Victoria is the perfect place to linger over a glass of red or three as you savour the extensive menu and gaze at the Arc de Triomphe just outside.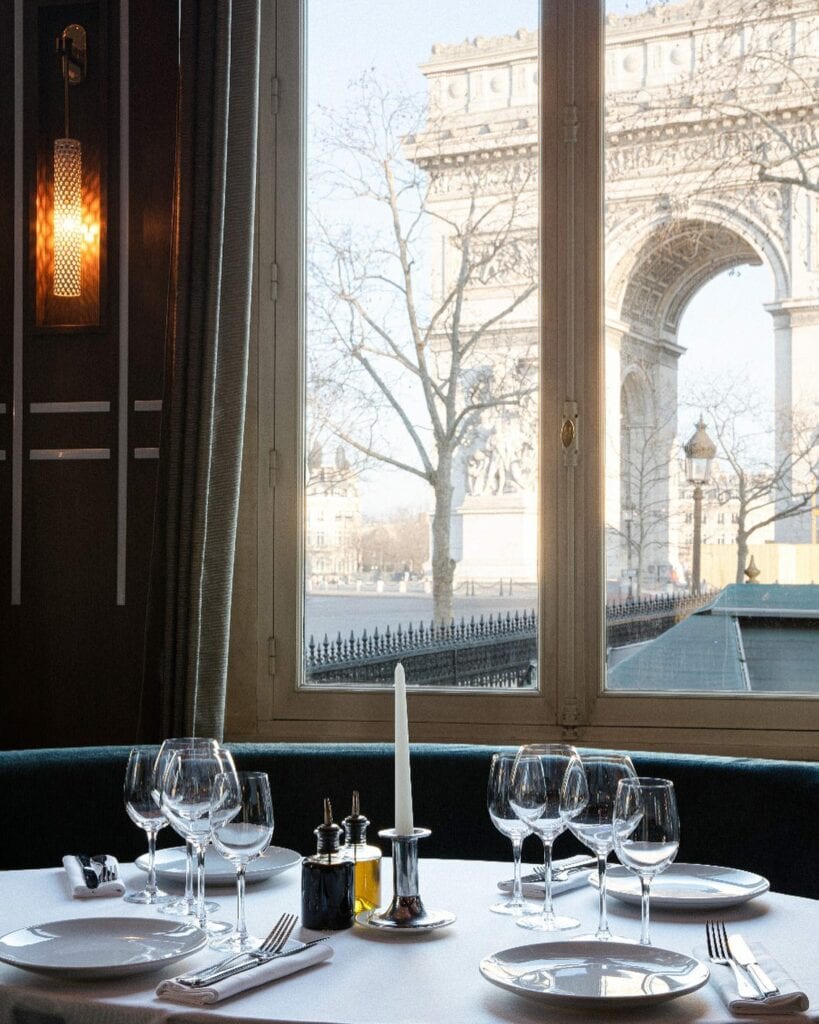 So if you're in Paris for a special occasion, put on your glad rags and sashay out into the Parisian night for a meal at Victoria followed by…who knows what!
Los Angeles has Beverley Hills 90210; Wales has SA3. But 75016 Paris — also known as the 16th Arrondissement — is the coolest postcode in Paris and that's where you'll find Girafe. With a stunningly beautiful terrace providing an unimpeded view of the Eiffel Tower, this restaurant offers bold new versions of classic French dishes.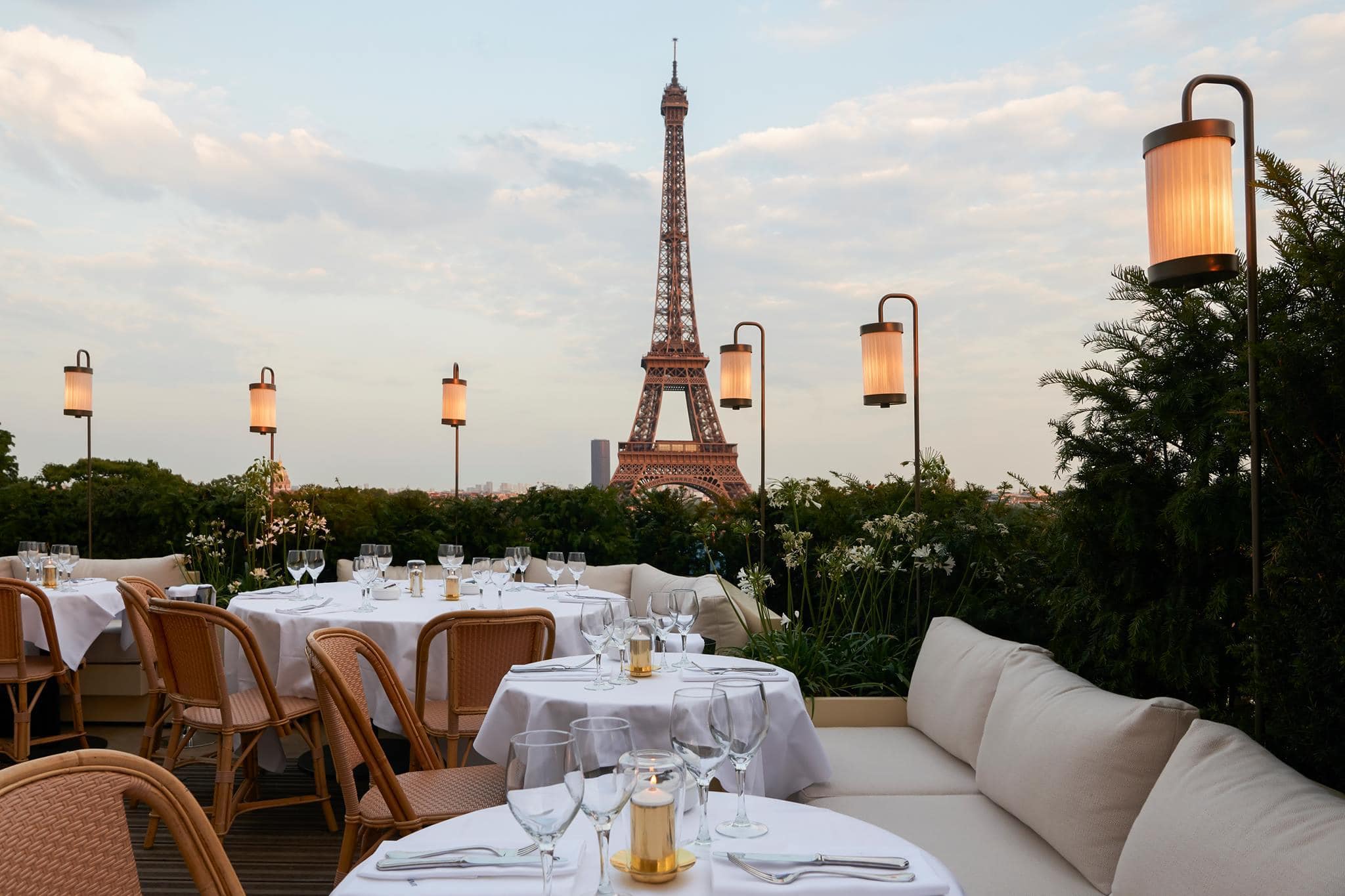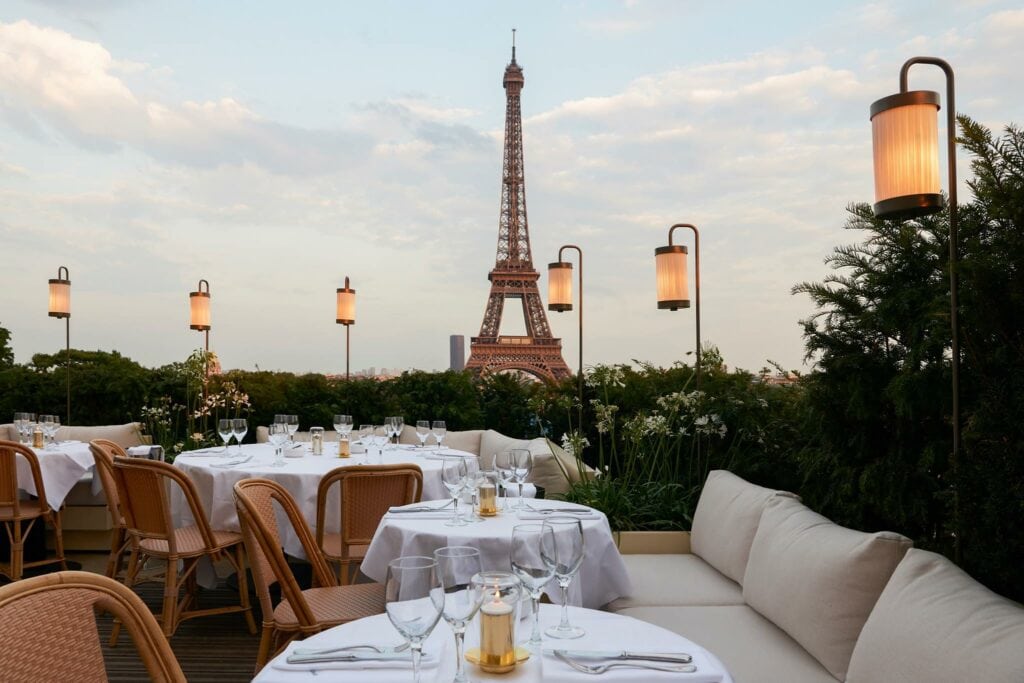 Sip a glass of Sauvignon blanc as you savour such delicacies as sole meunière or a beef fillet ènchalote. And after dinner, you can wander at will through the hippest neighbourhood in Paris.
Ok, this is a big one, and potentially one of the top picks on this list. If you are looking for the best Paris restaurant with a view of the Eiffel Tower, this place is perfect… because it is literally inside the Eiffel Tower itself!
Imagine dining with your partner beside a window framed by the steel girders of the tower. Watch as the view extends across Avenue Gustav Eiffel to the leafy expanse of the Jardin de la Tour Eiffel. It's absolutely amazing!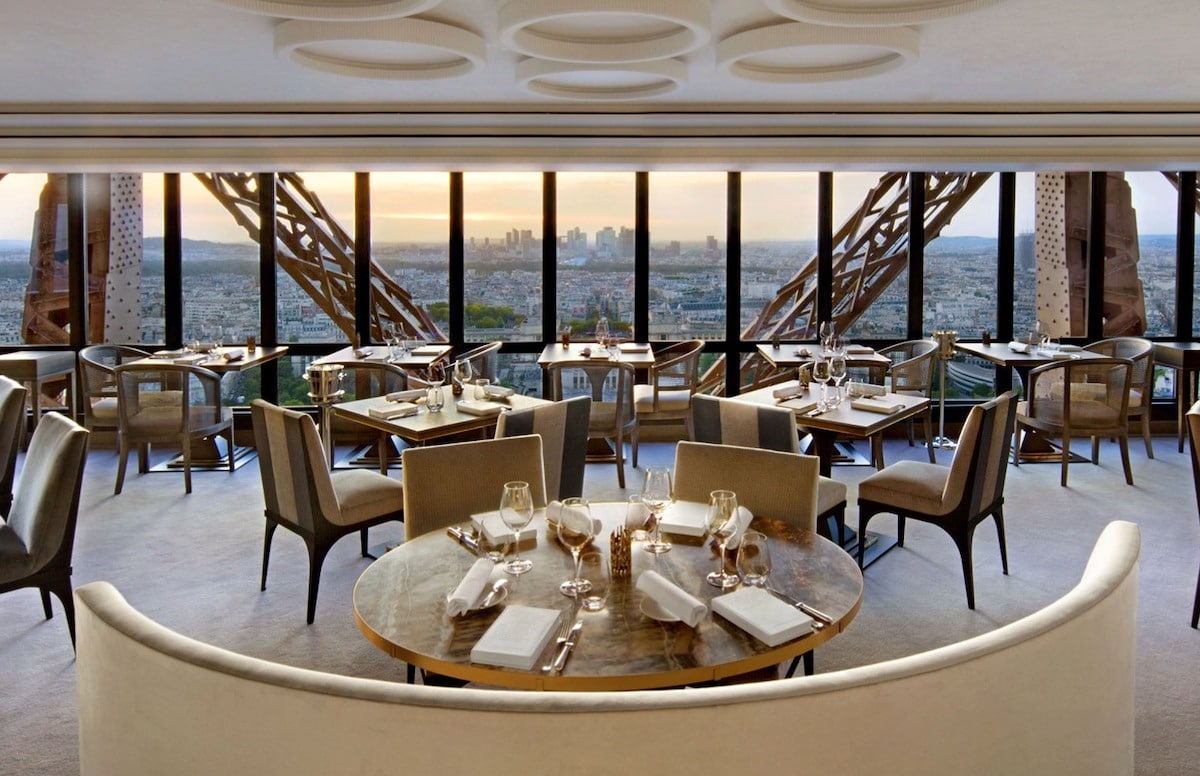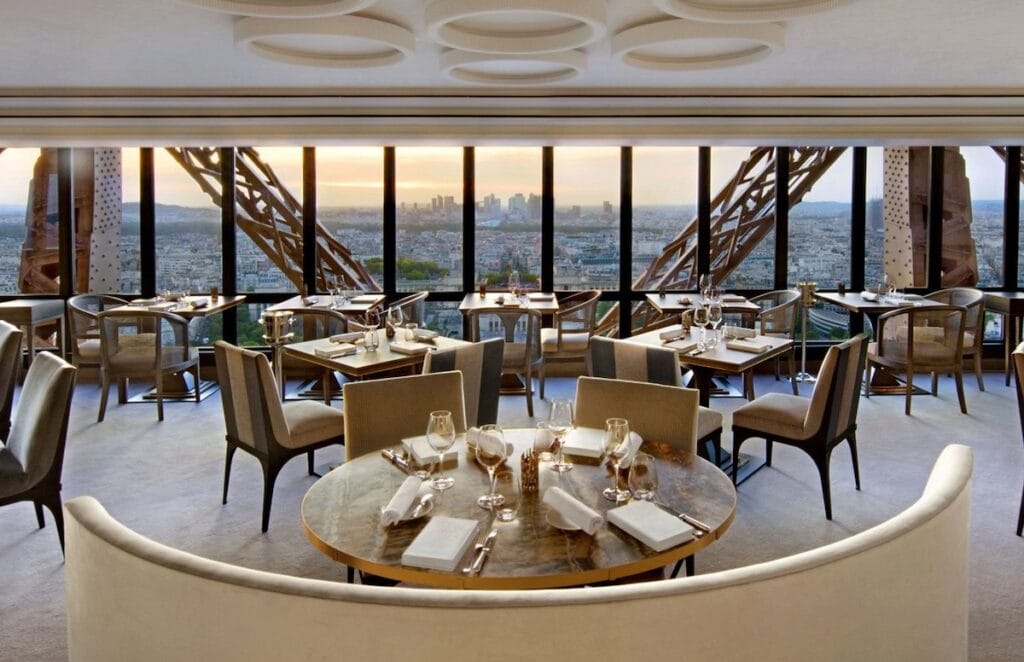 As if the setting wasn't impressive enough, the menu at Le Jules Verne is even more spectacular. Lunch includes cod cooked with kalamata olive powder and stir-fried beef with polenta. Dinner includes a seven-course tasting menu so you don't even have to go to the trouble of selecting a dish. Just sit back, sip on your favourite French red and enjoy the view!
This Paris rooftop restaurant is an exquisite place for a long lunch or dreamy evening meal if you're in the city for a special occasion or romantic getaway. With an Eiffel Tower view that is second to none, Georges is a great place for a late brunch or a late-night drink after a long day of romantic adventures.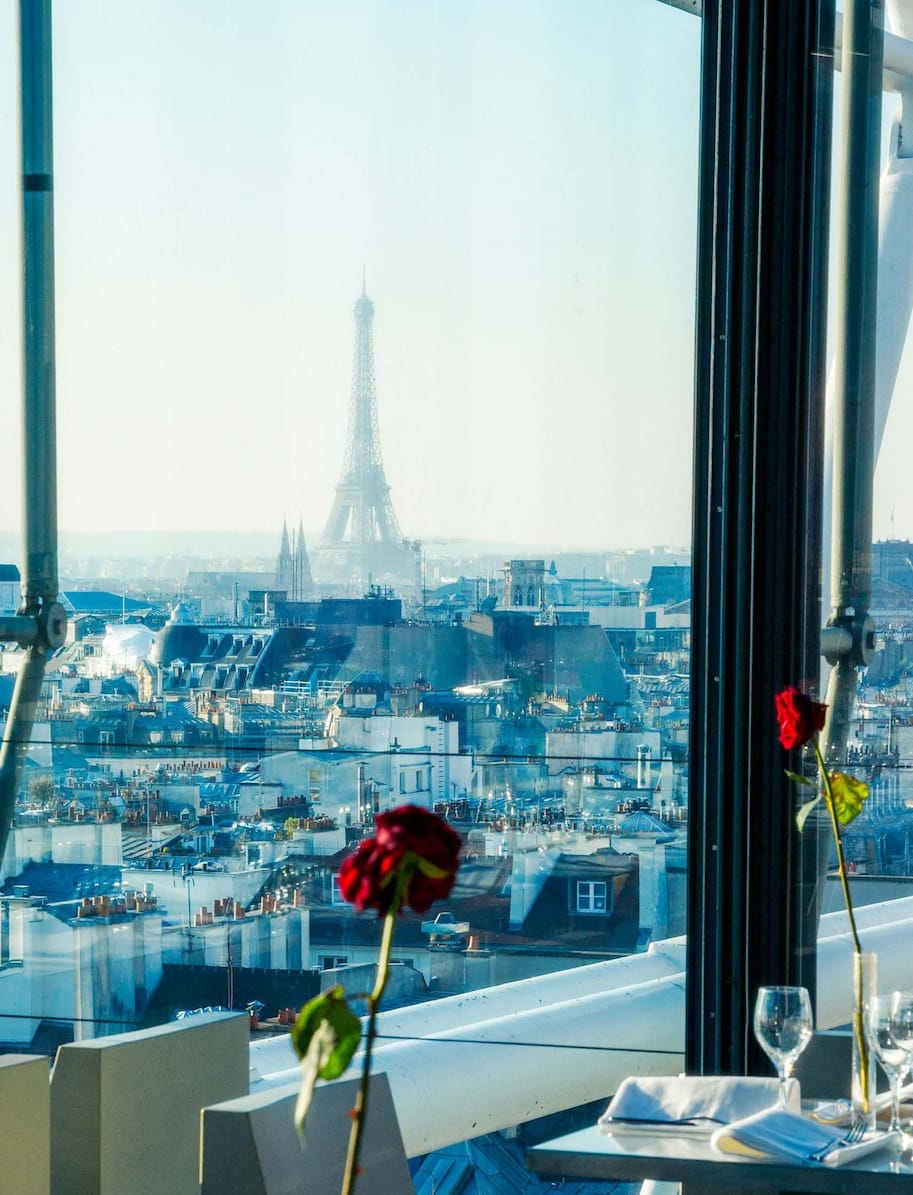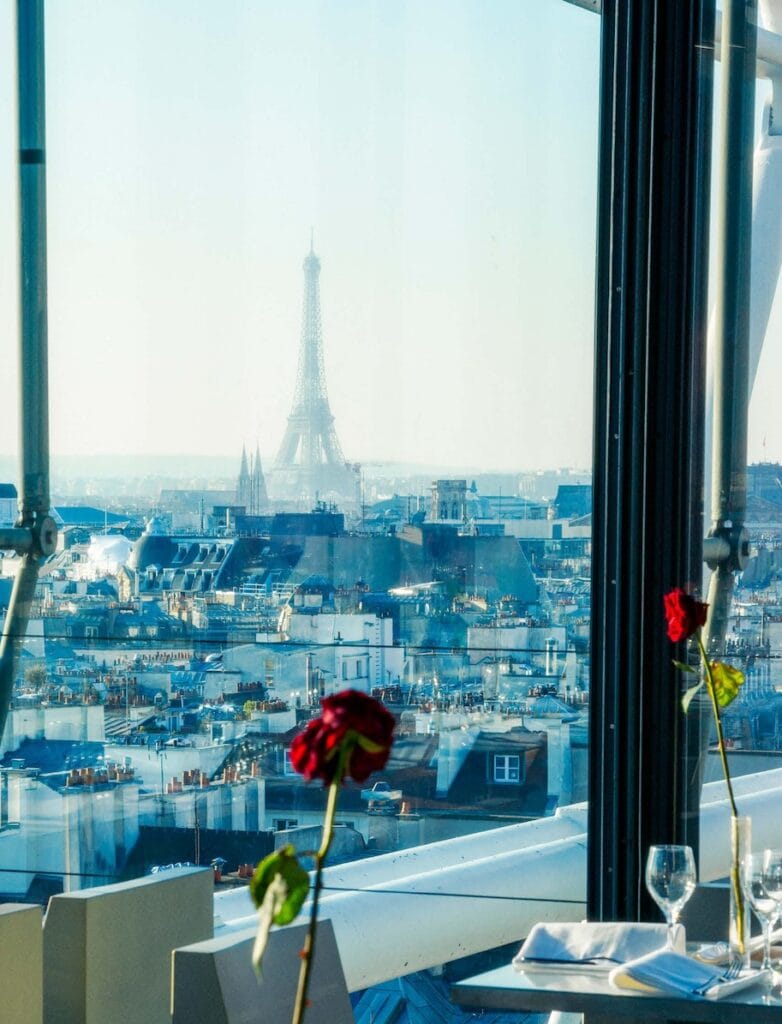 On the menu at Georges are such simple delights such as Spanish sardines, oysters, and silver cod. Many of the dishes are mini works of art too. The chefs spend a long time perfecting their presentation!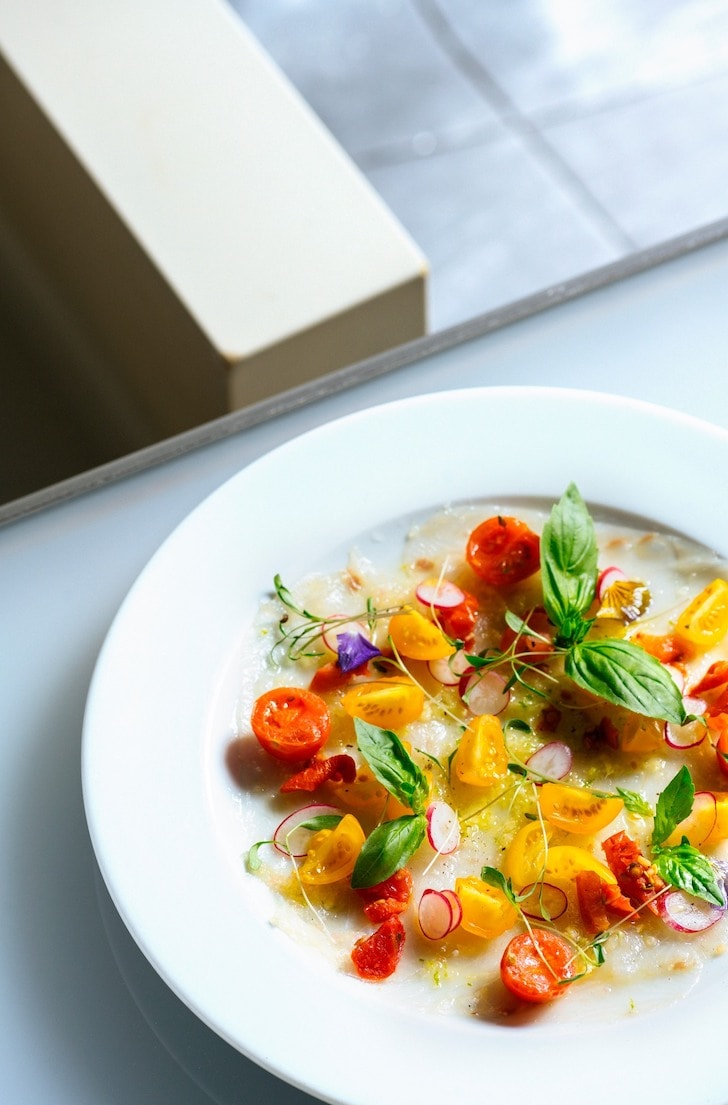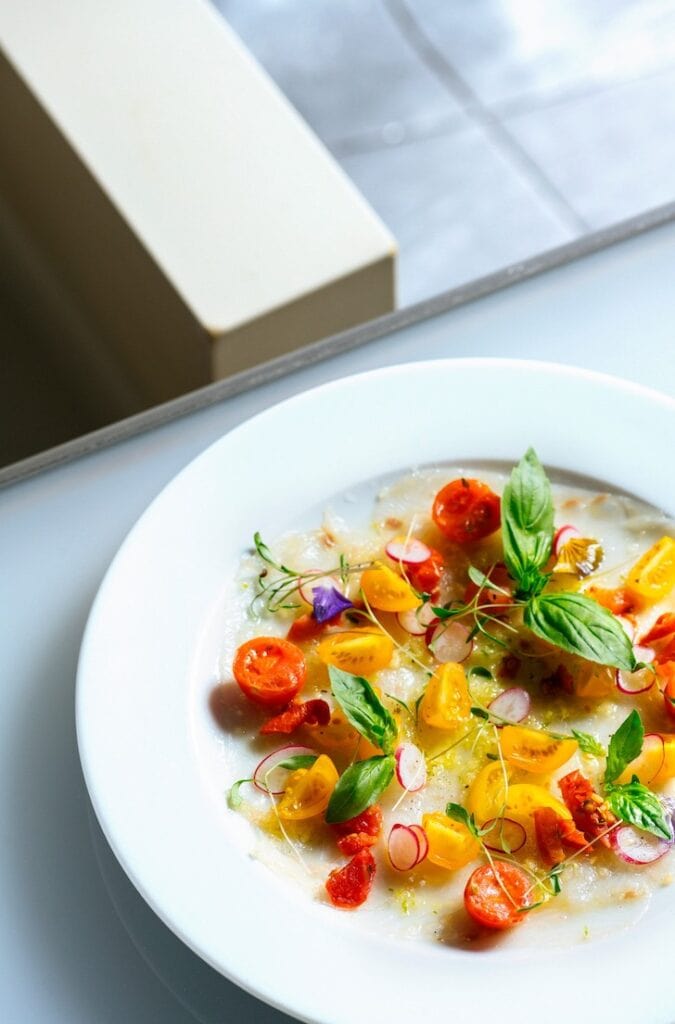 With the towers and turrets of Notre-Dame Cathedral just moments away across the rooftops, this is an ideal spot for a memorable foodie experience!
The big windows at 6 New York frame an iconic view of the majestic Eiffel Tower and the busy Champs-Élysées. If you're here for lunch, I recommend that you sit out in the garden as you and your lucky lover tuck into delicacies such as grilled Blanc de Seiche (white fish) with risotto, or linger over a chocolate mousse.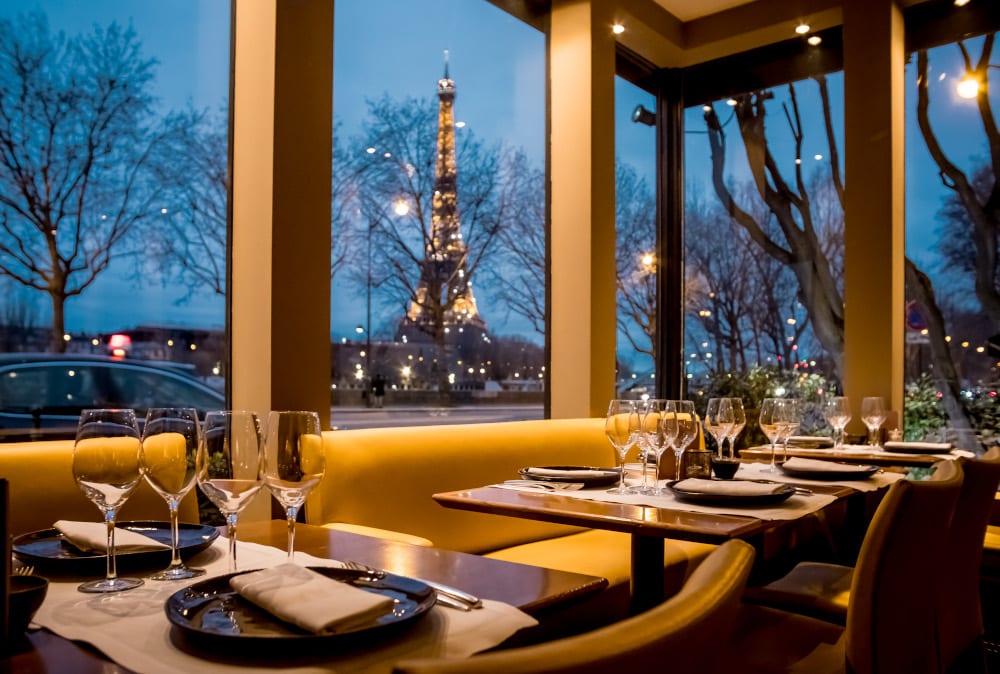 Nights bring an entirely different aspect to 6 New York, with braised half-salt pork belly and lamb cooked à la plancha (seared on skewers) competing for your attention. Plus, while you dine, the ever-changing palette of lights on the Eiffel Tower itself will captivate you.
Located in the spectacular Terrasse Hotel in Montmarte, Edmond Restaurant overlooks the most prestigious parts of Paris, with the sparkling lights of the Eiffel Tower taking centre stage.
Inspired by the flavours of South America, Asia and Italy, the food at Edmond takes the best French culinary techniques in new directions with dinner dishes such as Pickleweed Bouillabaisse and Guinea fowl fillet with sweet panca chilli sauce. Yummy!
Breakfast is also served daily at Edmond, so you and your lover can savour your coffee and croissants while gazing at the sun rising over the Paris skyline!
---
I hope my guide to the best restaurants in Paris with a view will help you to find the perfect place for you and your special someone to sample some delicious French food. And if you'd like to find out more about Paris, check out my guide to visiting Paris in winter as well as the top museums and art galleries in Paris.