Paris is ALWAYS a good idea, but there's an extra sprinkle of magic to the city in the colder months. Find out the best things to do in Paris in winter, and start planning your adventure!
Hello winter wanderlust! As you wander the maze of pretty Parisian streets lit by twinkling lamps, and take in the morning mist lingering over the city's most famous sights, you'll feel glad you travelled at this time of year.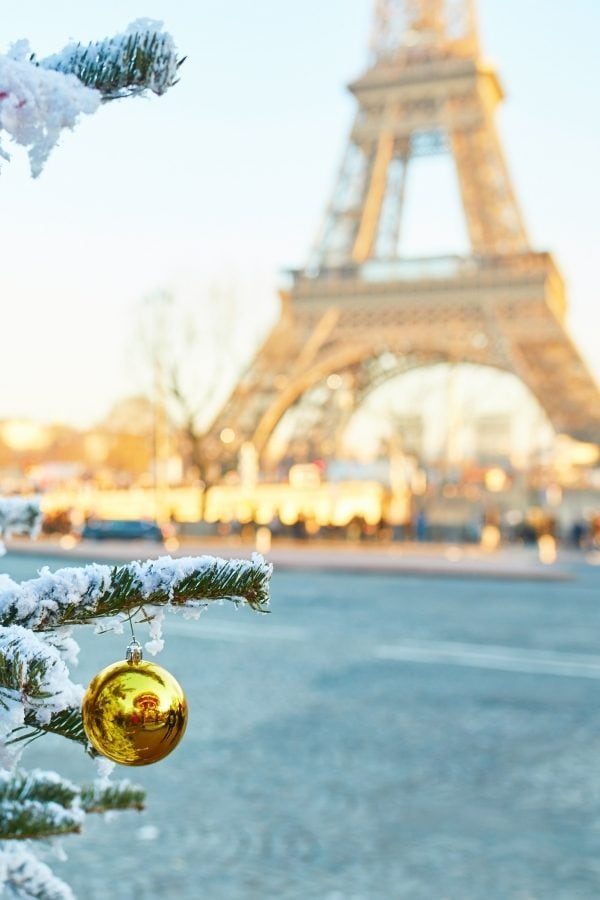 You might know from reading this blog that I'm generally more of a warm weather girl, but I find certain places extra special in crisp, cool weather. To be honest, visiting Paris in summer isn't all that fun. It's hectic, packed with tourists and trips in peak season come with a heap of added stress.
It's also a lot cheaper to visit Paris in winter. Hotel prices are lower and flights and trains are more reasonable (so long as you don't time your trip to coincide with one of the main holidays).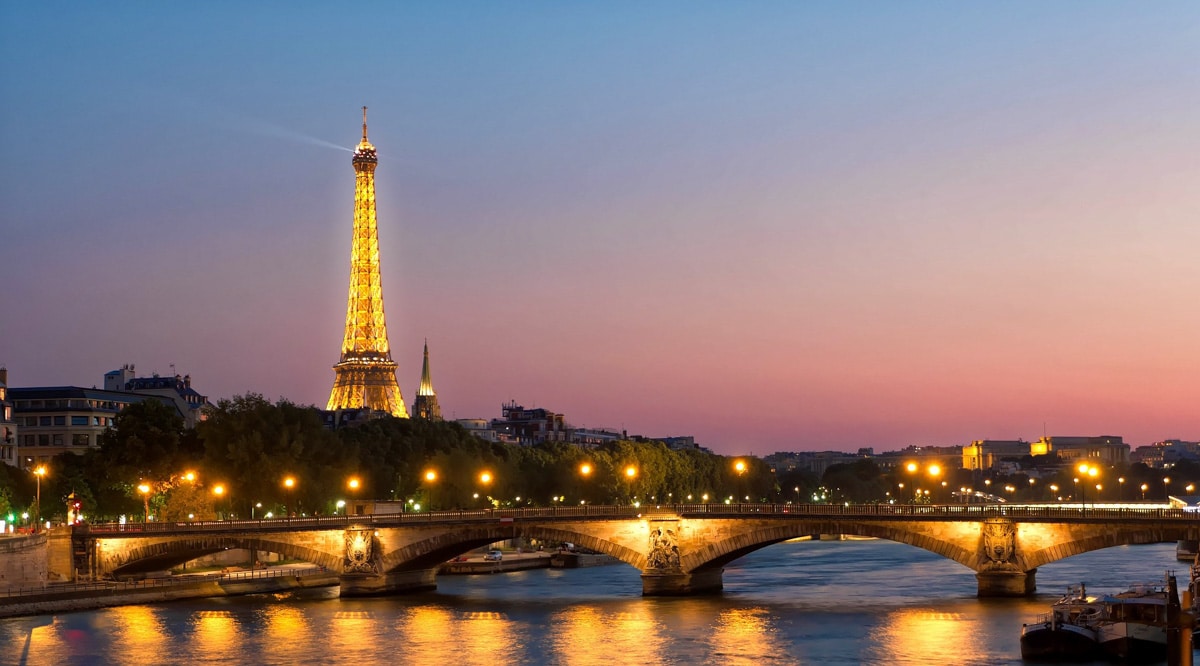 Visit Paris in winter and you'll be able to explore the city's bohemian neighbourhoods, enjoy the best cafes and restaurants (without lengthy waits) and enjoy crowd-free experiences at the top museums and galleries.
So, time to dig out your warmest winter coat (Ohhh you will need it!), invest in a cosy scarf and get ready to explore the city's art, culture, gastronomy and cutting-edge fashion with my guide to what to do in Paris in winter!
Let's gooooo…. Allons-y!
Looking for other great places for a chilly adventure? My guide to the best winter holiday destinations in France in winter will come in handy!
---
What To Do In Paris In Winter
Window shop along the Champs-Elysées
A trip along one of the city's most famous streets is a must for your winter adventure! The fancy stretch of elegant boutiques gets even more magical at this time of year as window displays are transformed into photo-worthy theatrical designs. Spend your morning window-shopping (or spending if you can afford it!) then grab a bite to eat at one of the cafes or restaurants.
Enjoy one of Paris's museums
Steeped in a rich history of riots and revolutions, the city is a treasure trove of museums.
Checking out world-class art and keeping warm? Sign me up, please!
Most will flock to The Louvre to enjoy the world's largest collection of artwork, spanning different generations and cultures. It's the kind of gallery where you could spend several days looking around, and STILL not see everything!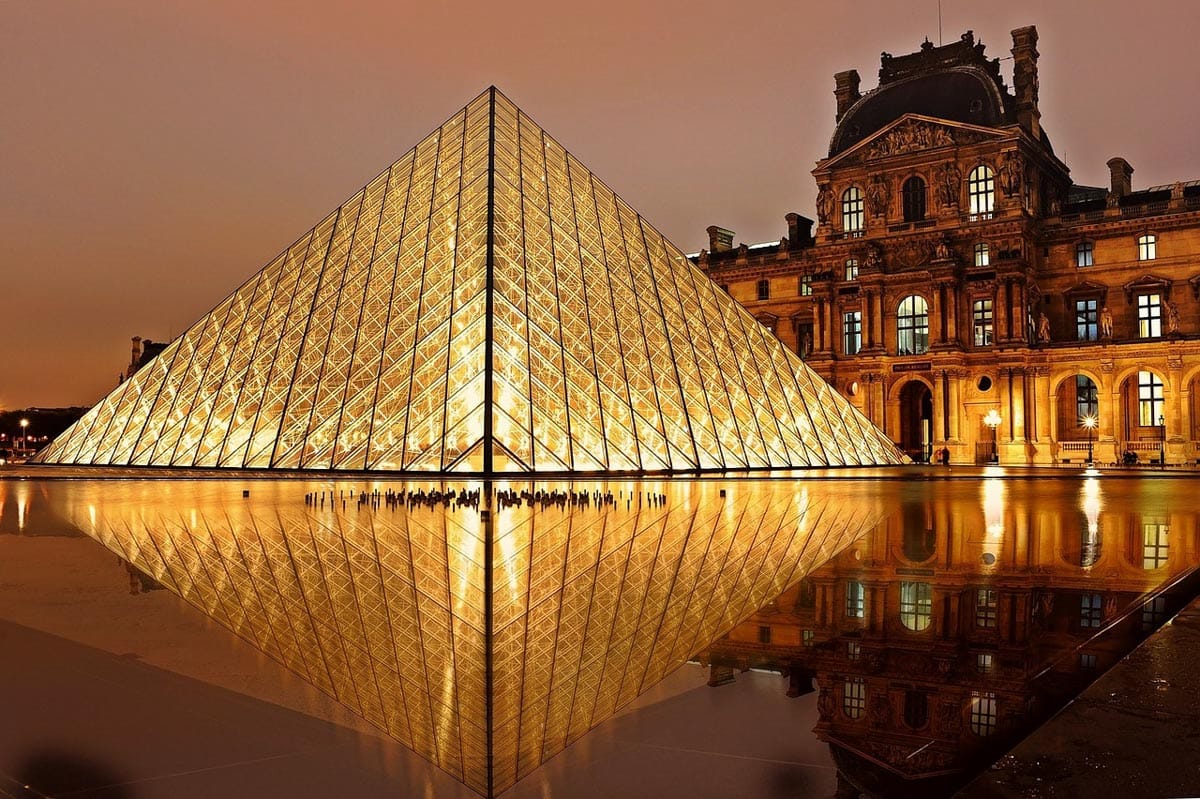 Warm up with up with a cooking class
Oooh, how do you fancy learning to cook some delicious French food? Surely returning home with a new skill and a top new recipe is a great souvenir of your trip?
From visiting a local market to pick up the ingredients, to learning how to make everything from macarons to a three-course lunch, there are plenty of classes to choose from.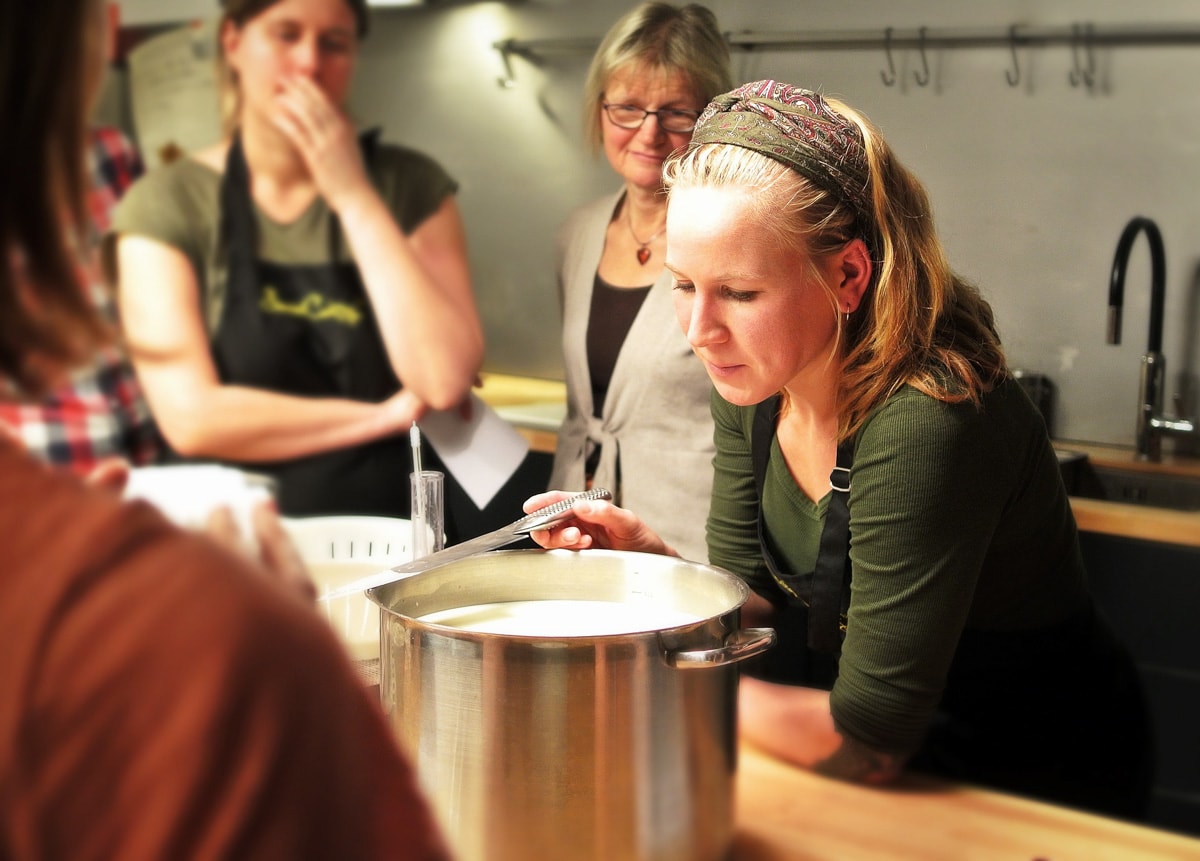 Paris isn't all twinkling lights and jazz music. One of the most interesting facts about Paris is that there's an entire world beneath the streets filled to the brim with human bones and skulls. They're the remains of over 6 million Parisians, dating back to the Middle Ages.
A visit to the Paris Catacombs shows you different side to the city – one of much darker times. Oh and visiting in winter will mean you skip the queues, and keep warm and dry if the weather isn't playing ball!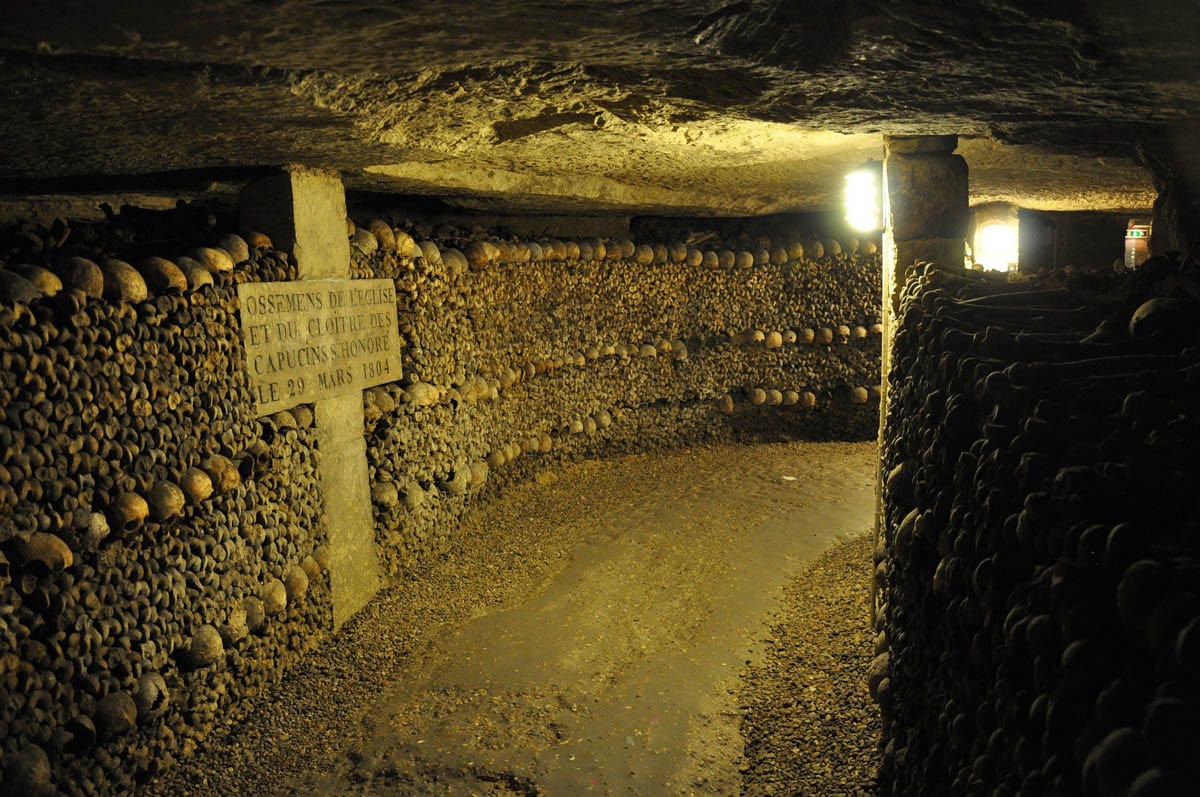 This is one of those things to do in Paris in winter that don't really require a lot of planning. If you just feel like curling up with a book and a hot chocolate, then head to Shakespeare and Company.
The bookshop might be world-famous, but did you know it also has a reading room? Grab a seat and get lost in a novel, while enjoying the cozy Parisian vibes!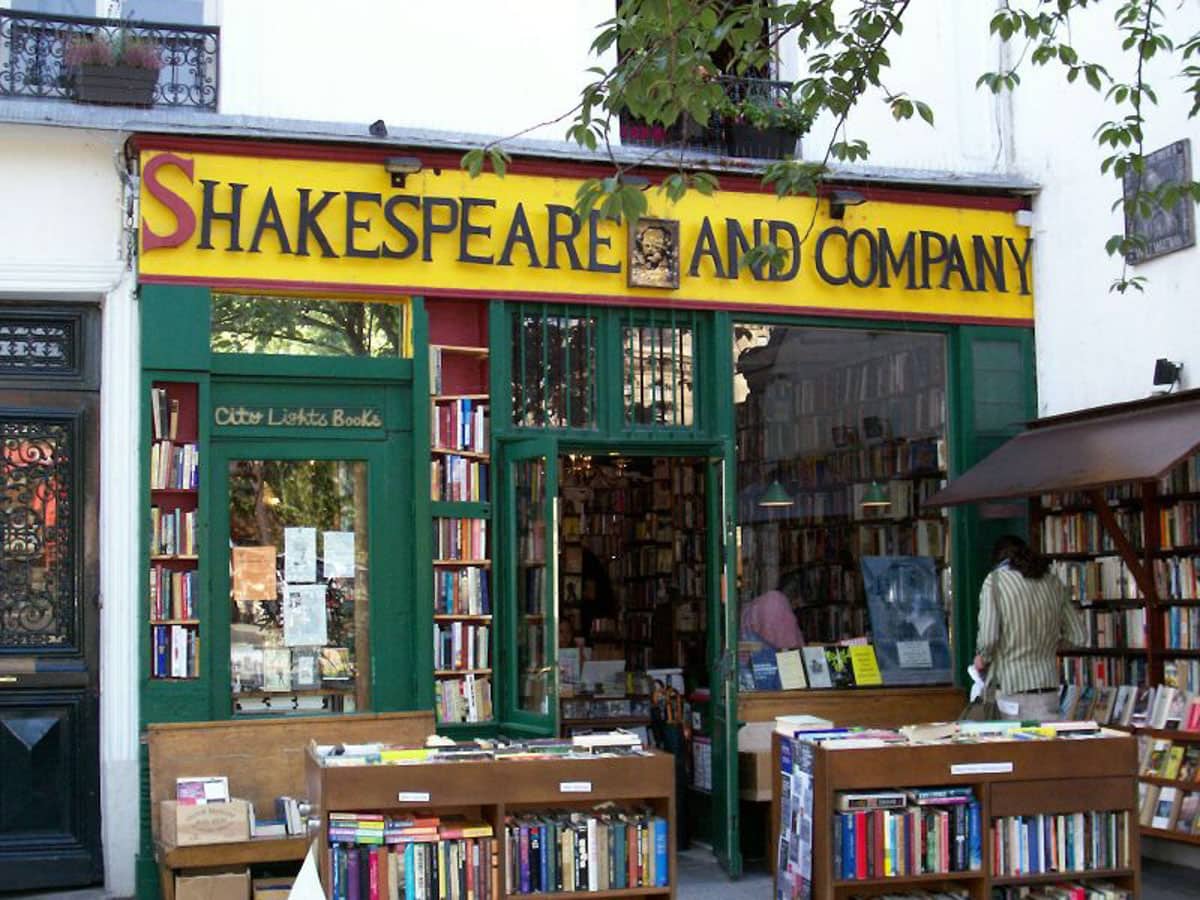 The Pompidou is my favourite gallery in Paris. I love how quirky it is, inside and out!
Stay warm and enjoy the gallery's modern art collection, explore the public library, sip on a coffee at the mezzanine-level cafes, or check out the art house cinema. I'd also recommend a trip to the shop on the ground floor. It's full of arty, quirky items that make great presents.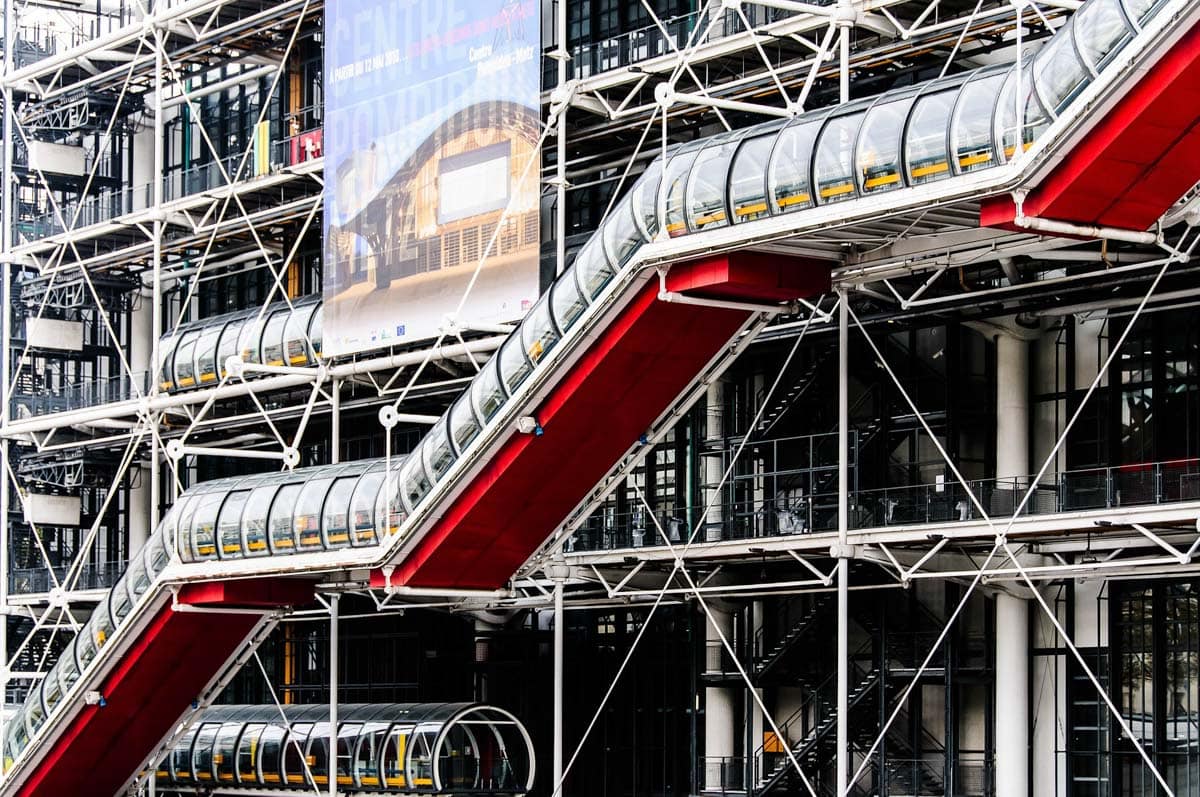 Sip on some vin chaud
French wine is great. But enjoying a cut of it warm when it's absolutely freezing outside, and you'll feel toastier than ever!
We know it as mulled wine, the Germans call it gluhwein, but it's all pretty similar. The Parisian vin chaud is seasoned with delicious spices, which are guaranteed to give you rosy cheeks by the end!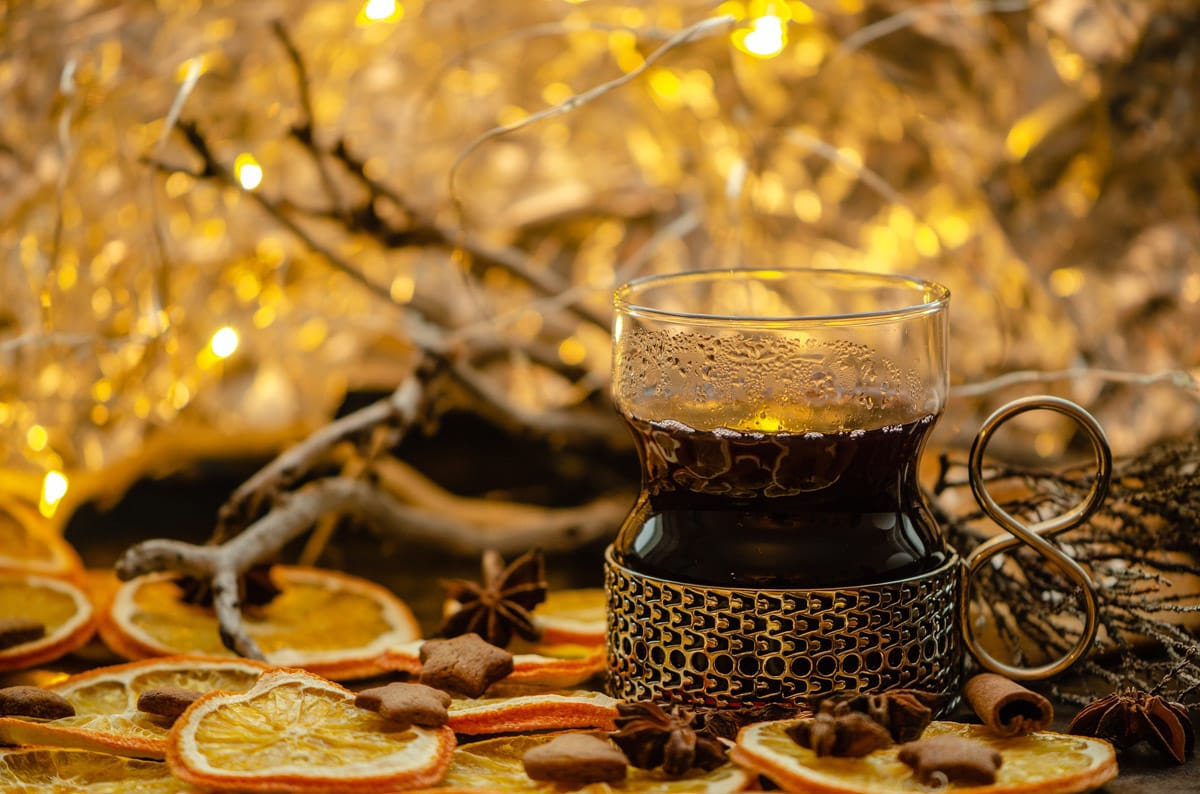 Take in the views of Paris from on top of the Eiffel Tower
This has to be one of the most romantic things to do in Paris in winter. The Eiffel Tower needs no introduction. It still offers some of the best panoramic views of Paris, so if you haven't been yet, enjoy a crowd-free visit in winter!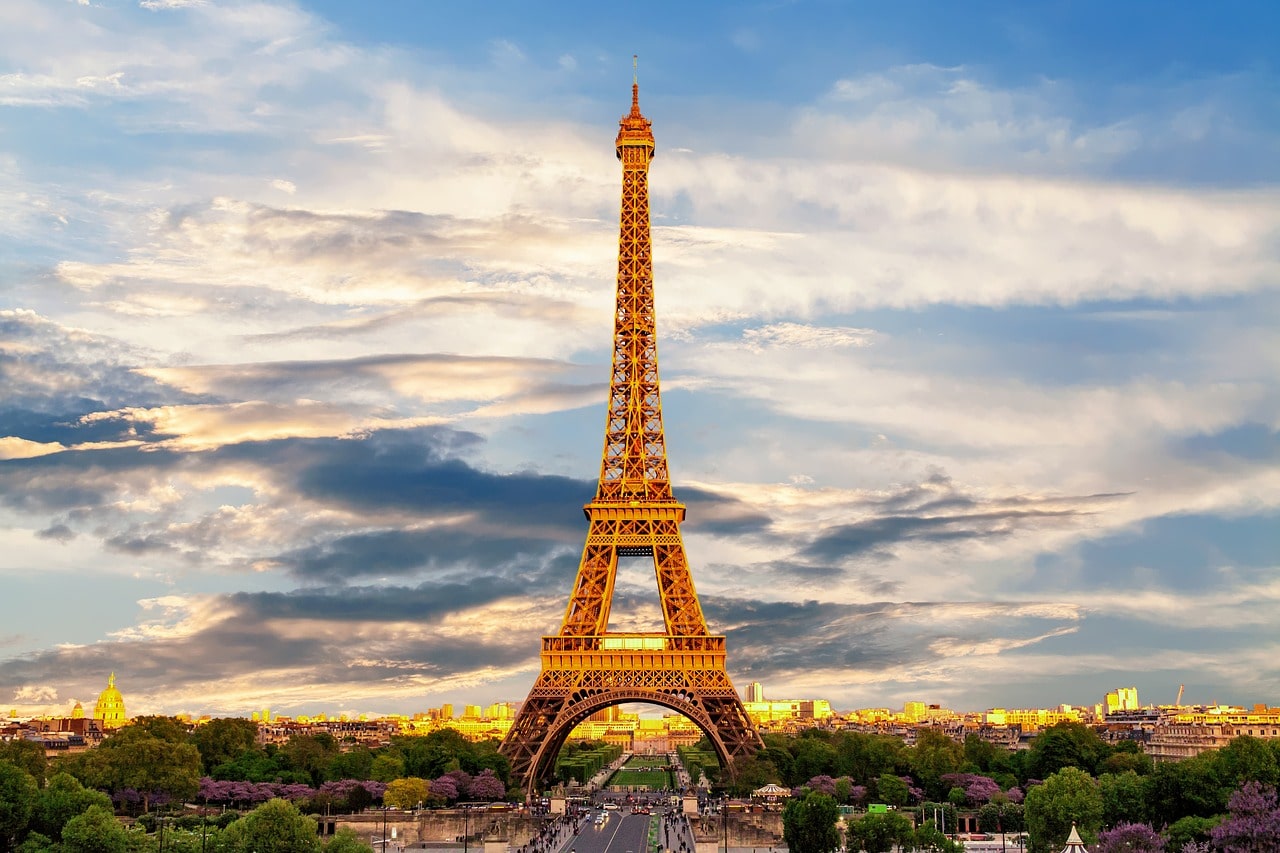 Enjoy the Christmas markets
Consider yourself lucky if you visit Paris in winter close to the Christmas holidays! There are plenty of markets dotted around the city, where you'll see Paris's artisan craft workers firsthand. Grab a vin chaud and check out the stalls selling tasty food, crafts, ceramics and much more. If you only visit one, make it Saint-German-des-Pres.
Shop at one of the beautiful department stores
Soldes (sales) is a useful French word to learn! Checking out the winter sales will be a great addition to your winter trip to Paris. Most stores in Paris slash prices after Christmas, so you can pick up some serious bargains. Galeries Lafayette, the quintessential and stunning Paris department store should be top of your list.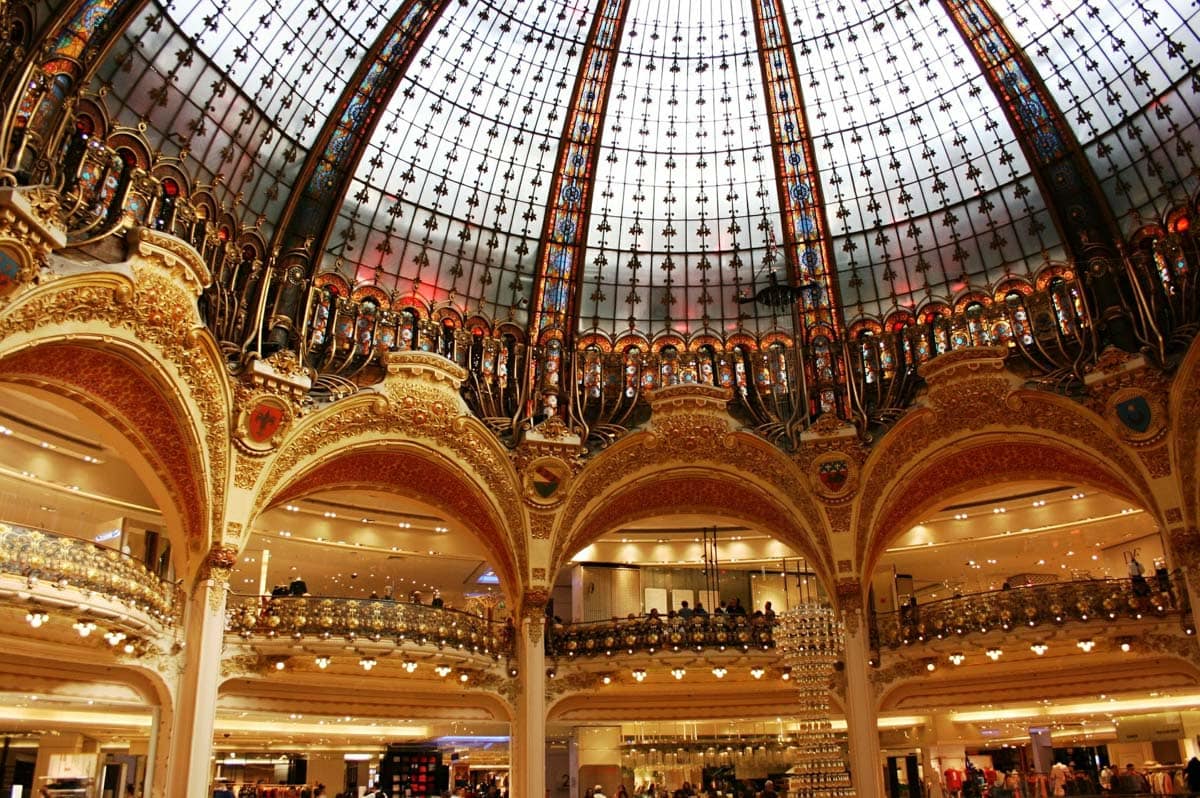 Visit Sainte-Chapelle
Royal chapel, Sainte Chapelle, is a beautiful place to visit all year around, but, if you get the opportunity to experience it during a bright, crisp winter morning, then even better. Escape the cold outside and enjoy the beauty of the stained glass windows as the winter sun streams through.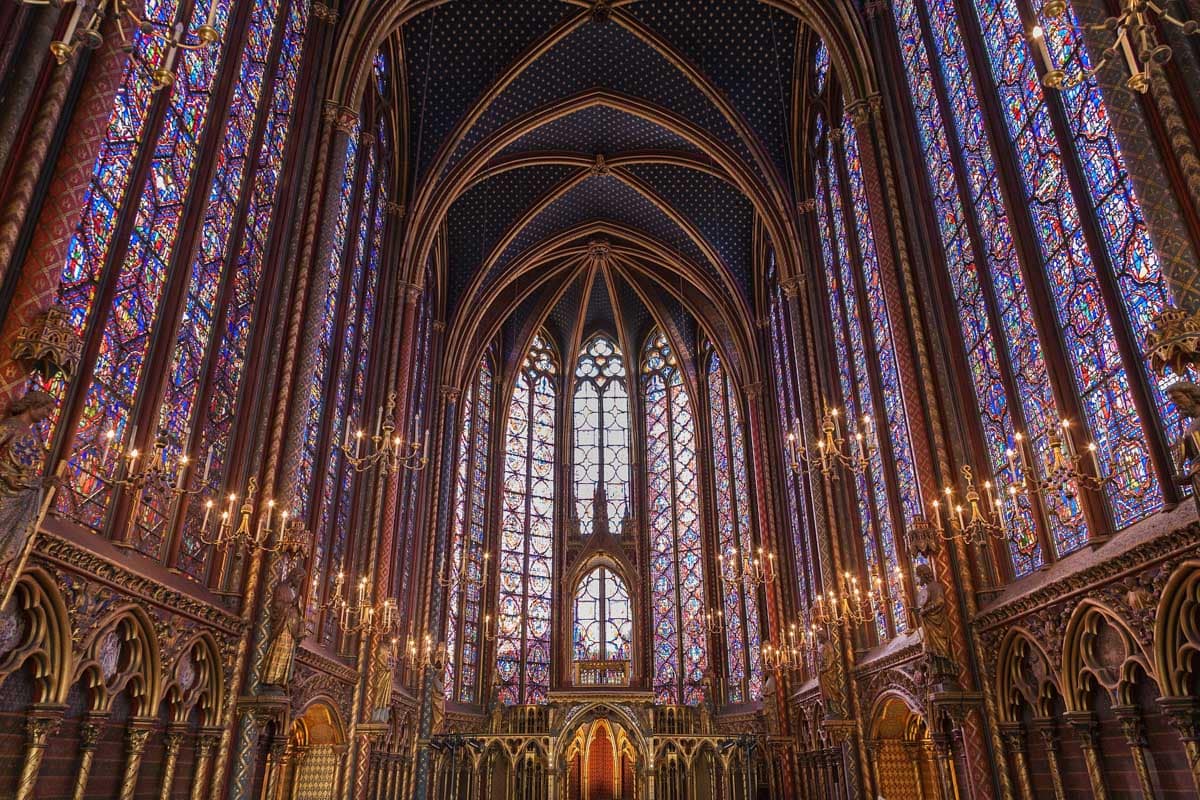 Ice skate in Paris
Ice skating in Paris in winter is as festive as it sounds. Strap on a pair of skates, choose from one of Paris's many winter ice skating locations and get ready to make some Parisian memories! Some open as early as mid-November and close around the second week of January.
Eat at some of Paris's coolest restaurants
There are plenty of cool restaurants in Paris, from high-end gastronomic cuisine to the downright quirky.
Sur Un Arbre Perché – Translating as 'perched on a tree', at this restaurant you can enjoy tasty modern cuisine while sitting on swinging chairs! The cherry on top? You get offered massages at the end of your meal. The architecture and decor are inspired by nature, with lots of wood and plants.
Le Coco de Mer – This restaurant has the power to transport you from winter in Paris to summer on a tropical island! Focusing on food from The Seychelles, expect ceviche, Jerk chicken and exotic fruit desserts. The restaurant also has real sand on the floor and palms on the ceiling, to add to the exotic vibes!
Are you looking for somewhere in Paris for an extra-special meal? I'd recommend reading my guide to the best restaurants in Paris with a view. From watching the Eiffel Tower twinkle, to magical views over the Seine, there are some absolutely gorgeous spots to choose from!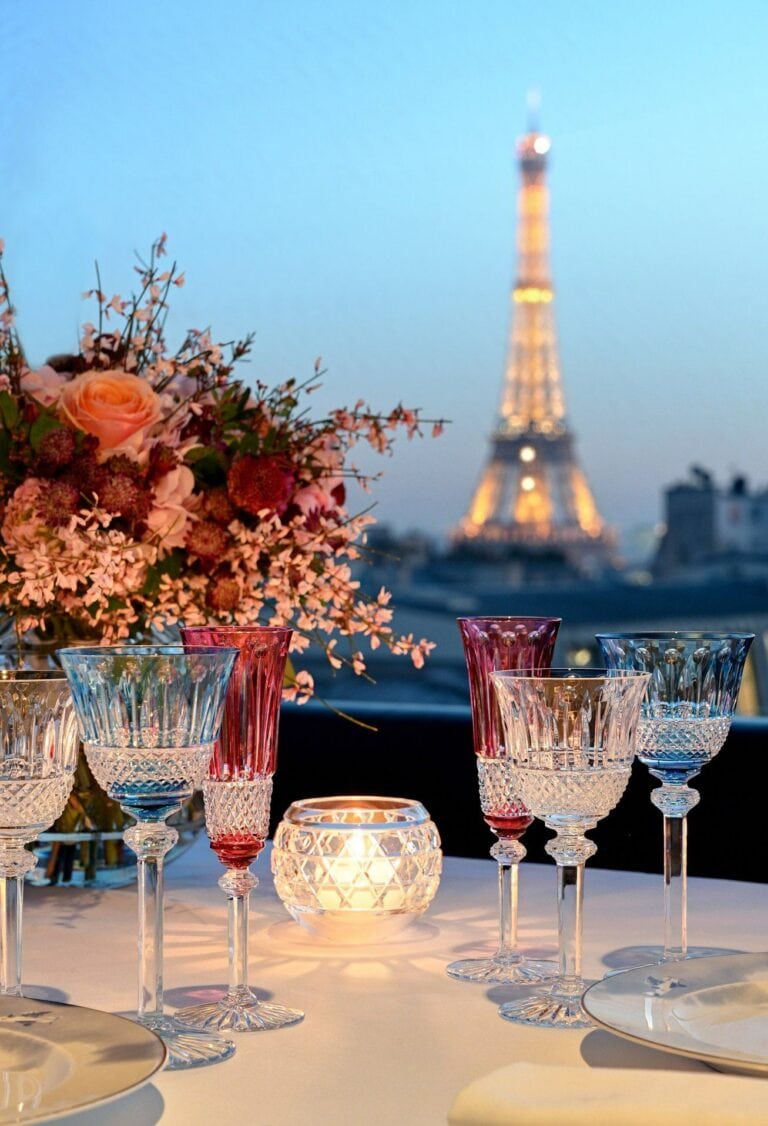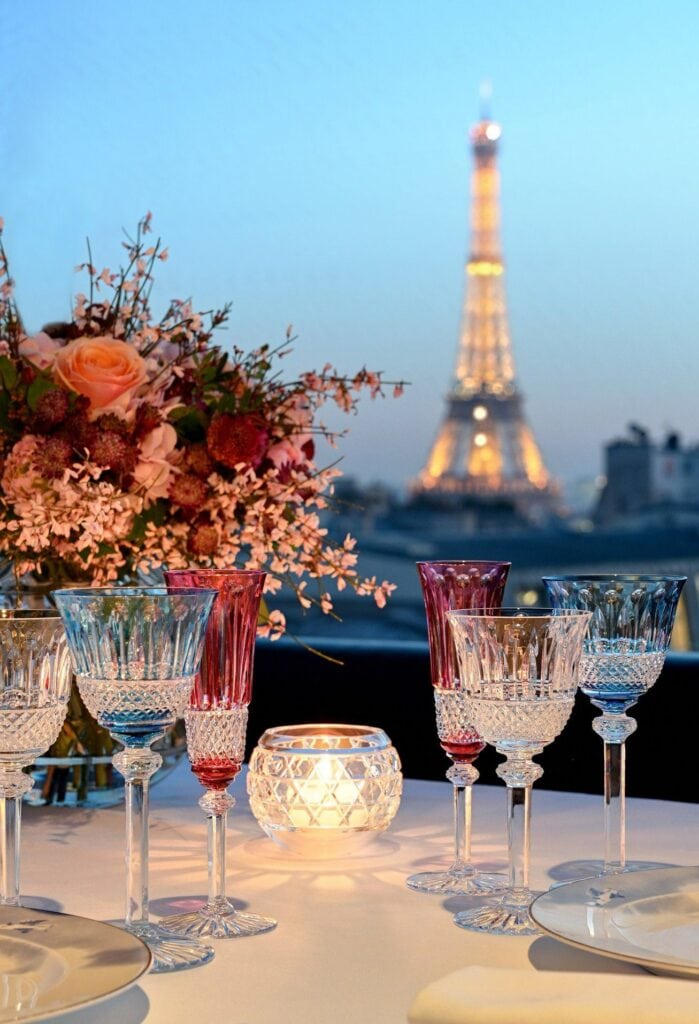 ---
Where to stay in Paris in winter
There are SO many places to stay in Paris, but I'm always drawn to the quirkier options. While some of these are pricey in high season, visiting in cooler months will bring prices right down.
If you're planning a getaway with your other half, I'd recommend checking out my guide to the most romantic hotels in Paris. There are so many stunning places for you to escape to with your other half!
Alternatively, here are a few of my fave quirky hotels in Paris.
Seven Hôtel – Seven Hôtel is kitsch and fun! Situated in the Latin Quarter, it has a cabaret suite, a James Bond style suite, and you might think your eyes are deceiving you when you see the baths and beds in the rooms… are they really levitating?!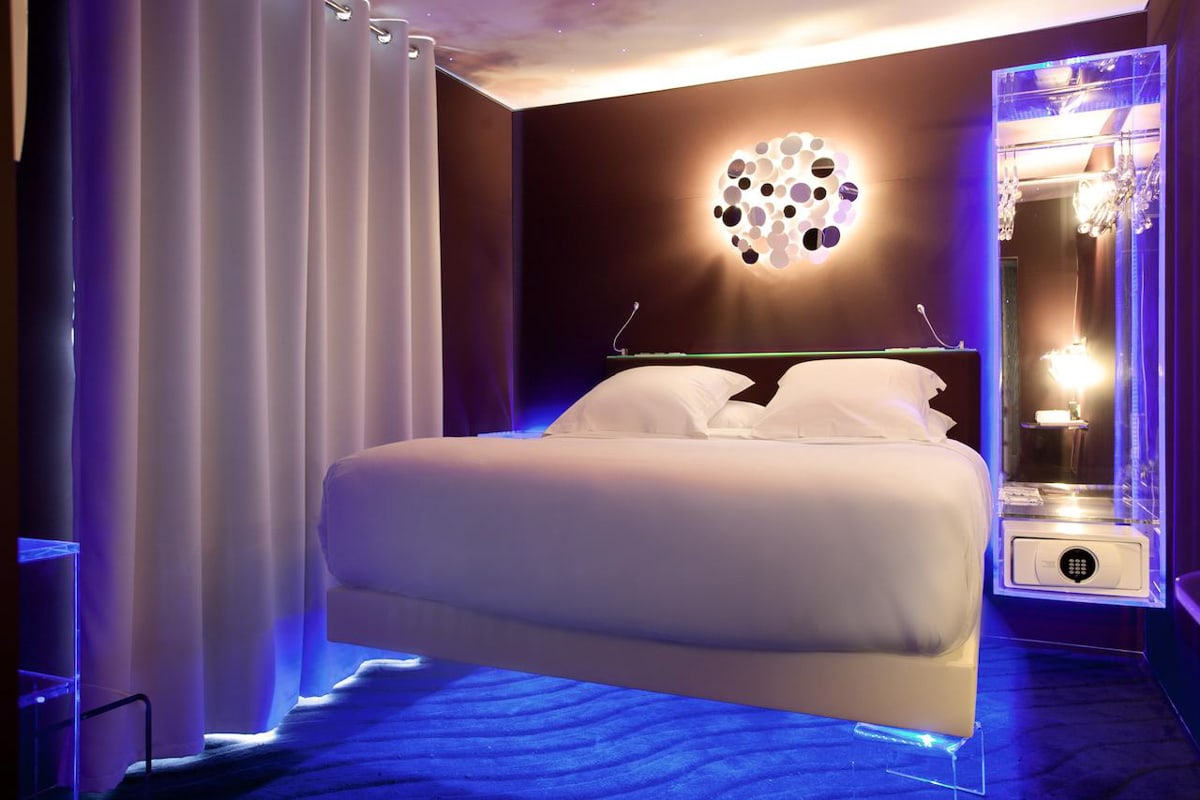 Hotel Splendor Elysées – The rooms in this hotel are themed. For example, the Magie Celeste is inspired by the stunning motion of our solar system and galaxy. The Illusion Room is an ode to magicians and magic tricks. Meanwhile the Méliès room will take you back in time to 1902. You get the idea!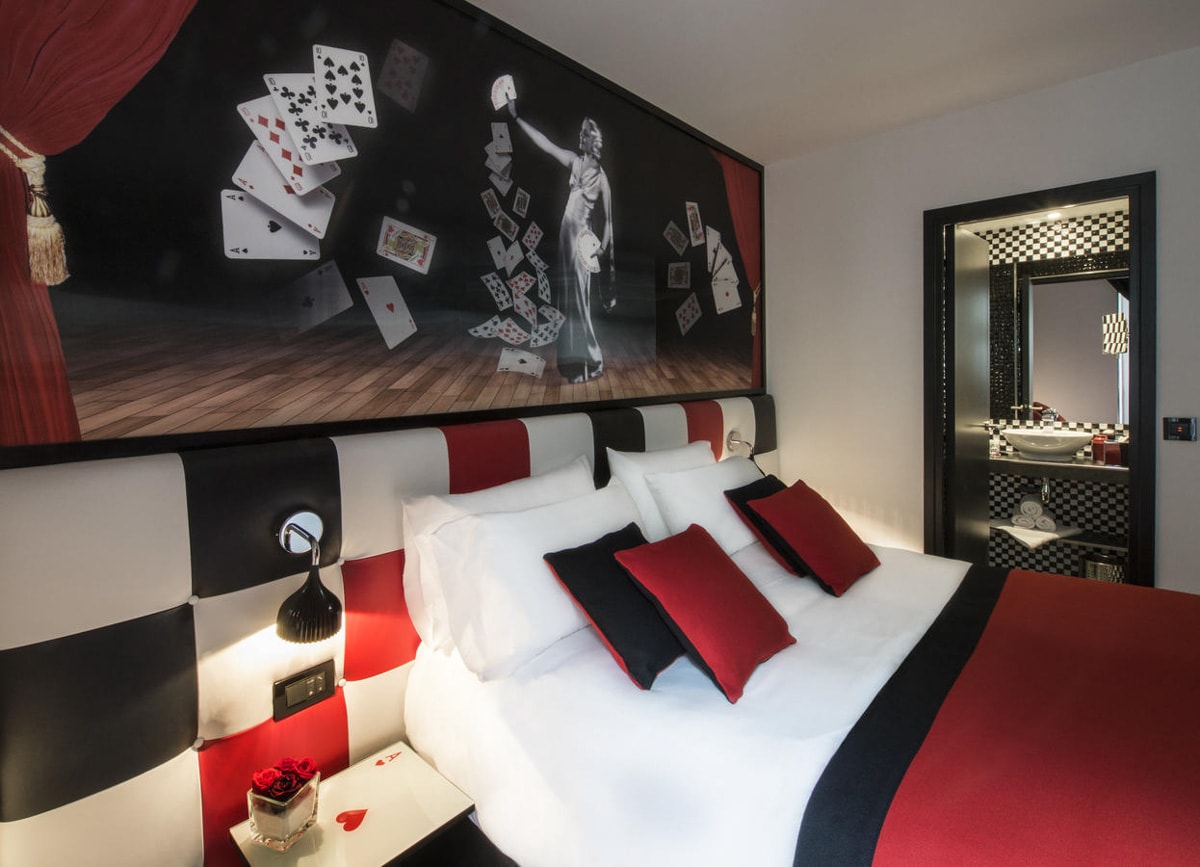 Hôtel du Continent – How does travelling to Paris, but also hopping to a few other countries in the world sound? At this chic hotel, each floor is themed around a different continent, and the rooms feature items sourced from around the world. There are huge maps on the walls and the whole hotel is themed around travel, perfect for someone who loves exploring as much as me!!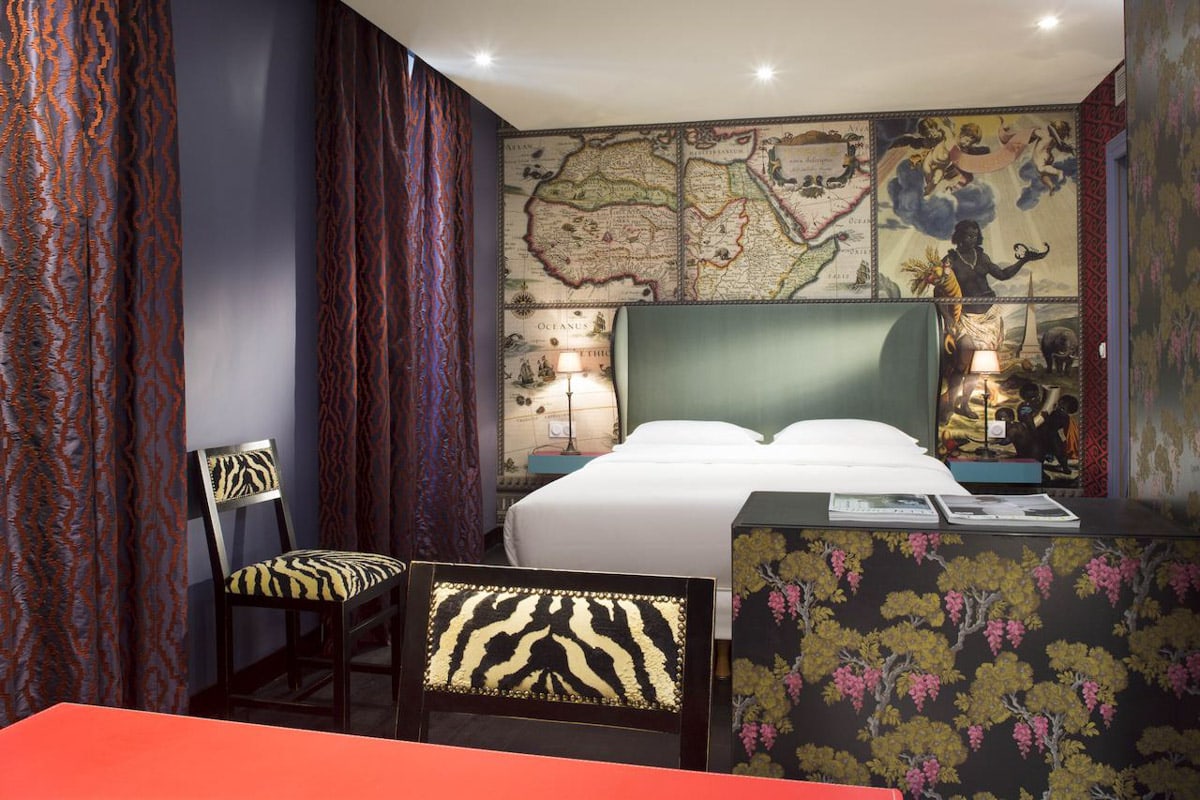 Hôtel Da Vinci & Spa – This quirky Paris hotel looks like something straight out of a crazy dream. Inspired by Leonardo Da Vinci's paintings, you'll find incredible artwork,s a reproduction of the Florian café and an unbelievable spa inspired by the colours scheme for the Mona Lisa!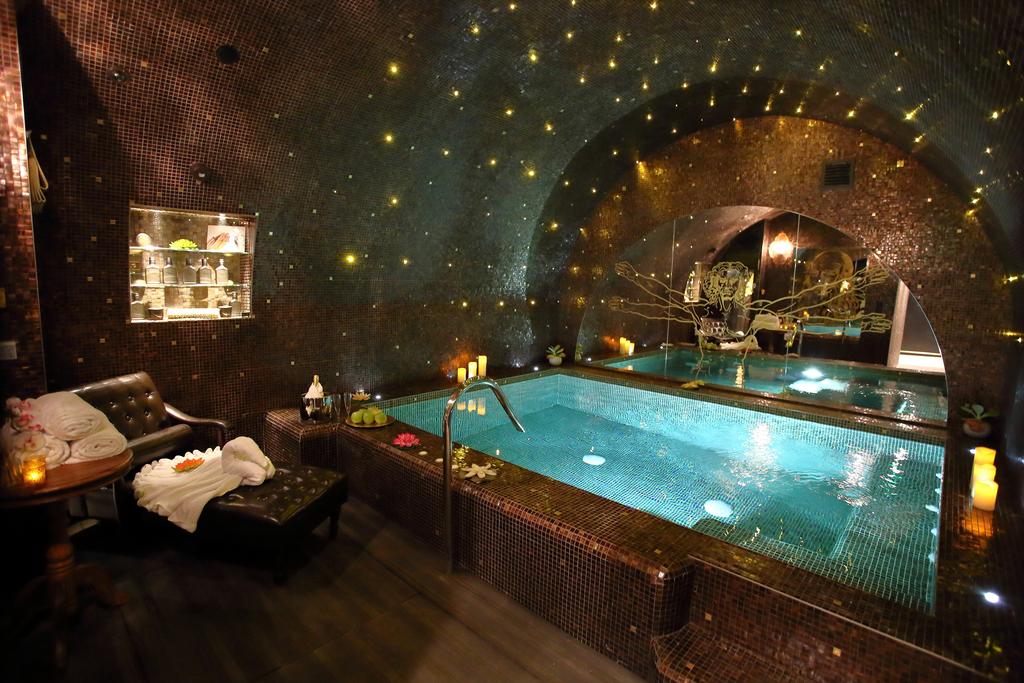 ---
Weather in Paris in winter
If you're still asking yourself "should I visit Paris in the winter?" hopefully you've decided you should! Cheaper rates and almost non-existent queues – how can you say no?
While it gets chilly in winter, there are plenty of lovely bright, crisp days to enjoy too. Be sure to check the forecast before you set off, as this is the time you could experience rain and snow too! In terms of snow, it's more likely to snow in Paris at the end of January or the beginning of February. Don't say I didn't warn you!
Average temperatures in Paris in winter in celsius
November: High 11, Low 6
December: High 8, Low 3
January: High 7, Low 3
February: High 8, Low 3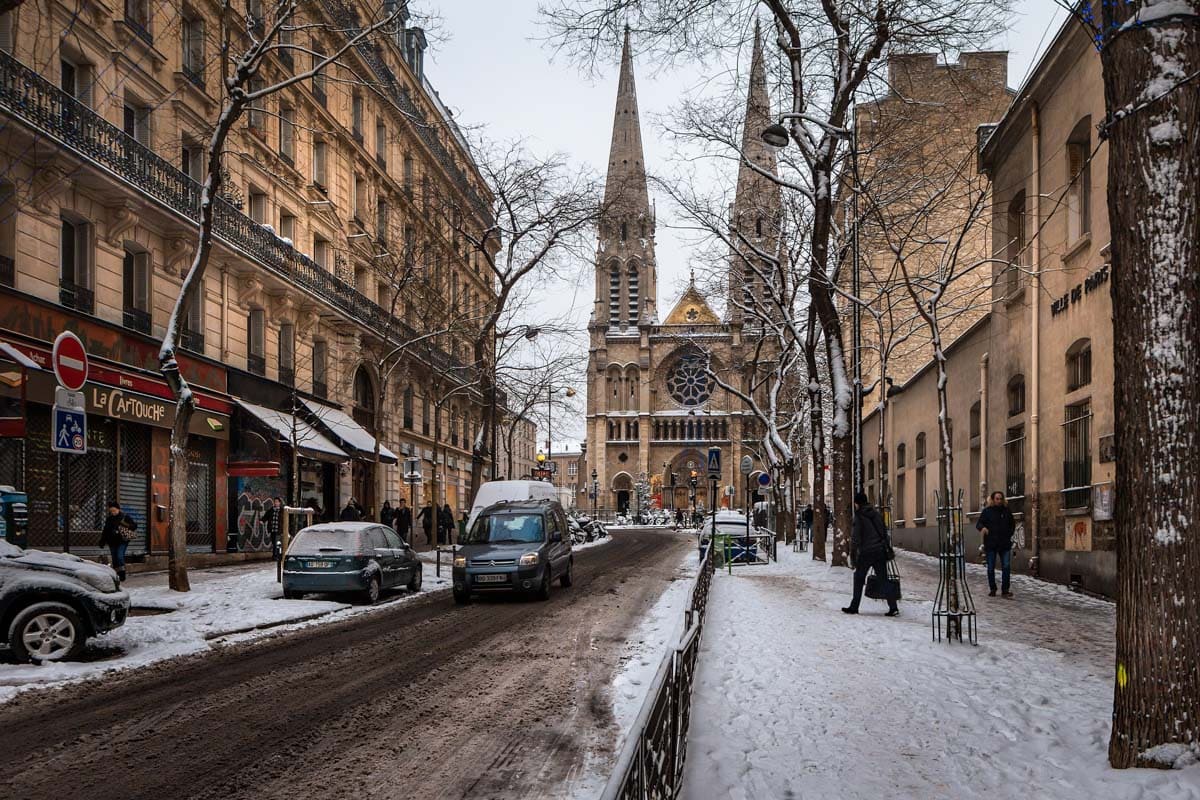 What to pack for Paris in Winter
So now you're planning your trip to Paris, it's important to be prepared! Staying warm and dry requires layers, umbrellas and more! Also, if you plan on taking any day trips from Paris in winter, then make sure you pack everything you need (e.g. walking boots, special equipment). In terms of packing, I'd recommend cramming this lot into your case:
Warm winter clothes – cosy jumpers, jeans, warm tops. I'd recommend layering up as when you go indoors you might want to cool down a bit
A wooly scarf
Cosy hat
Winter jacket
Trainers should be fine, but consider taking a pair of waterproof boots/shoes if the forecast looks wet.
Paris in winter will keep you coming back for more! If you've been visited France in summer, then switch to a winter adventure… you won't regret it.
Looking for other great places for a chilly adventure? My guide to the best winter holiday destinations in France in winter will come in handy!
Plus, to help with your city break planning, don't miss my guides to the most romantic hotels in Paris and the best restaurants in Paris with a view!
Enjoyed this post? Pin it for later…