Thinking of visiting Marrakech? Read my review of the Fairmont Royal Palm Hotel, and plan a luxurious trip to Morocco's incredible city!
Six star luxury. What does it feel like? Before this trip to Marrakech, I didn't know. Since I began travel blogging, I've enjoyed stays at several five star hotels including Grand Velas and Grand Residences in Mexico and Es Saadi Palace in Morocco. This time I was checking into Royal Palm (now renamed the Fairmont Royal Palm) in Marrakech. It's the only Moroccan property in the Beachcomber group, who also boast incredible 6 star hotels in Mauritius and the Seychelles.
Check out the video from my luxury weekend in Marrakech now, or scroll down to read all about Royal Palm Marrakech.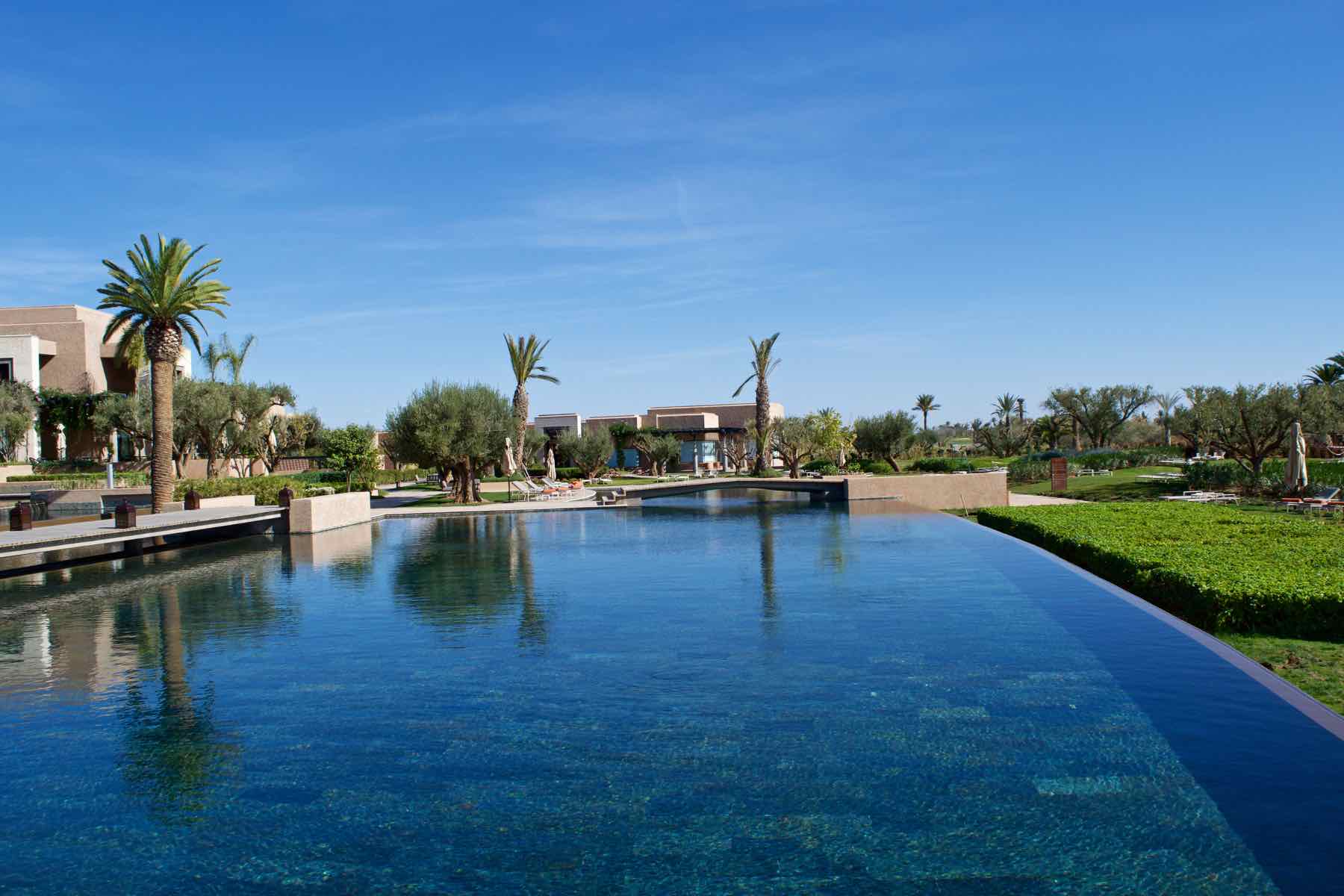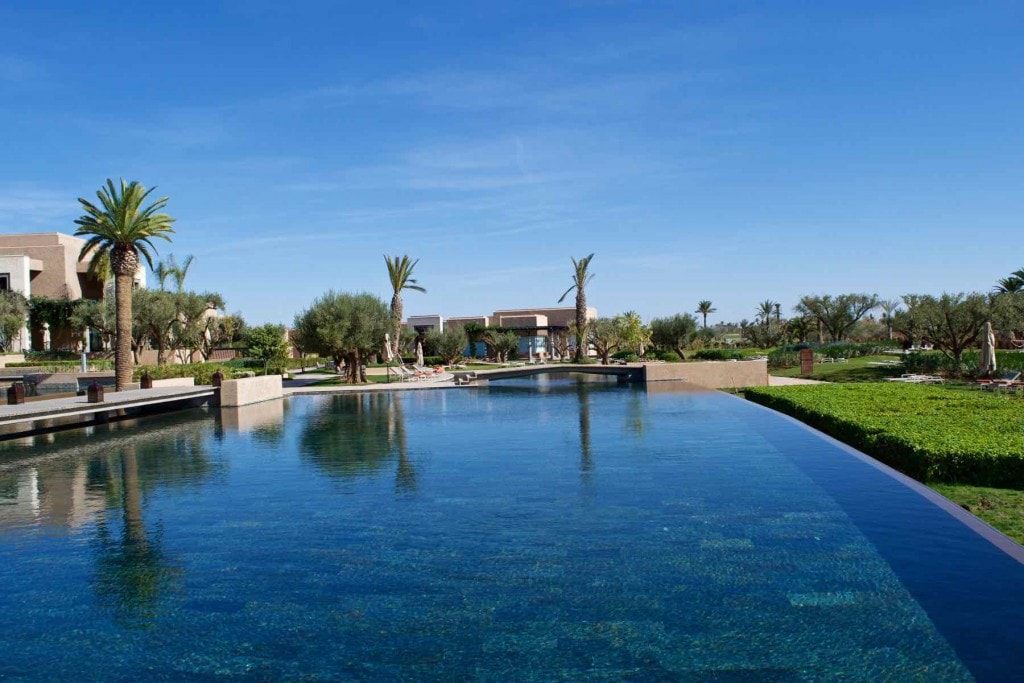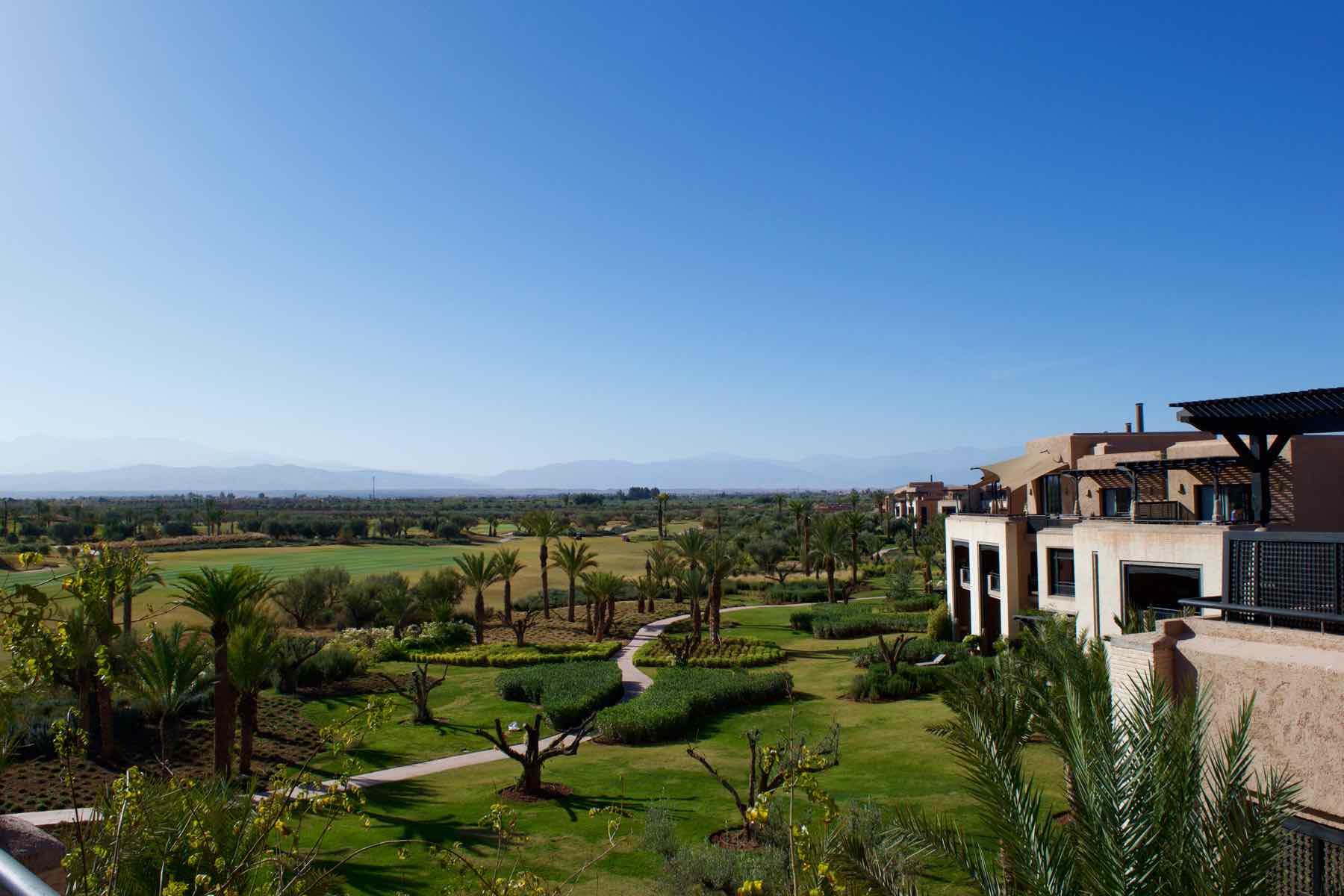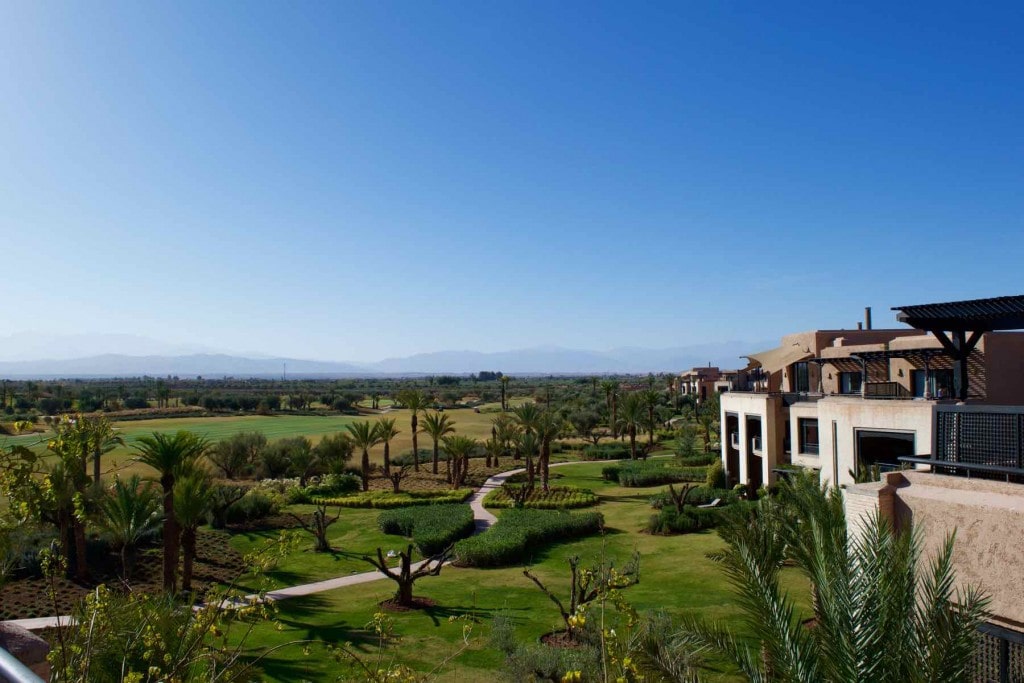 Marrakech is an exotic city packed with culture, art, history, incredible architecture… and a dash of chaos! From the roads (and famously scary driving) to the hubbub of the medina, and the snake charmers and henna artists in Jemaa el-Fna square… it's not a quiet place. Yet, just 20 minutes from the city centre lies an oasis of calm surrounded by olive trees, lemon trees and palms. Royal Palm is elegant and luxurious, but it doesn't shout about it. It's a place to escape the chaos of the city, and offers total privacy – if that's what you fancy.
With Mooorish and Mauritian influences running through it, the hotel is divided into several buildings containing 134 suites (from standard to presidential) and 10 self-contained villas. Nothing is small about the Royal Palm – the smallest room is 72 metres square! Along with the incredible palms adorning the infinity pools, there are over 4000 olive trees, a specially selected collection of herbs chosen for their aromas (including rosemary and white lavender) and plenty of beautiful flowers. Needless to say, the hotel's team of gardeners were always very busy!
The reception area was opulent with rich fabrics, enormously high ceilings and a large window looking out to the spectacular view. As first impressions go, this was definitely one of the best hotels I've ever checked into!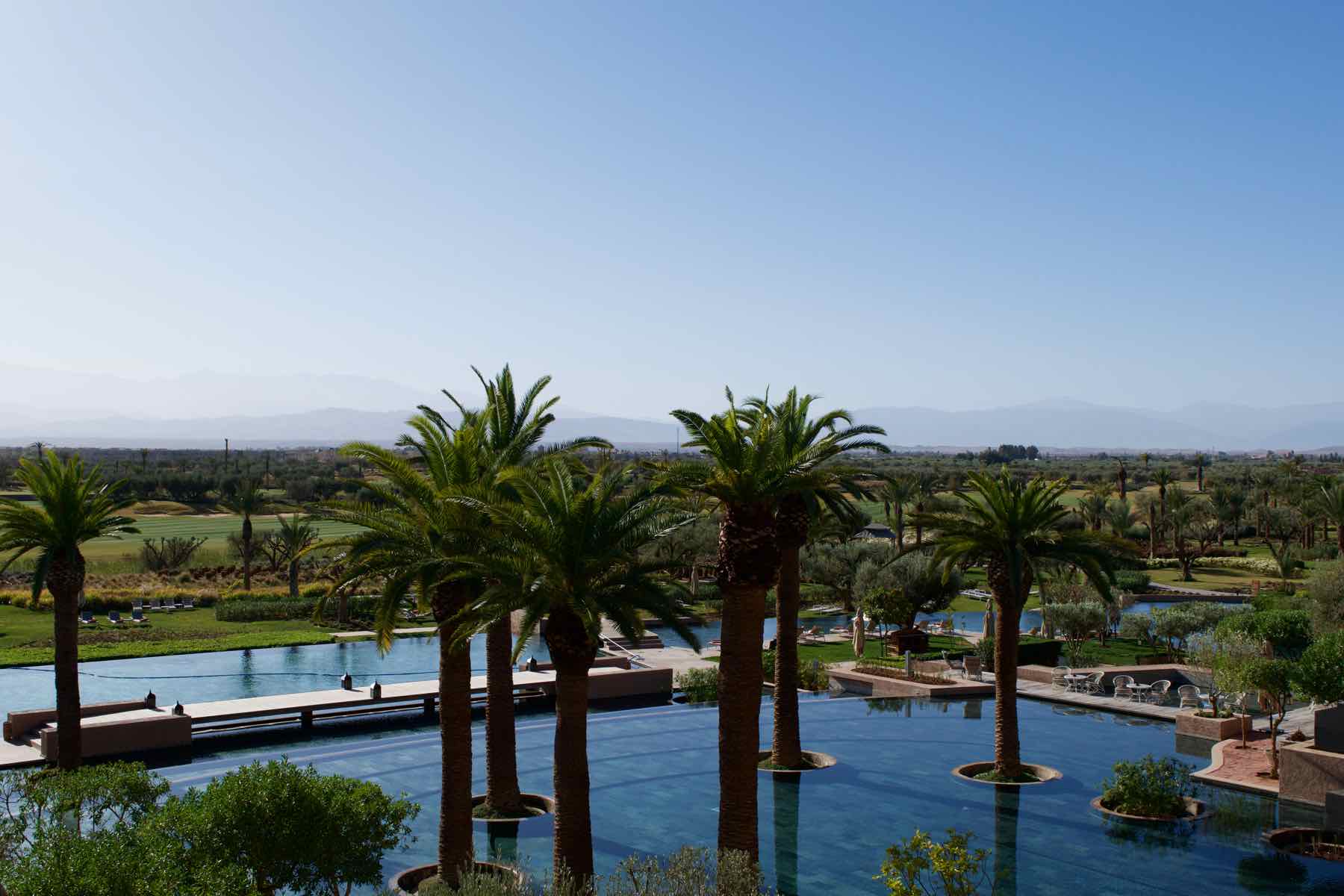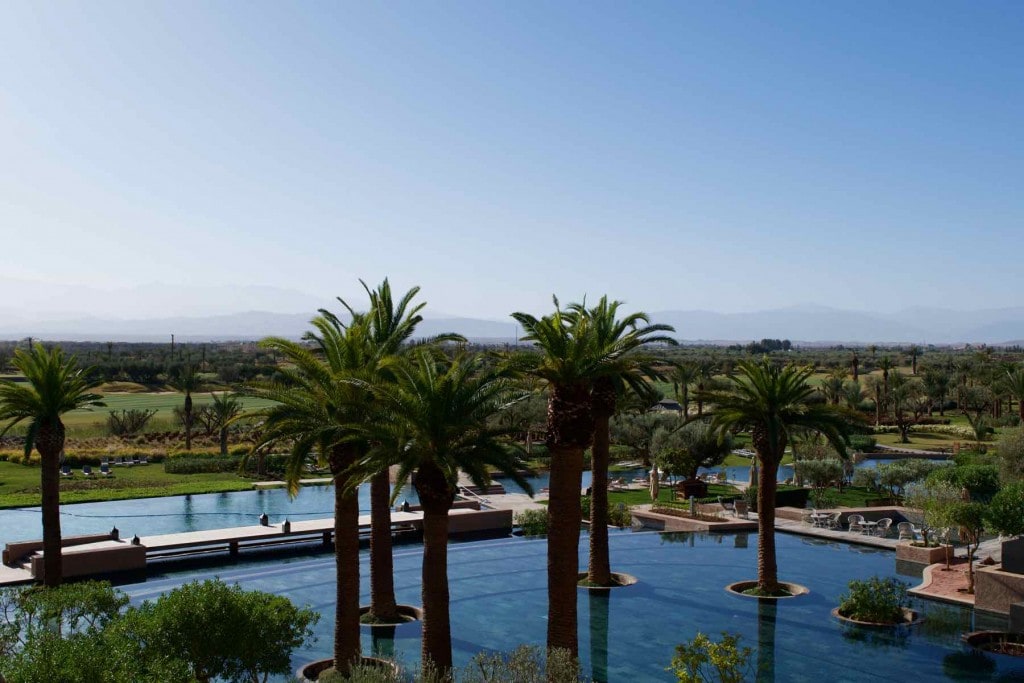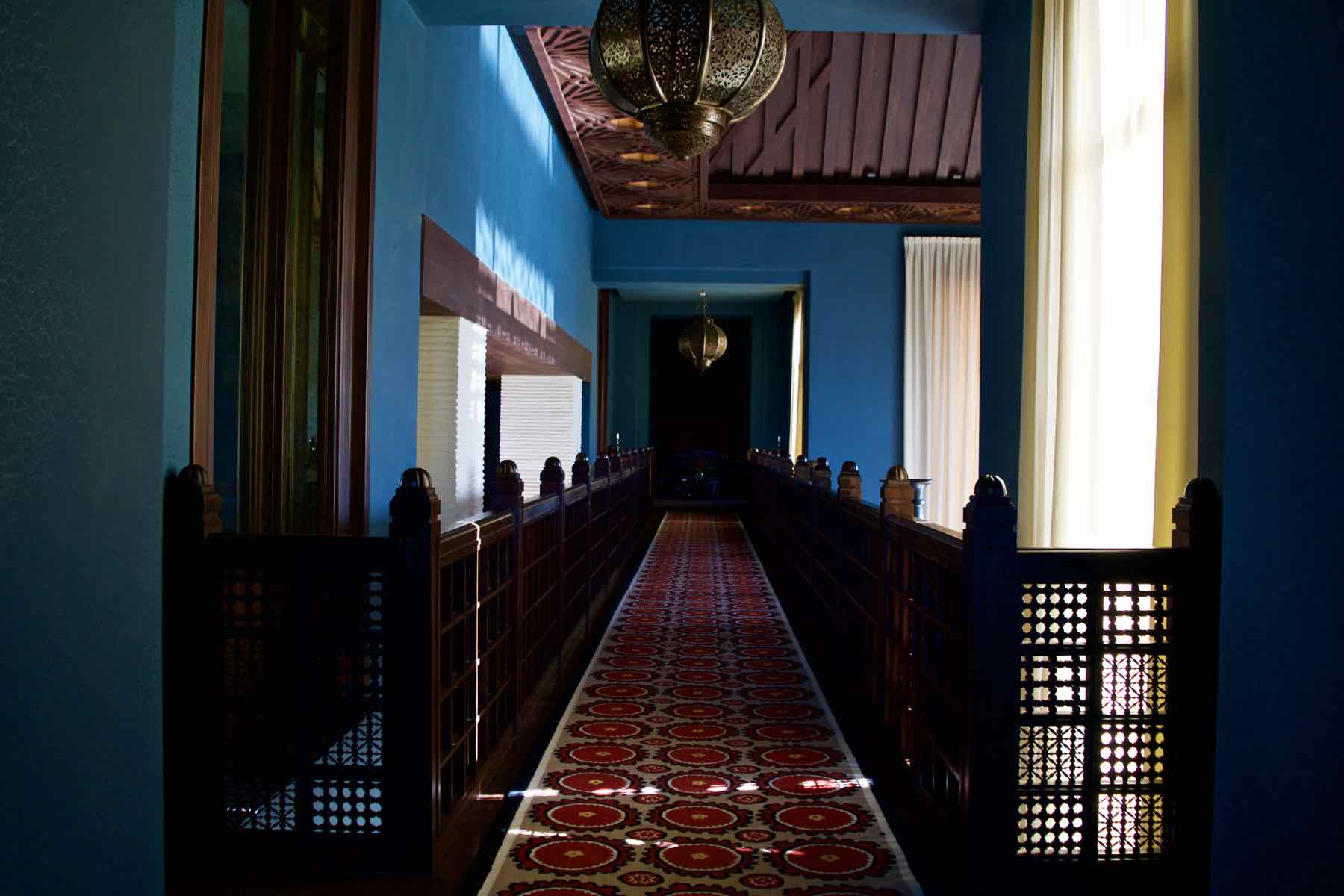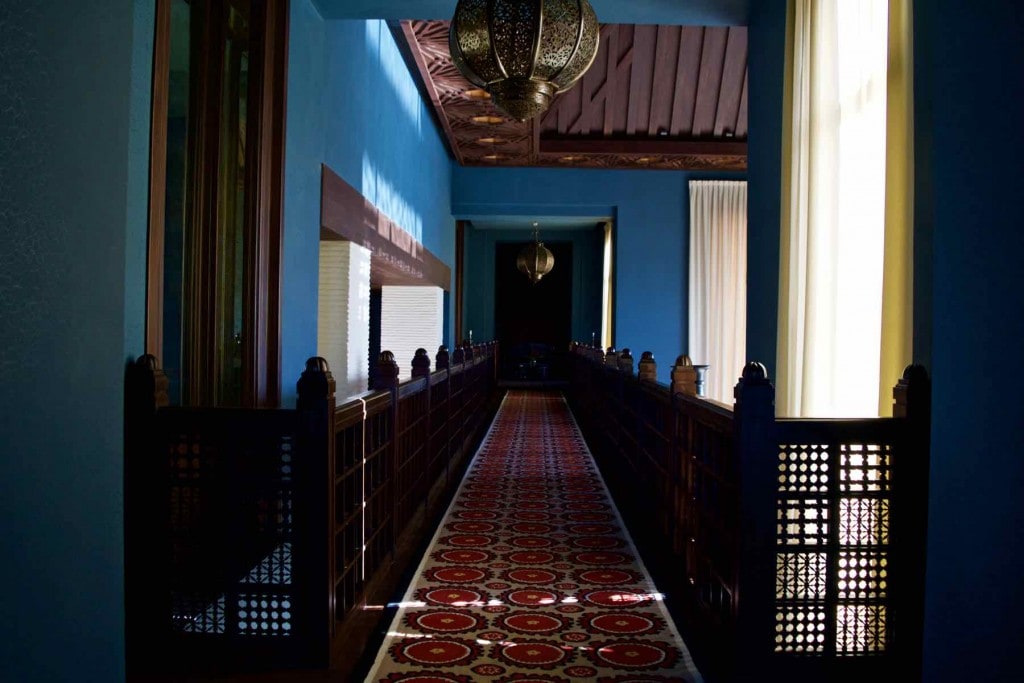 I settled into a senior suite for my stay in January. The suite opened into a large lounge area with comfortable sofas and doors to a beautiful patio. It overlooked the golf course, and beyond that lay ominous silhouettes of the Atlas Mountains. A mini bar contained soft drinks, and I was pleased to see a fashionable Nespresso machine waiting by the door! A beautiful bouquet of red roses awaited me – what a treat!
The twin bedroom was kitted out with rich fabrics, and the wall to the bathroom was a vision of ornate Moroccan mahogony latticework.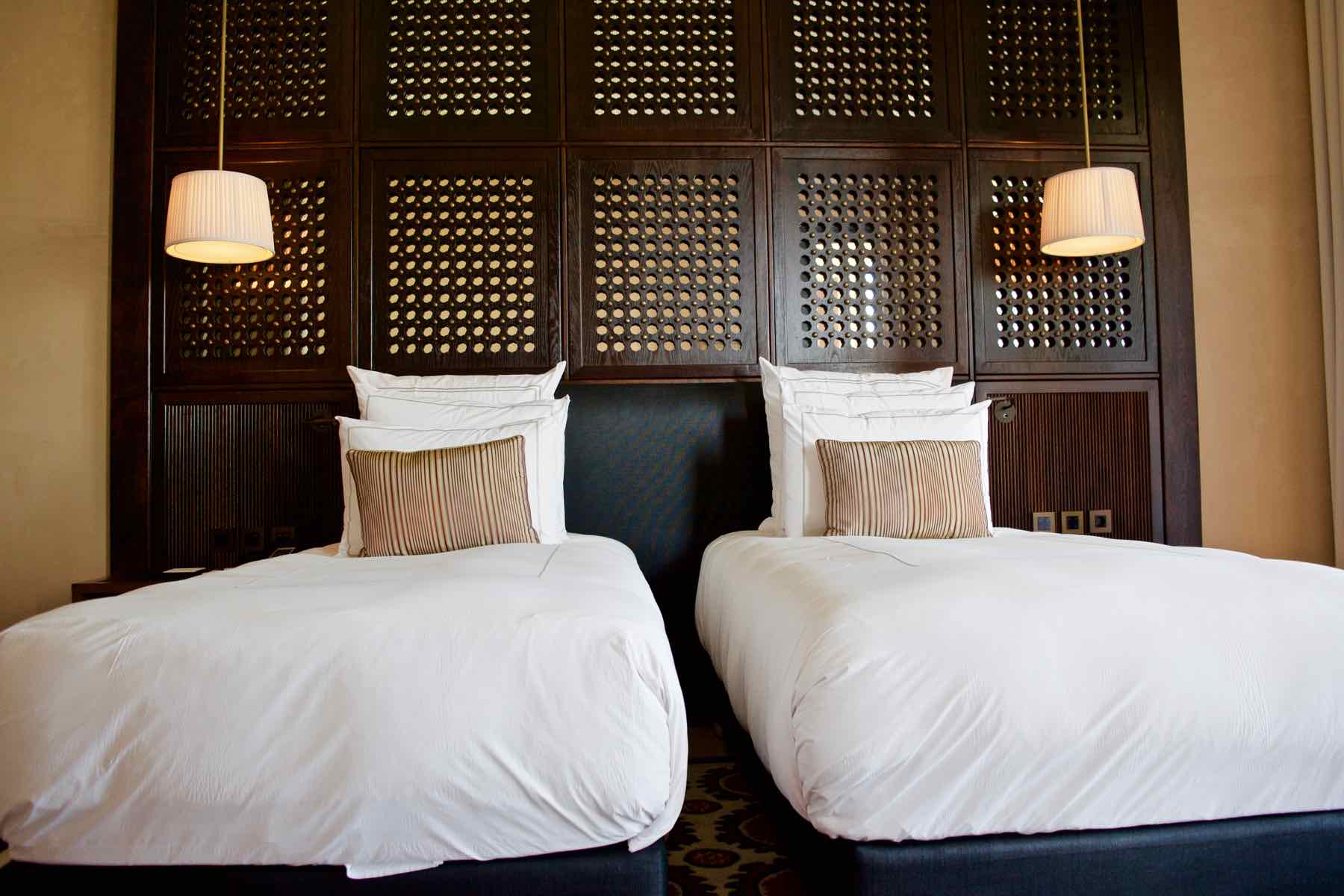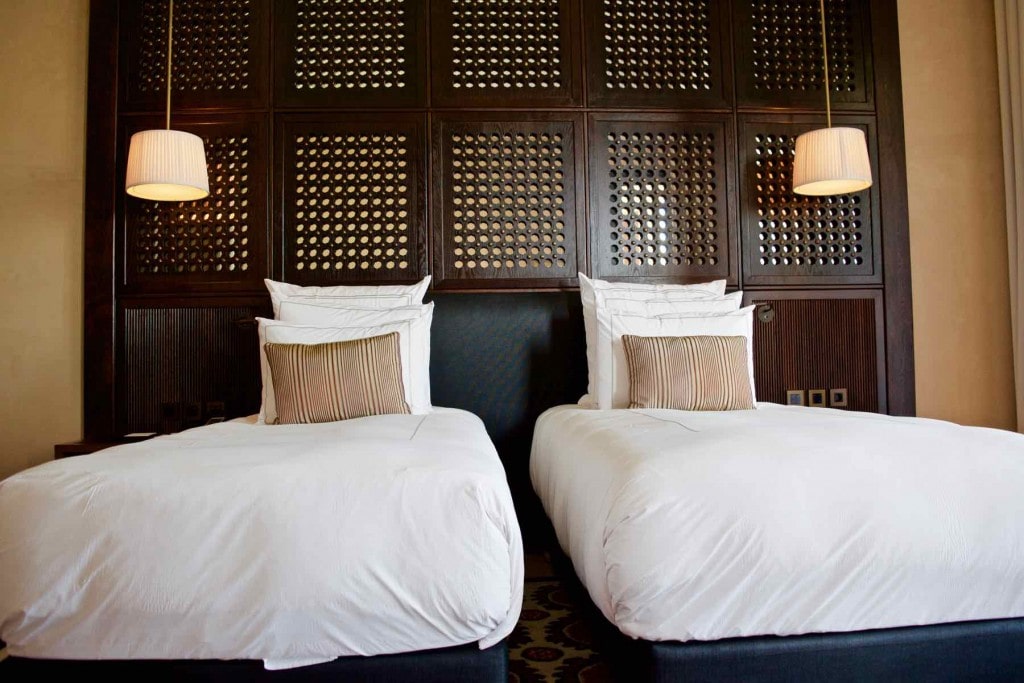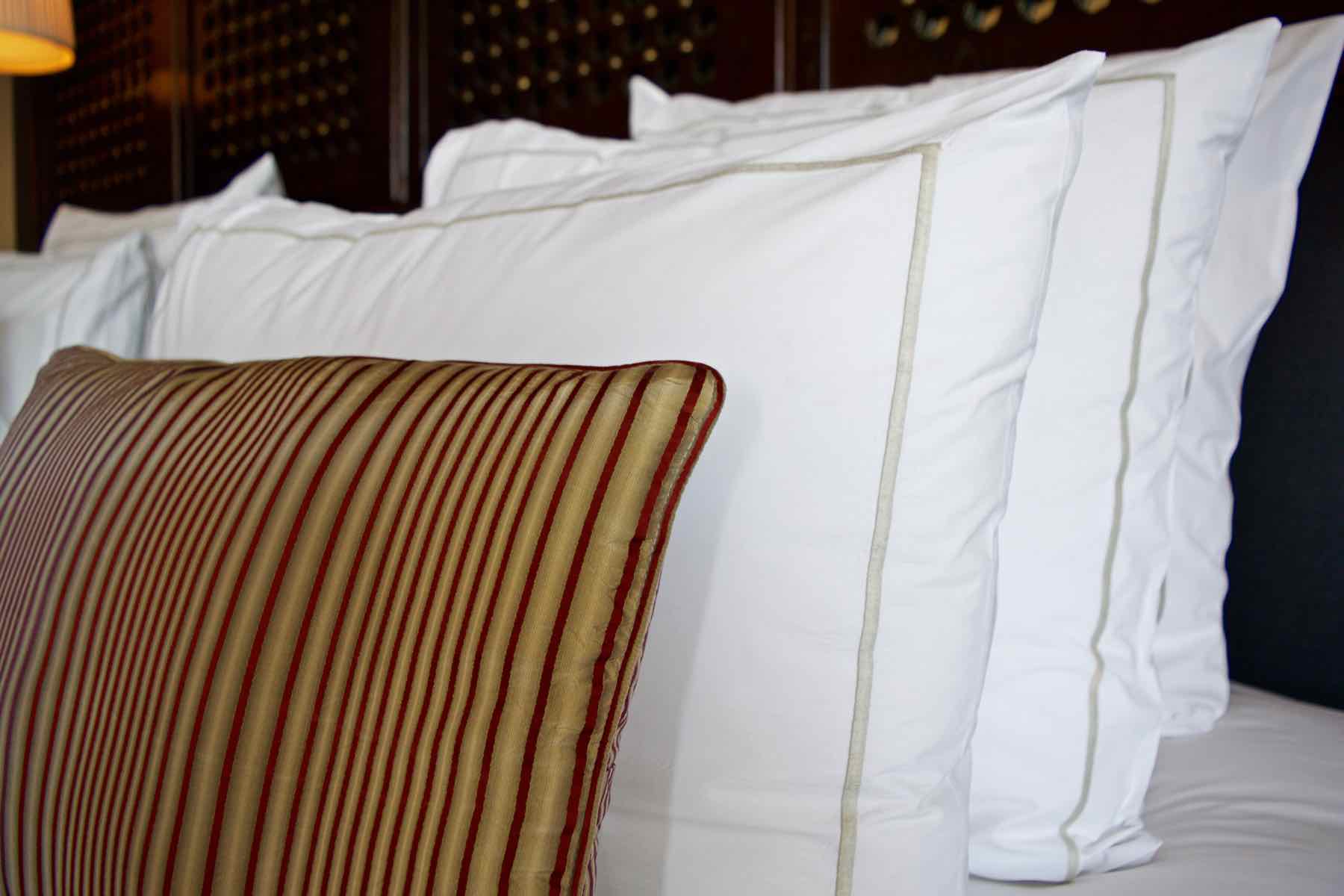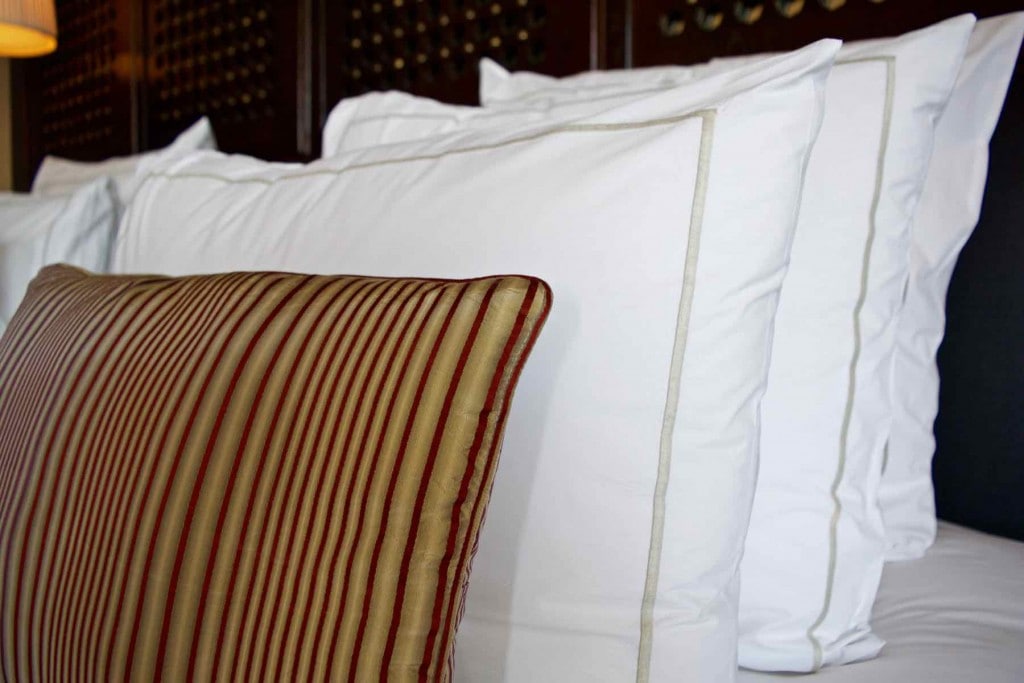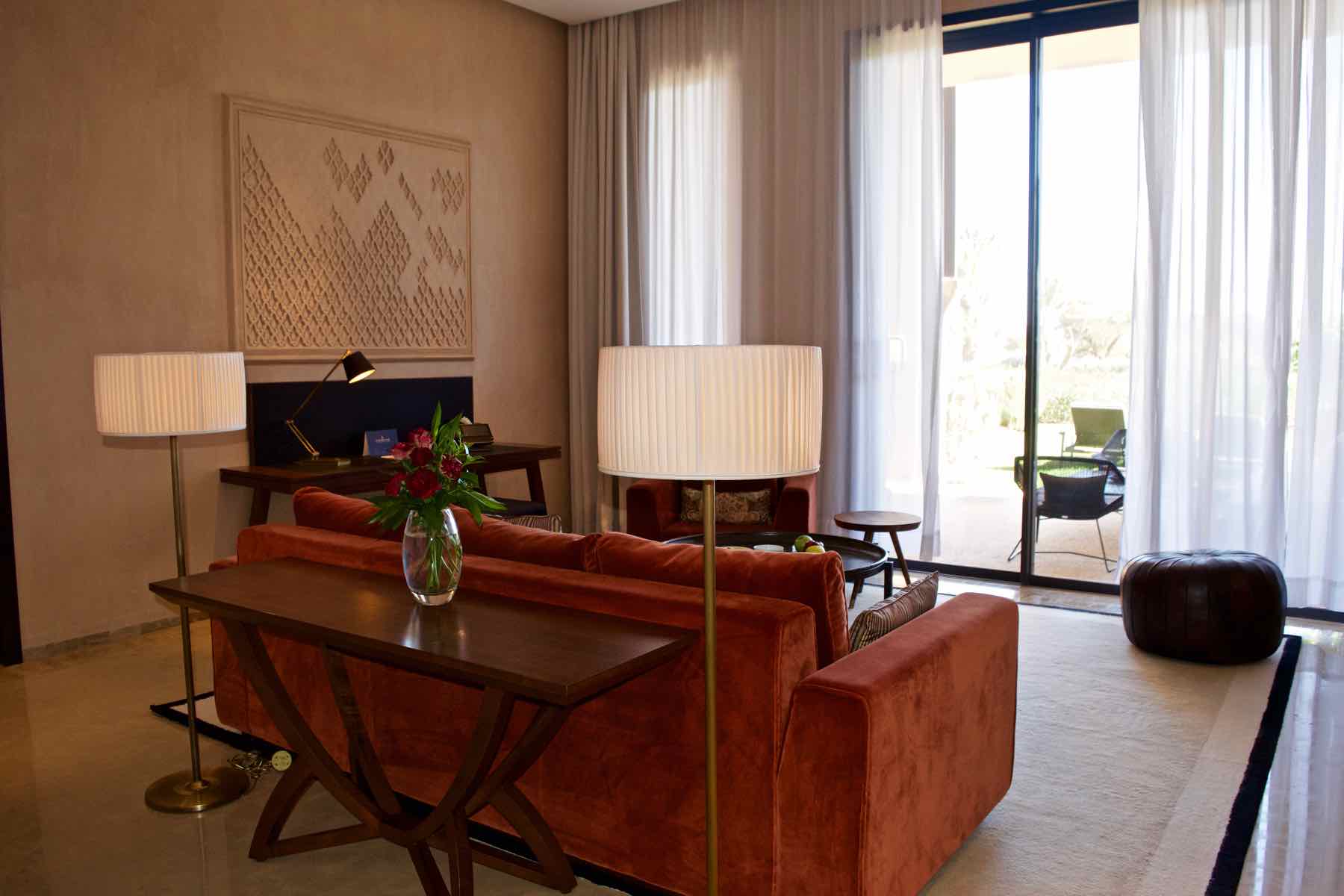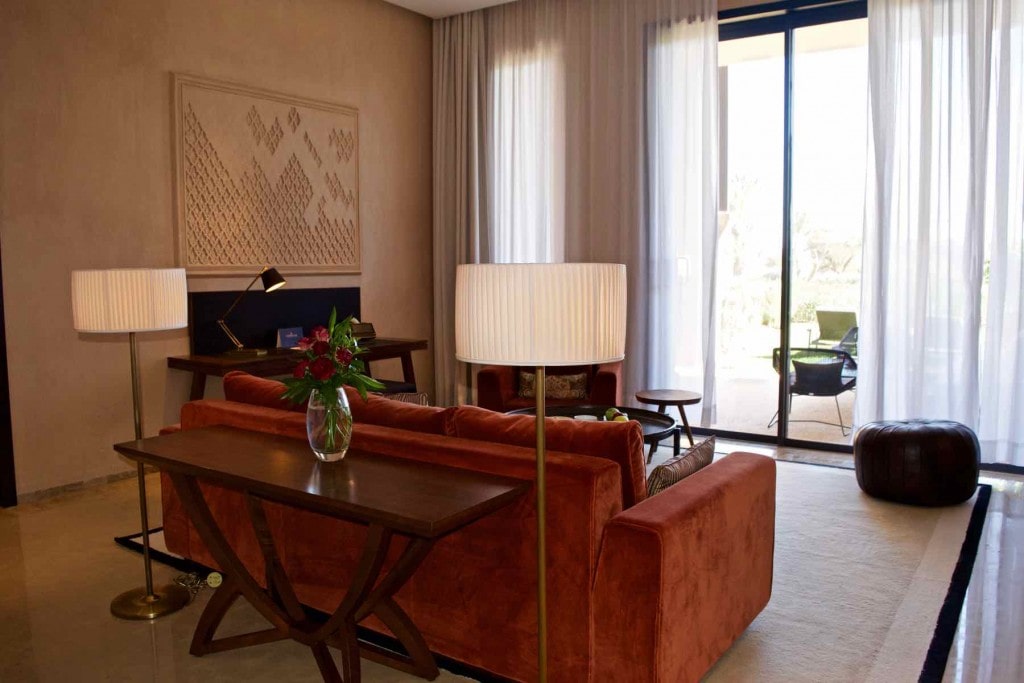 The bathroom was spacious with two sinks, a powerful rain shower and the piece de resistance – the hot tub! It oozed class with the rich marble and decorative tiles.
There was also a dressing area with full-length mirror, room for luggage, plenty of hanging space along with a separate toilet.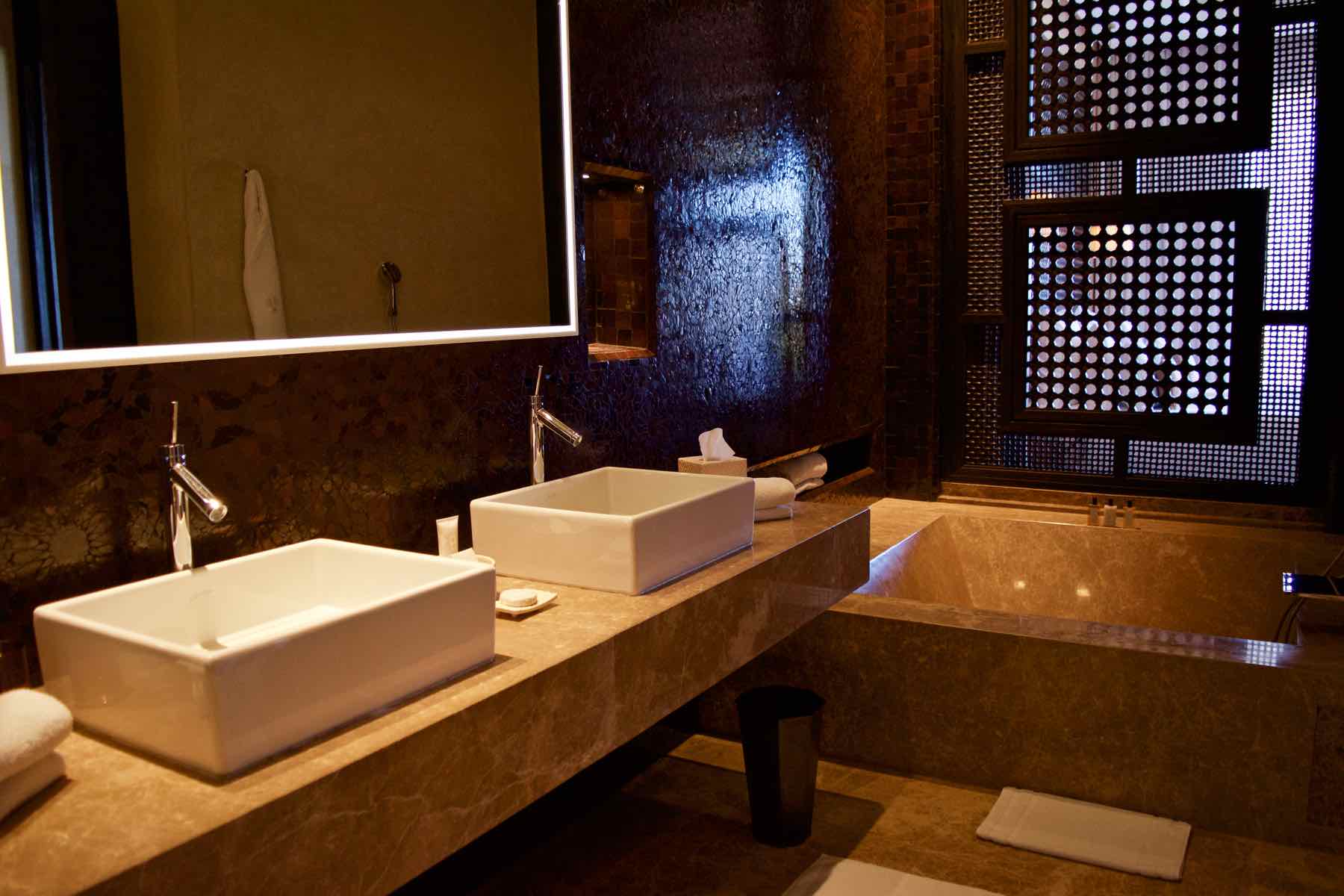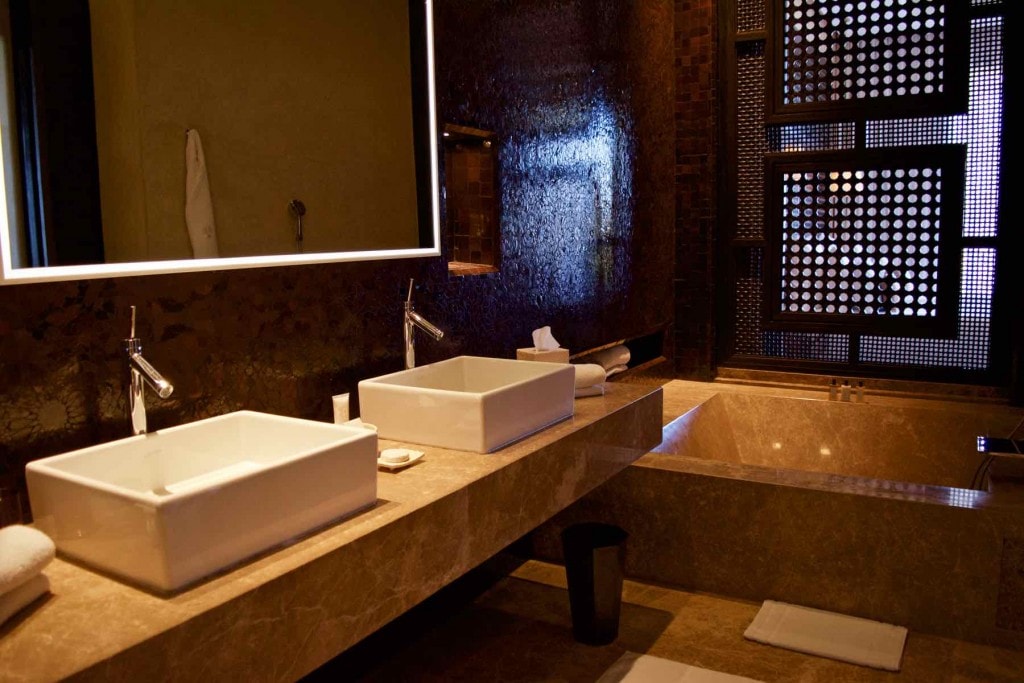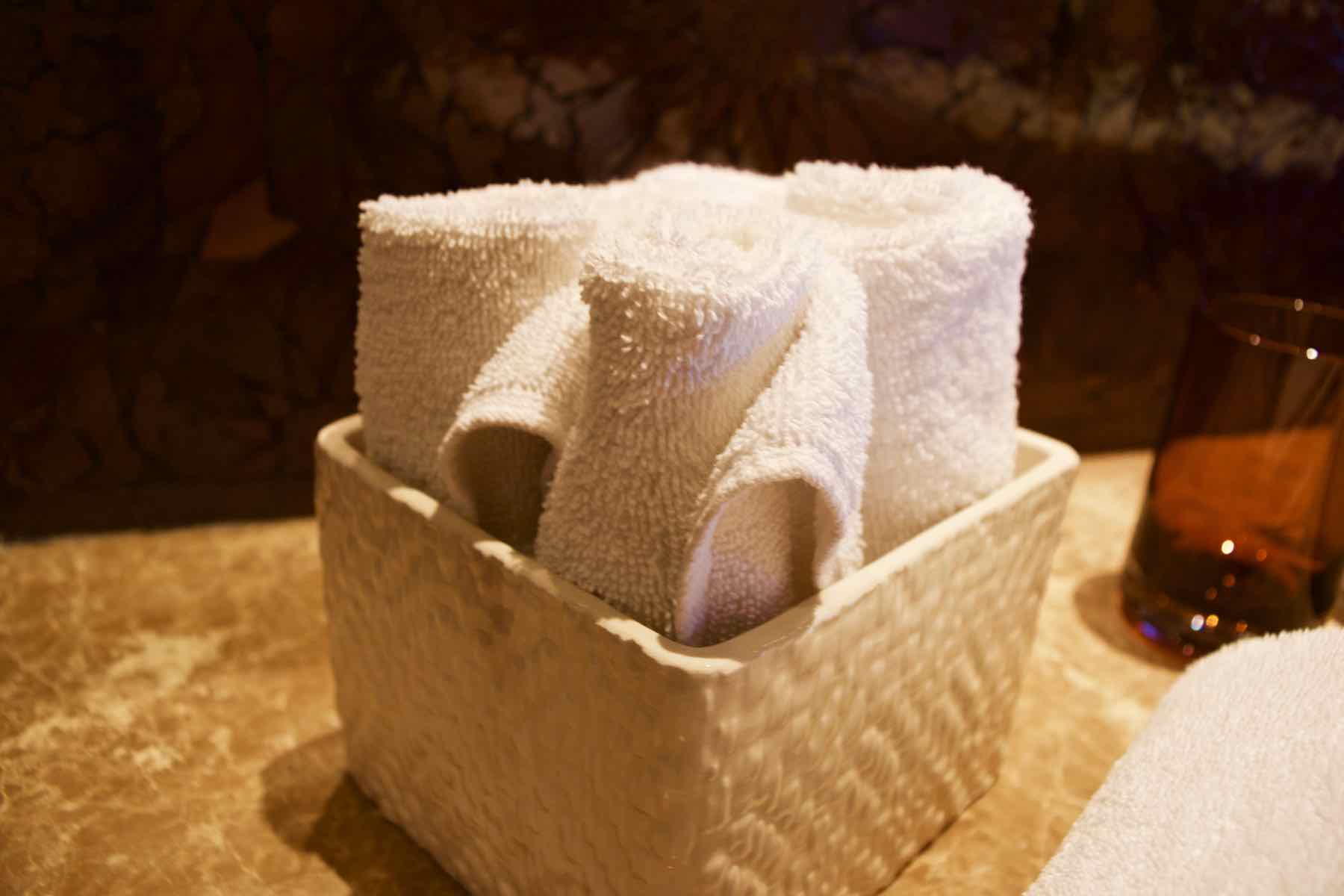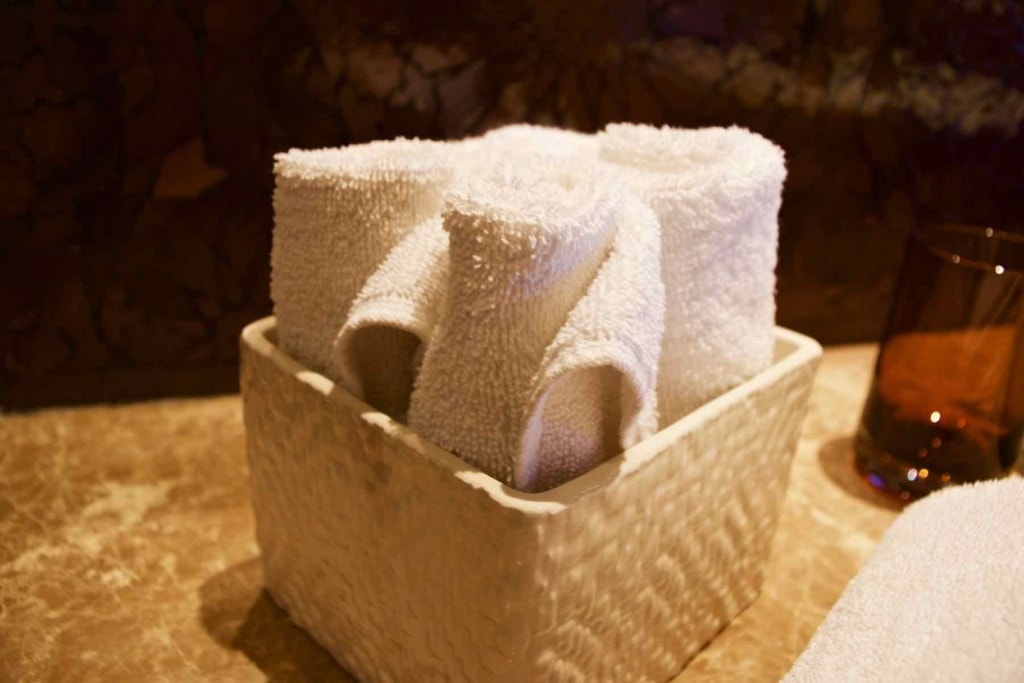 All in all, the suite was spacious, elegant and luxurious. The mix of lamps, uplighters and spotlights created a soft, relaxing ambience. One of my favourite things about the suite was that I was able to walk straight out into the gardens.
During my two night stay I enjoyed breakfasts looking out over the infinity pools and golf course, lunches at L'Olivier Restaurant, and a deep tissue massage at the spa.
The food was sophisticated with an emphasis on locally sourced ingredients and Mediterranean flavours. After fresh, seeded rolls and homemade olive oil, I enjoyed a salad of asparagus topped with a poached duck egg. I washed it down with the Moroccan house white wine, which was dry, crisp and complemented the food. The salad was light and crunchy, with shaved fennel and a touch of sourness from the cherry tomatoes. The duck egg oozed creating a sumptuous dressing!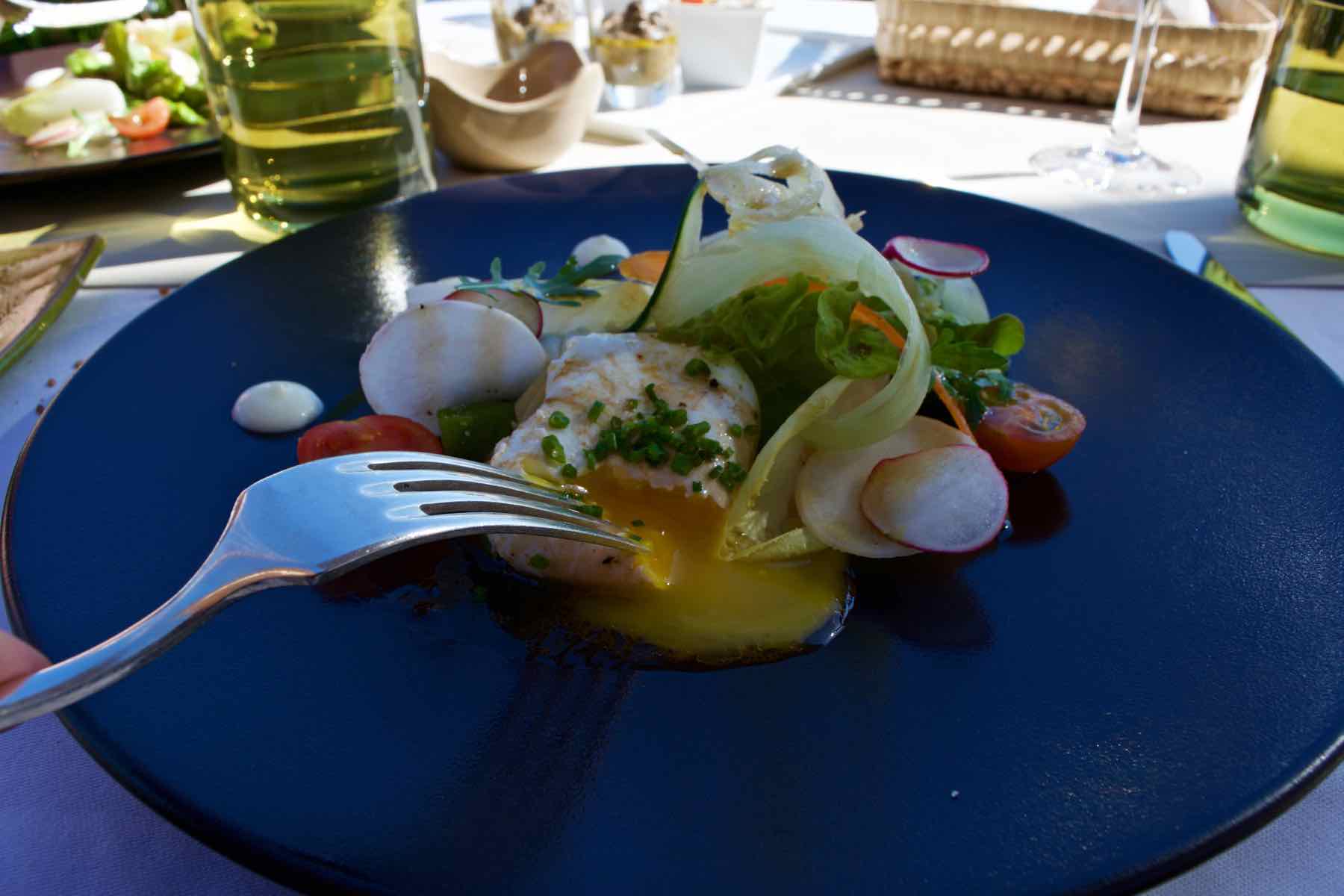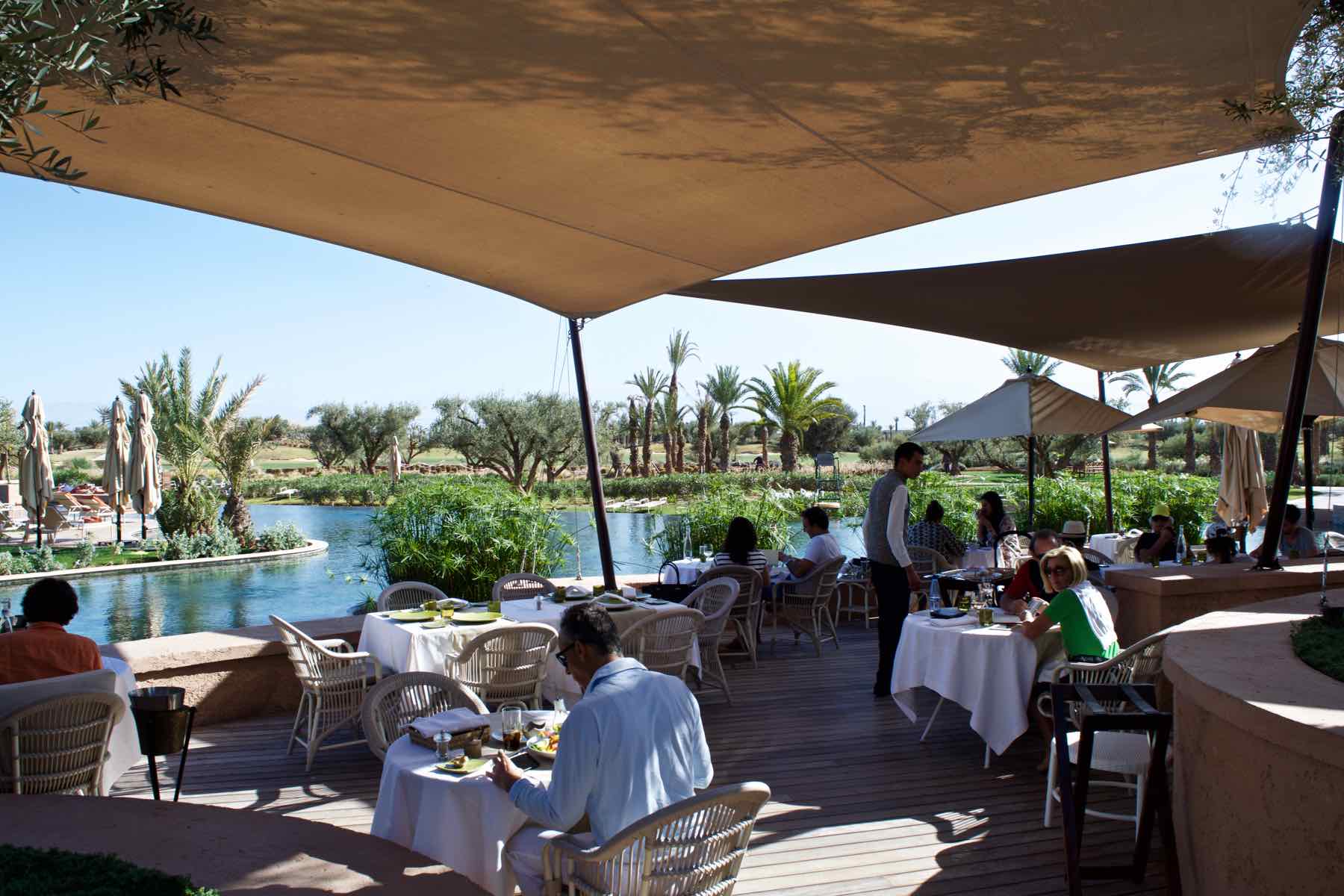 The royal king prawns were a feast for the eyes – almost luminous on the plate! They were accompanied by a soy-rich Asian noodle salad and a small pot of salsa. The prawns were fresh and meaty, with that true seaside taste. Service was impeccable and the view certainly had the wow factor!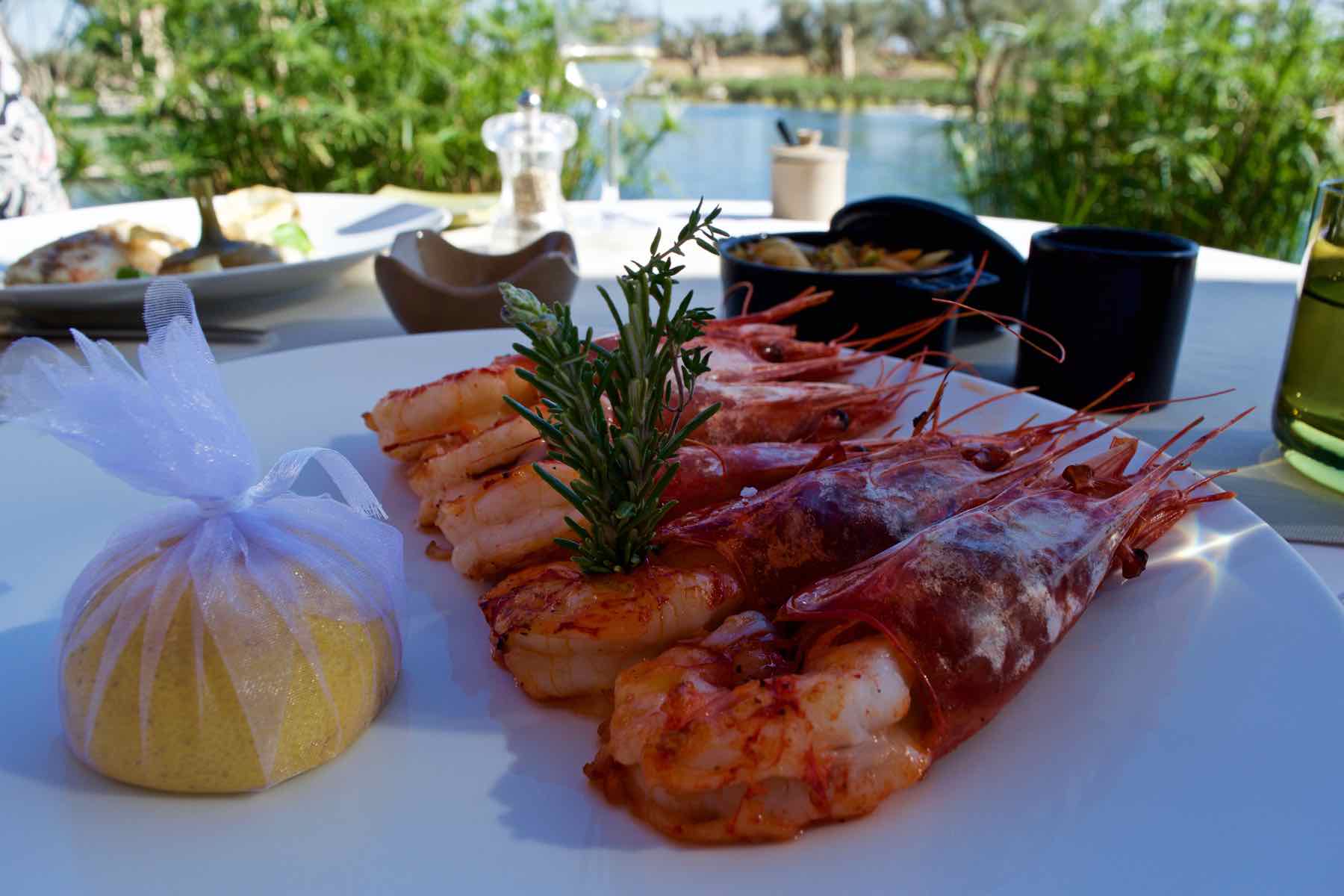 I didn't get the chance to dine at out El Aïn – the hotel's Moroccan restaurant, but I did have a peek at the beautiful decor… Check out that Moroccan hand-painted ceiling! Very impressive.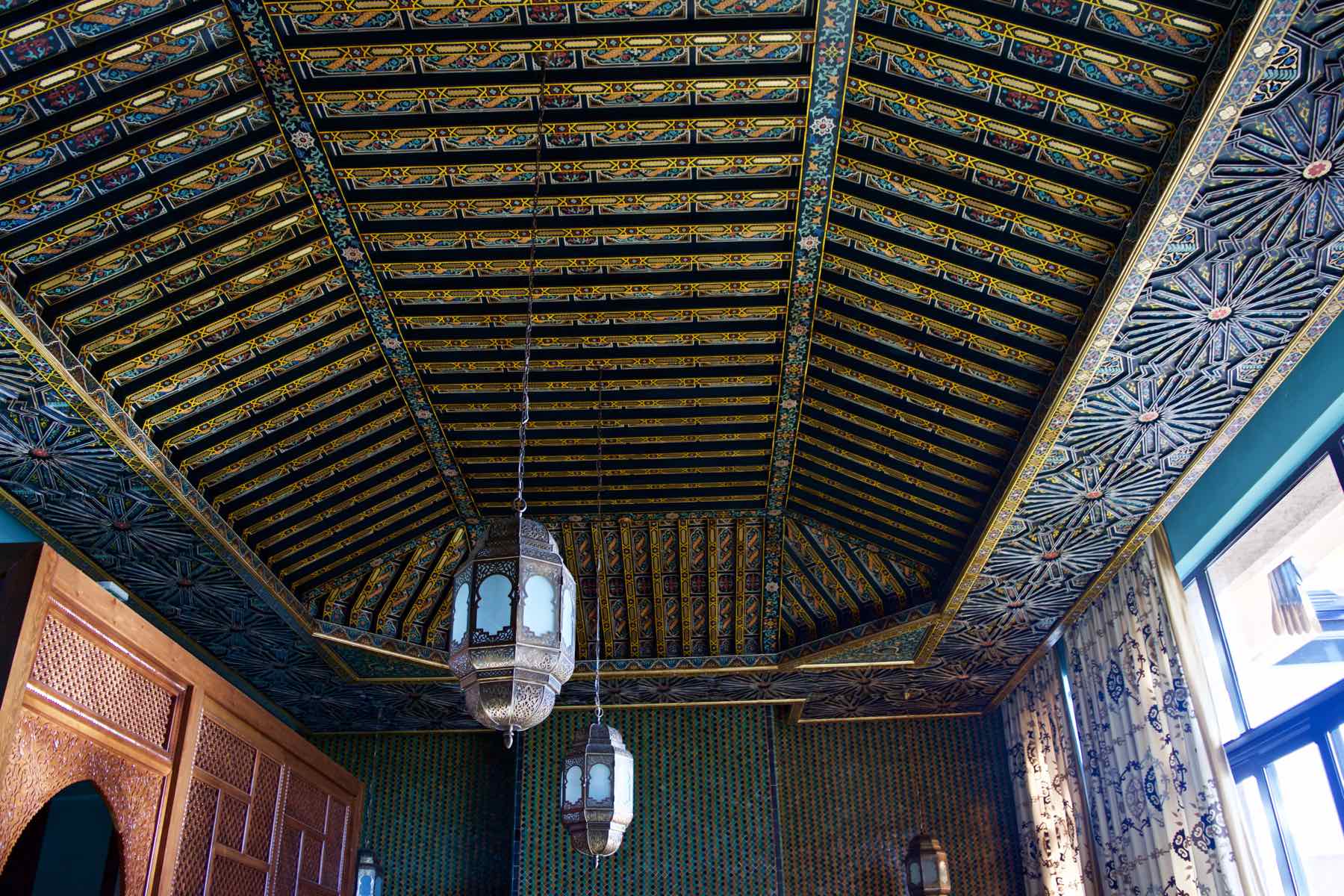 Breakfast was another civilised affair. 'Can I invite you to discover our buffet' one of the waiters said. Discover was the right word! With only a few days in the city, we lapped up the sunshine while tucking into fresh mango, pineapple, homemade yoghurt, fruit coulis, poached eggs, pastries, smoked salmon and more. There were some delicious freshly baked breads, a Moroccan egg dish cooked in a tagine, crepes and a Mediterranean table filled with fish, prosciutto, cheese and olives.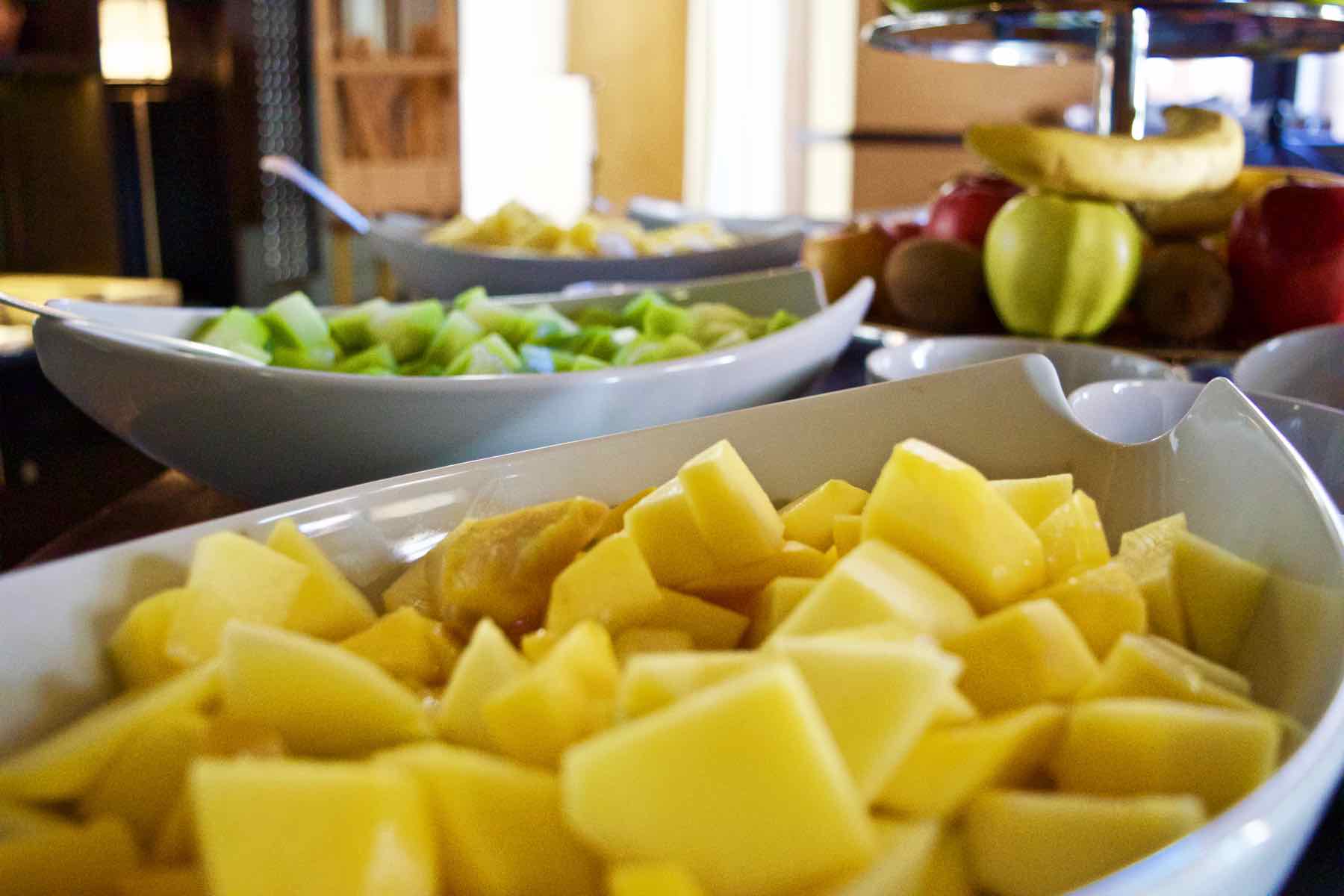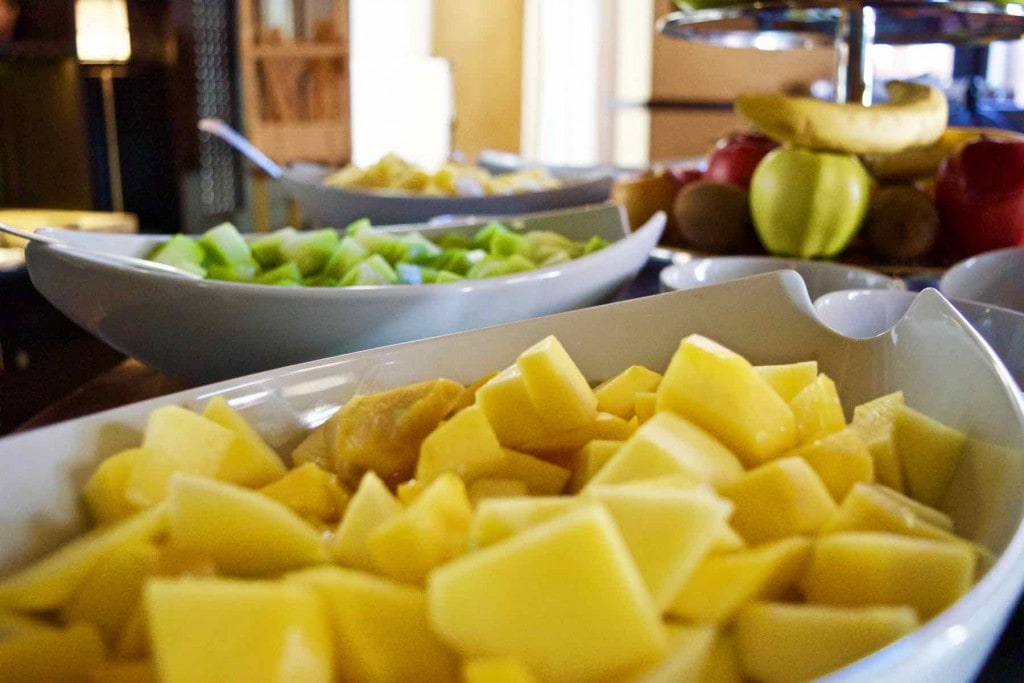 The Spa By Clarins is one of the best you'll find in Marrakech. Unlike many dark, heavily tiled Moroccan spas, Royal Palm's spa is airy and tranquil. My favourite part was the beautiful indoor swimming pool – with its white latticework, lanterns and touches of greenery. There were also several hammam areas, an ice bath and sauna.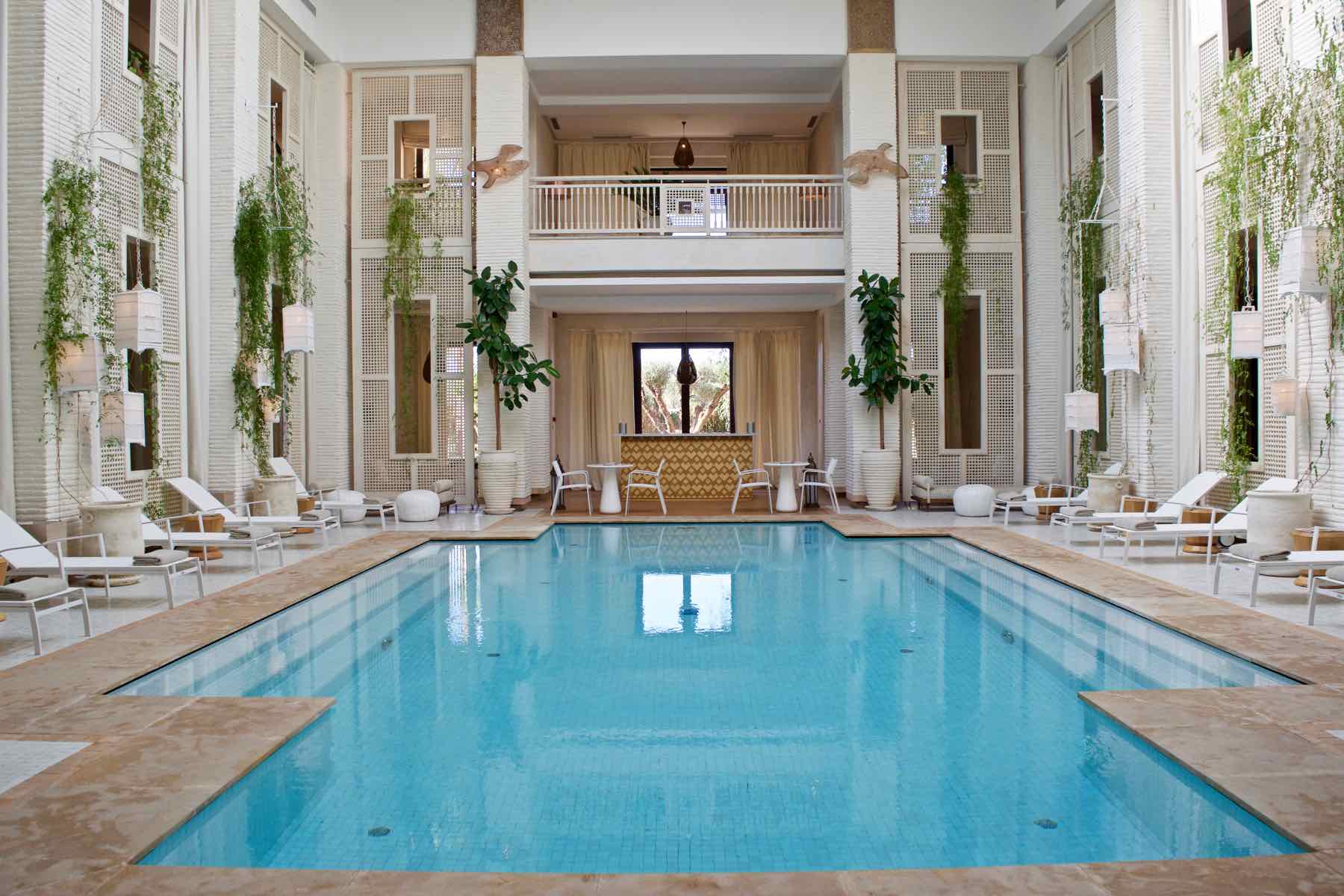 On the first afternoon I enjoyed a deep tissue massage. My therapist Wafaa was charming, and seemed to find over knot in my body over the course of an hour! The hot towels used on my feet and hands were wonderfully soothing. After an unexpectedly stressful start to the day (a cracked MacBook screen had certainly created a huge amount of anxiety), the massage was just what I needed. Feeling in a deep state of relaxation I unwound next to the pool with a refreshing glass of ginger and lemon spritz. Pure bliss… zzzzzzzzz!
While I didn't have time for a workout, the gym area was well equipped with the latest machines… and the view over the pool would certainly inspire me to run a few extra km!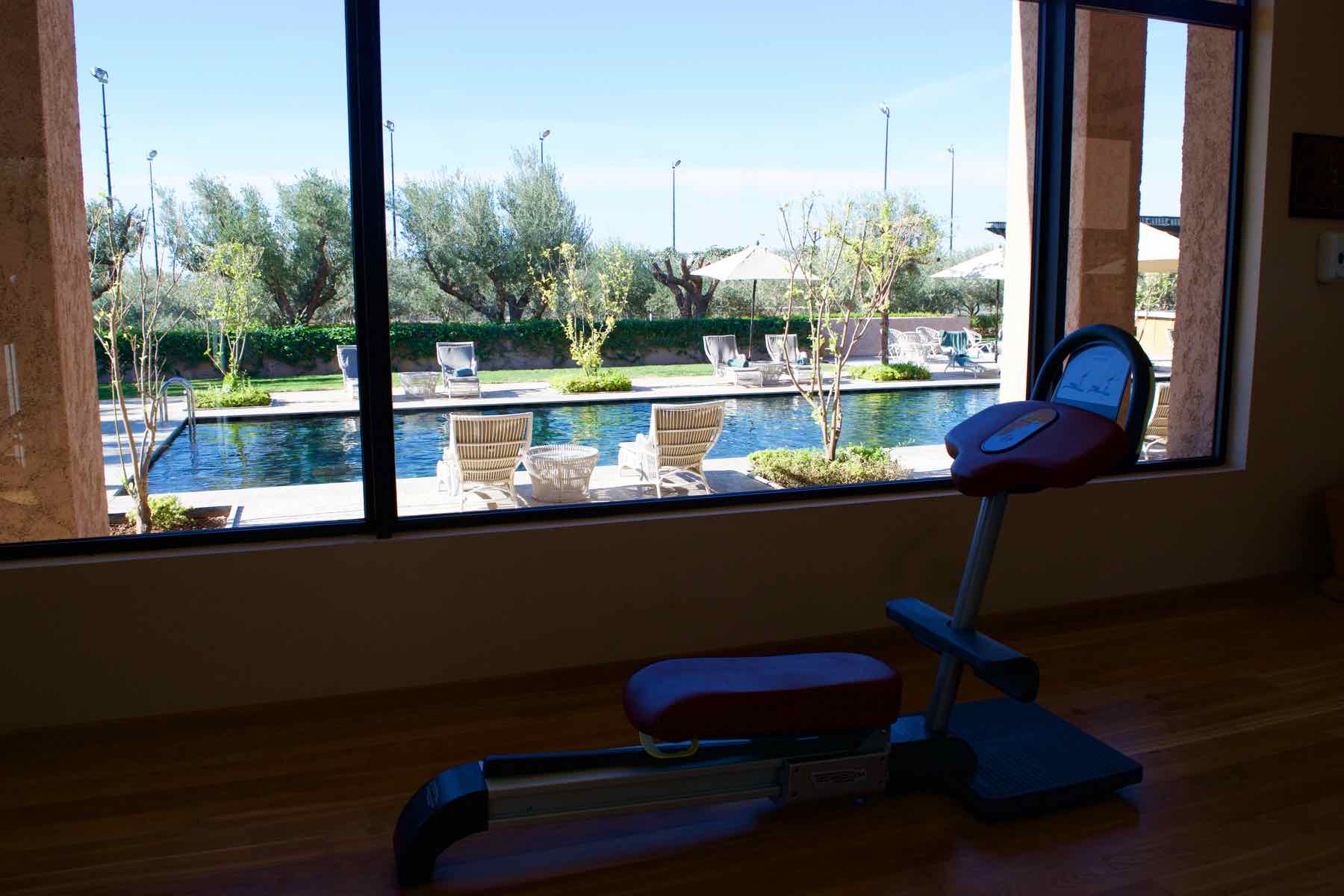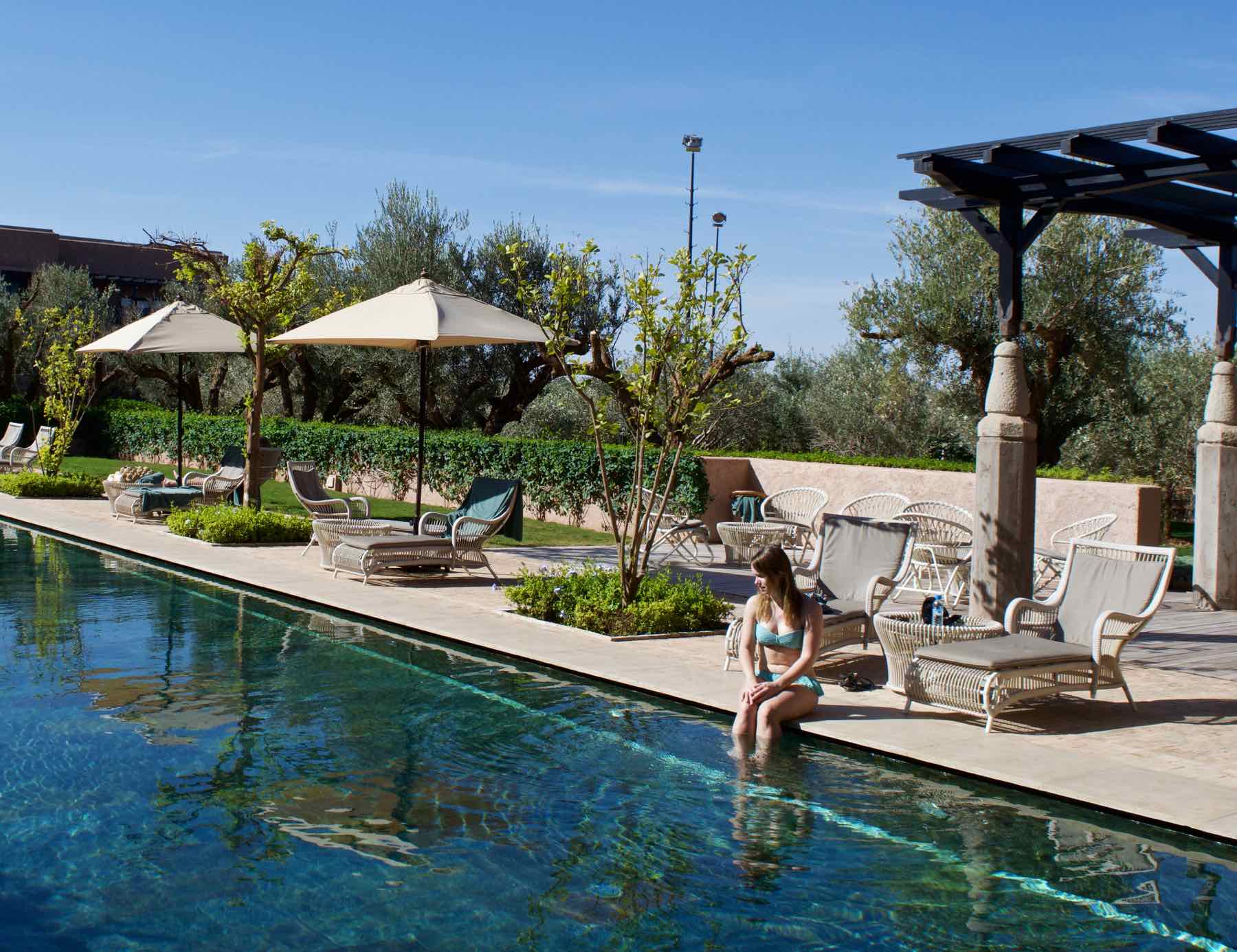 The golf course is a big draw for guests staying at the hotel. The 18 hole course spreads out over a spectacular 75 hectares. Many of the guests staying in January spent the morning on the course before dining at L'Olivier.
On my final morning I woke early to watch the sunrise from my patio. From 7.30-8.15am the low hanging mist in front of the shadowy Atlas Mountains cleared, and a burst of sun started to illuminate one side. As it rose, I watched the colours change from pink to orange to yellow/gold. What a way to start the day!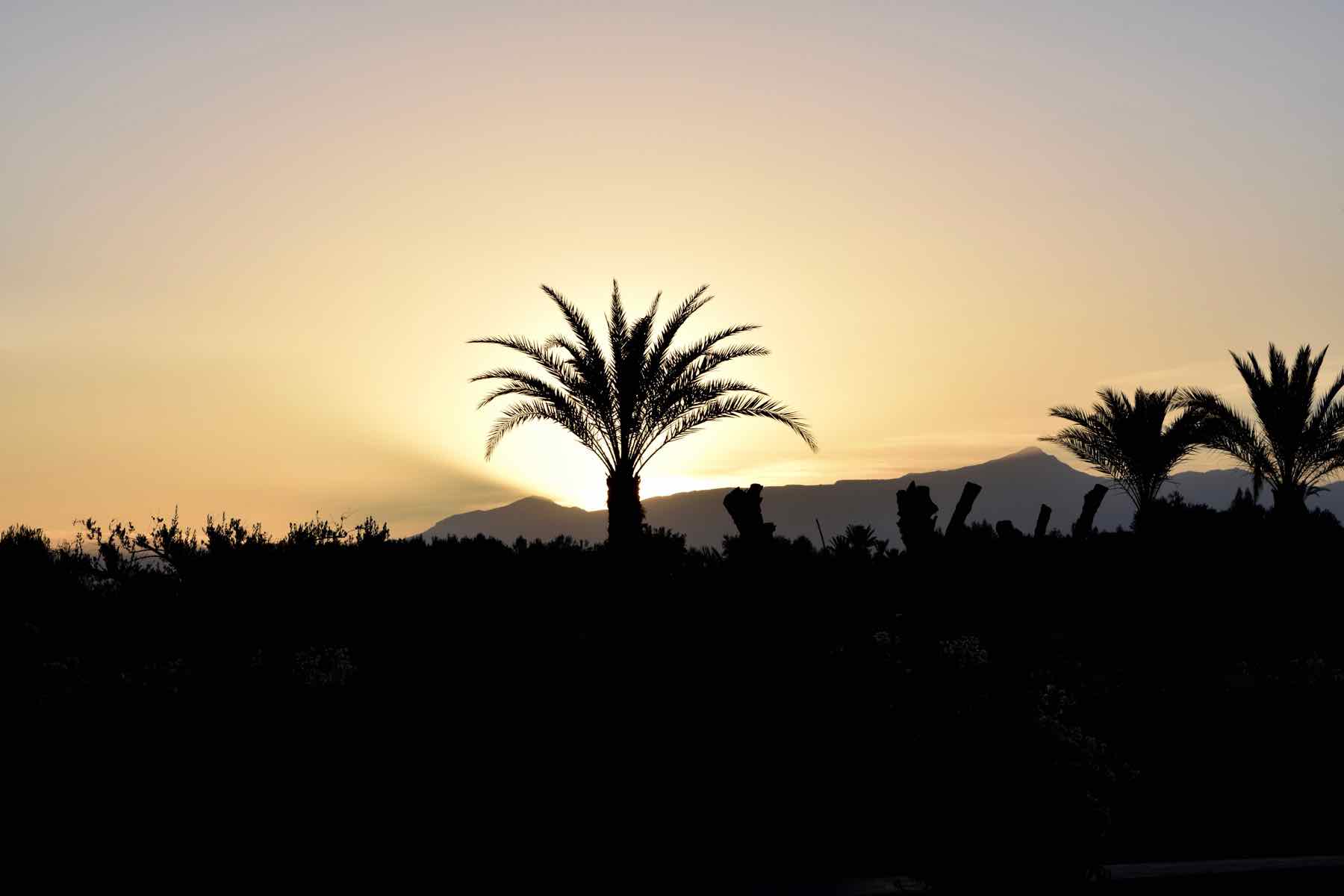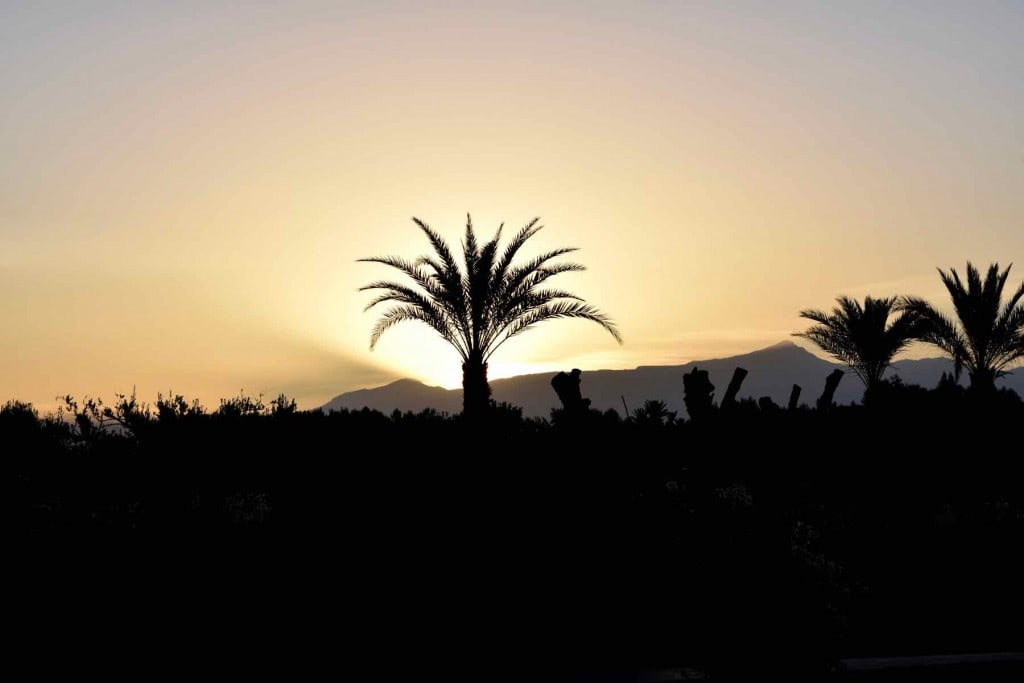 Royal Palm is pure luxury with a big dose of Moroccan elegance. Service was exceptional and a particular mention should go to Khalid who started and finished our journey. On day one, he transported us to the hotel in a smart hotel-branded 4×4. Full of jokes, great English and a warm spirit, he wouldn't leave us until we made our way through the departure queue on the final day. It's often the people that create the real feeling of luxury, and while the 6 star treatment was a fabulous treat, I might also be happy at a 3 star if the service is that warm!
I hope you enjoyed my Fairmont Royal Palm Hotel review!