It's time to compare the top group tour companies for solo travellers and singles.
Coming up, I'll run through the best group tour companies for solo travellers! From Intrepid and Trek America, to Busabout, Contiki, MedSailors and Travel Talk Tours – who offers the best experience for solo travellers and singles?
Travelling solo can be daunting at the best of times, even more so when you set off on an adventure to a country where you don't speak the language or know how to get around. When you travel as part of a group, the stresses are taken away, leaving more time to truly enjoy yourself! Not to mention, you'll have a great bunch of new friends by the end.
Having booked group tours with most of the top companies specialising in solo travel and singles holidays, I figured I'd reveal what I really thought. The added bonus – I have dedicated blogs and videos for them too, so you can delve deep into what the experience is really like! Solo holidays are becoming more popular then ever, so time to reveal a few of my favourite tour companies specialising in solo travel tours.
Best tour companies for solo travellers and trips for Singles
Click to jump straight to read about these companies
First up, the company that kicked off my wanderlust! Years before I started blogging, or discovered my love of travel, I spent two weeks travelling around Mexico with Trek America. It was an AWESOME experience. Trek offer tours across North, South and Central America, so there's bound to be something that takes your fancy.
I remember being SO anxious before I left London. I'd never been on a plane on my own, let alone long haul, and I'd be arriving in a country that would feel totally foreign to me. I spoke no Spanish and didn't know who I'd be spending the next few weeks with. It was incredibly daunting.
Over two weeks we travelled around in a mini-bus, visited Chichen Itza, dived into cenotes, explored the magical lagoon of seven colours in Bacalar and partied 'til dawn in Playa Del Carmen. Mexican tour guide Juan was young, fun and full of enthusiasm. He took us to loads of his favourite secret spots and removed all stresses from the trip. I left with a bunch of new friends, memories and a longing to jet off again! You can imagine just how excited I was when I was invited to join their annual #iTrekHere tour in California last year?!
Group tours available: in North America, Canada, Mexico, Central America, South America
Next up, was my adventure in South America with Contiki. Over the course of 10 days I visited vibrant Buenos Aires, the incredible Iguazu falls, chilled out on the beach in Buzios in Brazil and then finished up in Rio de Janeiro. We covered a lot of ground in a short time, and again, the hassle of transport and day tours was taken out of our hands.
Our guide Christian (from Chile) was a lot of fun and really looked after us. Contiki tours are a little more full on than the other tours I've done, sheerly because you'll be travelling with a coach load of people rather than a small group. I made a few really great friends on this trip, one of whom I've caught up with in New York and London!
Group tours available: pretty much everywhere! Contiki offers 300+ trips across 6 continents!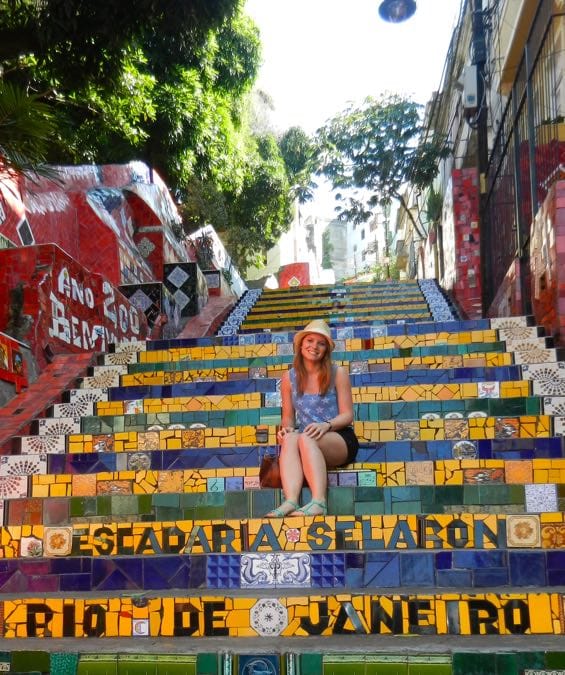 Intrepid's tours had been recommended to me several times before, and it turns out they're awesome. When I travelled through Central America a couple of years ago (you know – when I started this blog malarkey) I booked the majority of the trip through Intrepid. I was worried about border crossings, particularly in Honduras and Belize where I'd heard a few horror stories. I also wasn't sure my Spanish would be good enough to negotiate or figure out routes along the way. They specialise in group travel, and in my opinion offer some of the best options for solo travel tours and adventure holidays for singles.
Looking back, I know I could have done the trip solo, but actually I'm REALLY glad I went as part of a tour. The main reason was because of the friendships that were formed. There were so many people I clicked with, and a real mix at that (from 20 to 70 year olds!)
Our guides were amazing – Vinnie from Guatemala and Randy from Costa Rica. I was so sad to say goodbye to both of them. We had an easy trip, mainly travelling by private mini-bus and the odd chicken bus thrown in for good measure. We stayed with local families in Guatemala, climbed the ancient Mayan ruins in Tikal and even got caught in a crazy storm in the middle of the ocean in Belize. Needless to say, a serious bout of the post-holiday blues followed, but that only happens when the experience really means something to you.
Group tours available: across the world, from Asia and Australia to Europe, Africa and America!
Busabout specialises in Europe, although they've launched in Asia now too. Along with awesome group tours to European festivals including La Tomatina and Oktoberfest, they offer a hop-on hop-off bus service around Europe. It's really handy for people who want to have a bit of a group dynamic, but also enjoy a flexible itinerary.
Last year I went on a group tour around Scandinavia and The Baltics. Other than Sweden (where I've been several times), the tour covered all sorts of places I'd never thought of visiting. With around 36 hours in each, we visited Lithuania, Latvia, Sweden, Finland and Estonia… fitting in trips to local landmarks, city tours and plenty more. Our guide Pasqual was SO much fun – full of enthusiasm and so experienced, she knew Busabout's tours inside-out. It was a fun trip and a great way to cram a lot into one week.
Group tours available: in Europe, Asia and North Africa plus plenty of festivals too.
A few years ago I sailed around Croatia with MedSailors and had THE BEST TIME! It's a trip I was a little apprehensive about as I wondered whether staying on a boat for a week would be a claustrophobic experience. Thankfully, it wasn't! Most of the week we were either up on deck sunbathing, eating, and helping with boat duties… or on dry land enjoying sightseeing, wine tasting and good food!
I was lucky to be assigned a boat with a great bunch of people. MedSailors send out a questionnaire prior to travelling so they can match people based on age, interests and holiday styles. You have up to 8 people on a boat, plus an experienced skipper who takes care of you for the week, rustling up a great breakfast and lunch, plus sailing your boat from A to B.
There are several boats on the MedSailors flotilla, so once you reach dry land it's a great chance to meet those on other boats. On the last day, there's a sailing competition to see which boat is the champion – all good fun and really brings you together as a group!
Since writing about this trip, I've been back out with MedSailors on another solo travel adventure, this time to Sicily. Read all about it here.
Skippered sailing yacht holidays available: in Croatia, Greece, Turkey and Sicily, Italy… plus rumour has it they'll be launching in the Caribbean in 2018.
Read more about my MedSailors experience In Croatia and Sicily.
I travelled with Travel Talk Tours
on a group tour around Morocco. It was an adventurous tour – starting in Marrakech then heading to the Atlas Mountains, the Sahara Desert and more! I felt in very safe hands with Abdoul – our local guide from Travel Talk Tours. I had thought Travel Talk Tours were mainly for young Aussies and Kiwis but it turned out there was a bit of everything! We were a group of 26 explorers from the UK, America, Australia and New Zealand from the age of 20 – 71. There were small groups of friends, couples, and even a husband and wife with their dad.
While this is quite a big group tour, the experience still felt pretty intimate, particularly as there was free time in each place.
This tour company is great if you're looking for upmarket accommodation. Other than our two nights glamping in the Sahara (which was one of my favourite travel experiences!) we stayed at 4 and 5 star hotels. This level of quality accommodation (often at a very reasonable price) is something that really sets Travel Talk Tours apart from the others I've mentioned.
It's worth noting that there's usually a local payment required when you reach your destination, so be sure to check all the costs before you book.
Group tours available: Europe, Middle East, North Africa, Asia plus some festivals too.
I hope this helps you when you're deciding which group tour company to book your next trip with. I'd love to hear about your group tour experiences below!
Enjoyed this post? Why not pin it…