From boutique wineries in the countryside, to luxury resorts offering amazing food and wine, these are the best vineyard hotels in Tuscany.
When you picture the Italian province of Tuscany no doubt you imagine long rows of vines lining the rolling hills, hilltop villas framed by graceful poplars, beautiful sunsets and glasses of crisp Chianti.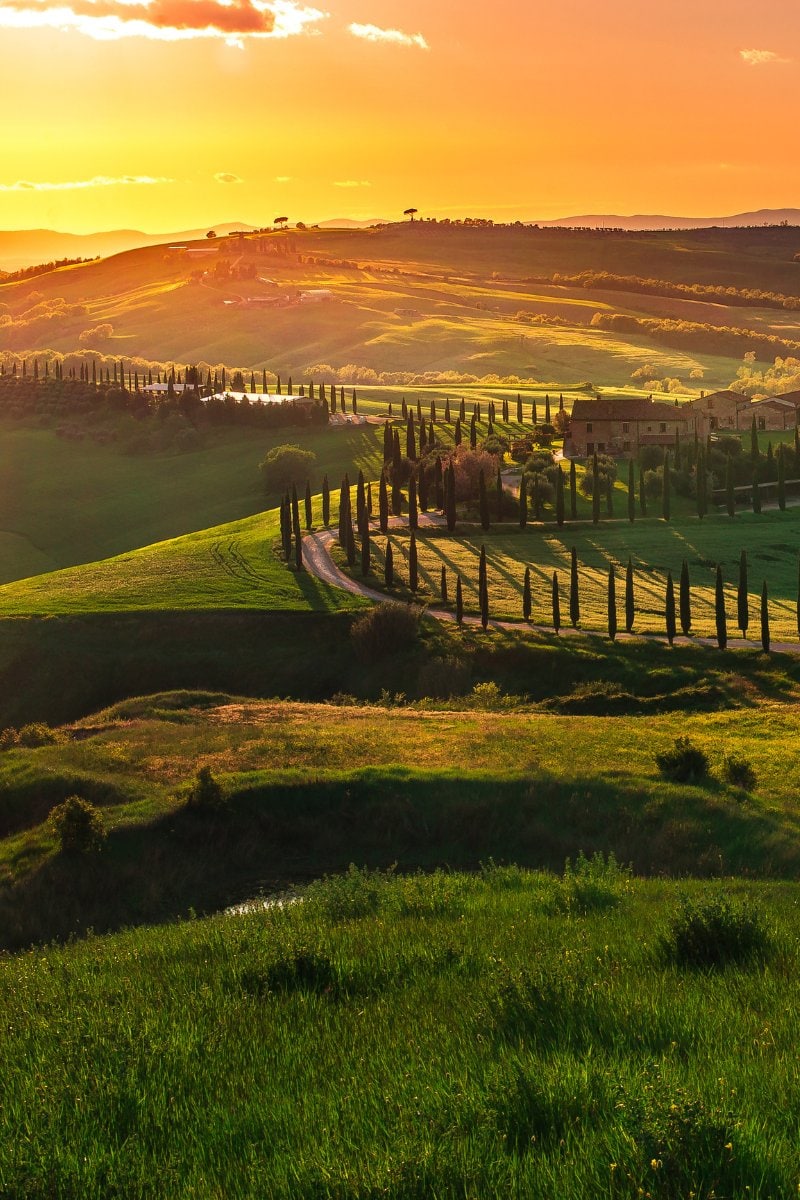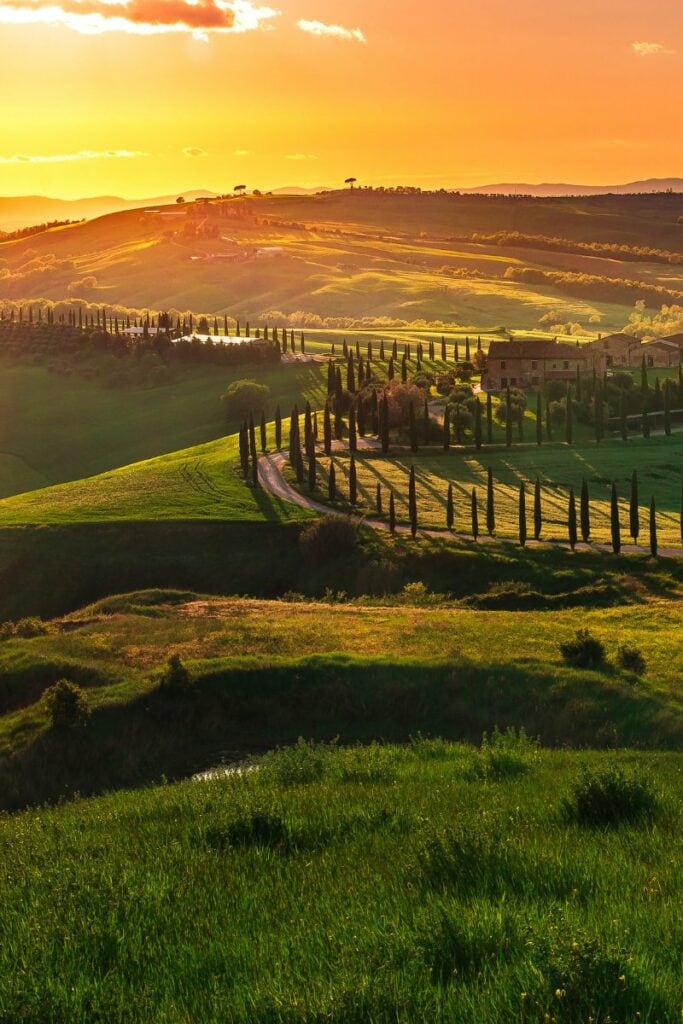 As well as this dreamy image, you'll find some of the world's best wine hotels in Tuscany. This iconic Italian province has been producing wine and entertaining visitors for centuries.
Once you've stayed in one of the top wine hotels in Tuscany, you'll be talking about it forever… "remember that time we stayed at Castello Banfi Il Borgo…? what I'd give to return to that AMAZING swimming pool!"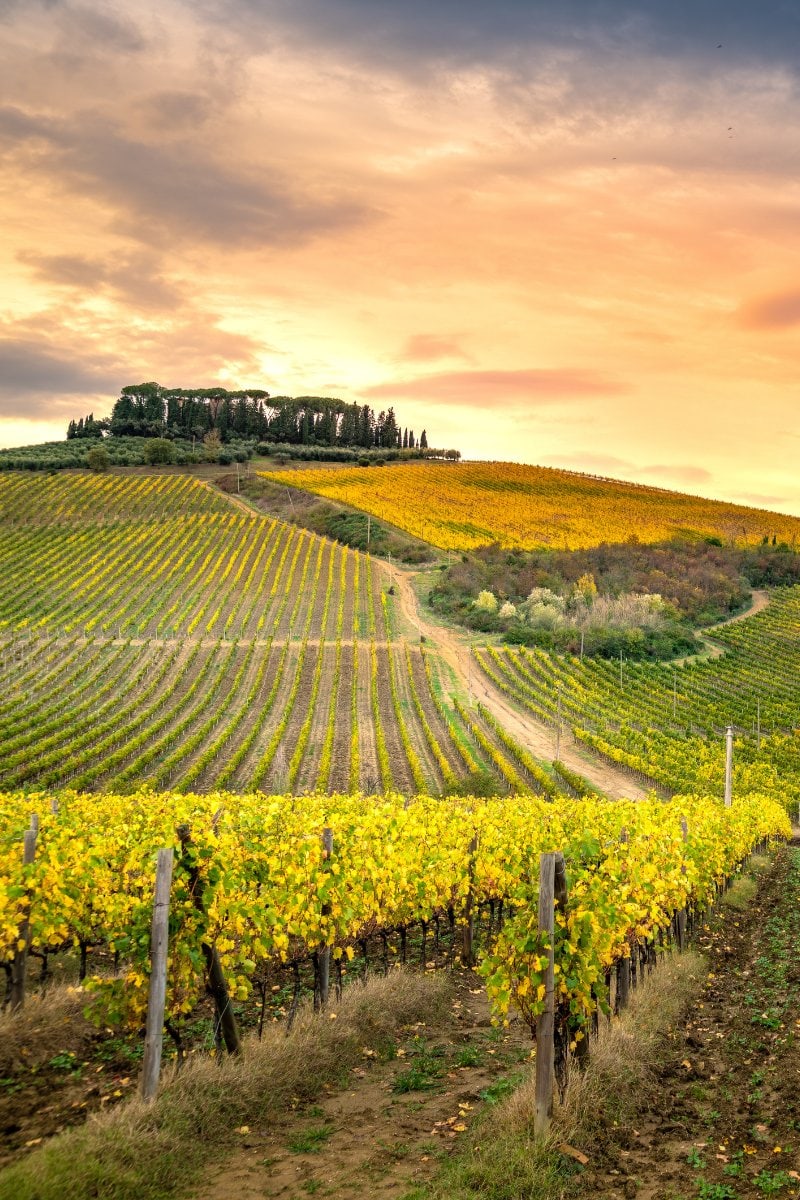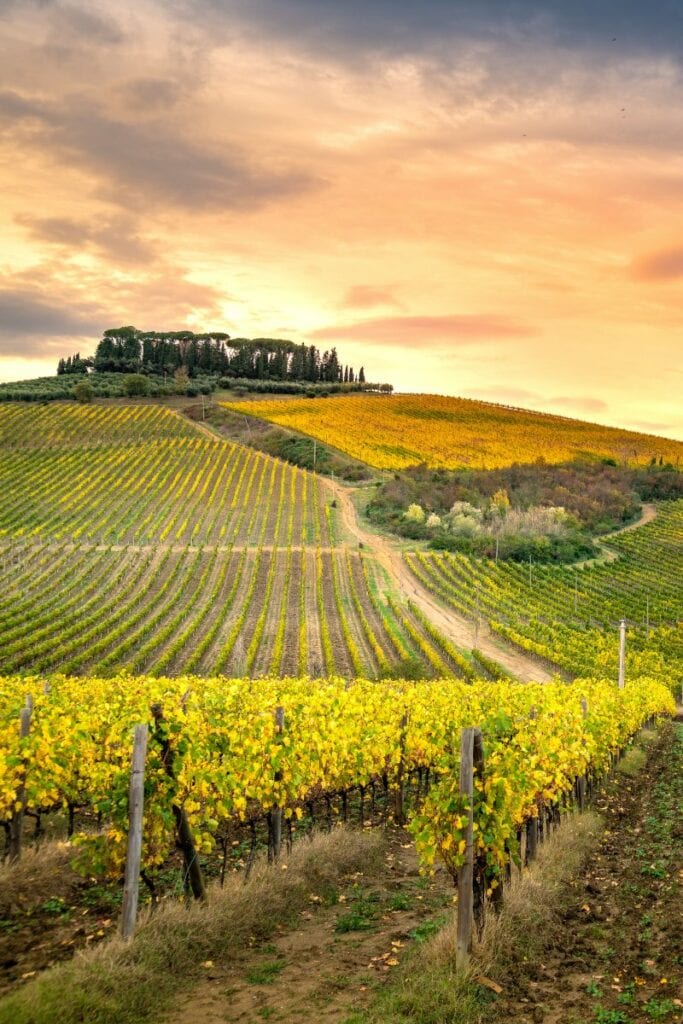 So, if you feel like living the life of an Etruscan noble, a Roman senator or just can't get enough of Italy's amazing wine and food, this guide to the top vineyard hotels in Tuscany will help you to plan a memorable holiday.
Plus, if you're deciding the route for your trip, don't miss my guide to the most beautiful towns in Tuscany.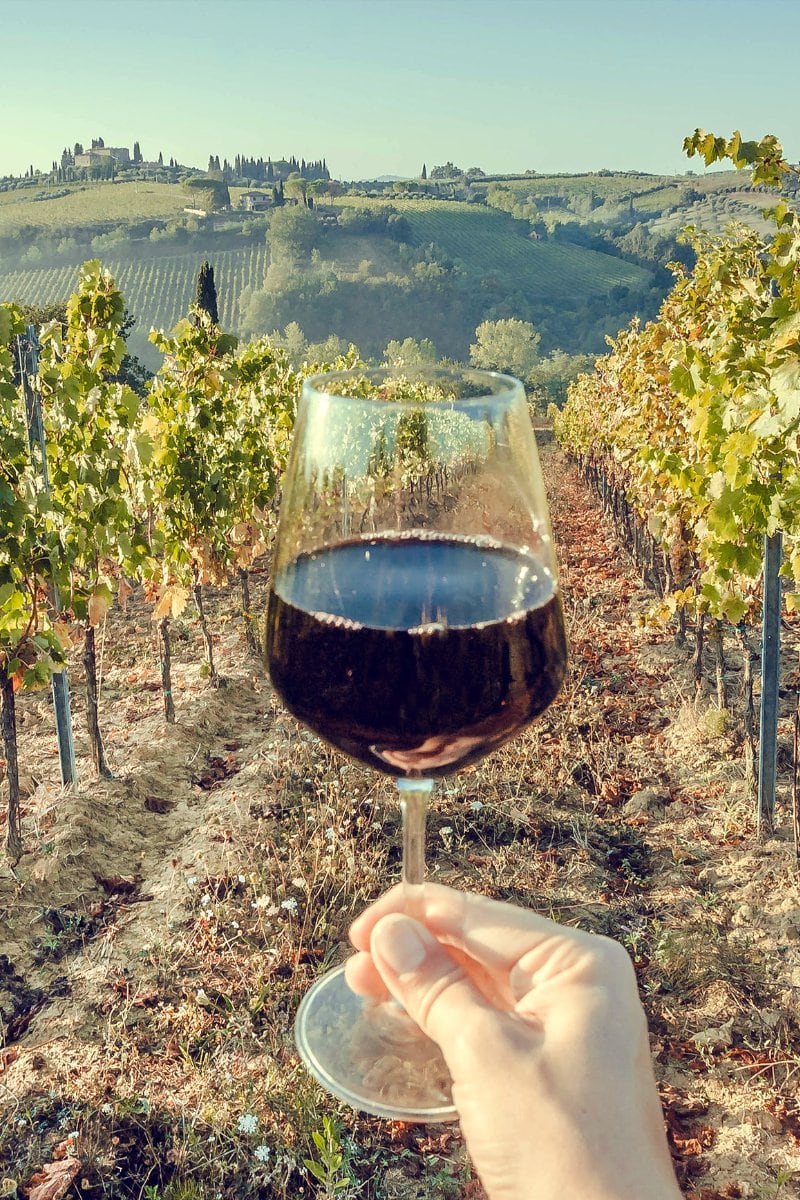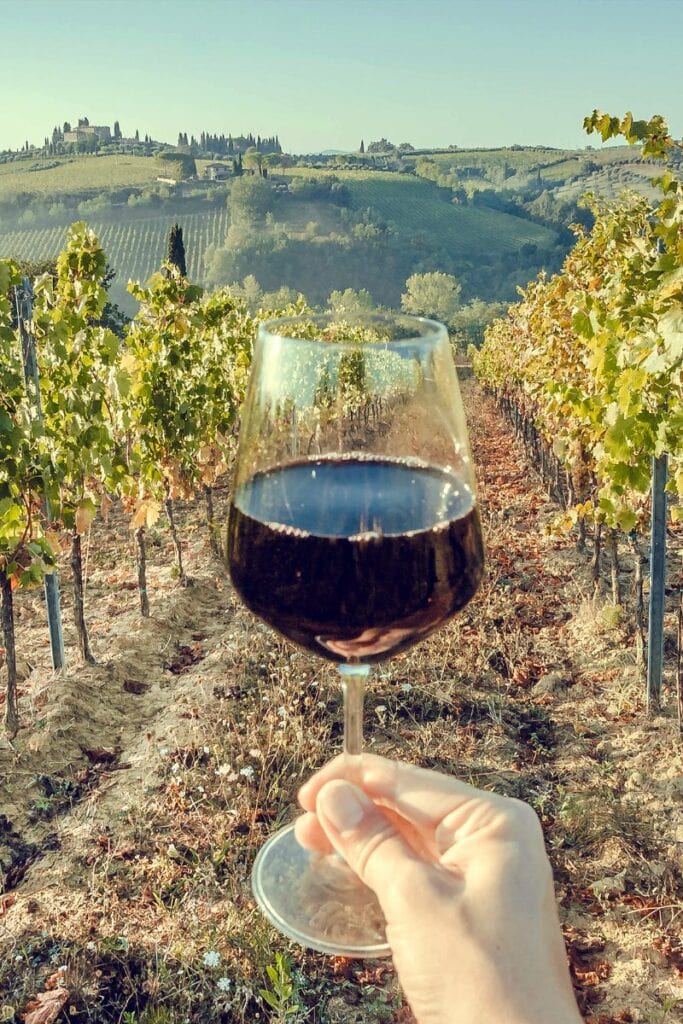 ---
13 Best Vineyard Hotels in Tuscany, Italy
Under an hour from Siena, this former castle has been transformed into a fabulous Mediterranean-style retreat. You'll feel any stress melt away as you arrive at the beautiful estate.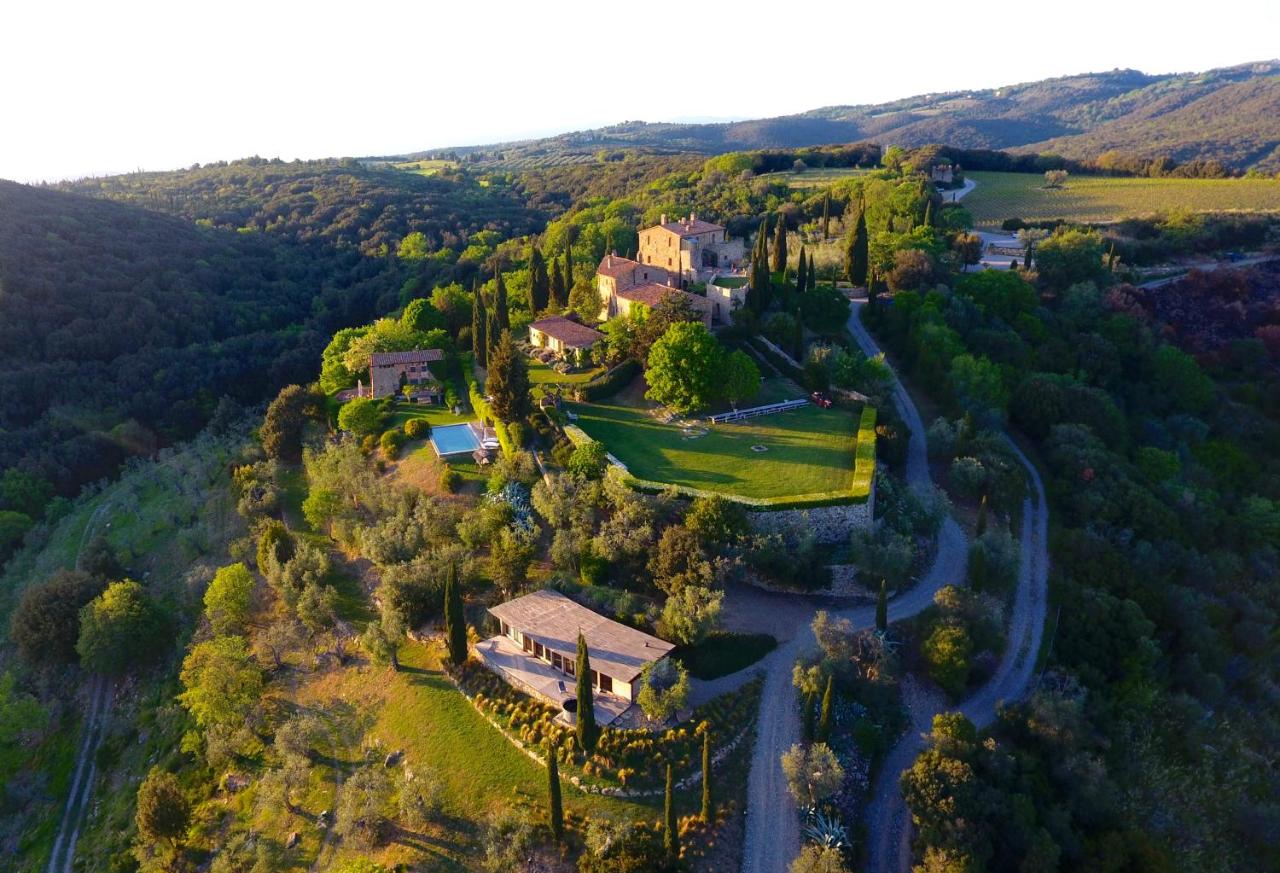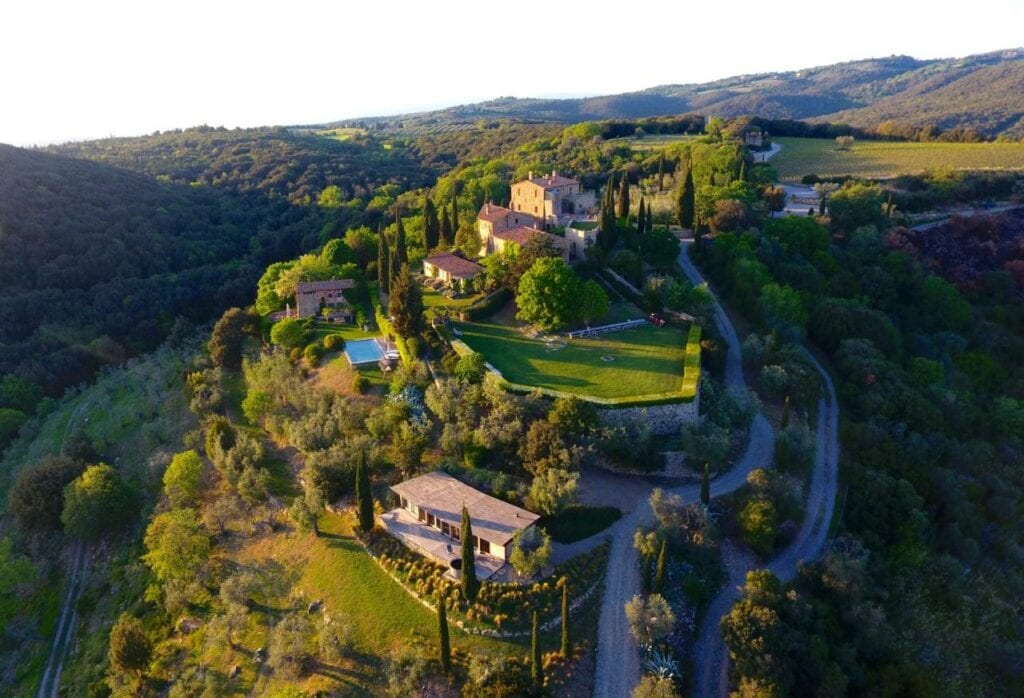 Castello di Vicarello offers delicious food, wine made from grapes grown in the estate's vineyards, a spectacular swimming pool, and opulent rooms.
The hotel offers cooking classes (in the garden during summer or beside a cosy open fire during winter) and a variety of wine-tasting sessions. Surrounded by roses, jasmine and a profusion of native flowers growing among olive groves and ancient lemon trees, the Castello di Vicarello is a wine resort where you can be as busy or as idle as you please!
Of all the honeymoon hotels in Italy, this must surely be one of the most romantic. Like many luxury wine hotels in Tuscany, the Conti di San Bonifacio is situated on a hilltop with amazing views out over the countryside of the Maremma Valley.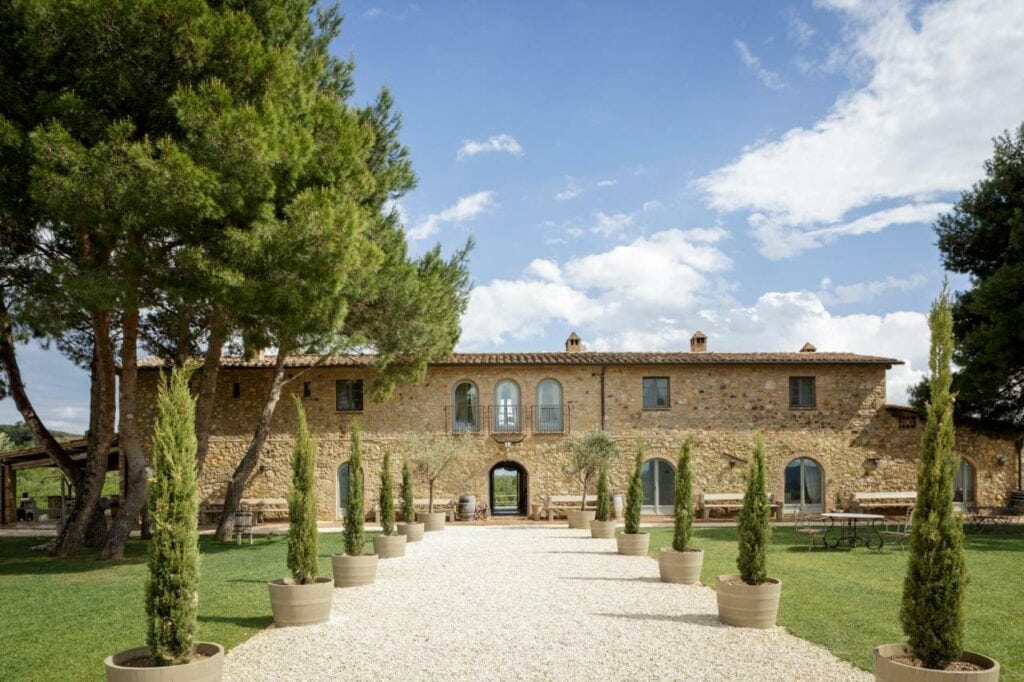 The infinity pool is so blue, you could spend a whole day in the water just gazing at the olive groves and grapevines of the surrounding estate.
This resort is popular with couples and it's easy to see why. The rooms have Carrara marble bathtubs and four-poster beds where you can laze away the bright mornings with your lover.
Perched on a hilltop at the centre of its own vineyard overlooking the Ombrone Valley, you'll get the full celebrity treatment if you stay at this wonderful boutique hotel. With timber-beamed ceilings and walk-in showers, the rooms are a perfect blend of authentic Tuscan architecture and modern design.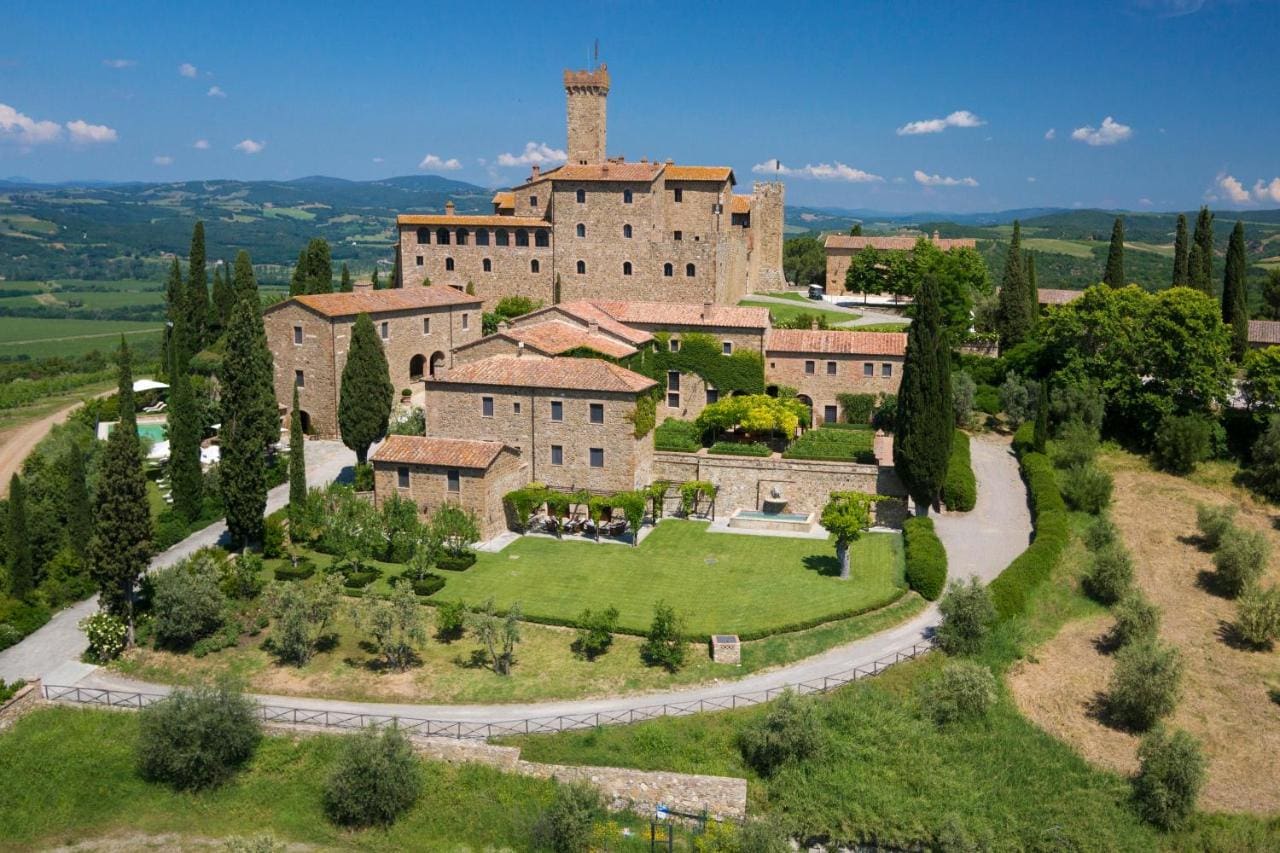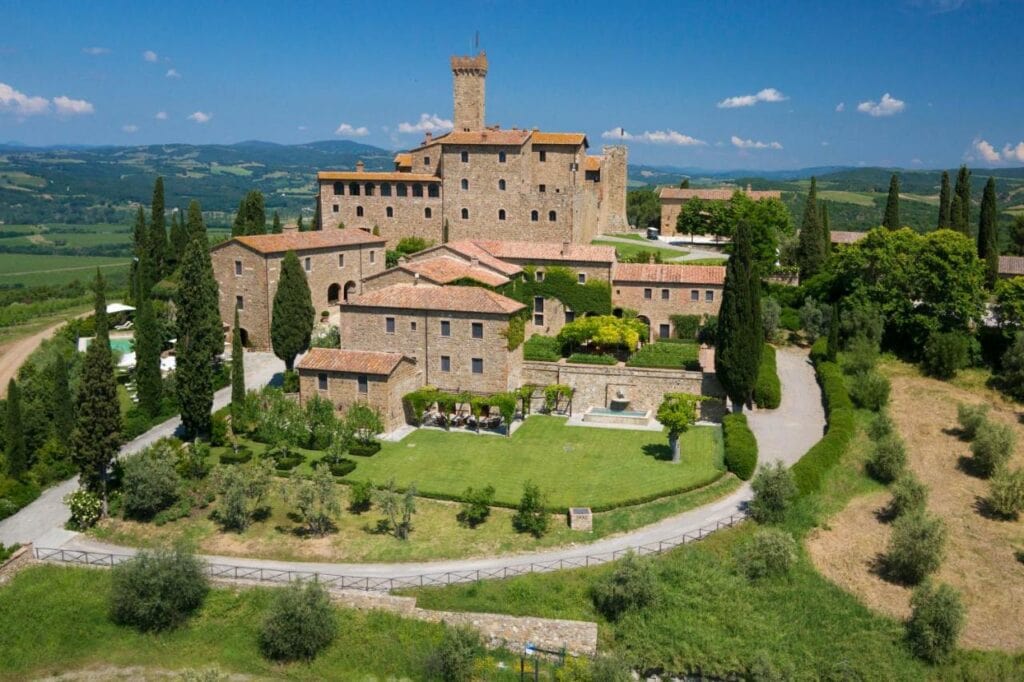 The stunning outdoor pool is a perfect place to sun yourself between meals. Plus, the winery's restaurant serves the best local cuisine and, of course, wine made on the premises. Looking for other things to do in the area? You can also go horse-trekking through the countryside.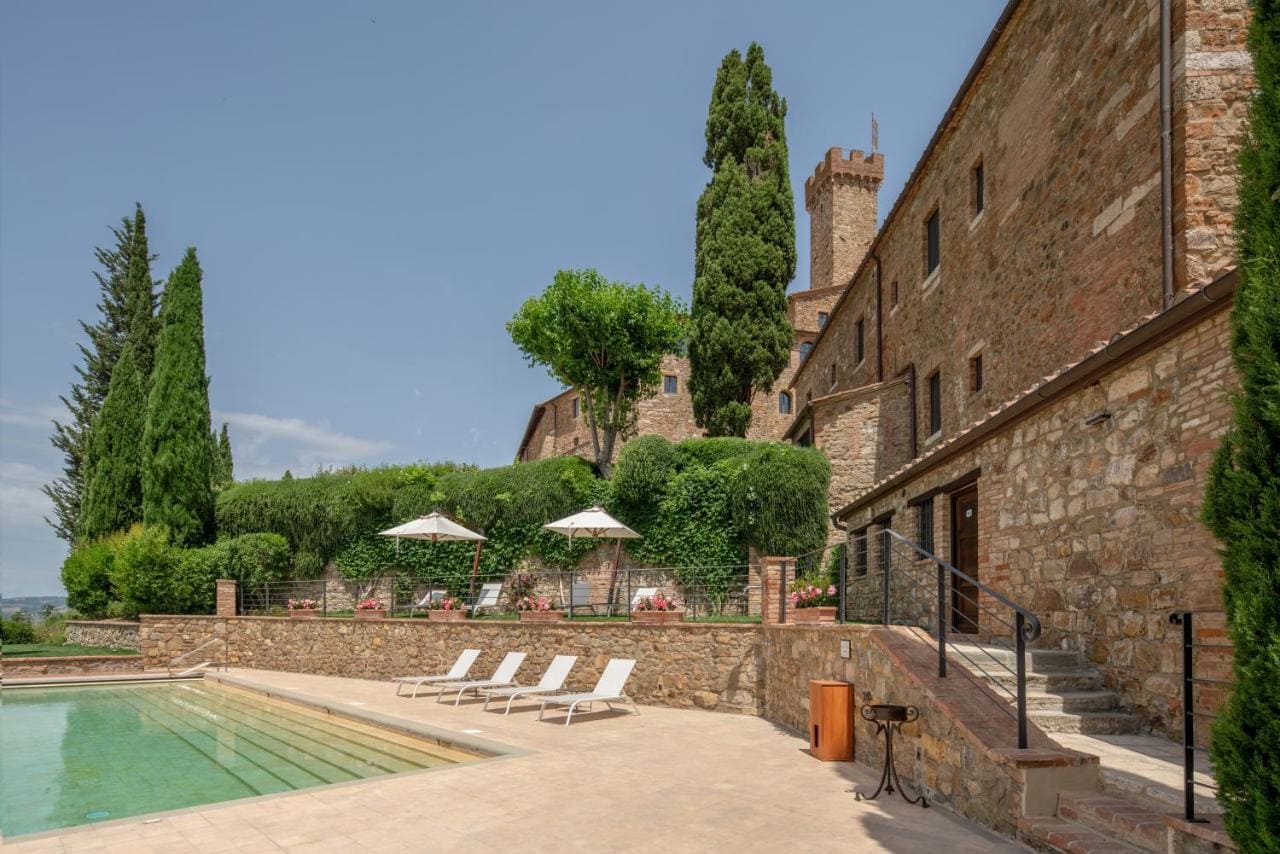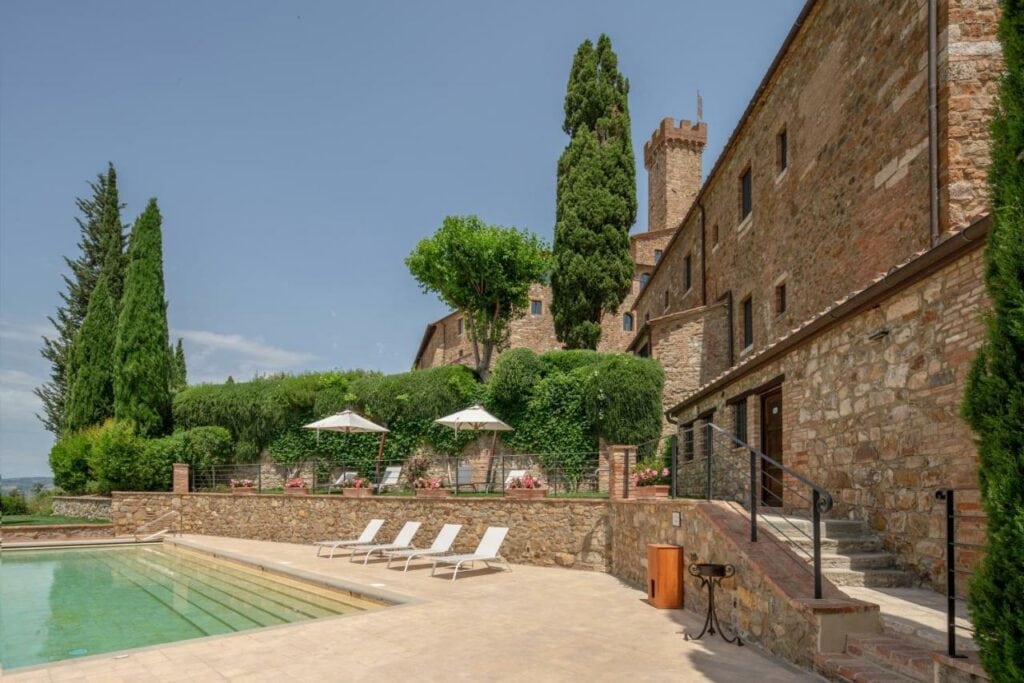 Or if you're planning your trip around your favourite tipple, you could book a wine-tasting tour of the local Montalcino estate vineyards with GetYourGuide.
I want you to close your eyes and picture a perfect wine estate villa in Tuscany. Twin rows of graceful Lombardy poplars line the gravel driveway leading up to the square, two-story villa with its solid limestone walls glowing in the sun.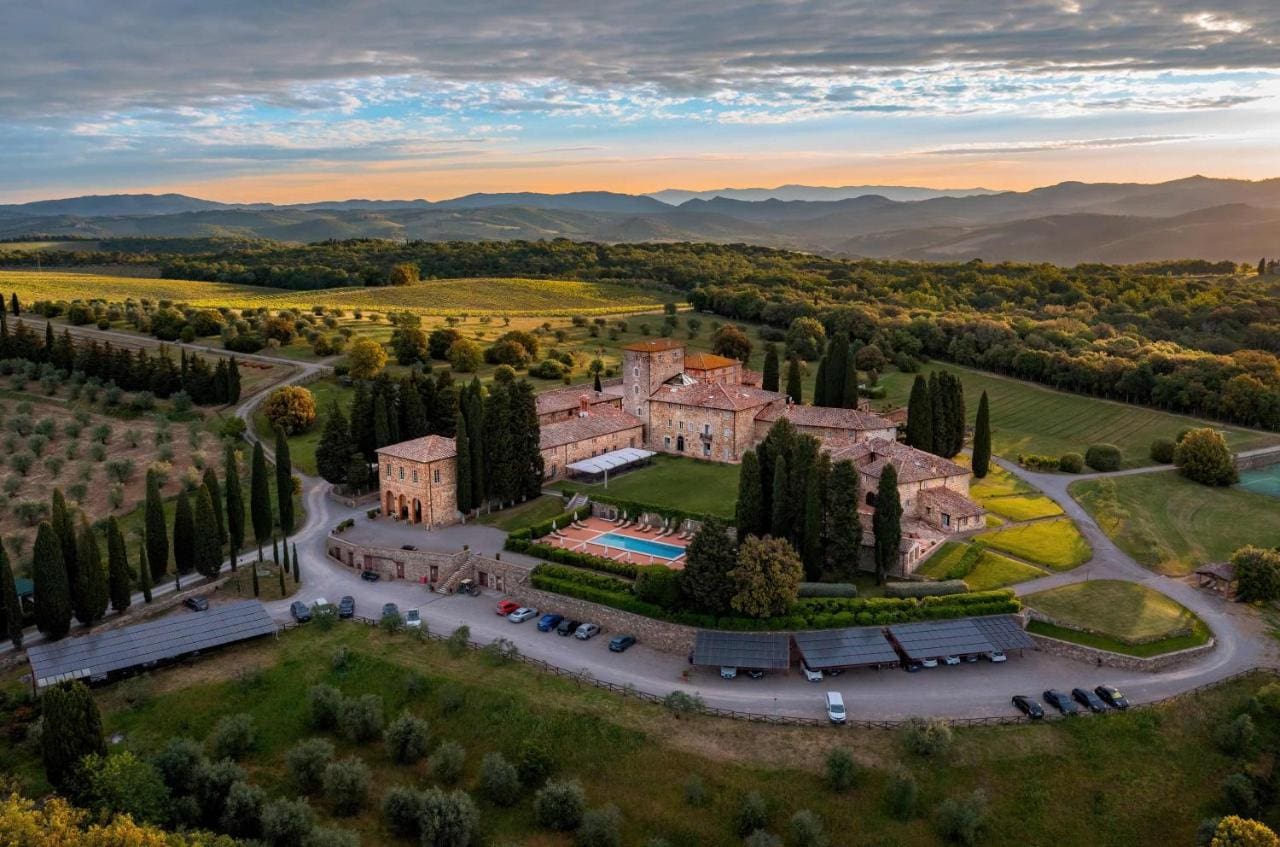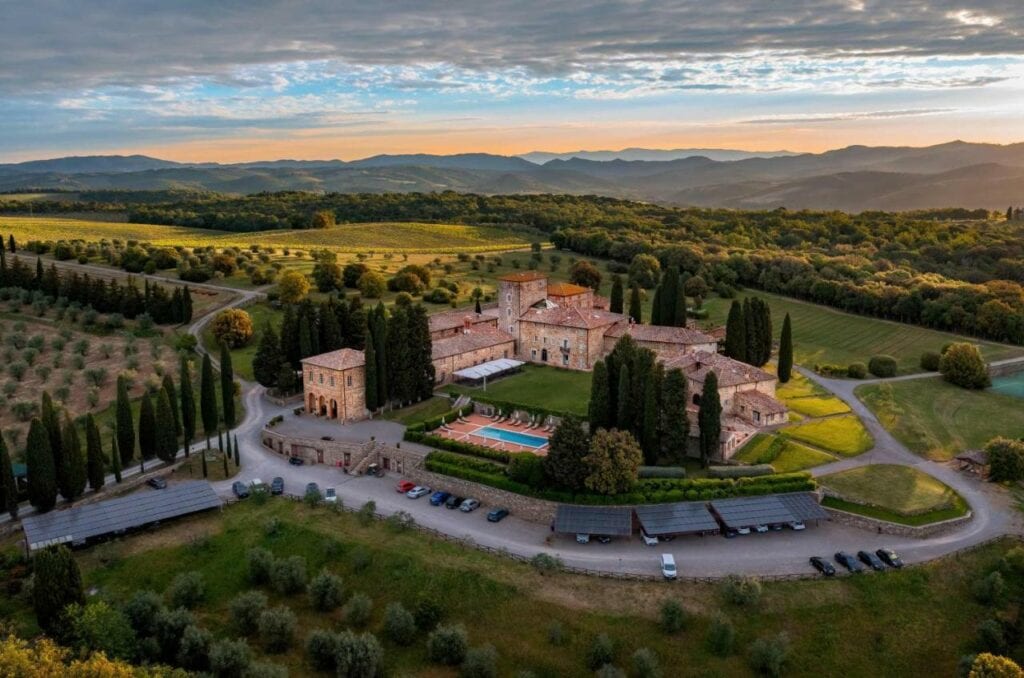 The surrounding landscape of olive groves and neat vineyards is lit by beams of sunlight. Oh, and your room looks out across a courtyard paved with flagstones of grey marble to the distant blue hills. Are you there yet? Well, you've just imagined the Borgo Scopeto Wine and Country Relais!
I could go on to tell you about the gastronomic restaurant, the Turkish bath, the olive oil and wine tastings, and the perfect swimming pool. But I won't… just keep on imagining that perfect Tuscan villa until you are there for real!
Blending the comfort and hospitality of a private home with the authenticity of a working vineyard, this historic 14th-century castle is set amid 100 hectares of grape vines and olive groves. It's conveniently located just a short drive from Florence.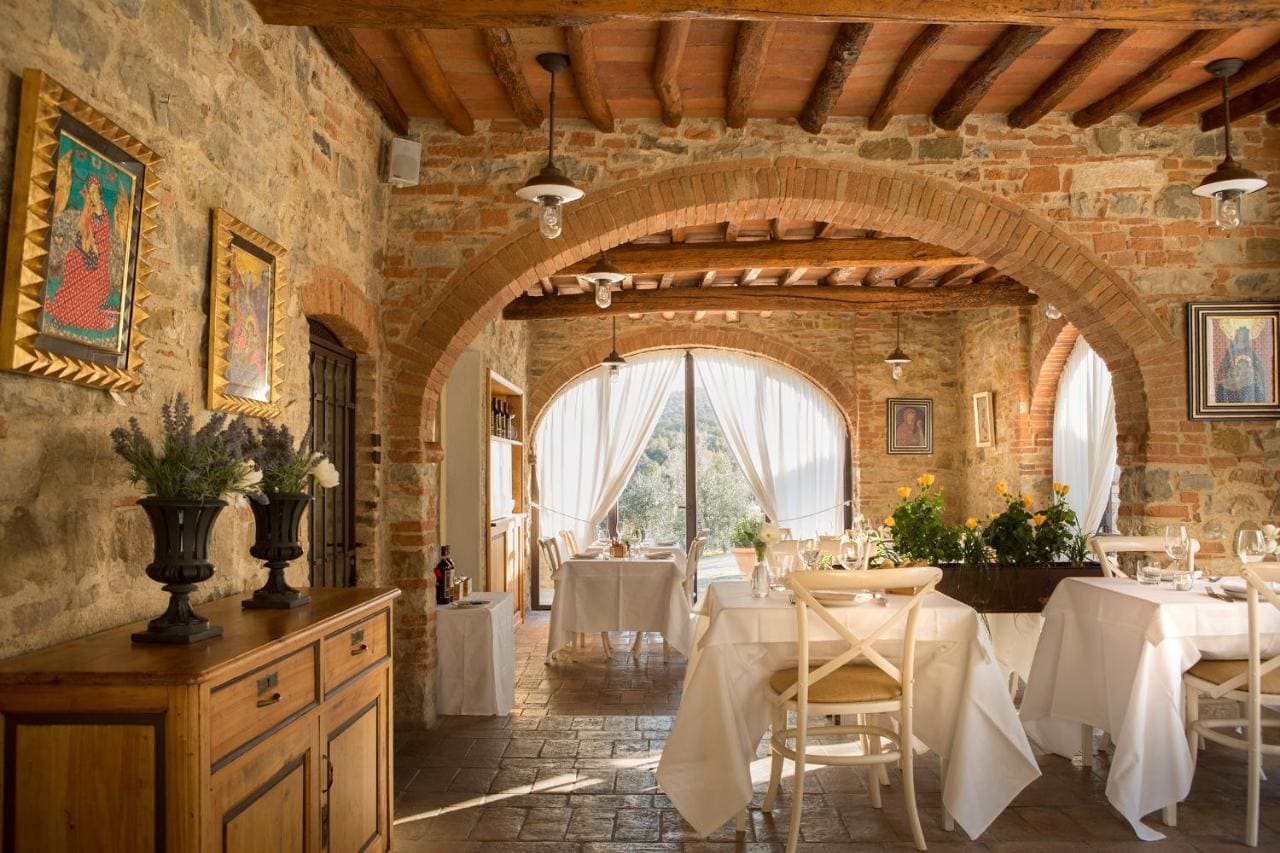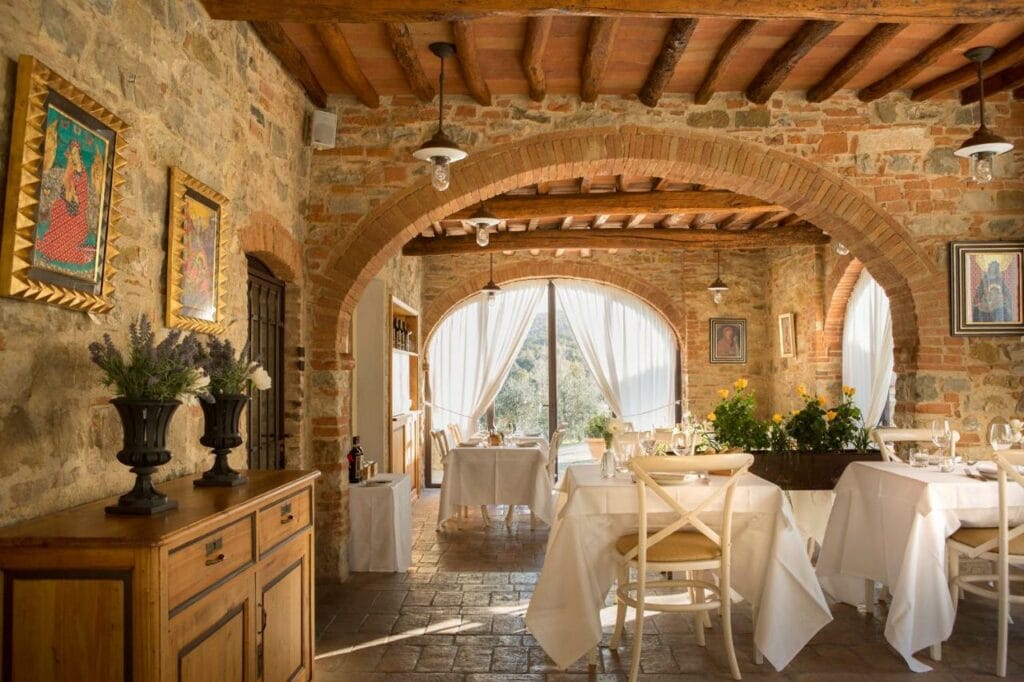 The rooms feature traditional terracotta floors and wooden furniture, giving a nice rustic feel. There are lots of paths and trails through the surrounding farmland and a pretty swimming pool with lovely views.
OK… it's time to get right out into the Tuscan countryside and relax at a quiet, isolated eco-resort. I love how this small winery and residence, set amid the gentle folds of the Maremma Hills, is fully organic. In fact, it even produces its own electricity!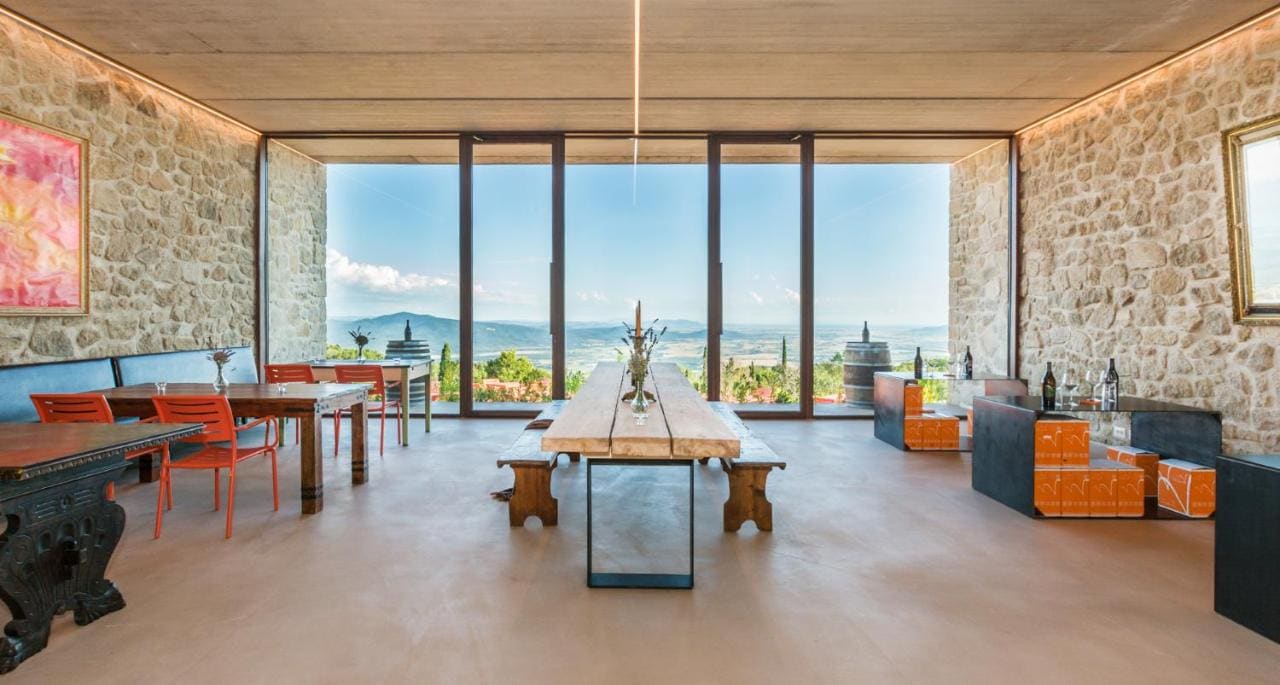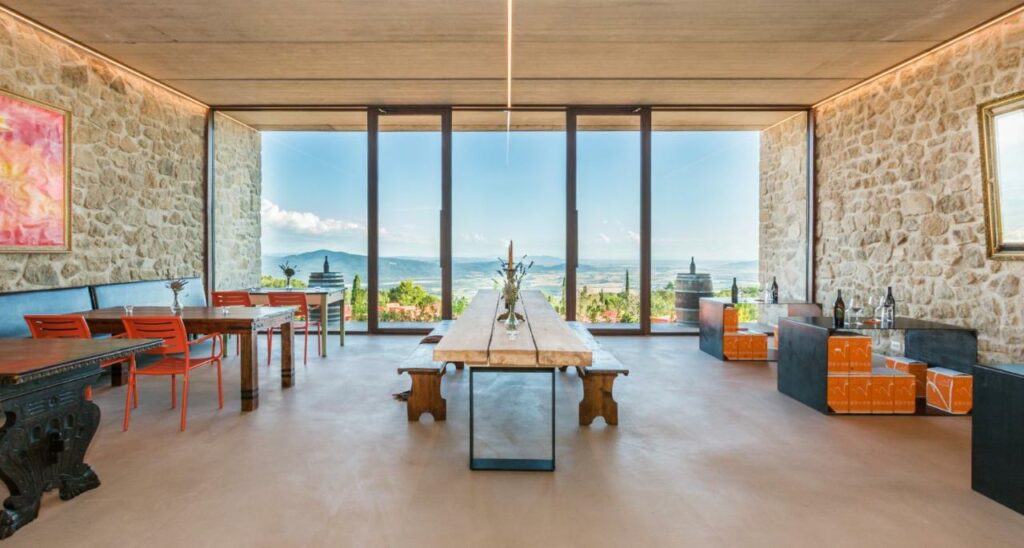 The accommodation consists of three different buildings spaced discreetly amid the trees: the Villa, the Cantina, and the Capo Pagiano. Each one has stylish individual decor, big comfy beds and terraces on all sides. There's even a small swimming pool.
This would be an ideal hotel if you're planning a romantic holiday or a honeymoon in Tuscany. Imagine that… spending your first days as a married couple in a Tuscan villa overlooking a magical valley under the Tuscan sun! Bellisimo!
If I had to choose one word to describe this lovely part of the Chianti Region it would be green. This lush forest-clad area of Tuscany has its own microclimate, which gives it cool nights, temperate days and plenty of water to keep the vines hydrated.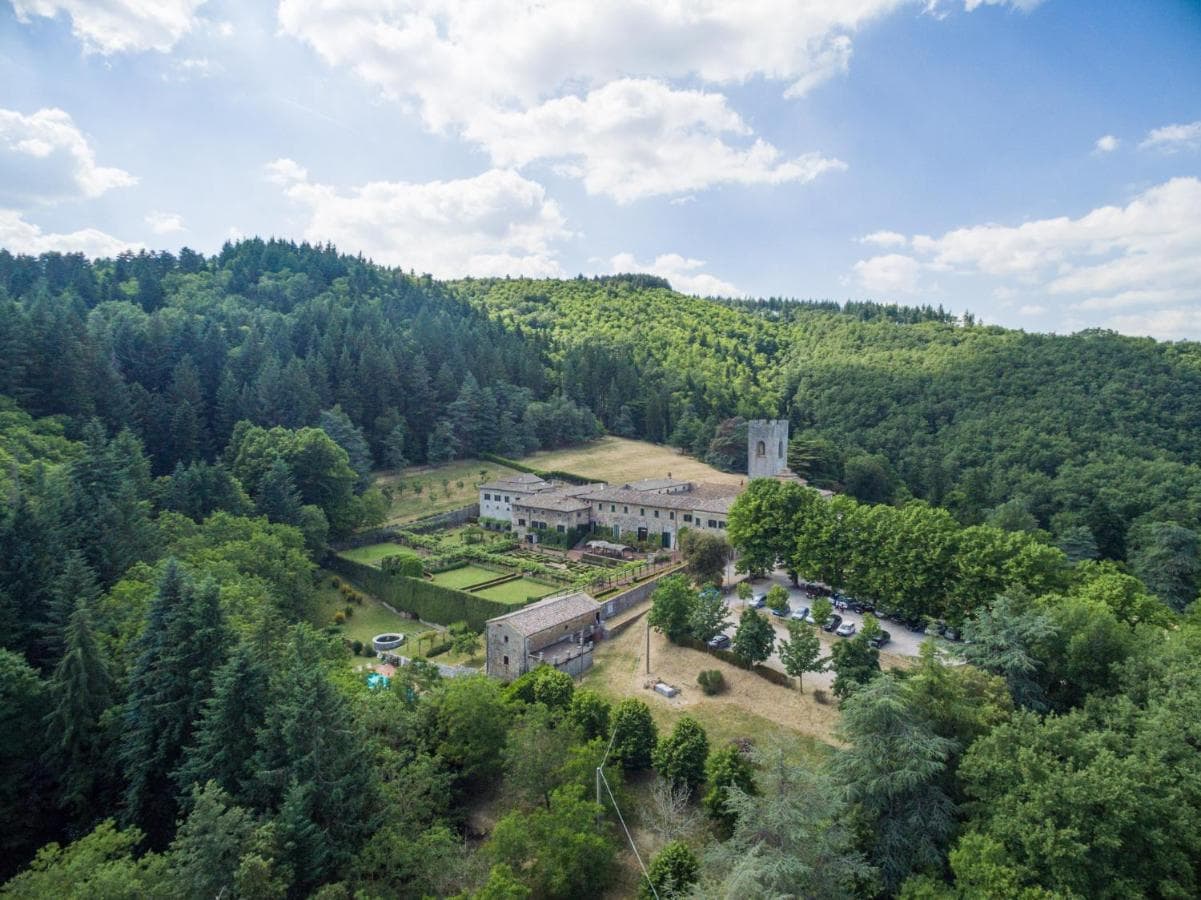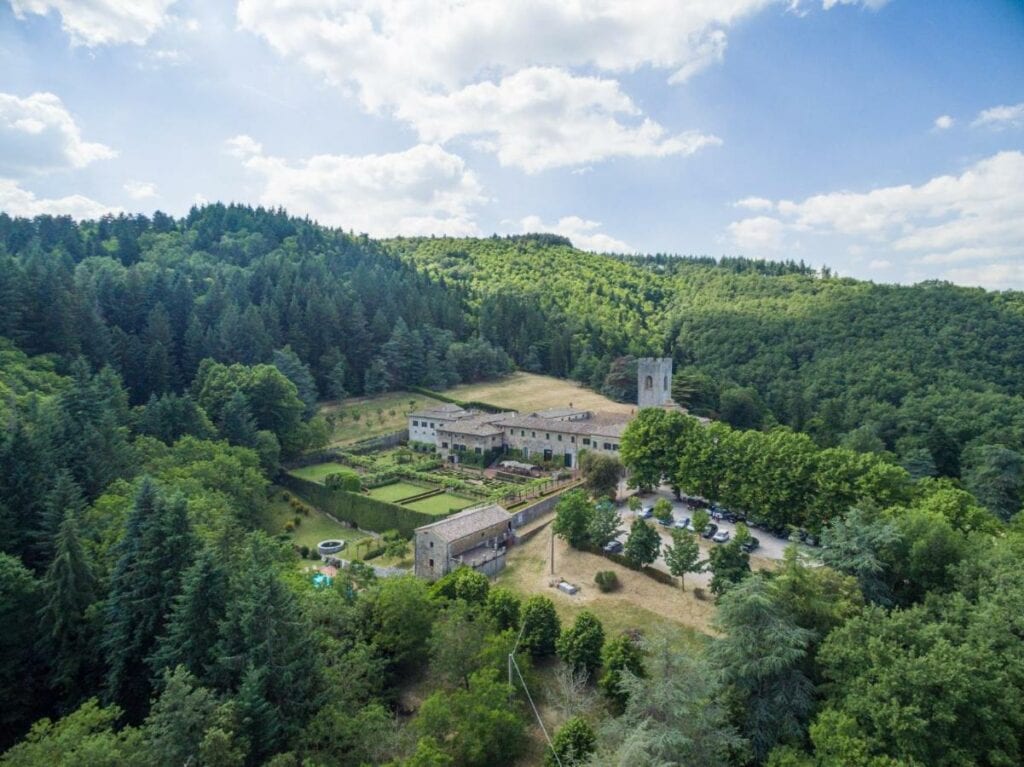 The Badia a Coltibuono — originally a 1,000-year-old abbey and farm — was one of the first vineyard hotels in Chianti. Surrounded by kitchen gardens, the towers and rooftops of this hotel frame views out across the verdant countryside. The rooms have a charming, heritage feel with pastel colours, brass bed frames and period furniture.
As you wander around the monastic outbuildings (after a great breakfast of Tuscan delicacies, of course!) you'll soak up a feeling of calmness and connect with the long traditions that embody life in Tuscany.
If you've ever dreamed of waking up in a Tuscan villa and throwing open the curtains to let in the morning sun, this is the place for you and your partner!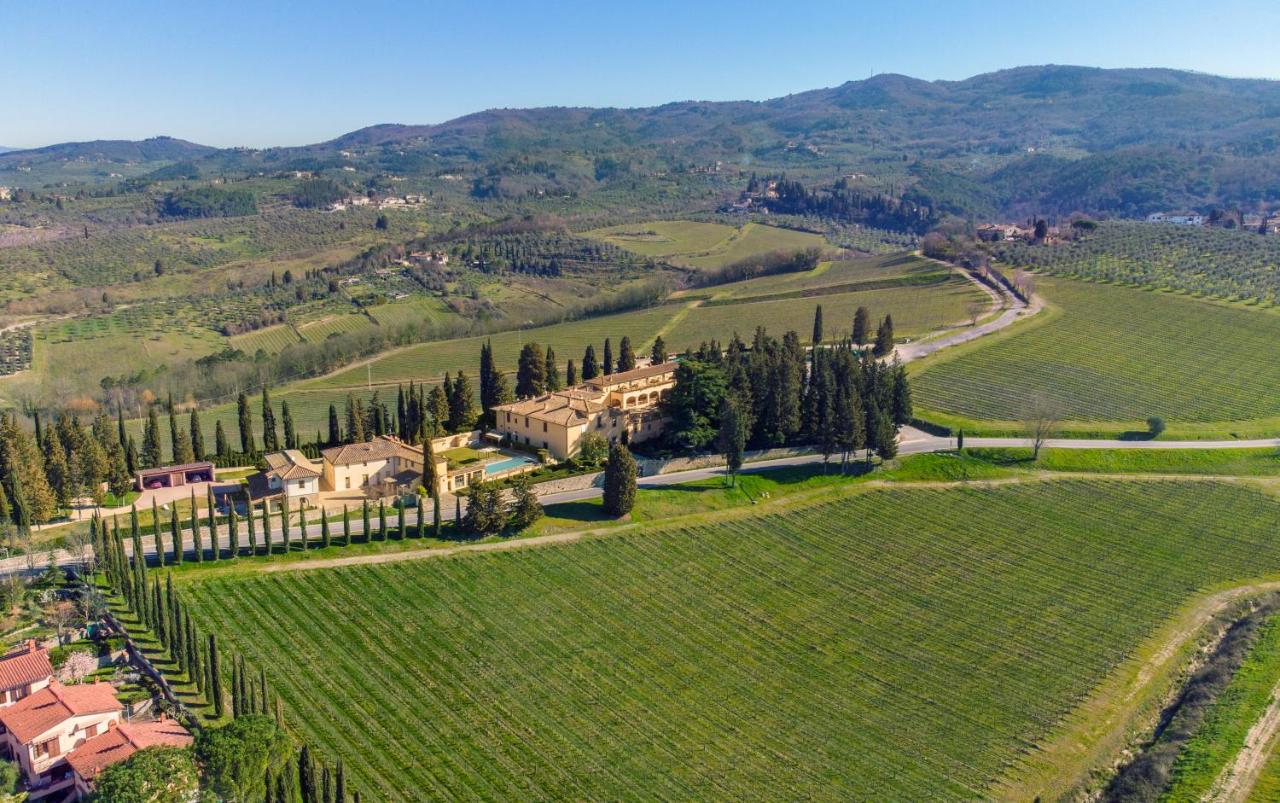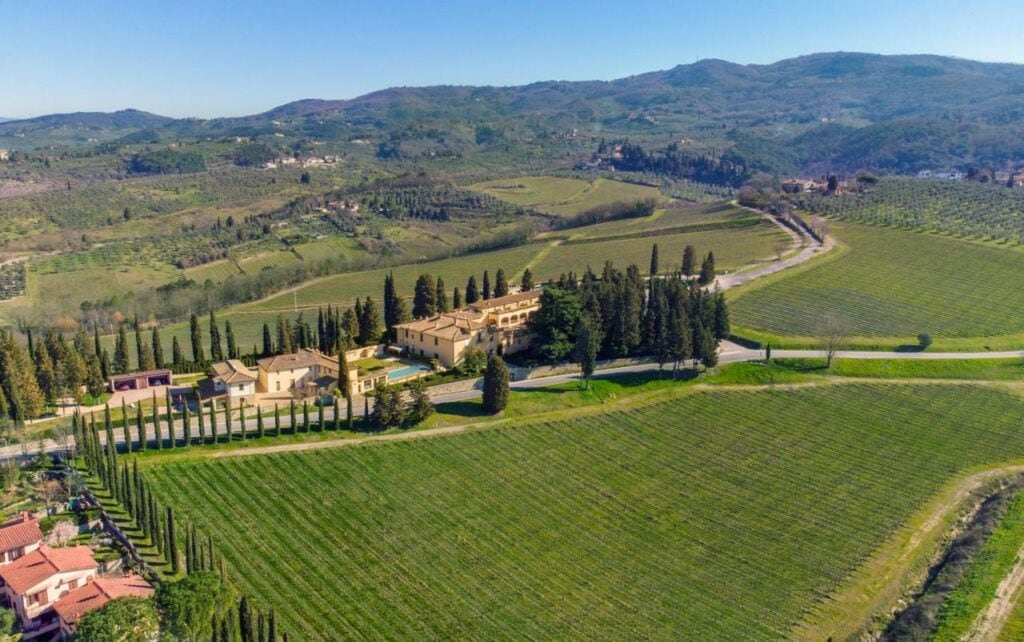 You'll enjoy views from this working vineyard and winery of neat rows of grape vines undulating away under the Tuscan sun. With terracotta terraces and tables set under shady trees, you can follow the sun (or the shade) around the resort buildings all day.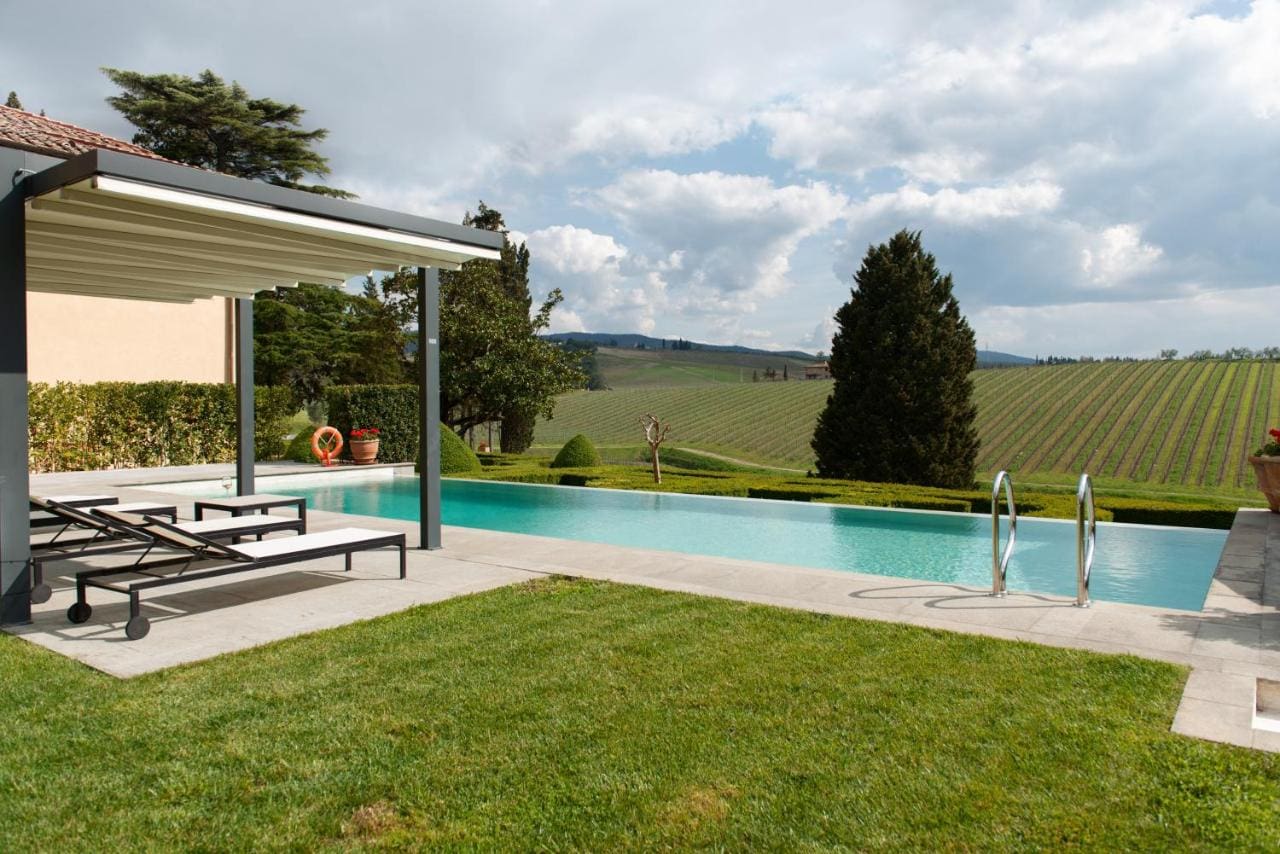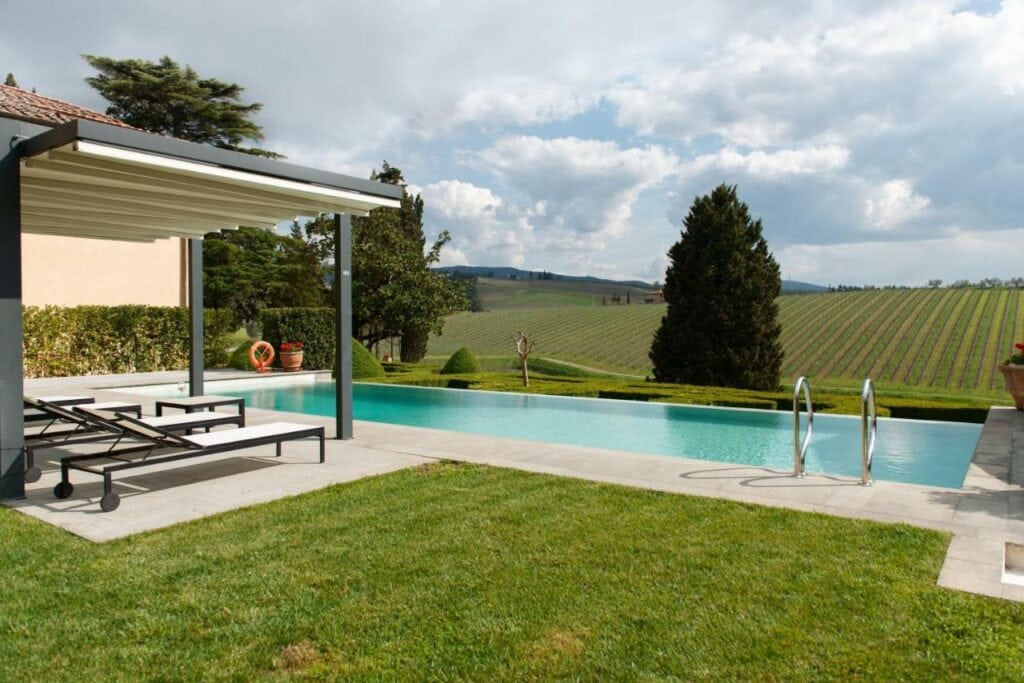 The resort's super-stylish Tre Rane Restaurant is the ideal spot for dinner, with a menu offering the best local produce. Meanwhile, head to the bar/café for your morning coffee or afternoon tea. For the full wino experience, don't miss a trip to the curving wine cellars, then sample a glass or two of the local Chianti red wine.
The hallmarks of rustic Tuscan architecture — timbered ceilings, whitewashed walls and terracotta floors — are brought to life in this grand villa set in the Val di Pesa valley near Florence. The bright, spacious rooms have all been lovingly restored to retain their authentic look and feel. Wooden shutters open onto secluded walled gardens and lawns, which slope down and out into the landscape.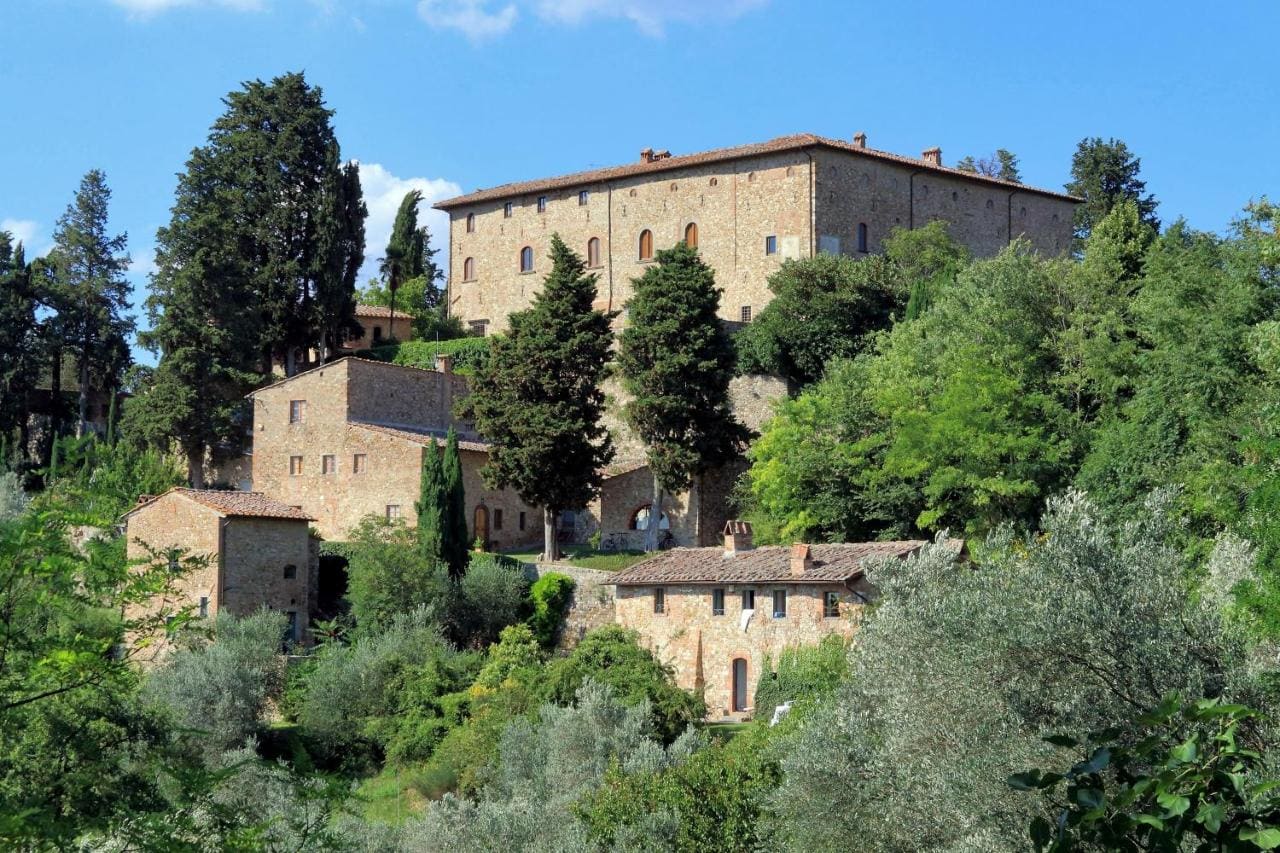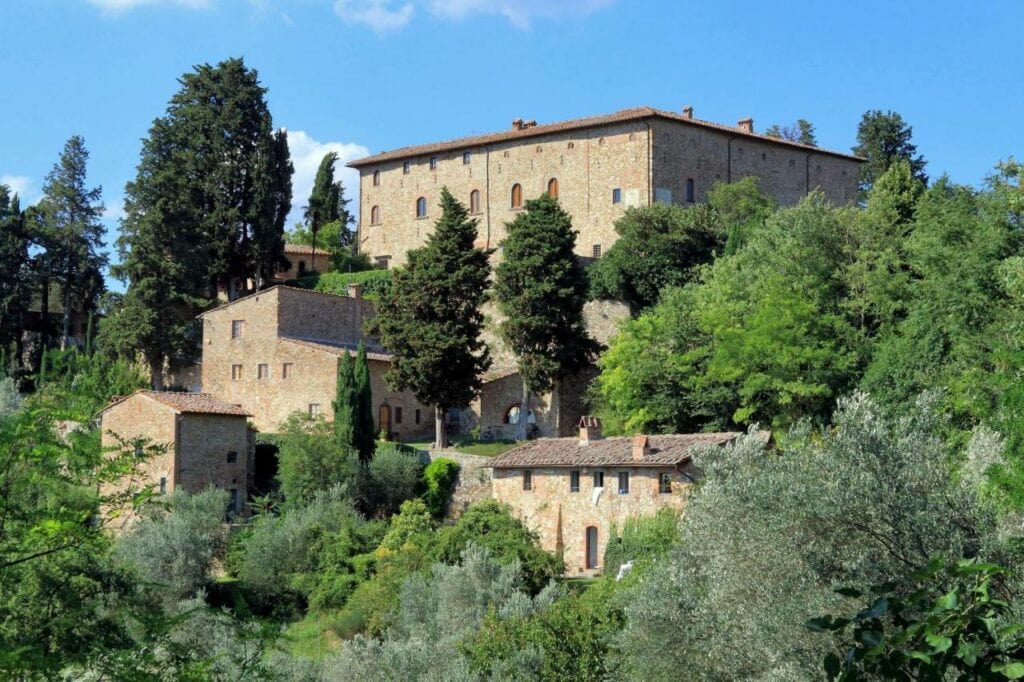 As well as producing delicious bottles of Chianti, the Castello di Bibbione also grows and extracts extra virgin olive oil which you can taste on-site.
Hop on one of the hotel's bikes (free to hire) and go for a ride through the local countryside, stocking up on locally-grown goodies along the way. Back at the hotel, you can cook the produce you've collected on a BBQ beside the pool and enjoy some stargazing under a clear Tuscan sky.
This is one of my favourite wine hotels in Tuscany. The resort comprises the buildings of the 13th-century village of Vescine whose ivy-covered walls, sloping tile roofs and cobbled passageways have all been lovingly restored by the Paladin family.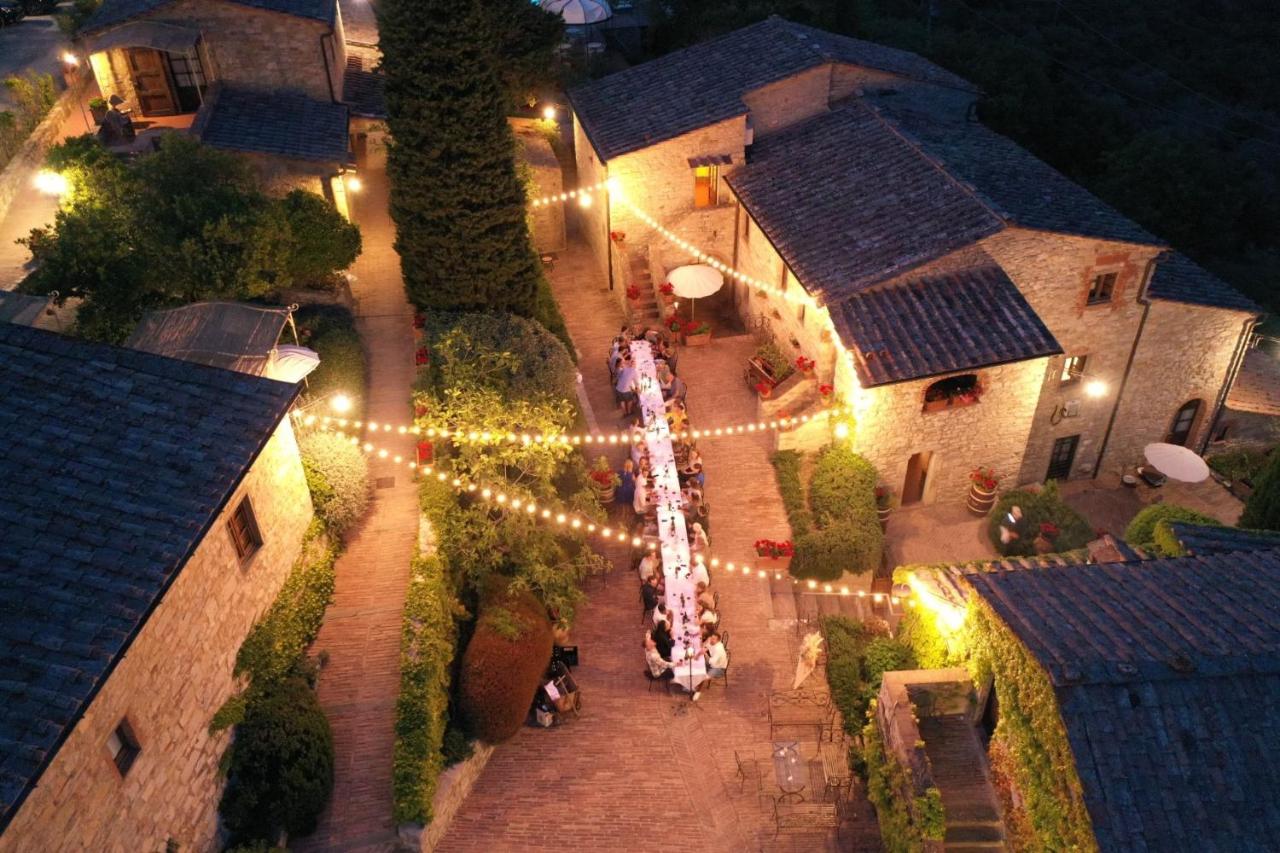 You can go hiking and horse riding through the glades and vineyards of the undulating country beyond.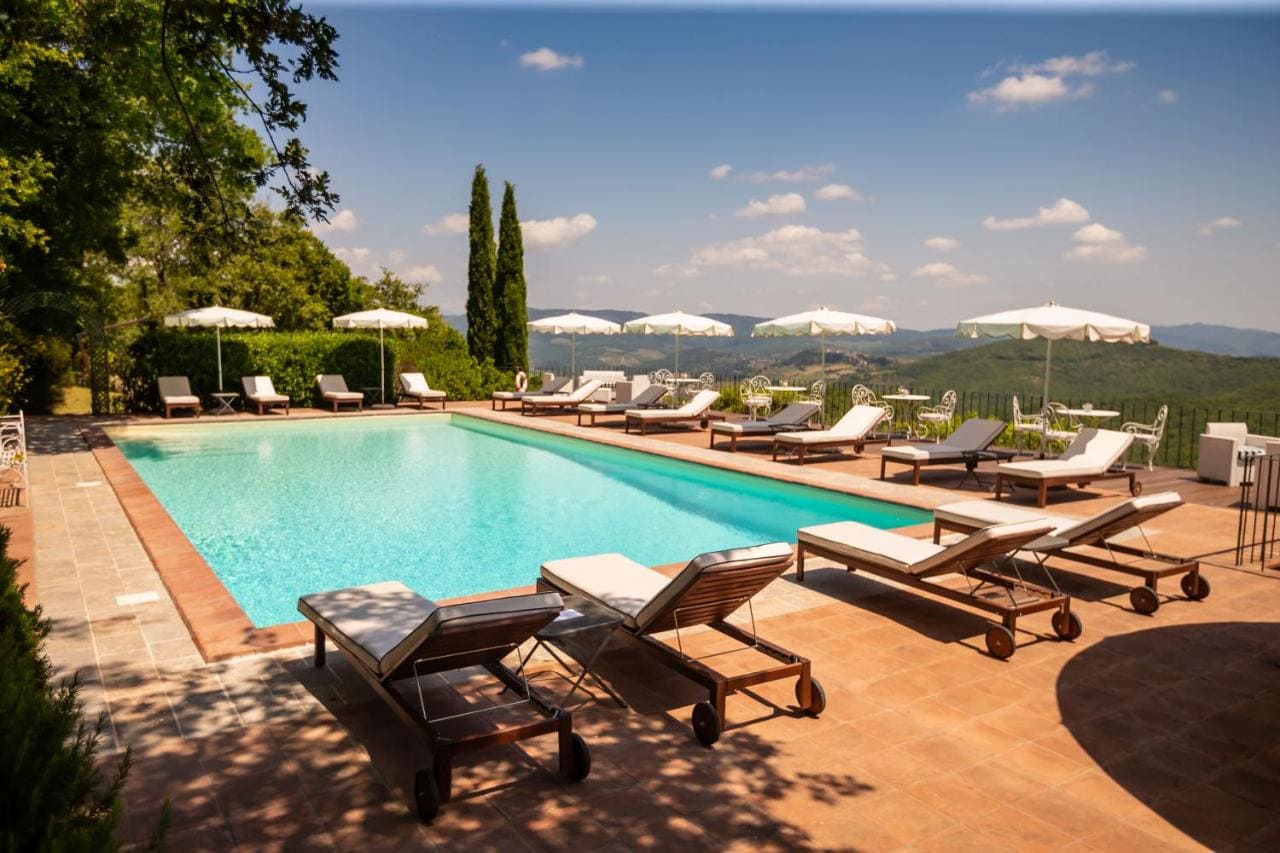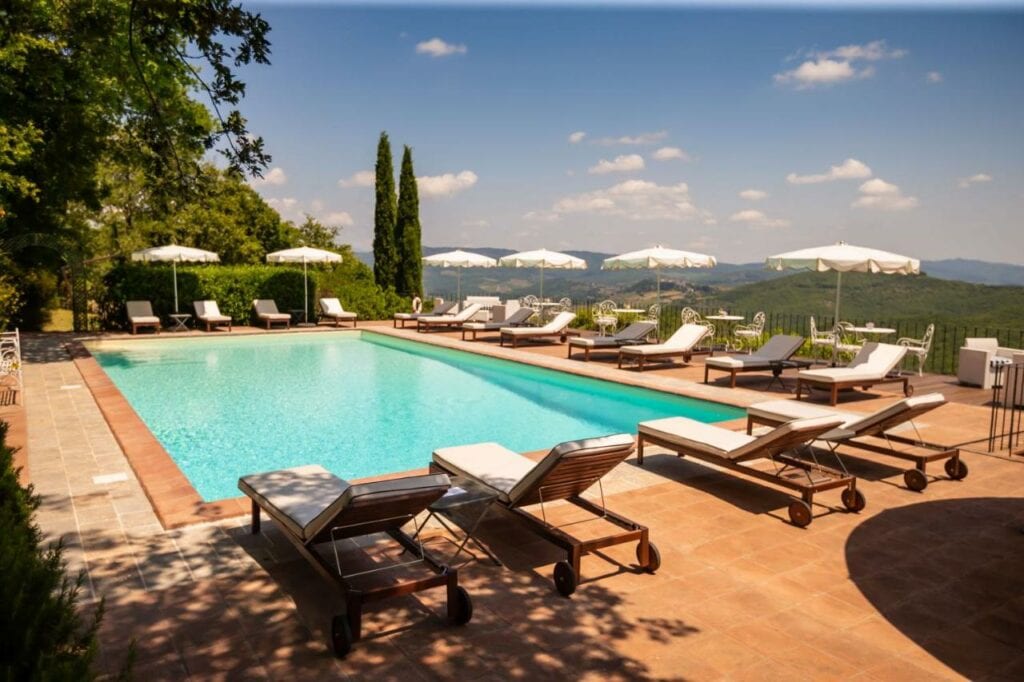 Cooking classes and wine tastings are great for foodies visiting this hotel. If all you want to do is relax, take a seat beside the pool and settle in.
This rural retreat near San Gimignano, northwest of Siena, is ideal for a short break in the Tuscan countryside. Surrounded by olive groves and vineyards, this boutique hotel has panoramic views of the 14 towers that dominate the skyline of San Gimignano.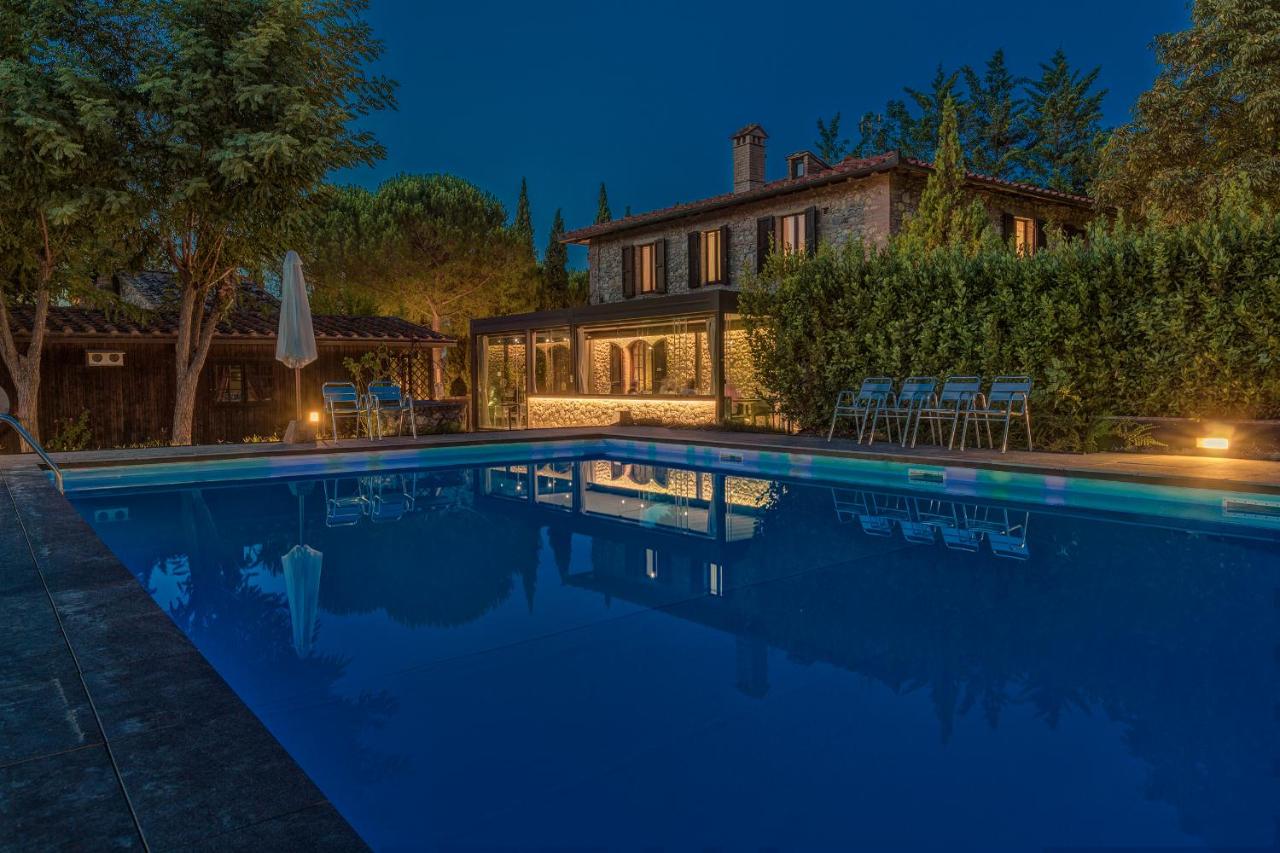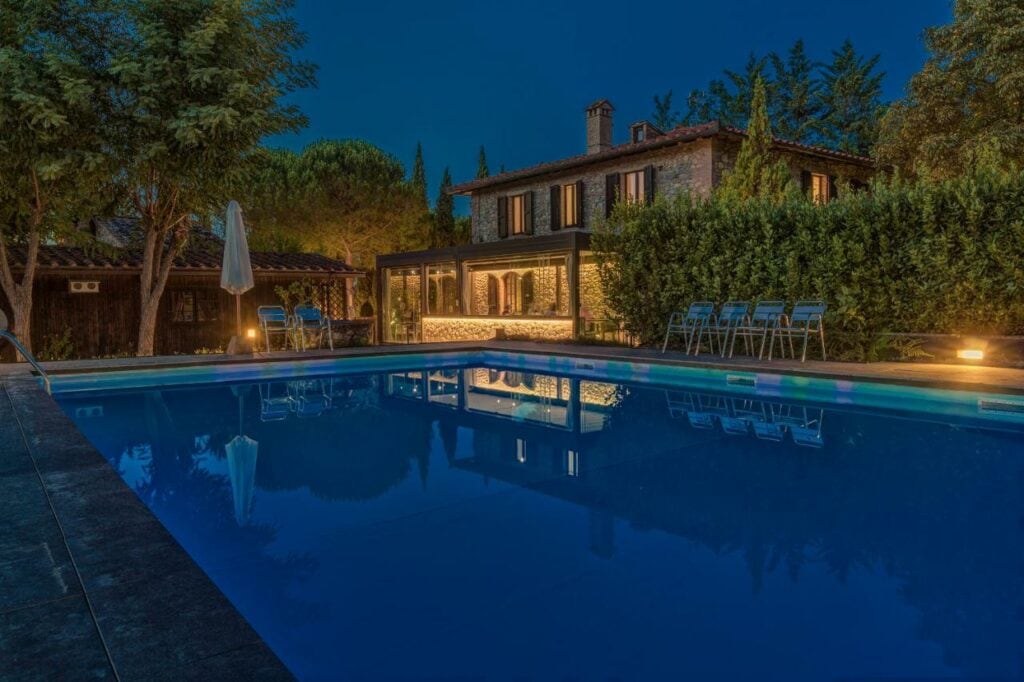 With a trippy purple bar room, beautifully-lit pool (perfect for midnight dips), oodles of countryside to explore and friendly staff, you'll soon feel as though you are one of the family.
The menu at the Zafferano Restaurant is loaded with local dishes and the shop sells Vernaccia di San Gimignano and Chianti wines, grappa, olive oil, honey and saffron. Just remember to leave some room in your suitcase!
Set on a hill just 20 kilometres from Florence, this family-run organic farm and vineyard gets rave reviews from its guests. It's easy to see why!
You'll see the traditional farming methods used on the estate to produce flour, vegetables, olive oil and wine showcased in the hotel's Bottega del Mulino store, as well as in the dishes served in its superb restaurant.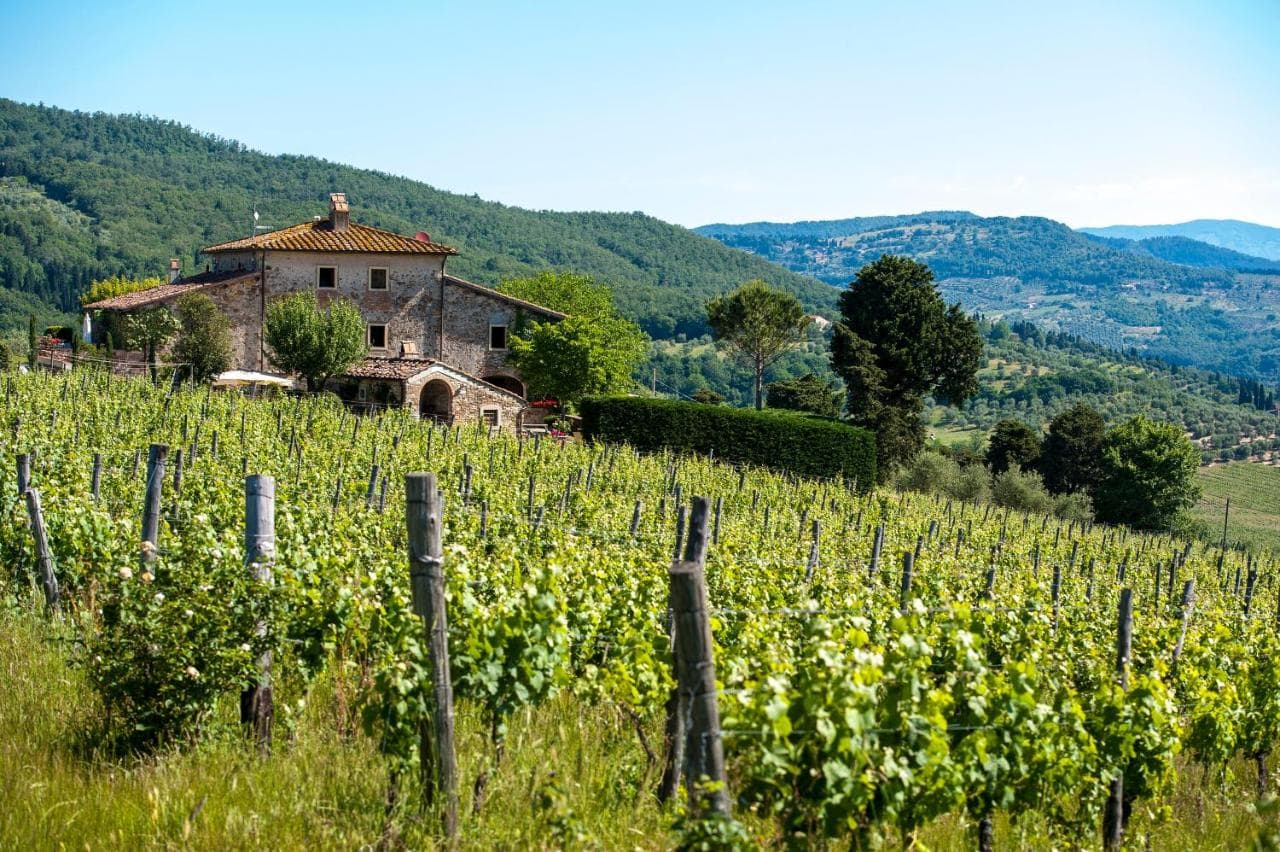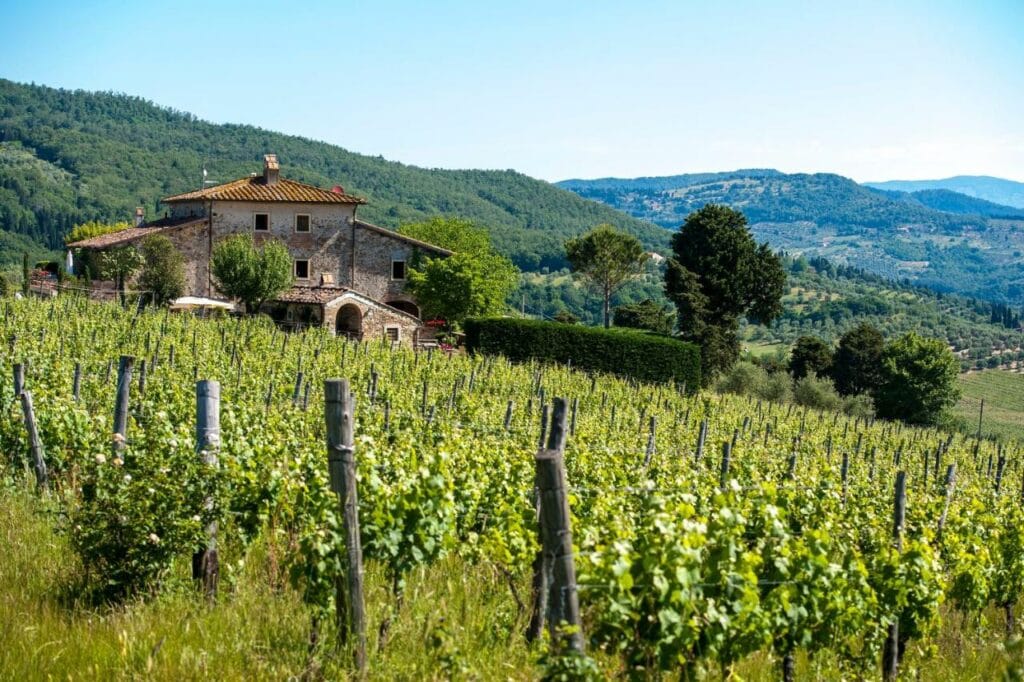 How about this for a truly memorable experience: You take a seat at a long wooden table shaded by ancient trees with vineyard views, and dine on dishes such as Fusilotti pasta with sausage, leeks and cabbage or Valle del Sauso beef tartare with spinach and rusticated potatoes. Are you hungry yet?
Oh, I was so caught up with the menu I almost forgot to say that the resort's rooms are full of charm, with rustic furniture, terracotta floors and super comfy beds. So if you have a Tuscan dream, this is the place to make it come true!
Mere words just can't do justice to this amazing place. Located on a hilltop between Siena and Florence, Locanda Le Piazze is a former 16th-century farmhouse that has been lovingly restored.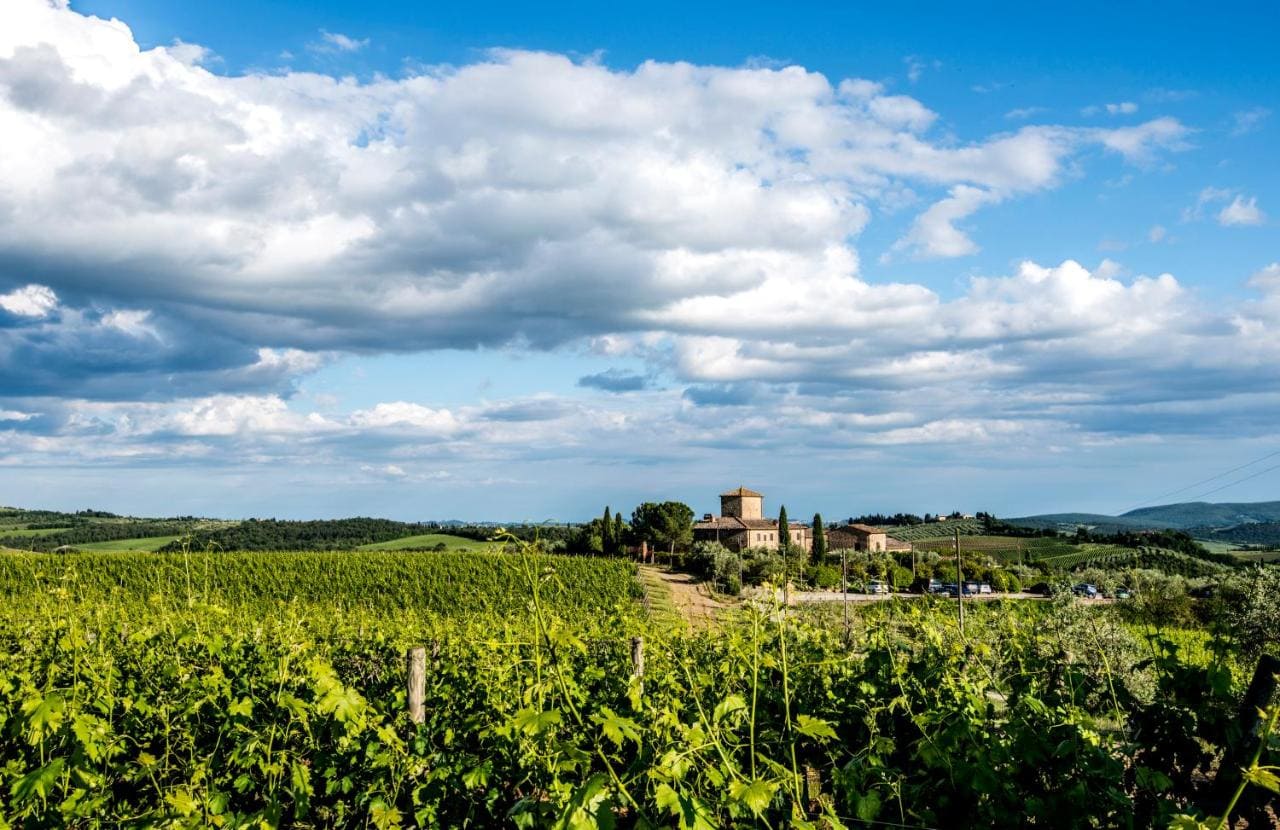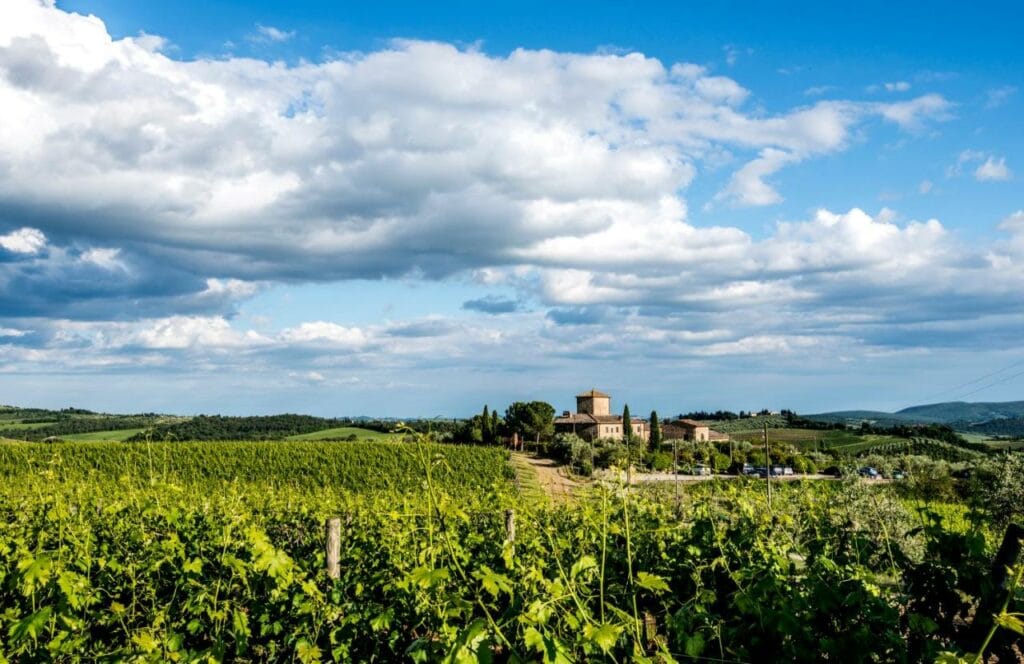 The rooms are furnished with high-quality materials and bright neutral shades. I love the quirky touches too, such as the big pillows embroidered with "I am not a morning person"!
There are cosy fireside nooks for cold weather cuddling and glorious summer patios with long vistas down the neat rows of Chianti grape vines. And don't miss a trip to the swimming pool! You might feel like a movie star as you walk down the cobbled pathway to dive into its warm waters!
---
If you've ever dreamed of spending a few days under the Tuscan sun, and falling in love all over again beneath a starry sky, then hopefully a stay at one of the best vineyard hotels in Tuscany will help to make your dreams come true.
Looking for more inspiration for your holiday in Italy? Don't miss these road trip itineraries. They're packed full of tips to make the most of any trip to the country.
The Ultimate Italy Road Trip Itinerary
From driving along the Amalfi Coast and enjoying traditional pasta in Puglia, to enjoying lake views in northern Italy and the incredible canals of Venice, it's time to plan the ultimate Italy road trip! 
From the stunning scenery of Lake Como, dramatic coastlines of Cinque Terre and the canals of Venice, to the culture, art and beauty of Milan, Florence and Rome, it's time to plan the ultimate northern Italy road trip!
From the vibrant city of Naples and the awe inspiring views of the Amalfi Coast, to the traditional Italian towns of Puglia and Sicily's beaches, volcanoes and cuisine, it's time to plan the ultimate southern Italy road trip!