Find out the top things to do, where to stay, where to eat and drink, and some insider information in this Antigua travel guide.
I've been lucky enough to visit the Caribbean quite a few times over the years, with travels in Cuba, an adventurous week in Dominica, a week at boutique music festival SXM in St Martin, a sensory tour of Barbados and a special ambassadorship for the island of St Kitts. I've loved seeing both how similar, and how different each of the islands are.
So, when the opportunity arose to visit Antigua, I jumped at the chance! I was ready for a week of sailing, sunshine, smiles and Susie's Hot Sauce (an island fave!) Since my first trip I've returned several times, adding to this bumper Antigua travel guide every single time.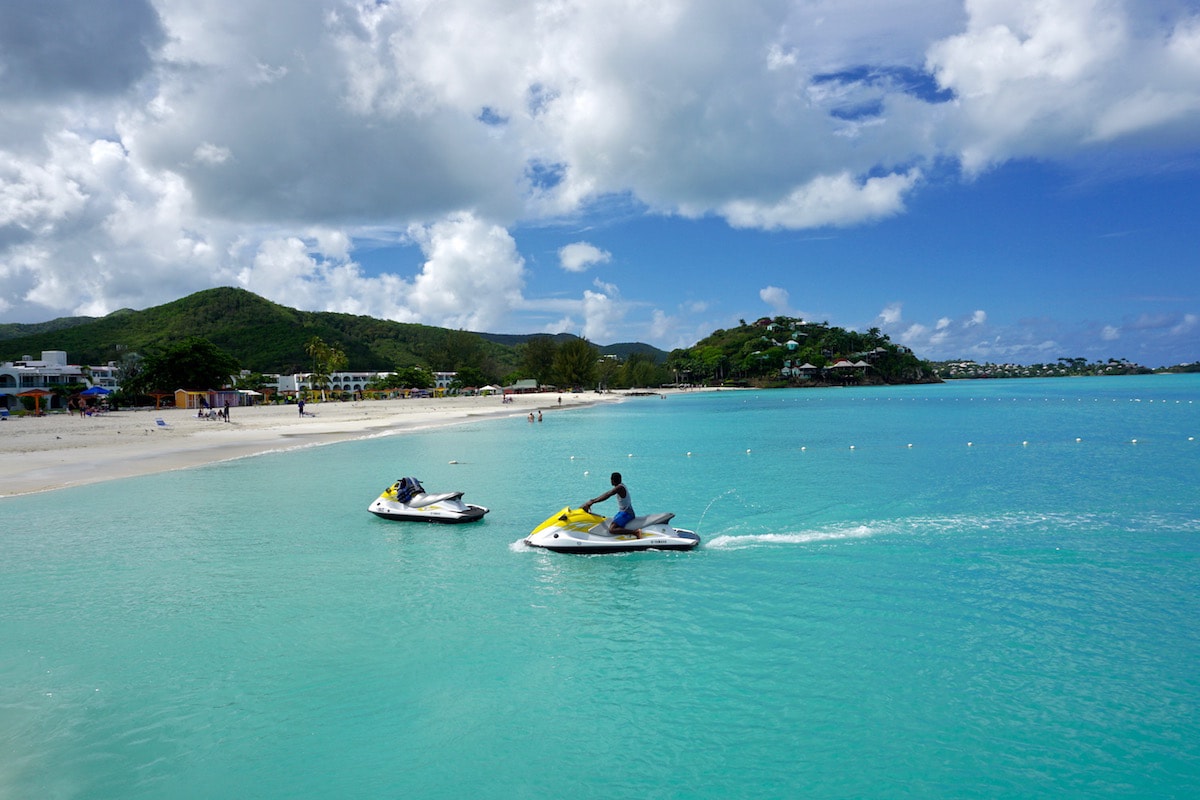 From rum punch and bright colours, to local charm and of course – ocean that shade of aquamarine that draws tourists year after year, it's easy to see why it is so popular with British and American travellers. On my first flight over I read there are 365 beaches in Antigua, and I intended to visit as many as possible.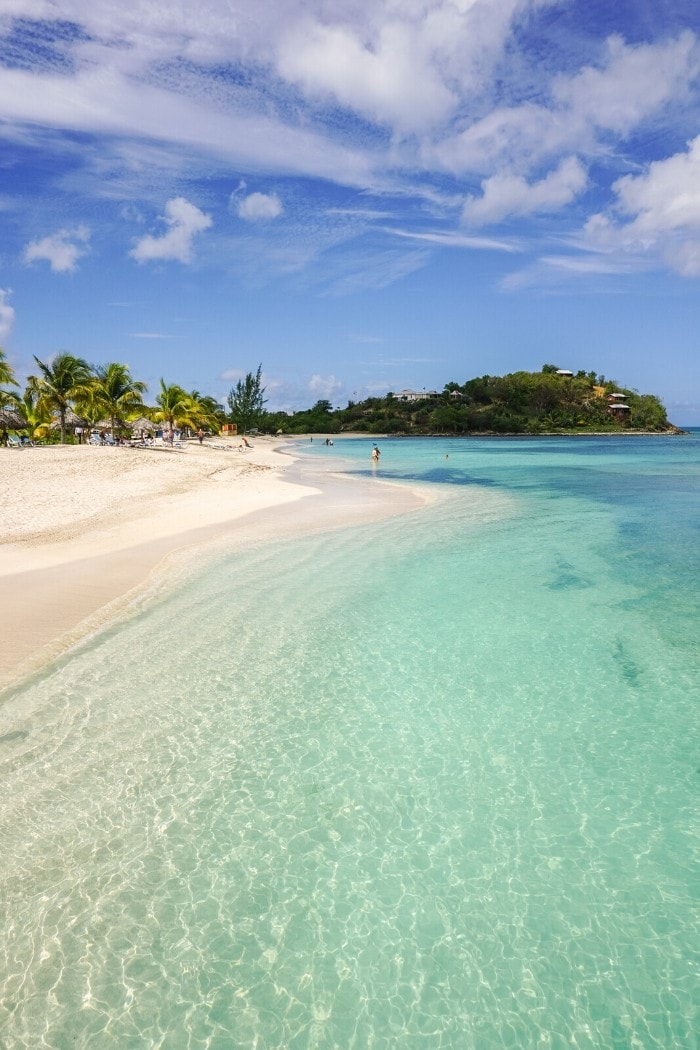 My first visit coincided with Antigua Sailing Week. The island's party scene was in full force, with sailing drills and competitions during the day, followed by rum-fuelled boat parties and concerts, all to a reggae soundtrack. Well this is the Caribbean after all.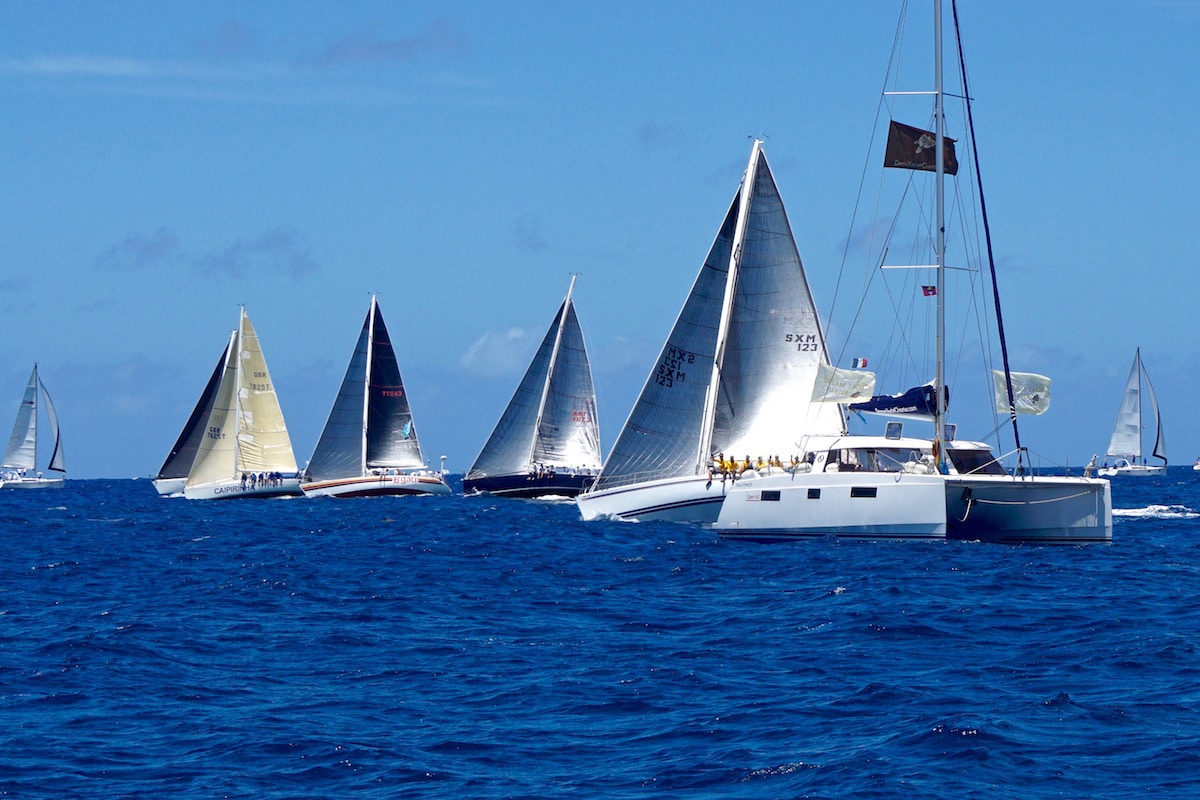 So if you're considering a trip to the Caribbean, is Antigua worth visiting? I mean, seriously, this is a big holiday… What is Antigua like and what is there to do on the island? Where are the best places to stay in Antigua? Don't worry – my Antigua travel guide will answer all of these burning questions, and more!
---
What's The History Of Antigua (in a nutshell)?
A former British colony, Antigua was discovered by Christopher Columbus, who thought he'd finally reached Japan! Errr – almost! He originally named the island Wadadli, which incidentally is now the name of the local beer.
Horatio Nelson built a dockyard on the island, which today is the only working Georgian dockyard in the world. Of course, the big industry was sugar – an industry full of tragedy and slavery.
While abolished in 1950s, there are plenty of reminders in the form of the old sugar mills dotted all over the island.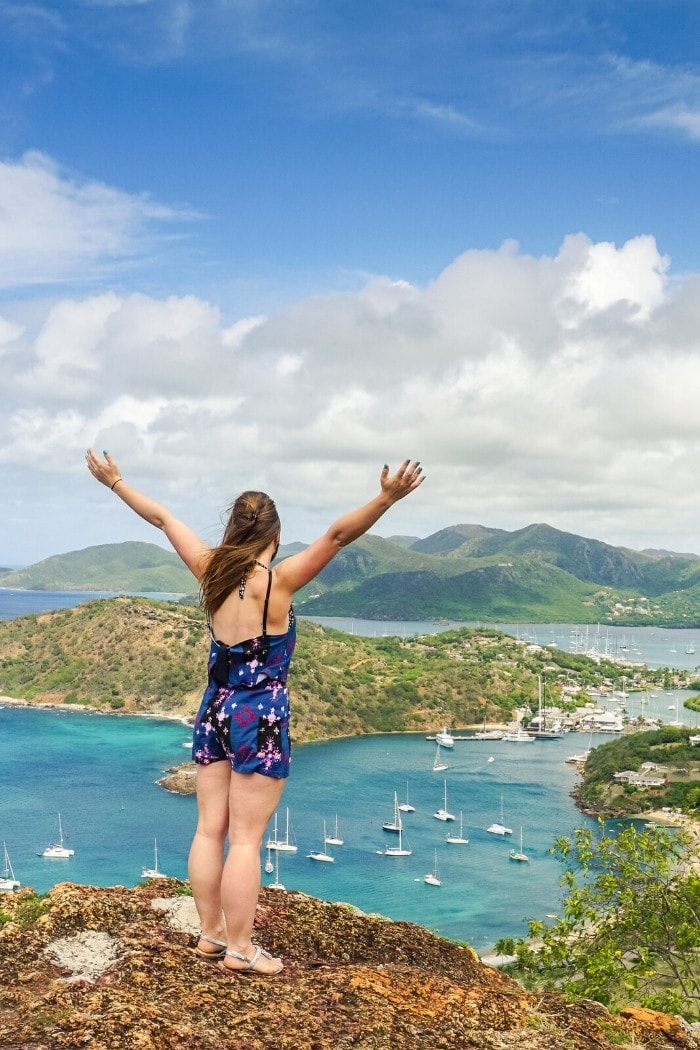 What's So Great About Antigua Holidays?
If you're fancying a super-relaxing holiday, then welcome to Antigua! The pace is slow, the tourist infrastructure is well established and there are plenty of hotel, villa and apartment options to choose from.
For the adventurous, there's easily enough to do to fill a week's holiday, or for those who want to laze around, there are 365 beaches to pick from.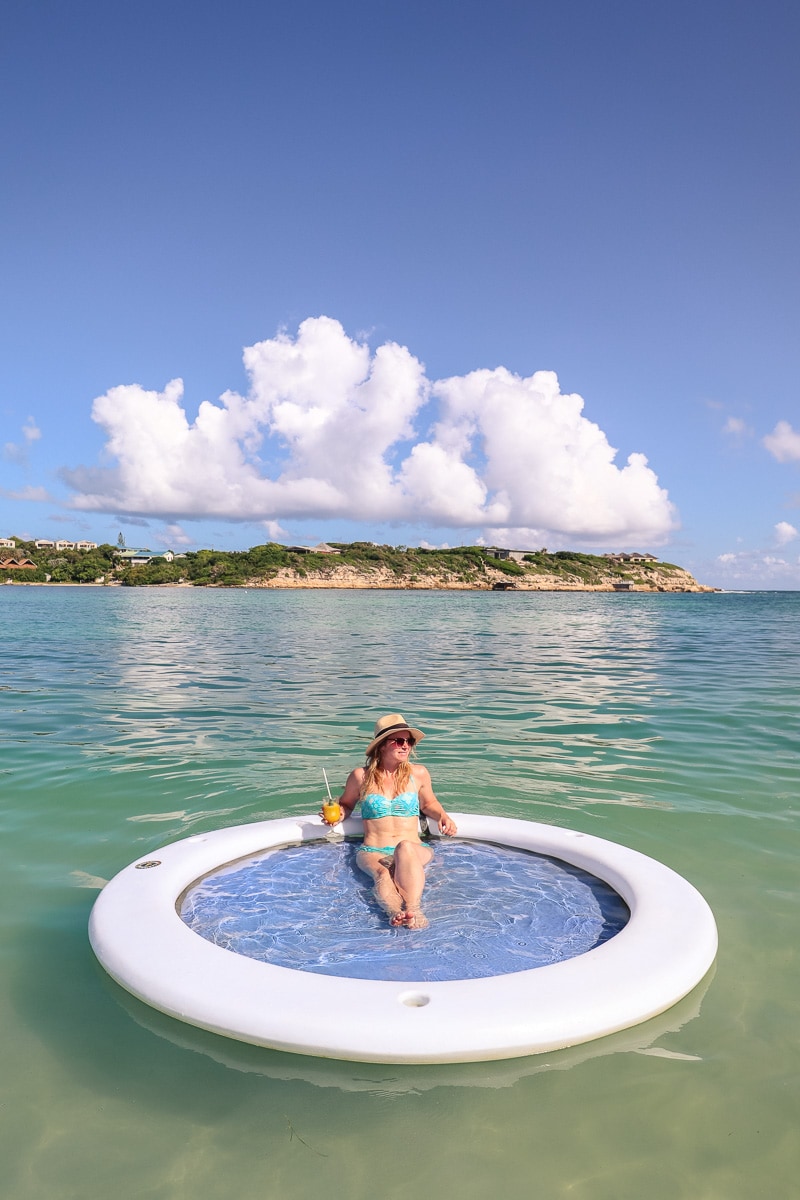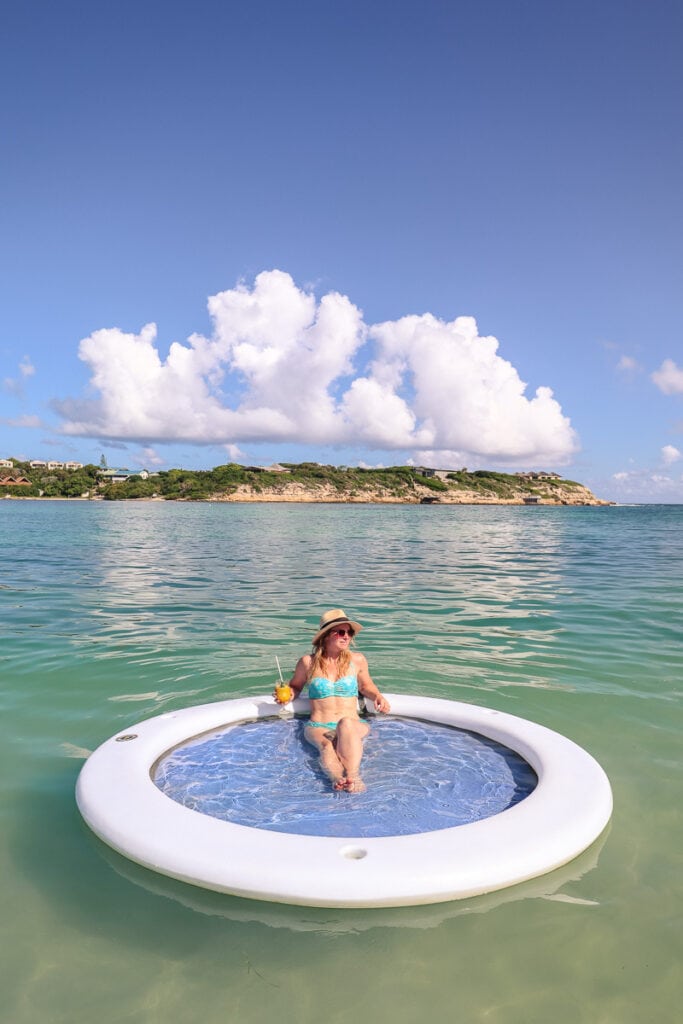 Where Is Antigua?
Antigua is a country in the West Indies, in the eastern Caribbean, located between the Caribbean Sea and the Atlantic Ocean. Along with its island partner Barbuda, Antigua is right in the middle of the Leeward Islands, just 17 degrees north of the equator.
Head north and west you'll reach St. Kitts, St. Barts, and St. Martin, or head south towards Montserrat and Guadeloupe.
how big is antigua?
Antigua is approximately 14 miles long and 11 miles wide. That's 108 square miles, or 281 square km in total!
How To Get To Antigua
There are several flights a week between the UK and Antigua (St John's International Airport) with Virgin Atlantic and British Airways, and it takes just 8 and a half hours. Brits and Americans don't require a visa for Antigua so long as you have an onward flight booked.
When is the Best Time To Visit Antigua
Mid-December to mid-April is usually considered the best time to visit Antigua. It's the coolest and driest time in the Caribbean, plus it's when Britain is coldest. Winter sun – tick!
By July and August it gets pretty toasty on the island. Hurricane season runs from June to October but the worst month is September, so its best avoided if possible. However, saying that, my third visit to the island was a week in September and we had great weather all week. There were murmurs of a hurricane out at sea, but on land, it was business as usual.
Temperatures are pretty consistent all year around, and yes we're talking between 25-30 degrees!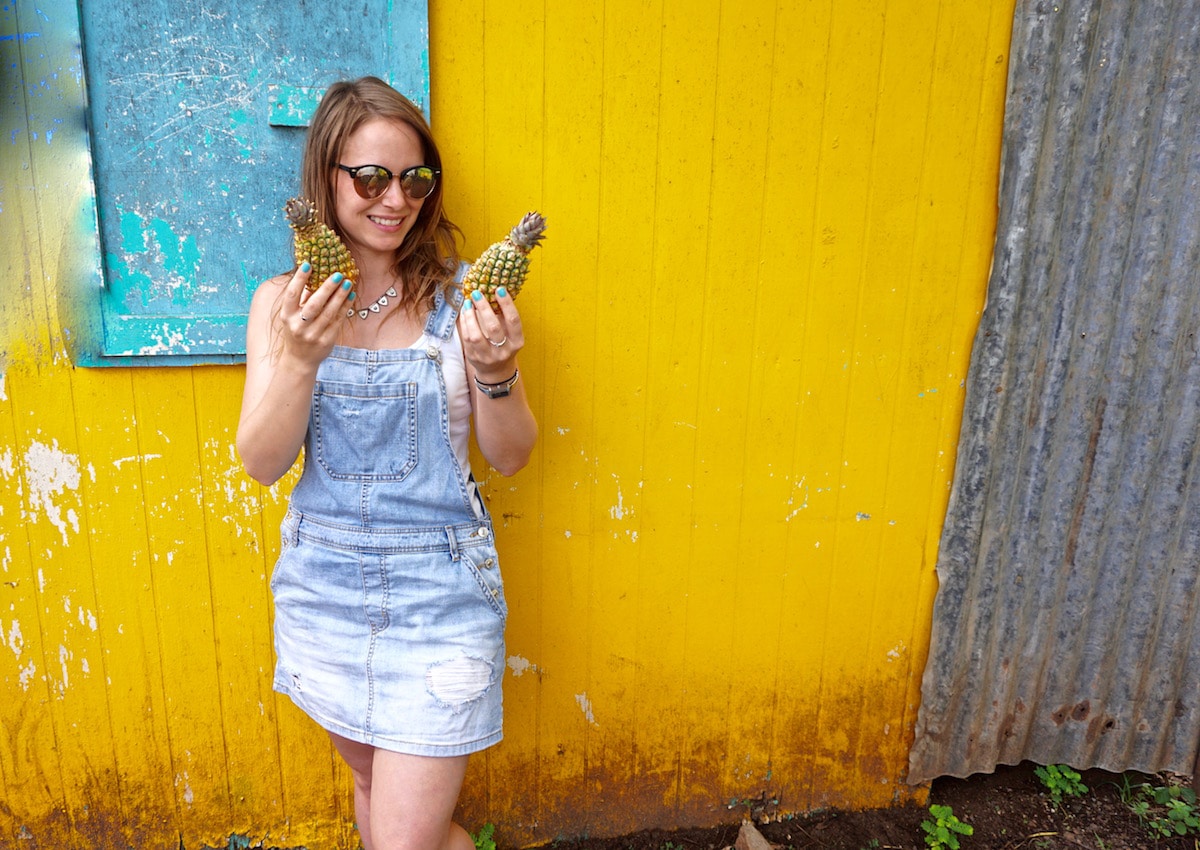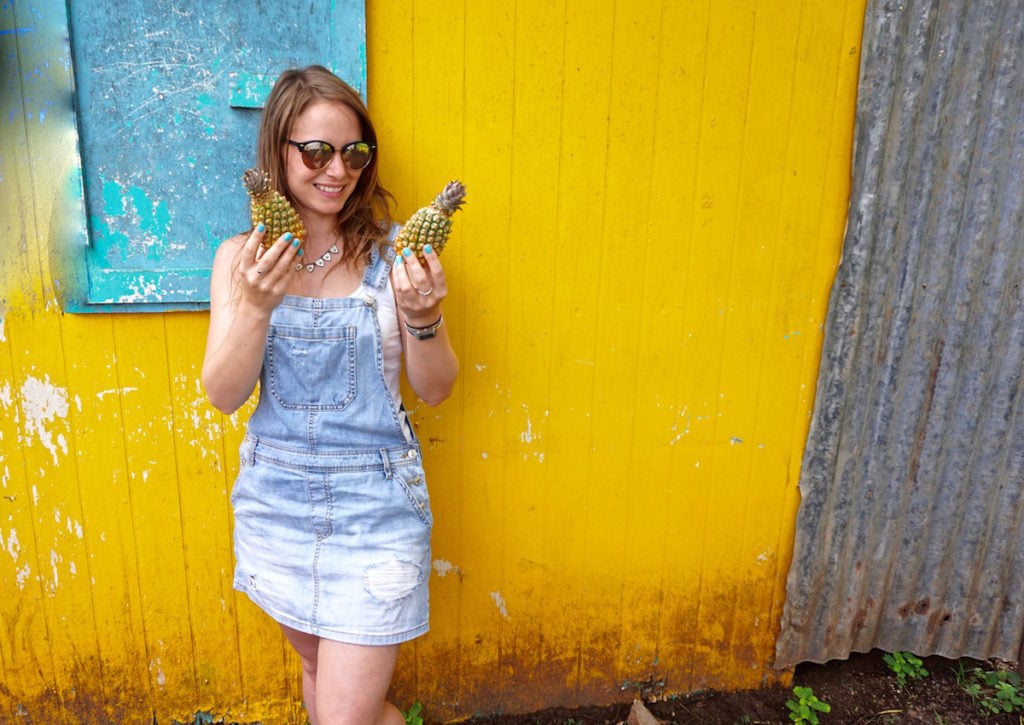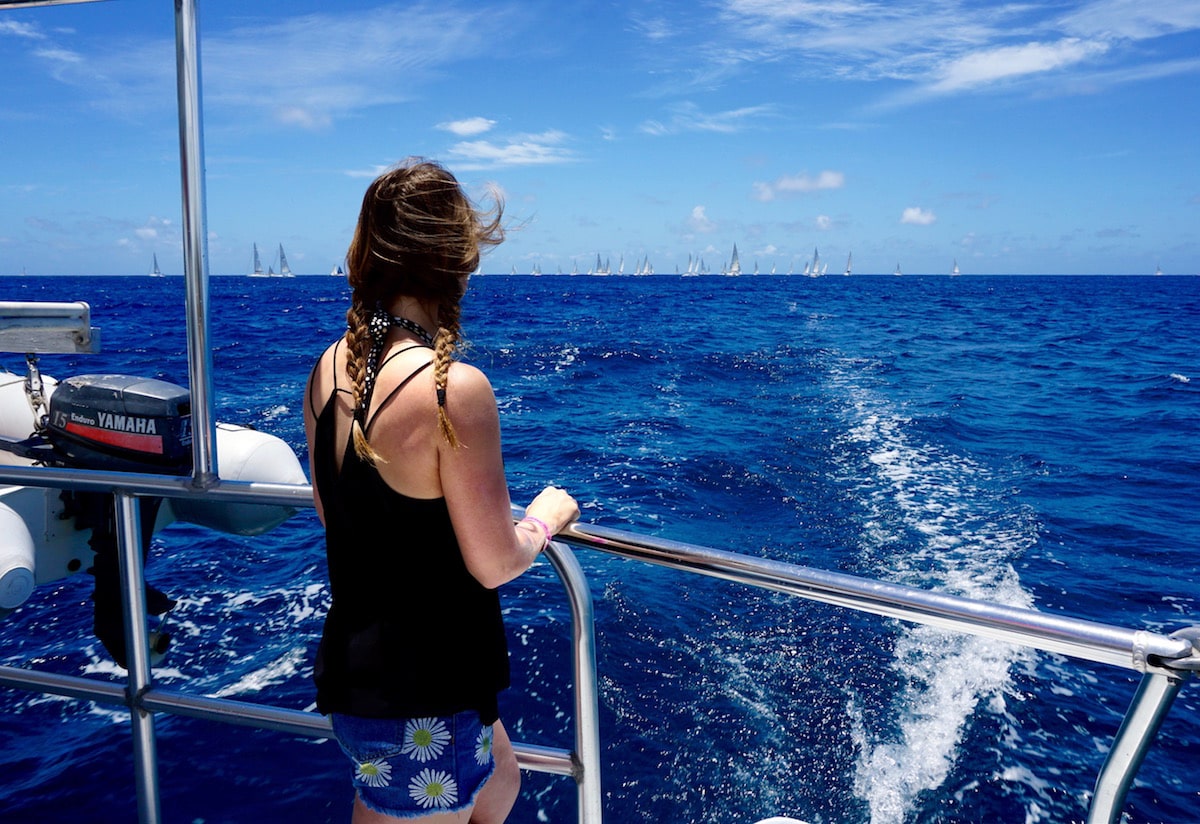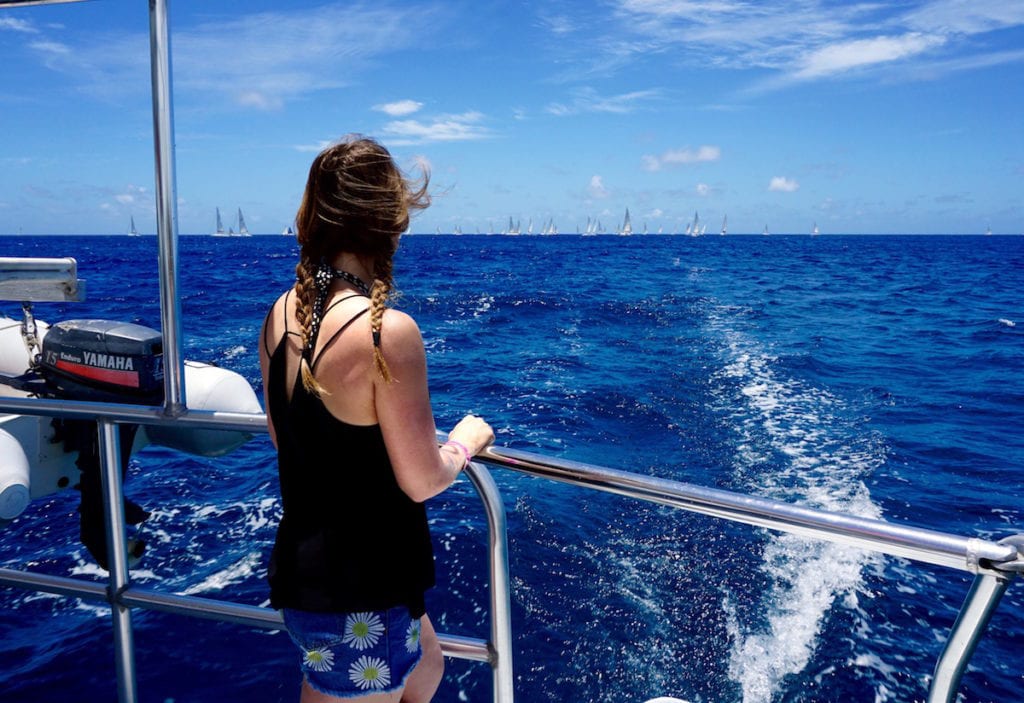 How To Travel Around Antigua
The best way to see the island is to hire a car for your trip. If you fancy living like a local, there are small mini buses connecting the main areas. You just have to flag them down, and they usually work out at around 3 EC Dollars for a short journey (under £1).
Cycling is an option, but beware – Antigua is very hilly and many of the roads are pretty bumpy.
---
Best Things To Do In Antigua
From exploring the pristine beaches, to adventures on the water and learning the island's history, Antigua is the kind of island you can explore at whatever pace you fancy. Here's my extensive list of things to do in Antigua.
Hit the beach in Antigua
Locals claim there are 365 beaches to choose from, some enjoying the Caribbean's calm waters, while others pick up the choppiness of the Atlantic. Sand is silky soft and comes in shades of white and pink.
Jolly Beach, Dickenson Bay, Pigeon Point Beach and Half Moon Bay are among the most popular.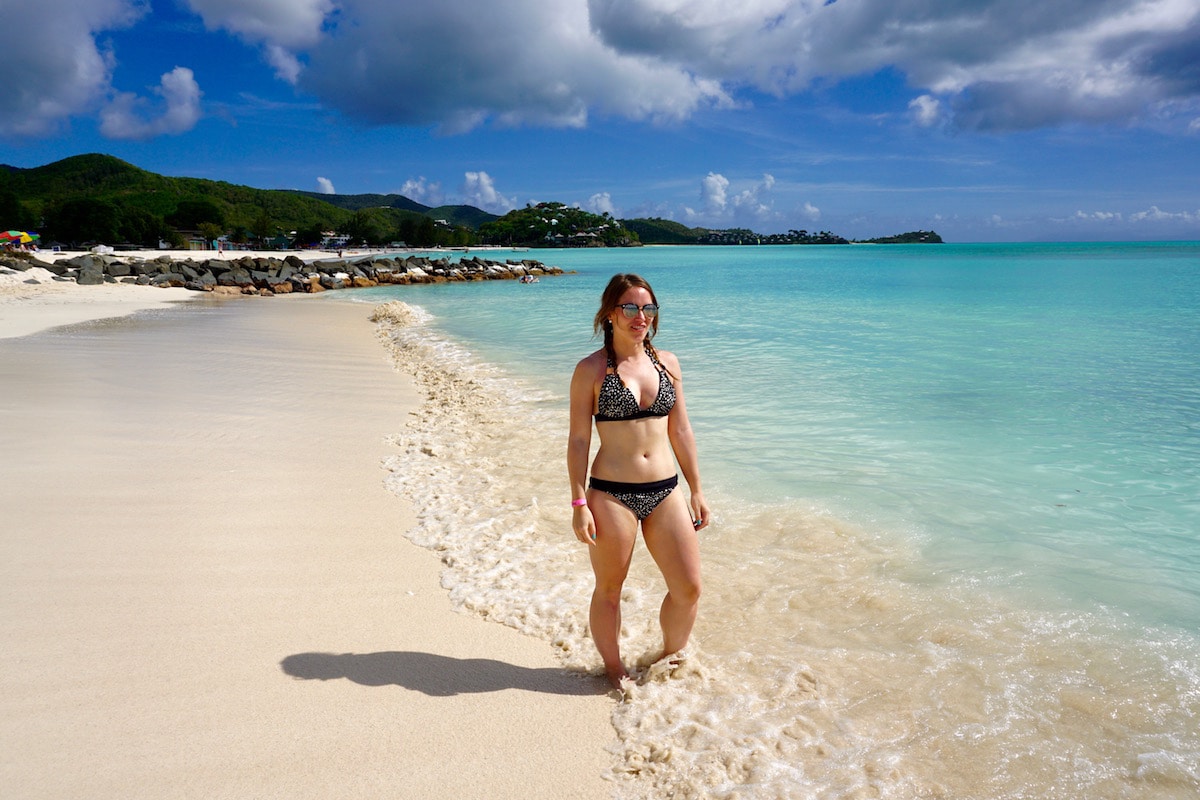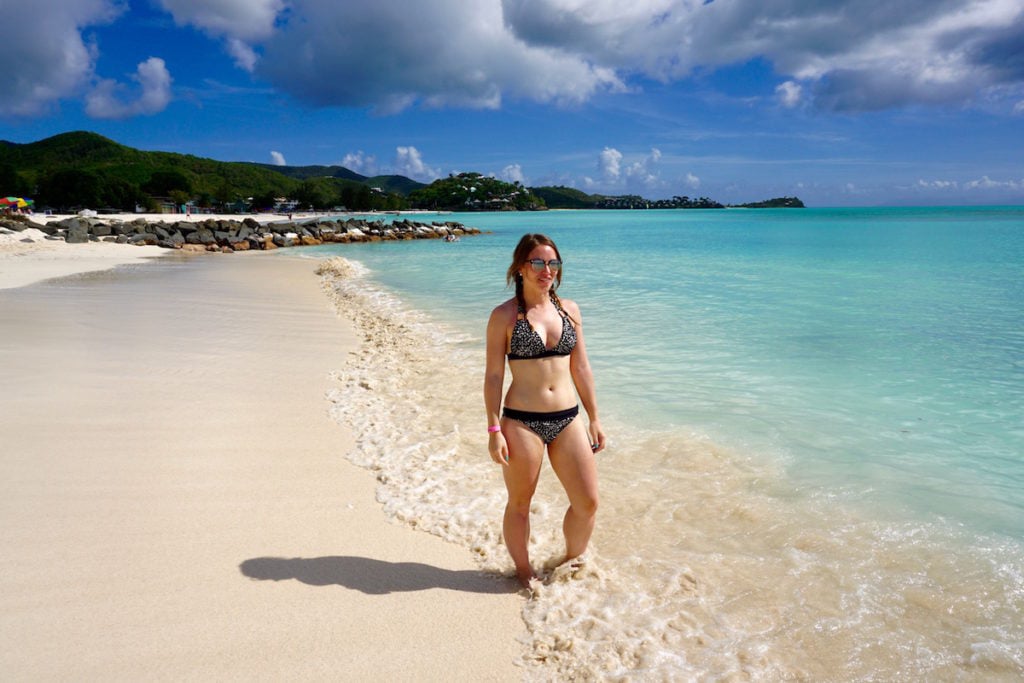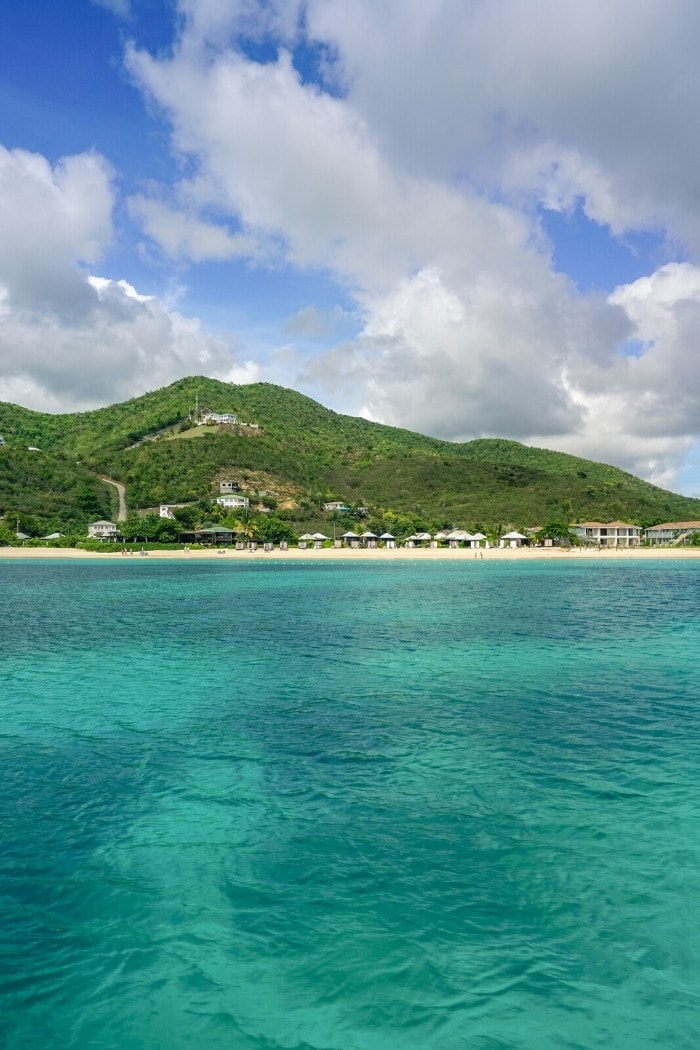 Take a trip to Barbuda
Antigua's smaller partner in crime is only a 20 min flight or an hour and a half's boat ride away. Pink and white sand, caves, wild deer and exotic birds await, along with main town Codrington – a place which many describe as like going back in time.
UNESCO World Heritage Site Nelson's Dockyard was once home to British warships (and of course Horatio Nelson himself). These days it's a lively spot, buzzing with super yachts and sailors.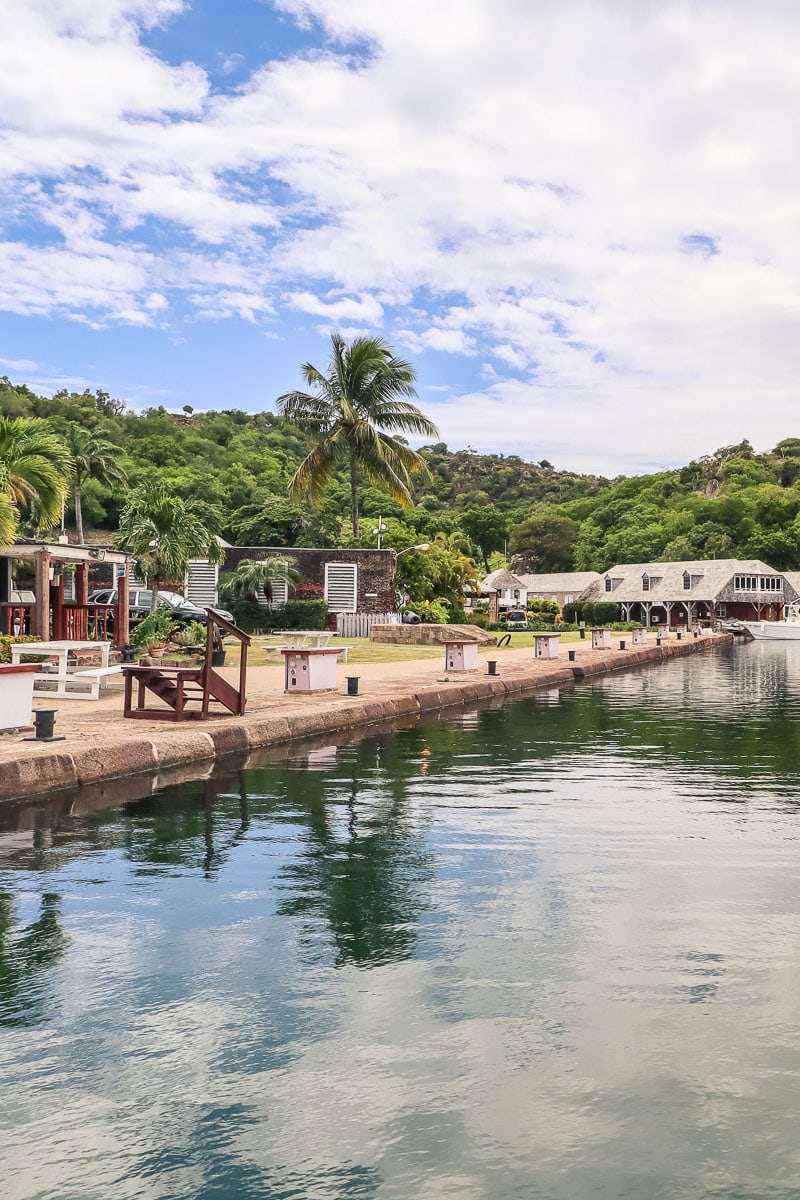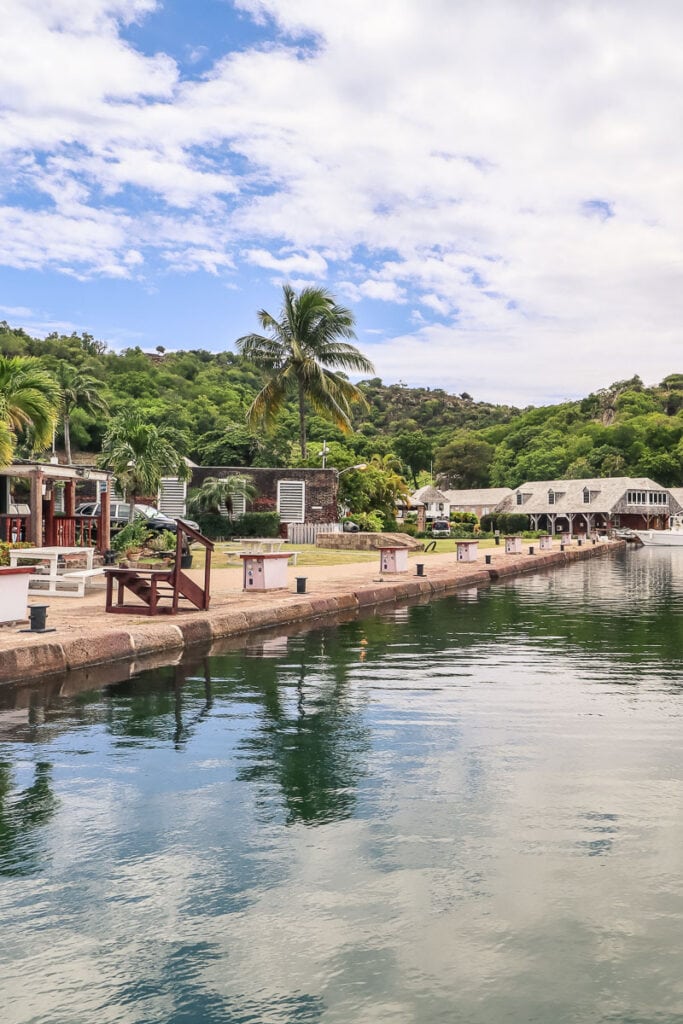 Explore Antigua's not so sweet past
As you drive around the island, you can't fail to spot the chimneys of the sugar mills. A visit to Betty's Hope is an emotional, but important stop on your island adventures.
Dating back to 1651, you'll learn about Antigua's tragic history of slavery, and see restored windmills (complete with sails) plus a working distillery.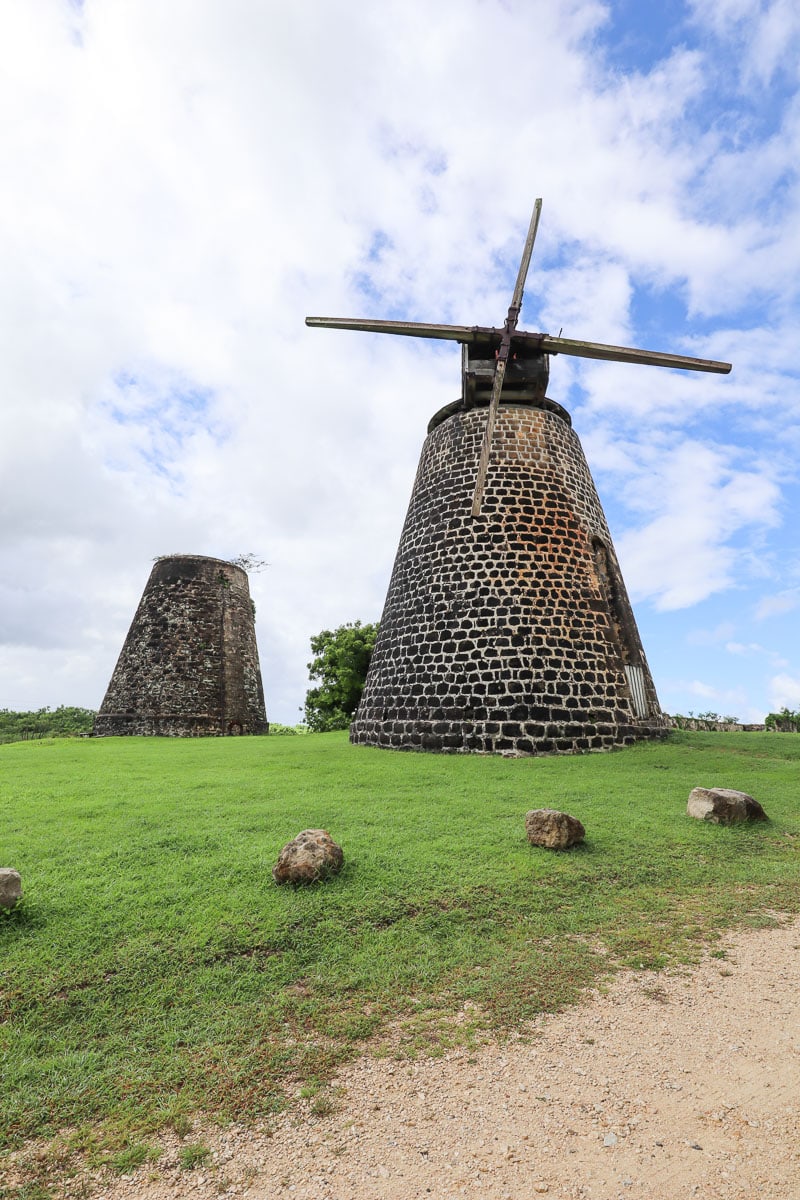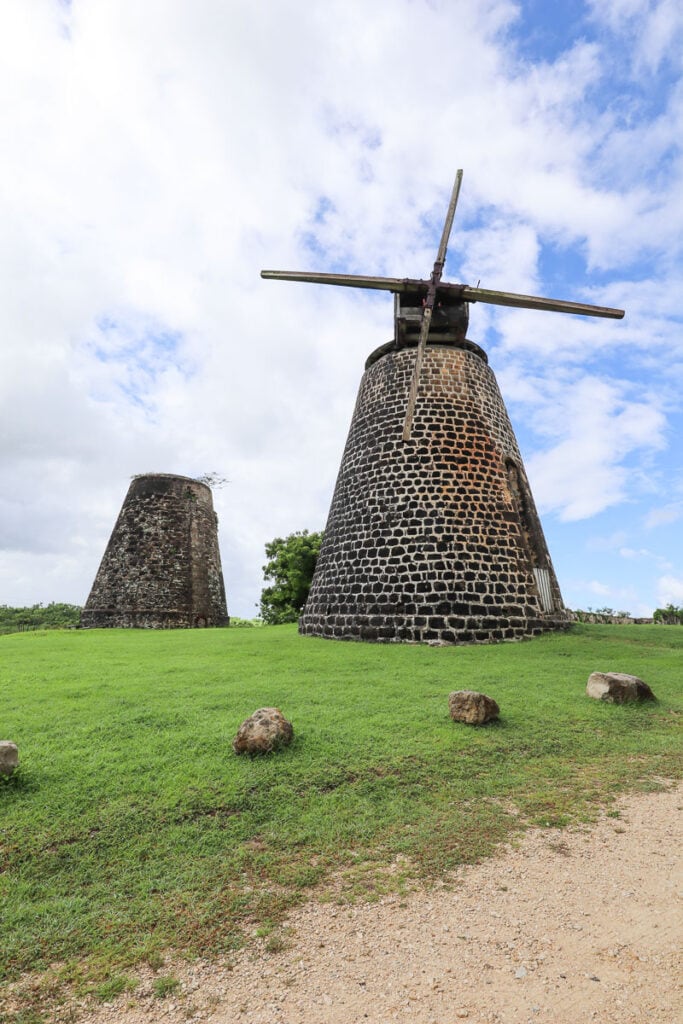 Get a taste of the real Antigua at the market
The vibe at Heritage Market is undeniably local. It's vibrant and full of exotic sights. Selling fresh produce, you'll see Antigua's famous tiny pineapples, mangoes, custard apples, green oranges, and huge avocados.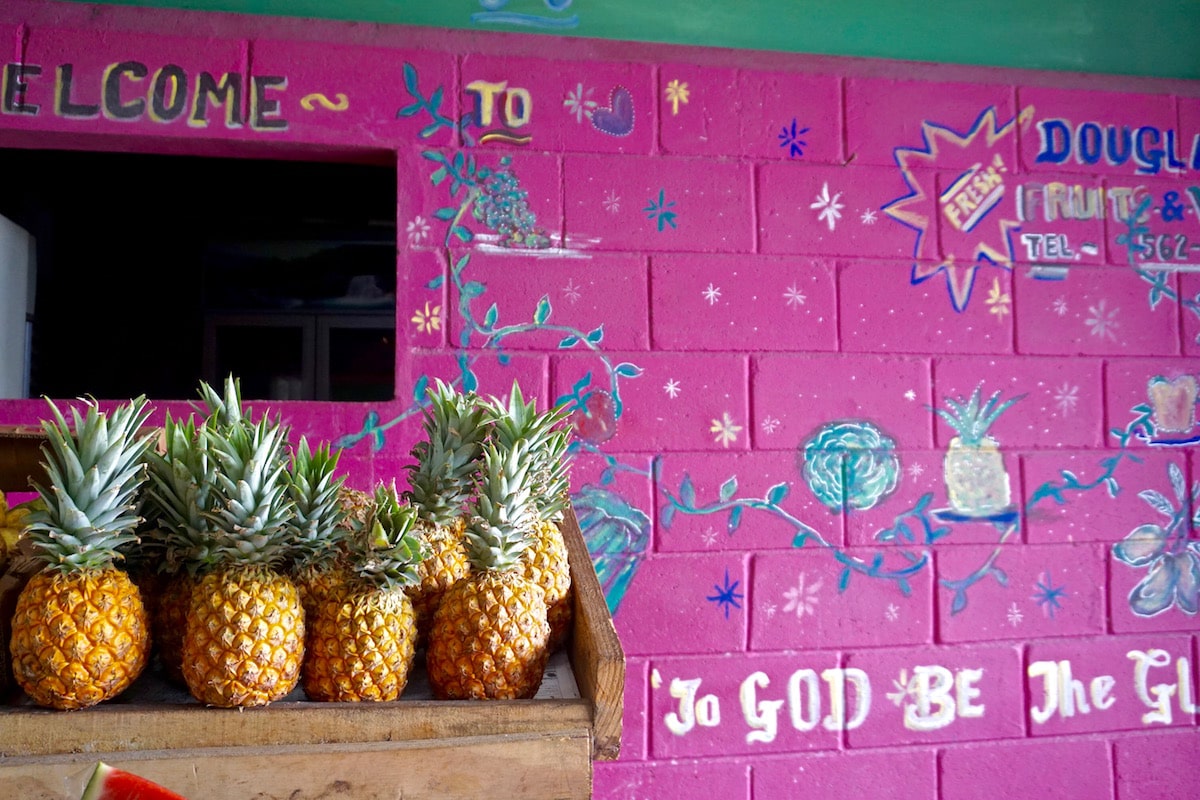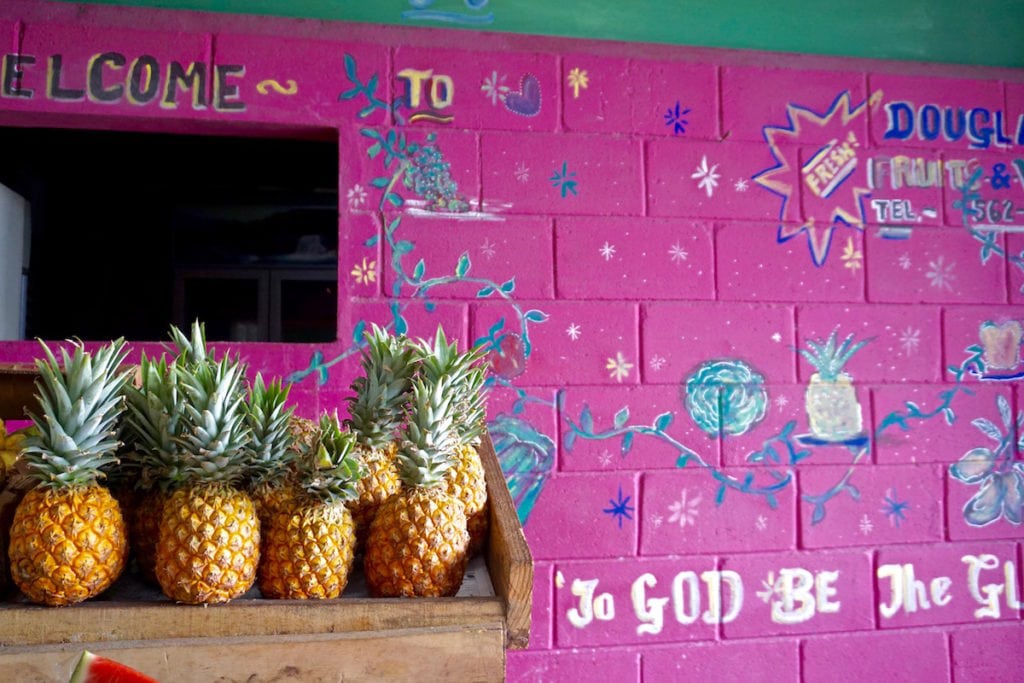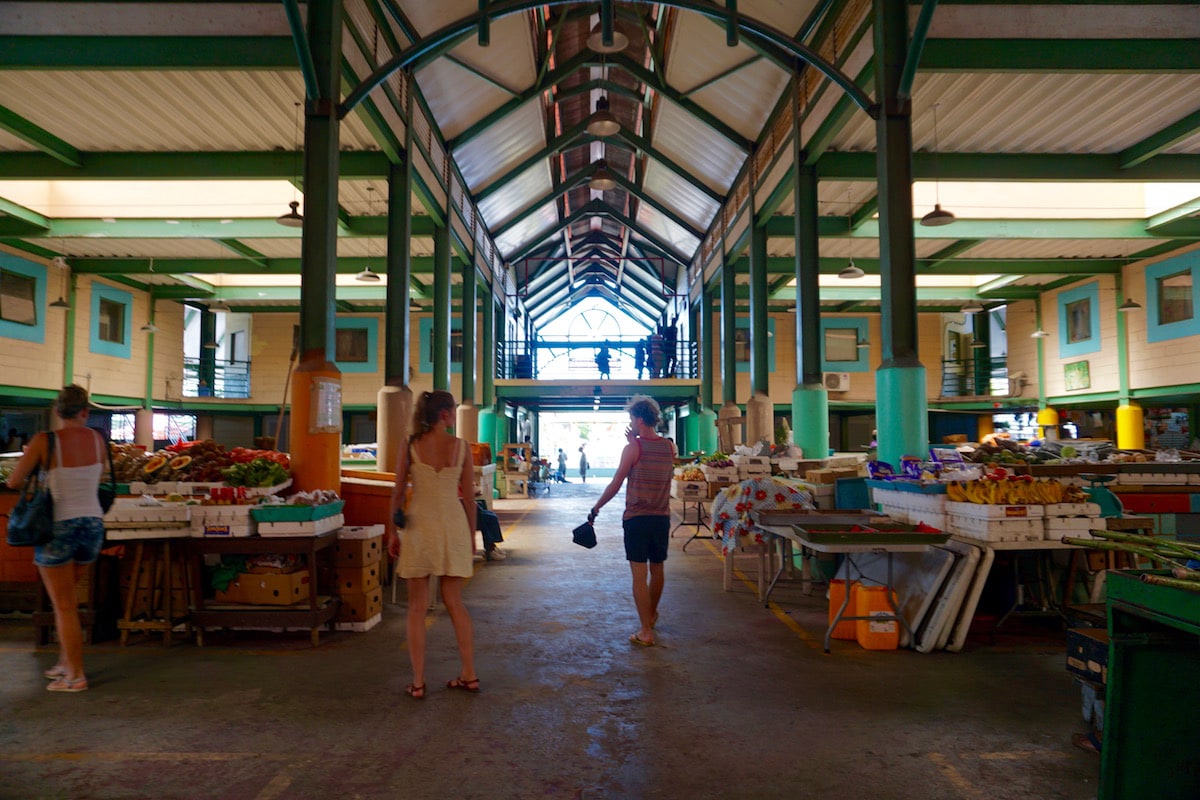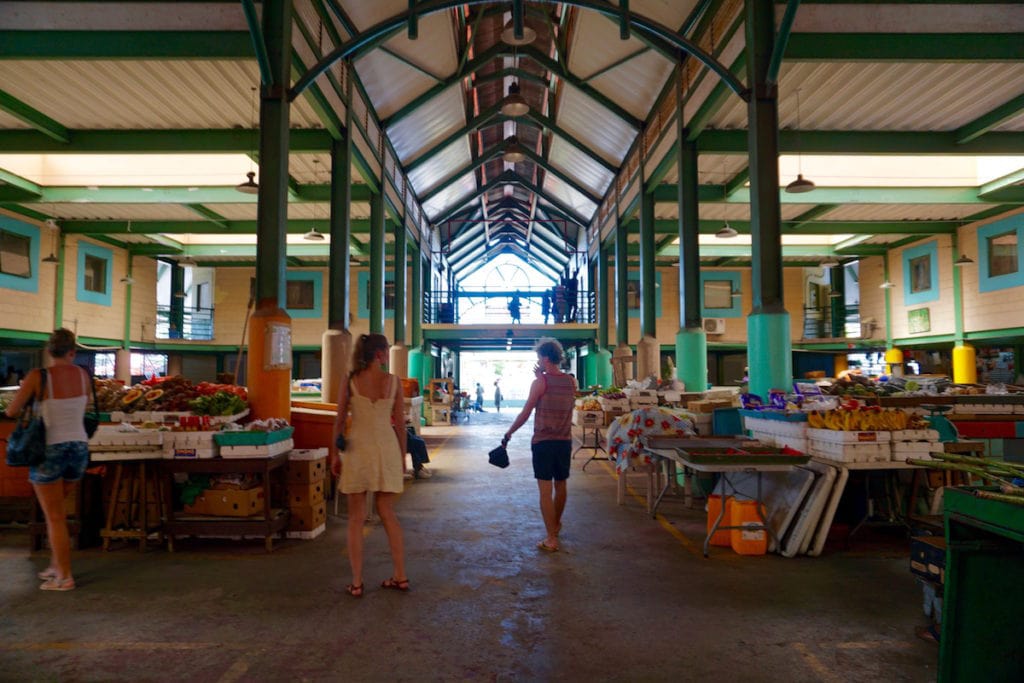 Explore Antigua's colourful capital
St John's is one of the most colourful places I've ever visited. With vibrant block colour walls, if you prefer life in technicolour, you'll have plenty of pics to snap here! Before visiting, I'd recommend taking a look at my blog post all about the most vibrant photography spots in Antigua: The Colourful Caribbean Island Of Antigua.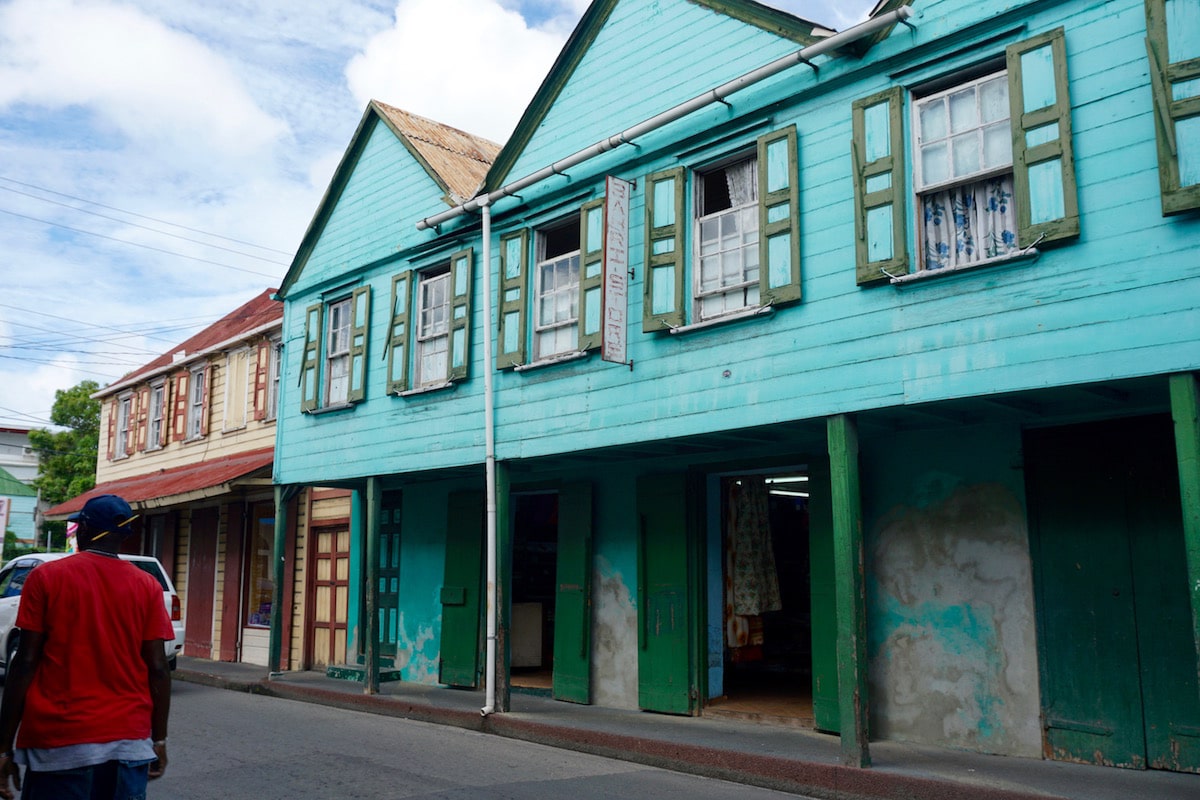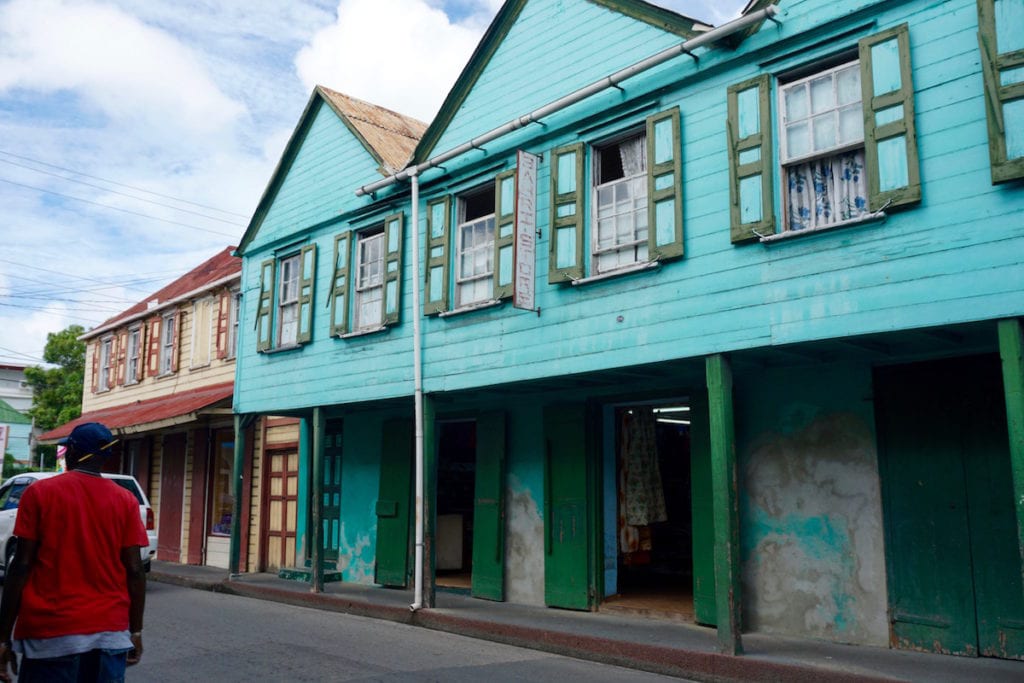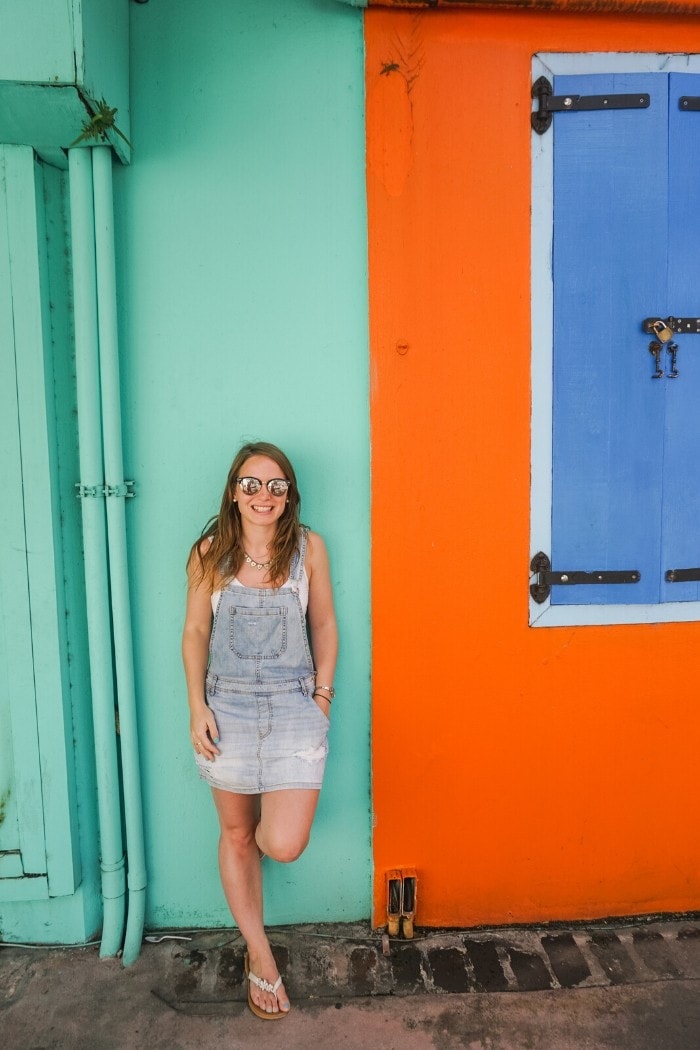 Views, Views, Views (and party) at Shirley Heights
The views from up here are really special, with English Harbour below (particularly busy during sailing week). It's the most famous spot on the island for a Sunday session, with crowds gathering for beautiful sunsets, followed by reggae covers of big hits, and a big old BBQ. If you're craving a bit of the Antigua party scene, this is a great time to visit!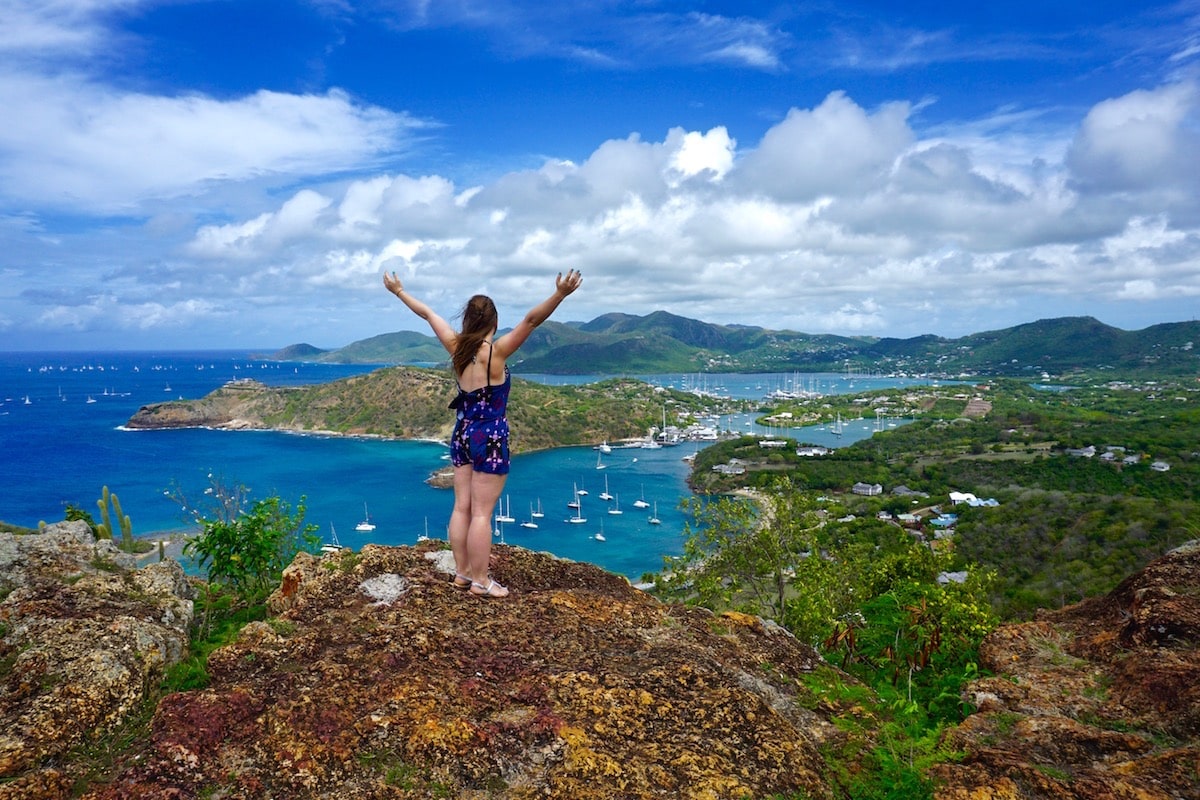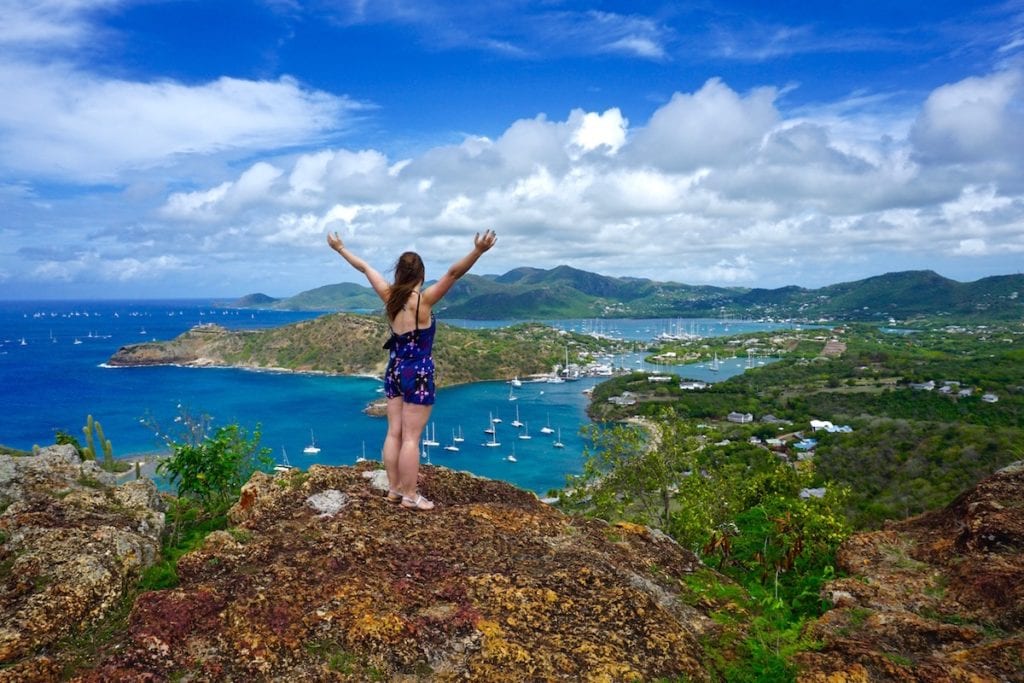 Go on a Pink Panther Safari
If you're looking for a great way to get to know the island, book onto a Pink Panther Safari. The guides are all local and will take you to all the best spots, while also telling you lots of tales about this picturesque part of the Caribbean.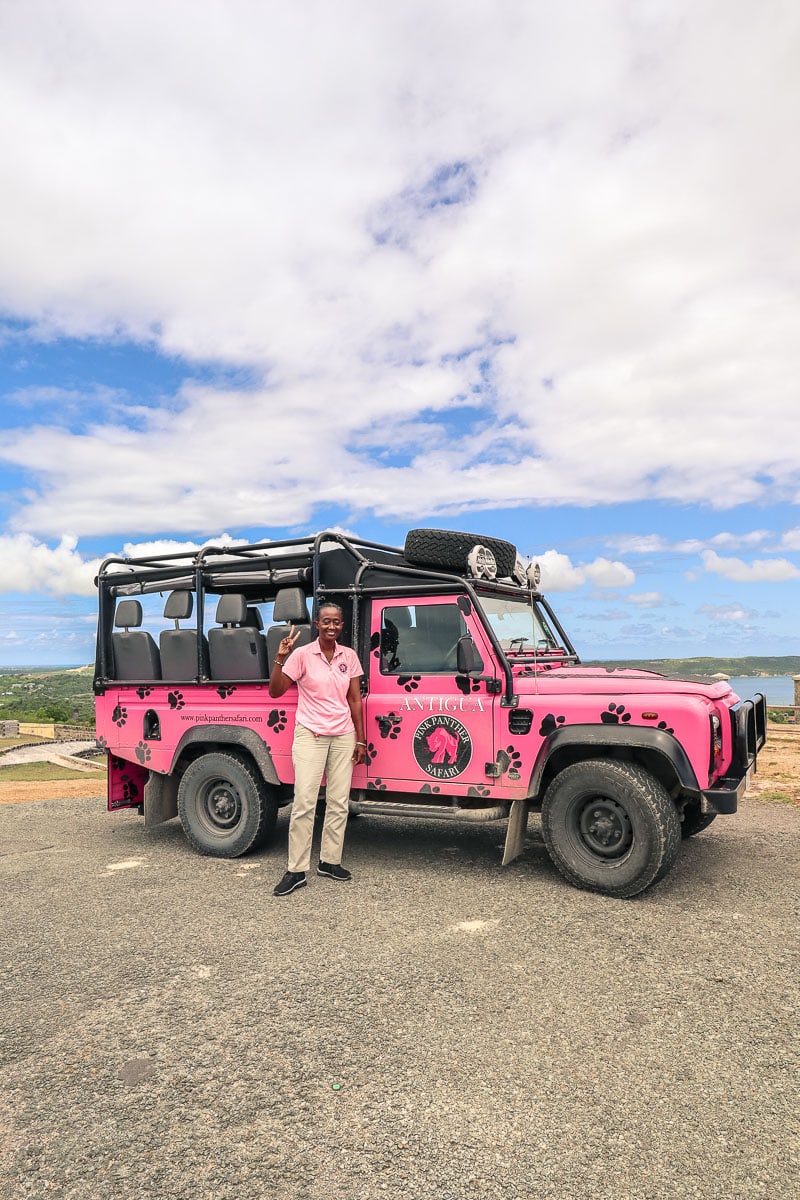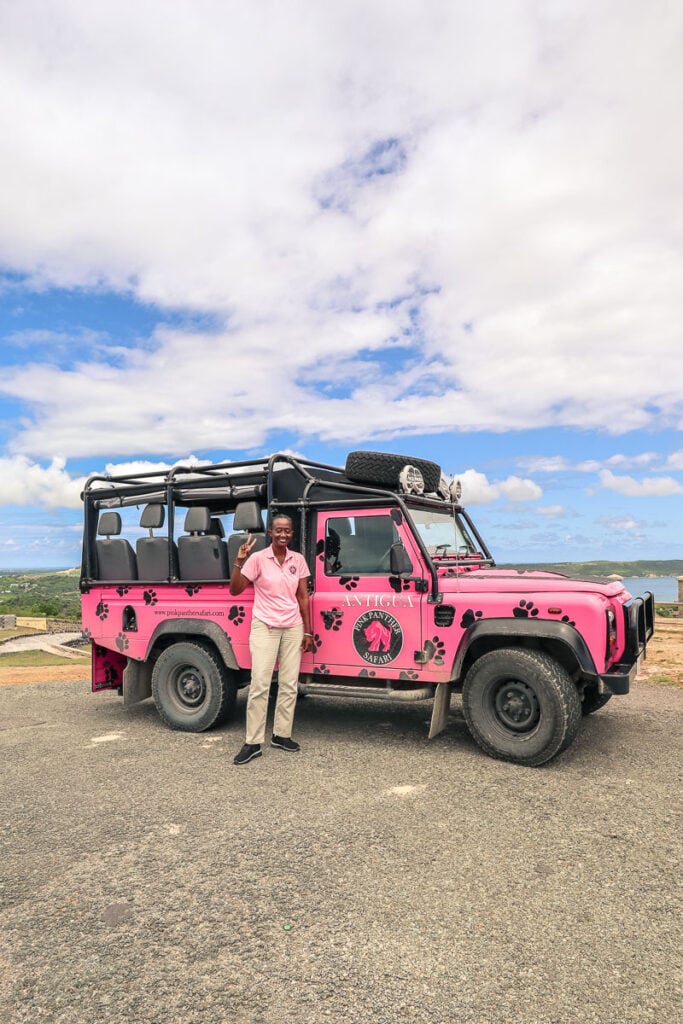 Go snorkelling and diving in Antigua
You're never far from the water in Antigua, and swimming, snorkelling and diving are all popular. Head off diving or snorkelling and you might get to see angelfish, parrotfish, rays, barracuda, nurse sharks, turtles and dolphins. When I snorkelled I spotted some southern rays and colourful fish.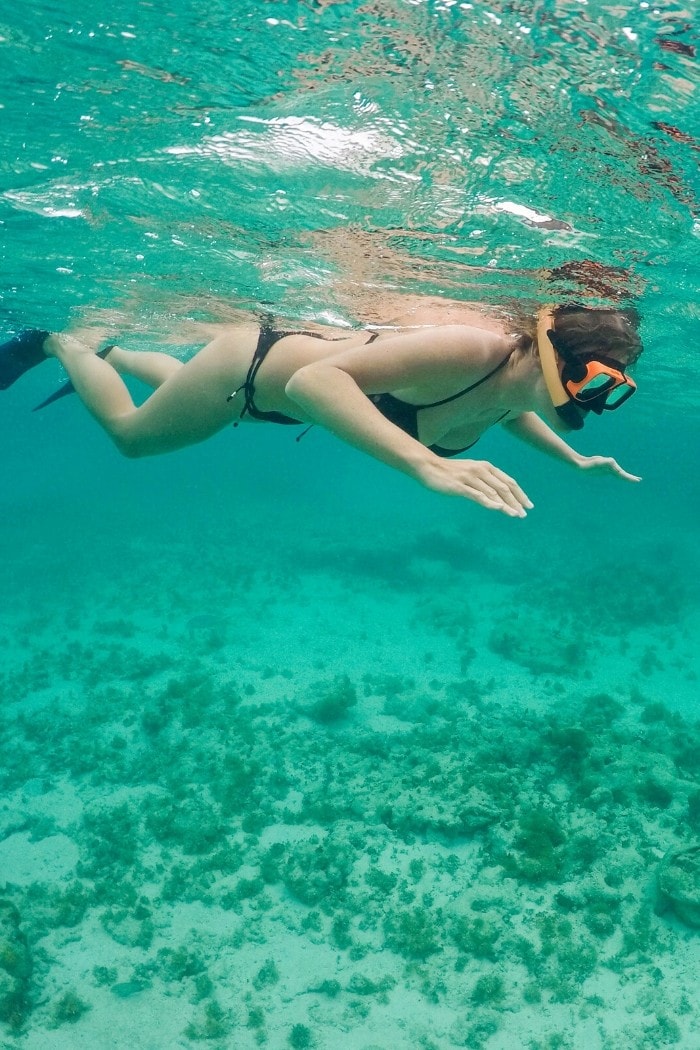 Go ziplining in Antigua
Adrenaline lovers will enjoy seeing the island from the ziplines at Antigua Rainforest Zipline Tours.
Top tip – there's a lovely cafe overlooking the rainforest for anyone who doesn't fancy taking part!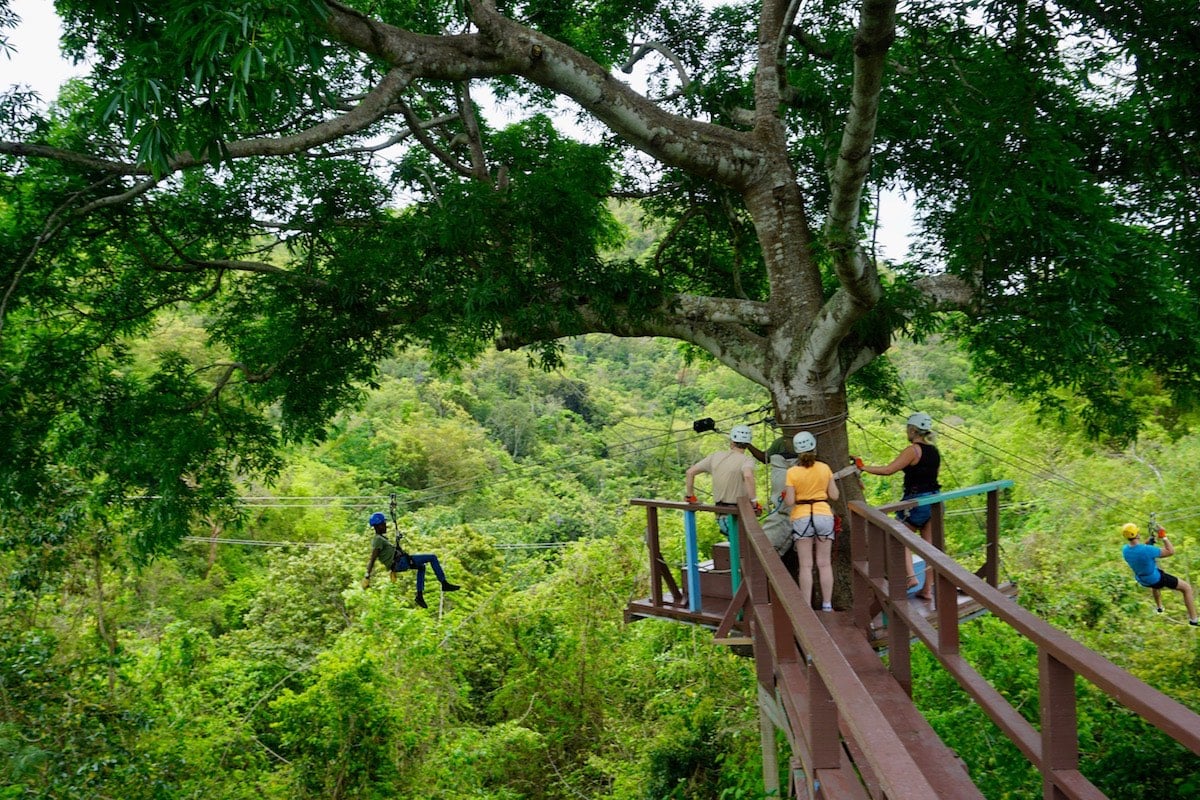 Get out on the water
Sailing is hugely popular in Antigua, and one of my visits was during Antigua Sailing week.
150 boats took part from small yachts with groups of friends finding some competitive spirit for their holiday away, to billion-dollar super yachts. Each year it gets bigger and better.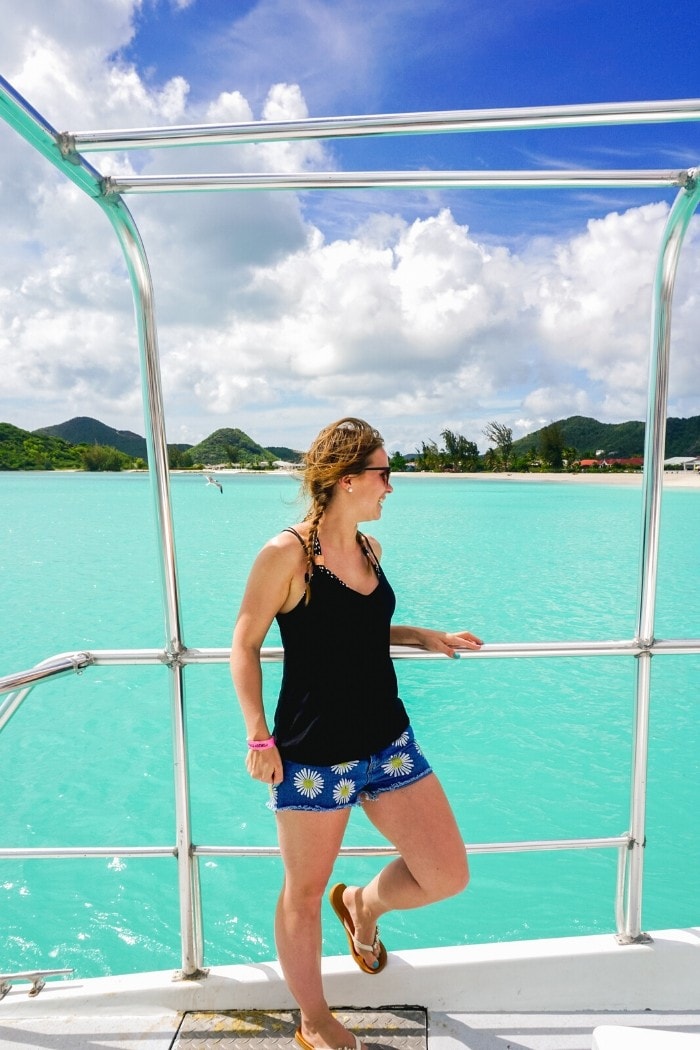 If you're not fancying the hard work, book onto a boat trip with Tropical Adventures. They'll take you on a tour of the island, serve up a great Caribbean feast and offer all the rum punch you can possibly drink!
Top Tip: If you visit during Sailing Week, you can head off on a special Chase The Race cruise. The captain will take you into the heart of the action for an adrenaline-filled view of the race!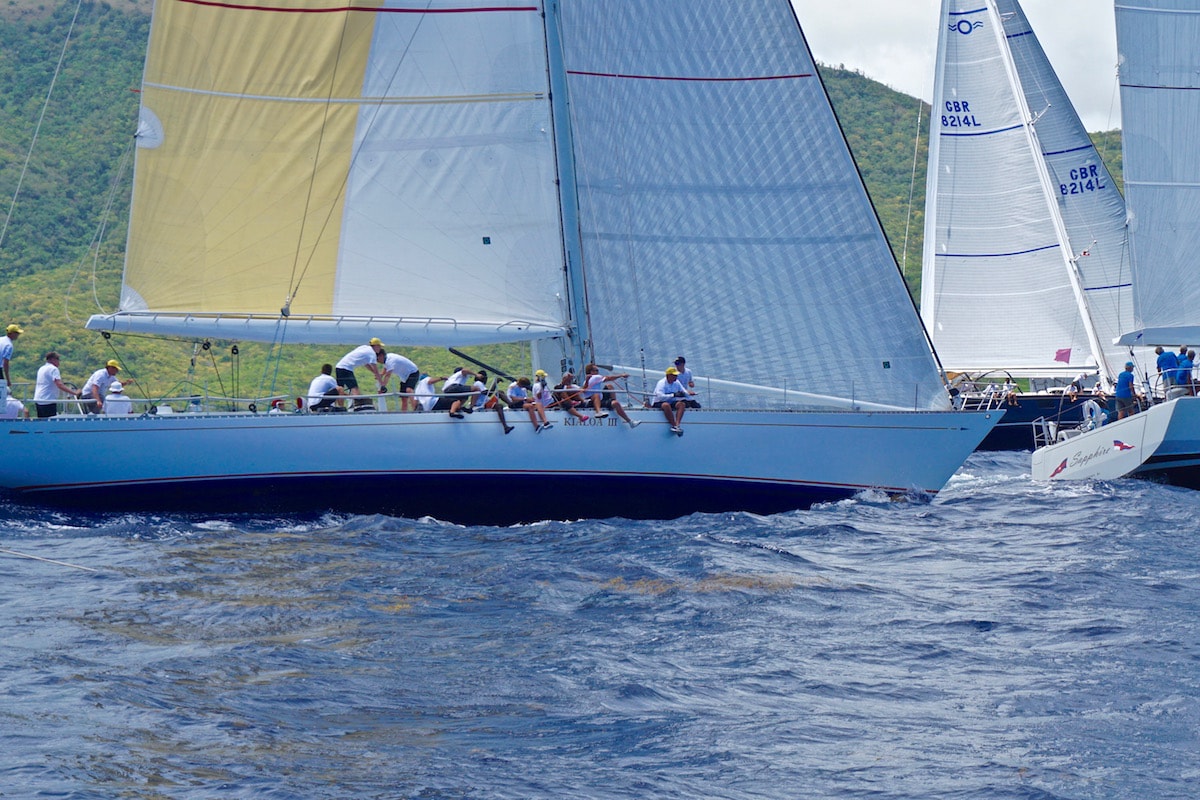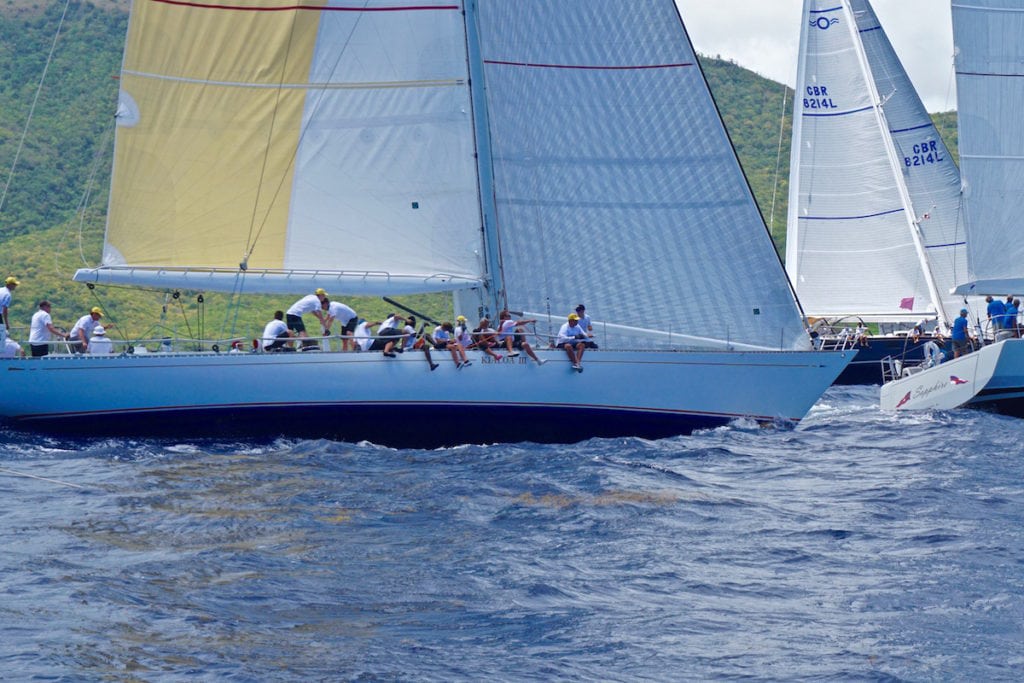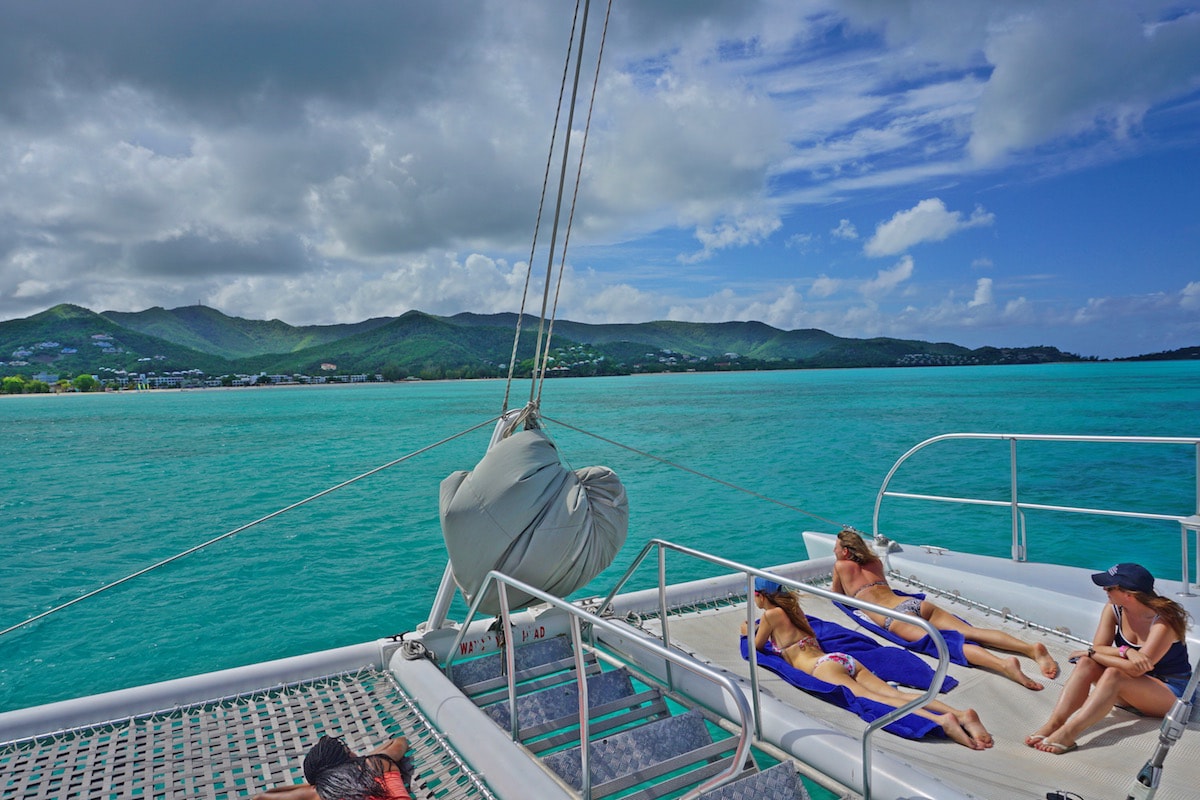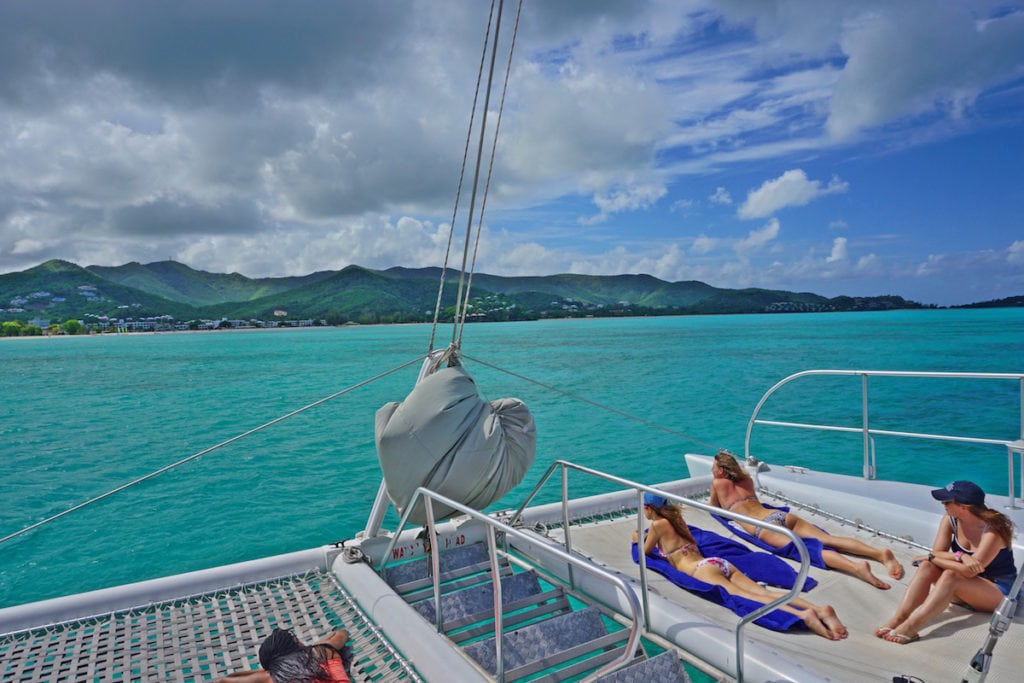 Included in the all-inclusive package at Verandah Resort and Spa was stand up paddleboarding – another great fun way to get out on the water.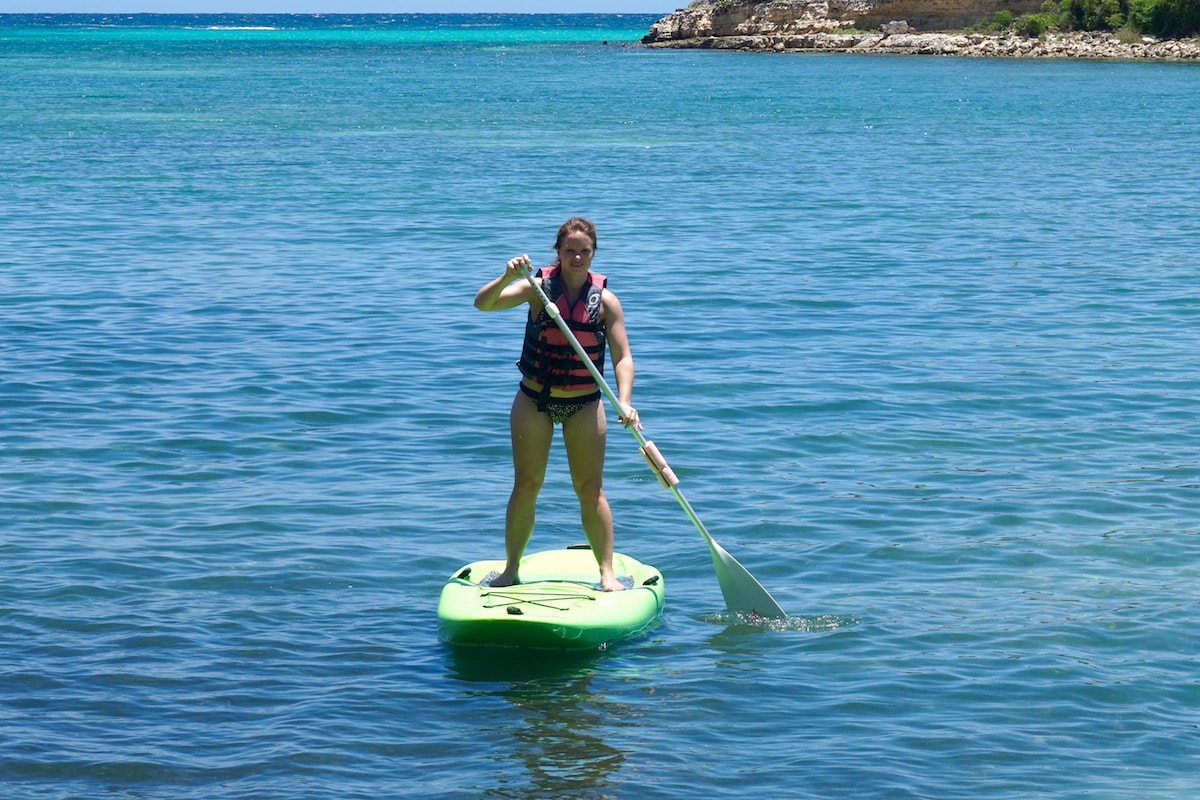 Get fit in the most fun way possible with FloatFIT HITT
Head to St James's Club for a FloatFIT HITT class with Aquabase. Burpees, lunges and squats have never been so fun, as you float on the water with incredible views for inspiration.

Check out Devil's Bridge
The billowing blowholes at Devil's Bridge are caused by the colliding surf of the Atlantic Ocean and Caribbean Sea. It gets pretty blustery up there, but it's a great example of Antigua's rugged coastline!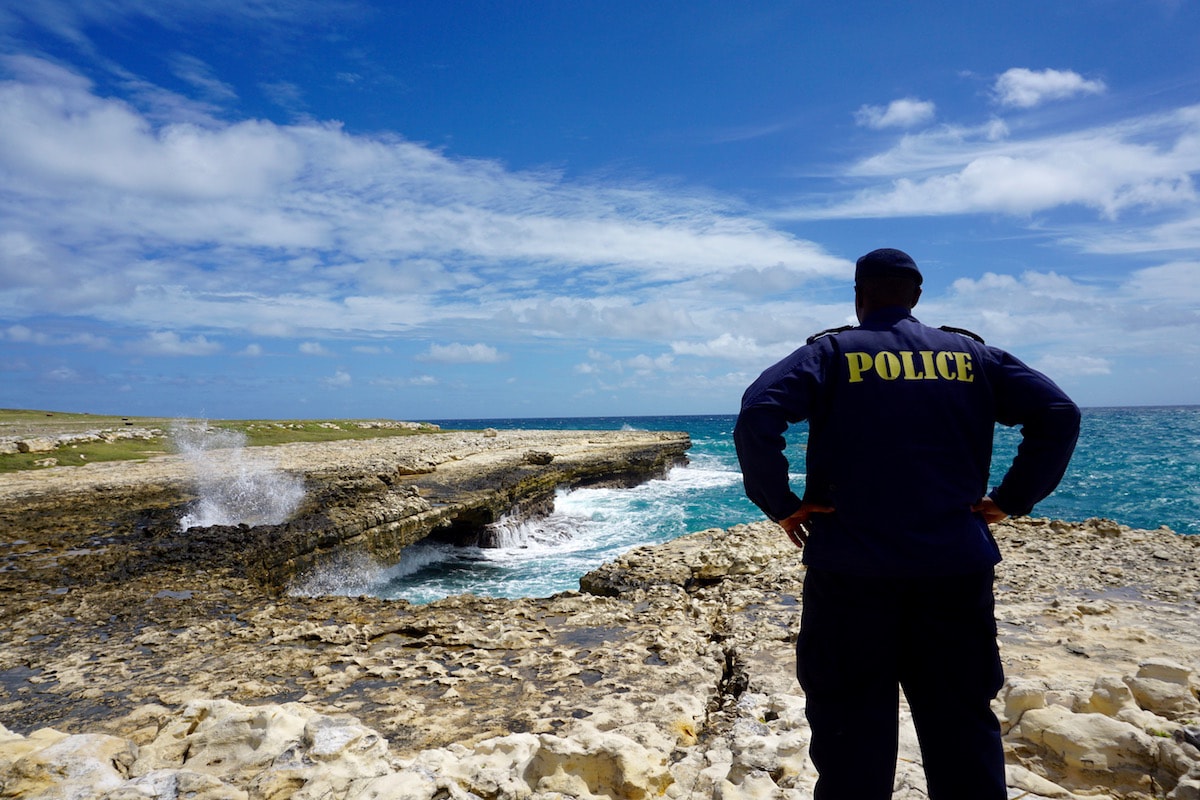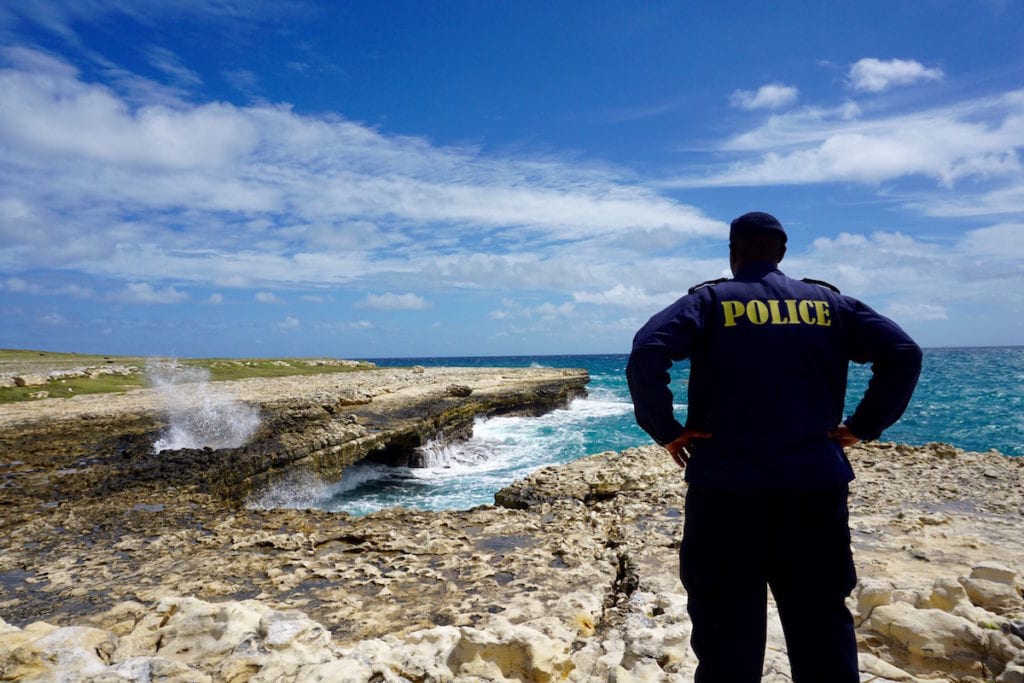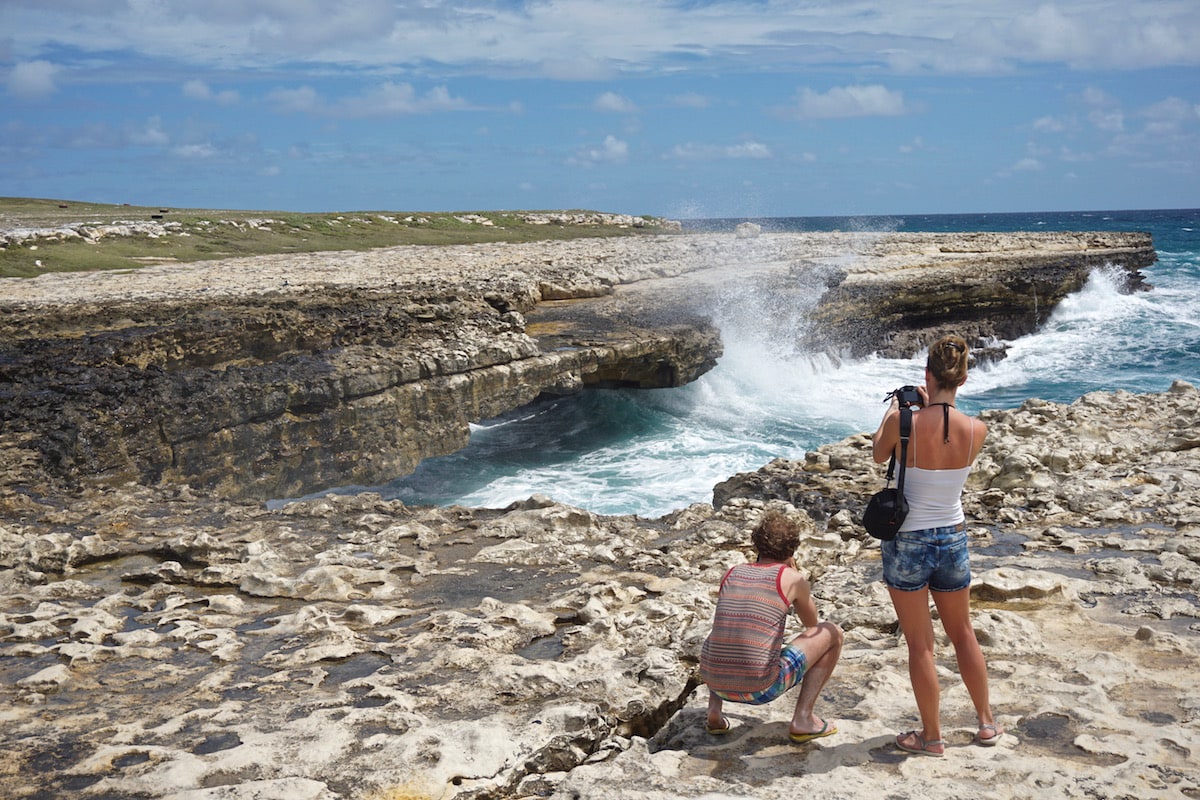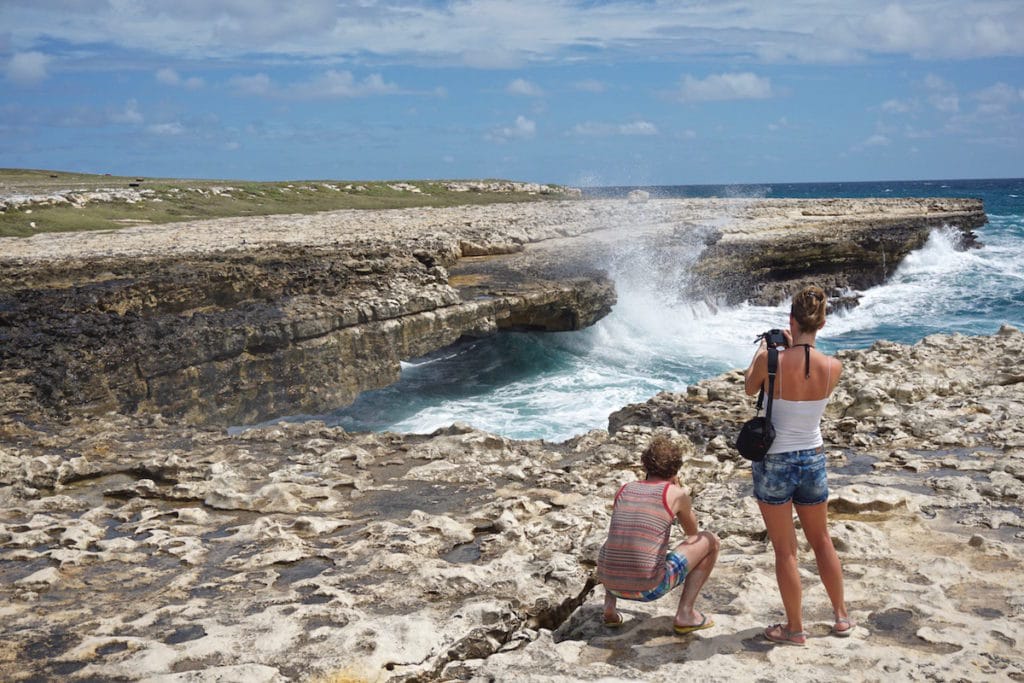 Experience Antigua's Carnival
The island's vibrant carnival takes place towards the end of July and start of August, with plenty of dancing, colourful costumes and a party atmosphere!
An amazing way to explore Antigua's natural beauty is by paddling through the mangroves. The North Sound Marine Park is home to beautiful mangroves, calm waters, starfish, sea cucumbers and upside down jelly fish.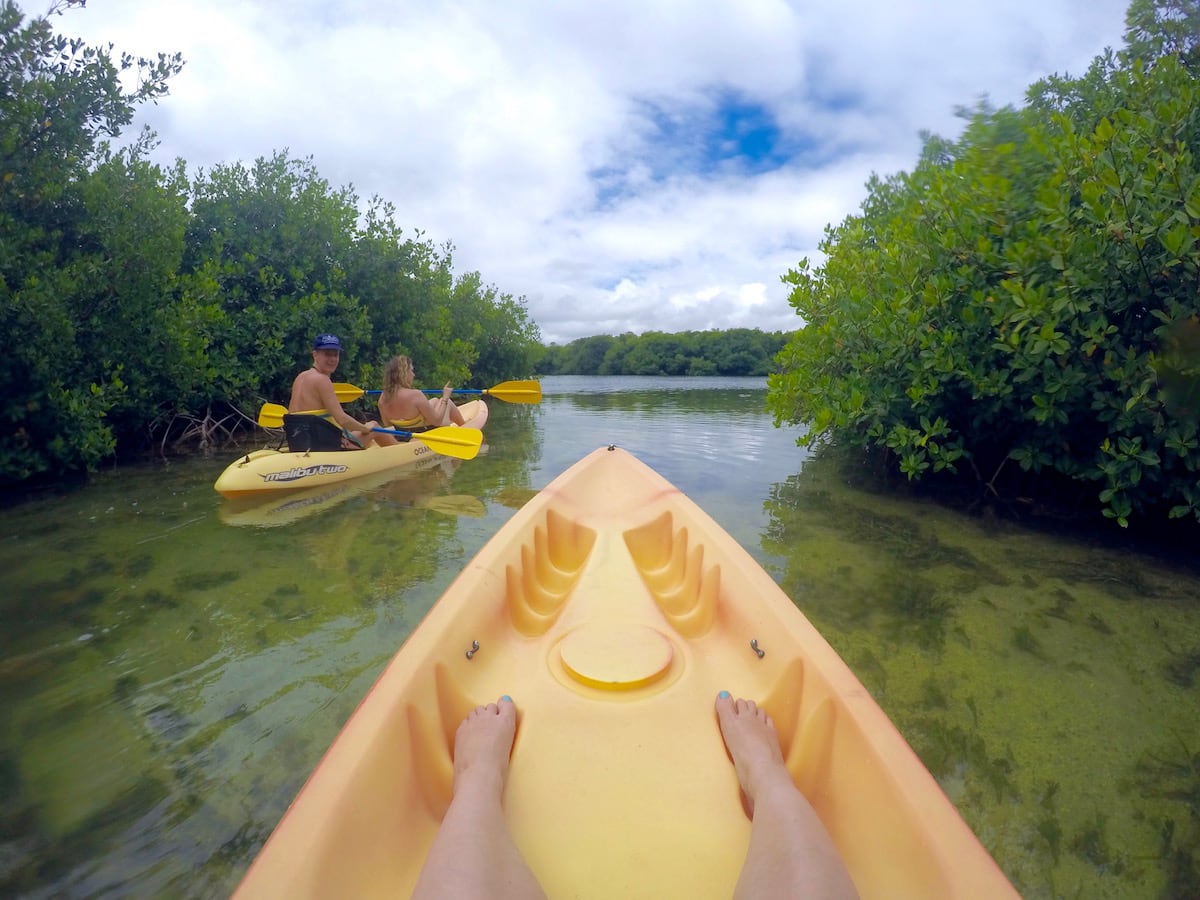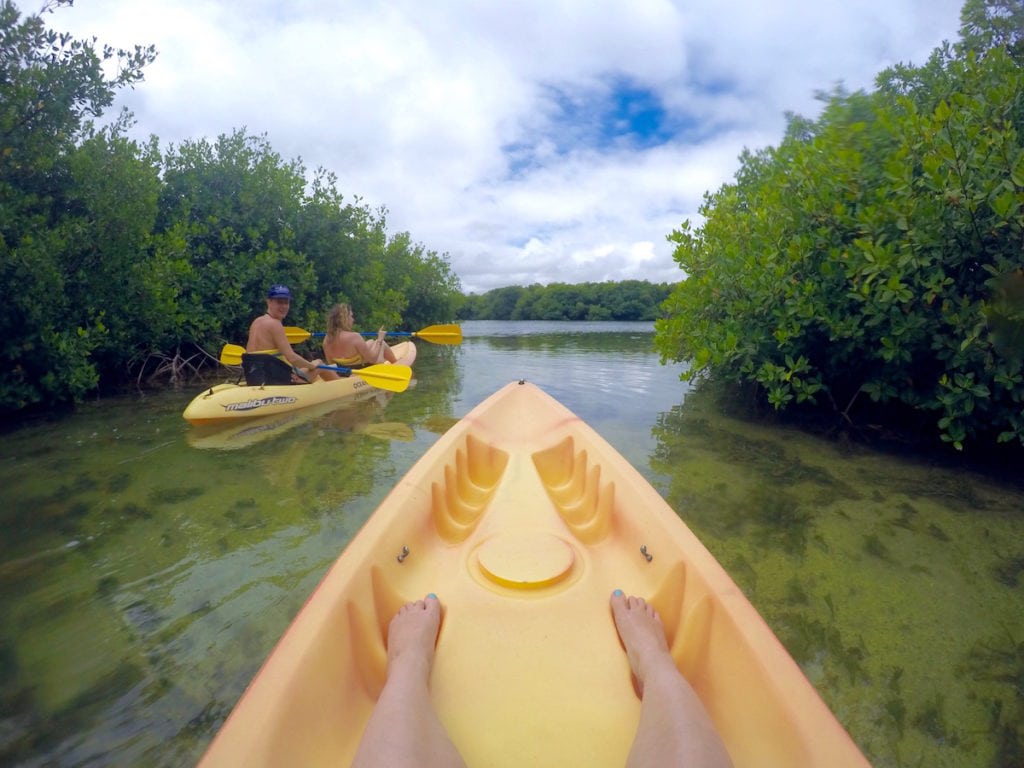 Go hiking in Antigua
Adventure types will want to venture inland to explore the lush rainforest. Mount Obama is certainly inviting, but another popular route is the hike to Boggy Point – prettiest, so I'm told, if you set your alarm for sunrise! If you're wondering where to go hiking, I'd recommend booking a morning or sunset tour like this one.
Play pickleball in Antigua
The first time I tried Pickleball was during my stay at Hammock Cove Resort. They have two courts for this sport, which is one of the fastest growing right now. Across between badminton, ping pong and tennis, it's a really fun game to try. As it gets so warm during the day, I'd recommend playing after 4.30pm when the temperatures are more comfortable.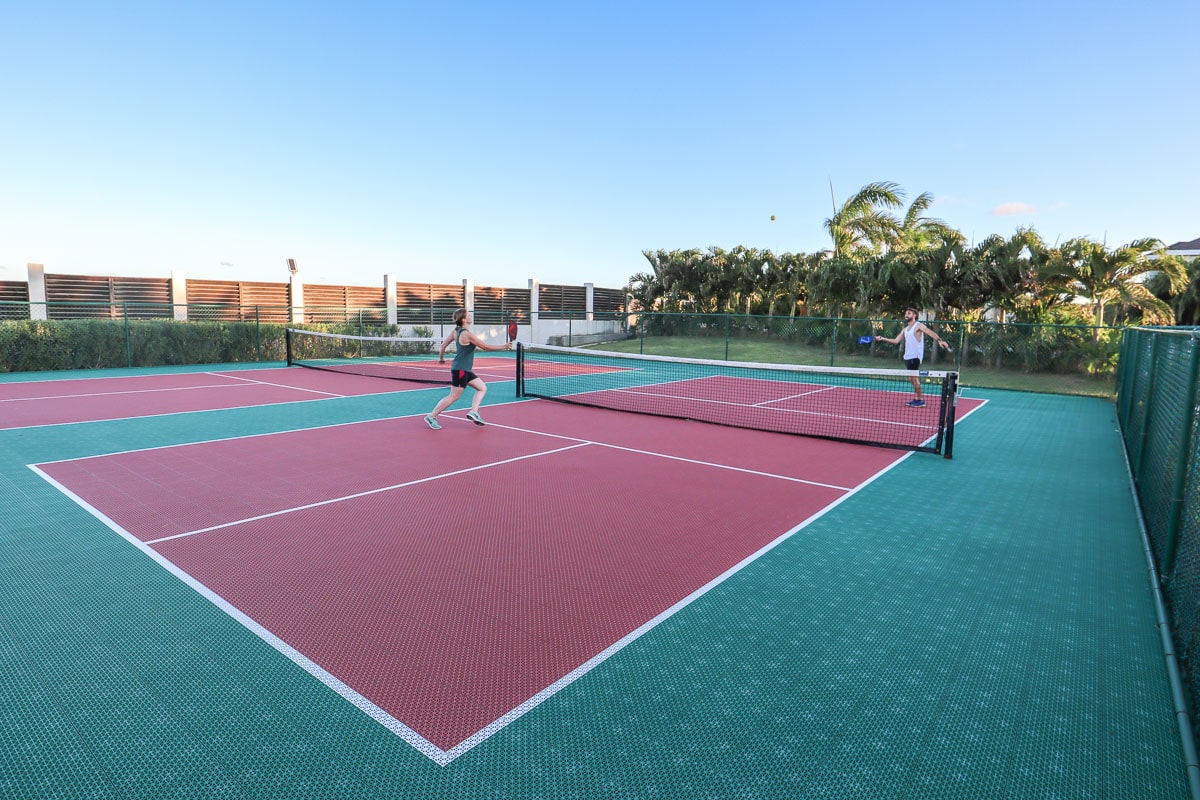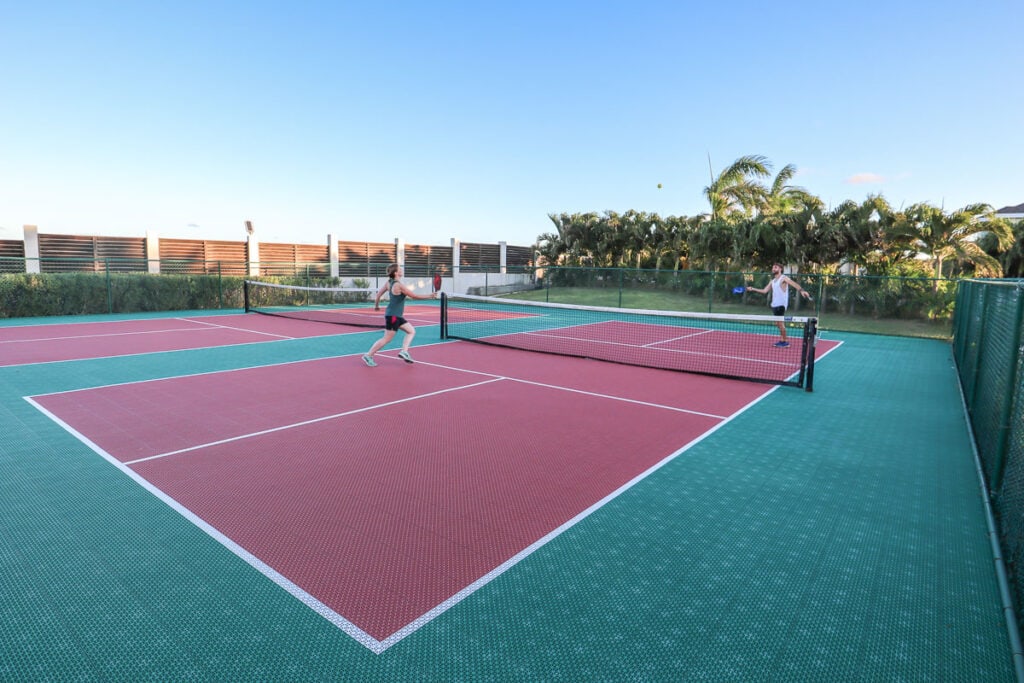 ---
What To Eat and Drink In Antigua
While you're never far from familiar dishes in Antigua, don't miss an opportunity to try some Caribbean classics. Corn, coconut, Caribbean spiced chicken, curried goat, yams, plantain, conch, rice, beans and saltfish are all staples of the diet. Fresh seafood is available at most places, and usually of excellent quality!
Also, don't forget to pick up some hot sauce to take home. Susie's Hot Sauce is the most famous brand on the island and comes in a variety of spice levels…. Be warned, the tornado edition will blow the head off even the biggest of chilli addicts!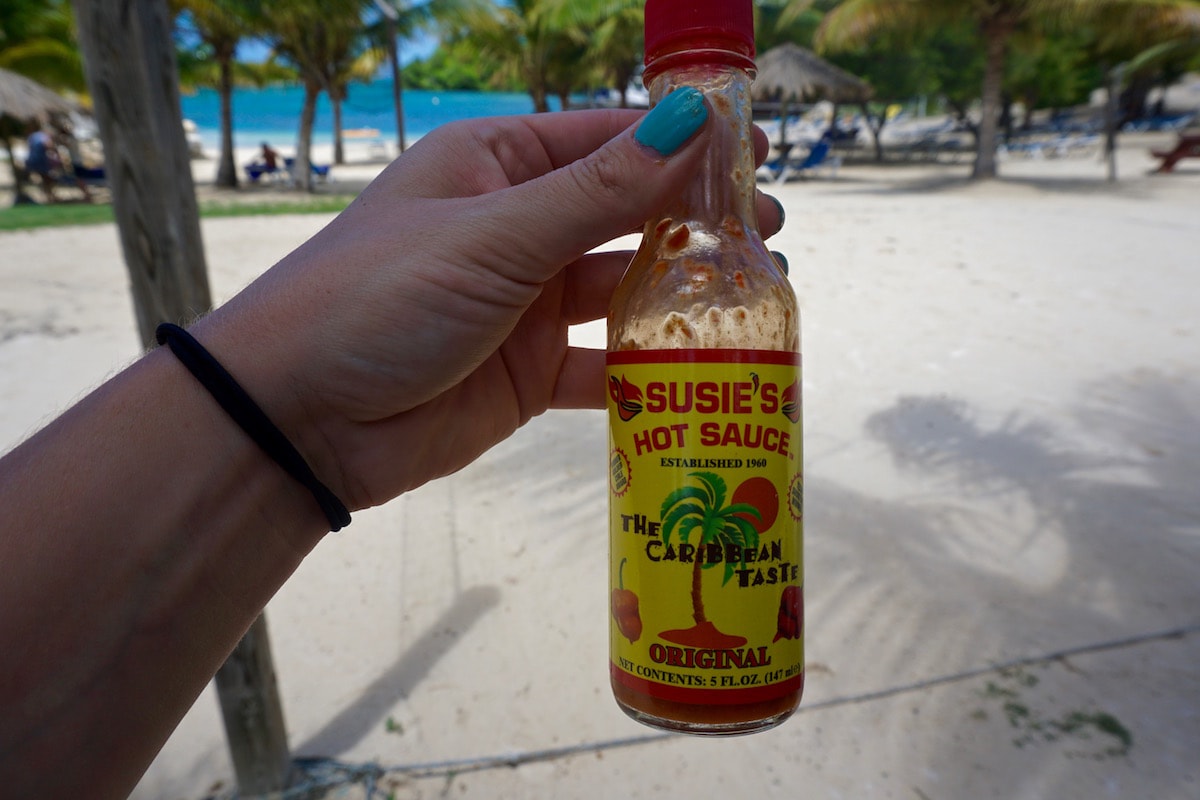 A few of my favourite dishes included fried plantain, coconut shrimp, hot and spicy shrimp, Caribbean BBQ chicken, grilled butterfish and conch fritters. They really brought to life all the best sweet, salty, sea-like flavours of the Caribbean.
When it comes to drinking in Antigua, it's all about rum! Most restaurants and bars will serve their take on a Caribbean rum punch (dark or light rum usually mixed with tropical fruit juices (pineapple, mango, passion fruit etc) lime and sugar.
Dark and Stormys were another of my favourites (rum, ginger and lime) along with a classic pina colada. Or if you fancy beer, be sure to try Wadadli – the local brew.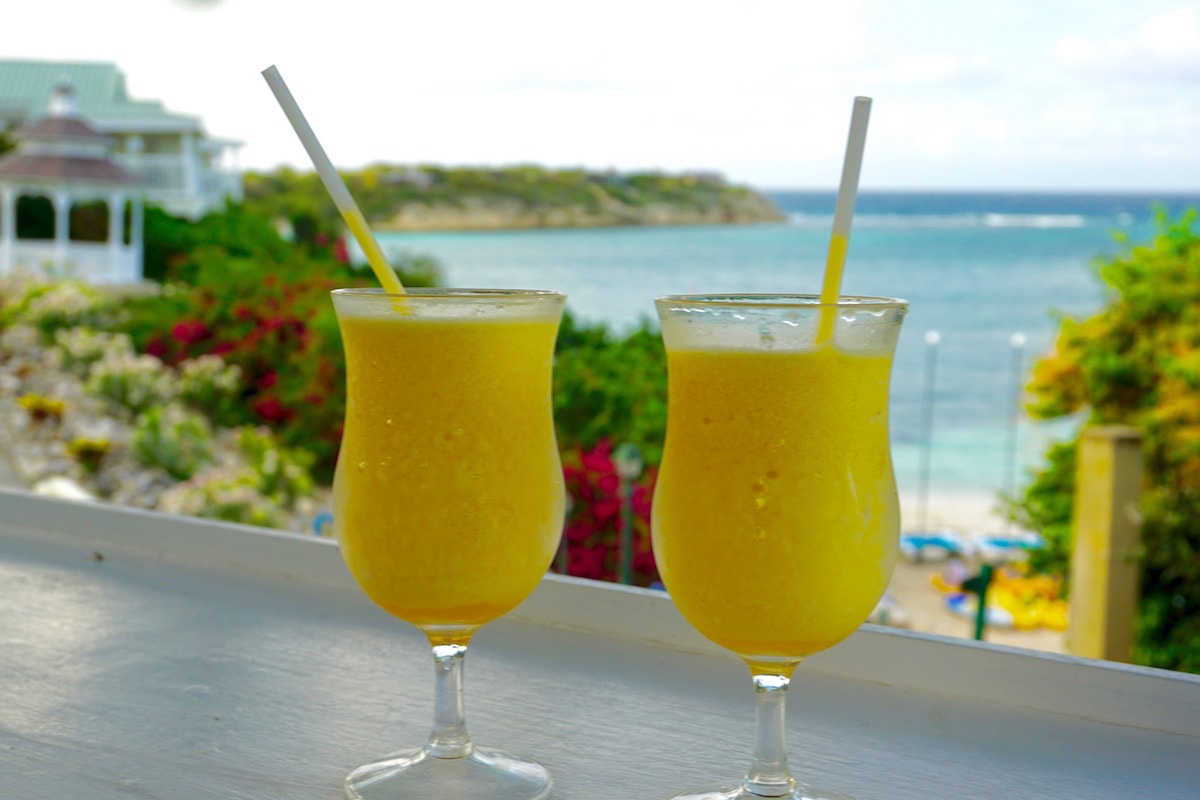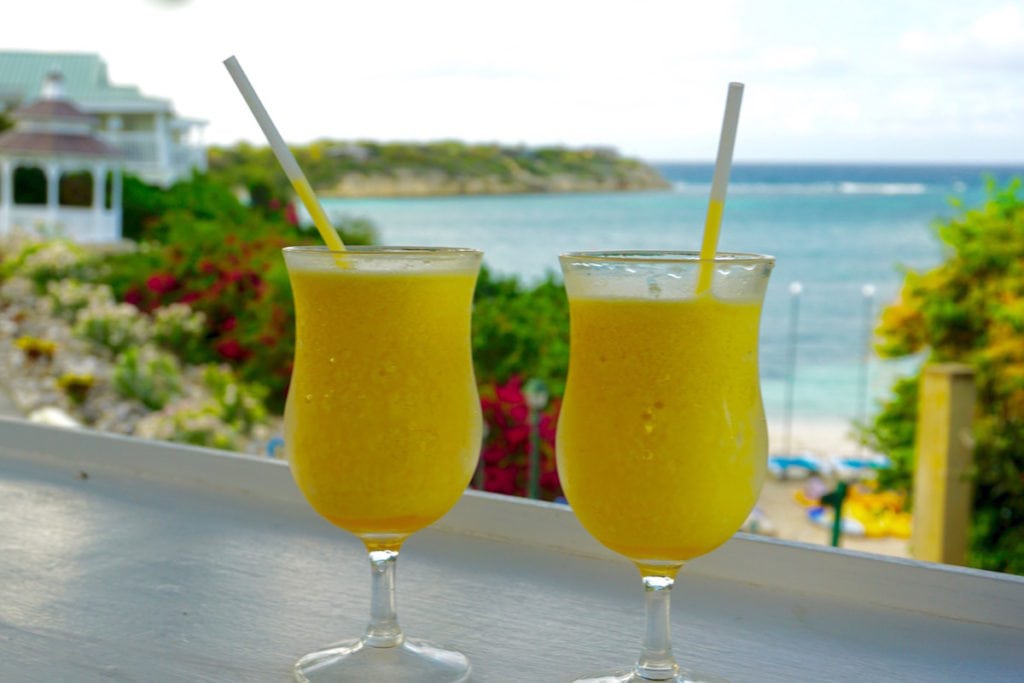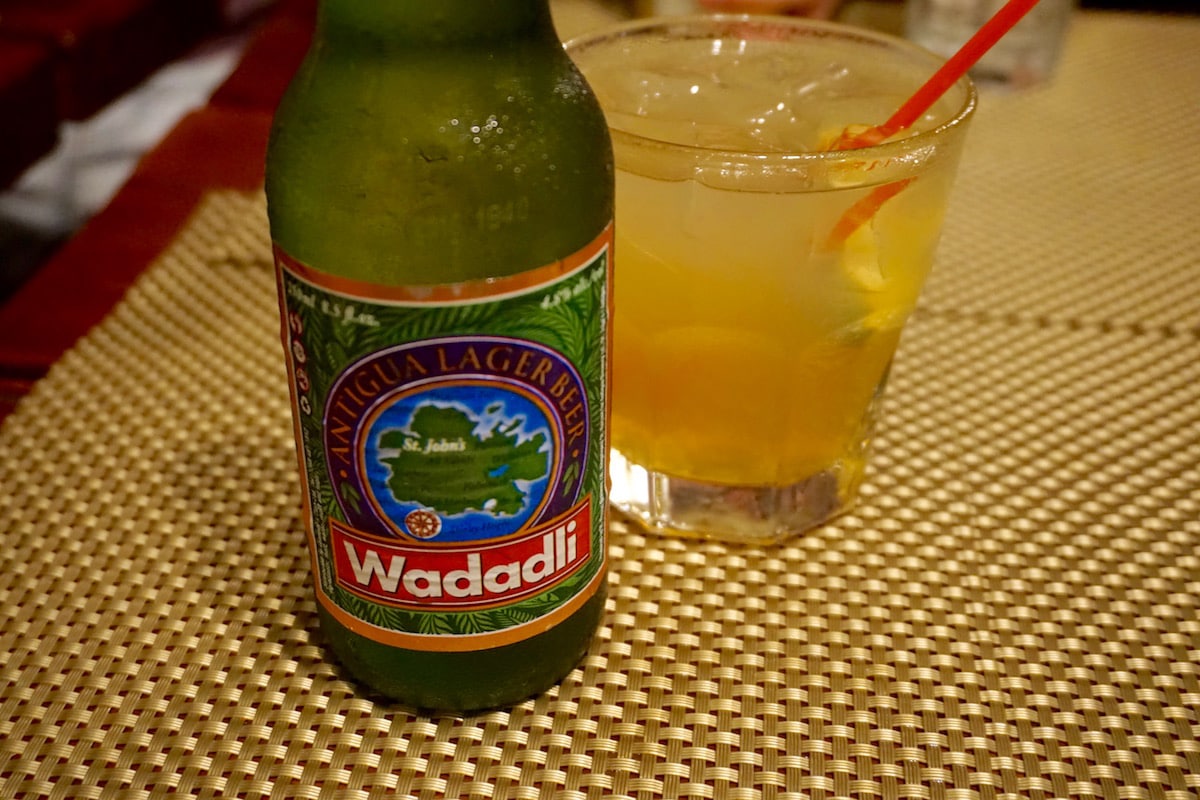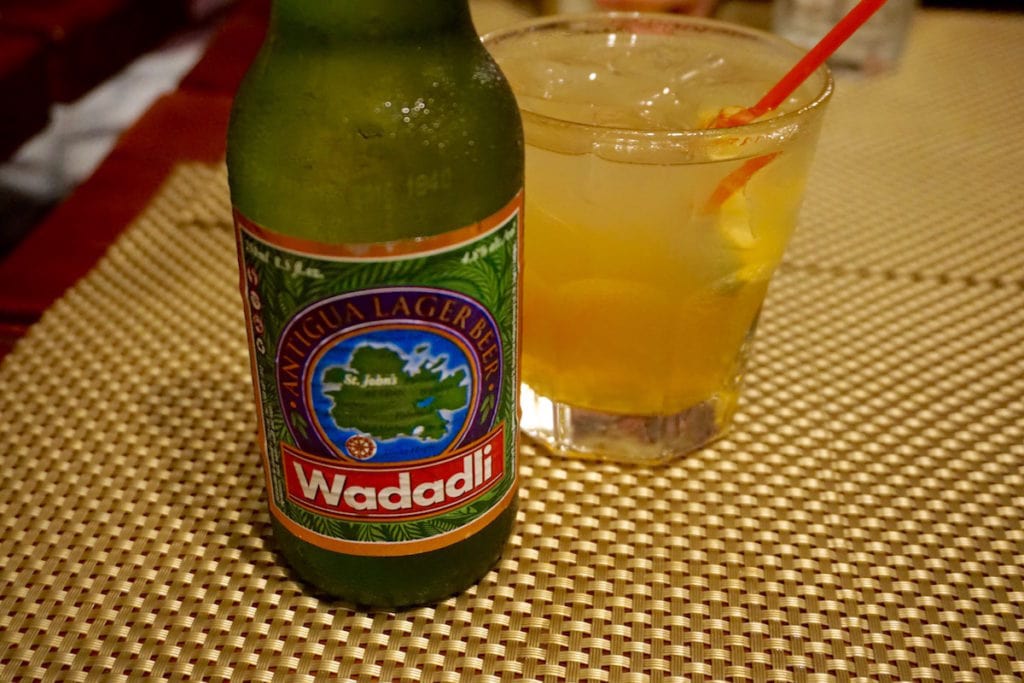 Best Restaurants And Bars In Antigua
Nicole's at Verandah Resort and Spa – This fine dining a la carte restaurant serves up excellent seafood, salads and steaks. Be sure to try the coconut shrimp.
Shirley Heights Lookout – Starting the day with mackerel, okra and jonny cakes (a type of fried dumpling) will really give you a flavour of local life on Antigua. Plus, this breakfast spot boasts the most spectacular view of the island.
Beach Limerz – One of my favourite meals of the week, this beach bar serves excellent seafood right on the white sands, with a steel drum soundtrack. Be sure to try the shrimp and lobster here.
The Lighthouse at Hammock Cove Resort – Some of my best meals in Antigua were on my most recent trip to the island when I stayed at Hammock Cove Resort. Chef Marco takes gastronomy to the next level. During my trip The Lighthouse was only open to guests at the hotel, but rumour has it, it might open to the public soon, so check the website before your trip.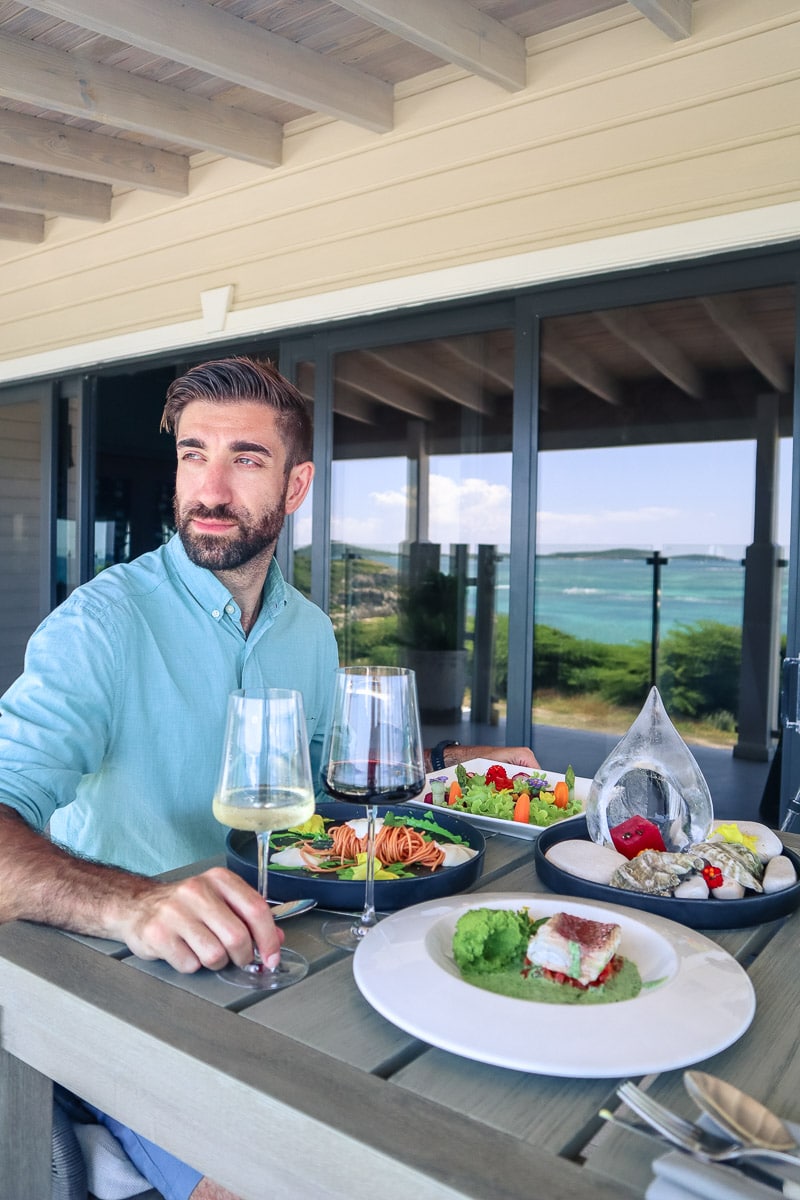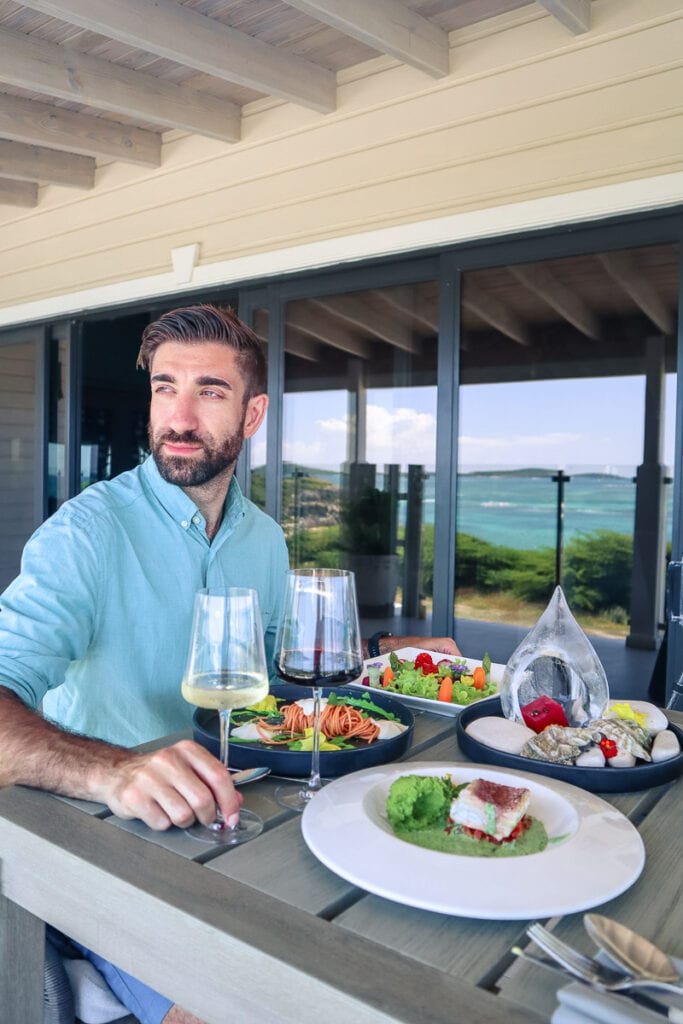 Ffreye's Beach at Dennis Beach Bar – Perfect beach views from this restaurant, which happened to be one of my favourite meals of the week too. The hot and spicy shrimp were excellent, and once you've ordered you can nip to the beach for a quick swim before eating! I heard it was a favourite with cruise ship passengers.
Trappas Restaurant and Bar – close to English Harbour, this casual restaurant has a buzzy atmosphere, and offers Caribbean curries, ceviche, sashimi, grilled fish and plenty more.
Papa Zouk – Run by a German film producer moved to the island, you'll find plenty of great seafood here, and the island's biggest selection of rums.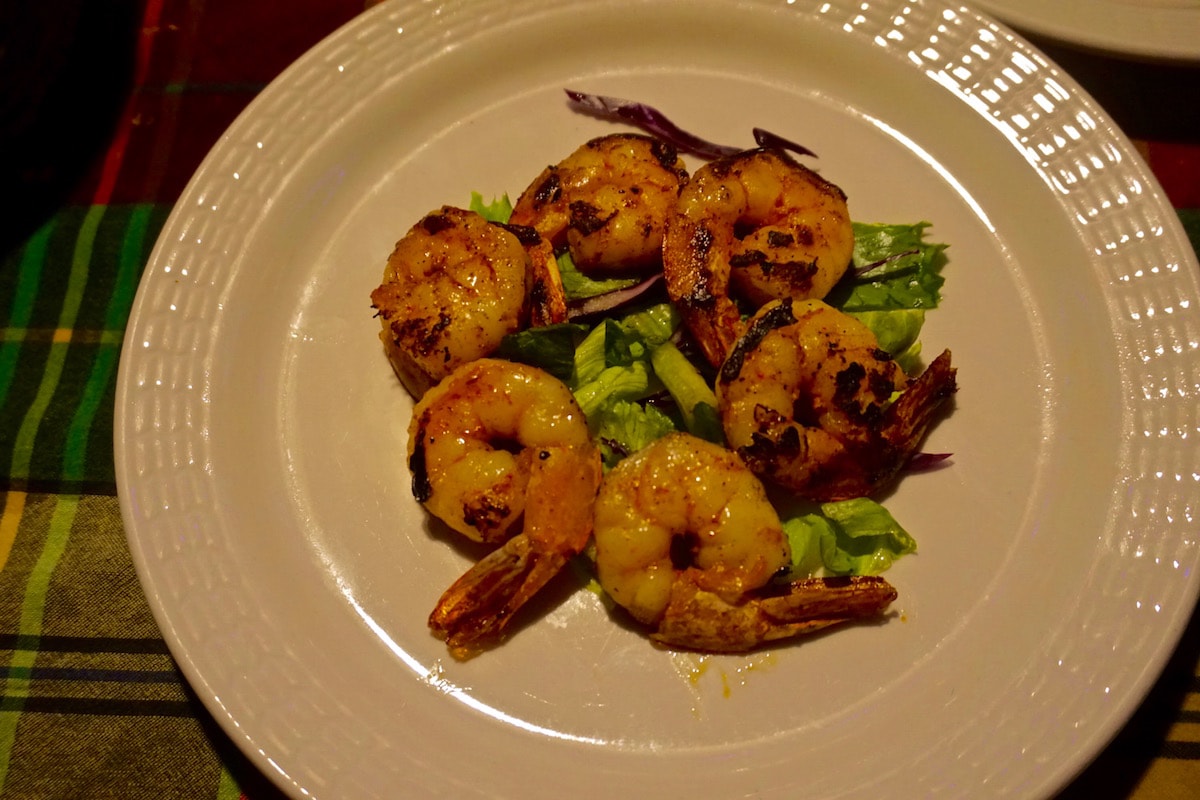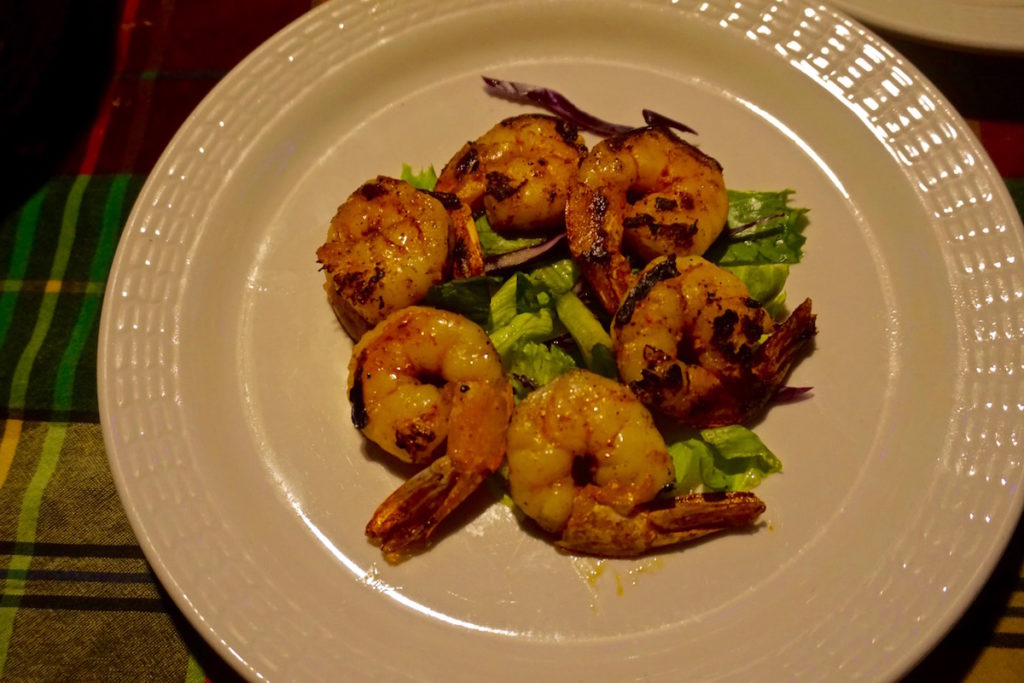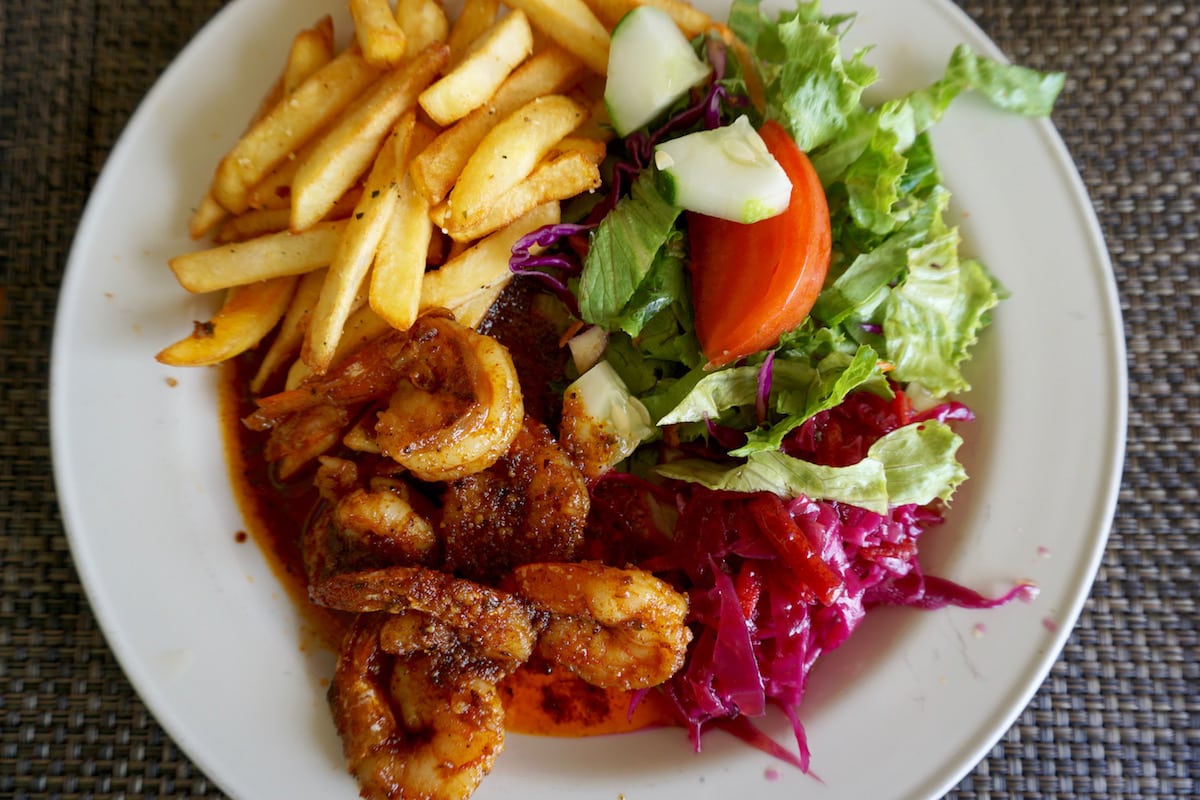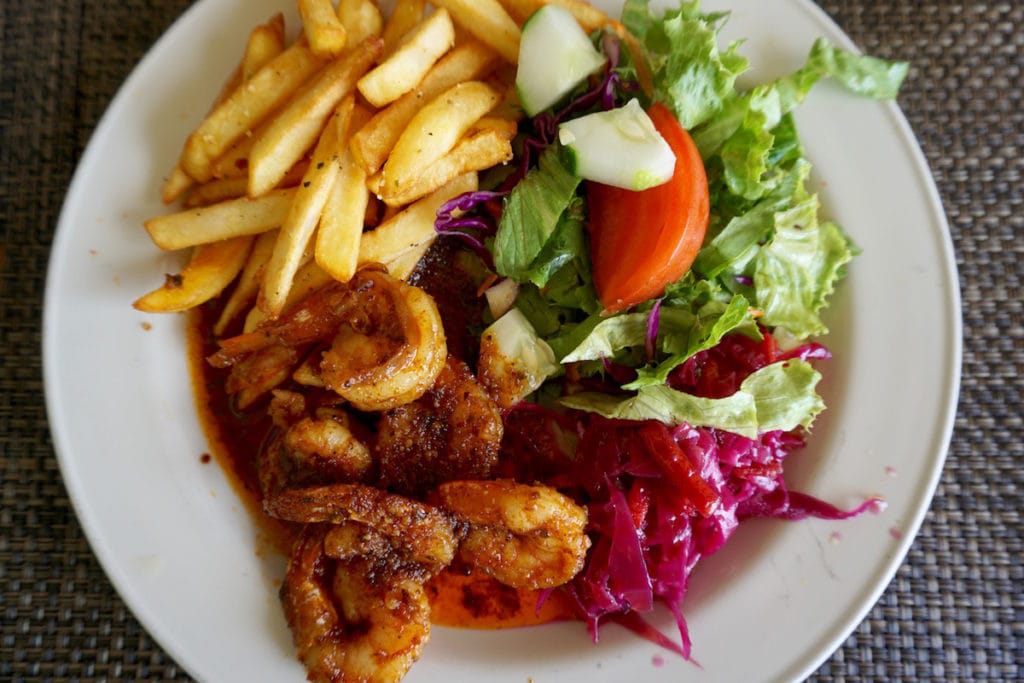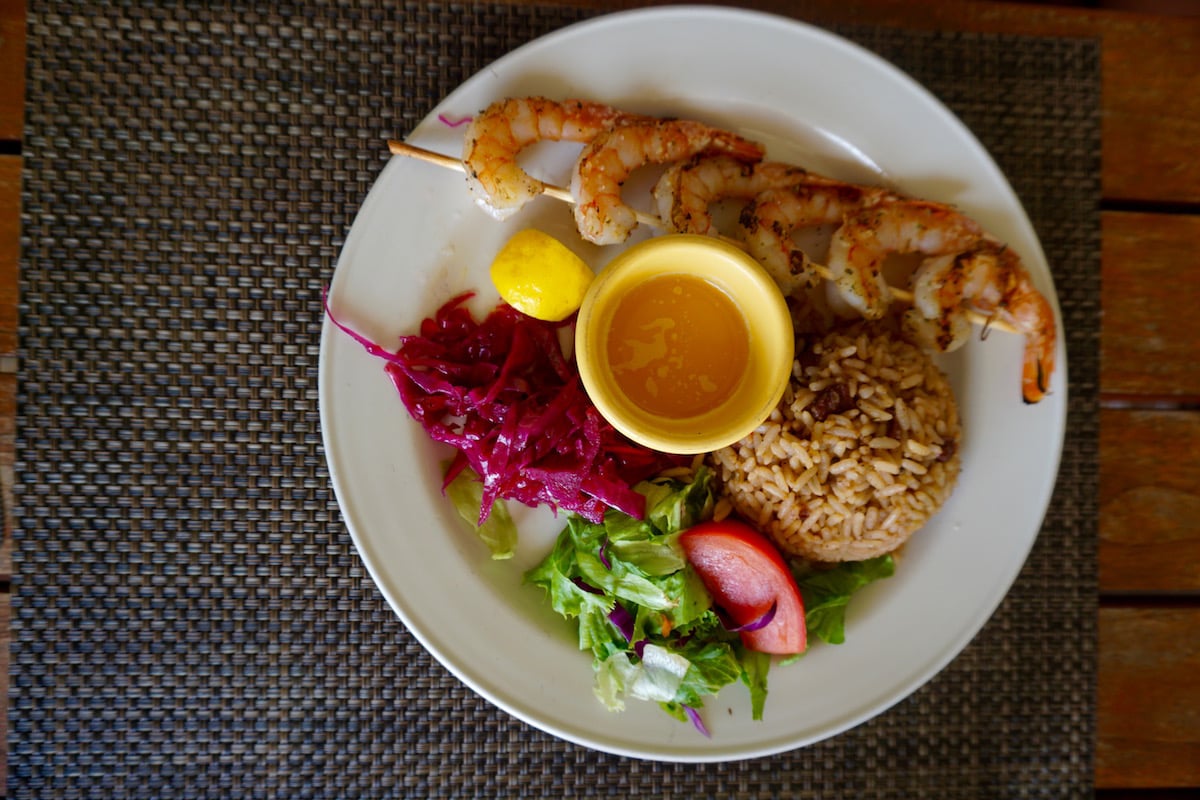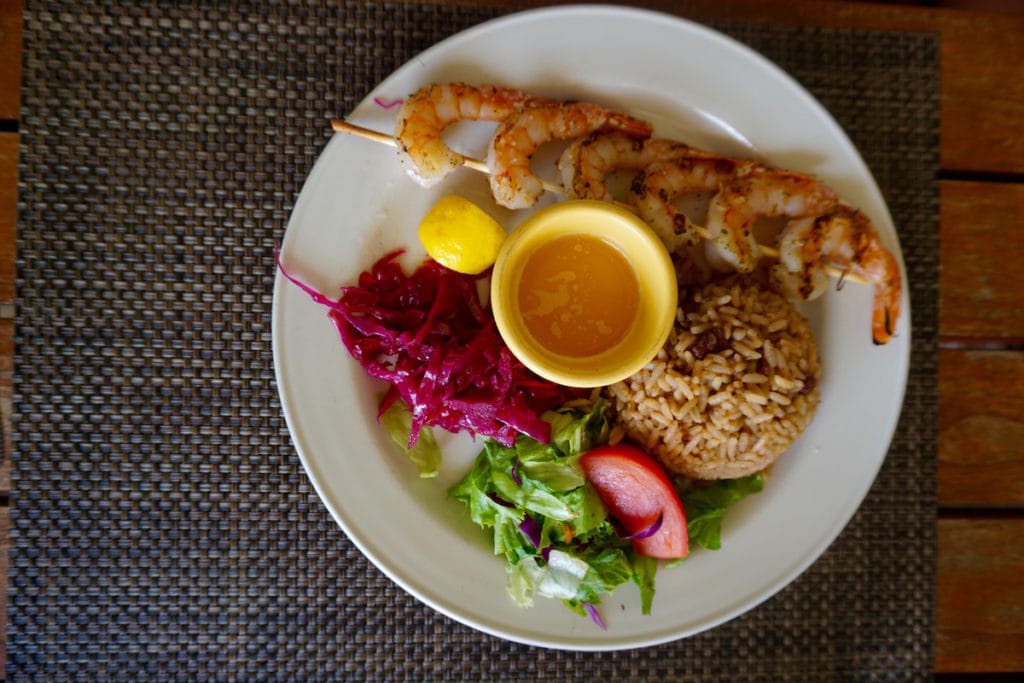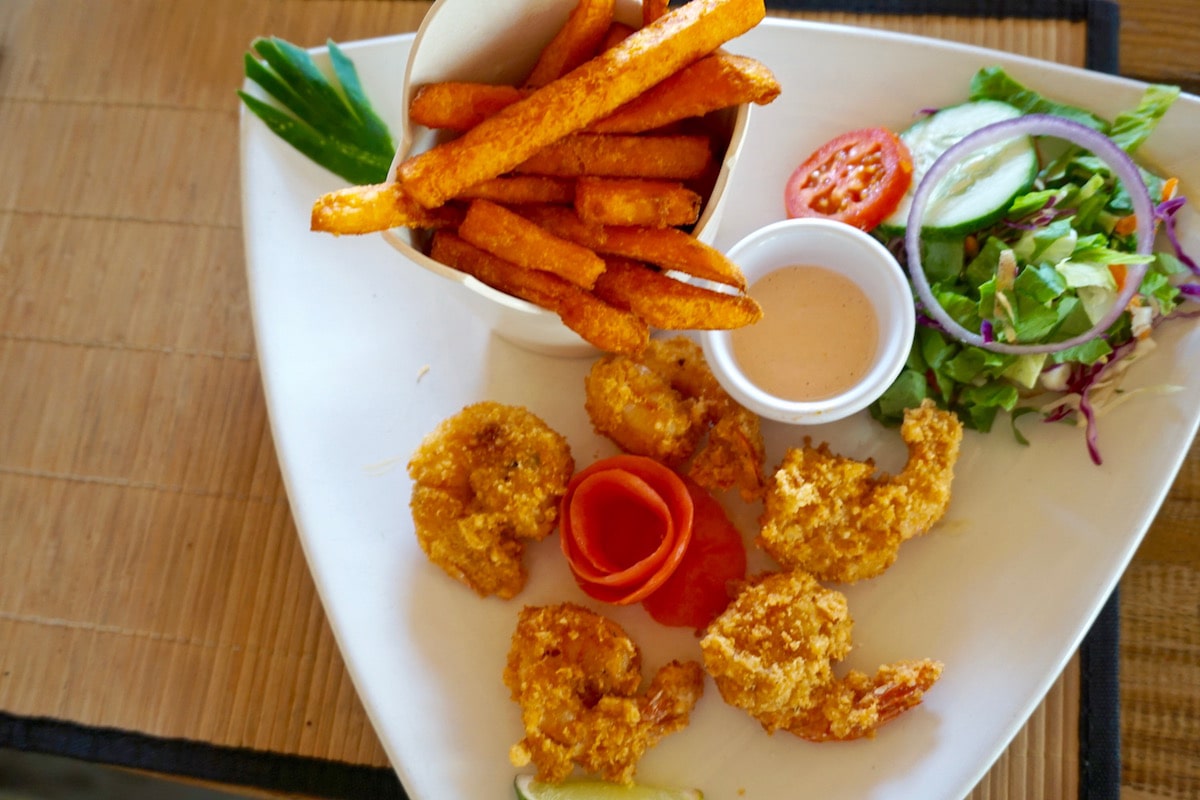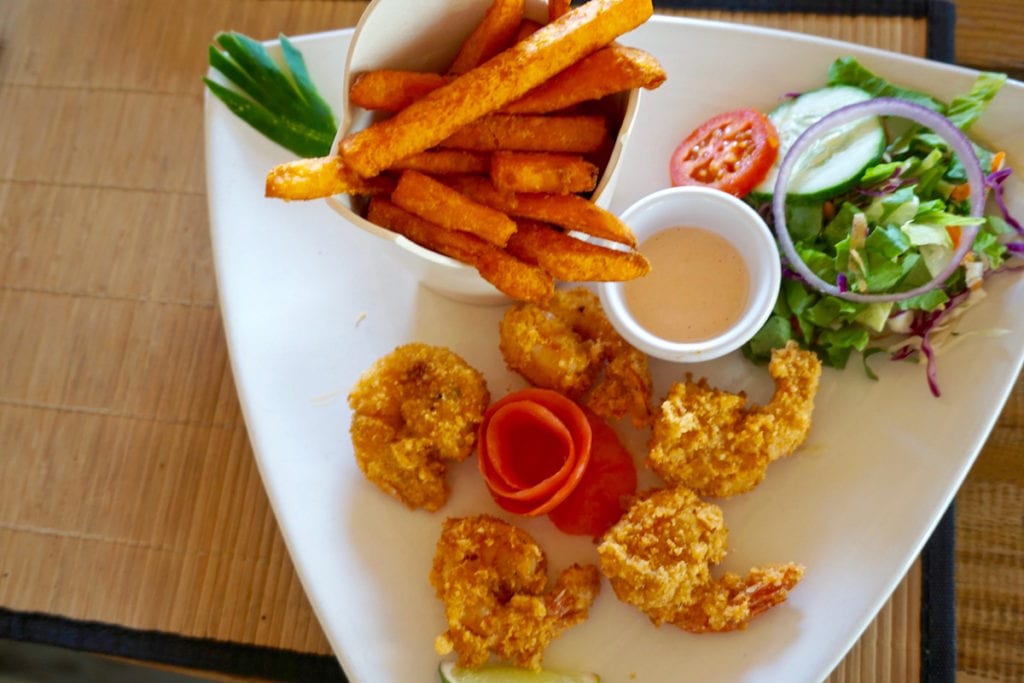 Where To Stay In Antigua
Verandah Resort And Spa – This all-inclusive eco-resort sprawls along the coastline with wooden villas with sea views. Spacious rooms, plenty for families, lots of food options, and a beach with all-inclusive watersports. Slightly out of the way for those who want to explore the island.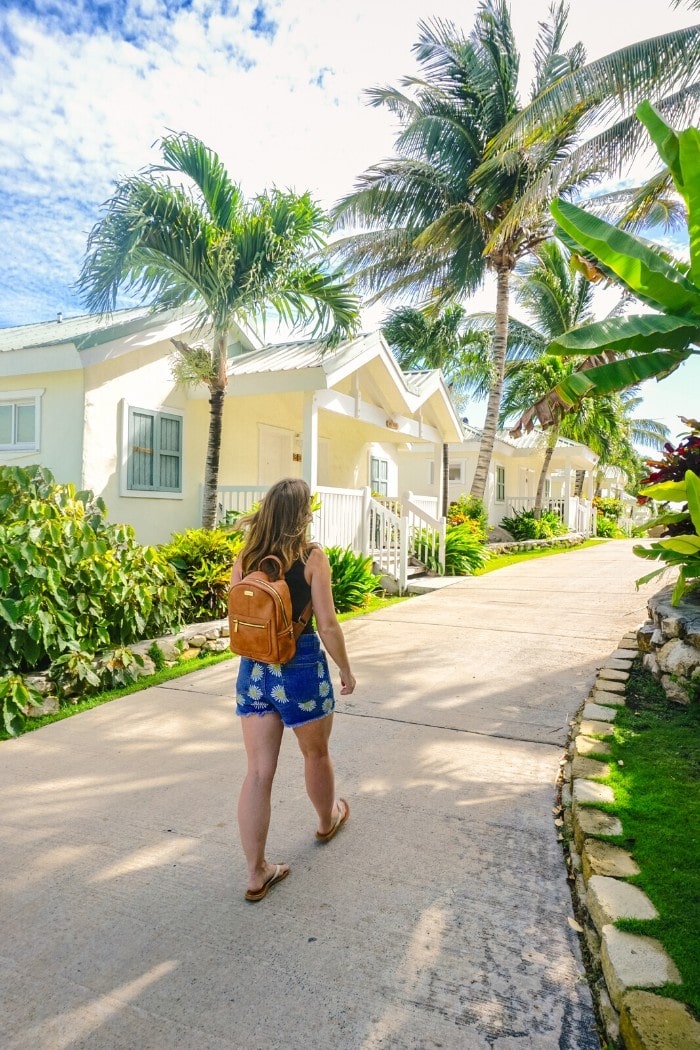 St James's Club – One of the top all-inclusive Antigua hotels, with two great beaches, located close to English Harbour. Definitely take part in their FloatFit HITT classes, or their adult colouring relaxation time!
Hammock Cove Resort – If you're wondering where to stay in Antigua on honeymoon, then this boutique all-inclusive resort is absolutely spectacular. There's fine-dining every single evening and beautiful private villas with plunge pools. Find out all about my honeymoon experience here in my Hammock Cove Resort review.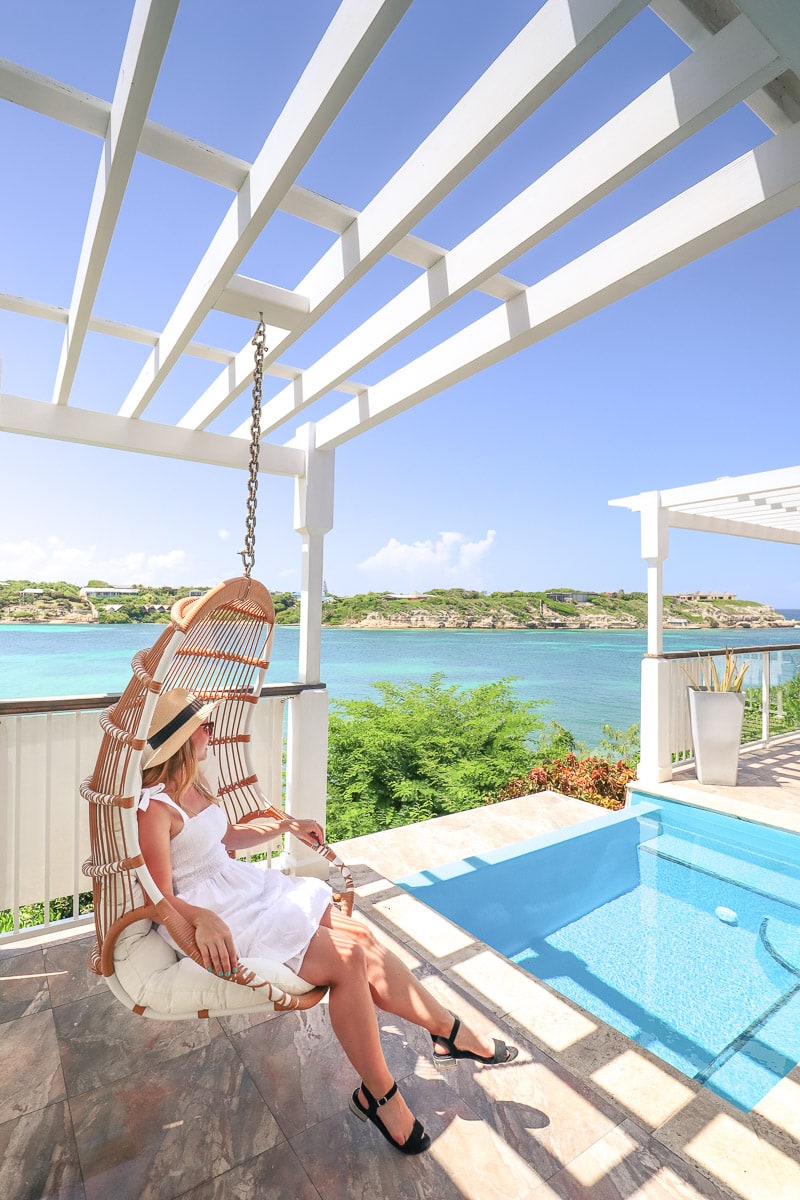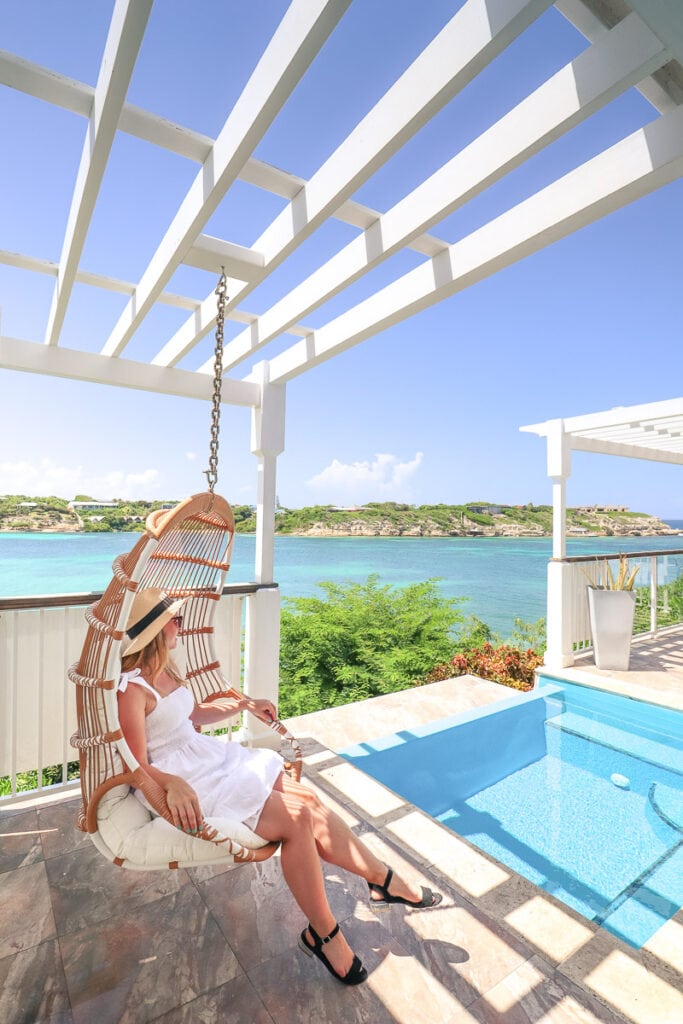 Jolly Beach – For those who want to be close to Jolly Harbour and located right on the Caribbean, this is a great option. Some think this is the best area to stay in Antigua.
Cocobay Resort – Exclusive adults only, all-inclusive resort perfect for honeymooners. Beautiful private infinity pools overlook the Caribbean sea.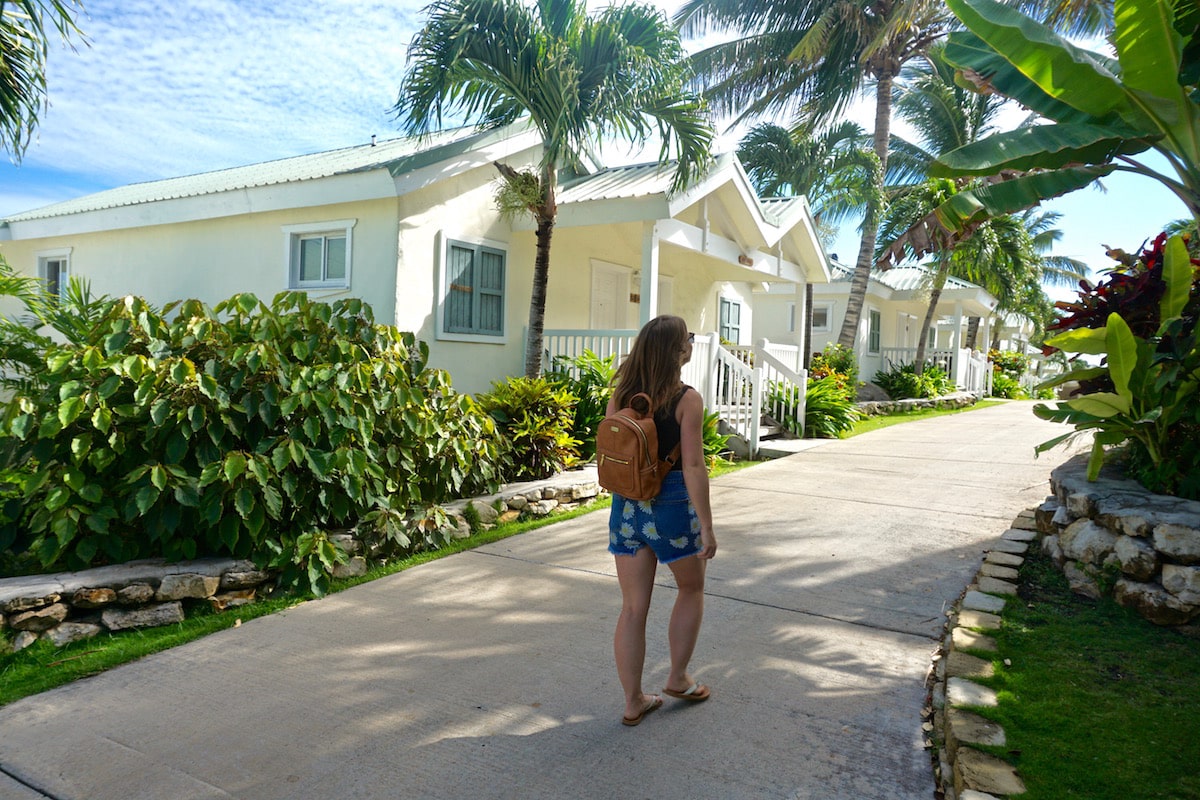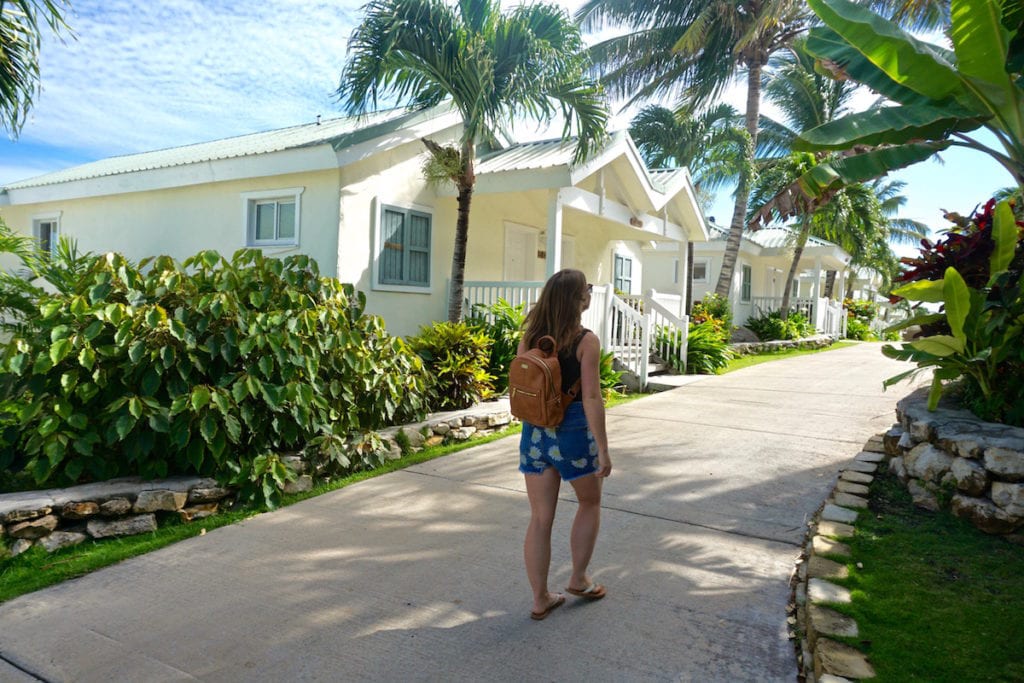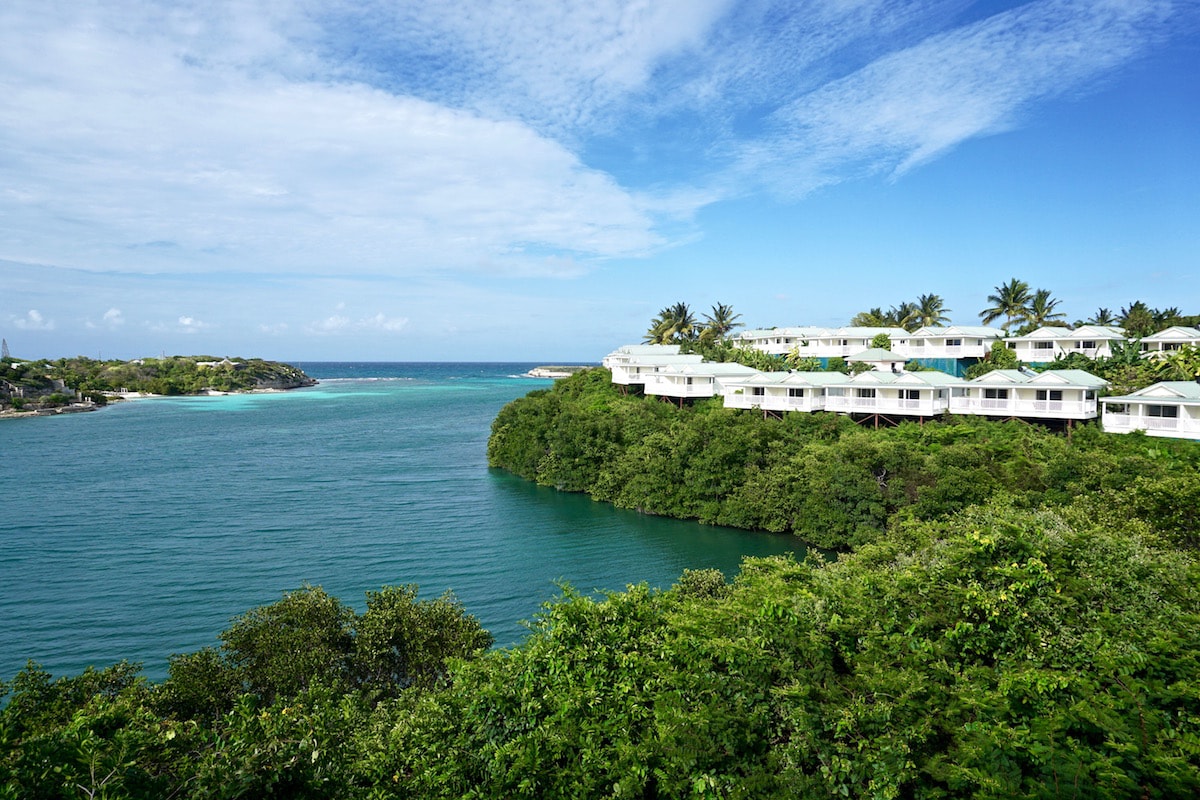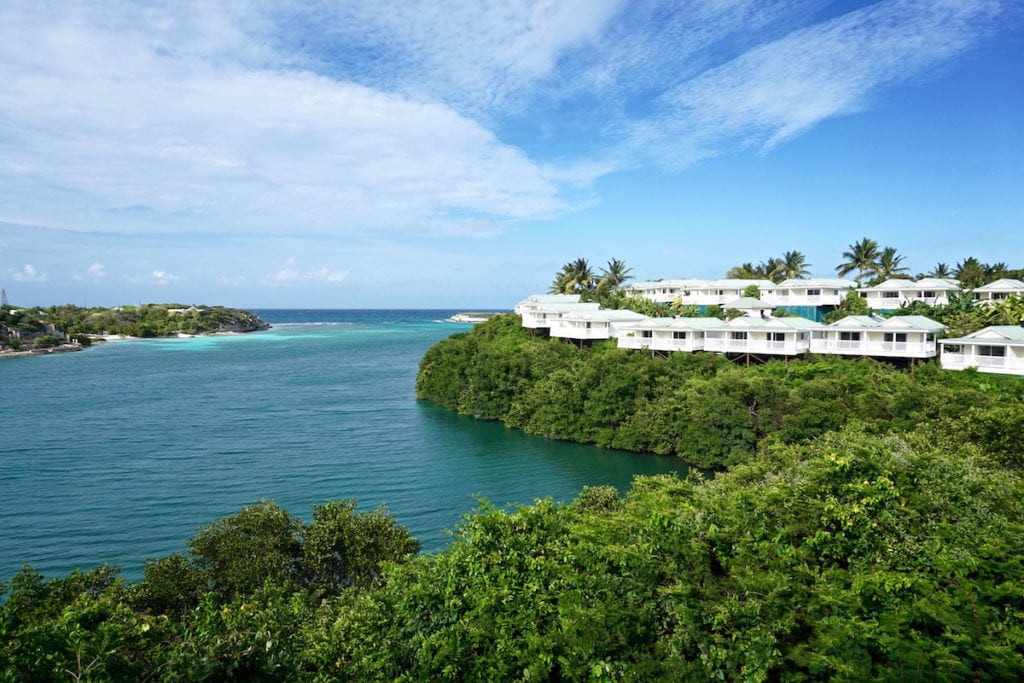 ---
Stopover In Antigua
I recently returned to Antigua, but this time en-route to Dominica. On the return, we had a 7-hour stopover. Rather than spend the day in the small airport, we decided to leave and find a nice beach bar to spend the day at. We'd looked into day passes for a resort, but they all worked out too expensive. In terms of getting around Antigua, it's easy enough to take a taxi from the airport. We directed ours to Ana's On The Beach in Dickenson Bay (next to Sandals). Ana's On The Beach is a super cute restaurant right on the sand.
We had lunch and dinner there, enjoyed several cocktails, used the WiFi and hired some sun loungers on the beach for the afternoon. There was a basic shower by the bathrooms, and the staff were very accommodating. There's also a small shop a few minutes away, where we stocked up on water and ice creams! If you've got a stopover in Antigua, this is the closest beach to the airport and a great place to spend the day.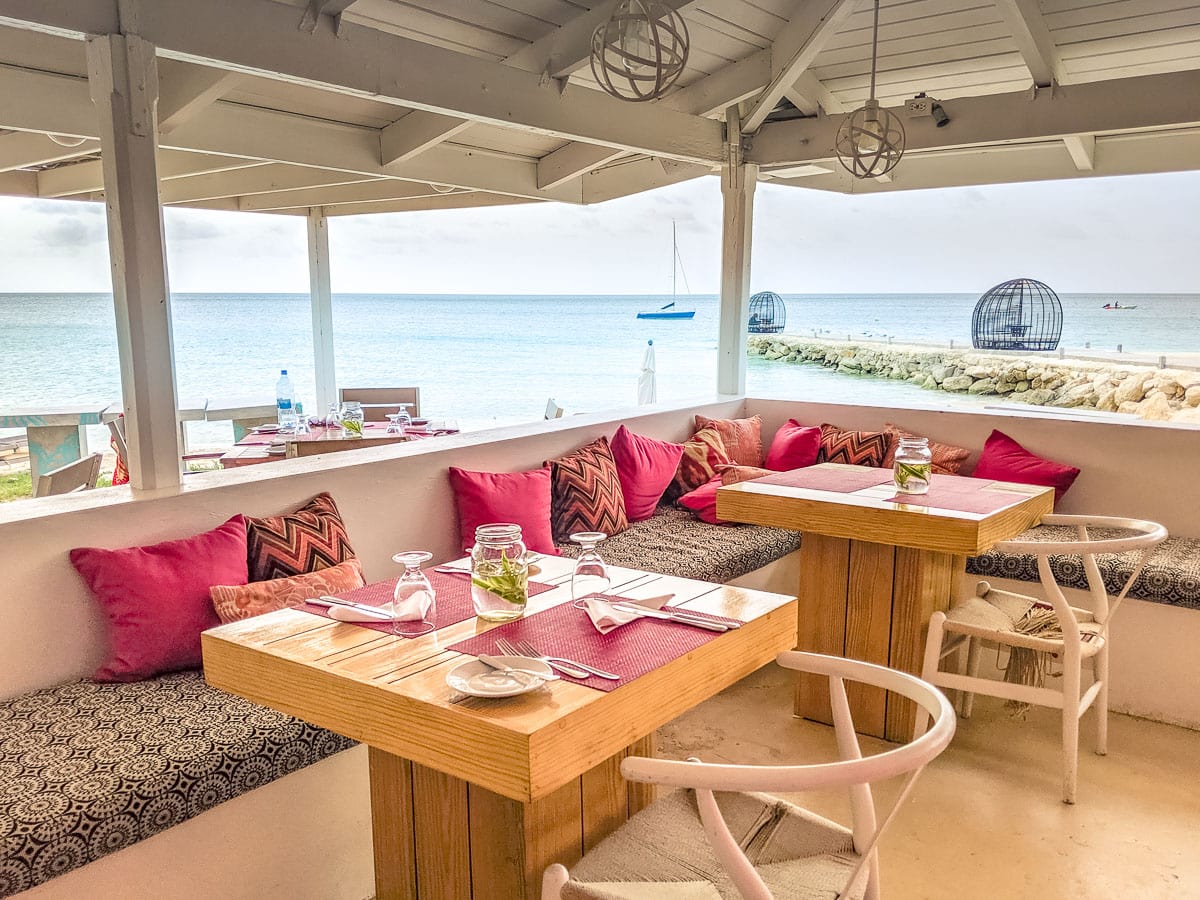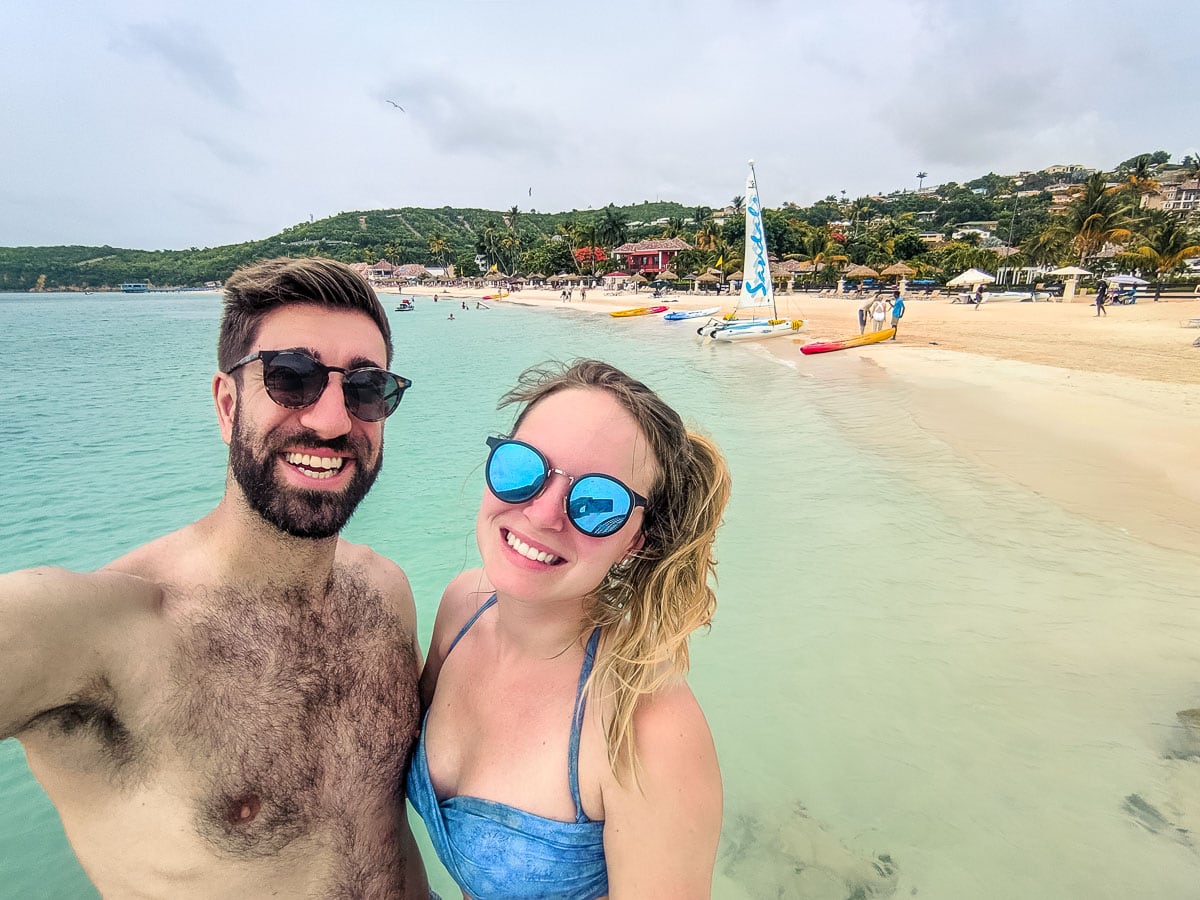 Useful Antigua Travel Tips
One of the most important things to know about Antigua is that there are two different currencies in circulation. US Dollars and Eastern Caribbean Dollars are accepted, but EC Dollars are the official currency. While the rate isn't always the best, I'd recommend having US Dollars as you're more likely to use them up elsewhere. The rate is 1 USD = 2.70 ECD.
---
If you're travelling to Antigua anytime soon, have an amazing trip! Hopefully you can pack all of my tips and recommendations into an Antigua itinerary of your own. Big thanks to the Antigua and Barbuda Tourist Board, Antigua Sailing Week and Elite Island Resorts for hosting me on my trips to Antigua. As always, opinions are my own.
Enjoyed this Antigua travel blog? Pin it…