From the turquoise waters of Marmaris and Fethiye, to historic Alanya, magical Bozcaada and Kusadasi, these are the best beach towns in Turkey.
Ready to transport yourself to a sunshine-filled paradise? Turkey's glittering Aegean and Mediterranean coastlines offer such a great variety of holiday options. You'll find everything from world-class resorts to basic beach hideaways.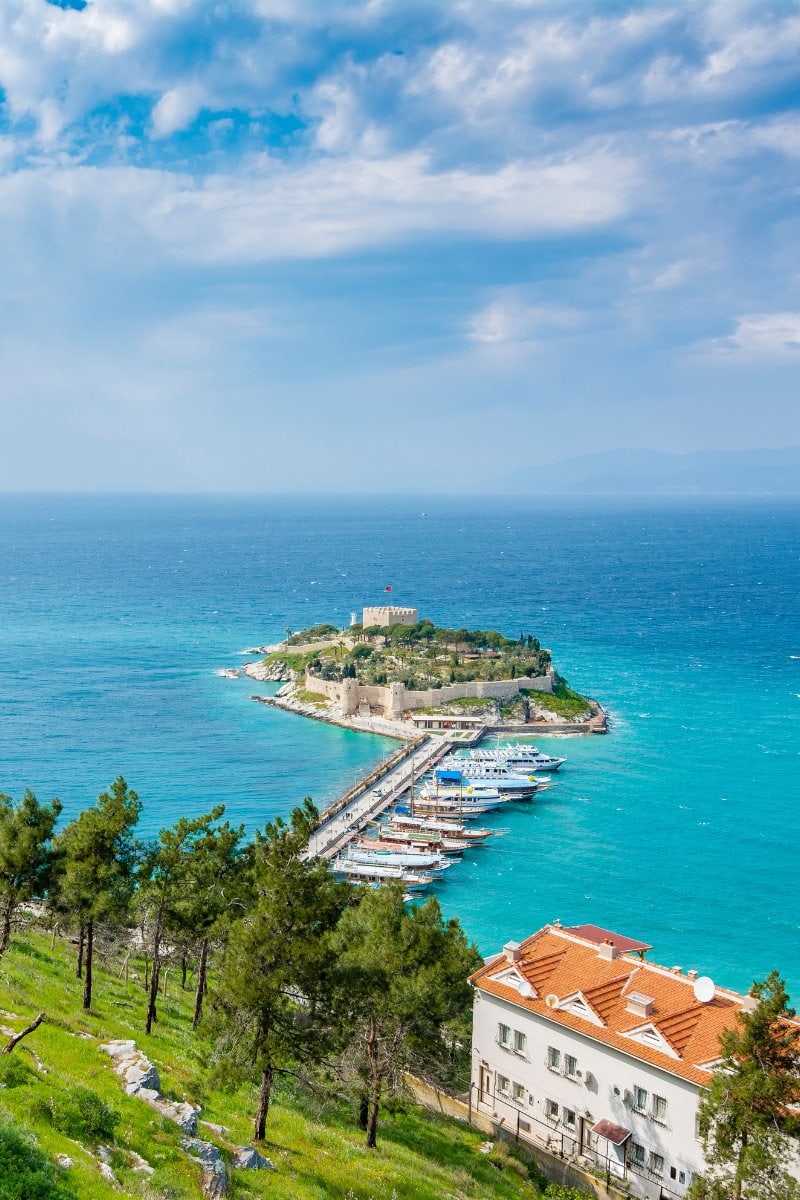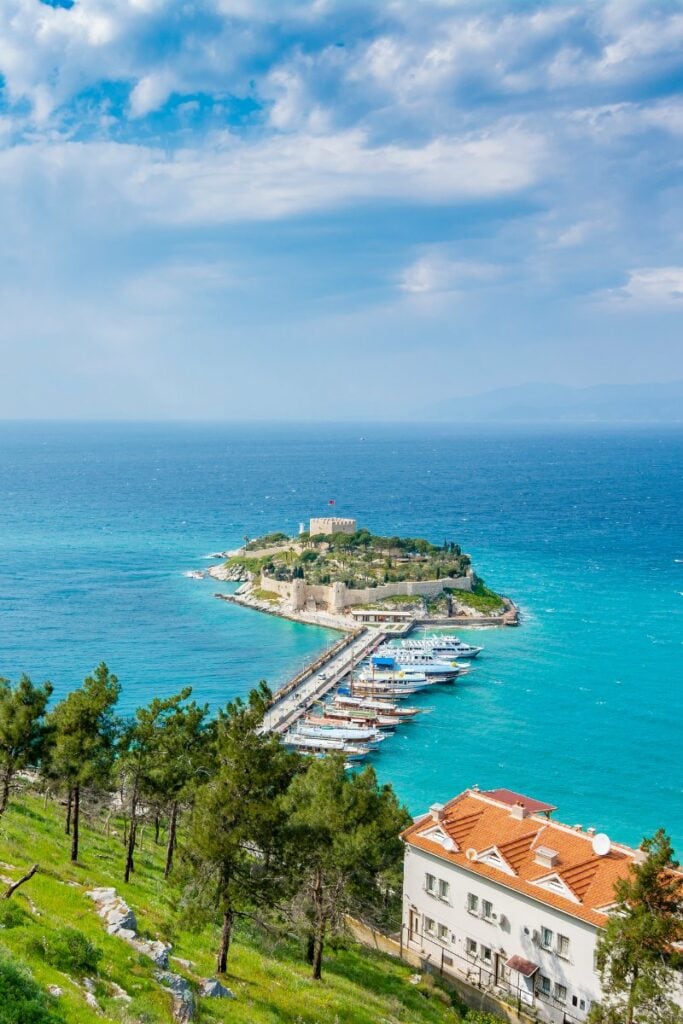 Coastal towns in Turkey tend to offer a fascinating mix of history, adventure and colourful local culture. You can unwind in luxury on a beach beside the sparkling ocean in the morning, explore ancient ruins in the afternoon, and then party until the early hours. Some of the most popular towns in the Turkish Riviera, such as Bodrum and Antalya, offer the perfect mix of daytime buzz and nighttime fun.
Holidays on the Turkish coast work for all budgets. You really will find everything from upmarket resort towns ideal for honeymooners, to tiny villages with cheaper family accommodation.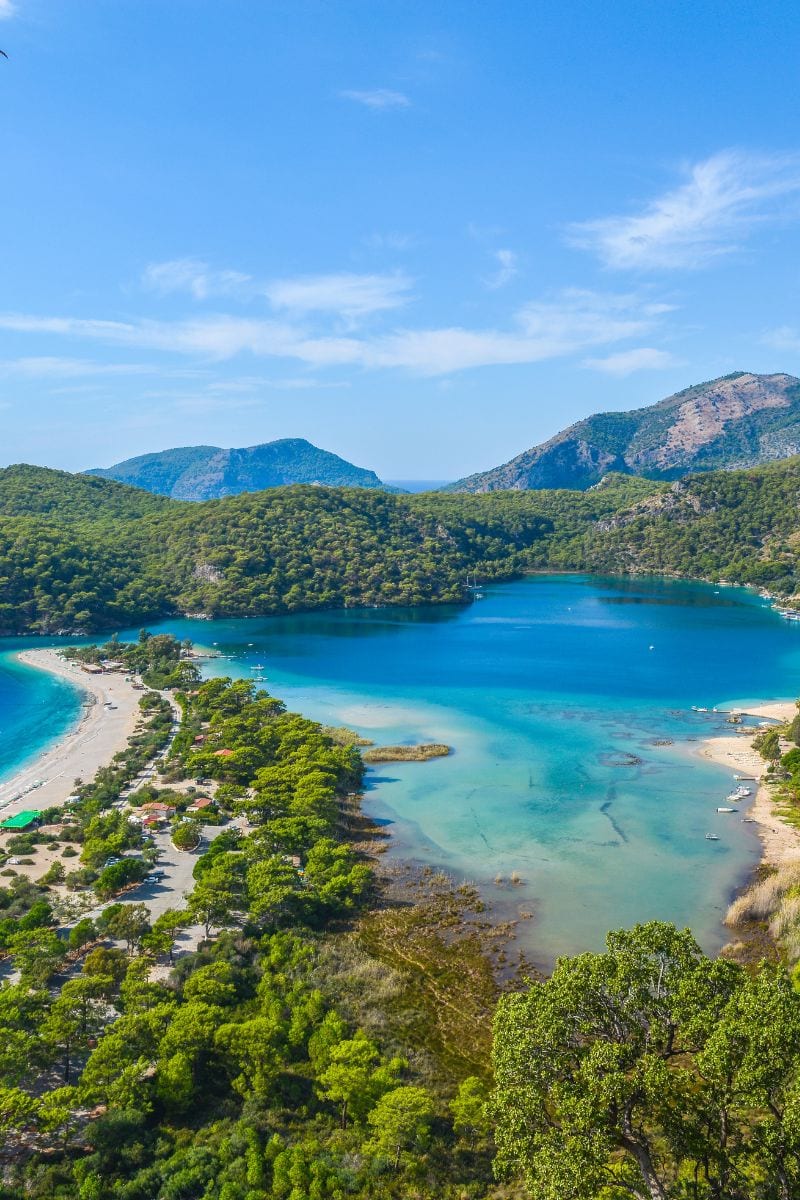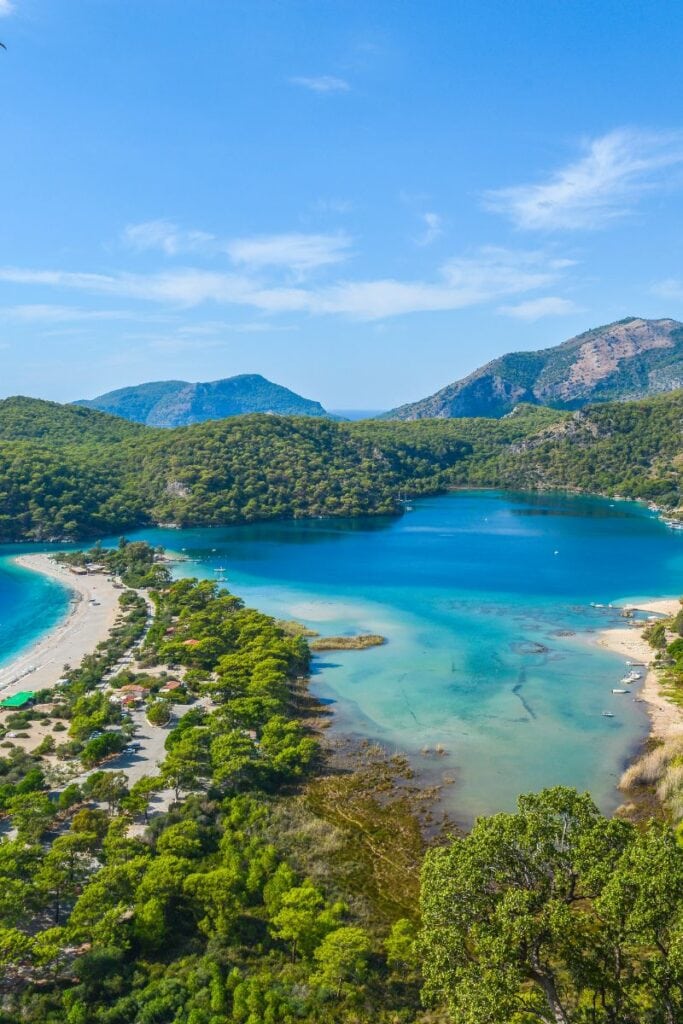 So, pack your sunnies and your swimming cozzy and come along with me as I take you on a tour of some of the best beach towns in Turkey.
---
The Most Beautiful Beach Towns in Turkey
Ölüdeniz
This bustling resort suburb near Fethiye is famous for the blue lagoon of Ölüdeniz Tabiat Parki and the wide sandy sweep of Belceniz Beach. Overlooking the beach, Babadağ mountain's peak is where thrill-seekers can take off in a tandem paraglider.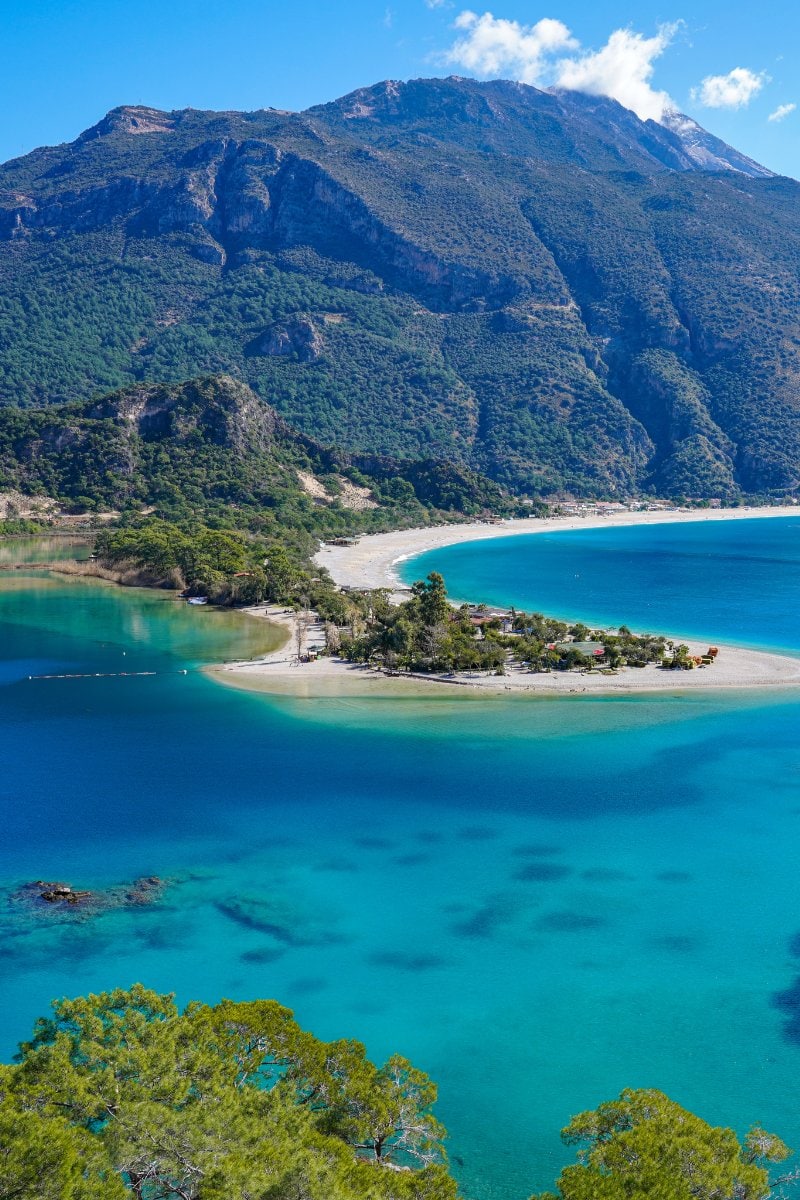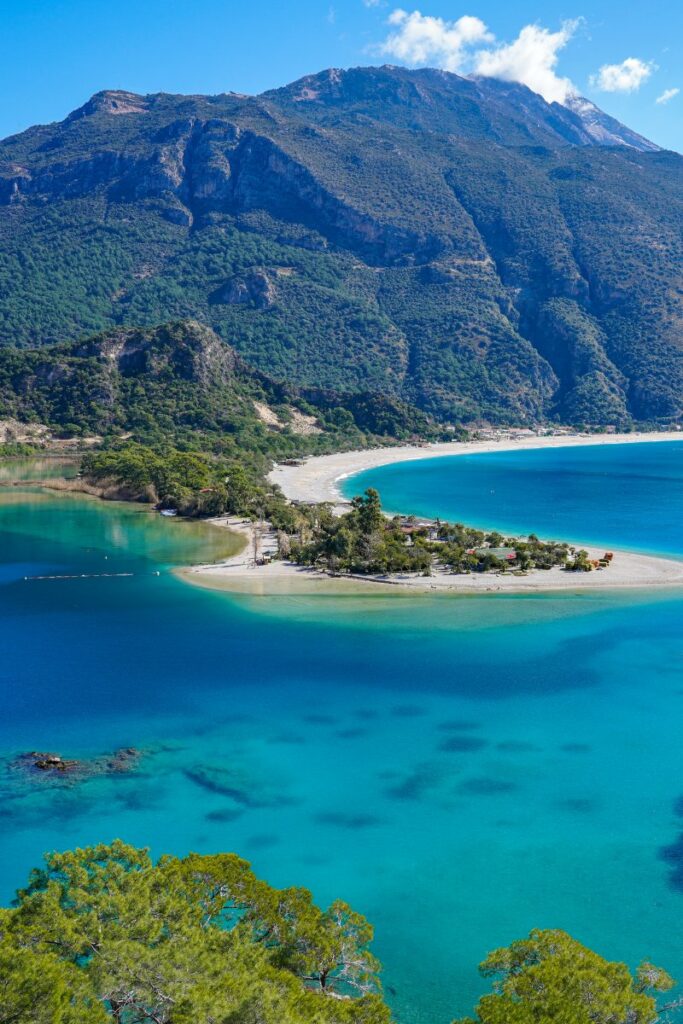 While the town can seem quite expensive, there are plenty of cheap dining and entertainment options on the back streets. Summer can be really busy here but if you go in the off-season (September is one of the best months) it's much less hectic.
Alanya
If you feel like combining some history with your Turkish beach holiday, I can really recommend this town. Watched over by the battlements and spires of the medieval Alanya Castle, this pretty manages to walk the fine line between being a tourist hotspot and traditional Turkish town life. I had a great trip here a few years ago and have vivid memories of the gorgeous turquoise ocean.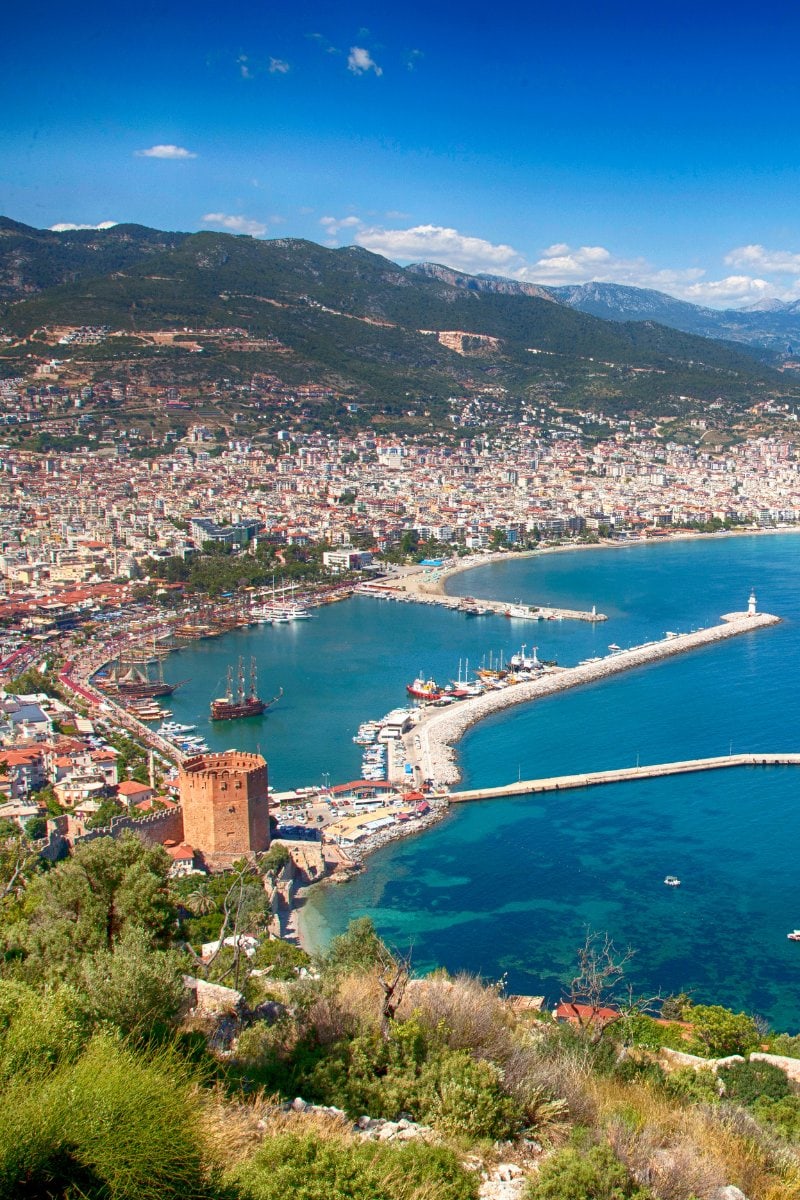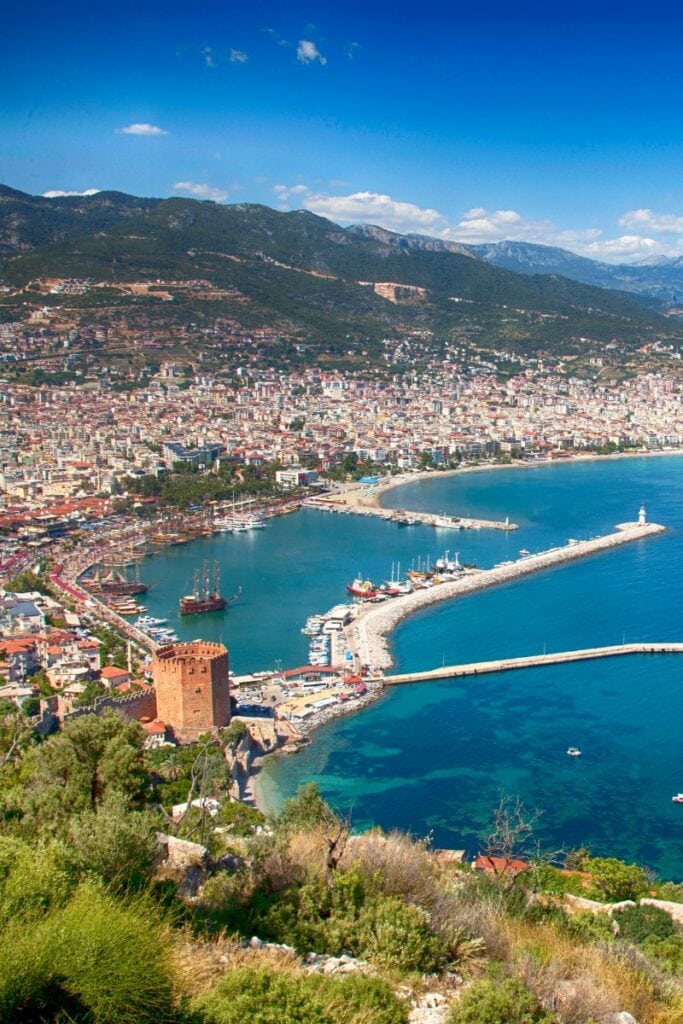 How do you fancy spending an afternoon exploring backstreet bazaars where shops selling baklava, Turkish delight and dolma will tempt you to snack? You can burn off a few of those holiday pounds with a swim… followed by an afternoon cocktail!
Alanya's Seljuk-era castle on the hill is now an open-air museum where you can see exhibits of ancient weapons, sultan's clothing and everyday items of medieval Turkish life. I'd also recommend looking out from the battlements across the red-tiled roofs of the town to Cleopatra Beach, where the fabled Egyptian queen is said to have swum.
Dalyan
This charming, laid-back town on the Mediterranean coast near Fethiye is one of my favourite Turkish beach towns. Dalyan was once a Roman health spa and the mud baths and ancient ruins near the town are really fun to explore. The long curving sweep of Iztuzu Beach is perfect for swimming. You can sometimes be able to spot loggerhead turtles (known as caretta caretta turtles) basking in the warm water here too!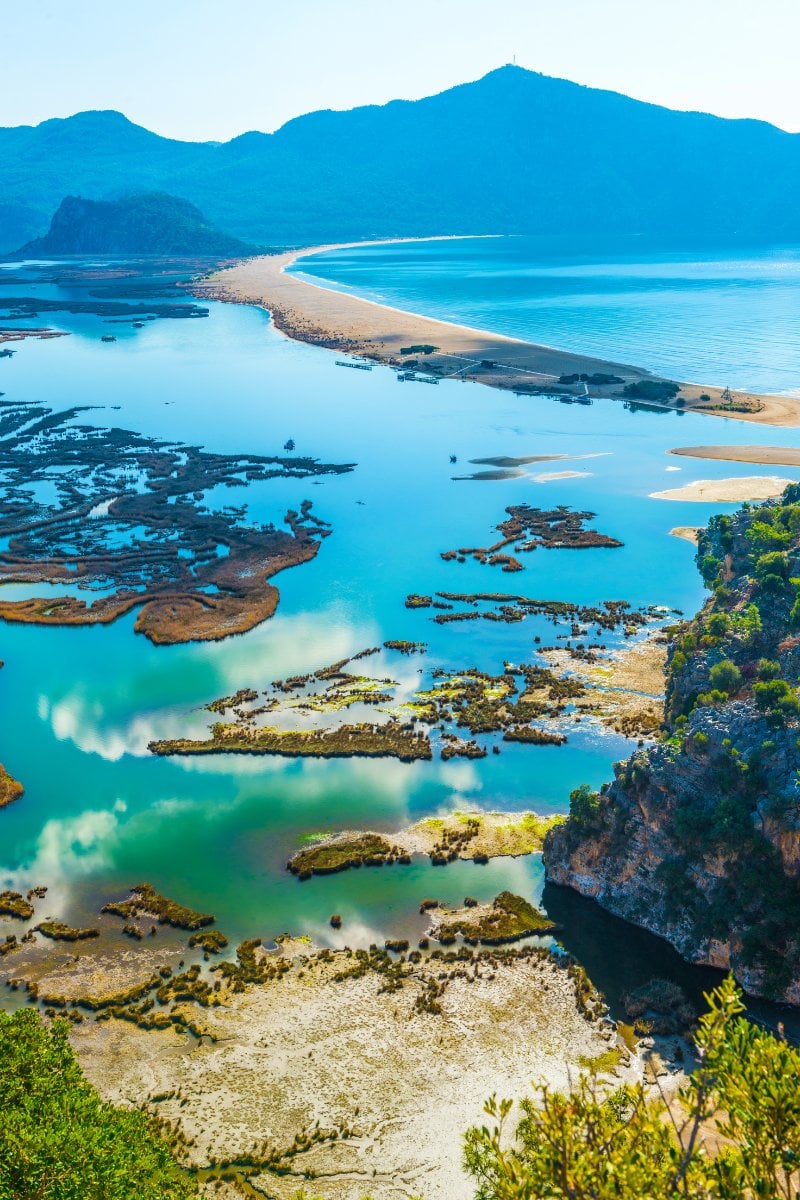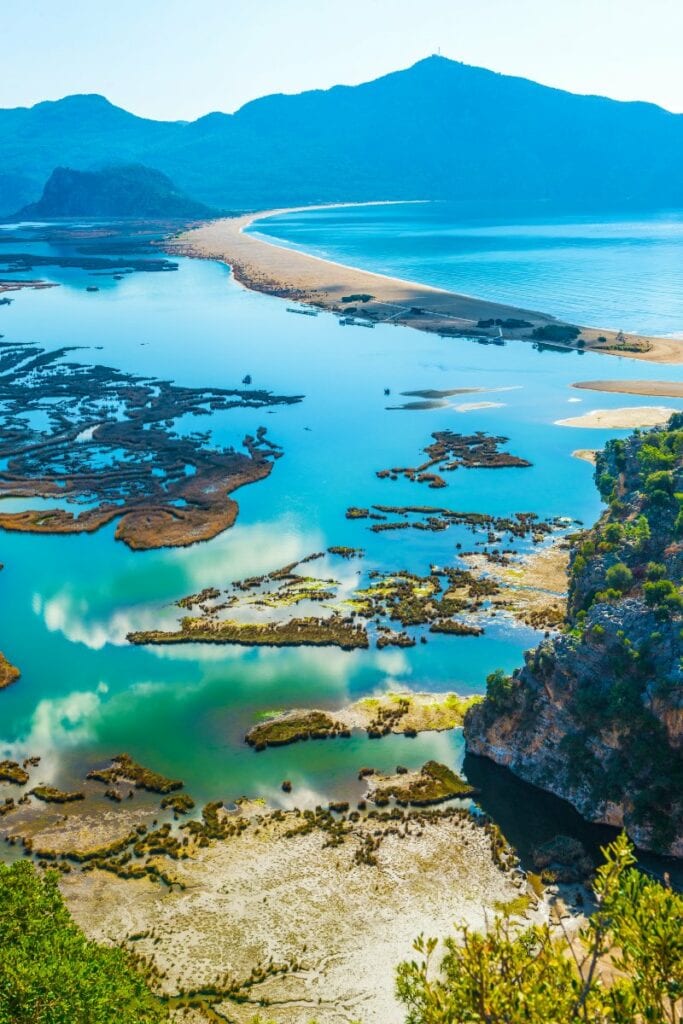 If you're a lover of history and adventure, I'd recommend taking a day trip up the nearby Dalyan Çaya River to see the ornate 400 BC Lycian tombs carved into the cliffs. After a fun day out, you can return to Dalyan and get stuck into generous plates of Turkish and western food in one of the town's many restaurants.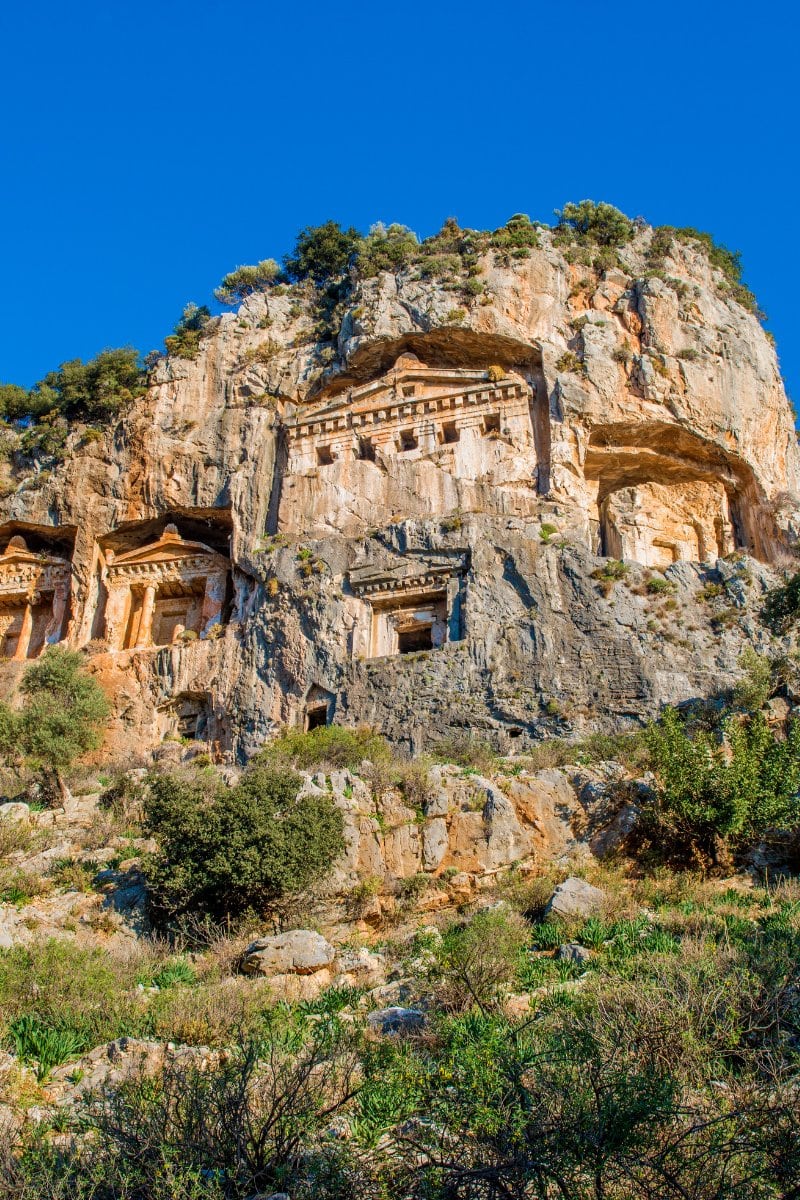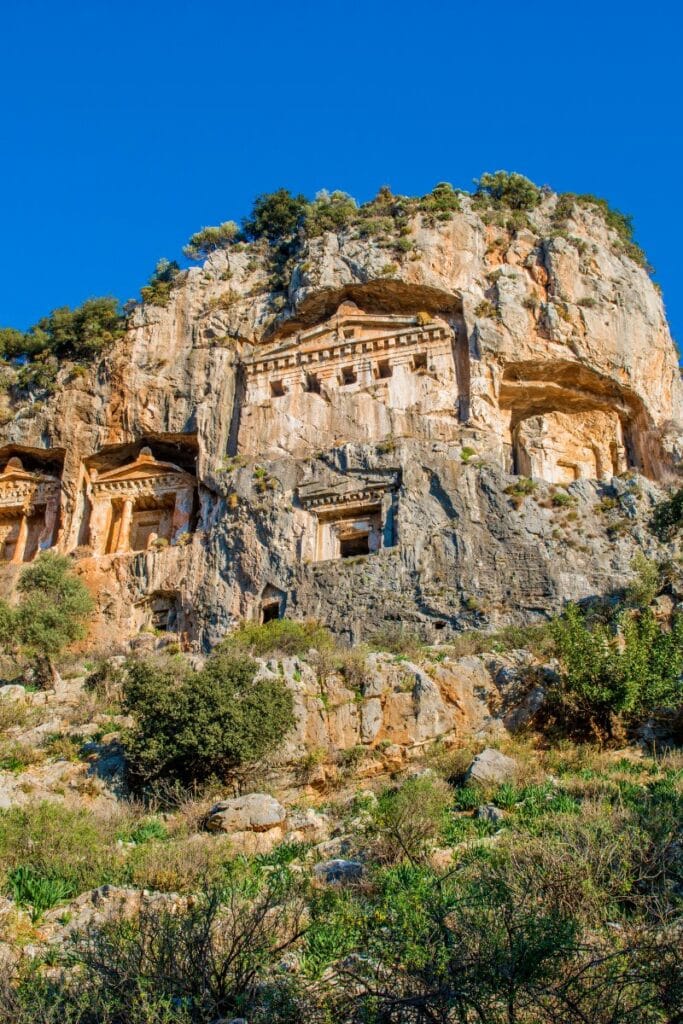 Marmaris
With its tranquil, reflective waters and colourful seafront, Marmaris is definitely one of the most beautiful places on the Turkish coastline. The gorgeous backdrop of mountains clad with deep green pine forests gives Marmaris the feeling of a glamorous European resort such as Monaco (well, this is the Turkish Riveriera after all!)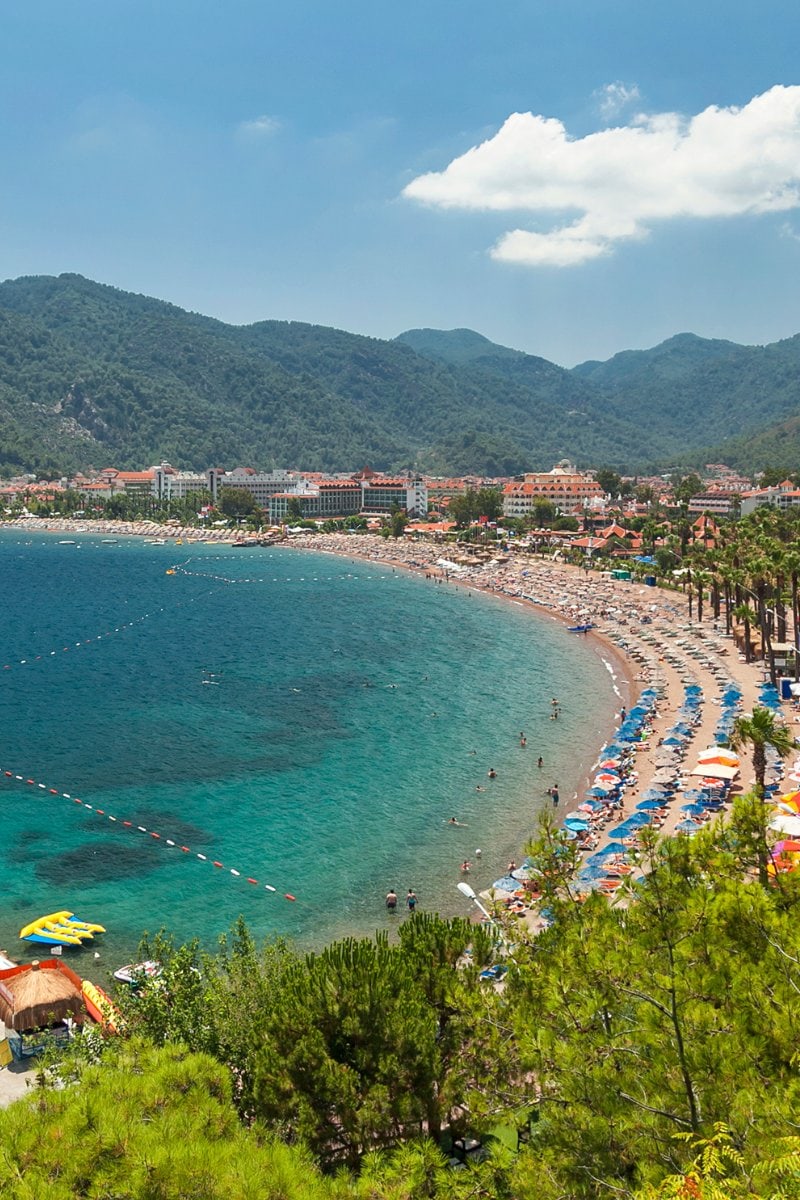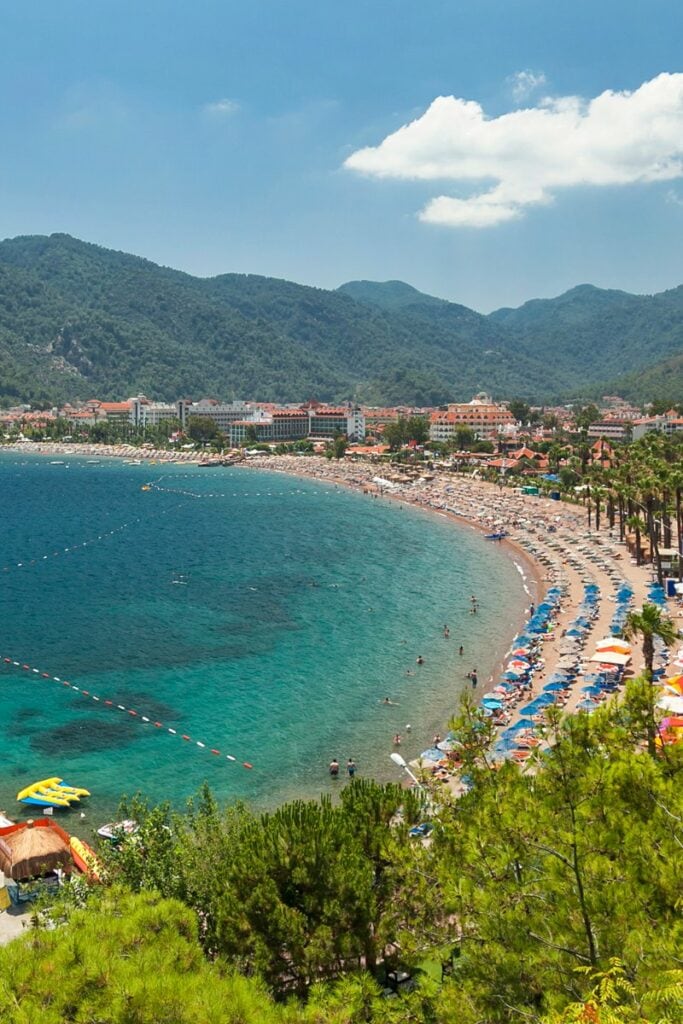 The cobbled streets of the Old Town are a fascinating place to wander. Plus, you could easily spend hours exploring the restored castle of Süleyman the Magnificent, the greatest of all the Ottoman rulers.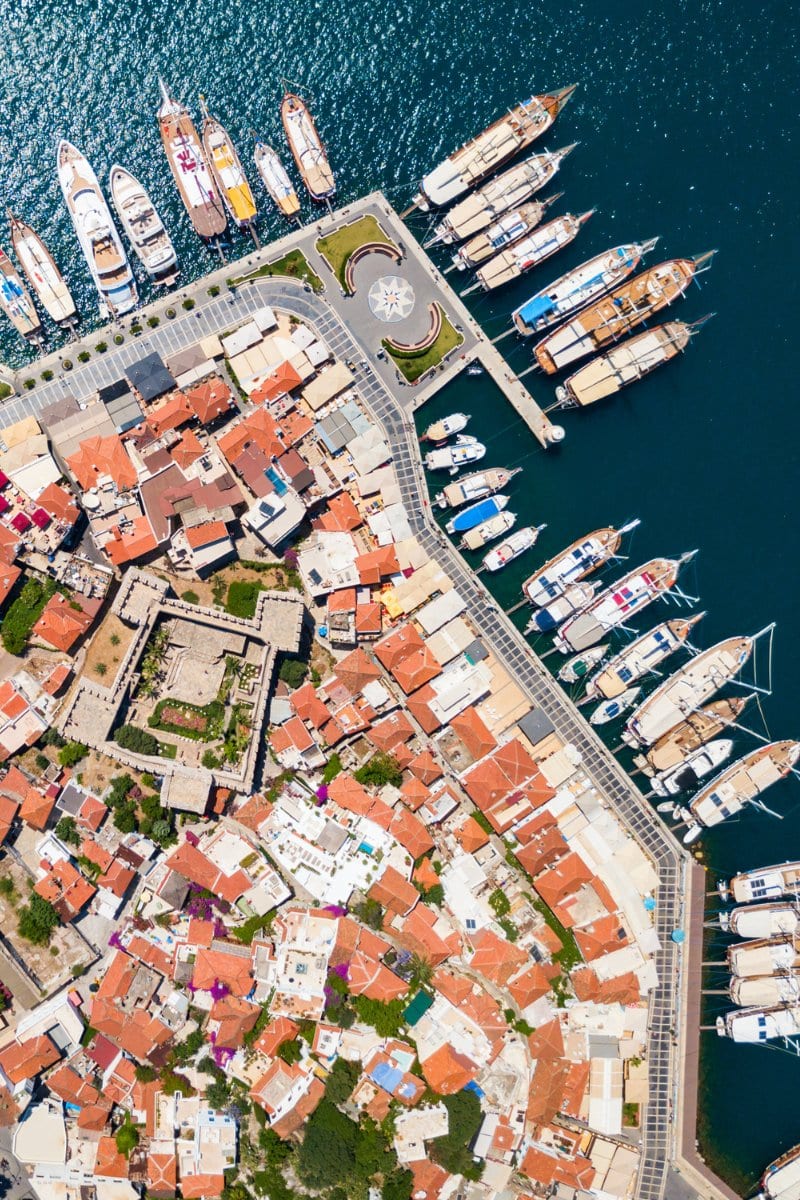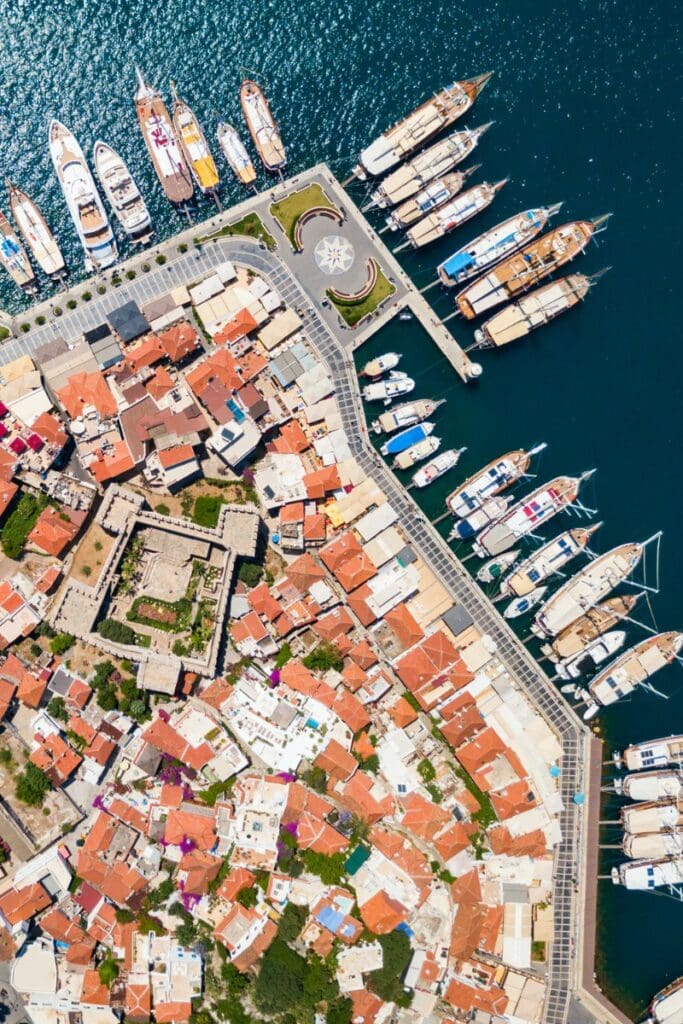 The coves and bays of the nearby Datça Peninsula are great for day trips, especially when cruise ships are in the port and you want to escape the crowds. Plus, if you're wondering how to reach the town, flight connections to nearby Dalaman Airport make getting to this part of the Turkish coast nice and simple.
Bodrum
Close your eyes and imagine a perfect Turkish coastal town, with an old castle, crystal blue waters, Roman ruins and whitewashed houses. You've just imagined Bodrum! With accommodation options ranging from cheap "pensions" (the Turkish version of a B&B) to boutique hotels and ritzy beach resorts, you'll have no trouble finding the perfect place to stay in Bodrum.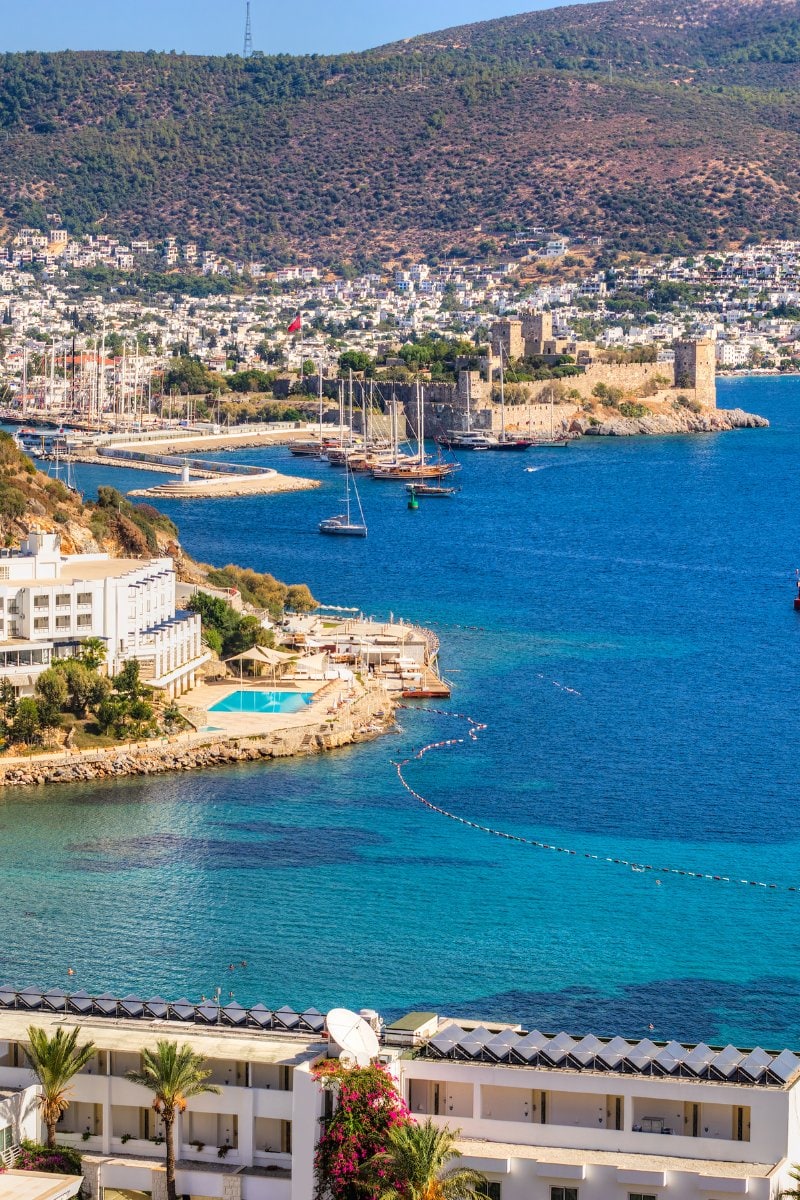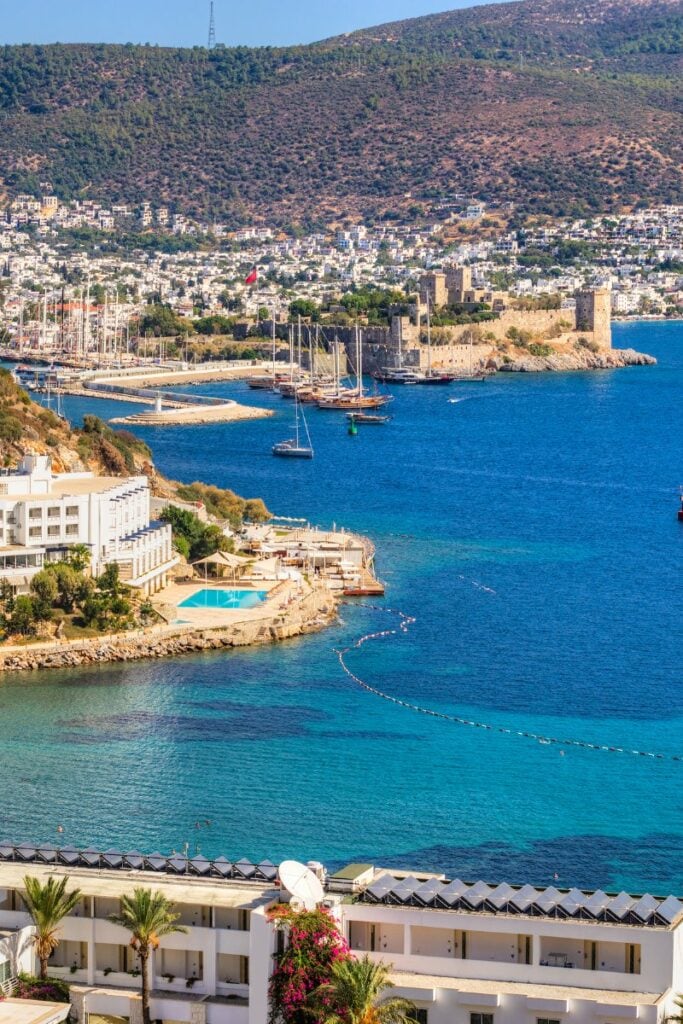 The ruins of the 4th century BC Greco-Roman Amphitheatre overlooking the town are a great place to get a feel for the many civilisations which have occupied Bodrum. For a fun day out, hop on a boat tour and visit Orak Island. With its warm waters, colourful fish and rocky coves, it's a beautiful place to visit.
Alternatively, you can simply sprawl beside your hotel pool (or on the sand at Kumbahçe Sahili Beach) without a care in the world. Both options sound pretty appealing right now!
Ayvalik and Assos
For a change of pace, these two towns north of Izmir offer a more authentic Turkish experience.
Ayvalik is a working fishing town. Foodies will love the local agricultural produce here, especially its olive oil. This part of the Aegean Coast can be very popular with local holidaymakers. You'll also encounter visitors from the nearby Greek island of Lesvos sunning themselves on the beaches at Cunda and Alibey.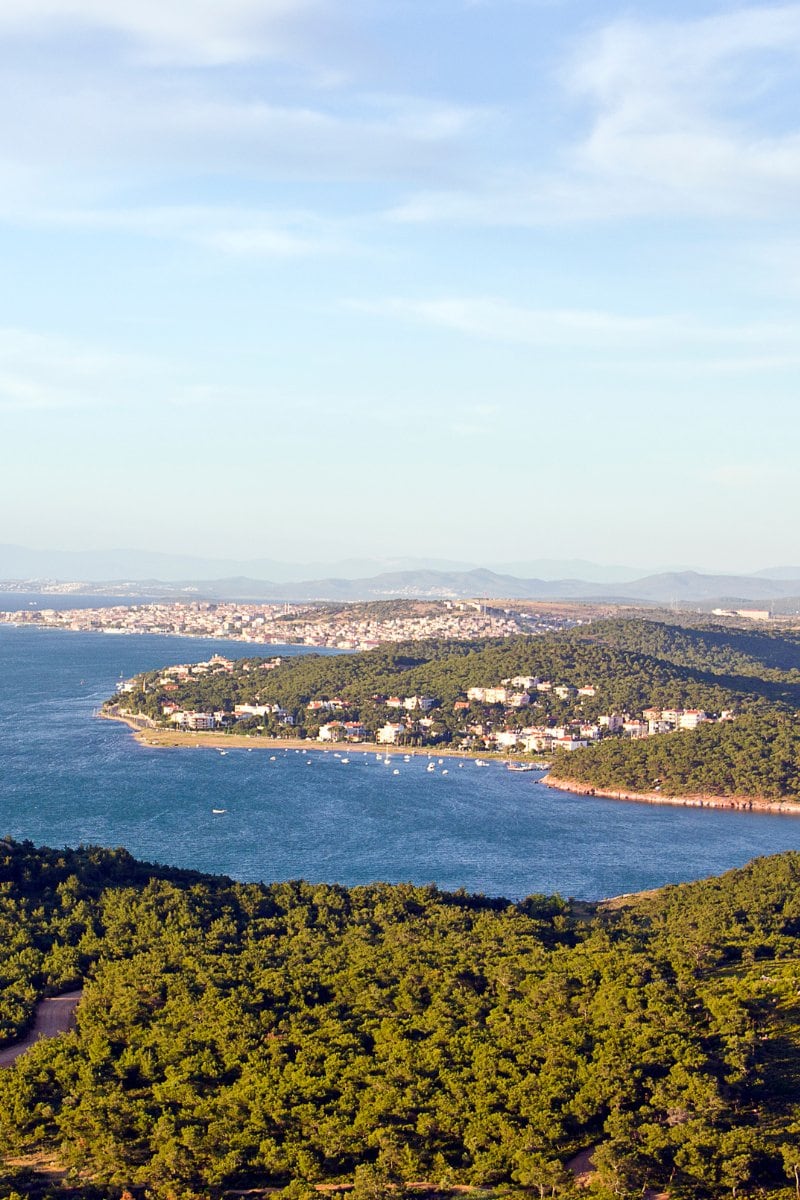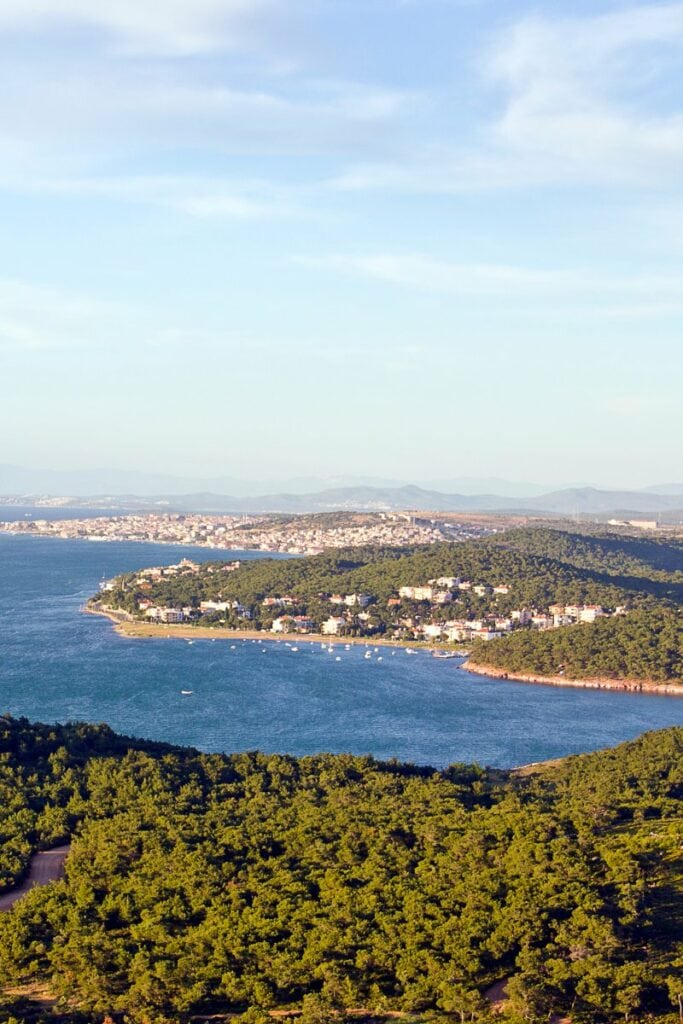 The old town dates from Byzantine times and has some superb restaurants. One of the best is Iyimis Meyhane, which is tucked away in a narrow, flower-decked lane a few streets from the main beach.
You can take a day trip to Assos, just up the coast, where you'll find brightly-painted fishing boats resting on the pebbly beach and lots of cool little eateries in the stone buildings along the waterfront.
Çeşme
This is the main beach resort of nearby Izmir and sits out on the end of a peninsula south of the city. While there are quite a few five-star luxury beach resorts here, you can also find quaint boutique hotels and family-run pensions in the town's quieter, flower-filled back lanes.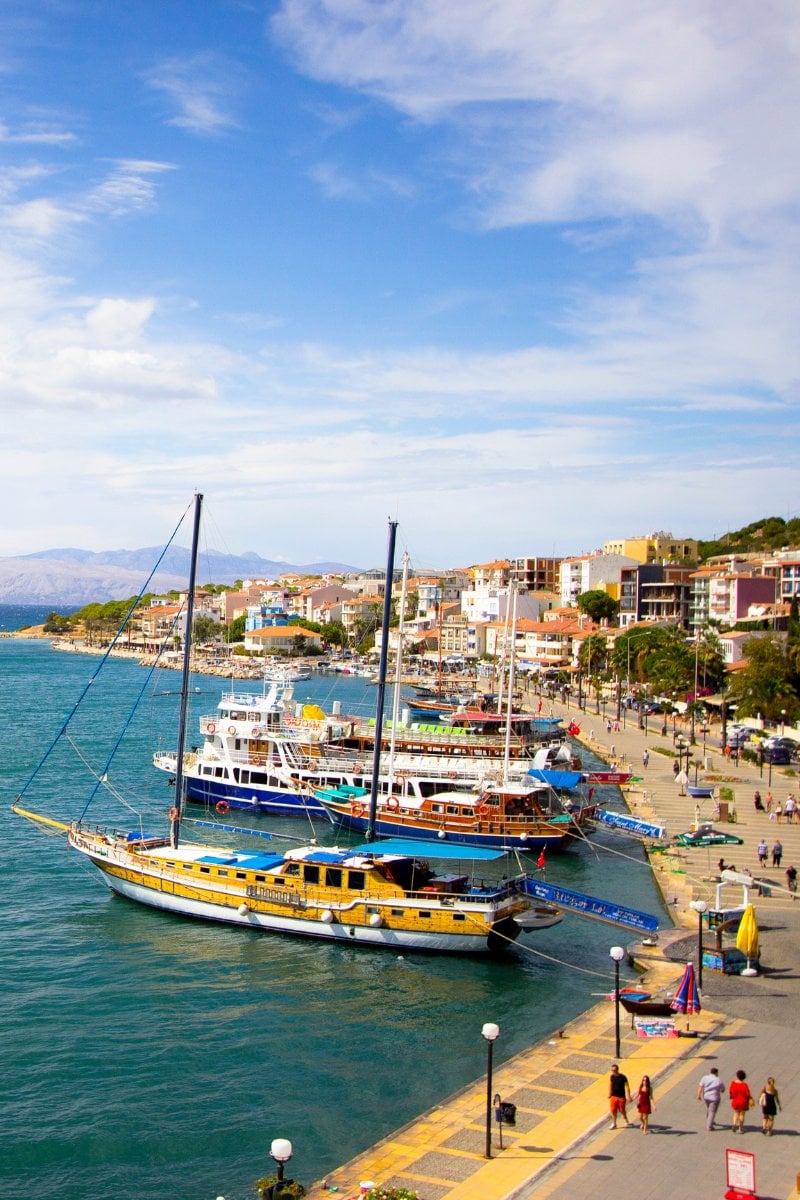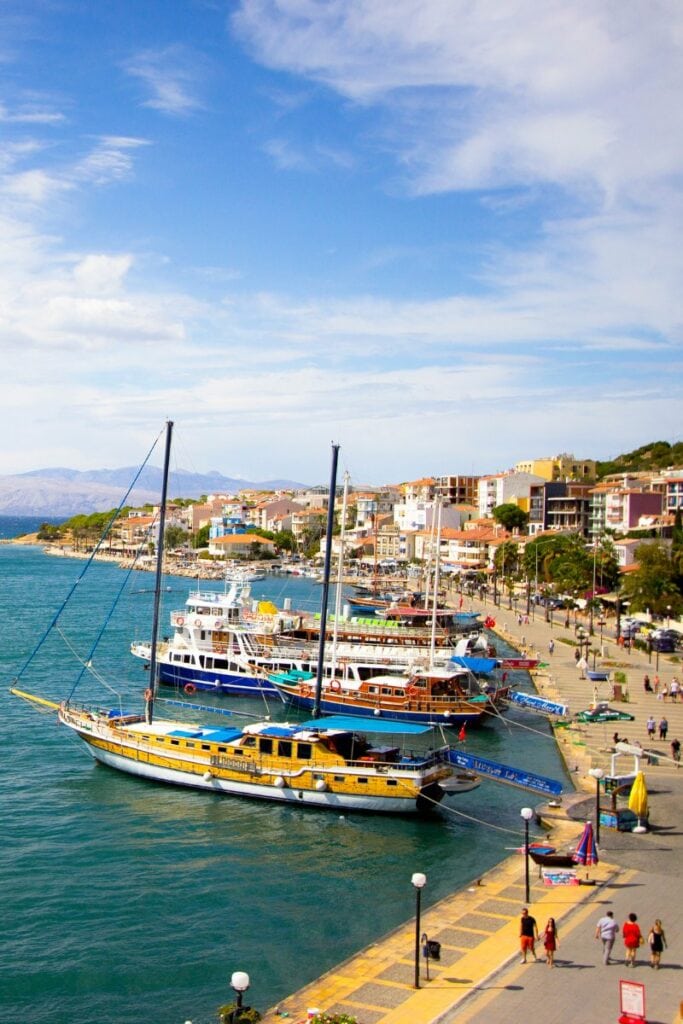 You can fritter away whole afternoons going from café to café in the up-market Alaçati area, hire a scooter to explore further inland, or if you're like me, just relax on one of the town's beaches. Try Ilica Plaji which is reputed to have the warmest waters on the Turkish coast due to the hot springs in the nearby hills.
Kusadasi
Imagine stepping off a ferry from the Greek Islands onto the ancient shore of Ephesus, where Mark Antony and Cleopatra once hung out! Kusadasi is the closest city to the ruins of Ephesus and you can combine your Turkish beach days with excursions to some of Turkey's most famous ruins.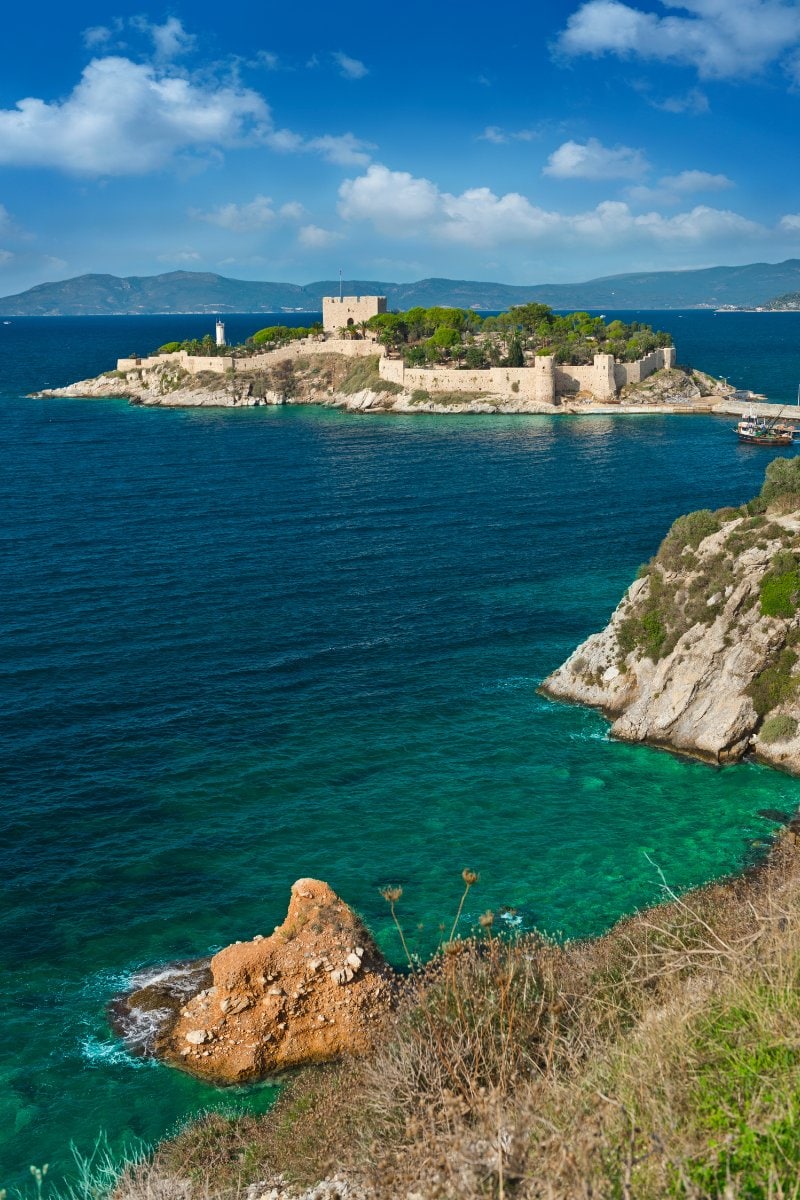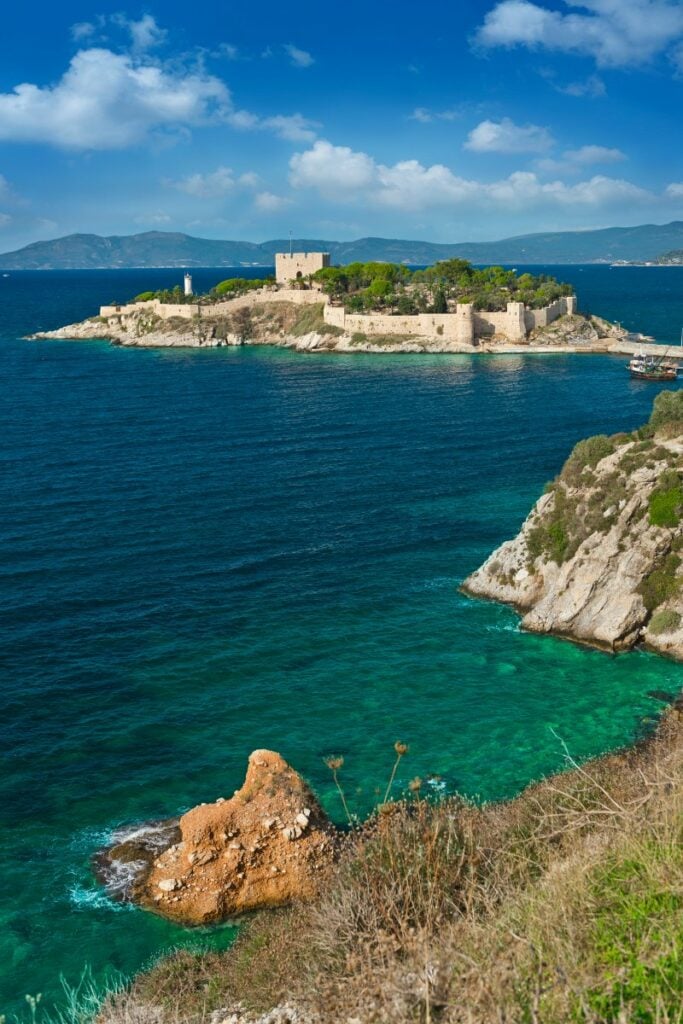 The town itself has some of the liveliest nightlife on the coast. However, you can easily escape from the hubbub of the seafront promenade to the narrow and evocative streets of the Old Town's bazaar. If you feel like a day trip to a Greek island, Samos is just a short boat ride away.
Akyaka
Are you needing a bit of a slower pace? Perhaps life at home has been hectic and it's time to hit the pause button? Akyaka is the best town on the Turkish coast to visit. The small black sand beach, hemmed by towering cliffs, is fairly unknown to the tourist crowds, but it's a favourite among locals as a retreat for the hot months of July and August.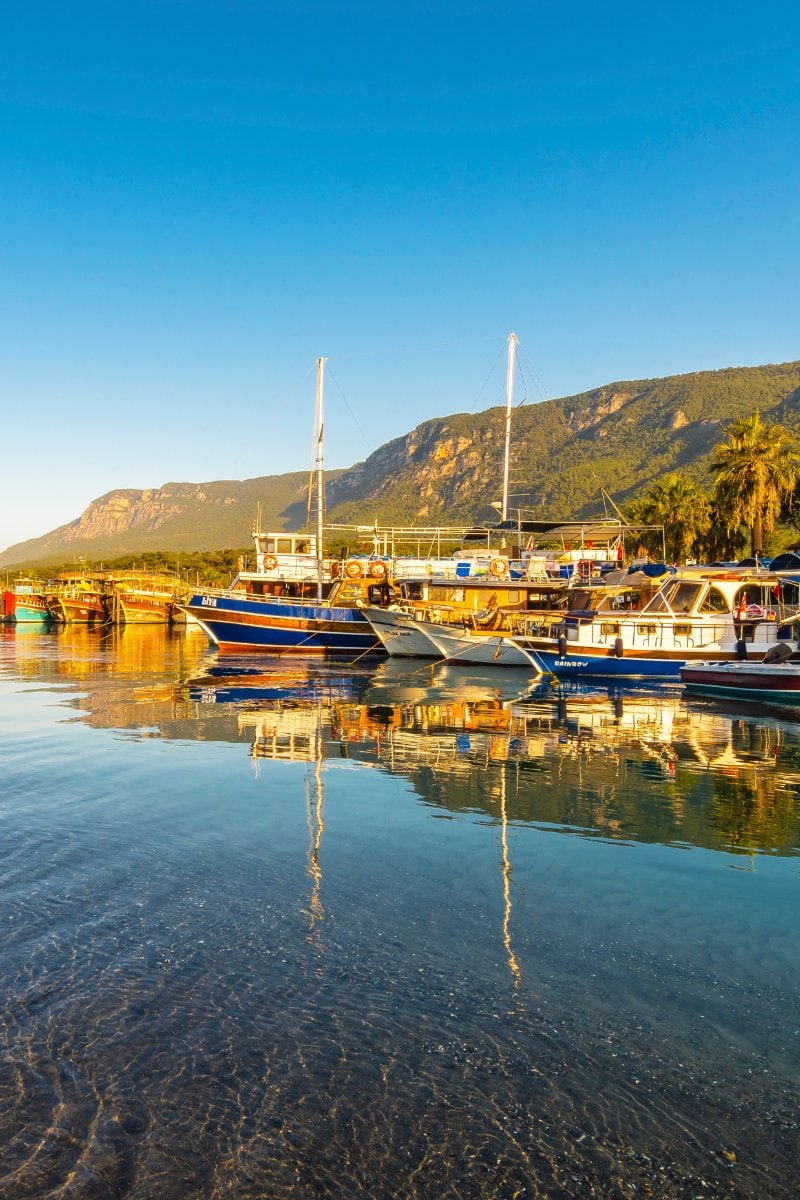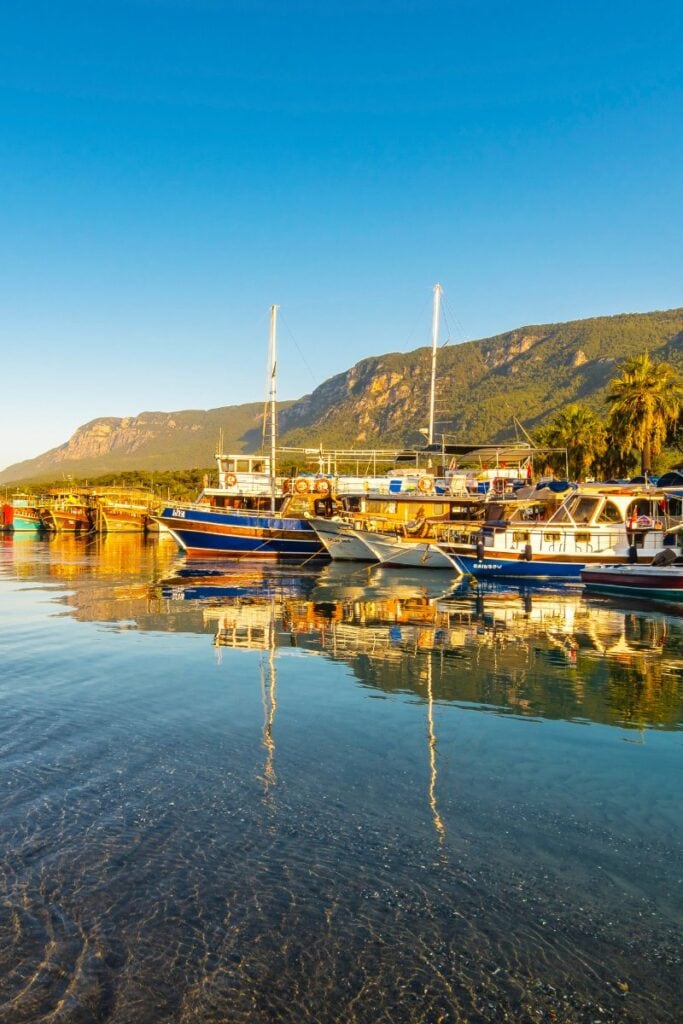 The traditional wooden architecture is the setting for lots of cute, basic hotels. Plus, the richly-wooded hills have hiking trails to hidden beaches and secluded coves. My favourite part of travel is being able to disappear for a while, and Akyaka is one of those places where you can really escape the rat race and appreciate each moment.
Içmeler
It's hard to imagine a more picture-perfect beach than the long curve of sand at Içmeler. With the backdrop of lush green mountains, this was one of the first beach resorts established on the Turquoise Coast.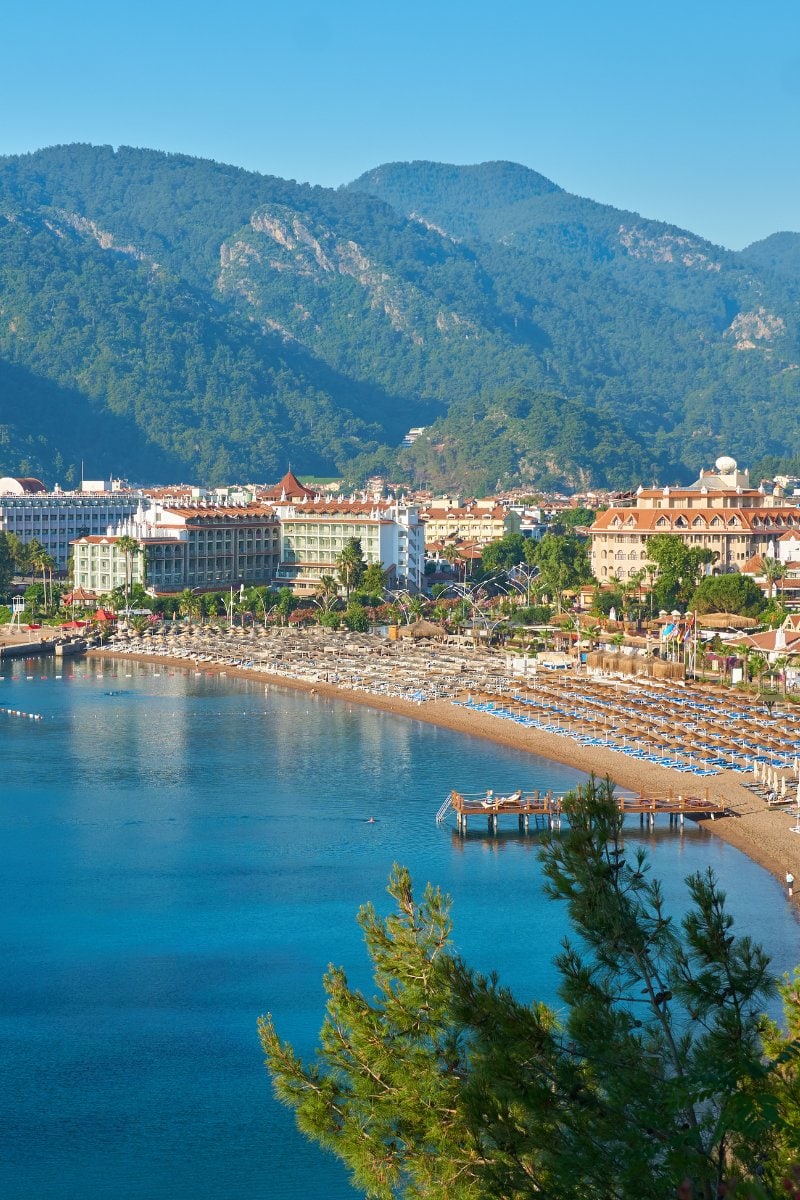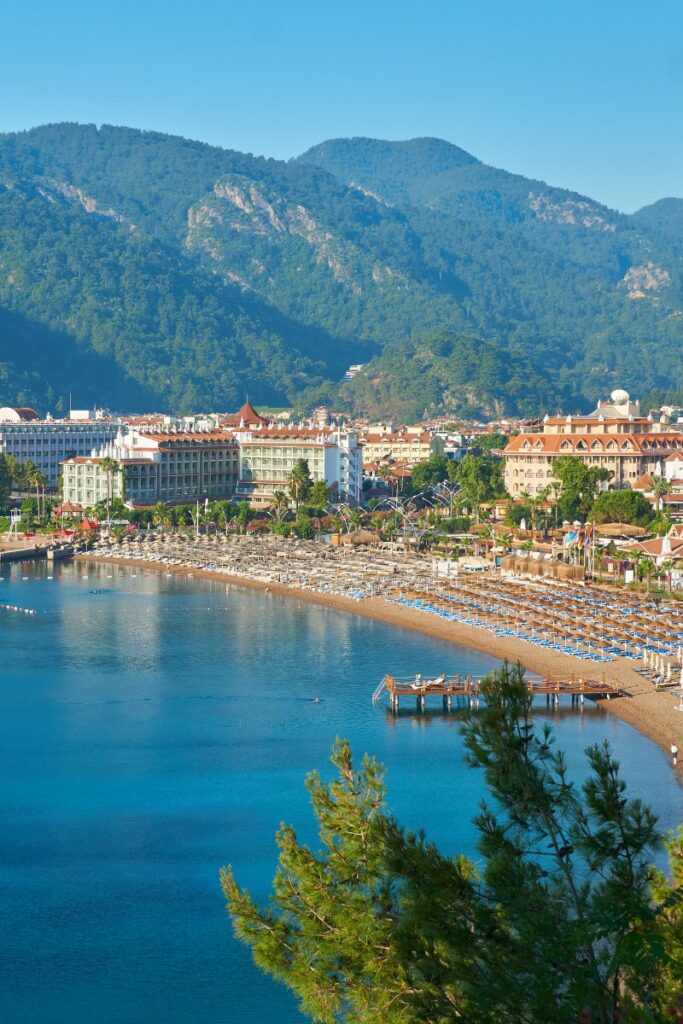 Transfers from nearby Dalaman Airport make this a popular place for package holidays, so if you fancy a pint of ale and scampi and chips you're in luck!
But you can also find plenty of authentically Turkish life in the local area, especially just along the coast in the smaller resort village of Turunc. You can grab a water taxi to take you from Içmeler to Marmaris and the Greek island of Rhodes, or do nothing more than just soak up the sun on Içmeler Beach. It's your holiday after all!
Gallipoli Peninsula
For a different Turkish beach experience, you could head to the historic town of Çanakkale on the Gallipoli Peninsula.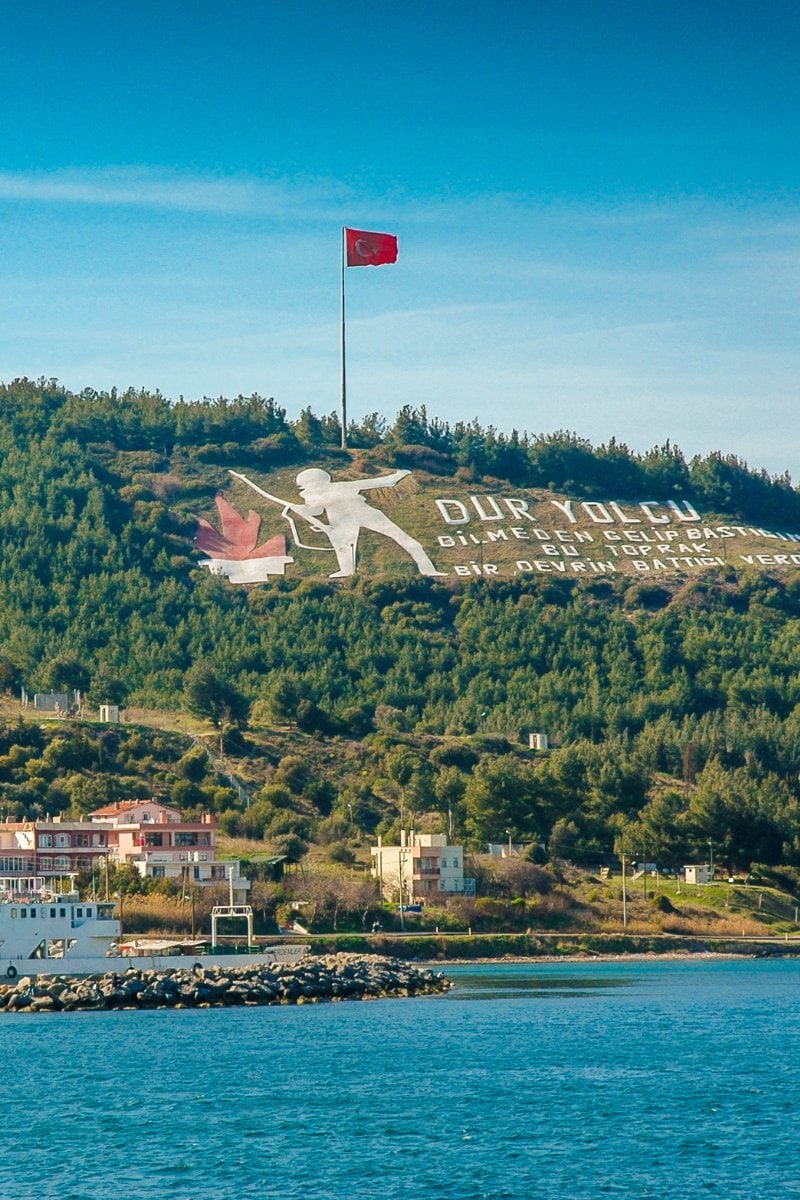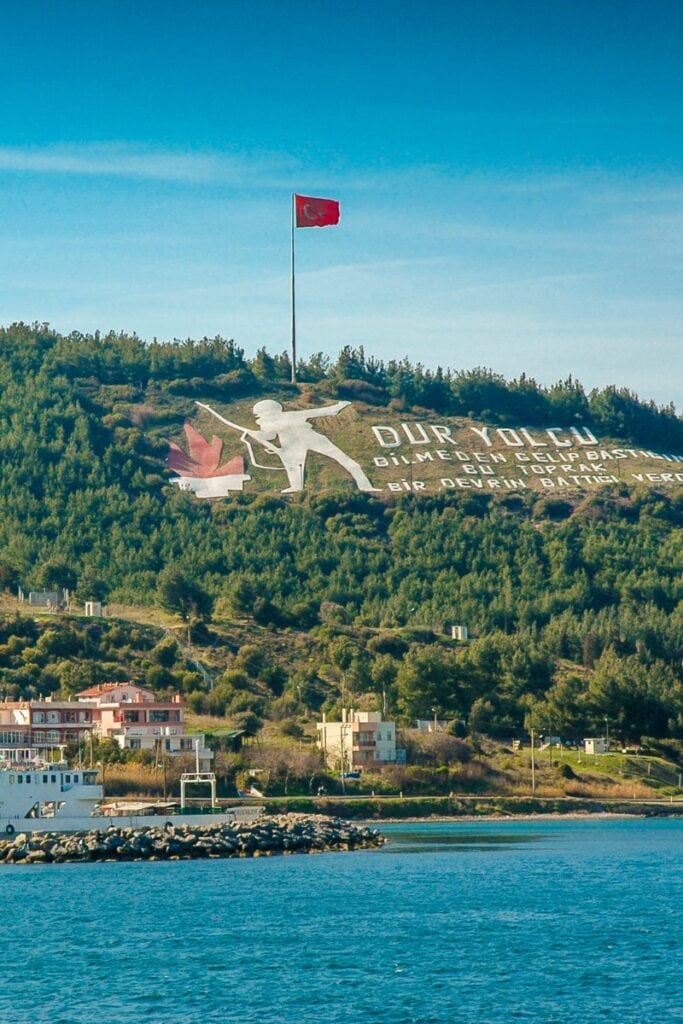 More famous for its WW1 history than sparkling beach resorts, the Gallipoli Peninsula also has some superb stretches of coastline. From Çannakkale, you can take local buses to local villages, where you'll find campsites, bed and breakfasts and empty beaches washed by azure Agean waters.
Buses run regularly from Istanbul to Çanakkale too, and you can do day trips to see the famous battlefield of Troy. Over on the Aegean Coast, you can visit ANZAC Cove, Suvla Bay and the melancholy memorials and graveyards (maintained lovingly by the Turks to this day) of the fateful Gallipoli Campaign.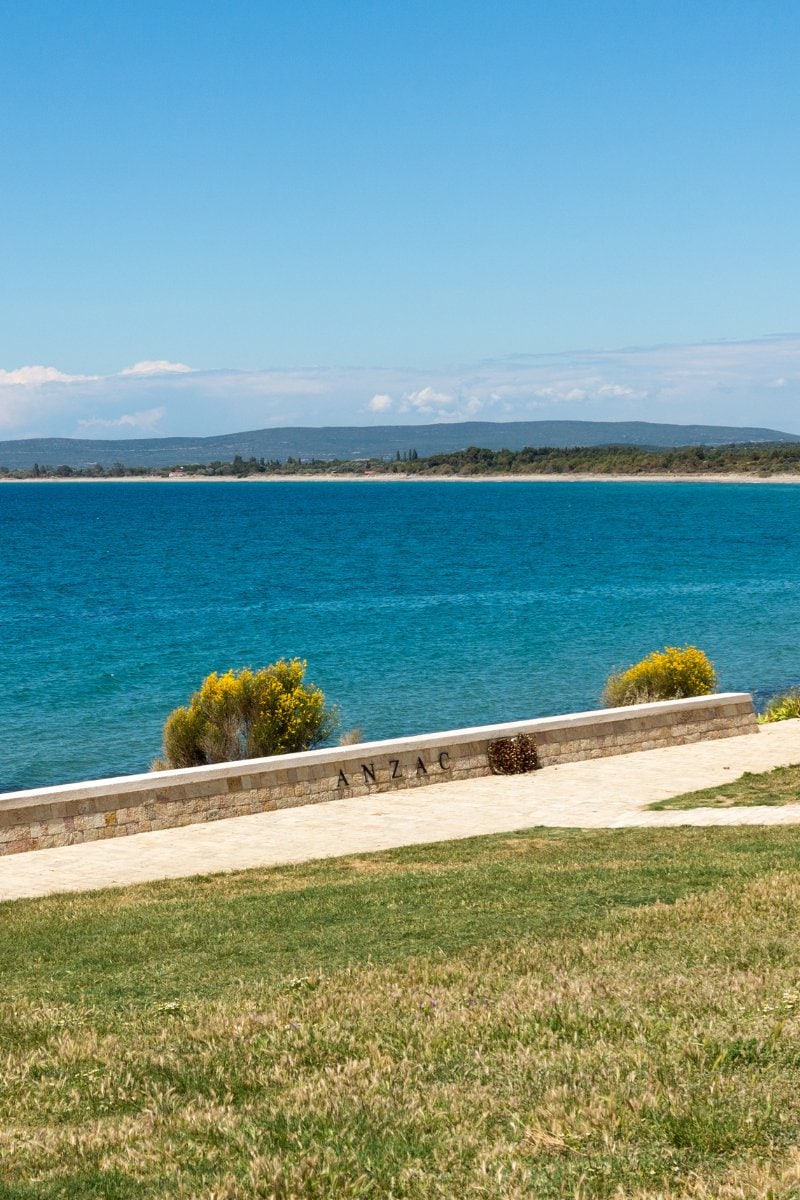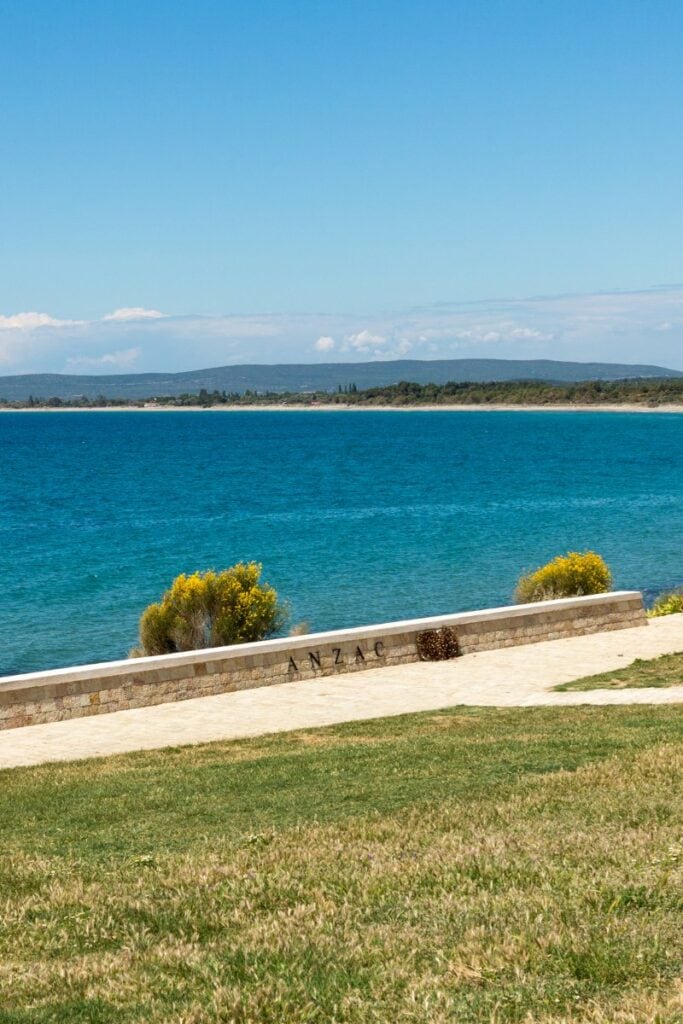 Bozcaada
How about a holiday on the pretty island of Bozcaada? This island in the Aegean Sea is a beautiful place to escape to. It's home to several picturesque hiking trails which lead through vineyards and orchards, where you'll see olives, pomegranates and figs growing in abundance.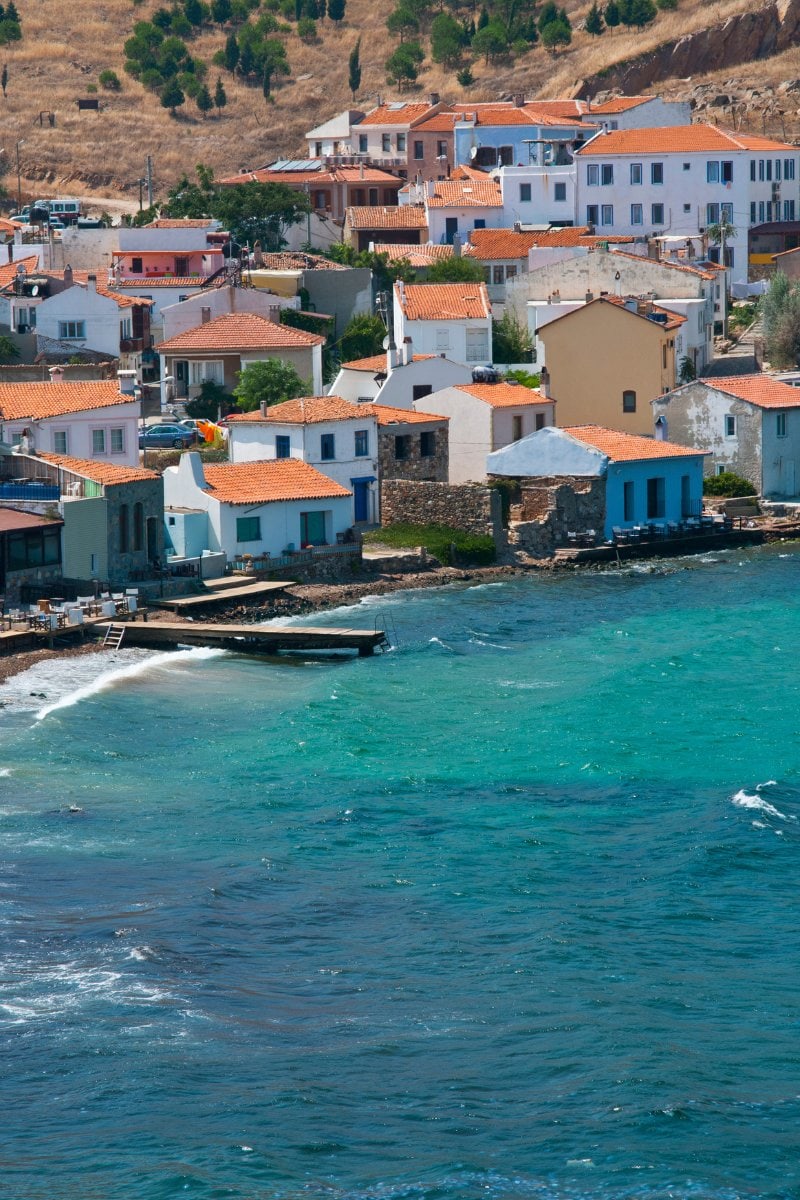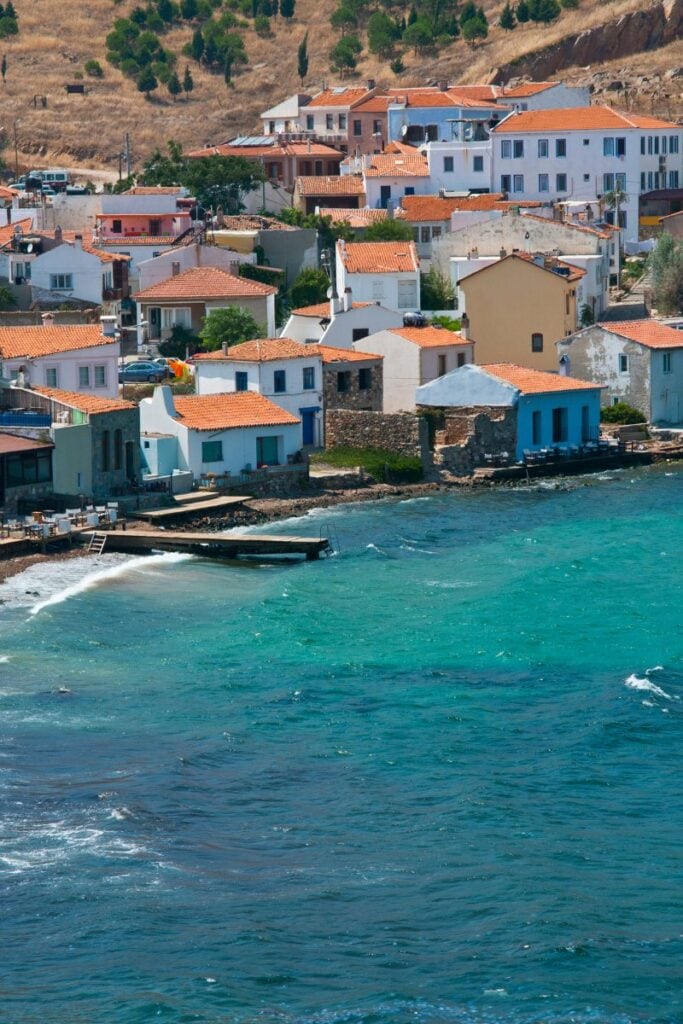 Spend an evening sitting outside at a wooden table on Lale Street enjoying the local wine (it's been produced here for 3,000 years) and snacking on fresh seafood and mezze. There are lots of cute boutique hotels in Bozcaada and it's a popular weekend destination for Istanbul residents.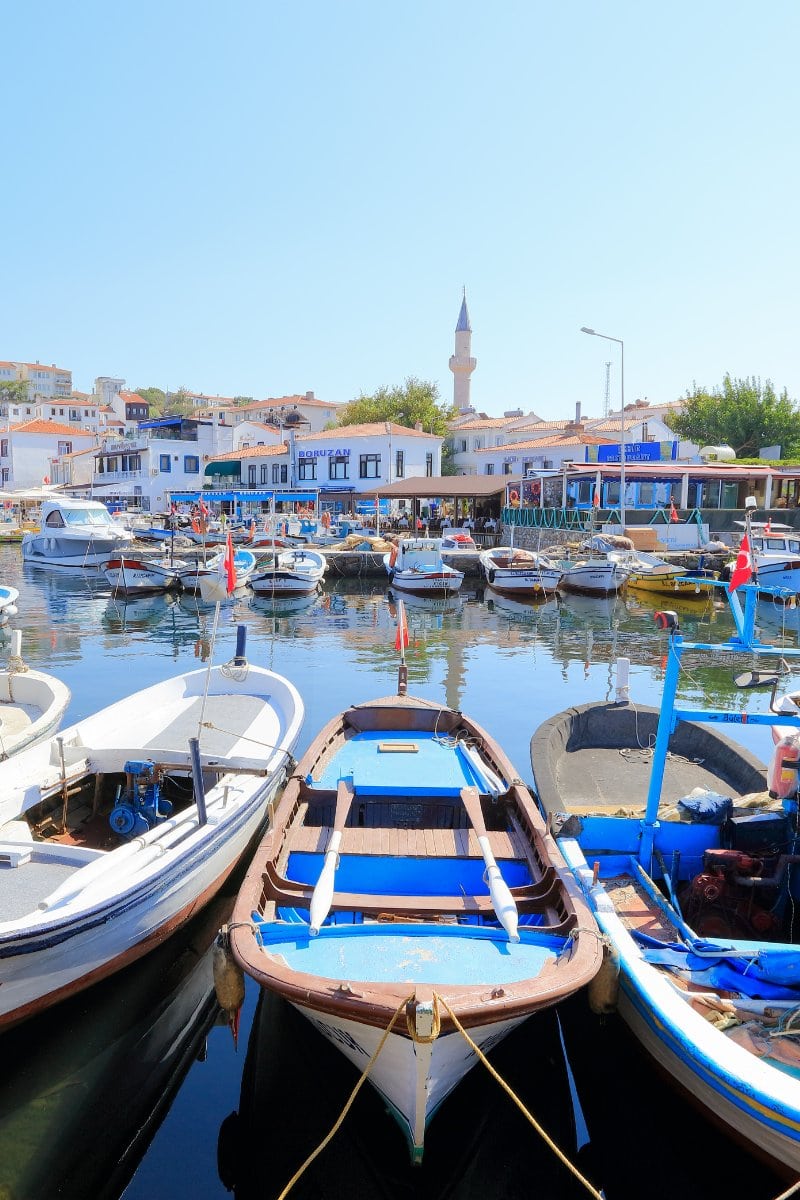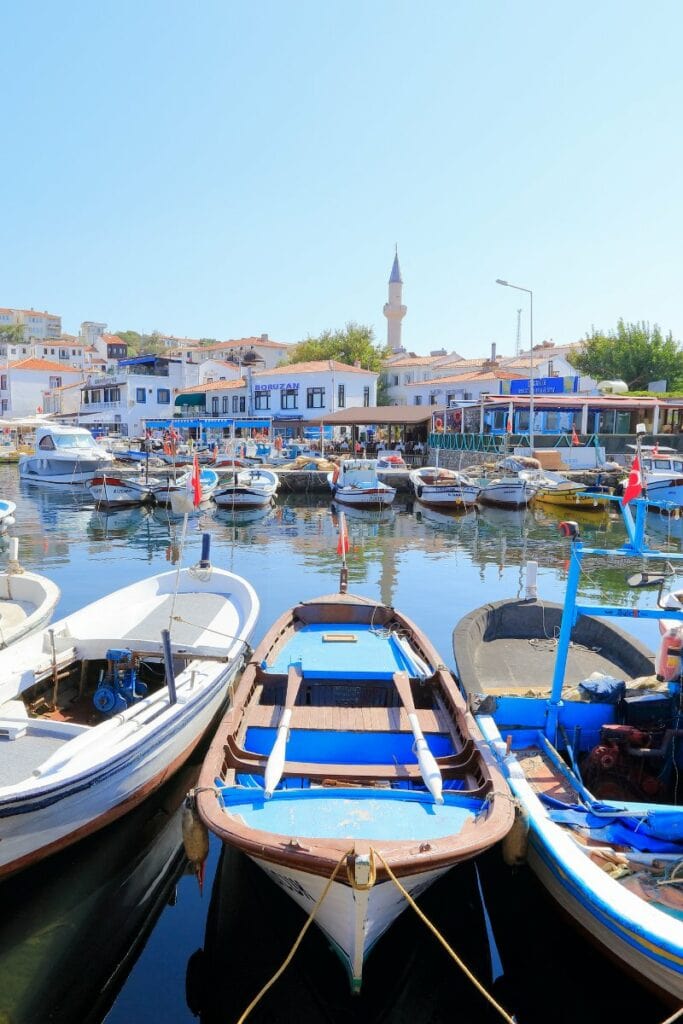 Sunsets here are amazing too. Take time to join the locals on one of the island's secluded beaches to watch the day end over a roaring bonfire and a glass or two of vino. Perfect!
Göcek
With its palm tree-lined waterfront, super yachts and smart shops, Göcek could be described as the Monaco of the Turkish Riviera. But the posh yachts and bougie boutiques are where the comparison ends. In fact, this is a quiet, laid-back town with a small beach at one end and rugged hills at the other.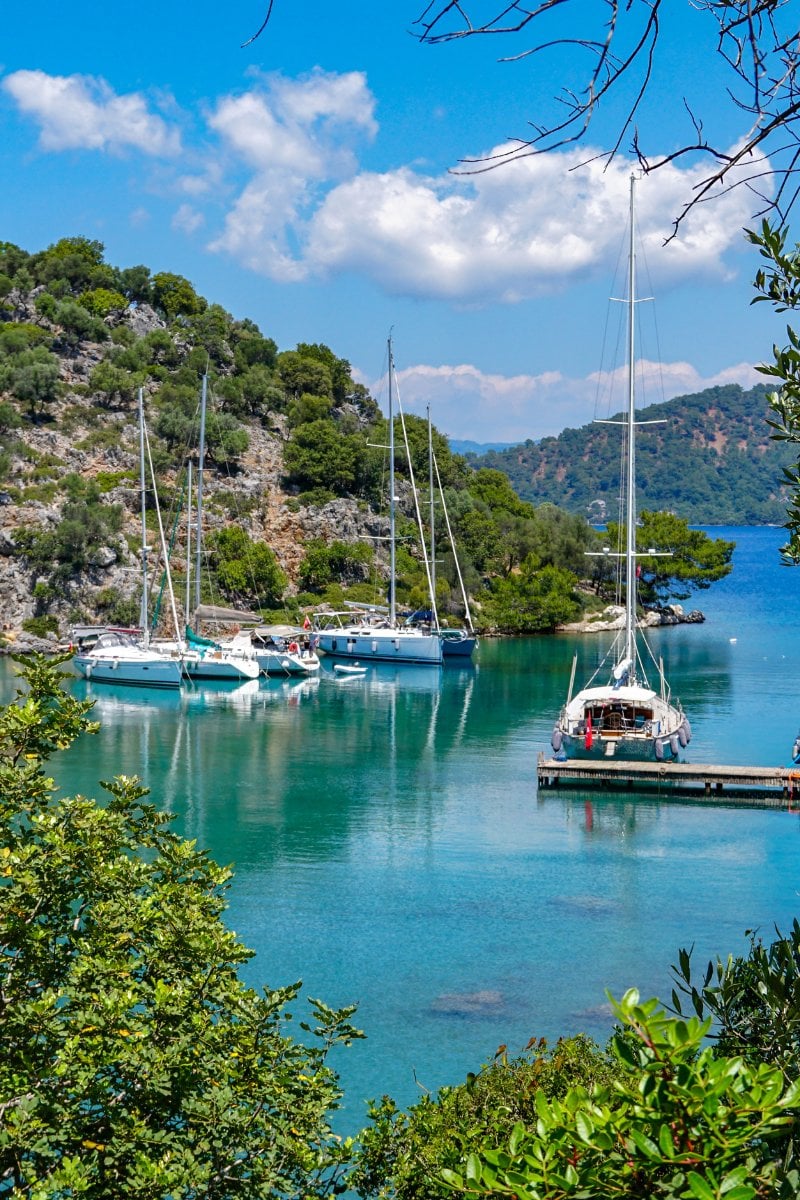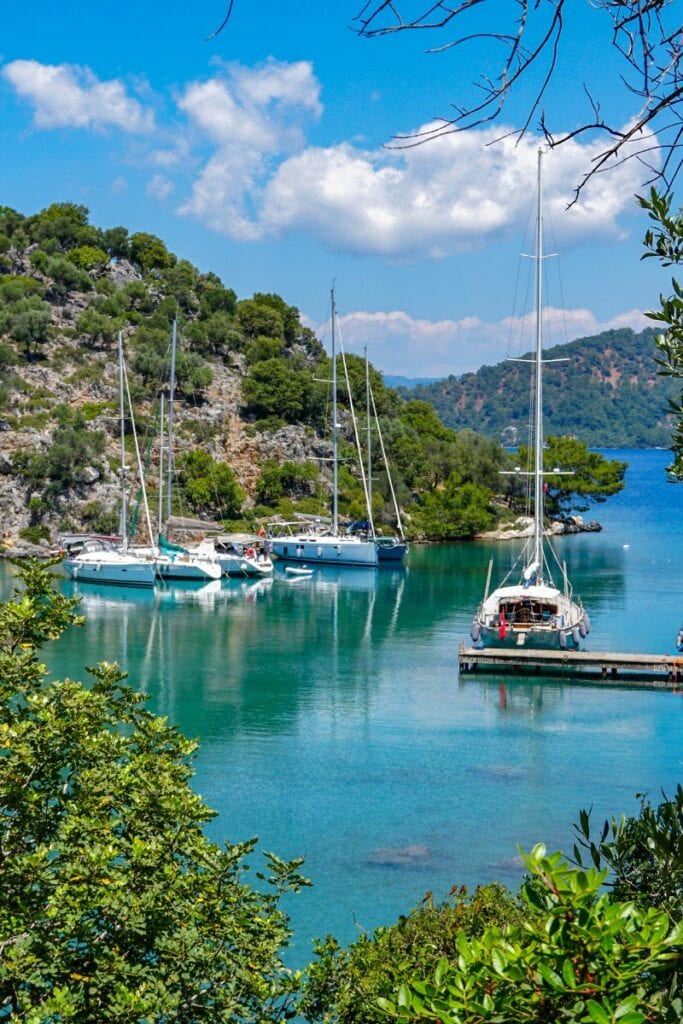 The many inlets and bays near Göcek are popular with scuba divers. Plus, day trips to local eco-sanctuaries will introduce you to the unique natural landscapes of this part of the Turkish coast.
A special place to visit is Cleopatra Baths Bay. Here, you'll see the ruins of sunken hot water baths used by the Egyptian queen when she too was on holiday! If Göcek is good enough for Cleopatra, I'd say it's definitely good enough for us!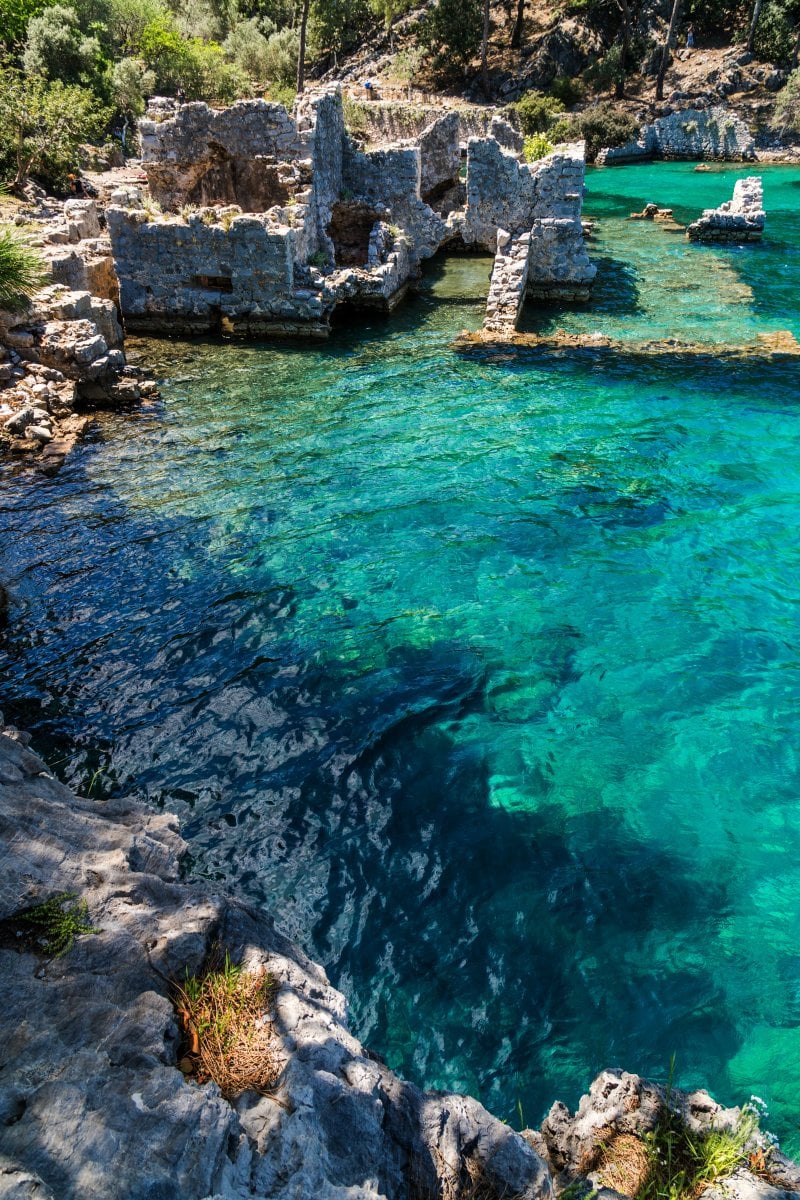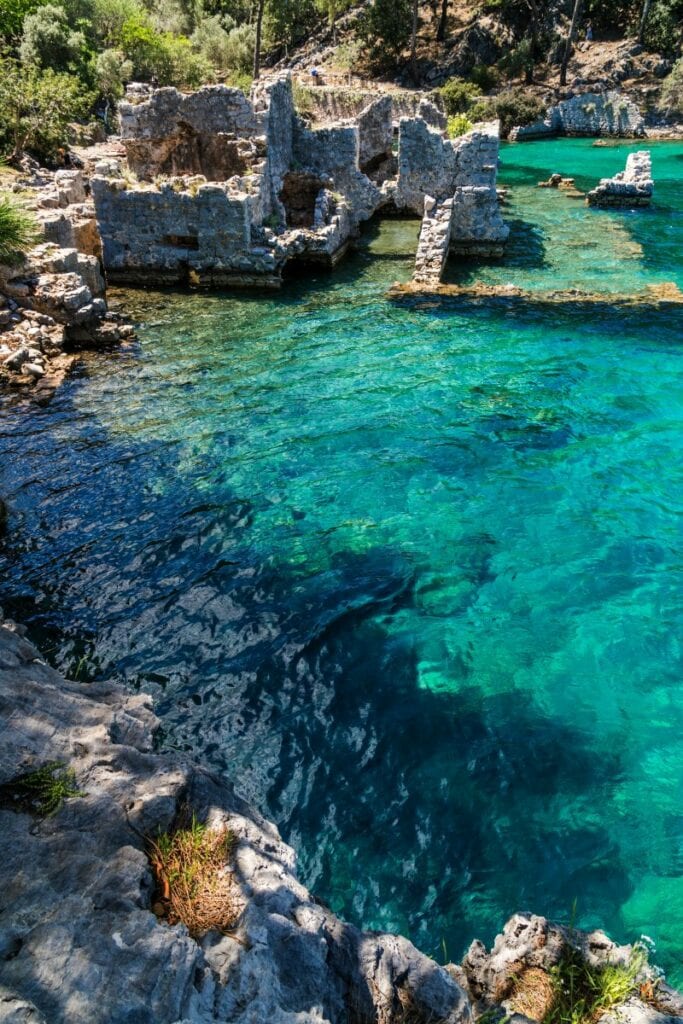 Faralya Butterfly Valley
Of all the beaches in Turkey this has to be my favourites. Even the name is magical! Butterfly Valley is regarded as one of the most beautiful beaches in Turkey and I have to agree!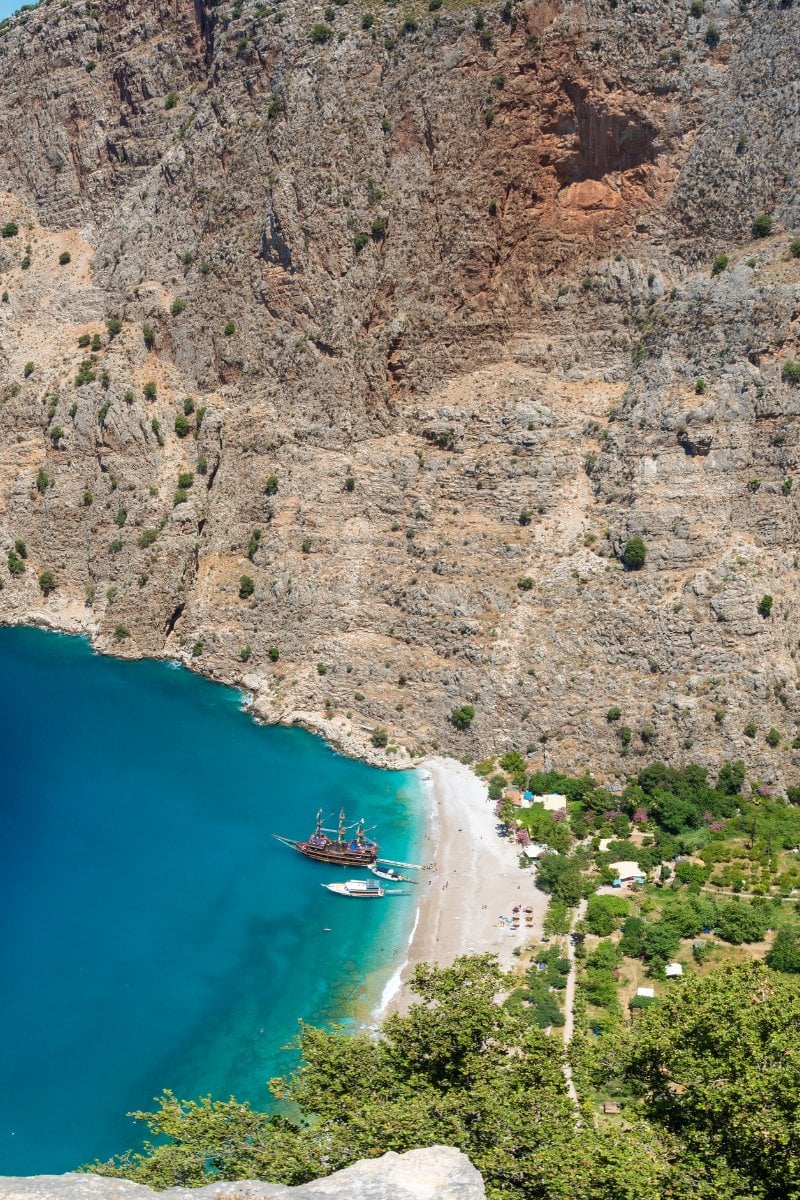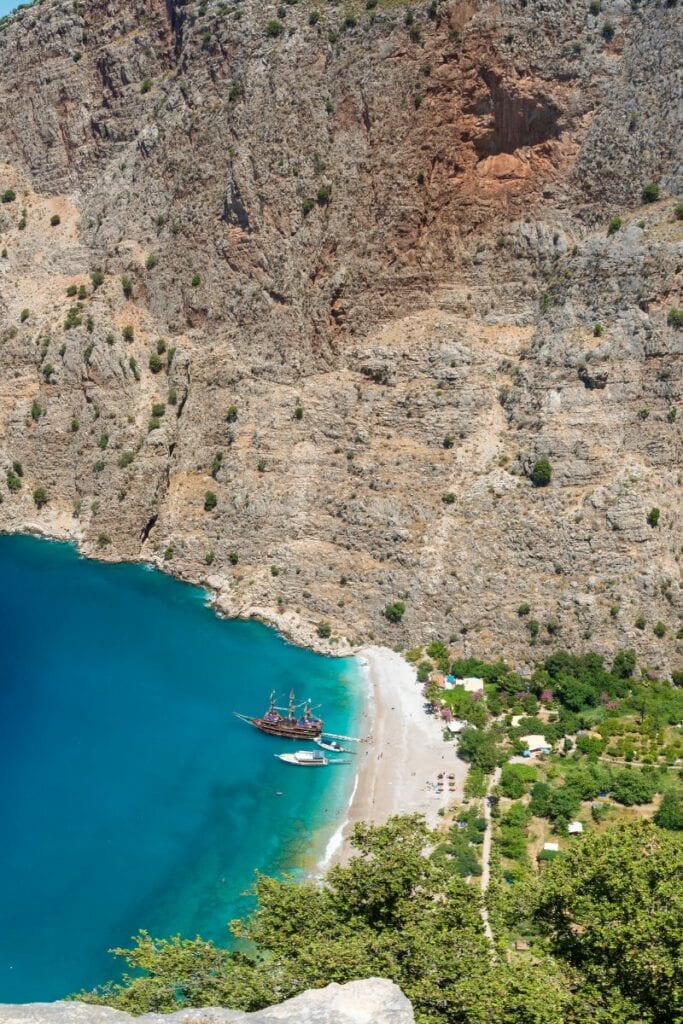 Backed by dramatic cliffs that you can hike up, the beach takes its name from the 100 species of butterflies that live in the forests here. A stream cascades over a waterfall into the valley from the cliffs and then ambles through scented groves of lavender-coloured chaste trees.
Butterfly Valley can get pretty busy during the day. My top tip would be to book accommodation in the area. You'll find the place lovely and tranquil after all the day trip boats depart. The waters of the cove are wonderfully warm and so calm that you can skip stones into the sunset. If you are visiting on a day trip, take a picnic to avoid paying for expensive restaurant food.
Kalkan
This once-sleepy fishing village on the Turquoise Coast has become a haven for yachties and holidaymakers looking for a less "beachy" retreat. Rows of timber houses hung with bougainvillaea step down steeply to the waterfront from the Old Town area. There's also a row of inviting restaurants lining the promenade, each with its own exciting buzz and ambience.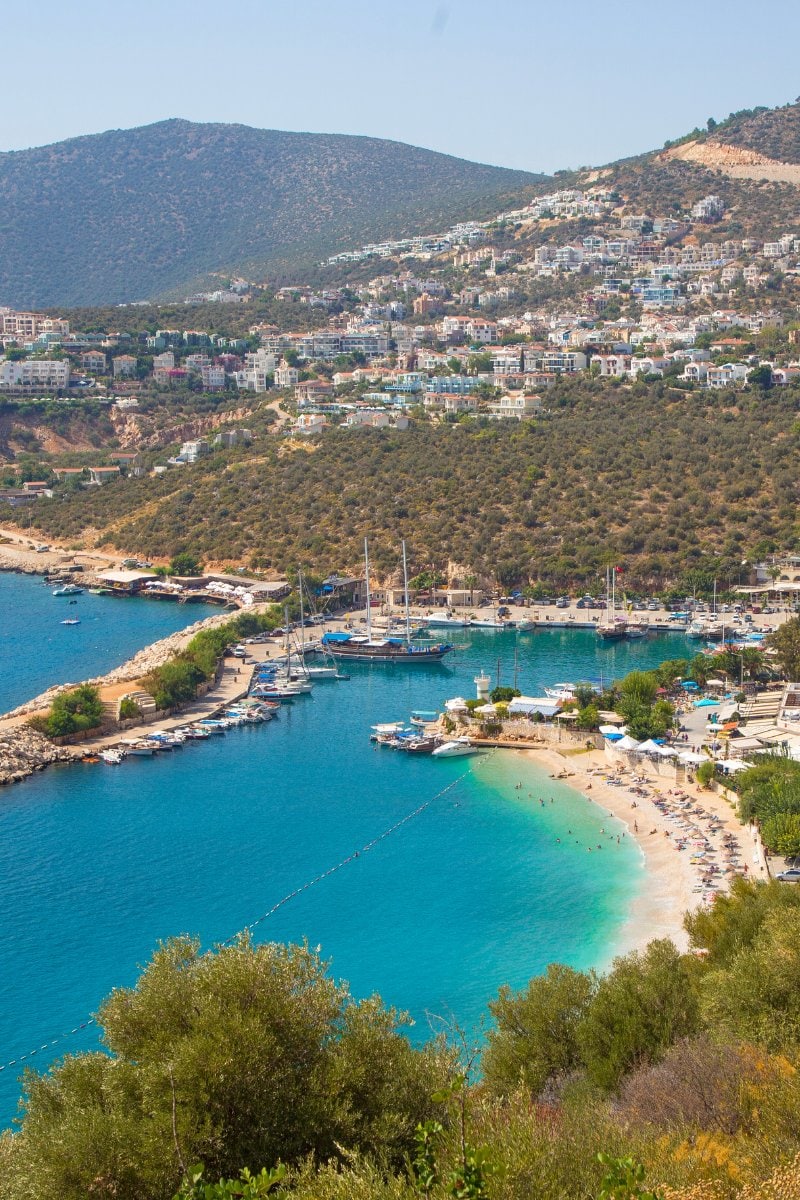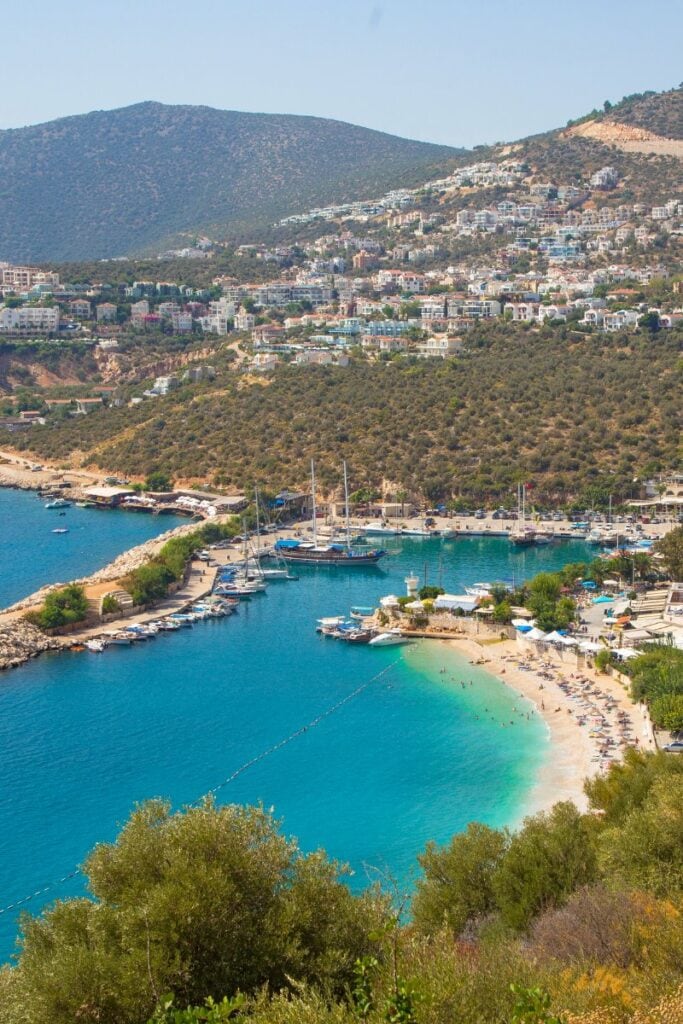 There's a pebbly beach at the western end, and an interesting marina where chic yachts are moored close to colourful local fishing boats. Inland, the area has lots of Lycian ruins to explore. Head out on one of the hiking trails for a few hours, then loop back to the coast to refresh yourself with traditional Turkish food, cold drinks or a cup of local apple tea.
Cirali and Olympos
Now we're getting really wild! These two isolated beach towns are separated by a set of rugged hills that run right down to the water's edge. In fact, if you want to go from one village to another other you either have to walk along the narrow beach under the cliffs — quite an adventure! — or drive up to the main road and back down.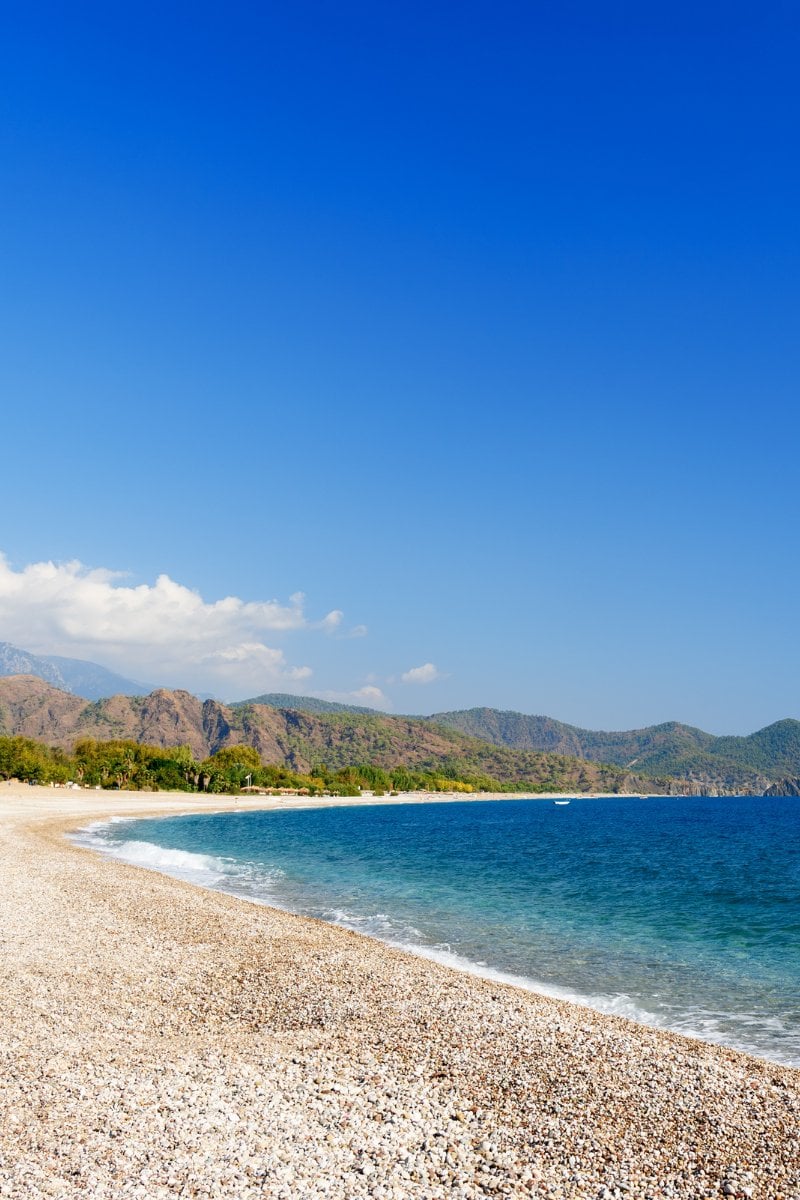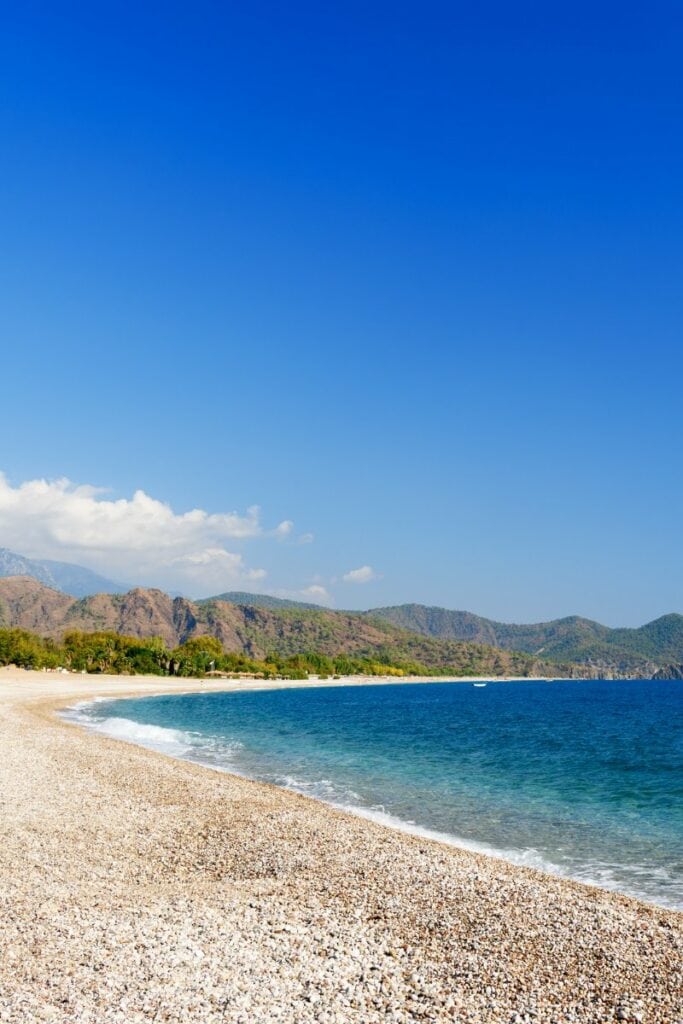 What I love most about these Turkish beach towns is their location within the Olympus Coastal National Park. The scenery here is untouched by development. Most of the accommodation is in simple wooden buildings with low-key outdoor restaurants.
This is a great place to come and free your inner 70s hippie and enjoy the sound of gentle waves. Lots of locals come here for their holidays so it has a cool Turkish vibe too!
Antalya
With one of the longest beaches of all the coastal towns in Turkey, Antalya is famous for its crystal clear water and lush vegetation. The town began life as a Roman port in 133 BC. Back in the day the citizens of Rome used to flock here for their summer holidays, just as people do today.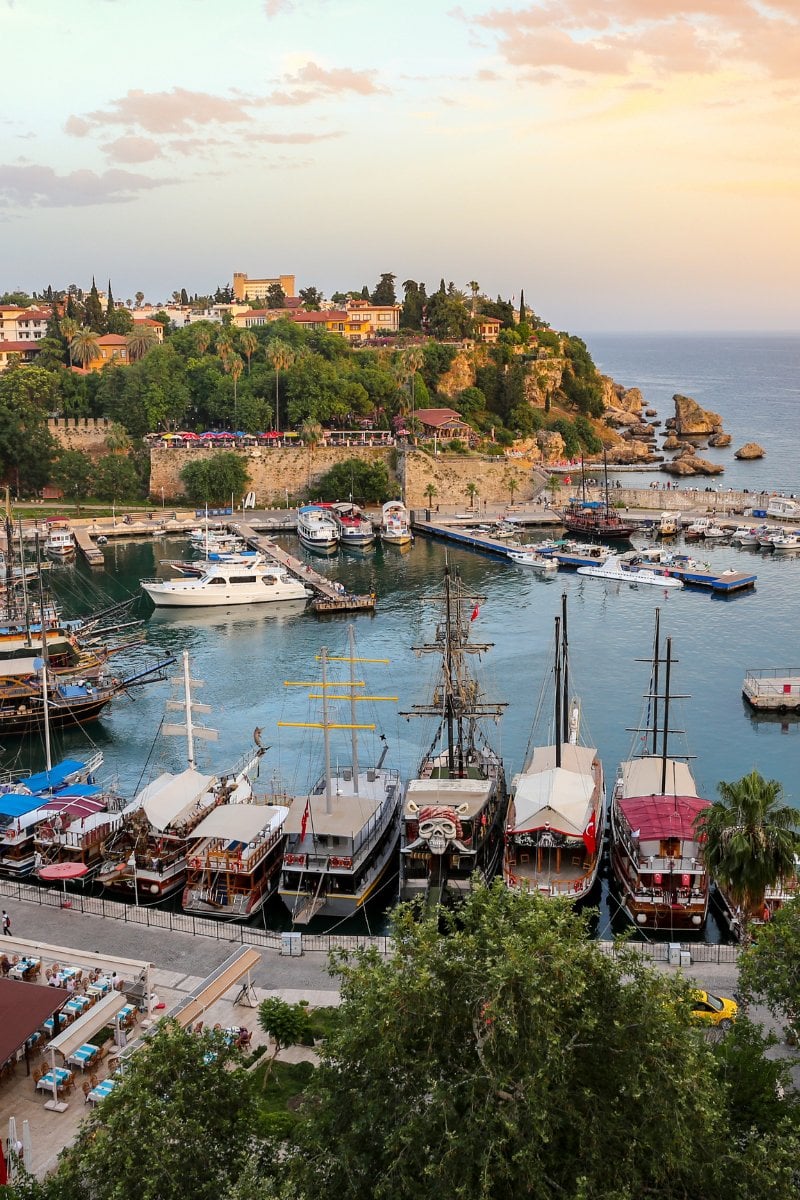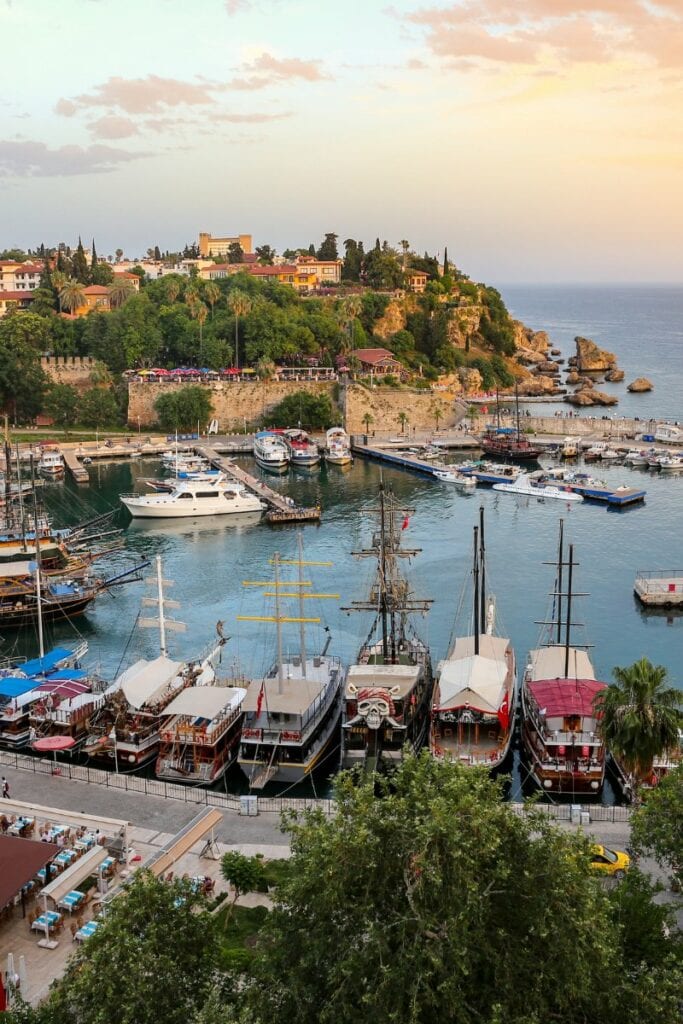 With its backdrop of rugged (sometimes snow-capped!) ranges and oodles of lush green spaces, Antalya manages to combine the buzz of a resort destination without feeling too overcrowded. Nearby Antalya airport brings in tourists from the Middle East and Eastern Europe so you can guarantee an eclectic mix of visitors and food.
Check out the grey-sand Konyaalti Beach (west of town) for great cafes during the day and epic sunsets. Plus, the nearby Taurus Mountains provide a spectacular scene as you laze in the tepid water!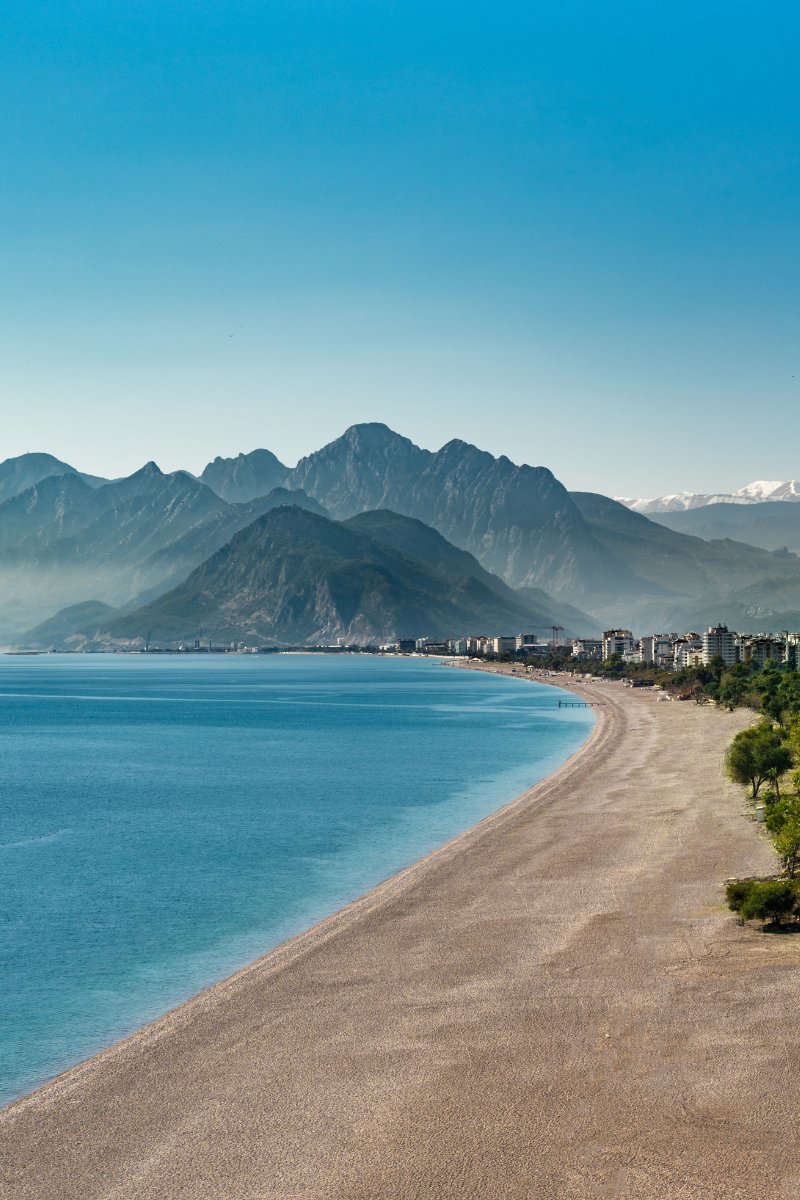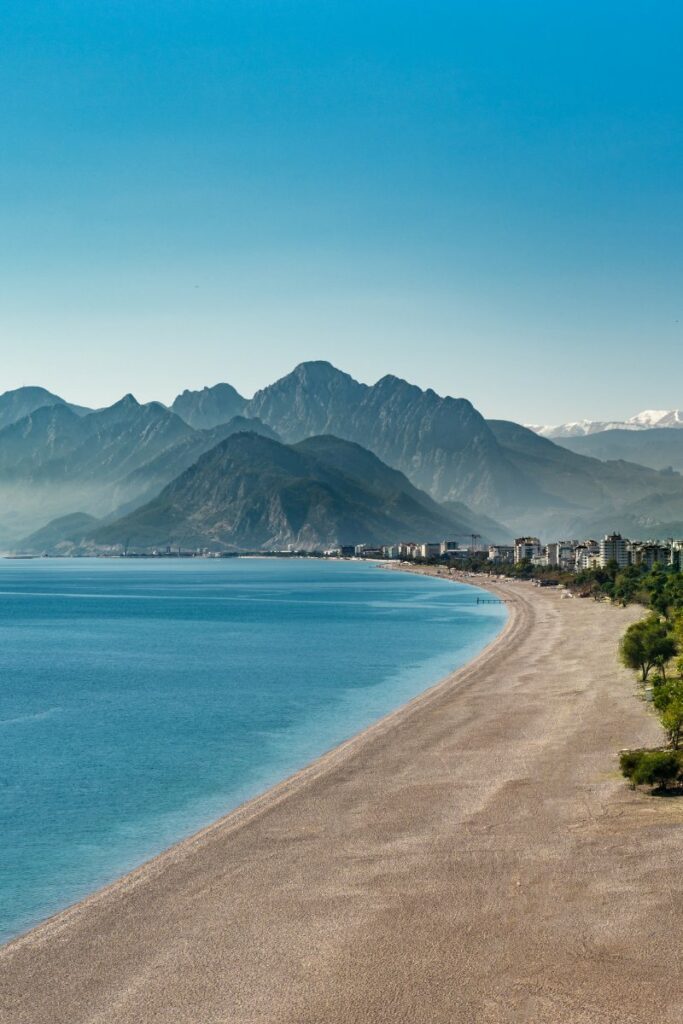 ---
Whether you're looking to simply lie in the sun and relax, take boat trips to hidden coves and super cool islands, or get to grips with history there's a Turkish beach town for you! They vary so much, I'm sure you'll find one you love.
I hope this guide to the best beach towns in Turkey helps you plan your trip. If you're looking for more inspiration to plan your holiday in Turkey, don't miss my other guides: