"You're a travel blogger, so you're basically on holiday all the time right?" Ummmm… not exactly. But what's an average day travelling with a travel blogger really like?
I started this blog three years ago, and it's been my full-time job for a year and a bit. It's a strange lifestyle, and as a lot of people ask how I structure my life, I thought I'd break it down a little. I don't write about the world of blogging very often, but there are a few elements I've been dying to write about!
So there are two distinct variables… being away and being at home. Days at home are usually spent tapping away on my laptop creating content about previous travels, editing photos and videos and meeting clients about future travel campaigns and trips. I also try to squeeze in some local trips and hotel and restaurant reviews.
While occasionally I go away on self-planned trips, the majority are organised by a PR company or tourist board. Some are solo like my week in Austria this summer, some are with my partner or friends, while others are group press trips. A year ago I was doing a lot of group press trips, but over the last six months I've really enjoyed having opportunities to travel with friends and my partner (Macca from An Adventurous World).
Usually on a group press trip there will be 5 or 6 bloggers/journalists plus a PR representative from the UK. PR companies carefully select bloggers according to their niche, quality of content and number of readers/followers. I enjoy group press trips as you meet a great bunch of people, all learn from each other, and we all understand each other's needs, so it's a supportive environment! I've made a lot of great friends on these trips and we've shared some unforgettable experiences.
There was the hilarious gourmet trip through Slovenia I did with Jen from She Gets Around, the Blogtrotters Greece trip where I met Emily Luxton (one of my best blogger pals), Hayley from Frock Me I'm Famous, Amelia from xAmeliax and Megan Ellaby. There was St Kitts (more on that below) with a fun group including Vicky Flip Flop. Oh and then there was #itrekhere – a Trek America trip through California with a fab bunch including a few of my faves – Amy from The Little Magpie, Laura Bubble and Scott from Intrepid Escape.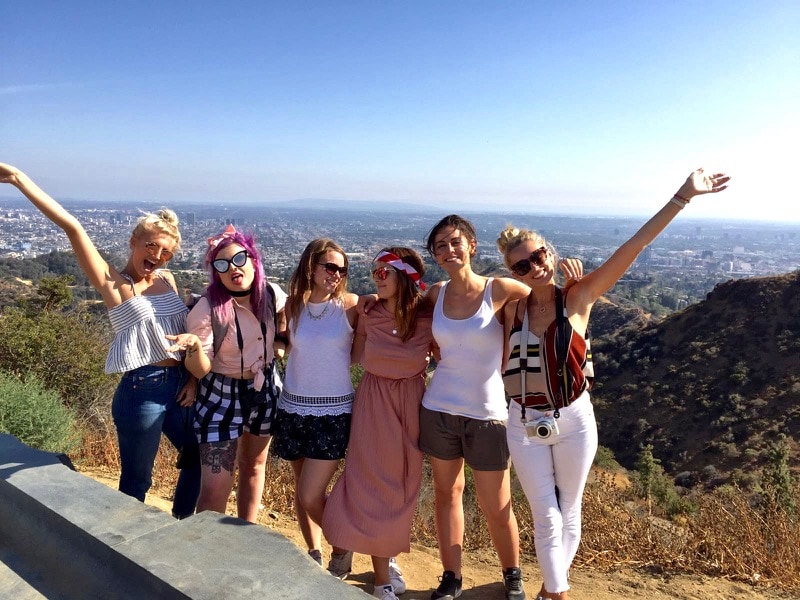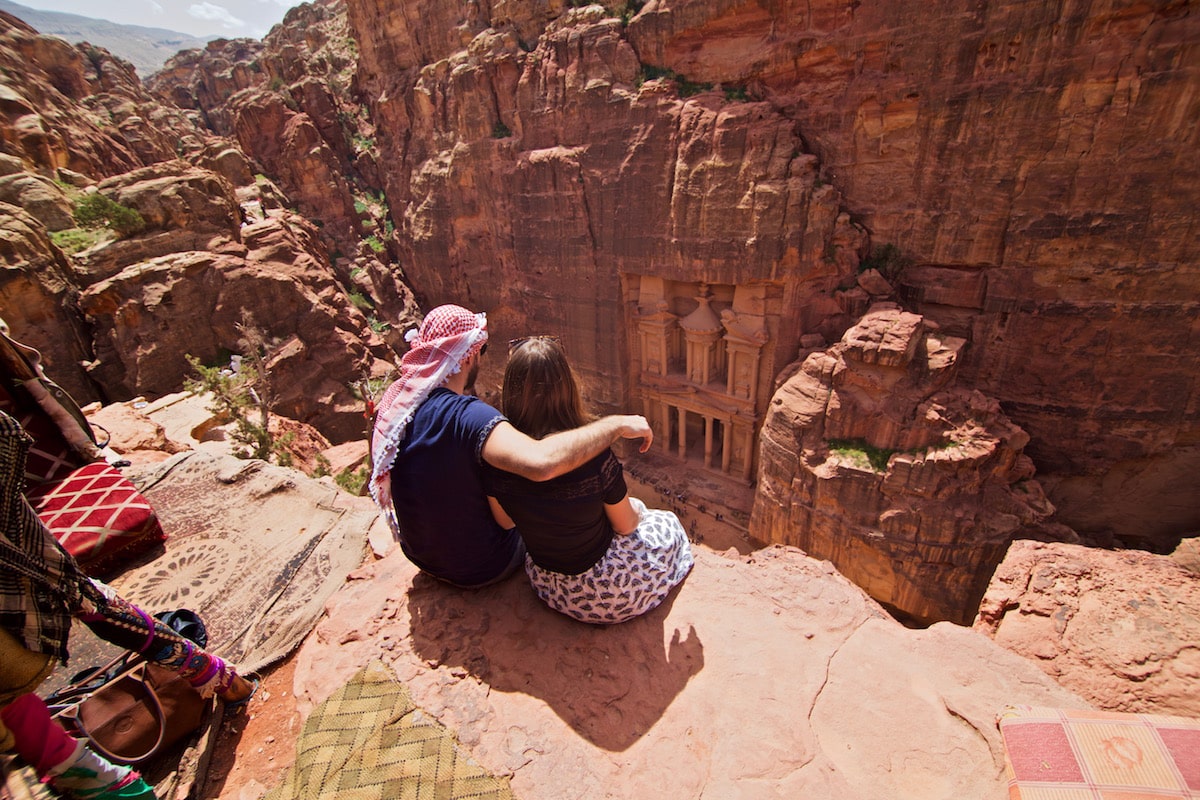 To be honest, before I became a blogger I'd always enjoyed group tours with companies such as Intrepid and Trek America so I guess blogger press trips are a work version of those!
Sometimes though, it's really lovely to be able to share special travel experiences with my best friends or my partner. Recently I travelled to Nice with my school friend Kristina, sailed around Sicily with another school friend Becca and enjoyed big adventures with my partner in Mauritius and Dubai.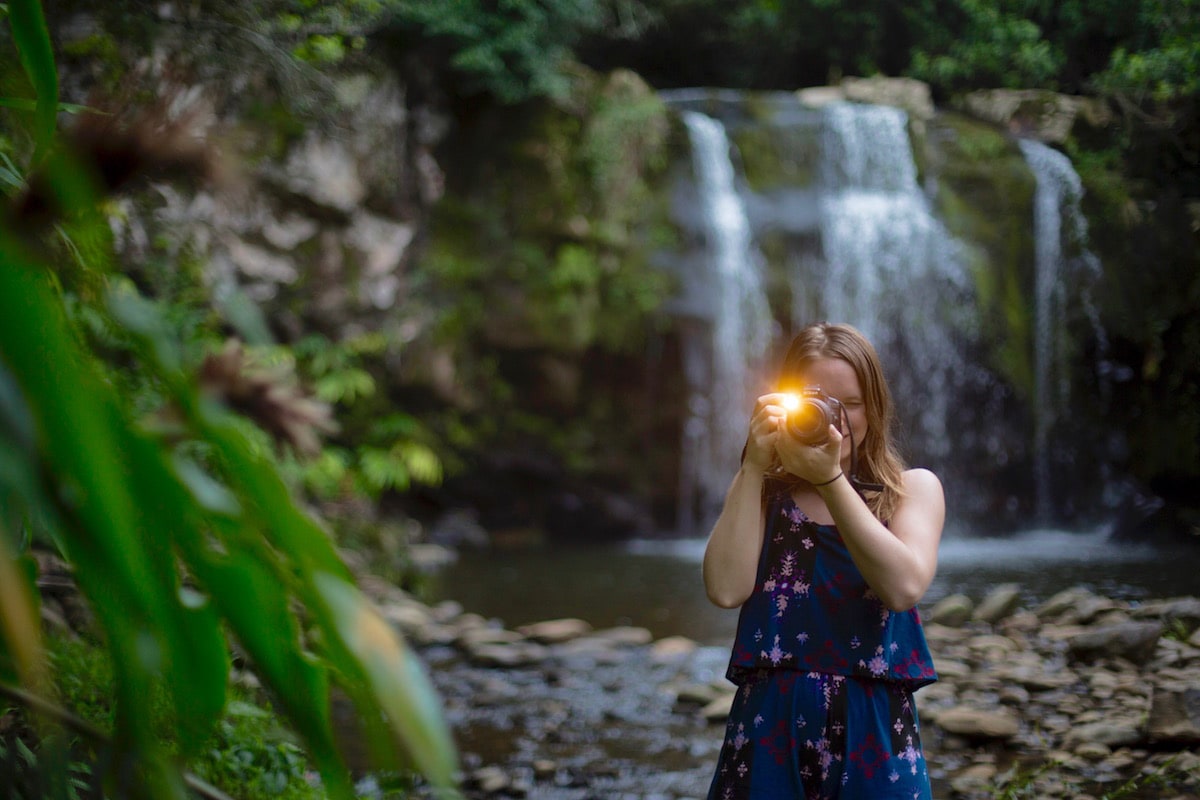 Daily Routine
What daily routine?! That gets thrown out of the window when I'm travelling, and that's part of the reason I love it! When I started this blog it was a time when I was pretty fed up with routine, waking up at the same time every day, seeing the same people, cooking the same food, watching the same TV shows and going to bed again. I was feeling a bit stuck. Travel flipped it all upside down and it was so refreshing.
I've picked what I think sums up a pretty 'average' day on a blogger press trip. This is taken from a trip I did to St Kitts last year. It was back when Snapchat (RIP) ruled over Instagram Stories! You'll see that SOOOO much of it is fun, interesting and pleasurable, but there are plenty of things you probably wouldn't put on a holiday itinerary. Nope, it's not all about 'hot dog or legs' pics on Instagram or drinking cocktails by the pool!
Blogger Press Trip: An Average Day
07.00: Wake up, quick check of phone for important emails. Shower, get ready for the day.
07.30: Social media and emails. It's always important to publish content at times your audience are awake and online, so when I'm on trips I often schedule social media posts ahead of time. I also schedule blogs if I've managed to get some ready in advance. In St Kitts we were 4 hours behind so I'd often edit photos when I woke up ready to publish on Instagram, Facebook and Twitter later in the UK day.
08.00: Breakfast. Don't expect breakfast to be a relaxing affair on a blogger press trip! Most likely everyone will be photographing or capturing videos of their food for their blogs, and documenting it on Instagram Stories for their followers. At this particular breakfast in St Kitts we were joined by several large birds who tried to steal food off our plates (much to our amusement), while chickens clucked around on the floor. Welcome to the Caribbean!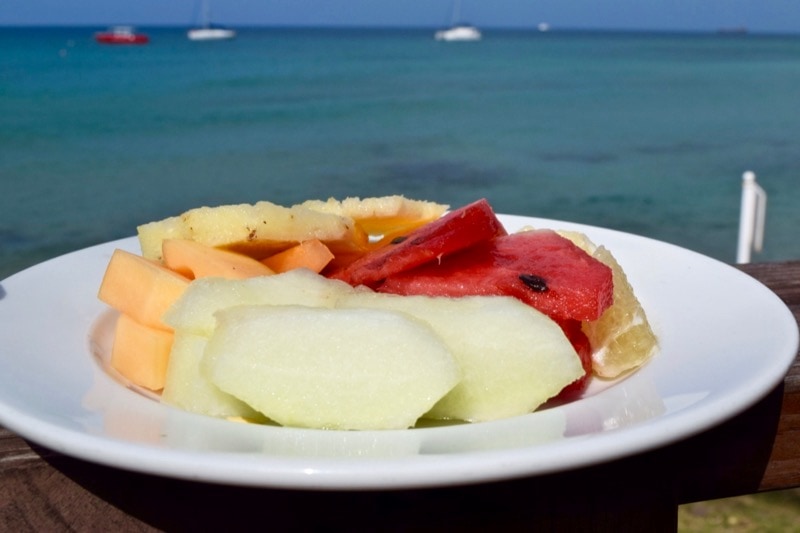 08.30: Collected in a minibus and driven to Wingfield Estate for a trek through the rainforest.
09.15 – 11am: Rainforest hike with O'Neil – a local who has lived on the island his whole life. I took lots of photos on my camera, posted live snaps on Snapchat, recorded video content on my DSLR and on my GoPro. I also typed a few notes in my phone so I had some details when I wrote my blogs back home. I really enjoyed this trek, but as it was so pretty I often found myself lagging behind to snap photos without people in!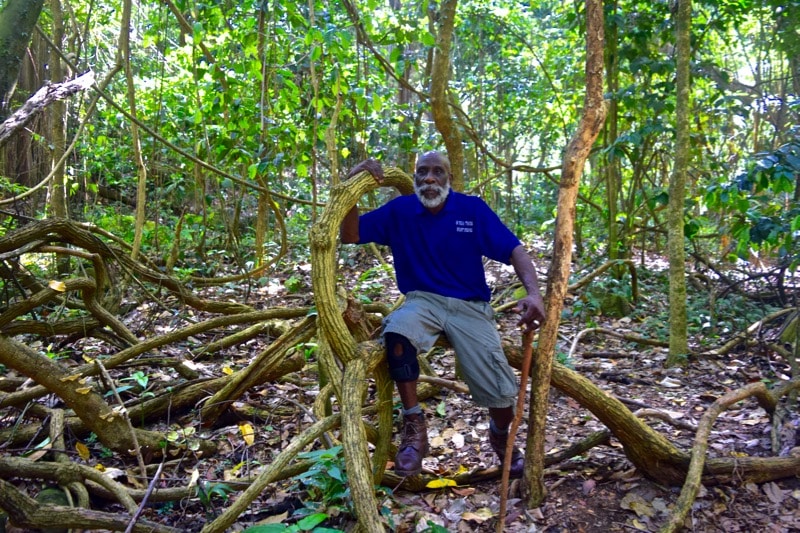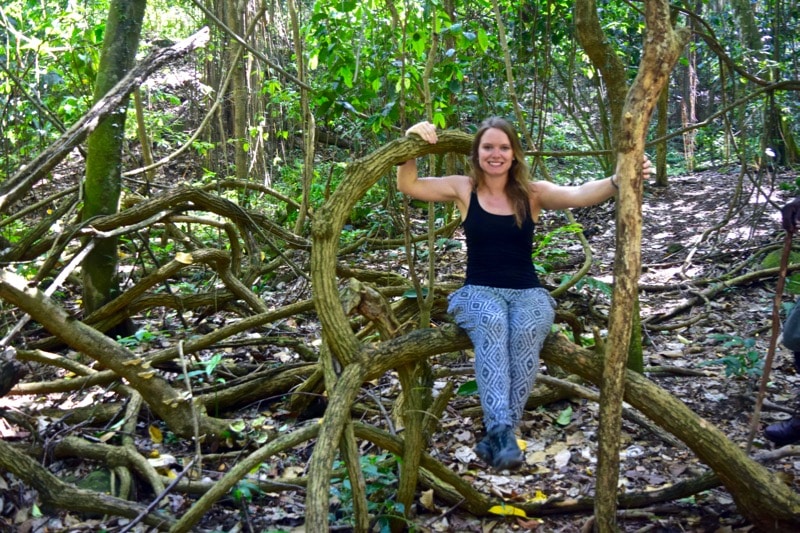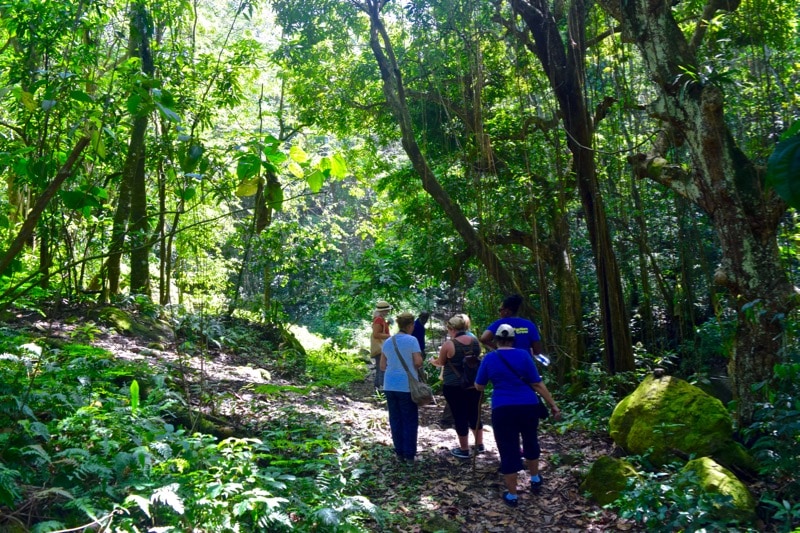 11.15 – 12.15: Zip-lining through the rainforest. This was pure fun, but obviously the GoPro came too! What a rush!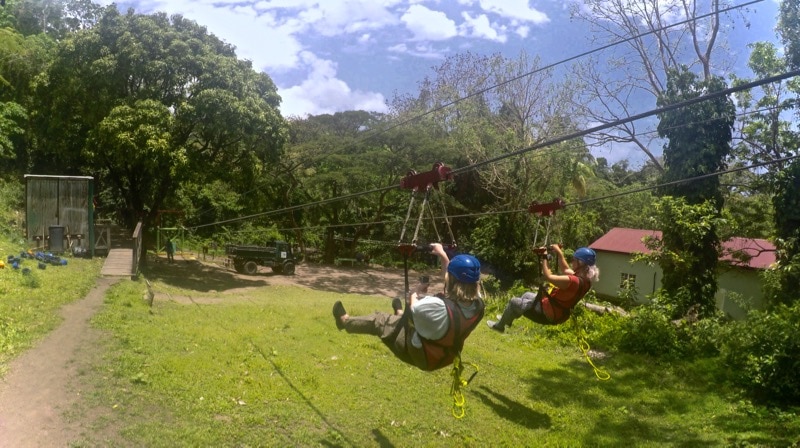 12.15 – 13.00: Guided tour of Caribelle Batik art studios and the gardens.
13:15: Drive to Ital Creations (a vegan food truck) for a tour of the organic farm and lunch. We enjoyed a tour of the gardens and learned about the produce growing there. We were all starving by lunchtime, and once we'd taken photos of our meals we finally enjoyed a lovely group lunch.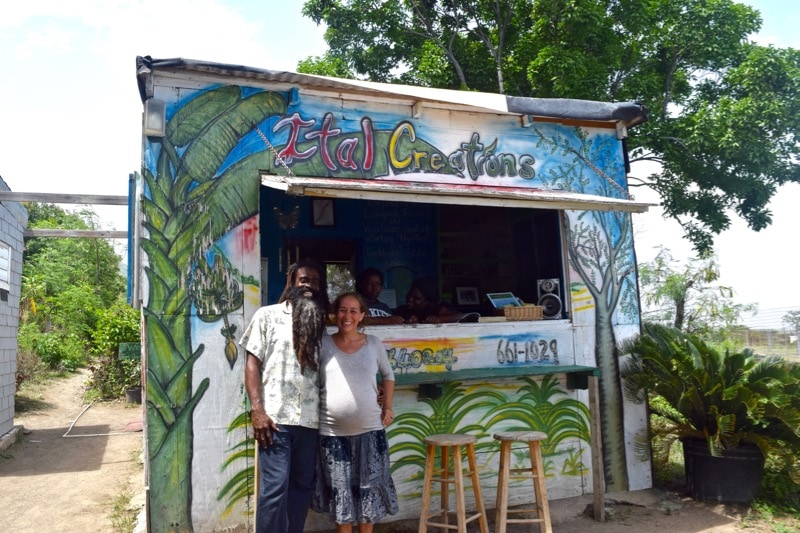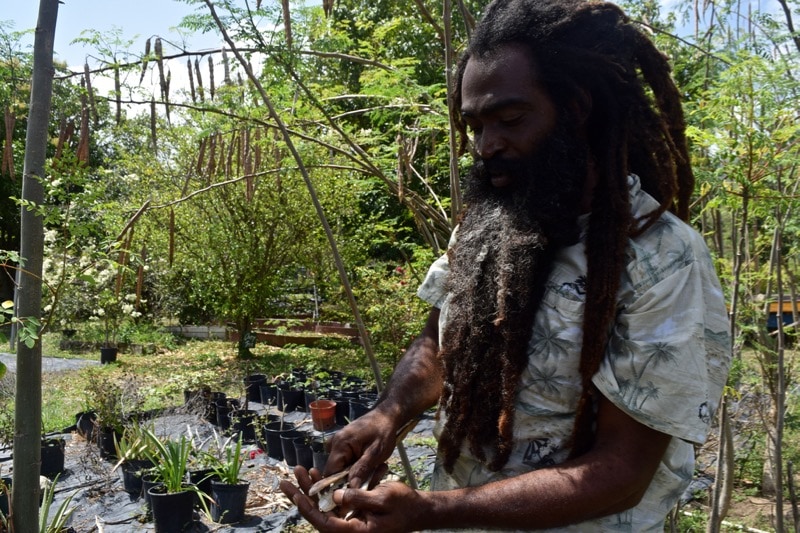 15.00: "Free time". You quite often see these amazing words on press trip itineraries but it isn't downtime like you'd have on holiday! I used mine to visit the beach and take photos of the hotel. I also recorded intros for my YouTube video and selected some photos for social media. Oh and I replied to some emails that had come in during the UK workday. Then I hopped in the shower because it was hot and I was feeling disgusting, and then…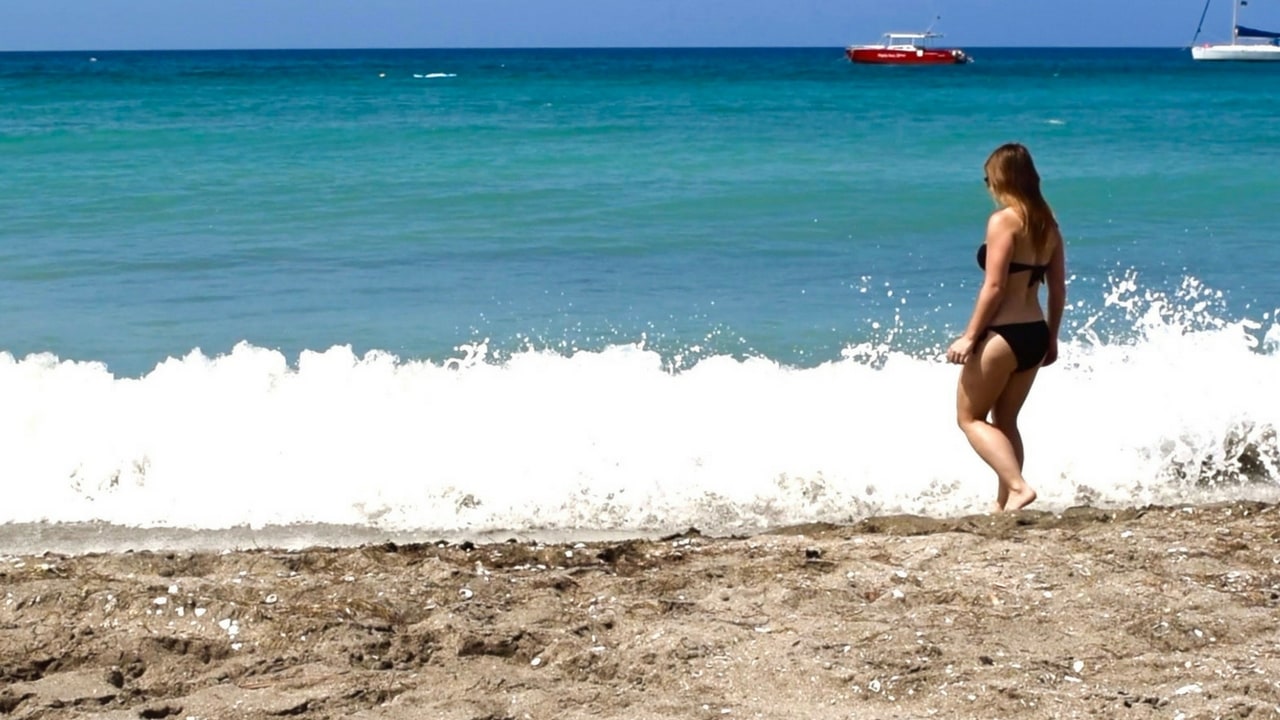 18.00: Pick up from hotel for dinner.
18.30 – 21.30: Yes blog trips often involve plenty of eating and drinking. On this night we enjoyed cocktails at Spice Mill with the owner who told us all about the restaurant's cuisine, the bar and his life on the island. Then it was time for dinner (cue more photos and Snapchats!)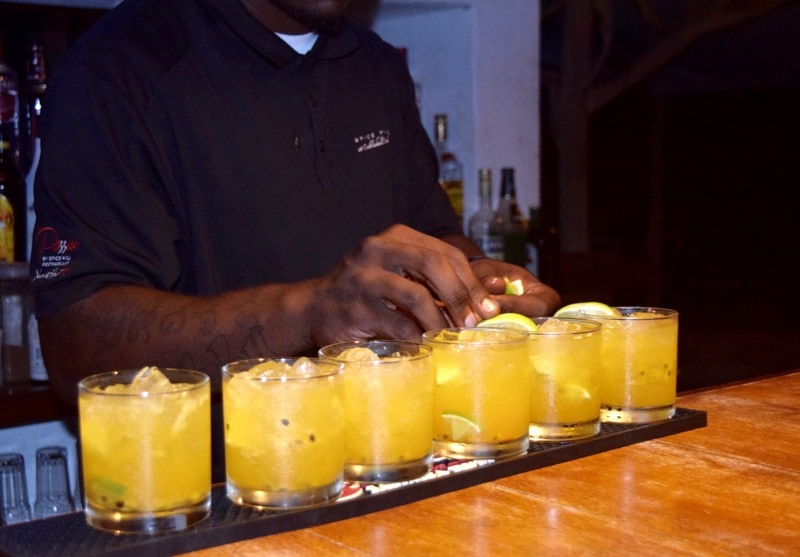 22.00: Arrive back at the hotel. Either check out the nightlife scene (for research obviously!) or hit the hay (once all gadgets are charging!)… or publish a blog post… or collapse in a heap ready to do it all over again in 9 hours!
15 hour+ days are pretty standard when you're travelling on press trips, and while it can be tiring, it's part of the experience! I've had plenty of amazing experiences on press trips, and as they're often just a few days long, it's all about packing as much in to the time you have.
So I've lifted the lid on a little bit of what a blogger press trip entails. Hopefully now you can get a feel for how I work, and how the content you read on this site is created!
Would you like to see more behind the scenes blogs about the world of travel blogging? Let me know in the comments below! And if you fancy finding out how my video from St Kitts turned out, you can check it out here.
Enjoyed this post? Pin it…