From South Beach to the Wynwood Walls and Little Havana, this is the ultimate holiday travel guide to Miami in Florida!
I'll admit it. I'm an addict. My vice? COLOUR. Muted tones might be the "in" thing on Instagram, but I'm happiest when surrounded by colour. Blue skies, colourful street art and vibrant plates of food. It extends to the culture of a place too. London may be famed for its grey skies, but the culture and lifestyle is anything but dull.
And the ultimate colourful place? Well, I think I might have just found it. Welcome to Miami – a place that had me smiling from start to finish. From the murals of the Wynwood Walls and the bright lifeguard huts on South Beach, to the Cuban charisma of Little Havana and the Latin soundtrack that resonated throughout, I felt like I found my sunshine-filled happy place!
Over five days I explored as much of the city as I could, checking out cool restaurants, food tours, live music, and some of the areas that come together to make up this diverse city.
Check out my video then scroll down to find out all about Miami…
How To Get To Miami
I travelled to Miami with KLM, who have flights departing from 17 UK regional airports to Amsterdam Schiphol Airport. From there it's easy to connect to one of their long haul destinations, which include Havana, Tokyo, Nairobi, Aruba and of course MIAMI! Service is fun and friendly, and you can find some great value flights if you book in advance.
From Miami International Airport, it's around 25 minutes to South Beach where I'd recommend staying. To get around the city, I'd recommend downloading the Uber app. It's very reasonable and if you need convincing, you can grab a free ride worth up to £5 using this link.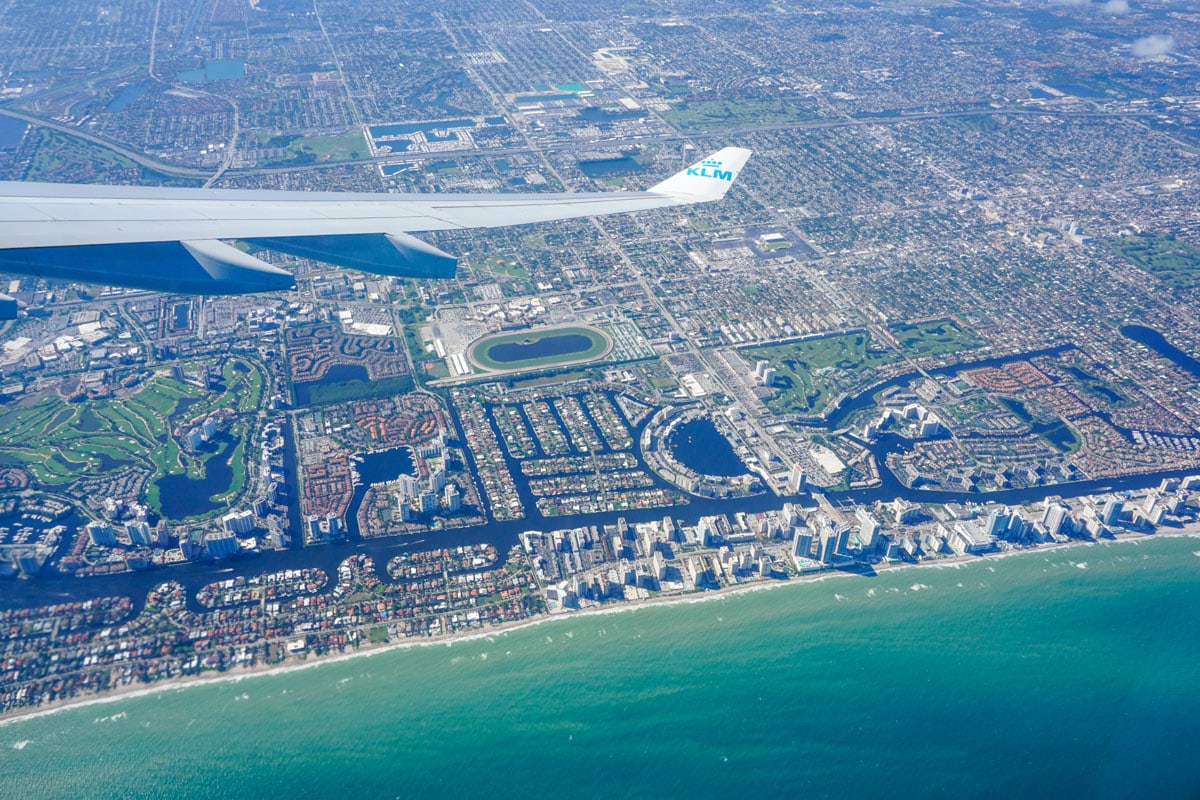 What To Do In Miami
I'd seen so many photos ahead of my visit, and this was somewhere I was dying to explore during my trip. The Wynwood Walls were created in 2009 by the late Tony Goldman, who decided to transform the area into a giant open-air art gallery as a way of revitalising it. Needless to say, it worked!
They've expanded to include the Wynwood Doors and Garden, with top international graffiti and street artists being invited to create new works for the area. While it's a feast for the eyes, I'd also recommend taking a tour with Miami's Best Graffiti Guide so you can learn about the murals and the artists behind them.
From Maya Hayuk's alluring pink geometric patterns, to Crash's mix of comic strips and pop art and Shepard Fairey's Wynwood mural, there's plenty to see.
Insider tip: There's more to this neighbourhood than the area known as the Wynwood Walls. The incredible street art covers a distance of several blocks surrounding Wynwood, so stretch your legs and explore on your own time.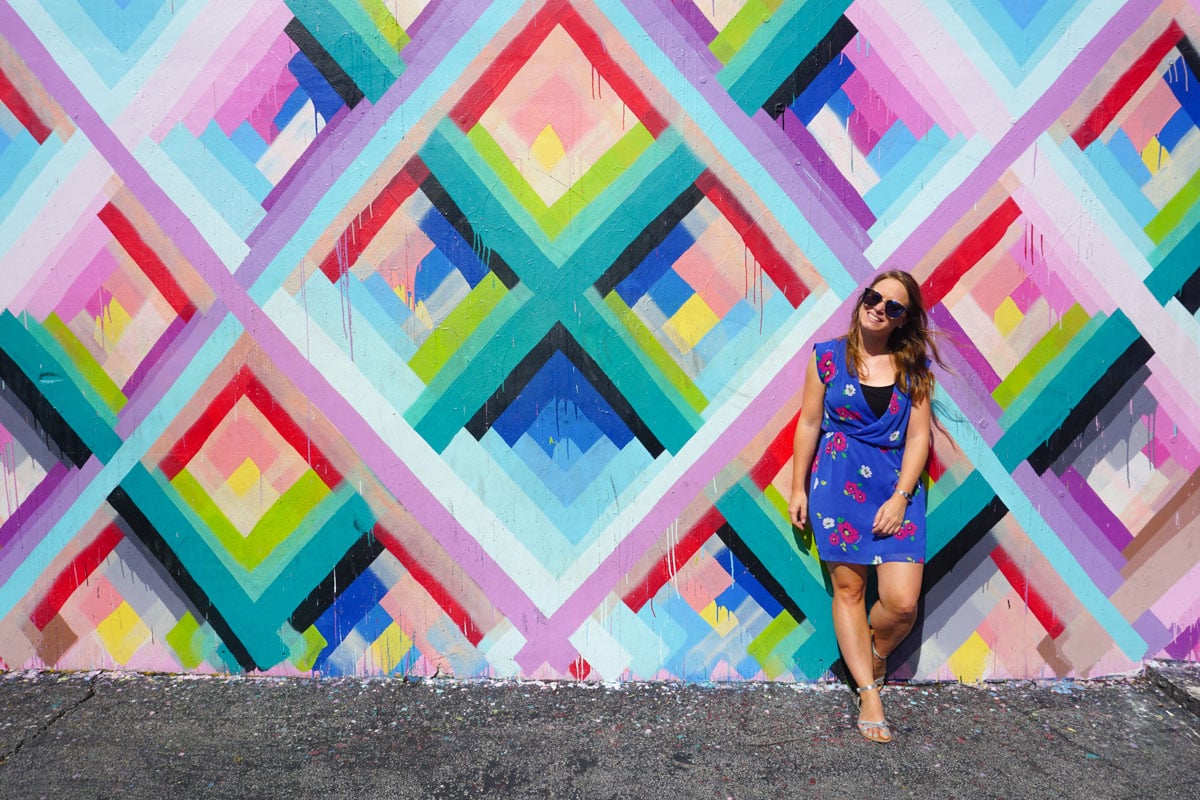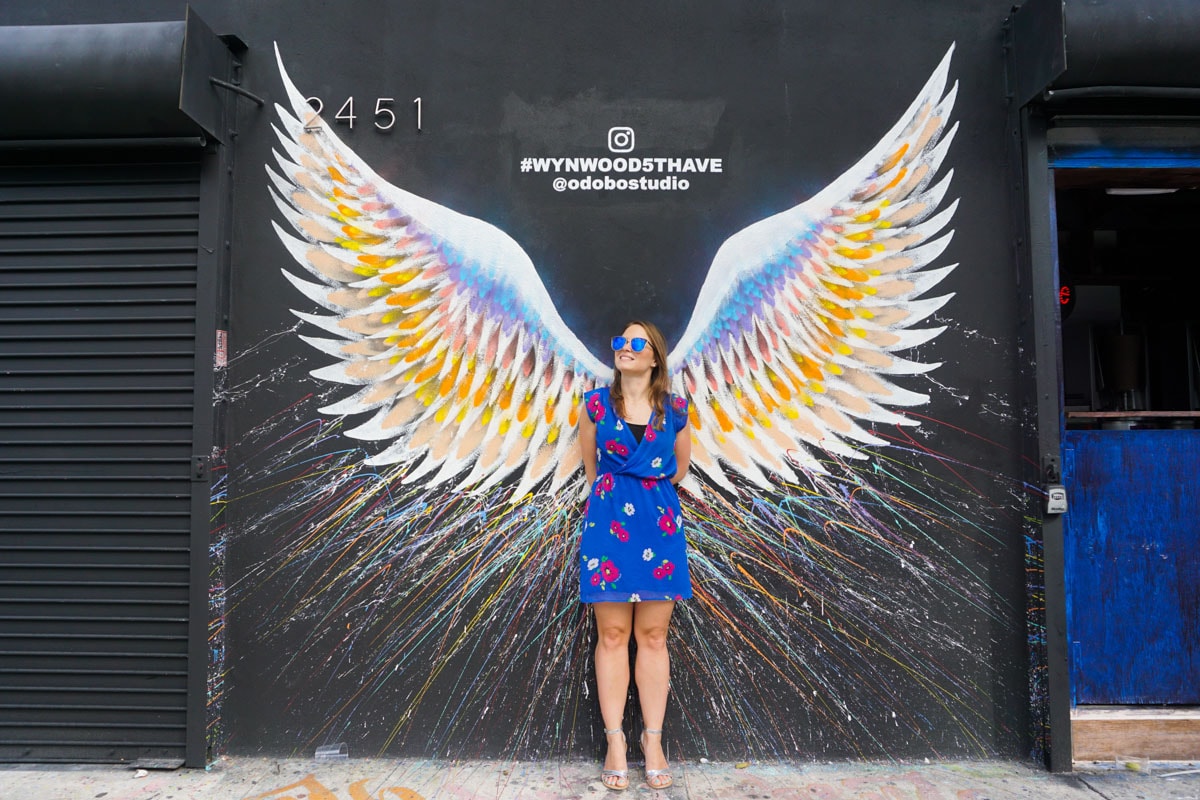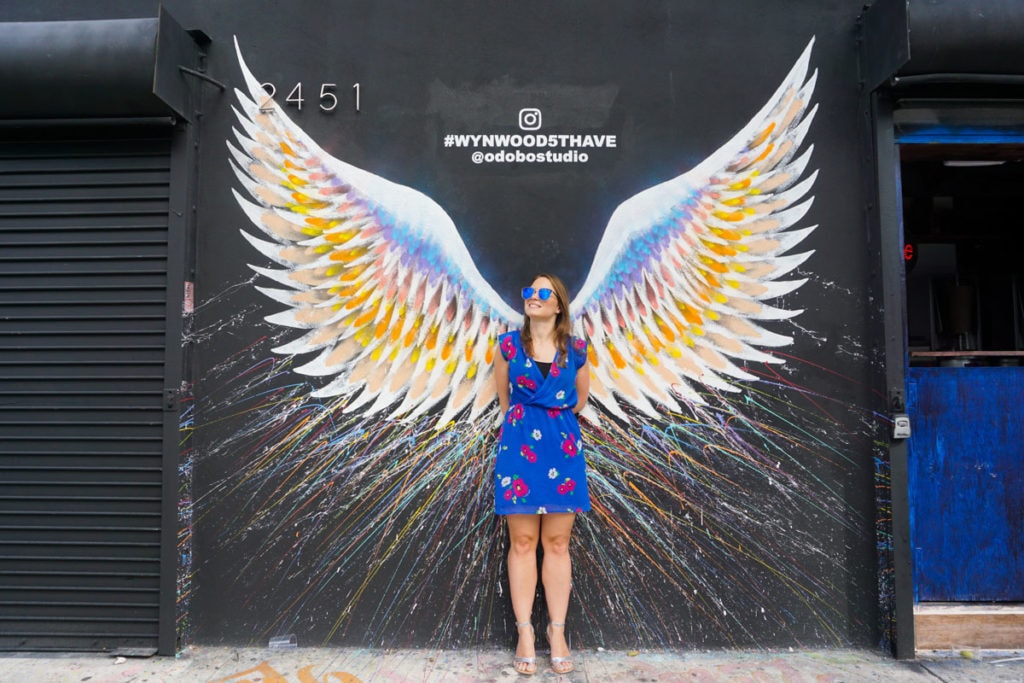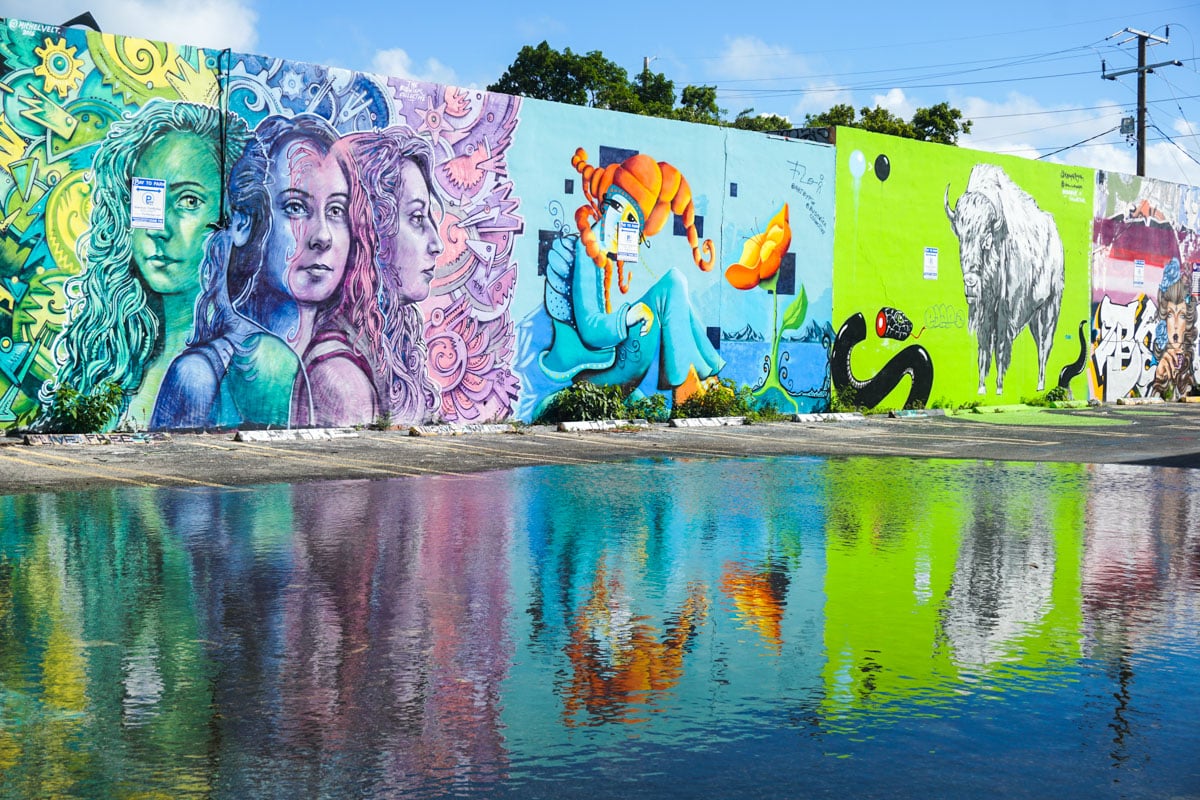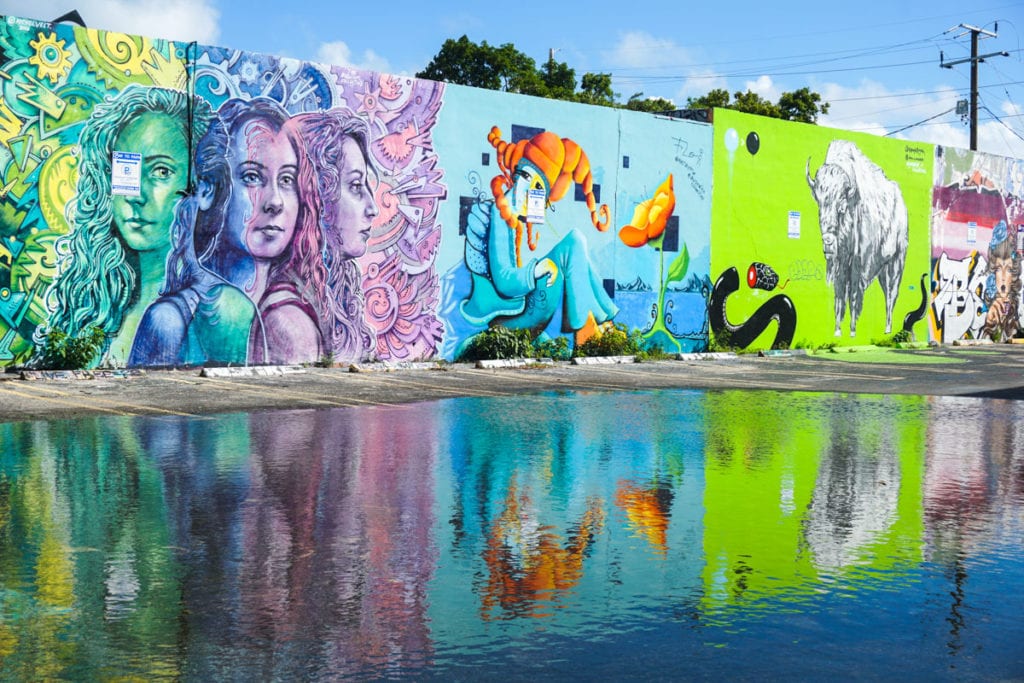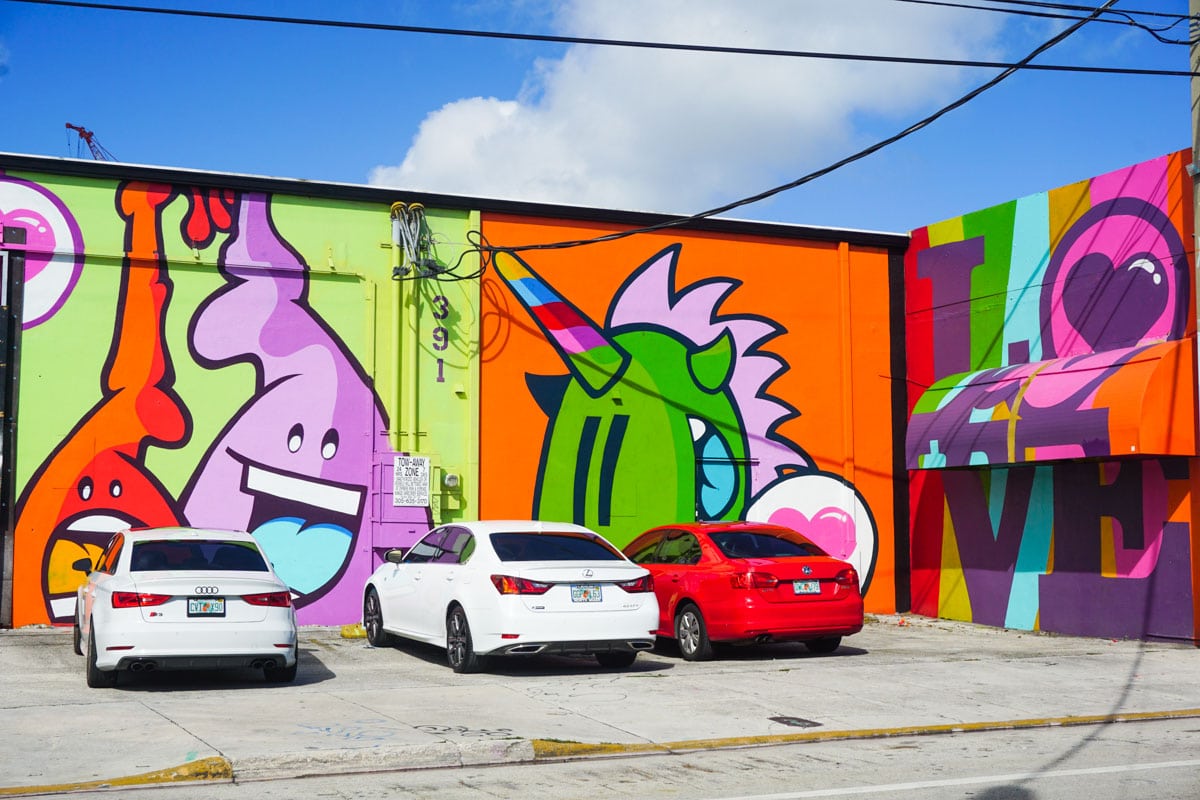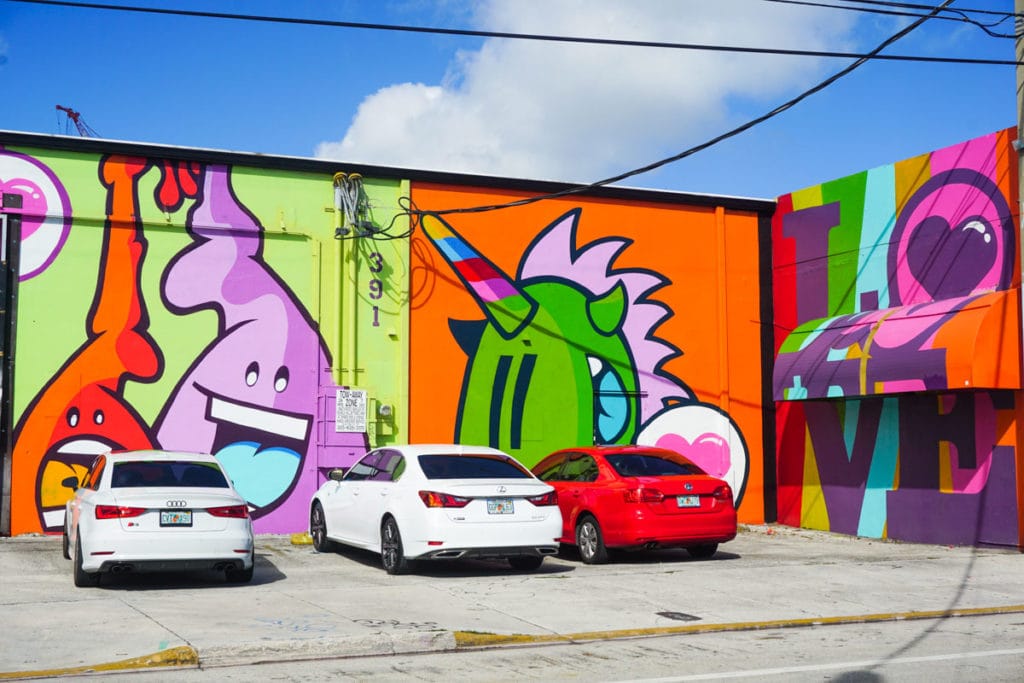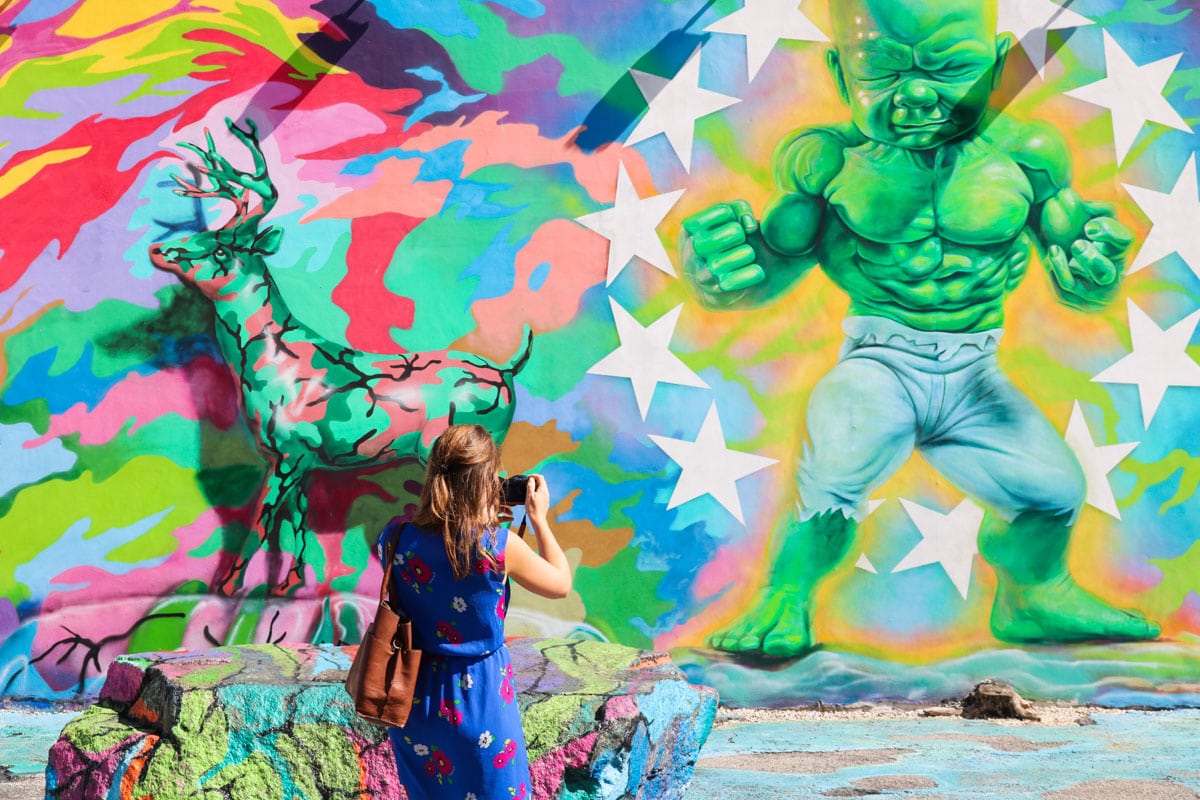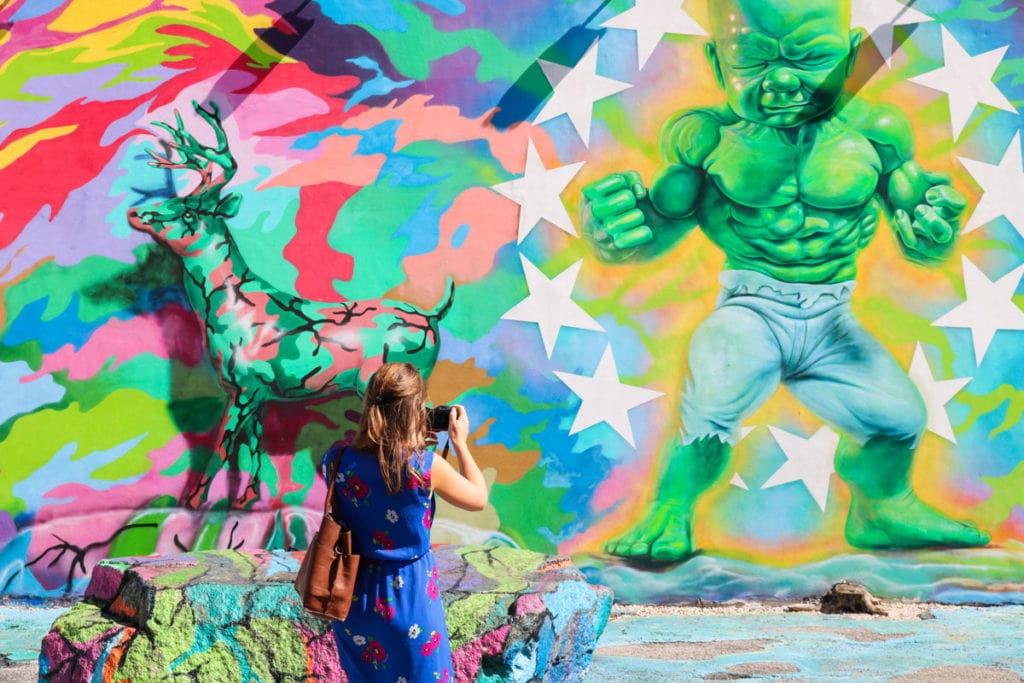 Another photogenic area of the city is Miami Design District. It's a mix of shopping, design and architecture, with a few restaurants established there too. As I passed trees covered in silver streamers, stopped to take photos of a huge tropical themed mural, and wandered a shopping street painted in luminous orange, it didn't feel like any shopping experience I'd had before. I loved the Fly's Eye Dome – a weird and wonderful dome-like structure in the centre of the shopping plaza, and the funky swings on the upper floor.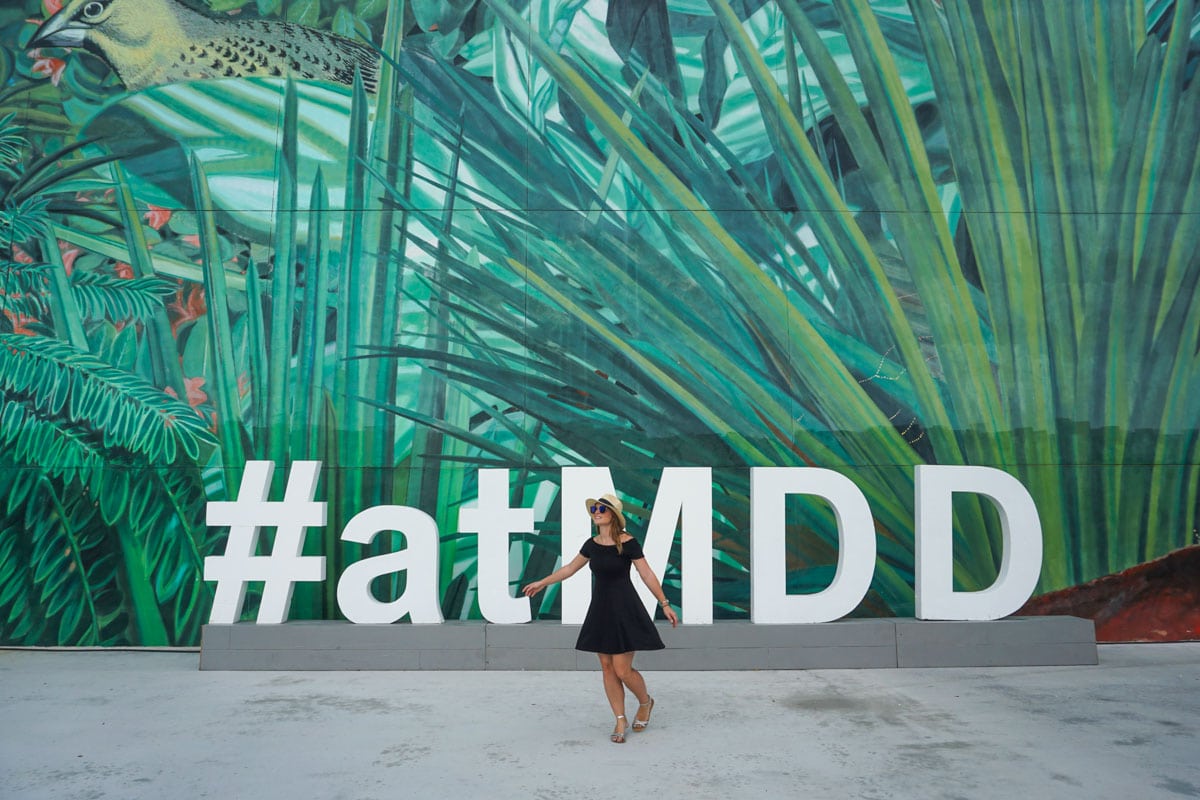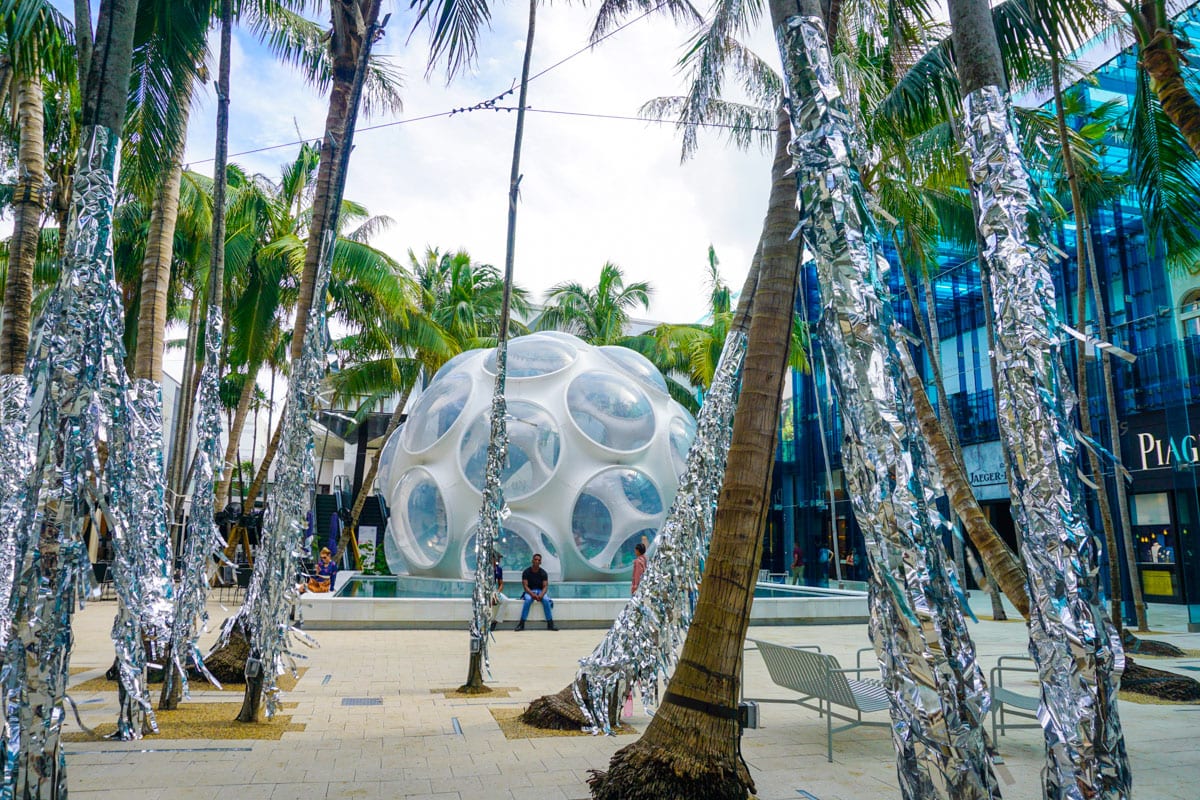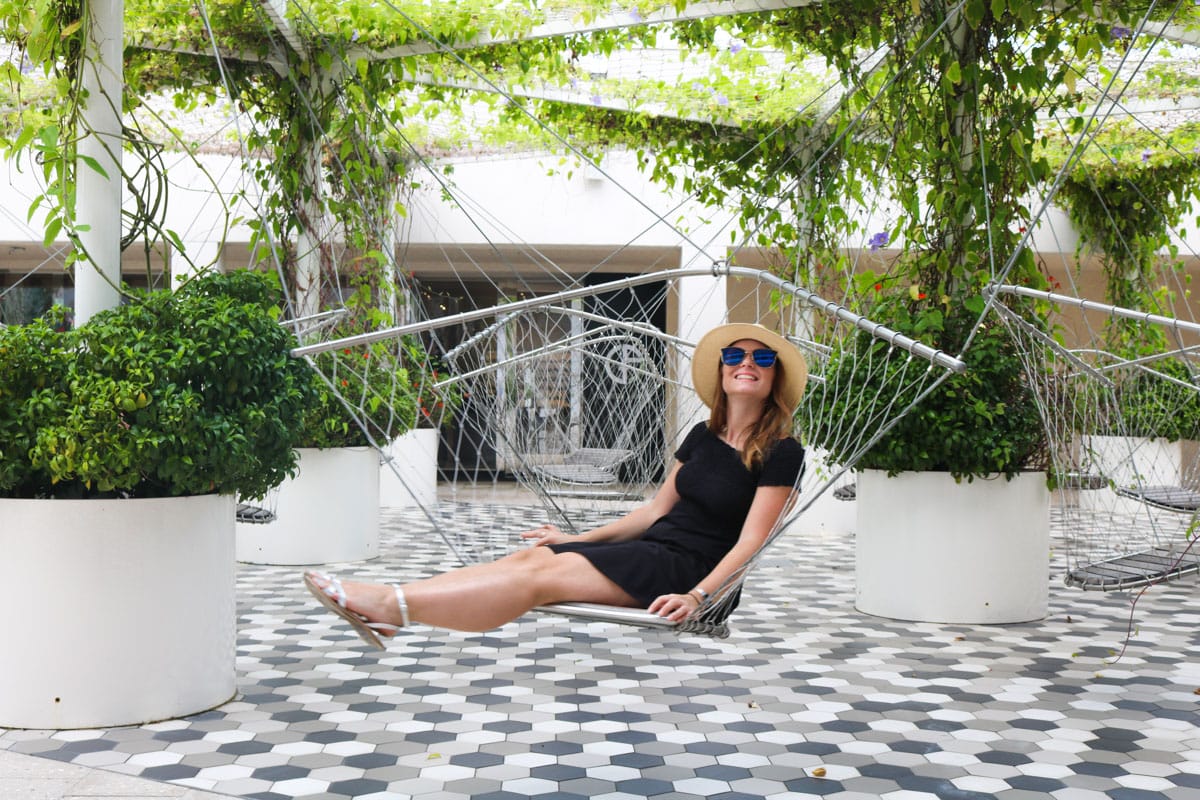 Art Deco Buildings
Miami Beach's Art Deco Historic District is made up of over 800 buildings built between 1923 and 1943. While you might think of art deco buildings as being predominantly white, the Miami Beach area shows off a style called Tropical Deco. Pastel pinks sit next to pale greens and baby blues. It's super cute and the kind of place it's lovely to wander around taking pictures.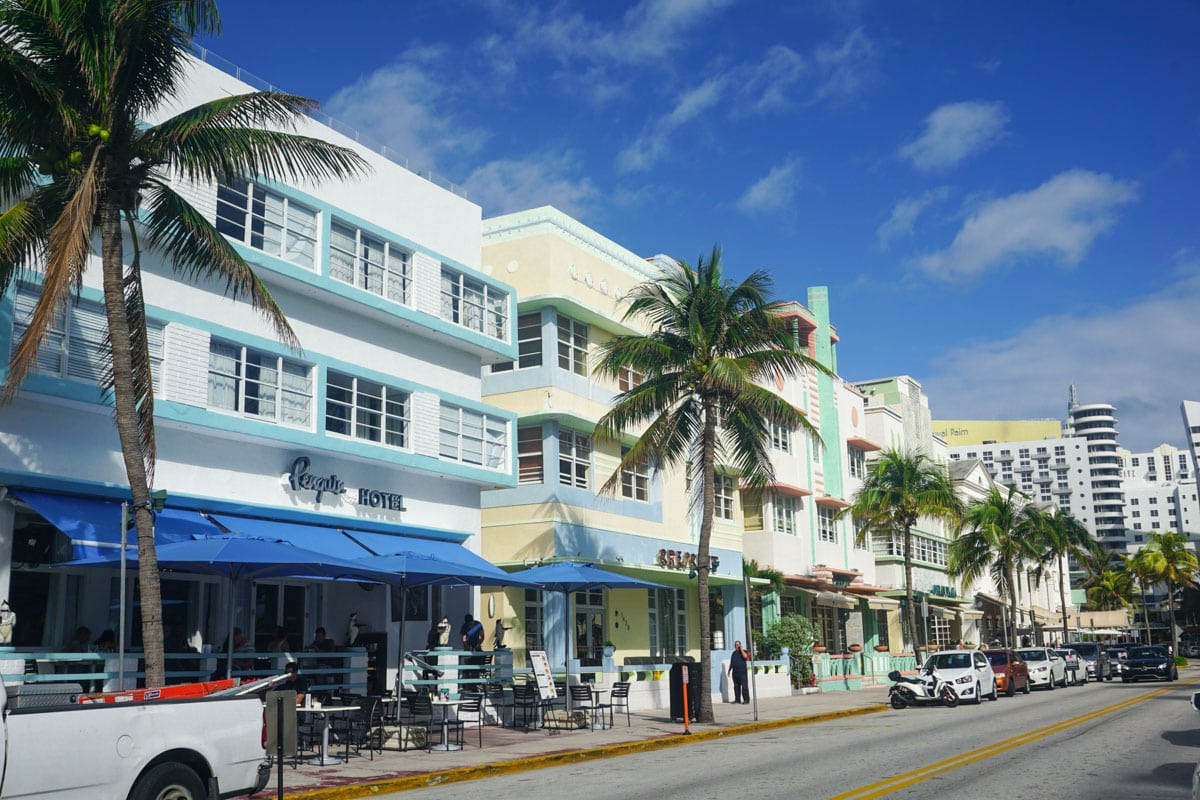 One of my favourite ways to get to know a new place is to go on a food tour. Not only do you get to taste the flavours of the area, you also get to hear the stories and meet the local characters. This Miami food tour of South Beach was excellent, with tour guide Jen giving a great round up of Miami's Latin influences, and where to find the real flavours of the city.
After trawling Ocean Drive on night one and finding lots of restaurants serving up similar menus of burgers and giant cocktails, it was great to find out where to go for great local food. We sampled delicious ceviche at Colombian restaurant Bolivar, Cuban picadillo at Larios (Gloria and Emilio Estefan's restaurant), and tasty sourdough pizza pockets at Block's Pizza.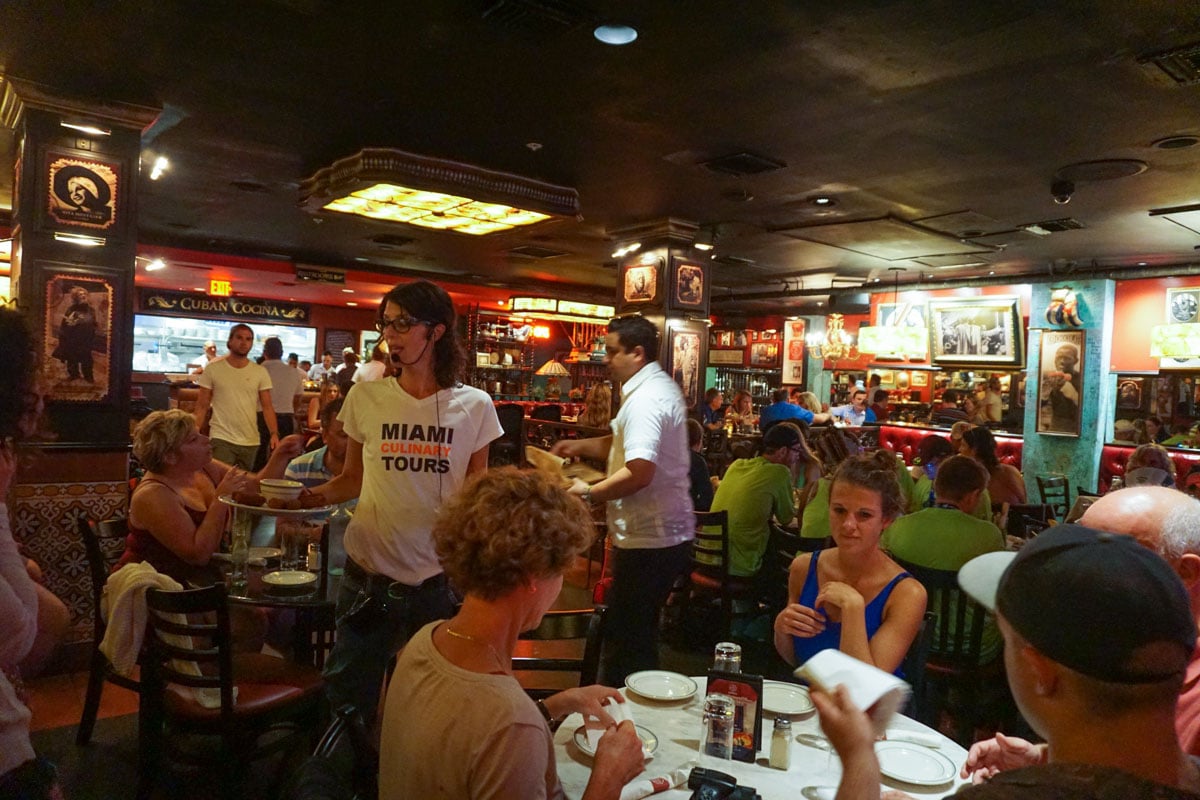 Little Havana
Little Havana is a really vibrant part of the city. With its hub on Calle Ocho (8th Street) you'll find great Cuban restaurants to stop for a Cuban sandwich, tailors to pick up classic guayabera shirts, cafes serving traditional Cuban coffee (be warned – this stuff is strong!) plus plenty of places to enjoy mojitos. It was lovely walking through Domino Park – an area filled with oldies playing dominoes! I say oldies, as there's an official set of rules on the walls saying you have to be over 55 to play!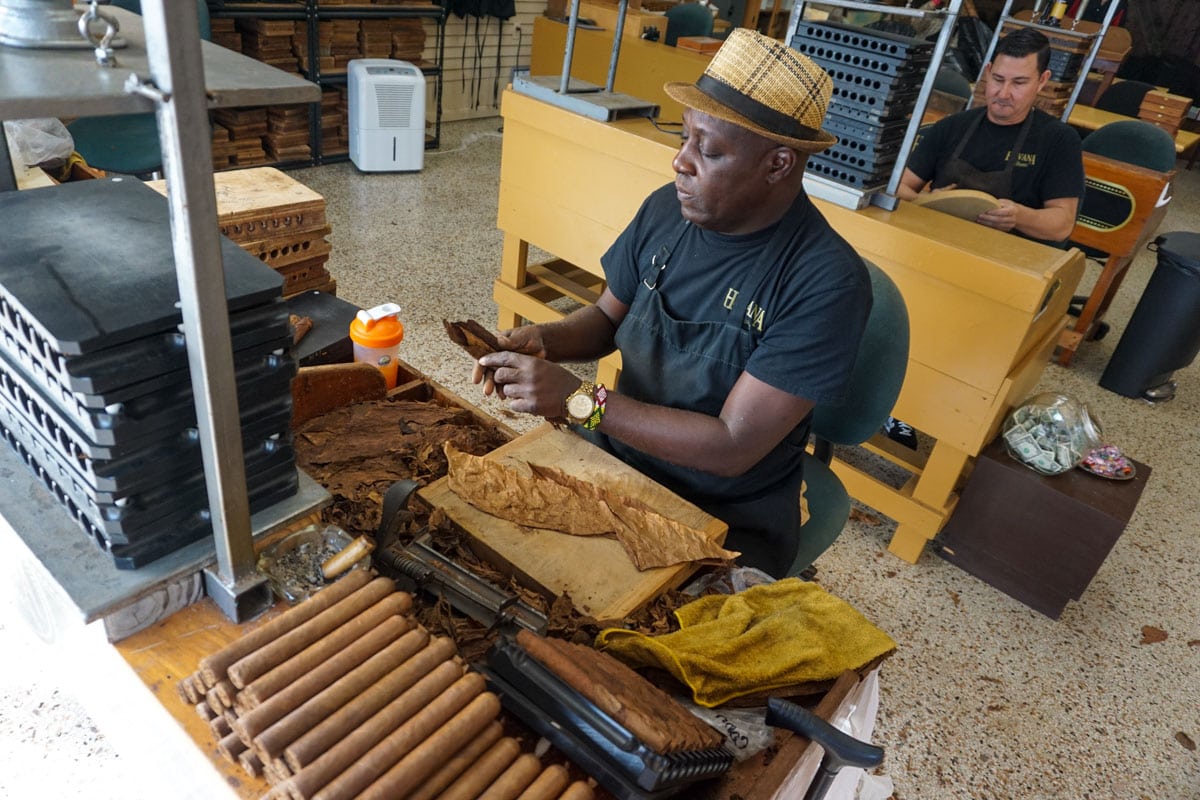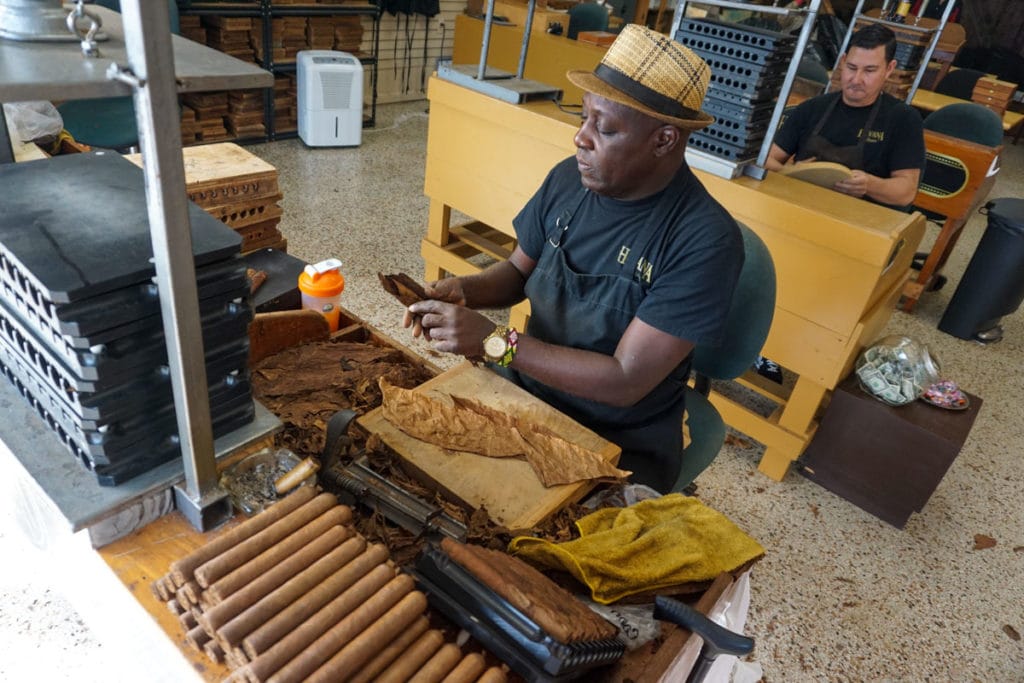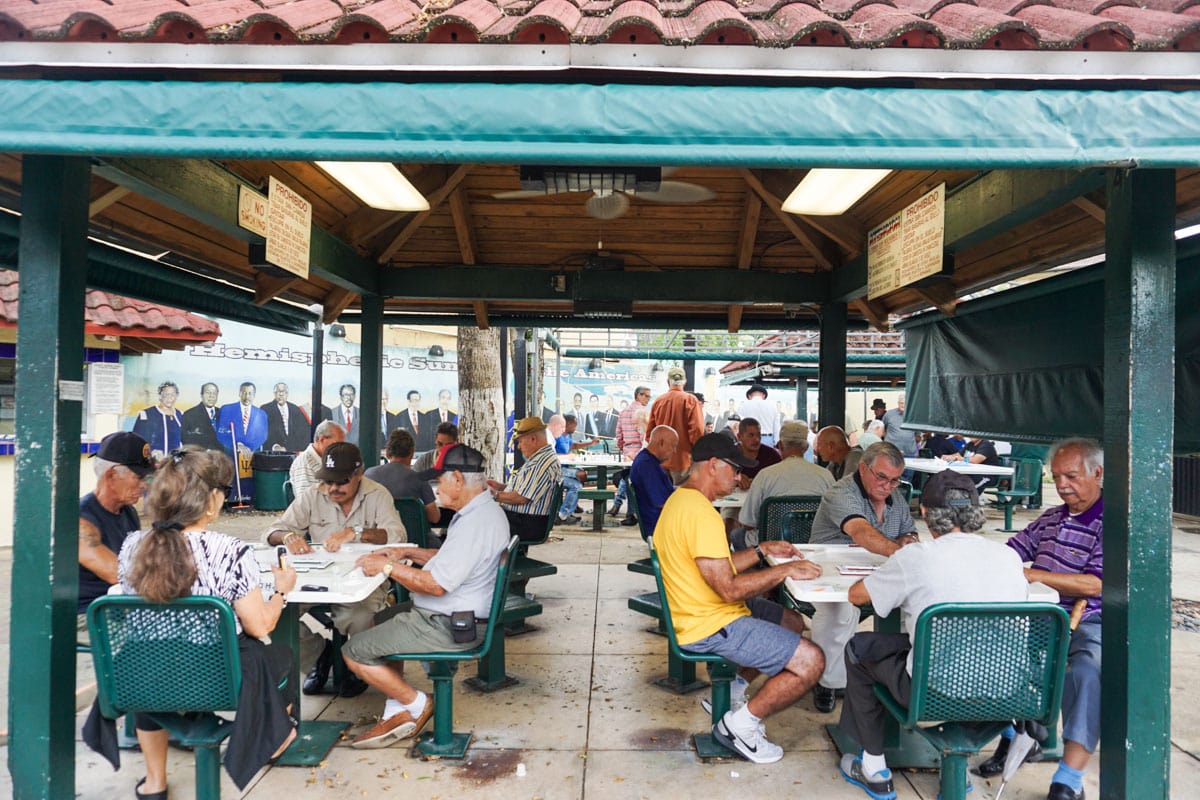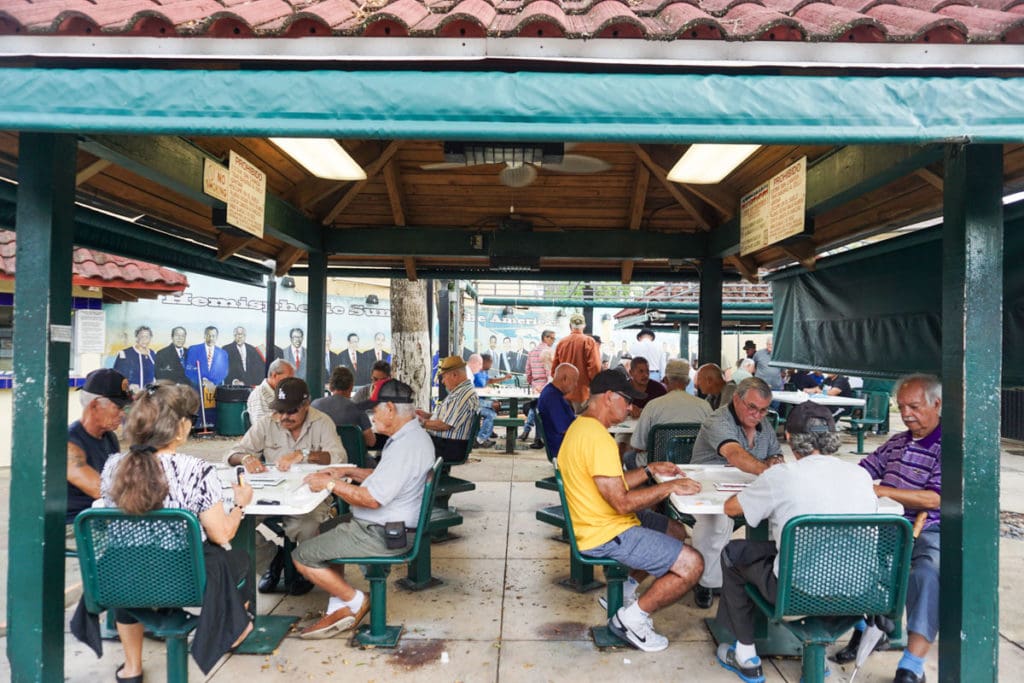 My favourite place was The Ball and Chain – a bar with live music and dancing throughout the day. The vibe was fun, and while there were plenty of tourists stopping by for a drink or two, they were balanced by locals who popped in for a dance! While it's a fun place to wander around, I'd recommend booking onto a Little Havana Tour with Chat Miami. Our guide Alex was Cuban and gave real insight into the area, its people and what life is like there.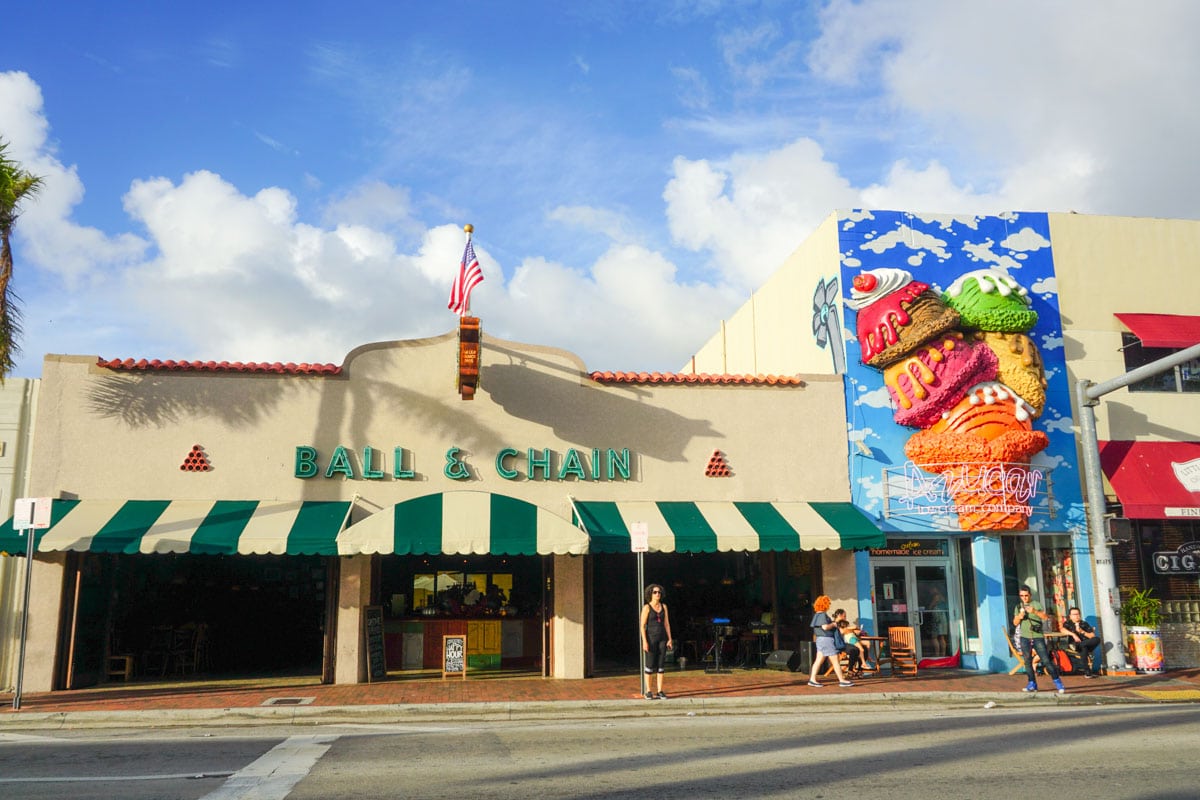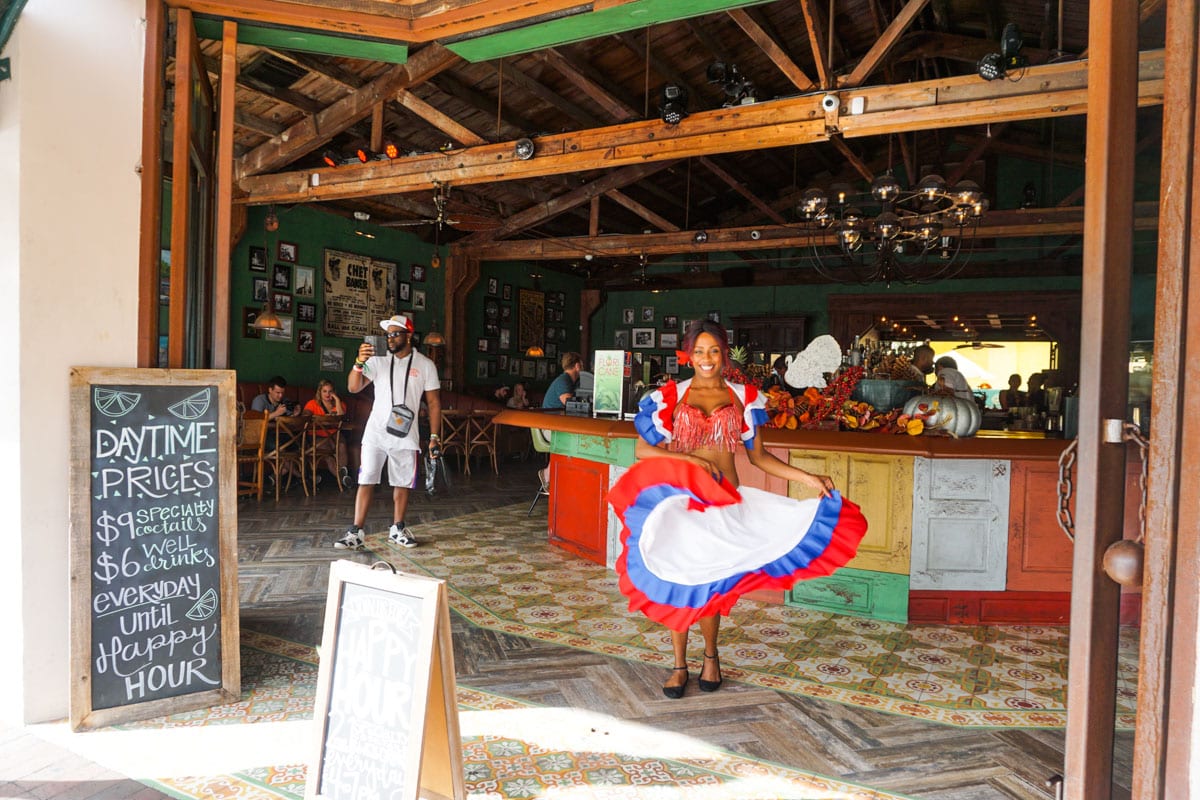 Looking for an adrenaline fix in Miami? This boat trip takes you to see some of the key sights including Star Island and Fischer Island plus gives you epic views of the city's skyscrapers. All that… and it reaches 50mph! It's a serious rush. Along with the buzz of speeding around Miami Bay (and getting a little wet in the process!) I absolutely loved seeing the houses belonging to Will Smith, The Beckhams and Enrique Iglesias. My favourite was Ricky Martin's with his rooftop hot tub…!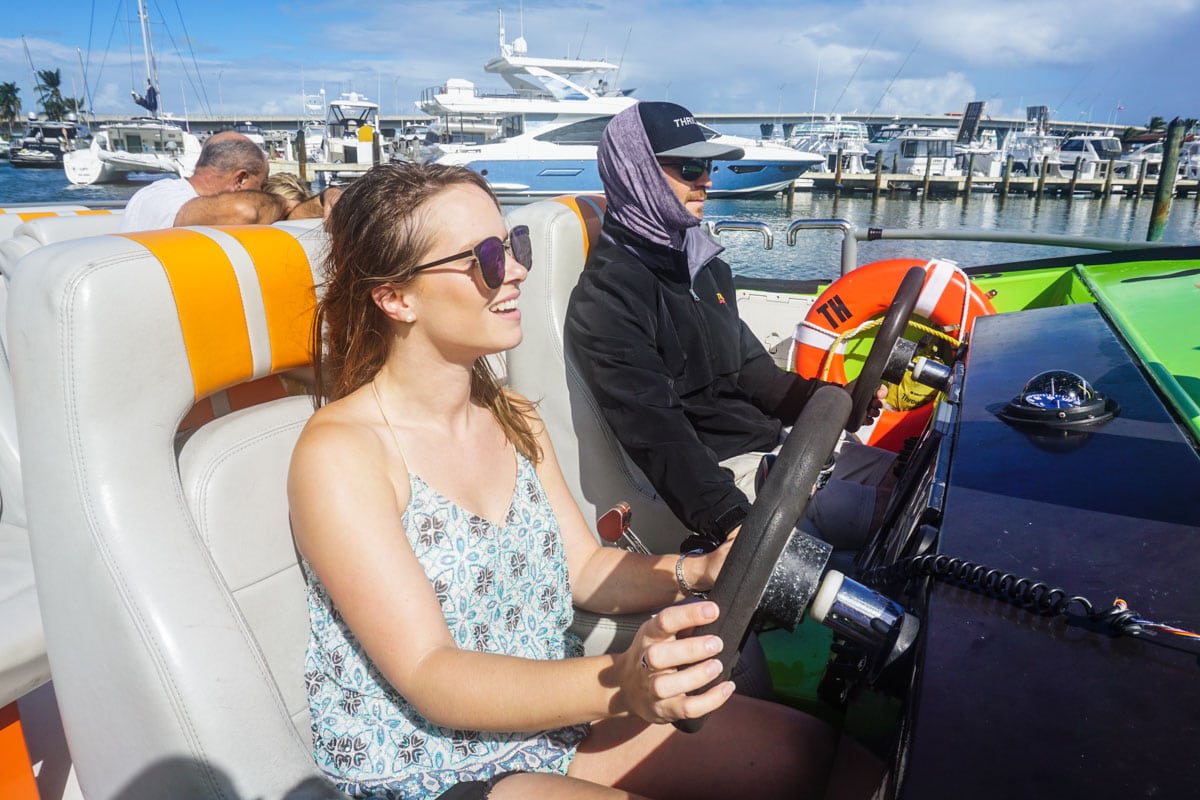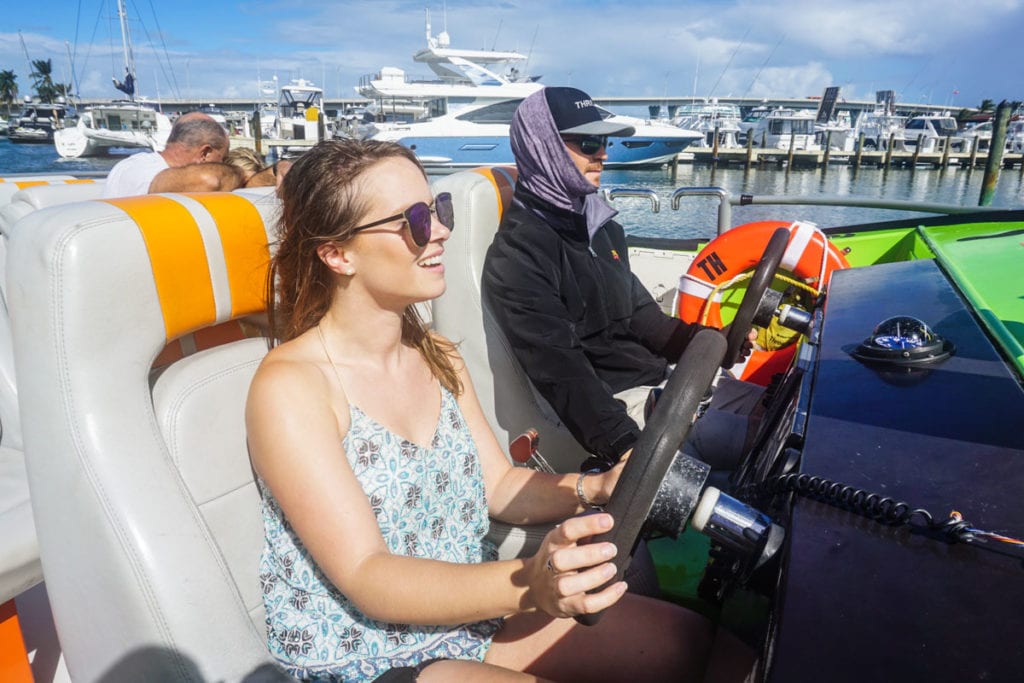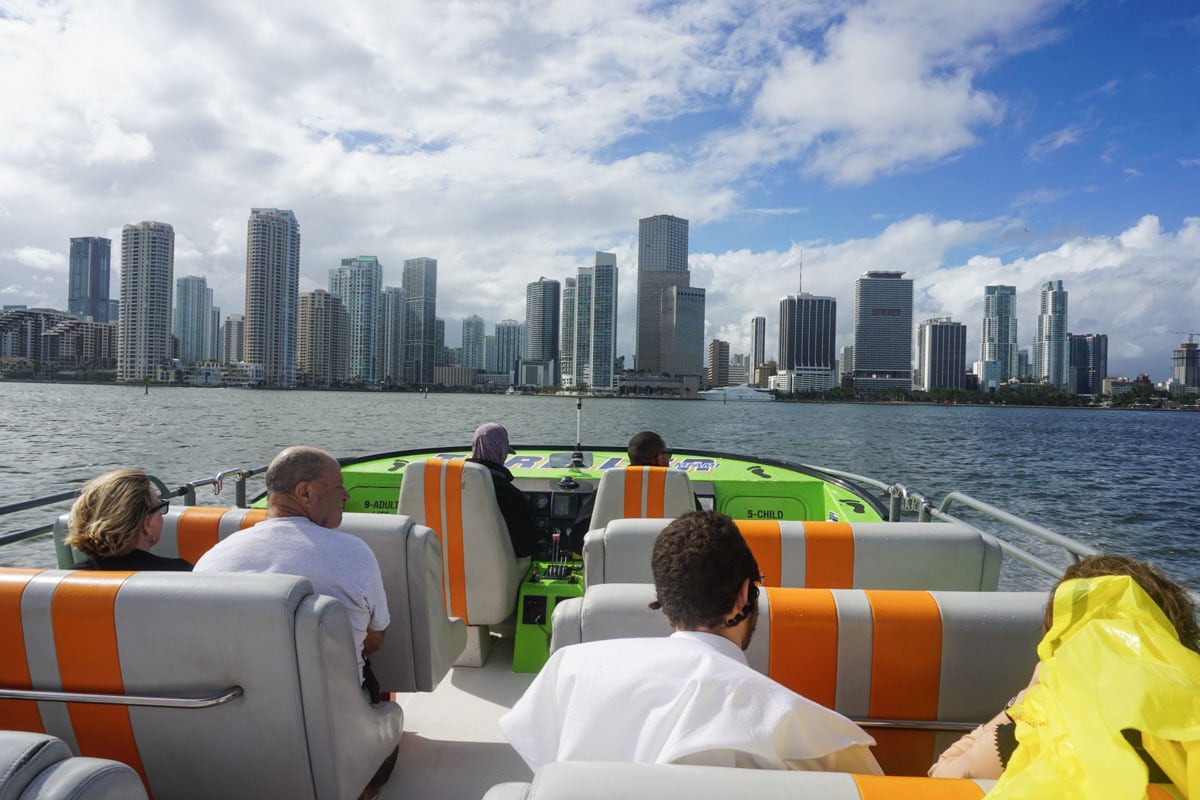 Lifeguard huts on South Beach
This was the perfect introduction to Miami's colourful soul. There are lots of lifeguard huts located on Miami Beach from South Pointe onwards. After Hurricane Andrew destroyed the previous huts in 1992, a decision was made to create these. They've been designed by many different people, from architects and designers to artists, and range from stars and stripes to a lighthouse. I'd recommend walking from 14th Street all the way to South Pointe, then pick your favourite!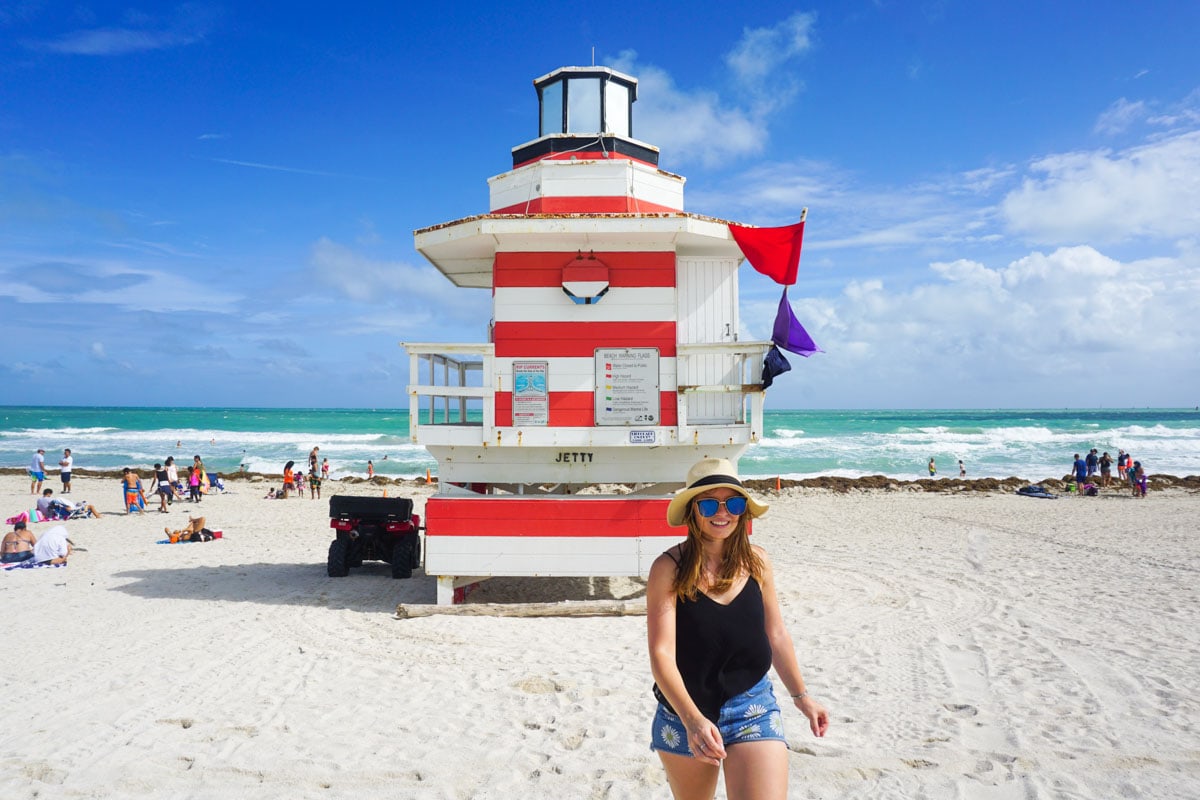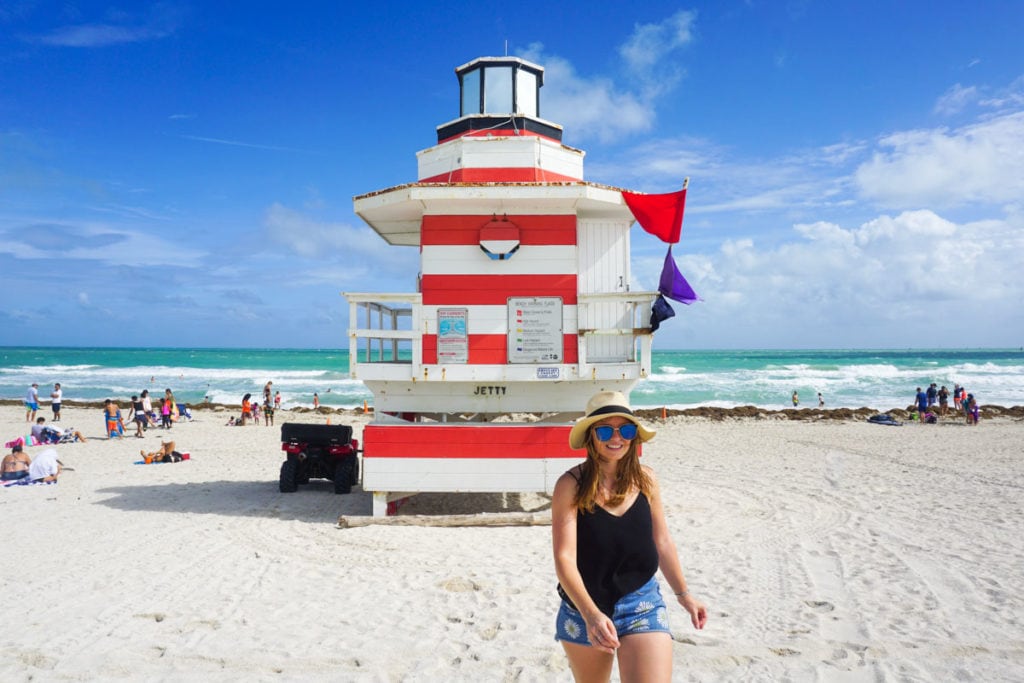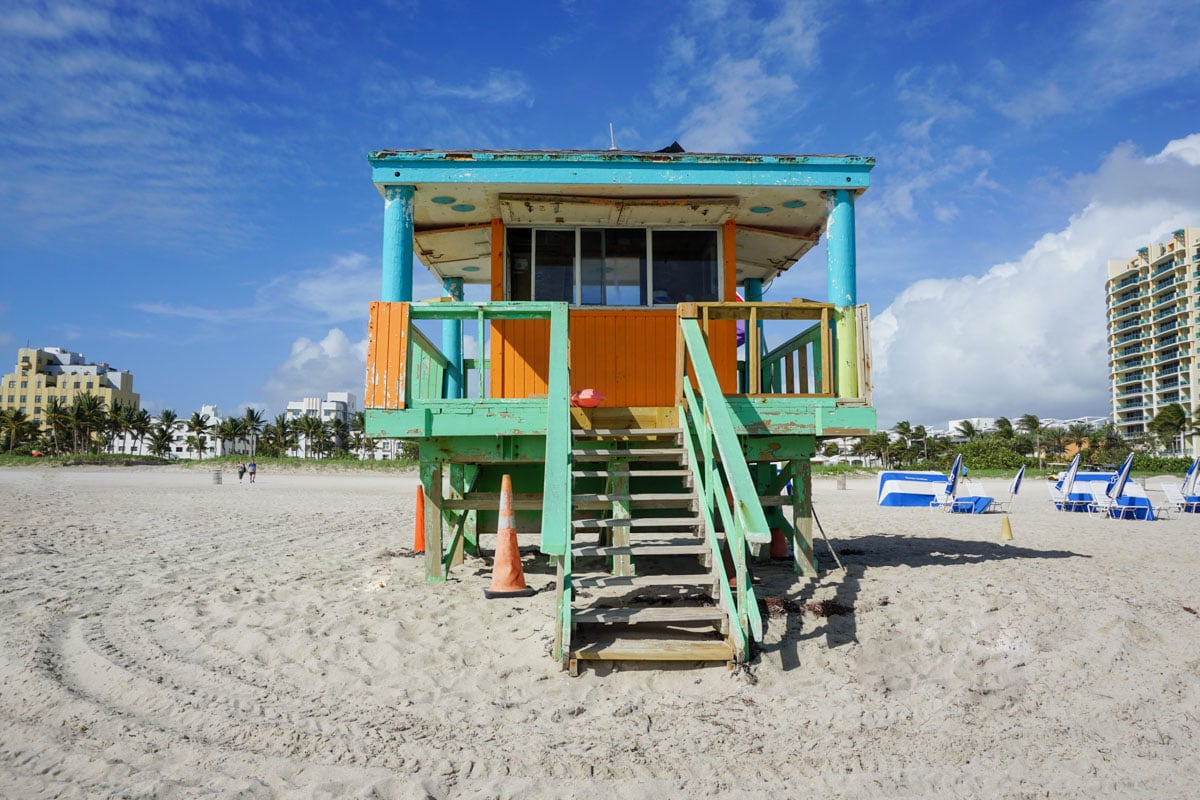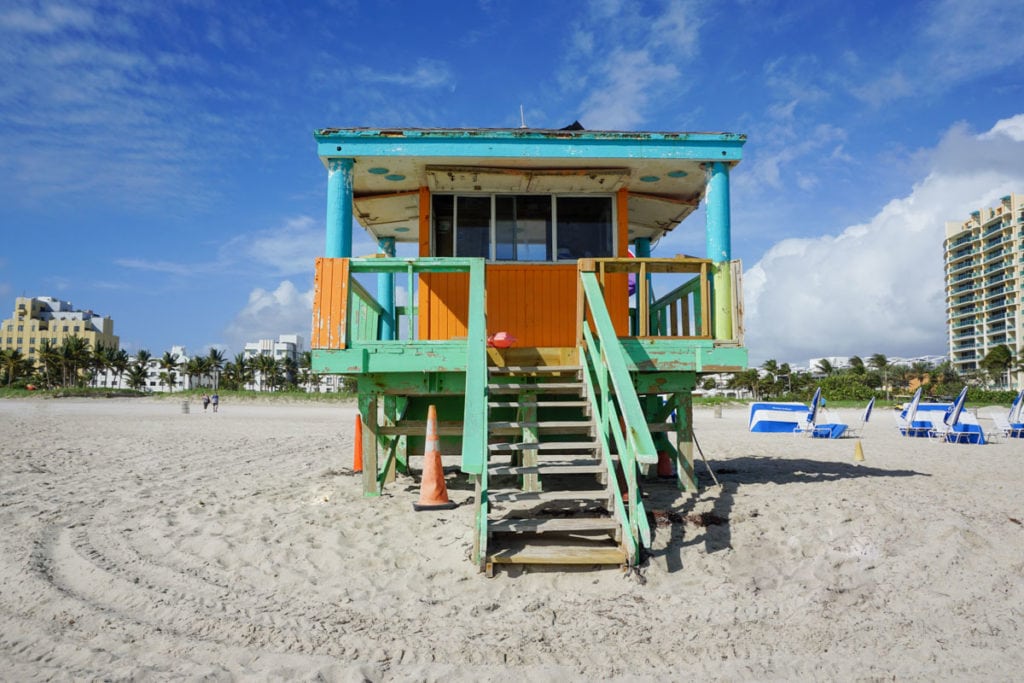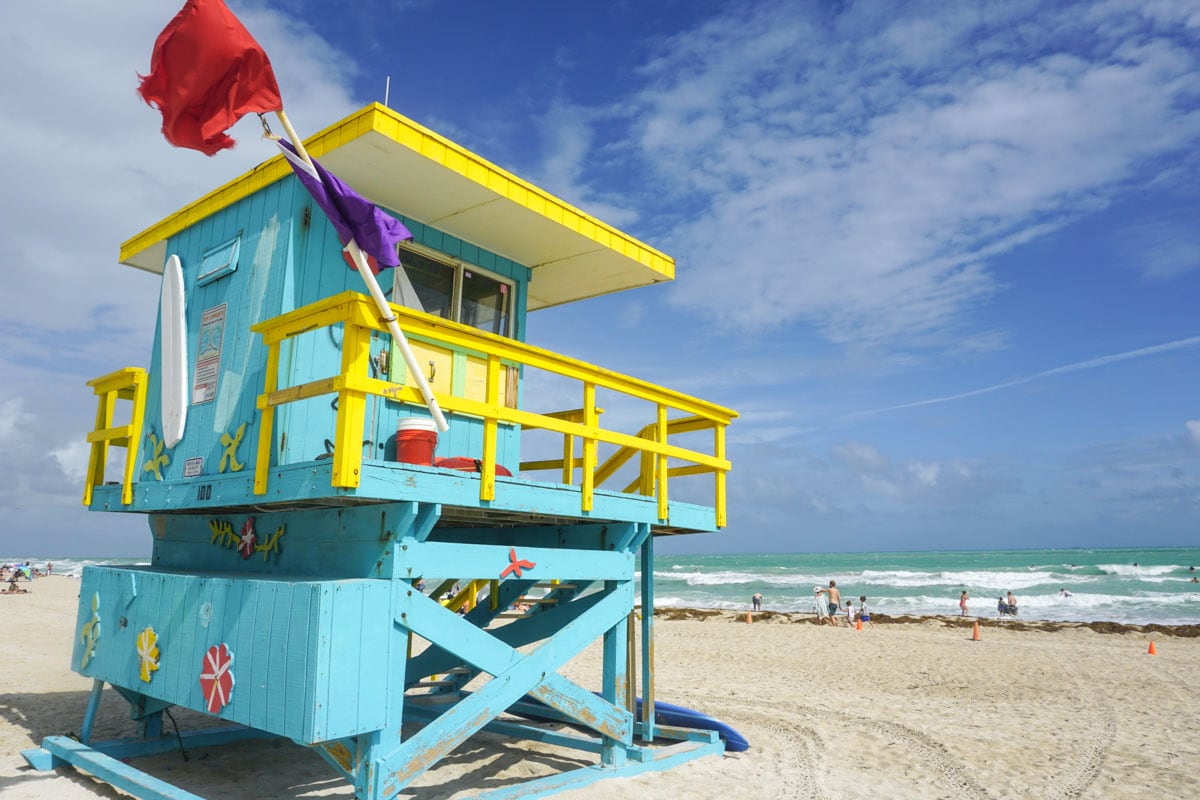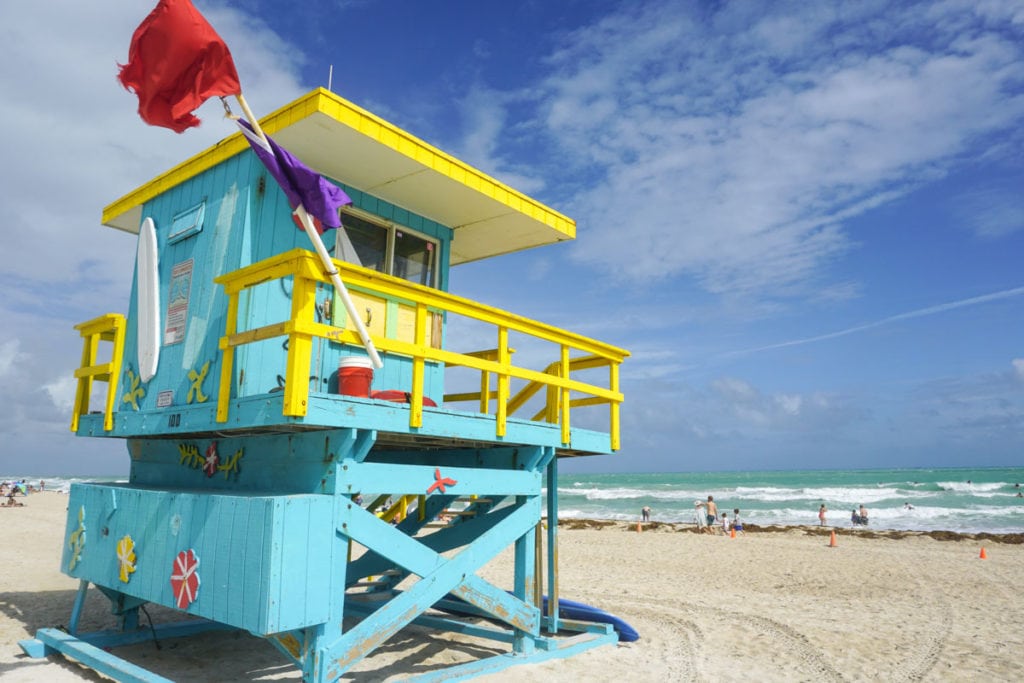 Where To Eat And Drink In Miami
A Fish Called Avalon – The best meal I had in Miami! Top quality seafood, right on Ocean Drive. This is the place to go for a special meal, with standout dishes including the scallops with artichoke puree, macadamia-crusted snapper with a raspberry beaujolais beurre blanc and crab crusted grouper. The key lime pie was excellent, and it's a perfect people-watching spot too.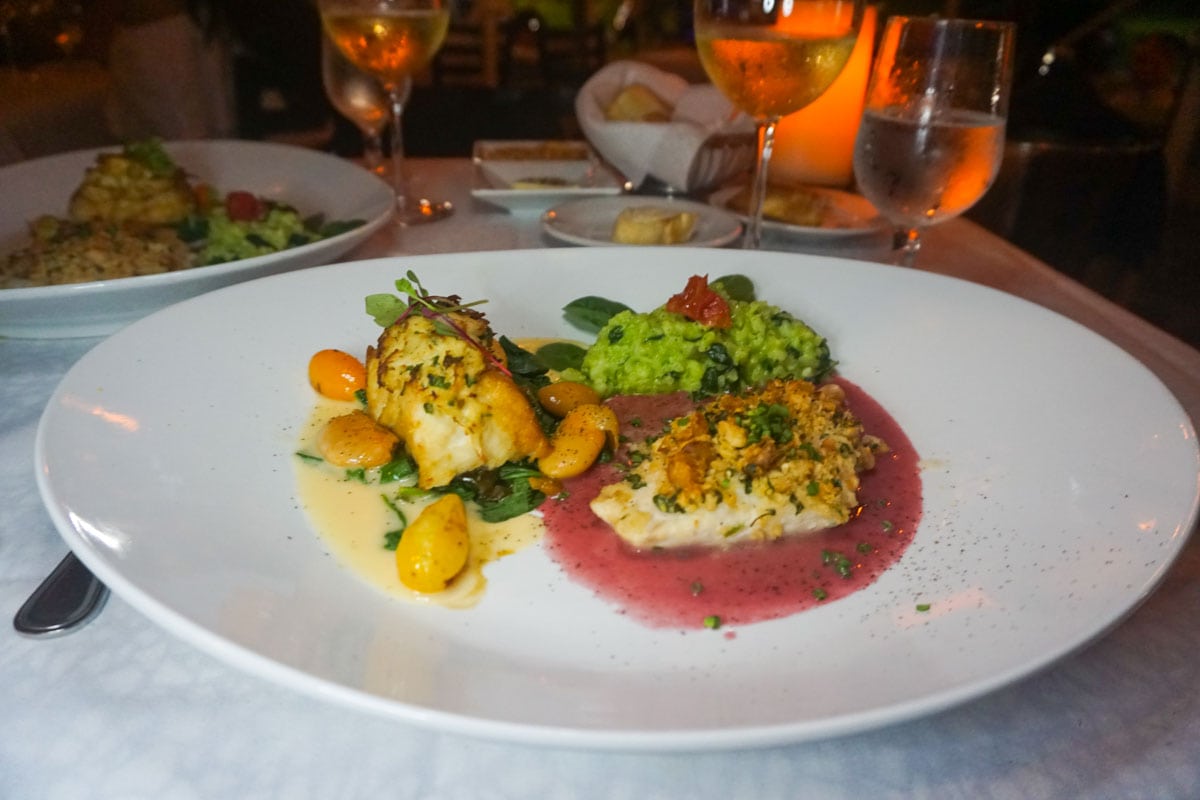 The Ball And Chain – Little Havana's funkiest bar, with great mojitos and live music throughout the day. You can't walk past without having a little boogie.
Blue Bottle Coffee – Miami Design District's hipster café (which originated in Oakland, California) is a great place to stop for an iced latte when the sun is shining!
Sugar Factory – This is the most fun, quirky, and colourful place to eat in Miami! From epic freakshakes topped with lollipops and candy floss, to rainbow burgers and huge desserts, it's an extravaganza – both visually and taste-wise! I love theatrical meals, and the cocktails were definitely that – with dry ice coming out as it was poured! While kids will love it here, grown ups will love it just as much, if not more!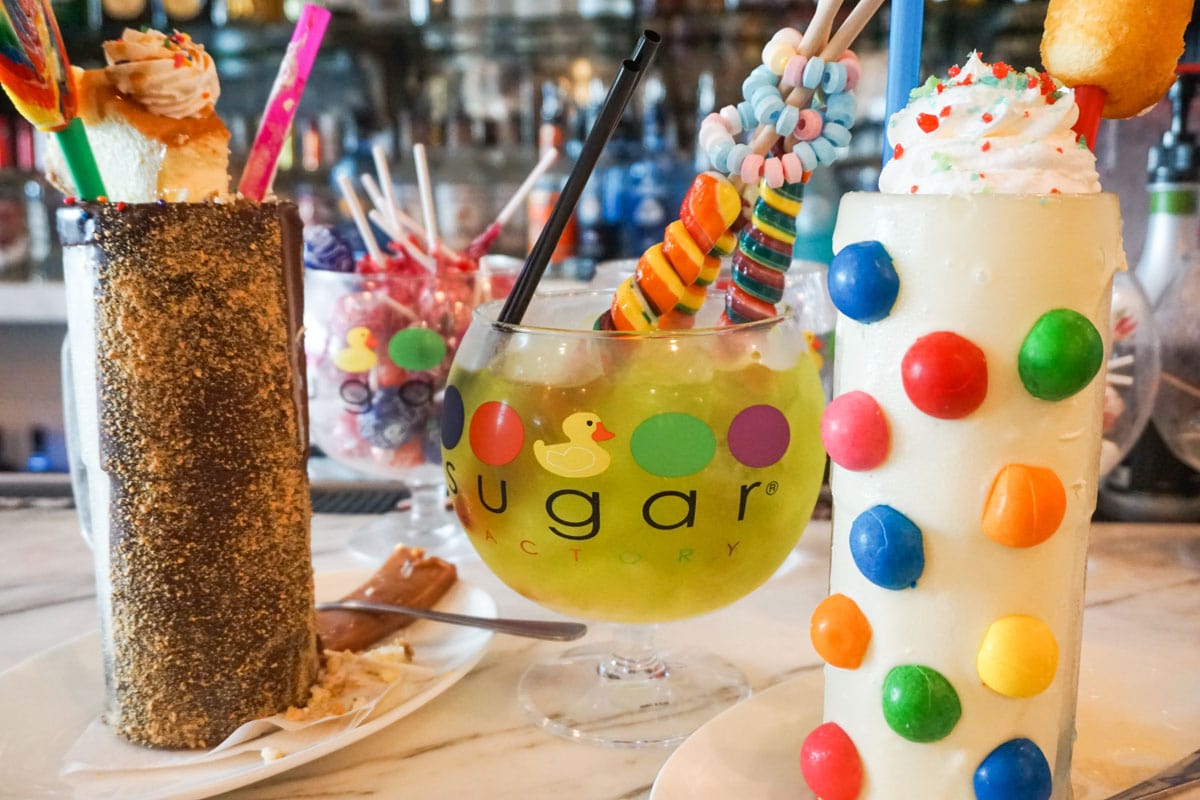 11th Street Diner – A silver retro diner right in Miami, serving all the classics (breakfasts, burgers, hot dogs, milkshakes) and open 24/7!
Bodega – This place may look like a fast-food taco store, but it's SO much more! Head through the graffitied door, past a bank of urinals (not in use thankfully!) and you'll end up in the cool back room bar at Bodega. I loved the speakeasy vibe, and the fact you can order tacos to accompany your cocktails!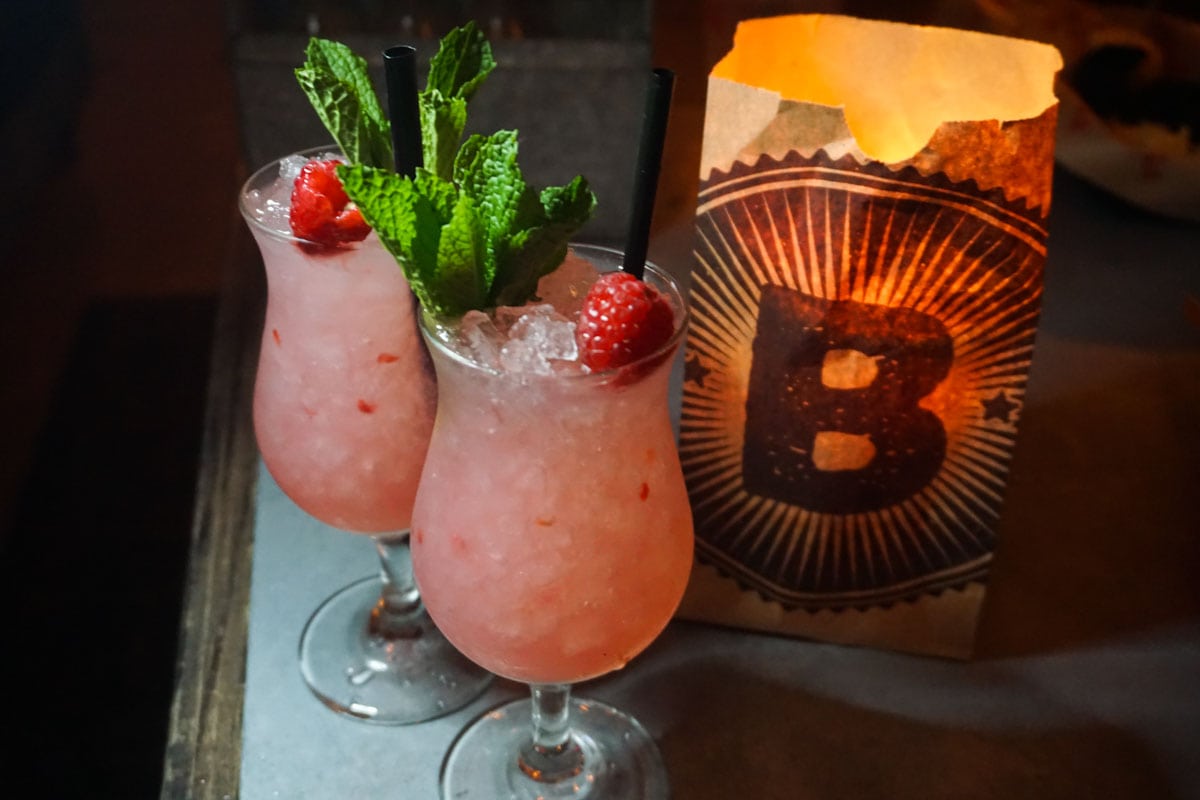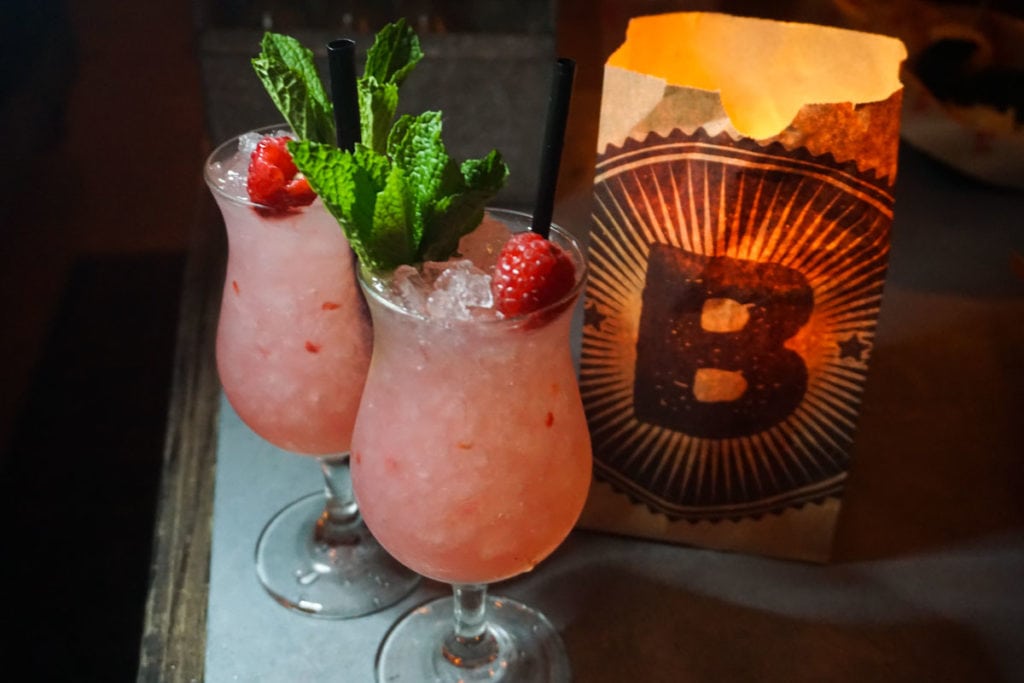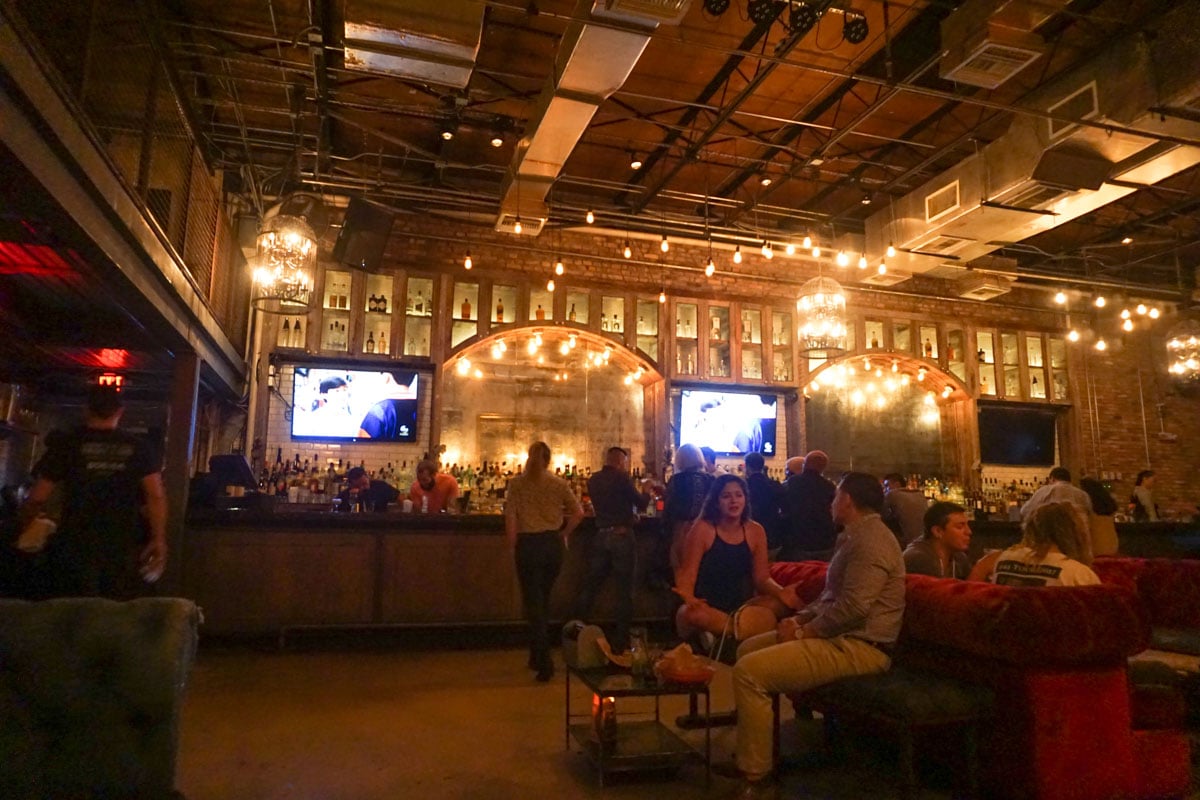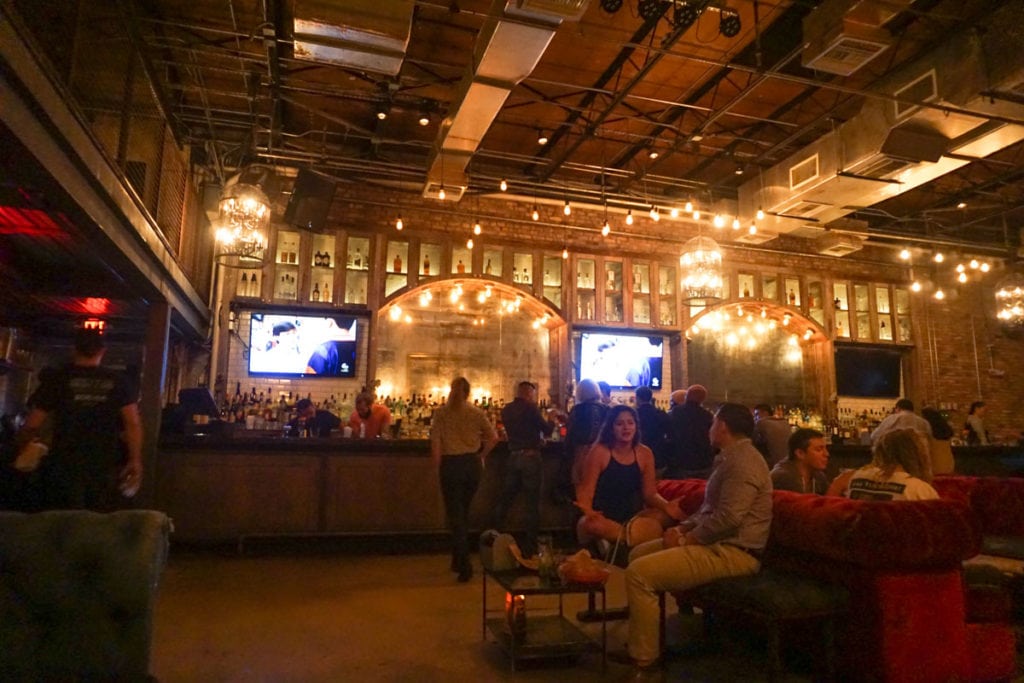 Ricky's – Arcade games, craft beer, cocktails, sports, and live music make Ricky's a super cool after work spot for a few drinks. I loved the relaxed vibe; it felt like a true locals joint. I was disappointed to miss their live band karaoke on a Monday though – but, hey it's a reason to return!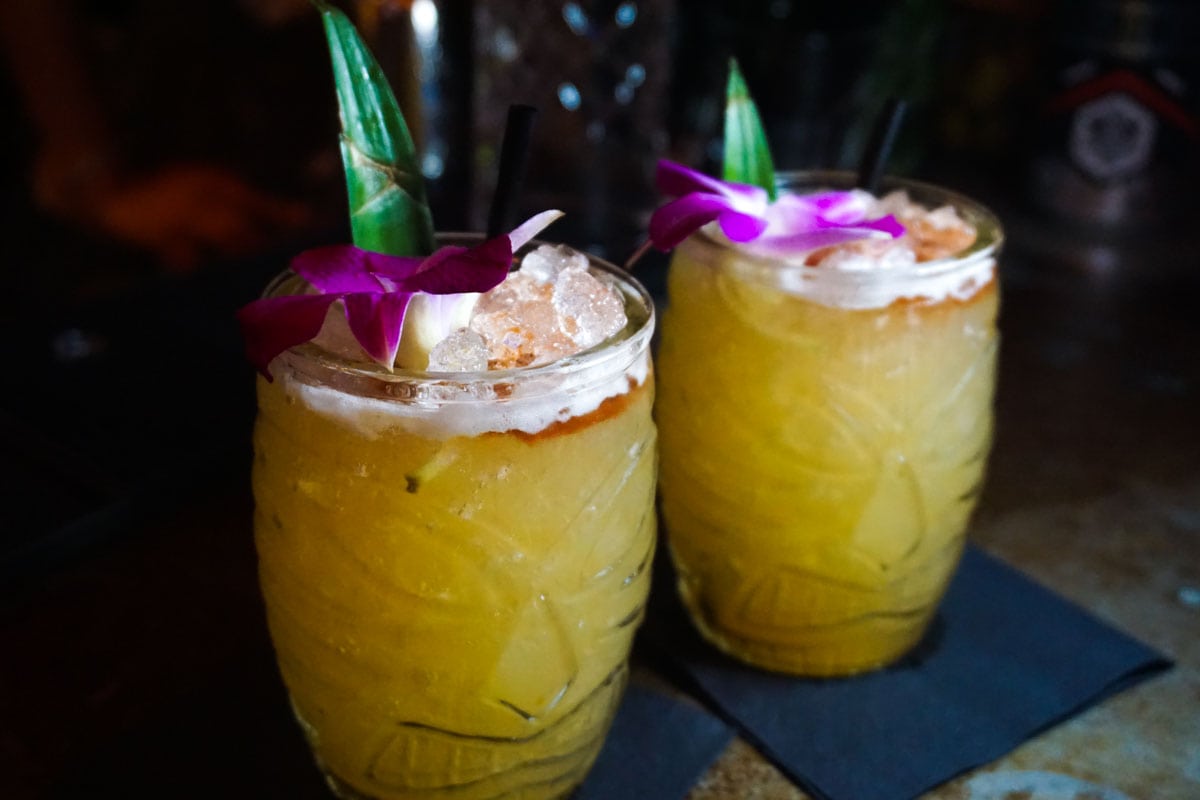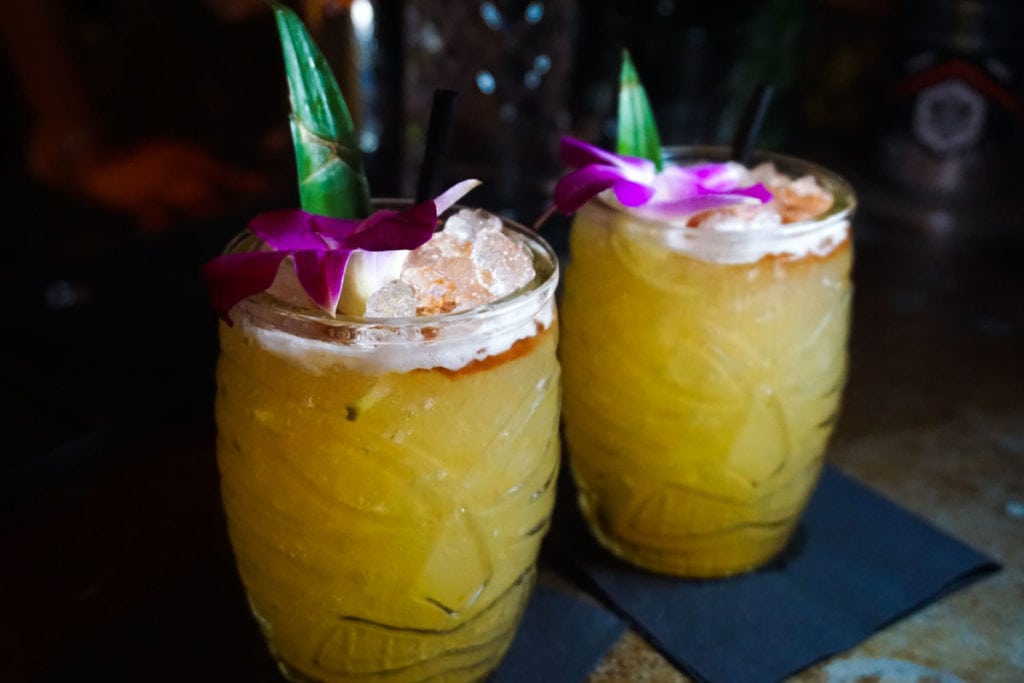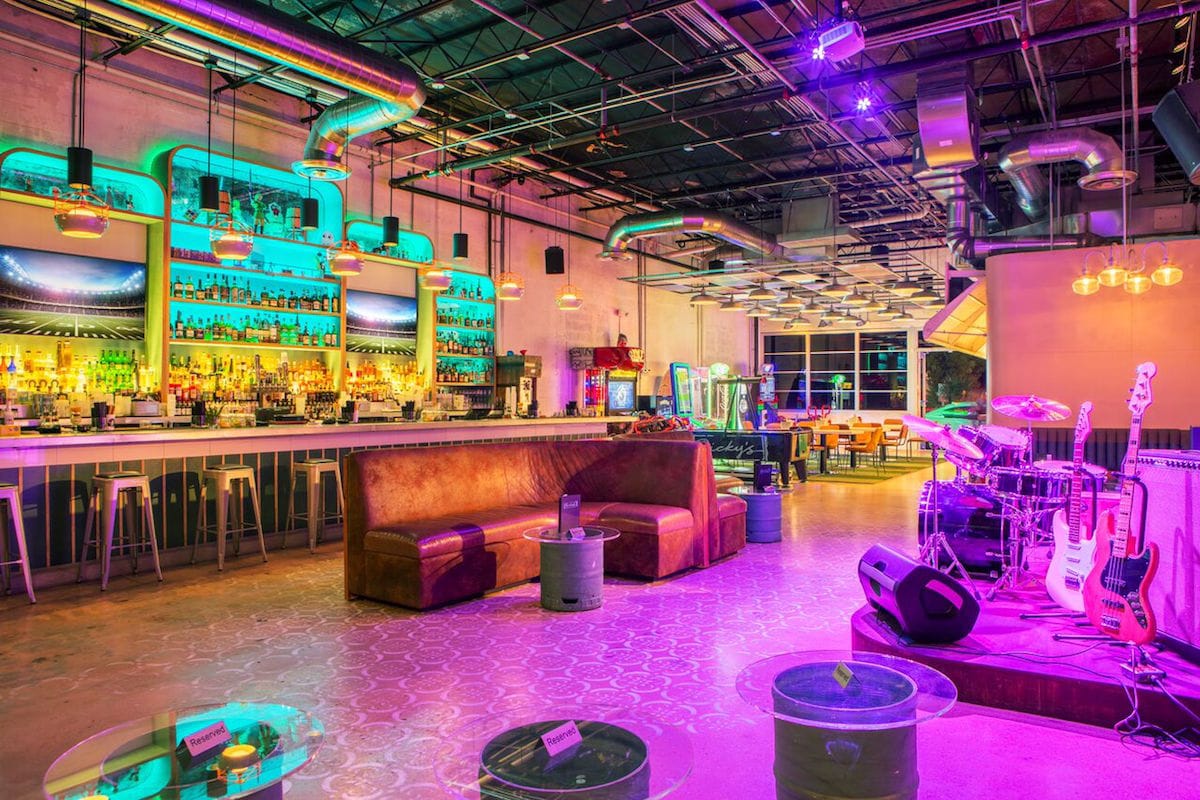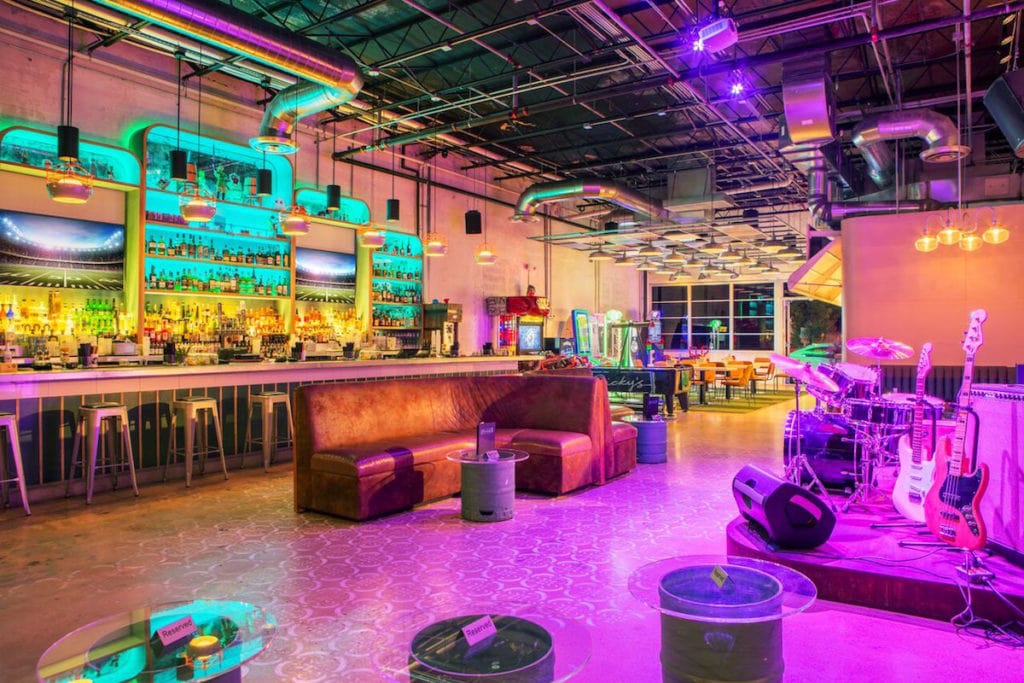 Pizza Rustica – Miami's own pizza chain is perfect if you want something filling, on a budget. A slice of their rectangular pizza pies were as big as my head…!
Coyo Taco – Mexican street food (AKA tacos!!) moments from the Wynwood Walls. What's not to love?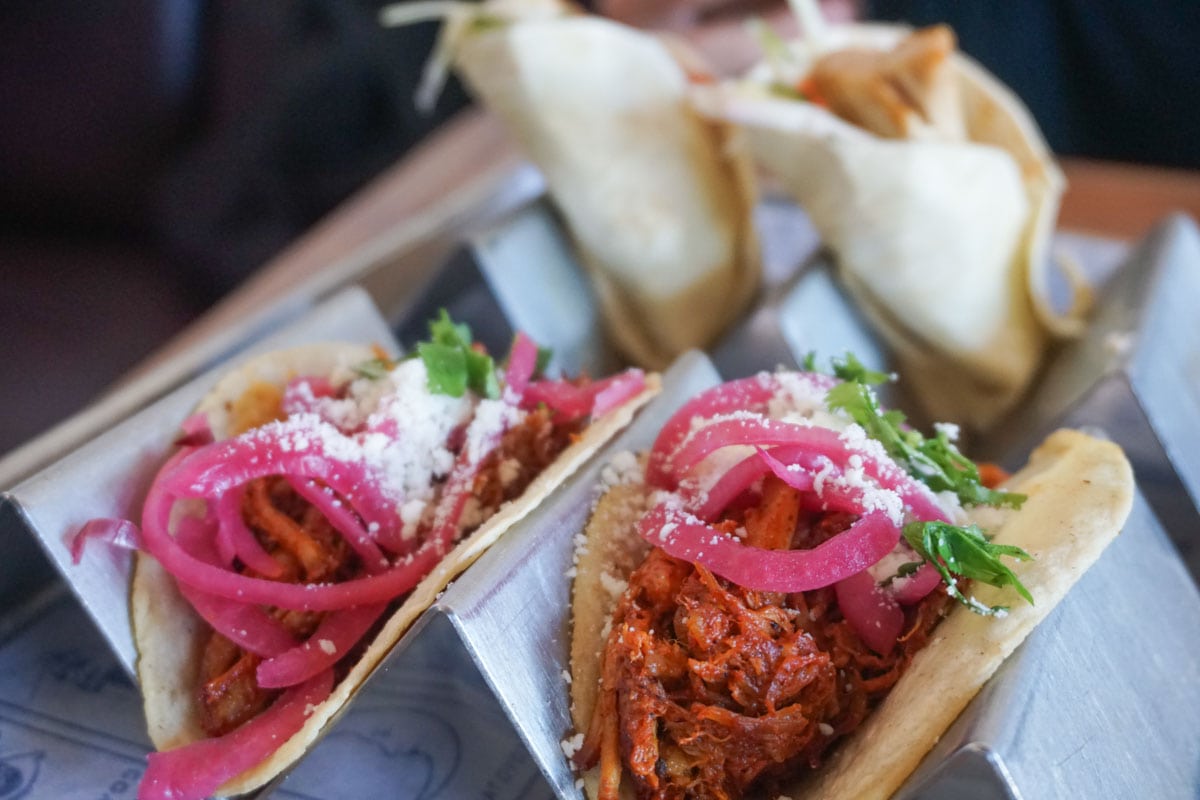 Mango's Tropical Café – A live show featuring singers and dancers, in a bar setting. Pop in for a drink and you'll stay for at least an hour. With a huge cocktail menu, fun servers and plenty of entertainment (both on and off stage) it's somewhere you have to visit during your trip!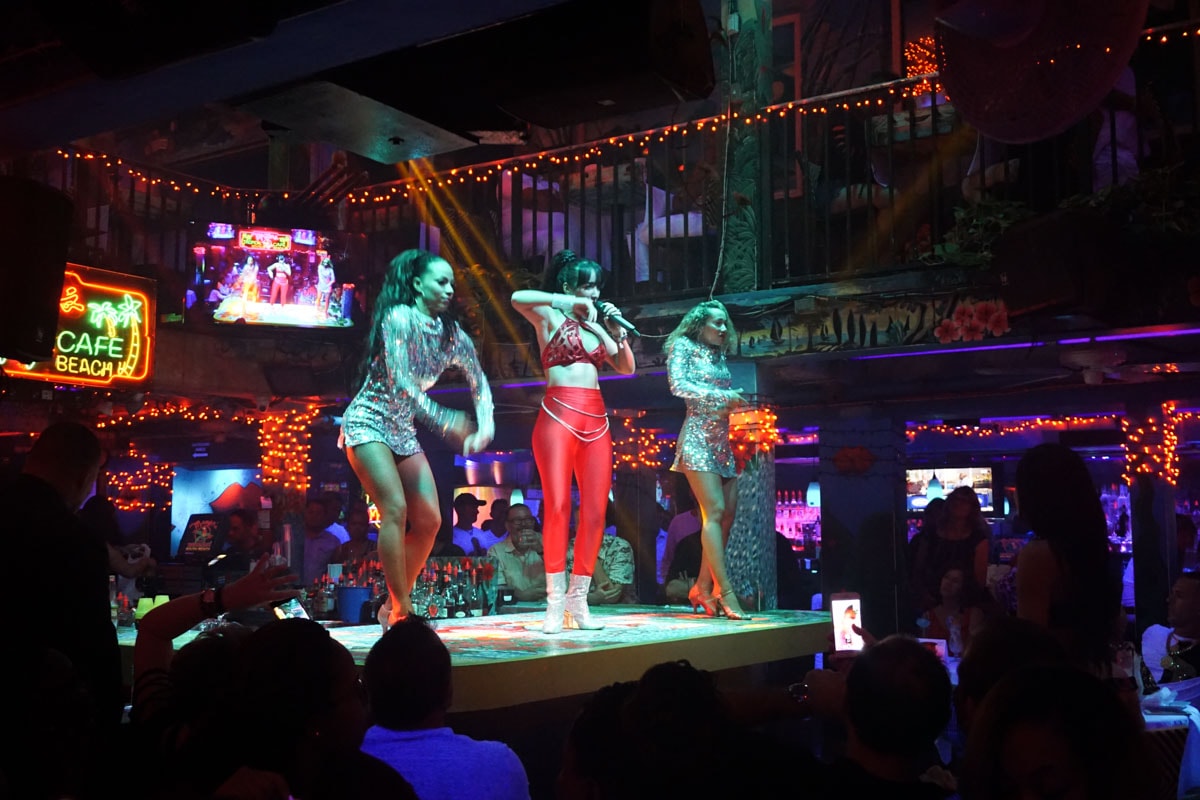 ---
Top Hotels In Miami For All Budgets
If you're looking for some amazing and memorable places to stay in Miami, don't miss my guide to the most unique hotels in Florida. There are lots of great picks that are in South Beach and the Miami region.
Miami – Luxury Hotels
Four Seasons Hotel Miami – Pure luxury, for those who want a seriously indulgent stay in Miami! Located opposite Biscayne Bay, this hotel has one of the most beautiful pool areas of all the hotels in Miami, plus a great spa and restaurant. It's a short drive to the beach. Rooms start around £380. Check current prices here.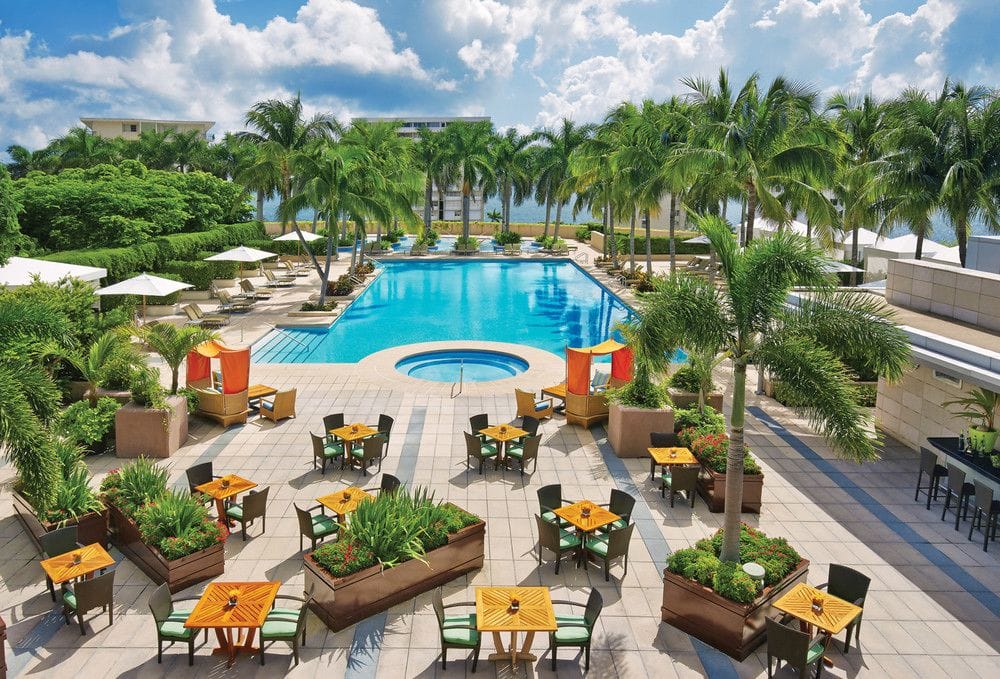 Mandarin Oriental, Miami – Another top luxury hotel in Miami, the Mandarin Oriental is located on Brickell Key Island offers luxurious spa services. There's a beautiful infinity pool, spa, butler service and top Peruvian resraurant La Mar. Rooms start around £340. Check current prices here.
Mondrian South Beach – For a different view of the city, the Mondrian is located on the waterfront of Biscayne Bay. There's a stunning pool area with hammocks and a cocktail bar. Meanwhile inside has a playful vibe and is said to play homage to "Sleeping Beauty's Castle" complete with a kooky floating staircase. Rooms start around £160, so it's much more reasonable than some of the super-lux hotels in Miami. Check current prices here.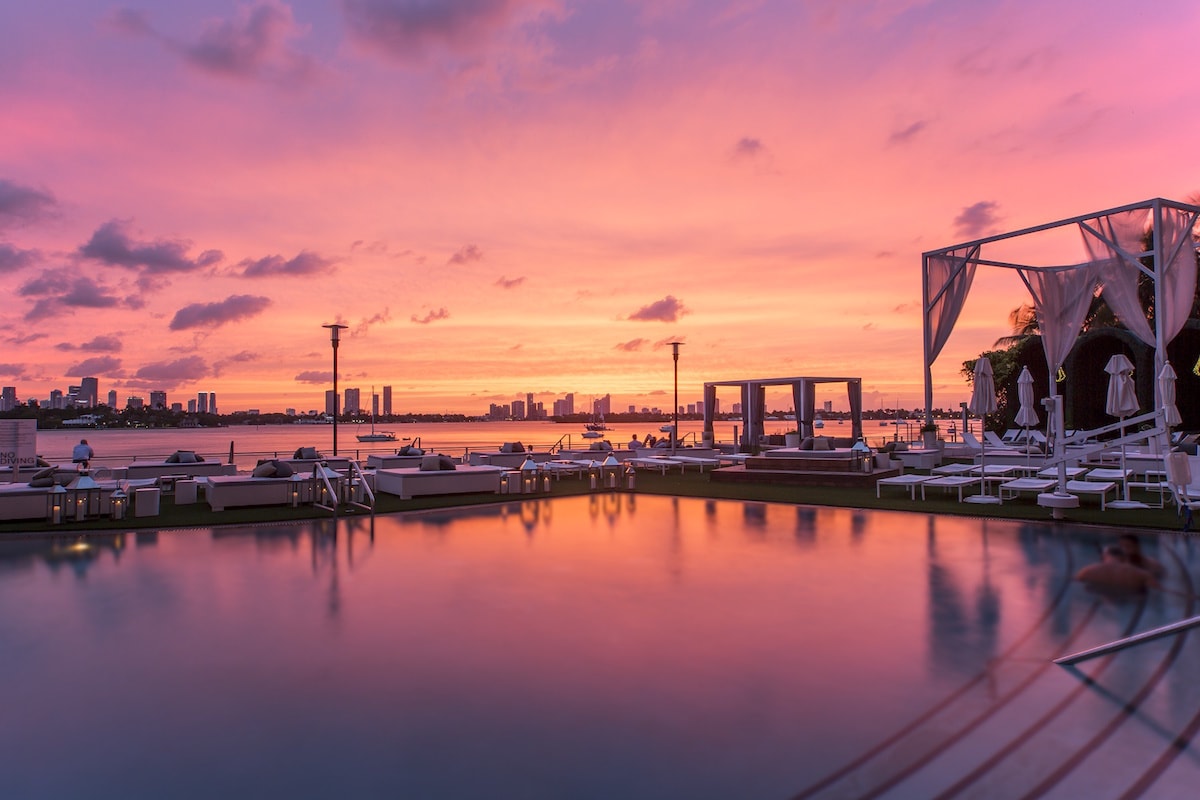 Miami – Mid-Range Hotels
The Leslie Hotel – An Art Deco wonder, The Leslie is one of Miami's cutest hotels and one of the most unique hotels in Florida. A vision in yellow, it's located right on Ocean Drive. A big selling point is its rooftop pool and Jacuzzi – a sanctuary from the crowds below. Rooms start aroudn £130. Read more about my stay at The Leslie Hotel or check prices here.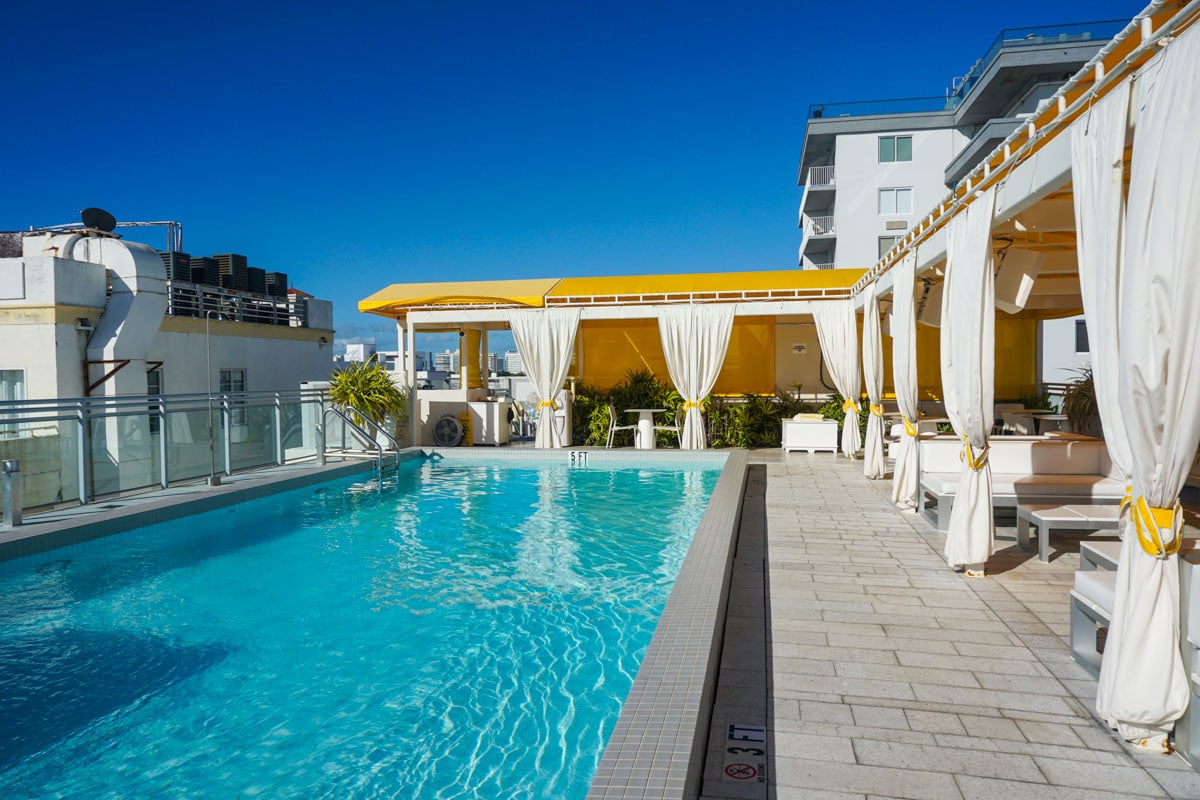 The Shepley Hotel – Another boutique Art Deco hotel on Collins Avenue, this hotel offers large stylish rooms, a comfortable lounge area and a veranda where breakfast is served. A perfect location if you like being close to the action without having the crowds of Ocean Drive. Rooms start around £100. Read more about my stay at The Shepley Hotel or check prices here.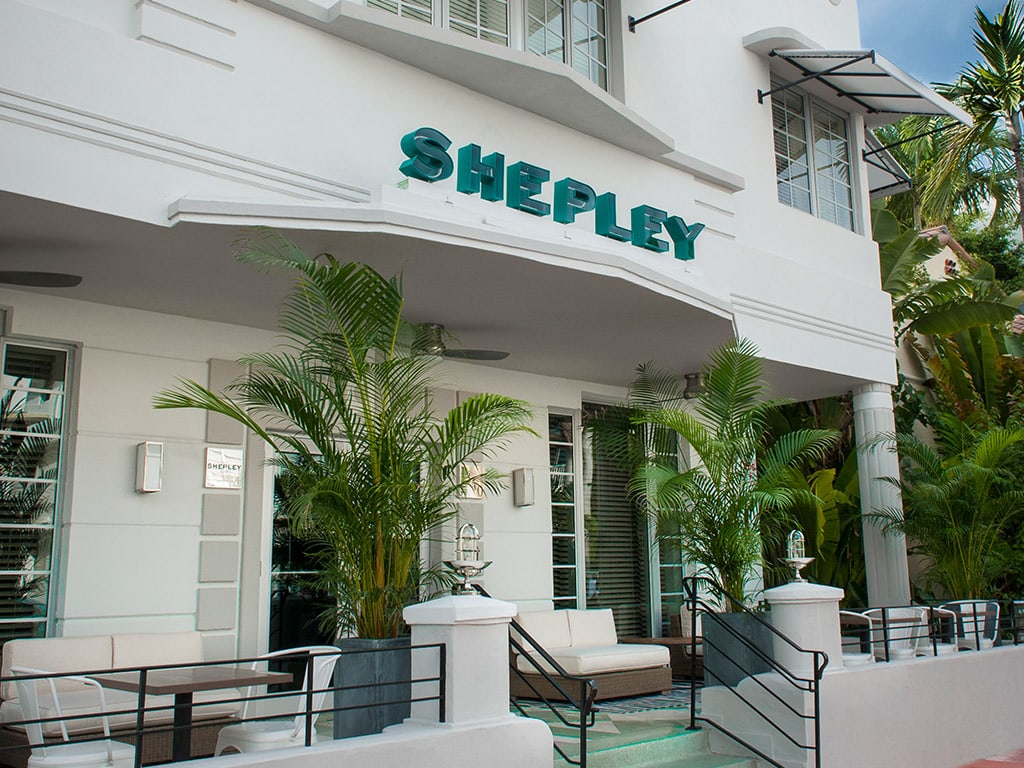 YVE Hotel Miami – By Bayside Marketplace and Bayfront Park, this smart hotel is in midtown, and a great option if you want to be near the action, but don't want to pay top dollar. As it's a high-rise hotel, the higher views have incredible views. It's only a short drive to South Beach, the port for the cruise ships and Wynwood. Rooms start around £130. Check current prices here.
Circa 39 Miami Beach – This boutique hotel is a stone's throw from the beach, in the mid-beach area. Décor and design are taken seriously, and there's a bit of a traveller theme throughout, with old posters and retro furniture. There's a great pool area too. Rooms start around £140. Check current prices here.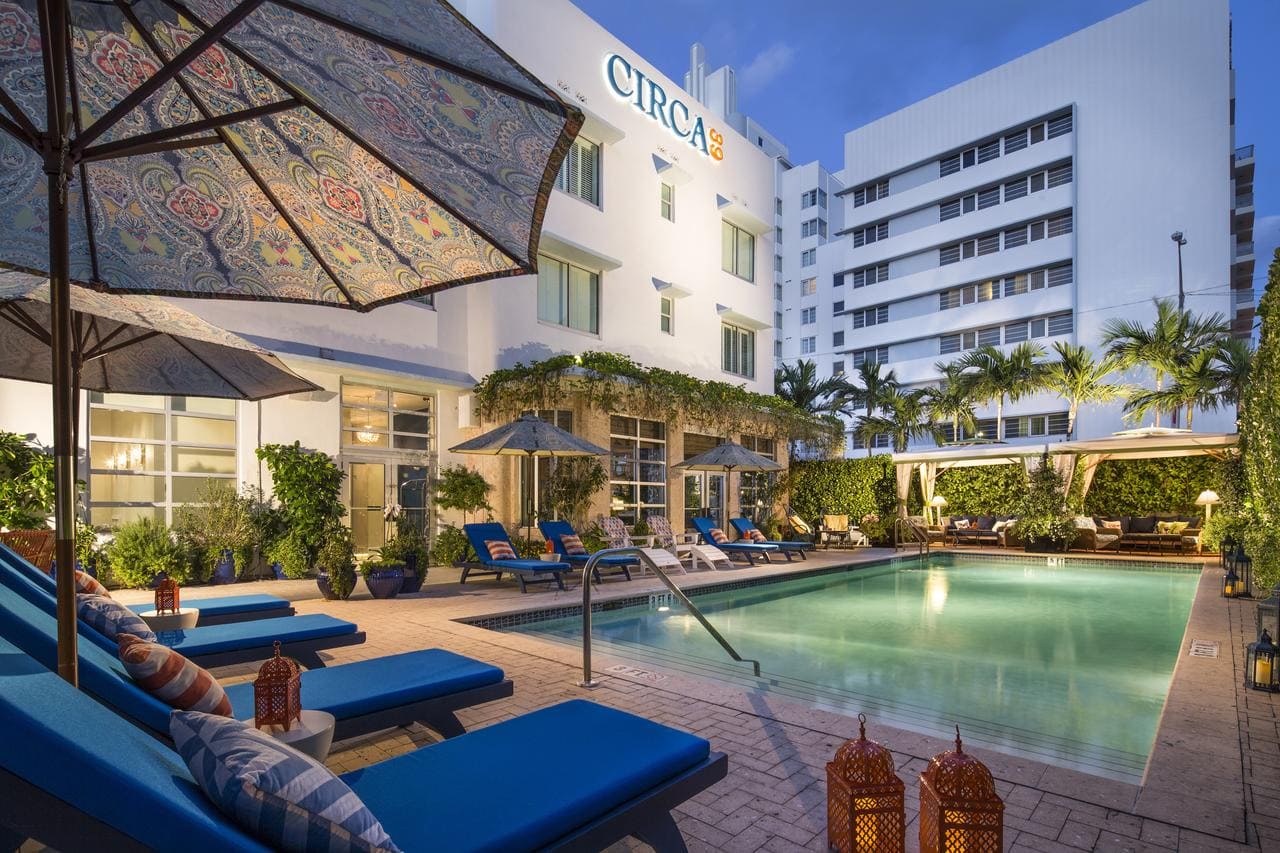 The Vagabond Hotel Miami – Super trendy décor and a great pool make this an appealing option, especially as rooms aren't too pricey. If you're looking to stay near the beach then this isn't the place for you, but if you want a base for seeing different parts of the city, it's perfect. Rooms start around £127. Check current prices here.
Miami – Budget Accommodation
Posh South Beach – This South Beach hostel is located in a boutique loft on Collins Avenue. Forget what you think about hostels – this one is super smart and has its own rooftop pool. It's in a great spot, moments from the beach, shops, bars and restaurants. They also offer a free airport shuttle. When I checked, it was £35 for a bed in a dorm. Check current prices here.
Freehand Miami – Located in the mid-beach area, Freehand Miami is a funky hostel/hotel with communal spaces, a big courtyard, popular bar The Broken Shaker and a pool. If you want to meet people, it's a great option, as it has a social vibe. It's budget-friendly too, with a bed in a dorm starting at £24. Private rooms will set you back over £100. Check current prices here.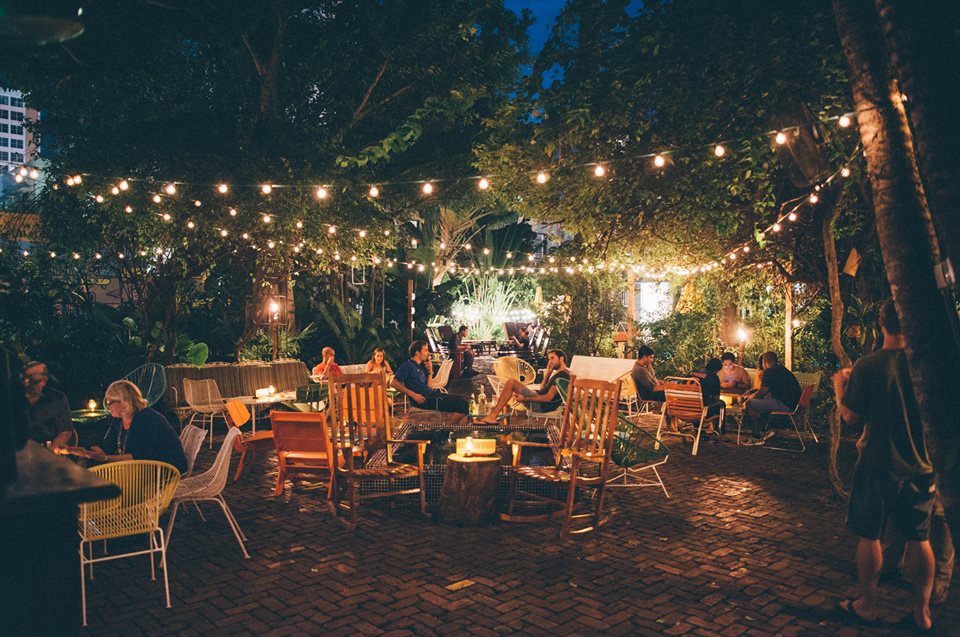 Thanks to KLM for flying me to Miami for their #KLMTop10! As always opinions are 100% my own.
---
If you're looking for information to make the most of your time in the Sunshine State, don't miss my Florida travel guides:
Enjoyed this post? Why not pin it for later?