Looking for unique hotels in Florida? From ranches and Victorian mansions to Art Deco palaces, these are Florida's most unusual hotels.
I've had lots of amazing trips to Florida over the years! I spent weeks exploring the beautiful beaches of Miami and getting to know the vibrant communities in Fort Myers and Sanibel. I've screamed my way around the lively theme parks in Orlando, swum with manatees in Crystal River and eaten my way around Tampa's best restaurants.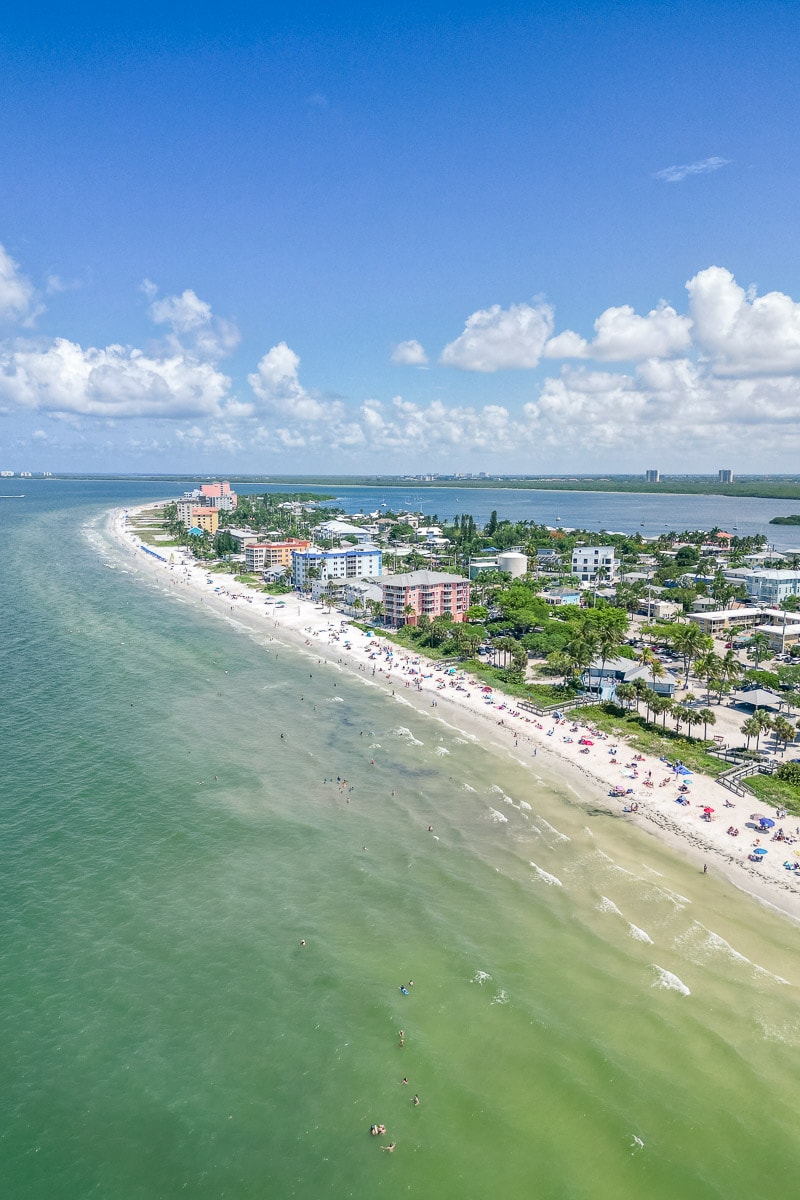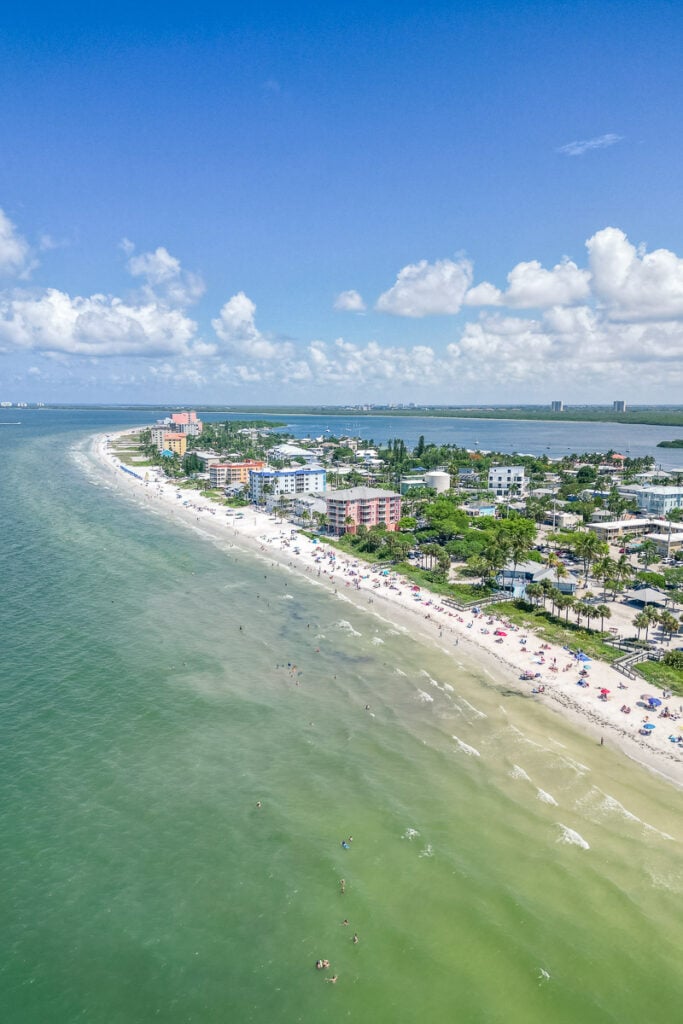 I fell in love with places such as St Petersburg, with its colourful murals and exciting culture, and ventured off the beaten track in Martin County. It's a state that offers so much and continually keeps me coming back for more!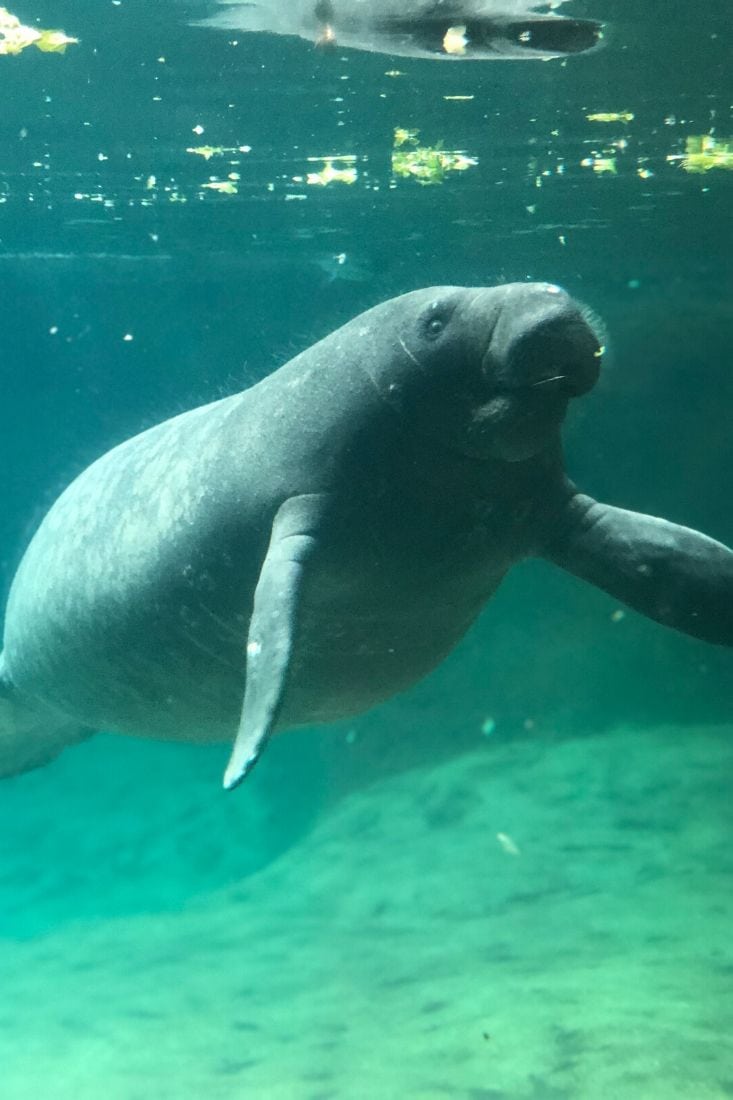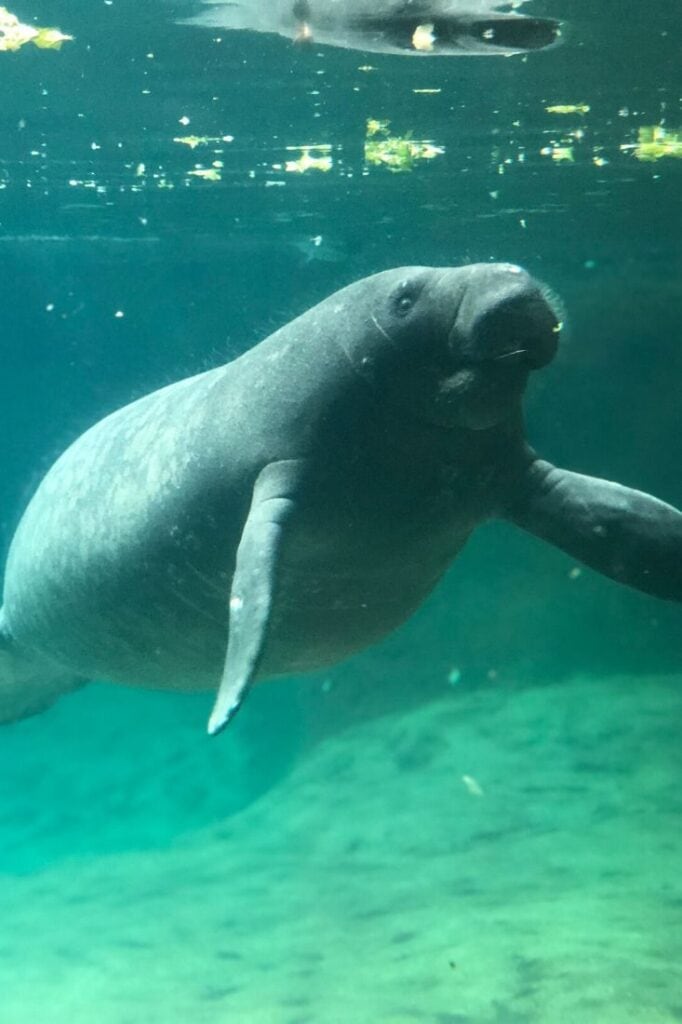 There's are plenty of reasons why millions of holidaymakers flock to Florida each year, with some of the most popular spots being Universal Studios, Disneyland, Miami and the Florida Keys.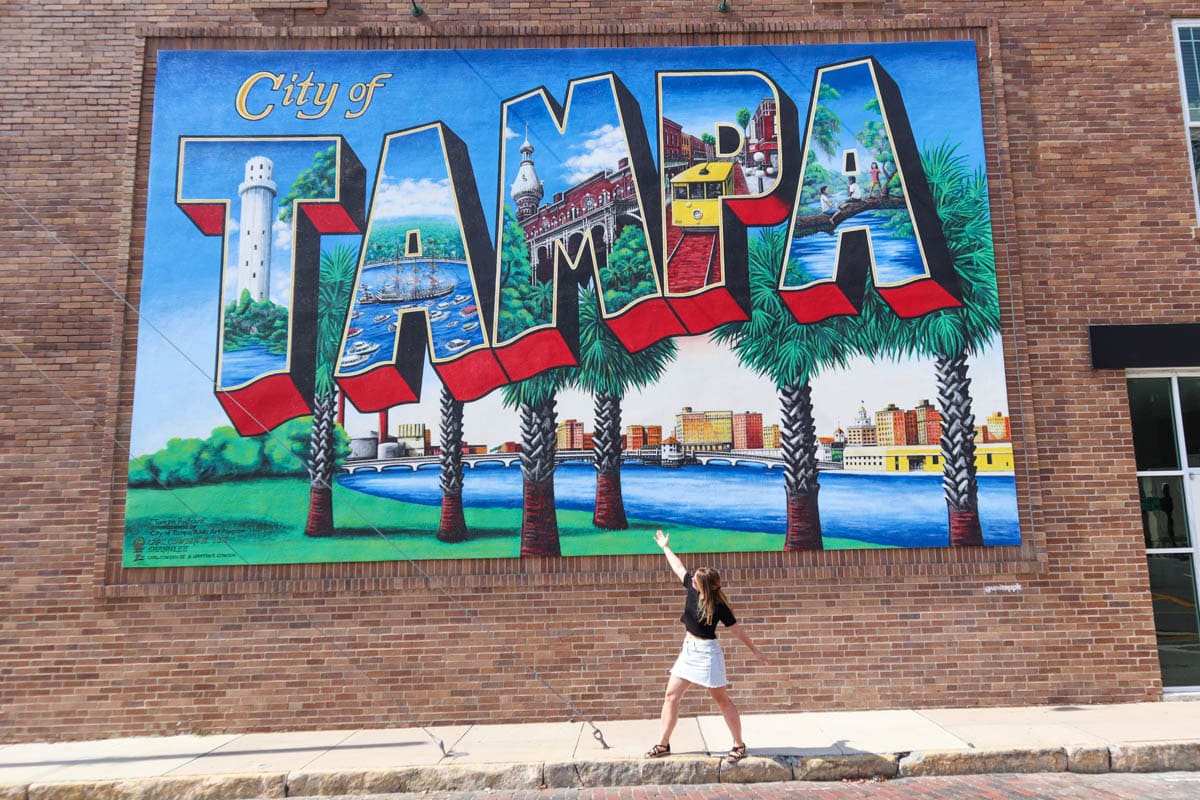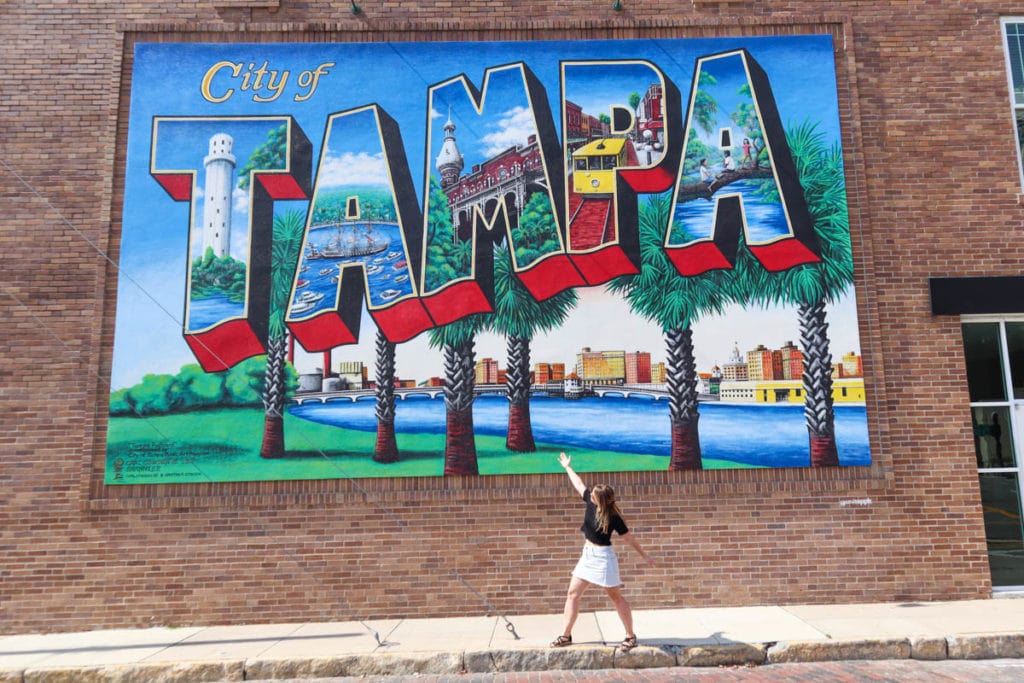 Whether you're looking to relax by a beautiful white-sand beach or experience the famous nightlife, this state has you covered. And for those adrenaline junkies, Florida is also full of theme parks, water activities, and adventure sports.
Florida has lots of great hotels (from budget to luxury) but sometimes it's fun to try out something a little different! In this guide I'm going to share some of the most unique hotels in Florida.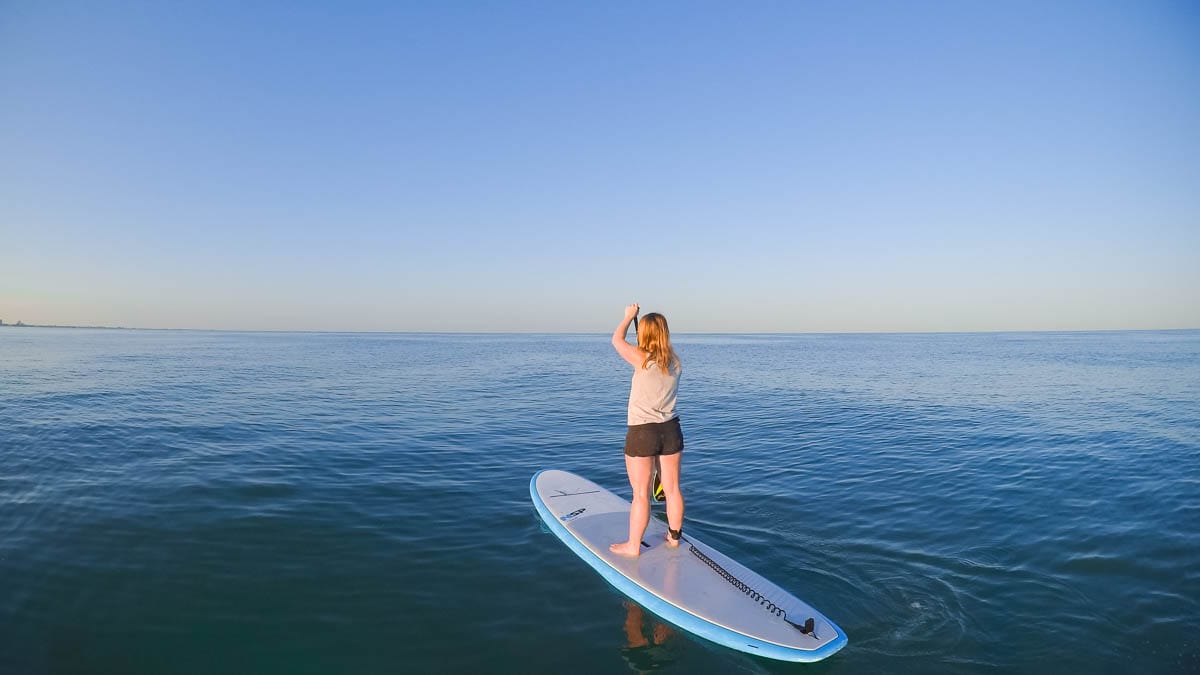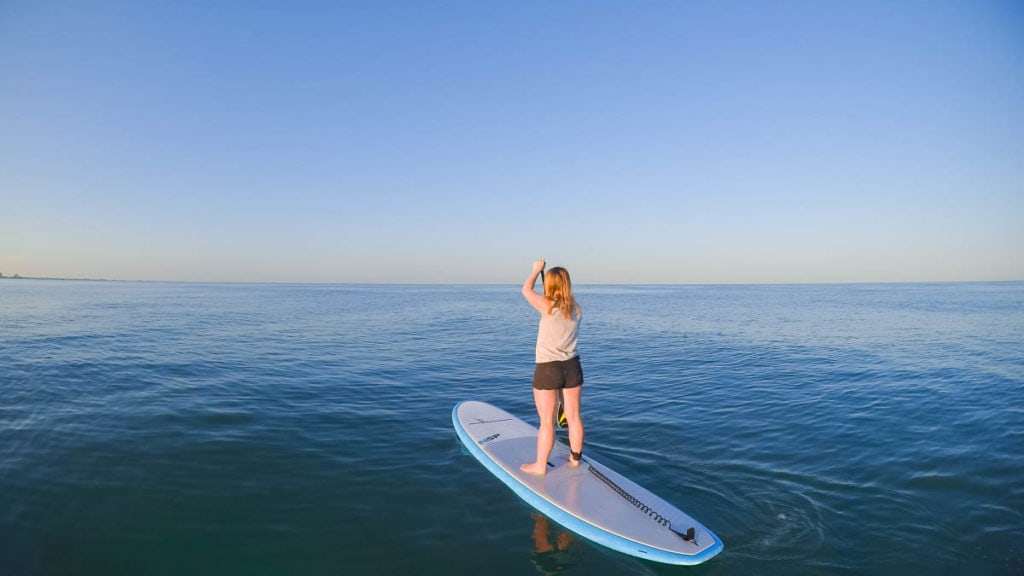 Whether you see yourself in a Wild West ranch style resort, accommodation with music at its heart, or a powder pink Art Deco masterpiece, these unusual hotels in Florida will definitely get you excited for your trip!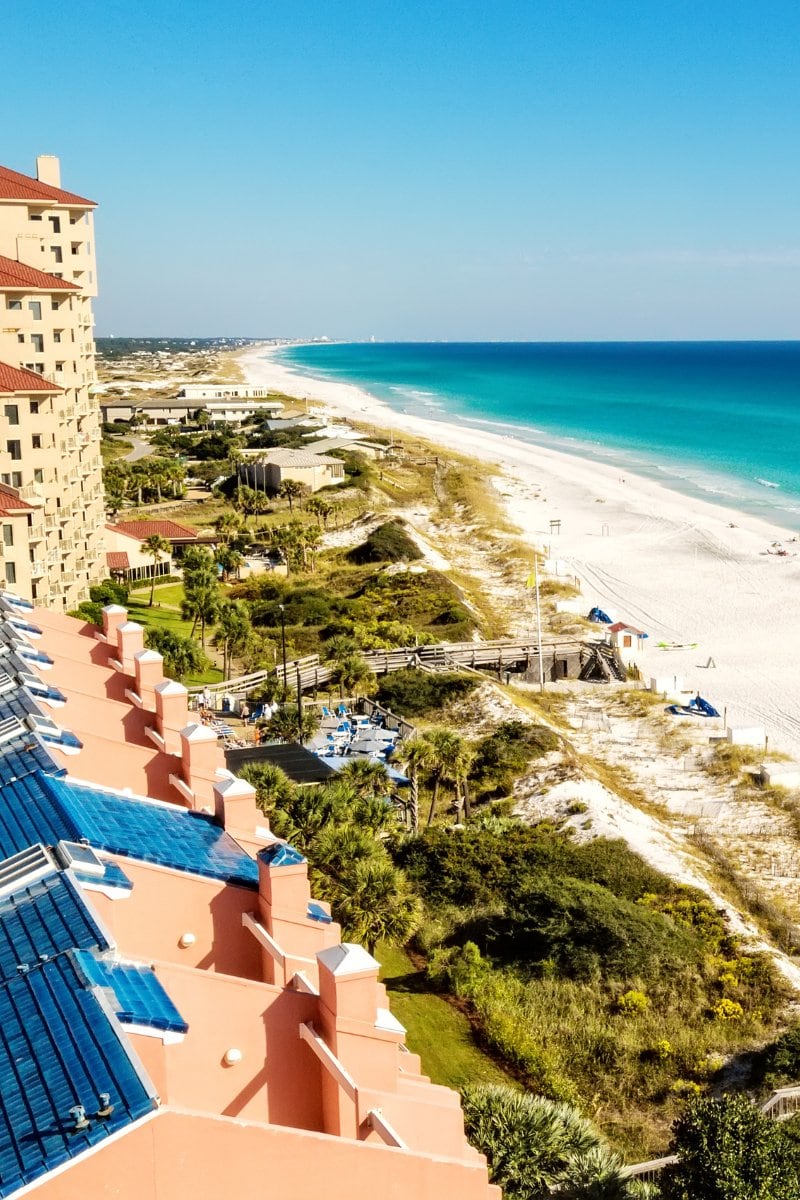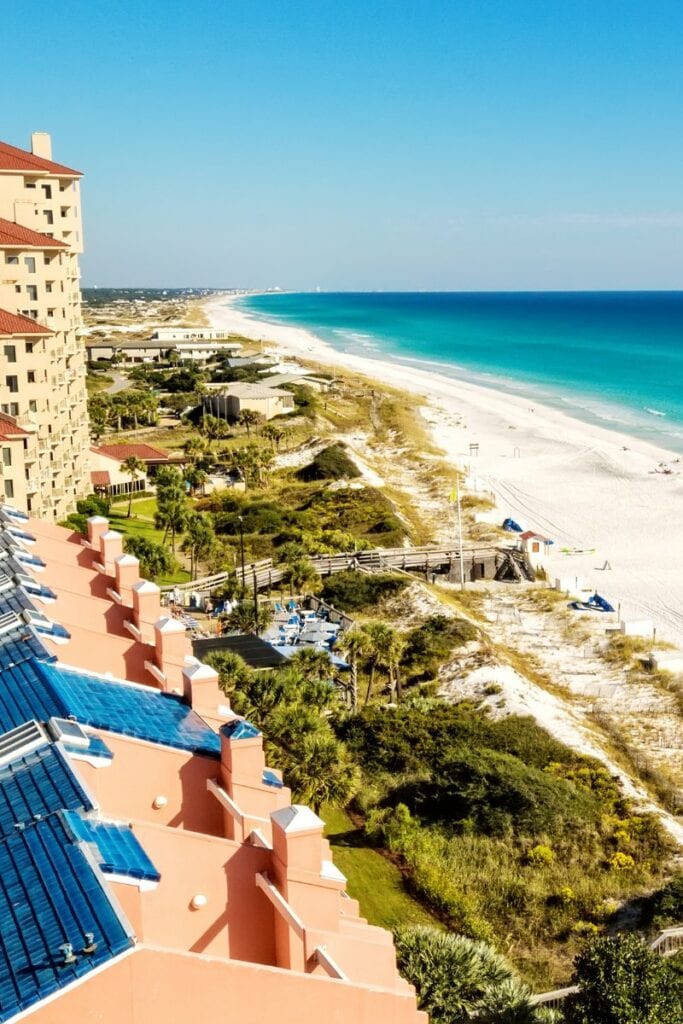 ---
17 Cool And Unique Hotels in Florida
The Don Cesar is an opulent 'pink palace' in St Pete Beach, surrounded by white sandy beaches. It's one of the most iconic hotels in Florida – when you see it, you'll understand exactly what I mean! This is one of my favourite regions of Florida, with the vibrant murals and restaurants of St Petersburg and the natural wonders of places like Fort De Soto all close by.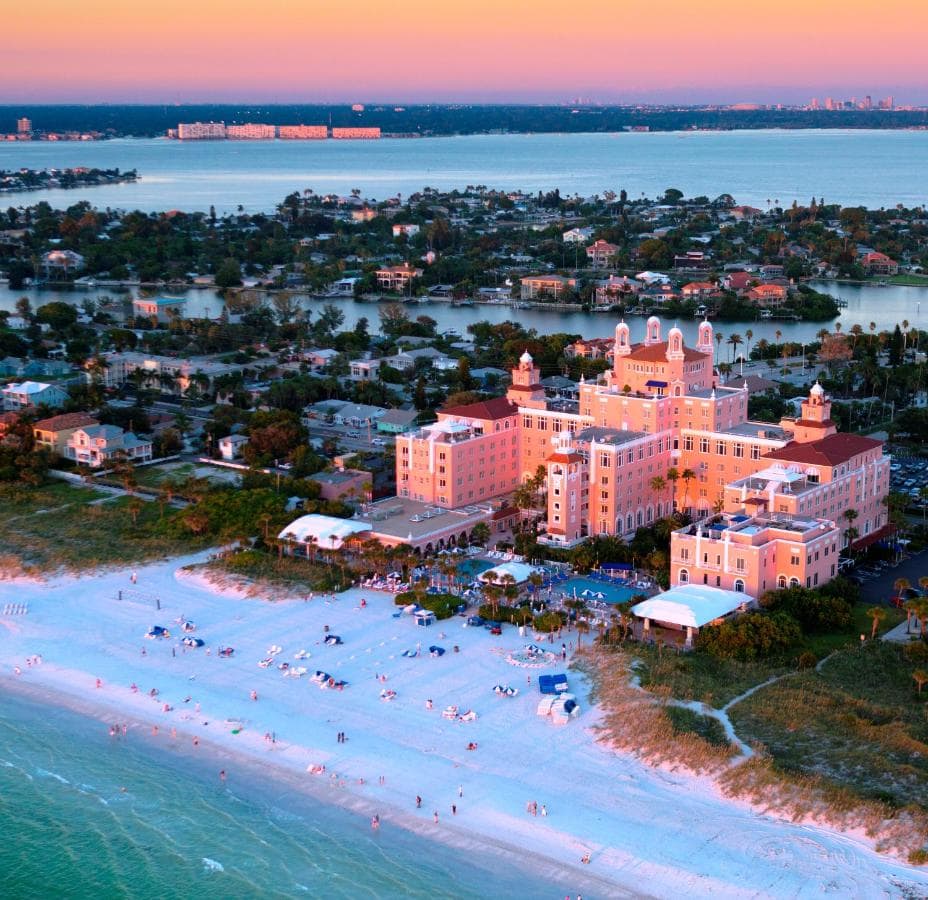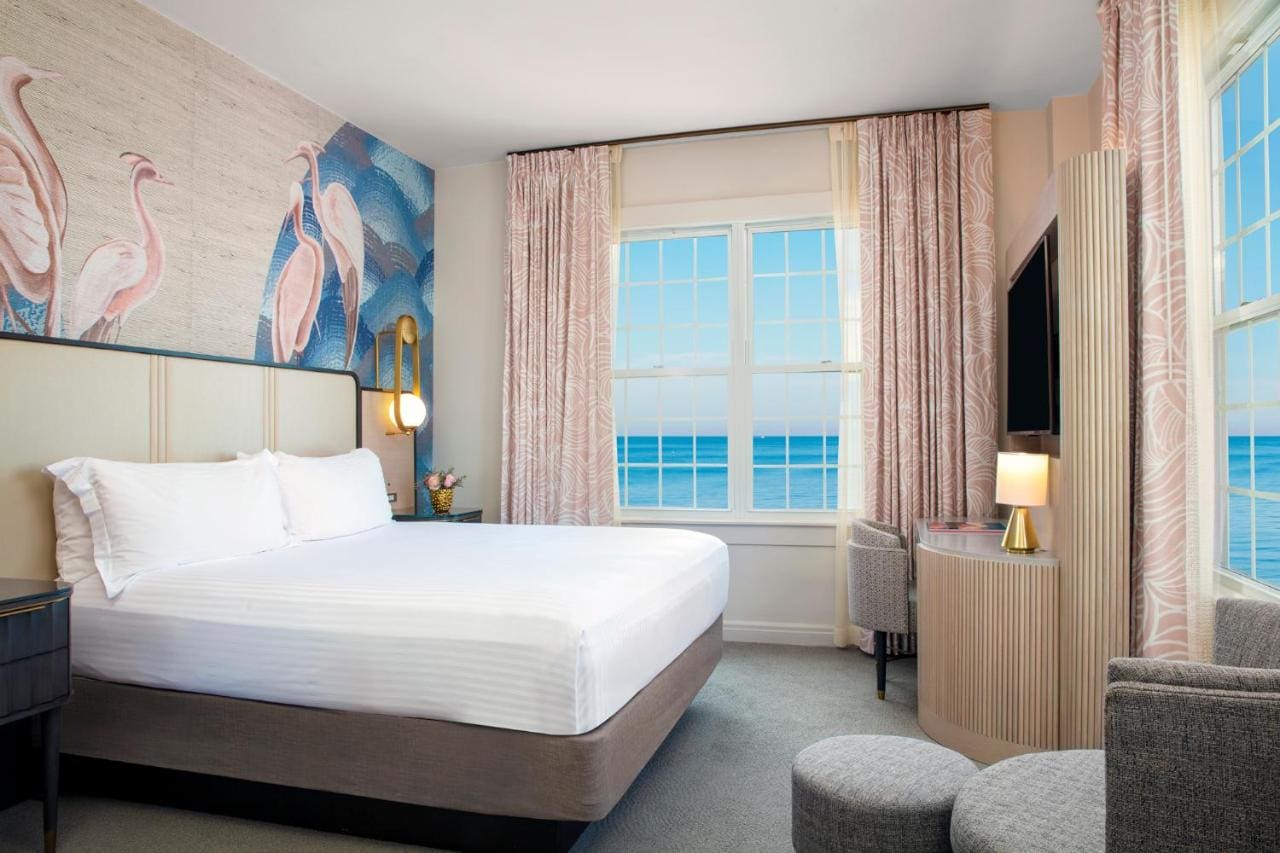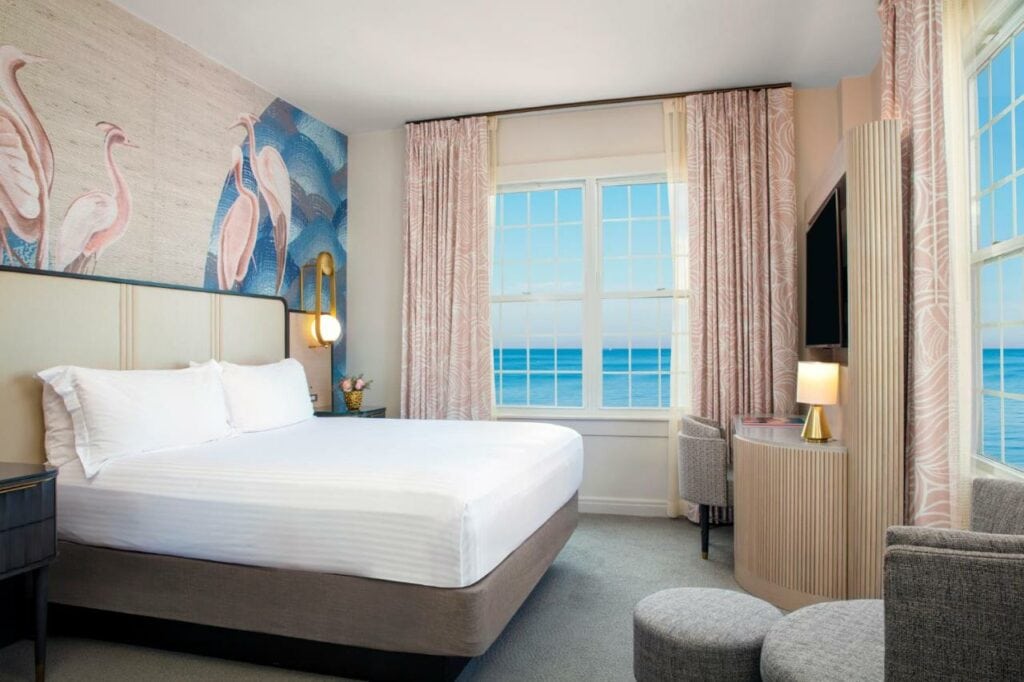 Built in 1928 during the heyday of the Gatsby era, the hotel was the playground of the rich and famous. It was even frequented by F. Scott Fitzgerald himself! If you're planning a honeymoon, anniversary trip or something else, it's absolutely ideal. In fact, with all that pink around, I'd say it's one of the most romantic resorts in Florida!
Are you a movie buff? Then you'll love the Hard Rock Hotel at Universal Studios. Located right in Universal Orlando, the theme park attractions are a short walk or shuttle ride away.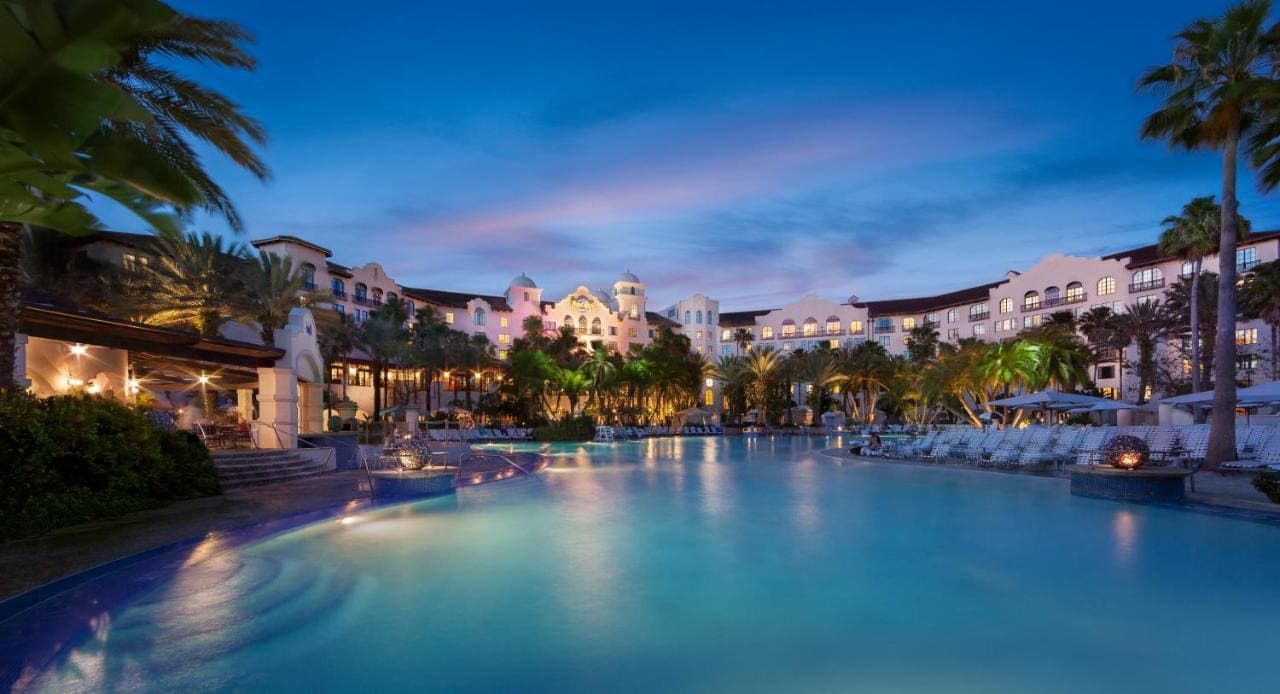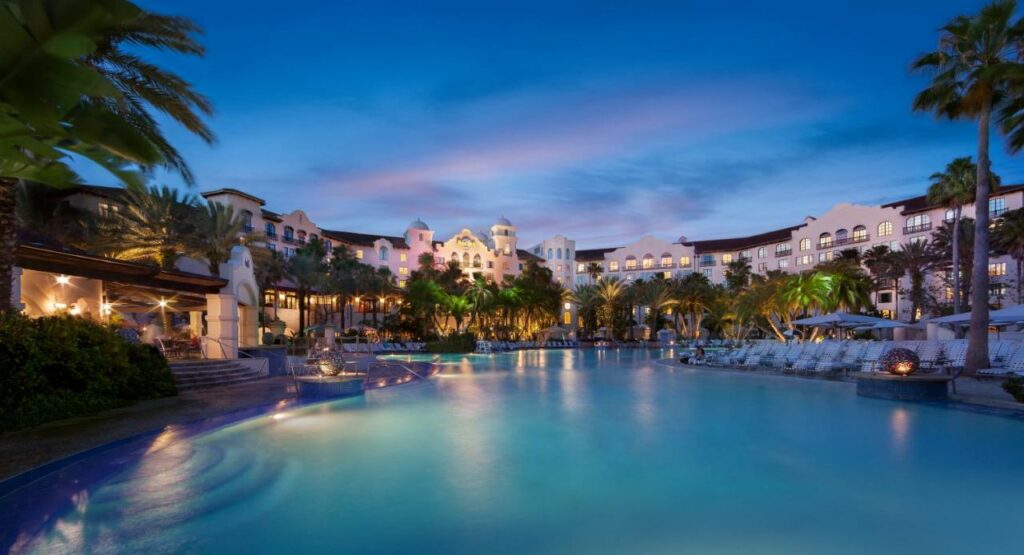 Staying here means you'll get express access at the theme park, meaning you can skip all the queues too. How brilliant is that?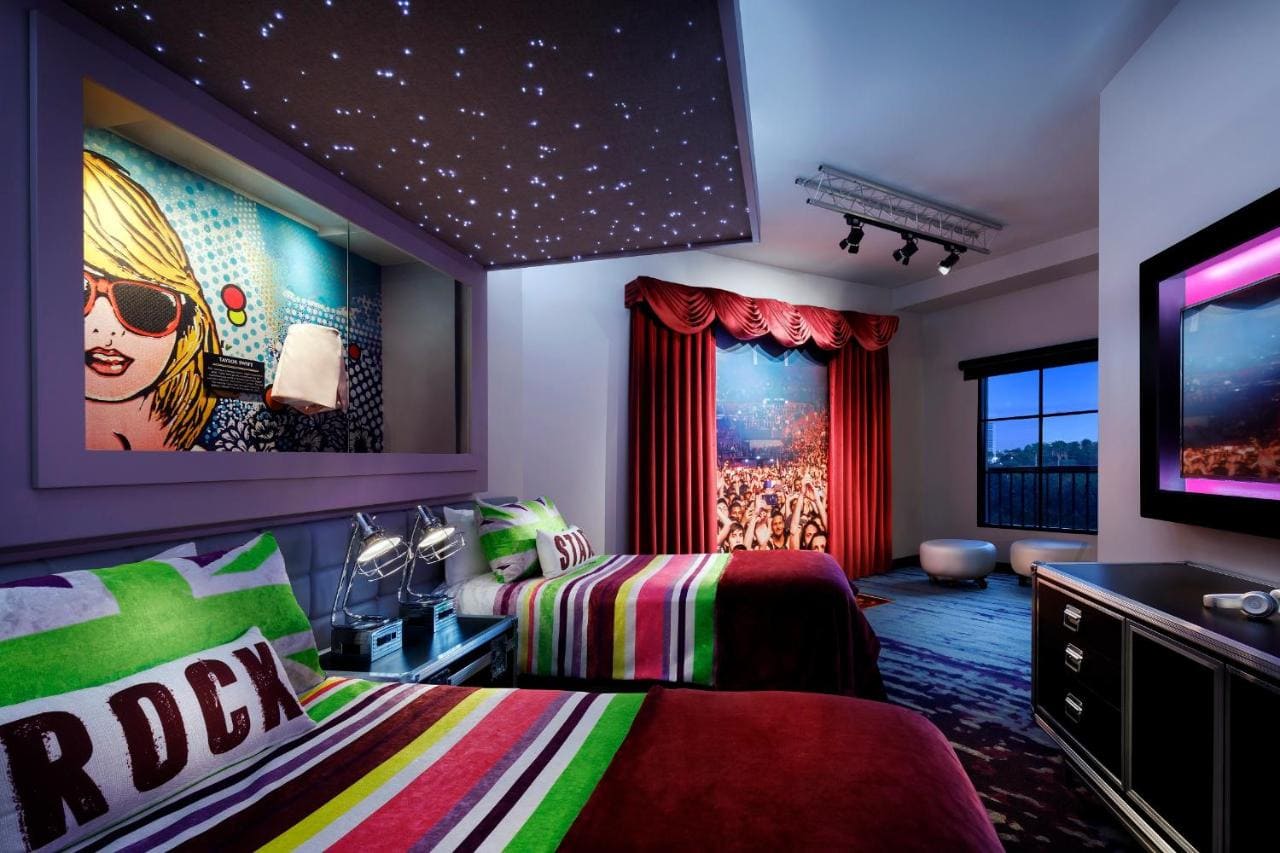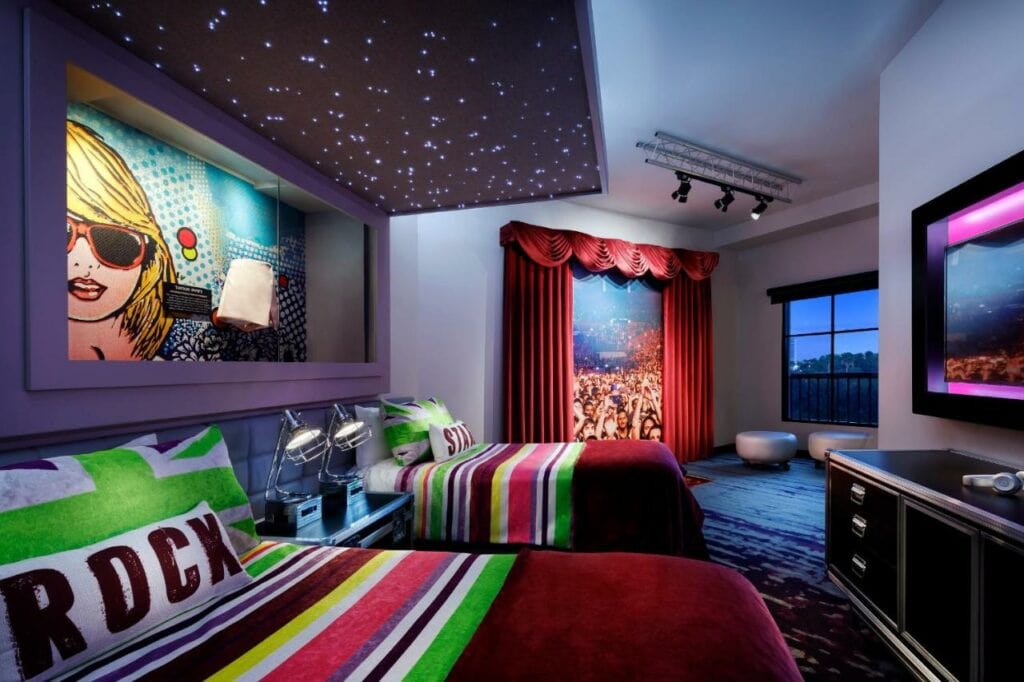 You'll also get to enter The Wizarding World of Harry Potter and the Volcano Bay waterpark a full hour early. At busy spots like this, there's nothing quite like beating the crowds.
But "Hard Rock" is in the name for a reason. Rock 'n' roll memorabilia is plastered all over the walls. And if that's not enough, you can even listen to underwater tunes belting out in the swimming pool!
Right on Ocean Drive is The Leslie – one of the best Art Deco hotels in Miami. It's located right in the hustle and bustle of Miami's South Beach. When I stayed here a few years ago I absolutely fell in love with how colourful it was! It really is a vision in yellow! It's got tropical deco written all over it!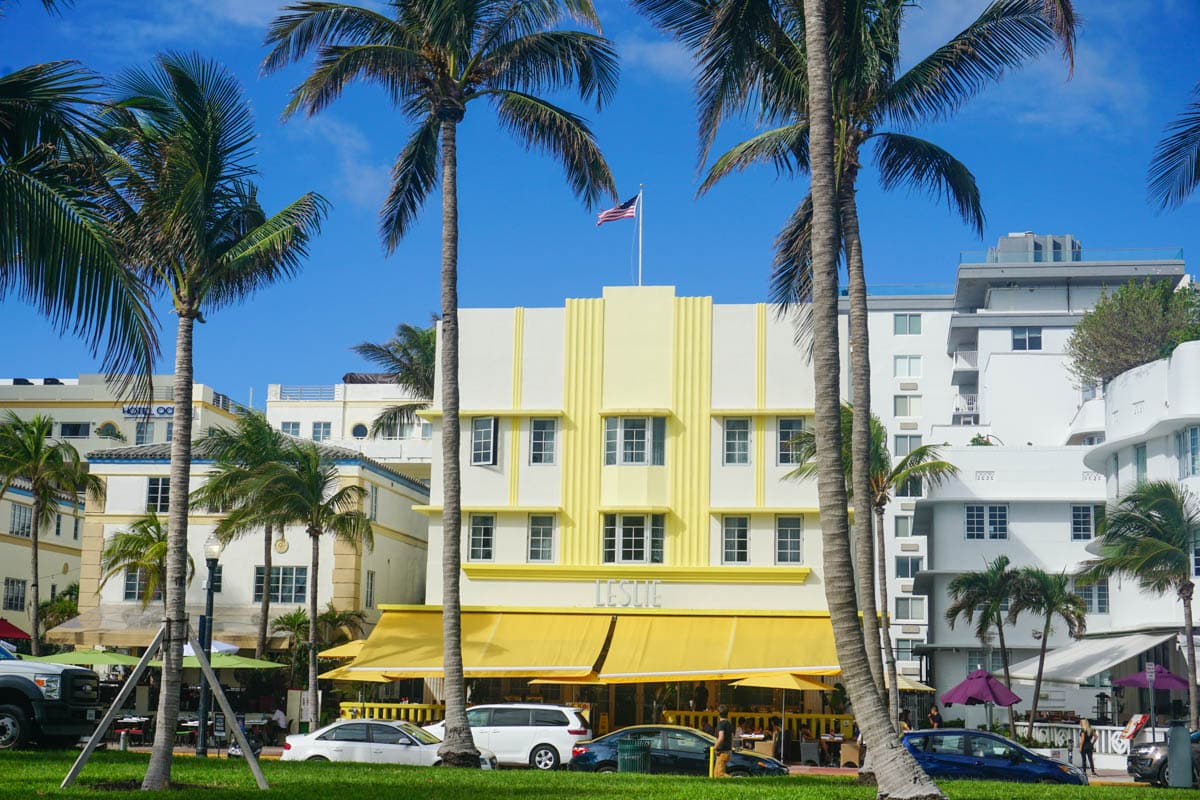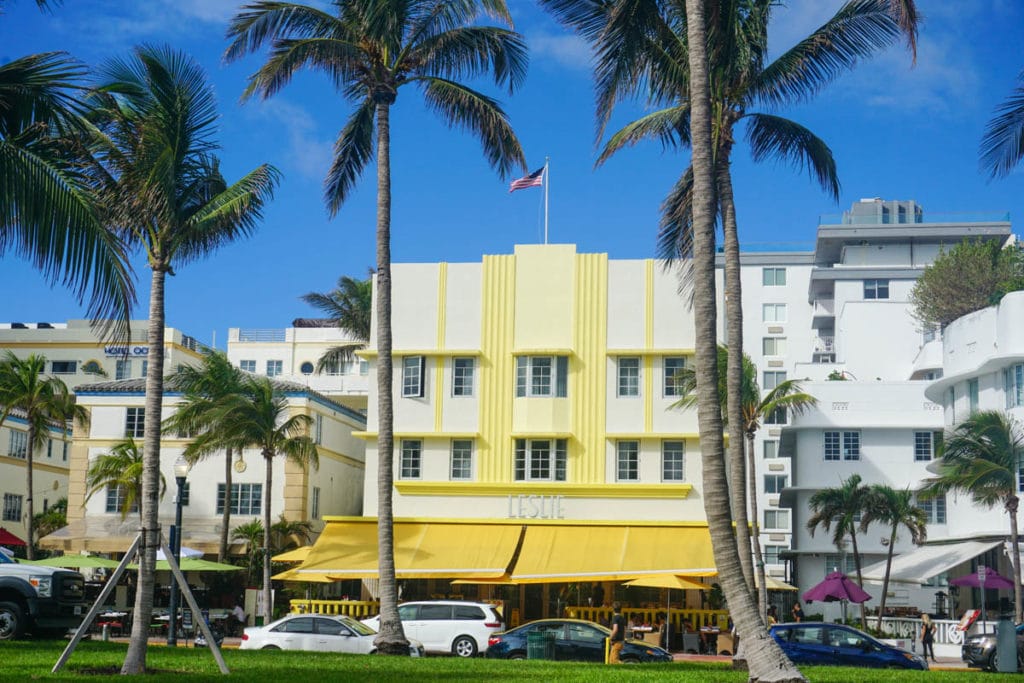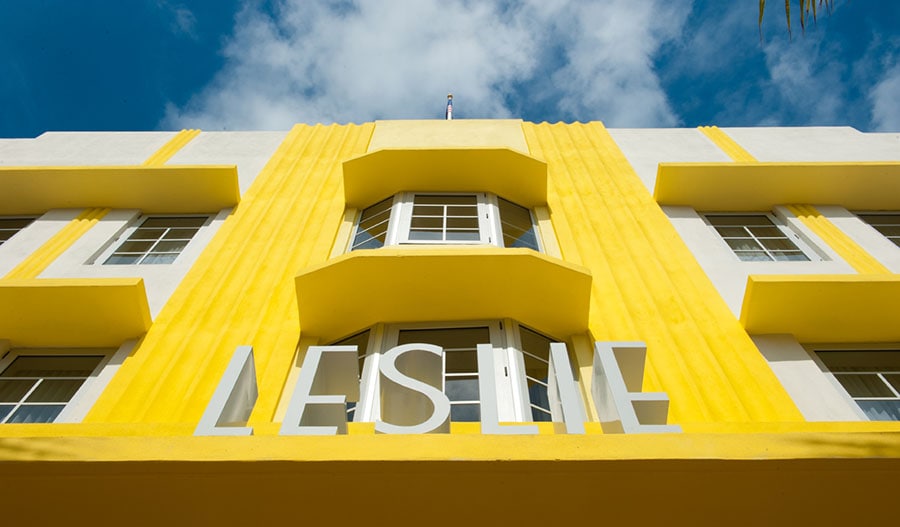 Along with the amazing location, just moments from the sand, it's also home to a rooftop pool. This feels like a hidden gem – you wouldn't know it was there until you ventured up to the top floor.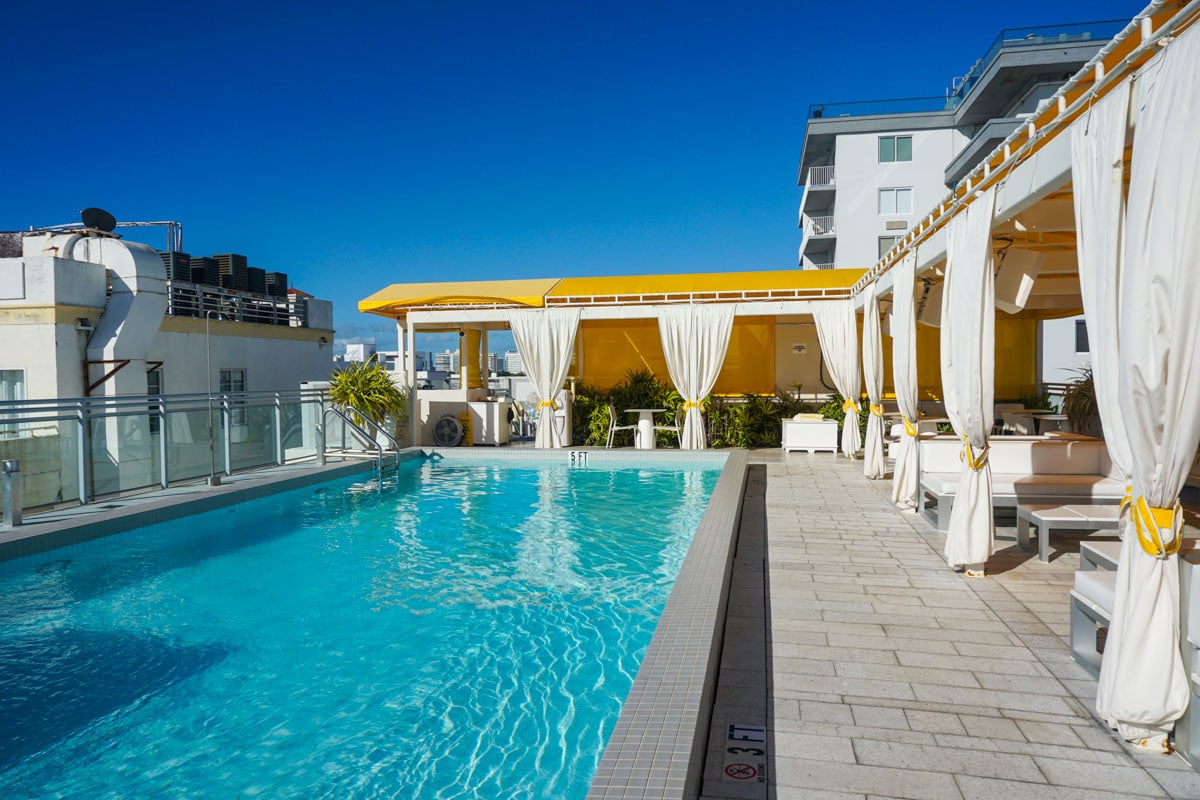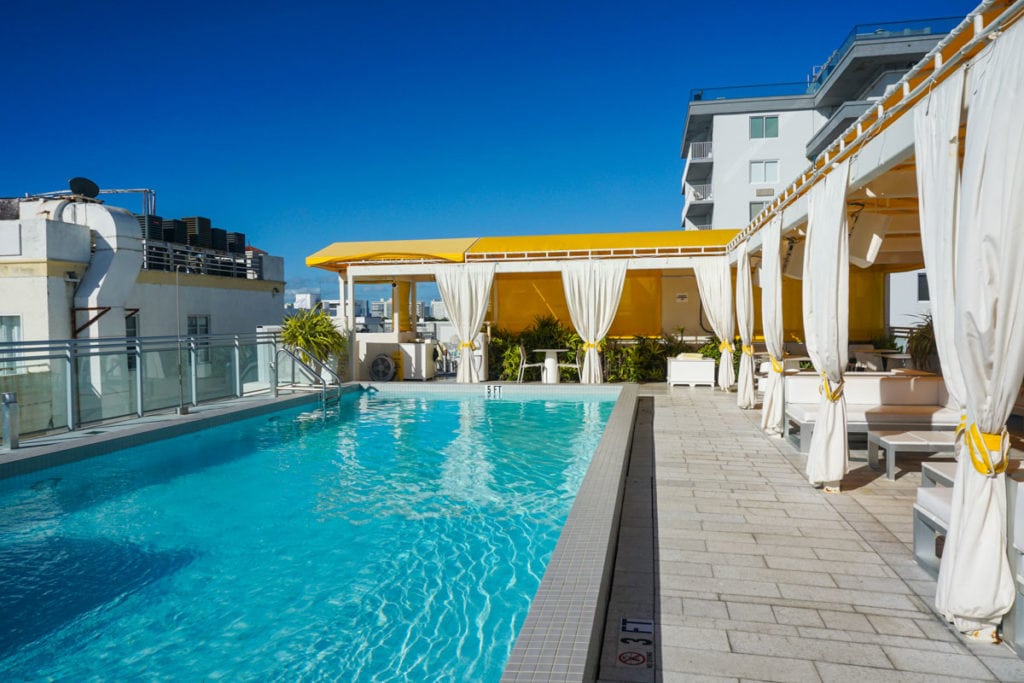 The pool has cute booths for relaxing in, along with sun loungers and a Jacuzzi. This was a real sanctuary and felt worlds away from the busy vibes of South Beach just below. If you want some more details, you can read more about my stay in my review here.
By far one of the most unique hotels in Florida, this Wild West themed ranch is so much fun! The accommodations at Westgate River Ranch stay true to theme, with cabins, teepees, and tents (glamping-style ones, of course!) Overall, this hotel has a rustic, luxurious feel and really makes you feel like you're in a classy western film.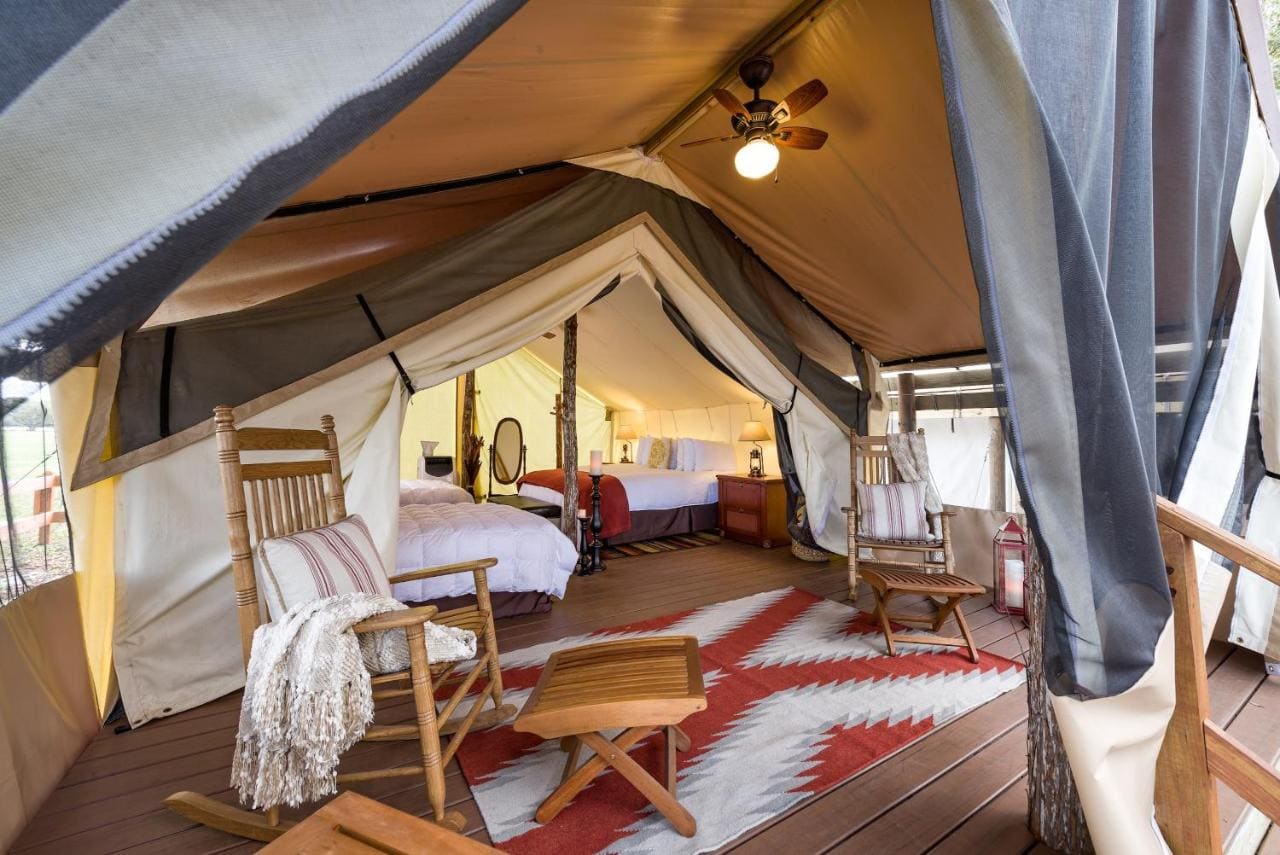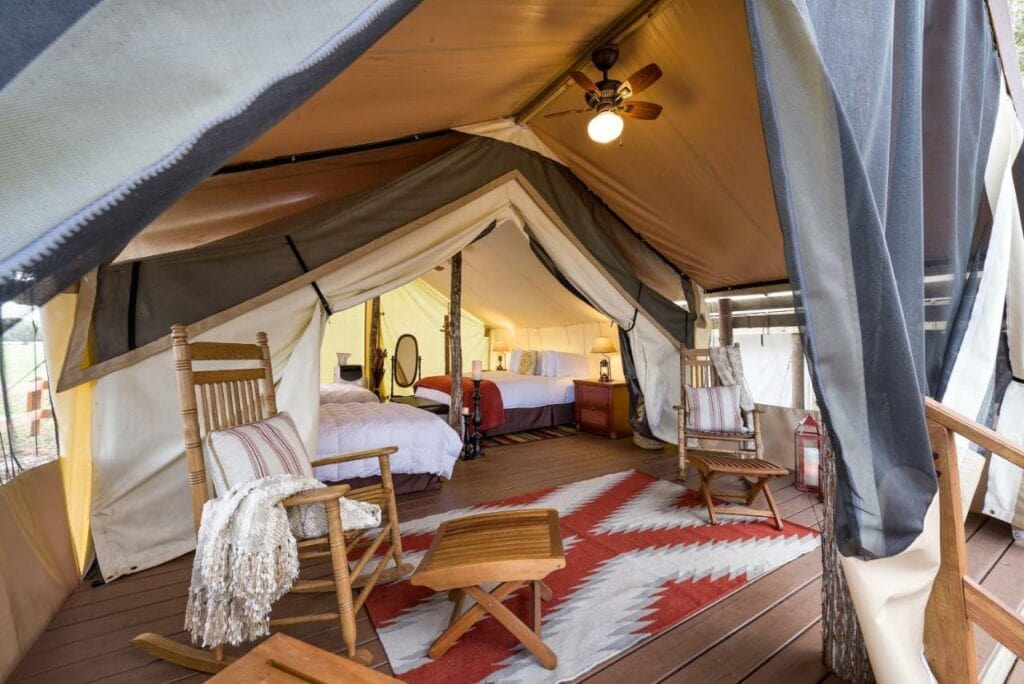 There is also an impressive selection of activities to make your trip memorable. Start the day with horseback riding, fishing, swamp and buggy rides, or archery. This is a great hotel for families too. If you have kids, they'll absolutely love playing mini-golf, rock climbing, or visiting the petting zoo.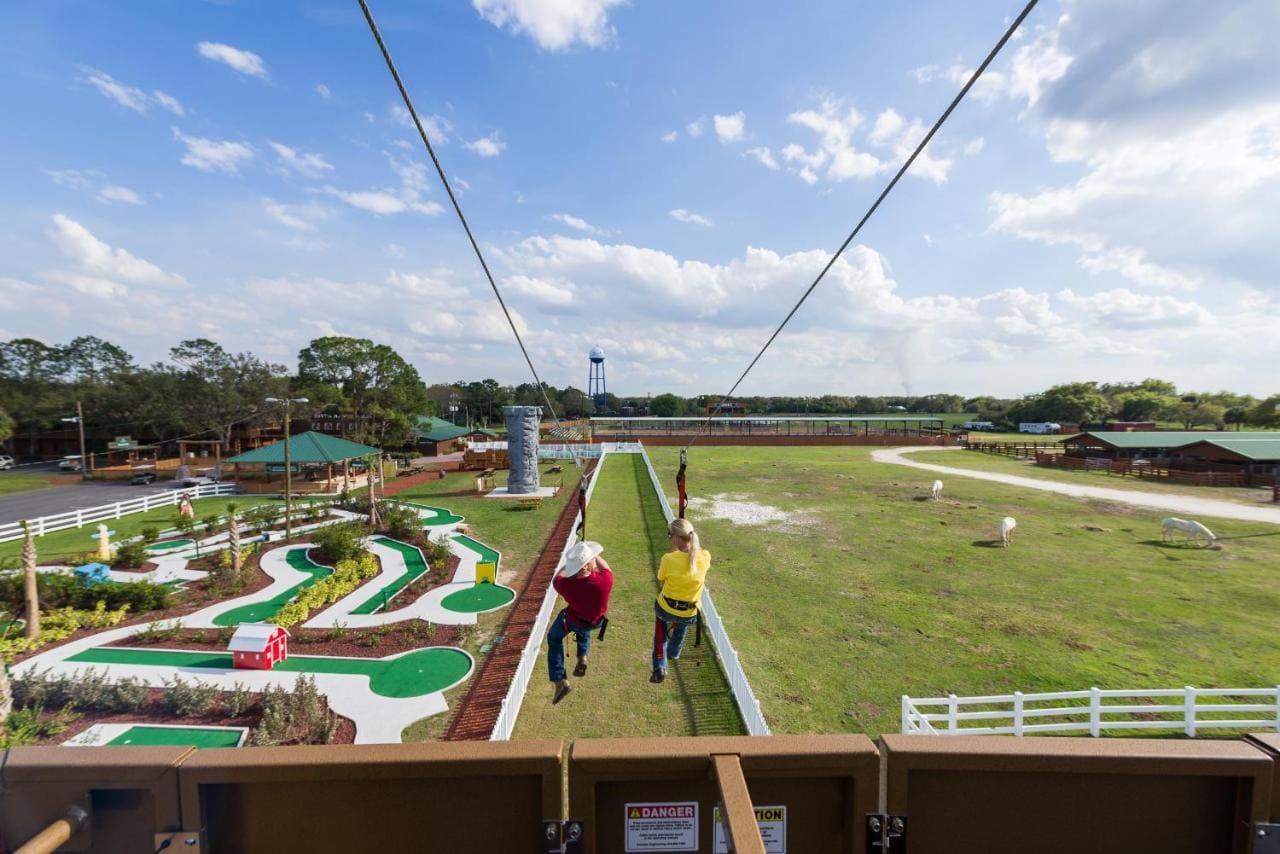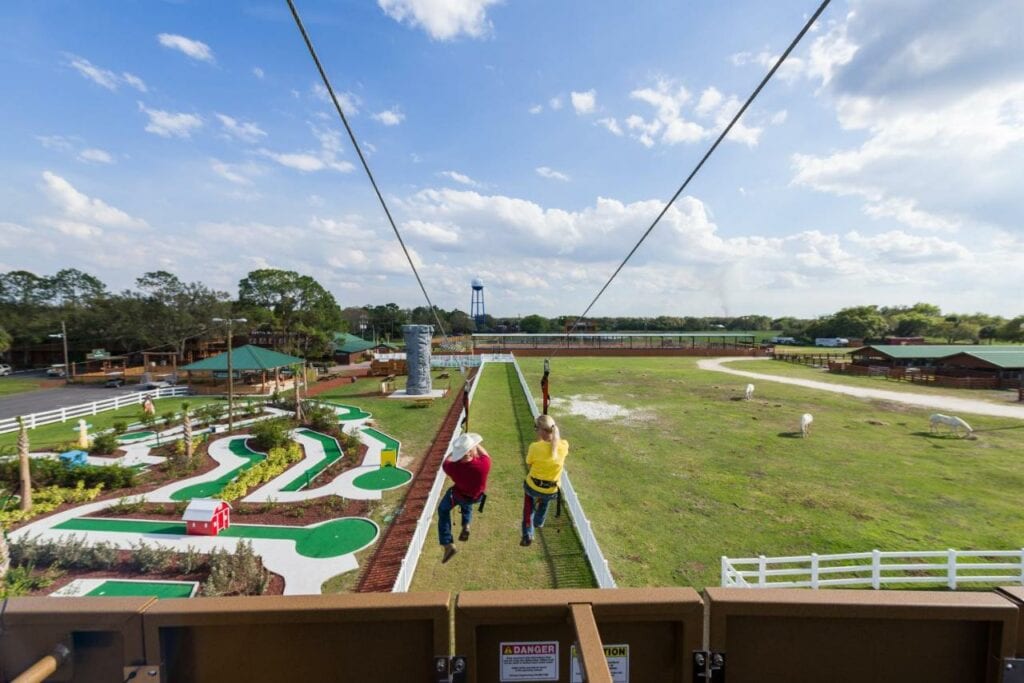 In the evening, put on your cowboy boots for some line dancing or brave the mechanical bull. And if you've never seen a rodeo, here's your chance! There's a live Rodeo every Thursday and Saturday night!
If you love reading, you'll fall in love with this contemporary, upscale hotel. What makes it so special is that it's inspired by the works of eccentric author and conservationist Byrd Spilman Dewey.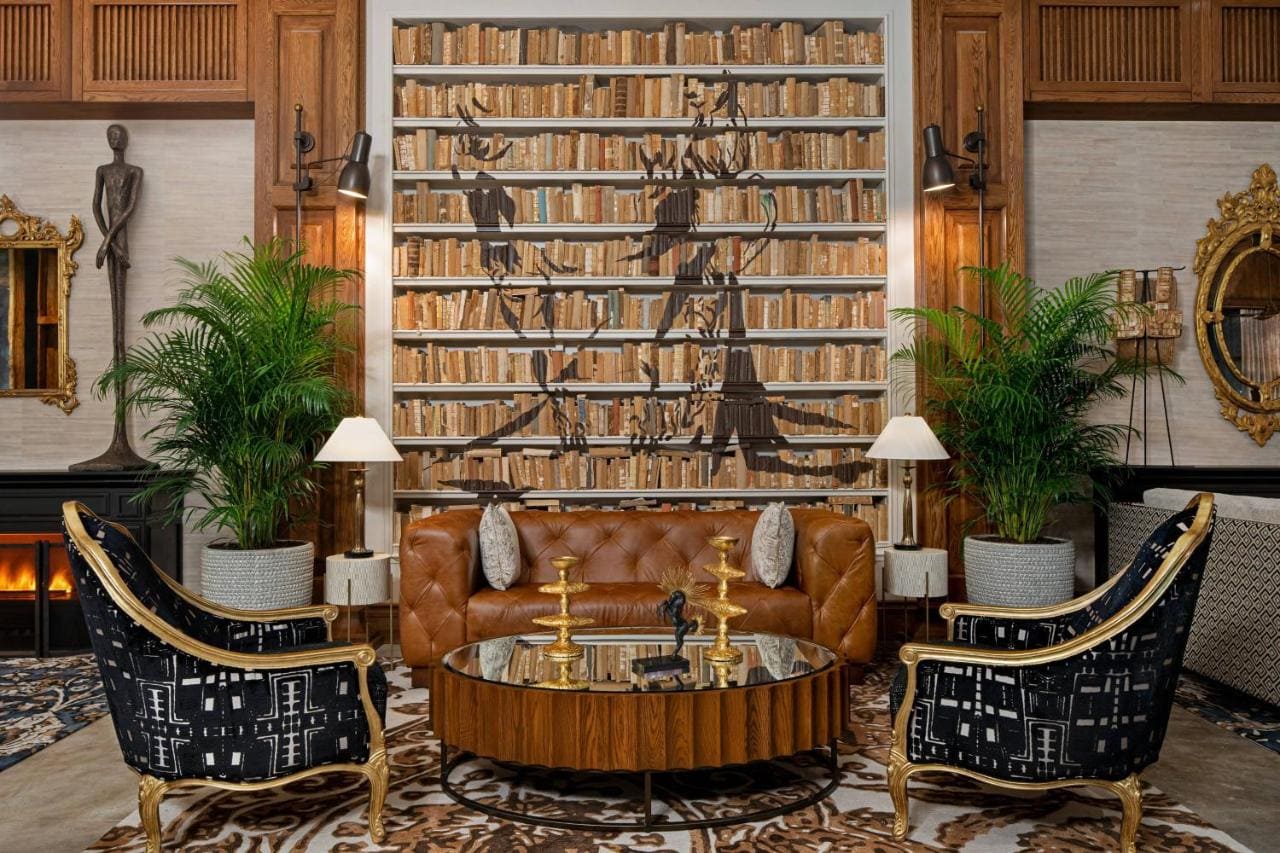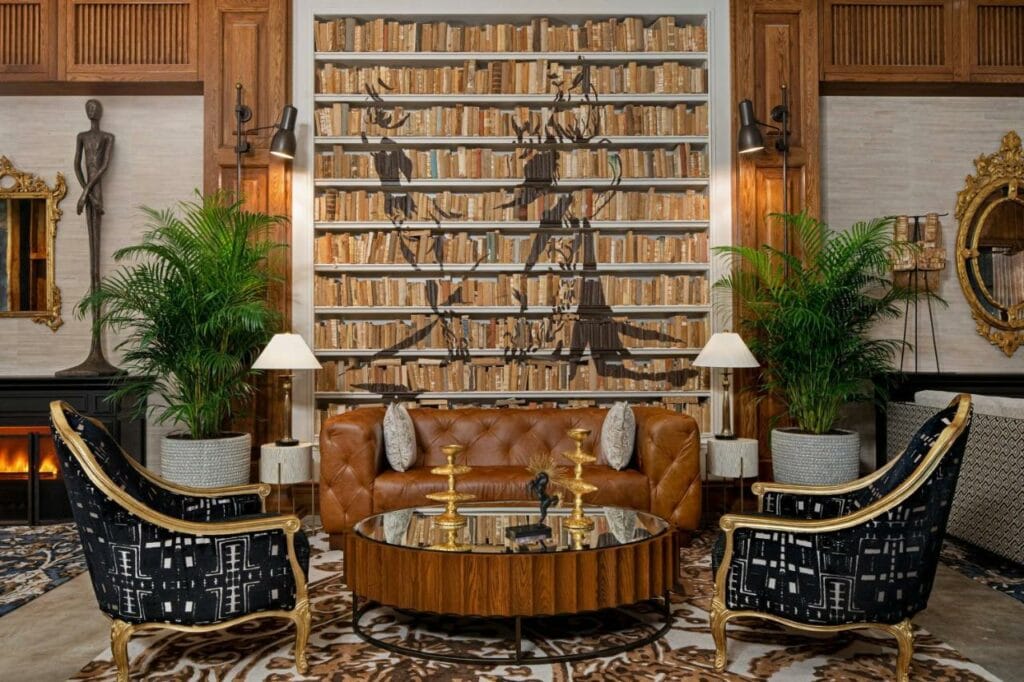 The literature theme runs deep through this hotel, from the beautiful bookshelf in the lobby to the 'Ben's Book Butler program.' With this program, you can request a book from a rotating menu (curated by The Palm Beach Bookstore). It truly is a book-lovers paradise with plenty of old Florida charm.
Originally built in 1888, Casa Monica is nestled in the heart of St Augustine's historic district. It's a grand, Moroccan-themed hotel that makes you feel like you've been transported to northern Africa.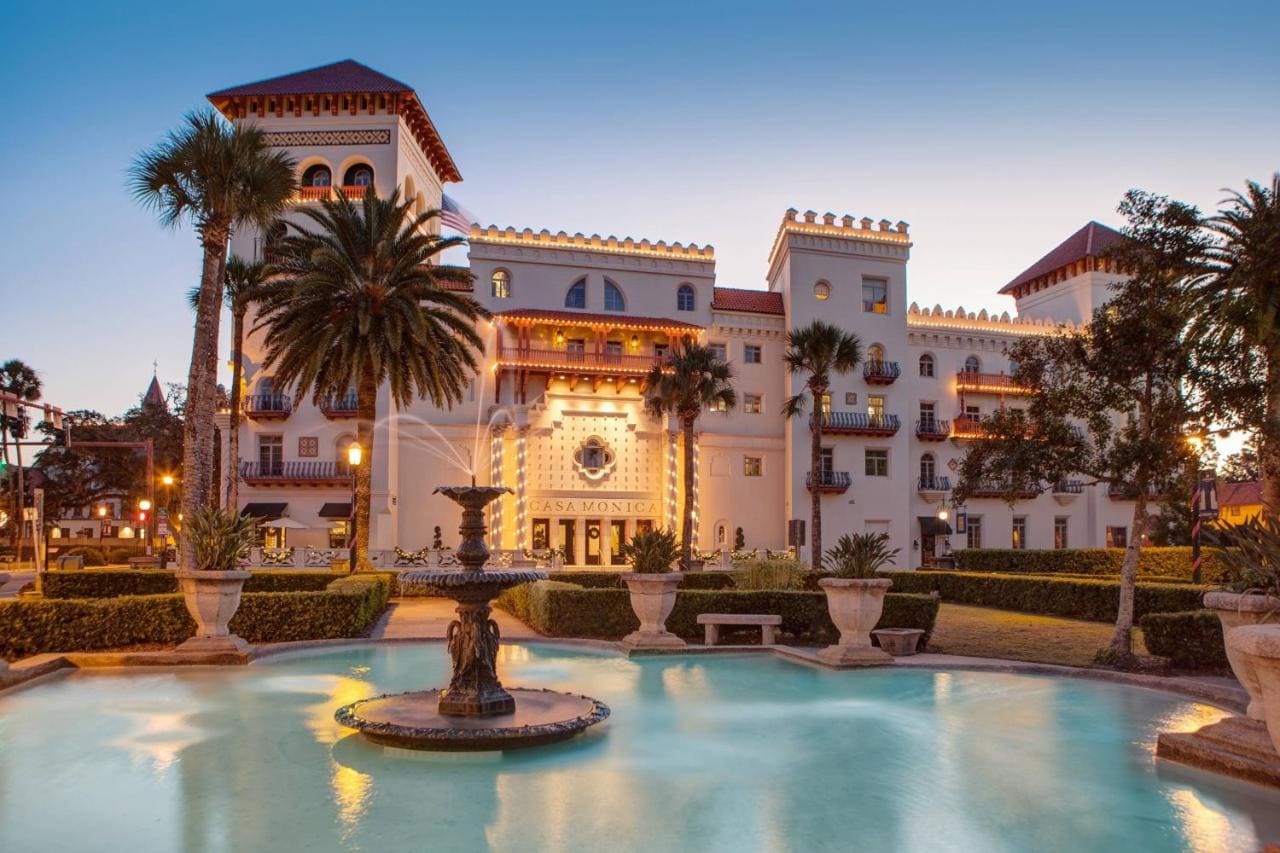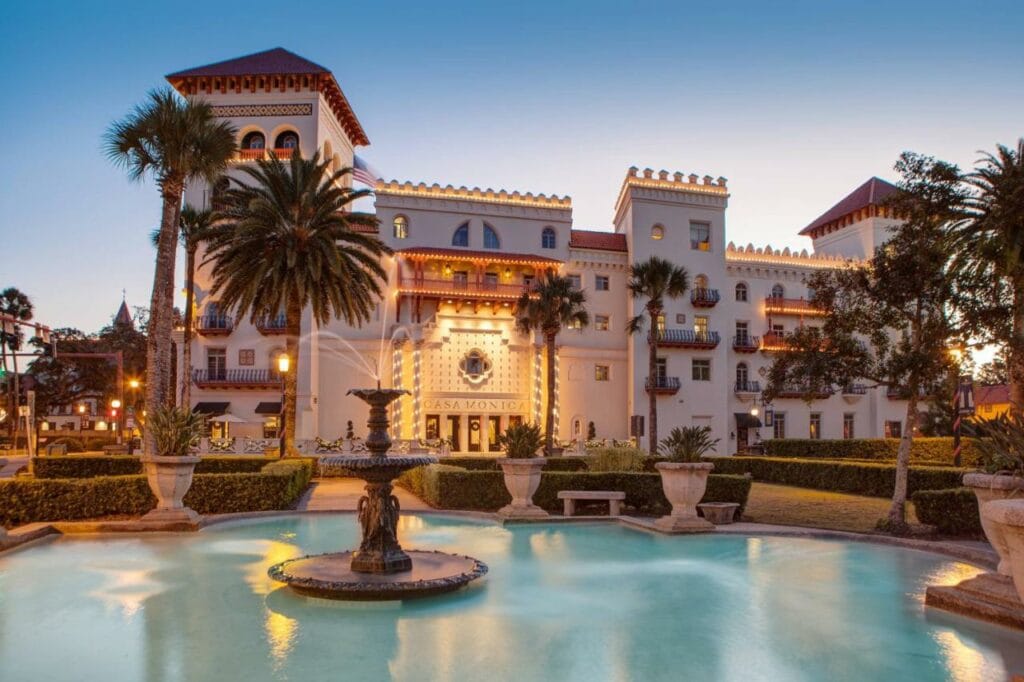 Think vintage Moroccan charm with luxury amenities. I love all the fancy details, including elegant curtain-drawn beds and headboards made of plush red velvet and ornately carved wood.
If you enjoy being pampered like me, how about booking a luxury stay at the Ritz Carlton on the pristine Amelia Island. This is a real Florida gem! Overlooking the Atlantic Ocean, you'll find a golf course, spa, and heated indoor and outdoor pools.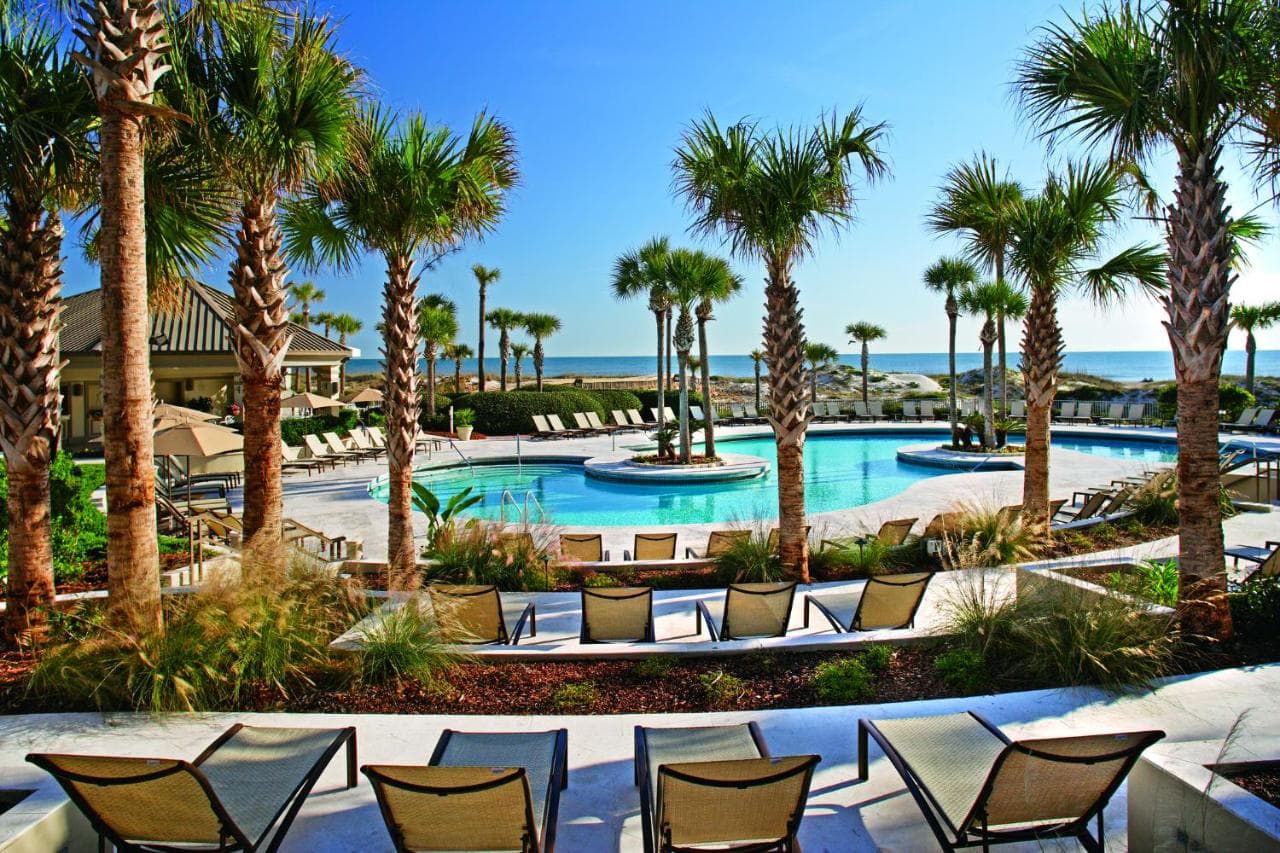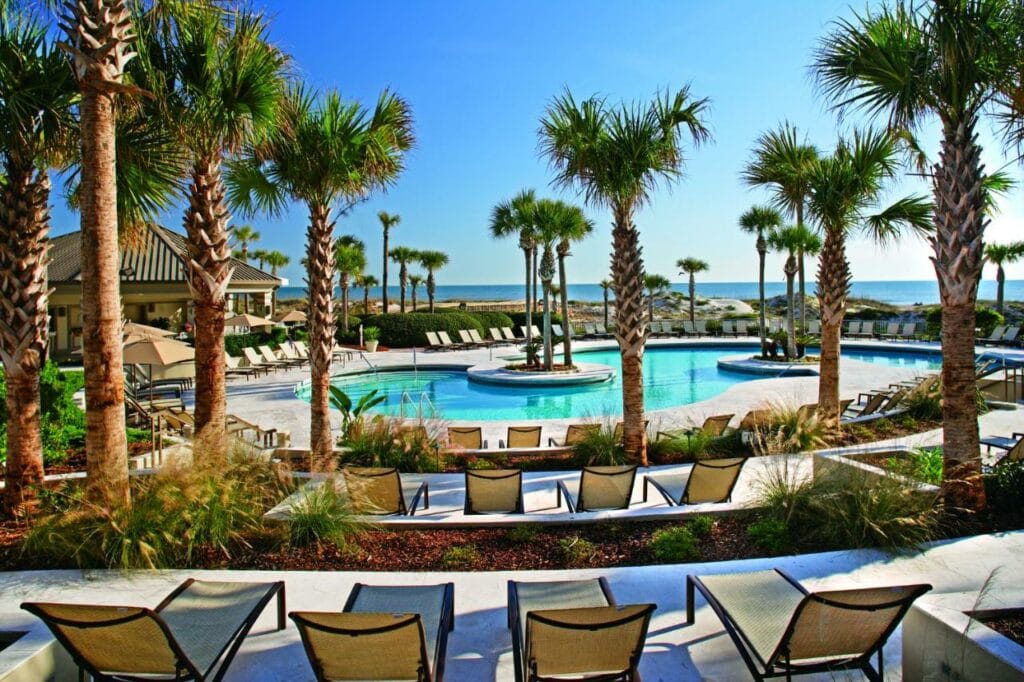 Their AAA Five-Diamond Salt restaurant provides exceptional service with chef-led experiences, wine tastings, and private dining. The hotel also offers an eco-tour of Amelia Island with the resort's naturalist, which is a wonderful way to explore the beautiful surroundings.
This is definitely one of the best luxury hotels in Florida for couples looking for a special escape together.
In the mood to party into the wee hours? With its own casino and concert venue, the fun never ends at the Seminole Hard Rock Hotel. This cool hotel hosts some of the biggest names in music too, so keep an eye on the schedule.
It's an iconic resort too, with a huge illuminated guitar on the roof! You'll spot it from miles away.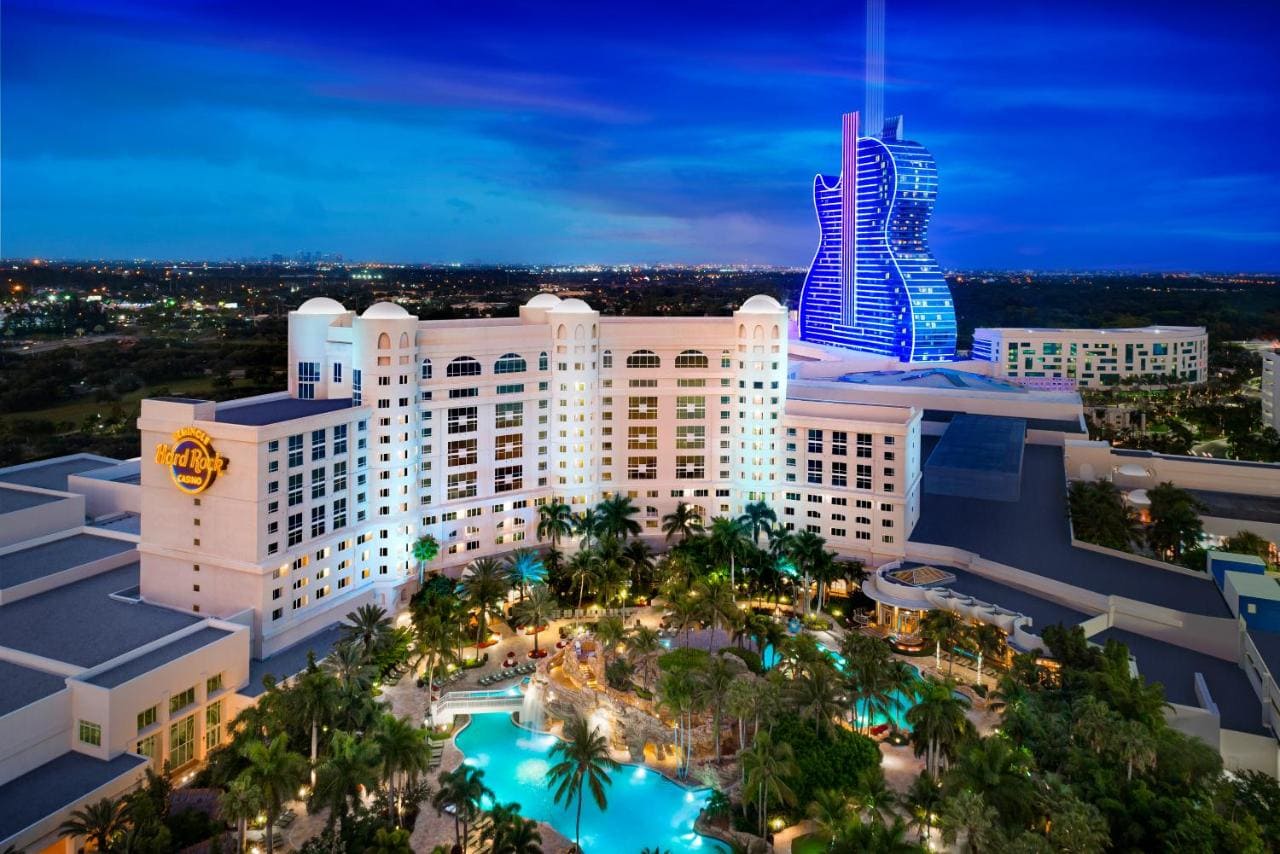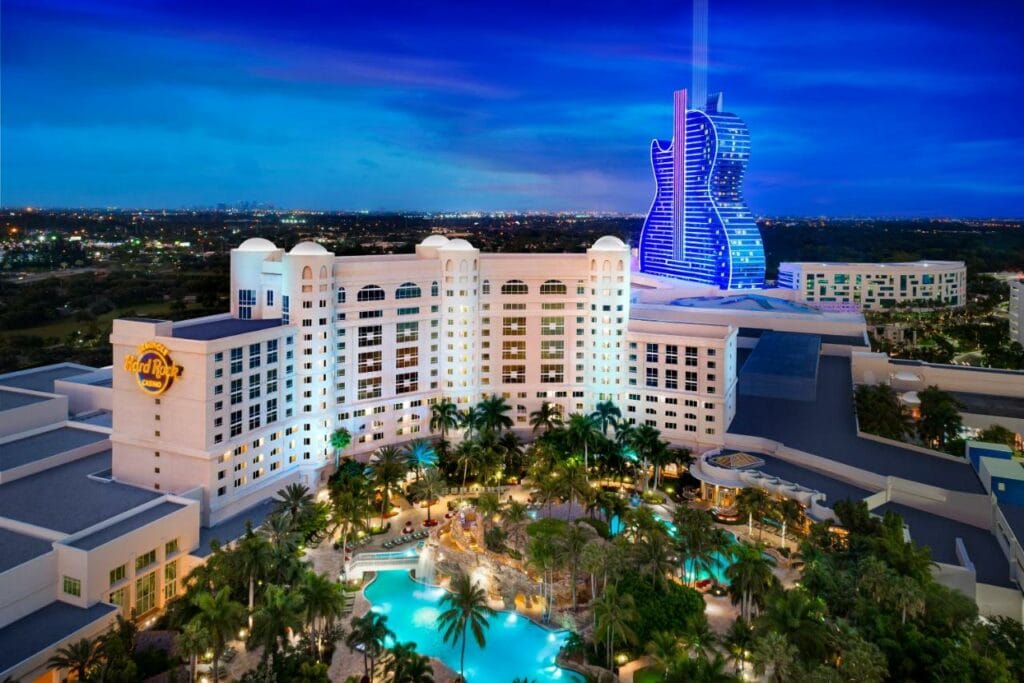 Overall, I love this hotel's high-energy rock 'n' roll vibes! So, if you want a little slice of Vegas in Fort Lauderdale, this is the place for you!
As one of the most unique hotels in Florida, The Betsy Hotel is an art lover's paradise that oozes sophistication. Each room is decorated with fresh orchids and beautiful art from the owner's collection.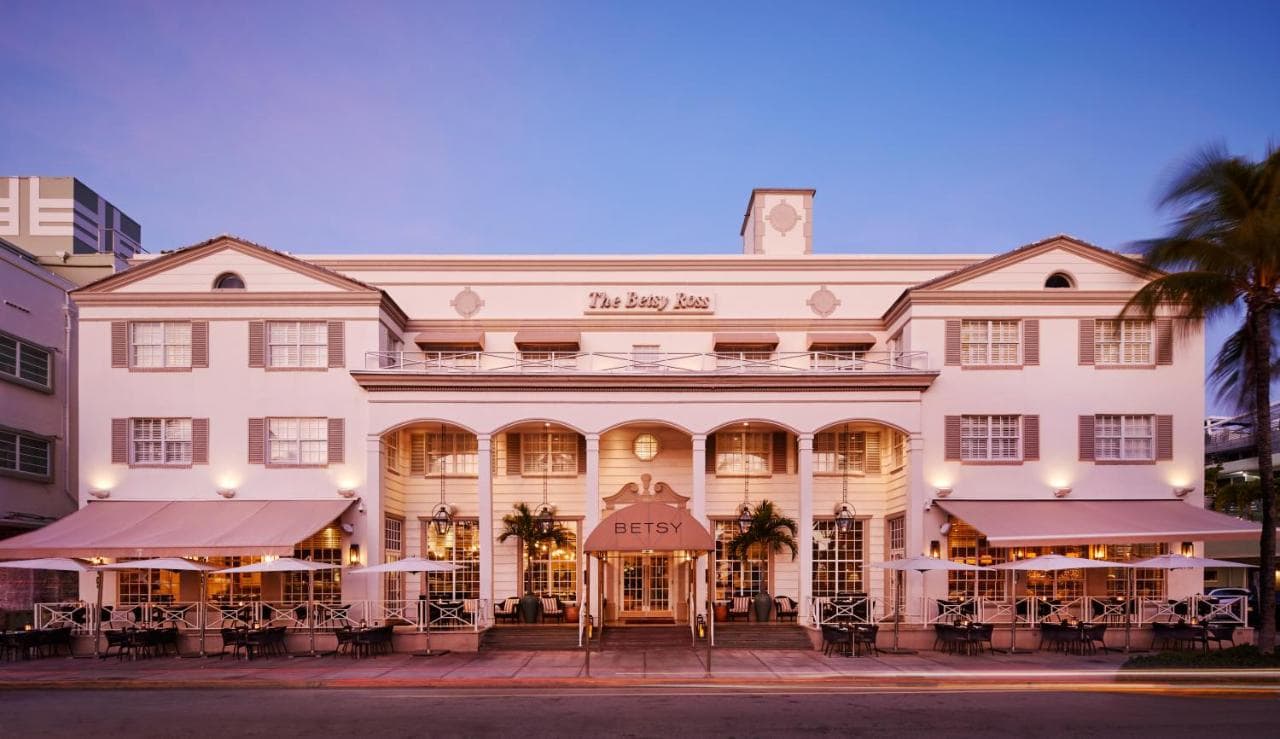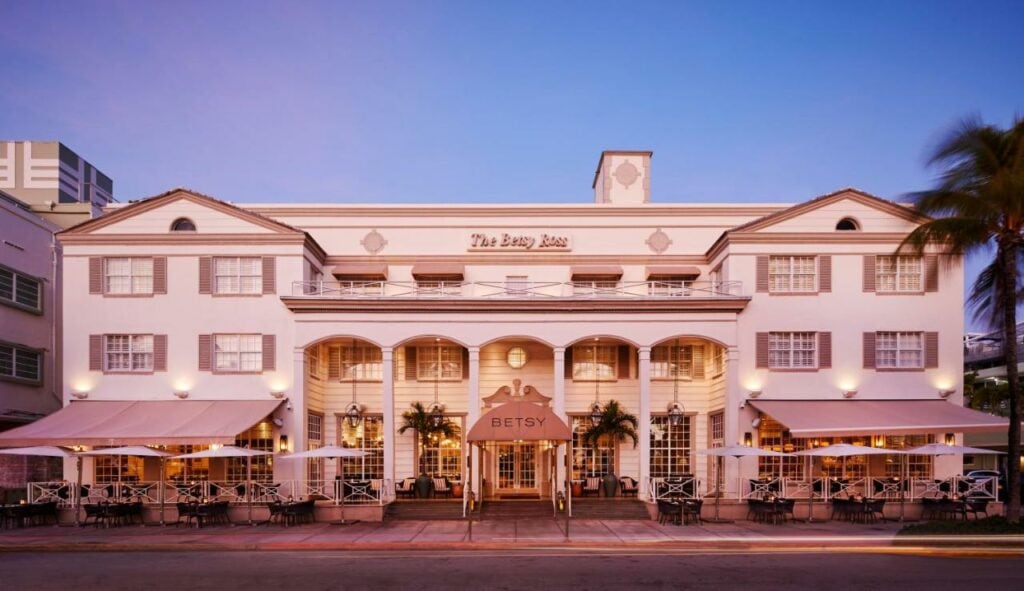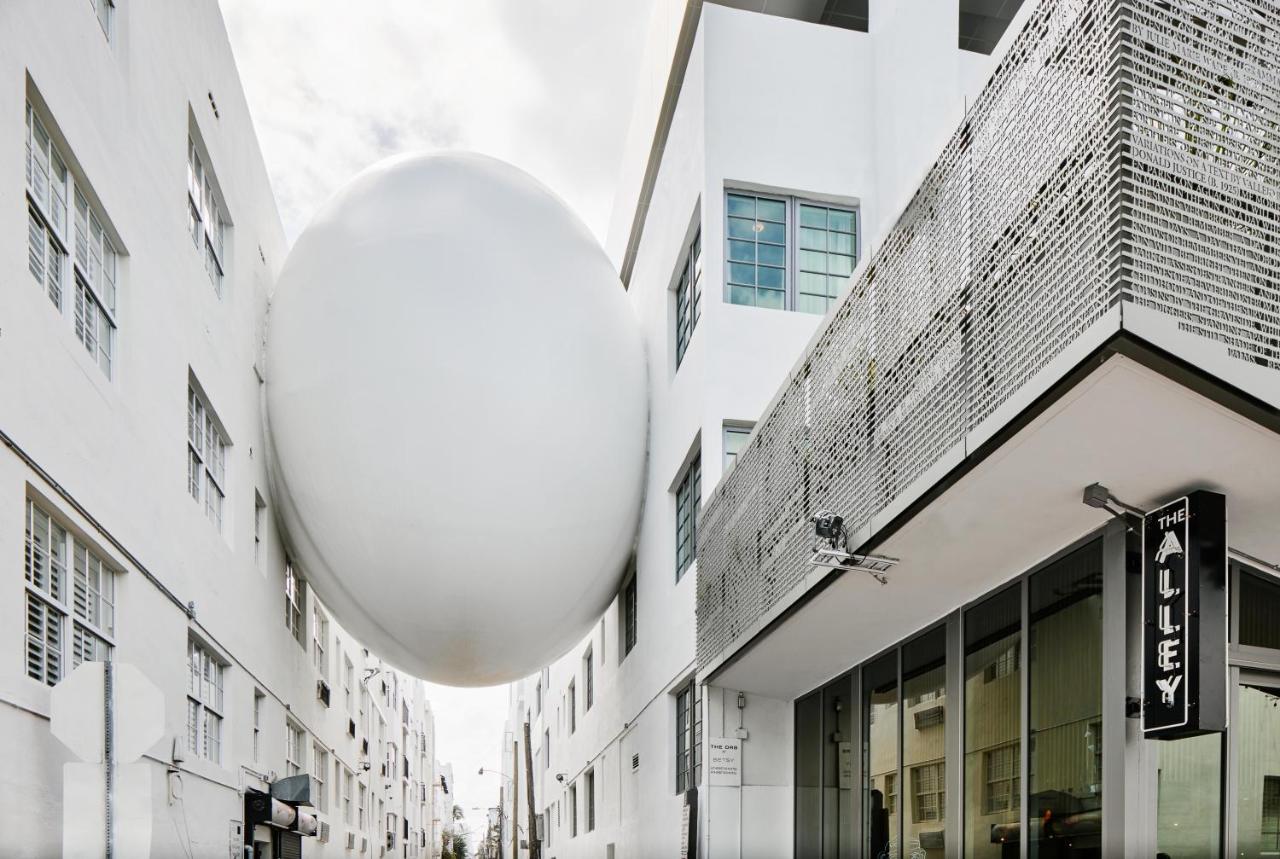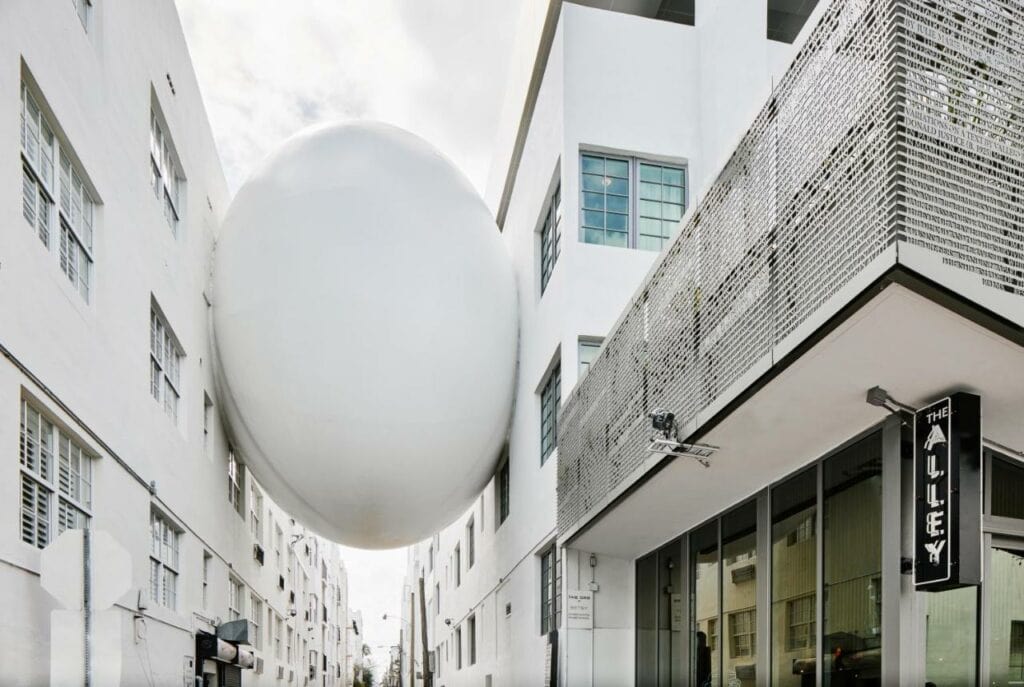 In the evening, you can soak up the culture with one of its well-curated music events. Plus, if you want to view some avant-garde architecture, don't miss a visit to the hotel's orb-shaped sky bridge.
If you're looking for some 'old Hollywood glamour' on your for your trip to Florida, check out The Biltmore in Miami. This palatial resort was built in the 1920s and is famous for luxury and elegance.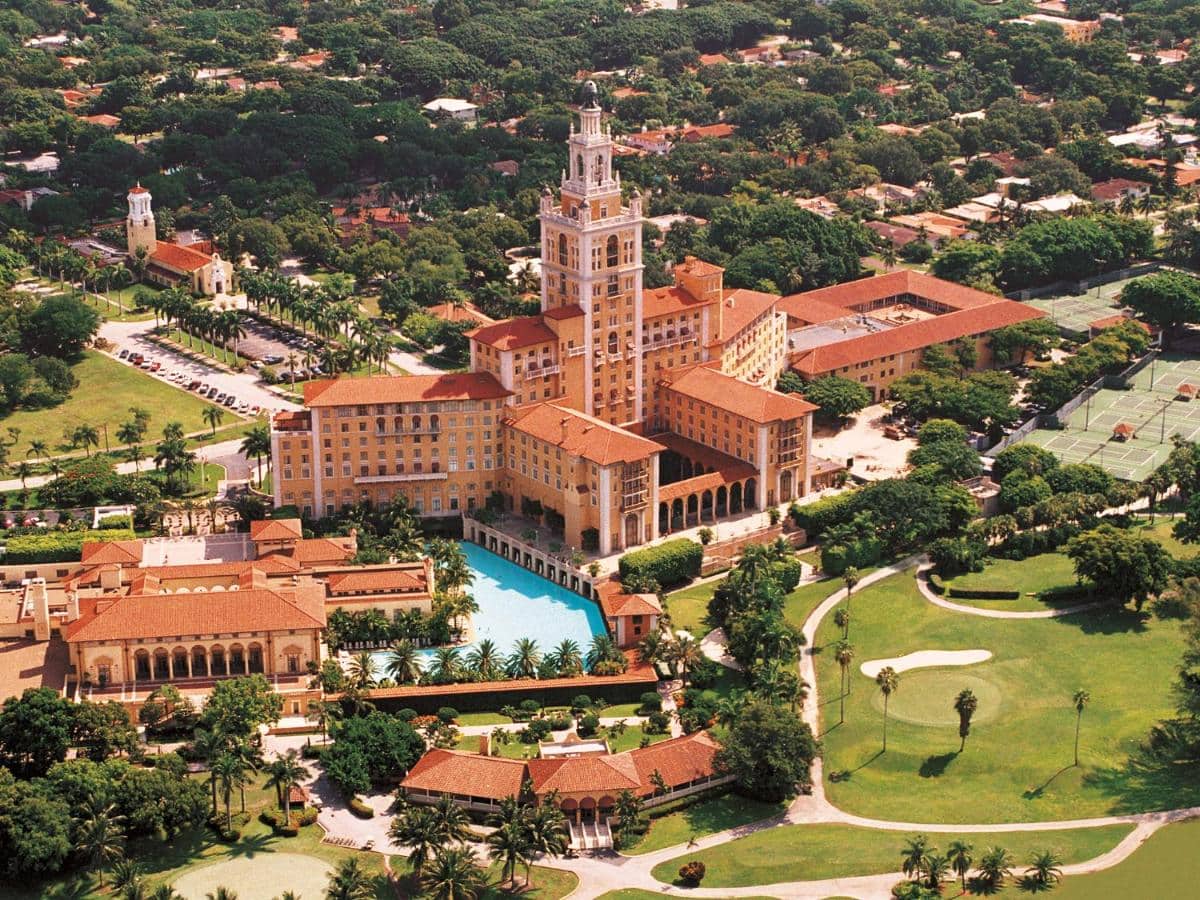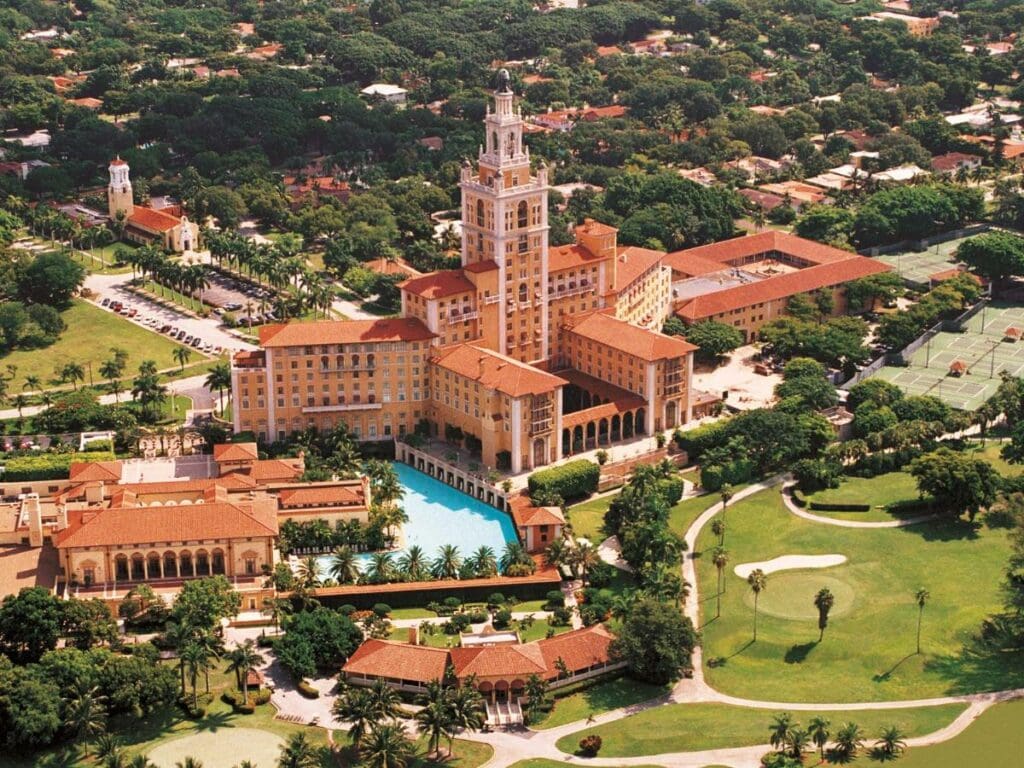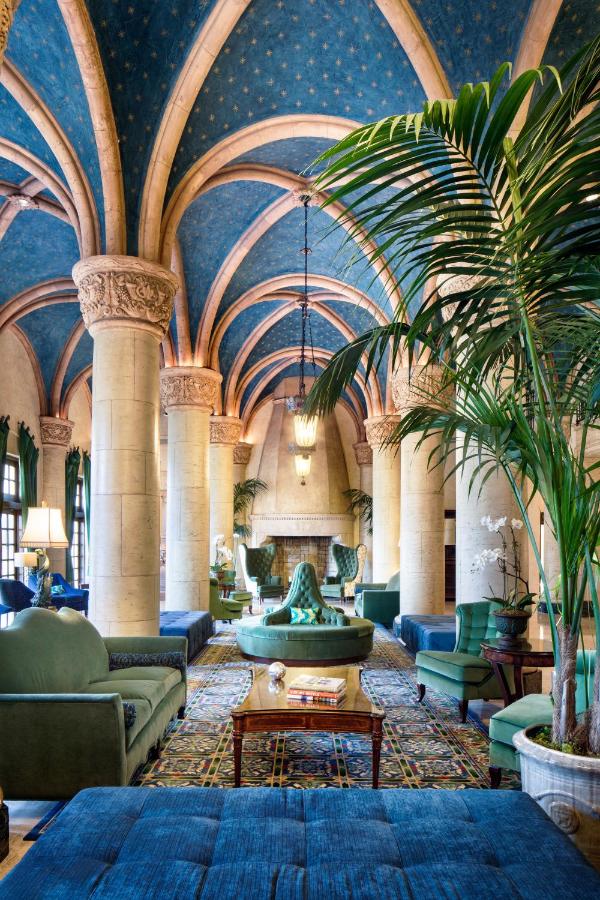 It boasts one of the largest hotel swimming pools in the U.S. and is one of the only hotels with a recreational cooking school. It's also home to a prestigious theatre company that puts on some wonderful shows throughout the year.
When you stroll along South Beach, you'll be amazed by the Art Deco buildings in beautiful pastel shades. It's like looking at a range of delicious ice cream flavours!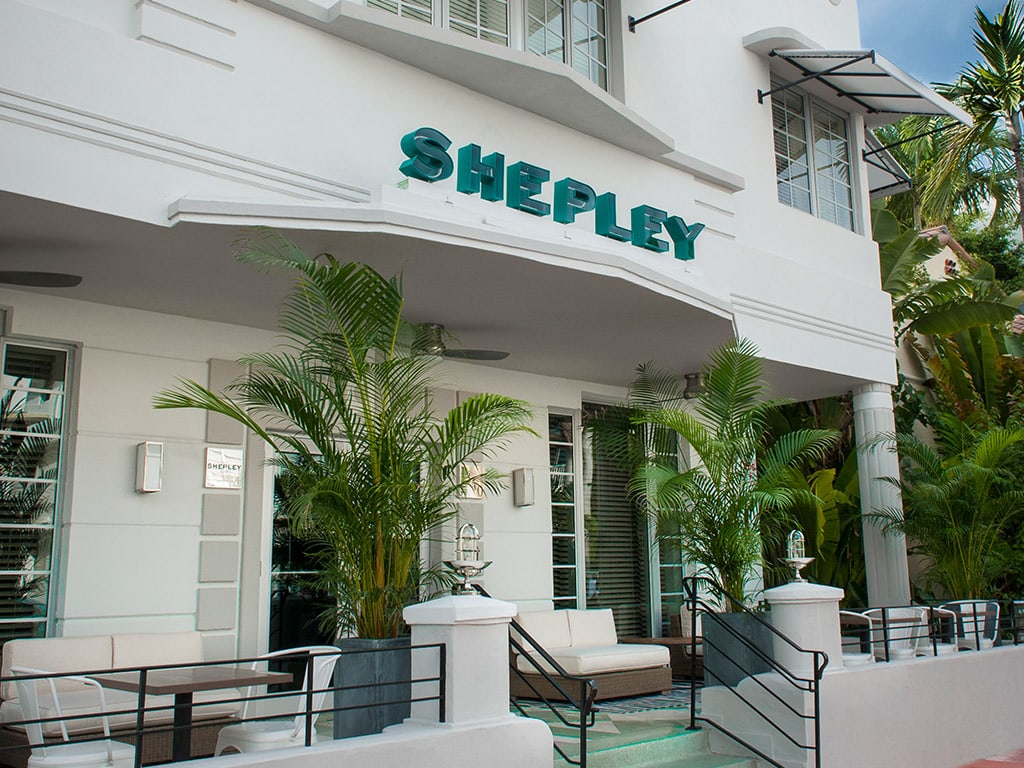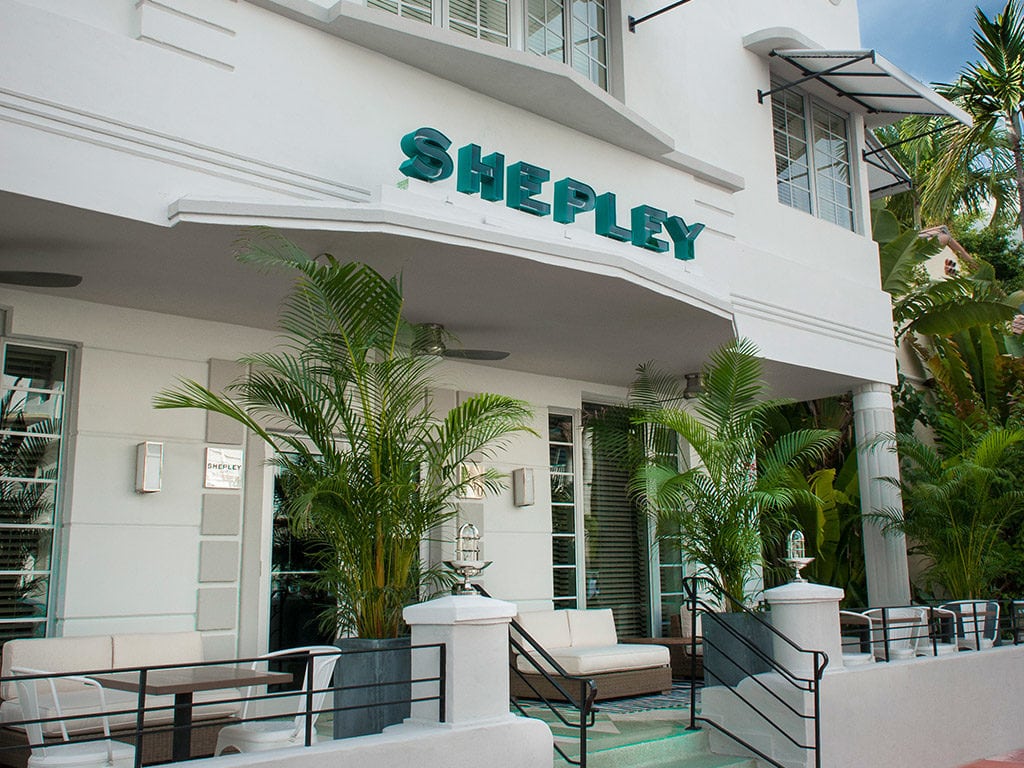 One of my favourite hotels here is The Shepley, where I stayed a few years ago. Built in 1938, The Shepley was designed by renowned New York architect Henry Hohauser. It's one of the most famous Art Deco hotels in South Beach. This chic hotel has vintage vibes throughout, with fun design accents around the room, including stacks of suitcases and ornaments on the huge floor to ceiling bookcases.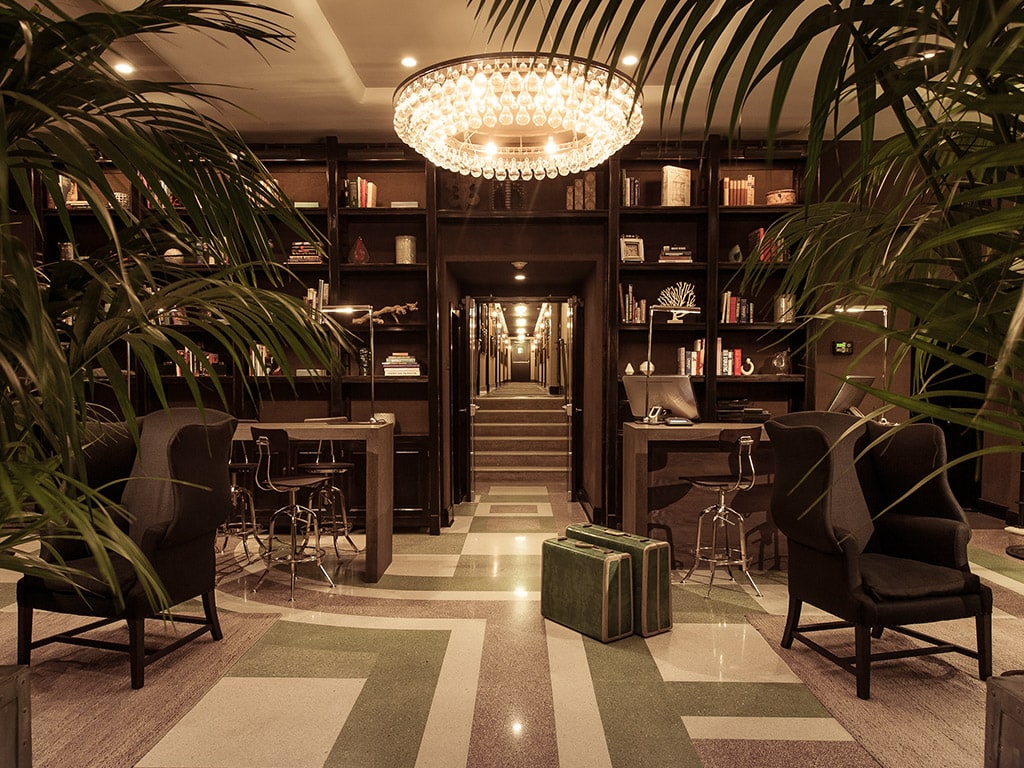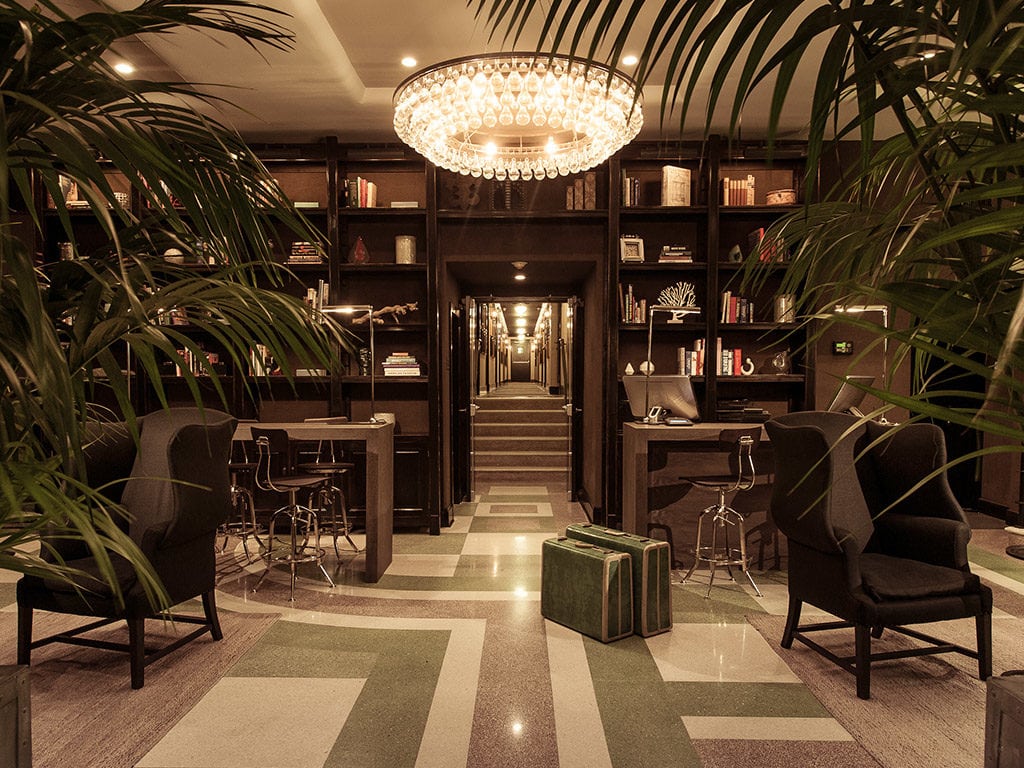 Compared to The Leslie, this hotel is a lot calmer and quieter. It's located just a few minutes from the white sand and colourful beach huts of South Beach. It's also within walking distance of plenty of great restaurants, shops and just a 20 minute drive from the airport. If you want some more details, you can read more about my stay in my review here.
The Bakers Cay Resort at Key Largo is a beautifully designed hotel surrounded by lush landscapes and nature trails. With its private beach and coastal feel, this hotel is perfect for those planning a relaxed vacation in Florida.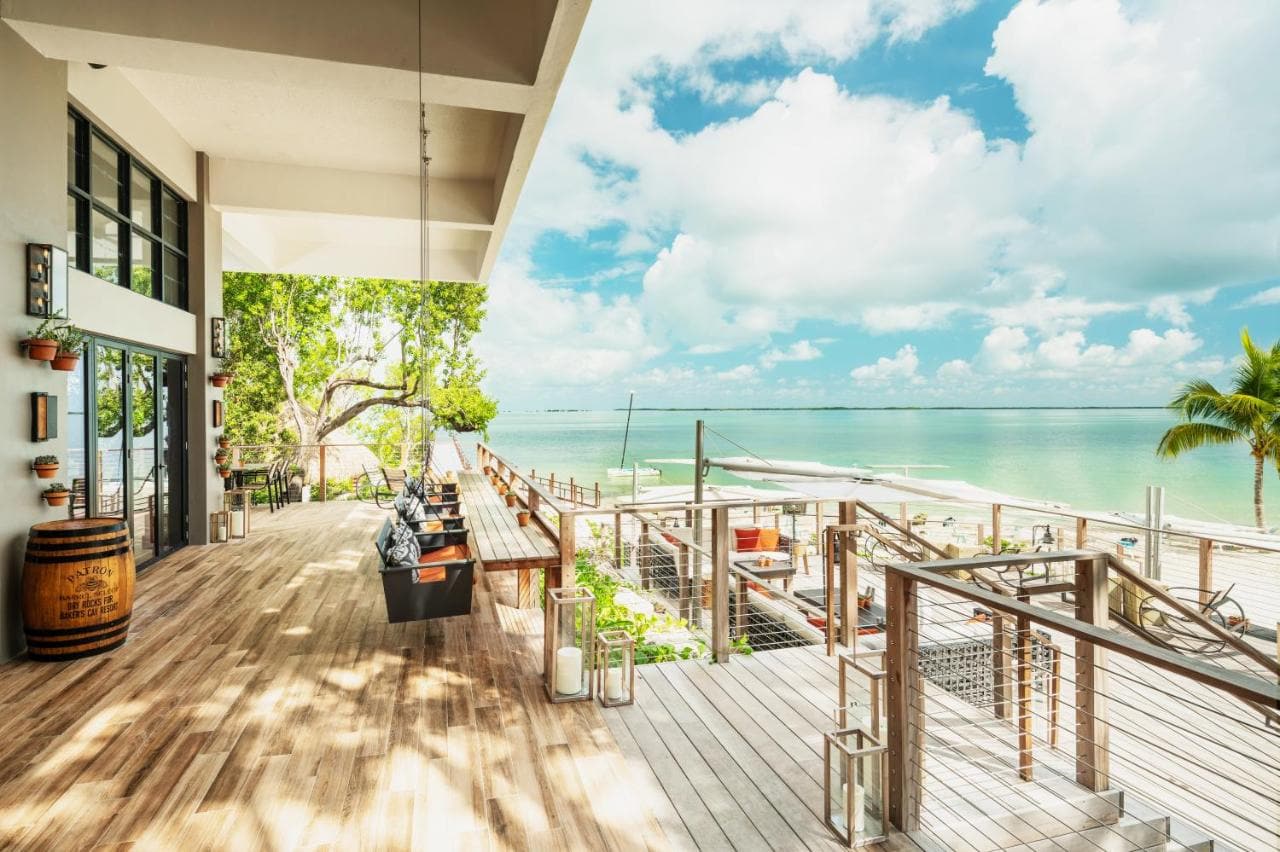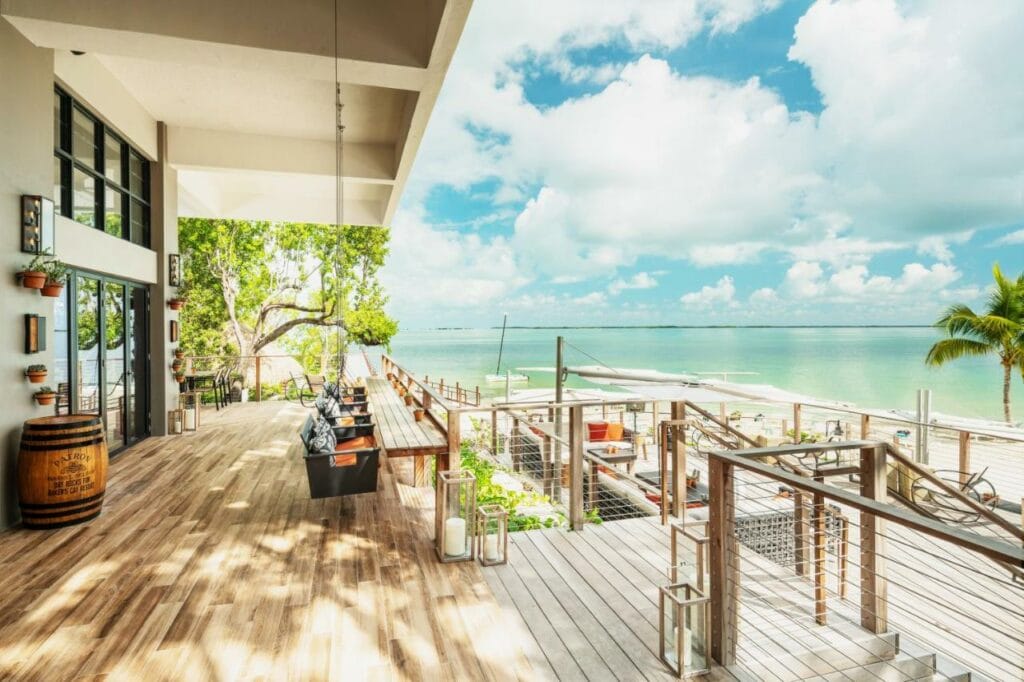 Don't worry though, if you prefer adventure, you'll be spoiled for choice with outdoor activities! The resort can arrange kayaking, snorkelling, diving, and boat tours.
Built in 1856 and recognised as a historical landmark of Amelia Island, The Williams House is a Victorian mansion filled with exquisite details.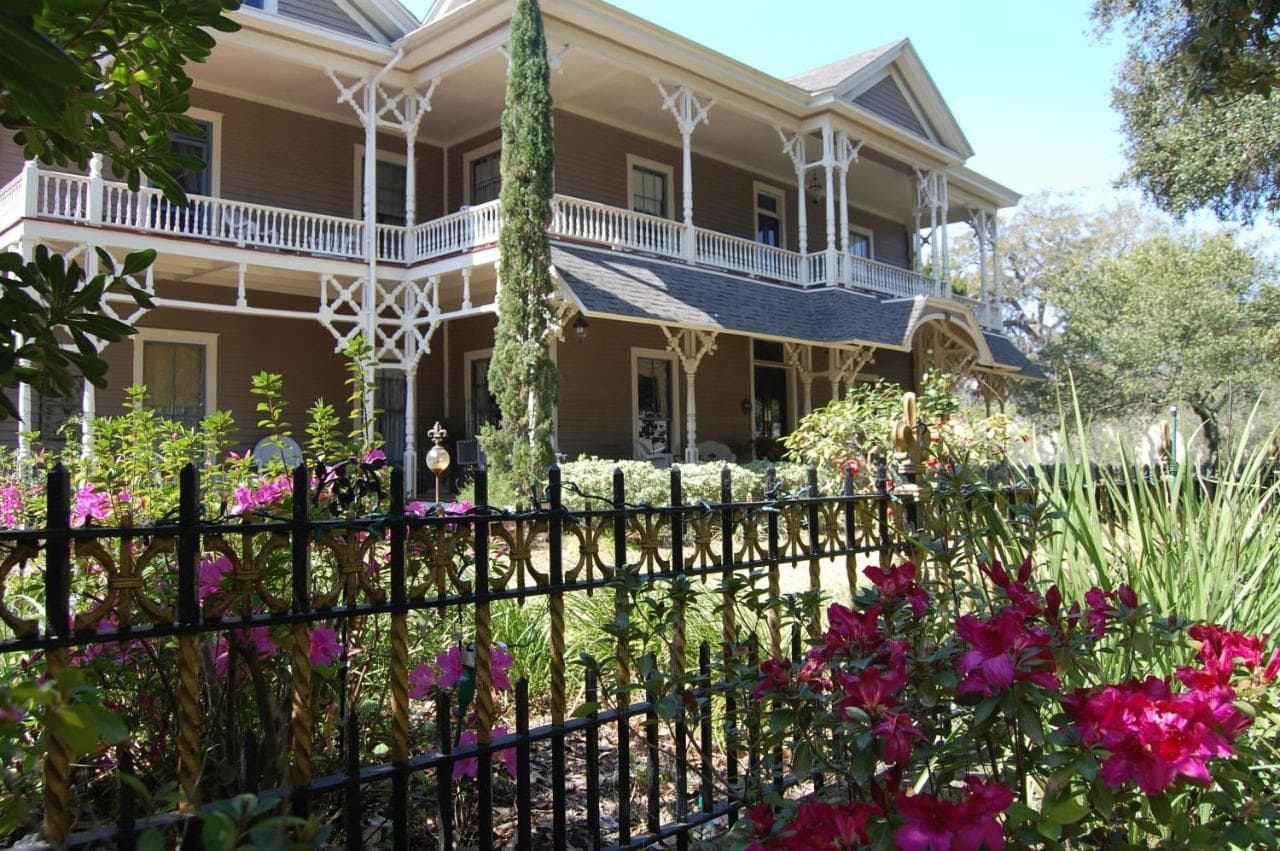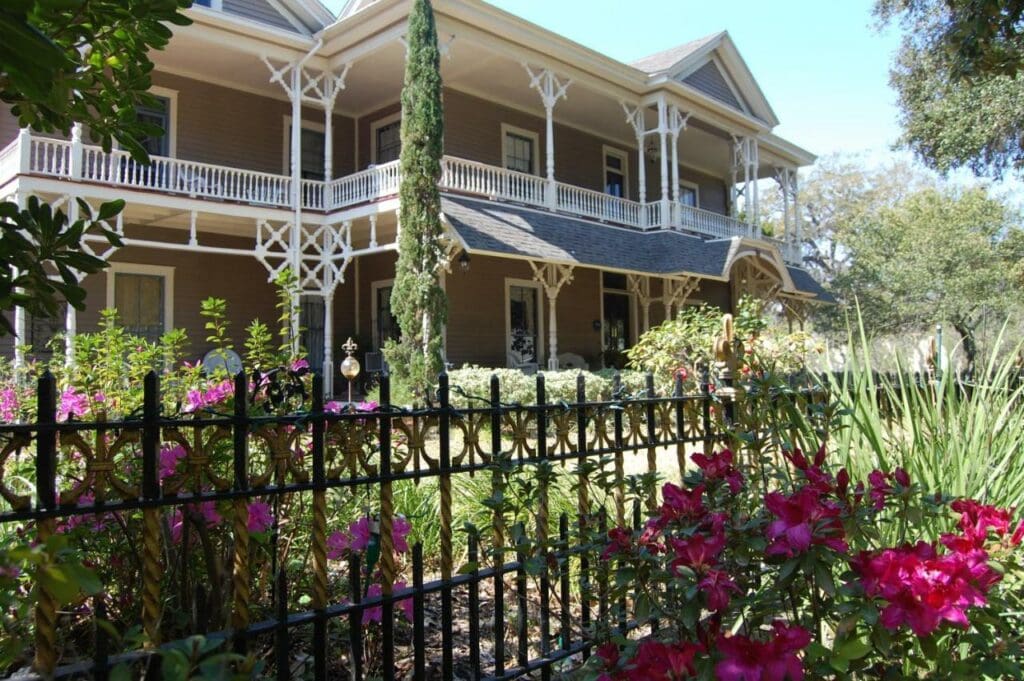 Crystal chandeliers, stained glass windows and beautiful furniture all add to the opulent feel of this former home. This is one of the most unusual hotels in Florida and an ideal choice for history lovers.
I adore the interiors of The Setai Hotel in Miami Beach, which have been inspired by Asian Art Deco themes. The lobby is an architectural masterpiece with large pools, palms, and rich teak. It's absolutely spectacular!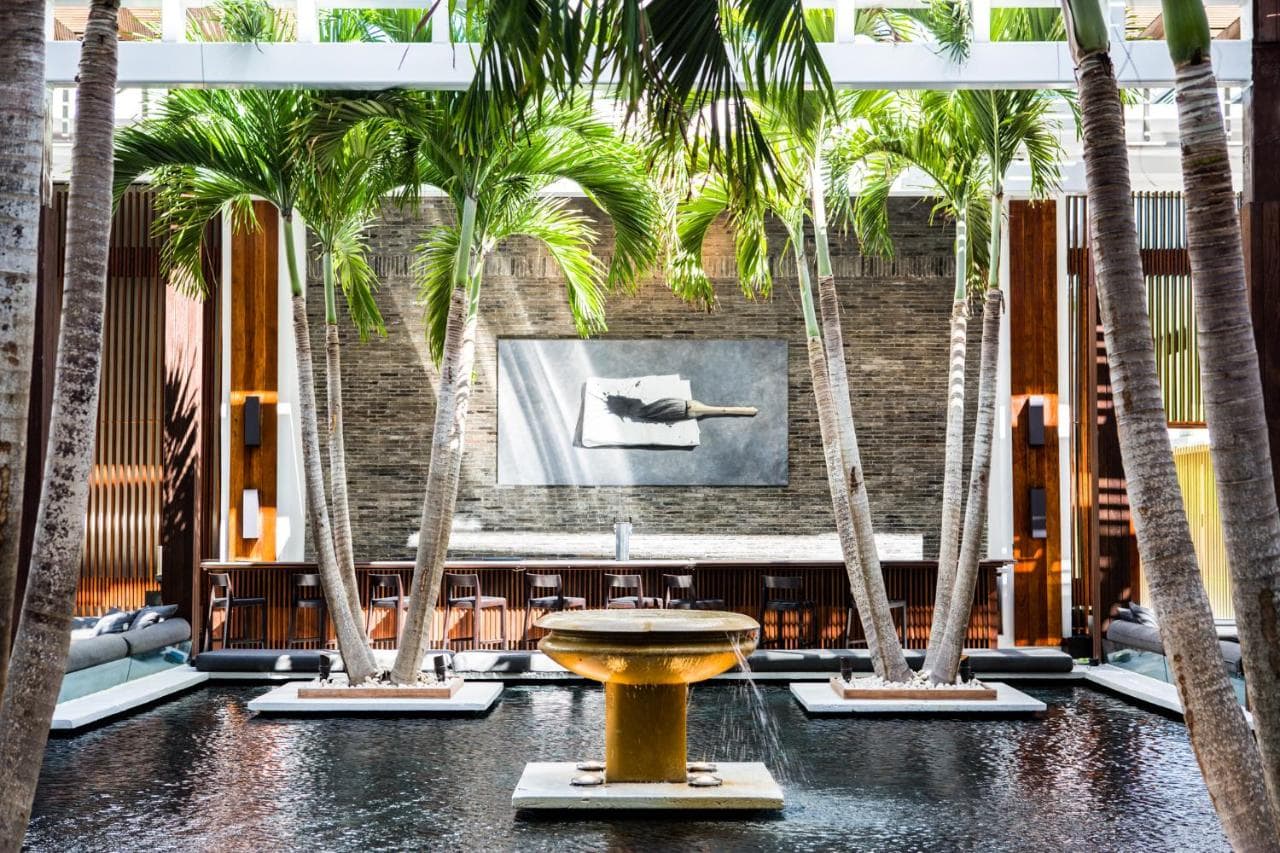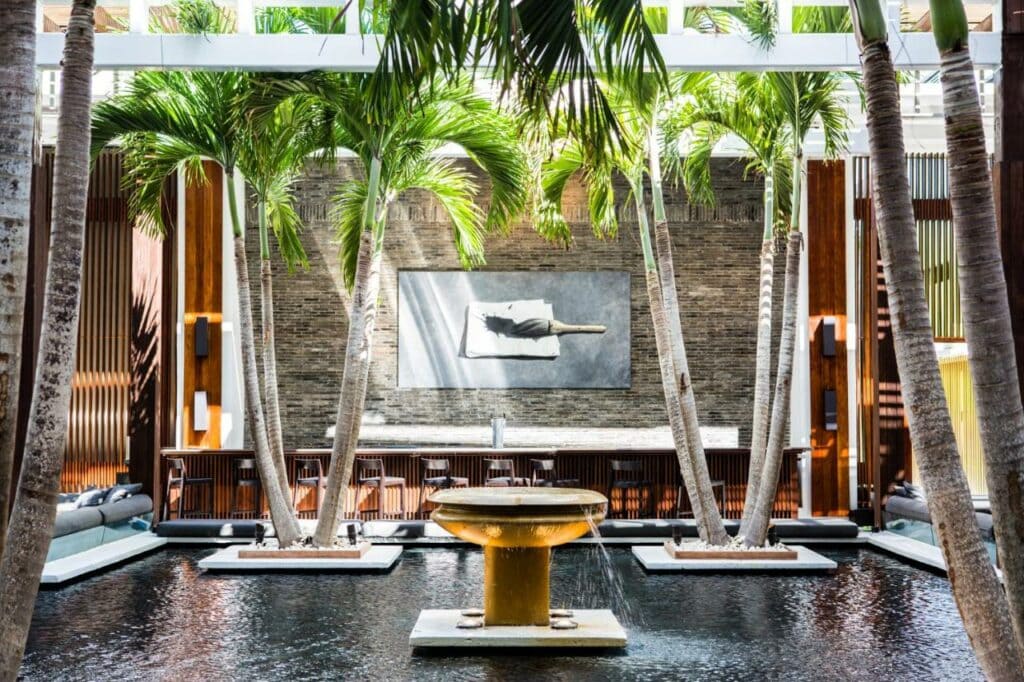 At The Setai, it's all about self-care. So indulge in yoga classes, tai-chi, or the many spa services on offer. You'll instantly feel zen upon check in, making this one of the coolest hotels in Florida for a chilled-out holiday.
The Colony is a British colonial-style hotel which boasts charm and character. It reminds me of something from a Wes Anderson movie, which definitely makes it one of the coolest hotels in Florida!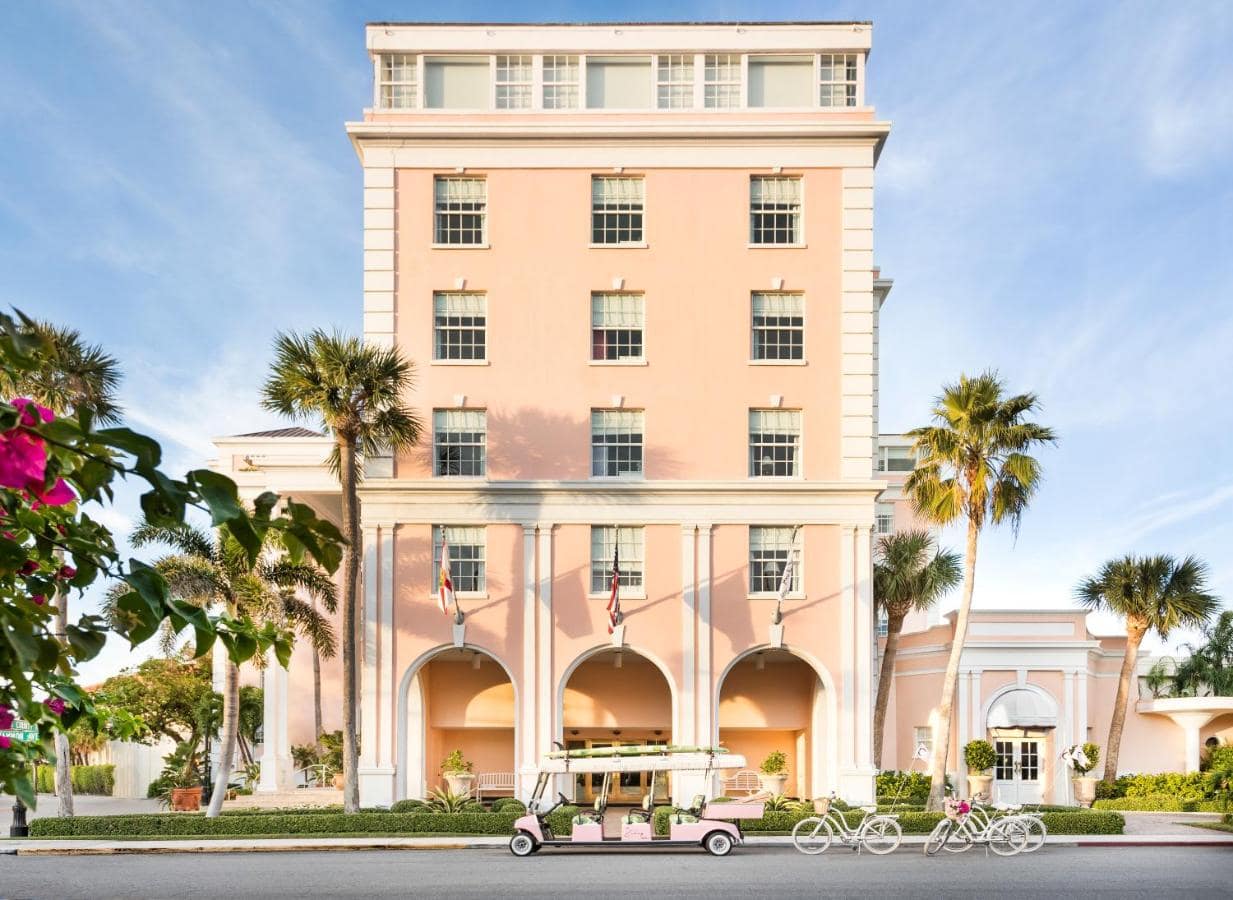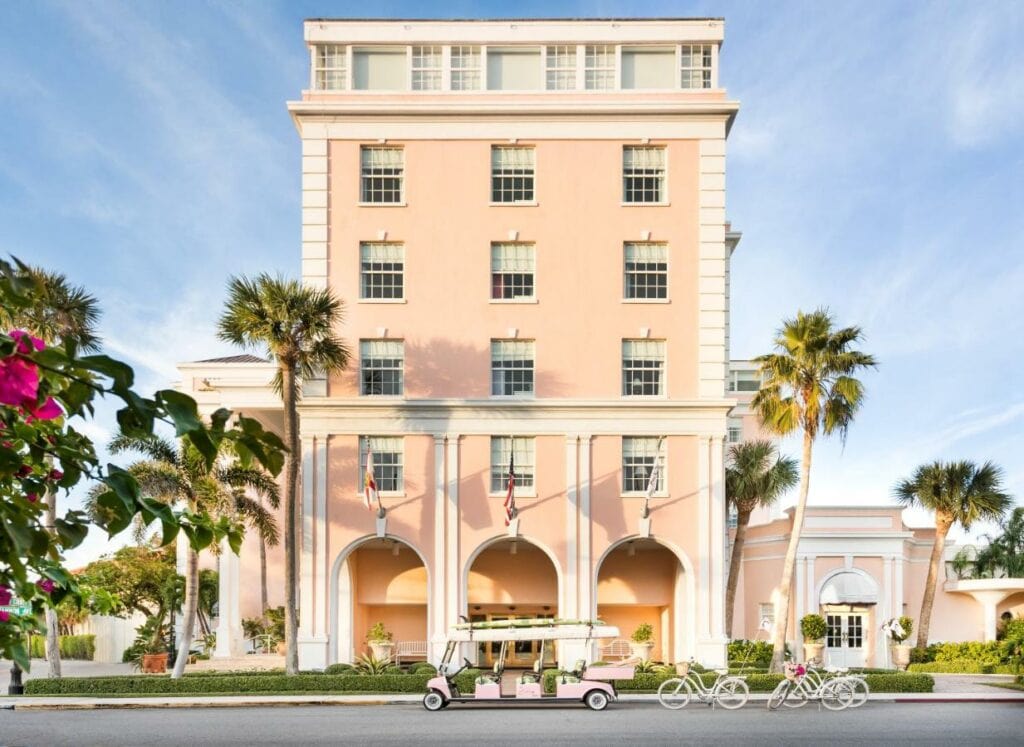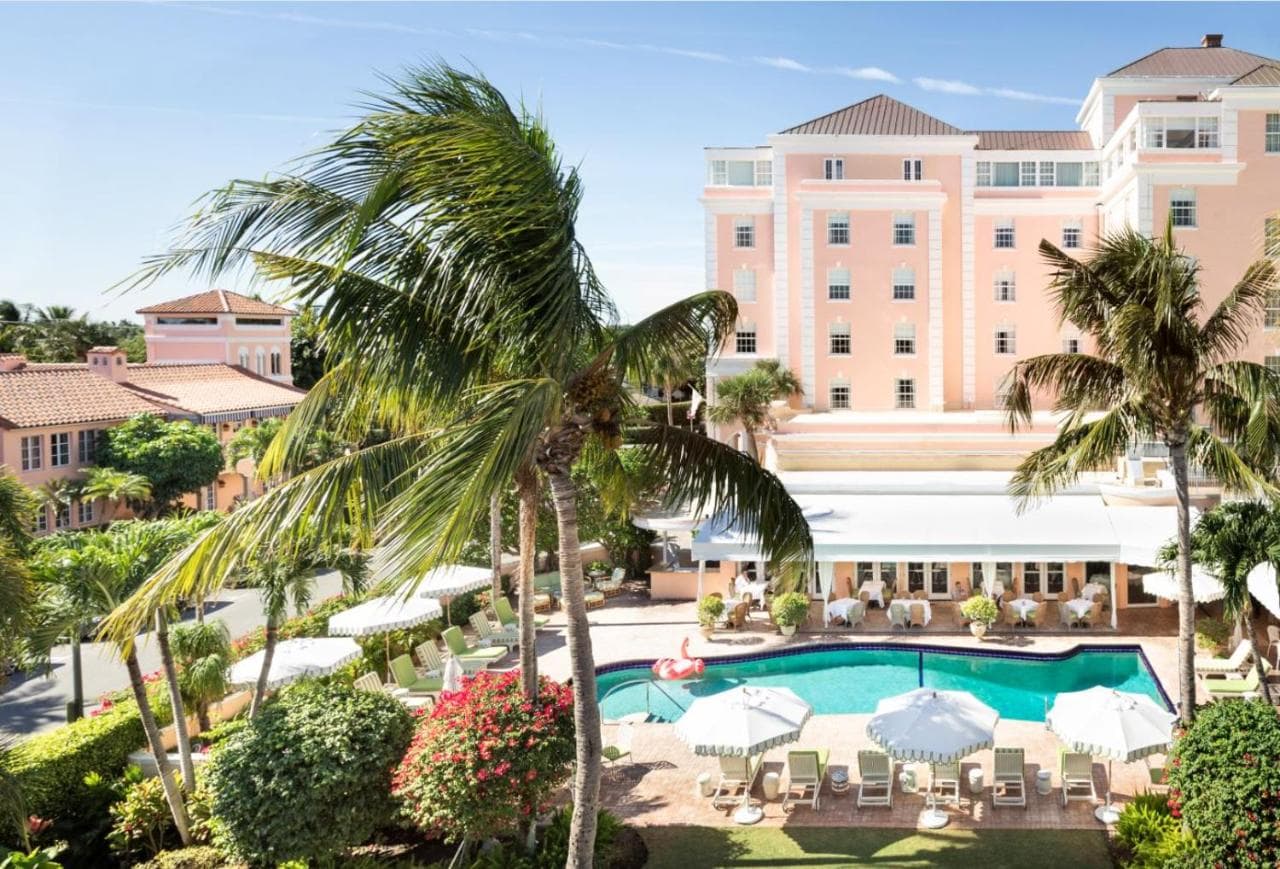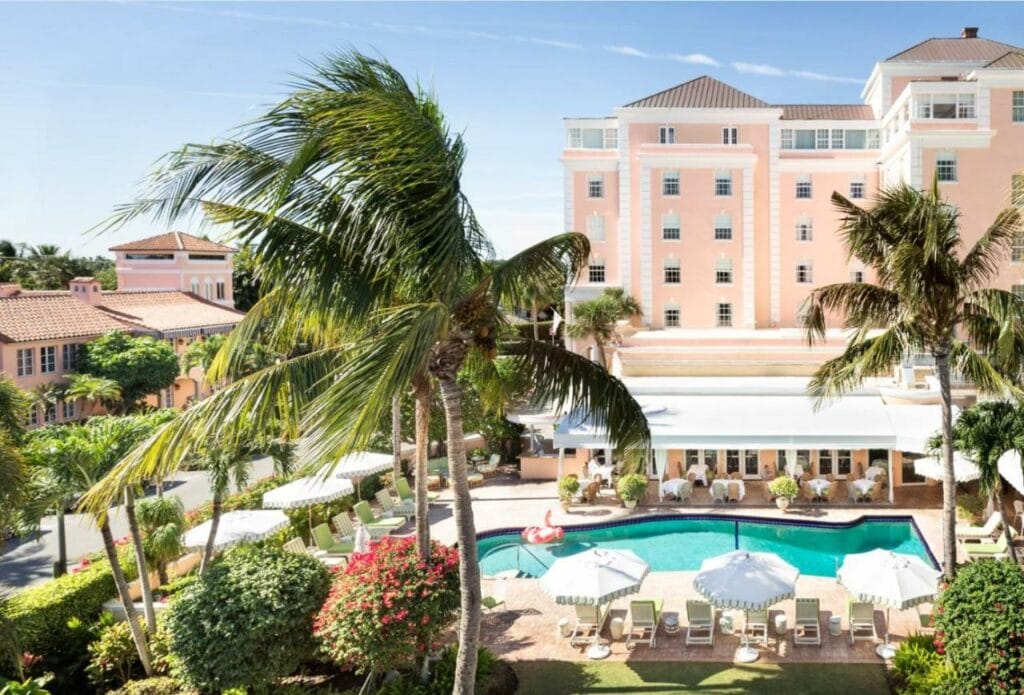 It's around the corner from the famous Worth Avenue, making it perfect for some luxury shopping. I recommend taking advantage of their beach butler, who will set up a gorgeous picnic for you right on the sand.
Receiving 5-stars from Forbes Travel Guide, this hotel has a beautiful Mediterranean style. It's a great one if you're looking for a relaxing break as it's home to a top spa with an extensive selection of treatments.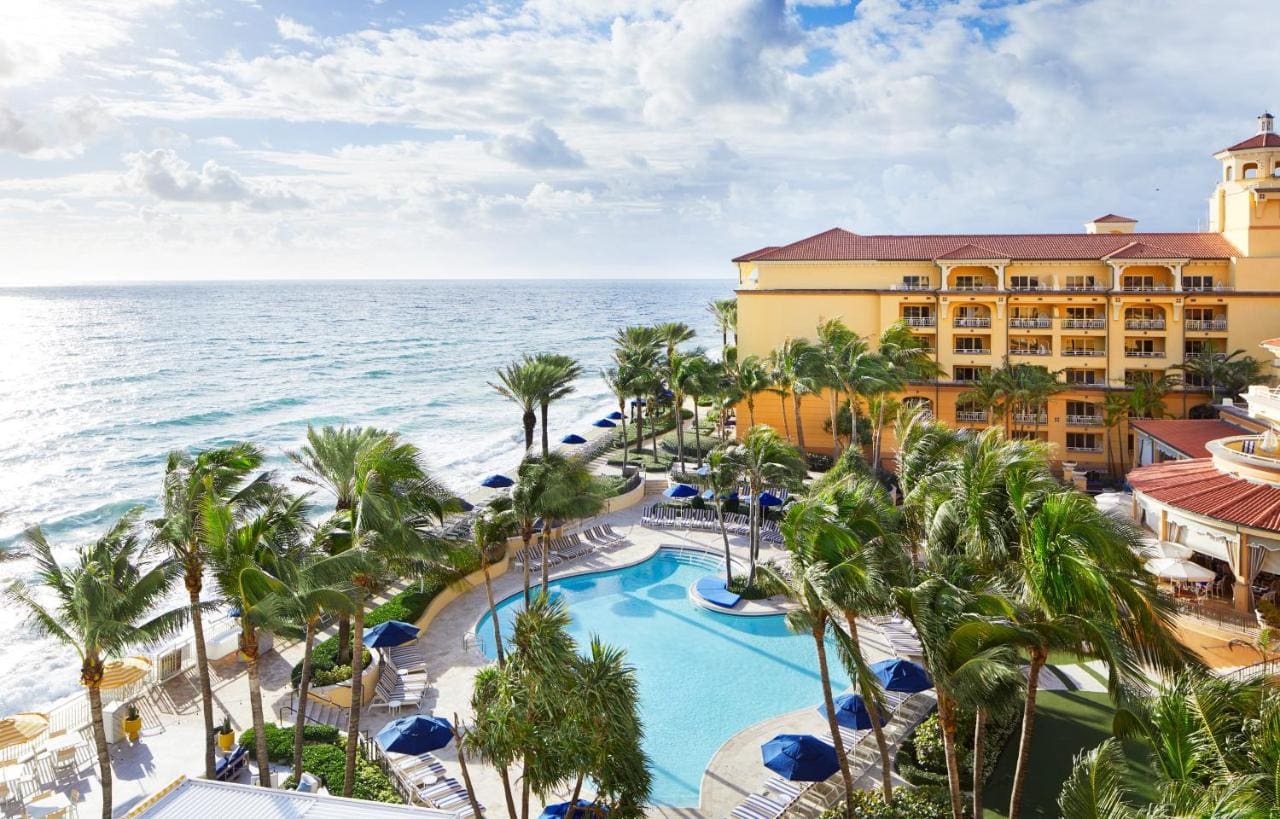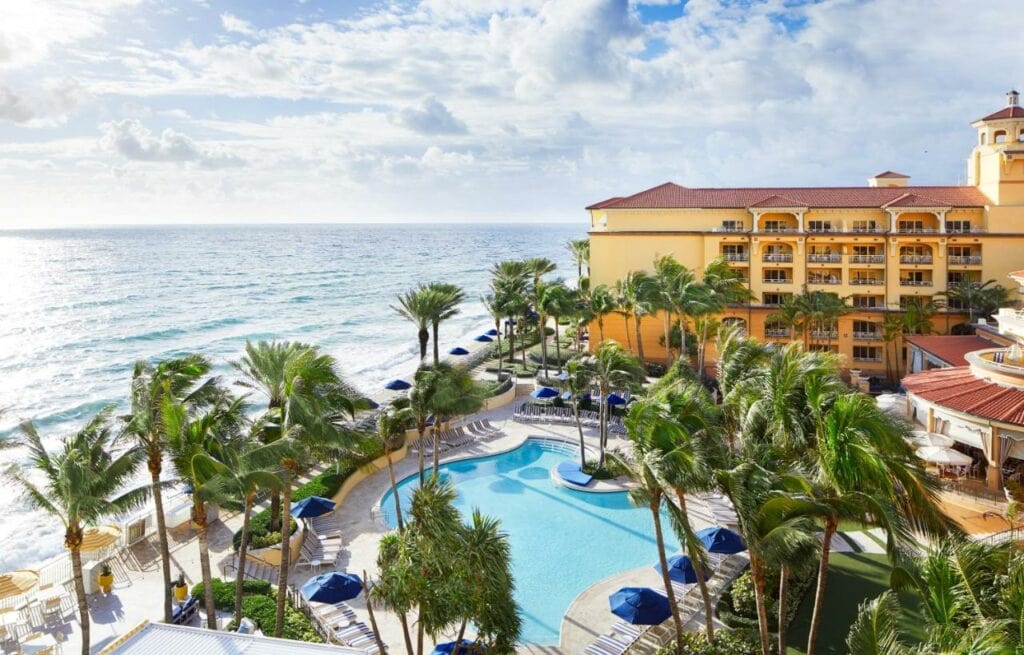 It's also a great place for family holidays, with a kids club, teen club, splash pad, and a 24-hour arcade. That means the kids can be entertained while you get some much-needed R&R!
The Miami Beach Edition Hotel is definitely one of the coolest and most uniuque hotels in Florida. With an ice rink, bowling alley and nightclub, you're guaranteed to be entertained from the second you check in!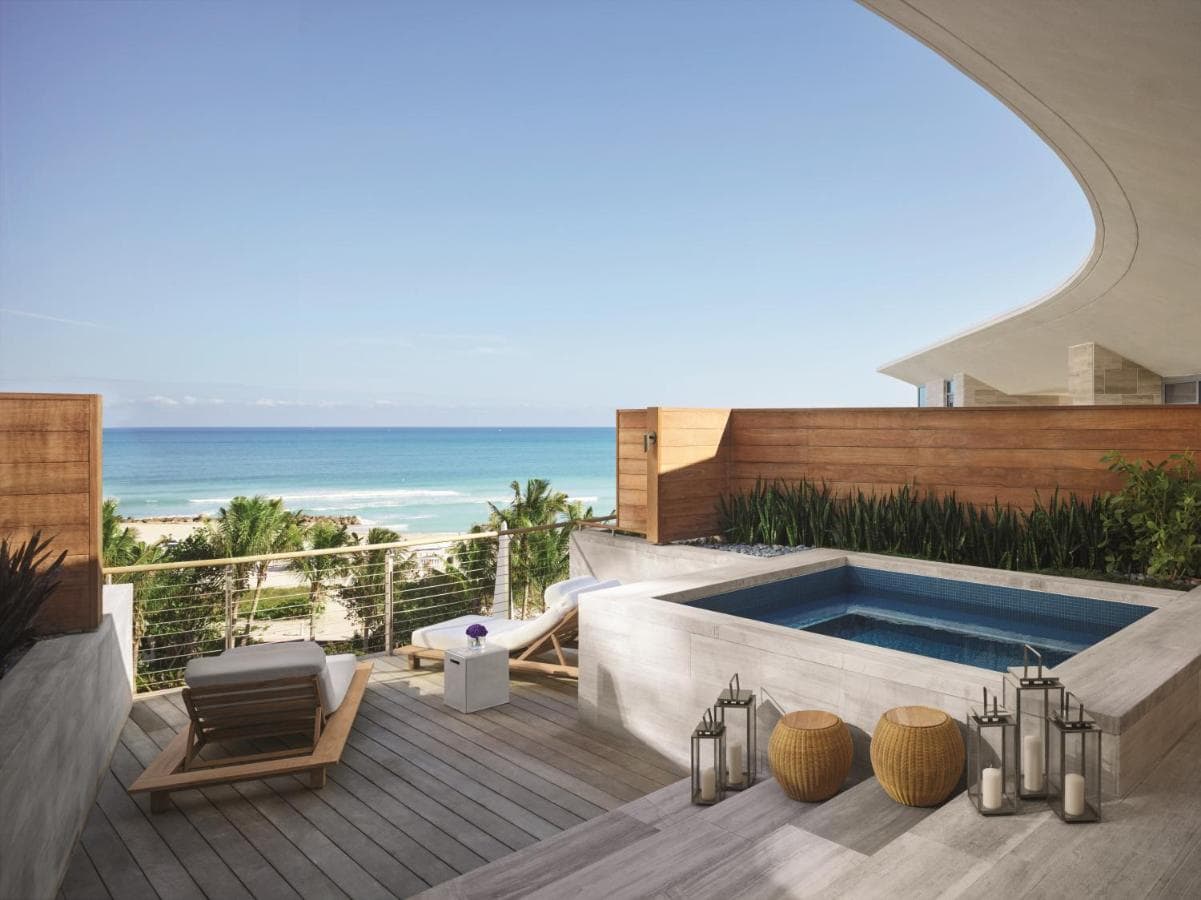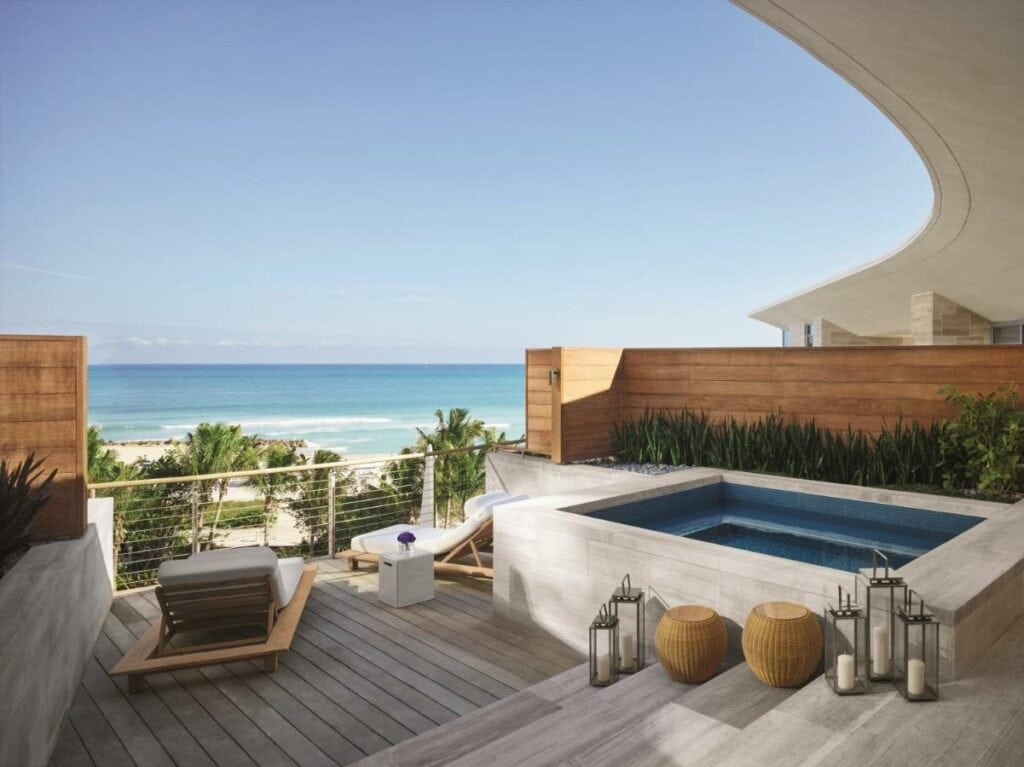 I really love the location, with the beach a few steps from the property. The Miami Beach Convention Center and Filmore and Perez Art Museum are also close by.
---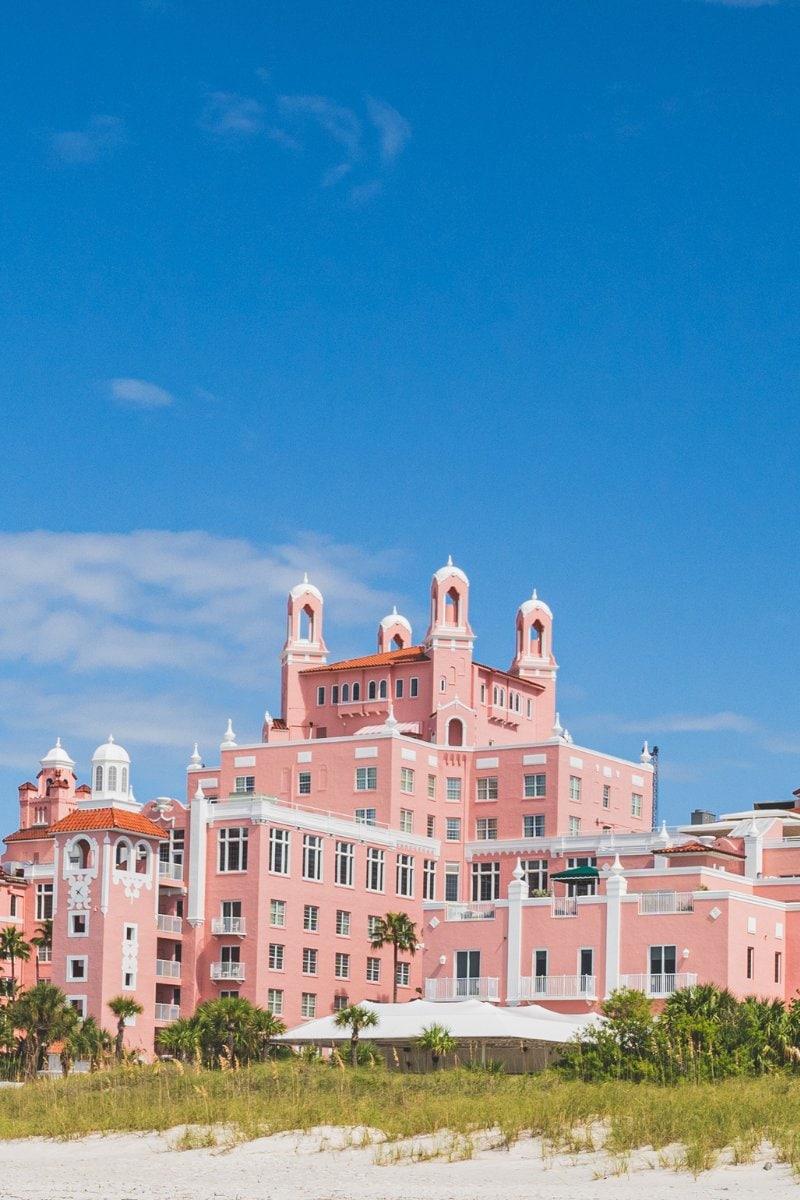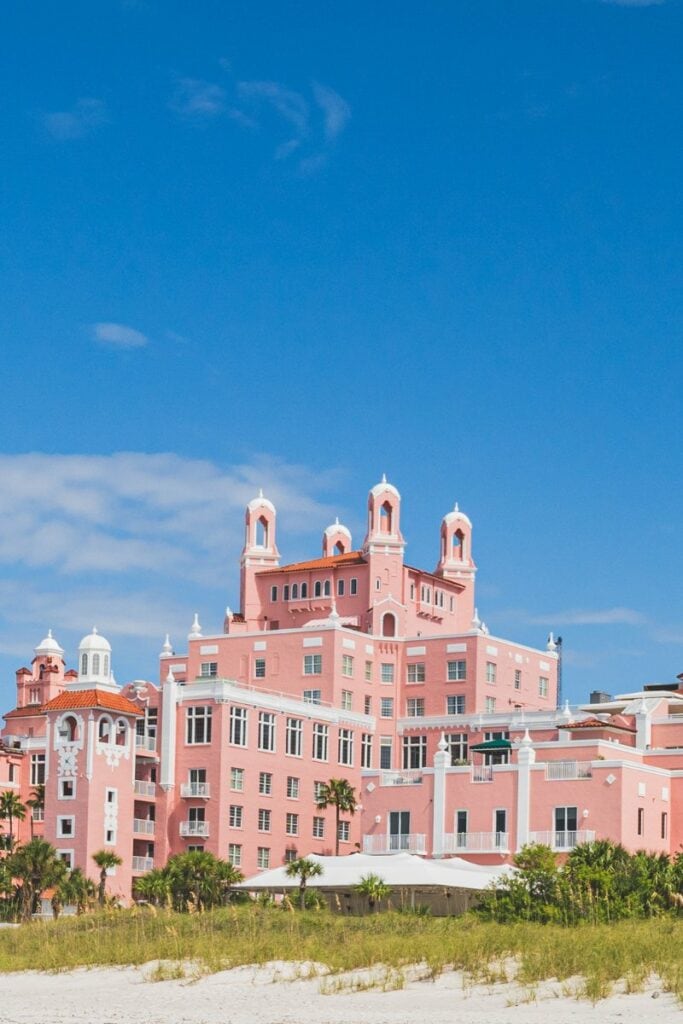 When it comes to unique hotels in Florida, these are just a few of my favourites! While there are plenty more to choose from, I hope this guide helps you plan a holiday to remember.
If you're looking for information to make the most of your time in the Sunshine State, don't miss my Florida travel guides: