Time to check out Buddha-Bar Marrakech.
*DISCLAIMER: I worked on a sponsored campaign with Buddha-Bar in 2016, for which I produced video, blog and social media content about Marrakech and the restaurant. Sadly Buddha-Bar Marrakech broke their contract and only paid me for half of my work and time. After I threatened legal action, they stopped returning my emails and calls. I have left the content live, as I was proud of the work I did, but I find their behaviour utterly disrespectful, and would never return there out of principle.*
Towards the end of 2015 I spent a few weeks travelling around Morocco. While I've visited the country a few times before, this was more of an immersive trip – sleeping in camps in the Sahara, visiting local markets high in the Atlas Mountains, and finishing with the full Marrakech experience – snake charmers, hammams and more! I thoroughly enjoyed it and hoped it wouldn't be long before I returned.
Cheap flights and guaranteed warm weather make Marrakech a great break from the UK, particularly for those craving winter sun. With a free weekend in January, I couldn't resist but snap up some bargain fights and pop over for a dose of vitamin D, great food and a bit of pampering.
Buddha-Bar is Marrakech's newest opening. As a brand, Buddha-Bar is synonymous with style, music and great Asian-inspired food. With restaurants in Paris, London, Beirut, Dubai, Sao Paulo, Kiev and many more, it was only a matter of time before Marrakech was added to its mini-empire.
Check out the video of my luxury weekend in Marrakech, or scroll down to read more about Buddha-Bar Marrakech.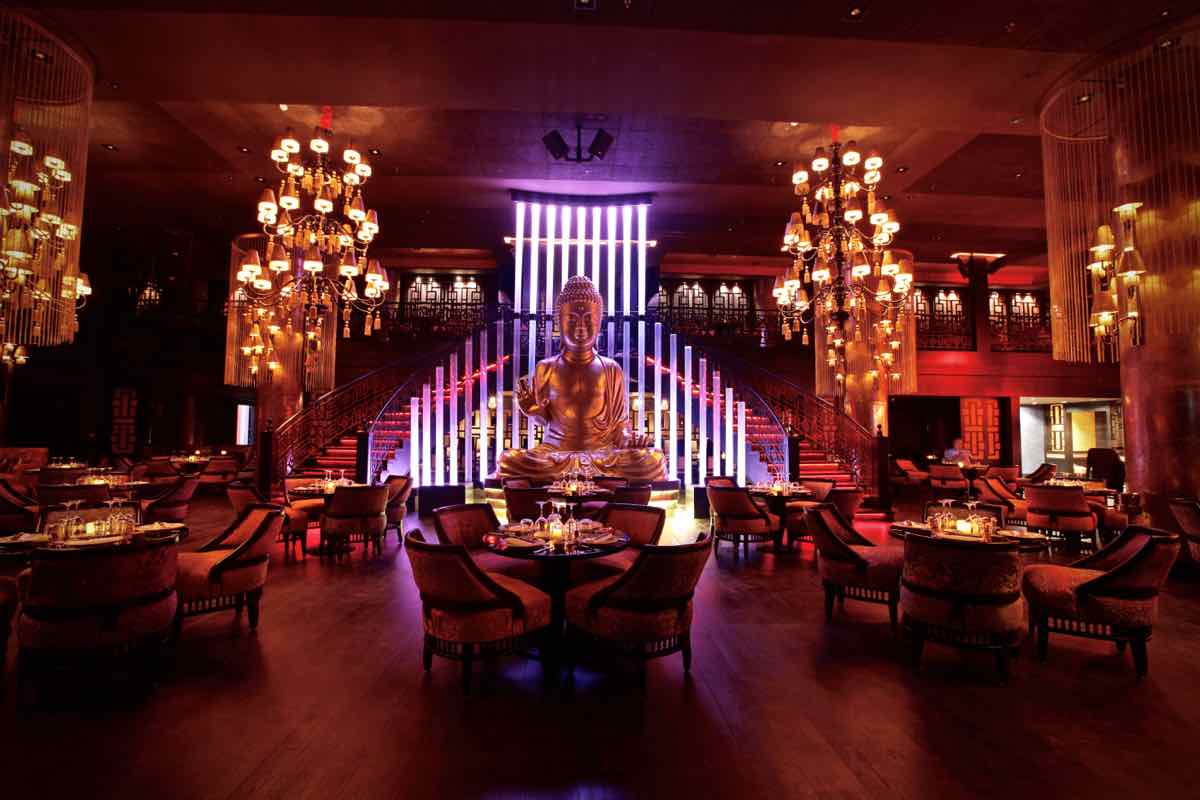 Don't be fooled by the name. Buddha-Bar is more than a bar, it aims to take you on a journey – through its music, décor and menu. Not just another night out, it's longing to be a memorable experience, ideally one that you'll choose to return to time and time again. Only a handful of brands have achieved this globally – Pacha perhaps, and high-end hotels such as the Four Seasons.
January is supposedly a low season in Marrakech, but with constant traffic, and Jamaa El Fna square as packed as ever, it wasn't particularly noticeable.
Buddha-Bar Marrakech sits in the chic Hivernage area. L'hiver being French for winter, the district made its name as the place the wealthy French holidayed during winter. Home to the majority of the city's top boutiques, 5 star hotels (including Es Saadi Gardens and Resort where I stayed last time), it's the area both to see, and be seen in. With Buddha-Bar's signature branding, latticework, lanterns and a swanky red carpet, I couldn't WAIT to get inside – particularly with the bass of the deep house soundtrack pulsating from within.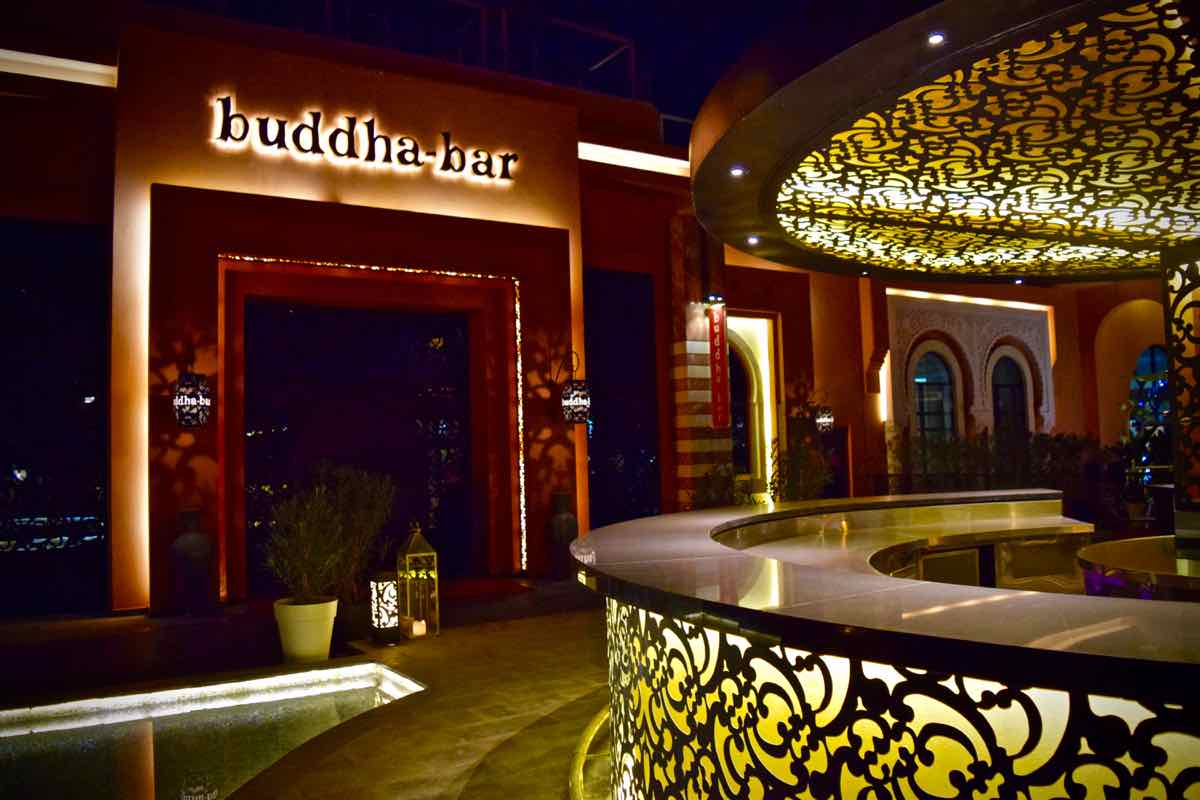 Surprisingly, and perhaps bravely, this is one of Marrakech's largest restaurants. With seating for around 450, it's an enormous space. Yet despite high ceilings and masses of seating, it doesn't feel cavernous. Quite the opposite in fact – with its dark mood lighting, ambience and personable service, there's a rather magical feeling of intimacy.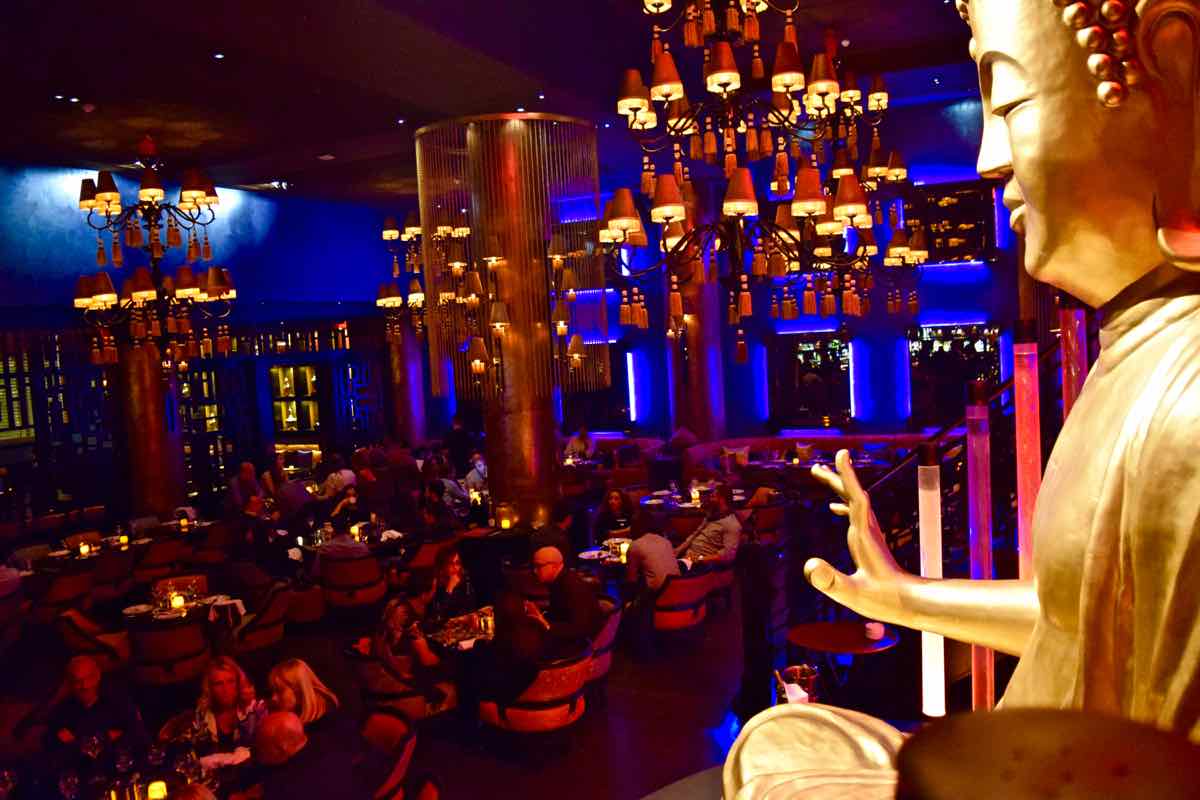 Once through the enormous ornate doors, there was one person in my eyeline… Hello Buddha! Transported from Indonesia, the 4 metre high figurine sits proudly with grand illuminated staircases cascading down either side.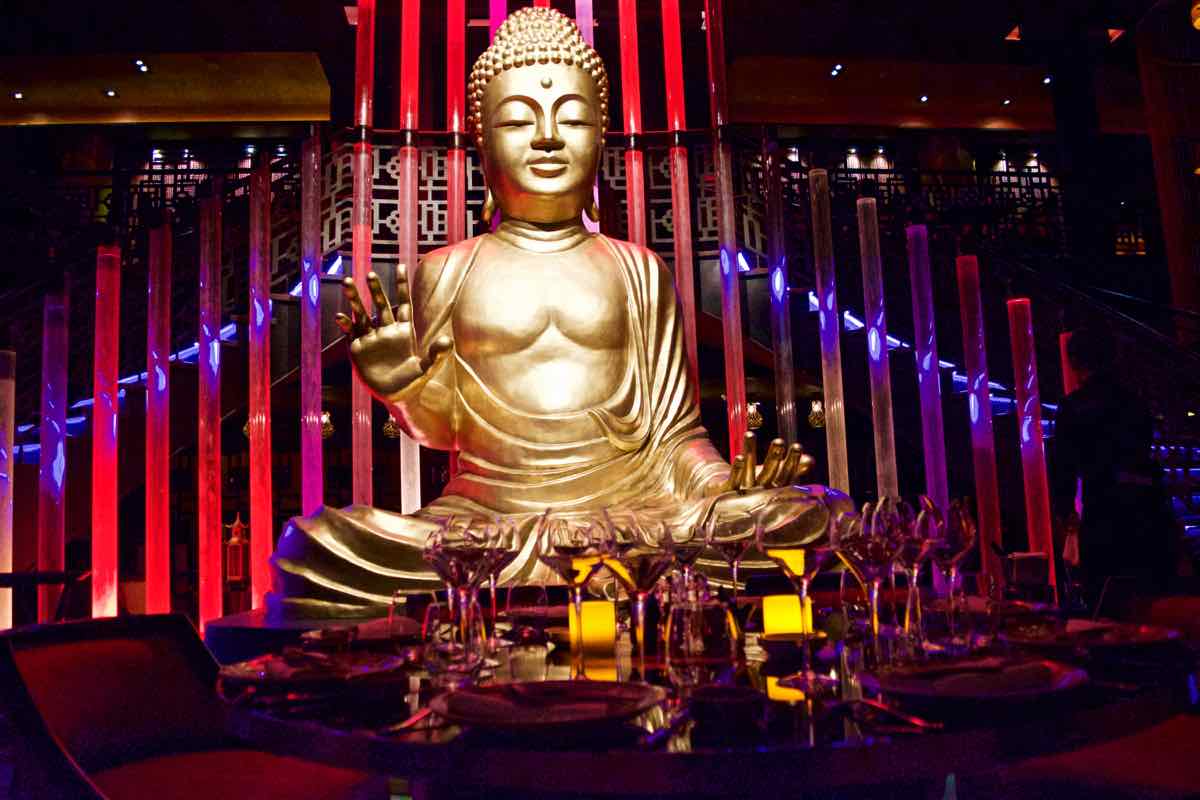 The building is cleverly divided into several areas. From the main dining room, to the lounges, salons, private dining rooms, high tables and bar area. While each has its own distinct vibe, the colour scheme of blue, red, gold and black creates a feeling of unity. Oriental patterns, lush silk and plush velvet all work to create a mysterious, sophisticated restaurant.